The Trillium Lake hike near Government Camp, Oregon offers hikers breathtaking views of magnificent Mt. Hood looming large over the alpine lake, and an easy boardwalk loop hike for explorations away from the day use area.
The view of Mt. Hood from the banks of Trillium Lake makes for one of the most recognizable photo ops of the mountain you're likely to come across.
Add to that, the increasing popularity of the recreational area and the short relative distance from the Portland city limits and you are looking at one crowded loop trail.
With that said, it is possible to lose the crowds and find solitude on the Trillium Lake hike.
We'll share with you our tips for doing just that, plus everything you need to know for hiking the loop (in summer and winter), how to get the perfect shot of Mt. Hood, and other helpful advice for making the most of your Trillium Lake hike.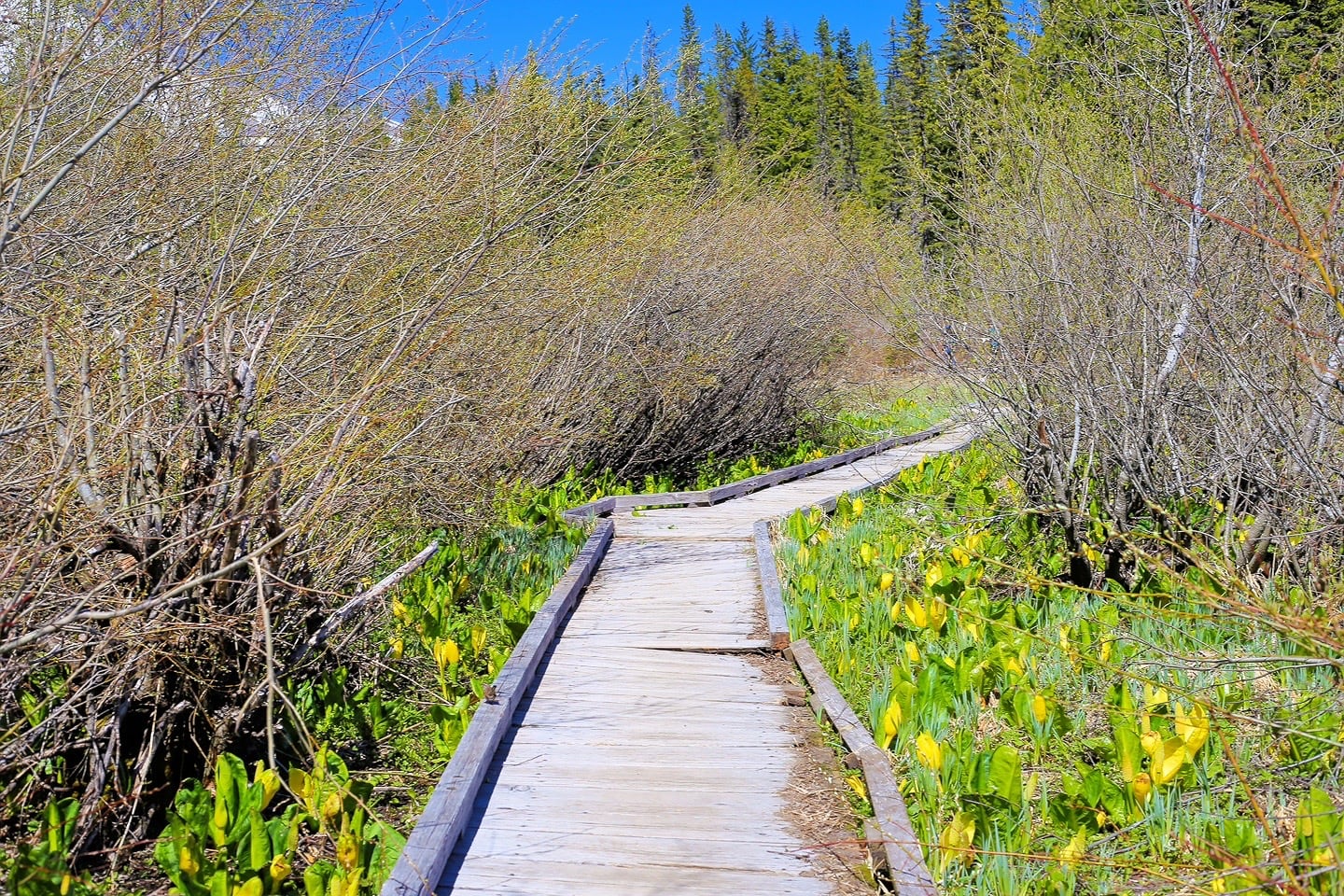 Hike In Brief
Located near Government Camp, Oregon, in the shadow of Mt. Hood, the Trillium Lake hike makes a worthwhile stop or detour along U.S. 26 en route to the mountain and points east.
The defining feature (and main draw) of the Trillium Lake hike is the stunning view of the lake framed by an up-close view of Mt. Hood.
But the short loop hike is certainly worthy of an amble, for the flora, fauna, and alpine view you're likely to encounter.
Distance: 1.9 miles (3.1 km) round trip
Hiking Route: Loop
Difficulty: Easy
Elevation Gain: 26 ft (8 m)
Good for Kids?: Yes!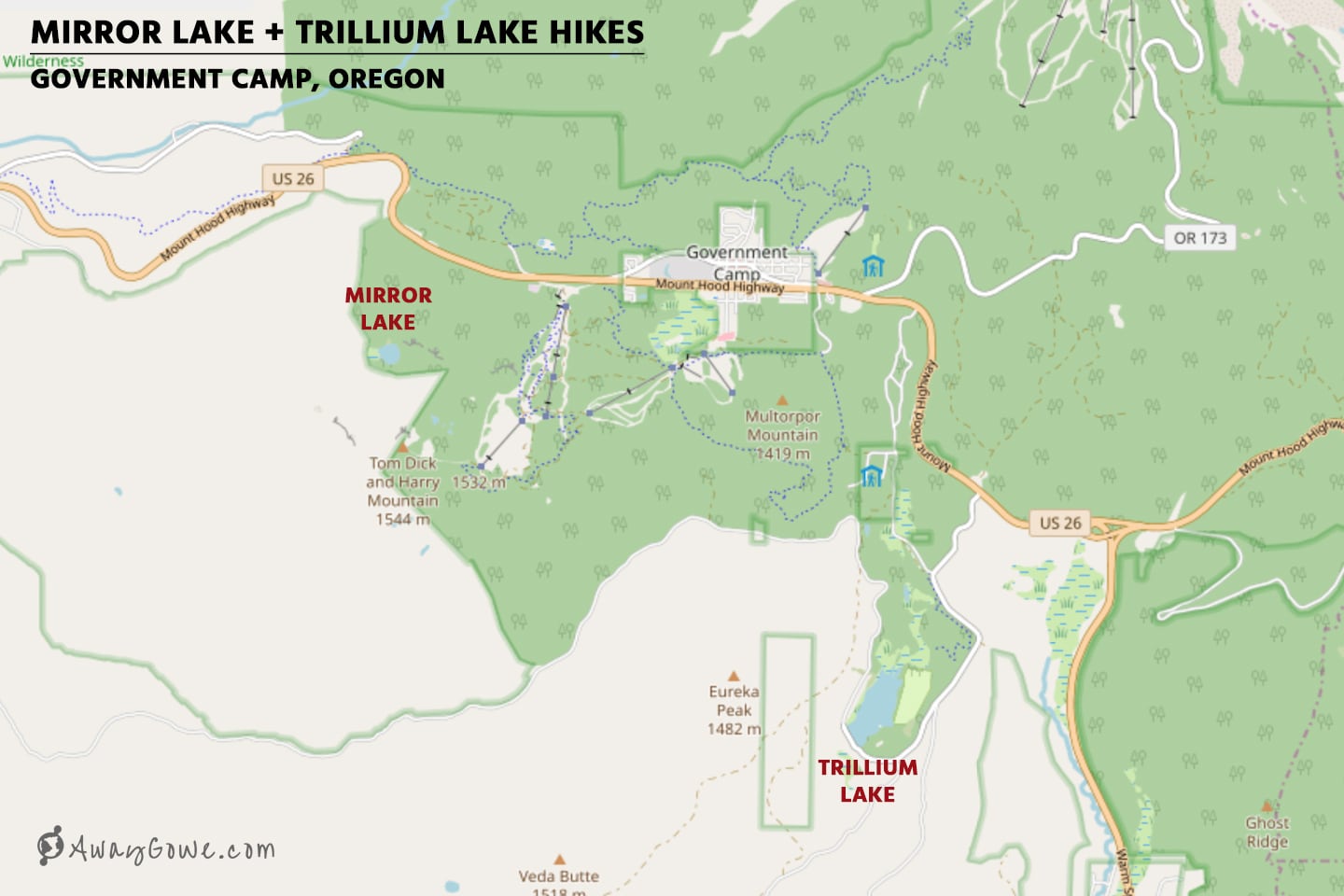 How to Get to the Trillium Lake Hike Trailhead
Mid-Spring to Mid-Fall (Summer Day Use Directions)
Getting here, parking, and finding the Trillium Lake hike trailhead is easy in the summer months.
GOOGLE/MAP ▸ Type "trillium lake day use/picnic area" into your nav app of choice and follow the prompts.
OLD SKOOL ▸ From Portland, head east on U.S. 26 toward Government Camp; when you reach Government Camp, keep driving another 2 miles until you reach the turnoff for Trillium Lake Day Use/Campground on your right (NF-2656); Take a right on NF-2656 and drive another 1.8 miles until you reach the Day Use parking lot.
IMPORTANT
If you're using Google Maps to get here, it's important to note that the "Trillium Lake Trailhead" marked on the map is actually the winter months Sno Park trailhead.
Most summer visitors to Trillium Lake will want to follow NF-2656 all the way to the Day Use Area and park there.
If you want to add some miles to your hike, however, you could start your hike at the Sno Park trailhead, but in our opinion, it won't add much value in the summer months to your hike.
Mid-Fall to Mid-Spring (Sno-Park Directions)
Same directions as above, but instead of following navigation guidance (or a map) to the Day Use Area parking, you'll park at the Sno Park lot at the intersection of U.S. 26 and NF-2656 (which is closed to traffic from mid-fall to mid-spring).
Don't forget your ODOT Sno-Park Permit, as they cannot be purchased onsite.
What to Pack
You won't need a lot of gear for this short hike in the summer months, but there are a few essentials you'll definitely want to pack with you.
As with any hike, plenty of drinking water is going to be your main essential. Please consider skipping single-use plastics (i.e. a bottle of water from the corner store) and opt instead for a good reusable water bottle or lightweight hydration backpack (they even make ones for kids!).
You'll also want to bring sun protection (sun hat, SPF 30+ sunscreen, etc.), as parts of the trail are fairly exposed.
Comfortable hiking footwear is always a good bet, even on shorter hikes. Hiking boots, running shoes, or river sandals will do just fine on this easy loop trail.
For longer hikes, I can't say enough about my Lowa Renegades. Trekked all over the world with them and they are the most comfortable hiking boot I've ever owned.
If you plan to hike in the fall or spring, rain is certainly a possibility. We recommend packing a lightweight rain jacket, as conditions can change on a dime up here.
If you are hiking Trillium Lake in the winter months, pack for cold and snowy conditions! Sturdy, waterproof hiking boots and a set of hiking poles should be sufficient, but you may also want to consider snowshoes, depending on the snow pack.
Extra snacks, water, and an outdoor first-aid kit are always good to have on hand, but particularly important in the winter months.
Hiking with a baby or toddler? If you want a recommendation on an awesome kid carrier for hiking, we can't say enough about our Ergobaby 360 baby carrier and Deuter Kid Comfort for older kids.
READ MORE ▸ 15 Life-Changing Toddler Travel Essentials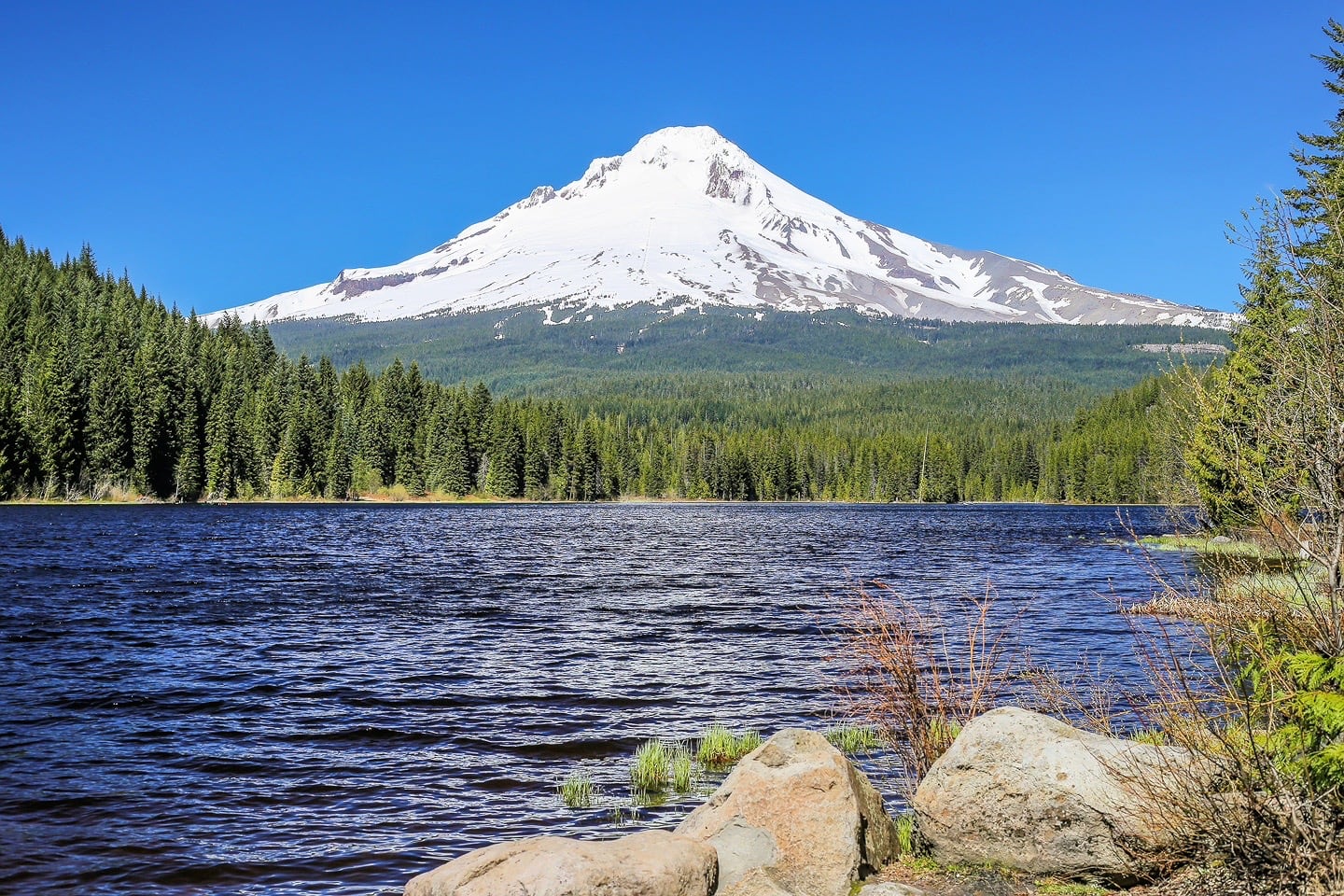 Hiking Trillium Lake Loop Trail
Summer 2021 Trail Update
There have been numerous reports this season that part of the boardwalk section around the lake continues to be closed to hikers for repairs.
This is the second summer season we've heard about this, so no telling when that section of the Trillium Lake hike might be open again.
The photos of the boardwalks in this guide were taken during our first visit in May 2016.
We've been waiting all winter for the snow to melt and temperatures to warm a bit before doing any of the hikes along U.S. 26 near Government Camp this season.
The trailheads in this area average around 3,000 feet higher in elevation than those along the Columbia Gorge, and a good snow pack can be anticipated during most winters.
This hike might not offer the sweeping vistas of some of the Columbia Gorge hikes we're accustomed to, but the up-close views of Mt. Hood more than make up for that.
We got the green light earlier than expected this particular year and set out to explore the lakes the first weekend in May.
READ MORE ▸ Mirror Lake Hike Trail Report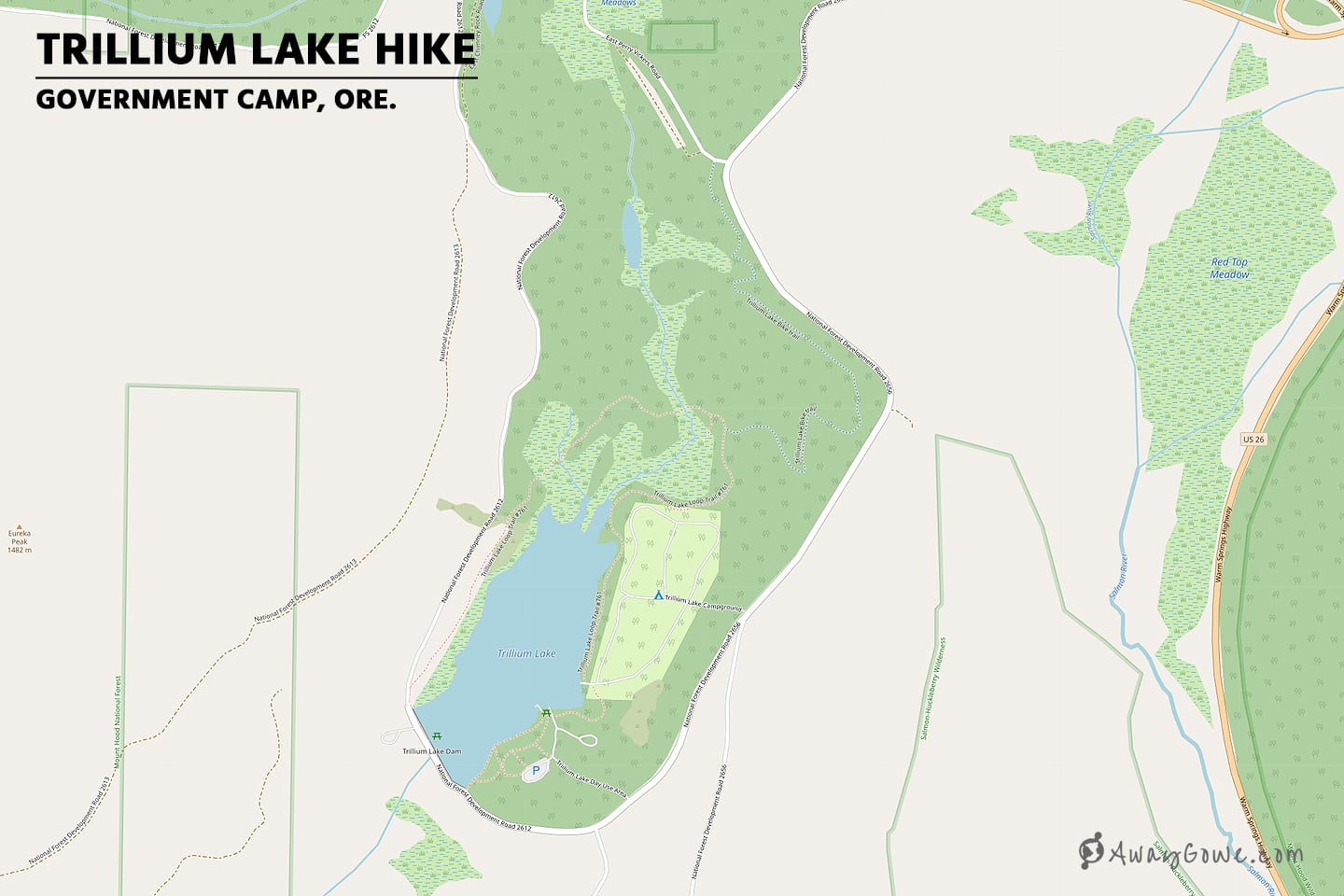 Trillium is a unique place. Historically, the Barlow Road (the last segment of the Oregon Trail) cut right through the middle of the present day lake.
The valley was dammed and flooded in 1960 by the Oregon Department of Fish and Wildlife, creating what you see today.
The Trillium Lake hike is an excellent option for hikers wanting a workout without torturing multiple muscle groups.
Much of the year, the Trillium Lake Day Use Area is inaccessible to automobiles. In the winter months, you have to park off the highway and snowshoe, ski, or hike in from U.S. 26.
On this early-May day, however, we could practically drive all the way up to the lake.
READ MORE ▸ Hiking Tom McCall Point & Rowena Plateau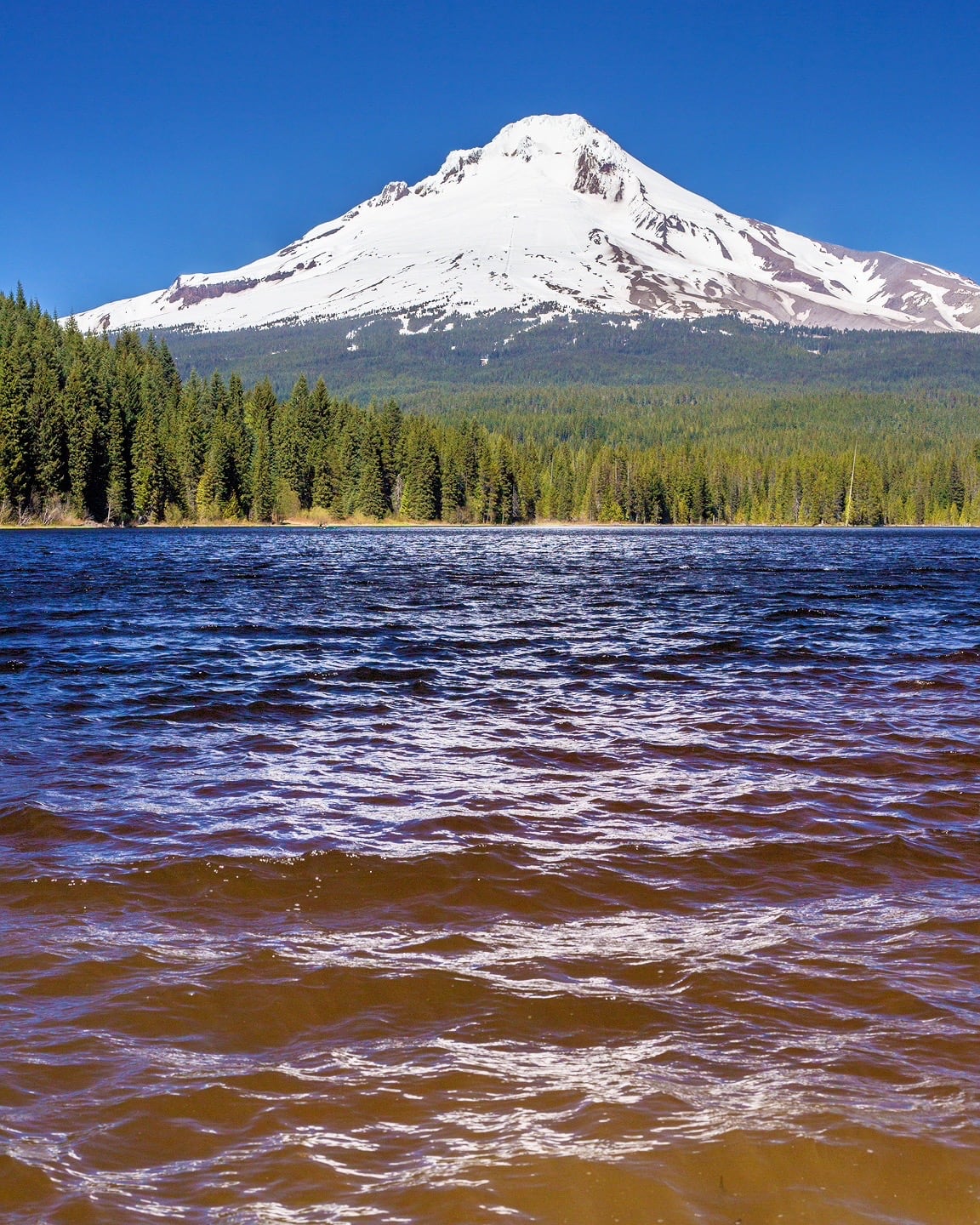 As mentioned quite a bit already, most visitors come to Trillium Lake for the views, and this is the grandaddy of them all here – look closely in the photo above and you can even see one of Hood's ski lifts (faint line running down the center of the mountain).
The Trillium Lake Day Use Area, loop trail, and the lake itself can get very busy in the summer months, regardless of which day of the week it is (tips on avoiding crowds a bit later).
Today, we encountered several young men fishing along the bank, but very few hikers on the trail.
READ MORE ▸ Pittock Mansion Hike: Pure Bliss in the Heart of Portland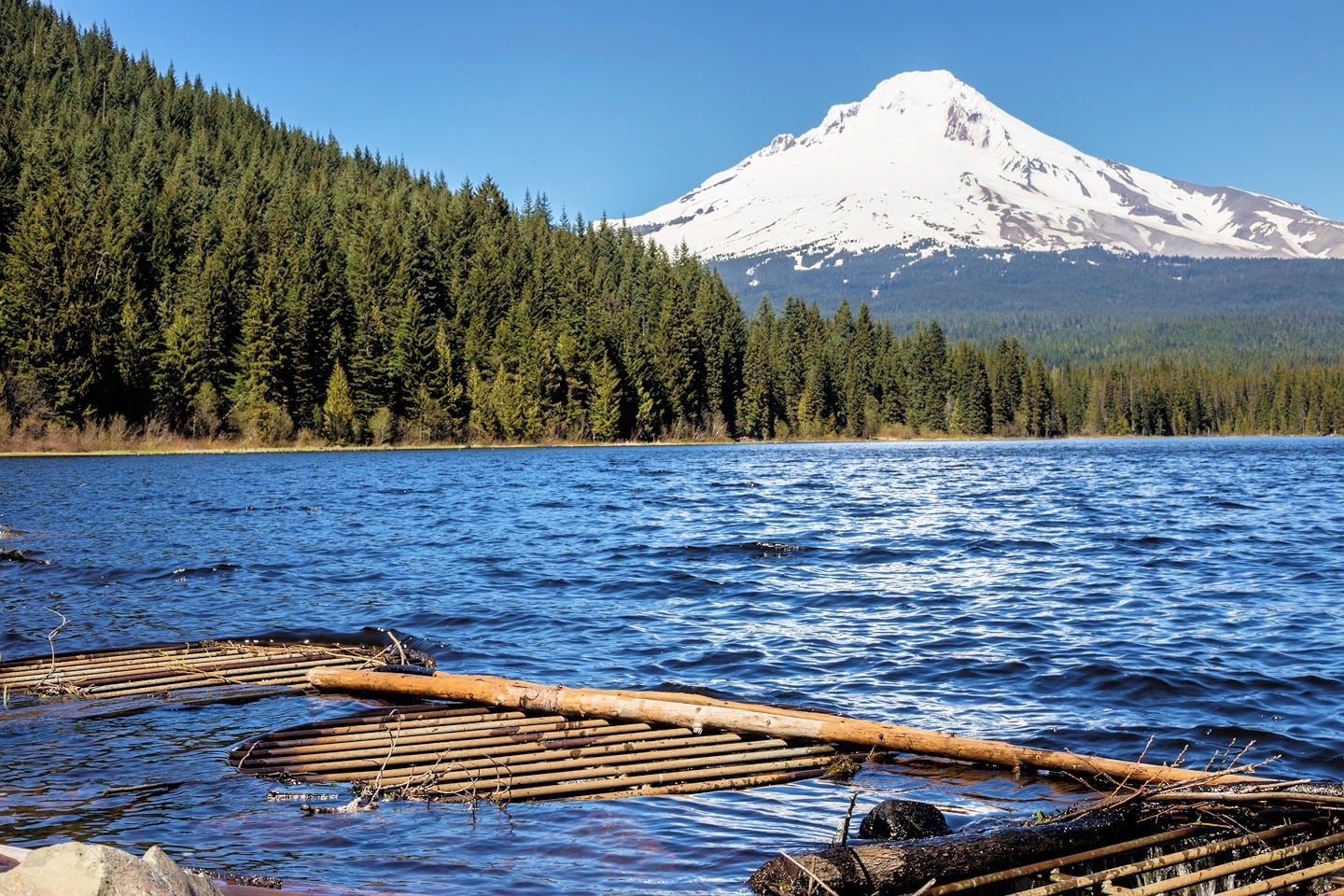 In addition to the spectacular view of Mt. Hood, these giant drains built right into the lake also caught our eye. Our best guess is that they were installed to regulate the water level, but we can't help but wonder where the water goes. China, perhaps…?
Either way, it makes for an interesting optical illusion of floating holes in the water.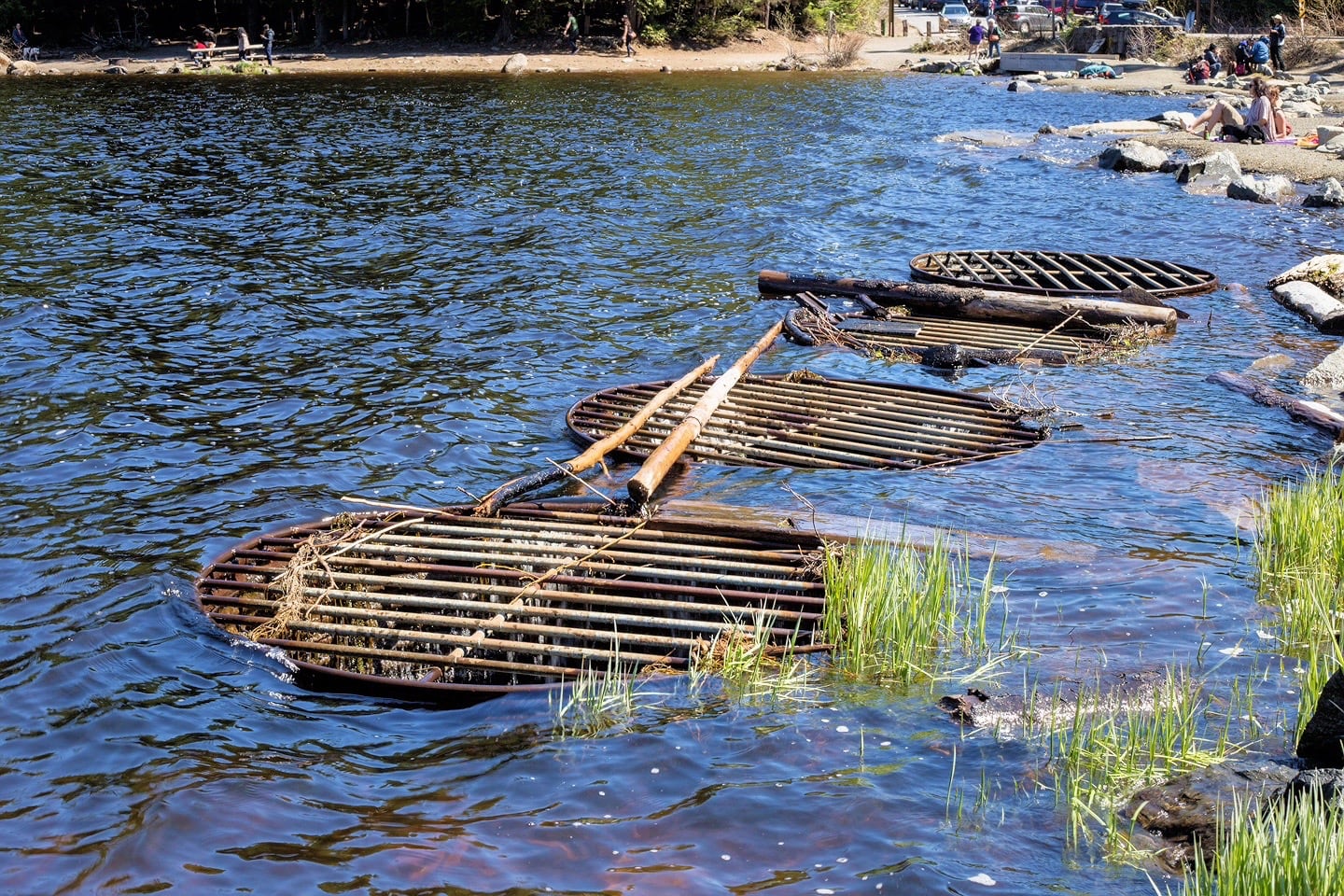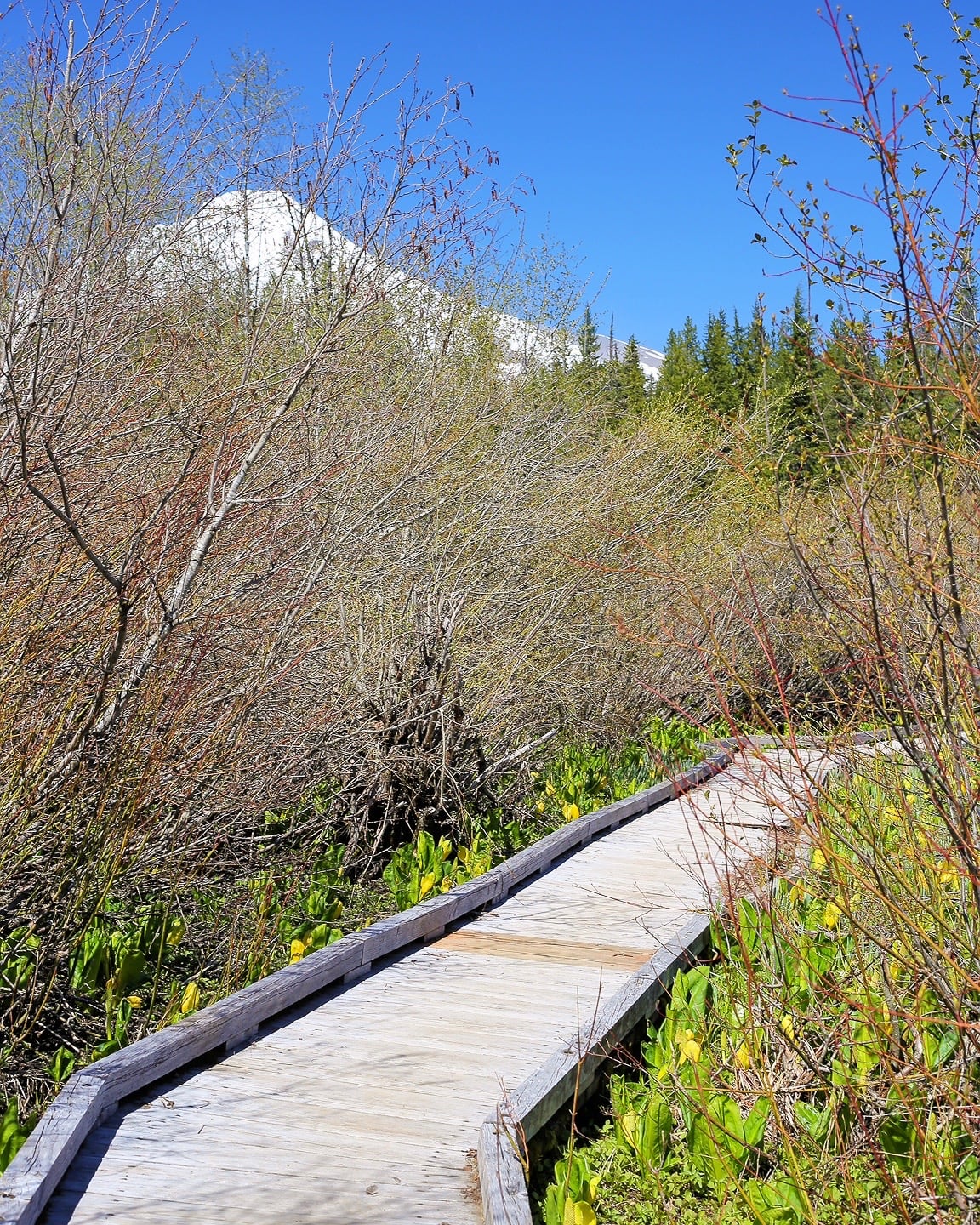 While Trillium Lake and view of Mt. Hood get rave reviews, the loop trail itself seems to have a lot of critics in the hiking community.
I, for one, really enjoyed the Trillium Lake hike, perhaps quite a bit more than the much longer Mirror Lake hike we did on the same day.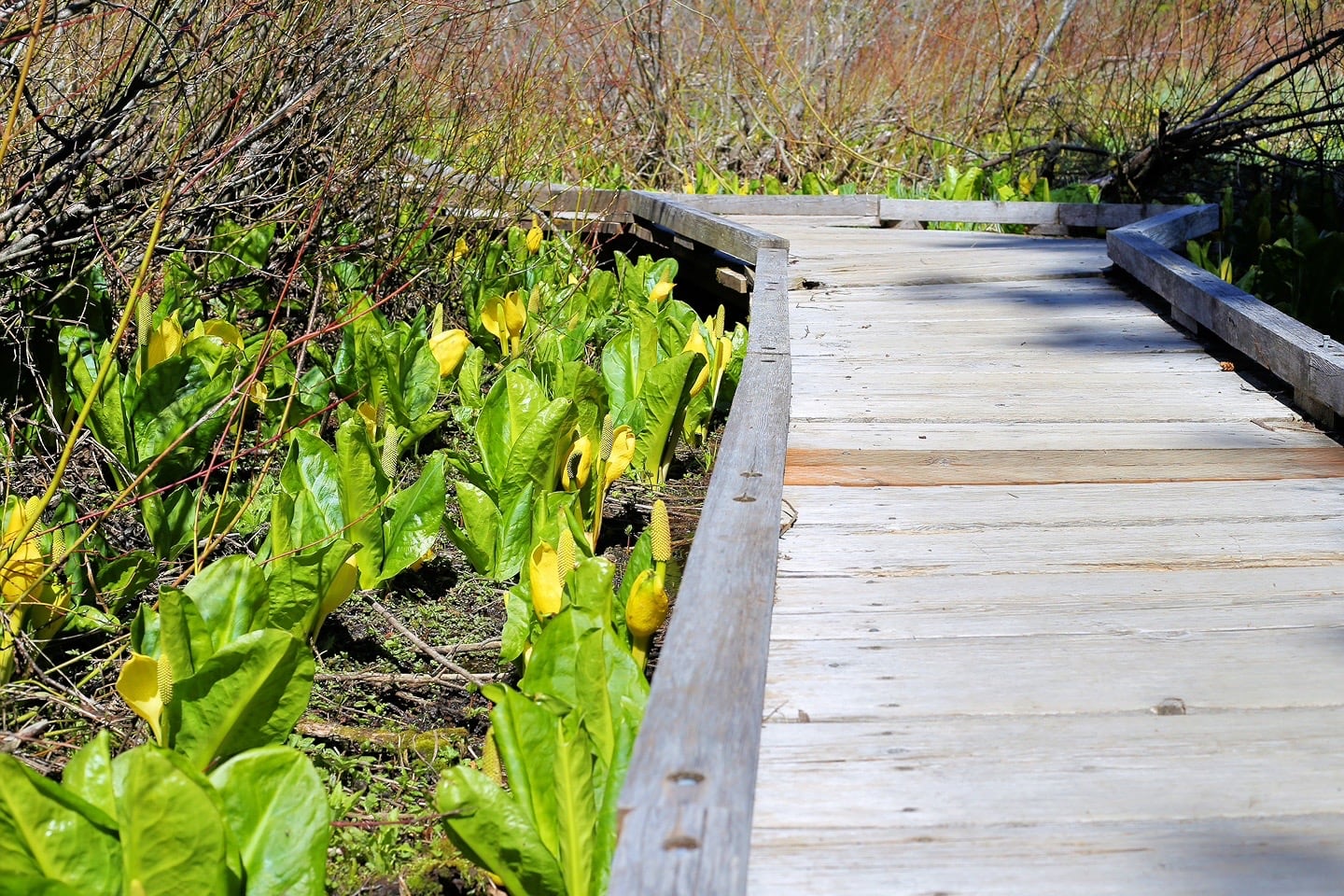 The route itself may be shorter than the Mirror Lake trail, but the loop around the actual lake is quite a bit longer. On this particular day, the Trillium Lake hike was also much less congested than Mirror Lake.
While there were 20-30 people hanging out at the Day Use area on the southern shore, only a small handful of individuals bothered with the two-mile amble around the lake.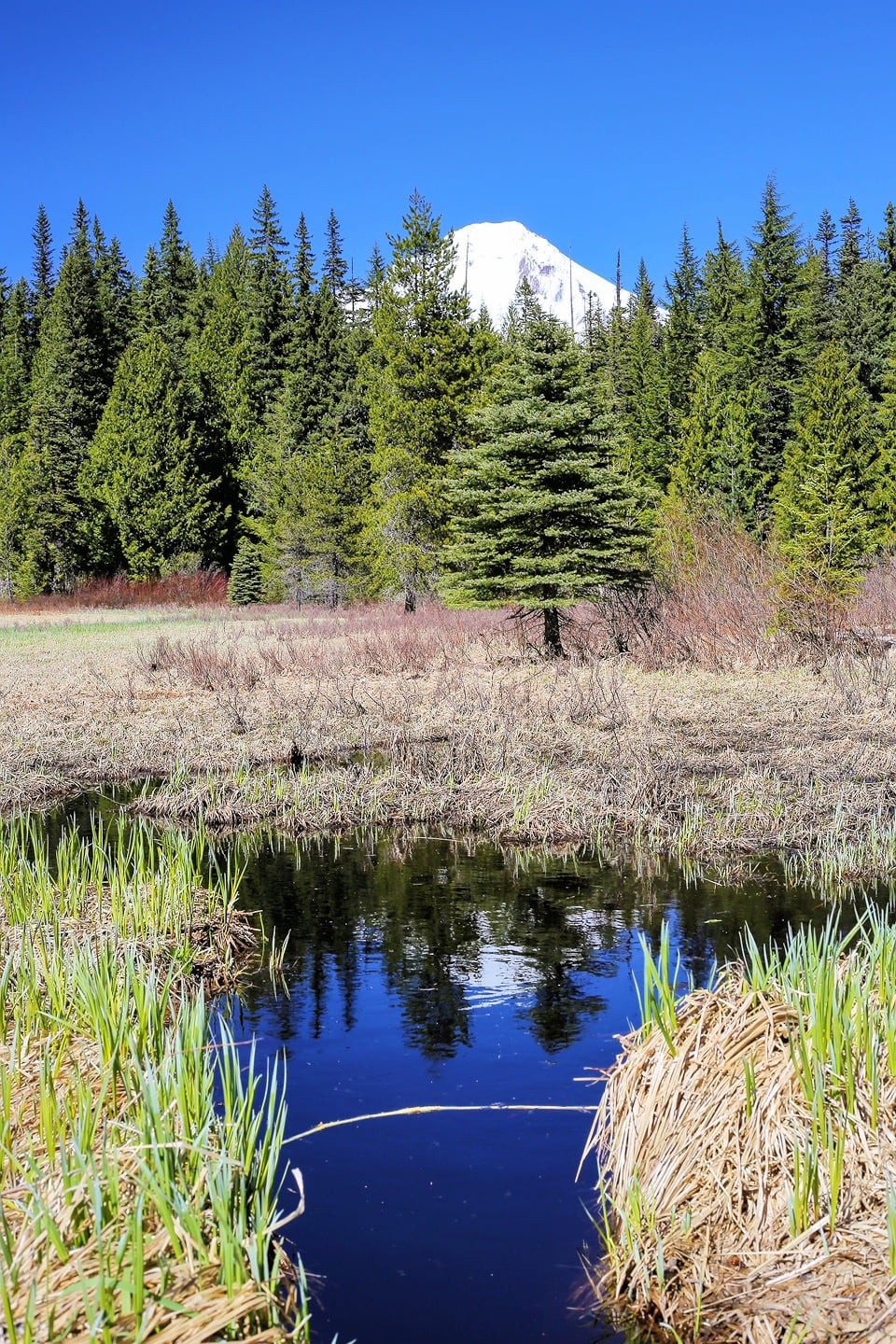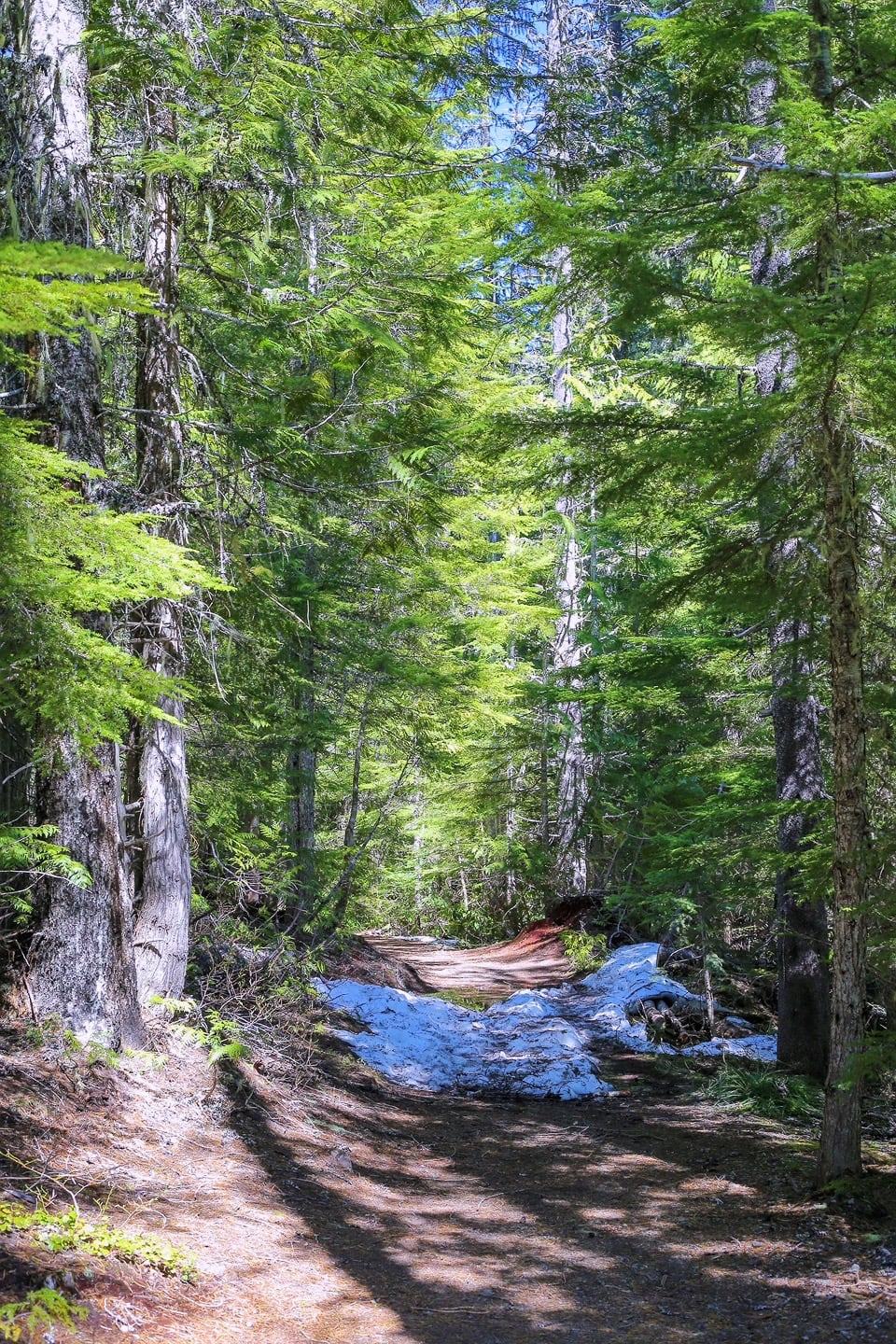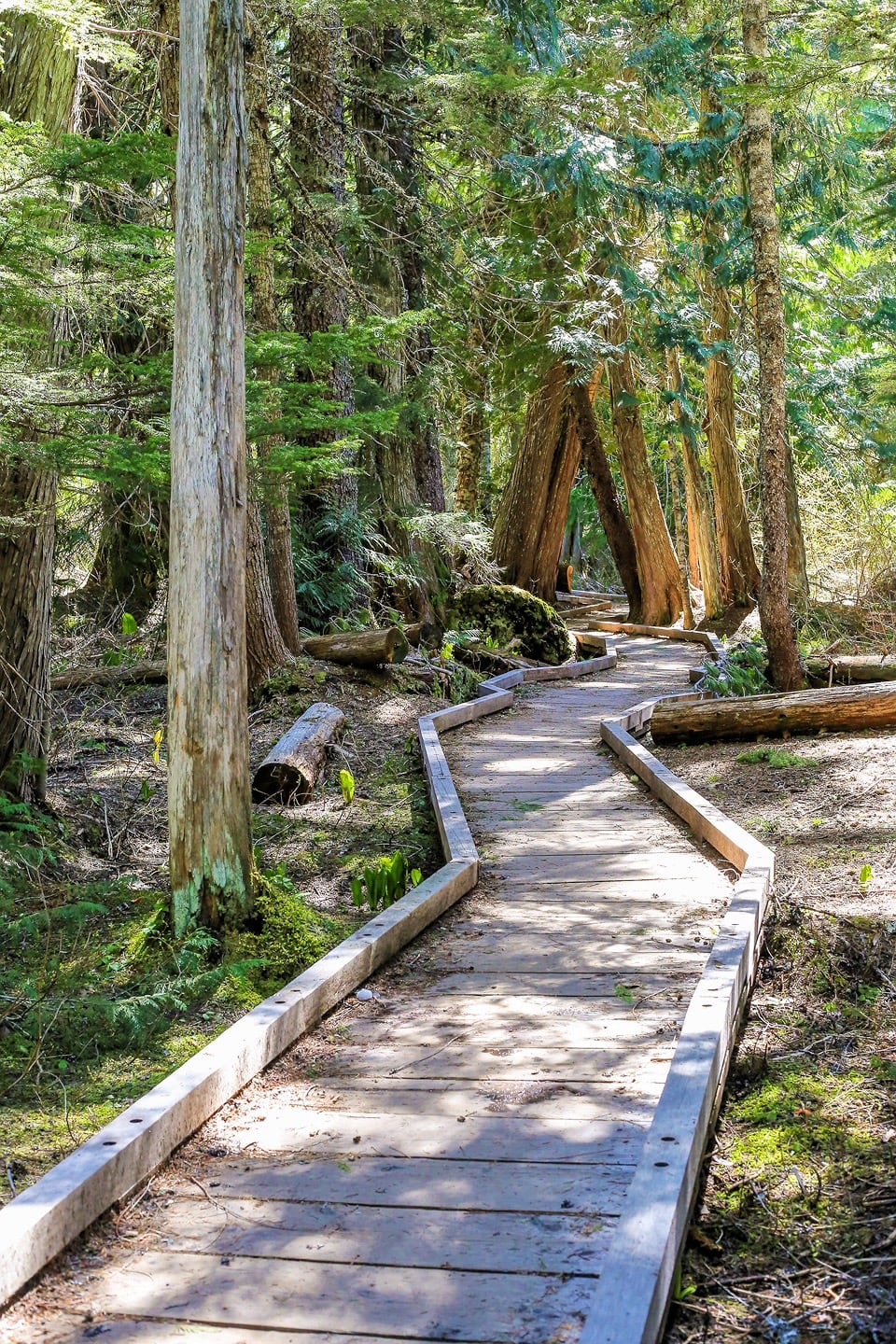 Best Time to Visit Trillium Lake (and Avoid Crowds)
Mid-Spring to Mid-Fall (Summer Hiking)
From a combination of online trail reports and our own personal experience hiking Trillium Lake, the single best all-around time for a Trillium Lake hike seems to be early in the day, midweek, in late spring or early fall. Aiming for that timeframe will give you the best chance of having the trail to yourself while avoiding the snow and ice.
If you plan to hit the trail between Memorial Day and Labor Day, be prepared to encounter a number of other hikers any day of the week. Expect Friday through Sunday and 10am to 4pm to be the peak times for visitors.
You'll have better luck with avoiding crowds on rainy days, but don't expect to catch any views of Mt. Hood. On those days, we recommend checking out nearby Mirror Lake instead. But be forewarned – it gets very muddy!
Mid-Fall to Mid-Spring (Winter Hiking)
Obviously, if you're hoping for a Trillium Lake hike in the snow, the "optimal timing" will be different for that activity.
Trillium Lake is rarely busy midweek during snow season, if you can swing it (but can be quite popular on winter weekends and during holidays with cross-country skiers and snowshoers, depending on weather conditions).
Best Time to Get the Perfect Shot of Mt. Hood from Trillium Lake
If you're a proficient photographer who's familiar with the area, there probably won't be any surprises here. For everyone else, here's our recommendations on getting the perfect shot of Mt. Hood from the Trillium Lake Day Use Area.
Plan on getting a great shot of Mt. Hood anytime of day and year, provided that the visibility is good enough to see the mountain and you're not set on capturing one particular mood.
Without sounding too New Age, this is the Pacific Northwest and you are very much at the whim of what the Mountain and Mother Nature want to serve you. If you know how to leverage the current conditions and available lighting, you'll be sure to get a great shot.
Technically, there's nothing wrong with the images I captured of Mt. Hood over Trillium. For a trail report and hiking guide, they are what I'd hope for – clear and sharp with balanced composition and exposure, no harsh shadows, good color saturation.
If, however, I wanted something a bit more epic, I'd return during the Golden Hour (hour just before sunset, which varies up here in the mountains), during the winter months (when the sun is to the south (Mt. Hood is located north by northeast of the lake)), on a relatively clear day.
Brilliant blue sky is nice, but passing clouds offer more opportunities for dramatic lighting.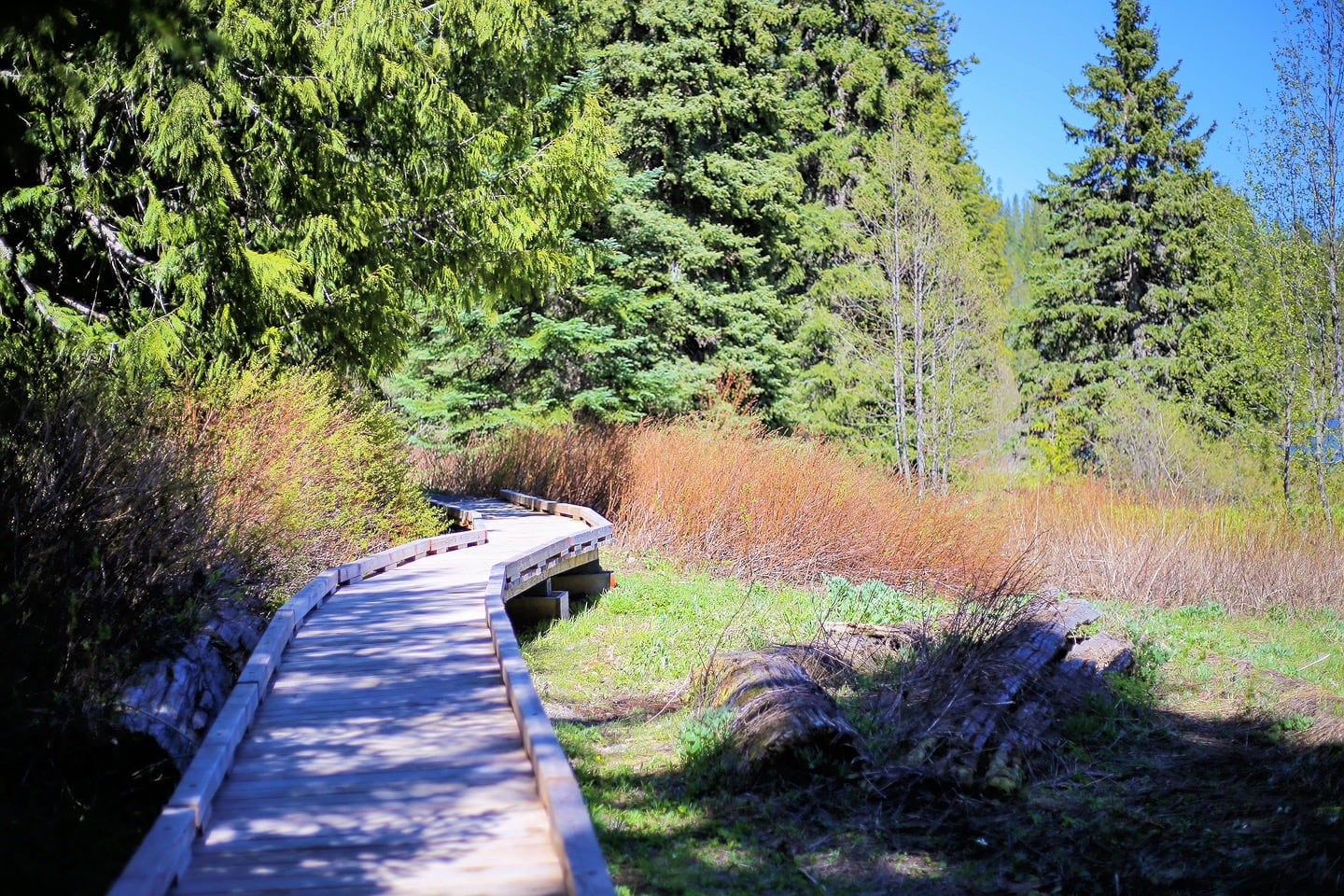 Other Tips for Hiking Trillium Lake
It's a short hike, so plan on combining your visit with other hikes in the area, lunch at Timberline Lodge, or make it a stop on your way to Eastern Oregon.
From mid-Fall to mid-Spring, don't forget to buy your Sno-Park permit in advance before you arrive!!!
Dress in layers. Even in June, rain can come out of nowhere. In the summer months, mornings are often still quite cold, but things can quickly heat up by noon.
SUP? Trillium Lake is a great place for standup paddle boarding. Combining a morning of hiking with a SUP session is a great way to spend your time at Trillium Lake.
Bring snacks and water with you as there aren't services at Trillium Lake. You can always stock up in nearby Government Camp, but expect to pay a premium over what you might pay at a supermarket in Southeast Portland.
Portions of the trail can be wheelchair accessible and stroller friendly, but the condition of the various trail segments can and often does change.
Have You Recently Hiked Trillium Lake?
What were the conditions like? Are there any updates on closures we didn't mention? Tell us about it in the comments below.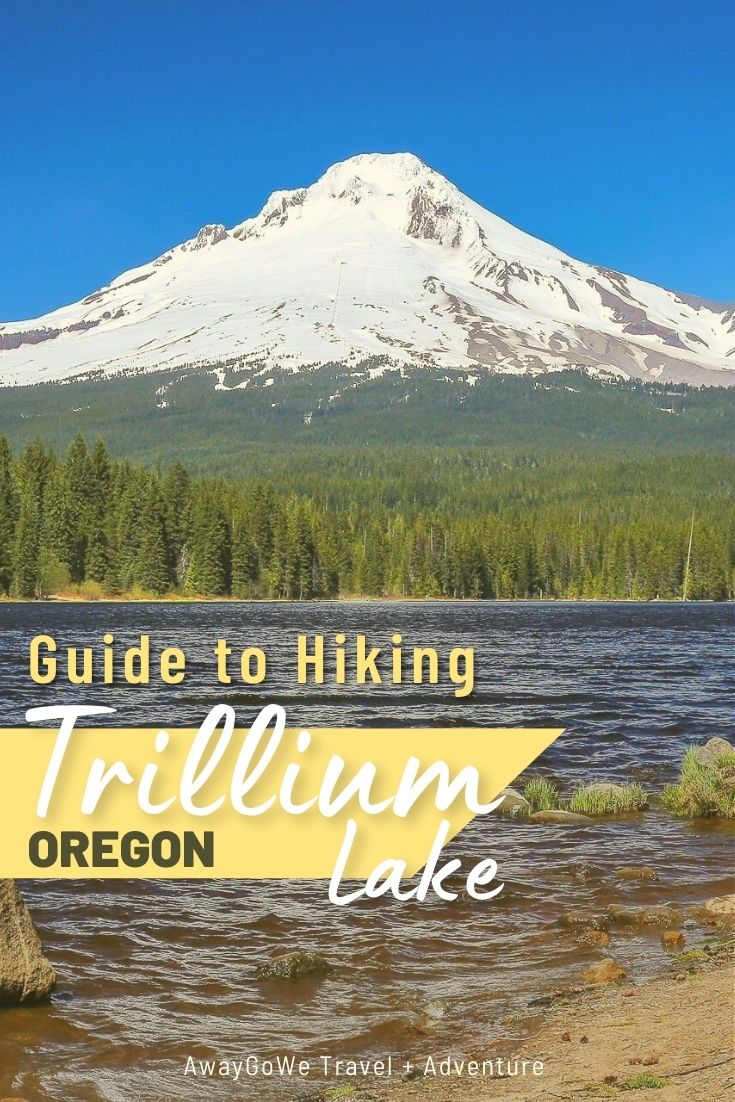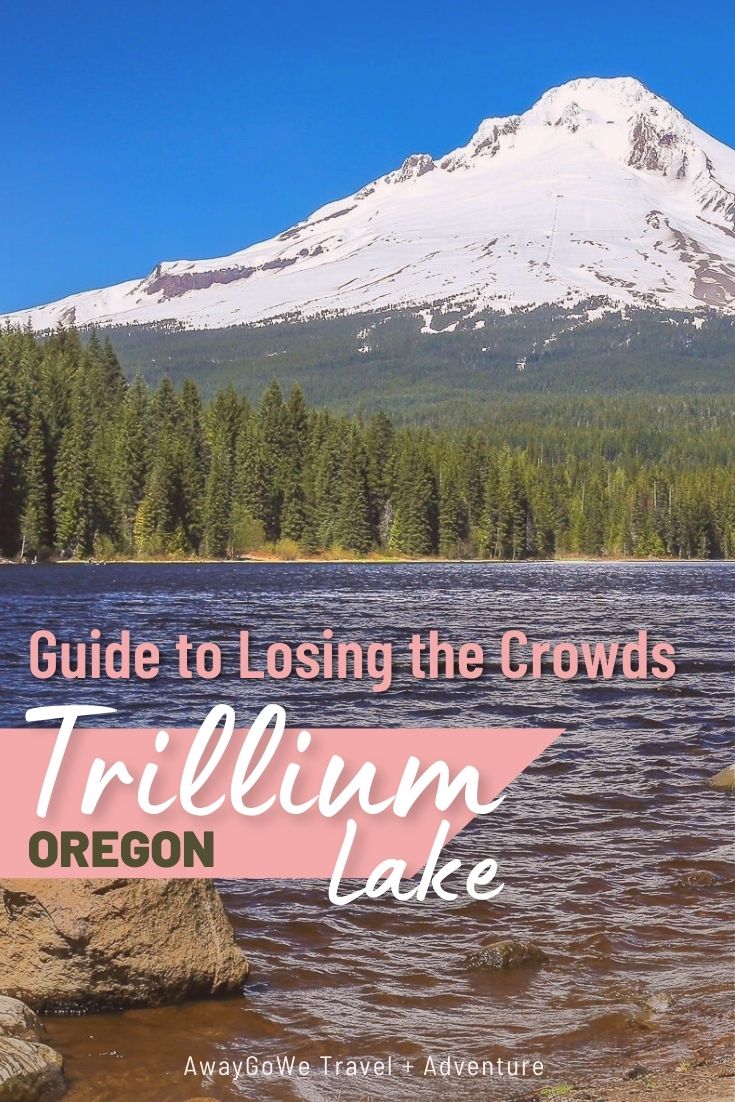 14 July 2021
01 May 2016
I've been a blogger and travel writer since 2010, covering everything from luxury hotels to hidden destinations and travel gear. Originally from Oregon, I've spent the majority of the past 20 years living outside of the U.S., in Mexico, the Caribbean, Southeast Asia, Africa, and Europe. I received a BA in Communications (Journalism) from Boston College, and an MA in International Development Studies from the George Washington University. I'm passionate about exploration and discovery, and providing independent, thoroughly-researched, ad-free advice for travelers.