If you're looking for an honest, real-world review of the Ergobaby carrier or curious about the differences between the Ergobaby 360 vs Omni 360, you've come to the right place!
We used the Ergobaby 360 with our oldest kid for just over two years, before getting the new, redesigned Ergobaby Omni 360 shortly after the birth of our second child.
Like our trusty travel crib, these carriers followed us around Southeast Asia (where we lived for four years), helped us mule our kiddos around during visits back to the U.S., and saw action in Europe and Latin America as well.
So, what have we learned from the past years and countless miles carrying our wee ones around on our fronts (and backs) in extreme heat and humidity, driving rain, freezing cold, up mountains, across megacities, down the street, and everywhere in between?
As it turns out, quite a bit!
We hope this review sheds some light on the differences between the Ergobaby 360 vs Omni 360 and ultimately helps you decide if one of these carriers is right for you and your kiddo.
In this guide, we'll cover…
PHEW! That's a lot to cover! Let's get started.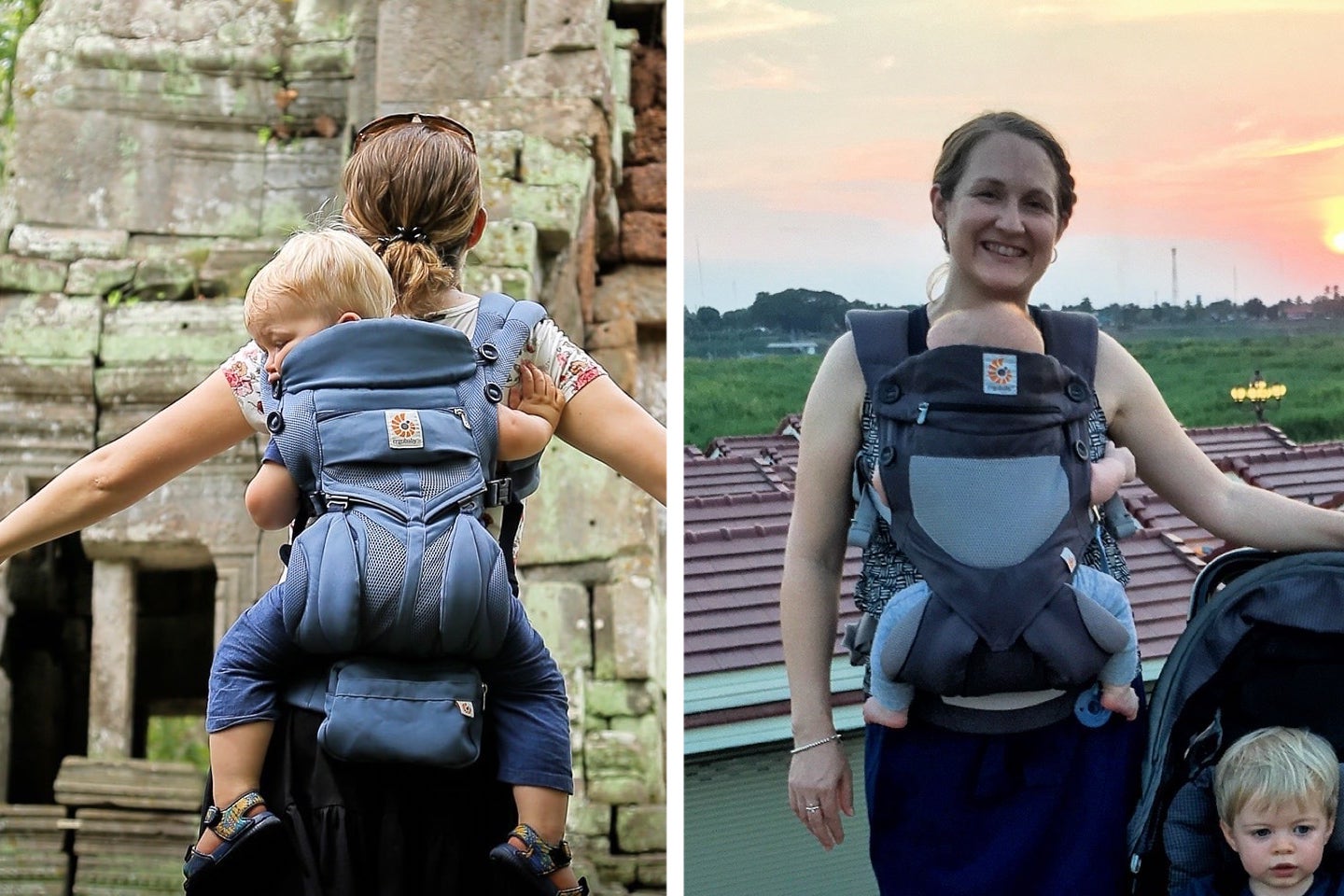 ---
Ergobaby 360 vs Omni 360 Carrier
A Traveler's Review
---
Which is Which?
Here in [almost] 2023, there are a lot of Ergobaby carriers to choose from. This review is specific to the first four carriers in the table below. We've included the new Omni Breeze and Omni Dream (which we haven't used) for comparison.
The Ergobaby 360/Omni Carrier Lineup in 2023
These are the specific models we'll be covering in this review, plus the rest of Ergobaby's current 360 and Omni lineup (for comparison):
In one corner, we've got the **original** Ergobaby 360 All-Position Baby Carrier, which we used with our first son from ages two months to 2.5 years, then with our second son for much of his first year.
In the other corner, we've got the **updated** Ergobaby Omni 360 All-Position Baby Carrier, which we used to carry our oldest on our backs until age three, before we downsized to just using the Omni for our youngest.
Both of our carriers were the Cool Air Mesh versions, which we recommend if you live in a warm climate. It's also worth checking out the **newer** Ergobaby Omni Breeze which is specifically designed for breathability (more on that later).
What Makes AwayGoWe Gear Guides Different
Why trust our travel gear recommendations? All of the gear on this list has been personally road-tested by us (unless otherwise noted).
While this page contains some affiliate links, we don't do sponsored content here on AwayGoWe and we don't accept requests to peddle anyone's product.
That means that our opinions and recommendations are 100% independent and unbiased (though we will admit we have a strong bias towards useful gear that's built to last!).
---
Related Guides
---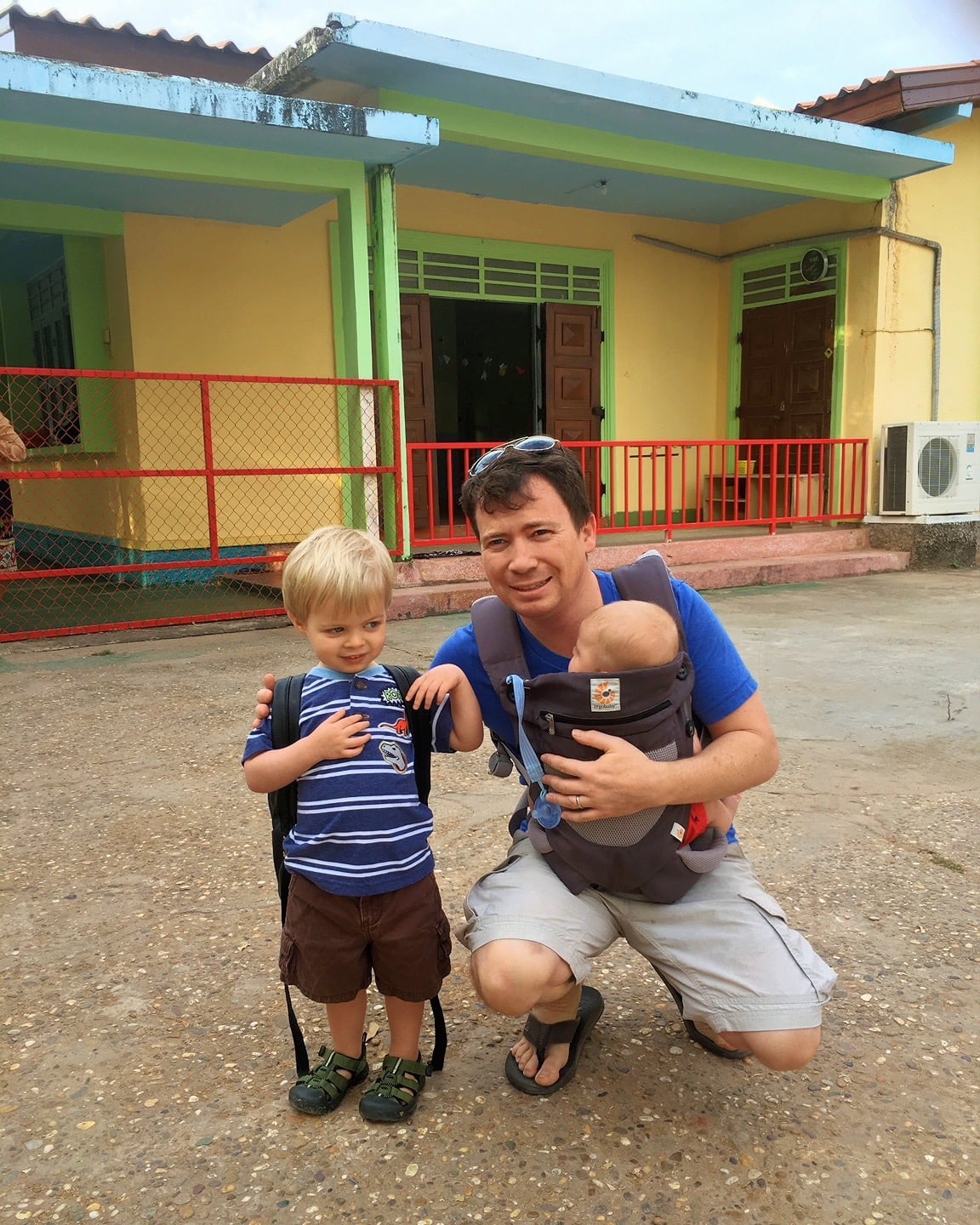 Why We Chose the Ergobaby 360 & Omni
When we found out we were expecting our first son, we knew we'd want some sort of baby carrier, for the practical benefits they provide for an active lifestyle, but also the numerous other benefits that come from baby wearing.
And, when we found out we were moving to Southeast Asia, we knew we'd need a baby carrier that was durable, lightweight, packable, and kept baby cool and comfortable in the tropical heat.
So, we did what a lot of parents do and researched the heck out of baby carriers.
Lori and I sought the advice of friends and family with little ones and narrowed down the field to five of the big players.
We spent time in baby stores trying on the carriers for comfort and fit, then took our top choices and read every online review we could get our hands on.
It took a bit of time (this was before kids, so we had a little more of that in those days). But I'm happy to report that, in the end, all that research seemed to pay off.
We ultimately landed on the Ergobaby 360 (this was in 2016, prior to the release of the Omni).
Why the Ergobaby 360?
For one, it felt the most comfortable of all the carriers we tried on.
We liked the thick padding and how it seemed to do a good job balancing the weight evenly across the entire upper body (not just on the shoulders).
Moving overseas, we liked the idea of a baby carrier that would grow with our child. The 360 offers an infant insert to carrier smaller babies, yet is designed to accommodate young toddlers as well.
We also liked the Cool Air Mesh option that is designed to offer better airflow to baby on warmer days, as well as offering better moisture management in rainy or humid conditions, keeping baby and baby's mules (i.e. us) drier, cooler, and happier.
And lastly, the Ergobaby 360 got glowing reviews from other parents we knew and online reviews as well.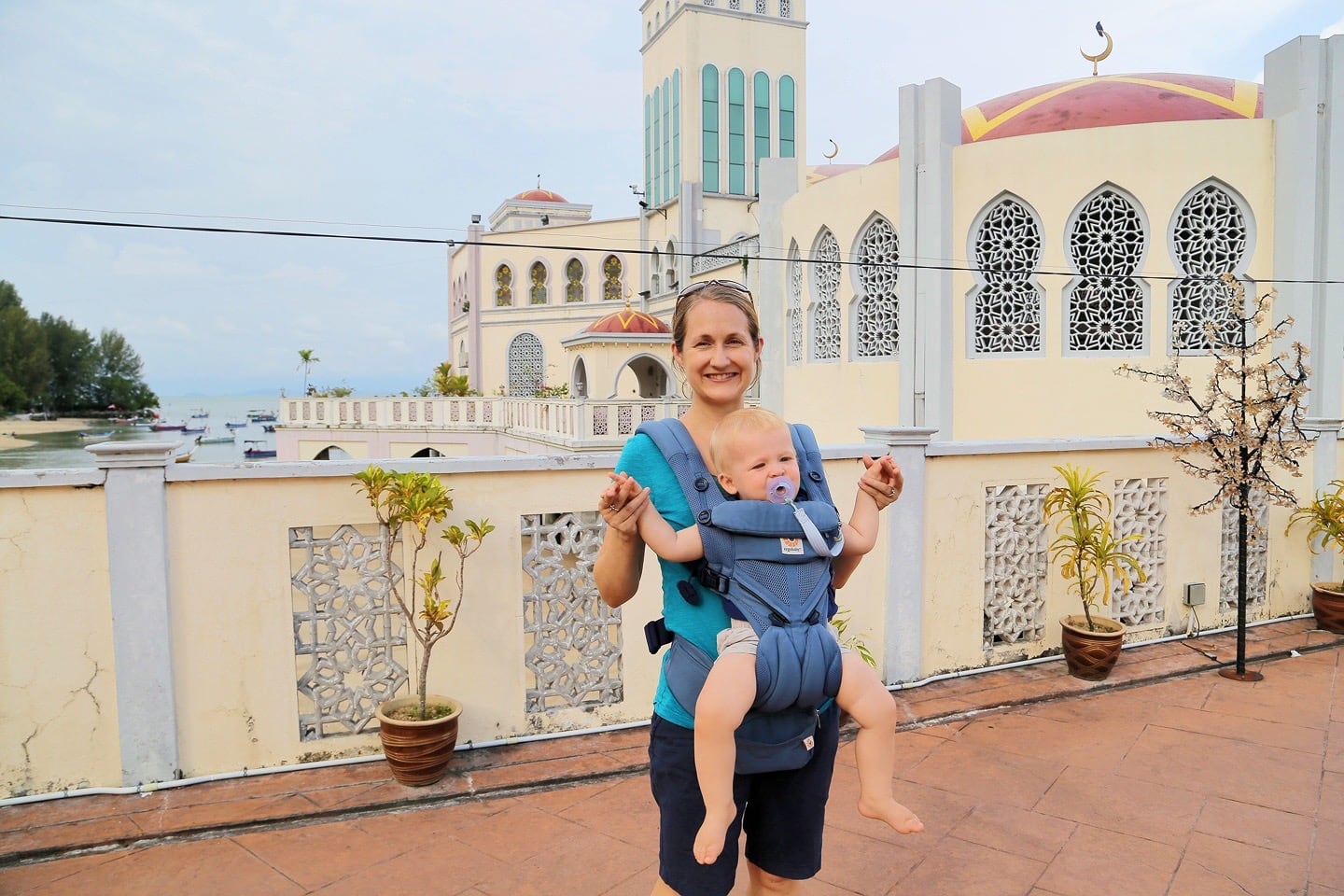 Why did we trade in our Ergobaby 360 for an Omni?
Well, we didn't exactly trade it in. Our oldest son, Noe, was 27 months old when our youngest son, Riley, was born.
At that point, Noe was getting a bit big for front-carrying, but had many solid back-carrying months ahead of him. So we knew we'd be needing a second carrier.
The Ergobaby Omni had launched the previous year and we had read good things about Ergobaby's latest redesign (more on that below).
We considered getting a toddler carrier exclusively for Noe, but liked the idea of having the option of bringing one carrier that would be versatile enough for both boys, particularly for days out when two carriers might be a bit cumbersome.
Plus, we knew that ultimately, we'd whittle our baby carrier supply down to one, and the Omni seemed better suited for that.
Why's that? Read on for the full scoop, plus the most critical differences we found between the two when comparing the Ergobaby Omni vs the 360.
---
Related Guides
---
Ergobaby 360 vs Omni Carrier
At this point, you're probably asking yourself, what the heck is the difference between the Ergobaby 360 vs Omni baby carrier?
Side by side, you might not notice the differences between the two carriers right off the bat, as they appear quite similar on the surface.
Both offer balanced, ergonomic support across the upper body, as well as the ability to wear baby in four carry positions (front inward, front outward, back, and hip), hence the "360" moniker on both models. Both are also machine washable and come with a 10-year guarantee.
Differences you are likely to notice right away is that the Omni 360 feels a bit more ridged and muscular, and introduces a few new colors.
But dig a little deeper, and you'll find that there are quite a few improvements that Ergobaby has made to the newer Omni vs the older Ergobaby 360.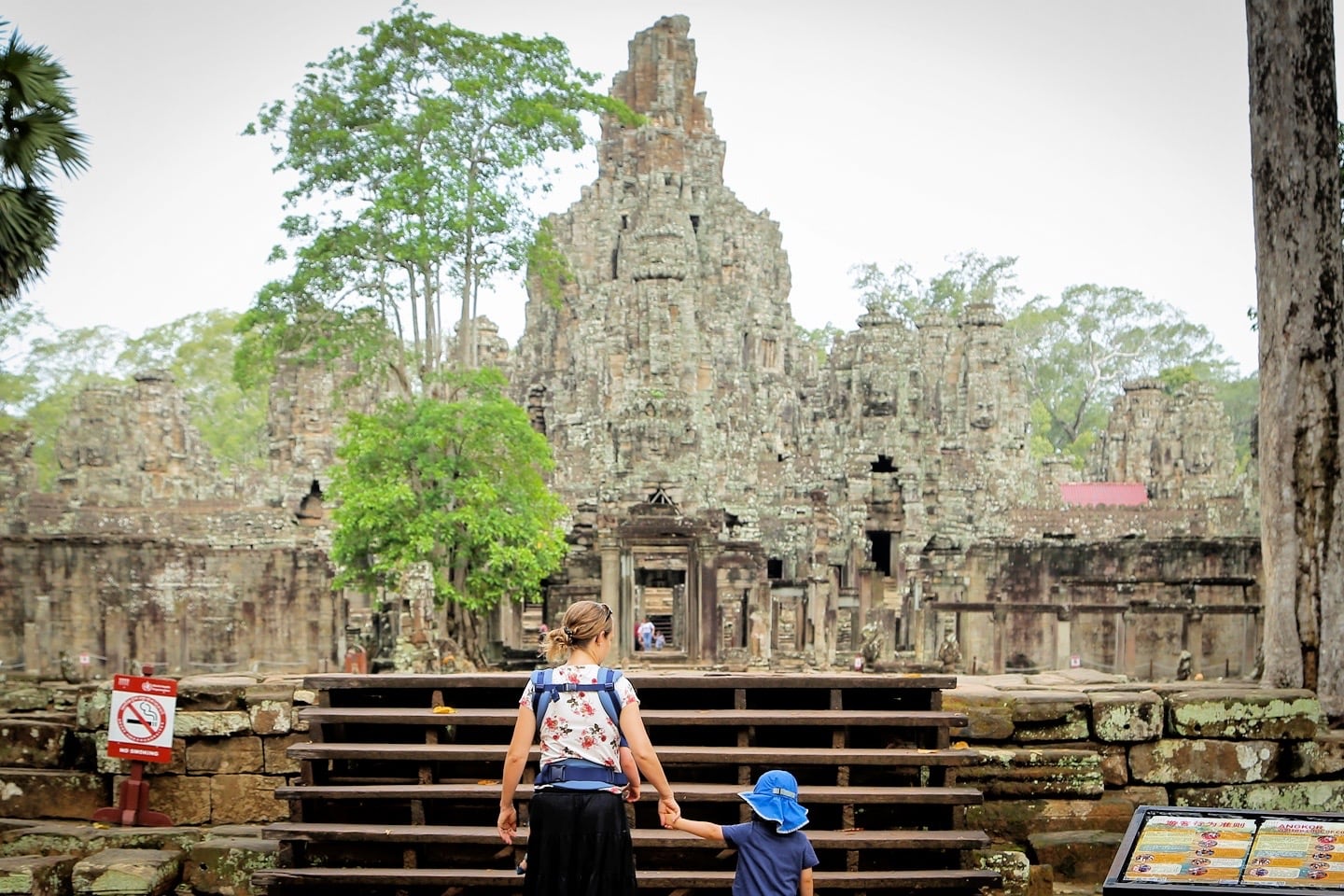 New Features Introduced with the Ergobaby Omni 360
Launched in 2017, the Ergobaby Omni 360 touted a number of new features and improvements over the Ergobaby 360, which are listed here.
Do we think these changes are actual improvements or simply gimmicks? We'll answer that in just a bit.
---
Related Guides
---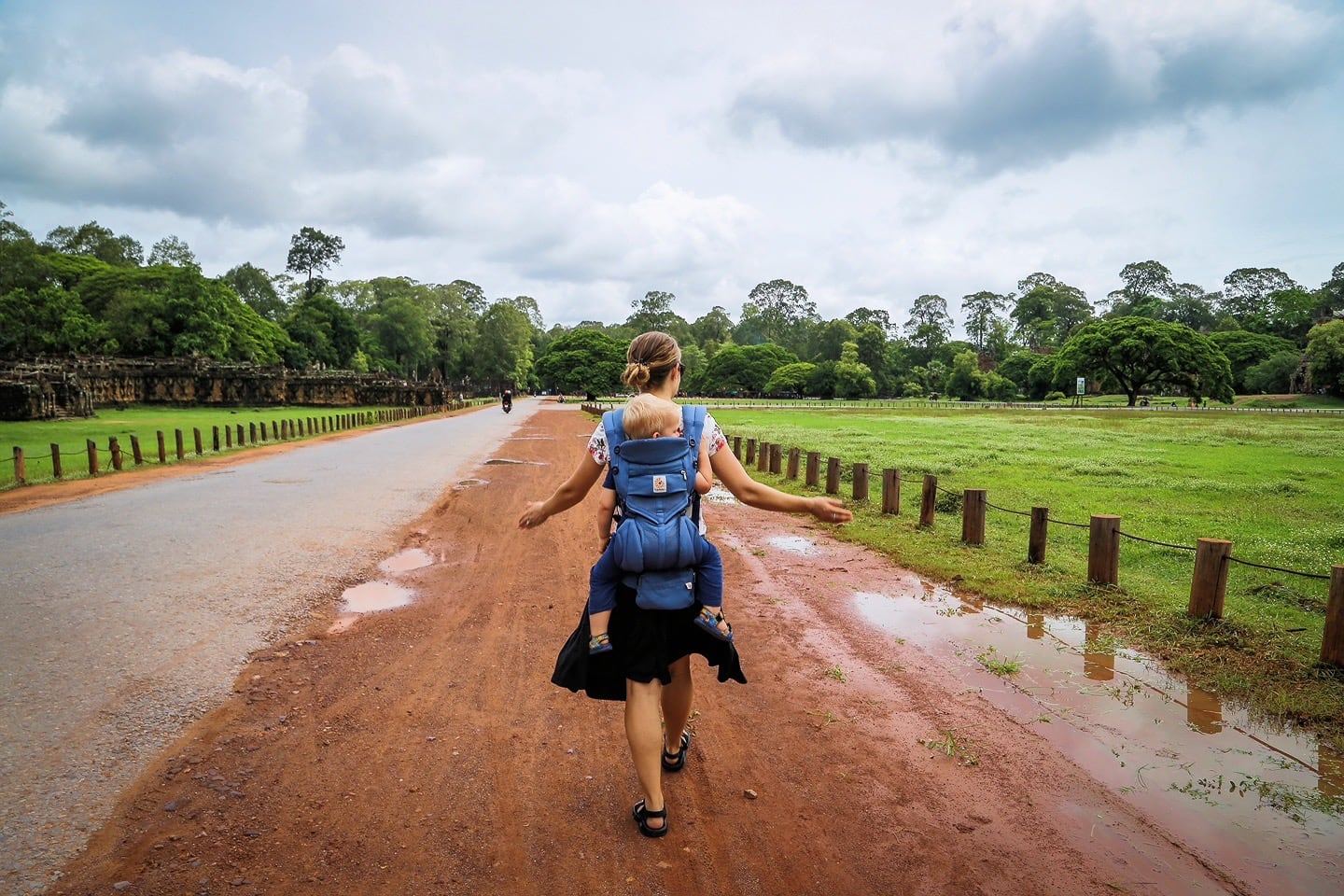 Cool Air Mesh System
Before we get to what we like and don't like about the Ergobaby 360 vs Omni, a quick word about the Cool Air Mesh system.
Both carriers we owned had the Cool Air Mesh fabric option. If we had stayed in the Pacific Northwest, we likely wouldn't have opted to get the regular fabric. But since we were moving to Southeast Asia, it was important to have the Cool Air Mesh feature.
What is the Cool Air Mesh feature? In a nutshell, it adds a layer of synthetic ventilated mesh fabric over the contact areas of the carrier.
It's supposed to allow for more airflow and breathability, keeping you and baby more comfortable in warmer weather.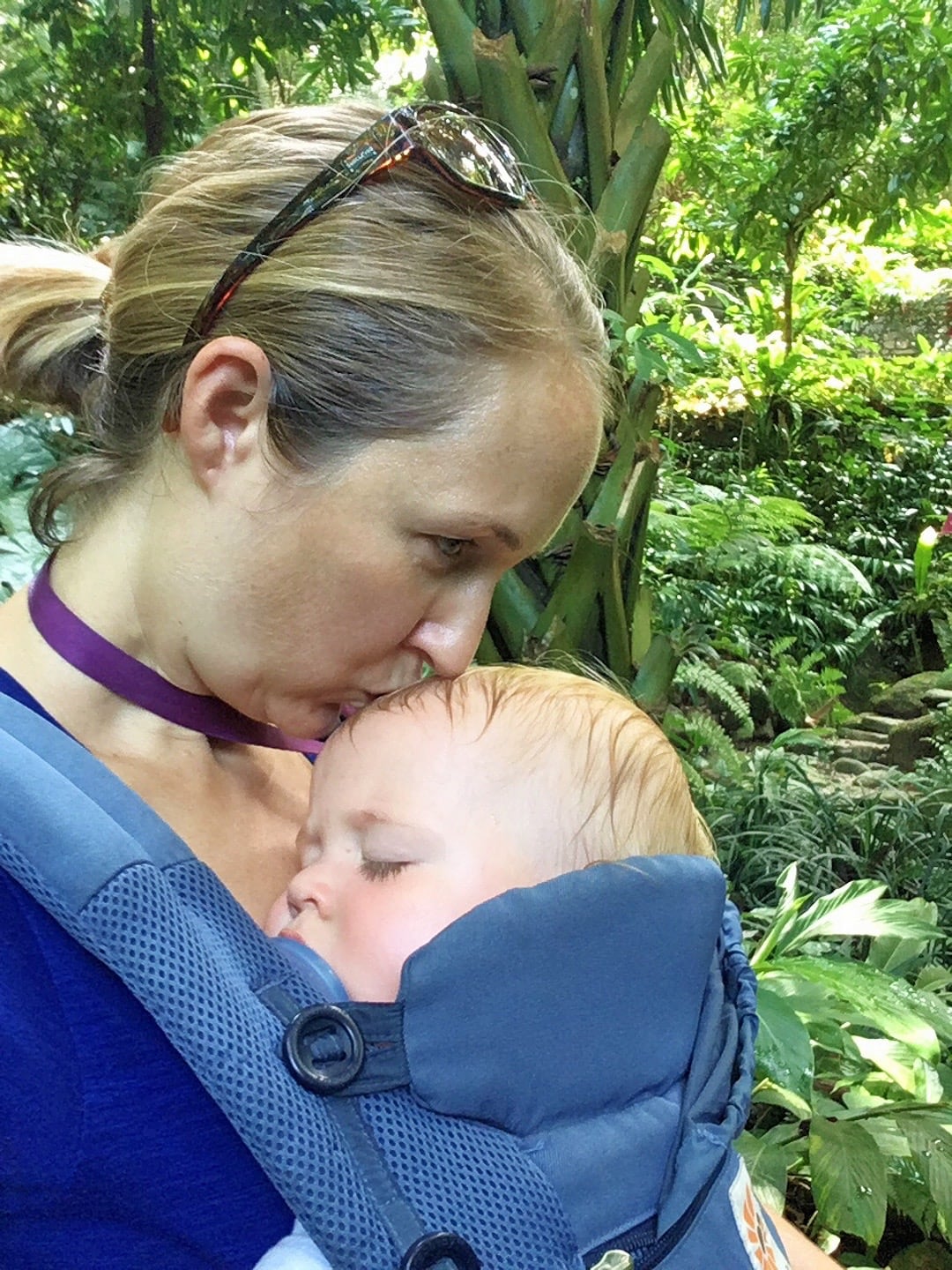 Does the Cool Air Mesh do what it claims? We think so, but honestly it's hard for us to say since we haven't spent a lot of time using an Ergobaby 360 without this feature.
What Lori and I can say for certain is that the Cool Air Mesh fabric seems a bit rougher than the regular fabric.
And the Cool Air Mesh models can be harder to find and cost a bit more (depending on stock on hand).
So, there are definitely pros and cons to the Cool Air Mesh system.
We would recommend the Cool Air Mesh for those who live in warmer climates or plan to hike a lot in the summertime.
For everyone else, we'd recommend skipping the Cool Air Mesh system and going with the standard fabric.
September 2021 Update
Want more breathability? You may want to check out the new Ergobaby Omni Breeze.
Ergobaby says the new Omni Breeze brings "maximum breathability" to their carrier line. While we haven't had the chance to try this new puppy out, if you're looking for the best cooling option for your baby, this might be it!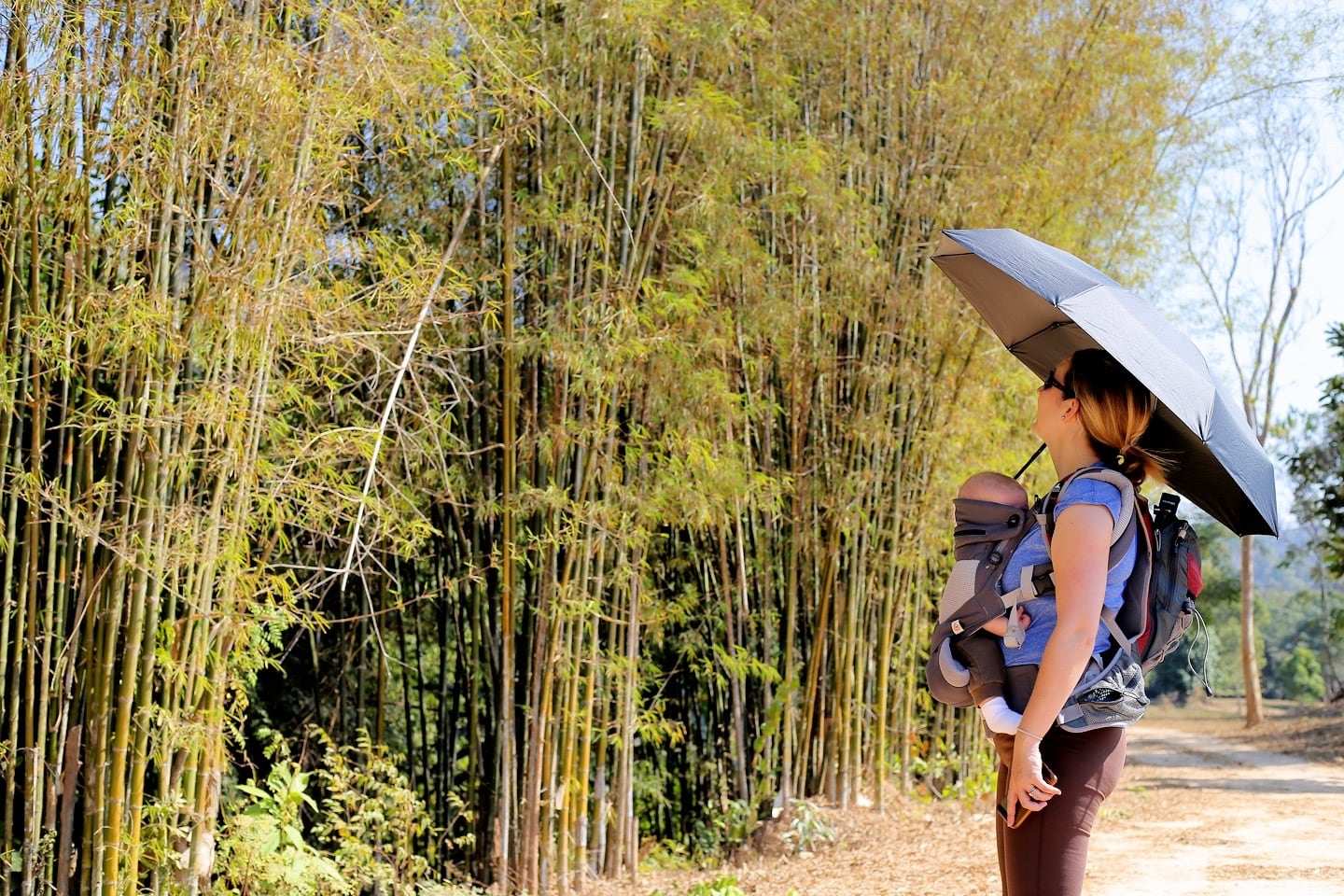 Ergobaby 360 Review: What We Like (+)
The Ergobaby 360 and 360 Omni aren't perfect, but there is a lot to like about the two carriers. Here are the aspects of each of the carriers that we've found to be particularly helpful over the years.
Ergonomic weight distribution
Both carriers do a fantastic job of distributing the weight among different parts of the upper body.
The wide waist strap (particularly the redesigned strap with lumbar support on the Omni 360), and cushioned shoulder straps have made carrying heavier/ older toddlers much more comfortable and less fatiguing for us.
Age / weight range
We love that we've been able to use these carriers with our boys from only a few months of age up to around age three.
The infant insert made this possible on the original Ergobaby 360, but the Omni takes it to another level without the need for the additional insert.
Adjustable for different lengths of torsos
Lori and I aren't large people, and felt that the original 360 didn't accommodate shorter torso lengths very well.
The Omni 360, on the other hand, has an adjustable body plate that can accommodate a wider range of heights and body types.
Stowable hood
The attached hood on both carriers has come in handy countless times, particularly for blocking out light and distraction during nap time, while walking in rainy or windy conditions, or if mom or dad wants to grab a snack without getting crumbs all over baby's head.
Best of all, the hood quickly stows in its own zipper pocket when not in use.
Redesigned straps/buckles (Omni 360)
One of the gripes we had with the original 360 was that the location of the shoulder strap buckles were located too far to the rear, making putting on baby by yourself a bit more challenging than necessary.
Fortunately, Ergobaby improved the buckle design with the Omni 360, making the buckles safer, easier, and more accessible.
With the Omni, getting baby on and off by yourself is a lot safer and easier once you get the hang of it.
Detachable zipper pouch (Omni 360)
We love the stowage pouch added to the Omni (especially Lori who often doesn't wear pants with pockets), which we use to store anything from our phone, to keys, a pacifier, snack, you name it.
Easy for breastfeeding
Lori liked the ease of being able to partially unclip the carrier to breastfeed our boys when they were younger, particularly if we found ourselves in transit somewhere (on a train, bus, boat, etc.).
Well built, rugged design & construction
We've put both of these carriers through the wringer, piling on a ton of abuse over the years. In that time, we've not had a single seam unravel, buckle break, or part of the fabric wear out.
Both of these carriers are built insanely well, with sturdy materials all around.
When it's time for a wash, we just throw them in the washer with a bunch of clothes on cold/delicate and have always had great results.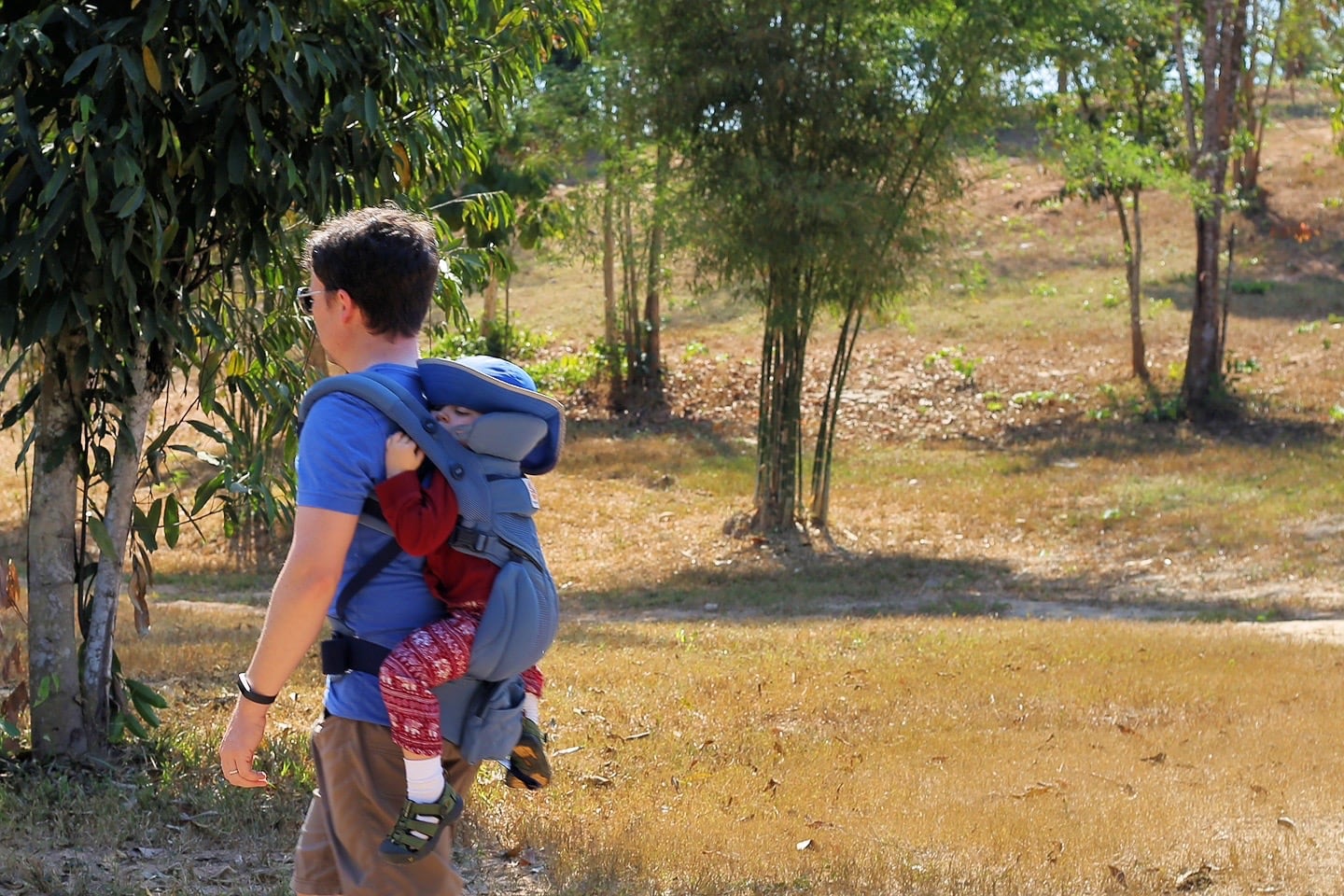 Ergobaby 360 Review: What We Don't Like (-)
There's not a lot we don't like about these carriers, but there is always room for improvement. These are the areas, in our minds at least, that could stand to be improved.
Cool Air Mesh System
Lori and I are on the fence regarding how we feel about this feature. It seems to do what it promises, but we do wonder if it's worth the added cost (or trouble that we had finding Ergobaby 360s with this feature).
The material does have a fairly rough texture to it, which never seemed to bother our sons much, but did occasionally leave red hash marks (and the occasional heat rash) on our infants' baby soft skin.
Detachable Zipper Pouch placement
The velcro zipper pouch that comes with Omni 360 can be very hard to access with older babies, as it attaches to the waist strap and ends up hanging just below baby's behind.
It's nice to have the additional storage for phone, chapstick, keys, etc., but takes a bit of blindfold acrobatics to access while baby's flailing about.
Not the best for newborns
This "downside" falls more into the category of "wishful thinking" than "gripe," but we believe it's an important consideration when buying an Ergobaby 360 or Omni.
While both Ergobaby 360s are designed to carry babies starting at 7 lbs / 3.2 kg (original 360 with infant insert), we found that the carrier wasn't all that useful for us until baby was around 14 lbs. (5 months old for our oldest and 3 months old for our youngest).
Up until then, we had a lot better luck carrying our newborn around in a baby wrap like a K'tan or Moby for everyday activities.
Baby wraps tend to be a lot less bulky for the littlest ones, and baby just seemed a lot more content in our K'tan in those first months. If you're looking for a no-fuss newborn baby-wrap, we think the K'tan is the way to go!
Price
The Ergobaby 360 and Omni aren't cheap, and this certainly factored in our initial reluctance to get our first.
But as far as quality baby gear go, they aren't insanely expensive either. And in hindsight, we're very happy with our investment, which served us very well until both our boys outgrew the carriers.
When we did eventually pass them off to the next person, they seemed very surprised at the excellent condition of both, given the hard use we put both carriers through.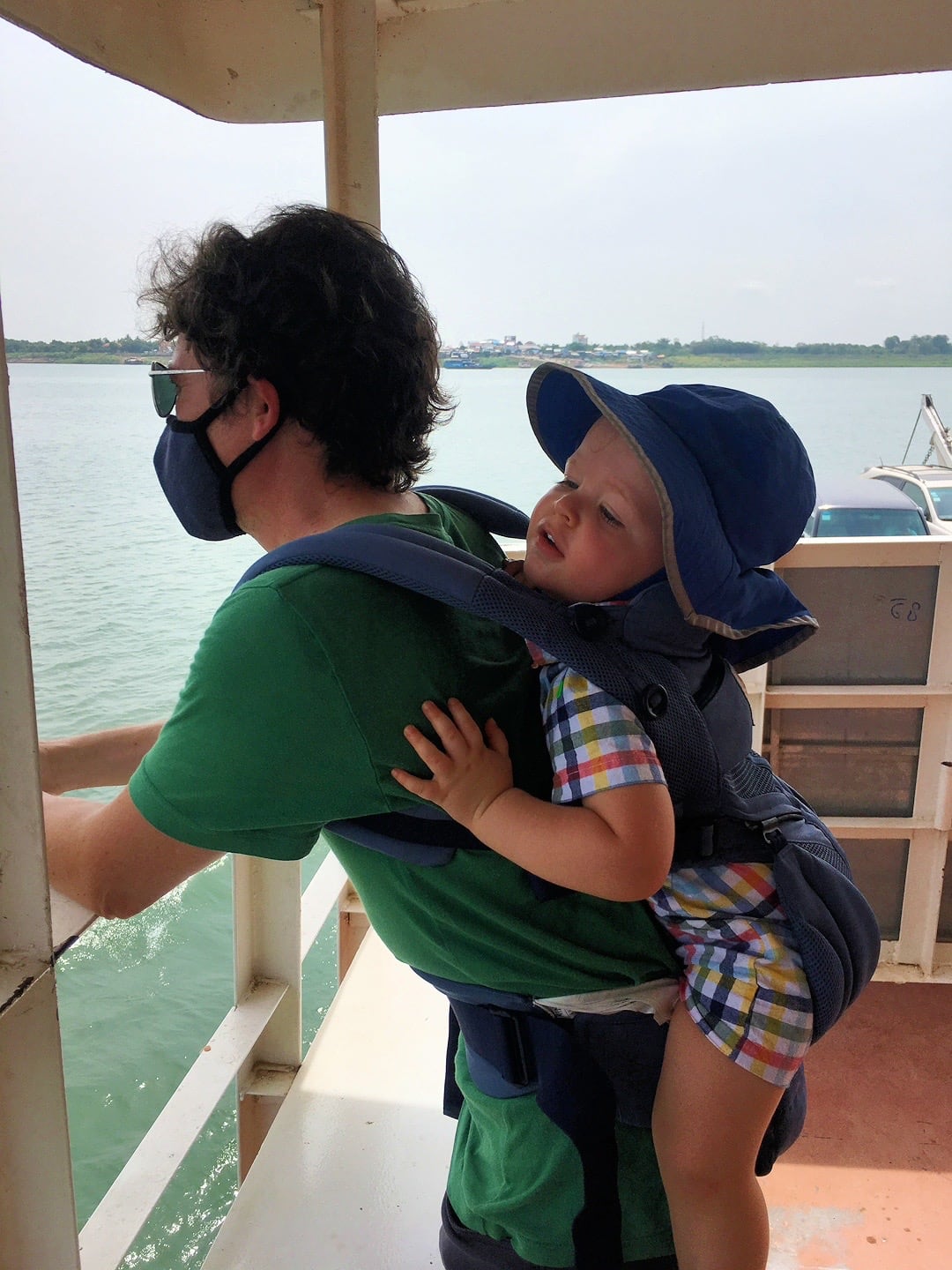 Which One Should You Get?
Honestly, if we were buying an Ergobaby carrier today, we'd spring for the newer Omni 360, particularly if we planned to get just one carrier for our kid from infancy to young toddlerhood.
The Omni's out-of-the-box design for infants, and improved ergonomics for older toddlers, makes it the clear winner between the two for the long haul.
In 2021, the only reason to get the older Ergobaby 360 is if the price of the newer Omni is beyond what you are willing to pay, and/or if you only plan to use your carrier starting around four months to about 18 months.
Is the Ergobaby 360 Worth It?
We think so.
It's certainly not an inexpensive baby carrier, but it ain't cheap either.
With both the Ergobaby 360 and the Omni, you seem to get what you pay for – a comfortable and durable baby carrier that delivers what it claims.
We considered less expensive carriers, but found they really weren't practical past 18 months, meaning we'd eventually want to get a toddler carrier.
We also knew there'd be a chance we'd have a second child on the way when our first was ready to graduate from the Ergobaby (or just a bit sooner, as was our case).
Would We Buy the Ergobaby 360 or Omni Again?
Absolutely!
Well, here in 2021, if we were starting over, we'd skip the original Ergobaby 360 and go straight for the Ergobaby Omni 360, for all the reasons we've already mentioned above (but hindsight is 2020…and the Omni didn't exist when our first was born).
We recommend the Ergobaby Omni 360 to all our friends and family who are in the market for a baby carrier, and all of them seem like they've had similarly great experiences with the carrier.
In our minds, there really isn't a better value on the market for what it is and does.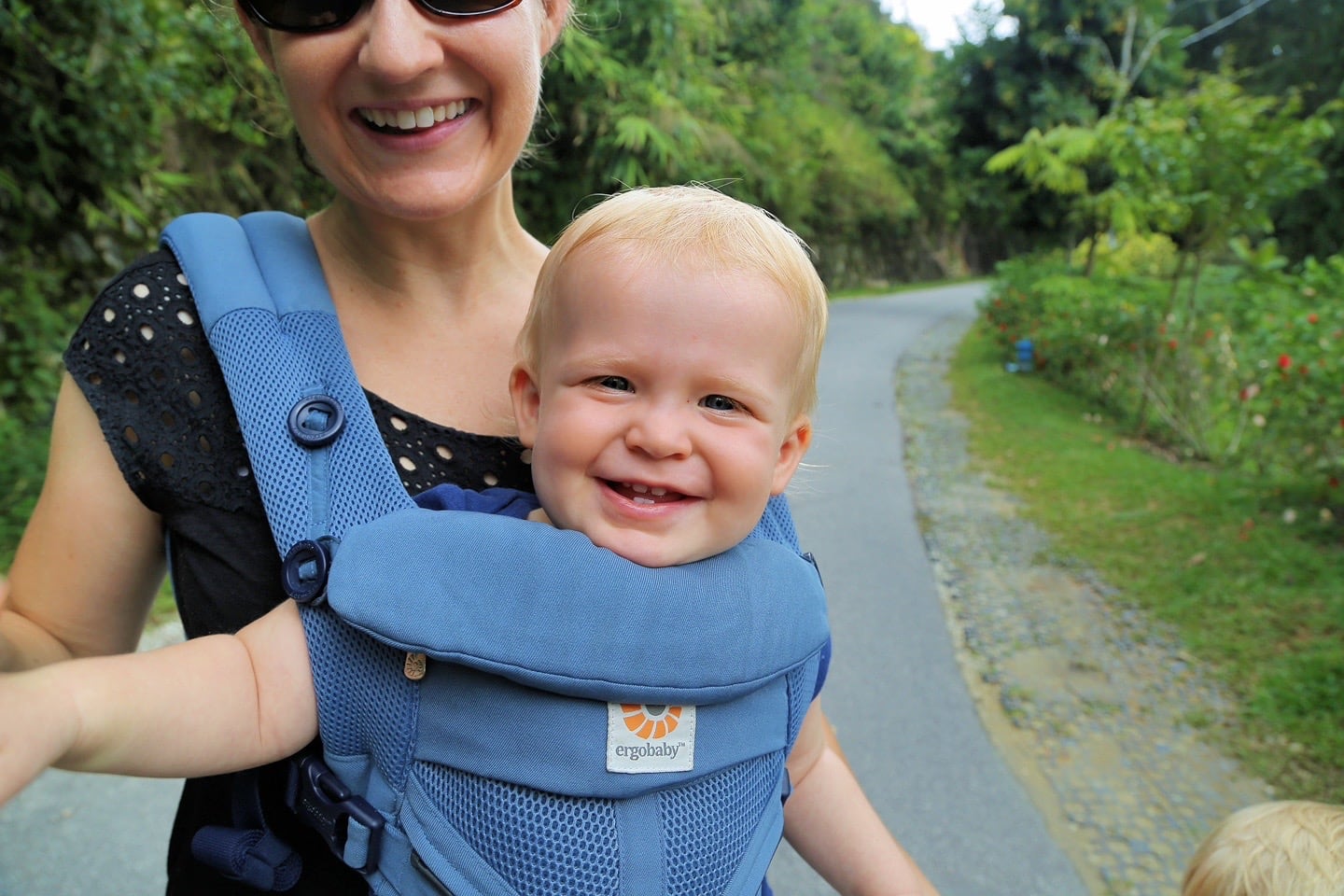 Ergobaby 360 & Omni 360 FAQ
What is the difference between the Ergobaby 360 vs Omni 360?
The most obvious differences between the two products is that the Omni 360 is a newer model that doesn't require the infant insert for the youngest tikes AND the design makes it a lot easier to carrier toddlers on your back. Read much more in our real-world review comparing the Omni 360 and 360.
Is the Ergobaby 360 good for hiking?
We found the Ergobaby 360 to be an excellent carrier for hiking, particularly when baby was able to start facing outward. We also loved the fact that we could simply turn baby around and snap the shade on for nap time without missing a beat on the trail.
Is the Ergobaby 360 and Omni 360 worth the cost?
Out of all the carriers we've trialed, both the 360 and Omni 360 seemed to be the most rugged and versatile of the bunch, and 3+ years of regular use has only confirmed our initial feelings on the both carriers. Having the right tool for the job (and one that would ultimately last until our boys outgrew it) justified the cost for us.
And that's Our Review of the Ergobaby 360 vs Omni!
Have you used either? Do you have a preference between the two? Would you buy it again? Let us know in the comments below.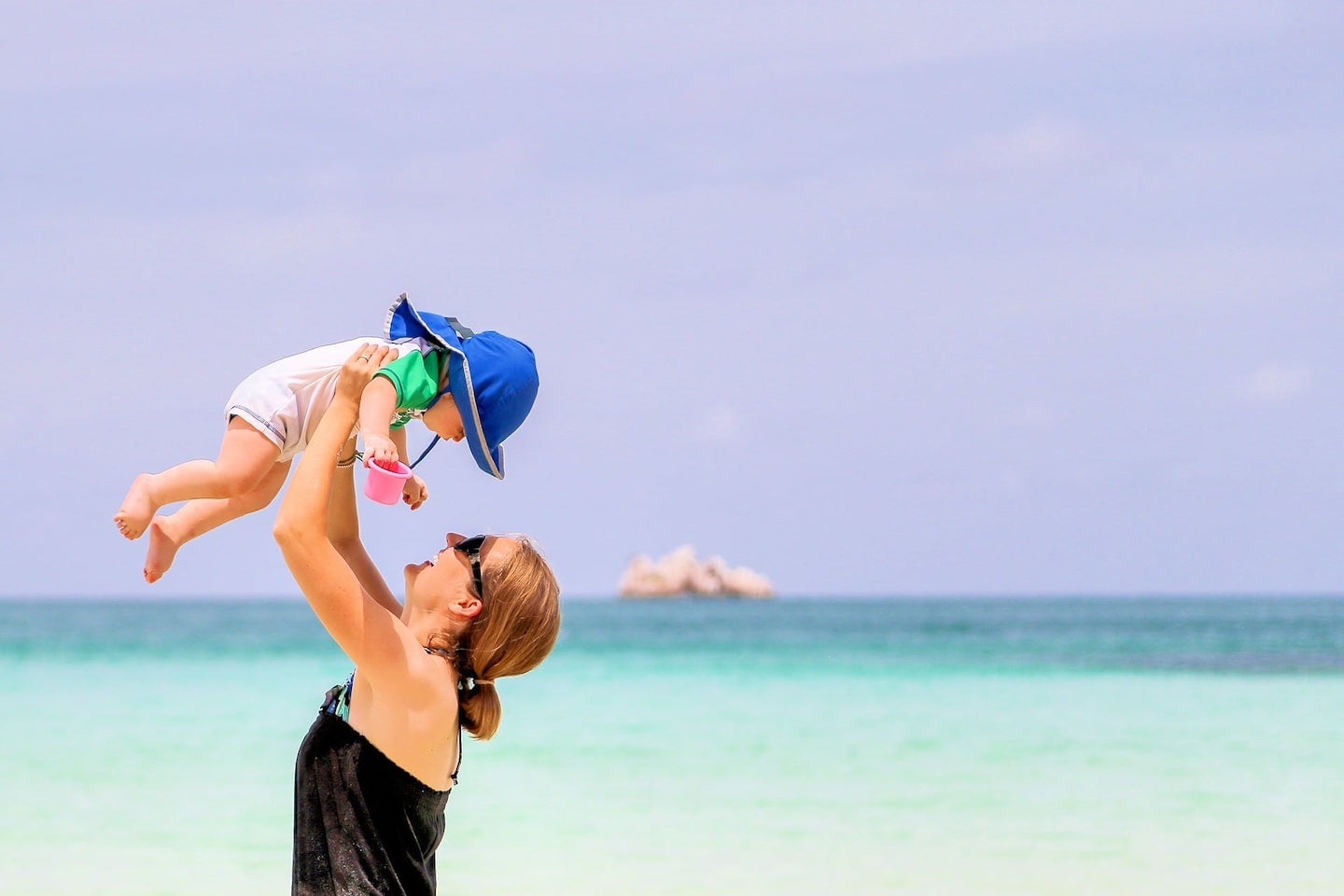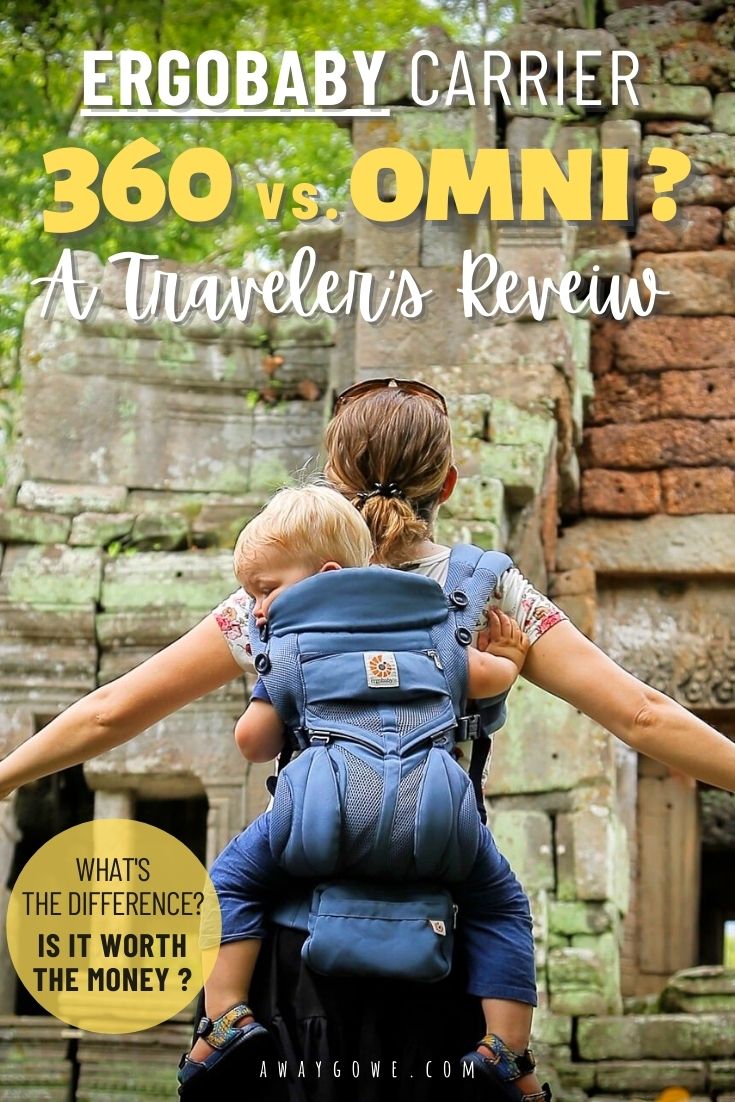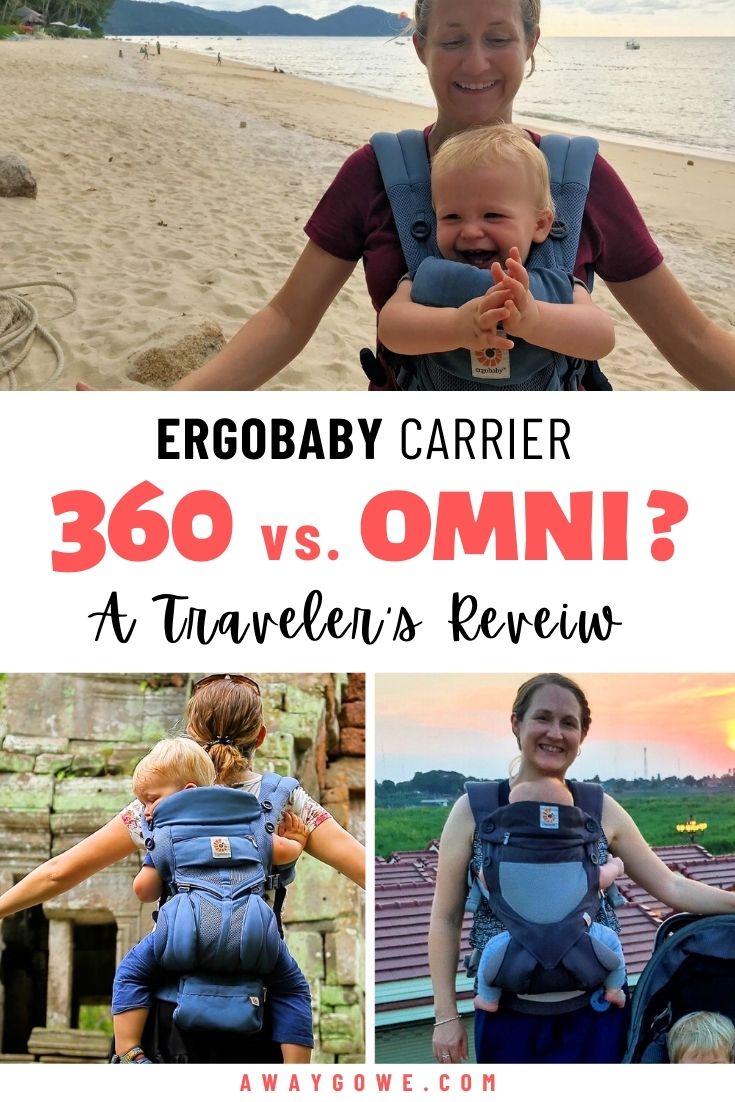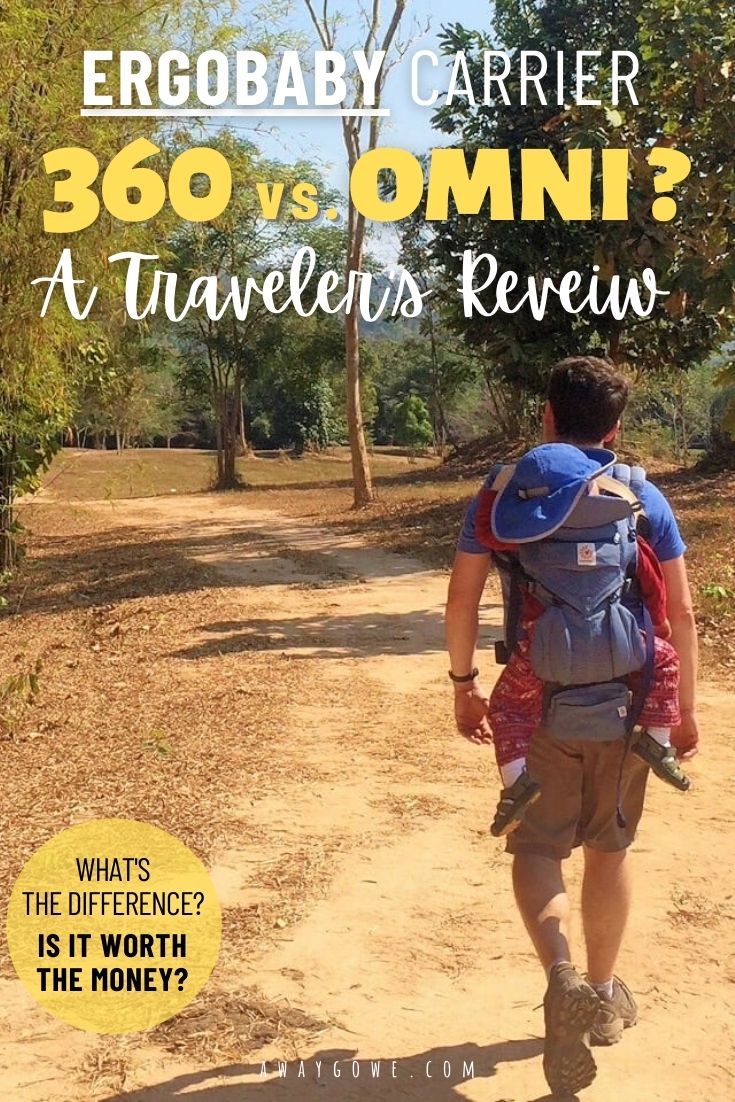 I've been a blogger and travel writer since 2010, covering everything from luxury hotels to hidden destinations and travel gear. Originally from Oregon, I've spent the majority of the past 20 years living outside of the U.S., in Mexico, the Caribbean, Southeast Asia, Africa, and Europe. I received a BA in Communications (Journalism) from Boston College, and an MA in International Development Studies from the George Washington University. I'm passionate about exploration and discovery, and providing independent, thoroughly-researched, ad-free advice for travelers.