If you're looking for an honest, in-depth review of the Deuter Kid Comfort Air (and latest models), you've come to the right place!
It's hard to believe we've now been using the Deuter Kid Comfort kid carrier for FIVE years!!! First with our oldest son (who's almost six) and our youngest (who's currently three).
So what have we learned from countless hikes, treks, and urban adventures in that time? Turns out, quite a bit!
Here's our detailed, totally 100% independent, no-holds-barred review of Deuter's original lightweight carrier backpack – plus tips and considerations for buying and using your own (and what we'd buy today if we were in the market for a child carrier right now).
Let's get to it!
---
Related Articles
---
Deuter Kid Comfort Air
Our Honest Review After 5 Years
Heads Up! The Kid Comfort Air has been replaced by the Kid Comfort Active. Check out the latest colors, features, reviews, and current pricing right here.
Deuter
Kid Comfort Active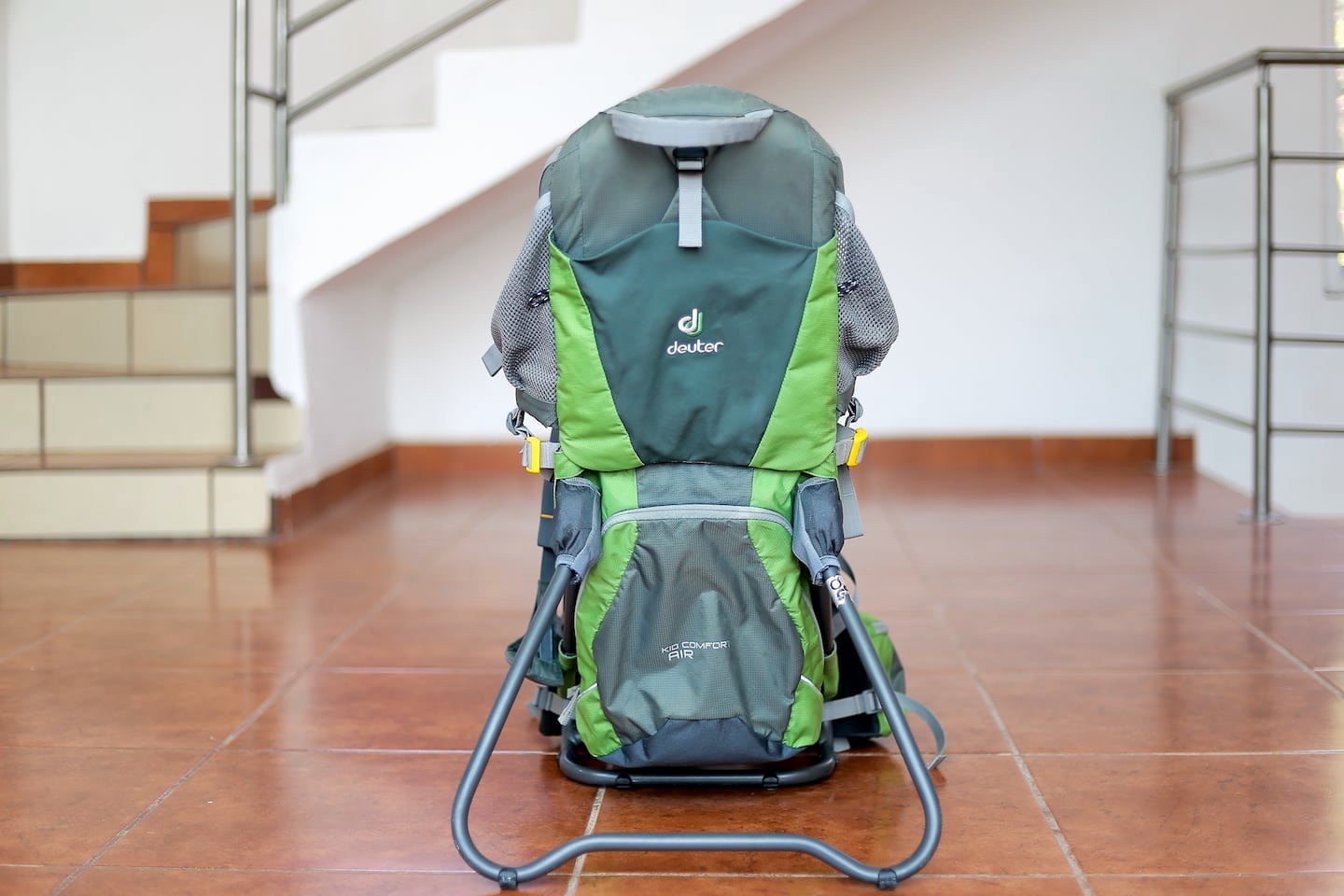 Deuter Child Carrier Packs Compared
Deuter's current line-up of kid carrier backpacks has five main offerings, in addition to older packs such as the I, II, and III.
Deuter's packs offer a variety of different back systems, sizing, colors, and features, so it can get confusing shopping for the right one because Deuter doesn't always make the differences very clear.
Before we jump into the review, we'll start by trying to clear up the differences between the various Deuter carriers.
Deuter Kid Comfort
The Kid Comfort is the latest version of the original Deuter child carrier and a great starting point for comparison.
Over the years, it's become the mid-range model of the bunch. In terms of price, size, weight and features, it falls squarely in the middle.
Deuter Kid Comfort Pro
Deuter's top-of-the-line child carrier backpack, the Kid Comfort Pro, adds a detachable day pack, rear view mirror, permanently-attached sun canopy, and an additional 3″ in height and 0.5 lbs. weight.
** Deuter Kid Comfort Air **
The Deuter Kid Comfort Air (what we've been using) was Deuter's original compact and lightweight child carrier featuring the unique Aircontact Mesh Back system to reduce weight and increase ventilation around the back.
We love the system (more on that later), but it does reduce the child max weight to 35 lbs. (48 lbs. is the max on most current Deuter child carriers), which is probably why Deuter ultimately replaced the system with the Lite Air Contact back system on the newer Kid Comfort Active.
Deuter Kid Comfort Active & Active SL
The Kid Comfort Active in a lot of ways replaced the Kid Comfort Air in Deuter's lightweight kid carrier backpack slot.
The Aircontact Mesh Back system was also replaced by Deuter's Lite Air contact back with ventilation system, which reduced a bit of airflow but increased stability and carrying capacity.
The Kid Comfort Active SL is basically the same product, but designed for smaller frames and marketed to women.
Deuter Kid Comfort Venture
The Kid Comfort Venture is Deuter's most basic child carrier to date, marketed as their "value" offering.
Its design is similar to the Active but without features such as the removable chin pad, footrests, side entry, large zip compartment, and Lite Air Contact back system.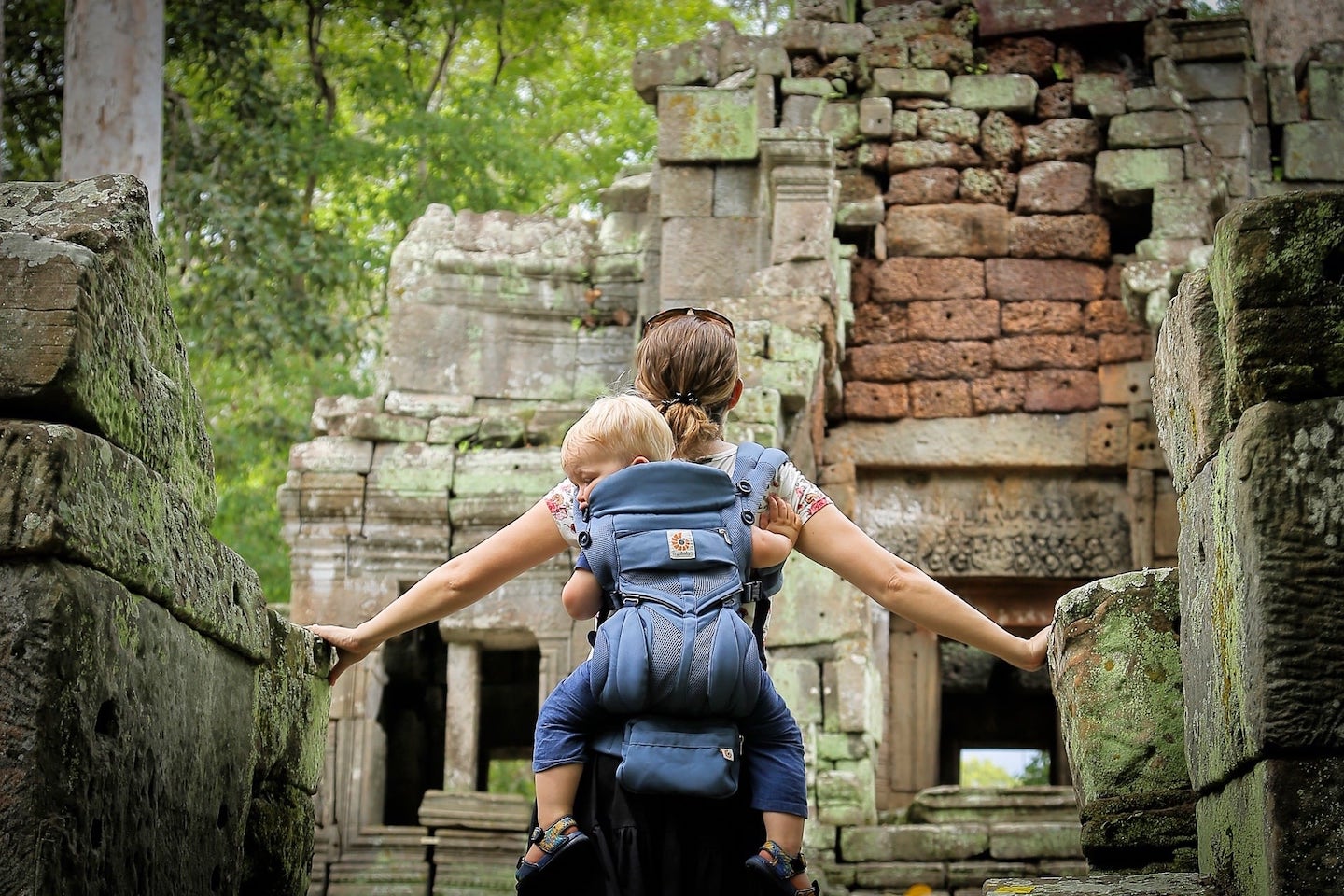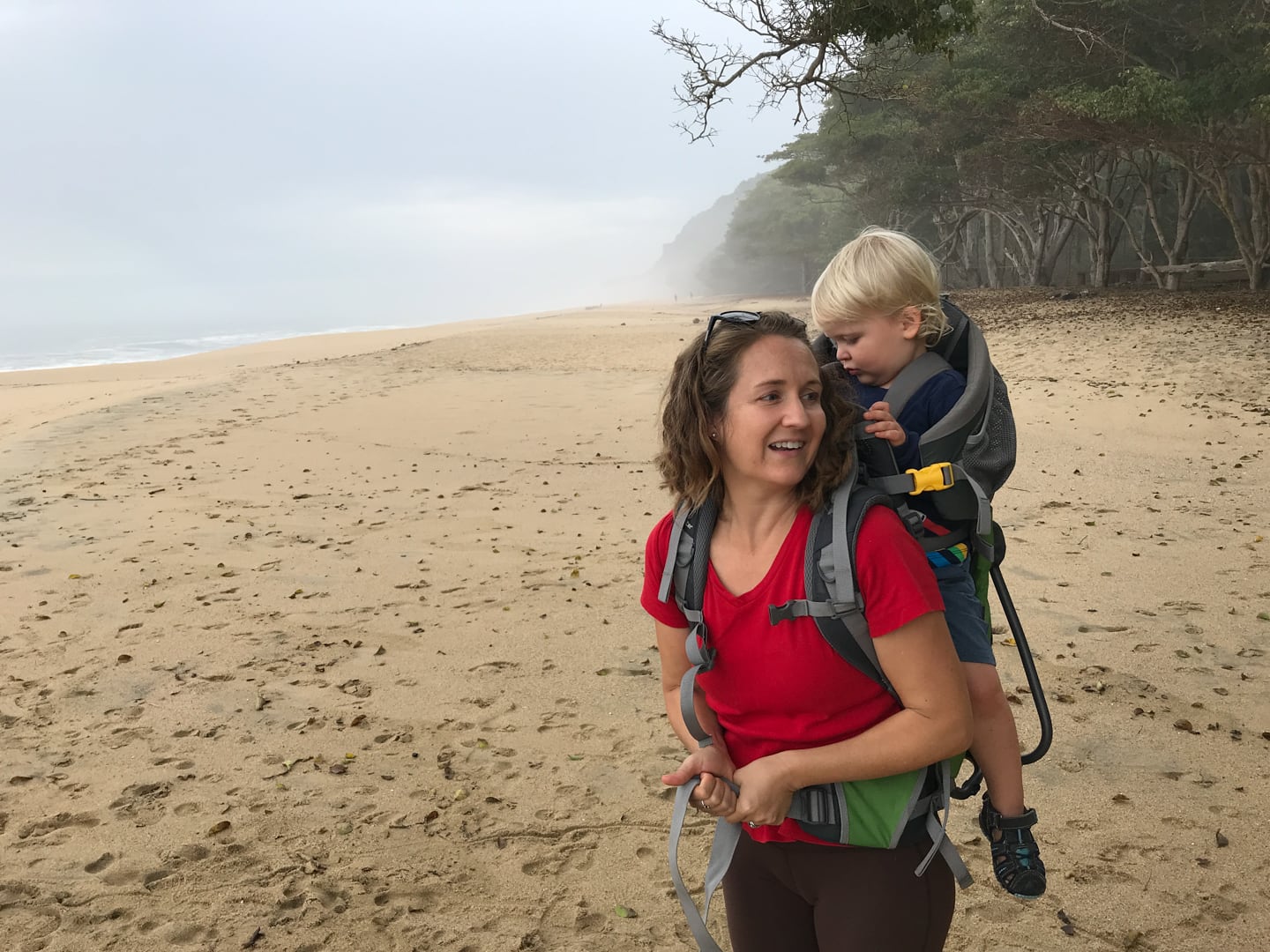 Why We Chose the Deuter Kid Comfort Air
Before our first son, Noe, could walk, we took him everywhere with us in our Ergobaby.
While we absolutely loved the Ergobaby for walks around town or running errands, it became less ideal for hiking and urban explorations as our son grew older and more interested in the world around him.
In addition to finding ourselves with a growing kid to lug around, we suddenly found ourselves carrying more water, snacks, lunch, jackets, camera, sunscreen, and so on.
With three of us on a hike, Lori could carry a day pack and I could wear Noe (or vice versa). But on a solo hike with Noe…forget about it.
Between one and three years, our son gradually started hiking more and more on his own two feet.
But unless we were fine with capping our hikes at a mile, we knew we'd need something more comfortable, more robust, easier to put on and take off, and offering more stowage than our Ergobaby.
Enter the Deuter.
Why Deuter? Our brother-in-law had a Kid Comfort and swore by it, which put Deuter on our radar.
Still, we read up on and checked out a number of different brands and models but found that nothing offered quite the same combination of features that the Kid Comfort offered.
Why the Deuter Kid Comfort Air? Living overseas and traveling a lot, we wanted the most compact, lightest-weight carrier Deuter offered. At the time, that was the Air.
Living in Southeast Asia, we were also drawn to the Aircontact mesh back system which reminded us a lot of Osprey's Airspeed system on our Osprey Mira hydration pack "diaper bag".
Deuter pioneered the 3-D "trampoline" ventilation back systems and the Aircontact was the best on the market at the time.
---
Related Articles
---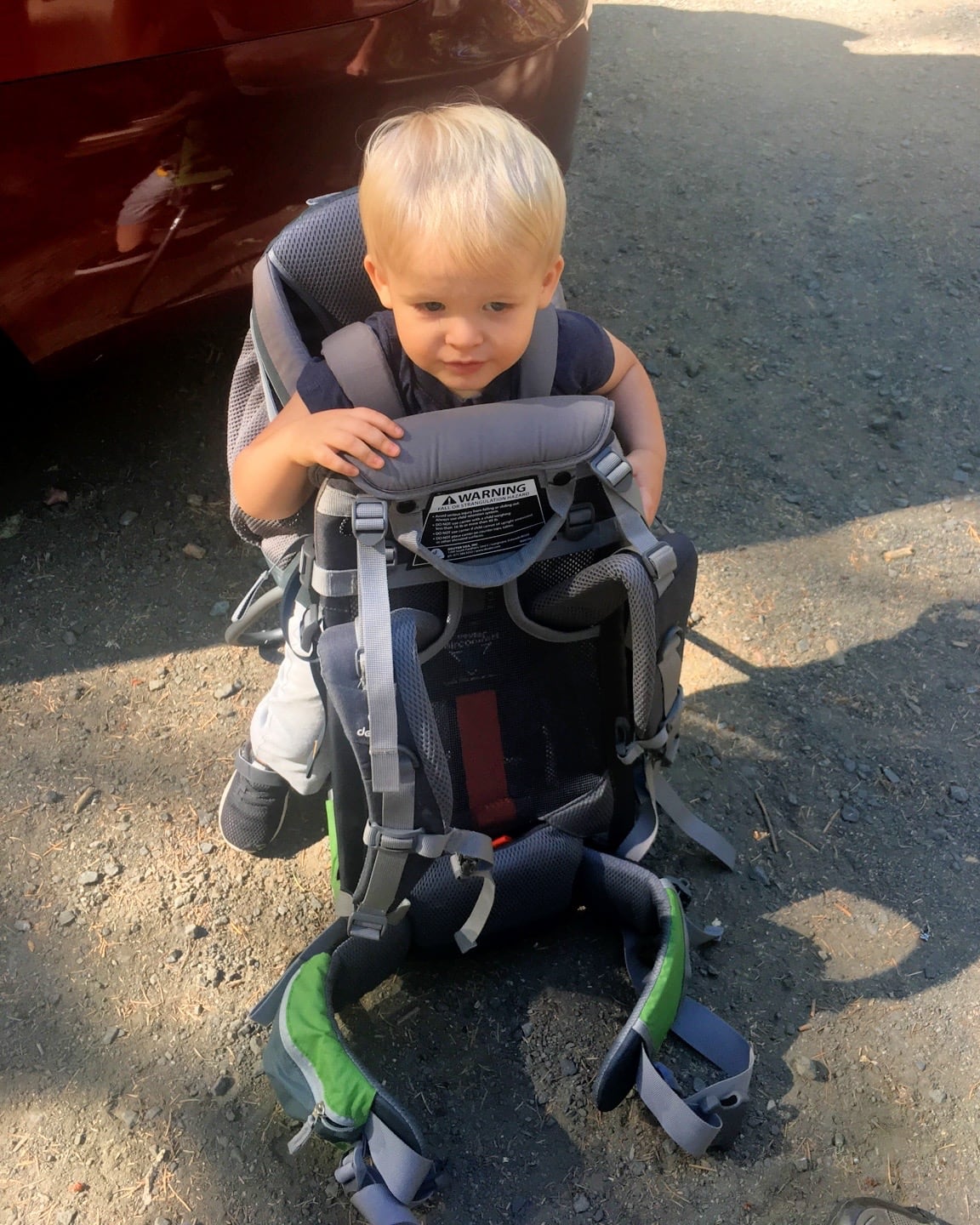 Our Experience with the Deuter Kid Comfort Air
We got the Deuter Kid Comfort Air when our oldest was 15 months with the intention of doing more hiking and trekking together while living in Laos.
Lori and I didn't use it a ton in Vientiane because there just weren't a lot of hiking opportunities around the city.
Still, we got a fair amount of use out of it, particular during summer visits back to the Pacific Northwest.
Our hiking (and child carrier usage) increased exponentially when we moved to Sayulita, Mexico in late 2020.
Suddenly, we had a 4-year-old who was eager to hike on his own, a 2-year-old who wasn't so eager (but willing to come along for the ride), and endless hiking opportunities at our doorstep.
In the past two years alone, Lori and I have racked up just over 100 miles on foot using the Deuter Kid Comfort Air – most of that in the warm, tropical jungles of Nayarit and Jalisco, Mexico.
So what's our verdict on the Deuter Kid Comfort Air?
Keep reading to find out!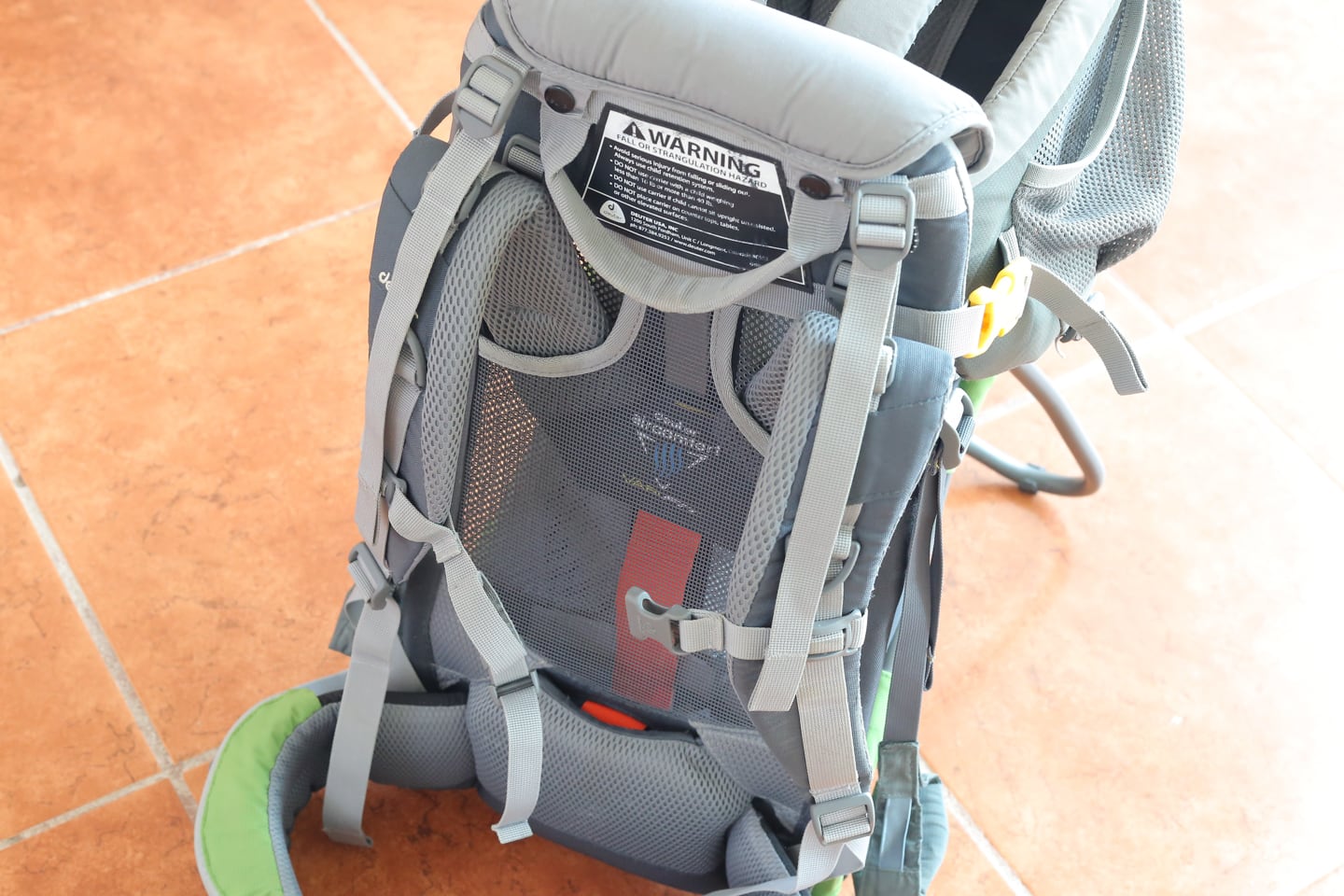 Deuter Kid Comfort Air Review — Pros (+)
Lori and I have discovered over the years that there's a lot we love about this kid carrier backpack. Here are our favorite features and aspects of the Deuter Kid Comfort Air.
Ultra Comfortable & Balanced
Fully loaded, the Deuter might just be the most comfortable backpack we've ever owned.
Sure, we've owned packs with a LOT more padding. But the Deuter is a testament to the idea that more padding doesn't necessarily equal more comfort.
Padding often just gets in the way and ends up feels bulky and unnecessary.
A well-designed pack won't need a lot of plush padding if the load is evenly distributed and the pack is properly sized and adjusted. And that's exactly what we've found with this pack.
The hardest part might be hoisting the pack loaded down with a kid and drinking water up and on (particularly if you're doing it yourself – for this, the built-in stand is a godsend).
But once the pack is on, I've found that it feels much lighter than it should for the weight involved.
In fact, carrying around a 30-pound 3-year-old and a couple liters of water, I rarely start to feel fatigued until 3-4 miles in, and it's usually my leg muscles (not my shoulders or back).
In terms of balance, I've been impressed with how the suspension system continues to keep the load centered, even when kiddo is rocking from side to side.
Compared with other packs we've tried, the center of gravity on the Kid Comfort seems to be a bit lower, and I don't get that unsteady feeling of top-heaviness that I have with other carriers.
Lightweight AND Super Sturdy
Deuter has a reputation for making well-designed and well-constructed packs, and our experience with the Kid Comfort can attest to that.
Both of us have worked this child carrier hard (with the help of our boys, of course).
It's been tossed unceremoniously into the bed of pickups and SUVs, tied to the back of golf carts, and covered in mud, dust, sand, and kid food.
After five years and some hundred miles of use, it still cleans up looking like new – and with the exception of a sticky zipper (which started very recently), everything's intact and works perfectly.
In terms of portability and weight, we've been very pleased with our experience. Weighing in at just over six pounds, we'd be hard-pressed to find a comparable kid carrier built as well and equally as lightweight.
Given that this was Deuter's lightweight entry model at the time, we expected we'd need to compromise the comfort and durability of their more expensive offerings for the lighter weight and lower cost of the Deuter Kid Comfort Air.
In our experience so far, that hasn't been the case. We really don't feel like we've had to sacrifice any of that for the price.
Lots of Storage
One of the big advantages of a full-size child carrier (at least in my mind) is storage! Yet, I was surprised how little storage some full-size child carriers on the market have.
Before trying out a Kid Comfort Air, I fully expected it to be lacking in this department. After all, it is a lightweight, entry level carrier.
But nope. The Deuter Kid Comfort Air has a full 14 liters of zippered storage space that sits right under kiddo, enough to carry all our water, lightweight jackets, snacks, and whatever "treasures" the boys find along the way.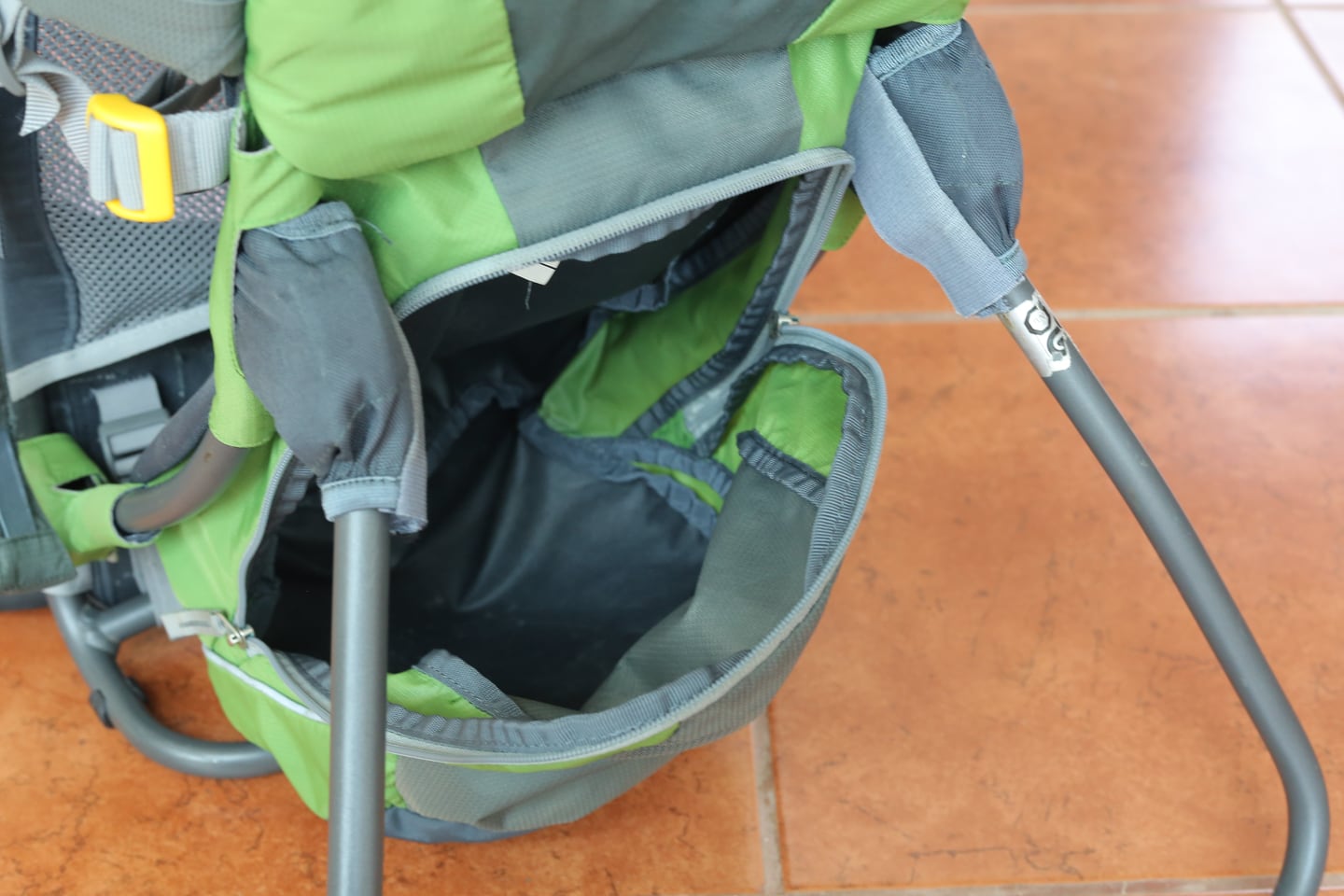 There is a flat pocket directly behind kiddo, which we've found works great for windbreakers or layers we shed.
There are also two mesh pockets on each side, which work well for carrying the boys' water bottles.
Last, but not least, there is a handy zippered pocket on the waist belt that's big enough for a phone and sunglasses with room left to spare.
Secure Child Compartment
An often overlooked but super important design aspect of any child carrier is the place where you actually put the child.
We love how much room and air flow this carrier has, while at the same time keeping kiddo securely fastened with an adjustable harness.
Unlike other carriers we tried, our kids seem to sit up high enough to get a good birds-eye view of their surroundings (just watch those low-hanging branches!).
With all that said, I don't think I'd recommend this carrier for kids under 9 months old. Our boys were on the smaller side and these straps might not have kept them securely fastened.
We got the carrier when our oldest was 15 months, and by then, the harness seemed to fit just right.
With infants, we'd recommend something like the Ergobaby Omni 360, which is what we used for hiking with our youngest until he was 18 months.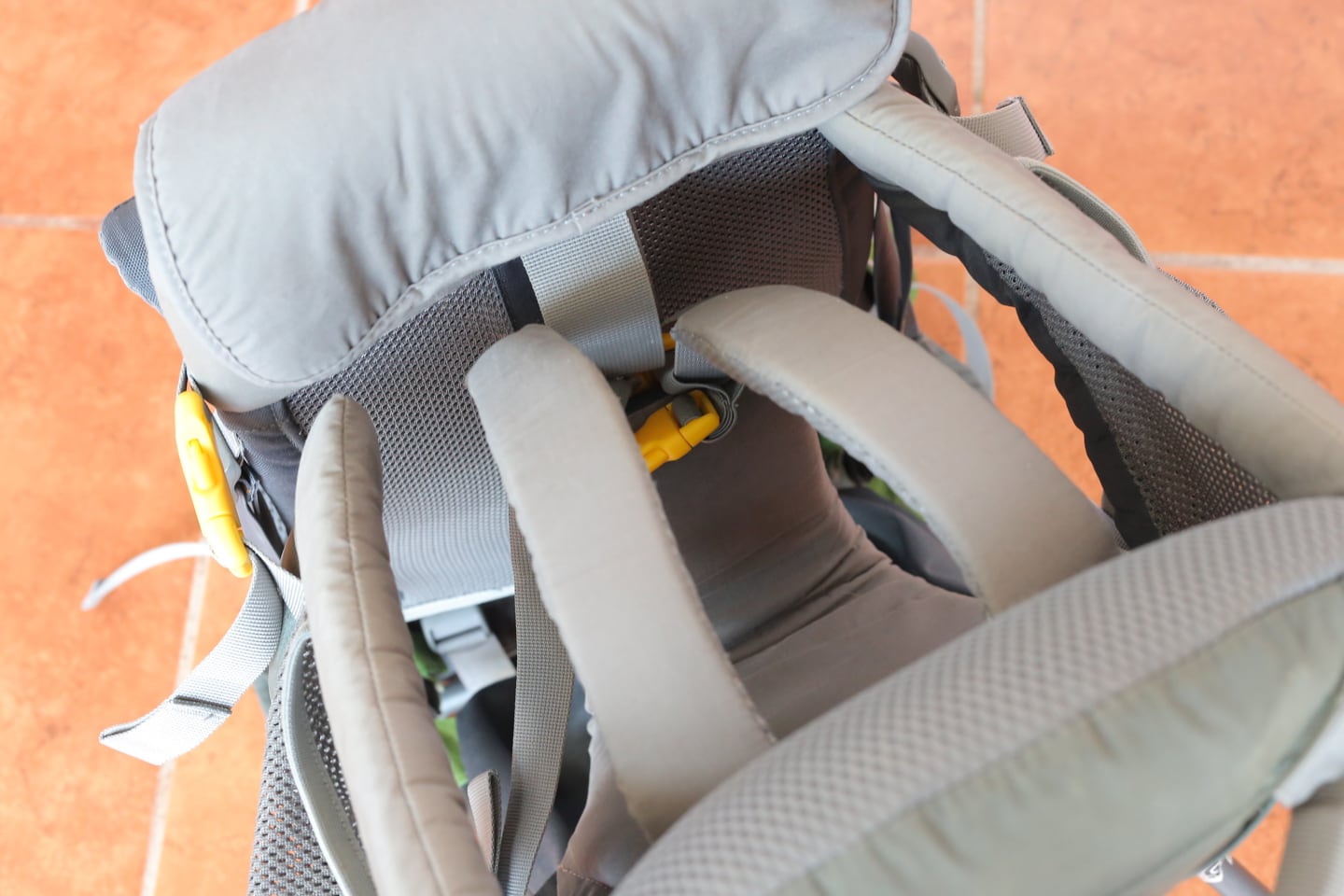 The Deuter Kid Comfort Air has some pretty cool features in and around the child compartment that we like as well.
The side door (secured with a plastic buckle) is really handy if I need to pull our boy off mommy's back to use the potty in a pinch.
There's a removable chin pad which is nice for sleepy passengers, and can easily be washed.
There are also two foot rest stirrups for resting fidgety feet on long hikes.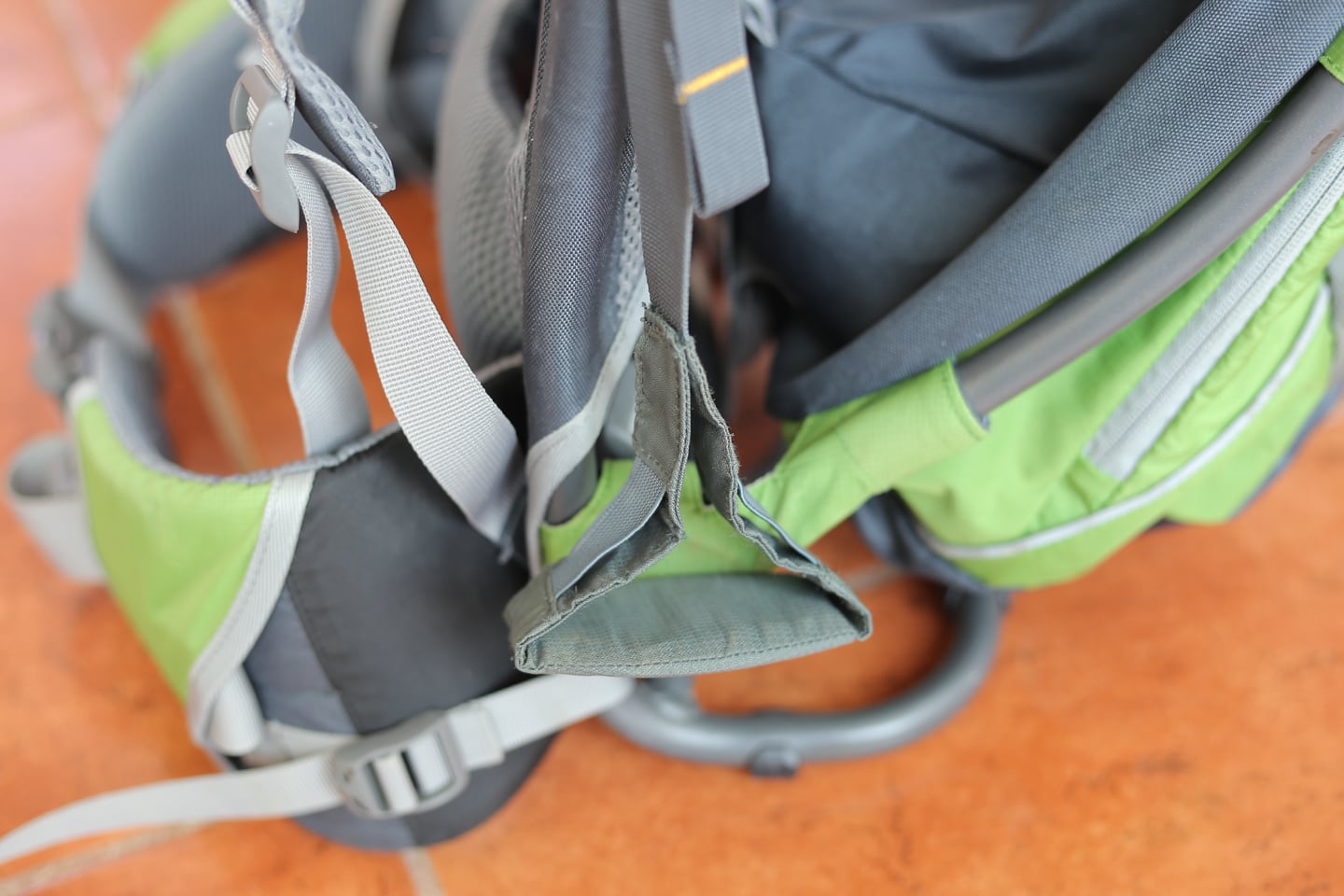 Lastly, while this pack doesn't come with a built-in "sun roof" sun canopy, you can buy it as an accessory that easily attaches and stows into the rear pocket.
100% Machine Washable
In addition to its portability and strong, yet lightweight construction, the outer fabric of the Deuter Kid Comfort Air is 100% removable and machine washable.
The entire outer shell comes off (velcro and straps) leaving only the frame, which can then be wiped down.
We've washed the nylon shell in cold water on delicate setting with no issues.
I highly recommend though that you take photos or a video of the carrier before removing the shell. It can be tricky remembering how everything gets reassembled.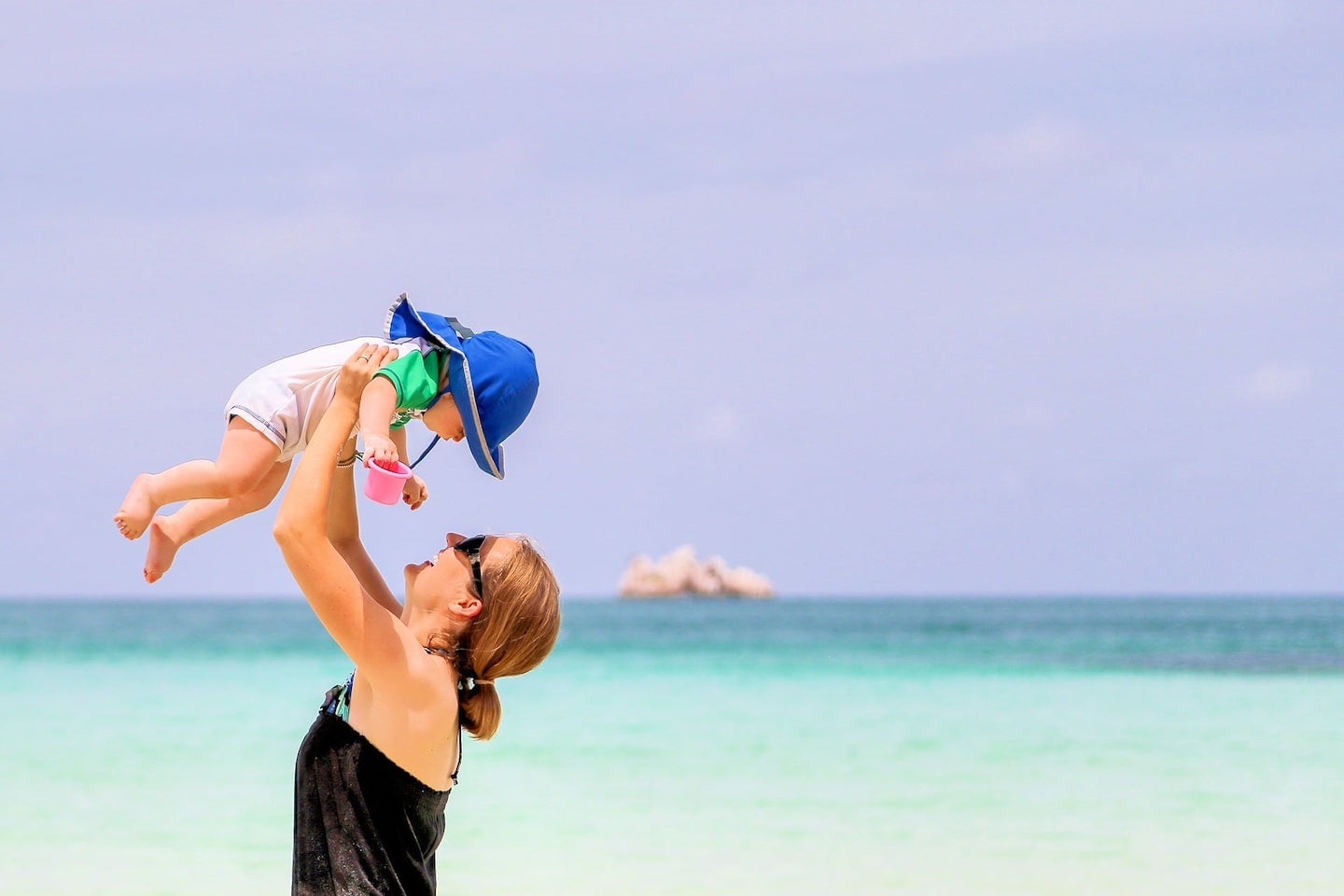 Deuter Kid Comfort Air Review — Cons (-)
No Built-In Sun Shade / Hood
One of the things we struggled with when deciding between the Kid Comfort and Kid Comfort Air was that the Air did not come with a sun shade (aka KC Sun Roof).
While you can buy the KC Sun Roof as an additional accessory (MSRP: $35), it would have been nice to have it included as a removable accessory, of course.
In the end, the kids wore sun hats and got a pretty good breeze without the cover (and a better view of their surroundings), so we aren't too heartbroken in retrospect.
Torso Could Adjust 1-2″ Smaller
Lori and I aren't big people. With that in mind the fact that the torso length on the Deuter Kid Comfort Air could adjust down a whole TWO inches more than the standard Kid Comfort (15 in. vs. 17 in.) was a big selling point.
Still, another inch or two smaller would have been nice to have.
Fortunately, the current Kid Comfort Active SL adjusts all the way down to 14 inches and all the way up to a whopping 22 inches.
If you're 5'5″ or under and are trying to decide between a used Deuter Kid Comfort Air (they're discontinued now), Kid Comfort Active or Kid Comfort Active SL, our advice is to go for the Active SL.
Zippers Could Be Improved
As mentioned before, the one and only issue we've had with the design and construction of this pack is the main pocket zipper, which after a few years developed a couple of jammed teeth.
The zipper is still fully functional, but just takes a bit more effort to open and close.
Additionally, the zippers are the one piece of hardware on the entire pack that have started to corrode in the warm coastal climate down here in Nayarit.
I haven't seen the latest Kid Comfort Active, but I wouldn't be surprised if this issue has been addressed by now.
Deuter tends to be pretty good about improving on the design and construction of their packs with each new model.
Not As Packable as a Baby Carrier
This one isn't exactly a ding against this particular pack, but maybe something you'll want to consider before buying a child carrier with a frame like the Deuter Kid Comfort.
If your situation requires you to be able to take off the carrier and shove it into a backpack or suitcase at a moment's notice, you're probably better off with something like the Ergobaby Omni 360 (which allows you to wear the child on your back as well as your front) until your kid outgrows it.
However, if strength, durability, comfort, stability, and stowage capacity are your priorities I'd go with the Deuter.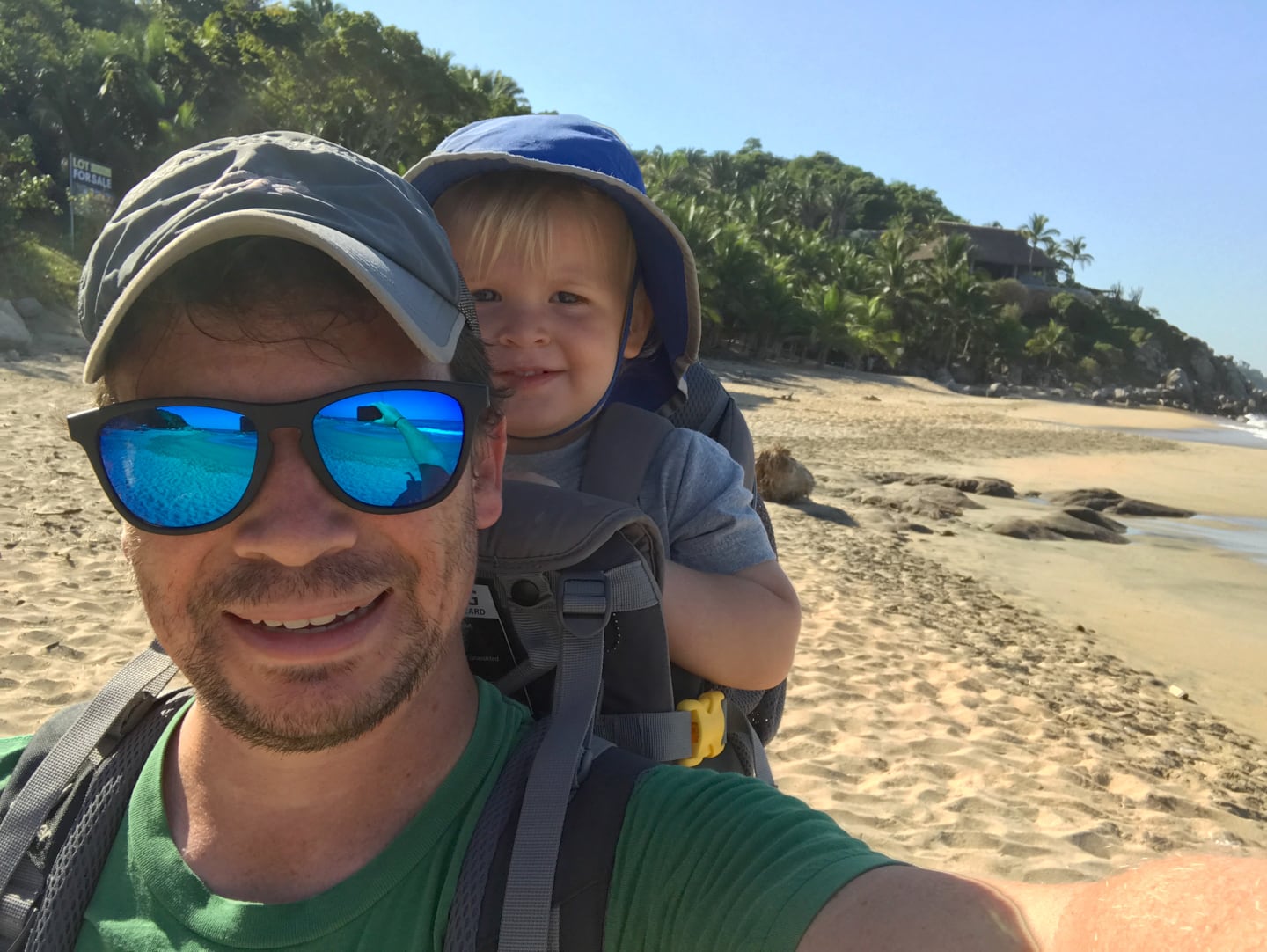 Would We Buy It Again?
Yes!
Well…probably NOT the Kid Comfort Air, as this model has since been replaced with the updated Kid Comfort Active.
Would we buy a Deuter child carrier again? Absolutely! Since we value lighter and less bulky over padding and doo-dads, we'd go with the Kid Comfort Active or Active SL.
The Deuter Kid Comfort Air far surpassed our expectations after years of hard use. There may be better child carriers out there for hiking and day tripping, but we felt no need to search any further.
If you are looking for a child carrier that's built to last yet lightweight, easy to clean, and super comfortable for you and the kid, then we'd recommend the Deuter Kid Comfort Air (and now the Kid Comfort Active) hands down.
What Makes AwayGoWe Gear Guides Different
Why trust our travel gear recommendations? All of the gear on this list has been personally road-tested by us (unless otherwise noted).
While this page contains some affiliate links, we don't do sponsored content here on AwayGoWe and we don't accept requests to peddle anyone's product.
That means that our opinions and recommendations are 100% independent and unbiased (though we will admit we have a strong bias towards useful gear that's built to last!).
And That's Our Deuter Kid Comfort Air Real World Review
Do you have a Deuter Kid Comfort Air? What did we miss? Let us know in the comments below.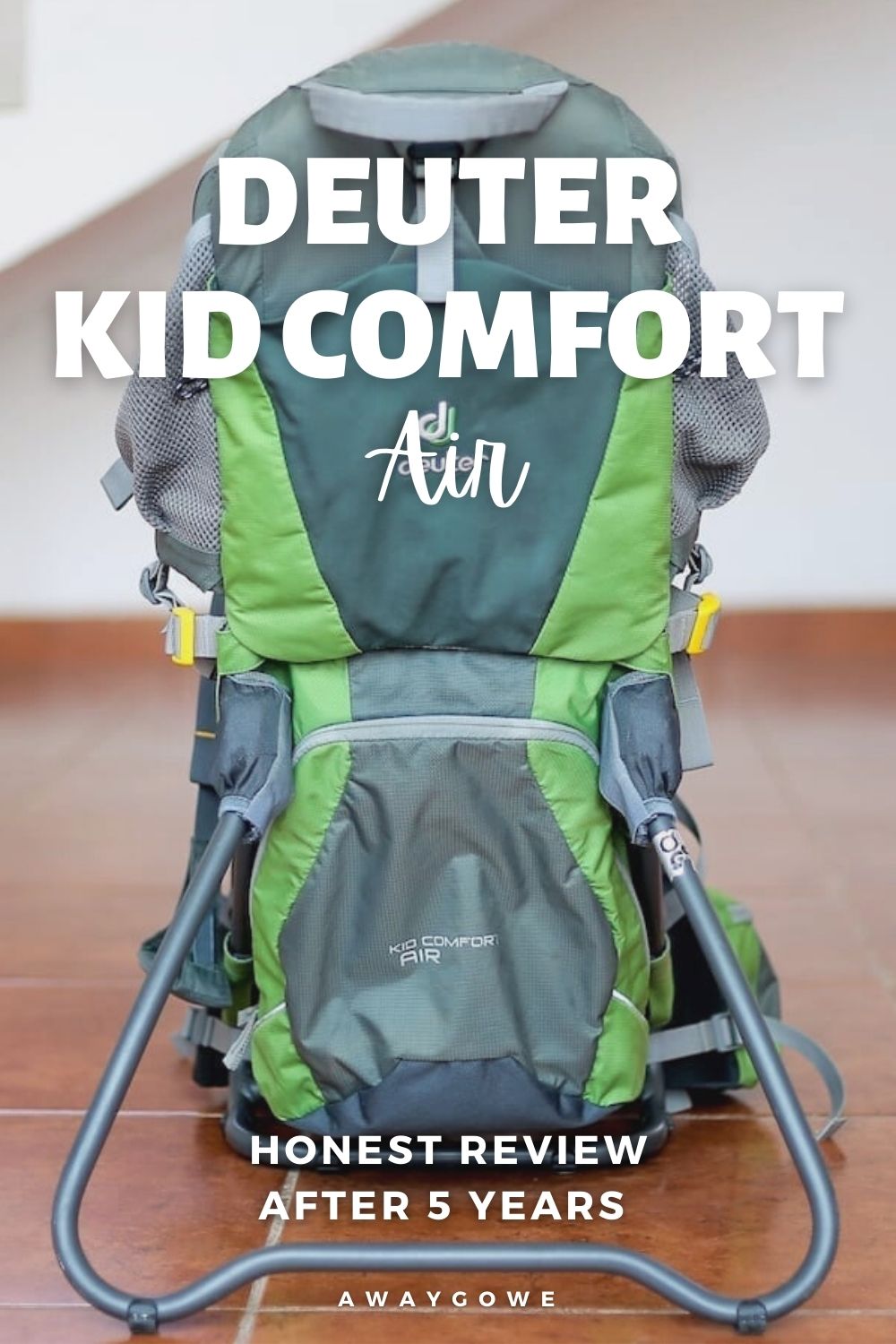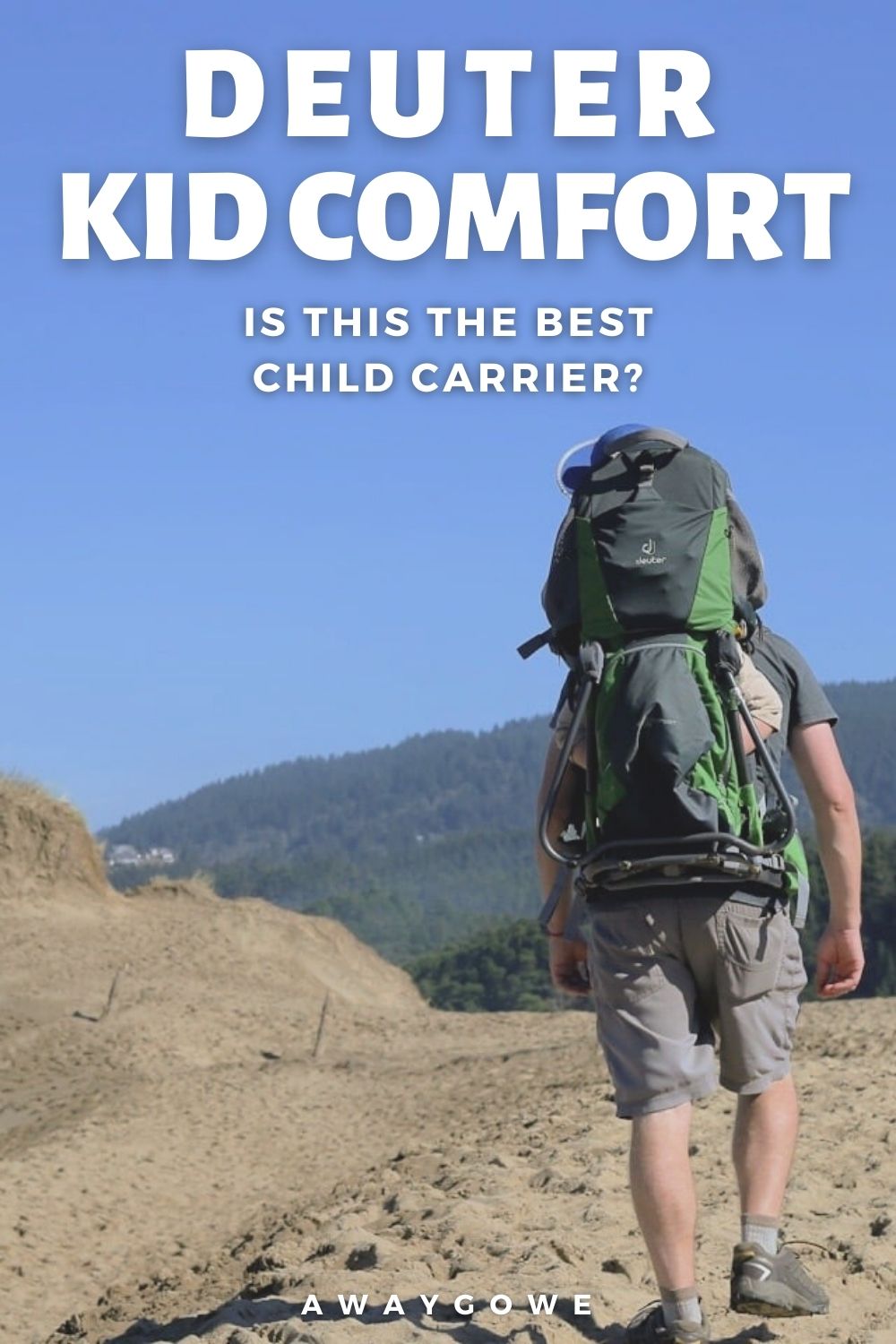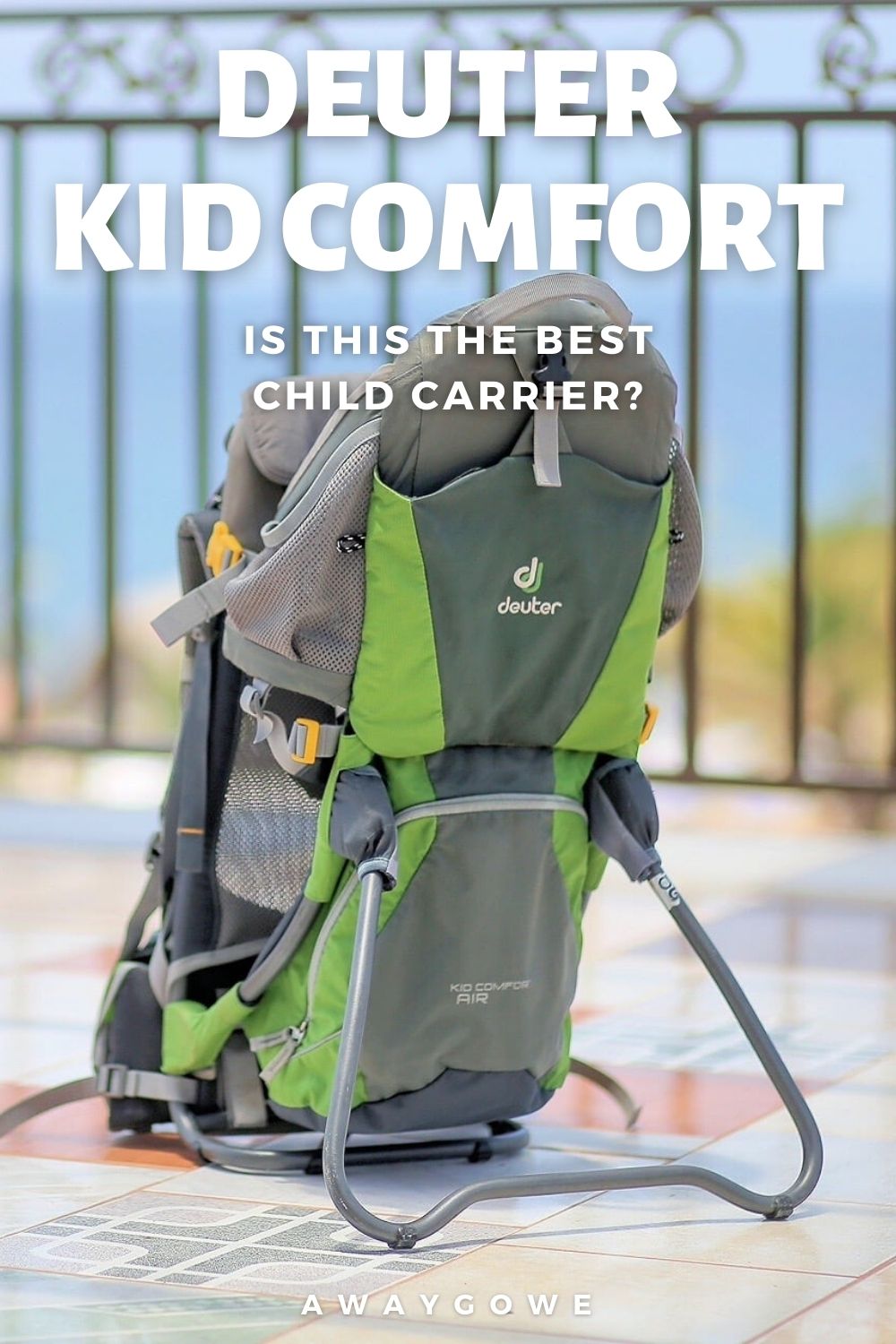 We use affiliate links and may receive a small commission at no extra cost to you. Learn more in our privacy policy.