Let's Explore Our World Together!
---
Hi! We're David & Lori.
We like to explore new places. Sometimes, we stay for a few days. Other times, we stay for a few years. It all depends where life takes us.

We like to travel mindfully, which for us means staying in one place long enough to gain some meaningful sense of people and place and make memories there.
Between Lori and me, we've found ourselves in somewhere in the neighborhood of 40 countries over the past two decades.
Right now, Phnom Penh, Cambodia is where we're calling home.
---
Often, people wonder how we finance our travels. Well, for us it's all about simplicity.
We try to live simply, generally adhering to a strict budget — That's the main thing. We'll frequently opt for local transport and prefer to spend quality time in a few places rather than trying to see everything.
Lori and I love venturing off the beaten path and do so whenever we get the chance (though we're both suckers for UNESCO sites and the beach).
But income keeps the wheels the turning and the candles burning.
Currently, Lori is working for an international non-governmental organization (INGO) here in Phnom Penh on projects related to early childhood development (she's a PT by trade).
In addition to being the founder, editor, and writer of this blog (AwayGoWe), I do consulting work in the international development/ foreign assistance sector as well. The flexibility of my work allows me to spend a lot of time with our two young boys, which is awesome.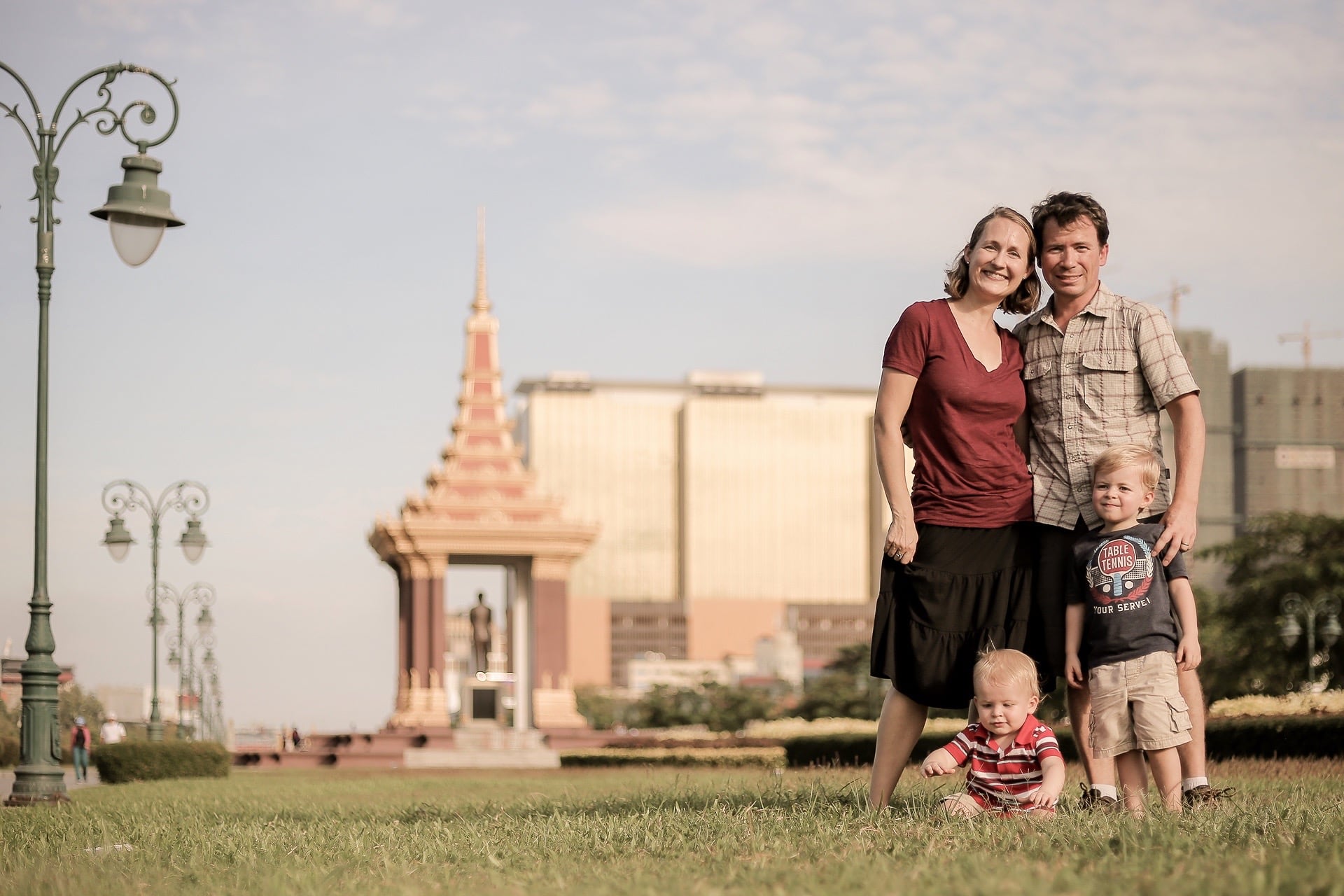 About Our Travel Blog — AwayGoWe.com
---
I started this travel blog in 2010 for the reasons most travelers started blogs a decade ago: To document our travels for ourselves, and stay in touch with family and friends.
Since then, AwayGoWe has evolved into a helpful resource for independent travelers, featuring honest and unbiased destination guides, gear reviews, how-to guides, and a healthy dose of travel inspiration.
Yet, this blog still very much remains a blog, where we regularly post trip reports, as well as dispatches from our every day lives as an expat family living in Southeast Asia.
Get our best travel tips and latest updates delivered straight to your inbox!
Follow along and say 'Hi!'
If you like what you see on AwayGoWe, and you'd like to support the time and effort that goes into publishing quality, unbiased travel content and regular dispatches, it's easy!
Simply Bookmark and Use our recommended travel resources below.
Not only do we get a small cut of whatever you buy through these links (at no additional cost to you), we only partner with companies we regularly use ourselves and recommend to others.
Travel Planning Resources We Use & Recommend
As an Amazon Associate I earn from qualifying purchases. I'm also a member of other affiliate programs. For more info, please read our disclosure.
New to AwayGoWe? Start Here!