Cape Blanco State Park is located on a dramatic headland at the westernmost point of the state of Oregon.
A visit to Cape Blanco makes for a worthwhile stop along Highway 101 on the Oregon Coast, for its 19th century lighthouse, sweeping coastal vistas, fascinating history, hiking trails, and much more!
We always enjoy a chance to explore more of our home state whenever we find ourselves back in the U.S., and were impressed by our recent visit to Cape Blanco State Park with our two young boys.
Here are our top reasons why we think you should consider a visit as well!
DON'T MISS THE MOST DETAILED CAPE BLANCO HIKING MAP ON THE WEB!
Plus our top recommendations for WHERE TO STAY & WHAT TO PACK at the end of the article!
---
Heads Up! As of November 2021, Cape Blanco State Park is open for camping and day use. However, historic Hughes House remains closed to the public, and tours are not available at this time. Check their website or call for the latest info.
---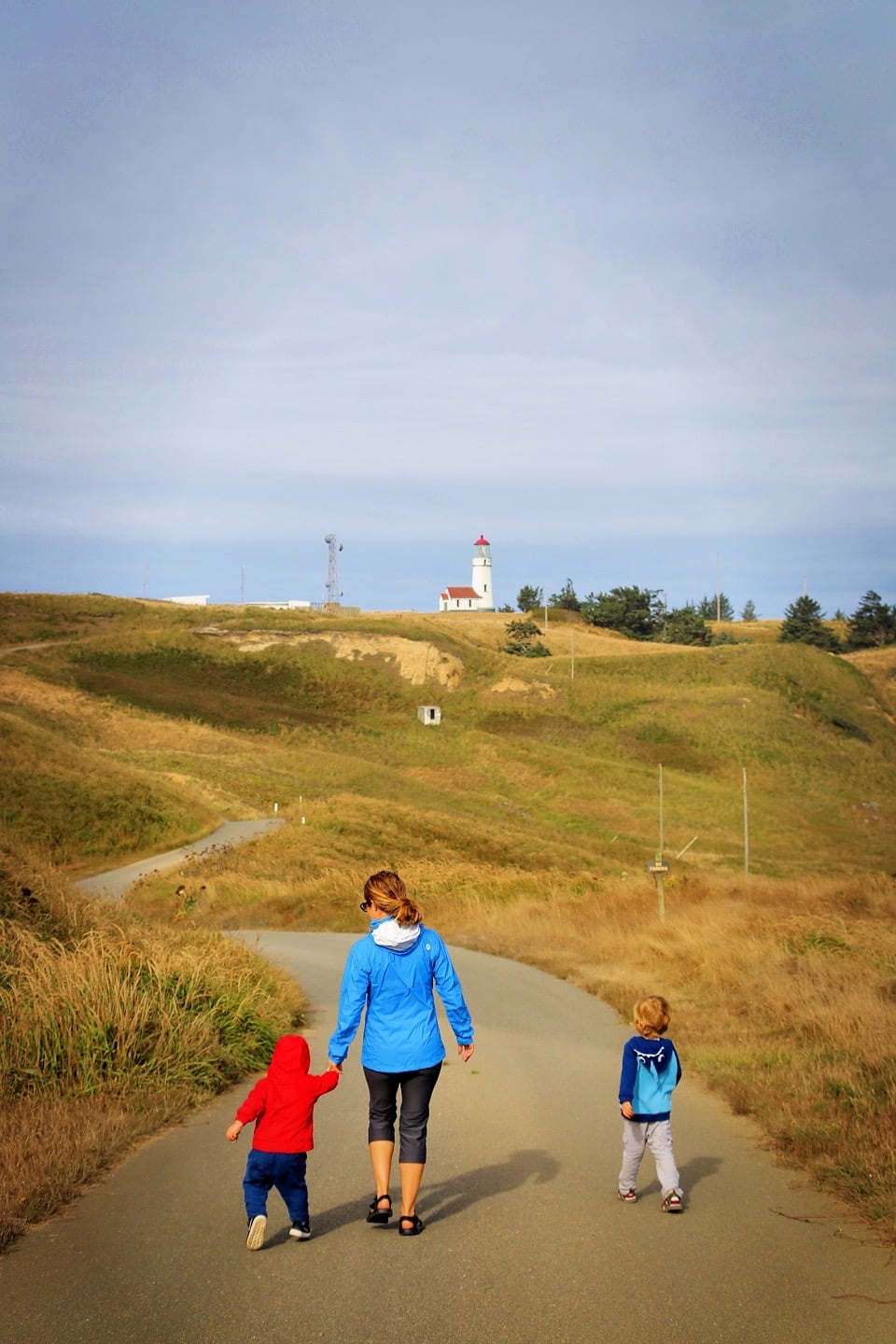 8 Reasons to Visit Cape Blanco State Park (+ Tips!)
Cape Blanco Hiking Map with Points of Interest
Before we dive in, here's a helpful map for getting your bearings, including area hiking paths and points of interest.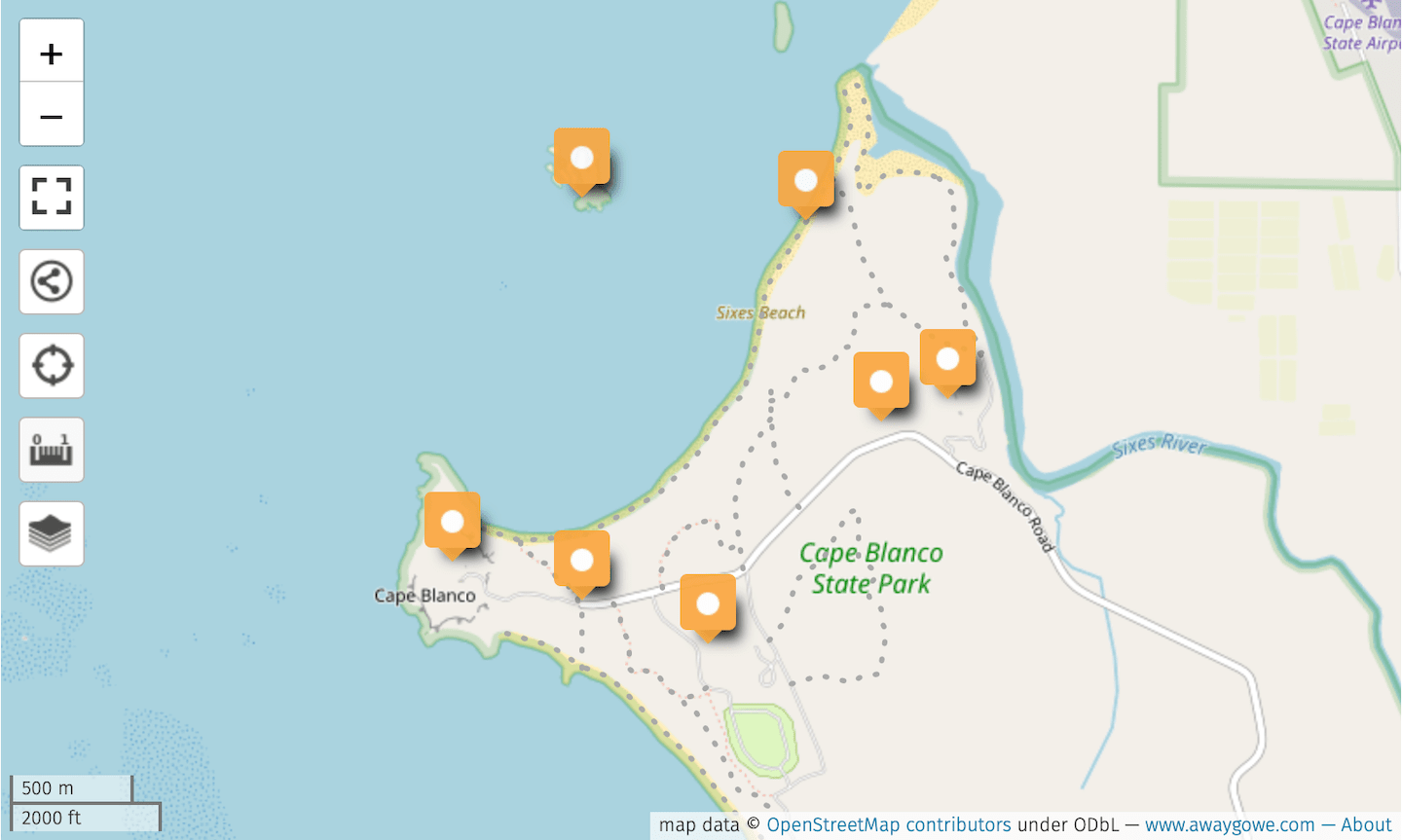 Lori and I are passionate about hiking and exploration and are always excited when we get to contribute to expanding the public knowledgebase for both.
Like all of our custom maps, this one's based on our own first-hand experience (and GPS traces), combined with online research, public traces, and analysis of recent satellite imagery. We hope you find it useful!
Now, let's get to the list!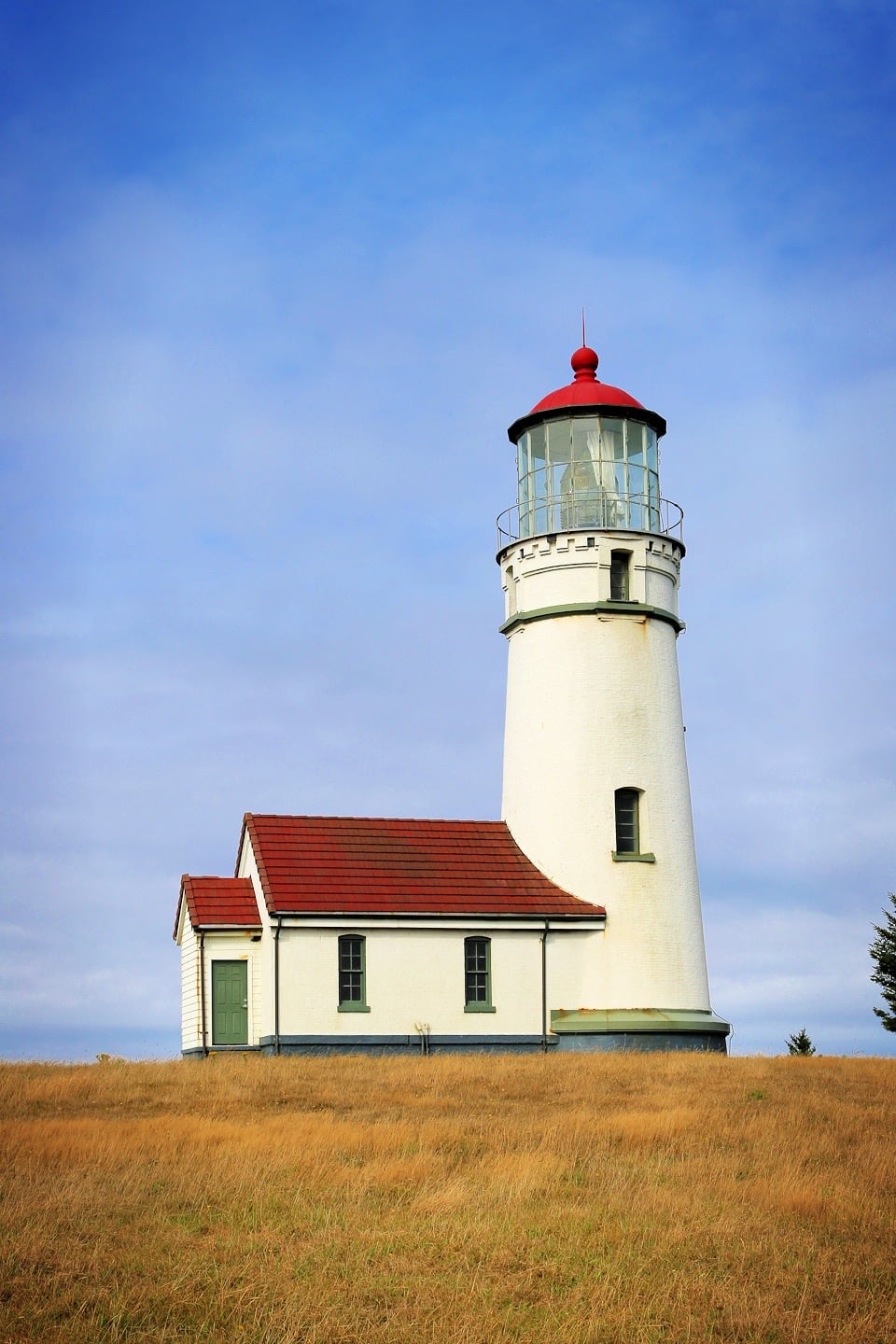 1. Historic Cape Blanco Lighthouse
Constructed in 1870, Cape Blanco Light sits 200 feet (61 m) above the sea, on the crest of a prominent headland overlooking a calm and protected bay to the north, and treacherous reef to the south.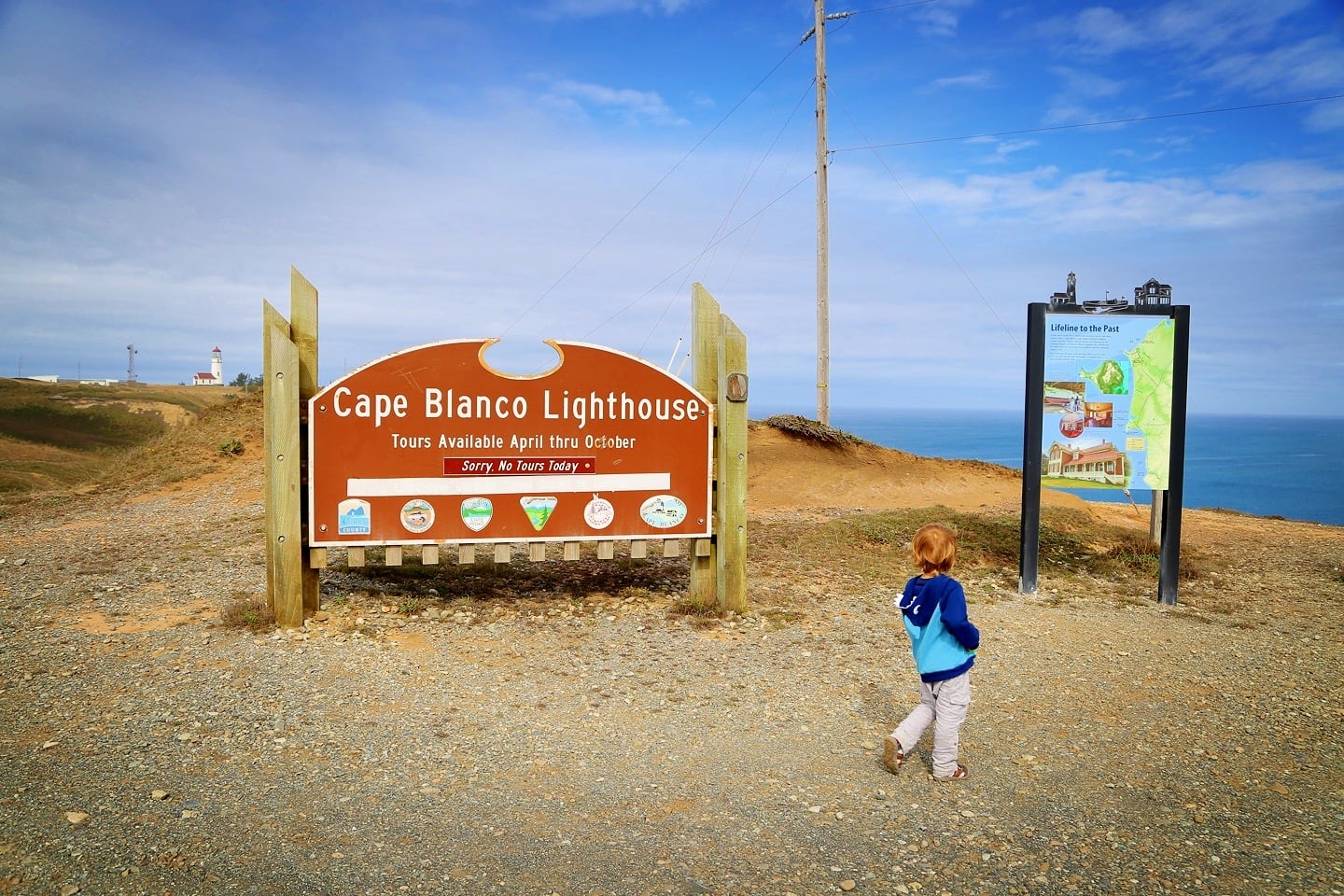 The parking lot for the lighthouse is located about 0.3 miles away, requiring visitors to make their way from the lot by foot along a hilly and paved access road.
It's a serene stroll that offers commanding views of both sides of the cape and countless photo ops of the historic lighthouse perched on the bluff.
In a typical year, tours are available April through October. Check with the State Park for the latest schedule and information.
Even when the lighthouse is closed (as it was during our visit), exploring the lighthouse grounds is a worthwhile outing in itself.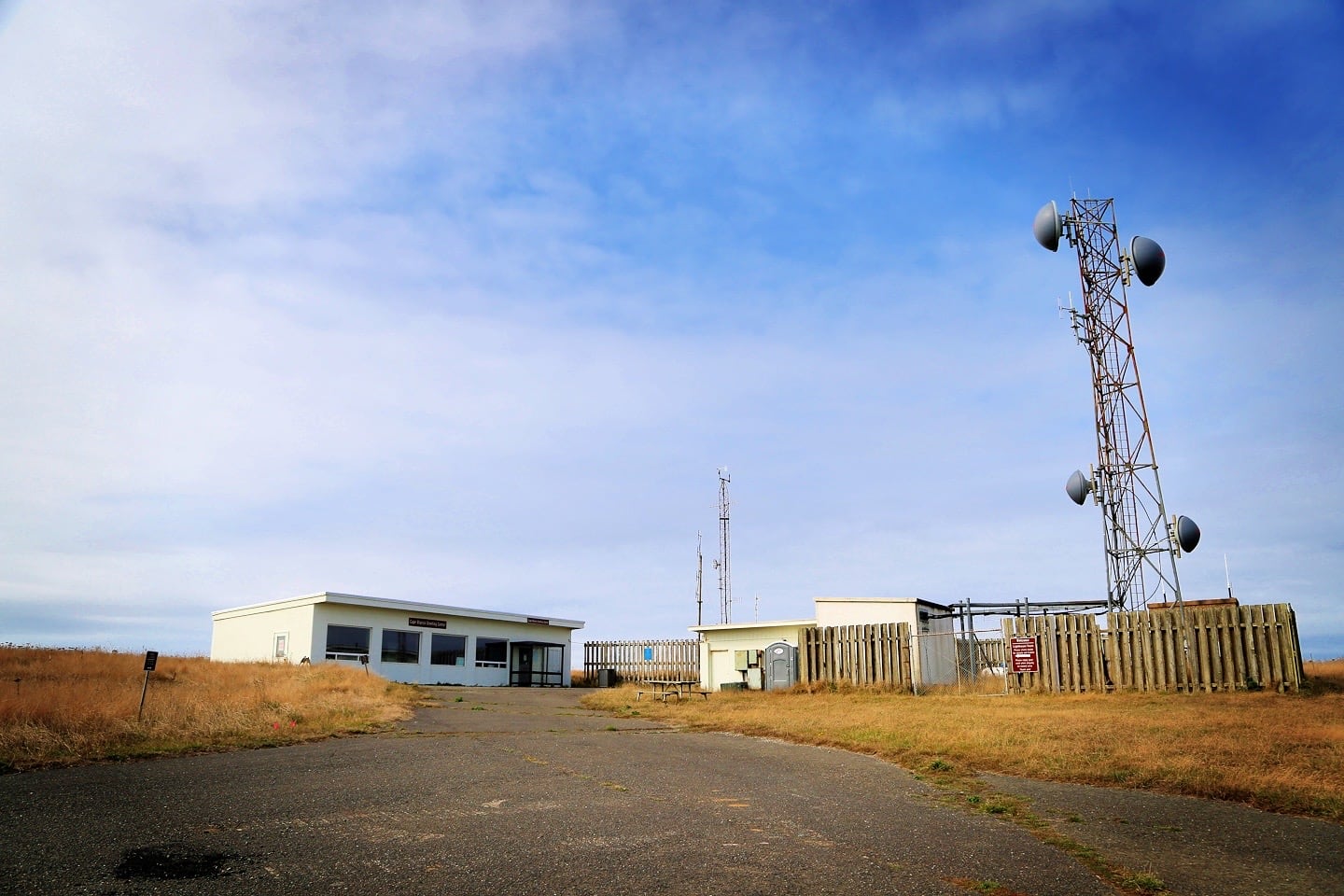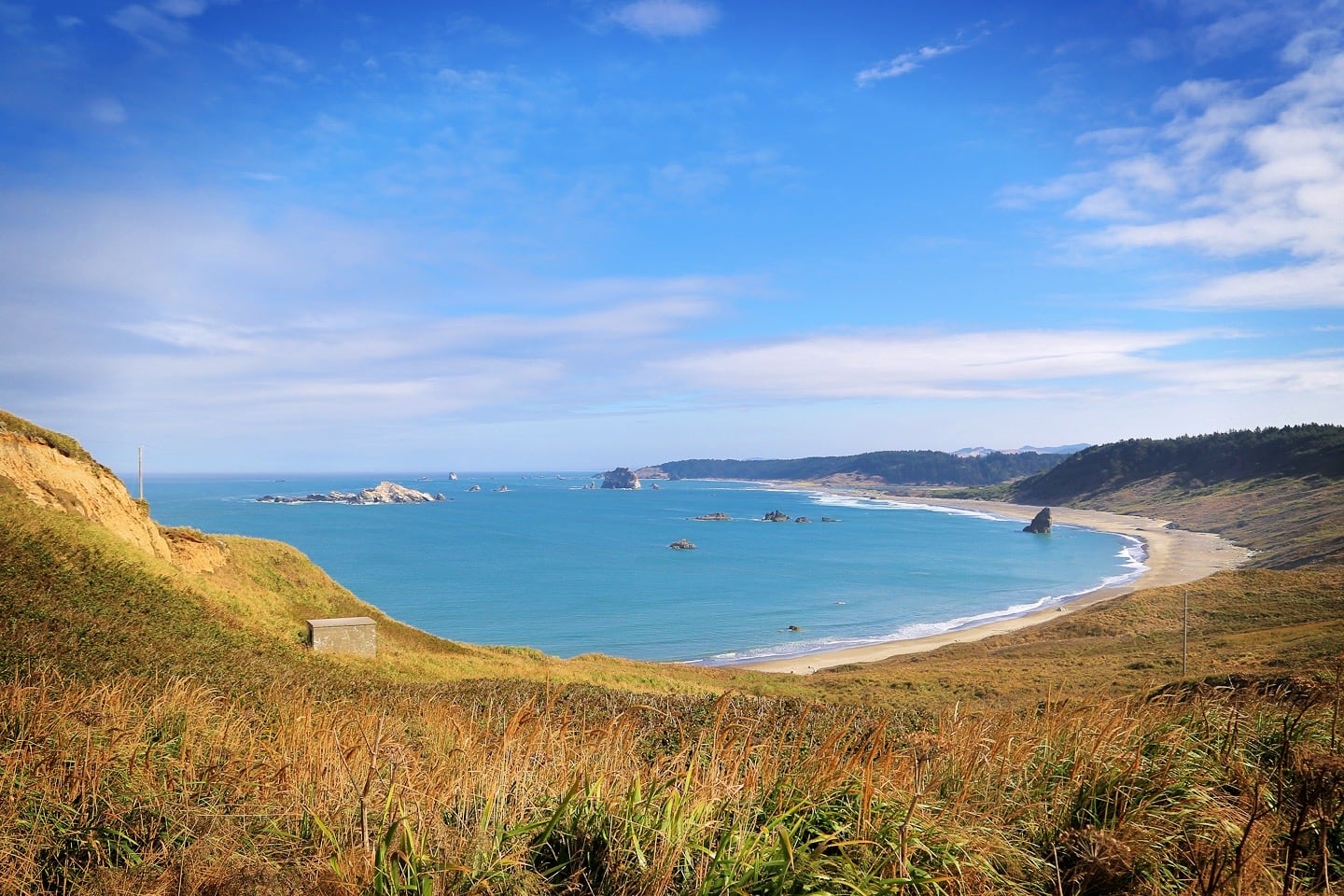 2. Incredible Coastal Views!
Even if you make it no farther than the parking lot, you're bound to be treated to breathtaking scenery (provided the cape isn't fogged in).
On a clear day, expect picture-perfect views of Sixes Beach and bright white Gull Rock in the bay on the north side of the cape, and crashing waves and rugged coastline on the south side.
Best of all, here on the southern Oregon Coast, you're far more likely to get a clear view than you might in the much more frequently visited north. More on that in a bit.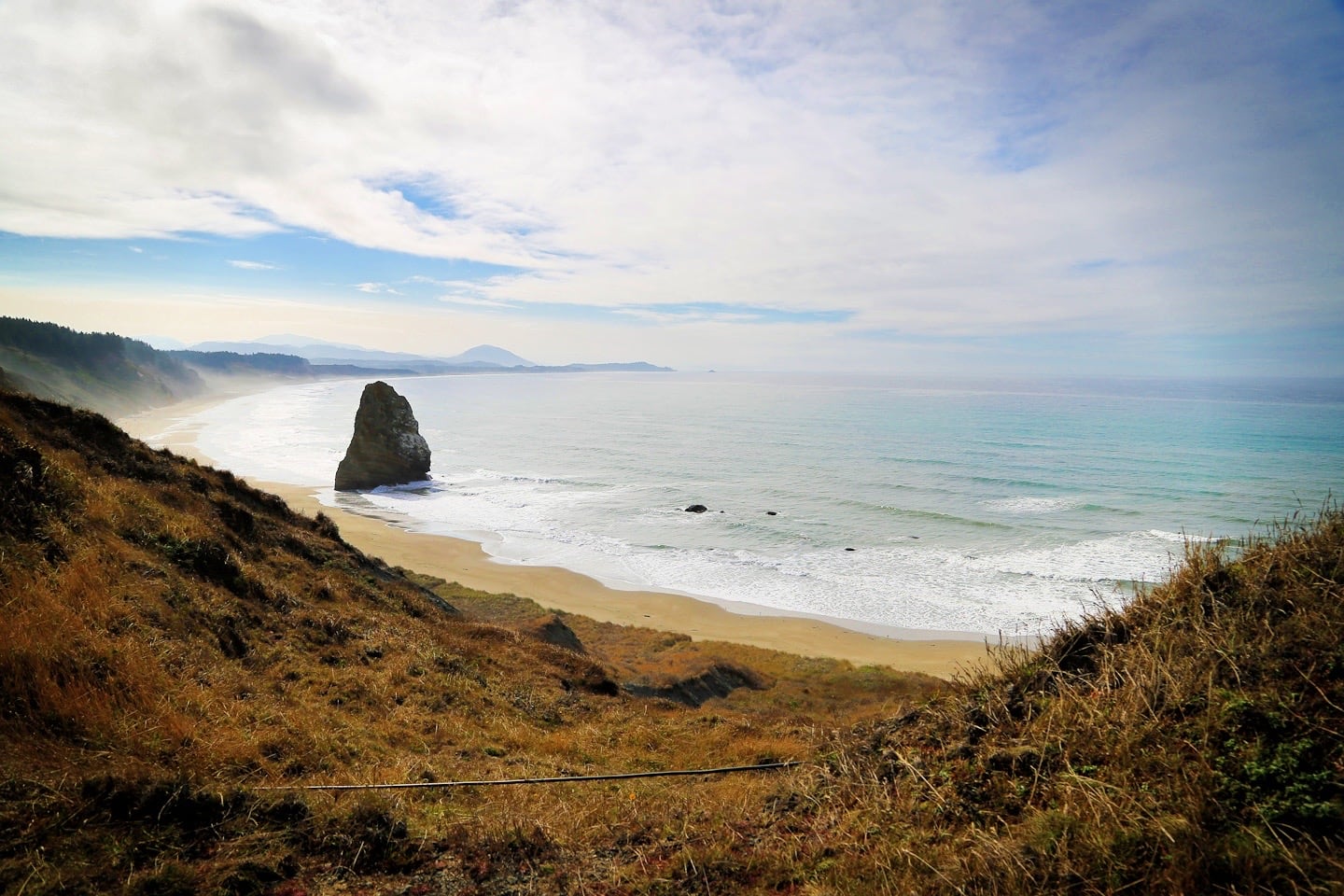 3. Cape Blanco Campground
The park's campground features campsites, RV hookups, cabins, hot showers, and a horse camp in a wooded setting a short walk from the beach (and the Oregon Coast Trail).
If you're looking for a great place to camp on the Southern Oregon Coast, Cape Blanco Campground is hard to beat!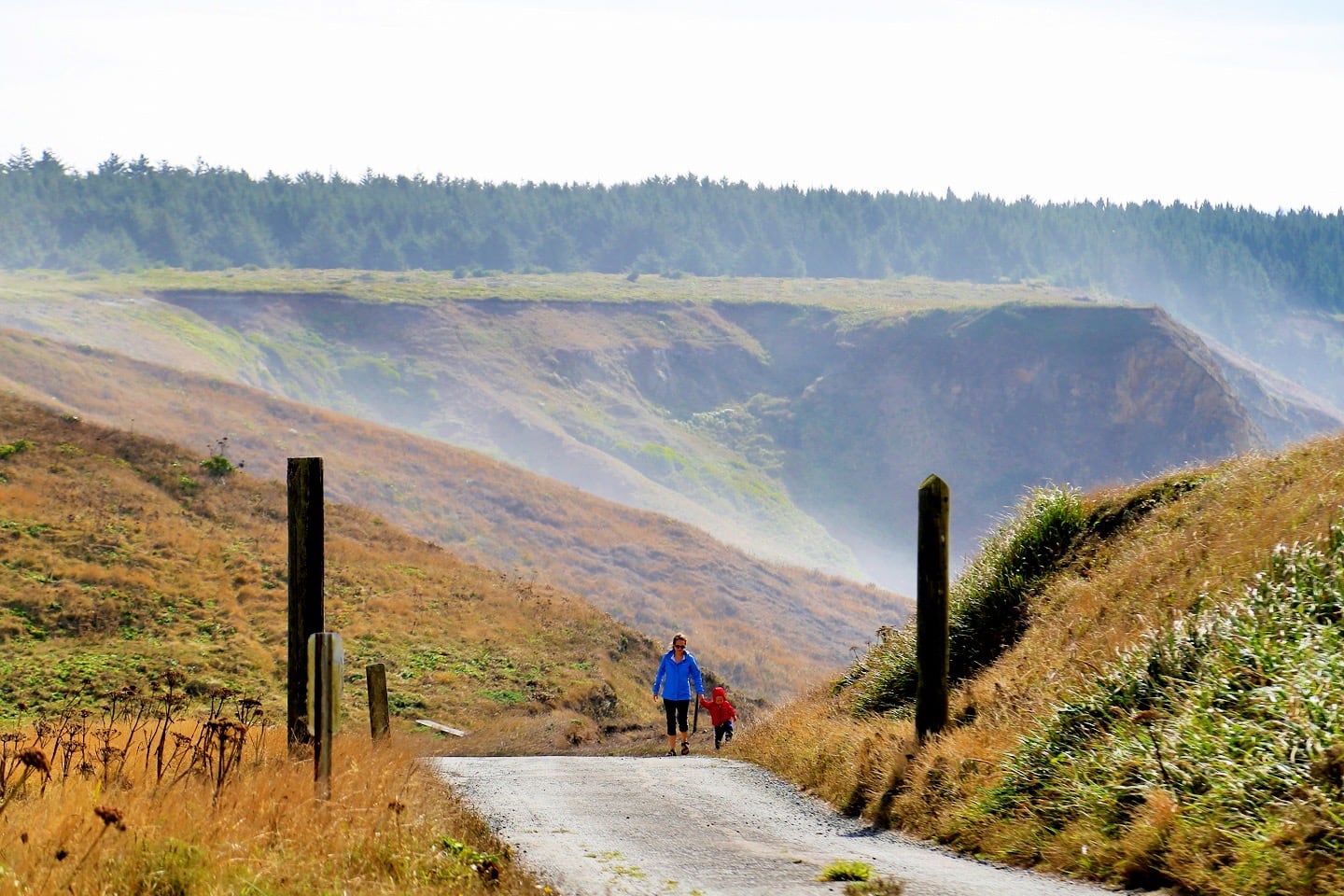 4. Lightly-Trafficked Hiking Trails
Hiking at Cape Blanco State Park is often overlooked, perhaps given the abundance of hiking opportunities elsewhere in the area, but also the lack of good trail maps and signage.
The coastline here on both sides of the cape makes up a small portion of the 425-mile (684 km) Oregon Coast Trail (OCT), but there are also a number of lesser known inland trails to explore as well.
Here are three favorite hikes around the park:
(psst…use our hiking map above to follow along)
South Cape
This easy-to-moderate 2-mile loop offers a great mix of forest and beach.
Starting at the lighthouse parking lot, head east (away from the lighthouse) briefly before turning right onto Lighthouse Trail.
Follow this trail through a wooded area for about one mile (the trail becomes Beach Trail, then a campground access road, before gently sloping down to the beach).
Follow the beach north for about a mile, then return on the steep trail that leads directly to the parking lot.
Sixes River & Beach
This flat and exposed hike is an easy 2-mile loop, taking in the banks of the Sixes River and northern part of Sixes Beach.
Starting at the end of the Hughes House access road, follow the path north along the river for about 0.5 miles until you reach the sandy river mouth.
Follow the sand around the point to Sixes Beach. The return trail is down the coast about 200 yards and on the left.
Follow the trail over a grassy bluff for 0.5 miles back to the starting point. Or…continue along the beach for a considerably larger loop (see next).
Big Sixes River & Beach
This scenic loop adds 2 miles to the previous hike, for a total of 4 miles round trip.
Following the directions above, instead of turning left onto the trail over the grassy bluff, continue along Sixes Beach for another 1.3 miles.
Look for the Cliffside Trail rising steeply on the left and follow it to the lighthouse parking lot.
From this point, you could follow Cape Blanco Road back to Hughes House, but we recommend taking advantage of the off-road footpaths.
To do so, follow Cape Blanco Road for 300 yards, then turn left on the trail, just past the turn off to the campground.
Follow the winding network of foot paths for about 1.5 miles (see the map) back to the parking area near Hughes House.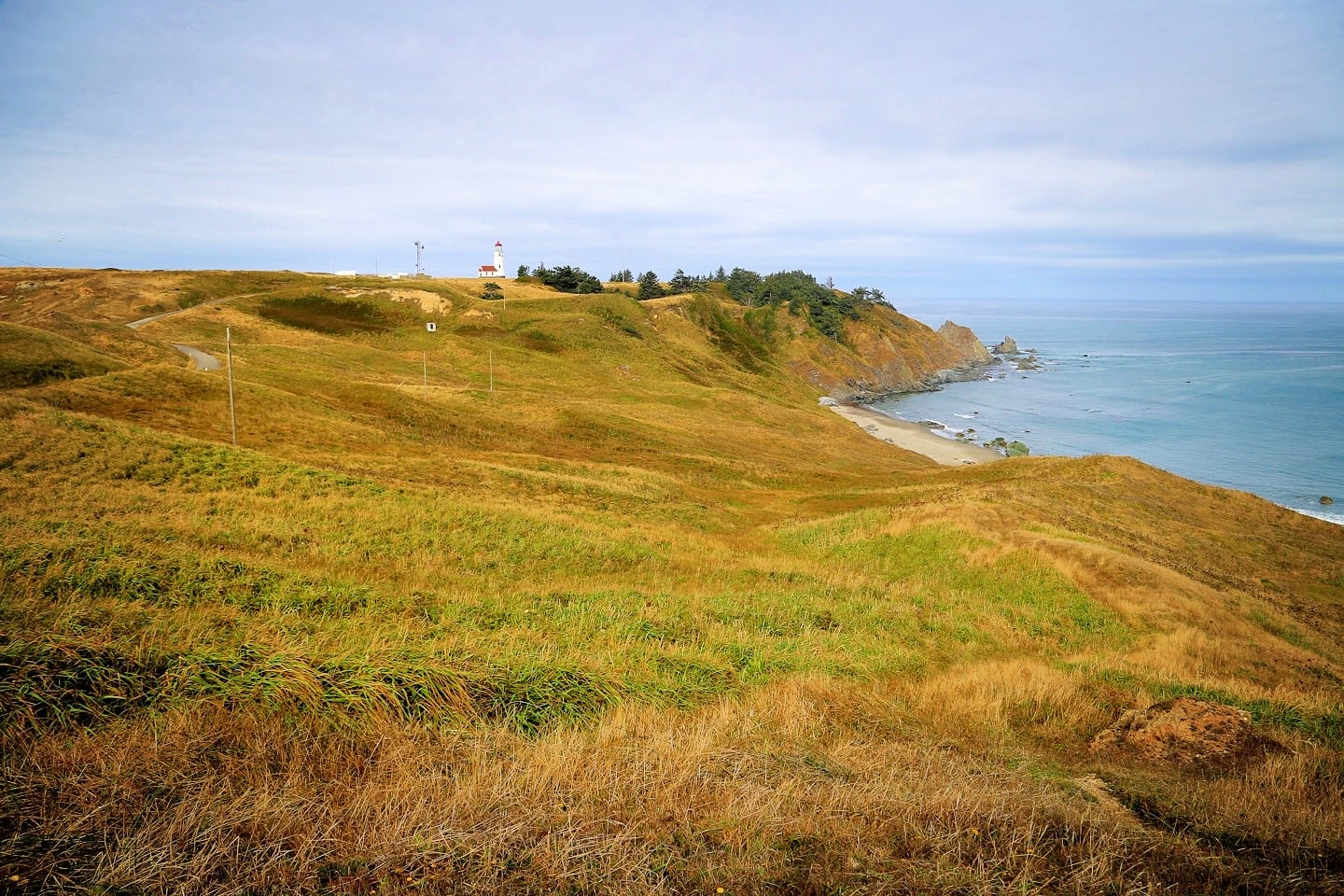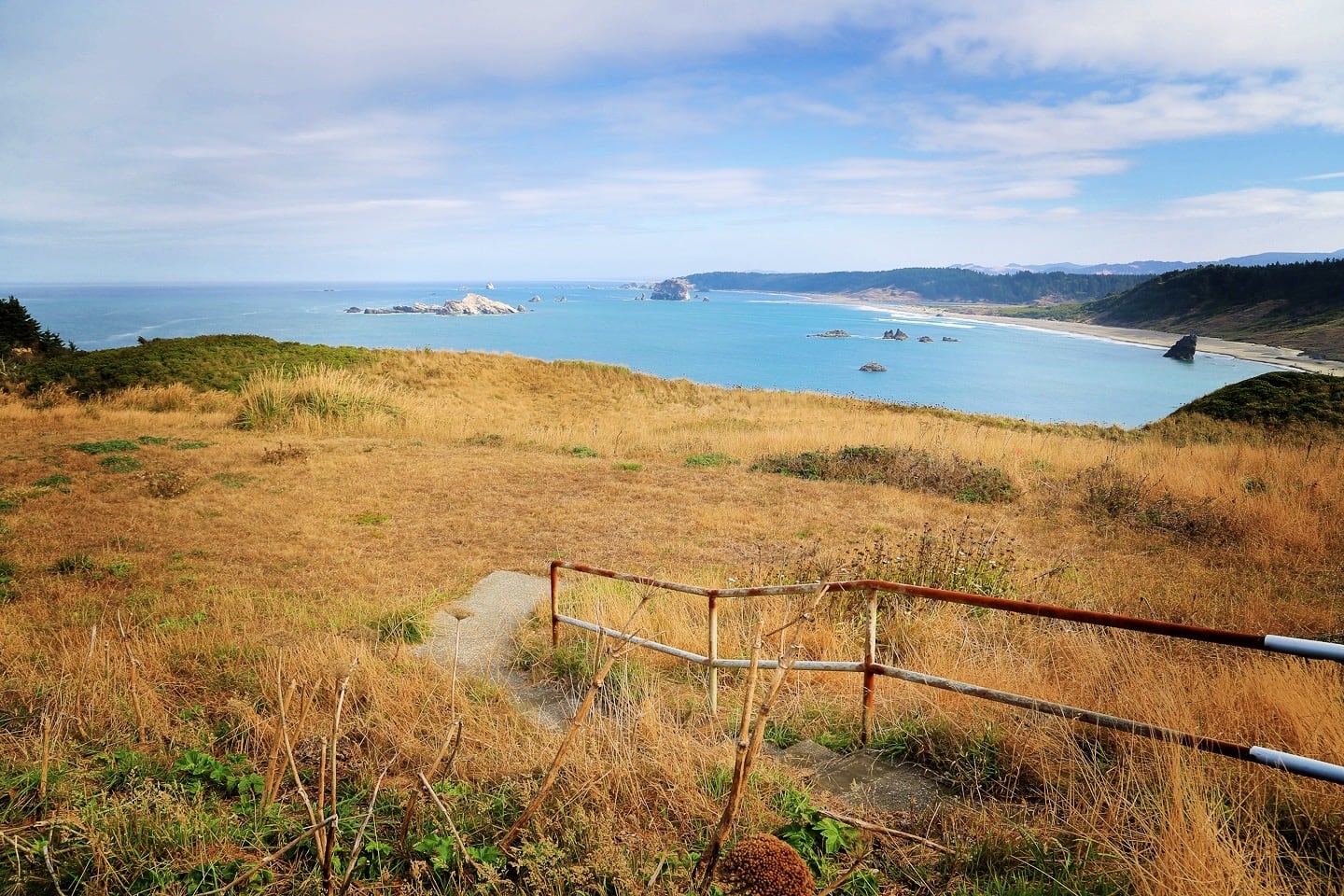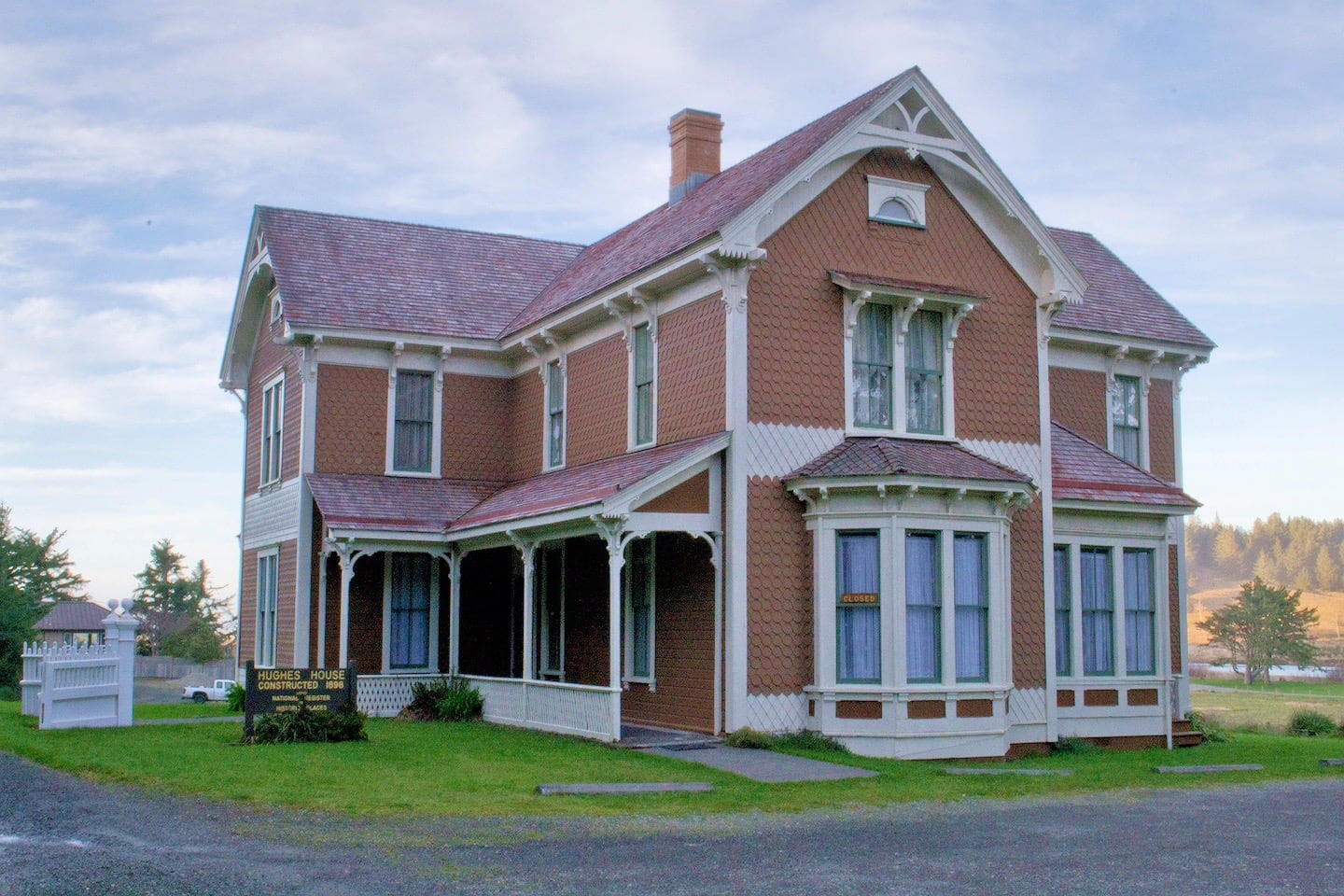 5. Hughes House and Area History
Cape Blanco State Park has 400+ years of fascinating recorded history, spanning Spanish explorers and Irish settlers, shipwrecks and numerous literary references.
Little tangible evidence of Spanish captain Martin D'Aguilar's 1603 visit has survived the centuries. Yet, there are a few well-preserved structures from the 19th century to pique the interest of history buffs, such as Cape Blanco Light (1870), and the house of the former landowner, Patrick Hughes, built in 1898.
Tours of the house are usually offered from May through September, and closed Tuesdays.
A short distance from the house is also a pioneer cemetery dating to the 19th century, home to many of the area's early European settlers.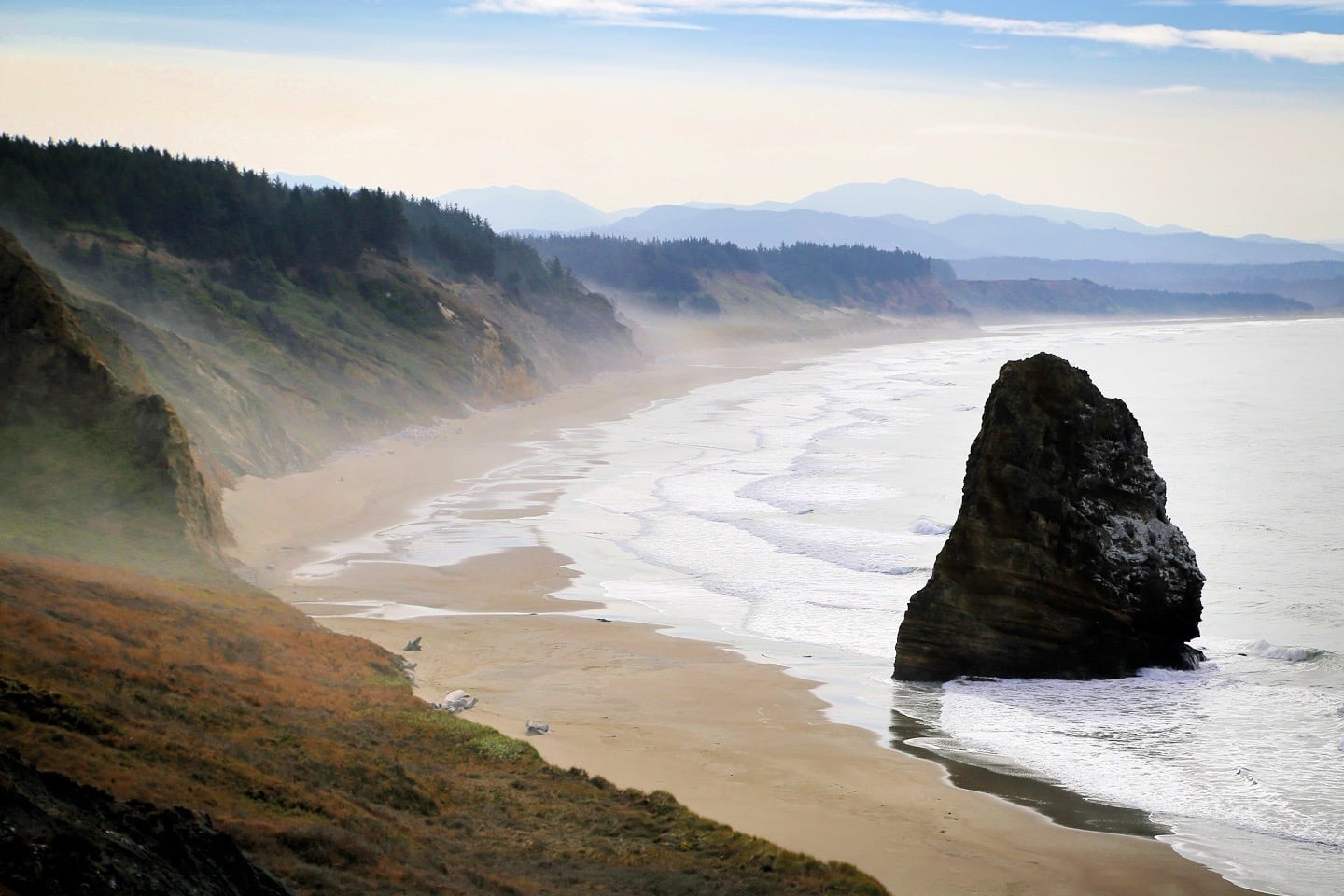 6. Beachcombing on Both Sides
Cape Blanco is a rugged headland jutting farther west than nearly any other point in the contiguous U.S.
However, unlike many other rocky headlands in the region, Cape Blanco offers access to two long and picturesque beaches ⏤ one to the north, and one to the south.
Pick a beach and follow the steep trail from the lighthouse parking lot (or hike to the easier access points farther afield ⏤ see hiking section, above), and see what kinds of shells, driftwood, and "treasures" have washed ashore on these serene stretches of sand.
7. Nearby Attractions
In addition to its own attractions, Cape Blanco State Park is located in close proximity to many other area points of interest that are also worthy of your time.
If you've got a bit of time to spare, we encourage you to explore more of the area, particularly Floras Lake for camping and recreation and the charming and picturesque town of Port Orford.
There are also a number of other scenic state parks nearby, offering good hiking and recreation opportunities. Check out Humbug Mountain, Port Orford Heads, Arizona Beach, Sisters Rock, and Paradise Point.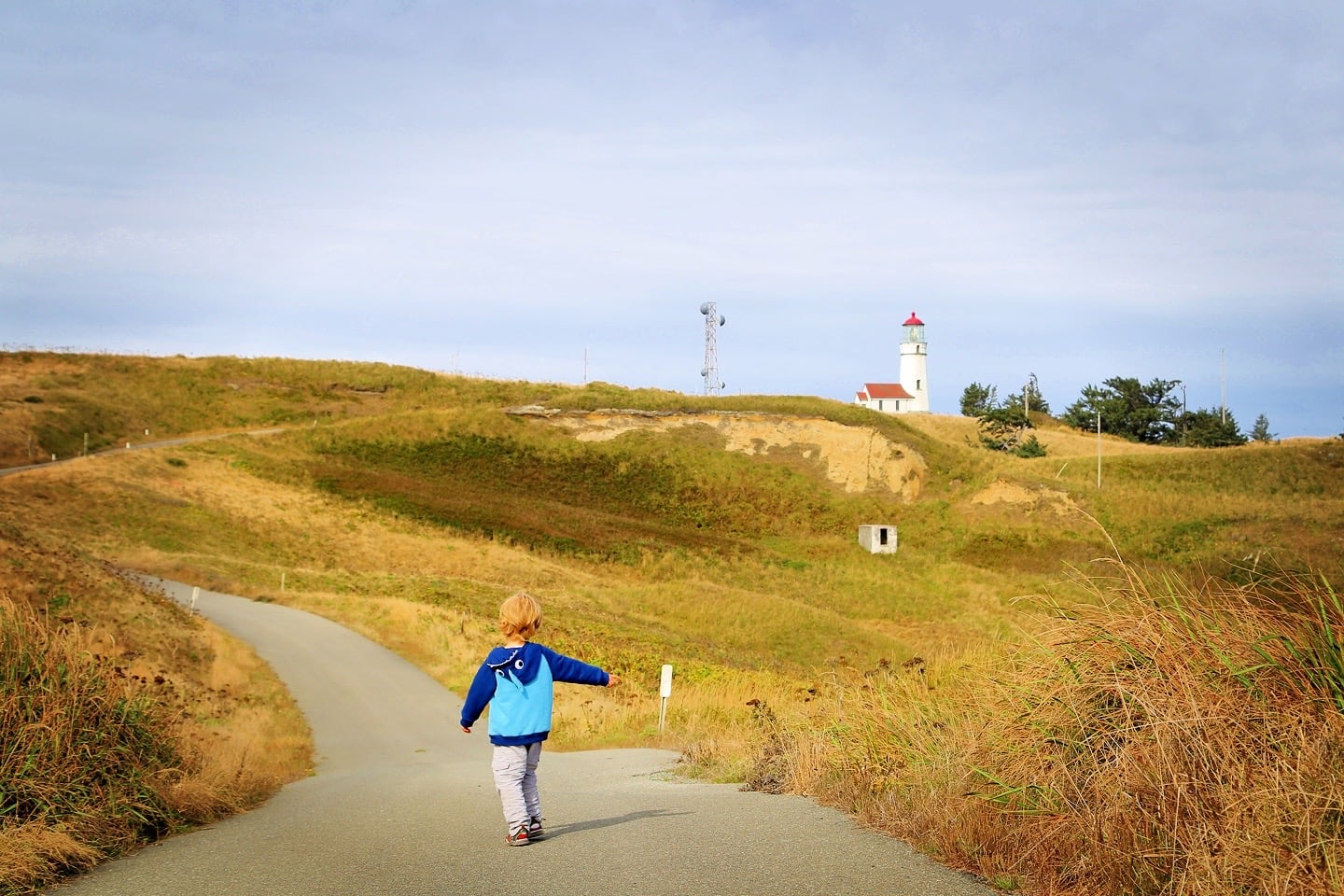 8. The Weather!
Compared to points farther north along the Oregon Coast, the weather in this region is generally far more mild and agreeable, especially in the summer months.
Cape Blanco has a Mediterranean climate, with cool, wet winter and warm, dry summers, making June through September the best time to visit.
In the winter months, don't be surprised by high winds and bad weather. Wind speeds can reach 100 mph at the cape during a bad storm, and numerous ships have met their fate in the rocky reef just south of the headland.
Where to Stay Near Cape Blanco State Park
We love camping, and Cape Blanco State Park has a superb campground (see camping section above).
For those wanting a little more comfort during their trip, there are numerous hotel options nearby as well.
Here is our list of top recommendations for where to stay near Cape Blanco State Park.
PORT ORFORD ▸ Coast Hill Home is our top choice for groups and families visiting the area. Located just outside downtown Port Orford, this spacious house boasts three bedrooms, scenic views, and all the amenities of home!
BANDON ▸ Windermere on the Beach is our top Bandon-area mid-range hotel pick, for its cozy, beach-facing location just south of Old Town. Lamplighter Inn is another great choice for budget-conscious travelers, just up Highway 101 from Old Town.
GOLD BEACH ▸ Pacific Reef Hotel & Light Show is our top pick in Gold Beach (1 hour south of Cape Blanco), offering spectacular ocean views, private beach access, friendly staff, and a nightly light show!
BONUS!!! ▸ For a unique glamping experience on a scenic cranberry farm, check out Tentrr Cranberry Overlook at Black Moon Farms, half way between Bandon and Cape Blanco.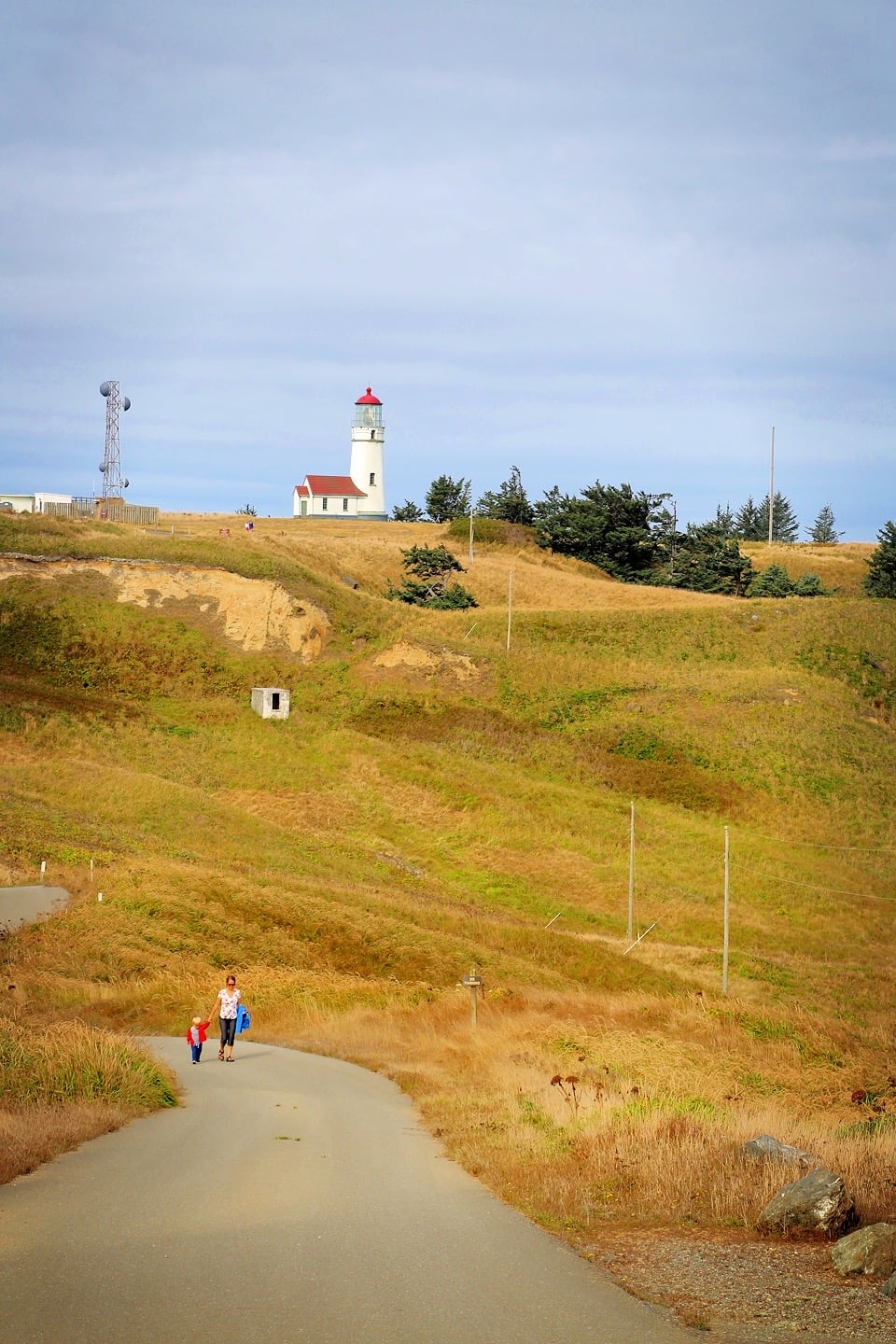 What to Pack
What to pack for a day trip to Cape Blanco State Park is going to depend a lot on whether you simply plan to visit the lighthouse or spend the better part of a day hiking around the park.
In either case, you'll want to dress in layers ⏤ weather can change dramatically on the Oregon Coast from hour to hour any time of year.
You'll also want to wear comfortable walking or hiking shoes. Even if you just plan to visit the light house, plan on walking about a mile, round trip, along rolling hills. For beach hiking, we recommend durable hiking sandals instead of shoes.
If you plan to spend a few hours hiking, be sure to pack snacks and water, since there are no services on either beach.
Due to the relatively steep and rugged trails leading to both beaches from the parking lot, a walking stick or set of trekking poles might come in handy (this is what we use and recommend).
You may also want to consider bringing a pair of compact binoculars (and don't forget your camera!).
If you want a battle-tested recommendation on an awesome kid carrier for hiking, we can't say enough good things about our Deuter kid carrier. For infants and young toddlers, we recommend an ErgoBaby carrier (or equivalent).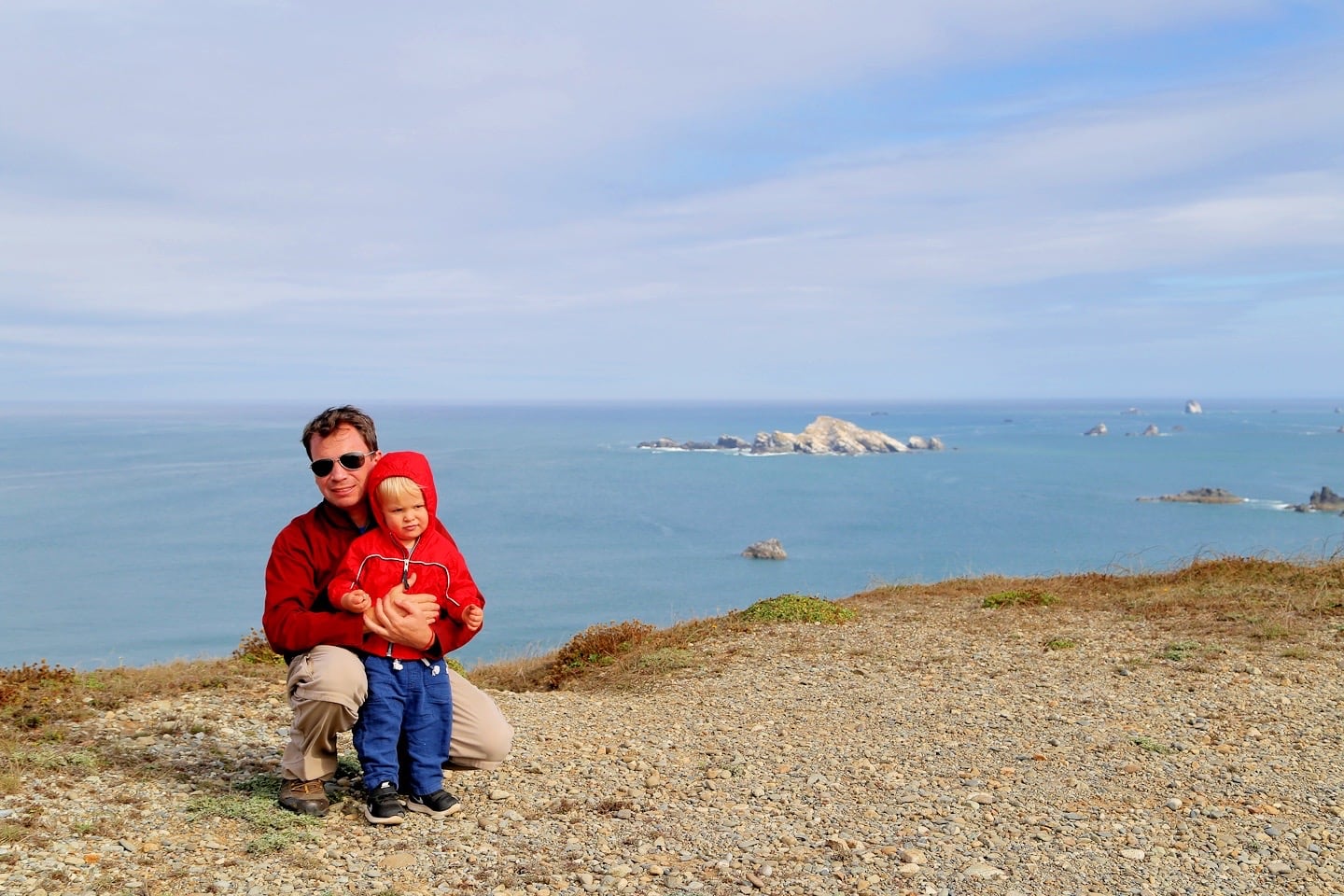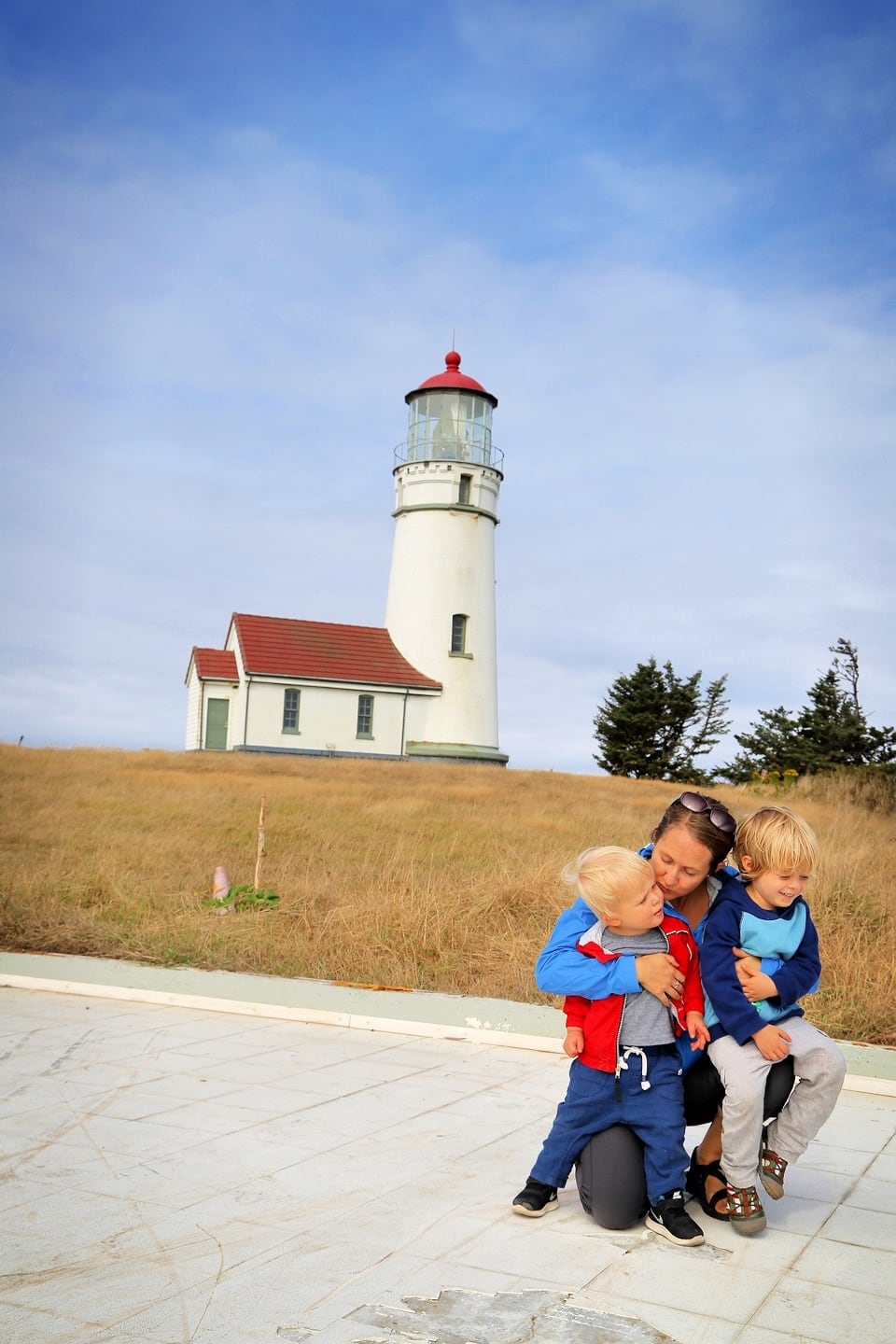 ---
Have You Visited Cape Blanco State Park?
Let us know what you thought in the comments below!
---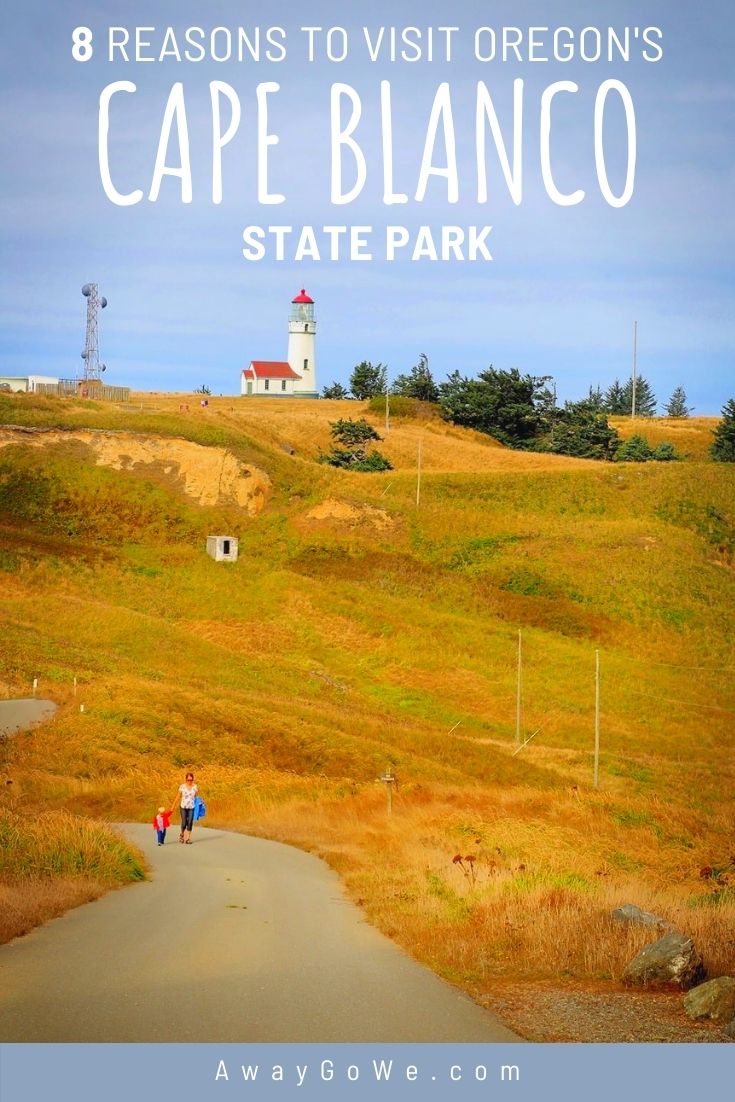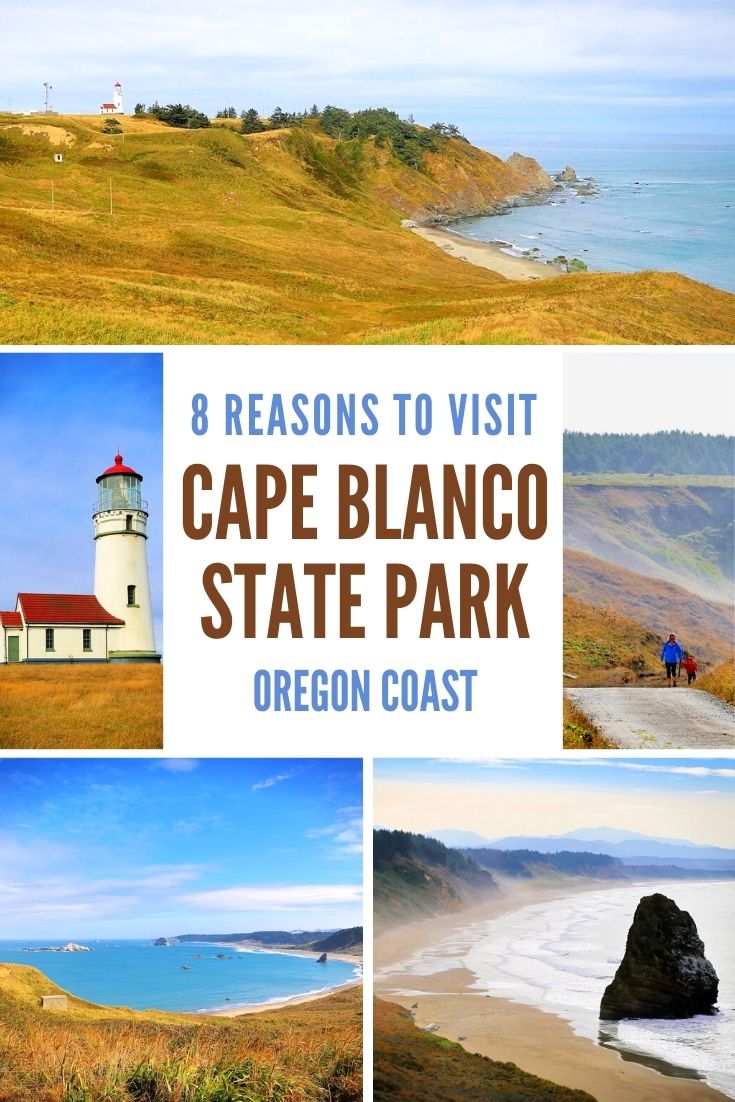 I've been a blogger and travel writer since 2010, covering everything from luxury hotels to hidden destinations and travel gear. Originally from Oregon, I've spent the majority of the past 20 years living outside of the U.S., in Mexico, the Caribbean, Southeast Asia, Africa, and Europe. I received a BA in Communications (Journalism) from Boston College, and an MA in International Development Studies from the George Washington University. I'm passionate about exploration and discovery, and providing independent, thoroughly-researched, ad-free advice for travelers.