Ready for an incredible hiking experience minutes from downtown Portland, Oregon? The Kings Heights Loop hike by way of Pittock Mansion, Wildwood Trail, Lower Macleay Trail, and NW 23rd Ave is that and more.
There are infinite possibilities regarding how you want to approach this hike, but our two favorites are:
An 8-mile loop hike beginning and ending in Washington Park, Lower Macleay Park, or anywhere off of NW 23rd Ave., or;
A 5-mile out-and-back hike beginning and ending at Lower Macleay Park.
This article and trail report focuses on the 8-mile loop hike, but if you want the low-down on the 5-miler, just skip ahead to the Pittock Mansion to Lower Macleay Park section and do it in reverse.
We'd classify this 8-mile loop as moderate to strenuous, with a fair amount of pavement pounding at the end. But if you do like we do and use your jaunt through Nob Hill to grab lunch on your way back to the parking lot/ MAX station, the pitstop will be well worth your while.
Lori and I liked to do this hike regularly while we were living in an apartment in Goose Hill, making it crazy convenient for us.
But you certainly don't have to live on the loop to enjoy this hike. The loop is conveniently located a 10-minute walk from Providence Park MAX station.
On with the hike!
Trail Report: Pittock Mansion Hike via Wildwood & Lower Macleay Trails
Hike Overview
It's no secret that Portland is full of great hikes, both in and around the city. While we've racked up a fair amount of Portland trail mileage over the past 18 months, there's no doubt in my mind which urban hike tops our list: The Pittock Mansion hike via Wildwood Trail, Lower Macleay Trail, and NW 23rd Ave.
We like to refer to the complete 8-mile loop as the Kings Heights Loop because it completely encircles that Northwest Portland neighborhood, as seen here in our GPS track.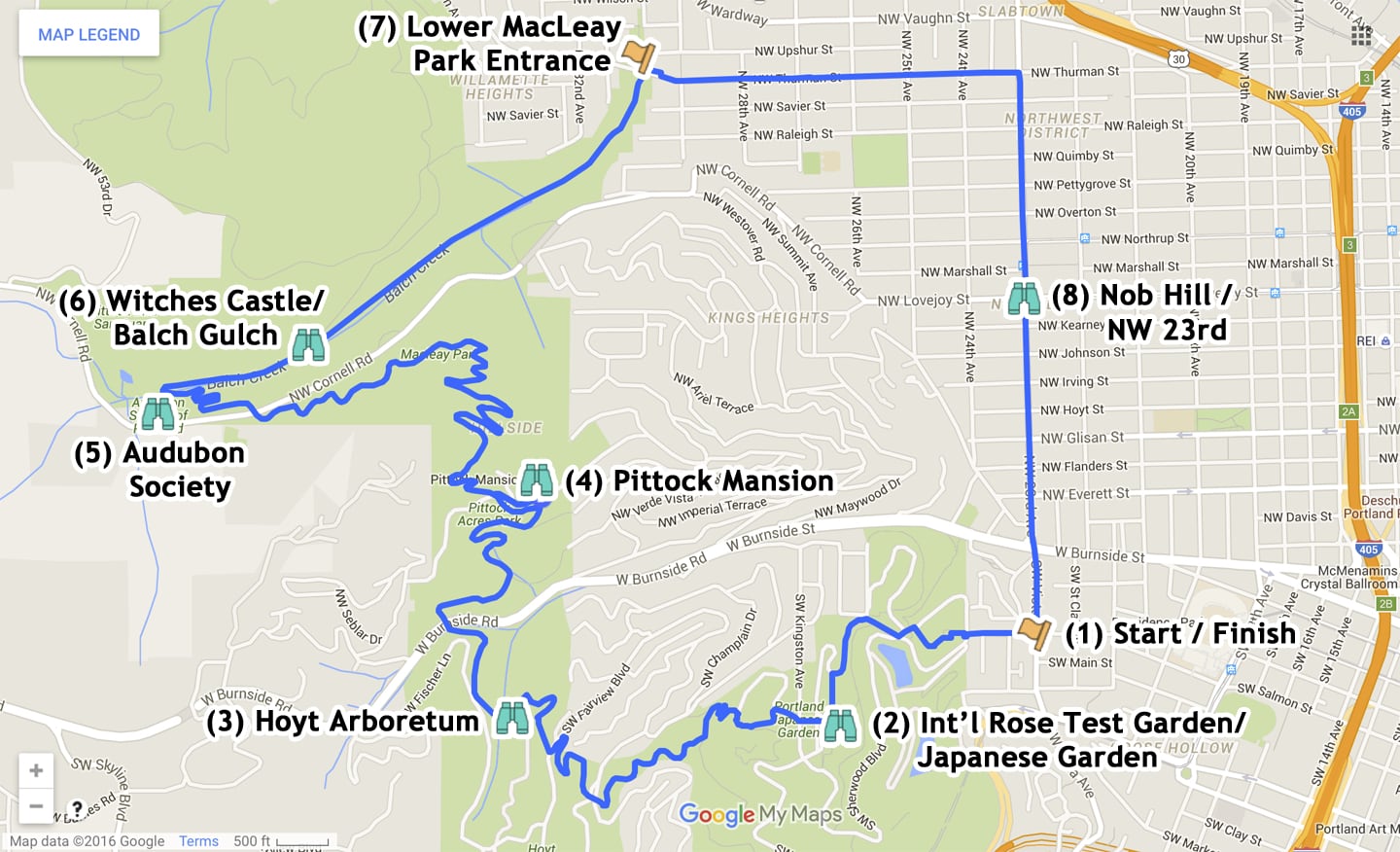 This trail report and guide is divided into eight sections:
We start in the neighborhood of Goose Hollow (the nearest point to the Providence Park MAX station) (1);
Then, we follow the trail through Washington Park via the International Rose Test Garden and Japanese Garden (2);
Next, it's on to Hoyt Arboretum (3) via Wildwood Trail, crossing W Burnside Road to Pittock Mansion (4);
The hike continues along Wildwood Trail via Portland Audubon (5) and Balch Creek (6) where it becomes Lower Macleay Trail;
At Lower Macleay Park entrance (7) the dirt track gives way to tarmac, as we round out the loop following NW Thurman St. and NW 23rd Ave via Nob Hill (8), arriving back at our starting point in Goose Hollow.
Lori and I originally discovered the Pittock Mansion hike when a friend came to town and we decided to explore Balch Gulch.
We considered driving to Lower Macleay Park entrance at the end of NW Upshur and doing an out-and-back, but that didn't appeal to us or our friend at the time.
Instead, we decided to try and figure out our way there via area trails. Our efforts produced an eight mile loop beginning and ending at our apartment that we've since repeated several times.
Lori and I don't like to do a lot of things multiple times — too much to do and see in the world — but we occasionally make exceptions.
This particular hike is both unique and very convenient to us — I absolutely love the fact that I don't even have to drive to the trailhead — we live on it!
Since April 2015, I've done this hike more than half a dozen times, alone and with Lori, rain and shine.
We've taken a total of six guests with us at various times — pretty much anyone willing to do a little eight-mile, three-hour jaunt around the neighborhood.
Mile for mile, I'd say that this loop packs the most punch of any urban hike I've ever done.
Normally, we like to do the hike in a clockwise direction, saving the long, level slog down NW 23rd Ave for last.
Most recently, however, we did a car shuttle with a friend, which cut two miles off the hike (the urban NW Thurman/23rd part), and ended up doing the hike in reverse.
This post combines photos from multiple outings over the span of a couple of years and covers doing the loop in a clockwise direction.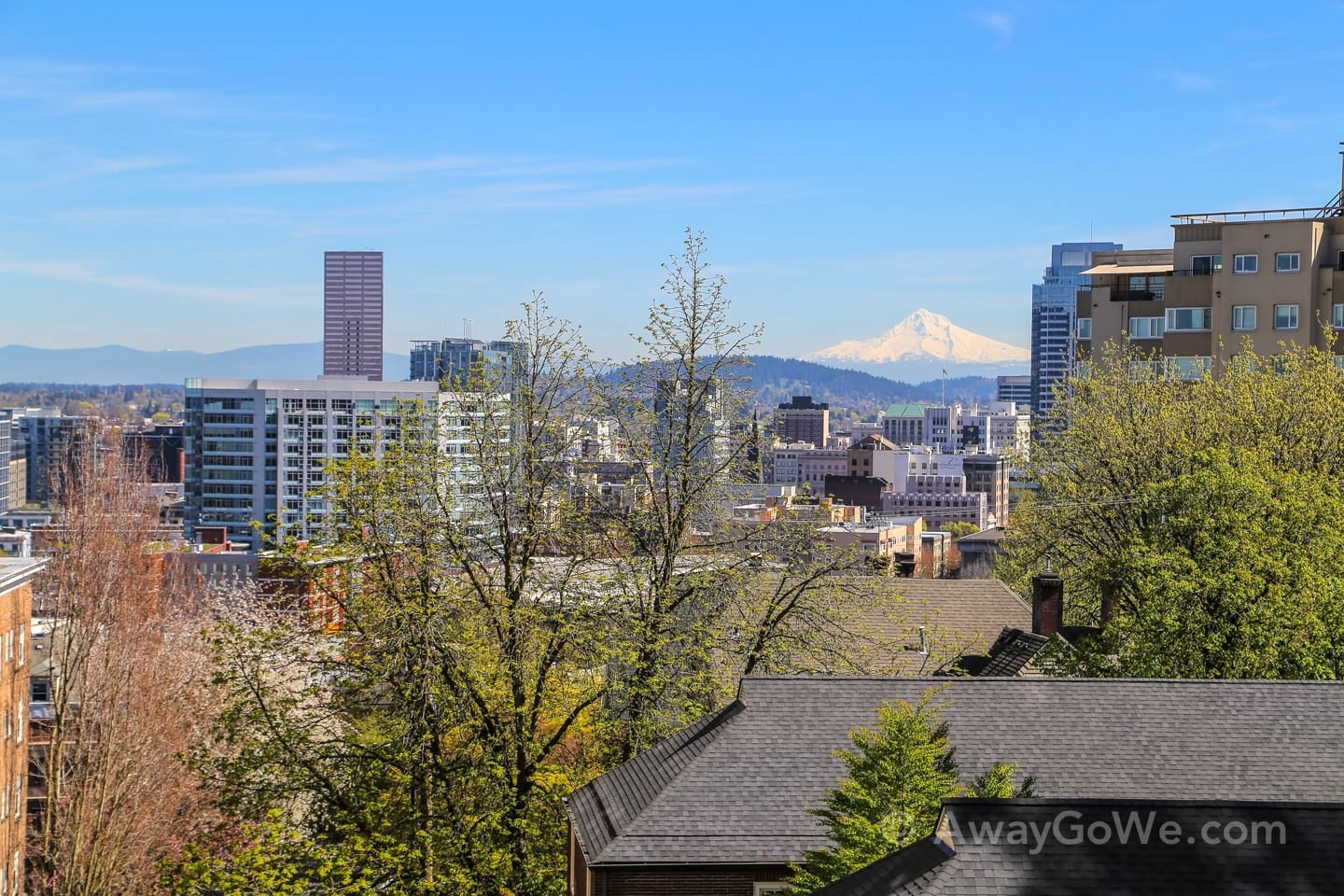 1. Goose Hollow/MAX Station to Rose Test Garden
As mentioned, we typically start this hike from our apartment in Goose Hollow, but it can easily be accessed at dozens of points and parking areas along the loop, and easily from the Providence Park MAX station.
Our first stop is Washington Park, about a ten minute walk from Providence Park MAX station.
Right off the bat, we've already climbed enough to enjoy a nice view from the top of the park's stairs (above).
A short walk farther up into Washington Park, we arrive at the outdoor amphitheater.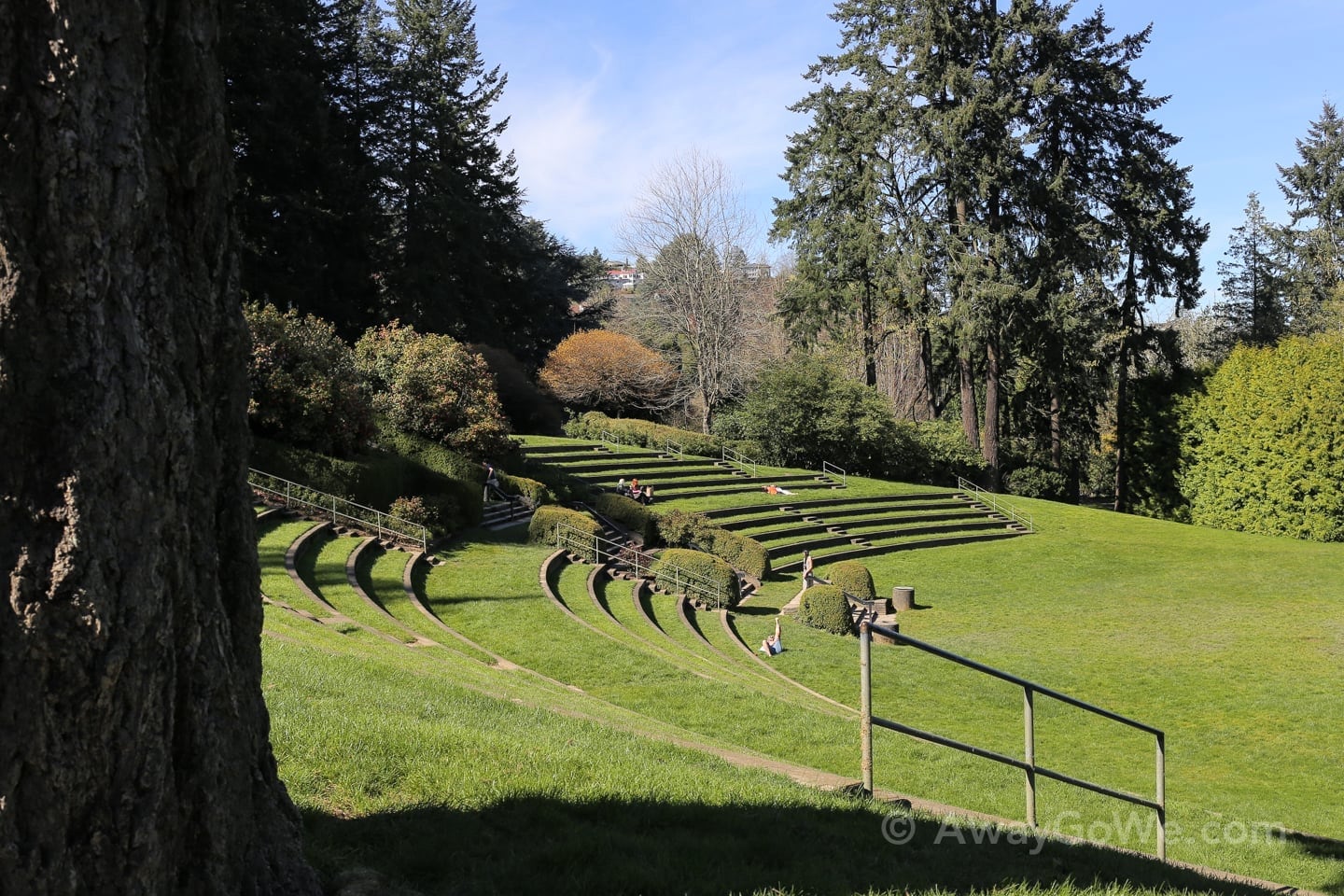 🔥 HOT TIP 🔥
Even after doing the loop a number of times, I still get lost from time to time, especially during the Hoyt Arboretum leg of the hike. Thankfully, OpenStreetMaps.org and the Maps.me phone app have all of these trails clearly marked, cutting a ton of guesswork out of the hike (though, admittedly, I do like to get lost in Hoyt Arboretum from time to time).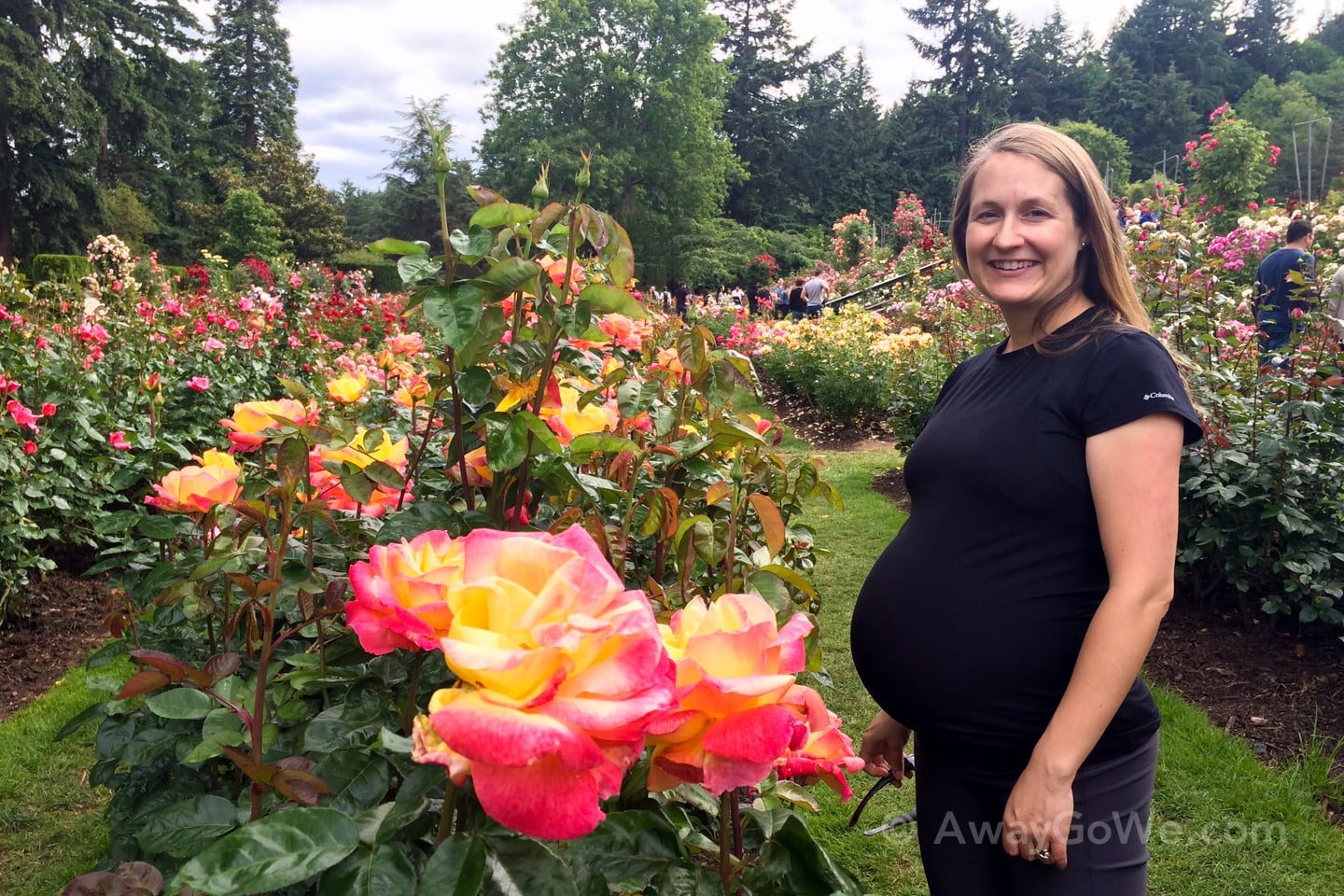 2. Rose Test Garden to Hoyt Arboretum
Adjacent to the amphitheater is one of Portland's most beloved outdoor spaces: The International Rose Test Garden.
It's late May and the roses are in full bloom. Evidently, the crowds are too! — a sign that the Portland Rose Festival, and summer, are just around the corner.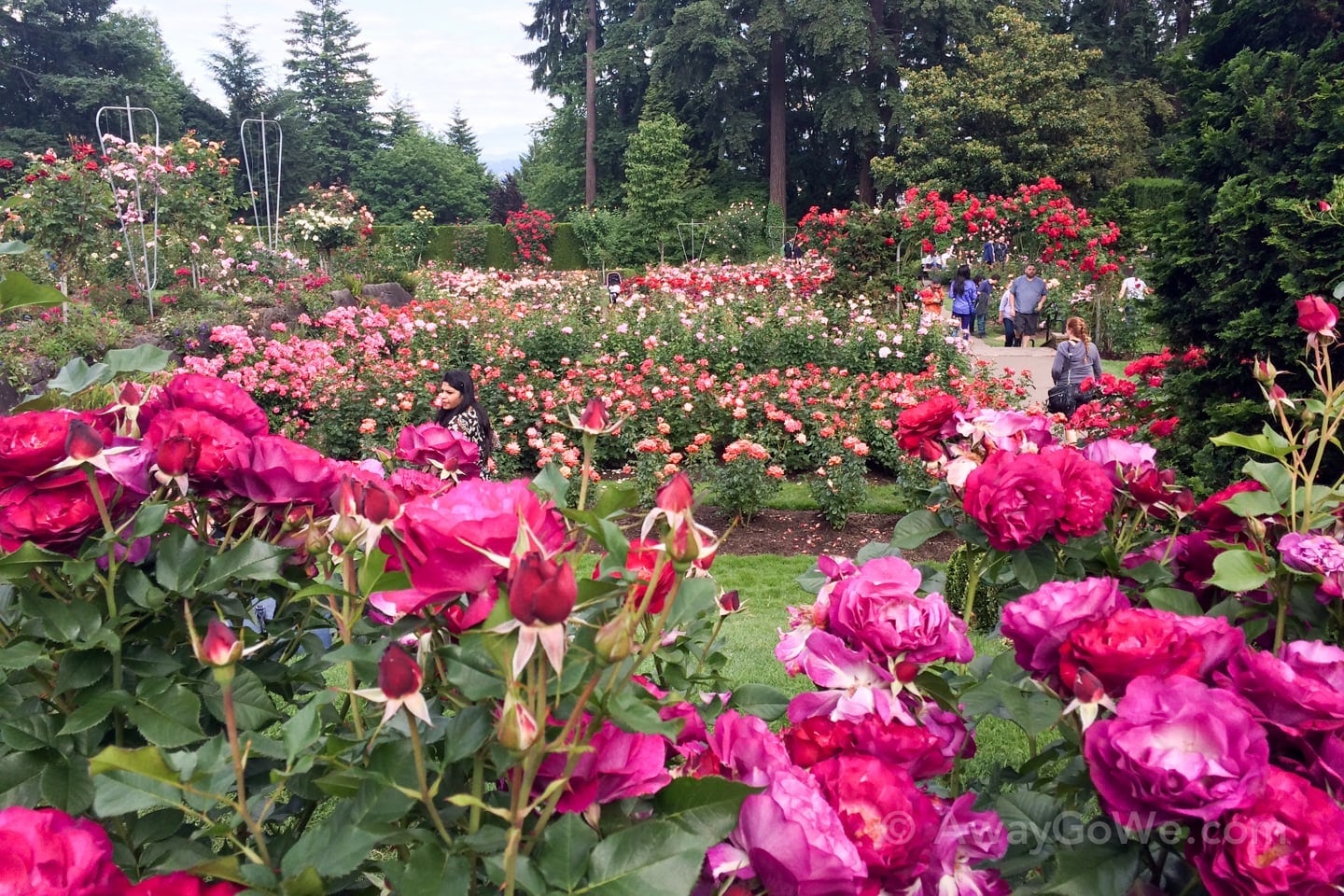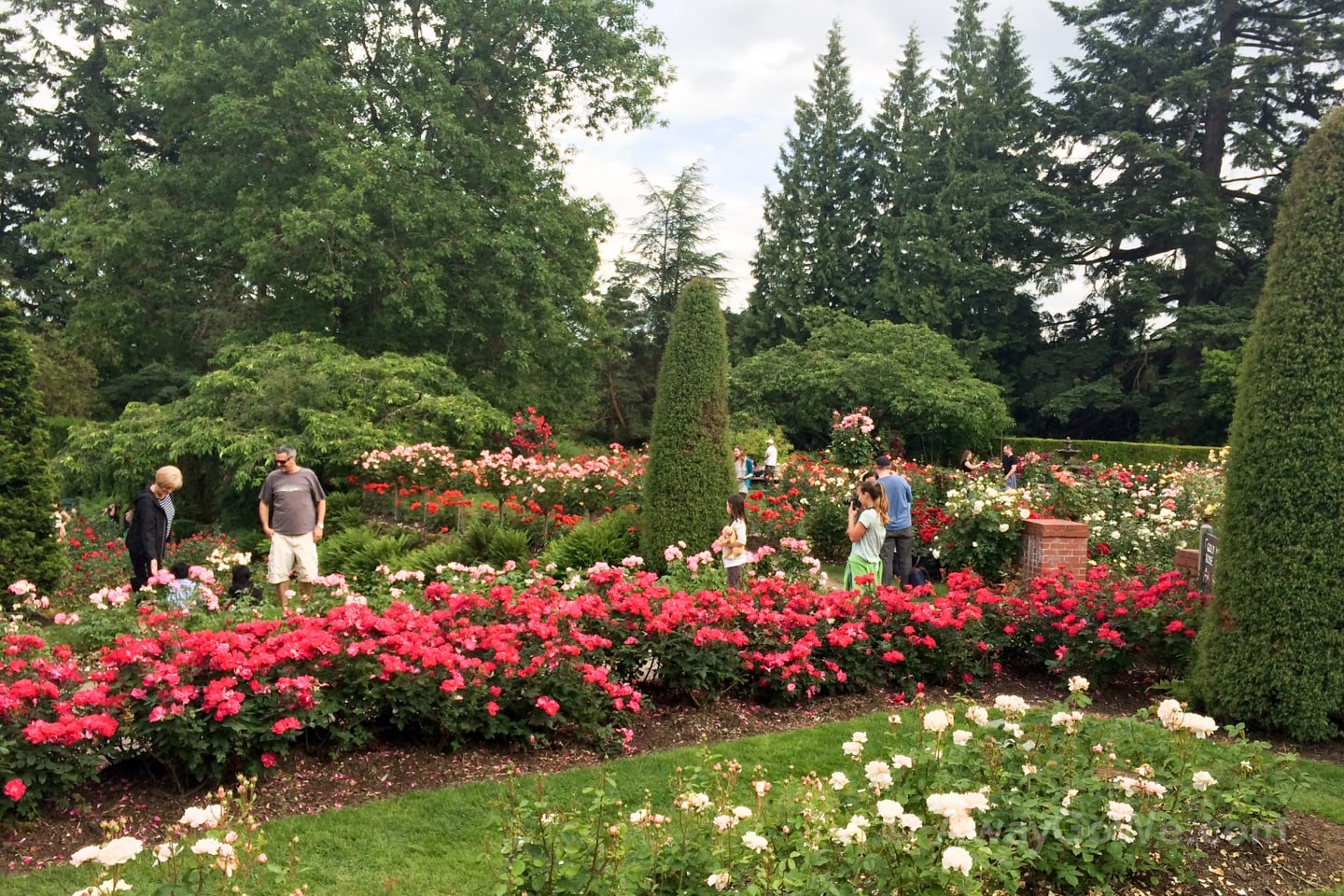 On an unseasonably warm March day during a solo hike, I was forced to take a detour around the Japanese Garden due to their big expansion project.
Following the same route a couple weeks ago, it became apparent that the detour will likely be in place for a very long time.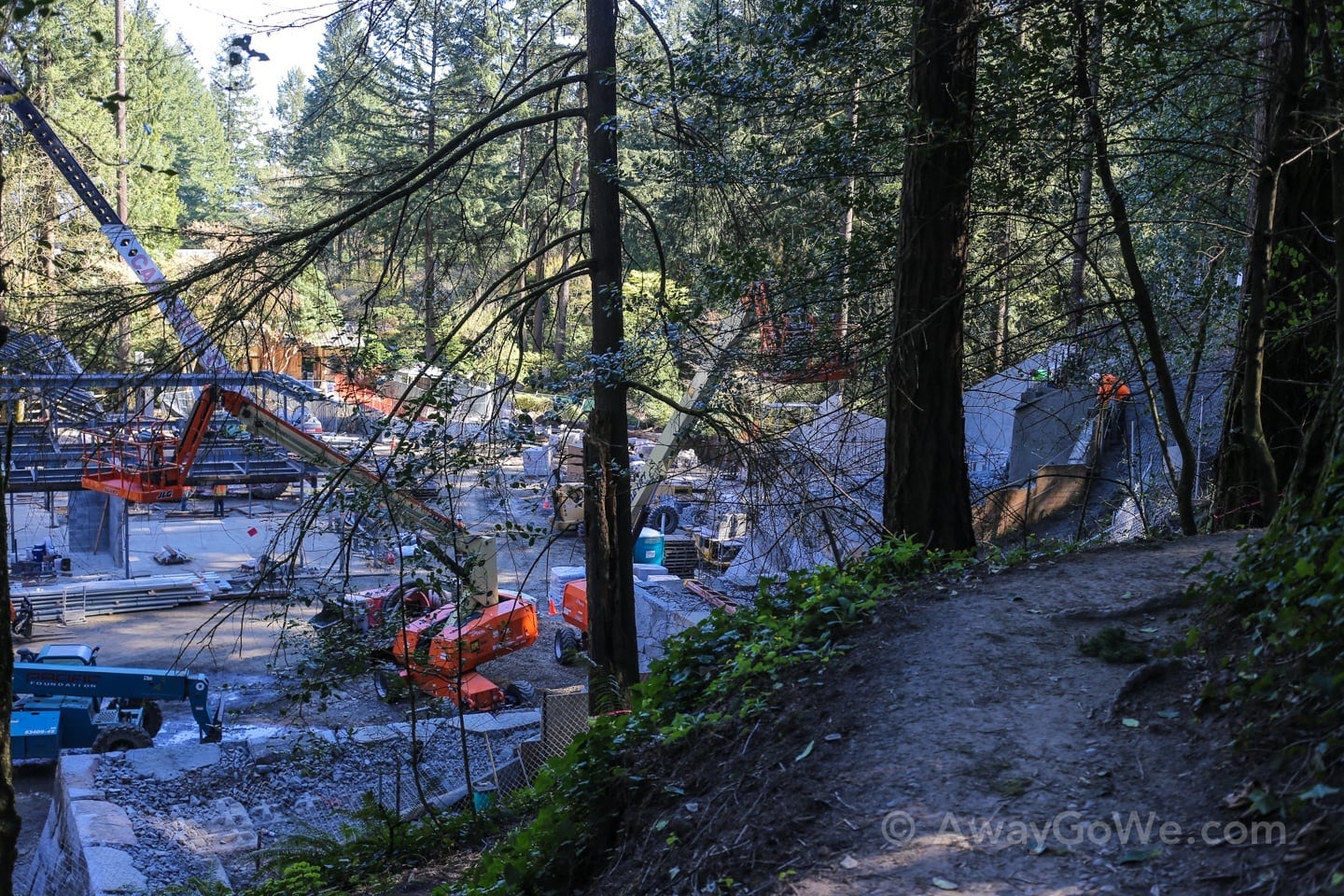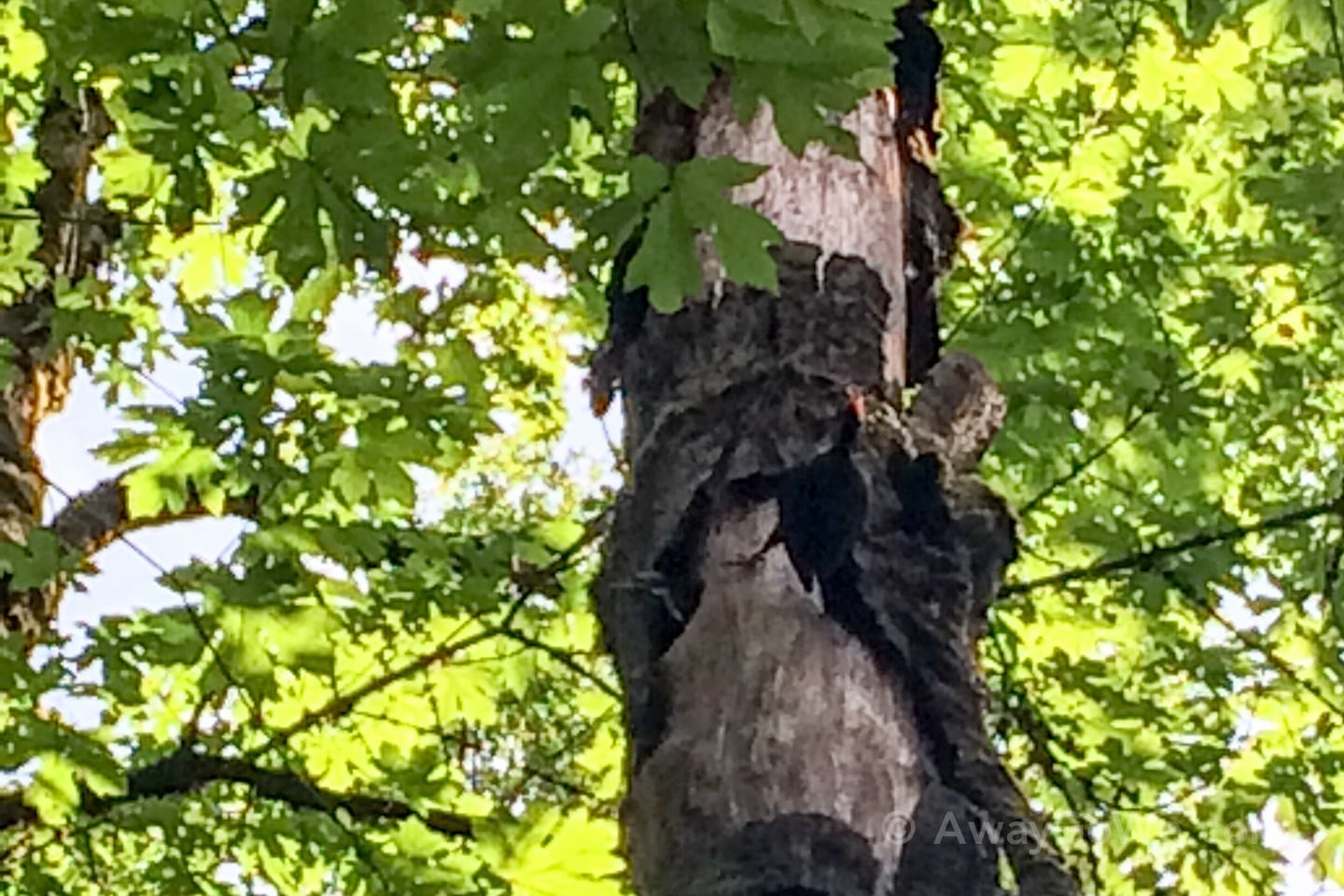 3. Hoyt Arboretum to Pittock Mansion hike (Wildwood Trail)
On our most recent time hiking the route, we heard a strange noise and looked up. It sounded like squirrels barking but were in fact baby woodpeckers (woodpecker chicks?) being fed by their parental unit (see above).
We frequently come across wildlife in this section of the route, which cuts right through the Hoyt Arboretum.
The arboretum is worth exploring on its own merit, which we've also managed to do a few times.
After crossing the arboretum, the trail dips down to cross NW Burnside Street, which can be a challenging feat given the volume of traffic during morning and evening commute hours.
Frequently viewed as a bastion of pedestrian-friendliness, I have a whole list of complaints regarding walking in Portland that, quite frankly, I've never had in any other major city I've lived in — a multitude of unsafe pedestrian crossings is a frequent complaint of mine, and the Wildwood Trail crossing at NW Burnside St. tops the list.
The Wildwood Trail is one of the most frequently used trails in northwest portland and the entire city, and to not have safe and easily manageable accommodation for pedestrians (this crossing is particularly dangerous with cars traveling at high speeds and set on a blind curve) is unforgivable.
It's criminal for the city to maintain and endorse the use of such a highly-utilized route for hikers and trail runners without offering a reasonable and safe way to cross the busy thoroughfare and continue following the same trail.
In numerous other major cities, a pedestrian bridge/underpass or traffic light would have been constructed long ago. Heck, I'd even settle for some painted crosswalk lines and a blinking light.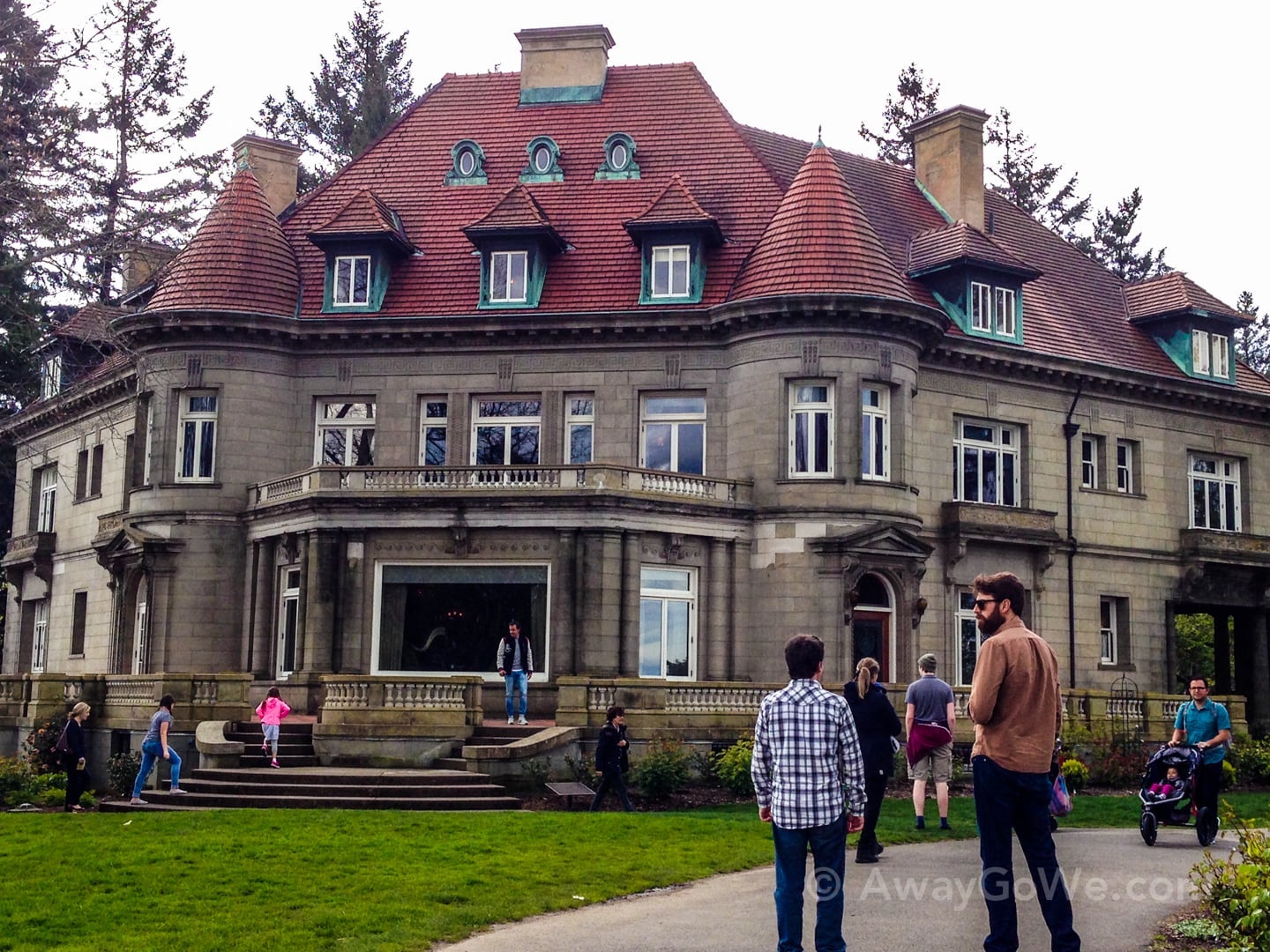 4. Pittock Mansion to Audubon Society
After crossing NW Burnside St., the Wildwood Trail zigzags up a steep hillside to none other than Pittock Mansion, for which this hike is named, of course.
Built in 1909 by the late 19th century owner of the Oregonian newspaper, Henry Pittock, the Pittock Mansion is like no other building in Portland, owing to its unique architectural styling, immensity, and most importantly for us, its AMAZING VIEW!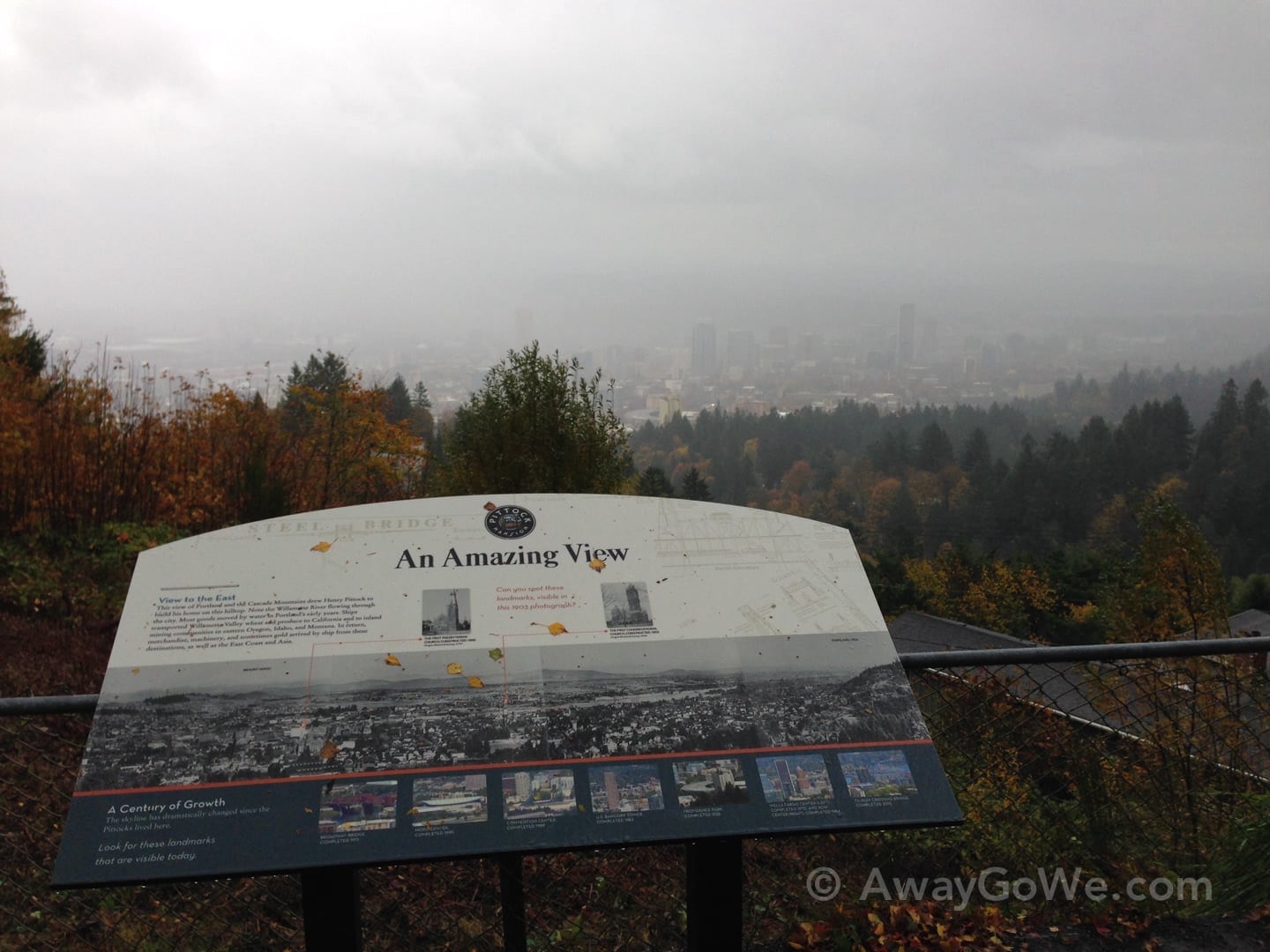 Amazing! Lori snapped this on a particularly wet and gloomy day, which also happened to be Halloween.
Six months later, it was a totally different story: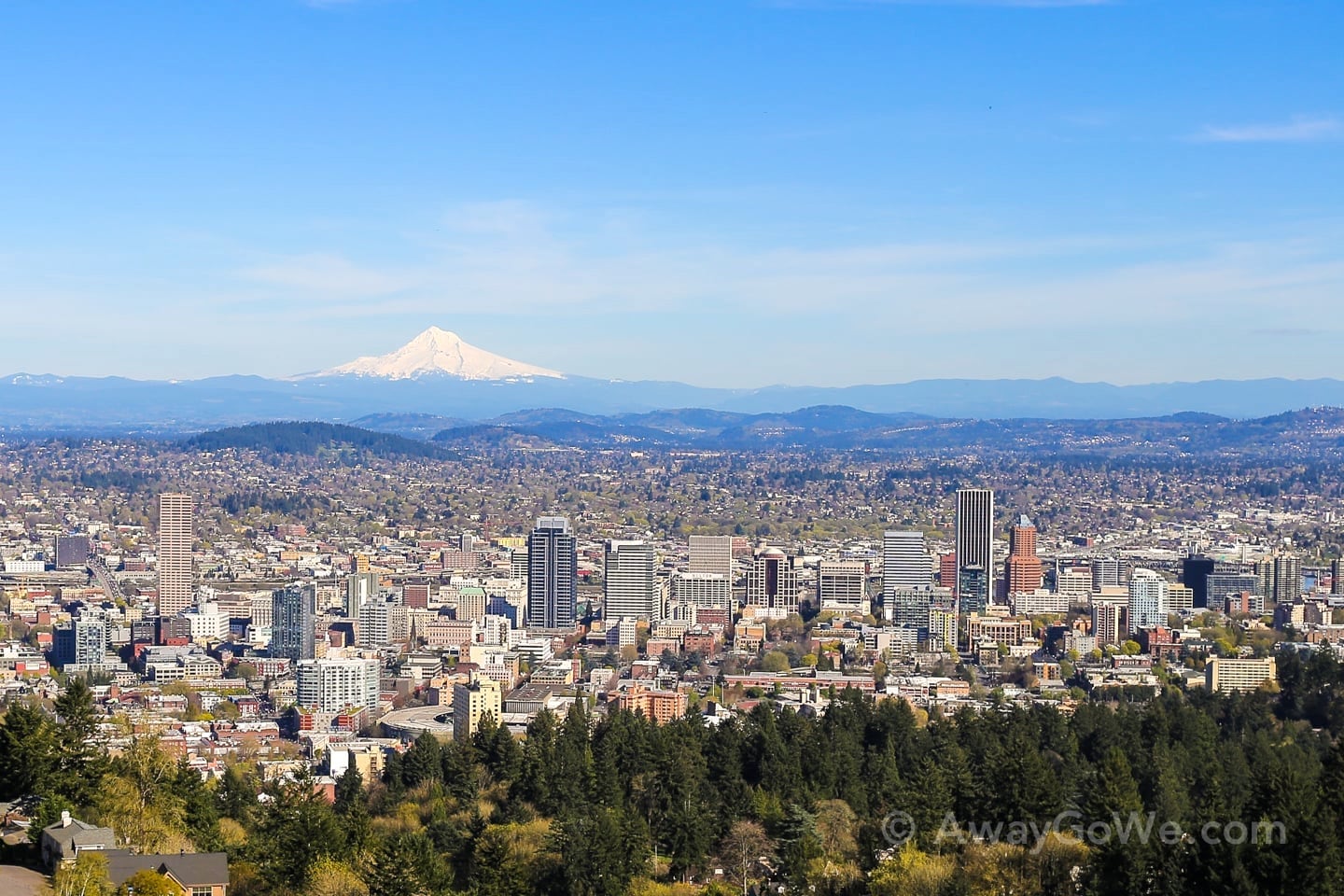 I took the above photo in March.
Then, in late May…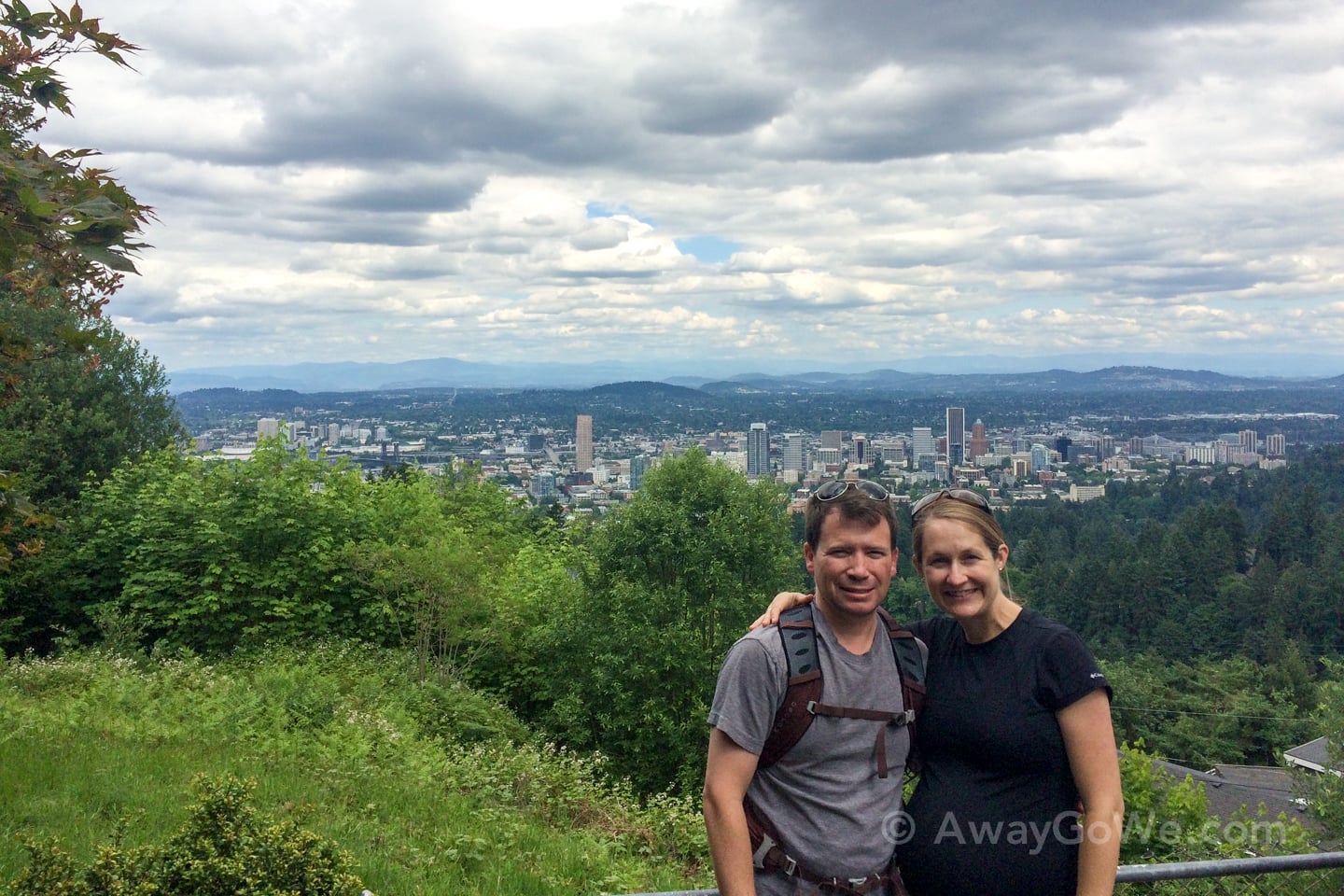 Such is the weather in the PacNW.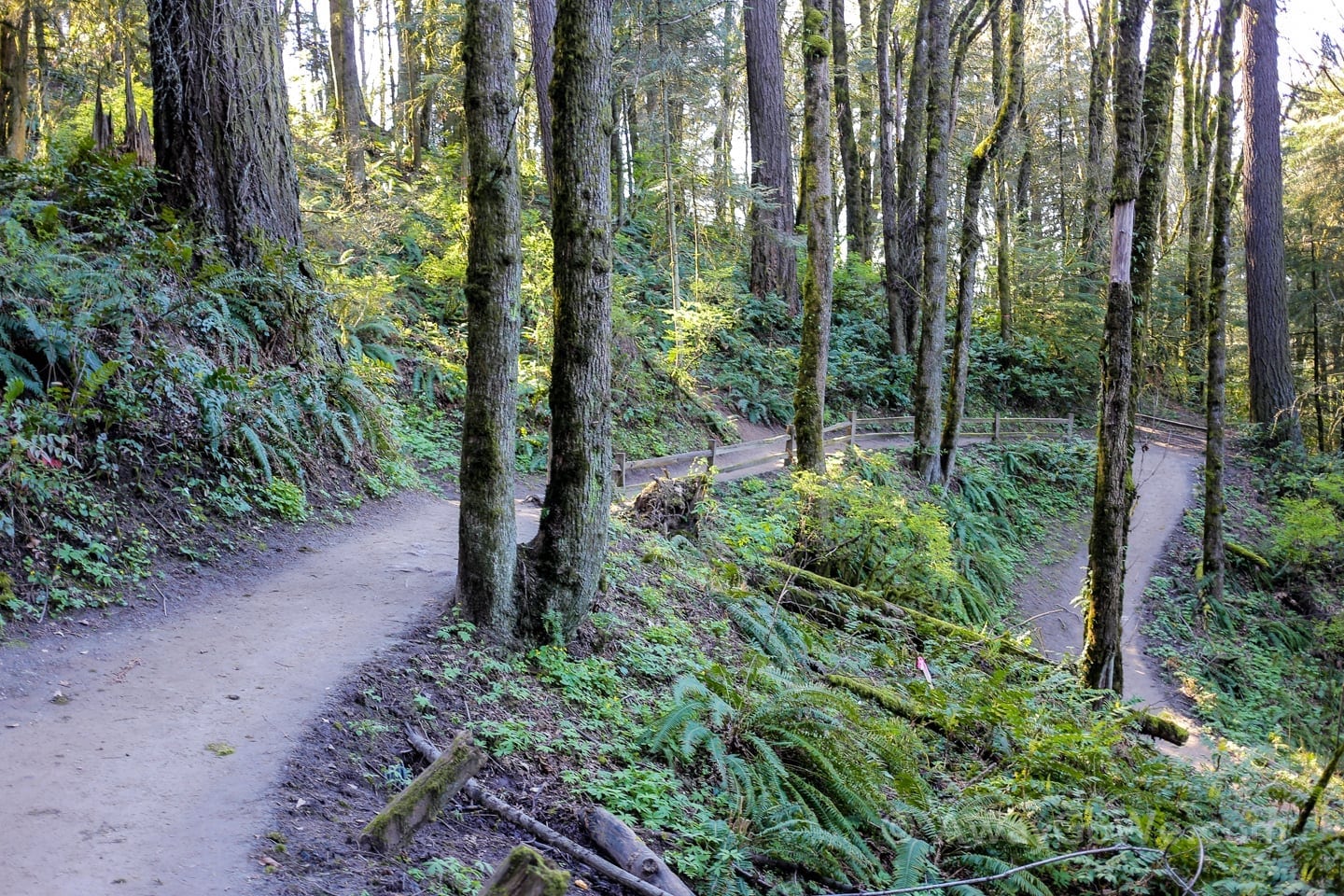 From Pittock Mansion, the Wildwood Trail descends through the lush and wondrous mossiness of Macleay Park in a series of switchbacks. You can also choose the Upper Macleay Trail, which runs parallel to Wildwood Trail during this portion.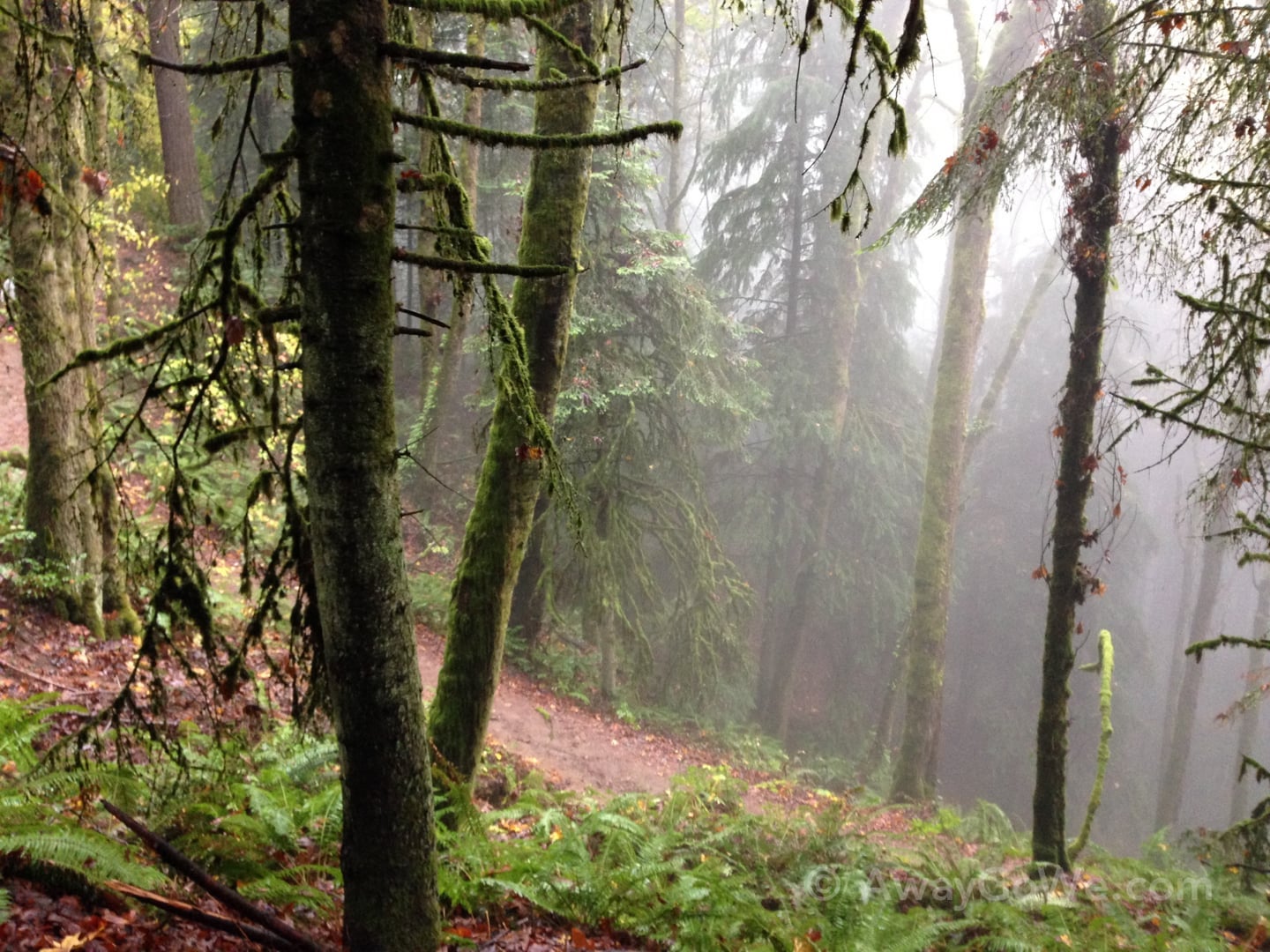 Immediately after crossing Cornell Road, we find ourselves at the Audubon Society of Portland complex — again, totally a place worth visiting in itself and exploring further if you have the time.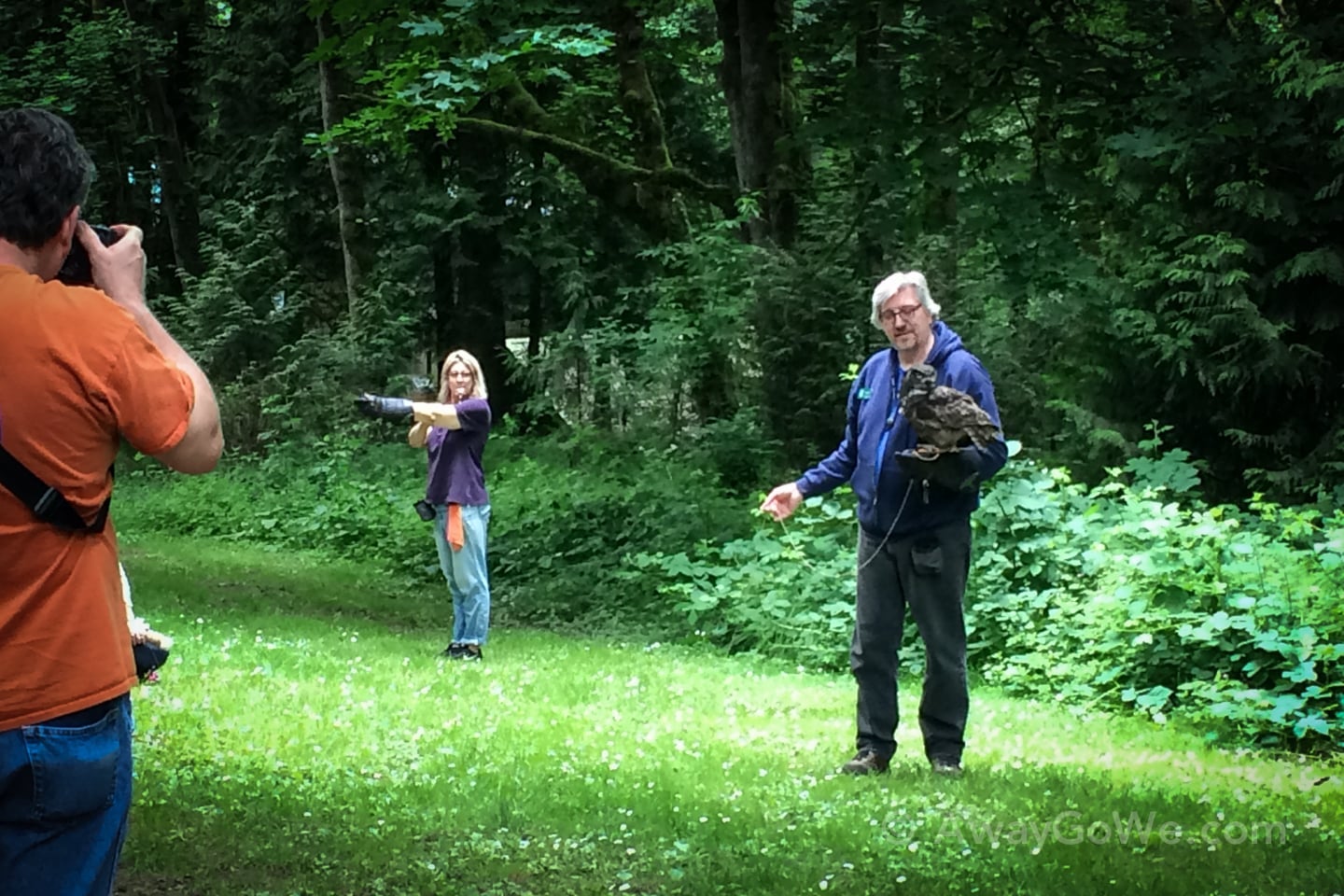 5. Audubon Society to Witch's Castle via Lower Macleay Trail
With miles and miles of lovingly maintained trails and tons of bird and wildlife viewing opportunities (including a building devoted to housing rescued animals) the Audubon Society is another one of Portland's most interesting outdoor destinations.
Oh, and if you're lucky and happen to be walking Wildwood Trail on a Sunday, you may run into folks from the Society re-training rescued birds of prey in a meadow just off the trail (see above).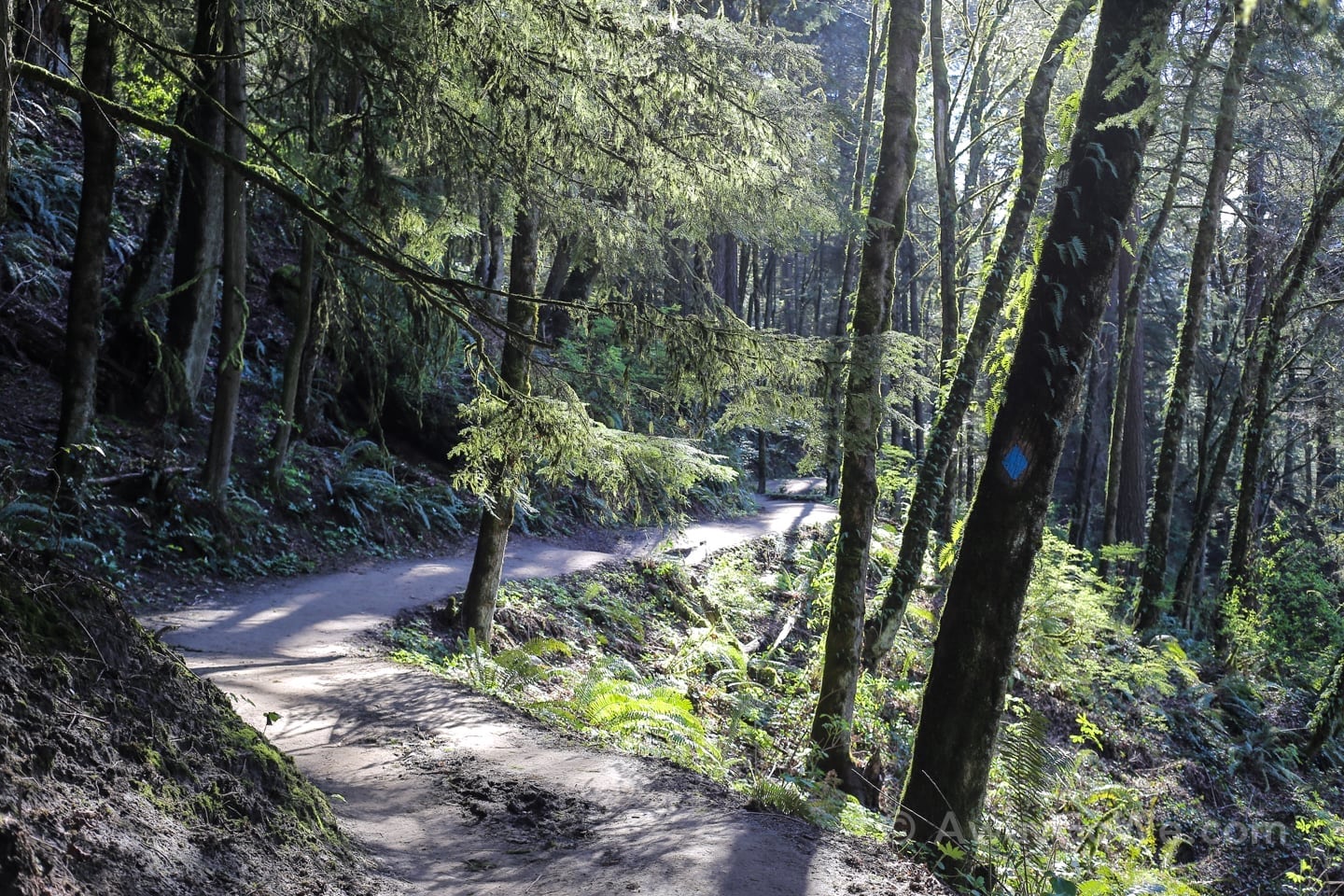 After bidding adieu to Mr. Owl and friends, we dip back into the forest and descend into Balch Gulch along the Wildwood Trail. Shortly after crossing Balch Creek, the Lower Macleay Trail peels off of the main trail.
For our Kings Heights Loop, we'll want to take Lower Macleay Trail and hug Balch Creek to the Witch's Castle and beyond.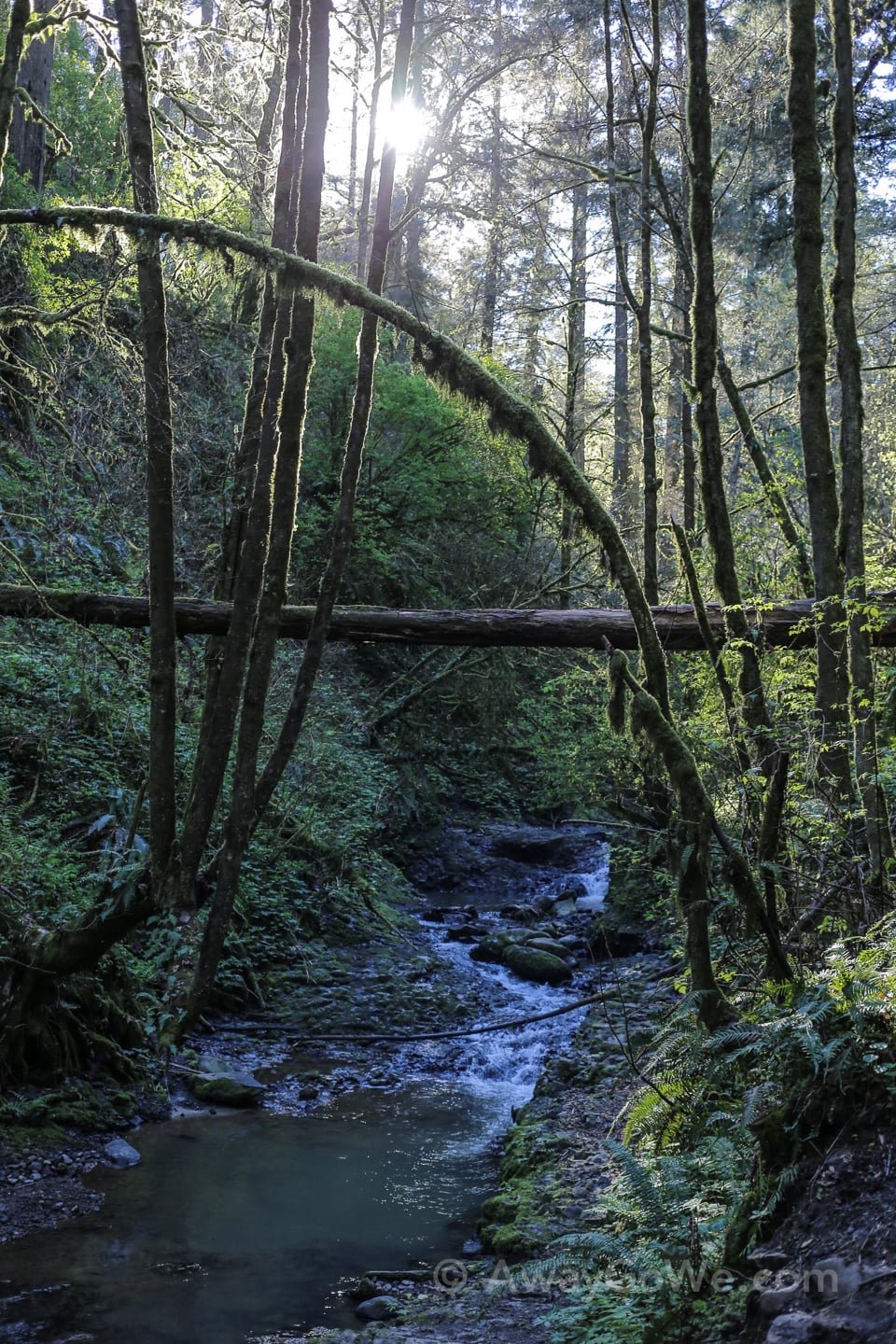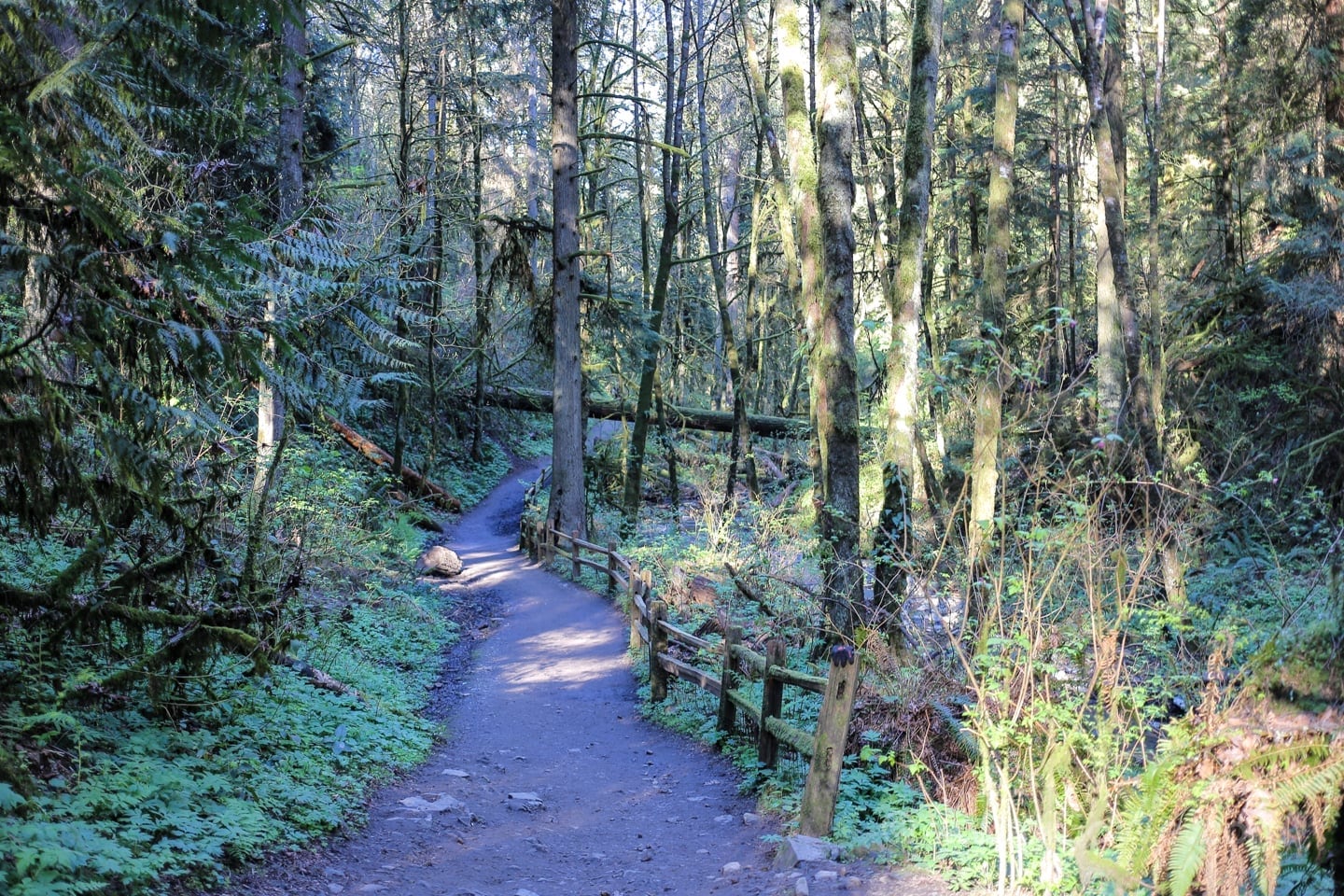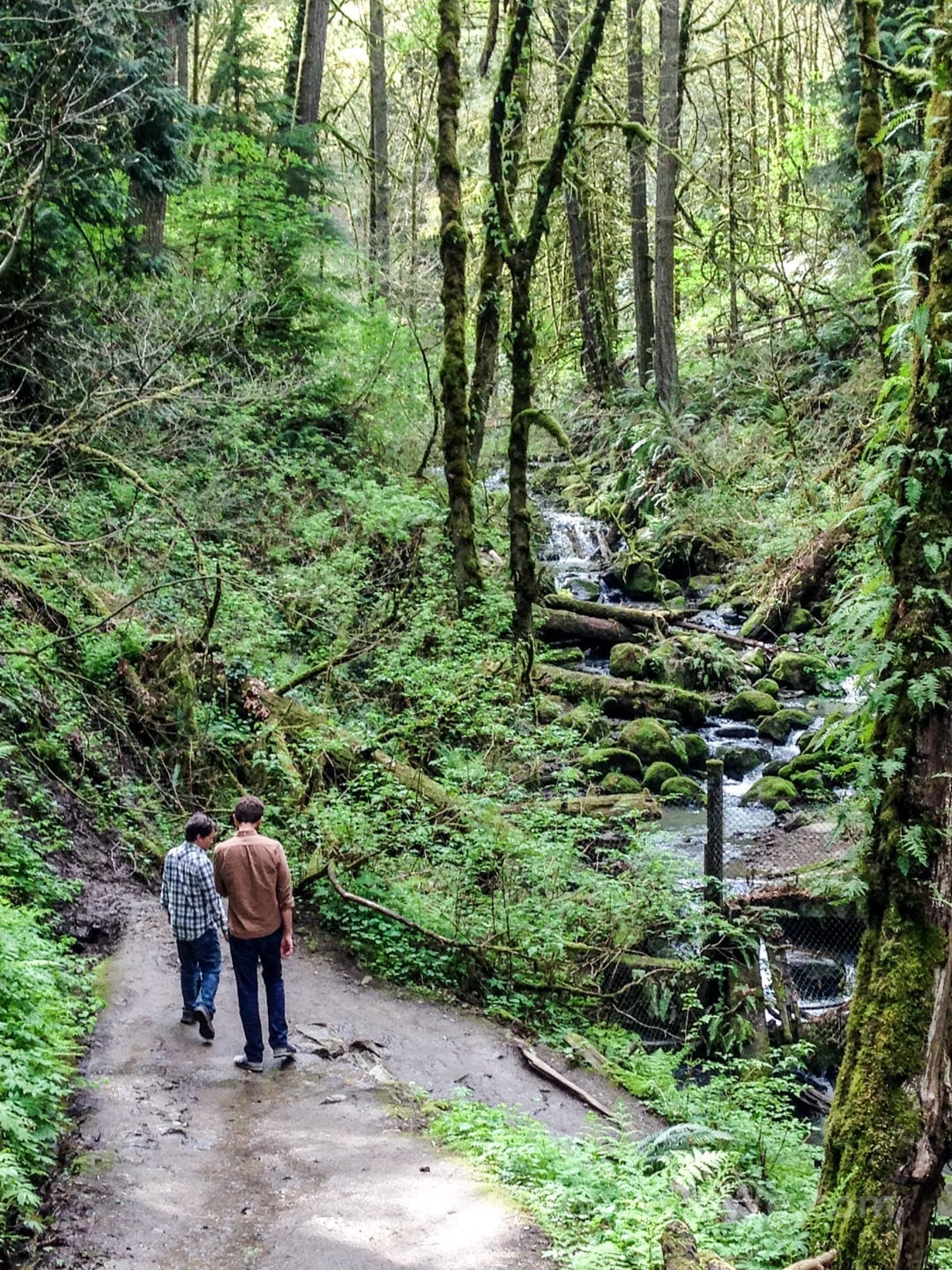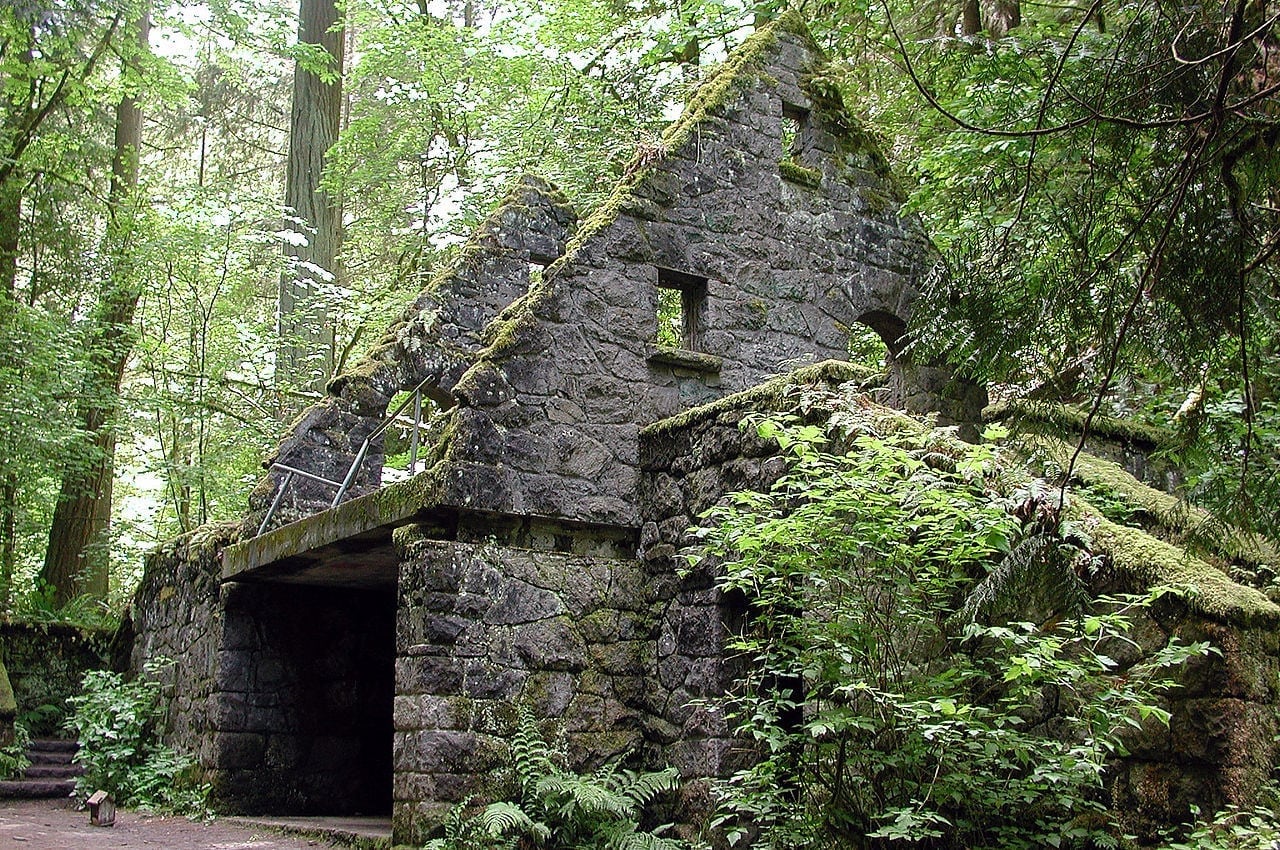 6. Witch's Castle to Lower Macleay Park
Not before long, we arrive at the so-called Witch's Castle, which is actually an old abandoned stone restroom built by the park service in the 1950s and destroyed in the mighty Columbus Day storm of 1962.
It got its name "Witch's Castle" from numerous paranormal sightings and experiences reported in and around the structure over several years.
Many local residents attribute such sightings to the circumstances surroundings its former residents.
Balch Gulch is named for one Danford Balch who laid claim to the land in 1850 and lived here with his wife and nine children.
In late 1858, Mr. Balch shot and killed an itinerant worker named Mortimer Stump who had previously helped Balch clear his property.
Mr. Stump had run off with the Balches' 15-year-old daughter and it was widely believed that Mrs. Balch cast a spell on Mr. Balch making him murder his young daughter's lover.
Danford Balch became the first person in the state of Oregon to be hung for his crime.
Today, the ruins of the old stone restroom in Balch Gulch are a popular stopping place near the heavily trafficked junction of Wildwood and Lower Macleay trails.
Seems that the structure is also popular these days with vandals/"artists."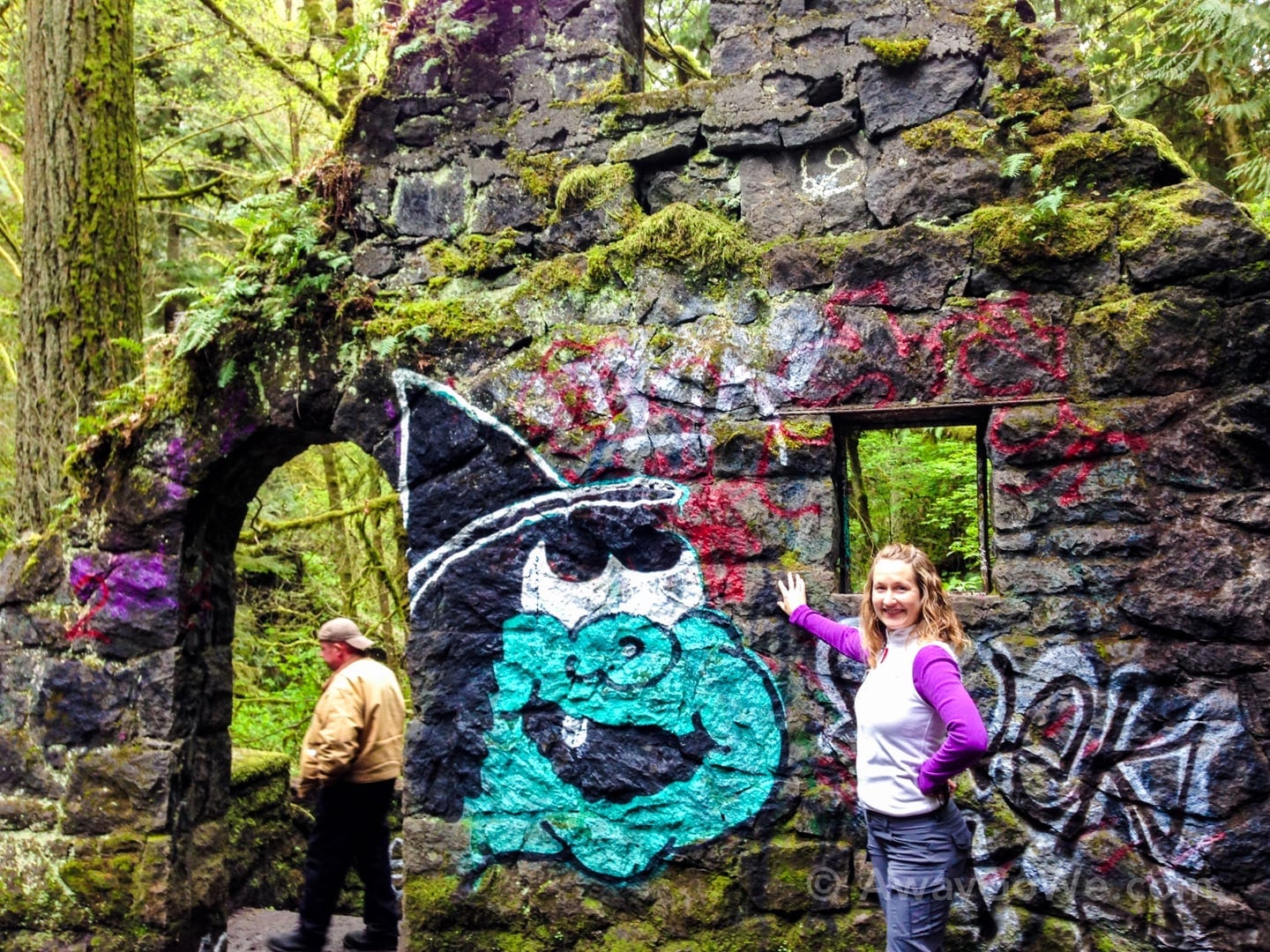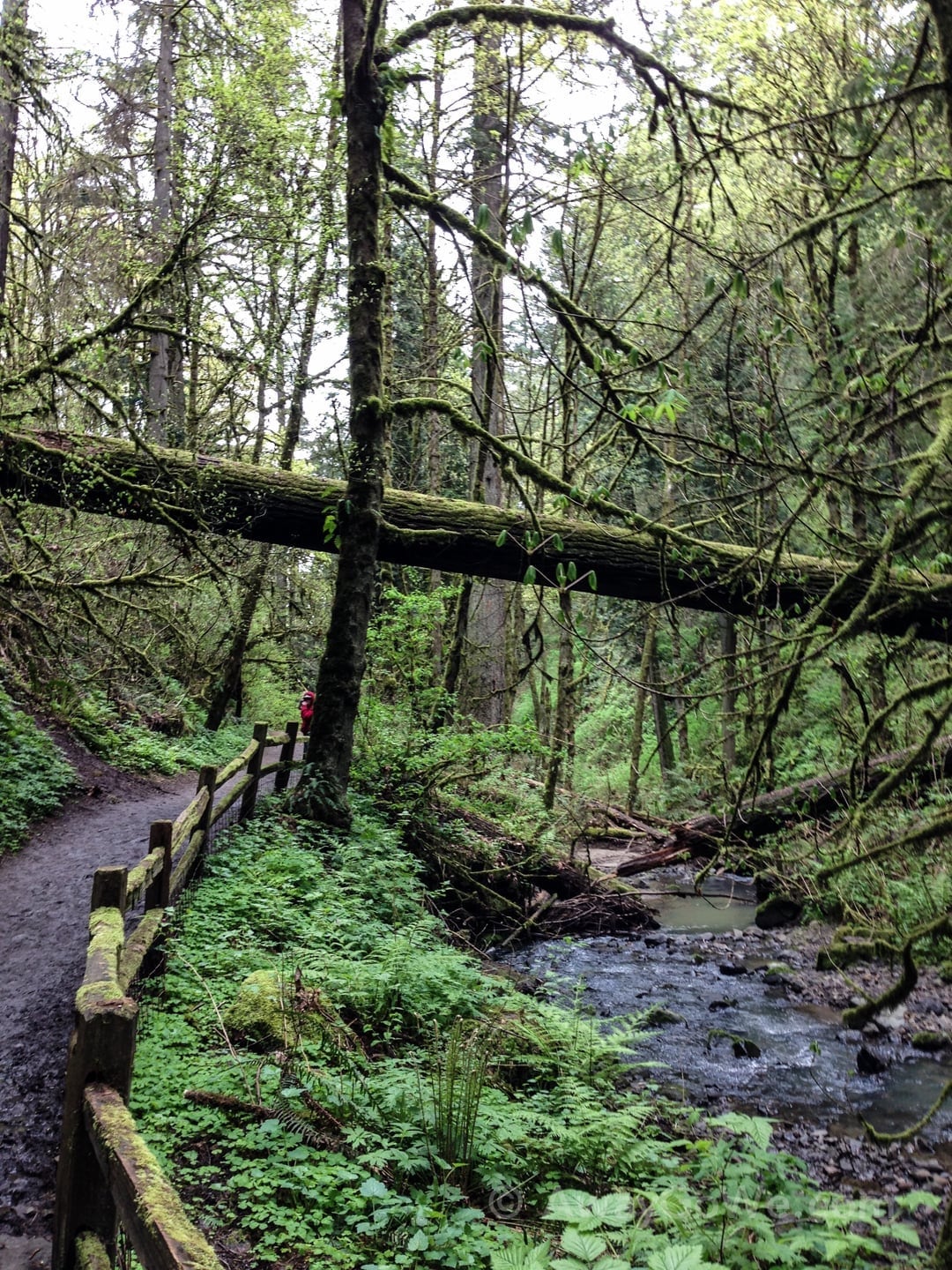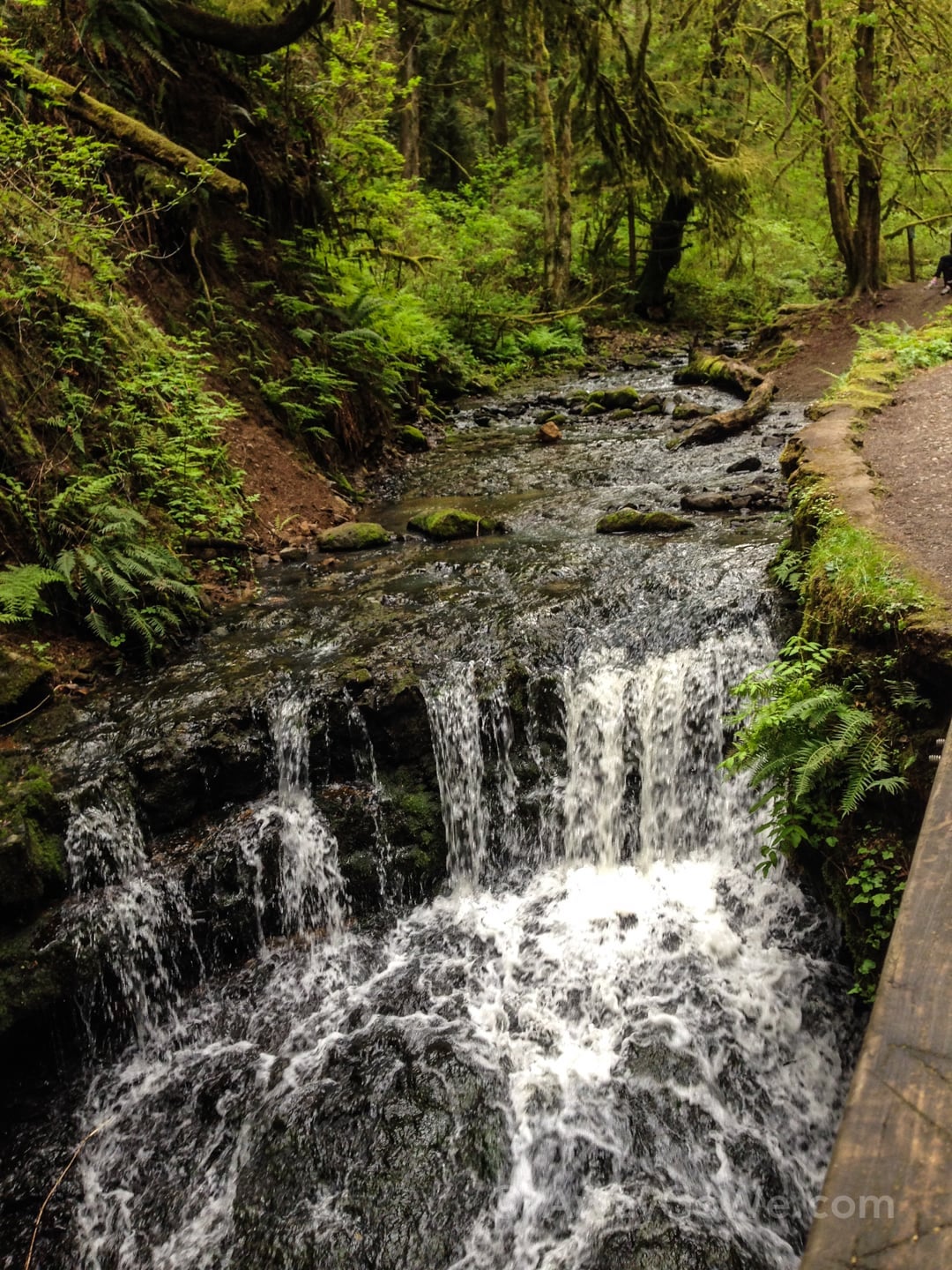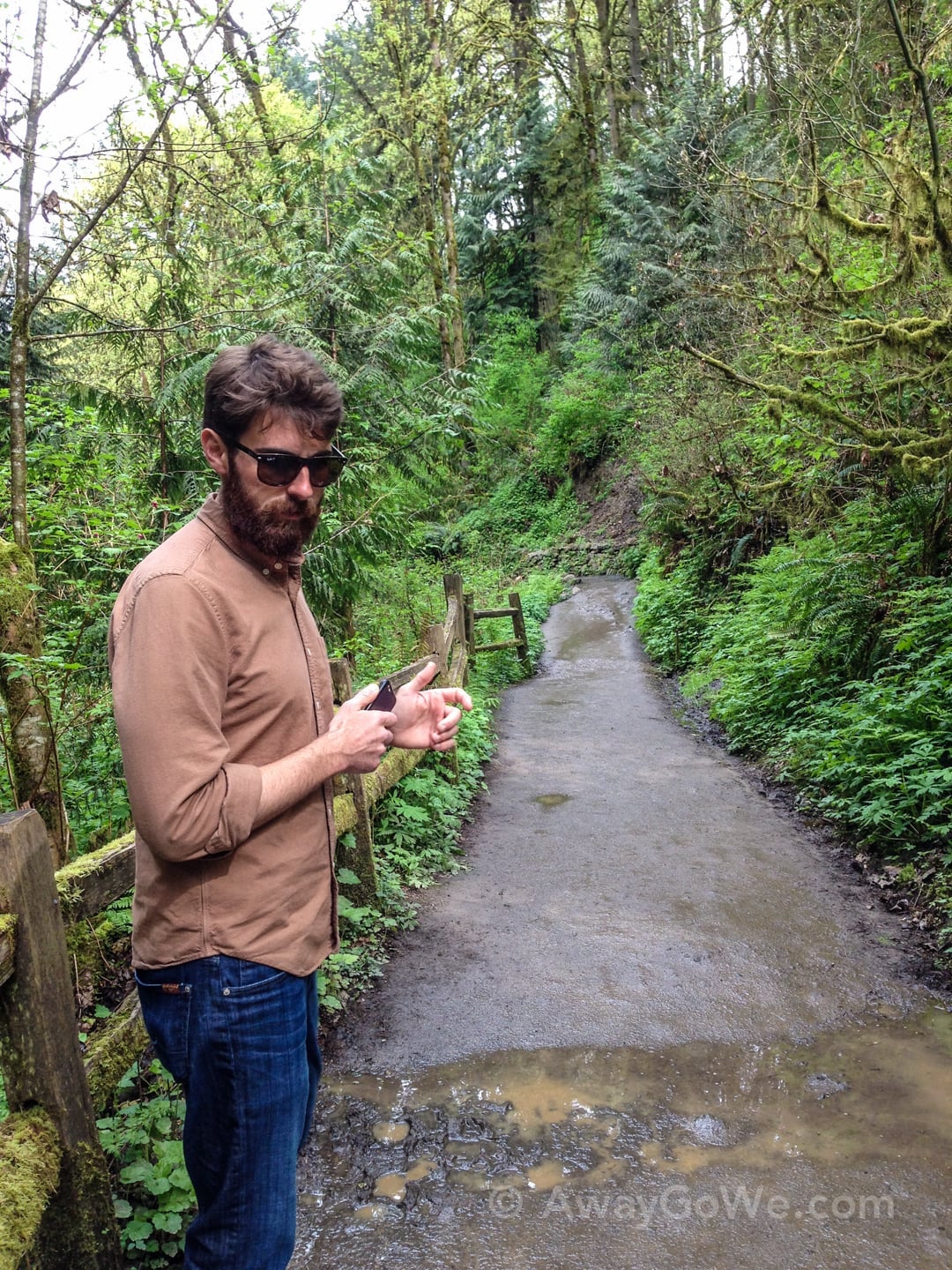 Don't worry folks — this guy (and his lovely beard) are with us.
In other news, I happened upon this little guy for the first time on a recent jaunt down through the gulch.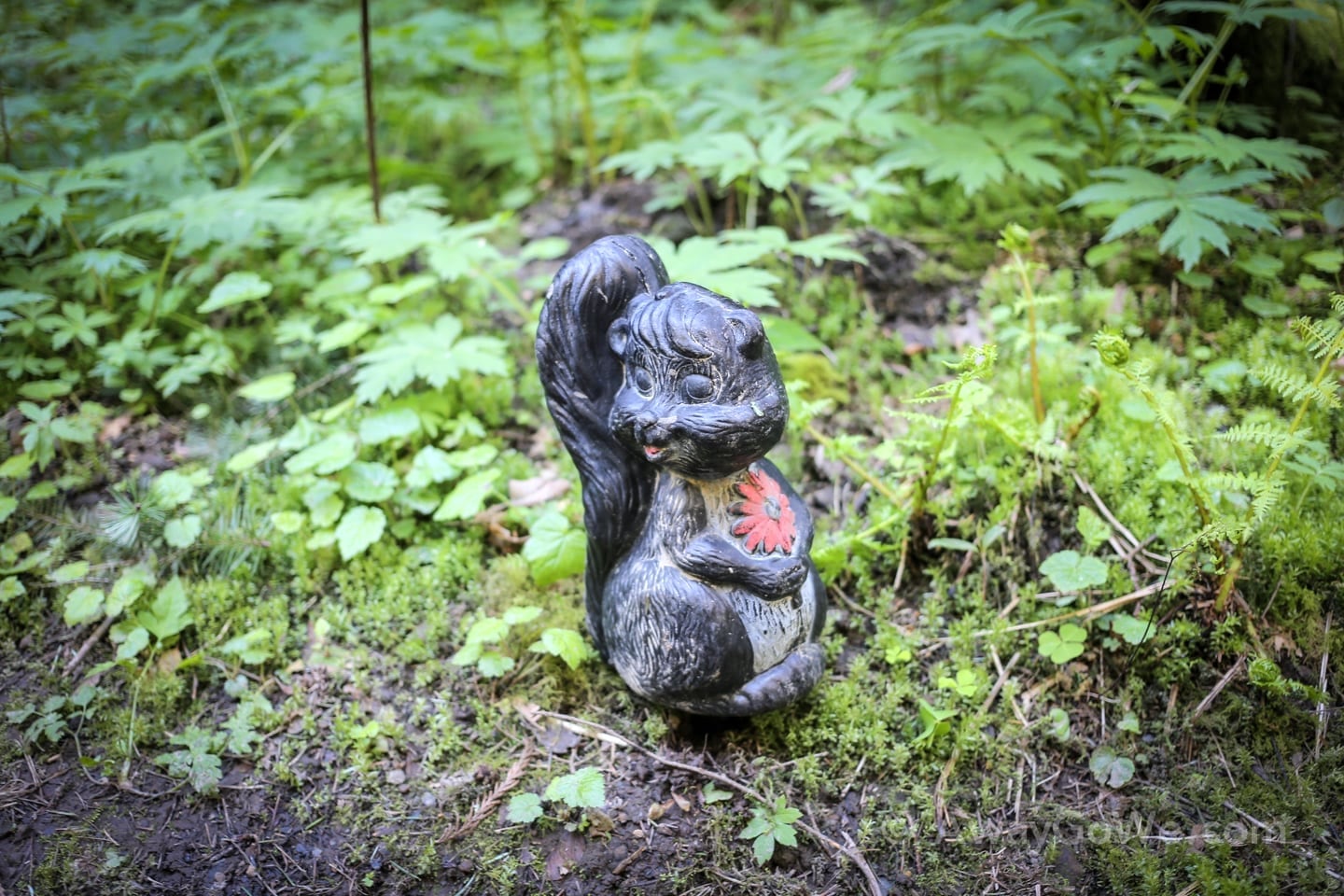 I'm always finding weird new things along the Pittock Mansion / Macleay Trail hike.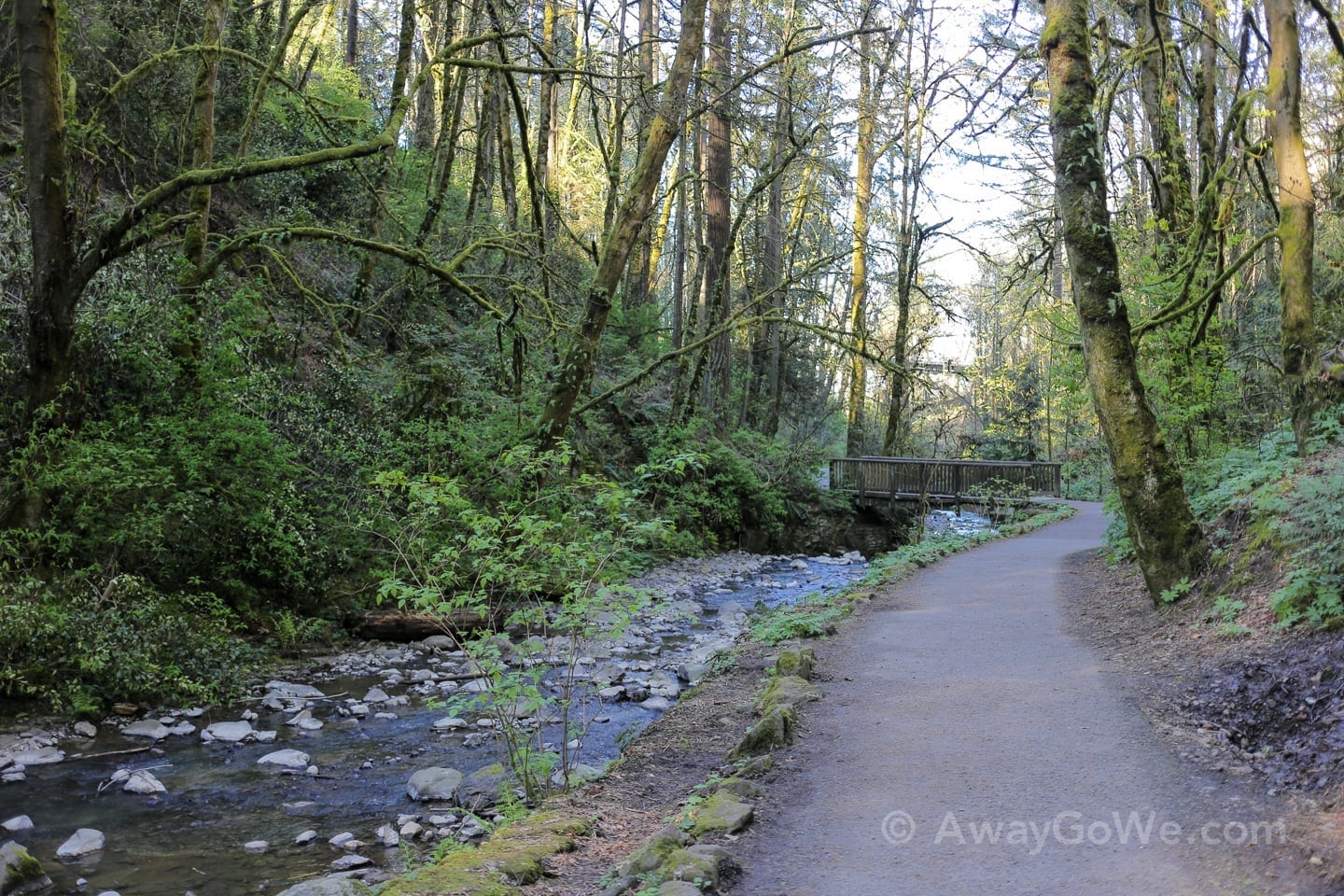 7. Lower Macleay Park to Nob Hill
Shortly after Lower Macleay Trail crosses back over to the left bank of Balch Creek, the path empties out into Lower Macleay Park, marked by the Thurman Street Bridge overhead.
At 111 years old, this bridge is the oldest intact span in the region and one of only a handful of its type in the entire nation.
Unfortunately, I realized that, of all the times we've done this hike I've never snapped a photo of the dang bridge, nor can I seem to find one in the public domain.
So, I guess you'll just have to use your imagination (or your Googimation) for now.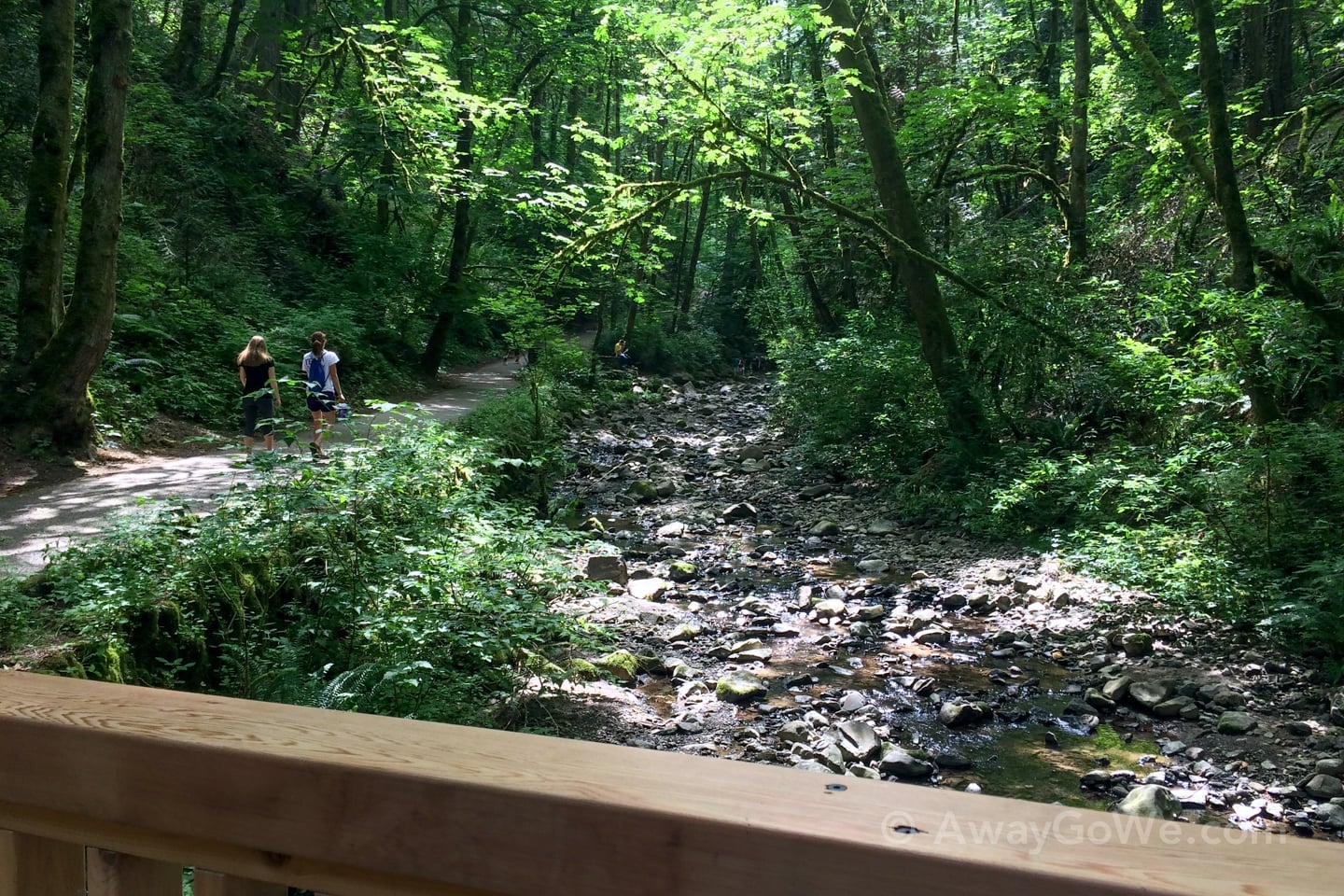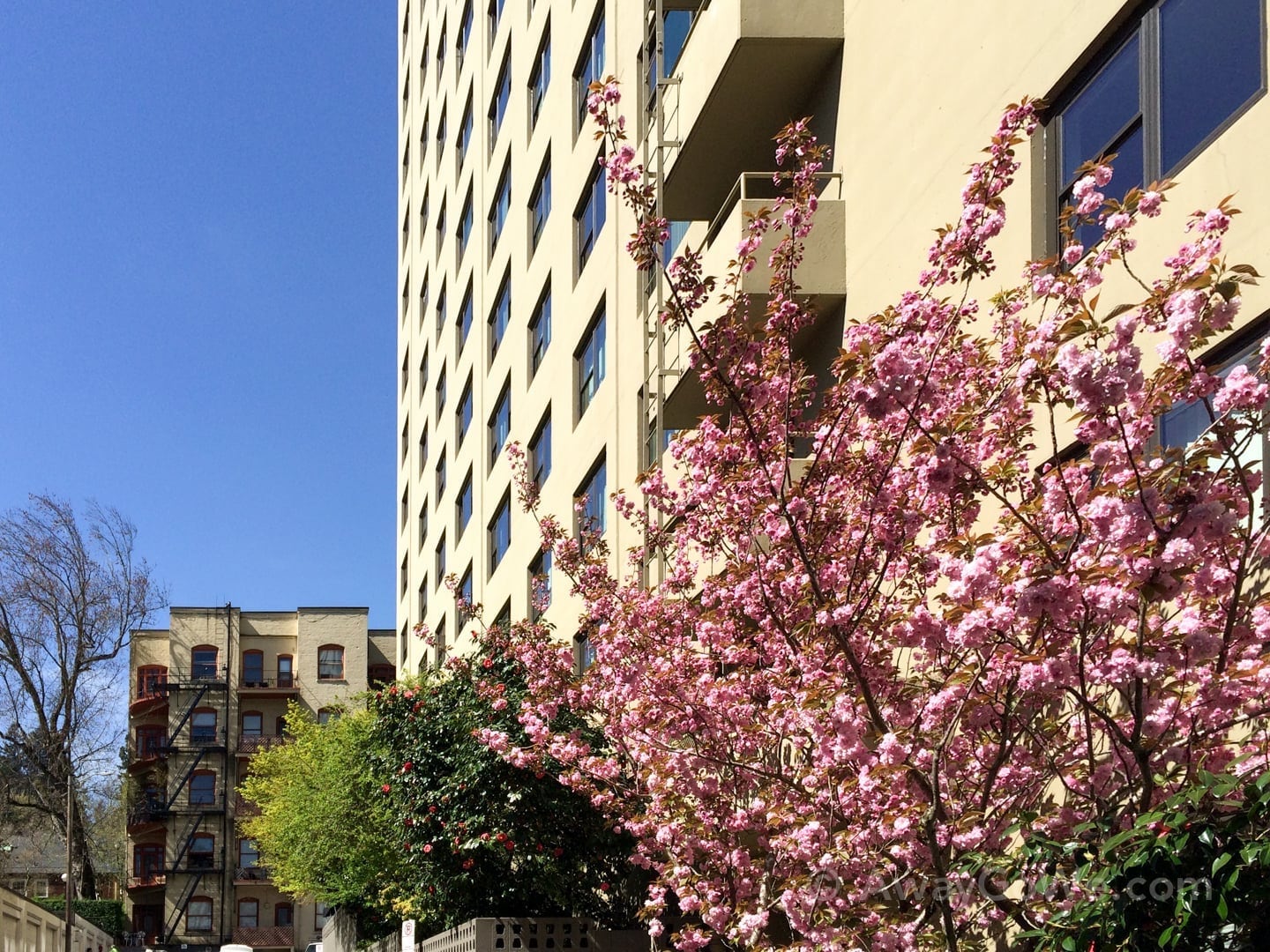 8. Nob Hill and Back Again
From Lower Macleay Park, follow NW Upshur Street (or NW Thurman Street, which has a few good eateries along the way), then round out the loop with a long stroll down NW 23rd Ave, one of the most popular drags in town for its excellent restaurants and funky boutiques.
For a slightly more hipster-y vibe, hop over two streets to NW 21st Ave.
Post-Hike Eating + Drinking
If you're hungry (which is probably a fair assumption just about now) here are some of our favorite spots to try along NW 23rd Ave:
Pine State Biscuits **for brunch**
McMenamins **there's TWO along NW 23rd: Tavern & Pool and Rams Head**
Tara Thai **Northern Thai & Lao food!**
Little Big Burger **favorite regional burger chain**
Santa Fe Taqueria **get your TexMex fix here**
Barista **some of the best cold brew in town**
Salt & Straw **the BEST ice cream joint in town — but beware of the line!**
Southland Whiskey Kitchen **upscale southern food**
Papa Haydn **holy moly, the desserts**
And, a few blocks off NW 23rd Ave:
Stepping Stone Cafe **best breakfast/brunch in town!!!**
Serratto **upscale Med tapas & more**
San Sai Sushi **best sushi value in town**
North 45 **nice covered beer garden**
Ken's Bakery **artisan breads and good brunch**
And That's Our Pittock Mansion Hike Loop Trail Report
Have you done the loop (or any leg of this hike)? Let us know how it went for you in the comments below!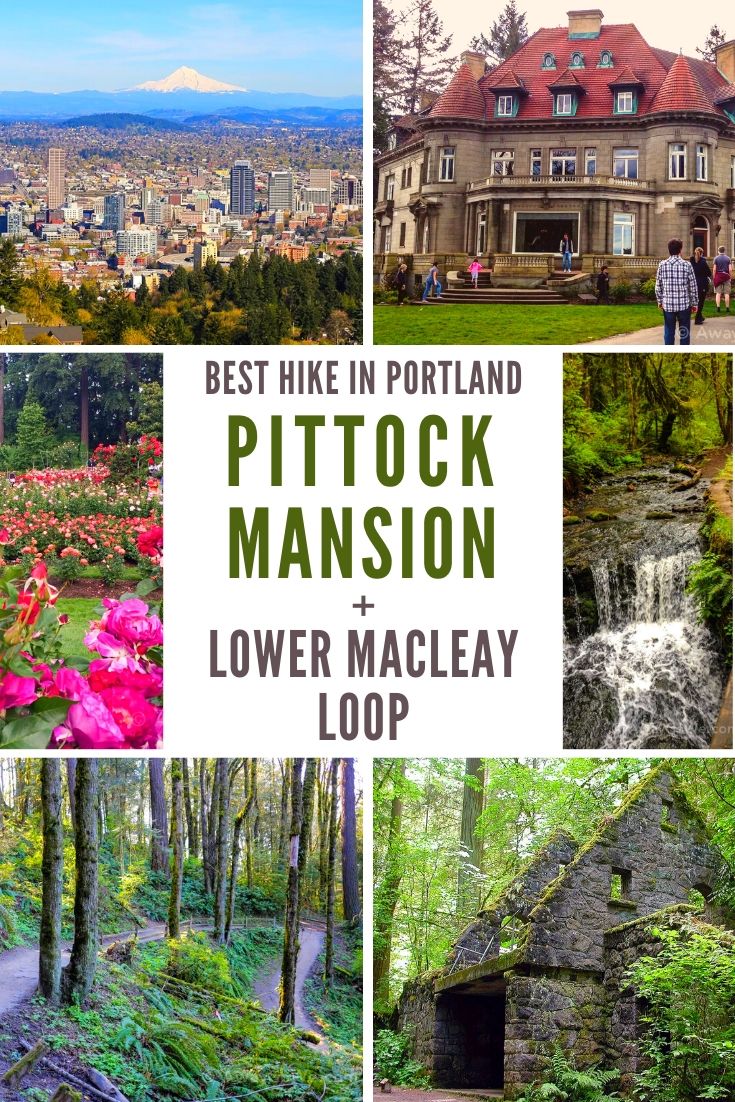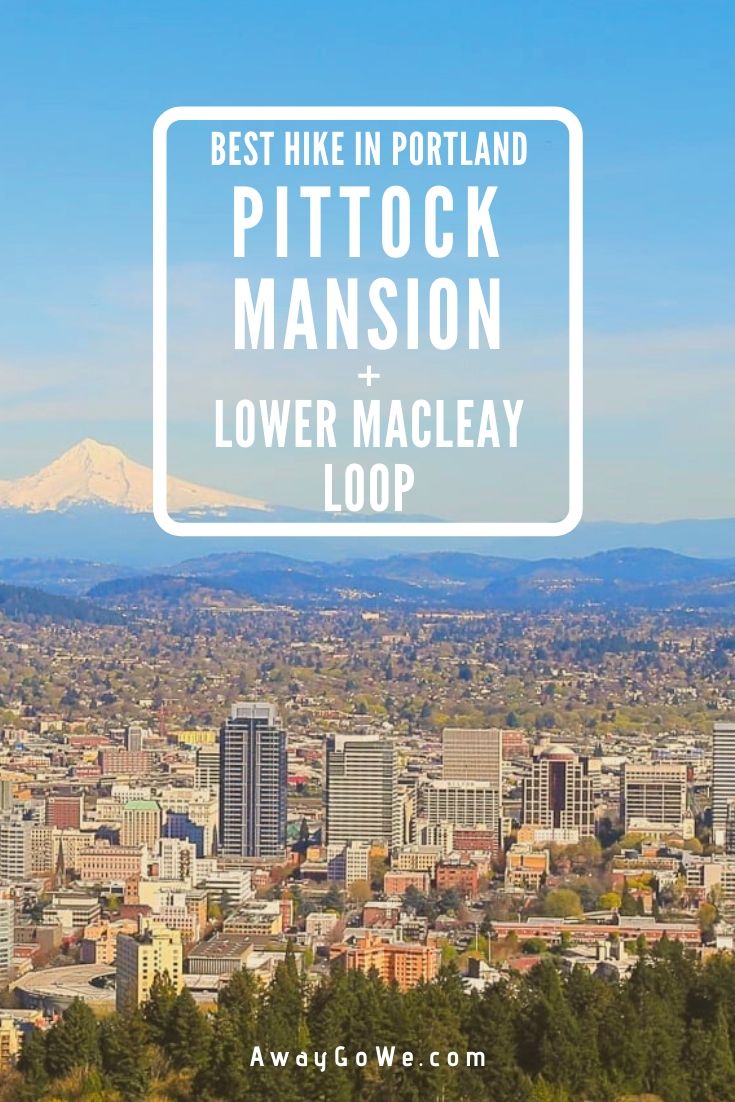 10 Jul 2020
10 Jun 2016
We use affiliate links and may receive a small commission at no extra cost to you. Learn more in our privacy policy.