Cenote Cristalino is one of a handful of spellbinding water-filled sinkholes, or cenotes, within short driving distance from the popular Yucatan Peninsula tourist hub of Playa del Carmen.
It's stunning, it's mesmerizing, it's utterly refreshing.
But is Cenote Cristalino really worth a day trip from Playa del Carmen or elsewhere along the Riviera Maya?
Lori and I set out to discover this amazing place for ourselves and report back with what we find, including whether the rumors of overcrowding are true and what people actually do at cenotes.
We also offer a bunch of helpful tips and considerations for planning your own visit, if you choose to do one.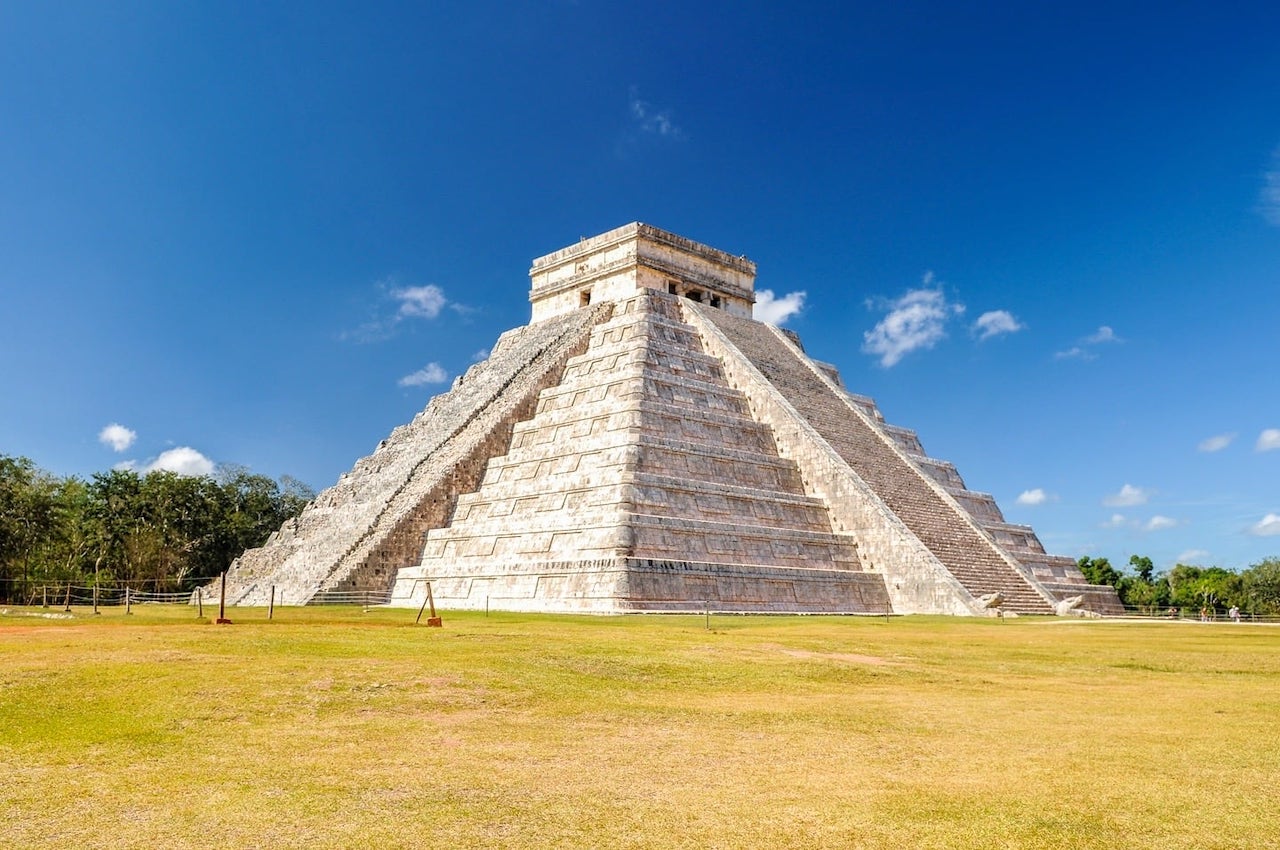 Visiting Cenote Cristalino | An Easy Day Trip from Playa del Carmen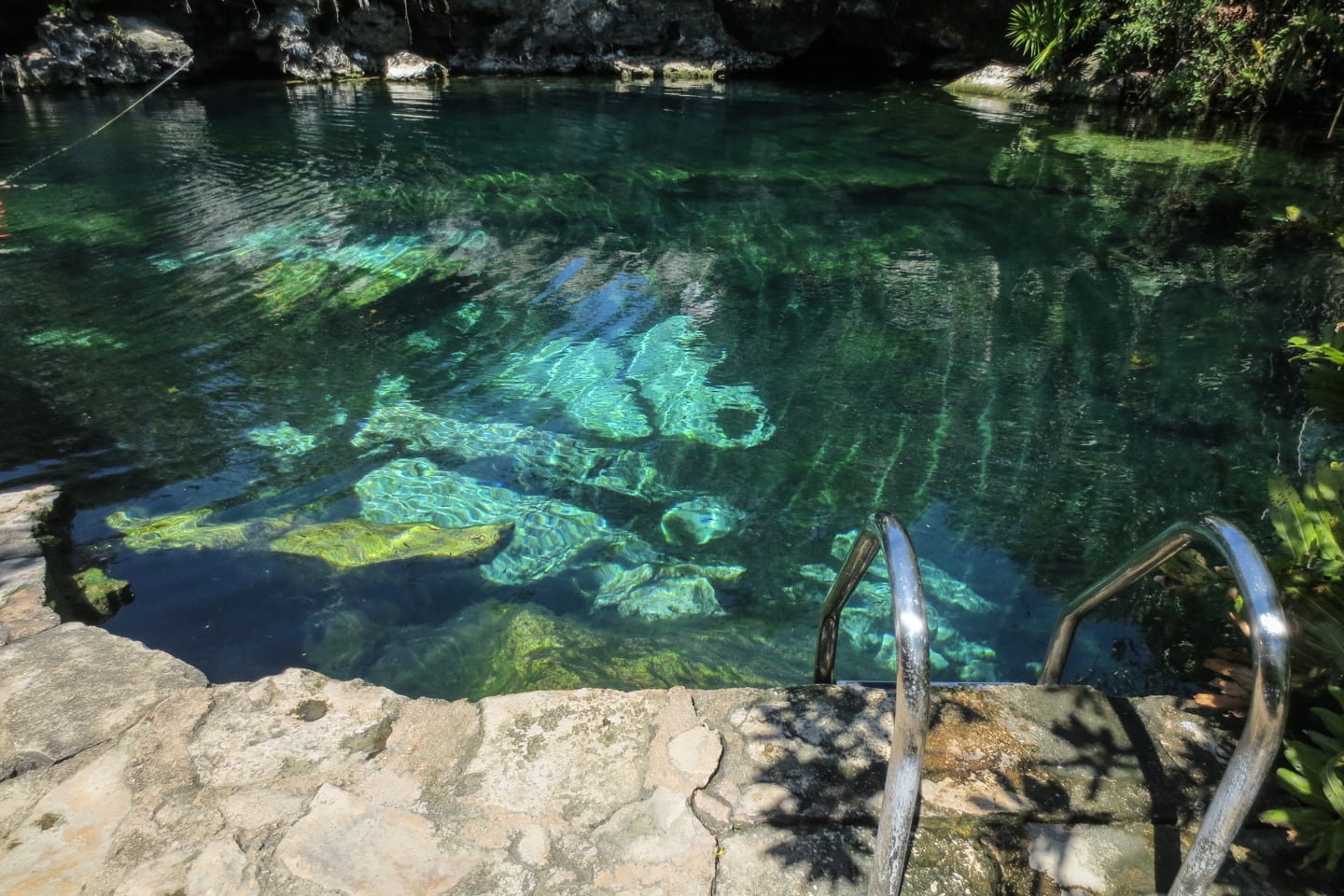 Why Visit Cenote Cristalino
Just twenty minutes from the popular beach destination of Playa del Carmen, Mexico, Cenote Cristalino is a well-maintained, family-run natural recreation area, perfect for cooling off and rejuvenating on a hot day (plan on many of those if you're visiting the Yucatan Peninsula!).
If you've never had the pleasure of visiting a Yucatan Peninsula cenote, think of the clear, natural, tropical pool of your dreams and triple it.
Cenotes are limestone sinkholes that have filled with water over time and tend to be extraordinary clear.
Some cenotes are found in caverns. Cenote Cristalino is of the open-air variety, akin to a fairytale swimming pool.
Cristalino features multiple natural pools that, true to the spot's name, are impossibly clear and verdant, each one hiding something different.
Cenote Cristalino is easy to find, affordable, and can be peaceful and relaxing, if you play your cards right (more on that later).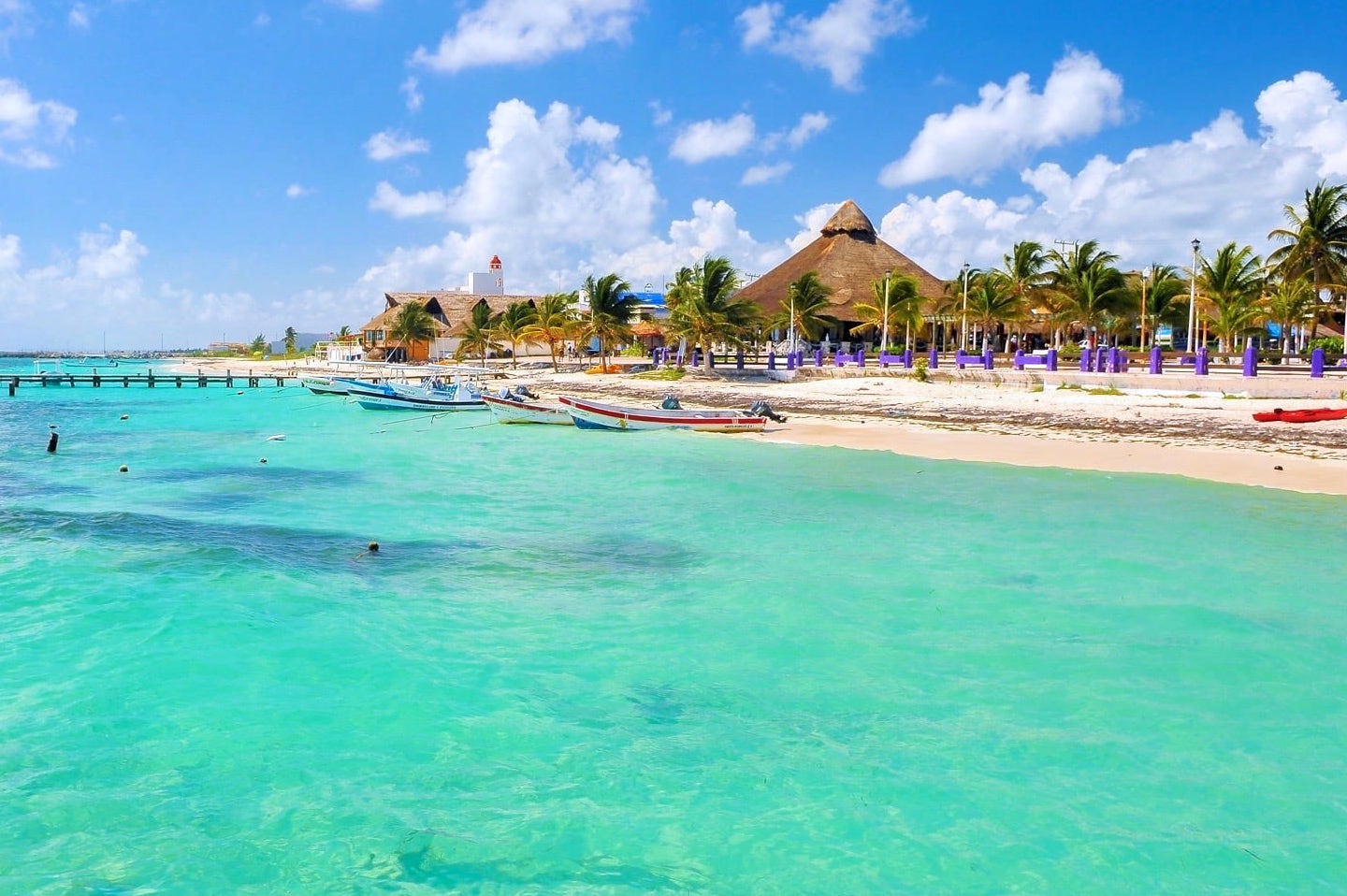 Getting There (and Back Again!)
Cenote Cristalino is located on the Riviera Maya and easily accessed 15 miles south of Playa del Carmen, right off of the Carretera 307 (the main highway connecting Playa del Carmen and Tulum to the south).
The best way to access Cenote Cristalino is by private vehicle. However, you can also take a colectivo from Playa del Carmen (starting at 2nd Street), or hire a taxi or Uber.
Getting back to Playa can be a bit more challenging, but northbound taxis can be flagged on the main highway (307). You can also get lucky with an Uber, but don't count on one during peak times.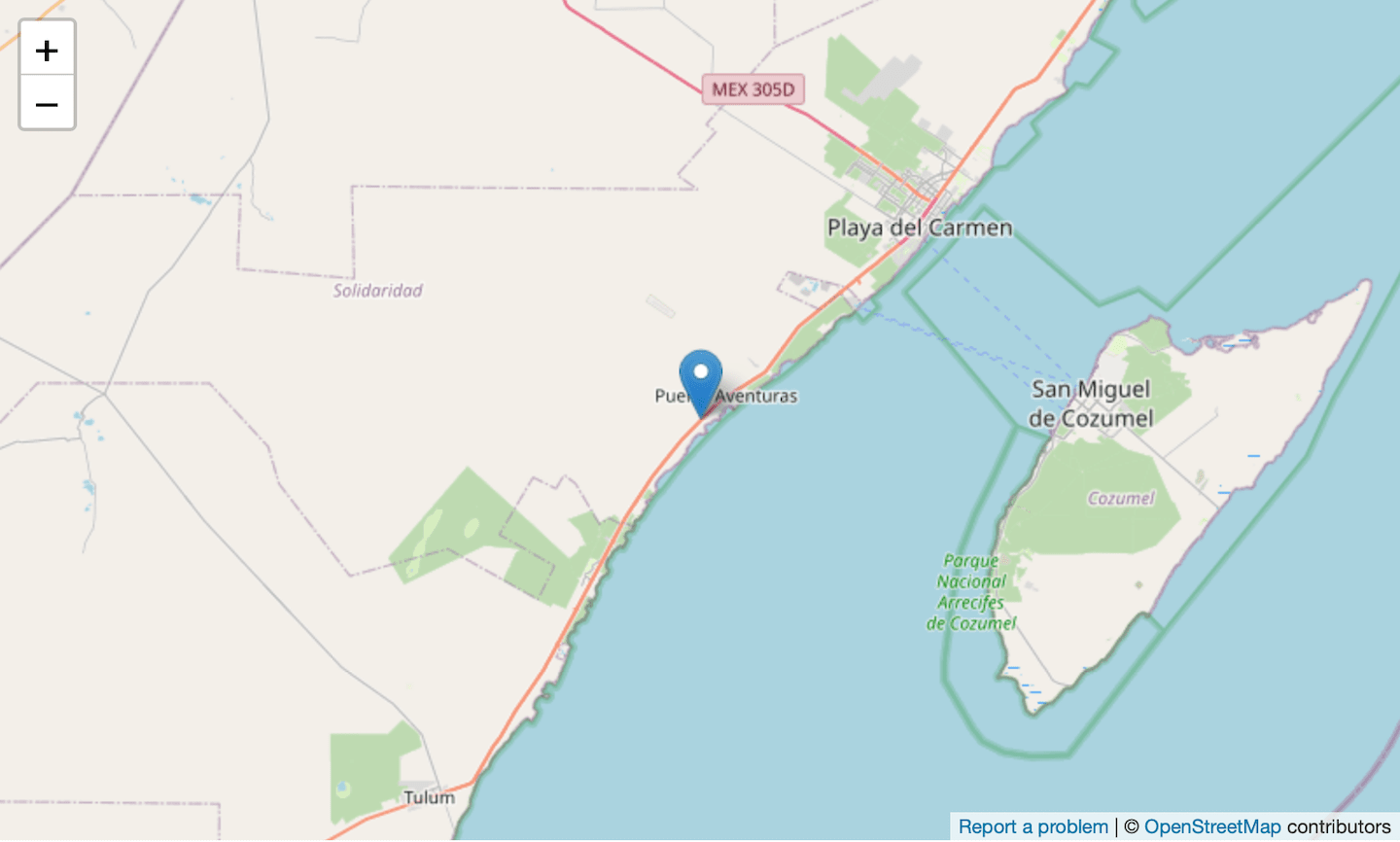 Cenote Cristalino Fees & What's Included
Like most other cenotes along the Riviera Maya, Cenote Cristalino is a small, private operation, so there is an entrance fee for visitors (150 pesos, last we checked).
In addition to access to the cenote, your entrance fee also gets you a life jacket and access to a tidy toilet and changing facilities.
If all of this fun in the sun makes you hungry or thirsty, it's helpful to note that the main office also doubles as a small snack shack.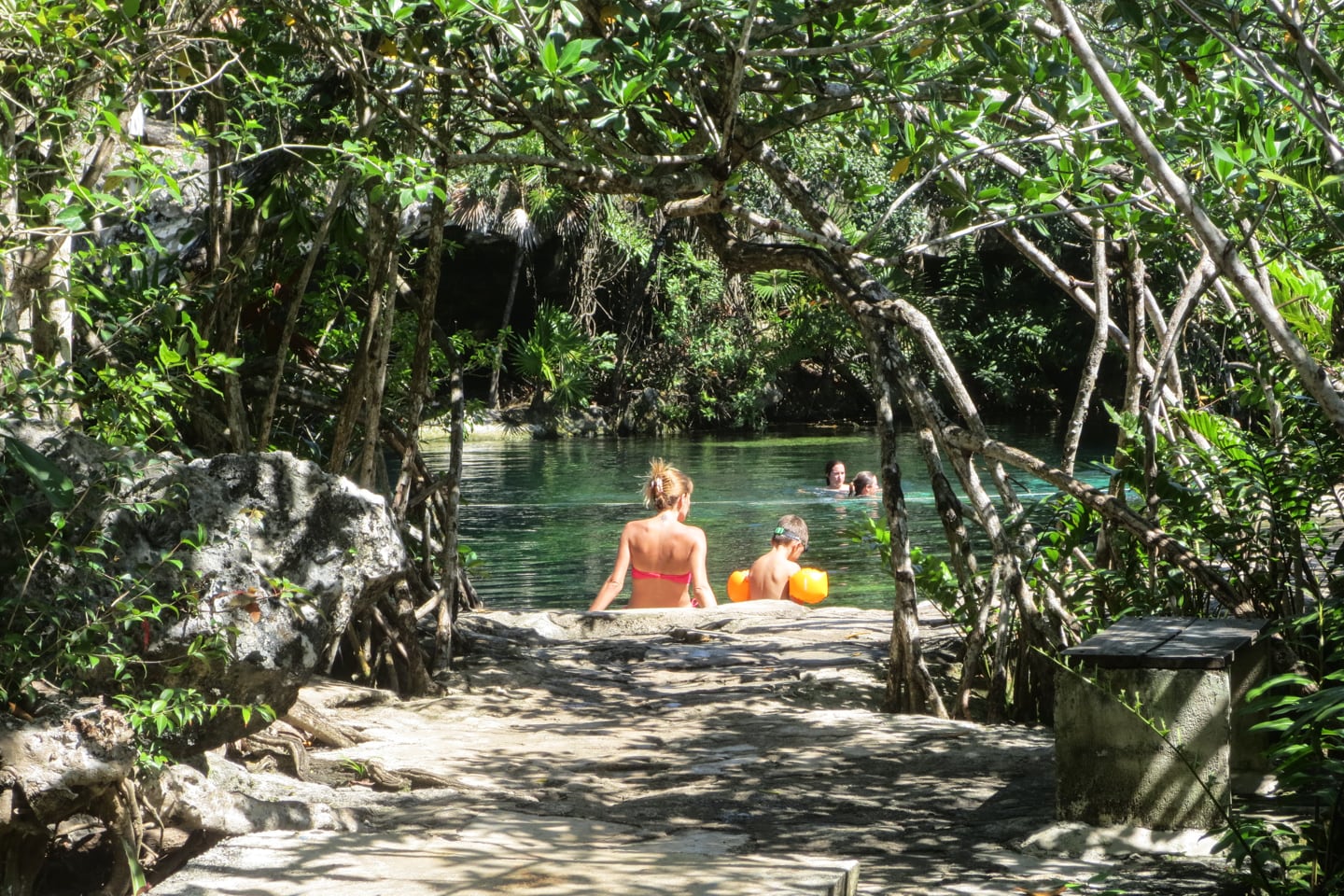 Pools & Surroundings
The walk from the parking lot to the pools is less than 100 meters down a gradual slope.
Cenote Cristalino isn't just one pool, but a series of multiple natural pools connected by small mangroves.
As you enter the complex, you the smallest of the pools is straight ahead. As you proceed to your left, the pools get larger and more spectacular.
There are paving stones around each of the pools which make for a nice walkway, and aluminum ladders into the water at three different points.
There are also numerous shaded sitting areas with wooden benches dotted around the cenote, with a lounging area in the upper portion accessible by a gravel path and stone staircase.
On some days, it appears there might be a lifeguard on duty, but there wasn't one on the day we visited, which was a weekday.
Cenote Cristalino Crowds
We felt really fortunate on the day we visited to have Cristalino largely to ourselves for most of the time we were there.
There was only one other person in the entire complex when we arrived (around 9:30am), with no more than 4-5 people in the water during the busiest time of our stay.
Granted, we were there on a pre-Spring Break weekday in late February, but our understanding is that it could have been far busier (and very often is!).
We hear that Cenote Cristalino can get very busy, especially on Sundays when local families tend to visit, and also as the temperature heats up throughout the day.
The water may have been a bit brisk at 9:30am, but it was well worth it to have the cenote essentially to ourselves.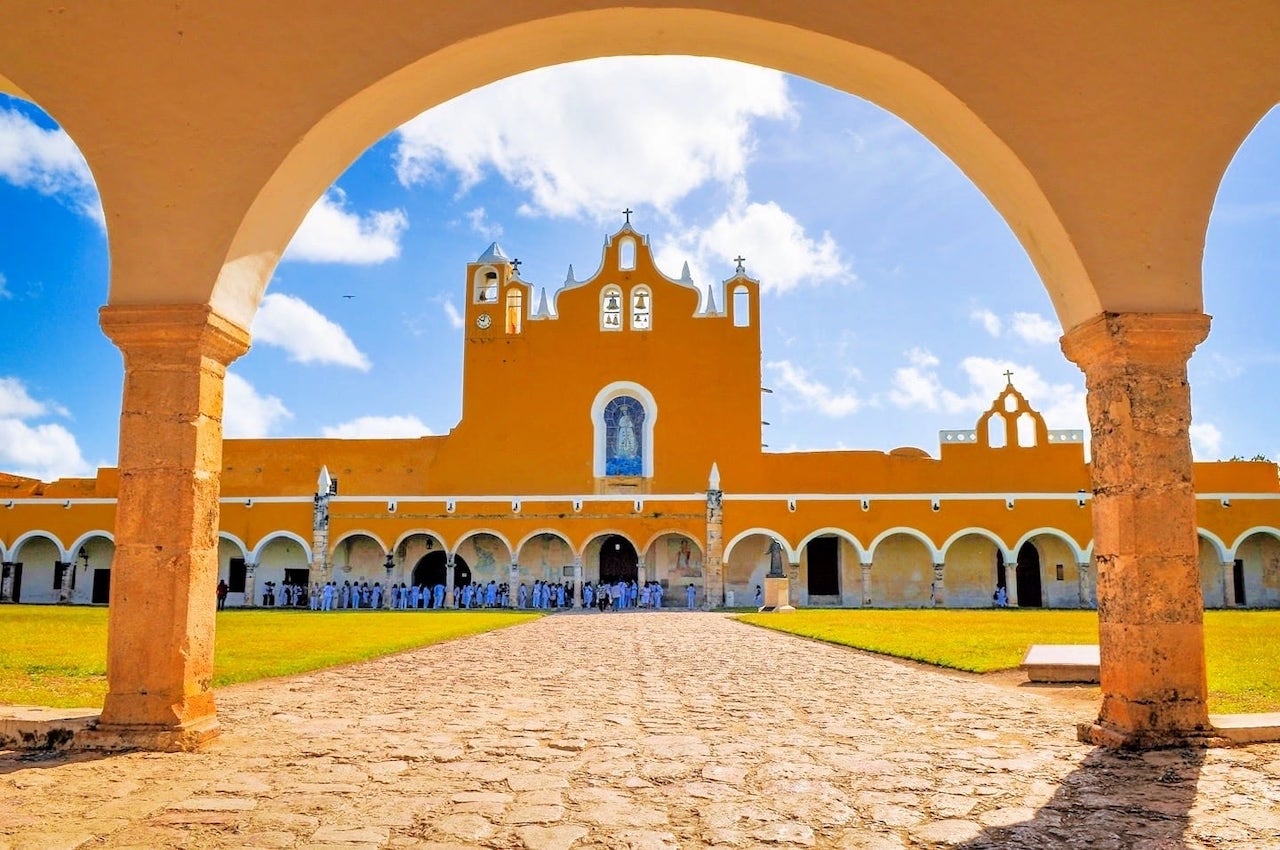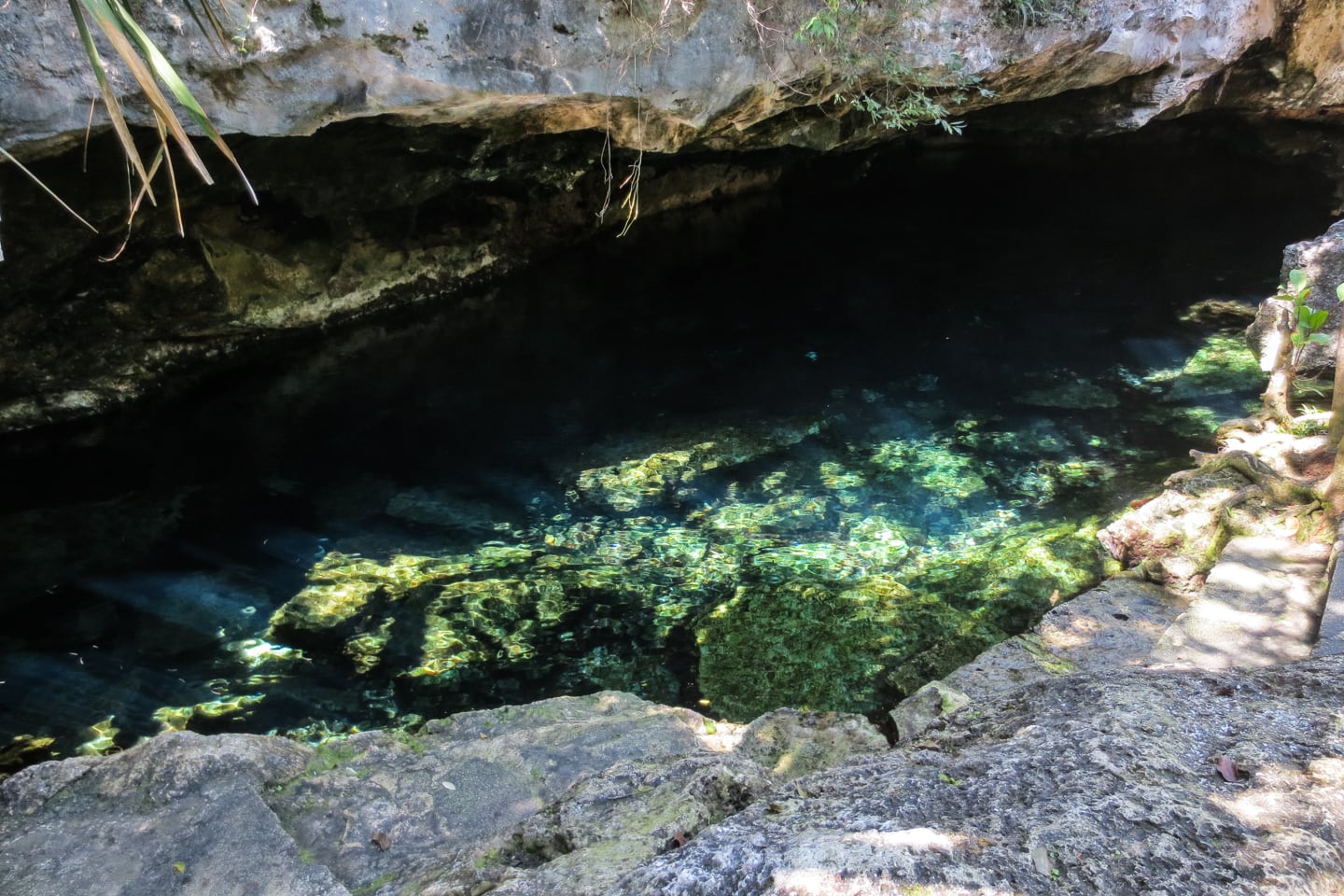 What to Do at Cenote Cristalino
Cliff Jumping
After arriving, it was difficult to decide what to do first. Looking down into the crystalline water, we immediately saw colorful fish swimming about and knew we were going to want to snorkel at some point.
Given that it was still fairly early and the temperature of the water was still a bit brisk, we decided the modest jumping cliff might be a good place to start our day.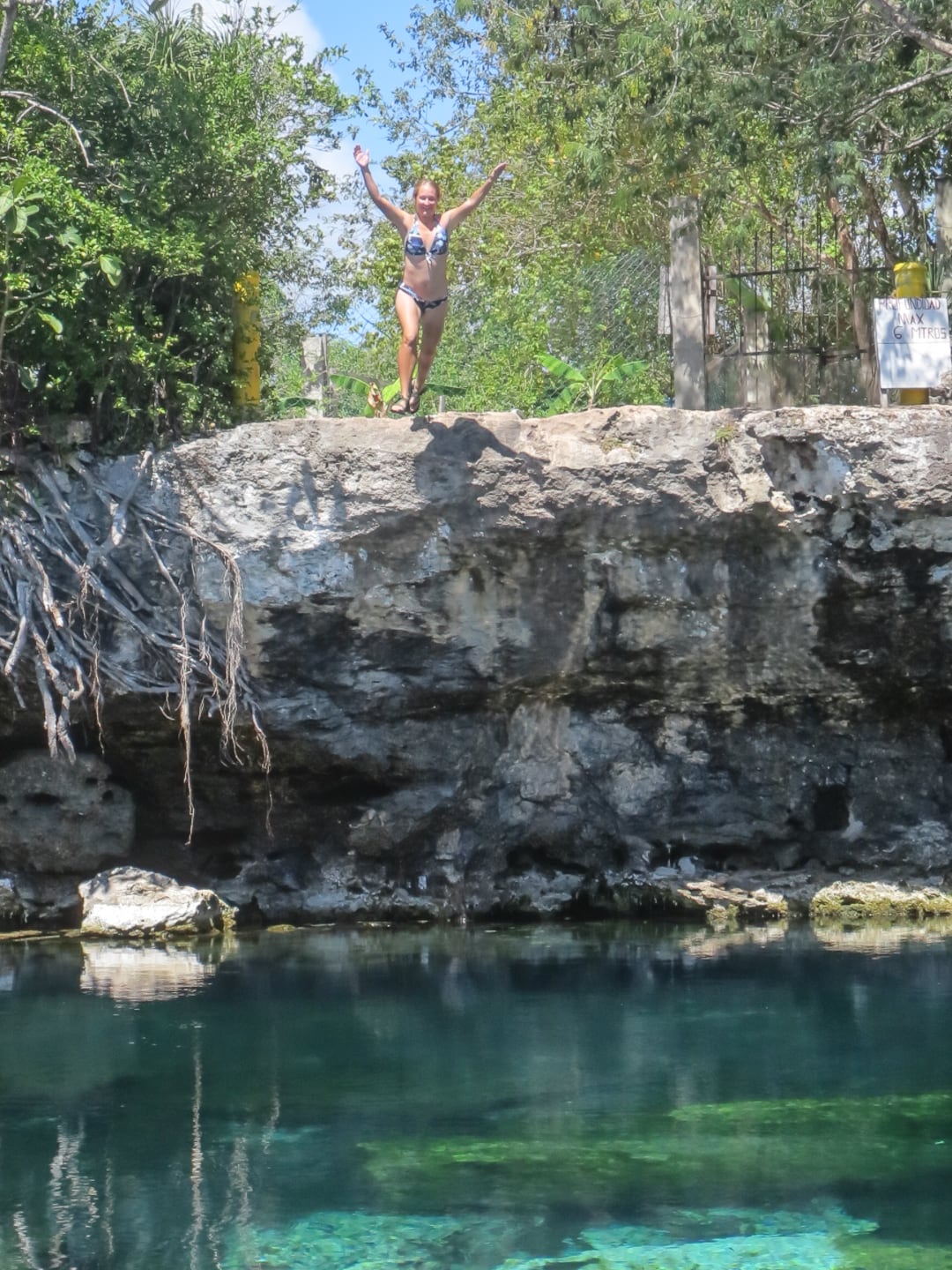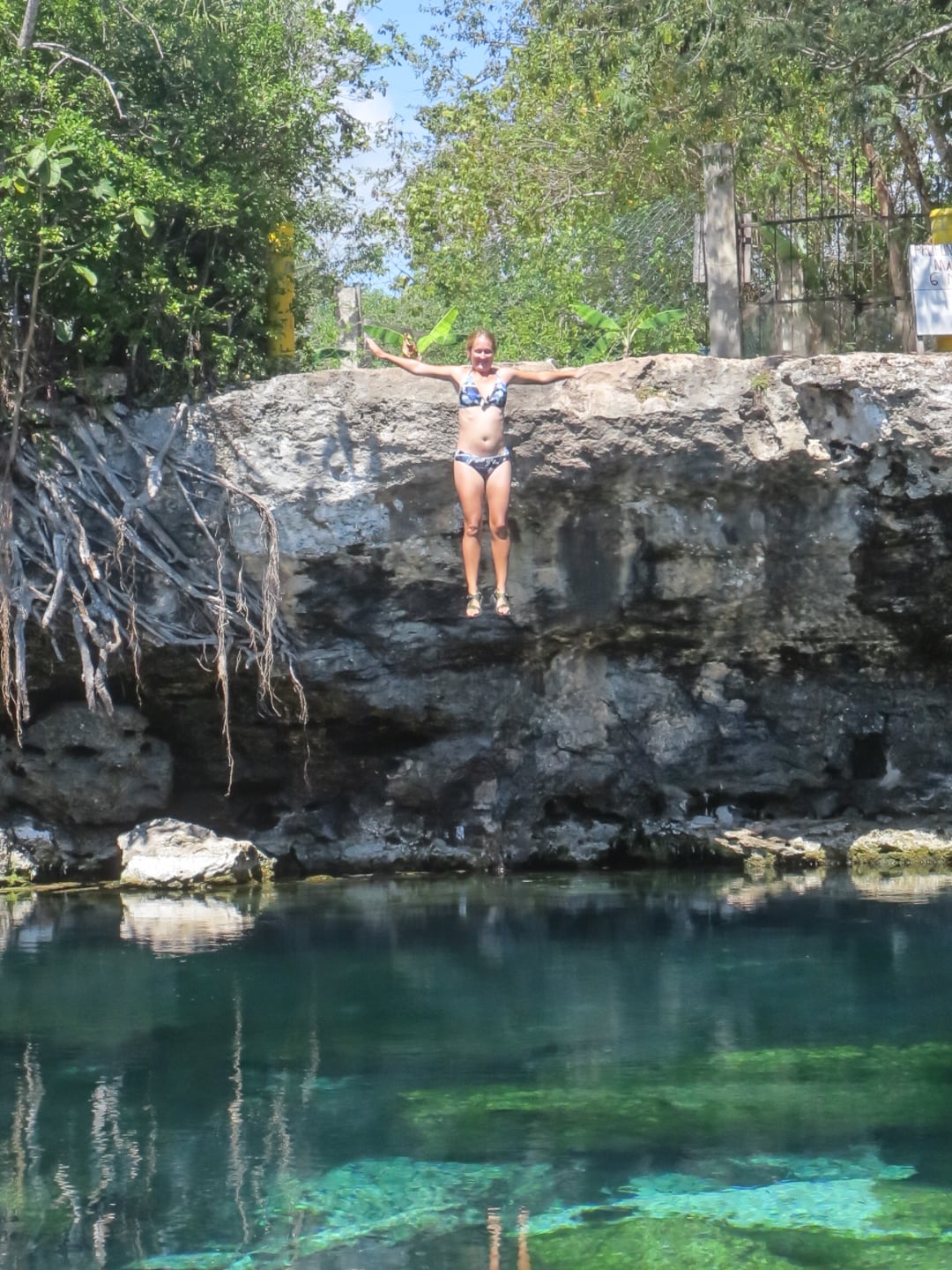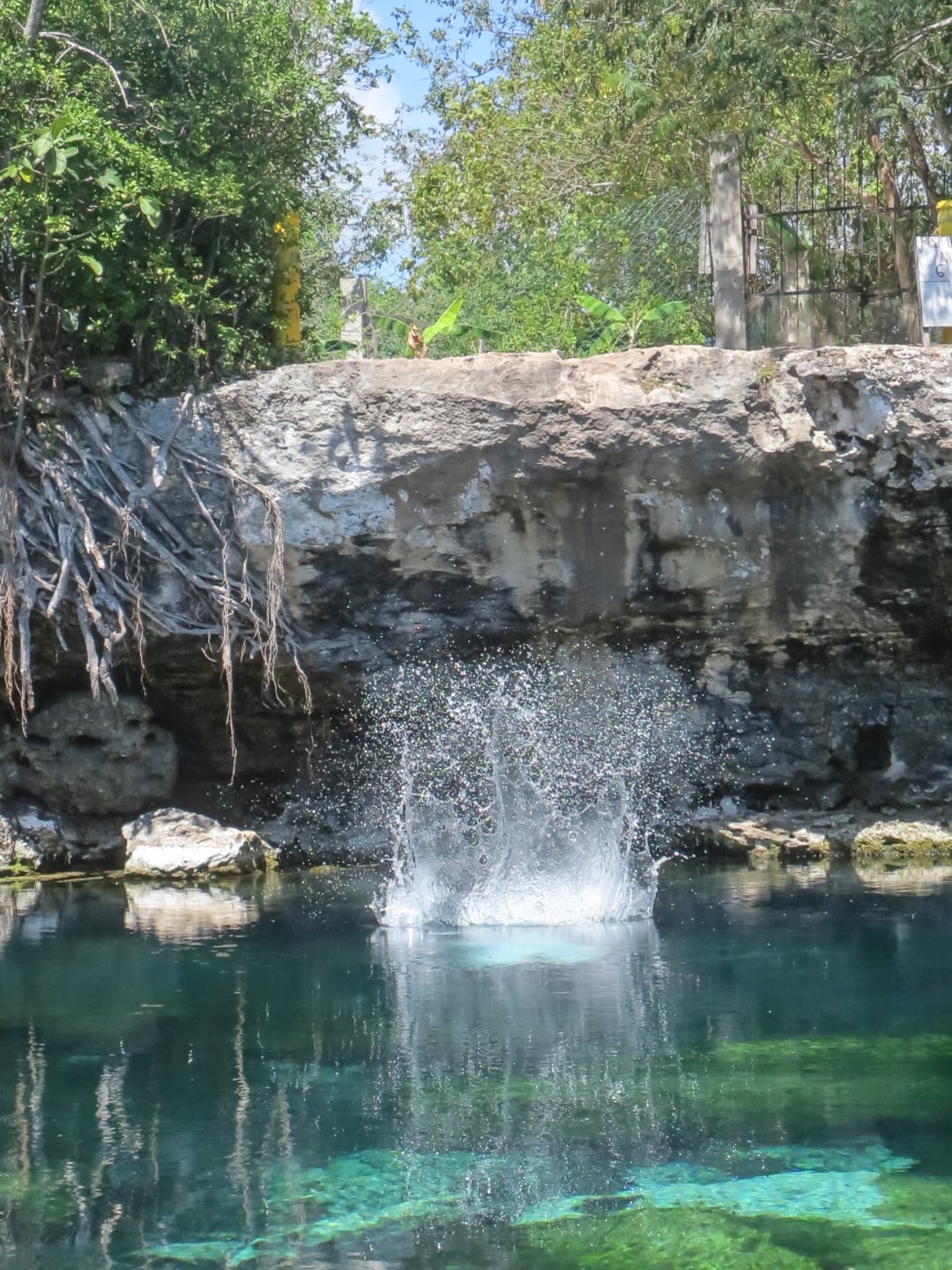 Not to be out-done by Lori, I busted out my finest form as well.
However, it took four jumps to finally capture it on camera (due to "technical difficulties," I guess–never let the competition be in charge of the proof!).
By that time, my form could have placed me into Olympic medal contention…given the right group of judges, of course.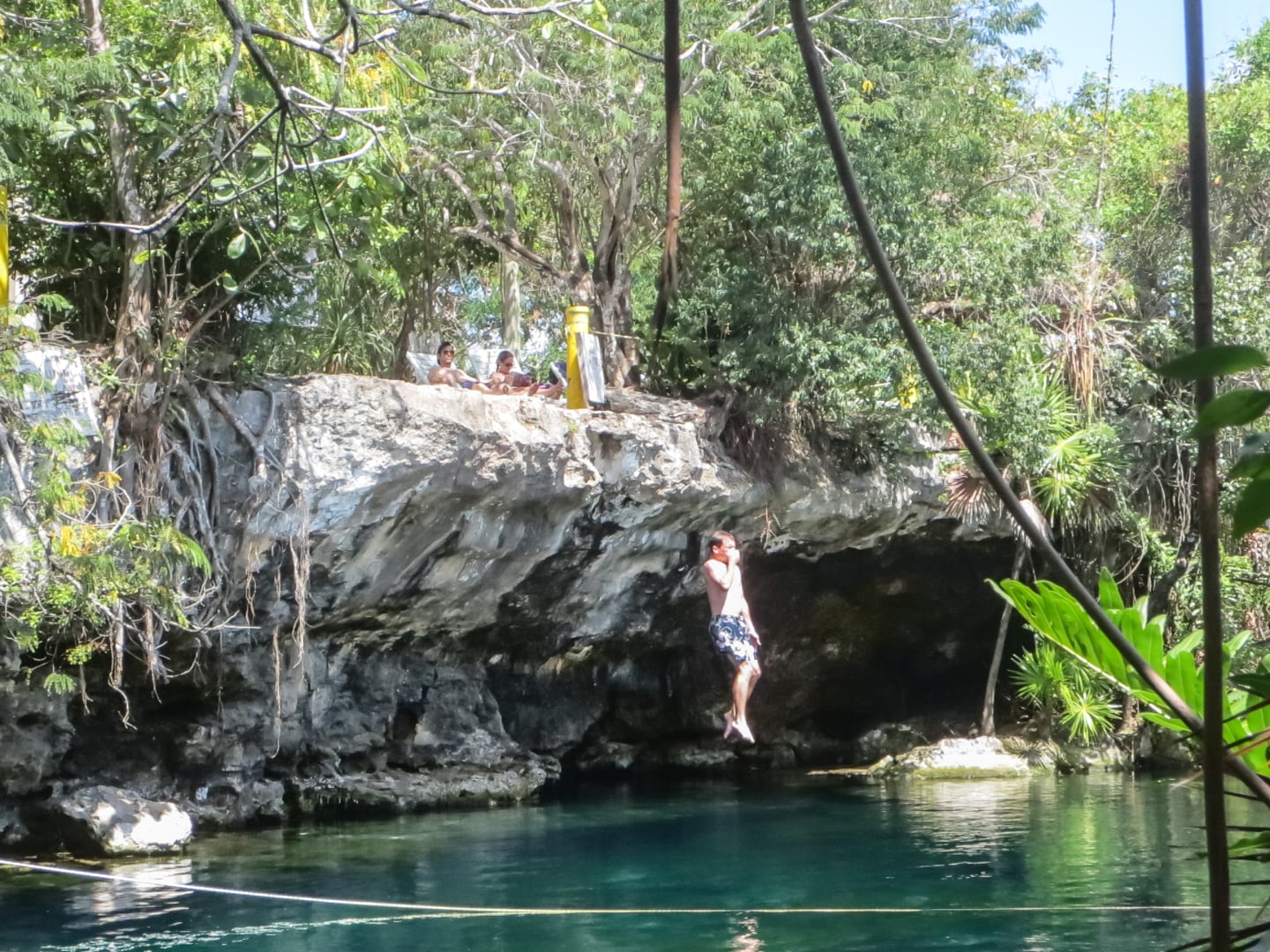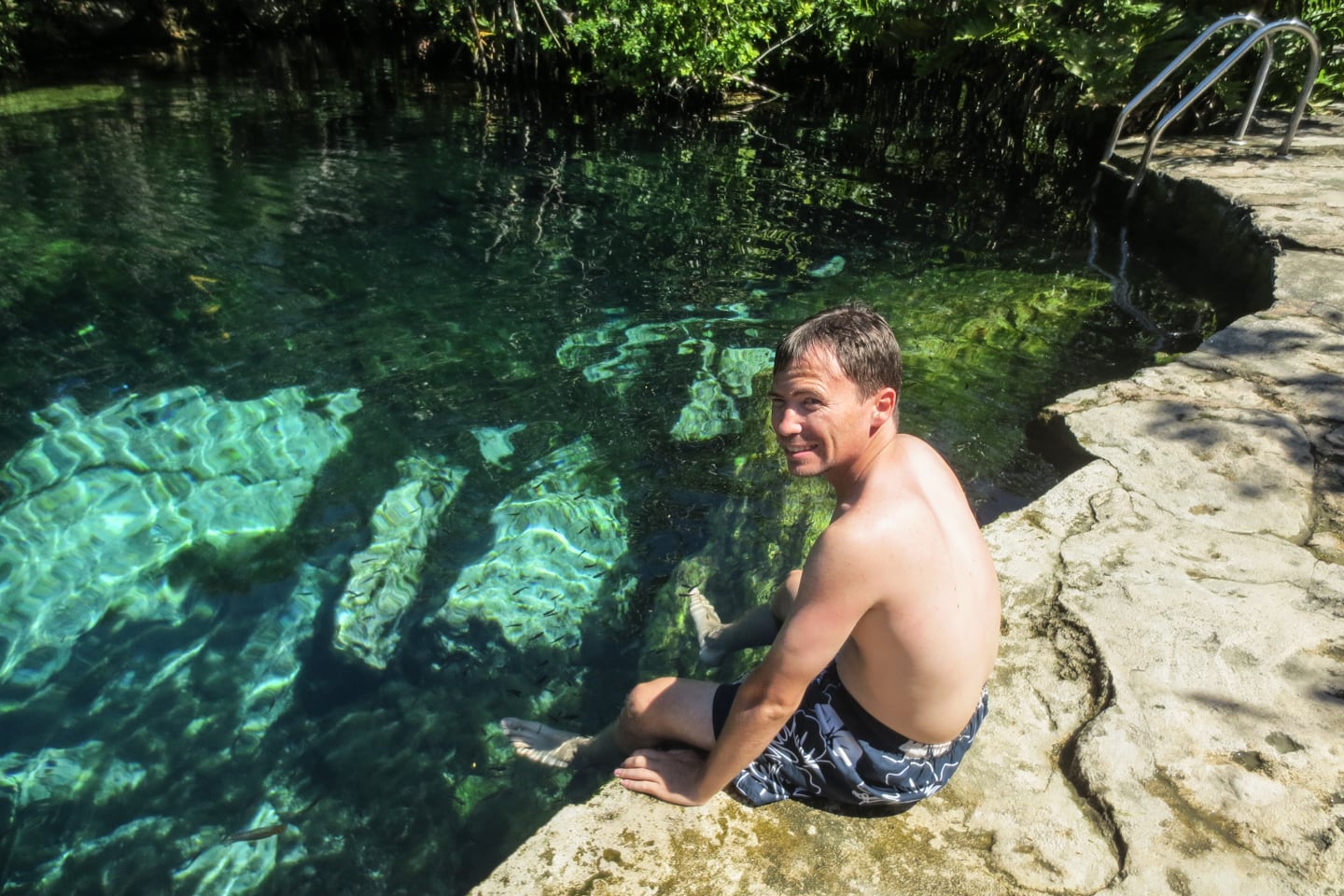 Natural Fish Spa
Another fun thing to do at Cenote Cristalino is to get your feet cleaned "Dr. Fish"-style.
The fish were hungry that day, my friends…which surprised me a bit given that the place wasn't deserted later in the morning when the fish had a variety of feasting options.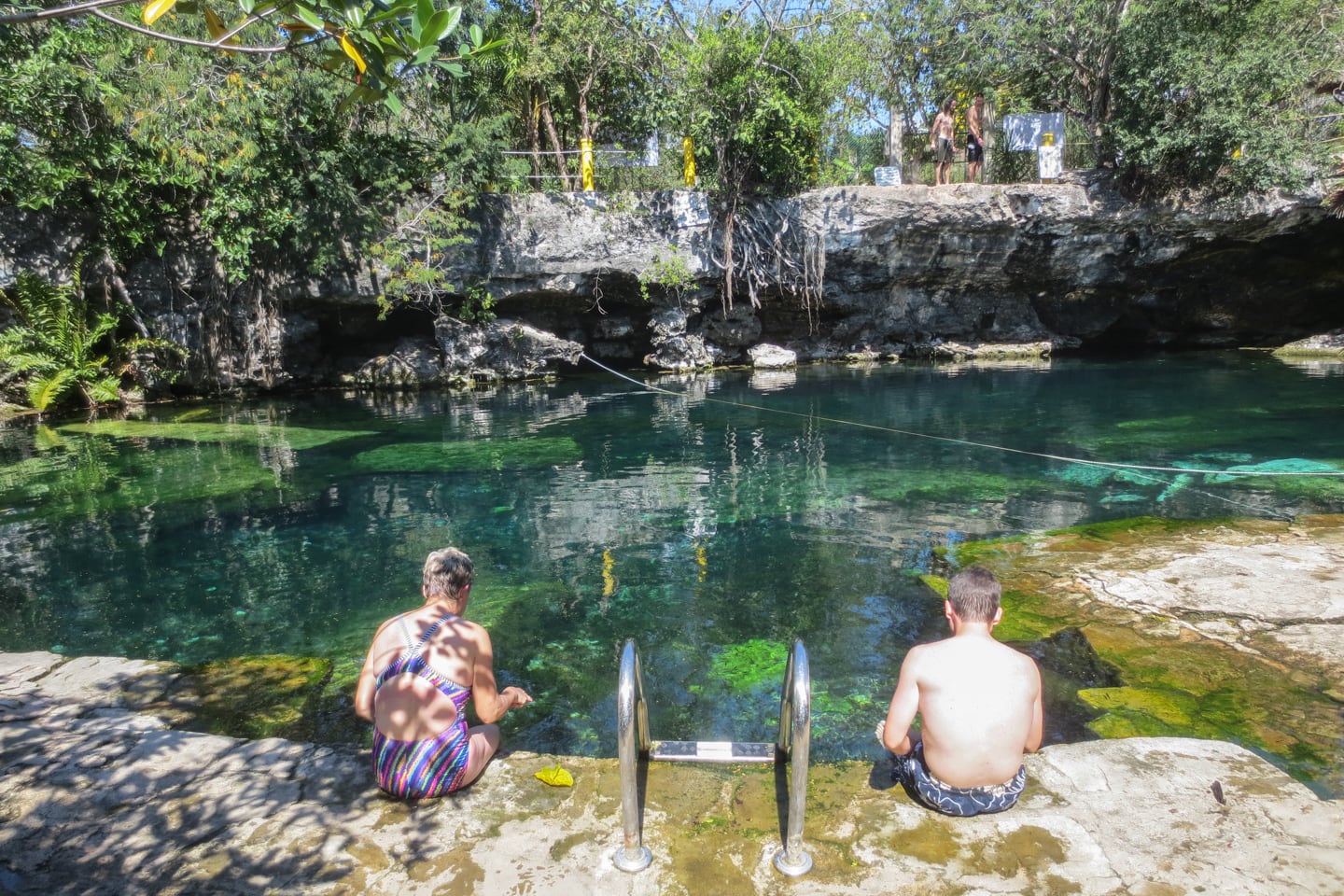 A few particularly large fish enjoyed their mid-morning snack a little too much, if you ask me, and were absolutely insatiable.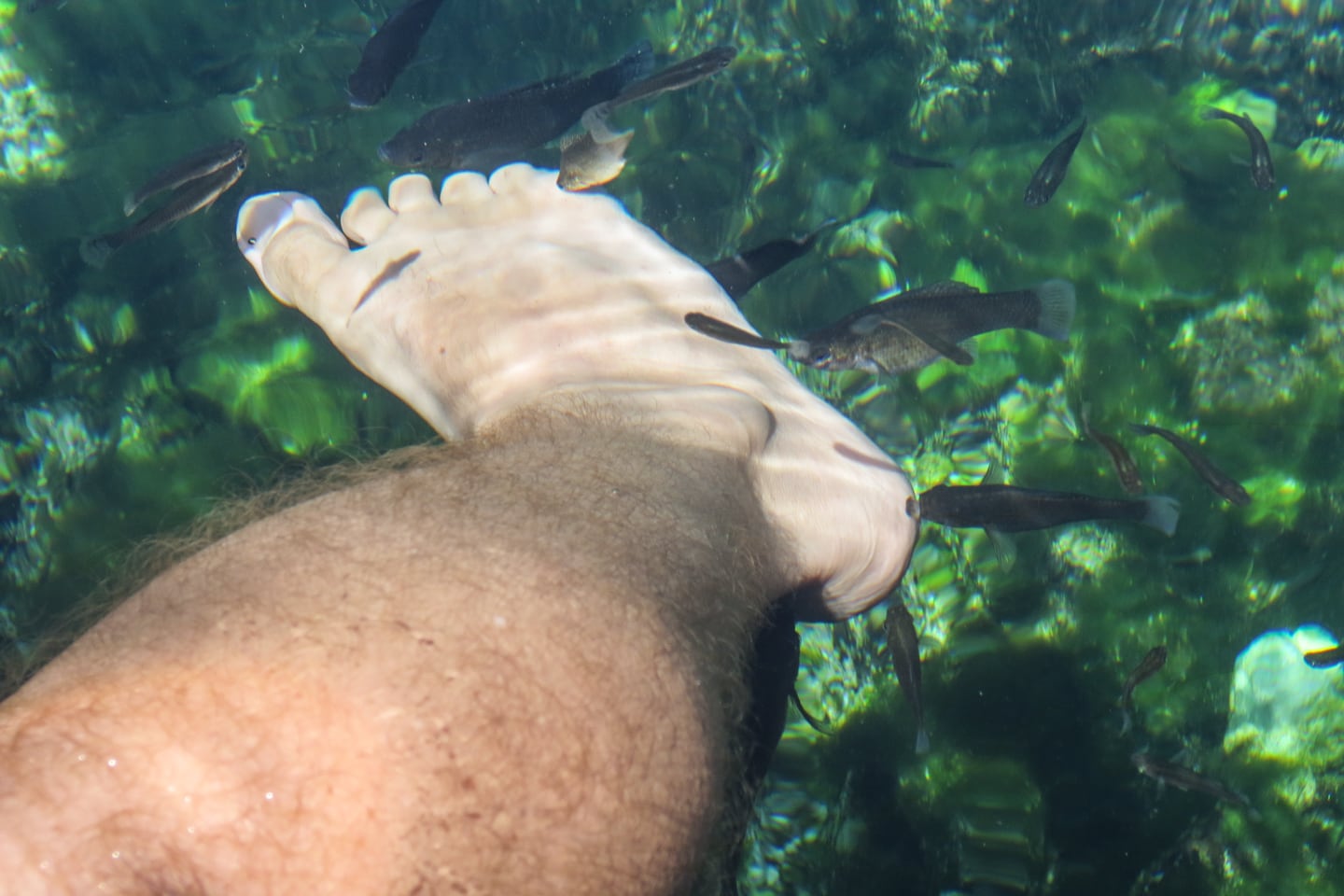 I usually do alright with the small guys, but be forewarned, the big guys tickled to the point of holding back tears.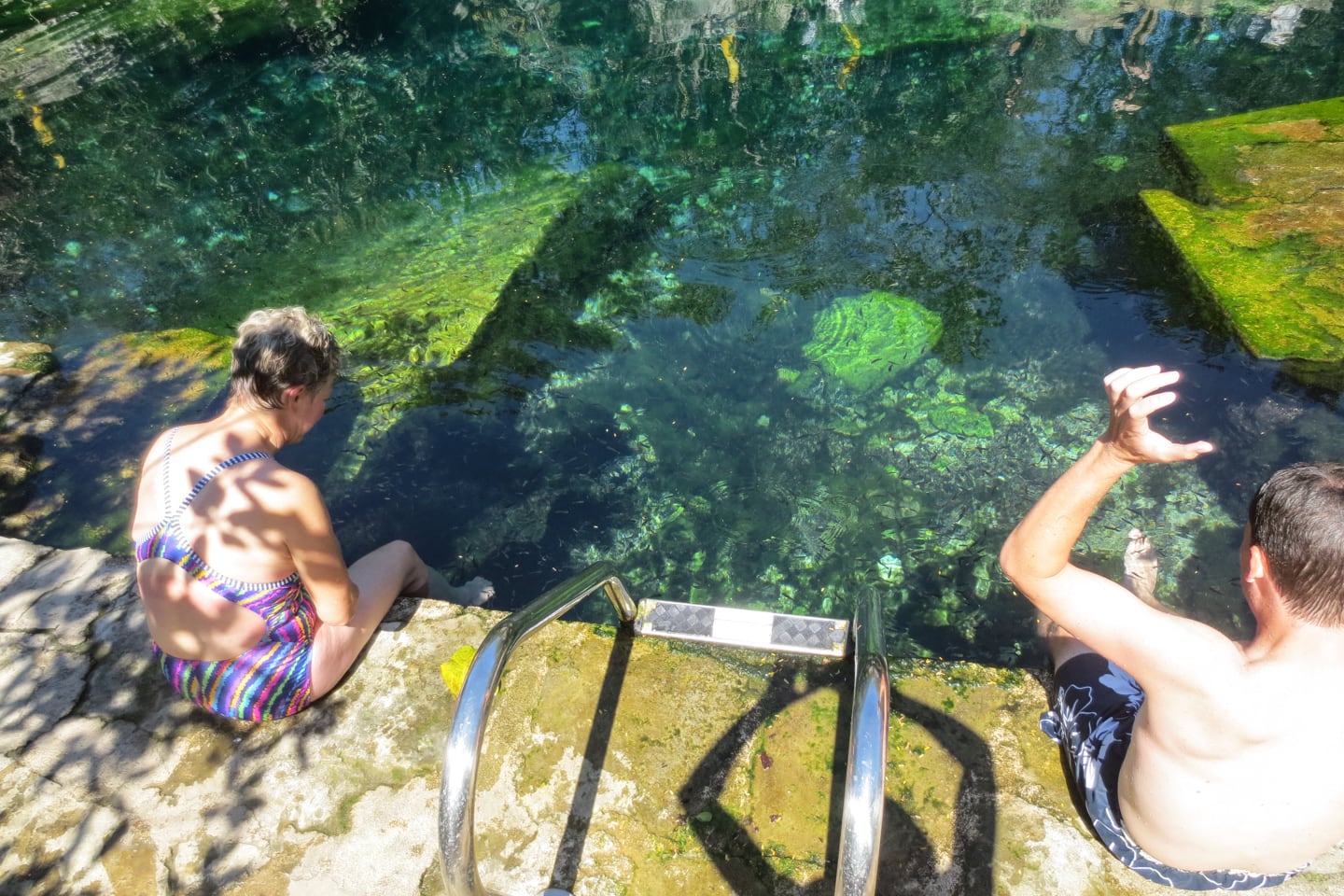 Lori's mom indeed proved much stronger-willed than myself as she was able to sit there for what seemed like hours and just let the fish go about their business.
I, on the other hand, could only last 1-2 minutes at a time before needing to move somewhere else so that I could recompose myself. Shameful.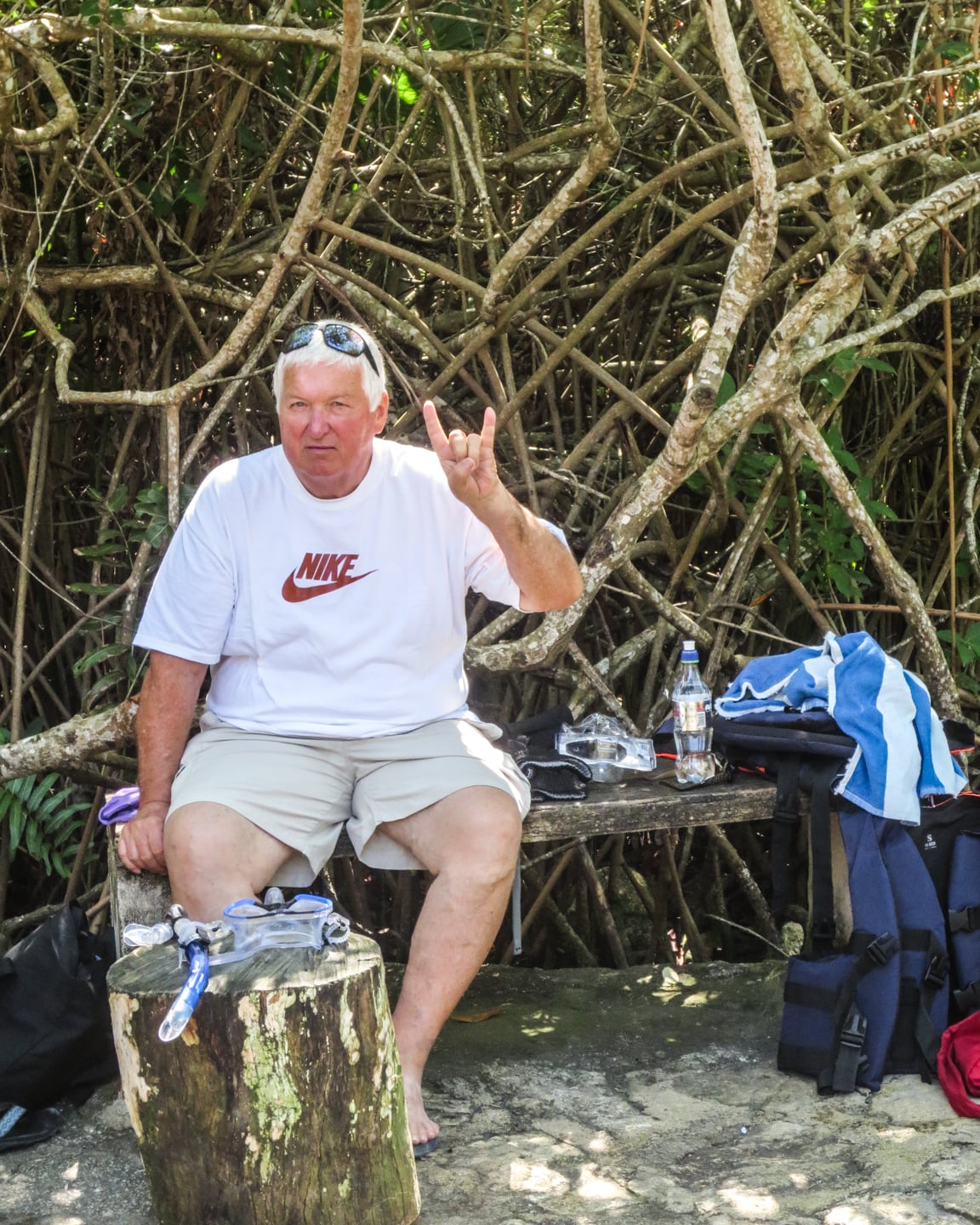 Lori's dad enjoyed the show from the bench, but eventually got in the game to check out the tropical feet-nibblers, himself.
I didn't hear much giggling, so either the man has nerves of steel or the fish wanted nothing to do with him. I'd like to think the former.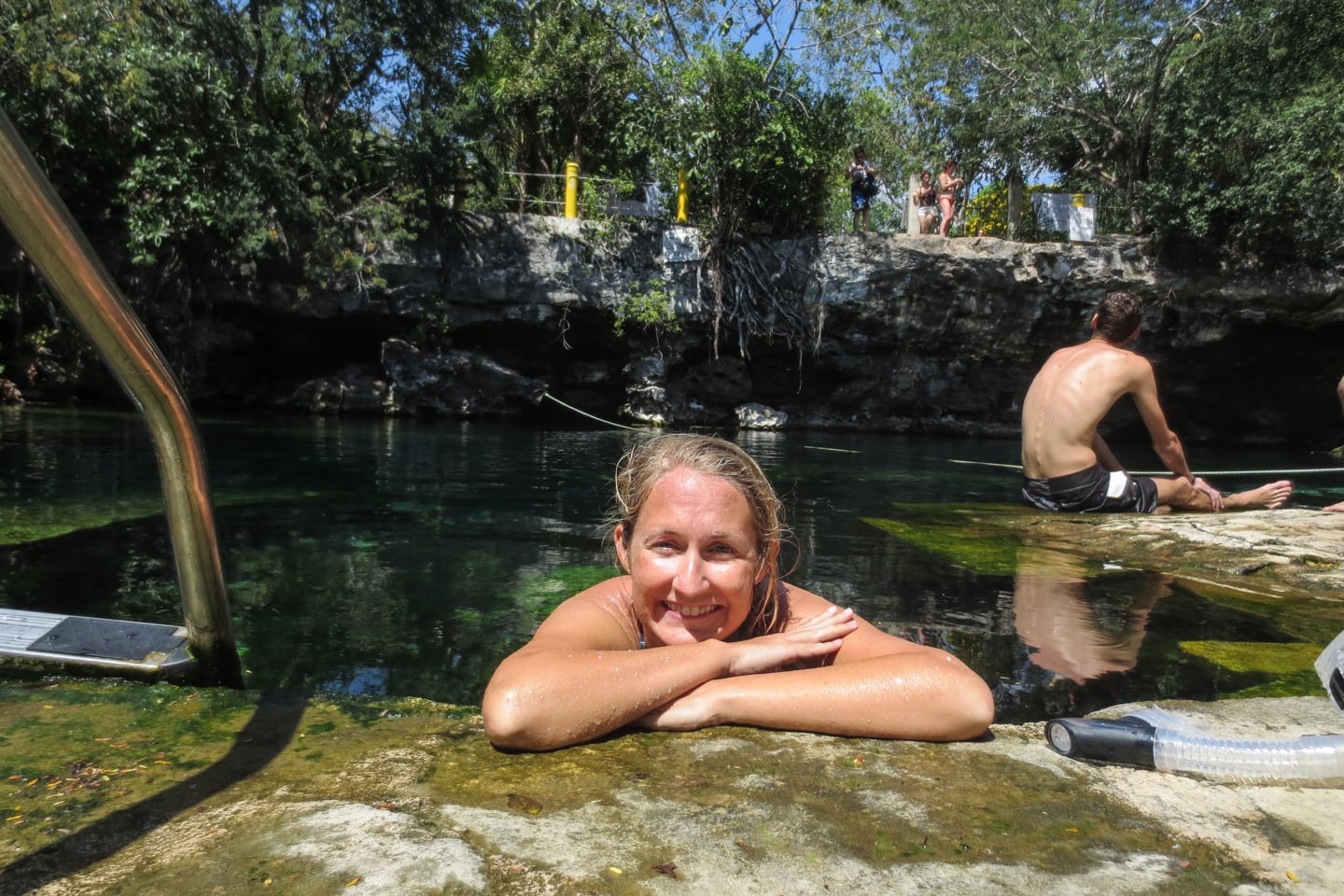 Snorkeling
Jumping off rocks and getting your feet nibbled on is fun and all, but the real draw to Cenote Cristalino might just be the surprisingly amazing snorkeling.
The water, true to the cenote's name, is crystal clear, and perfect for snorkeling.
Depths reach about 20 feet (6 meters) and visibility on this particular day was virtually unlimited.
In addition to the foot nibblers, we saw catfish and an array of small, colorful fish which we weren't able to identify on the spot.
We also came across a turtle about 6-8 inches long milling about and getting into trouble.
While none of the fish were as large as what you might typically find in the waters off the Riviera Maya coast, the abundance of small fish and otherworldly environment made it a very unique morning.
What to Pack for Cenote Cristalino
You won't need to pack a whole lot for a morning or day out at Cenote Cristalino. In fact, we encourage visitors to pack light!
The three most important items you'll want to bring with you are your bathing suit, sun protection, and a reusable water bottle.
But NO SUNSCREEN!
In fact, lotions of any kind are discouraged or outright forbidden at most area cenotes due to the damage they can cause to the fragile underwater ecosystem.
Instead, cover up. A rash guard and sun hat with UPF protection are good bets.
If you run out of water (or forget), there's a snack shack on site. But always best to come prepared for the tropical heat.
You'll also want to bring along a towel (we love pack towels for travel!).
If you plan to do some snorkeling at Cristalino (and we sincerely hope you do!), don't forget your mask and snorkel. You may want to leave your fins back at the hotel for fear of damaging the spectacular underwater habitat, as some of the pools are quite compact.
If you'd like to capture the colorful underwater world of Cristalino Cenote, you may also want to pack a waterproof action camera like the GoPro Hero 9 (featuring a front-facing LCD) or the DJI Osmo Action Camera, which is supposed to be a bit better built.
If you are visiting with little ones, a swim vest (and a close eye) is a must for non-swimmers.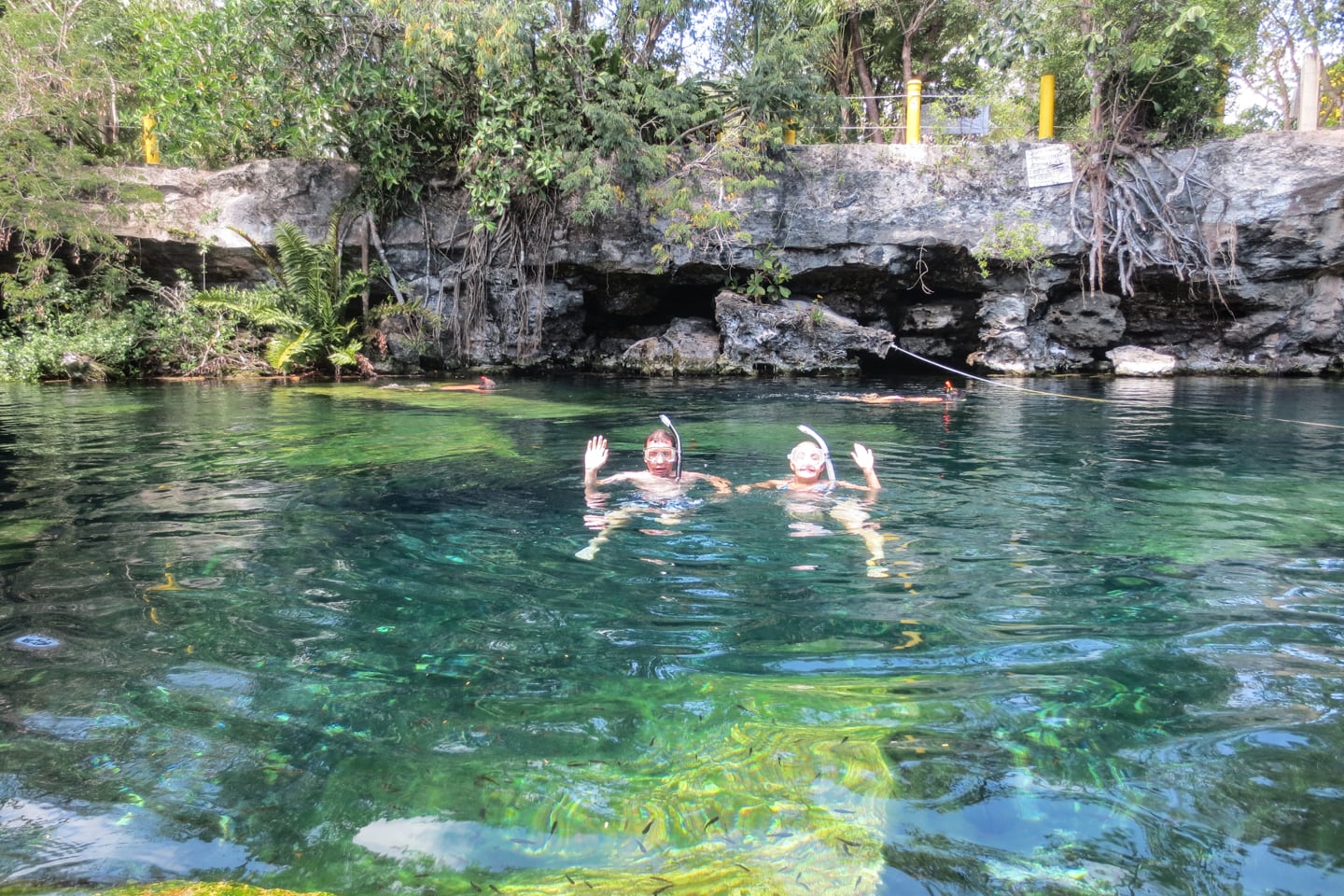 Is Cenote Cristalino worth a Visit?
The million dollar question seems to be if Cenote Cristalino is worth bothering with, given its relative popularity and the number of visitors it attracts each year.
We would say a resounding YES! Cristalino is totally worth your time and money.
BUT…with the caveat that you really need to plan your visit carefully and follow the recommendations we mentioned above for when to visit.
Do keep in mind that there is no guarantee that you are going to get the place largely to yourself midweek at 9:30am like we did. But it's certainly worth a try!
The whole experience was quite unlike anything we've done before, making Cenote Cristalino a worthwhile visit, indeed.
Planning a Trip to Mexico's Yucatan Peninsula?
Check out our other helpful guides and articles for the region:
Have you visited Cenote Cristalino?
What did you think? What is your favorite cenote in the Yucatan? Let us know in the comments below.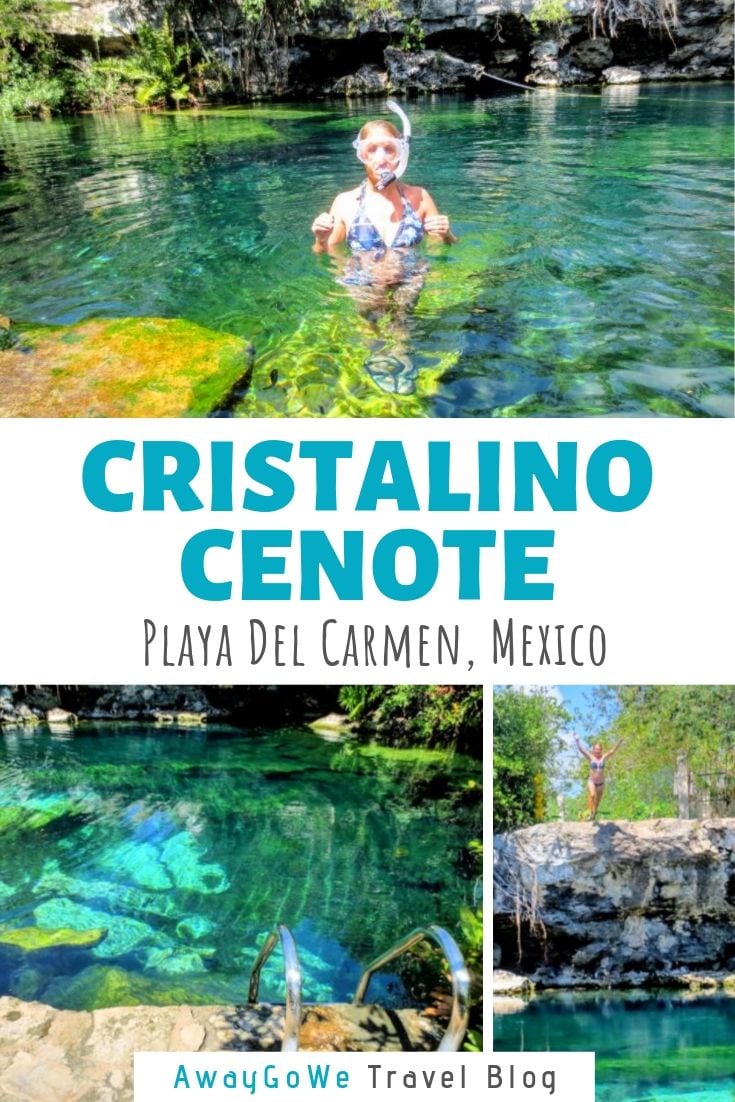 07 Apr 2021
26 Feb 2014
We use affiliate links and may receive a small commission at no extra cost to you. Learn more in our privacy policy.