Sayulita has some of the most stunning beaches you're bound to find anywhere in Mexico.
This tiny corner of the globe is pure bliss for beginner and intermediate surfers looking to catch a consistent break, and sun worshippers simply looking for a break from it all.
Whether you are visiting just for the weekend from Puerto Vallarta or Guadalajara or planning to stick around town for a while, make sure to take an opportunity to lose the crowds and explore some of the area's lesser trodden golden sands.
Here's what you need to know for visiting Sayulita beaches located within a 3-mile (5 km) radius of the central plaza.
Our guide includes helpful tips for getting to and accessing each beach, what to see and do once you are there, and how to snag an entire beach for yourself just minutes from town.
For help finding any of the beaches listed in our guide, use our interactive map at the end of this post, in addition to the directions provided in each section.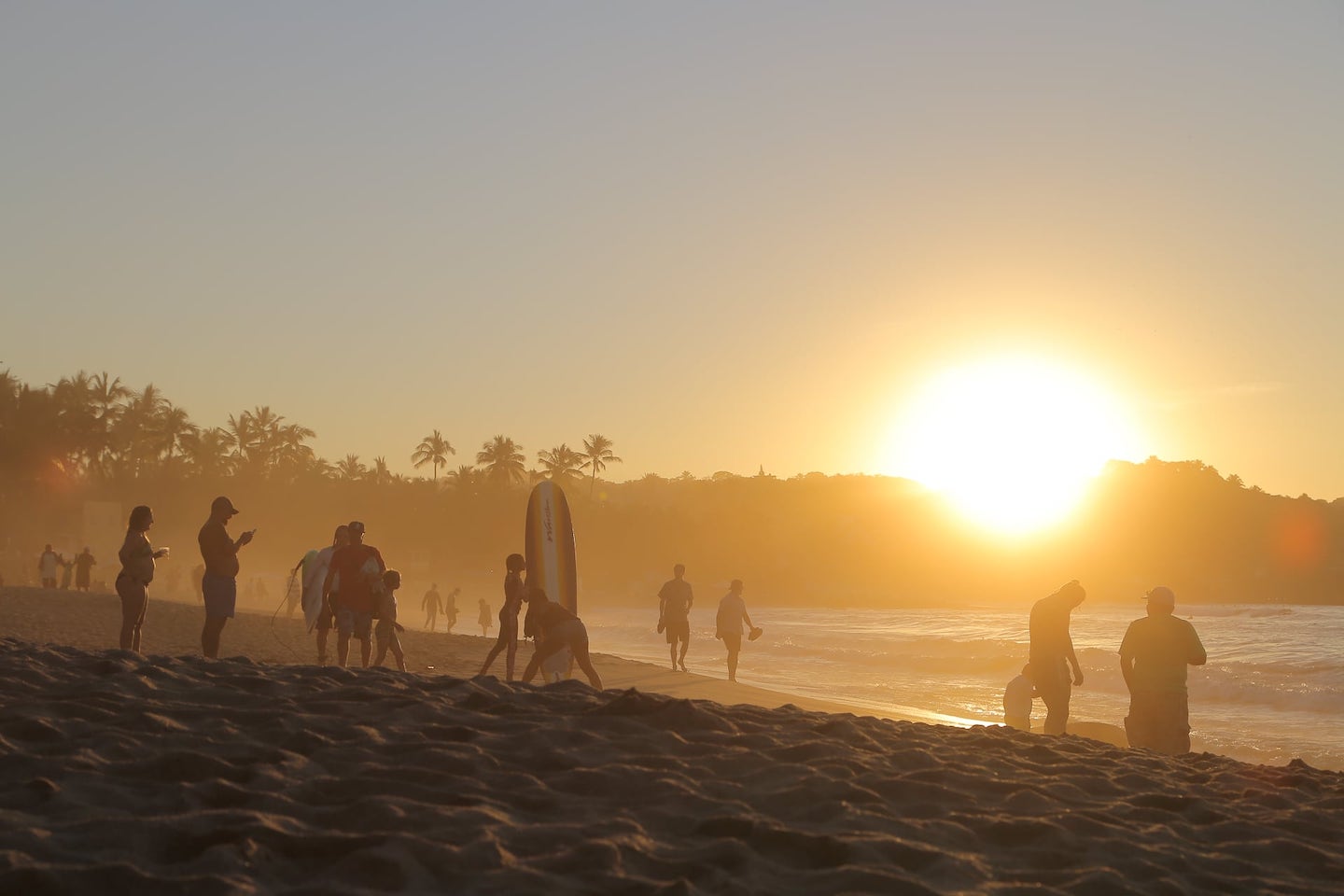 Sayulita Beaches | A Detailed Guide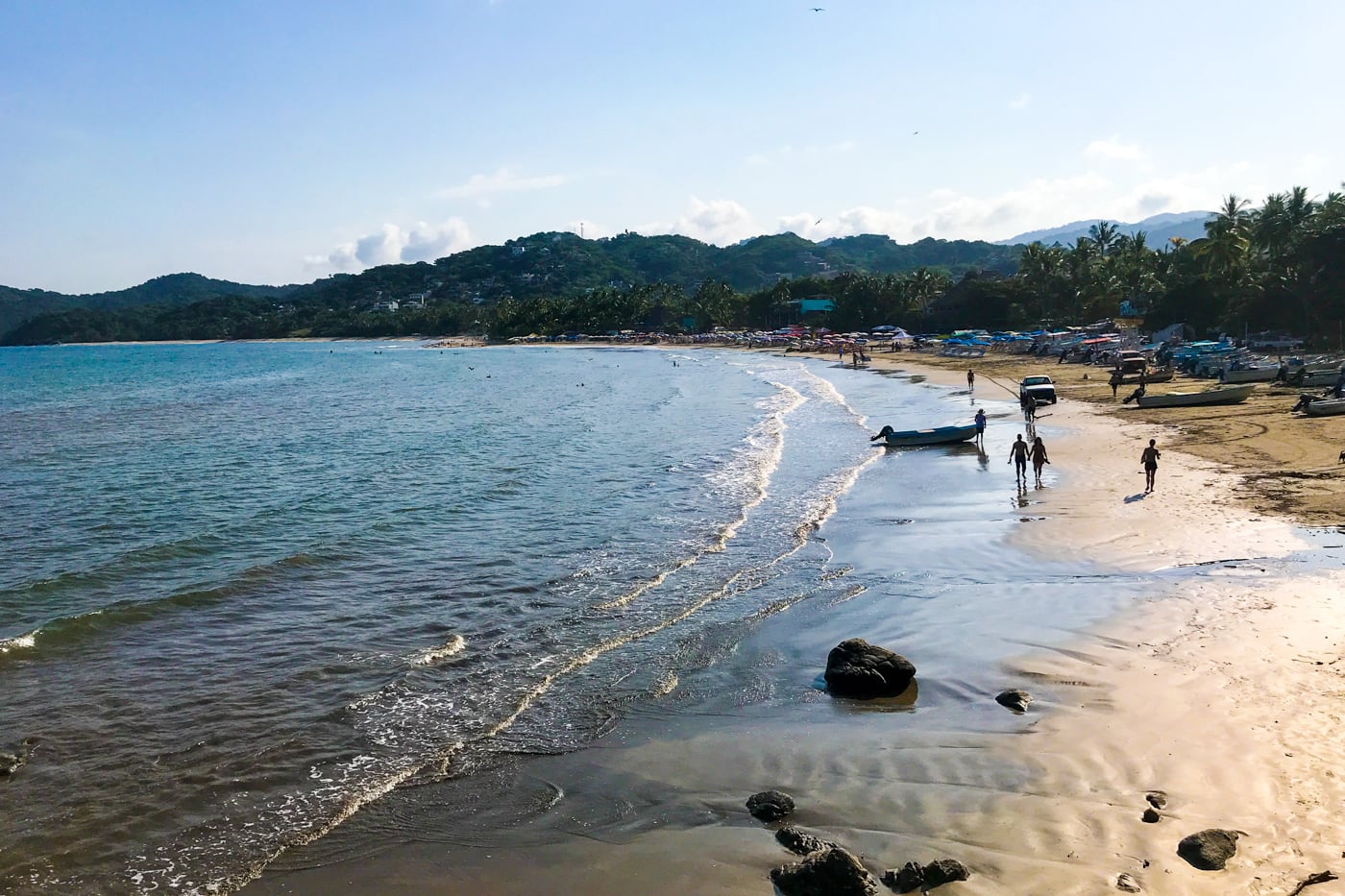 El Centro
Playa Sayulita (Sayulita Beach)
Playa Sayulita is the beating heart and soul of Sayulita town, a Pueblo Magico nestled in a small bay along Mexico's stunning Riviera Nayarit. If there's one place in town to see and be seen (and catch a wave), this is it.
Which might be a bit of a bummer if you're like us and crave a bit of solitude and space with your beach time.
No worries! Fortunately, Sayulita has a half dozen other excellent beaches to explore within a short walk of the center of town ⏤ all a bit more off the radar to varying degrees.
Regardless, if you're looking for a dip in the water just footsteps from the action, or want to surf the best breaks in town, Playa Sayulita is where to go.
---
Related
---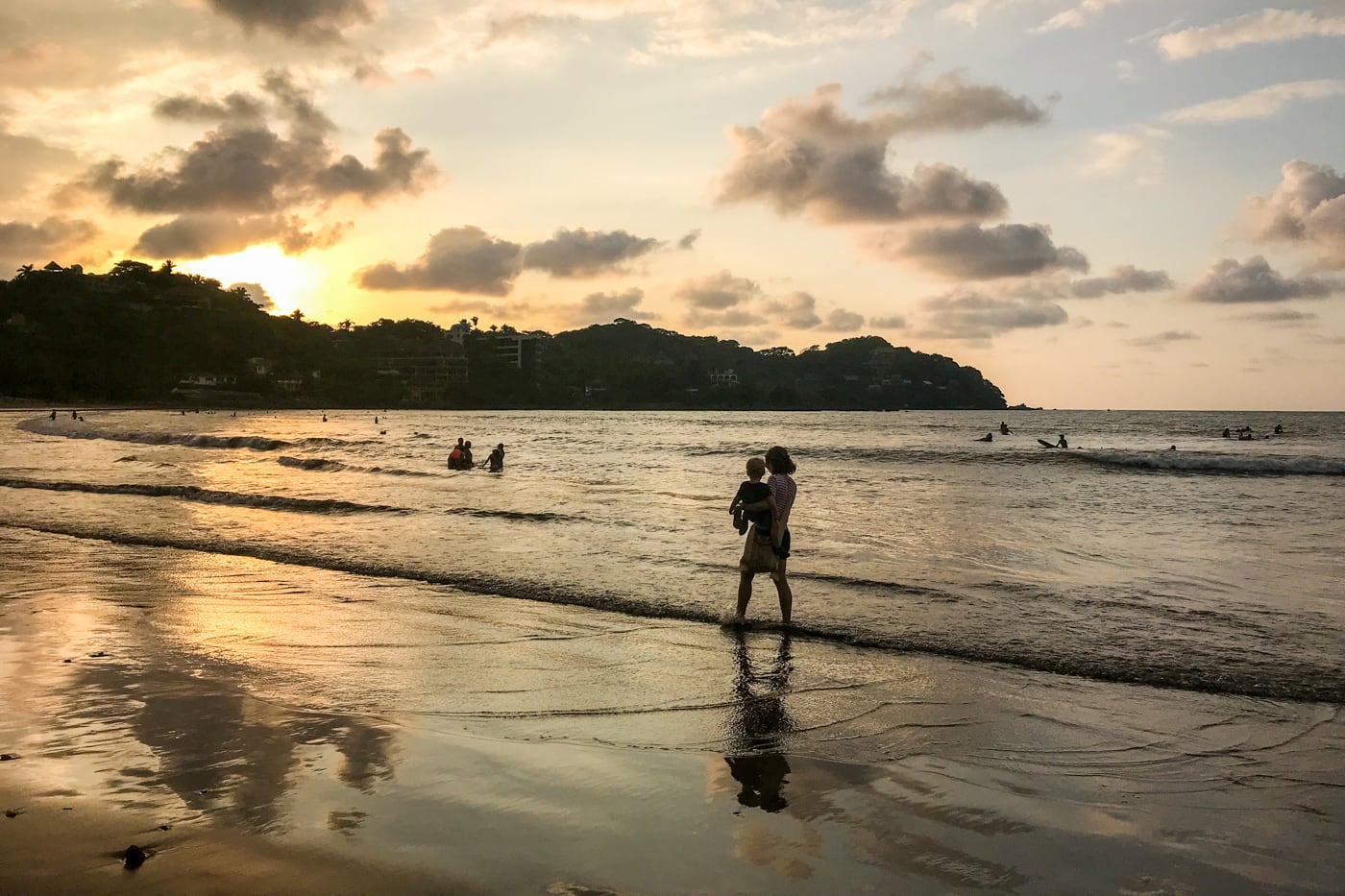 SWIMMING ▸ Second best swimming beach in the area. Sayulita beach is shallow with a gentle break, which makes it good for all ages on a mellow weather day. Due to the glut of surfers and bodyboarders in the center, the best place for small children is at the far southern end. Just watch out for motorboats coming and going!
WATERSPORTS ▸ This beach is ground zero for surf classes, so expect plenty of beginners offshore trying to catch their first wave, in addition to bodyboarders off to the south. It's also a popular entry point for SUP (standup paddle boarding) and kayaking. You won't find motorsports anywhere along the coastline of Sayulita.
Want to Learn to Surf in Sayulita?
Sun, sand, sea, and sublime scenery, there are few better places in Mexico to catch your first wave.
We recommend doing a beginner's surf lesson with Wild Mex, one of Sayulita's top surf schools.
BEACH ▸ By municipal beach standards, the beach is fairly clean and well-maintained. But if you're going to encounter trash and rubbish on one of the Sayulita area's beaches, expect to find it here. That, combined with the density of rental lounge chairs and beach umbrellas (and the crowds they attract) make Sayulita's main beach our least favorite of all the area's beaches.
SERVICES ▸ If you're looking for a cold drink and a lounge chair, however, the main beach offers the most choices. And with it, comes a steady stream of touts and hawkers looking to make a sale at the expense of your relaxation.
HOT TIP ▸ Our favorite watering holes along the main beach include El Break for local craft beers (cervezas artesanales), and Capitano Pablo's for a cold domestic beer and a good view of the surf action. ▸ For the most chill experience on the main beach, avoid weekends, evenings, and whenever the surf is up.
ACCESS ▸ From the central plaza (El Centro), just head northwest (look for the narrow roads lined with the colorful plastic streamers (papel picado). Two blocks later, the pavement will turn to sand, and there you are!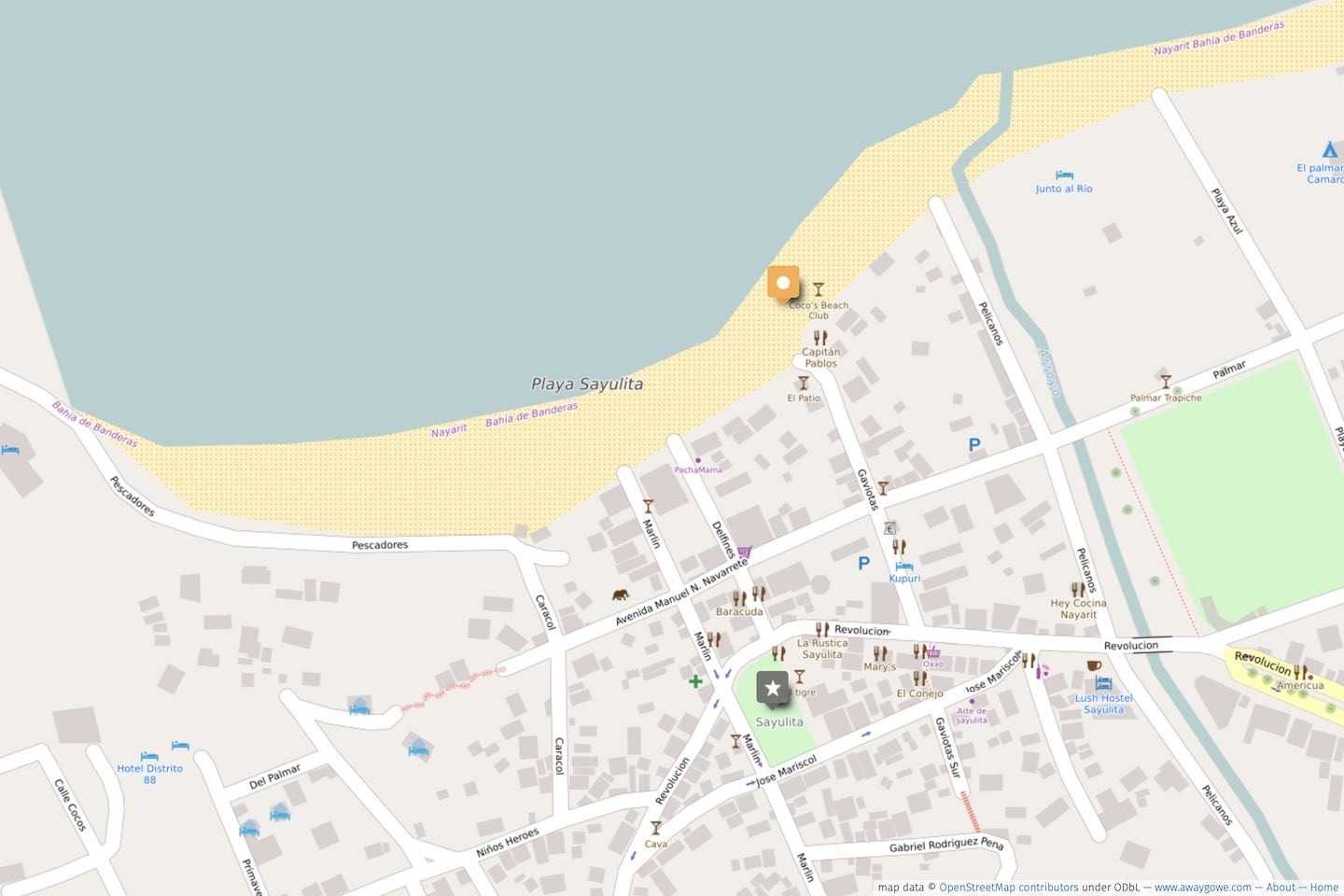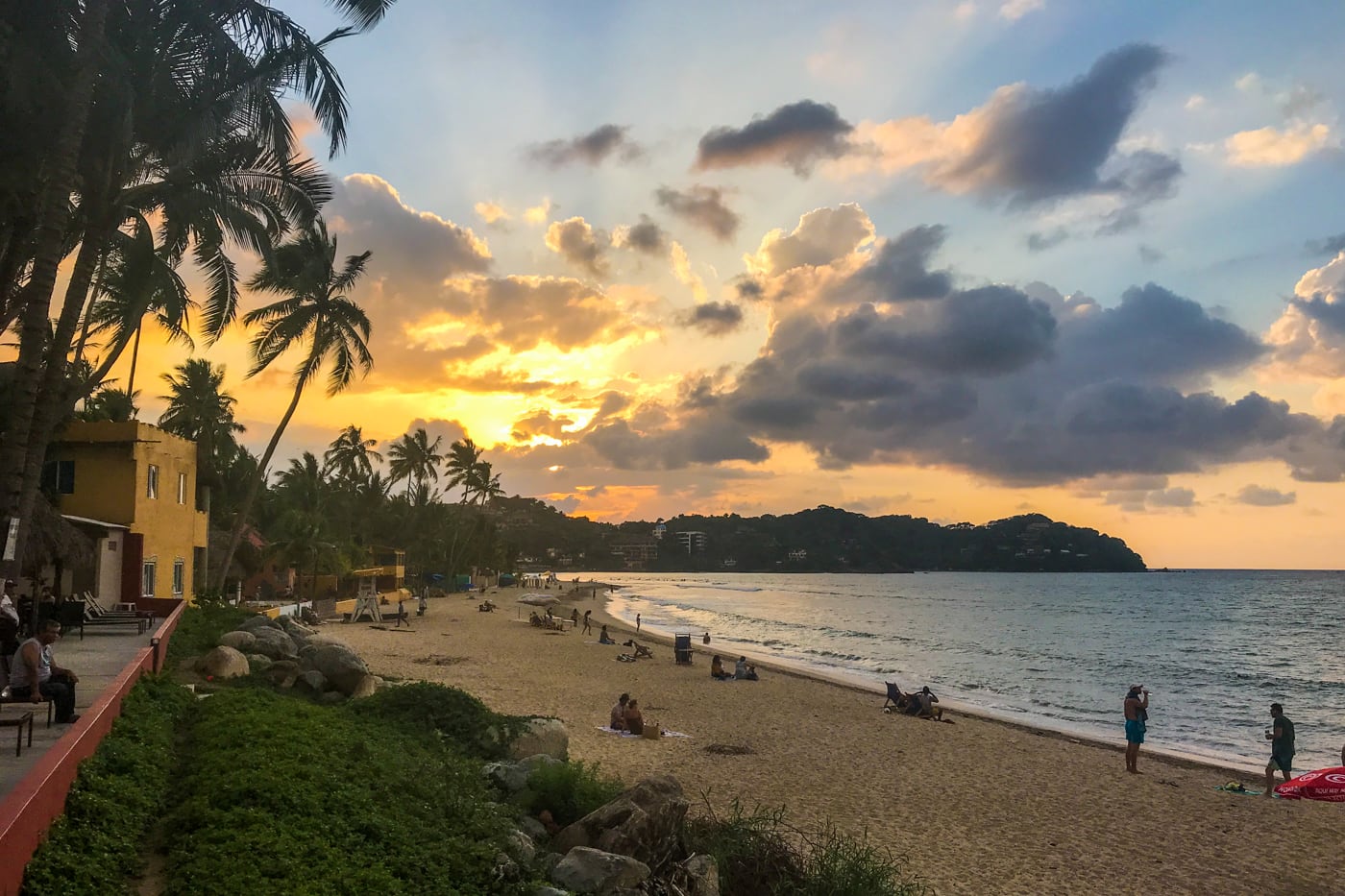 Sayulita Beaches North of El Centro
Playa Norte (North Beach)
Walk a few dozen steps north across the seasonal Sayulita River, and you'll find yourself on Playa Norte, better known to gringos as North Beach.
Of the Sayulita beaches covered in our guide, this is where we find ourselves most evenings at sunset.
While the Left Point Break that extends well into North Beach is a favorite among advanced surfers, moving ever farther north into this long strand of golden sand will help you lose 90% of the crowd ⏤ both on and off the water.
The farther north you go, the more likely you are to snag a generous piece of sandy real estate all to yourself.
But make sure to plan ahead and bring your own provisions, as services drop off precipitously just after the trailer park.
We prefer Playa Norte over the main beach for catching sunset, particularly in the dry season / winter months when the sun sets farther to the south.
---
Related
---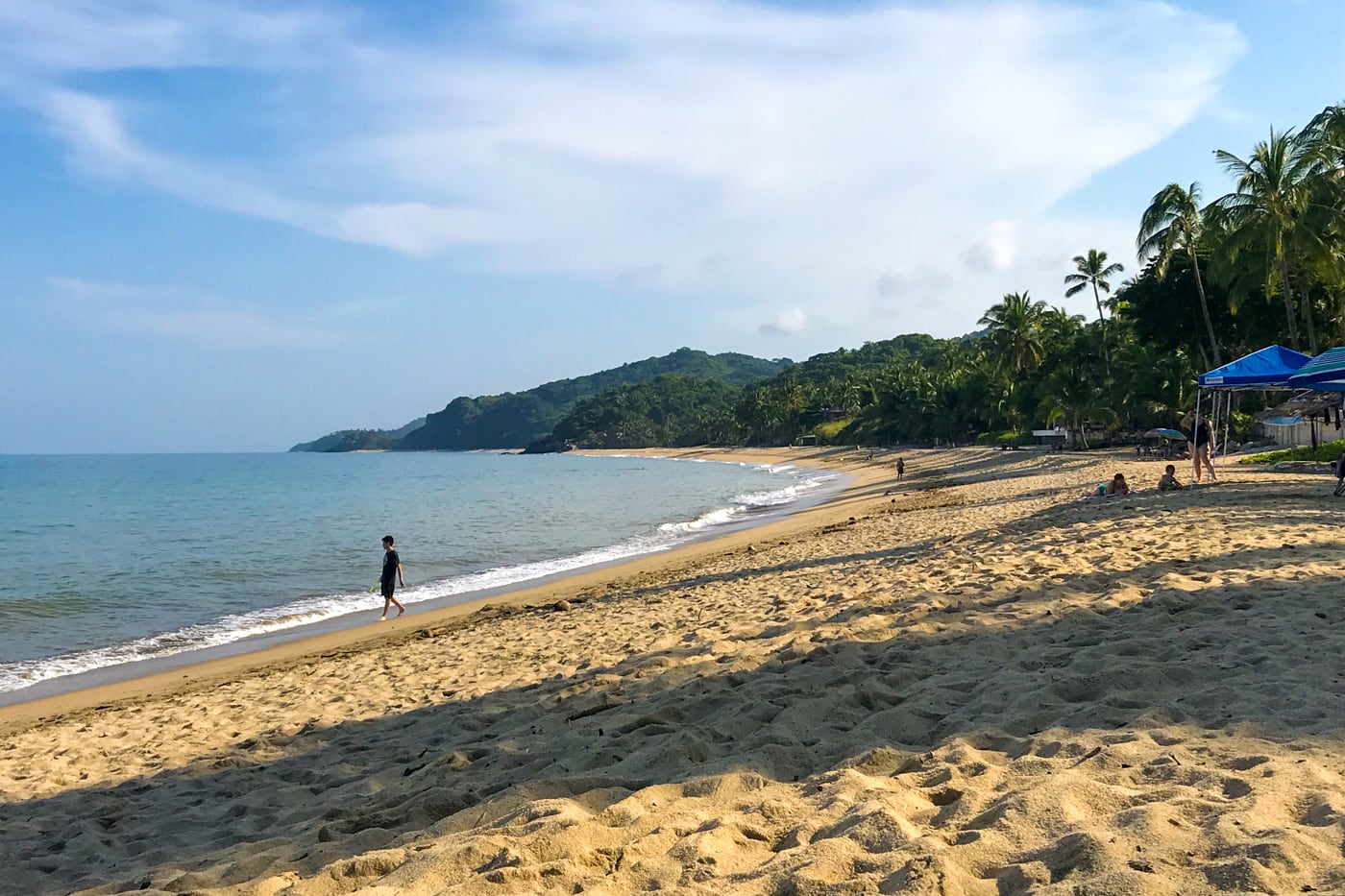 SWIMMING ▸ North Beach lacks the protection of Sayulita Beach and Playa Los Muertos, so conditions can get rough here, particularly for young children. With that said, the water is shallow for several dozen meters at low tide. And, if you catch the water at slack tide with a couple knots of wind, conditions can be downright magical just beyond the break.
WATERSPORTS ▸ Once you get beyond the break, conditions can be pretty mellow for paddle boarding and kayaking without the crowds. When the surf's up and offshore, experienced surfers love the long point break beginning around the rocky mouth of the river.
BEACH ▸ In terms of sand, cleanliness, and crowds, North Beach is far superior to its more centrally-located neighbor to the south.
SERVICES ▸ La Terrazola, Club de Playa Camaron, Frente al Punta Beach Club, and Bar La Isla rule the roost on North Beach. Farther north, you'll find excellent Bar Miramar, boho Las Sirenas bar, then, a whole lot of nothing. A handful of intrepid touts will make their way up to North Beach on weekends and around sunset. Just don't rely on the beer man to find you here. There are showers and pay toilets at a few of the main points of entry (see Access below), as well as trash and recycle bins.
HOT TIP ▸ Catch the release of baby sea turtles into the water around sunset between late October and early December at El Campamento Tortuguero Sayulita, about half-way up the beach (also accessible from Av. del Palmar just across the street from Pajaro del Fuego (Firebird) condos. ▸ For a DIY happy hour, grab some of the areas top cervezas artesanales from Mini Super Chewbacca on Calle Miramar.
ACCESS ▸ North Beach can easily be accessed from any number of cross streets along Avenida del Palmar. The three main access points are at the end of Calle Miramar (next to La Terrazola), Calle Playa Azul (next to Frente al Punta Beach Club), and Calle Islas Marias (near Las Sirenas beach bar).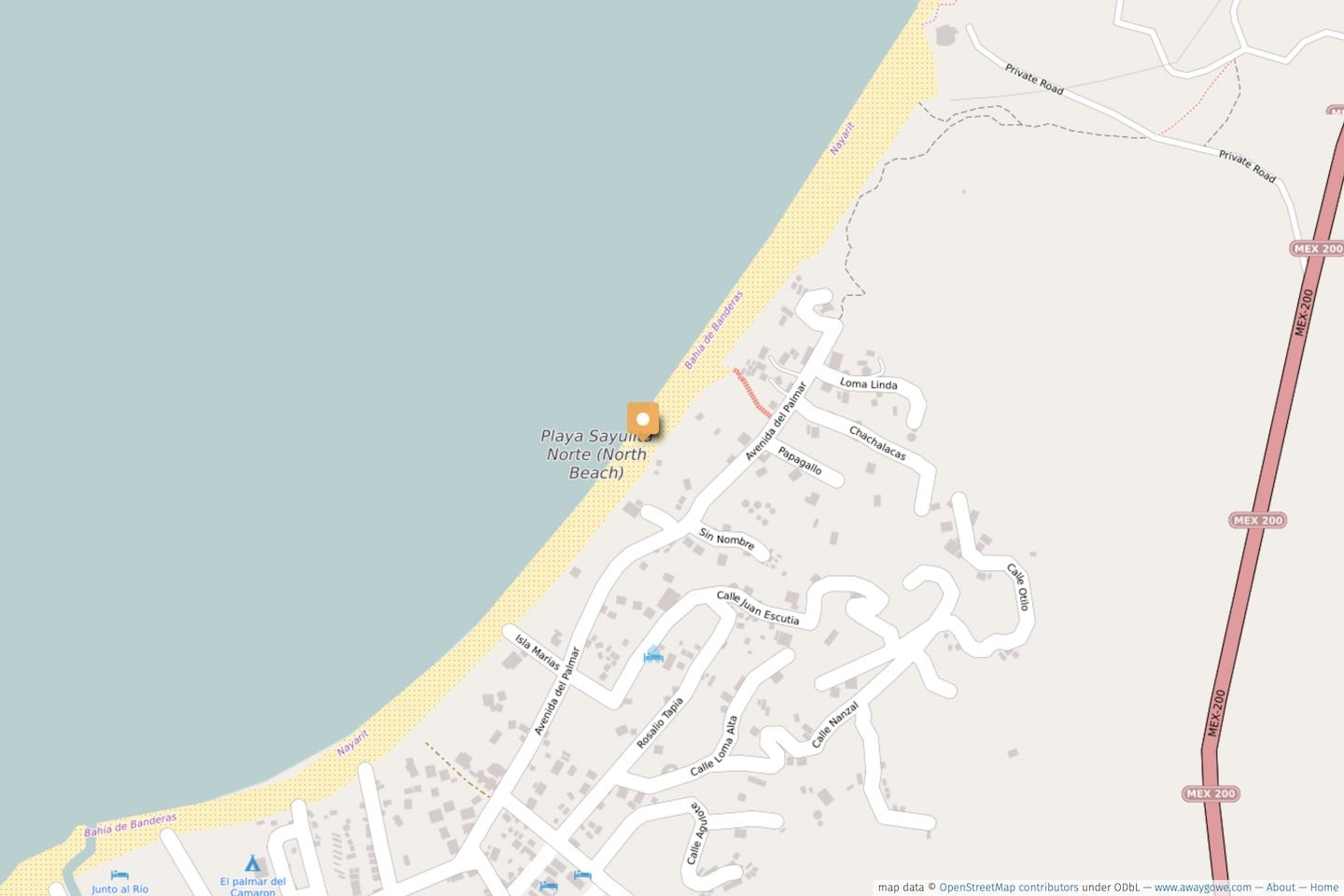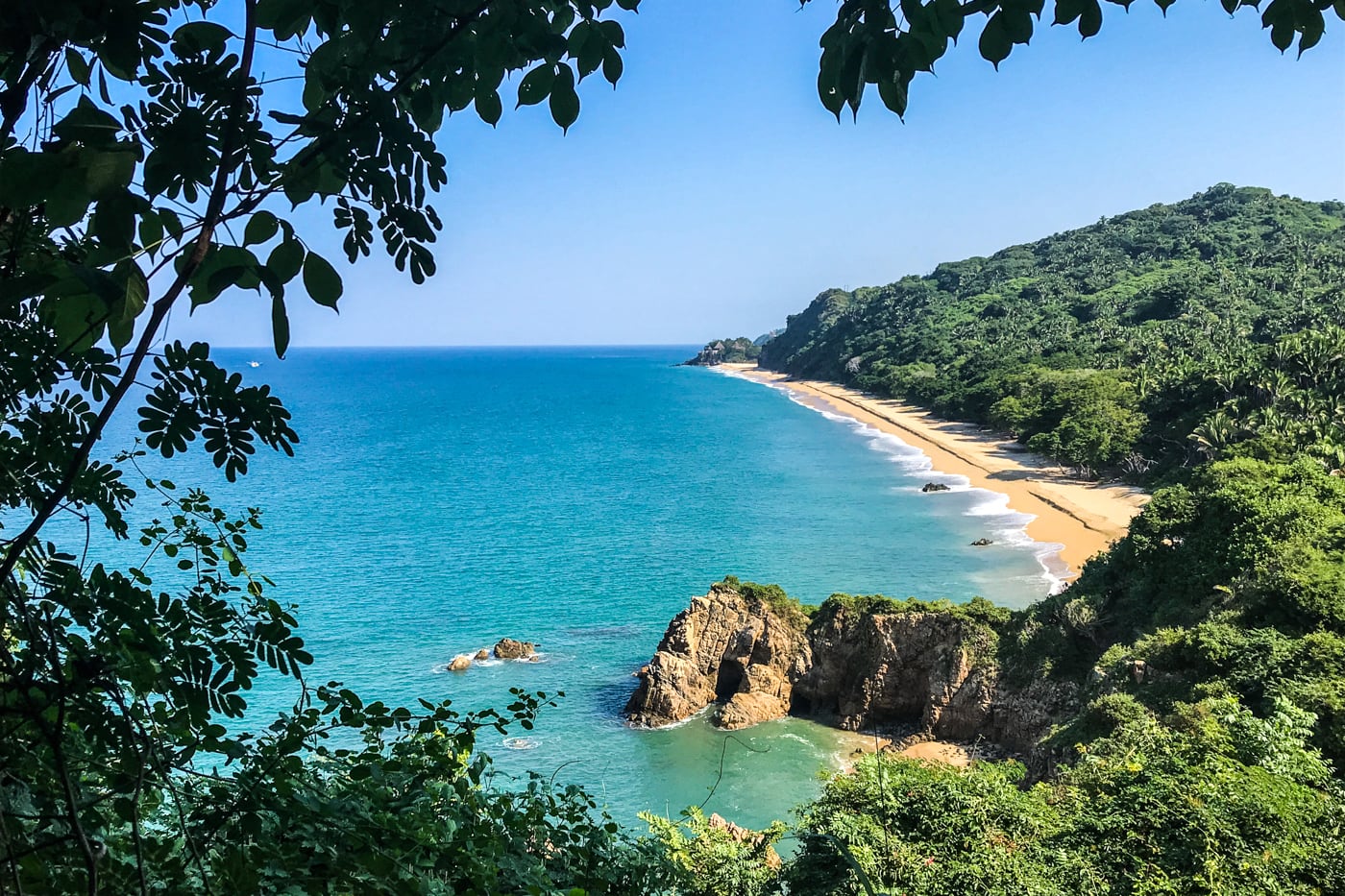 Now, we're getting into the less-visited beaches around Sayulita.
If you're looking for solitude (and a healthy dose of exercise), these next beaches are for you!
Playa Las Cuevas (Caves Beach)
Moving farther north, Playa Las Cuevas (Caves Beach) is a small beach wedged in between the rocky headlands of North Beach (to the south) and Playa Malpaso (to the north).
Your experience here will largely depend on the tides and how you choose to access the beach, the day of the week you visit, and time of day.
At low tide, you can easily access all sections of the beach, from the shaded and picturesque northern area (where the caves are), to the sandy and exposed southern area where a seasonal wash empties out into the ocean.
SWIMMING ▸ Not recommended due to big rocks, high surf, and strong currents.
WATERSPORTS ▸ Advanced snorkelers can be seen occasionally poking around the large rocks just offshore. But be warned, this isn't a snorkel spot for novice or the faint of heart.
BEACH ▸ Soft sand beach at low tide, if a small one at that.
SERVICES ▸ Zip, zero, zilch. It'll be clear why when you get there.
HOT TIP ▸ Stay safe, keep an eye on the tides, and have fun!
ACCESS ▸ Playa Las Cuevas can be accessed a few different ways. Our favorite, by far, is reaching the beach via one of the natural tunnels (i.e. "caves") from the south end of Playa Malpaso at low tide (see directions below for accessing Playa Malpaso). You can also reach the beach via a steep trail over the headland from Malpaso (look for the pink ribbons in the trees). Alternatively, you can access the beach via a network of inland paths (see map below). If solitude is what you're after, you're likely to find it in this diminutive cove, but be sure to keep an eye on the tides and powerful surf!
---
Related
---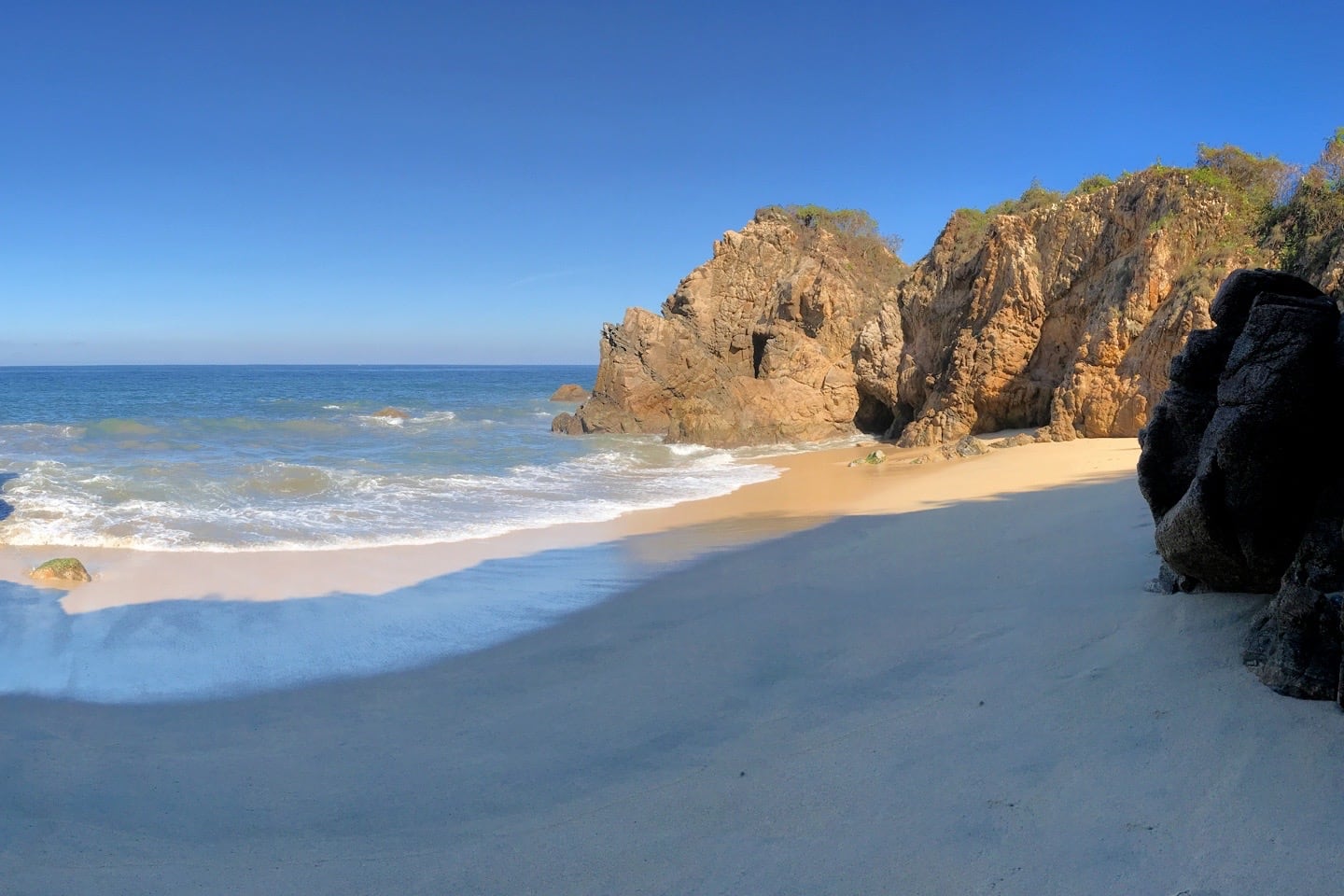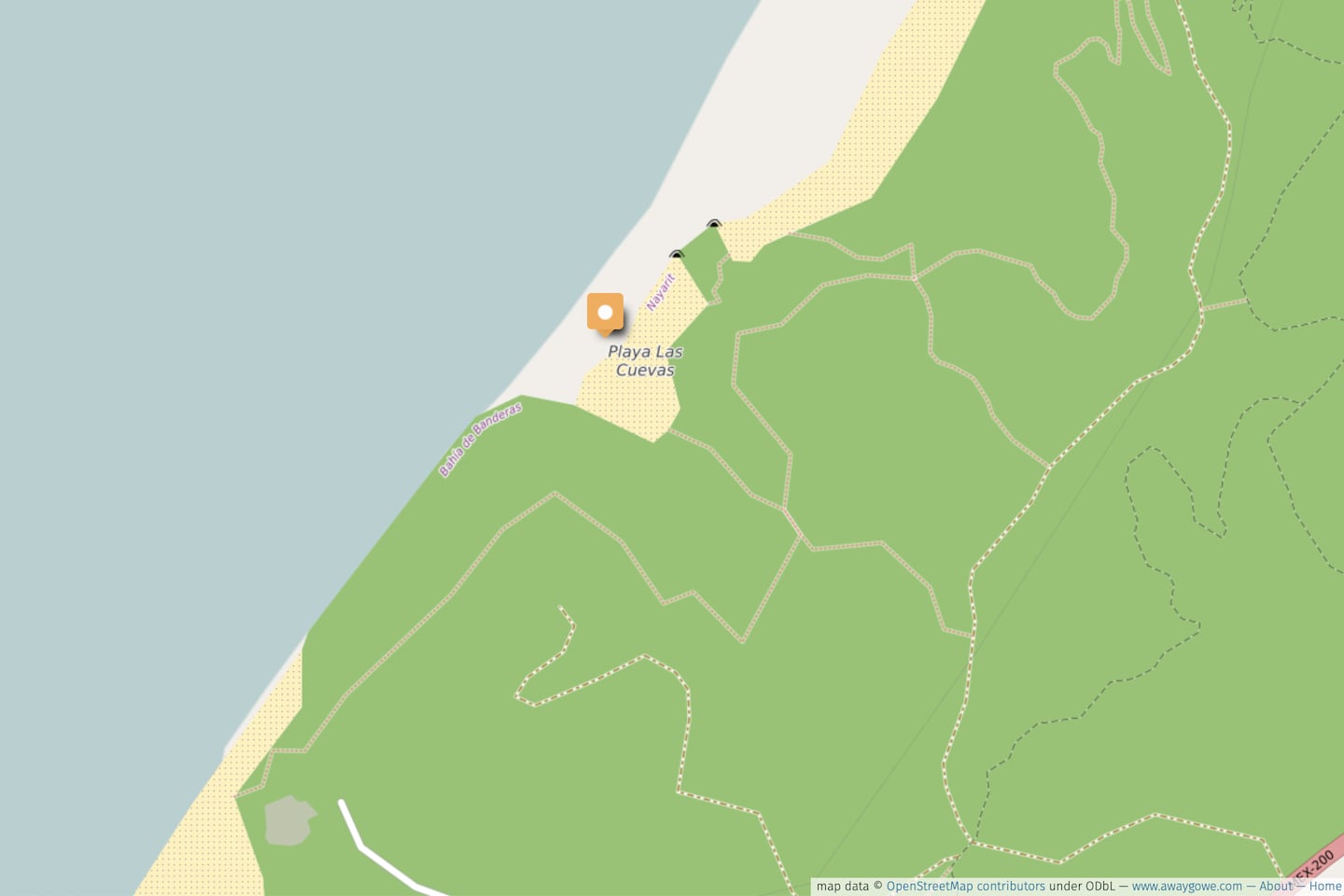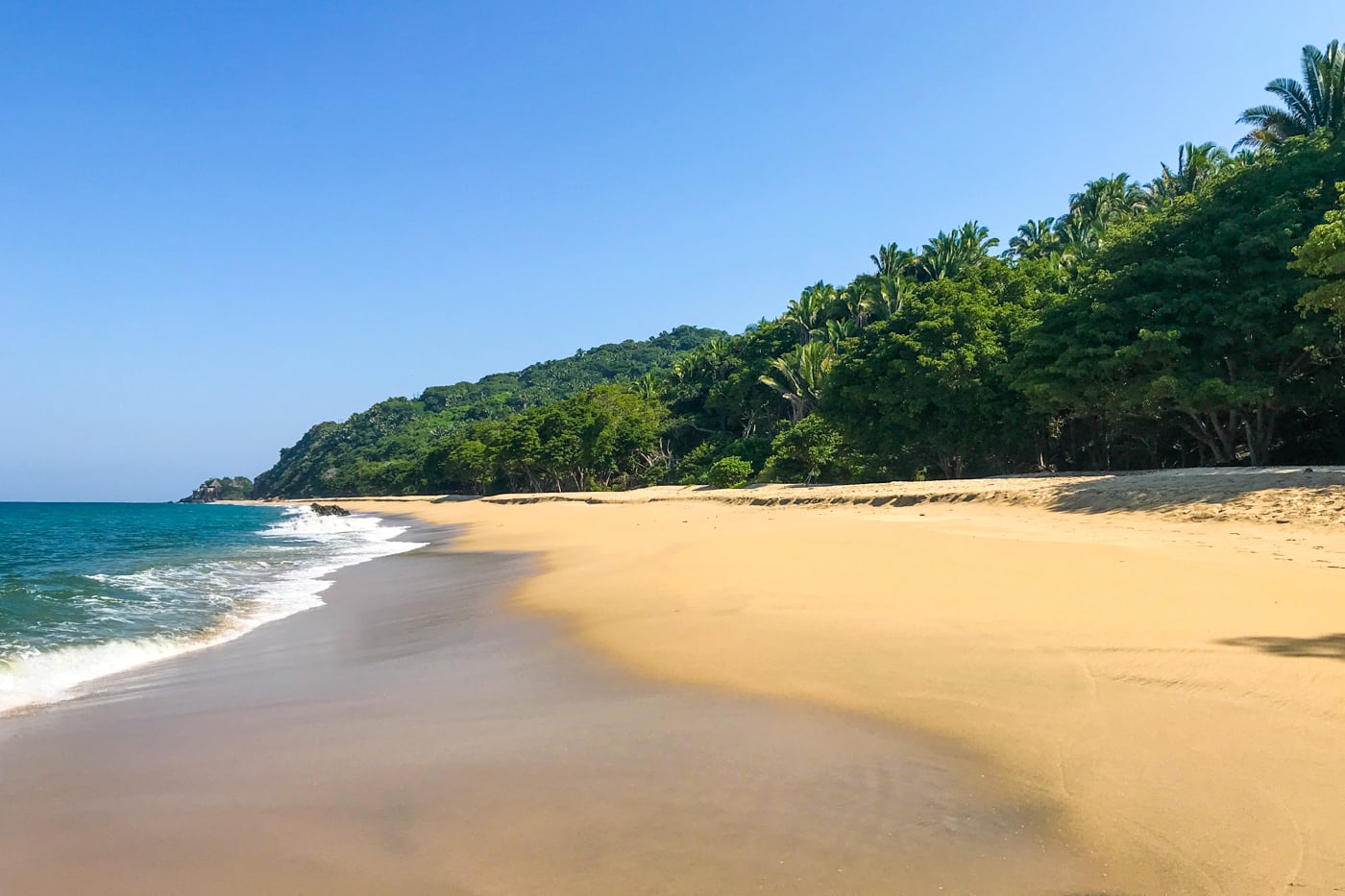 Playa Malpaso
Exponentially larger than Caves Beach, Playa Malpaso is a mile-long expanse of virgin beach stretching from Sayulita Town's far northern reaches to the southeastern fringes of San Francisco (San Pancho).
Due to its isolation and low-key jungle hike, Playa Malpaso has quickly become one of our favorite Sayulita beaches to visit.
Malpaso may just be right around a rocky headland from North Beach to the south and Playa San Pancho to the north, but both of those beaches are currently inaccessible by beach from Playa Malpaso.
Once upon a time, one could make the journey on foot from Sayulita to San Pancho with ease. Nowadays, fences and barriers at the northern end of Playa Malpaso make the journey virtually impossible along the beach.
While it's still possible to access San Pancho via a combination of the inland jungle trail and Route 200, it makes for a very different journey than reaching San Pancho via the coastline.
Nonetheless, Playa Malpaso offers peace and solitude, along with plenty of shade during much of the day, just 20 minutes walking time from Sayulita's North Side.
SWIMMING ▸ Generally discouraged due to big surf and undertows.
WATERSPORTS ▸ Apart from advanced snorkeling around the south headland, this beach is made for chillin' on the shore.
BEACH ▸ A mile-long stretch of pristine golden sand that tends to be a bit coarser than the central and west beaches. Grab a bit of shade throughout the day at the dense tree line.
SERVICES ▸ Expect to find a whole lotta nothing out here. Pack out what you pack in and leave no trace.
HOT TIP ▸ Arrive before 10am on a weekday and chances are, you'll have this entire beach all to yourself! ▸ Come prepared with water, snacks, and sun protection. It's not a long hike from town, but outside of winter (Dec/Jan), it can be a hot and sweaty one.
ACCESS ▸ Playa Malpaso can be accessed by way of a relatively short and easy trail beginning at the end of Av. del Palmar, or a more difficult, but much more scenic footpath leading up and over the jungly headland from North Beach.
Easy inland trail: At the end of Av. del Palmar, the cobblestone road turns sharply to the left, descending down a steep driveway. Skip the driveway and continue straight past the bollards onto a dirt footpath. Follow the well-maintained trail with views of the beach below for 5-10 minutes until you cross a cobblestone road to a private residence. Here, the path used to continue straight, but is now blocked by massive boulders a little ways on. Instead, turn right, walking a short distance down the cobblestone road until you reach a horse trail on your left. The horse trail will join up with the unmaintained dirt access road connecting Route 200 to Playa Malpaso. Walk downhill (left) along the access road until you reach the near-level entry to Playa Malpaso. You'll know you've reached the main entry when you encounter a grove of trees with baskets hanging from above.
Headland footpath: Head to the rocky outcropping at the far northern end of North Beach and look for the old stone structure to the left of the private residence. Climb up the stone steps and look for a narrow footpath leading up and around Playa Las Cuevas below. The path becomes very steep and narrow in parts, offering breathtaking coastal views north towards San Pancho. The trail isn't terribly well marked, but we've provided the map below and an interactive map at the end of this post in case you lose your way.
Looking for more jungle adventures near Sayulita?
If a high-adrenaline adventure (and workout) is what you crave, we recommend doing a single-track mountain bike adventure in the dense jungle just outside of town.
For something a bit more laid back, jungle horseback riding excursions offer a great way to see much of the same scenery, but at a different pace.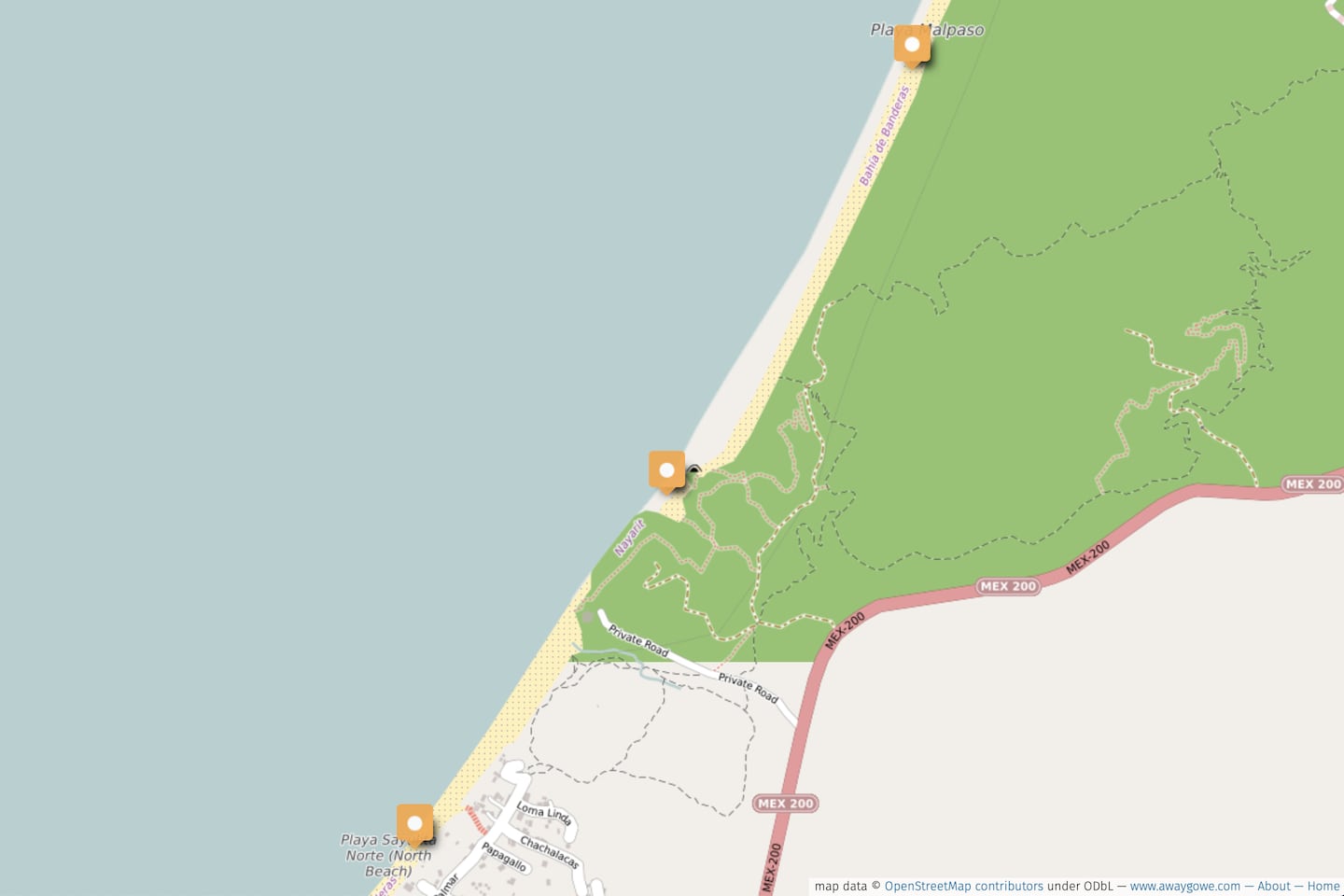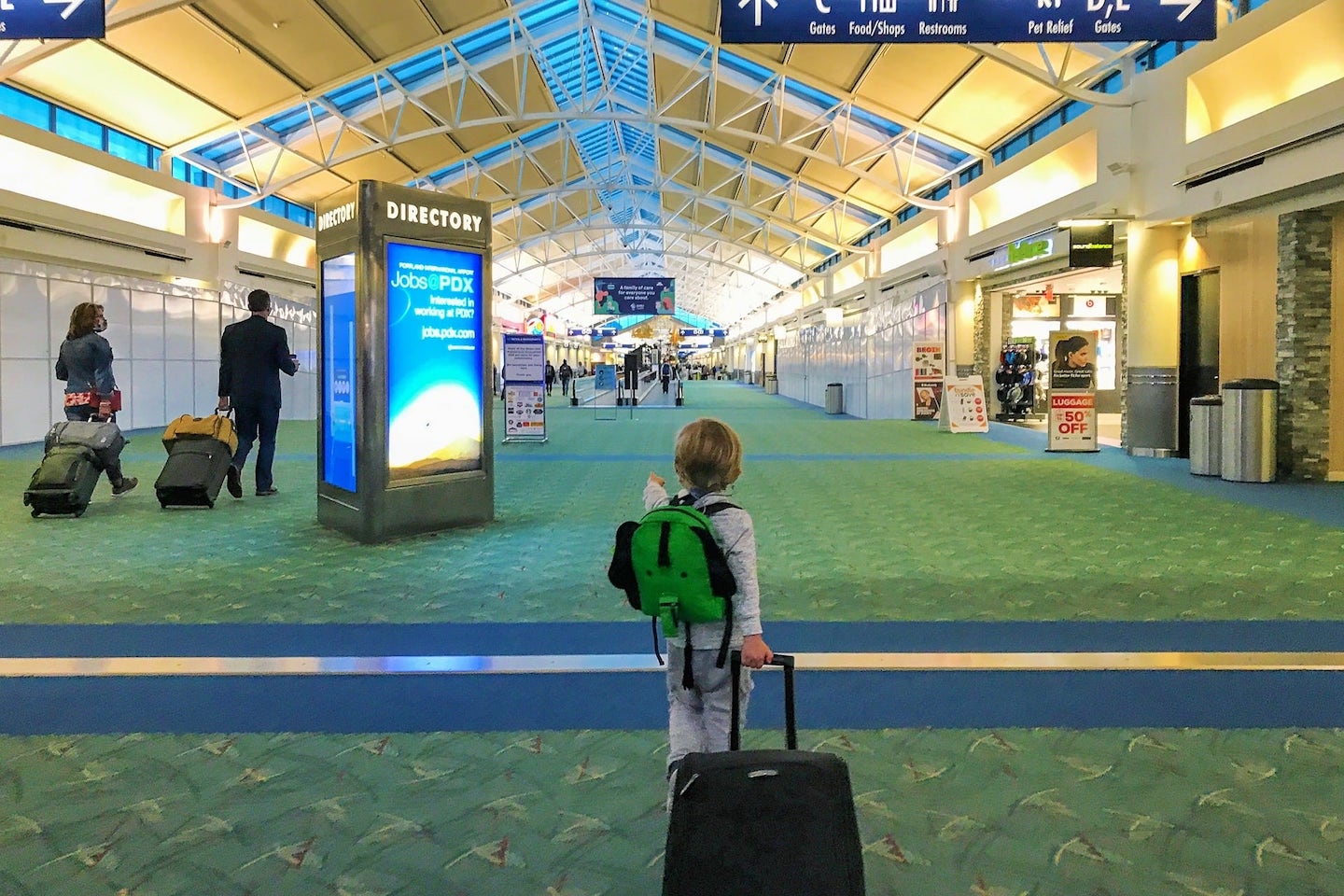 Planning a Trip with a Little One? Don't Miss...
10 Amazing Toddler Travel Gear Essentials
Our ultimate list of road-tested toddler travel gear, for making travel with little ones more fun and less stressful.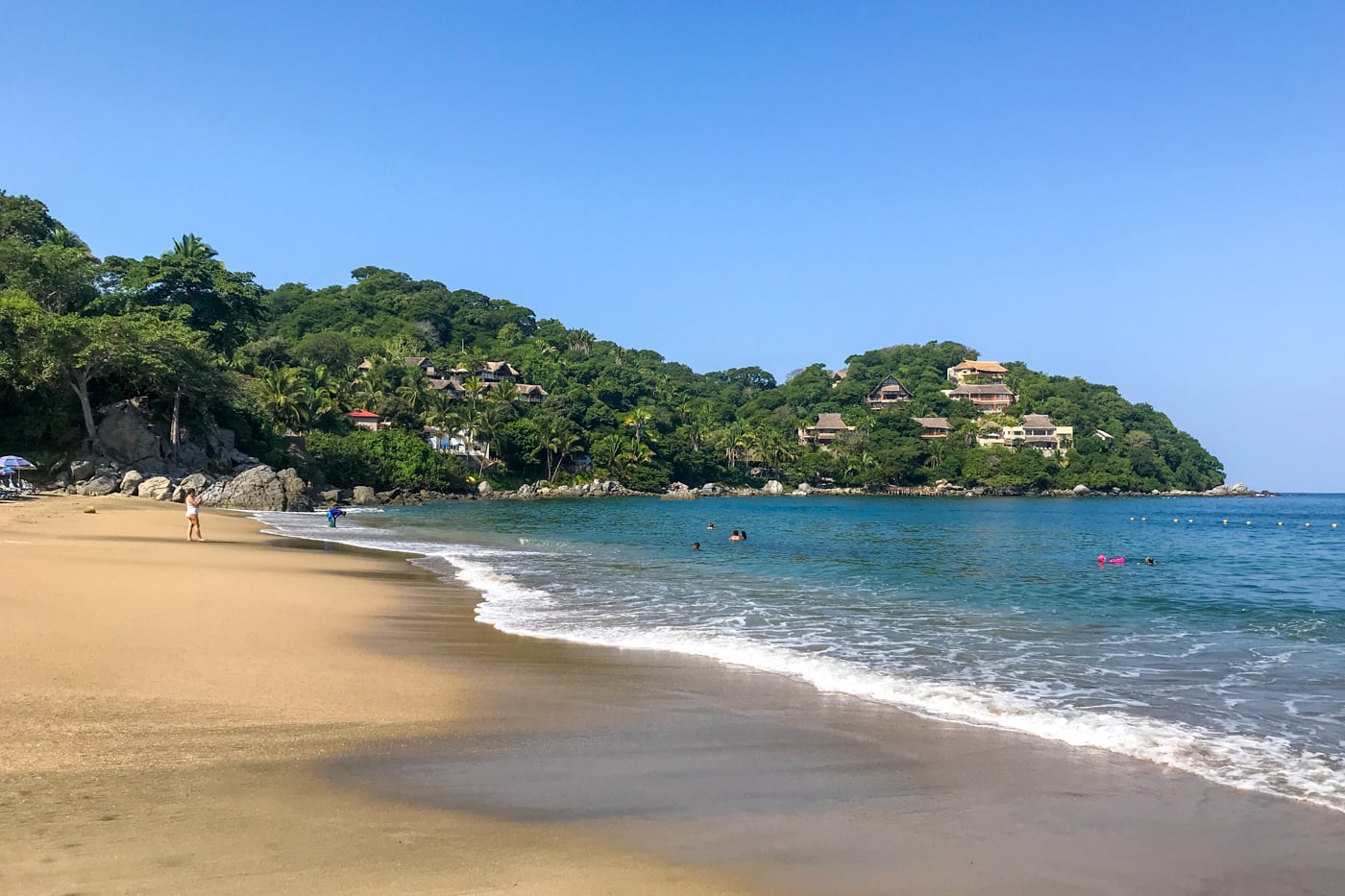 Sayulita Beaches West/South of El Centro
Playa de Los Muertos (Beach of the Dead)
Los Muertos is our favorite of the Sayulita beaches for a Saturday morning swim with the kids. Playa Los Muertos offers the calmest waters in the area owing to its location in a protected rocky cove. Its got a shallow sandy bottom with a mellow break near shore.
Playa de Los Muertos (Beach of the Dead) is so named for its close proximity to the Sayulita cemetery that sits in a grove of trees up on the hill behind the beach.
SWIMMING ▸ The best beach in the area for swimming! The water is calm most days, particularly around slack tide. For this reason, the water can get very crowded with families on the weekends.
WATERSPORTS ▸ If you've got your own gear, Los Muertos makes for a good jumping off point for SUP and kayaking. It's also the best place in town to snorkel. Head left from the beach toward the rock island where you're bound to spot schools of brightly colored tropical fish, larger rockfish, and needlefish.
BEACH ▸ Easily the cleanest and most attractive beach in Sayulita Town, with fine, powdery white sand and an abundance of shade in the morning, evening, and along the tree line.
SERVICES ▸ Lounge chairs and beach umbrellas are available for rent. Order a cold drink from one of the roaming drink vendors, or grab a shrimp stick from one of the hawkers. There are also a couple of food stands near the main entrance. Pay toilets and a paid parking lot are available near the main entrance, as well as trash and recycle bins.
HOT TIP ▸ Arrive early to get a choice spot at one of the ends of the beach and enjoy the relative peace and quiet, until around 11am when things can start to get busy.
ACCESS ▸ Playa Los Muertos can be accessed one of two ways: The coastal route along Calle Pescadores, and the inland route at the end of the Calle Niños Heroes.
Coastal route: From the central plaza, walk towards the main beach one block, then turn left on Calle Navarette. Pass Bichos Taco Bar and take the next right onto Calle Caracol. Follow Caracol as it makes a sharp left and becomes Pescadores. Follow Pescadores along the water, passing Villa Amor and Si Señor until the cobblestone turns to dirt and the road makes an abrupt left turn, leads under a bright pink arch and up a hill. At the crest of the hill, the town cemetery will be on your left. Continue to the bottom of the hill to the parking lot and the beach will be to your right.
Inland Route: You can also reach Los Muertos the "back way" via an upscale enclave to the west of town. From the main plaza, walk towards Cafe El Espresso and follow Av. Revolucion one block. Take a right on Niños Heroes and follow the road up the hill and all the way to the end (~10 minute walk). Here, just before an iron gate, the road will make an abrupt turn uphill to the right, then a quick turn to the left before quickly turning into an unmaintained dirt track out of town. At the first fork, veer left, so that the jungle remains on your left. Continue straight and follow the track into dense jungle cover. A short while later at the next fork, veer right, following the wood-carved sign pointing to Playa Los Muertos. This road will run headlong into the beach.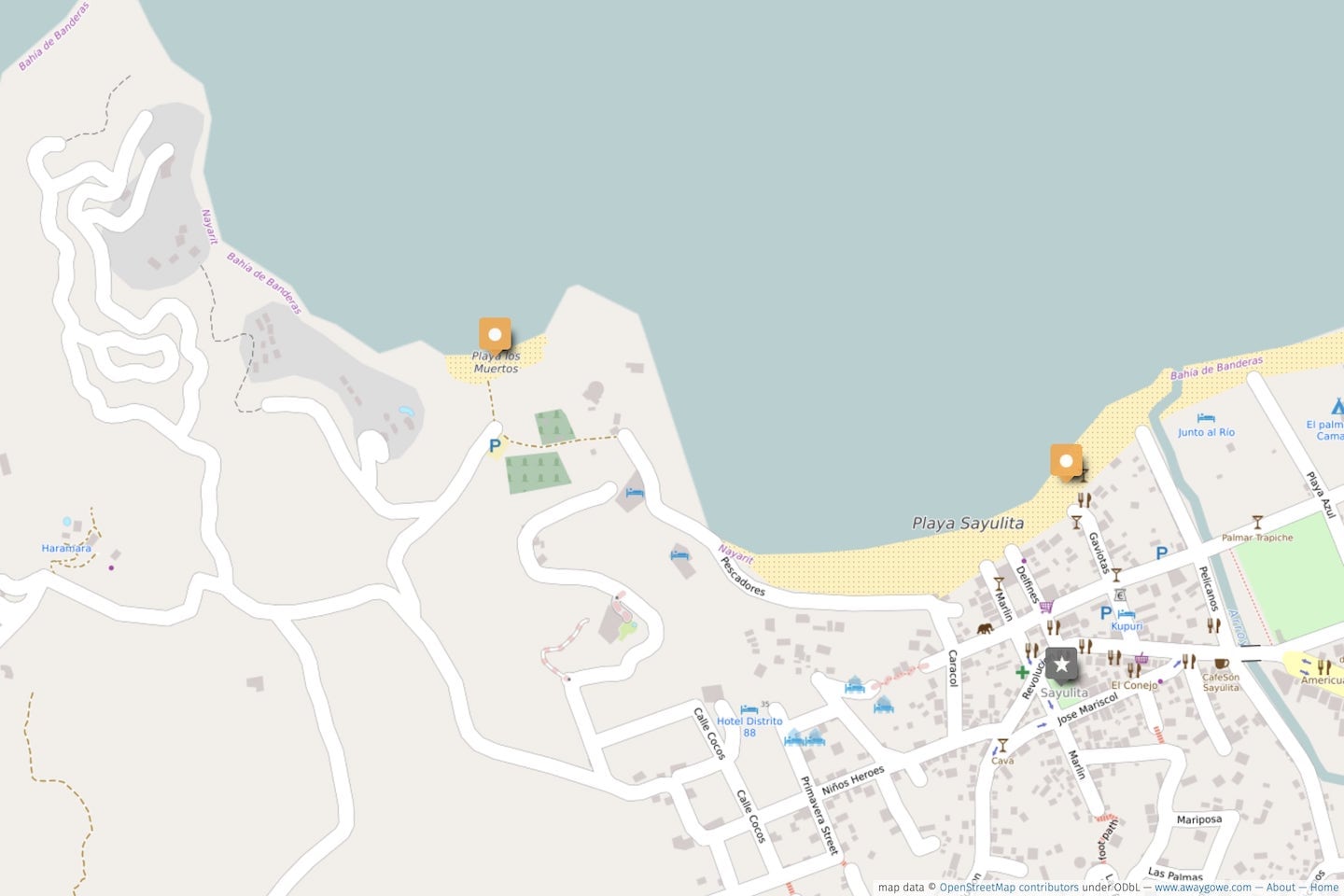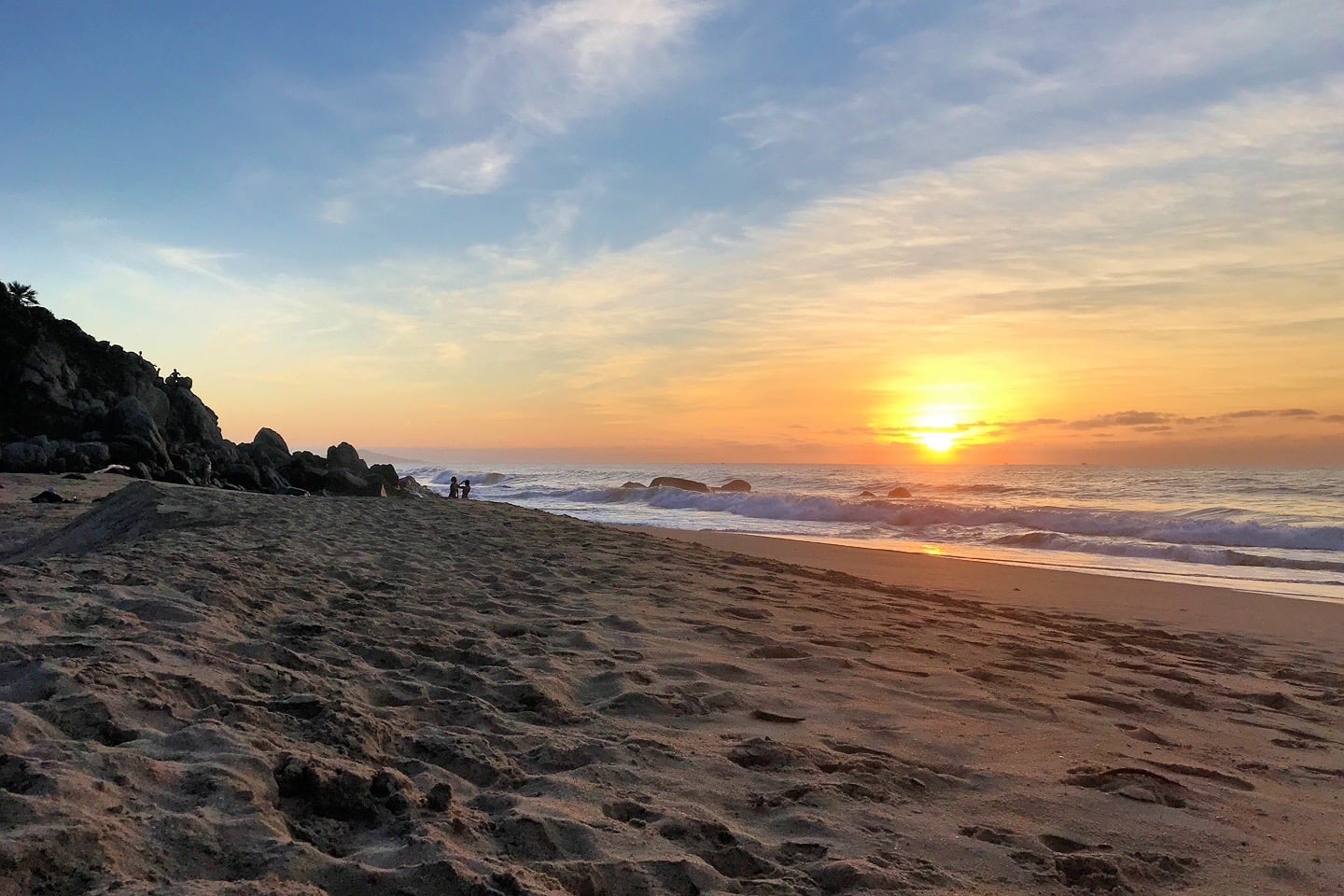 Playa Carricitos
Care to catch a spectacular sunset? Sayulita's western beaches on the Pacific side of the point offer some of the best in the area. Playa Carricitos may be the closest and most picturesque of the Sayulita beaches southwest of town. If you want to catch a sunset here, expect a long, dark walk back to El Centro, with or without wheels.
SWIMMING ▸ Carricitos is a west-facing beach, 100% exposed to the Pacific with no protection from wind and waves. While the right conditions can permit a dip in the ocean, expect to be pummeled by powerful waves and keep a close eye on undertow and changing conditions. As such, swimming is strongly discouraged at Carricitos.
WATERSPORTS ▸ Bodyboarders love the waves here, and under the right conditions the surfing can be decent as well.
BEACH ▸ Powdery and white, the sands of Carricitos do not disappoint. While this beach isn't a wild beach along the lines of Malpaso, the development here is less invasive than most beaches in the area, sporting a couple of large rental villas overlooking the quarter-mile stretch of sand from above.
SERVICES ▸ None. Bring your own provisions from town and pack it all out with you.
HOT TIP ▸ Come midweek in the mid-morning and expect to have this one to yourself.
ACCESS ▸ Starting at the central plaza, follow the directions (above) for the Inland Route to Playa Los Muertos. BUT, instead of veering right at the second fork, follow the wood-carved sign labeled "Punta Sayulita" to the left. A little ways on, the road will become cobblestone and fork in two directions. Follow the road to the right passing a small parking area on the left. If you're driving, park here and continue on foot. Take a left on the narrow road just after the parking area and continue up a very steep hill with cemented tracks. At the top of the hill, the road will curve sharply to the left, then turn into a sandy and rutted track descending down into dense cover. Follow the track, passing a long red wall on your right (with a big hole in it). Soon, you'll reach a slight bend to the left and a doorway in a wall on the right with a sign listing beach restrictions. Follow the path through the doorway along a cyclone fence to another doorway covered with graffiti. After passing through the second doorway, make a left and follow the narrow footpath downhill to the beach.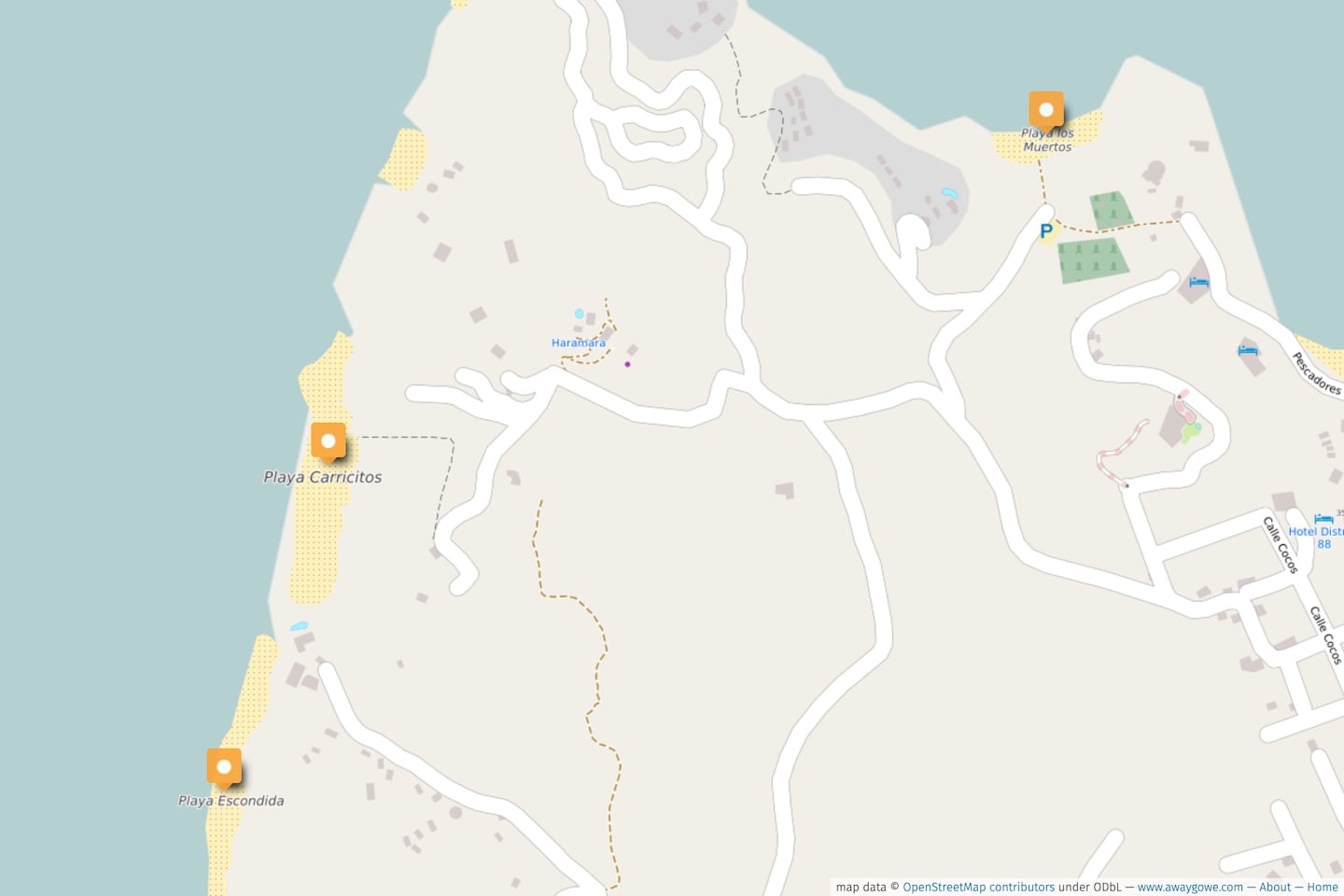 Playa Escondida
If you're a fan of Bachelor in Paradise, then perhaps finagling a visit to this small and secluded beach is worth the effort.
Located between two rocky headlands with no reasonable public access and better beach options nearby, visiting Playa Escondida hardly seems worth the effort for most beach bums.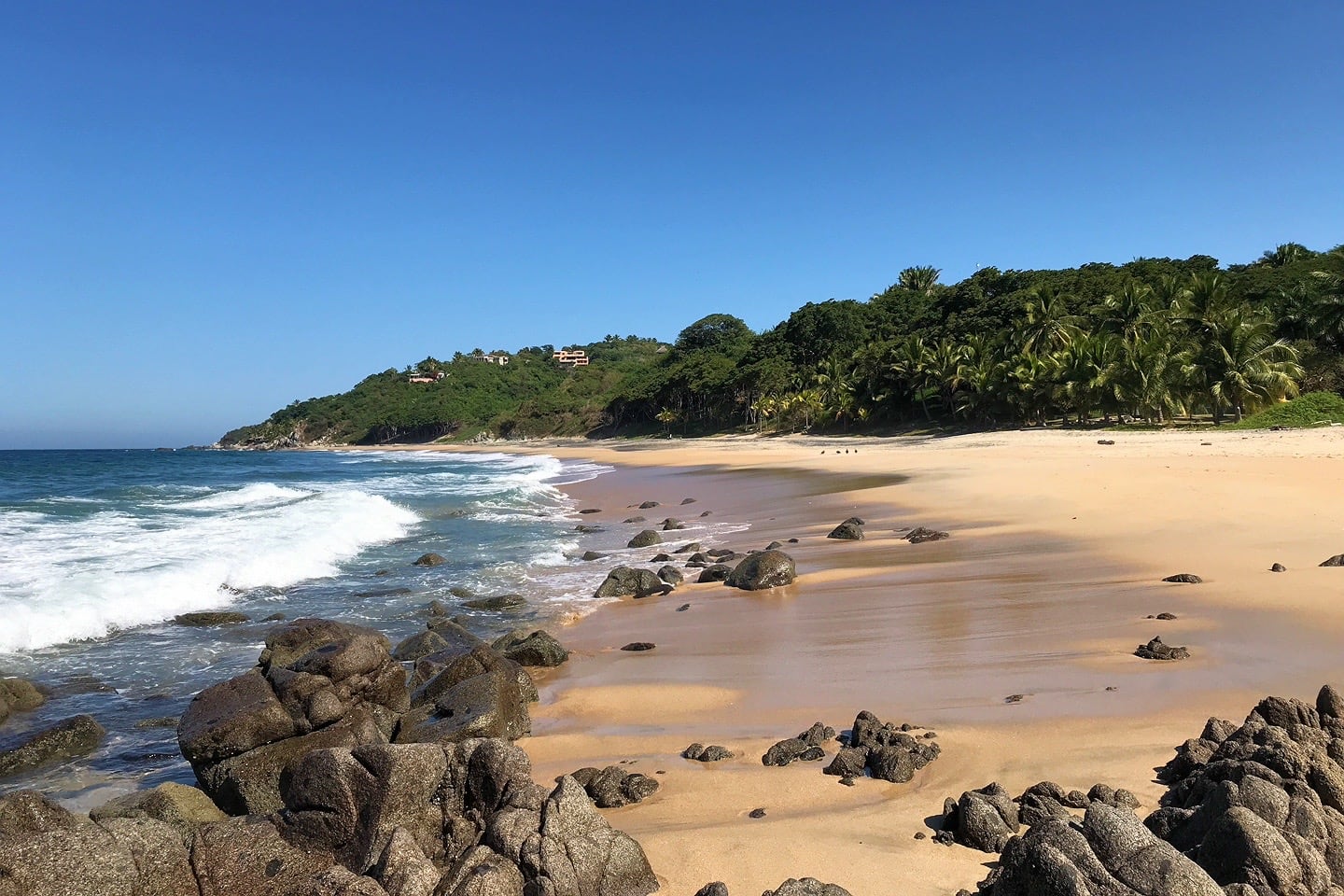 Playa Patzcuarito
Playa Patzcuaro (see below) is nothing short of a trek on foot from the central plaza.
Patzcuar-ito, on the other hand, is surprisingly easy, and may take as much time (and less effort) to reach as getting to Carricitos, even though Patzcuarito is technically farther as the crow flies, making Patzcuarito one of our go-to Sayulita area beaches with kids.
What can you expect when you get to Playa Patzcuarito? An uninterrupted half-mile of pristine black, white, and golden sands coastline, punctuated on both ends by large black boulders and only a couple of holiday villas perched high above.
You're likely to encounter a few more visitors here than you would on Malpaso, but fewer than Carricitos around sunset.
Patzcuarito and Patzcuaro have some of the bluest waters I've yet to find on either side of Punta Sayulita, perhaps due to the heavier, coarse sand that defines the sea floor close to shore here.
SWIMMING ▸ Expect to read the same advisories against swimming at Playa Patzcuarito as you would at Carricitos, due to its west-facing orientation and potential for big surf and undertows. At high slack with little to no wind, conditions can be amenable to wading close to shore, and for strong swimmers a bit farther out. As always, exercise caution as conditions can quickly become hazardous in these parts.
WATERSPORTS ▸ Nothing recommended for casual visitors, but if you're staying close to Patzcuarito and are confident at your sport, a knowledgable local can advise you on conditions and what to watch out for.
BEACH ▸ At low tide, the beach is wide with a gentle slope. At the highest tides, however, the beach can shrink to a tiny palm-shaded strand. There are three distinct colors and textures of sand here, soft white and black sand higher up the shore, and coarser golden sand along the waterline. We certainly didn't expect to find a black sand beach in Sayulita!
SERVICES ▸ None. Bring your own provisions from town and pack it all out with you.
HOT TIP ▸ If black sand is what you're after, the highest concentration of the stuff is located near the northern access trails, with very little on the southern end.
ACCESS ▸ With the help of a good map (see below and our interactive map at the end of this post), getting to Playa Patzcuarito is fairly straightforward. From the central plaza, look for YamBak and head west along Calle Jose Mariscal (if you're driving, you'll need to take Revolucion due to one-way roads). Jose Mariscal will join up with Av. Revolucion heading southwest out of town. In another quarter mile, Revolucion will join up with Punta de Mita highway. Continue straight (southwest) on the highway towards Punta de Mita for another quarter mile. Look for a cobblestone road off to the right marked by a large "Punta Sayulita" sign. Turn onto this road and continue for another quarter mile until the cobblestone road bends sharply to the right and a dirt track continues straight. If you're driving, park here and continue straight along the dirt track. After 10-15 minutes, look for a trail off to the right into the jungle. You can use our map on your device with your current location to find the exact trail (there are two parallel trails you can take; either one will get you to the beach). Follow the gently sloping trail down to the sand.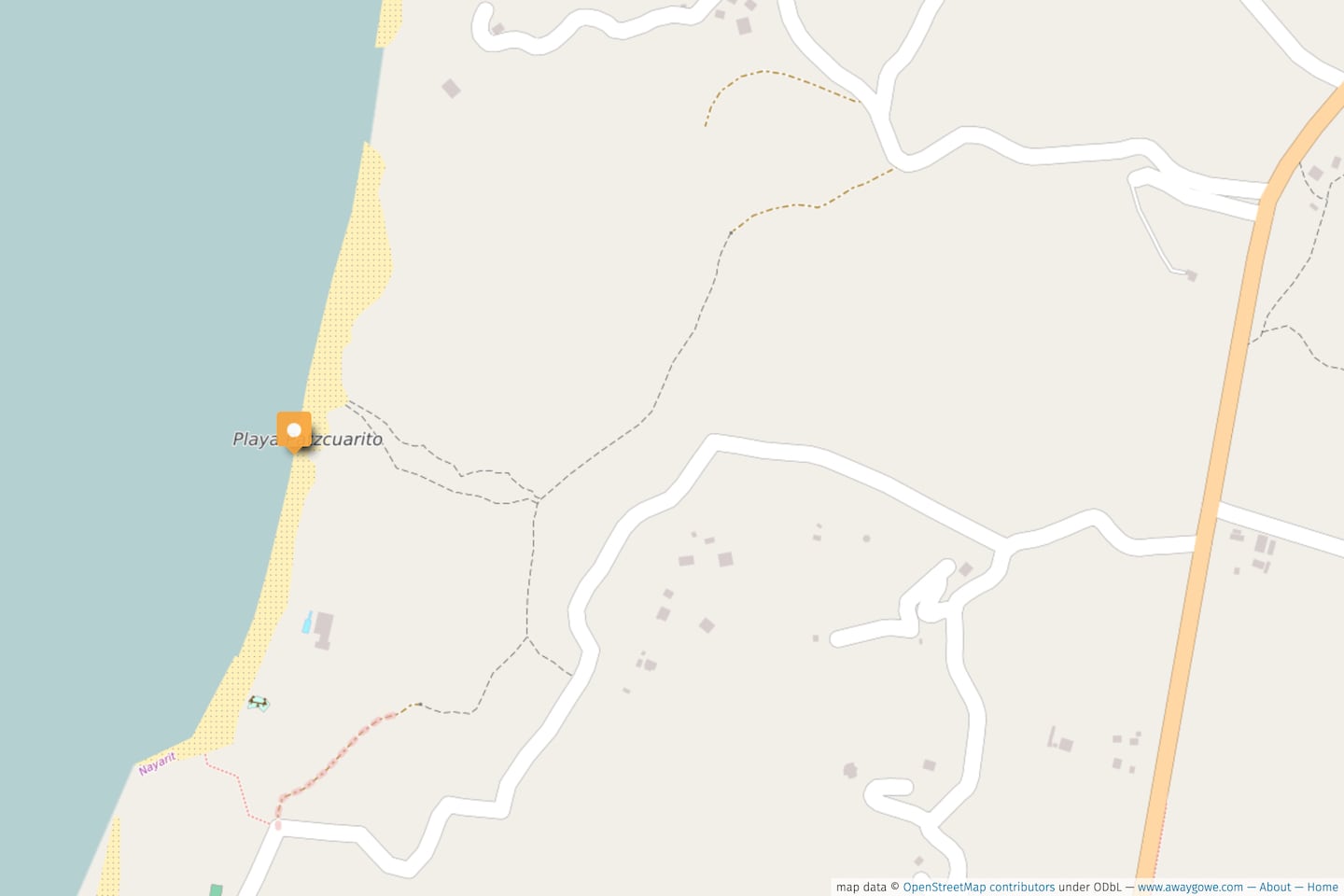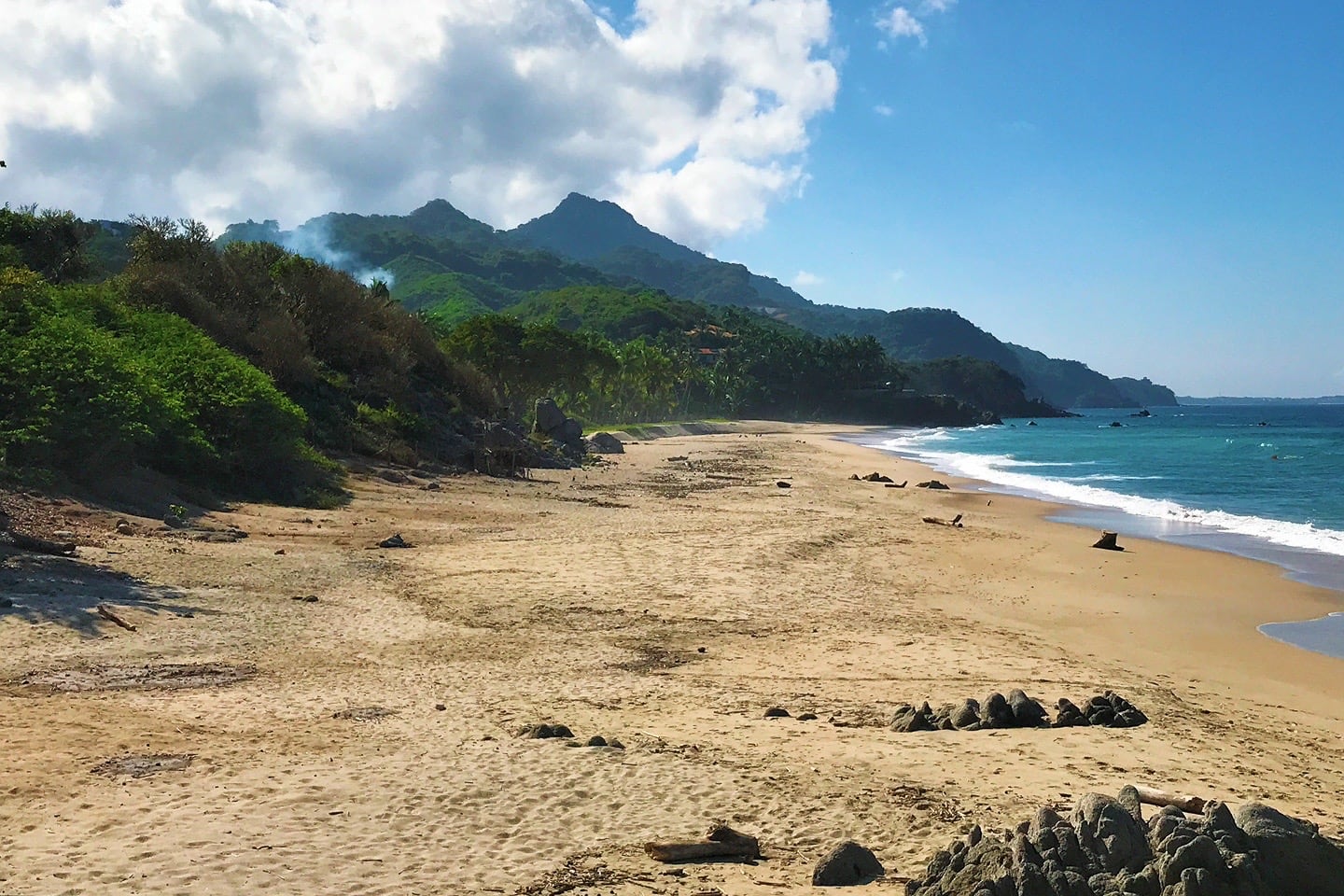 Playa Patzcuaro (Norte y Sur)
The final, and perhaps least-visited, of the Sayulita beaches on this list is Playa Patzcuaro. This is certainly the farthest beach, and in some respects, the hardest to access.
Why visit? For the stunning views of Cerro del Mono (Monkey Mountain) and deep blues of the Pacific.
Patzcuaro is actually two beaches, Patzcuaro and Patzcuaro Sur, split by a sizable seasonal wash (arroyo).
Patzcuaro Sur is by far the smaller of the two, and the only reasonable way to access it is walking across the arroyo from the main beach.
The main beach to the north has public access and is where most visitors focus their attention.
HOT TIP ▸ Head down to the far southern reaches of Patzcuaro Sur anyway and find something spectacular at low tide, just around the headland. You won't be disappointed!
SWIMMING ▸ See Playa Patzcuarito above.
WATERSPORTS ▸ See Playa Patzcuarito above.
BEACH ▸ A half-mile stretch of golden sand, bisected by a large rocky outcropping, which makes an excellent place on which to perch yourself for a while. A couple tiny, rock-laden coves mark the northern end, where the color of the water turns an iridescent blue that sets it apart from Patzcuarito to the north.
SERVICES ▸ None. Same as Patzcuarito.
ACCESS ▸ There are two directions from which you can access Playa Patzcuaro: Via Calle Patzcuaro from the north, or Calle Patzcuaro from the south via the Punta de Mita Highway.
From N. Calle Patzcuaro: This adventure begins where the Patzcuarito hike left off. From the central plaza, follow the directions to Playa Patzcuarito (above). But, instead of turning right onto one of the westbound unmarked trails down to the beach, continue straight along the main dirt track, passing Casa Mis Amores, until the dirt track becomes cobblestone again. From here, follow Calle Patzcuaro for another mile, as it winds up and over the headland and through neighborhoods. At one point, there will be a very narrow, steep, and nondescript public access point on your right that leads down to the beach and is very easy to miss. If you're not in too much of a hurry (this trail is pretty steep), skip this one and keep on the road until it runs into the stream. There is a nice, level path to the beach on your right, just before the stream. Again, use the interactive map (at the end of this post) with your current location on a device to find the access point.
From S. Calle Patzcuaro: From the central plaza, look for YamBak and head west along Calle Jose Mariscal (if you're driving, you'll need to take Revolucion due to one-way roads). Jose Mariscal will join up with Av. Revolucion heading southwest out of town. In another quarter mile, Revolucion will join up with Punta de Mita highway. Continue straight (southwest) on the highway towards Punta de Mita to KM 5. Turn right on the well-marked road towards Hacienda Jaqueline. You'll pass through a small hamlet before coming upon a stream. You'll quickly notice that Calle Patzcuaro and the stream become one-and-the-same here. In the dry season, it is possible to walk along the stream bank (the right side is the best as you won't have to cross again). There is also a footpath that runs the length of the stream segment higher up on the bank (right-hand side heading north). After a quarter mile, a paved road will appear off to the right. Now, looking uphill at the lovely pavement, the public beach access trail is immediately to your left, running along a fence (use the interactive map at the end of this post if you get lost).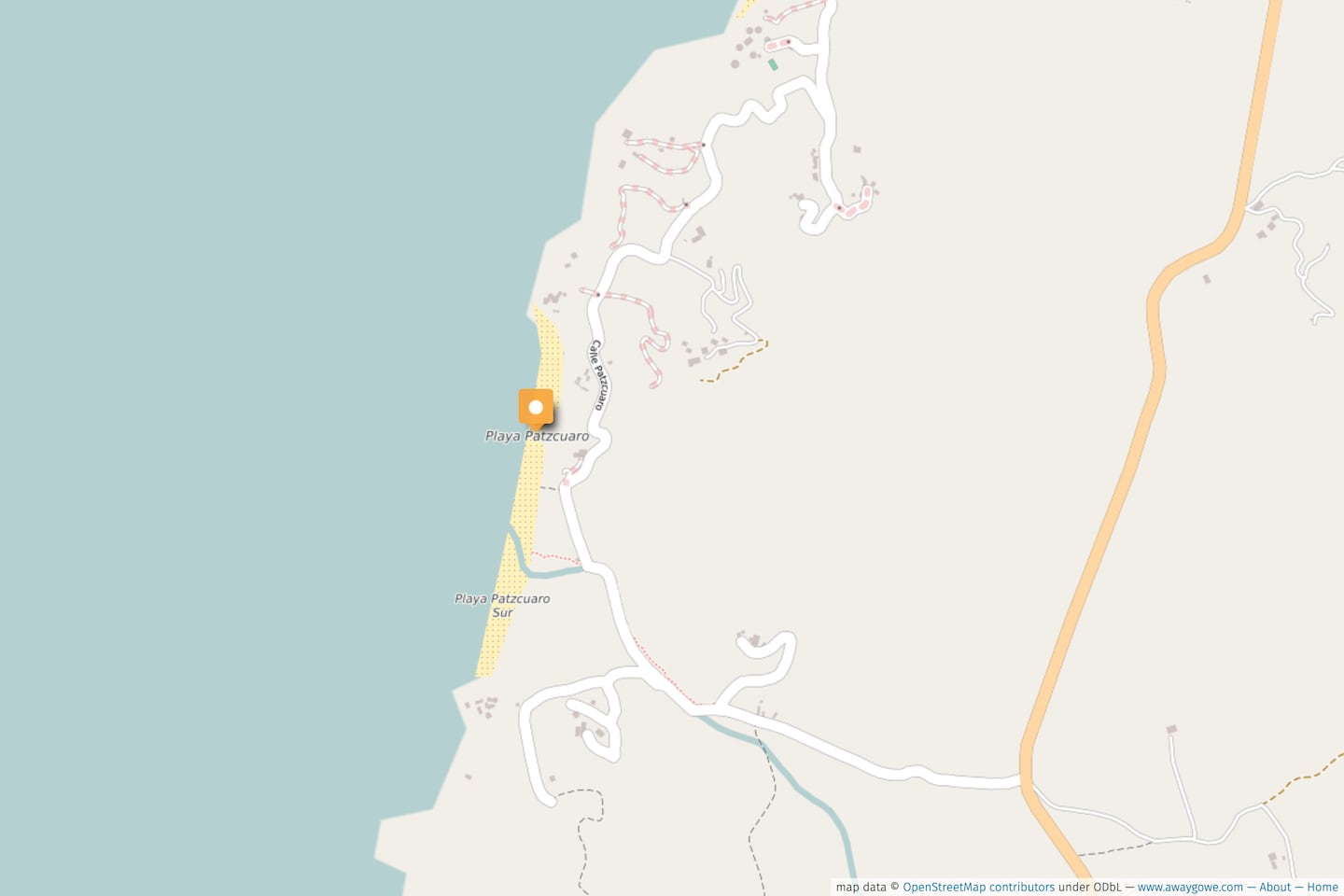 Sayulita Beaches Map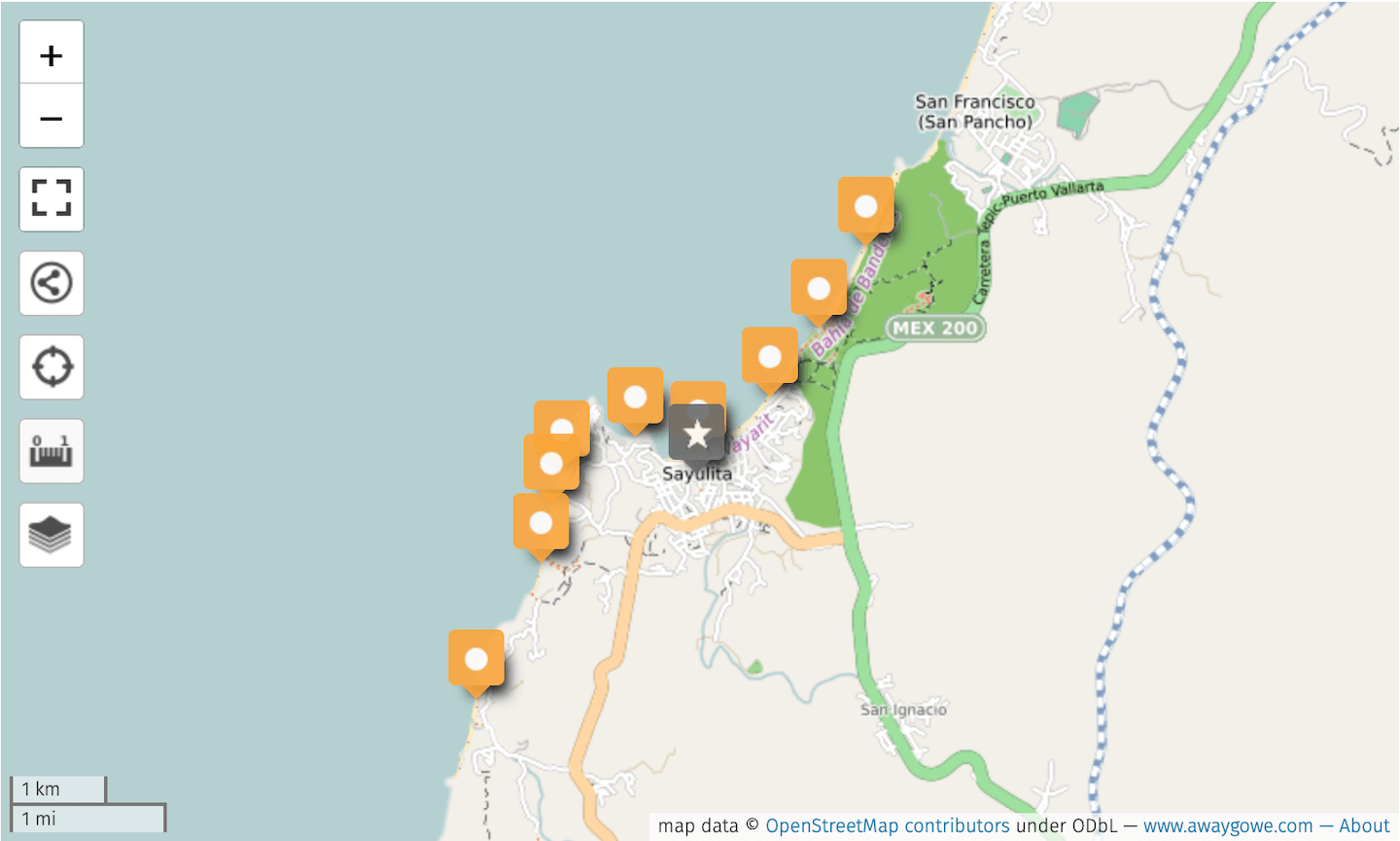 Explore our custom, interactive map to learn more about the location of each of the Sayulita beaches covered in this guide. Access the map on your mobile device and use it for navigation to the area's farther flung beaches.
What to Pack for a Day at Sayulita Area Beaches
First and foremost, make sure to stay well protected from the sun. The sun can be pretty brutal in these parts, particularly at midday.
A biodegradable sunscreen is always a good idea, along with an SPF-rated rash guard for swimming and water sports, and a sun hat for beach bumming and inland explorations.
Sayulita beaches don't offer a ton of opportunities to snorkel, but if you would like to explore around the west side of Playa Los Muertos or Central Beach, we recommend our snorkel and mask (and I absolutely love my travel fins).
Sayulita has an obscene average number of sunny days per year, but also gets its fair share of rain (particularly June through October). During the wet season summer months, pack a lightweight, breathable rain jacket.
If you want to explore the beaches away from El Centro (we highly recommend it!), don't forget to pack a comfy pair of shoes or sandals (sandals often work better in the rainy season). You may also want to pack a good pair of telescopic trekking poles and binoculars, but these aren't necessities for Sayulita.
And don't forget to bring your favorite reusable water bottle! Most restaurants don't provide drinking water free of charge, and you'll want to stay well-hydrated in the hot and tropical climate.
Lastly, it probably goes without saying, but you'll definitely want to bring along a good camera (I use the Sony a7iii, and previously the Canon 6D) to capture your time in this amazing place. For all things water-related, don't forget the GoPro.
If you're traveling with little ones (like we do these days), a sturdy baby carrier or hiking kid carrier can be a life saver, whether hiking to beautiful beaches or simply wondering around town all day. If you've got an infant or young toddler, Lori and I also recommend toting along a sturdy travel crib. We love our Lotus crib, which we've used for both of our kids.
---
Have You Visited Any of These Sayulita Beaches?
Tell us which one is your favorite in the comments below!
---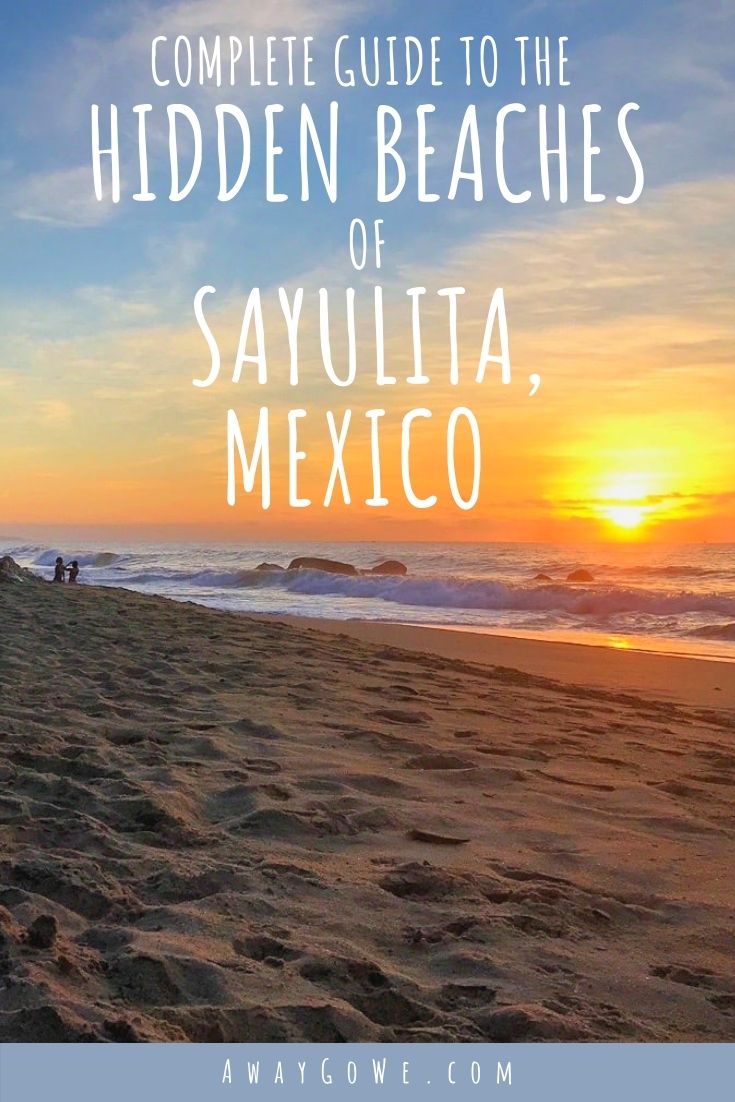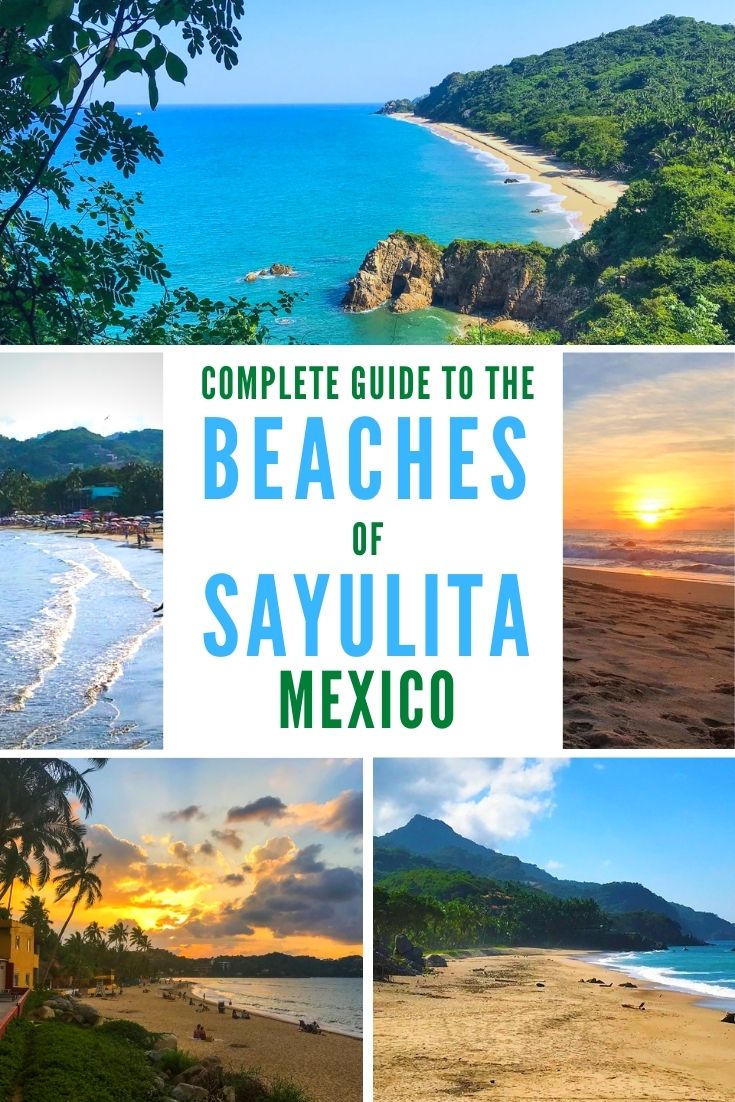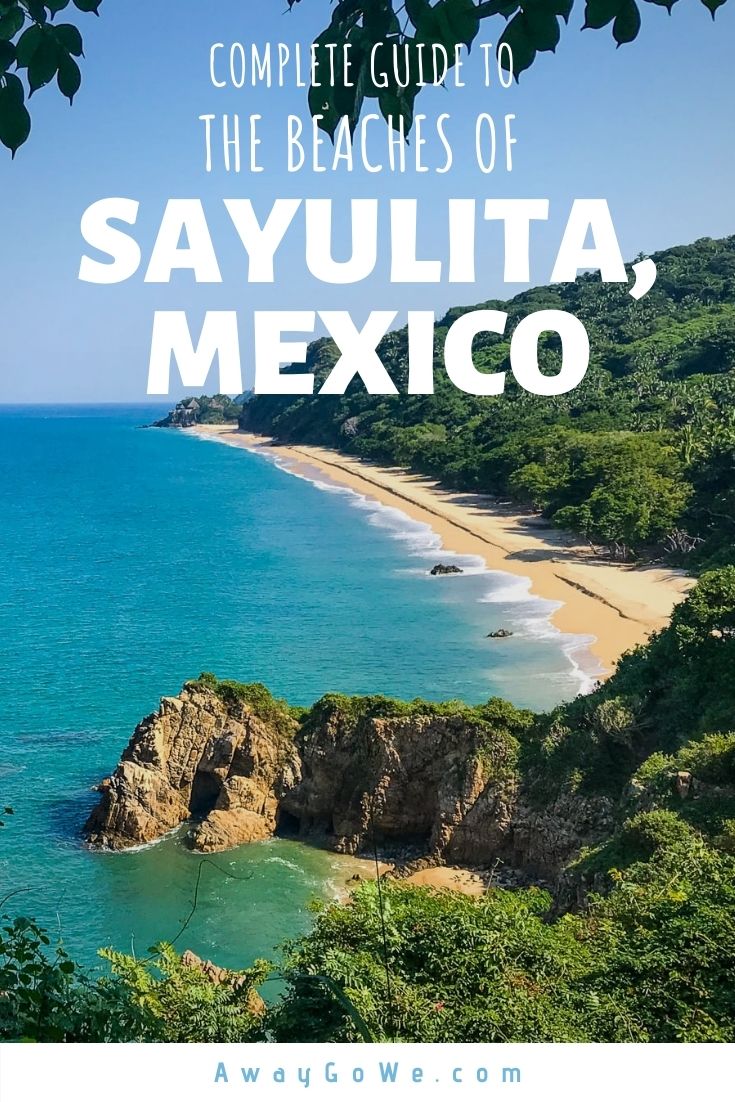 We use affiliate links and may receive a small commission at no extra cost to you. Learn more in our privacy policy.