Looking for paradise? Look no further! We've put together the ultimate list of Caribbean overwater bungalows you've been waiting for ⏤ featuring the very best of the best, from 5-star luxury all-inclusive adults-only bucket list stays, to amazing family-friendly stays featuring incredible amenities.
Lori and I are excited to bring you these true slices of paradise, many even close to U.S. shores. Whether you're planning an absolutely unforgettable wedding, truly memorable honeymoon, or the perfect island escape, you'll find it here below.
What makes Caribbean overwater bungalows so special?
For beginners, there just aren't many of them!
By some accounts, there may be as few as 30 hotels and resorts offering private overwater accommodation across the entire Caribbean. Compare that to 50 in Bora Bora alone!
Of those, a very few offer the level of amenities and services travelers might expect to find in popular overwater bungalow destinations like the Maldives or French Polynesia.
In our list, we endeavor to bring you the cream of the crop. Rest assured that each and every place on the list below has consistently received exceptional reviews and are worthy of the most special of occasions.
So pack your swimsuit and sunscreen, and prepare to be wowed by some of the Caribbean's best stays.
BUT BE FOREWARNED! Once you arrive, you may never want to leave!
---
8 Stunning

Overwater Bungalows in the Caribbean


|

Sneak Peek

|

In a hurry? Here's a quick peek at our list!

So many amazing overwater bungalows in the Caribbean to choose from! Read on for the whole scoop and start packing for paradise!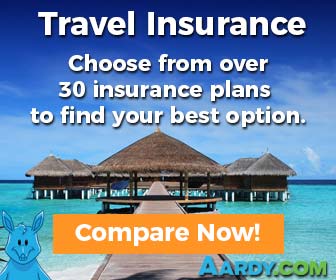 ---
8 Caribbean Overwater Bungalows

|

Full Details

|

Finding an unforgettable overwater bungalow stay in the Caribbean will be a breeze with this list of the very best options available RIGHT NOW (in no particular order).

Whether you are looking to stay closer to the mainland or want to venture to the outer reaches of the Lesser Antilles, you'll find it all below.
Don't Take Chances With Your Honeymoon. Always Insure Your Trip!!!
Illness, severe weather, lost luggage, broken bones, tropical disease… can make a trip of a lifetime unforgettable for all the wrong reasons. Never leave without travel insurance.
---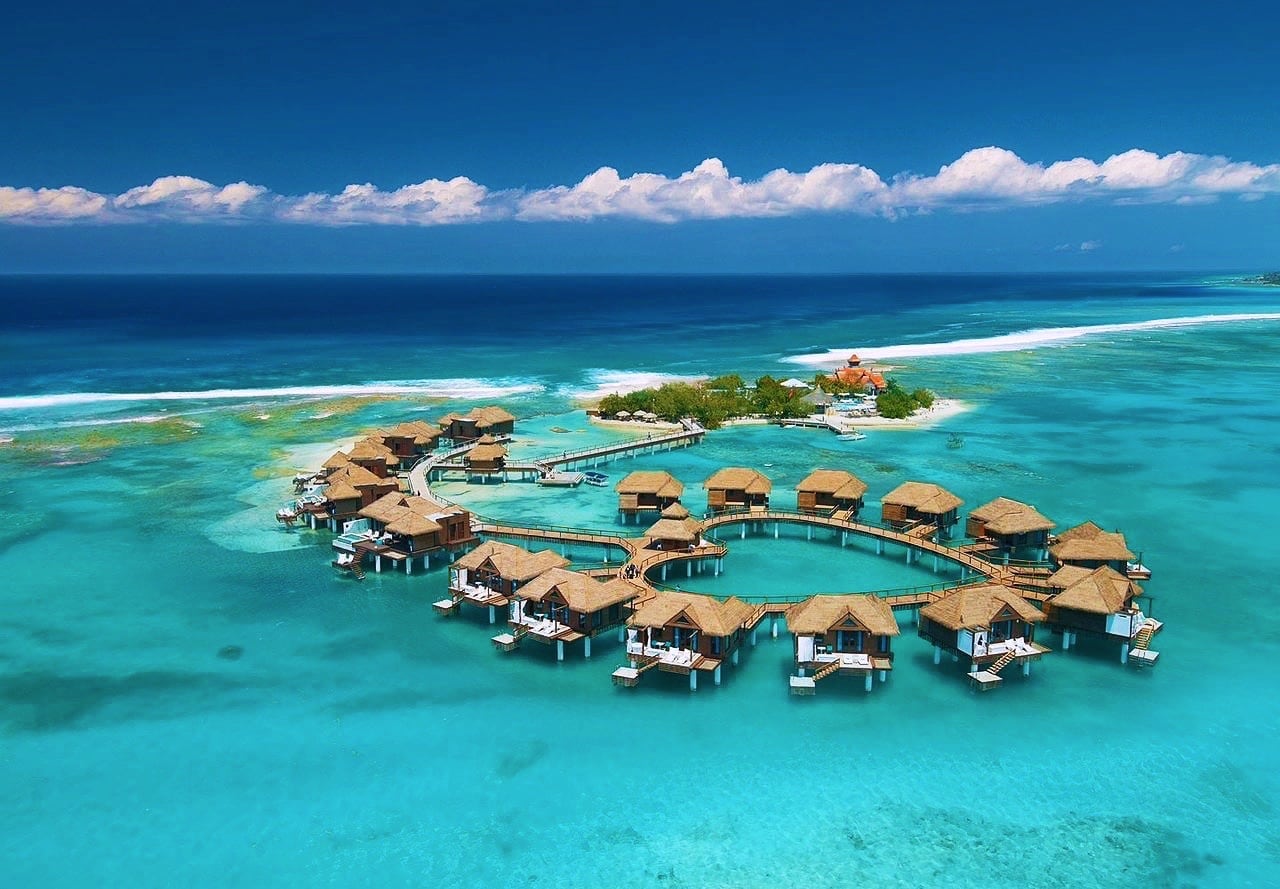 Sandals Royal Caribbean Resort
|

Jamaica

Located in stunning Montego Bay, Jamaica, Sandals Royal Caribbean Resort sets the standard for overwater bungalows in the Caribbean.

And now, all existing and future bookings include Sandals' new Vacation Assurance – an industry first in the time of Covid-19.

Featuring swim-up villas and bungalows built over a crystal lagoon, this all-inclusive, adults only luxury stay is the only resort in Jamaica located on a private offshore island.

While away the hours on your own private floating living room, lounge in your personal infinity pool (villas only), or take a dip in the crystal clear Caribbean waters. And of course, you can always hop a private water taxi to the main resort any time you want.
A true bucket list stay if there ever was one, Sandals Royal Caribbean is the ideal destination for the ultimate honeymoon or beach getaway.
HOT TIP #1 ▸ As you might expect with the premier overwater bungalow resort in the Caribbean, they book up quick, so you'll want to reserve your stay several months in advance.
HOT TIP #2 ▸ Planning your honeymoon? If you're thinking of booking a Sandals resort make sure you take advantage of their FREE Honeymoon Package.
---
BONUS! Explore More Amazing Overwater Bungalows in Jamaica:
Sandals South Coast
---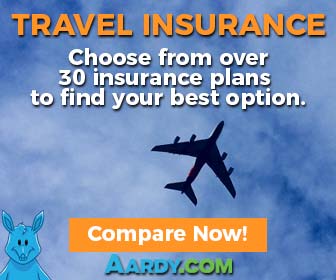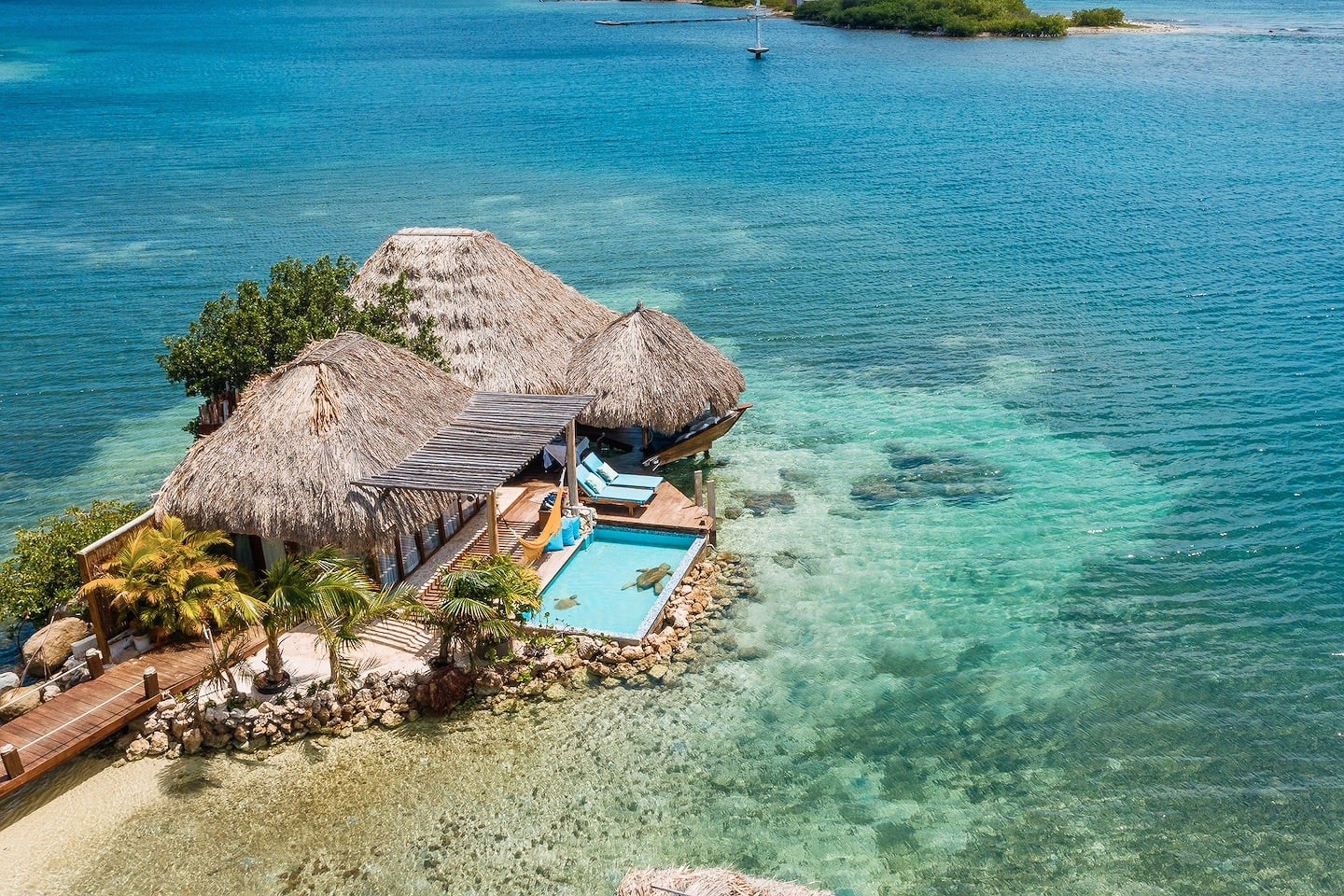 Aruba Ocean Villas
|

Aruba

Simply saying "Aruba," conjures up the epitome of the Caribbean luxury destination. Aruba Ocean Villas takes that feeling to the next level, with absolutely stunning luxury villas built over turquoise waters – the only overwater beach villas in the whole country!

Surround yourself with lush jungle and crystal clear Caribbean waters, while whiling away the hours soaking in your private pool, swinging to the rhythm of nature in your hammock, or doing absolutely nothing.

Ready for a real vacation? Aruba awaits!

---
Dreaming of the Ultimate Overwater Vacation? Don't Miss...
8 Mind-Blowing Overwater Bungalows
Our ultimate list of the VERY BEST overwater bungalows in the world. For an epic escape!
---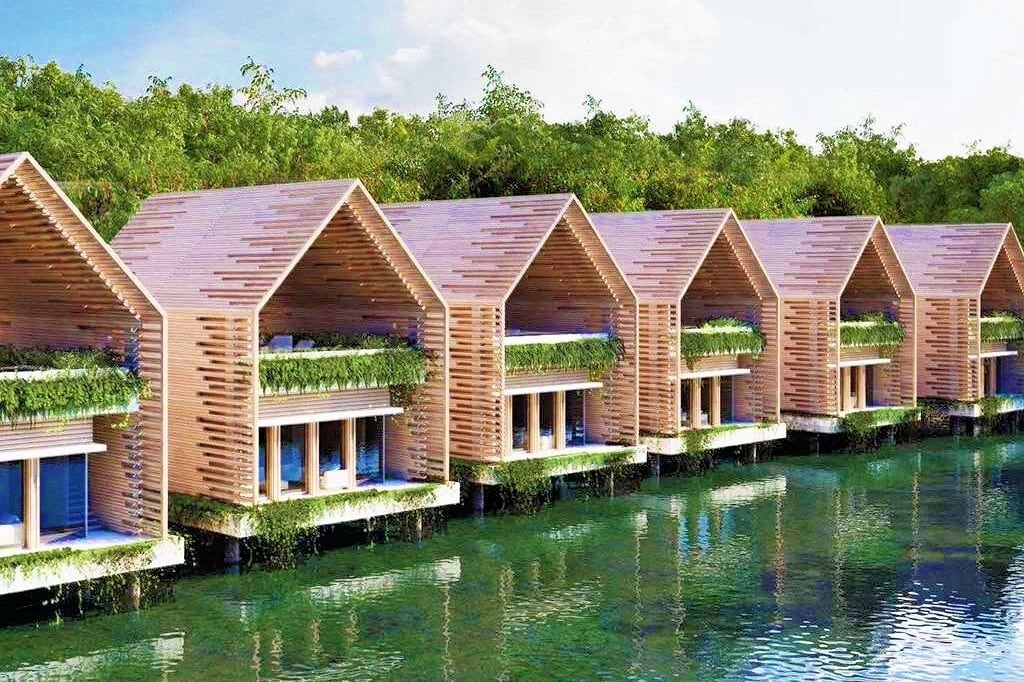 Banyan Tree Mayakoba
|

Mexico

If you're looking for a truly one-of-a-kind experience that you simply can't have anywhere else on Earth, check out Banyan Tree Mayakoba, an unforgettable stay near Playa del Carmen.

Nestled among scenic mangroves, Banyan Tree offers the feeling of getting away from it all, with a prime location in the heart of the Riviera Maya.

Enjoy all of the incredible amenities this 5-star resort has to offer, including private pool and garden terrace in every villa, world-class cuisine and full-service spa, and excellent 18-hole golf course.


---
BONUS! Explore More Amazing Overwater Bungalows in Mexico:
Rosewood Mayakoba, Playa del Carmen
---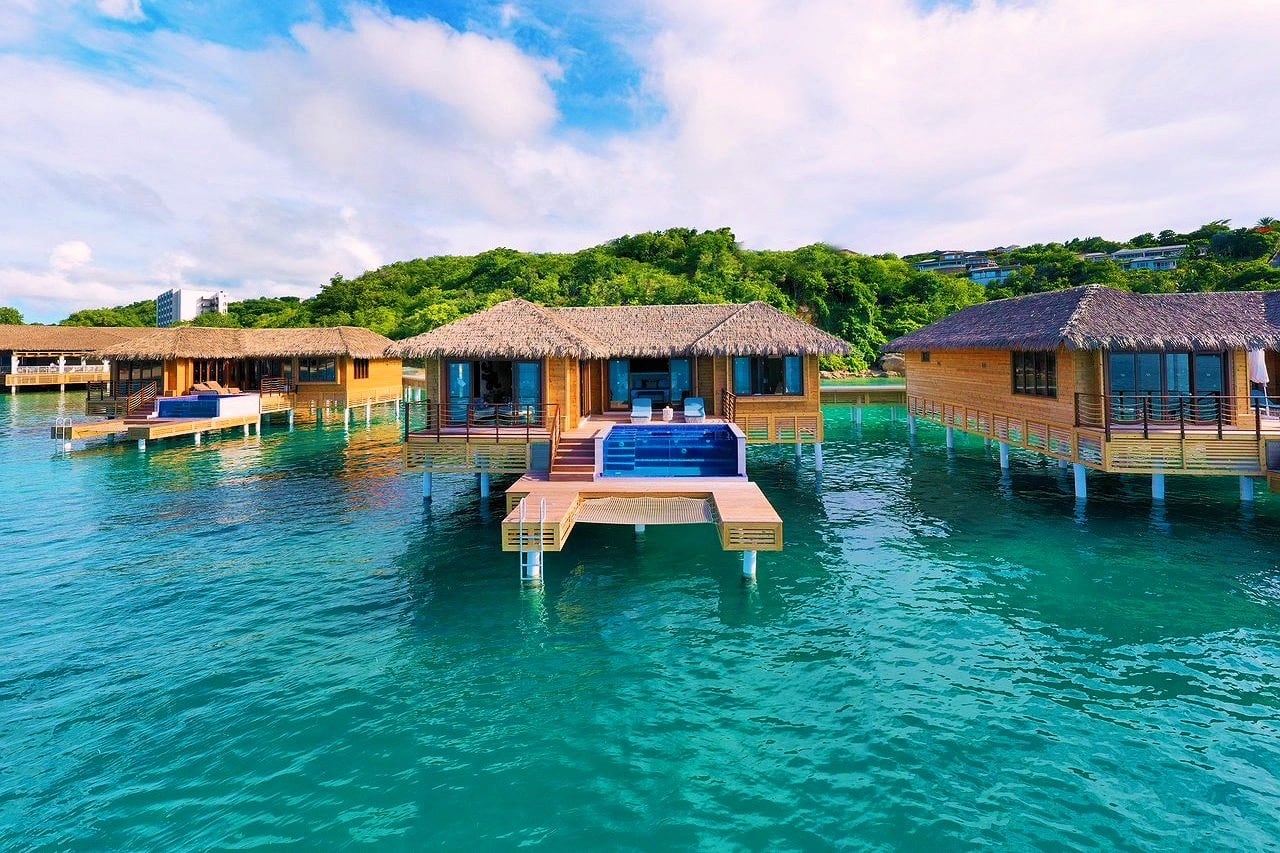 Royalton Antigua Resort & Spa
|

Antigua

Another stunner! Royalton Antigua Resort & Spa offers all the luxurious amenities you'd hope for in the Caribbean overwater stay of your dreams.

With sumptuously appointed villas with private infinity pool and sun deck looking out onto idyllic Caribbean waters, you'll never want to leave this all-inclusive 5-star resort!

Royalton is made for weddings, honeymoons, and even families, with a kids' club at the main resort.

A truly memorable overwater stay in the heart of the Caribbean.
---
---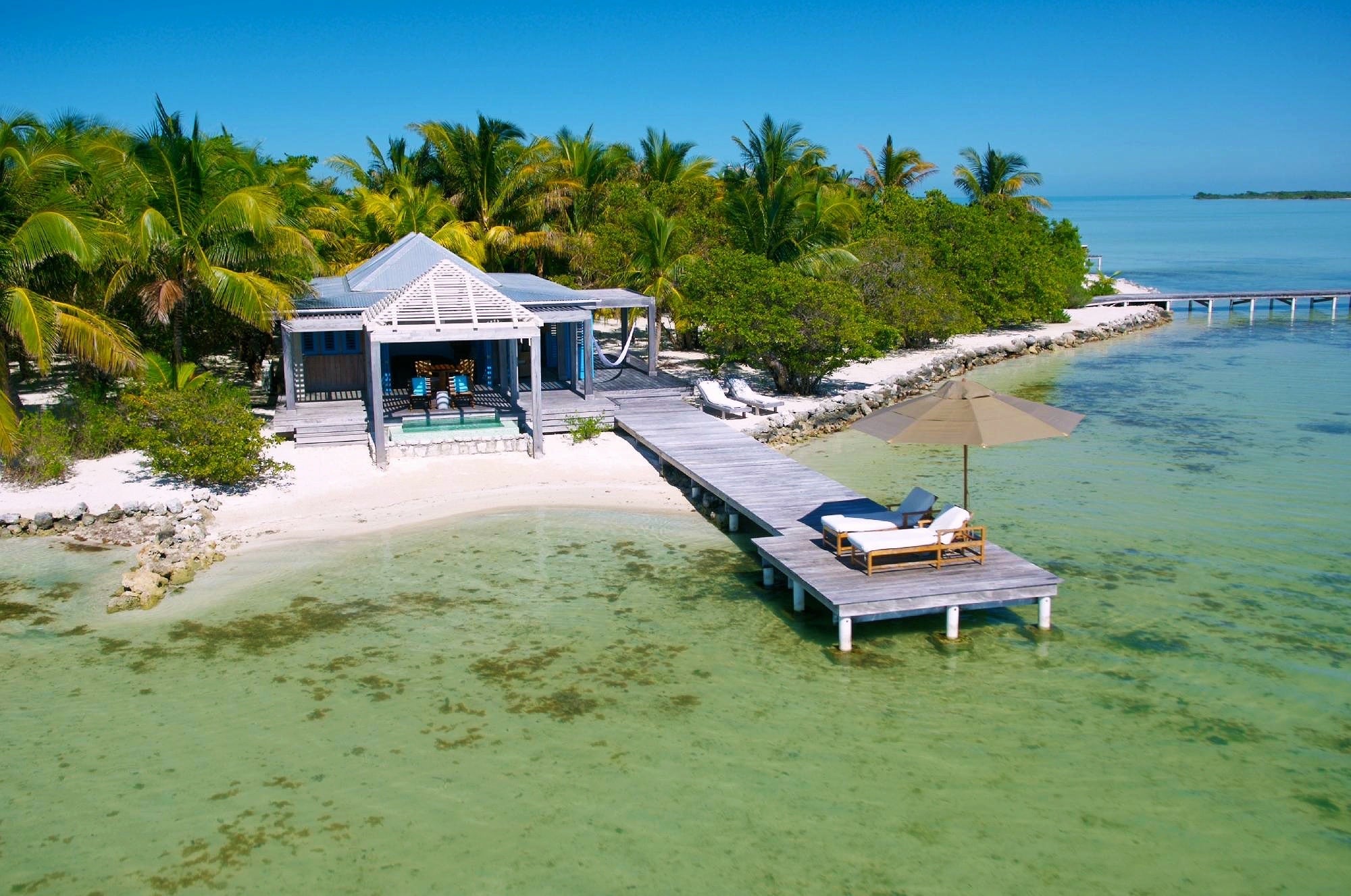 Cayo Espanto
|

Belize

Do you dream of escaping to your own jungly island paradise in the Caribbean (without sacrificing the amenities of a vacation getaway)? Cayo Espanto is your dream come true!

Offering one overwater bungalow and six villas with overwater sun decks (pictured above), it's easy to lose yourself in this bucket list stay, located just offshore from Ambergris Caye in Belize.

Rest assured that lush vegetation, white sands, and crystalline waters will be all you see during lazy and sun-filled days. That is, until you're ready for room service or a visit from a masseuse.

HOT TIP ▸ Cayo Espanto has but one truly overwater bungalow, Casa Ventana, located at the end of a 150-foot dock and offering amazing luxury and privacy. If you're set on staying in Casa Ventana, make sure you book well in advance! It's a hard one to snag.
---
BONUS! Explore More Amazing Overwater Bungalows in Belize:
Thatch Caye, a Muy'Ono Resort
---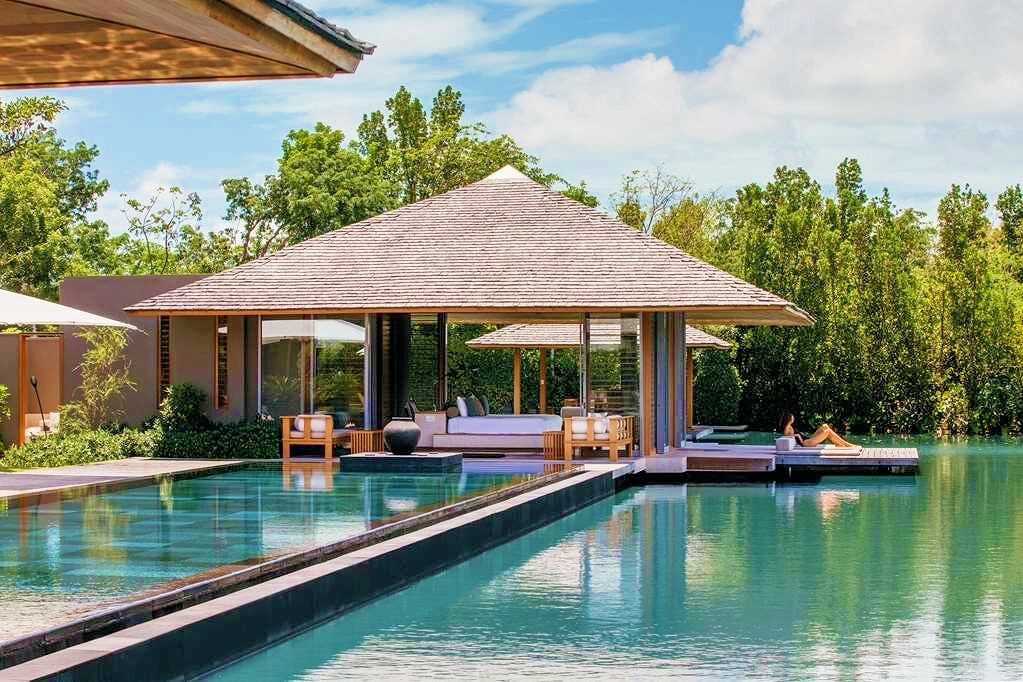 Amanyara
|

Turks & Caicos

Again, this list of jaw dropping Caribbean overwater bungalows is in no particular order. If that's not totally evident by now, it will be after we introduce to you Amanyara, on the island of Providenciales in Turks & Caicos.

Contemporary and stylish overwater villas? Check. Renowned spa? Check. Private white sands beach? Check. Bordering one of the world's most beautiful snorkeling and reef diving marine parks? Check!

For nature lovers, beach lovers, marine life lovers, or lovers of the ultimate beach getaway, Amanyara won't disappoint!

HOT TIP ▸ If you're reading this list, what you really want to book at Amanyara is one of their exclusive Amanyara Villas, each offering 1.5 acres of private gardens and outdoor living space. Oh, and let's not forget to mention your own private chef and host!
---
Planning the Caribbean Honeymoon of a Lifetime? Also check out...
6 BEST Saint Lucia Honeymoon Resorts
Our over-researched, hand-picked list of the VERY BEST honeymoon resorts in Saint Lucia. For an unforgettable honeymoon!
---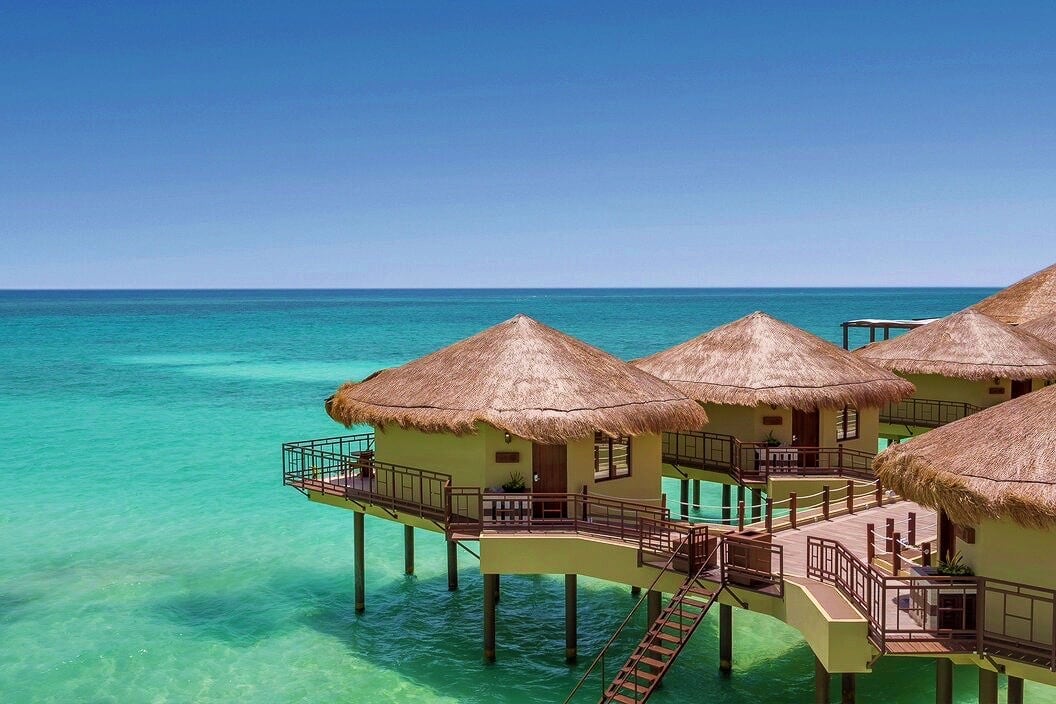 Palafitos El Dorado Maroma
|

Mexico

Another exceptional all-inclusive, adults-only resort in the Caribbean, Palafitos El Dorado Maroma offers luxury overwater bungalows a quick hop from the continental U.S.

Extending out over the crystalline waters of Playa Maroma, a short drive north of Playa del Carmen, Mexico, this luxury 5-star resort offers infinity pools and breathtaking sea views from every one of their luxurious Palafitos.

Gourmet food and exclusive private beach top off this bucket list beach experience.

HOT TIP ▸ El Dorado Maroma's Palafitos are some of the most popular Caribbean overwater bungalows on this list! Be sure to book several months out to avoid disappointment. If you're looking for the highest level of luxury and privacy, be sure to book one of their Elite Palafitos (if you're lucky enough to snag a reservation!).
---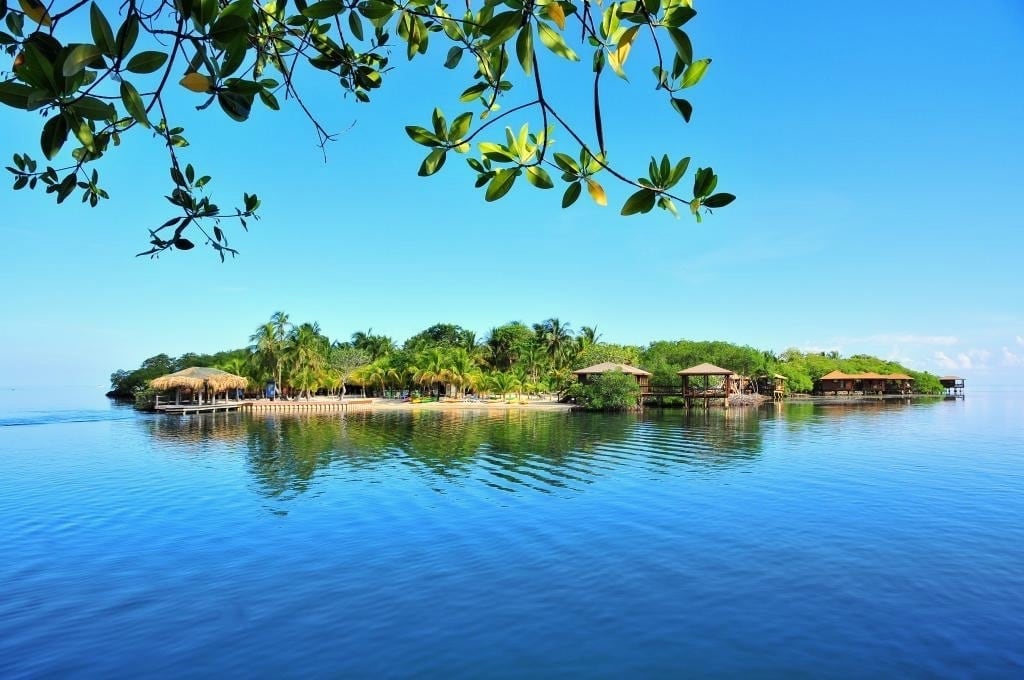 Anthony's Key Resort
|

Honduras

A private island stay unlike any other on this list, Anthony's Key Resort just off of legendary Roatan island.

Dream of getting scuba certified in paradise? Want to spend some quality time swimming with dolphins? Or maybe you are feeling the pull of nature and authenticity.

Anthony's offers all that and more! The resort offers an unforgettable experience suited to couples and families, alike, with a variety of bungalows to choose from.

HOT TIP ▸ If you're looking for the Caribbean overwater bungalows experience, make sure you book one of their Key Deluxe overwater bungalows, featuring private decks. If you're traveling as a family, you may want to consider the larger Key Superior bungalows, which trade overwater accommodation for additional space.
---
BONUS! Explore More Amazing Overwater Bungalows in Honduras:
CoCo View Resort, French Harbour, Roatan
---
Did We Miss Any of Your Favorite Caribbean Overwater Bungalows? Tell Us in the Comments!
We always enjoy writing helpful articles focused on exceptional stays in one-of-a-kind destinations, but this one was one of our favorites!
Having gotten engaged on the Puerto Rican island of Vieques and living on the shores of Belize for 12 months, the Caribbean will always hold a special place in our hearts.
We're thrilled to be able to share this very special corner of the globe with visitors from around the world, while helping others realize their own travel bucket list dreams.
---
Thanks for Reading Our List of the Very Best Overwater Bungalows in the Caribbean!
Don't forget to share this list of bucket list Caribbean overwater bungalows with your favorite beach bums!
---