Dreaming of paradise? It's time to get packing! We've put together the ultimate handcrafted guide to the very best overwater bungalows in the Caribbean you've been waiting for!
Lori and I have—once again—scoured the Caribbean's finest overwater stays to bring you this year's EIGHT VERY BEST. We've cut out the cruft to help jump-start your trip planning for 2023, 2024, and beyond!
Whether you're planning a truly memorable honeymoon, absolutely unforgettable family beach vacation, or the perfect island escape at one of the very best adults-only all-inclusive resorts in the Caribbean, you'll find it here in this carefully curated guide.
Sneak Peek
Can't wait to dive in? Here's a peek at our top picks:
Trouble deciding? We don't blame you! Read on for the whole scoop plus links to hotel website deals and promotions—and start packing for paradise!
---
8 Very Best Overwater Bungalows in the Caribbean in 2023
---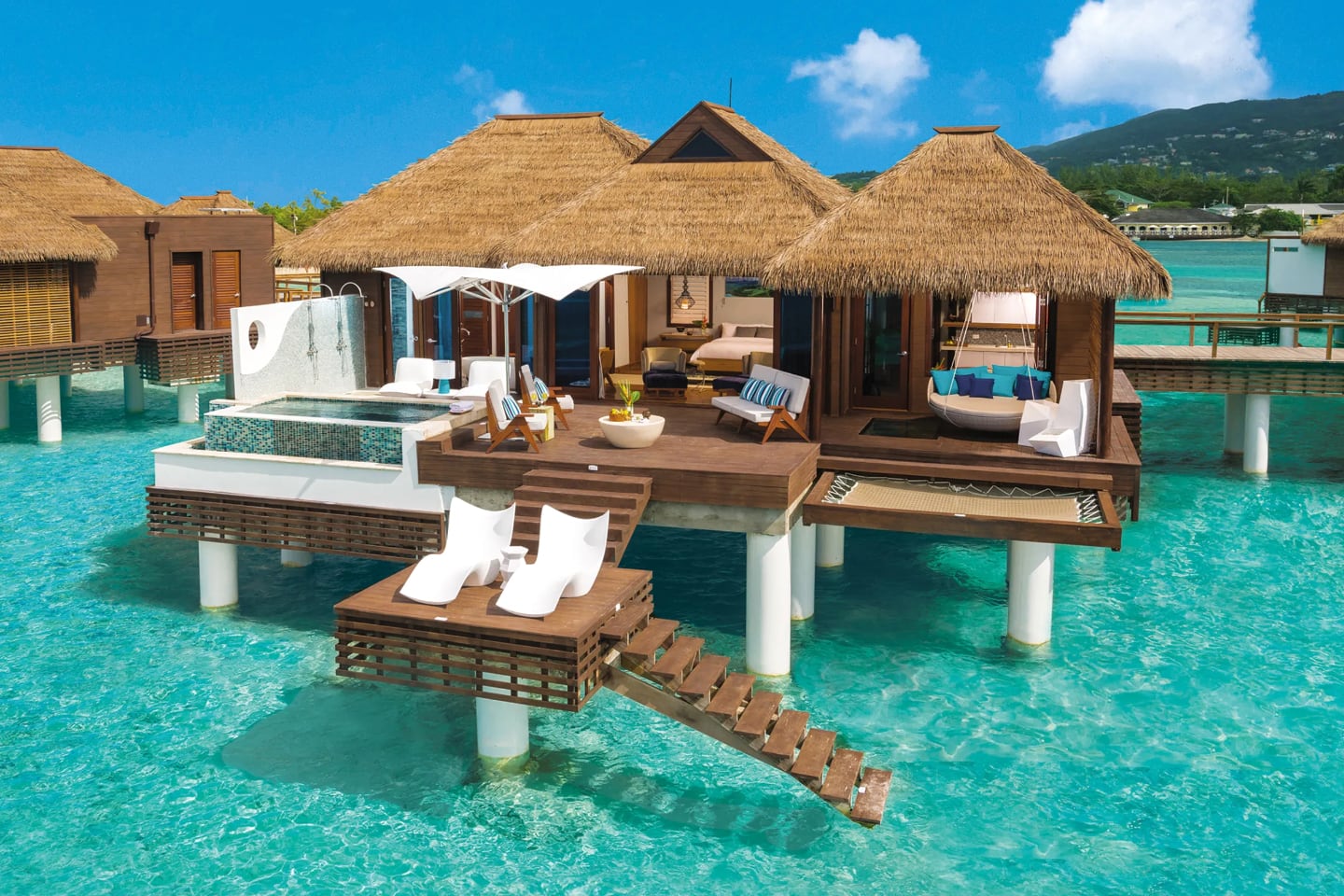 ➊

Sandals Royal Caribbean

•

JAMAICA

Sandals Royal Caribbean Resort sets the standard for overwater bungalows in the Caribbean, featuring modern and luxurious bungalows and pool villas built right over a cerulean lagoon—it's hard to imagine a more romantic beach resort setting in paradise!

Located in stunning Montego Bay, Jamaica, this all-inclusive, couples only (adults only) luxury stay is the only resort in Jamaica connected to its very own private island (Sandals Cay).

▸ Psst…Planning your honeymoon? Check out Sandals' FREE Honeymoon Package!

While-away the hours on your own private "floating" living room, lounge in your personal infinity pool (villas only), or take a dip in the crystal clear Caribbean waters.

And of course, you can always hop a private water taxi to the main resort any time you want to enjoy the mind-blowing number of all-inclusive amenities included in the nightly rate.

A true bucket list stay if there ever was one, the overwater bungalows at Sandals Royal Caribbean are an ideal destination for the ultimate honeymoon or beach getaway.
▸

What We Love
If you're looking for the quintessential 5-star over-the-water stay—worry-free ultra-luxe accommodations surrounded by jaw-dropping azure waters—nowhere else in the Caribbean comes close.
We also love the dizzying array of dining options, variety of included activities, and close proximity to Montego Bay's Sangster International Airport (only 9 minutes away by car!).
▸

Drawbacks
Sandals overwater bungalows don't come cheap—but we think they still offer an excellent value considering how rare this type of accommodation is in the Caribbean (this isn't the Maldives, folks!), and the crazy number of amenities packed into your all-inclusive stay.
Also, if you're planning a trip with kids, you're out of luck here, as all Sandals Resorts are 18+. Keep reading for our top family-friendly options.
▸

Hot Tip
Be sure to check out Sandals' Current Specials on their website for deep discounts and fun perks.
---
You May Also Like
---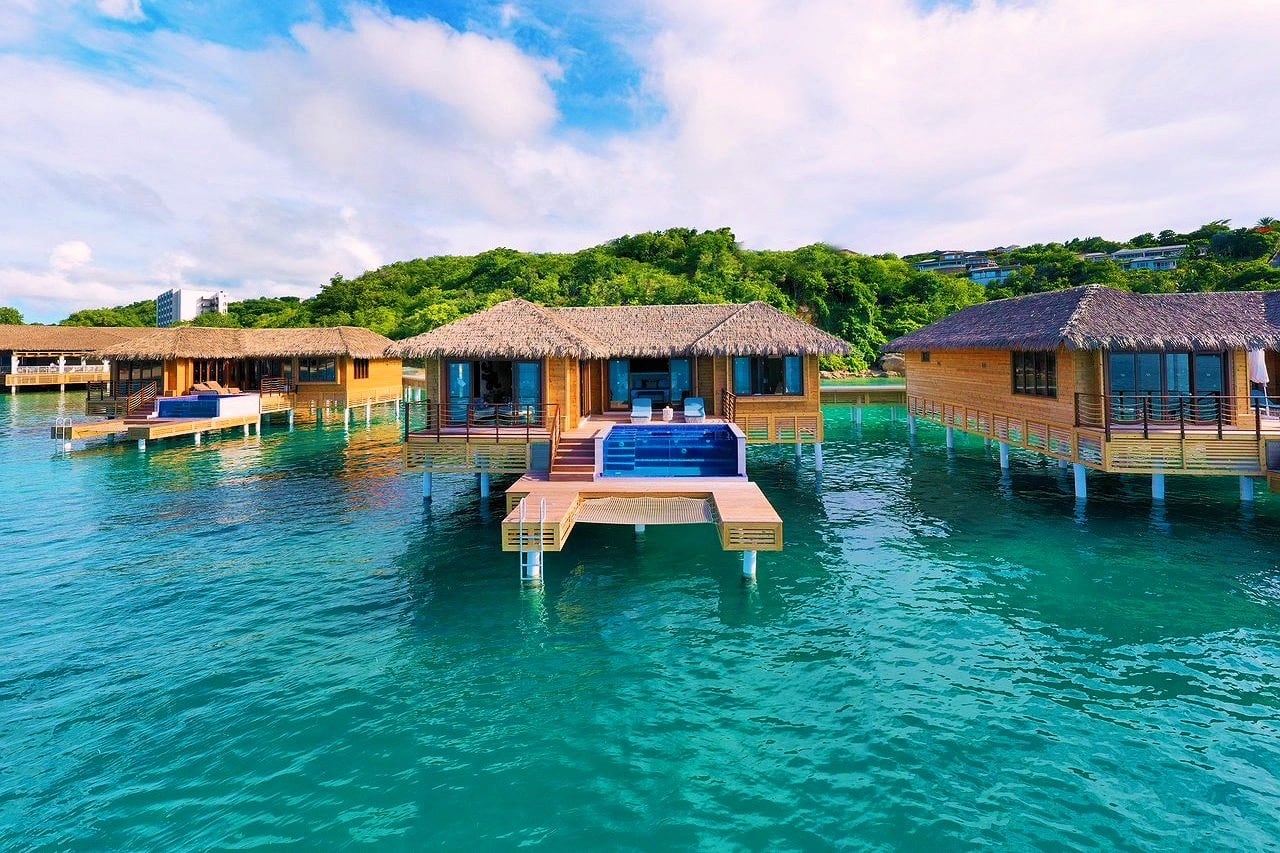 ➋

Royalton Autograph Collection Resort

•

ANTIGUA

Next up, another stunner! Royalton Antigua Resort & Spa offers all the luxurious amenities you'd hope for in the Caribbean overwater bungalows of your dreams.

Royalton Antigua is our top choice for families looking for an all-inclusive over-the-water stay with all the amenities, including 24 hour room service and Kids Club.

The sumptuously appointed Chairman Overwater Bungalows offer private infinity pool, glass floor panels, sun deck, and idyllic Caribbean views—you may never want to leave your bungalow!

A truly memorable overwater stay in the heart of the Caribbean.
▸

What We Love
We love how spacious these water villas are when compared to anything else on this list (with the exception of Amanyara). We also love the stunning location and proximity to a drop dead gorgeous beach and breathtaking sea views.
▸

Drawbacks
Royalton Antigua is a great choice for families and has some of the nicest water villas on this list. However, the resort itself has received mixed reviews in the past couple of years (though this seems to be improving).
Still, if you're looking to book your honeymoon or a couples retreat, we think one of the Sandals resorts on our list is likely a better bet at this particular price point.
---
You May Also Like
---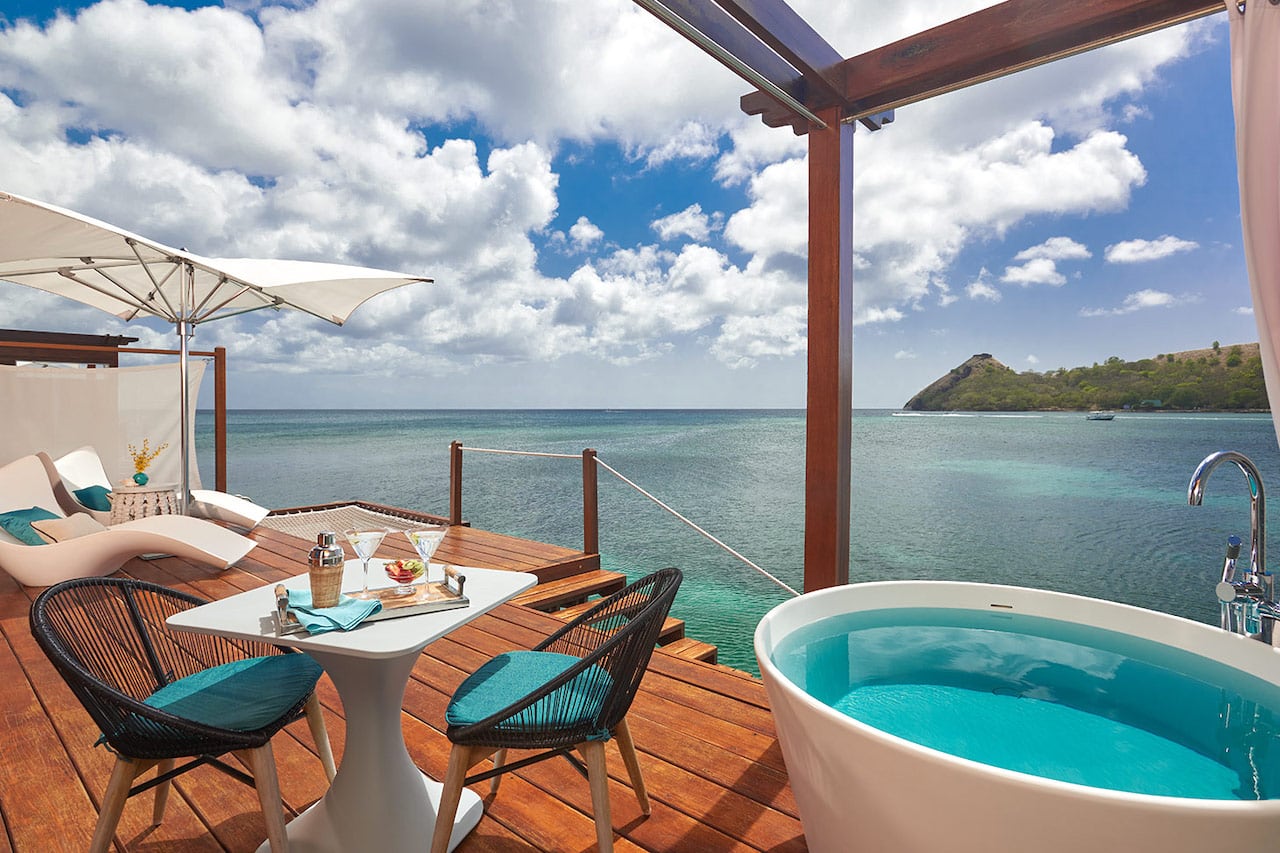 ➌

Sandals Grande St. Lucian

•

ST. LUCIA

St. Lucia is widely considered one of the top honeymoon destinations in the world.

And there may be no better place to soak up the loving vibe than from your very own spectacular Over the Water Honeymoon Butler Bungalow at Sandals Grande St. Lucian!

▸ Psst…Planning your honeymoon? Check out Sandals' FREE Honeymoon Package!

That's right, "Butler Elite" service comes standard with every overwater bungalow, along with relaxing seaside Tranquility Soaking Tubs, glass floors, breathtaking views, and of course Sandals' legendary all-inclusive package amenities.

Truly the epic island escape of a lifetime!
▸

What We Love
All the usual Sandals all-inclusive amenities and perks PLUS Butler Elite with every overwater bungalow. We also love the ultra-mod take on the water villa and the jaw-dropping views. And the recent reviews across the board are exceptional.
▸

Drawbacks
Again, pricey, but offers a lot of value. Also, getting a beach chair can be difficult and frustrating unless you arrive early in the morning. It's worth noting that this is one of the long-running perks of butler service, if you happen to go that route.
▸

Hot Tip
Don't forget to check Sandals' current Specials for discounts and fun perks for your stay.
---
You May Also Like
---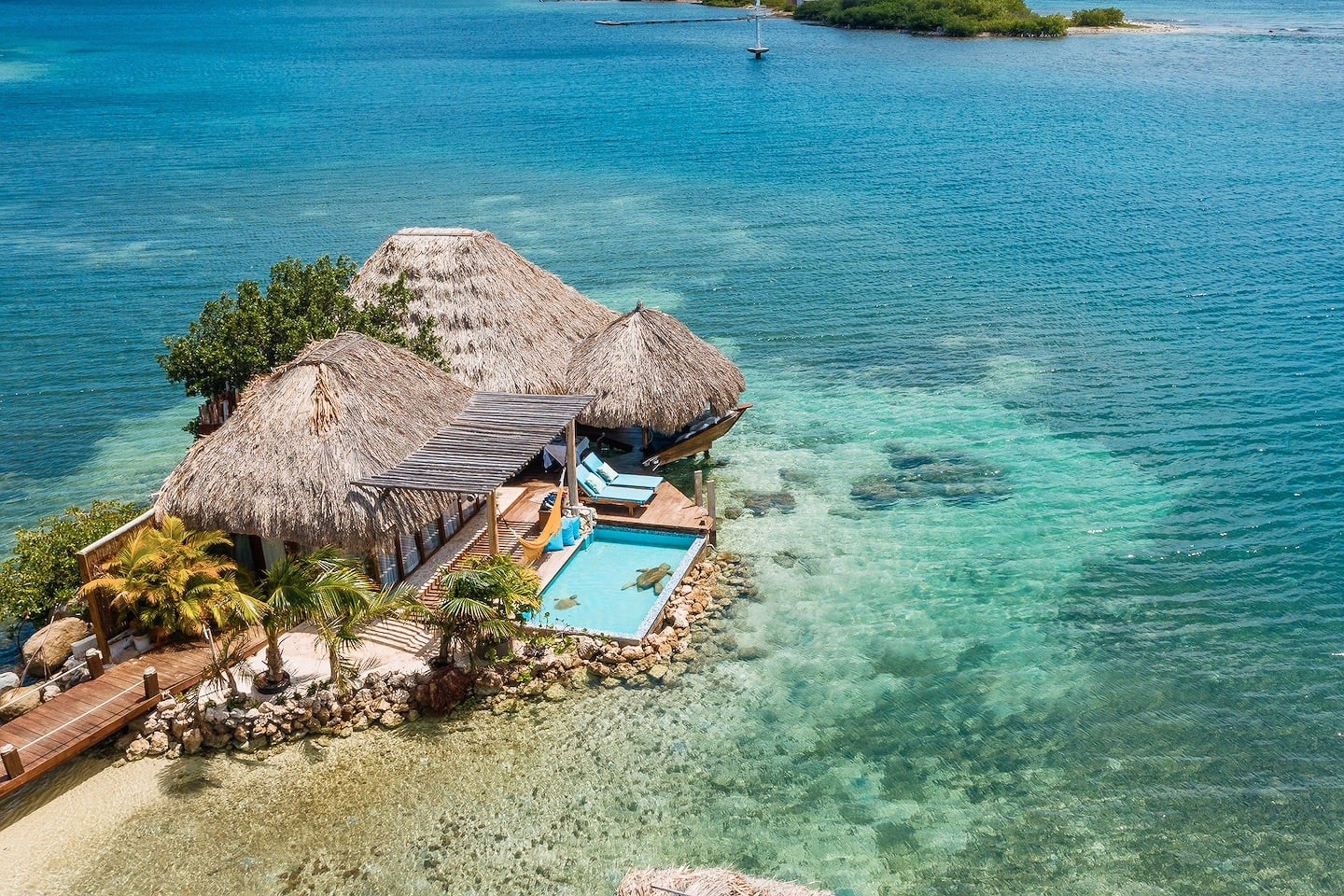 ➍

Aruba Ocean Villas

•

ARUBA
Simply saying "Aruba," conjures up the epitome of a Caribbean luxury destination.
Aruba Ocean Villas takes that feeling to the next level, with absolutely stunning adults-only eco-luxury villas built over turquoise waters—the only overwater beach villas in the whole country, in fact!
Designed by Aruba-native artist, Osyth, these Caribbean overwater bungalows exude a sense of place and wonder like few others on this list can.
Surround yourself with lush jungle and crystal clear Caribbean waters, while whiling away the hours soaking in your private pool, swinging to the rhythm of nature in your hammock, or doing absolutely nothing.
Ready for a real vacation? Aruba awaits!
▸

What We Love
Locally-owned adults-only idyllic tropical sanctuary surrounded by spectacular nature and warm hospitality.
▸

Drawbacks
If you're looking for a modern 5-star resort with air-conditioning and a ton of dining and activities options, you'll likely be happier elsewhere.
---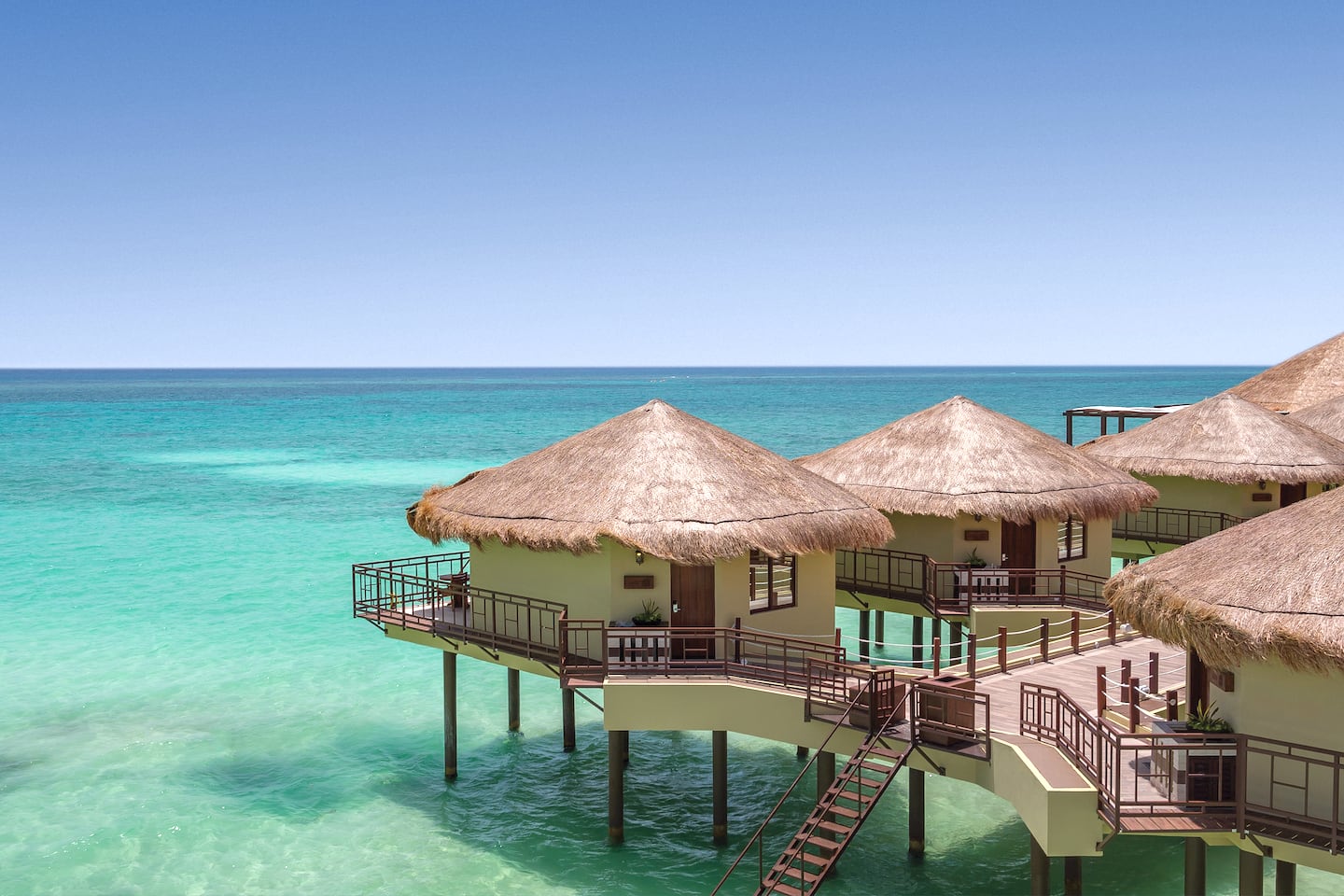 ➎

Palafitos El Dorado Maroma

•

MEXICO

Palafitos El Dorado Maroma is an outstanding all-inclusive adults-only stay offering luxury overwater bungalows a quick hop from the continental U.S.

Extending out over the crystalline waters of Playa Maroma, a short drive north of Playa del Carmen, Mexico, this luxury five-star resort offers infinity pools and breathtaking sea views from every one of their luxurious Palafitos.

Gourmet food and exclusive private beach top off this bucket list beach experience.
▸

What We Love
"Excellent" 5.0/5.0 rating on TripAdvisor (one of only three on our list to pull that off), truly exceptional service, and every Palafito suite comes with its own infinity pool!
▸

Drawbacks
As is the case with much of Mexico's Riviera Maya, sargassum (seaweed) influxes are ongoing and hard to predict, and beautiful Playa Maroma is not immune to the occasional seaweed invasion.
▸

Hot Tip
El Dorado Maroma's Palafitos are some of the most popular Caribbean overwater bungalows on this list! Be sure to book several months out to avoid disappointment.
And if you want the highest level of luxury and privacy, be sure to book one of their Elite Palafitos (if you're lucky enough to snag a reservation!).
---
You May Also Like
---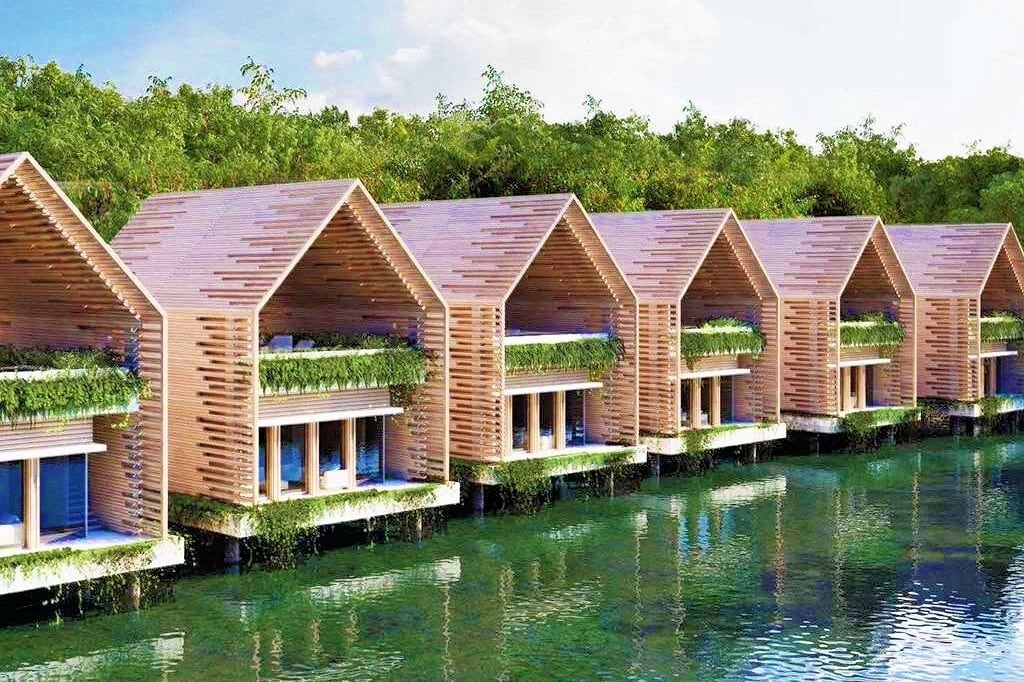 ➏

Banyan Tree Mayakoba

•

MEXICO

If you're looking for a truly one-of-a-kind experience that you simply can't have anywhere else on Earth, check out Banyan Tree Mayakoba, an unforgettable stay near Playa del Carmen.

Nestled among scenic mangroves, Banyan Tree's Lagoon & Sunset Rooftop Pool Villas offer the feeling of getting away from it all, with a prime location in the heart of the Riviera Maya, and without sacrificing modern comforts and conveniences.

Enjoy all of the incredible amenities this five-star resort has to offer, including private pool and garden terrace in every villa, world-class cuisine and full-service spa, and a top-notch 18-hole golf course.
▸

What We Love
"Excellent" 5.0/5.0 rating on TripAdvisor (one of the few on our list), amazing concierges, and the opportunity to surround yourself with nature without sacrificing comforts. And if you love golf, you won't find better-suited overwater bungalows in the Caribbean!
▸

Drawbacks
Though luxurious and private, the villas are quite close to each other. And, while the lagoon setting is breathtaking, it's not what a lot of folks picture when they think of overwater bungalows in the Caribbean. Arrive knowing that and this wonderful resort won't be let down.
▸

Hot Tip
Want another top-tier option in the area? Then check out Rosewood Mayakoba, Playa del Carmen as well.
---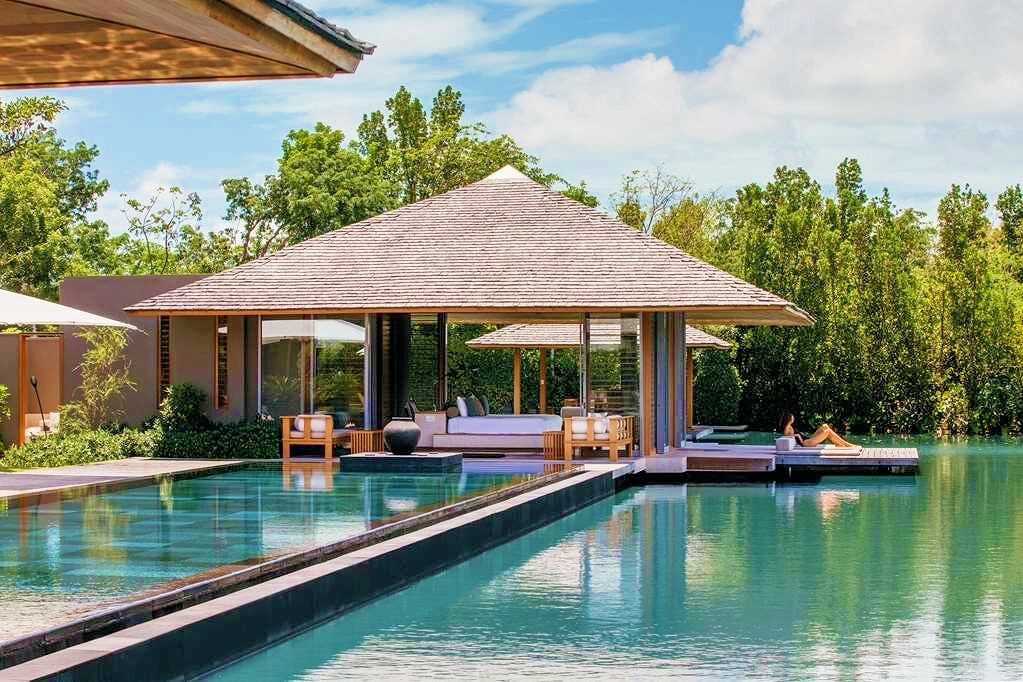 ➐

Amanyara

•

TURKS & CAICOS

Now it's time to head up through the Windward Passage to incomparable Amanyara on the island of Providenciales in stunning Turks & Caicos.

Contemporary and stylish overwater villas? Check. Renowned spa? Check. Private white sands beach? Check. Bordering one of the world's most beautiful snorkeling and reef diving marine parks? Check!

Hands down, Amanyara offers some of the very best Caribbean overwater bungalows for nature lovers, beach lovers, marine life lovers, and lovers of the ultimate beach getaway.
▸

What We Love
These villas are unbelievably huge, incorporating 3-6 separate pavilions over 1.5 acres each! And the location offers some of the best snorkeling in the Caribbean just a stone's throw away.
▸

Drawbacks
The overwater villas are set over manmade pools, which may or may not be a drawback for you. If you don't have deep pockets, however, the price tag will likely be the biggest downside.
▸

Hot Tip
Amanyara offers two types of accommodation: stand-alone Pavilions and sprawling multi-unit Villas.
The Pavilions are exceptional stays in their own right (many with spectacular sea views and perfect for couples).
However, if you're looking for an over-the-water stay at Amanyara, you'll want to book one of their exclusive Amanyara Villas, each offering 3-5 rooms (i.e. Pavilions), 1.5 acres of private gardens and outdoor living space, and your own private chef and villa servicing host.
---
You May Also Like
---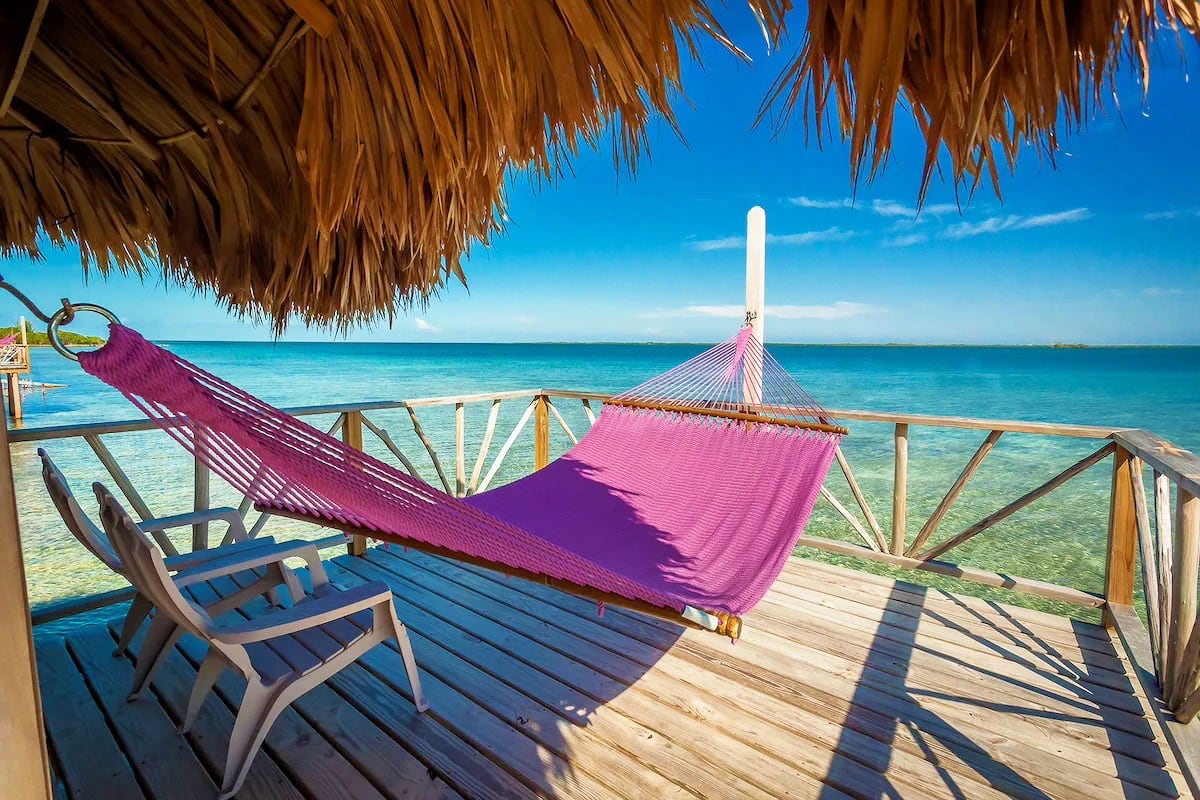 ➑

Thatch Caye Muy'Ono
•

BELIZE

Do you dream of escaping to your own jungly island paradise in the Caribbean (without sacrificing the amenities of a vacation getaway)? Thatch Caye Resort by Muy'Ono is your dream come true!

Offering well-appointed thatch-roof overwater bungalows with sun decks it's easy to lose yourself in this offshore paradise in Belize.

Rest assured that lush vegetation, white sands, and azure waters will be all you see during lazy and sun-filled days. That is, until you're ready to take advantage of the resort's many amenities.
▸

What We Love
Warm hospitality and cool air conditioning on an island that sits on the Belize Barrier Reef. And you got to love another perfect 5.0 out of 5.0 on TripAdvisor (from 1,055 reviews).
▸

Drawbacks
One of the trickier destinations on our list to reach from the U.S., involving a 15-minute commuter flight from Belize City to Dangriga, and a 30-minute boat transfer out to the island. But it's worth it! And it's all part of the journey.
▸

Hot Tip
Given its proximity to the U.S., Thatch Caye is a popular resort destination and the overwater bungalows in particular can book up fast. Make sure you book well in advance!
If you don't get lucky with Thatch Caye, check out Cayo Espanto, another excellent island stay in Belize.
---
You May Also Like
---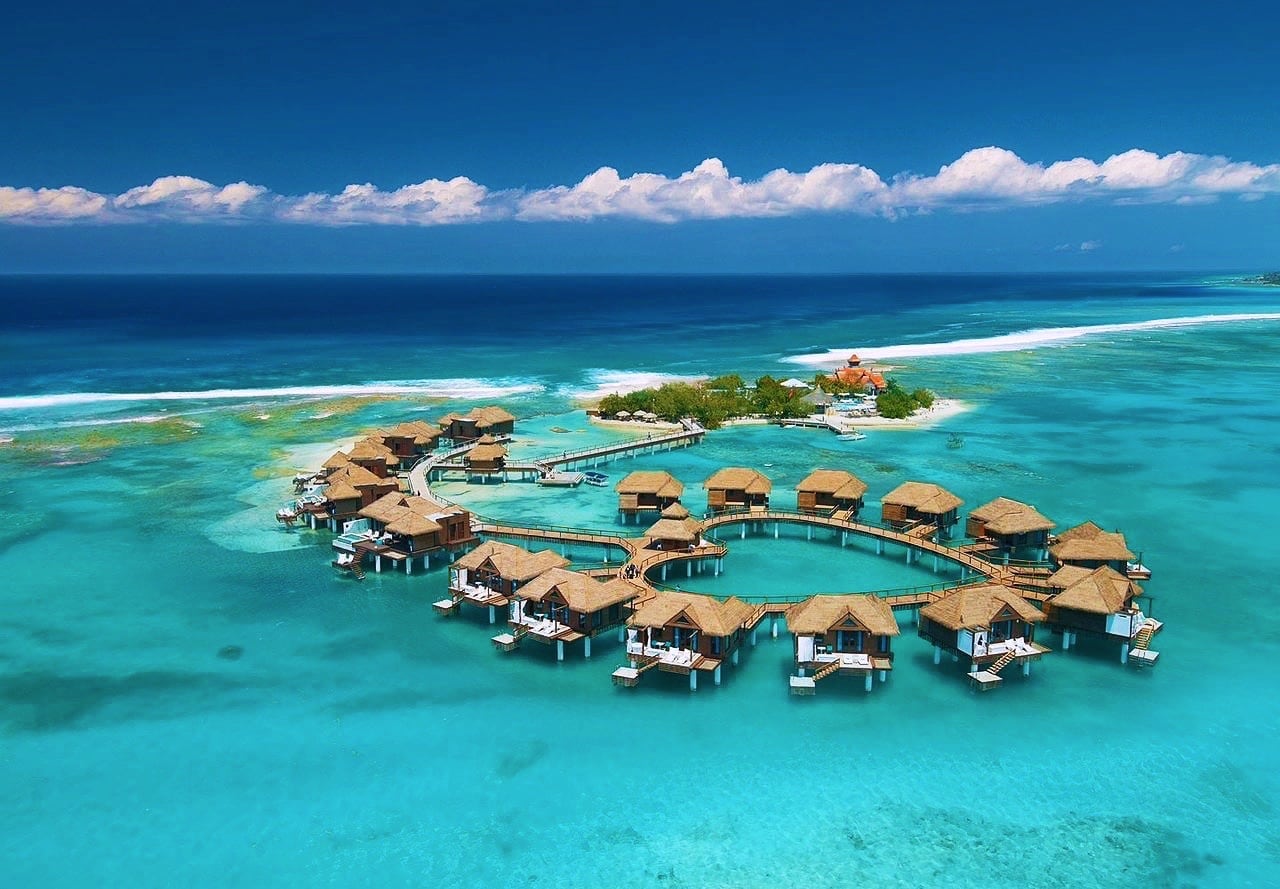 Caribbean Overwater Bungalows Booking Tips
The Caribbean offers a diverse range of overwater bungalows, from luxurious villas with private pools to simpler, more affordable huts on the water.
When searching for the best deal on Caribbean overwater bungalow resorts, it's important to keep in mind factors such as season (high vs. low), day of the week, and location, with prices potentially ranging from $1,000 to $5,000 per night.
Additionally, consider leveraging credit card points and miles for potential savings. Various credit cards and reward programs offer travel-related benefits, which can significantly reduce your overall expenditure.
5 Tips for More Sustainable Travel
It's always worth considering the impact your visit may have on your travel destination. Here are five easy tips for more mindful and sustainable travel:
Choose Eco-Friendly Resorts: Many overwater bungalows in the Caribbean, like Sandals Grande St. Lucian and Rosewood Mayakoba, are making efforts to be more eco-friendly. Look for accommodations that use renewable energy, recycle waste, and minimize pollution.
Respect Marine Life: The Caribbean is home to a variety of vibrant marine life. Avoid disturbing the flora and fauna while snorkeling or scuba diving. Never touch coral reefs as they are delicate and can take years to regenerate.
Limit Water Usage: Even though you're surrounded by water, it's essential to conserve. Take shorter showers, reuse towels, and avoid leaving the tap running unnecessarily.
Use Reef-Friendly Sunscreen: Some sunscreens contain chemicals harmful to marine life. It's a good idea to opt for reef-friendly versions to protect the ocean ecosystem.
Support Local Economy: Opt for local experiences and products. This could be dining at local restaurants, buying local crafts, or taking local tours. This not only enriches your travel experience but also contributes to the local economy.
By taking these steps, you can ensure your overwater bungalow stay is as sustainable and responsible as it is unforgettable.
Final Thoughts on the Best Overwater Bungalows in the Caribbean
What makes Caribbean overwater bungalows so special? For beginners, there just aren't many of them!
By some accounts, there may be as few as 30 hotels and resorts offering private overwater bungalows across the entire Caribbean. Compare that to 50 in Bora Bora alone!
Of those, a very few offer the level of amenities and services travelers might expect to find in popular over-the-water destinations like the Maldives or French Polynesia.
In this guide, we've endeavored to bring you the cream of the crop. Each and every destination on this list has distinguished itself from the pack—through exceptional reviews and ratings, the number and variety of amenities offered, warm hospitality, or all of the above!
We always enjoy writing helpful articles focused on exceptional stays in one-of-a-kind destinations, but this one was one of our favorites!
Having gotten engaged on the Puerto Rican island of Vieques and living on the shores of Belize for 12 months, the Caribbean will always hold a special place in our hearts.
We're thrilled to be able to share this very special corner of the globe with visitors from around the world, while helping others realize their own travel bucket list dreams.
---
Thanks for reading our hand-curated guide to the very best Overwater Bungalows in the Caribbean!
Don't forget to share this list of bucket list Caribbean overwater bungalows with your favorite beach bums!
---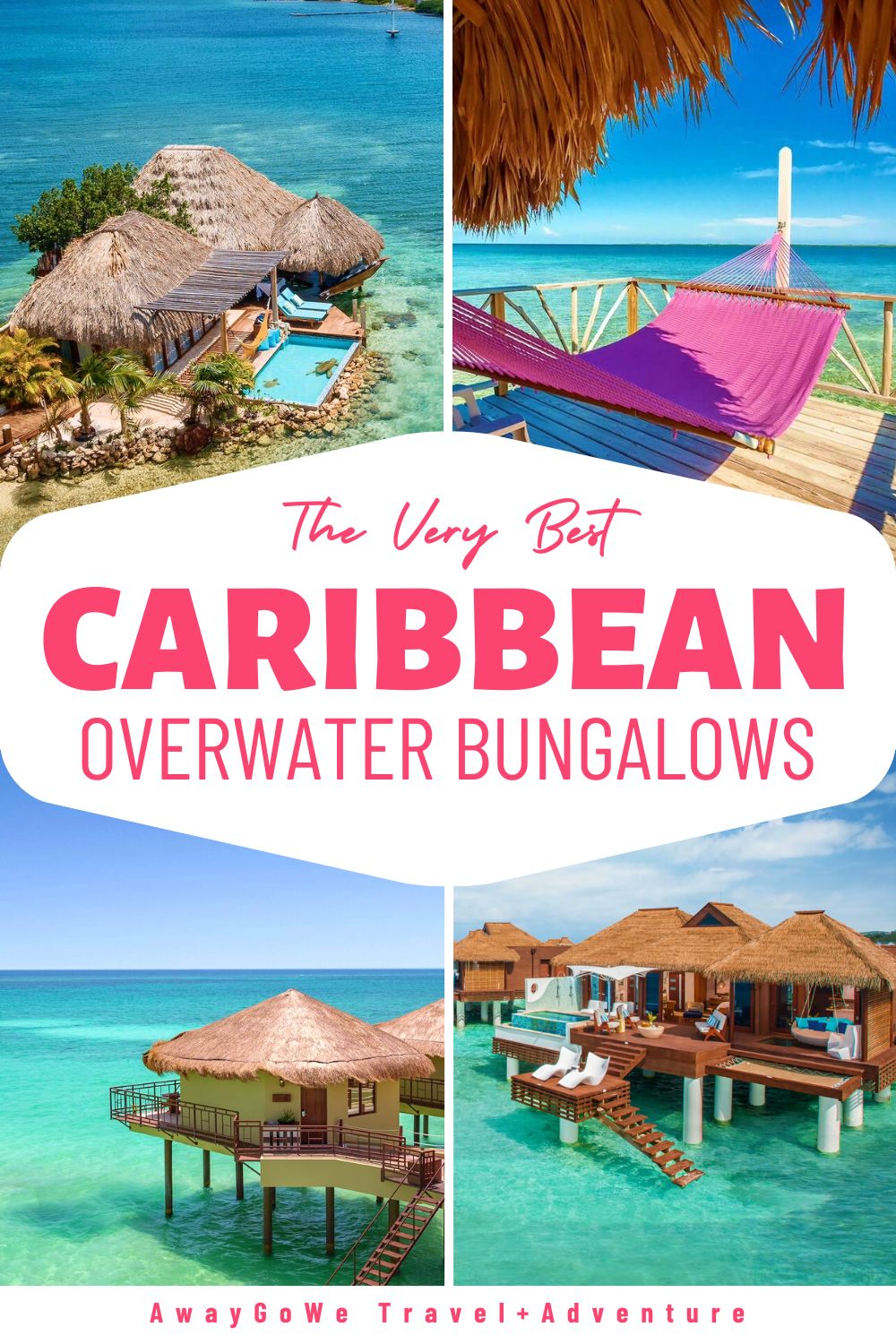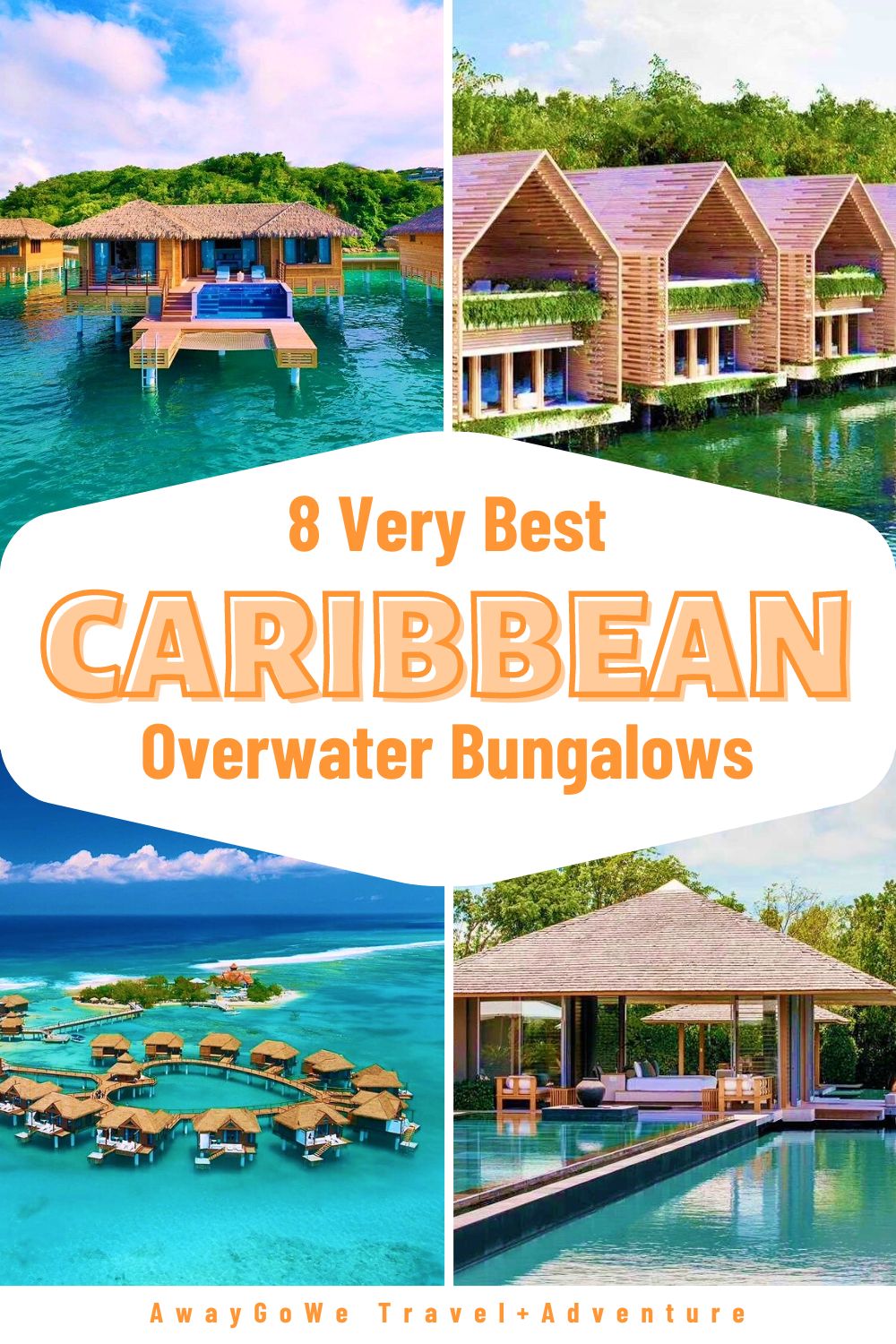 Article cover photo: Sandals Royal Caribbean, Montego Bay, Jamaica.