Planning a tropical escape to Mexico and looking for the best hotels in Sayulita? Look no further! Lori and I are excited to bring you our best recommendations for top Sayulita hotels in this energetic bohemian beach-lover's paradise we called home for nine months.
Visitors have flocked to the Pueblo Magico of Sayulita for decades, for its golden beaches, laid back bohemian vibe, and consistent point break for surfers.
Sayulita boasts a vivacious and compact town center, friendly locals, and a variety of excellent restaurants, not to mention absolutely stunning Pacific Coast beaches.
Whether you are planning a visit for a few days or a few weeks, you can't go wrong with any one of the excellent boutique hotels and guesthouses on our list.
While there are numerous exceptional properties available outside of town as well, this guide focuses on the best hotels IN Sayulita, all within walking distance to the central beaches and amenities of El Centro.
Also be sure to keep an eye out for our insider recommendations on food and drink spots in each section.
So dust off your sunglasses, pack up your swimsuit and sunscreen, and prepare for some fun in the sun!
Here it is, our hand-crafted insider's guide to the best Sayulita hotels on the market today. Enjoy!
In a hurry? Check out our Top 5!
Here's a sneak peek at our Top 5 Sayulita hotels to make your decision super easy.
Read on for the entire list plus all the details on each of our recommendations and tips for making your Sayulita vacation awesome!
And, be sure to check out our Sayulita beach guide packed with lots of helpful information on the area's best beaches and jungle hikes.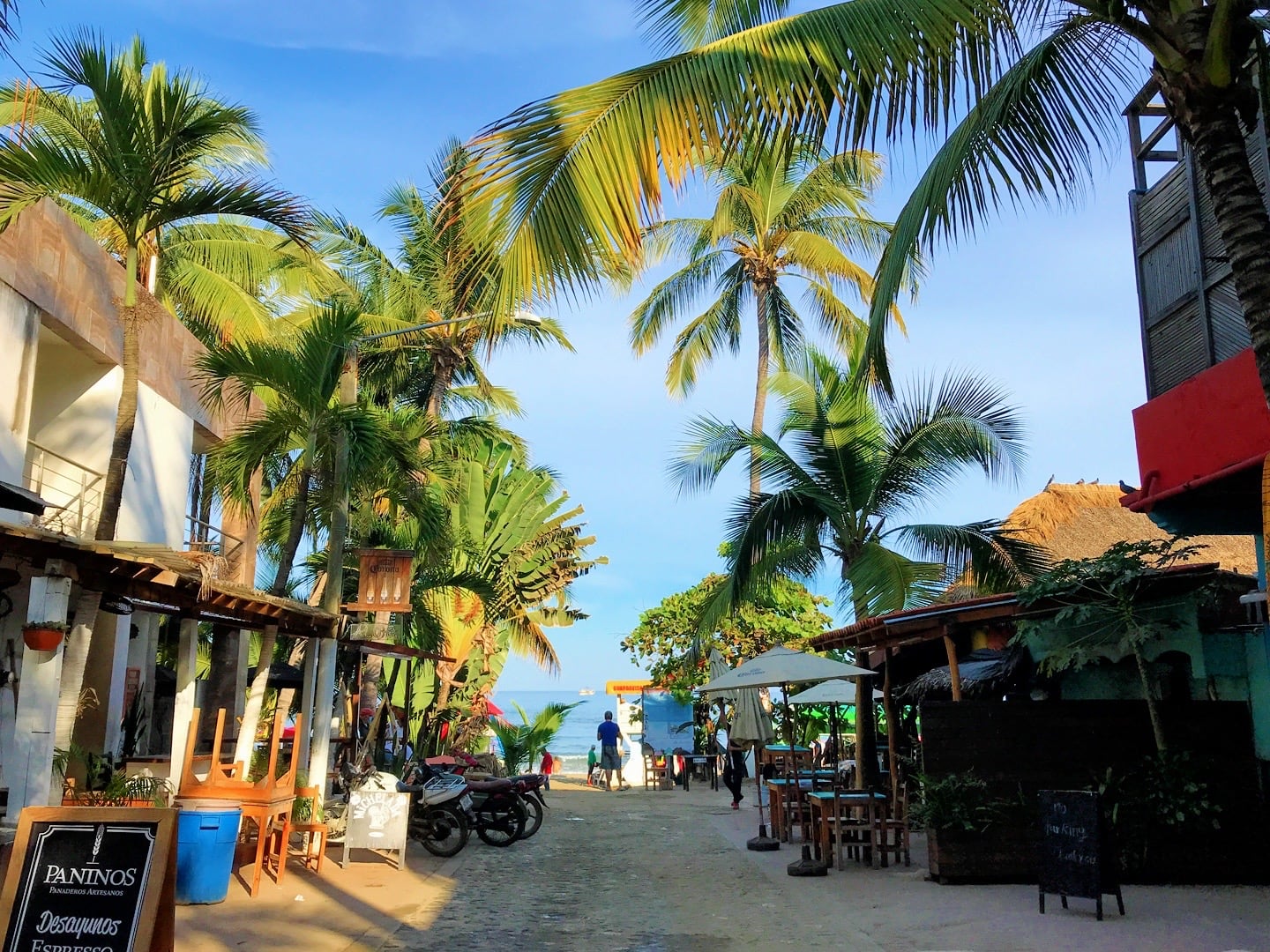 An Insider's Guide to the Best Hotels in Sayulita
Whether you're looking for the best Sayulita hotels for spending time close to town, near the beach, or on a hill with a spectacular ocean view, you'll find it all right here.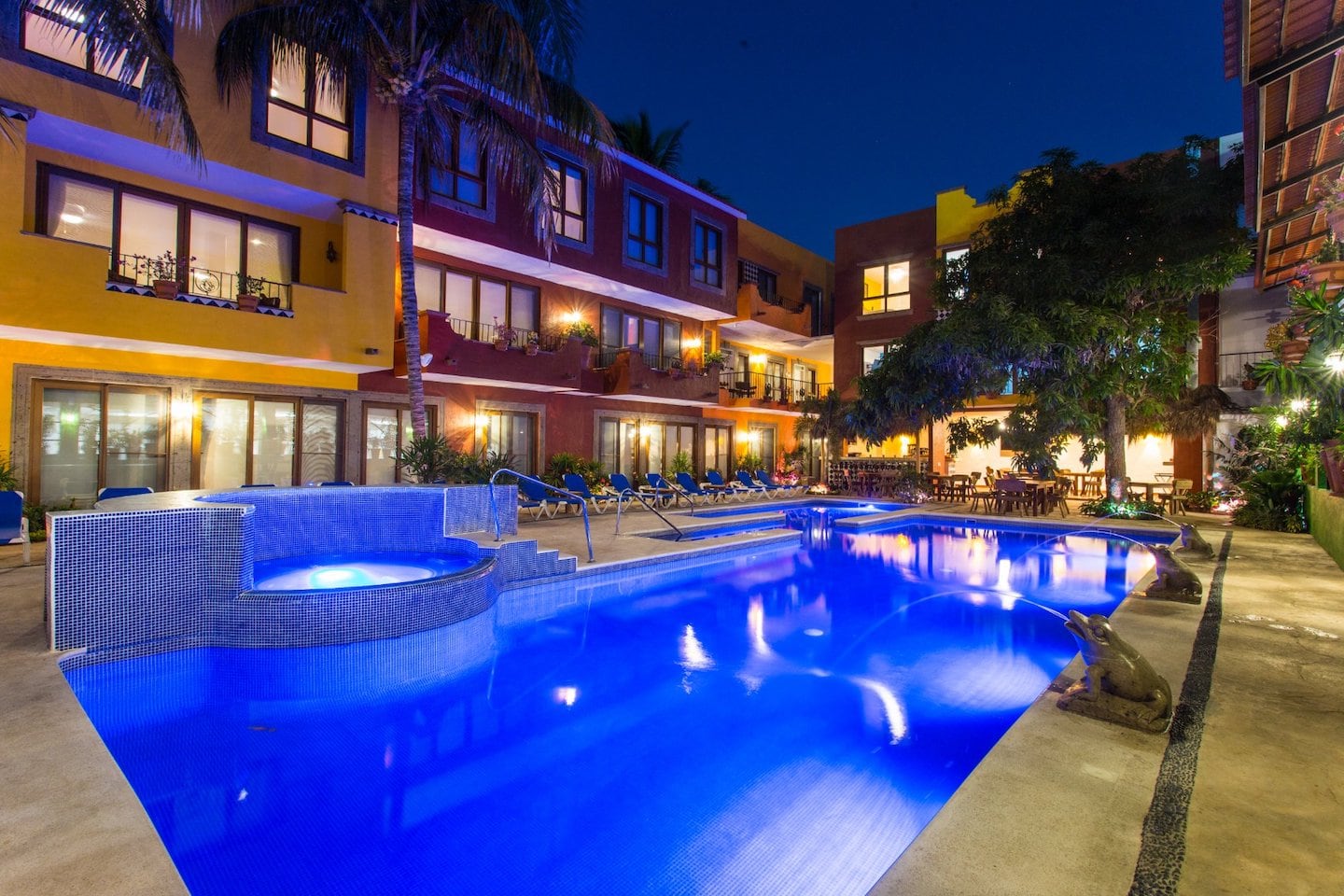 El Pueblito de Sayulita
Our Top Pick! With an excellent location in the laid back North Side and just minutes from the beach, El Pueblito de Sayulita takes the number one spot on our list exceptional Sayulita hotels.
This 4-Star tranquil urban oasis features spacious rooms, warm staff, tasteful decor, and one of the best hotel pools in Sayulita!
If you are looking for a stay outside of the loud and busy Center, yet within short walking distance to excellent restaurants, North and Central beaches, and Sayulita's famed nightlife, you won't go wrong with a stay at El Pueblito.
For one of the best breakfasts in town, head one block northwest to Northside Cafe on Calle Miramar for local and North-of-the-Border favorites!
Location: North Side, Calle Playa Azul
Distance to Beach: 250 m
Distance to Center: 400 m
HOT TIP ▸ It looks like we're far from the only ones who love this place! If you're dreaming of a getaway to sunny Sayulita, make sure you reserve your stay at El Pueblito as soon as possible. They book up quick!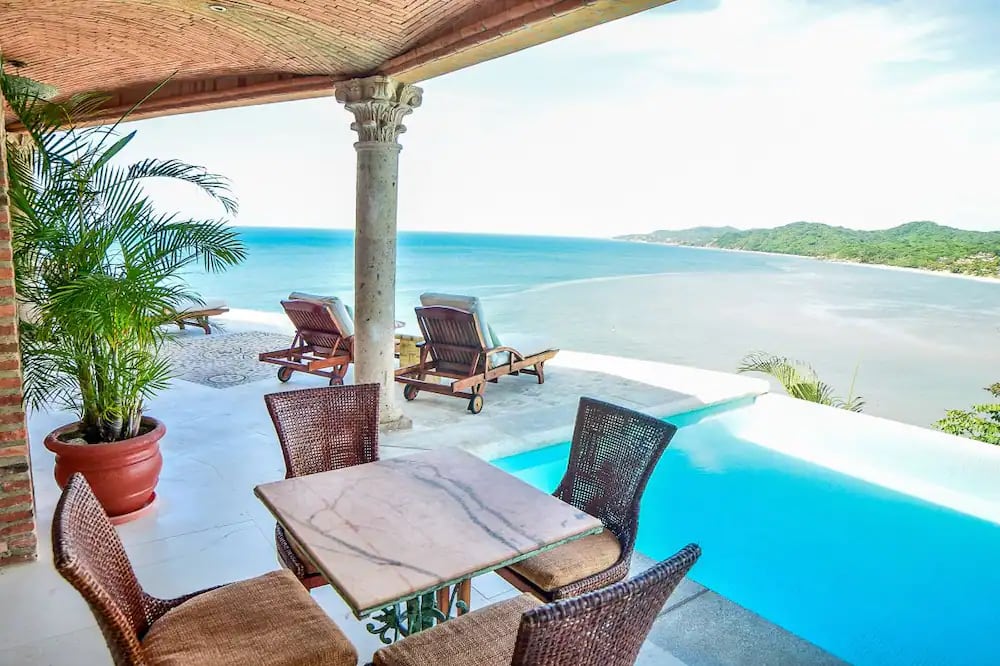 Amor Boutique
Our recommendation for Best Sayulita Beachview Hotel!
The grand dame of Sayulita with expansive views of Central Beach, Amor Boutique (and related property, Villa Amor) offers boutique elegance across an expansive collection of upmarket beachfront villas with views of the Pacific Ocean.
This wonderful property has an excellent onsite restaurant with seaside seating, a swimming pool, and sun terrace. Villa Amor is a long-time favorite among repeat visitors to Sayulita and long considered one of the very Best Sayulita Hotels.
Don't miss sundowners at Si Señor, the top-notch beachfront restaurant just across the road from Amor Boutique.
Location: South Side, Calle Pescadores (Camino a Playa de Los Muertos)
Distance to Beach: Beachfront
Distance to Center: 450 m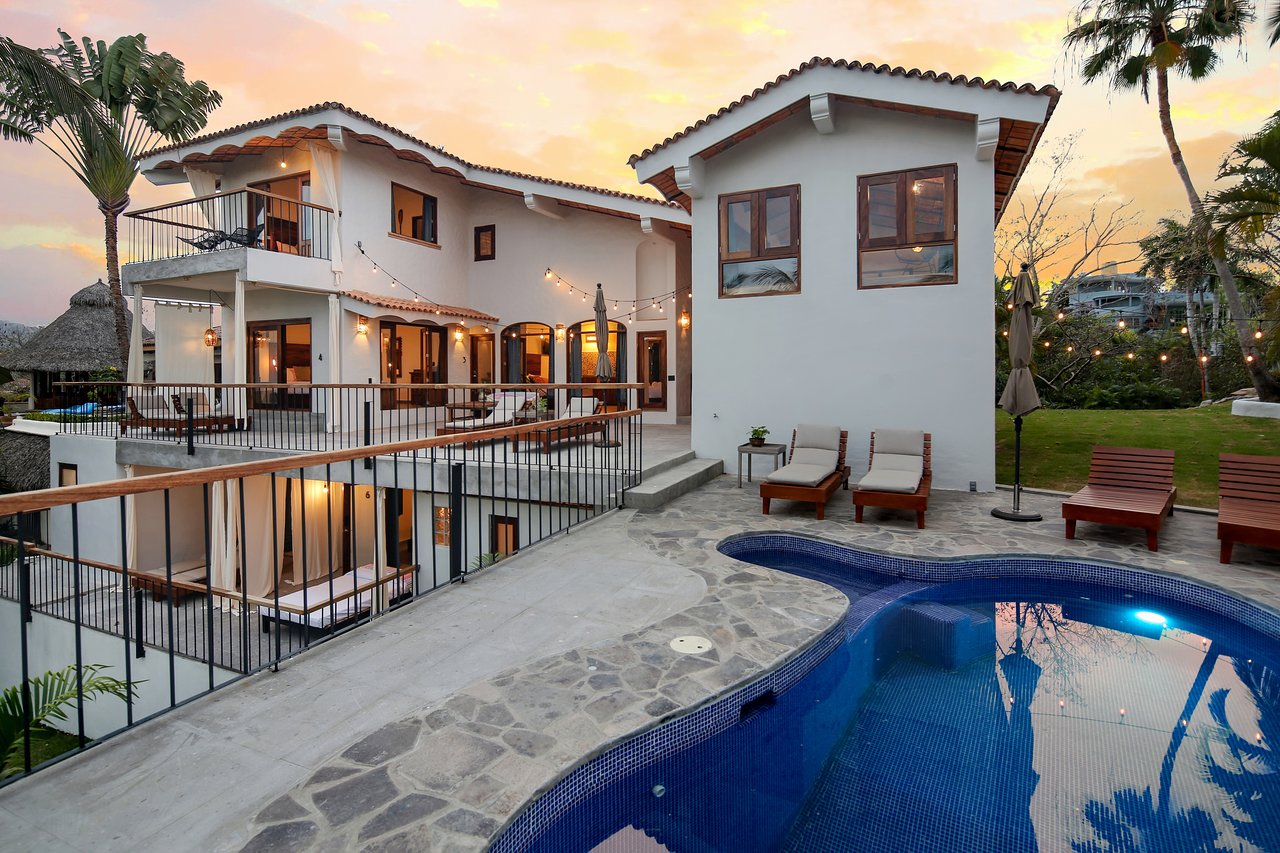 Distrito 88
Our top pick for Upscale South Side Oasis!
An adults-only, boutique oasis in Sayulita's residential South Side, Distrito 88 offers comforts and amenities you might not expect at this price point in a popular beach destination.
Set among coconut palms and rolling hills in a quiet neighborhood, Distrito 88 is a short walk away from restaurants, cafes, bars, and two stunning beaches.
For a taste of the regional spirit, stop by Cava on the corner of Niños Héroes and Av. Revolucion and ask to see their Raicilla menu (or just look up on the wall).
Location: South Side, Calle Primavera
Distance to Beach: 150 m
Distance to Center: 350 m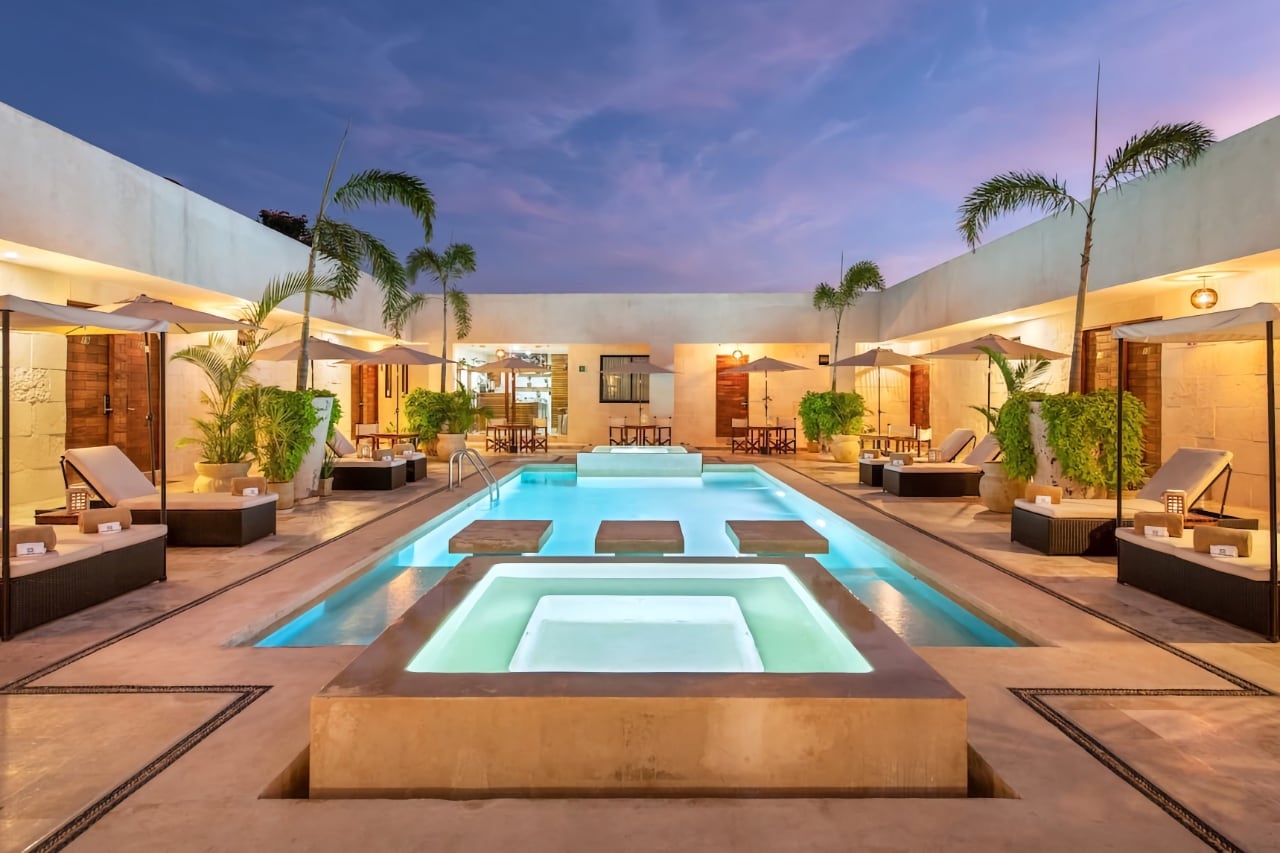 Avela Boutique Hotel
Best New Upmarket Boutique Hotel in Sayulita!
A relative newcomer to our list and already garnering fantastic reviews, Avela Boutique Hotel caters to guests looking for style and tranquility in their Sayulita stay.
Outdoor pool, free parking, air conditioning and rainfall showers are just a few of the amenities waiting for you to enjoy in this comfortable upmarket stay.
Avela Boutique is one of the best Sayulita hotels for the money in this popular beach destination!
Location: Punta de Mita Highway
Distance to Beach: 800 m
Distance to Center: 700 m
---
Related Articles
---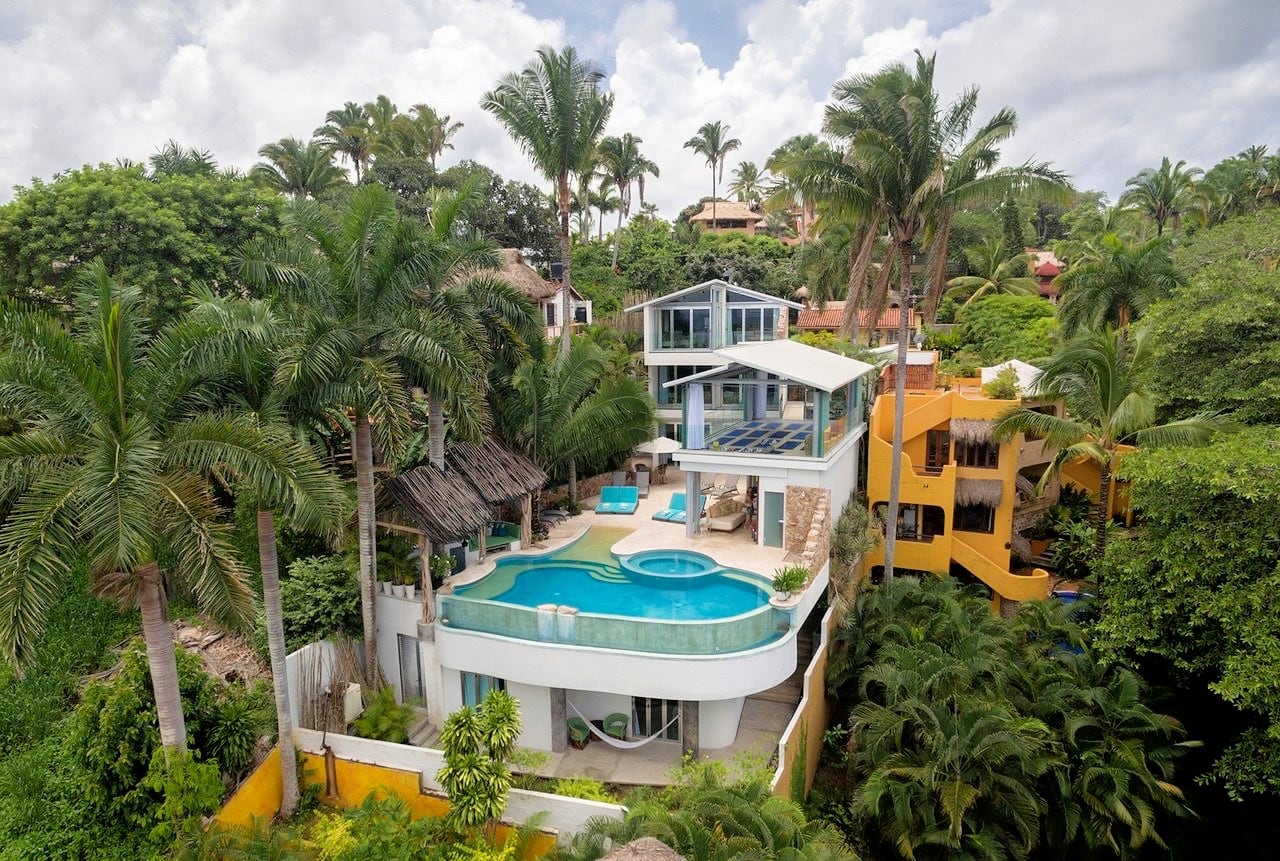 Anjali Casa Divina
Our recommendation for Best Sayulita Adults Only Hotel!
If you're looking for a serene hilltop oasis close to El Centro but not far from the central beach, take a look at Anjali Casa Divina!
Casa Divina boasts breathtaking views, elegant rooms, and a fantastic pool in a peaceful setting.
Guests can reserve this smoke-free, adults-only boutique hotel by the room, or have the whole enchilada for special occasions and retreats.
For dinner, head down the hill to Calle Jose Mariscal and the heart of the action, and try delicious Nahuatl cuisine at El Itacate (order their namesake Itacate!).
Location: Gringo Hill, Calle Mariposa
Distance to Beach: 350 m
Distance to Center: 250 m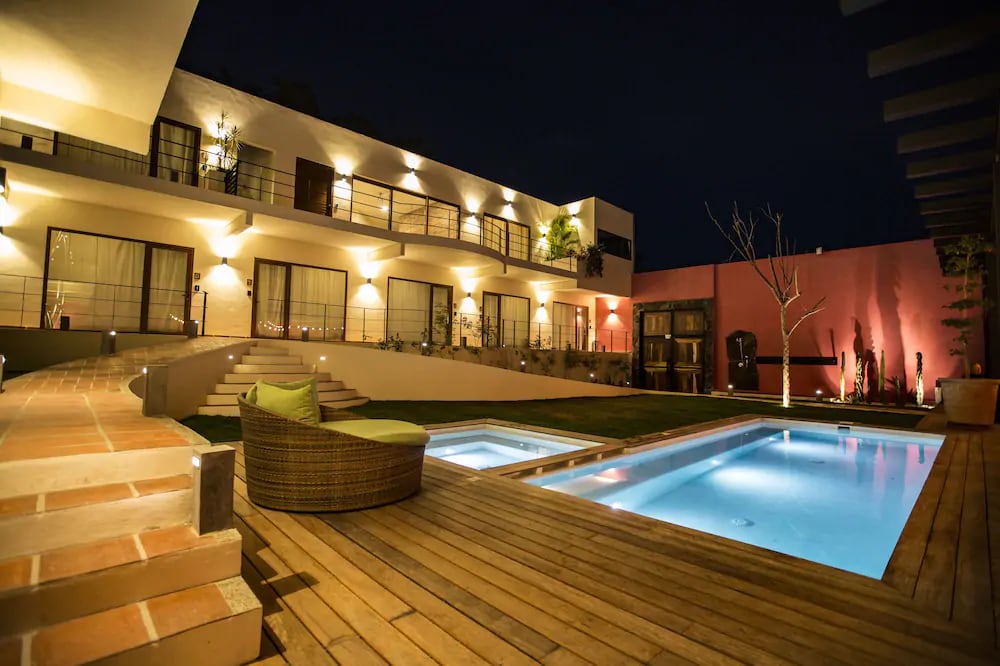 Casa de la Ballena
Our top recommendation for 4-Star Eco-Friendly Studio-Apartments!
Situated in a quiet residential neighborhood a 7-minute walk from central Sayulita, Casa de la Ballena is the perfect choice for those wanting the comforts of their own apartment with the amenities of a 4-star hotel.
Enjoy comfortable beds, quiet rooms, and delightfully manicured grounds a world away from the party scene of El Centro, yet short walking distance to the town's best restaurants and beaches.
Casa de la Ballena also prioritizes the use of eco-friendly technologies, with a water filtration and purification system, onsite wastewater recycling plant, and solar energy.
For brunch, dig into freshly-baked bagels and bagel sandwiches at Yah-Yah Cafe, one block east on Calle Niños Héroes.
Location: South Side, Niños Héroes
Distance to Beach: 200 m
Distance to Center: 350 m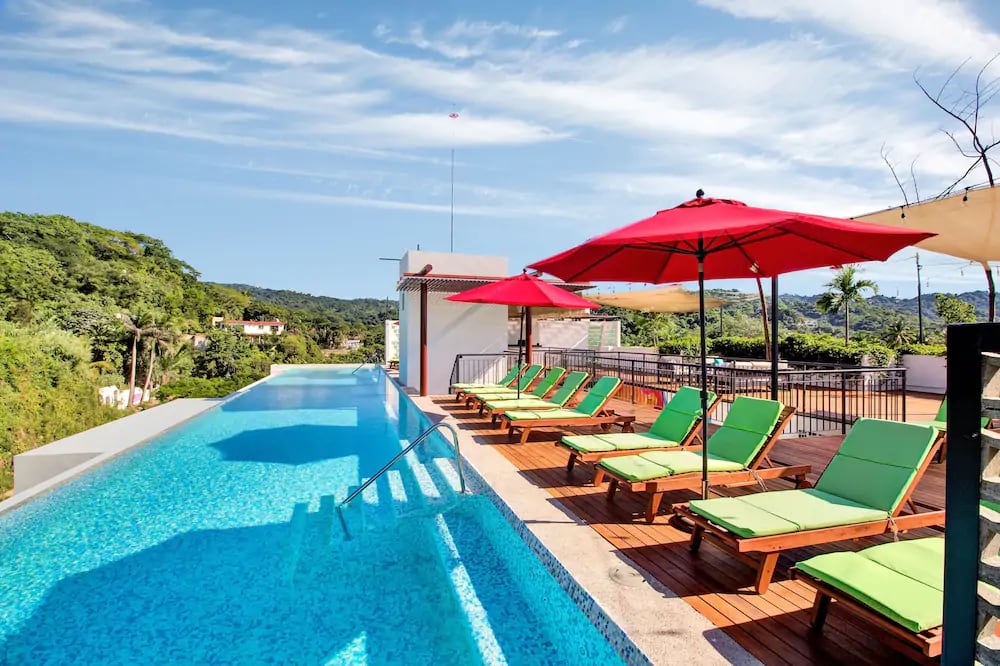 Puerto Sayulita
Our Sayulita hotels pick for Best Rooftop Pool & Terrace!
Only a couple of years old, Puerto Sayulita has established its reputation as one of the all-around best hotels in Sayulita, and a superb bet in Sayulita's laid back North Side.
The stunning rooftop pool and sun terrace take center stage here. But guests can also expect to find comfortable and well-appointed rooms, a bar and garden, and free private parking, all a short walk from laid back North Beach.
Feel like some of the freshest sushi around? You're in luck! Arturo over at Sayulita Sushi serves up the best in town (take-away and deliver only). Just cross the street (Av. Revolucion) and start walking uphill and in a couple of minutes you'll see it on your left).
Location: North Side, Av. Revolucion
Distance to Beach: 350 m
Distance to Center: 300 m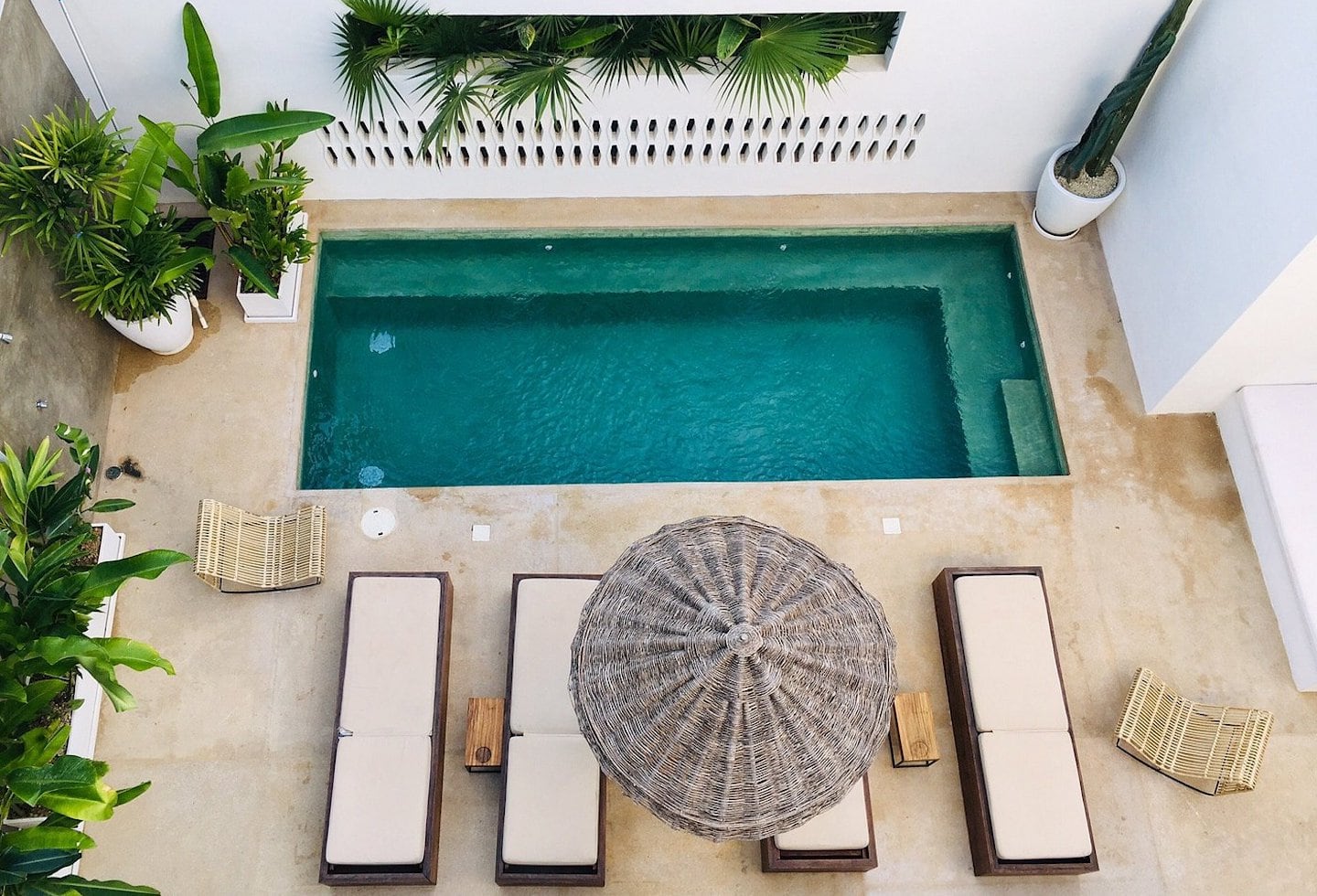 Don Bonito
Our recommendation for Adults-Only Mod Boutique Hotel!
Don Bonito is a recently constructed adults-only boutique hotel, nestled in a jungly hill on the North Side's much sought after sea-facing Avenida del Palmar.
Rooms feature modern, industrial design and decor, with easy access to a pool and popular onsite cafe.
One of the North Side's hidden gems and best values in town!
For some of the best (and most unique) sundowners in town (with arguably one of the best sunset views) head directly down the hill to the beach to Bar Miramar (if you're feeling adventurous, you'll definitely want to try the Pirate Riot!). Their food is worth the visit as well.
Location: North Side, Av. del Palmar
Distance to Beach: 100 m
Distance to Center: 700 m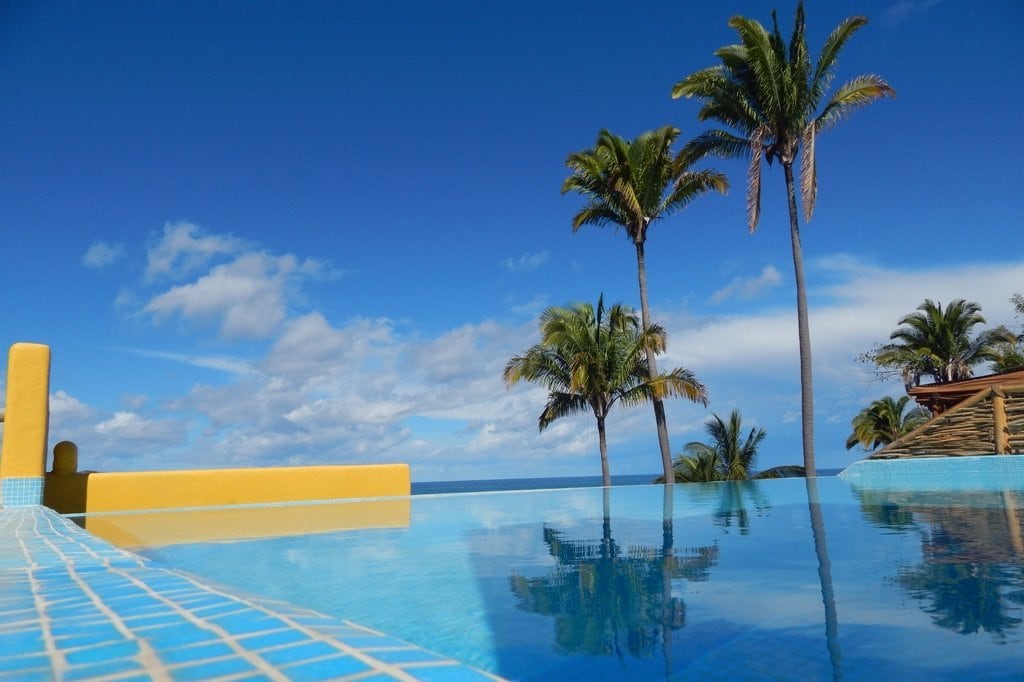 Hotel Villa Los Corales
Superb 4-Star Hotel with Ocean Views!
Hotel Villa Los Corales is a recently-built 4-star boutique hotel offering a personal touch.
Perched on a small hill in Sayulita's laid back North Side, Villa Los Corales offers well-appointed studios decorated in a rustic modern Mexican style.
You'll particularly love the large rooftop terrace and infinity pool with spectacular views of Sayulita Bay.
Hungry? Follow Calle Coral towards the water and take a left. There, you'll find half a dozen eaters, including Pizza Venezia, one of the best pizzerias (and best deals!) in town.
Location: North Side, Calle Coral
Distance to Beach: 350 m
Distance to Center: 550 m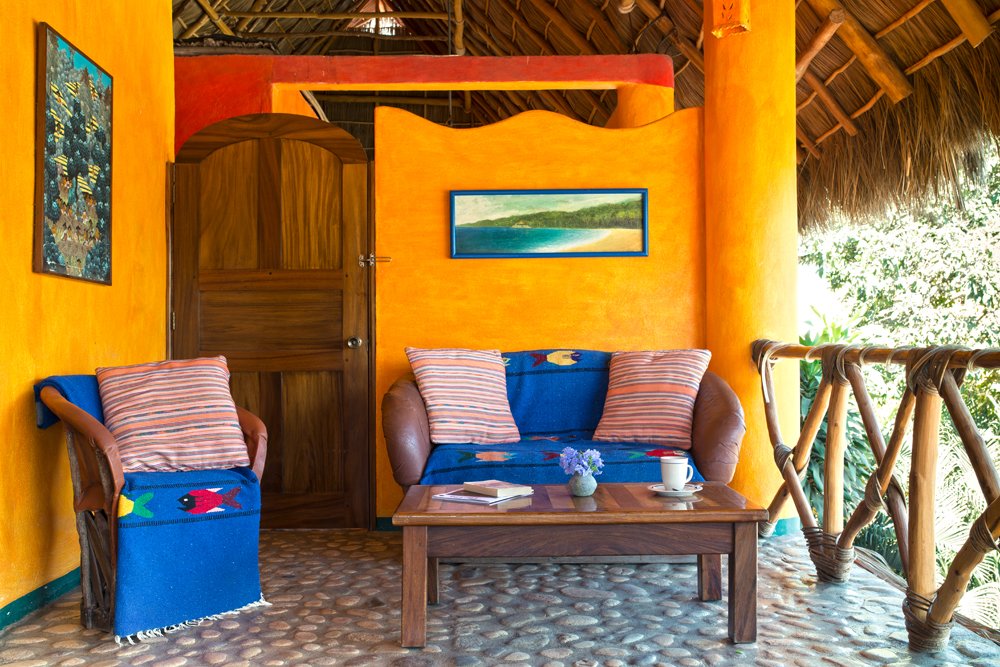 Aurinko Bungalows
Best Rustic Bungalows in El Centro!
Aurinko Bungalows is a truly unique, boutique mid-range option in the heart of Sayulita.
Loaded with lots of character and decorated with art from local artists, these rustic bungalows will inspire you to unplug and indulge your creative side.
Located just 100 meters from Central Beach, Aurinko offers an excellent hideaway just steps from the center of the action.
For a killer breakfast, head out the door and take a left (towards the water). Take a right just before the steps and you'll run into El Break, perhaps the only feet-in-the-sand breakfast places in town! They're also one of the best places to grab a regional craft beer and catch the evening beach activity.
Location: Central Sayulita, Calle Marlin
Distance to Beach: 100 m
Distance to Center: 100 m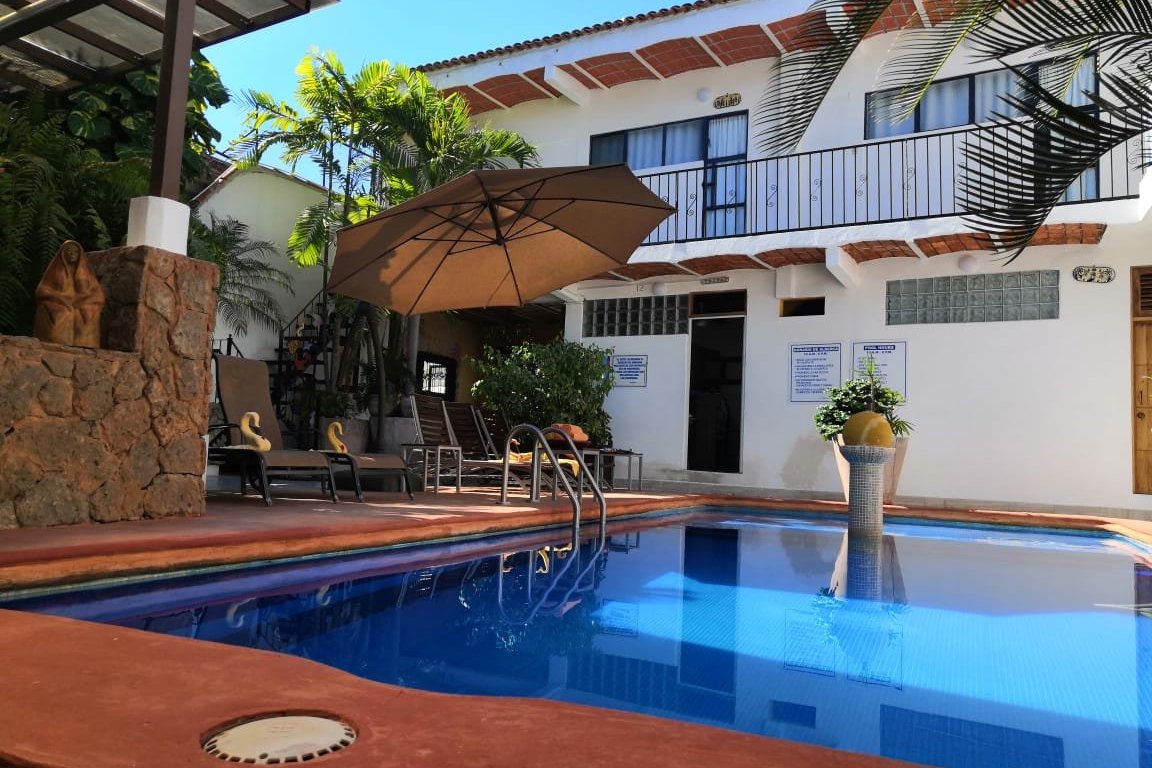 Hotel Diamante Sayulita
Our Top Pick for Best Budget Hotel in Sayulita!
If you are looking for an excellent budget stay in Sayulita, it's hard to beat Hotel Diamante Sayulita, our top pick among the Best Sayulita Hotels for travelers on a budget.
Hotel Diamante offers amenities such as Air conditioning, attached bathrooms, wi-fi, and a pool – all within a short walk to North Beach.
Hotel Diamante is just around the corner from a half dozen of the North Side's best eateries. Or, follow Calle Miramar all the way to the beach and hit up La Terrazola for live music, drinks, and food with a beachfront view.
Location: North Side, Calle Miramar
Distance to Beach: 150 m
Distance to Center: 500 m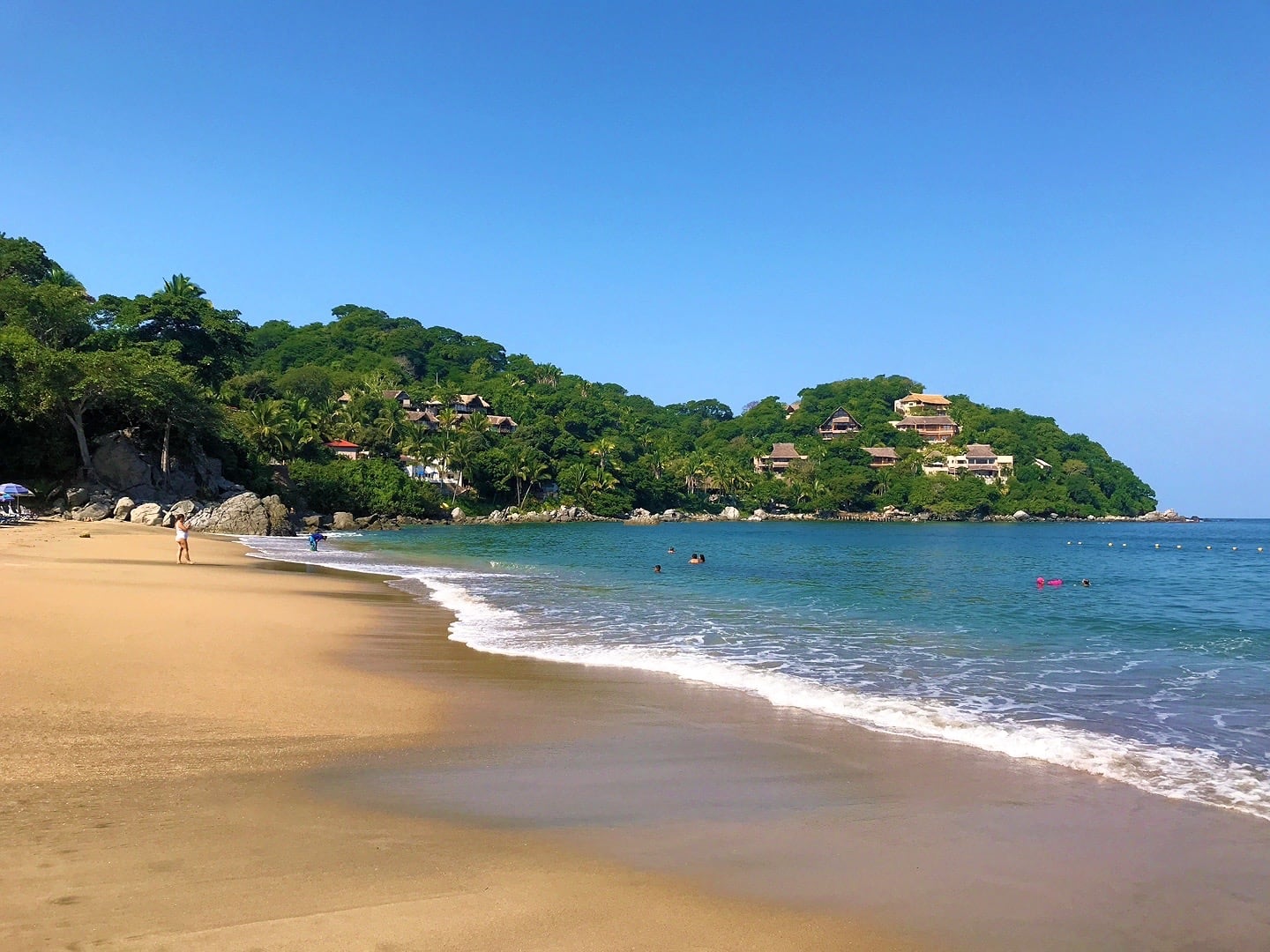 Did We Miss Any of Your Favorite Sayulita Hotels? Let Us Know in the Comments!
We hope you enjoyed our hand-crafted guide to the best Sayulita hotels on the market today!
We always enjoy writing helpful articles focused on the communities we've based ourselves in over the years, and this one is no exception!
This guide originally came about when we started to find ourselves hosting visitors to Sayulita and needed to pass along some solid recommendations on top Sayulita hotels for family and friends.
It was a particularly fun project for us since it gave us a really cool insight into this unique corner of the globe that we've called home since October 2020.
We continue to update this Sayulita hotels guide with the latest and greatest offerings in town for visitors primarily looking for a quiet and relaxing place to sleep and chill out while still having easy access to all that Sayulita offers.
Sayulita is indeed a Pueblo Magico with a captivating vibe and a welcoming spirit. It's no wonder why many visitors can't seem to stay away for long and come back year after year.
If you are planning a trip to Sayulita, Mexico, be sure to check out our other helpful article(s) for putting together the best travel itinerary possible!: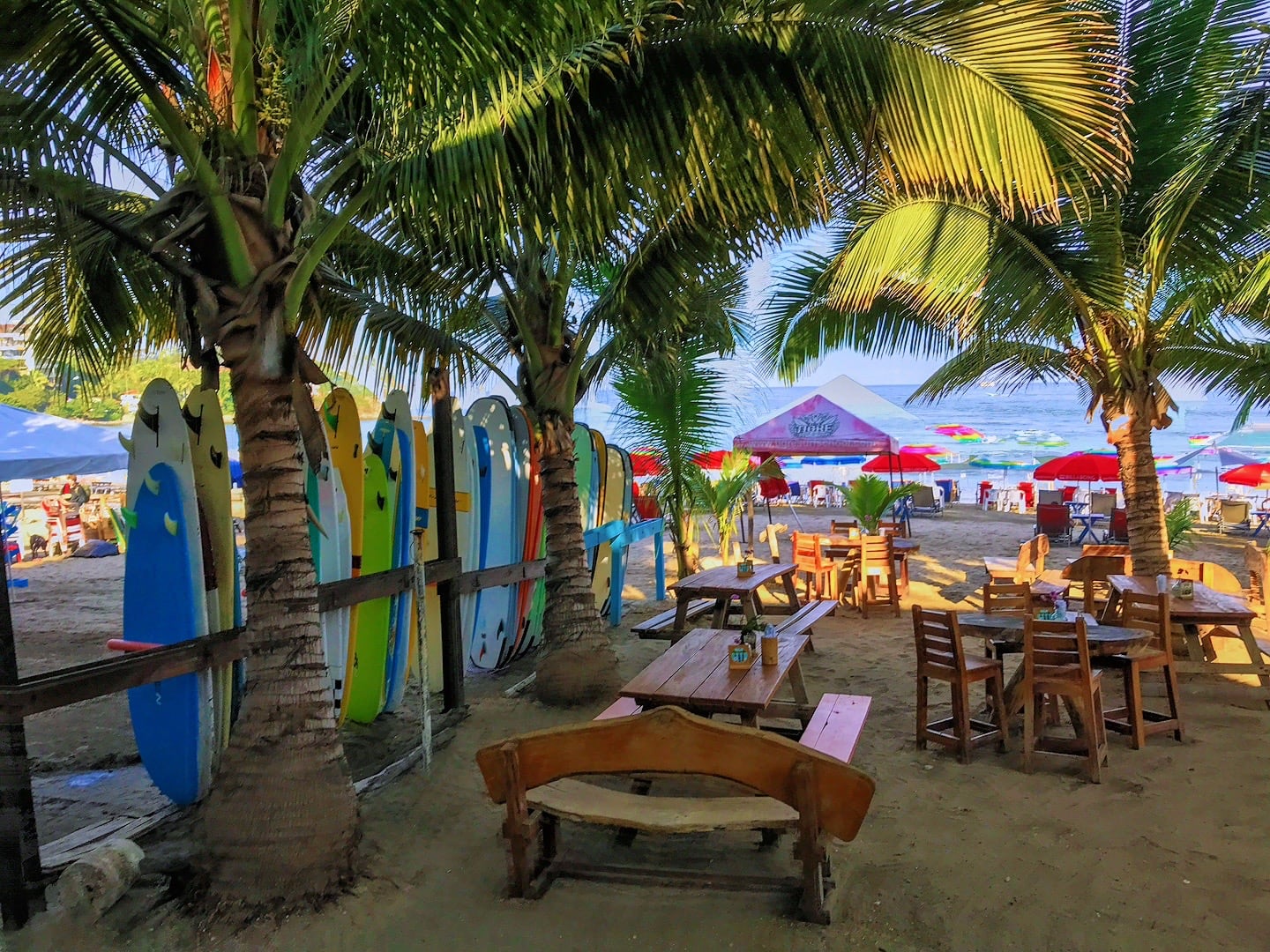 Thanks for Reading Our Top 10 List of the Best Sayulita Hotels!
Don't forget to share this guide to the best hotels in Sayulita with your beach travel crew!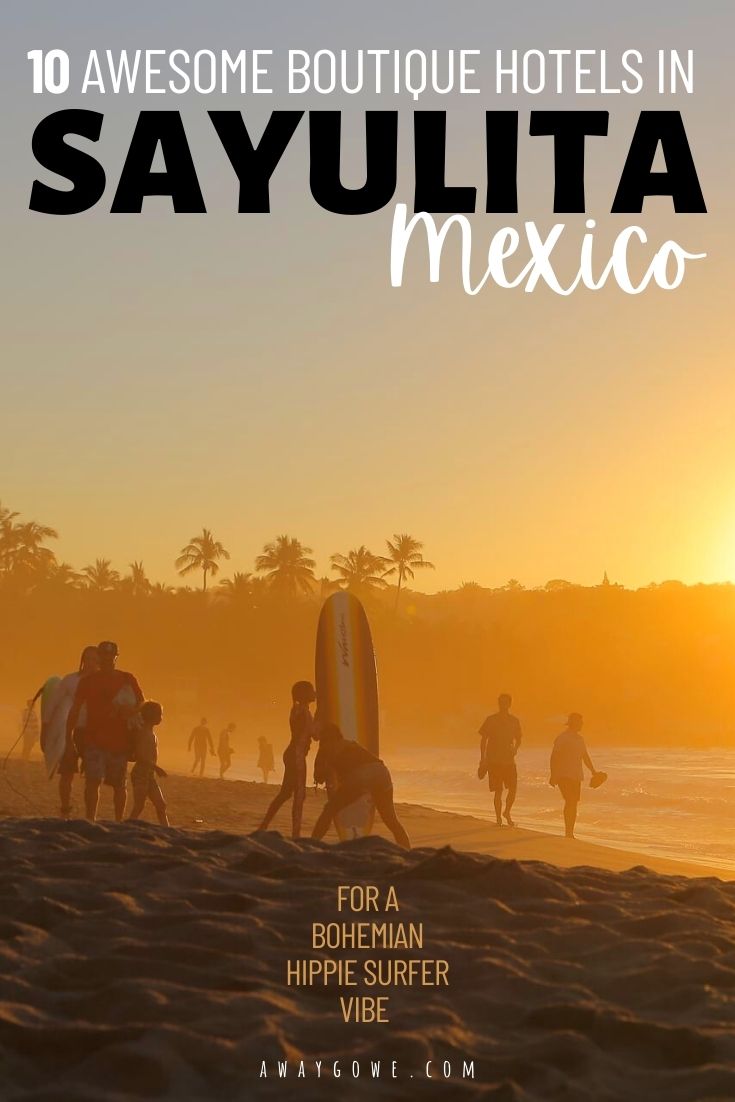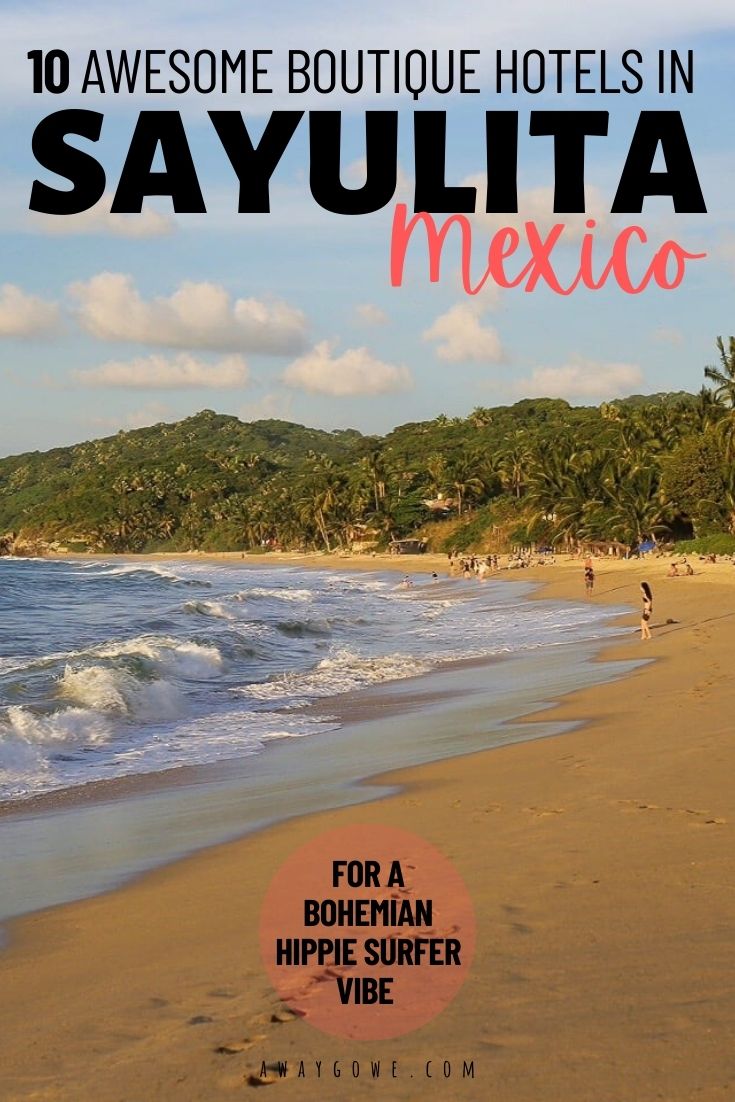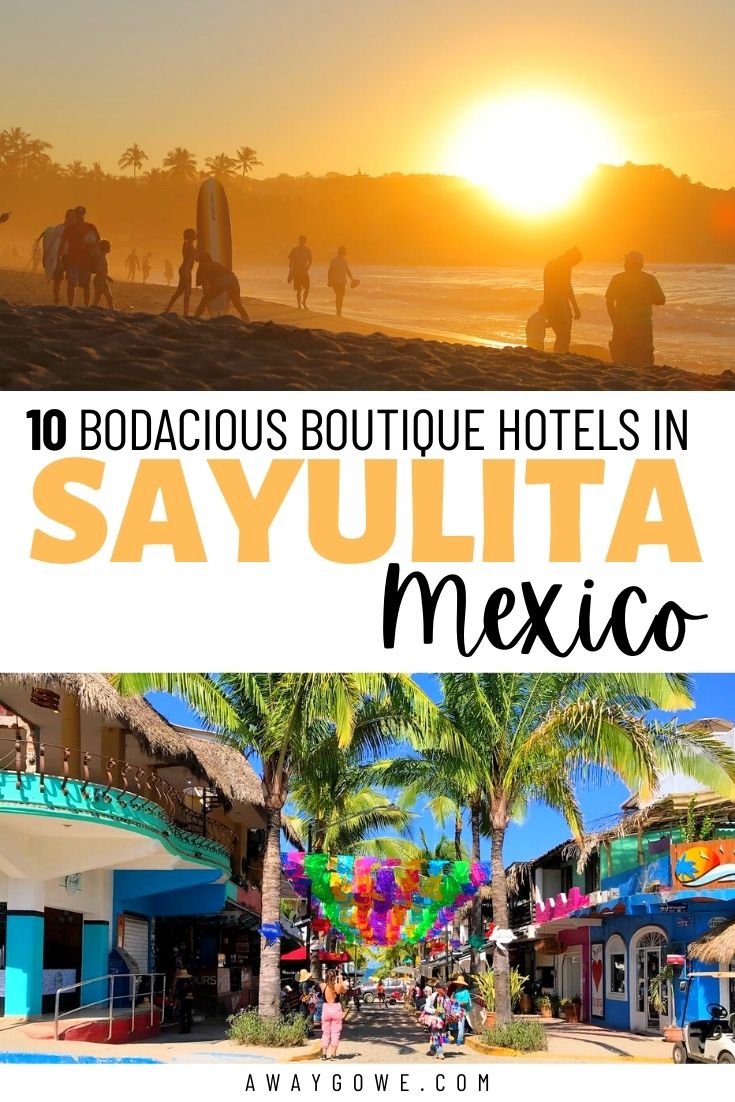 I've been a blogger and travel writer since 2010, covering everything from luxury hotels to hidden destinations and travel gear. Originally from Oregon, I've spent the majority of the past 20 years living outside of the U.S., in Mexico, the Caribbean, Southeast Asia, Africa, and Europe. I received a BA in Communications (Journalism) from Boston College, and an MA in International Development Studies from the George Washington University. I'm passionate about exploration and discovery, and providing independent, thoroughly-researched, ad-free advice for travelers.