Want to experience the very best cenotes near Tulum? Here's the complete rundown on the best Tulum cenotes within 10 miles (16 km) of town!
No doubt, a visit to the Yucatan Peninsula's sacred cenotes is an unforgettable experience. But there are some 6,000 cenotes across the Yucatan Peninsula and those open to the public in and around Tulum can be hit or miss.
If it's your first time visiting Tulum, it can be hard to know which cenotes are worth the time, effort, and cost involved in visiting on your own, or which tour companies are reputable and worth the money.
That's why Lori and I put together this guide of the very best Tulum cenotes within 10 miles of town, along with this year's top cenote tours that are very much worth considering.
Lori and I absolutely love the Yucatan Peninsula's sacred, refreshing, and oh-so-stunning cenotes! With the right information and a little bit of local insight, we know you will too!
🔥 HOT TIP 🔥
Visit the TWO most famous underwater cave systems in Mexico in one day!
Check out this top-rated private day trip, which includes expertly guided explorations of Sac Actun and Dos Ojos systems – with exclusive visits to cenotes no other tour operators visit!
Read
---
10 Absolute Best Tulum Cenotes Within 10 Miles of Tulum
---
Best Tulum Cenotes Map
Ready to discover the best Tulum cenotes? Whether you're planning to do a day trip on your own or hop on a highly-rated tour with a local guide, you'll find it in our list below.
Refer back to our interactive map, below, to help plan your trip.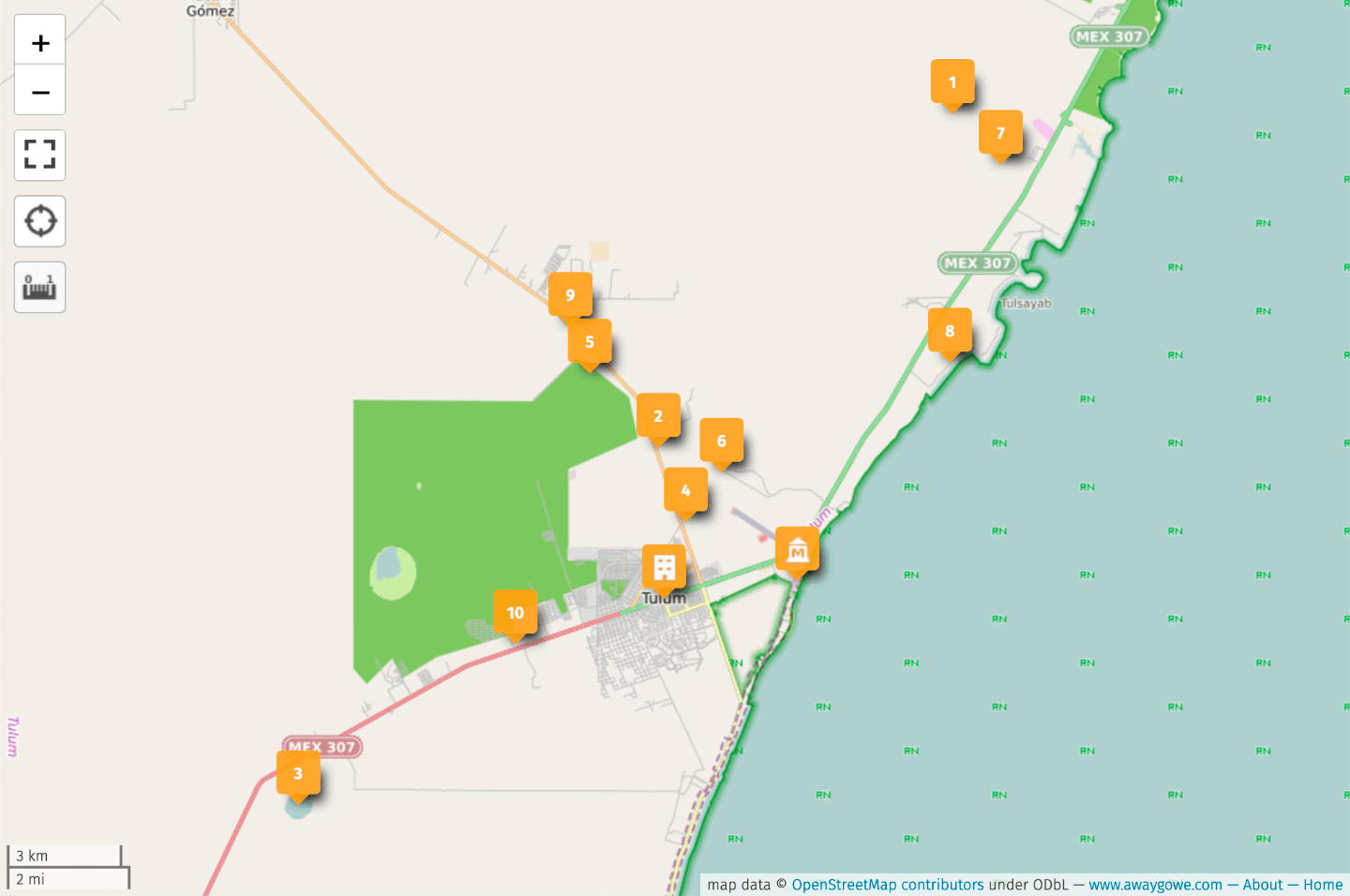 Keep reading to find out which are the best Tulum cenotes, and how to make your visit to one (or all 10) unforgettable.
---
➊

Dos Ojos Cenote

Ten miles from Tulum as the Macaw flies, Dos Ojos (meaning Two Eyes) barely made it into our search radius. But there's absolutely NO FREAKIN WAY we could put together a list of the very best cenotes near Tulum and NOT include Dos Ojos!

Cenotes Dos Ojos is widely regarded as the most spectacular cenote group in the Tulum area, home to some of the very best cenotes on the Yucatan Peninsula.

Casual day trippers know Dos Ojos best for its two main cenotes – the open-air Blue Eye and underground Black Eye.

However, the system of five cenotes (most of them underground and inaccessible without a guide or dive gear) is best known for being one of the premier flooded cave dive sites in the entire world.

If you're an experienced diver, you won't want to miss the chance of a lifetime to dive this world-famous dive site!

Even if you just plan to visit the open-air cenotes for the day, the site is very much worth your time, offering incredible snorkeling opportunities (crystal clear water and colorful fish), refreshing swimming, lifeguards, restrooms and lockers, and even an onsite restaurant.

As you might expect from the best cenote near Tulum, Dos Ojos is popular and gets pretty busy! Expect to pay a premium for this popularity and go as early as possible.
Our Top Picks for Dos Ojos Tours
---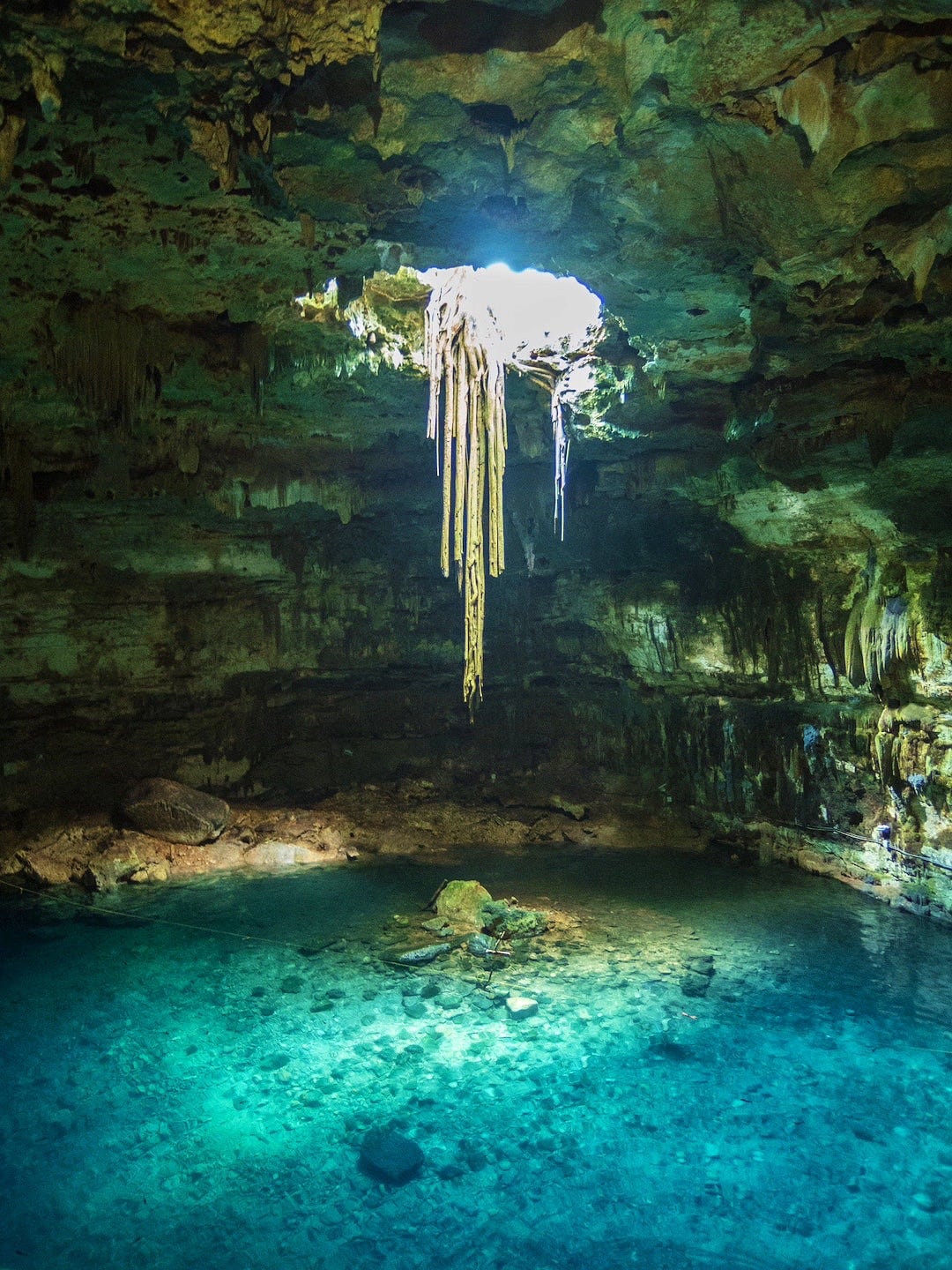 ➋

Gran Cenote

The Grandaddy of Cenotes near Tulum, Gran Cenote wows visitors with its stunning, semi-exposed natural beauty and clear, inviting waters.

If you're looking for one of the most spectacular cenotes within a short drive from the Hotel Zone (5 miles / 10 minutes), Gran Cenote is a sure bet.

Bask in the warmth of the sun in the exposed portion of the site featuring stunning limestone cliffs. Or, if you're feeling more adventurous, you can explore the various caverns around the main area.

If you want to venture deeper, join a top-rated dive trip for the cave diving adventure of a lifetime.

Gran Cenote is both spectacular and close to Tulum, which of course means its also very popular with day trippers. However, this popularity does come with a few perks, such as bathrooms, changing rooms, a snack shack, and lockers (for a small fee).

As with most of the Tulum cenotes on our list, plan to get there as early as possible for the best experience!
Top-Rated Gran Cenote Tours
---
Read
---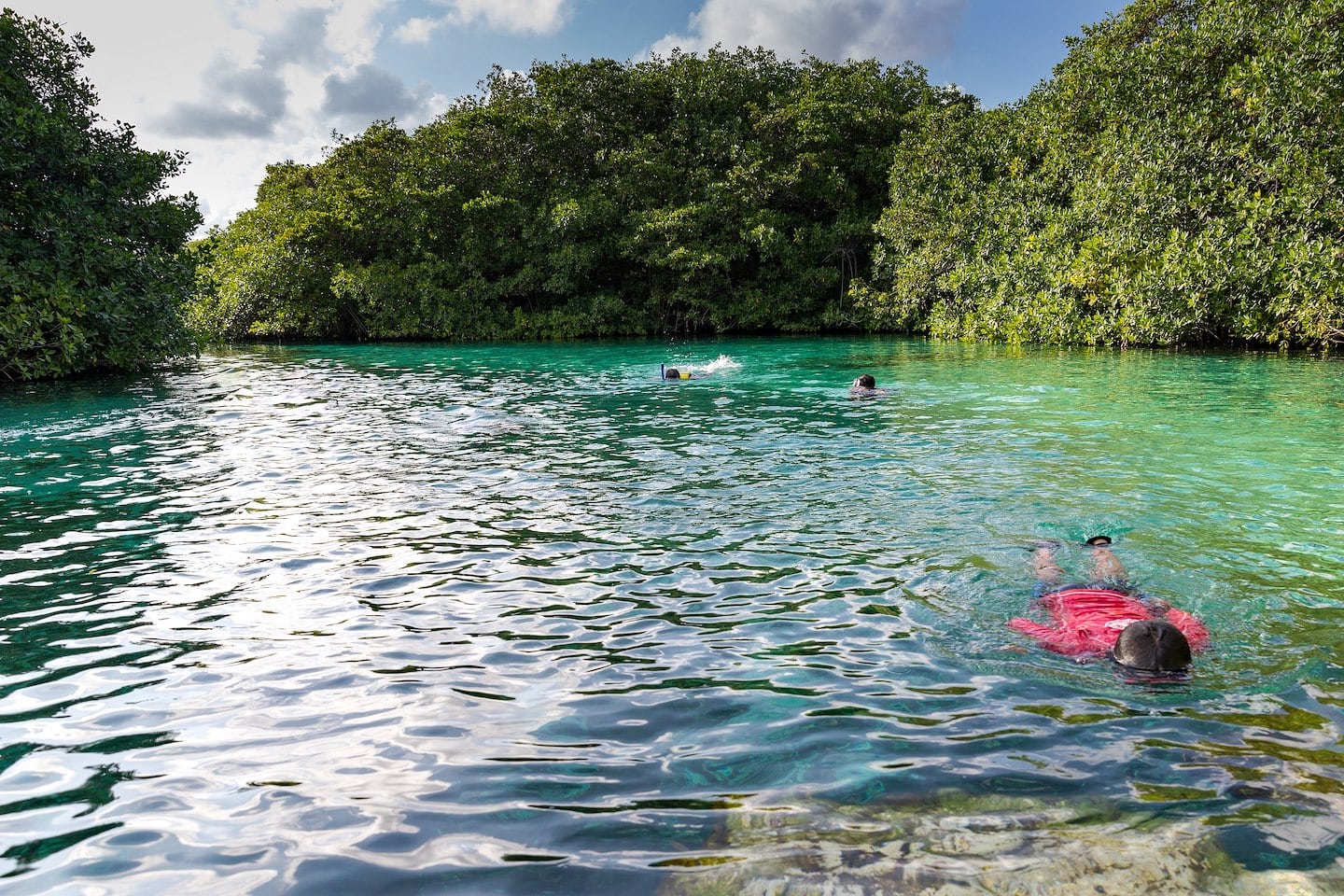 ➌

Casa Cenote (Cenote Manatí)

Casa Cenote (aka Cenote Manati) is the only Tulum cenote on our list to be located just steps away from the beach! That can make Casa Cenote a bit busier than some of the others we've featured.

But fear not! There's plenty of space for everyone in this narrow and winding sinkhole hemmed in by mangrove to enjoy everything from snorkeling to paddleboarding, and even diving!

In addition to underwater life (tarpon, barracuda, blue crabs…) Casa Cenote is also a great place for spotting some of the area's best birds and butterflies.

Are there crocodiles in Tulum cenotes? By and large, NO!

But… there is one harmless resident croc in Casa Cenote named Panchito (yep, he has a name) who hangs out in the northernmost area (farthest from the beach).

Apparently, he occasionally likes to swim with visitors, but largely keeps to himself.

As for facilities, expect to find pit toilets and not much else. With that said, the excellent Casa Cenote Restaurant is located right on the beach a short walk away.
Our Casa Cenote Tour Picks
---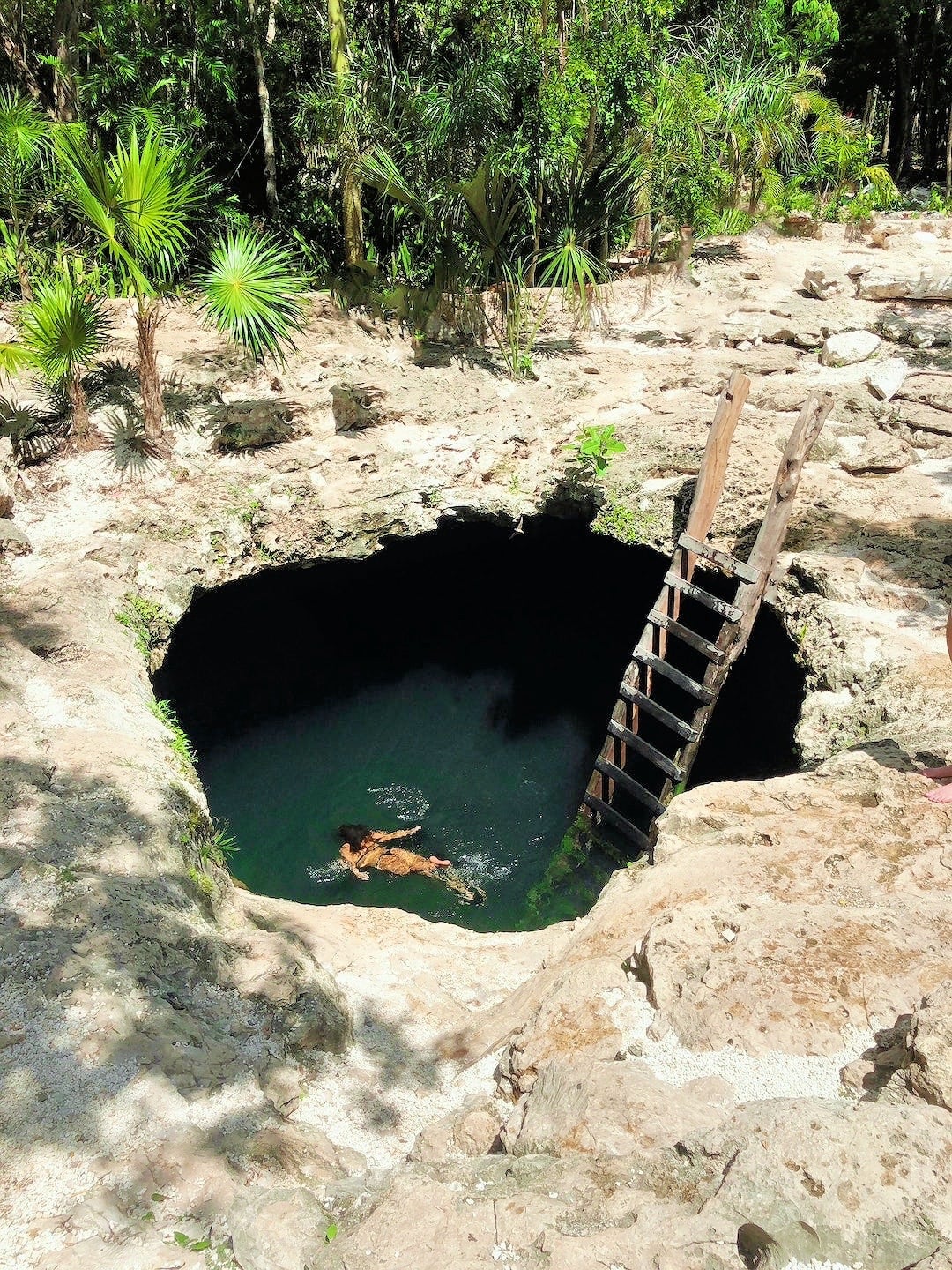 ➍

Cenote Calavera (Temple of Doom Cenote)

If we had called this article the Best Cenotes IN Tulum, it would have been a pretty short list, as most of the Tulum cenotes are located at least a few miles outside of the city limits.

Cenote Calavera might be the one big exception. At just over a mile from the center of town, Cenote Calavera is perhaps the most accessible Tulum cenotes on our list, making it also one of the busiest!

You'll also hear a lot of tour operators in the area refer to Cenote Calavera as the Temple of Doom Cenote. We're not really sure why. Our best guess is that it's due to the mysterious and somewhat creepy subterranean move-set quality to it.

Expect to find a lot of hidden spaces to explore, accessed in a variety of ways. Take the plunge of terror through a couple of small access points, or opt for the more straight-forward ladder approach (pictured above).

As with our top three, you can also dive the Temple of Doom Cenote! Check out our link below for a top-rated option.

Facilities are limited, so plan accordingly. Cenote Calavera offers bathrooms and a snack shack, but if you plan on staying a while, you'll want to pack your own provisions.
Top Tours & Dive Operators
---
Read
---
➎

Tankah Cenotes

The Tankah Cenotes are actually two different experiences encompassing half a dozen public cenotes that are connected by the same underwater system.

North of Route 307, check out Tankah Park (aka Tankah Eco Park or Tankah Adventure Park), a Mayan village and private natural reserve featuring 5 picturesque cenotes of varying sizes. Activities include swimming, snorkeling, kayaking, and even zip-lining.

Add lunch, transport, and a knowledgeable guide for an awesome day trip!

Or, for US$15, get a day pass to Caleta Tankah Beach Club, just south of Route 307. The entrance fee includes access to all of their amenities, including a lovely stretch of beach, jade-colored lagoon, restaurant and bar, and jungle cenotes.

The main cenote is located in a serene jungle setting and is relatively underdeveloped with a mellow vibe. Head to the main Resort to access the Beach Club's services and amenities.
More Info
---
➏

Kaan Luum Lagoon & Cenote

Located an easy 8-mile, 20-minute drive west of town, Kaan Luum is a cenote quite unlike any other on our Tulum cenotes list.

What makes Kaan Luum so special? It's a massive blue hole the width of five football fields in the middle of an inland lagoon completely surrounded by dense jungle.

If the blue depths of the seemingly bottomless cenote make you feel a bit uneasy, no worries!

Most of the inviting turquoise waters of the surrounding lagoon bottoms out at five feet deep, making Kaan Luum perfect for families traveling with kids.

It's also worth noting that the cenote, itself, is off limits to everyone but divers. If you're a certified diver feeling the call of Tulum's blue hole, consider booking a top-rated dive trip to Kaan Luum!

Kaan Luum's facilities won't win any awards, but their better than a lot of other cenotes near Tulum. Expect to find a latrine toilet, large picnic area, and that's about it. If you're planning on staying a while, be sure to bring your own food and drinks.
Our Picks for Kaan Luum Tours
---
Read
---
➐

El Gloria Cenote

El Gloria Cenote is an open-air classic cenote visit without all the fuss (though facilities seem to be expanding).

Situated in a dense jungle setting about 10 miles north (20-minute drive) from Tulum, El Gloria offers stunning scenery, in addition to a few swim platforms and a rope swing.

Popular with locals on the weekends (and becoming more popular with day trip tours), we recommend arriving early for the best experience!
Top-Rated El Gloria Cenote Tour
---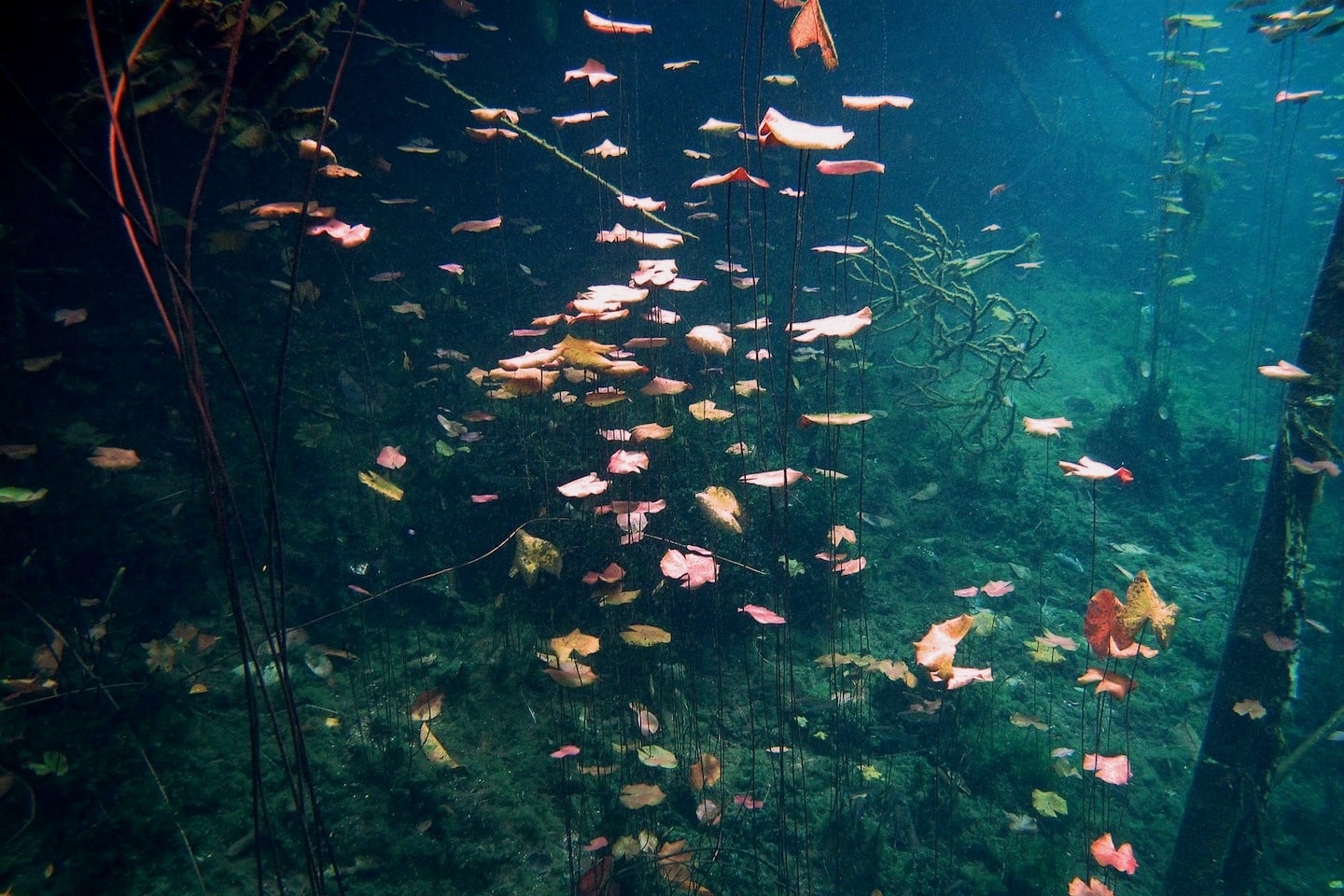 ➑

Carwash Cenote (Cenote Aktun-Ha)

As you'll find, a lot of Tulum cenotes have more than one name, and Cenote Aktun-Ha (aka Carwash Cenote) is no exception.

While Carwash Cenote is a popular stop on guided tours and day trips, it's generally fairly quiet and relaxed compared to many of the other best cenotes near Tulum.

Another crystalline, open-air stunner, Carwash Cenote is a favorite with snorkelers and even offers some spectacular underwater caves for dive excursions as well.

Carwash Cenote has a surprising assortment of services and amenities despite its relative lack of visitors (likely due to the tour groups that stop here), including toilets & showers, lockers, and rental snorkel gear (but no restaurant as of writing).

Easily combine a day trip to nearby Cenote Zacil-Ha, a small and busy full-service cenote (with restaurant) a five-minute walk away.
Recommended Dive Operators
---
➒

Cenote Santa Cruz Tulum

If you're looking for a less touristic, more local experience, check out Cenote Santa Cruz Tulum.

We make a distinction here by adding "Tulum" to the name because there are actually a few different Santa Cruz cenotes scattered across the area. This is the one located directly five miles north of Tulum on the road to Coba.

Locally touted as a hidden gem, Cenote Santa Cruz Tulum is a classic Mexican-style recreational day use area geared towards local families.

It's of the open-air variety, so don't visit expecting to find a spectacular portal to Xibalba. Instead, think more along the lines of a natural lazy river surrounding a picnic island. This cenote's purely for fun in the sun!

Snorkelers will love spotting everything from colorful fishes to swimming turtles. Arrive midweek and early in the day and have the whole place to yourself!

Facilities at Cenote Santa Cruz Tulum include toilets, changing rooms, picnic palapas, and a good little restaurant.
---
➓

Cenote Cristal & Cenote Escondido

Last (but not least) on our list of best Tulum cenotes are two open-air stunners – Cenote Cristal and Cenote Escondido (Hidden Cenote).

True to their names, Cenote Cristal offers crystalline waters perfect for underwater explorations, while Cenote Escondido offers a less busy experience, hidden away from the crowds, due to its long and narrow shape.

Explore one or both, it's up to you! Get between the two cenotes by crossing the street, or via an underwater tunnel with dive gear.

Located a short 5-minute, 2.5-mile drive west of town, these are some of the most accessible cenotes near Tulum but host far fewer visitors than other Tulum cenotes.

You're not likely to find a ton of amenities at either cenote, but with Tulum so close, it really doesn't matter all that much. If you plan to spend some time hanging out, bring provisions and take advantage of the picnicking areas scattered around the site.
Top-Rated Cristal+Escondido Tours
---
Where to Stay in Tulum
Want more time to visit the best Tulum cenotes? Extend your stay in Tulum at one of these top-rated hotels.
Sure, you could do a day trip to a couple of these cenotes from Cancun or Playa del Carmen. But staying in Tulum ensures you get a jump on the crowds and arrive at the best cenotes near Tulum as early as possible!
Here are our top recommendations for places to stay in and around central Tulum. These are the places Lori and I would be considering if we were planning our trip right now.
If you're looking for an all-inclusive stay, also check out our guide to the top all-inclusive resorts near Tulum.
Tulum Stays | Our Top Picks
OUR #1 PICK ▸ Breathtaking El Pez Colibri Boutique Hotel offers seafront and beachfront rooms as well as cheaper (yet still superb) options that won't break the bank. You'll be blown away by Colibri's service, amenities, and stunning location.
UPMARKET ADULTS-ONLY LUXURY BOUTIQUE ▸ If you've been dreaming of an idyllic stay in paradise in Mexico, this is it! Mi Amor Colibri Boutique Hotel (yep, another Colibri hotel – they've definitely got the market cornered on outstanding properties in Tulum!) will wow you with its luxurious touches, amazing cuisine, and exceptional beach location away from the crowds.
OUR #1 MID-RANGE PICK ▸ If you're looking to stay closer to the heart of the action of central Tulum, it's hard to beat Aloft Tulum by Marriott. Urban and high-tech, Aloft offers a lot of amenities you'd be hard-pressed to find elsewhere in Tulum at this price point.
---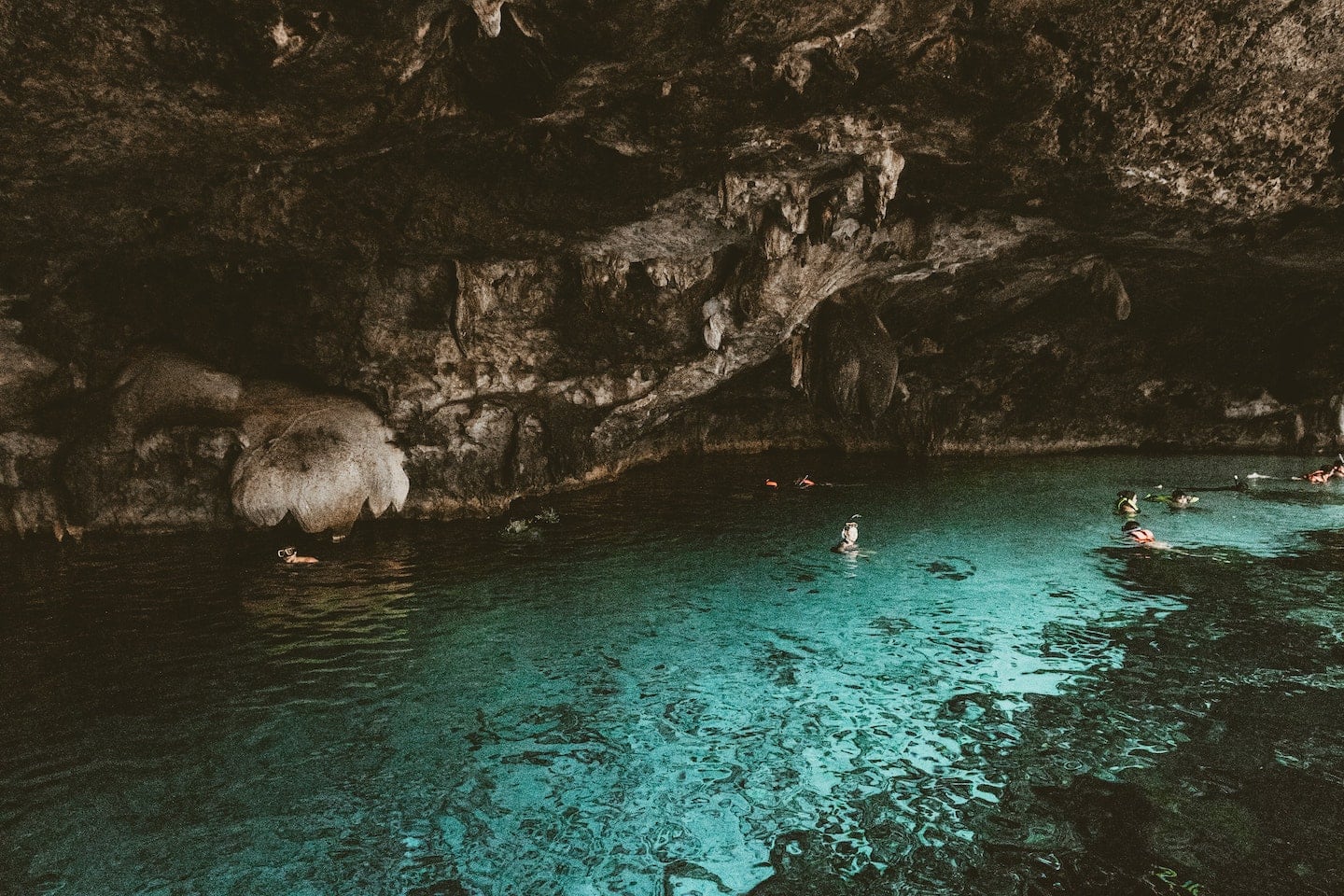 What to Pack for Cenotes
Most cenotes are open year-round, rain or shine, which may impact water depth and visibility, but likely won't affect your packing list too much, which sets this activity apart from many others on offer in the area.
While some of the cenotes on this list are located almost entirely below ground, it's important to stay mindful of the intense Yucatan sun in and around the more exposed cenotes.
If you plan to visit some of the more sun-exposed cenotes, you'll want to protect yourself from the sun. A rash guard and wide brim sun hat with UPF protection is a good bet, but…
NEVER WEAR SUNSCREEN IN CENOTES!
Yep, you read that right. Most cenotes in the area strongly discourage or flat out forbid the use of lotions of any kind (including biodegradable sunscreen) due to the damage they inflict on the fragile underwater ecosystem. Instead, cover up!
Don't forget to pack a reusable water bottle and some snacks for your visit, as some of the cenotes might not necessarily have a lot of services nearby.
A sturdy pair of river sandals are a good idea, particularly if you are visiting one of the more shallow underground cenotes where the bottom can be quite uncomfortable to walk on.
A good pack towel may come in handy, particularly if you plan on changing into street clothes or for the ride back. We like bringing a dry bag with us for keeping our street clothes and phone dry. And of course, don't forget your swimsuit!
Your phone might be fine for snapping pics of cenotes from dry land, but if you want to properly capture this once-in-a-lifetime experience, we strongly recommend taking a sturdy waterproof action camera, like the GoPro Hero 9 (with front LCD) or DJI Osmo Action Camera.
Lastly, if you plan on visiting a cenote with little ones (which is totally doable at most of these), you'll definitely want to leave the stroller behind and bring a sturdy baby carrier or hiking kid carrier like the Deuter Kid Comfort instead.
For kindergarten and primary school age kids, this snorkel kit is awesome for exploring the cenotes near Tulum (this is what our oldest son uses for his own underwater explorations and we love it).
---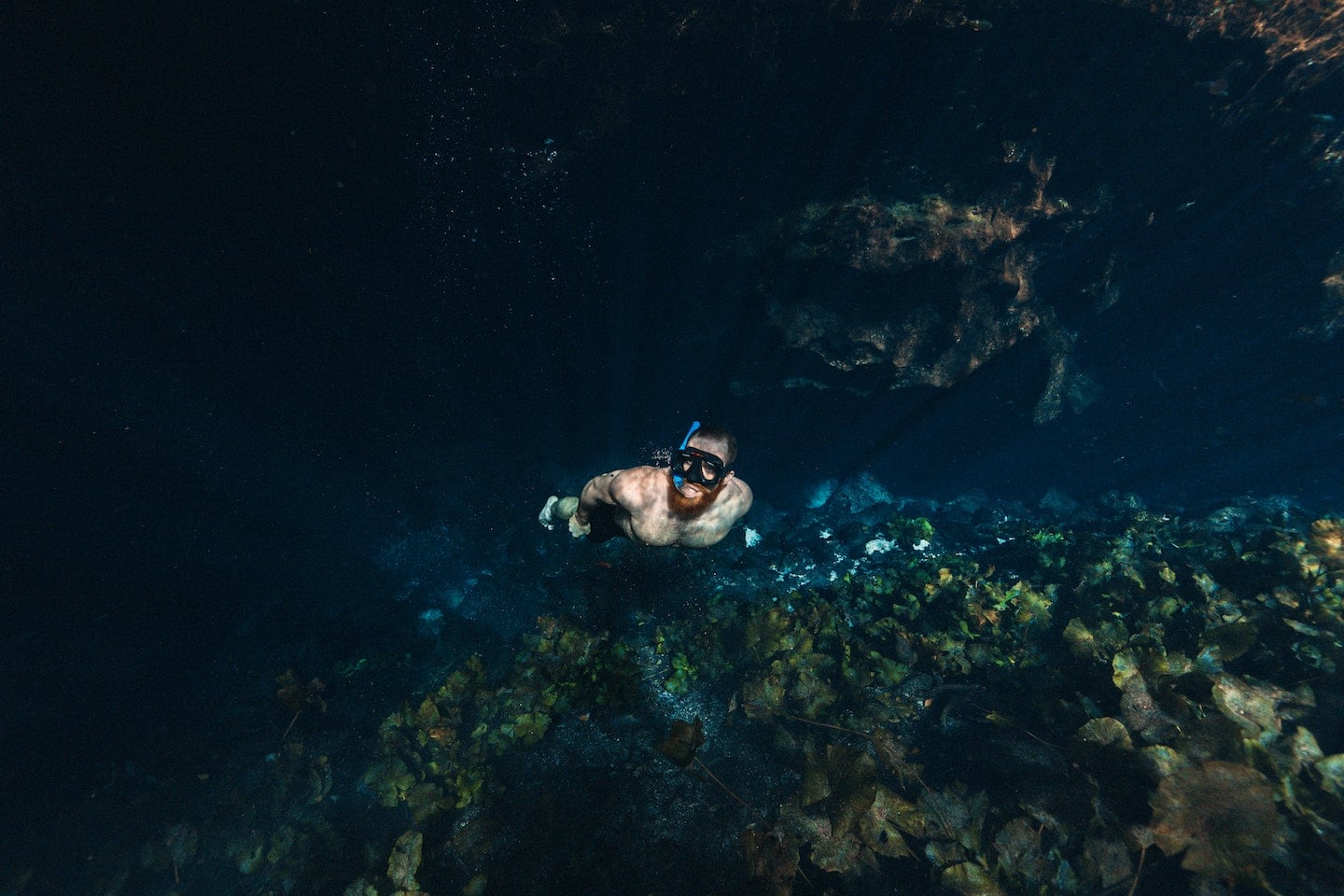 What's the Big Deal About Cenotes?
At its most basic level, a cenote is a collapsed natural sinkhole filled with water. But reducing a cenote to its mere physical definition misses out on what makes cenotes so special.
For one, this natural phenomenon doesn't happen everywhere – at least not like it does with the cenotes near Tulum. The Yucatan Peninsula's unique geology and vast underground river systems have created the perfect environment for these natural wonders.
Next, there are water-filled sinkholes, and then there are Cenotes. The Yucatan's cenotes are known across the globe for their dramatic, often cave-like formation, and unreal crystal-clear and bright turquoise waters.
Finally, visitors can't fully appreciate these amazing places without understanding the importance that cenotes play in Mayan culture, religion, and history.
To the ancient Maya, cenotes were considered the entrance to Xibalba, or underworld, which made them important places for conducting sacred rituals.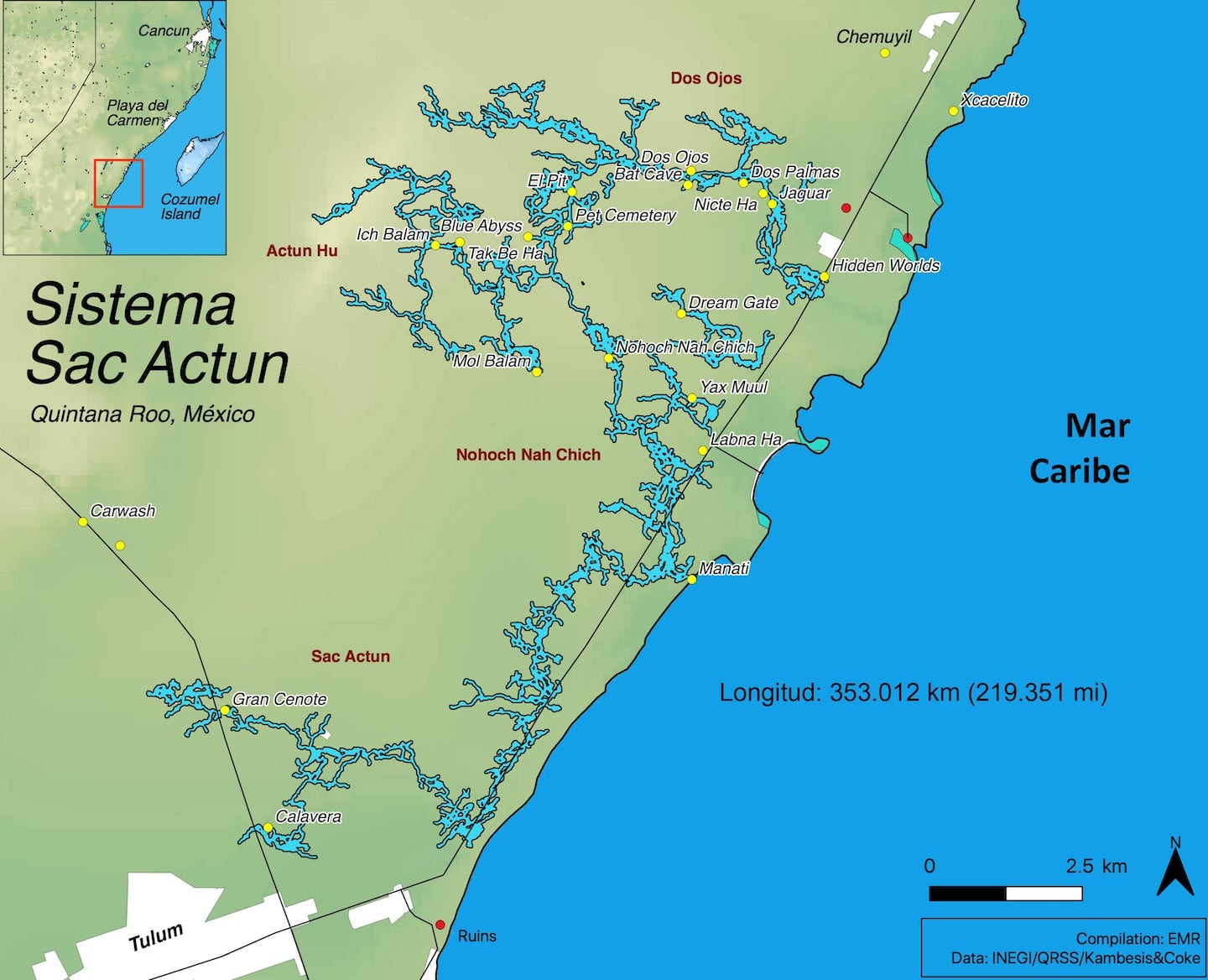 With all that said, even if you were to spend an entire day at one of the cenotes on our list above – completely oblivious to the natural processes and cultural significance that make Tulum cenotes exceptional – it's very likely you'd still come away from the experience with some pretty amazing memories.
How exactly does a cenote make our best Tulum cenotes list, you ask?
The Tulum cenotes on our list combine four key ingredients:
"Wow-factor" (i.e. unique, photogenic, and universally stunning);
Proximity to Tulum (within 10 miles (16 km) or less, ideally);
Facilities & services (or excellent tours available); and…
Not completely over-run with visitors (though this one's gotten harder in recent years as Tulum's popularity continues to soar).
---
Tulum Cenotes FAQ
Your most frequently-asked Tulum cenotes questions answered!
Which is these Tulum cenotes is the best?
If you're wondering which of the Tulum cenotes featured in our guide is the best, the answer will depend on you and what you're looking for.
If you're an avid and experienced diver, look no further than Dos Ojos. Those traveling with younger kids will want to check out Kaan Luum. If you want the locals' experience, head to Cenote Santa Cruz Tulum or El Gloria Cenote. Looking for an action-packed day? Try the cenotes at Tankah Adventure Park.
It largely depends on what you're looking for, but you can't go wrong with any of the cenotes near Tulum on our list.
Are there any free Tulum cenotes?
Not anymore, it seems. Most cenotes near Tulum are private enterprises that require a fee to enter, ranging from about US$5 to US$20 (though you will find whisperings from time to time of supposed undeveloped, hidden cenotes).
Are there crocodiles in Tulum cenotes?
The vast majority of cenotes near Tulum are croc-free. But if you want a chance to swim with a reportedly harmless crocodile named Panchito, head to the northern end of Casa Cenote.
Koox Diving also offers a unique opportunity to do a night dive or snorkel tour with cenote crocodiles in the Sian Ka'an Biosphere.
Are Tulum cenotes deep?
Cenotes come in all shapes and sizes. The classic sinkhole cenotes tend to be pretty deep, ranging anywhere from 50 feet to around 400 feet in some cases.
However, many Tulum cenotes (particularly the subterranean cavern variety) have vast sections filled with water that is only ankle or waste-deep.
Most of the deeper cenotes have life jackets available, or are off limits to all but experienced divers.
Is Cenote water cold?
Well…cold is a relative term. Will cenote water feel like dipping into a fresh mountain spring? No, no it won't.
Expect cenote surface temperatures to hover around the mid-70s (F). Compared to the air temperature, which can head upwards of 100°F, that may seem a bit chilly.
Most of the time in and around Tulum, cenote water will likely feel inviting and refreshing rather than uncomfortably cold.
Is it safe to swim in cenotes?
While water quality varies from cenote to cenote, you generally won't get sick from swimming in a cenote. Your chances of avoiding infection increase with cooler water, fewer people, and a noticeable current.
The most common danger tend to be cuts and scrapes from sharp rocks underneath the surface. More serious injuries and occasional drownings do happen, so take care when jumping into cenotes, and be sure to wear a life jacket if you aren't a strong and confident swimmer.
---
Have You Visited Any Of These Tulum Cenotes?
How was your experience? Are there Tulum cenotes you'd recommend that didn't make our list? Tell us about them in the comments below.
Featured Image by Roberto Nickson / Unsplash