Taking a three day cruise on Halong Bay in Northern Vietnam was one of the top highlights of our time traveling through Southeast Asia, and should definitely be on your own travel bucket list!
There are a lot of different options for seeing Halong Bay, ranging from day trips from Hanoi on up to tour packages lasting a couple of weeks, but the three day Halong Bay cruise is arguably one of the most popular. And for good reason, as it offers a good amount of time to tour this stunning corner of the globe without breaking the bank.
If you're looking to do your own Halong Bay cruise, or are simply curious about what there is to do and see in Halong Bay, read on!
Booking Our Halong Bay Cruise
Given the flexible nature of our travel plans around Asia, we didn't have the luxury of booking our Halong Bay cruise very far in advance.
We arrived in Hanoi and were able to reserve a cabin with a reputable country about three days prior to departure. Granted, it was rainy and chilly November, but we still felt like we got lucky, nonetheless.
If you're not on a backpacker budget (like we were), have firm dates for your time in Hanoi, or plan to visit in high season, I'd strongly recommend booking ahead.
(Don't miss our top recommendations for budget, mid-range, and upmarket cruises towards the end of this post.)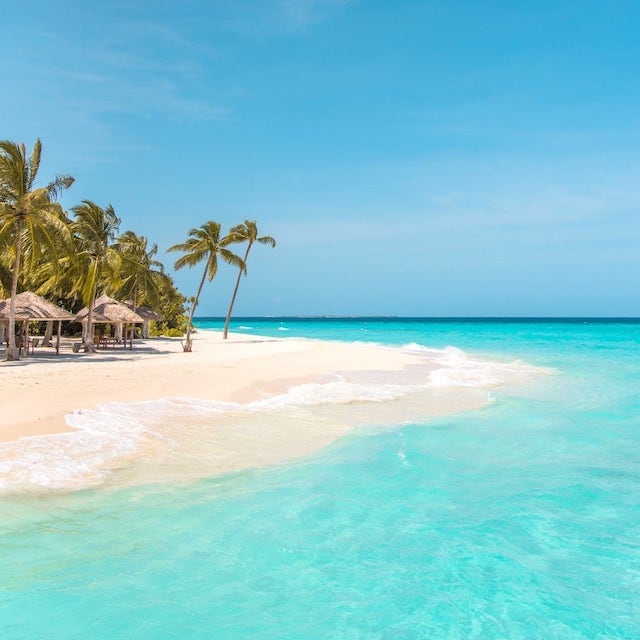 Subscribe to AwayGoWe!
Get our latest articles in your inbox, plus subscriber-only travel tips, special promotions, and more!
After slogging around Old Quarter visiting all the cruise ticket agents we could find and either not being impressed with the offerings or getting a shady vibe, we returned to our guesthouse and asked the manager for a recommendation.
The manager produced three hardbound books featuring three different cruise companies. Like Goldilocks, one company was too rich for our blood, one company was too bare-bones, and the third one seemed just right.
That company was Cristina Cruise (not to be confused with Cristina Diamond Cruise).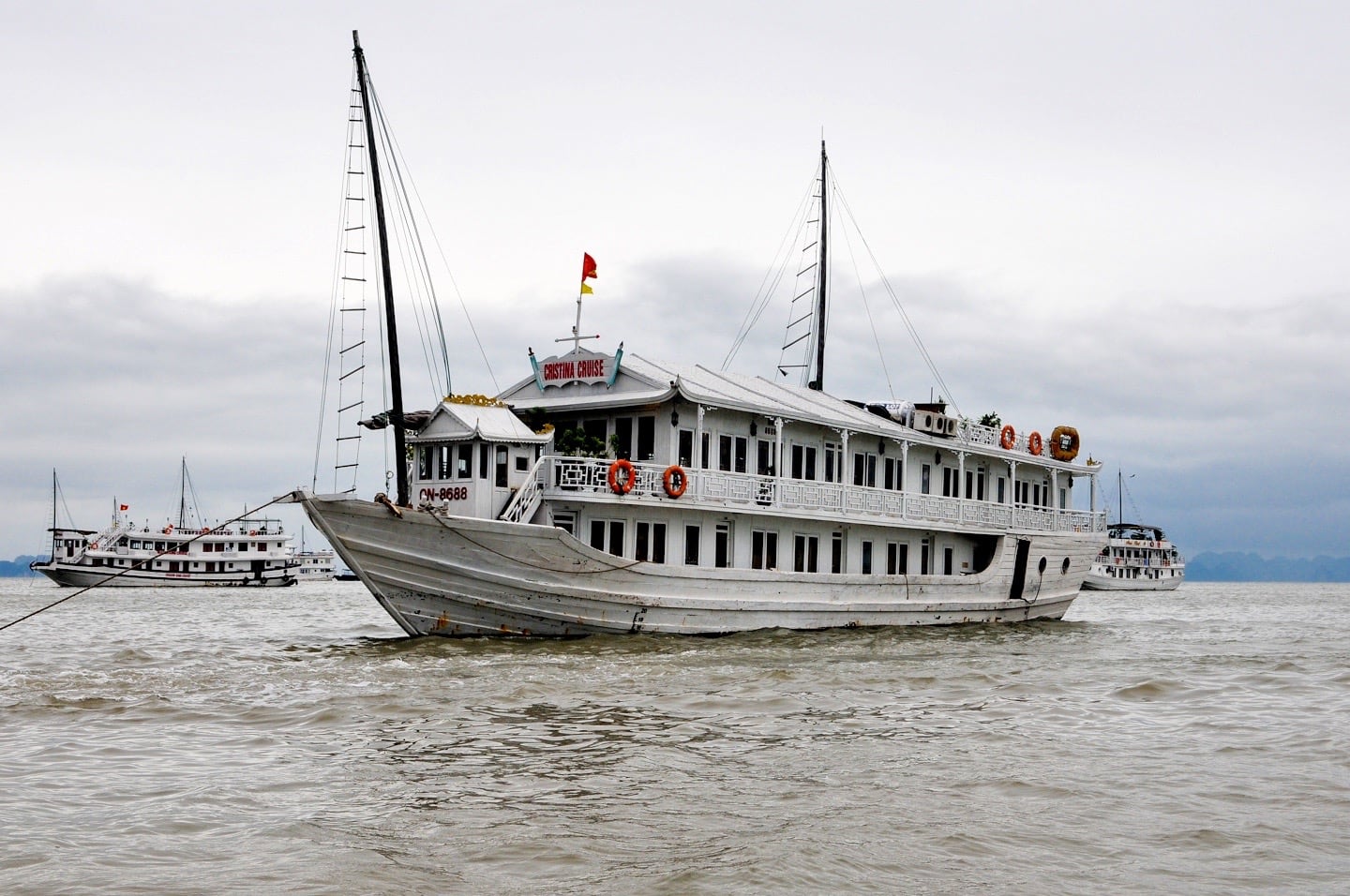 Once upon a time, all of the cruise junks plying Halong Bay were brown. Around 2010, that began to change. A new law required that all Hạlong boats be painted white, presumably for safety reasons, but we don't really know.
The white is nice, but it does tend to age very quickly. Our boat had recently been repainted, but the harsh conditions were already taking their toll on the hull.
The interior of our boat had also been refurbished around the same time, and all of that woodwork looked superb. I don't know how many liters of lacquer were used on each of the cabins, but it had to be substantial.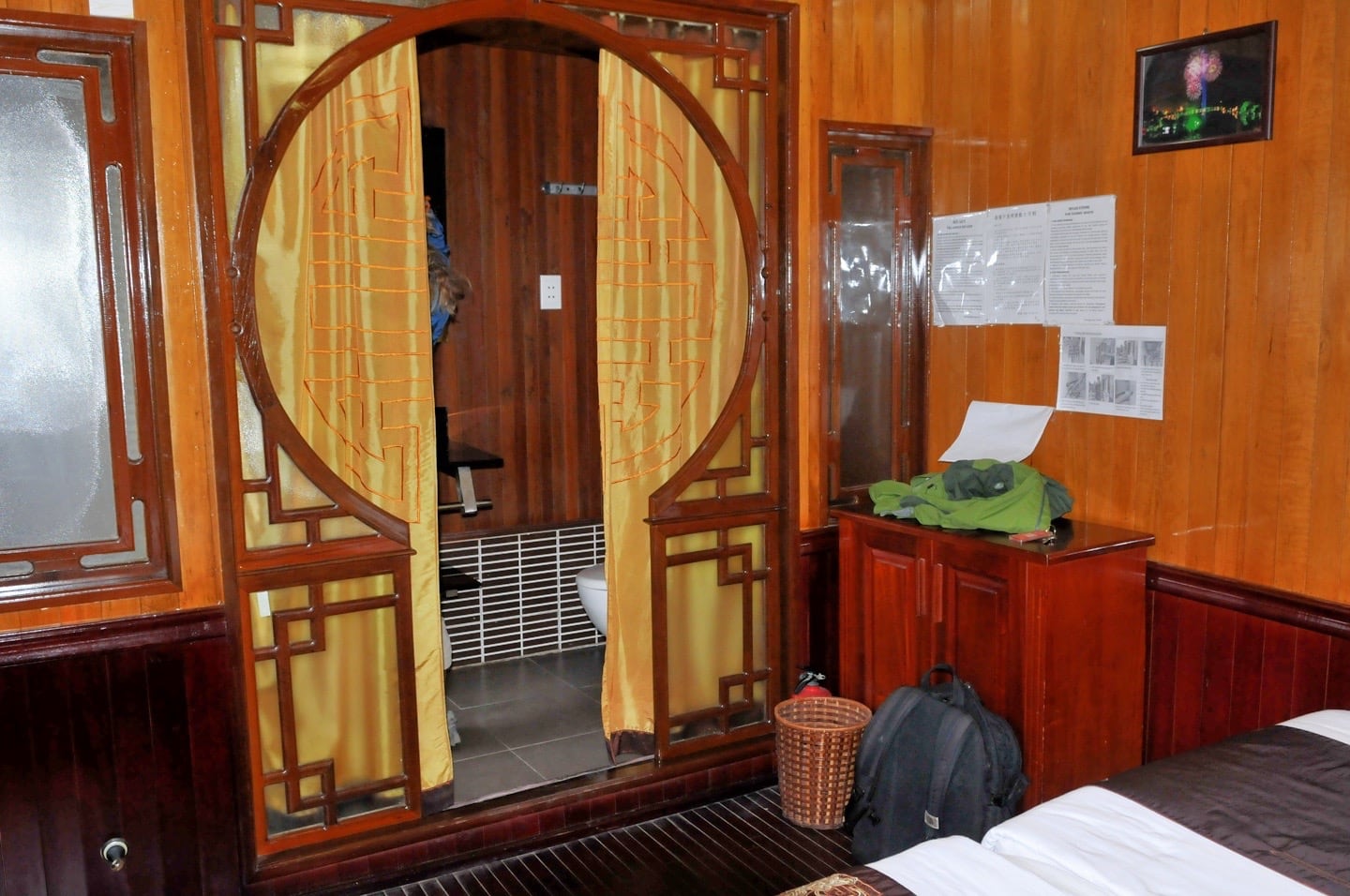 Our cabin included two single beds (pushed together) and a head including a toilet, sink, and shower. Each of the rooms on the boat opened up to the outside deck and had windows facing out to the water.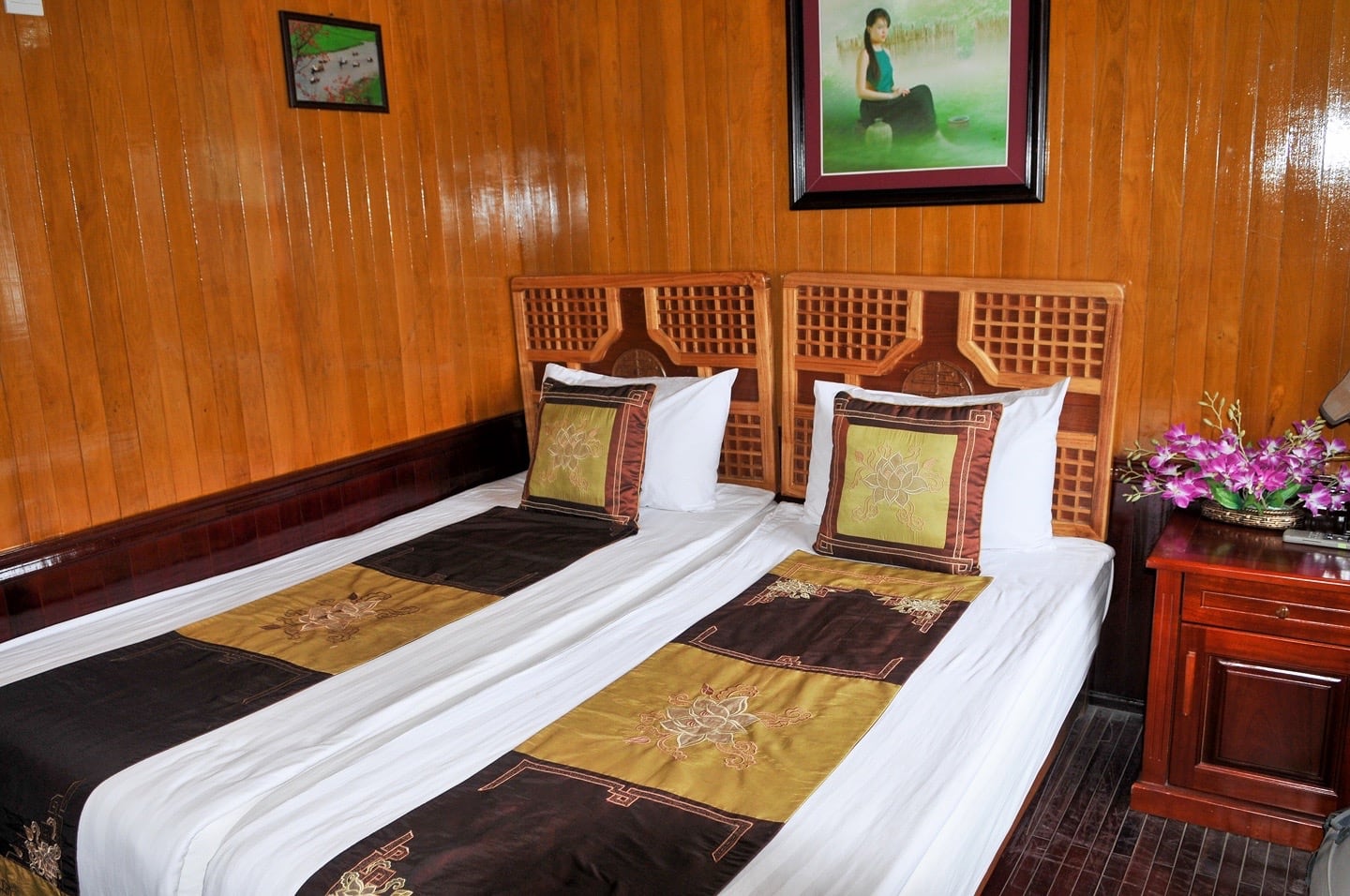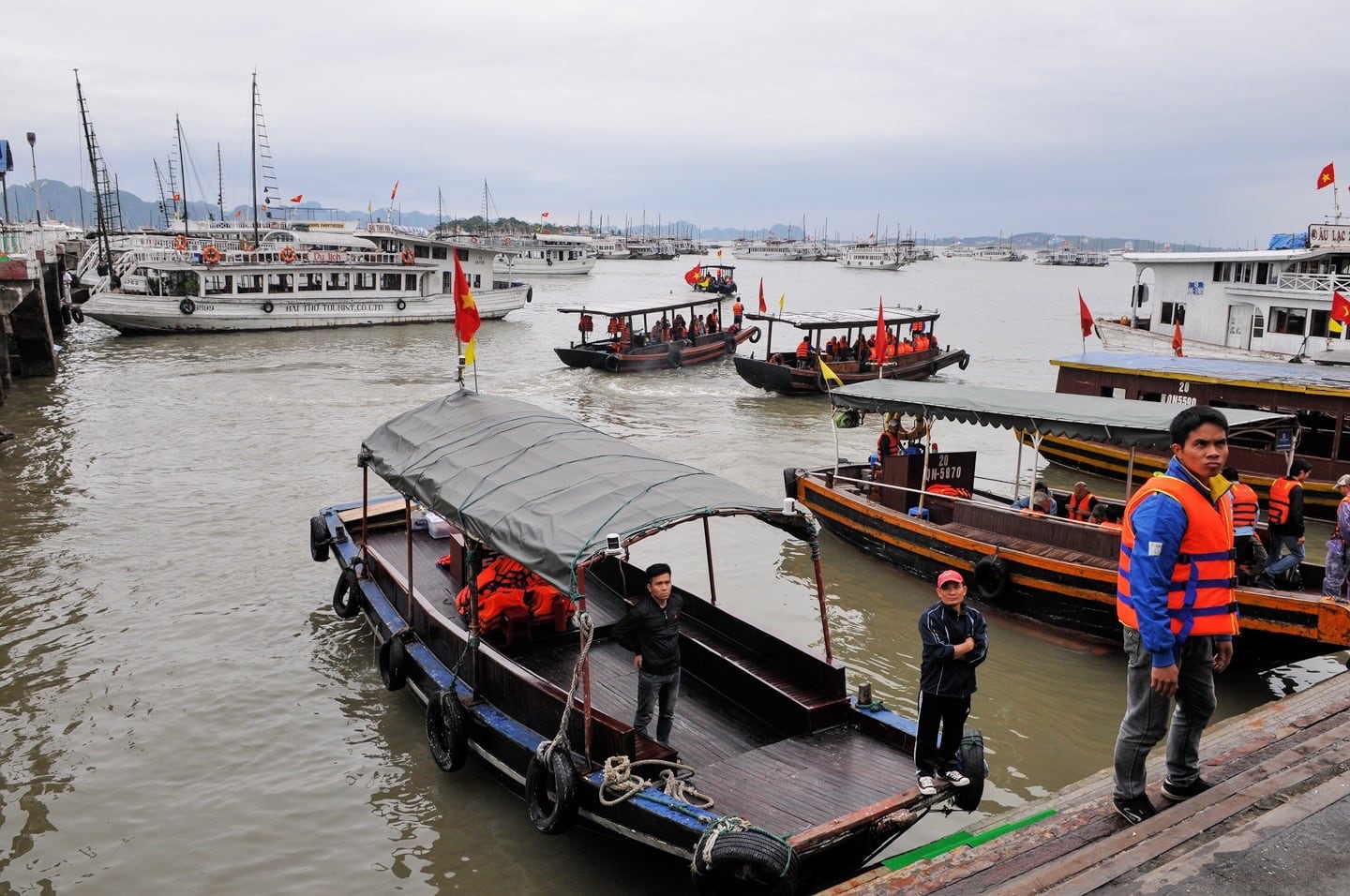 Our 3 Day Halong Bay Cruise Itinerary
We booked a three day trip out of Hanoi. Our package included transport from our Hanoi guesthouse early on Day 1, returning us to our guesthouse on the evening of Day 3.
All passengers spent the first night on the boat and the second night in one of two locations of their choice: In a hotel in Cat Ba Town on Cat Ba Island, or a thatch cabana on the beach at a small island to the east of Cat Ba Island. We chose the latter.
Our package also included all meals and a variety of activities including visiting island caves and an island full of monkeys, kayaking, cooking lessons, karaoke, and hiking.
The guided activities were fun and all, but our favorite activity was getting to sit on the top deck with a coffee or beer and watch this amazing place unfold before us.
DAY 1
09:00 Transfer from guesthouse in Hanoi Old Quarter to Ha Long City (2.5 hrs.).
12:30 Board the cruise boat, settle in. Boat leaves harbor and sails towards Cat Ba Island. Eat lunch provided on boat while underway.
14:00 Transfer by small boat to an island to explore Sun Sot (Surprise) Cave for about an hour.
15:00 Kayak in a nearby cove and/or hike up to a nearby viewpoint (90 minutes).
16:45 Back on the boat for happy hour and to wash up (boat is anchored in a bay for the night).
18:00 Cooking class on the boat. Learn how to make spring rolls.
18:30 Dinner is served.
20:30 Karaoke and free time.
DAY 2
08:00 Breakfast is served while underway.
09:15 Arrive on north end of Cat Ba Island. Hike to a lookout tower.
11:30 Shuttle to Cat Ba City for lunch and a walk around.
14:00 Board a smaller tour boat and head to a traditional fishing village.
14:30 Arrive at Monkey Island.
15:45 Arrive at Cat Ba Sandy Beach Resort, our stop for the night. Get settled into our cabana, relax on the beach, and drink sundowners.
18:30 Dinner served.
DAY 3
06:30 Breakfast
07:30 Depart Cat Ba Sandy Beach Resort on small tour boat and return to Cat Ba City.
09:15 Board cruise boat in Cat Ba City.
12:00 Return to Ha Long City on mainland, have lunch, and board shuttle back to Hanoi.
17:00 Arrive back at guesthouse in Old Quarter.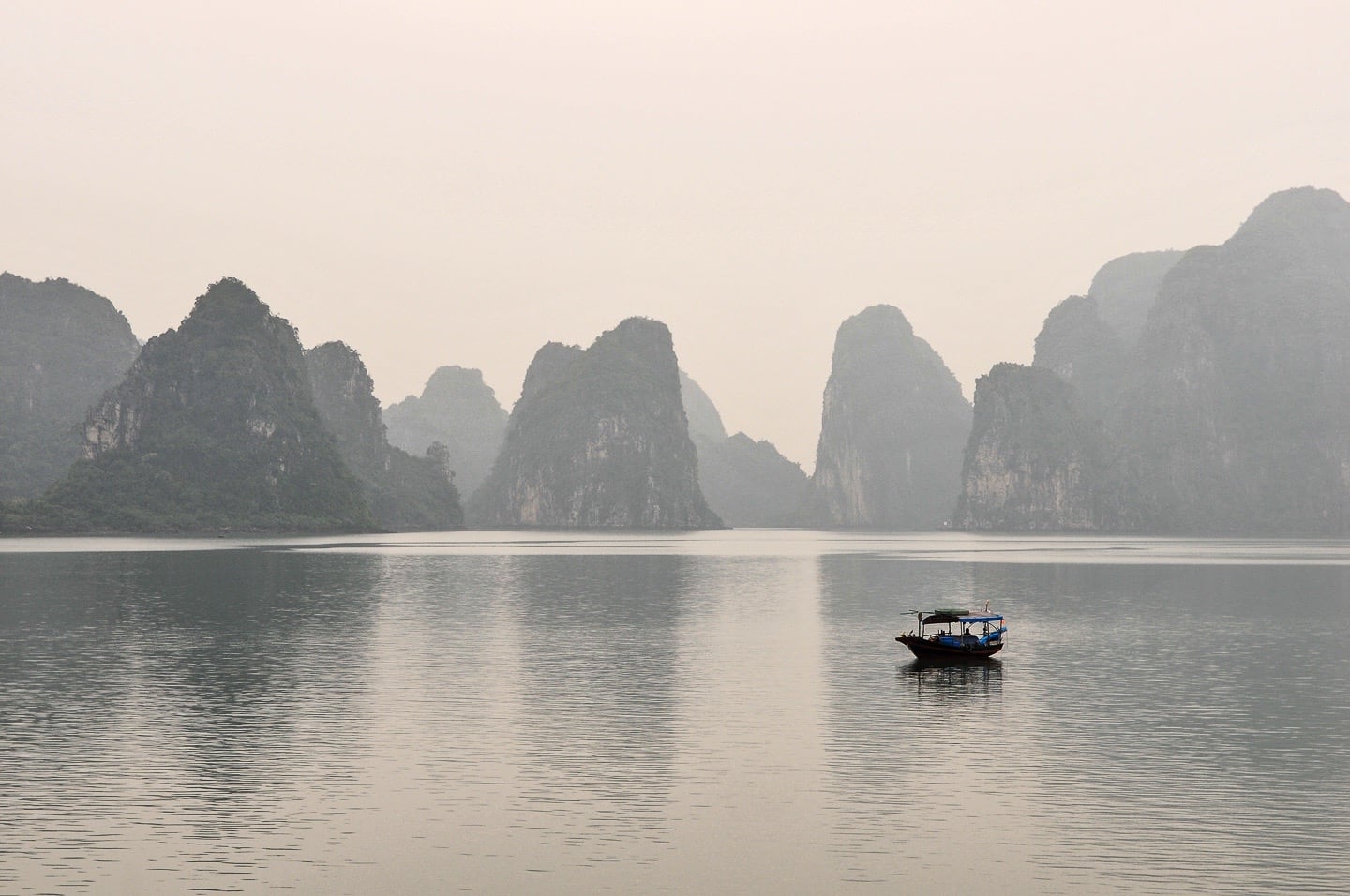 About Halong Bay UNESCO World Heritage Site
Hạlong Bay is dotted with around 2,000 limestone islets, taking some 500 million years to form into what we see today.
Humans have called this place home for tens of thousands of years, and the area has long been the setting of many significant events in local history and folklore.
In 1994, Hạlong Bay was listed by UNESCO as a World Heritage Site for its outstanding, universal aesthetic value.
In 2000, its listing was updated to include recognition for its outstanding geological and geomorphological value as well.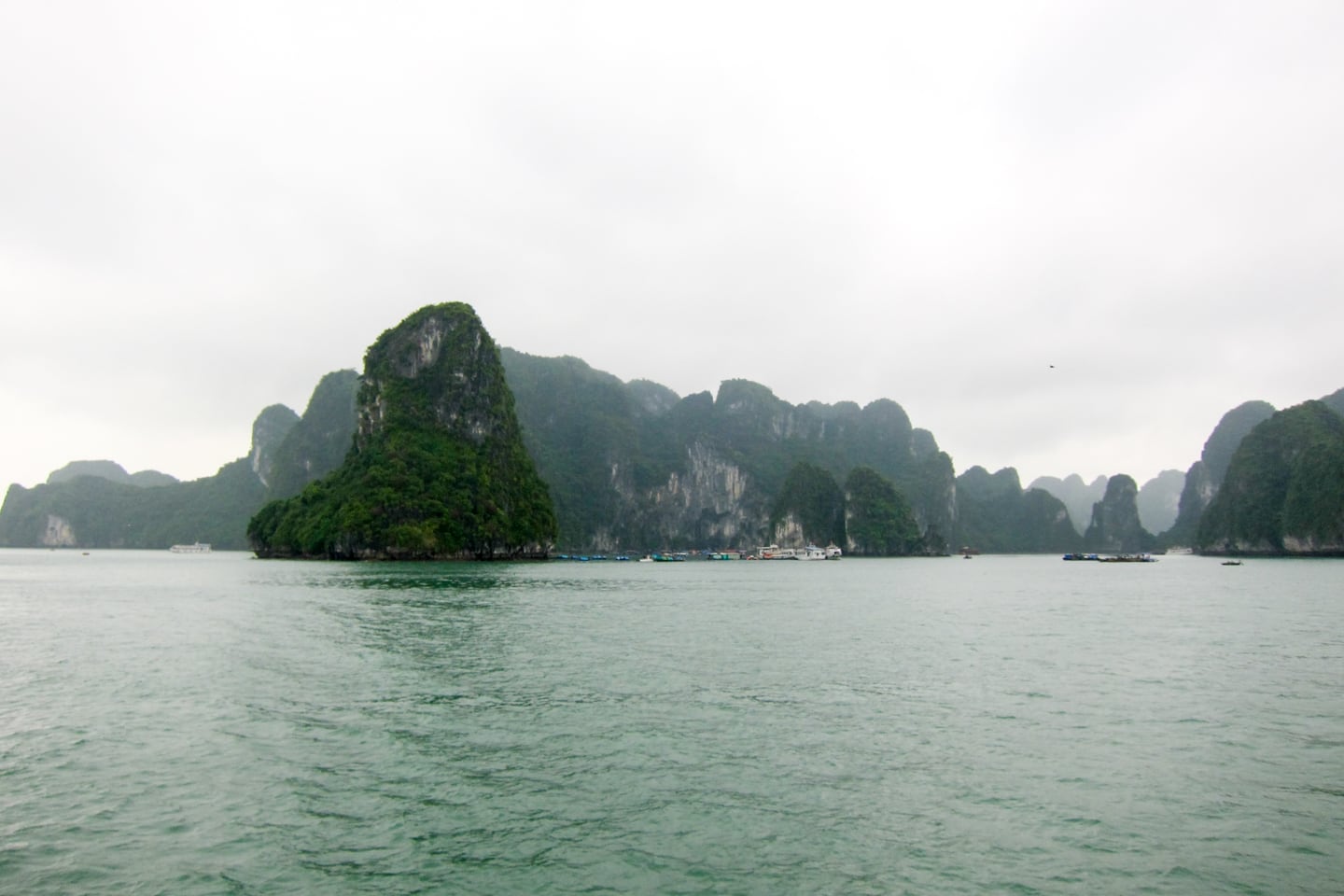 Our Halong Bay Cruise: Day One
After a 2.5-hour shuttle ride from our Hanoi guesthouse, we arrived in Ha Long City, where we promptly caught a tender to our cruise boat.
We settled into our quarters and relaxed while the boat set sail through the bay, passing some of the most stunning scenery anywhere.
We took our cruise in late November, not ideal by many people's standards, given the cooler, rainier weather.
But for us, it was perfect.
We actually thought that the misty conditions enhanced the mystique and aura of Halong Bay, and the cooler, foggy weather was a welcome change after four months of traveling through tropical heat and humidity.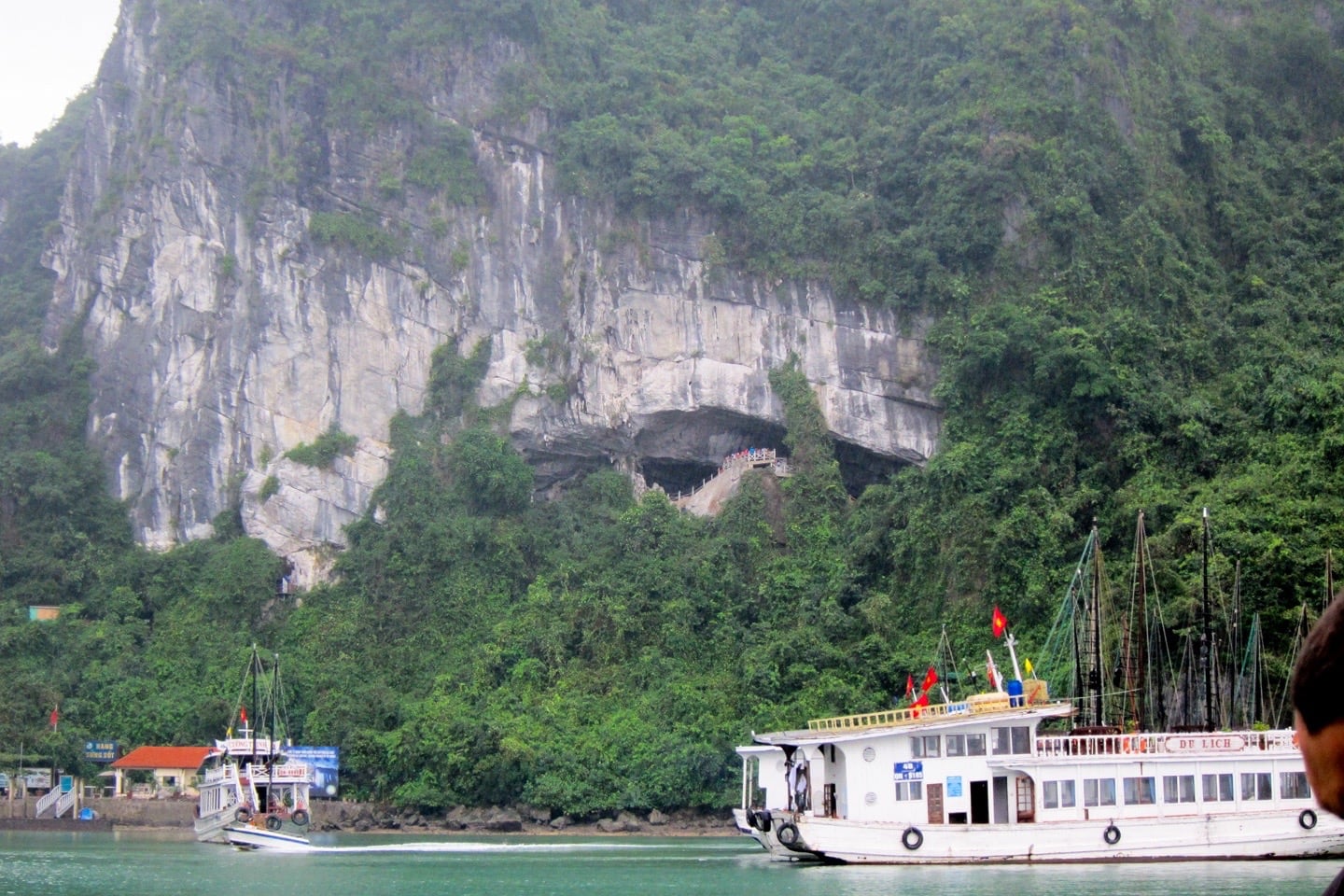 Sung Sot Cave (Surprise Cave)
Our first stop was Sung Sot Cave, otherwise known as Surprise Cave.
We boarded a small dingy to take us to the base of a towering limestone peak, where we followed a rickety catwalk to a trail (and then a long set of stairs) up to the mouth of the cave.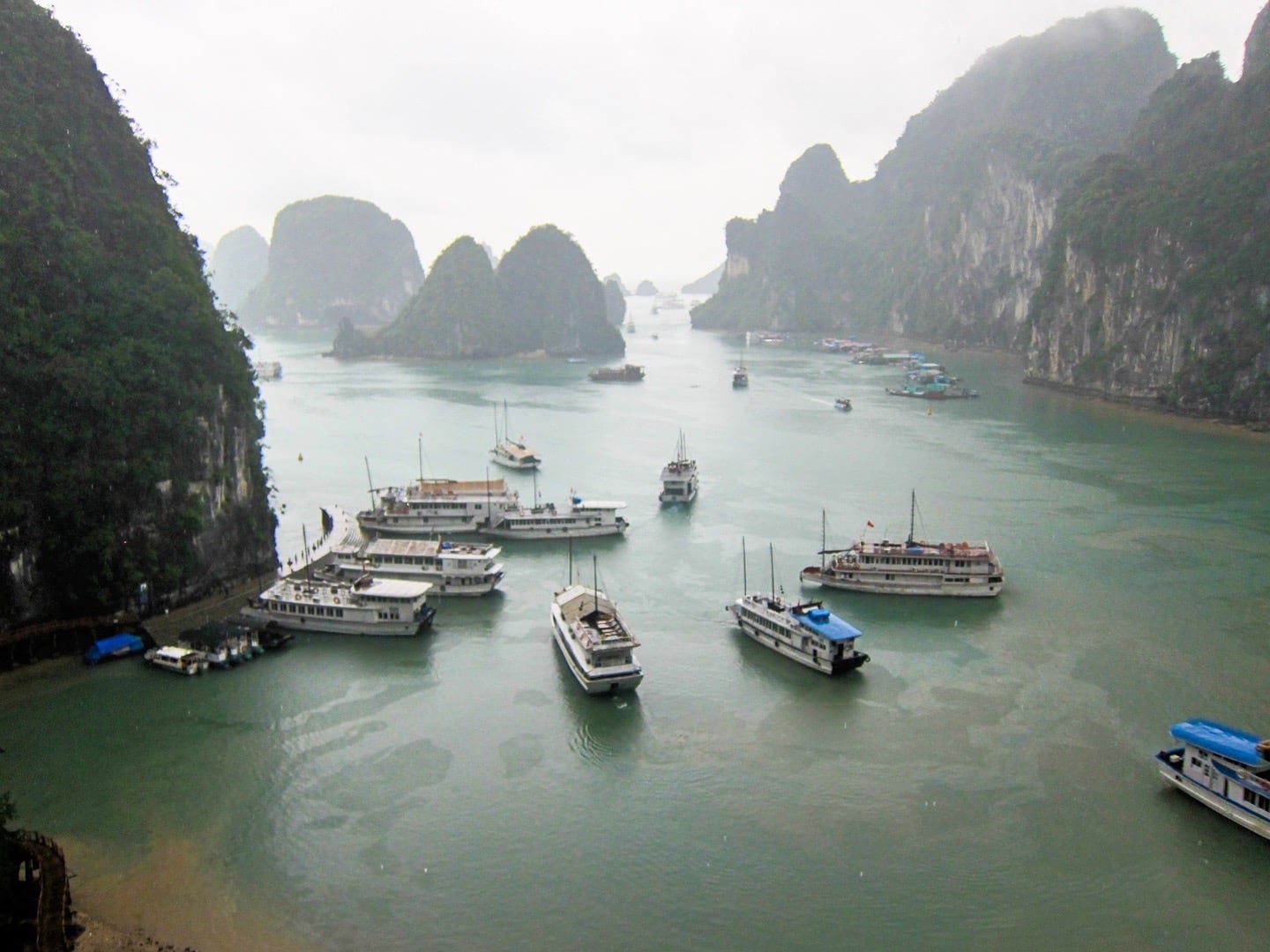 We weren't the only ones with the same itinerary in mind today. Dozens and dozens of cruise boats of varying shapes and sizes operate in Hạlong Bay.
The bay is vast, but the majority of cruise boats tend to cluster together at a handful of popular attractions.
We were told that on the first day we'd encounter a lot of other boats and cruise passengers, but by the second and third day, our boat would peel off from the crowds to do its own thing, and by and large it was true.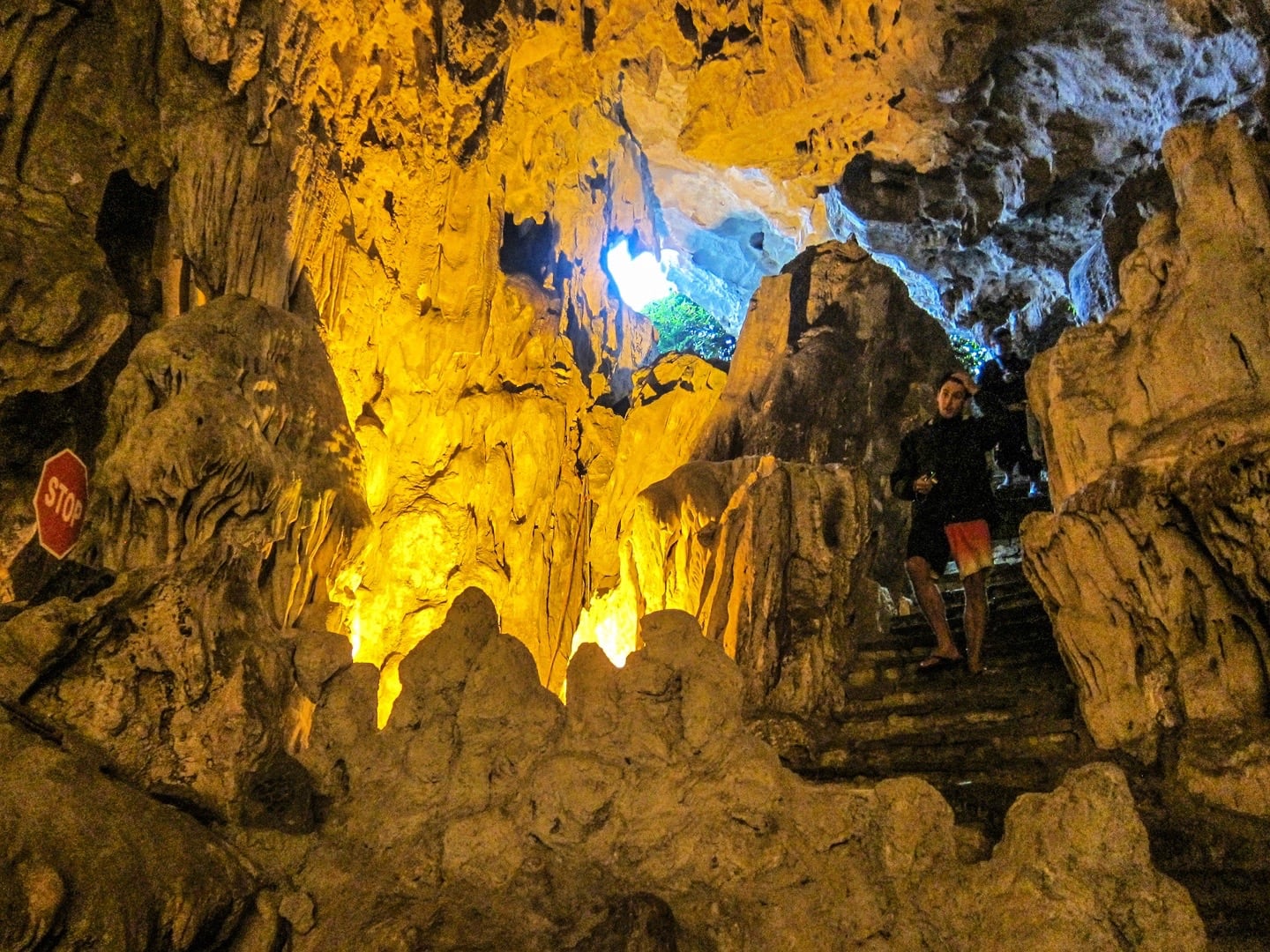 Despite the many boats vying for moorage in cramped cove after cove, the places we stopped were still very enjoyable and didn't feel completely overrun by hordes.
Unexpectedly, we were even afforded a few solitary moments inside the cave colorfully-lit.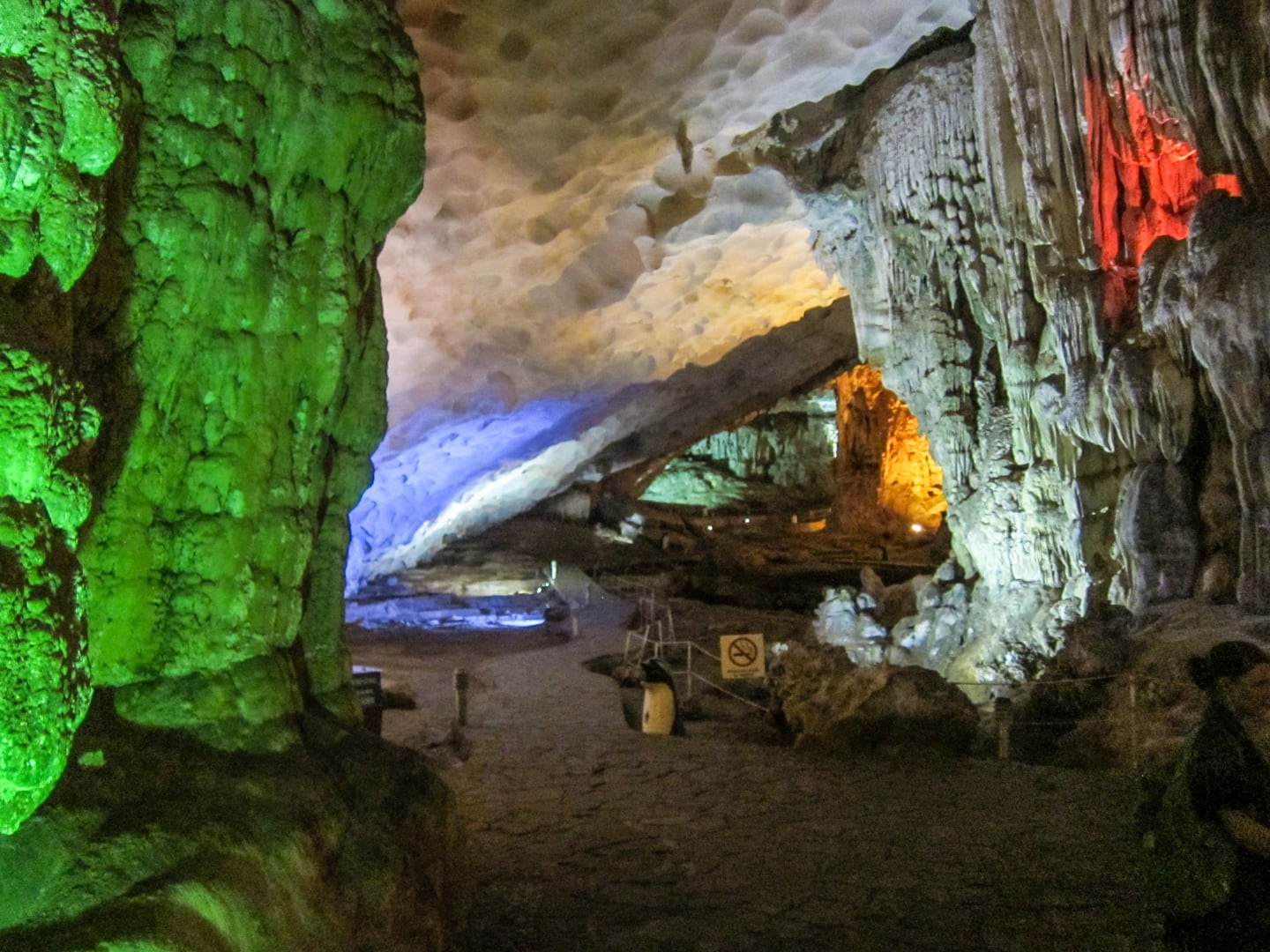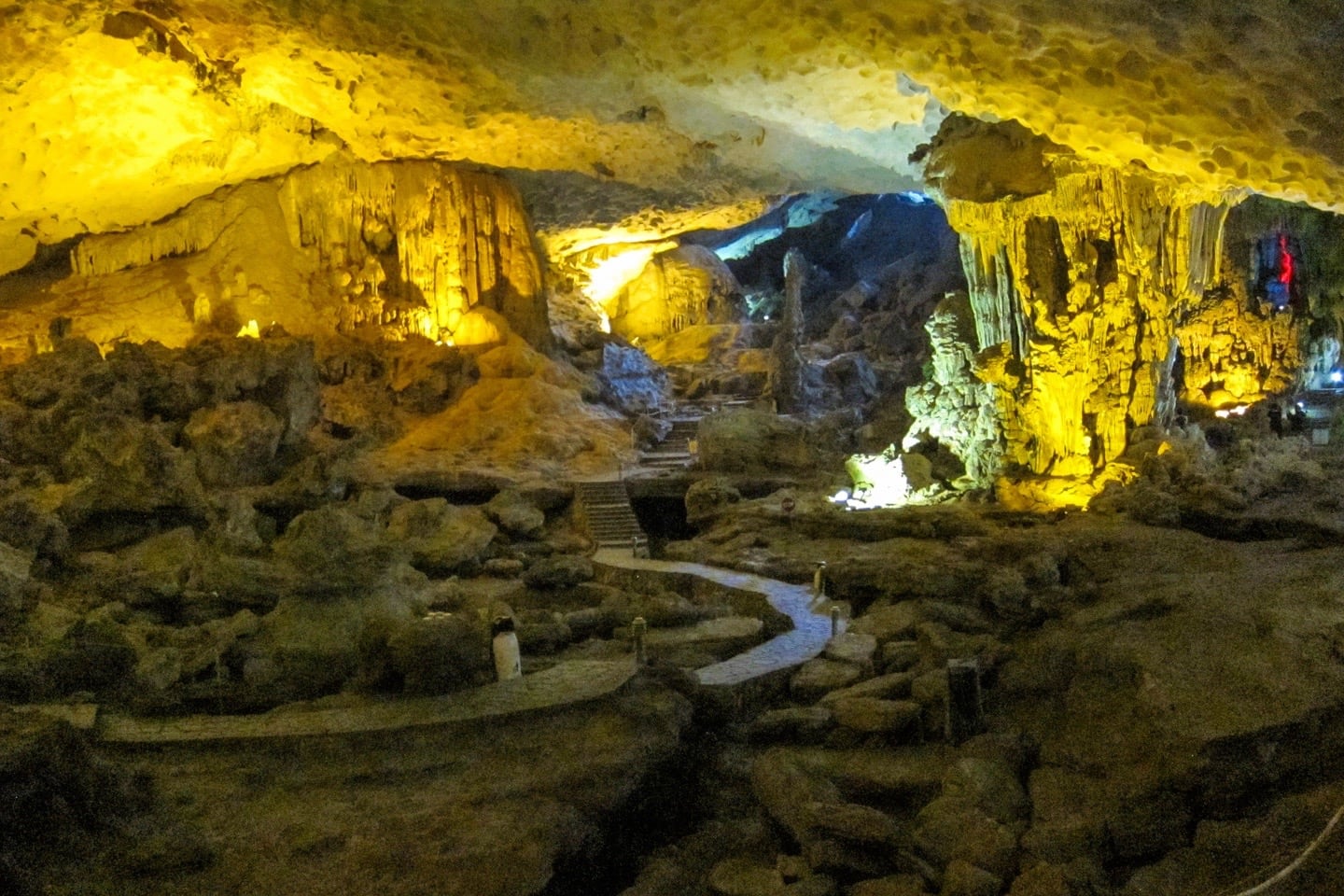 The rain was a common feature of our cruise, particularly on the first day. But again, it seemed to add to rather than take away from the experience. We certainly didn't feel robbed by the rain like we often do at the beach.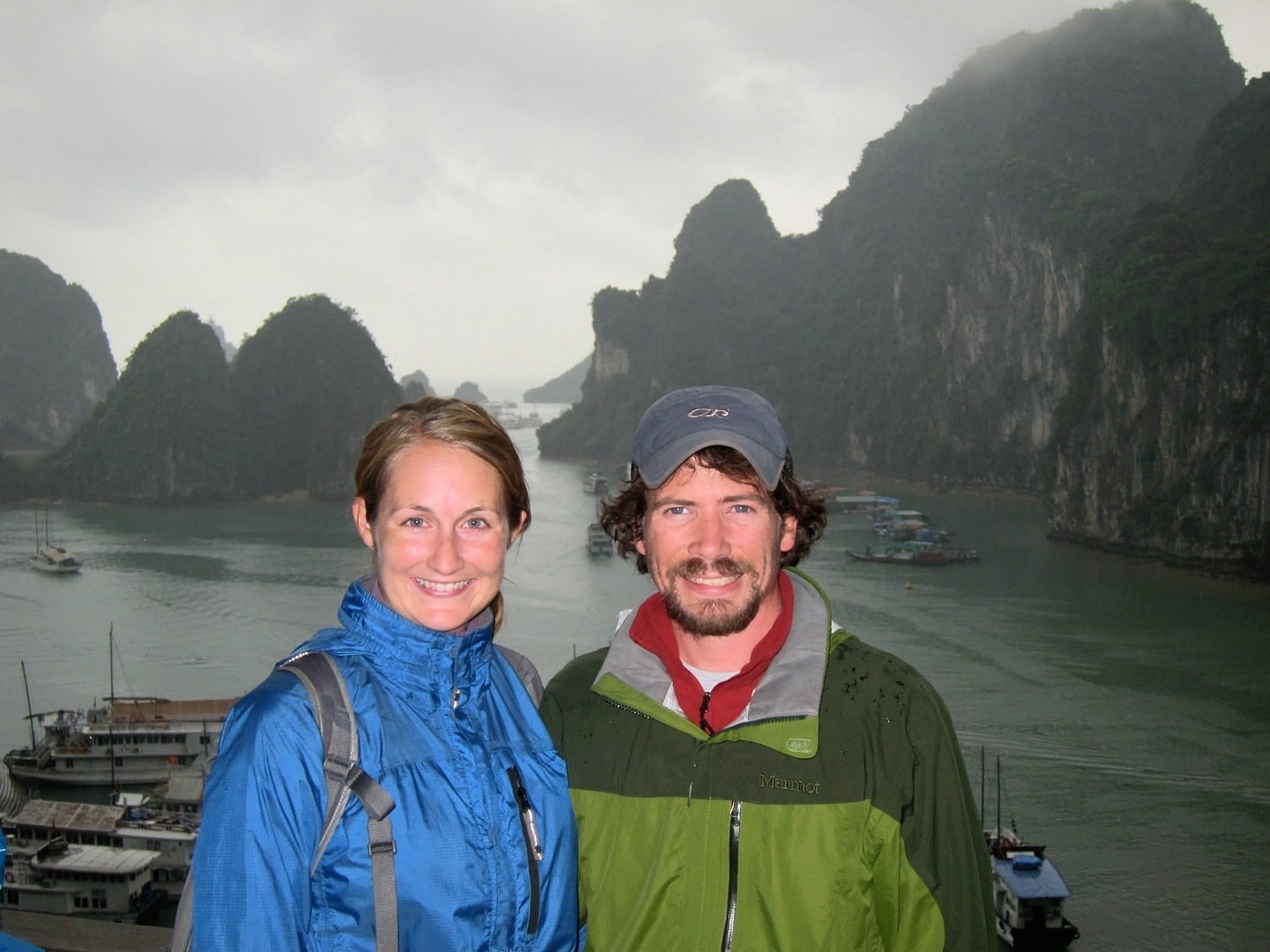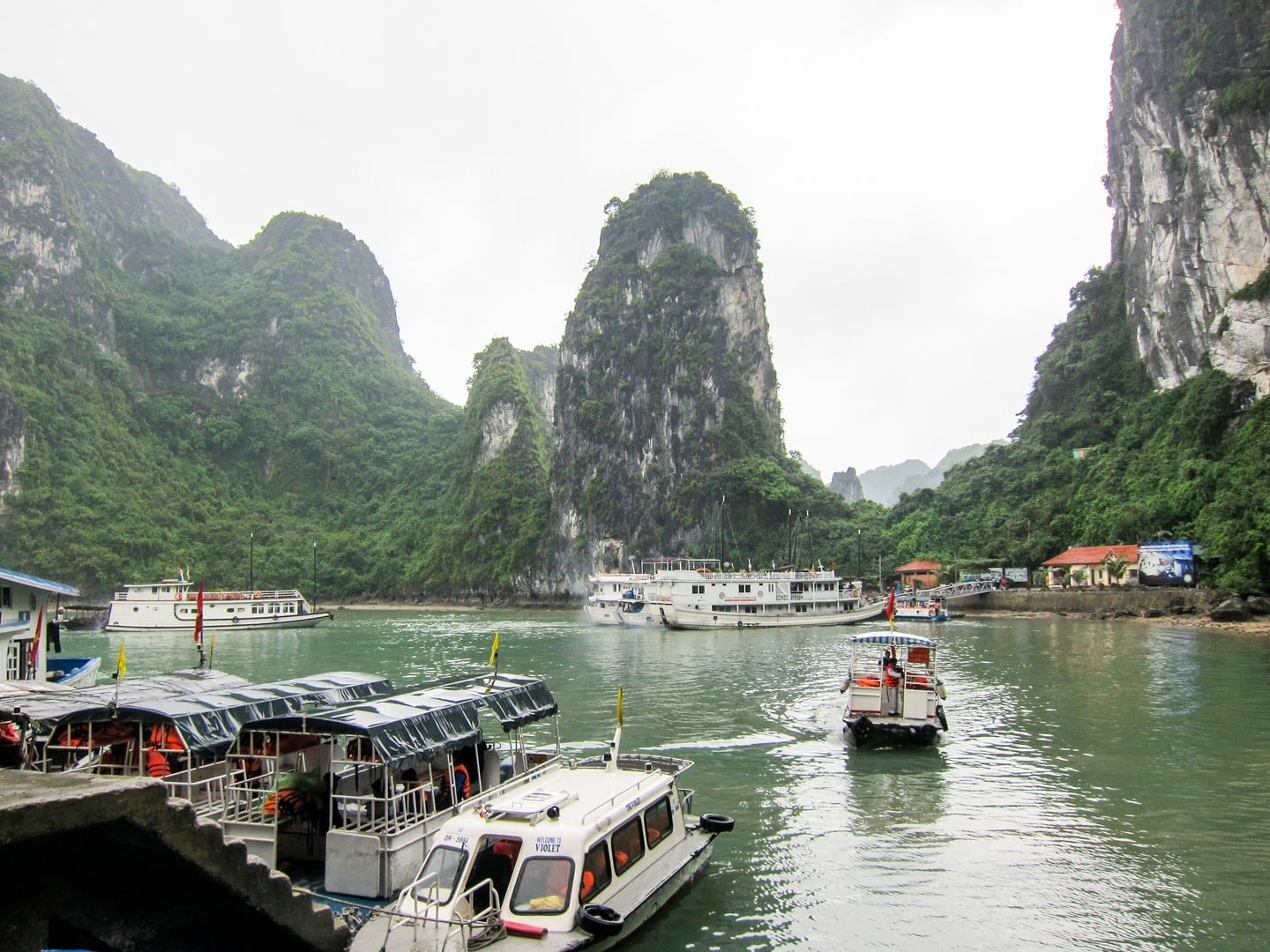 Kayaking & Viewpoint
Then, it was time for a little bit of kayaking around the picturesque cove.
We would have liked more time to kayak around than we were allotted, but there were places to go and things to see. Such is life on a package tour, but in hindsight, I don't think we missed out terribly because of it.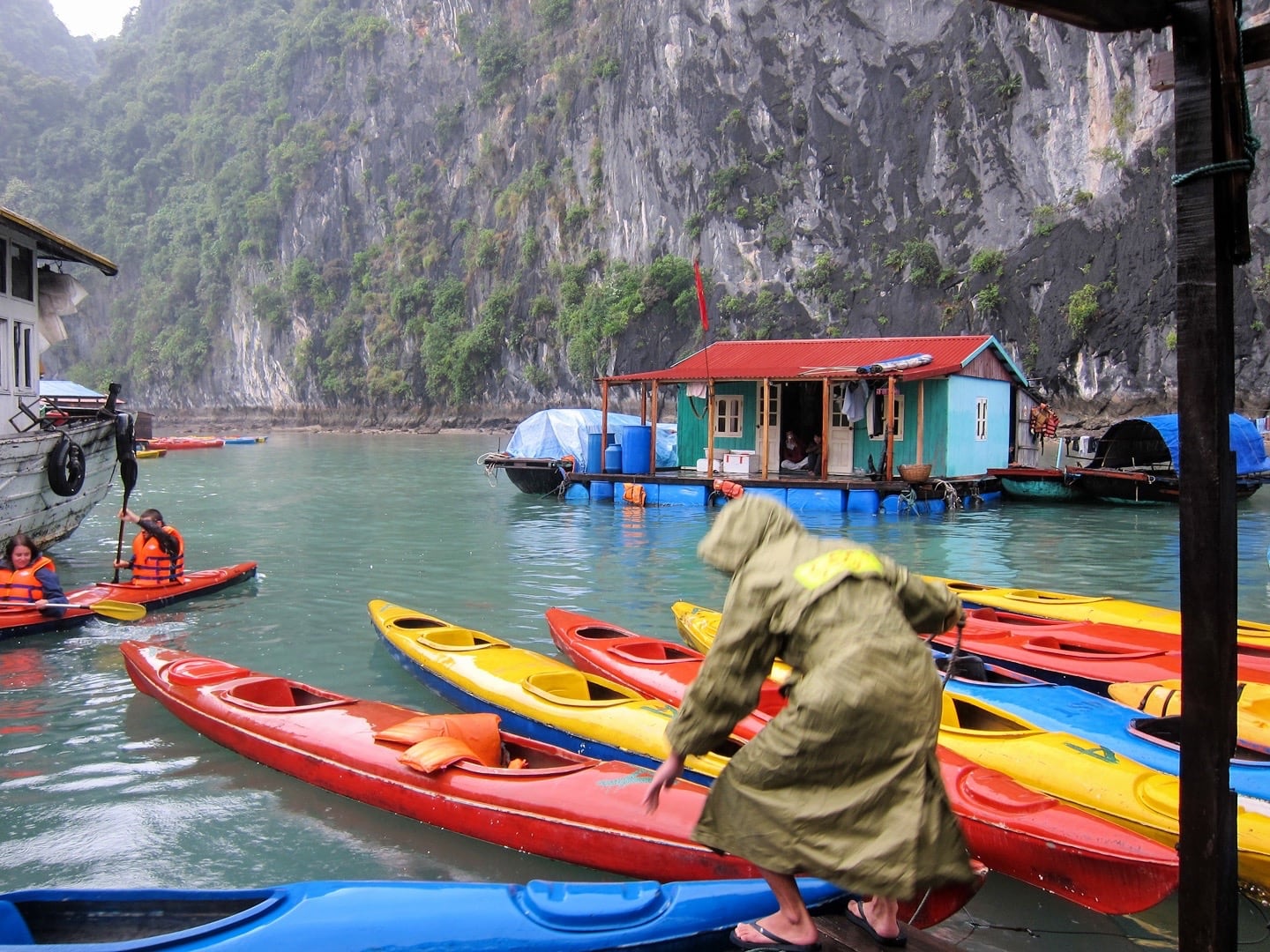 Next, we stopped off at another one of the islands to ascend some stairs to an even more commanding view of our surroundings.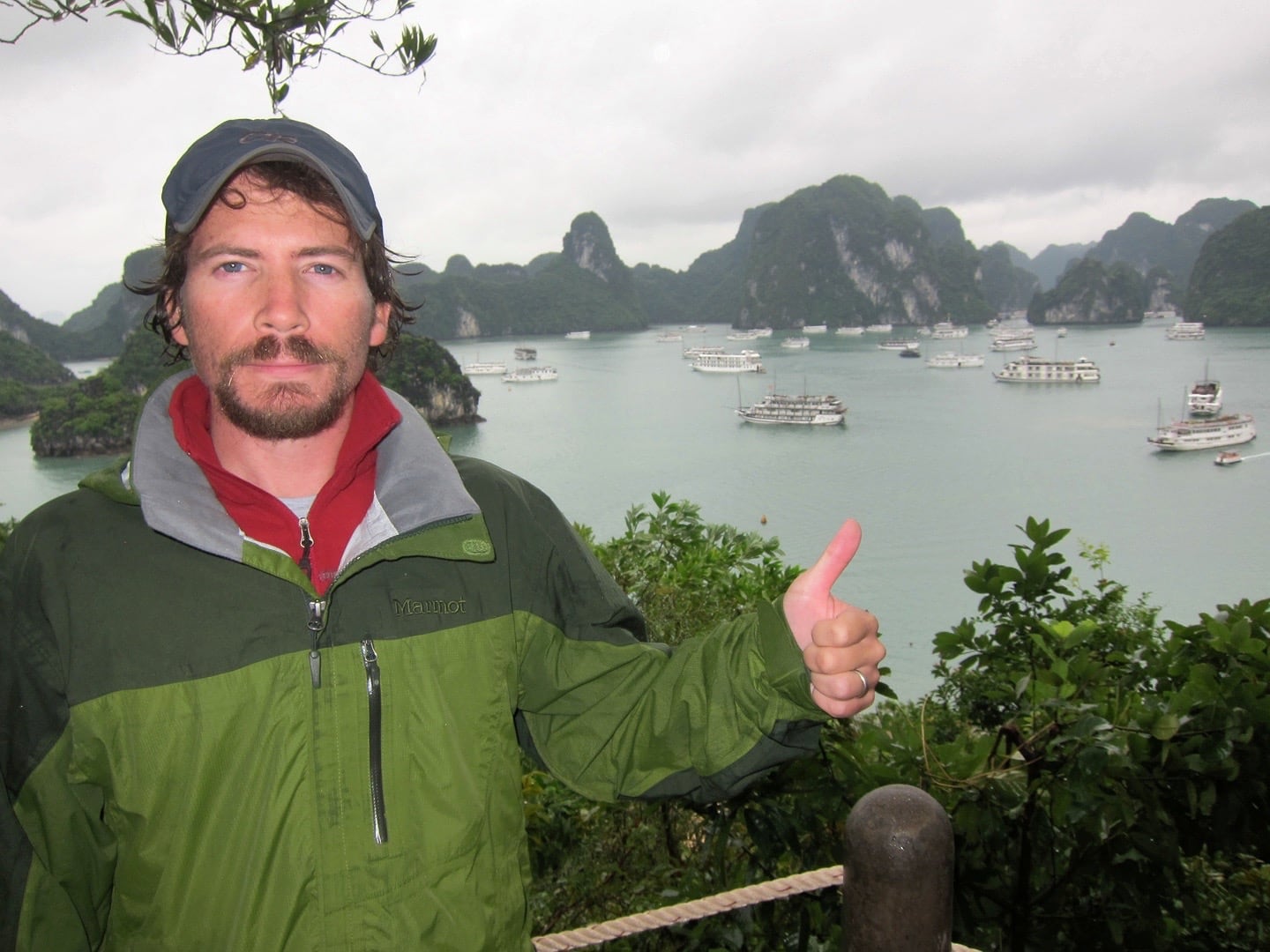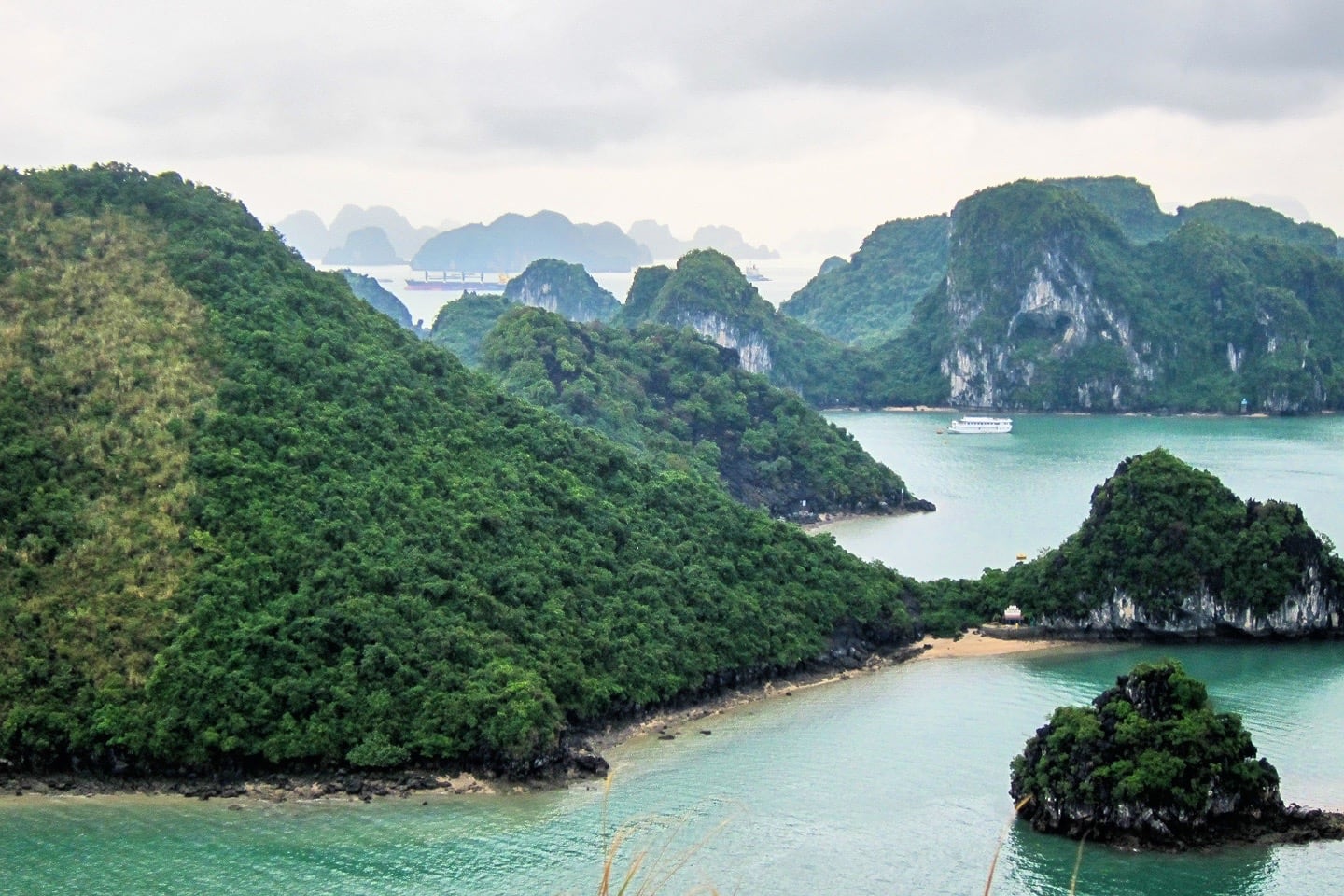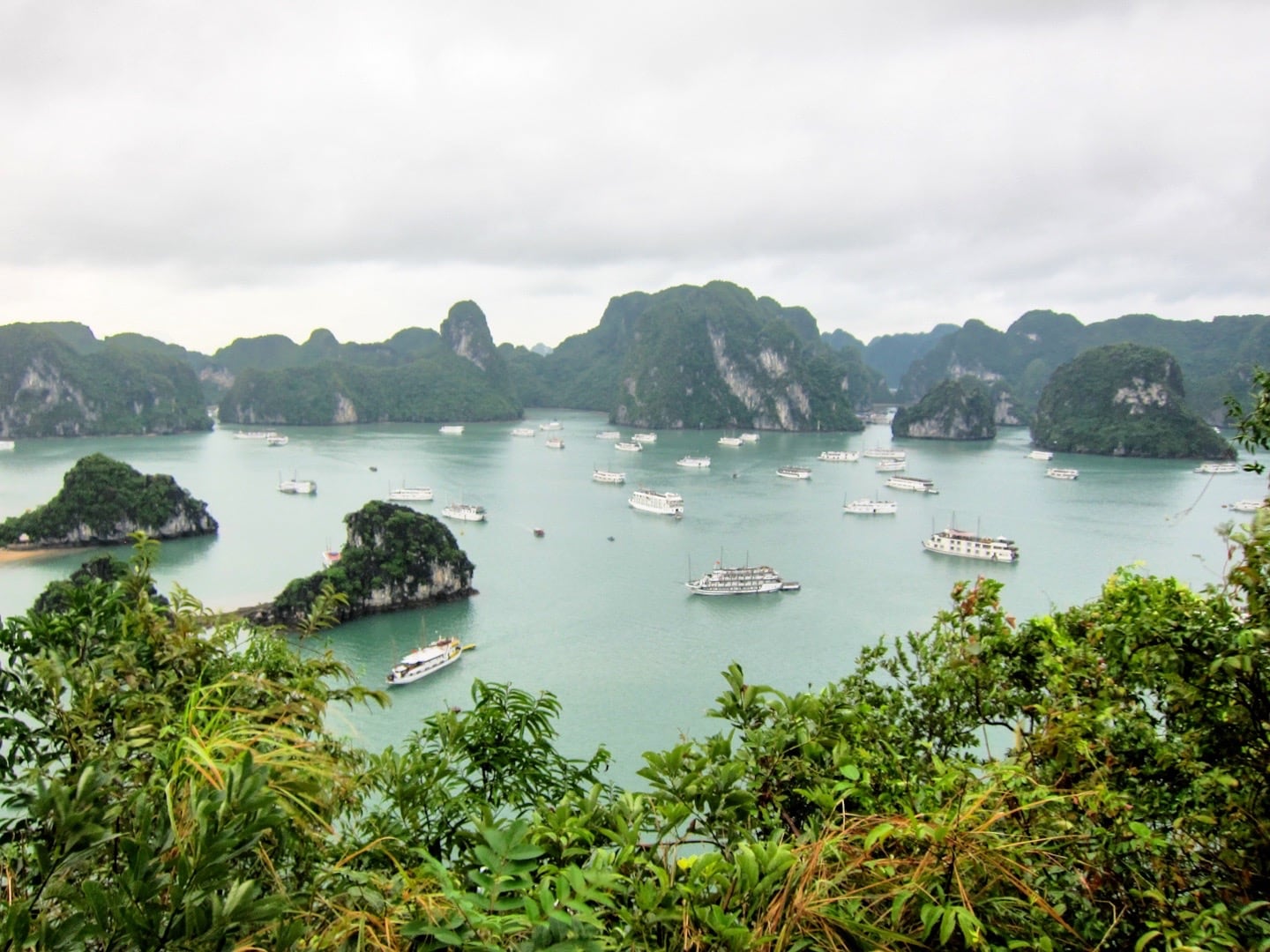 Happy Hour, Cooking Class & Dinner
Back on the boat, it was time for a beer! Ba Ba Ba! (3-3-3!)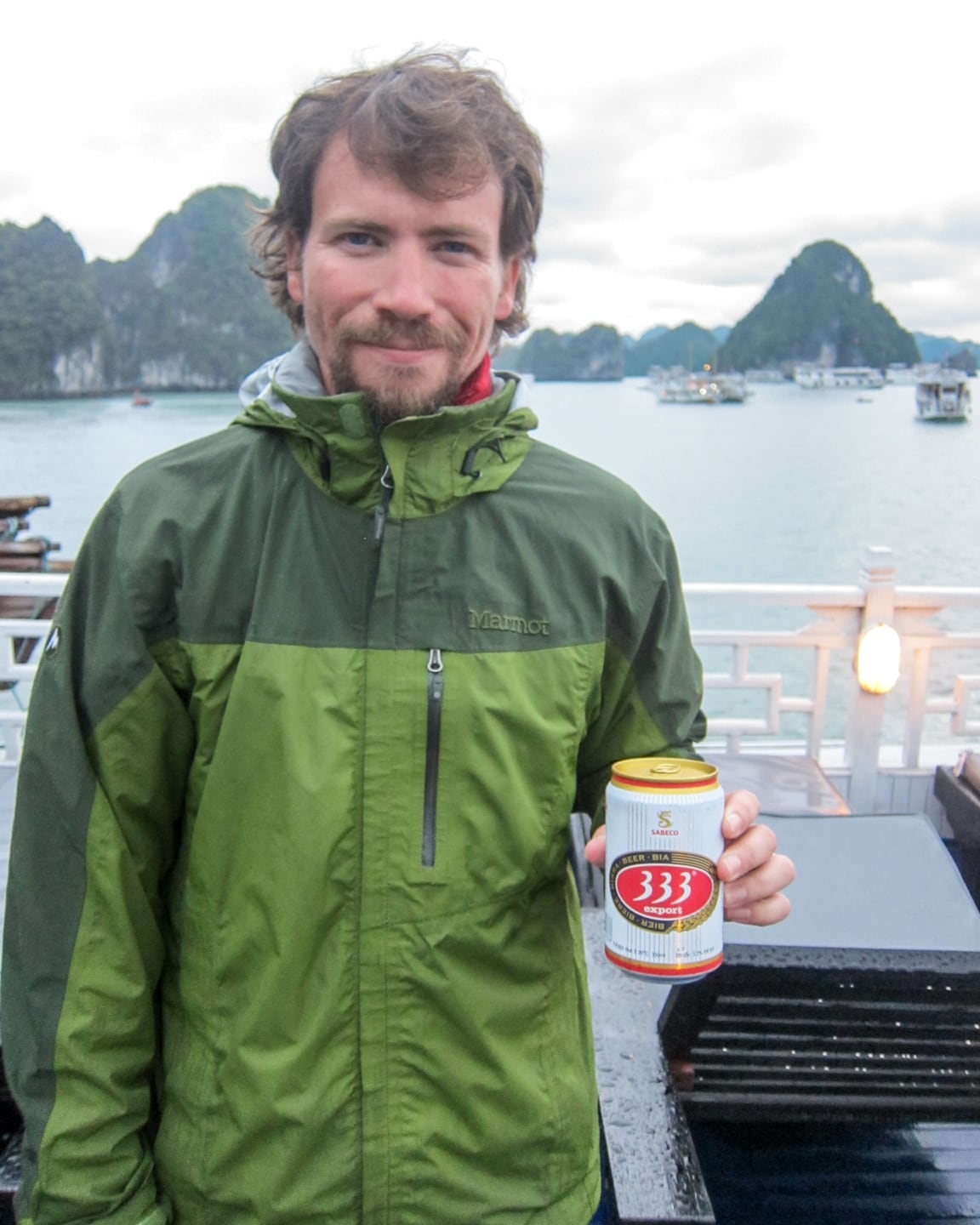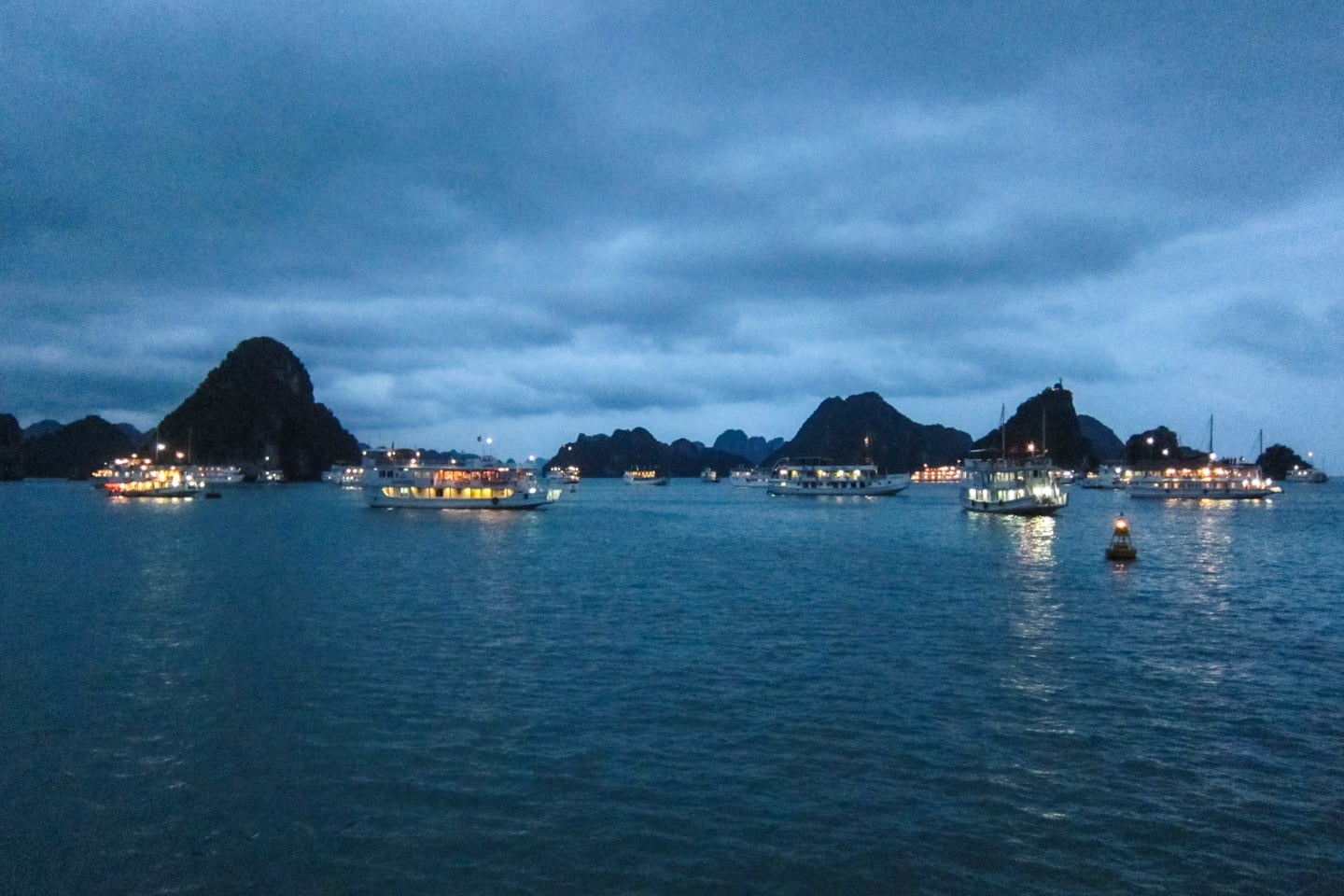 At the end of the first day, we dropped anchor in a bay full of other cruise boats, though thankfully far enough away where that really didn't matter.
After a jam-packed day, we were excited to sit back, relax, have a few beverages and dig into dinner.
But first, one more activity — learning how to make fresh spring rolls!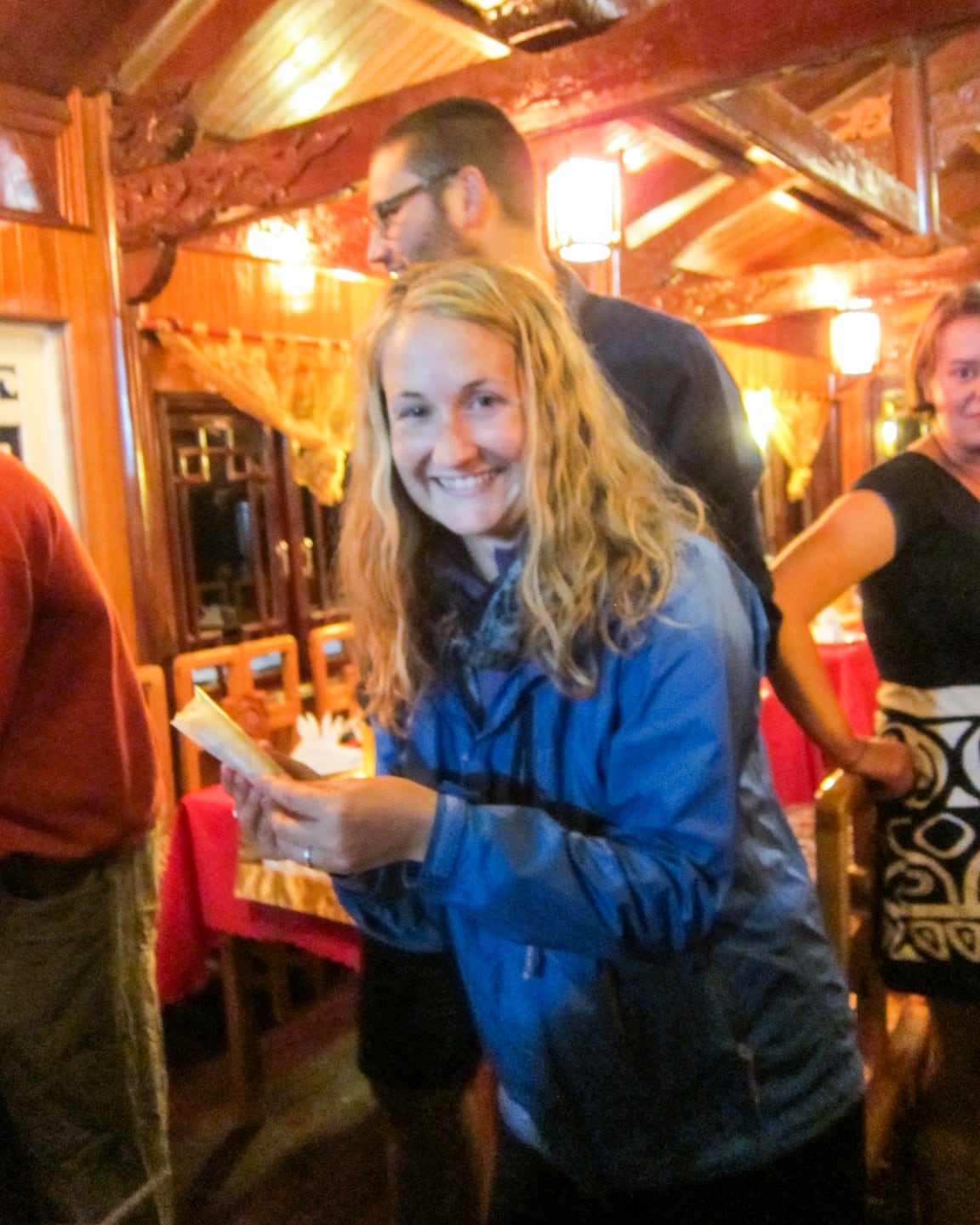 Get a load of that concentration. It's all about the spring roll.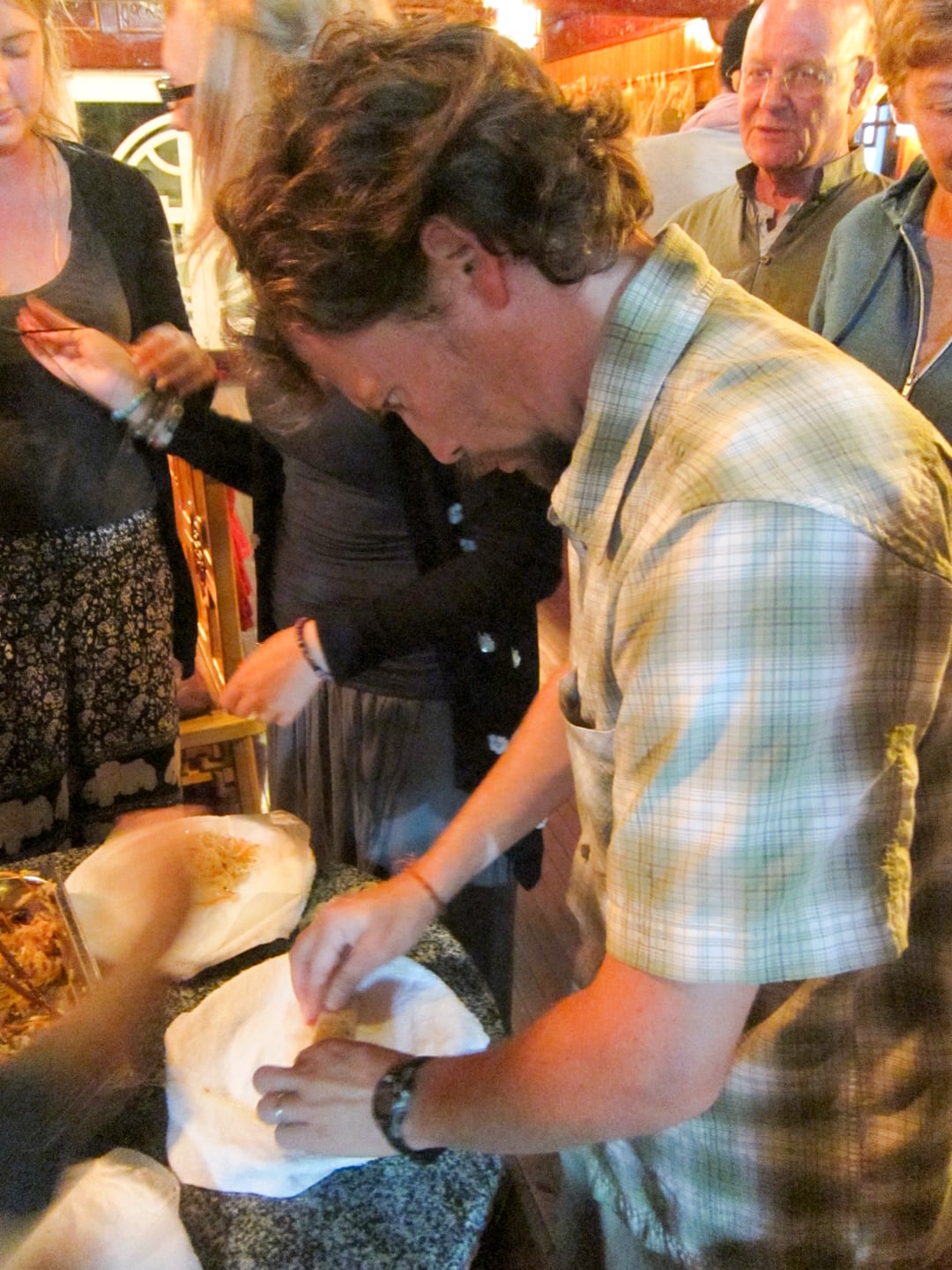 And now for an evening Vietnamese coffee. Bad idea? Or best. Idea. Ever…?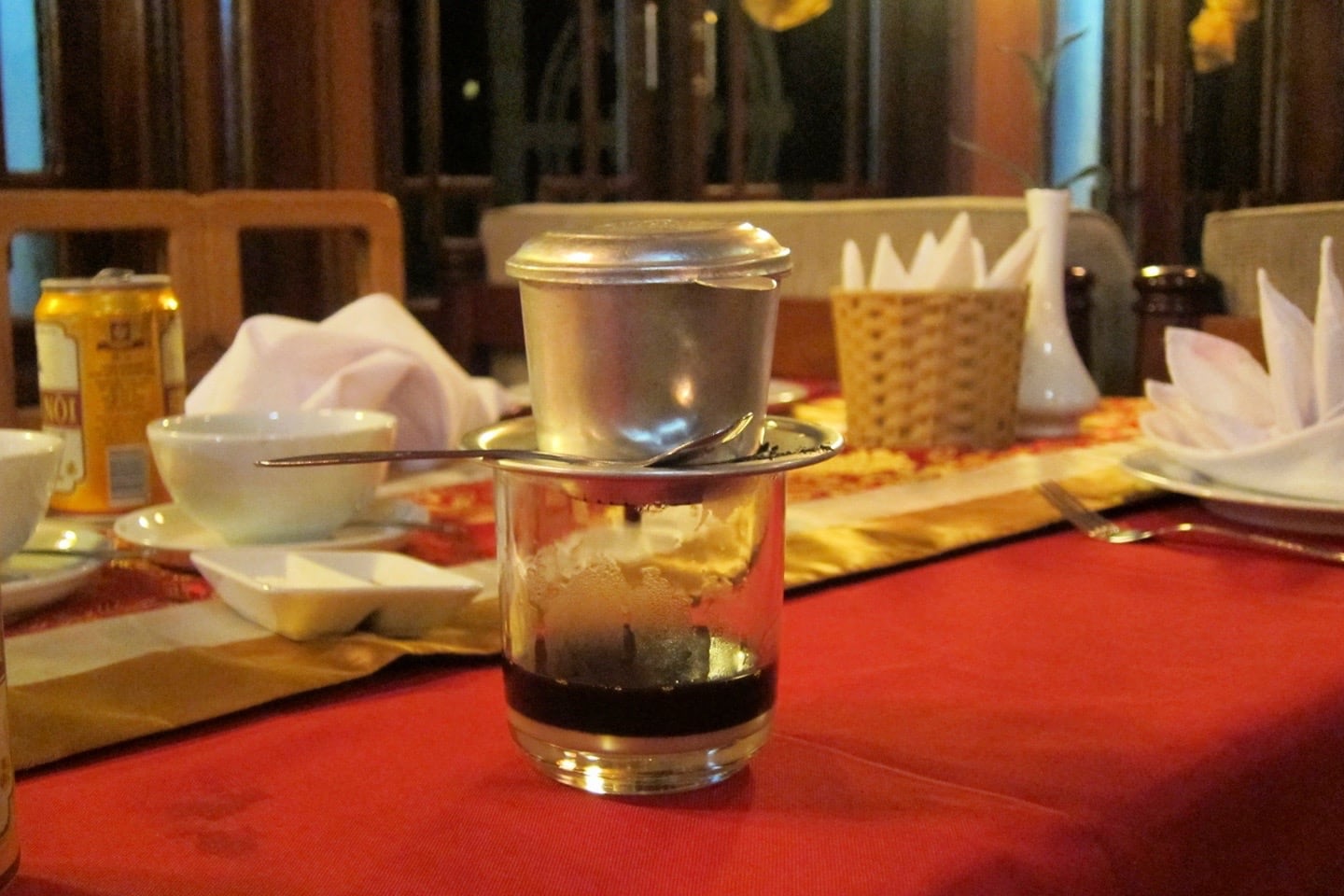 What happens when you mix spring rolls with Vietnamese beer and Vietnamese coffee…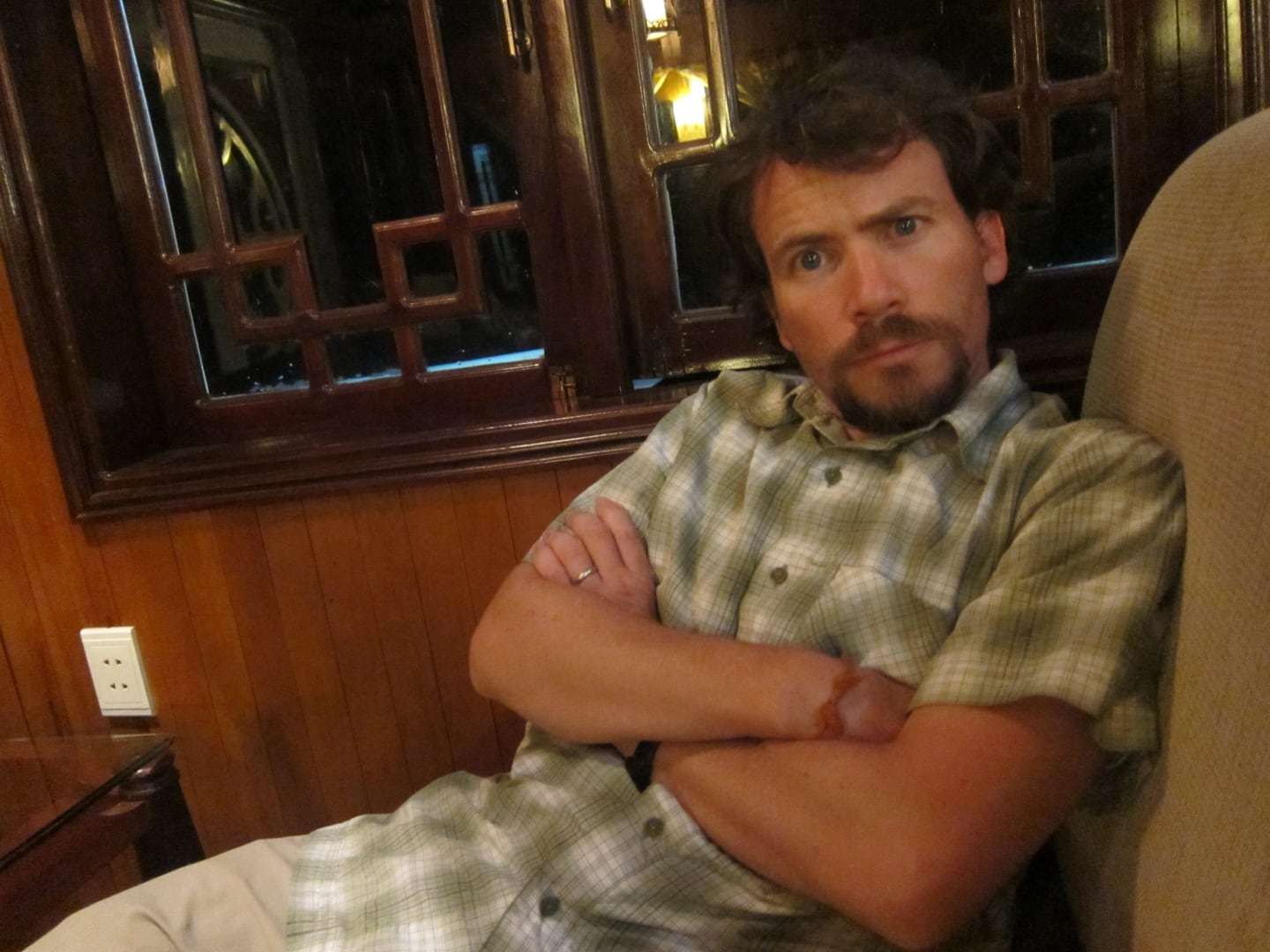 Karaoke!!!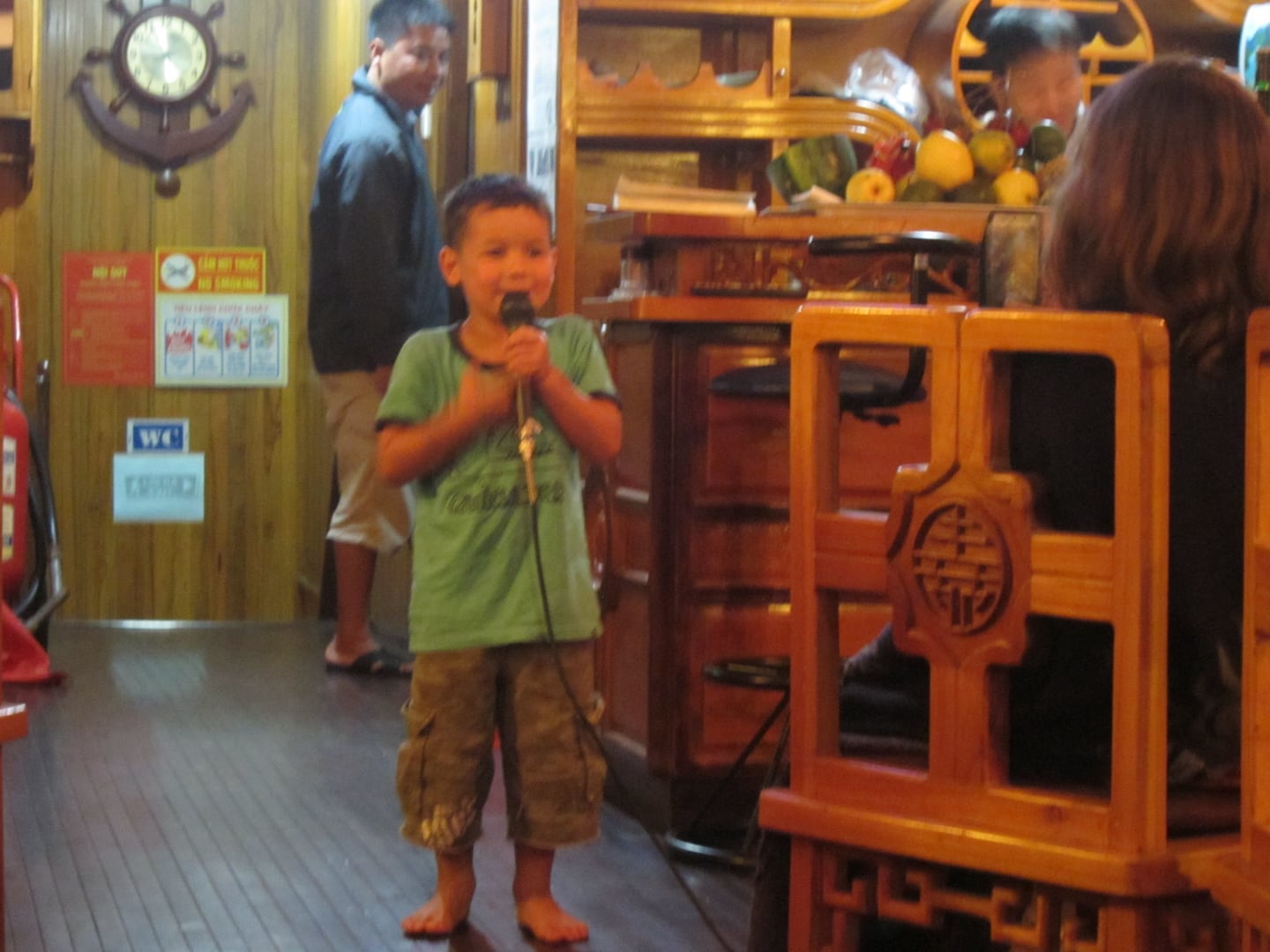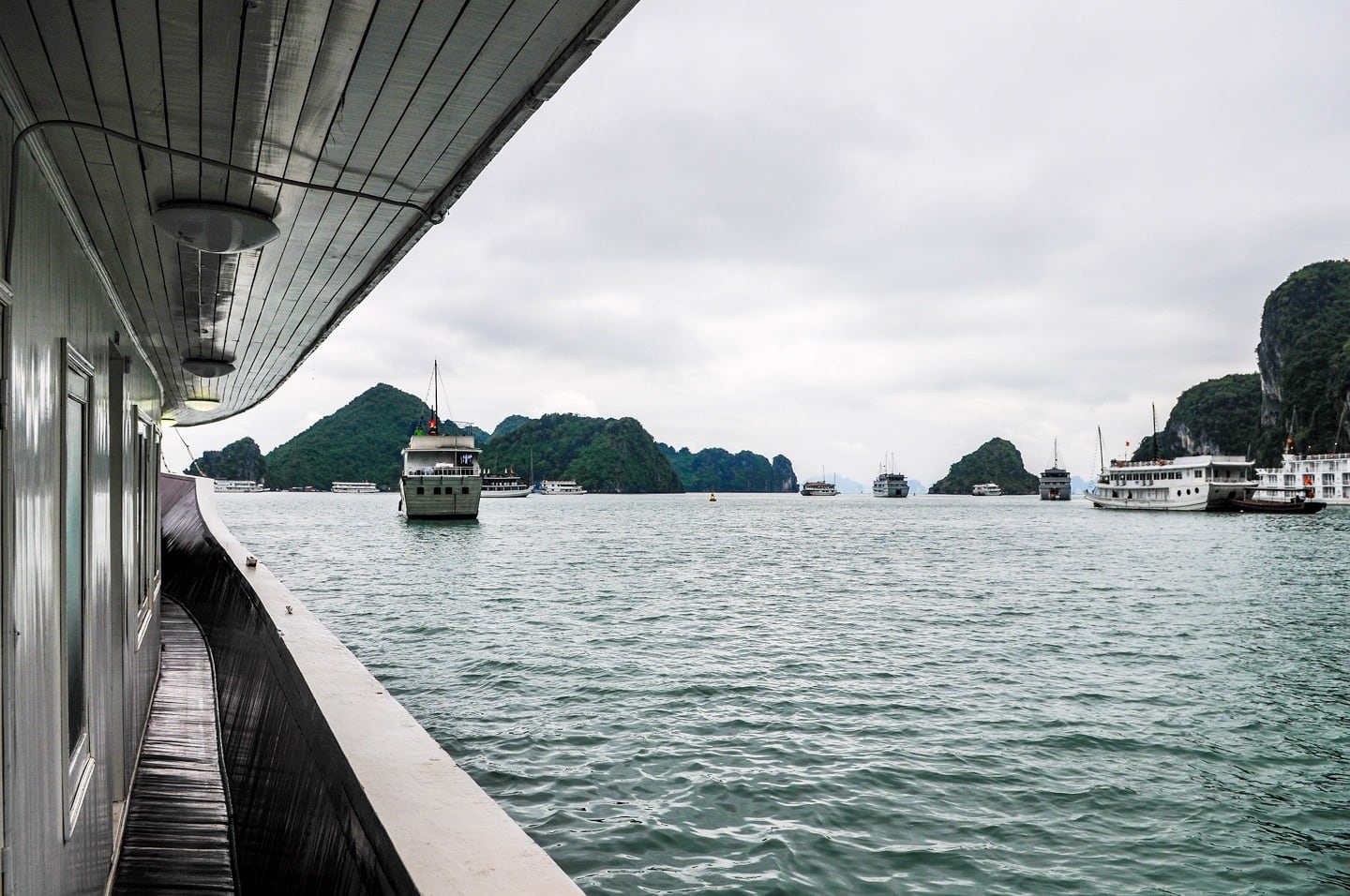 Our Halong Bay Cruise: Day Two
Both of us awoke early following a blissful night's sleep on the water. We stepped out of our berth to find that the fog and rain of the previous day had moved on, leaving overcast skies, cool temperatures, and smooth seas.
This calls for heading up top to grab a coffee and snap a few pictures.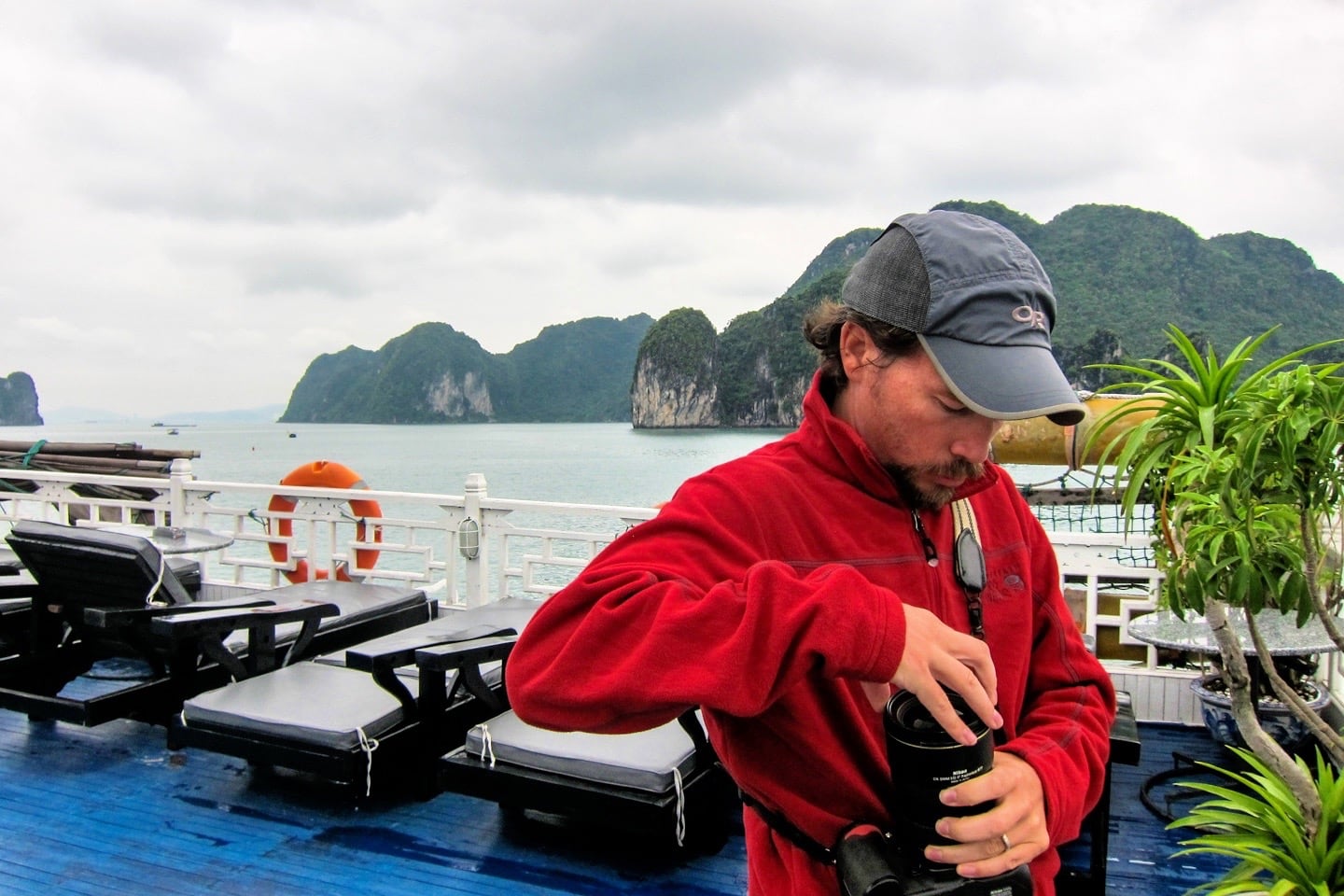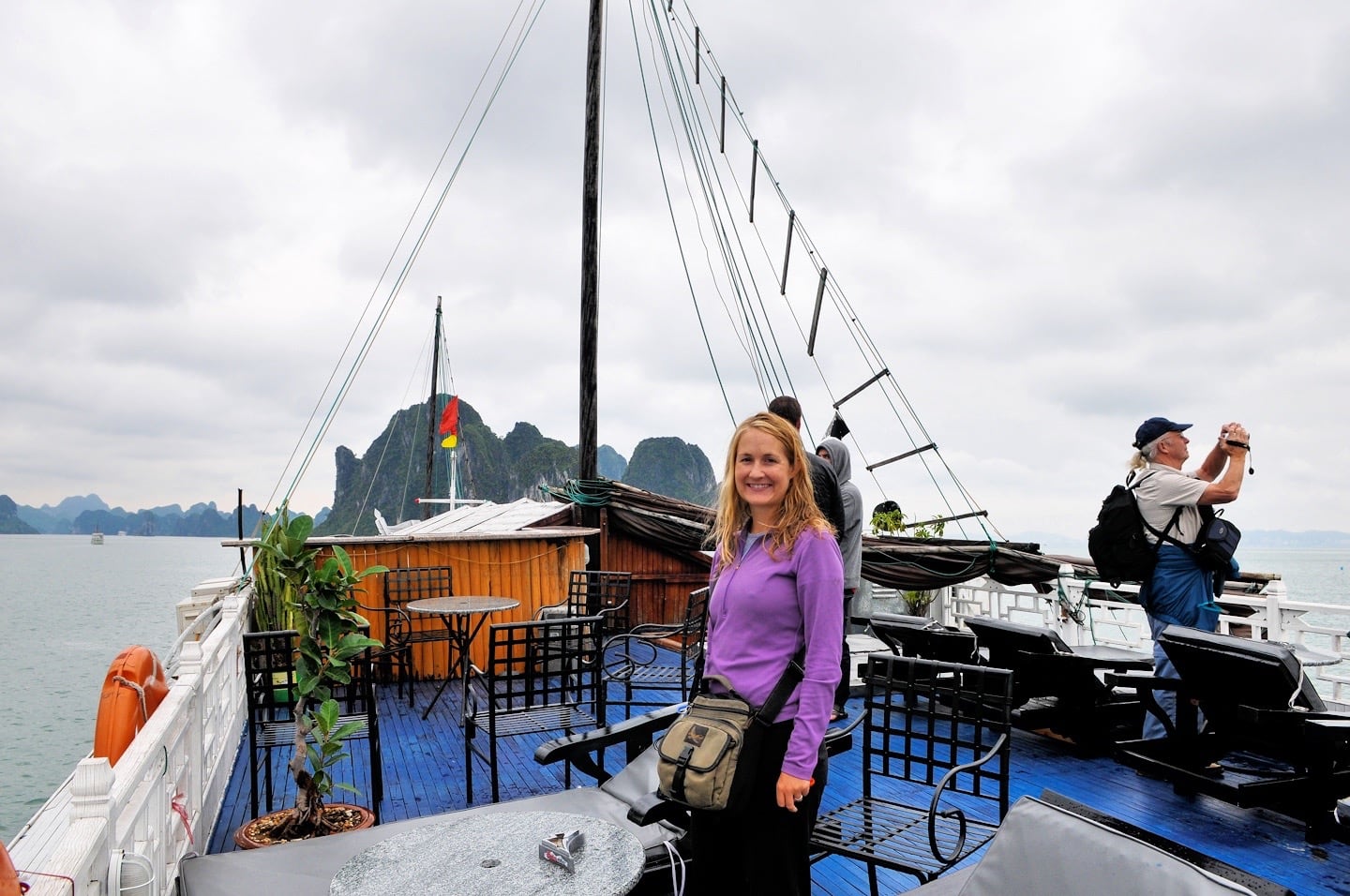 After breakfast, we enjoyed a leisurely morning, taking in the majestic karst formations of the dozens of islands around us from the top deck of the boat. It's hard to believe that in the tropics at sea level it can be so cold, but apparently this weather's common for the time of year.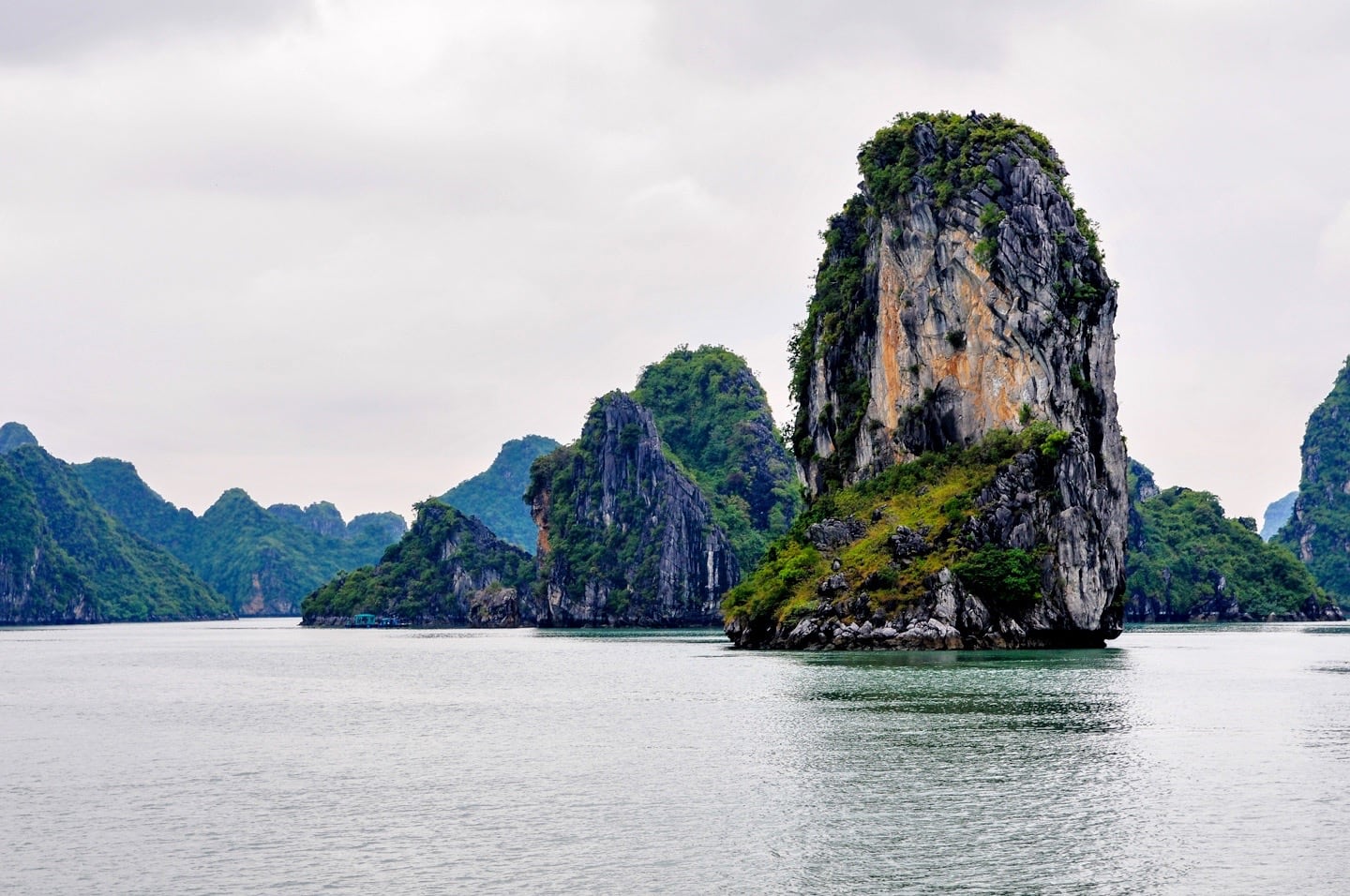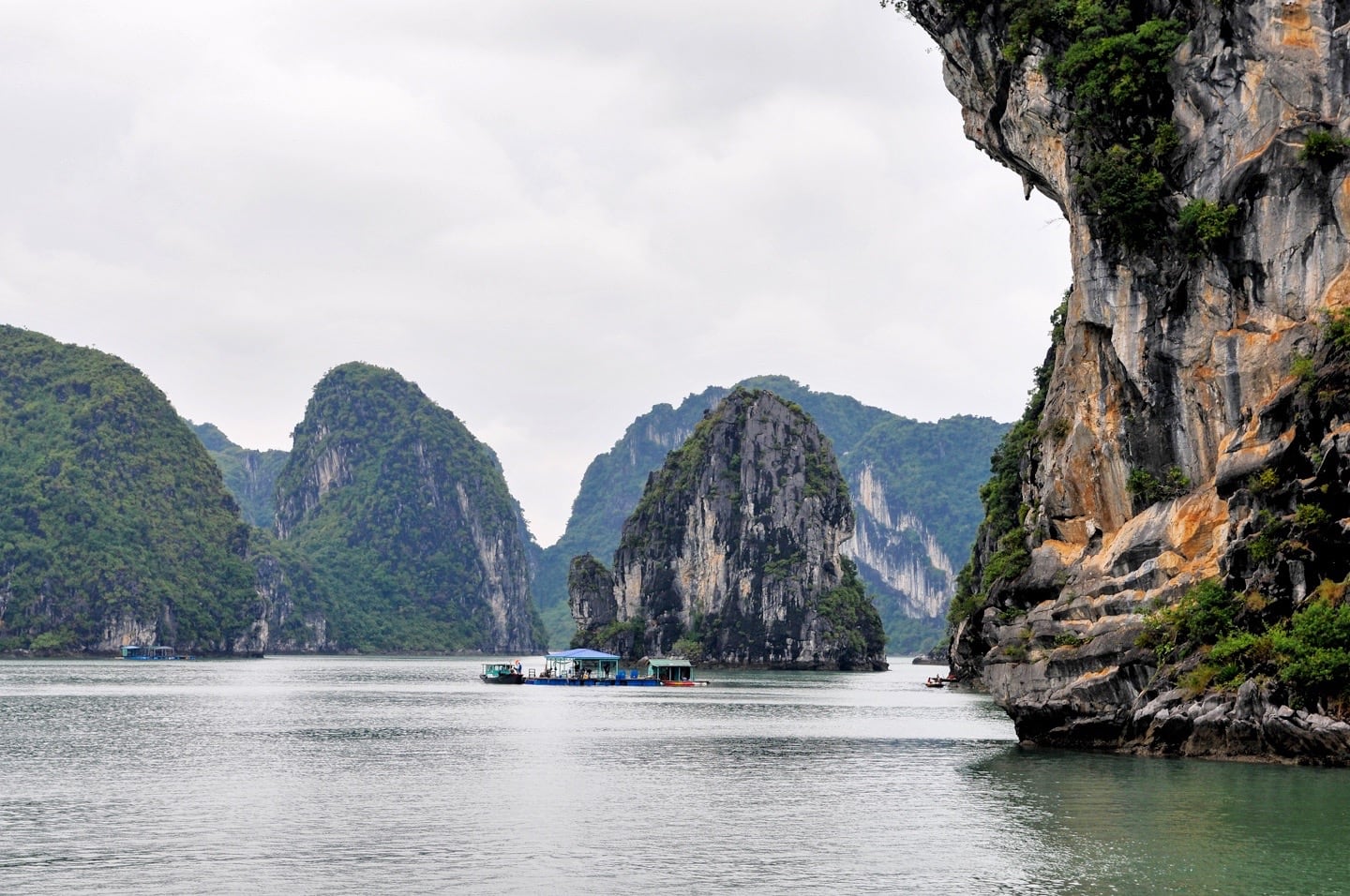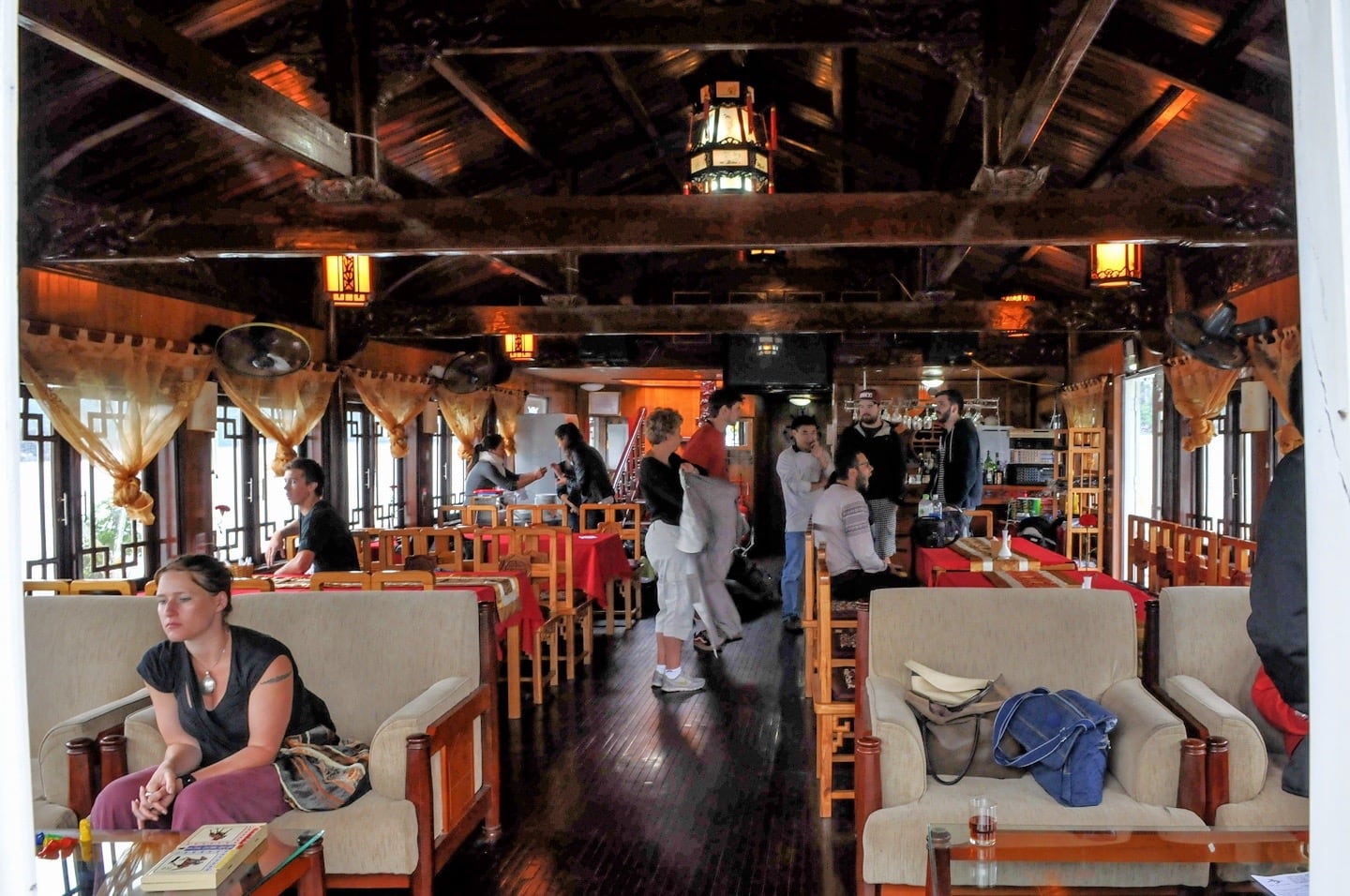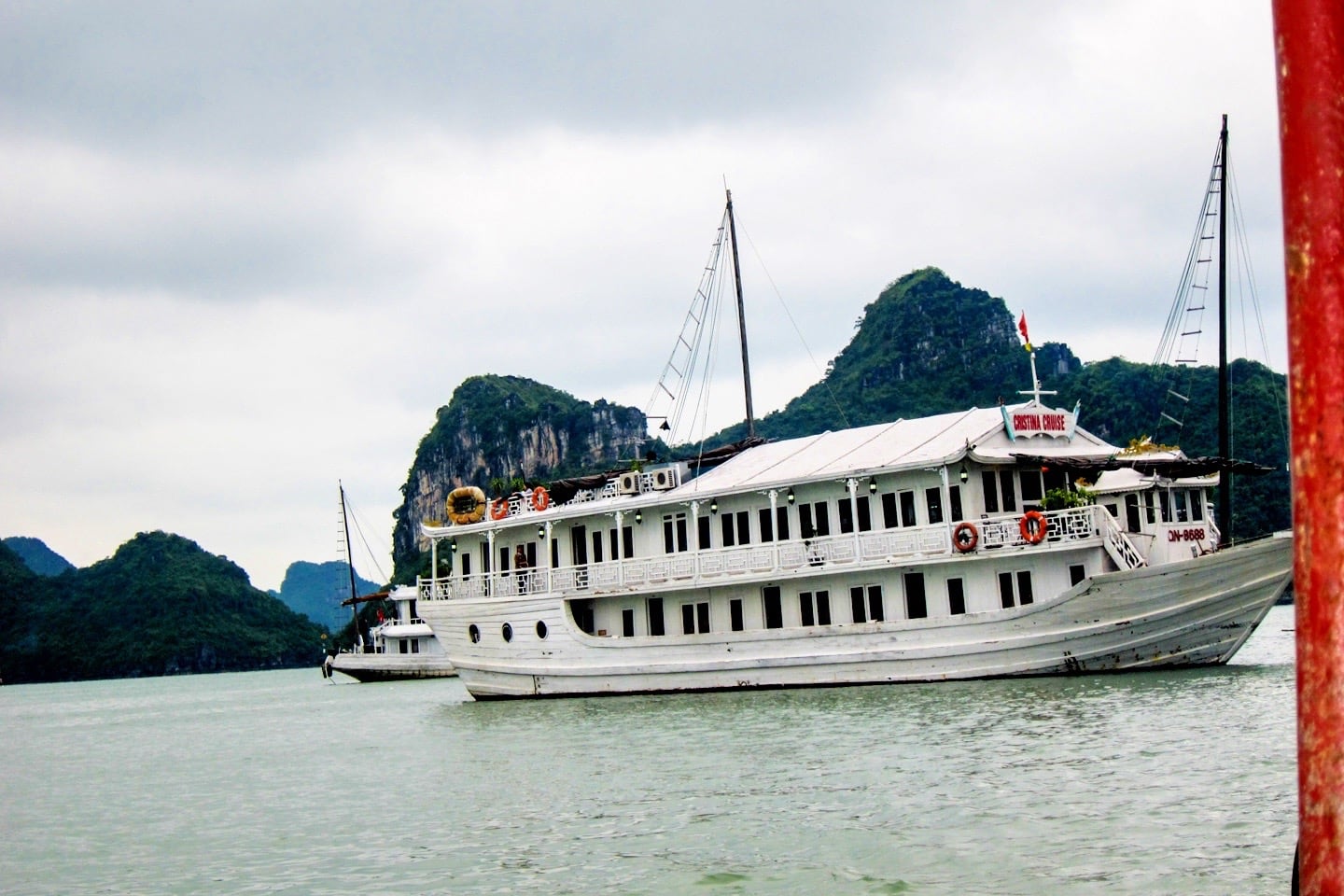 Around mid-morning, we transferred to a smaller boat, which took us ashore a large island with a rugged and largely unpopulated interior.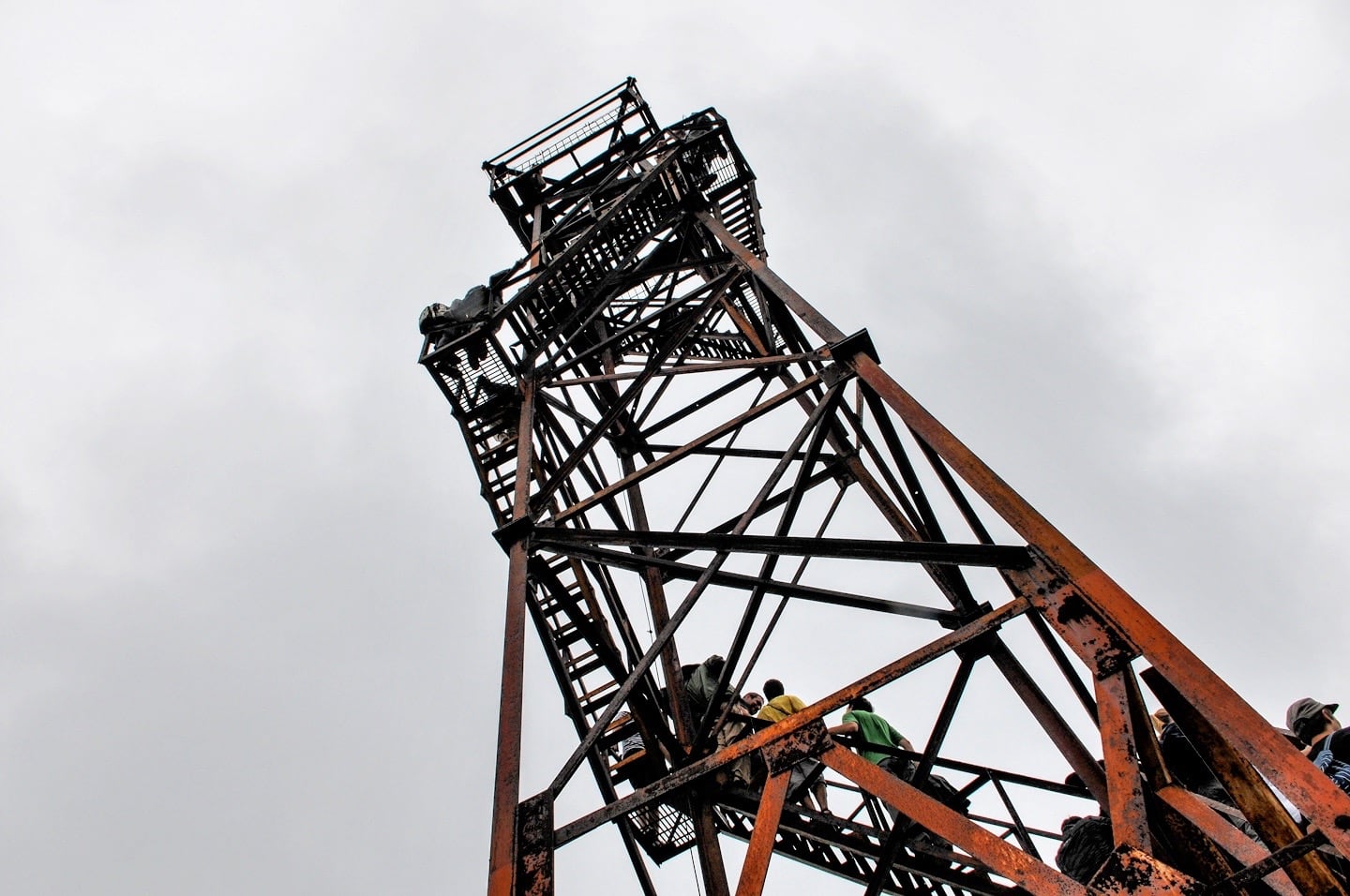 Hiking Observatory Loop in Cat Ba National Park
We hiked to the top of a ridge and then ascended a rusting and rickety lookout tower for sweeping views of the island's interior and Cat Ba National Park.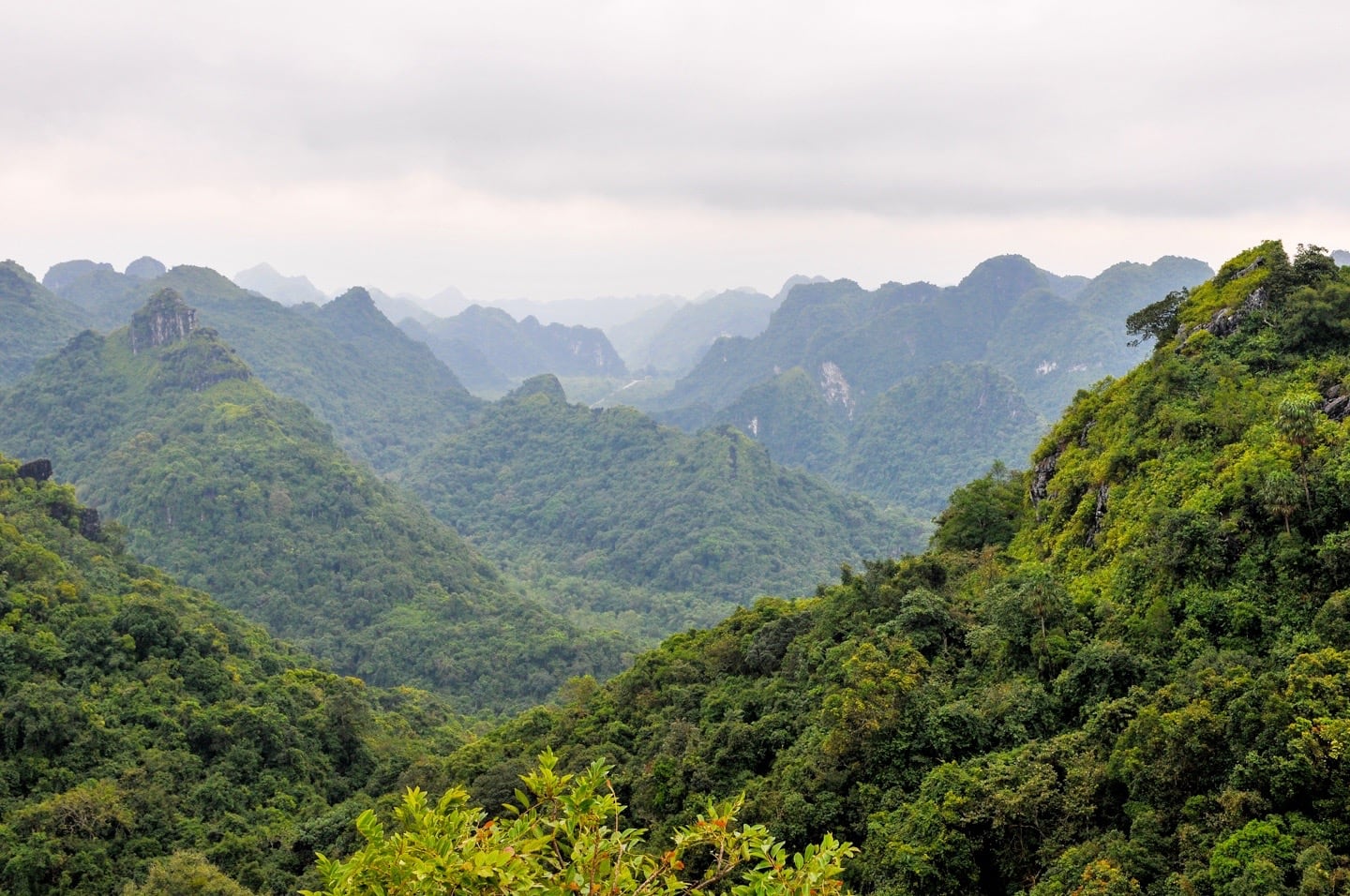 The trail back down was challenging, given the recent rains. But we managed.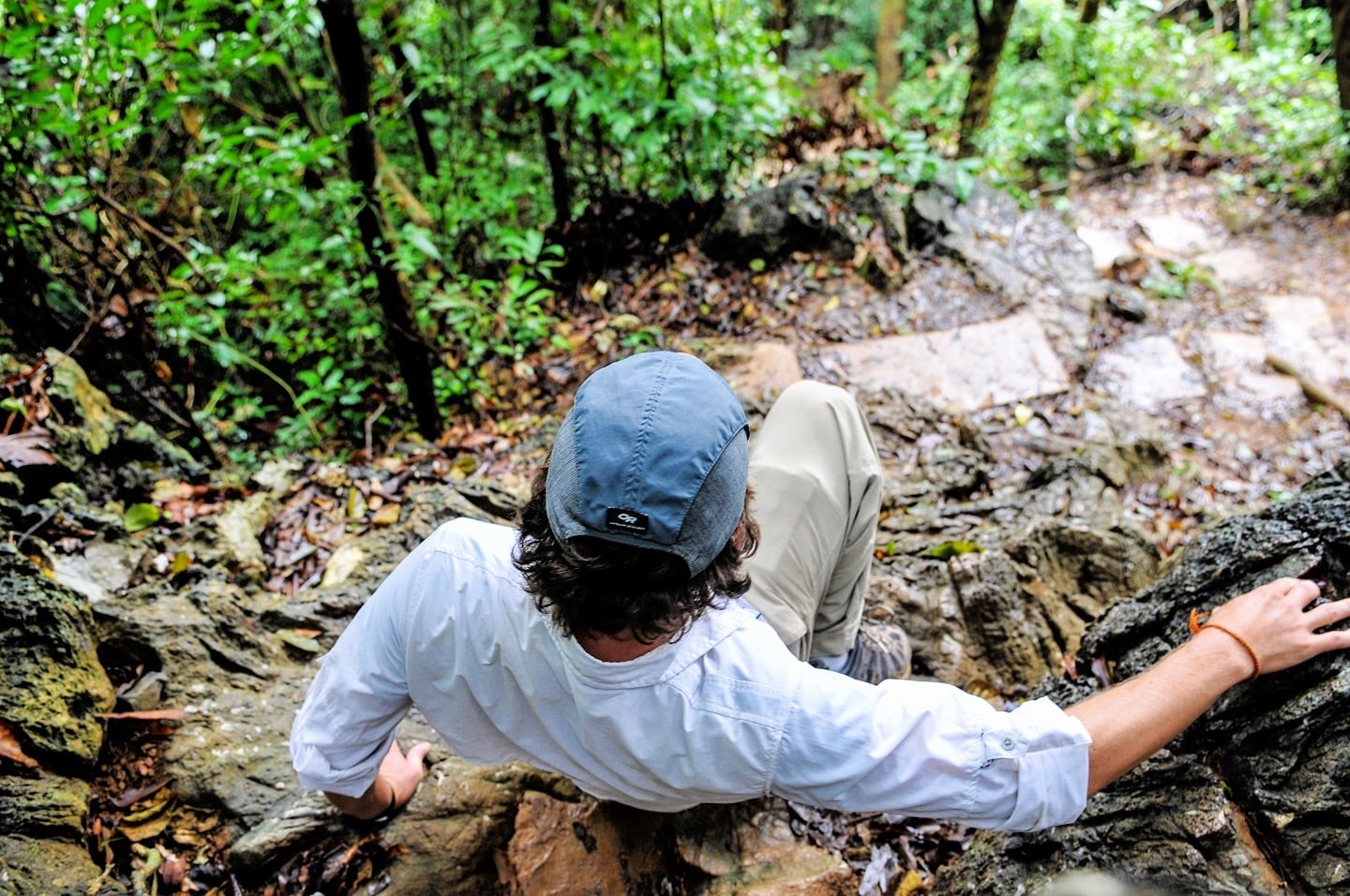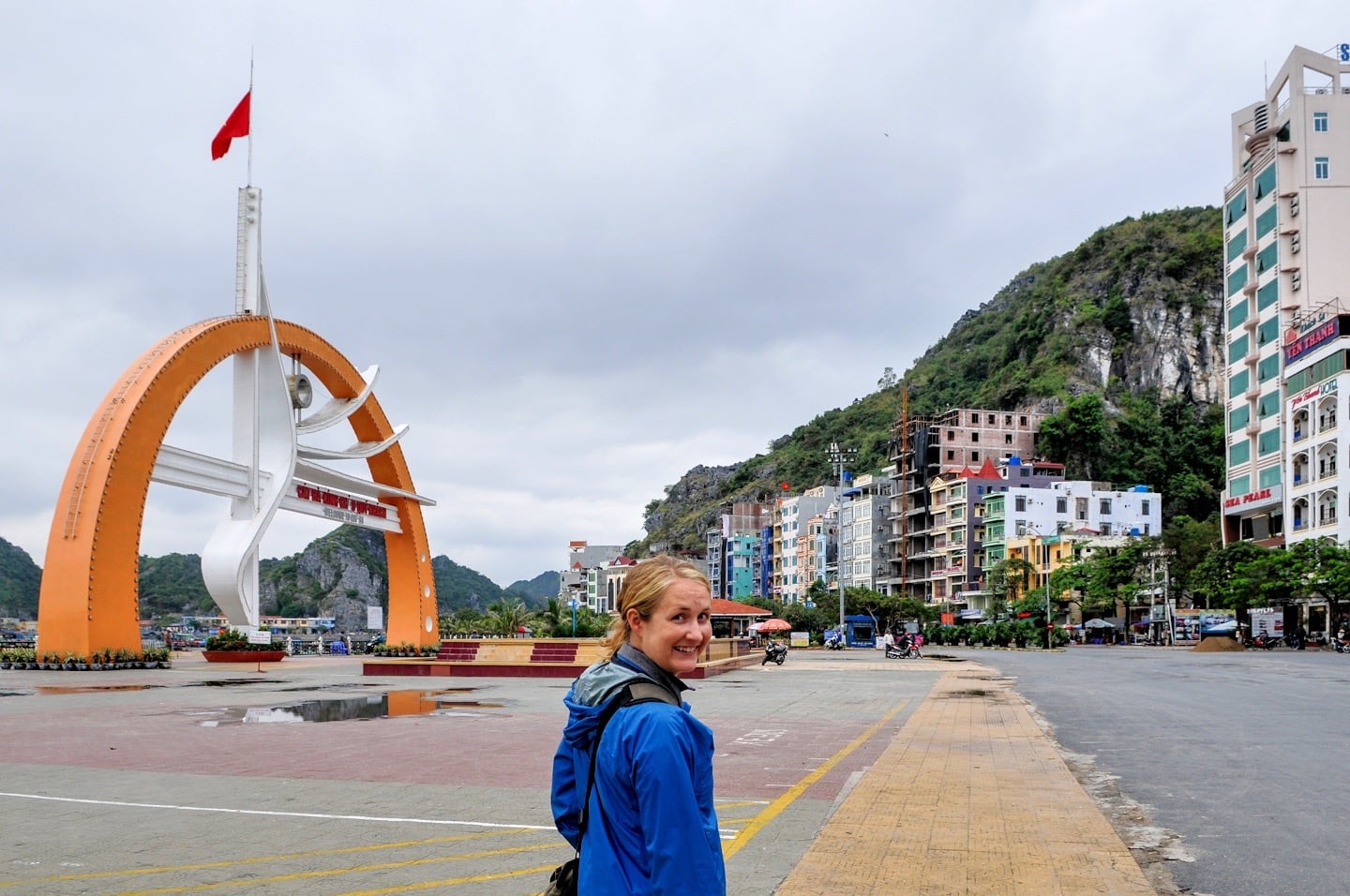 Lunch in Cat Ba Town
After the hike, we boarded a shuttle that took us to Cat Ba Town on the southern tip of the island where we had lunch.
A portion of the group opted for staying the night at a hotel here in Cat Ba Town, while the rest of us chose to take our chances in rustic bungalows on a secluded island beach.
If the weather had been warm and sunny, I might have thought them crazy for choosing the hotel option. Given the cold and rainy weather, however, I was certainly not going to hold it against them.
With that said, Lori and I never turn down a beach bungalow, regardless of the weather.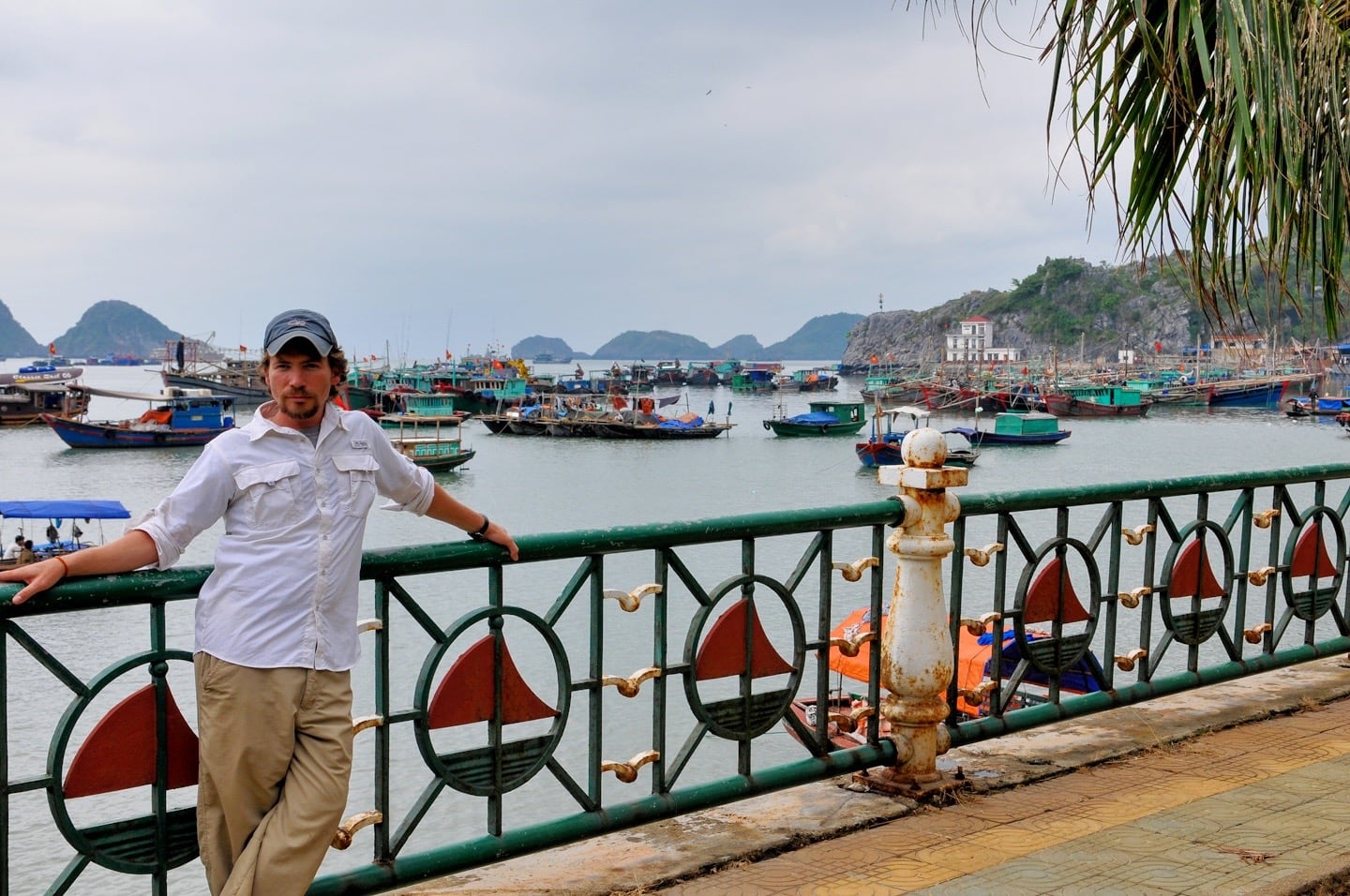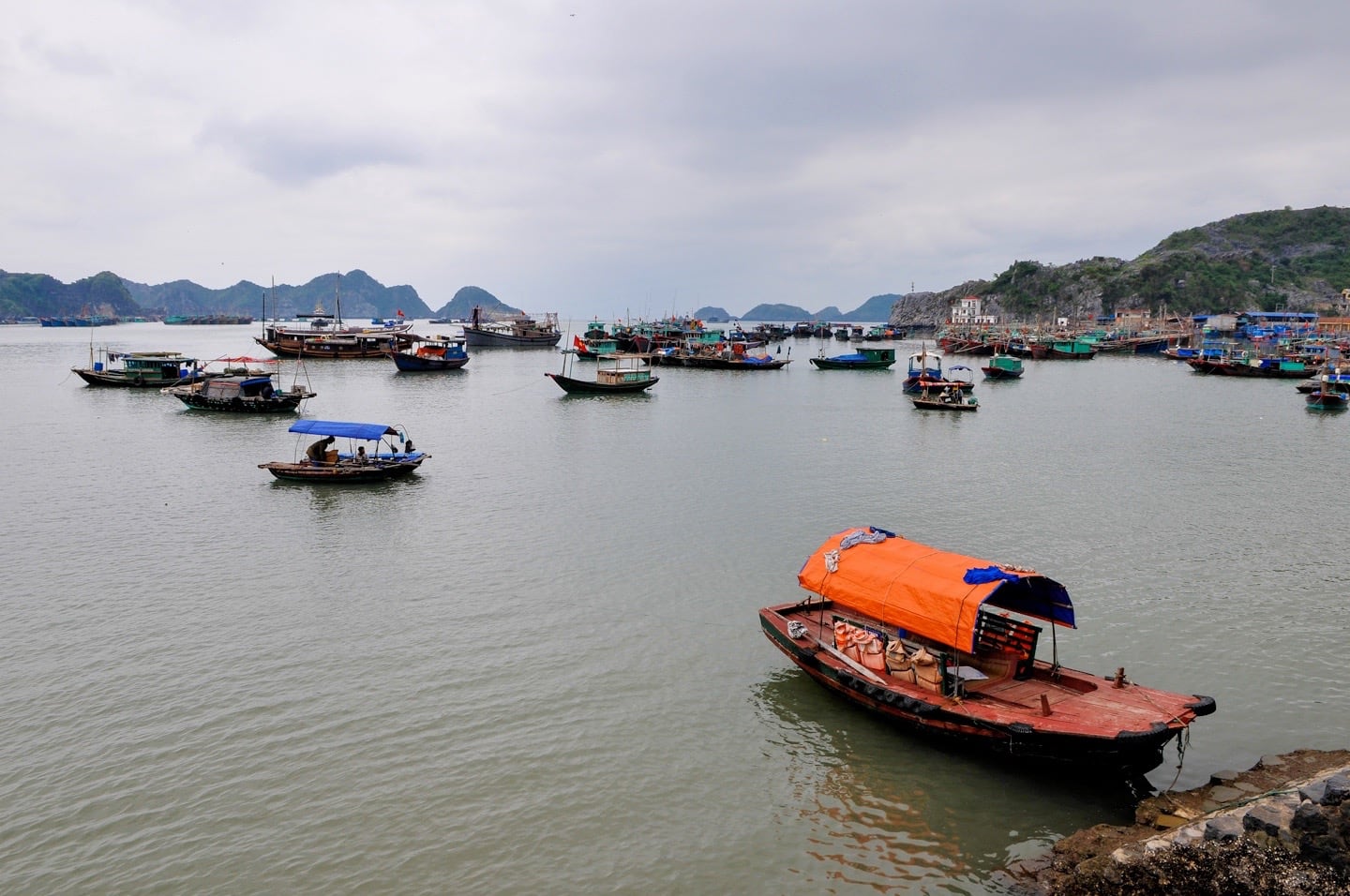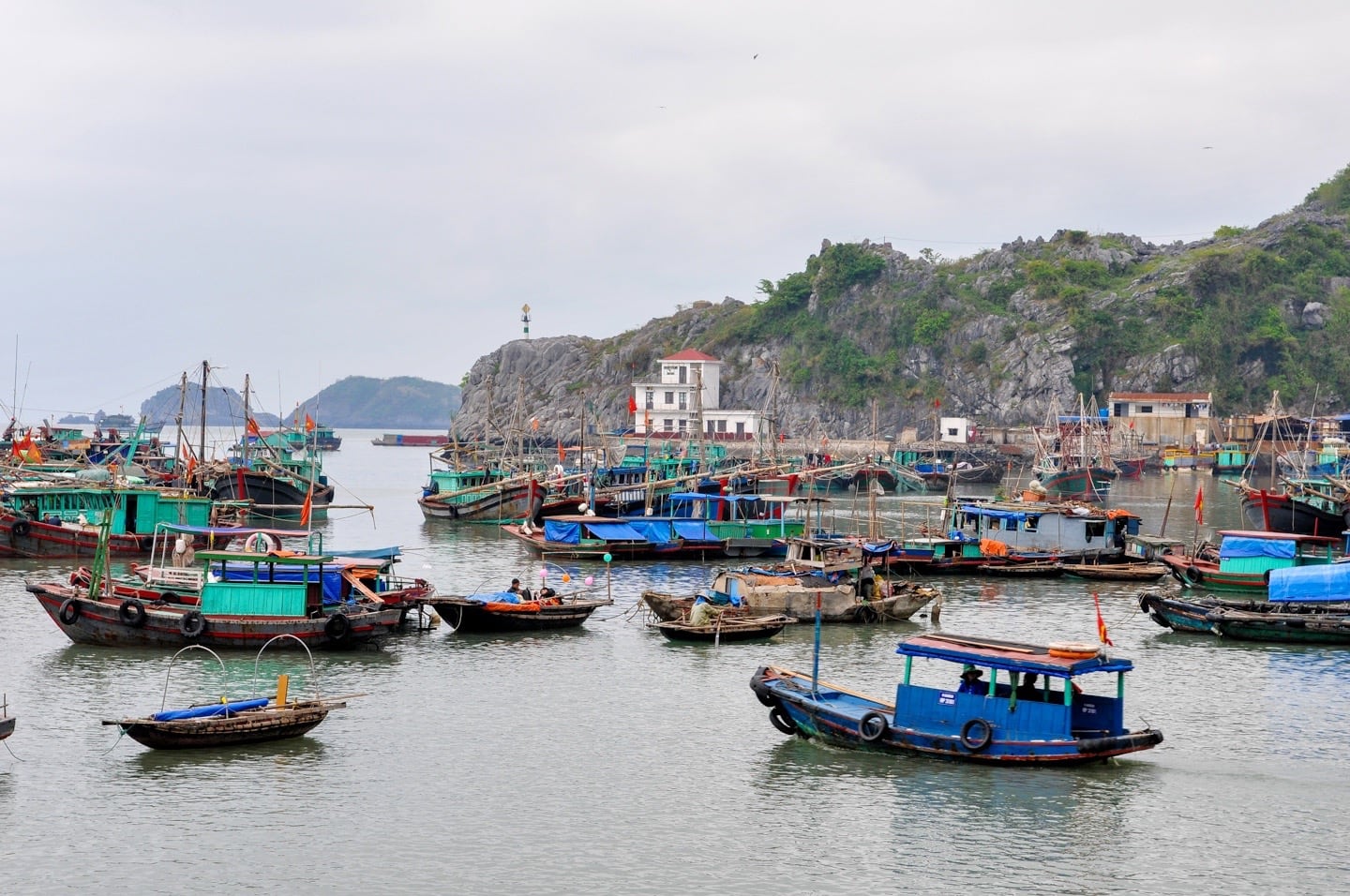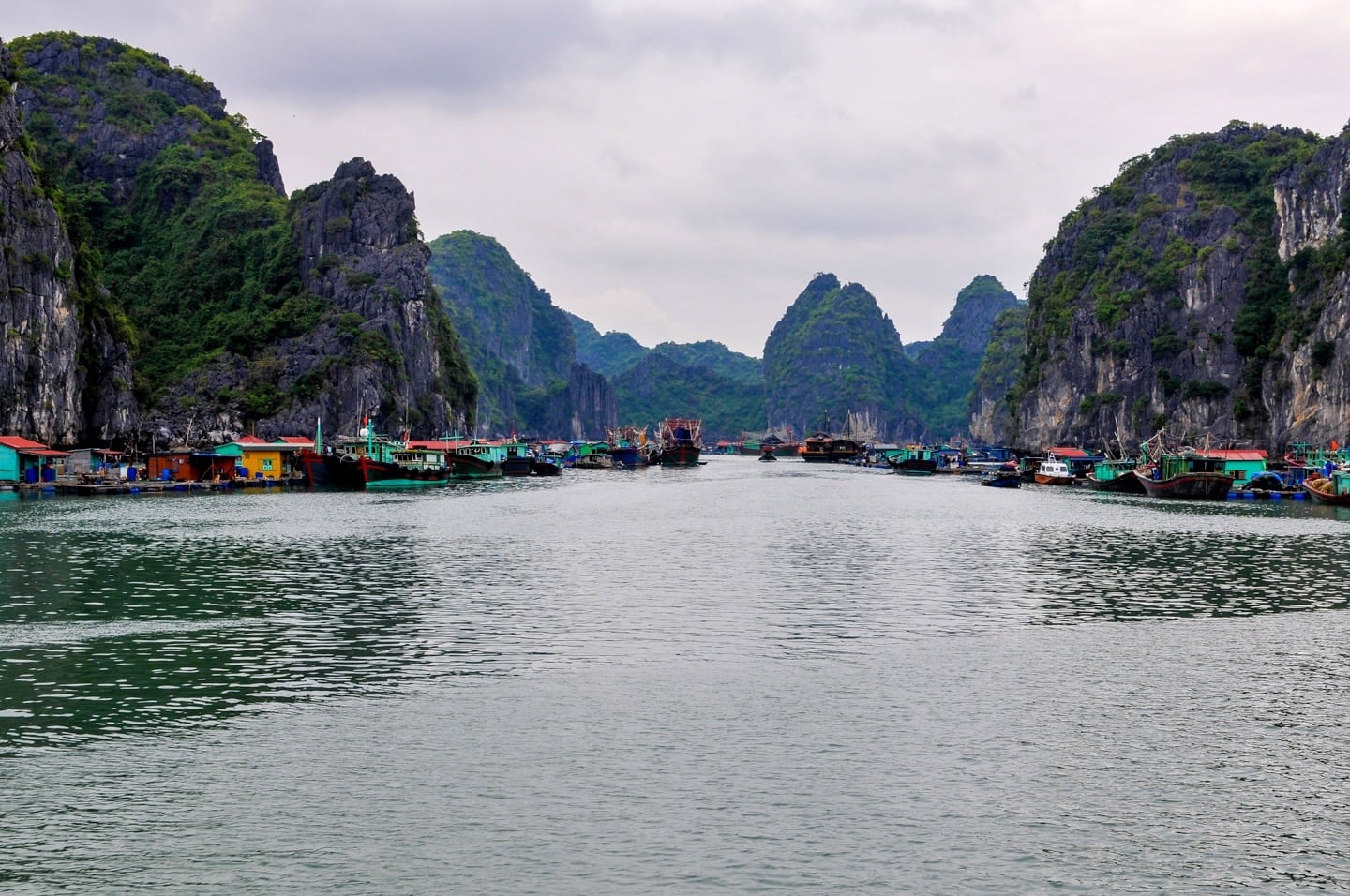 Boat Ride Through Traditional Fishing Villages
After lunch, those who opted for the beach bungalow boarded a smaller day cruise boat and set off for Monkey Island.
On the way to Monkey Island, we passed through a narrow strait packed with wooden fishing vessels and floating fishing structures.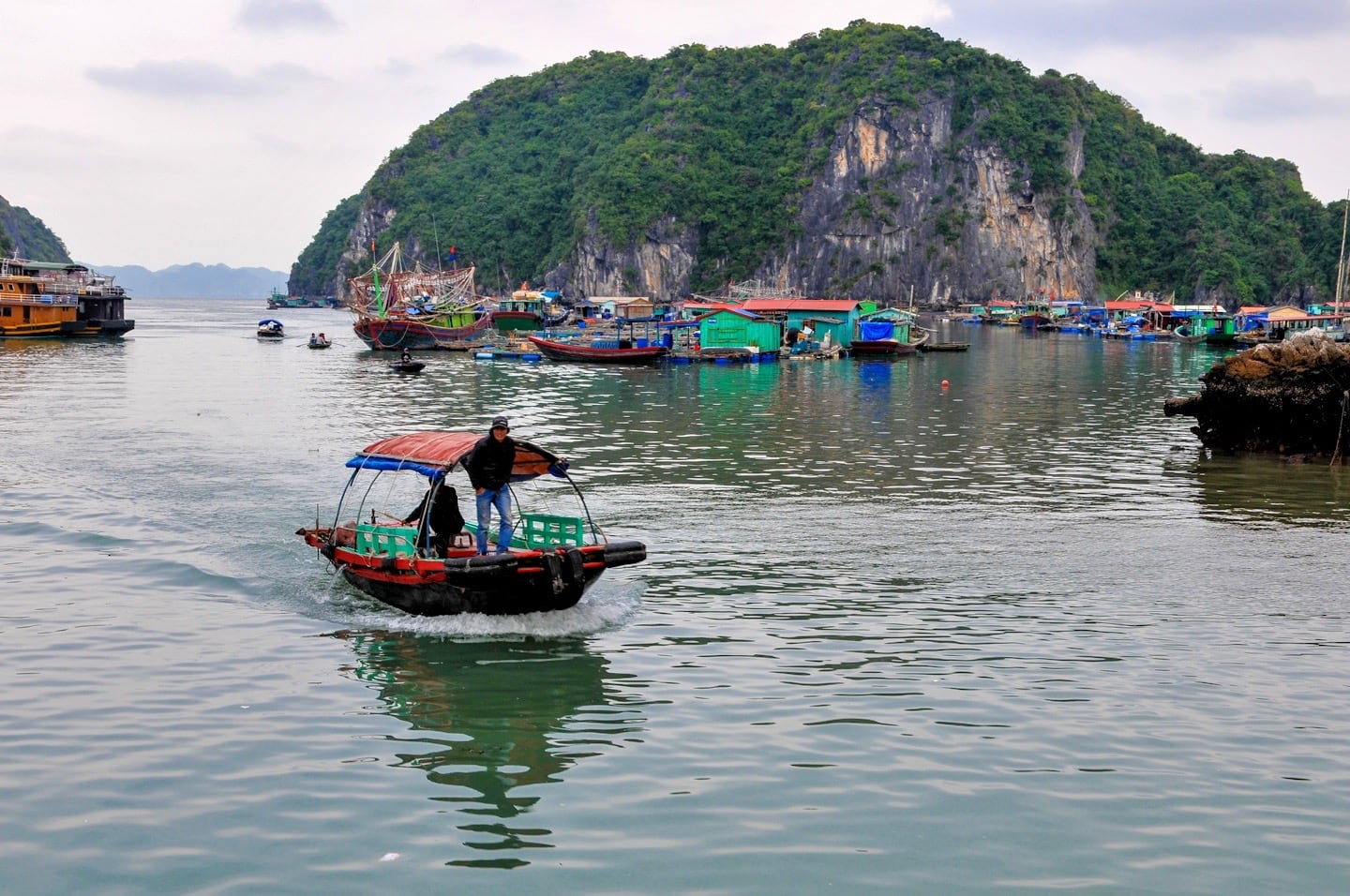 When you start feeling out of place, you know you're in someplace unique and worth visiting.
I liked being on the small, rickety old boat cruising slowly through the strait. I didn't feel like we were disrupting the fishermen's' daily activities too much, and weren't lingering in any one spot for too long.
The route provided us with some sense of the daily lives of people here without being too conspicuous.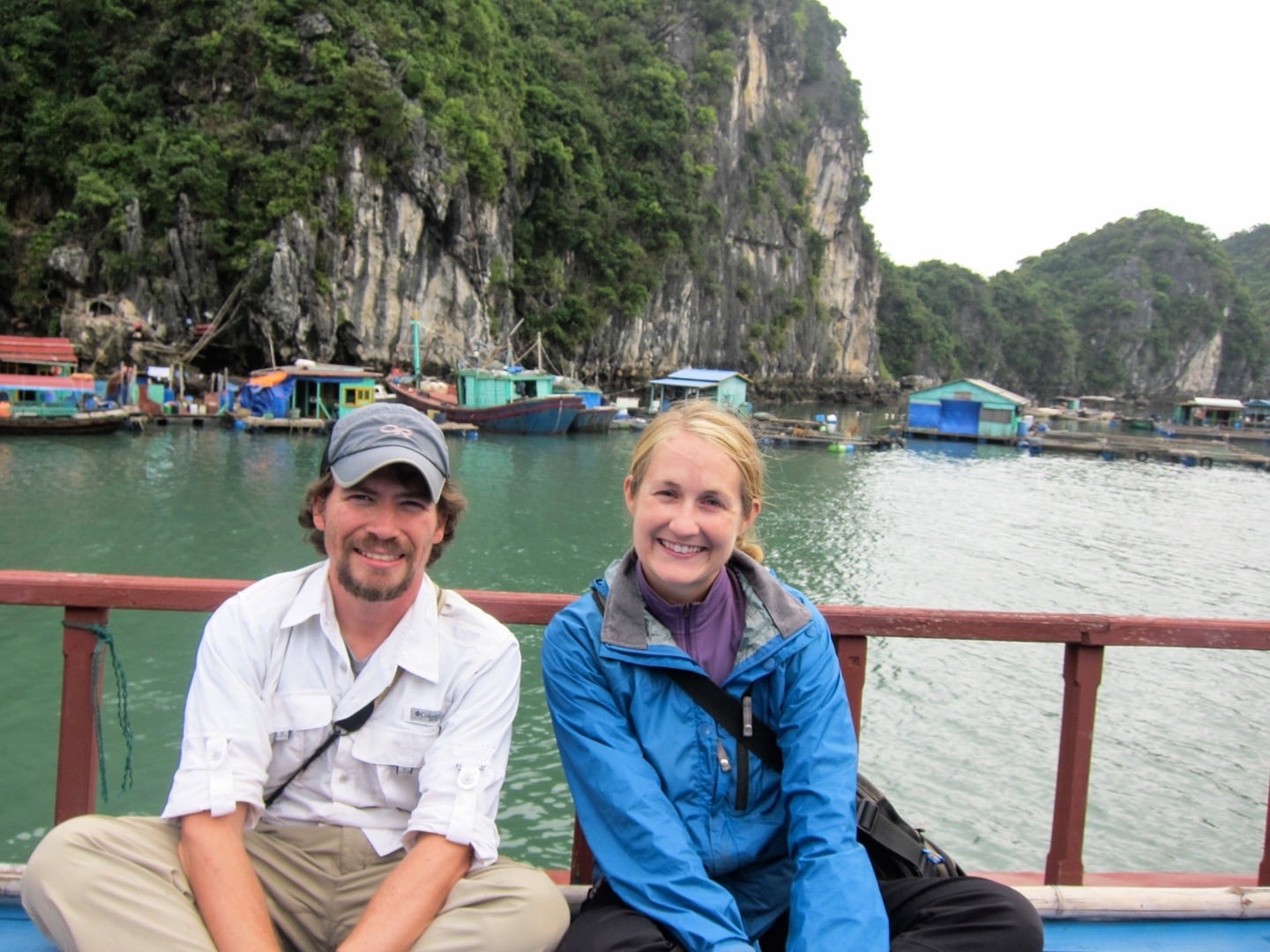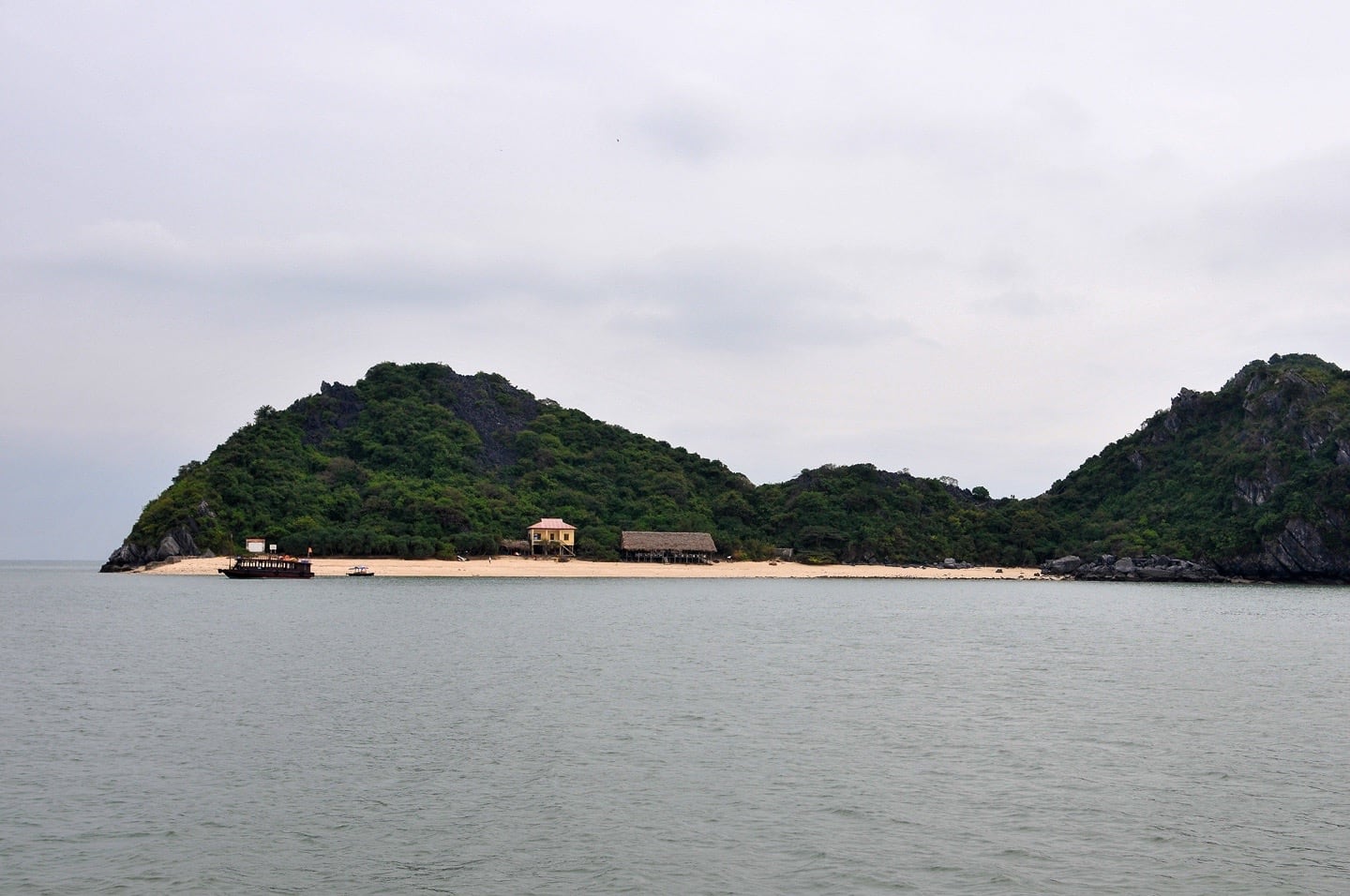 Monkey Island
Land Ho! Monkey Island. Aptly named for it's…you guessed it…numerous ill-tempered monkeys.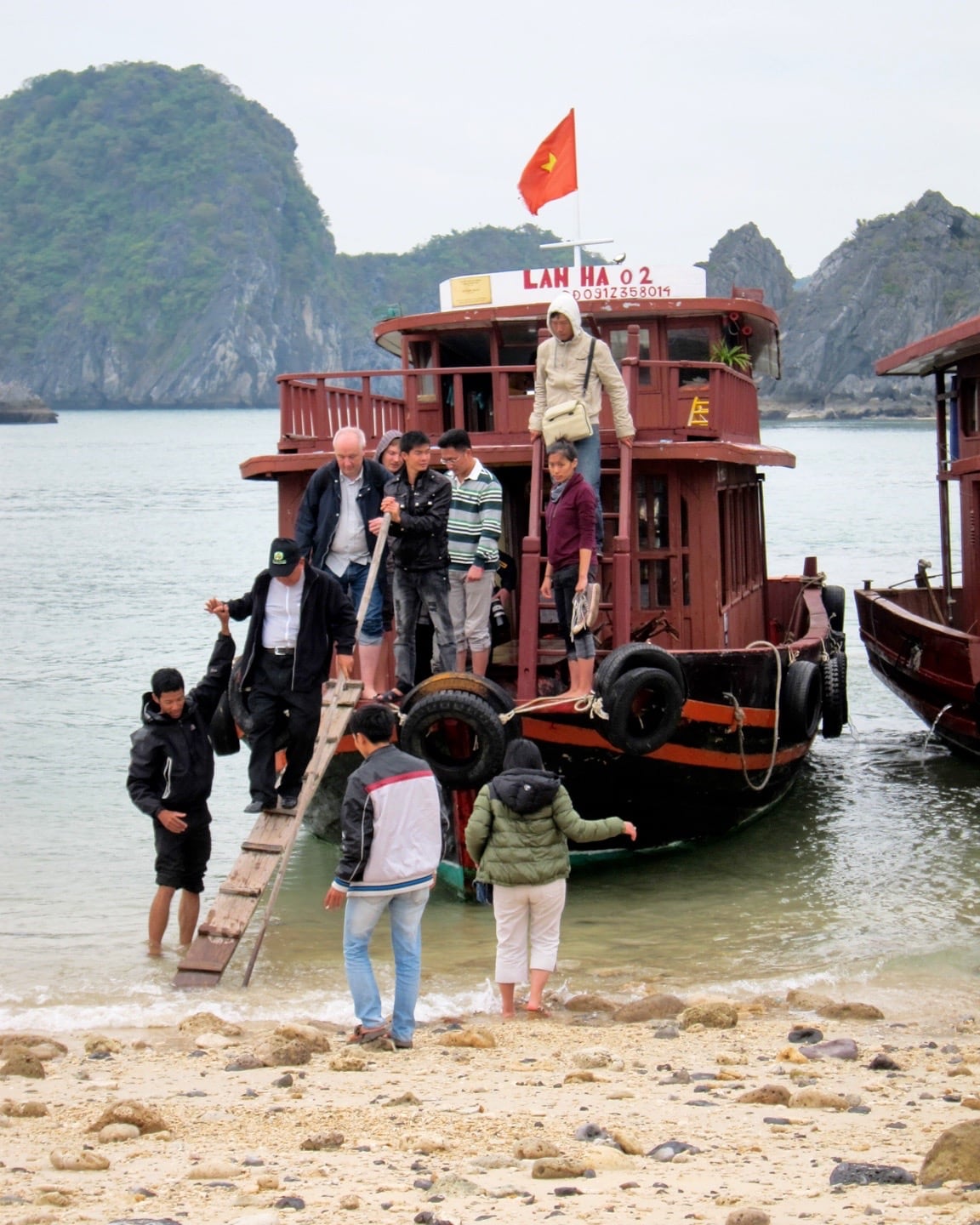 We were advised by the boat crew to stay a safe distance from the monkeys.
Some members of the crew did approach the monkeys, but they seemed to know what they were doing, and the monkeys were obviously familiar with them.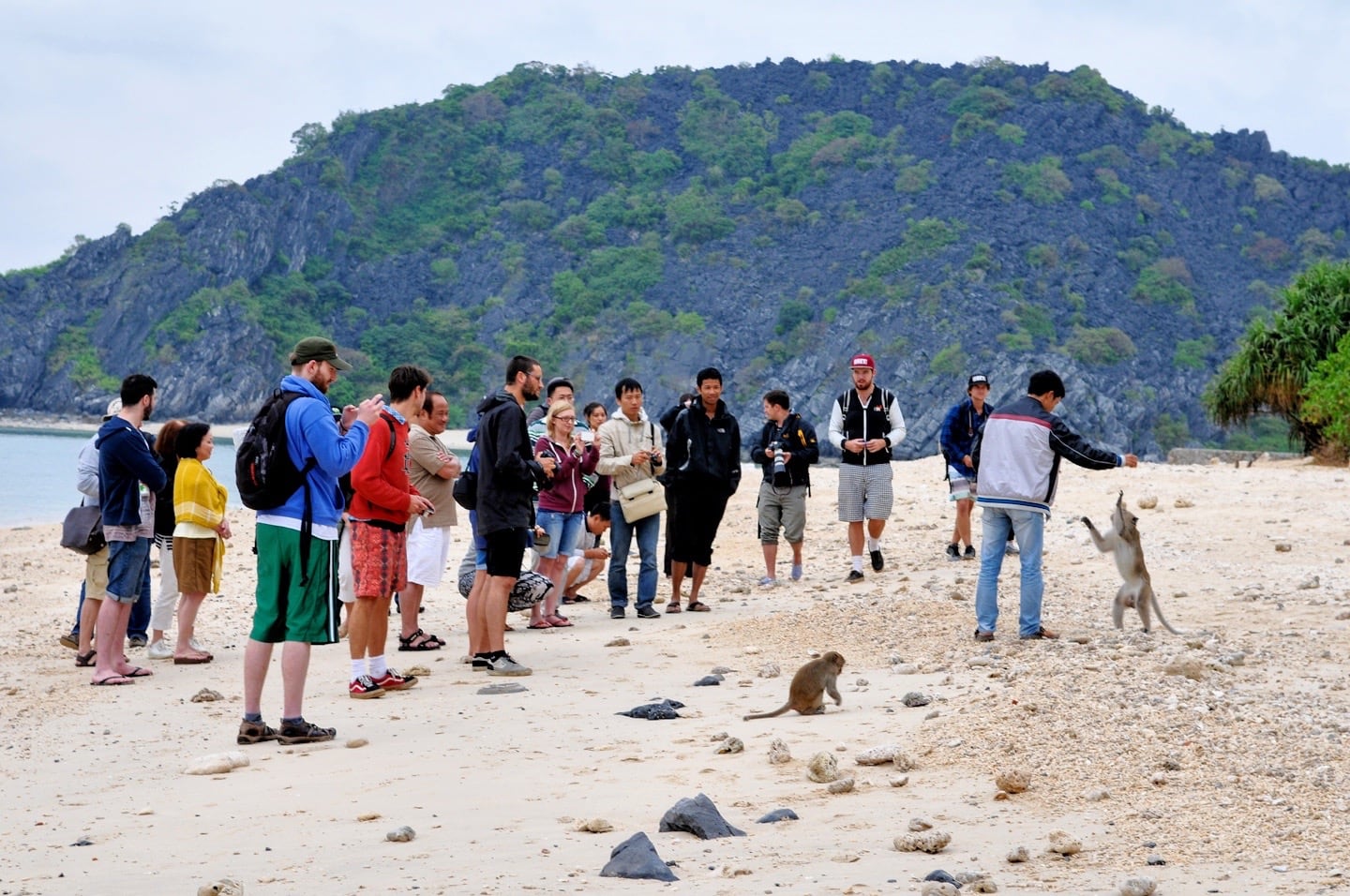 Still, a handful of passengers thought it might be fun to taunt the monkeys, and we certainly weren't surprised to see one such woman having to be bandaged up due to a monkey clawing her (in self-defense) only a few short minutes into our time on the island.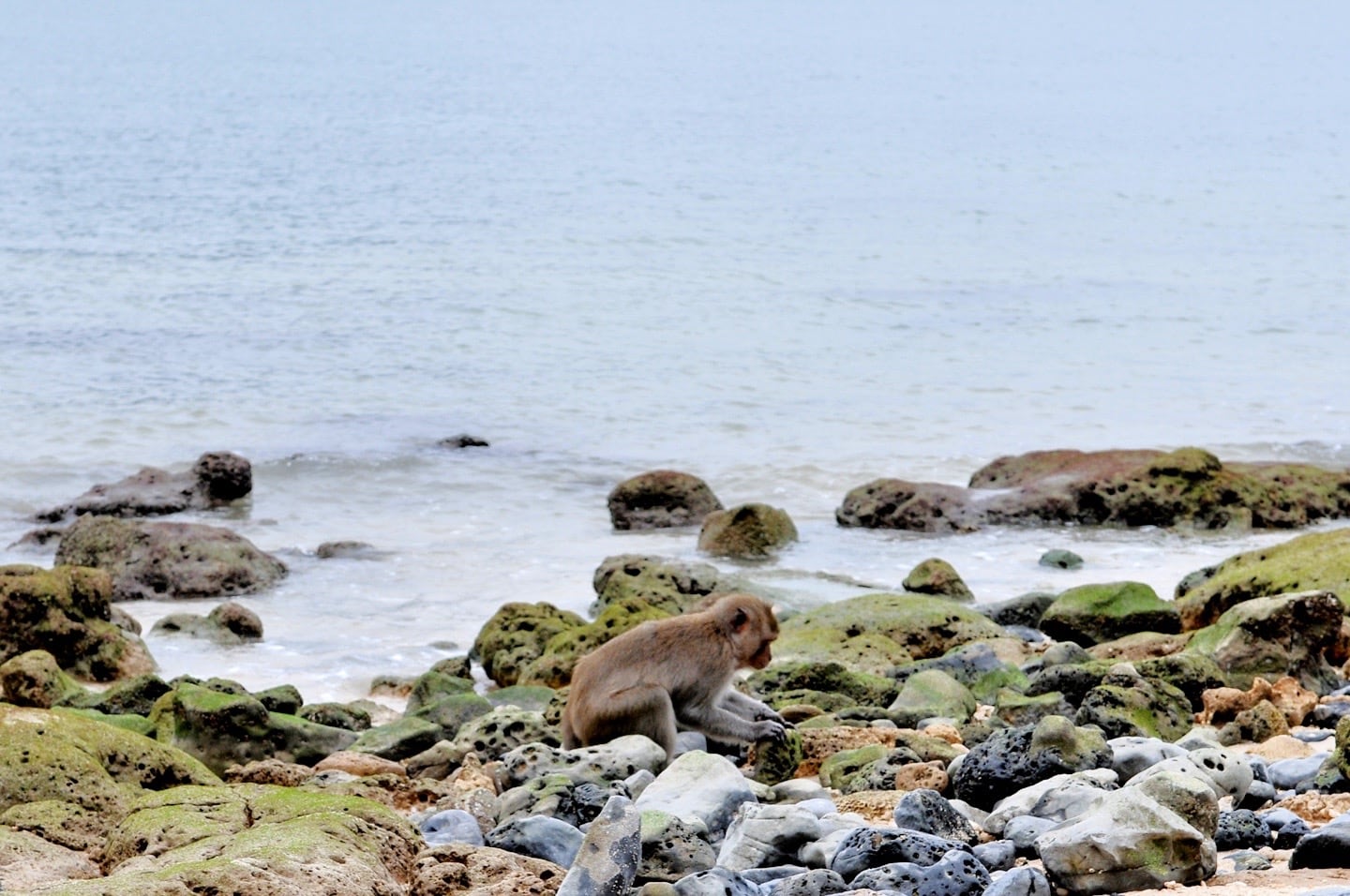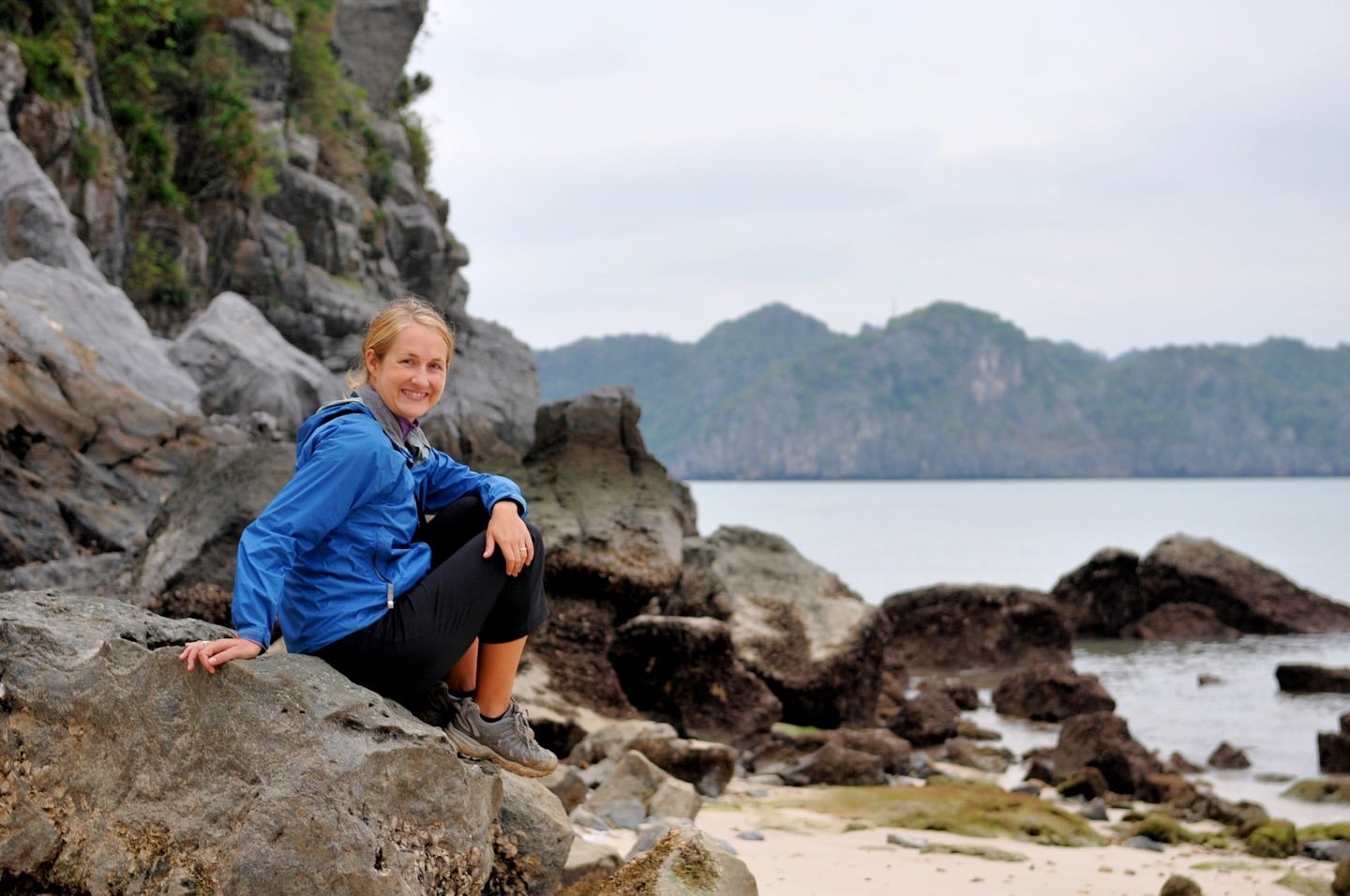 Enjoying a quiet moment on the island to take it all in.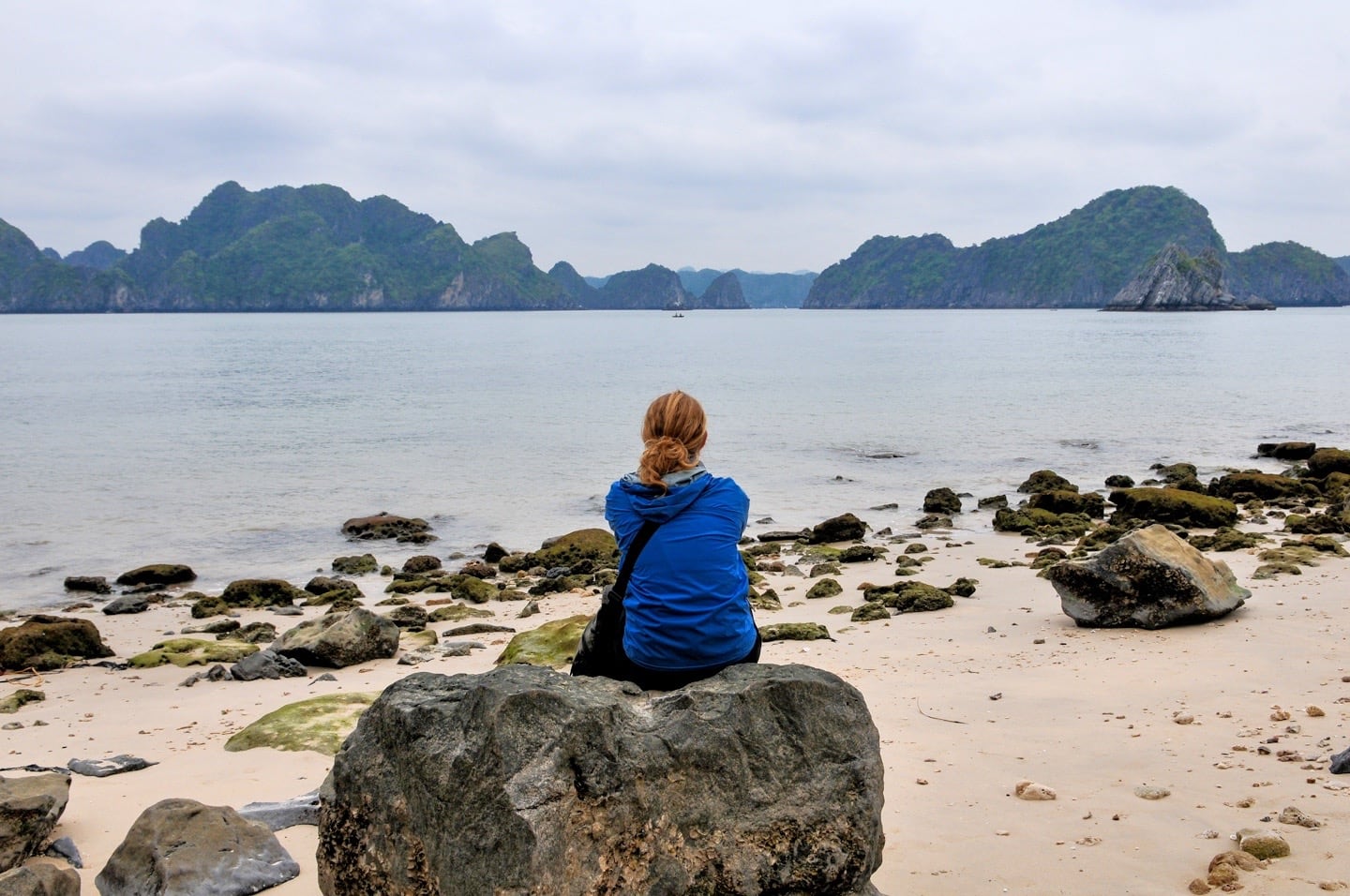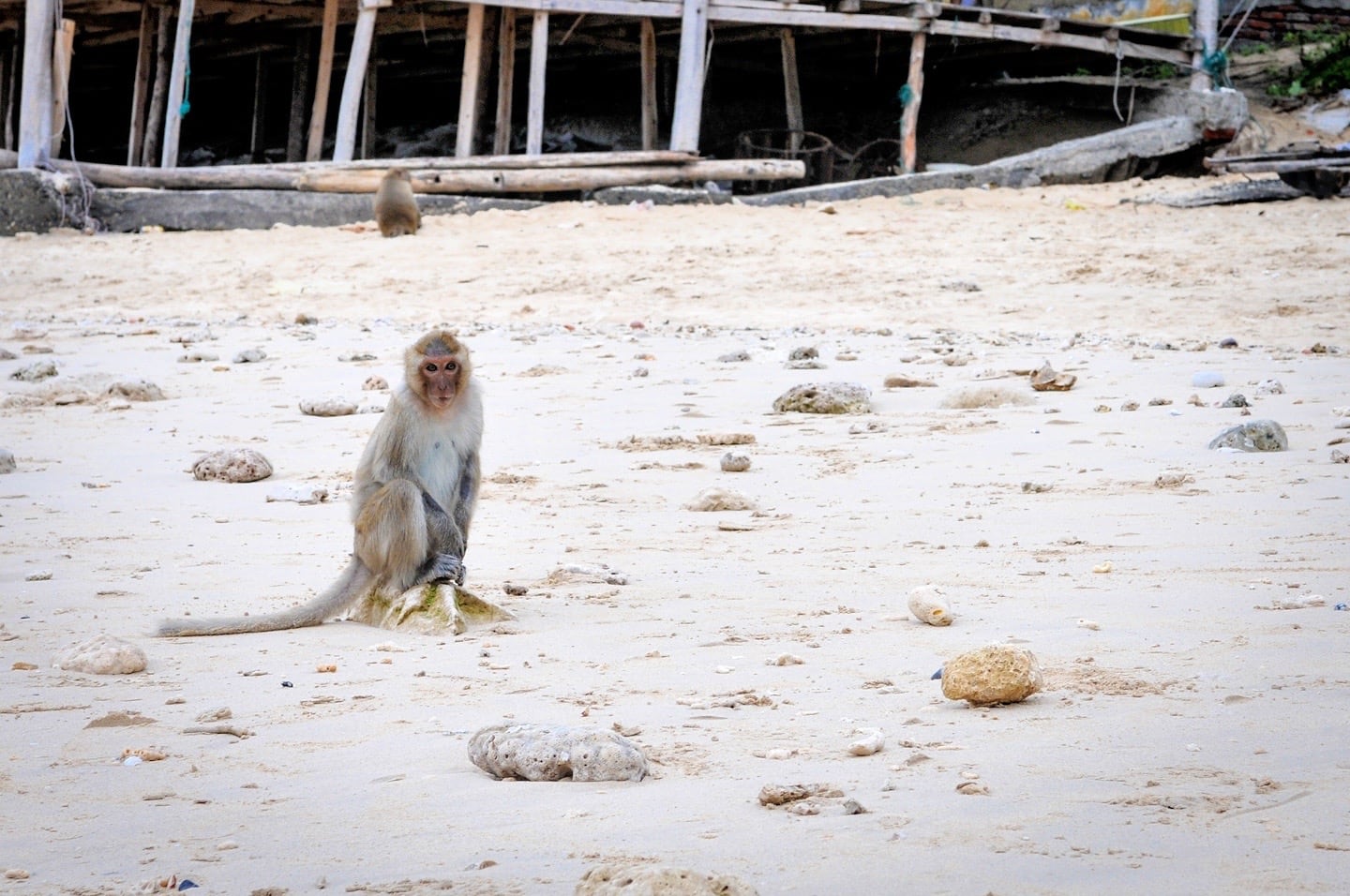 Telephoto shot from a safe distance. I've been around enough monkeys to know I should keep my distance.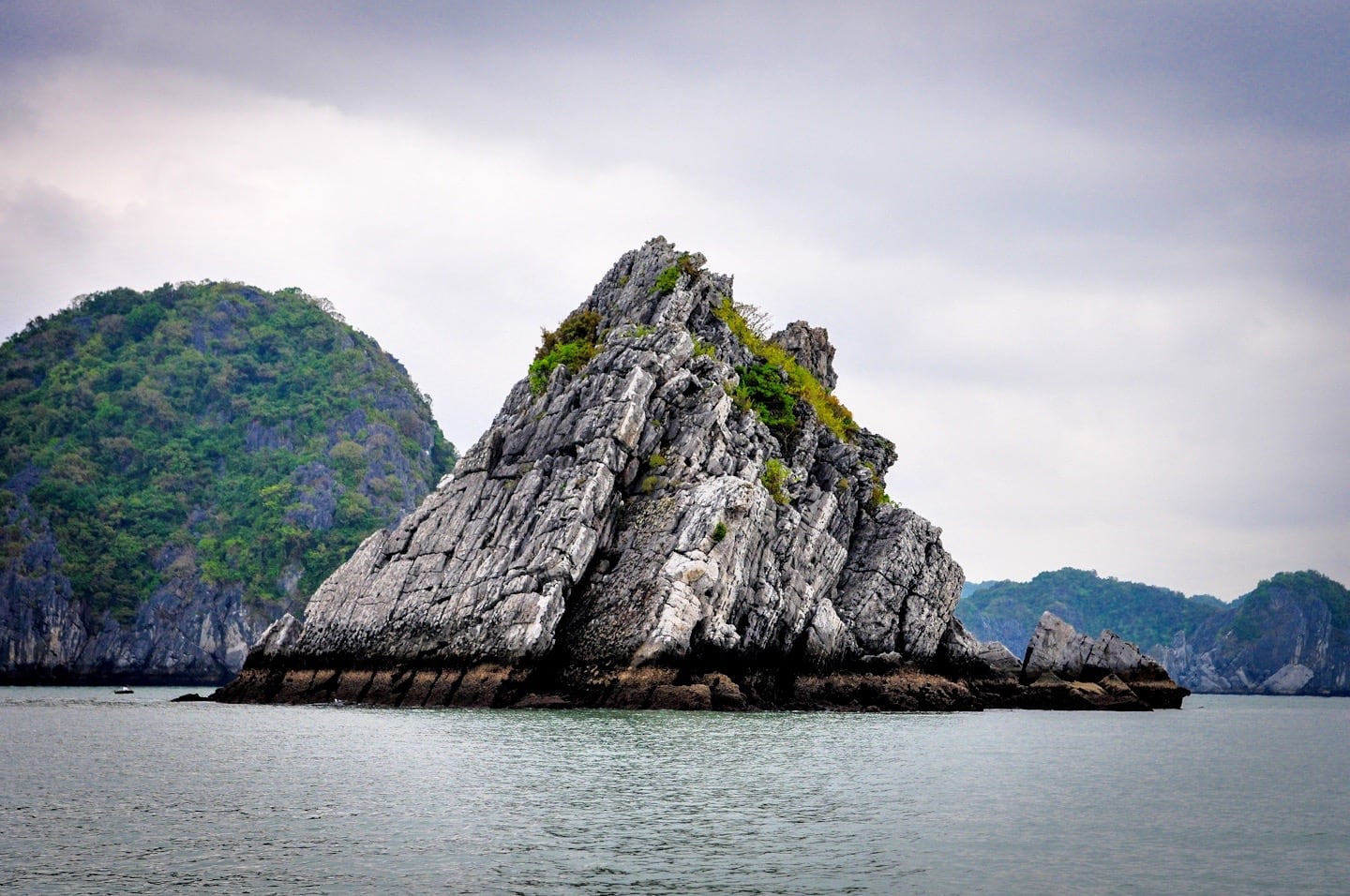 After a hike to a viewpoint and some more time watching various passengers get their just desserts from the island's furry residents, we re-boarded the boat and headed on to our final destination for day two of our Halong Bay cruise: Cat Ba Sandy Beach Resort.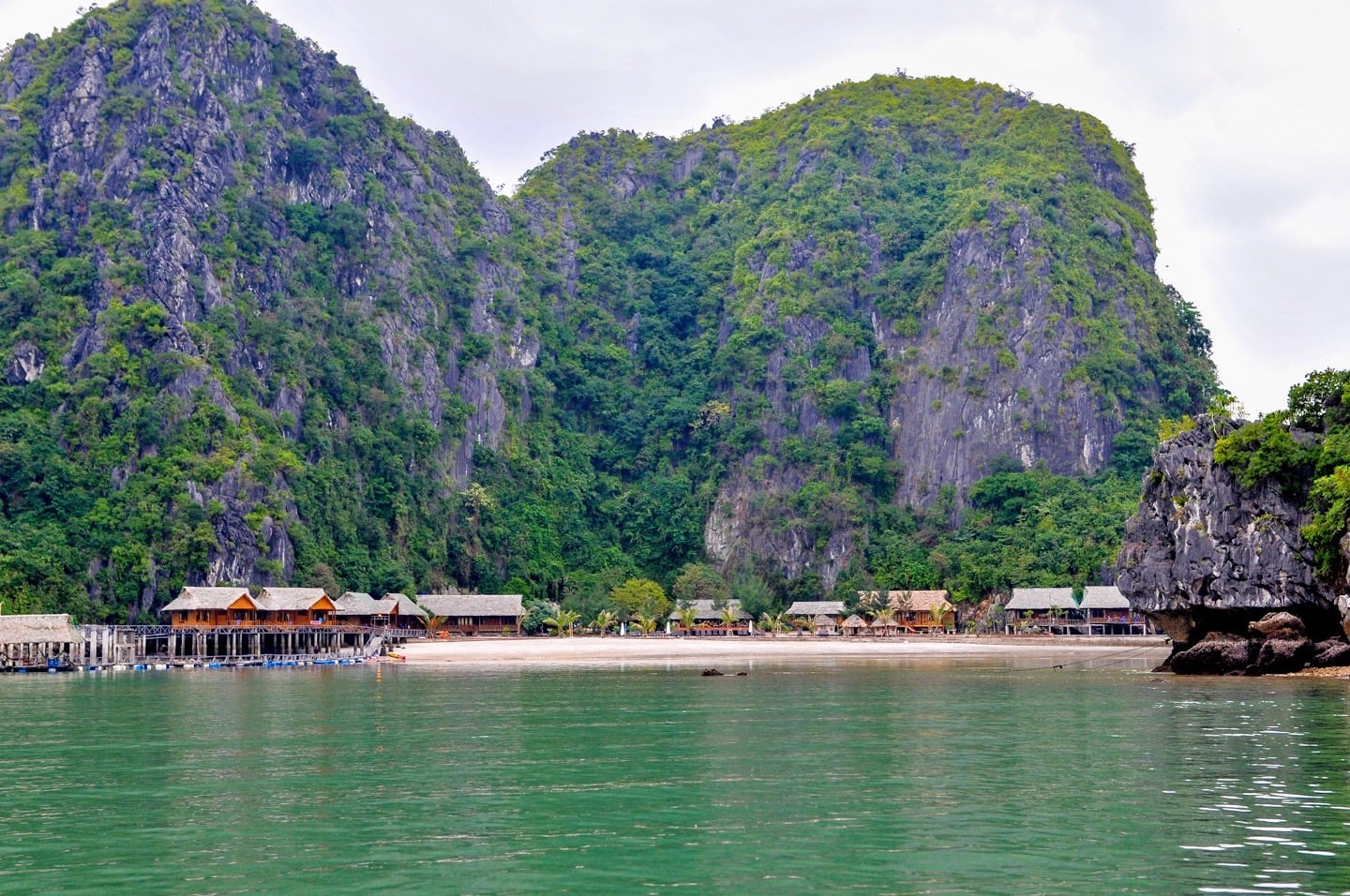 Cat Ba Sandy Beach Resort
We really had no idea what to expect before arriving at the island, but certainly weren't expecting this.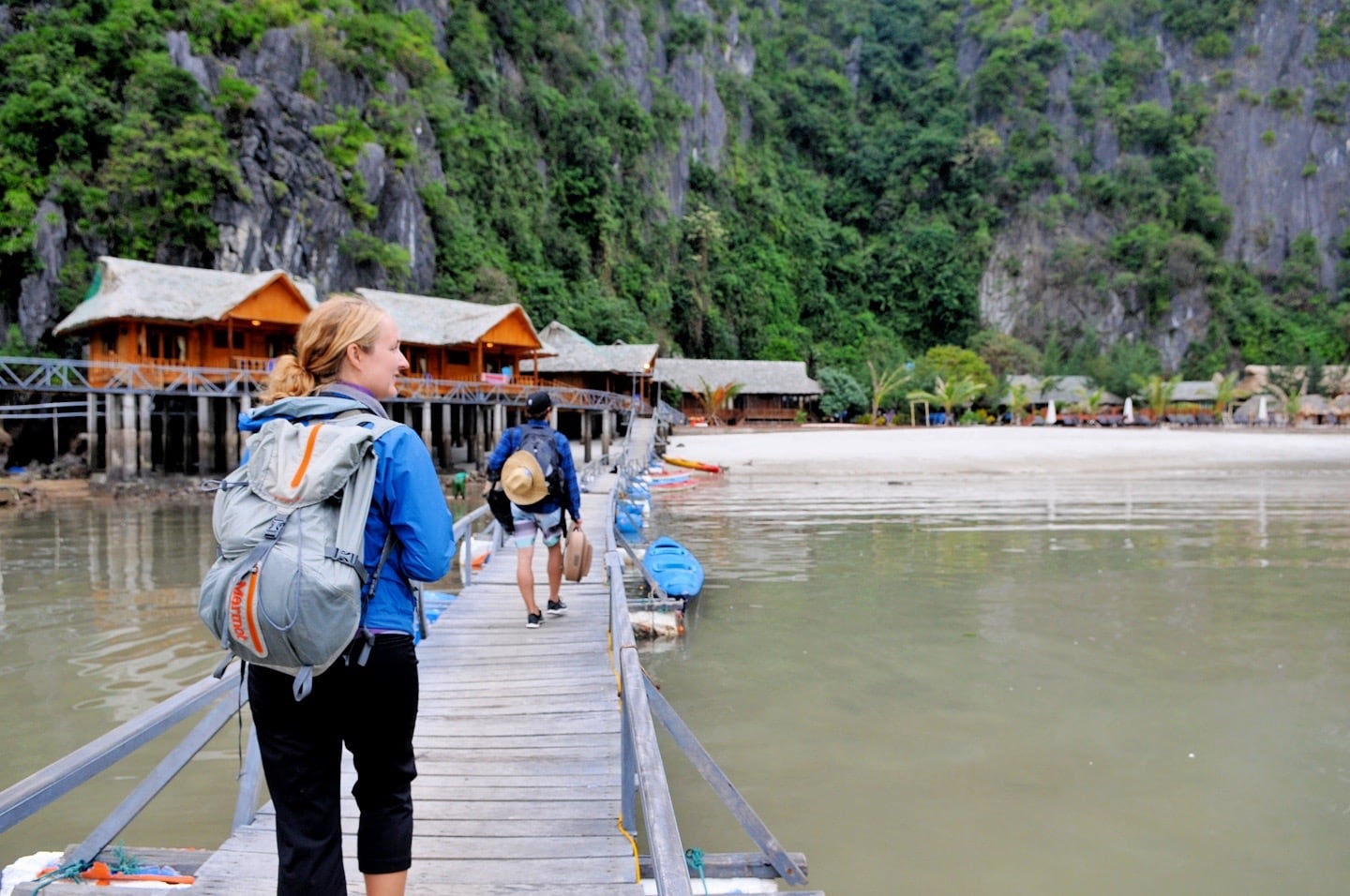 If not for the chilly and windy weather (and cold water), I'd think we landed in paradise.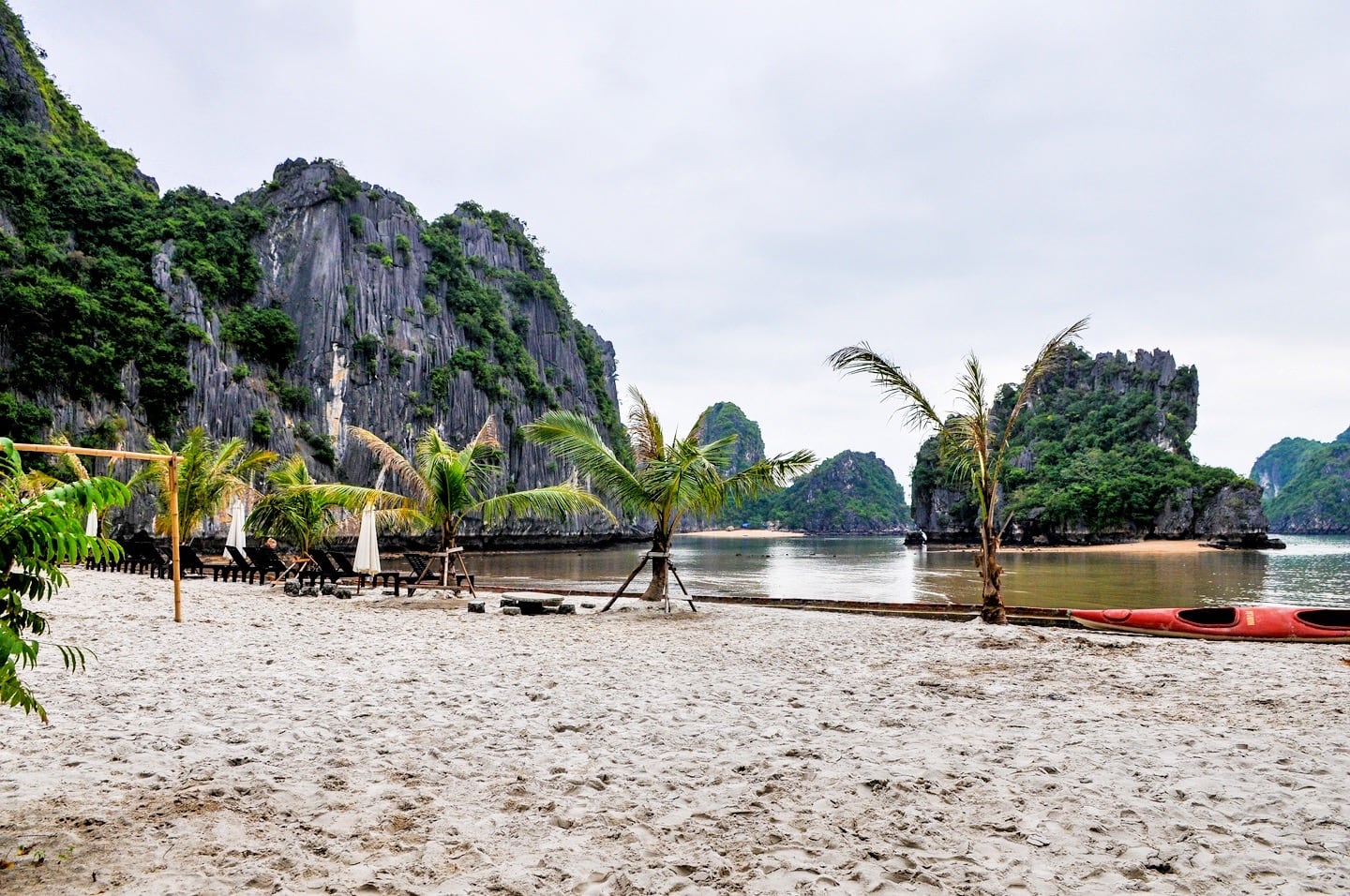 The resort looked recently refurbished with a lot of new construction, and the white sand beach was immaculate. The main attraction, however, was clearly the surrounding scenery within this secluded bay.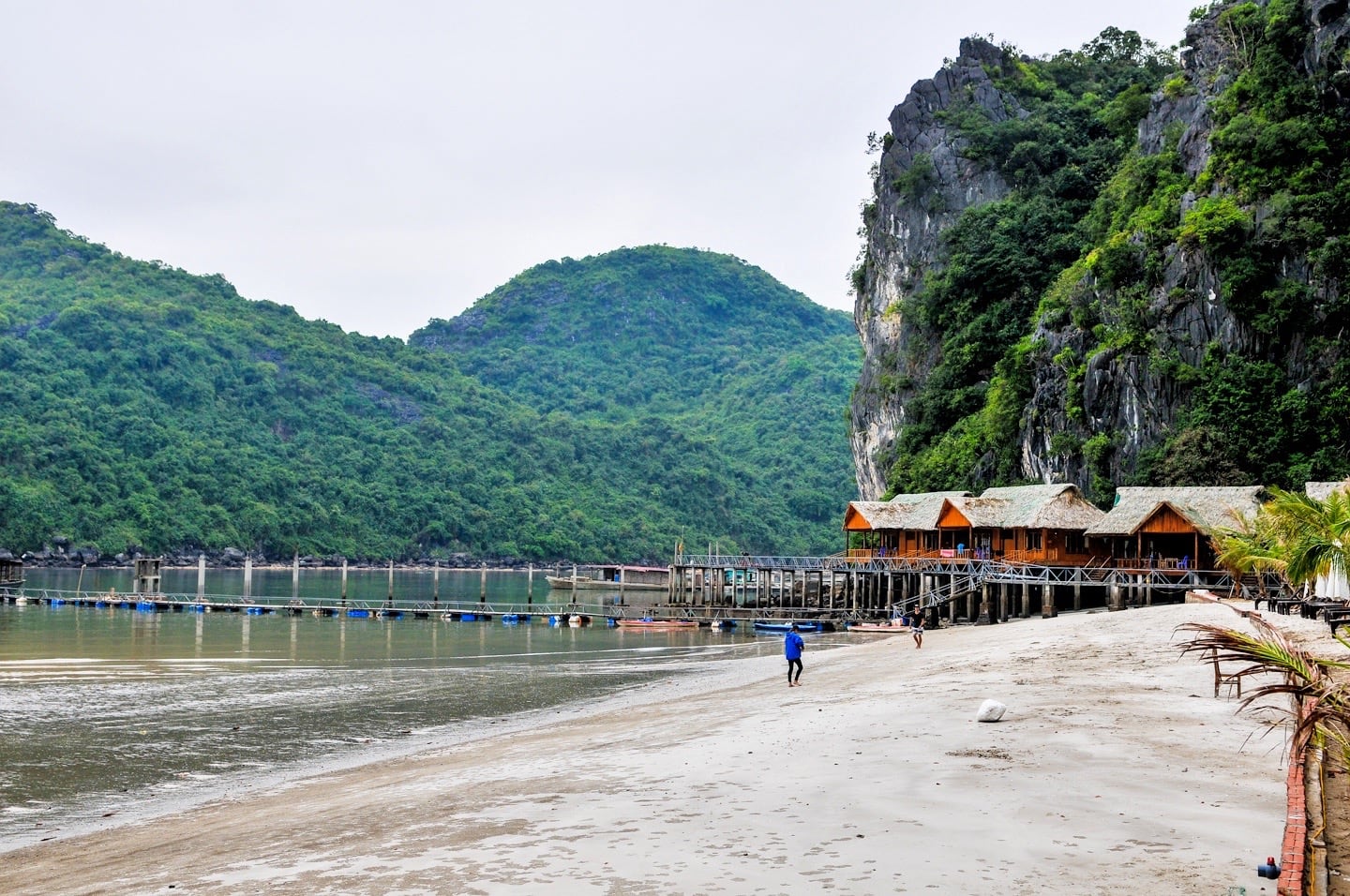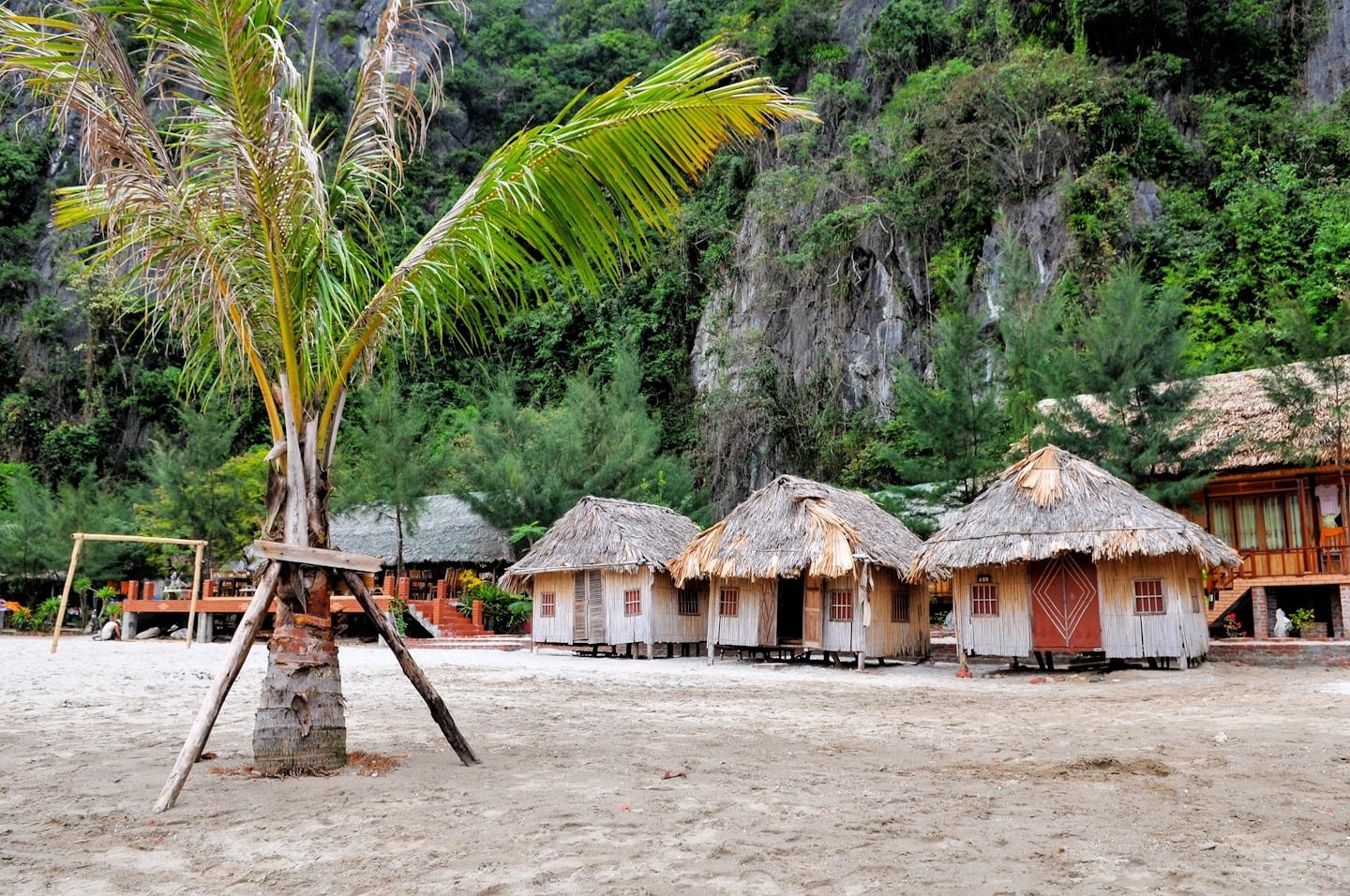 Parts of the resort looked like they had been here for some time, while others looked brand-spankin' new.
It's clear that the resort is a work in progress. As always, I can't help but wonder what this place looked like only a few years prior.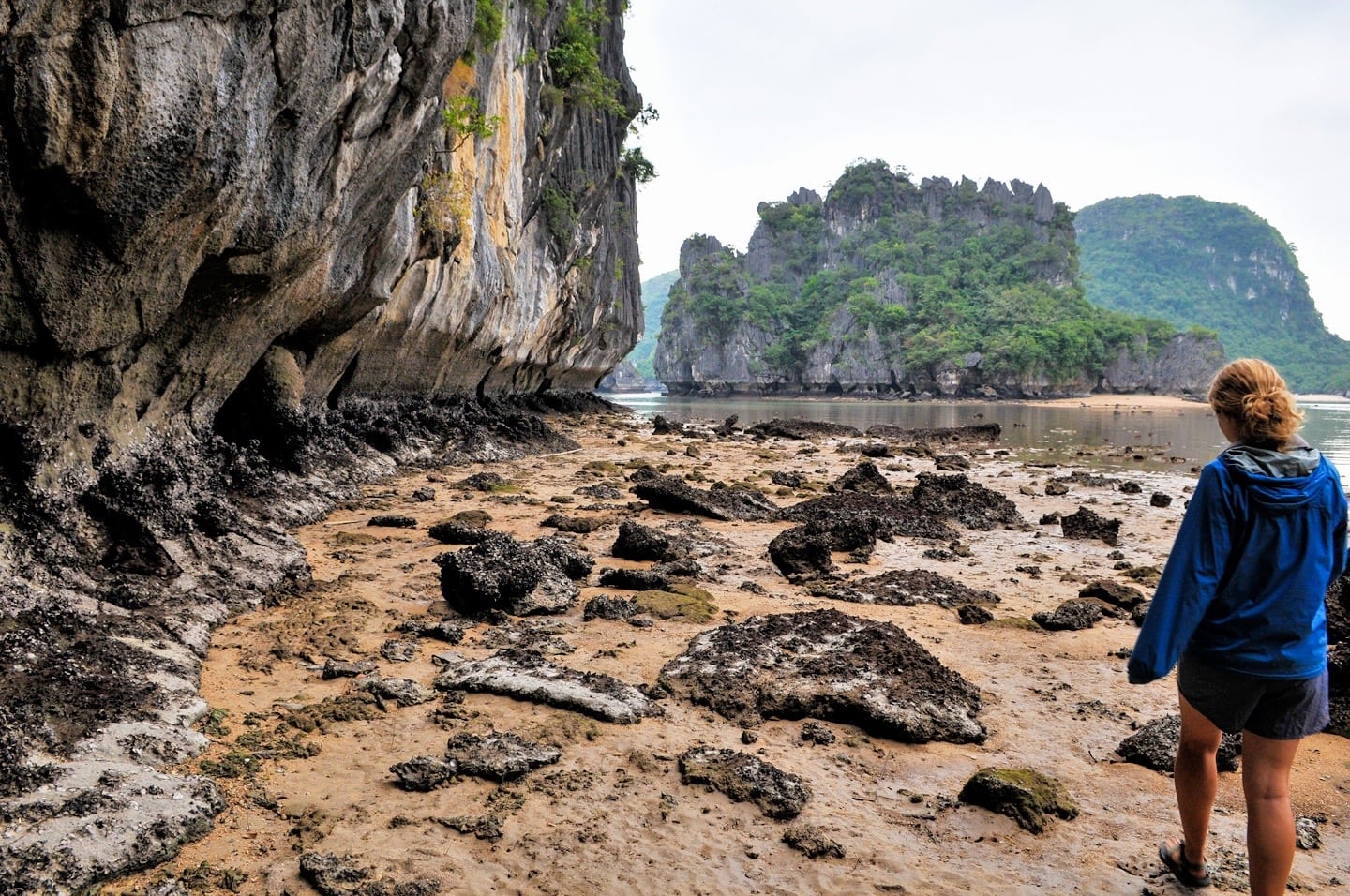 We had some time before dinner, so we took a walk around the island as far as we could go. It was low tide, so it was possible to walk a fair distance. The ground had a silty consistency, and the water seemed a bit brackish. Yet, I'm sure on a hot day at high tide the water would still make for a nice swim.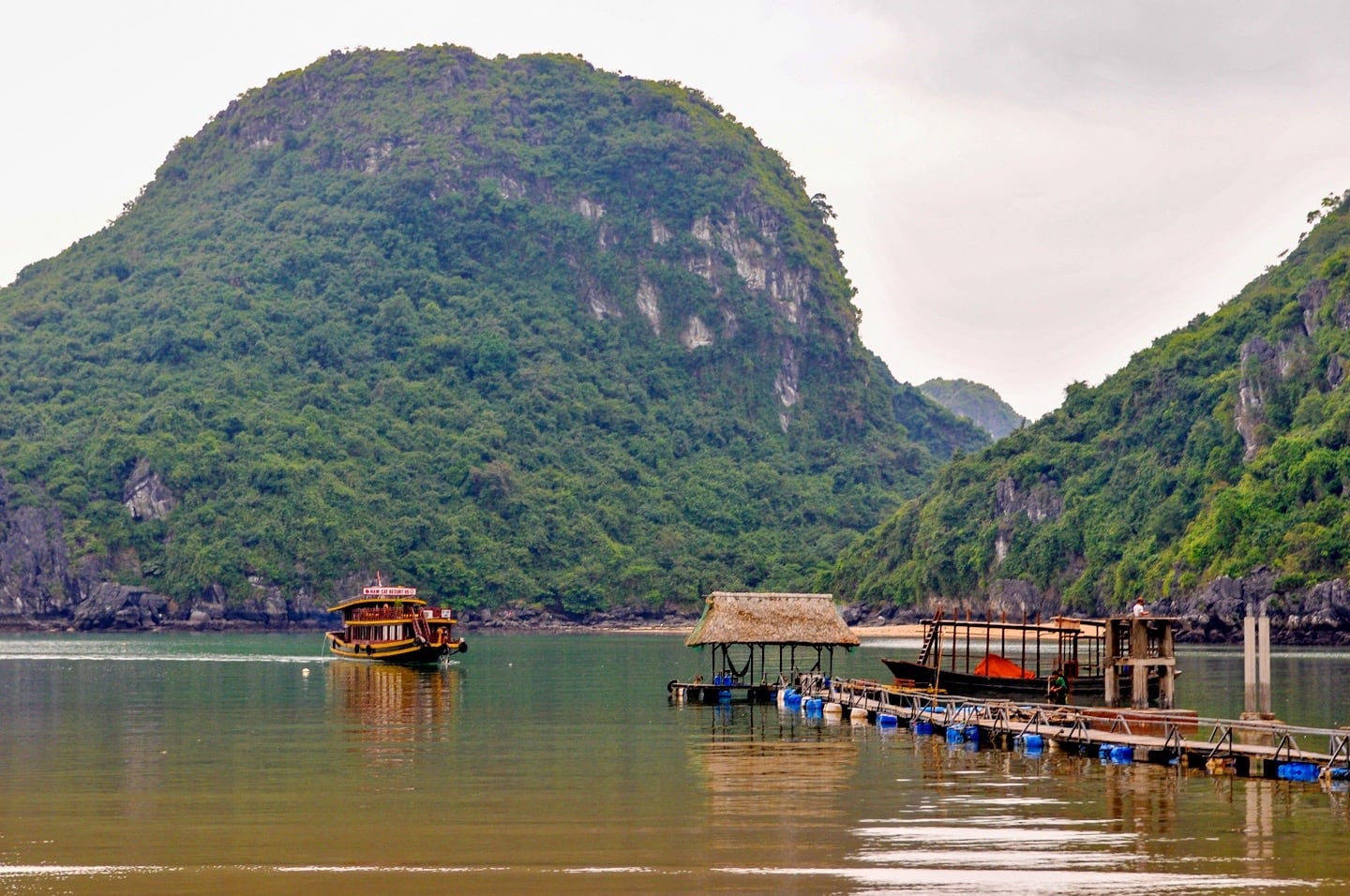 Our Halong Bay Cruise: Day Three
Thick mist obscured the jungle-covered limestone cliffs jutting out of the water. The frigid sting of winter wind greeted us at the doorway of our thatch cabana.
Lori and I slept surprisingly comfortably within the protection of the reed walls but found ourselves exposed to the elements at our doorstep.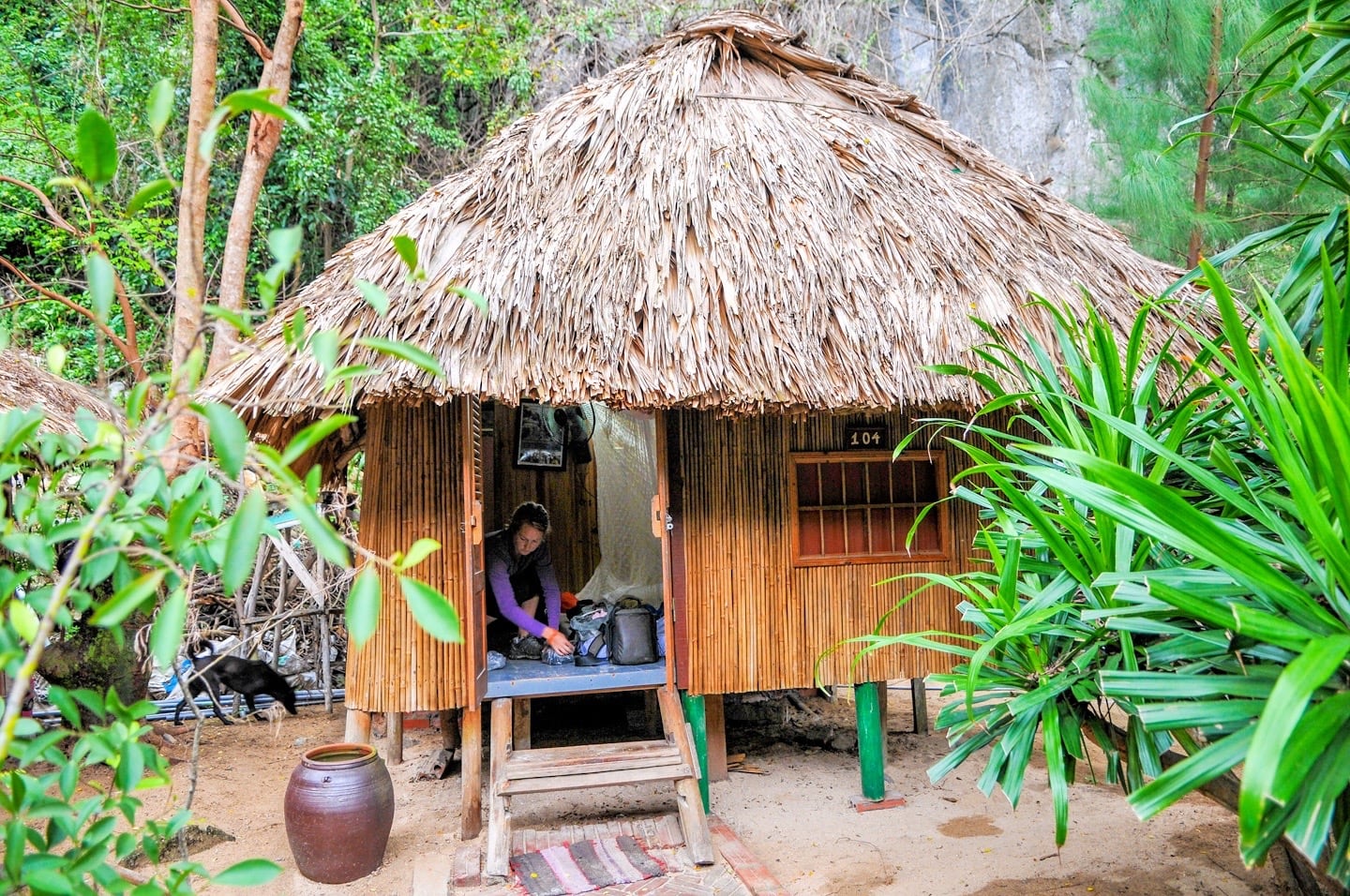 We walked the grey coastline once more, ate breakfast, and gathered up our things. By mid-morning, we were walking back out to the tender.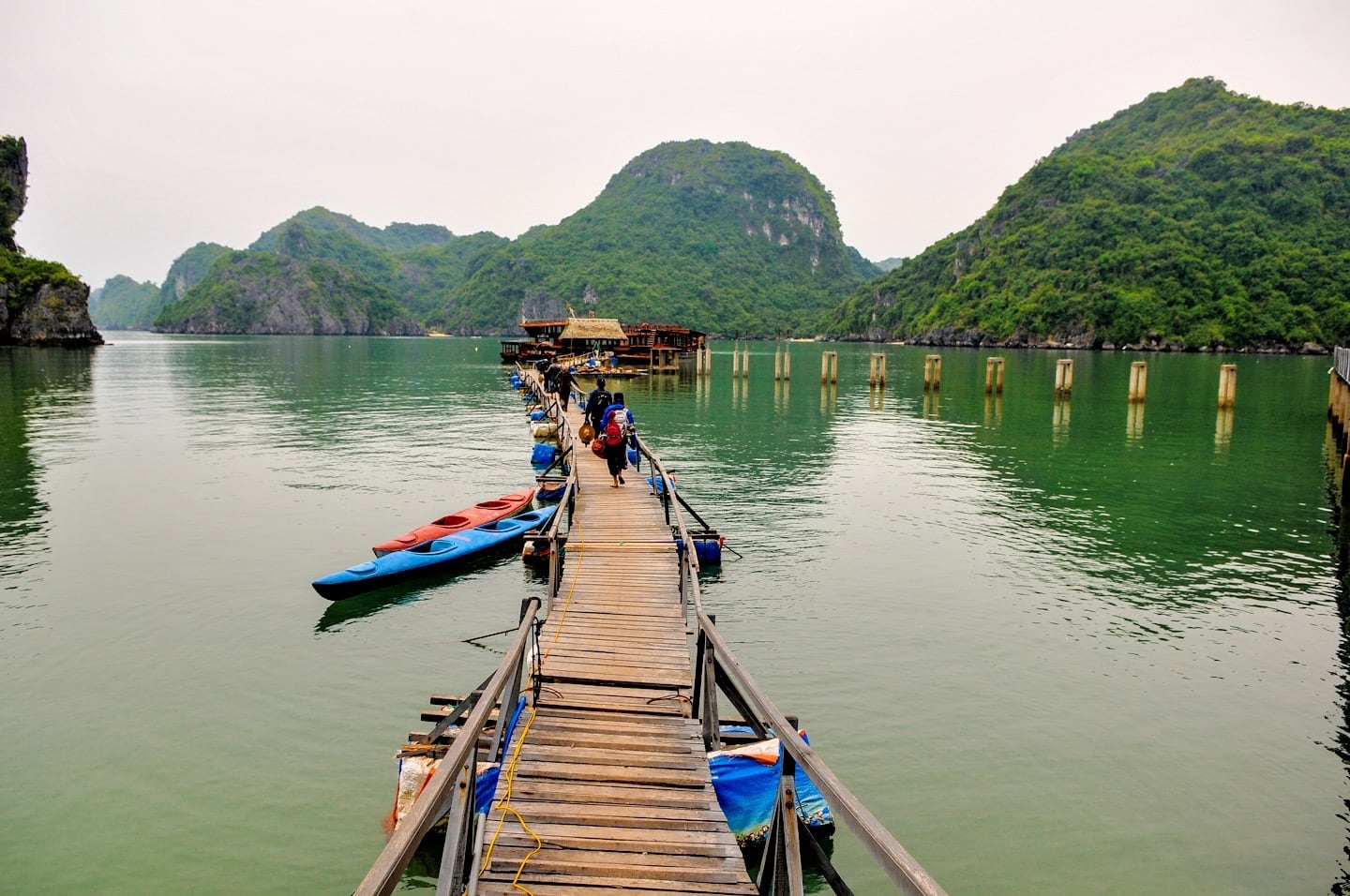 If you'd like to stay at Cat Ba Sandy Beach Resort without booking a cruise, you can!
Reservations can be made here and the resort will even arrange roundtrip transport from Cat Ba Town on request.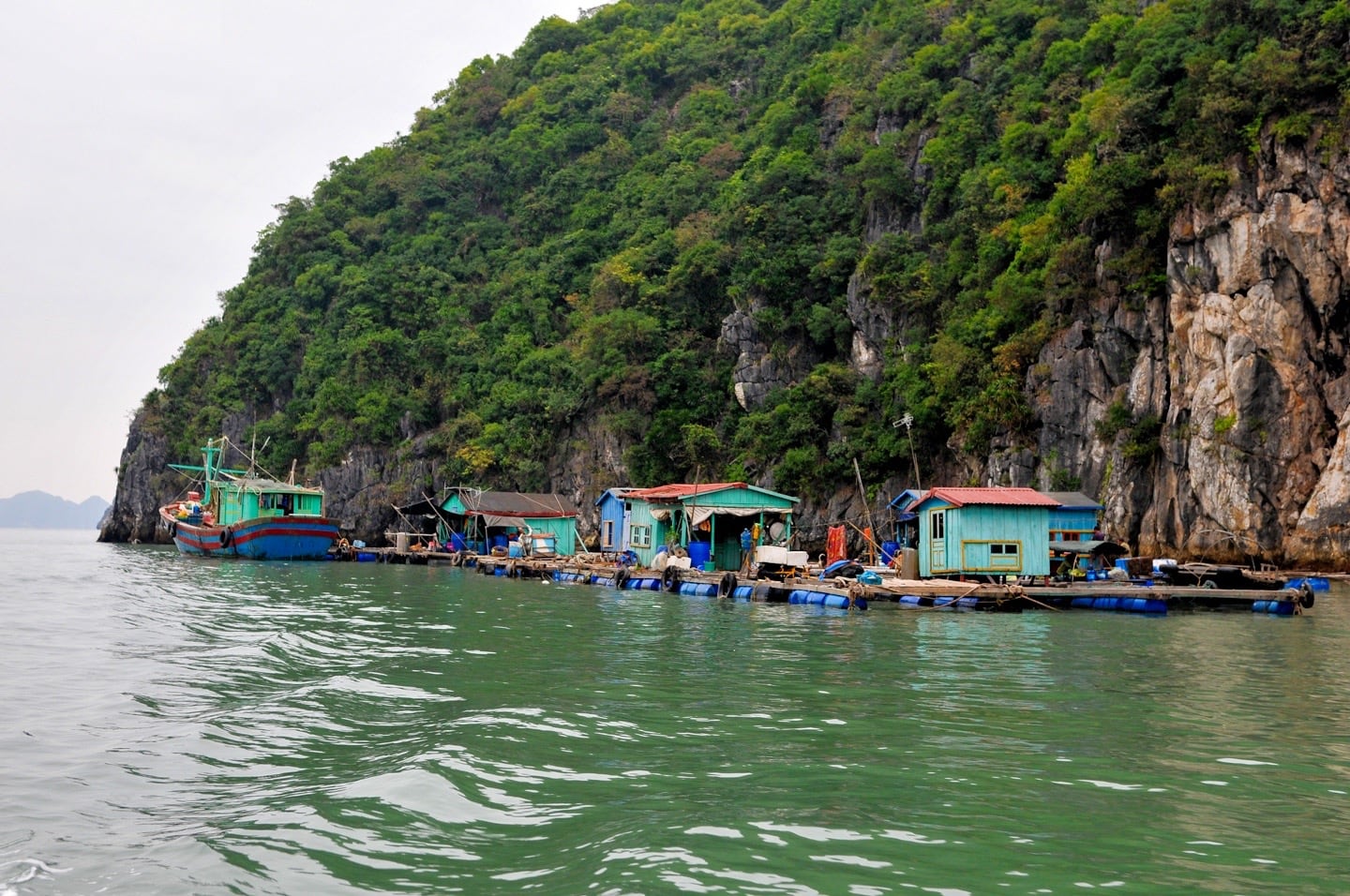 Our route back to the cruise ship passed through the same fishing village we'd seen the day prior.
It was hard to tell whether the people we were passing were just waking up or settling down for some shuteye after a long night's work.
Whichever it was, it was apparent the small village was in transition from one state to another.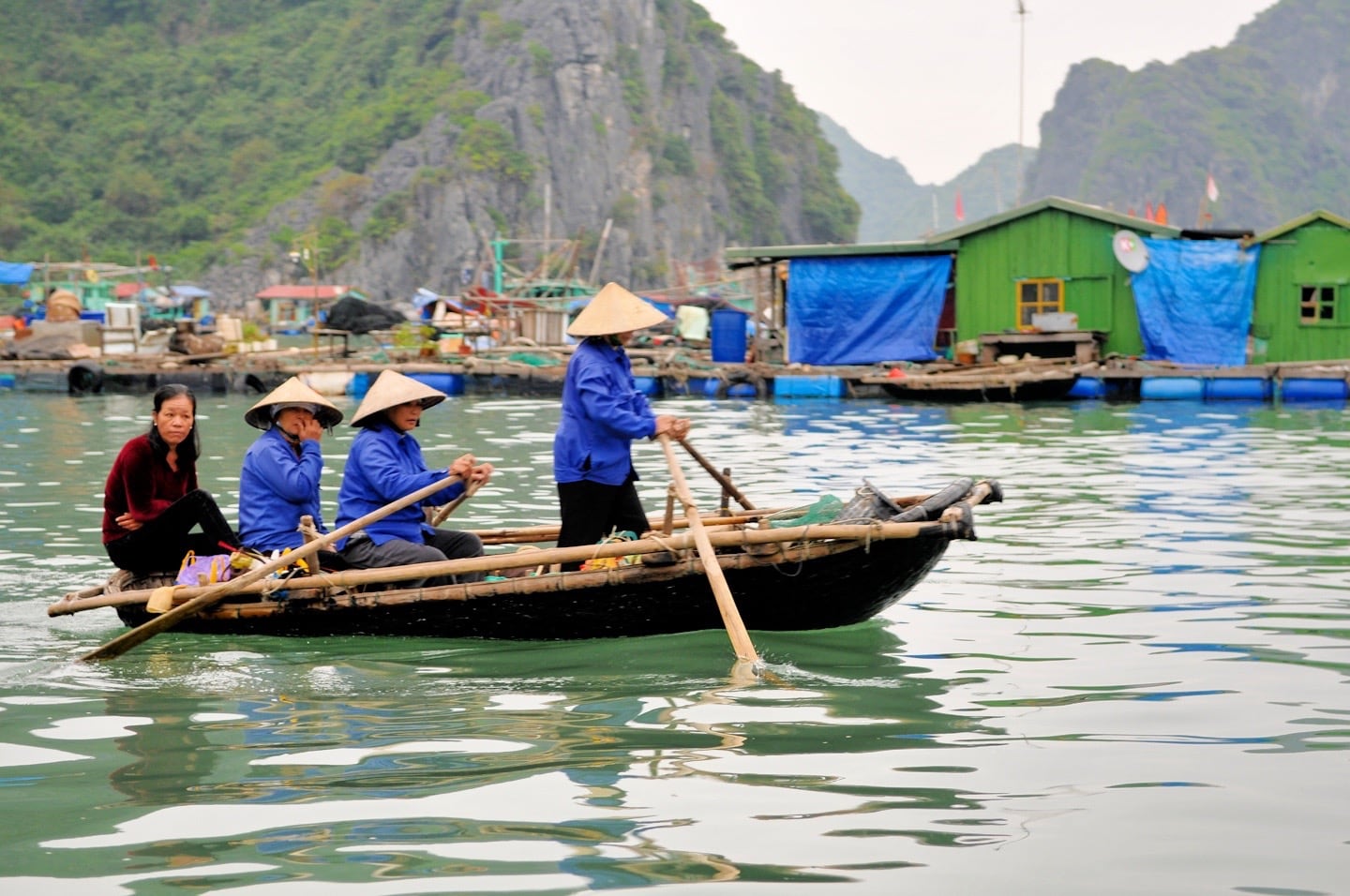 We returned to Cat Ba Town to join the others who had stayed in a hotel the previous night and board the Cristina.
From town, we spotted a glimmer of white on the horizon through the fog. It was the Cristina anchored alone in the perfectly placid bay. It had been 24 hours since we left the Cristina and boarded the tender for Monkey Island and Cat Ba Sandy Beach Resort.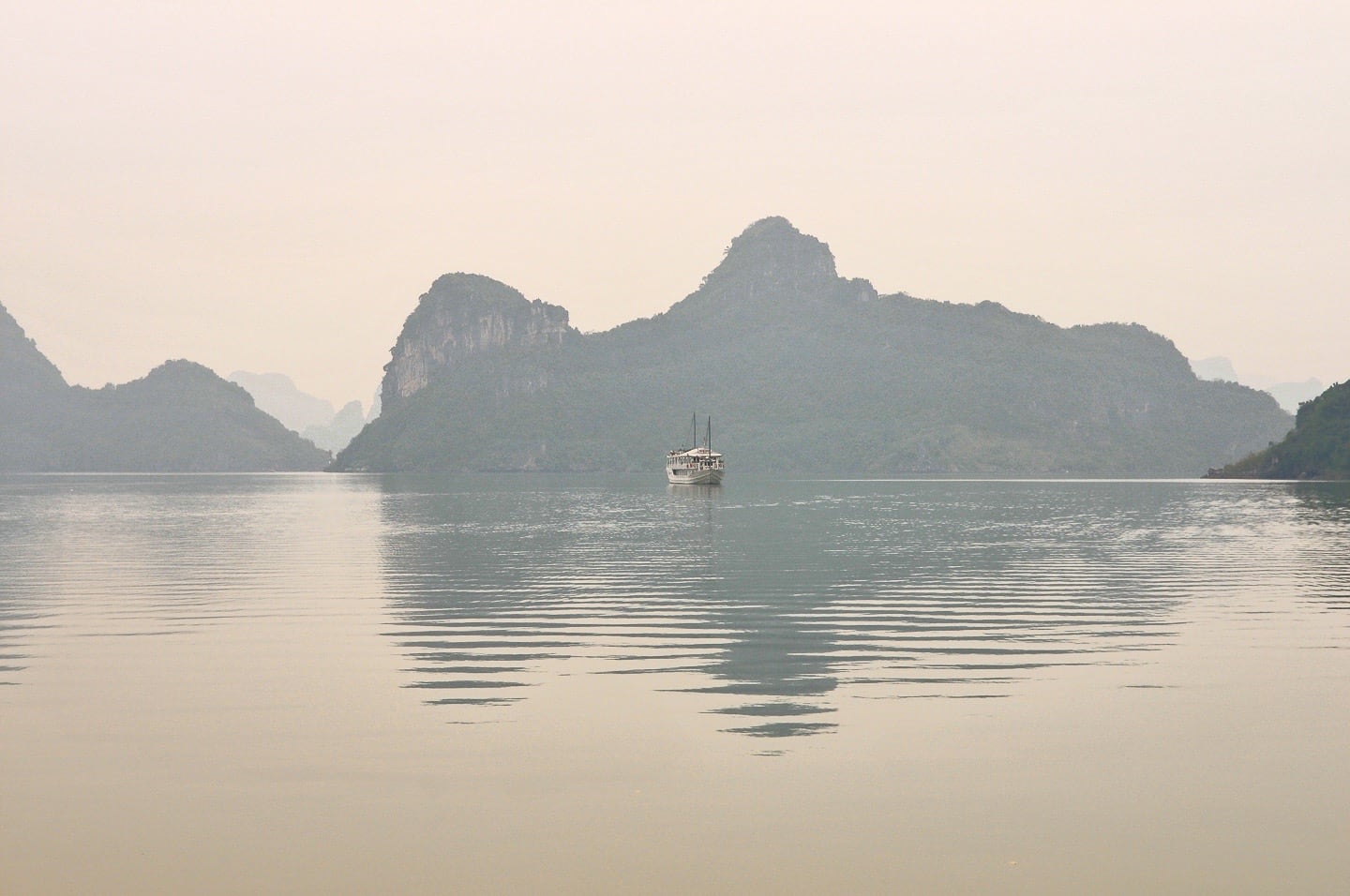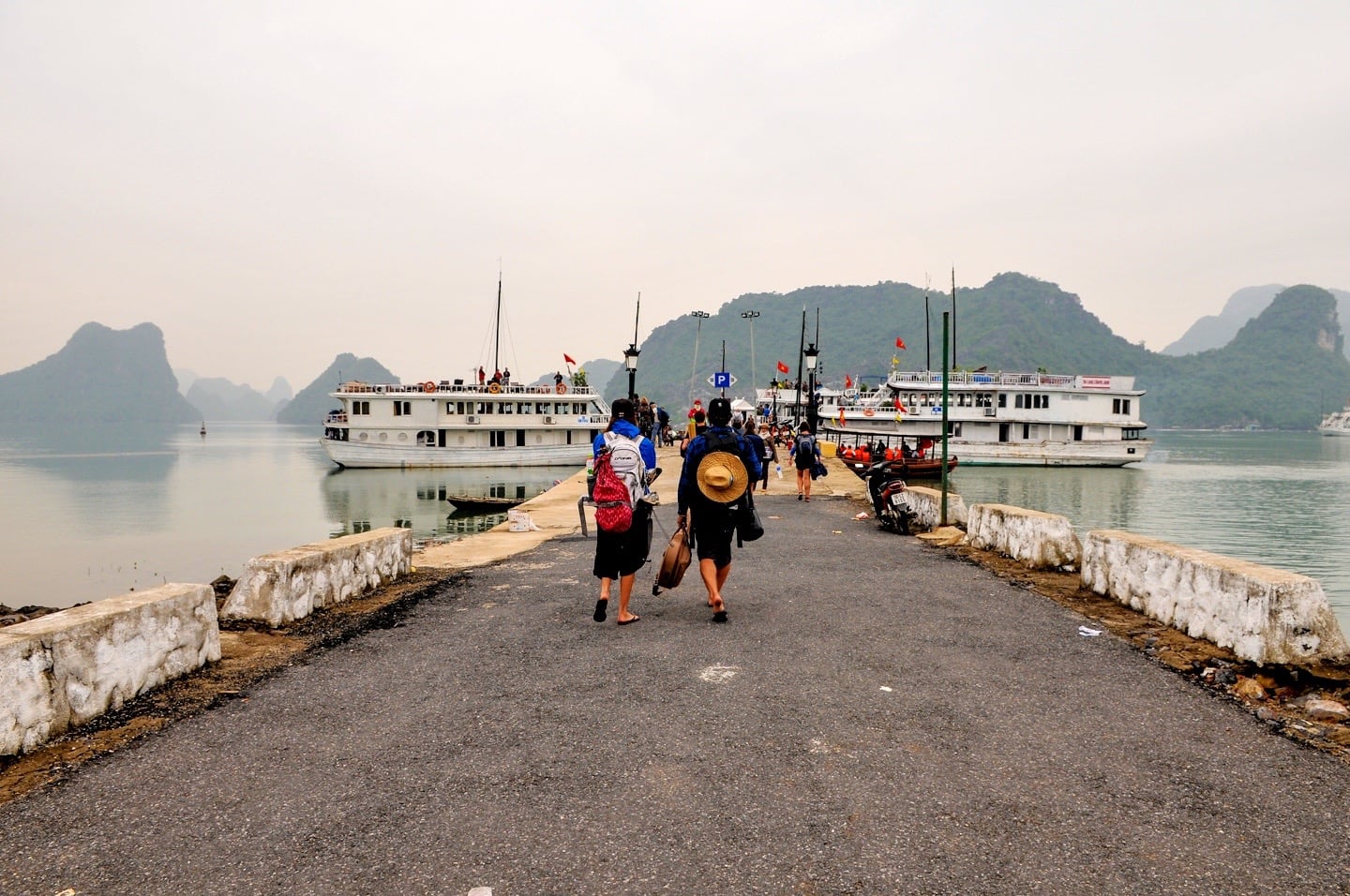 We walked out to the end of the long jetty to catch the small tender back to our cruise boat, passing other cruise boats docked along the quay. It wasn't clear why some were docked and some (like ours) were anchored out in the bay.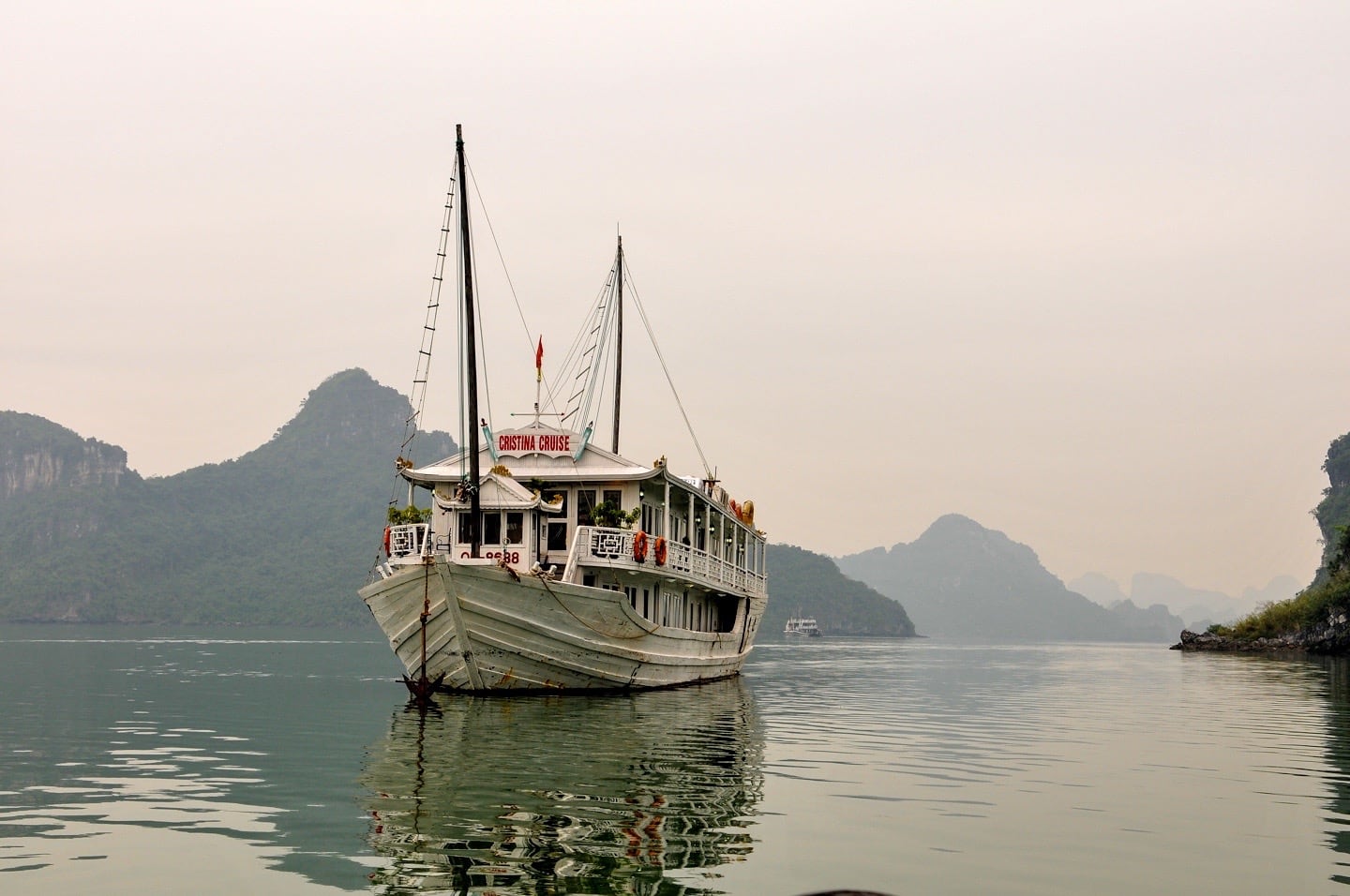 Back onboard the cruise boat, we washed up, grabbed some hot tea, and went out onto the deck to take in the last few hours of this stunning place.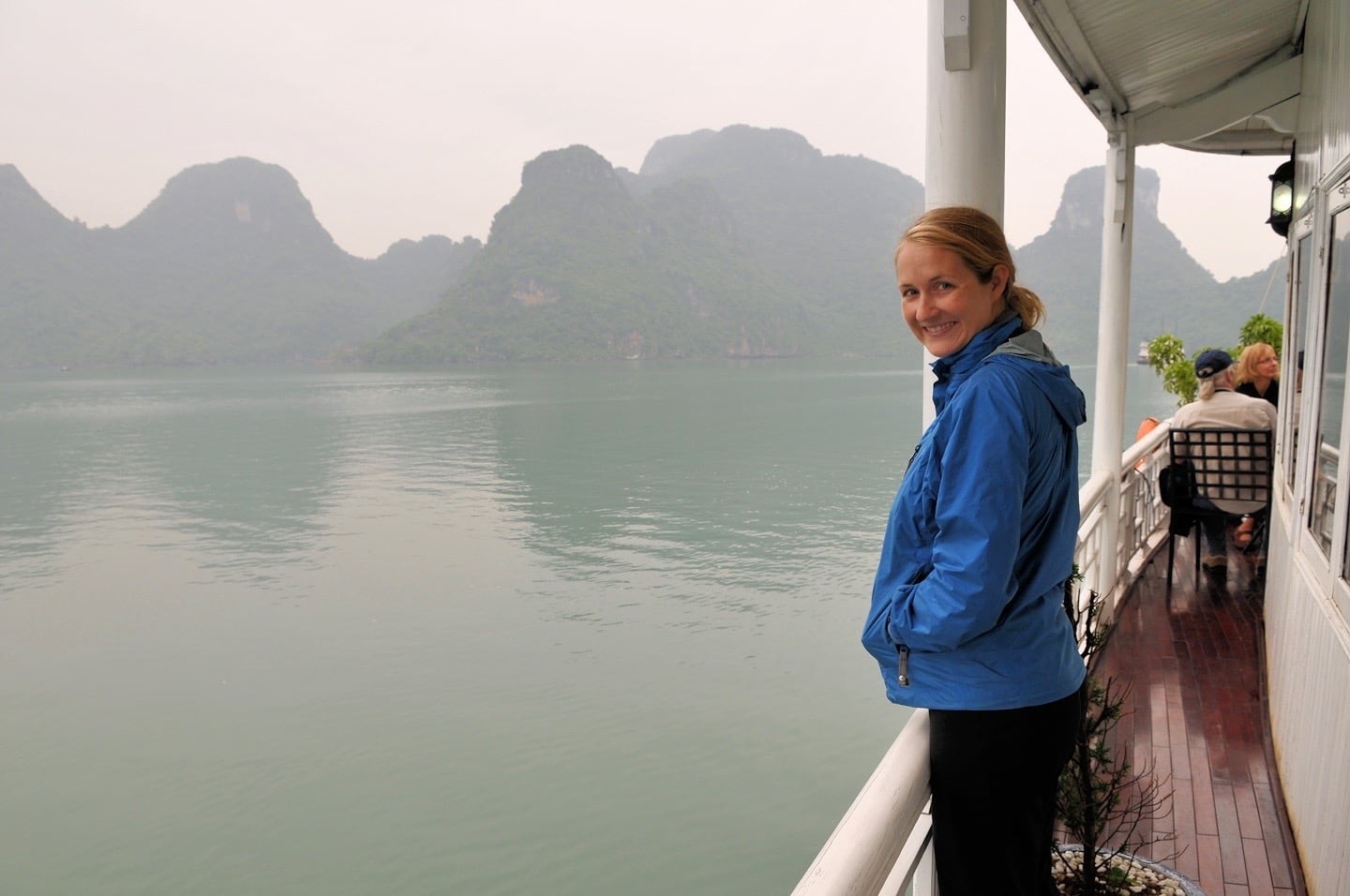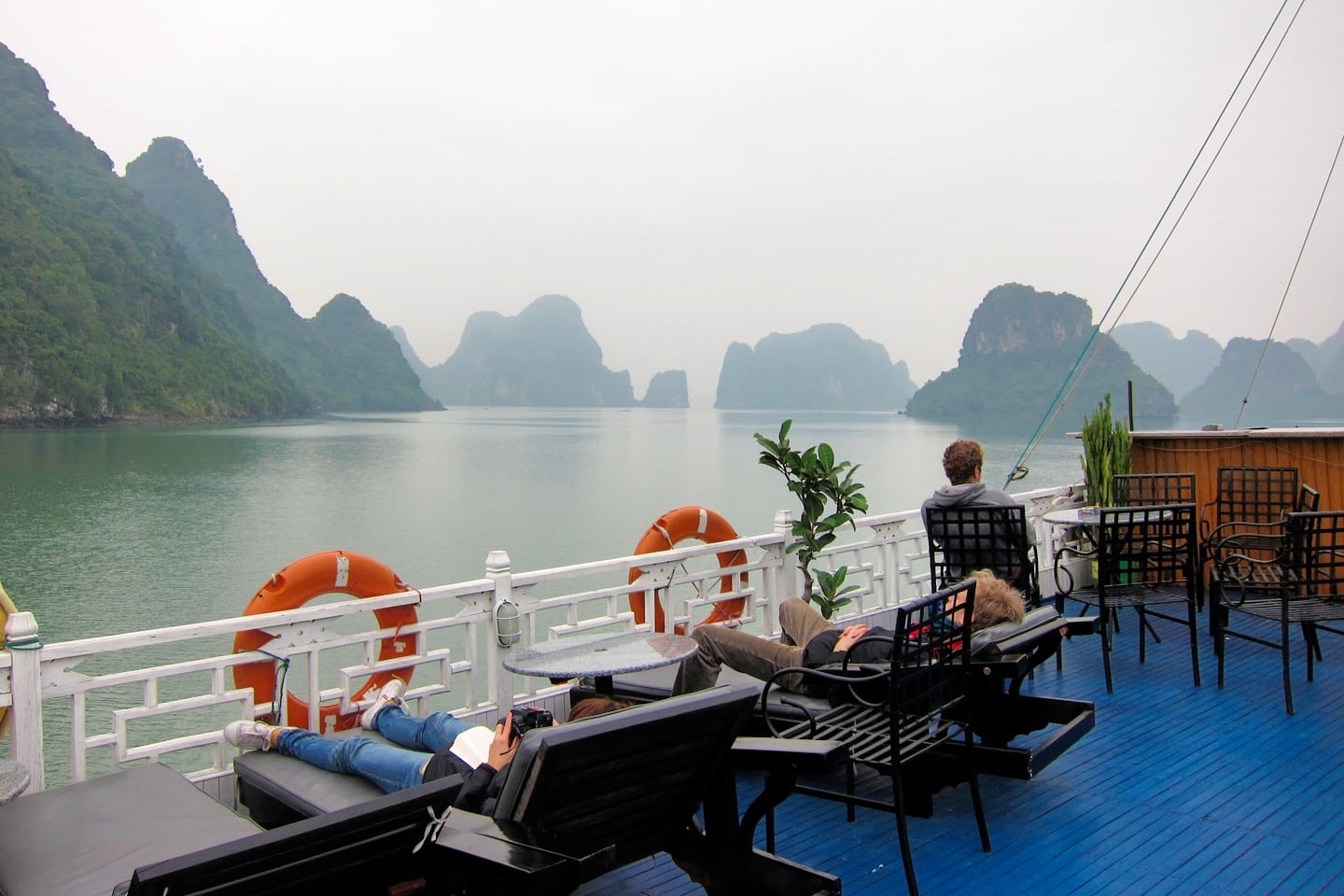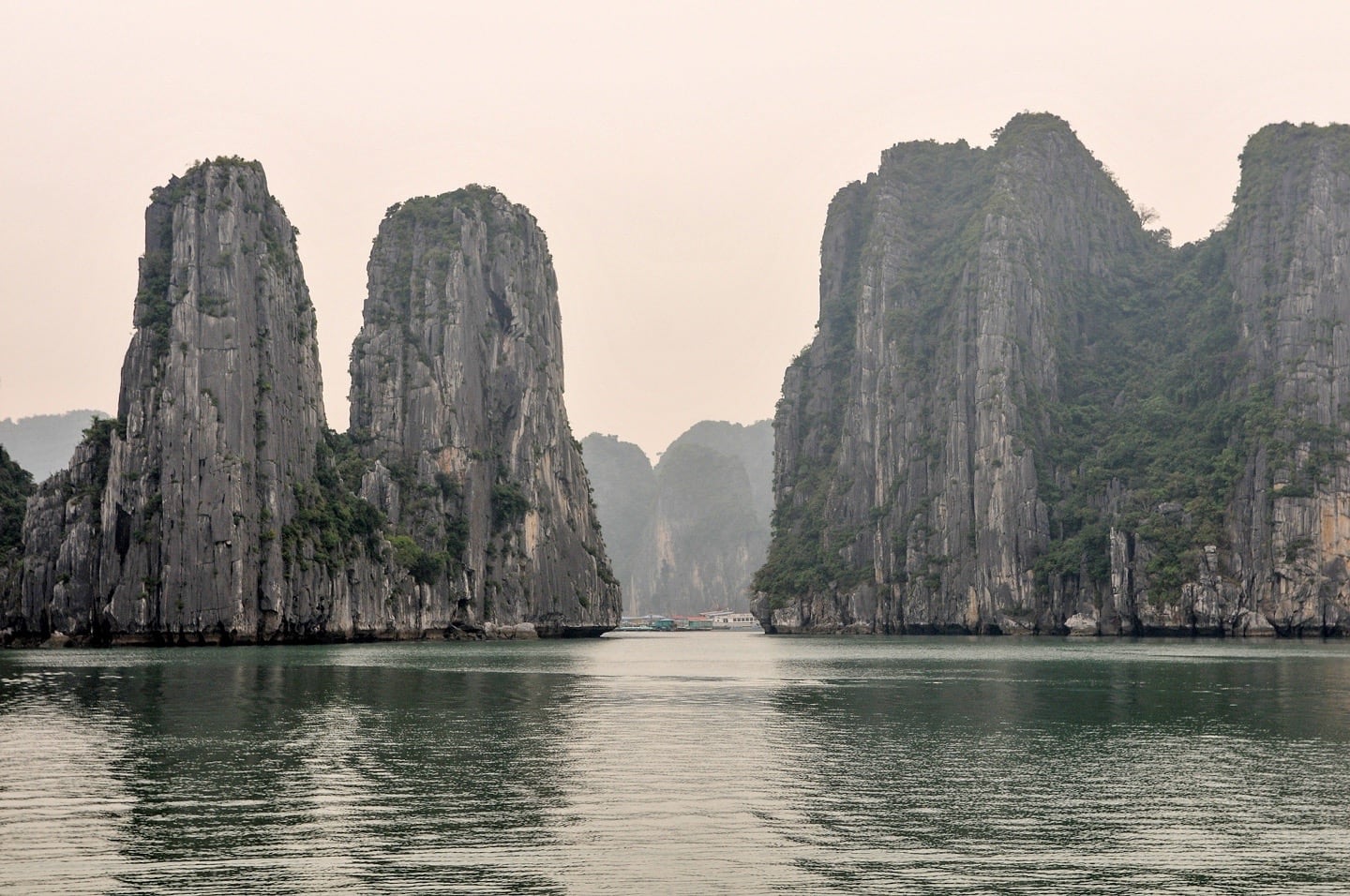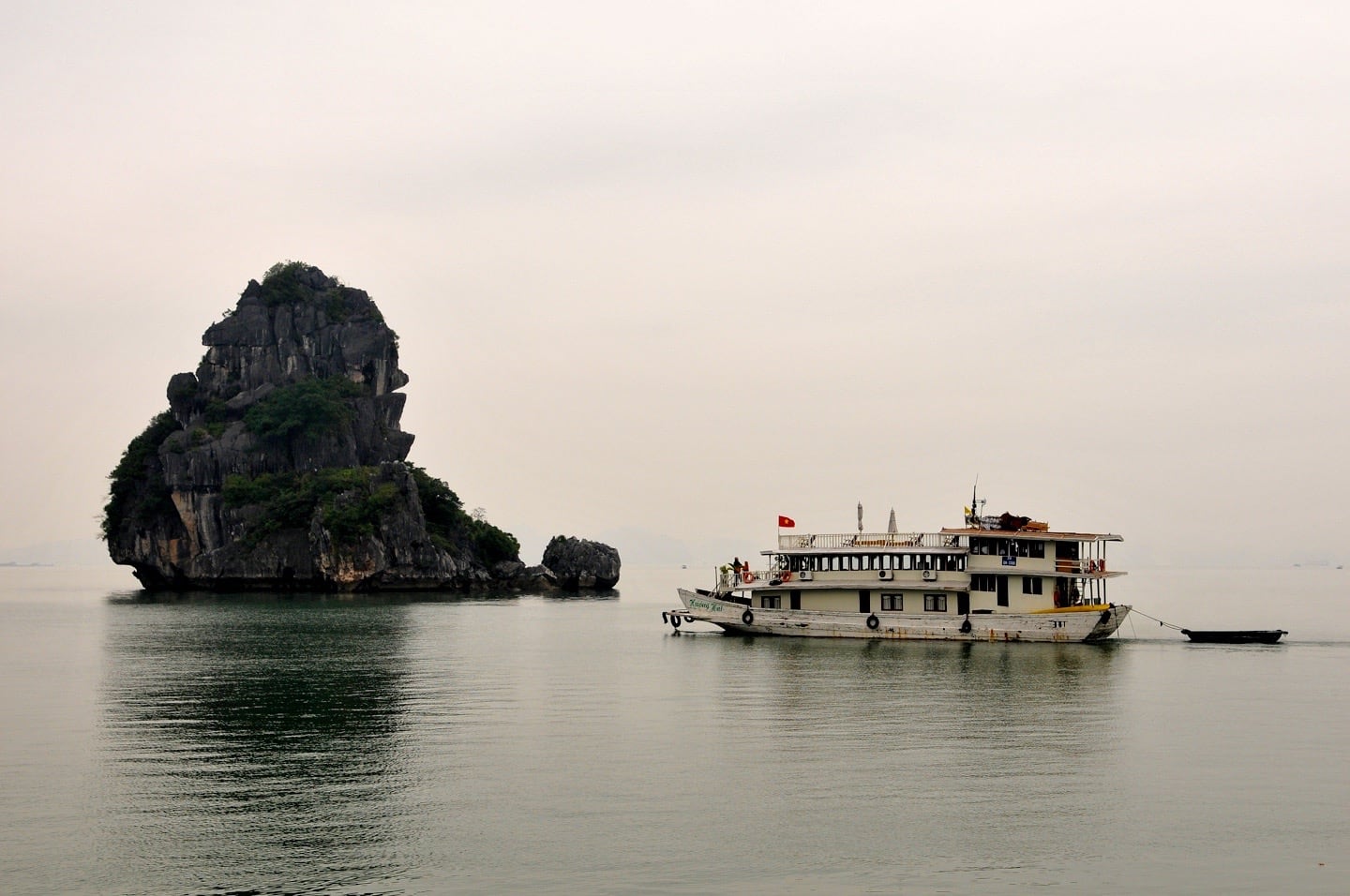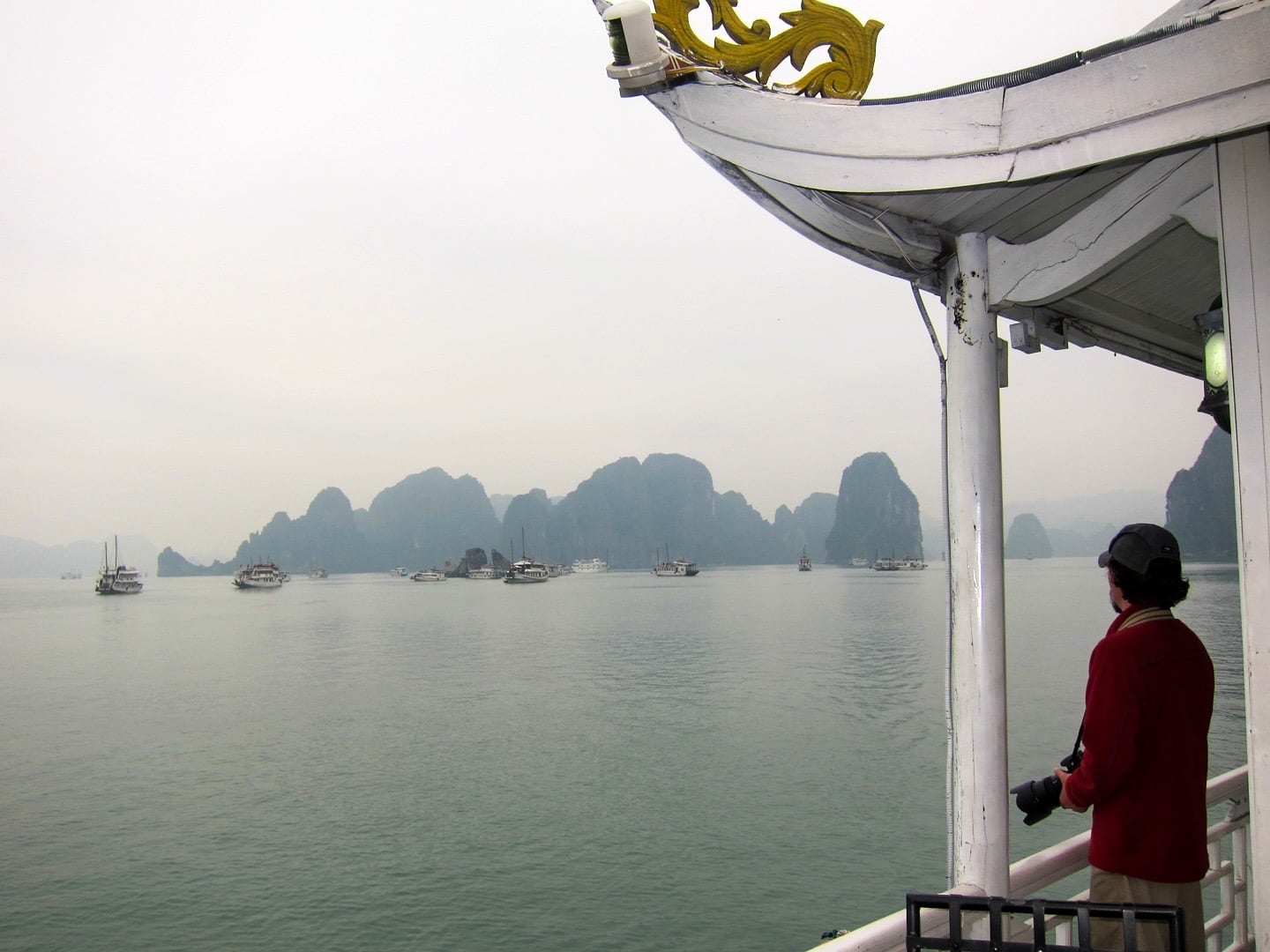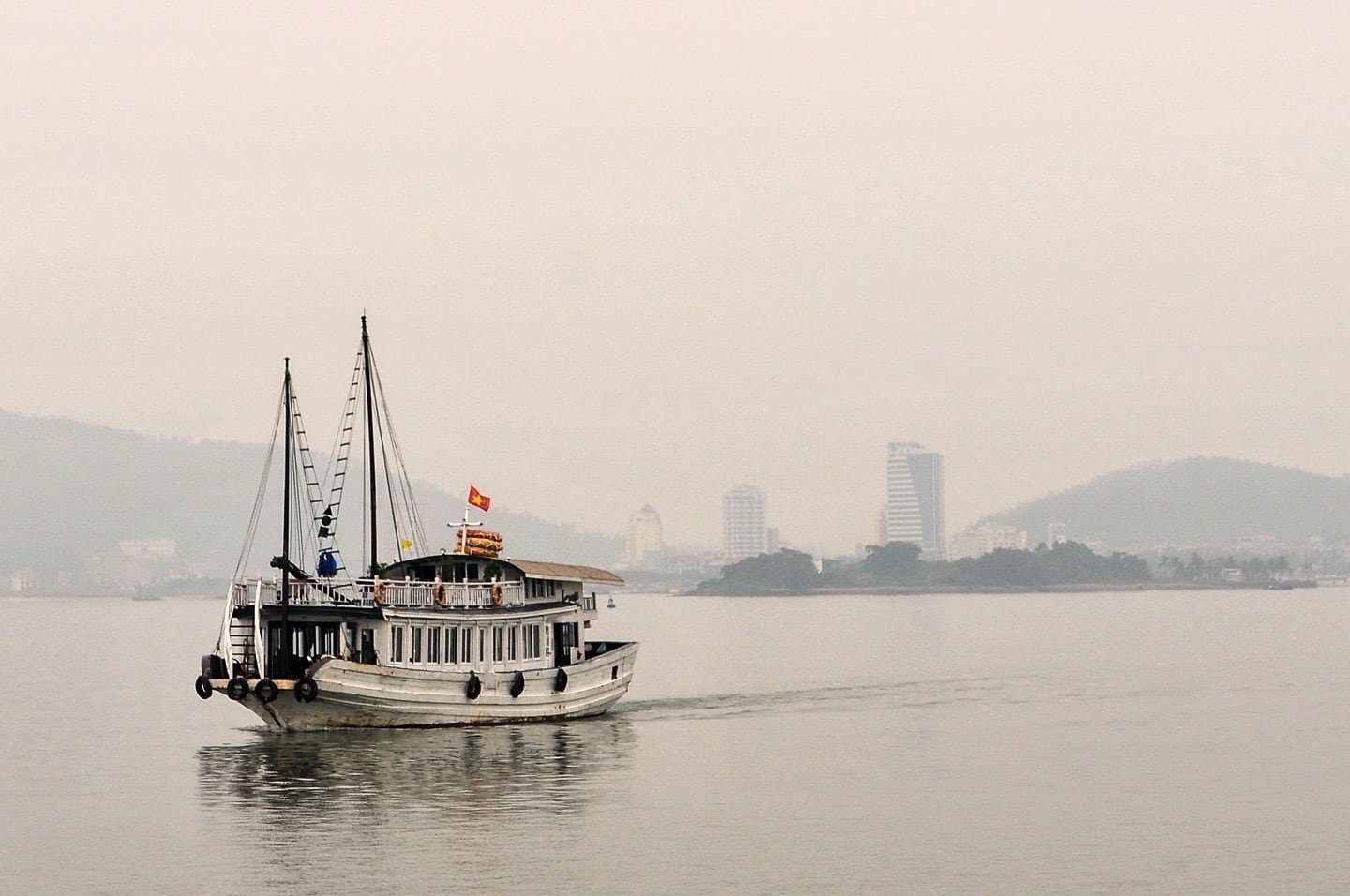 All too soon, the skyline of Hạlong City appeared through the mist, and we knew our time on the bay was quickly coming to an end.
Final Thoughts
Doing a Halong Bay 3-day cruise is one of those unique bucket list adventures that we feel very fortunate to have been able to experience. We highly recommend it to anyone planning a trip to Vietnam.
The three day cruise was perfect for us. Anything shorter and we would have felt short-changed. Anything longer and we may have started to take this incredible place with its stunning landscape for granted. Not to mention that anything longer than a 3-day Halong Bay cruise would have really started to pinch our pocketbook.
As for Halong Bay, who knows what the future holds. The Vietnamese government seems to be doing a better job than most at regulating the number of boats, distributing the high number of visitors throughout the bay, and addressing environmental issues.
As the middle and upper-income segments of society in East Asia rapidly expand so will the number of tourists visiting places like Hạlong Bay.
Will the Vietnamese government continue to strictly regulate this special place into the future or will it give in to the temptation of attracting more tourism revenue?
Only time will tell.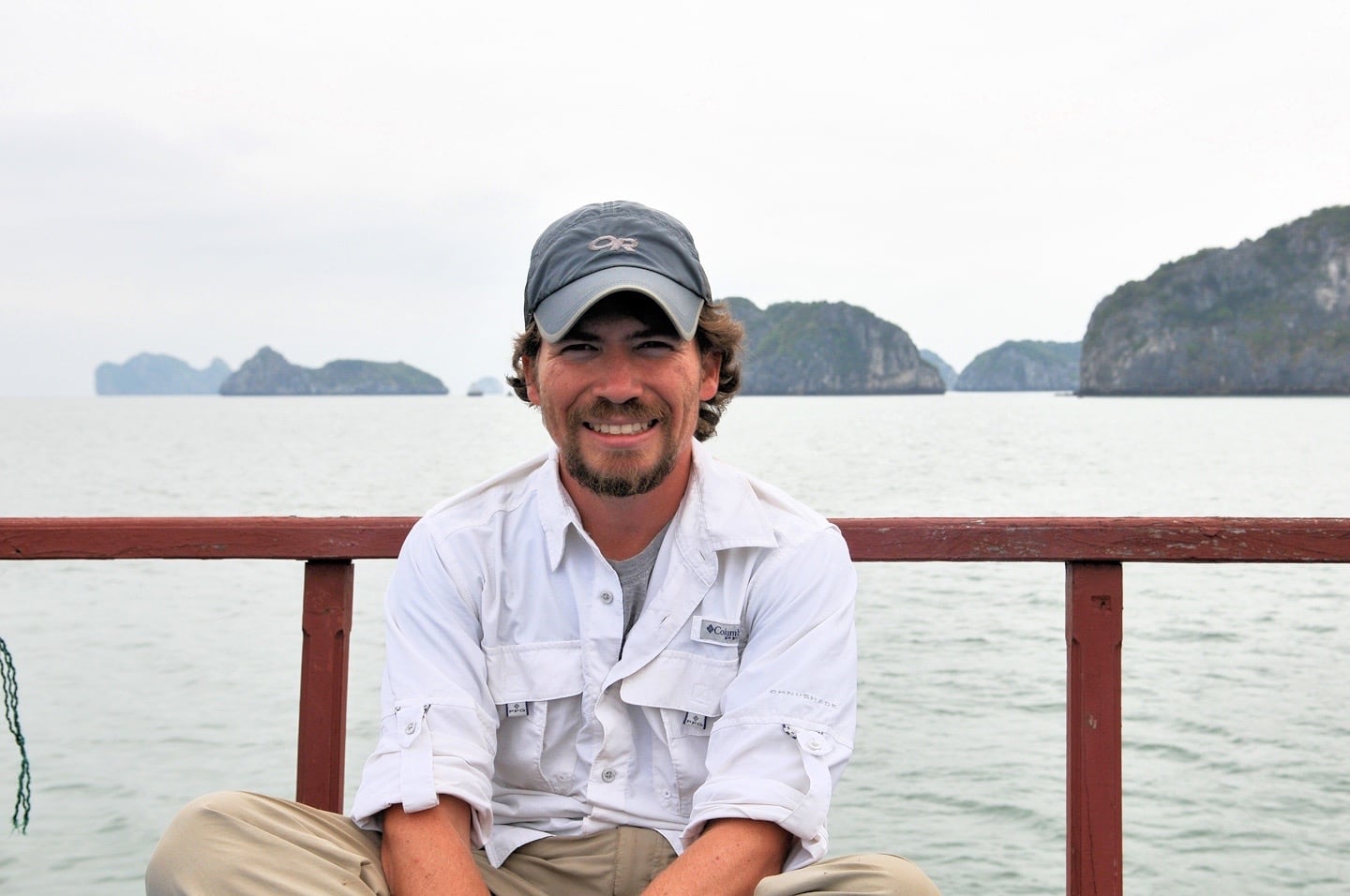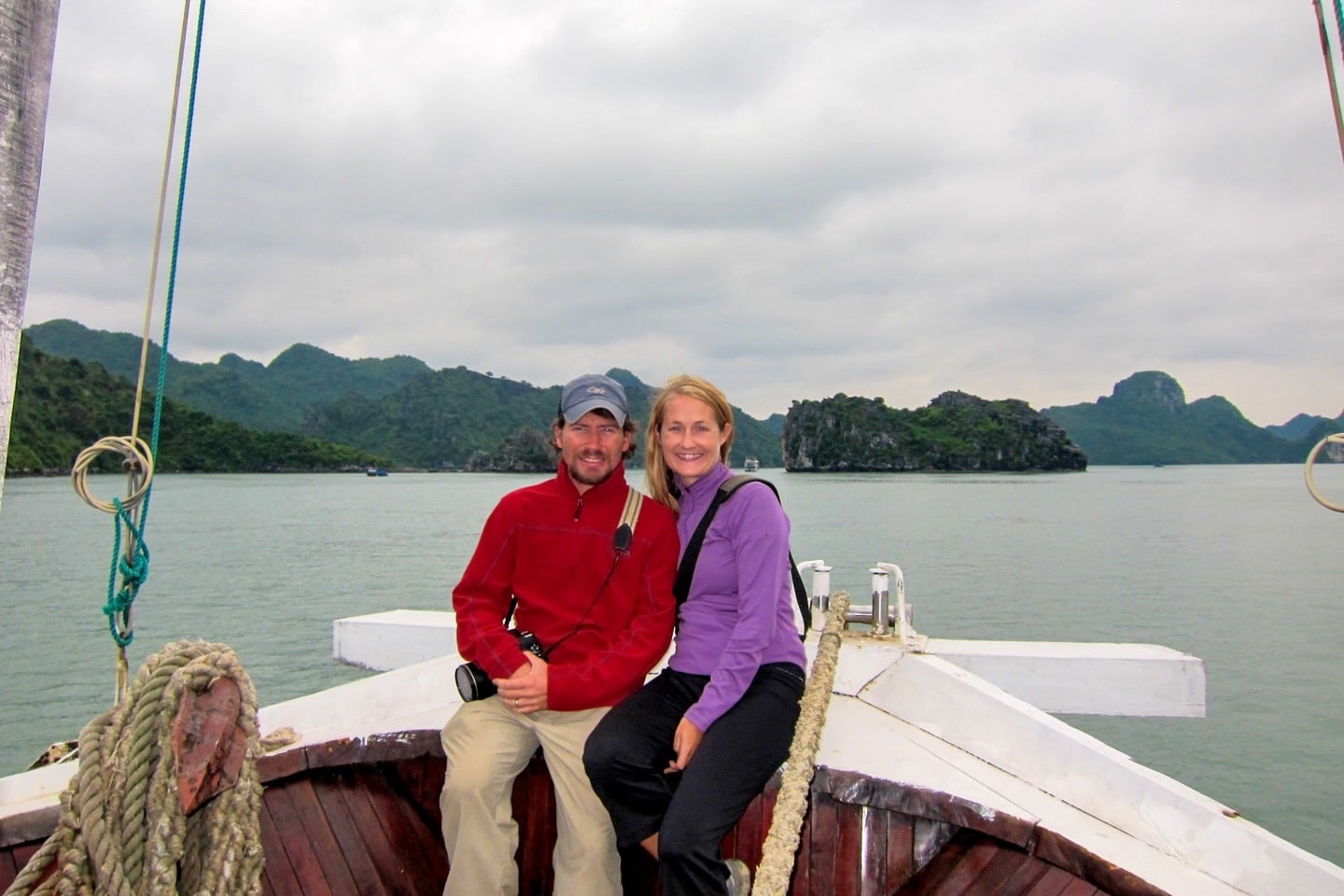 Our 2019 Halong Bay 3-Day Cruise Recommendations
There are literally hundreds of choices for cruise boats that offer multi-day and day trip Halong Bay experiences. I know that picking the right one can be a stressful and tortuous task.
Luckily, we've already done the hard part for you.
Lori and I have been researching travel options and making recommendations for ourselves, friends, and family for two decades, and here on AwayGoWe.com since 2010. We know a thing or two of what to look out for, what questions to ask, and having done the cruise ourselves, have an intimiate familiarity with the experience and the process.
We used to recommend Cristina Cruise for budget travelers, which is the company we used. It's been a few years now and the cruising landscape in Halong Bay has changed a bit. So, we've updated our recommendations to reflect that.
On the budget end of the spectrum, expect to find older boats, fewer amenities (like jacuzzis, swimming pool, and sunrise Tai Chi), and cruise routes/itineraries that are a bit more congested.
As you go up in price, you're paying for a newer boat, gourmet meals, attention to little details, amenities like jacuzzi/pool, wider choice and diversity of activities, more attentive staff, and generally more time away from the crowds.
Below are our top recommendations in 2019, across three price points: Budget, Mid-Range, and Luxury.
Regardless of price, all three of these companies have proven themselves to be at the top of their respective classes in quality, consistency, safety, and reliability, and are consistently chosen as top guest picks among a large pool of passengers.
While these three companies excel in the 3-day Halong Bay cruise, you can adjust the number of nights to fit your itinerary. However, not all companies offer the full spectrum of trip lengths.
Finally, it's important to note that our picks are 100% impartial and independent and we receive nothing from the companies below for featuring them here. As we have been for years, AwayGoWe is a booking.com partner, so if you do happen to book using our links anywhere on our site we receive a small commission (at no additional cost to you) that helps keep the tips and reviews coming.
Happy cruising!
HA LONG LEGEND BOUTIQUE CRUISE
Our top budget pick. Offers classic Junk boat styling, a wide variety of activities, comfortable cabins, and exceptionally friendly staff. Rated 9.4 /10 on Booking.com. Check prices & availability.
HALONG SERENITY CRUISES
Our top mid-range choice. Stepping it up a notch with more activities, a modern boat, more amenities, and more attention to detail, Serenity might just be the best value in Halong Bay. Rated 9.6 /10 on Booking.com. Check prices & availability.
STELLAR OF THE SEAS CRUISE
Our luxury level pick, perfect for honeymooners. With the service and amenities you might expect from higher priced cruise lines, Stellar of the Seas consistently rates as a passenger favorite, with a virtually unbeatable satisfaction score of 9.9 /10 from nearly 300 guest reviews on Booking.com! Check prices & availability.
Don't Forget Travel Insurance
The vast majority of travelers in Vietnam don't encounter serious issues with safety and security. With that said, stuff happens — severe weather, road accidents, broken bones, tropical diseases, etc.
Don't risk it. Get good international travel insurance so you can sleep easy and enjoy your trip to Vietnam! We use and recommend World Nomads.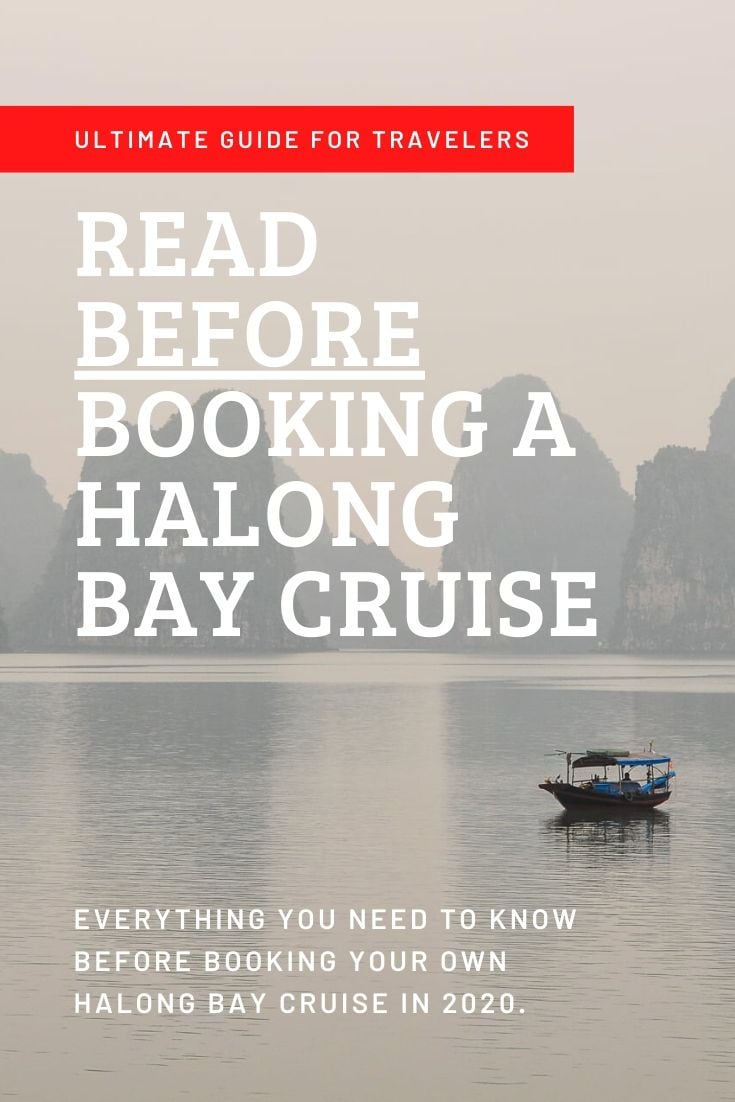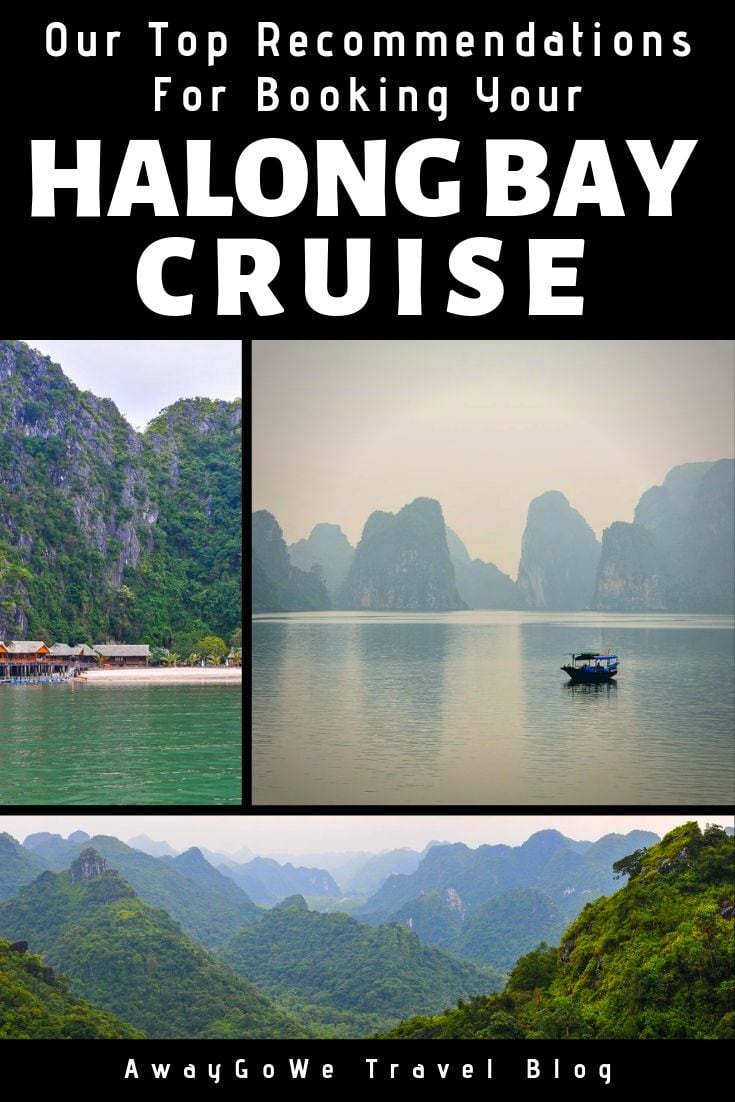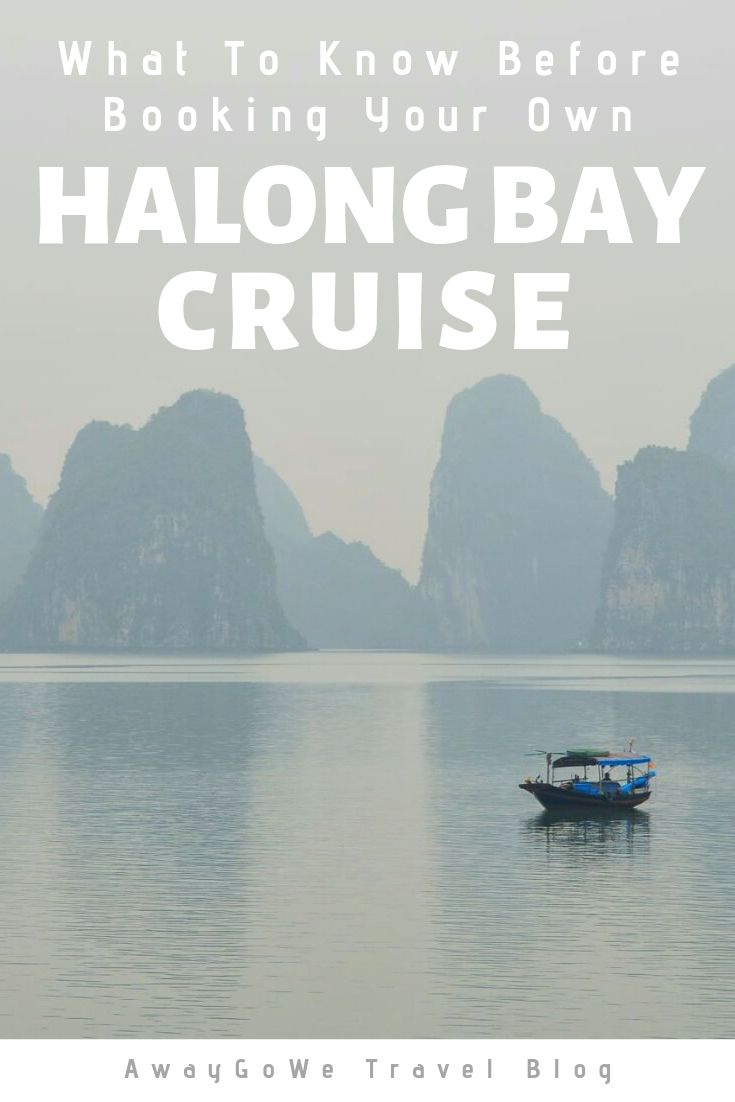 As an Amazon Associate we earn from qualifying purchases. We're also members of other affiliate programs. Learn more in our privacy policy.