Putting together a memorable day trip to the ancient city of Ayuthaya from Bangkok? Feeling overwhelmed with all the options for travelers? This guide was made especially for you!
Whether you're looking for the classic, no-nonsense budget day tour to Ayutthaya from Bangkok; a private and personalized experience with all the whistles and bells; or want to know how to get there on your own by train or public bus, you'll find all the essential info right here in our handy-dandy, first-hand guide – freshly updated for 2023.
Lori and I had a great time exploring this one-of-a-kind UNESCO-designated archeological site in Thailand. With some helpful advice and a few helpful tips, we think you will as well!
In this guide, we highlight the best ways to do a day trip to Ayutthaya from Bangkok, where to eat (if lunch isn't included), what to pack, tips on visiting Ayutthaya with small children, and why Ayutthaya is a must-see attraction.
We also offer helpful recommendations for independent travelers on how to get to Ayutthaya from Bangkok, what to see and do, and more!
▸ Looking for travel medical insurance? SafetyWing offers low-cost overseas medical coverage tailored to international travelers.
We're reader supported and may earn a commission from affiliate links on our site at no cost to you.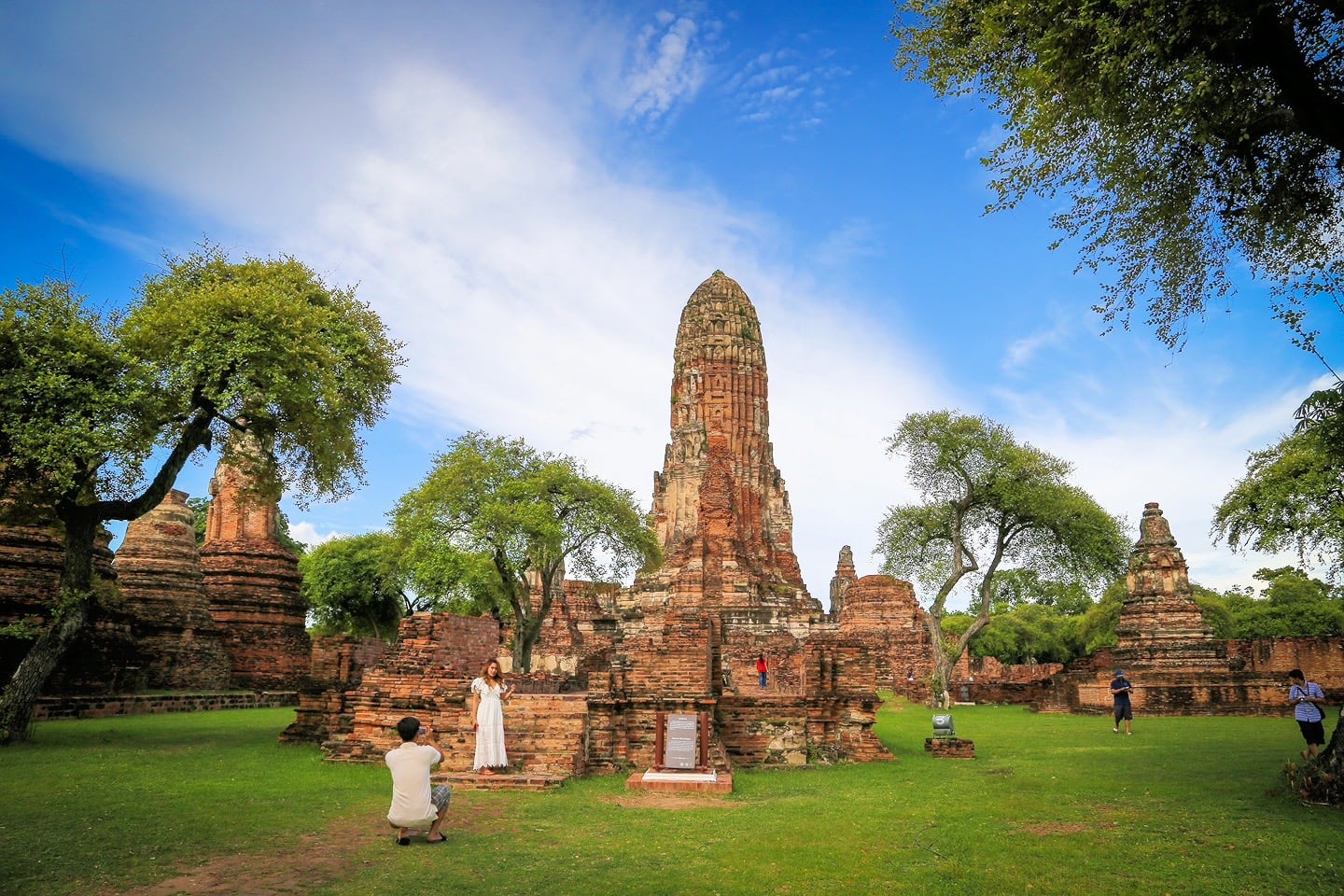 Why Visit Ayutthaya Historical Park?
Ayutthaya is the ancient capital of Thailand. At the height of the city's influence, it was one of the biggest and wealthiest cities in East Asia and its size and wealth in the 17th century rivaled that of Paris.
The city was founded by King Ramathibodi I in 1351 and served as the seat of the powerful Ayutthaya kingdom until it was destroyed by the Burmese Army in 1767 – yet much of this striking city remains intact and stunningly preserved.
Walking around some of the more major sites, one can get some sense of what it might have been like to roam this vast city.
With so many fascinating structures it's also easy to forget that these are but a fraction of what was here in the golden age of the ancient city.
Ayutthaya Historical Park became a UNESCO World Heritage Site in 1991 and is frequently considered a must-see attraction for visitors to Thailand.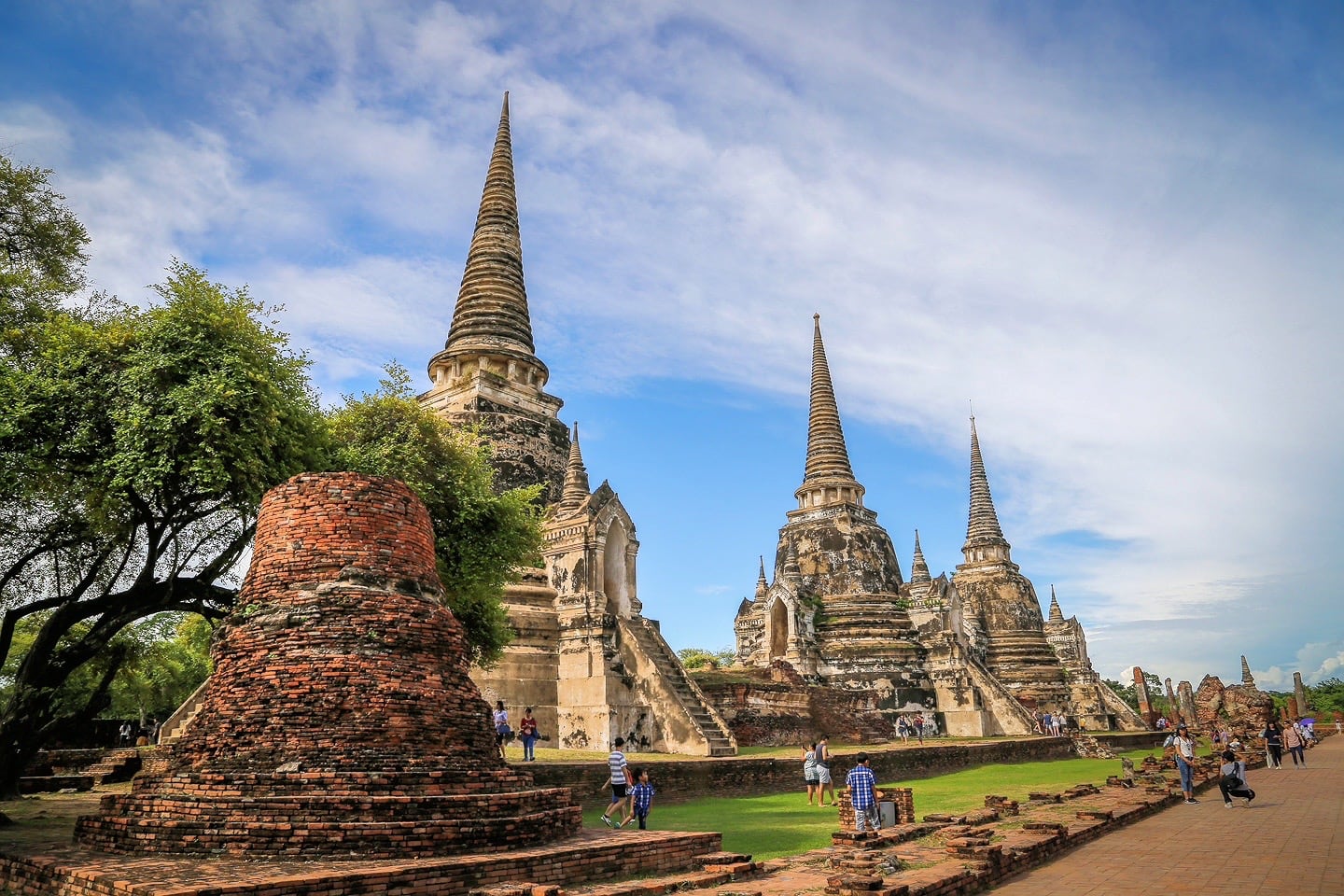 ---
These Are the BEST Ways to Tour Ayutthaya from Bangkok in 2023
---
There are so many Ayutthaya tours operating these days, it's hard to know which to choose. If we were doing a day trip to Ayutthaya from Bangkok right now, this would be our short list.
➊

Ayutthaya from Bangkok with River Cruise Return
OUR TOP PICK! Bangkok Day Tour: Ayutthaya and River Cruise (full day) ⏤ Experience incredible Ayutthaya with one of the top tour outfitters in the world! Includes knowledgeable local guide and Grand Pearl cruise back to Bangkok (with lunch aboard). From US$64 / Tour by G Adventures, a leader in small group adventure travel for 30 years.
➋

Classic Full-Day Ayutthaya Tours from Bangkok

Ayutthaya Historical Park Small Group Tour ⏤ Our top budget tour pick for those who like to keep things small and simple. 9.5-hour day trip with roundtrip transport from Bangkok with a group maximum of 9 travelers. From US$52 / Tour by TripGuru Thailand.

Private Ayutthaya Day Tour from Bangkok ⏤ Outstanding top-rated full-day private Ayutthaya tour with lunch, personal guide, and private roundtrip air-conditioned transport. From US$168 / Tour by MAM Holidays.
➌

Ayutthaya + Boat Tour Around UNESCO Site
Private Excursion to Ayutthaya with Boat Tour ⏤ This popular top-rated private day tour adds a personal boat tour around the island of the historic city center. From US$148 / Tour by Quality Thai Guide.
➍

Ayutthaya + Floating Market Tour
Private Excursion to Floating Market and Ayutthaya World Heritage Site ⏤ Looking for a unique private day tour that includes a long tail boat tour to Damnoensaduak Floating Market and even a visit to the world-famous Maeklong Railway Market? This top-rated private tour to Ayutthaya from Bangkok was made for you! From US$168 / Tour by Quality Thai Guide.
From Bangkok: Ayutthaya & Floating Market Day Trip ⏤ If you don't mind going with a group, this popular tour adds a visit to the Ayutthaya floating market as well. From US$61 / Tour by Hana Go Pro.
➎

Ayutthaya Bicycle Tour (from Ayutthaya)
Half-Day Ayutthaya City Cultural Bike Tour ⏤ The mostly-flat archeological park of Ayutthaya was almost made for biking! If you're up for an active approach to touring this UNESCO World Heritage Site, check out this half-day tour. This tour departs from their office in Ayutthaya Town, so you'll want to read our guide below on getting to Ayutthaya from Bangkok on your own. From US$39 / Tour by Recreational Bangkok Biking.
➏

Bangkok to Chiang Mai Tour Via Ayutthaya
7-day Bangkok to Chiang Mai Tour with stop in Ayutthaya ⏤ This is the perfect Ayutthaya tour from Bangkok for those looking to experience Ayutthaya as part of a week-long tour package from Bangkok to the incredible Northern Thailand city of Chiang Mai. and G Adventures offers some of the most socially responsible, and most trusted tour packages on the market today. From US$862 / Tour by G Adventures.
➐

DIY Ayutthaya Day Trips from Bangkok
There are numerous options for doing an Ayutthaya day trip tour. But if you're on a shoestring budget or just like to travel in a more independent fashion, a DIY day trip to Ayutthaya from Bangkok might be worth considering.
Read on for our detailed guide to doing a day trip on your own to Ayutthaya from Bangkok.
---
Related Articles
---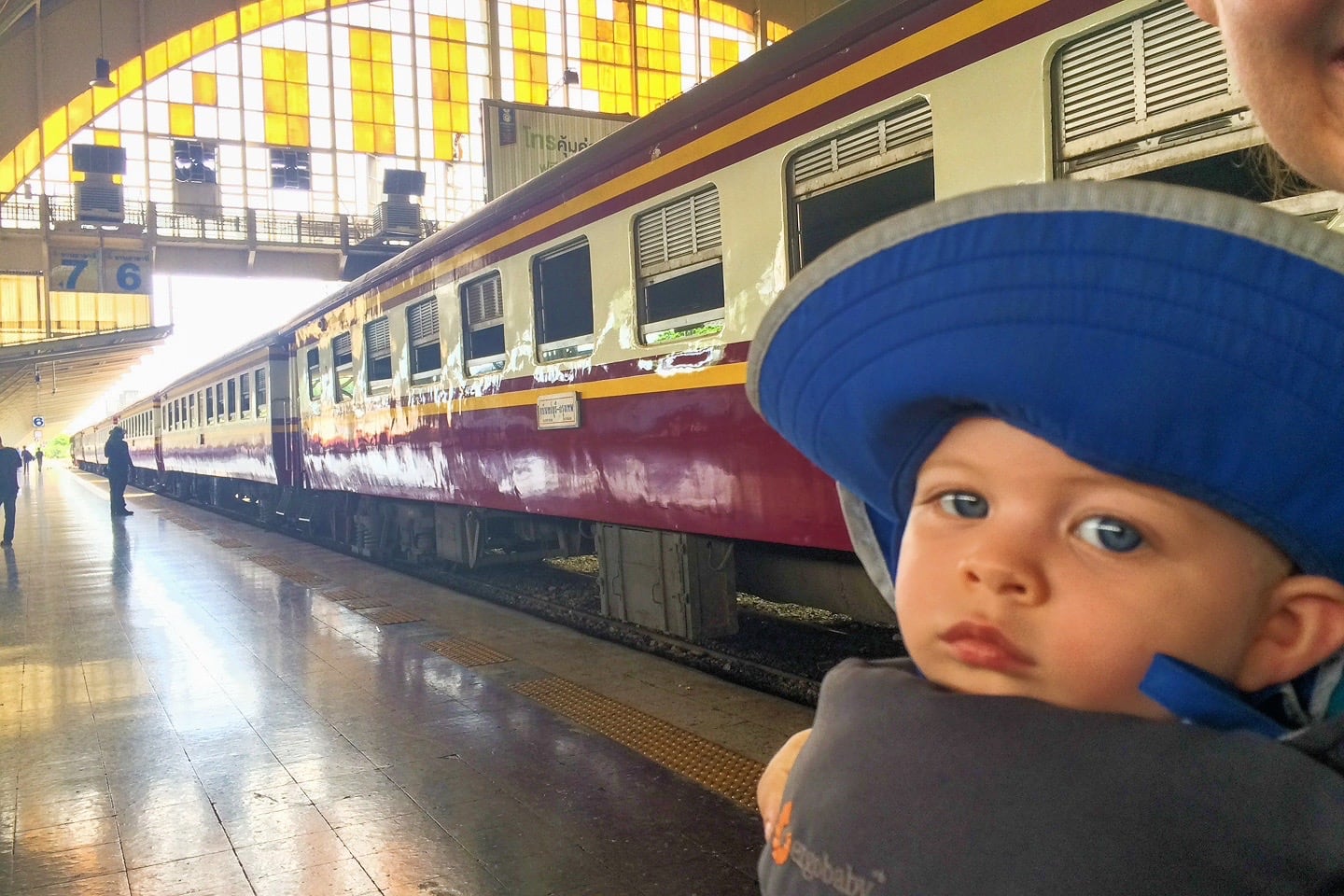 Getting to Ayutthaya from Bangkok on Your Own
If you're thinking of doing a day trip to Ayutthaya from Bangkok on your own, you've got a number of reliable options to choose from, such as train, public bus and minivan, taxi, and self-drive.
Here, we outline the various options with pros and cons for each method of transport, plus helpful tips for your journey.
Bangkok to Ayutthaya by Train
Doing a day trip to Ayutthaya from Bangkok on our own has one particular advantage over package tours – you have the option of getting there (and back) by train!
If you're pressed for time or have mobility challenges (or just don't care for train travel), this option might not be for you (you'll want to skip down to the rest).
Arranging the train to Ayutthaya from Bangkok couldn't be easier. Here's our experience with our top tips for your journey.
Bang Sue Grand Station Update 2023
Bangkok's new central railway terminus for long distance trains is now open!
As of April 2023, the new station is known by two names: Bang Sue Grand Station (what is written on the outside of the building), and Krung Thep Aphiwat Central Terminal. The old station (Hua Lamphong/Bangkok Railway Station) remains open for local trains.
There are now two options for getting to Ayutthaya from Bangkok by train: Taking a local train from Hua Lamphong (station is more convenient for most travelers but the journey is longer) or taking an express train from the new Bang Sue station (journey is quicker but the terminal might be less convenient to get to).
Please keep in mind that our train journey report below covers taking the train from Hua Lamphong prior to the opening of the new station.
We took a taxi-meter (metered taxi) from near Khao San Road to the historic Bangkok Railway Station (a.k.a. Hua Lamphong), which cost about US$2.00.
Upon entering the train station, there were friendly [English-speaking] officials there to direct passengers to the appropriate train.
Trains running from Bangkok to Ayutthaya leave about every hour, but there can be longer gaps in the middle of the day like we discovered.
We just missed the 3rd Class Regular Service train, so our next option was the much more expensive 2nd Class A/C Special Express (US$0.50 vs. US$10.00 vs.!!!).
Still, $10.00 per passenger for a comfortable 90-minute train ride isn't too bad of a deal.
And yes, it took us 90 minutes on an express train to cover the 50 miles to Ayutthaya —most of that time was spent stopping at stations in Bangkok on our way out of the city, but we still had a great experience!
It's hard to beat the comfort and flexibility of being able to stand up and walk around while underway, particularly with a one-year-old.
And it's hard to beat the commanding view from the huge windows on most Thai trains.
🔥 HOT TIP 🔥
If you want to get a jump on your Ayutthaya trip planning, you can also book trains (and buses) in advance from anywhere in the world via 12go.asia (highly recommended!)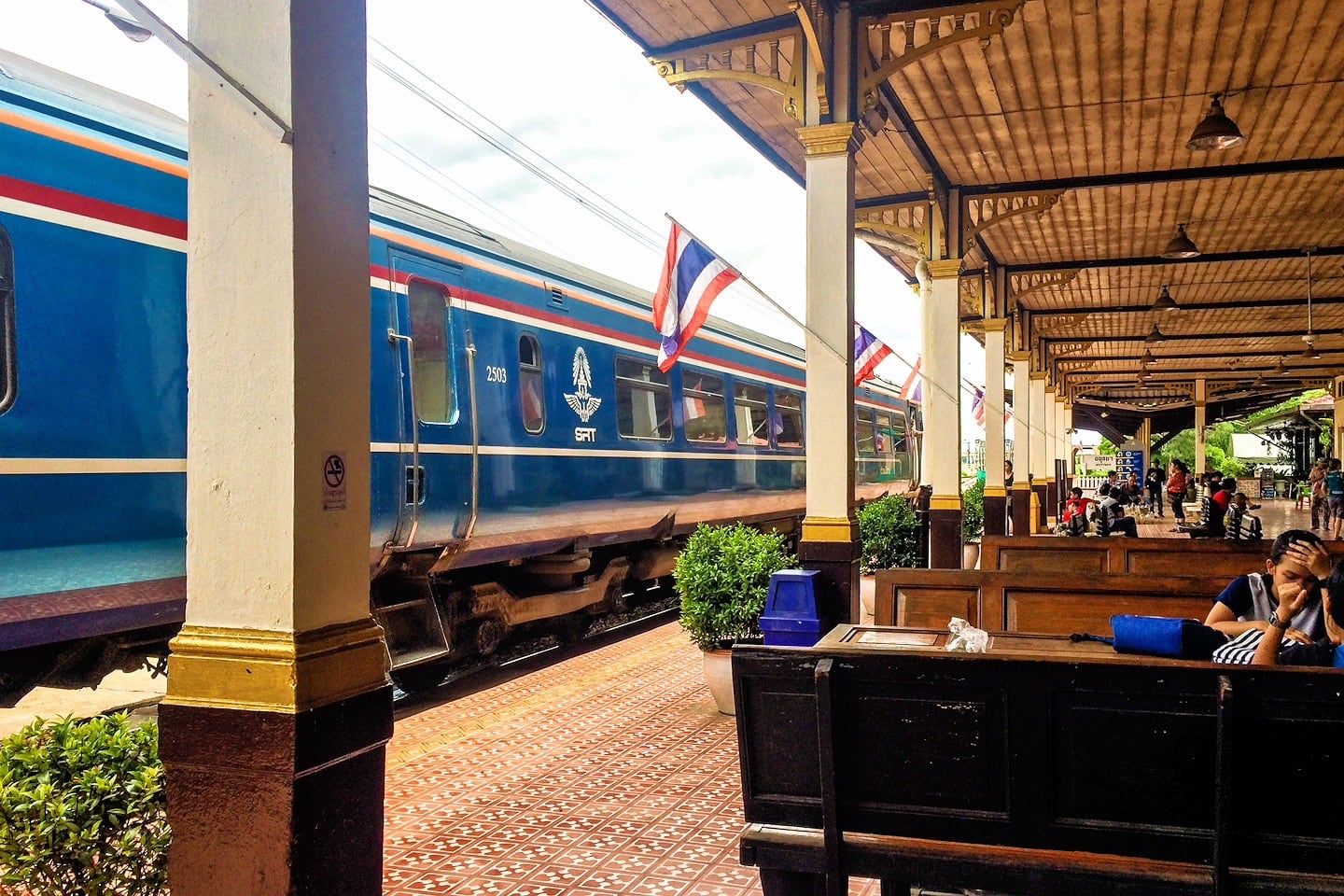 Getting from the Ayutthaya Train Station to the Historical Park
Another benefit of taking the train over the bus is the location of the railway stations in both Bangkok and Ayutthaya.
In Bangkok, the station is just outside the tourist zone — a short taxi ride (or walk, depending on where you're staying and your fitness level) away.
While the rail station in Ayutthaya isn't within a stone's throw of the historical park, it is much closer than the main bus station, and certainly within walking distance for someone with an average fitness level.
Once at the Ayutthaya railway station, it's more or less a direct shot west to the nearest major ticket booth.
However, there is a small body of water that you must cross by ferry to get to the Ayutthaya historical park, which only adds to the fun of a DIY tour experience.
It's a short walk to the ferry, though there was a bit of confusion as to the actual location. I've included a map in this post to hopefully make it a bit less confusing (see below).
From the ferry dock, it's a leisurely 1 km (0.75 mile) walk straight down the road to the closest major site on the island, Wat Maha That.
---
Related Articles
---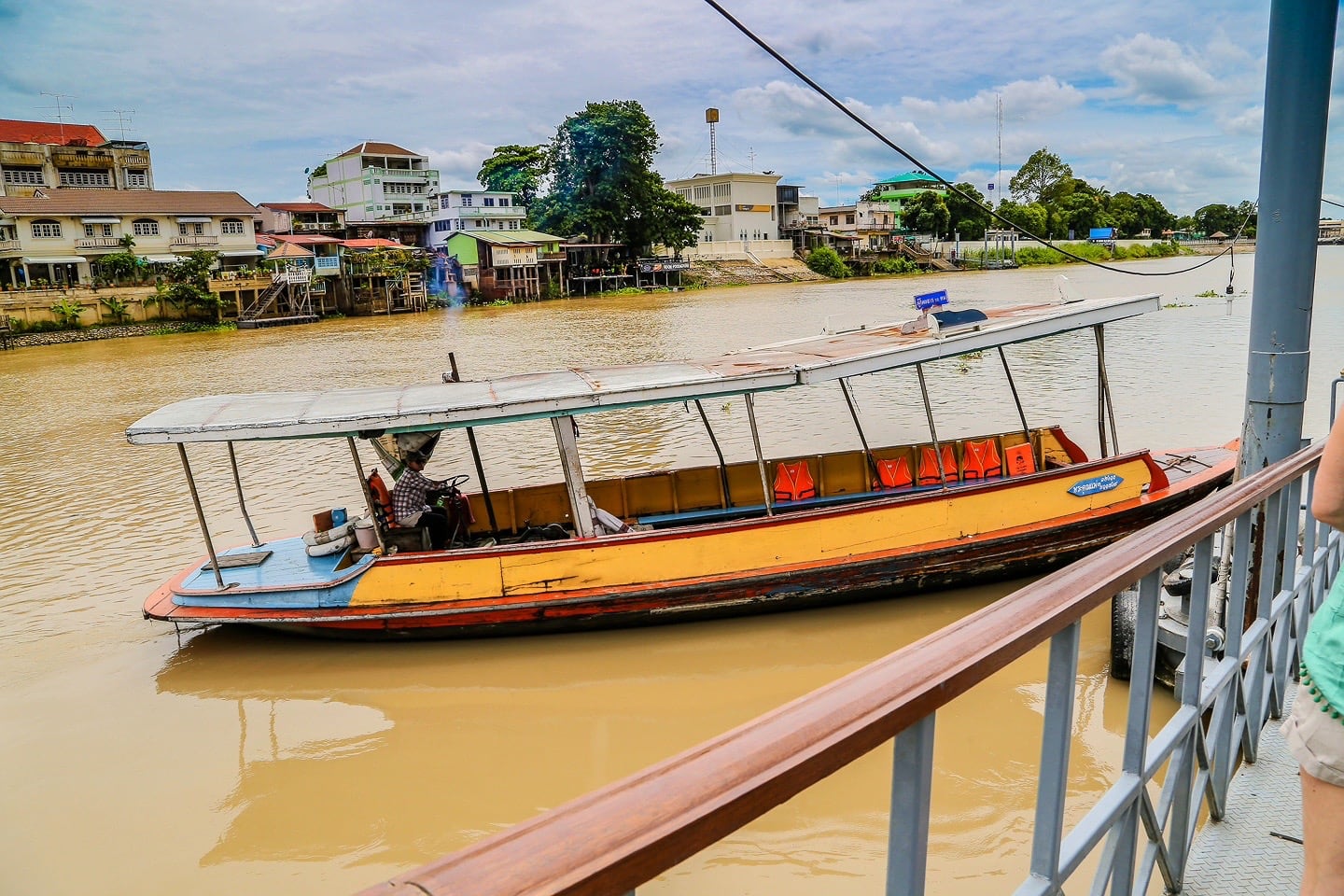 Other Ways to Get to Ayutthaya from Bangkok on Your Own
We personally think the train is the best way to get to Ayutthaya on a DIY tour, particularly if you are traveling with a little one. However, there are a handful of other options as well.
Bus & Minivan
Ah, yes, bus, minivan, and everything in between.
If you are keen on taking the bus/minivan, you can take the BTS Sky Train to Mo Chit station, then make a five minute transfer (via buses 3, 26, 77, 96, 104, or 509) to Mo Chit Northern Bus Station (alternatively, you can take a taxi from your hotel/guesthouse direct to Mo Chit Northern Bus Station).
Buses from the station run every 20-30 minutes, and there's generally no need to book tickets in advance.
Minivans leave when they want to leave, so hop on the first available one you see. With that said, I don't generally recommend inter-city minivans in Thailand for safety reasons (and comfort reasons with baby—ever had to change a poopy diaper on a crowded minivan speeding along at 140 km/h? Trust me, you don't want to).
Note that because buses and minibuses are subject to the same roads and highways as everyone else, traffic can easily add an hour or two to your round trip.
Taxi
You could also hire a taxi to take you, but we'd strongly advise against trying to flag one down on the road in Bangkok.
Many taxis will straight up drive off the second you say the word "Ayutthaya," and your chances are even worse if you are planning on staying the night in Ayutthaya or taking the taxi one-way.
If you're hell-bent on going the private-hire route, you'll want to enquire and book through your hotel/guesthouse for the best options available.
Self-Drive
Of course, if you have your own car (or a rental), you can drive. In theory, this is an excellent option, offering ultimate flexibility. But you may find that dealing with Bangkok traffic and parking might offset the benefits.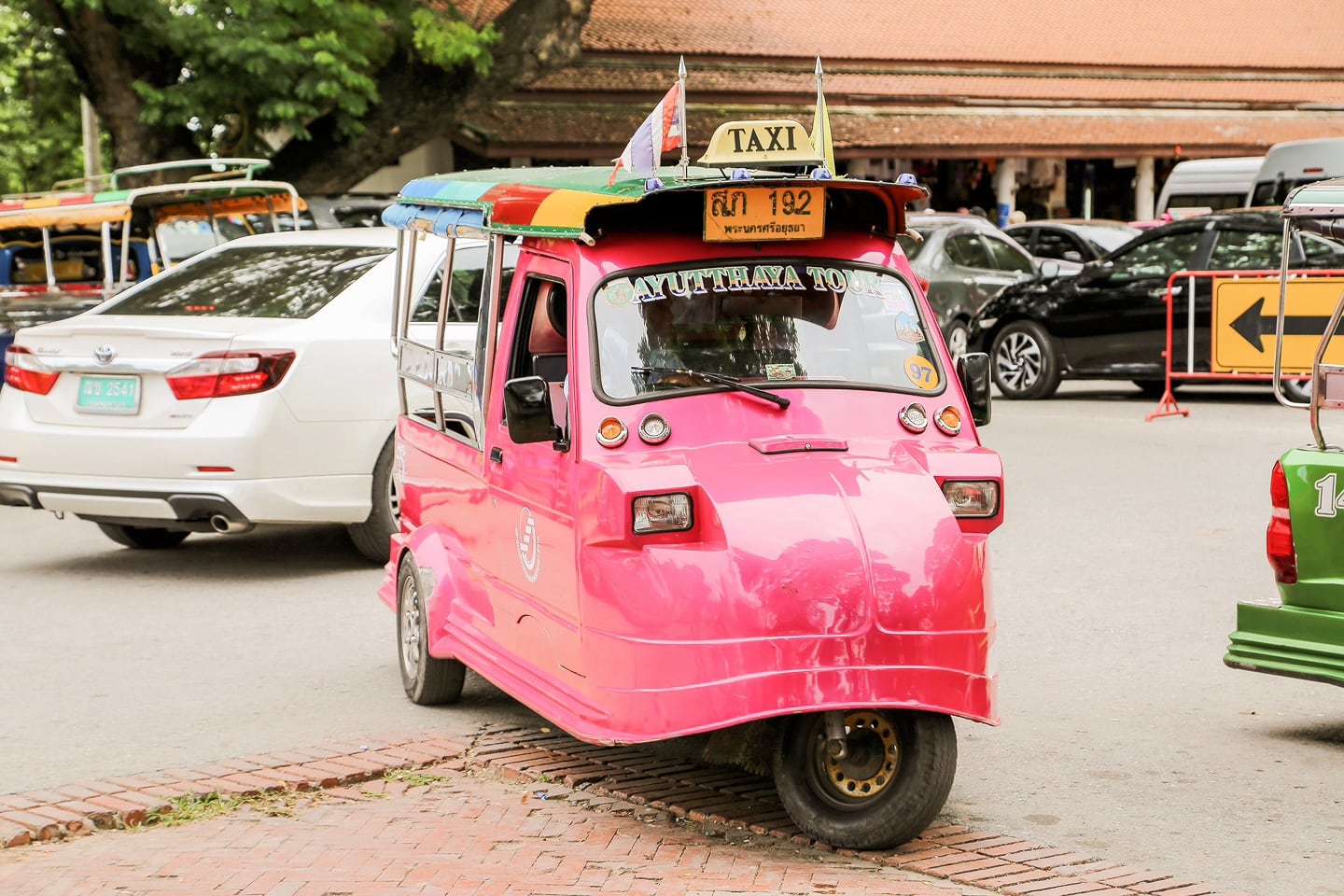 Getting Around Ayutthaya
Getting around Ayutthaya Historic Park and Ayutthaya Town is fairly easy and straight-forward, particularly with a decent map.
You could walk the main historical park on the "island," but if you want to see some of the satellite sites (some I'd highly recommend), you'll want to grab a tuk-tuk.
You can get around in any number of funky tuk-tuks that hang out outside of the railway station and around all the major historic sites.
Nothing beats getting around on a DIY tour in Asia than doing it by hot-pink tuk-tuk, and Ayutthaya is no exception.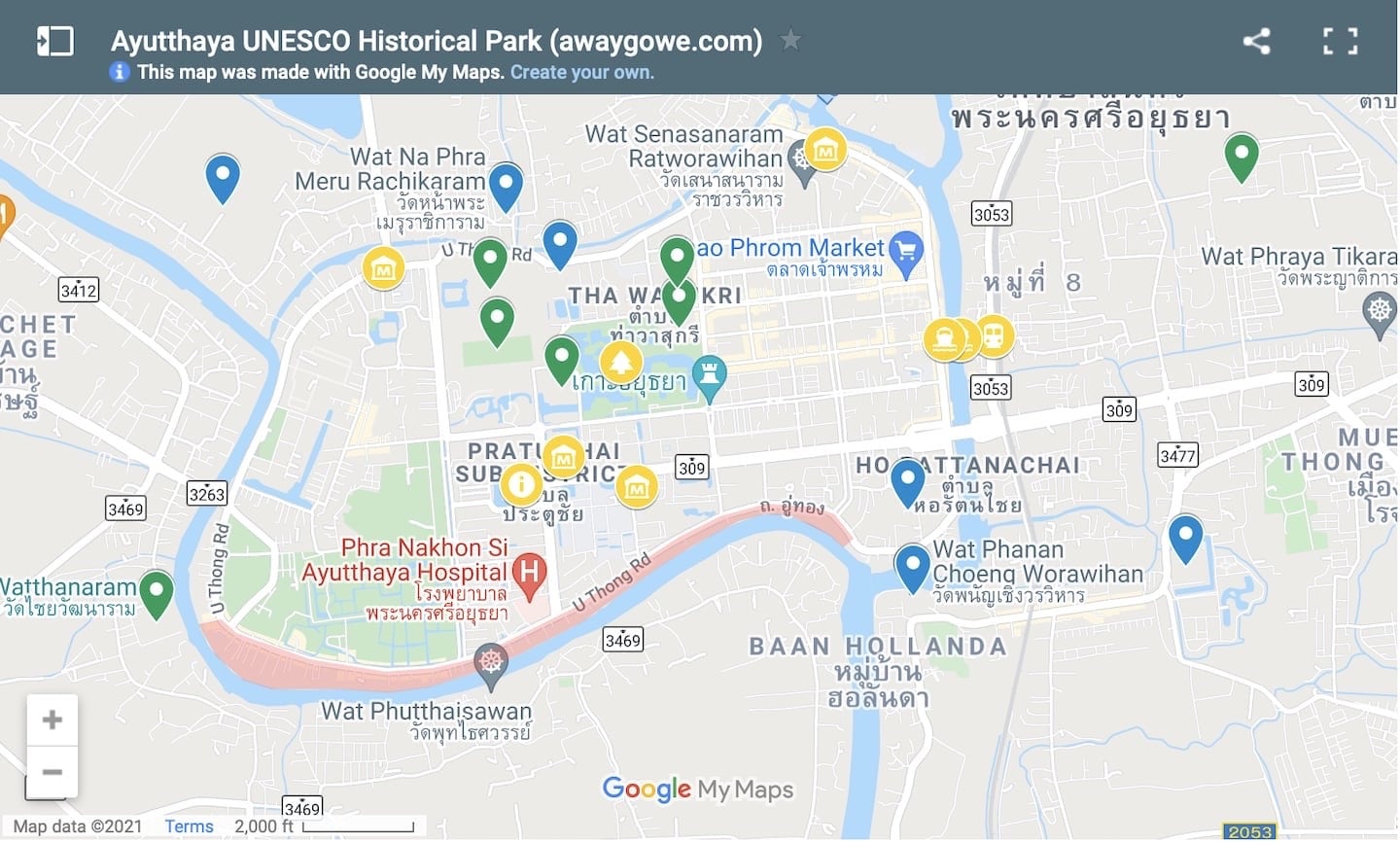 We've included a map for you with helpful markers, including the ferry docks, seven main sites that are included in the day pass (green markers), the restaurant zone, and other points of interest.
We wish we would have had access to a map like this when we did our trip!
On a baby travel side note, we find it easiest to wear our son in a front-loading carrier when hopping on and off of tuk-tuks, for safety, comfort, and ease.
We've had excellent results with our baby carrier from three months of age (with insert). At around 18 months, we started hauling our boy around more in one of these.
---
Related Articles
---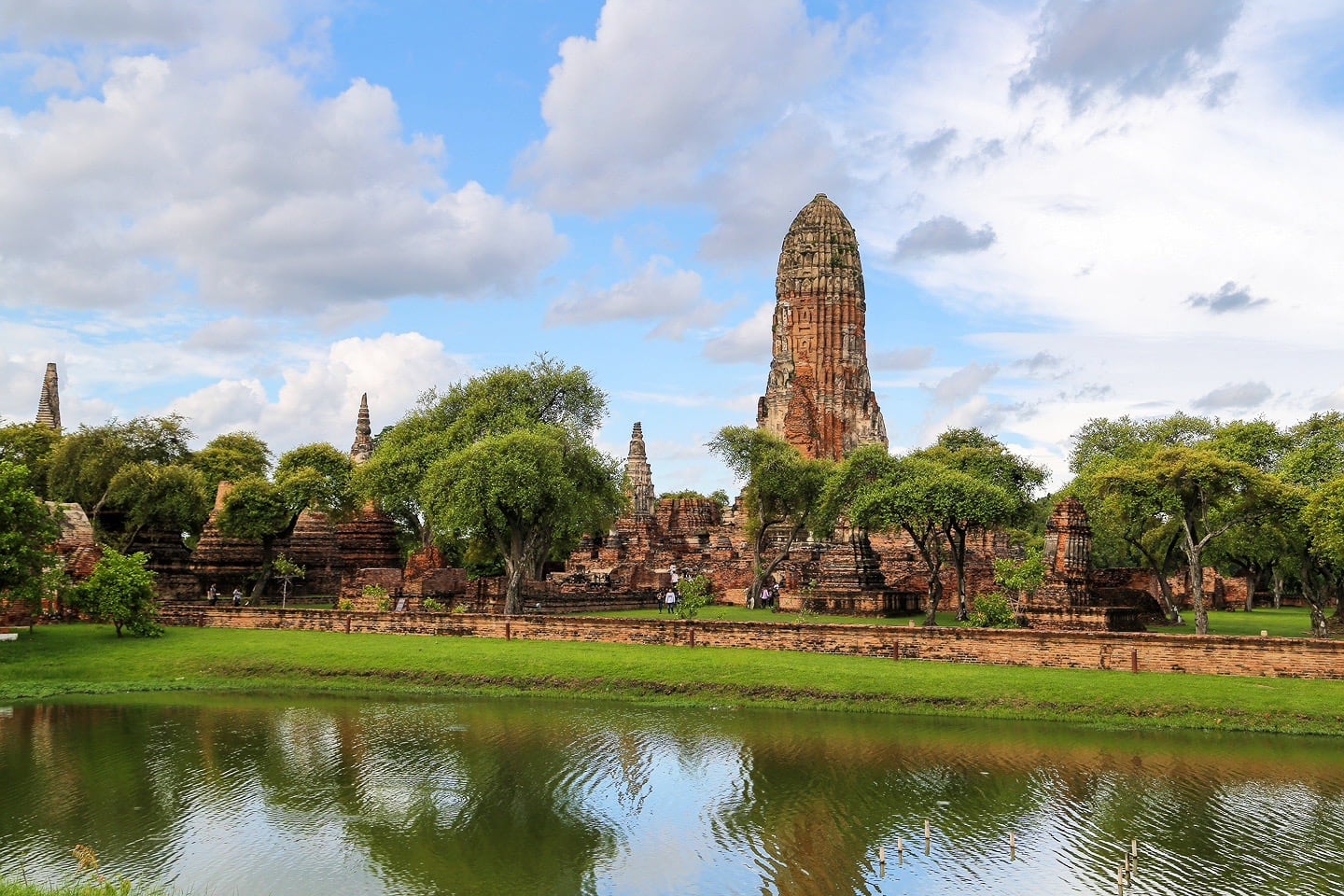 What to See & Do in the Historical Park
The primary archeological sites of Ayutthaya Historical Park span a 2 mile (3km) radius, with four miles separating the farthest two (as the crow flies).
However, the bulk of the top sights are clustered together around Rama Public Park in the center of the city's "island."
For about US$7 per visitor (babies exempt), you can buy a day pass covering seven of the top sites, including Wat Maha That, Wat Phra Si Sanphet, Wat Ratcha Burana, Wat Phra Ram, Wat Chai Watthanaram, and Wat Maheyong, along with the ruins of the Old Palace, sort of thrown in as a "bonus."
Hiring a Local Guide
If you are planning a DIY tour of Ayutthaya, that means you probably won't already be traveling with a guide.
If you're interested in the history of this vast archeological complex, I strongly recommend you consider hiring a local guide at the historical park, at least for part of your visit.
We opted against having a guide, largely owing to wanting to be flexible with a toddler. In hindsight, however, we think hiring a guide would have added significantly to the experience.
Guides are available to hire at the ticket booth and around the park (sometimes they can get a bit pushy).
The main problem with hiring a guide on site is you never know what you're going to get. That's perhaps the biggest advantage to doing a top-rated package tour like the ones we recommend earlier in this guide.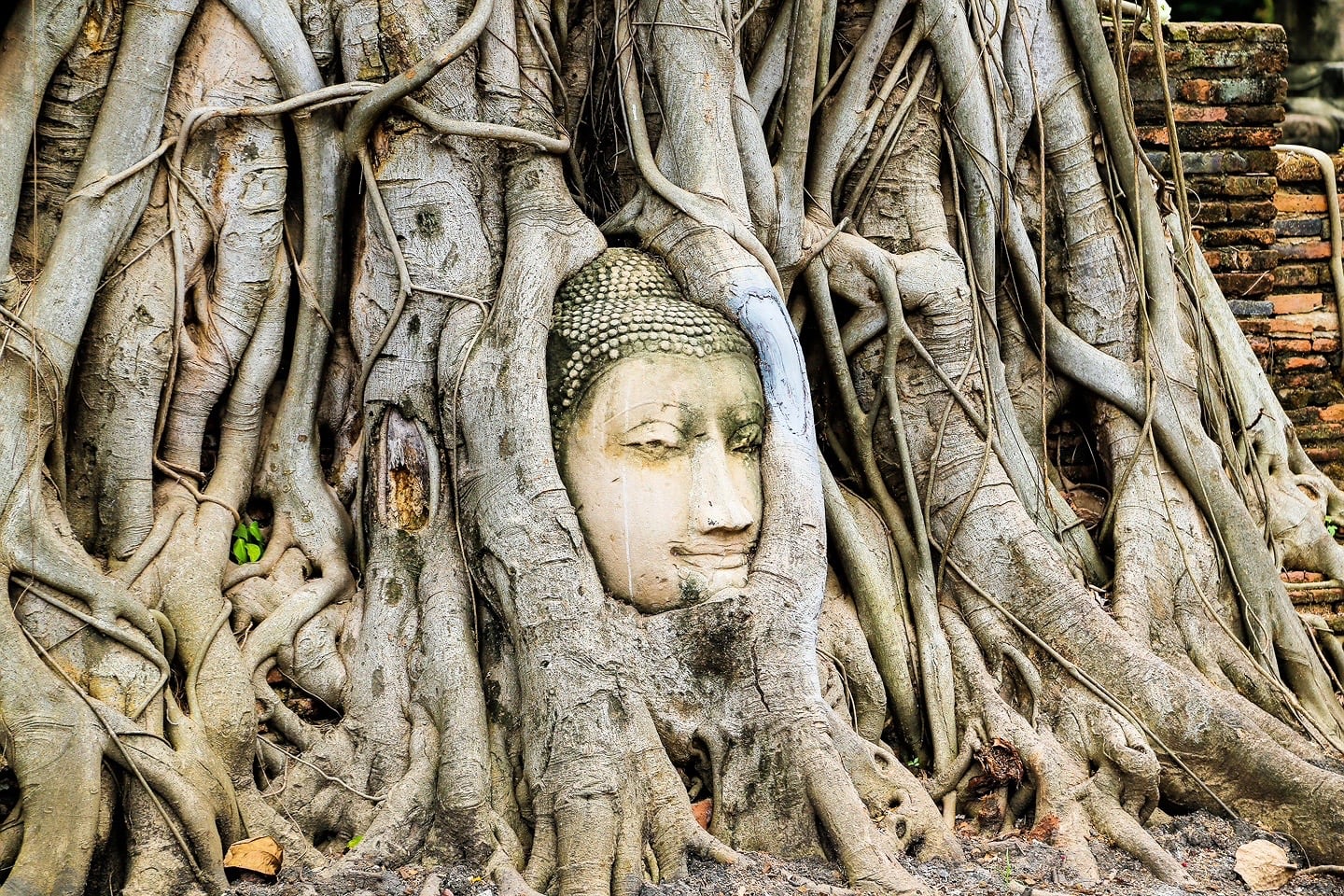 Our first stop of the day was Wat Maha That, the site of perhaps Ayutthaya's most photographed image: the sandstone Buddha head mysteriously tangled in tree roots.
Apparently, in the wake of sacking the city, the Burmese toppled a Buddha statue perched above this wall. The head remained undisturbed for centuries as the roots of this tree slowly grew around the Buddha head.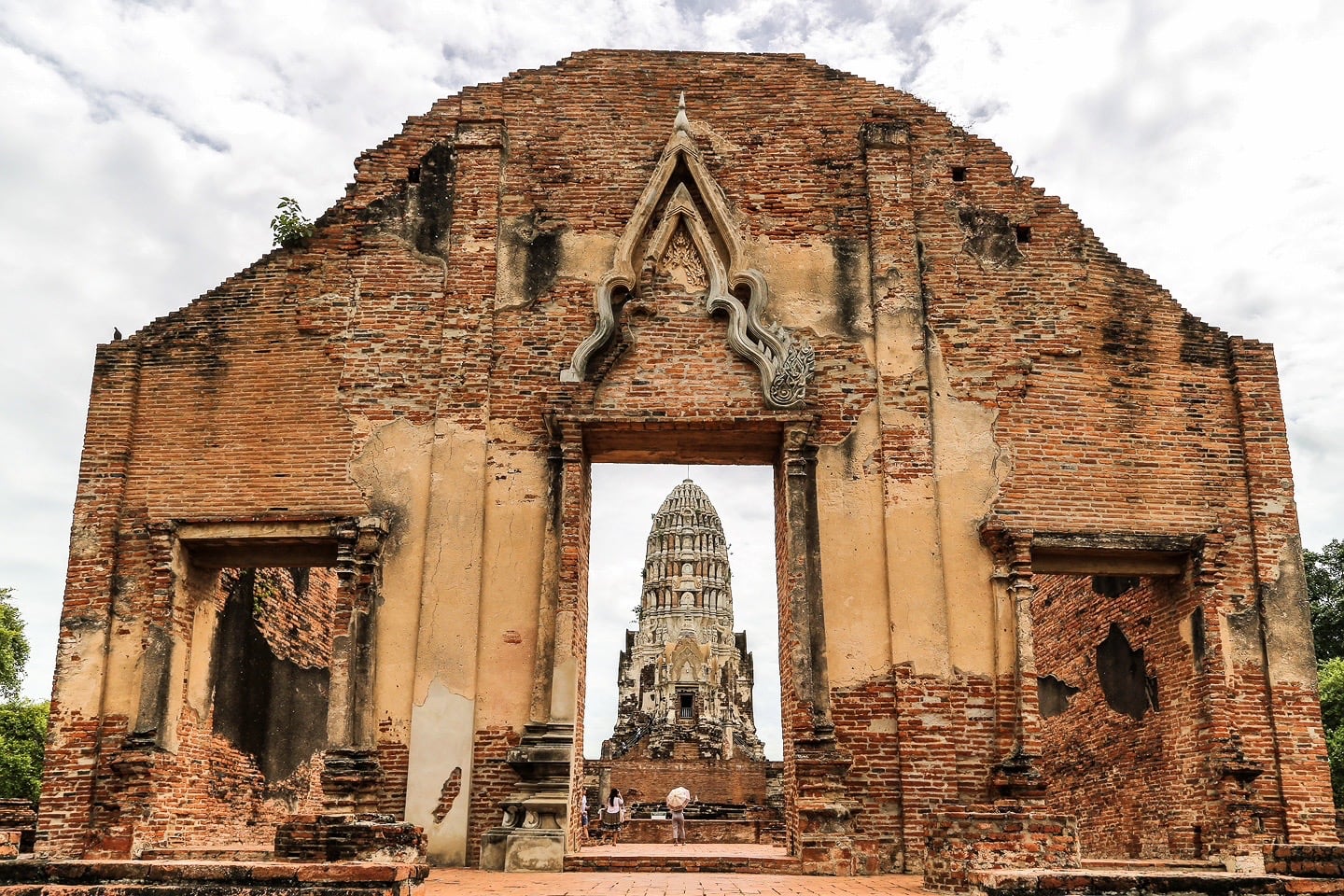 There are numerous ancient structures in the historical park (too many to count). Most are off-limits for climbing up or on, but some are not.
Wat Ratcha Burana is one of the few that you can actually climb into, and if you're brave, you can descend a dark and steep set up steps into the bowels of one of the more prominent structures.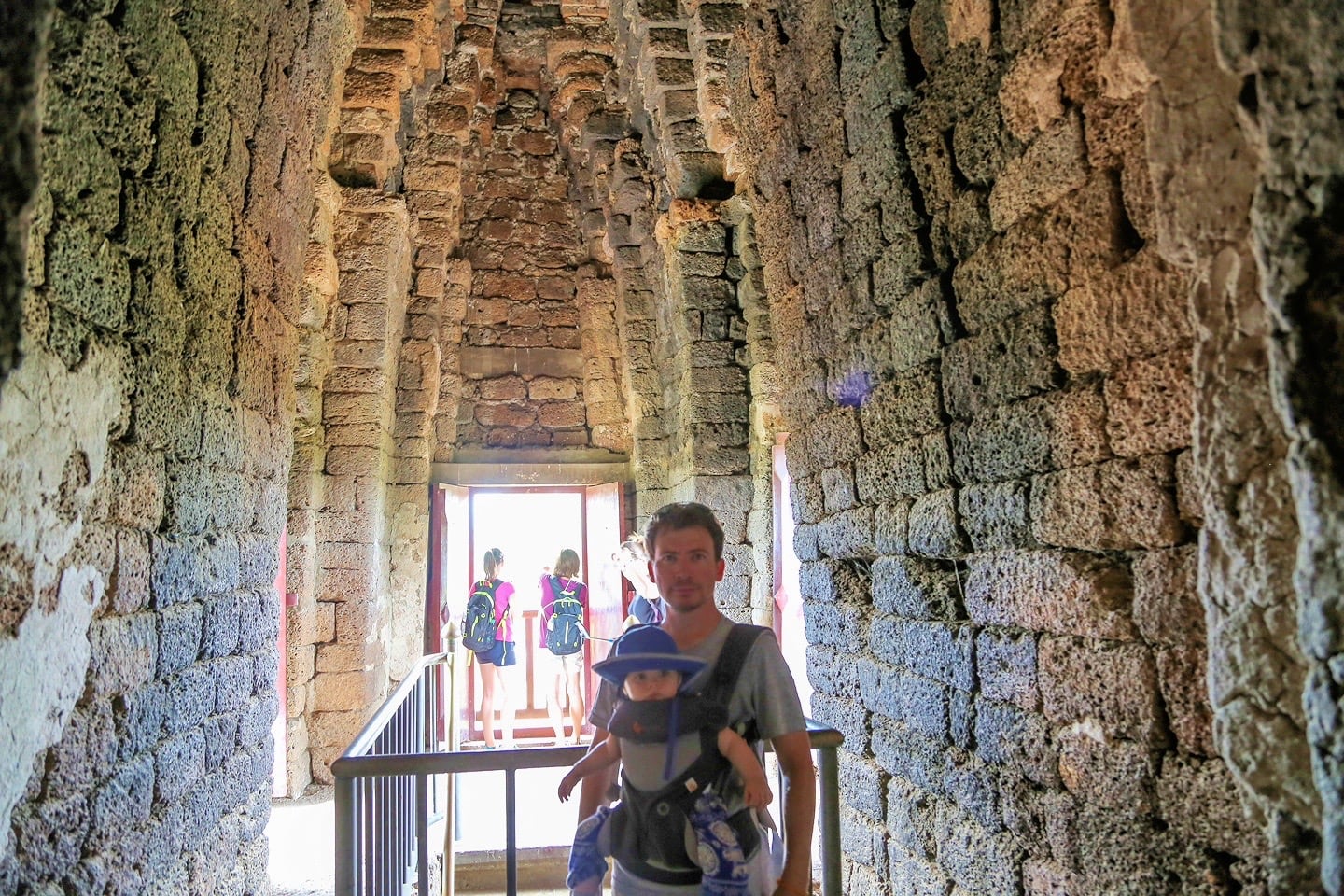 But perhaps the most impressive (and most photogenic) of all the temple sites is Wat Phra Si Sanphet (Temple of the Holy, Splendid Omniscient), largely characterized by three imposing and stunningly preserved stupas.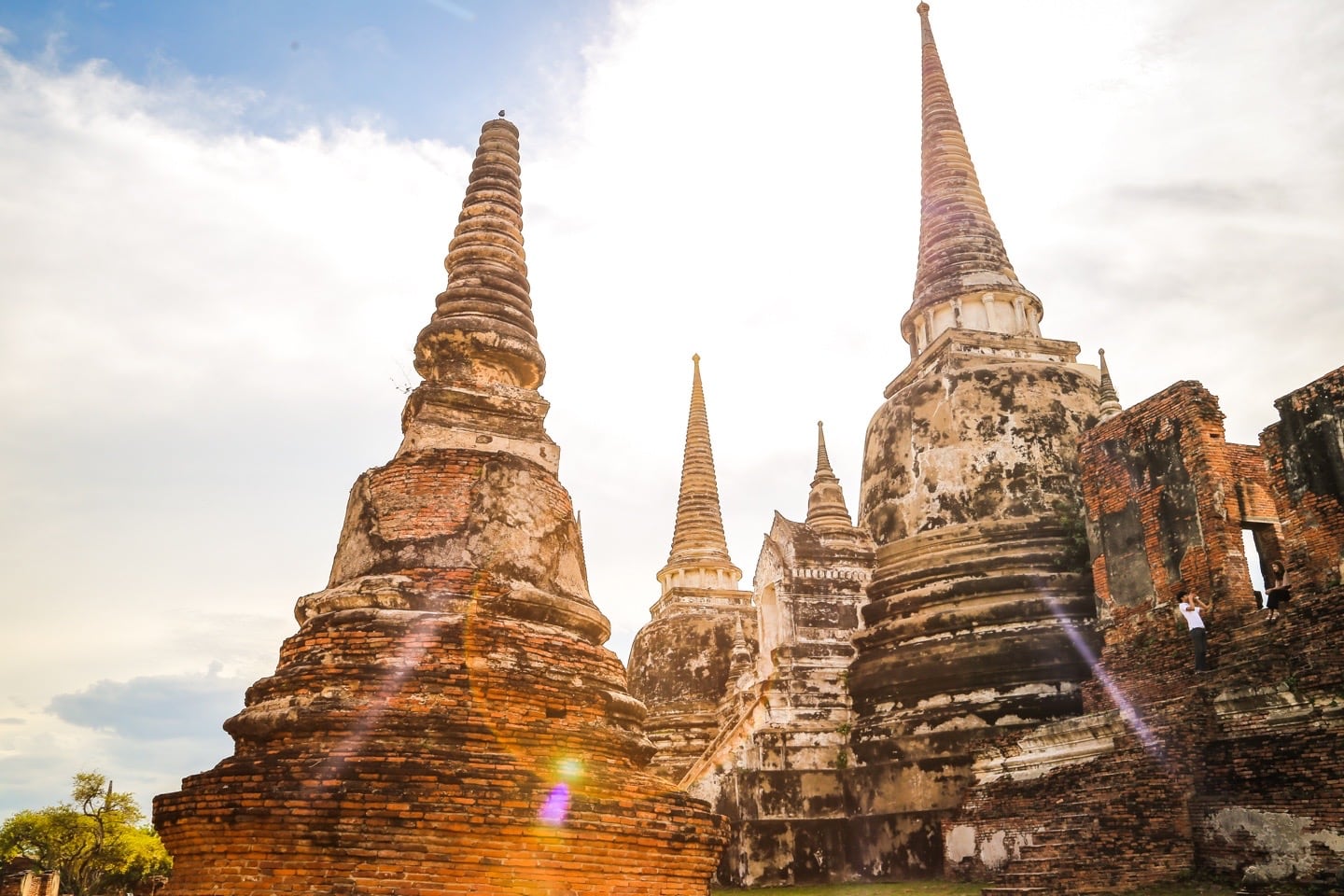 Sanphet was the holiest and nearest temple to the royal palace and served as a model for Bangkok's Wat Phra Kaeo on the current Grand Palace grounds.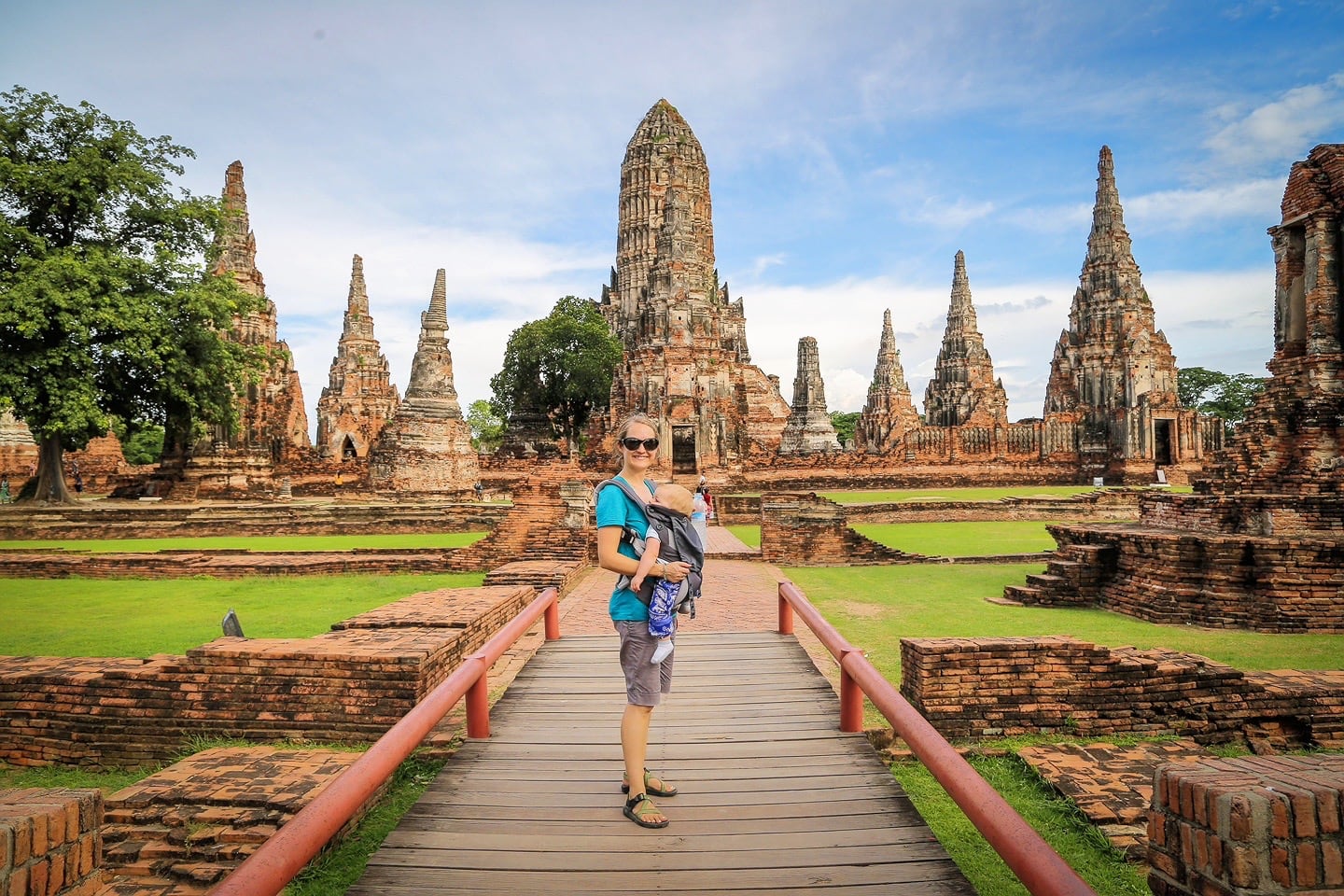 Located southwest of the main cluster of archeological sites, just across the river, is Wat Chai Watthanaram, which despite its removed location is definitely worth a visit, and easily accessible by tuk-tuk.
This Khmer-style complex is unique among the ruins of the historic park and is often compared to various sites in the more widely known Angkor complex in Cambodia.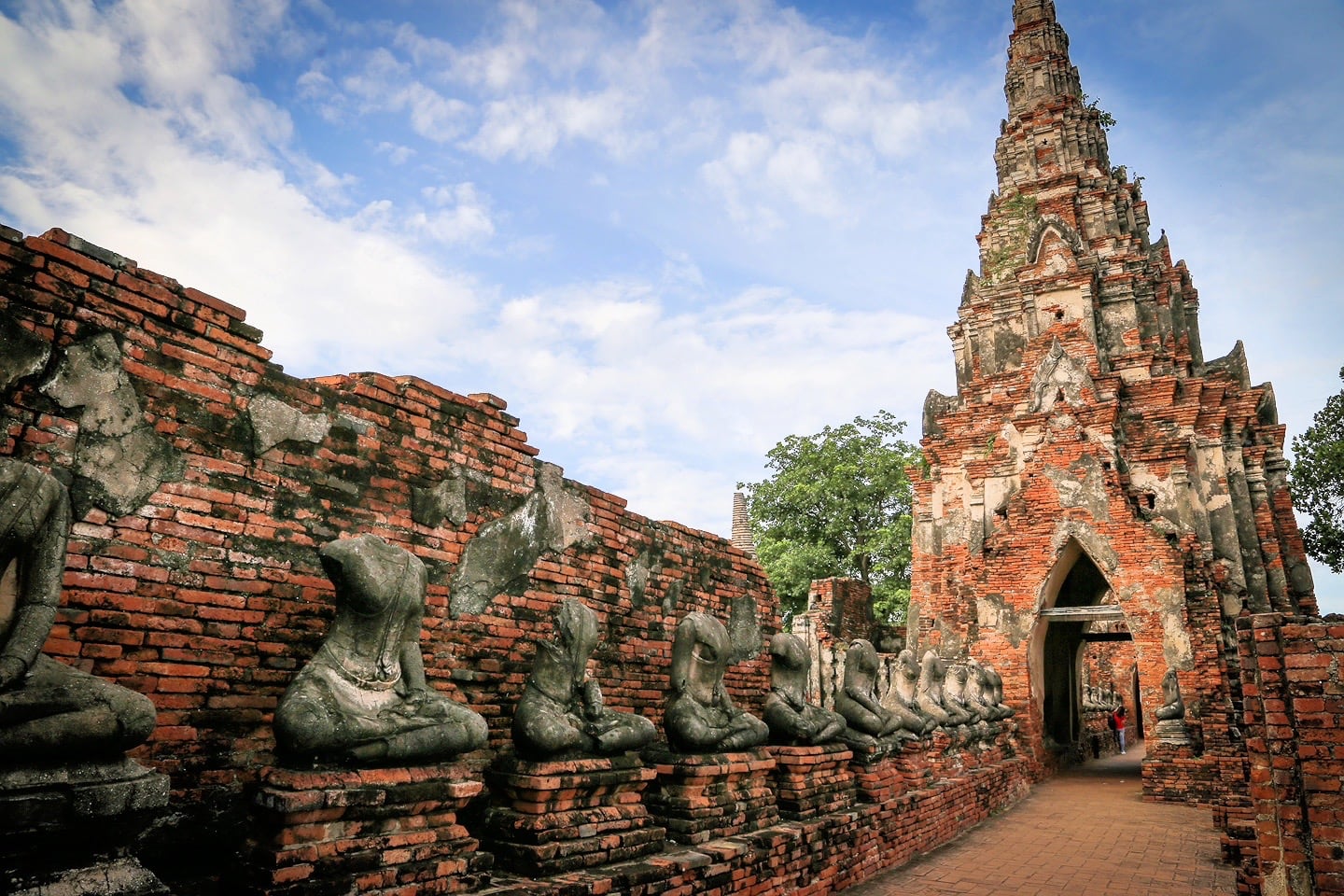 How Much Time Should You Devote to Ayutthaya?
Even on a DIY day trip tour from Bangkok, the majority of Ayutthaya historical park can easily be covered in just one day. So why stay longer?
In addition to the main archaeological complex and satellite sites, Ayutthaya is a living, breathing town of 50,000 people, with a slew of tourist-oriented amenities and facilities.
Some people choose to stay overnight in town, and if you are a UNESCO fanatic, want to combine visiting Kanchanaburi to the north with an Ayutthaya day trip, or have time on your side and just want to take it slow, I definitely recommend overnighting it in Ayutthaya, particularly if you have a little one (or multiple) in tow.
We covered Ayutthaya in a long day, but with more time to spare, we definitely would have opted to stay at least one night near the historical park to break up our time a bit, give our feet a rest, and avoid temple burnout.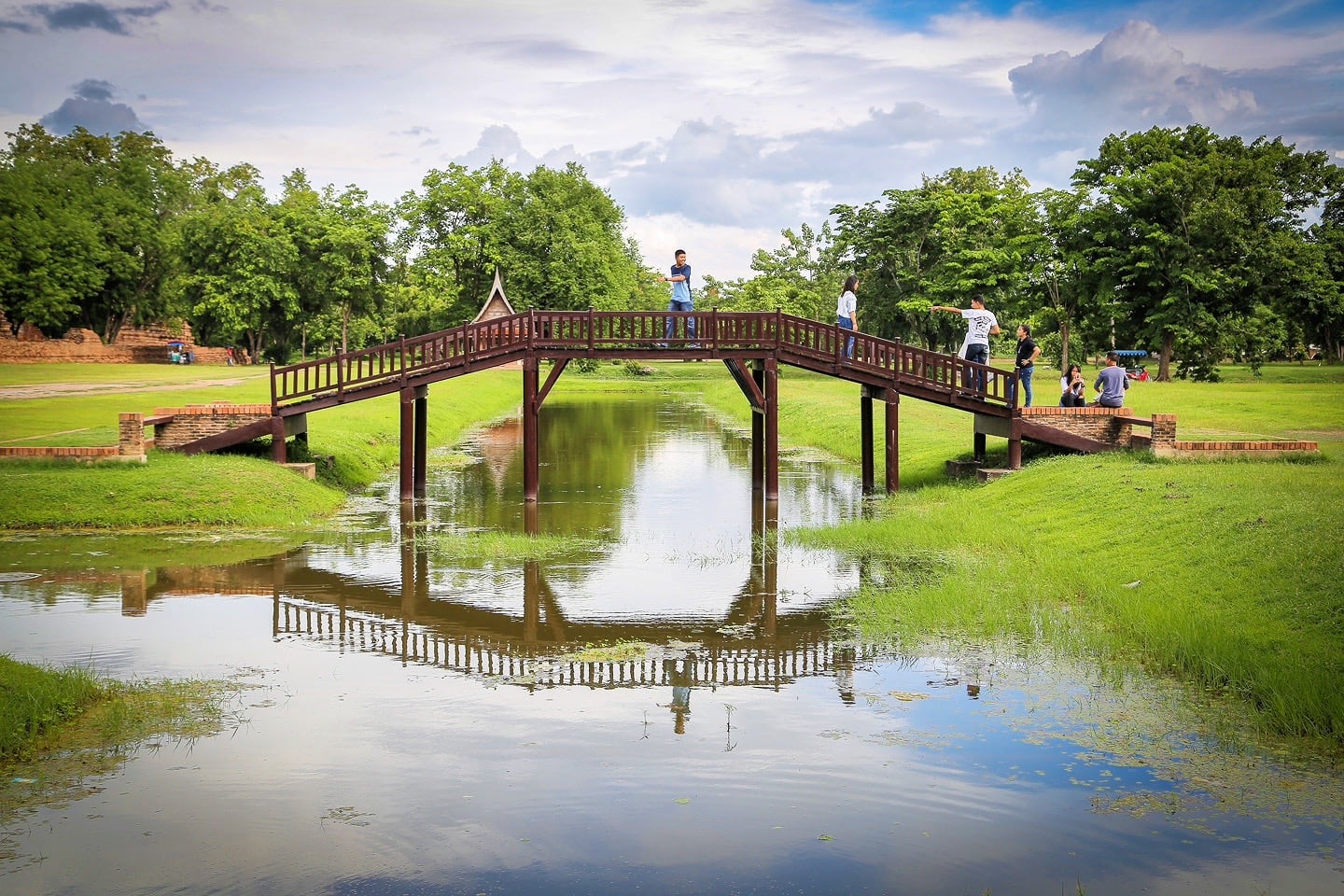 Where to Eat
There are three main areas to grab food (ranging from reliable to excellent) after a long day exploring the historical park.
There are numerous eateries located along the south side of the "island" along U Thong Road. Baan Kao Nhom in the east and Sala Ayutthaya in the west are good bets.
Starting at Wat Mahathat and moving north along Chikun Road is another pocket of good restaurants. Check out Somtum Sukunya and Busaba Cafe.
There are also a handful of good restaurants at the ferry dock on both sides of the river near the train station. Raan Tha Luang on the west bank and the Seven Seas Restaurant next to the station are highly recommended.
And of course, like most places in Thailand, there are excellent street food stalls to be had. Head back towards the tourist zone and you're bound to run into them.
We've generally found that street stalls across Thailand are a reliable and economical choice, with some of the best food on offer!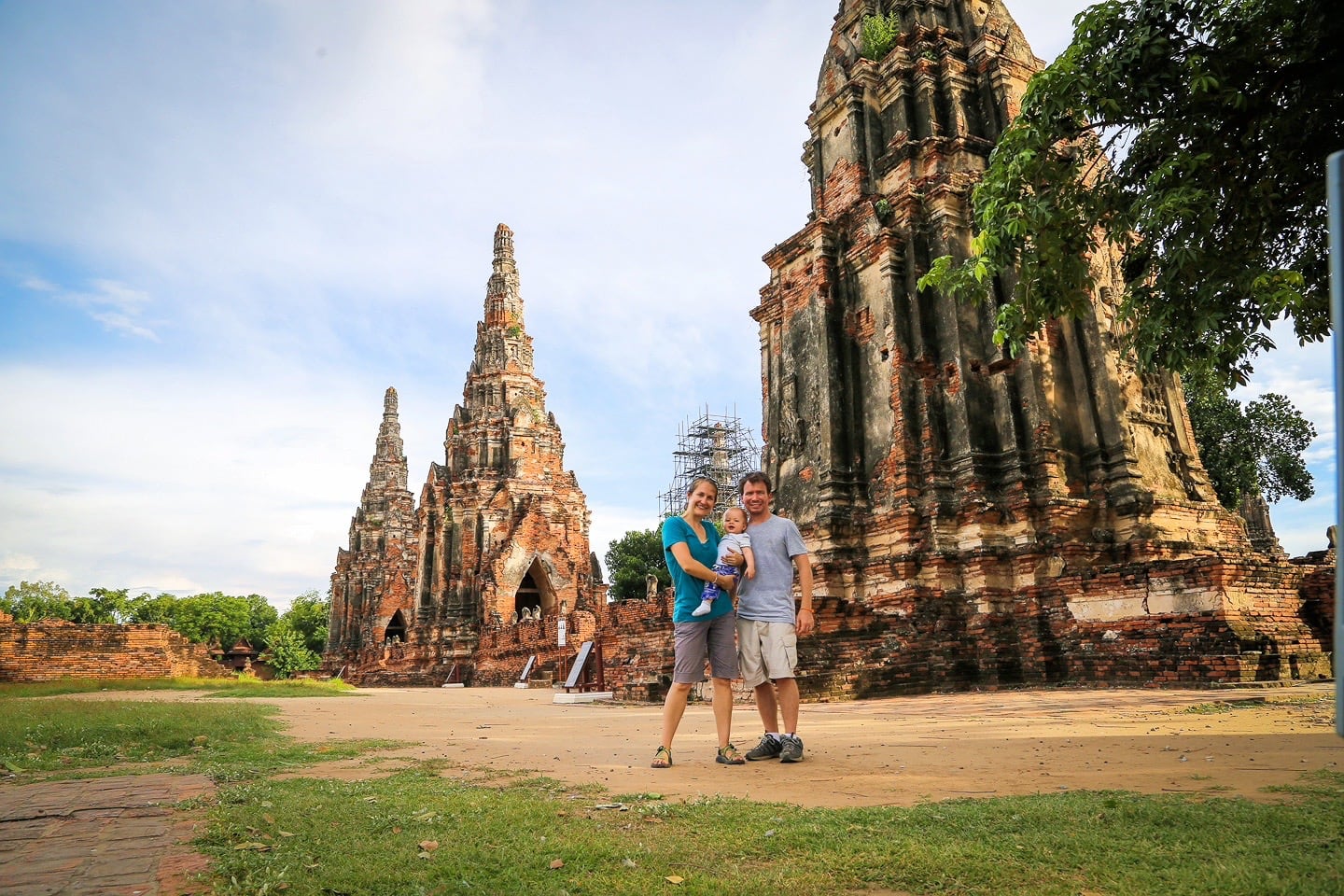 BONUS! Tips for an Ayutthaya Day Trip with Young Children
Doing an Ayutthaya day trip from Bangkok is a big day for a little one. But we've got no regrets and didn't find it to be too difficult.
With that said, packing the right stuff for your little adventure might make all the difference.
Here's a list of what we recommend packing (and what not to pack) for Ayutthaya, particularly if you plan to do it all from Bangkok in one day like we did.
What to Pack
Comfortable baby carrier – here's our detailed review on what we use and recommend.
UPF parasol/ umbrella(s) (for sun and rain!).
Sun hat for baby.
High UPF sunscreen and effective bug repellent (baby-friendly for the babe).
A couple of extra sets of baby clothes
More diapers (and wipes) than you'll need in an average day (heat and humidity have a wicked effect on babies).
Lots of water (and milk/formula for baby if not breastfeeding or not yet drinking water).
Nursing cape (if applicable).
Hand sanitizer (bathrooms don't always have soap).
Comfortable walking shoes or sandals (particularly if you don't normally carry baby for the better part of a day), and comfortable walking shoes for baby (if applicable).
Lovies, etc. for nap time (if applicable).
Baby snacks (and snacks for mom/dad too, as there aren't a lot of places to grab them in the park).
Passports (we didn't need them to purchase our rail tickets, but it's always good to bring them just in case, stowed securely, of course).
Soft, packable high chair (if baby's eating solids).
If you plan on overnighting near Ayutthaya, we recommend the Lotus travel crib (our full review here).
A sense of adventure!
What NOT to Pack
A stroller! The historical park is one big, uneven archeological site with a few busy roads interspersed. Plus, if you want the flexibility of hopping on and off tuk-tuks a stroller may quickly become more of a burden than a bonus.
Clothes that are too warm or take too long to dry. It's generally pretty hot and humid in these parts, rainstorms can happen throughout the year.
---
Related Articles
---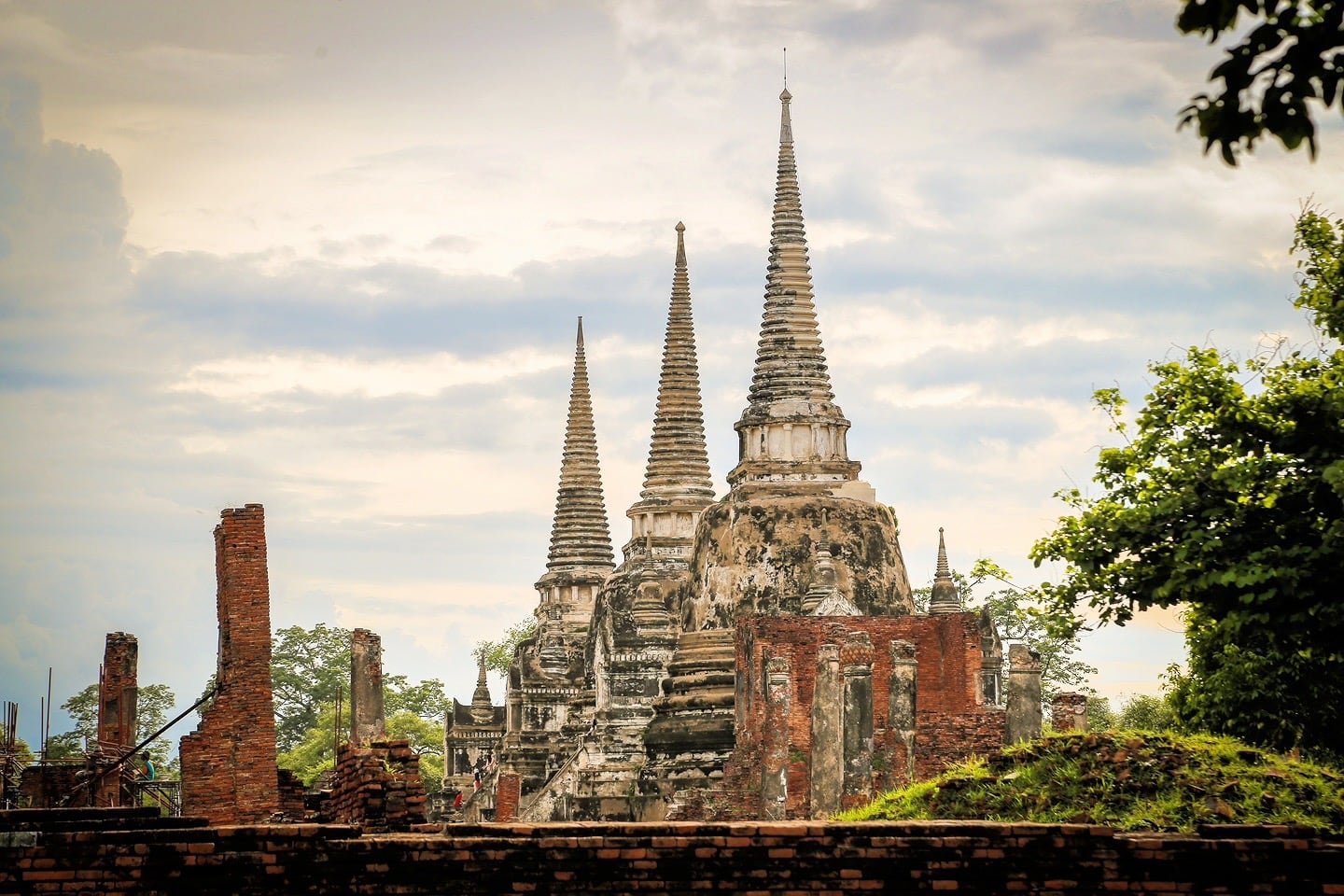 Final Thoughts
Whether you choose to explore the ancient Thai capital of Ayutthaya on your own or with a top tour company on a day trip from Bangkok, we think that visiting Ayutthaya is a must for any traveler to Thailand with the time to do so.
Doing a day trip to Ayutthaya from Bangkok has been one of the many top highlights of our visits to Bangkok over the years, and makes for a memorable day out for all ages and budgets.
Did you do a day trip to Ayutthaya from Bangkok recently?
What did you think? Let us know in the comments below!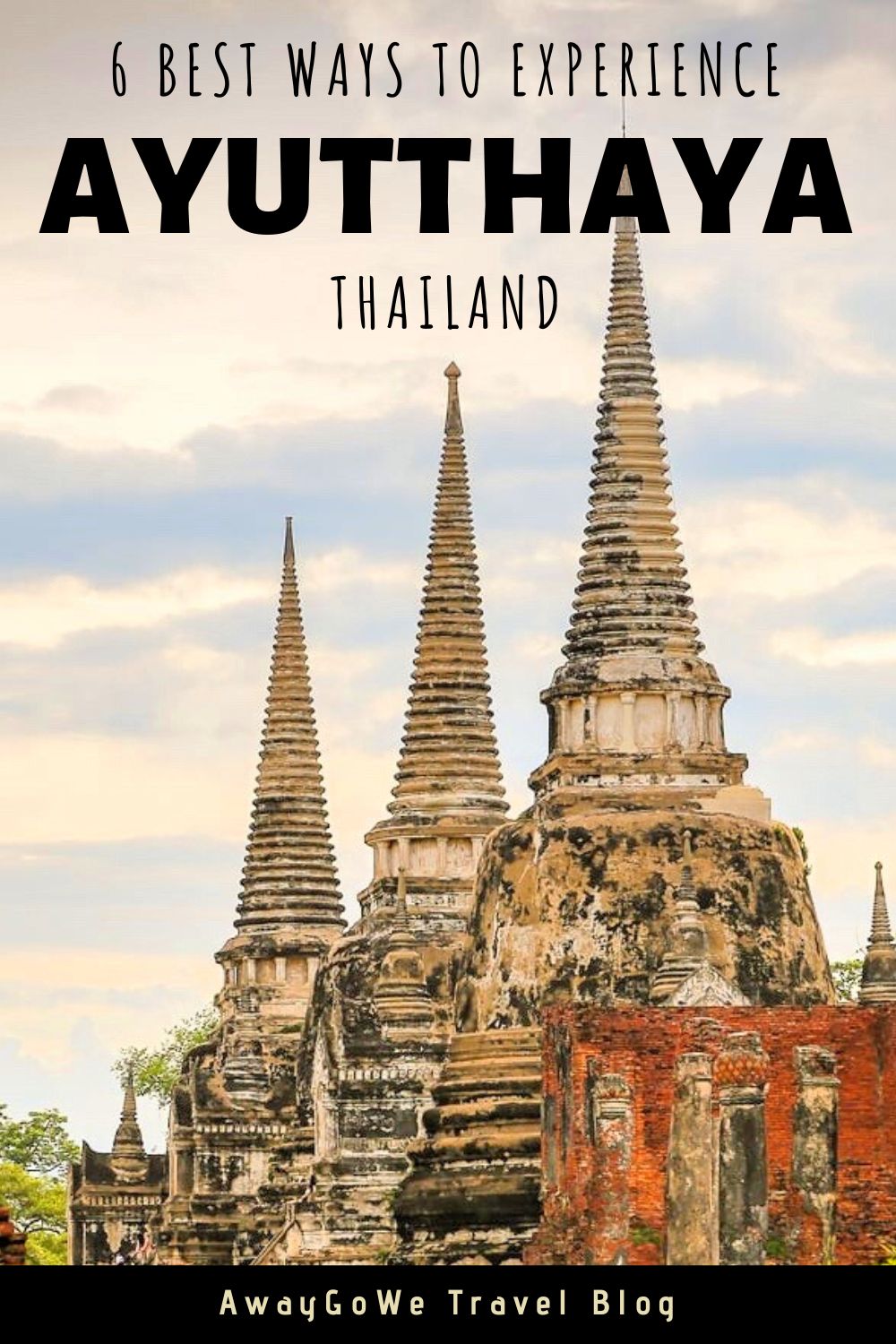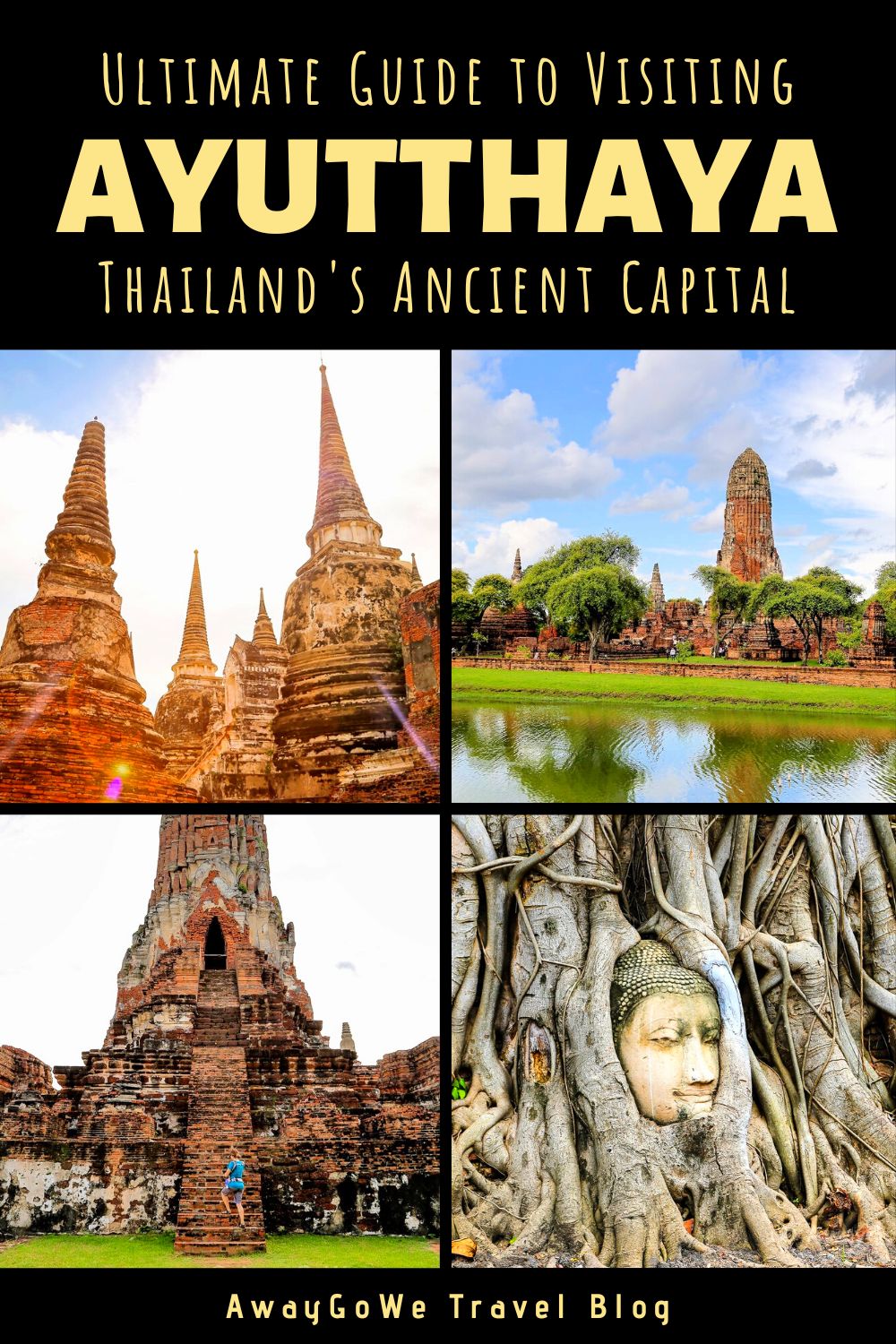 06 Apr 2023
25 Jun 2017
We use affiliate links and may receive a small commission at no extra cost to you. Learn more in our privacy policy.