A Bosphorus cruise in Istanbul was near the top of our list of things to see and do in this amazing city, and we wholeheartedly recommend putting it at the top of yours too!
Lori and I initially thought taking a top cruise up this legendary waterway might be outside of our budget. As you'll soon find out from our hand-picked list below, there are top tours on offer to suit every budget, from luxury sunset cruises to DIY public ferry options!
Not only did our 6-hour Bosphorus cruise trip come in under budget, it quickly became one of the highlights of our time in Istanbul!
If you're dreaming about the perfect Istanbul vacation, you won't want to miss our top picks for the best bets on taking a Bosphorus Cruise in 2023.
Read on for the full scoop, including helpful first-hand tips for making your day trip truly unforgettable.
We're reader supported and may earn a commission from affiliate links on our site at no cost to you.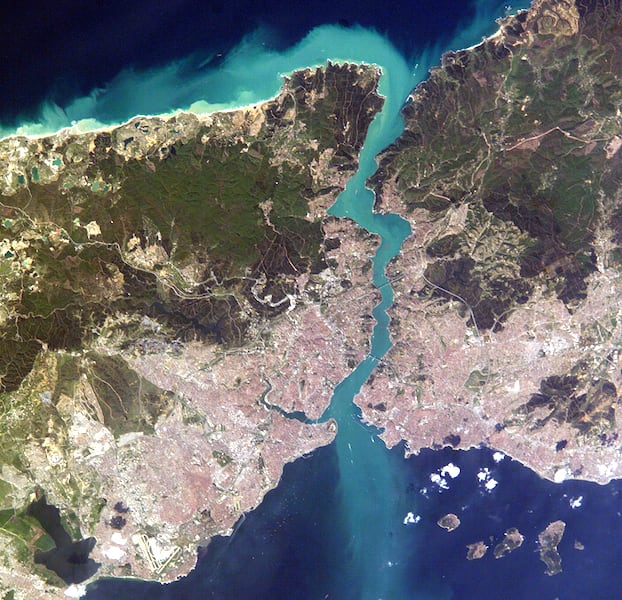 Why Cruise the Bosphorus?
Visitors come from across the globe to experience a bucket list cruise like none other, spanning continents and millennia.
The Bosphorus is a scenic and historic waterway separating Europe and Asia, as well as the historic heart of the ancient city of Istanbul.
The Strait stretches 17 nautical miles from the Sea of Marmara in the south, to the Black Sea in the north.
In addition to its natural beauty, the strait is acclaimed for its concentration of Byzantine and Ottoman historic sites, as well as the breathtaking views of the city of Istanbul.
There are now three enormous bridges spanning the Bosphorus strait connecting the continents of Europe and Asia – the 15 July Martyrs Bridge (1973), Fatih Sultan Mehmet (1988), and Yavuz Sultan Selim (2016).
Simply put, cruising the Bosphorus Strait is an unforgettable experience of a lifetime!
Keep reading for our top Bosphorus Cruise recommendations for 2023.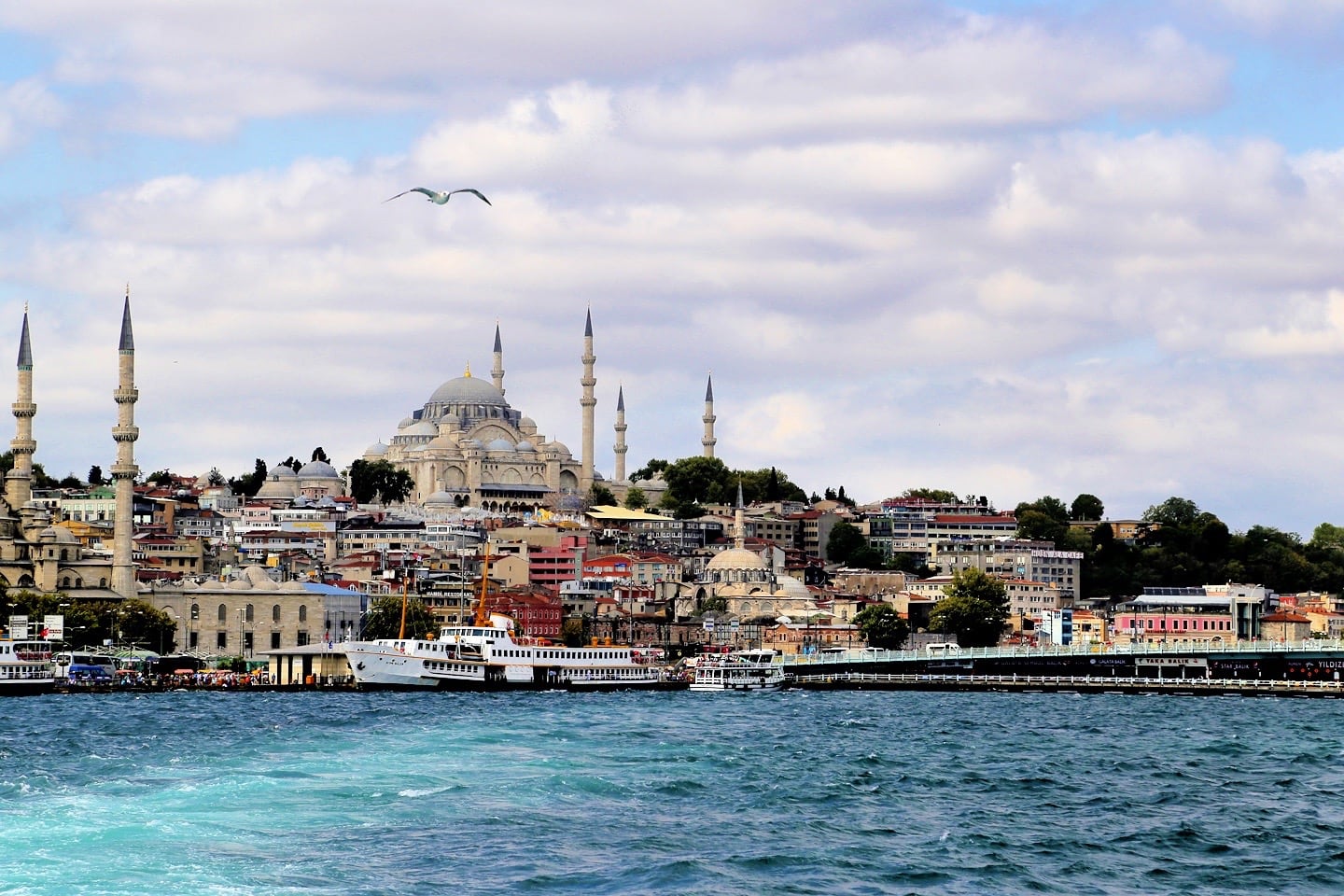 These Are the Bosphorus Cruise Tours to Take in 2023
There are so many Bosphorus Cruise tours operating these days, it's hard to know which to choose. If we were booking an Istanbul Bosphorus cruise right now, this would be our short list.
Bosphorus Day Cruises
** OUR TOP PICK ** 10-hour Bosphorus Strait AND Black Sea Day Cruise ⏤ Looking for the ultimate Bosphorus Cruise day trip from Istanbul? This is it! Includes delicious Mediterranean lunch, onboard guide, and stops at Rumeli Fortress, Ortakoy, Kucuksu Pavilion, Buyuk Mecidiye Cami. From US$94 / Tour by IBO Cruise.
5-hour Long Circle Bosphorus Tour ⏤ Set sail on a comfortable, modern tour boat, featuring onboard 2-course lunch and 45-minute stop in Anadolu Kavagi for Black Sea views. From US$83 / Tour by Hevra Tourizm.
3-hour Bosphorus Cruise with 1-hour Stop in Asia ⏤ A guided boat tour ideal for those traveling on a tight schedule. Two hours cruising the historic Bosphorus with a one-hour stop on the Asia side for shopping and eating. From US$21 / By Blue Brothers Bosphorus Tour.
Bosphorus Sunset & Dinner Cruises
2.5-hour Bosphorus Sunset Cruise on Luxury Yacht ⏤ Experience the Bosphorus in style on this unforgettable luxury sunset tour featuring onboard guide and complimentary drinks and canapés. From US$55 / Tour by Bosphorus Cruise Tours Istanbul.
3-hr Bosphorus Dinner Cruise with Turkish Show ⏤ Dine on delectable Turkish meze while enjoying an evening of folk and belly dancing, as you take in the historic Byzantine and Ottoman sites along your route. From US$75 / Tour by Turkey Tours Planners.
Bosphorus Cruise on a Budget
6-hr Sehir Hatlari Bosphorus Tours ⏤ There are numerous options for doing a Bosphorus cruise in Istanbul. But if you're on a shoestring budget or just like to travel in a more independent fashion, Istanbul's own Sehir Hatlari public ferry is worth considering.
Read on for our detailed guide on taking the Sehir Hatlari Bosphorus Cruise, plus what to expect.
---
Related Articles
---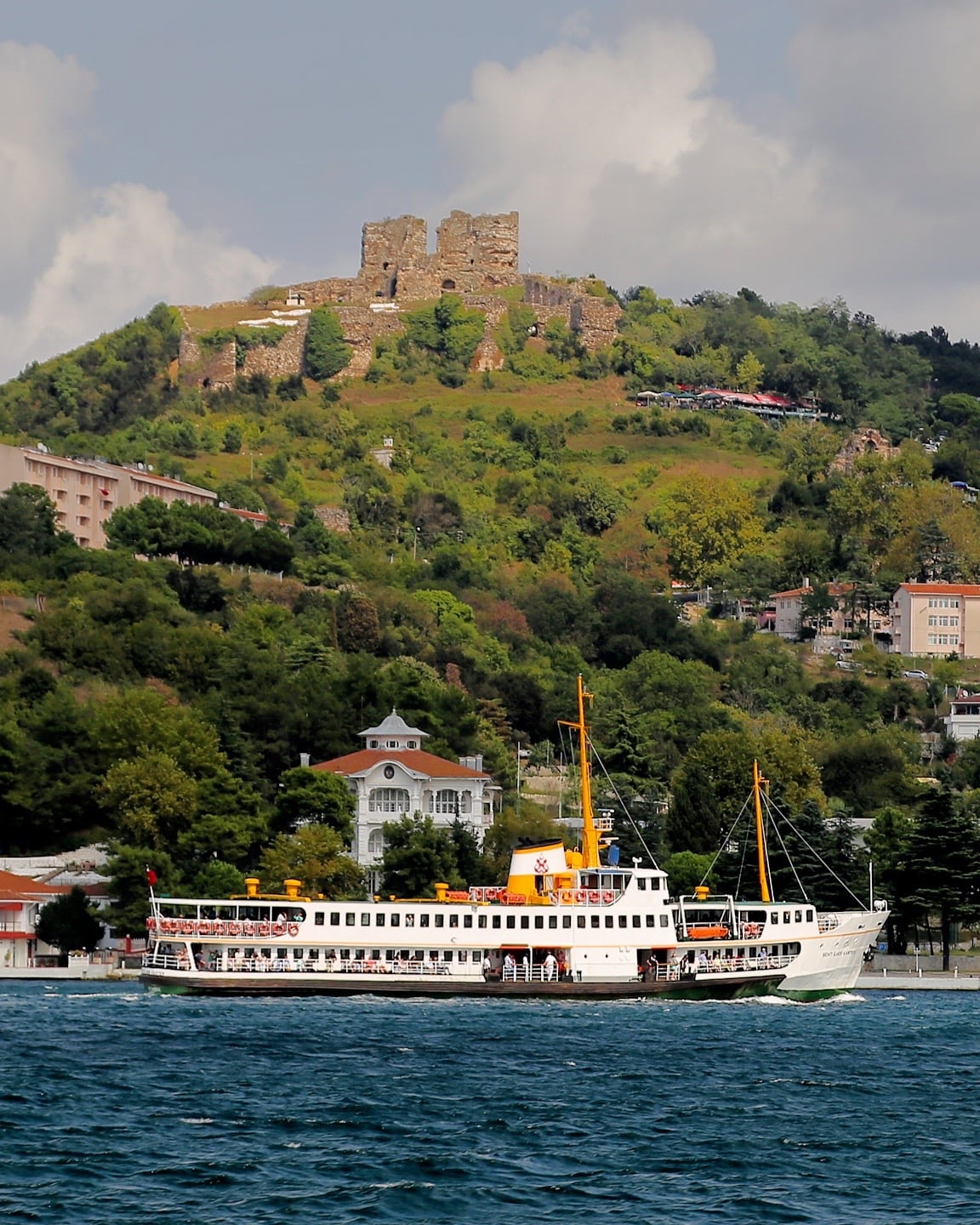 How to Take the Sehir Hatlari Bosphorus Cruise / Public Ferry
Here, we're going to break down the process and offer up some tips for getting the most out of your budget Bosphorus cruise.
IMPORTANT
Istanbul's inner-city/domestic public ferry lines are NOT the same as the Bosphorus cruise lines. Unless you want to compete for space with Istanbul's millions of commuters (and see very little in the process), you're far better off taking the public ferry lines clearly marked as "Bosphorus Tours". More on that below.
Tours & Costs
There are two Bosphorus Tour ferry options: Long Bosphorus Tour (6 hours) and Short Bosphorus Tour (2 hours).
Up until recently the Long Bosphorus Tour was known as the "Full Circle", and the Short Bosphorus Tour was known as the "Short Circle". This guide will use the new terminology moving forward.
As of January 2023, the Long Tour (round trip) tickets cost 65 TL (US$3.45) for adults and 32,50 TL (US$1.75) for children under 12. One-way tickets cost 39 TL (US$2.05) and 16 TL (US$0.85) for children.
Short Circle tickets cost 32 TL (US$1.70) for adults and 16 TL (US$0.85) for children under 12.
The Moonlight Tour costs 52 TL (US$2.75) and only operates in the summer months.
Admission is free for children under the age of 6 for all cruises.
We opted for the Full Circle / Long Tour, which takes about six hours round trip including a couple of hours in the middle to enjoy the northernmost stop at Anadolu Kavagi Village.
The boat has a small snack bar and restrooms, but a lot of passengers brought on their own snacks.
There are a number of good restaurants, shops, and other amenities in Anadolu Kavagi for those who are taking the Long Tour.
🔥 HOT TIP 🔥
Be sure to grab an audio guide at the ticket booth when you buy your tickets.
It adds excellent context to the cruise and tells you a bit about the many highlights along the route.
Where to Buy Tickets & Board
To take the Sehir Hatlari Bosphorus Tour public ferry service, head to the Galata bridge.
From the Eminonu (Old City) side, don't cross the bridge, but walk to the right of it and follow the signs for Sehir Hatlari.
The office is adjacent to the Red Hop-on Hop-off Bus ticket office.
We heard that the ticket office opened at 10am. We arrived 30 minutes beforehand and there was already a line (midweek in August).
They opened a bit early and we managed to snag a window seat on the port-side since the ferry hugs the left-hand shore (Europe on the way out, and Asia for most of the return trip).
However, we quickly realized the outside benches at the stern (back) of the ferry might just be the best seats on the boat on a nice day, which is where we ultimately ended up.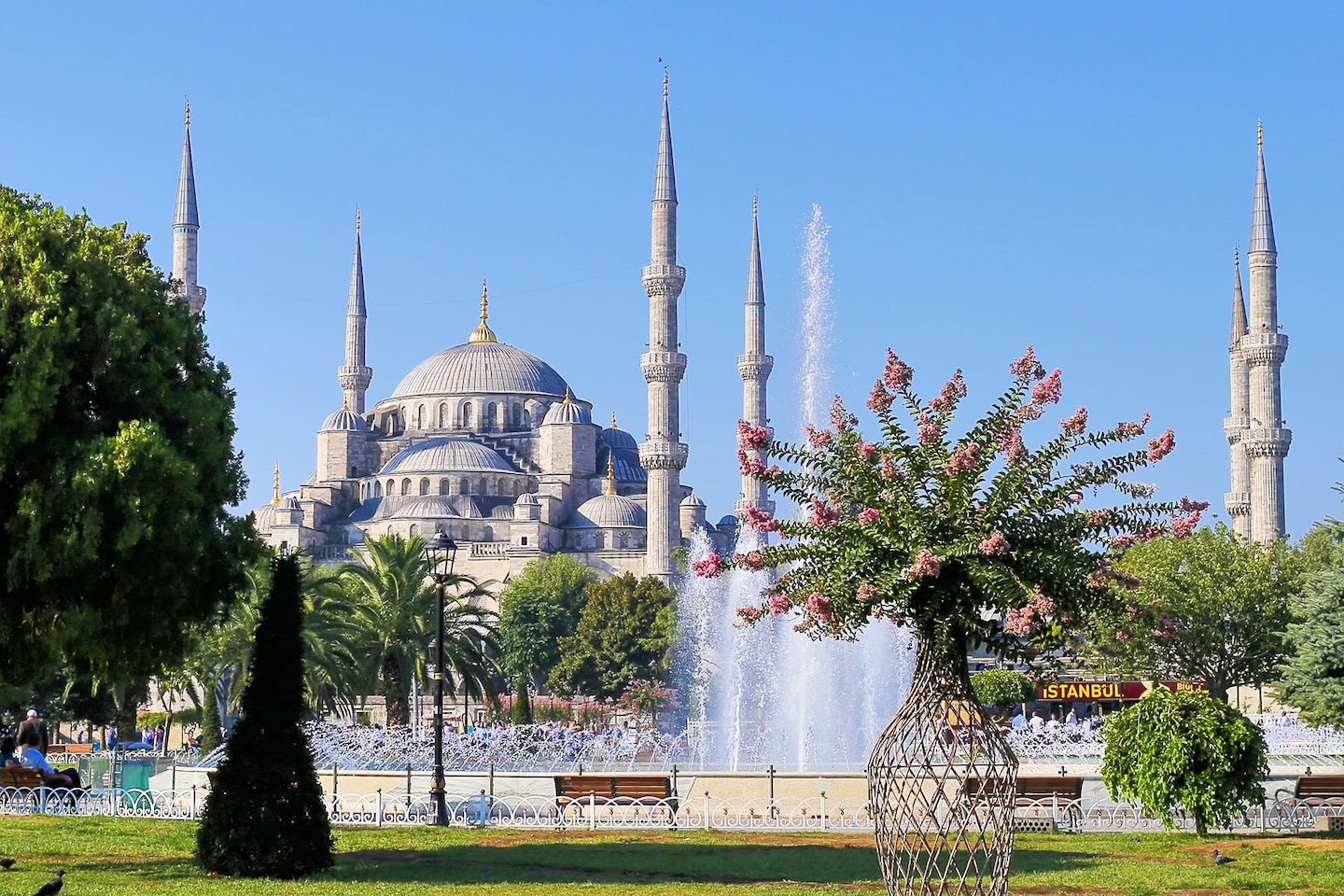 Bosphorus Tour vs. Public Ferry
Which begs the question, "Which Bosphorus cruise options should you choose?"
If you are traveling on a tight budget, the Sehir Hatlari Bosphorus Cruise may seem like the obvious choice at its low ticket price. For comparison, other cruise options (not public ferries) cost anywhere from US$20 to US$100 (see our top picks, above).
There are many advantages to paying the extra and booking a Bosphorus tour over the public ferry, such as smaller group sizes, gourmet Turkish meals, onboard guide in your language, onboard entertainment, more comfortable seating, better views of the landmarks, and seeing 6-hours worth of sights in a much shorter time frame.
On the other hand, for those who like to figure out the details themselves, aren't fussy about seating, and are willing to devote the better part of a day to the experience, the Sehir Hatlari Bosphorus Cruise public ferry option can't be beat for the price.
🔥 HOT TIP 🔥
If you're thinking of doing an Istanbul city tour with a local guide, many of the best city tours include a Bosphorus cruise as part of the package. We highly recommend reading up on the various options before you book your Bosphorus cruise tickets separately.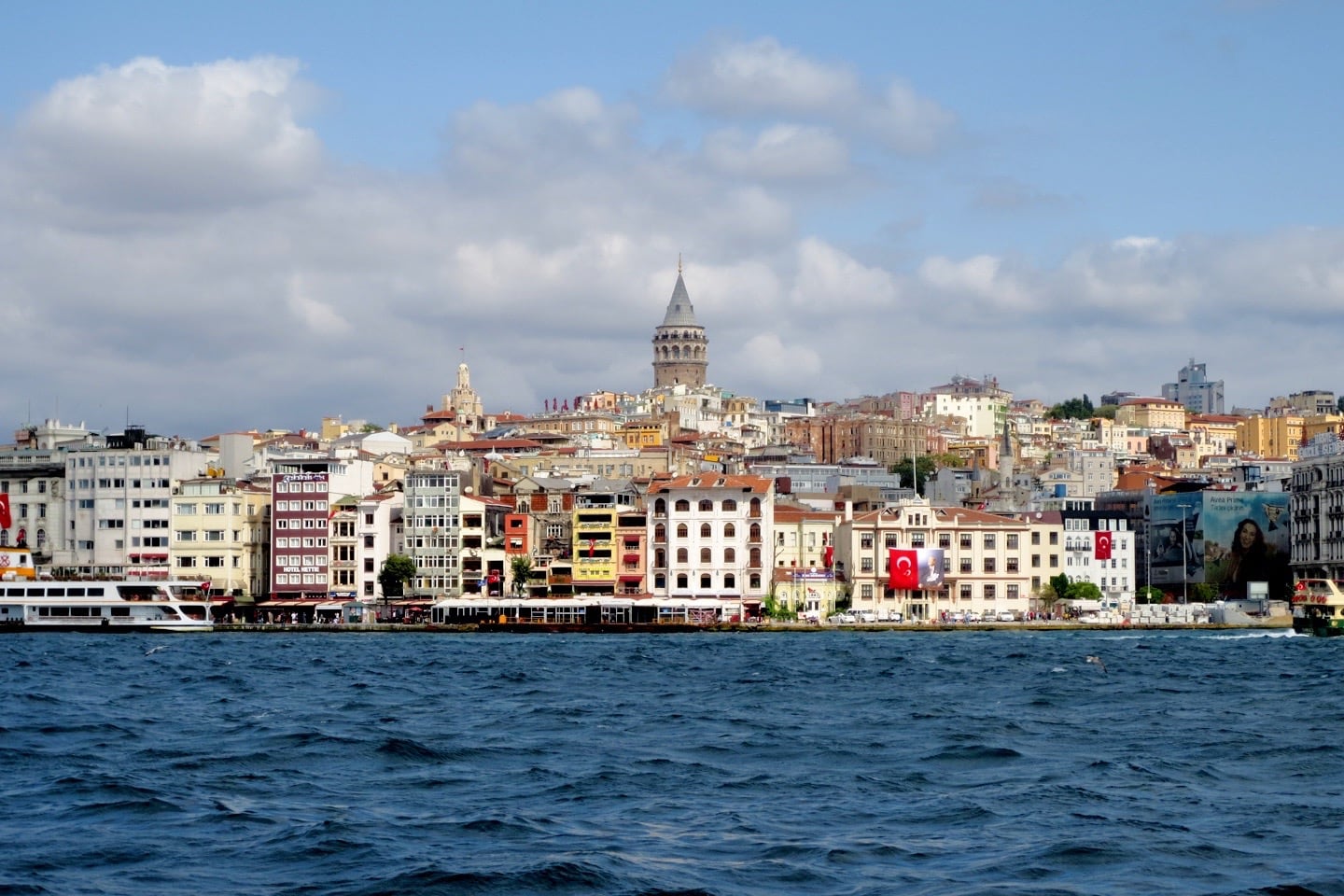 Bosphorus Cruise — What to Expect
We were traveling on a limited budget with time on our hands, so decided to take a chance on the Sehir Hatlari public ferry option.
Here's our own personal experience, which will give you a general idea of the route (and some of the sights you're likely to see along the way), regardless of which company you decide to go with.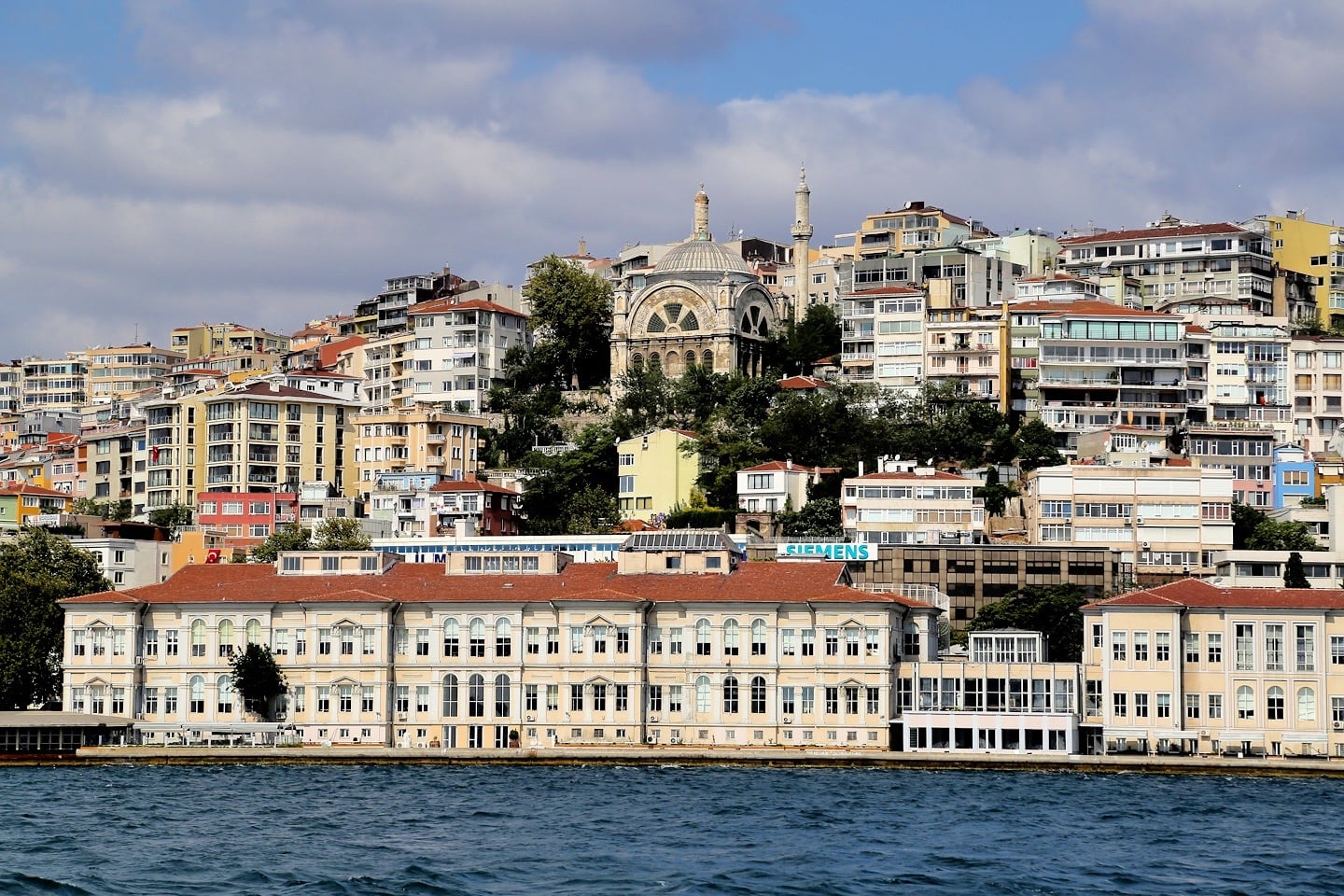 The Sehir Hatlari Bosphorus Cruise boat left Eminonu on the Golden Horn, right in the heart of the city. Leaving the Old City, the ferry passed a number of historic sights and points of interest.
As mentioned above, Lori and I rented an audio guide that was available at the ticket booth, which offered information about various points of interest along the way.
Here are just a few of the many highlights you'll see along the way: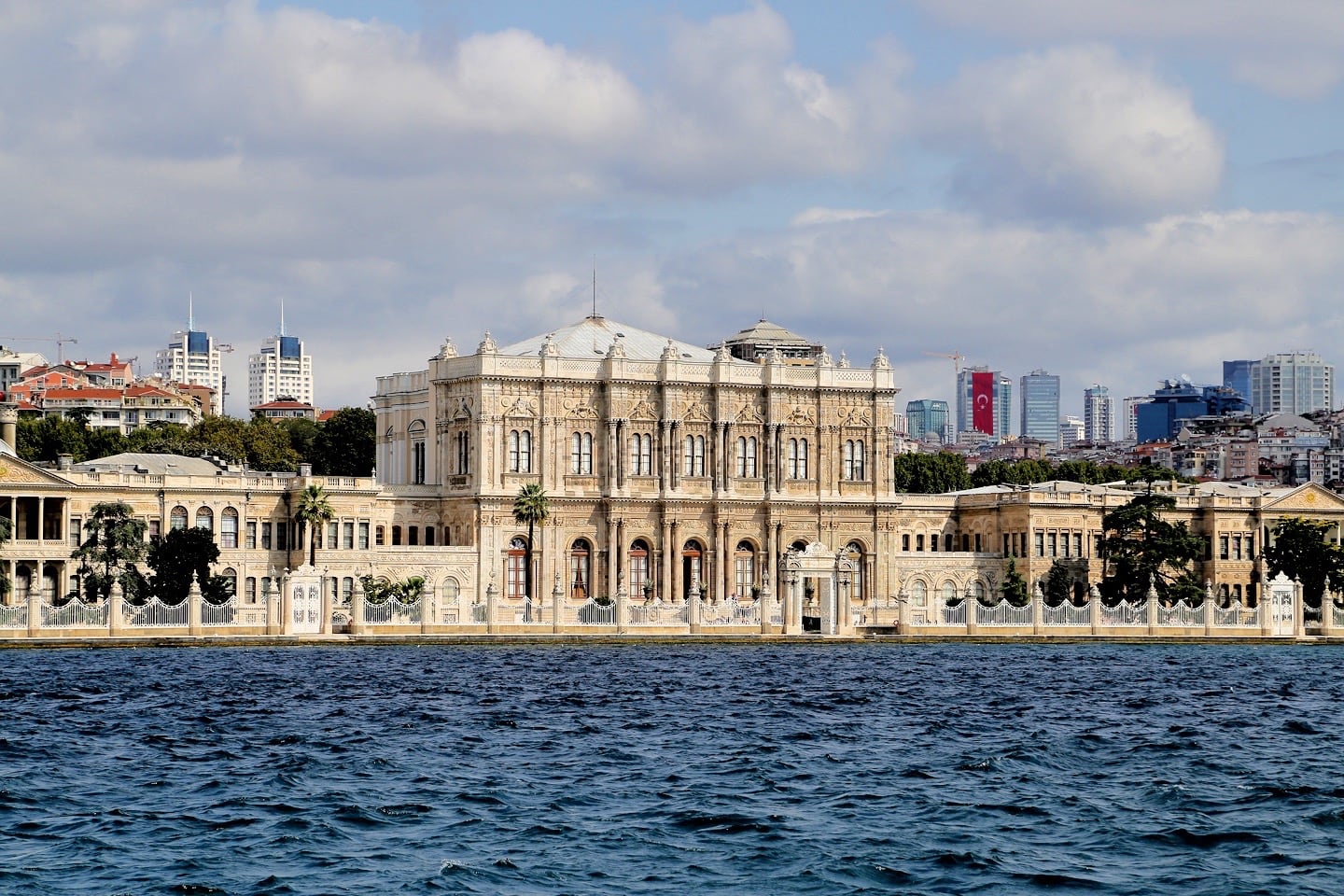 Dolmabahçe Palace (Sultan's Palace), now a museum.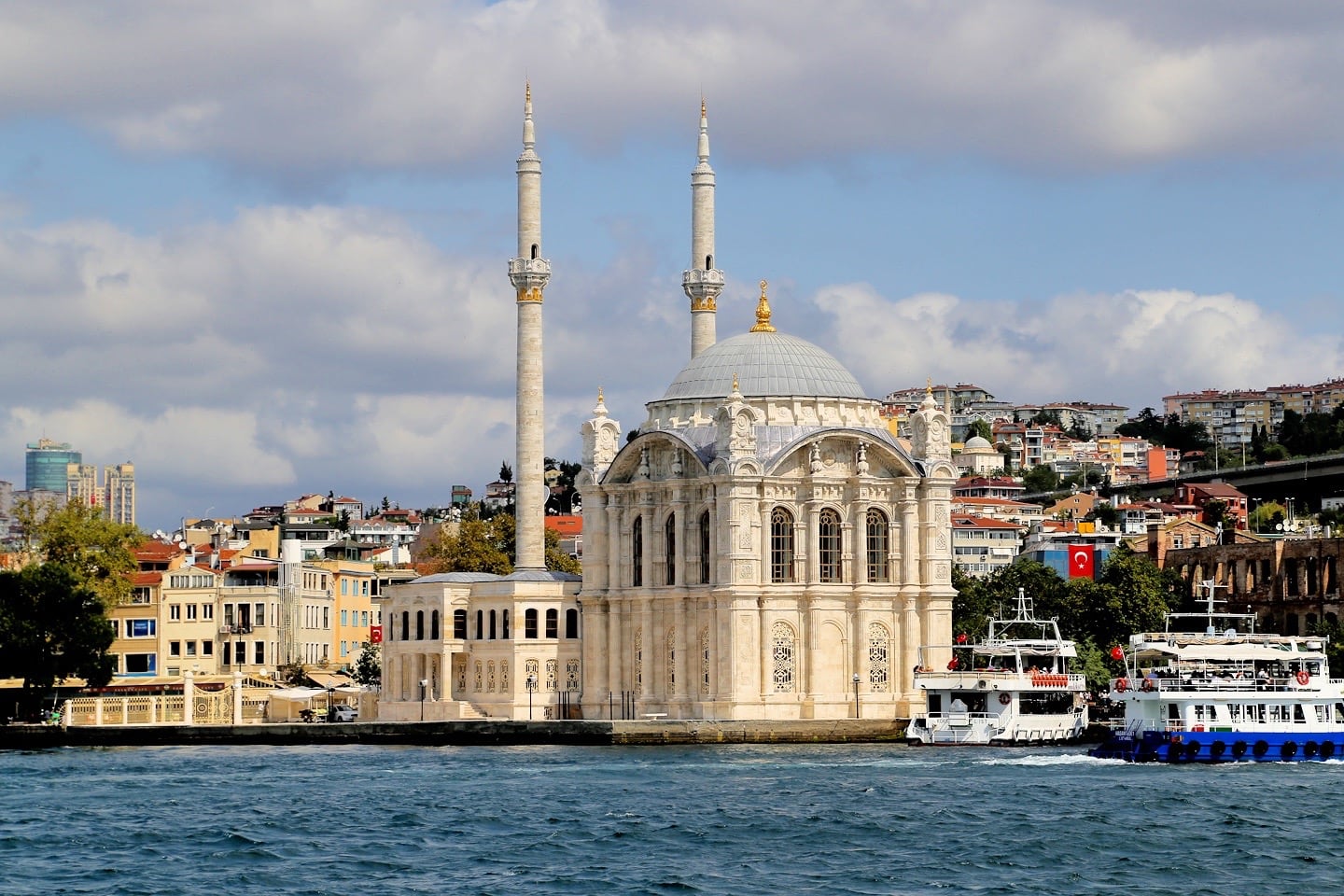 Ortaköy Mosque, built in 1856.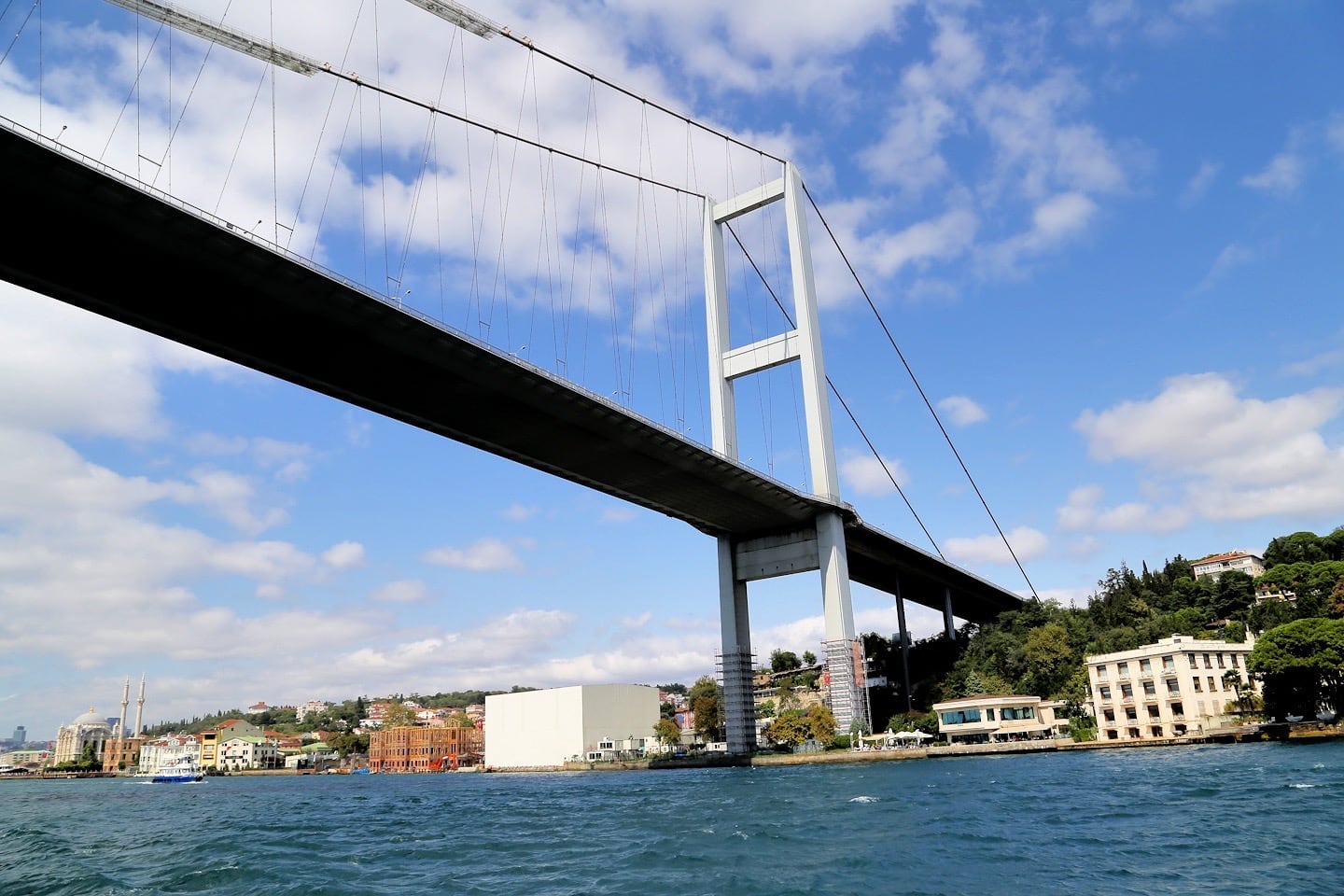 The First Bosphorus Bridge (15 July Martyrs Bridge) was completed in 1973, and as the name might imply, was the first bridge to connect Europe and Asia.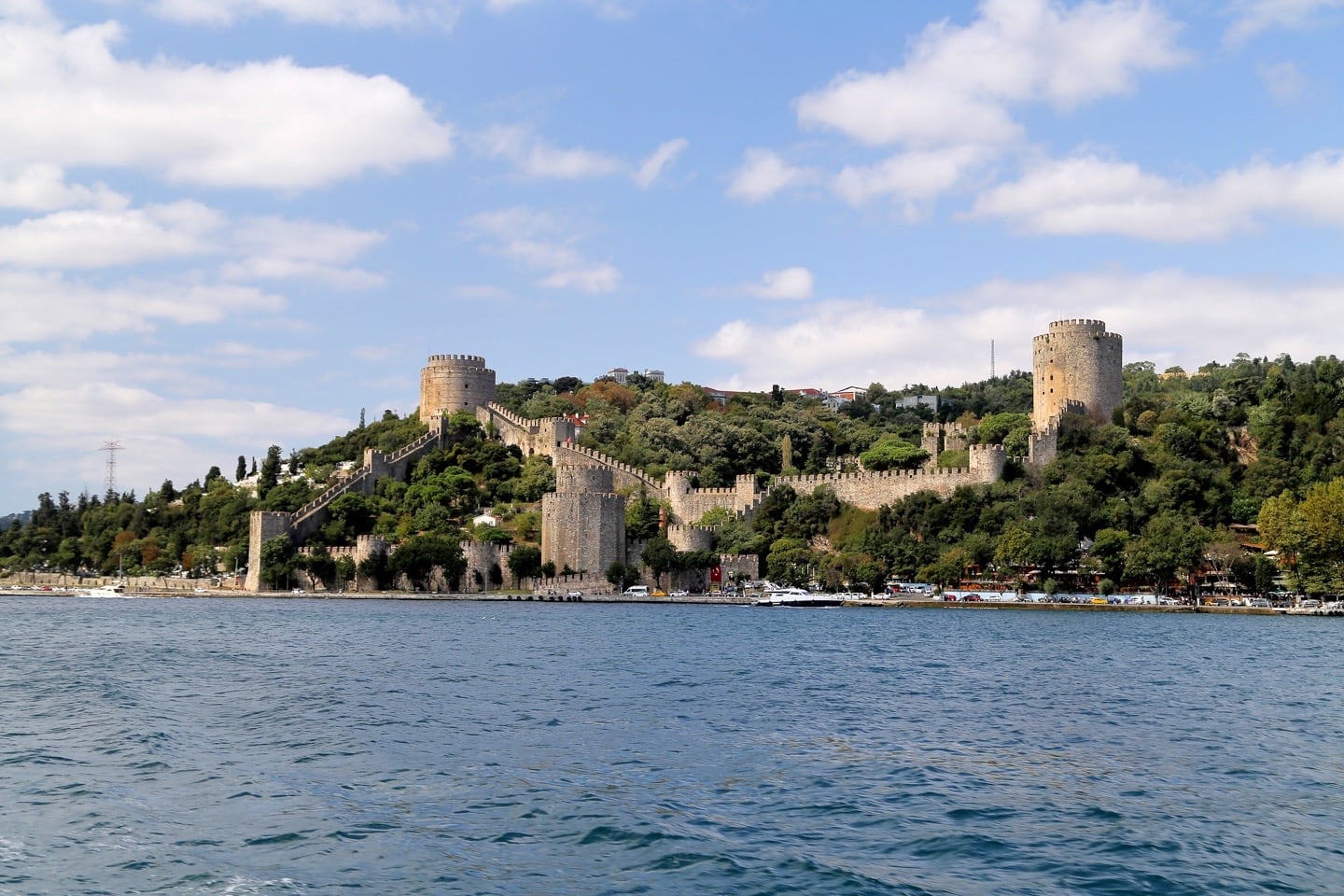 Rumeli Fortress, built by the Ottomans in 1452.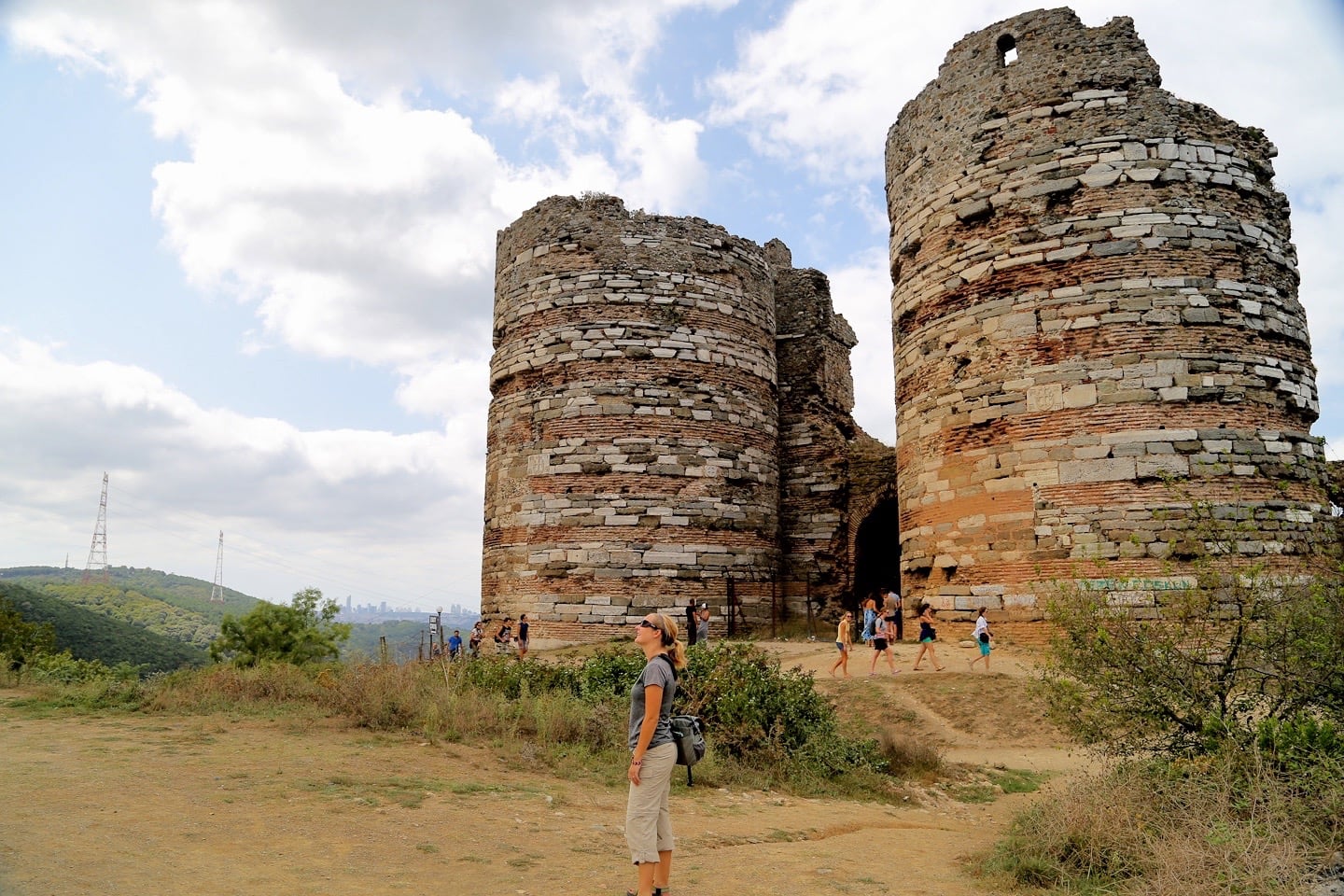 Halfway Stopover — Anadolu Kavagi Village
After about 90 minutes on the water (including a few stops along the way) we reached the farthest stop north: the village of Anadolu Kavagi.
Our ferry docked here for a few hours — more than enough time to grab lunch, do a little hike, and poke around the village.
Getting around Anadolu Kavagi and finding the path to Yoros Fort can be a bit confusing. So, we've included a map to help you find your way around.
From the ferry pier, you can hike up to a Yoros Kalesi (Yoros Castle), a small fortification with a commanding view of the Bosphorus and the shores of the Black Sea.
Looking north, were also able to spot the Third Bosphorus Bridge spanning Europe and Asia, and the Black Sea, beyond.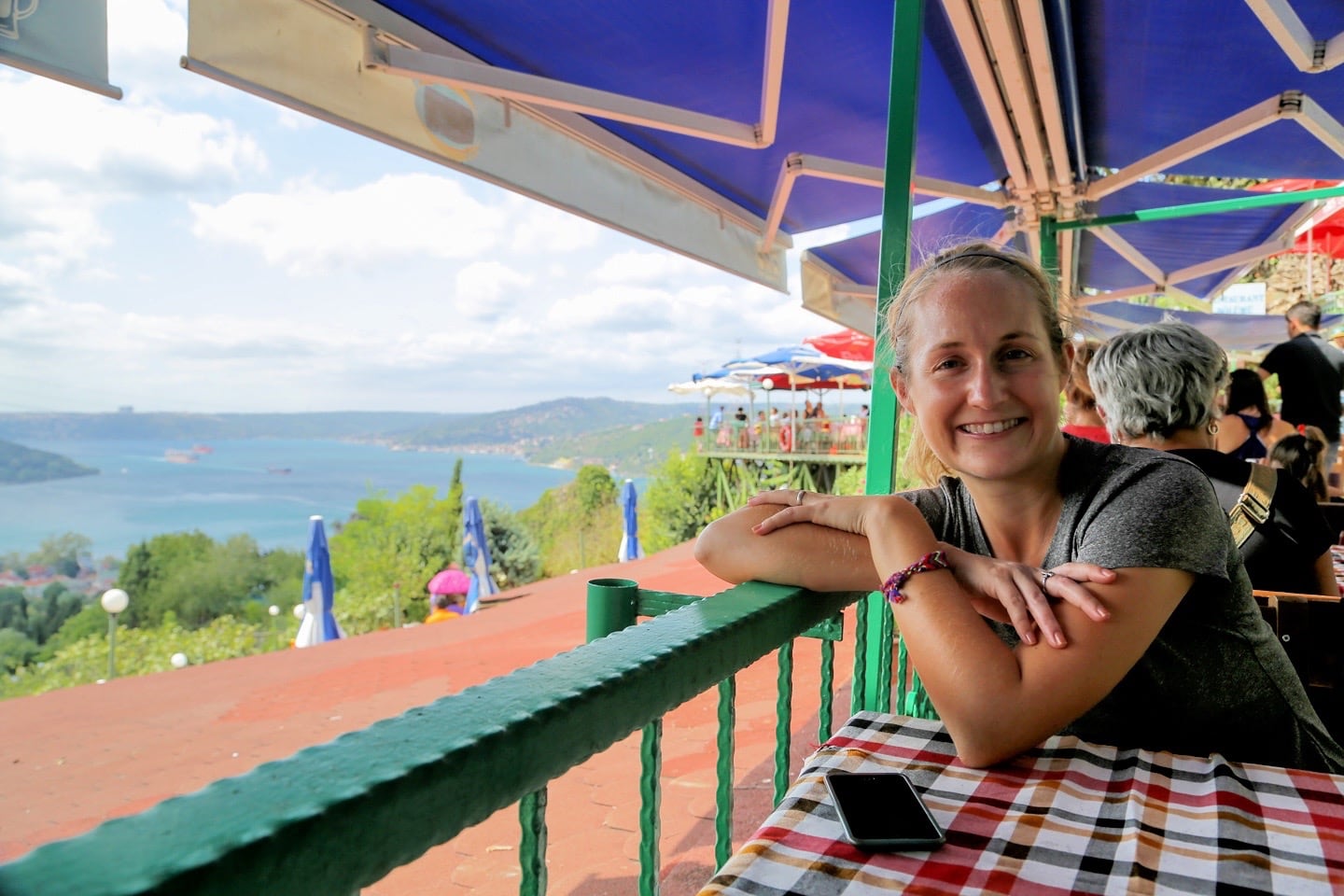 There are a number of restaurants and cafes near the pier and throughout the village, but we opted for Yoros Cafe near the fort, which came highly recommended and offered a stunning view of our route (not to be confused with Yoros Kale Kafe).
We were not disappointed with the food or the scenery.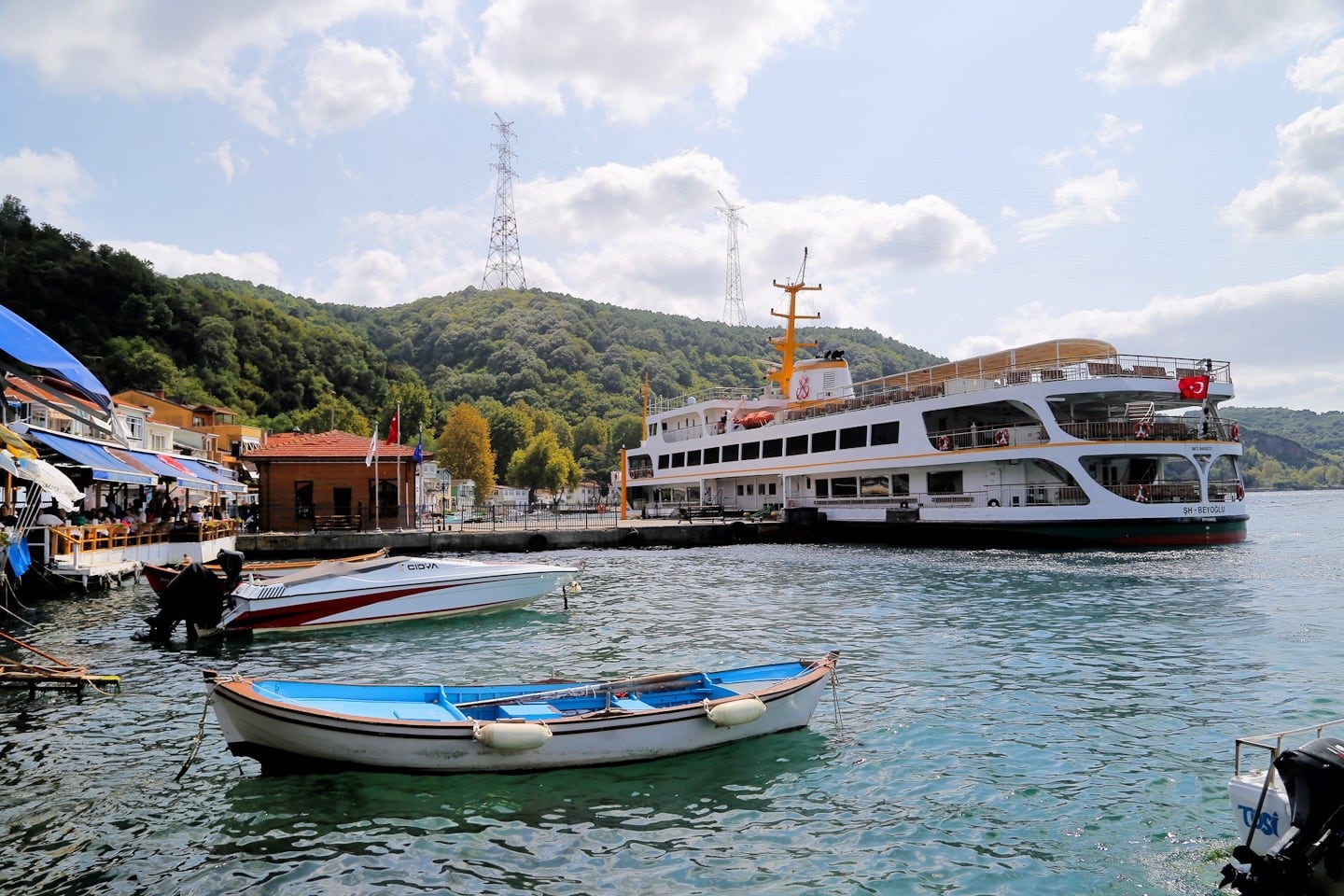 The village was interesting enough to take a walkabout, but we were glad we took the extra time to hike up to Yoros Castle and have lunch with a view. We were able to comfortably achieve all of this in the layover time.
On the cruise back to Emononu pier in Istanbul, we hugged the Asia side with a few quick stops to let local passengers on and off.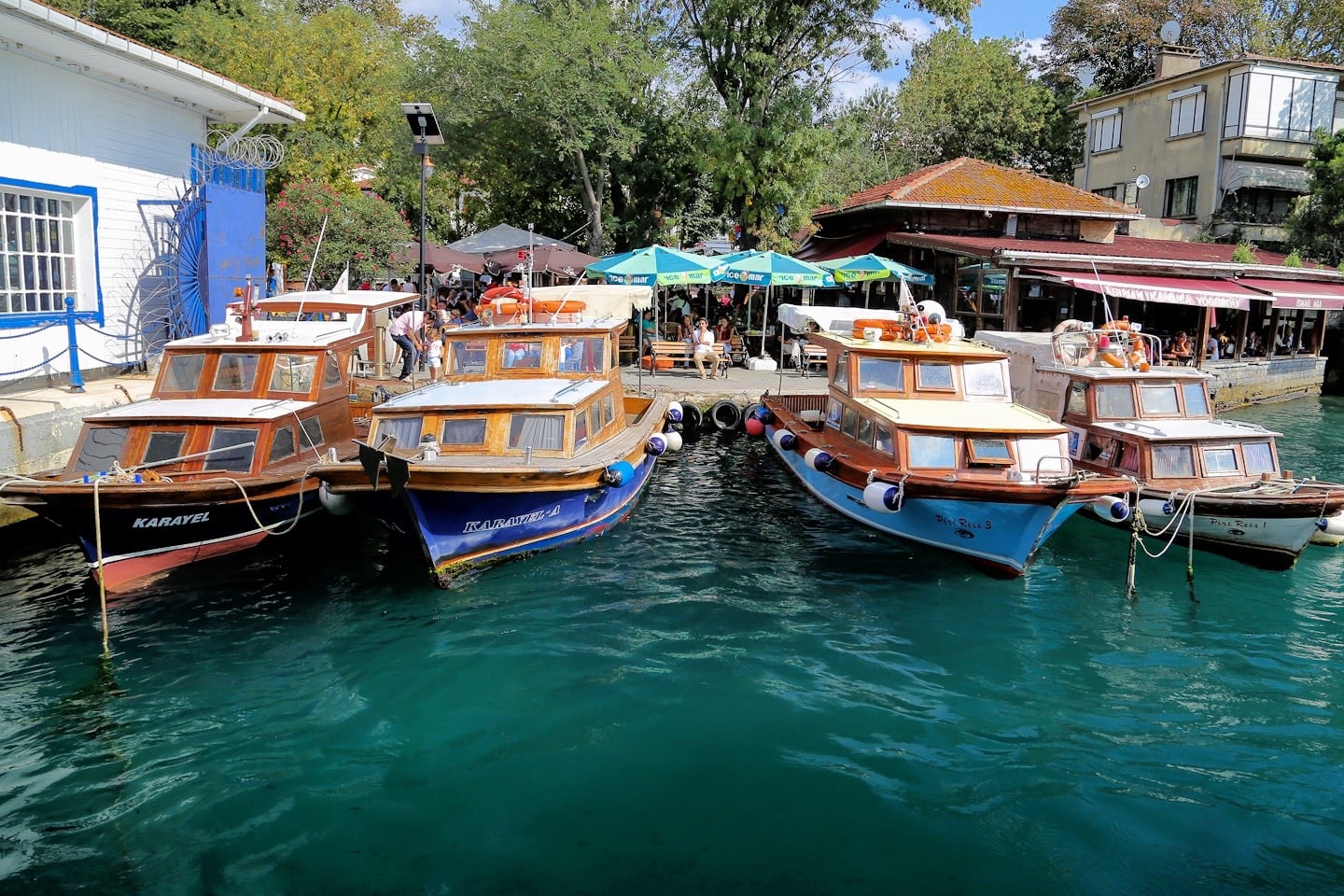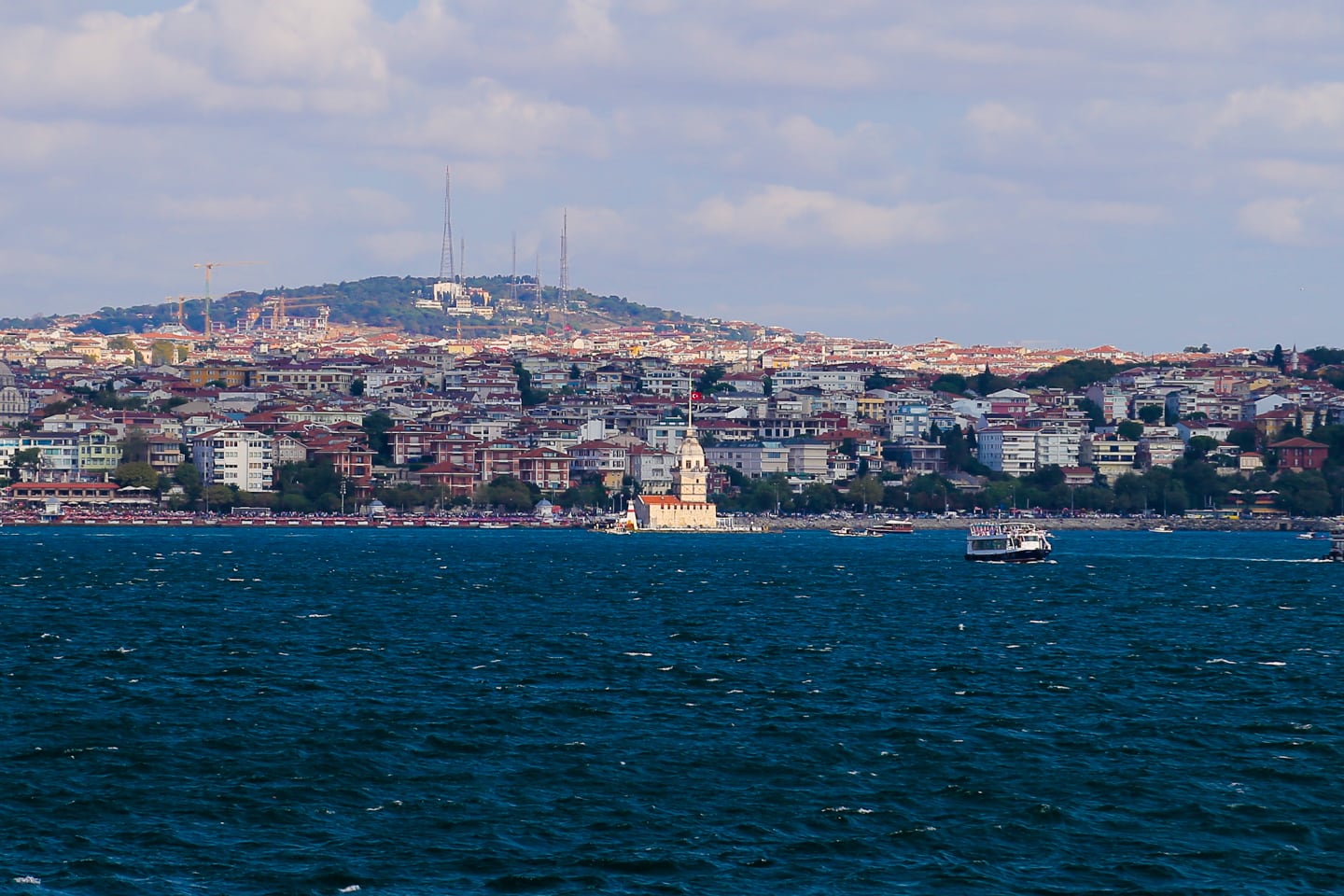 On our way back into the harbor, a sun beam dramatically lit the Maiden's Tower on the Asian side of Istanbul.
Final Thoughts
Overall, we were pretty impressed with the amenities offered by a public ferry for the price. We found the Sehir Hatlari Bosphorus Cruise to be clean and well-organized, certainly for the cost of admission.
Lori and I particularly enjoyed riding along with a mix of people – locals and tourists – which was a fun part of the experience for us.
We also felt that the amount of time (six hours round trip with a few hours stop for lunch) was perfect for us as well, particularly since we had absolutely nothing else planned for today.
All in all, we were quite pleased with the experience. Whether it be a full-service day tour or public ferry option, we strongly recommend a Bosphorus cruise to anyone visiting Istanbul.
Have you taken an Istanbul Bosphorus Cruise?
Which type of cruise did you opt for? What did you think? Let us know in the comments below!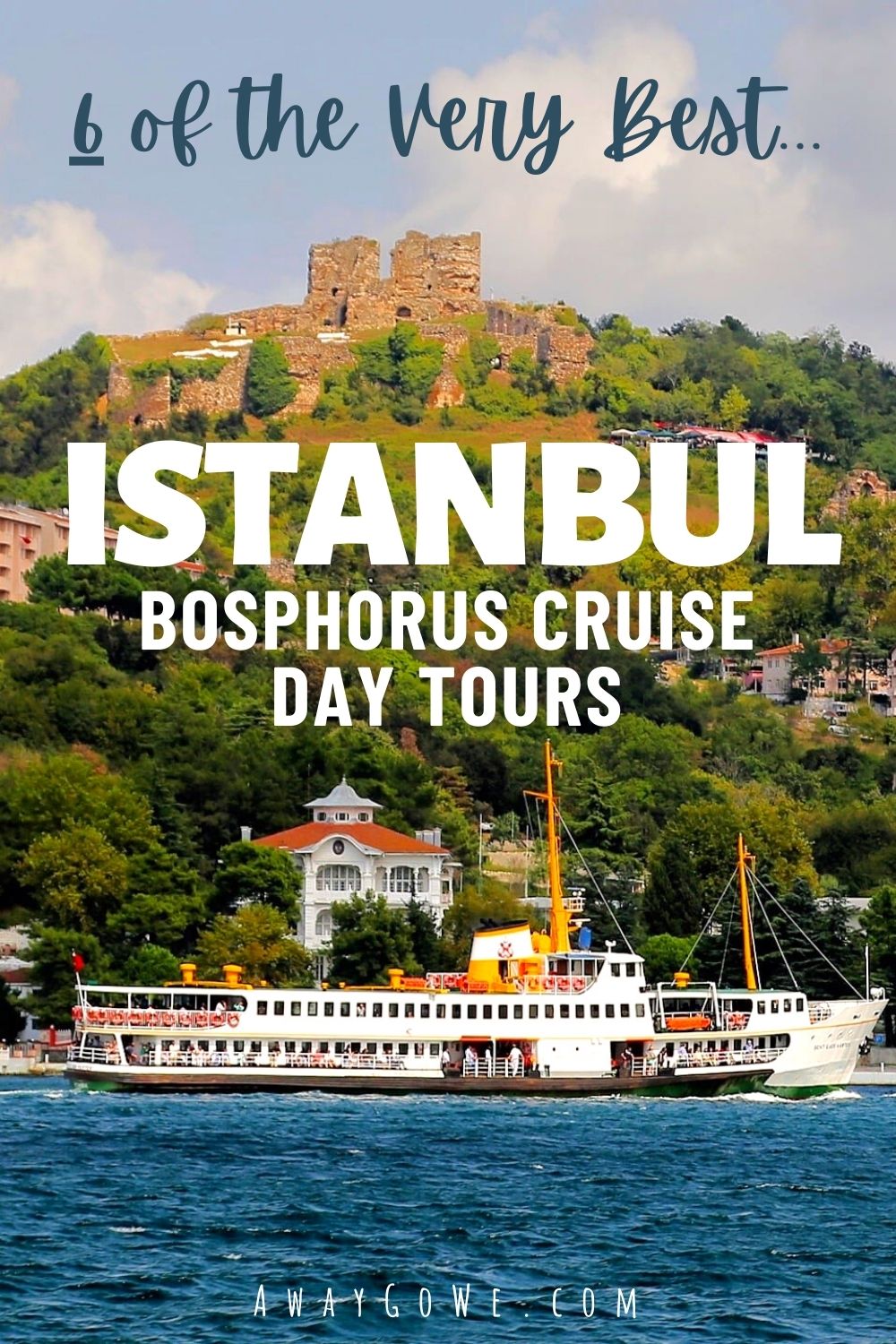 27 Jan 2023
01 Sep 2014
We use affiliate links and may receive a small commission at no extra cost to you. Learn more in our privacy policy.