Kompong Phluk (meaning Harbor of the Tusks) is a unique "floating village" a short distance from Cambodia's great Tonle Sap lake, and makes a memorable day trip from Siem Reap.
Though largely billed as such, Kompong Phluk (sometimes spelled Kampong Phluk) isn't really a floating village, but an entire village built on stilts.
In the dry season, many residents find themselves perched high above dry land. In the rainy season, the entire village is inundated with water and appears as if it's floating on the Tonle Sap.
This is a unique corner of Southeast Asia, where life seems to amble on as it has for ages.
Having the opportunity to experience the village and commune of Kompong Phluk was one of the highlights of our backpacking journey through Cambodia and one of the more unique places we've visited.
We highly recommend visiting Kompong Phluk on your own without a tour group.
But be warned, putting together a day trip to Kompong Phluk from Siem Reap is not easy, and not for the comfort-seeking traveler.
In short, it's an adventure!
Visiting the Tonle Sap Floating Village of Kompong Phluk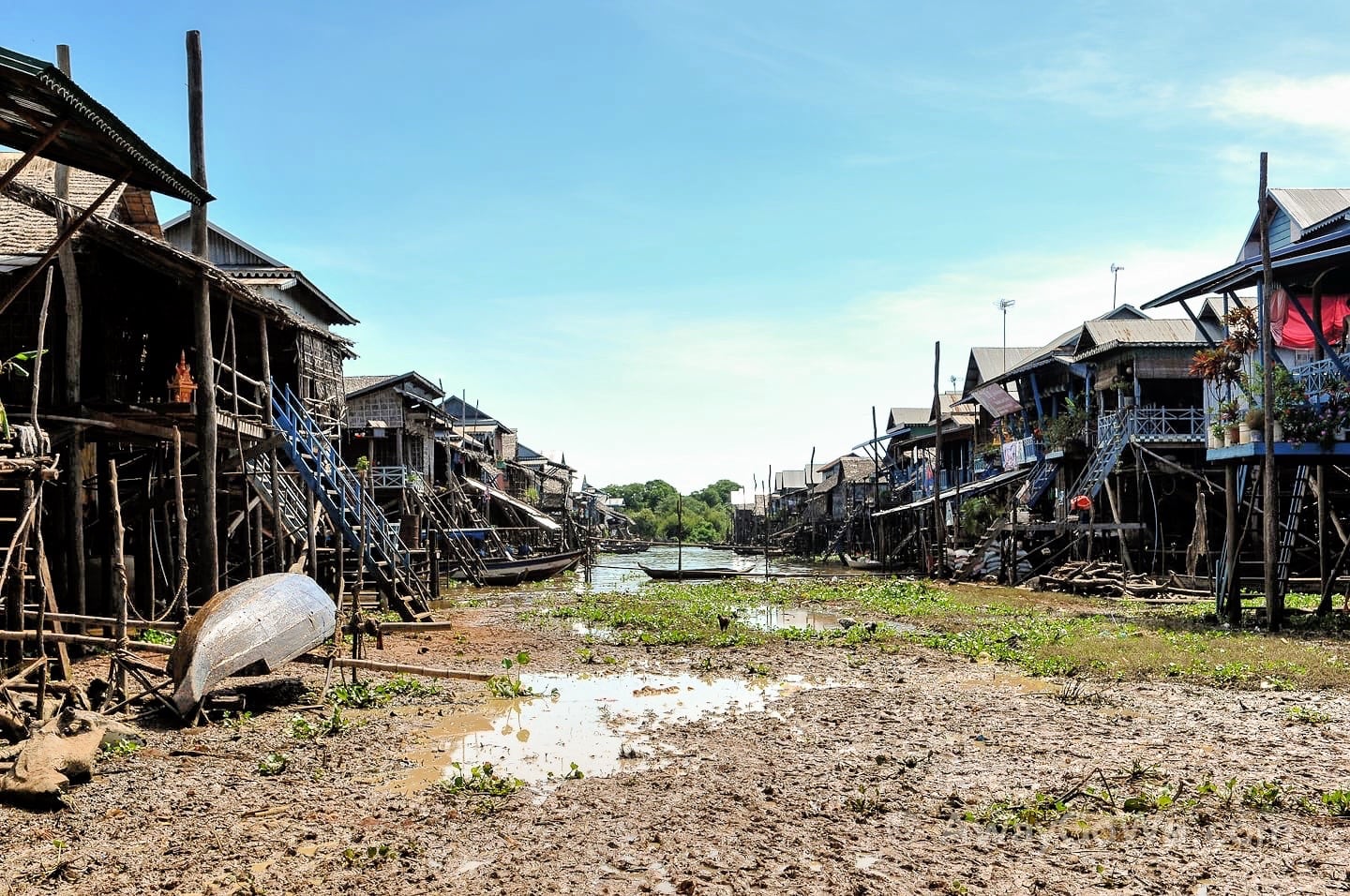 Kompong Phluk vs. Chong Khneas
Most visitors in search of a Tonle Sap floating village head to the stilted ("floating") village of Chong Khneas, which is much closer to the tourist mecca of Siem Reap.
We had been advised by another backpacking couple whom we met in Khuri, India to avoid Chong Khneas. They had been quite disappointed with the experience and heard that Kompong Phluk might be a better (and less touristic) bet.
The big downside to opting for Kompong Phluk was that it is quite a bit farther out of town (a mixed blessing, I suppose).
Fortunately, we were able to incorporate seeing the village into a day trip with some other sights along the way and have absolutely no regrets about the decision.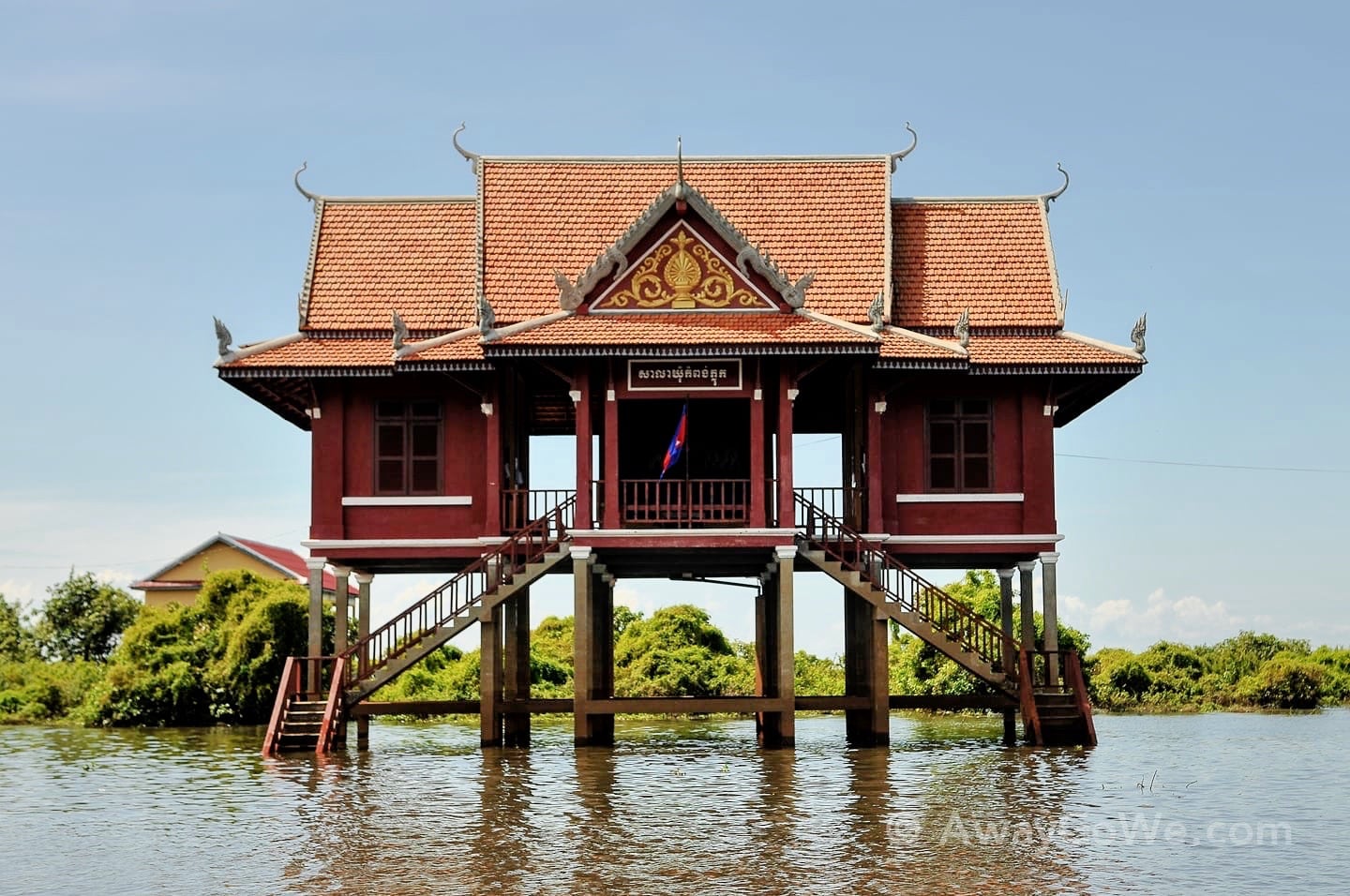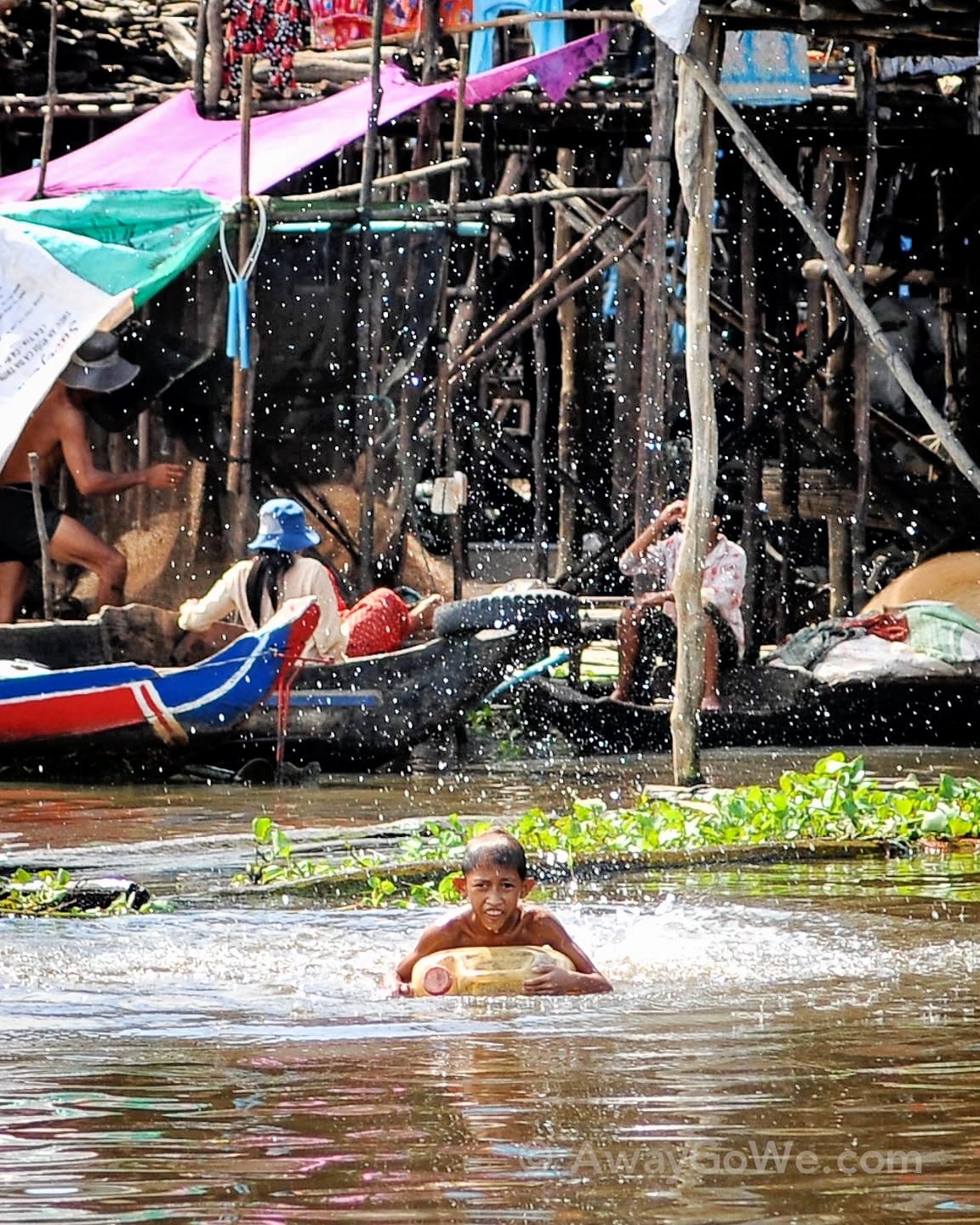 Getting to Kompong Phluk on Our Own – The Good, Bad, and Ugly
I'll say right now that the logistics were a small nightmare (not the most pleasant experience) permeated by dishonesty and flat out lies in some instances.
It's important to note that this was not the fault of the community, itself, but rather the government-run tourist office that appeared to be publishing false information and charging arbitrary fees based on a number of factors.
Part of the challenge (and the allure) of visiting a place like Kompong Phluk is the lack of reliable information for visiting the village.
A good illustration of this is the Kompong Phluk Wikipedia page, which (as of November 2019) contains just one paragraph.
And in many ways, it is a miracle that this place even has its own Wikipedia page (though this is becoming more common as the years go on).
Since visiting, many more have found Kompong Phluk and written about it on sites like TripAdvisor. Our main sources of information at the time of our visit were the couple who told us about the place and a very recently published guidebook which included directions and rates.
Lesson #1: Go With a Respected Tuk Tuk Driver
Sure, there are tour companies all over Siem Reap who promise a great trip with a nice big tour group to go with it.
But if you want the best experience possible, try and organize the trip on your own through a reputable hotel or guesthouse instead.
The best guesthouses will hook you up with a respected tuk-tuk driver who will advocate on your behalf and iron out any rough edges.
The day prior, we had an awful experience hiring a tuk-tuk from our budget guesthouse in Siem Reap and decided to try to hire one from a more upmarket guesthouse for our trip to Kompong Phluk, which ended up being a much more positive experience.
We were able to negotiate US$15 for transport for the day which included the ride to Kompong Phluk (16km from Siem Reap, including two hours of wait time), and the ride to and around the nearby Roluos temple complex (13km east of Siem Reap).
(This was a few years back now, so costs may have risen a bit since then)
Our driver also tried very hard on our behalf (if unsuccessfully) to negotiate a fair price for a boat transfer to and from the village, but we'll get to that.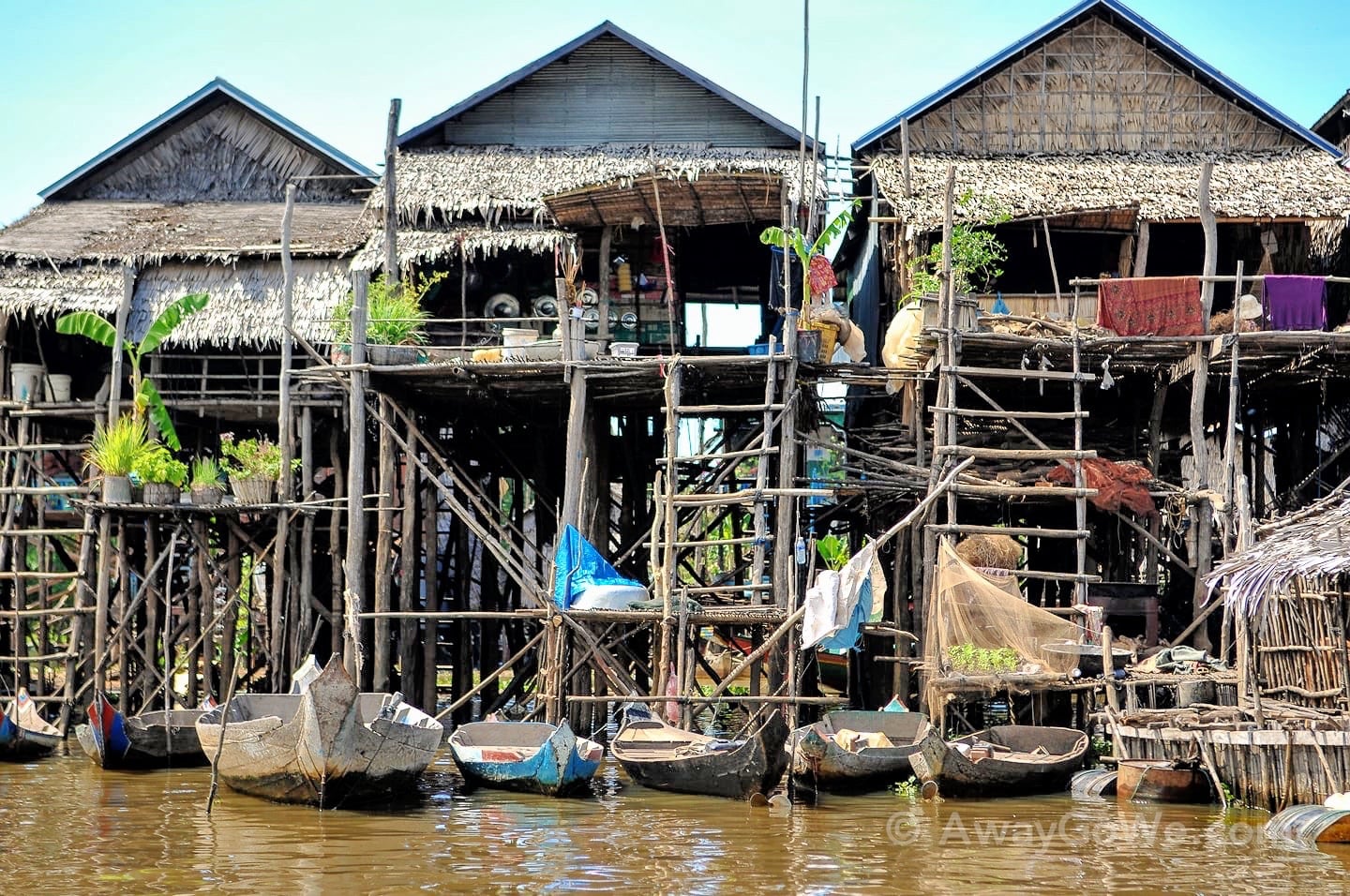 Lesson #2: Take Everything You Are Told with a Grain of Salt
All visitors, regardless of arriving by tuk-tuk, private hire, or large tour bus, get dropped off in the same dusty parking lot near a bare and dusty canal tightly packed with wooden boats stretching as far as the eye can see (dozens if not hundreds of them, it's hard to say).
Our tuk-tuk driver pointed us to the official ticket window, where a man in uniform asked for US$15 each for transport to and from the village.
Back in Siem Reap, the current rate that staff at multiple guesthouses told us to expect was much less than what we were being told now, and our current guidebook corroborated the lower amount.
We backed away from the window for a moment to regroup and consider our options when a couple of other travelers approached us and told us they had been charged US$30 each!!!
It was apparent the pricing scheme was arbitrary at best (not unusual in our experience in Cambodia) and we thought there had to be a better solution.
Experience has taught us that there is nearly always a local option not geared toward unwitting foreigners. After all, how do the locals get to the village?
We walked up and down the line of boats asking "local boat? local boat?" but with no luck.
Hmm.
Next, we tried to negotiate a lower rate directly with the captain of one of the "tourist boats" but found this approach to be futile as well.
Our next idea was to get a group of other passengers together and negotiate for a lower price that way.
As the system is set up, $15-$30/person essentially snags you your own private boat.
But we didn't need our own private boat — this seemed absolutely ridiculous, as most of the boats had seats enough for 10-20 passengers and everyone was coming from and going to the same place.
We managed to round up a group of five others and returned to the captain of the tourist boat asking for a discounted price, but again to no avail.
The "You do know you're charging people as much as a ticket to Angkor Wat" argument seemed to go nowhere with the officials standing around who countered: "Cost of fuel, cost of fuel, very high," which in turn we countered with "Ok, more people on one boat, less fuel than many boats, yeah? Lower price per person, yeah?"
Nope, hopeless.
In the end, Lori and I ended up on our own 12 passenger boat paying the exorbitant fee, along with a young solo traveler who asked if she could join.
We justified the expense based on the fact that we had already come this far and had no other option for covering the last stretch to the village, and the tourism official told us a canoe ride through the mangrove, as well as a visit to Kompong Phluk's floating market was included in the fee we paid.
The worst thing about this setup isn't even the high price each passenger must pay but rather the potentially devastating environmental impact of dozens and dozens of MOSTLY EMPTY boats burning gallons and gallons of petrol polluting the air and tearing up the ecosystem (along with the fact that the community likely doesn't see any of the proceeds, which we learned later).
The number of passengers we saw the entire time only warranted a handful of boats, yet for 45 minutes out and 45 minutes back it felt like rush hour on the DC Beltway.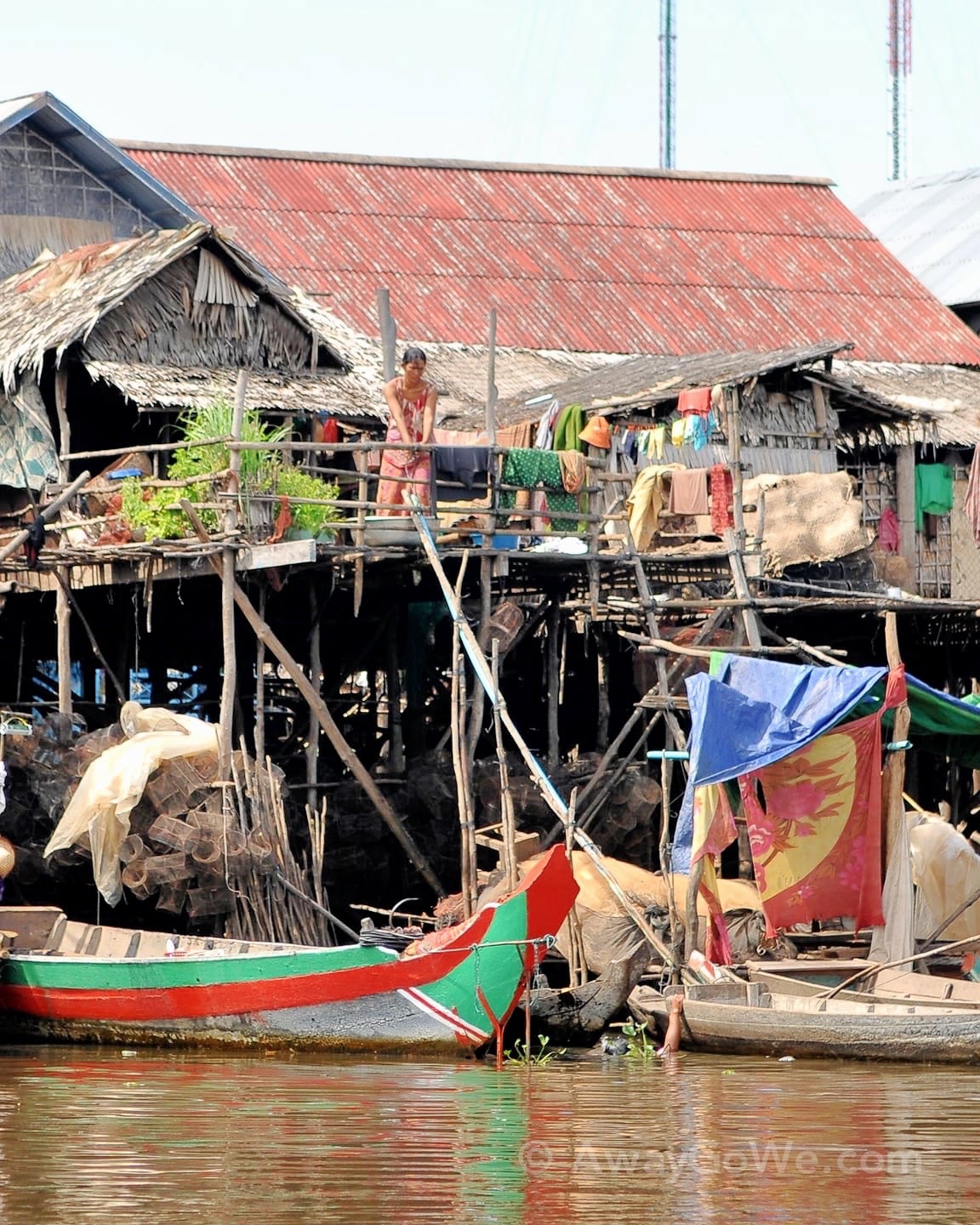 Lesson #3: Know When to Fold 'em, Know When to Walk Away
Unfortunately, our transport frustrations did not end there. The driver and an assistant spent a good 15-20 minutes trying to get our boat started, with zero success.
All the while our boat bobbed and rocked in the midst of a dozen other empty but identical boats.
We asked several times if we could just take another boat but quickly realized that boats and captains were non-interchangeable.
Fine, but we weren't going to wait all day to wait for this particular boat to get its engine overhauled before our very eyes.
After a healthy bit of prodding our captain, we literally jumped ship and commandeered a nearby boat in running order with a captain who was more than happy to take us.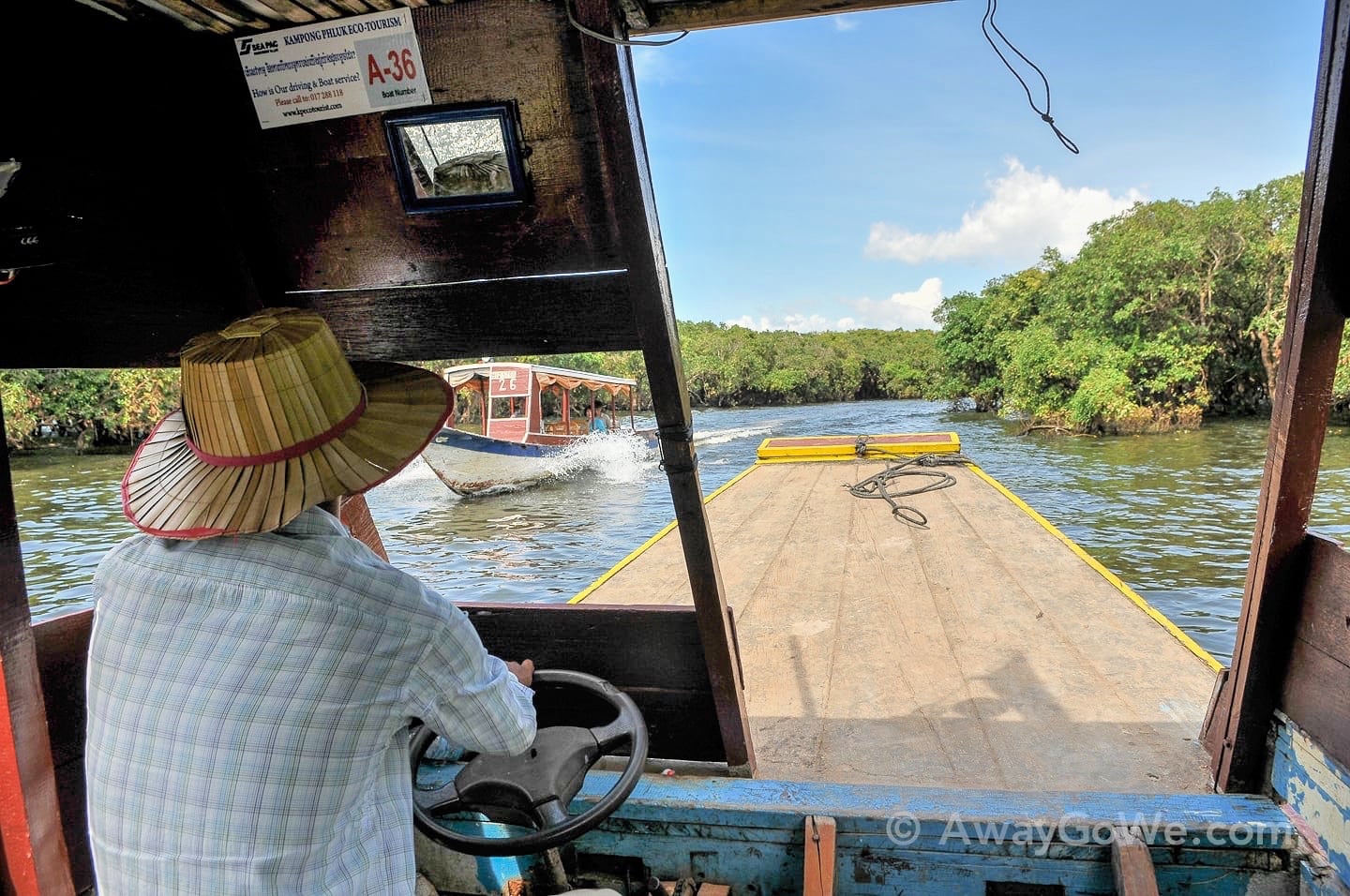 Off to the Floating Village [Finally]
There wasn't much to see for the first 20 minutes except for other identical wooden boats motoring up and down the waterway, but then one stilted building came into view, followed by another, and another, until the whole village of Kompong Phluk emerged.
It was simply like nothing either of us had seen before, and was absolutely phenomenal and definitely worth the frustration.
Imagine, in the 21st century taking a rickety wooden boat through an entire village built on water harboring a very unique way of life, which up until recently had remained largely unaffected by globalization and Western culture.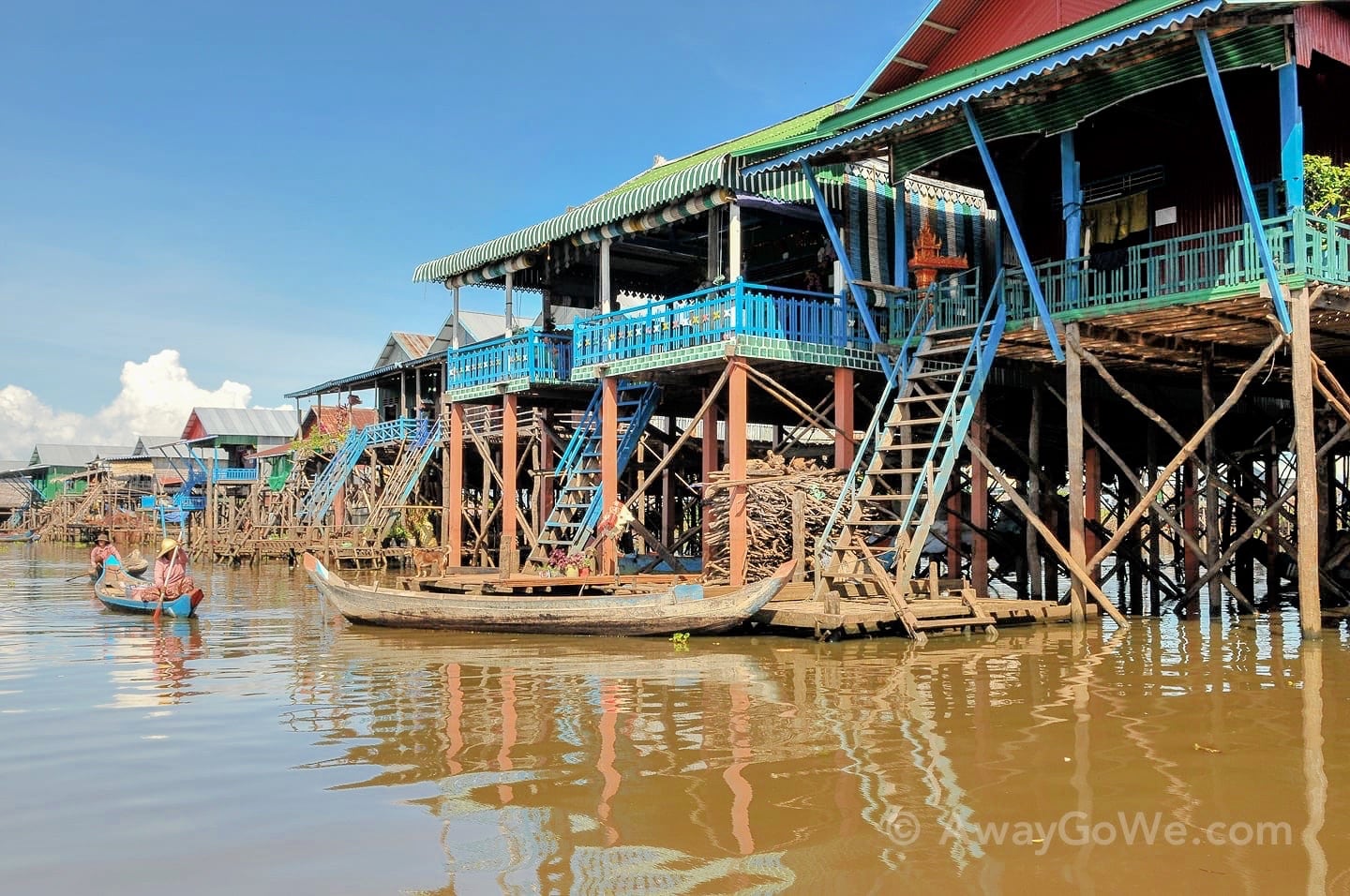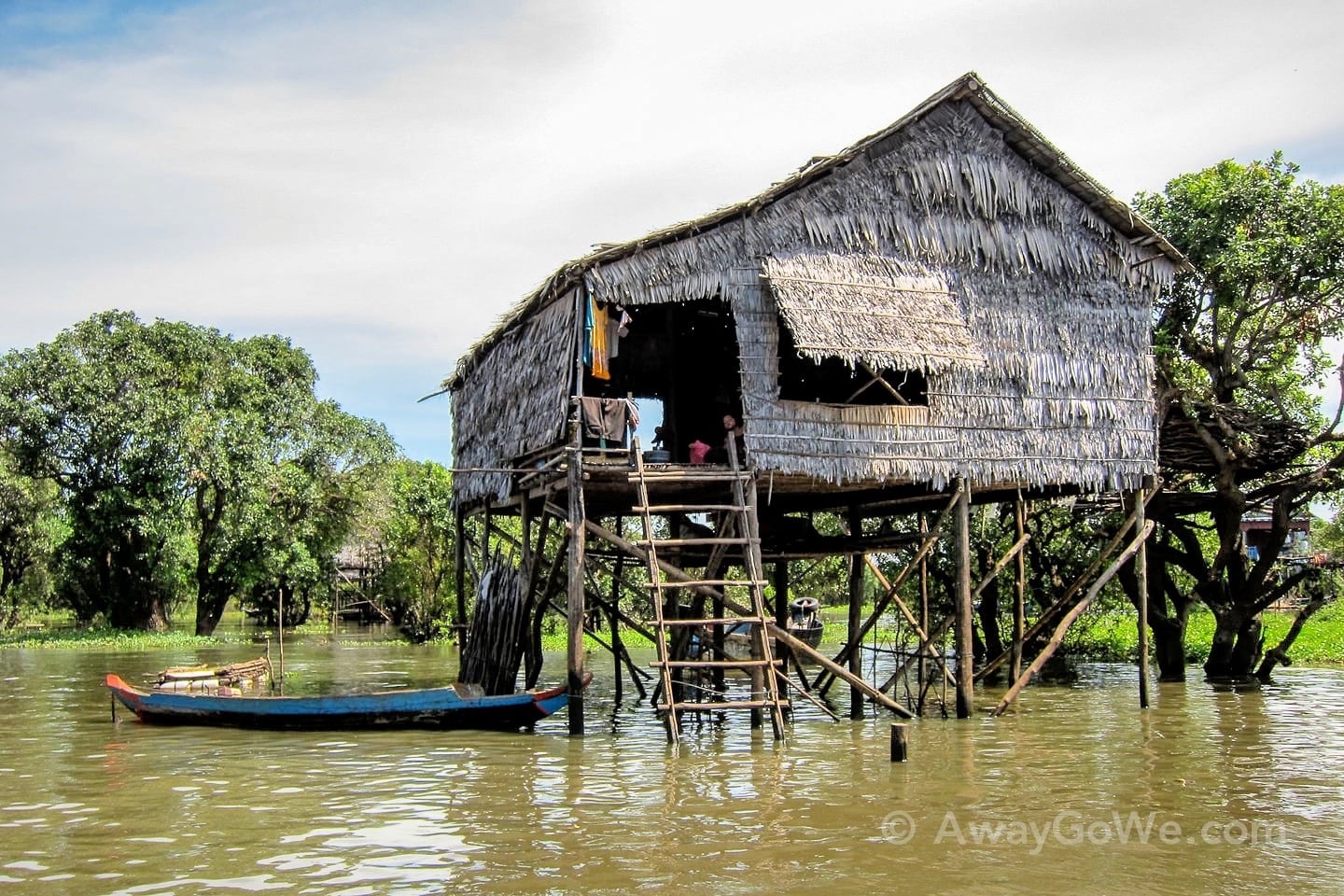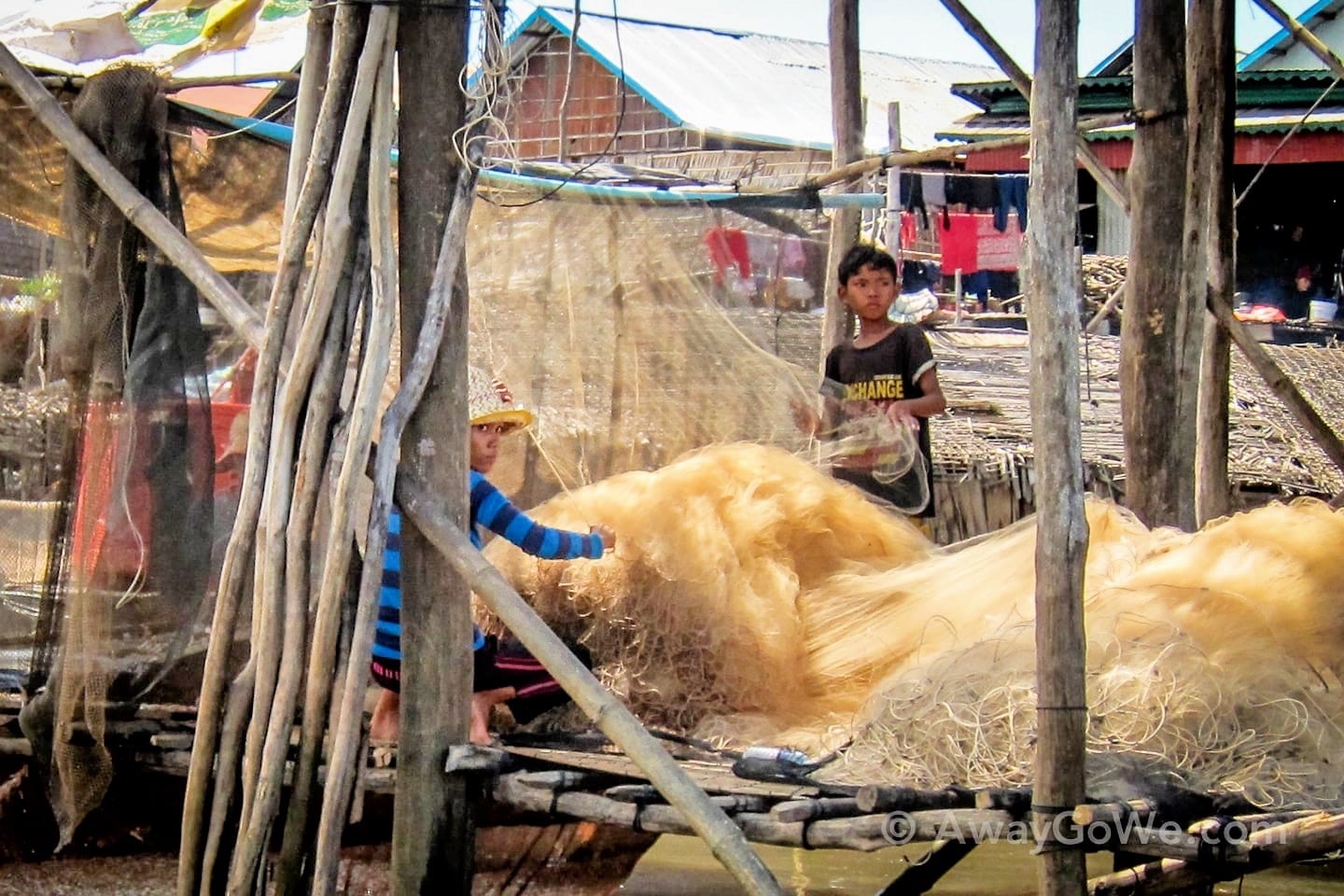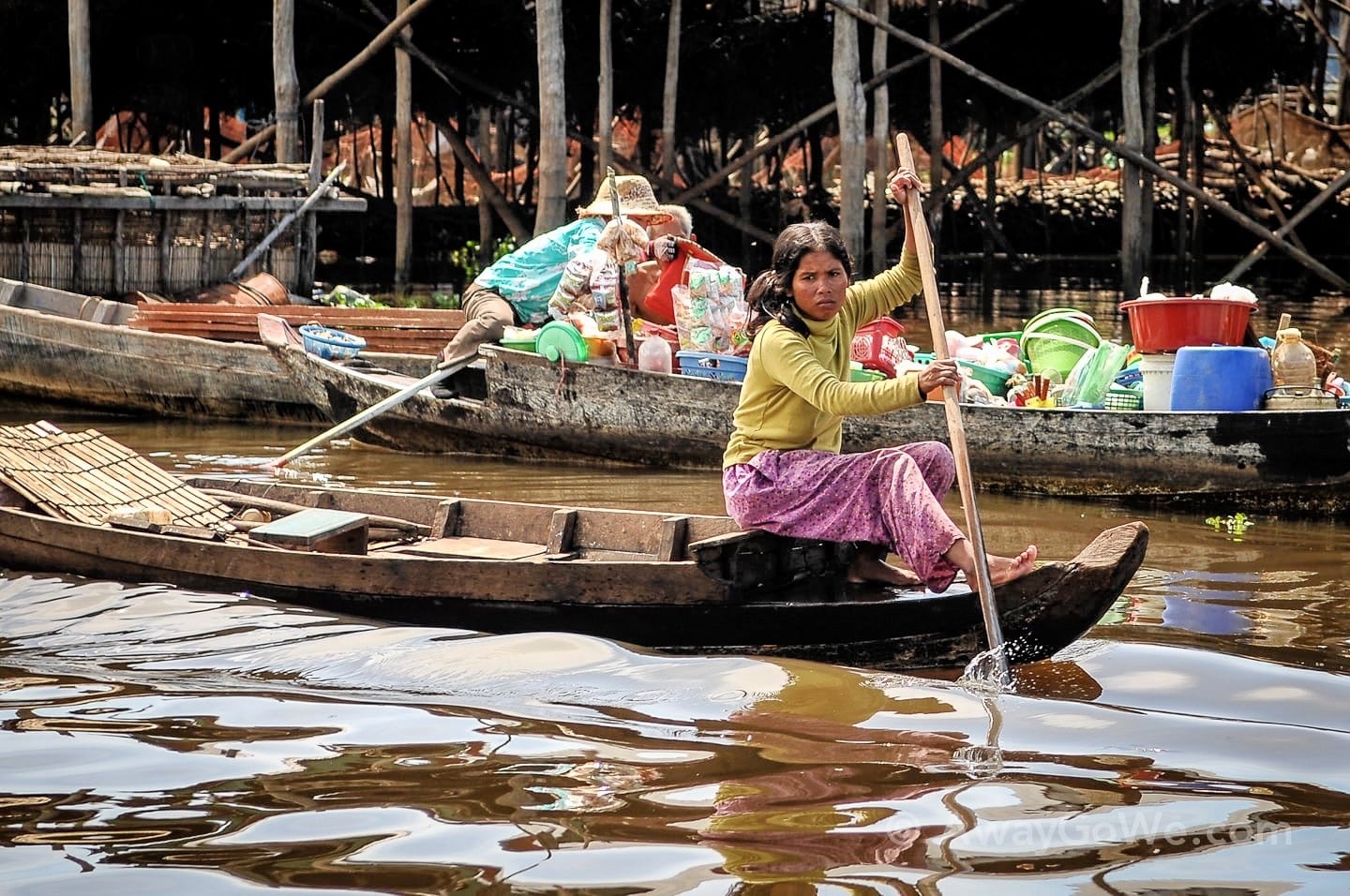 The Uncomfortable Realities of Tourism in Cambodia
Our first stop in Kampong Phluk was at a small floating cafe where we had planned to board a canoe for a ride through the mangrove.
We never boarded a canoe but were still taken for a ride, so to speak.
When we climbed off the motorboat another "tourism official" ushered us over to a canoe and announced matter-of-factly that the canoe ride would be an extra fee.
Given our dealings with the ticket office and some very bad experiences with this sort of thing just two days prior, the whole situation reeked of BS and we called him out on it. Even Lori joined in the heated discussion, which is unlike her.
Our questioning of the guy's "authority" angered the man quite a bit, so much that he did what up until now had been considered unthinkable after four months of traveling in Asia — the dude completely flipped out on us. Despite this, we held firm.
By this point, our patience was pretty well spent for dealing with these guys.
Since our arrival in Cambodia, tourist hustlers have been trying to screw us left and right — on a level we haven't experienced since India.
At least in India, the hustlers would try to meet you on a level footing, try and establish rapport to the point of making you feel guilty for not wanting to help out or go along with the story or check out their silk shop.
In Cambodia, the hustlers seemed to bypass all of that, going straight for the "You so rich, I so poor, it's only fair that I screw you any way I can," routine.
Yes, I understand the tenuous nature of the relationship between Cambodia and the West — the Secret War and spillover from the Vietnam War, and turning the other way while Pol Pot's army of thugs slaughtered millions during the Khmer Rouge…four decades ago.
I get that.
But we found regular Cambodians to be friendly and gracious. It wasn't as if we were walking around and getting the stink-eye or cold shoulder from people left and right.
But those linked to the tourism industry had much more of an axe to grind it seemed — it truly felt as if these people despised the very people from which they derived their livelihood from.
When pressed about the lying and the ridiculousness of what the tourism official was proposing, his response was not rooted in logic, of course, but meant to feed on feelings of Western guilt and naivete.
He told us, quite a-matter-of-factly, that none of the money from our ticket goes to the village, and that taking the canoe tour would be our only opportunity to make sure that the village benefited from tourism in some way.
Wait a minute, what?
I was a bit taken aback by this. Not so much from the idea that none of the cost of the ticket goes to the village (while infuriating, this is sadly the case for tourism operations in many places and by no means surprising), but rather by this guy's unveiled attempt at strong-arming the two of us into "charity" by reasoning that we were obligated to make up for the fact that he and his government were exploiting the hell out of these people and their situation.
I'd also like to add that the original ticket official tried to justify the high cost of the boat ticket/ fee by stating that the proceeds directly benefited the village, which his colleague here was vehemently refuting.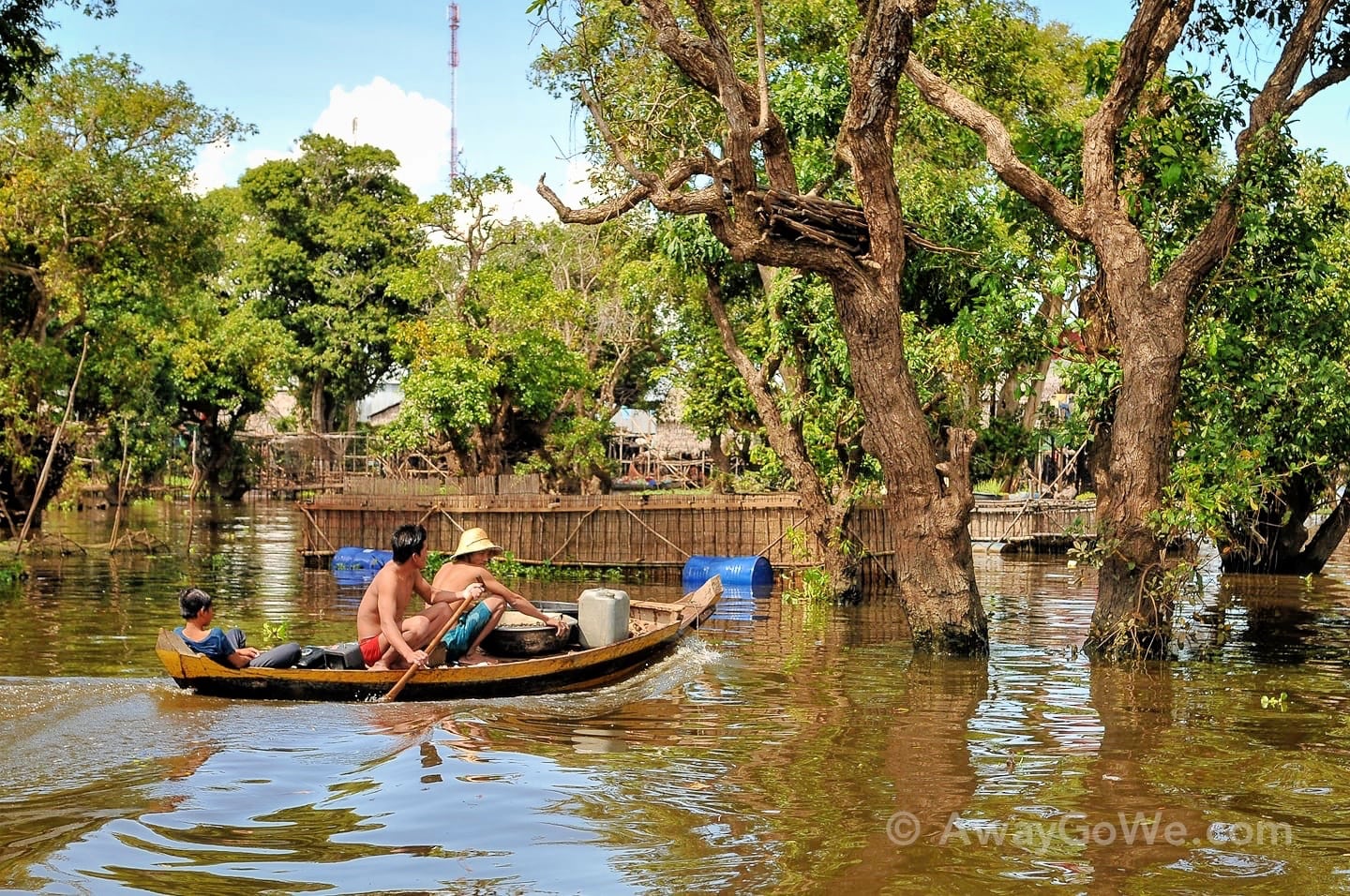 You would think that after all this time such things wouldn't surprise me, and they don't really. But they still anger me — the tenth, fiftieth, hundredth time still angers me as much as the first.
Quite frankly, I'm glad that I'm still angered by these situations. I'd rather feel affected than desensitized; frustrated rather than complacent.
It's amazing to me how rampant complacency and desensitization are among our fellow travelers we've encountered on our journey.
Most would gladly choose to contribute to corruption and feed the false narrative of the "helpless native" rather than allow themselves for one minute to feel uncomfortable — but something tells me I shouldn't be amazed by that either.
At this point, it was clear our discussion was going nowhere with this guy. We asked to get the phone number for the ticket office so that we could confirm that our ticket did not include the canoe ride, but of course the "official" said no such number existed.
We asked the boatman if he had the contact number — surely he had the number to his employer — but same response.
Then a funny thing happened. After we were back on the boat, Lori noticed a complaint phone number for the tourism agency posted in bold right above the boatman's head and pointed it out to the driver who just chuckled uncomfortably.
We called the number but it was disconnected, of course.
All BS.
Needless to say, we didn't take the canoe trip.
We re-boarded the motorboat and continued on, past the center of town marked by a temple/school and out to the open waters of the Tonle Sap lake where the boatman cut the engine and we sat for a few moments to take in the surroundings.
The water had an unusual iridescent quality to it that I thoroughly enjoyed; almost like a sea of mercury reflecting the sky.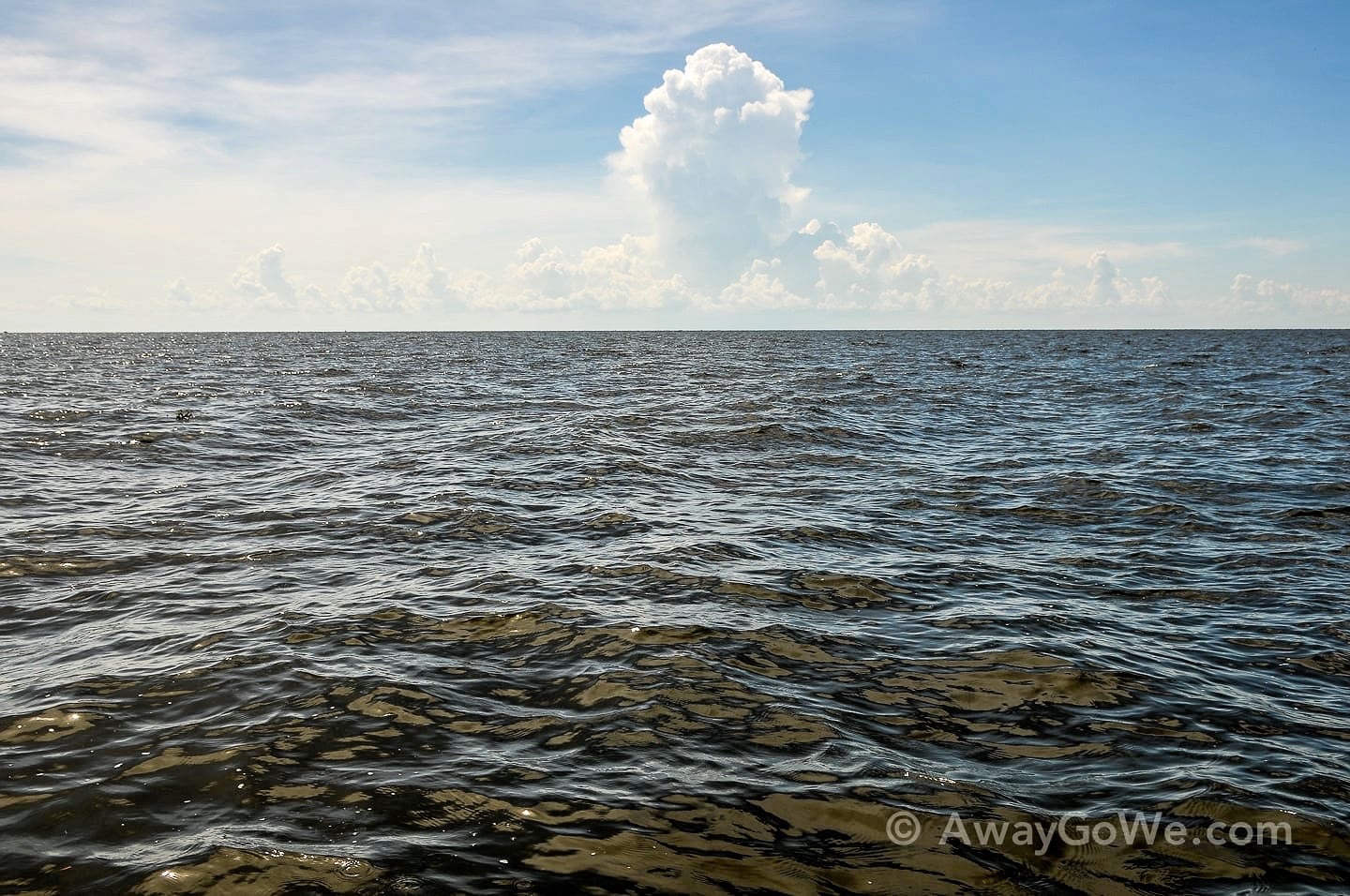 Tonle Sap: The Waterway that Swings Both Ways
Kompong Phluk is located on the mighty Tonle Sap, Cambodia's "Great Lake" which is a very unique body of water.
In addition to having the distinction of being the largest freshwater lake in Southeast Asia, the flow of the entire lake changes direction twice each year.
In the dry season (November to May), the Tonle Sap drains into the Mekong River at Phnom Penh.
However, at the onset of the rainiest period of the year (in June), the mighty Mekong River swells, reversing the flow of water into the Tonle Sap.
Consequently, the lake grows and shrinks substantially throughout the course of the year.
Communities living in and around the land affected by this "tidal" system adapted long ago to this phenomenon.
Villages such as Kompong Phluk are built well within the affected area, becoming a riverside village for much of the year, and a "floating" village for the rest of the time.
Lesson #4: Visit with High Expectations of the Village, and Low Expectations of the Tourism Industry
If you plan to visit Kompong Phluk independently (which, believe it or not, we still highly recommend), we suggest two ways to approach the experience:
Have a reputable guesthouse or hotel arrange all the moving parts for you ahead of time (I know, I know, you're visiting this place "independently," but really what we're advocating here is going by yourself (outside of a tour group), but having all of the transport and fees arranged ahead of time. It helps if your tuk-tuk or private hire driver has also been tasked by the hotel or guesthouse to act as a fixer/intercedent at the tourism office as well.
or…
Go in with the lowest of expectations, expecting full and well to get screwed, particularly if you don't speak Khmer (which, let's face it, if you're reading this guide, you probably don't). Arrive well-informed and talk to returning travelers you pass at the ticket office about their experience.
In the end, visiting the village was worth the headache and stress for us, but only because we did it independently. Realize that there is a good chance that if you choose to go on a tour, you essentially give up all of your bargaining power to see what you want.
Many visitors in tour groups that we ran into got little more than a boat ride and a very long lunch at the cafe, without setting foot in the village at all!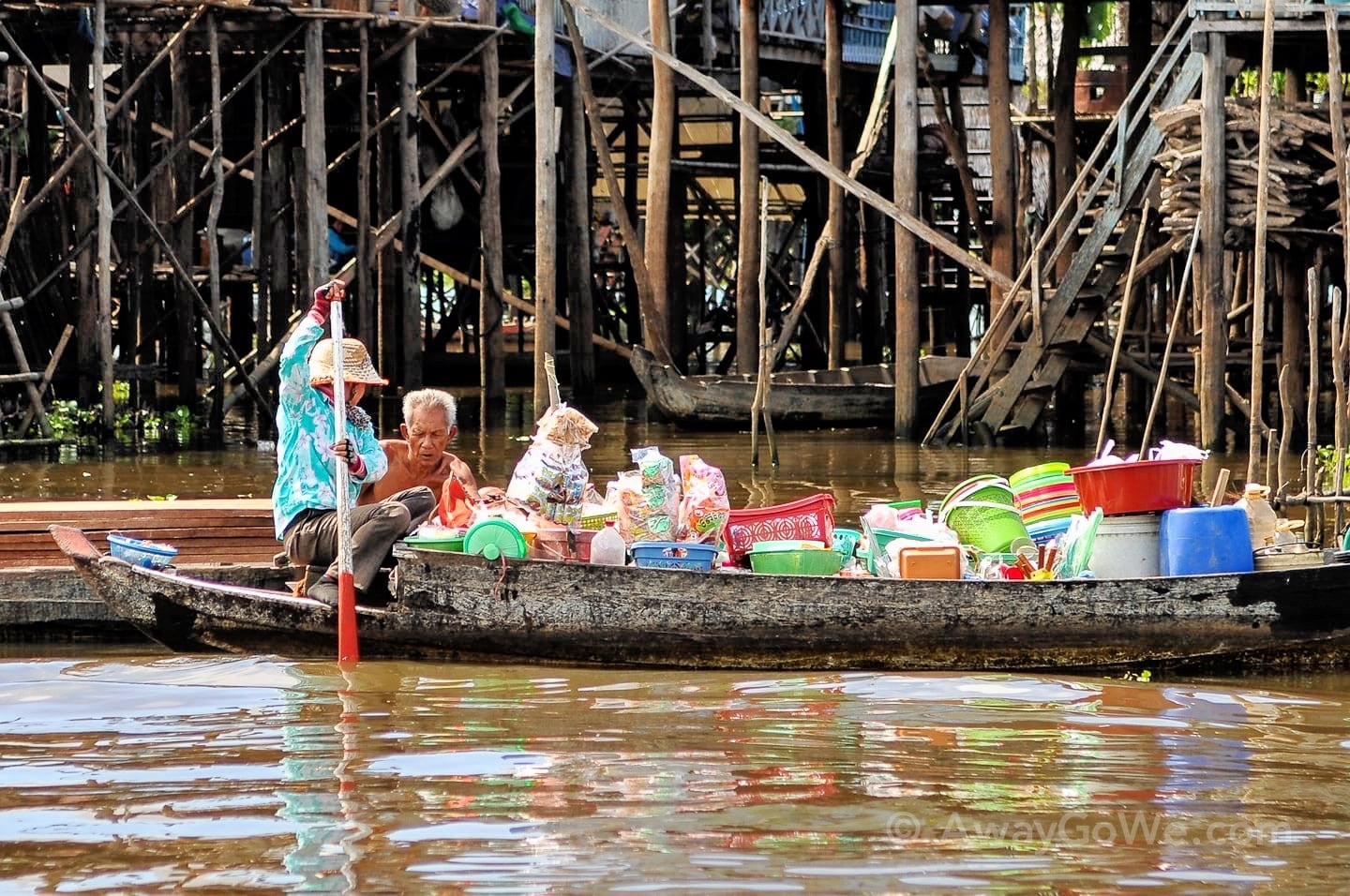 Getting Off the Boat

in Kompong Phluk Village
Lesson #5: Don't Be Afraid to Ask
On our way back from seeing Tonle Sap, we noticed the boatman seemed to be making a beeline to return to our starting point, which disappointed us tremendously as we were under the impression, yet again, that we'd actually be able to take a walk through the village.
Even after our previous unsuccessful bids at speaking up, we figured it wouldn't hurt to make the request to the boatman to stop at the temple and school in the middle of the village.
To our surprise, the driver agreed to make a 30-minute stop.
Again, we were amazed that no such stop had been pre-planned, but are so glad we asked.
Walking through the actual village of Kompong Phluk turned out to be the best part of the trip!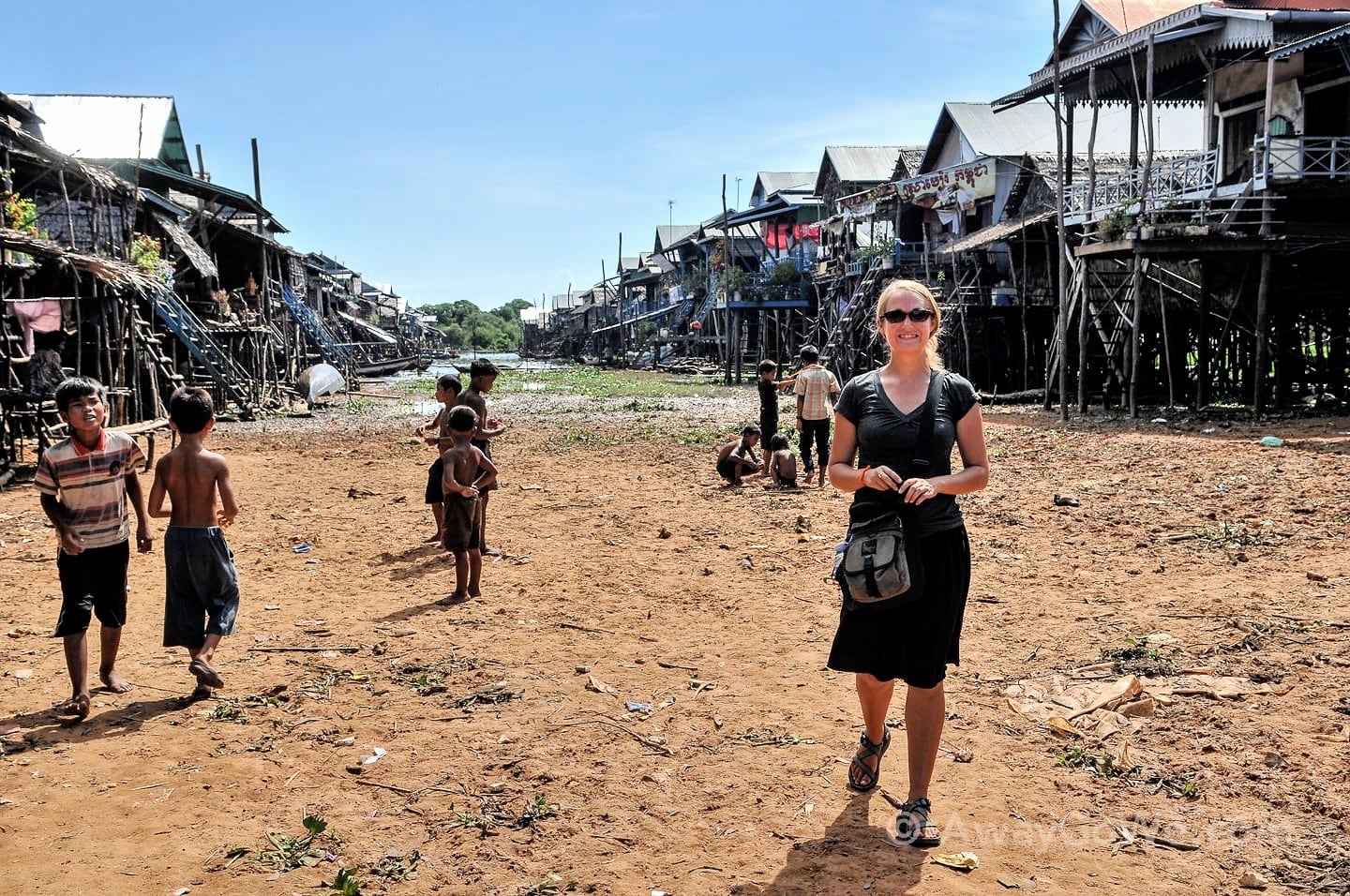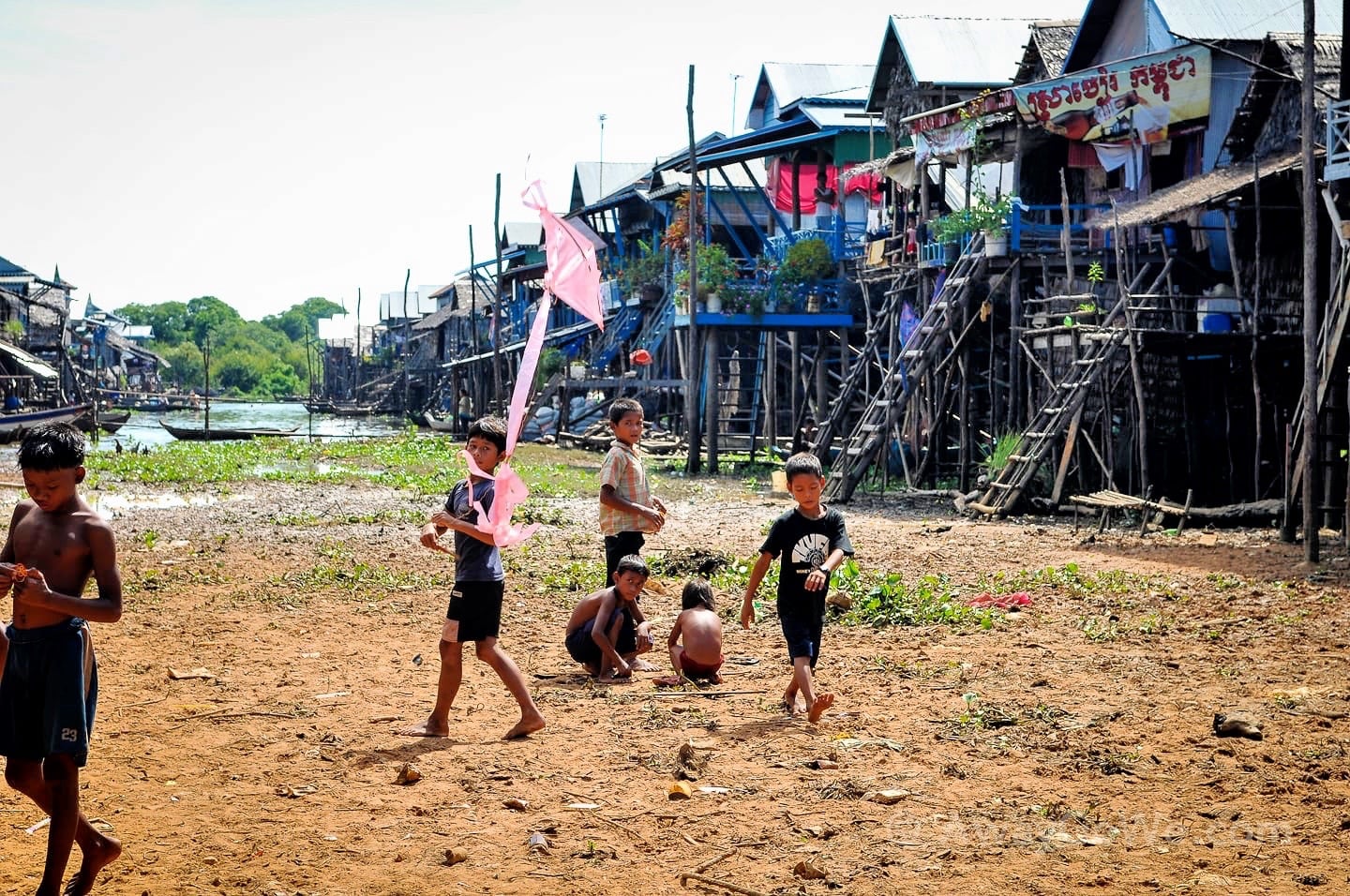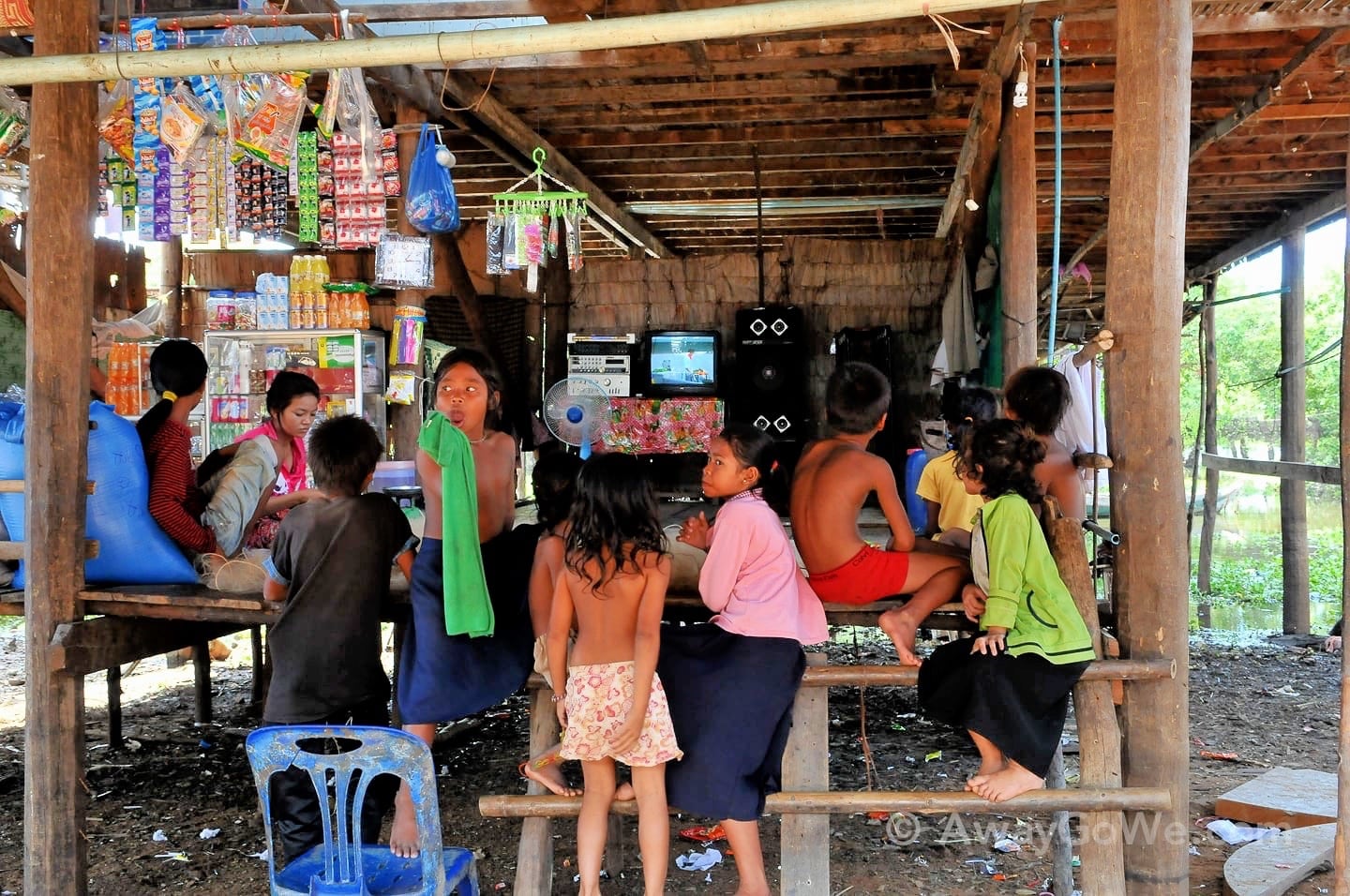 We had some memorable interactions with local residents and had the opportunity to buy sodas and snacks from a couple of the rustic stilted bodegas, which we knew had a much higher likelihood of benefitting the locals than anything else we paid for that day.
It's still not clear what percentage of the fee charged to visit the village goes back to the community.
Whether it be tourism or natural resource extraction or anything else for that matter, it is absolutely essential that the people who live in affected areas benefit, first and foremost, from the activity.
It is the only fair and just option. There is no other way that can be morally or ethically justified.
However, the powers that be in much of the world seem to be making this harder with each passing year.
I'd like to imagine that a reasonable percentage of what we spent to get here benefits this community, even if through public works or social investment at the governmental level, but it's impossible to know for certain.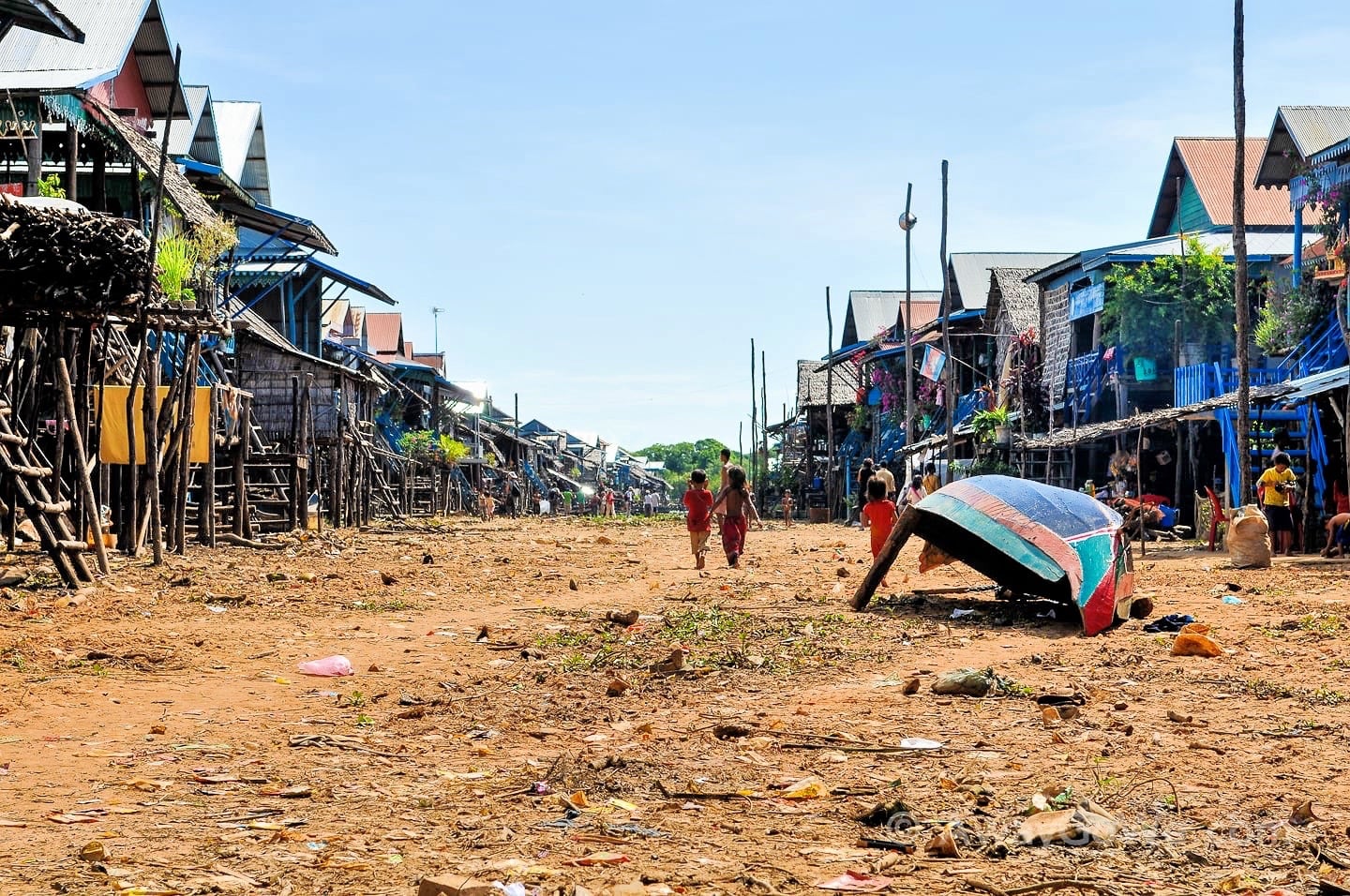 When to Visit Kompong Phluk
You may have noticed by now that this village doesn't seem to be doing a lot of "floating." We're currently in the throws of dry season, so Kompong Phluk's village center resembles more of a road than a canal. In the rainy season we're told that all changes, and the entire town becomes waterlogged.
There are pros and cons to visiting in both seasons.
Visiting Kompong Phluk in Rainy Season (June-October)
Visiting any time of year, you're bound to see some portion of the village over water (take a look at the photos earlier in this post for some good examples), but for the full effect you'll want to visit from well after the rains have started to just before the water recedes again.
Other benefits of visiting in the wet season is that you'll spend more time getting to Kompong Phluk by boat than by tuk-tuk, and the number of visitors should be lower.
Visiting Kompong Phluk in Dry Season
Visiting in dry season (most of the year) has the advantage of being able to walk around the village, with a far greater likelihood of interacting with local residents (which is challenging on a boat).
Keep in mind that if you want to see the flooded forest, it's closed in April due to lack of water. April will also likely be the month when the water is the lowest.
We felt like we struck a balance visiting Kompong Phluk in mid-November and were pleased with the outcome.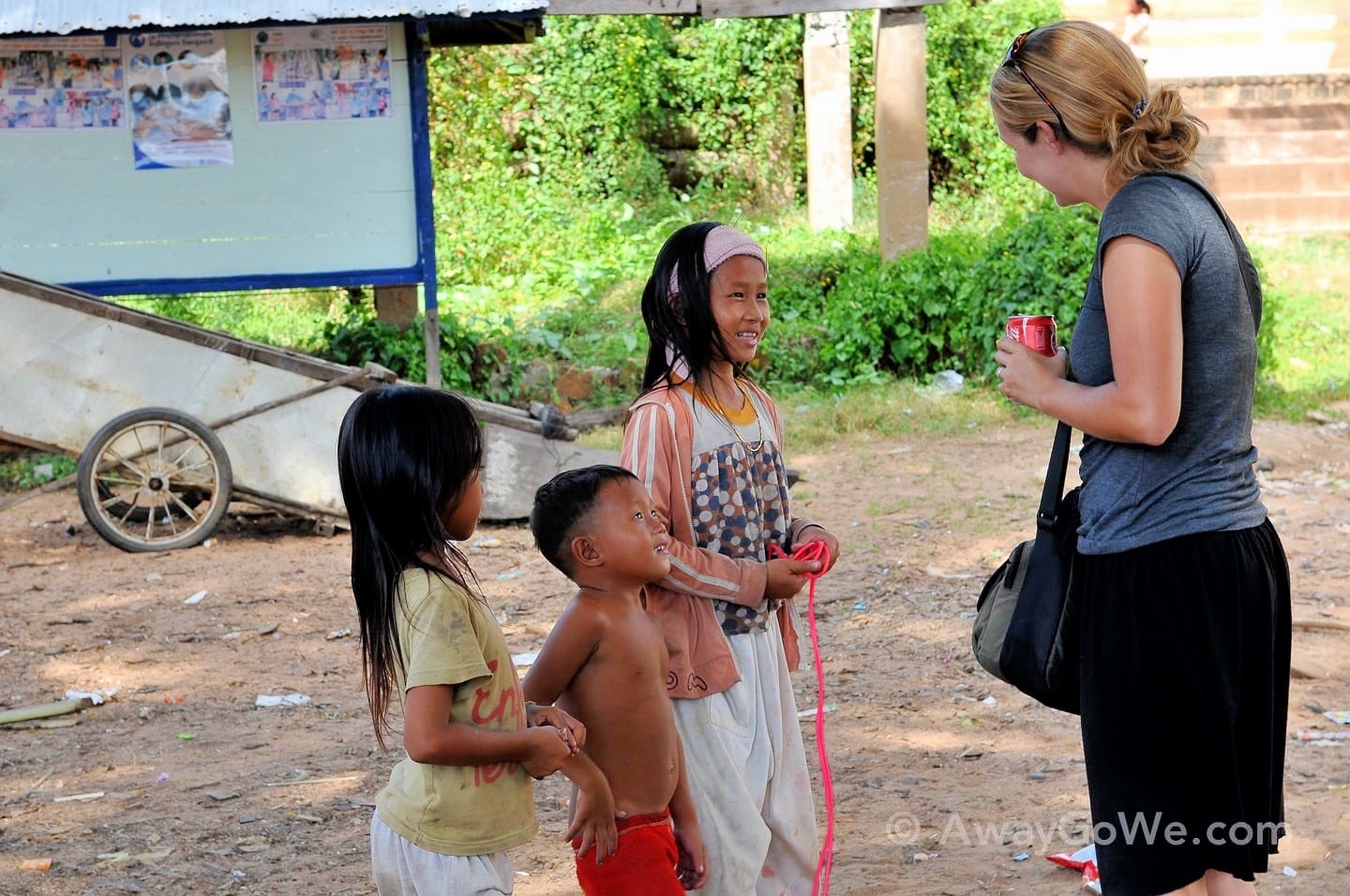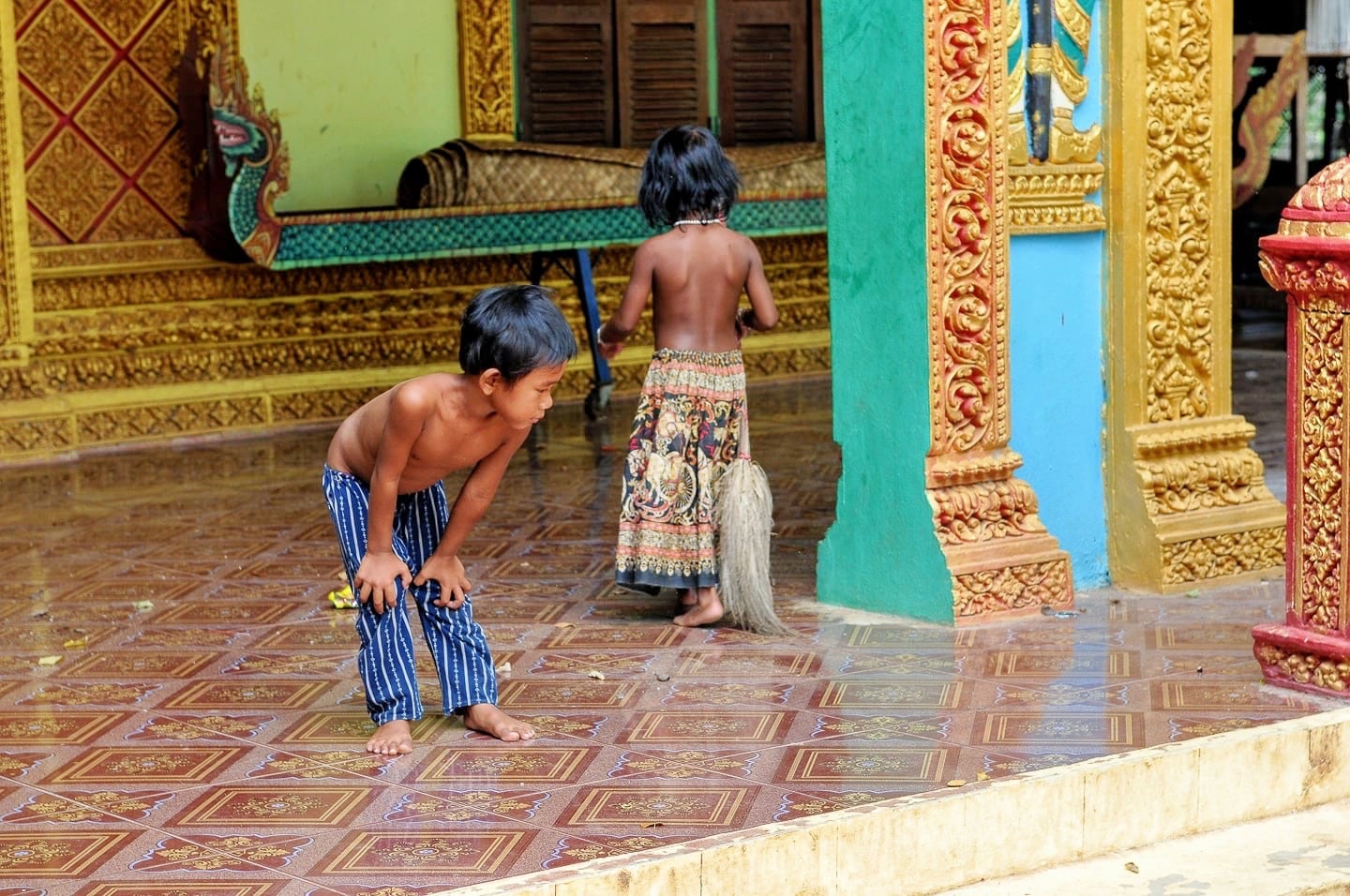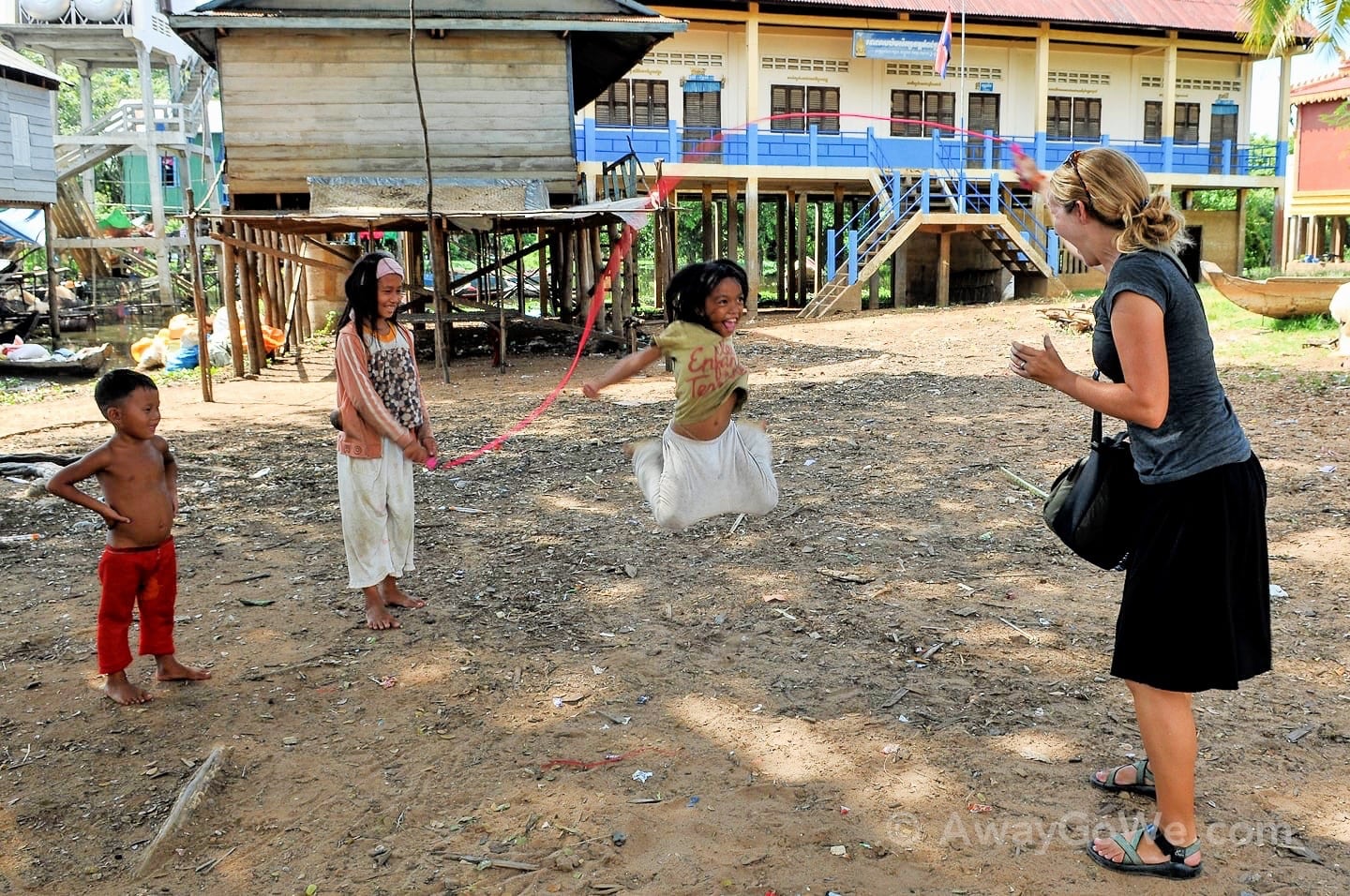 Benefits & Pitfalls of Cultural Tourism
One of the primary reasons why Lori and I enjoy traveling so much is that it gives us an opportunity to engage with people and cultures different from our own on their home turf.
I've long found myself fascinated by the variety of ways in which people both choose to live out their existence and adapt to their environment.
However, curiosity about peoples and cultures has its limitations when traveling.
For instance, it is generally difficult as an independent traveler to penetrate the invisible social boundaries of a particular community that you find interesting.
Yes, you can often go for a stroll and get lost in a particular neighborhood, explore bodegas and eateries, etc., and Lori and I get immense enjoyment from doing all of these things.
Yet, these sorts of activities provide only a tiny glimpse into a world largely hidden from view for outsiders.
Both the ceremonial and the mundane cannot usually be observed (and more interestingly, experienced first-hand) from merely a walk around the block, or even a conversation with a local.
The greatest honor that anyone can bestow on an outsider is a legitimate opportunity to be welcomed into the community to engage in such activities — and I've been fortunate in my life to have had several meaningful experiences with individuals I hardly knew (which is a testament to the kindness and hospitality that exists in the world that is becoming increasingly rarely in the Western culture).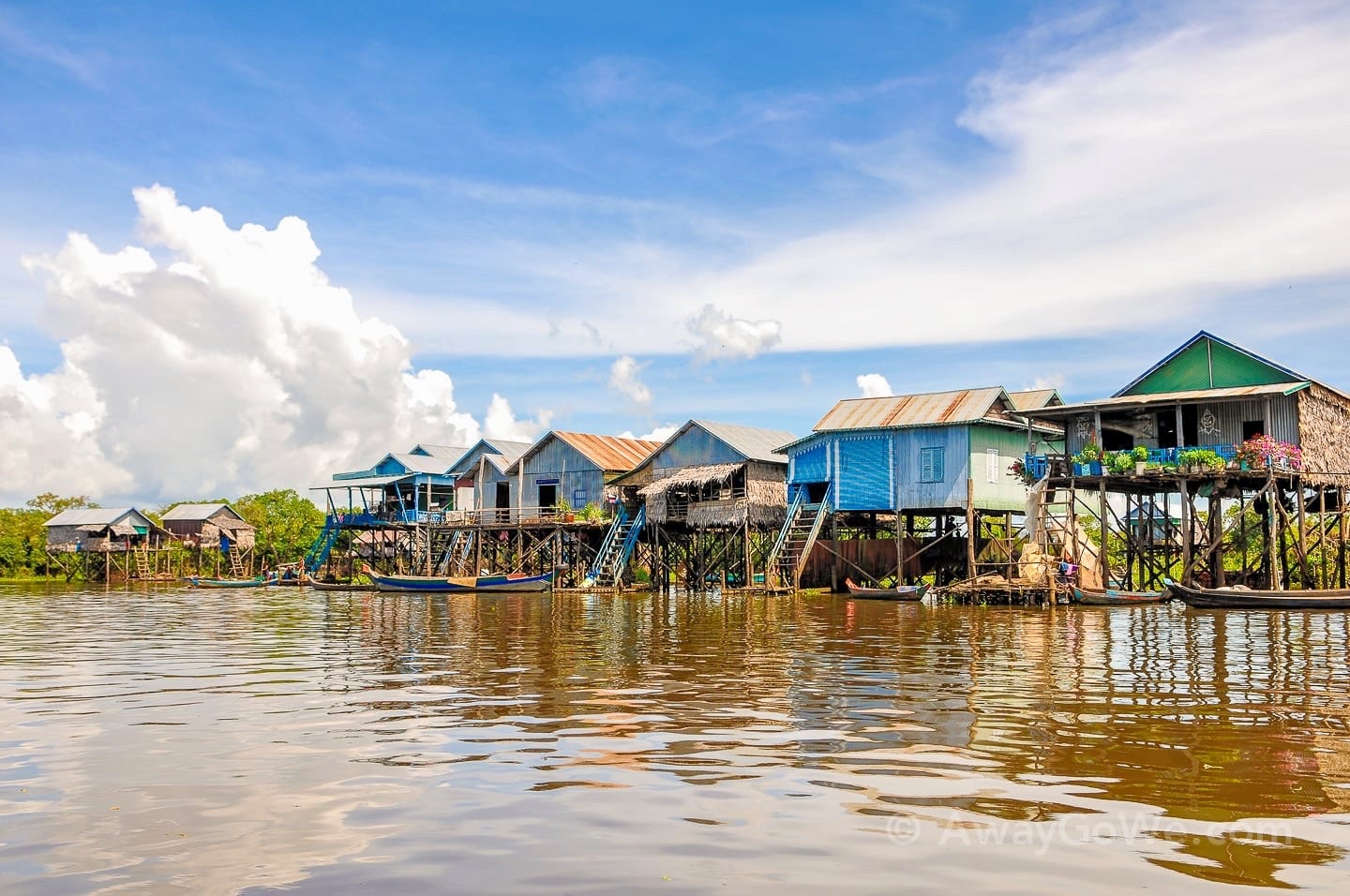 But we can't always expect to be invited all the time, every time. Some communities are much less trusting of outsiders than others (and often for good reason).
One of the things I love most about my work in community development is that it gives me a legitimate reason to enter communities with little interest in pandering to "tourists," and I get to have honest and candid conversations with real people.
My level of access and perceived trustworthiness was never greater than when I was a Peace Corps volunteer in a small fishing town in Mozambique. But I still relish the opportunity during site visits, surveys, and assessments to visit a community that tourists and foreigners rarely visit and have a real conversation with somebody (as opposed to a merchant/peddler-customer conversation which is always the case on packaged tours).
Yes, I do recognize in many ways you can never shake the peddler-customer relationship, especially if there is a perception by the individual with whom you are engaging that you represent an organization with deep pockets.
But it is amazing how quickly this perception can fade once you start talking about something mutually meaningful.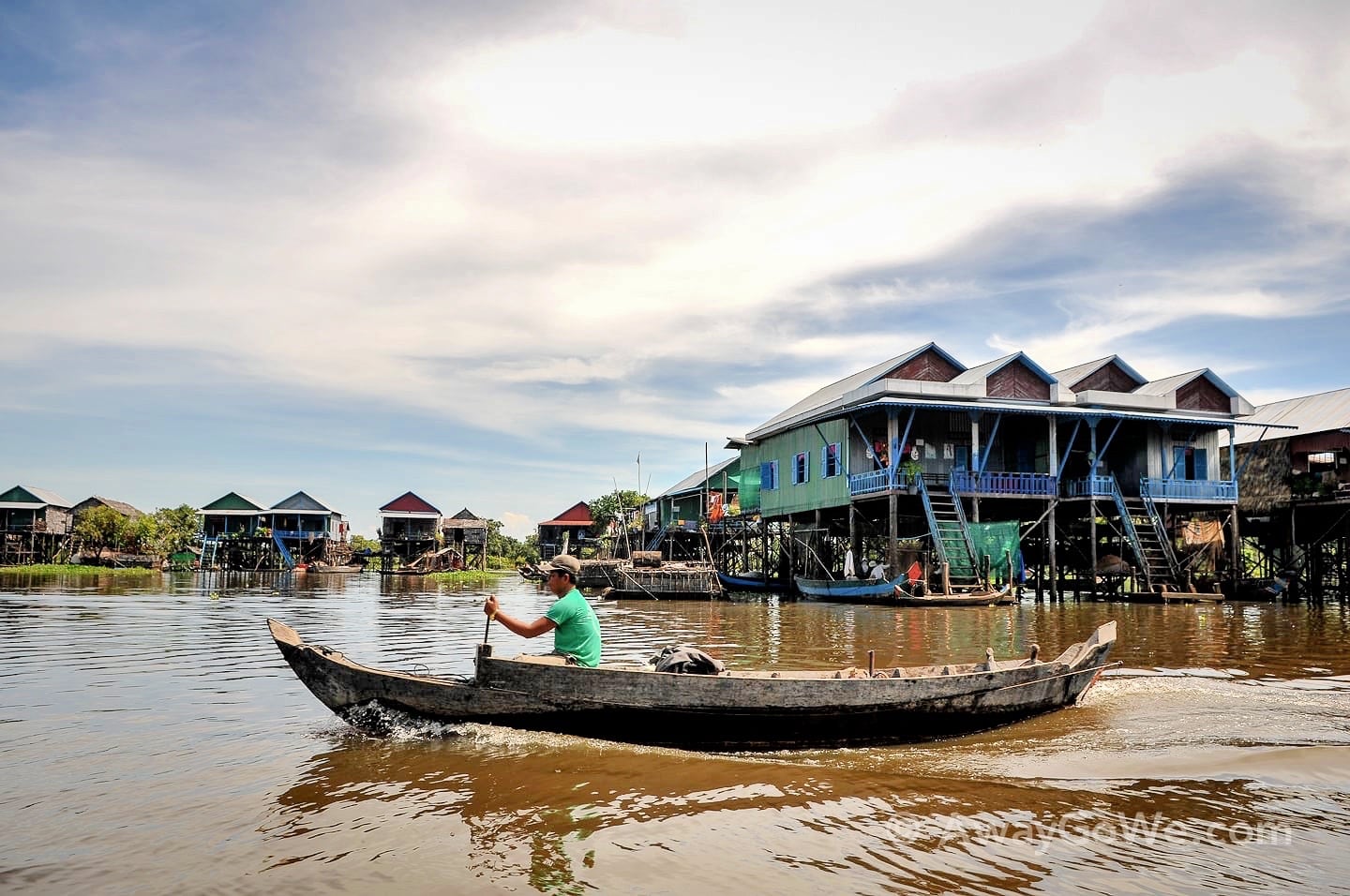 In Kompong Phluk, however, neither Lori nor I am here on business, and we certainly have not been invited by the local residents.
Yet we heard that this unique and fascinating place exists, welcomes outsiders, and we wanted to see it.
I work in an industry that has improved a lot of people's lives, but is also responsible, directly or indirectly, for erasing places like Kompong Phluk off the map for good.
I'm happy to report that there is a concerted effort by many key players to find a balance — change is inevitable, yes, but I and many others are convinced that improvement in welfare doesn't have to mean complete destruction of societal structures and cultural values.
But what do you do when you are traveling independently (like Lori and me) and you want to see these places but don't want to do the organized tour thing, don't want to be perceived as disrespectful or a gawker, and certainly don't want to exploit the socio-economic situation of an individual who has no other economic opportunity but to exploit the kitchiest aspects of their culture and themselves for a buck or two?
For us, it meant making some tough decisions.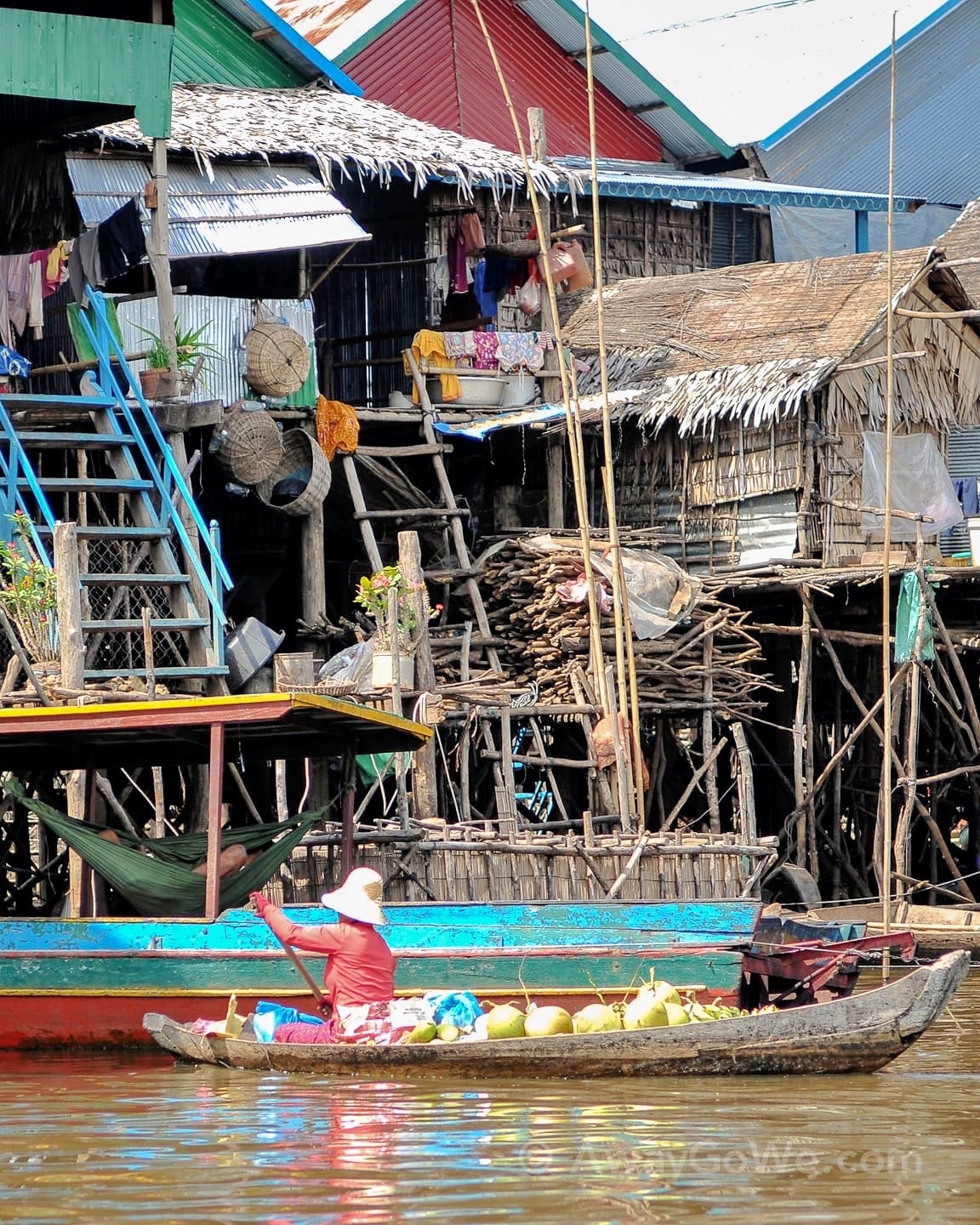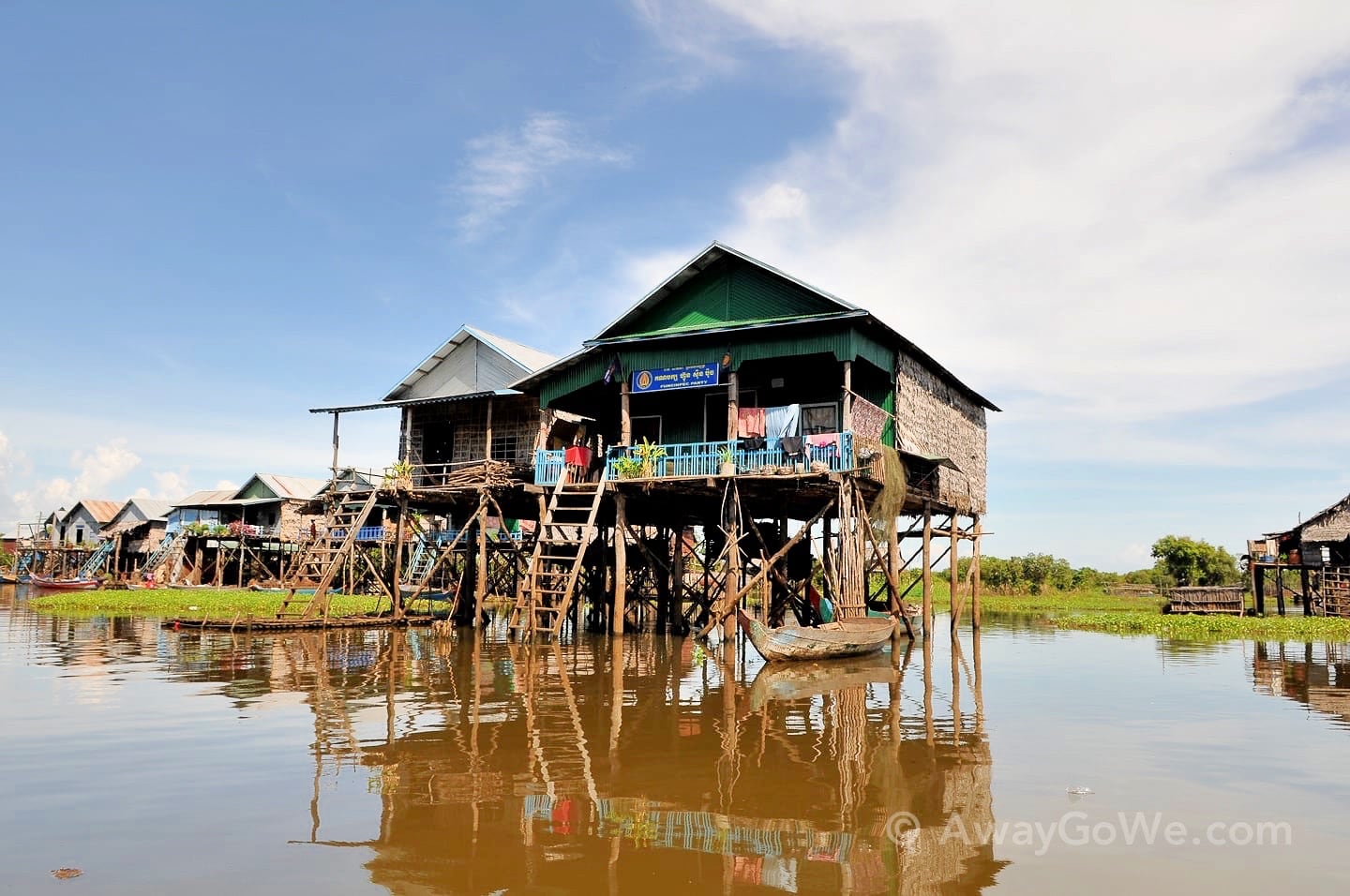 For example, after careful research and consideration, we decided not to take a trip to visit any of the Karen "long neck" communities of Northern Thailand.
Our situation at the time dictated that we go on an organized tour and we could not find any organized tours in our budget which approached the experience in a sufficiently respectful and ethical manner (i.e. not exploiting and encouraging the practice simply for monetary gain).
In fact, the Karen people are a very difficult case in this respect, given the prevailing belief that the permanently deforming practice of neck extension only exists today because of the tourism industry and tourist demand and not because of any continuing cultural or religious necessity.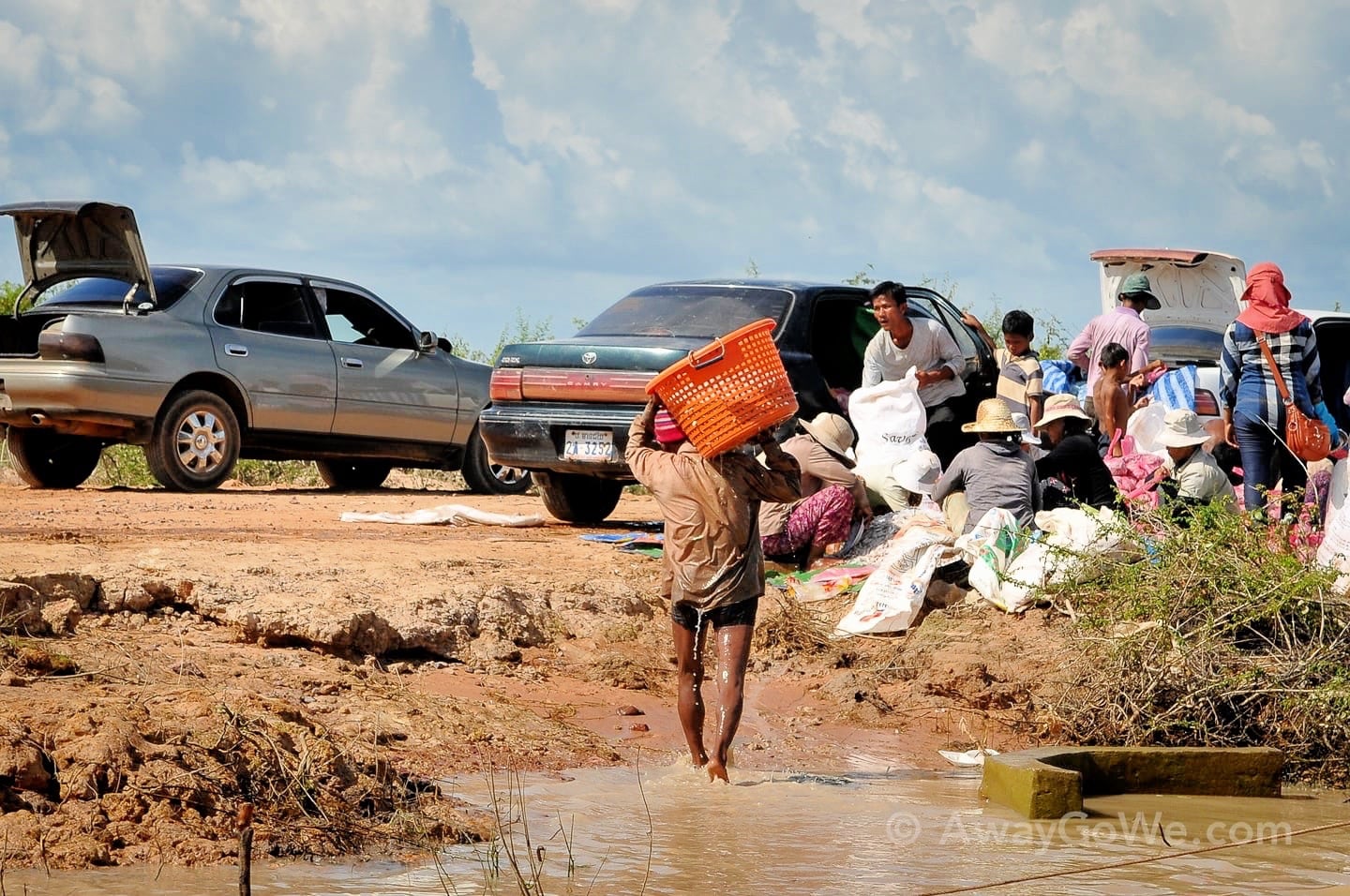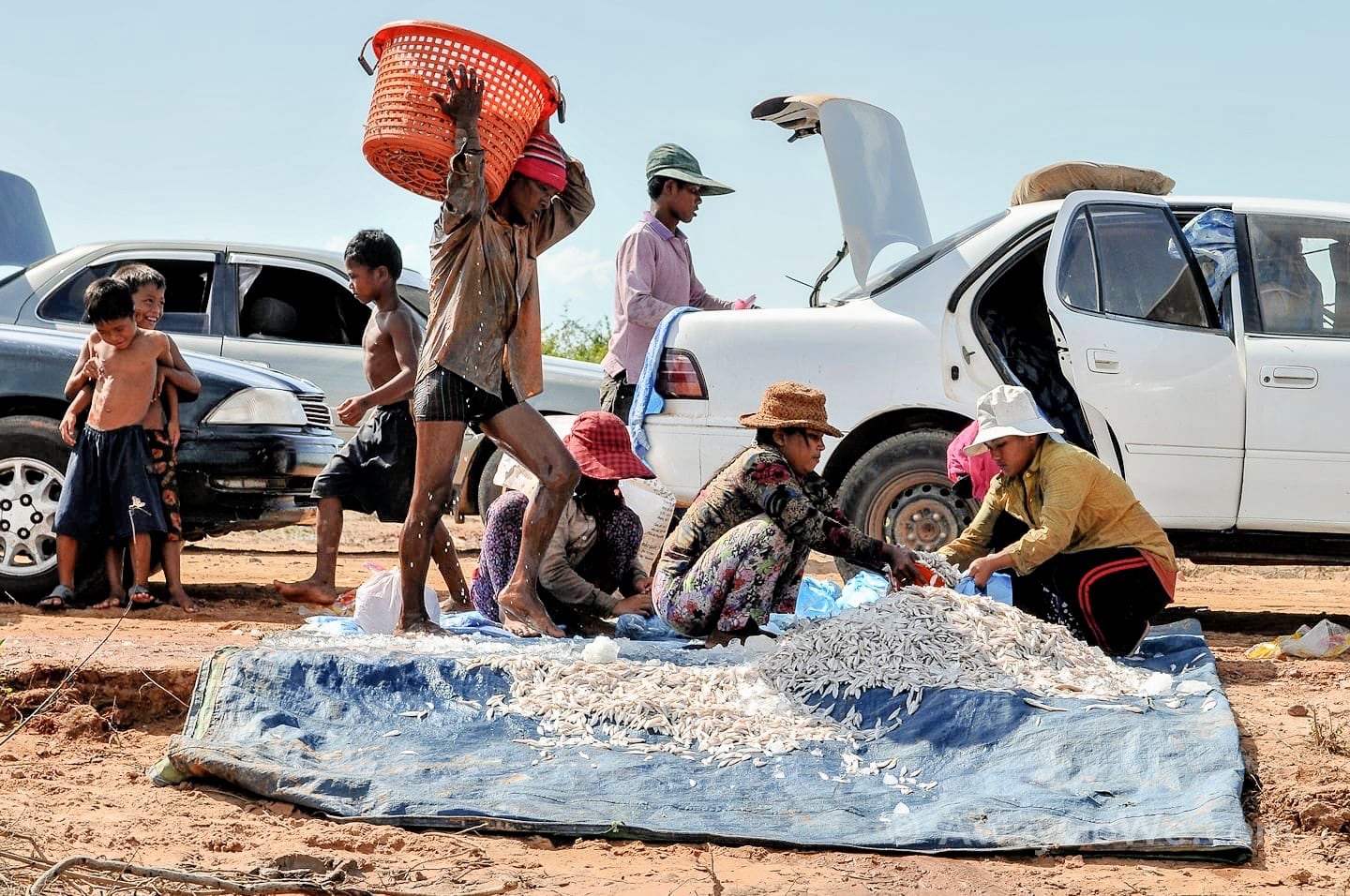 We believed Kompong Phluk was different.
We made a determination from the information we had that touring the village by boat would allow us a glimpse into this unique world with minimal impact, hopefully proving financially beneficial for the community in some way — At least that was our hope based on the information we were provided.
As our Kompong Phluk experience illustrates, making the effort to inform yourself doesn't guarantee success.
Should you visit Kompong Phluk?
Well, that's up to you, of course.
We had a great time — like I said, it was one of the highlights of our time spent traveling through Cambodia.
Obviously, there are implications. But there are implications for visiting most places worth seeing, whether it be Yosemite, the Great Wall, the beaches of Thailand, or an isolated Tonle Sap floating village in Cambodia.
The important thing is making an honest attempt to stay informed and engaged so that you can weigh the pros and cons and mitigate the more serious impacts of your visit while increasing the benefit for local people and their communities.
And maybe leave the horse-cart caravan for the tourist groups…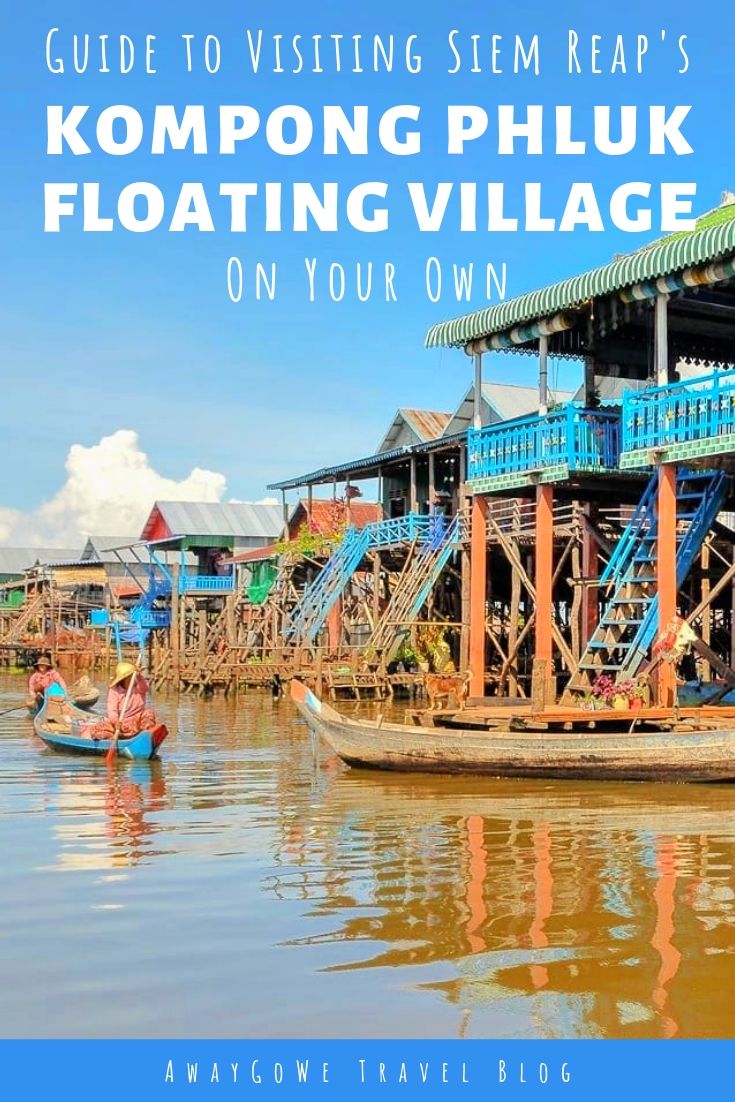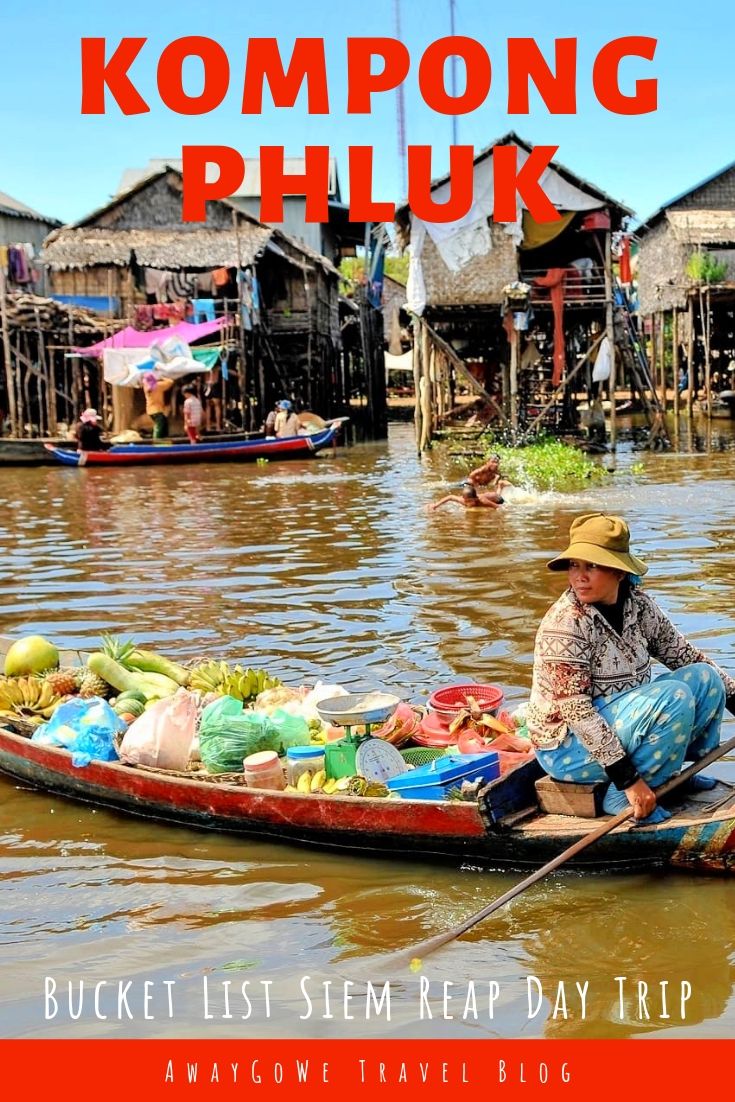 22 Jun 2019
09 Nov 2012
I've been a blogger and travel writer since 2010, covering everything from luxury hotels to hidden destinations and travel gear. Originally from Oregon, I've spent the majority of the past 20 years living outside of the U.S., in Mexico, the Caribbean, Southeast Asia, Africa, and Europe. I received a BA in Communications (Journalism) from Boston College, and an MA in International Development Studies from the George Washington University. I'm passionate about exploration and discovery, and providing independent, thoroughly-researched, ad-free advice for travelers.