Vientiane, Laos might seem sleepy and languid by Southeast Asia standards, but the Lao PDR capital might surprise you with its diversity of cuisine, quirky sights, friendly locals, and infectious sabai-sabai attitude.
Visiting Vientiane, Laos, elicits such a diversity of opinions from travelers, it's often hard to know if the laid back capital of Laos is worth a couple days of your Southeast Asia travel itinerary, or even more.
Having lived here for three years (and backpacked the length of Laos, ourselves), one thing has become clear regarding visiting Vientiane — How you interact as a visitor with this enigmatic city (and what your perception of Vientiane ultimately ends up being) very much depends on your individual travel experience and perspective.
Lori and I think we have a unique perspective to lend and are excited to share that perspective (along with insider tips) with travelers looking to get the most out of their visit to Vientiane, Laos.
Read on to discover Vientiane's best experiences, hidden places to visit (and not so hidden), helpful tips for planning your visit, and why you should visit Laos and Vientiane in the first place. Enjoy!
▸ Looking for travel medical insurance? SafetyWing offers low-cost overseas medical coverage tailored to international travelers.
We're reader supported and may earn a commission from affiliate links on our site at no cost to you.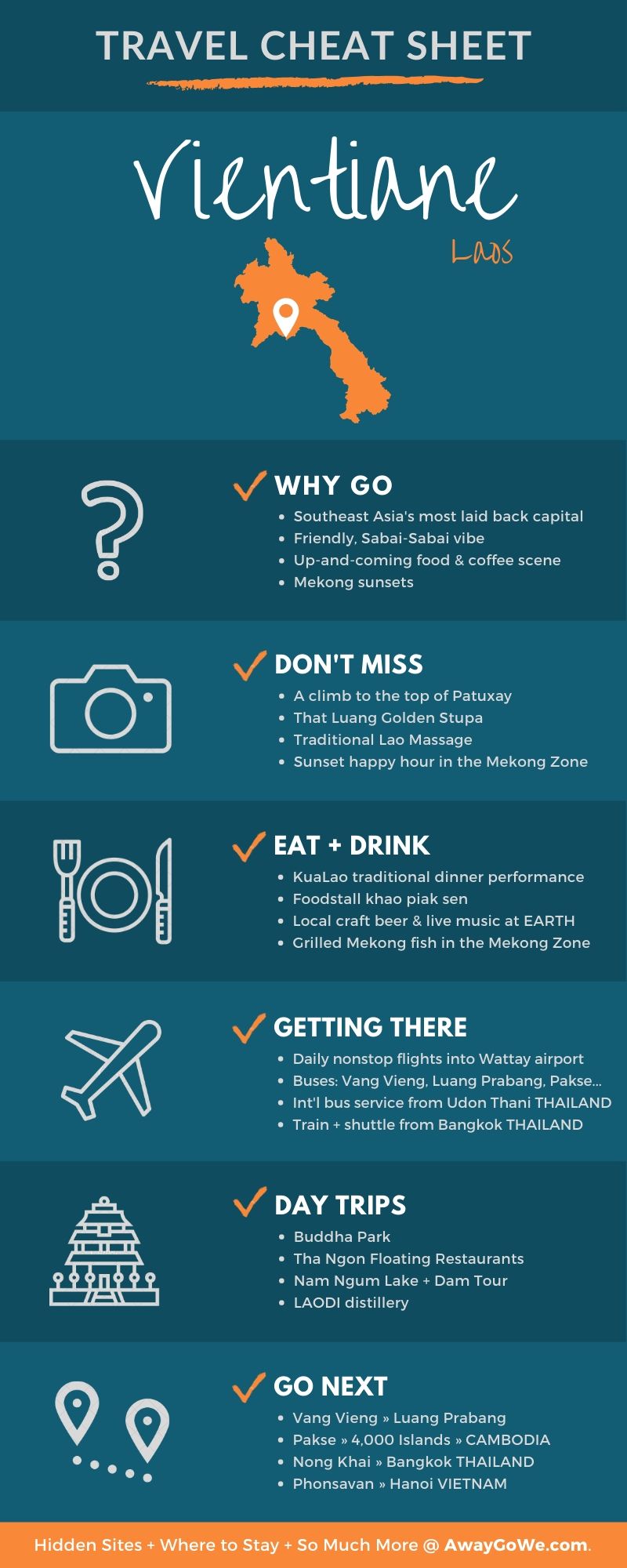 A Detailed Guide to Vientiane, Laos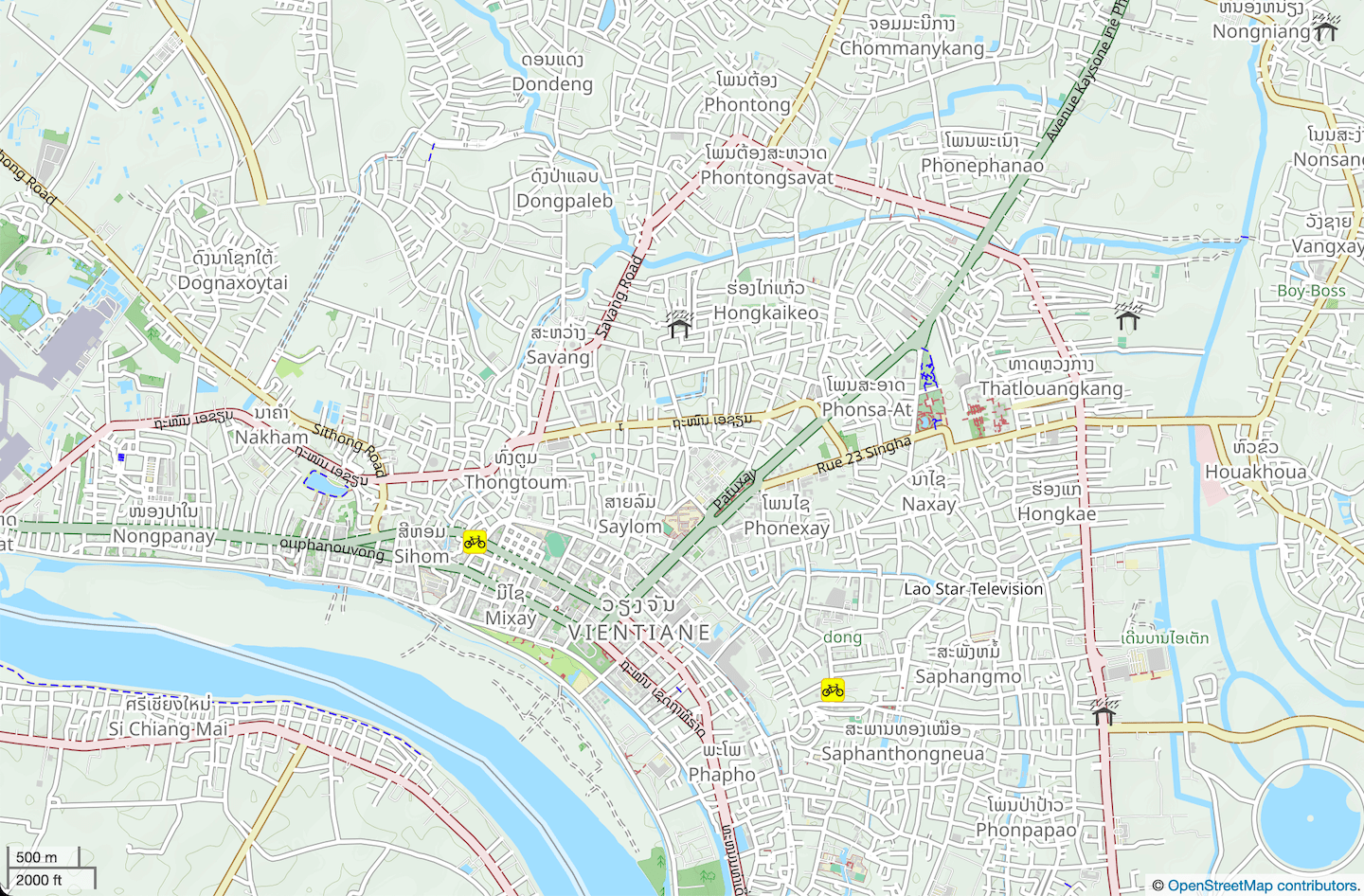 Introduction to Visiting Vientiane
Lori and I first approached Vientiane via a long bus ride from Luang Prabang, and approached Laos, in general, on the heels of four months of budget backpacking through China, India and Thailand.
For us, the laid back and friendly nature of the Laos people and culture was a breath of fresh air after struggling for months with aggressive peddlers, aggravating taxi and tuk-tuk drivers, and relentless hustlers.
Of the six national capitals Lori and I traveled through during that time, Vientiane was the only one we knew absolutely nothing about, and at just over half a million inhabitants, it was by far the smallest.
We literally had zero expectations and found Vientiane a most agreeable place.
For you, Vientiane may represent a relaxing foodie paradise a world apart from the materialism and go-go-go of better-known Southeast Asia capital cities, or it may represent nothing more than a boring backwater, depending on your point of view.
If you visit expecting to find French-colonial charm and evocative Buddhist temples on par with Luang Prabang, you may well be disappointed.
If you come expecting to find a fast-paced, maddening, cosmopolitan mega-city comparable to Bangkok or Ho Chi Minh City, you'll also likely find yourself disappointed.
If, however, you come to Vientiane with few preconceptions, an open mind, and an adventurous spirit, you will likely find yourself well-rewarded for doing so.
Here, we've put together a guide for visiting Vientiane based on our own experiences living in and traveling through this unique city and the rest of Laos.
Lori and I have hosted a number of visitors over the past few years, which has resulted in the bringing together of a lot of information that we would like to share with you.
We hope this guide to visiting Vientiane helps answer questions of what to do in Vientiane, where to eat and drink, where to stay, and how best to approach this often overlooked corner of Southeast Asia.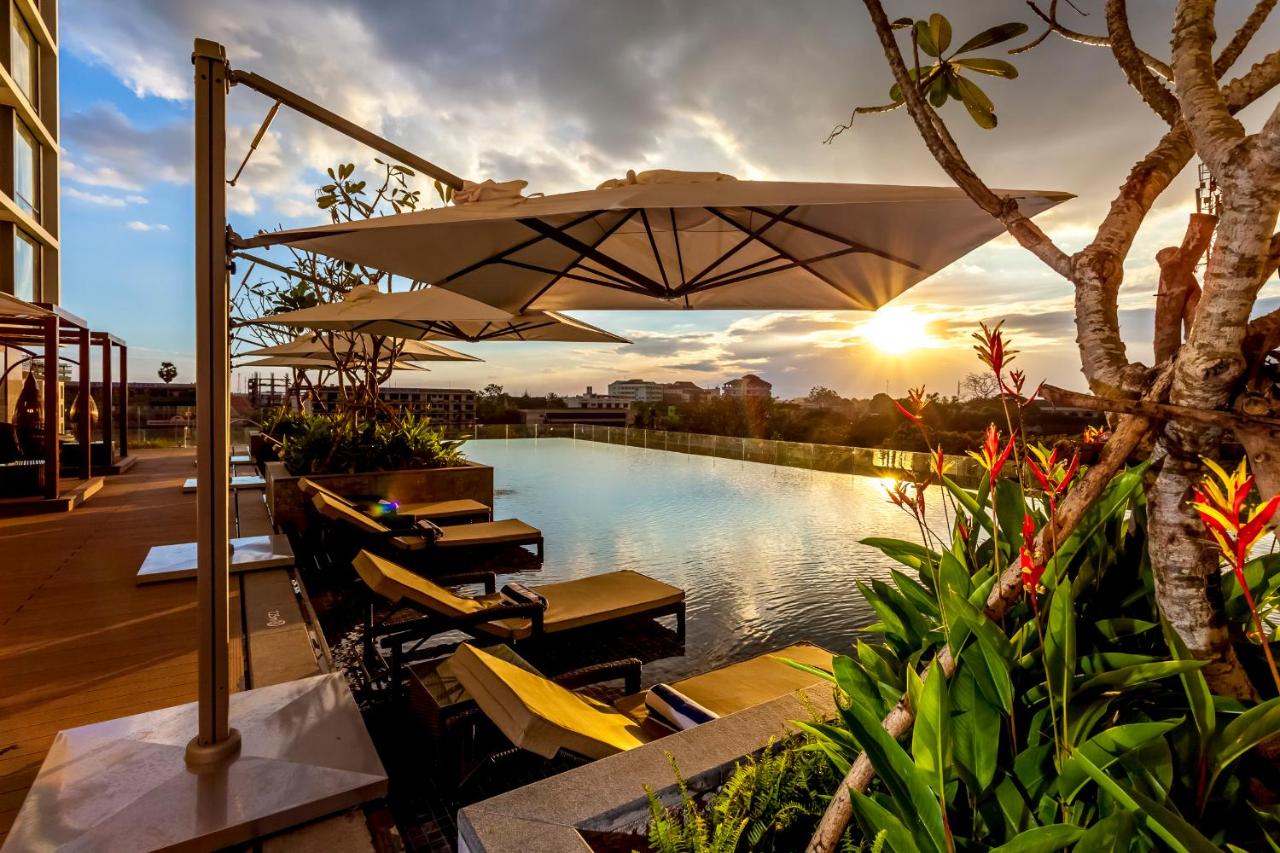 Where to Stay in Vientiane
Vientiane's got a TON more lodging options than you might think. If you don't know the lay of the land, it can seem like an impossible task to choose the right one.
Here are our top choices for places to stay in Vientiane — all highly-rated, centrally-located, and loaded with amenities for international travelers.
Crowne Plaza Vientiane
OUR TOP UPMARKET / BUSINESS CHOICE. If you're looking for a top-rated international brand hotel with luxury amenities close to the city center, Crowne Plaza Vientiane is the best option available in Vientiane. Their onsite restaurant 3 Merchants is simply outstanding and comparable to the best restaurants you're likely to come across in Hanoi, Phnom Penh, or even Bangkok.
Lao Poet Hotel
OUR TOP MID-RANGE BOUTIQUE PICK! Lao Poet Hotel's lux touches, rooftop pool, and very centralized location never disappoint. Excellent onsite terrace and bar for some of the best sunset views in town.
Barn1920s Hostel
OUR TOP BUDGET PICK! Barn1920s Hostel is located in a recently updated French-colonial building is one of the best places in town to meet other travelers AND grab a great cup of coffee. Featuring a garden, shared lounge, and bar, this top-rated retro hostel is a leisurely 10-minute walk to the Mekong and the city's best restaurants.
Sailomyen Hostel
OUR TOP BUDGET TO MID-RANGE PICK! Sailomyen Hostel offers mod touches and upmarket amenities for pennies on the dollar. Features an excellent onsite coffeeshop and an excellent location within a 10-15 minute of the City Center's top restaurants and attractions.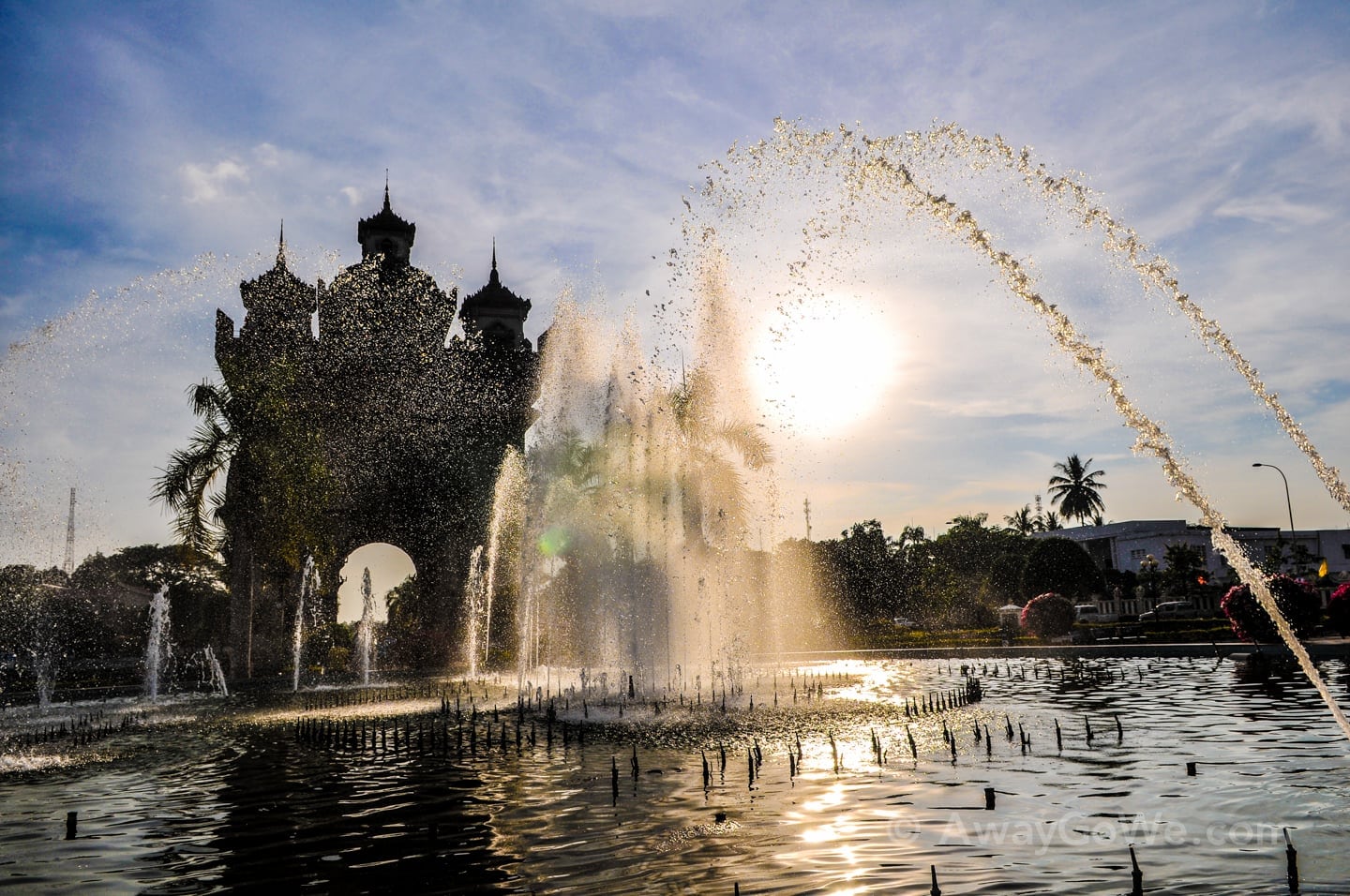 Best Things To Do in Vientiane, Laos
If you're staying downtown, you have the lion's share of Vientiane's best eateries footsteps away.
You also have a half dozen interesting and historic Buddhist temples to wander through, along with opportunities to commune with the locals and the Mother of Waters, the Mekong River.
Unfortunately for visitors, however, Vientiane's main attractions are spread over many miles across the city.
While it is possible to walk, there are better ways to see all of the sights, particularly when things really start to heat up from March to October (for our top tips on getting around, see our section on Getting Around Vientiane below).
Here's a list of top sights in Vientiane that we think are worth your time, along with some of our favorite lesser-known attractions.
Top Attractions
Patuxay Victory Monument
Top Temples – Wat Si Saket, Wat Si Muang, and Haw Pha Kaeo.
COPE Visitor Centre
Museums – Lao National Museum (under construction) & Lao People's Army History Museum
That Dam (Black Stupa)
Talat Sao (Morning Market)
Presidential Palace, Chao Anouvong statue, & Night Market
Other Worthwhile Attractions
Villa Lao Cooking School
Phat Tich Vietnamese pagoda
Kualao Restaurant (live music & dance)
Far From City Centre
Lao Textile Museum
Lao Disabled Women's Development Centre
Lao Brewery Company (LBC) brewery tours
Popular Festivals in Vientiane
Vientiane hosts a number of cultural and religious festivals throughout the year that are worth experiencing if you find yourself in town.
3-day long That Luang Festival (usually in November) might just be the biggest religious festival of the year, with thousands of devout Buddhists taking part over the extended holiday season. Check out our full guide on experiencing this unique view into Lao culture and life.
The Vientiane Boat Races (held September/October) are the finals for the nationwide Laos Boat Racing Festival held each year to mark the end of Buddhist Lent. Read our detailed guide here.
Pi Mai is the biggest festival of any kind in Laos held to mark the Lao New Year (Buddhist New Year) every April.
More Related Articles & Guides: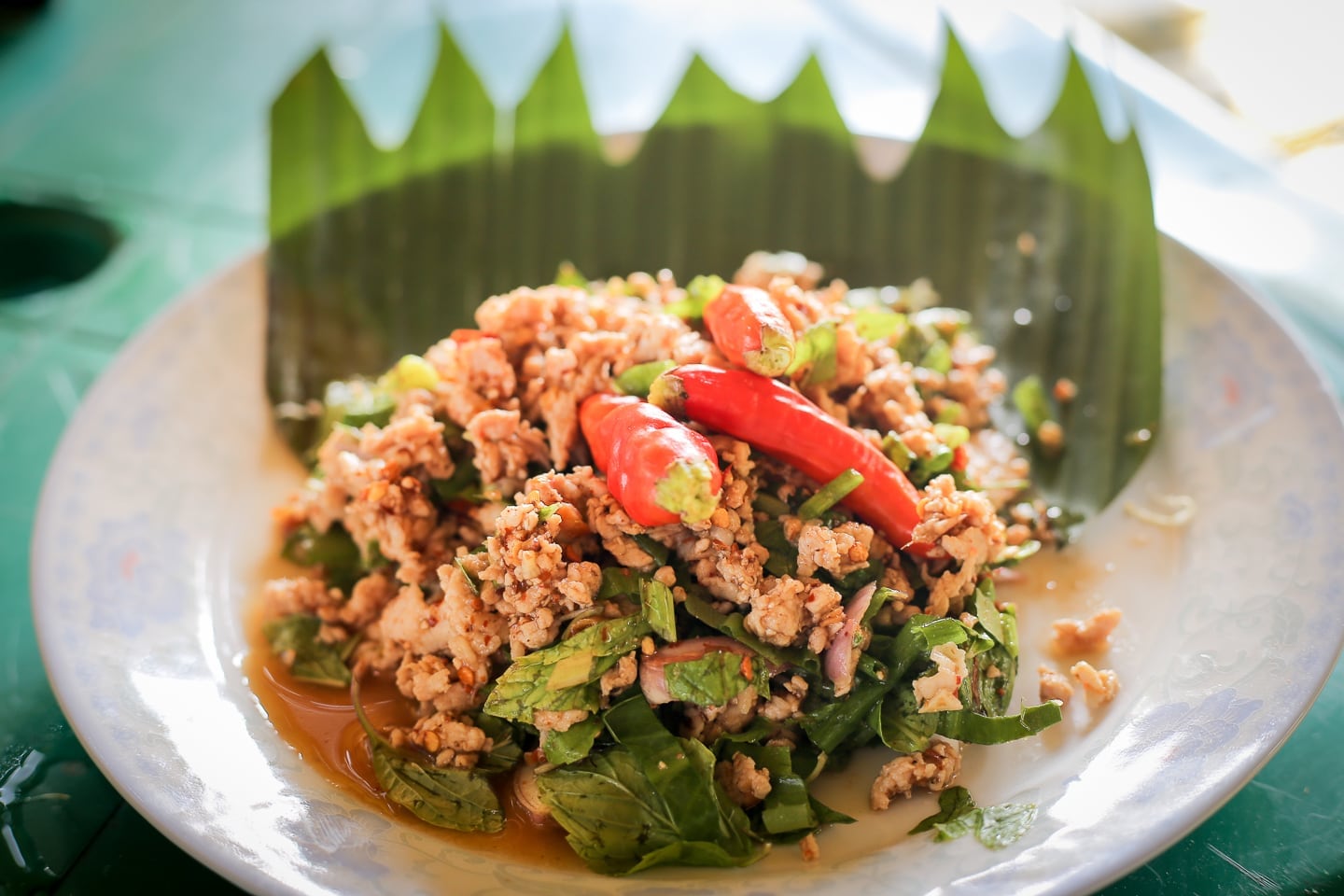 Where to Eat + Drink in Vientiane?
There are way too many great restaurants and bars to list here, so Lori and I are only giving you our favorites (so far).
Most of these places are budget to mid-range. We know there are a lot of fancier, more expensive options in Vientiane now, but we haven't yet made it to those places so we can't recommend them there.
On the other side of the spectrum, there are a lot of local/ street food eateries we really enjoy, particularly in our neighborhood (Ban Phontan) that are challenging to describe here as they don't have Romanized names and are far from the typical tourist destinations. However, we're hoping to devote a future article mapping those favorites as well.
You can search for any of these places on Google maps and find the location for getting yourself there.
For Short-term Visitors
Makphet – Some of the best Lao food in town and also a cooking school (update 2021: Sadly, the original Makphet has closed, but Mini Makphet has proved a promising reboot) [Downtown, near That Dam Black Stupa].
Kong View – Lao food, outdoor atmosphere & Mekong sunset views (we go for dinner) [near Wattay airport].
Kualao – Lao food and traditional music & dance performances (dinner) [Downtown, near That Dam Black Stupa].
Le Vendom – Our favorite French Bistro in town with great atmosphere (dinner) [Downtown, near Wat Inpeng].
Khop Chai Deu – Lao food & outdoor ambience (we go for dinner) [Downtown, near Namphu Fountain].
PVO – Awesome low-key Vietnamese food joint (we go for lunch) [Downtown, between Wat Simuang and Wat Sisaket].
Kung's Cafe – Lao food (we go for breakfast/brunch) [near Wat Simuang].
Kheg – Lao food & outdoor garden atmosphere (we go for lunch – we've heard they're in the process of moving) [near Patuxay Victory Monument].
Doi Ka Noi – Fresh Lao food & outdoor garden atmosphere (we go for lunch/ dinner on weekends) [near That Luang Golden Stupa].
Koon Duck – Lao & Thai street food (dinner) [various locations, usually in front of a Mini Big-C].
For International Cuisine
Pimenton – Tapas & Spanish food (dinner) [downtown]
Taj Mahal Halal – Delicious Muslim Indian food (dinner) [downtown]
Sputnik Burger – Great American-style burgers! (dinner) [downtown, Ban Haysoke]
Flavours & Spices – Delicious Indian food (dosas!) [Sisattanak]
Soul Kitchen – Superb Italian/Pizza (dinner) [near Wat Simuang].
Privet – Excellent Russian restaurant [Sisattanak near Russian Embassy]
Senglao Cafe – Hi-So Lao and International cuisine in a hollywood-themed garden setting [Saysettha near Japanese Embassy].
Our Favorite Watering Holes
Mekong Zone – Nearly a quarter mile of local bars and eateries fronting the Mekong River [downtown].
Earth Bar – Great mix of people, live international music, and craft beer [downtown, Ban Haysoke].
Le Patito – Cafe, Brewery and huge swimming pool! [Sisattanak]
Khop Chai Deu – Multiple levels of outdoor drinking opportunities [downtown, Namphu Fountain].
Ban Lao Beer Garden – Funkiest and most laid back beer garden in town [downtown].
Chokdee Belgian Beer Bar – Enjoy one of dozens of Belgian beers on tap and delicious offerings from the Motherland.
Bor Pen Yang – Legendary local bar, a bit of a hike up to the fourth level, but worth it for the Mekong sunset views! [downtown]
The Beer House – Belgian beers galore, in a cozy, garden atmosphere [downtown, near Chao Anouvang Stadium].
Spirit House – The premiere watering hole on the Mekong with one of the largest drink menus in town [downtown].
Suntara – Newly opened in the Vientiane New World complex. Mekong views from a large deck [Vientiane New World].
Tully's Irish Pub – What you'd expect from an Irish Pub, but unique offerings for Vientiane [downtown].
Mekong Beach – BYOB and hang out on the Mekong's sandy beach in the dry season.
Our Favorite Coffee Shops & Cafes
Le Trio Coffee – Superb coffee, roasted in-house. This is where I get my coffee beans for home brewing (they've got some of the best cold brew in town as well) [downtown].
Cafe Vanille – Where expats go to see and be seen. Their savory crepes are amazing. [3 locations: Downtown in the old Le Banneton, Saysettha and Sisattanak]
Tit Kafe – Walk-up and dine-in coffee shop. Best Nitro cold brew in town [downtown].
Common Grounds – Comfortable cafe with Western offerings and large kids play area [downtown].
Bakery by Boris – French bakery with a variety of pastries and sandwiches [Wat Simuang]
JOMA – North American style coffeeshop with Western. Try their smoked salmon bagel sandwich & Signature Lao Iced Coffee. Kids play area at Phontan location [3 locations: Namphu Fountain, Phontan Village and That Luang].
Once Upon a Time – good food, coffee & comfy tropical-industrial ambience [2 locations: Downtown and Ban Phontan].
Little House Cafe – Japanese coffee shop. Superb coffee, amazing pastries and desserts, and nice outdoor garden area. Try their double-strength iced coffee and rich chocolate truffle balls. [near Wat Simuang].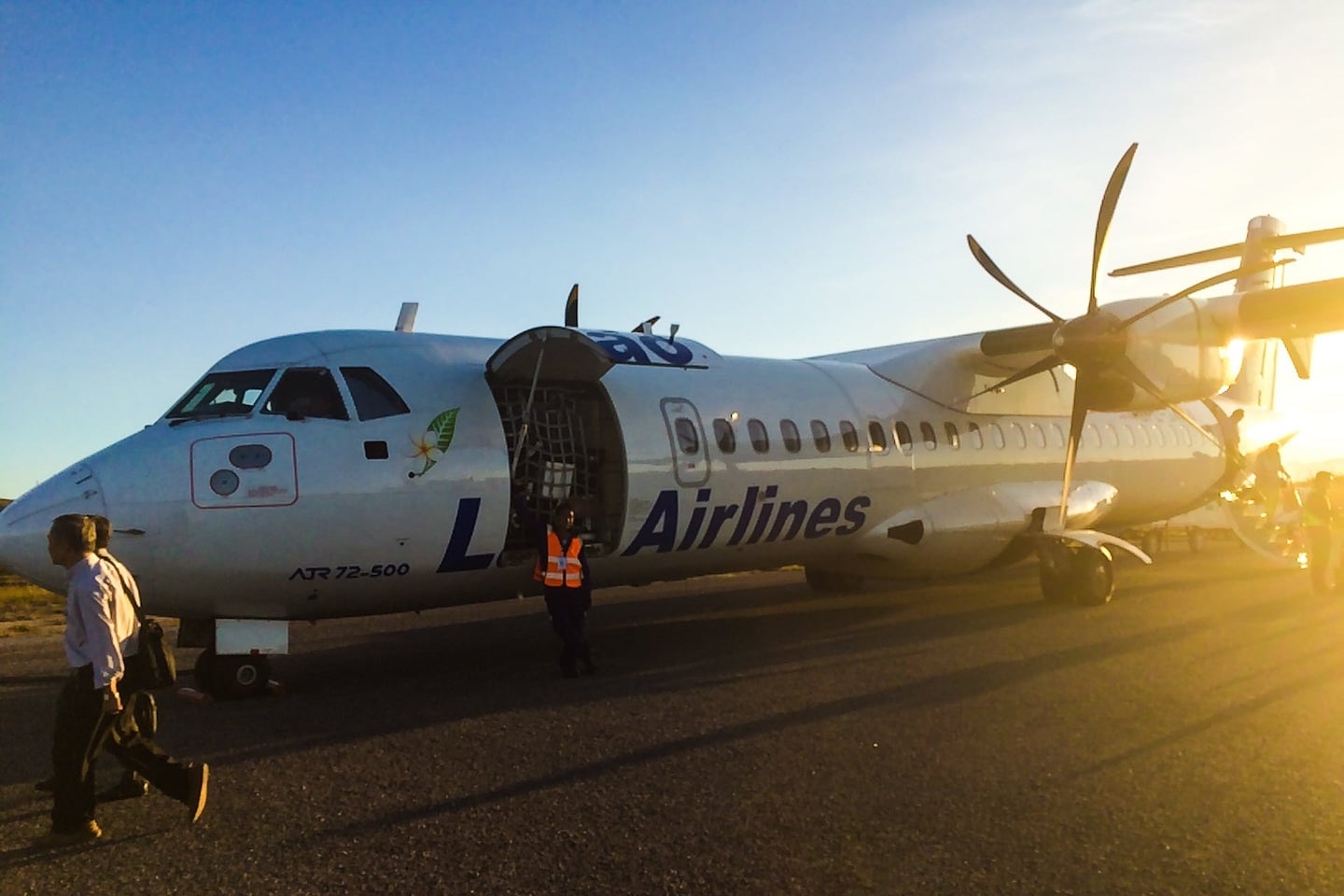 How to Get to Vientiane
Wondering how to get to Vientiane? Getting to the laid back capital of Laos might seem easy, but there's a few things you should know before planning your trip.
Visa On Arrival
As of July 2019, getting a visa on arrival at Wattay International Airport is quick and painless for most nationalities.
For U.S. citizens, you just need to bring your passport, a passport size photograph, the paperwork you receive on your incoming flight, and the visa fee in U.S. currency (USD).
Currently, the fee is US$35 for U.S. citizens.
Flying into Vientiane (Wattay Airport)
Vientiane is NOT a major travel hub and can be costly to fly into. Many carriers, however, offer deep discounts 90 days or more prior to the departure date.
Prior to March 2020, only a handful of carriers had regularly scheduled international non-stop service to Wattay International Airport.
Cities with nonstop international service to Vientiane in 2019:
Bangkok (Thailand)
Hanoi & Ho Chi Minh City (Vietnam)
Kunming, Guangzhou, and Shanghai (China)
Kuala Lumpur (Malaysia)
Seoul (South Korea)
Siem Reap (Cambodia)
The primary airline companies that operate out of Wattay International are:
Lao Airlines
Lao Skyway
Thai Airways
AirAsia
Bangkok Airways
Cambodia Angkor Air
China Eastern Airlines
Jin Air
Sky Wings Asia Airlines
T'way Airlines
Vietnam Airlines
Flying Into Udon Thani, Thailand
Think twice before booking a flight to Bangkok or Udon Thani (Thailand) with the intention of taking land transport the rest of the way to Vientiane.
If you have plenty of time and want to go this route for the experience, by all means, do it!
However, if you're short on time and want to go this route simply to save money, it may very well end up costing you more money than flying into Vientiane, not to mention costing you valuable vacation time.
Getting to Vientiane by Rail
Pre-March 2020, there were regularly scheduled overnight trains from Bangkok to Nong Khai, Thailand (just over the Friendship Bridge from Laos).
From Nong Khai, you can catch a shuttle train the short distance over the Thai-Lao Friendship Bridge to Thanaleng Station in Laos.
Unfortunately, Thanaleng Station is 14 miles from downtown Vientiane. But, there are shared minivans at the station to take you the rest of the way.
We've found the sleeper cars on Thai trains to be very comfortable and a good value for the money.
Getting to Vientiane by Bus
Vientiane has three major bus stations:
Kua Din (Central) Bus Station
Northern Bus Station
Southern Bus Station
For destinations in Vientiane Prefecture (such as Buddha Park) most buses currently leave from behind the old Kua Din bus station (near Talat Sao / Morning Market).
Northbound intercity buses (Veng Viang, Luang Prabang, etc.) leave from the Northern Bus Station just north of the Wattay International Airport.
Southbound intercity buses (Thakhek, Savannakhet, etc.) leave from the Southern Bus Station, about 7 mi. northeast of town, naturally.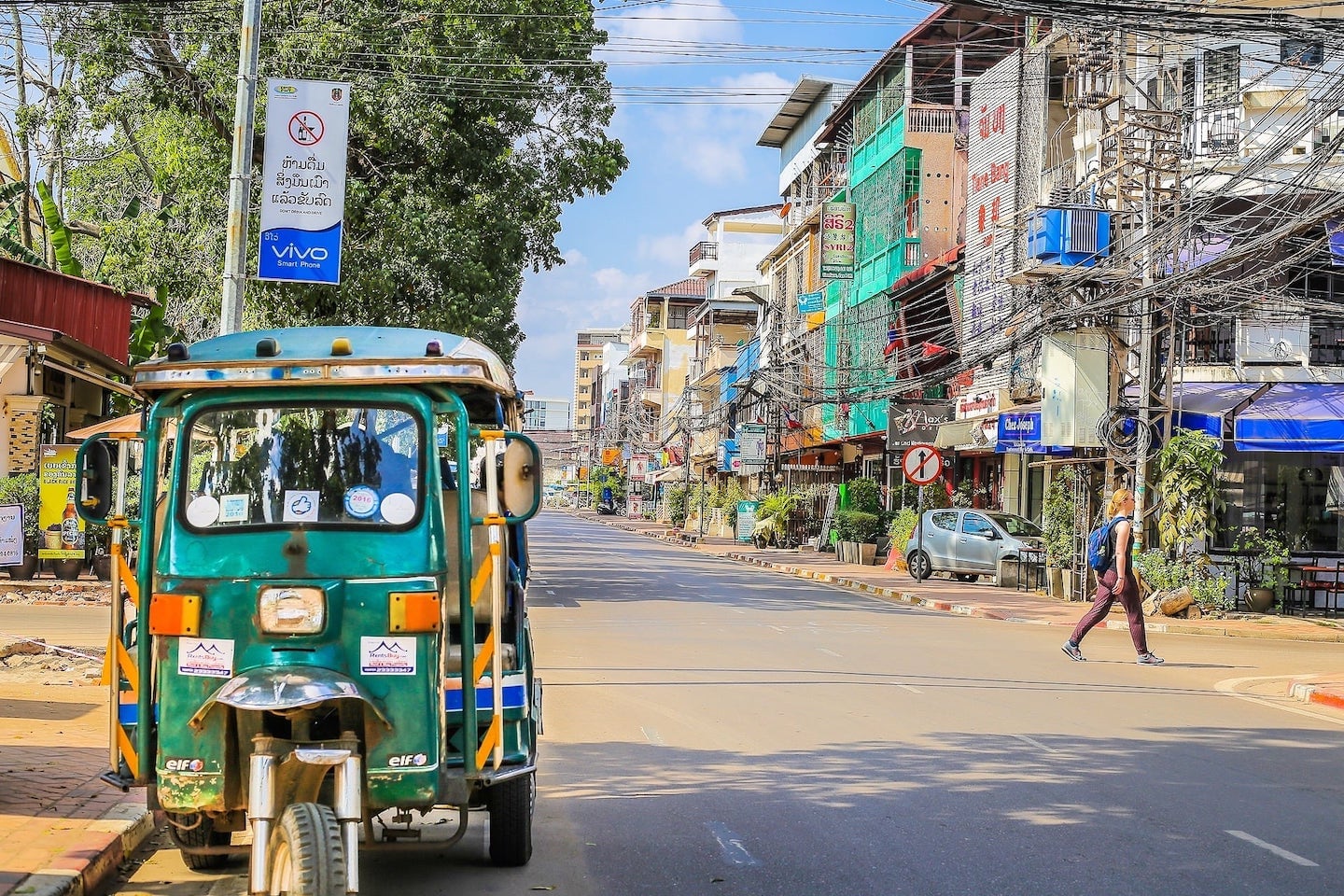 Getting

Around

Vientiane, Laos
Getting around Vientiane isn't easy. The Laos capital isn't a major travel hub and bus options are limited. Here's how to get around Vientiane like a pro.
Upon arriving in Vientiane, many first-time visitors to Laos are surprised with the low level of infrastructure, lack of transport options available, and simply how difficult it can be getting around Vientiane.
Coming from Bangkok, Hanoi, or most other popular Southeast Asia destinations, getting around Vientiane can frustrate even the seasoned traveler.
Through a lot of trial and error in the three years we've lived here, we've learned a lot of great tips for best ways to get around Vientiane. We've compiled our top tips for how to get around Vientiane Capital in this section.
Around Vientiane on Foot
If you're only in Vientiane for a few days and staying downtown, you won't need to worry much about transportation.
The majority of the city's best eats are concentrated downtown in a four-block corridor along the Mekong.
Some of the city's more major attractions, such as Wat Si Saket, That Dam, and the Mighty Mekong can all be easily accessed on foot, and Patuxay Victory Arch can be reached on foot with just a bit more effort.
Public Buses
Vientiane does not yet have an urban rail system and the public bus system won't be very helpful to short-term visitors to Vientiane.
With the exception of taking the #14 bus from Kua Din (Central) Station to the Lao-Thai Friendship Bridge or Buddha Park, the public bus and songthaew routes that do exist are not easy to figure out for those with minimal Lao language skills.
Tuk-Tuks, Songthaews & Taxis
For sightseeing away from central Vientiane, tuk-tuks and songthaews are common throughout the downtown area but are far more costly than Phnom Penh or even Bangkok. Individual trips can quickly add up if you are trying to see a lot in one day.
A smarter idea may be to hire a taxi or tuk-tuk through your guesthouse for a set number of hours if you plan to be moving around a lot.
Oddly, we've consistently had to pay much more for tuk-tuks and songthaews than we do for taxis, so keep in mind that a taxi may be the cheapest option for visitors to get around Vientiane.
Bike & Motorbike Rental
Renting a bicycle or motorbike is also a great option for getting around Vientiane, particularly if you plan to stick to the area around downtown. Bicycles and motorbikes can be rented for a low fee from a number of guesthouses in the city center.
Biking can also be a great way to see farther off sights, such as Patuxay, That Luang, and even Buddha Park, but many visitors may feel uncomfortable riding in Vientiane traffic, particularly around rush hour, due to the number of motorbikes and seeming lack of organization.
With that in mind, Sundays are generally a great day for exploring the city on two wheels, as most of the roads are quiet and relatively deserted.
Renting a Car
Depending on your plans during and after your visit to Vientiane, renting a car may be a better choice.
A few major rental car companies have offices at Wattay International Airport. We've found that Budget generally has the best rates there.
Tour Options
If you'd rather have your transport planned out and see as much as possible in a short amount of time, there are a few good options in town to join a group or private city tour.
Green Discovery is one of our favorites, but your guesthouse staff may have more options to choose from as well.
We've also heard great things about Tuk Tuk Safari, but have not yet utilized their services, ourselves.
Viator and GetYourGuide also have numerous tours from Vientiane that you can book online in advance with trusted tour operators.
Airport Transfer
Transport to/from the Wattay International Airport is straightforward.
Getting From Wattay Airport
At the airport, visit the Taxi desk near the front doors to arrange an official taxi to any place in town.
Expect to pay between 50,000-100,000 LAK (US$6.00-$12.00) depending on your destination in the city. The ride to/from the airport usually takes around 15-25 minutes.
If you'd like to arrange a private shuttle from the airport to your hotel ahead of time, you can book online in advance.
Getting To Wattay Airport
In terms of getting to the airport or any of the bus stations, your guesthouse can easily arrange a pick-up, or you can flag down a tuk-tuk or songthaew at any number of points downtown.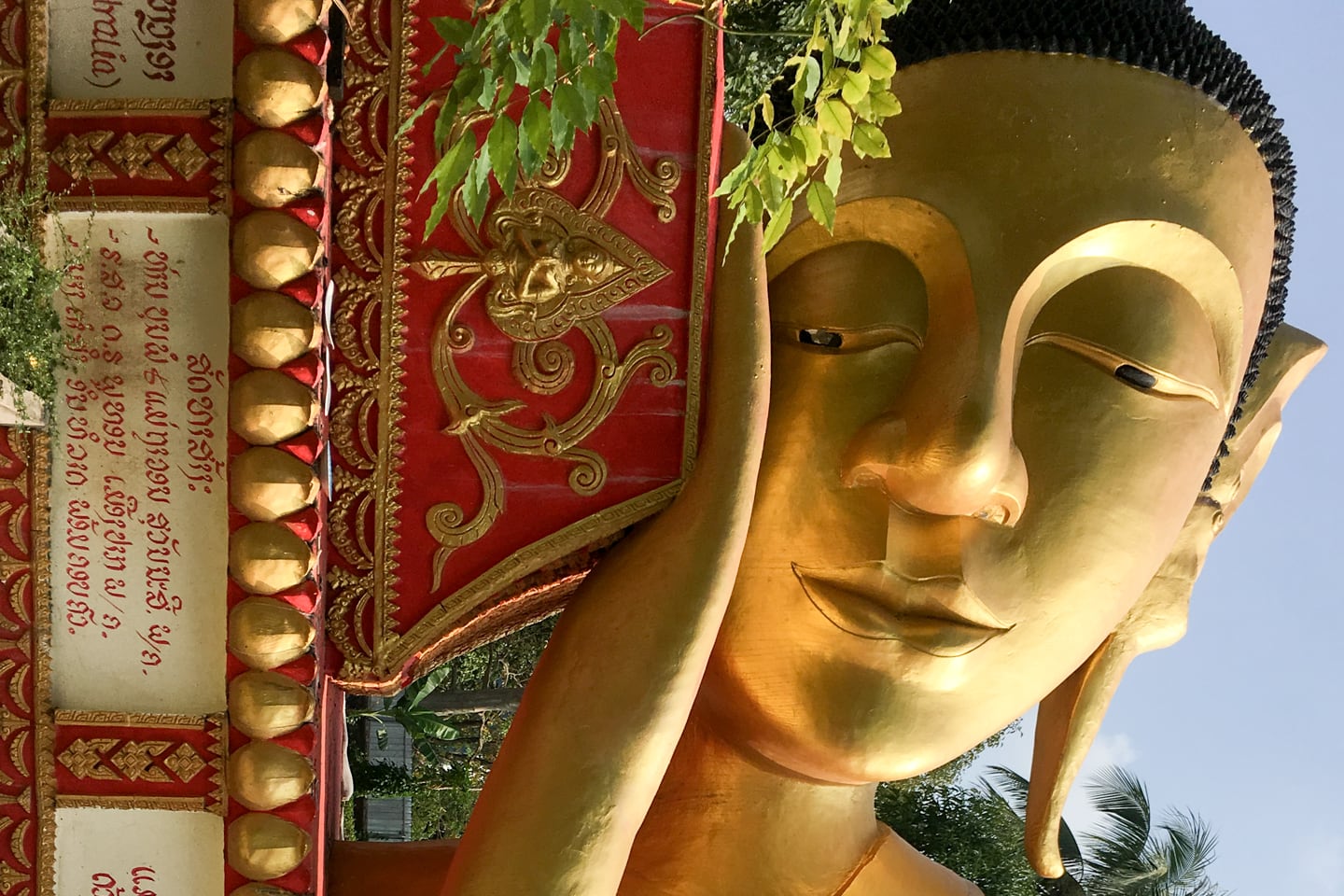 Practical Information
Language
The most widely spoken language in Laos is Lao, which bears some semblance to Thai. While a former French colony, you may not hear French widely spoken in Vientiane today. English is becoming increasingly more common, particularly among those under the age of 40.
Time Zone
Vientiane time is GMT/UTC+7.
Simple time zone conversion online resource: thetimezoneconverter.com
Electricity
The most common outlets accommodate 230-volt, 2-prong Euro or North American-style electrical plug (see photo below).
Any U.S. 2-prong plug device that's rated for 230v (e.g. most home electronics chargers which are generally 110v-240v) will work perfectly here. 3-prong (grounded) plugs will need an adapter.
Most standard 2-prong Euro-style plugs should work fine (though we've found some have a tendency to have a problem staying seated firmly in the socket).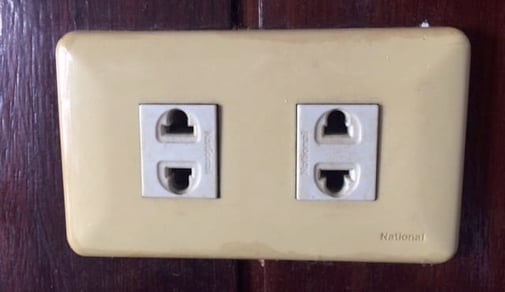 Public Restrooms
Public restrooms cost between 1000-2000 Kip, so keep a few small bills on you in case the spirit catches you.
Tropical Diseases & Prevention
Yes! Vientiane is in the tropics and does have the occasional outbreak of mosquito-borne infectious diseases. It also harbors its fair share of food-borne illness.
Visit a reputable travel clinic, preferably staffed with providers with knowledge and experience of Southeast Asia, well before your departure date.
To find a travel clinic near you, visit the International Society of Travel Medicine's Online Clinic Directory.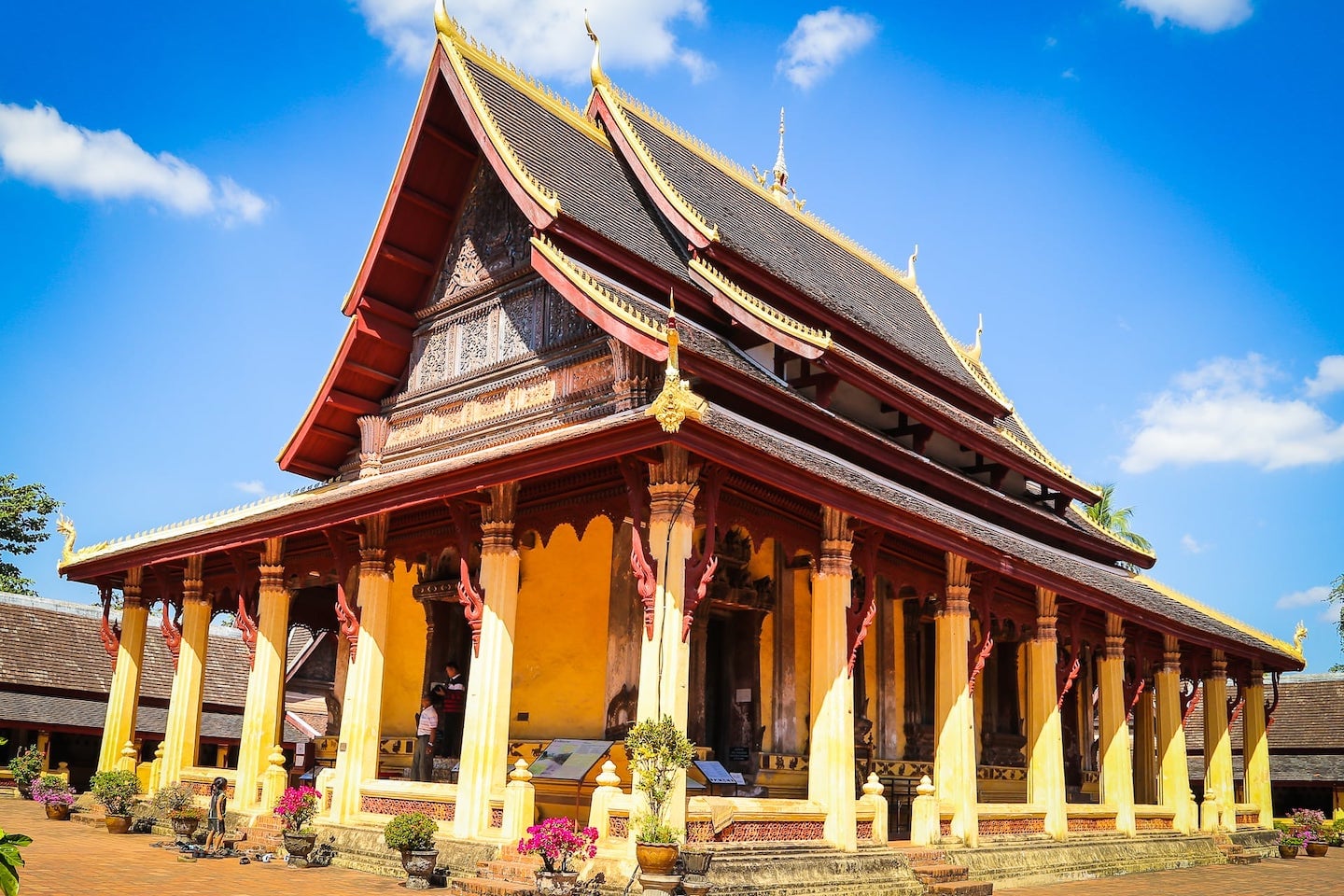 Vientiane DOs & DON'Ts
Some helpful considerations for planning your visit to Vientiane. A couple may surprise you.
DON'T wait until the last minute to book inbound flights, particularly from Europe or the Americas.
DON'T be afraid to visit in the rainy/low season — guesthouses will often offer a discount and booking ahead generally won't be necessary.
DO book ahead in high season (December-February) if you don't have flexibility of time, cost or location.
DO take a tuk-tuk or songthaew around the city center.
DO check business hours ahead of time — many shops, restaurants and museums are closed on Mondays.
DON'T bargain too hard — Laotian vendors are generally fair and honest and don't mark up their wares for tourists like neighboring countries.
DO use the calculator on your phone to agree on a price — If you learn a few numbers in Lao ahead of time, even better.
DO stay as close to the city center as possible or budget for transport.
DO try and speak some Lao while in Vientiane.
DO treat the monks with the utmost respect — ladies, avoid situations that might place you in accidental contact.
DON'T worry about flushing toilet paper or placing in receptacle — if there is an obvious receptacle, use it, but Vientiane's plumbing is surprisingly forgiving.
DON'T flush anything but toilet paper — You will live to regret it.
DON'T drink the tap water — Brushing teeth and showering in the tap water is perfectly fine. You can generally bet on water and ice cubes served at restaurants being filtered and good to drink.
DO eat street food — But be cautious of food (particularly meat) that is not hot and/or has been sitting out for a while. Food hot off the grill/wok is generally fine.
DO consider a probiotic regimen before visiting Vientiane if you have concerns about eating local/street food or have experienced issues in the past.
DO visit a local fresh market.
DO catch at least one Mekong sunset during your stay here — they are pretty amazing.
Planning an Unforgettable Trip to Laos?
Check out our other helpful travel guides from around the country!
And That's Our Insider's Guide to Visiting Vientiane, Laos
Have you visited Vientiane? What did you love? What didn't you love? Tell us in the comments.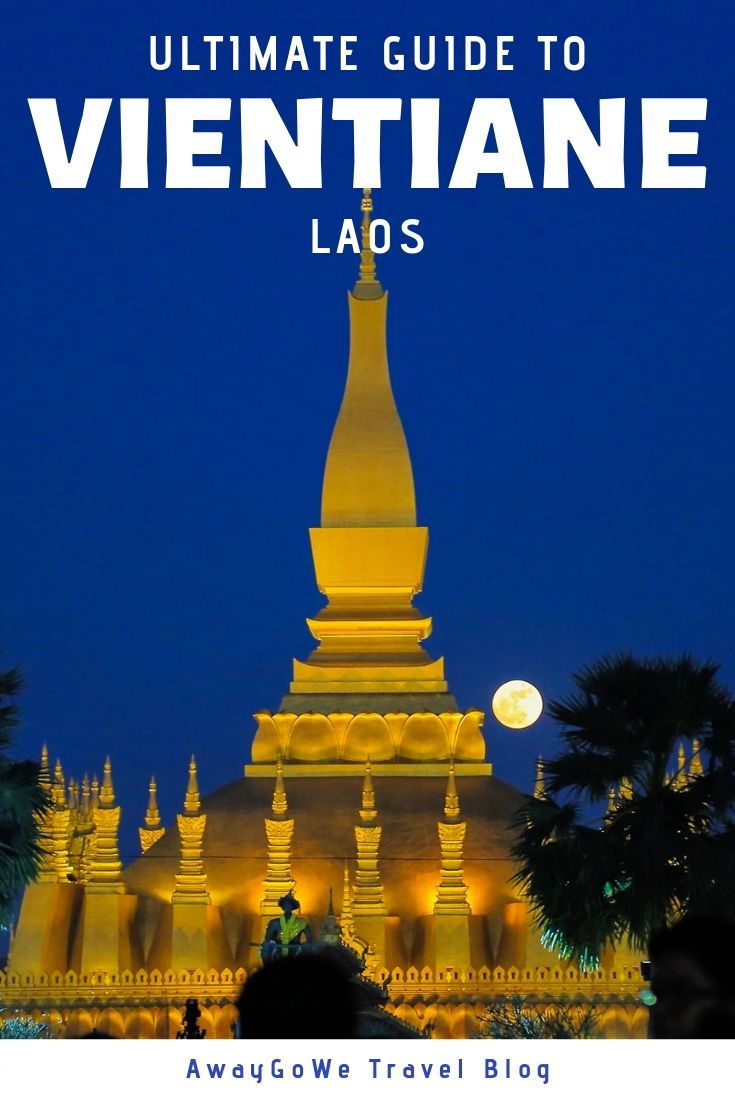 19 Nov 2021
23 Nov 2017
We use affiliate links and may receive a small commission at no extra cost to you. Learn more in our privacy policy.