The Thakhek Loop is a 350 km (220 mi) route popular with independent travelers passing through Laos. Motorbiking this stunning and unique circuit is a bucket list adventure that can't be missed if you find yourself in the region.
Here's our essential Thakhek Loop guide from two expats currently living in Laos who have done the loop twice over a five year period.
We'll cover important tips and considerations on getting outfitted, when to go, where to stay, what to see and do, costs, cultural considerations, safety and security, and how conditions have improved over the years (including an update on current conditions).
We've also included links to our original trip reports from both our journeys, including lots of photos to whet your appetite for adventure.
(Psst…don't miss our Thakhek lodging recommendations towards the end of this post!)
What is the Thakhek Loop?
Most riders begin the Loop in the city of Thakhek (Tha Khaek) and ride in a counter-clockwise direction around the Phou Hin Poun National Bio Diversity Conservation Area.
The current route (as of 2019) follows Route 12 east out of Thakhek (Tha Khaek) to Nakai, before heading north on Route 1E (formerly 8B). At Laksao, the route heads west on Route 8 via Nahin, before rejoining Route 13 at Vieng Kham for the final stretch south back to Thakhek.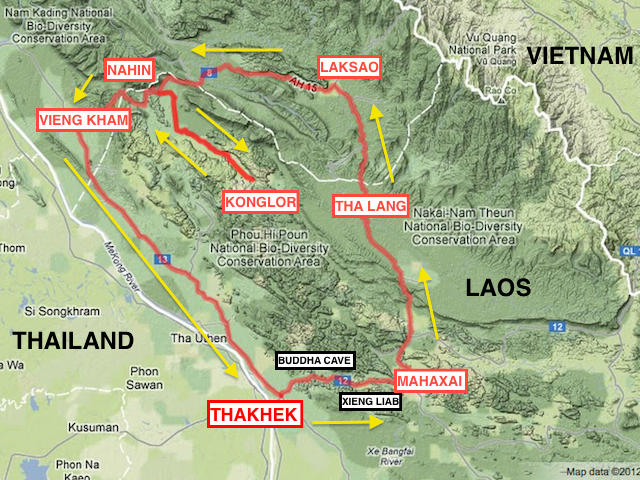 Most riders incorporate stops along the way at a number of caves and other points of interest. We highly recommend adding an 80 km (50 mi) roundtrip detour to Konglor (Kong-Lo) Cave, an amazing 7.5 km (4.5 mi) subterranean river adventure done via longtail motorboat. The nearby village and surrounding scenery is also worth the trip, alone.
While motorbiking remains the most popular way travelers complete the Thakhek Loop, others choose to bicycle the Loop or complete the circuit via public transportation (bus, minivan, songteau).
During our first Loop adventure in 2012, public transport could only be arranged for about 75% of the journey with no known regular service covering the rugged area between Thalang and Laksao. We did come across one woman who tried to complete the loop via hired transport but ultimately had to turn back.
Road conditions have dramatically improved, and currently it is possible to do the entire Loop via public transport if you so choose. Road conditions are so good now that we were able to effortlessly drive from Konglor Village to Thakhek via Laksao in a day (in a pickup, not a 125cc motorbike), making several stops along the way. But we live here, and I certainly wouldn't advise travelers new to Laos to do the same.
Even with the road improvements, riding the Thakhek Loop is still a once in a lifetime experience — and a unique one at that — so why rush it?
If you are planning on backpacking through Laos (not touring, not flashpacking, but traveling low and slow) take the amount of time you originally alotted to Laos and DOUBLE or TRIPLE IT.
Don't Miss These Unforgettable Experiences in Laos!
If you're craving adventure and authenticity, you probably won't get your fix in Vietnam or Cambodia unless you invest a lot of time and effort in getting up and off the Trail, and you certainly won't get your fix backpacking in Thailand.
Laos is the real deal, provided you make time to get outside of Luang Prabang, Vang Vieng, and Vientiane and see the real Laos — and riding the Thakhek Loop is one of the best ways to do just that.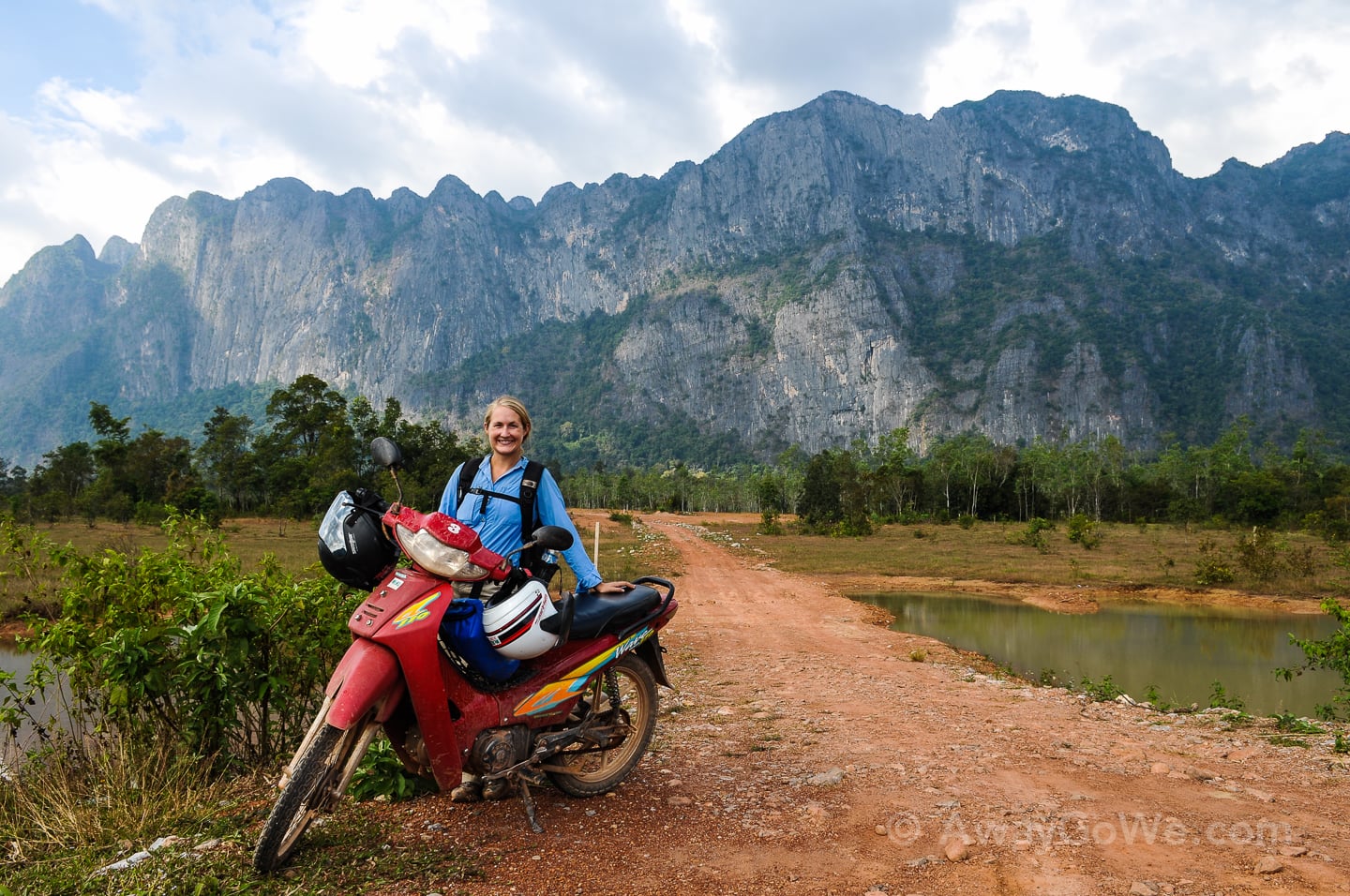 How we first discovered the Thakhek Loop and Why we did it
Looking back now, I'm still amazed at how I was able to get my physical therapist wife to climb onto the back of a plasticy little motorcycle and ride 500 km through some of the most challenging and remote roads in Laos. But she did agree (with very little convincing I might add) to alter our flexible itinerary and give the Thakhek Loop a go.
I'm not sure if Lori would have felt quite so comfortable if we hadn't ridden a scooter around the hills outside of Chiang Mai a few weeks prior, but that trip went off without a hitch — in the midst of busy Thai traffic and steep, winding mountain roads.
Perhaps, then it was an easy mental jump from scootering for the day in a fairly industrialized country to zipping through the jungle on a motorbike in one of the poorest and under-industrialized places on Earth?
All I knew was that I was itching for the chance to get on the back of a bike in a country like Laos and do something a bit more challenging, adventurous, and rewarding than meandering through yet another Buddhist wat (temple) or doing another self-guided city walking tour.
Ever since leaving the comforts of Thailand, we were yearning for adventure, and redoubled our efforts as such to find it. We wanted desperately to get off the beaten path and get back to what we loved doing — having our own independent adventures in less trodden backwaters.
We're suckers for some semblence of authenticity. Authenticity doesn't have to include rural homestays, exotic clothing, or colorful markets. Most of the time authenticity bares no resemblance to the pages of National Geographic — it's real life happening with or without the curious eye of the outsider.
It's the beauty of unchecked dilapidation and local alleyway eateries.
It's as much a young girl hand washing laundry in a stream in rural Mozambique as it is a young man moving a load of wash from the washer to the dryer while watching a football match on TV in urban Ecuador.
At its very basic (and perhaps, very best) it is life unscripted and unedited, and to partake in that is one of the primary reasons we travel.
So how did we decide on doing the Loop?
We came across an incredible sounding cave experience (Konglor Cave) in the course of our travel research and thought it might be something we'd want to incorporate into our trip at some point.
Most visitors seem to get to Konglor via public transport from Thakhek to Nahin, then a songthaew on to Kong-Lo village. After coming across a small handful of accounts of motorbiking the Loop to Konglor Cave we initially thought it might be fun to rent a scooter in Nahin and ride the 50 mile roundtrip stretch of sealed road to/from the cave.
The more we thought about it, however, it didn't seem like too far of a jump from attempting the Konglor section on scooter to completing the whole Loop on motorbike.
In practice, though, it was more of a leap over the Grand Canyon.
But boy, were we ever glad we made the leap.
It was important to us to use this six months not simply to sightsee but to do things we might not be able to do as easily when we're old and grey.
In that respect, riding the Thakhek Loop fit the bill perfectly.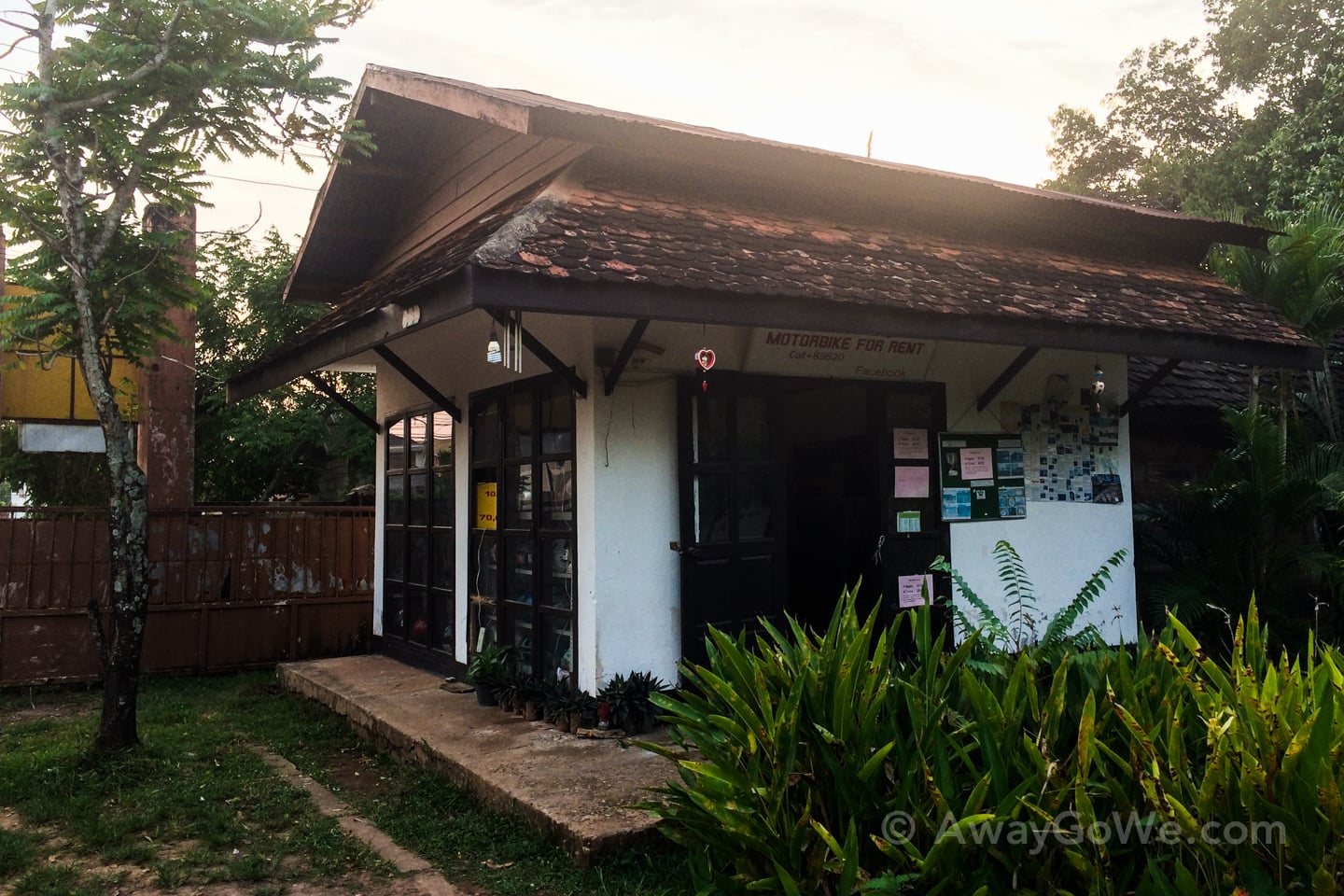 Where to Rent Your Motorbike
In 2012, Mr. Ku at Thakhek Travel Lodge was THE place to get outfitted with a motorbike for doing the Loop. Mr. Ku's bikes weren't the best quality in town, and his prices were not the cheapest, but he offered some semblence of roadside assistance if the bike had issues, and was very convenient to Thakhek Travel Lodge which was by all accounts Thakhek Loop motorbiking HQ, where you could get the most current intel and advice from other riders.
When we returned to Thakhek in 2017, we were happy to see that not much has changed in this respect, with one little exception: Mr. Ku had been replaced by Mr. Bird.
Here in 2019, however, we're sad to report that it appears Mr. Bird has moved on and the latest reviews of Thakhek Travel Lodge's current recommended outfitter, PokemonGo, are abyssmal. We hope that a quality outfitter will once again take up residence at Thakhek Travel Lodge, so that it will once again be the legendary riders basecamp it once was.
Current top options in Thakhek appear to be Mad Monkey Motorbike and Wang Wang. We can't definitively recommend one or the other, as we haven't personally used either. With that said, based on what we've heard from other riders and the latest reviews online, this is our personal take.
We've heard and read that you can get better quality motorbikes at Mad Monkey Motorbike, but you end up paying a premium (~US$18/day). We've also heard that the owners aren't the most customer-oriented and the most recent reviews of their services do not inspire confidence. With that said, we have not used Mad Monkey ourselves, so cannot personally advise for or against this outfit, and know that many riders have had positive experiences using their services.
Wang Wang, next door to Mad Monkey seems to be a good bet for the cost-conscious (~$8/day). Their motorbikes may or may not be Chinese knock-offs, but in 2019 this matters a heck of a lot less than it did just a few years ago.
For one, the majority of the route is now sealed, whereas in 2012 you had a long day of very, very rough riding between Thalang and Laksao. Opportunities may still exist for riding on unsealed, dirt/gravel roads, particularly if you plan to venture off the main highway to various points of interest. The condition of those roads will largely depend on the season and current level of maintenance.
Also, the quality of Chinese bikes has dramatically improved in recent years, and a newer, well-maintained Chinese-made bike will likely get you around the Loop just as good, if not better, than an Honda with a few years on it that hasn't been cared for.
It's important to also keep in mind you aren't looking to buy the bike, just ride it for a few days.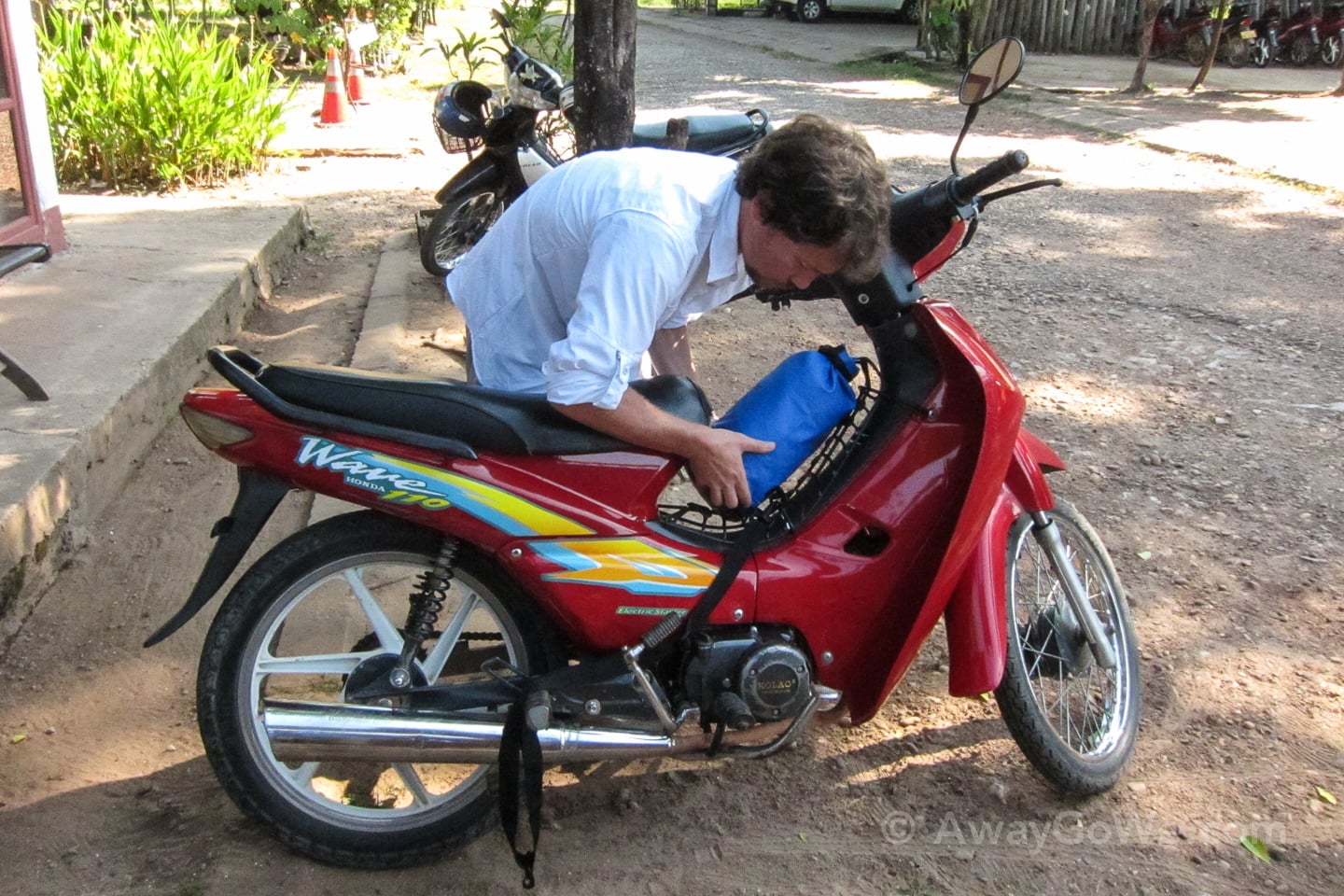 Laos Motorbike Rental Checklist
No Thakhek Loop guide would be complete without tips on what to look for when renting a motorbike in Laos.
Even if you've rented motorbikes in countries such as Vietnam and Thailand, keep in mind that life is generally harder on motorbikes here in Laos in both rural and urban areas due to poor infrastructure, red clay dust, year-round outdoor storage, and poor maintenance practices.
Here's a quick checklist of what to look for in a bike before hitting the road:
Overall condition looks good and sturdy. Everything should feel tight and secure. Check for rust on key joints. A little surface rust is okay, so long as it doesn't appear to impact the integrity of the frame. Check that the chain is oiled and that there's enough tension. Check that the bike has mirrors, which are critical for riding on narrow Laos roads where large construction vehicles are commonplace.
Tires should be in good shape and properly inflated with some tread and minimal cracks in the sidewall.
Both brakes should feel good and bring you to a safe and complete stop from 40 km/h in a few seconds. You don't want the brakes too squishy or too sensitive. You'll need to actually ride the bike to properly test this one. This will also be a good test for the shocks.
While you're taking the bike for a spin, check for fluid leaks (particularly oil and fuel), and any pungent smells that don't disapate after the short ride. Also check for knocking from the engine and other unusual sounds.
Check the electronics — lights (brake light, headlight, signals), horn, ignition. One of the most common issues on rental bikes in Southeast Asia is with the battery. While you're not going to be able to catch a lot of issues with a cursory inspection, if the bike starts up fast, it's generally a good sign.
Confirm fuel levels and make sure you get topped up before leaving town. Check the fuel return policy to confirm whether there's a penalty for returning the bike empty.
Make sure the bike comes with a decent helmet for both rider and passenger, if applicable. Check for cracks in the helmet, etc. If you're considering riding without some sort of head protection, keep in mind there is no 9-1-1 / 1-1-2 out here, and it may take a very long time for emergency services to reach you, if they do at all.
Check the rental company's policy on roadside assistance and covering costs of repairs like flat tires, etc. Don't worry if this isn't the case as minor repairs generally cost very little and can be performed in almost any village along the way. Also, make sure you have contact numbers in case any issues arise with the bike.
We generally like to do a quick walk-around video of the bike before leaving to avoid any funny business when returning the bike, though in Laos it's quite rare for swindling along those lines to take place. Obviously, if you do some significant damage to a bike, you'll have to answer for it.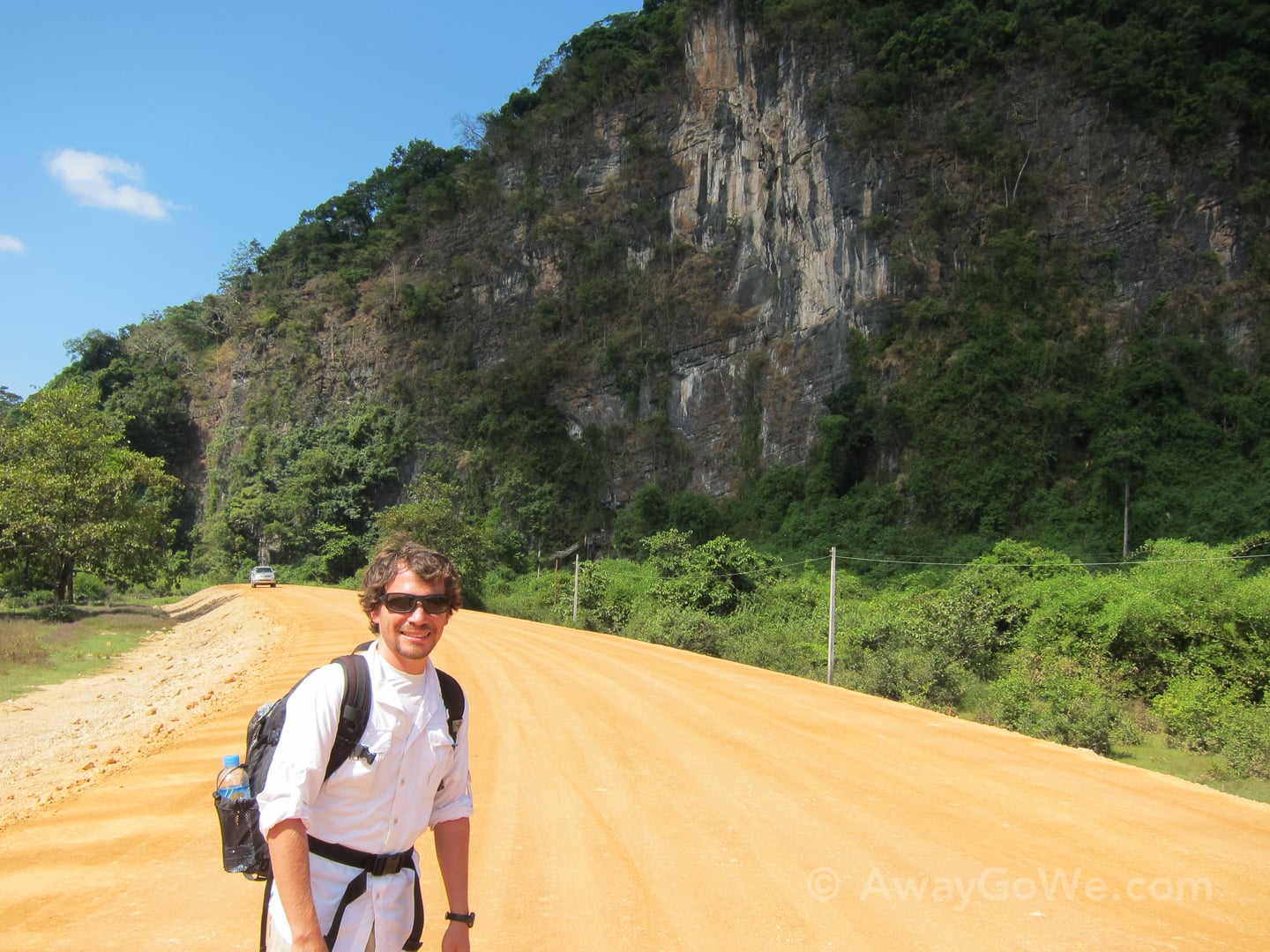 What to Pack for the Thakhek Loop
Due to the level of sun exposure anticipated, we wore long sleeved shirts and long pants, despite the heat, and regularly applied sunscreen to our hands and face in an attempt to avoid the painful fate many other fellow riders met.
In terms of clothing, you can obviously go to great lengths to get outfitted for this adventure, but I found my old long-sleeve vented Columbia travel shirt fit the bill, though I wouldn't necessarily recommend white for riding out here due to the red clay surface on some stretches (particularly if you plan on riding to various caves and other points of interest off the main highway).
With the aim of riding as light as possible, we whittled our travel gear down to one backpack and one drybag for four days — three changes of underwear and socks, basic toiletries, bike lock, flip-flops, sunscreen, mosquito repellant, bathing suit for Konglor Cave, e-reader, and of course, my trusty camera (which, honestly, accounted for the bulk of the weight).
We also brought snacks and two large bottles of water which we were able to refill or replace at regular intervals along the way.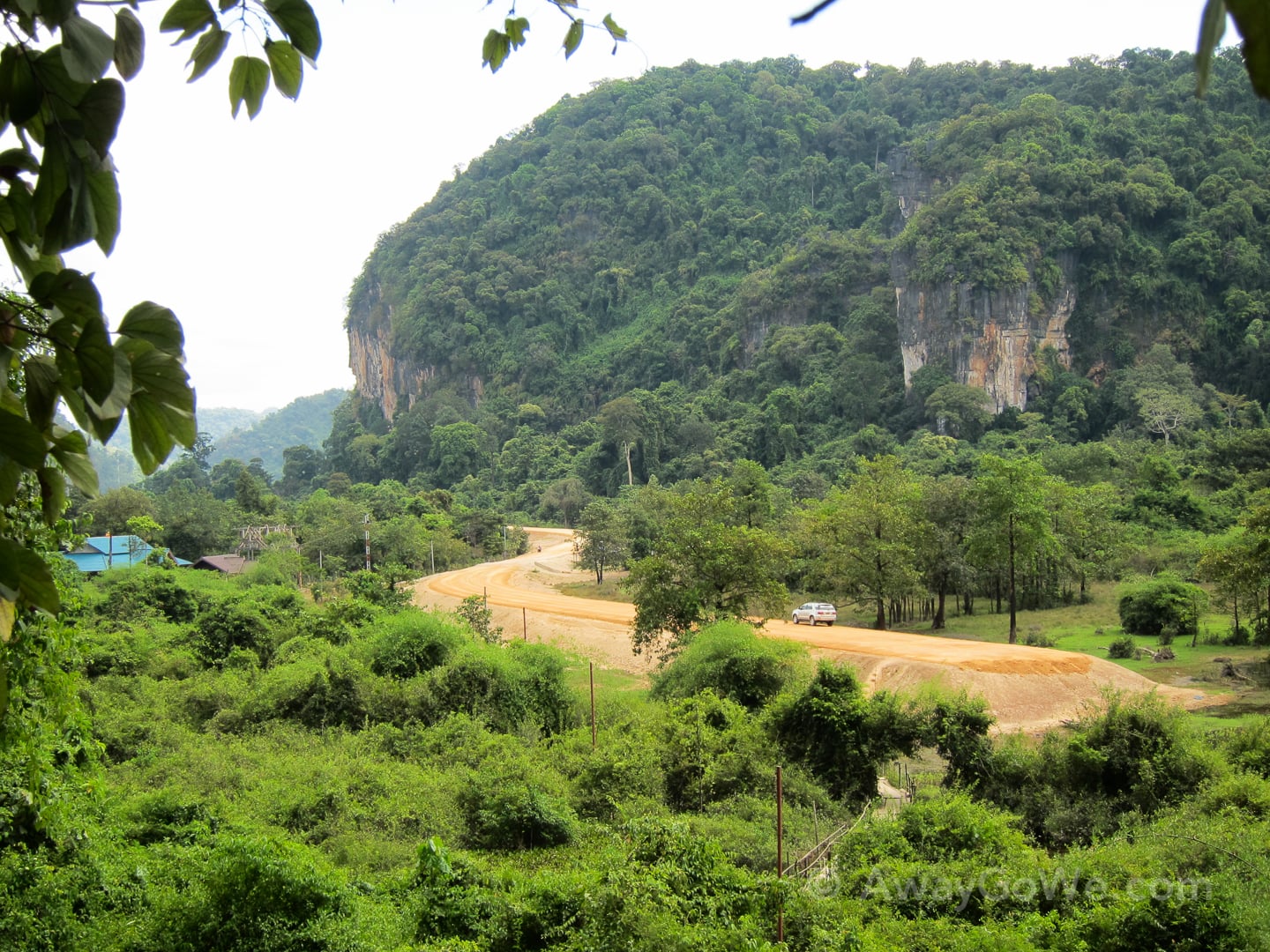 Where to Stay in Thakhek
Thakhek has a good number of lodging options for travelers these days. If you don't know the lay of the land, however, it can seem like an impossible task to choose the right one.
Lucky for you, we've done the hard part for you!
Here are our top choices for places to stay in Thakhek.
Bike&Bed
Our Top Budget Pick in the city center! You can't rent a motorbike here, but you can rent a bicycle. Dorm beds, shared kitchen, and an awesome vibe. Rated 9.5/10 on Booking.com. Click here for details.
Inthira Thakhek
Our top budget to middrange option with private rooms in the city center. Situated in a historic building with an excellent restaurant, Thakhek has all the amenities of an upmarket hotel for a fraction of the price. Rated 8.3/10 on Booking.com. Click here for details.
Le Bouton D'or Boutique Hotel
Another solid option in the city center. Rated 8.7/10 on Booking.com. Click here for details.
Villa Thakhek
A nice option will all your basic amenities near the main highway. Next to Thakhek Travel Lodge, if you happen to go that route for motorbike rentals and want to stay closer to the highway. Rated 8.1/10 on Booking.com. Click here for details.
Don't Forget Travel Insurance
Laos is among the safest countries for travelers in Asia. With that said, stuff happens — severe weather, road accidents, broken ankles, tropical diseases, etc.
If you're motorbiking the Thakhek Loop, you're especially going to want to have coverage. Make sure your policy covers riding a motorbike and that you have the required license/ endorsement for coverage!
Keep in mind that parts of the Thekhek Loop are remote and medical facilities for treating traumatic injuries can take hours to reach. That's when you especially want that medivac coverage.
Don't risk it. Get good international travel insurance so you can sleep easy and enjoy your trip to Laos!
We use and recommend World Nomads.
More Thakhek Loop Resources
We're adding much more to this guide in the coming days and weeks, such as current map with GPS waypoints, what to see and do along the way, where to stay, costs and budget, suggested itinerary, cultural considerations, and a few words about safety and security, particularly regarding emergency medical care. So, check back often!
In the meantime, read all about both of our Loop adventures:
4-Day Thakhek Loop Motorbike Adventure (2012)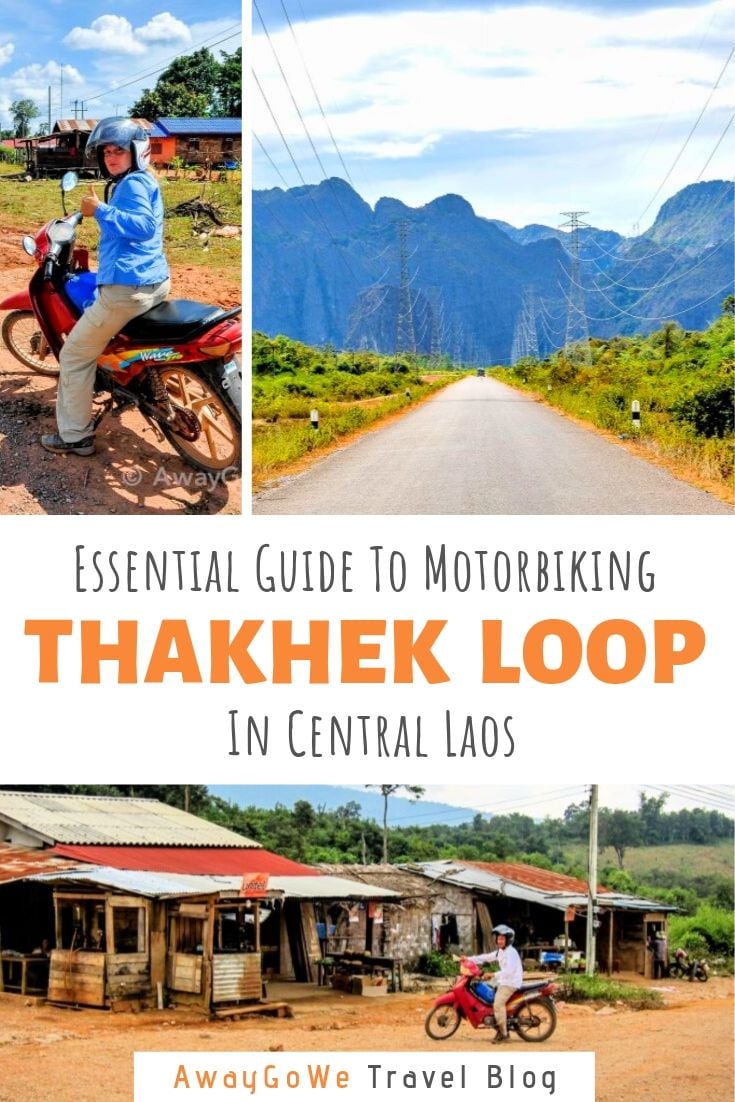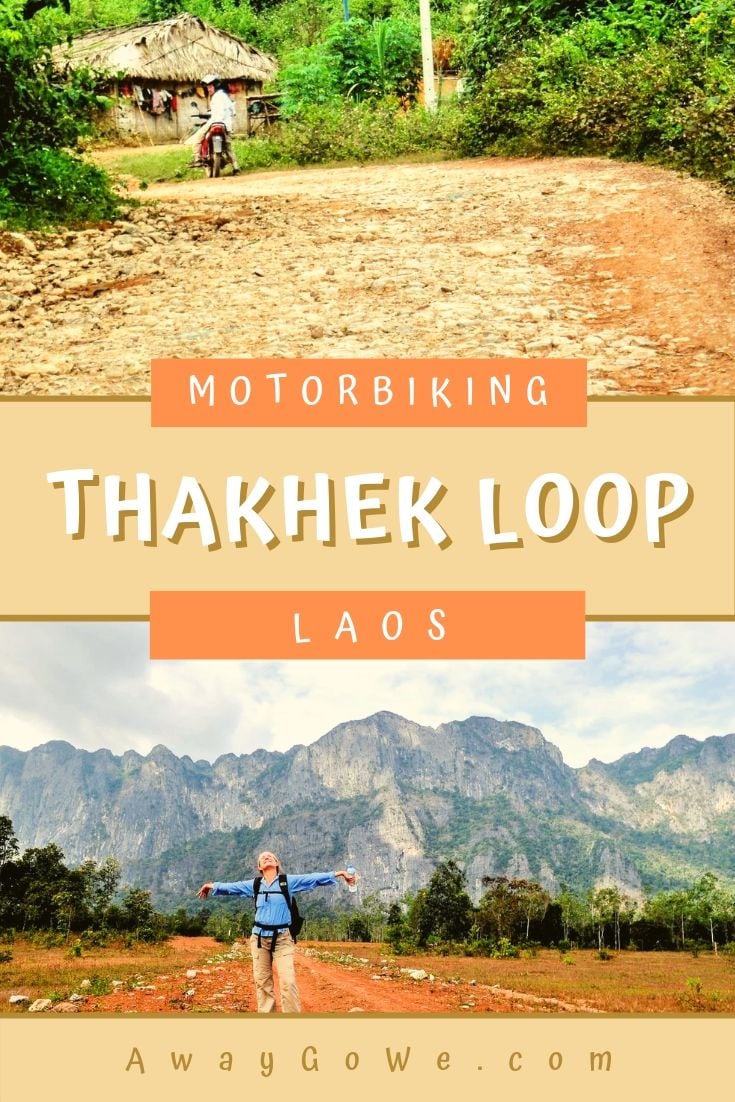 Travel Planning Resources We Use & Recommend: