The Thakhek Loop in Central Laos is one of the best adventures you can have on two wheels in Southeast Asia. We loved it so much, in fact, we did it twice!
In this guide—updated for 2023—we share quite possibly everything you need to know (and then some) about doing this Laos motorbike loop adventure yourself. Lori and I draw from our two experiences driving the Loop, as well as over three years living in Laos.
If you're willing and able (and have a healthy sense of adventure) the Thakhek Loop is a bucket list adventure that shouldn't be missed by independent travelers passing through Laos.
How to Use This Guide
Unlike the Thakhek Loop at times, we've tried to make this guide as easy to navigate as possible so you can hit the road with confidence.
We recommend reading through the entire article, but if you're pressed for time (or searching for specific information), use the navigation links below to find what you're looking for.
Thanks for Your Insights!
Our aim is to continue to keep this guide as up-to-date as possible, with the help of friends and connections in and around Thakhek, and from the valuable tips and insights from recent travelers just like yourself.
We so appreciate your contributions to this valuable resource for future riders, so keep those comments and messages coming!
In This Thakhek Loop Guide
---
Related ▸ 36 Reasons Why You Should Visit Laos Soon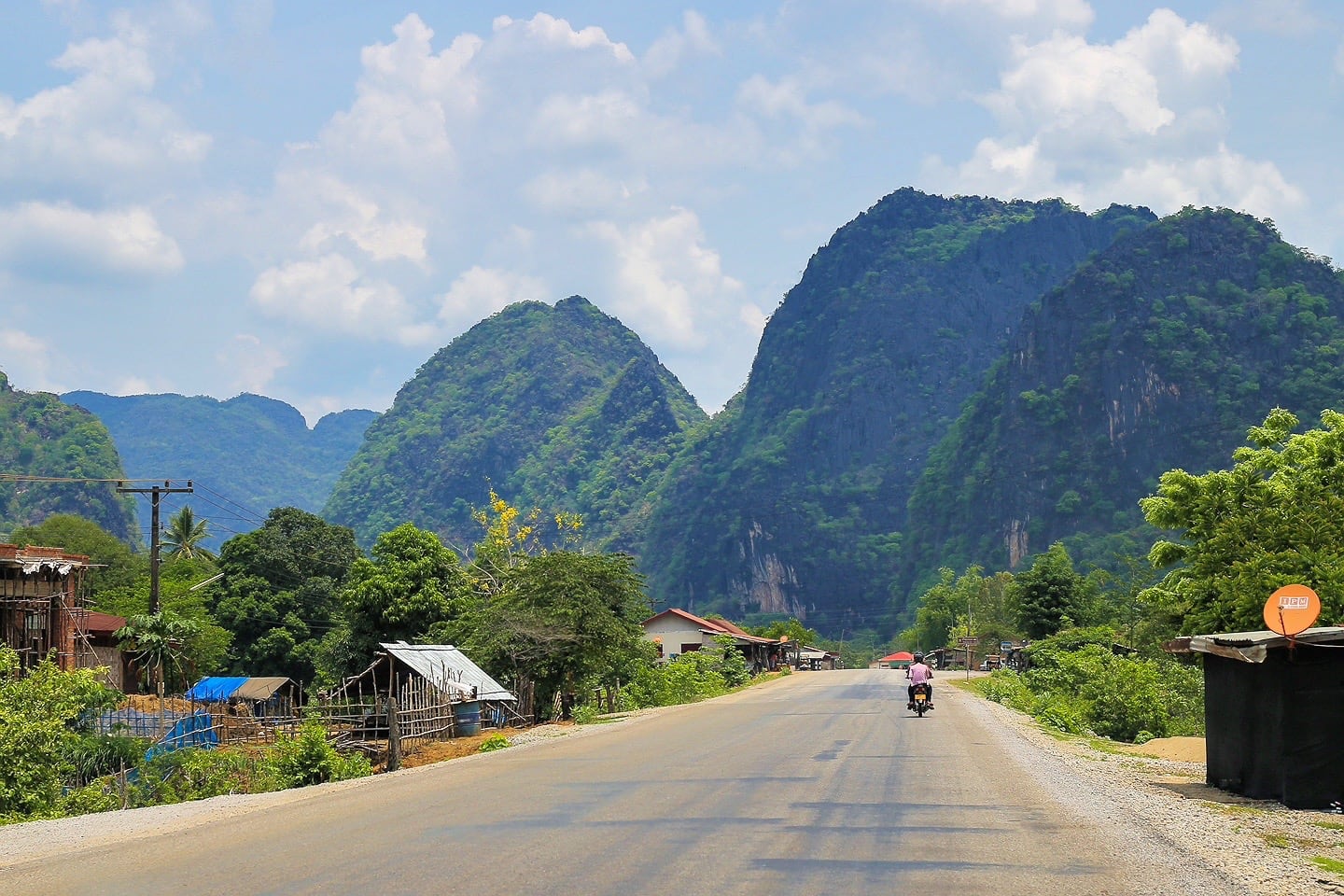 Thakhek Loop Overview
About the Route
The Thakhek Loop in Laos is a one-of-a-kind, off-the-beaten-path 220 mile (350 km) overland adventure in Central Laos.
This unforgettable journey can be covered in a variety of ways. Riding a local motorbike around the Thakhek Loop is still the most popular, but many intrepid travelers also choose to do the Loop by bicycle as well.
Alternatively, the circuit can be completed via local public transportation (bus, minivan, songthaew), though it can be challenging at times to find reliable options plying the more rural Route 1E.
The current circuit follows Route 12 east out of Thakhek (Tha Khaek) to Nakai, before heading north on Route 1E.
Route 8B once ran just east of today's Route 1E, but now lies beneath the Nam Theun Reservoir.
At Laksao, the route heads west on Route 8 via Nahin, before rejoining Route 13 at Vieng Kham for the final stretch south back to Thakhek.
Below, you can click and explore our OpenStreetMap custom map with Waypoints, Points of Interest, and Routes. Keep reading for much more information on everything you see on the map.
The solid BLUE LINE on the map below follows todays most popular Thakhek Loop route, with the subterranean river passage of Kong Lor Cave highlighted in RED. The PURPLE DOTTED-LINE represents a harrowing alternative cut-through gaining popularity (largely in mountain biking circles).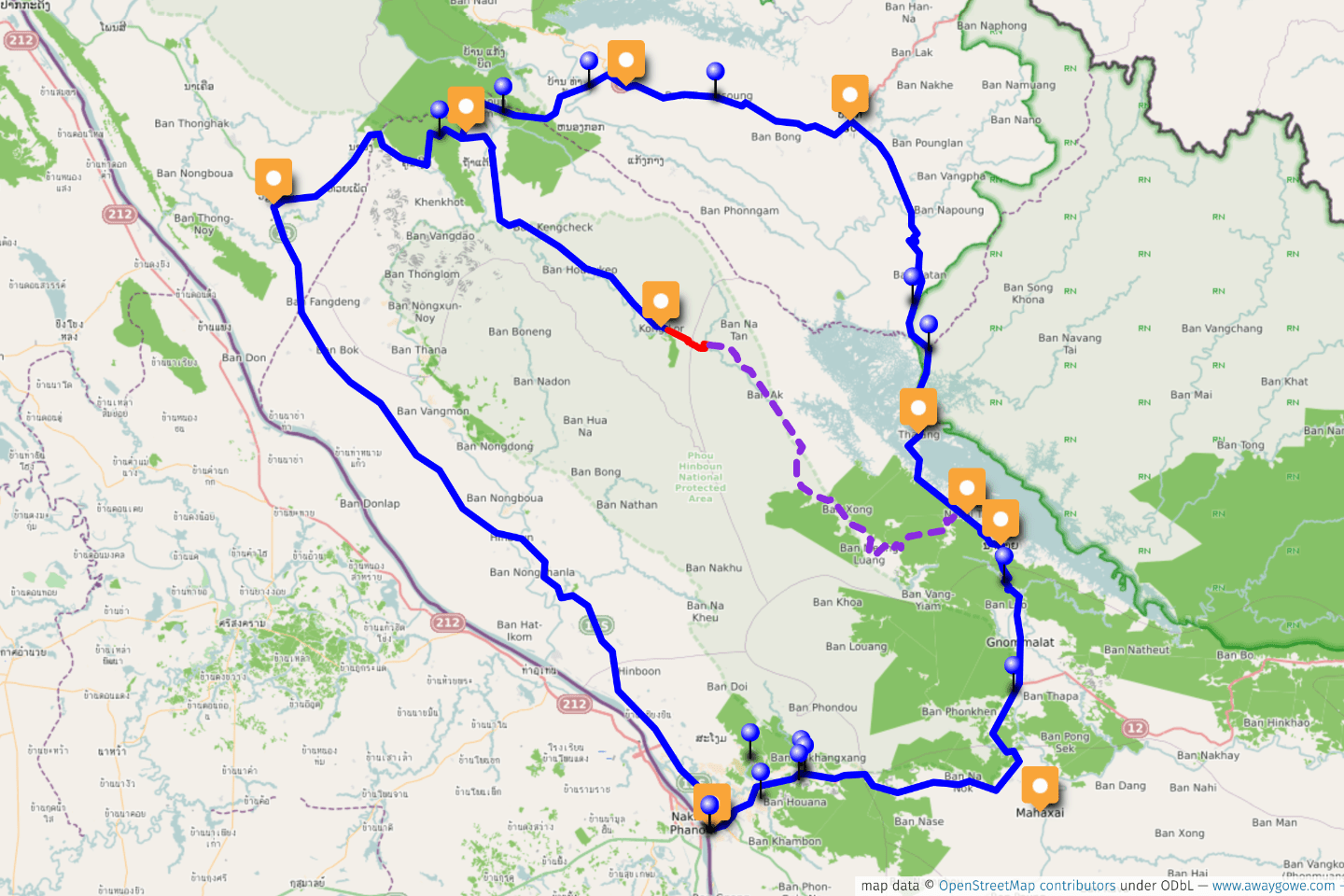 Riders generally choose to begin their journey in the city of Thakhek (Tha Khaek) and ride in a counter-clockwise direction around the Phou Hin Poun National Bio Diversity Conservation Area.
There are numerous sights along the way worth a look, such as caves, viewpoints, hikes, restaurants, and other points of interest.
We'll cover the entire route in greater detail later in the Itineraries section.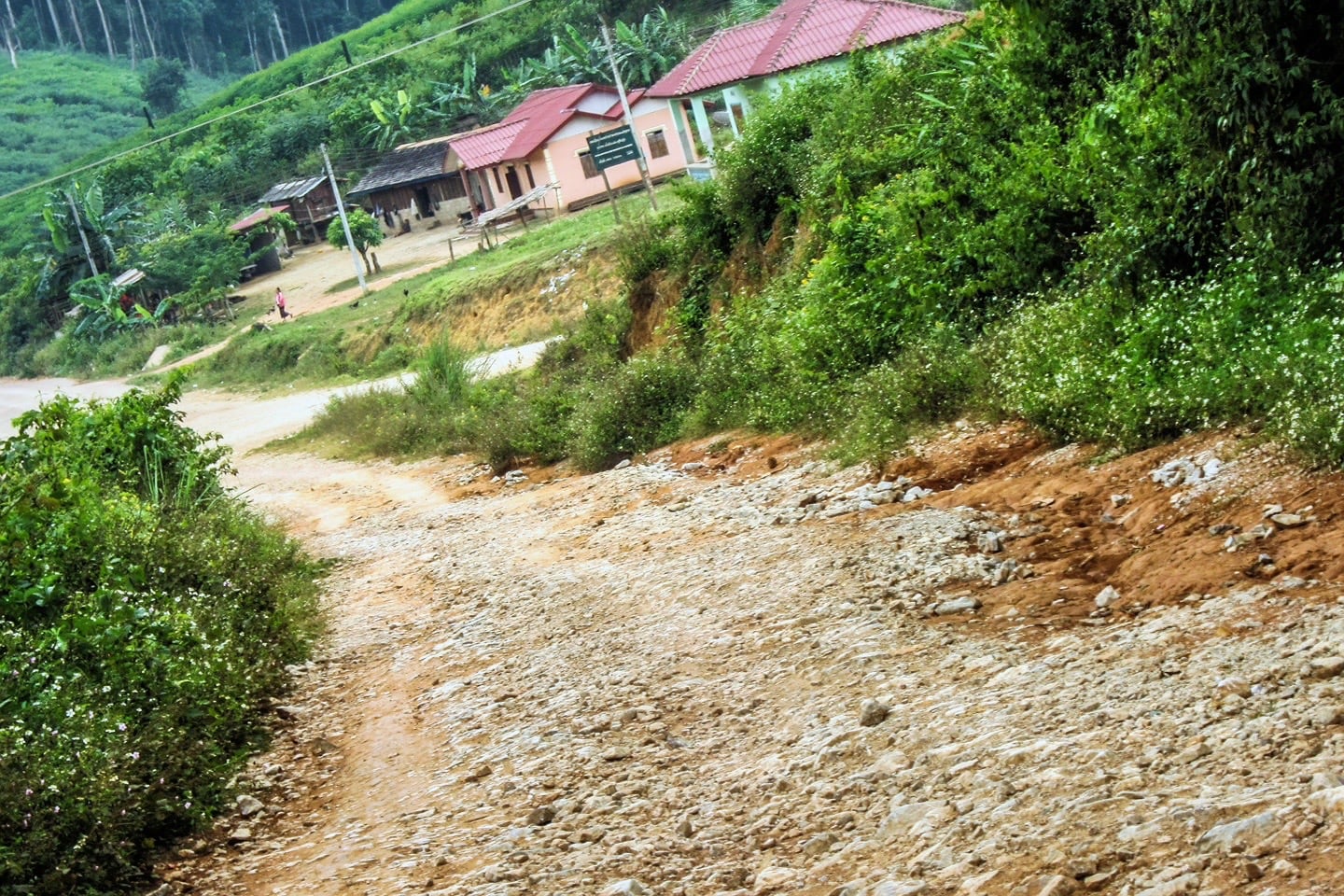 2023 Route Conditions
This is one of the oldest Thakhek Loop guides on the web, dating back to 2012, when the circuit was more commonly known as the "Laos Loop" and large portions of the route were nothing more than footpaths.
Road conditions have dramatically improved, and the entire classic Loop route is now sealed tarmac.
But there are still plenty of opportunities for dirt and gravel road adventures along a number of spurs leading to various points of interest.
And if you want a taste of the classic Laos Loop, you can try your luck on the unimproved path between Nakai Tai and the south entrance to Kong Lor Cave (more on that later).
IMPORTANT
One big downside to the improved roads is the dramatic increase in heavy truck traffic on parts of the Loop. This is particularly true along Route 8 (Vieng Kham-Laksao), Route 12 (Thakhek-Nakai), and the main southern highway (Route 13) connecting Vientiane with all points south.
Additionally, road conditions can change rapidly, especially during the rainy season. It's not uncommon for portions of the highway to get washed out without notice or potholes to crop up after a good storm. Landslides are also common, and livestock and people can pose a hazard at all hours, but especially at night.
Ride with caution and always try to reach your destination before nightfall.
Must-Do Detour: Kong Lor Cave
Lori and I strongly recommend adding an 80 km (50 mile) roundtrip detour to Konglor Cave. It's a truly amazing 7.5 km (4.5 mile) subterranean river adventure done via longtail motorboat from Konglor Village or Phon Khan Village (south entrance).
For much more on that experience, take a look at our detailed guide to visiting Kong Lor Cave (which we've done two times as well—the second time with a baby).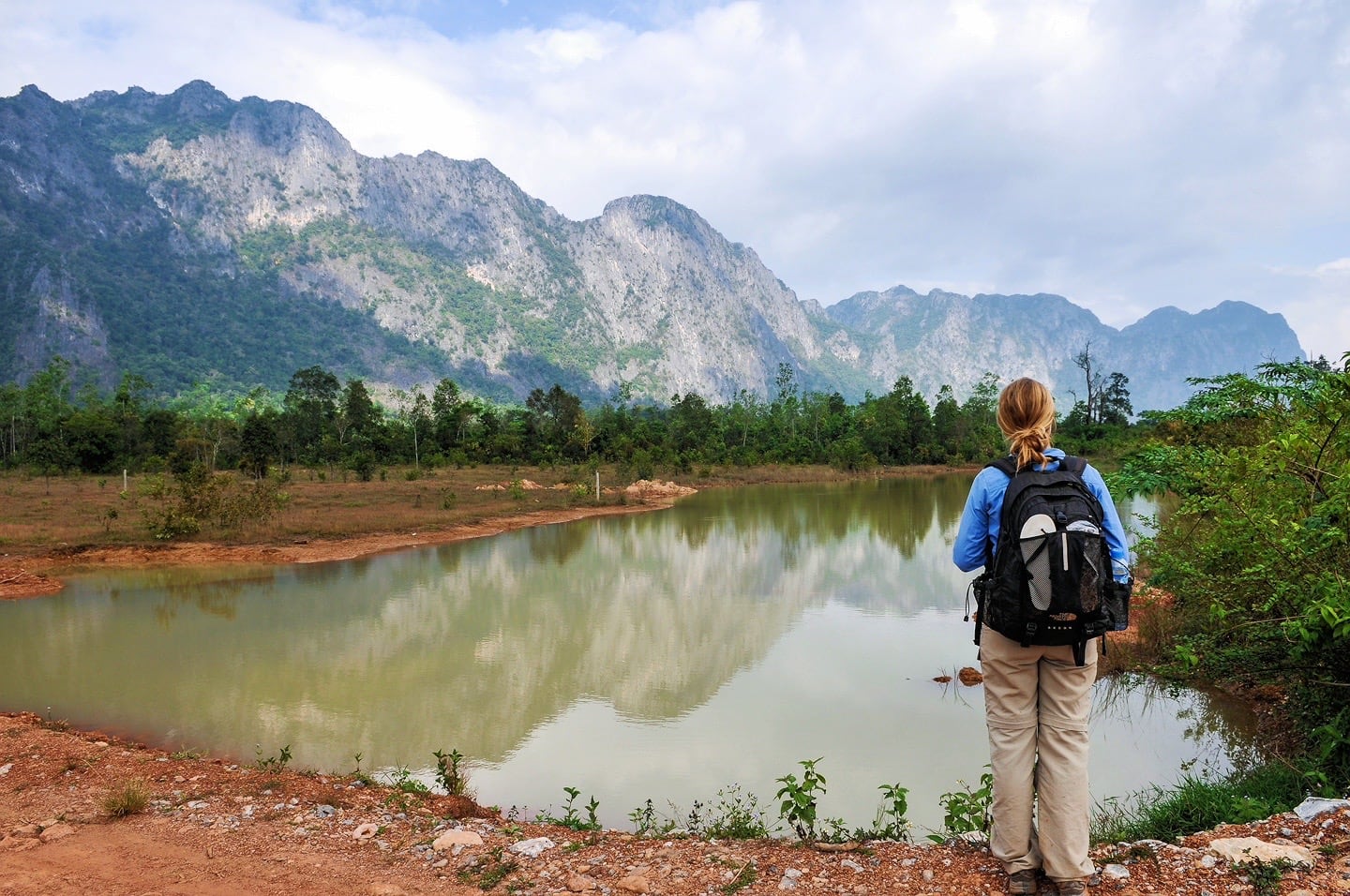 Alternative Route
Many travelers these days are searching for similar experiences to the original Thakhek Loop (prior to current road improvements).
While we have not yet attempted this alternative route ourselves, there are a growing number of travelers opting to follow this dirt track northwest from Nakai Tai (just north of Nakai along Route 1E) to the south entrance to Kong Lor Cave.
Slow and arduous, this route eventually reaches the village of Phon Khan, a short distance from the cave entrance. Those we've talked to who have successful completed this section have done so by mountain bike.
Theoretically, you should be able to cover the same stretch by motorbike. However, you run into the substantial challenge of loading your motorbike onto a very small, very narrow motorized dugout canoe in order to transport it the 7.5 km by rushing river to Konglor Village.
We've seen a foreign traveler attempt this with the help of a couple of local guys and do not recommend it. It puts the local boat drivers in a bad situation (if anyone actually accepts the challenge), and you stand a very real chance of losing the motorbike in a river deep underground.
Also keep in mind that when the river is low, you may need to change boats inside the cave. If you're thinking of going this route, it's worth enquiring at one of the guesthouses in Thakhek before setting out.
---
Related ▸ 16 Best Things to Do in Luang Prabang | An Insider's Guide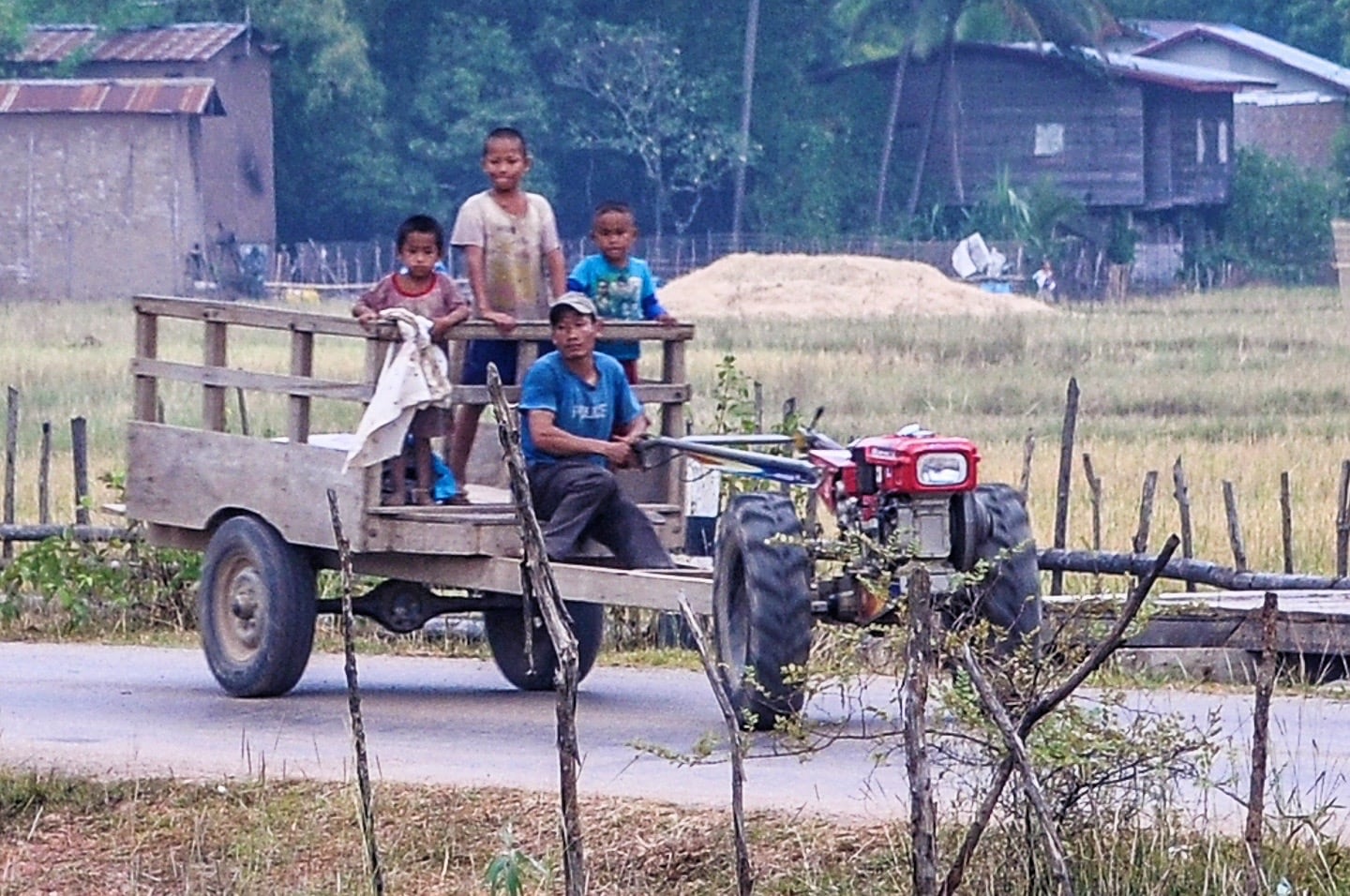 Recommended Thakhek Loop Itineraries
On our first trip, we completed the 350 km Thakhek Loop in four days, including an 80 km roundtrip side trip to Kong Lor Cave. At the time, three days seemed to be the norm for this adventure.
Now that the road surface along the route is sealed, we still recommend to riders to do themselves a favor and budget 5 days for this adventure—take the side paths, explore the villages, and enjoy the ride! For those who just don't have the extra time, we've also included a 3-day itinerary as well.
If you're dead set on doing the Thakhek Loop in two days on a cheap 110cc motorbike, our advice is don't even bother. Doing the Loop in two days is sort of missing the point, and the pain in your backside from some very long days of riding is sure to drive this point home for a good long while.
---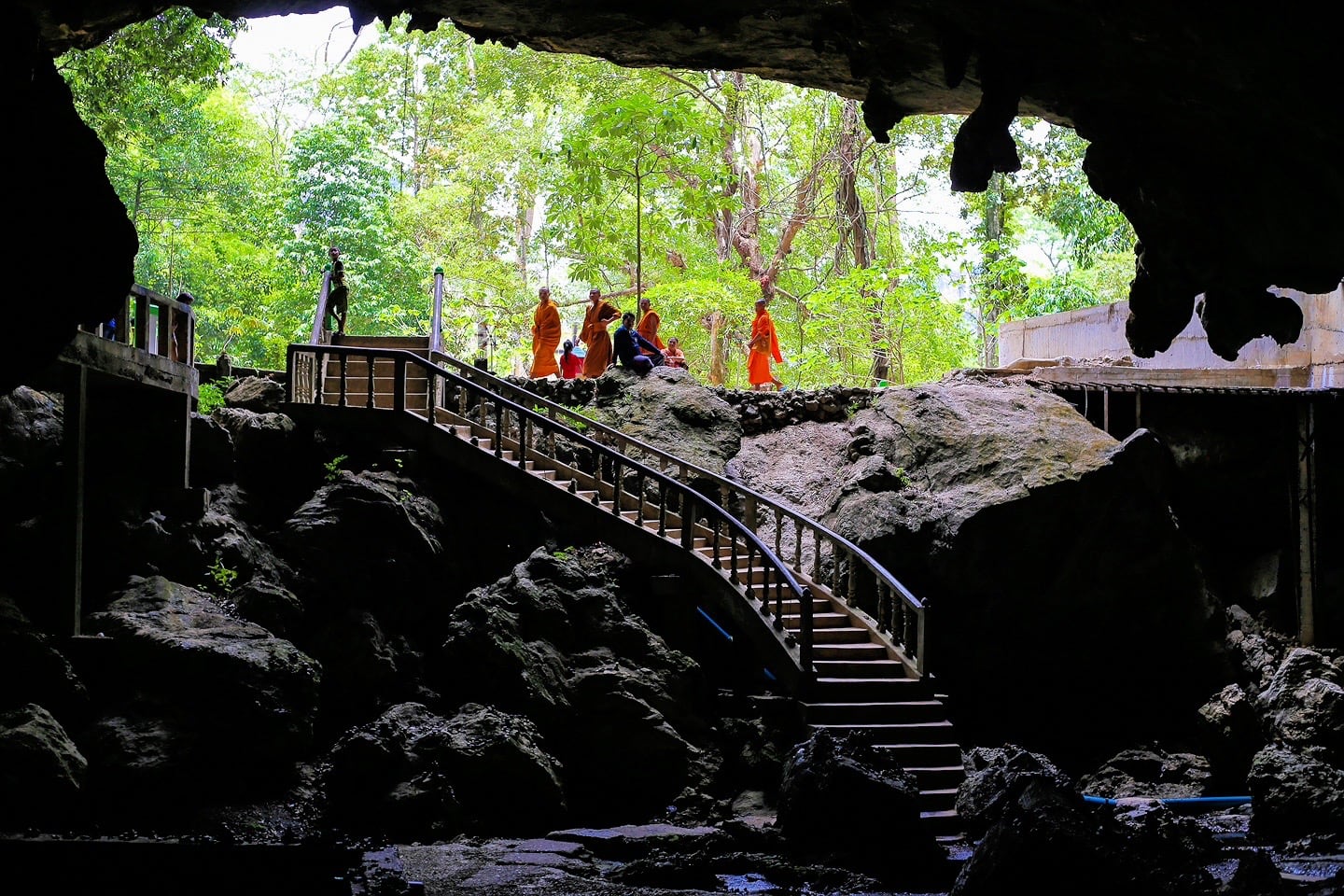 Thakhek Loop in 5 Days
Day 1 — Thakhek to Thalang | 110 km | 4-6 hrs.
Get an early start out of Thakhek and head east on Route 12 towards Nakai. This may easily be the single most stunning stretch of the whole journey so don't rush it! Expect level tarmac, views of stunning karst peaks, and smooth sailing along Route 12 for the first 50 km.
A short distance out of Thakhek, look for the turnoff on the left to Tham Nong Pa Fa (Buddha Cave)—never hurts to top up your karma before a big motorbike adventure in a developing country. Visiting this sacred cave for a blessing by a Buddhist monk is one of the highlights of the the Thakhek Loop for a lot of riders. [map]
Back on Route 12, look out for Green Climbers Home on the right-hand side, where you can stop for a meal or a break. If epic rock climbing floats your boat, grab a bungalow and plan on staying awhile. [map]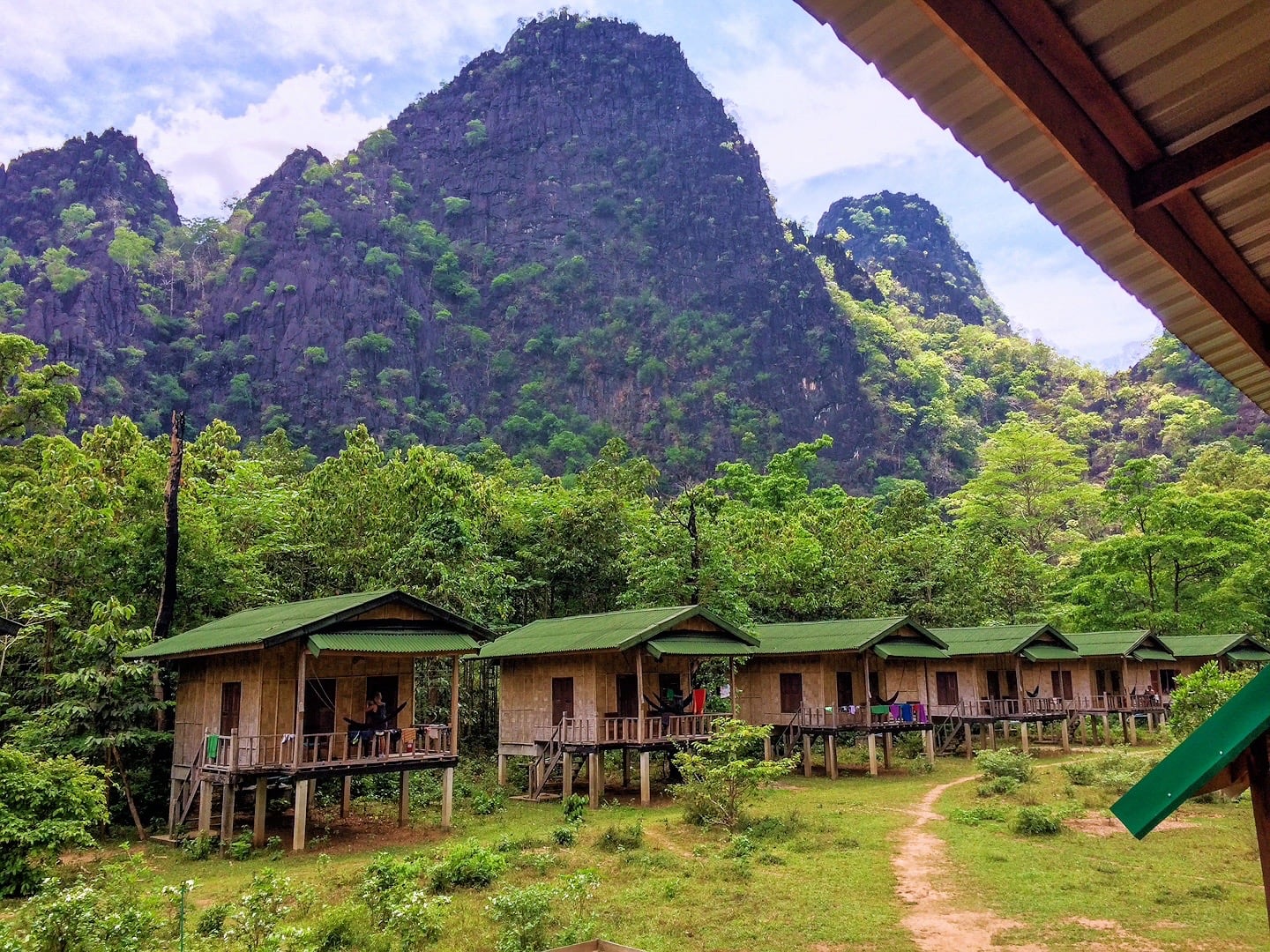 Thafalang (Foreigner's Landing), one of the newer additions to the route in recent years, is a vast Lao-style recreation complex offering overwater eating huts along the river and various recreational activities including a hike to a stunning viewpoint. [map]
Xieng Liap (also on your right as you ride east) is another popular stop. Pull off on the dirt track and wait to be greeted by a local kid or two who will guide you into this stunning water cave. Venturing into Xieng Liap can be physically demanding and you'll probably get wet, but many riders agree it's worth it. [map]
Tham Nang Aen (Ene) is the most developed of the areas caves and well worth a visit, if for the awesome row boat ride through the illuminated cave, alone. Boat trips run based on water levels, and it's difficult to say from year to year if and when they are running. [map]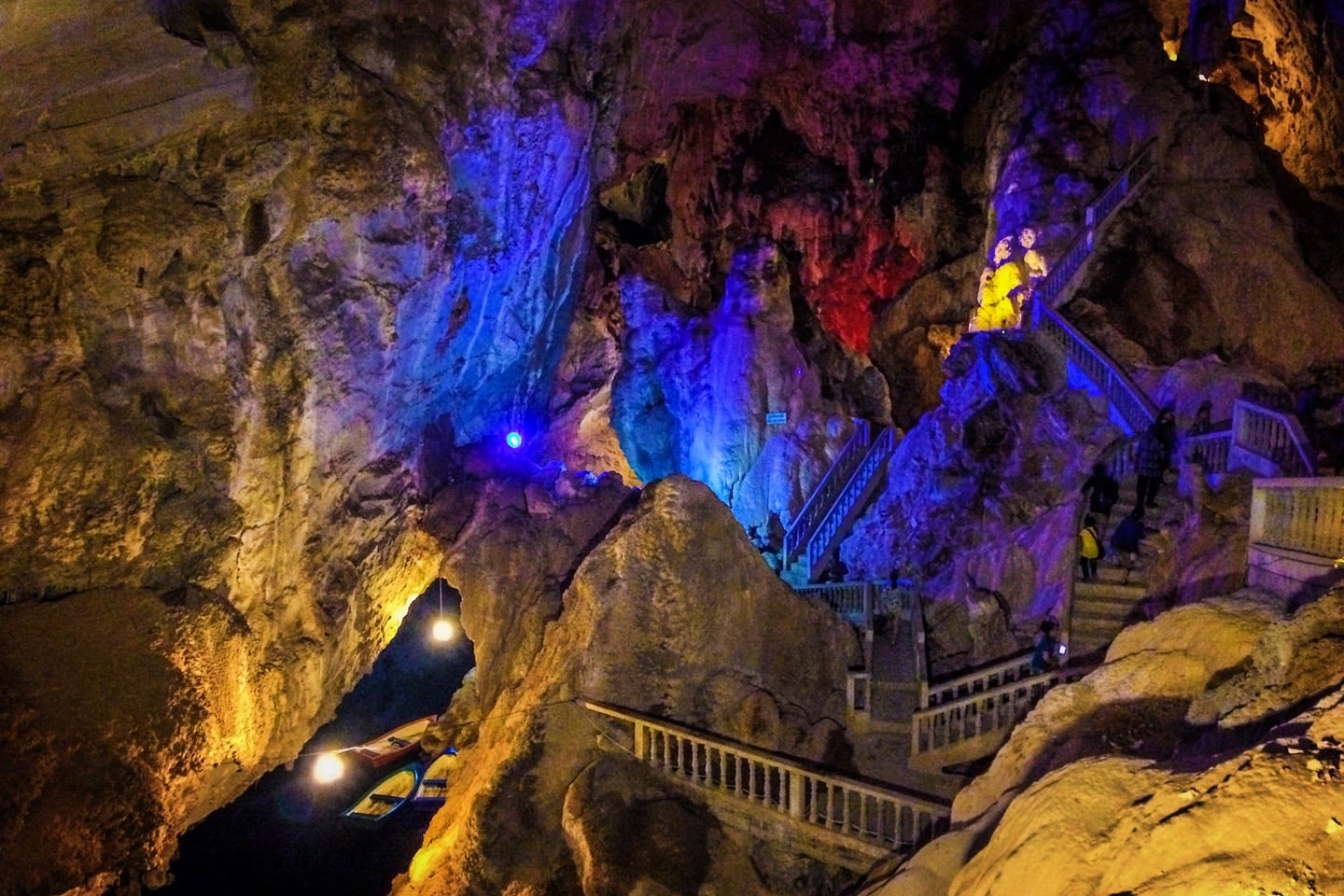 At around 40 km from Thakhek, you'll encounter a junction at Na Coc. Continue straight on Route 12 to follow the Loop. In another 10 km, you'll arrive at another junction at Nakai. Again, continue straight onto Route 1E (marked as 8B on old maps) to Ban Nakay Neua (Ban Oudomsouk).
If you get a late start out of Thakhek, there is reliable accommodation in Nakai and Nakay Neua (see Thakhek Loop Lodging section below). Pha Katai Viewpoint, just south of town before the bridge, also makes a good stop in Nakai. Climb a set of steep stairs up to the top of a hill for a commanding view of the valley. [map]
At around 70 km, you'll arrive at the Nam Theun 2 Power Station and a concrete bridge. The Nam Theun 2 Visitor Center is worth a stop if you're curious about the technical details (and the Laotian take) on the sprawling reservoir you'll encounter halfway along this day's leg. [map]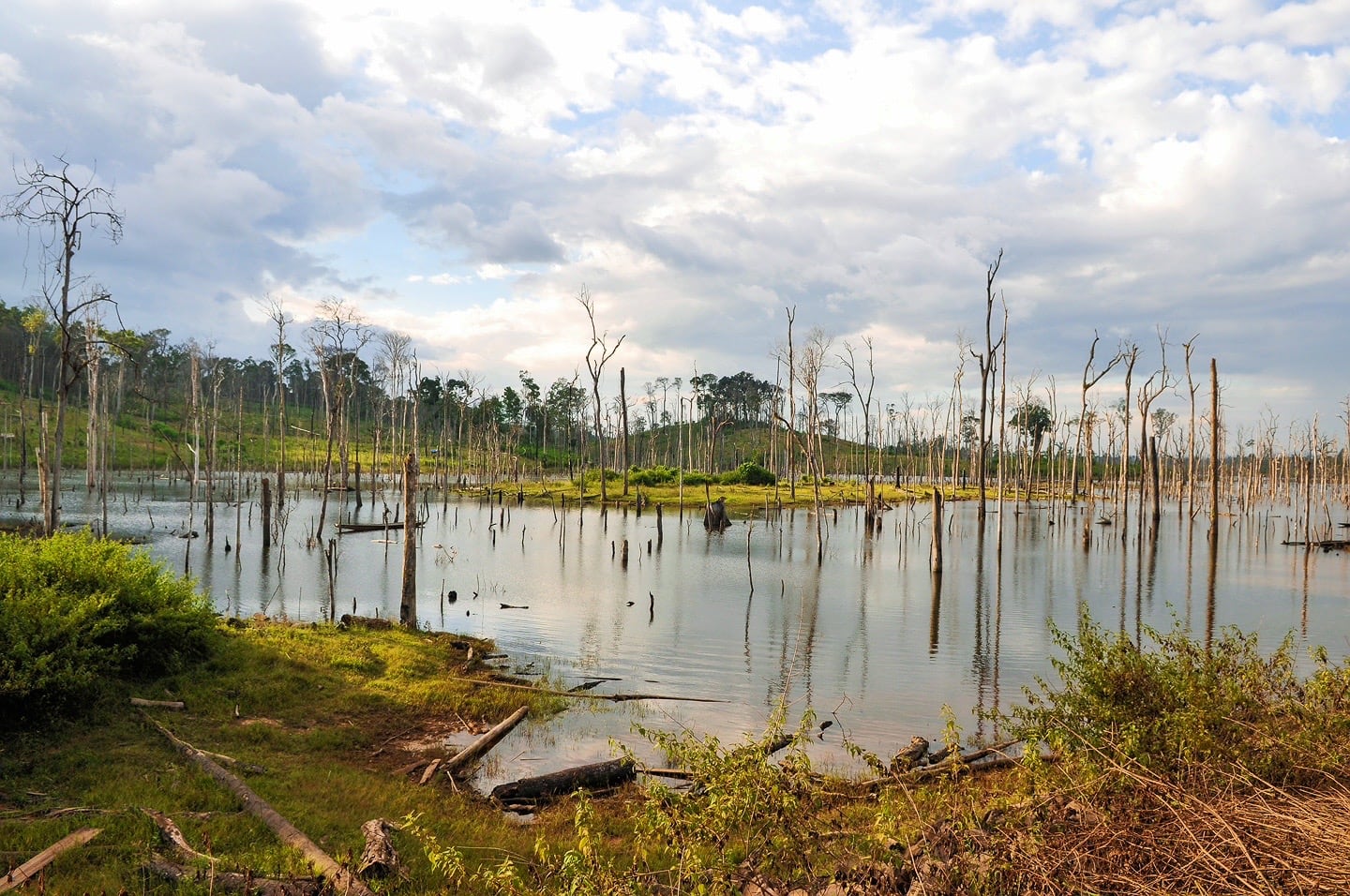 After crossing the Nam Theun bridge, the highway begins a 400-meter ascent through the mountains to a plateau. The village of Nakay Neua/Oudomsouk awaits on the other side. From this point, it's a straight-forward 20 km to Thalang.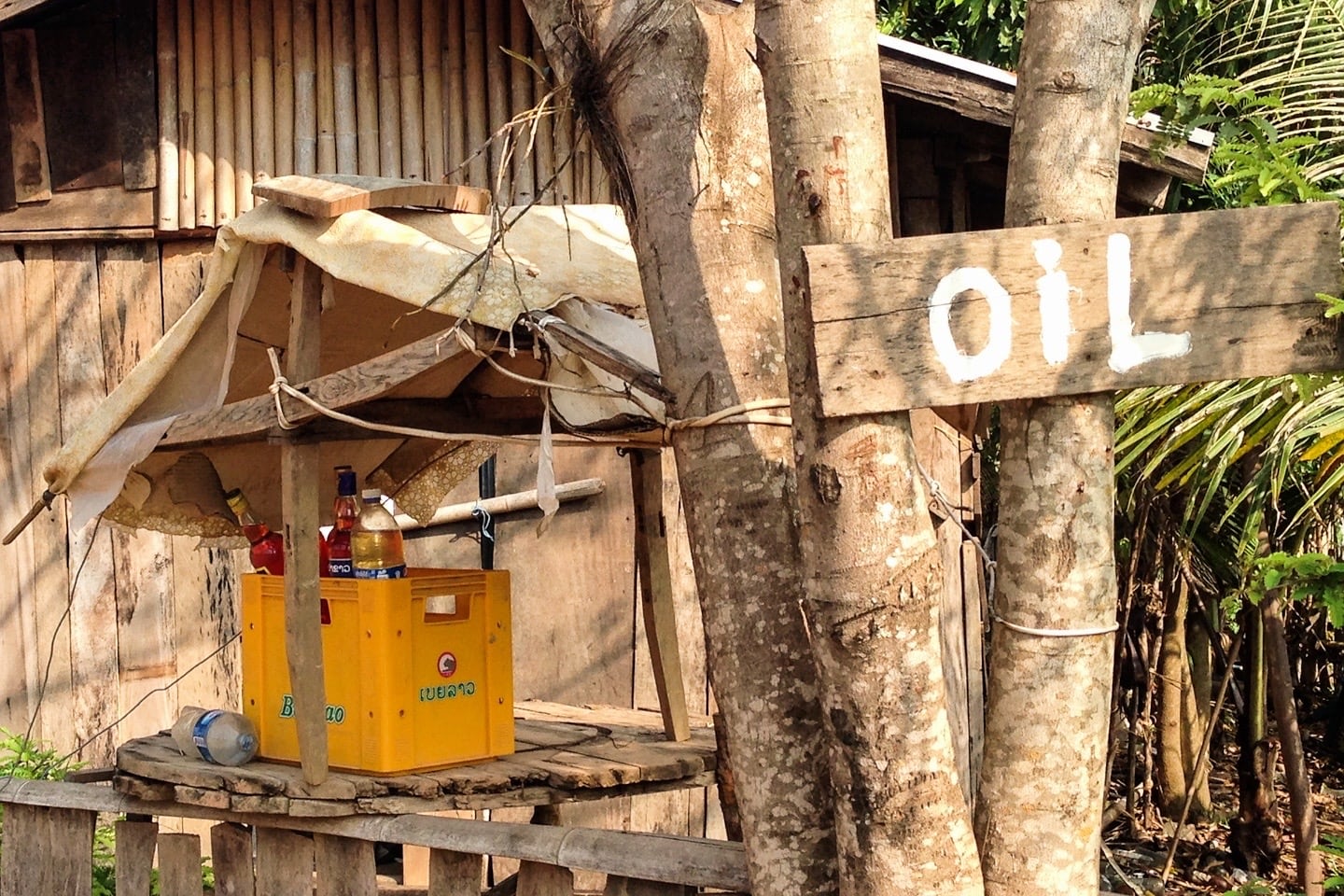 Roll into Thalang, kick off your shoes, and enjoy the sunset from your hammock after your first day riding the Thakhek Loop.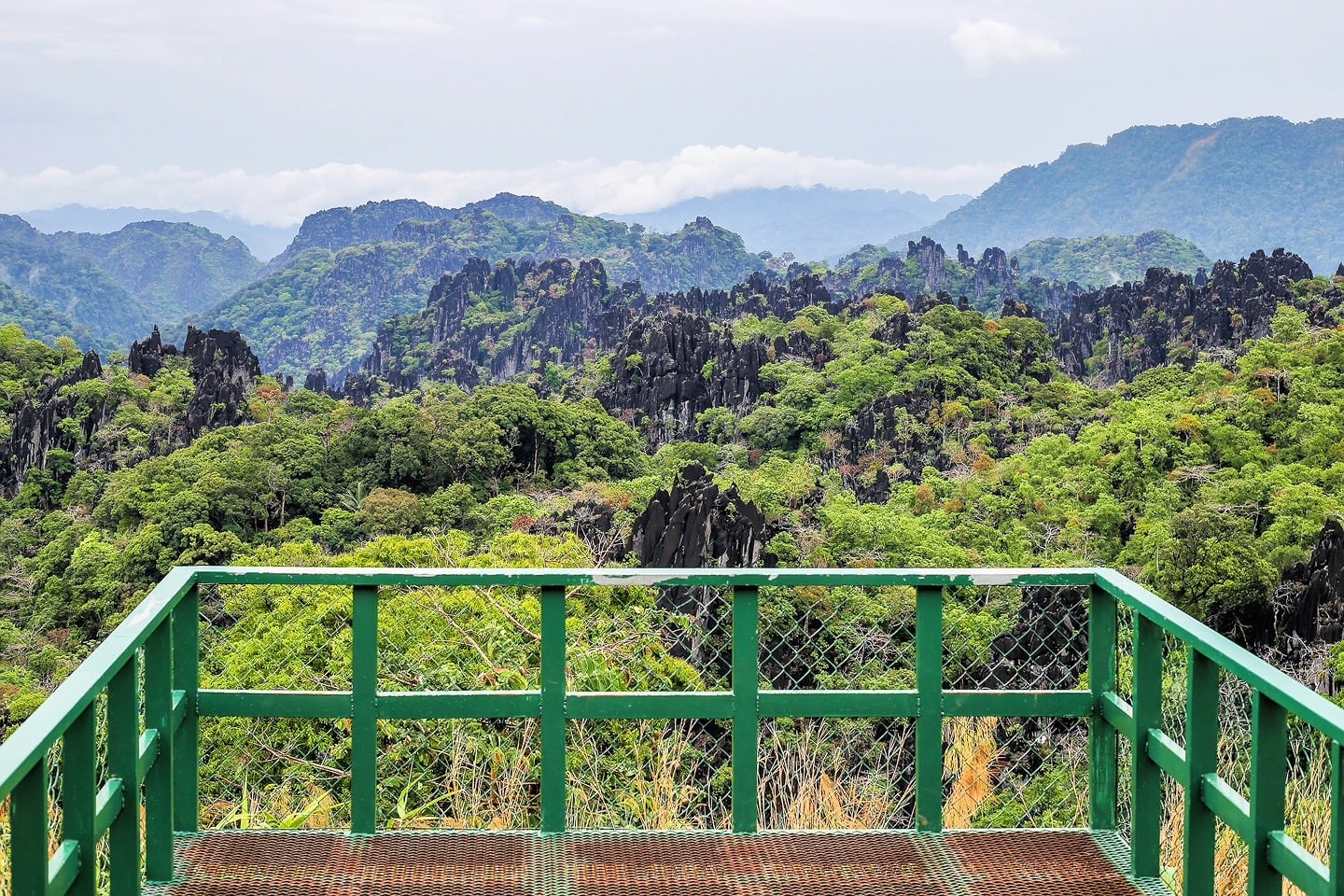 Day 2 — Thalang to Nahin | 107 km | 4-6 hrs.
Less than a decade ago, the stretch of the Thakhek Loop from Thalang to Laksao was infamous for its narrow and remote mountain tracks, resembling little more than clay foot paths in some places.
These days, it's clear sailing along this stretch of the route. Though do keep in mind that conditions can change without notice, and potholes do crop up from time to time.
Get an early start out of Thalang and continue north, crossing a bridge out of town towards Laksao. A short while later, the highway will begin to weave through a scenic mountain pass with only about 100 m elevation gain.
Keep an eye out for the sandstone Buddha rock sculptures carved into the sides of the mountains at the northern end of the pass [map].
Around 40 km from Thalang, you'll descend down into the valley into Nong Long. From here, it's 13 km to Laksao.
Laksao is a dusty, bustling transit town for travelers and goods passing into and out of neighboring Vietnam. It's a good place to grab a local lunch before continuing on. There are a number of local lodging options here, but we recommend continuing on to Nahin.
From Laksao, head west on Route 8 towards Phontan, then stay west on Route 8 to Thabak.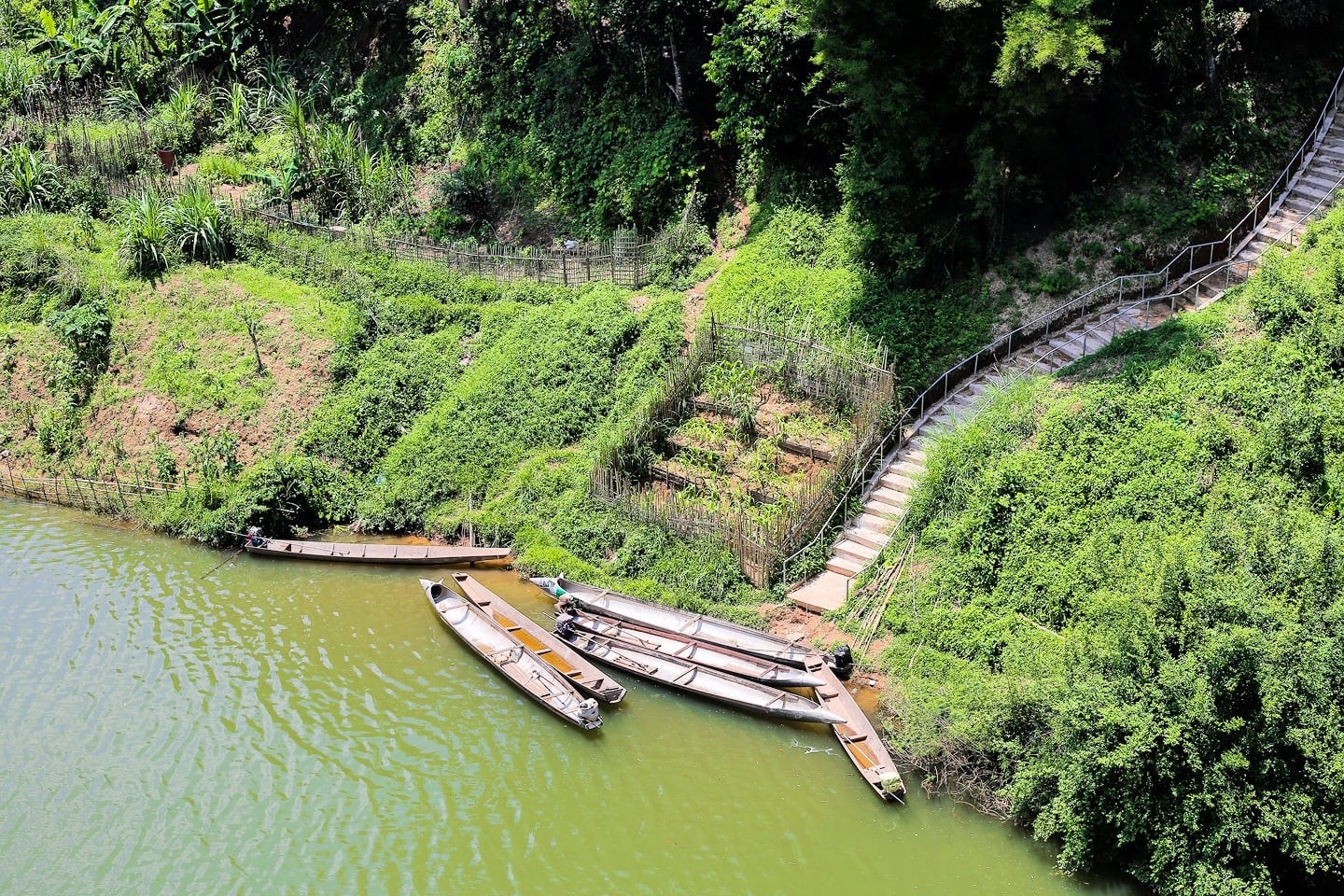 Two worthy stops along this stretch are Dragon Cave [map] and the Thabak Bomb Boats.
If you plan to stay in Nahin, grab dinner at the excellent restaurant at Dragon Cave beforehand instead of waiting to get to town, as there aren't a ton of options in Nahin.
After taking a look at the bomb boats just under the bridge at Thabak, cross the bridge and continue on to Nahin, which is about 18 km away.
The road will begin winding up into the mountains again with about 200 meters of overall elevation gain. While you're up here, stop for a moment to take in the view at the viewpoint [map].
A short while later, you'll find yourself in Nahin. Shower off, relax, and get a restful night's sleep before heading to Konglor Village in the morning.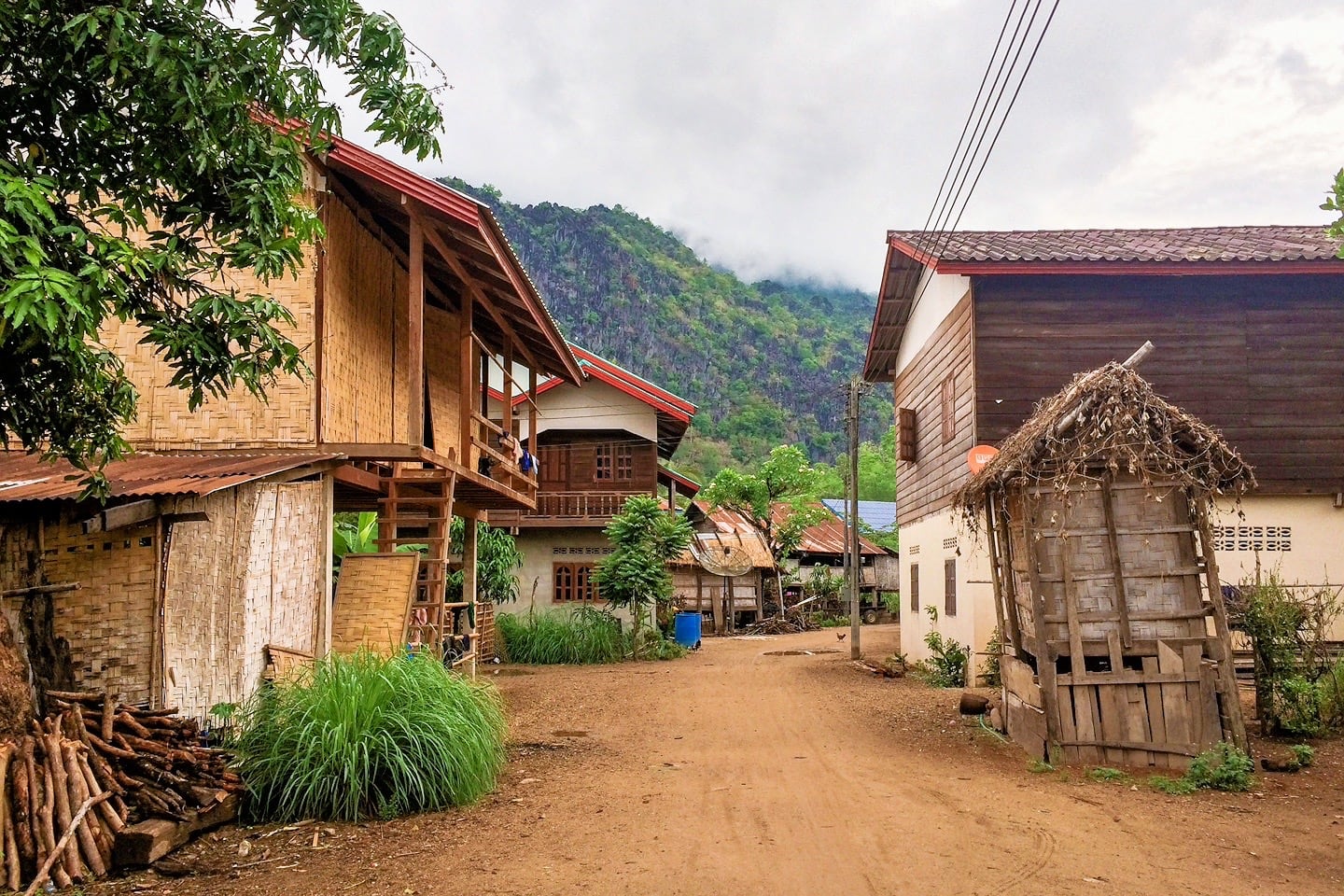 Day 3 — Nahin to Konglor | 42 km | 2-3 hrs.
Today's ride is by far the shortest and easiest of the entire journey, leaving plenty of time to explore and enjoy the peaceful and scenic village of Konglor (aka Ban O / Ban Gnang) and explore the 7 km subterranean river through Kong Lor Cave by boat.
Wind your way to the back edges of Nahin and head south along the unmarked highway. Once you reach the village of Ban Nakham, the road highway shoots almost dead south, as straight as an arrow for 10 km.
At Kengcheck, the road suddenly makes a sharp left turn to the southeast. At this point, you'll find yourself in a stunning valley enveloped by mountains as you ride the next 25 km into Konglor Village.
The tarmac from Nahin to Konglor Village is generally good, passing through a handful of small villages on the edge of the Phou Hin Poun National Bio Diversity Conversation Area.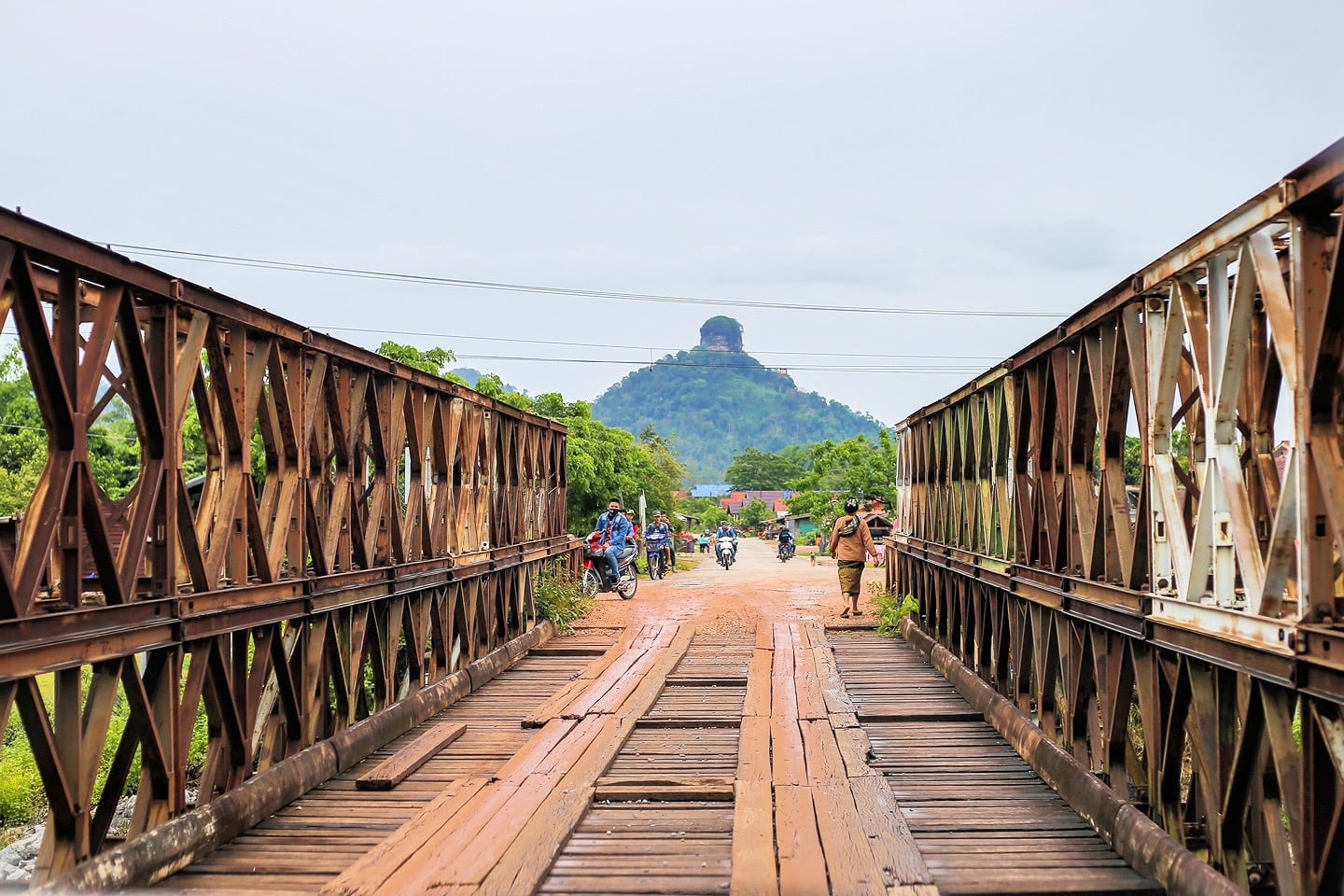 While most of the wooden bridges you'll cross provide two parallel tracks of concrete blocks (relatively easy on two wheels), one or two of the bridges are constructed of rickety wooden planks that can get slick when wet (like the one above). Proceed with caution!
When you arrive in Ban O (Konglor), enjoy relaxing or exploring the village, or ride to the end of the road, park the bike, and get about the business of hiring a guide and exploring Konglor Cave.
---
Related ▸ Ultimate Guide to Kong Lor Cave in Laos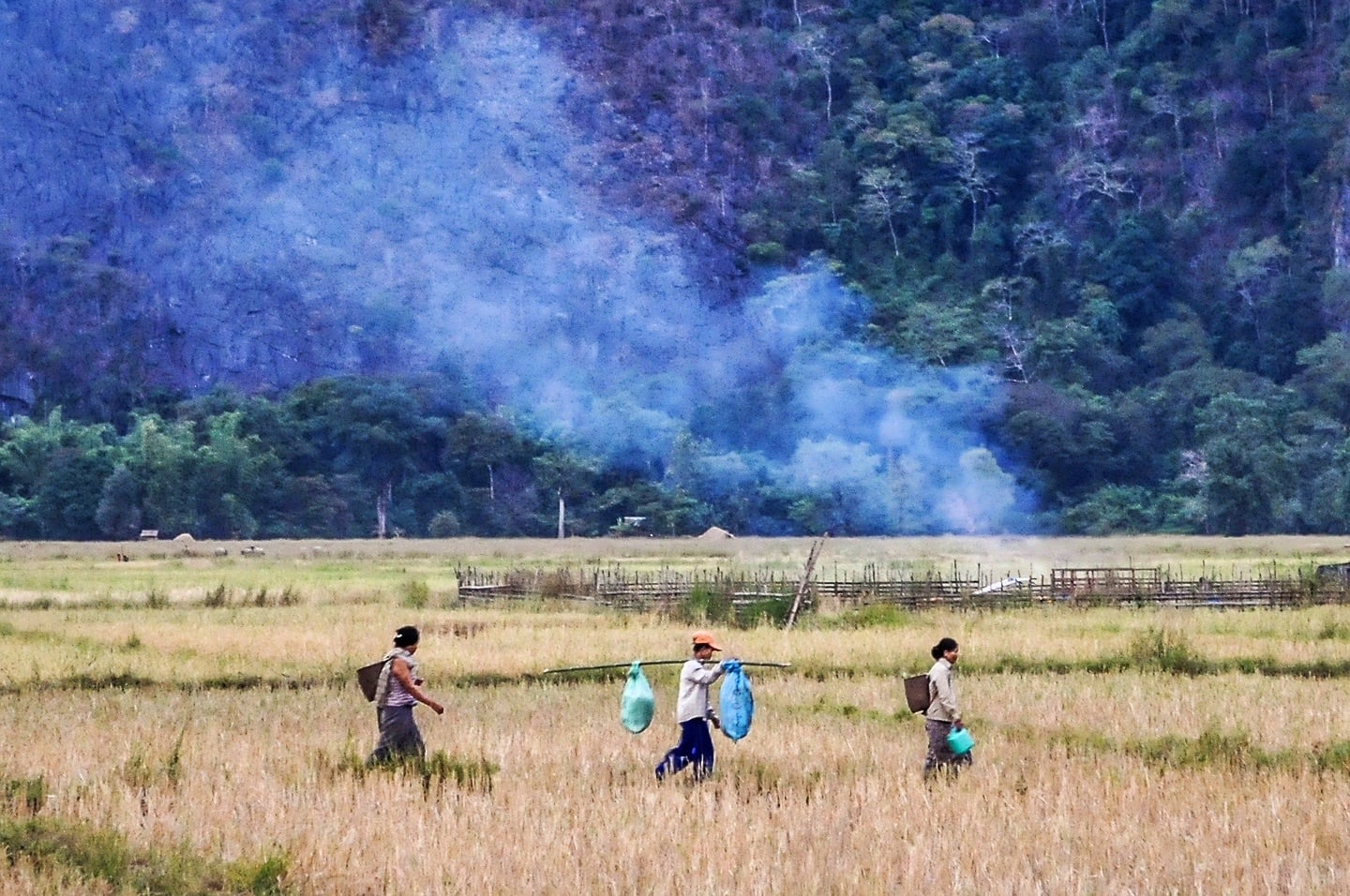 Day 4 — Additional Day in Konglor or Konglor to Nahin | 42 km | 2-3 hrs.
There are a few ways you can slice or dice this day.
As mentioned before, we did the Thakhek Loop on our first time around in four days, and while you could certainly head out of Konglor Village early on the fourth day and make your way the 188 km back to Thakhek by nightfall, we don't recommend it.
It makes for one heck of a long day on a cheap 110 cc motorbike in the tropical heat (or rain) and it's just not worth putting yourself through that if you can avoid it.
Instead, our advice is to relax and enjoy Konglor before heading back to Nahin in the late afternoon. Or, rest up for another day in Konglor before making the long day's journey from Konglor back to Thakhek.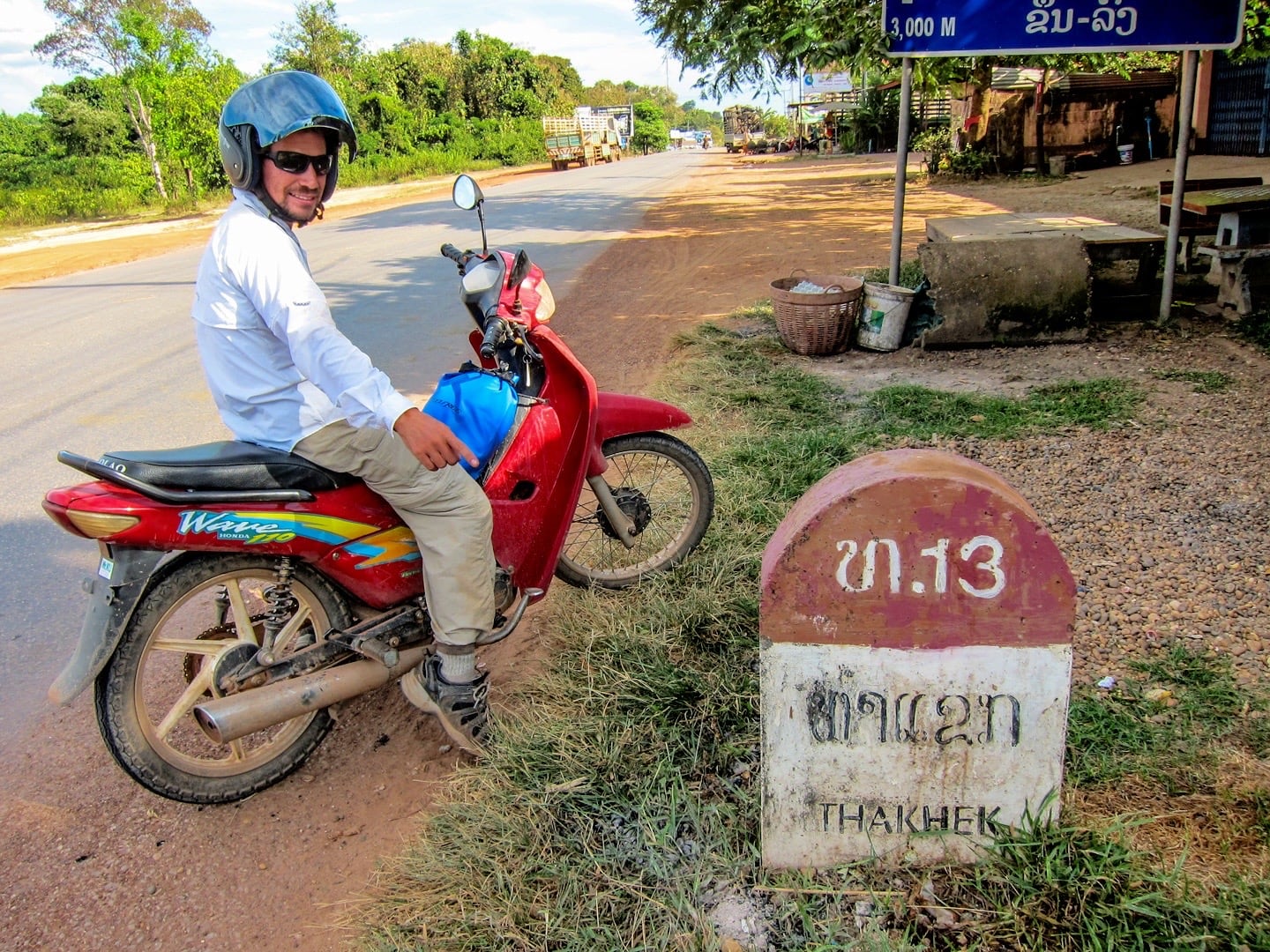 Day 5 — Nahin to Thakhek | 145 km | 5-7 hrs.
Day 5 begins again at Nahin. Head west on Route 8 out of town to Vieng Kham and the junction with Route 13.
15 minutes west of Nahin, The Rock Viewpoint at Phou Pha Marn offers spectacular views and the adjacent Khop Chai Deu restaurant and Rock Cafe make for outstanding pitstops along this leg. There are also opportunities for canopy walks, zip-lining, and crossing the harrowing spider net.
An hour down the road, make a left at the town of Vieng Kham to head south on Route 13 for 100 km to Thakhek.
There's not a lot to say about Day 5. It's more of a formality/necessity to get your bike back to where you rented it in Thakhek. It was our least favorite day of riding, as it can be a long and monotonous ride spent on relatively featureless (and truck-heavy) Route 13.
But, if you get decent weather and light traffic on the highway (doing this leg starting early on a Sunday morning helps to avoid the big dumb trucks that now seem to dominate major Laos highways), it's easy to sit back, relax, and go with the flow.
As with the rest of the Thakhek Loop, make sure you're well protected from the sun and stop to stretch your legs and hydrate every 1-2 hours.
Wave "Sawasdee!" to Thailand as you pass the Lao-Thai Friendship Bridge 3 just before arriving in Thakhek.
---
Thakhek Loop in 3 Days
Essentially the same as above, without the Konglor detour.
Day 1 — Thakhek to Thalang | 110 km | 4-6 hrs.
Day 2 — Thalang to Nahin | 107 km | 4-6 hrs.
Day 3 — Nahin to Thakhek | 145 km | 5-7 hrs.
---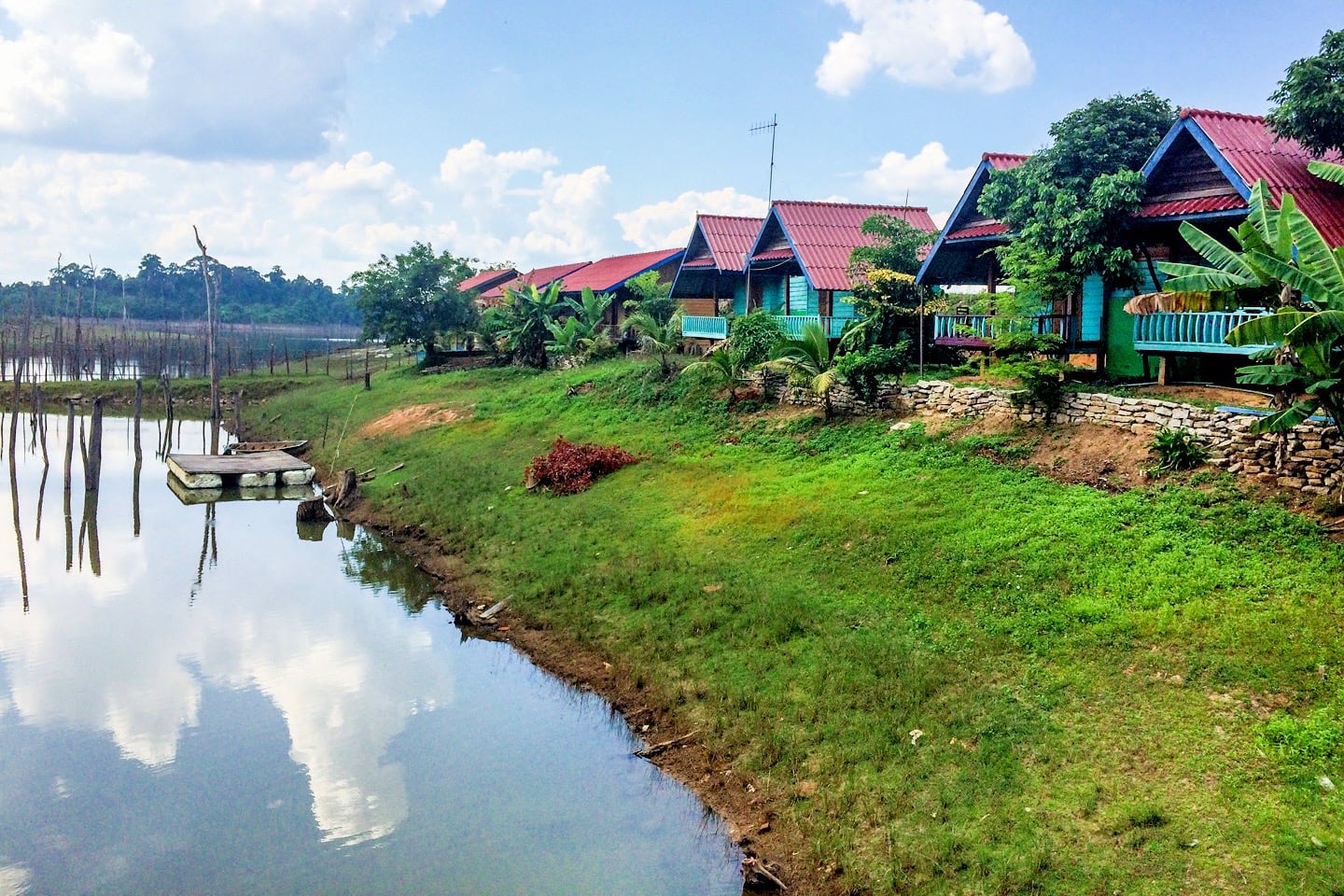 Where to Stay on the Thakhek Loop
Here are our top recommendations for where to stay along the Thakhek Loop in 2023.
If you plan on riding the Thakhek Loop in peak-season (Dec-Jan), you'll want to try to book most of your accommodation along the route in advance.
Outside of these months, if you're flexible and arrive on the earlier side, you should be able to find some accommodation in the places listed below.
However, if you're set on staying in Thalang (we think you should!), we recommend booking in advance throughout the dry season (Nov-April) as lodging options there remain few.
Thakhek
Thakhek has a good variety of lodging options for travelers these days. Our top budget pick in the city center is Bike & Bed. You can't rent a motorbike here, but you can rent a bicycle. Dorm beds (US$6), shared kitchen, and an awesome vibe. It's also worth checking out La Casa Thakhek (US$6 dorm beds).
Inthira Thakhek is our top mid-range option with private rooms in the city center. Situated in a historic building with an excellent restaurant, Inthira Thakhek has all the amenities of an upmarket hotel for a fraction of the price. We stayed here ourselves on our last trip to Thakhek and highly recommend it (from US$40 per night).
Another solid option in the city center is Le Bouton D'or Boutique Hotel. Clean and comfortable with A/C, onsite restaurant, and wifi with rooms starting at US$30/night.
If you're looking to stay closer to the main highway, Villa Thakhek is a nice option with all your basic amenities (from US$24/night). It's also right next to Thakhek Travel Lodge, if you happen to go that route for renting your motorbike (but read our Where to Rent Your Motorbike section first!).
About 15 km outside of town, climbing junkies (or those looking to try rock climbing out for the first time) should check out Green Climbers Home. Basic bungalows (starting at US$25), great food and chill vibe attracts an awesome community of climbers and travelers.
Nakai (Route 12/1E Junction)
Look for a cluster of decent lodging options around the junction of Route 12 & Route 1E, 55 km out of Thakhek (this is marked as "Nakai" on some maps). Try View Theun Guesthouse [map].
Ban Oudomsouk (Ban Nakay Neua)
Oudomsouk (77 km from Thakhek, also marked as Nakay Neua on some maps) also has a handful of reliable lodging options — Sunset Resort [map] is a comfortable option with pool, though a bit pricier than other options in town; Nakai Resort (from US$12), NTPC Wooden Guesthouse [map] and Tolek Guesthouse [map] are reliable budget options.
Ban Thalang
Get an early start out of Thakhek and make sure you get yourself to Thalang for the night if you can. Thalang is a quiet, relaxed, and picturesque traditional Laos village with friendly locals and good accommodation. The perfect place to rest up after your first long day riding the Loop.
Our top pick has been for the past eight years (and still remains) Phosy Thalang Guesthouse (from US$24). The other top lodging option in town is Sabaidee Guesthouse [map], though they can be hit or miss at times.
Laksao
Laksao is a dusty transit stop with little charm to speak of. If you pass through by lunch time, we recommend continuing on to Ban Nahin.
With that said, if you do find yourself needing a place to crash, your best bet by far is Meesouk Guesthouse (from US$30), just out of town heading west on Route 8. There are also plenty of transit hotels along Route 1E and Route 8 to stay for cheap. You can't miss them.
Ban Nahin
Gateway to Konglor and the Hinboun River valley! Though you won't find much to keep you here for more than a night, it's a scenic and accommodating little junction town, nonetheless.
Our top pick in Nahin is Sanhak Guesthouse 1 (standard doubles from US$14), a clean and reliable bet with A/C in the village center. Sanhak also offers dorm beds (US$5) for shoestring travelers. Our other top choice is Phamarnview Guesthouse (US$15), another clean and comfortable option in town with A/C.
Sainamhai Resort is a popular option a few kilometers outside of town along the road to Konglor (from US$18). With unusual lodging options The Rock Lodge @Phouphamarn is also worth checking.
Kong Lor Village (Ban O / Ban Gnang)
If you're keen on comfort and a relaxing vibe along the river, check out Spring River Resort. The biggest downsides to staying at Spring River are it's a bit removed from the main village and restaurant prices are a bit steep compared to local places in town. With that said, Spring River occupies the most scenic real estate of perhaps any other guesthouse in the area (double bungalows starting at US$20).
For reliable options close to the village center check out Konglor Eco-Lodge Guesthouse (US$10) and Thongdam Guesthouse (Khounmee GH) (US$12 bungalows). Kong Lor Cave Guesthouse (US$9) near the cave is also usually a good bet.
---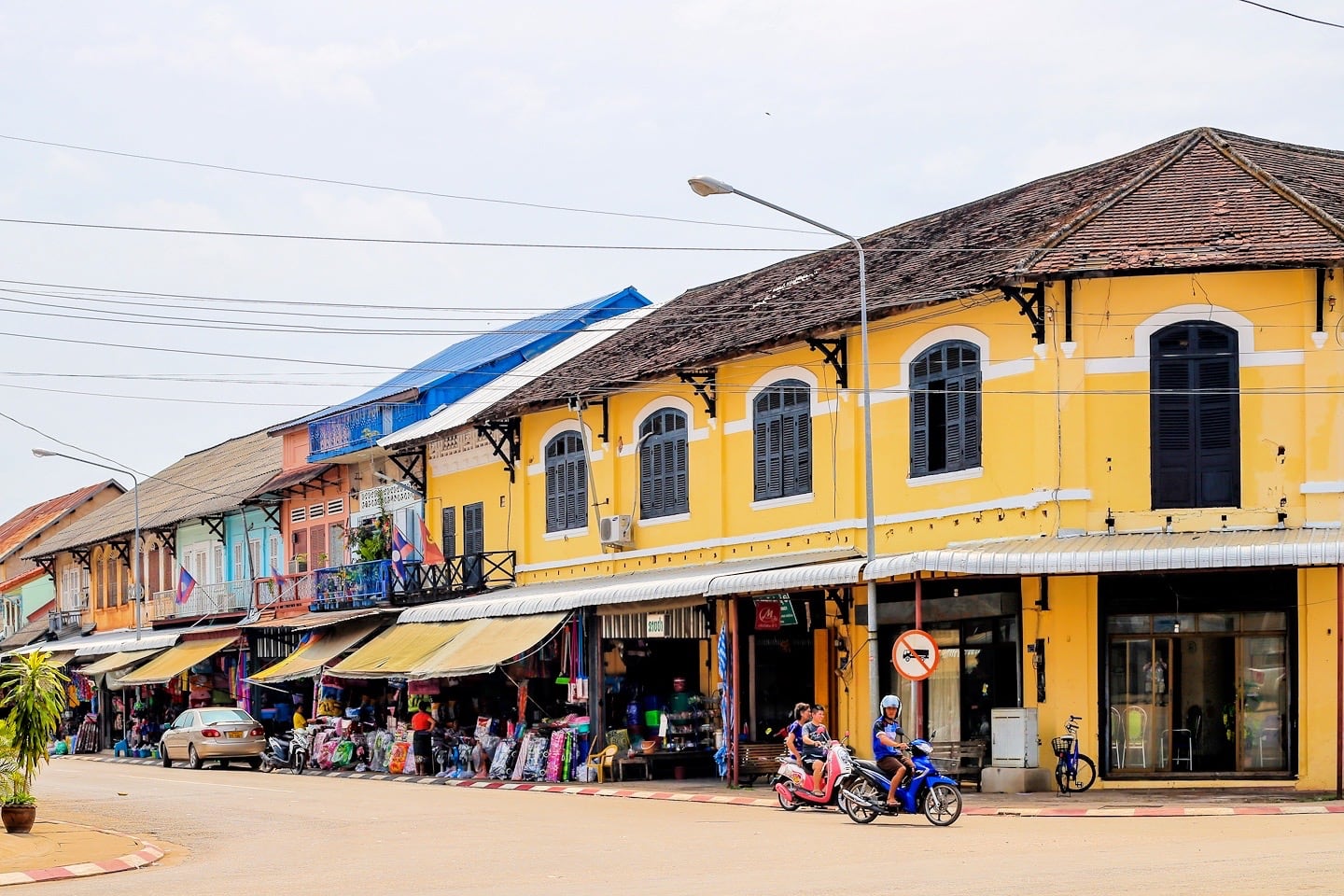 All About Thakhek Loop Motorbike Rentals
In this section, we cover all the essentials for renting and riding a motorbike around the Thakhek Loop in Laos.
Where to Rent Your Motorbike
When it comes to renting a motorbike, the Khammouane Province capital city of Thakhek remains the best bet. The current top options in Thakhek according to recent travelers are Mad Monkey Motorbike and Wang Wang.
Mad Monkey Motorbike
Word on the street is that the motorbike rentals at Mad Monkey Motorcycle [map] are generally the better quality of the two shops, but their daily rates tend to be a bit higher than the competition.
Wang Wang
Wang Wang [map], next door to Mad Monkey seems to be the best bet for the cost-conscious, as their rates tend to be half of Mad Monkey. Their motorbikes may or may not be Chinese knock-offs, but this matters a heck of a lot less these days than it did just a few years ago. It's important to also keep in mind you aren't looking to buy the bike, just ride it for a few days.
With that said, there are a few things you'll want to keep in mind, regardless of where you rent from (keep reading).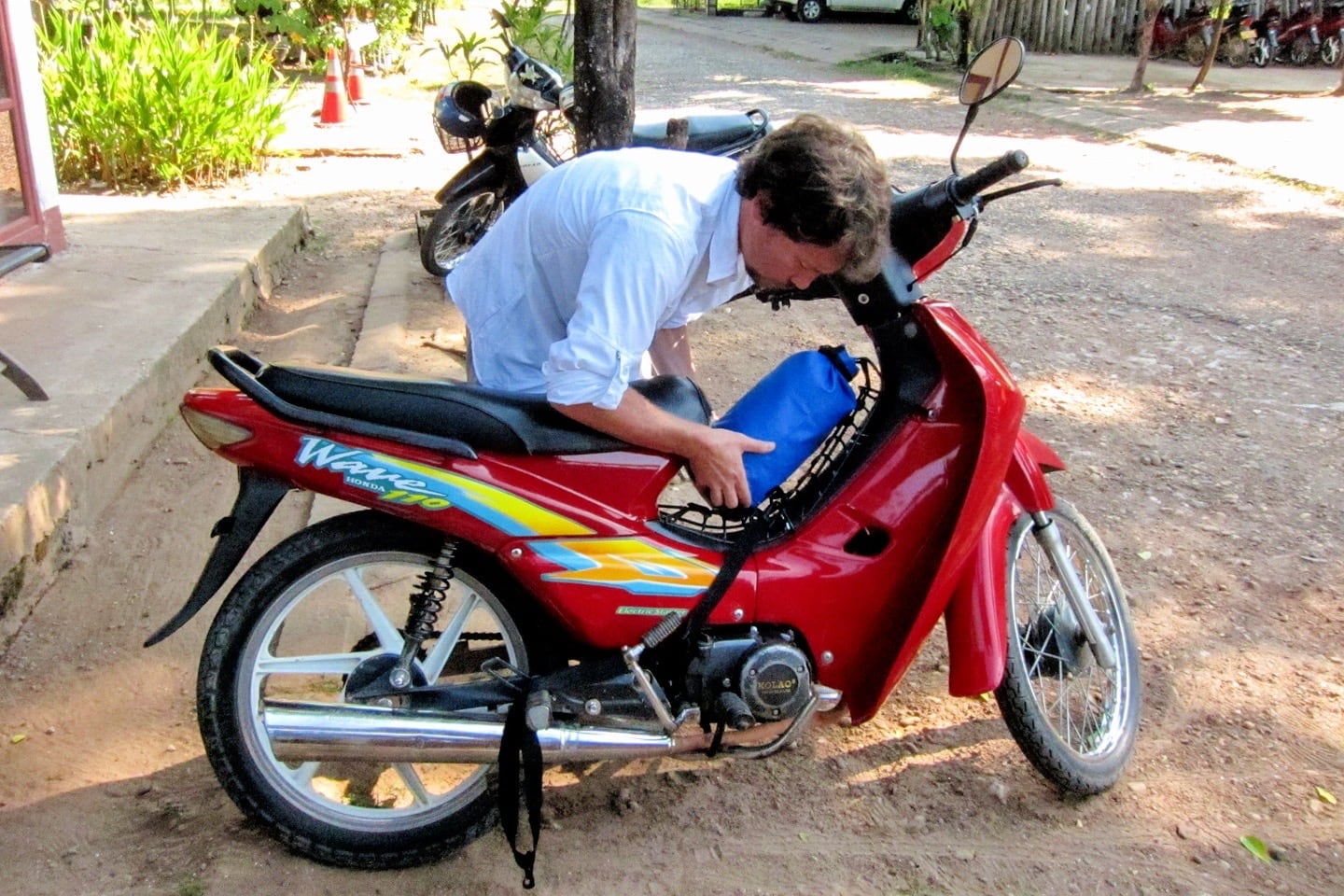 Laos Motorbike Rental Checklist
If you're thinking of renting a motorbike for the Thakhek Loop or anywhere in Laos, this checklist will help increase the chances of riding away with a reliable bike and getting you and your motorbike back in one piece.
Even if you've rented motorbikes in neighboring Vietnam or Thailand, keep in mind that life is generally harder on motorbikes here in Laos. In both rural and urban areas bikes are regularly subjected to poor infrastructure, red clay dust, year-round outdoor storage, and poor maintenance practices.
Here's a quick checklist of what to look for in a bike before hitting the road:
✓ Overall condition looks good and sturdy. Everything should feel tight and secure. Check for rust on key joints. A little surface rust is okay, so long as it doesn't appear to impact the integrity of the frame. Check that the chain is oiled and that there's enough tension. Check that the bike has mirrors, which are critical for riding on narrow Laos roads where large construction vehicles are commonplace.
✓ Tires should be in good shape and properly inflated with some tread and minimal cracks in the sidewall.
✓ Both brakes should feel good and bring you to a safe and complete stop from 40 km/h in a few seconds. You don't want the brakes too squishy or too sensitive. You'll need to actually ride the bike to properly test this one. This will also be a good test for the shocks.
✓ While you're taking the bike for a spin, check for fluid leaks (particularly oil and fuel), and any pungent smells that don't disapate after the short ride. Also check for knocking from the engine and other unusual sounds.
✓ Check the electronics — lights (brake light, headlight, signals), horn, ignition. One of the most common issues on rental bikes in Southeast Asia is with the battery. While you're not going to be able to catch a lot of issues with a cursory inspection, if the bike starts up fast, it's generally a good sign.
✓ Confirm fuel levels and make sure you get topped up before leaving town. Check the fuel return policy to confirm whether there's a penalty for returning the bike empty.
✓ Make sure the bike comes with a decent helmet for both rider and passenger, if applicable. Check for cracks in the helmet, etc. If you're considering riding without some sort of head protection, keep in mind there is no 9-1-1 / 1-1-2 out here, and it may take a very long time for emergency services to reach you, if they do at all.
✓ Check the rental company's policy on roadside assistance and covering costs of repairs like flat tires, etc. Don't worry if this isn't the case as minor repairs generally cost very little and can be performed in almost any village along the way. Also, make sure you have contact numbers in case any issues arise with the bike.
✓ We generally like to do a quick walk-around video of the bike before leaving to avoid any funny business when returning the bike, though in Laos it's quite rare for swindling along those lines to take place. Obviously, if you do some significant damage to a bike, you'll have to answer for it.
✓ Consider travel medical insurance (seriously!). Laos is among the safest countries for travelers in Asia. With that said, stuff happens. If you're motorbiking the Thakhek Loop, it might be a particularly good idea to look into a travel medical insurance plan. Make sure your policy covers riding a motorbike and that you have the required license/ endorsement for coverage!
✓ While enforcement in Laos is lax when it comes to meeting basic motorbike riding requirements (i.e. international driver license), keep in mind that you may very well void your insurance policy if you don't have one.
---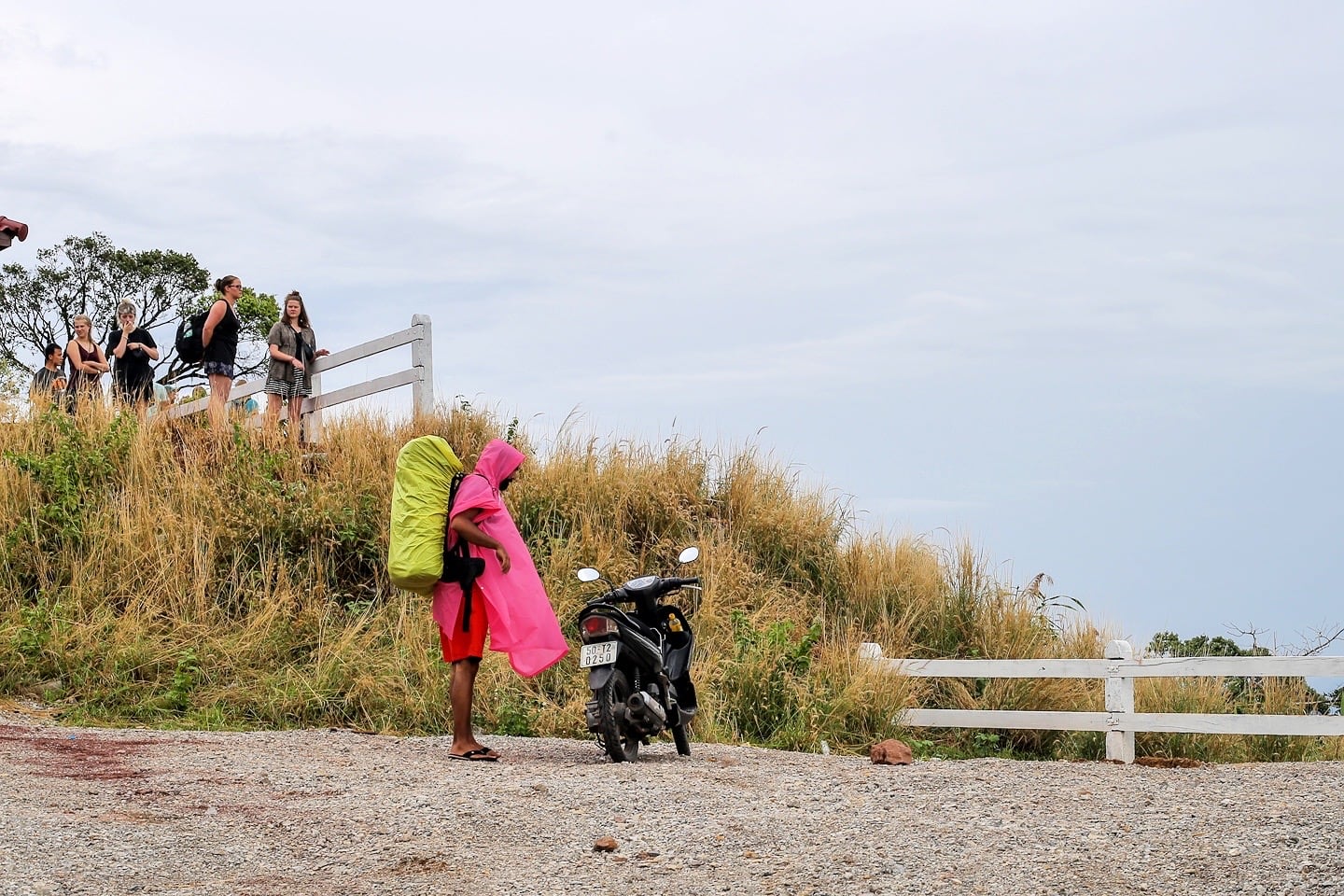 What to Pack for the Thakhek Loop
Road Protection — In terms of clothing, you could go to great lengths to get outfitted for this adventure. But I found my long-sleeve vented travel shirt and convertible pants fit the bill. However, I'd strongly advise against wearing light colors out here due to the red clay surface on some stretches (particularly if you plan on riding to various caves and other points of interest off the main highway). Additionally, your motorbike rental shop should give you a functional helmet. Use it!
Sun Protection — Plan on getting a lot of sun exposure. Long sleeve shirts and long pants offer a bit of road rash protection (in case of a spill) as well as sun protection. Your helmet should provide your head with good protection from the sun as well (though if you plan on hiking, some sort of sun hat is recommended). For everything else, use sun screen, and reapply regularly. The sun is no joke in these parts.
Rain Gear — If you plan to ride in rainy season (May-October), make sure to pack a rain poncho or lightweight, breathable rain jacket, and some sort of waterproof bag for your stuff (i.e. dry bag or backpack with rain cover).
Cave & River Gear — If you plan to explore the many caves along the route or cool off in the Nam Hinboun in Konglor Village, consider bringing a pair of river sandals. For riding through Konglor Cave, you may also want to bring a rash guard for temperature regulation in and out of the cave.
Snacks — We brought snacks and two large bottles of water which we were able to refill or replace at regular intervals along the way. If you're keen on having Western snacks, stock up in Thakhek or Vientiane before hitting the Loop.
Money — While there are more ATMs on the Thakhek Loop now than there were just a few years ago, we strongly recommend withdrawing enough for the entire Loop journey before departing Thakhek. Outside of Thakhek at present, there are BCEL ATMs in Ban Oudomsouk (Nakai District), Laksao (near the Route 1E/8 junction) and Nahin (on the main highway in town), but there's no guarantee they'll be functioning (or have money) when you need them. Sabai sabai!
Odds & Ends — With the aim of riding as light as possible, we whittled our travel gear down to one daypack and one dry bag for four days — three changes of underwear and socks, basic toiletries, bike lock, sandals, sunscreen, mosquito repellant, bathing suit for Konglor Cave, e-reader, and of course, my trusty camera (which, honestly, accounted for the bulk of the weight). Today, I'd bring my GoPro along as well.
Last, but not least — Don't forget to bring along a sense of adventure! (and a sense of humor). Both are bound to come in handy.
---
Related ▸ 15 Butt-Saving Tech Essentials for Digital Nomads & Tropical Freelancers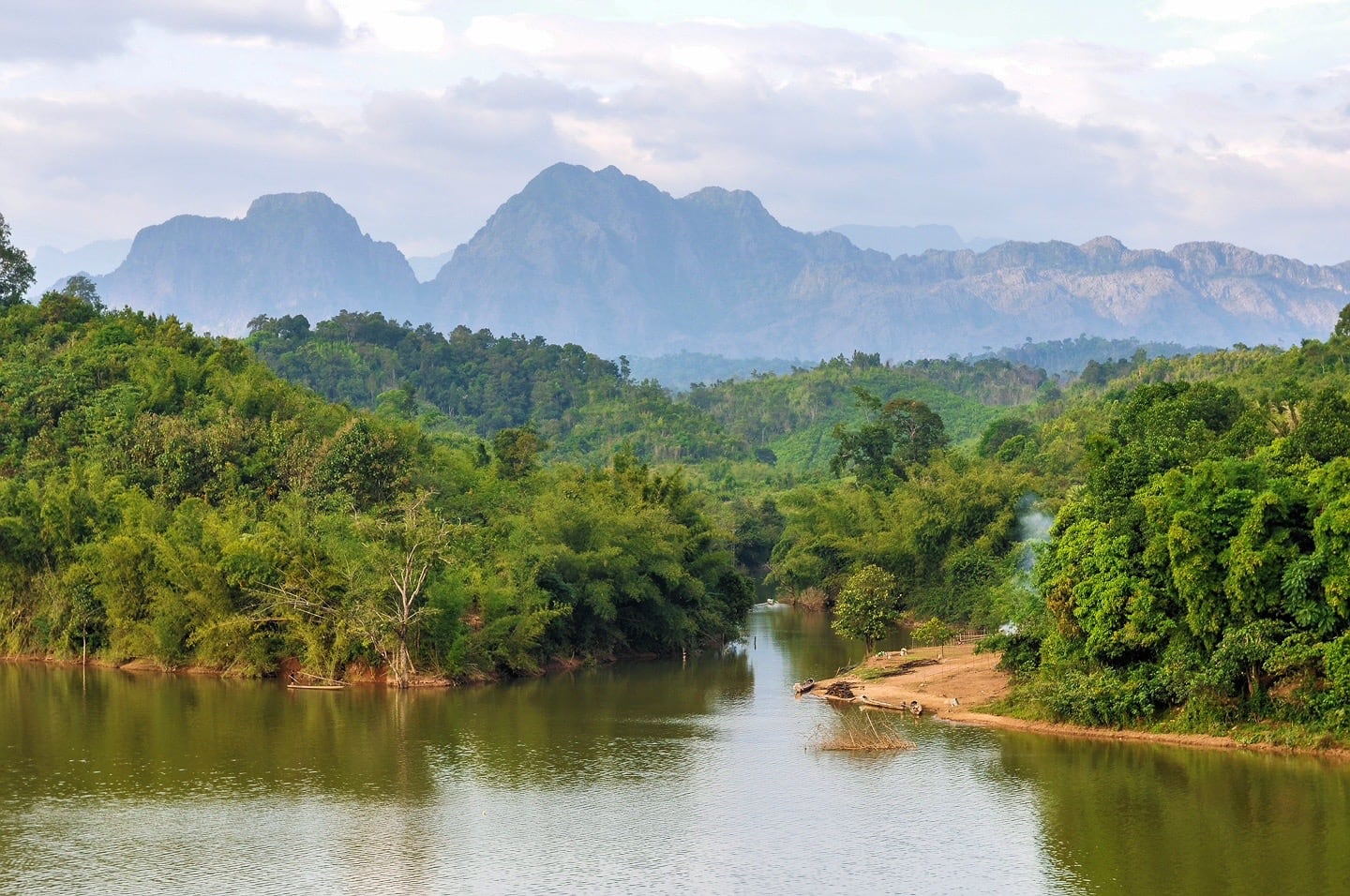 When to Ride the Loop
The Thakhek Loop can be completed year round. Even before the entire route was sealed, riders completed the loop in the wet summer months.
With that said, if you have a choice, we strongly recommend planning to do the Thakhek Loop sometime between November and April during dry season.
Do keep in mind that March and April get extremely hot, and most lodging options along the route do not offer A/C.
Riding in the Rainy Season
Even with the route being paved, visibility and riding conditions can significantly deteriorate during or after a heavy rain storm.
If you plan to ride in the rainy season (May-Oct), anticipate longer days on the bike and lots of standing water on the road. Additionally, you may find that the majestic karst peaks and scenery may be shrouded in cloud cover.
Riding in the rainy season also makes it more challenging to visit points of interest off the main highway, as the roads to access these are mostly unsealed and not well maintained.
You'll also need to pack some extra gear. See our gear section, above, for more information.
With all that said, there are two big advantages of riding in the rainy season. Expect amazing neon green rice fields at every turn, and to have lodging along the Loop essentially to yourself.
If you're the sort who hates to plan ahead and would rather go where and when the wind takes you, you're much more likely to enjoy your ride in the rainy (low) season.
The Very Best Time of Year to Ride the Loop
If you have ultimate flexibility to ride the Thakhek Loop at any time of year, the very best time to do it is December and January.
Clear skies and the coolest temps of the year almost guarantee an amazing ride throughout the entire route.
Places like Luang Prabang and Vang Vieng can get overwhelmed with tourists during these months, but the Thakhek Loop is less impacted.
However, do keep in mind that you'll probably need to book much of your accommodation ahead of time if you plan to ride in December and January.
---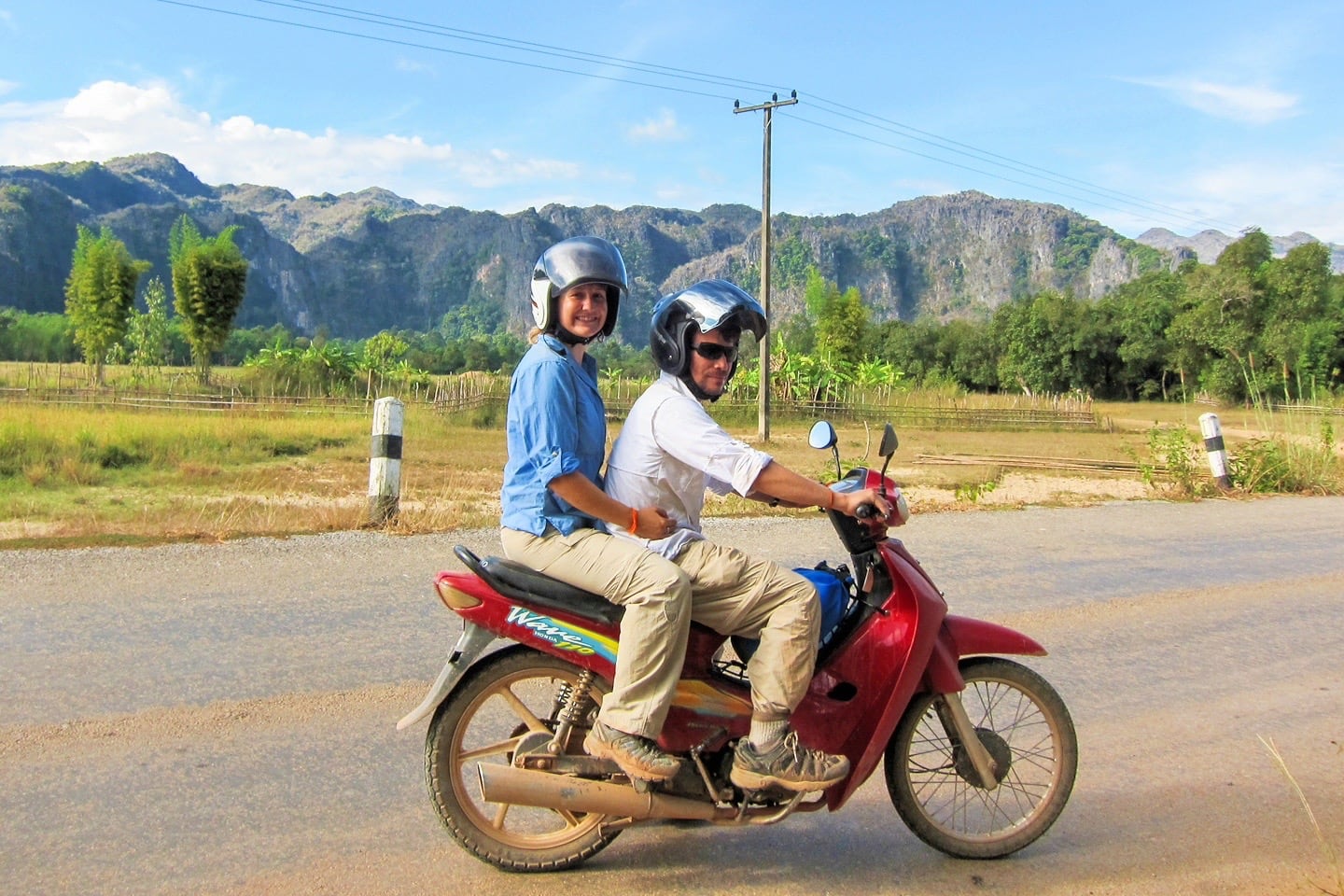 Final Thoughts
Even with the road improvements, we think riding the Thakhek Loop is still a once in a lifetime experience—and a unique one at that. If this is your first time, don't rush it!
If you are planning on backpacking through Laos (not touring, not flashpacking, but traveling low and slow) you might very well want to take the amount of time you originally allotted to Laos and double it.
If you're craving adventure and authenticity, you might not get your fix in Vietnam or Cambodia unless you invest a lot of time and effort in getting up and off the Trail, and you probably won't find it backpacking in Thailand.
Laos is the real deal, provided you make time to get outside of Luang Prabang, Vang Vieng, and Vientiane and interact with the people and places in the rural communities. And riding the Thakhek Loop is one of the best ways to do it.
Have You Motorbiked the Thakhek Loop?
What was your experience like? Any updates on the route not mentioned here? Tell us in the comments section.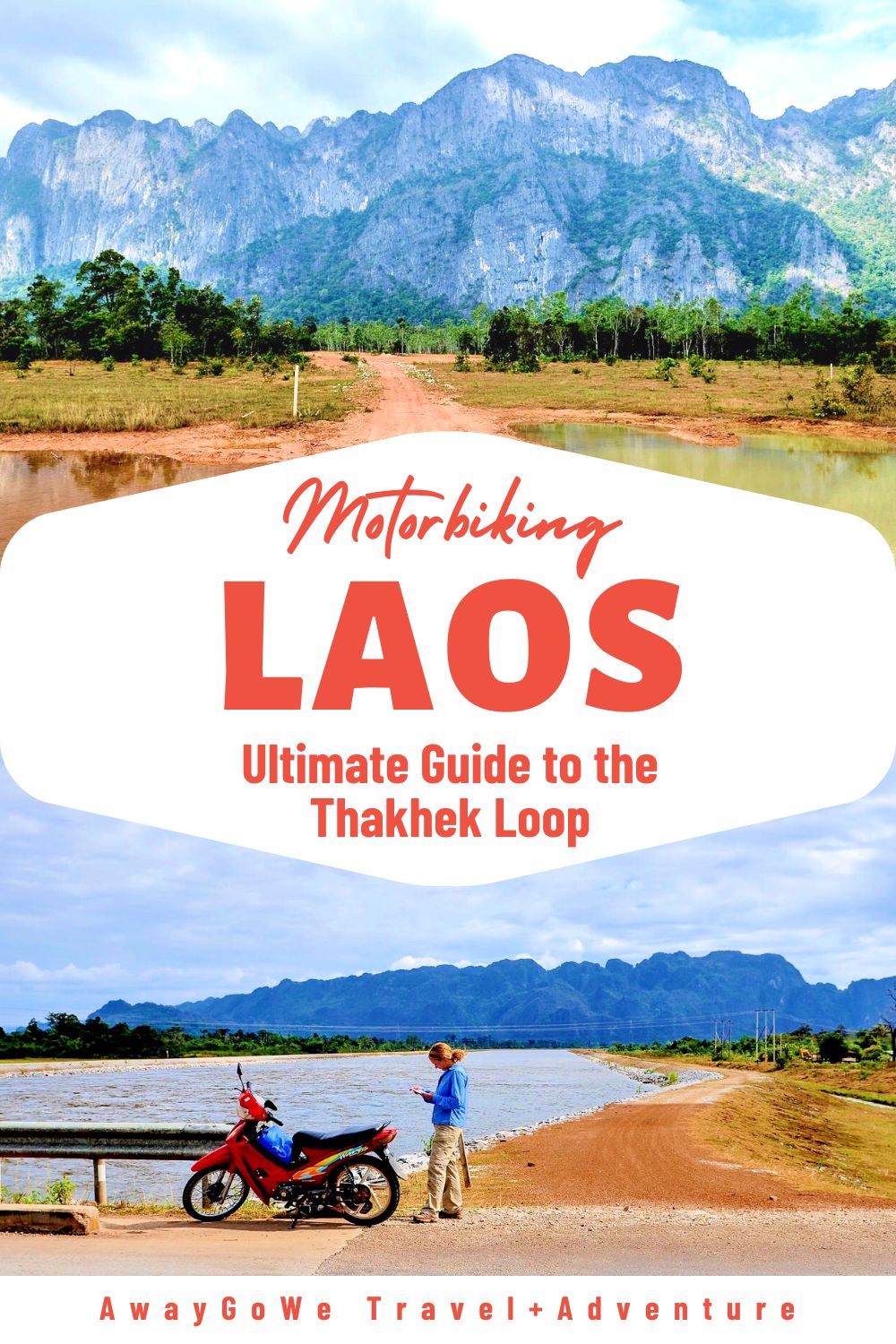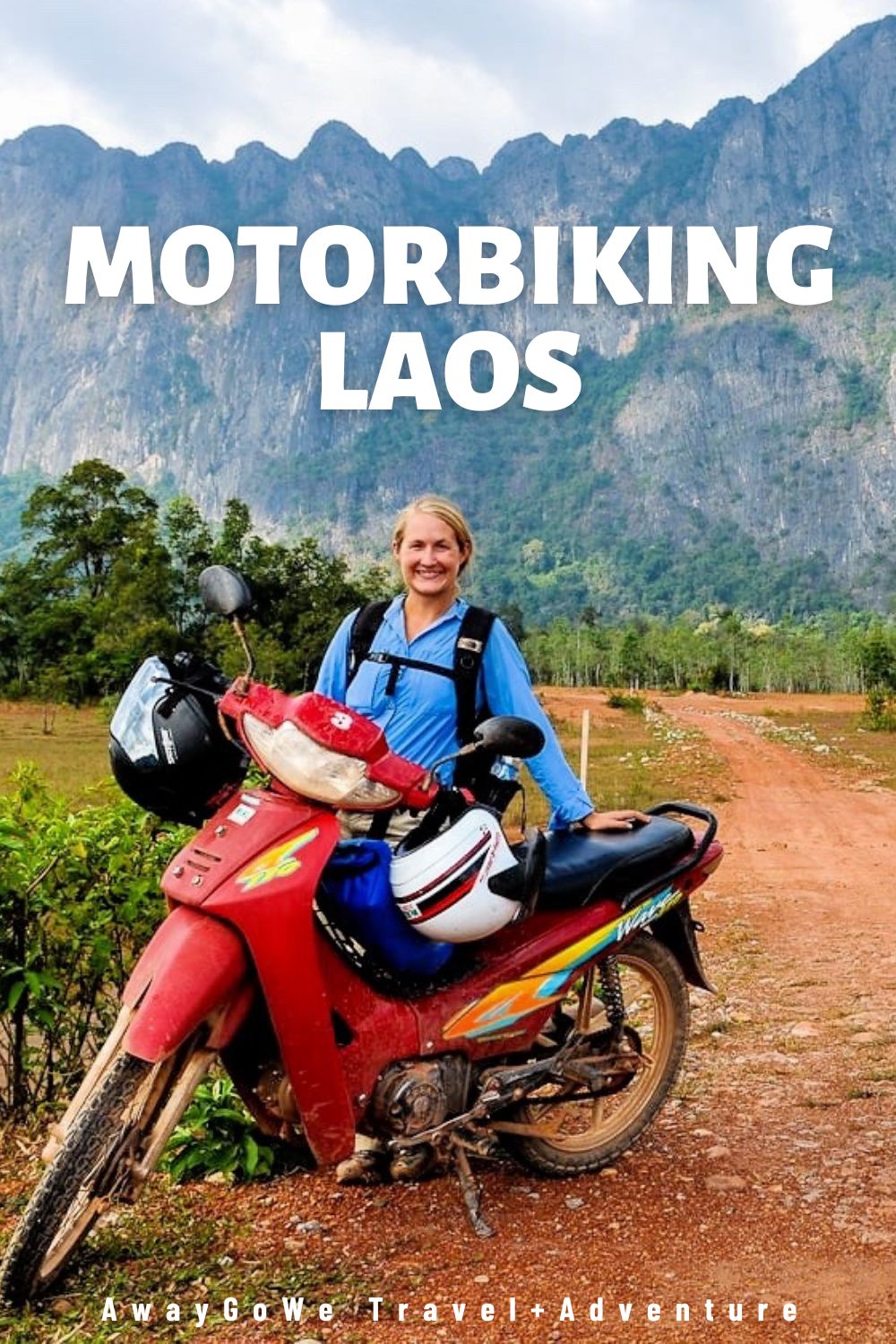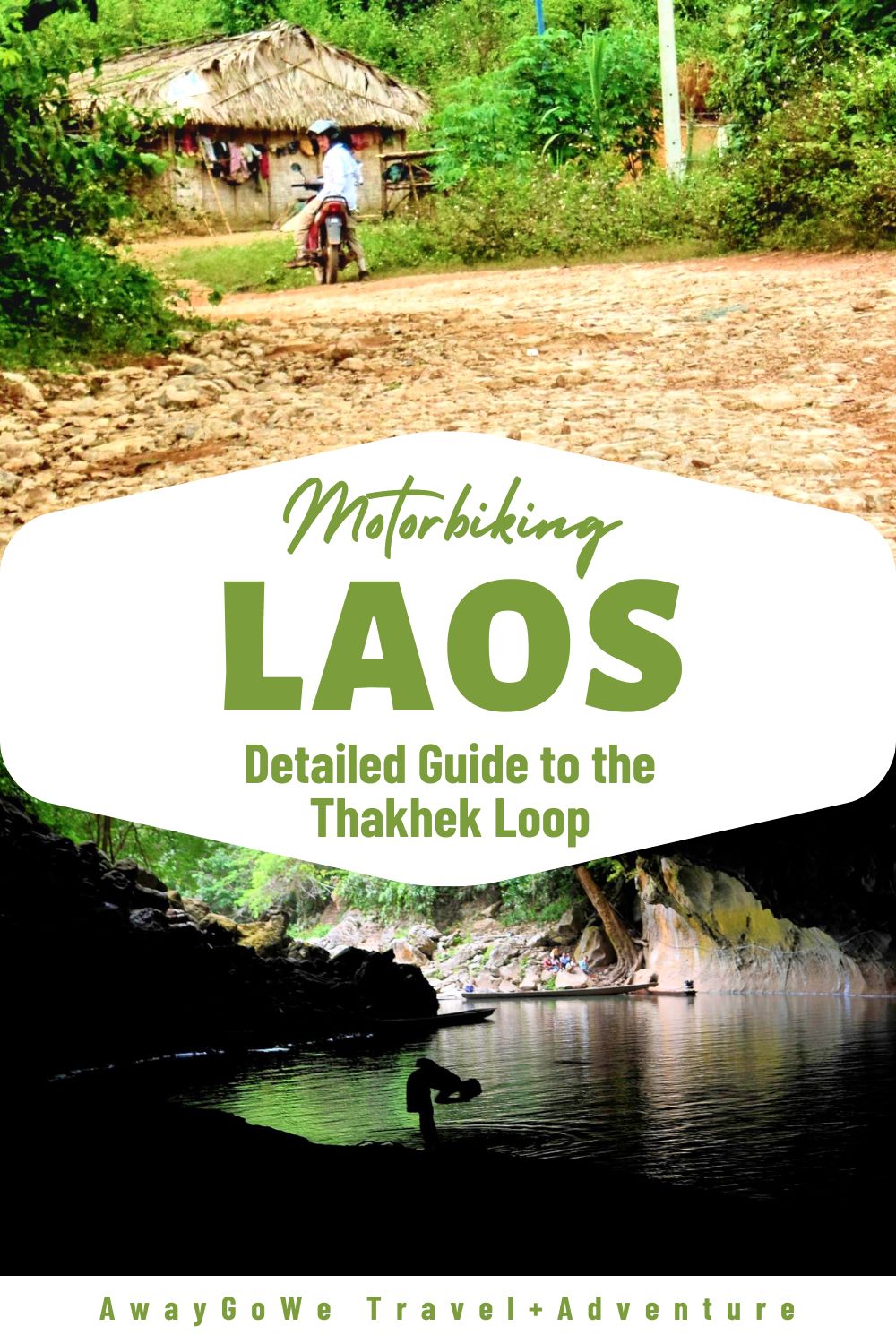 I've been a blogger and travel writer since 2010, covering everything from luxury hotels to hidden destinations and travel gear. Originally from Oregon, I've spent the majority of the past 20 years living outside of the U.S., in Mexico, the Caribbean, Southeast Asia, Africa, and Europe. I received a BA in Communications (Journalism) from Boston College, and an MA in International Development Studies from the George Washington University. I'm passionate about exploration and discovery, and providing independent, thoroughly-researched, ad-free advice for travelers.