Looking for a bit of adventure away from the Banana Pancake trail? Need a night ferry from Chumphon to Koh Tao or vice versa? This detailed guide will tell you how to take the Koh Tao night ferry and what to expect from your journey.
Why Take the Night Ferry from Chumphon to Koh Tao?
Once the flocks of young farang (white foreigners) tire of Bangkok's Khao San Road (perhaps a day or two or whenever the hangover wears off…) they typically head in one of two directions:
North, to immerse themselves in Chiang Mai's "cultureness," or South, to the sweetass beaches, brah.
And indeed there aren't too many different directions one CAN travel from Bangkok — rarely do the vast majority of visitors to Thailand seem to stop anywhere in between and they most certainly do not veer from the well-trodden tourist trail.
But why would they? — especially first-timers, given all there is to see along that well-worn yellow brick road.
Perhaps one of the hardest things that we've had to get used to in Thailand is trodding the path together with hundreds of other farang.
Certainly there are adventures off the path, but we came to see Thailand for what Thailand is known for back home: Its magnificent beaches and cultural sites — and to miss these destinations on our first visit to Thailand would have been a pity.
Fortunately, with a little effort, we still managed to find less-trodden paths just off the mainline, in a country which puts an amazing amount of effort into funneling backpackers down the straight and narrow.
For us, the night ferry from Chumphon to Koh Tao is one of the highlights of our travels throughout the region, and we are so happy we skipped the fast boat and took the chance on a rusty freighter where Burmese migrant workers vastly outnumbered other backpackers.
---
Related Articles
---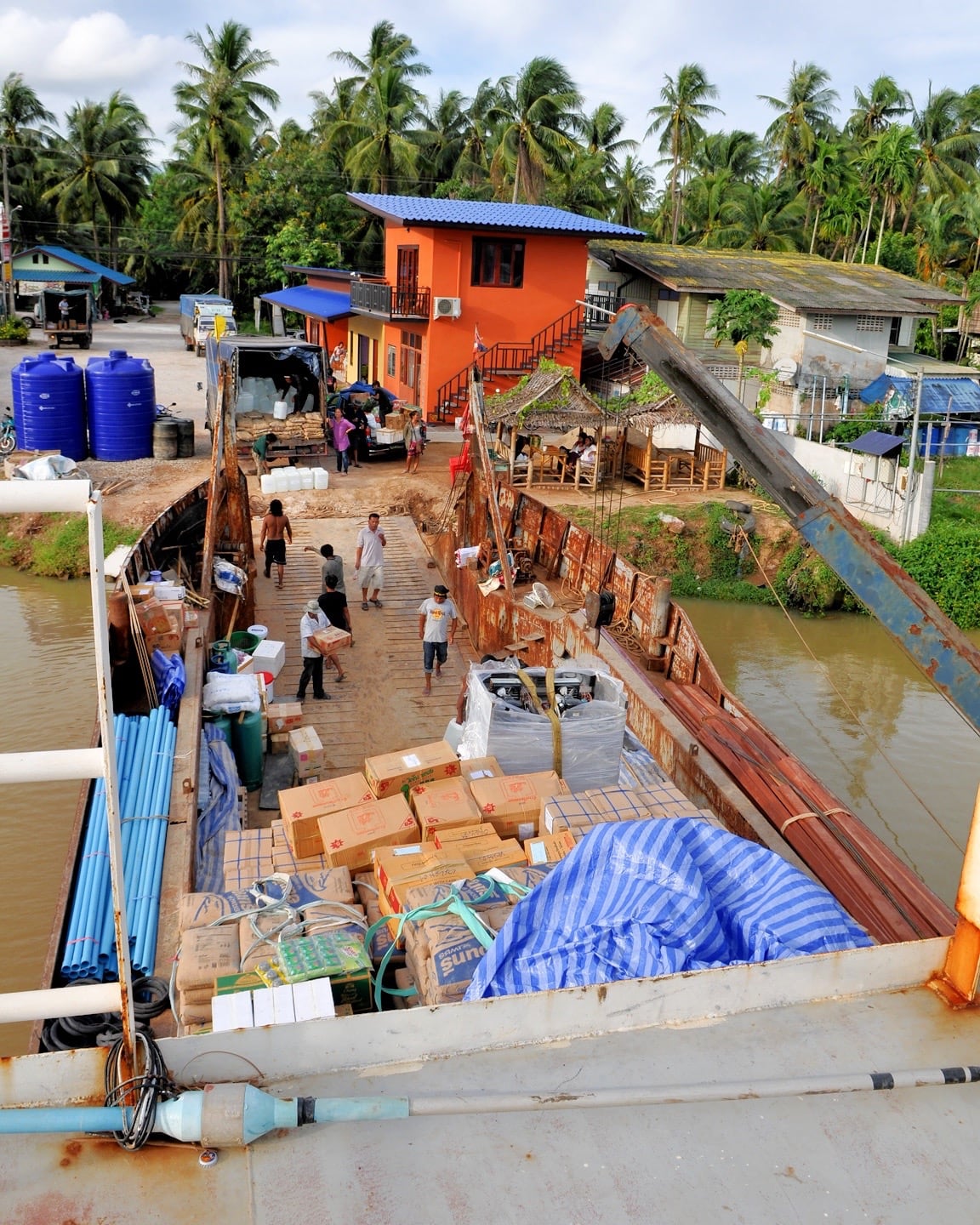 How to Take the Koh Tao Night Boat
Most backpackers bound for the Gulf Islands (Koh Tao, Phangan & Samui) buy a joint ticket from one of dozens of travel agencies in and around Khao San road that includes an 8-hour overnight bus to the island ferry pier followed by a couple of hours on a speed catamaran (Lompraya) or passenger ferry (Songserm).
Taking the night ferry to Koh Tao, however, involves a bit more work.
Since Lori and I tend to put a premium on independent travel, a joint ticket package from Bangkok to the islands just didn't sound that appealing. For us, the added effort of putting the trip together ourselves is generally worth it.
We took a day train from Bangkok Hua Lamphon railway station to Chumphon — which had the benefit of feeding our love of train travel as well. Our train from Bangkok got us into Chumphon around 14:30.
Initially, we thought the best option would be to hop on the Lompraya speed catamaran once we got to Chumphon, but came across another option that instantly intrigued us: an overnight freighter between the two ports.
Purchasing Tickets
After leaving the railway station in Chumphon (which is conveniently located in the middle of town), we made our way to the Tourism Authority of Thailand (TAT) office to inquire about purchasing slow boat tickets.
TAT sent us over to Fame Tours (find on map), which is apparently the primary ferry ticket seller in Chumphon.
Tickets on the night ferry from Chumphon to Koh Tao were 350 baht (including transfer to the ferry) or US$11 per person at the time of booking — almost half of what it would have cost to take the Lompraya catamaran (but our boat included accommodation, which I'll explain in a moment).
We probably could have bypassed the tour agency altogether but didn't think the added effort was worth it, given that the cargo pier was a good 10-15 minute drive outside of town.
2020 Update: Tickets
Now, there is a Tourist Information center right outside of the main entrance of the railway station (on the left) where you can get the most up-to-date information on where to purchase Koh Tao night boat tickets.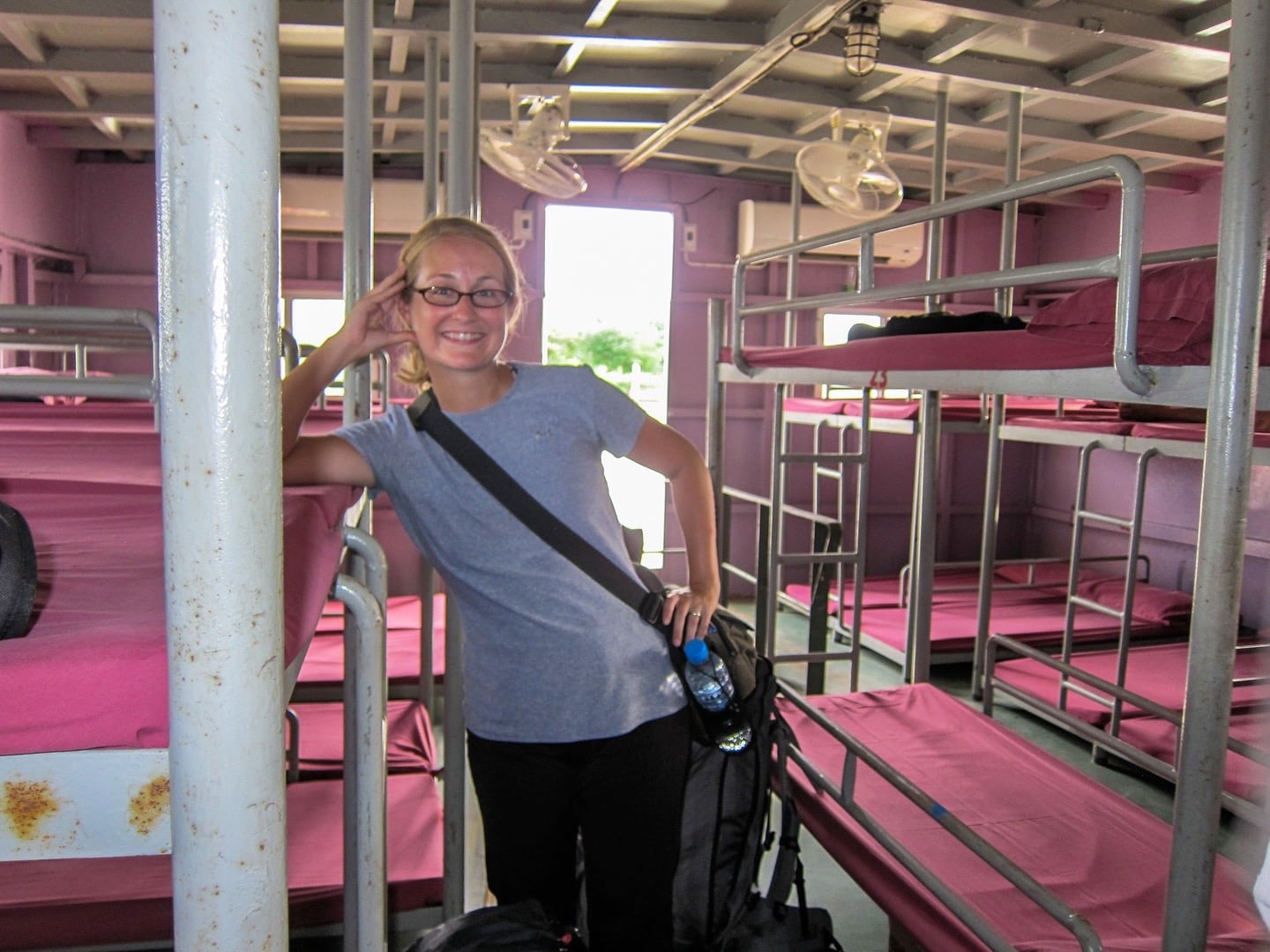 What to Expect
Boarding & Departure
Generally, there are two overnight boats available from Chumphon to Koh Tao — a car ferry and a cargo freighter. Both options appear to have bunks available.
Our understanding was that each boat departed from Chumphon before or around midnight and arrived in Koh Tao (Mae Haad) around 05:00 – 06:00. However, when we made the journey, the two night boats to Koh Tao were temporarily departing at 17:00 and 18:00, respectively, due to the tides.
🔥 HOT TIP 🔥
Grab a meal and stock up on snacks and drinks in Chumphon town prior to departure.
There was no food or drink for sale on our boat.
The journey takes around six hours, so an early departure meant arriving in Mae Haad before midnight.
However, the bunks on the boat were ours for as long as we wanted them until the boat returned to Chumphon the next evening (though most of the backpackers left before 09:00 the next morning).
2020 Update: Boats
There still appears to be a couple different night boats plying this route, but the colors of the boats have changed. One is green, and the other is grey.
The boat we took was rust color, for lack of a better description.
Getting on the boat was a bit interesting with our heavy packs, as we had to clammer over cargo, up small rusty steps, and over rebar and a bundle of 2x4s to reach the cabin, which was in the rear (aft section) of the vessel.
The crazy Welsh guy who seems to oversee some portion of the operation quipped that it gave a new meaning to "walking the plank."
He also half-jokingly mentioned that if we happened to fall off the boat while it was underway, we'd pretty much be on our own.
Not your typical tourist operation indeed — and we couldn't be happier.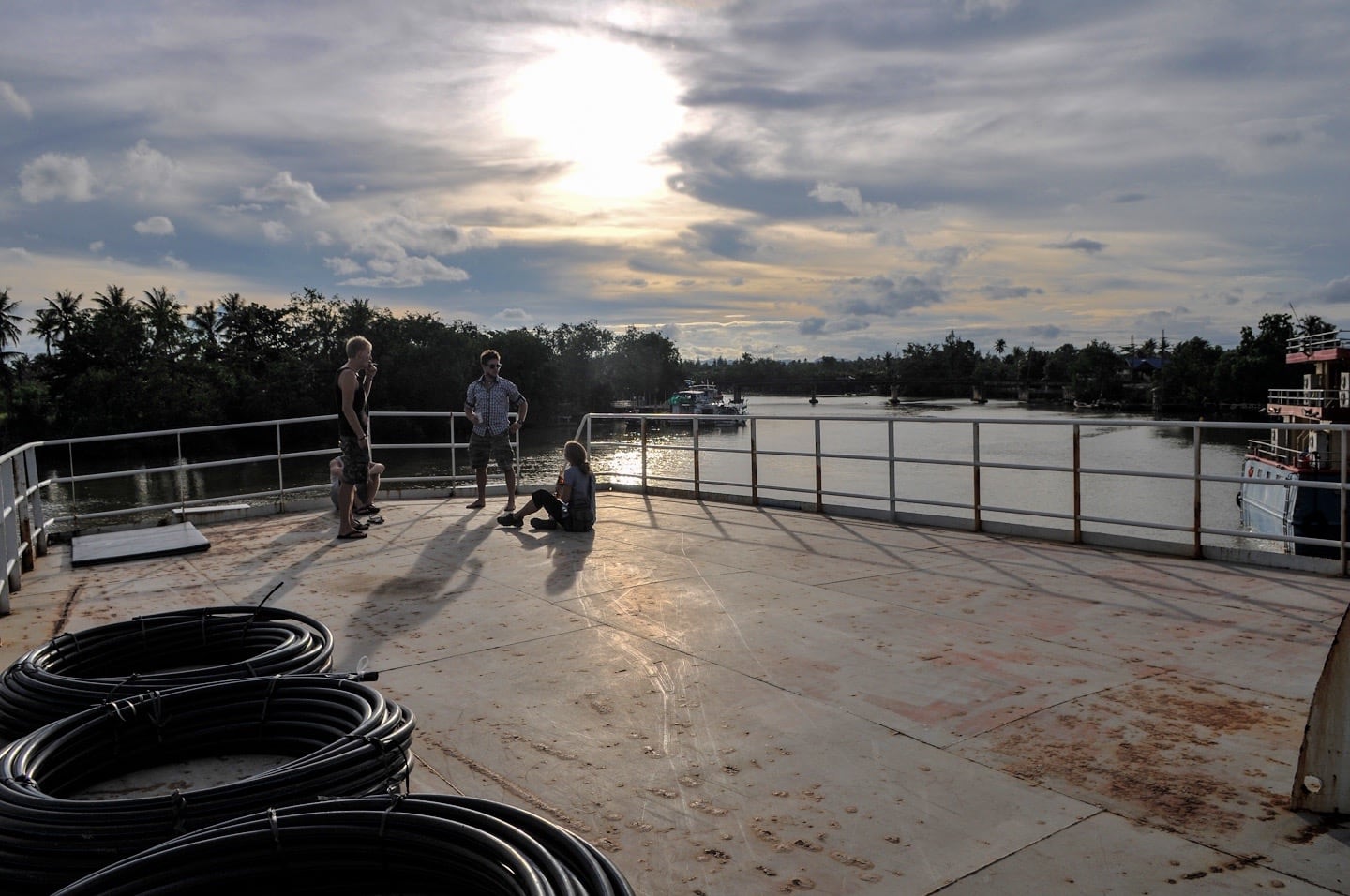 Tha Thaphap Slough & Fishing Fleets
The first stretch followed the river from the night boat pier (about 7 km outside of Chumphon) passing through a couple of fishing villages where dozens of colorful wooden shrimp and fishing vessels sat docked along the waterway.
The evening light seemed to electrify the bright green and orange paint and I couldn't help but think we'd be in heaven if only we were Miami Hurricanes fans or Irish for that matter, though we found the scenery quite agreeable nonetheless.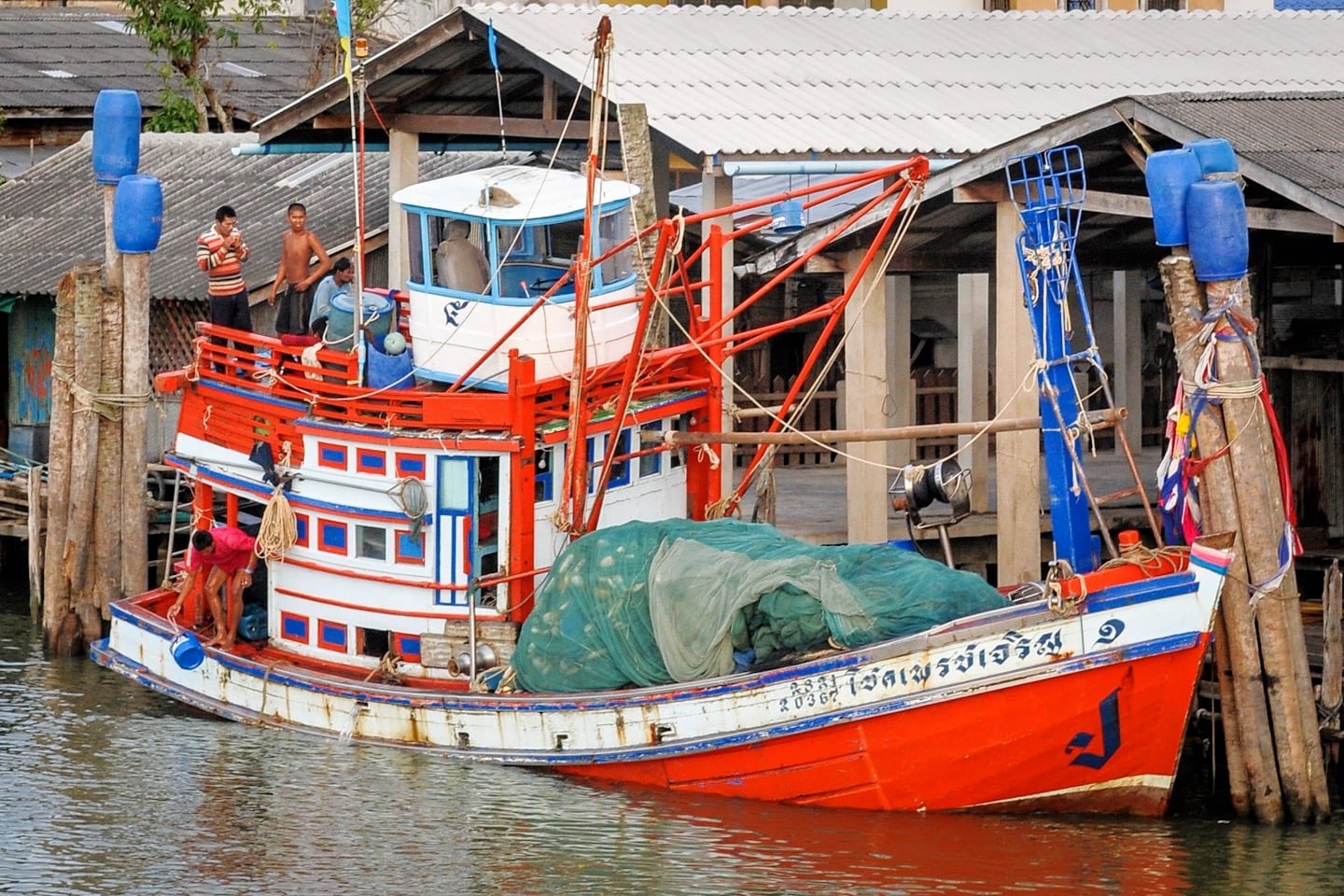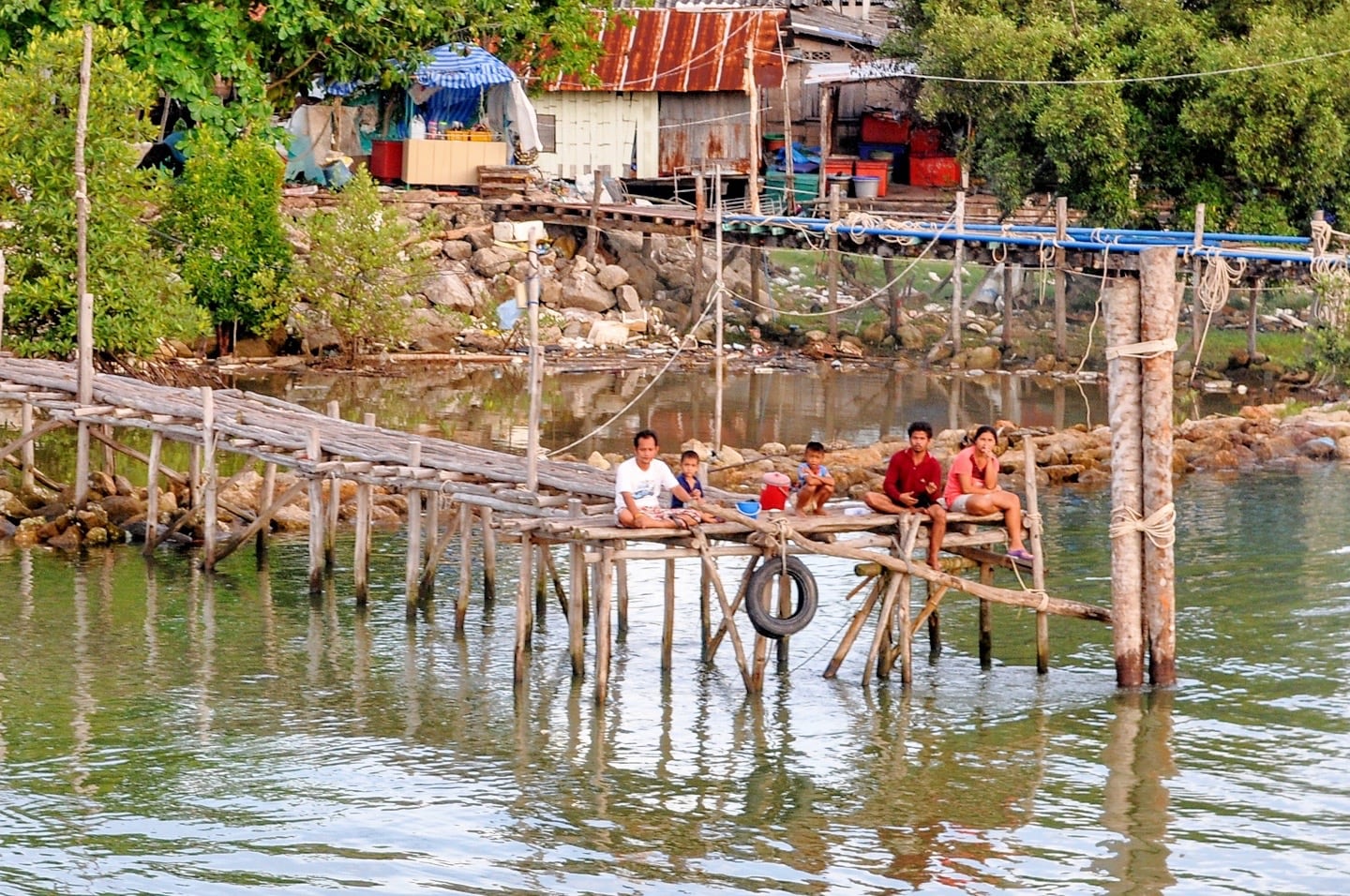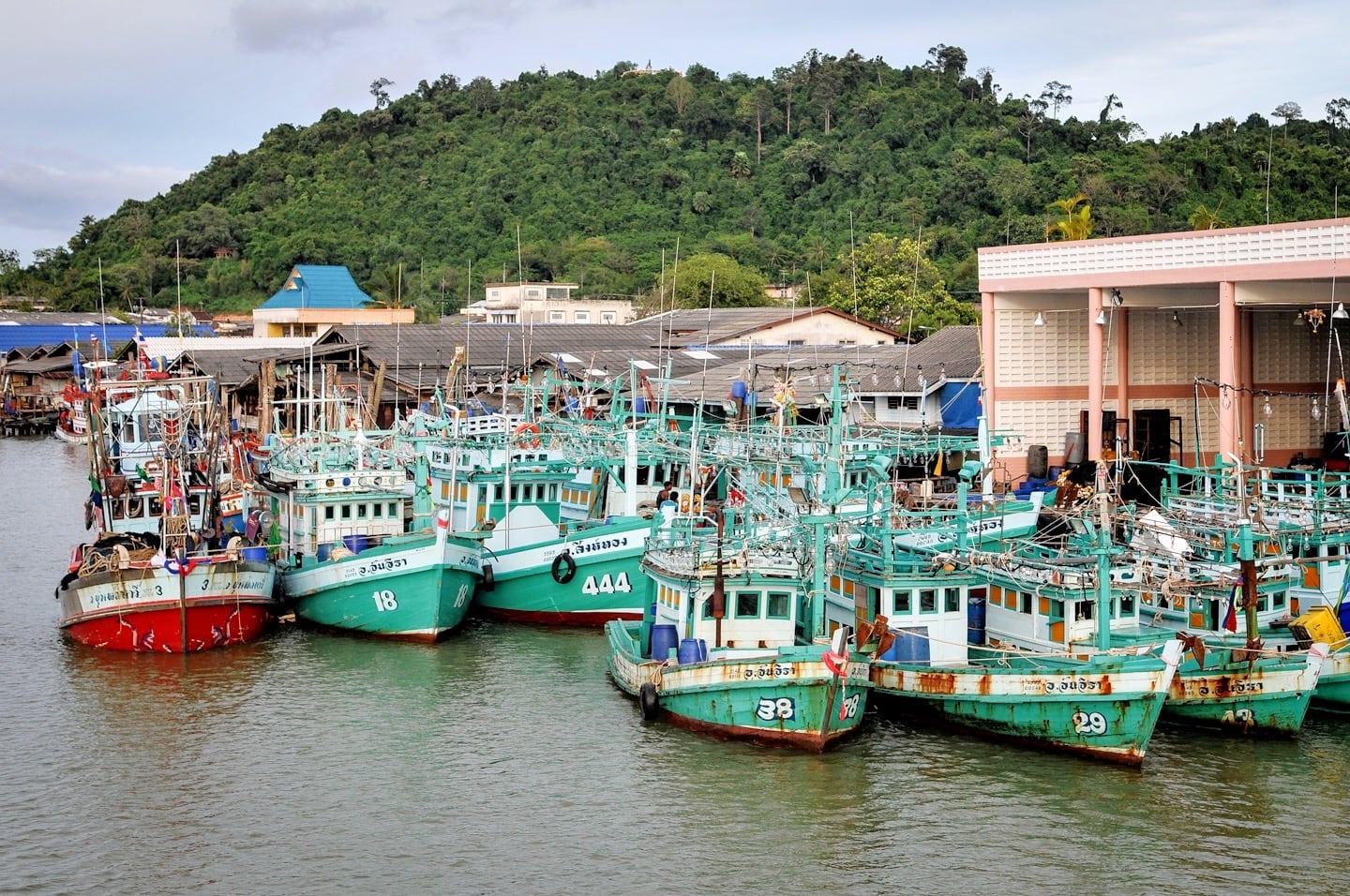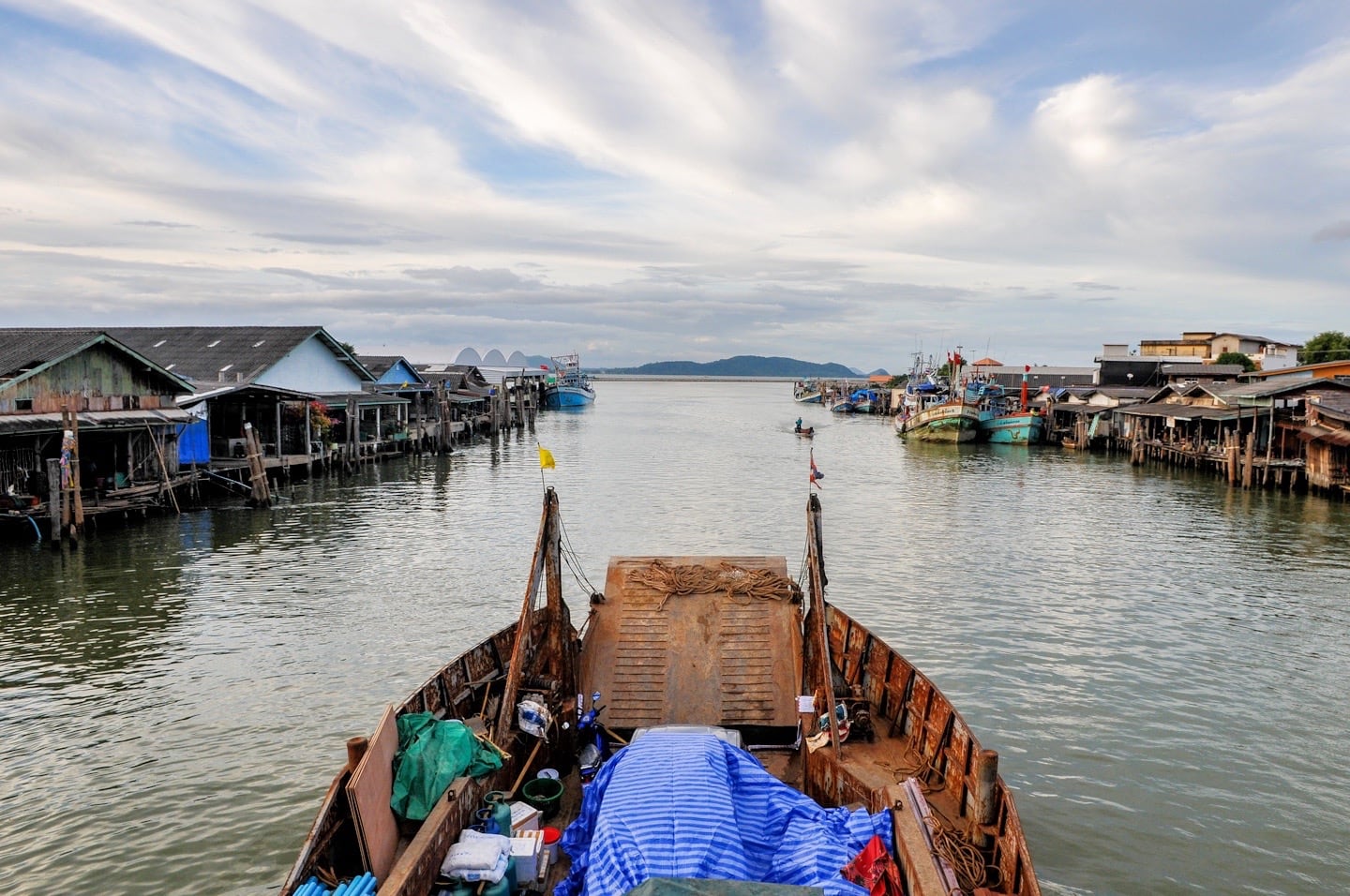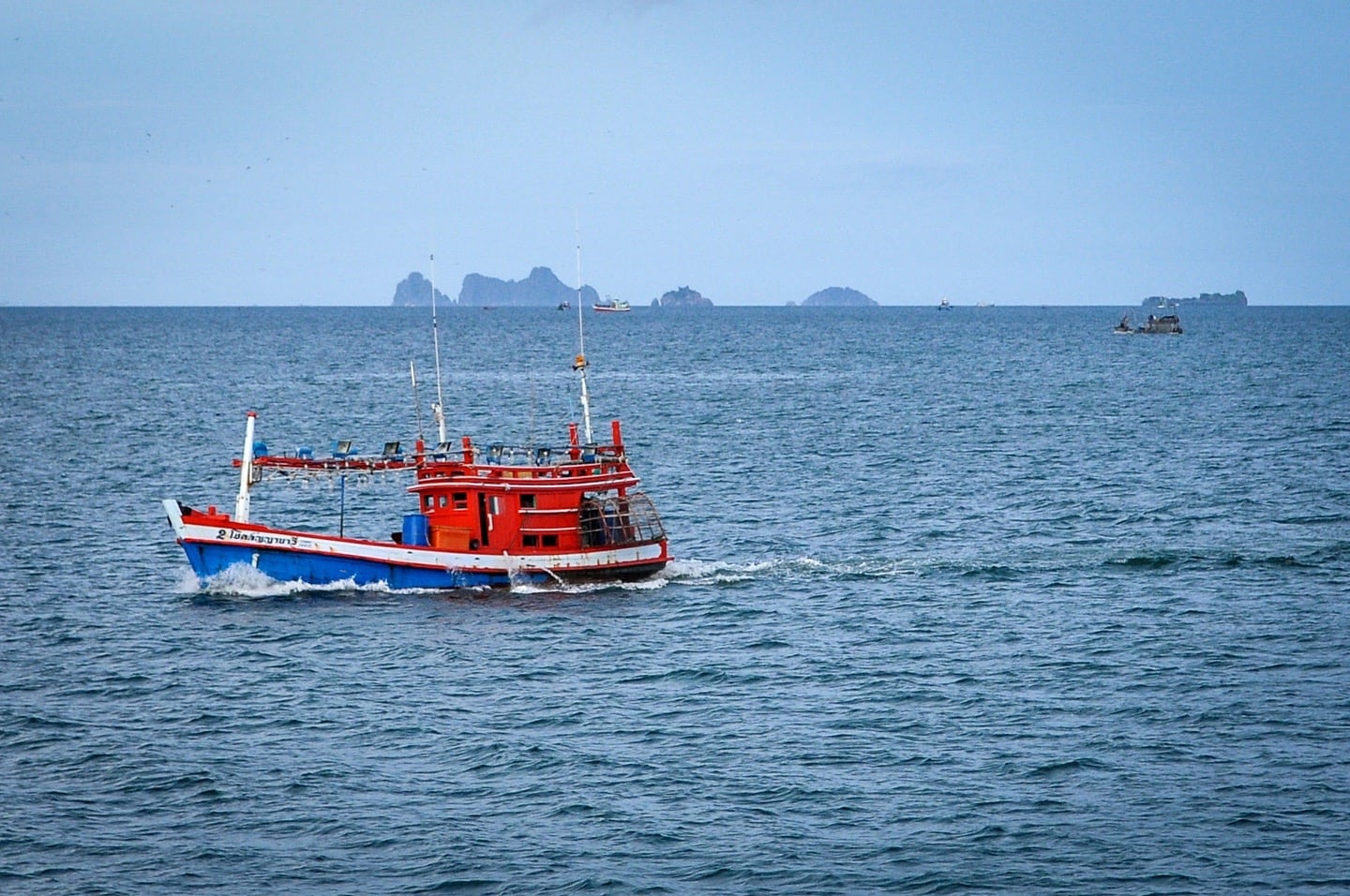 After about 20-30 minutes motoring down the slough, we passed the jetty on a northeast heading out to sea, slowly motoring by a collection of picturesque islands jutting out of the deep blue.
Gulf of Thailand
We followed the brightly-lit sea lane for another 30 minutes before making a hard turn starboard in the direction of Koh Tao somewhere to the southeast.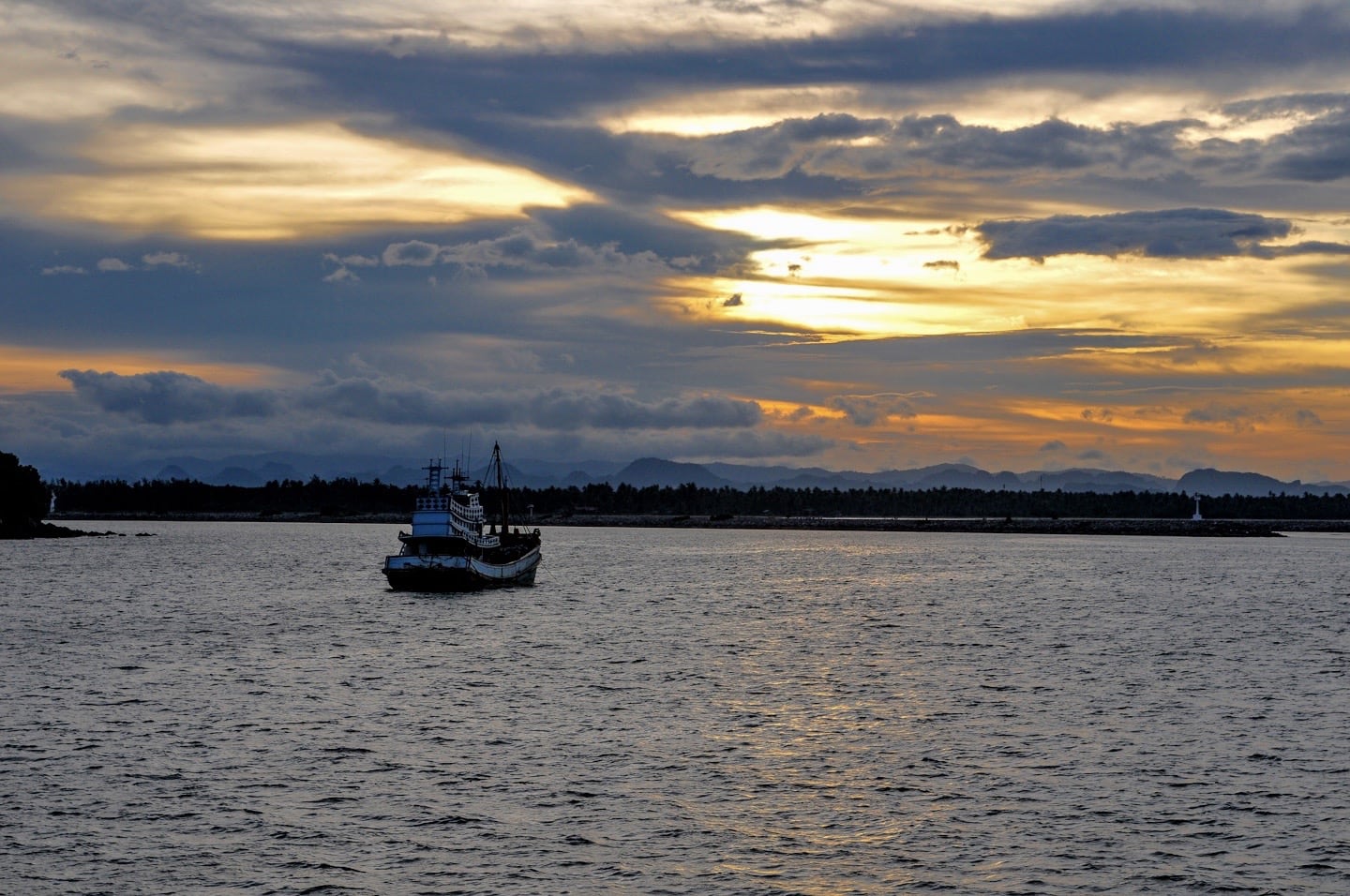 The night was warm with a nice breeze from the movement of the ferry. We were treated to a gorgeous sunset over the mainland, as well as traveler's standards played and sung by one of the other backpackers aboard as we slowly sipped the Chang beers we bought in Chumphon.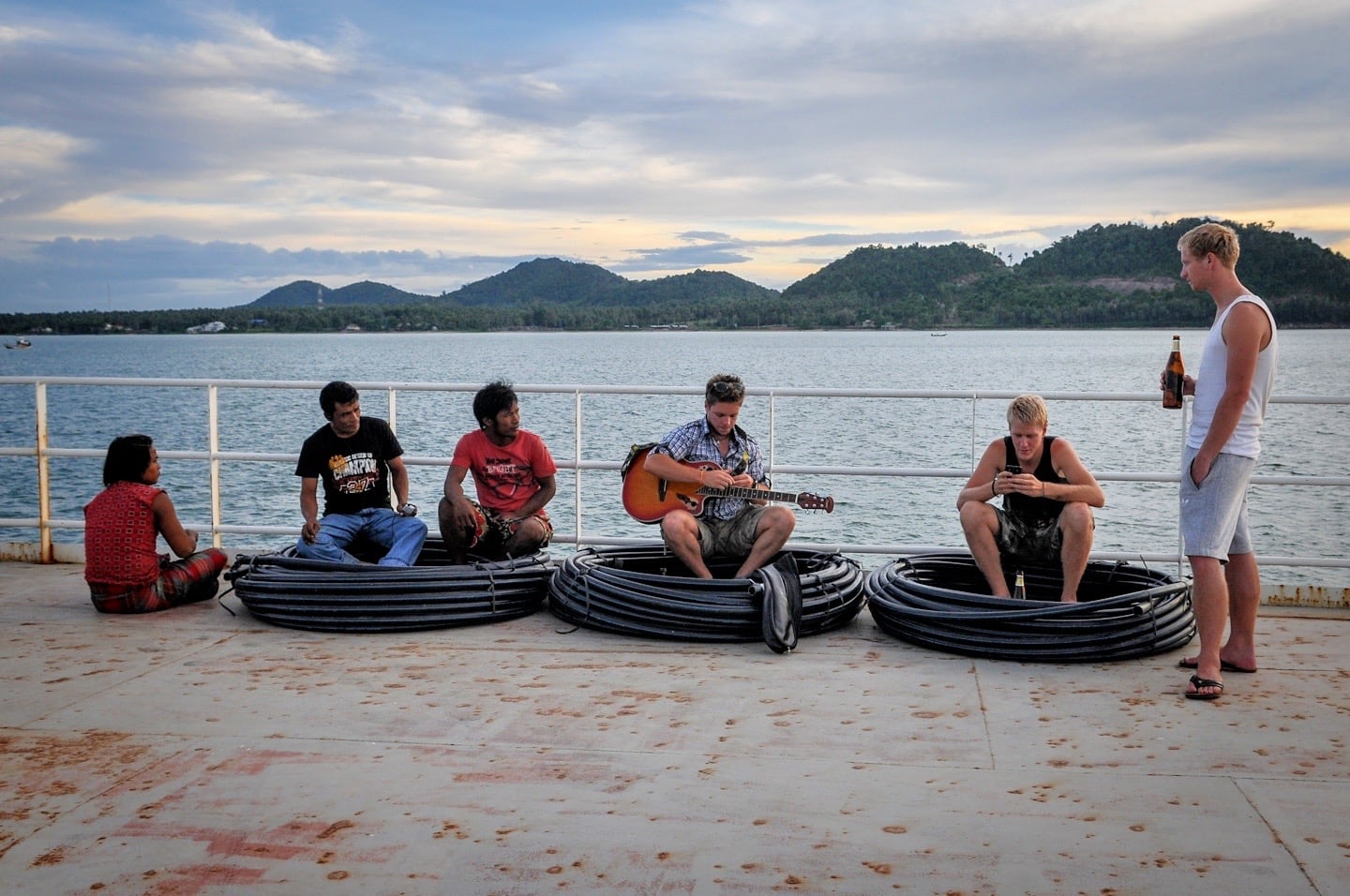 There were no more than 10 passengers aboard including the Burmese workers — a stark contrast to our future ferry trips between the islands, which involved heaps of tourists.
The sun set between 18:30 and 19:00, followed by a brief period in which a dark sky was awash with bright stars.
Then, a [nearly] full moon rose, blowing out the sky but casting light over the black ocean. We motored along following the brightly lit green buoys which led out to the horizon.
Every so often, we'd pass an anchored fishing vessel rocking frantically from bow to stern, brilliantly lit by hundreds of lightbulbs in effort to attract shrimp and other catch of the night.
Looking farther beyond the fishing boats and sea lane buoys we noticed we were headed into a fearsome looking collection of very active thunderheads, with lightning constantly illuminating a tiny distant speck on the horizon.
We hoped it that speck was Koh Tao — our destination — but would find out soon enough.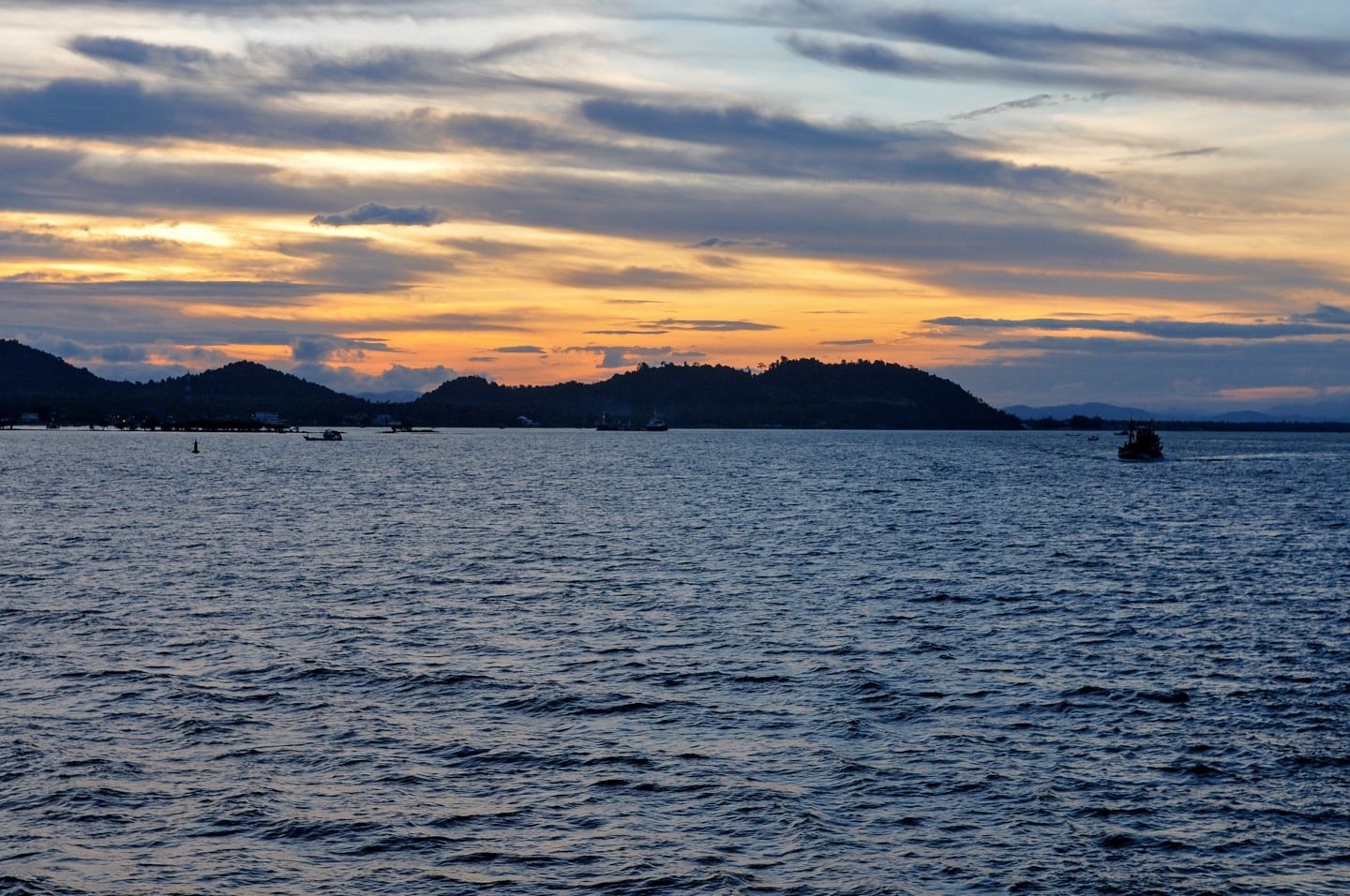 Arrival in Koh Tao
By 21:00, a steady wind had made the top deck virtually uninhabitable and the vessel had begun to rock just enough to make walking about the deck an adventure.
Most of the crew had retired to their bunks and we figured it was our cue to do the same.
The seas grew rougher over the next 20 minutes — which, despite preventing sleep, were oddly relaxing and not the least bit sickening.
Then, suddenly, the swaying completely stopped and the roaring engine went idle. We were coasting on placid waters.
I looked at my watch — 11pm. Where were we? What happened to the storm?
Then, just as quickly, the engine revved up again as the bow slowly nudged its way up on a bank of mud.
I stumbled out of my bunk and out to the rear deck. There were about a dozen fishing boats moored just beyond the stern of the boat, bobbing in deep aqua blue.
I turned around and walked the length of the freighter through the front hatch and looked up at the glowing white sign which read "Koh Tao Resort."
We had arrived!
The journey took just under six hours to travel some 50 nautical miles. Satisfied by this development, I returned to my bunk and fell fast asleep.
Lori and I awoke around 07:00, gathered our packs and proceeded to cover the final mile of our journey on foot to Sairee Village.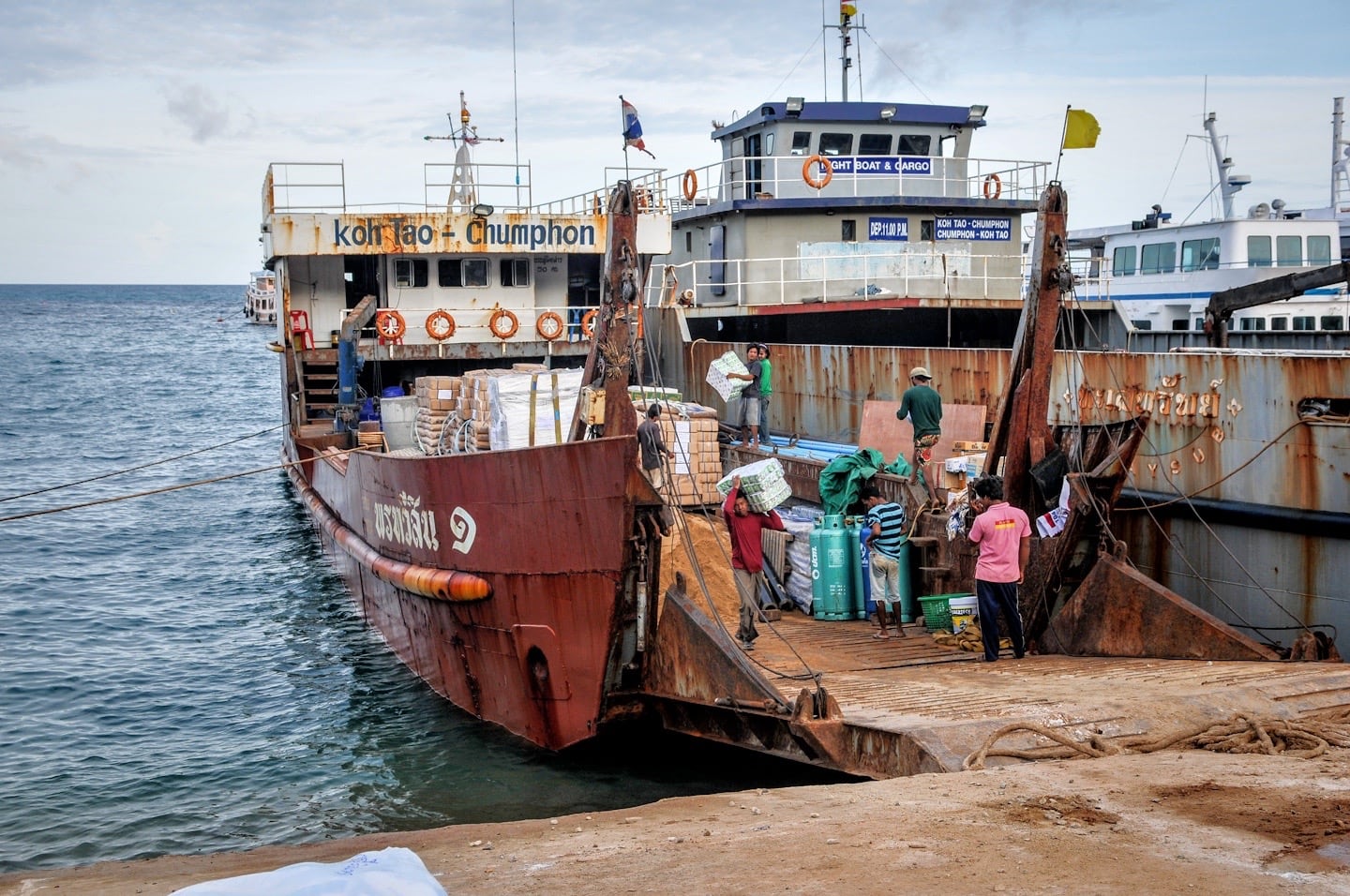 Have You Taken the Night Ferry from Chumphon to Koh Tao?
What was your experience? Let us know in the comments below.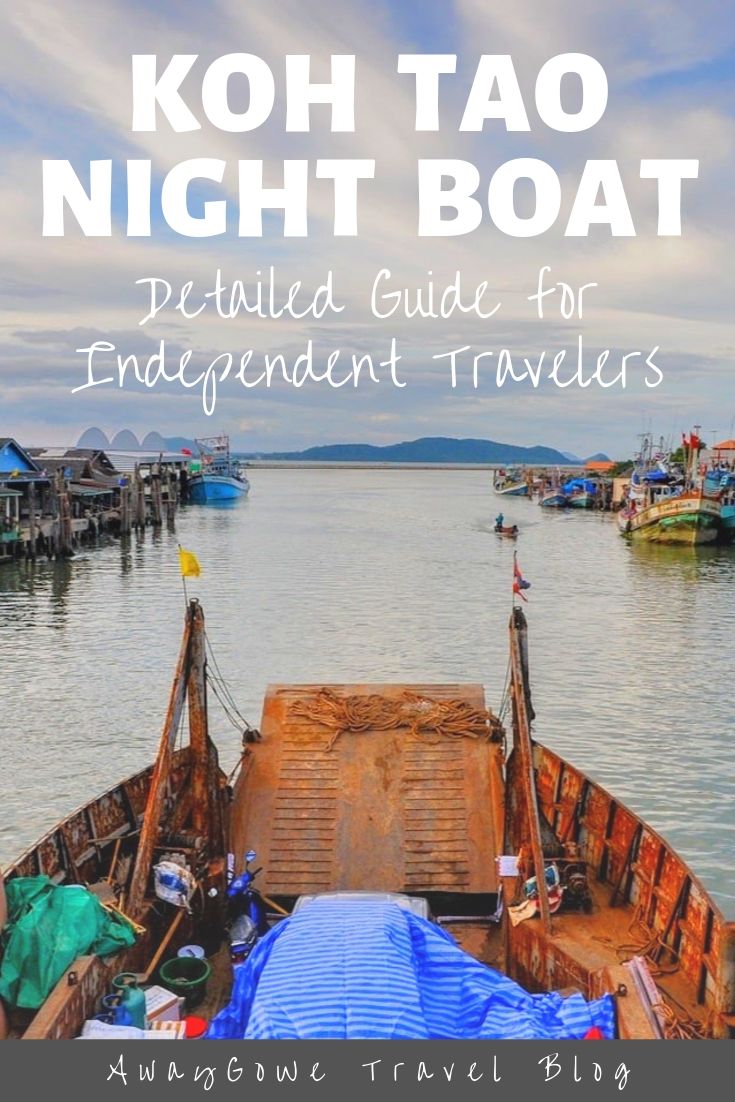 29 Feb 2020
22 Sep 2012
We use affiliate links and may receive a small commission at no extra cost to you. Learn more in our privacy policy.