Planning a trip to Penang and wondering what to do while you're there? Look no further! Discover the top things to do in Penang in our carefully-crafted first-hand guide and make the most of your trip to this amazing destination.
Penang Island, the "Pearl of the Orient," is a vibrant destination located in the northwest of Malaysia, known for its rich cultural heritage, delicious food, and stunning scenery.
On our first visit to Penang, Lori and I didn't set out to see everything. That's not typically our style. But our two weeks on Penang Island inspired us in ways that most of our recent travels have not.
We had high expectations for Penang and were not disappointed. But we'll also cover a few areas in which the island fell a bit short in our minds.
One thing is certain. Whether you're a history buff, a foodie, or an adventure seeker, Penang Island has you covered!
From exploring historic George Town, a UNESCO World Heritage Site, to indulging in the local street food scene, to hiking through the lush tropical rainforest, there is no shortage of worthwhile things to do in Penang.
Whether you're traveling solo, as a couple, or with kids, we're sure you'll find this first-hand guide on things to do in Penang useful, particularly if you, like us, find yourself visiting Penang for the first time.
Keep reading to discover the best things to do in Penang, so you can make the most of your time and money in this fascinating corner of the world.
---
10 Best Things to Do in Penang for First-Timers
---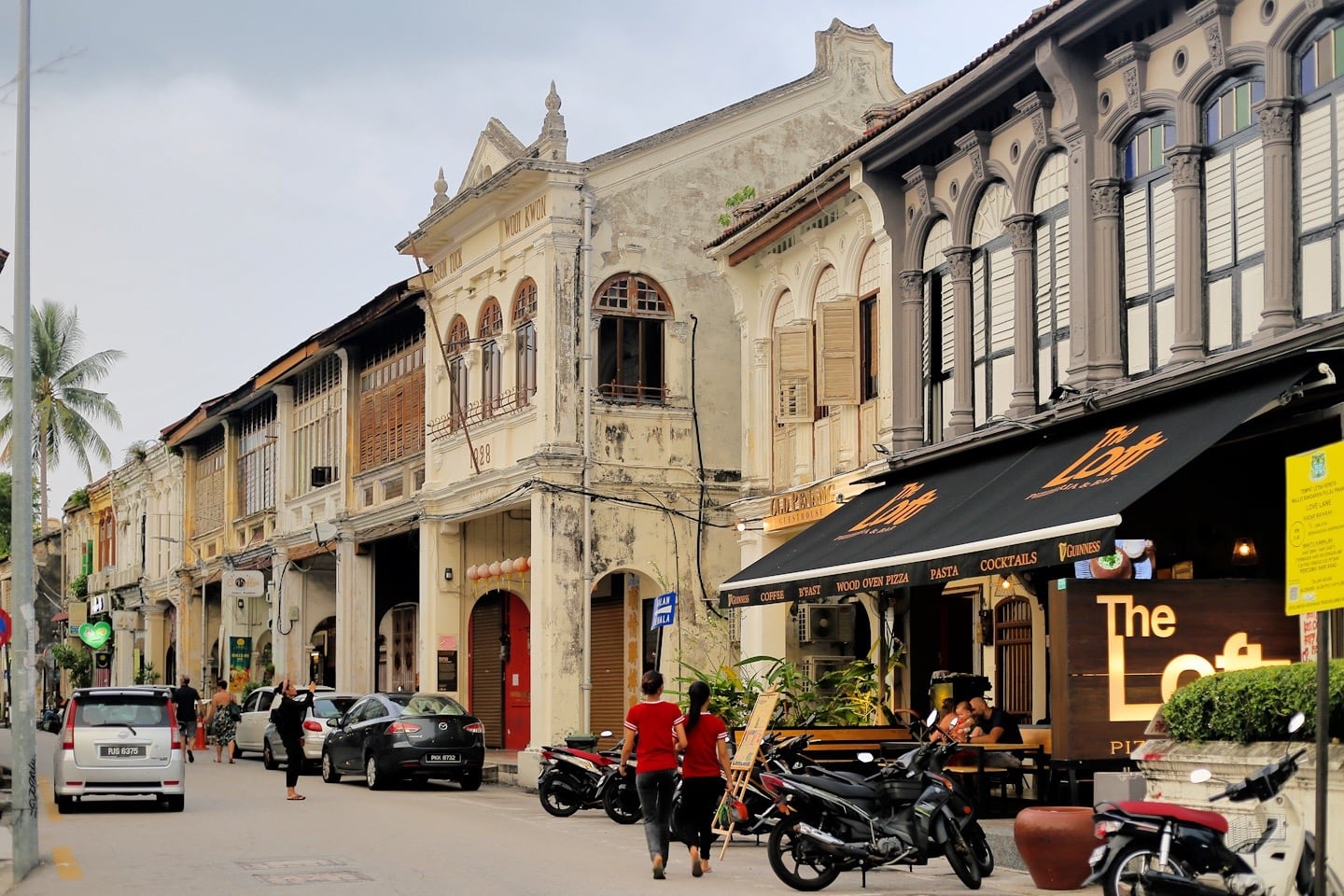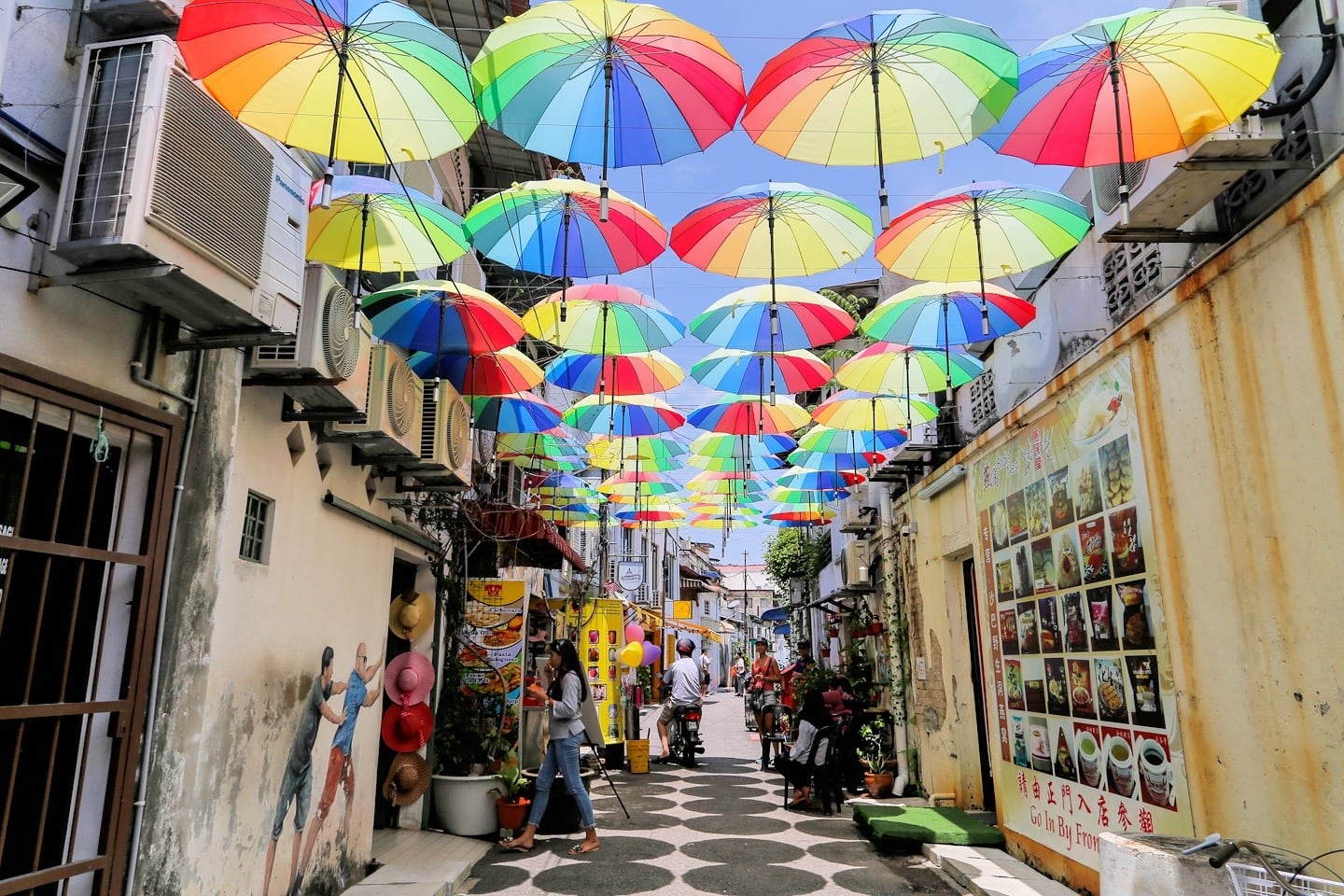 ➊

Get Lost in Old George Town

Easily one of our most favorite things to do in Penang is wandering the hodgepodge of narrow lanes and alleyways that make up Old George Town.

George Town is the oldest settlement and beating heart of Penang's rich cultural heritage, dating back centuries, and you'll find no shortage of things to do in Penang's vibrant capital.

The UNESCO World Heritage core zone is small enough to be perfectly manageable on foot for most visitors, while large enough to offer a wide range of fun and worthwhile sites and activities for days on end.

George Town is also where you'll disembark if arriving to Penang Island by ferry from Butterworth. The island is connected to the mainland by a bridge. But taking the public ferry is quicker, cheaper, and much more convenient than the land route, so we highly recommend accessing Penang by ferry.

There are so many things to do in and around George Town, you could easily spend your entire time based out of Old Town for a week or two and still have plenty to see and do for your entire stay.

Don't miss Love Lane, Penang Waterfront and Clan Jetties, Armenian Street, and Penang Street Art, to name a very few of this historic city's sites and attractions.

HOT TIP ▸ If you want to maximize your time in George Town while getting the most out of your stay, check out this top-rated cycle rickshaw tour of George Town.
Dreaming of the Perfect Island Vacation? Here are...
9 Amazing Hotels in Langkawi, Malaysia
Our handpicked list of the VERY BEST beach resorts and rainforest retreats in magical Langkawi. For the Ultimate Getaway!
---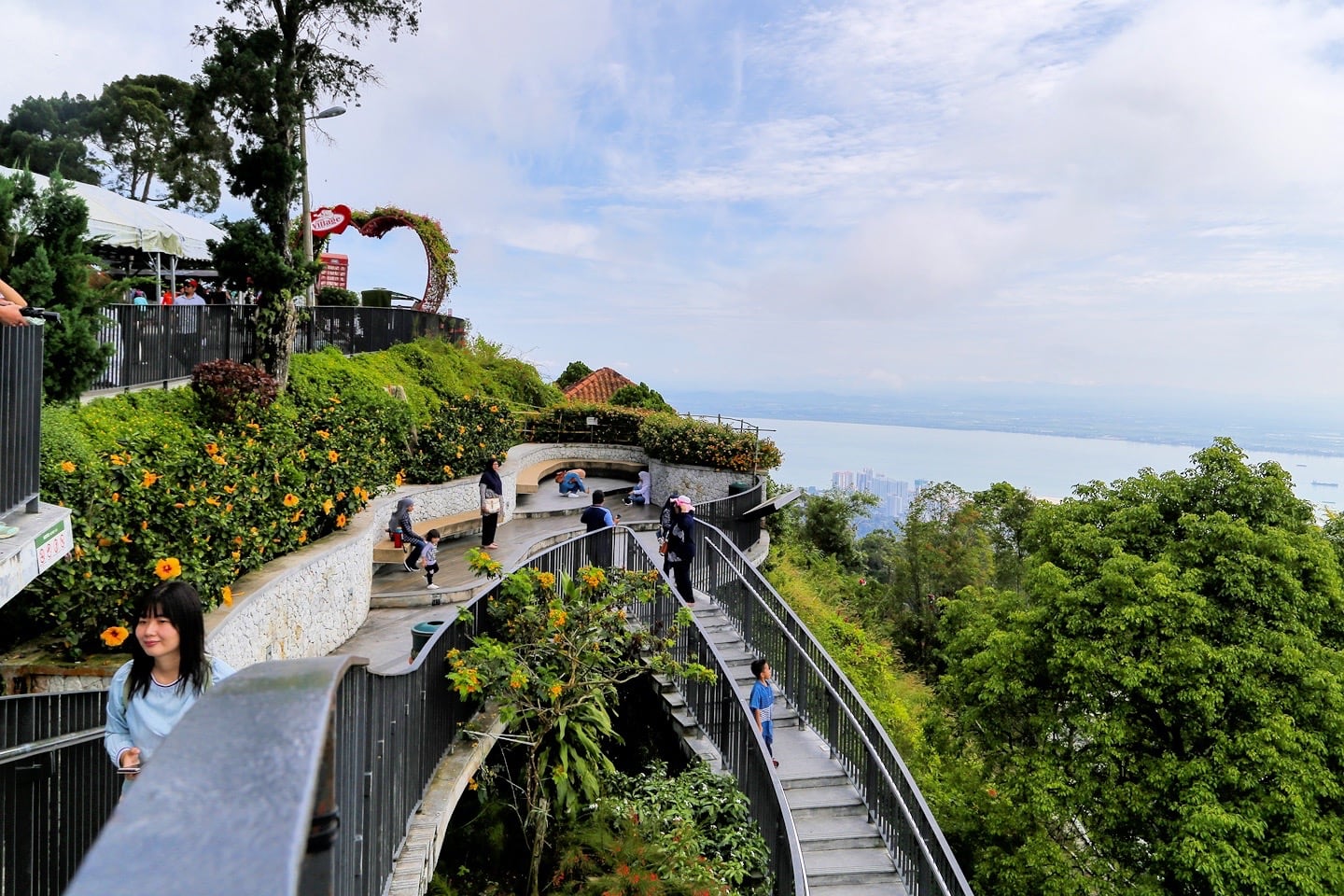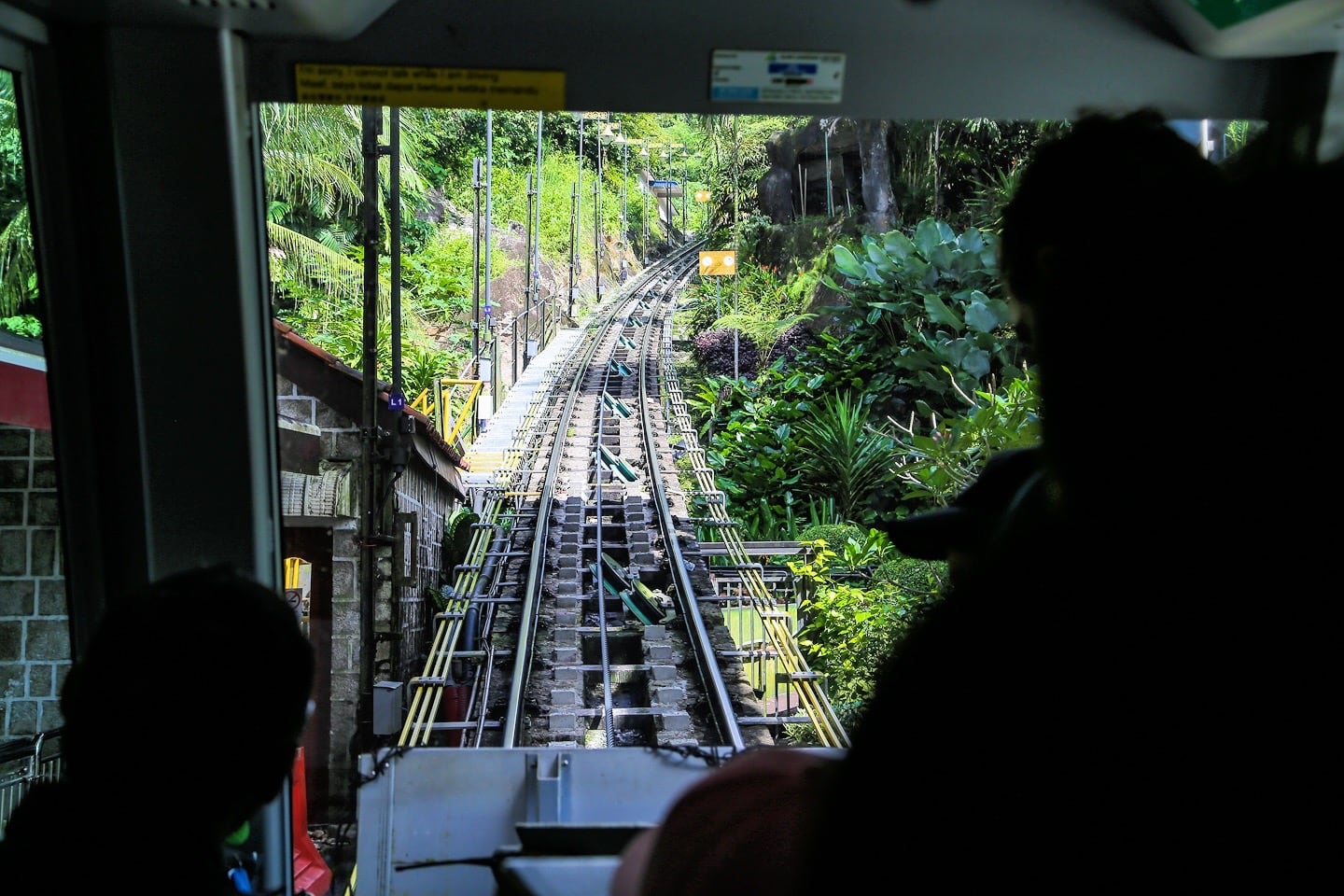 ➋

Day Trip to Penang Hill & Kek Lok Si

A mere five miles from Old Town George Town, Penang Hill (Bukit Bendera Pulau Pinang) rises 800 meters (2,700 feet) for commanding views of the island and a welcome break from the often stifling heat at sea level.

Penang Hill might just be the most popular things to do in Penang, but there's plenty of space to spread out and lose the crowds.

Enjoy ocean breezes, hill temples, exploring colonial properties open to the public, and meanderings through the forest along miles of walking paths.

Top attractions include exploring The Habitat and its famous Langur Way Canopy Walk, hiking the many trails around Penang Hill, lunch at historic David Brown's Restaurant & Tea Terrace, coffee at The MonkeyCup, and much more.

A tour of unique and stunning nearby Kek Lok Si temple complex can easily be combined with a visit to Penang Hill as well (highly recommended!). Though you may want to consider going on a day tour to make the best use of your time (see below).

HOT TIP ▸ You could get there on your own with Grab, but if you want to maximize your time and see both sites, we recommend checking out this top-rated tour of Penang Hill, Kek Lok Si, and George Town.
---
---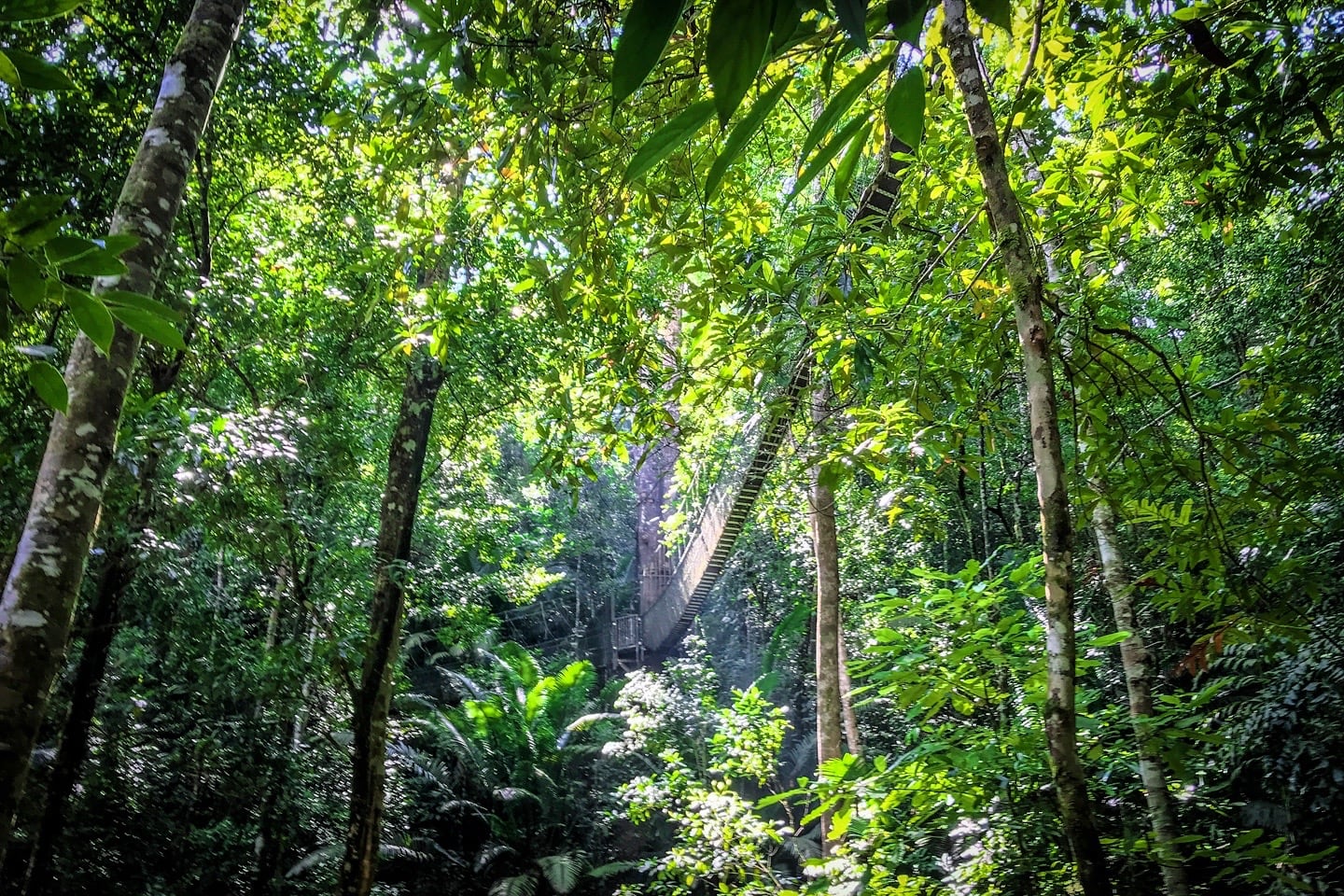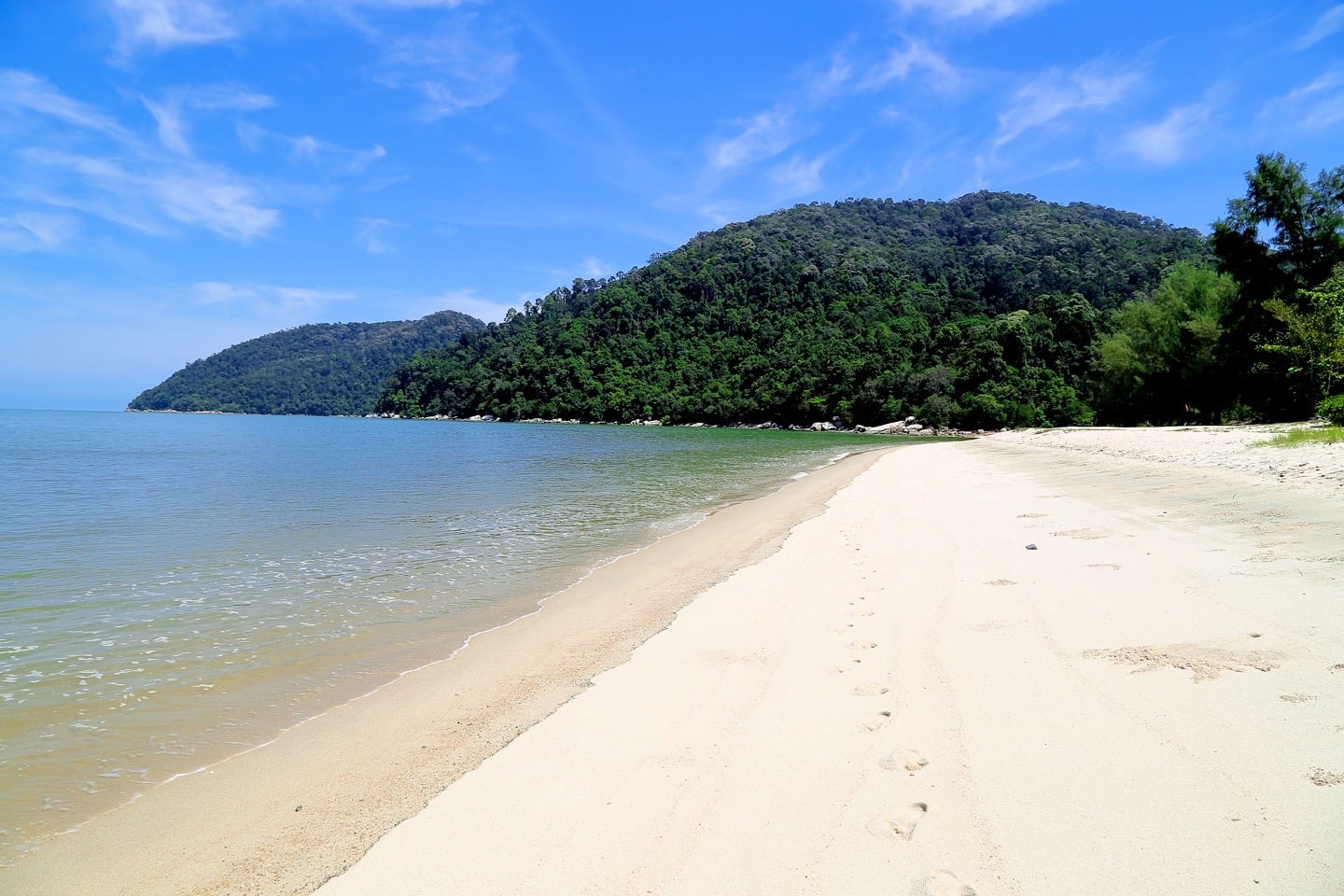 ➌

Hike Penang National Park to the Island's Best Beaches

Few jaunts through the jungle are more satisfying than a day spent hiking in Penang National Park, making this day trip one of my very favorite things to do in Penang.

While the Canopy Walkway is closed for the foreseeable future, following the many numerous trails throughout the park not only offers a chance to commune with nature, but one heck of a workout as well.

And the reward for your efforts? The island's most beautiful beaches, often devoid of tourists due to their relative isolation.
---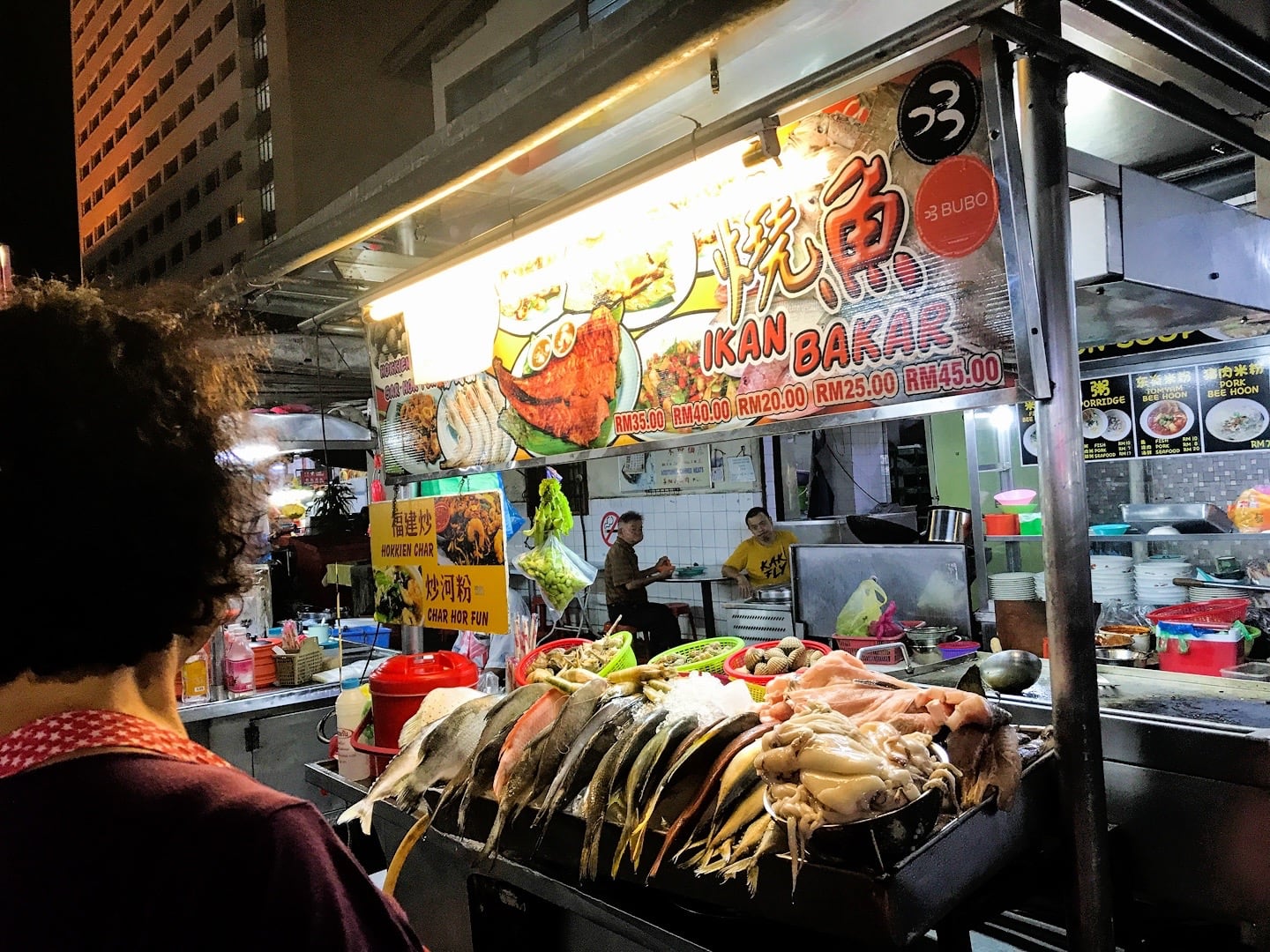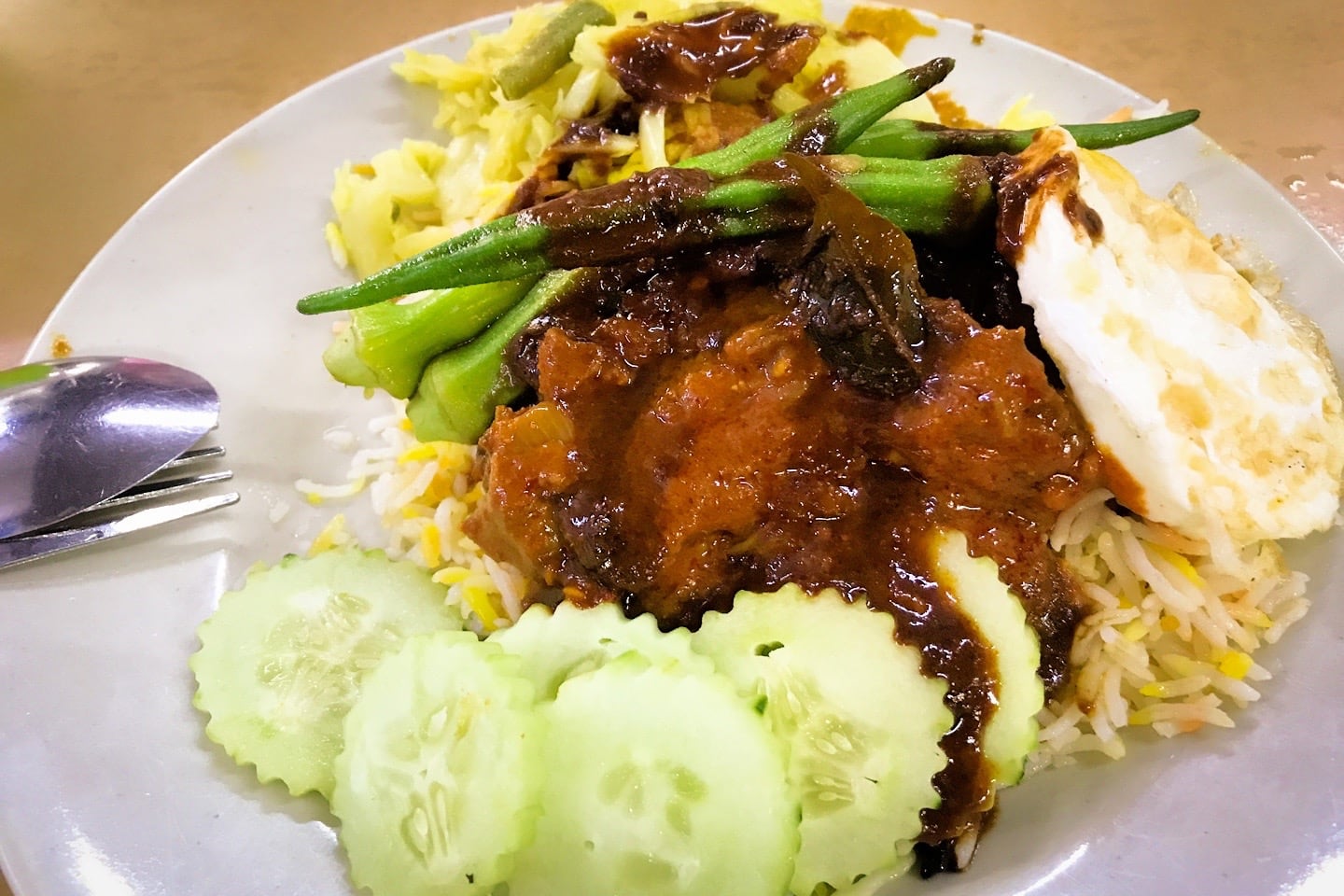 ➍

Sample George Town's Renowned Culinary Offerings

Ask any number of visitors about their favorite things to do in Penang and they're sure to gush endlessly about the island's amazing food. Give the area a few days and it won't be difficult to see why! Penang's local cuisine bursts with complex flavors, combining distinct tastes from a variety of cultures.

Don't miss Nasi Kandar and just about anything from Penang's street stalls. Our absolute favorite places that we'd recommend are Line Clear Nasi Kandar, New Lane Foodstalls, Teksen, and China House.

HOT TIP ▸ By far the best way to experience George Town's legendary culinary offerings is by joining one of the city's top-rated food tours.
---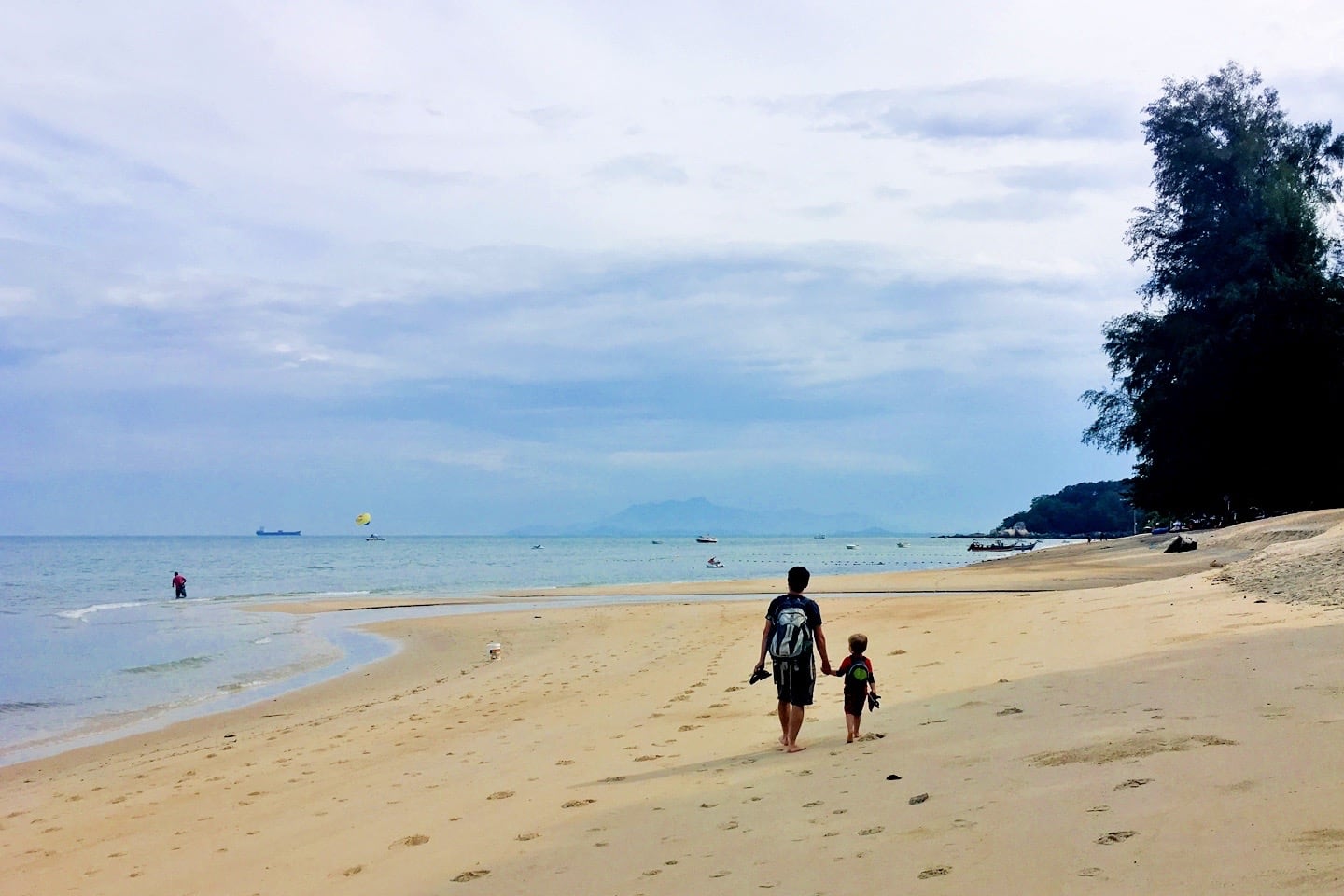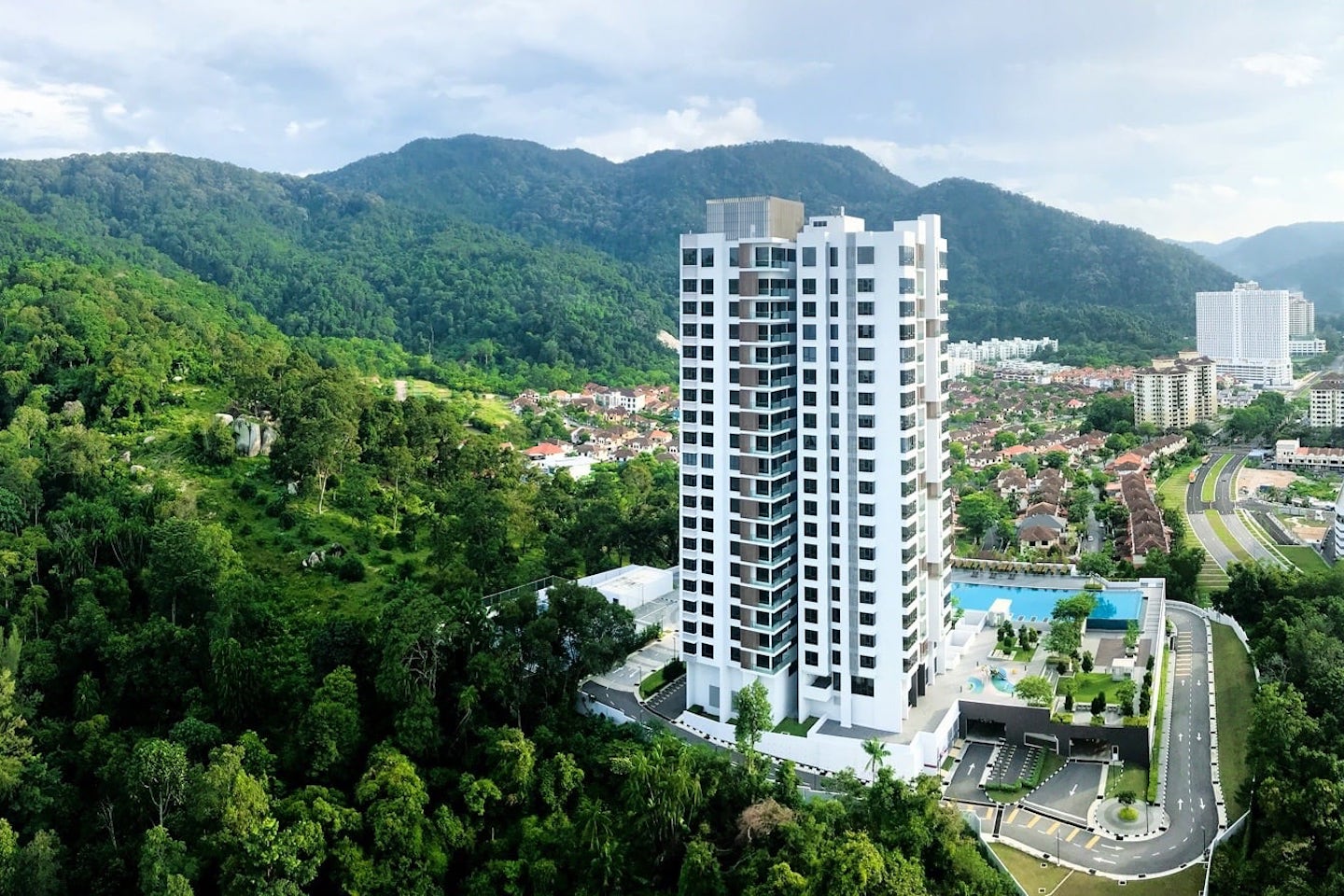 ➎

Beach Bummin' in Batu Ferringhi

If you're looking for a legit beach holiday on Penang, Batu Ferringhi is what you're after. Penang has several nice beaches scattered around the island, but none offer the number of restaurants, accommodation, and level of comfort and amenities as Batu Ferringhi.

Unlike the beaches of nearby Langkawi, Batu Ferringhi isn't going to win any awards for the best beach destination ever, as we discuss in detail in our Batu Ferringhi visitor guide.

But in terms of beach bumming, Batu Ferringhi will surely satisfy most visitors' beach destination cravings and requirements for a great holiday.
---
---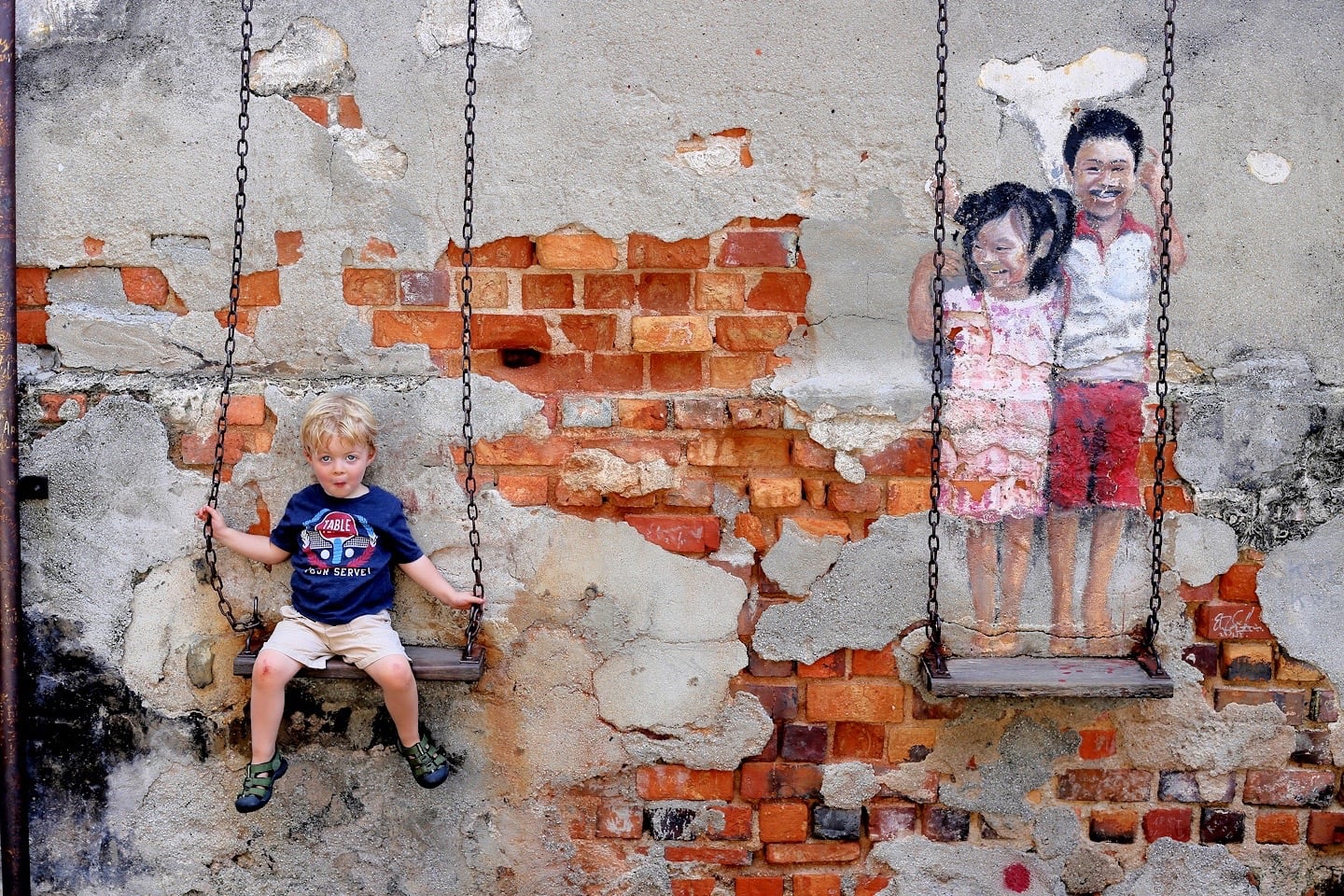 ➏

Hunt for Penang's Famous Street Art

A decade ago, a Lithuanian graffiti artist was commissioned to breathe new life into George Town's crumbling walls and shabby alleyways.

The result is what is Penang's Street Art, now one of the most popular and beloved things to do in Penang.

Whether you opt to see the murals and art installations scattered across Old Town as part of a top-rated tour like this one or DIY self-guided scavenger hunt, make sure you don't miss this unique opportunity to dive deeper into George Town's past, present, and future.
---
---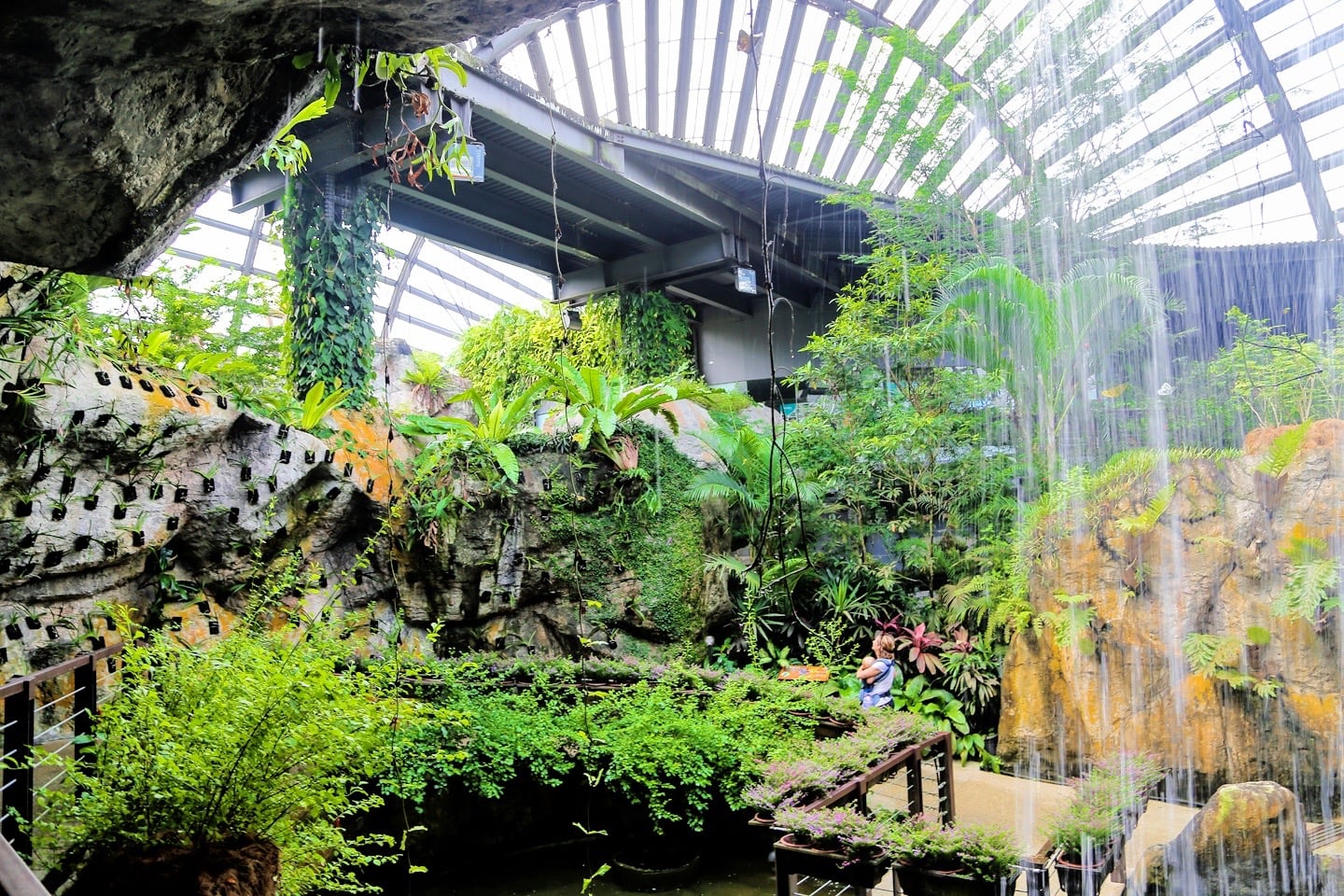 ➐

Experience Butterflies and Native Species at Entopia

Entopia (formerly Penang Butterfly Farm) consistently finds itself at the top of most travel guides' Best Things to Do in Penang lists.

And after visiting this amazing attraction ourselves, it's easy to see why, particularly if you are traveling to Penang with kids.

With or without little ones in tow, Entopia is a worthwhile way to spend a half day on the island. It's important to note that this is no ordinary butterfly farm.

Entopia is more like a sprawling tropical conservatory experience that combines butterfly farming, native reptiles, first-class interpretive exhibitions, and hands-on interactive opportunities for all ages.

For our two boys, it was easily ranked as one of their favorite things to do in Penang during our two-week stay.
---
---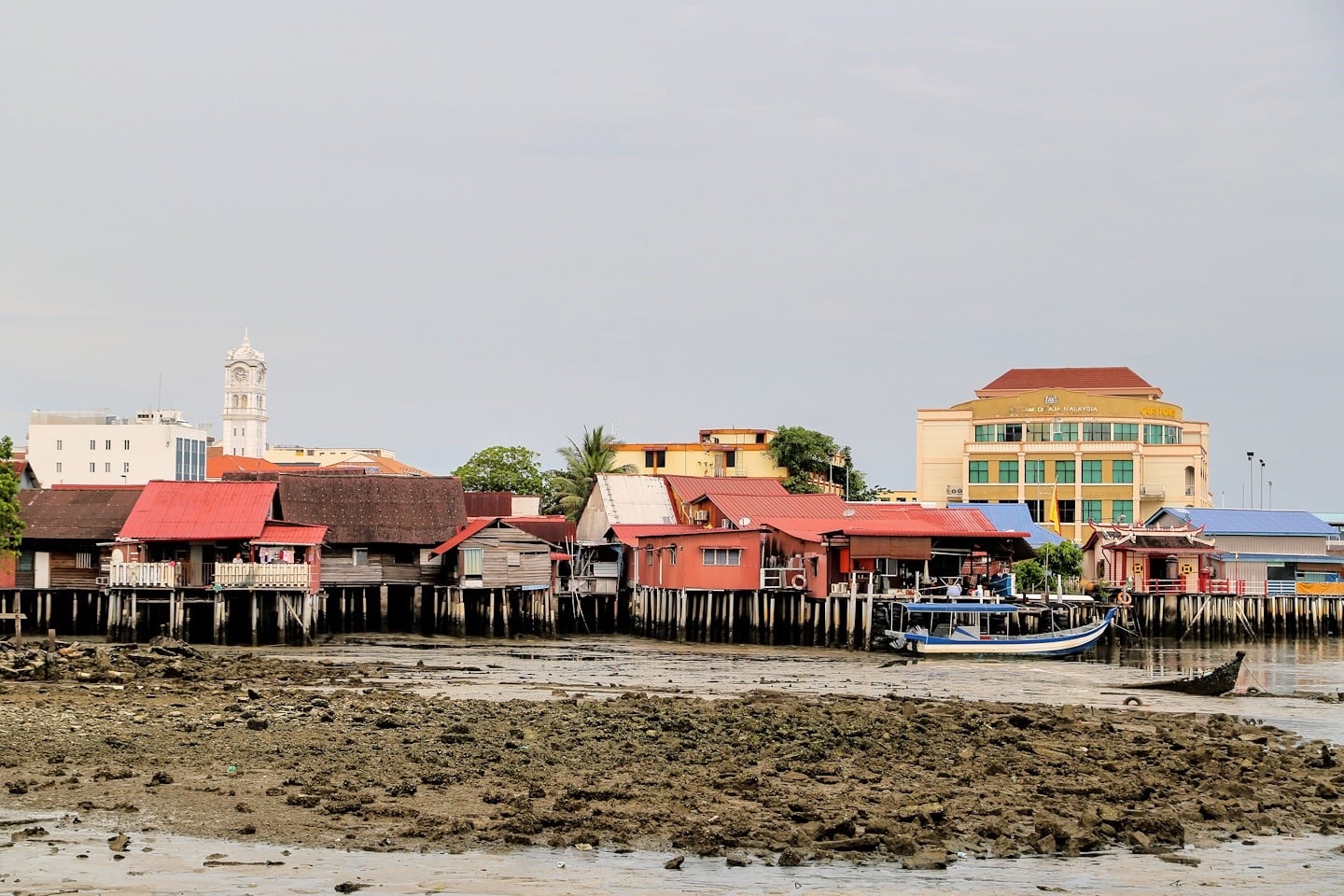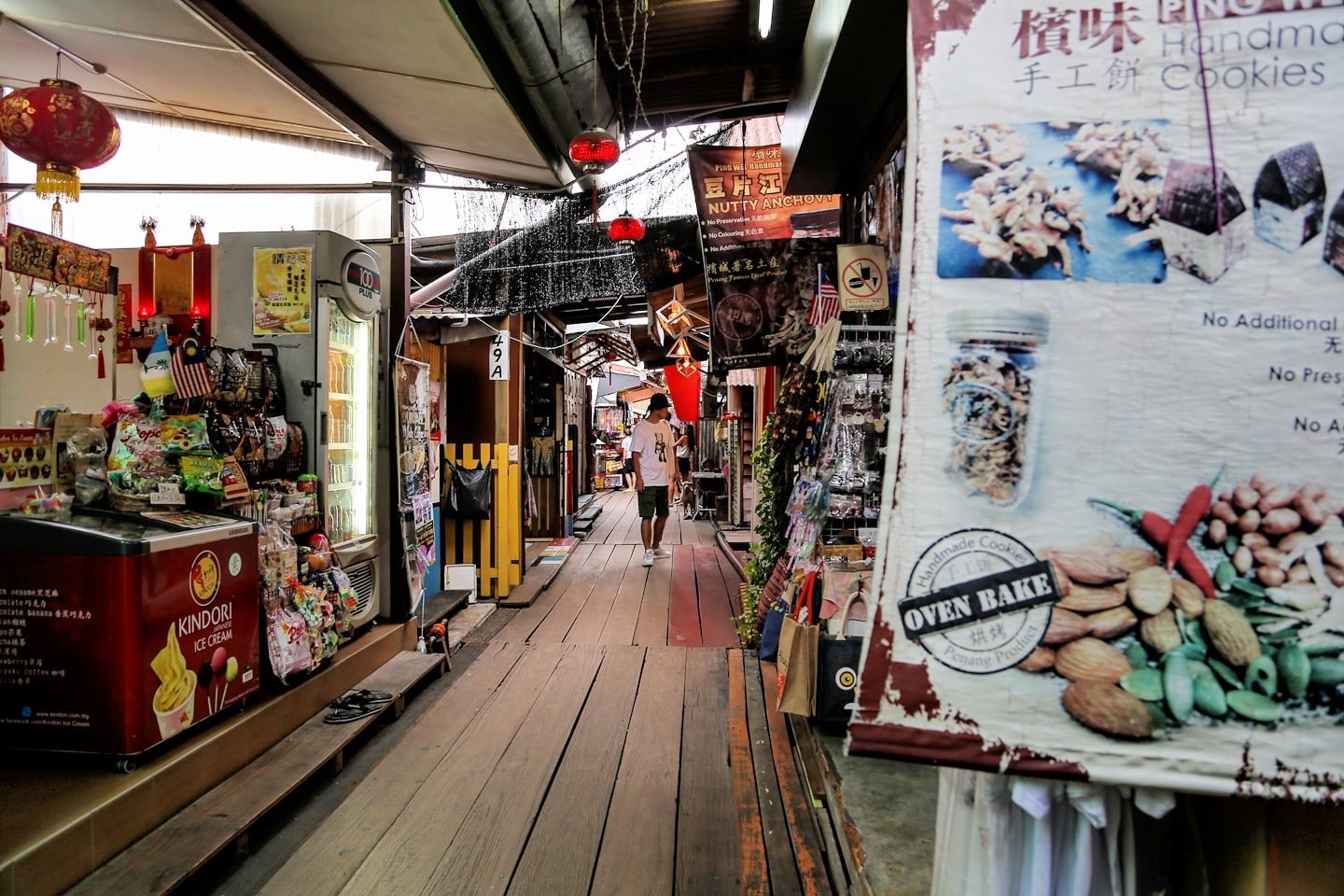 ➑

Wander the Historic Clan Jetties

Quite possibly one of the most unique and memorable things you can do in Penang is to explore the historic waterfront clan jetties.

Originally settled by Chinese laborers a century ago, these communities over the water stand as a testament to the island's strong Chinese heritage that endures today.

In these fast-paced times, respectfully wandering some of the lesser-visited jetties offers a rare insight into a unique way of living stretching back generations.

HOT TIP ▸ Please remember to be respectful when strolling through the Clan Jetties. They are first and foremost the homes and community of local residents, not just another tourist attraction.
---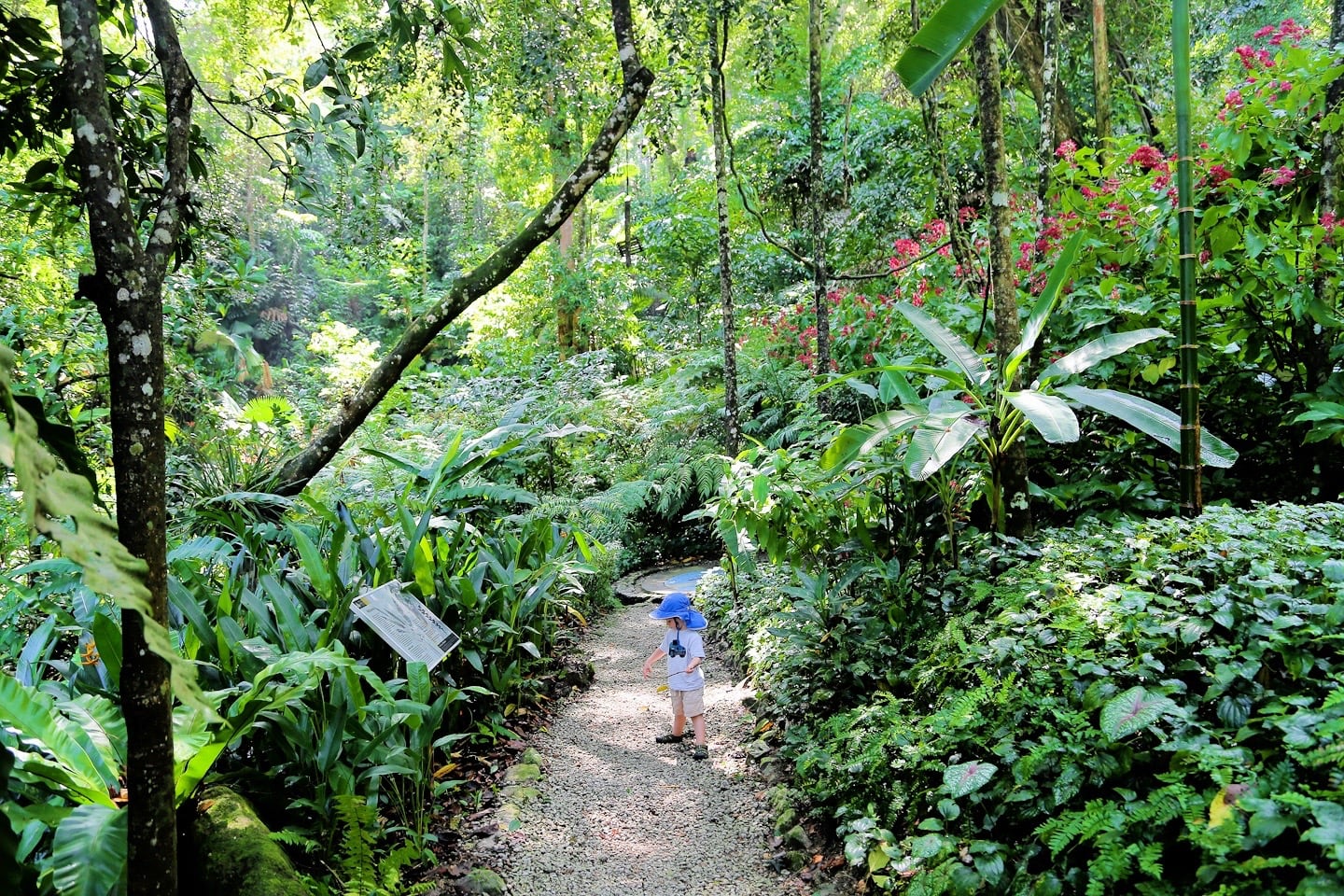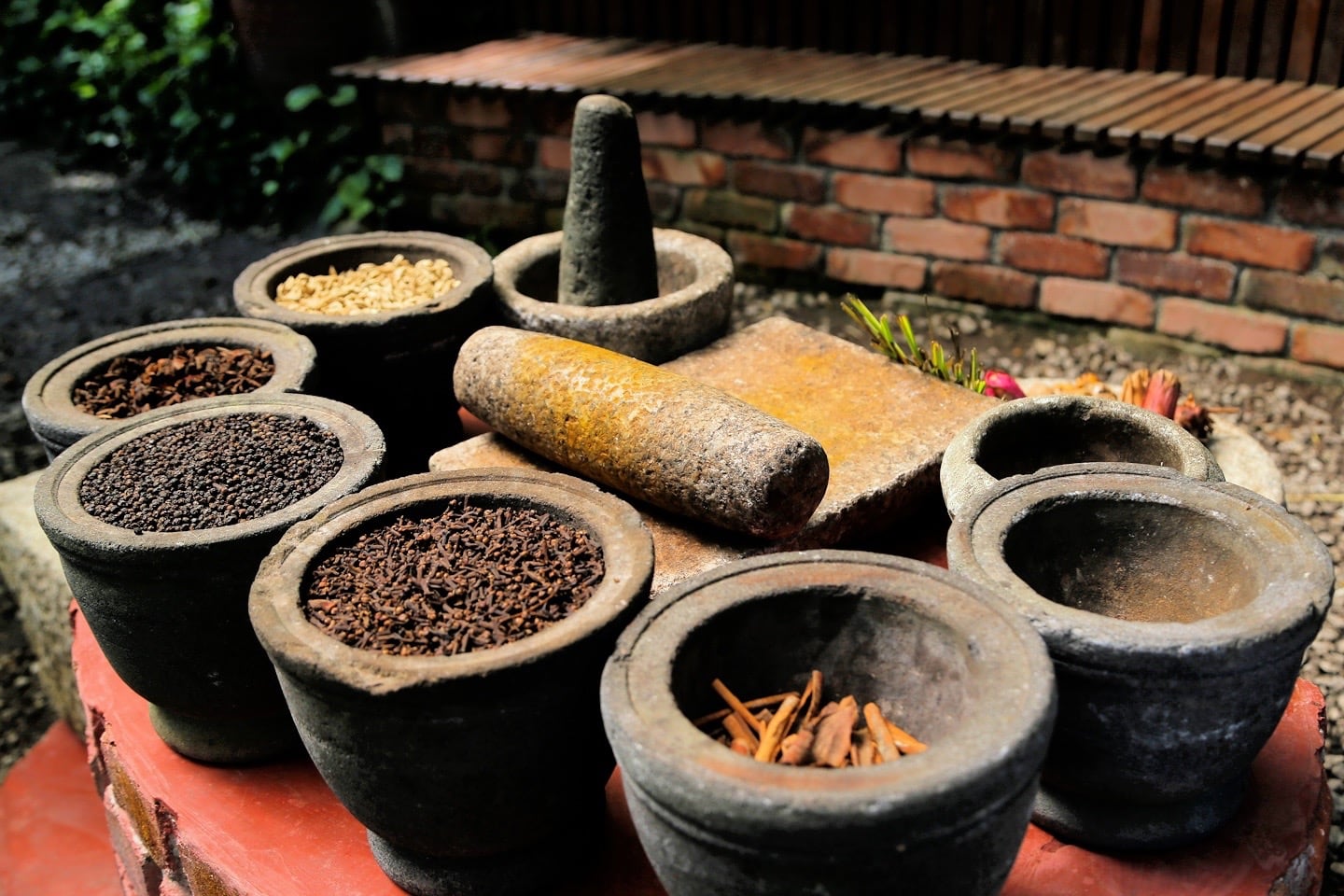 ➒

Explore a Tropical Spice Garden in the Jungle

When Lori told me we were visiting a spice garden, I had my doubts. But wandering through Penang's Tropical Spice Garden is far from your average walk in the park.

This amazing property is set on a densely forested hillside just minutes from Batu Ferringhi. It offers a well-maintained network of trails weaving through a vast tropical botanical garden punctuated by native and exotic herbs and spices.
---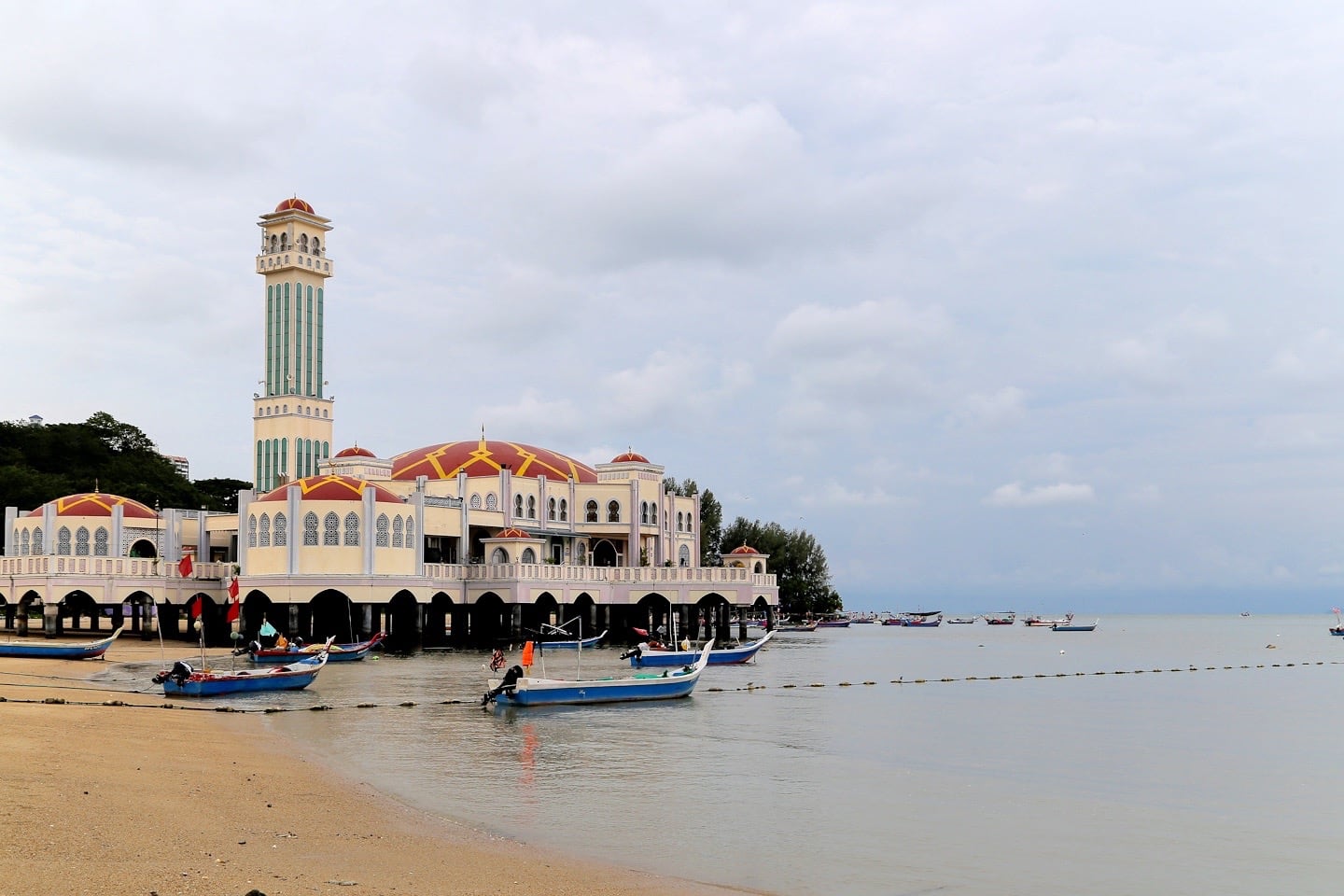 ➓

Visit Penang's Unique "Floating" Mosque

We end our list of top things to do in Penang with the Masjid Terapung Tanjung Bungah, or "floating mosque" of Tanjung Bungah.

As you may have gathered from the image above (and quotation marks around the word "floating"), the mosque doesn't actually float on the water, but is built on stilts over the water.

No matter what you call it, Penang's floating mosque is still a worthy stop en route from George Town to Batu Ferringhi.

With that said, if you're pressed for time and want to experience the best of Penang island, we'd advise skipping Tanjung Bungah and focusing your time on Old Town, Penang Hill, Batu Ferringhi, and Penang National Park.
---
---
Top Tips for Traveling in Penang
---
Penang Island is a beautiful and diverse corner of Malaysia that offers a wide range of experiences for travelers. However, traveling in a foreign country can sometimes be challenging, especially if you are unfamiliar with the local customs and traditions. To help you make the most of your trip to Penang, here are some tips to keep in mind.
First and foremost, it is important to respect the local culture and customs. Malaysia is a predominantly Muslim country, and visitors should dress modestly and avoid public displays of affection. It is also important to remove your shoes before entering a mosque or someone's home.
Another important tip for traveling in Penang is to be mindful of the weather. The climate in Malaysia is generally hot and humid, so it is important to pack lightweight, breathable clothing and stay hydrated. It is also a good idea to plan your outdoor activities for early morning or late afternoon when the sun is not at its hottest.
Transportation on Penang is relatively easy and affordable. The island has a good network of buses and taxis, and ride-sharing services such as Grab are also available. However, it is important to be cautious when using taxis and negotiate the fare before getting in.
Sampling the local cuisine (particularly George Town's street food stalls) is by far one of the very best things to do in Penang! However, it is important to be cautious when eating street food and stick to busy stalls with high turnover to avoid getting sick.
With these tips in mind, you can make the most of your trip and create memories that will last a lifetime.
---
Thanks for Reading Our Guide to 10 Essential Things to Do in Penang, Malaysia!
If you found this guide helpful, don't forget to share it with your favorite travel buddies!
---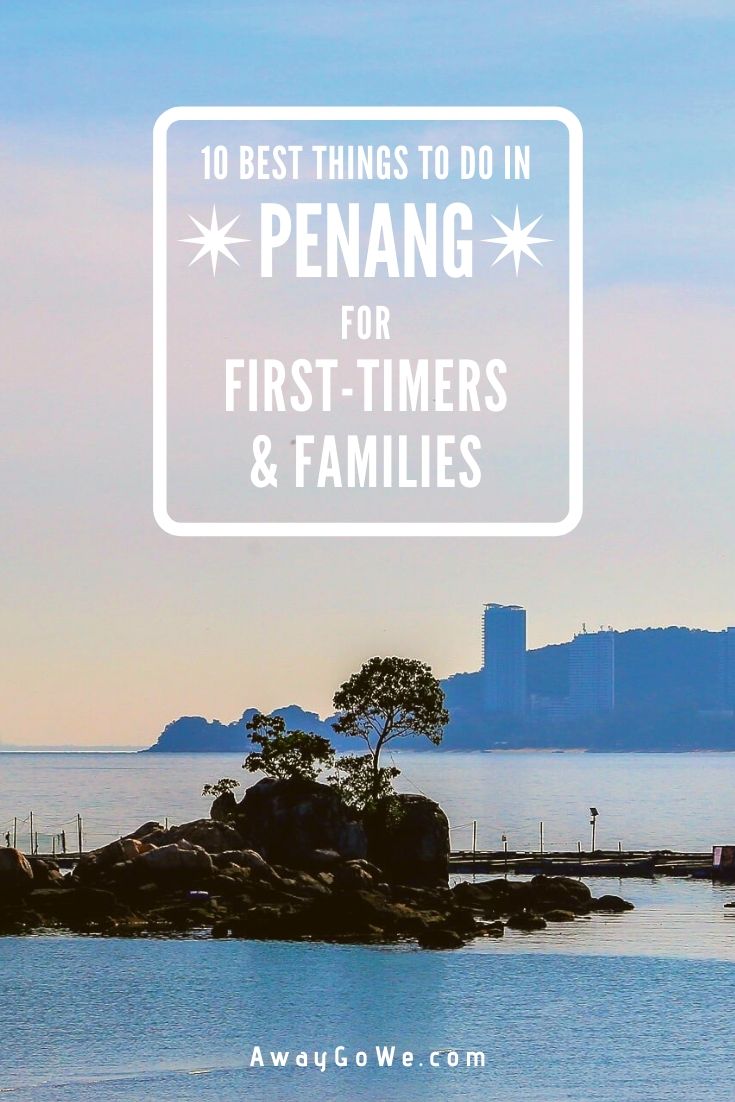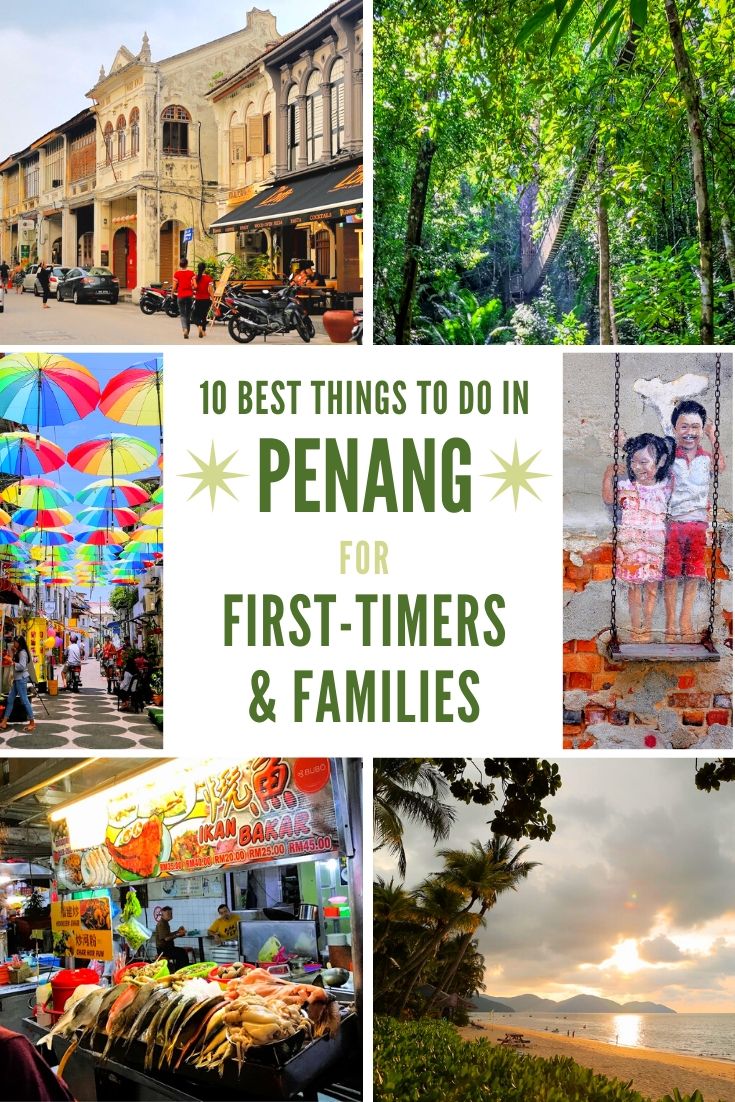 I've been a blogger and travel writer since 2010, covering everything from luxury hotels to hidden destinations and travel gear. Originally from Oregon, I've spent the majority of the past 20 years living outside of the U.S., in Mexico, the Caribbean, Southeast Asia, Africa, and Europe. I received a BA in Communications (Journalism) from Boston College, and an MA in International Development Studies from the George Washington University. I'm passionate about exploration and discovery, and providing independent, thoroughly-researched, ad-free advice for travelers.