The Tip of Borneo (Tanjung Simpang Mengayau) in Kudat, Sabah is a stunning, off-the-beaten-path corner of the third largest island in the world that's worth the time and effort to reach.
Here's our detailed first-hand guide to visiting the Tip of Borneo in Kudat, including why you should visit, how to get their, where to stay, and much more.
Plus helpful tips and recommendations from our own experience for making your visit awesome.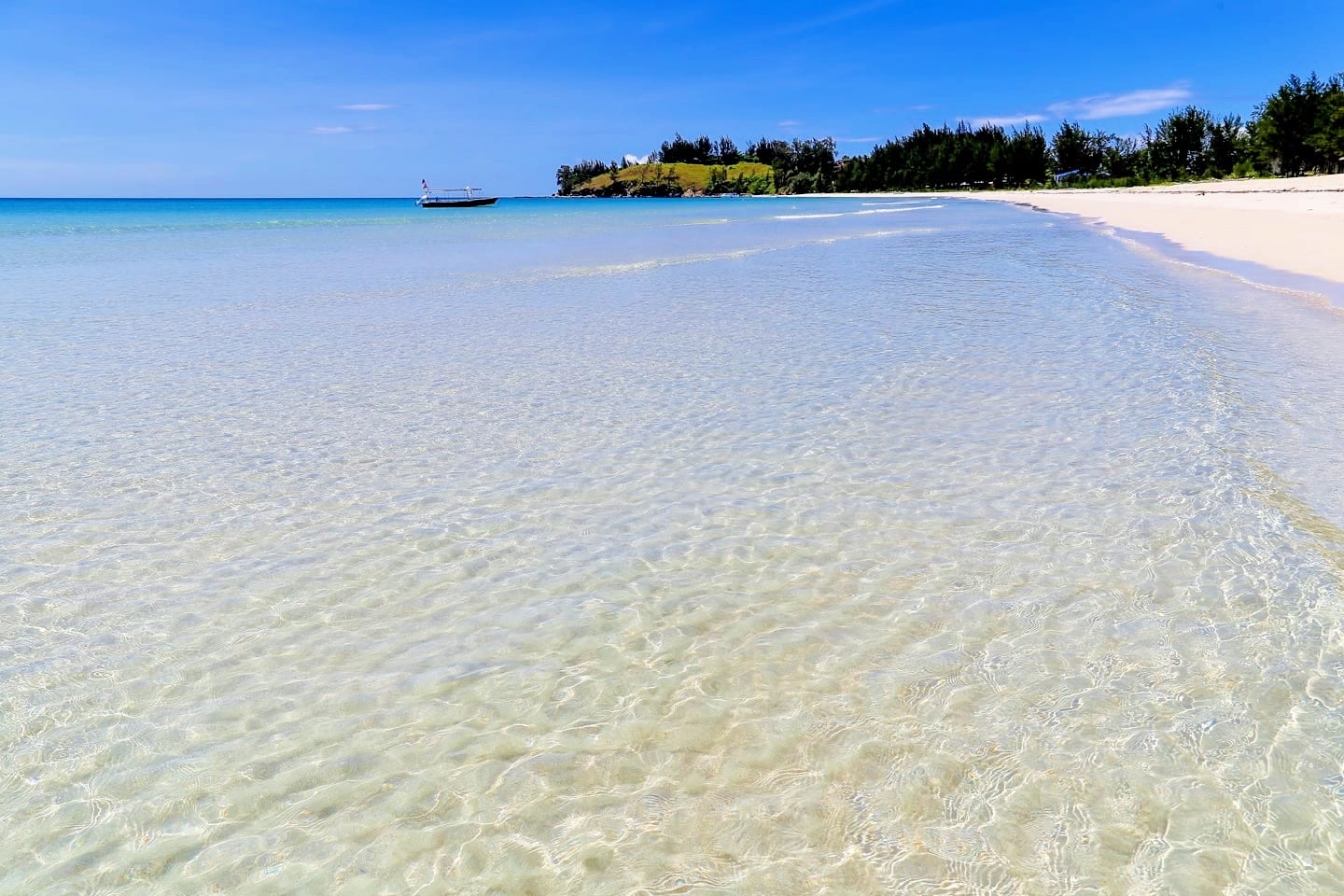 Why Visit Tip of Borneo in Kudat
Borneo, as a whole, might not be the hidden gem it was in years past, but relatively unexplored and under-visited pockets do still exist.
The Tip of Borneo in the extreme north of Kudat peninsula is one such place.
Tip of Borneo is remote, hidden, and unspoiled—but, for how much longer is anyone's guess.
Home to some of the island's best beaches (and best sunsets), the Tip of Borneo is refreshingly underdeveloped. You won't find high-rise seaside resorts and condos here [yet].
However, that doesn't mean the area is not without tourists. A handful of daily buses ferry tourists back and forth to a small touristic complex at the very tippy top of the island of Borneo, where a rocky point juts into the sea and a couple of monuments mark the geographic point of interest.
Apart from the Tip of Borneo monument, there really aren't tourist attractions around here, so the crowds tend to be short-lived, and numbers of visitors, relatively small.
Needless to say, the vast majority of visitors do not stay the night here. Too bad for them, but very, very good for those that do!
Because of the tourism interest, the infrastructure around the Tip of Borneo is just good enough to offer basic services for travelers wishing to extend their stay, without the over-abundance of modern conveniences that can easily spoil an otherwise unspoiled beach destination.
Dreaming of the Perfect Island Vacation? Here are...
9 Amazing Hotels in Langkawi, Malaysia
Our handpicked list of the VERY BEST beach resorts and rainforest retreats in magical Langkawi. For the Ultimate Getaway!
Background
Before we dive in, here is a brief summary of our stay plus some helpful information for getting a sense of our travel style and budget.
We spent about ten days backpacking in Borneo, focusing our visit on the Malaysian state of Sabah in the north.
Lori and I were traveling with a toddler who was just under two years old at the time, and some of our travel decisions reflect that.
Our lodging choices were on the budget end of the spectrum. In Tip of Borneo, we paid US$33/night — much higher than what you'd expect to get for similar accommodation on many Thai beaches, but far less than most other beach destinations.
We ate mostly local food with occasional Western meals. Local fare can be had in Tip of Borneo for a few bucks. Western food is considerably more expensive. We also stocked up on snacks and breakfast items at supermarkets ahead of time, which helped keep costs down.
The average daily budget for the 2.5 of us including accommodation was US$50/day for this portion of our journey.
Orientation
Kudat is the name of both the northwestern-most district of Sabah state and the district capital, located about three hours' drive north of Kota Kinabalu (KK).
Kudat is spread out over a long, narrow peninsula oriented north-south, with the South China Sea off the western shores, and Sulu Sea off the eastern shores.
If you're looking for the best of Kudat, start your search on the district's western beaches, from the Tip of Borneo moving south.
You'll indeed find a lot of accommodations in and around Kudat town on the eastern shore of the peninsula, and while the infrastructure is much better over here, the beaches are serviceable, but generally not as nice as those found on the western shore.
The highway from Kota Kinabalu to both Kudat and Tip of Borneo was sealed and in good condition when we made the trip.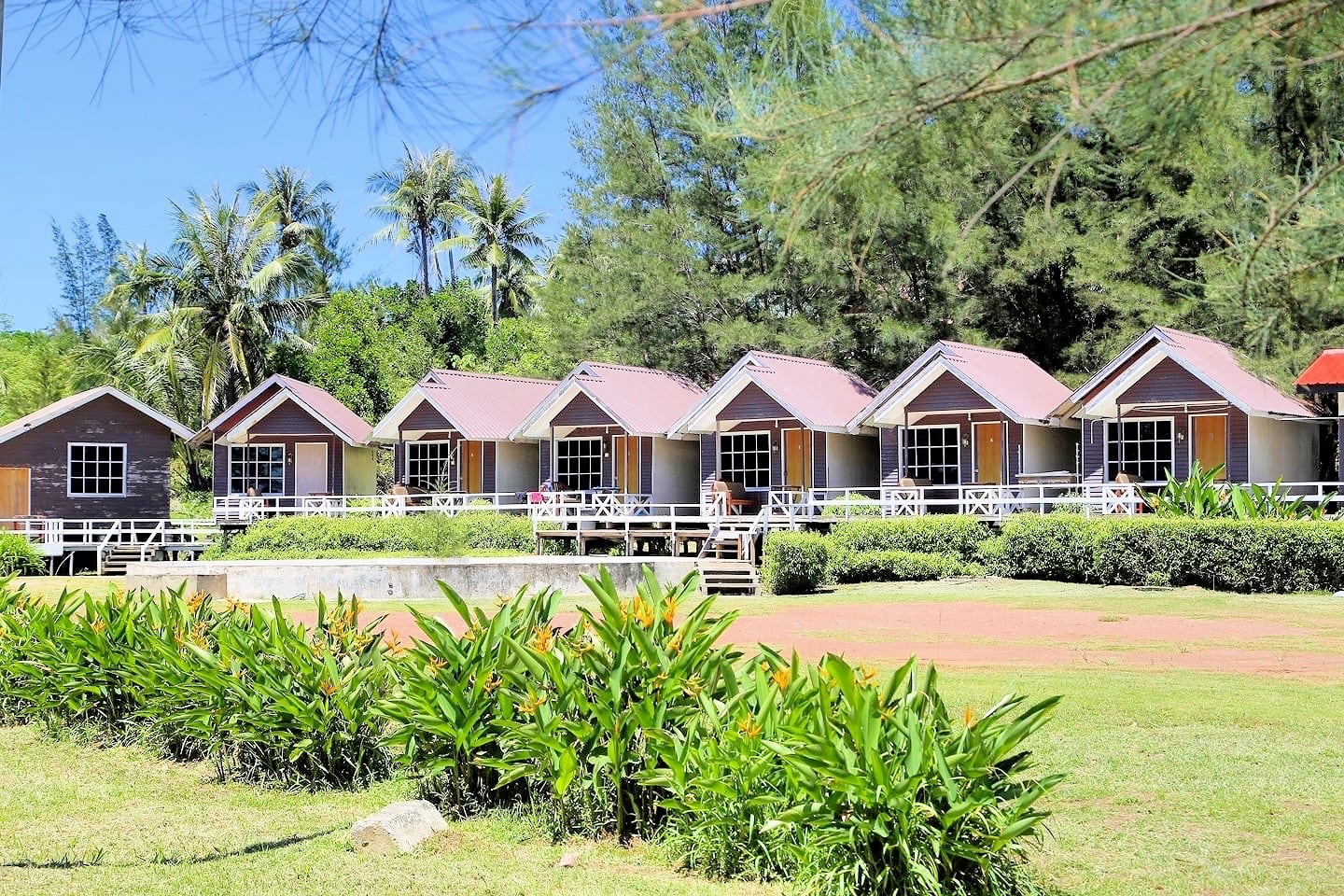 Where to Stay in Tip of Borneo
For better or worse, Tip of Borneo isn't a destination where luxury beach resorts and boutique hotels pop up on a weekly basis.
The options available are well-established and few, and consequently, there is little competition to keep things fresh and exciting.
But sometimes, the status quo is not such a bad thing, and if you're looking for unplugging from the technological trappings of the 21st century in a secluded and unpretentious slice of paradise while still having access to the basics, you won't be disappointed.
Tip of Borneo offers exactly that and much more.
Budget Lodging
Of the dozen or so options for lodging in and around the Tip of Borneo, Tampat do Aman seems to be popular with backpackers.
We were looking for something close to the beach and near a variety of eating options, so skipped Tampat do Aman (located farther inland, with a shuttle to the beach village) and the now permanently closed Lupa Masa (too far south of the village for our tastes).
Tommy's Place and BorneoTip Beach Lodge are centrally located between the village (with a handful of restaurants) and the Tip of Borneo Monument, and just steps from a stunning stretch of white beach.
We chose to stay at BorneoTip Beach Lodge because the detached bungalows looked a bit more maintained, and we were not disappointed.
Both Tommy's Place and BorneoTip have good restaurants serving local dishes (and a couple of Western dishes). Tommy's has "Western" breakfast offerings, but BorneoTip's food is a bit cheaper.
The friendly staff and owner of BorneoTip, however, were perhaps the biggest advantage over Tommy's.
All considered, BorneoTip Beach Lodge is definitely our top budget pick for staying in Tip of Borneo, due to its modern bungalows, warm staff, close proximity to the beach, and location halfway between the Tip of Borneo monument and village.
If you're looking to stay in the village, Chalet Nom Kamil looks to be a good budget option along the beach.
Another option worth checking out is Secret Place Cafe & Camping. If we had more time in Kudat, we would have definitely spent a night or two here.
Mind you, Secret Place is quite a bit more rustic than BorneoTip or Tommy's. But if you are looking for a secluded rustic camping paradise on the beach, it's absolutely perfect.
Midrange and Up
On the higher end of the budget spectrum is Hibiscus Beach Retreat, located along the coast, halfway between the village and Lupa Masa.
And even farther south near Kelambu Beach, on the really fabulous side of things is incomparable Frangipani Luxury Villa @Kudat Riviera.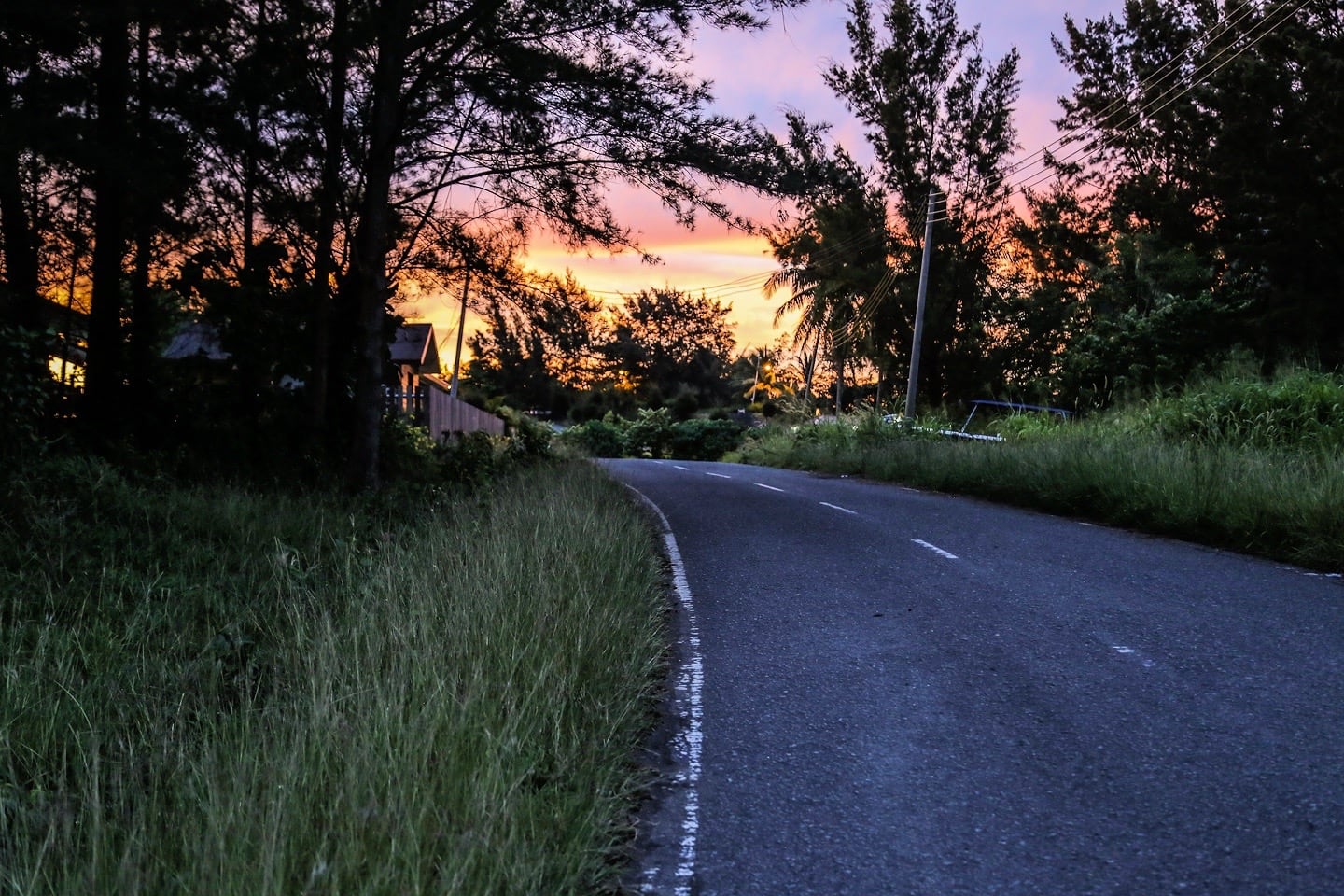 Getting to Tip of Borneo
From Kota Kinabalu, there are a few ways to get to the Tip of Borneo: Taxi/Uber/Grab, bus+taxi, tour package, and flight+taxi. Some guesthouses also offer free or reduced shuttles to/from KK or Kudat.
We opted for a door-to-door taxi (Grab) from our wonderful guesthouse in KK (Hotel Eden54) to our guesthouse, BorneoTip Beach Lodge. You can also download the Grab app and do it yourself.
The GrabTaxi was arranged through the front desk at Hotel Eden54, took us three hours, and cost US$60.
That might seem expensive for a three-hour trip, but for us, it made sense, given that for the bus, we would have had to pay for two tickets, and take a taxi between our KK hotel and the bus station, then another taxi from Kudat bus station up to the beach lodge.
The most economical choice might just be the tour bus/shuttle, but while the shuttle will take you direct to the Tip of Borneo, it runs once a day, you have to get to the shuttle stop (by taxi or otherwise) in KK, pay for multiple seats (if you're traveling with multiple people), and it often takes longer.
Finally, there's the flight option, which is a twenty-minute hop from KK airport to Kudat city with 30 minutes of taxi on each end to/from KK and Kudat airports, respectively.
By the time you factor in time at the airport, this option not only costs more than a private taxi, it takes longer too!
In retrospect, we were very happy with our decision to take a door-to-door taxi.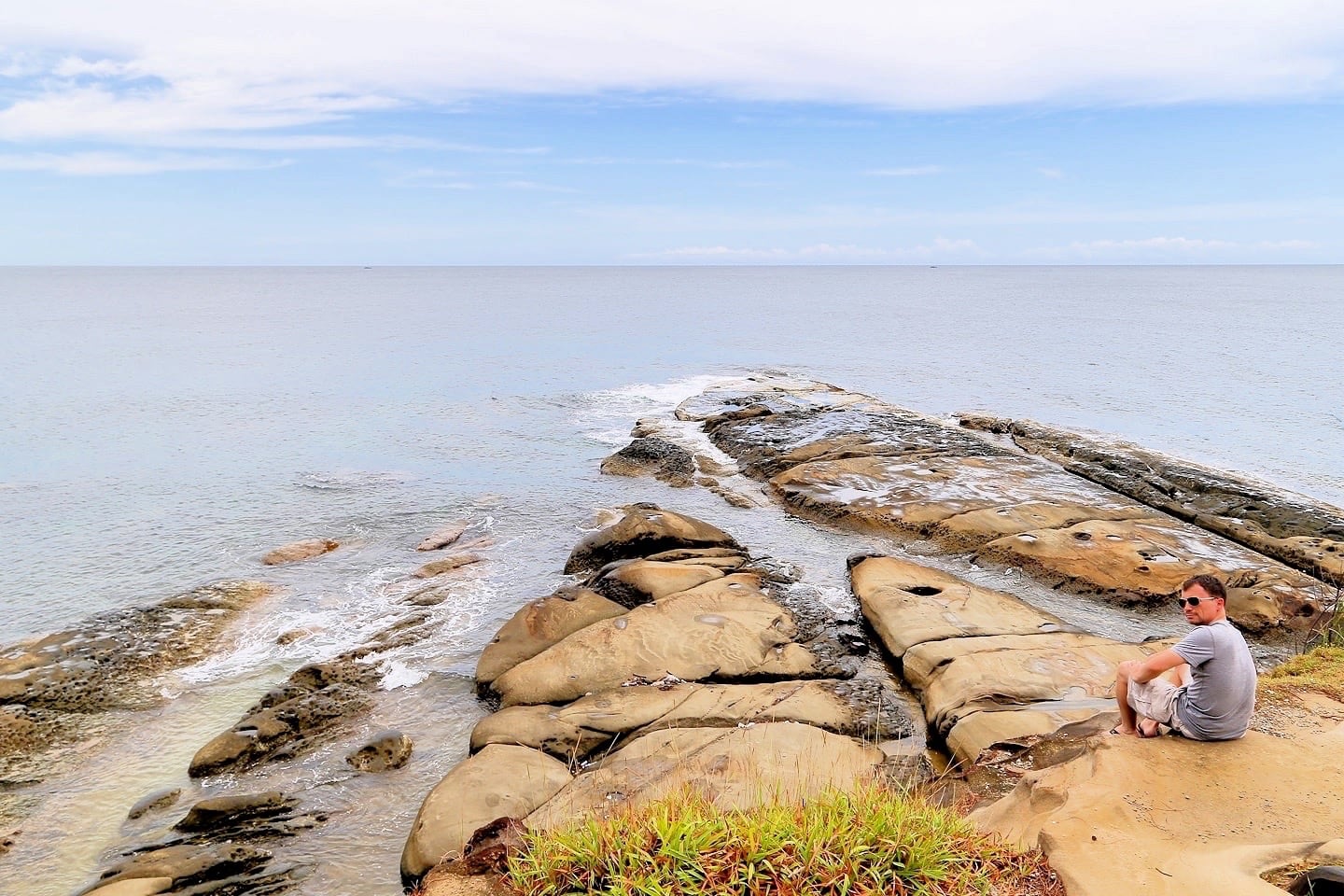 What To Do Around the Tip of Borneo
While you could easily spend a week simply soaking up the sand, surf, and sun on one of the areas pristine beaches, the Tip of Borneo offers more than enough to fill a few days.
Tip of Borneo Monument
The main attraction, of course, is…well…the Tip of Borneo!
A short [uphill] walk from Tommy's Place leads to a visitor center and collection of local food stands. Just beyond the visitor center parking lot is a winding, brick footpath leading down to the rocky headland — Selfie-central of Kudat.
Along the way, you'll find paths and a well-maintained park for meandering. There's also a stage for music events, namely Kudat's well-known Sunset Music Fest, which happens every year in November.
Note: as of 2023, we have not seen any plans to resume the Sunset Music Fest. If you hear otherwise, let us know in the comments!
The path ends at a staircase leading down to the top of the rocky headland. It's fairly easy to climb down the sandstone embankment to the water's edge, but you'll want to be mindful of sneaker waves!
Tip of Borneo Beaches
Monuments and rocks are cool and all, but there's no denying that the real attraction to this part of Sabah are the amazing beaches!
Stretching for 2.5 km, from the Tip of Borneo headlands all the way down past the village, is Kalampunian Beach. A stunner in its own right, Kalampunian gets the lion's share of visitors due to its central location.
Owing to the relatively isolated location and length of the beach, this will likely still be one of the least crowded beaches you encounter on your visit to Sabah.
The surf is calmer the farther north you go, but watch out for jellyfish, particularly Box Jellyfish (Chironex fleckeri), and particularly in March and April.
We visited in April and didn't encounter any serious issues, but did receive a mild sting or two from non-lethal jellies, more of a minor nuisance than anything.
If even more isolated stretches of sand are your thing, rent a motorbike in the village (or hire a lift through your guesthouse) and head south.
Next beach down is private Hibiscus Beach, but a short distance further is amazing and isolated Bavang Jamal Beach, ironically better known as "Secret Beach."
Bavang Jamal sports a couple of local eateries, including must-visit Secret Place Cafe, and no crowds, making it an excellent day trip from Tip of Borneo.
Around the southern edge of Bavang Jamal, you'll find supremely picturesque Kelambu Beach. Hike to the top of the wooded "island" at low tide for an amazing view.
A little farther south you'll find largely undeveloped Loro Kecil Beach — ideal for snorkeling and sunsets!
And finally, Kimihang Beach, the southernmost of our listings here, stretches the length of Loro village.
The beach is surprisingly clean for a municipal beach of sorts, and can get quite lively, particularly in the evenings, as local residents come out to enjoy this beautiful seaside stretch.
Jungle + Beach Hiking
Exploring the 2.5 km stretch of Kalampunian may seem like a hike in itself, but there are a handful of other routes and trails worth exploring as well.
The headlands around Bavang Jamal/ Secret Beach are worth checking out, particularly the southern portion of the beach.
The island/headlands at Kelambu Beach is also popular with beach hikers, offering stunning views looking back towards the shore.
There are also a handful of worthwhile jungle hikes that can be done in the area.
TipTop restaurant (associated with Tampat Do Aman) is a good resource for hiking information and other area excursions.
Snorkeling
Don't expect to find world-class snorkeling along the lines of Semporna or the smaller offshore islands around Sabah. With that said, there is colorful marine life to be seen, if you're patient and know where to look.
Some good places to try are the rocky points on both ends of Bavang Jamal Beach, and inside the cove at Loro Kecil Beach.
Getting Around Tip of Borneo
Unless you bring your own wheels, once you're here, you're pretty much here.
While you can rent motorbikes in the village, bet on doing a lot of walking. At the time of our visit, there were surprisingly no bicycle rentals or public taxi to hire.
However, a couple of the lodges/guesthouses do offer taxi or shuttle services for guests, but it's highly dependent on the guesthouse.
Day trips can be arranged through TipTop restaurant and Tampat Do Aman.
The owner of BorneoTip Beach Lodge also has a vehicle he'll shuttle guests around in for a nominal fee (which was another big advantage for staying there—this is how we got to/from Secret Beach, and to Kudat following our stay).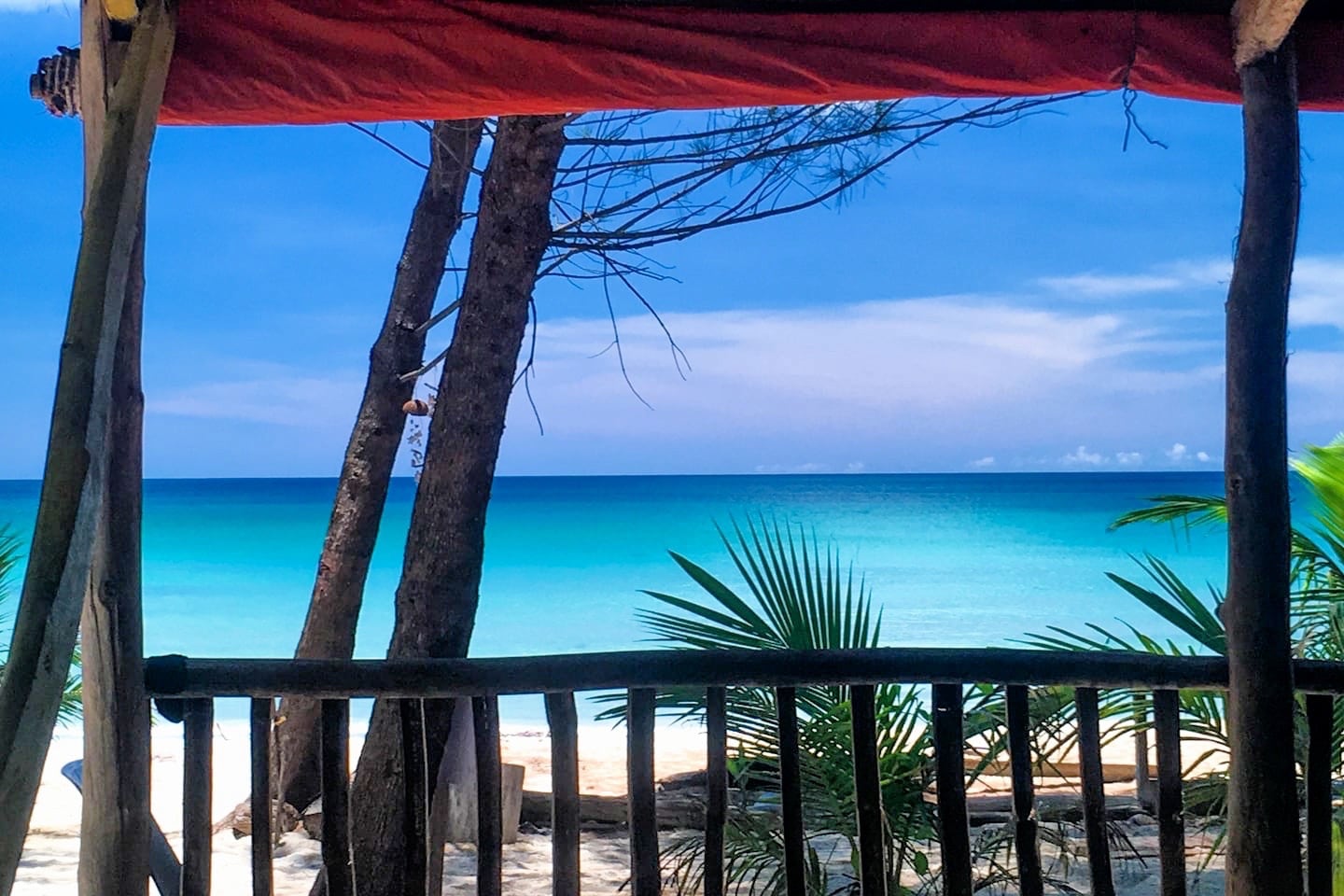 Where to Eat + Drink
While food and drink offerings are fairly limited in this isolated region of Sabah, the handful of options on offer are quite good.
Most of the budget lodges have small restaurants onsite. BorneoTip Beach Lodge makes tasty and reasonably-priced local dishes. Tommy's Place has local dishes plus a few Western backpacker staples.
Additionally, there are a few eateries open during the day at the Tip of Borneo visitor center when the tour groups arrive.
In all cases, be sure to ask what's available rather than strictly going off the menu, as offerings are constantly in flux in this area. We are in a remote corner of an island, after all.
The best restaurant in the village may be TipTop restaurant. Honestly, it might've been the only restaurant in the village. Prices are a bit higher than Tommy's or BorneoTip, but the food is mostly excellent, particularly if you're craving Western pub food or a different take on local cuisine.
TipTop is associated with Tampat Do Aman, so if that's where you choose to stay, you'll likely be visiting TipTop (via Tampat's guest shuttle) fairly often.
There's also a small grocery on the highway-side of TipTop restaurant where you can stock up on some basics. It's better to stock up on snacks and dry goods in Kudat or Kota Kinabalu, as stock on hand in the village can be limited.
It's worth noting, however, that there are no guesthouses offering self-catering/ kitchens to cook your own meals, as far as we could tell.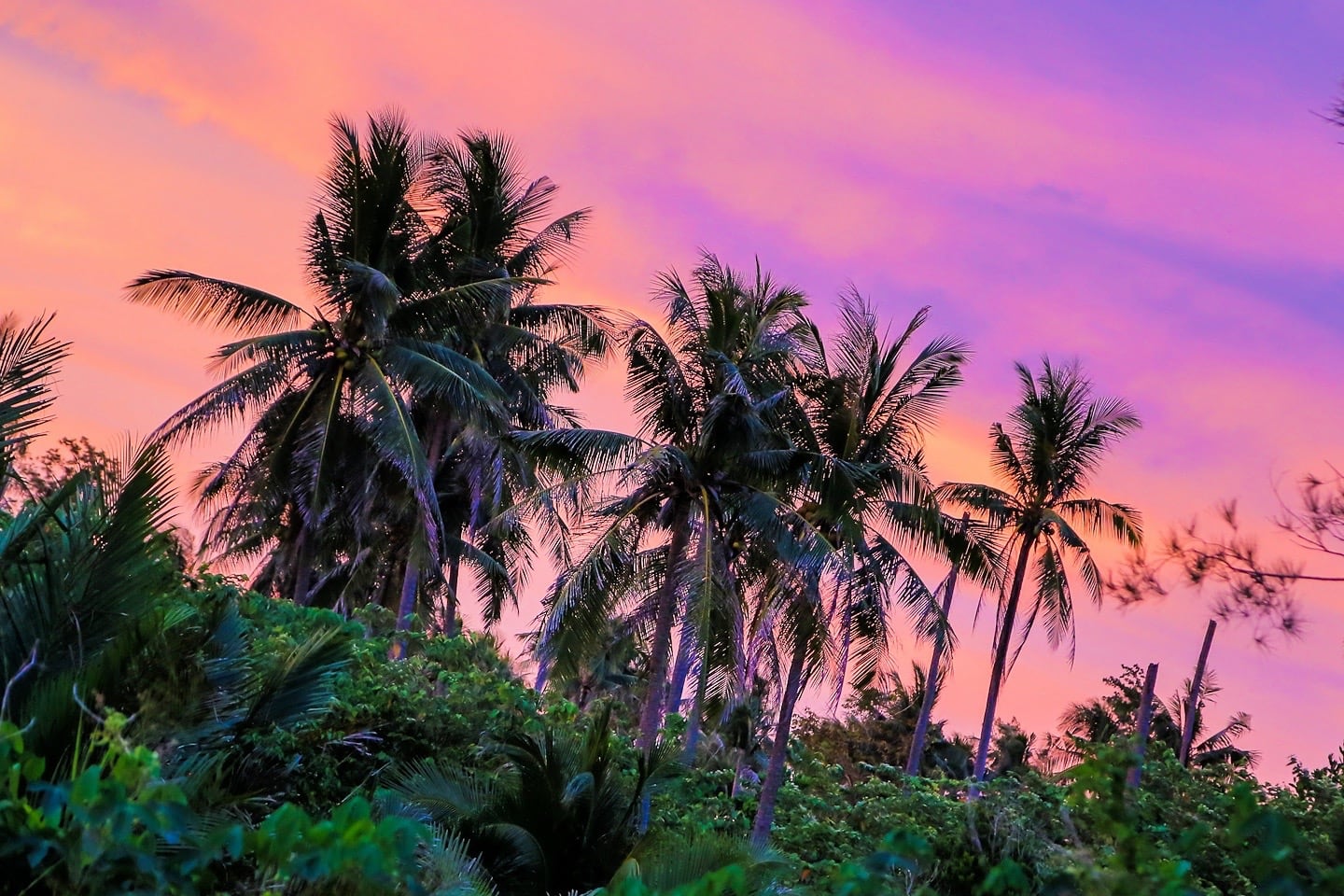 What to Bring to Tip of Borneo
This area of Sabah is fairly remote, not to mention on an island in the tropics, so there are a few key items you should plan to pack.
Essentials
Cash!!! There are no ATMs [yet] in Tip of Borneo, and most places don't accept credit cards, PayPal or anything else. In a pinch, you can hire a lift into Kudat town (which takes 30-45 minutes), but best to come prepared.
Sunscreen & Bug spray While there is a small grocery in the village with the basics, don't count on sunscreen or bug spray being available. Best to stock up in Kota Kinabalu, or bring it from home. Mosquitos weren't an issue during our stay, but it did seem to get quite buggy before a big storm. Some areas of beach (particularly stretches with driftwood) tend to have sand fleas, so you'll want to watch out for that as well.
Swimsuit If you plan to swim during your stay, this one may seem obvious. But it's amazing how many backpackers seem to think they can buy a bikini/boardshorts anywhere.
Rain Gear Whether or not rain gear is essential highly depends on when you visit. However, in this part of Borneo, freak rainstorms are not uncommon throughout the year. An umbrella, poncho, or good breathable rain jacket may save a hike or long walk.
Comfortable All-Weather Sandals If you are planning to stay around the Tip of Borneo for more than a day trip, you'll likely be doing a fair amount of walking, particularly if you plan to stay around the village or do some hiking. I practically live in my Reef sandals (the most comfortable flip-flops I've ever owned!), but for water sports and hiking, they can be less than ideal. I know a lot of people love Keens. I do not for travel in the tropics, as air flow through the toe is critical. Lori swears by her Chacos, as they offer excellent support and air flow.
Enough clothes for your stay You can get laundry done in a pinch at Tommy's Place (we did, thanks to our toddler), but I will tell you it's not cheap, and not guaranteed to dry during your stay. We dropped off our laundry one morning, and a storm came in (as is common in these parts) that afternoon. We did not get our clothes back until the following evening, and even then, they were still damp from the humidity.
Modesty Cover-Ups Please keep in mind that Malaysia is a socially conservative country, and Sabah is no exception. Islam is the dominant religion practiced in these parts, and it's important to be mindful of social mores with regards to dress. At the very least, women, in particular, are encouraged to bring a shawl, etc. to cover up swimsuits when walking through the village or other locally populated areas. Head coverings are not generally required.
Optional
Snacks There's a small grocery in the village, but stock is limited. Stock up in Kota Kinabalu (KK) or Kudat town beforehand.
Mask/Snorkel/Fins If you plan to snorkel, this is a must, as there's no place to rent in the village (as far as we could tell). We don't generally bring fins with us on long backpacking trips, but really like these travel fins for shorter trips. After trying out a lot of gear over the past 20 years, both diving and snorkeling, I've been really happy with this mask, and Lori really likes her mask because it fits smaller faces. Our snorkel of choice is nothing fancy, but reliable and gets the job done for a good price.
More Malaysia Travel Resources
Check out our other helpful guides to help you plan your visit to Malaysia.
Have You Visited the Tip of Borneo (Tanjung Simpang Mengayau) in Kudat recently?
Let us know in the comments below if anything has changed or if we got some of the details wrong. We aim to keep this resource updated for future travelers like you. Thanks!
I've been a blogger and travel writer since 2010, covering everything from luxury hotels to hidden destinations and travel gear. Originally from Oregon, I've spent the majority of the past 20 years living outside of the U.S., in Mexico, the Caribbean, Southeast Asia, Africa, and Europe. I received a BA in Communications (Journalism) from Boston College, and an MA in International Development Studies from the George Washington University. I'm passionate about exploration and discovery, and providing independent, thoroughly-researched, ad-free advice for travelers.