Looking for some insider tips on the best things to do in Luang Prabang? You've hit the jackpot!
Lori and I lived in Laos for three years and have visited this atmospheric UNESCO town a half dozen times in the past decade. As you might imagine, we have a thing or two to say about this one-of-a-kind place.
The ancient Lao royal capital may have reached its peak centuries ago, but the countless unique and memorable things to do in Luang Prabang in the 21st century may have you believing otherwise.
Luang Prabang is widely known as a place where saffron-clad monks follow narrow tree-lined streets with purpose; where handsome colonial-era villas turned hotels stare out longingly towards the Mekong on a sultry tropical evening, and visitors amble unhurried from temple to cafe to temple.
But take the time to dig a little deeper and you'll find that this little corner of Southeast Asia has so much more to offer waiting just below the surface.
In this article, we focus on 16 of our favorite activities, sights, and experiences in the UNESCO World Heritage designated Old Town and beyond.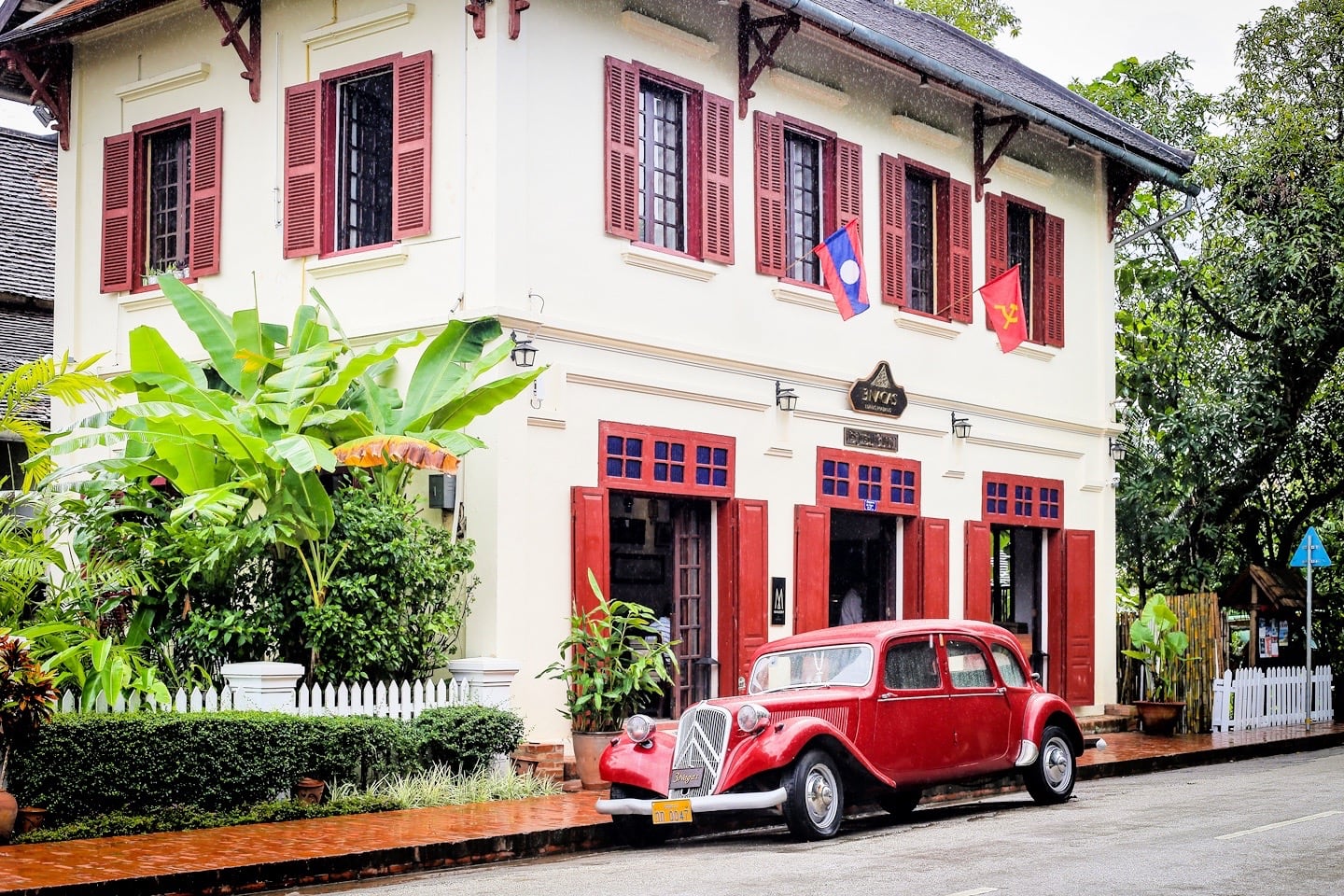 ---
16 Amazing Things to Do in Luang Prabang
---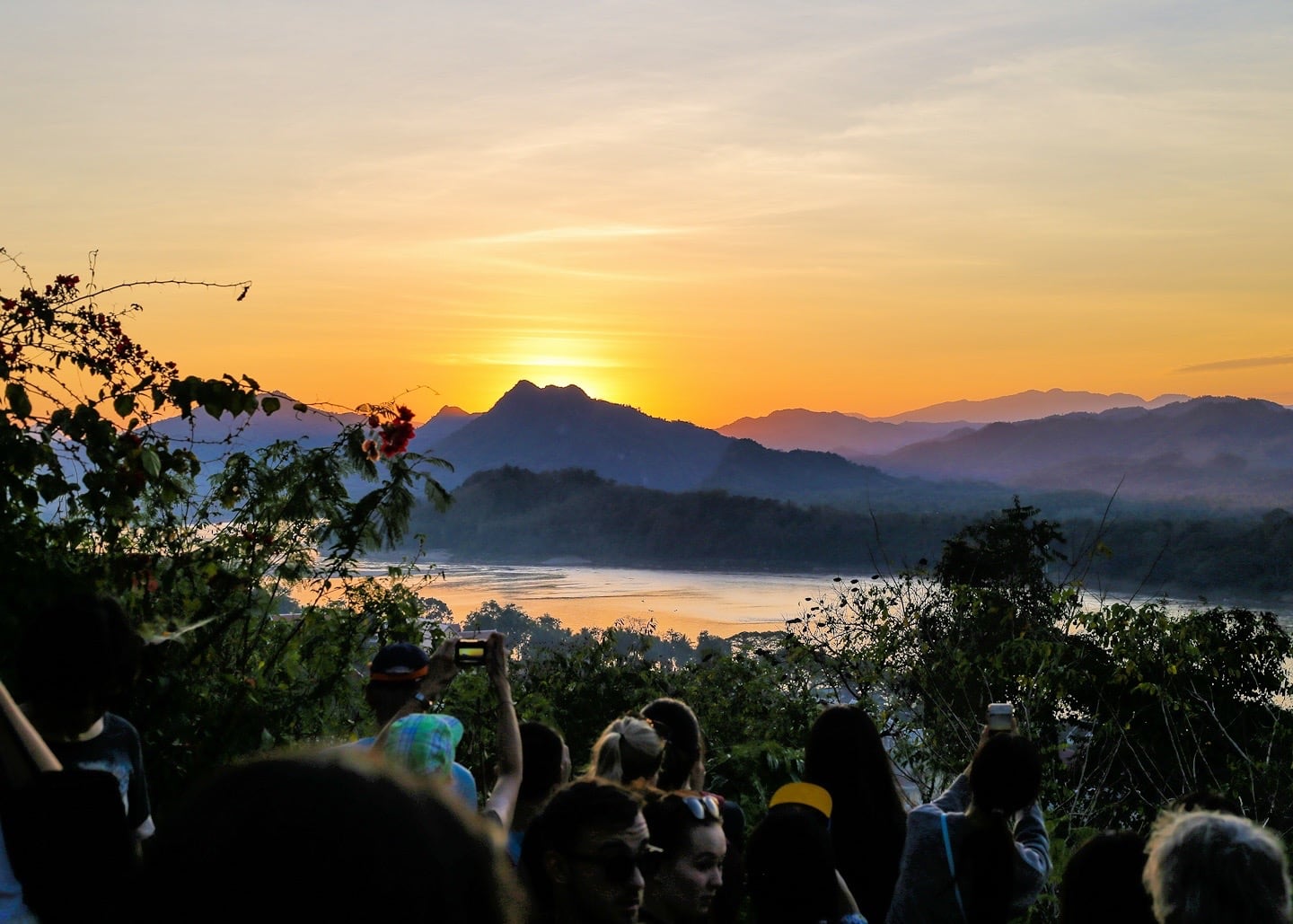 1. Climb 300+ Steps to an Incredible Mekong Sunset
Care to watch the sunset over the Mekong from a sacred hill? Ascend 300+ steps passing sacred structures (and a decommissioned anti-aircraft gun) to reach the summit of Luang Prabang's highest and most prominent focal point, Phou Si Hill.
Climbing Phou Si Hill is one of the most popular things to do in Luang Prabang, and for good reason. Fortunately, it's not too hard to lose the crowds.
A lot of internet sources claim that it's a cool 328 steps to the top. What they fail to mention is that there are four main paths leading up the hill, some with many more stairs than others.
The most popular route begins directly across the street from the Royal Palace. Try the other three paths to avoid the crowds. See if you can find all of them!
Make sure you bring water (and drink it! — though if you forget, they sell bottles at the top), and start your ascent an hour before sunset if you want a seat on the summit.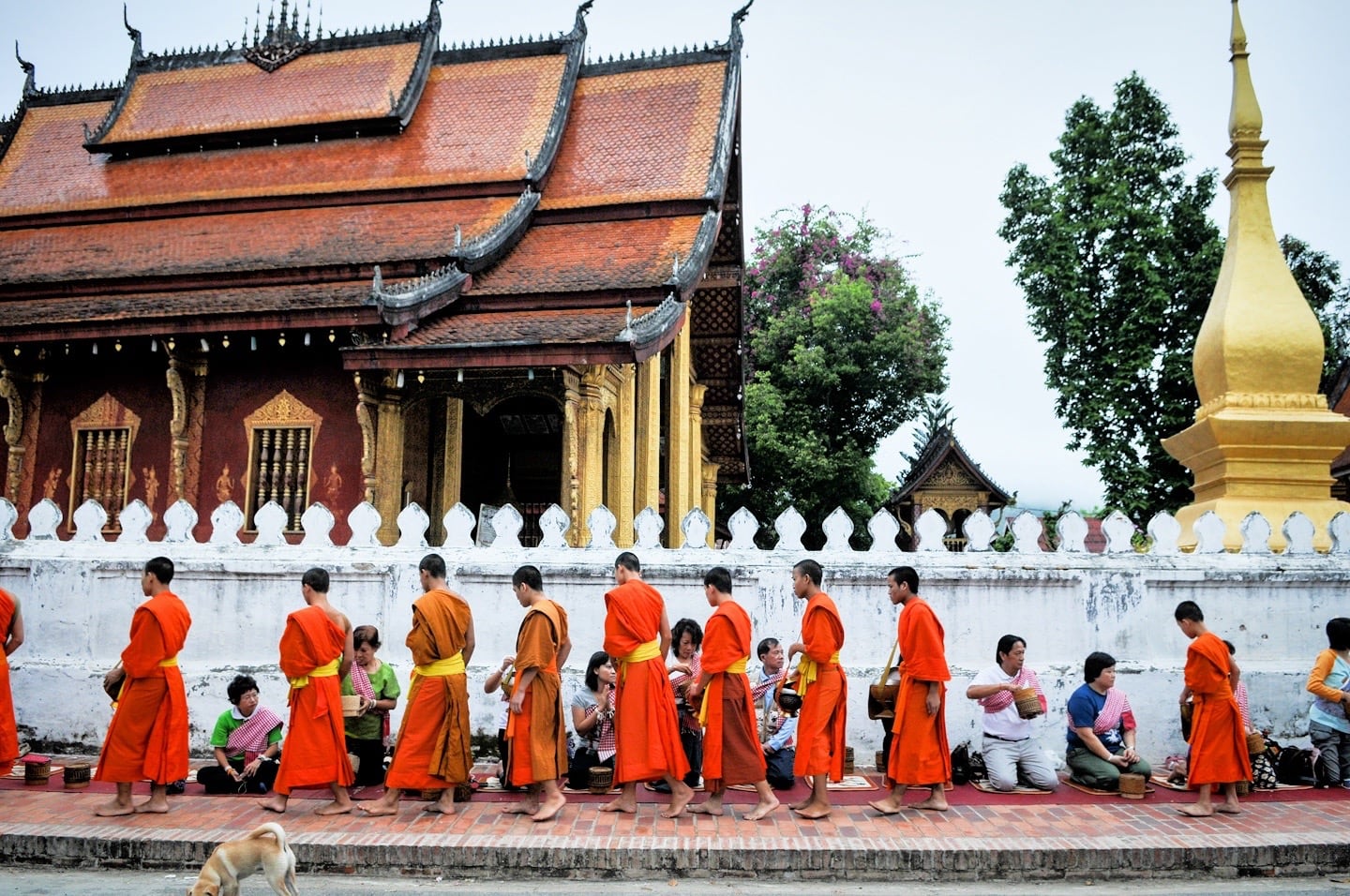 2. Respectfully Observe the Sacred & Time-Honored Ritual of Sai Bat
These days, Luang Prabang may best be known for its morning almsgiving ritual of sai bat (commonly referred to as tak bat) where a steady stream of novice monks emerge from their respective temples just before sunrise to collect offerings of sticky rice from devotees, which forms a key part of these monks' sustenance for the day.
It's a beautiful, spiritual, and uniquely Laos experience that you won't find anywhere else on the planet (not like this, at least).
Sadly, it's also an endangered daily ritual largely due to irresponsible tourism practices.
If you're planning on visiting Luang Prabang and want to see Sai Bat for yourself, you'll want to first read our complete guide to responsibly experiencing Sai Bat in Luang Prabang including helpful hints on when and where to go and how you can help keep this centuries-old practice alive.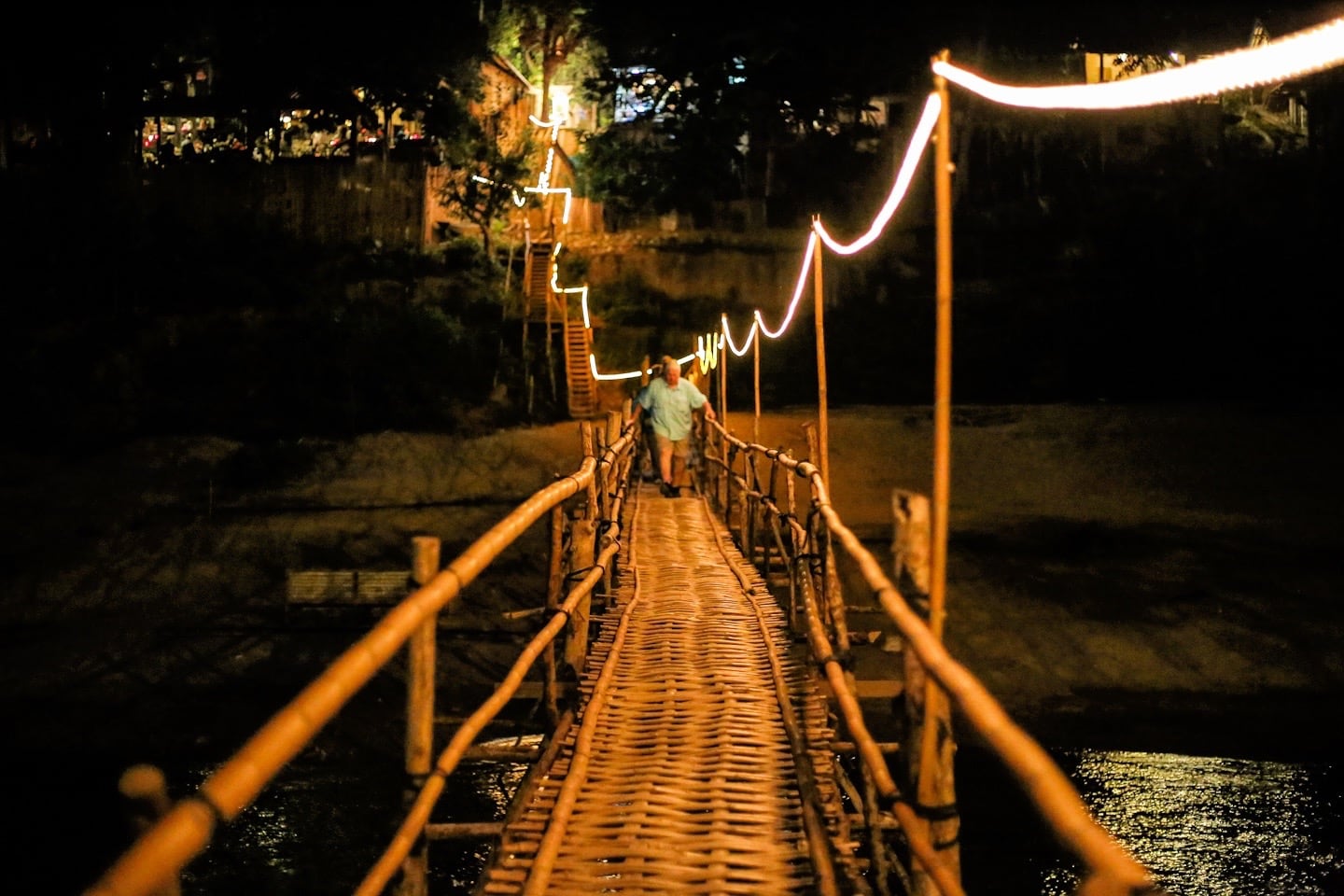 3. Cross the Bamboo Bridge for Happy Hour in Dry Season
Bamboo bridges! We all love them, we all want them, where can we find them?
There are two seasonal bamboo bridges spanning the Nam Khan [River] in Old Town in the dry season (November-ish to June-ish) — one at the northeastern tip of the peninsula below Viewpoint Cafe, and a larger one at the end of Soukkhaseum Road in front of Saynamkhan River View Hotel.
The latter bridge leads to a cluster of modest guesthouses and Dyen Sabai restaurant, an absolute must for a happy hour cocktail and tropical ambience (and their Lao food is pretty good too).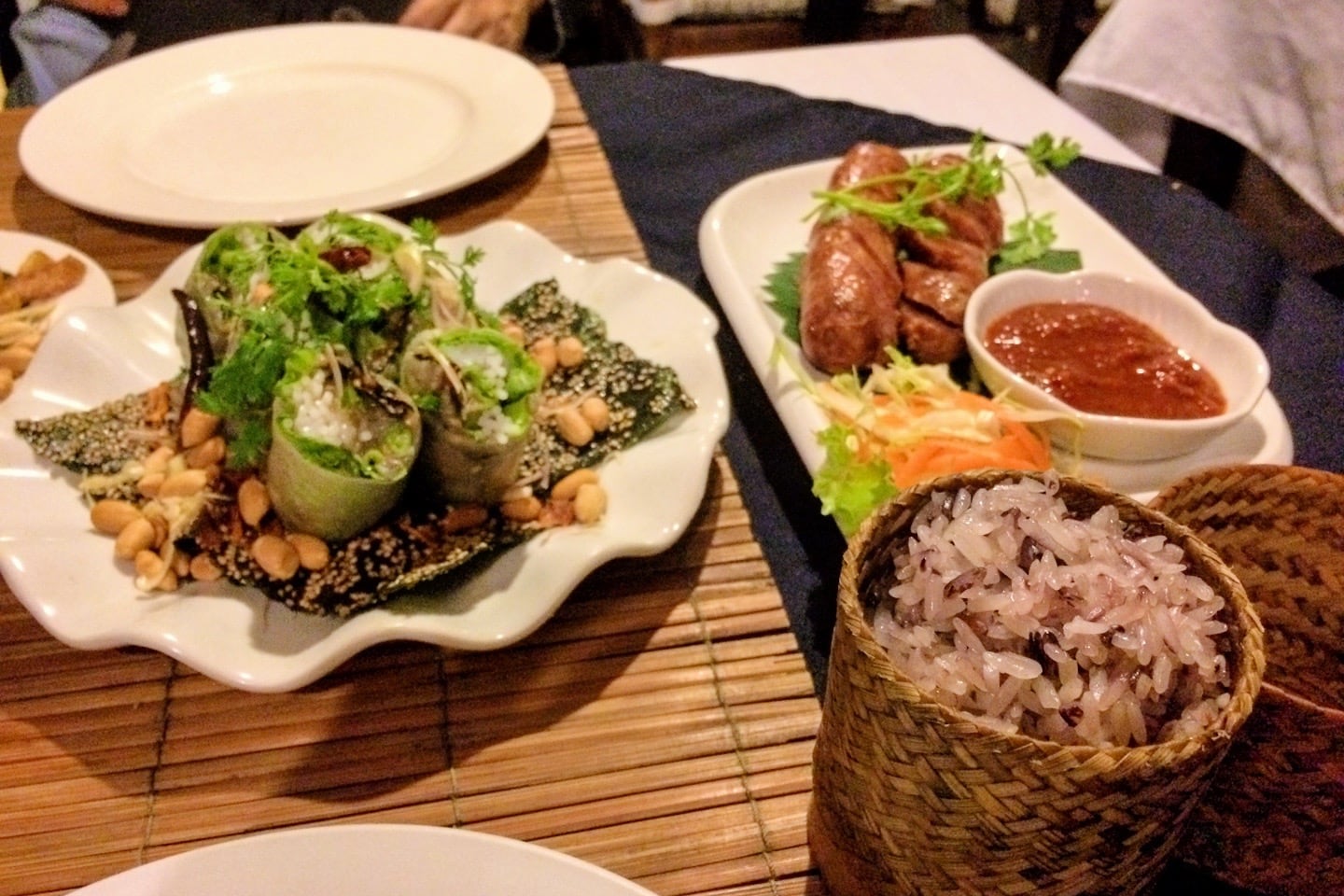 4. Indulge in a Mouthwatering Lao Culinary Experience
There are a number of excellent cooking schools in Luang Prabang where you can learn the craft from the masters of Lao cuisine. The Tamarind Cafe & Cooking School is one of the oldest and most acclaimed. And better yet, it might just be the best place in the country to sample traditional Lao cuisine.
Make sure to sample the Luang Prabang sausage, buffalo jerky, river weed, laab, and assortment of assortment of jaew dipping sauces. And don't forget to pair it with one of their signature Lao Lao cocktails!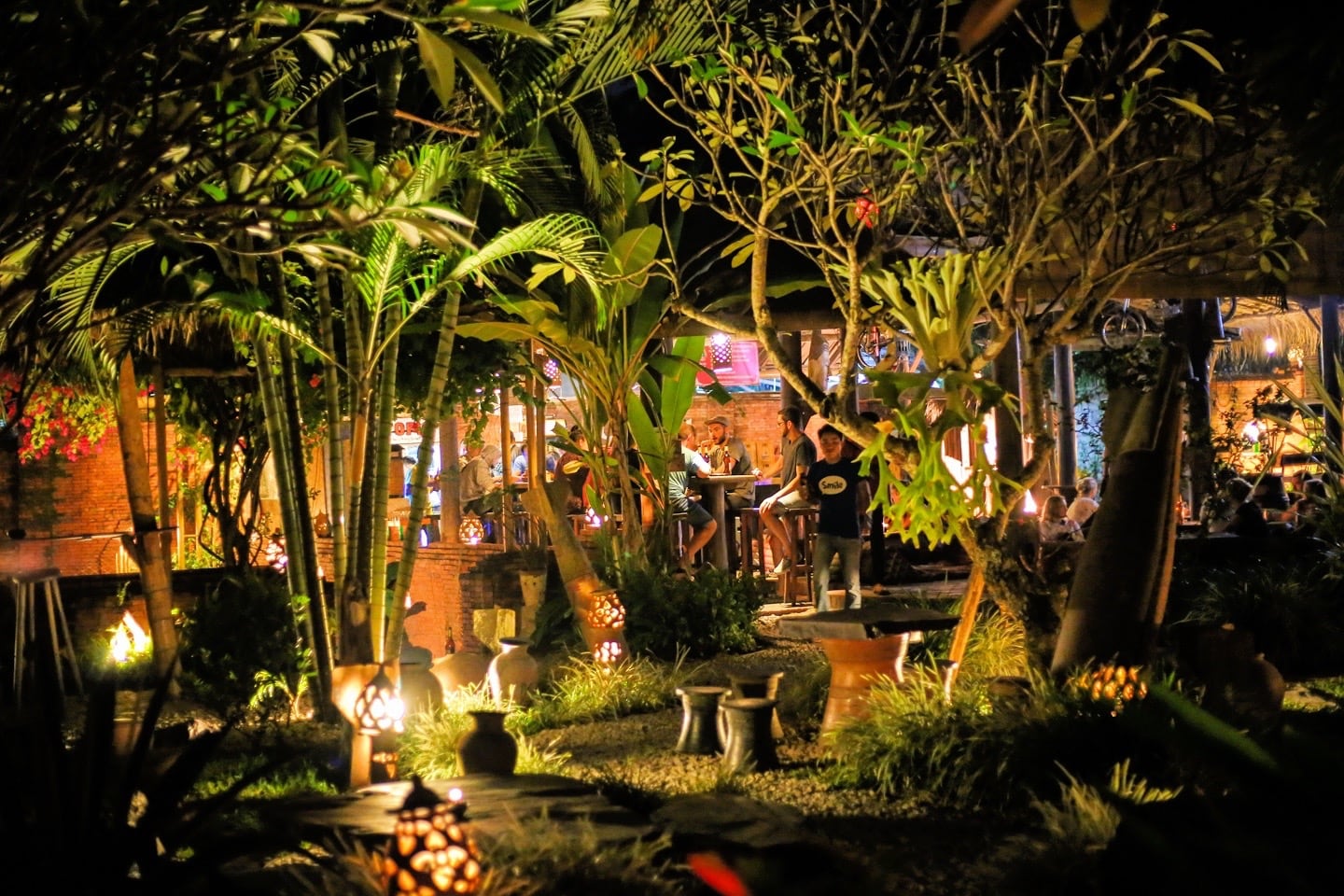 5. Chill Out Laos Style at Utopia
On the southeastern side of Phou Si Hill hidden in a tangle of alleyways is this bohemian paradise, true to its Utopia name.
Any time of day is good for a chill out session with coffee or beers on comfy cushions perched on the banks of the Nam Khan, but Utopia shines just before and after sunset.
The densely wooded jungle vibe might fool you into thinking you've been transported to an isolated jungle oasis cutoff from the rest of society.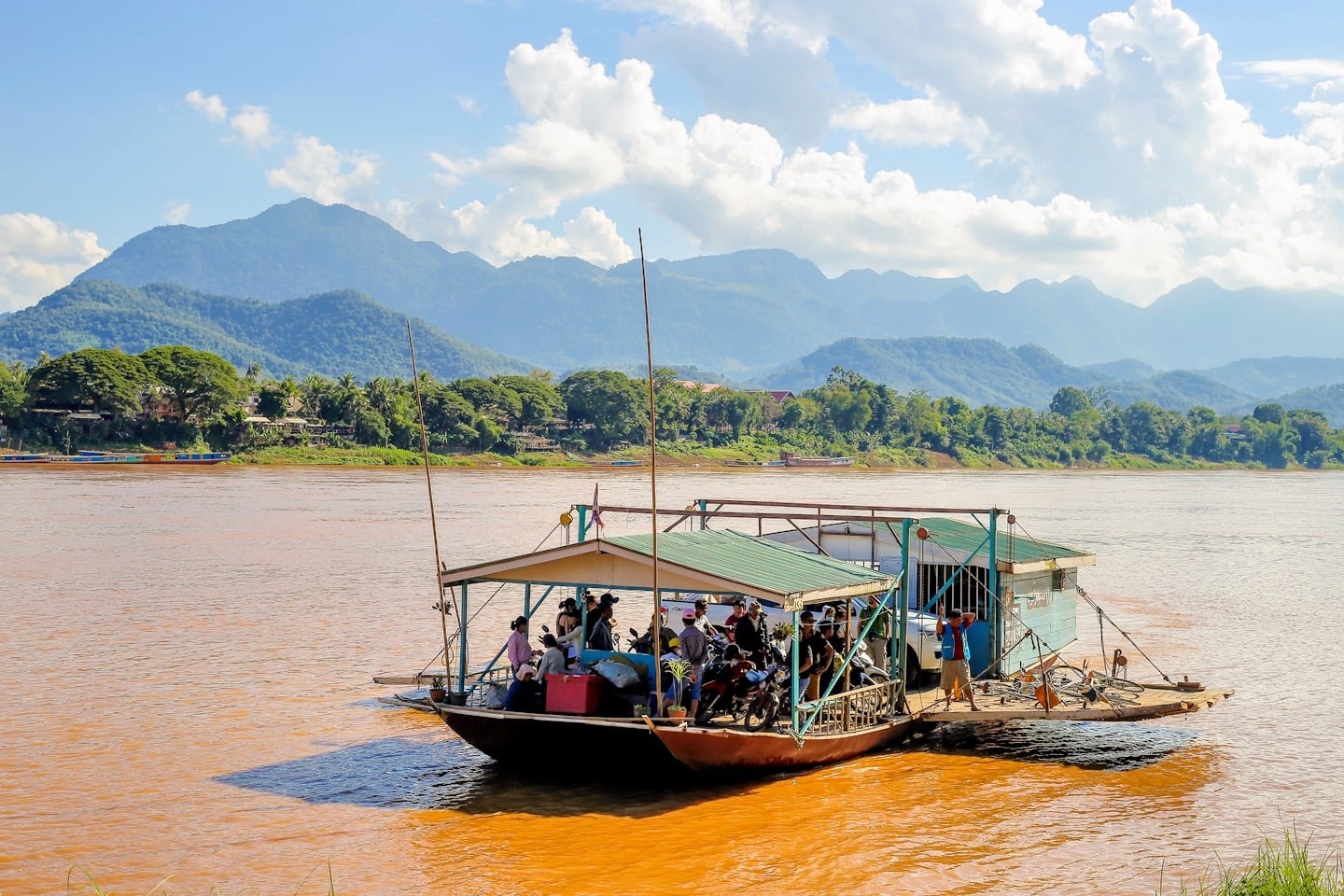 6. Take a Ferry Across the Mekong in Search of Hidden Sacred Spaces
Not a lot of visitors make the hop across the Mekong to the village on the other side. But a lot of investment has gone into this "model village" with hopes of attracting more tourism in the future.
The rural feel on this side of the river may fool you into thinking you've traveled hundreds of kilometers away from the UNESCO center of Luang Prabang, and offers a glimpse into the daily lives of the majority of the Laotian population who live in the countryside not often seen by the tourist masses.
In addition to a unique cultural experience, the village also offers a handful of memorable hiking opportunities. Follow the main road from the jetty landing to the end of town and continue on the footpath up the hill. Farther on, you'll encounter stupas, forest temples (wats), and a mysterious Buddha cave deep in the jungle.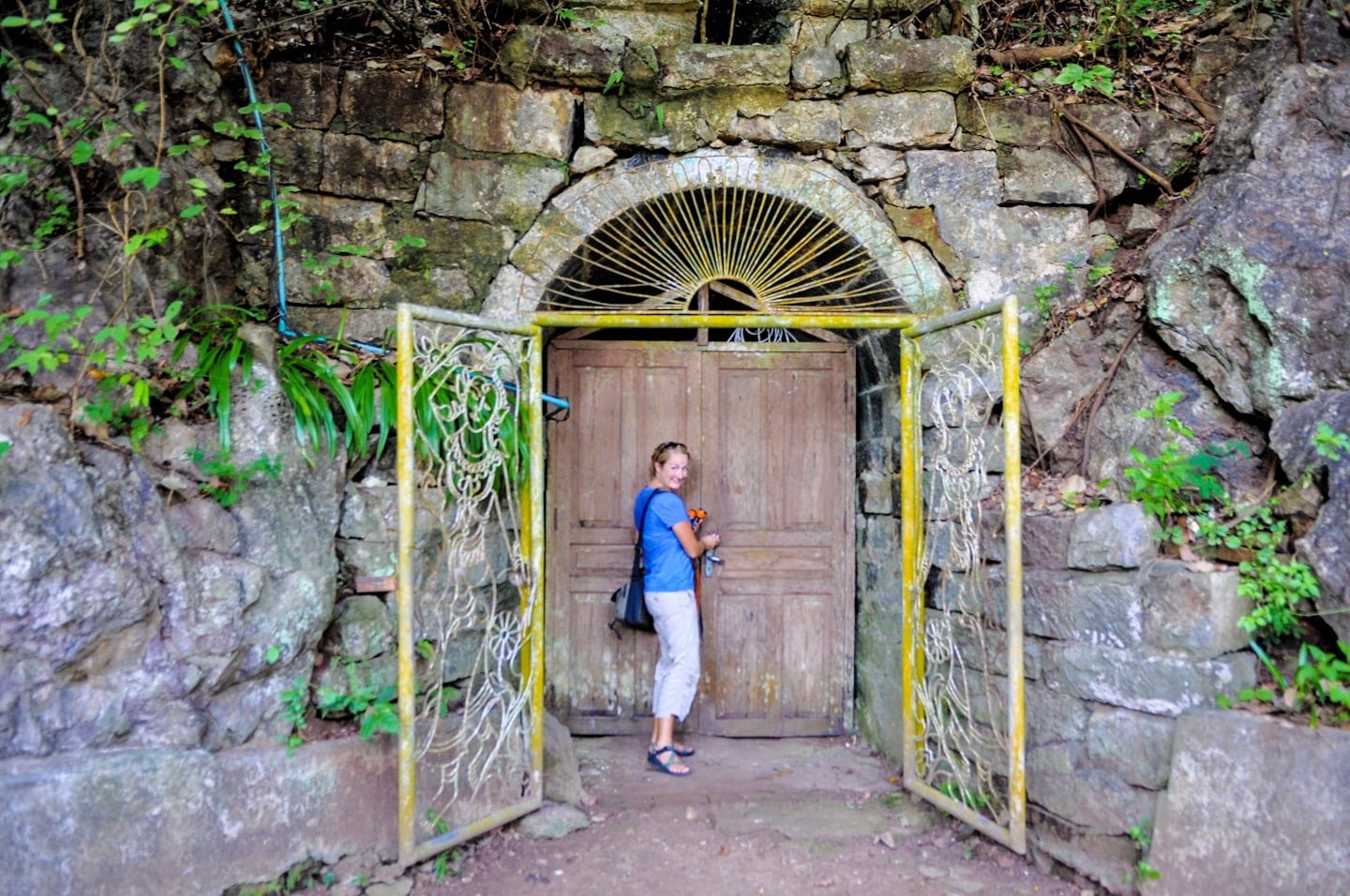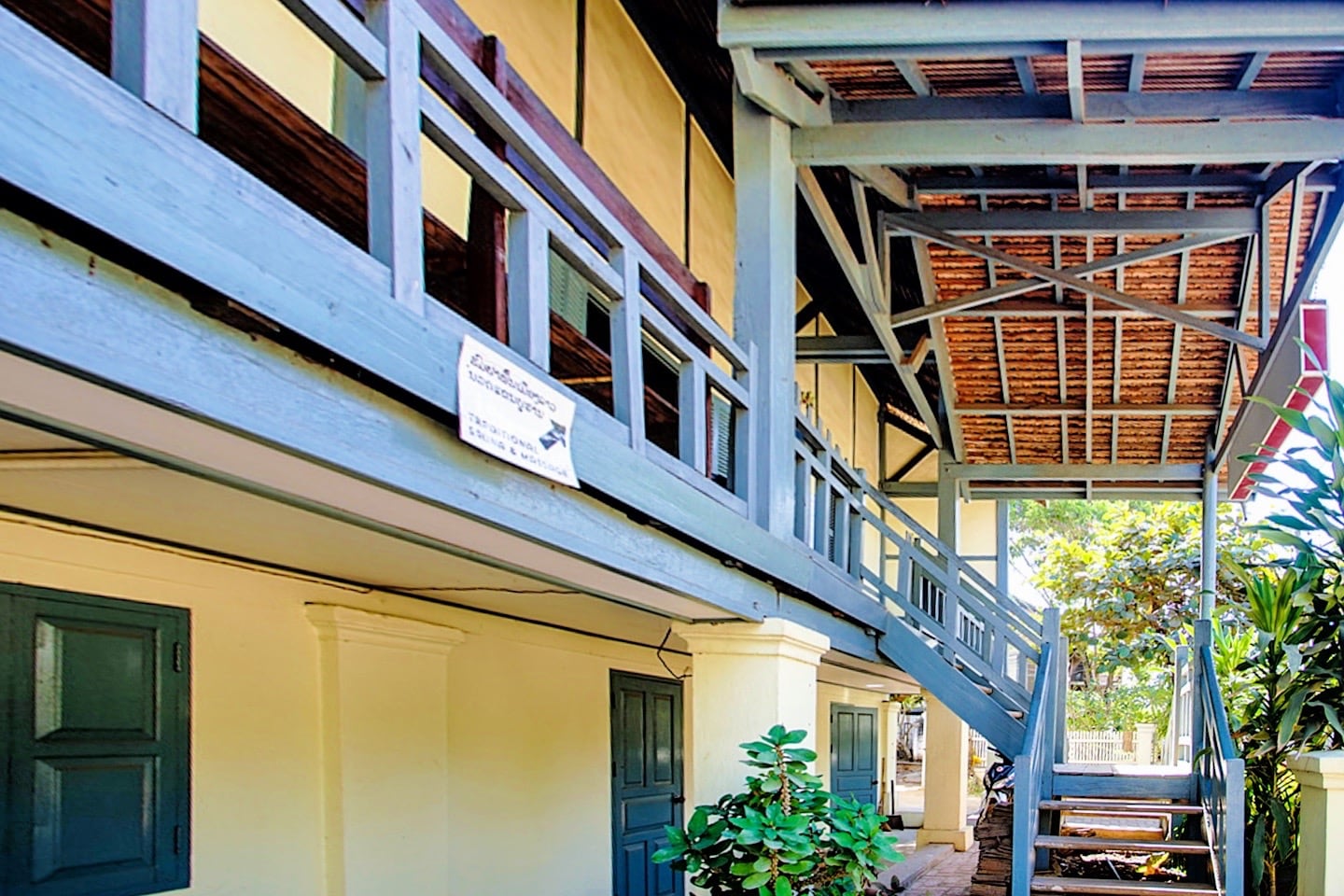 7. Get a Traditional Lao Massage in a Historic Setting
There are dozens of places to get a massage in and around Luang Prabang, but no other offers an experience quite like the Lao Red Cross Massage and Sauna Center.
Lao Red Cross offers one of the most authentic traditional Lao Massage experiences a visitor can hope for in town for pennies on the dollar. If you're looking for a truly unique rejuvenating adventure (with a bit of a workout as well), look no further.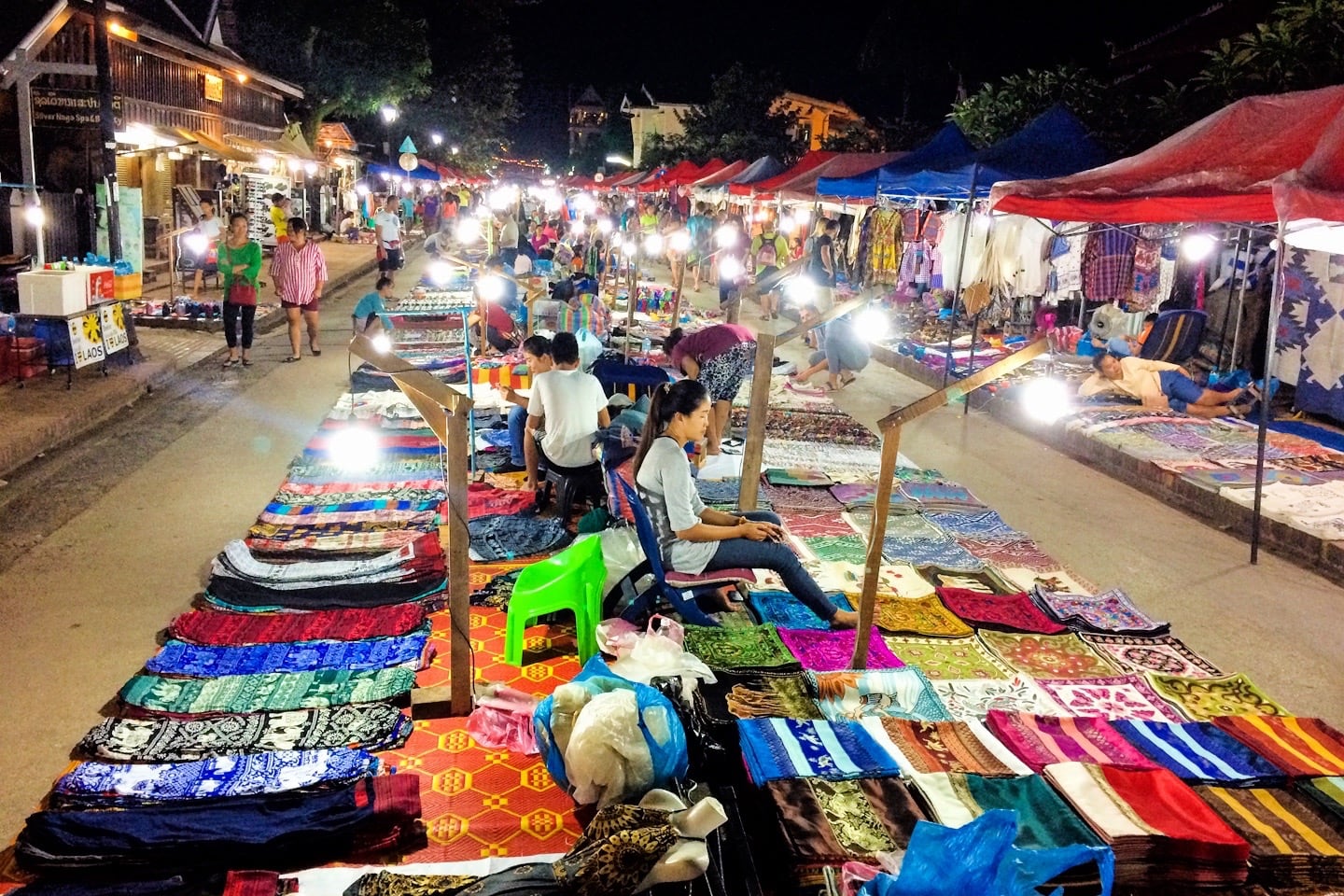 8. Explore One of the Best Night Markets in Southeast Asia
We've been all over East Asia in the past decade, having visited dozens upon dozens of markets big and small, local and touristic, old and new, urban and rural. And the daily Night Market in Luang Prabang along Sisavangvong Road may be our all around favorite!
Sure, you'll most certainly find crazier, larger, more local markets across Southeast Asia and beyond. But you'll be hard pressed to find another that so effortlessly balances all the essentials of a great outdoor market that appeals to such a wide variety of people.
Beautiful handmade goods, stylish clothing, useful souvenirs, and amazing food all for low prices in a laid back market atmosphere.
If you hate haggling and crowded tourist markets, you'll love this one. Most prices are set low to begin with and require little to no haggling (it's not really a thing in Lao culture, mind you), though many vendors will cut you a deal if you buy multiple items (if they like you).
There's no doubt that a visit (or three) to the night market is one of the top things to do Luang Prabang Old Town.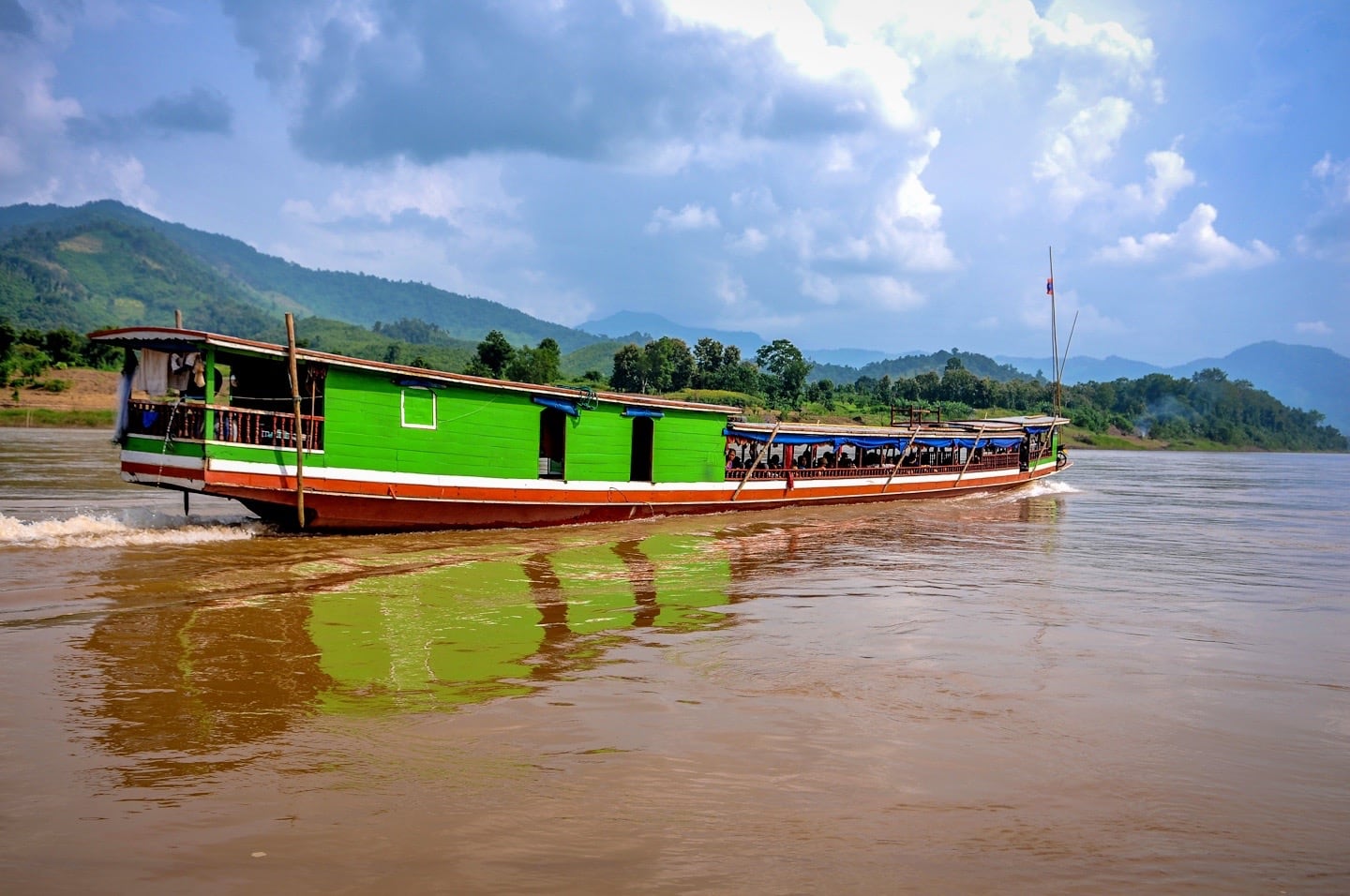 9. Ride the Slow Boat from Thailand to Luang Prabang
What's the best way to get to Laos? By slow boat, of course!
Forget flying into Luang Prabang or Vientiane. If you've got time on your side and an adventurous spirit (and happen to find yourself in Northern Thailand), hop one of these bad boys at the border and get ready for two days of Mekong River views and maximum chill (with an overnight stop in Pakbeng).
Intrigued? Get all the essentials for your journey in our detailed guide for taking the slow boat from Northern Thailand to Luang Prabang. Truly a once-in-a-lifetime, only-in-Laos experience.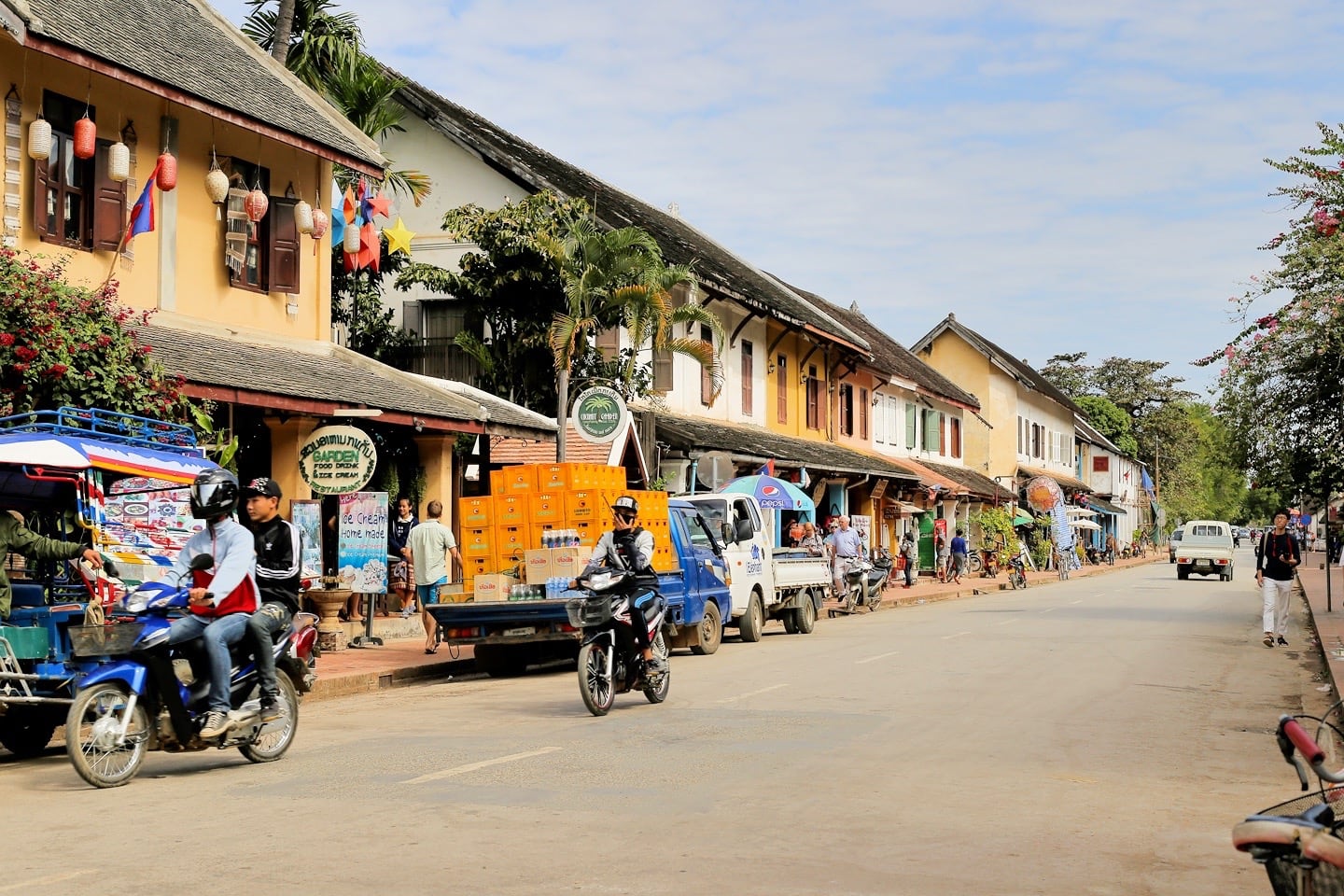 10. Get Lost in the Atmospheric Lao-French Colonial UNESCO Old Town
It's probably pretty obvious that Luang Prabang, being a UNESCO designated heritage site and all, is a great place to stroll around and lose yourself.
Yet, a lot of visitors unwittingly fill their schedules with day trips to caves and waterfalls and forget to experience this exceptionally walkable and incredibly atmospheric place filled with amazing restaurants, cafes, and bars at every turn.
Take time to slow down and get a taste of this exceptional city. But be careful, you may not want to leave!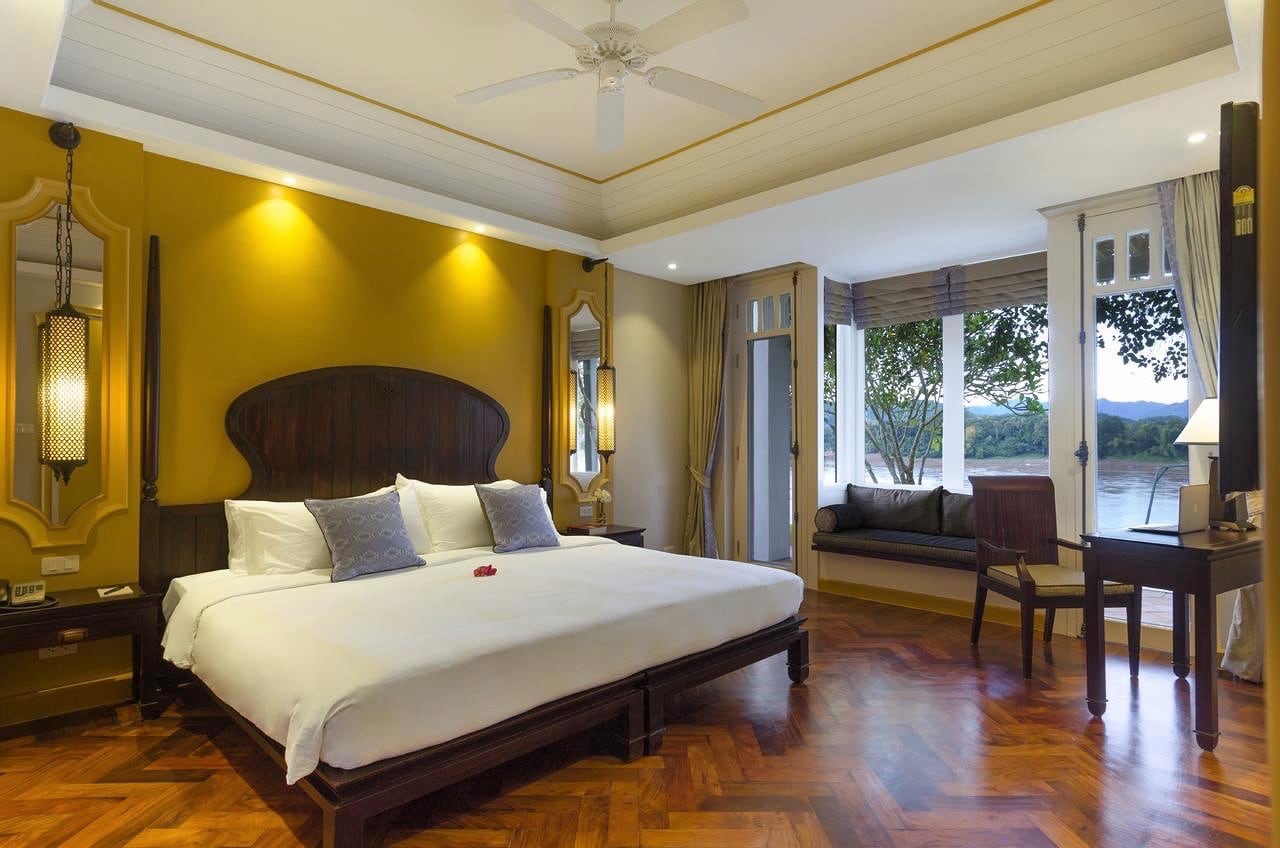 11. Sleep in a Prince's Palace on the Mekong
I know, I know. Another night's stay in a prince's palace. But this one's different, I promise!
What? You're not royalty? No problem! Starting at just US$78/night you too can experience five-star luxury in the residence of the former Lao Prime Minister, Prince Phetsarath.
Check out all the details for staying at the Grand Luang Prabang including current rates and availability.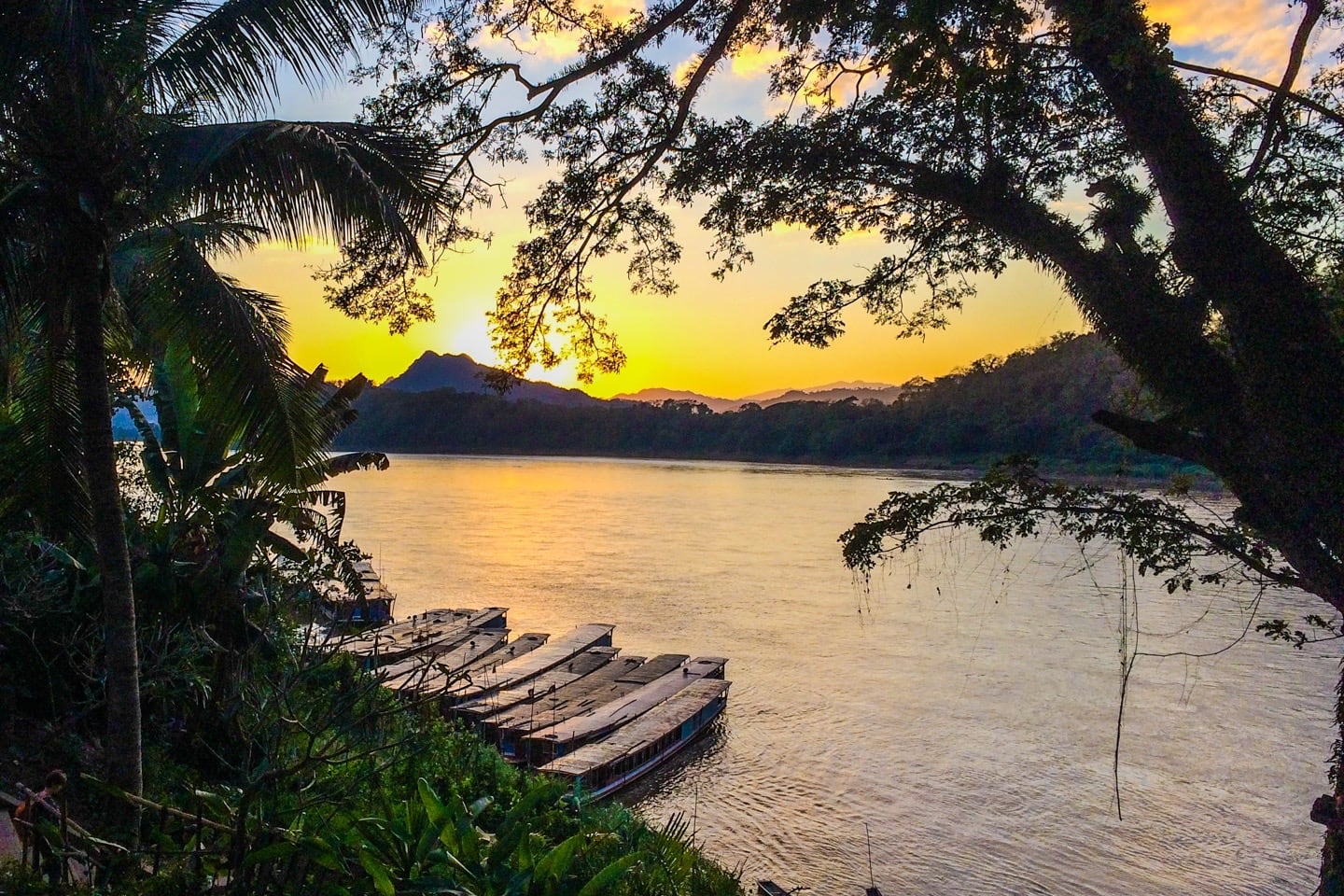 12. Lao-Lao Sundowners and a Mekong Sunset
If you're not planning on climbing Phu Si Hill today, then head down to the banks of the Mekong just before sunset, grab yourself a shot of Lao Lao, a BeerLao, and seat at any number of bars lining the river, sit back and enjoy the show.
After four visits to Luang Prabang, our favorite spot for catching a Mekong sunset with a sundowner might be a little place called Pernchai [map] (across from Mekong Sunset Guesthouse) because it offers one of the best chances along the river for an unobstructed view of the sunset across the most months.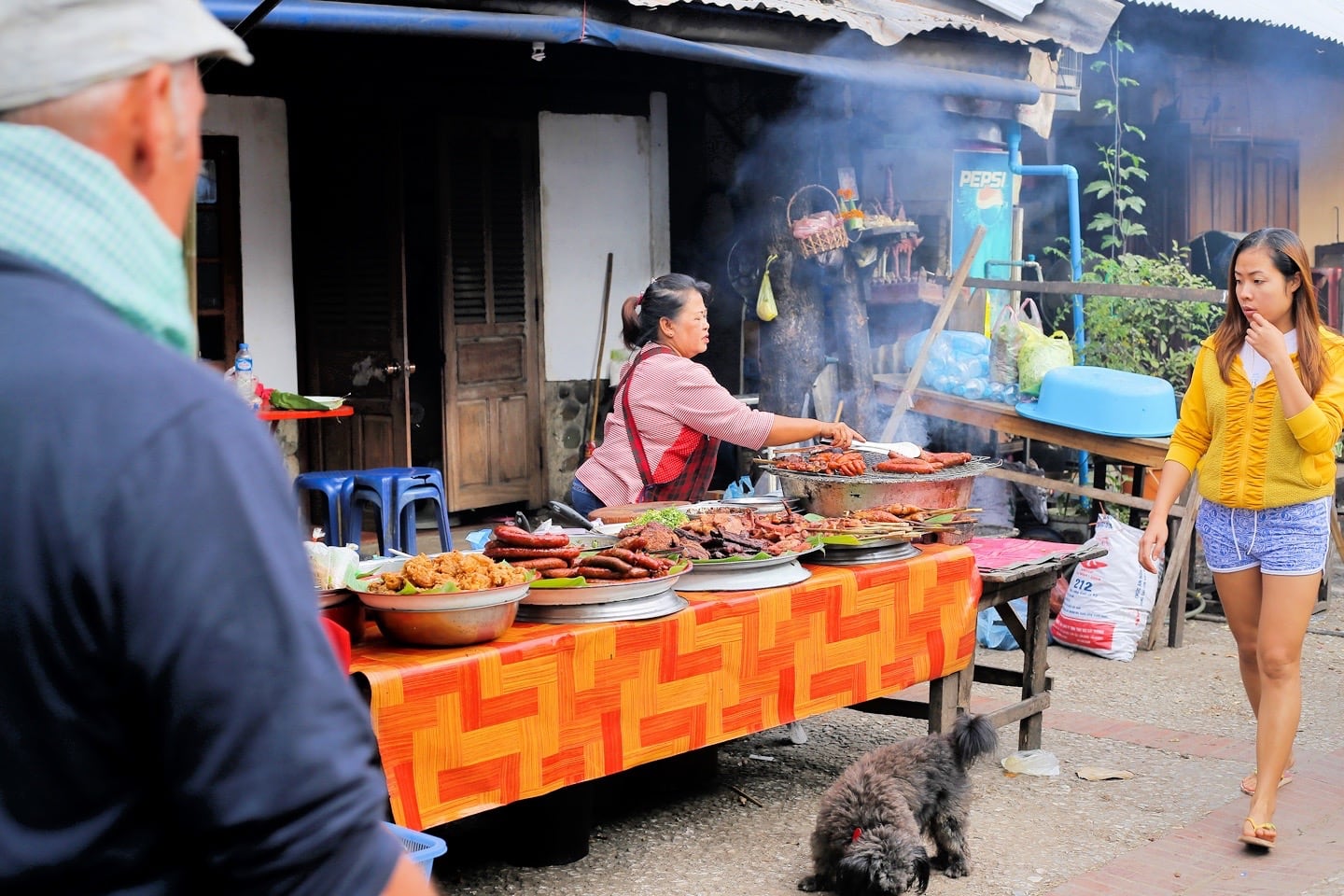 13. Mingle with the Locals at Luang Prabang's Morning Market
The Night Market and the Morning Market in Luang Prabang might sound similar but serve two very different purposes.
The former, though frequented by local residents, is a primarily a clothing and souvenir market geared towards out-of-towners.
The latter, on the other hand, is where the locals shop for the fresh ingredients that go into their restaurant dishes and home cooked meals.
Want to eat breakfast like a local? Grab a chicken skewer hot off the fire and nibble on it while walking the narrow market street, taking in the sounds, smells, and textures of fresh produce, spices, fish, and livestock.
Unlike the Night Market, this one's a little hidden. Find it on the map here.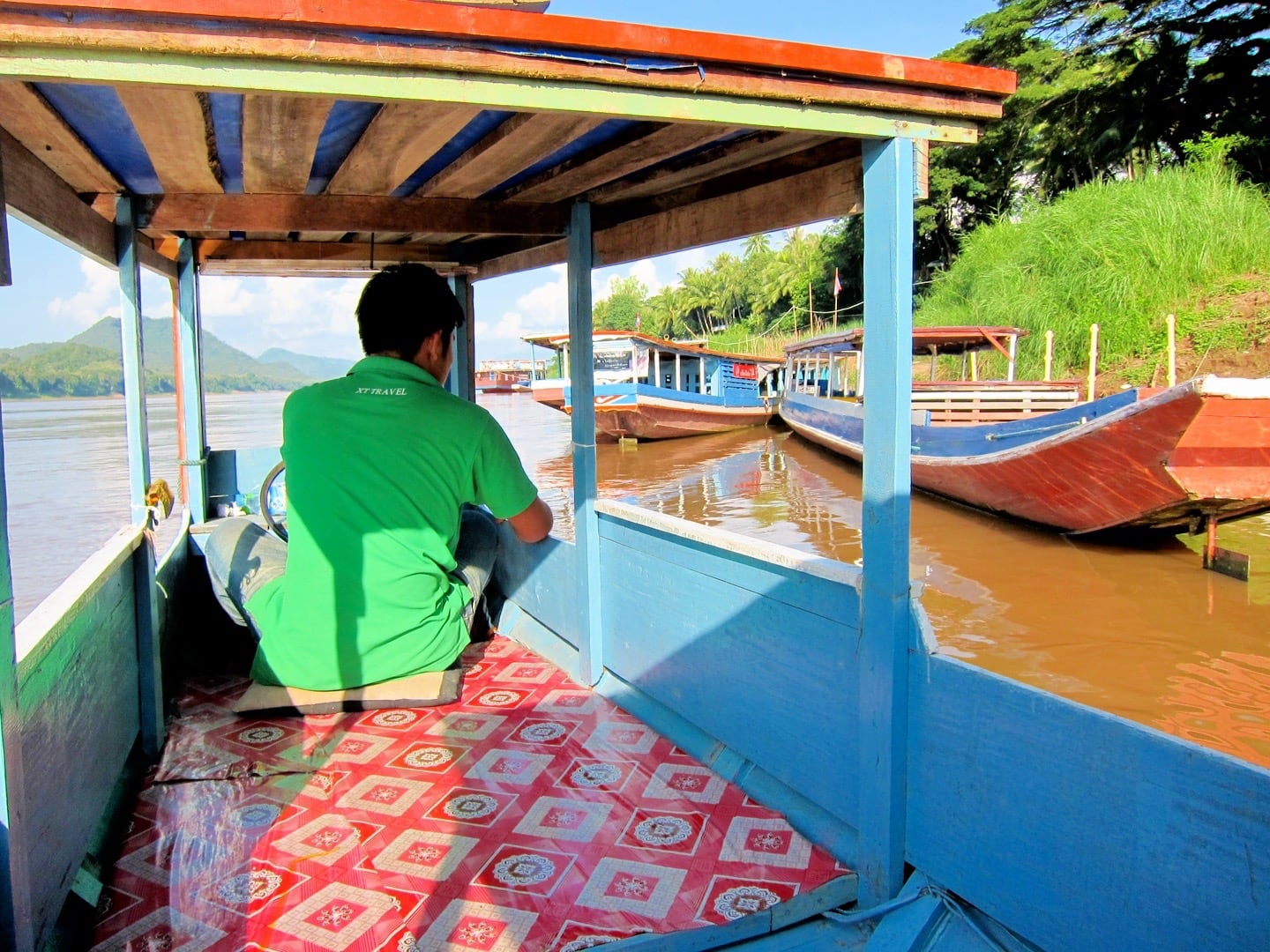 14. Ride a River Boat Up the Mekong to a Sacred Buddha Caves Complex
Whether it's a short ferry hop to the north bank of the river, or a long cruise on a slow boat, if you don't spend at least some time on this Mighty Mekong during your time in Luang Prabang, you haven't been to Luang Prabang!
The signature Mekong trip out of Old Town is a half day trip to Pak Ou Caves. You used to be able to take a right at Pak Ou caves and head up the Nam Ou to stunning Nong Khiaw, Muang Ngoi, and beyond, but a series of hydropower dams put a halt to that.
Still, a boat trip to Pak Ou Caves is well worth the time and effort, if just for the river journey, alone!
Read more about our Pak Ou boat trip or book your own river adventure online with a trusted operator.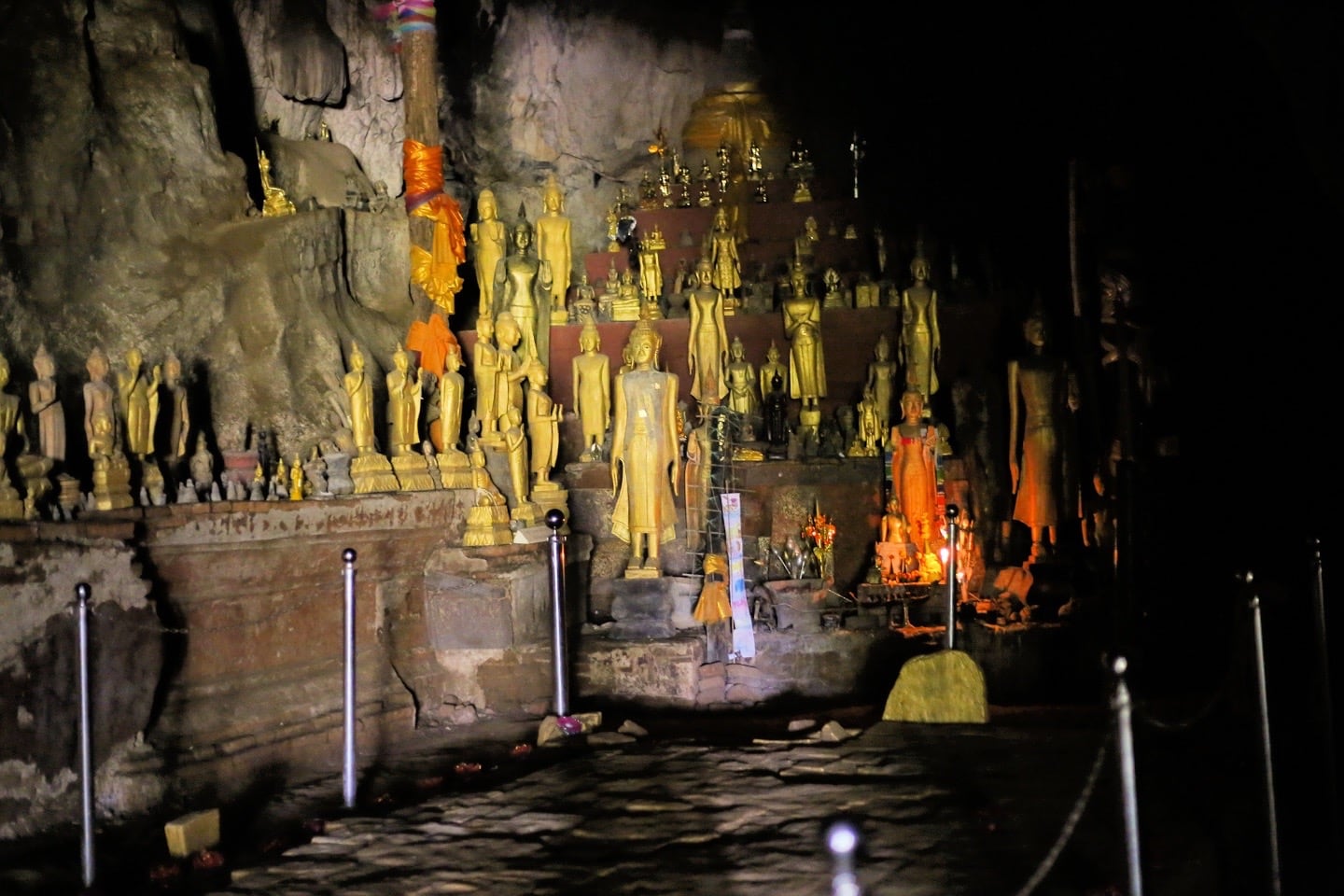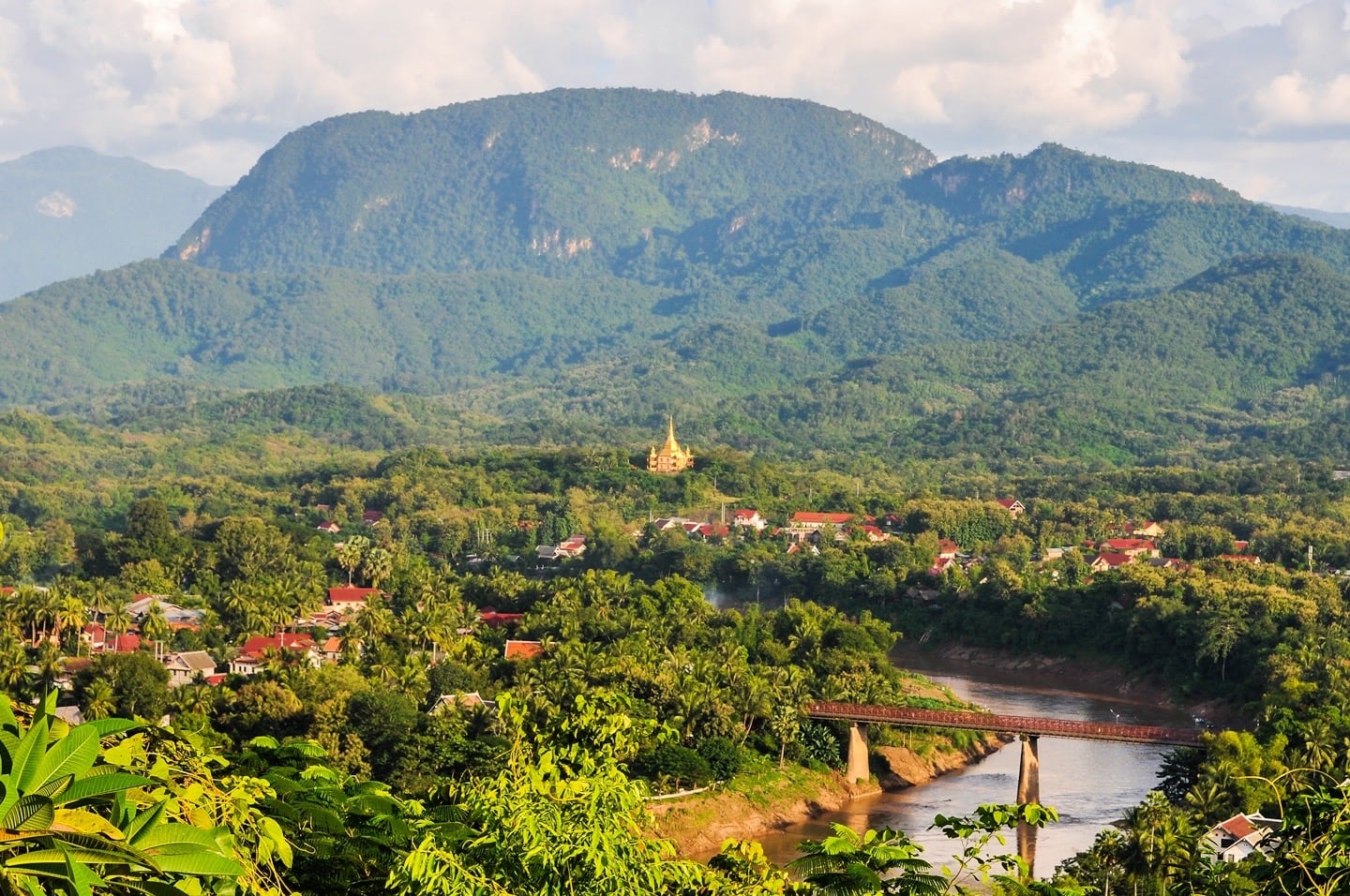 15. Take an Urban Trek to a Gleaming Hill Temple
If you're looking for one of the more hidden, but very much worthwhile, things to do in Luang Prabang, a hike to a rarely-visited golden temple on a hill might be what you're after.
A 40-minute walk southeast of the Old Town peninsula leads to Wat Phon Phao, an unusual and very conspicuous octagonal Buddhist temple with an exceptional view [find on map].
The iconic yellow hill temple is open daily from 8am to 10am and 1:30pm to 4:30pm, so make sure to plan your visit accordingly.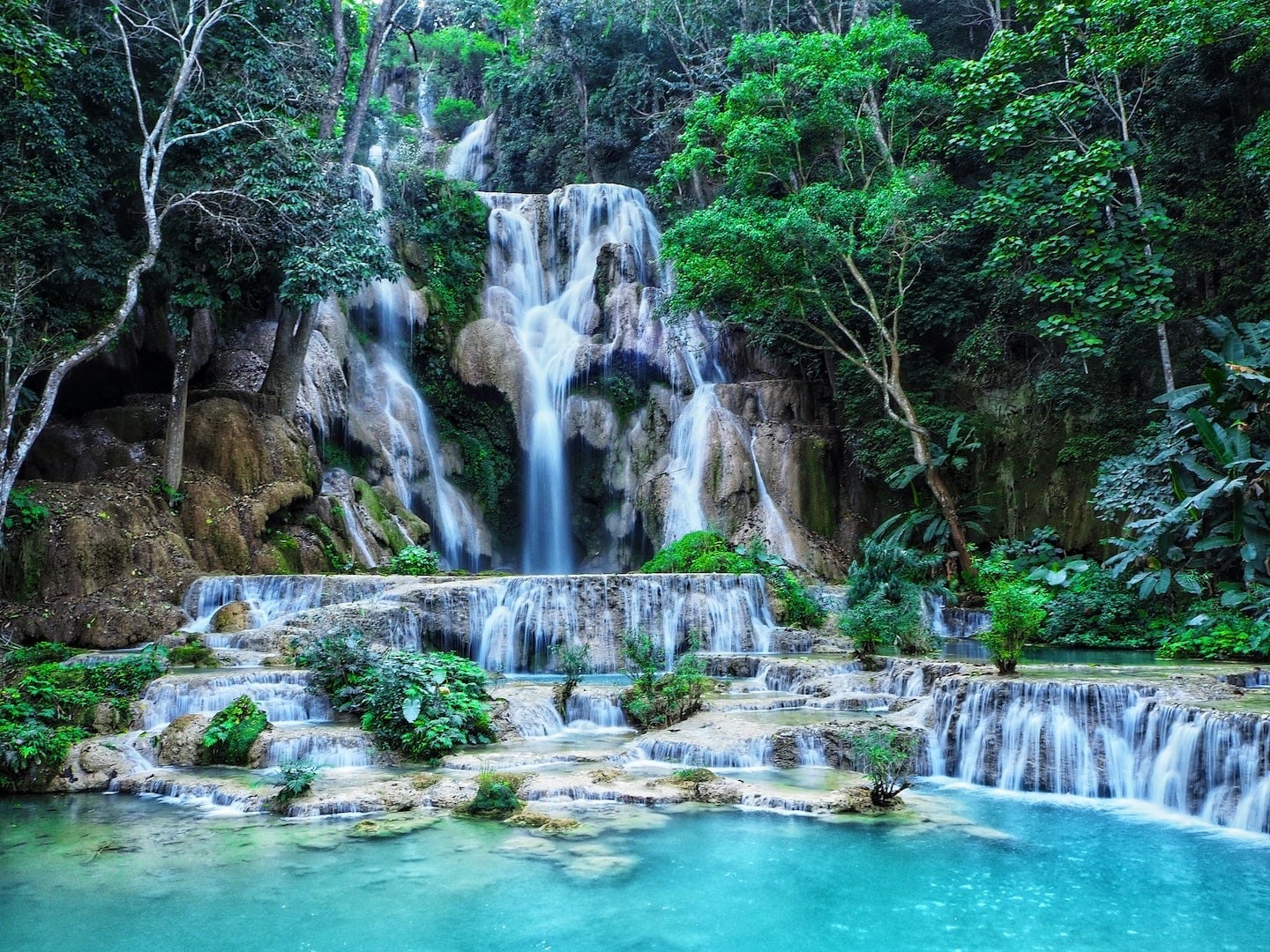 16. Take a Day Trip to Amazing Kuang Si Falls After the Monsoon
If you plan to visit Luang Prabang in dry season (November/December to April/May), don't miss a day trip to Kuang Si Falls — long considered one of the essential things to do in Luang Prabang area for nature lovers.
Arrange a trip through your guesthouse, flag one of the KuangSi-bound songthaews along the Mekong, or book online to reserve a spot with a reputable tour operator.
If you do book ahead, this full-day tour to Kuang Si Falls includes trekking through Hmong villages and is highly recommended.
If you're short on time, this half-day trip with a stop at a sustainable buffalo dairy is also an excellent bet.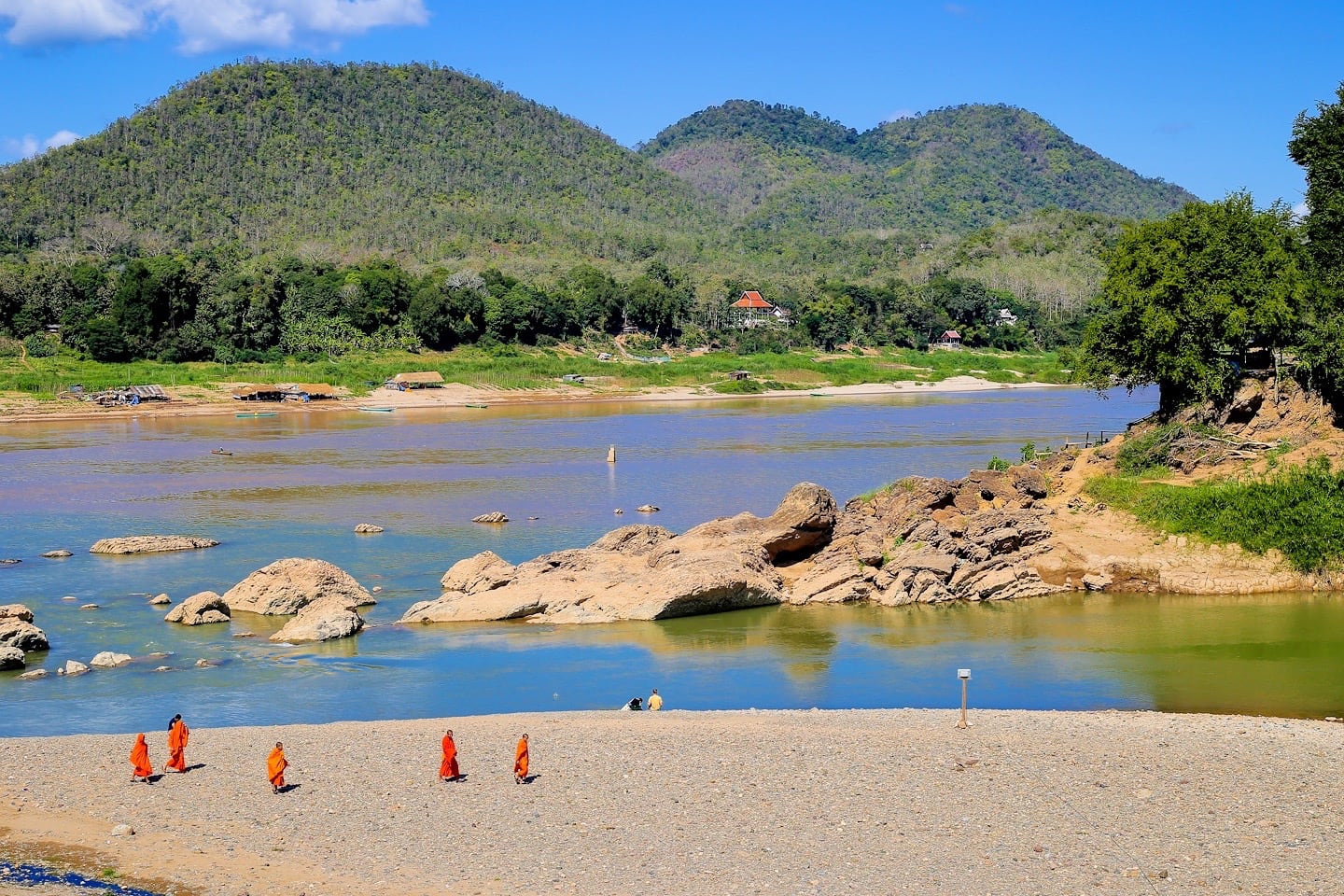 Planning a Trip to Laos?
Check out our other helpful insider guides: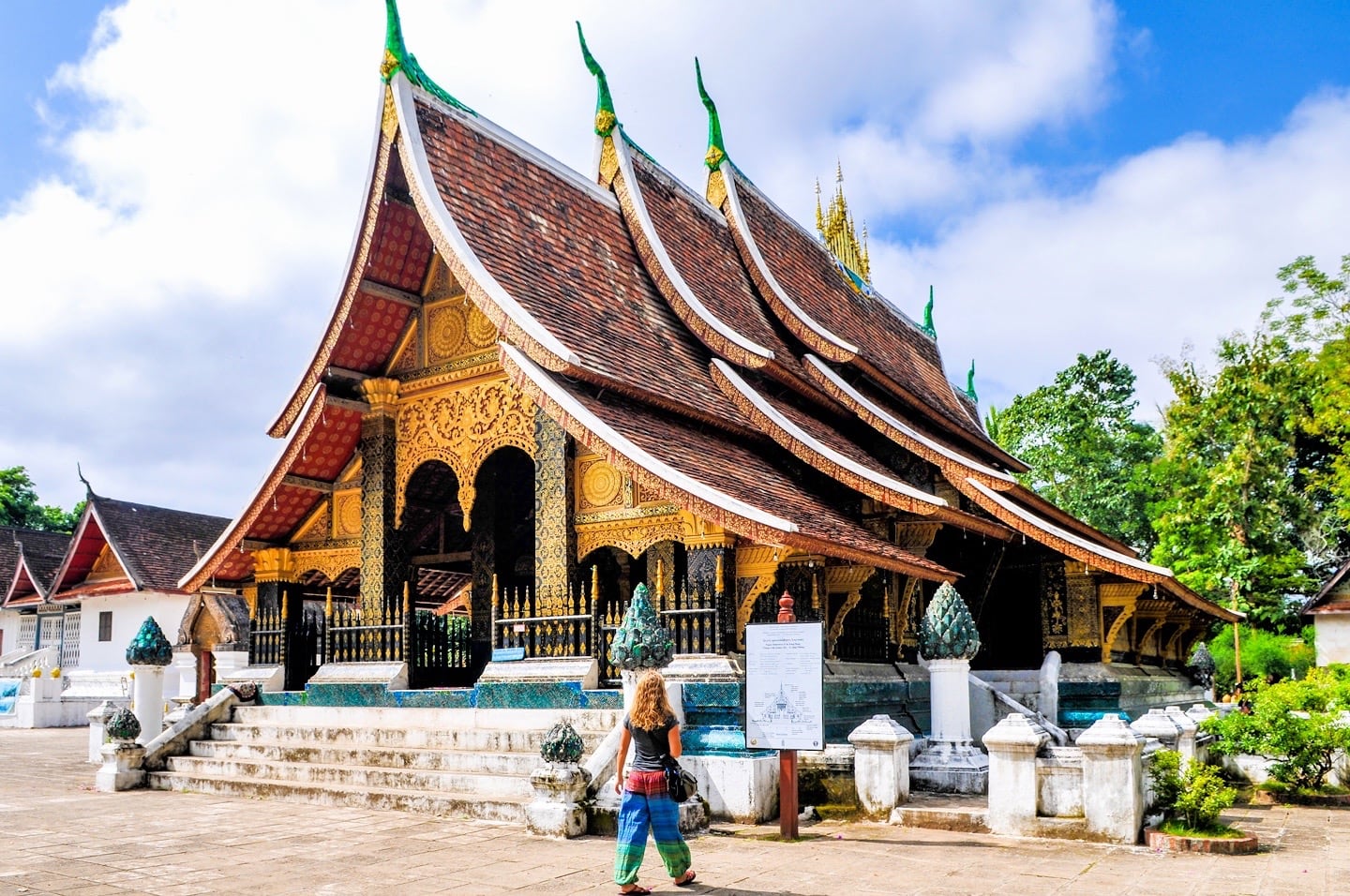 And That's Our List of 16 Amazing Things to Do in Luang Prabang
Have you visited Luang Prabang? What were some of your favorites? Let us know in the comments below.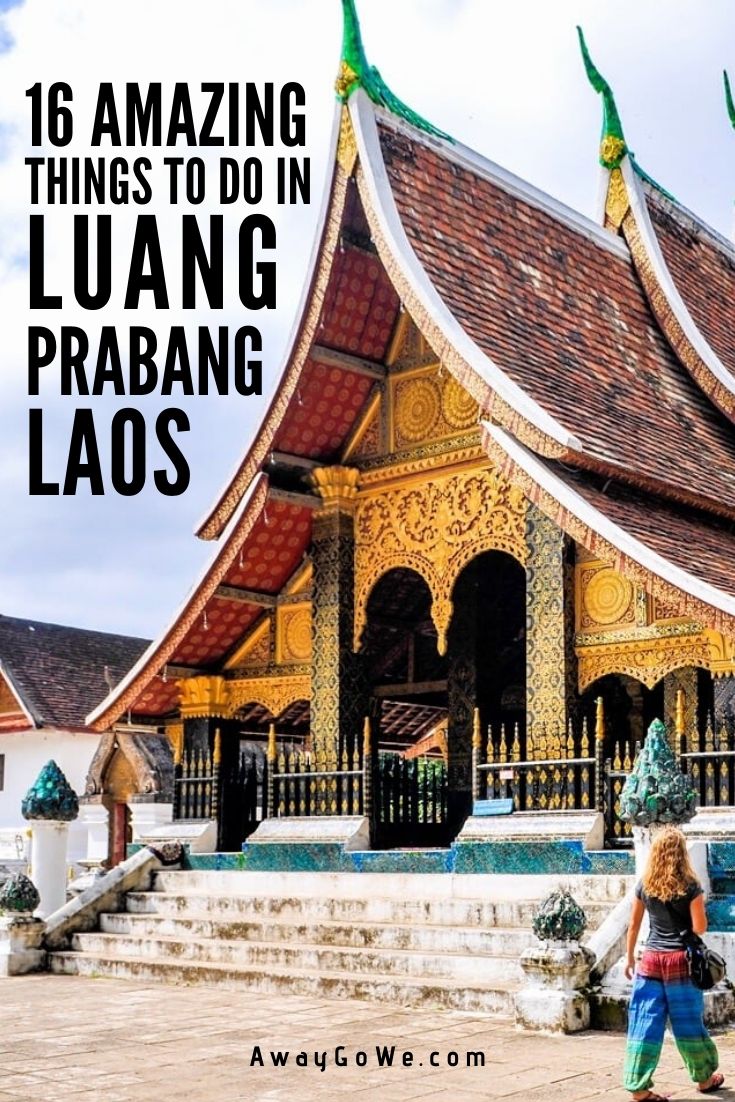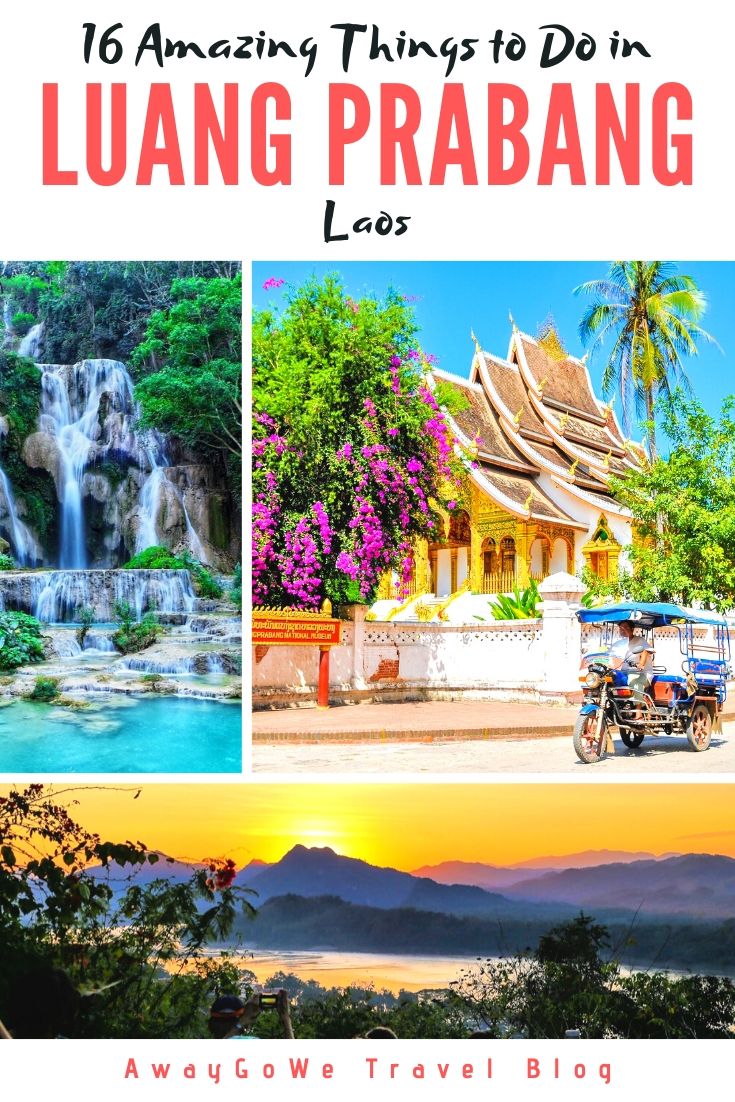 I've been a blogger and travel writer since 2010, covering everything from luxury hotels to hidden destinations and travel gear. Originally from Oregon, I've spent the majority of the past 20 years living outside of the U.S., in Mexico, the Caribbean, Southeast Asia, Africa, and Europe. I received a BA in Communications (Journalism) from Boston College, and an MA in International Development Studies from the George Washington University. I'm passionate about exploration and discovery, and providing independent, thoroughly-researched, ad-free advice for travelers.