Xiang Khuan (literally meaning "spirit city") is a sculpture garden 15 miles (25km) east of Vientiane. Commonly known in English as "Buddha Park," it certainly lives up to its nickname, featuring over 200 statues depicting Buddhist and Hindu figures.
In short, it's one crazy place that you wouldn't expect to find here, or anywhere else, for that matter.
Lori and I are taking this particular Saturday to explore this one-of-a-kind place (well, almost one-of-a-kind, but I'll get to that).
Visiting Buddha Park: The Basics
| | |
| --- | --- |
| Location: | Dongphosy, Laos (40 minutes east of Vientiane) |
| GPS: | N17°54'45.223″ E102°45'53.182″ |
| Transport: | Bus #14 Central Terminal; Tuk Tuk; Private Hire |
| Park Hours: | 8am – 5pm, Every Day |
| Entrance Fee: | 5,000 LAK (US$0.60) + 3,000 LAK camera fee |
| Dress: | Casual/Modest (no special requirements) |
| Food Onsite: | Restaurant & Snack Shacks |
| Exposure: | Shaded restaurant and other waiting areas, but otherwise hot and exposed. |
| Restrooms: | Modern Western facilities added in 2017. |
| Lodging: | No nearby tourist-class options. We recommend staying in Vientiane city. |
| Time Commitment: | 1-3 hours, depending on whether you get lunch at the restaurant. |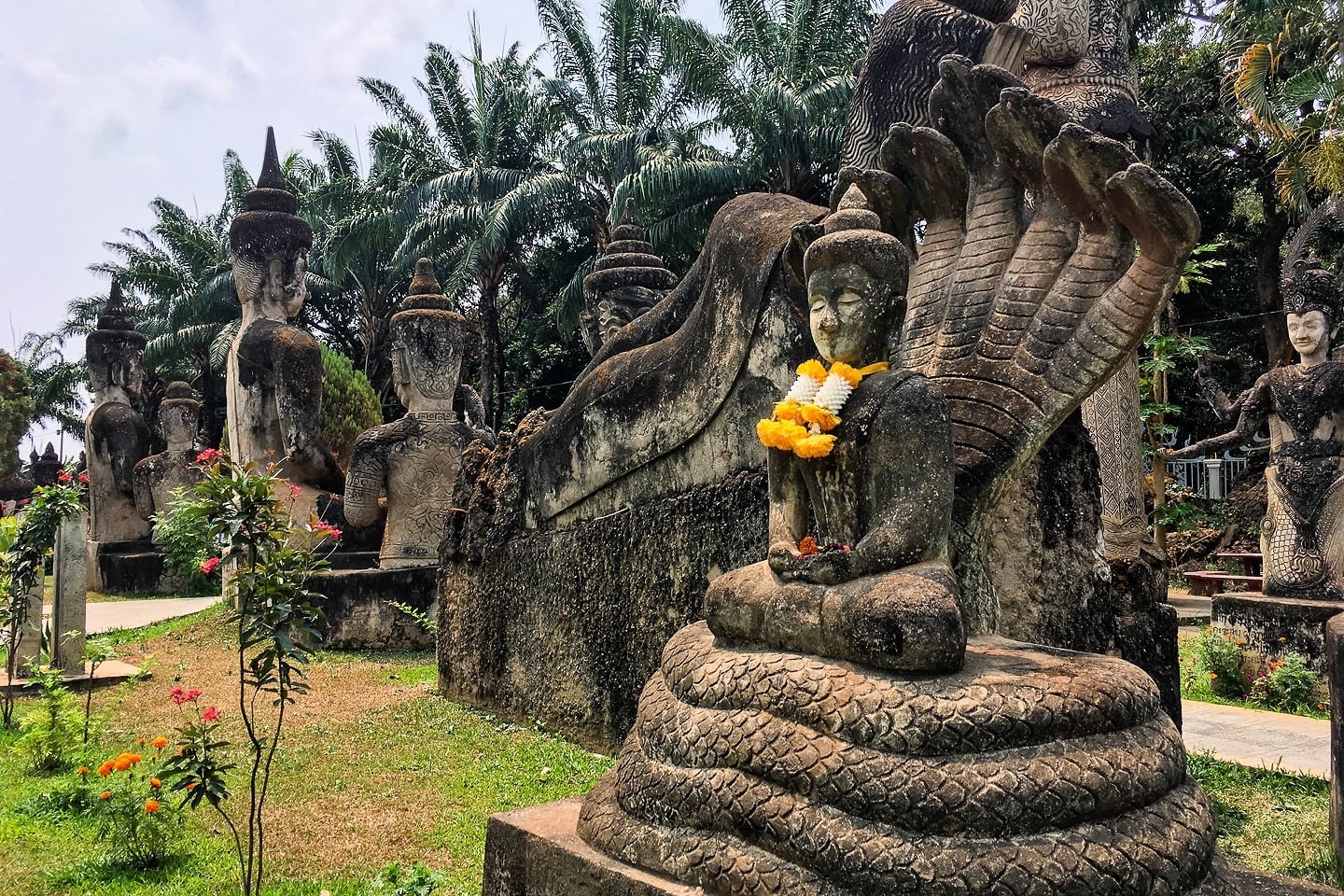 Getting to Buddha Park by Public Bus​
We caught the #14 bus to Xieng Khuan (some only go to Friendship Bridge/ Thai border, so you'll want to confirm) at the Central Bus Station in Vientiane (across from Talat Sao "Morning Market").
We were pleasantly surprised that for 6,000 kip (US$0.75) per person each way we got a pleasant hour-long ride with air conditioning and comfy seats on one of Vientiane's big Japanese-donated green and white city buses.
If we had hired a tuk tuk for the day to take us out there it would have been between US$25-$40, and definitely not as comfortable of a ride. Currently, buses run all day long about every 20 minutes.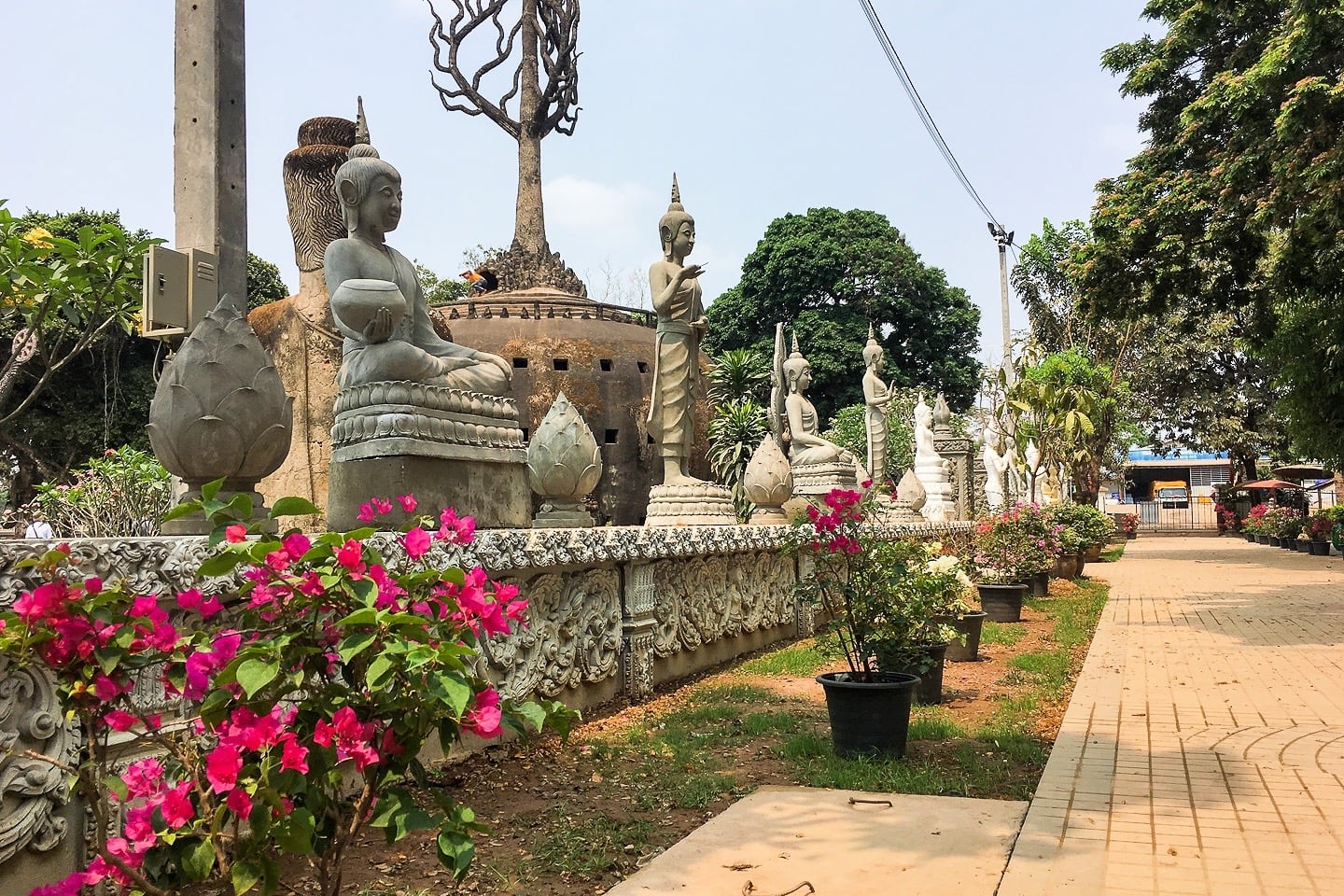 Park Entrance Fees & Formalities​
Entrance into the park was 5,000 Kip ($0.60) and an extra 3,000 Kip if you have a camera (though this does not seem to apply to smart phones with cameras).
Now that we have those formalities out of the way, bring on the Buddhas!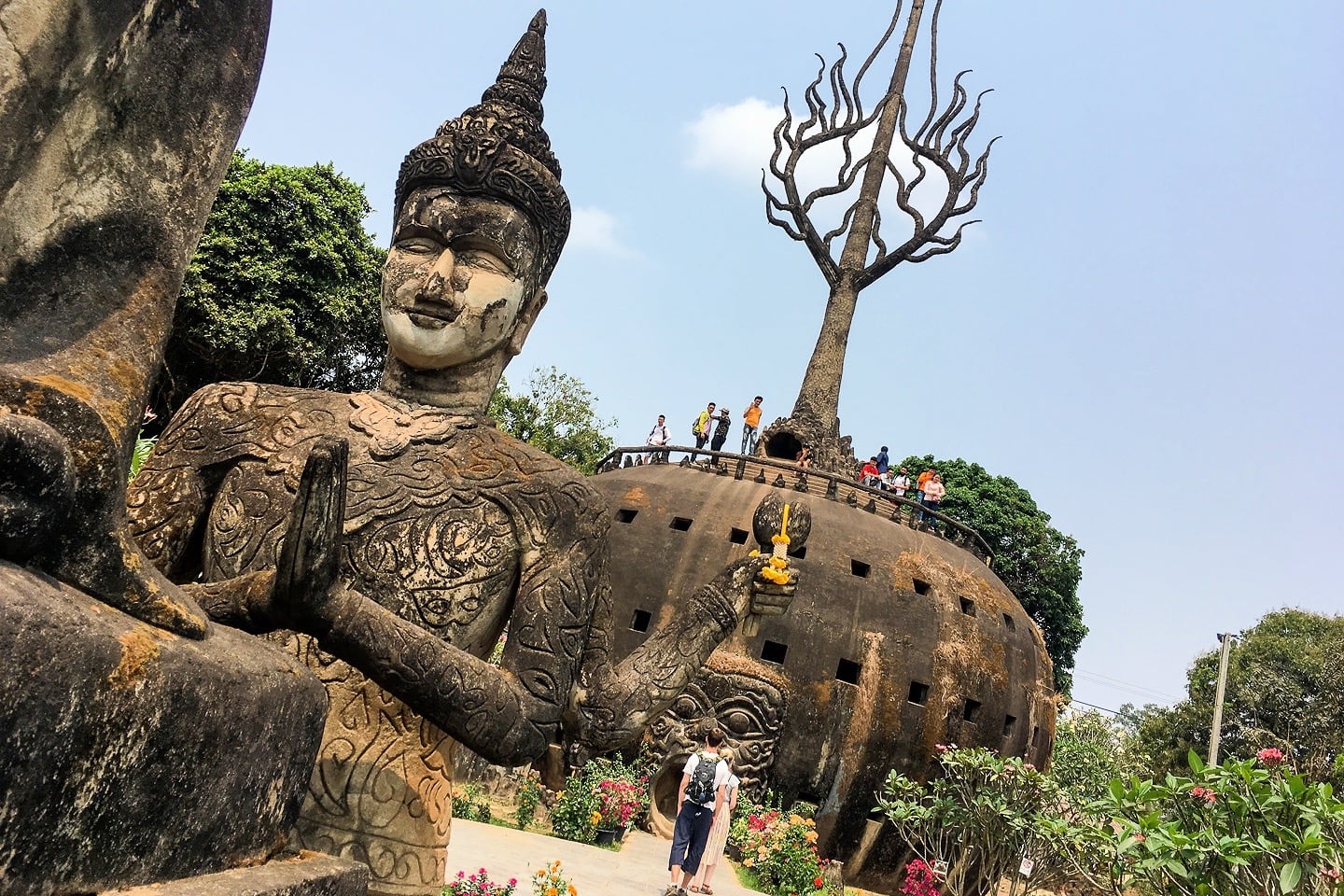 …Or…giant…pumpkin? Not exactly what I had in mind for a Buddha Park.
While there are numerous statues depicting the Enlightened One, himself, there are also many other religious symbols and imagery, including characters from Hinduism such as Shiva, Vishnu, and Arjuna.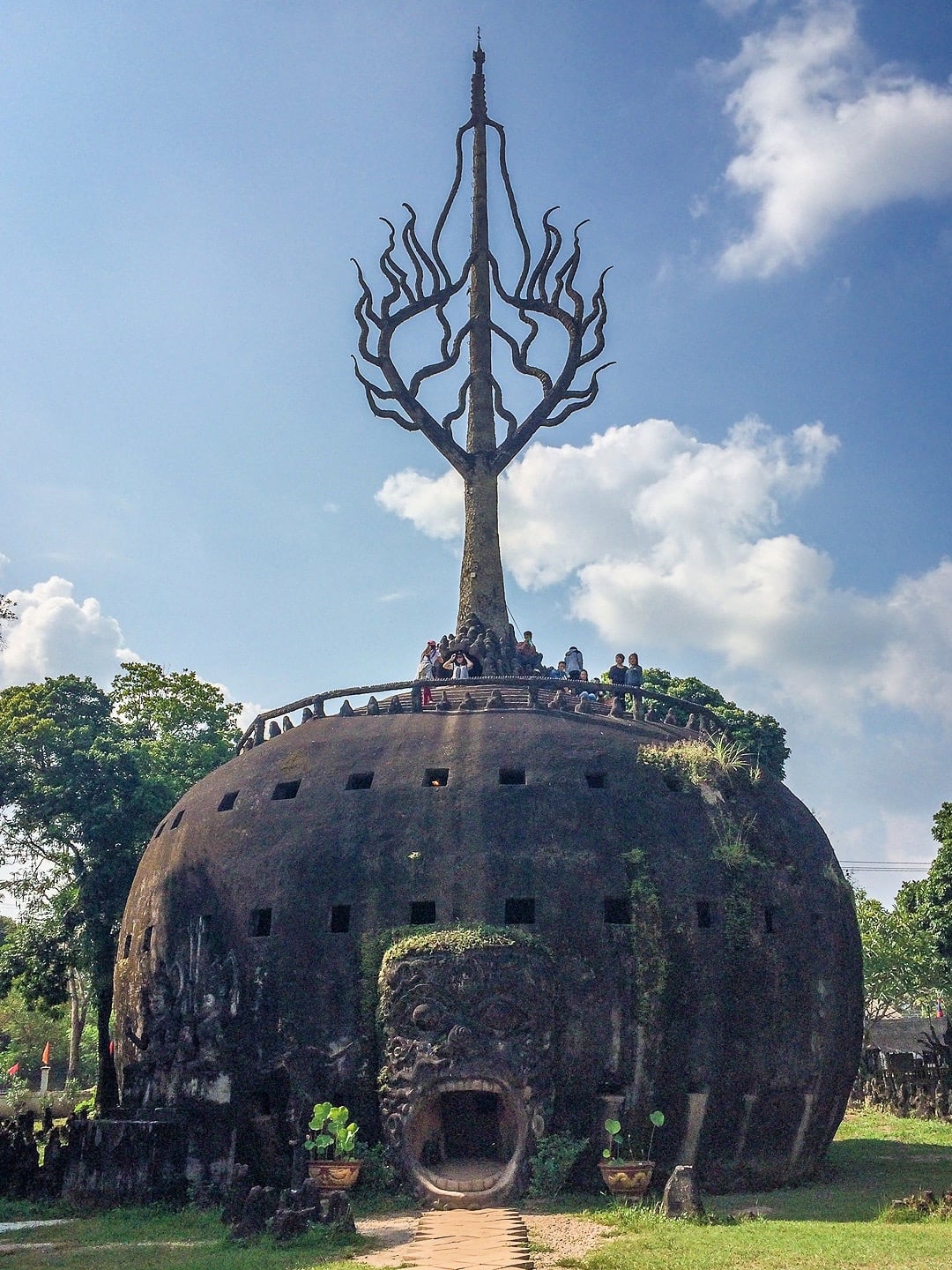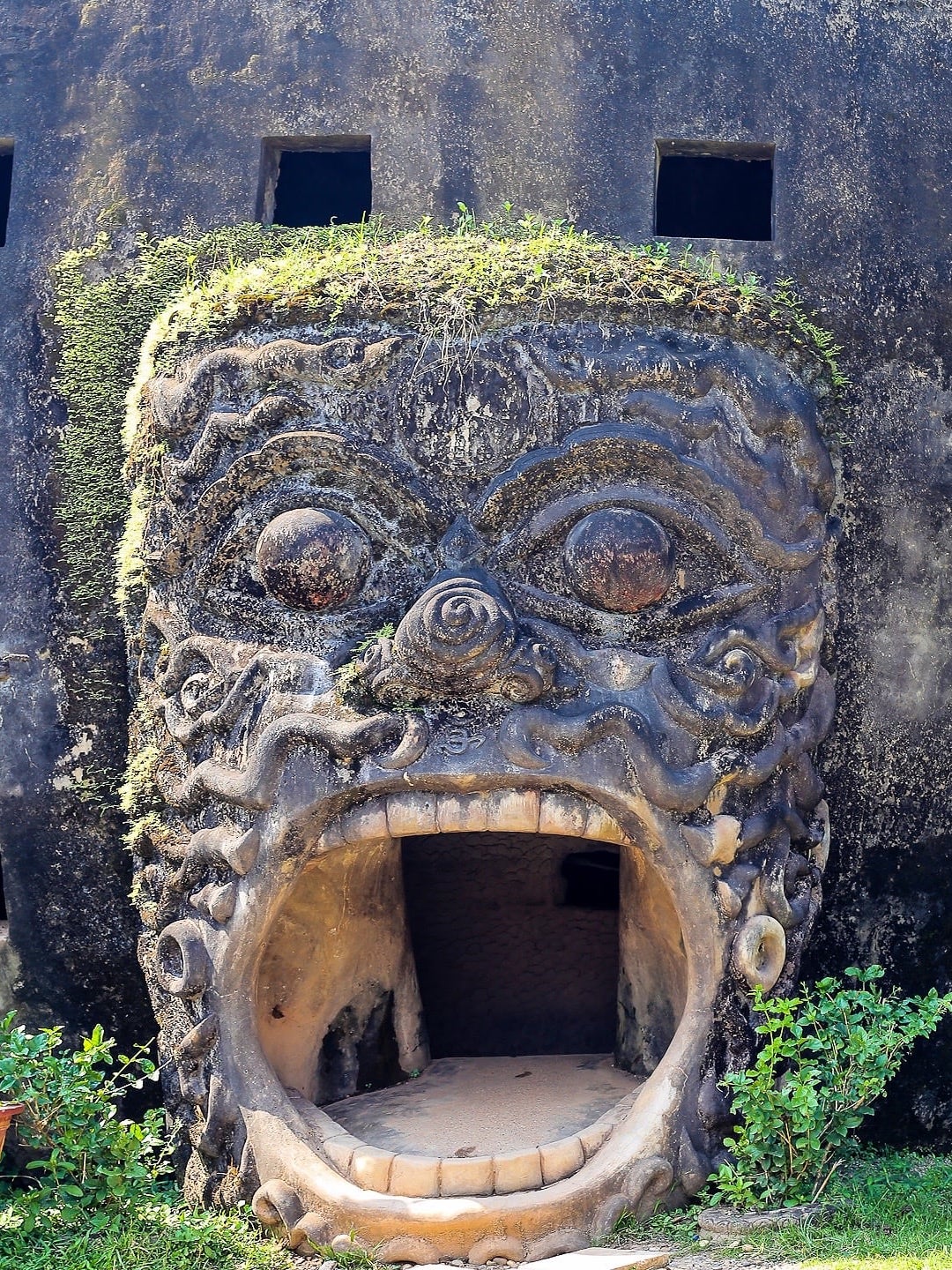 And then, there's the giant pumpkin, which has three levels representing Hell, Earth, and Heaven. Simply enter through the demononic head and see for yourself!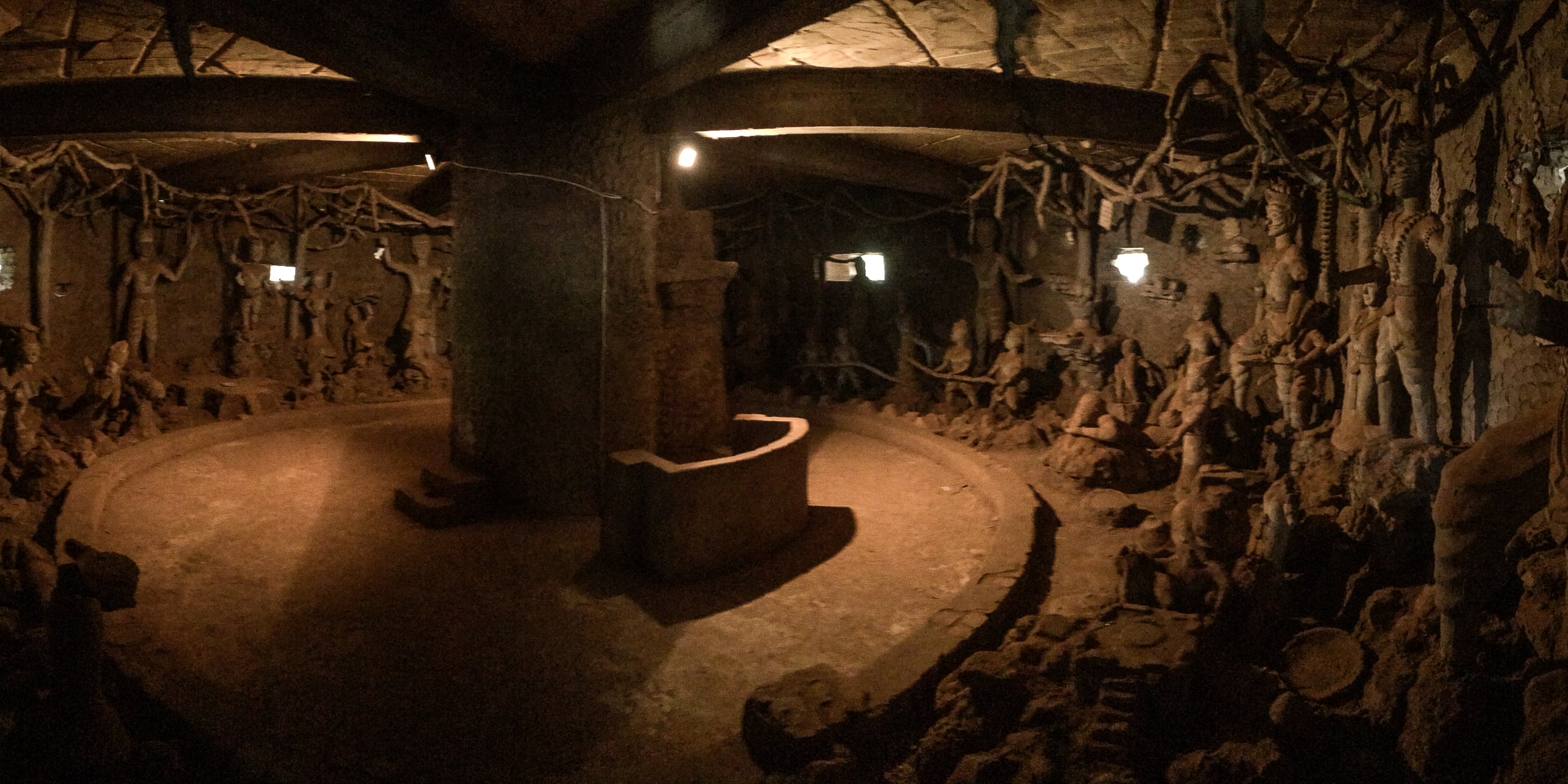 After shimmying and squeezing our way to the top, we were treated to a sweeping view of the grounds — and the hot midday sun.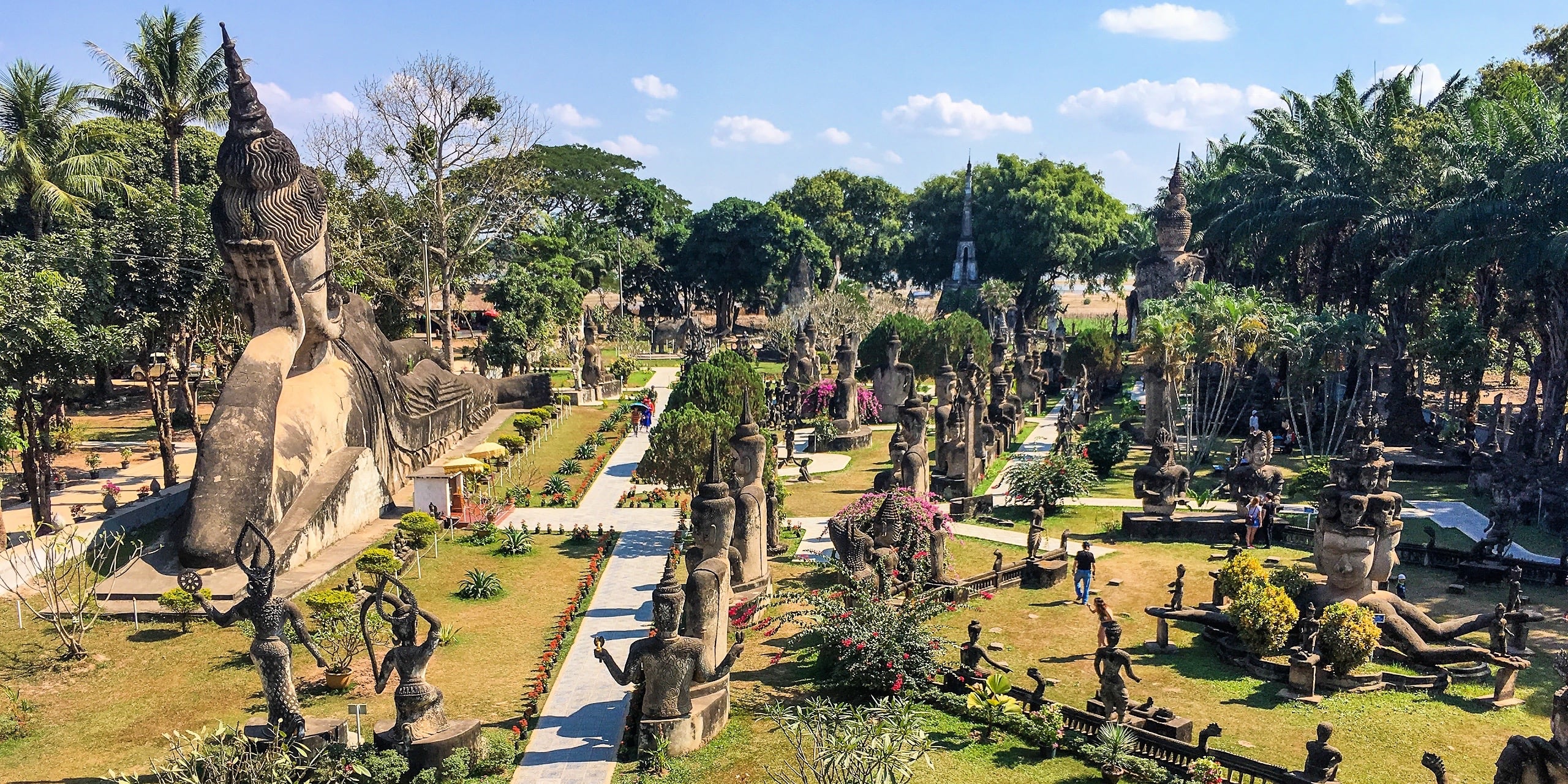 The Story of Buddha Park
So, what exactly is the deal with this so-called Buddha Park, anyway?
Find Tours & Things To Do in Vientiane
At first glance, this place appears to be comprised of very old stone handiwork. In reality, however, most of the statues and sculptures were constructed of reinforced concrete beginning in 1958.
The sculptor behind the images is Bunleua Sulilat, whose unique Buddhist-Hindu perspective was largely shaped by a Hindu rishi (sage) who he studied under in Vietnam. Sulilat's story as told at the Buddha Park visitor center states that he met the rishi after falling into a cave when he was a child (you can choose which story to believe).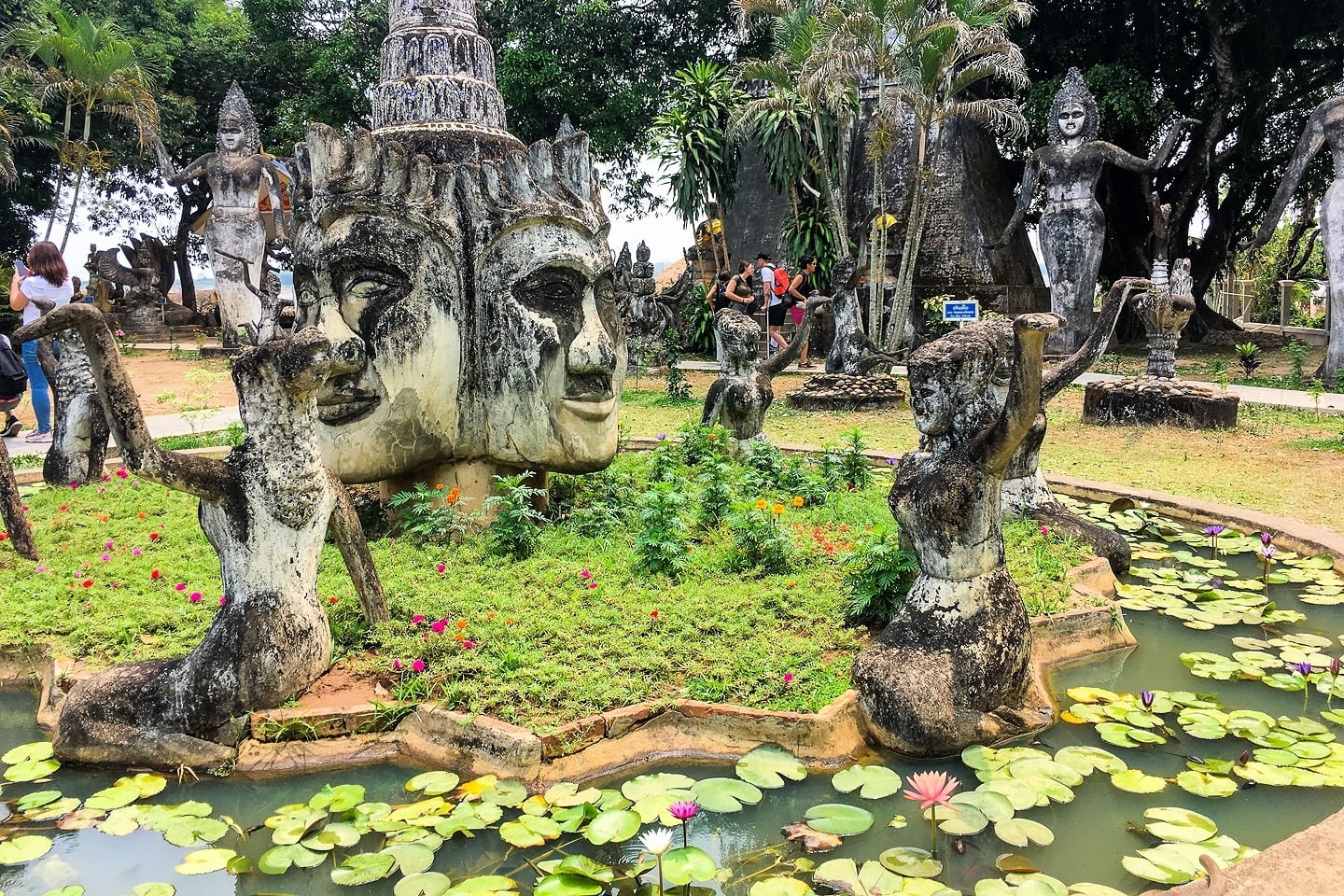 The Other Buddha Park
Buddha Park seems like a one-of-a-kind place, but there are actually two of these parks sculpted by Sulilat. The other "buddha park" lies just over the Mekong in Nong Khai, Thailand.
After the 1975 revolution in Laos, Sulilat fled across the river. Missing his beloved sculptures [I guess], he decided to build another park called Sala Keoku.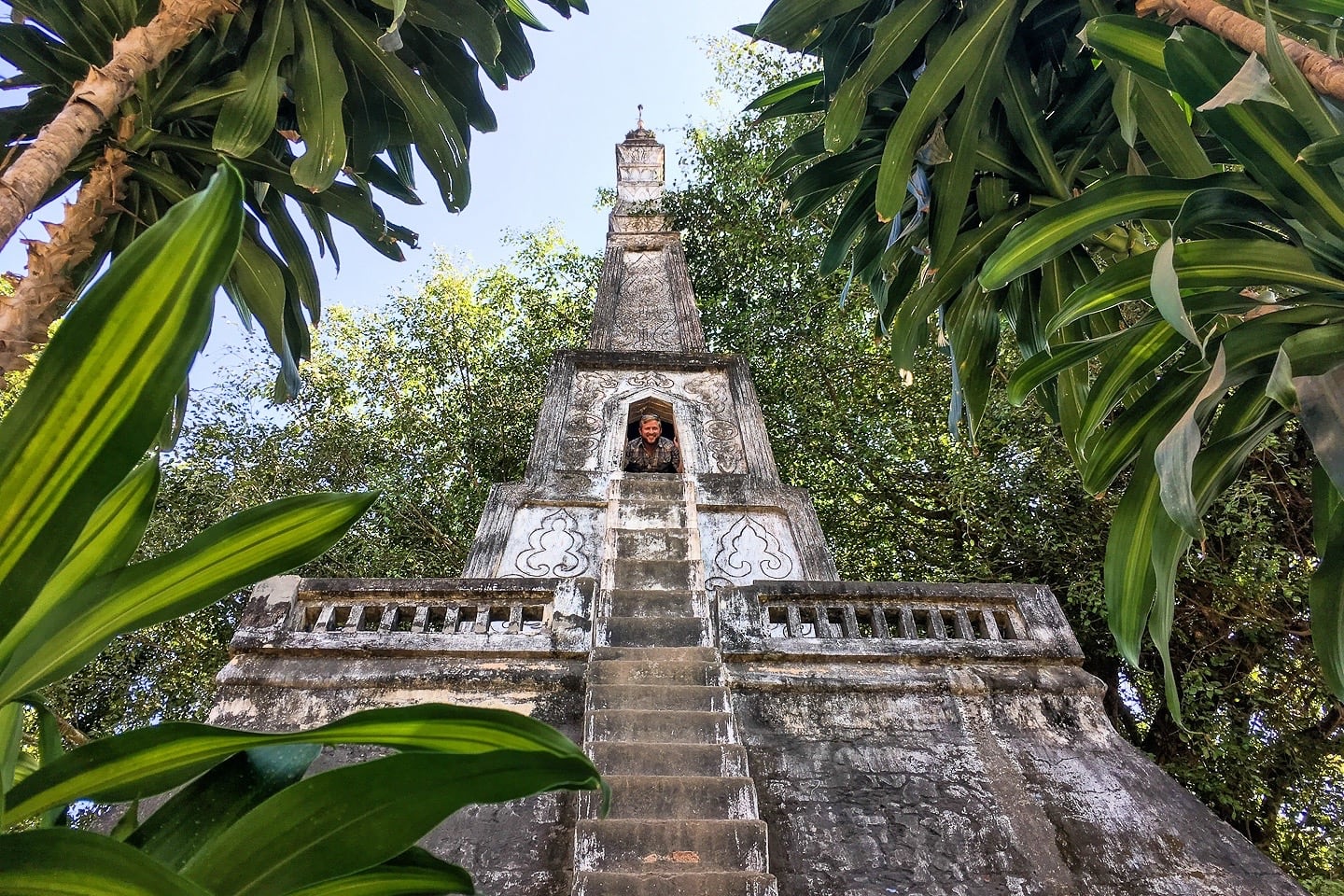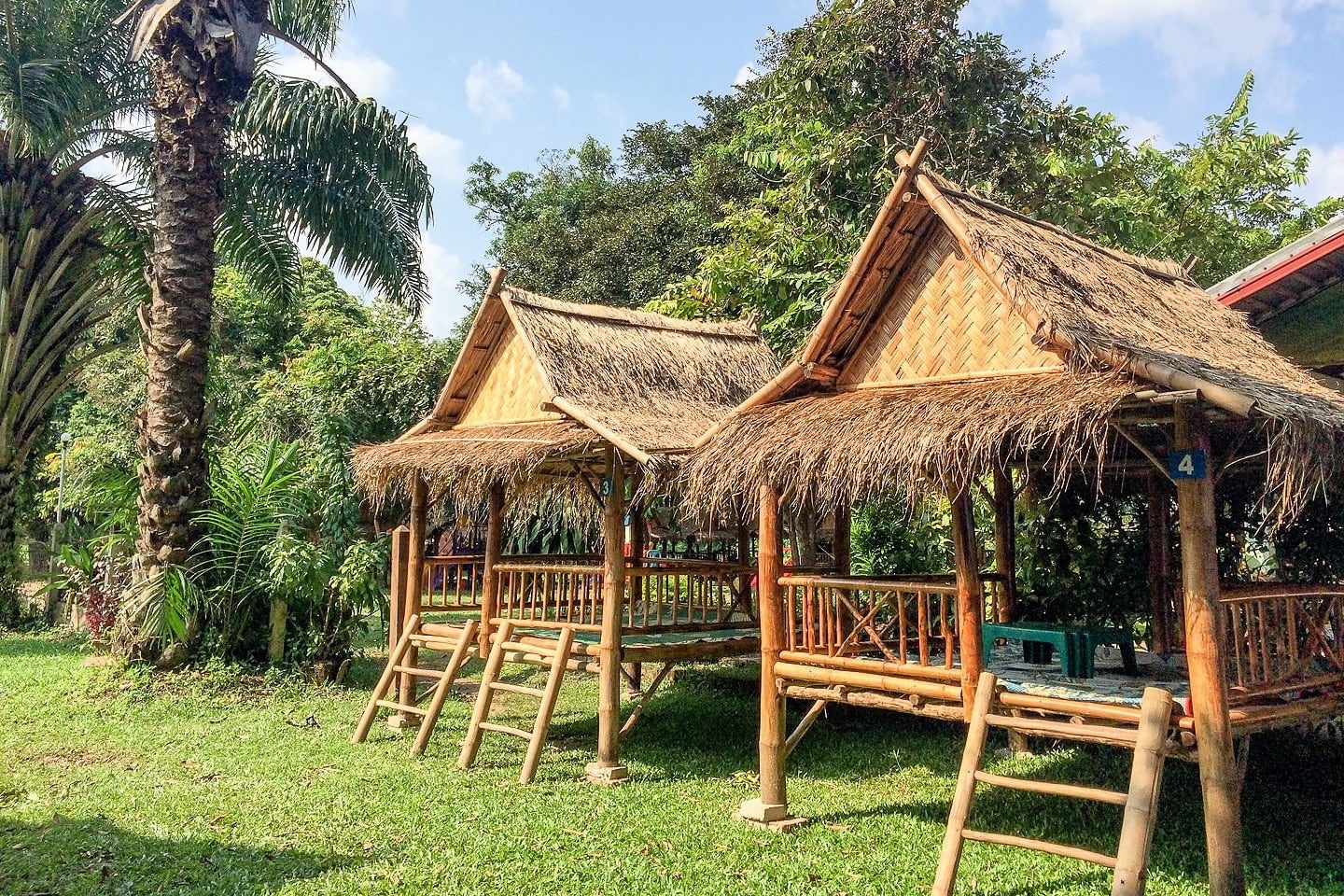 Buddha Park Restaurant
The sculptures are fascinating, but perhaps the biggest surprise of the day was the on-site restaurant toward the rear of the park.
There are relaxing covered bamboo huts for dining and hiding from the sun, and regular old tables for those not feeling the Lao experience.
The pork laab (larb) served at the restaurant was some of the best I have had anywhere in Laos.
And hell yes, it's spicy. That's the only way to eat it!
(but you can always ask for "bor phet" (no spicy)).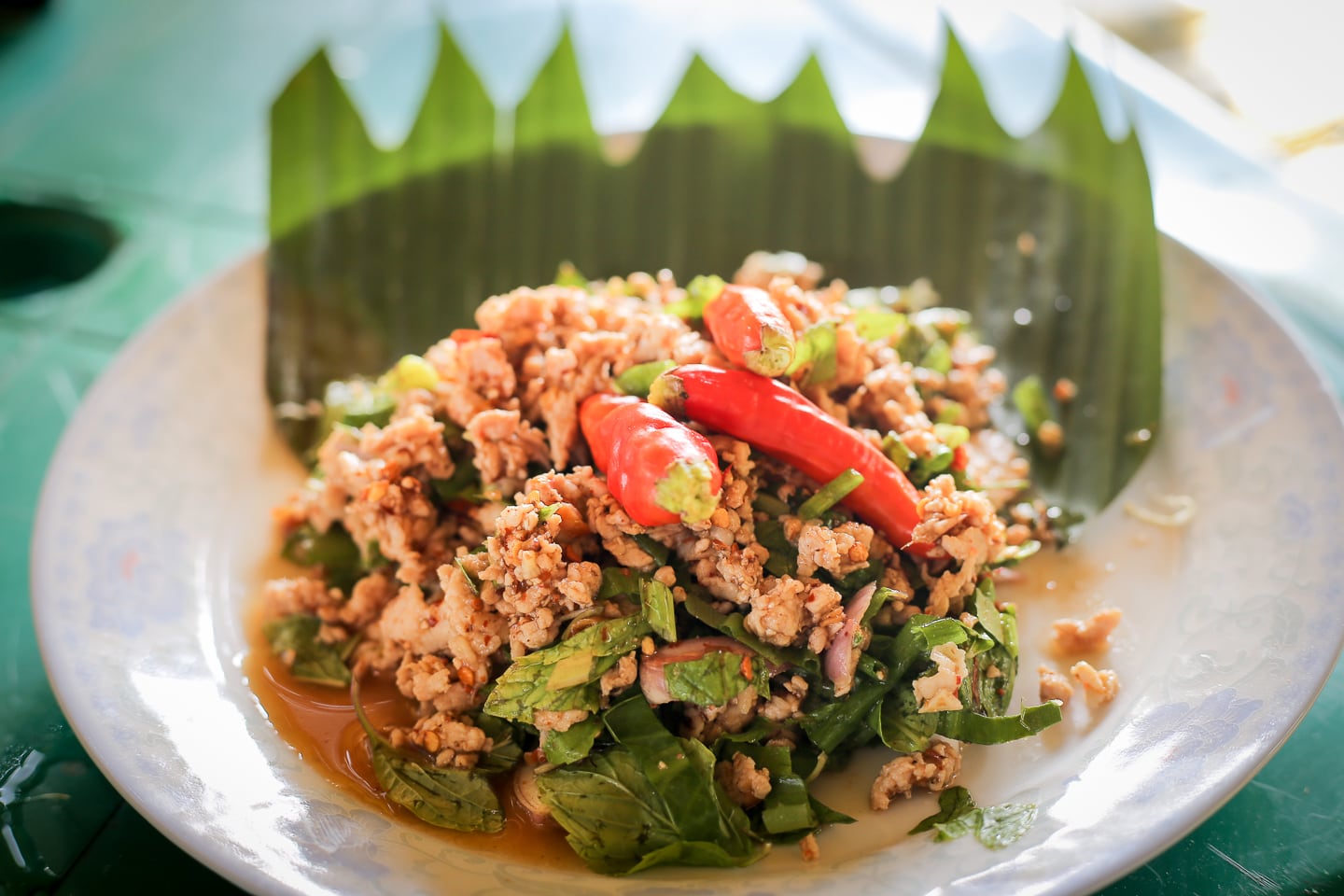 2017-2018 Park Renovation
The park recently received a sizable investment to perform the first major refurbishment and upgrade since the park was constructed in the '50s and '60s.
Work was completed in early 2018, including beautiful new walkways, lots of landscape work with countless brightly colored flowers, and…modern restroom facilities to replace what had to have been the park's original toilets.
Buddha Park held a special place in our hearts for having one of the few remaining bucket-flush squatty potties in the city that we have come across. That era has finally come to a close, it seems.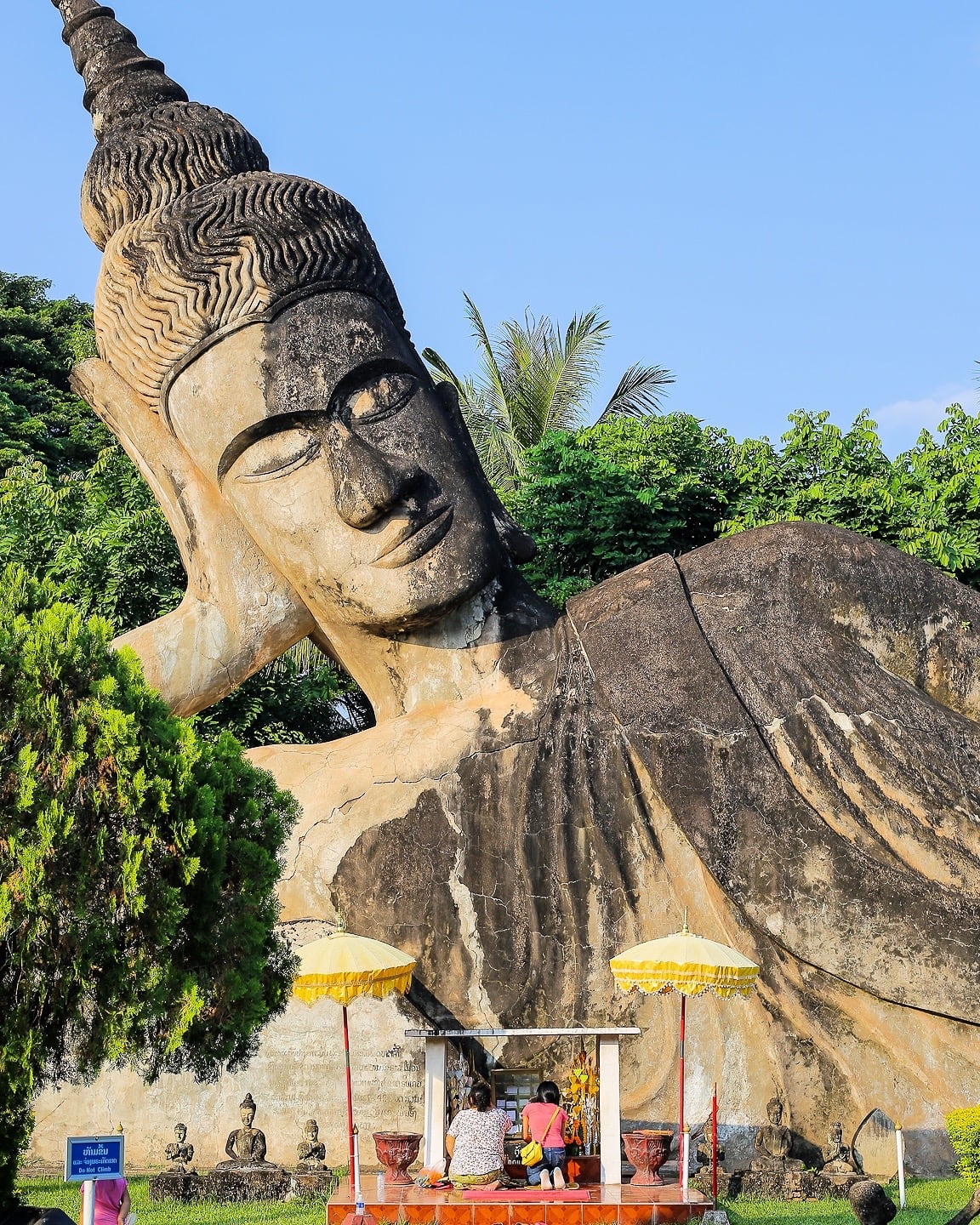 Worth the Visit?
All told, our day out ended up costing the two of us about US$14 (including roundtrip transport, entry, and a delicious and satisfying meal).
And just as promised, the #14 bus arrived less than 20 minutes after we saw the previous one pass. Granted, we sat in the bus for a half hour waiting at the Lao-Thai Friendship Bridge parking lot, but it was a small price to pay for cheap, reliable, and air-conditioned transportation back to the city.
Is Buddha Park worth the visit? If you've only got a day or two in Vientiane, it's a big trip to squeeze. If you're here for longer, however, Buddha Park is a must. If you're not traveling on a backpacker budget, and/or are traveling with others, hiring a taxi through your guesthouse in Vientiane will help cut down some time.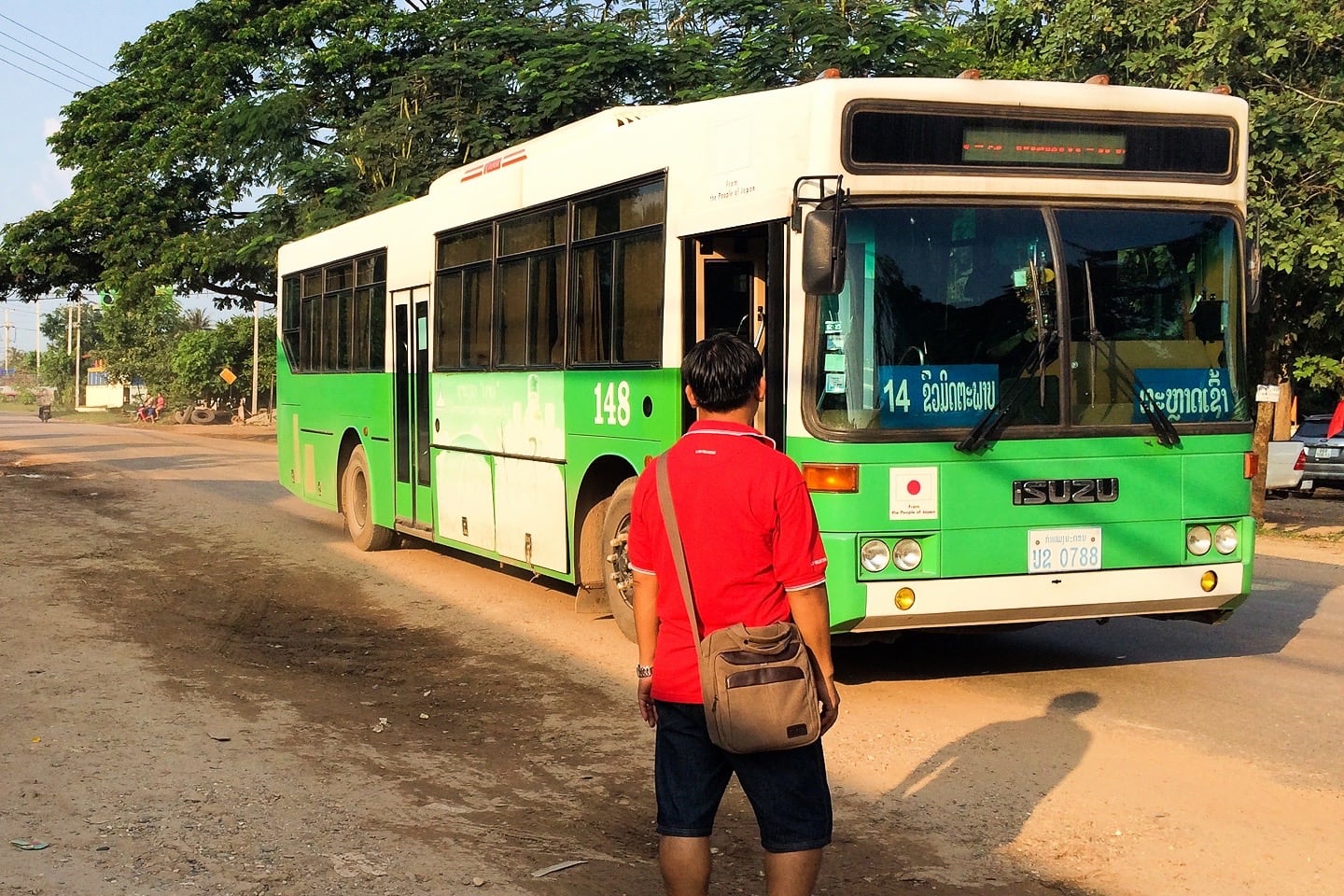 Tips & Recommendations for Visiting Buddha Park
Bring sun and rain protection — Except a chance of hard rain between March and November, and hot and humid conditions year round. While there are shady spots around the park, the sculptures themselves are largely exposed.
Visit Early! — Buddha Park can get fairly crowded on the weekend beginning around mid-morning. Couple that with the heat and you'll want to visit as early in the day as possible for the best experience. Alternatively, you can visit towards the end of the day, but keep in mind that temperatures stay toasty well past closing (5pm).
Dress Appropriately — Though often referred to as Wat Xiang Khuan, Buddha Park is not technically a temple. With that said, it is considered by many Buddhists and Hindus to be a holy site, and Buddhist monk sightings are common. Additionally, Laos is a socially conservative country, and most locals dress with modesty in mind. There are currently no dress requirements posted or enforced at the site and shorts are generally acceptable, but you'll want to dress with casual modesty in mind.
There's a bit of [optional] "climbing" involved — Don't be concerned if you have mobility issues. Buddha Park is completely flat and wide concrete paths were added in late 2017 around the entire park. However, if you wish to climb the four levels of the giant pumpkin (totally optional), you'll need to know ahead of time that some parts require climbing stairs through small spaces.
Public transport requires patience — Taking the #14 bus from the Central Bus Station is a great way to have a local Laotian experience and save money at the same time. Be mindful that like many other places in Southeast Asia, bus schedules can be flexible and trips can take longer than expected. If you aren't on a tight schedule, generally taking the bus isn't an issue.
Onward to Thailand — If you plan on traveling over the border to Thailand (Nong Khai, Udon Thani, etc.) or taking the train to Bangkok following your stay in Vientiane, visiting Buddha Park makes a nice stop en route, as it is located very close to the Thai-Lao Friendship Bridge border crossing.
Nearby Attractions — Inpeng Culture Park (water park); Lao Disabled Women's Development Centre (local handicrafts, learning); both of the above can be accessed via the #14 Bus, or let your taxi driver know ahead of time that you wish to stop at either place. Both are very close to the Thai-Lao Friendship Bridge.
27 March 2019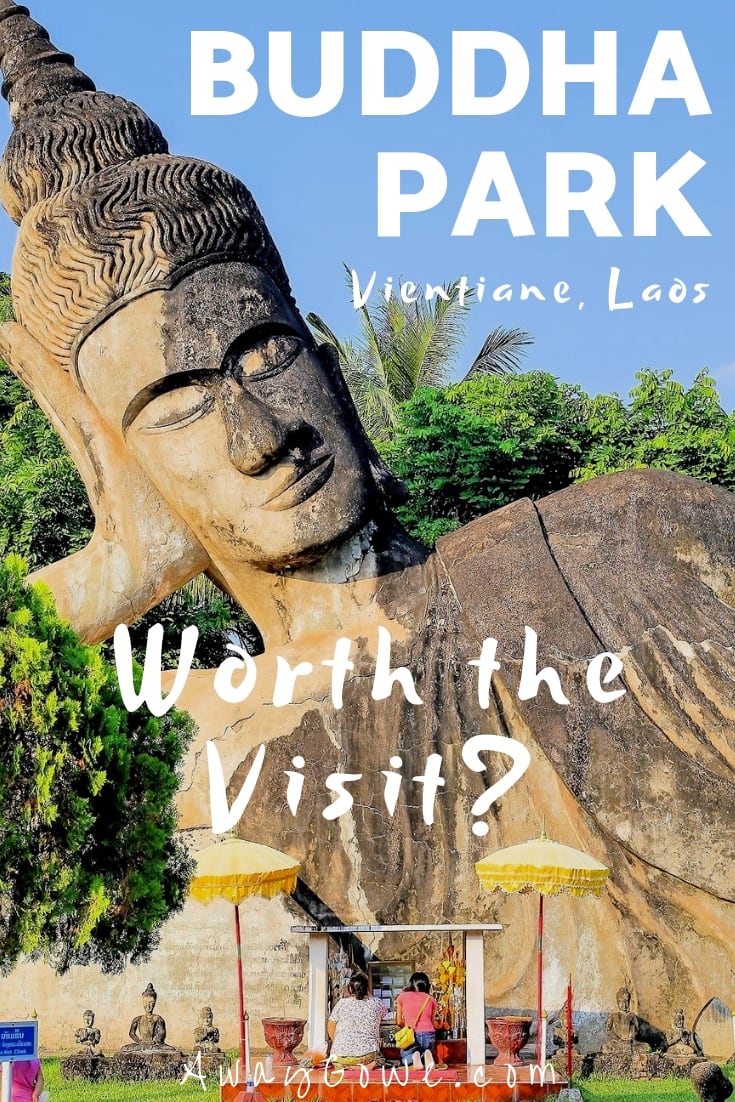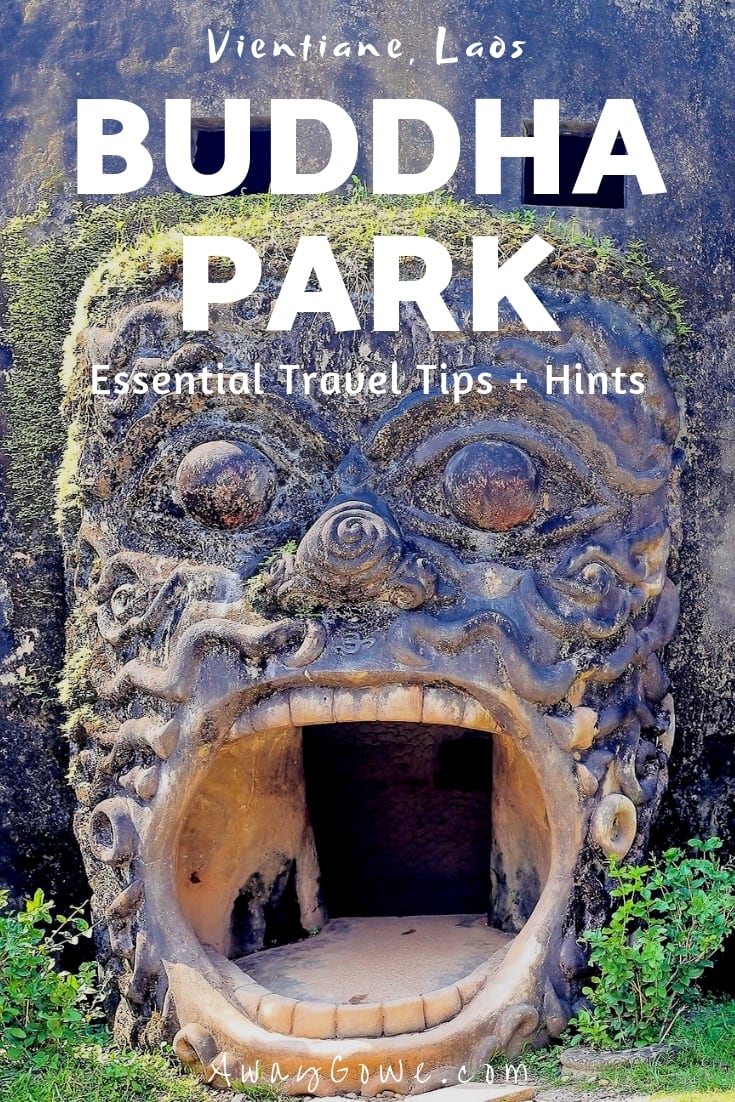 Keep Reading » More On Vientiane
Check Out These Experiences In Vientiane