Kong Lor Cave is a one-of-a-kind natural wonder offering adventurous travelers an unforgettable subterranean experience.
Nestled in a remote valley in Central Laos at the end of a long and winding highway fringed with stunning karst peaks, Kong Lor Cave (Tham Kong Lo) is a 4.5-mile (7 km) long cave cut clear through a limestone mountain by one very tenacious little river.
While there is a small [artificially] illuminated section located deep within the cave for exploring on foot, travelers don't come to Kong Lor Cave (roughly translated as "Beauty in the Dark") for what they expect to see, but rather for what they won't. And that's one of many reasons why this experience so unique.
Have you ever found yourself flying through the darkness at breakneck speed far below the surface of the earth?
It's a surprisingly adrenaline-inducing sensation, and an exercise in trust – relying on every one of your senses as well as a perfect stranger to guide you through the darkness safely to the other end.
We've done it twice now over a five year period, and while the tourist complex around Kong Lor Cave has changed a bit over the years, the experience within the cave has changed very little.
Here are ALL the essentials for visiting Kong Lor Cave, penned by two expats who lived in Laos for 3 years, including information on getting there, tickets and guides, where to stay, what to pack, what else to do in Kong Lor Village, and where to go next.
▸ Looking for travel medical insurance? SafetyWing offers low-cost overseas medical coverage tailored to international travelers.
We're reader supported and may earn a commission from affiliate links on our site at no cost to you.
Why Trust OUR Laos Guides & Recommendations?
Lori and I lived full-time in Laos for 3 years and have learned so much as residents that simply can't be gleaned from a month-long backpacking trip through Laos (which we also did prior to relocating here).
In the past decade, we've extensively explored the width and breadth of this amazing country, returning to many destinations multiple times.
We're passionate about Laos, independent travel, and making the best darn travel guides humanly possible for you and your own journey.
Sok Dee Deu!
Kong Lor Cave – A Detailed, First-Hand Guide for Travelers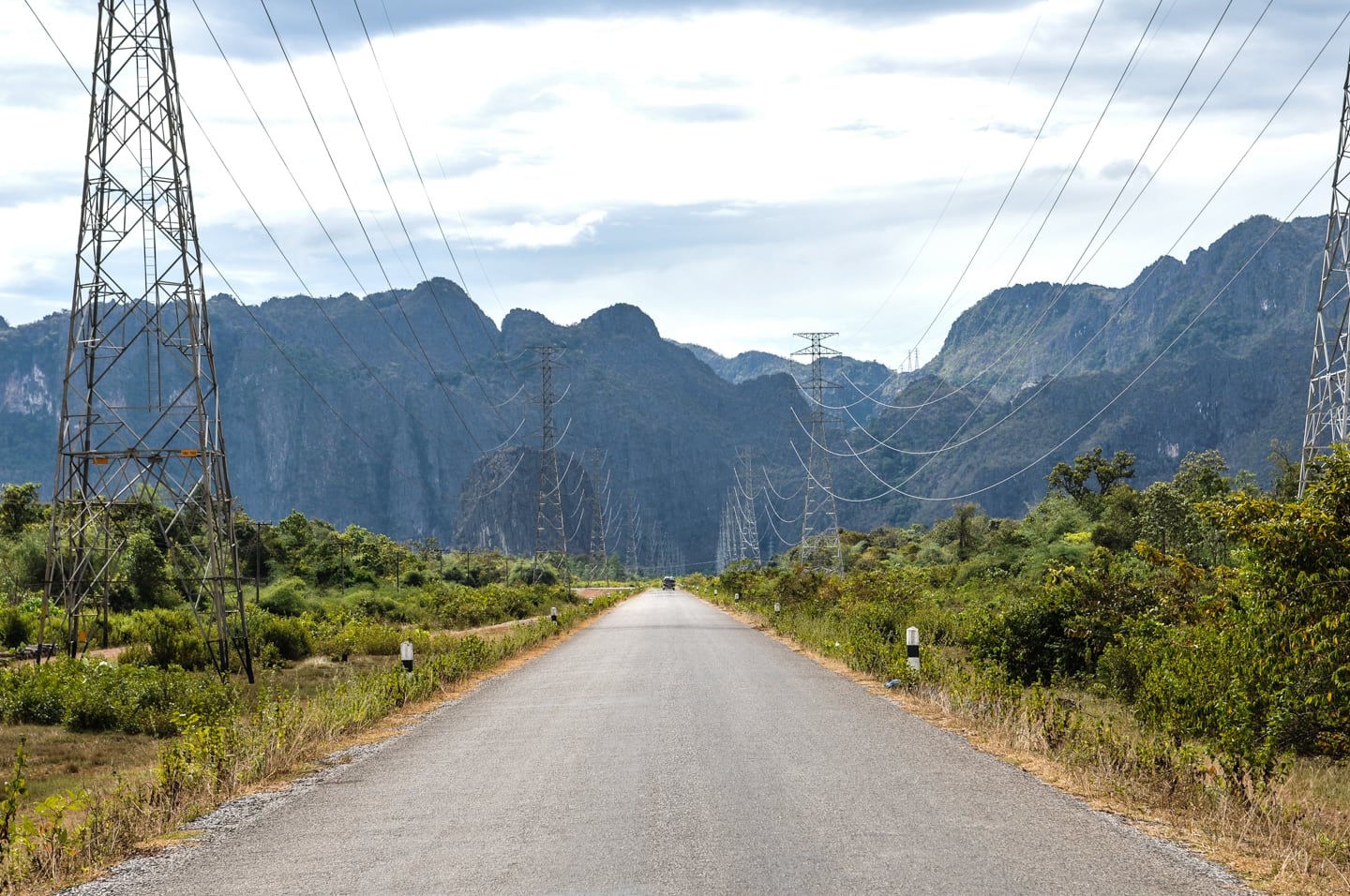 We often like to jump right in with the nuts and bolts of getting you on your way. However, if you're keen on learning more about Kong Lor Cave and why you should consider a visit, then you won't want to miss our detailed What to Expect section later on in this guide.
How to Get to Kong Lor Cave
Kong Lor Cave is about as remote as you can hope to get in Laos as a traveler. Yet getting to Kong Lor Village is easier than most visitors think.
Keep in mind that, because of Kong Lor's relative isolation, the journey will take some time (1-4 days, depending on your mode of transport). Either way, enjoy the journey!
Tourist Method (Joint Ticket Option)
From Vientiane, there are daily buses available to Kong Lor Village. While tickets can be purchased at the Southern Bus Terminal, we strongly advise booking a joint ticket through your guesthouse or travel agency in Vientiane city center.
In addition to including transfer to the bus station from your guesthouse (or downtown), going the joint ticket route means you don't have to mess with the language barrier, which can be particularly challenging at Laos bus stations.
Local Method (Public Bus)
From Vientiane
If you're keen on putting the trip together completely on your own, there is a daily bus from the Southern Bus Station [map] in Vientiane to Kong Lor Village that currently leaves at 10 am and costs around US$10 / 80,000 LAK (Mar 2020). The journey takes around 7 hours to Kong Lor with a stop for lunch.
If you miss the Kong Lor bus (or it isn't an option, which can happen), get a bus for Thakhek instead, but tell the driver/ money collector you'd like to get off at Vieng Kham (Route 8 junction). From here, you'll need to hire a songthaew (pickup-looking thing with two benches in back) the rest of the way to Kong Lor, or one to the village of Nahin, and an additional Songthaew to Kong Lor. If you stay the night in Vieng Kham or Nahin, your guesthouse can help you arrange onward transport.
To reach the Southern Bus Station in Vientiane (north of town because of the way the highway bends around Thailand), you can either hire a tuk tuk (expect to pay as much as the bus ticket to Kong Lor!) or grab the #29 bus (US$0.50 / 4,000 LAK) from Central Bus Station (currently under construction, but look for the green/white buses near the Morning Market).
Keep in mind, you'll either have to hire a tuk tuk or hoof it 1-2 km to the Central Bus Station, depending on where you are staying in Vientiane.
Want more tips on getting to and from Vientiane? Check out our detailed insider's guide on visiting Vientiane.
From All Points South
If traveling from Savannakhet, Pakse, or 4,000 Islands (Si Pan Don), grab any bus heading north, preferably passing through Vieng Kham (this would likely be a Vientiane-bound bus), or Thakhek.
If you are coming from 4,000 Islands, you'll most likely find yourself on a bus from Nakasong to Pakse, then onward to either Thakhek or Vientiane (via Vieng Kham).
Either way, stay flexible and plan for a very long 1-2 days of travel to arrive at Kong Lor. As always, your guesthouse can help you with arranging the transport you need.
Adventurer Method (Public Bus + Laos Loop)
Use one of the "Local Methods" described above to get yourself to Thakhek. Rent a motorbike and set off on the adventure of a lifetime on the Thakhek Loop!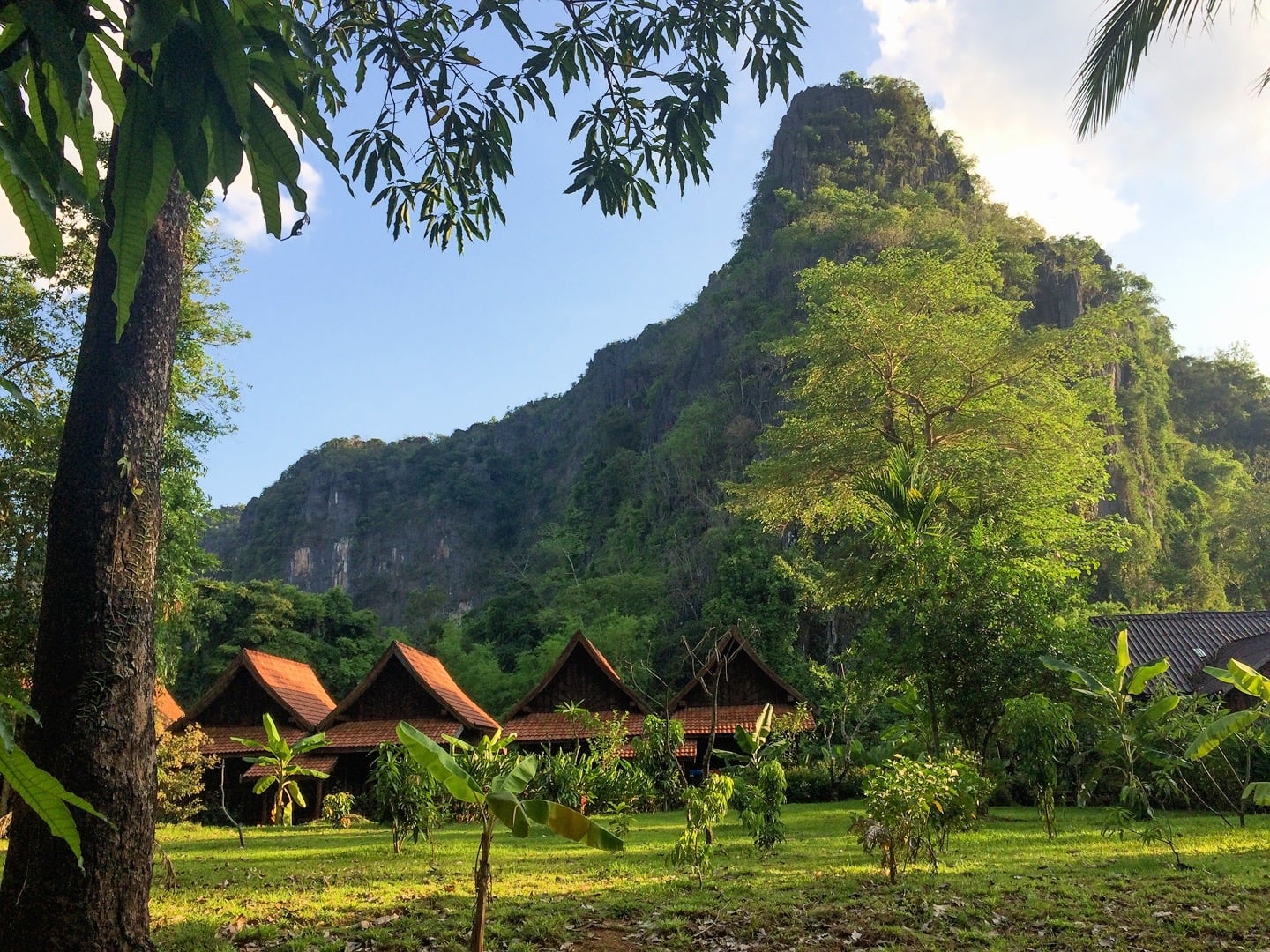 Where to Stay in Kong Lor Village
As with all things Covid-19-related right now, if you're one of the lucky few who find yourself able to travel in Laos at this time, be extremely flexible with your travel plans.
Guesthouses and restaurants that were open a month ago might well be shuttered now (temporarily or otherwise).
If you're able to book online through a reputable site (i.e. Booking) that's usually a pretty good sign.
We've also tried to include some phone numbers to try, but please keep in mind that the person on the other end might not speak the same language as you (this is rural Laos, after all!).
Generally speaking, you'll find adequate lodging if you just show up. It might not be your first choice, and it may lack some amenities you might be used to, but it'll do the job for a night or two.
Our Overall Top Pick
If relative comfort and a relaxing vibe along the river is what you're after, check out Spring River Resort, situated right on the banks of a jade-colored section of the Nam Hinboun.
The major downside to staying at Spring River is it's a bit removed from the village and restaurant prices tend to be a bit steep compared to local places in town.
With that said, Spring River occupies the most scenic real estate of perhaps any guesthouse in the area.
Our Top Picks

In Kong Lor Village
For an excellent choice in the village center, check out clean and tidy Kong Lor Eco-Lodge Guesthouse (Ph: +856309062772) a good value for the money.
Top Picks

Near Kong Lor Cave
A handful of excellent options have sprung up in recent years just outside the entrance to the cave grounds. We recommend checking out Konglor Alounmai Guesthouse (A/C room available!) and Kong Lor Cave Resort [map] for more budget-minded travelers.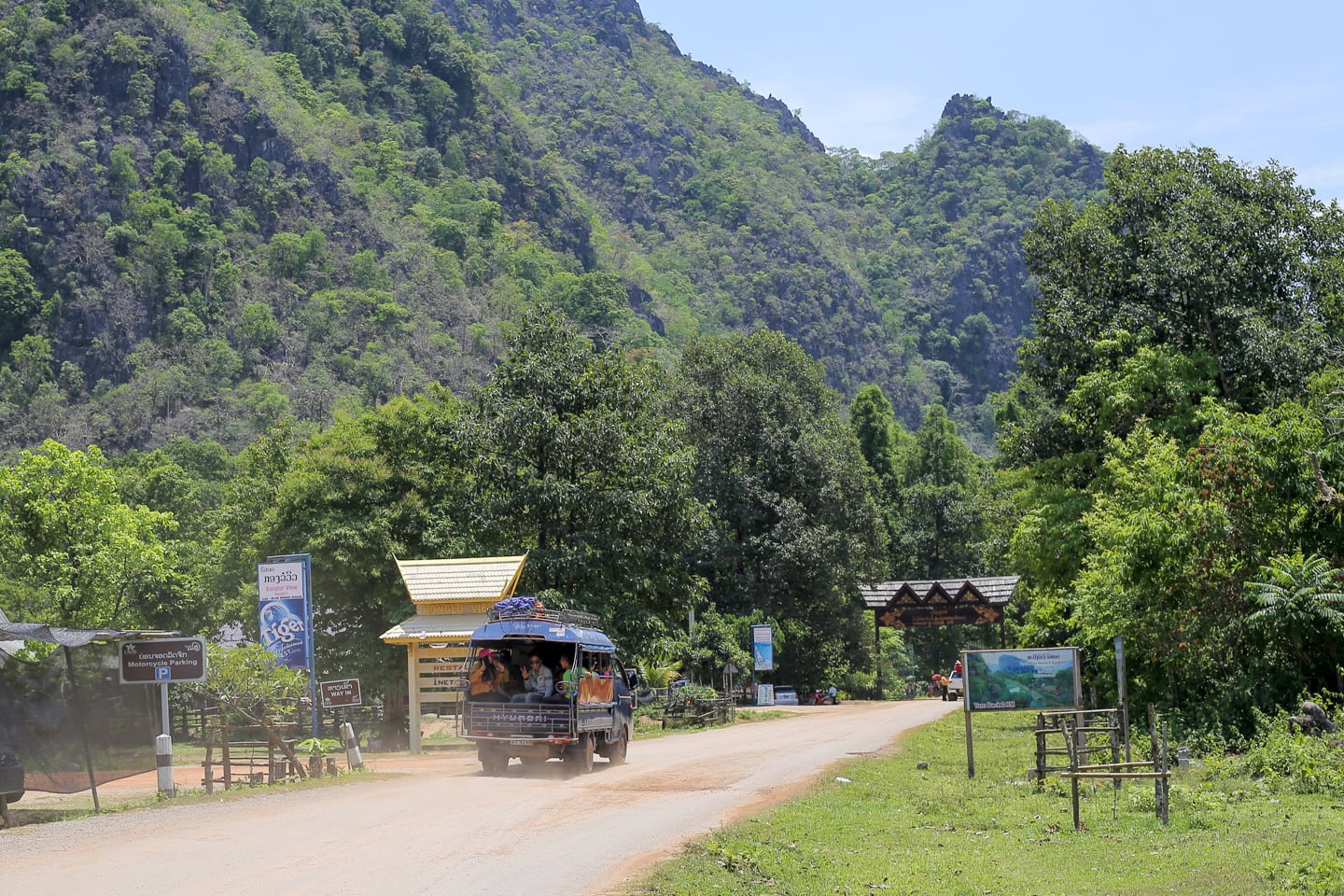 Kong Lor Cave Tickets & Guides
Kong Lor Cave is located at the far edge of the village. Ride, walk, or flag a ride from Ban O and head to the end of the road. You'll need to pay the entrance fee to Phu Hin Bun National Park before passing through the large gate. If you have a motorbike, also expect to pay a small parking fee inside (see fee breakdown below).
Head to the ticket window and hire your boat driver/guide (mandatory, of course).
How Much Does it Cost?
Current as of 2021. USD estimates are based on Nov 2021 exchange rate. Let us know if Kong Lor has changed their fees and we'll update this section!
Each boat can carry up to 3 passengers.
| | |
| --- | --- |
| Phu Hin Bun National Park entrance fee | US$0.18 / 2,000 LAK |
| Motorbike parking (if applicable) | US$0.46 / 5,000 LAK |
| Kong Lor Cave entrance fee | US$0.92 / 10,000 LAK |
| Boat Tour (per boat, up to 3 pax) | US$9.20 / 100,000 LAK |
Changing & Storage Facilities
There is a toilet facility behind the ticket booth where you can change into your swim gear if you haven't done so already (highly recommended, because you'll probably get wet at some point! Read more below about what to bring).
You can leave your bag in the locked ticket booth, but we don't advise leaving valuables.
What's Included?
Along with your boat and skilled driver, you'll get a life vest and working headlamp, all included with your fee.
How Long Does it Take?
Expect the whole Kong Lor Cave experience to take 1.5 – 2 hours roundtrip, including prep and half way break. It takes roughly 30 minutes to transit through the cave, but this is dependent on river flow and depth and number of other boats.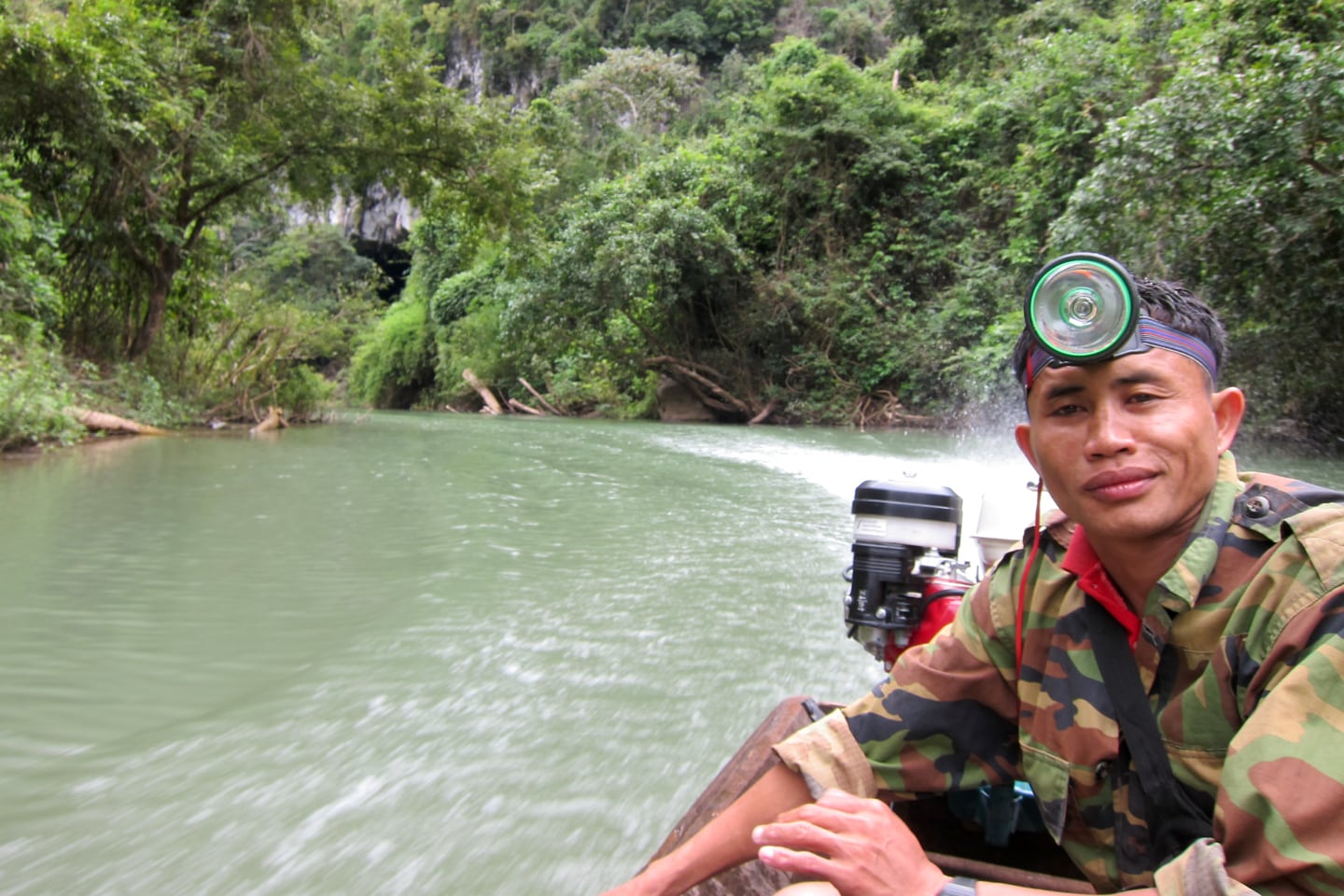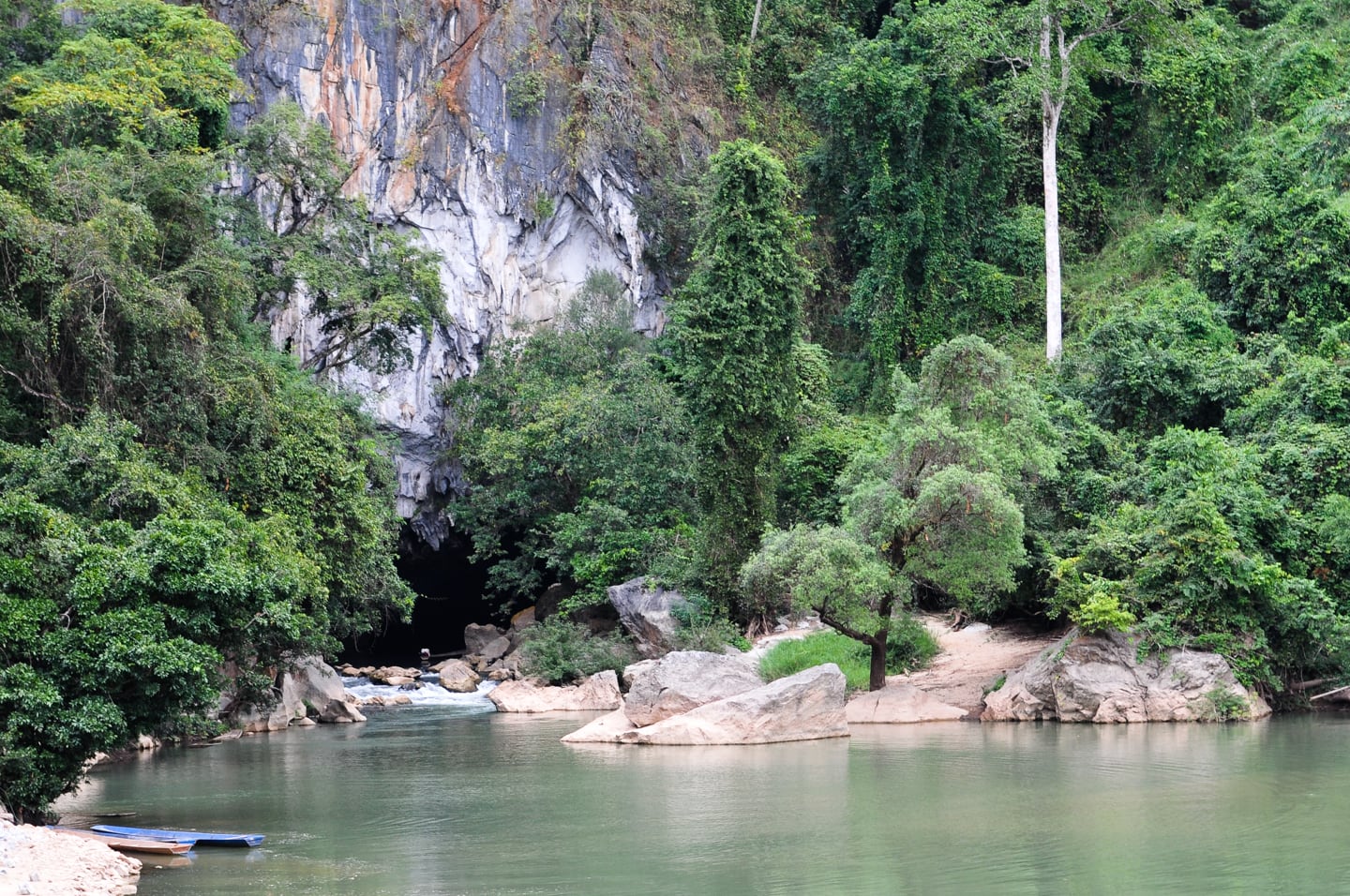 ---
More of Our Detailed Laos Guides
Keep reading for our detailed guide on what to expect from your own visit to Kong Lor Cave!
---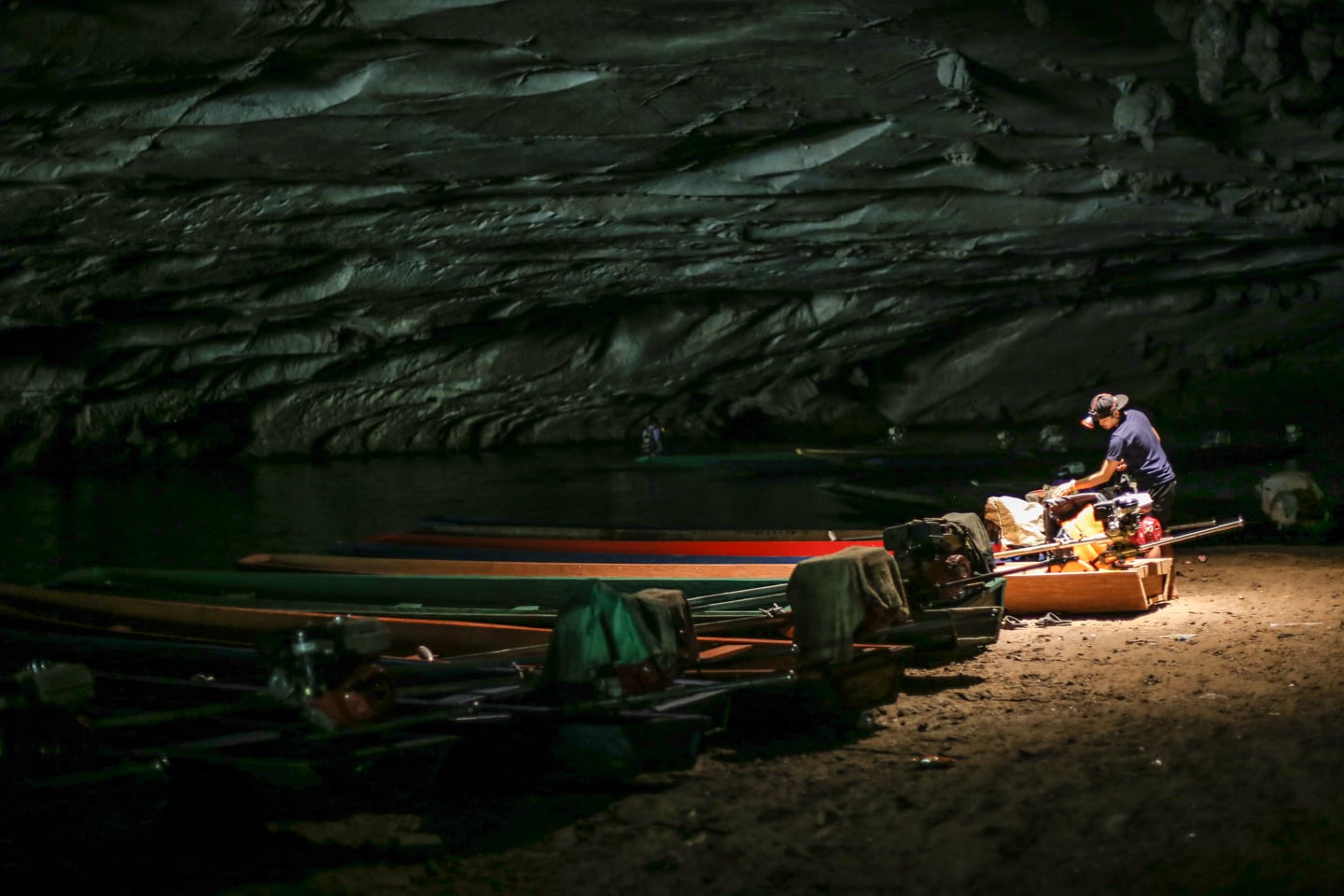 What to Expect at Kong Lor Cave
Now, the moment you've all been waiting for! It's time to board a small motorboat with a driver and transit 7 km (4.3 miles) up a narrow subterranean river.
That's roughly the length of 75 football fields in near-darkness.
Awesome.
If you're a visual person, you might enjoy taking a look at the map below from OpenStreetMap.org. They've actually mapped Kong Lor Cave, along with Ban O and the village on the other side.
On the left is where you'll enter the cave, and on the right is where you will emerge some 30 minutes later.
I wouldn't say the journey was terrifying the first time around, but anticipating the unknown does get the adrenaline pumping a bit.
Trip Summary
If you're thinking of doing the trip yourself, here's a summary of how it all goes down
First, you follow your guide down a set of steps and cross the river via a small wooden bridge.
Next, you are led down a sandy/rocky path into the mouth of the cave where you wade over to your long tail motorboat — a long, sleek dugout-looking thing with a mammoth automobile-sized engine mounted on back.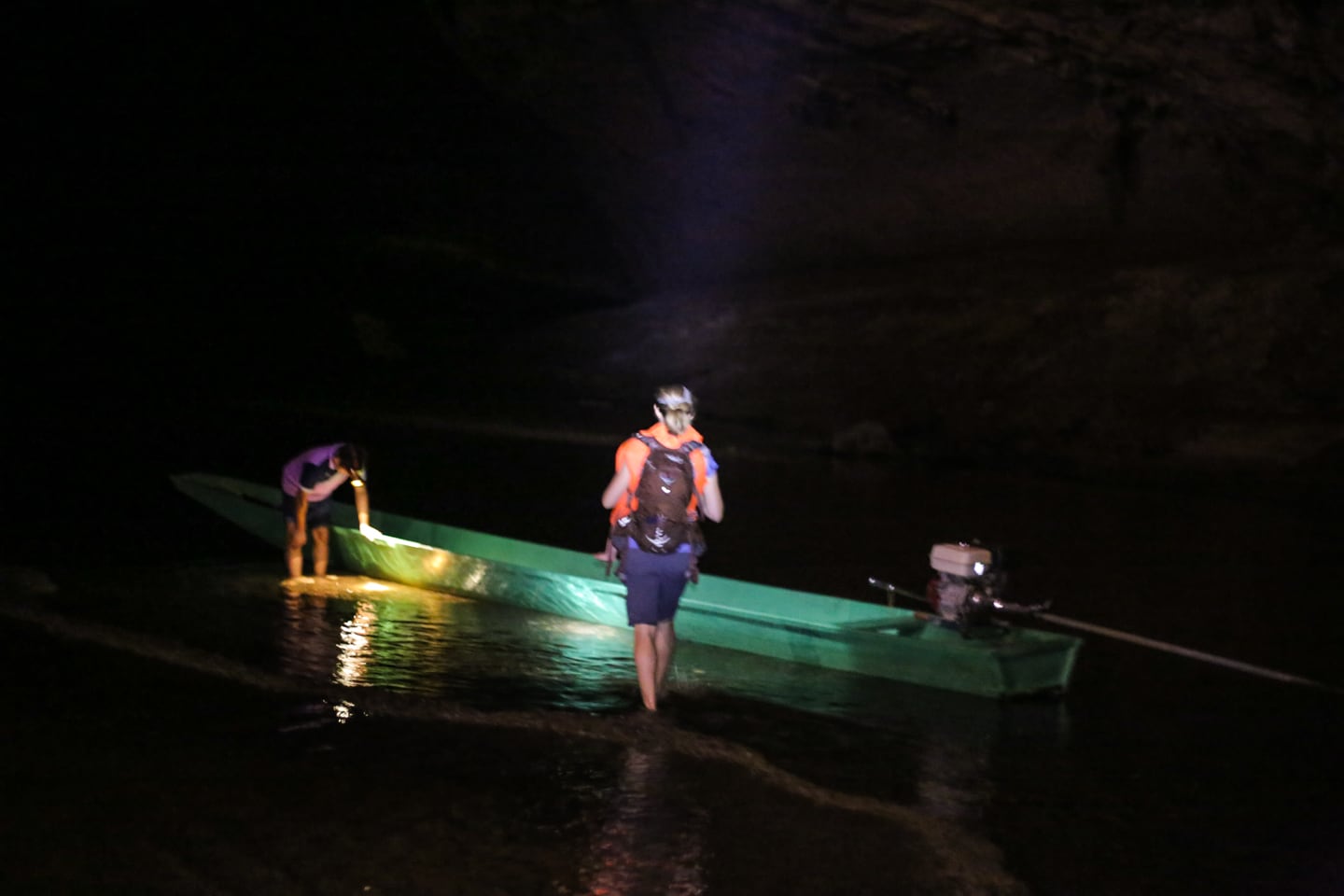 Finally, the real fun begins as your driver takes you speeding down the underground river in near total darkness.
Deeper into the cave, as your eyes adjust, you begin to realize what it is you're actually in for as you stare into the abyss hundreds of meters into the distance.
The air outside the cave is hot and humid, but it can get quite chilly on the inside. In addition to providing security, our life vests also provided a level of warmth, which was especially welcome at top speed.
There's no doubt, these narrow wooden boats have got some power behind them!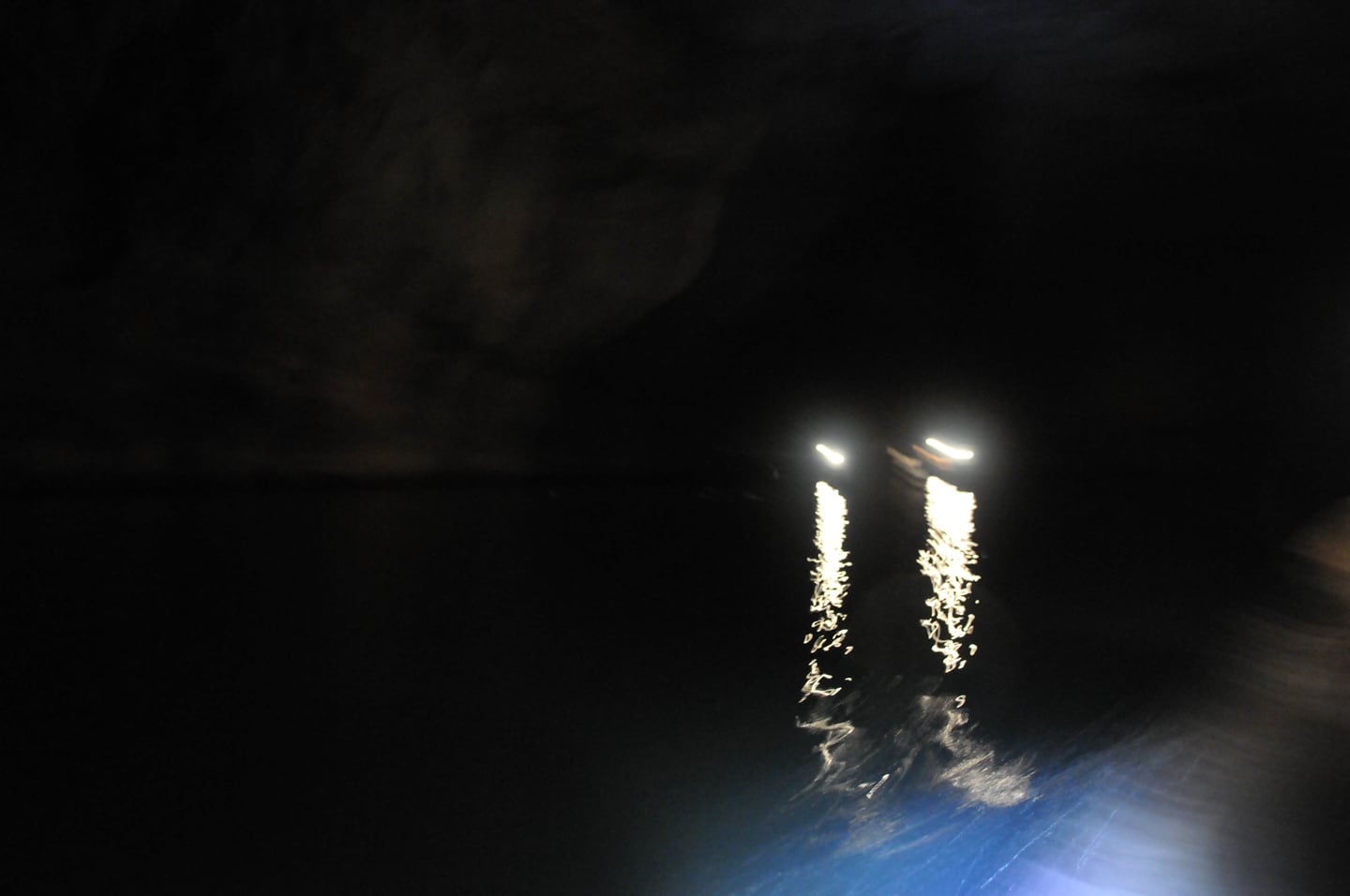 10-15 minutes into the journey, you'll suddenly arrive at a sandy beach. A land-based guide dressed in military fatigues waits to escort you on foot through the illuminated section of the cave while your driver/guide navigates the boat through a rough, fast-moving section of the underground river, meeting you at the other end of your little trek.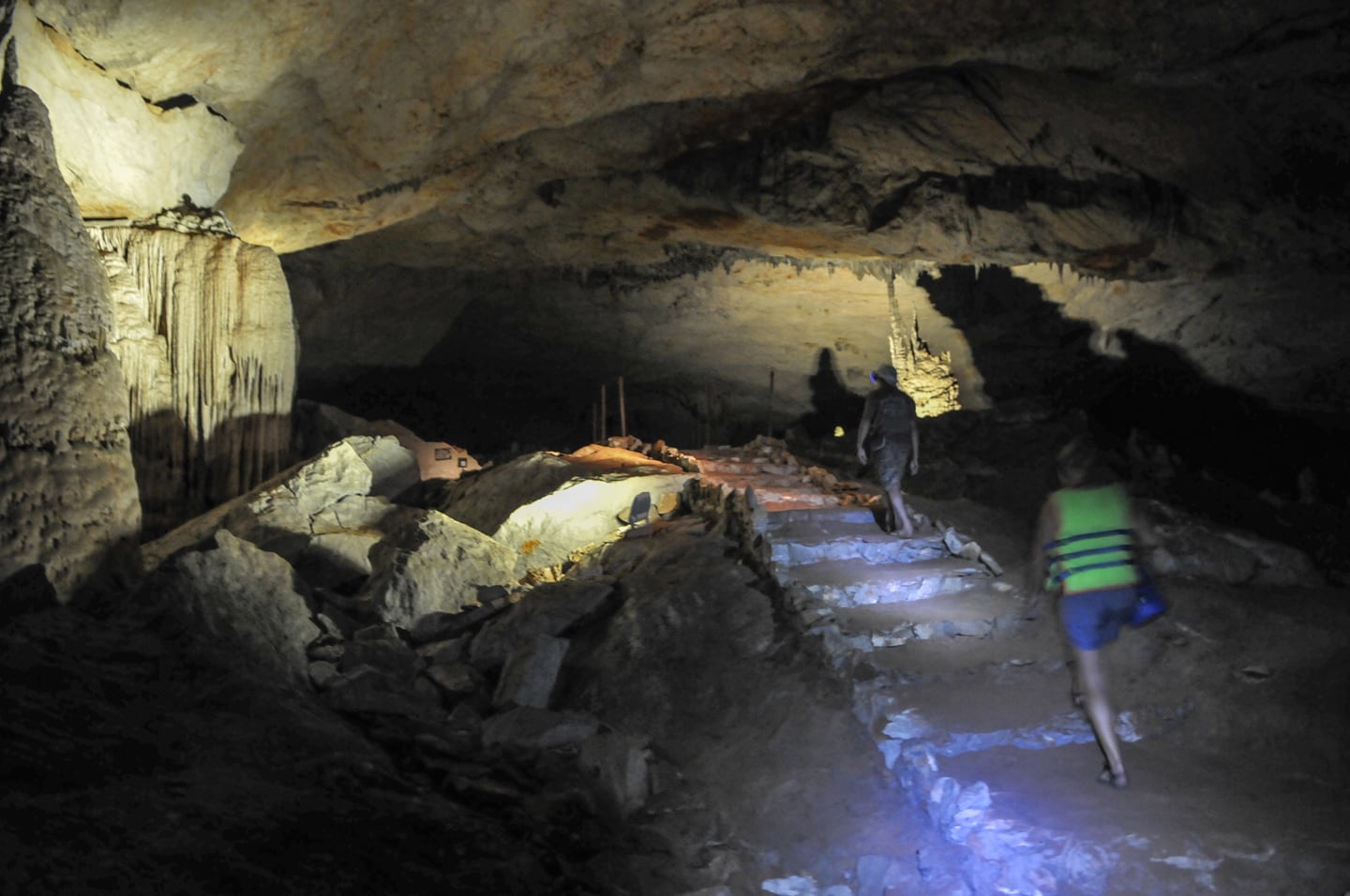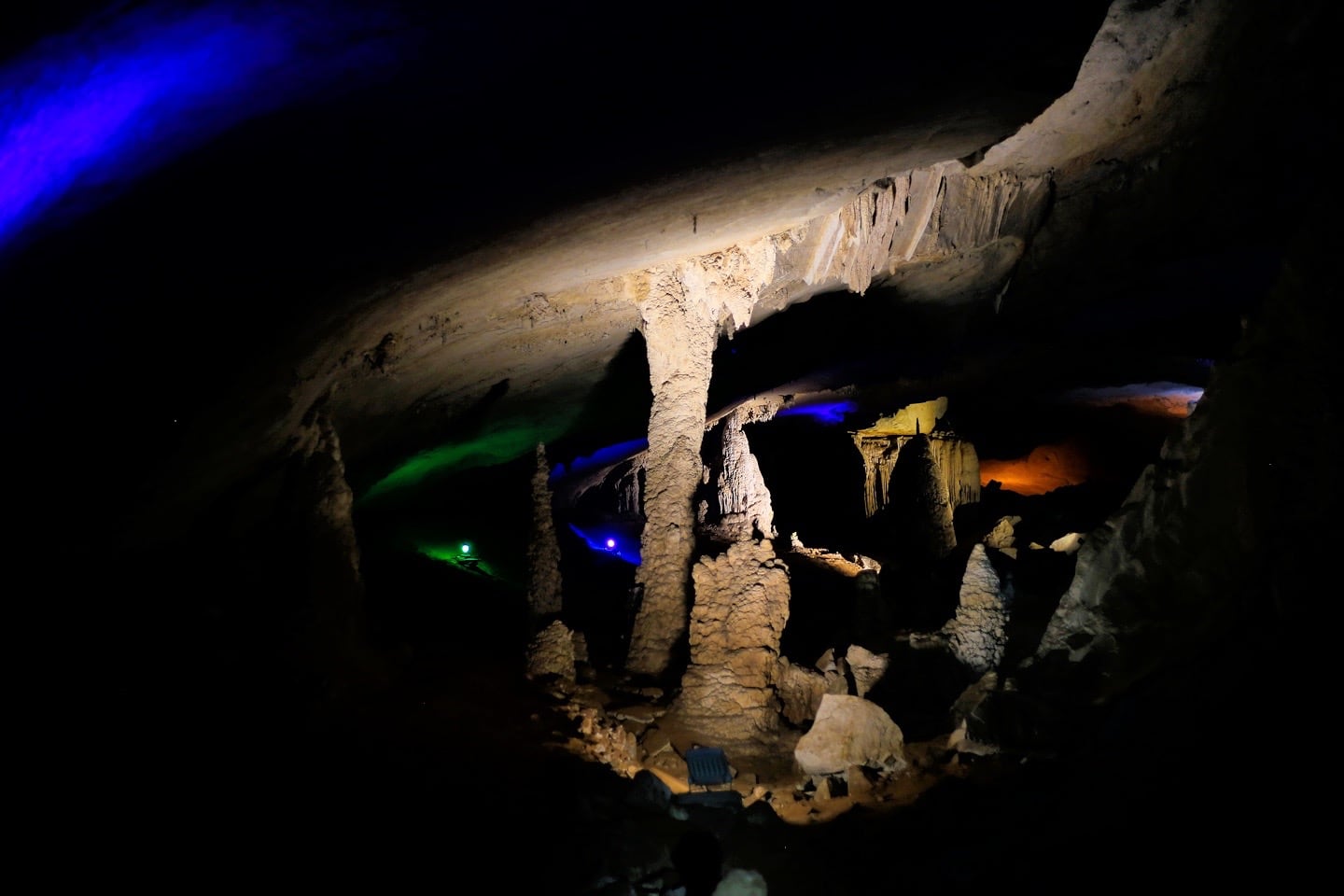 You get back on the boat and continue on to the rear mouth of the cave. Just shy of the upstream mouth of the cave, there's a section where you'll get out of the boat while the boat driver works to push and pull the boat up and over a small set of rapids (this may vary depending on water level).
The same is repeated downstream on the return trip.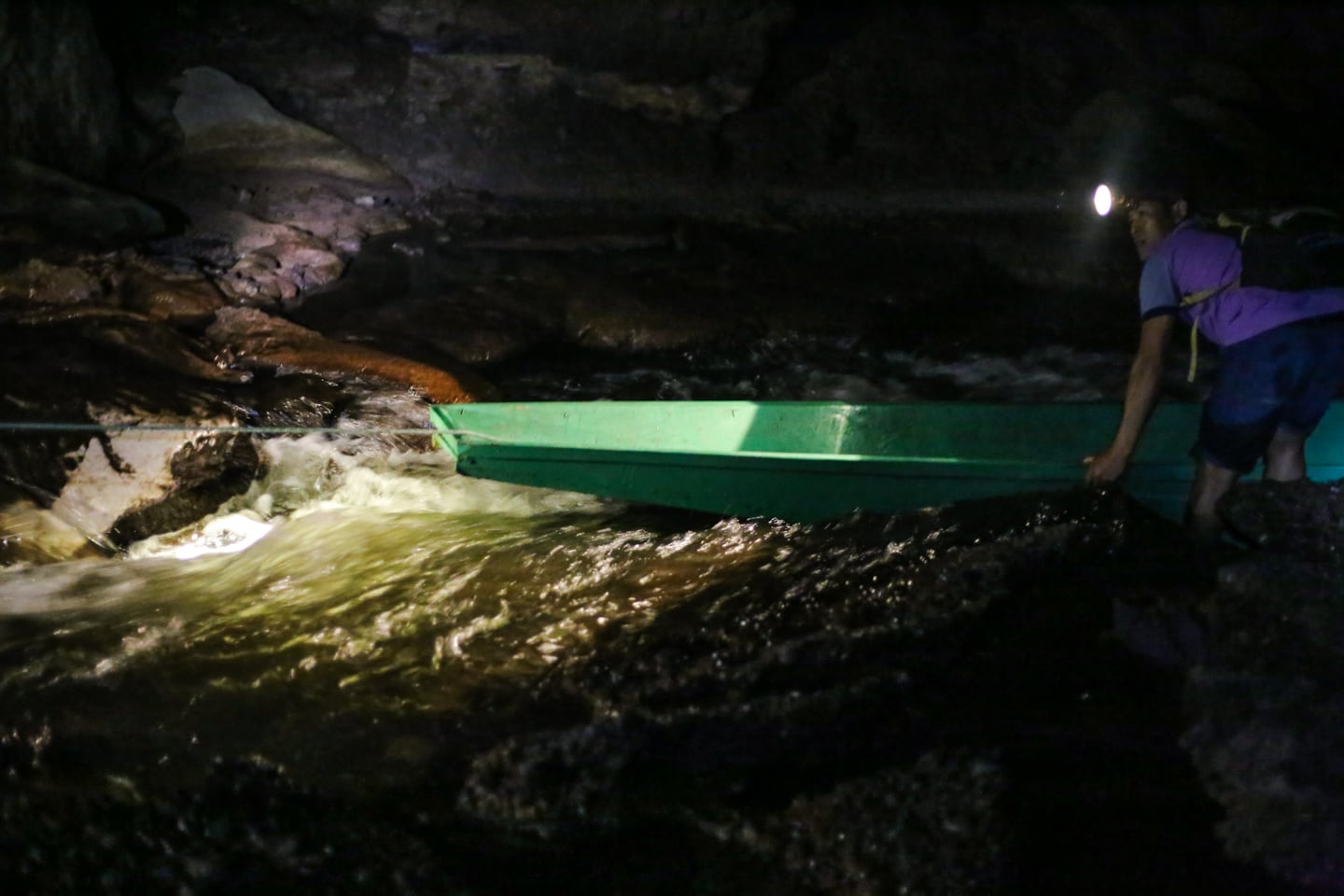 Back on the boat, you'll quickly emerge from the cave into a jungle-fringed gorge. A short while later, the boat arrives at a landing in a small village.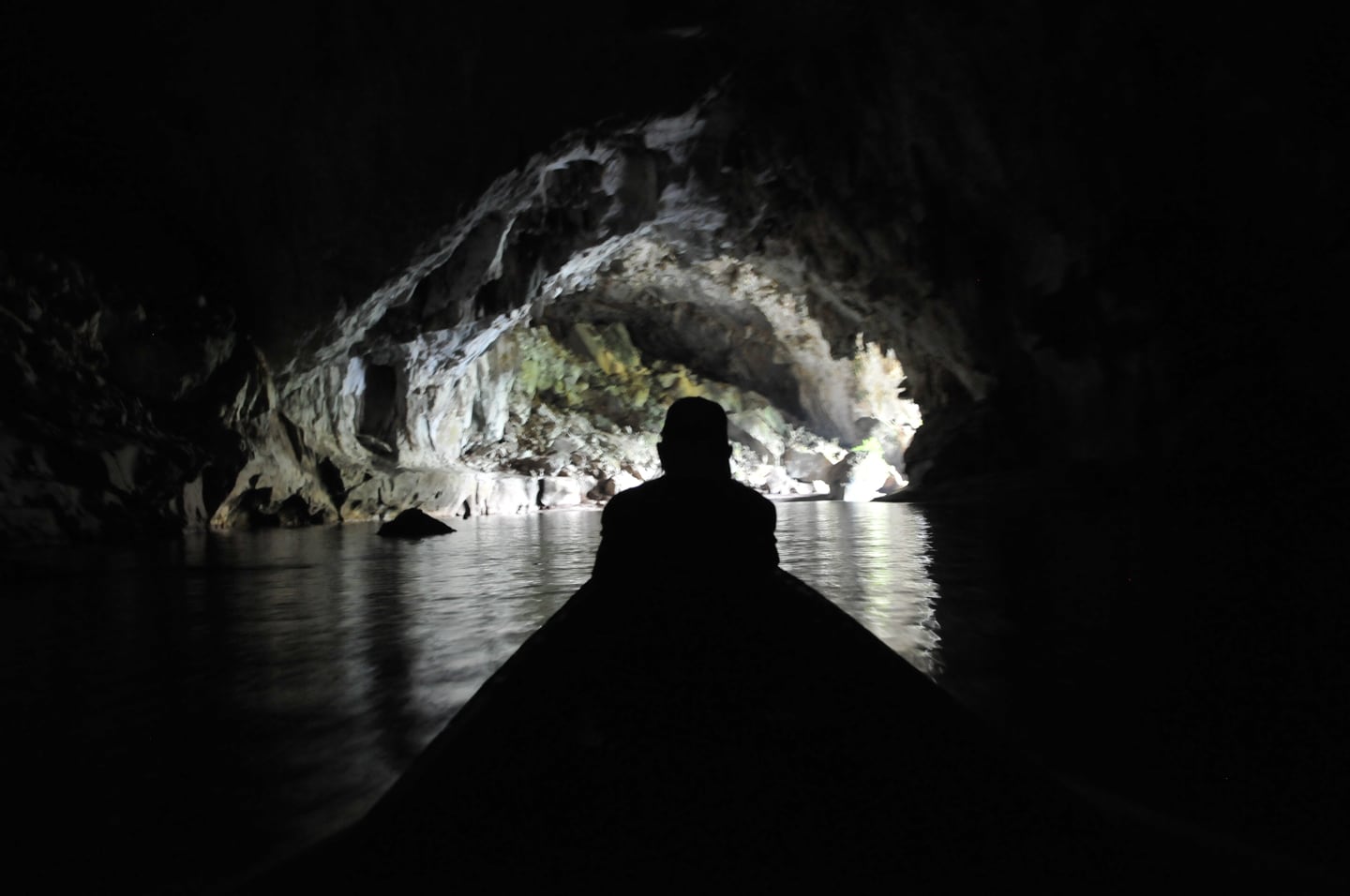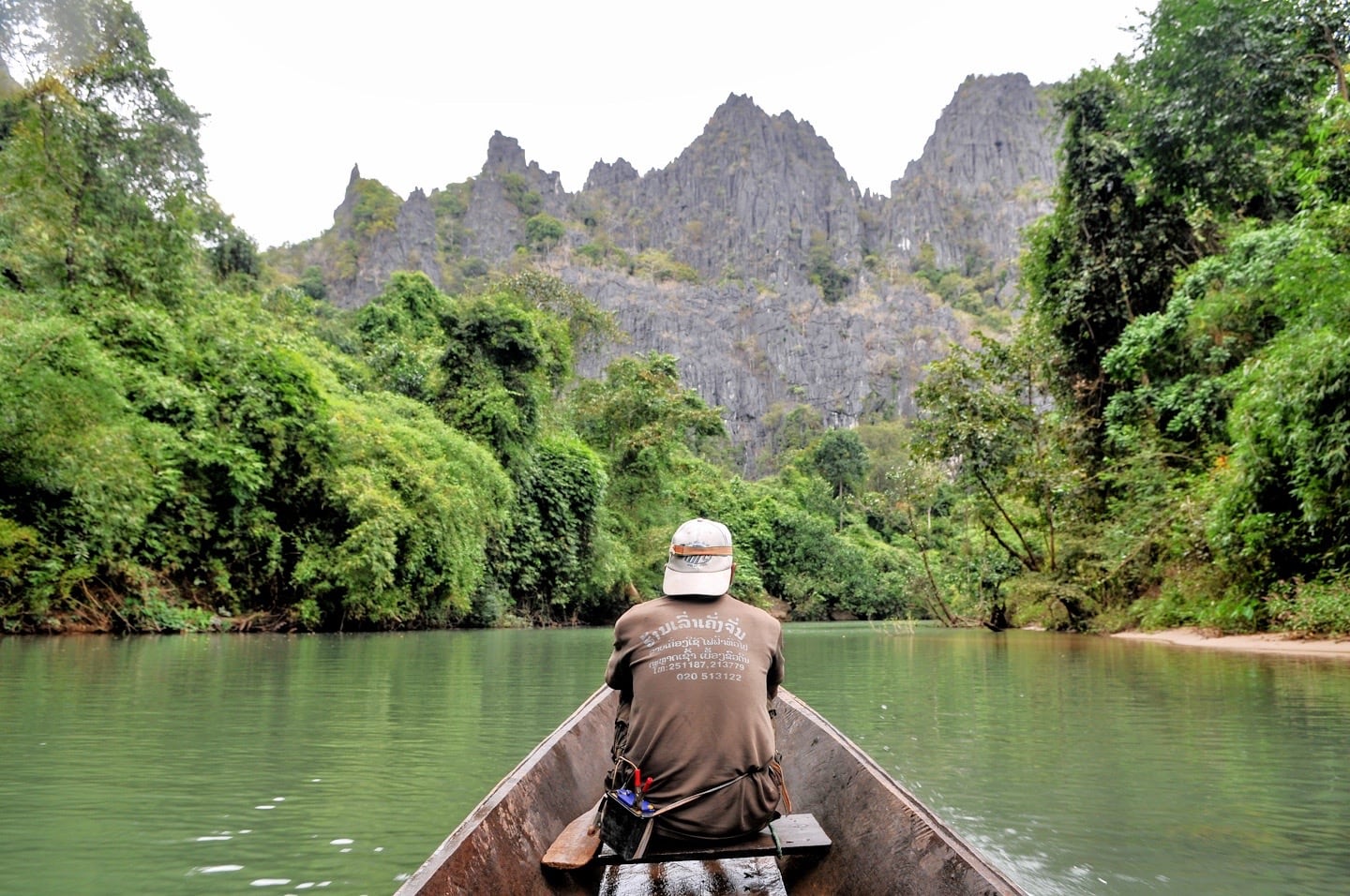 The boat driver will take a break here for anywhere from 15-45 minutes. Depending on time, you can walk to an isolated village about 1 km down a path. Or you can wait at the snack shack near the landing with the boat driver and grab a Coke.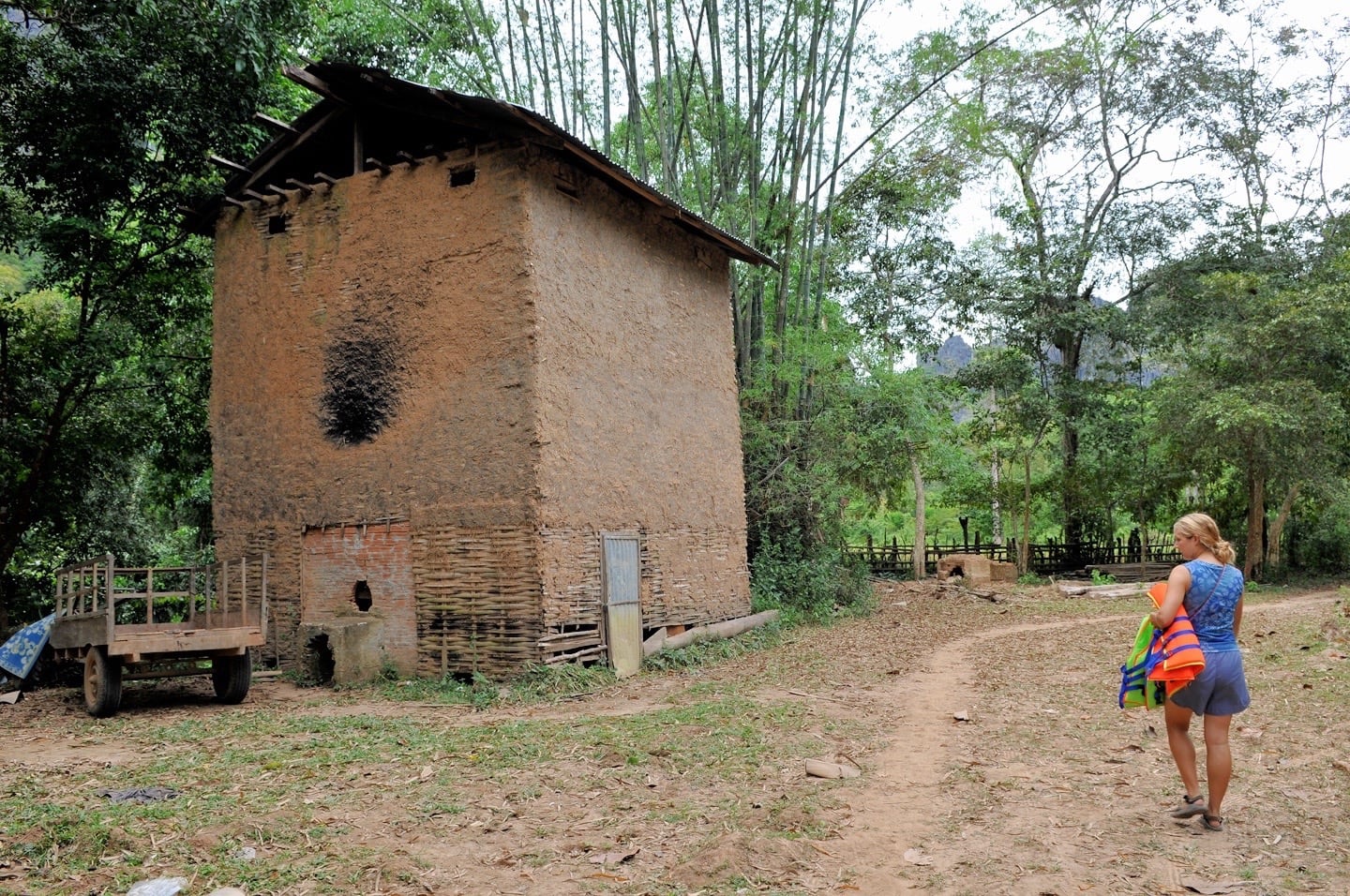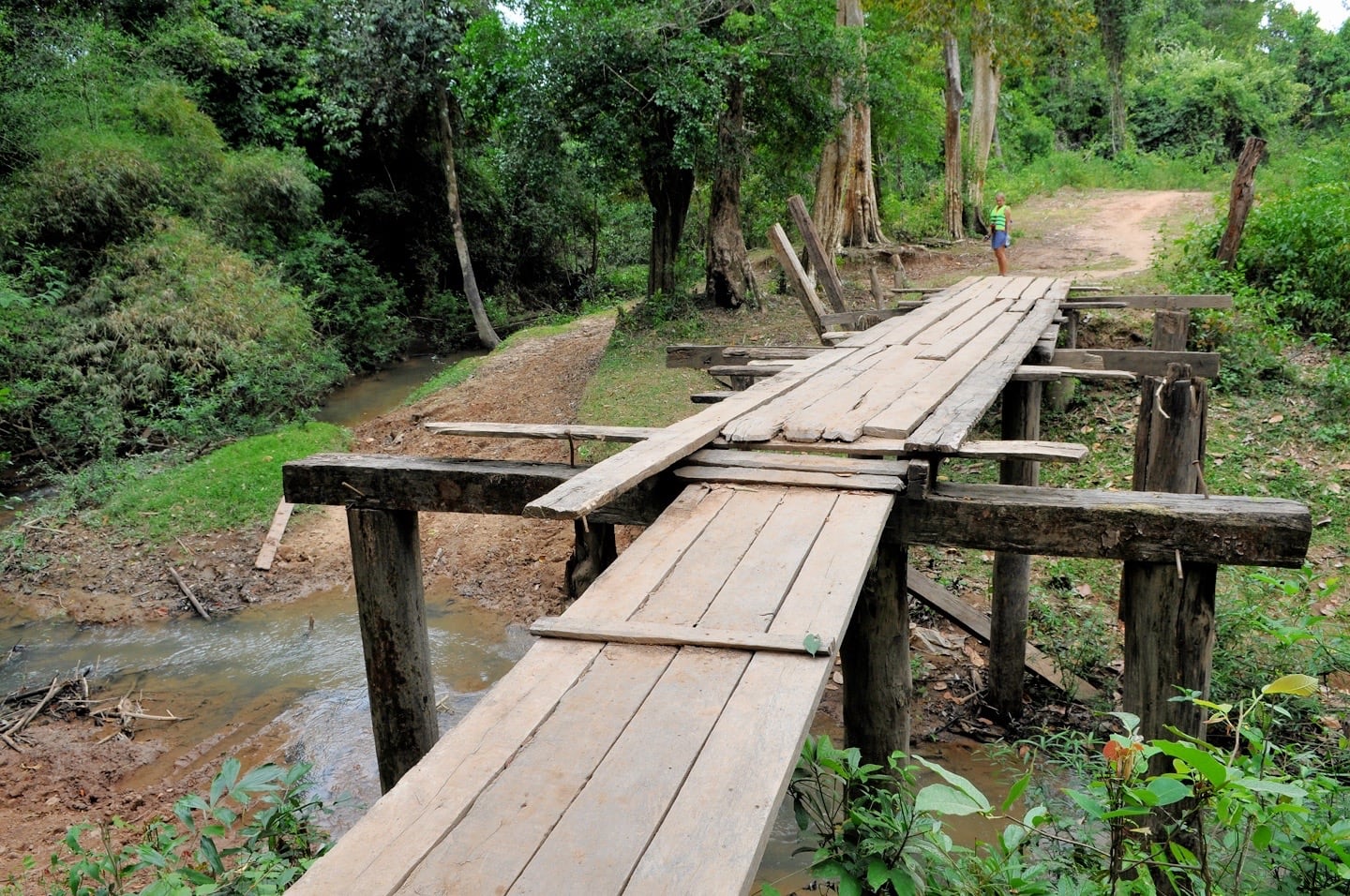 After the break, you'll repeat the boat ride in reverse order back through the cave (minus the trek on foot through the illuminated part) and head back to the parking lot.
Difficulty Rating
2 (out of 5) — not physically demanding, but there are portions you have to wade through chilly, fast moving water.
Those with fears of tight spaces or darkness might find the adventure especially challenging.
More Helpful Tips
Don't be afraid to communicate with your driver! Despite a potential language barrier, be sure to voice concerns if you have them.
If there isn't other boat traffic in the cave, don't be afraid to ask the driver to shut the motor off in the depths of the cave. The darkness, stillness, and silence are unreal!
If business is slow, don't be afraid to ask for more than 10-15 in the village on the other side.
It can get surprisingly chilly inside the cave barreling through at full speed. A rash guard is a good bet if you're easily chilled. We advise against wearing a windbreaker or jacket as you will probably find yourself sweating a lot under the life vest, particularly on the walk to/from the boat. See more tips below.
Tipping is not customary/expected at all in Laos, but if your boat driver goes above and beyond (or agrees to wait longer on the other side), a tip might be a nice gesture (10,000 kip or 10% is what we recommend).
Think twice before trying to bring your motorbike through Kong Lor Cave. For one, it's dangerous and puts everyone on your boat at an unnecessary risk (this will become blatantly obvious once you're clambering out of the boat into a rushing river for the first time kilometers below ground in near total darkness). Two, despite dramatic improvements in recent years, large sections of the route on the other side are still reported to be terrible. The route isn't marked at all and there are limited services. If you're hellbent on doing this, make sure you provision accordingly and are an expert rider and navigator. Lao language skills are strongly advised.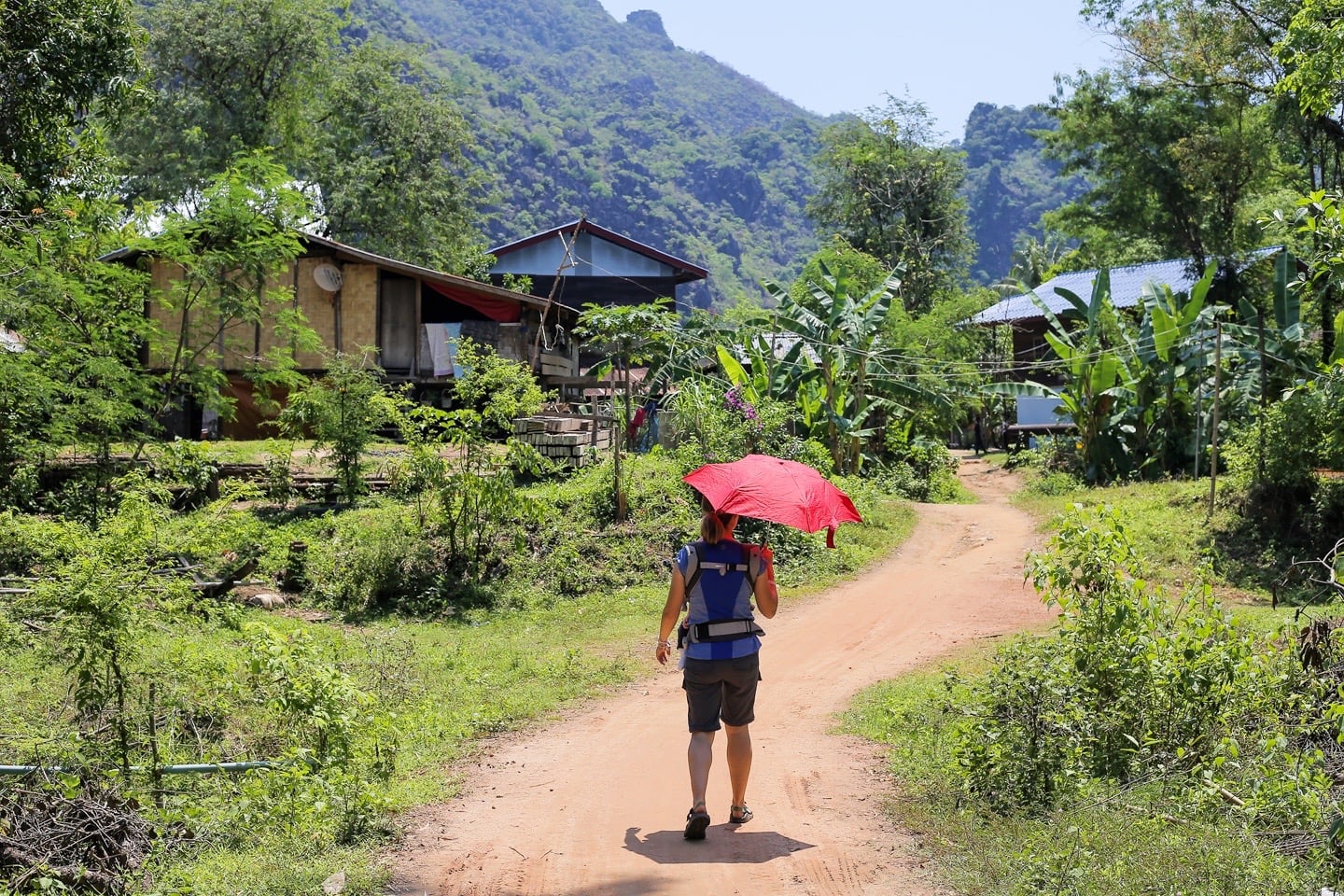 Things To Do in Kong Lor Village
If you're looking to disconnect from the outside world for a while, it's hard to do better these days than Kong Lor Village (aka Kong Lo, Ban O, and Ban Gnang).
One gets a sense that not much changes around these parts, even in the face of increasing tourism development over the years.
And in fact, the Laos government seems to go to great lengths to keep it that way, which of course has pros and cons for local residents.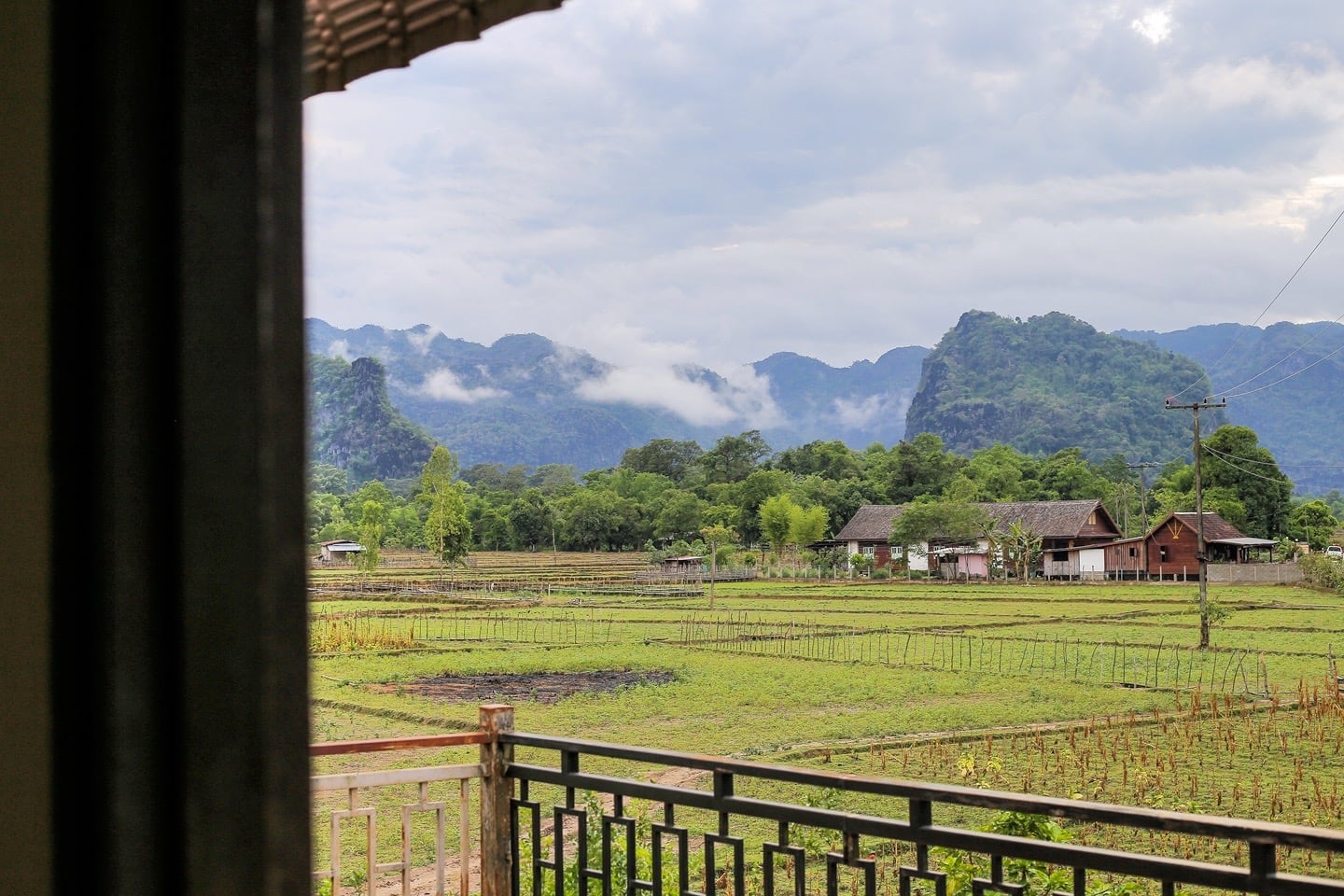 For now, life ambles on as it has for decades in the various communities that make up what visitors call "Kong Lor Village."
With big changes on the way for Laos, no telling how long communities like these will continue to exist in this way.
For visitors, it's a chance to experience what many might consider the "real Laos" – a lifestyle far removed from the hurry-hurry of the West.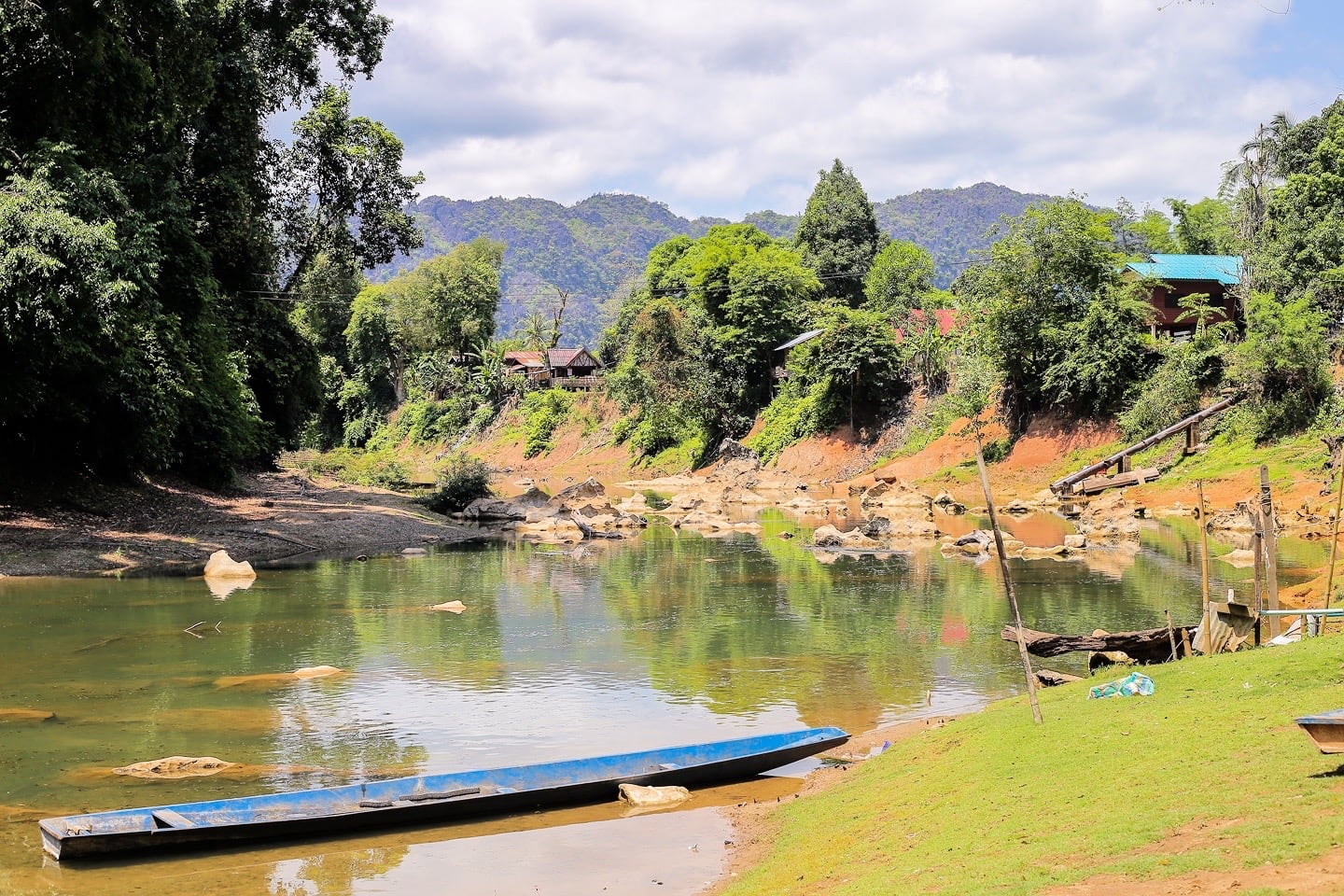 So… What is there to do in Kong Lor Village?
Well, if you're here already, you're pretty much looking at it. But that's a good thing!
Exploring Ban O and Ban Gnang (the center of activity where most of the stilted houses are congregated) are good starting points.
Head towards the river and cool off in the crystalline waters (dry season) of the Nam Hinboun (just watch out for the "No Swimming" signs around the fishing spots).
Grab a sundowner at Spring River Resort or just chill in your own hammock back at your guesthouse.
There's a "Blue Lagoon" worth a visit directly south of Spring River Resort (ask at the resort for details).
Additionally, Spring River Resort can offer guided day trips in the area, which now include a visit to recently discovered Tham Nam None (None River Cave), which is 15 km long and largely unexplored.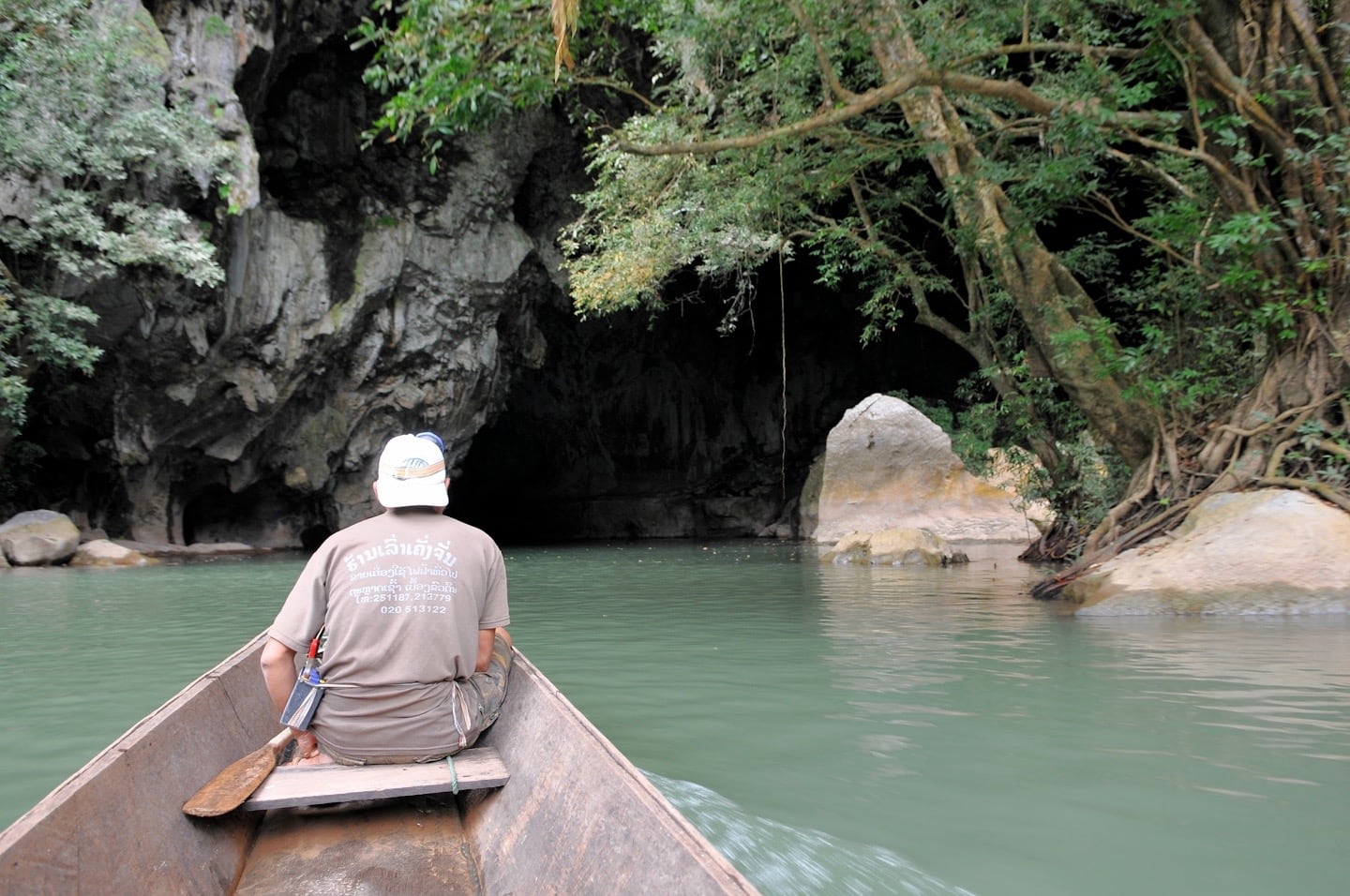 What to Pack for Kong Lor Cave?
Well, probably what you'd expect to pack if you were planning on wading around in a cave full of water in the tropics. In addition to your regular backpacker gear, here are our recommendations:
▸ Swim Gear — Can't go wrong with board shorts and a rash guard (for both men and women). This is a traditional village in a conservative country, so bikinis are strongly discouraged.
▸ Footwear — You'll want a sturdy pair of submergible footwear like river sandals, as you'll likely be climbing in and out of the boat into the rushing river multiple times throughout your journey. We strongly advise against wearing flip-flops or going barefoot.
▸ Sun Protection — Seems counterintuitive on a cave journey, but plan on getting a bit of sun exposure on your walk to/from the cave, and during the rest interval at the village in the middle. If you plan on walking to the village on the other side, you'll definitely want sun protection (sunscreen, sun hat, etc.).
▸ Waterproof Pack — We found that bringing a small dry bag came in handy for shedding layers once reaching the village on the other side and stowing the camera while getting on and off the boat.
▸ Photo Gear — The majority of the journey occurs in extreme low-light conditions (you're in a cave, after all), so don't bank on getting a lot of amazing pics of the journey itself. A GoPro waterproof action camera is a good bet for capturing the experience, be it the daylight portions of the before and after, the illuminated portion inside, or the sounds and limited visuals of the ride through the cave. Whatever you do, make sure to devote time to shutting off the camera and taking in the experience!
▸ Money! — You'll obviously want to bring enough kip to cover the costs of the board journey, but you should also plan to bring a bit extra for a drink or snack at the snack shack on the other side. With regards to water, we recommend bringing your own reusable bottle of drinking water in your pack.
IMPORTANT
Currently, there is NO ATM in Kong Lor Village.
The nearest ATM is in Nahin, so plan accordingly!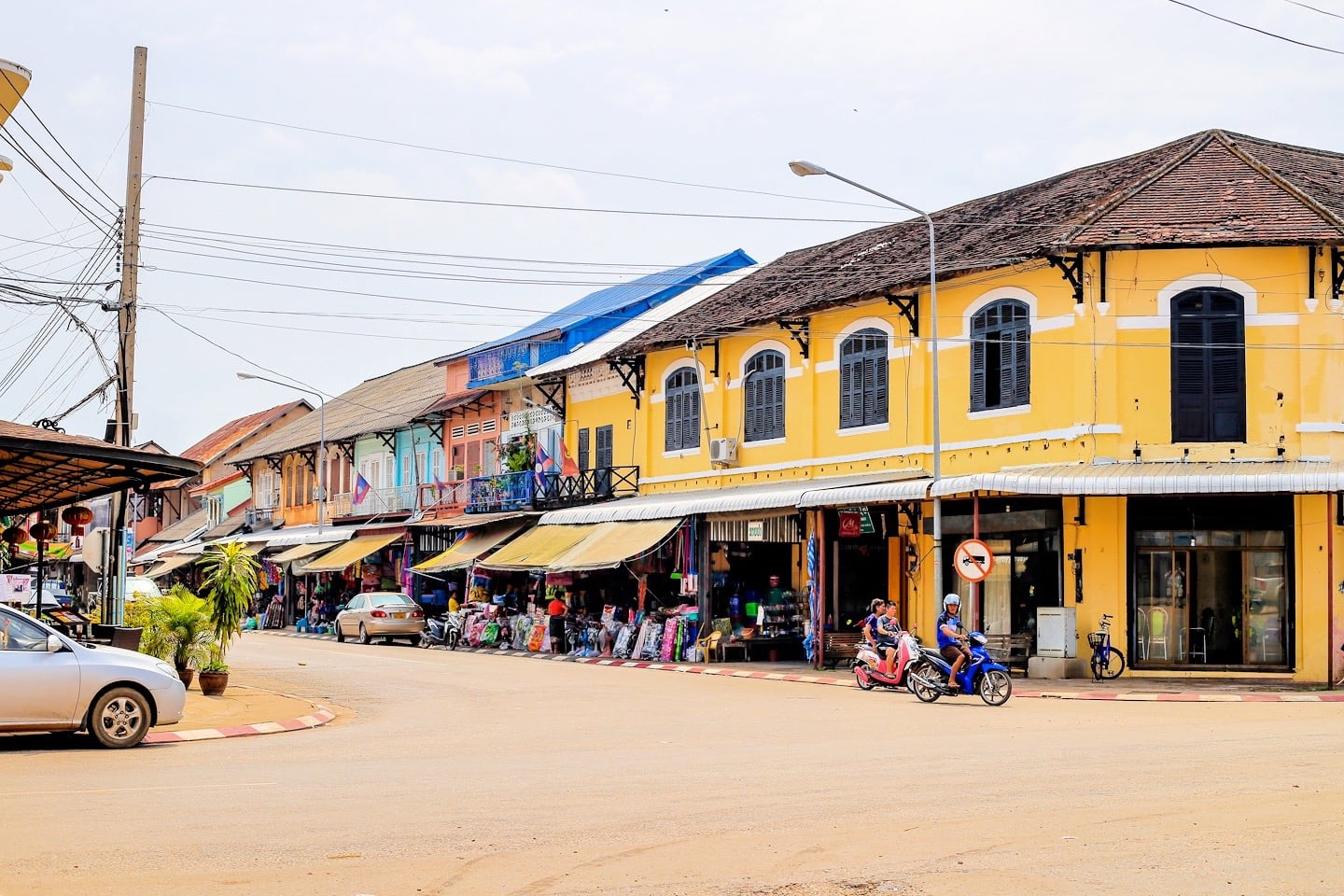 Where (+How) to Go After Kong Lor Cave
Please Note: Transport schedules and ticket rates do change from time to time, particularly in Laos (the horror!!!). Sometimes the change is temporary (for a festival…or because the driver drank too much the night before, etc.). Sometimes, it's a permanent change with no notice. When traveling in Laos, it pays to be flexible, patient, and plan accordingly!
Southbound
If you're not riding the Loop, but relying on public transport, we recommend making Thakhek your next stop, particularly if you're headed south.
Thakhek surprises many visitors with pockets of French colonial charm akin to Luang Prabang (much of it recently restored) without the crowds.
Thakhek town center is a nice enough place to enjoy urban amenities like fresh-baked pastries and coffee shops after an extended time spent outside of towns and cities.
For accommodation in Thakhek, check out Bike & Bed for shoestring travelers, Le Bouton D'or Boutique Hotel for budget to mid-range offerings, and Inthira Thakhek in the heart of the city center for Old World charm, an upmarket vibe, and excellent value.
If you're looking to make some tracks and want to skip Thakhek, head directly to the Thakhek bus station and grab the next bus to Savannakhet or Pakse as your next stop, knowing that you may very well find yourself staying over in Thakhek anyway due to bus schedules.
The best option to get from Kong Lor to Thakhek is the direct songthaew that leaves daily at 6:30am, takes roughly 5 hours, and costs around US$8.50 / 75.000 LAK. There is also a songthaew that leaves Kong Lor for Nahin around 7:30am (~US$3 / 25.000), but you will need to change in Nahin to continue to Thakhek.
Your guesthouse should be able to help you arrange transport to your next destination.
Northbound
If you're headed north, you'll best be served taking the direct Konglor-Vientiane bus without making stops in between. This bus generally leaves between 6:30-7:00am in front of Konglor Eco-Lodge and costs around US$10 / 80,000 LAK.
In this case, we recommend spending a night or two in the Laos capital, Vientiane, before heading farther afield to the likes of Vang Vieng and Luang Prabang, or crossing the border into Thailand.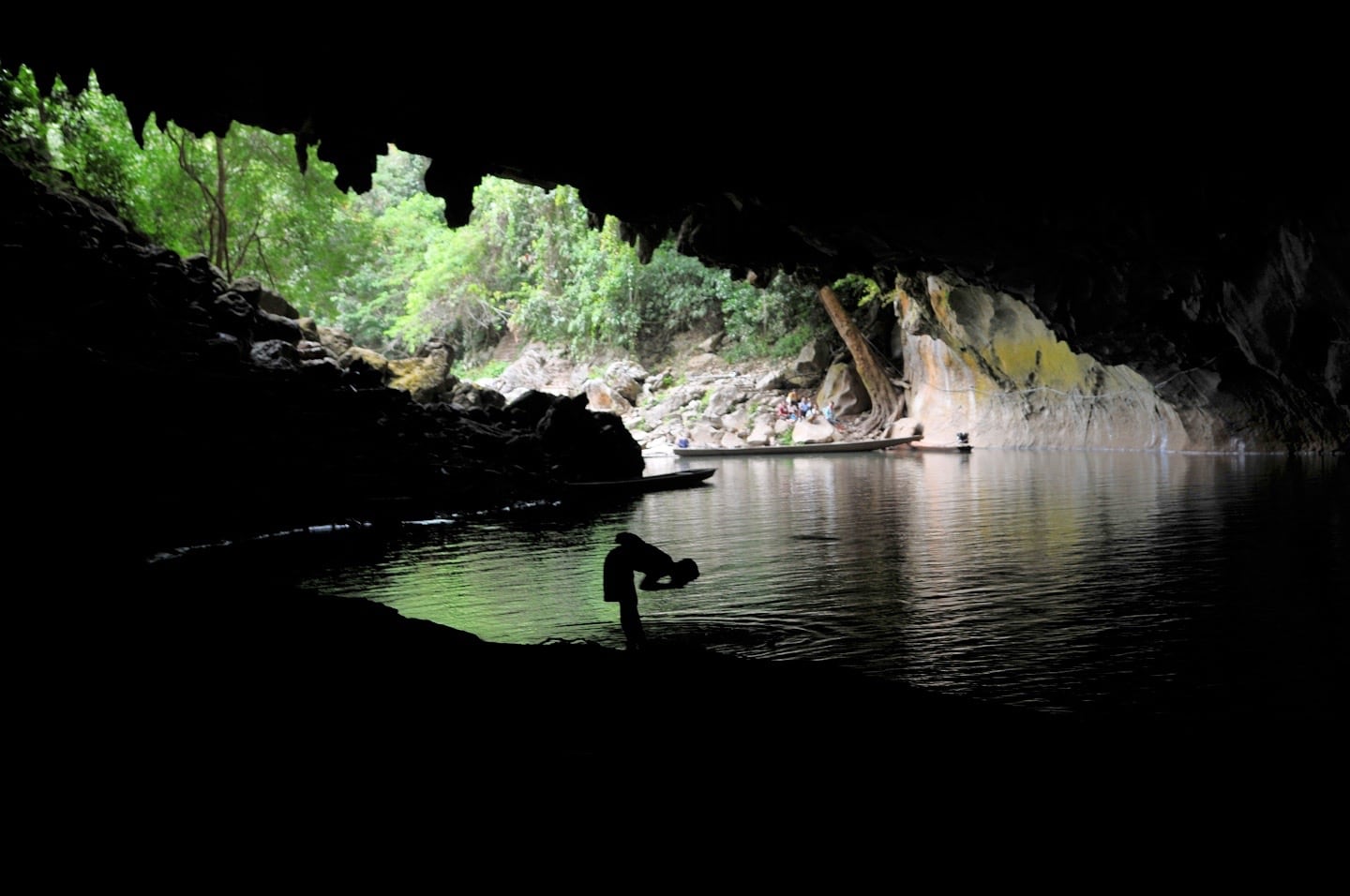 Is Kong Lor Cave Worth It?
Well, that really depends on you.
Personally, after having done it twice now, we think it's absolutely worth the effort for the experience!
Zipping along on what amounts to a supercharged wooden canoe through near-total darkness down a narrow and winding waterway, miles from the nearest entrance in one of the remotest parts of Laos, makes for both an exhilarating and unforgettable experience that you are unlikely to find anywhere else in the world today!
Have You Visited Kong Lor Cave Since the Beginning of the Pandemic?
Please let us know of any critical updates or corrections and we'll be sure to add them ASAP. Thanks!!!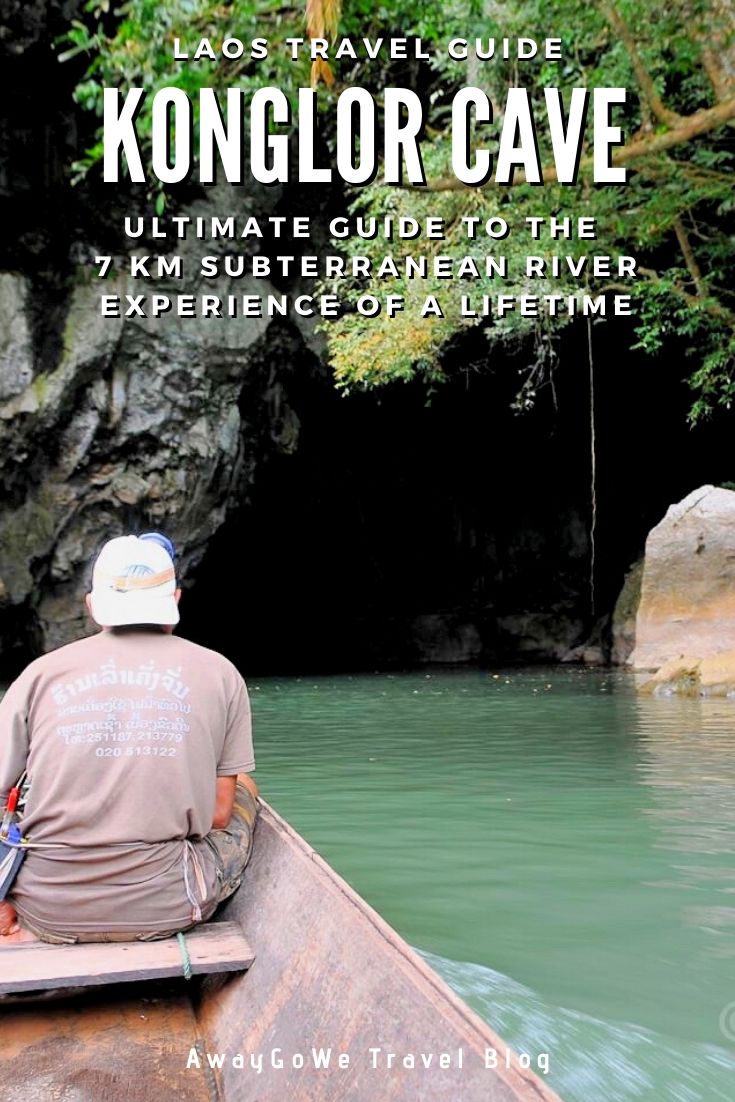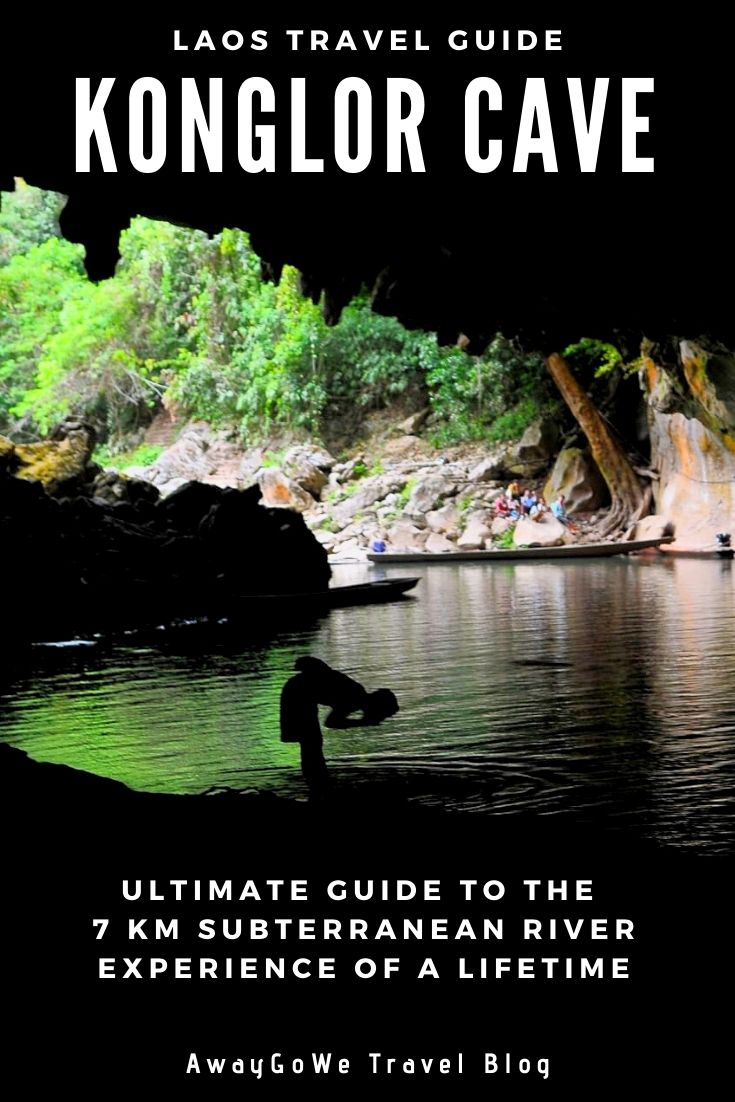 We use affiliate links and may receive a small commission at no extra cost to you. Learn more in our privacy policy.