The third full day of our motorbiking adventure in rural Laos began very much like the previous two, but ended at a small village adjacent to a vast subterranean world. After the long and challenging ride the previous day, we decided that today would be a light riding day. We would sleep in, take our time getting out of town and to Kong-Lo village, the home of Konglor Cave — a mere 25 miles away. We had read a lot about Konglor and were very excited to explore the 4.5 mile cave via an underground river.
Thinking About Riding the Loop?
Nahin is a pretty sleepy town at any daylight hour, but especially in the mid-morning, it seems. We returned to the karaoke-bar-lined road that had been rockin' the night before but had a very challenging time finding any place open and serving food this particular morning. After scarfing down a half-hearted attempt by one small cafe to throw together something resembling a meal, we loaded up the bike and headed west out of town, then south at the junction marked by a disused petrol station a few miles away.
The tarmac from Nahin to Kong-Lo village was surprisingly good, and as quiet and untraveled as 75% of the rest of the Loop. It winds through a handful of small villages and is incredibly picturesque. The entire ride is as flat as a pancake, with a constant view of the amazing karsts of the Phou Hi Poun National Bio Diversity Conversation Area, dead ahead.
The route crosses a half dozen single lane bridges which are not covered in asphalt. While most sport two parallel tracks of concrete blocks (relatively easy on two wheels), one or two are constructed with rickety wooden planks that can get slick if you're not careful.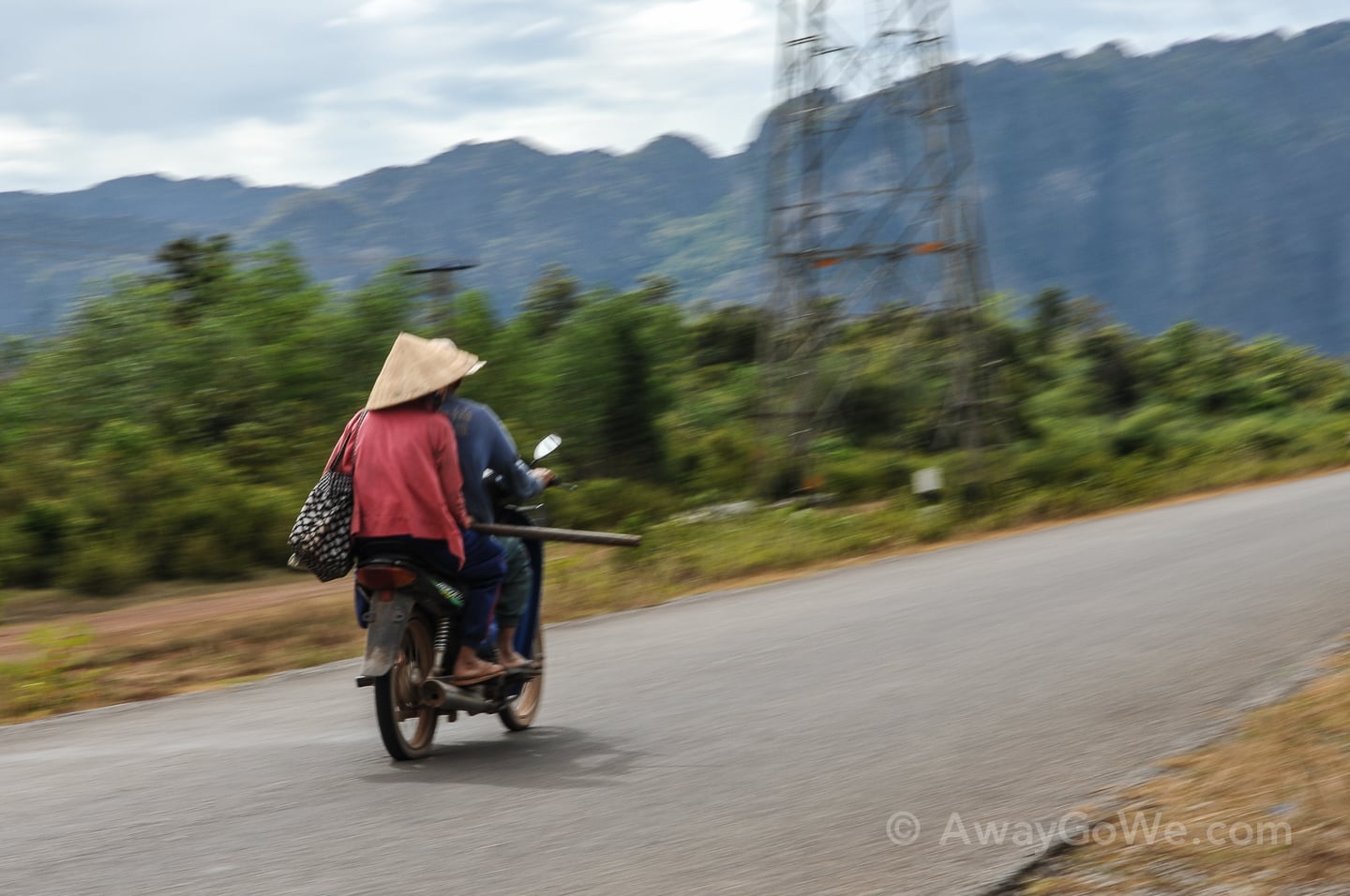 While the highway was quiet for the most part, it's worth mentioning that every 5-10 minutes we'd be forced to cede the road to very large dump trucks ferrying stone and supplies to/from Konglor cave for a large construction project. Keep your eyes peeled ahead and behind in your rearview mirror. Most of these trucks are bright blue and huge, so they're pretty hard to miss. But if one manages to sneak up on you, blowing its horn at the last possible moment, it can be quite startling and knock you off your game (or your bike).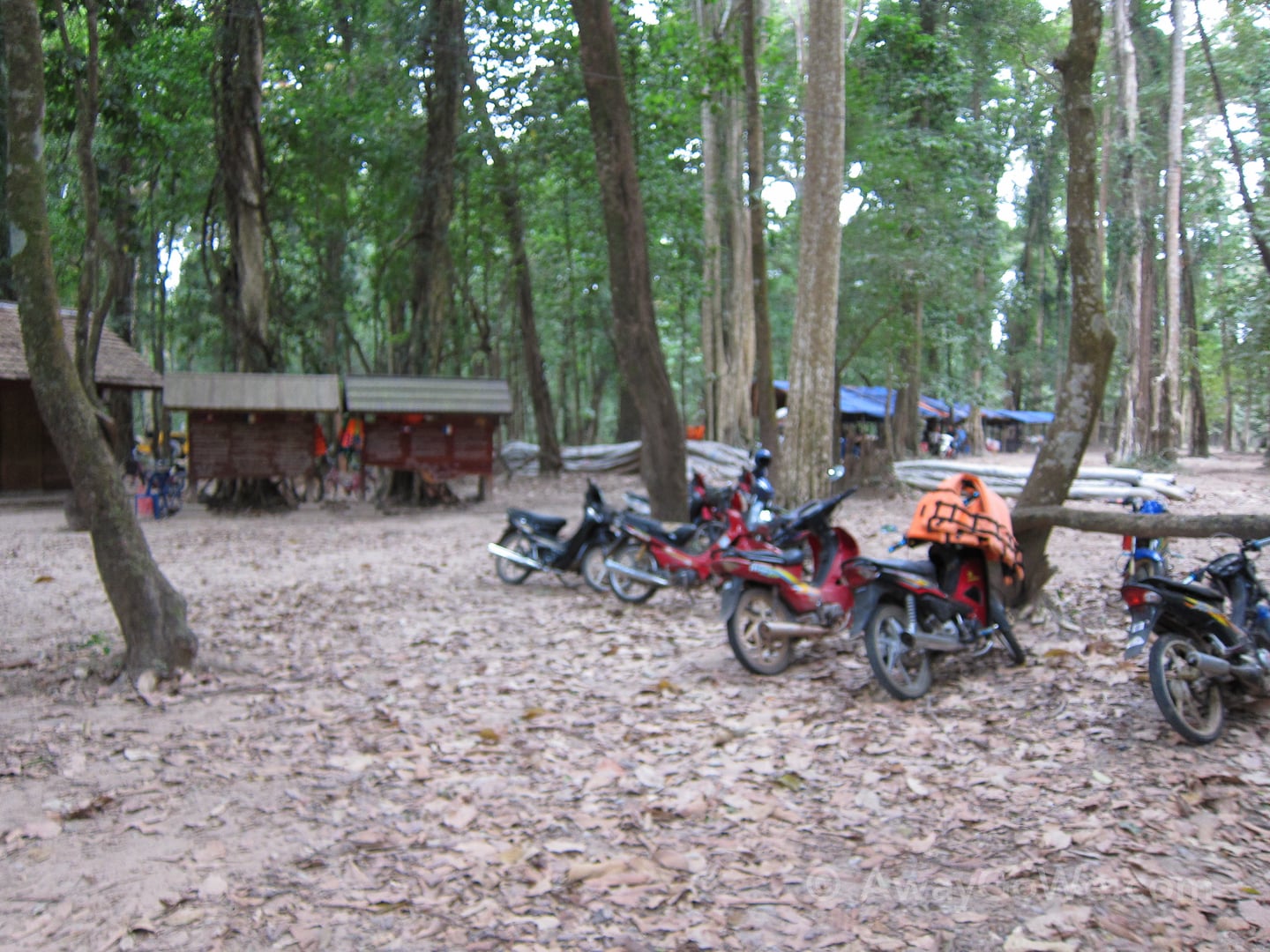 Konglor Cave
After a pleasant and leisurely ride, we arrived at Kong-Lo village. We rode to the end of town and another mile or so until we found the checkpoint and entrance to Konglor Caves (it's hard to miss). We paid a small vehicle fee, got a ticket and proceeded to the lot. There were around 10 other bikes there, but we only saw 4-5 other visitors the entire time (but a lot of boat drivers hanging out under a large gazebo). I had been concerned that Konglor would be overrun with tourists, but was pleasantly surprised by our discovery. One of the men in the gazebo jumped down to assist us, leading us to the ticket booth to give us a brochure and a ticket. He let us leave our bag in the locked booth and we were able to change into swimsuits in the public toilets nearby (highly encouraged, given that your butt will get wet in the boat).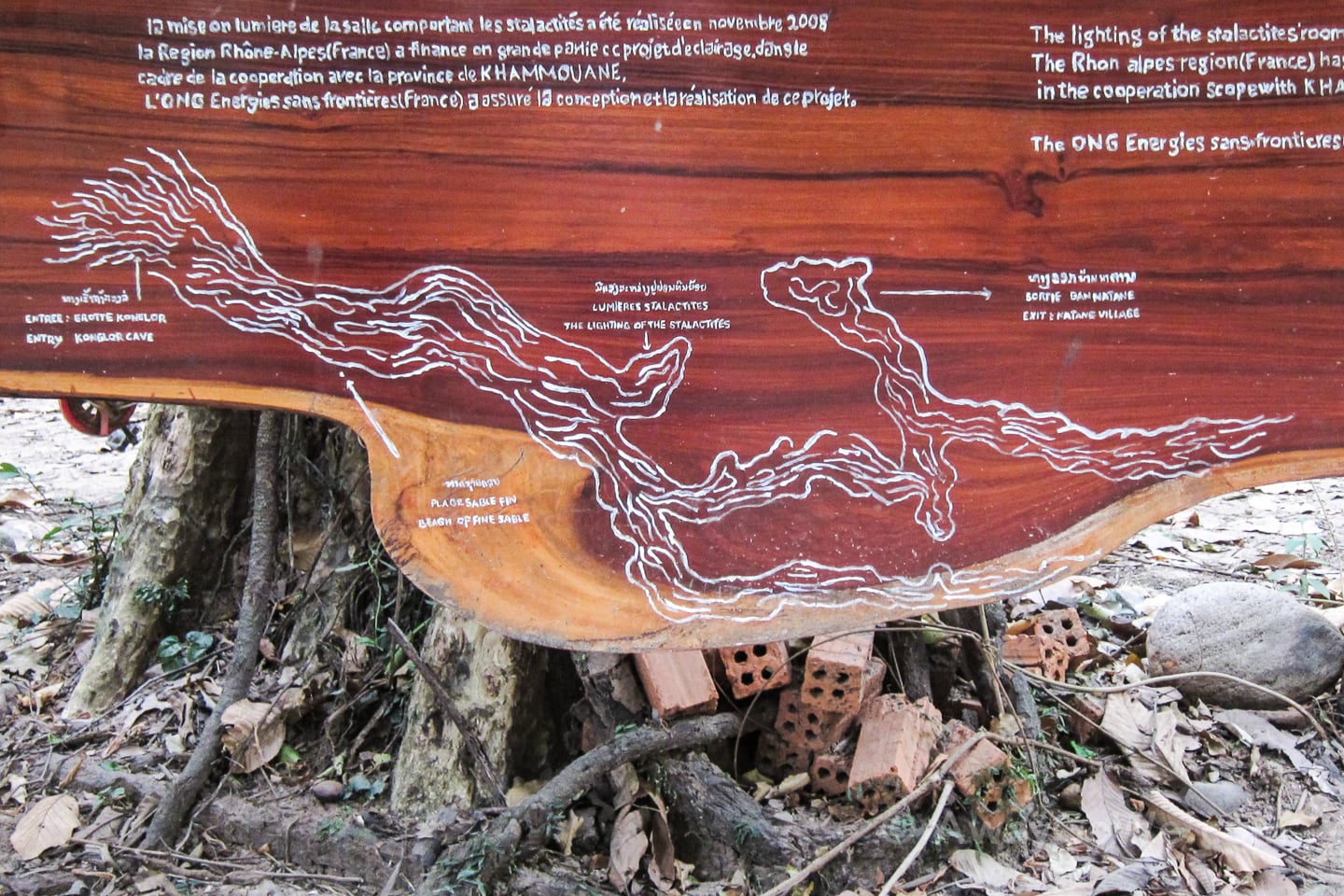 The young man at the ticket booth then paired us up with our boat drivers/guides. Lao law requires two guides which seemed a bit excessive at the time but makes absolute sense once you're flying down the subterranean river at breakneck speed in near total darkness.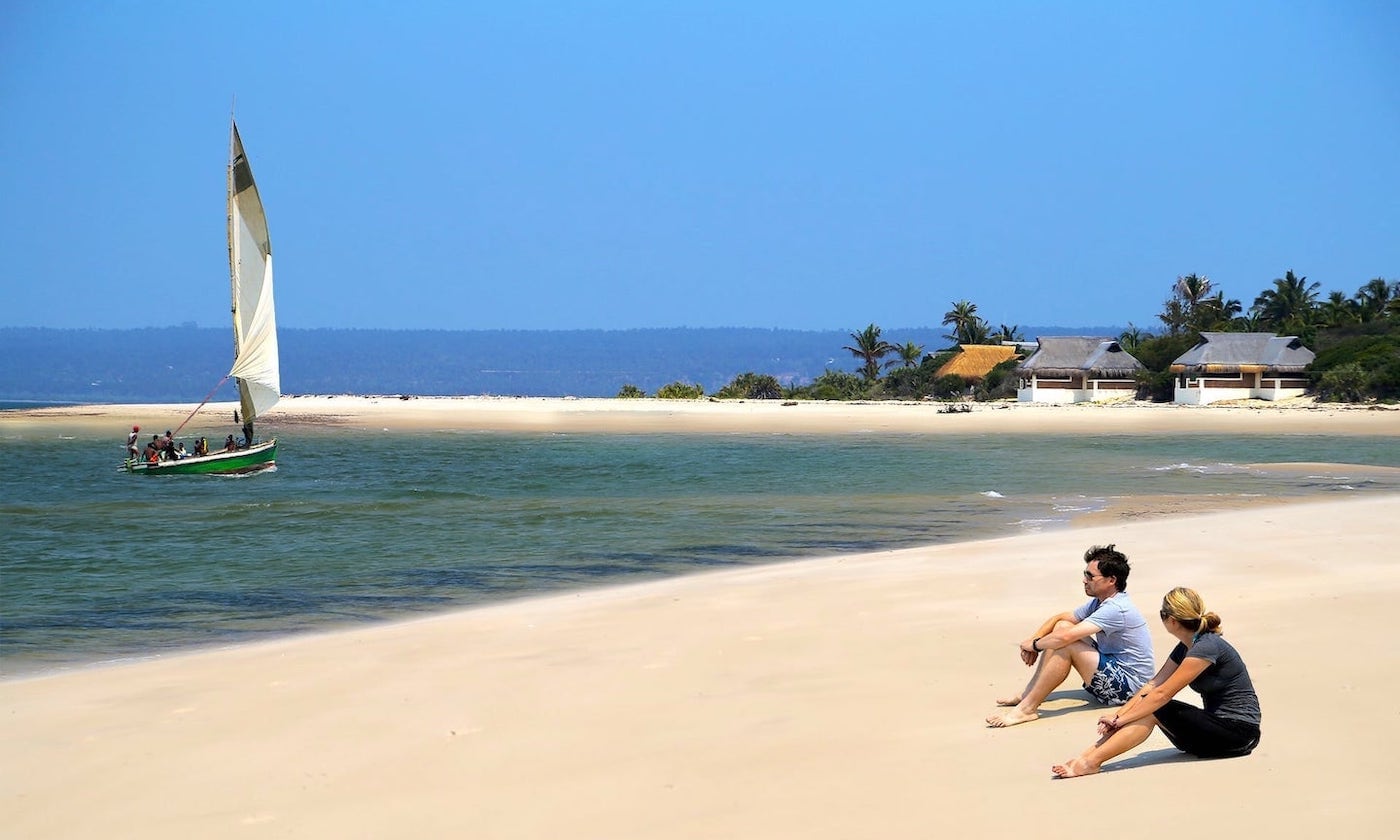 Get Informed. Get Inspired. Get Going.
Get our best travel tips and latest updates in your inbox. And get going!
For more information on how we use your data, see our privacy policy. Unsubscribe at any time with one click.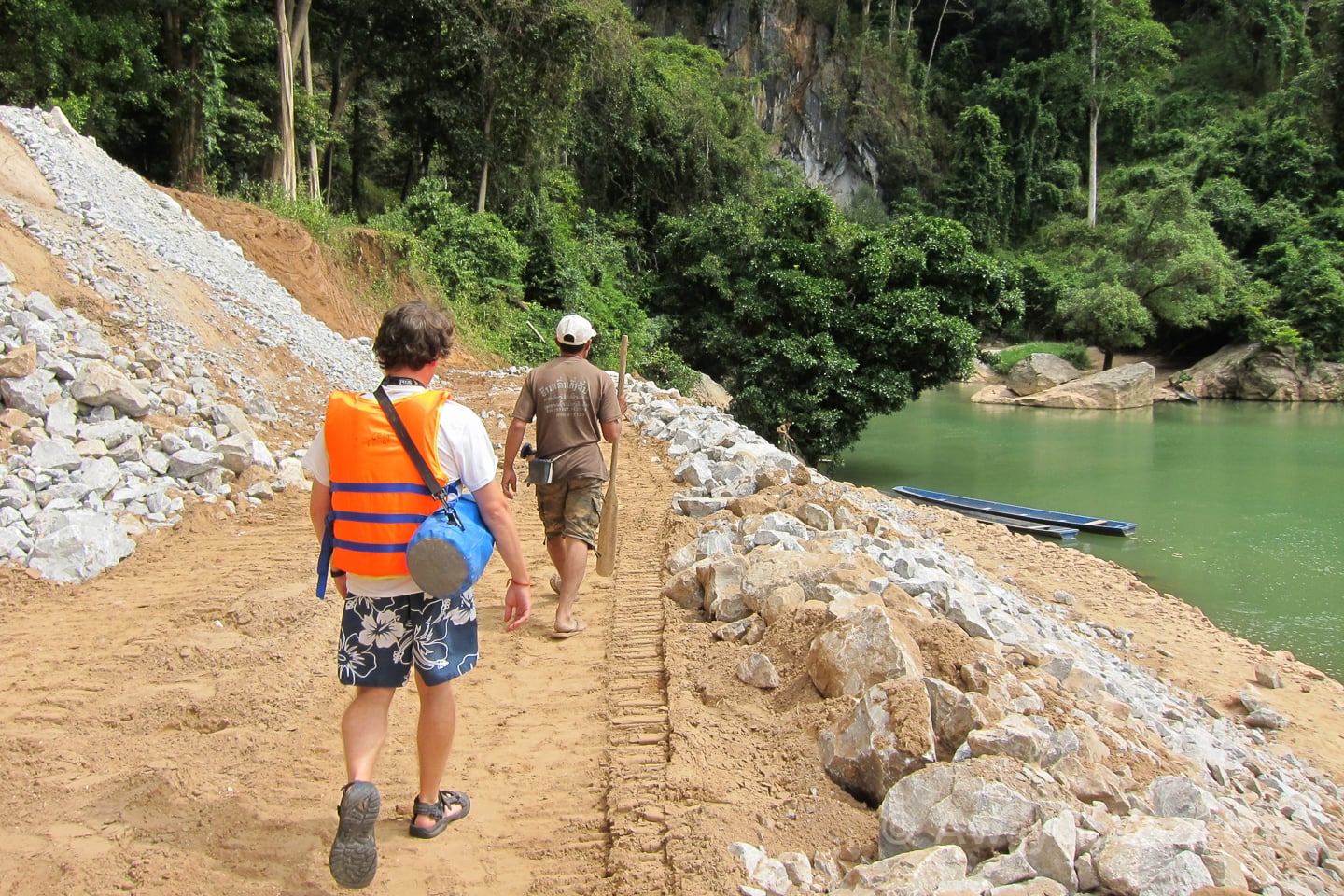 One thing you'll notice at the entrance to Konglor is the major construction going on. It will be interesting to return one day and see what they've done with the place. Like most development projects in places like Laos it's a bittersweet prospect. On the one hand, the improvements will likely bring increased numbers to Konglor Cave and Kong-Lo village which should greatly help the local economy and improve the lives of many families and individuals — but that Konglor may be virtually indistinguishable from the Konglor Lori and I got to experience, which we hear is quite different already from the Konglor of five years ago.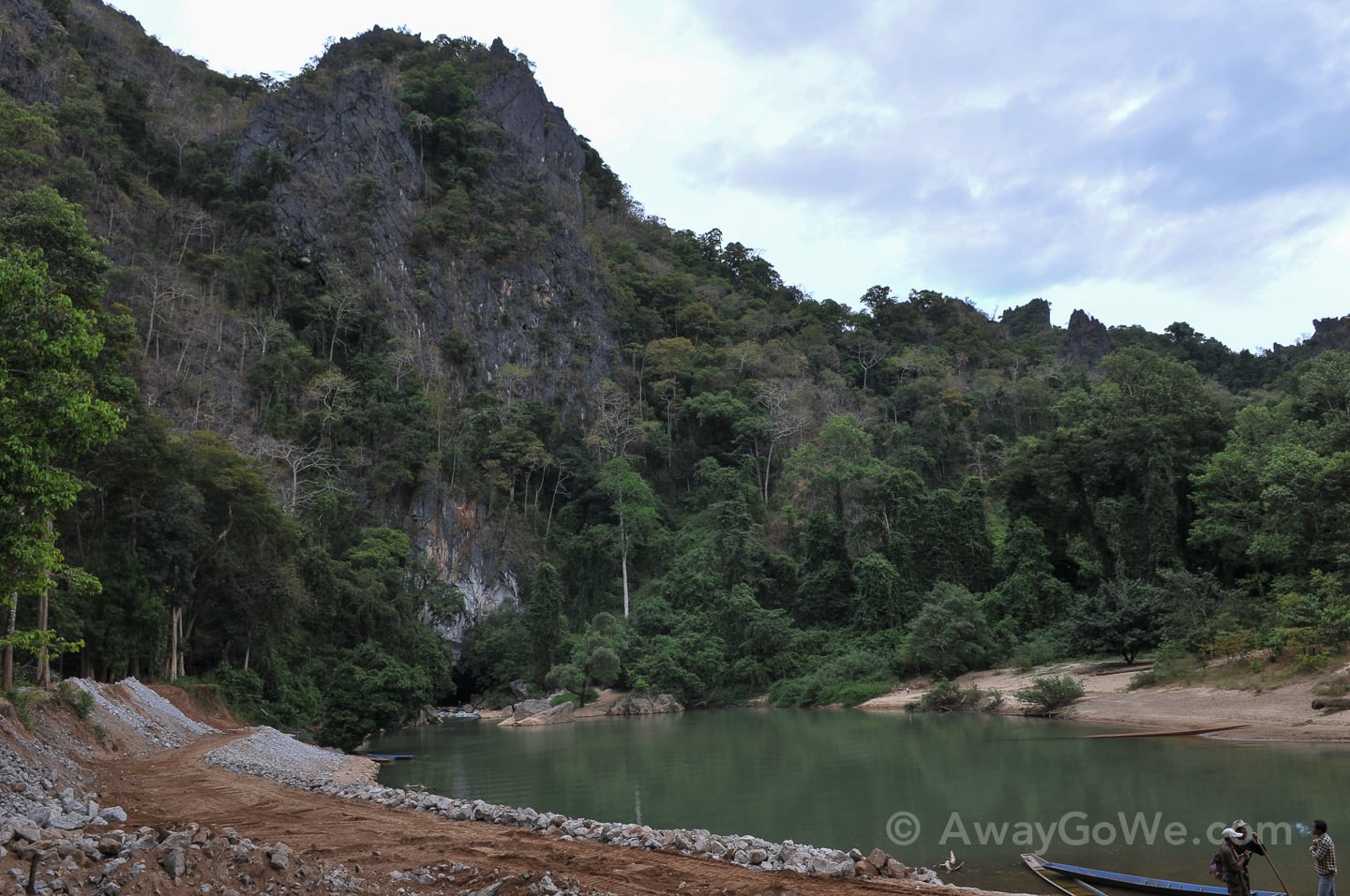 The good news is that until now, Laos has avoided the many pitfalls that its free-market-economy neighbor Thailand has fallen victim to. To a great extent, Laos has done an excellent job in balancing growth and development with preserving its cultural and natural heritage as perhaps only a Communist country can. Once a more open economy and government comes, however (and it's barreling down on Lao PDR like a freight train), people are going to (rightfully) begin demanding more of the pie and a say in governance and both welcome and not-so-favorable changes will come. But I digress…
Our boat guides led us down to the riverside where a small rowboat awaited us. Was this the boat that would take us the entire 4.5 miles in total darkness, we wondered? Our answer came a few moments later when we arrived on the other side of the narrow river. Ok, what now? One of our guides motioned to follow and we did, down a sandy trail, up and over a rockbed and into the mouth of the enormous cave. The reason for the change in boats is that there's a slight change in elevation at the cave entrance making it unnavigable in this season. We've heard that during the wet season, the two sections are joined, but can't confirm this.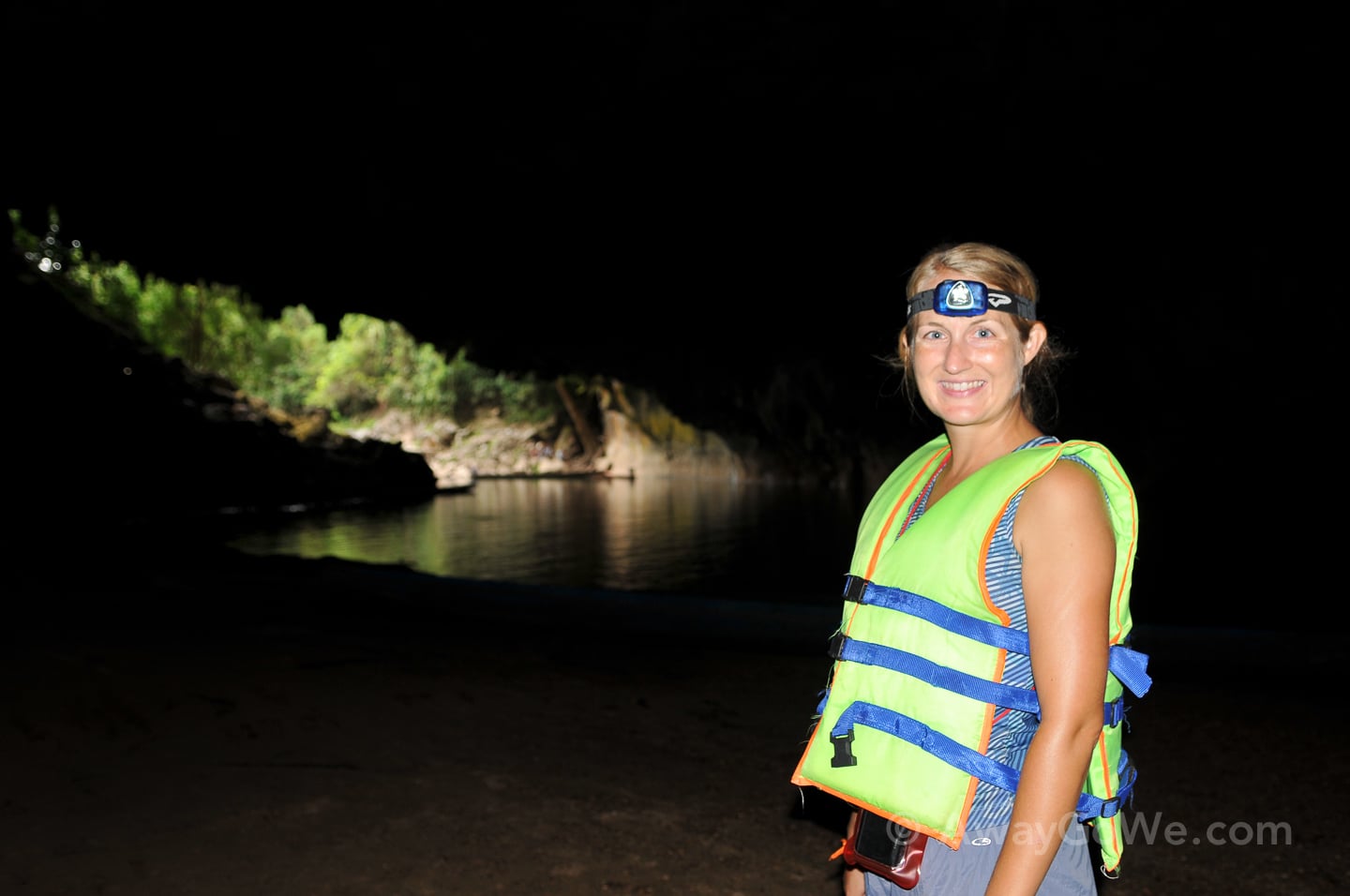 Deeper into the cave, as your eyes adjust, you begin to realize what it is you're actually in for as you stare into the abyss hundreds of meters into the distance. Never in my life had I stared down into such seemingly infinite darkness — it might as well have been the universe as it felt I was staring out into space on some crazy moonless, starless night.
The air outside the cave was hot and humid, but it was quite chilly on the inside. In addition to providing security, our life vests also provided a level of warmth, which was especially welcome at top speed.
At top speed? Wait a minute, isn't this a row boat ride? Well, you do the math. How long would it take you to row 9 miles out and back? Yes, we'll be going with the current for half the journey, but we'll have to eventually get back. The information we were provided said that the entire journey takes around two hours including a break on the other side.
Don't Miss These Unforgettable Experiences in Laos!
So how do they make that sort of time? The answer: Small, streamlined boats, propelled by ginormous muscle-car motors, of course!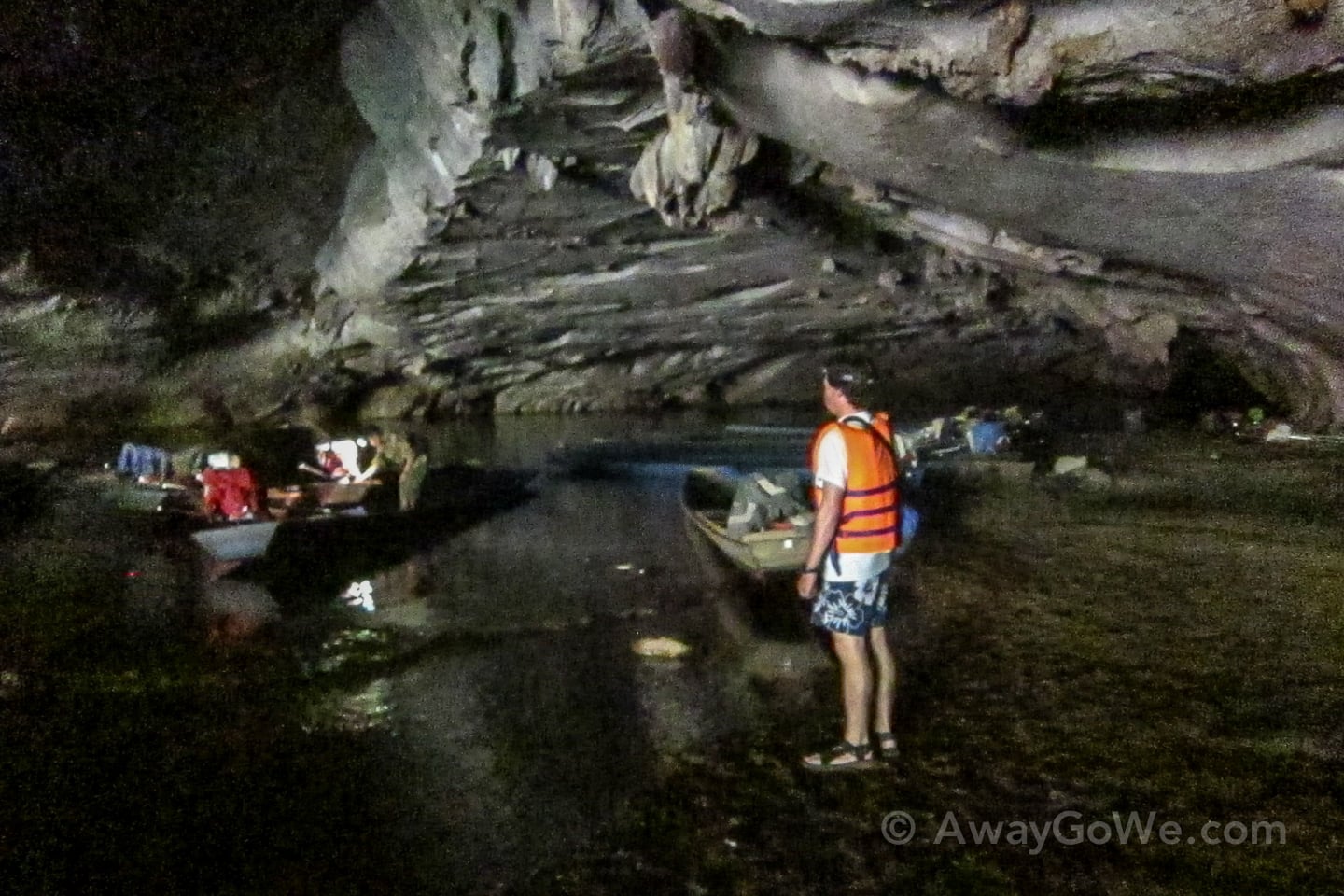 We really had no idea how fast these boats would go, but there's no denying it — they've got some power.
The feeling of rocketing through the subterranean world on a speedy motorboat is compounded by the darkness and whizzing right under the [at times] very low ceiling of the cave. I couldn't help but wonder not IF this wasn't a bit crazy, but just HOW crazy…I mean, this has got to be somewhat life-endangering, right? — zipping along on what amounts to a supercharged wooden canoe through near-total darkness down a narrow and winding variable-depth waterway miles underground in one of the remotest parts of one of the poorest countries on Earth? Nah…not dangerous at all.
But in all seriousness, that uncertainty is what makes it a real adventure. Don't get me wrong, we did our homework and over the last few years it's become a respected operation with greatly improved safety standards and no major incidents to speak of. The reality is, the uneasiness is fleeting and once you get over your initial natural human response to speeding through a dark cave at breakneck speed, it's an awesome once-in-a-lifetime experience, and one you'll likely find nowhere else in the world today.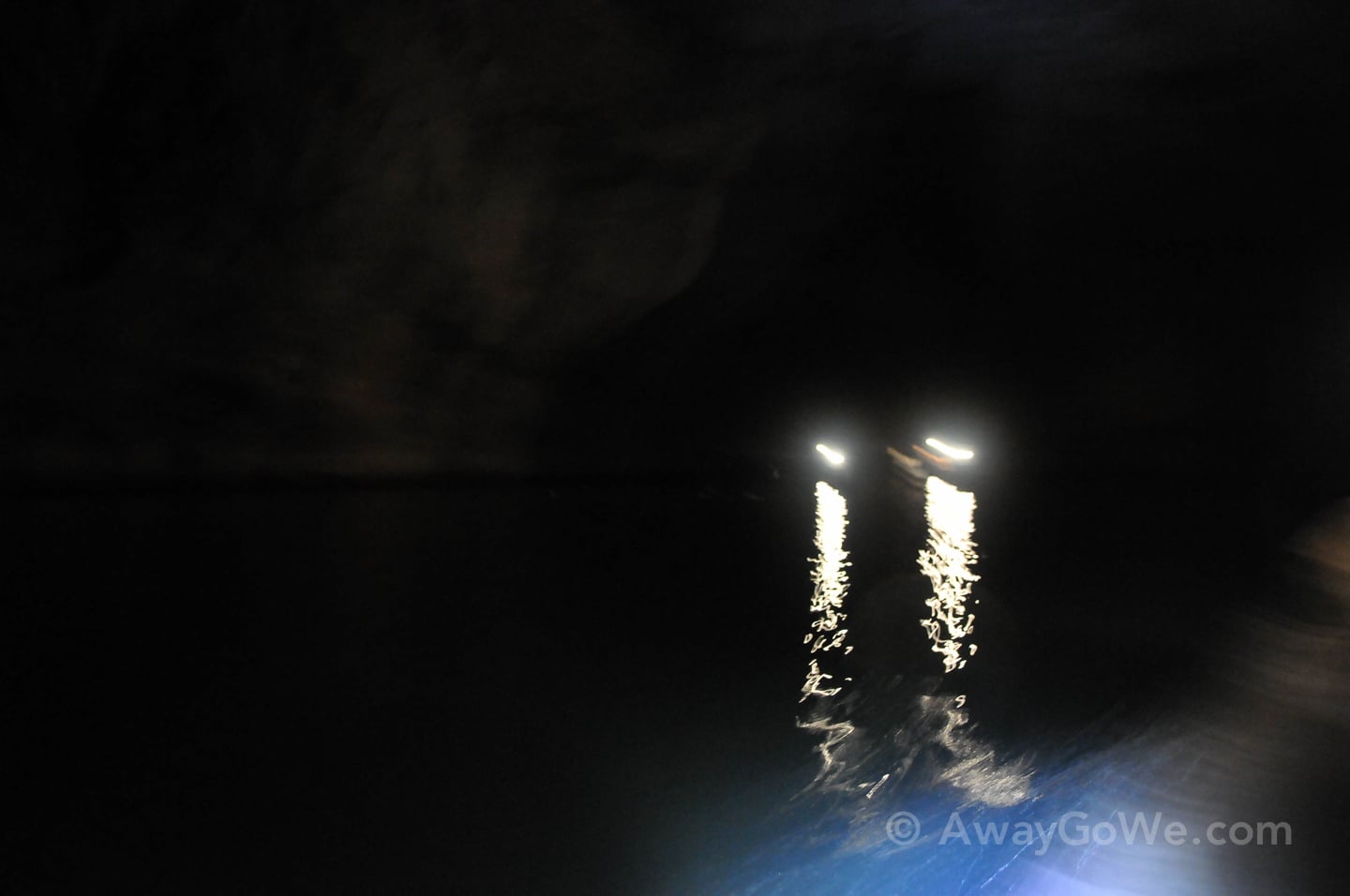 Oh, did I forget to mention that you're not necessarily the only boat in the cave at any given time? We saw a half dozen others in both directions over the course of our journey. One of my great fears was that the cave was going to be overrun with motor-canoes, essentially making it a dangerous game of underground bumper-boats. But that wasn't the case for us. The boats seemed well spaced in both directions and because the cave is so long and windy, we ended up spending most of the time on our own.
Now, you may be wondering why two guides instead of one? Well, the boats are authorized to carry up to five individuals — two guides and three passengers. One guide sits on the rear of the craft, operating the mammoth motor and steering, while the second sits perched on the very front, pointing out key objects to avoid with his flashlight, such as rocks, tree branches, other boats and logs — yes, that's right, logs.
Don't forget, this is a real, live flowing river that goes in to the cave at one end and out the other. During the rainy season, the water can become quite deep, carrying all sorts of debris. A testament to this can be seen at one particular bend, where a log the size of a school bus has been wedged vertically in a crevice. The boatmen are skilled and know each and every bend and nuance in their cave. However, conditions are variable, changing by the hour in some seasons. And that's why there are two guides, and that's what the cost of your ticket funds.
Though a substantial portion of the whole, the guides salaries make up but one portion of the ticket proceeds. A detailed breakdown is posted at the ticket window — detailing costs all the way down to the bathroom janitor — which I found very informative and wish that the Parks Service in the U.S. would post something similar. Another reason why I love Laos.
After a short while of jetting through darkness, we came upon a sandy beach where we disembarked. One guide suddenly left with our boat while the other led us to an electrical box (you really do have to grant these two complete strangers a great deal of trust which can be unsettling if you think about it too much…so just try not to think about it…).
Our guide flipped open the lid of the box and flipped the switch inside, illuminating one entire portion of the cavern. He then motioned, "follow me," and proceeded to lead us through an underworld dreamscape.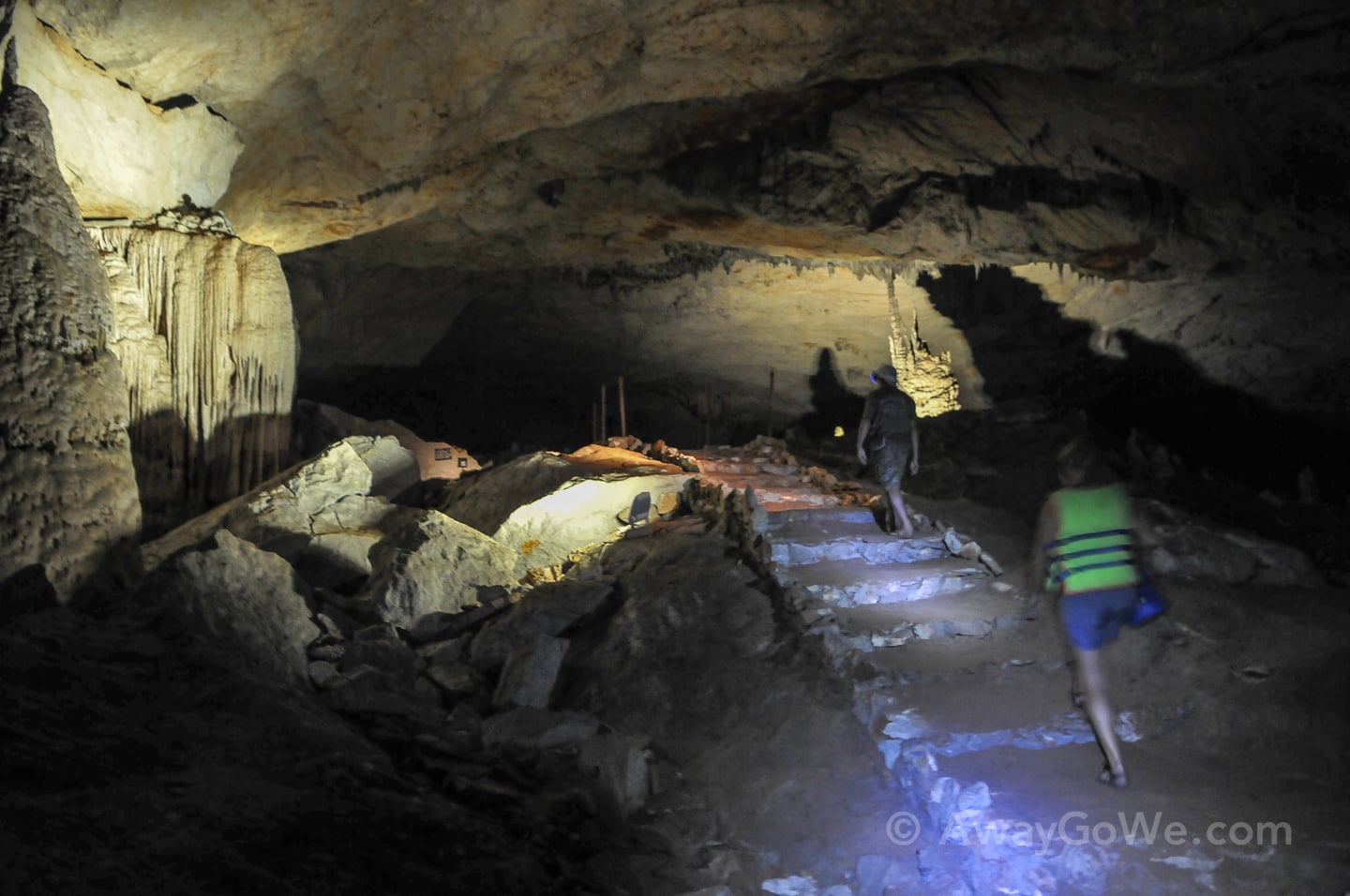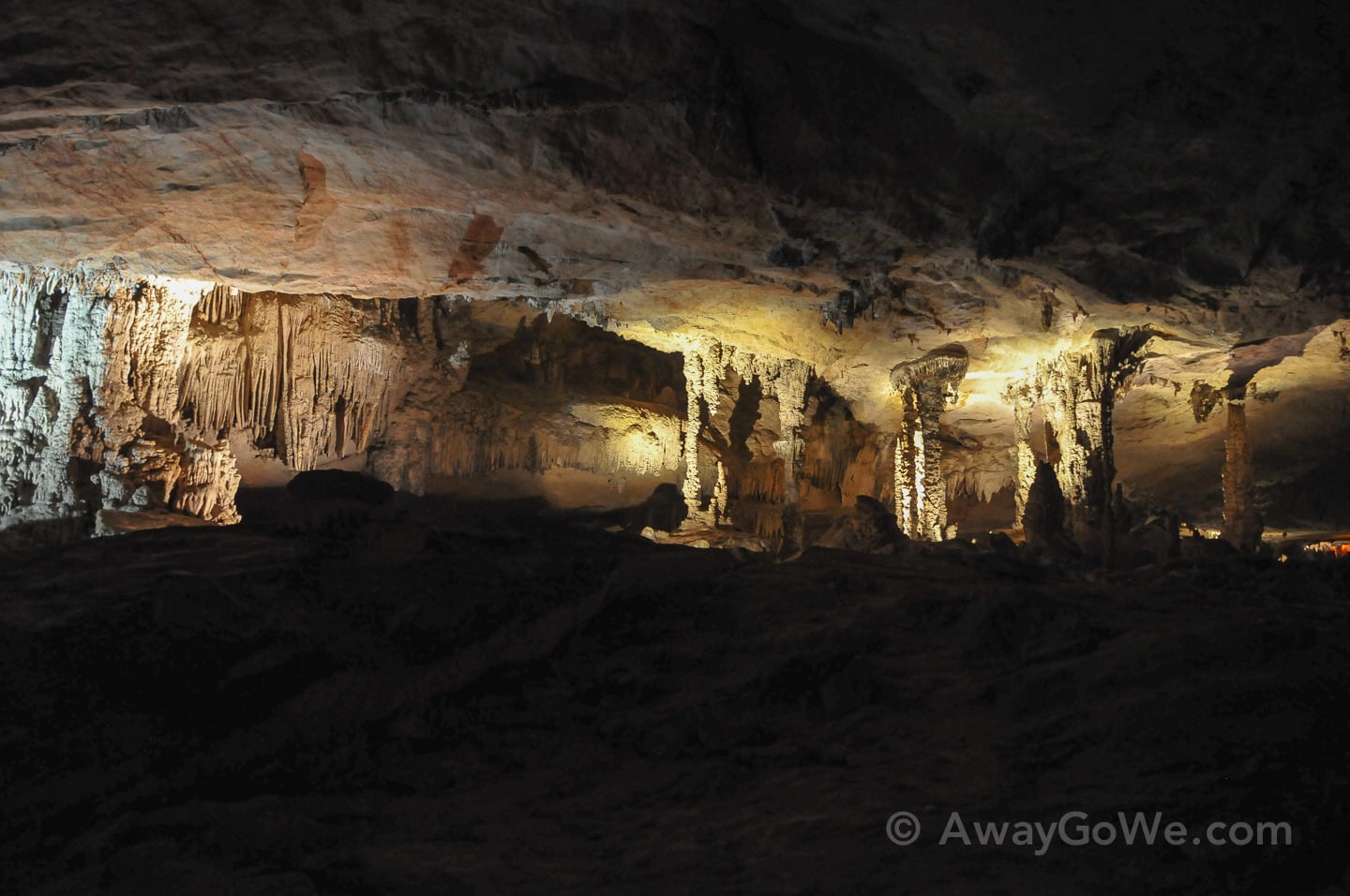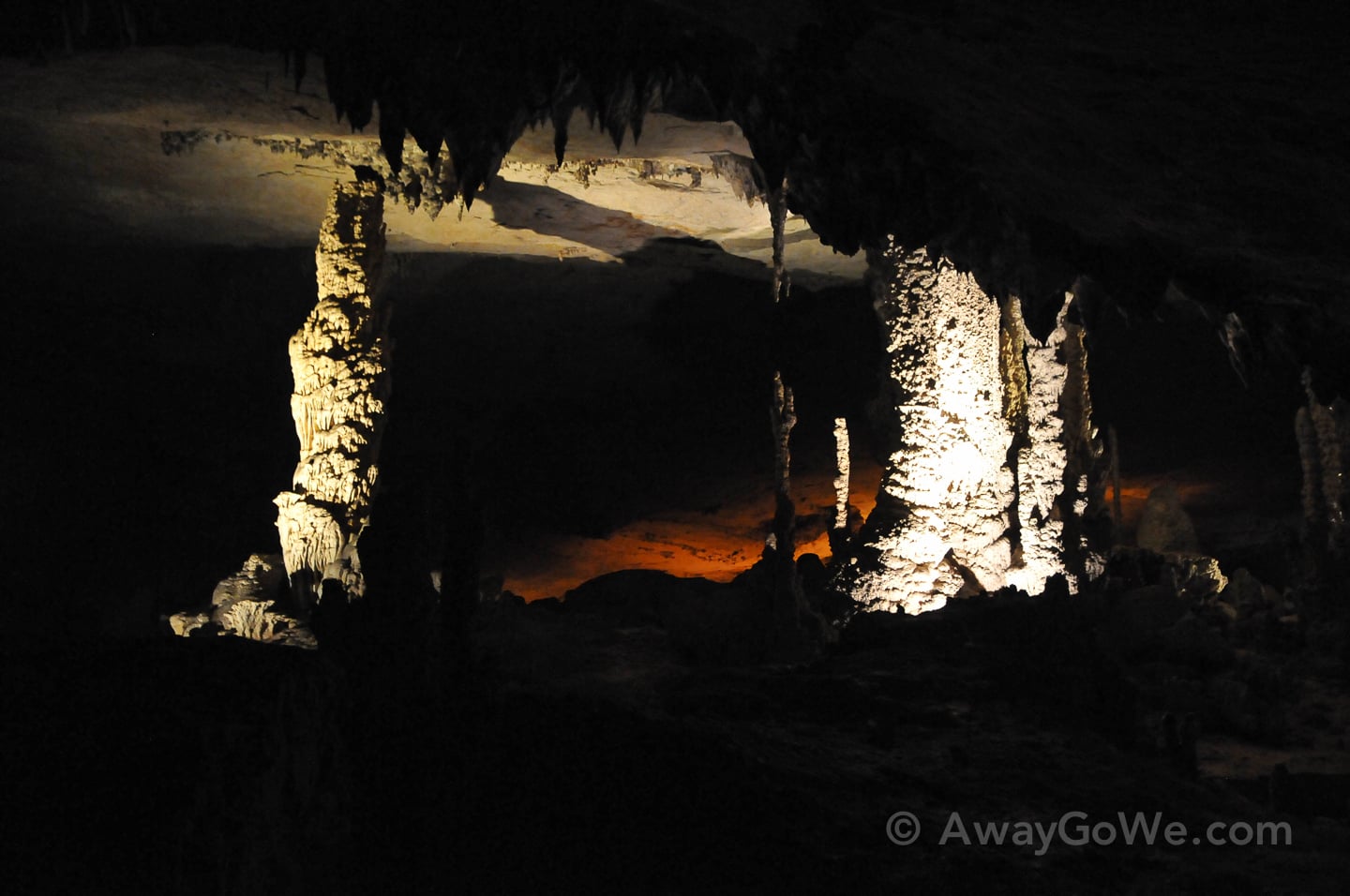 The path wound up and down and in and out of various sections of the space. In my opinion, the government did a fantastic job of lighting this area. It didn't appear tacky like some other caves that we've been through. The fact that this hundred meter stretch of 7.5km was the only artificially illuminated portion was tremendously refreshing as well, as a big part of the experience of being in a cave is being in total darkness and silence — something lost on visitors to similar places in the U.S.
The path ended at a set of steps down to a natural landing where our other guide was waiting with the boat. We boarded and resumed our journey down the dark river. At one other point, we had to get out momentarily so the driver could navigate a particularly treacherous stretch of rapids, before heading on to the end.
Then, all of sudden, in the far off distance, a speck of light appeared. It grew brighter and larger until light grey rock and vegetation came into focus.
We had made it to the other side of the mountain!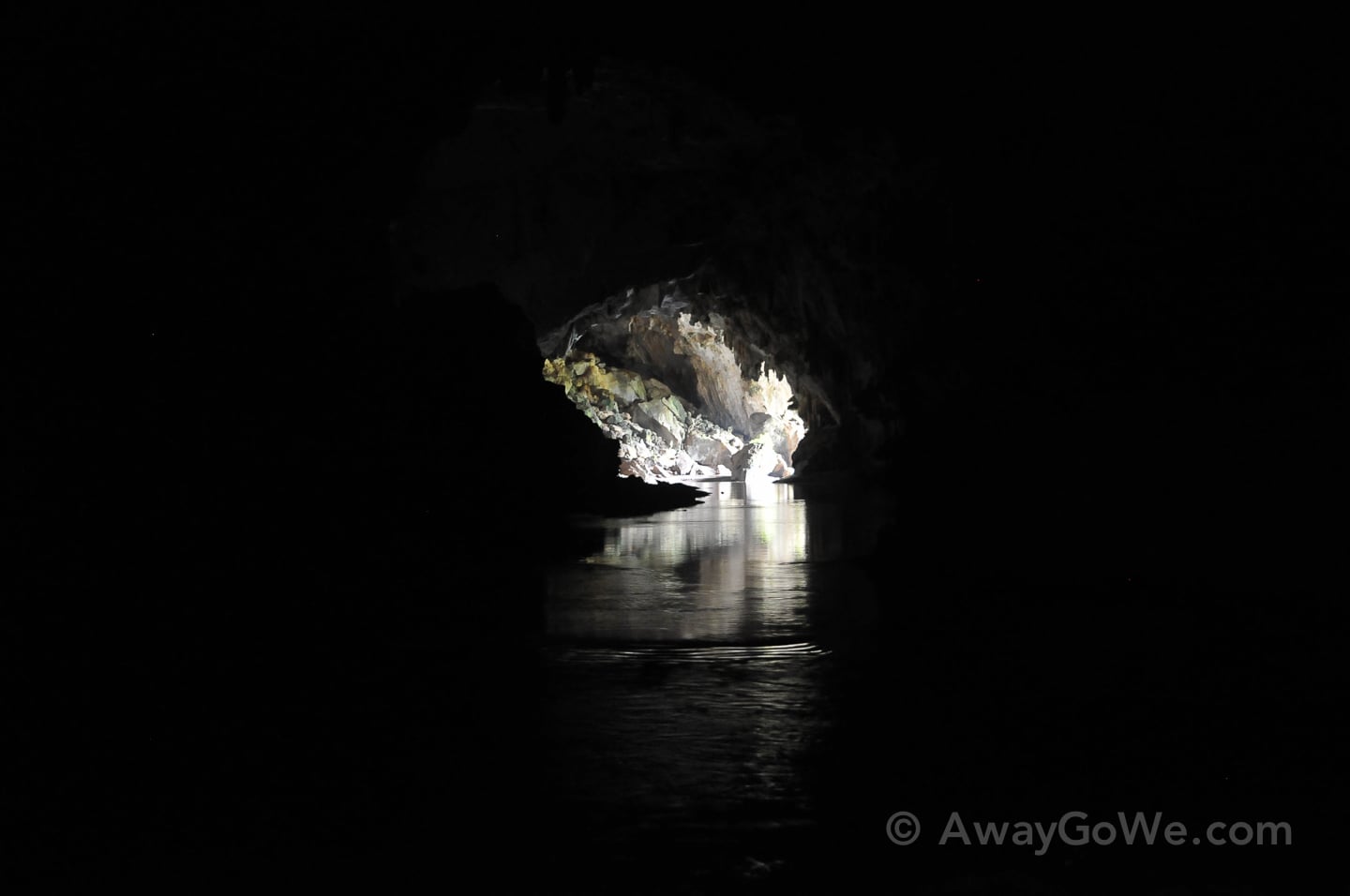 We changed boats once again into a smaller boat with a small motor and headed out to rejoin the light of day.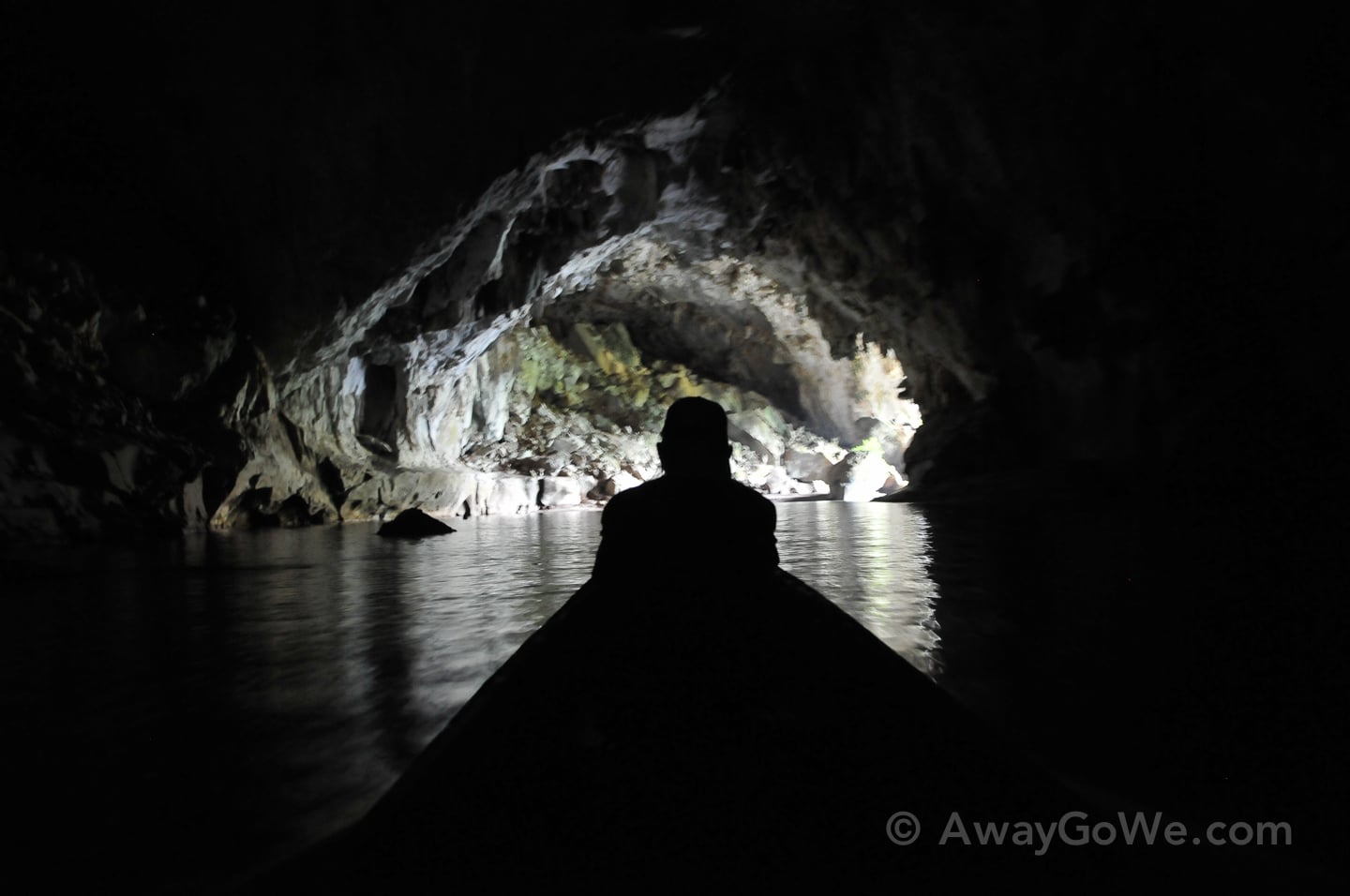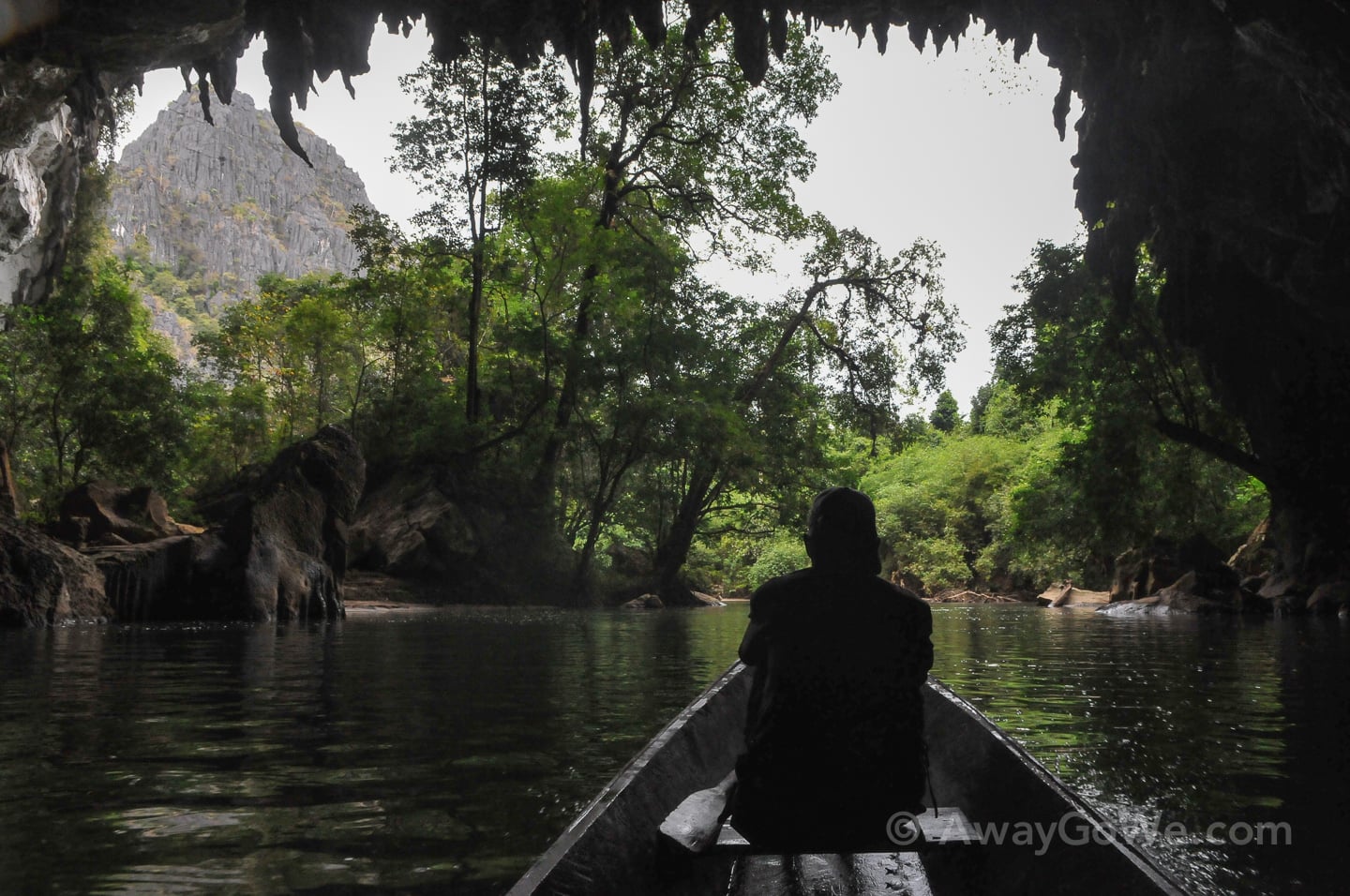 And then, as if it had all been a dream, we were out of the cave and cruising through lush jungle enveloped by karst ridges.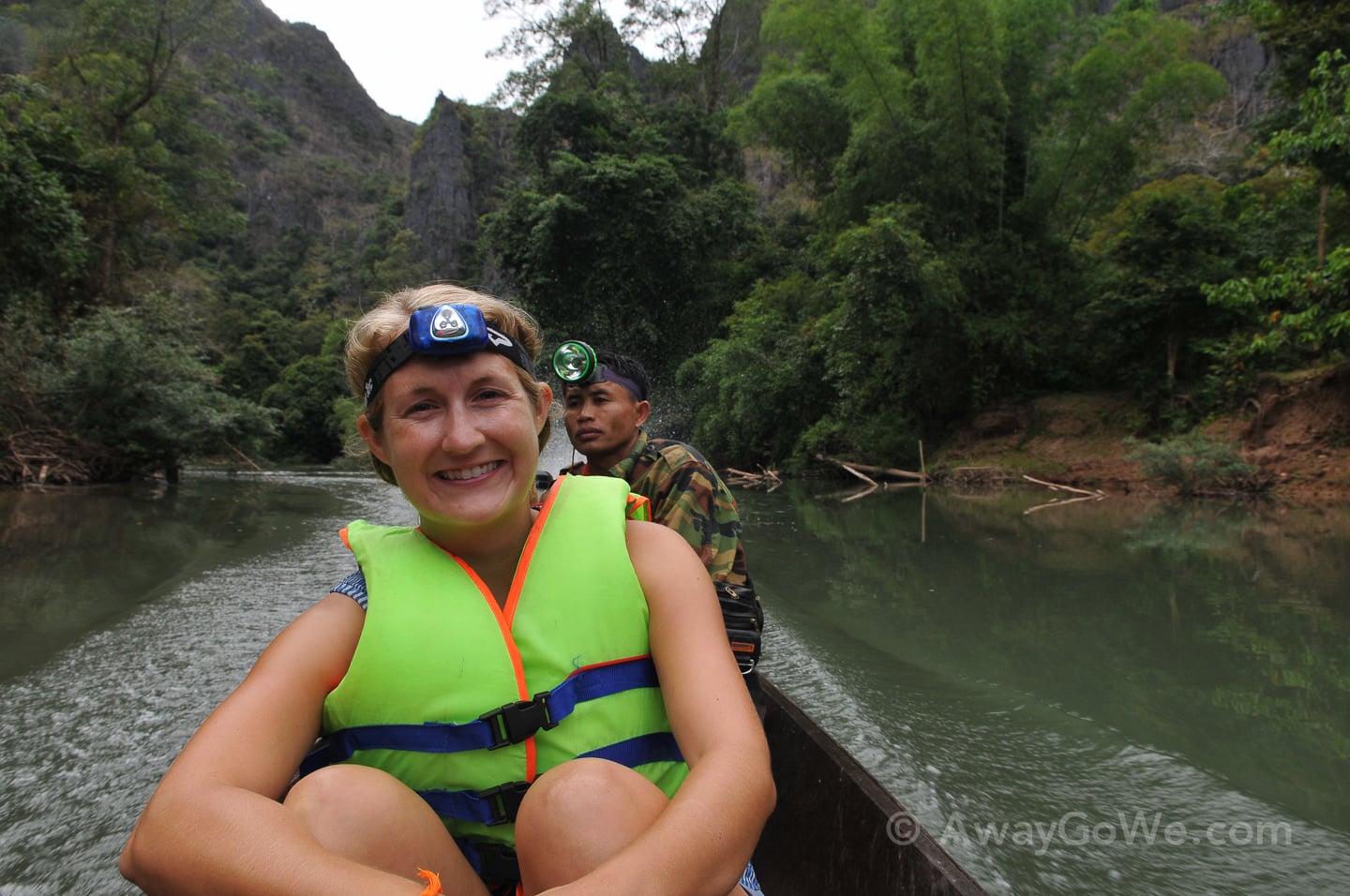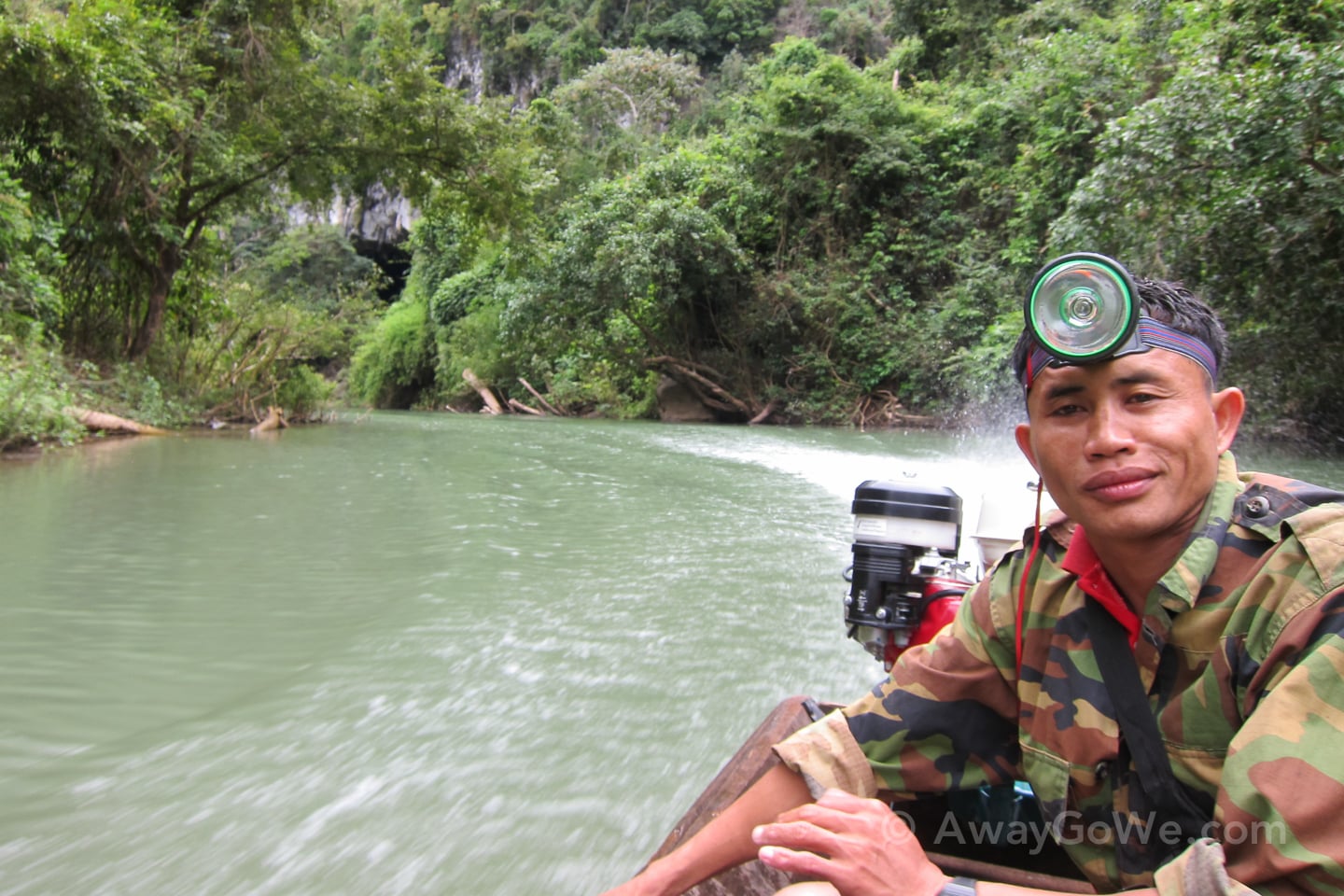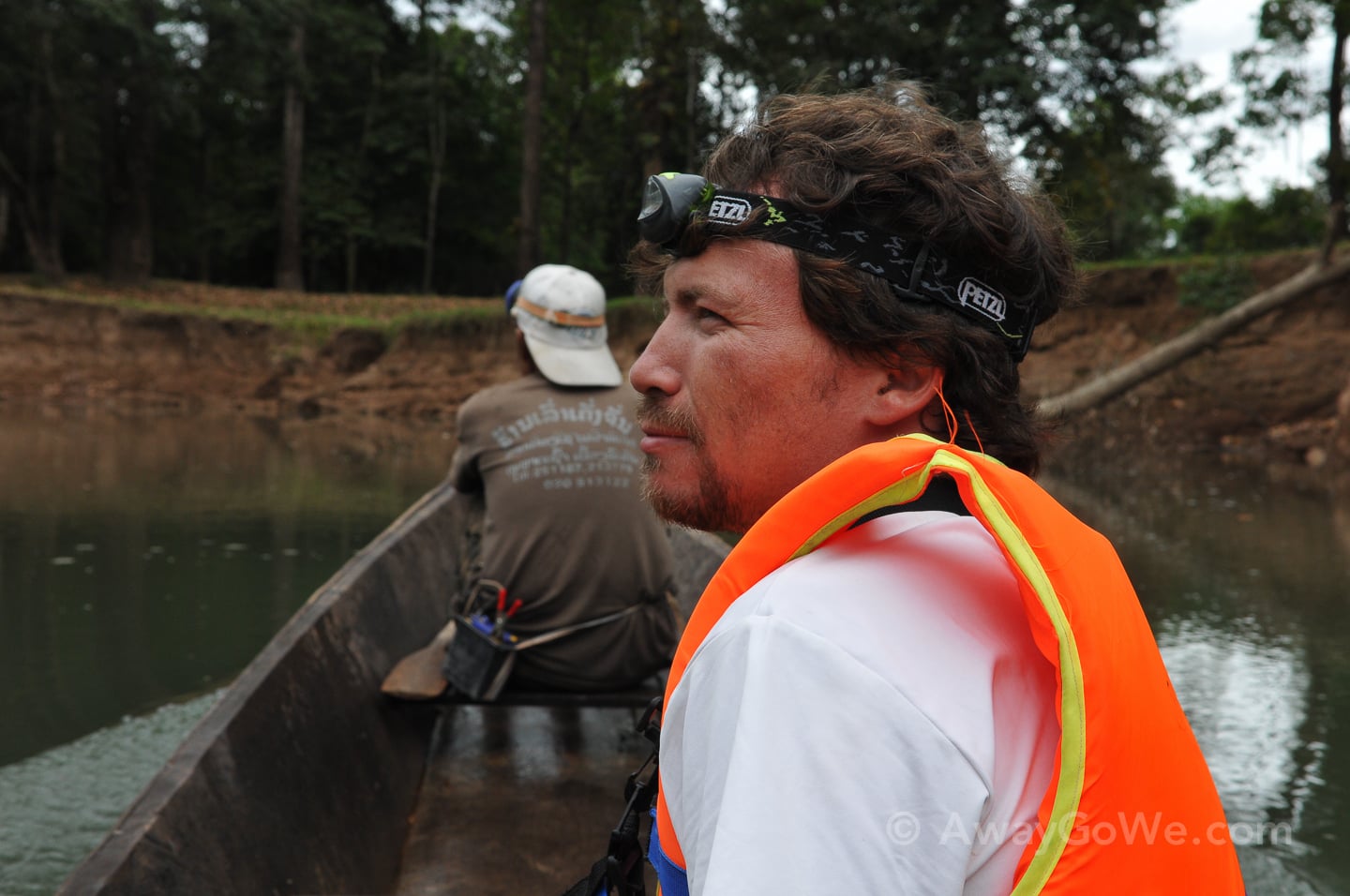 Minutes later, we arrived at a landing offering not much more than a ramshackle snack shack and a break area for boat guides. We basically had a choice between grabbing a Coke and a snack here for 15 minutes, or venturing off alone deeper into the bush to find a remote village we had read about. We chose the latter. The guides told us that the village lay about a kilometer down the dirt path and to be back in 30 minutes.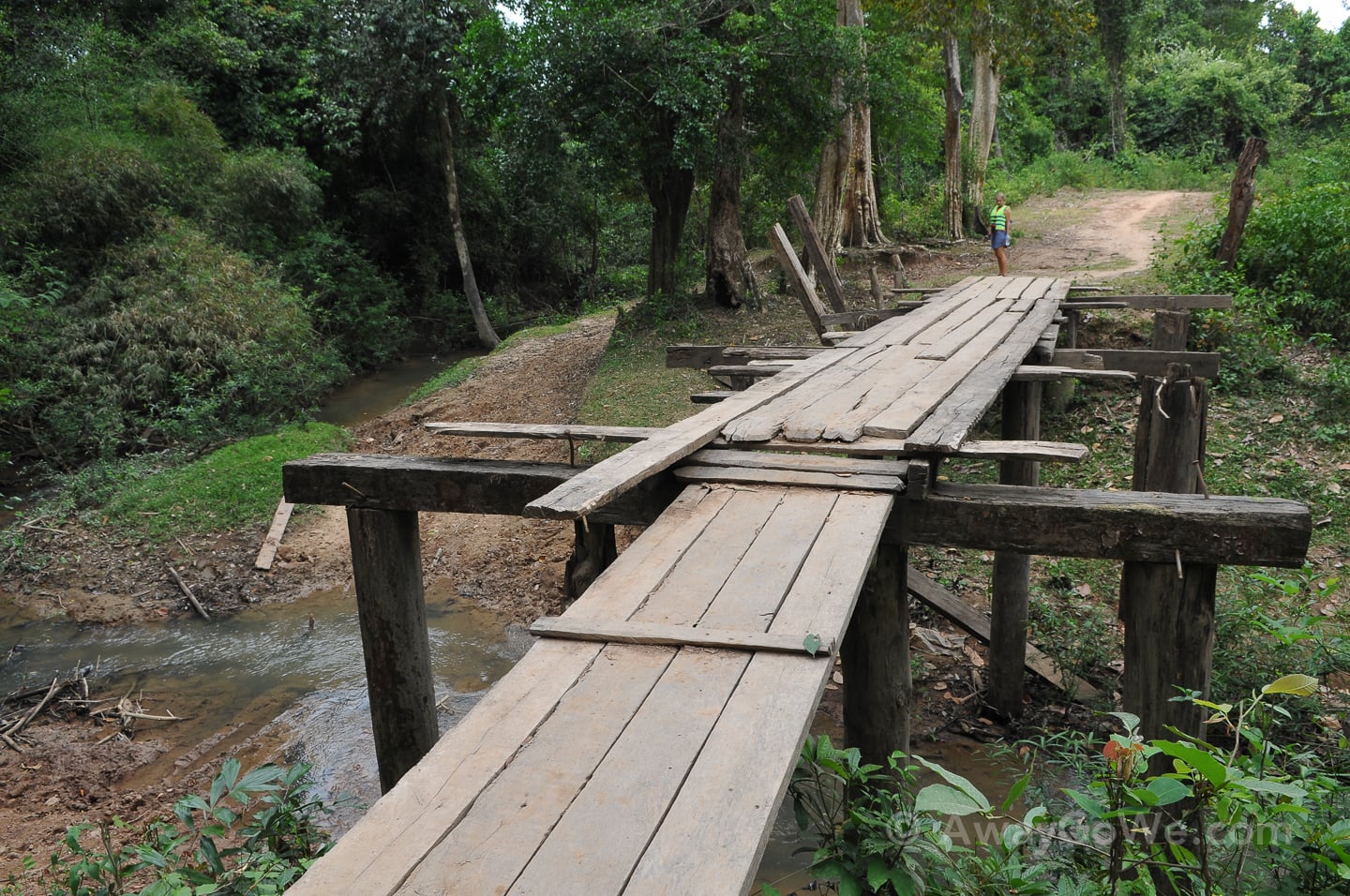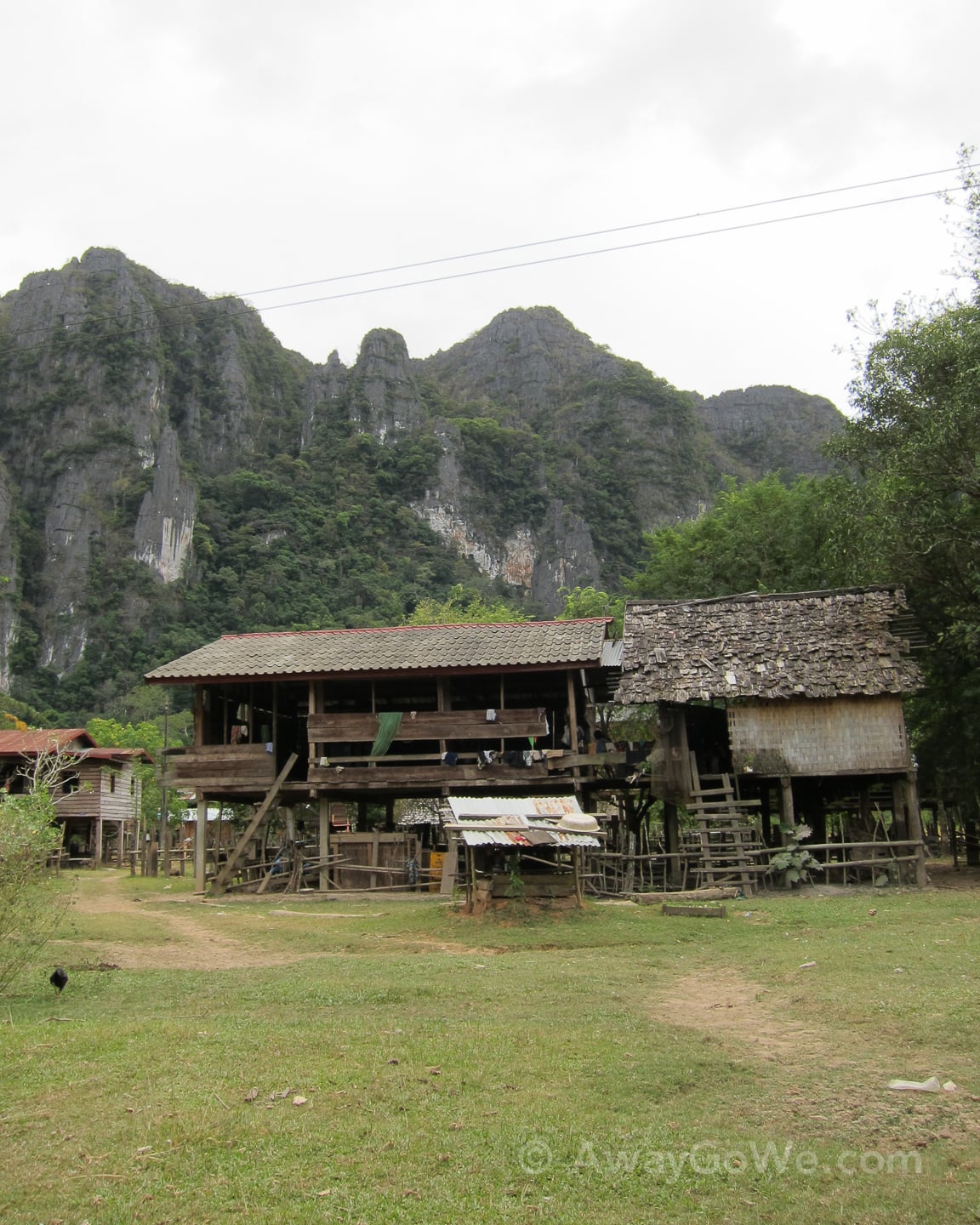 Ten minutes later we stumbled upon the remote village, expecting to be quickly ushered to another ramshackle snack shack, serving local treats and even perhaps some rural moonshine, but this would not be the case.
It was a sprawling little village, larger than we had imagined, but everyone seemed hard at work doing something, and certainly (and surprisingly) not the least bit interested in their strange visitors. Of course no one spoke any English — we didn't expect them to — but even our trusty miming skilled failed us this time. Whenever we managed to get someone's attention they just chuckled helplessly and unaffectedly, quickly resuming whatever they had been doing. Even the children behaved the same way — neither fearful nor surprised or excited — this was utterly disappointing, given that we had heard of this mysterious village a couple weeks back and had been looking forward to finding it. On the other hand, after India and Thailand, the experience was a refreshing change: these people neither saw us as a curiosity NOR did they attempt in any way to make money off of us.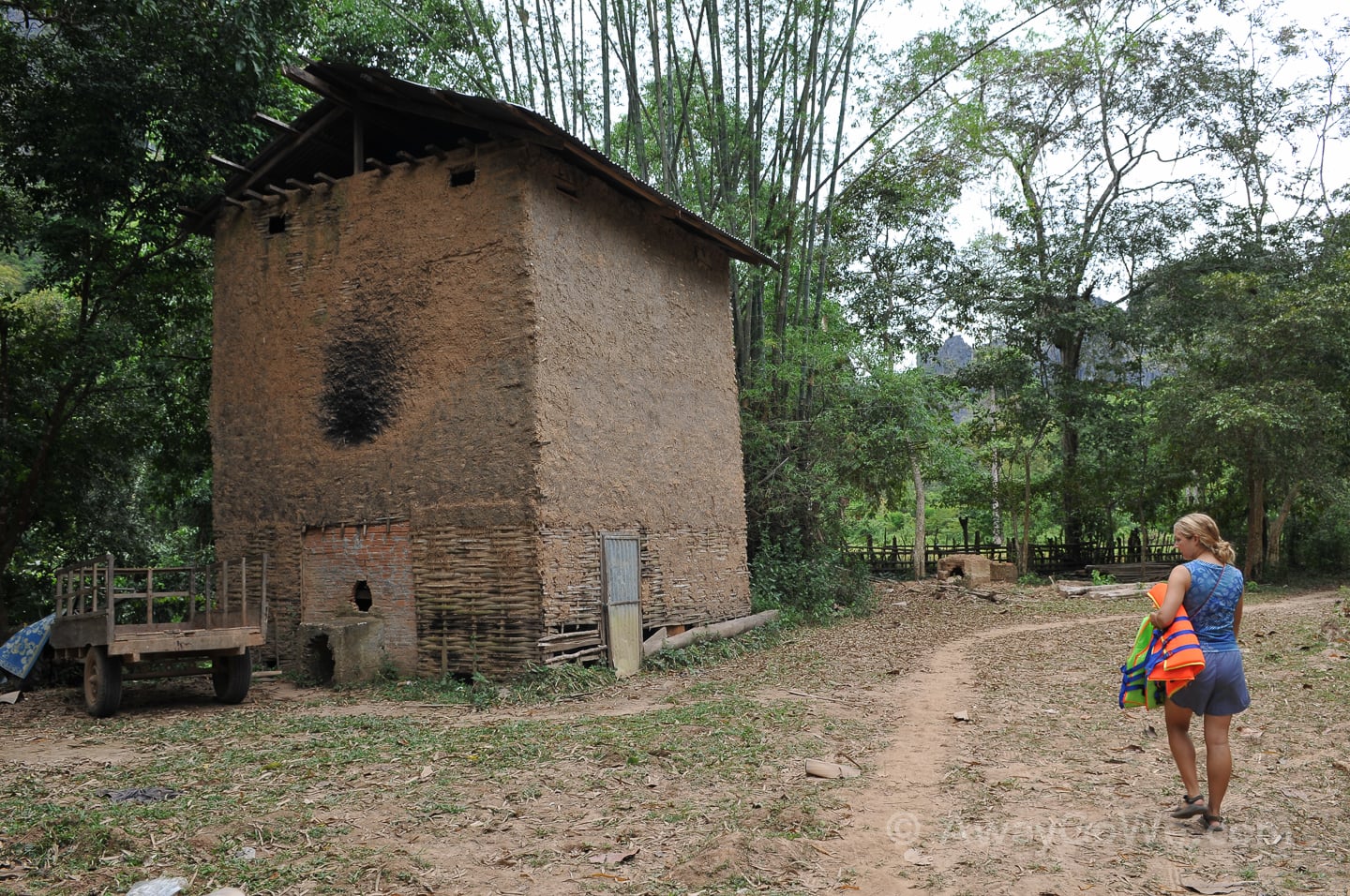 We left the village after only a few minutes and returned to the snack shack where we shared a Fanta and a bag of local carmel corn. Before long, we were back on the boat to repeat the journey through the cave in reverse.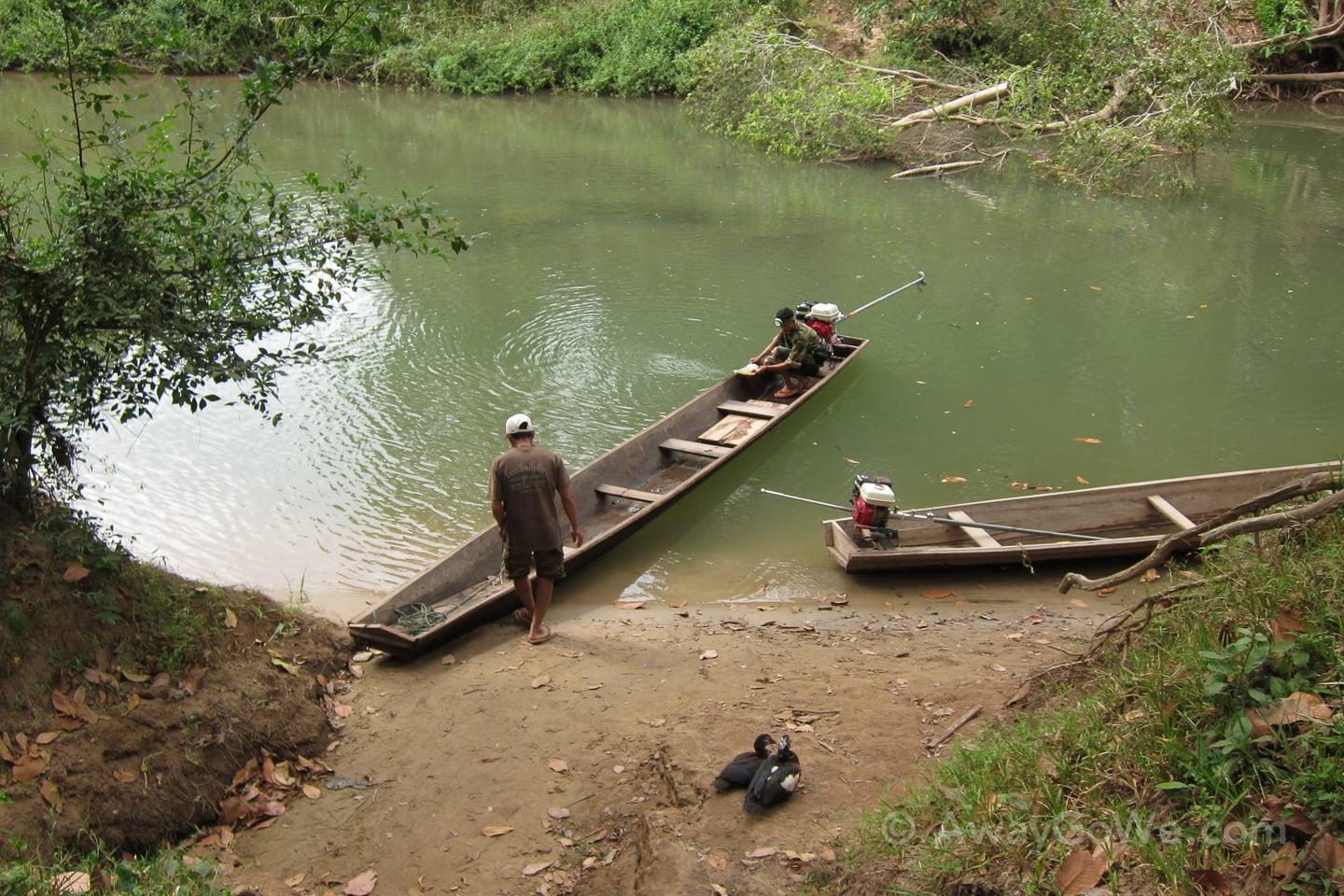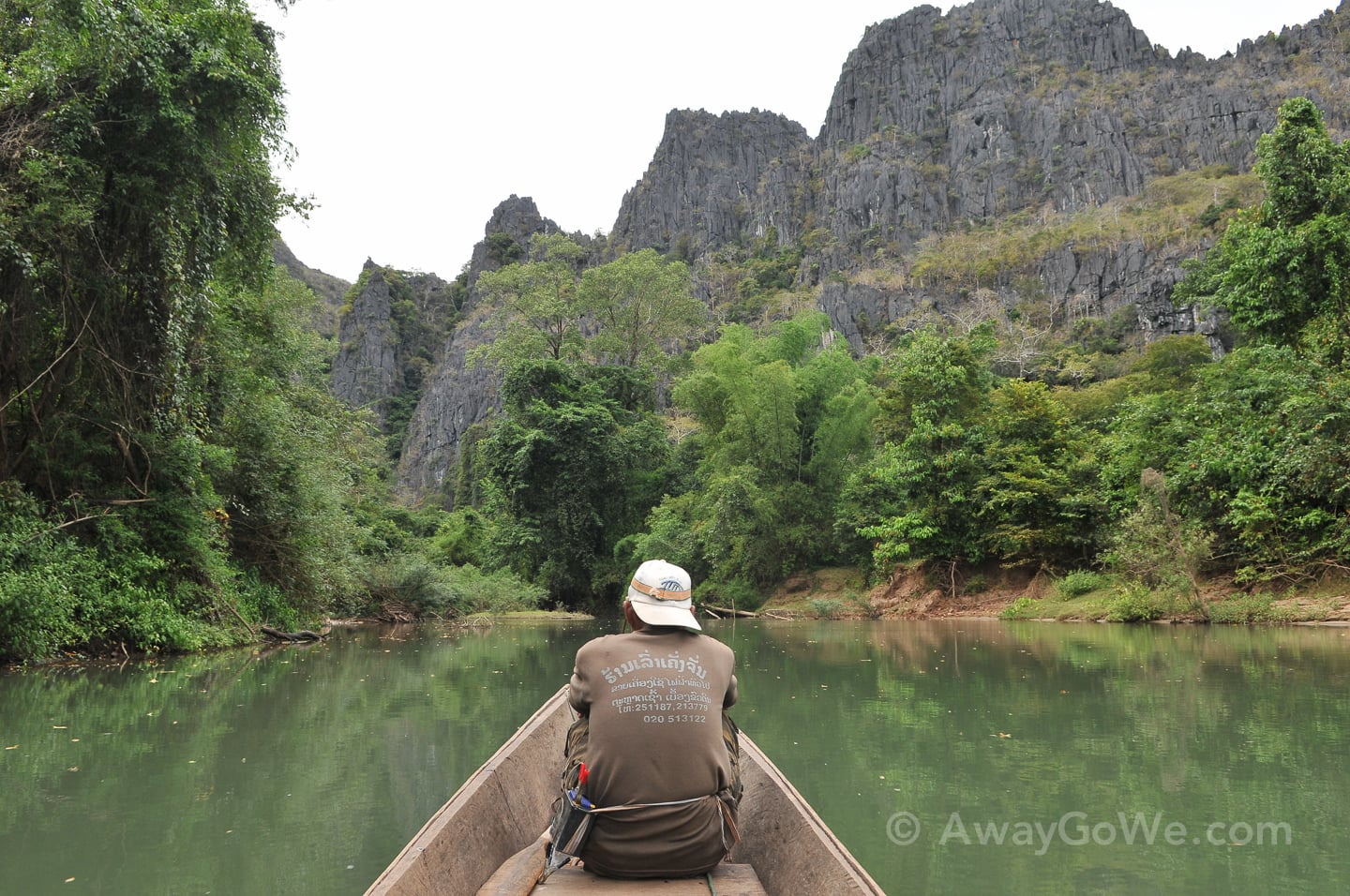 Heading back through the cave was a bit faster, given that we didn't stop at the illuminated section, but pushed on at full speed over a shallow gravel section and then proceeded to zoom through a very narrow and very low portion of the cave, feeling the ceiling whizzing by just shy of touching the hairs on our heads — one of my favorite parts of the whole boat trip.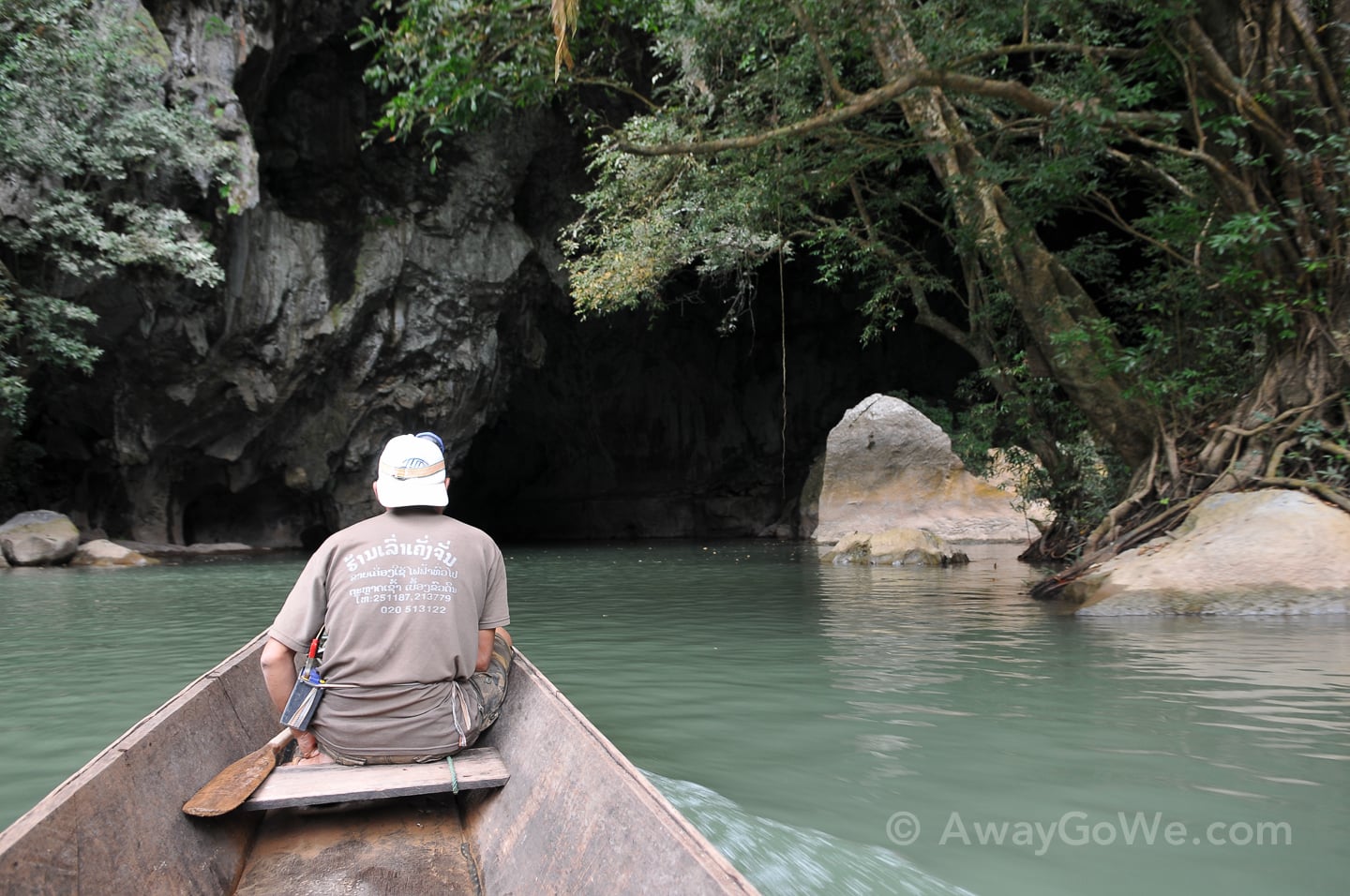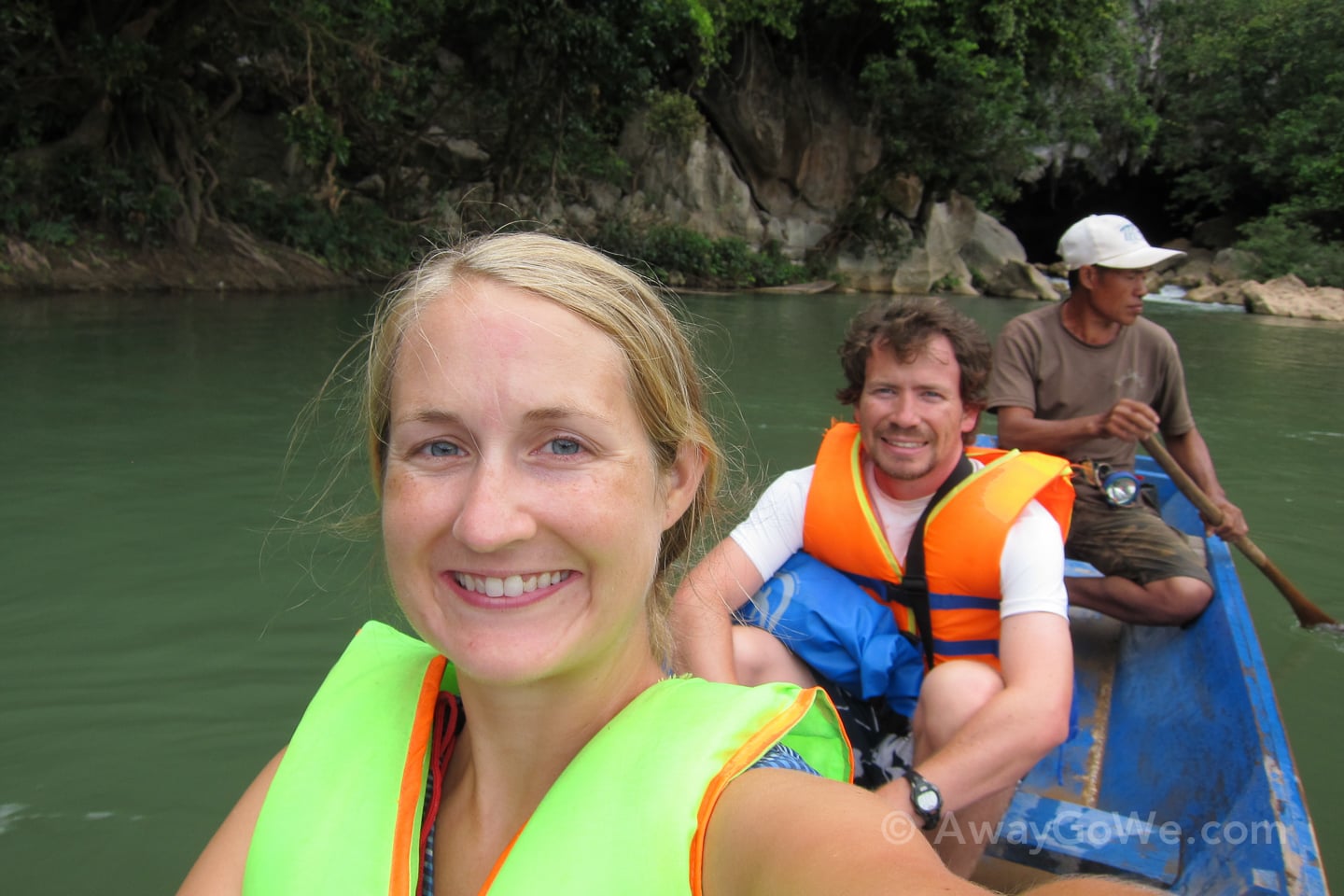 Visiting Konglor Cave
So, if you're thinking of doing the trip yourself, here's a summary of how it all goes down:
1) First, you board a small rowboat on one side of the river which ferries you to the other side.
2) Next, you are led down a sandy/rocky path into the mouth of the cave where you wade over to your motorboat — a long, sleek dugout-looking thing with a mammoth automobile-sized engine mounted on back. Each boat can carry up to five — 3 passengers and 2 guides, one in front and one in back.
3) Then, your guides lead you speeding down the underground river in near darkness. A short while later, you arrive at a sandy beach. One of the guides flips a switch in an electrical box, and all of a sudden a large area of the cathedral-size cavern lights up.
4) One of the guides leads you through the illuminated section of the cave on foot while the other navigates the boat through a rough, rapidy part of the river, meeting you at the end of your little trek.
5) You get back on the boat and speed to the rear mouth of the cave where you change boats to a row boat and lazily head out of the other end of the cave, down the river, finally arriving at a small landing with a snackshack where you'll break for about 15-45 minutes.
6) Optionally, you can walk to an isolated village about 1km down a path.
7) After the break, you repeat the boat rides in reverse order back through the cave (minus the trek through the illuminated part) and head back to the parking lot.
Difficulty rating:  3 (out of 5) — not physically demanding, but there are portions you have to wade through chilly, fast moving water. Those with fears of tight spaces or darkness might find the adventure especially challenging.