Khuri Sand Dunes a short journey from Jaisalmer is the desert safari destination of your dreams – boasting supremely stunning desert scenery and comparatively few visitors.
If you are looking for the best place in Rajasthan to do a camel trek or desert safari, the Khuri sand dunes might well be that place.
Khuri Village also offers an authentic peak into the daily goings-on of a small Rajasthani community whose lives and livelihoods are still inextricably linked to the desert in the 21st century.
In this way, doing a desert safari in Khuri offers both an unforgettable experience of a lifetime in the Khuri sand dunes, and rich insight into the type of ancient desert culture that is becoming increasingly difficult to find and access.
In this guide, you'll discover how to arrange your own desert getaway in Khuri, what to expect from the experience, and tips for making the most of this bucket list experience in Rajasthan.
Planning an Epic Trip to India?
If you want to get the most bang for your buck and make the best use of your time in Rajasthan, we strongly recommend checking out the Rajasthan and Varanasi 20-Day Tour with G Adventures, one of the most award-winning and ethically-focused tour companies on the planet.
▸ Looking for travel medical insurance? SafetyWing offers low-cost overseas medical coverage tailored to international travelers.
We're reader supported and may earn a commission from affiliate links on our site at no cost to you.
Detailed Guide to Khuri Sand Dunes Jaisalmer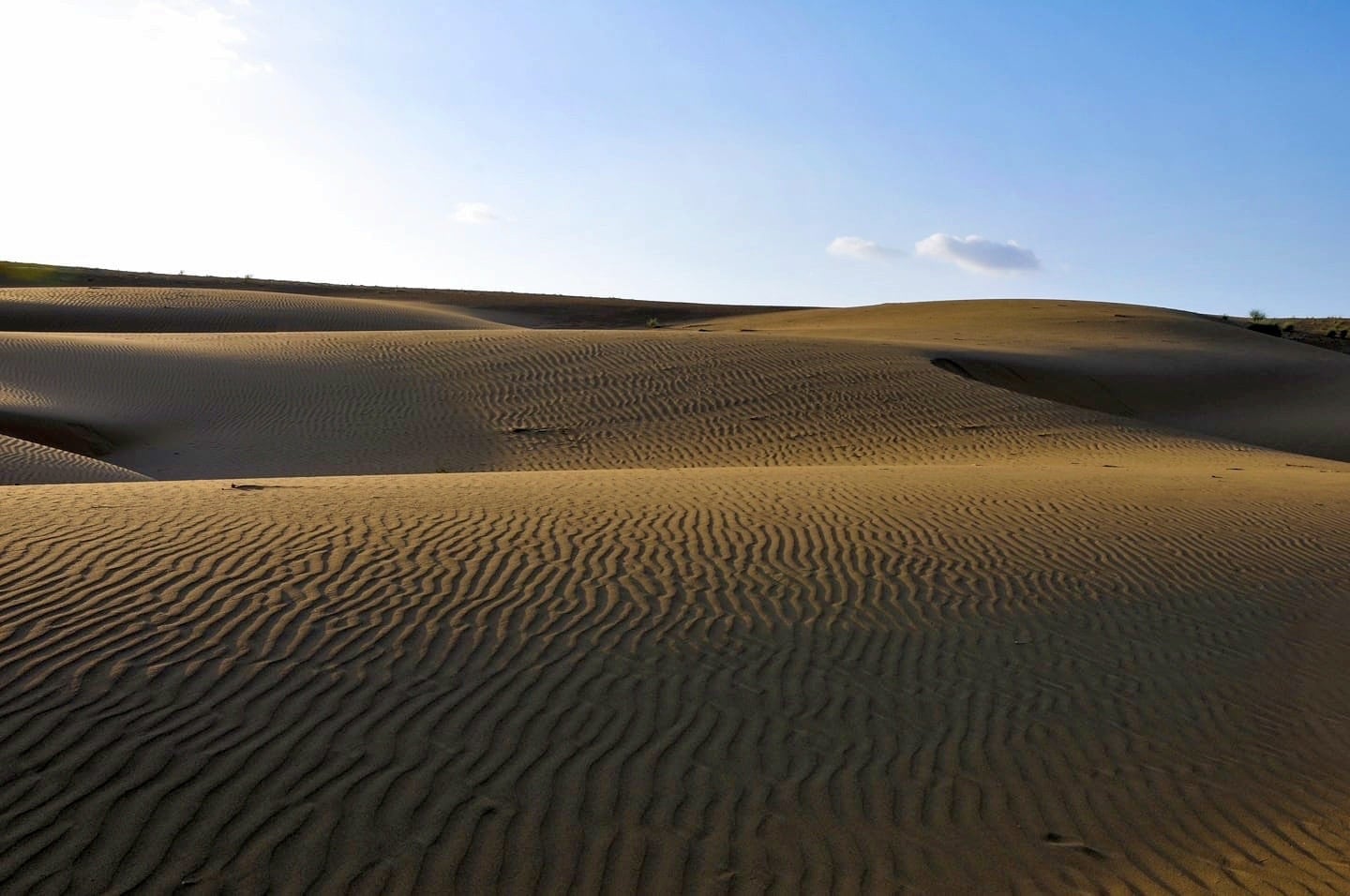 Why Visit Khuri Sand Dunes
Rajasthan offers several excellent desert safari destinations. Yet, some like Sam Sand Dunes have become so touristic and can get so completely overrun with visitors that it almost defeats the purpose to pay a visit to these places.
On the other hand, the Khuri sand dunes see far fewer visitors and is less developed as a result, making for what we think is a much more peaceful, authentic, and worthwhile experience.
You'll be less likely to run into other visitors during your visit and much more likely to have friendly and memorable interactions with local residents.
Also worth noting is that, while the essence of Khuri Village remains close to what it was a decade ago, the number of reliable lodging options has increased, which has resulted in more variety of accommodation and healthy competition.
In the next section, we'll offer up our top recommendations for best places to stay.
Last, and certainly not least, you'll want to strongly consider a visit to Khuri sand dunes for the sheer beauty and spectacular scenery alone. This is a living, breathing desert ecosystem that changes with the seasons, and staying the night here offers an experience like few others.
We truly loved our time in the bustling urban centers of Jaisalmar and Jodhpur. But eventually, the peace and tranquility of the desert beckoned us away.
Our experience in Khuri ended up being one of the most memorable of our time exploring the length and breadth of India, and we're eager to share it with other travelers like-minded travelers.
---
Related
---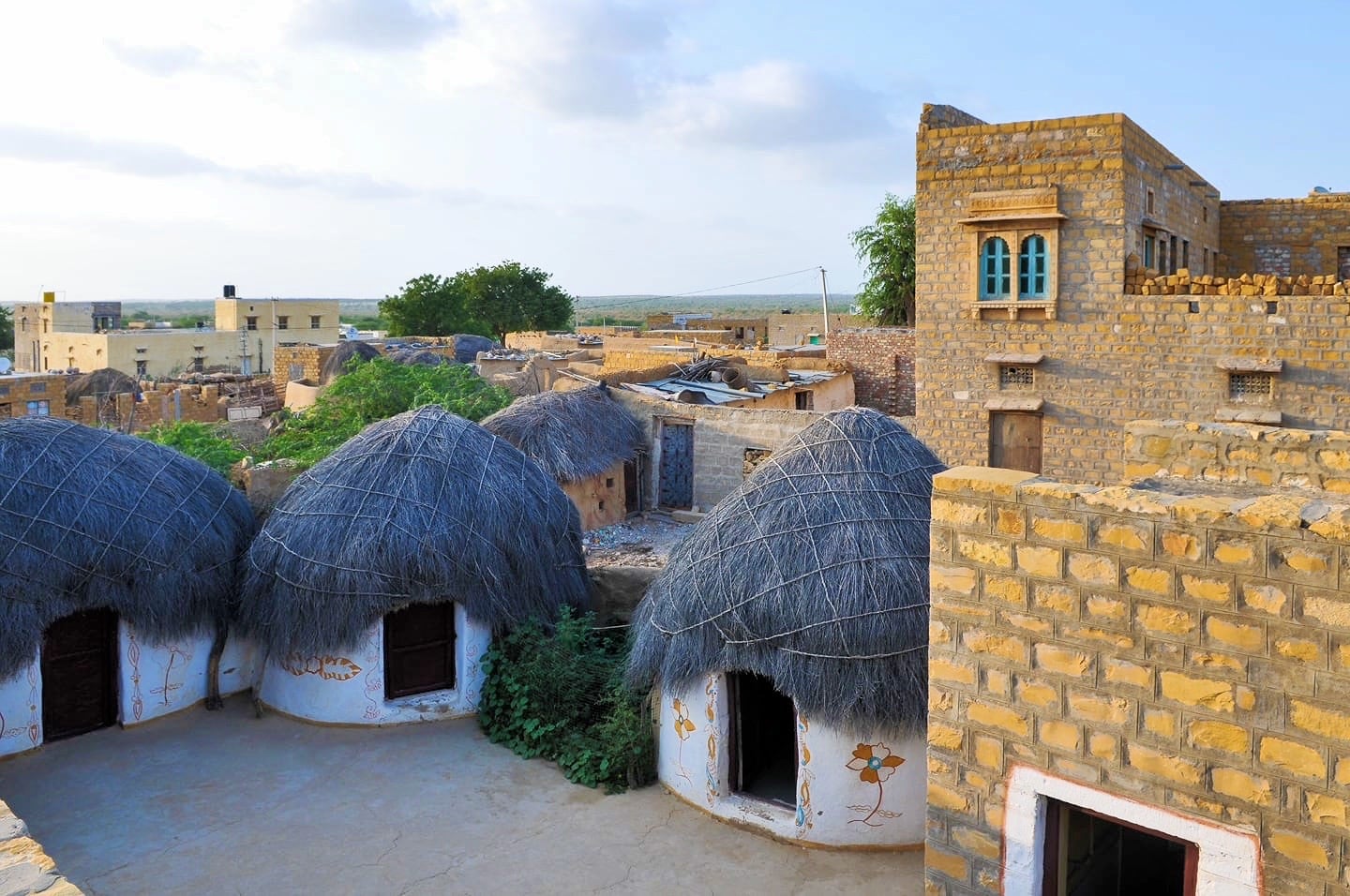 Where to Stay Around Khuri Sand Dunes
Khuri Village has undergone a number of changes to the hotel landscape over the past decade. While a number of upmarket options have popped up in that time, the original homestay style accommodation that put Khuri on the map is still thriving.
It's important to note that most tourist accommodation in Khuri Village either has a permanent hotel/guesthouse in the village center with desert safari options, OR has a semi-permanent Glamping-style camp on the outskirts of the village.
Depending on what you're after, you can either 1) book your stay in the village, then arrange your desert safari through your guesthouse, 2) book a stay at a desert camp and have the best of both worlds, or 3) book an all-inclusive tour from Jaisalmer (see our top picks for that in the next section)
These are the places that Lori and I would recommend to our own family and friends if they were planning a visit to the Khuri sand dunes right now.
Best Guesthouses & Hotels in Khuri Village
Our Overall Top Pick
After all these years, we're happy to report that Badal House remains at the top of our list. This is where we stayed and we confidently recommend it to anyone planning their own trip to Khuri.
Badal House won't be the most lavish stay you'll find in Khuri Village (see below for that). But if you are looking for an authentic homestay-like guesthouse run by one of the most intriguing families in the village, this is your place.
Our Top Desert Glamping Pick
Registhan Guest House offers the best of two worlds, with its spectacular desert location outside of the village and array of luxury amenities.
If you like the idea of sleeping on the Khuri sand dunes without totally roughing it, then Registhan might be what you're after!
Another Excellent Glamping Option
If you're feeling the tent camp in the desert with lots of amenities, also be sure to check out Pal Rajah Resort. All tents feature an en suite bathroom and fans.
Pal Rajah has an excellent onsite Indian restaurant and is a superb home base from which to explore the Khuri sand dunes by camel.
Our Top Resort Pick
If you fancy yourself a few more urban amenities with the option of choosing the right desert safari once you arrive, check out Pansari's Khuri Haveli.
Pensari's is located right in the heart of the village and is one of the few places in town with A/C in their guest rooms.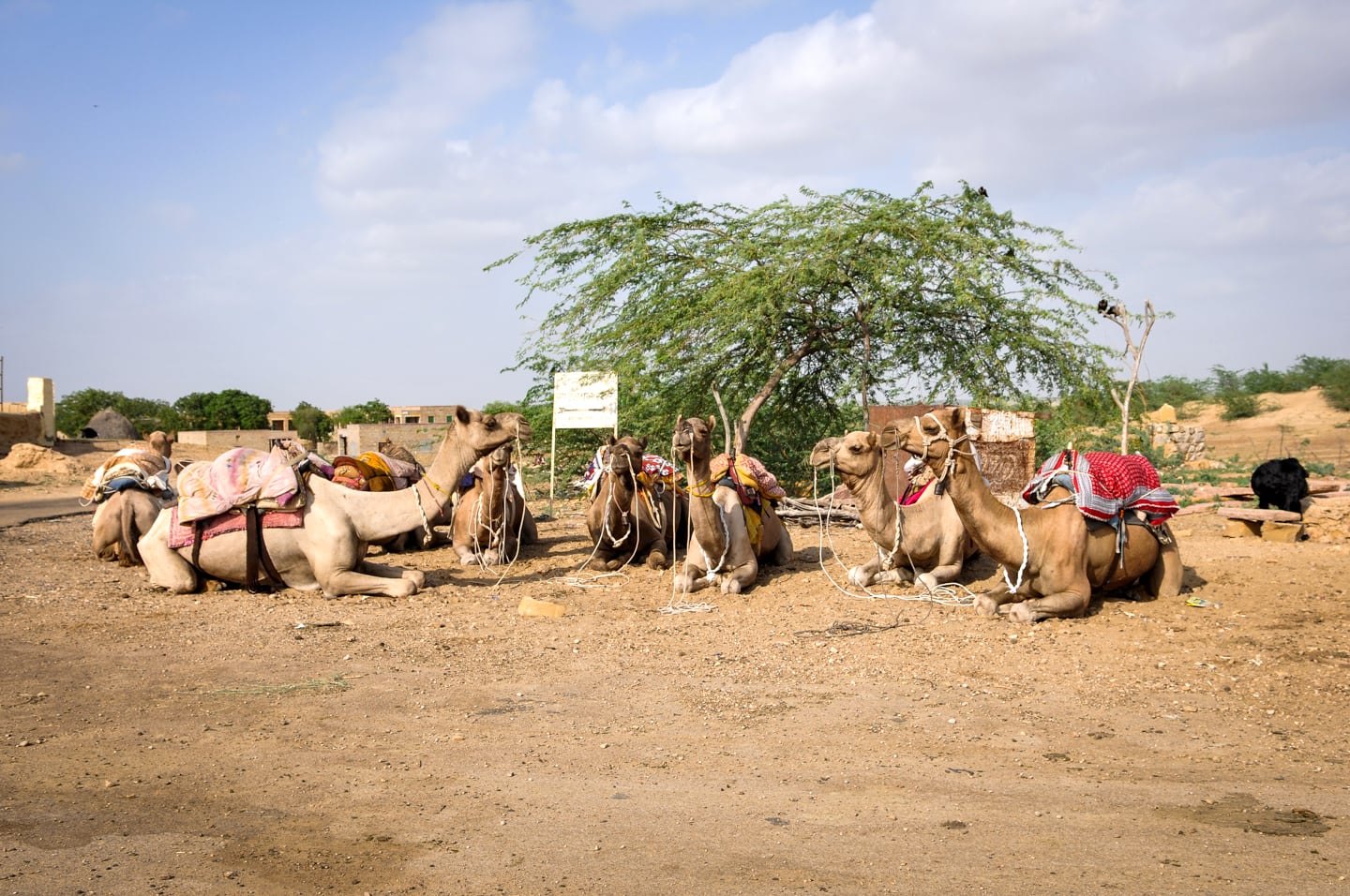 How to Arrange a Camel Desert Safari in Khuri
Khuri Sand Dunes aren't as developed as other desert safari destinations in the region (such as Sam Sand Dunes), which means that options for booking a stand-alone camel trek ahead of time (especially online) are still quite limited.
If you do wish to book ahead, your best option is going to be booking a stay at one of the desert camps we've listed in the last section, such as Pal Rajah or Registhan Guest House, which are located at the edge of the dunes.
Of course, the good folks at Badal House (our top pick for a non-touristic camel trek) will happily arrange an overnight camel trek for you on the spot when you get to Khuri Village.
Alternatively, you can also book an overnight or single-day camel safari from Jaisalmer at any number of street-side travel agents or guesthouses in the city center (you can even contact this top-rated company before you get to Jaisalmer).
While perhaps the easiest and most straightforward option, most of these tours have the downside of spending little or no time in Khuri Village.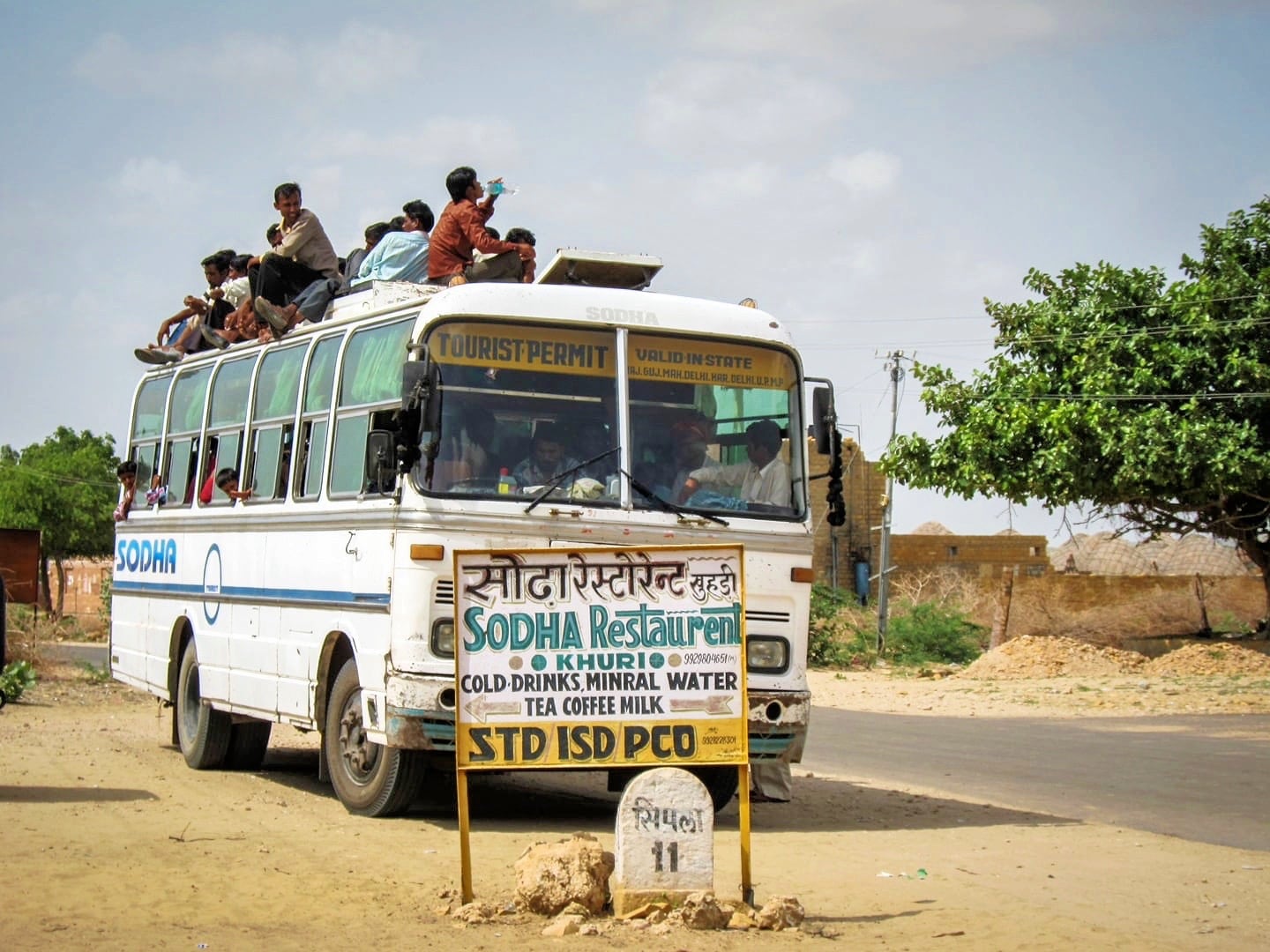 How to Get to Khuri Sand Dunes
The best and easiest way to get to the Khuri Sand Dunes from Jaisalmer is either as part of an all-inclusive desert safari package, or with your own wheels (rental, taxi, or otherwise).
For the rest of us, covering the 50 km between Jaisalmer and Khuri is a bit more complicated. There is no rail service between the two places, and bus service can be hard to pin down for visitors.
Here's how we got from Jaisalmer to Khuri Village.
How to Get to Khuri Village from Jaisalmer
Buses to Khuri Village pass near the center of Jaisalmer, but it is not recommended to try and catch a bus from Hanuman Circle or elsewhere, as it can be difficult if impossible to get a seat (or even INSIDE the bus, as many local passengers get stuck riding on the roof).
The folks at our guesthouse instead recommended that we take an auto-rickshaw to the bus terminal (where the journey to Khuri Village begins), where you're much more likely to score a seat.
It's important to note that it's a 10-15 minute auto-rickshaw ride from the center of Jaisalmer to the bus terminal. If it feels like your driver is driving you out into the middle of nowhere, you're probably on the right track!
We heeded the advice and ended up being the second couple on the bus at the terminal., waiting in the heat for about 20 minutes for the bus to depart.
When the bus finally left, it left about half full, which usually means that the driver is going to have to prowl around town for another 20 minutes for anyone going our direction.
Thankfully, this proved unnecessary. Shortly after leaving the station we were back in town taking on twice the number of passengers such a bus was ever built to hold — and, squished tightly into the seats we had worked so hard for, with people on our laps and rears in our faces. Off to Khuri!
How to Get to the Sand Dunes
Once in Khuri Village, you're not going to want to try to venture far into the desert, yourself. For a taste of the Khuri sand dunes, you can walk a short distance in any direction from the center of the village and get a sneak peek.
However, to experience the real deal (and the actual Khuri sand dunes) you're going to need a guide with either some wheels or camel hooves.
Either can be arranged in the village at any of the guesthouses (see our Where to Stay section above), or booked ahead of time as part of an all-inclusive desert safari (also see our How to Arrange a Camel Desert Safari section above).
Keep reading for our detailed Khuri sand dunes trip report, below.
---
---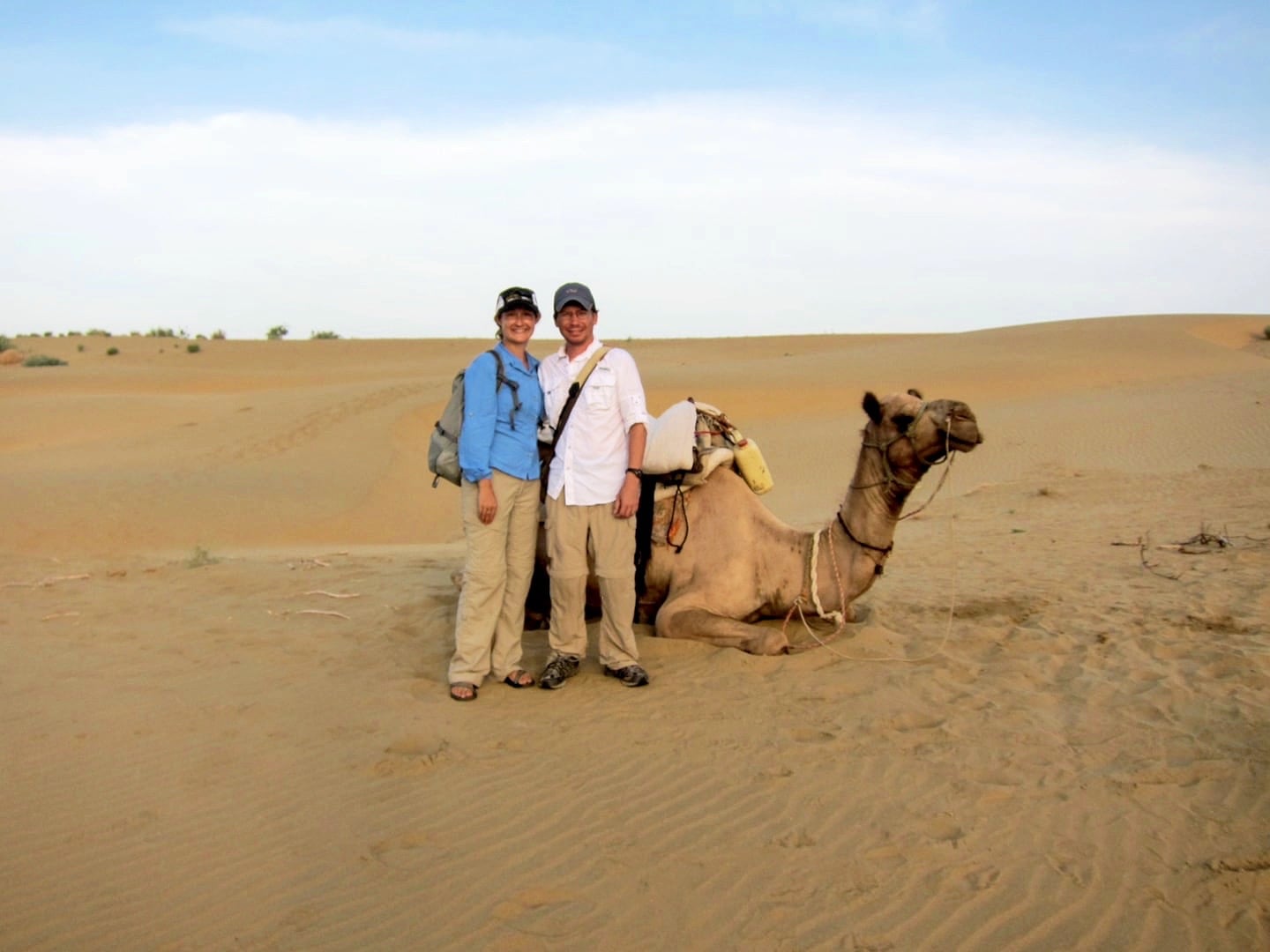 What to Expect – Our Own Detailed Trip Report
If you're still on the fence deciding whether a desert safari in the Khuri sand dunes is for you (or if it is worth the time, effort, and money involved), we offer up our own experience to give you some sense of what you might expect.
Some things worth noting: By the time we reached Khuri, we had been traveling through India on a budget for nearly a month.
Our interests and circumstances at the time made doing a camel safari through Badal House the perfect choice, and we were very happy with our decision in hindsight.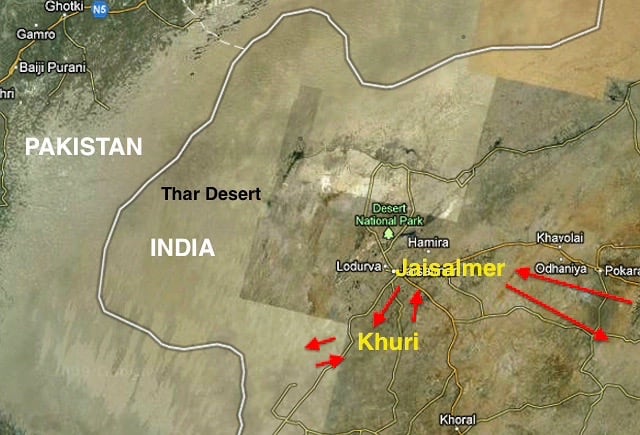 With that said, if we were to return to do it all over again with a slightly bigger budget and less travel on the front end, we might very well choose to go the glamping route.
It really all depends on your personal preference and what you are hoping to get out of the experience.
With that out of the way, on with our trip report!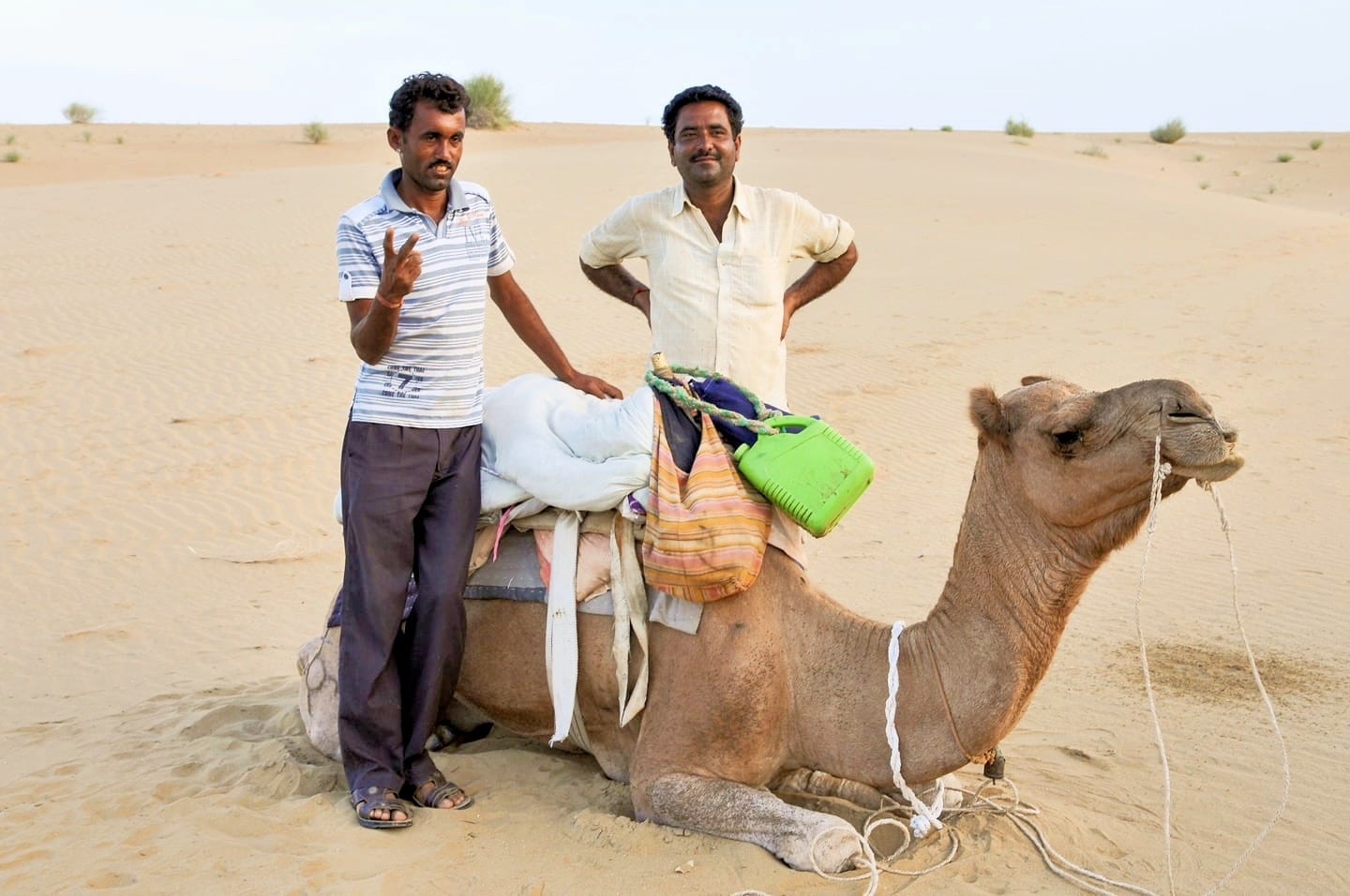 The Overnight Camel Safari
About a month into our time traveling through India, we found ourselves in the western state of Rajasthan in the tiny desert village of Khuri, about 60 km from the Pakistan border.
We had been looking forward to doing a camel trek in Rajasthan for as long as we had been traveling in Asia and can say in retrospect that it surpassed our expectations.
We had originally planned on arranging a camel safari much closer to Jaisalmer, a much larger city and the main jumping-off point for such treks.
After arriving in Jaisalmer we quickly learned that the vast majority of treks out of the city had become overly touristic and crowds on the outlying dunes were common.
Consequently, we looked elsewhere for alternatives and came across Khuri, a small village about an hour south of Jaisalmer.
After returning from our night in the desert we were incredibly pleased with this decision given that we never saw another single foreign traveler in the desert (and only two other humans the entire time we were out).
It was an incredibly peaceful and awe-inspiring trek and one of our highlights of our time in India.
While day treks and multi-day treks are offered, we found that the 17 hours in the desert (6 of which were spent atop a camel) was about the right amount of time. Any more time on the camel, and our rumps would have paid dearly. Any less and we might have felt short-changed.
We arranged a camel safari with some local guides through Badal Singh (proprietor of Badal House in Khuri.
The trek left from Badal House around 16:00 (4pm) local time and returned around 09:00 the next day and was inclusive of all transport, food, and guides from Badal House (dinner and breakfast on the dune, camels and guides, bedding, water, etc.).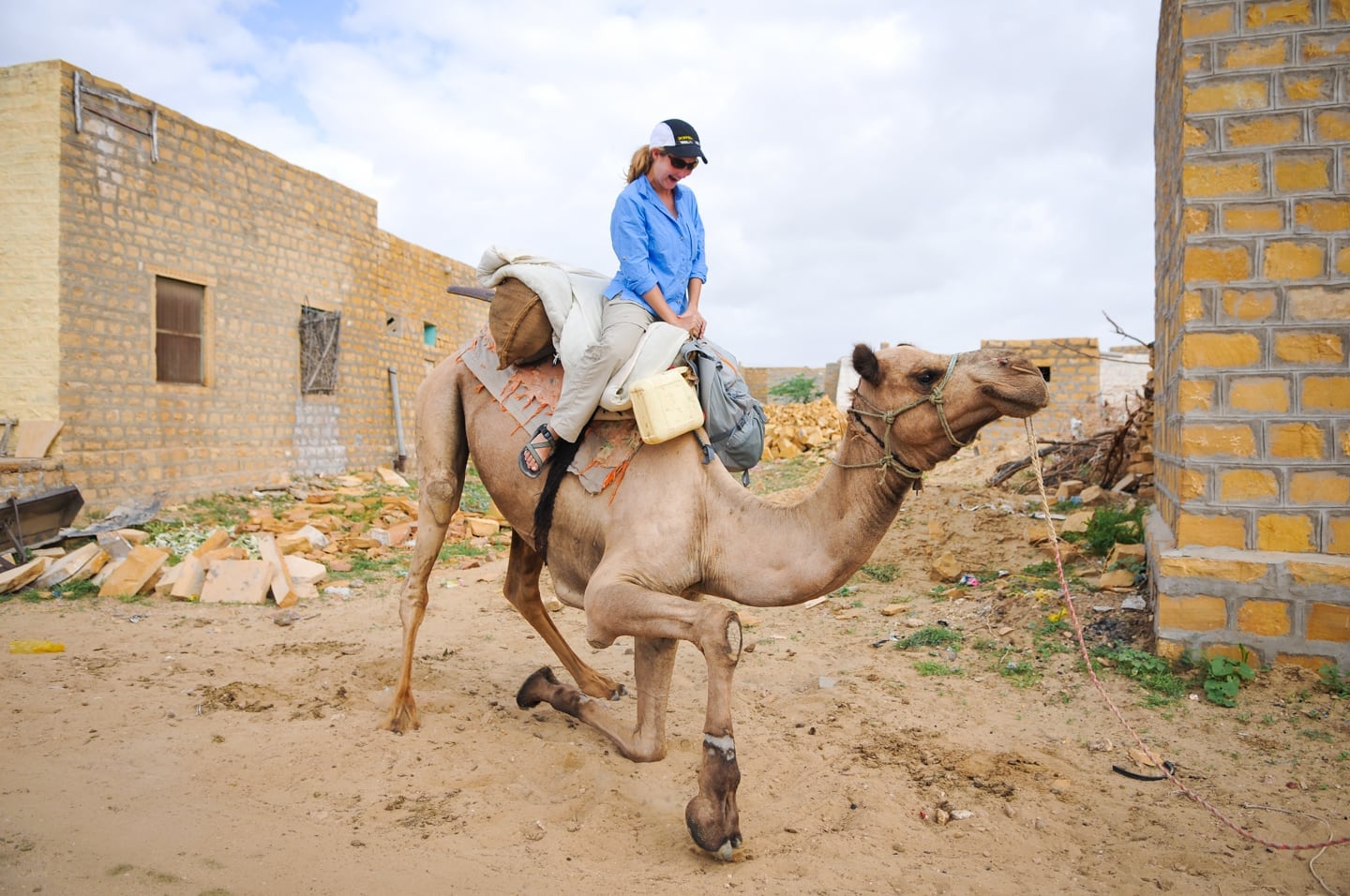 We were a bit surprised that they had us leaving so late in the day and returning early…until we had been on the camels a while.
For one, as romantic as it may sound, you really don't want to be caught on one of these guys in the heat of the day in the middle of the desert.
Two, and certainly just as important, riding a camel for any period of time does a number on your thighs and butt and it took both of us a couple of days afterwards to be able to walk normally again.
A small price to pay for a priceless adventure!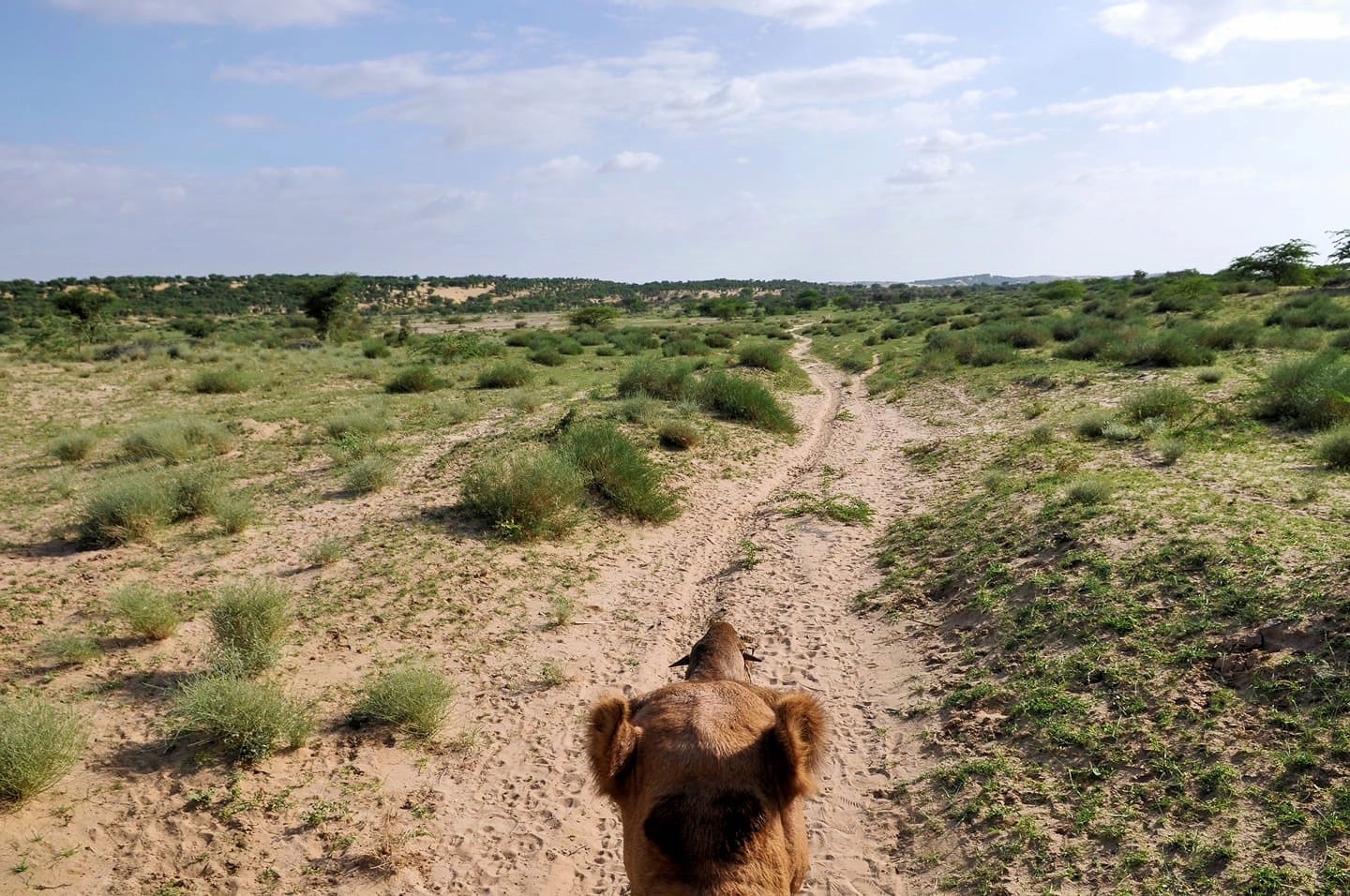 You may be surprised to see so much green in the middle of the desert. We were.
The desert just outside of Khuri is only like this for about a month out of the year following the rains. The rest of the year, it's dry and barren.
However, the Khuri sand dunes — for which Khuri and this portion of the Thar desert are known — remain free of vegetation year round, and that's exactly where our guides assured us we were headed this particular afternoon.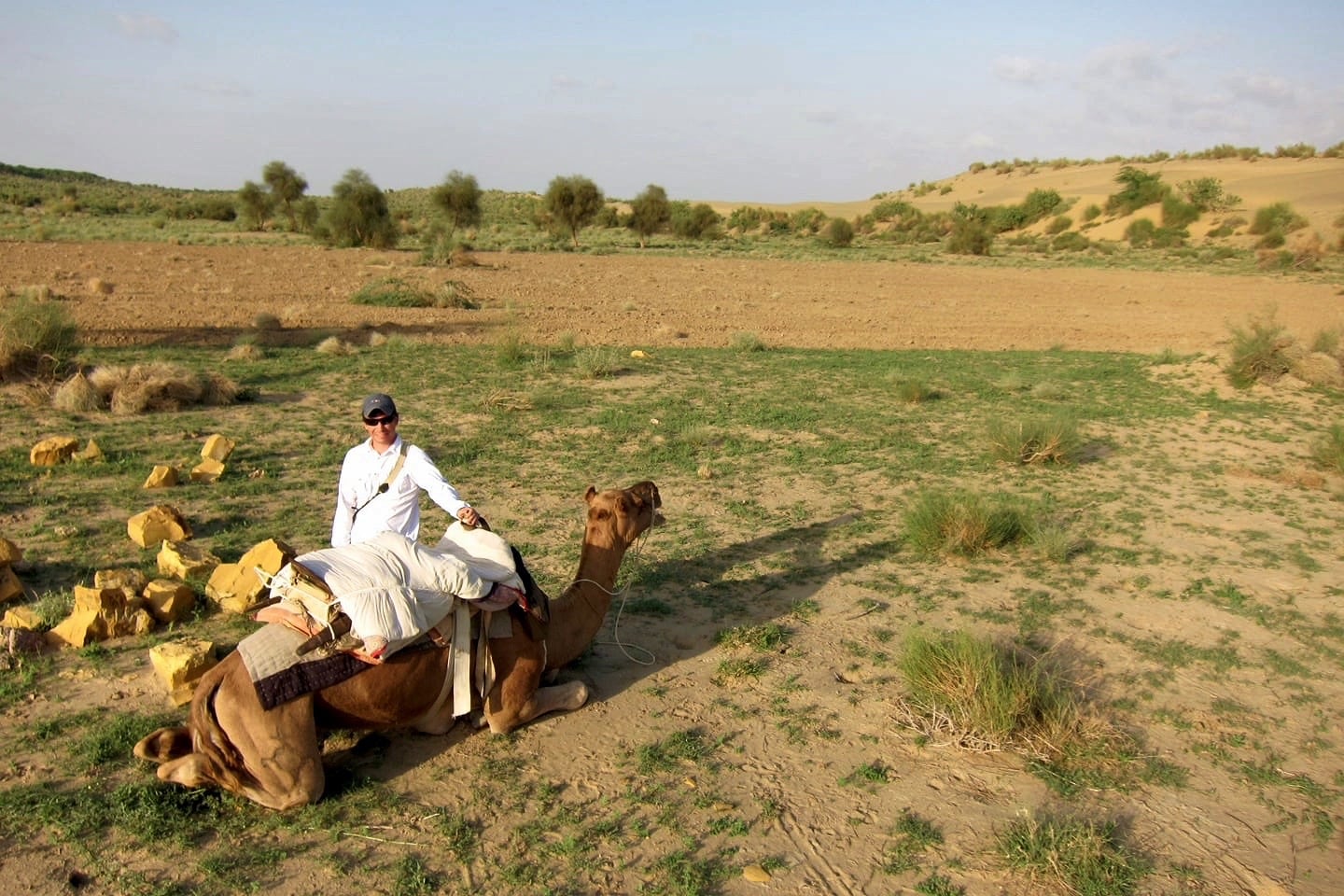 I was actually surprised by how well the camel drivers treated the camels. You could tell that each of the drivers had a special bond with their large one-hump friend.
While our drivers had led hundreds of camel trips, camel trekking was not their day job — and you could tell that they really looked forward to leading these trips whenever they got a chance and loved being out in the desert.
They're love of their job and easy demeanor made the two of us felt at ease about spending a night with two complete strangers underneath the stars and far away from civilization.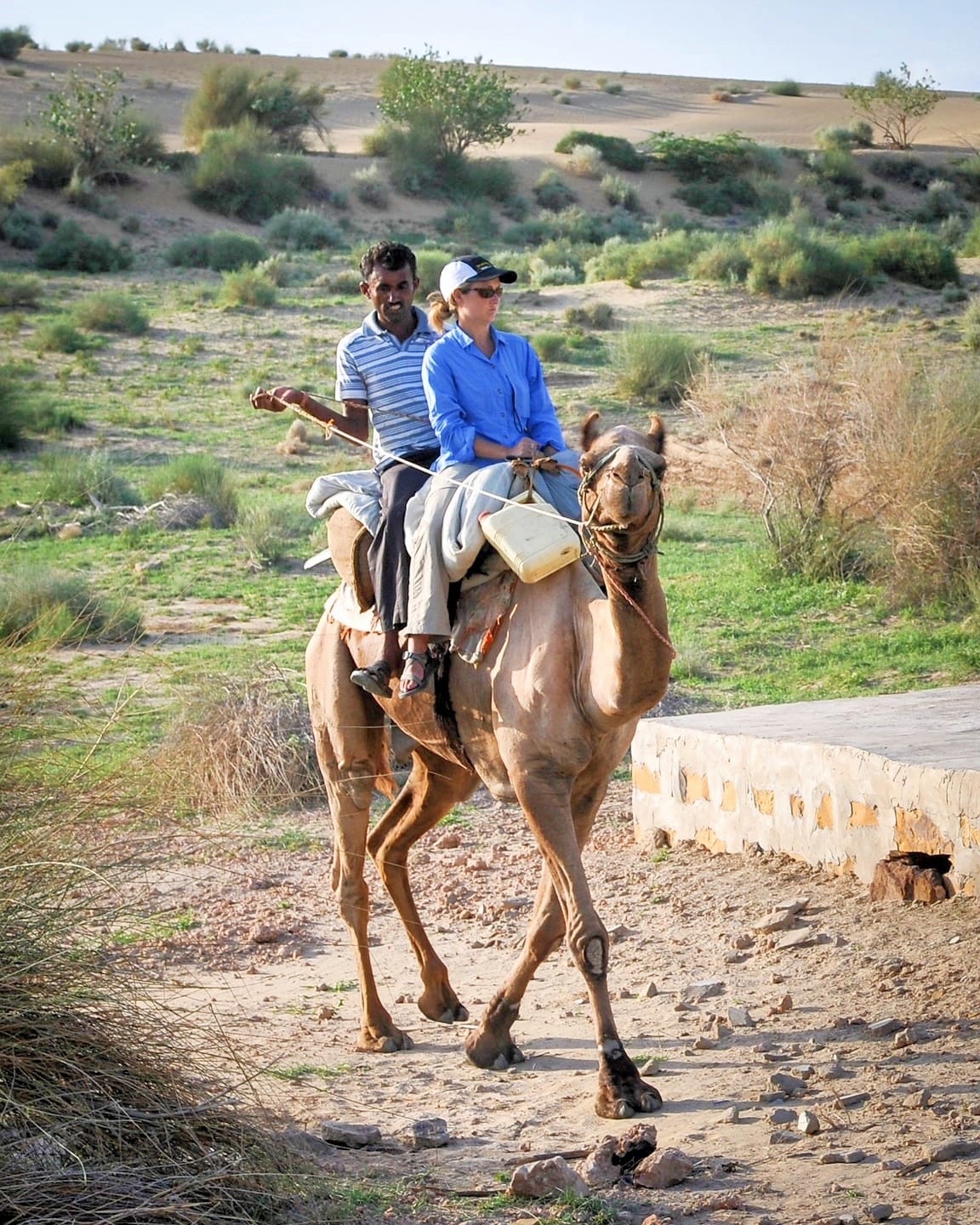 After nearly three hours riding a camel through the desert, we arrive at the Khuri sand dunes – the quintessential desert backdrop of camel safari dreams!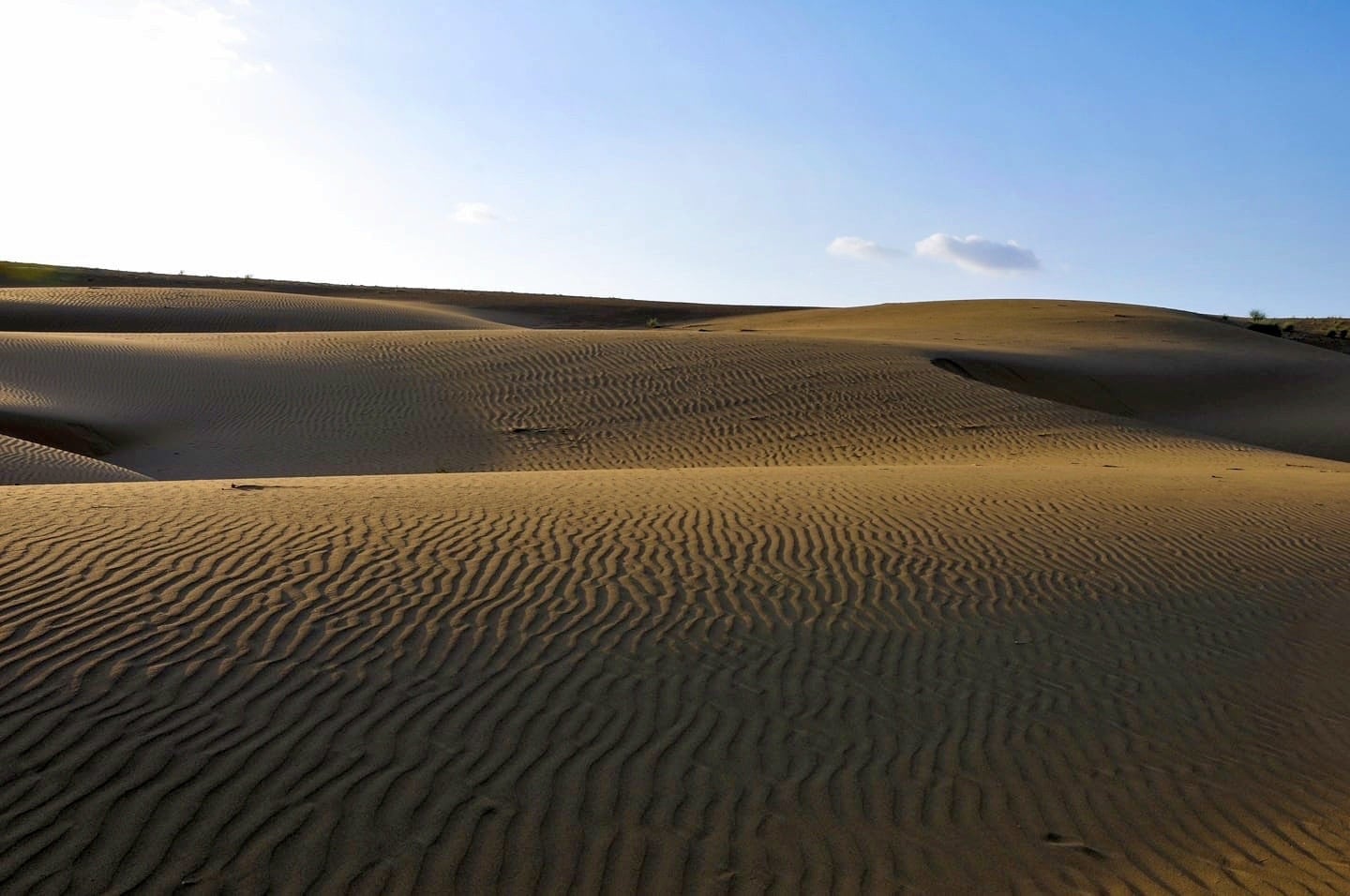 Despite the unavoidable dusting of sand in our bowls, dinner was pretty good, considering we were out in the middle of the desert and all.
Everything was prepared fresh over a tiny fire using ingredients brought from Khuri Village.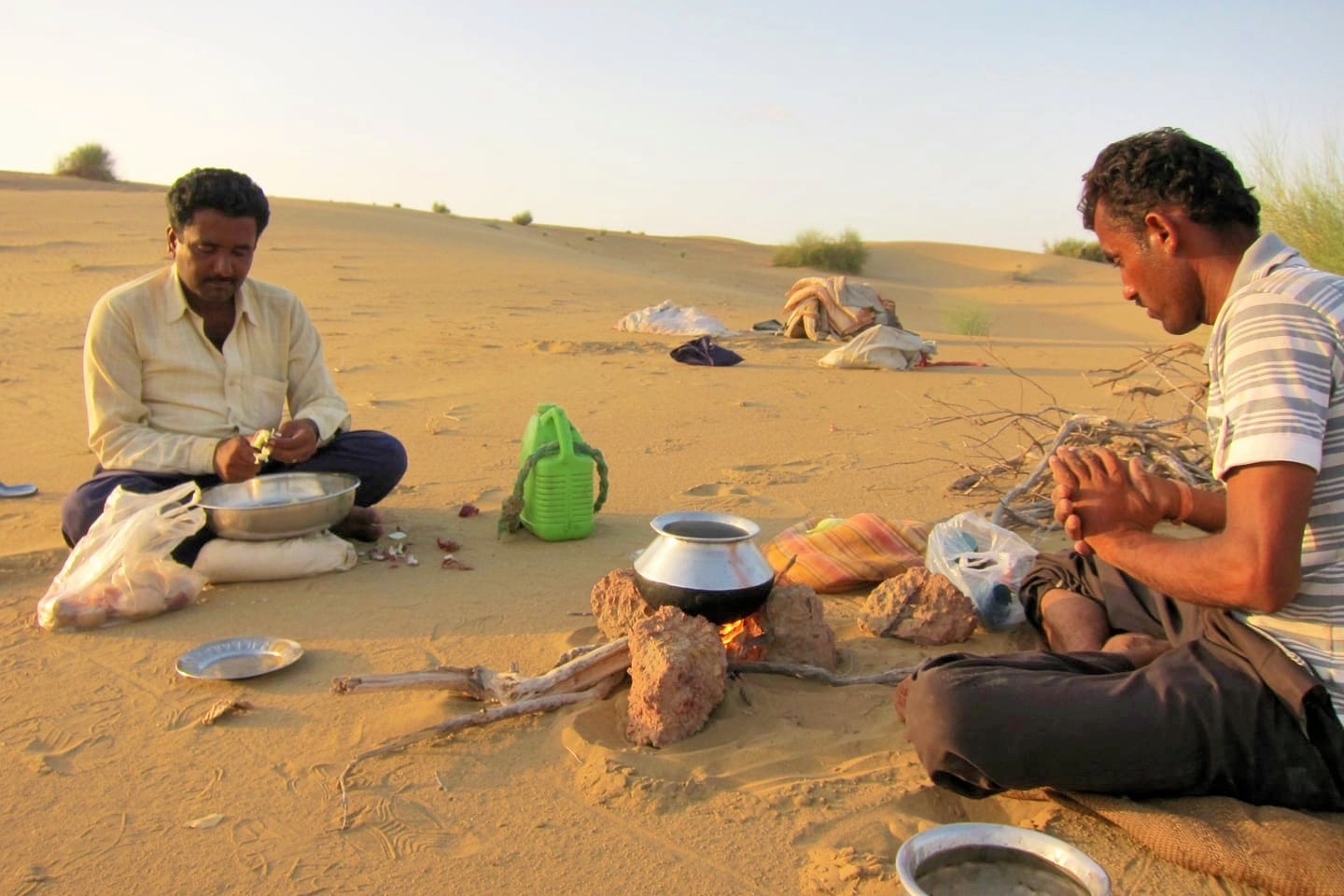 Most people in these parts are vegetarian, and our meal was vegetarian as a result (potato and veggie curry with roti bread made while we watched the sun set).
Dinner, as with every meal we had in the desert, was accompanied with a small bowl of loose-leaf chai.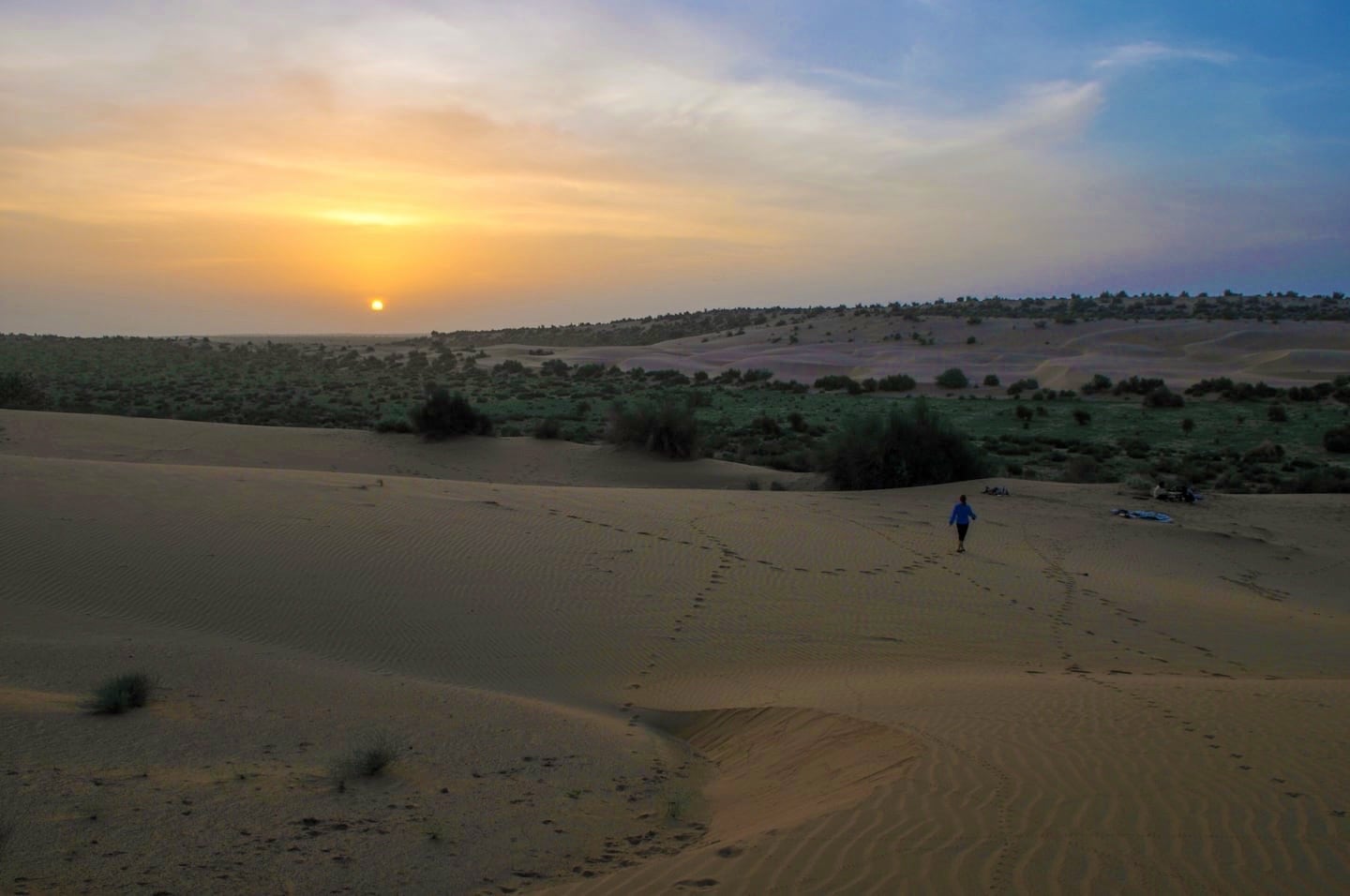 It would be a bit of an understatement to say that it was a long night.
It had been a fairly hot afternoon and the heat alone (and the absence of a good breeze) was enough to make getting good sleep challenging.
Our bedding was actually quite comfortable for the circumstances — a couple of very thick blankets over packed sand and some nice pillows.
We each had brought a silk sleep sack which came in handy in the early morning when temperatures finally dipped and became refreshingly chilly.
Thankfully, mosquitos and most other insects were not a problem. However, we did have a few dung beetles try (unsuccessfully) to climb into bed with us.
Suffice it to say that my night's sleep wasn't the most restful I've ever had. But sleeping on a sand dune in the middle of a desert under a clear sky awash with brilliant stars was a once-in-a-lifetime experience and worth every minute.
Yes, I could have had an absolutely fantastic night's sleep in a hotel room with air-con and en suite bathroom back in Khuri Village. But 50 years from now, would I still remember the night? Probably not. Certainly not near as much as this one.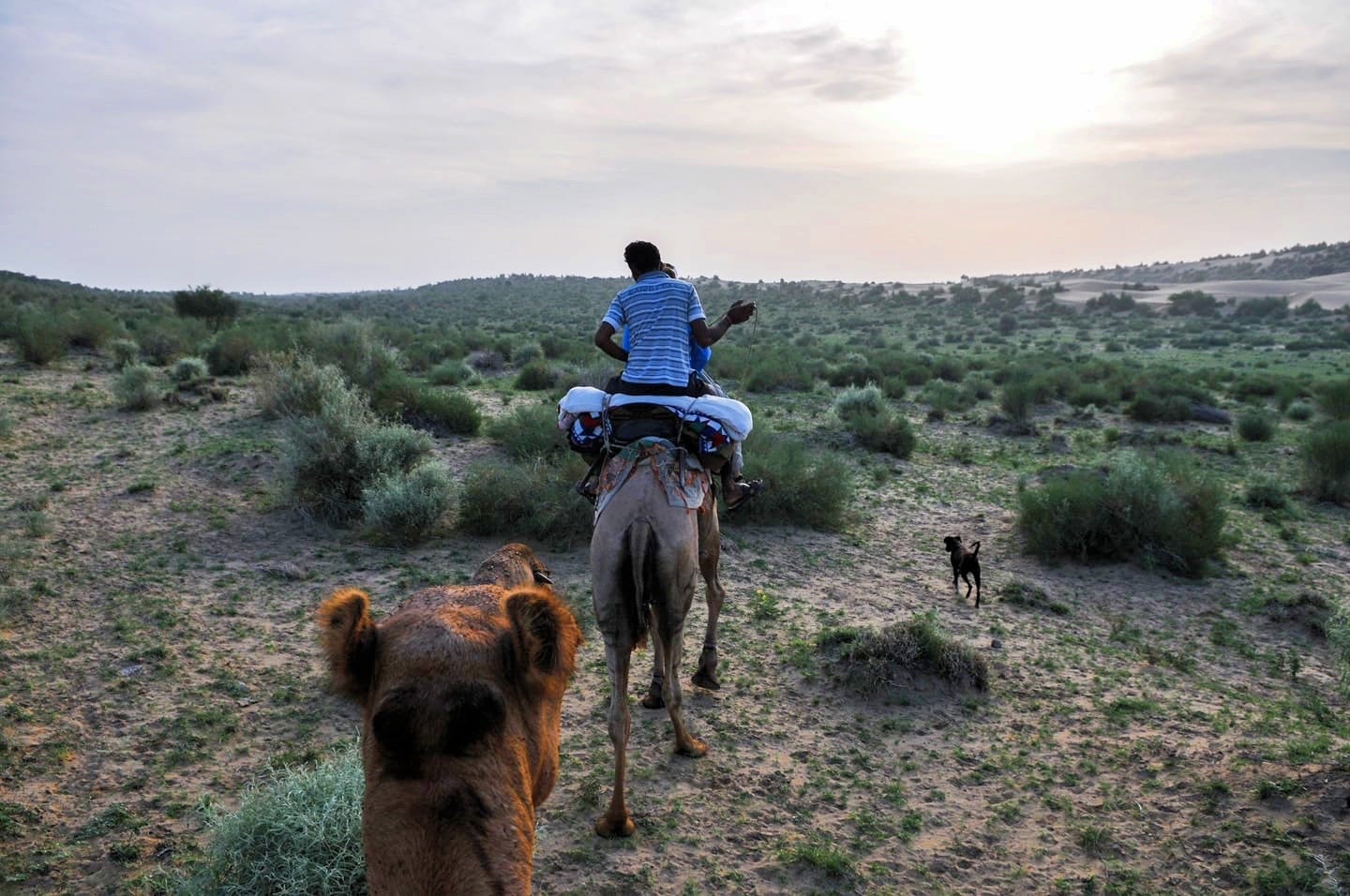 In all, it took about 3-4 hours to get to our camp spot in the Khuri sand dunes and about 90 minutes to get back to Khuri Village. The reason for this was that we took the scenic route in and a bee-line back.
On the return journey, our group was joined by a feral dog. At one point, the dog hunted down and attacked a young gazelle. This, had a profound impact on both our guides, so much so in fact that one of them jumped off their camel and tackled the dog until it let go of the small animal.
The camel driver then spent the next 10 minutes trying in vain to resuscitate the cat-sized animal, gently compressing its chest accompanied every so often with a wack upside the head.
Finally, realizing that his attempts were futile, he surprised us again by essentially giving the animal to the dog and heading on his way.
We were fortunate to have had the opportunity to be the in the company of these two wonderful people over our 17-hour journey in the desert. Meeting folks like these is what makes a visit to some place like Khuri so much more special than other more touristic desert safari destinations.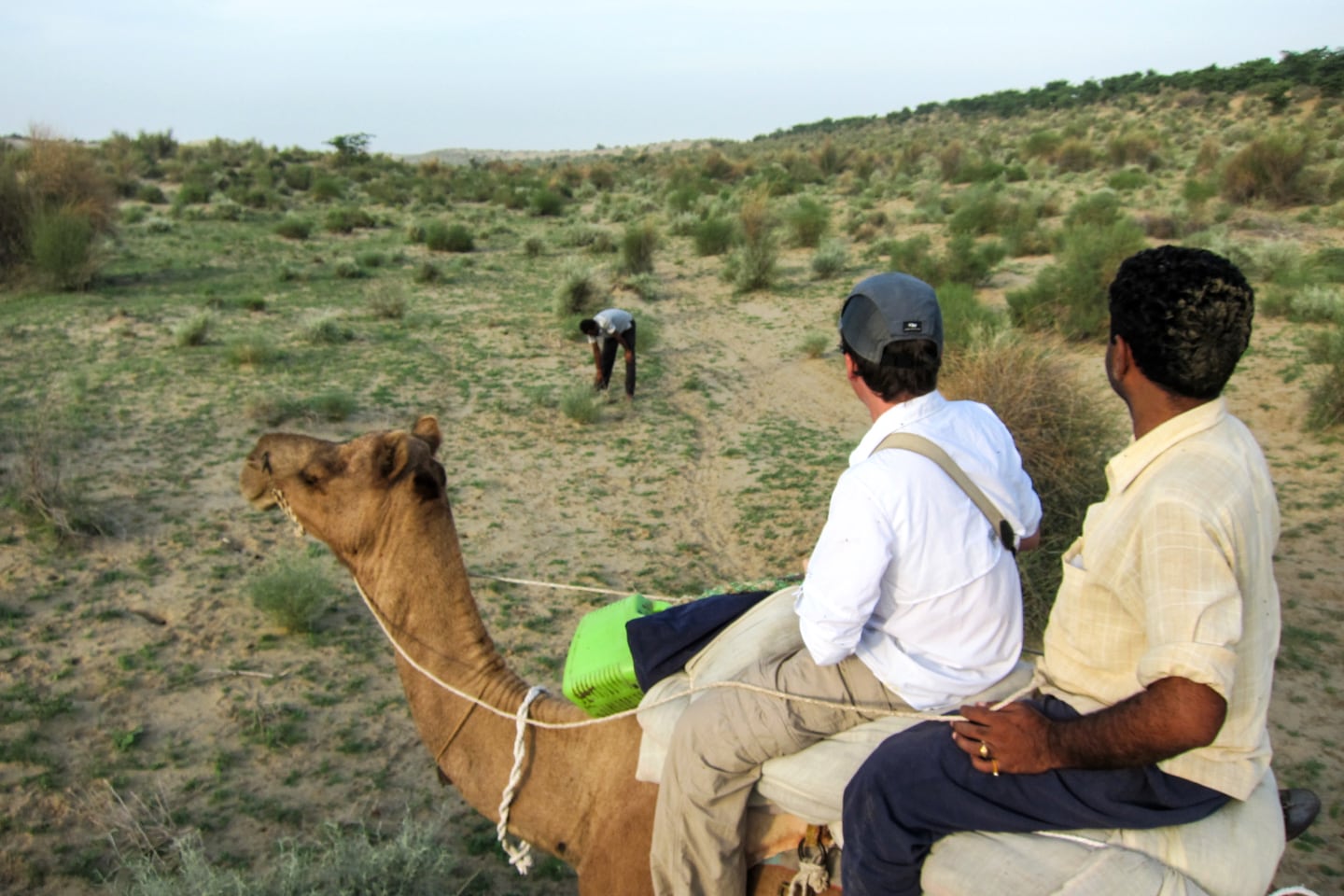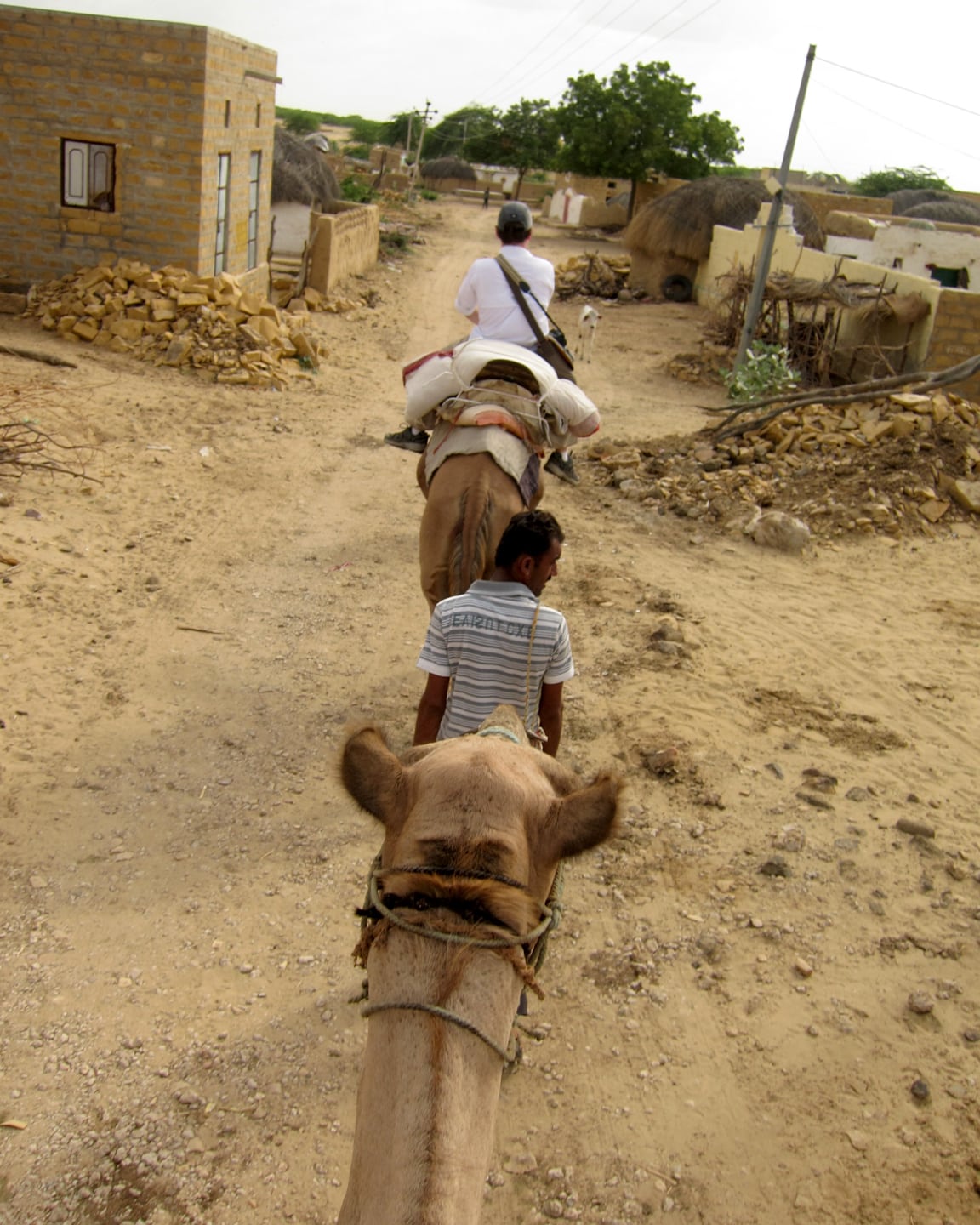 Khuri Village Explorations
There isn't much going on in Khuri Village these days. Then again, I'm not convinced anything much has ever gone on in Khuri, and that's sort of the beauty of it.
We hear that once a year (in November perhaps?) they have camel races which draw crowds from all over the region.
When we first heard of this we had a hearty laugh…that is until we found ourselves holding on for dear life to a galloping camel at full bore a day later on our camel trek.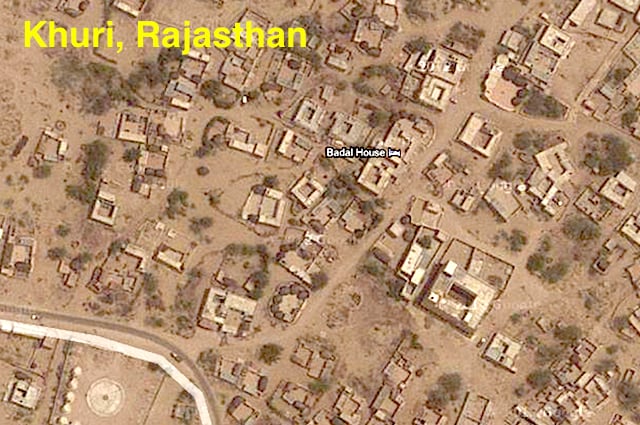 Just before sunset, Lori and I took a walk into town to explore the village. There isn't a ton to explore (two main roads, one paved, and a collection of snack shacks) but I can safely say it's like nowhere else I've ever been.
The town is beautiful in the evening light, low-lying cubic monochromatic structures, surrounded by expertly constructed earthen thatch-roof huts.
And so many camels, everywhere. They use camels for everything, for work, for play, transport, you name it.
There are very few motorized vehicles in Khuri Village save for an occasional Tata truck, a few motorbikes and of course, the daily bus that comes through the village.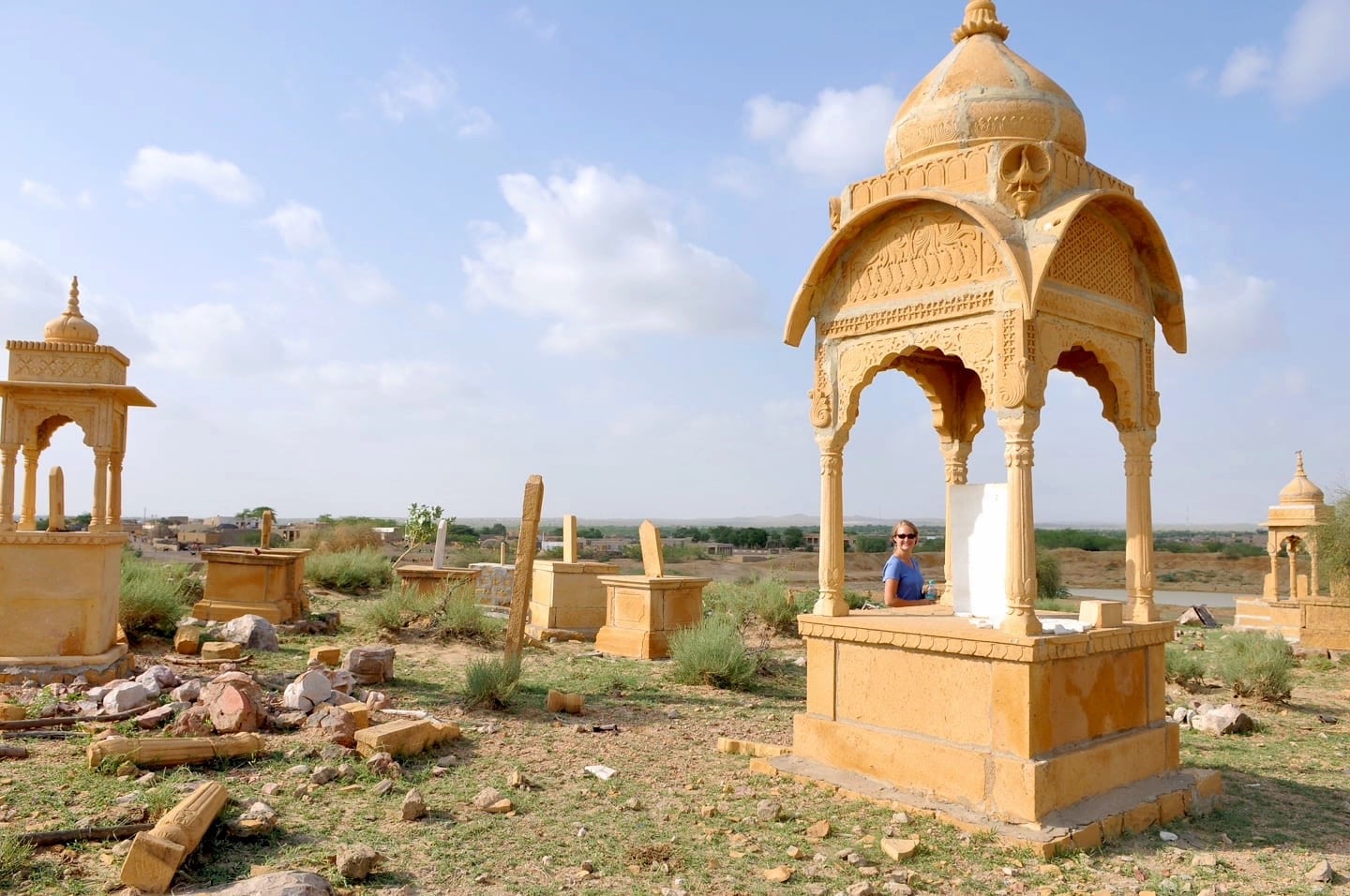 After a [very] short while, we found ourselves outside of the village on a mound littered with broken shards of pottery and small temple-like structures – the Khuri Village burial grounds.
It's our understanding that the pieces of pots have been used to leave offerings for the dearly departed and left to decay.
The mound also overlooks the main reservoir for the village which fills during the short monsoon period and is the primary source of water for agricultural purposes for much of the village for the remainder year.
Villagers come to the reservoir with water tanks towed using various methods to hall back to the village.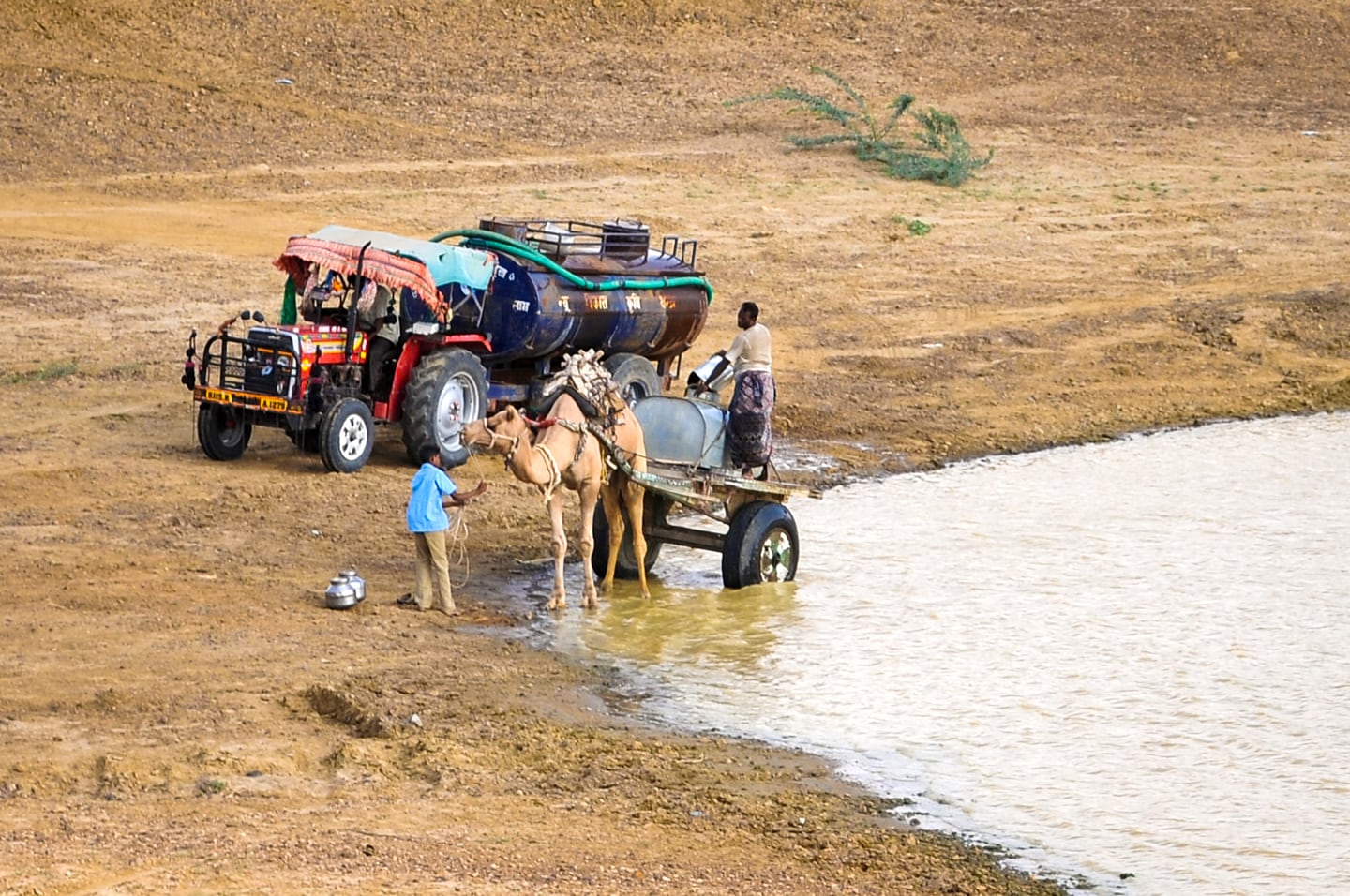 Closer to town, a couple of wells provide water for household use. Filling and transporting heavy water vessels, sometimes great distances, is a central part of the villagers' (i.e. women's) daily routine.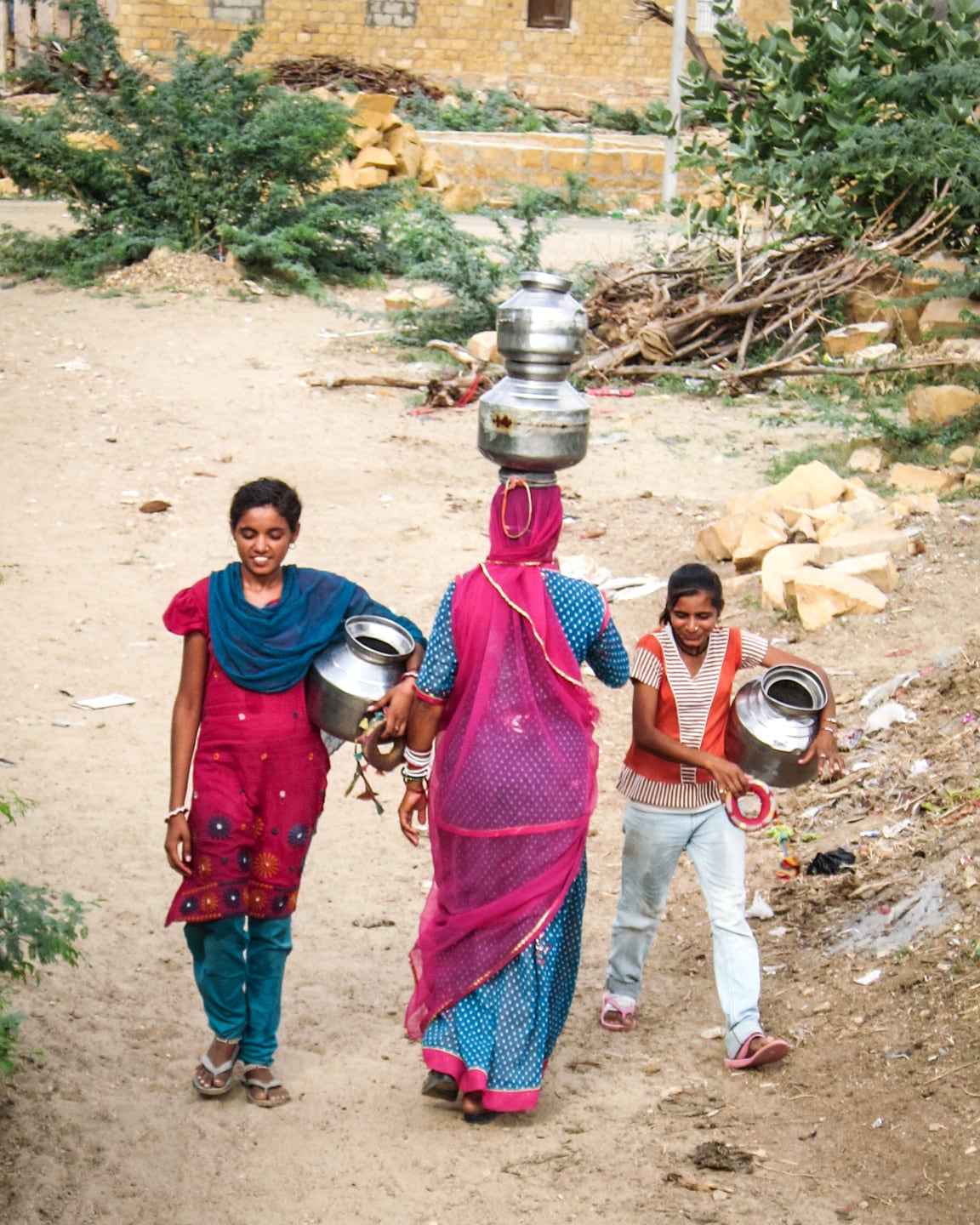 Such women may make one or several trips to and from the water source each day. Water is a scarce and highly valued commodity in the Thar desert and as a result, families are extremely judicious with its use and will ensure that not one drop is wasted.
While women find themselves tending to household necessities, it is primarily men who look after livestock.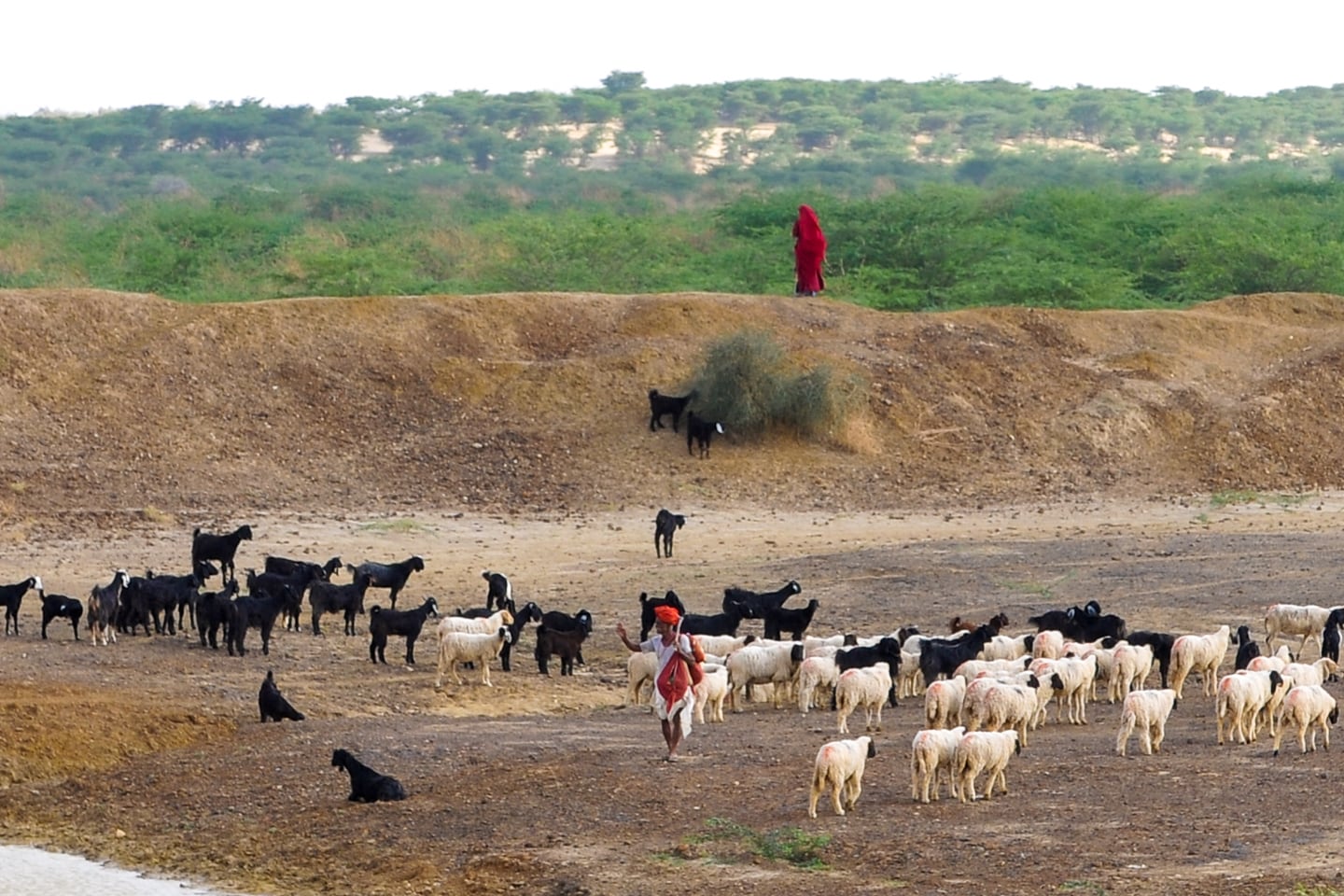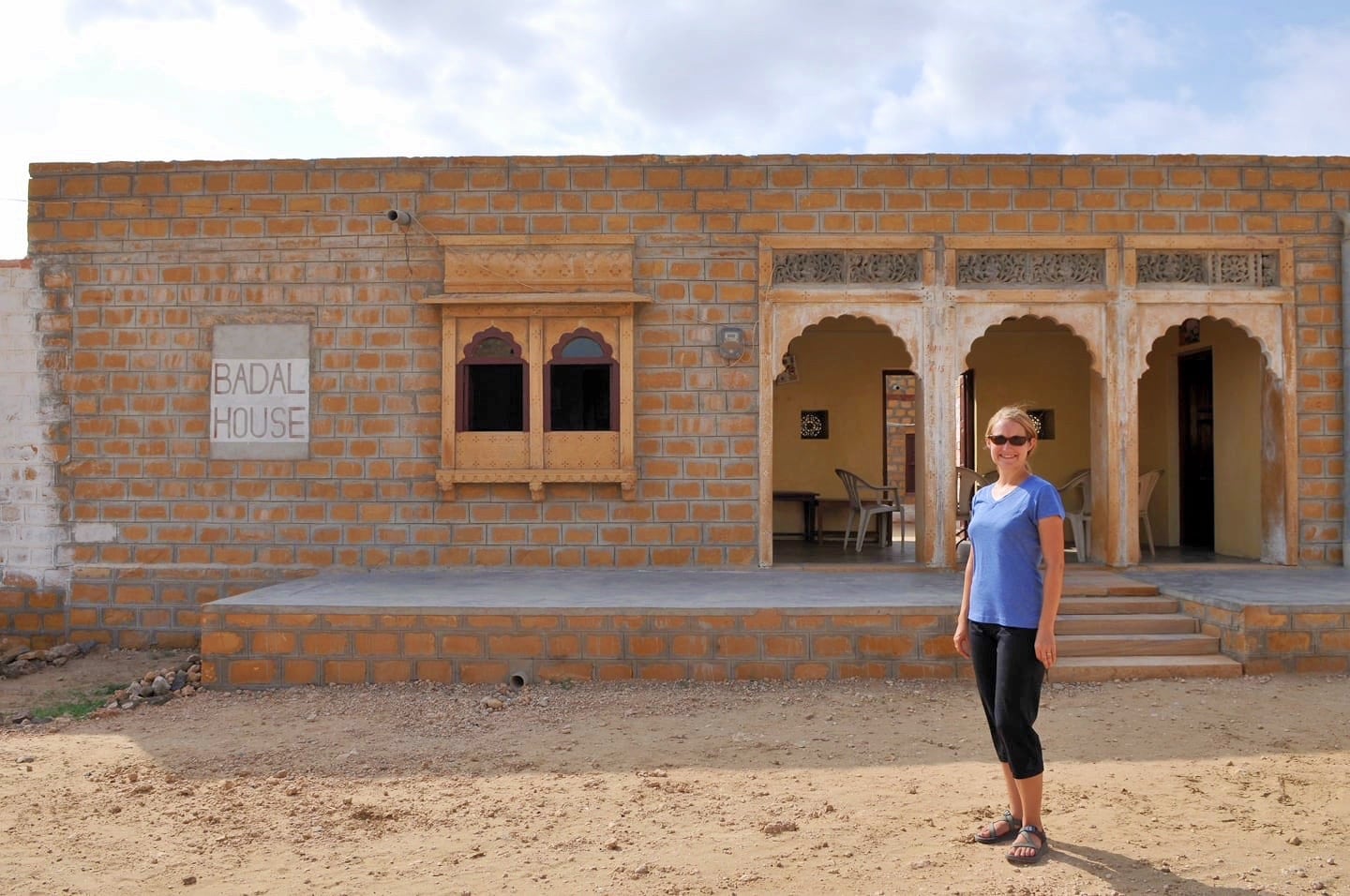 Our Badal House Stay
The main highlight for us in Khuri Village was our stay at Badal House with the legendary Badal Singh and family.
Incredibly gracious, hospitable and just an all around wonderful dude, Badal's been welcoming travelers to his family compound for years. He doesn't believe in advertising (people just basically have to find him) and apparently didn't even have a sign until very recently (at the repeated request of his guests).
When we visited, Lonely Planet had just caught wind of Mr. Badal and listed him in their latest India edition…but with the wrong phone number. That somehow didn't seem to phase Badal at all.
First and foremost, Mr. Badal raises male goats, and has since he was a child.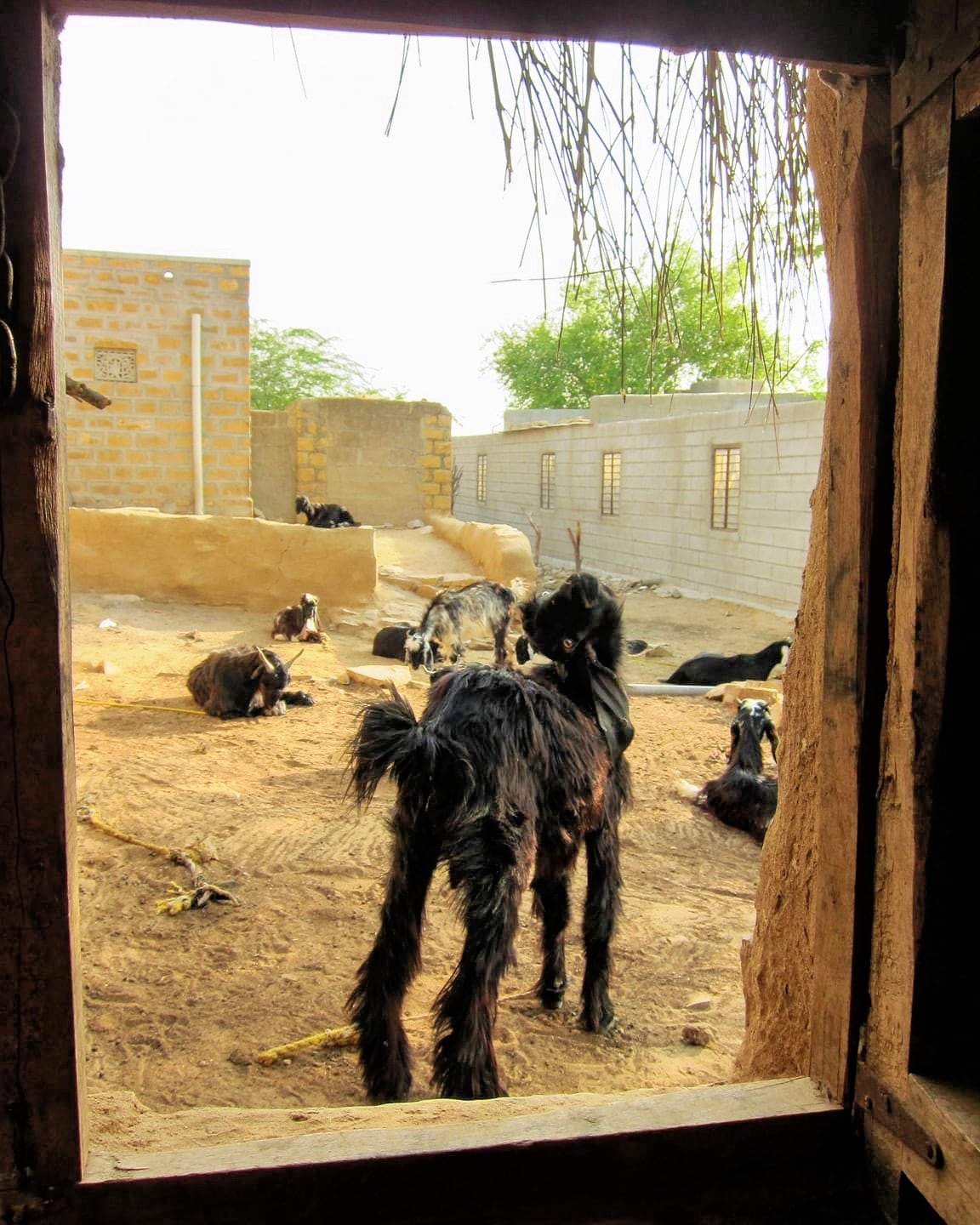 He loves his work and his village. He has a much different view on the city (Jaisalmer) and has no ambitions of traveling (doesn't care for it much at all).
In a way, he says he feels like he's been all over the world from talking to the hundreds of travelers who have stayed with his family.
But don't underestimate Badal just because he's spent most of his life in a small desert village raising goats — he's far more wise, worldly, and intelligent than he initially lets on and can talk with authority on a range of subjects.
Khuri village is an oasis in the Thar Desert, and Badal House is an oasis within an oasis.
Within these walls everything outside feels irrelevant. Days — though incredibly hot — just seem to roll on by as you're sitting under the whirring fan of the front portico enjoying the afternoon shade and Badal's wife's tasty, yet simple, Rajasthani cooking.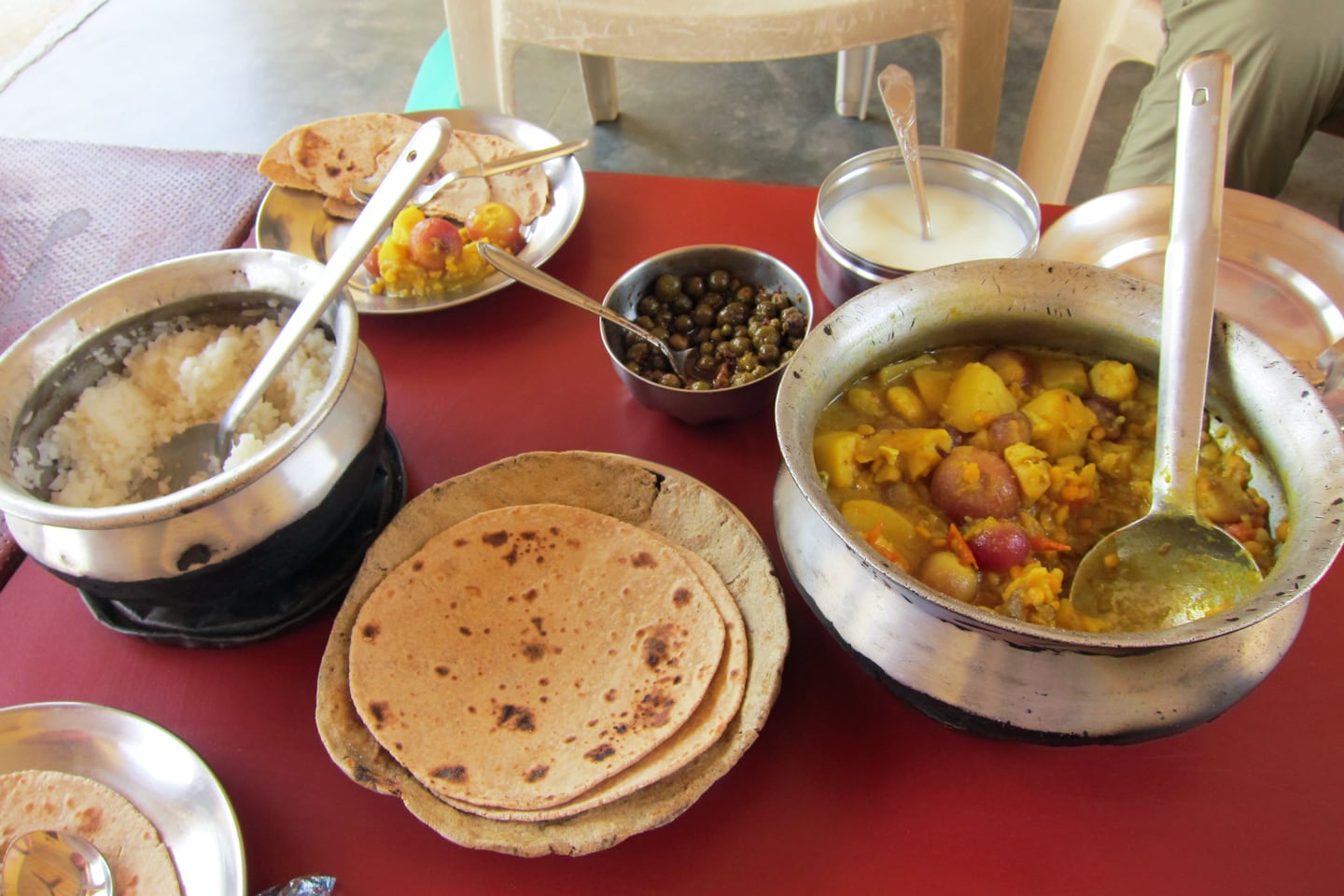 Guests have the choice of sleeping in one of two concrete rooms with windows and ceiling fan, or in one of three traditional mud huts toward the rear of the compound — which are in fact the very huts where Badal's parents once sleep.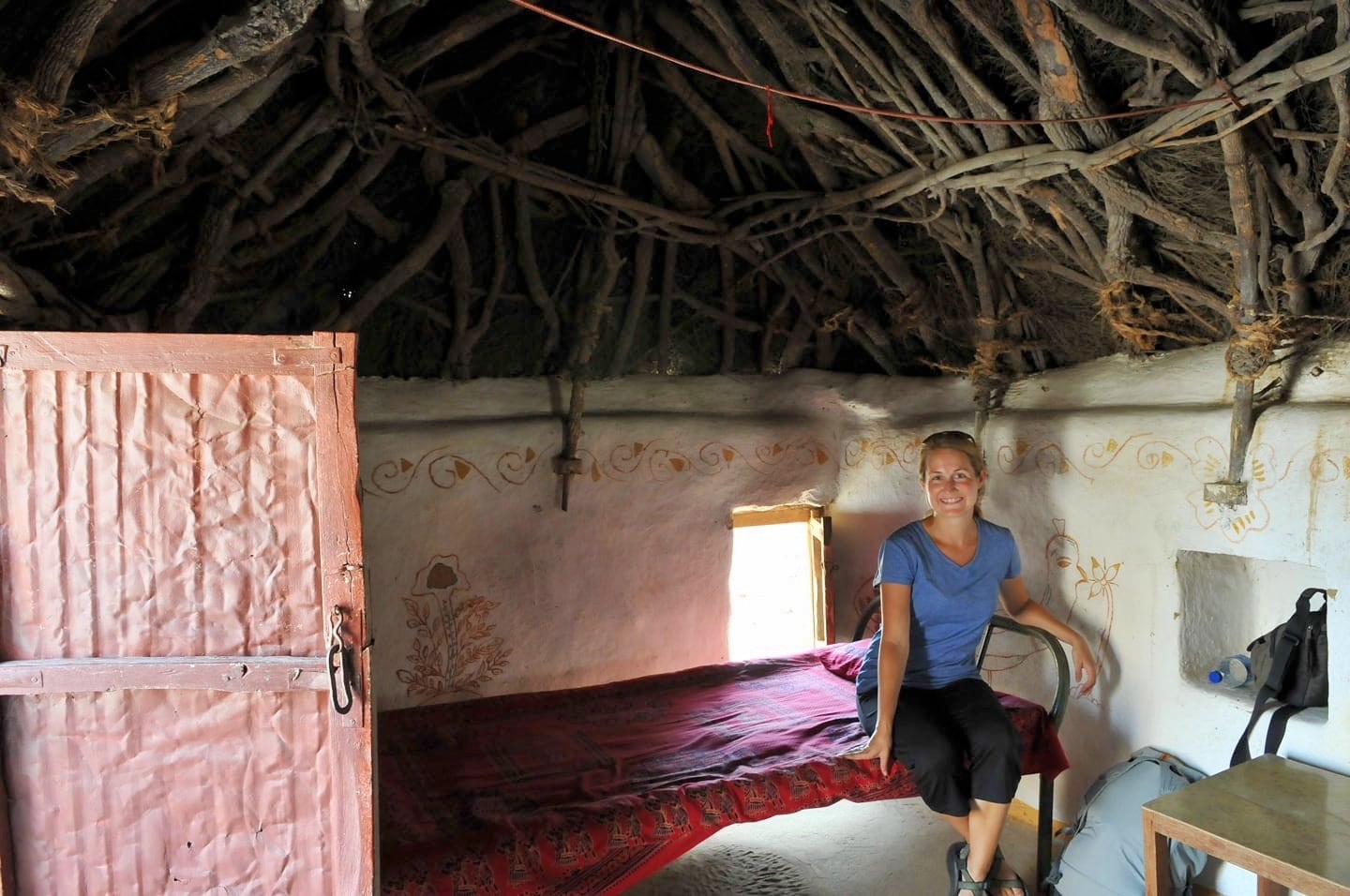 You are also most welcome to sleep under the stars, and the family will set up a cot or a mattress in the courtyard or up on the roof.
Due to the heat that night, Lori and I eventually opted for the cot in the courtyard under some of the brightest stars we've ever seen.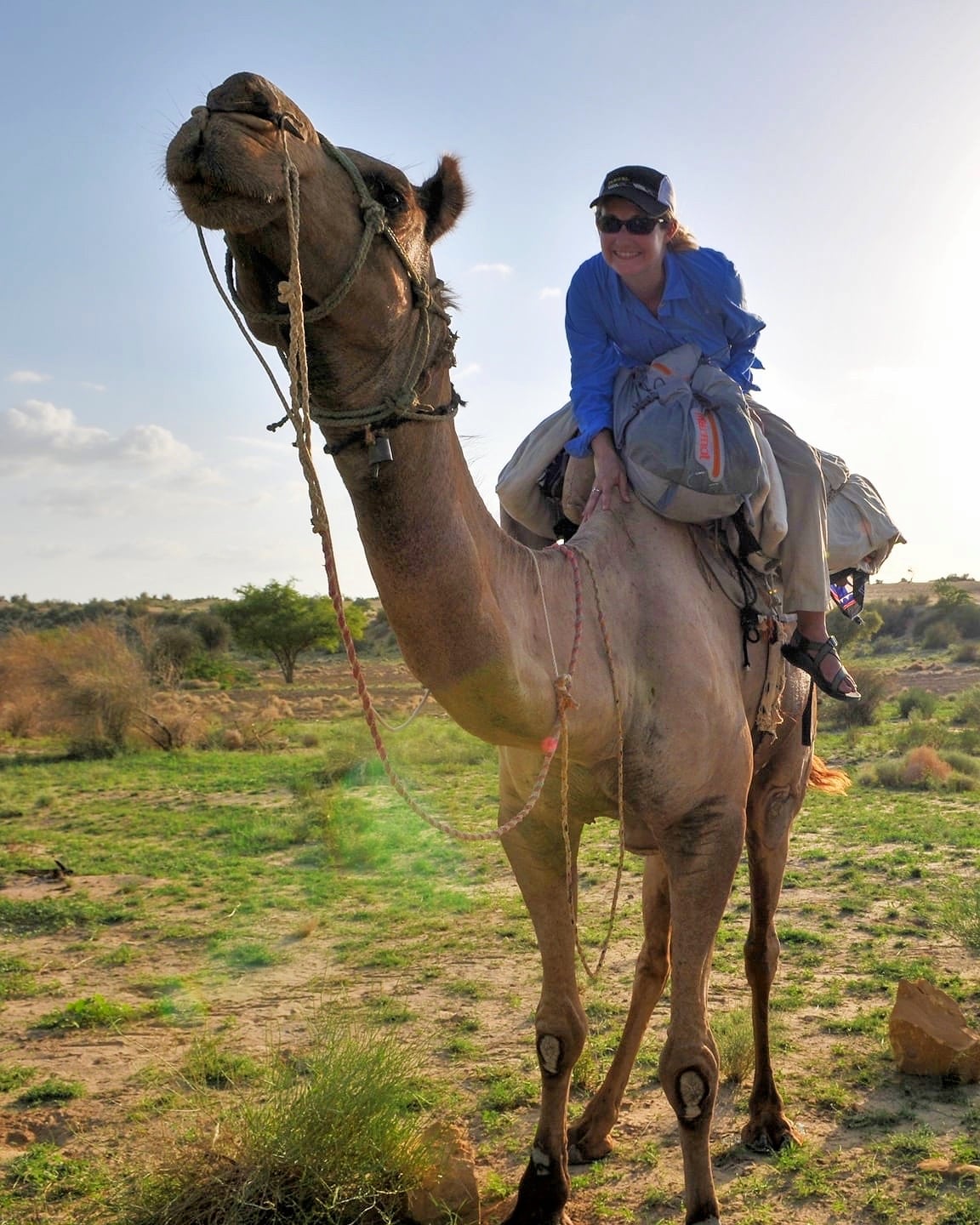 And That's What You Need to Know for Visiting Khuri Sand Dunes near Jaisalmer
Have you gone on a desert safari in the Khuri Sand Dunes? Tell us about your experience in the comments.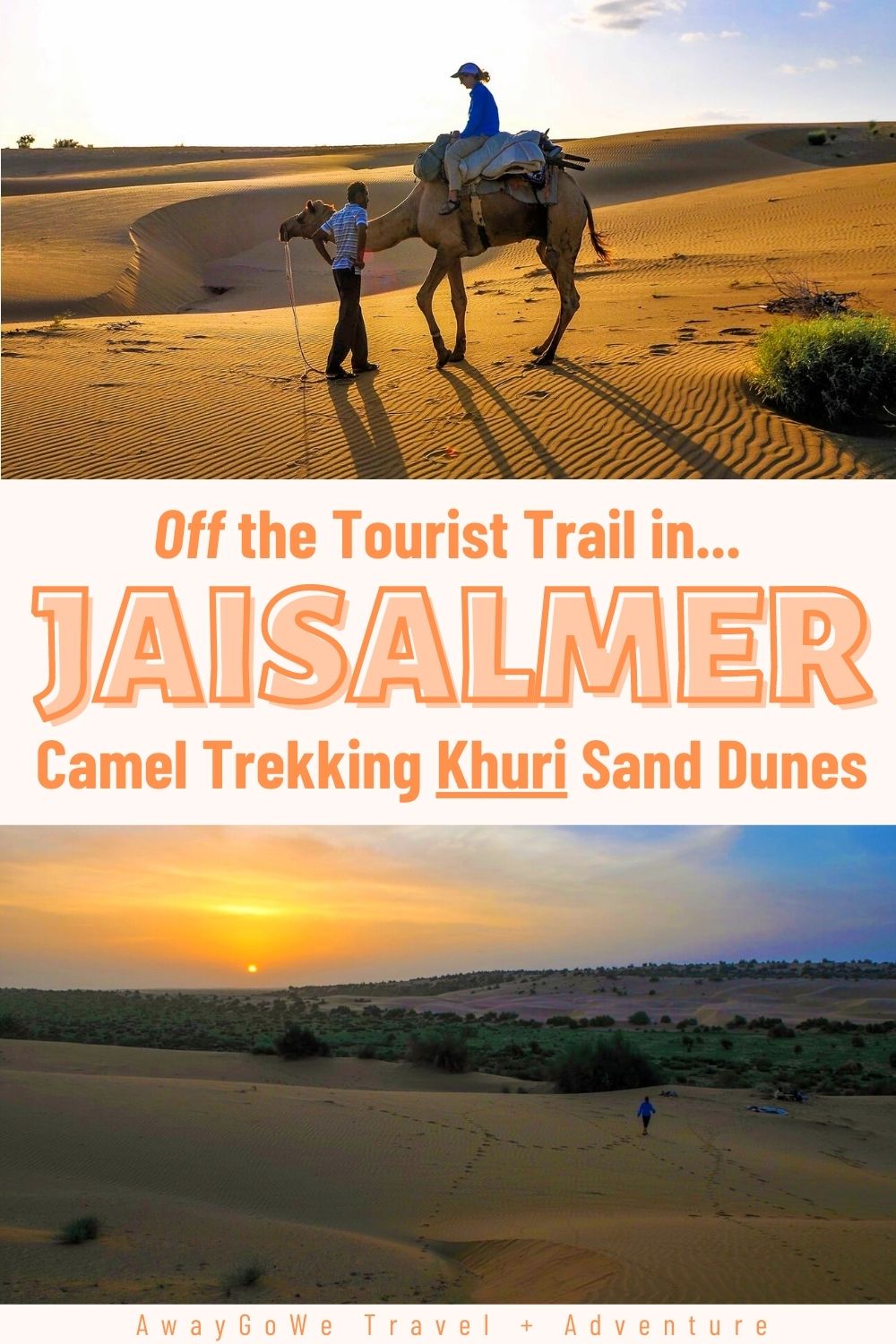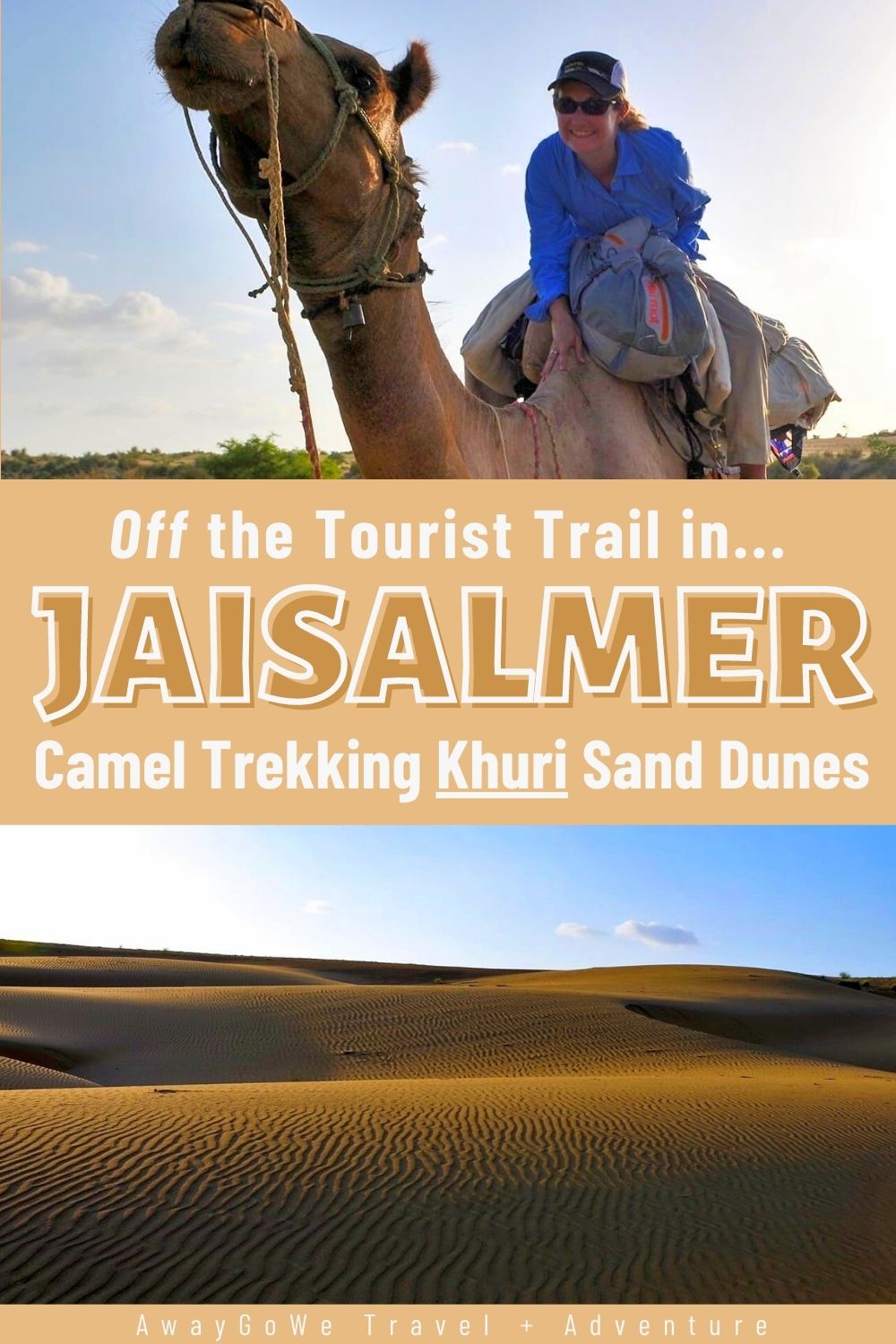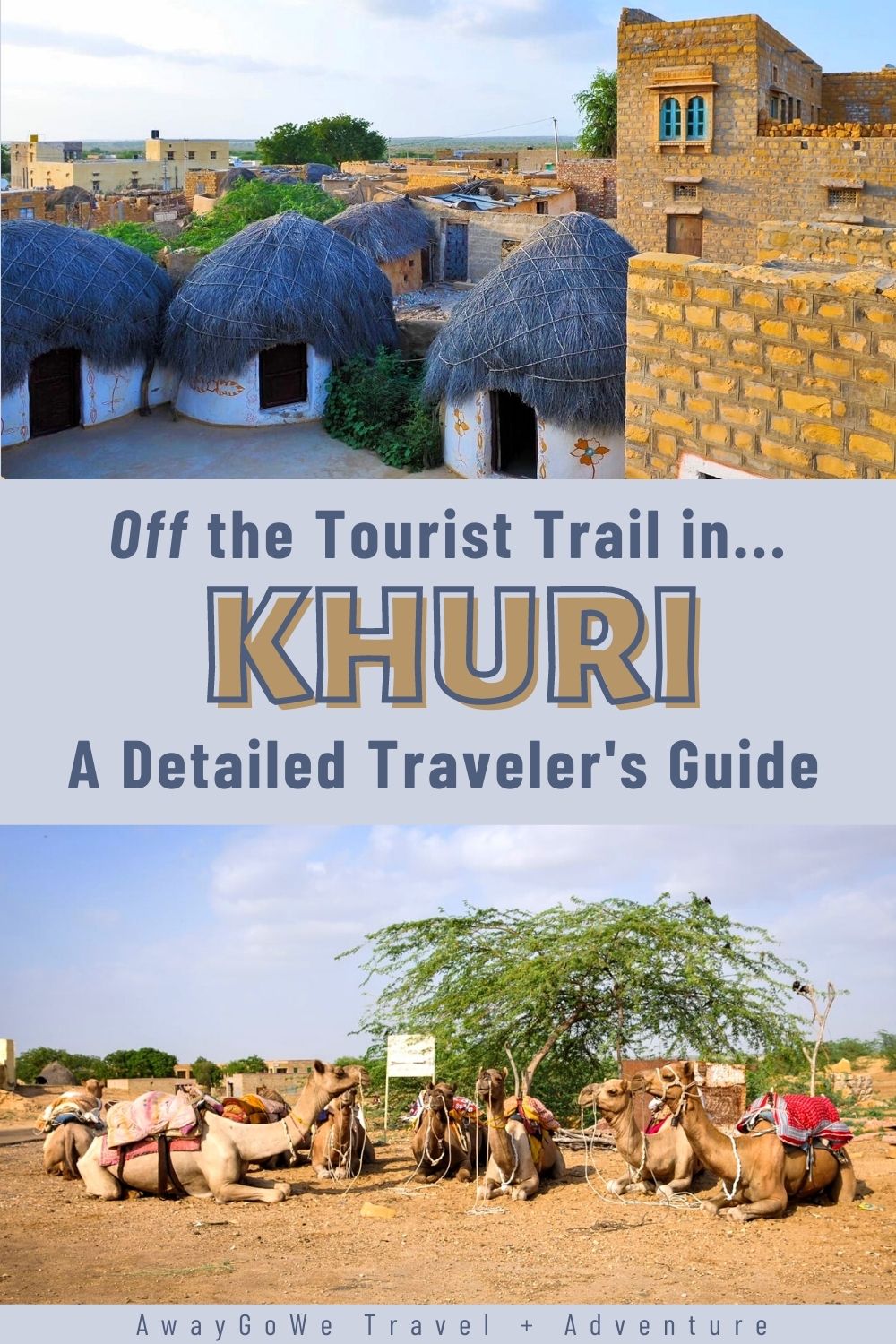 21 Nov 2021
05 Nov 2012
I've been a blogger and travel writer since 2010, covering everything from luxury hotels to hidden destinations and travel gear. Originally from Oregon, I've spent the majority of the past 20 years living outside of the U.S., in Mexico, the Caribbean, Southeast Asia, Africa, and Europe. I received a BA in Communications (Journalism) from Boston College, and an MA in International Development Studies from the George Washington University. I'm passionate about exploration and discovery, and providing independent, thoroughly-researched, ad-free advice for travelers.