For visitors to Penang Island looking for a first-rate beach vacation, Batu Ferringhi is the island's epicenter of fun in the sun.
Die-hard beach aficionados love to sing the praises of neighboring Langkawi, particularly if they've got their hearts set on rustic beach cabanas, hidden attractions, and crystal-clear surf.
But Penang Island is the clear winner between the two when it comes to historical and cultural attractions, local cuisine, and activities available for families.
If you are looking for a top-notch beach break while taking advantage of all this incredible tropical island has to offer, Batu Ferringhi packs a mighty punch.
Read on to discover why Batu Ferringhi remains one of the top destinations for visitors to Penang – and why you should consider adding it to your Penang itinerary.
Plus lots of helpful tips for making the most of your time both on and off the beach.
We're reader supported and may earn a commission from affiliate links on our site at no cost to you.
---
10 Reasons To Go To Batu Ferringhi
---
1
|

Fun For Everyone!

Malaysia is a country blessed with thousands of miles of tropical coastline, hundreds of stunning islands, and countless beaches.

Yet few beach destinations in Malaysia offer the variety of activities and amenities for a range of ages and interests as Batu Ferringhi does.

Families love the ease of access to the island's best theme parks for kids, variety of family-oriented beach resorts, and miles of golden sands waiting to be explored.

Couples head to Batu Ferringhi for pampering and relaxation at the area's luxury resorts and the excellent restaurants, low-key nightlife, and live music on offer across town.

Thrill seekers find lots to love about the motorized water sports on offer right from the beach, while solitude seekers find their happy place exploring nearby jungles and hidden beaches.

Whether your aim is to relax and reconnect, get your adrenaline fix, or something in between, chances are you'll find it in Batu Ferringhi.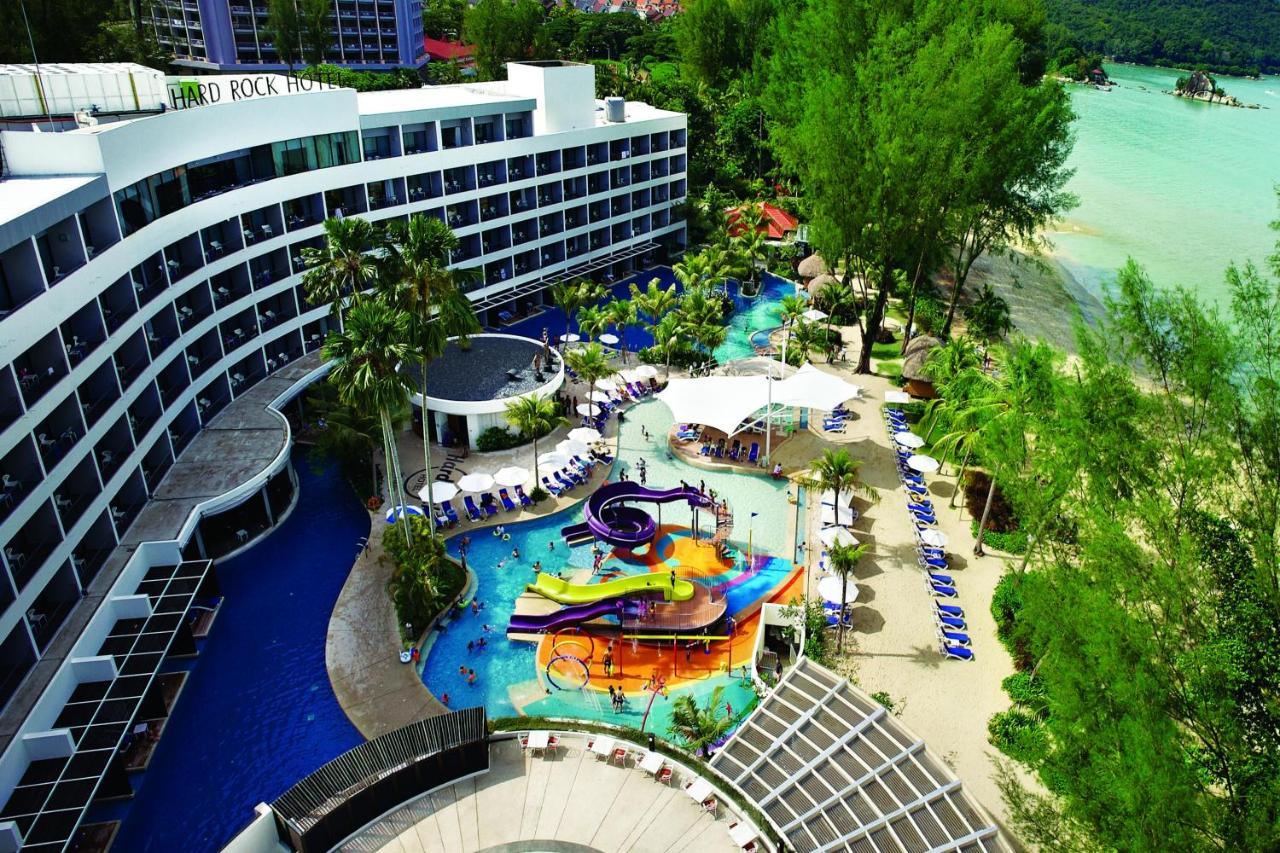 2
|

Fabulous Beachfront Resorts

Speaking of family-friendly beach resorts and luxury digs for couples, Batu Ferringhi's best beachfront resorts are another great reason to visit!

If beach huts are what you crave, you won't find those on Batu Ferringhi Beach. What you will find here are a range of first-class beach resorts from modest and mid-range to some of the very best hotels on offer in Penang.

One of the things we love about traveling in Malaysia is the value you get for your money, and hotels in Batu Ferringhi are certainly no exception.

Lori and I were particularly surprised by the level of service and amenities you can get on the beach in Penang over what you get in Thailand's top beach destinations at the same price point.

Below are our top picks for places to stay in Batu Ferringhi. These are the places that we would recommend to friends and family planning their own trip to Penang right now.
Our Top Pick in Batu Ferringhi
Boasting a full-service spa, top-rated service, and one of the best beach locations in town, Shangri-La's Rasa Sayang is our overall top pick for best places to stay in Batu Ferringhi.
There's plenty more to love about the resort, including separate pools for kids/families and adults, 9-hole golf course, and one of Batu Ferringhi's best restaurants and bars.
Top Picks for Families
Hard Rock Hotel Penang is a perennial favorite with families looking for a vacation that blends modern styling, contemporary music, and family-friendly facilities (such as a kid's club and water park) with an assortment of upmarket amenities.
PARKROYAL Penang Resort is an excellent bet for families looking for a more subdued experience without sacrificing luxury amenities and kid-friendly perks such as a water park and kid's club.
Top Budget Pick
For simple, yet excellent accommodation, check out centrally-located Rasa Motel (right across Jalan Batu Ferringhi from Shangri-La's two beach resort offerings). No beachfront rooms here, but you won't have to travel far to get your feet in the sand.
---
Related
---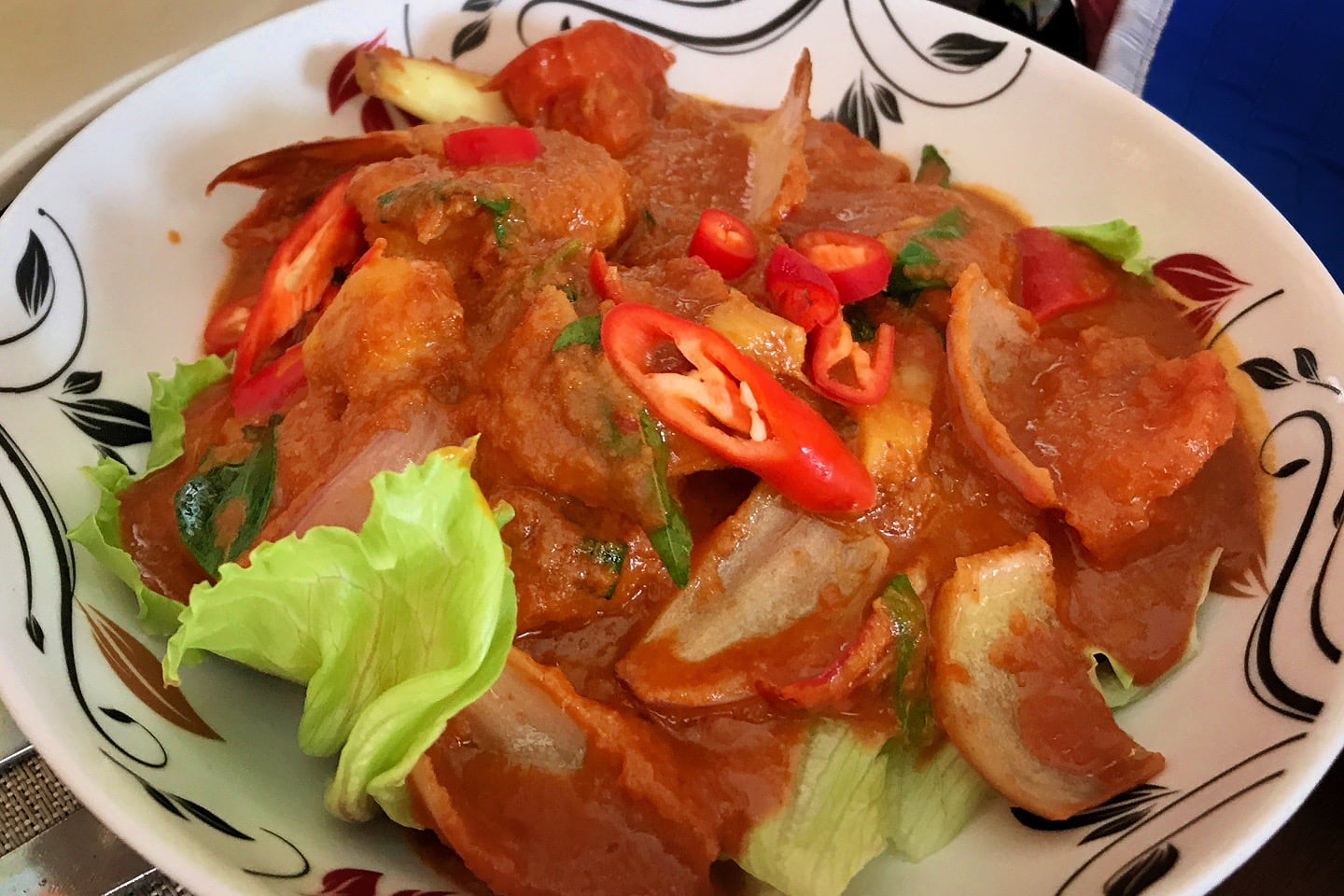 3
|

Penang Island Cuisine

Penang Island's legendary cuisine and food scene is often regarded as one of the best in Southeast Asia. Historic and bustling George Town may be the heart of the culinary action in Penang, but Batu Ferringhi has plenty to offer even the most discerning foodies.

In addition to Penang's mythic offerings fusing Malay, Indian, Chinese, and Peranakan flavors, visitors will also find a variety of European, Middle Eastern, and North American fare as well.

Here are a few suggestions of places to try while visiting Batu Ferringhi:
Local (Penang) Cuisine
If you're craving the real deal, head to the Batu Ferringhi Night Market for some of the best street food stalls in town.
Long Beach Kafe (Long Beach Food Court) is often considered one of the best bets in and around the Night Market.
If you're looking for a more traditional sit-down restaurant, try Enca Cafe and Power-Up. Andrew's Kampung can't be beat for delicious Penang Chinese food in a casual setting.
Feet-in-the-Sand Dining
Our favorite on-the-beach eatery in Batu Ferringhi is Frandy's Beach Bar, but you'll have a bit of a walk ahead of you coming from the center of town.
River Stone Bistro is also a good bet, as is Bora Bora by Sunset, though the latter tends to run a bit pricier than other places.
International Fare
For a taste of home (or something a bit more exotic, depending on where you are from), Batu Ferringhi has a number of great options available for travelers.
For breakfast, brunch, or lunch, check out Ferringhi Coffee Garden. Living Room Cafe serves up tasty Asian fusion dishes with a homey atmosphere. Have a hankering for Lebanese? Try out the Grand Lebanon. For the best buffet in town, head to The Spice Market Cafe.
---
Related
---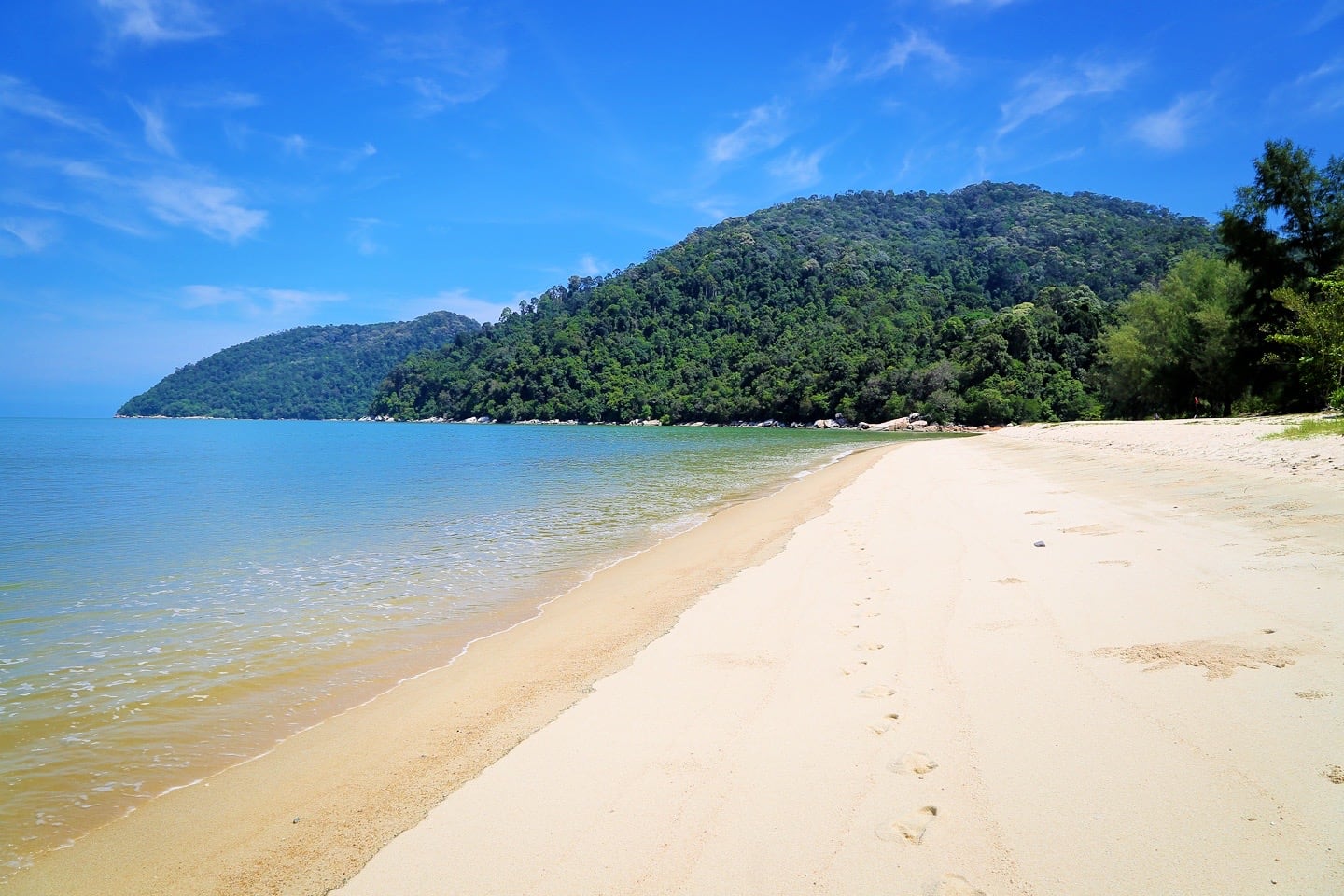 4
|

The Beaches of Penang National Park

Located just 7 km west of town is a nature lover's paradise and perhaps one of the island's greatest natural assets: Penang National Park.

Miraculously under-visited and teeming with birds, Macaque monkeys, and other wildlife, you could easily spend an entire day hiking around the park and only run into a handful of others.

Most visitors to Penang National Park hire a boat and head straight for Monkey Beach (Teluk Duyung) (which is decidedly NOT under-visited). But there's so much more coastline worth exploring!

For a short hike from the park entrance, Teluk Ailing is a low-key alternative to Monkey Beach.

But the award for arguably the best beach on the island (and fewest crowds) goes to Pantai Kerachut (Turtle Beach), which is most commonly accessed via a moderate-strenuous 7 km hike from the park entrance.

Add another couple of kilometers and head south to Teluk Kampi for the ultimate in peace and seclusion on Penang Island.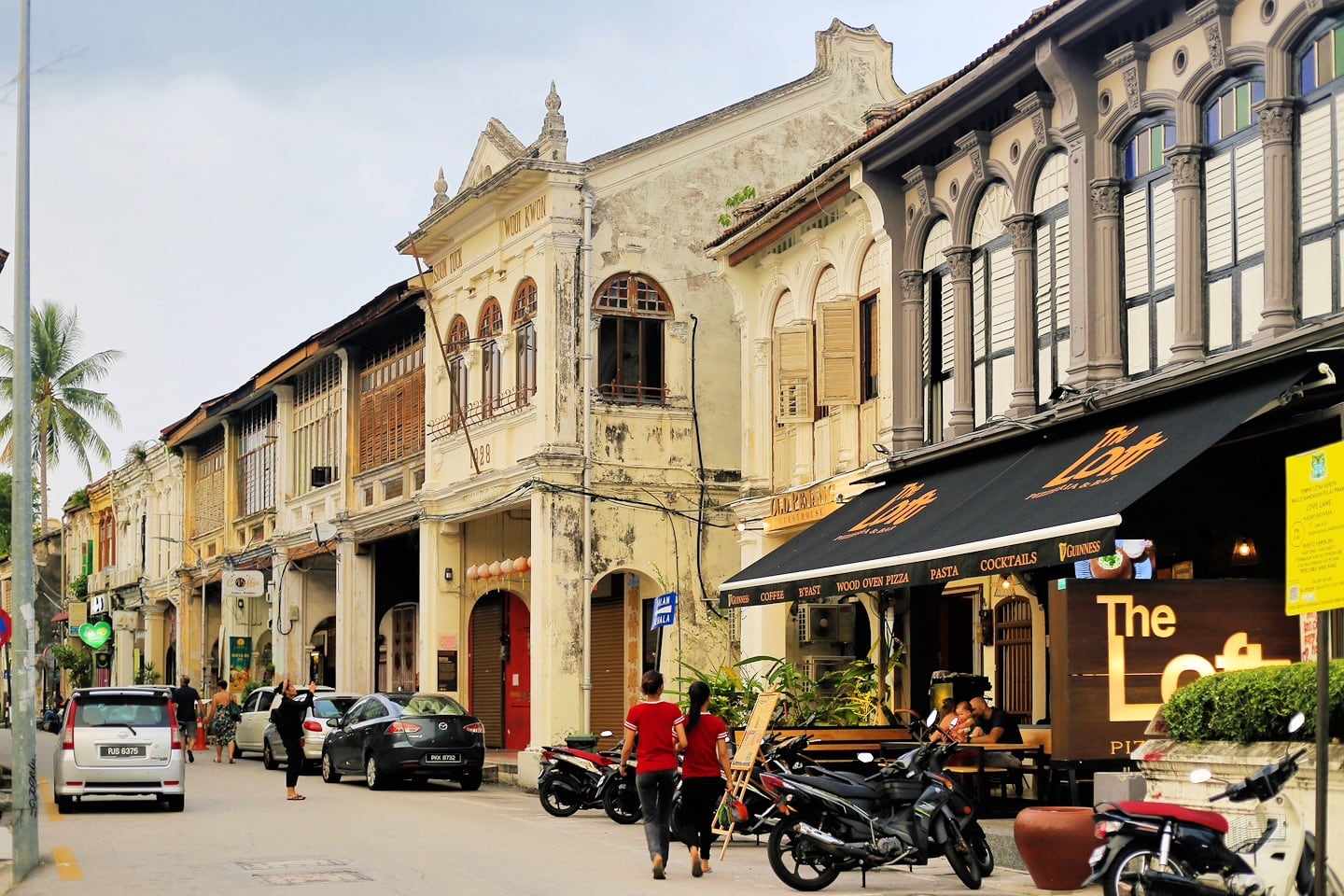 5
|

Proximity to UNESCO Old Town George Town

Before visiting Penang, we heard about a lot of visitors choosing to base themselves out of George Town – the biggest city and cultural epicenter of Penang – and making day trips to Batu Ferringhi.

What we quickly learned after arriving is that a number of people also do the opposite – basing themselves out of their comfortable beach digs for day trips to George Town, Penang Hill, and Tanjung Bungah from Batu Ferringhi.

After all, the travel time between Batu Ferringhi and George Town is only about 40 minutes (by taxi, ride share, and even public bus).

George Town is not to be missed for its historical significance and excellent historic attractions (it is, after all, a UNESCO World Heritage designated city), but also for the diverse community its attracted over the past several centuries (and the amazing cuisine that's developed alongside it!).
---
Related
---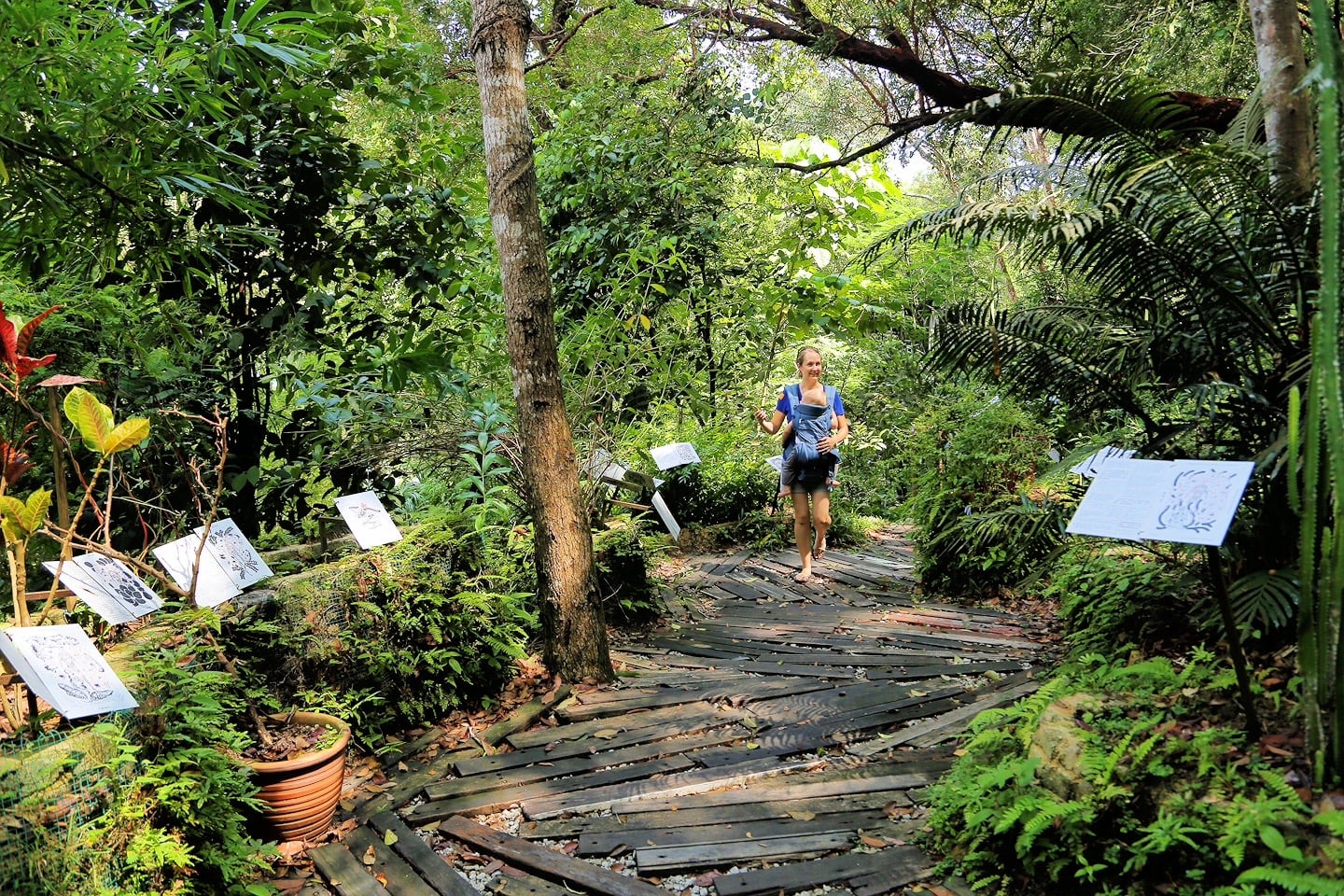 6
|

Tropical Spice Garden

When Lori suggested we visit the nearby spice garden, I wasn't all that enthused about it. I should have been! The Tropical Spice Garden just outside of Batu Ferringhi far surpassed my expectations and was one of the highlights of our visit to the area.

With over 500 species of tropical spices spanning the vast garden (that feels more like exploring a dense, yet carefully planned and maintained, tropical forest reserve), there's enough here to fill an hour or two.

Afterwards, grab lunch at the excellent onsite Tree Monkey Restaurant, take a personalized cooking class at the culinary school, or carry on to Entopia or Penang National Park.
---
Related
---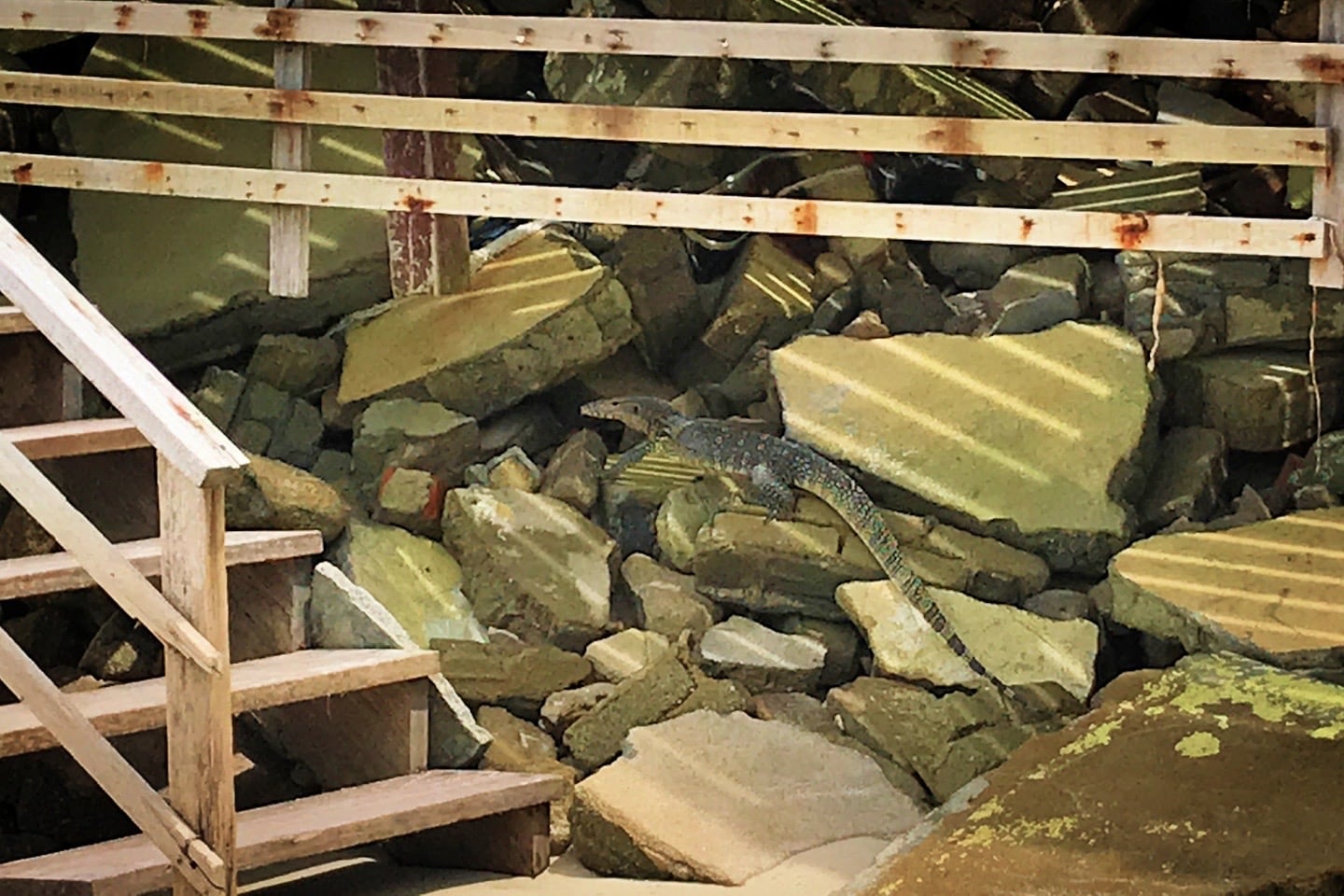 7
|

Up-Close Encounters With Monkeys & Monitor Lizards

One of the biggest surprises for us was spotting a gaggle of Macaque monkeys and a sizable monitor lizard within ten minutes of our arrival in Batu Ferringhi.

These sightings continued throughout our entire time, particularly around the northeasternmost end of the beach near the rocky point.

We expected this from our time in Borneo, but not from somewhere as popular and urbanized as Batu Ferringhi Beach.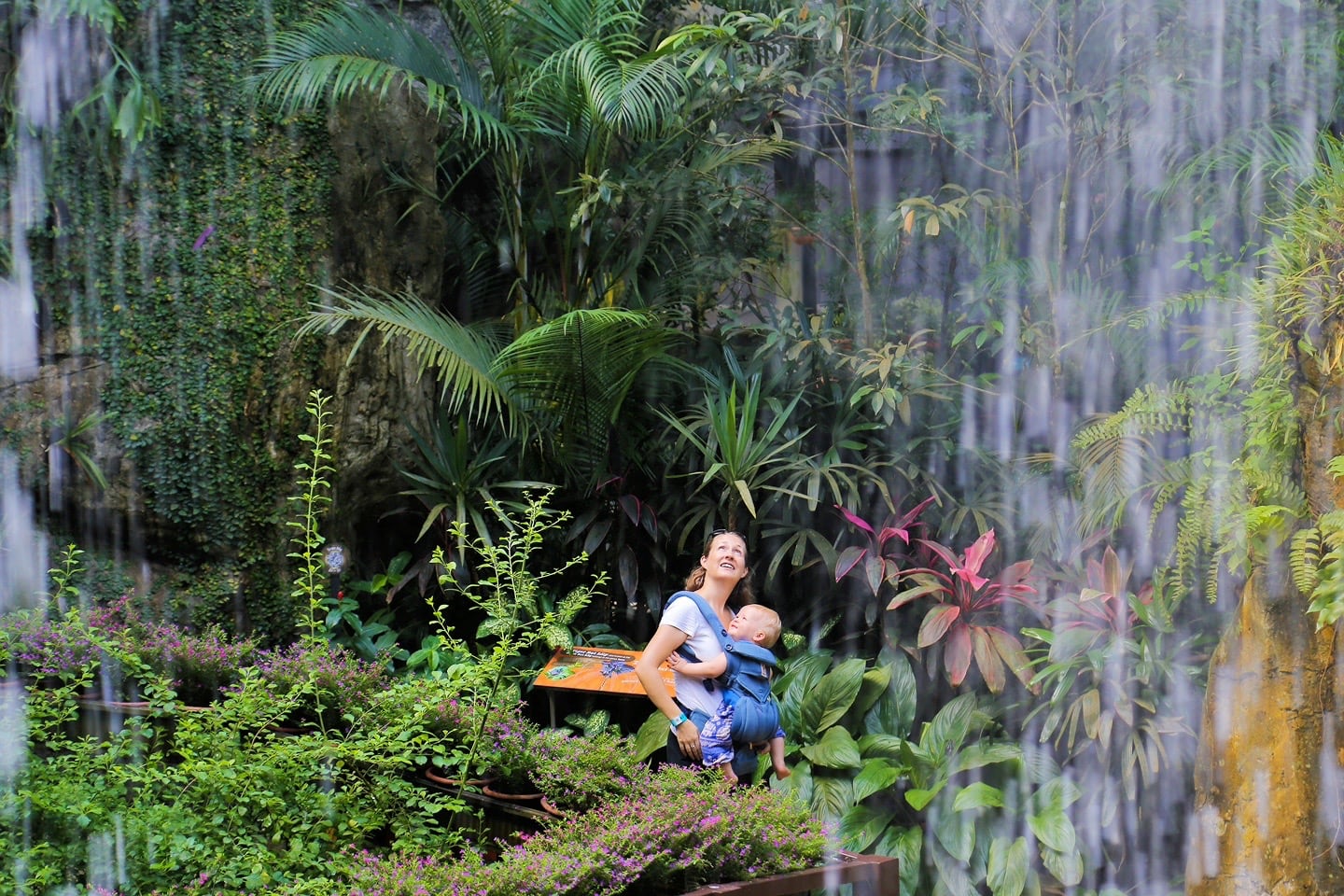 8
|

Entopia & ESCAPE

If you are traveling with kids of any age, you'll definitely want to check out at least one, if not both, of these unique theme parks located just 6 km from town.

Entopia by Penang Butterfly Farm is a butterfly and wildlife experience like no other. Featuring over 15,000 butterflies (and 150 other species of native critters, large and small), Entopia amazes and educates while fostering an appreciation for these stunning creatures.

ESCAPE Penang claims to be the #1 theme park in Malaysia, and it's not hard to see why that might be the case. It's like an amusement park, water park, zip line canopy tour, climbing gym, and giant playground rolled into one!

Both parks can easily be accessed from Batu Ferringhi via the public bus or ride share (Grab).
---
Related
---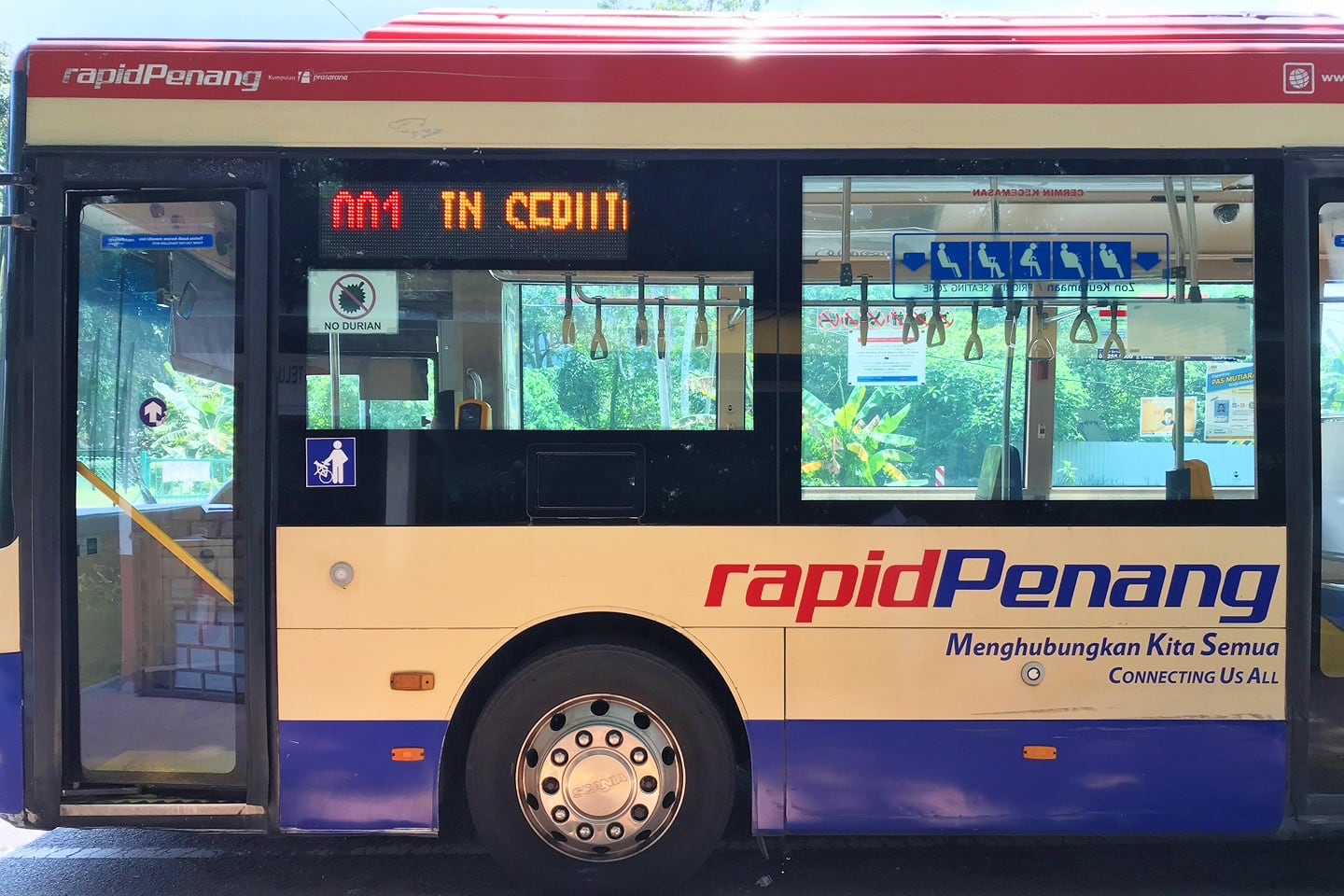 9
|

Getting Around is Easy

Lori and I certainly didn't expect getting around town (and in and out of town) to be so cheap or easy. But it was, and we found it to be a huge advantage to staying in Batu Ferringhi, particularly with little ones.

On the whole, the rapidPenang public bus was a straightforward and efficient way to get to all of the top attractions near town, like Penang National Park, the Tropical Spice Garden, Entopia, ESCAPE, and even the neighboring town of Tanjung Bungah.

We also found the bus to be very convenient just getting around town, especially in a downpour.

I did find myself waiting a bit at the transit center in Teluk Bahang (on the way back to Batu Ferringhi), but the small inconvenience was worth the cost savings.

When we couldn't take the bus, we were usually successful in hiring a Grab (think Uber) to take us where we needed to go.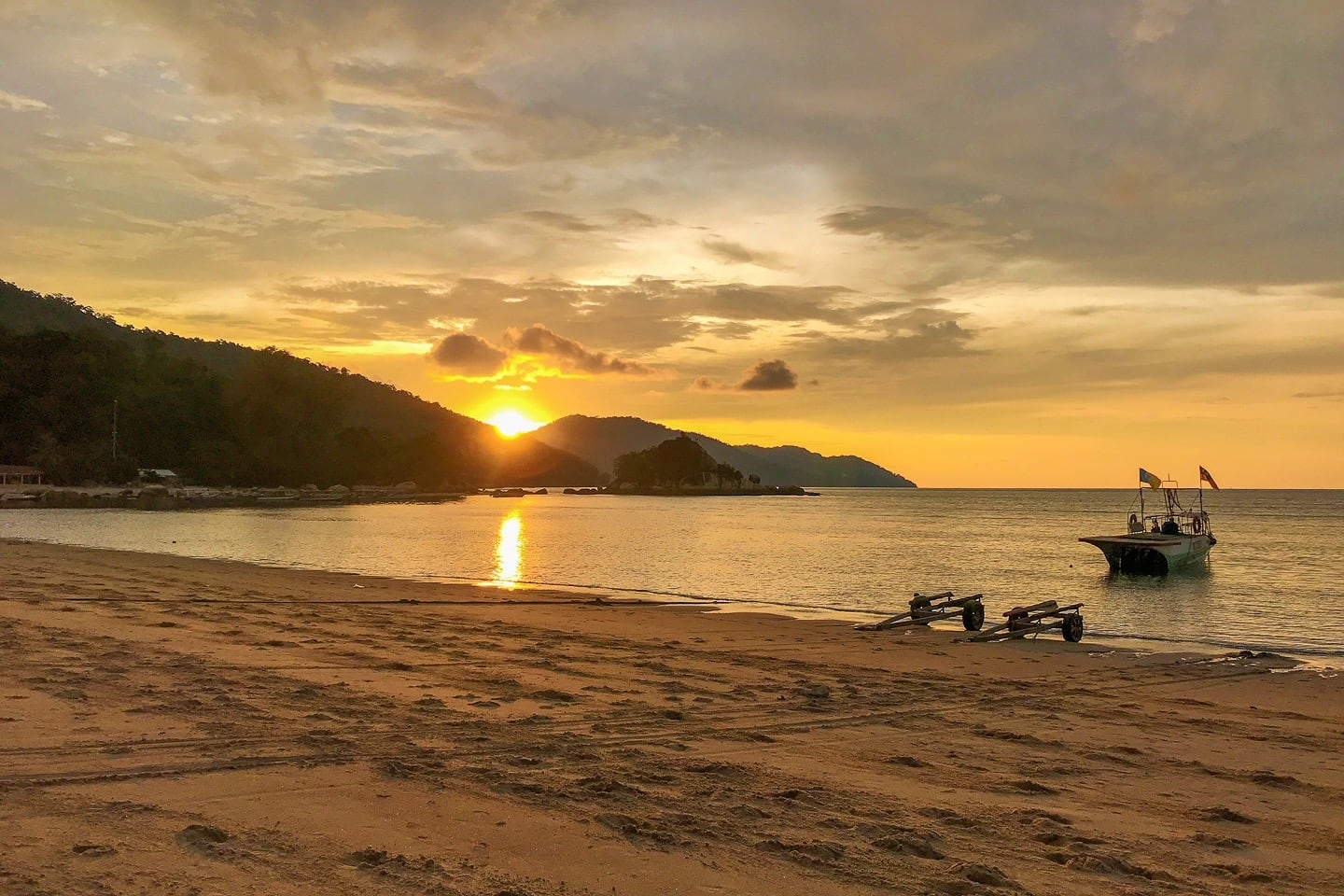 10
|

Spectacular Penang Island Sunsets

After an adventure-packed day (or one spent doing very little at all), you can look forward to heading down to the beach for an often stunning show of light and color.

Sunsets on Batu Ferringhi Beach are particularly special because it is the only populated sandy beach that faces west (northwest to be exact) on Penang Island.

Most of the year, the sun sets over the peninsula of Penang National Park. Your best chances of catching an over-the-water sunset will be in June when the sun sets farthest to the right.

Whichever time of year you visit, it's not to be missed!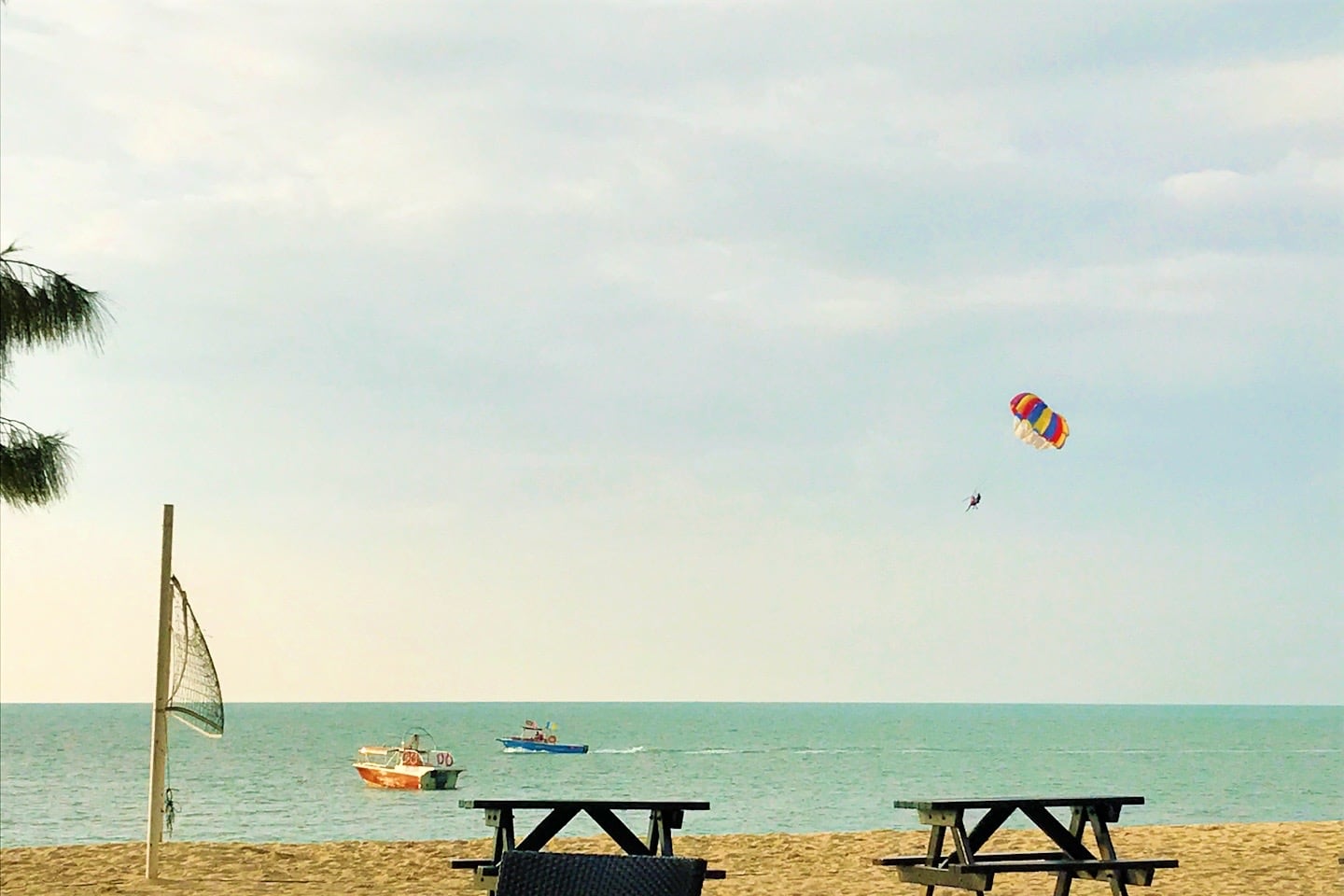 Who Might Want to Pass on Batu Ferringhi?
If you've got your heart set on rustic beach huts, carefree swims in crystalline water, and some of Malaysia's best snorkeling or diving, you may want to skip Batu Ferringhi and check out places like Sabah or Langkawi instead.
Unfortunately, there just aren't a lot of non-motorized water activities to be had these days along Batu Ferringhi Beach.
Water contamination related to industrial activity and untreated sewage has decimated marine life, impacted visibility for diving and snorkeling, and poses an increased risk to swimmers.
Jellyfish infestations (fueled by increased pollution) continue to pose problems for swimmers as well.
In the place of swimming and snorkeling, Batu Ferringhi is ground zero for motorized water sports on the island, such as parasailing, jet skiing, and banana boat rides.
But before you dive in, it's important to mention that, while steps have been taken in recent years to improve safety and regulation, the operation of these activities remains highly controversial, both for their environmental impact and safety record.
With all that said, we still highly recommend a visit to Batu Ferringhi for all the great reasons we've listed throughout this article. But we also think it's important to inform other travelers of some of the downsides and limitations of visiting this unique beach destination.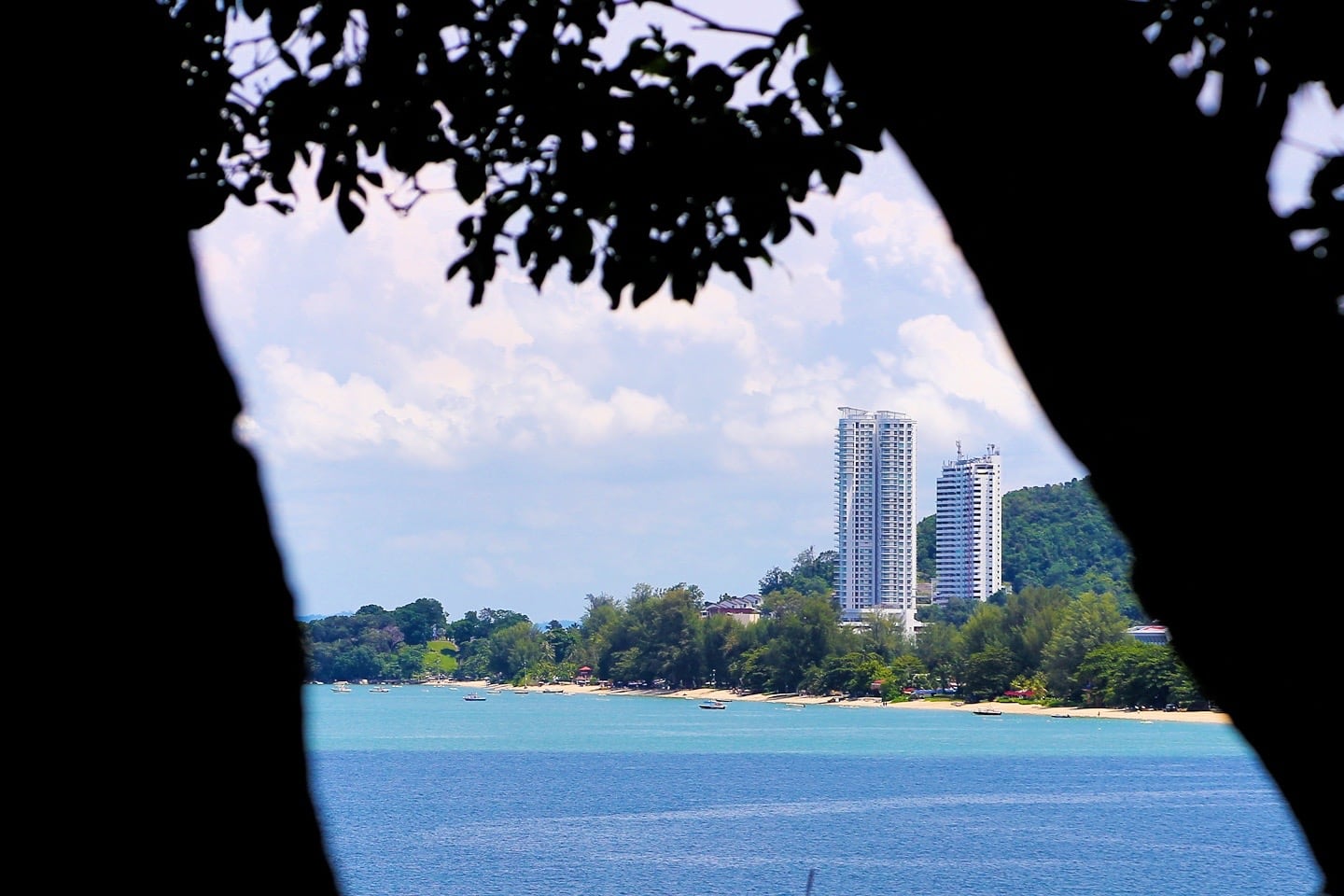 Final Thoughts on Batu Ferringhi
Owing to its popularity and issues with poor water quality, Batu Ferringhi often gets a bad rap. And if you are traveling to Malaysia specifically for a beach vacation, there are certainly better places to spend your money.
With that said, if you are already planning a trip to Penang to experience the incredible cultural, people, history, food, and natural landscape of this amazing island, there may be no better place for a beach break than Batu Ferringhi.
After having visited numerous top beaches in Borneo, Thailand, and elsewhere in Southeast Asia, we wondered if our time in Batu Ferringhi would be well spent.
In hindsight, Lori and I are so glad we visited, particularly for the fun excursions a short distance from town, but also for all Batu Ferringhi, itself, has to offer.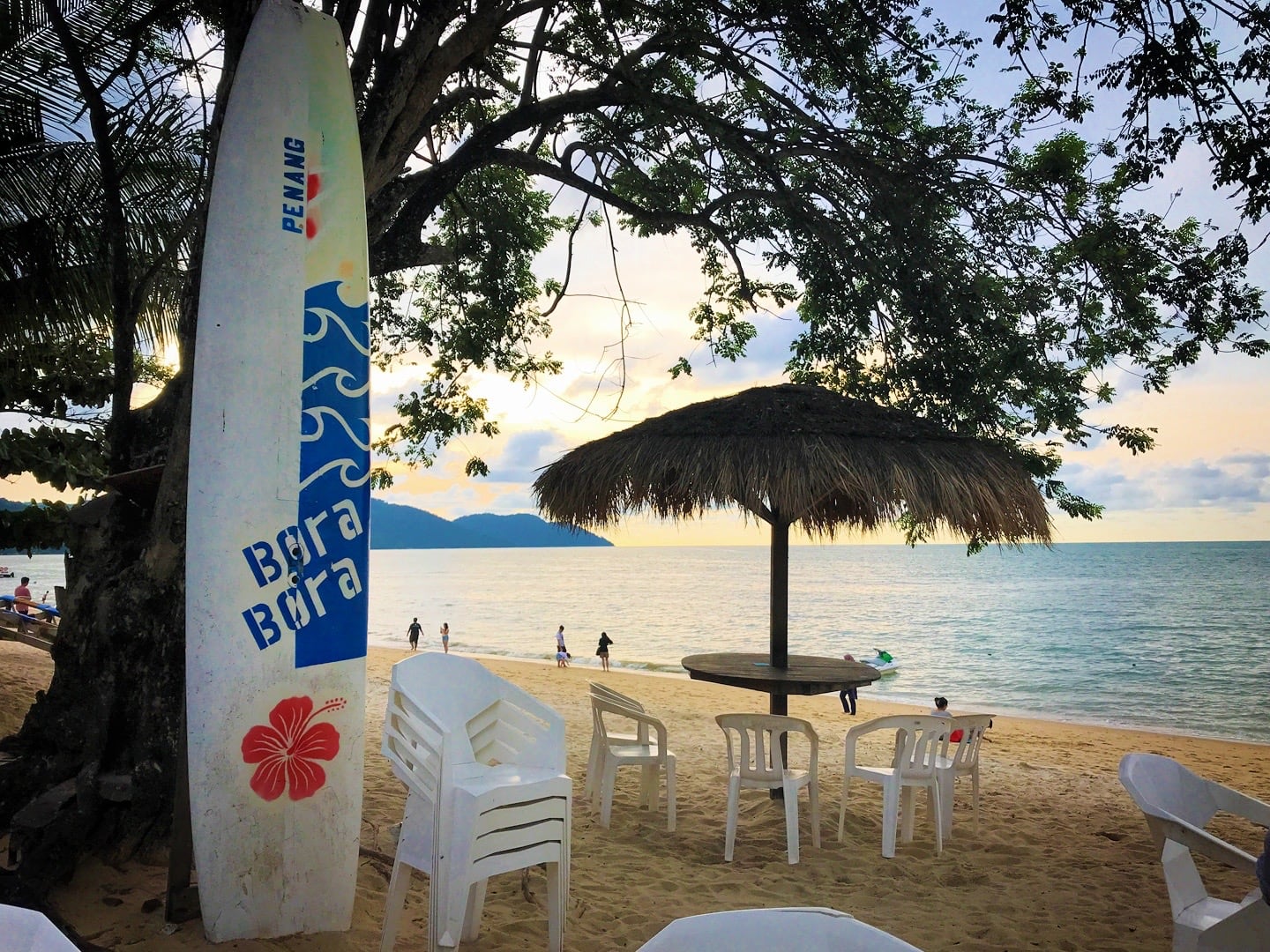 Have You Visited Batu Ferringhi Beach in Malaysia?
Would you recommend a visit to other travelers? Tell us why or why not in the comments section!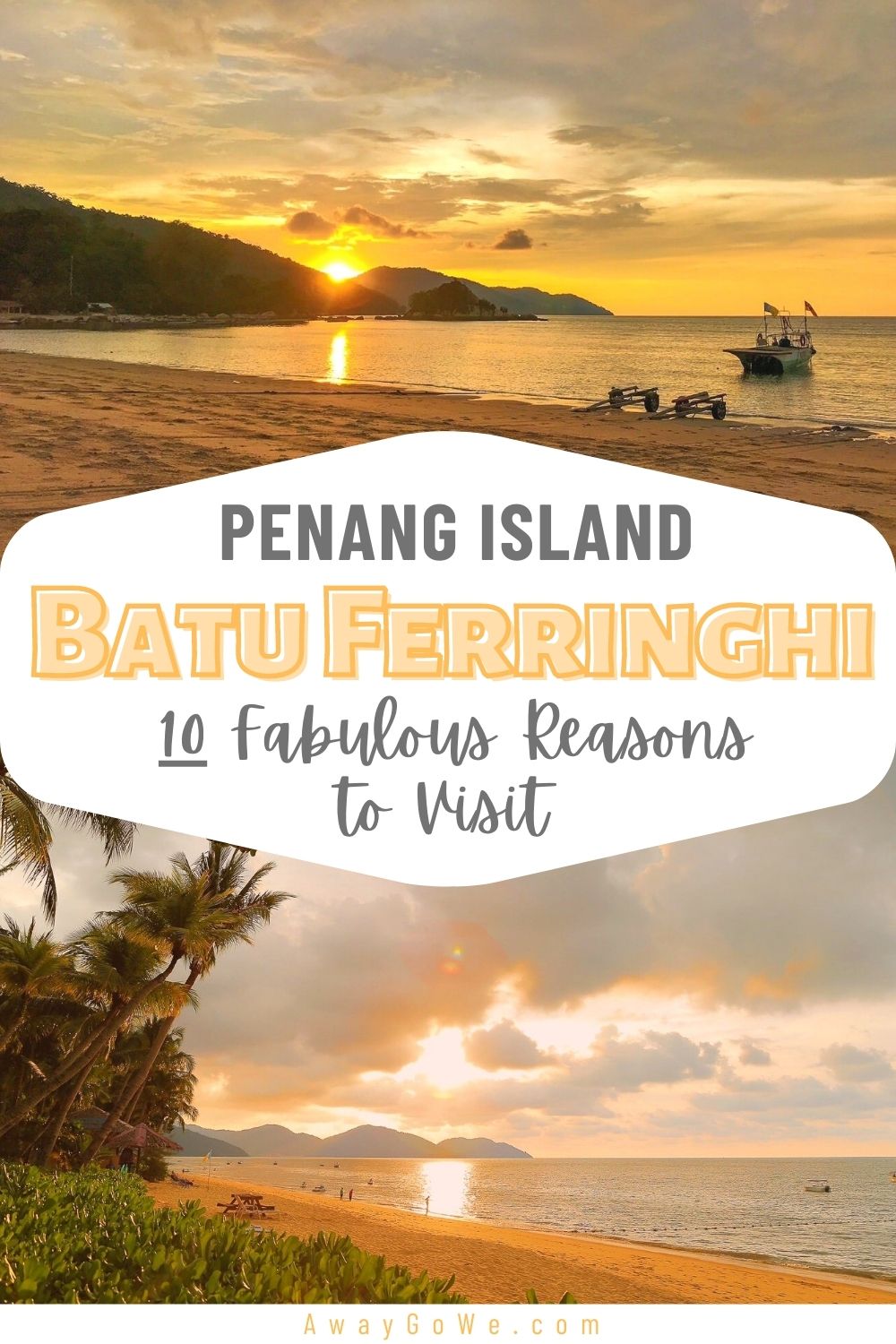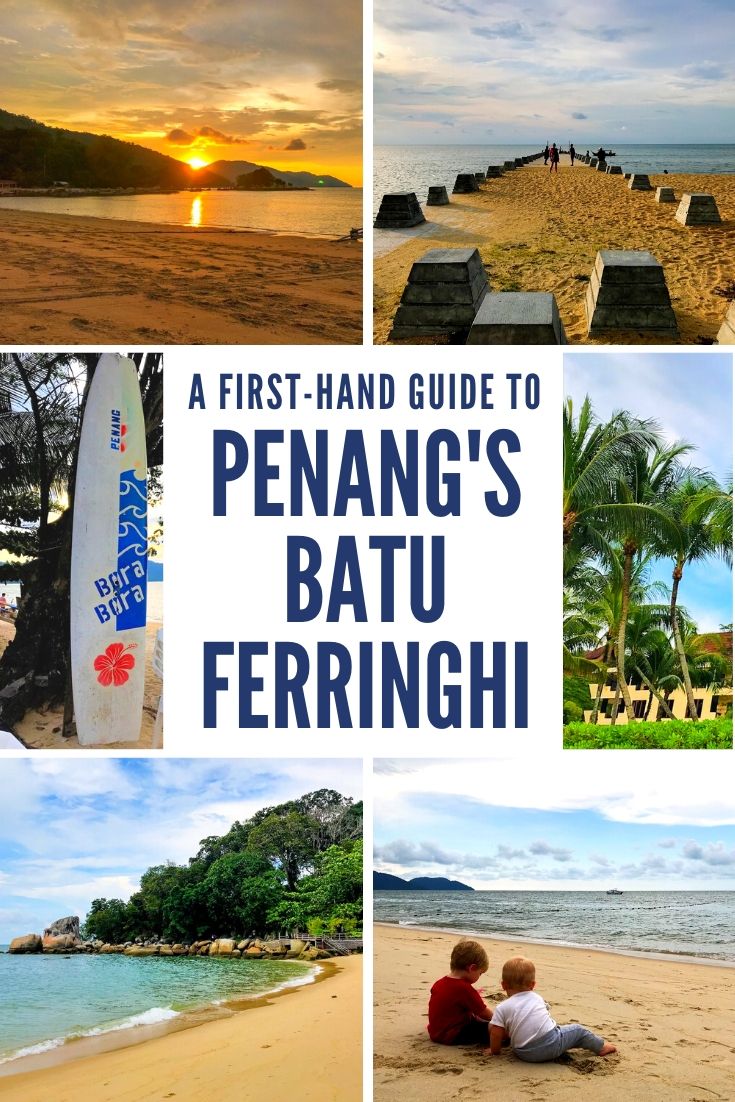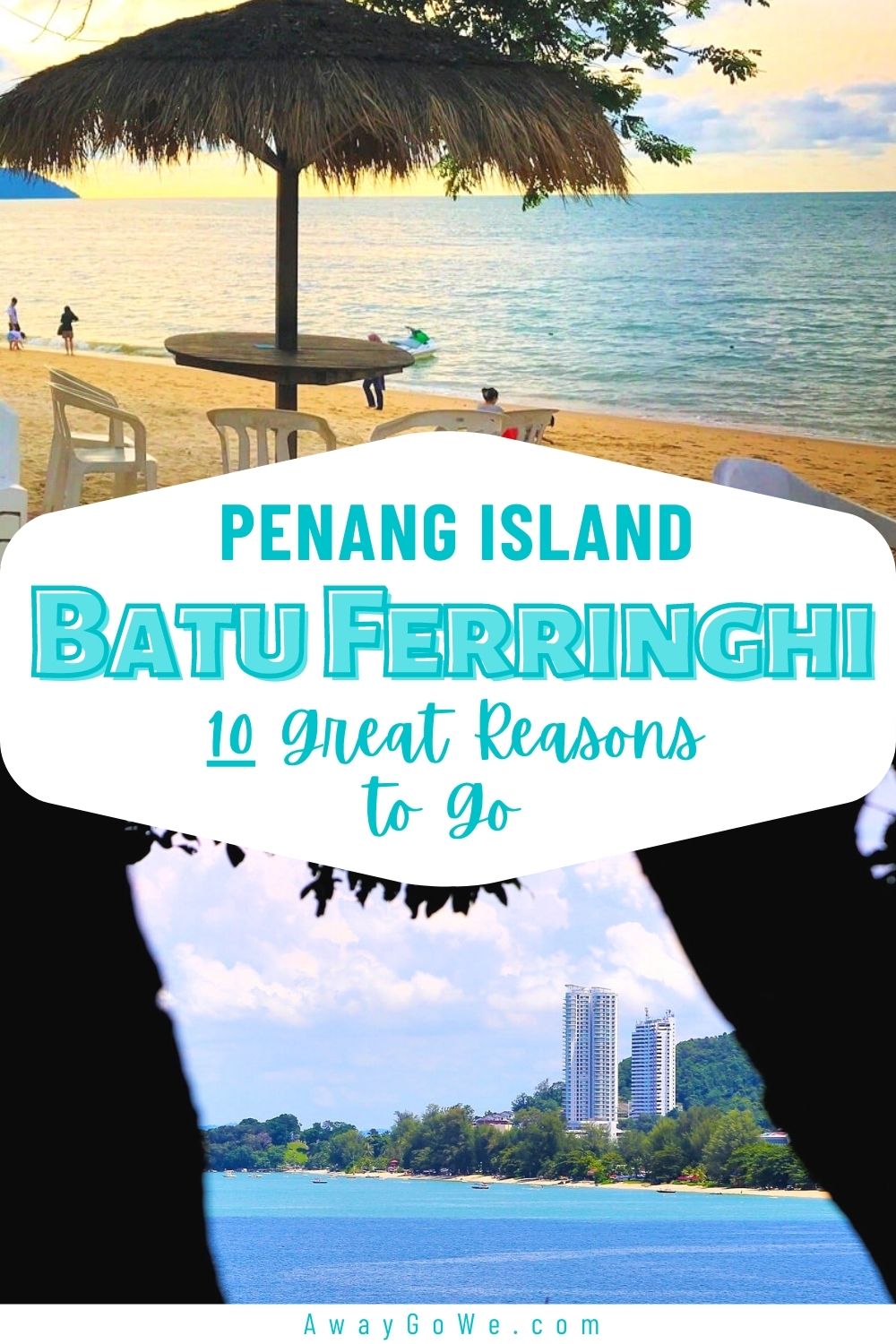 I've been a blogger and travel writer since 2010, covering everything from luxury hotels to hidden destinations and travel gear. Originally from Oregon, I've spent the majority of the past 20 years living outside of the U.S., in Mexico, the Caribbean, Southeast Asia, Africa, and Europe. I received a BA in Communications (Journalism) from Boston College, and an MA in International Development Studies from the George Washington University. I'm passionate about exploration and discovery, and providing independent, thoroughly-researched, ad-free advice for travelers.