Batu Caves is a series of limestone caves located about 10 km north of Kuala Lumpur city center. The complex is well known for its 272 steps ascending to one of the most popular Hindu shrines outside of India.
In August 2018, Batu Caves made global headlines when the site's managers painted the shrine's famous staircase a series of bright and bold colors without authorization. We made the decision to skip the caves on our first visit in April of that year, which means we get to witness the blinding hues of this popular pilgrimage site in 2019.
The cave system is around 400 million years old, but only became a place of worship in the late 19th century. Today, it's one of Malaysia's most revered and visited landmarks.
Dreaming of the Perfect Island Vacation? Here are...
9 Amazing Hotels in Langkawi, Malaysia
Our handpicked list of the VERY BEST beach resorts and rainforest retreats in magical Langkawi. For the Ultimate Getaway!
KL Sentral to Batu Caves
Best of all (at least for us), the site is insanely easy to get to, involving a 40-minute journey on KL's incredibly quiet and comfortable KTM Komuter trains from KL Sentral station to Batu Caves station (located only 100 meters from the shrine!). A one-way token costs just US$2.80 per passenger.
Current timetables and information can be found at the official KTM Komuter website. But no need to book online, just buy your token at the KTM Komuter ticket window on the lower level of KL Sentral before you get on the train.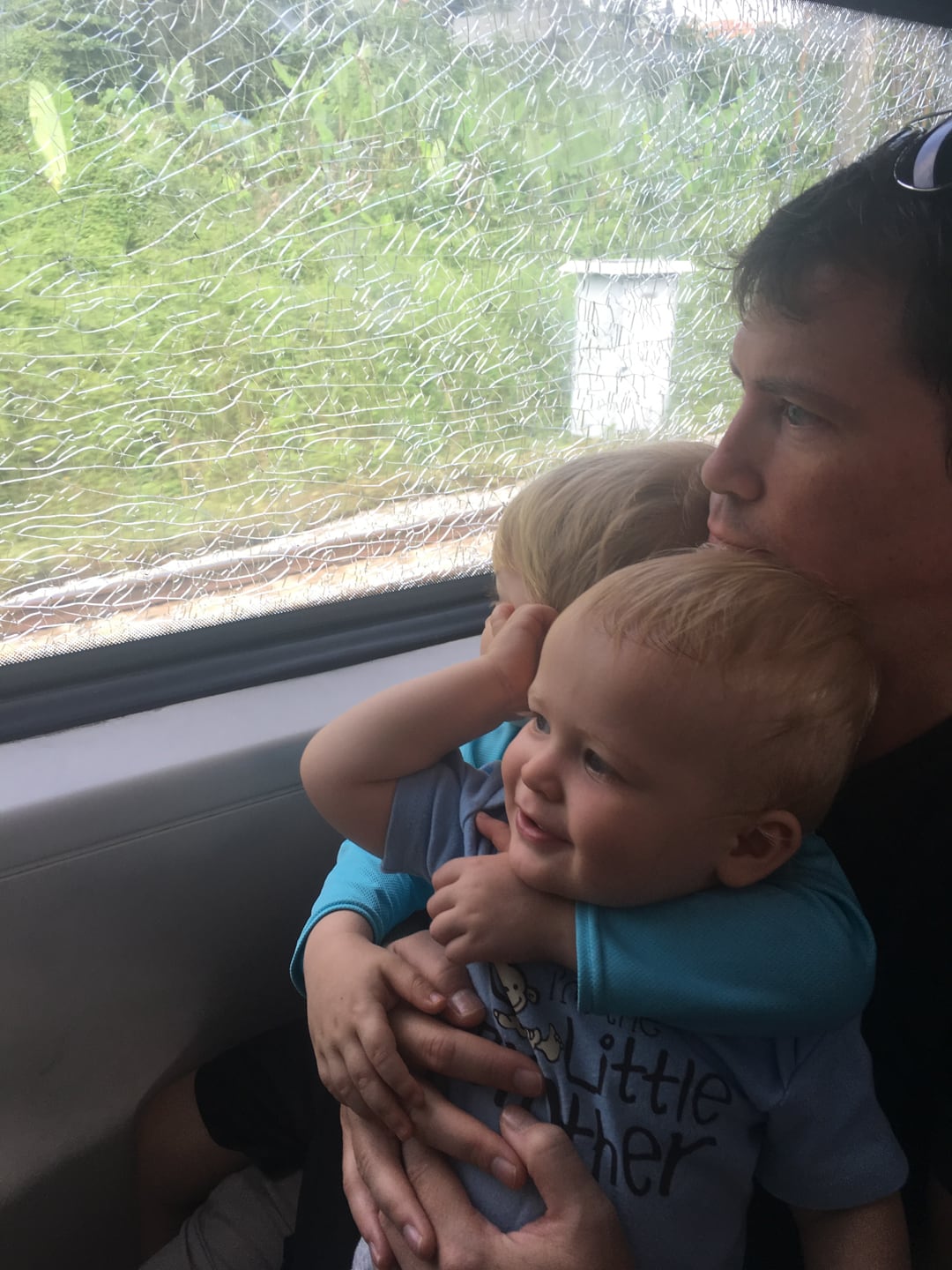 Incidentally, this is Riley's first train ride. Like his brother, you can tell he's loving it.
Not sure how I got stuck with both of our little goofballs. However, I can tell you how we got stuck with the broken window.
Our train arrived a bit early and sat at the platform for a while until the departure time. We initially opted to walk the little ones around instead getting on the train early, but I began to have second thoughts when I saw a number of passengers already boarding.
There's no reserved seating on the Komuter line, so window seats fill up fast. When I got on the train about ten minutes before departure, all the window seats had been taken, except for the seats with broken windows.
It's also worth noting that 1) there are no toilets onboard, 2) food and drink is not allowed (forcing us to scarf down our take-away breakfast before getting on the train), and 3) it is possible to walk between cars the entire length of the train, but the middle car is for women only.
We opted to do the trip on a Friday, knowing that Batu Caves gets particularly crazy on weekends. We found that on this particular Friday in early October, the crowds on the train and at the site were not bad at all.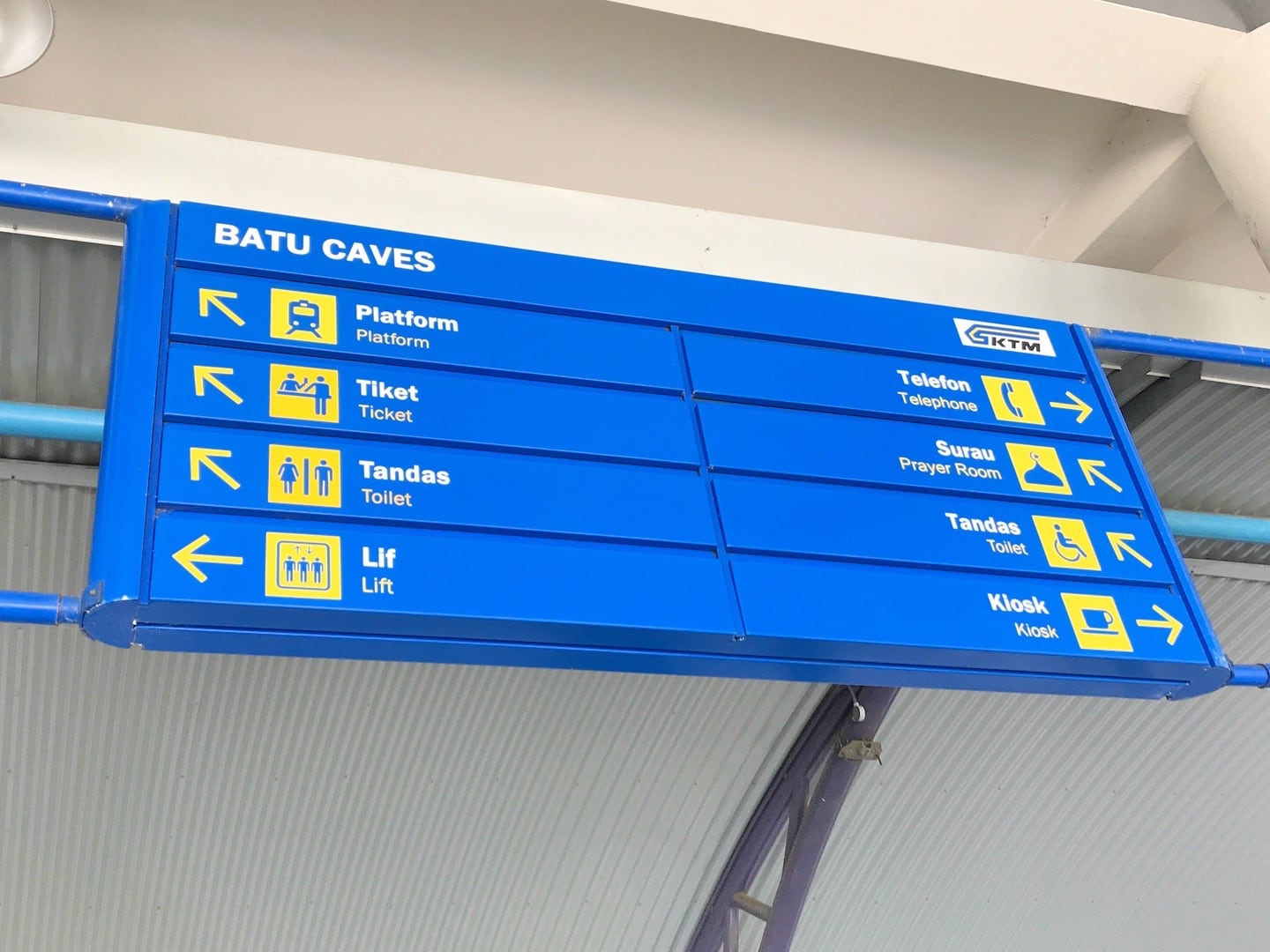 A little Bahasa Malay lesson for y'alls. Ticket? Tiket. Lift? Lif. Telephone? Telefon. Easy enough, right? The key is saying it with the right accent or no one will understand what the heck you're talking about. Ticket? OH! You want a TEE-kutt!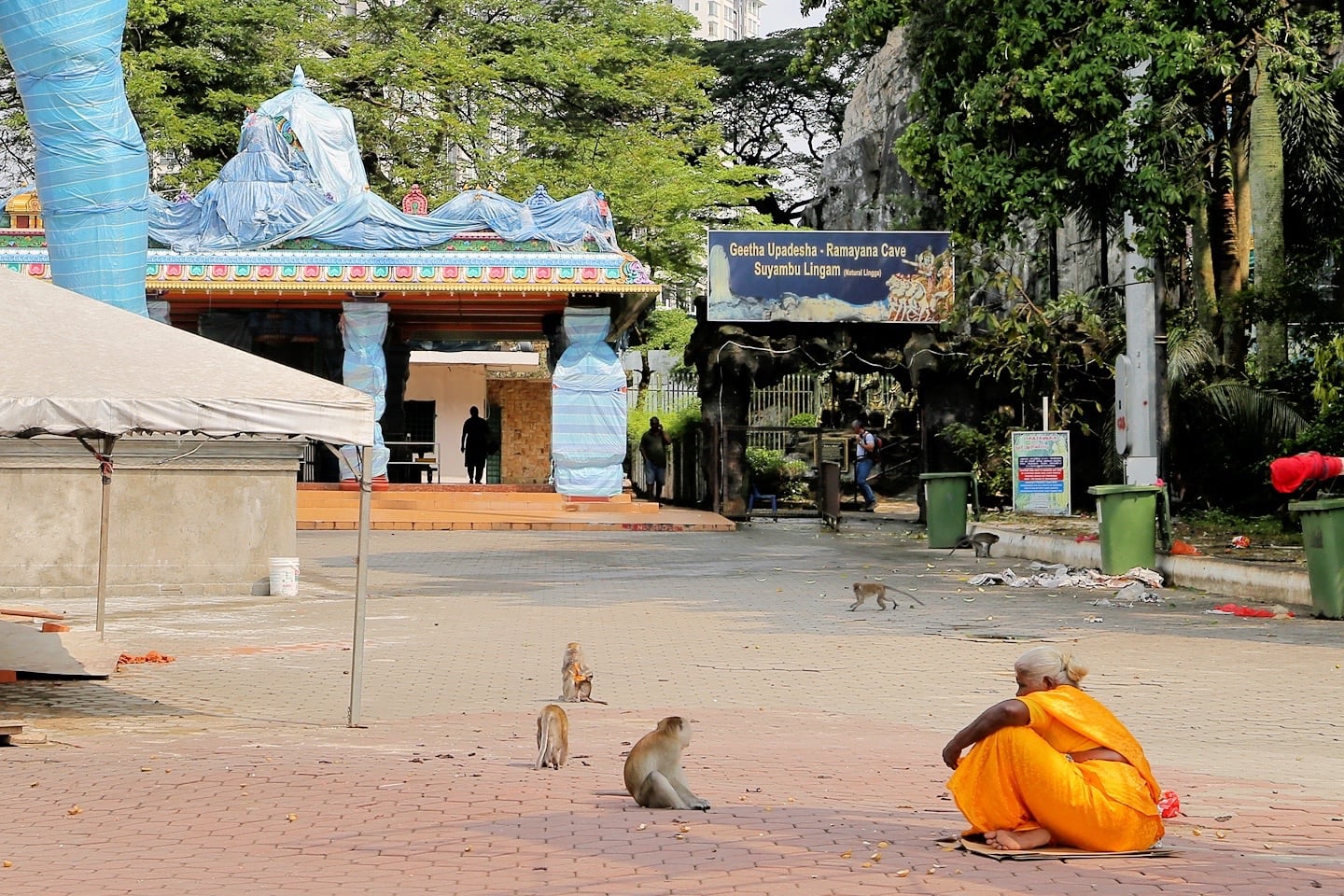 Exploring Batu Caves
There are several cave shrines in and around the complex, and you could easily spend an entire day exploring them all. We had precisely until nap time (our boys love their naps and turn into pumpkins if they don't get them — we ask a lot of flexibility of our boys, but we always respect the nap). So, we planned to explore just one cave this morning — Temple Cave (the grand daddy of the Batu Caves).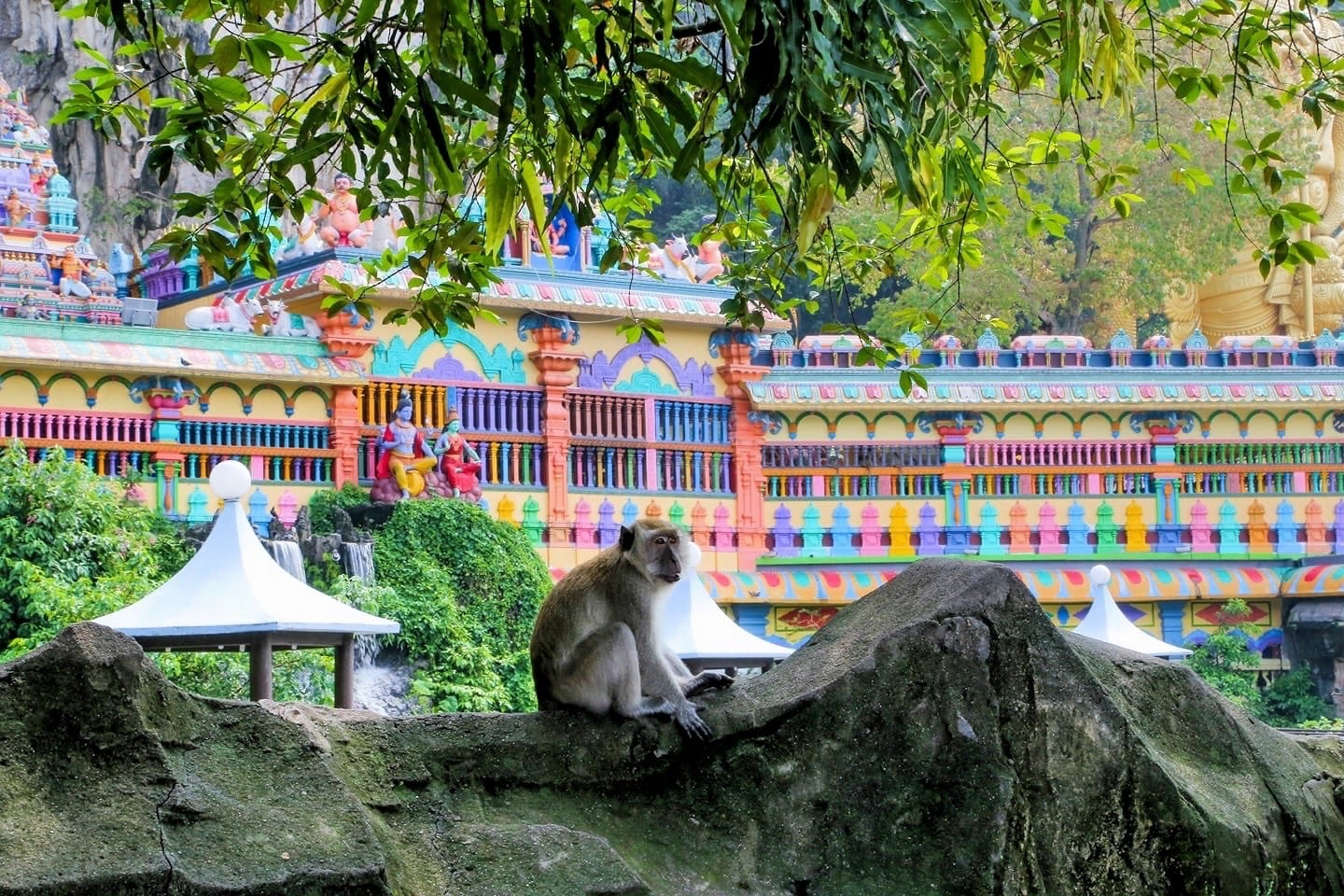 And yes, the site is also popular with Macaque monkeys. Seems there's something about a big Hindu shrine that attracts these guys, even outside of India.
Fortunately, they did not seem to be the vicious and thieving variety that we've encountered elsewhere. But we still kept our distance.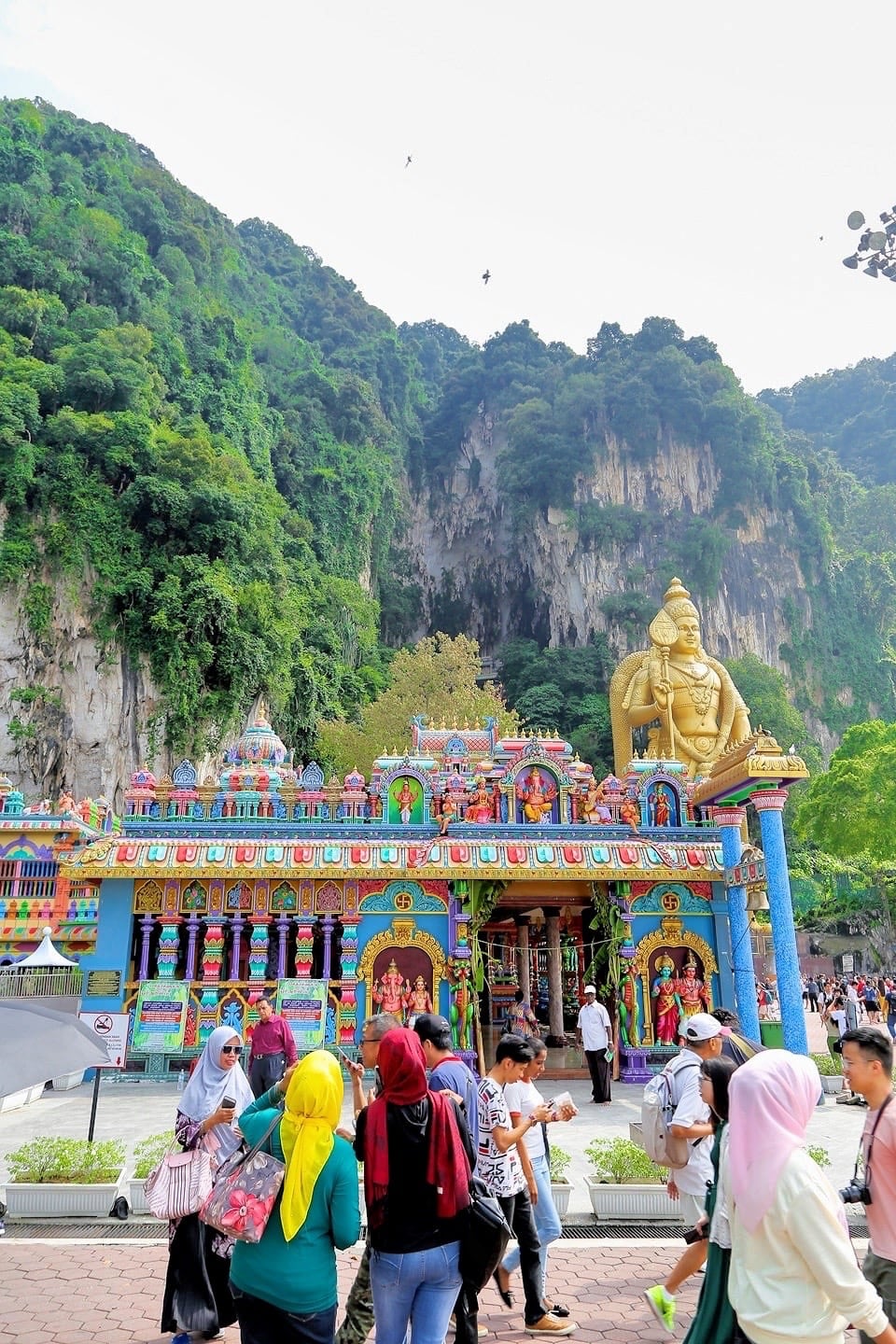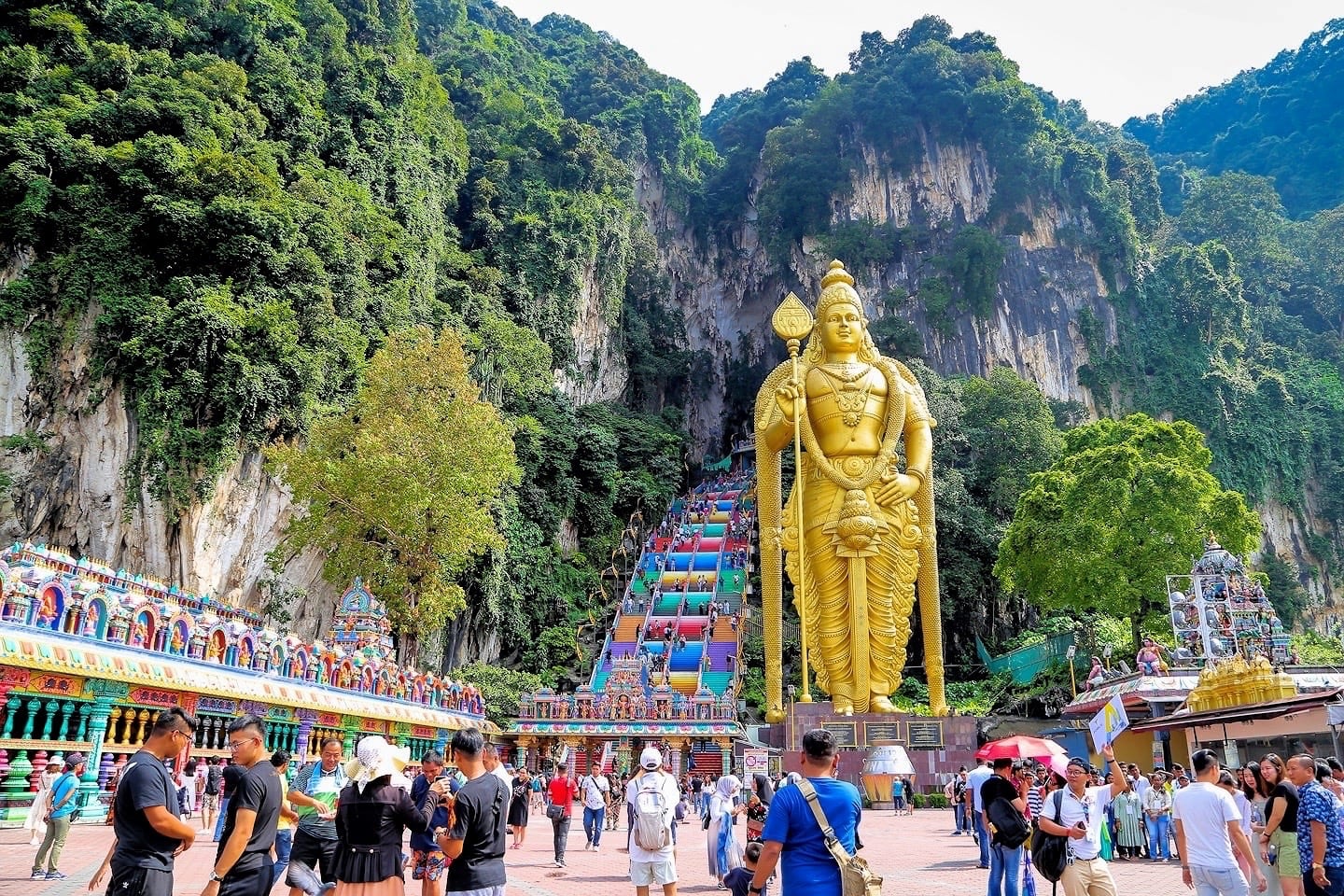 Thar she blows — the world's tallest statue of the Hindu god Murugan, smothered in 300 liters of gold paint.
And, of course, those 272 rainbow stairs calling our names.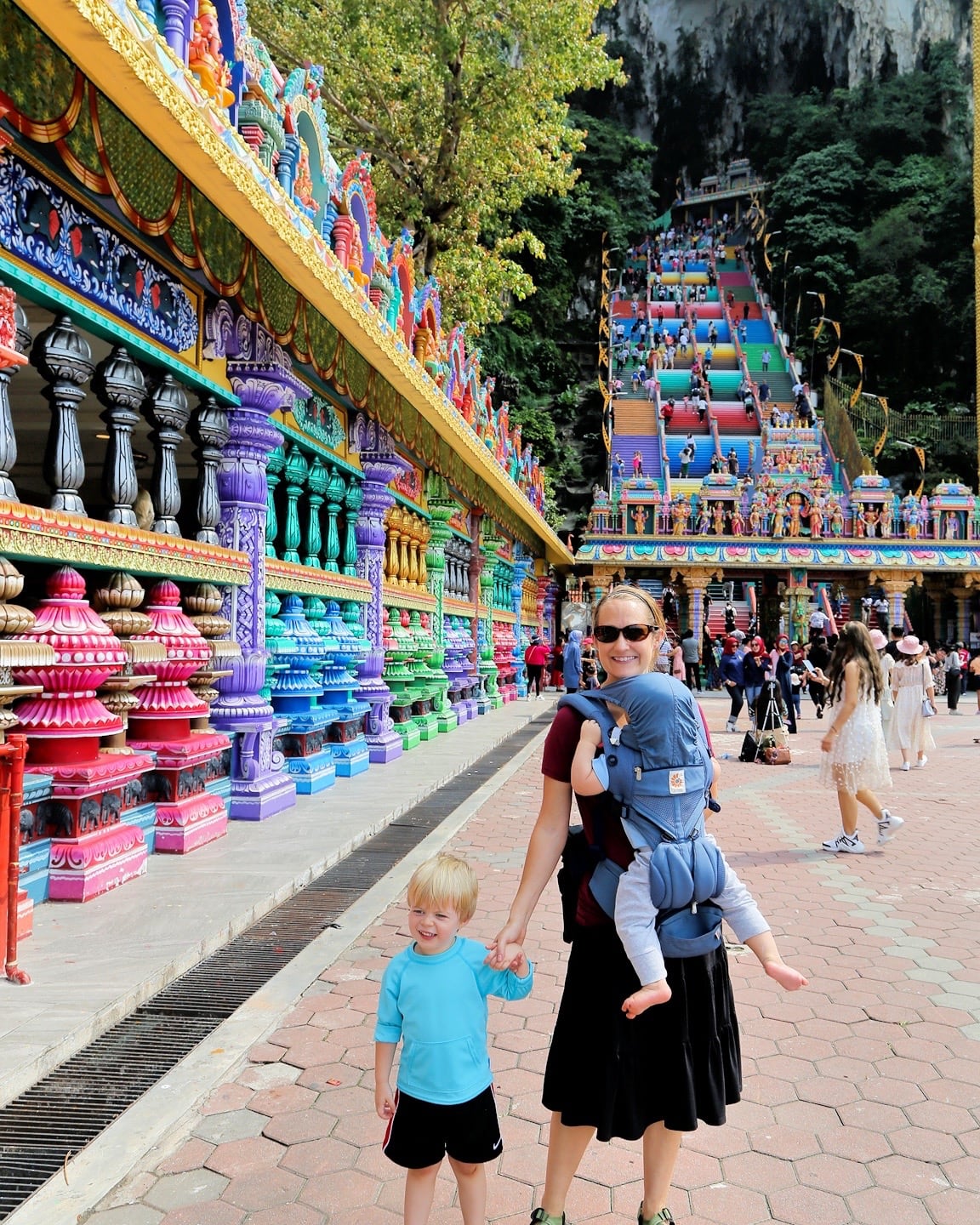 I'm not sure what Noe makes of all of this. He had a lot to say about the monkeys, but not a lot to say about the crazy colors. I can tell you exactly what Riley thinks of all of this: Mmm. Me sleepy! Mmm. Now, me hungry! [Repeat.]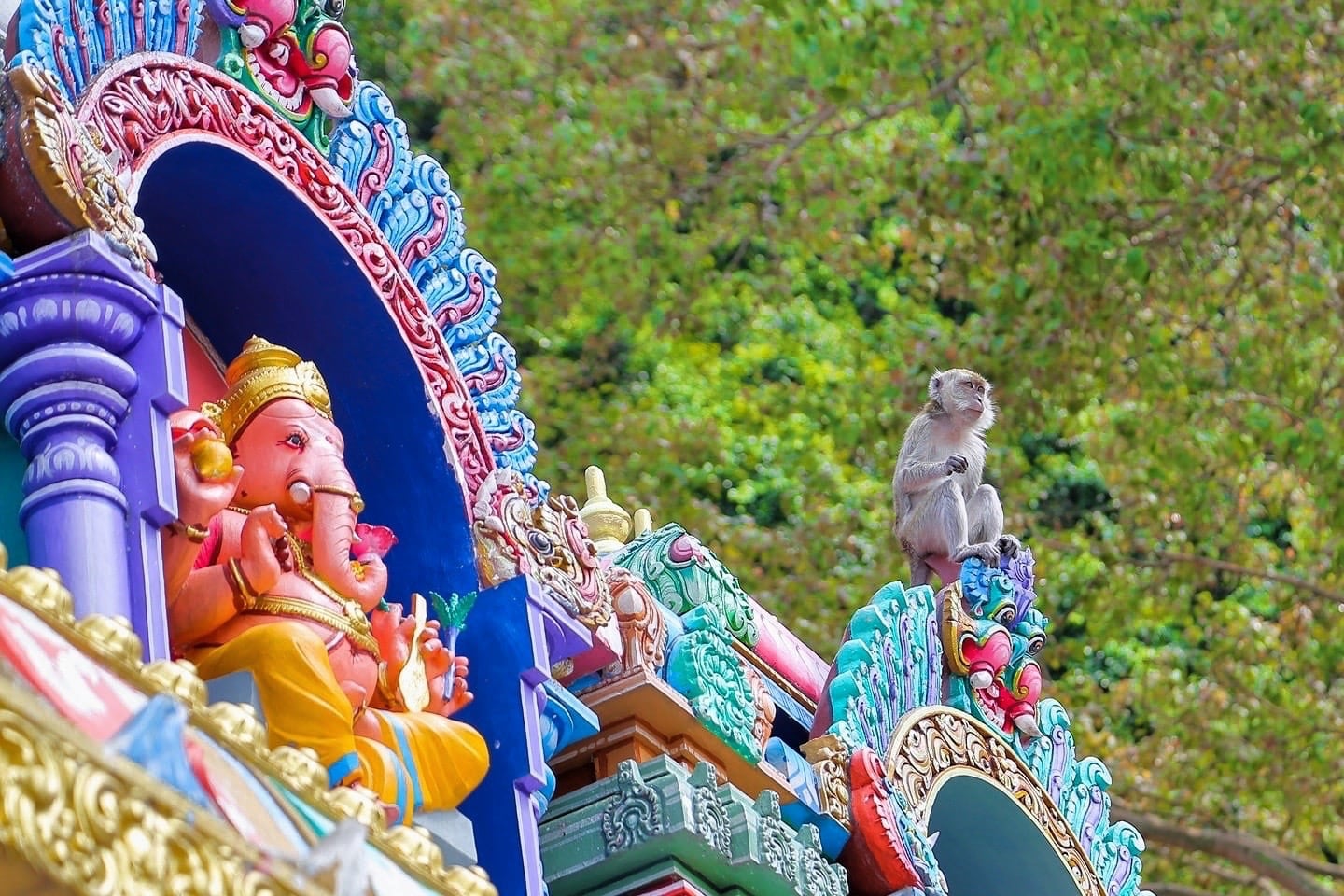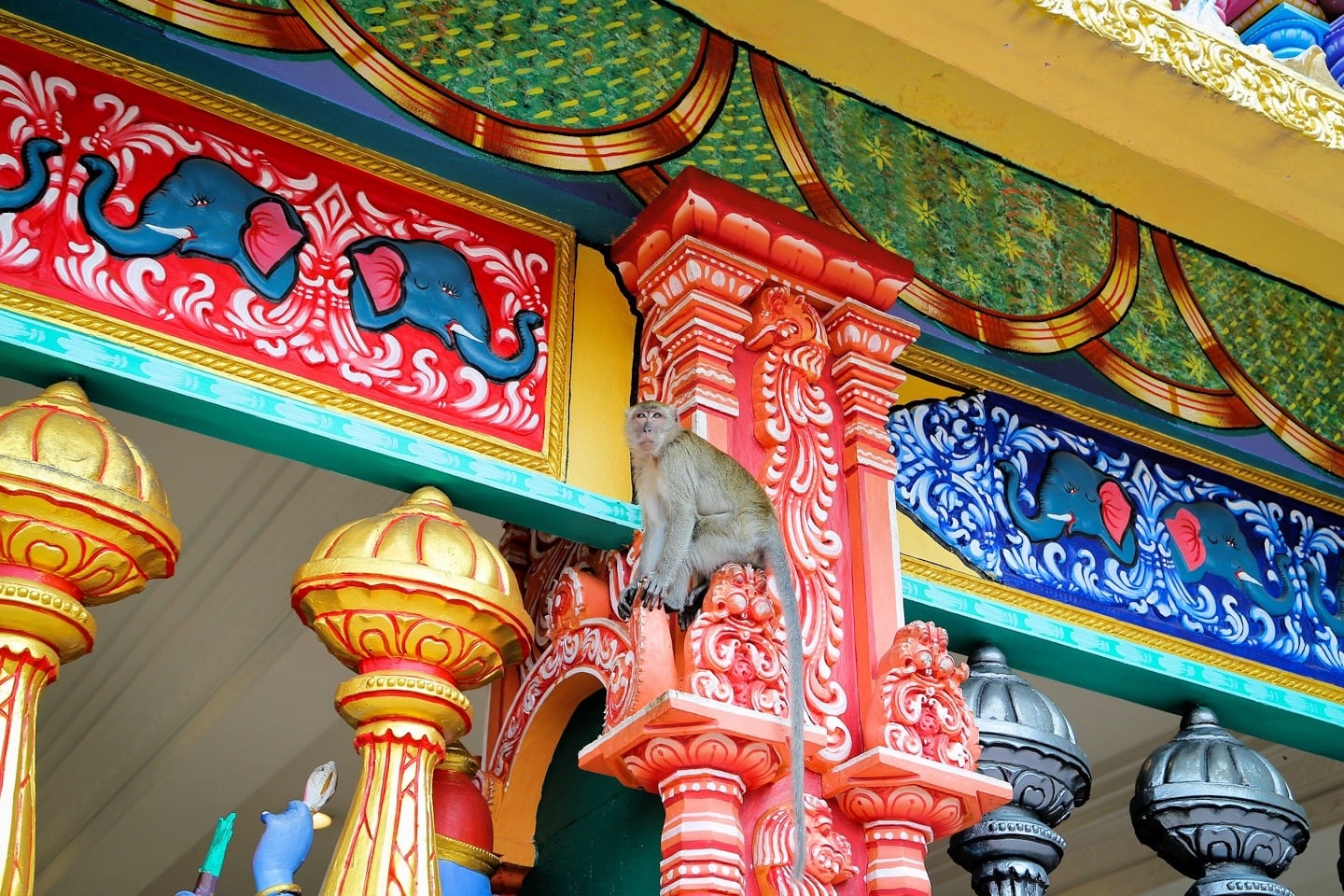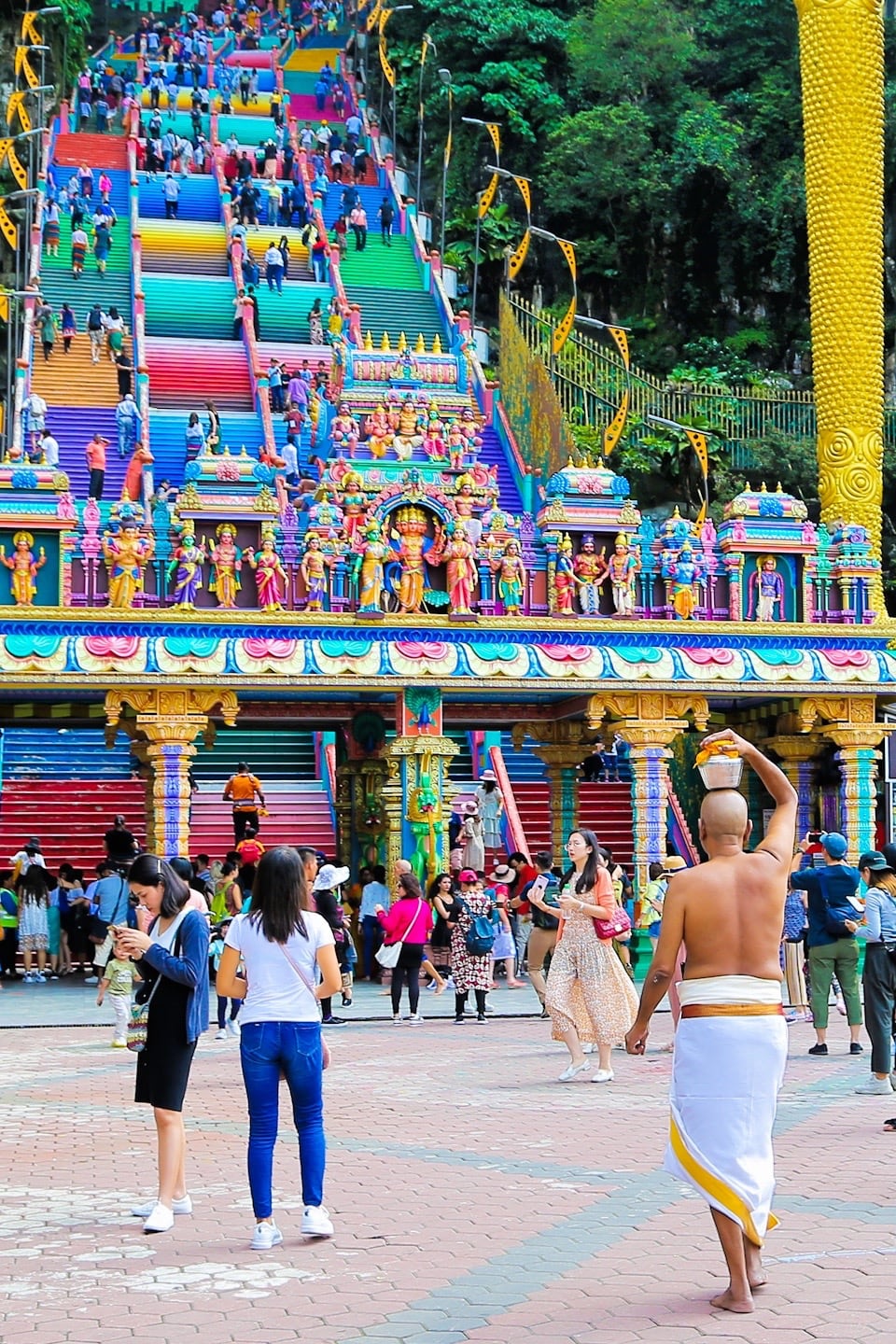 We'll let this guy go first. Seems we may be a tad bit over-dressed for the occasion.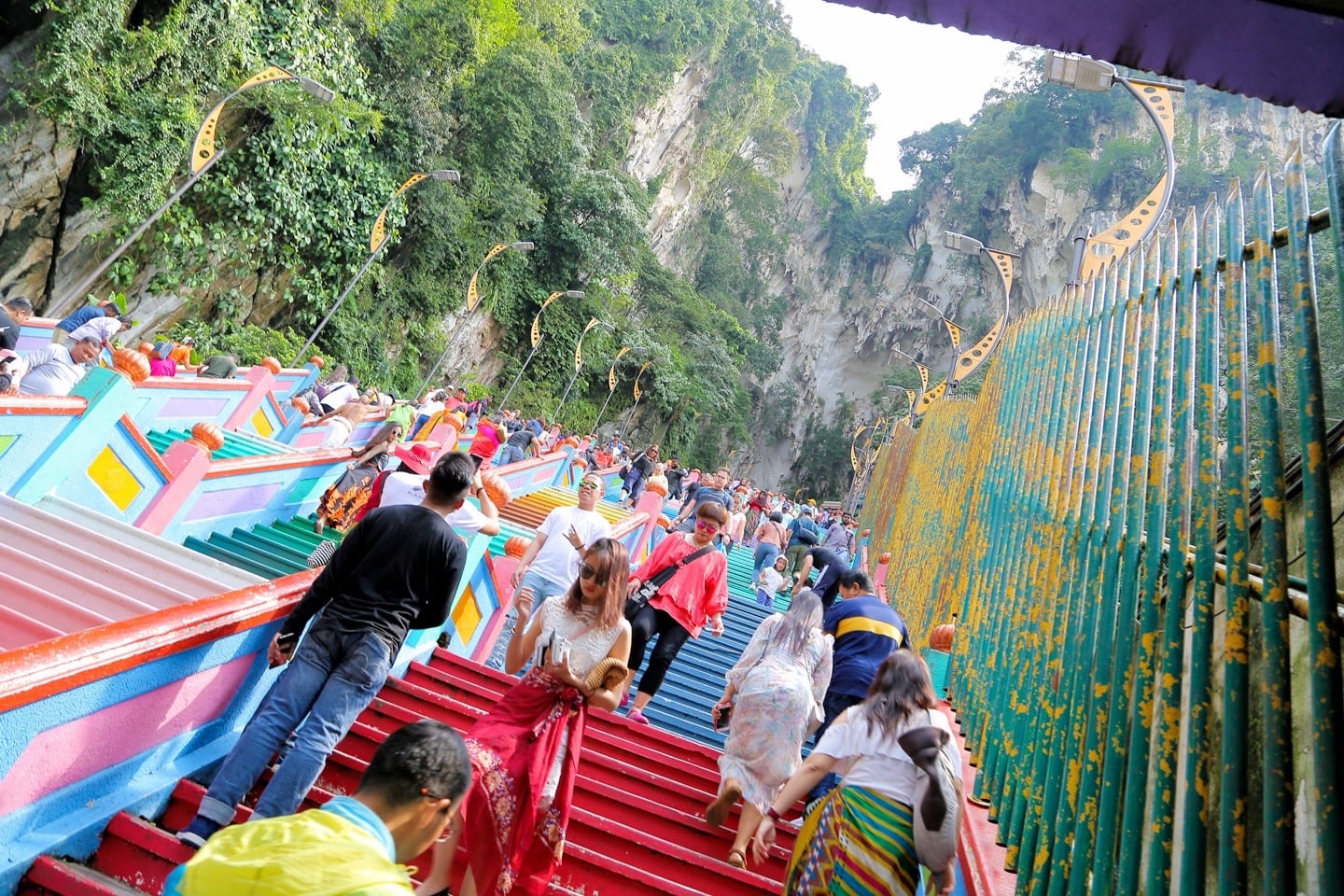 Or…under-dressed.
Now, our turn!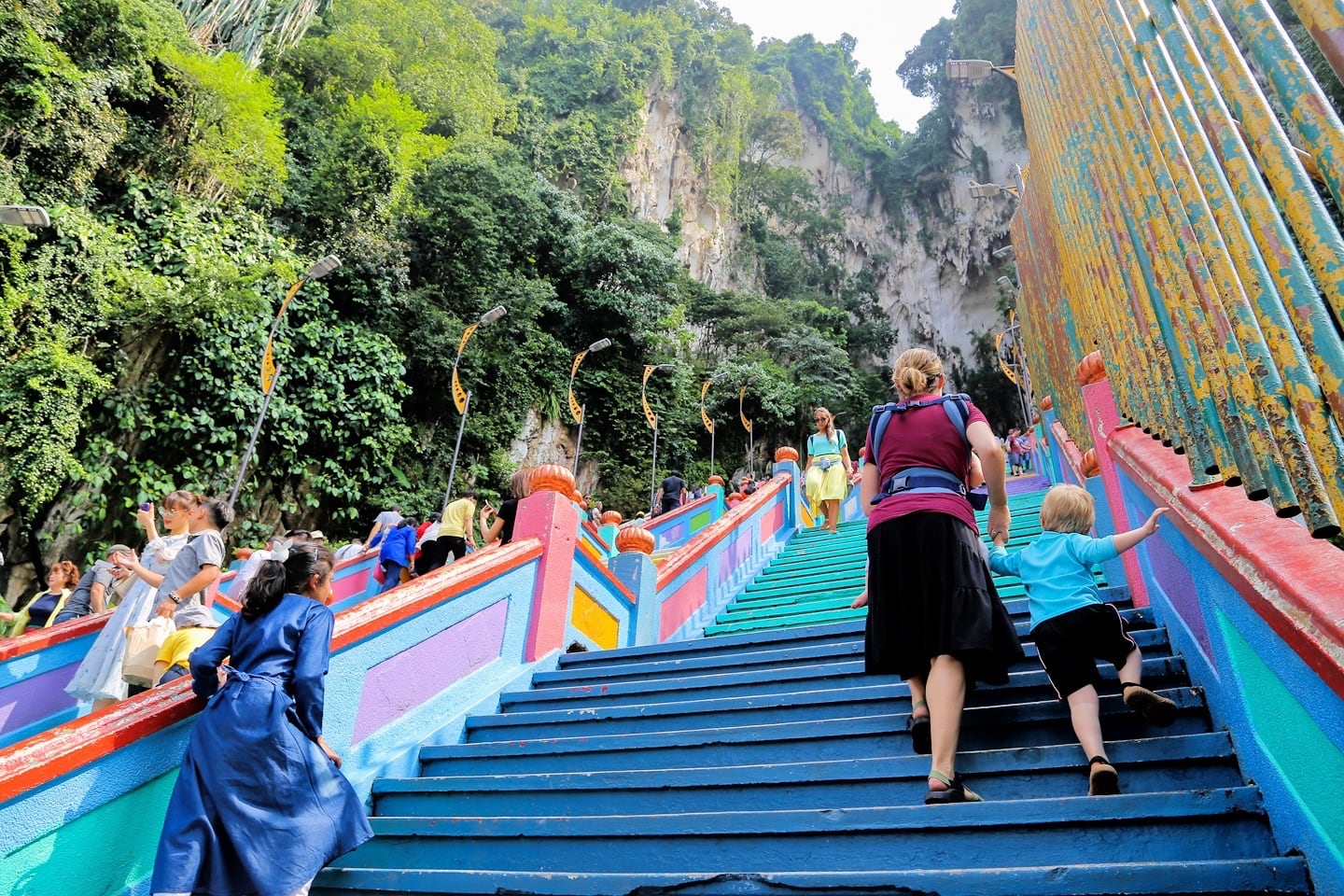 As is pretty par for the course, these days, Noe insisted on climbing the entire thing himself — half with mommy, and half with daddy.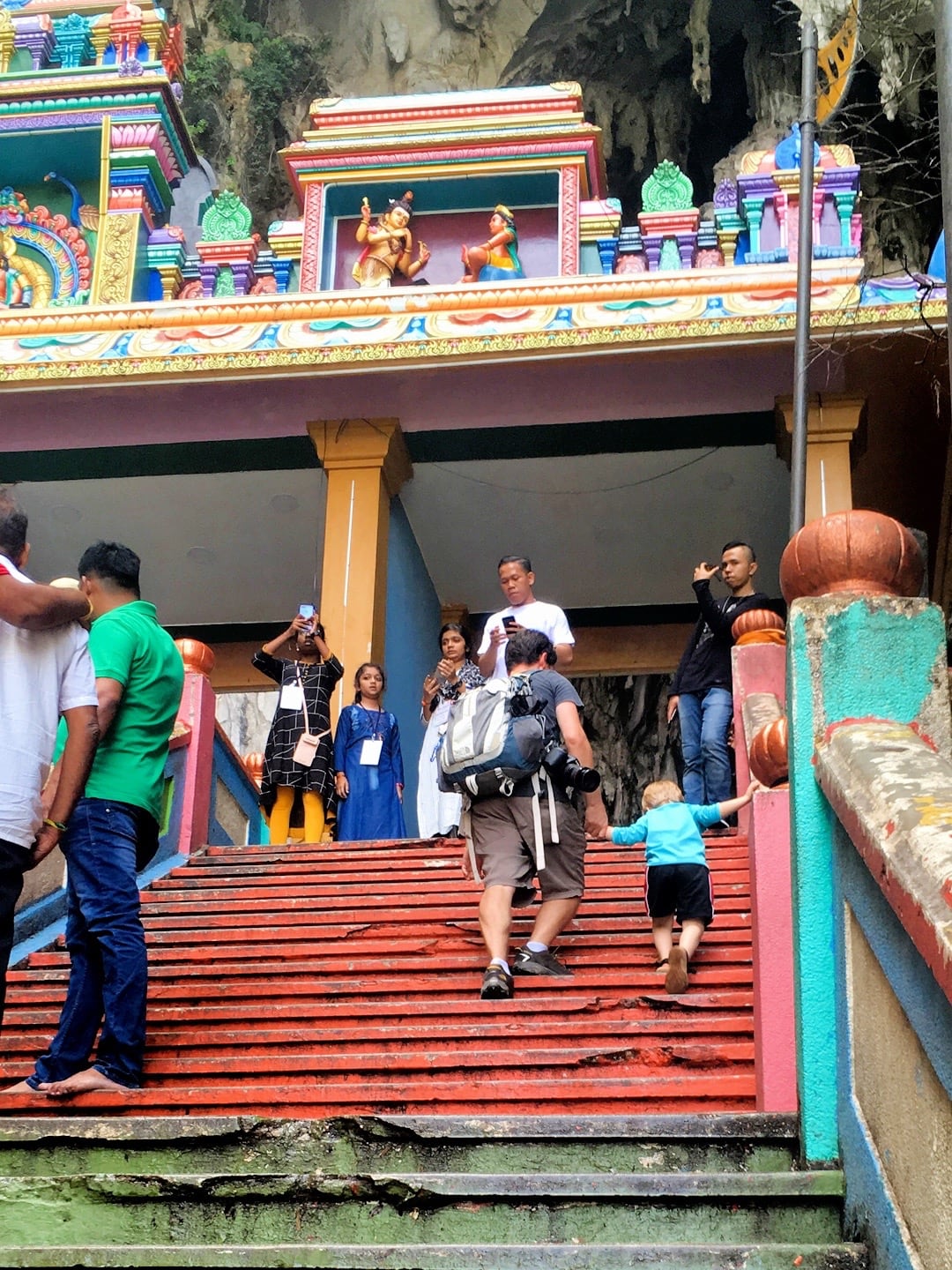 At the top of the stairs I was horrified to learn that we then had to descend a dozen stairs to reach the main shrine. Touché, Cave. Touché.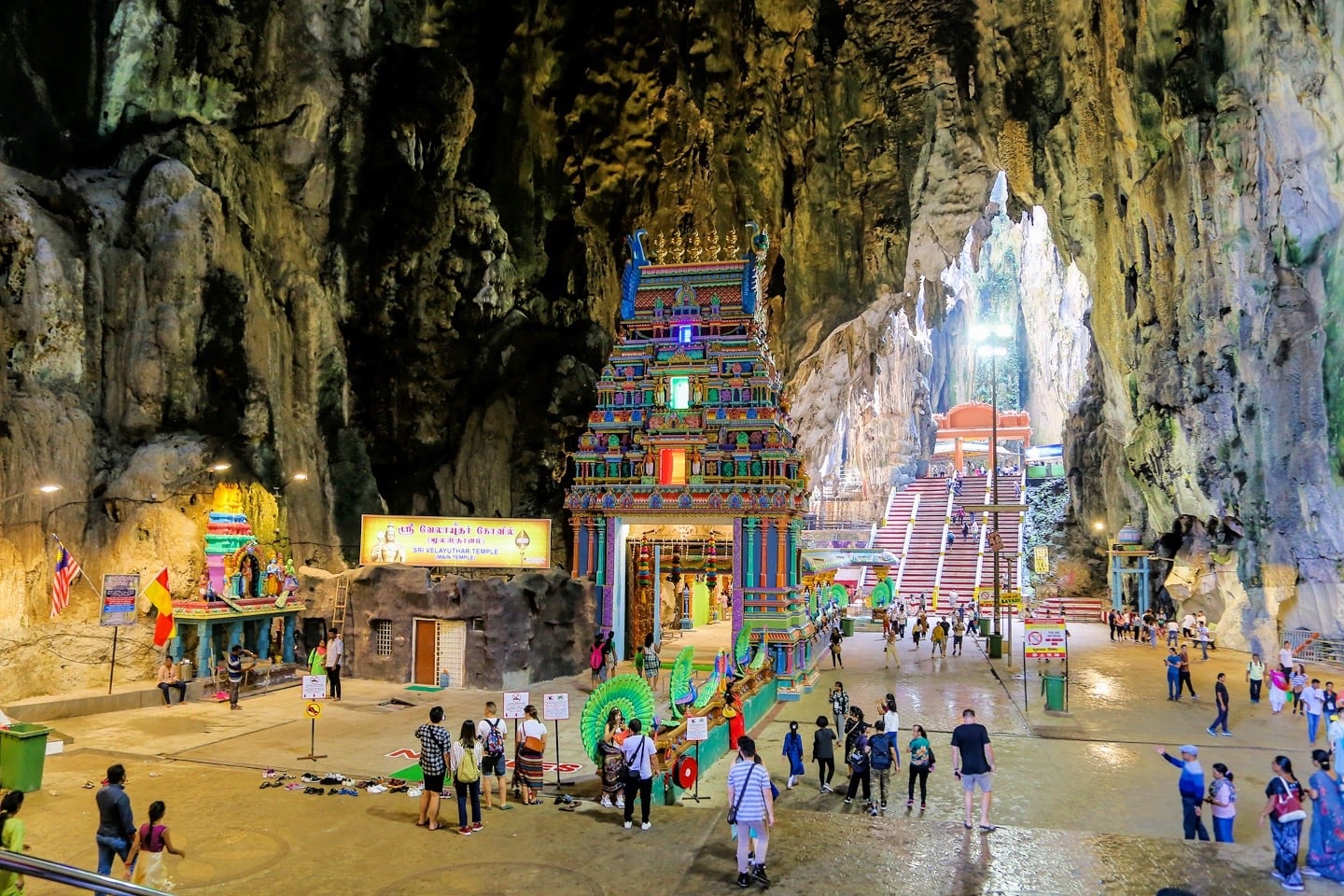 And, here we are, at the main shrine in Temple Cave, the stunning vaulted chamber that is the center piece of Batu Caves.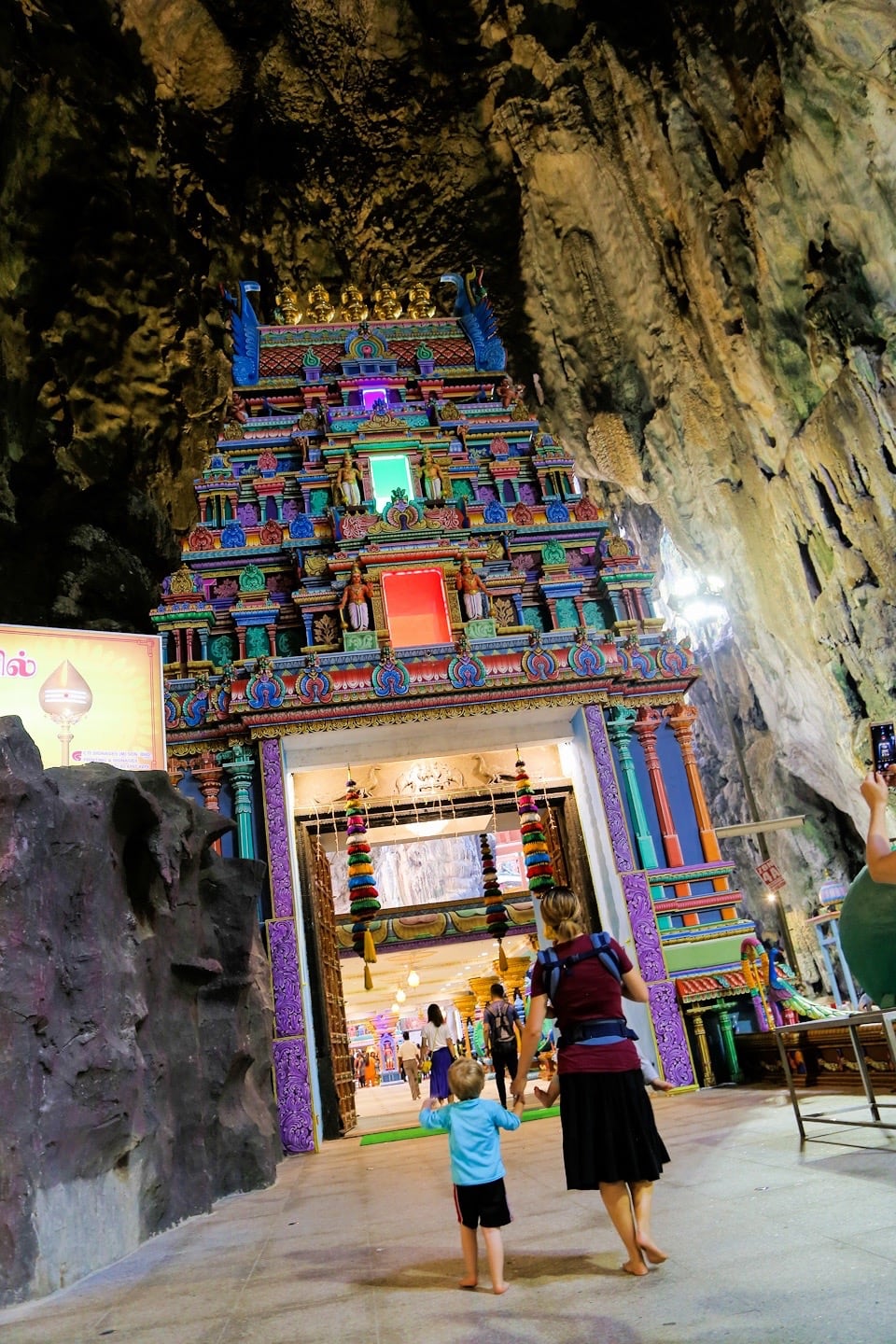 And, what do pilgrims and the faithful do in the shrine?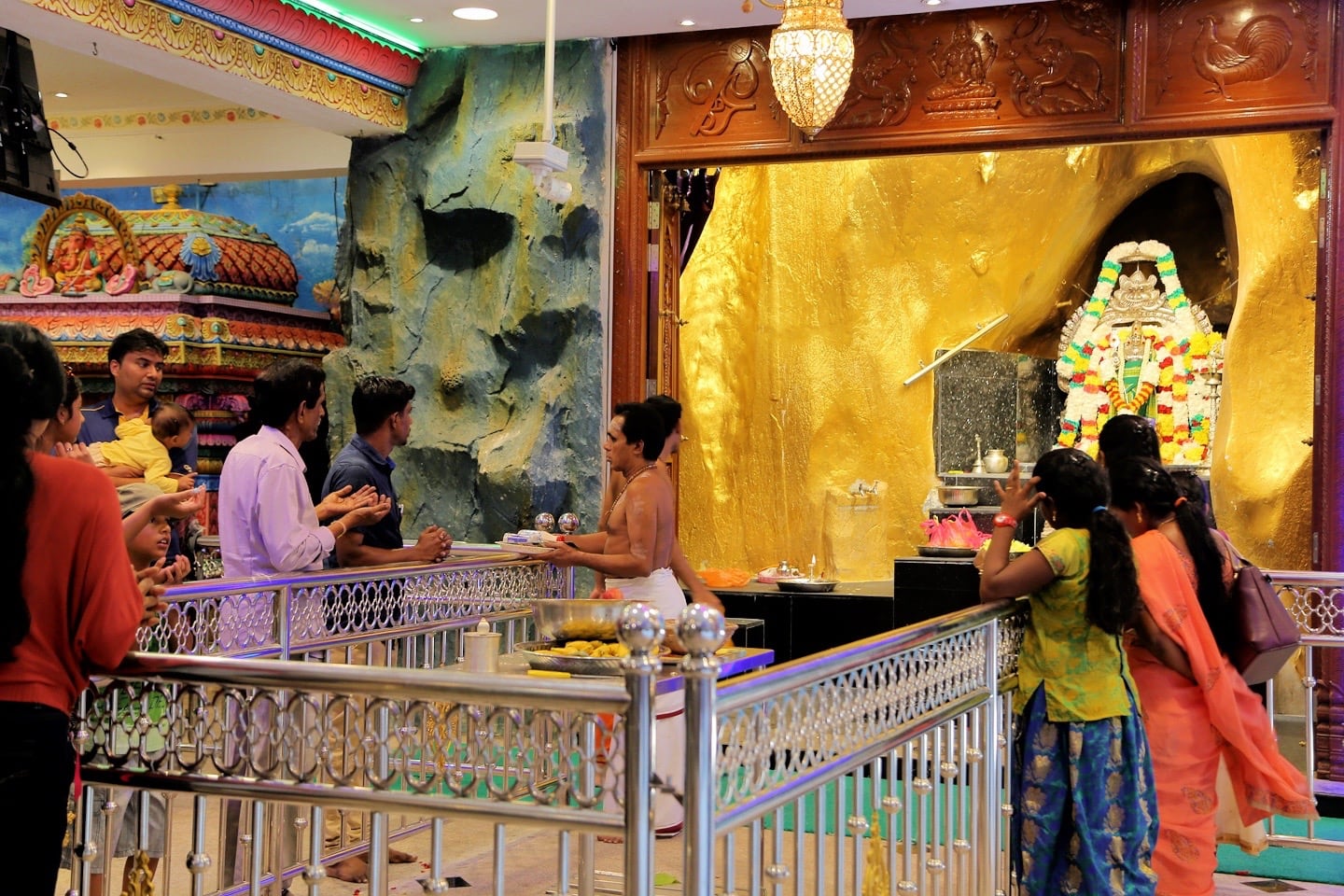 Make offerings, receive blessings. The usual, but more colorful!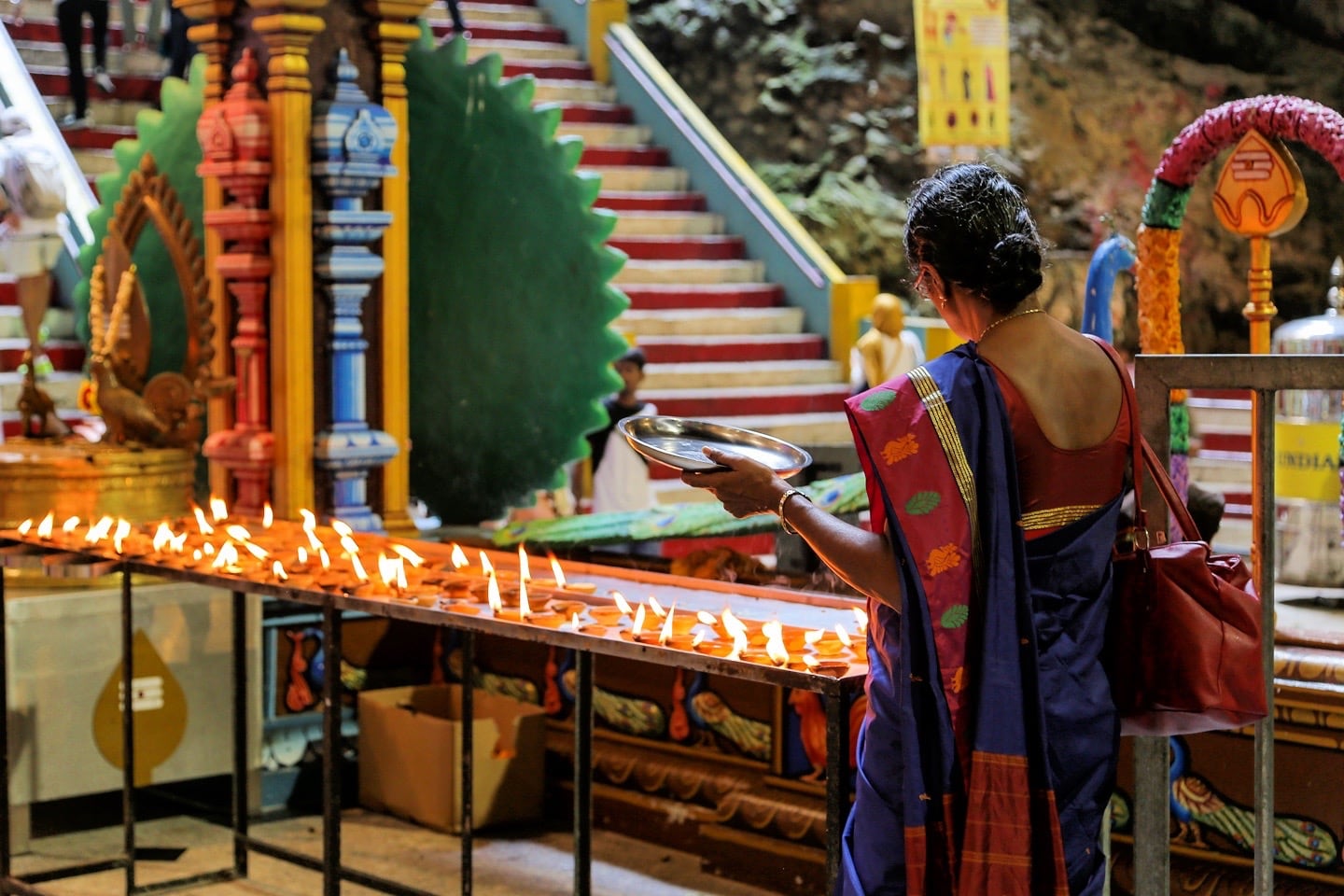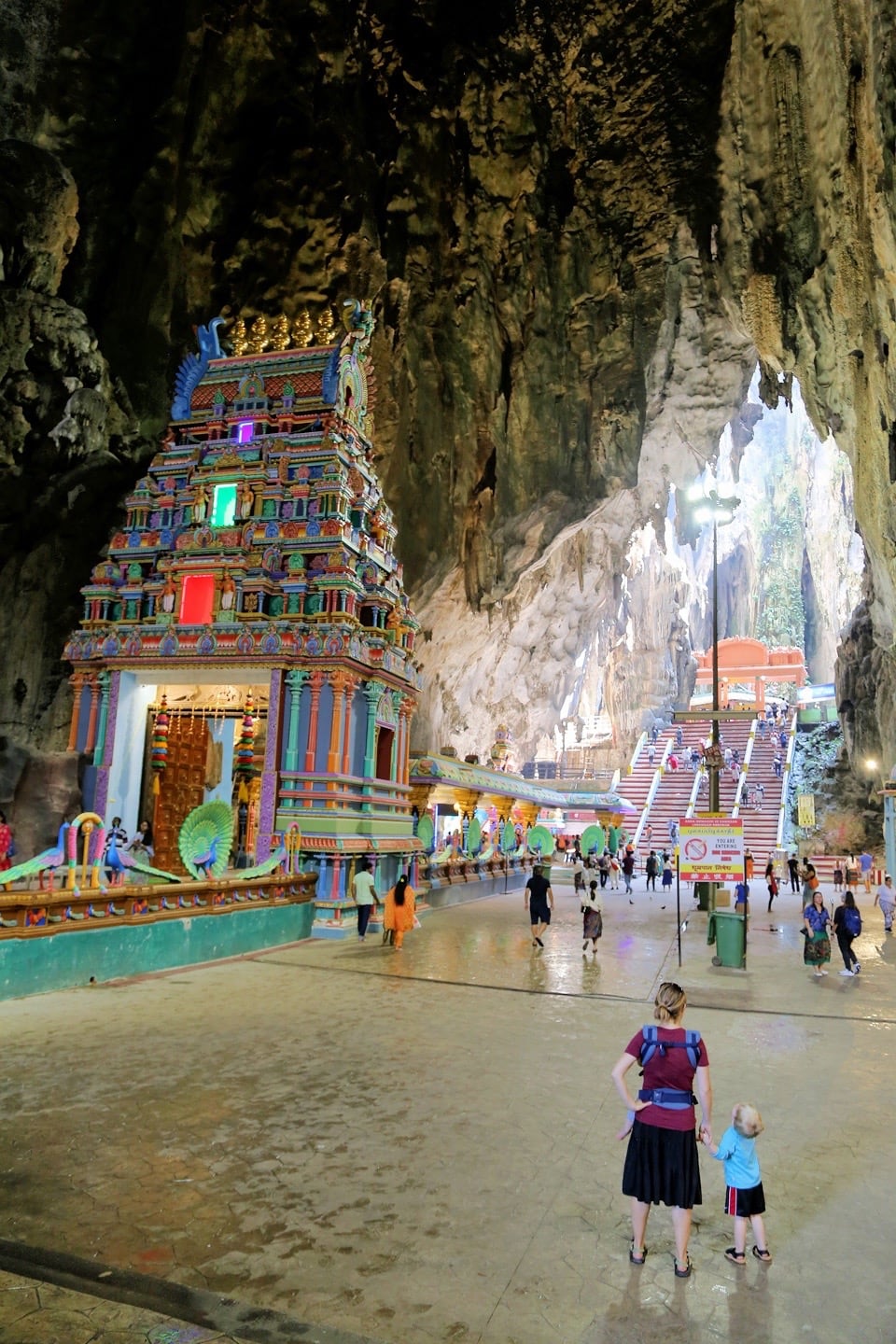 I see there are a few more stairs to climb. Are you up for it, Noe? Of course, Noe's always up for stairs.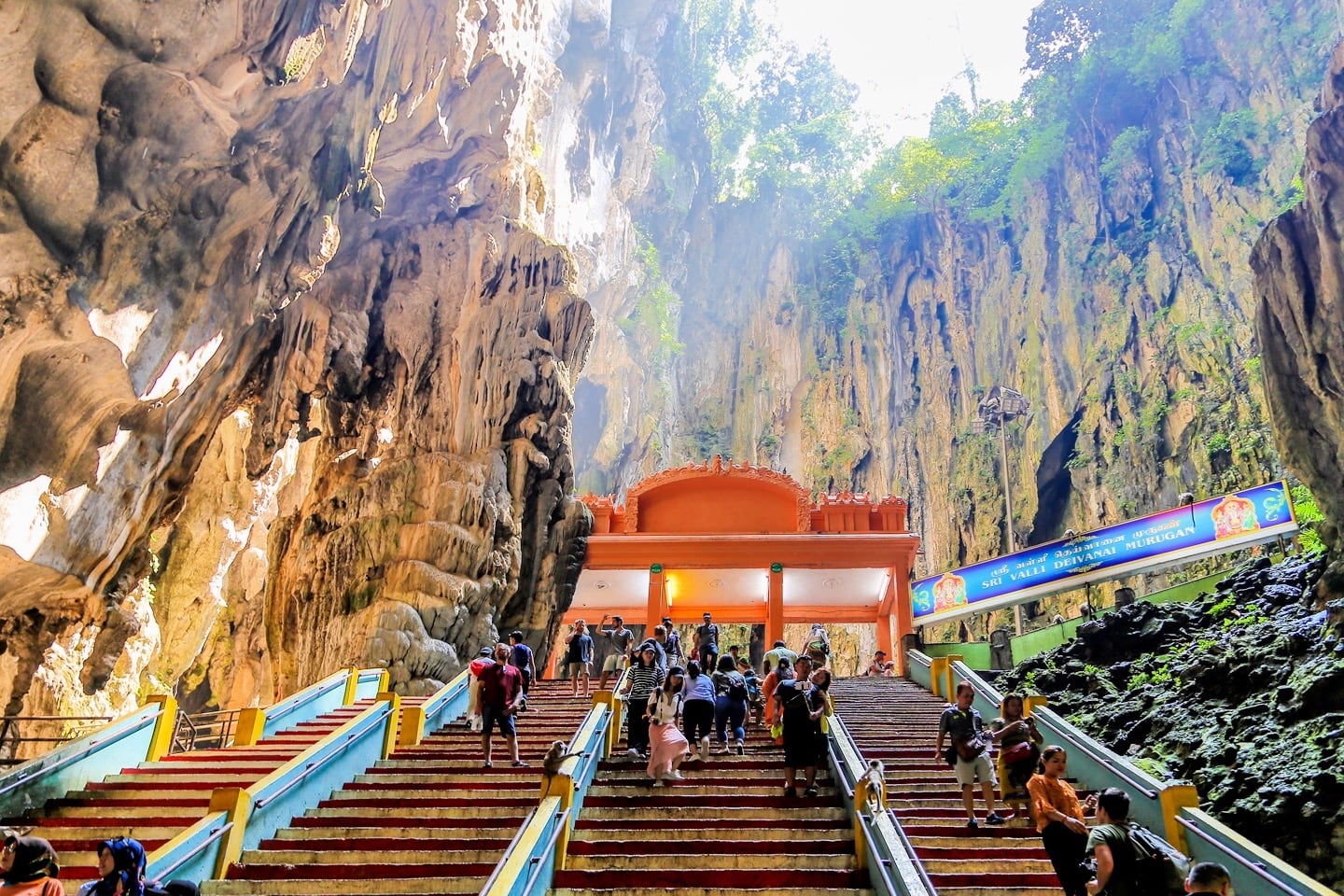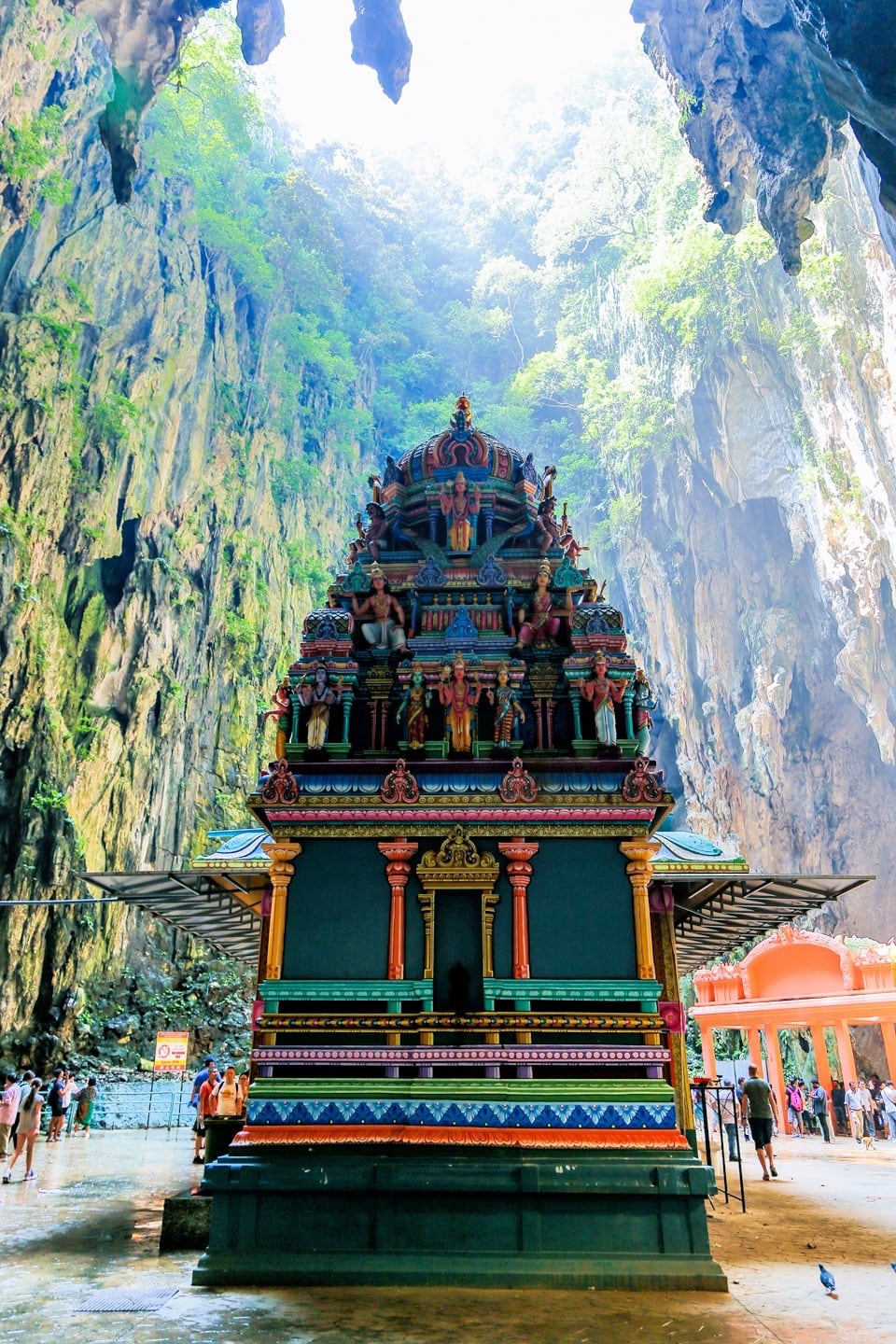 After exploring the open-air upper chamber for a while, it's time to start heading back.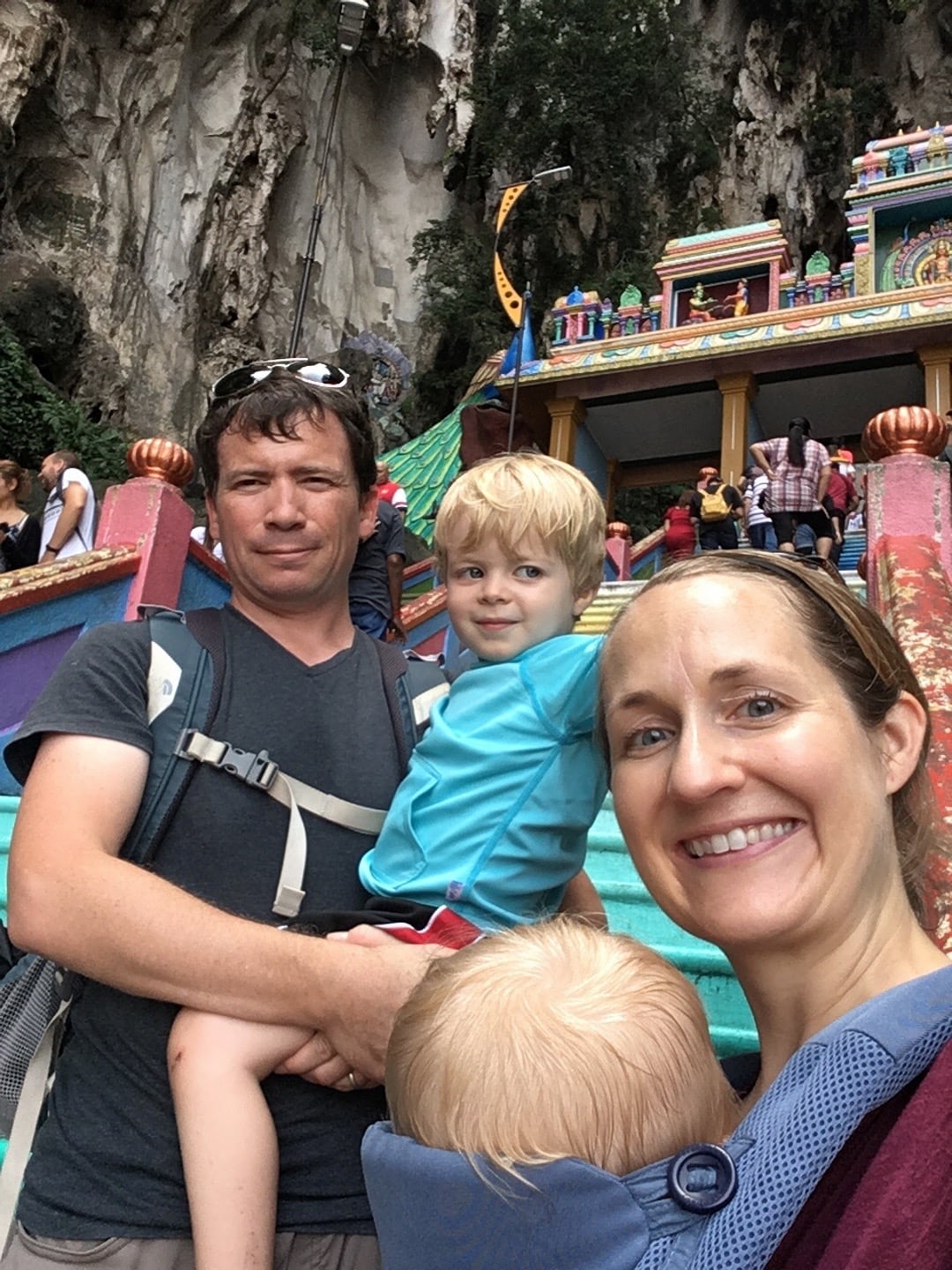 Batu selfie. Um…Riley?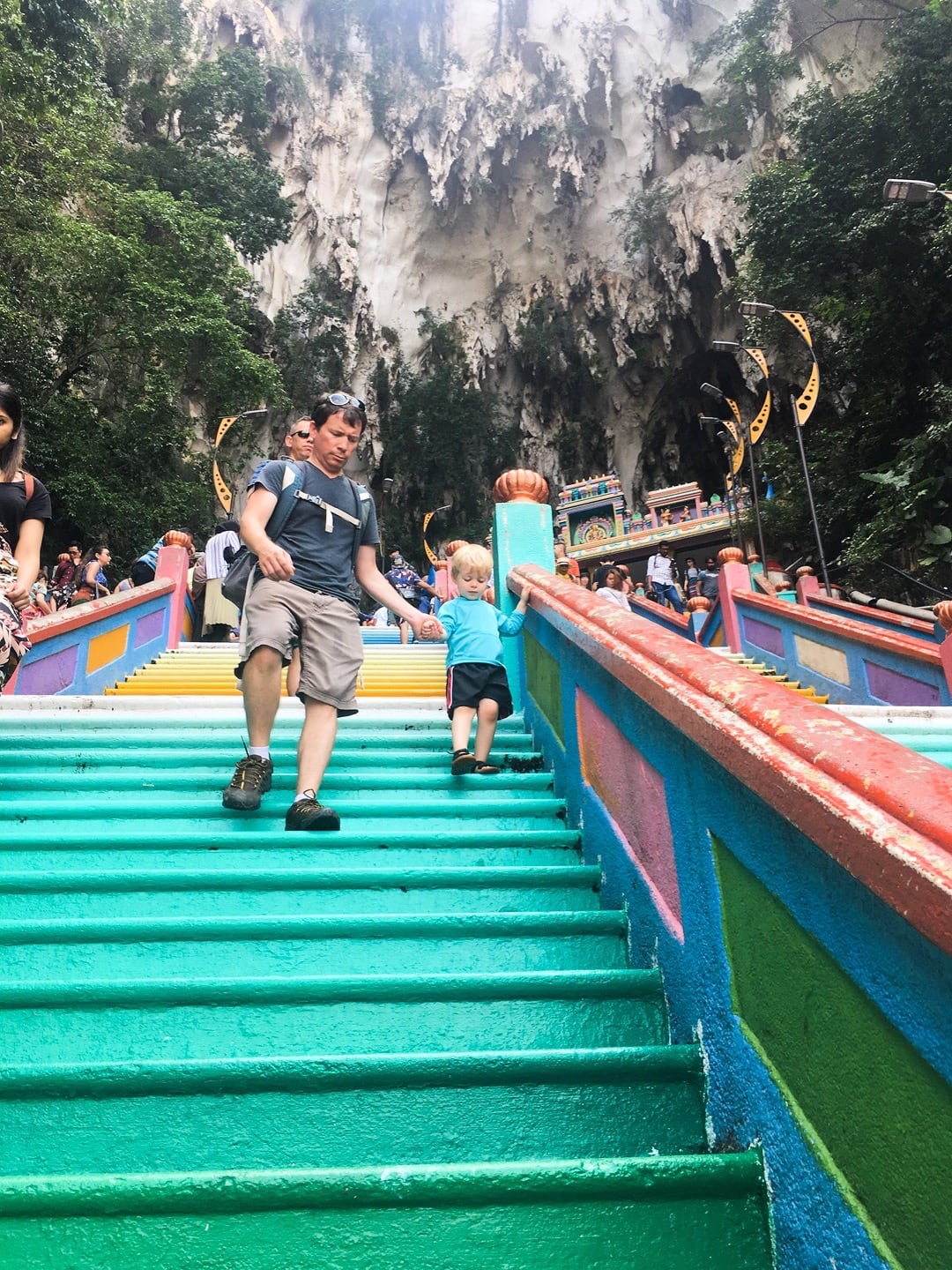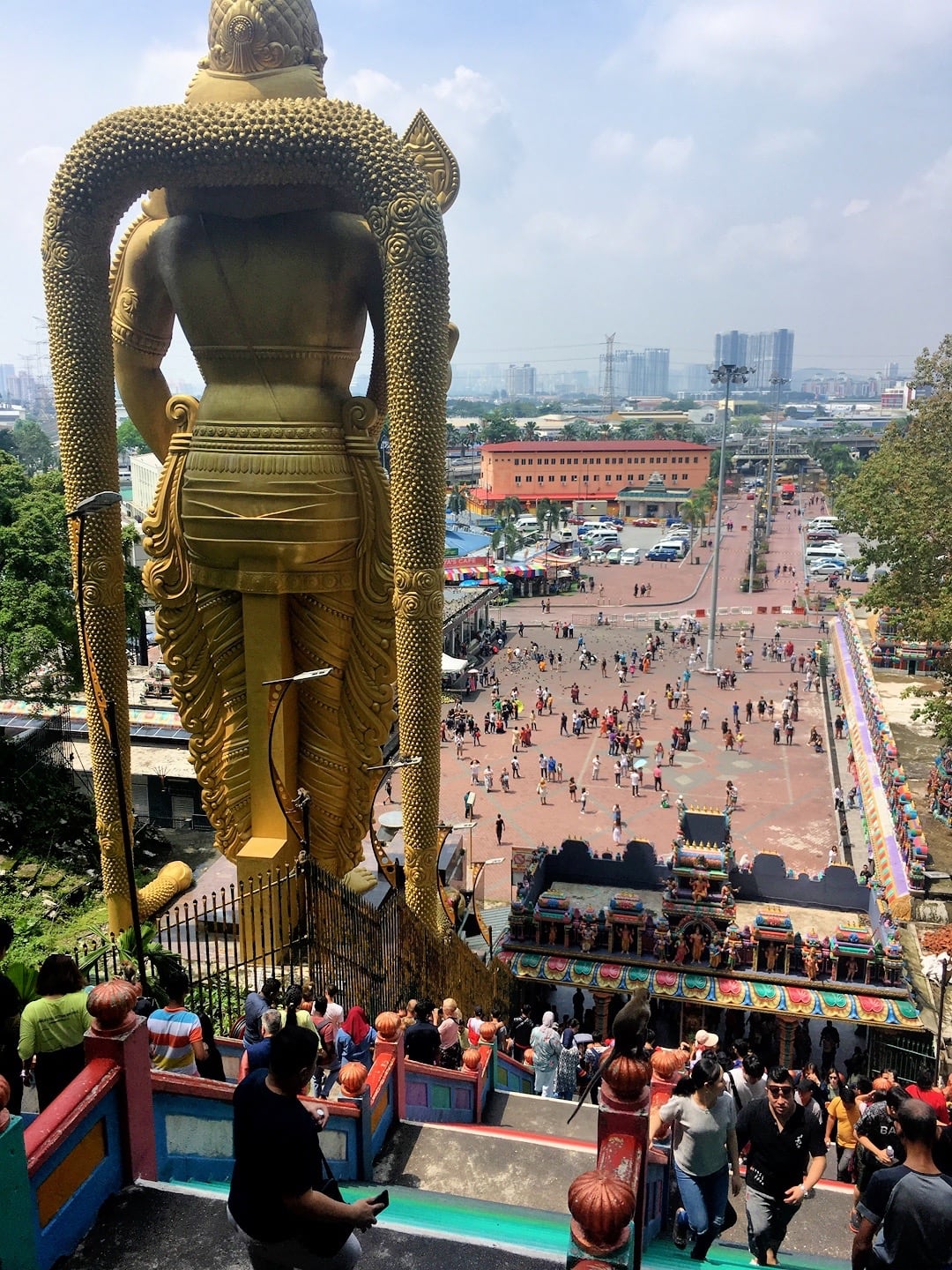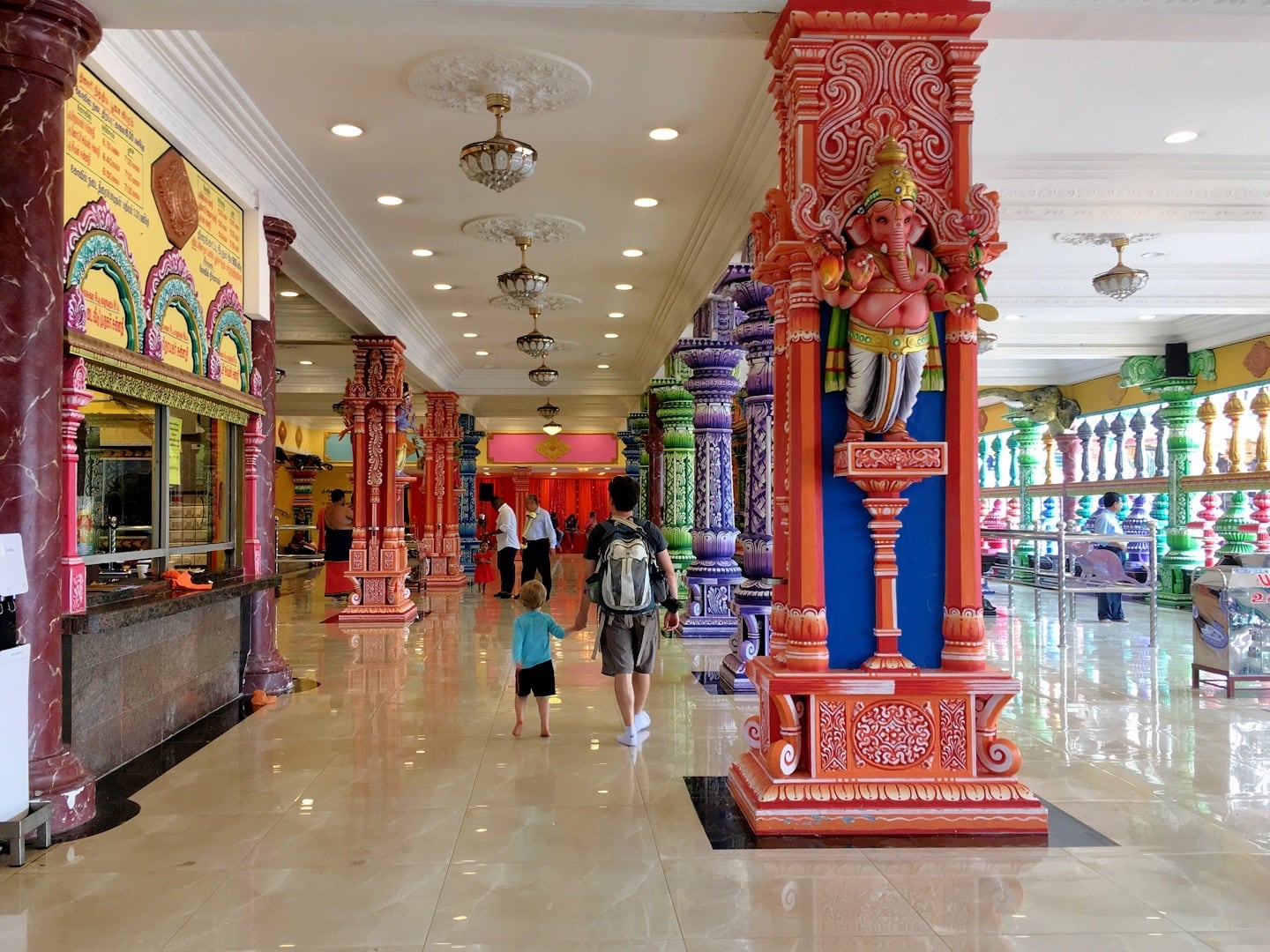 After making our way back down the 272 steps, we had one more stop to make. Noe really wanted to go in the colorful shrine at the bottom, so we had a look.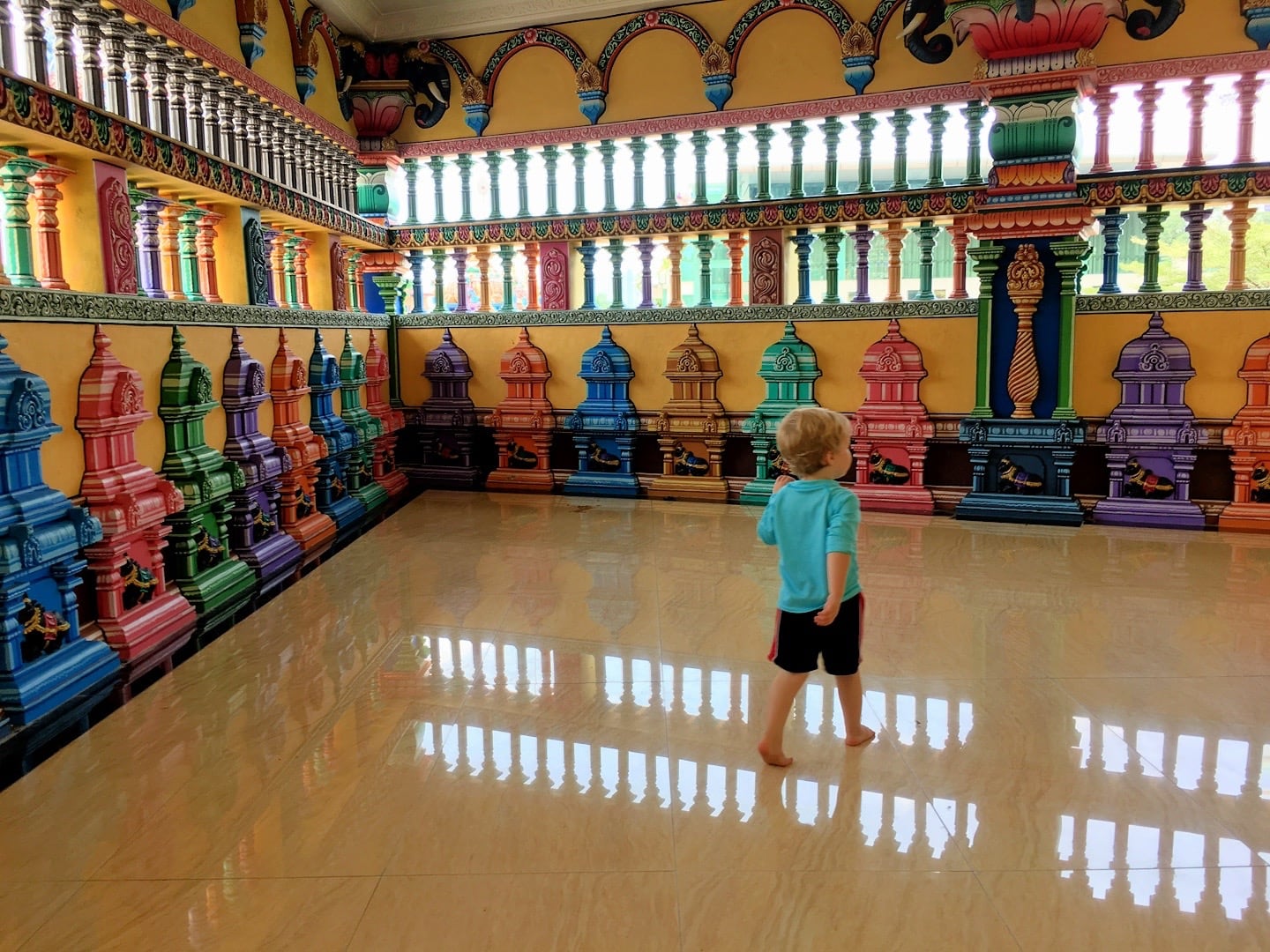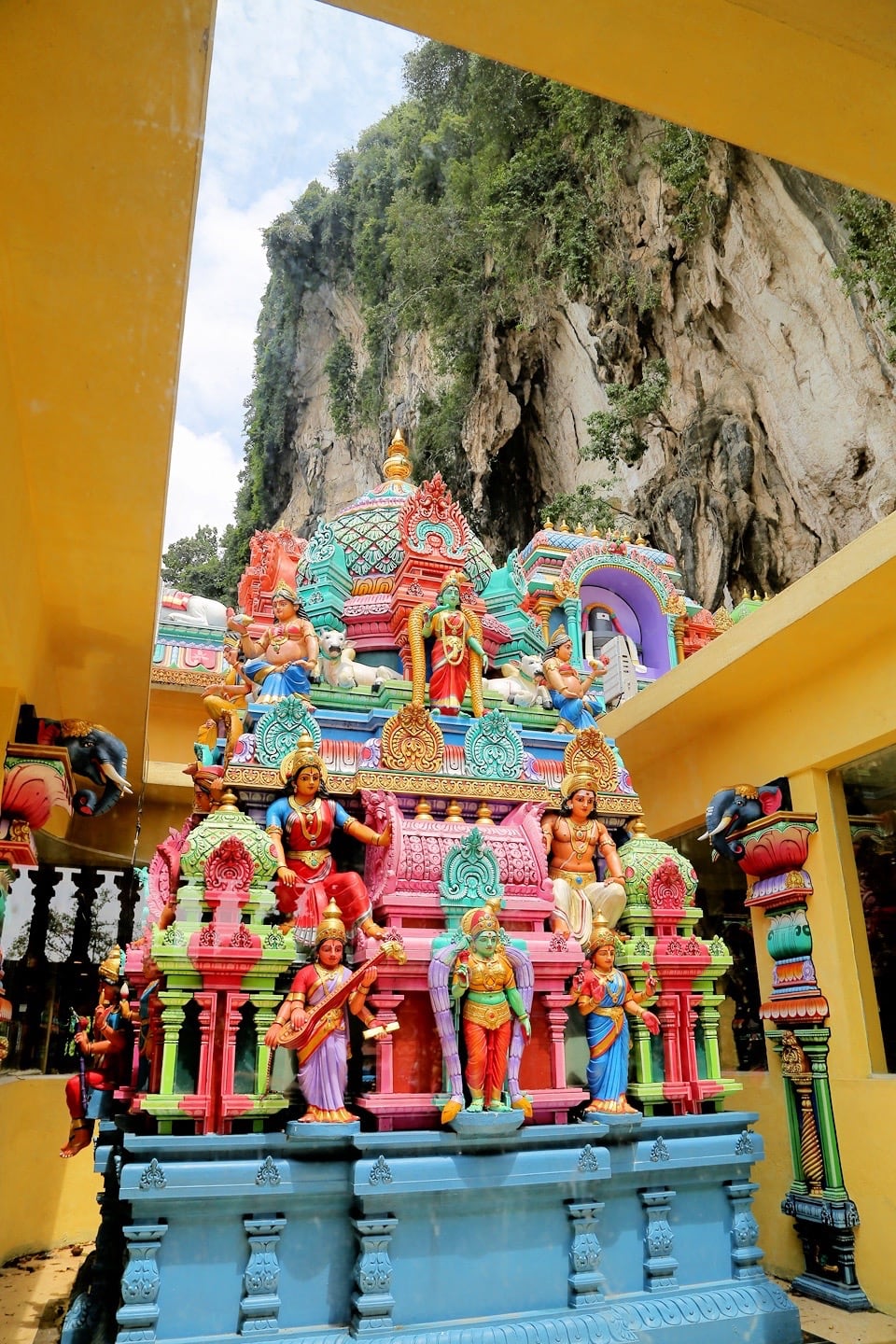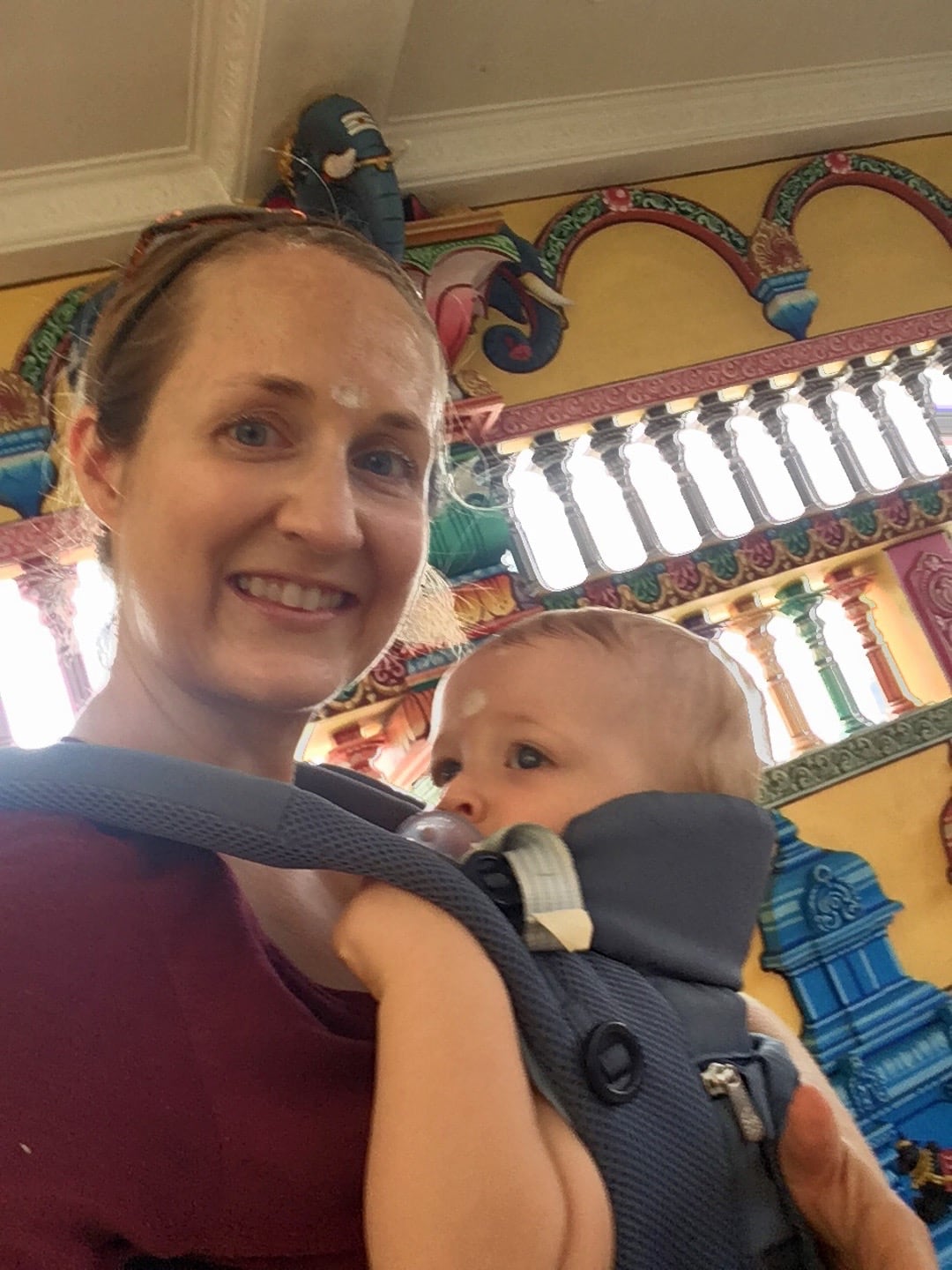 While inside, the Hindu priest asked us if we'd like a blessing, so we did. But Noe didn't want to have anything to do with it. We pressed him a bit but quickly gave up.
After mommy, daddy, AND Riley received our blessings (and tilaks on our foreheads), he suddenly had regrets, of course.
If you know toddlers, you know toddler regrets are no fun for anyone.
It's also a balancing act for us, choosing when to hold firm and when to try to rectify the situation. This is one of those times we opted for the latter, but by then, the priest had already gone on break, or whatever Hindu priests do when they disappear from view.
So, we did our best to explain this one away, but to no avail. Finally, I pulled him aside, ran a thumb across the mark on my forehead and wiped it on Noe's. All better.
Time to catch our train back to KL!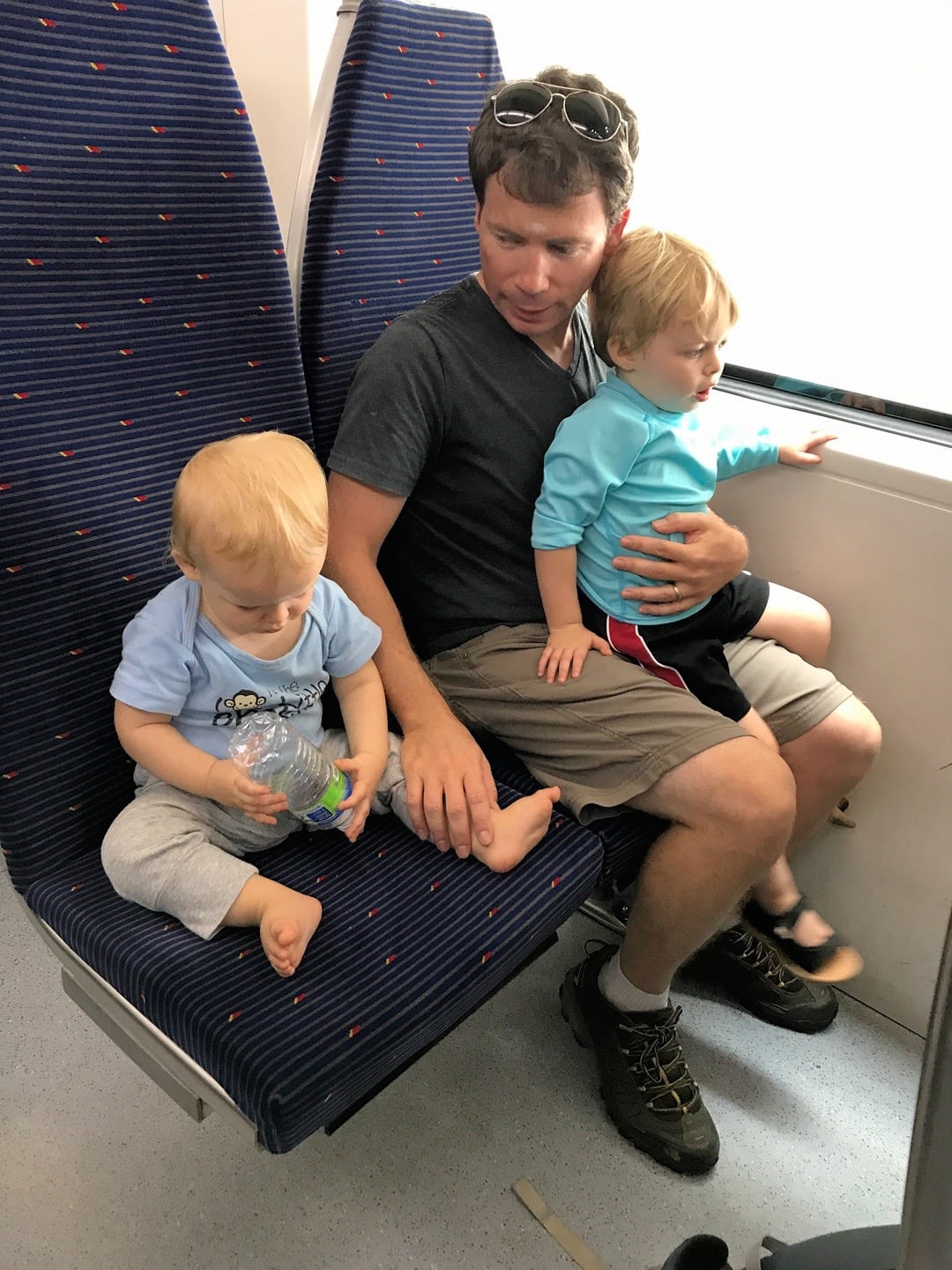 The Rest of the Day in KL
After a jam-packed morning, it didn't surprise us one bit that both boys passed out within seconds of being put down for their afternoon naps.
With that, it fell on me to venture out into the world and wrestle up some lunch to bring back to the homestead.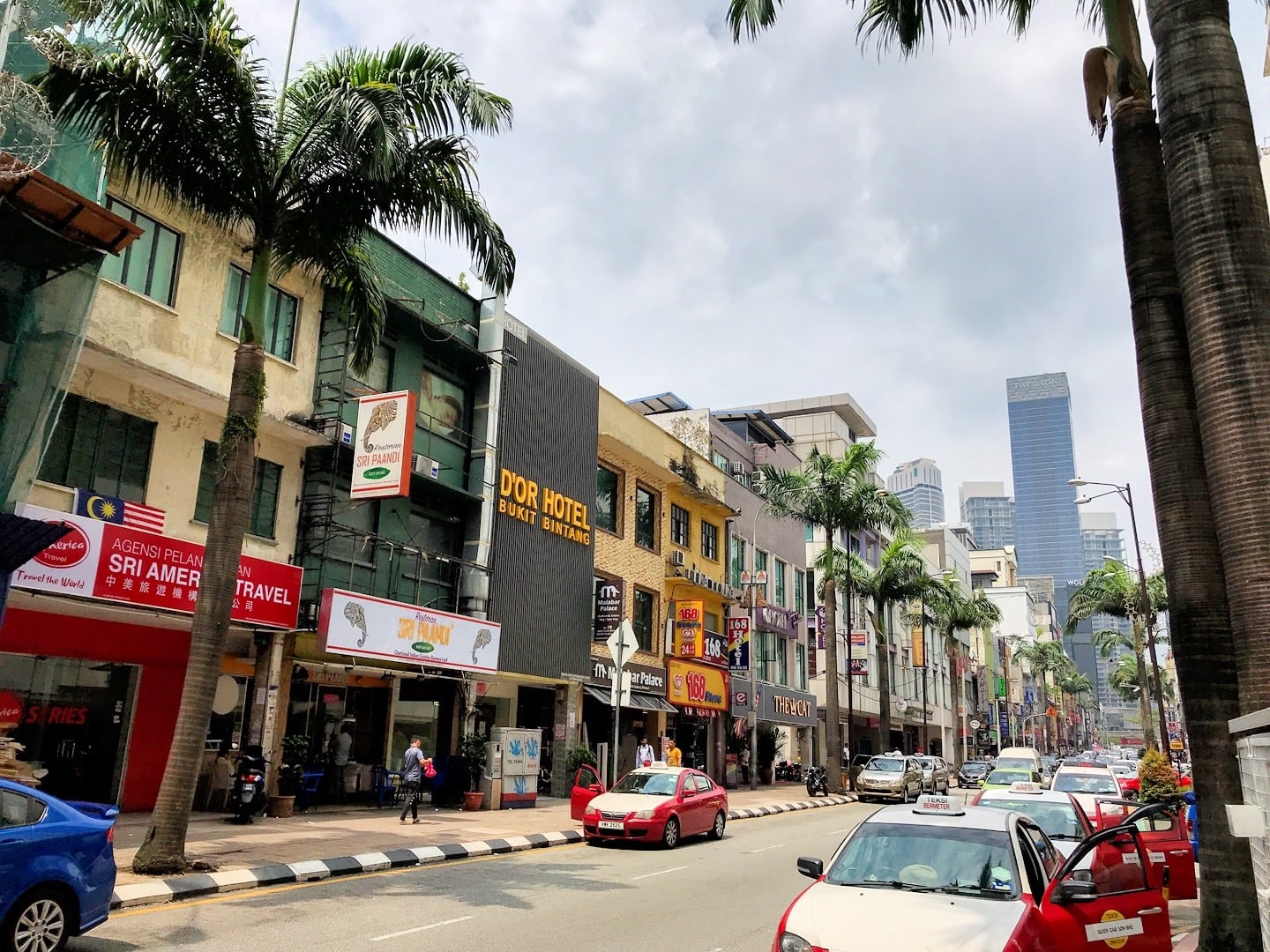 I had a couple of other errands around Berjaya Times Square (in KL, a gigantic mall and hotel), so looked into what was on offer on Google maps. A McDonalds popped up, and this seemed like a Micky D's sort of day. Done and done.
Well, not quite. For some unearthly reason, I had it in my mind that I'd just march into the mall, follow the GPS to the McDonalds, get my food and be done with it.
Never in my wildest dreams did I imagine that the McDonalds would be hidden DEEP within the vast expanses of this huge shopping center.
Sure, I had a rough location on my phone, but reception was poor in the actual mall, and I had five floors to choose from. That is, until I discovered five MORE floors on the opposite end of the mall!
I tried the directory, but it was of little help. I wondered around for a while looking for either an Info Counter or the Golden Arches to no avail.
Finally, I decided to read the Google maps reviews hoping for some insight. And, sure enough, there it was in the very first review: "fifth floor of Berjaya Times Square, close to the theme park…"
Um…Theme Park?
I thought I had canvassed the entirety of the fifth floor already, but was willing to give it another try. Turns out, I had somehow missed the entire wing of the mall with…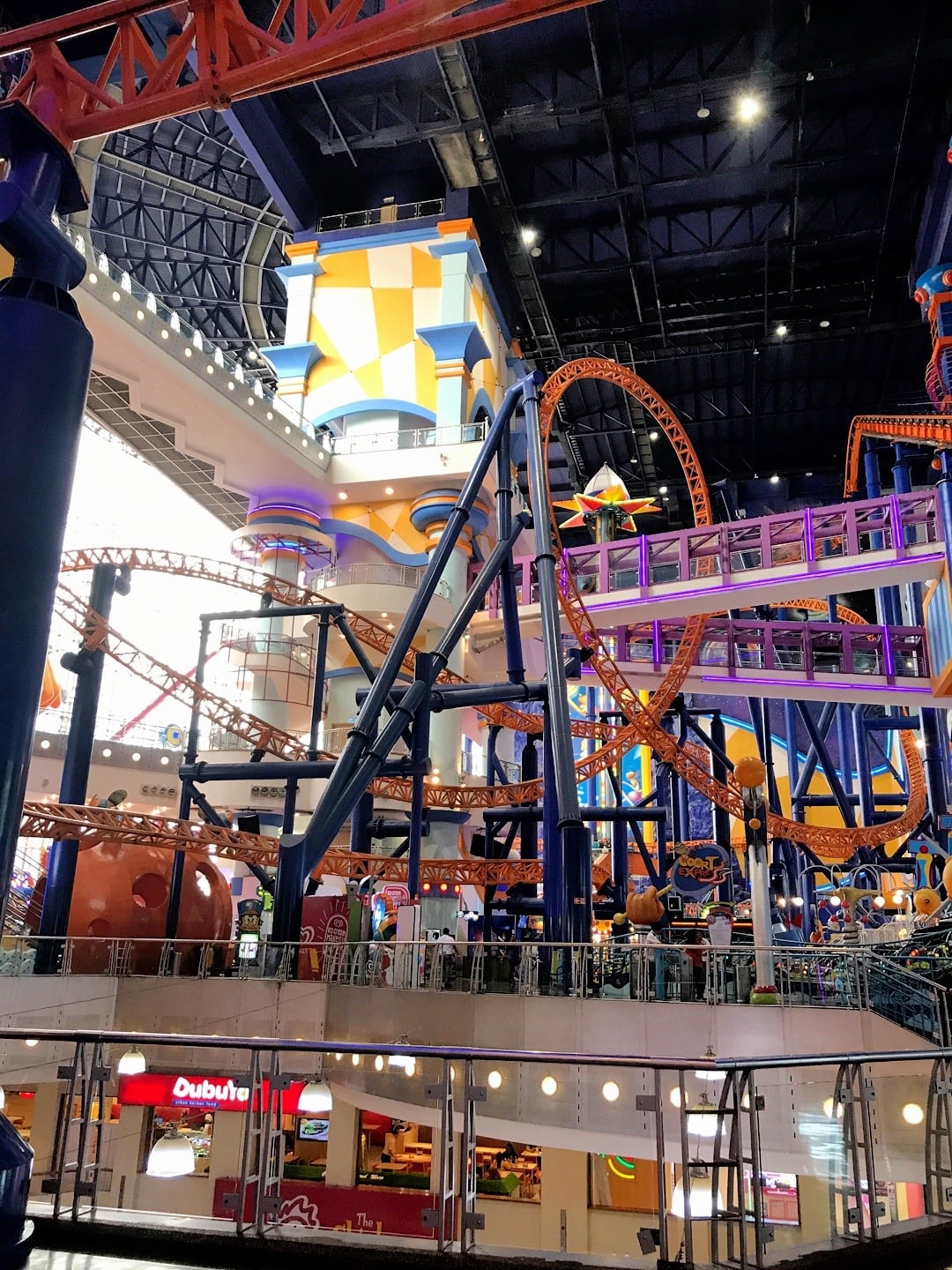 …the theme park.
Five minutes later, I had lunch in hand. 15 minutes after that, I found my way back out of Berjaya Times Square.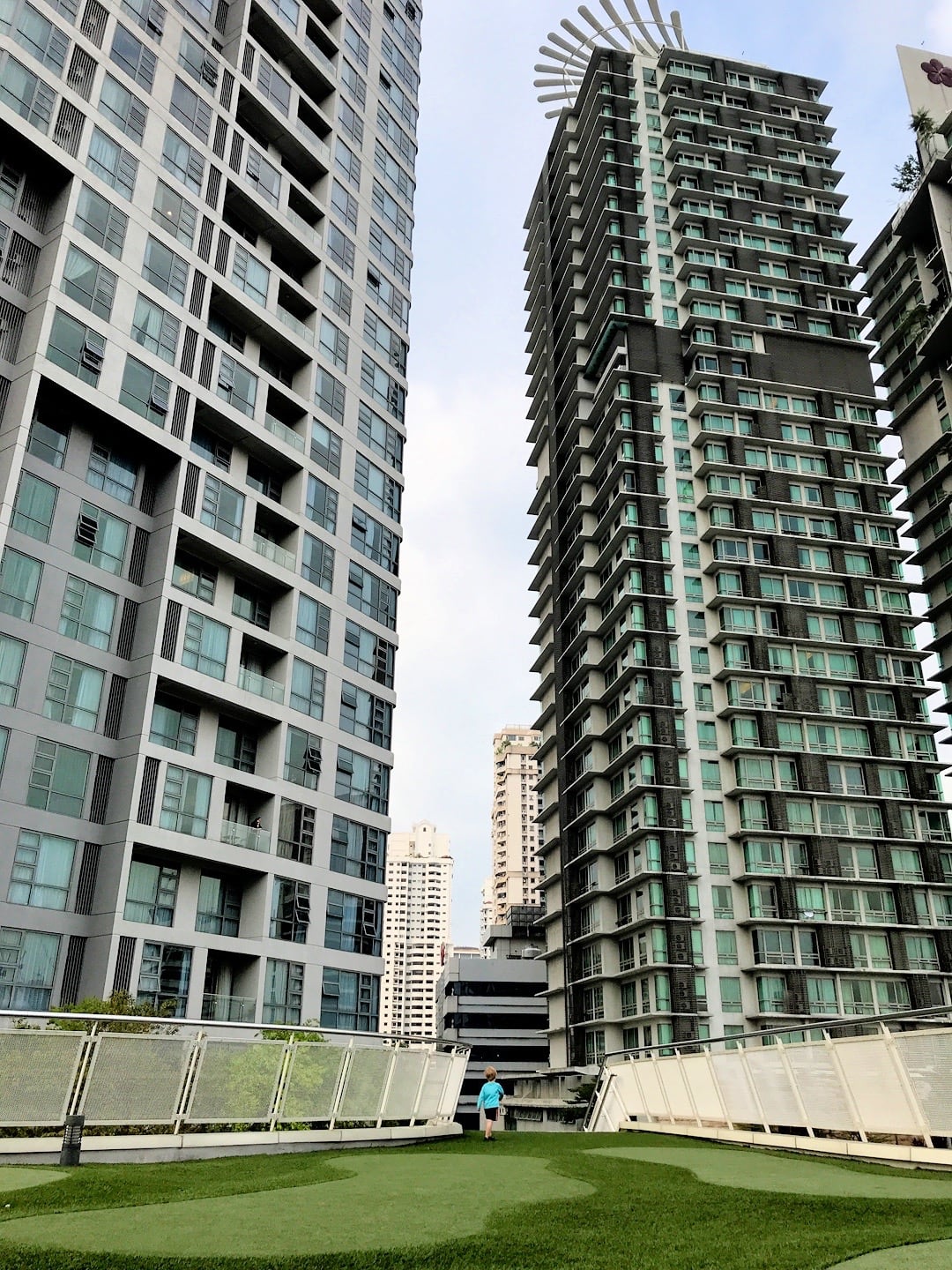 Noe got up a bit before Riley, so Lori took him down to run around the outdoor putting green on the sixth floor.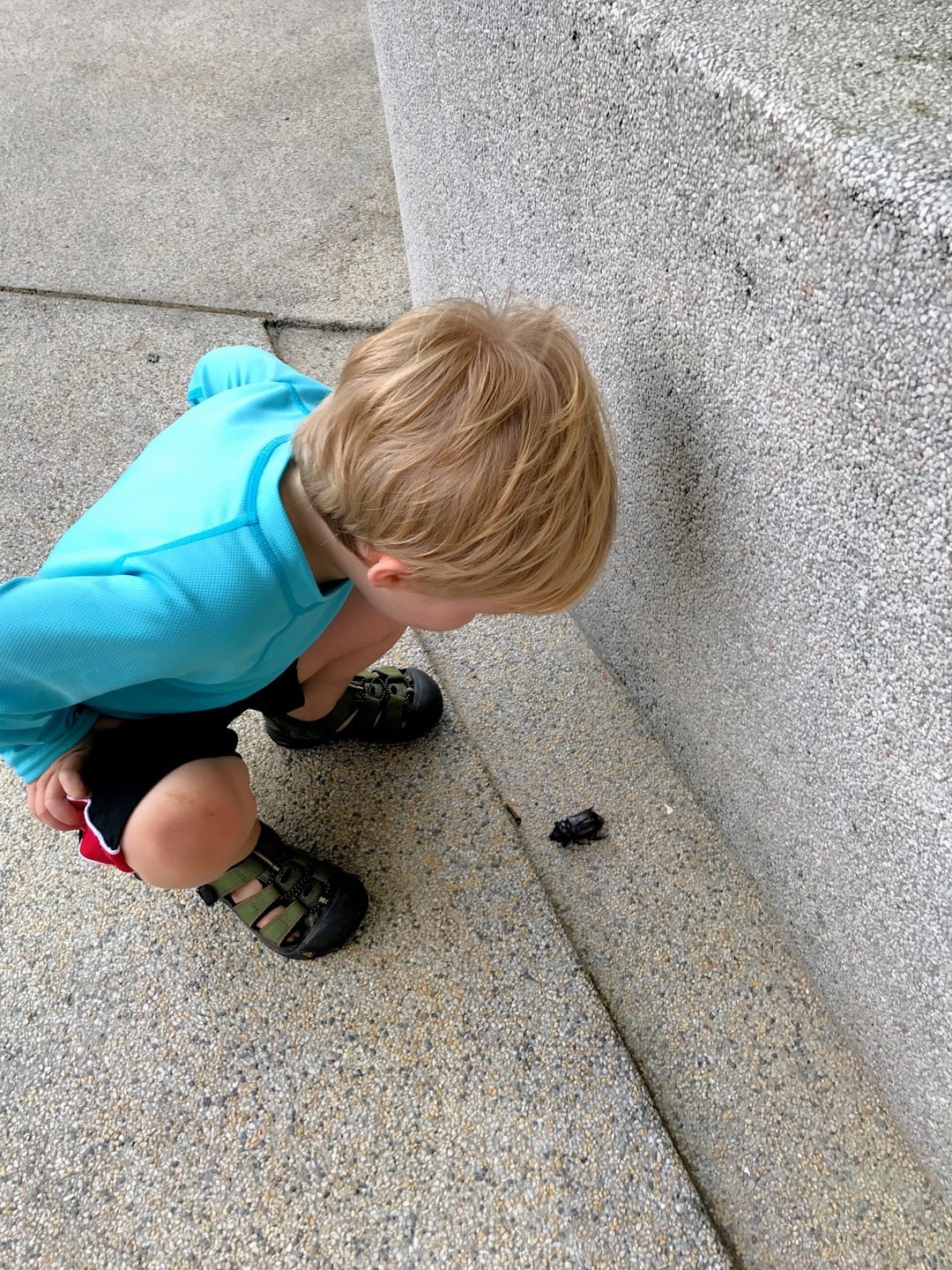 A dung beetle. Who says you can't find nature in a concrete jungle?
That evening, we grabbed some happy hour draft beers at Rock Bottom on the pub street in Bukit Bintang. Riley was off in seconds, learning the ropes of the bar biz.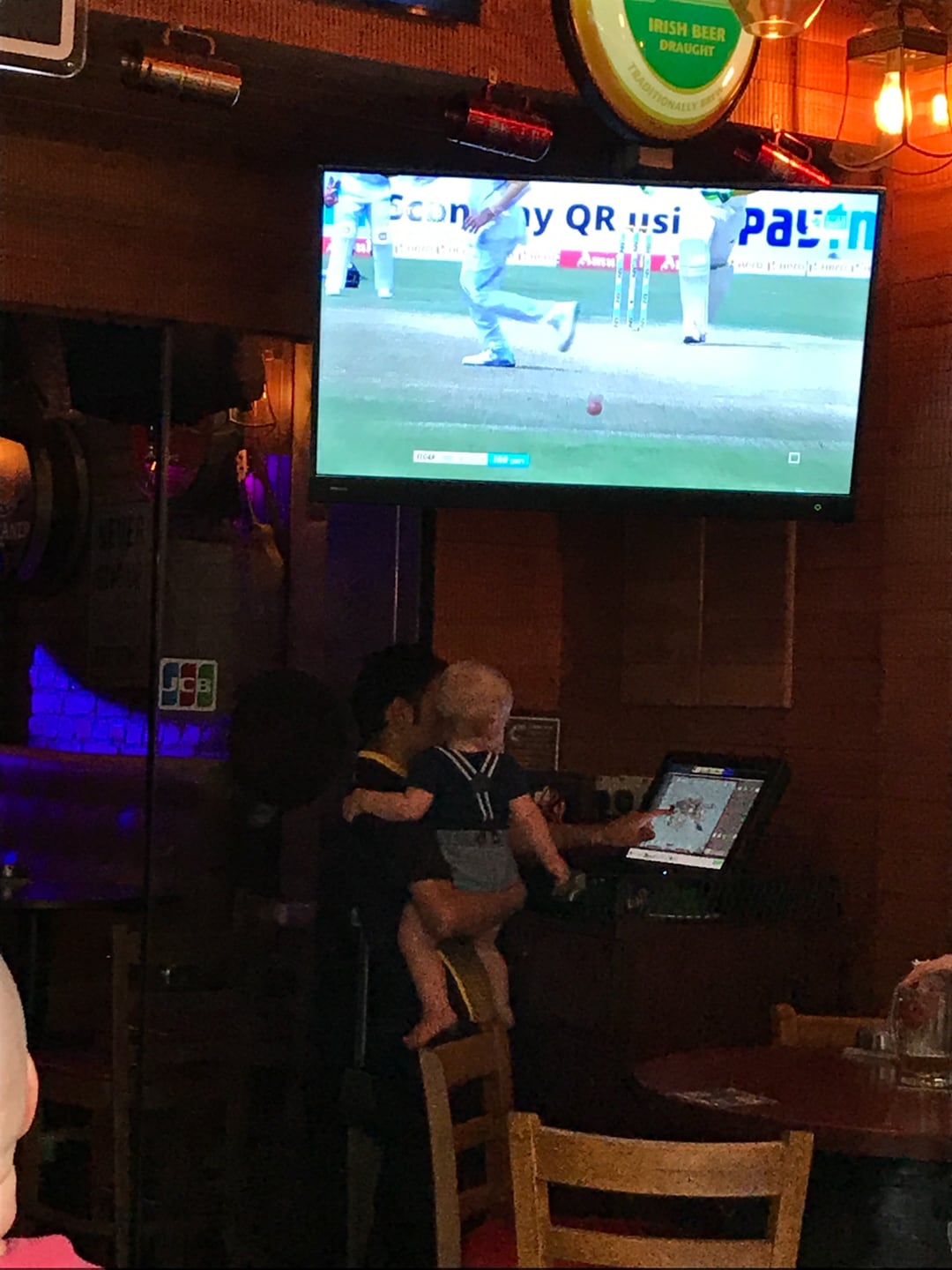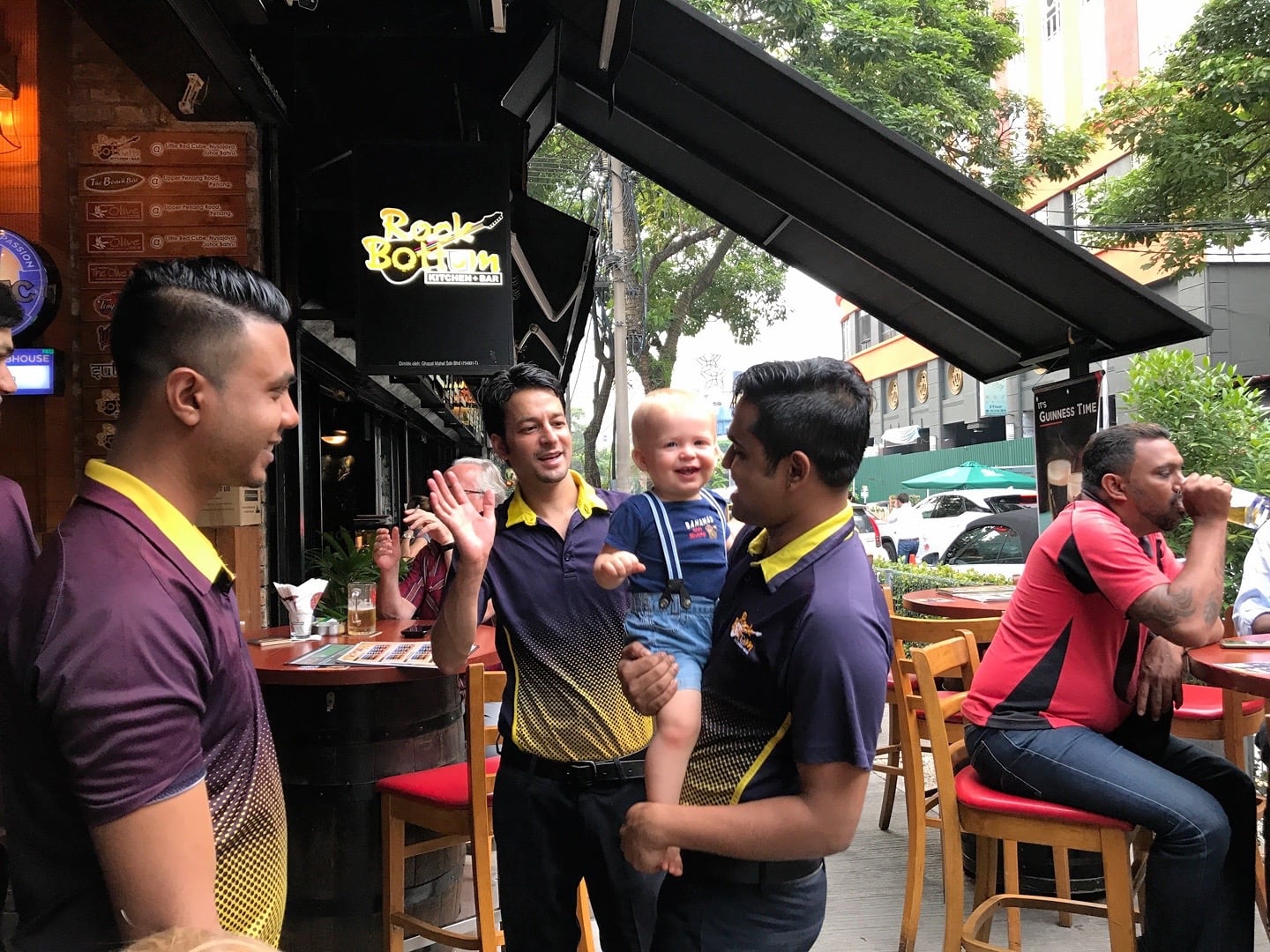 Noe was content to occupy himself with more artistic endeavors…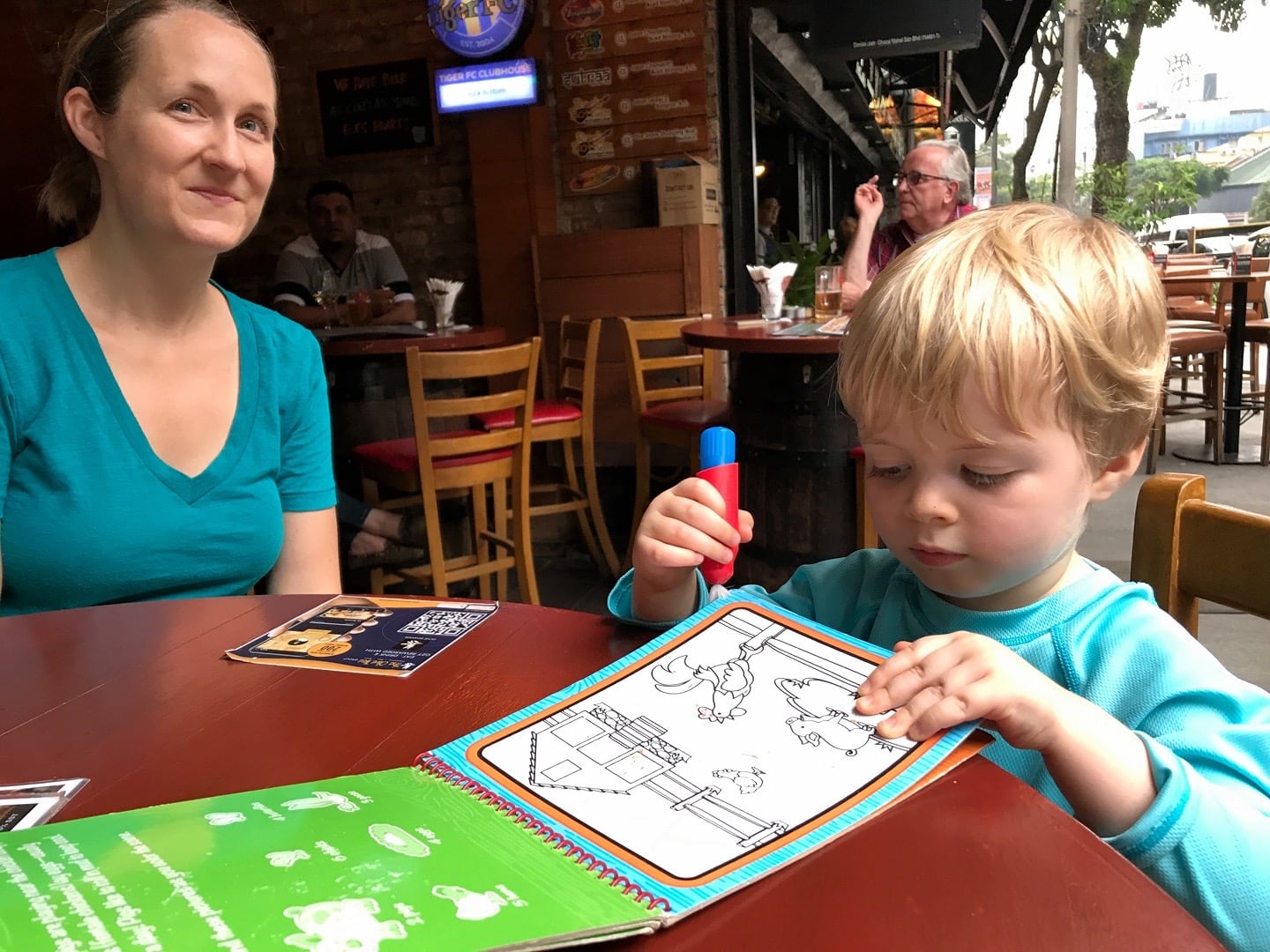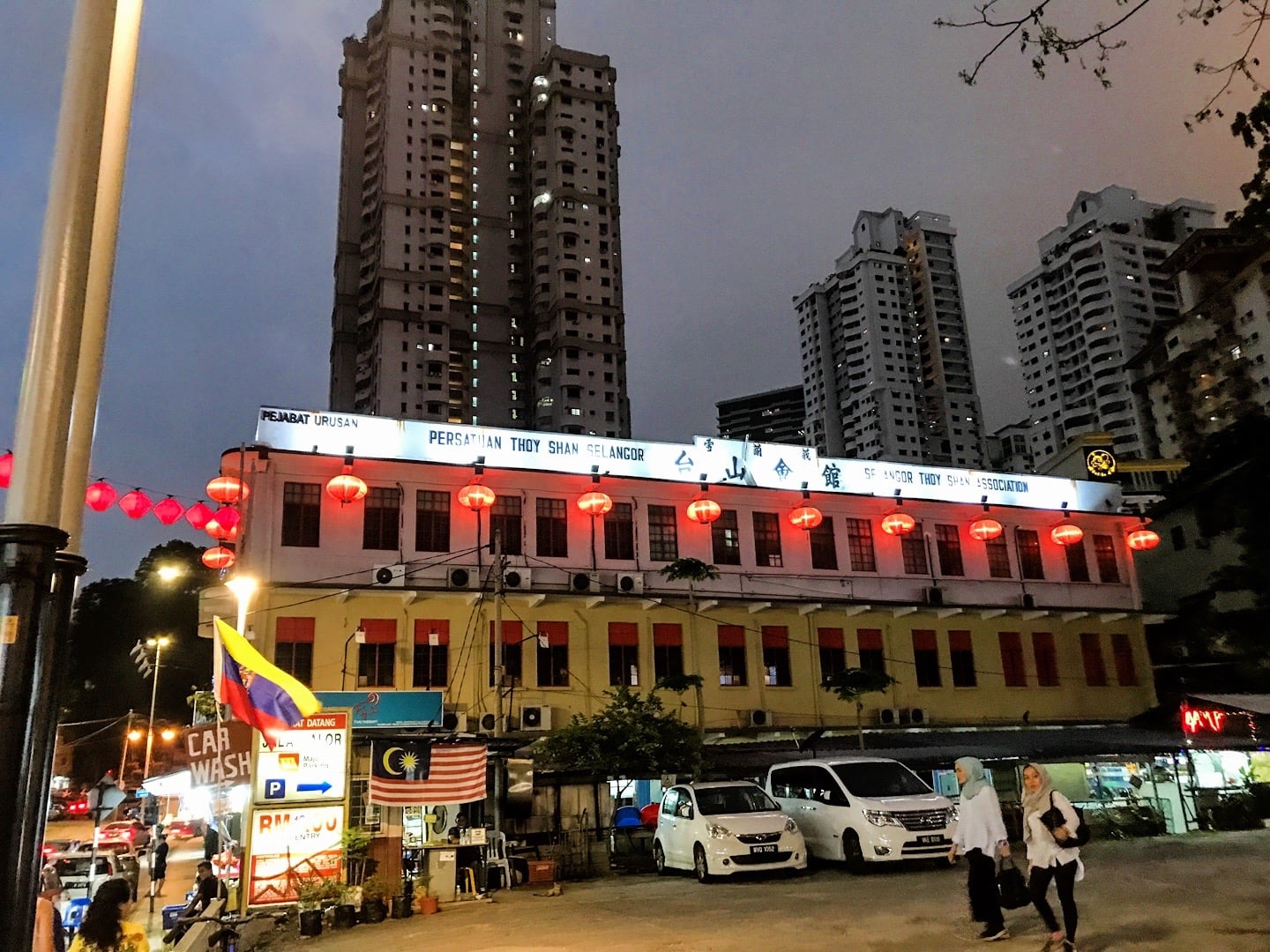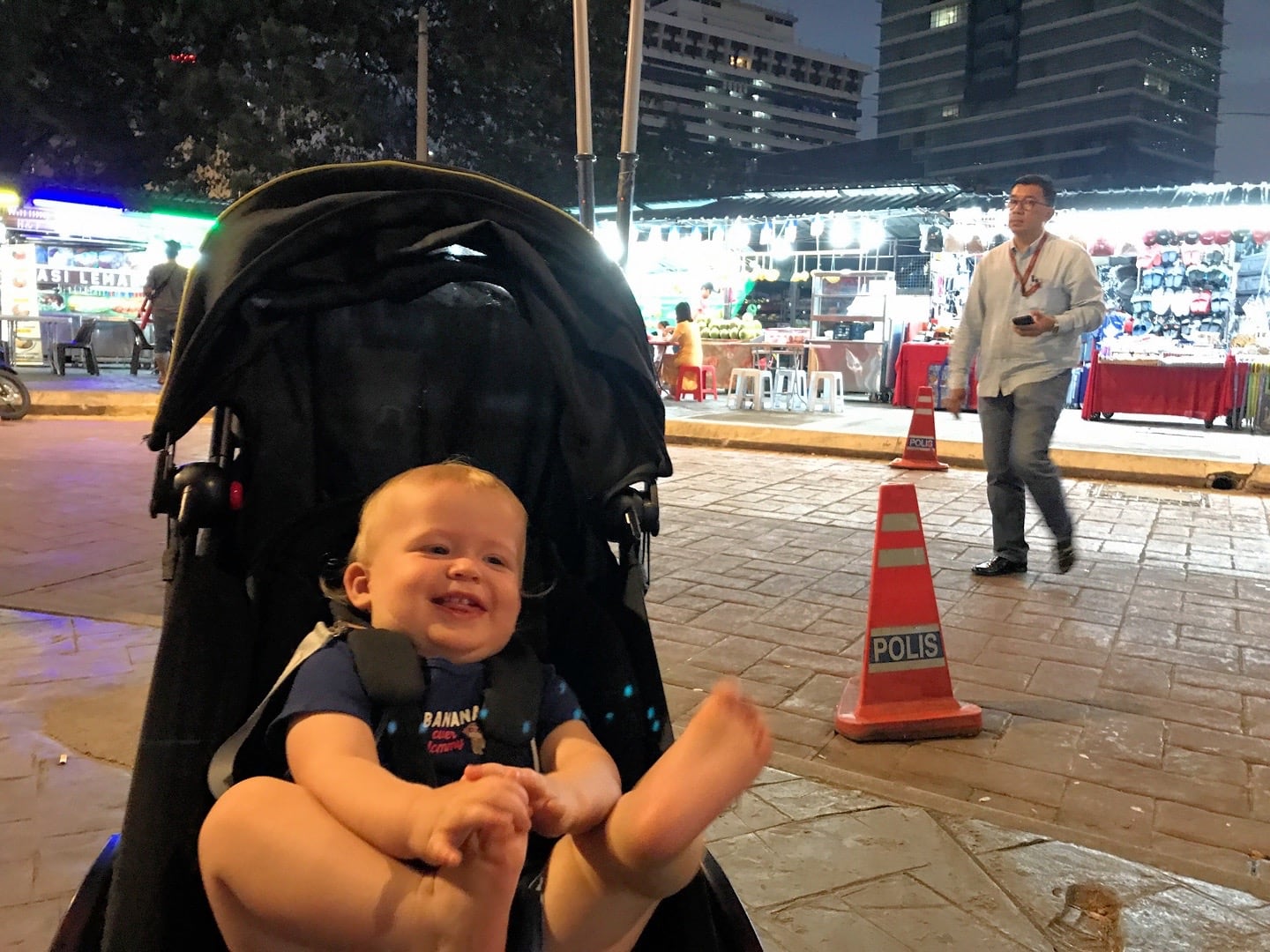 Instead of eating out, we opted to feed the kids back at the apartment. After they were down, I grabbed take-away from Layali El Sham down the street, which turned out to be the best Middle Eastern food we've had in Malaysia (which is saying a lot).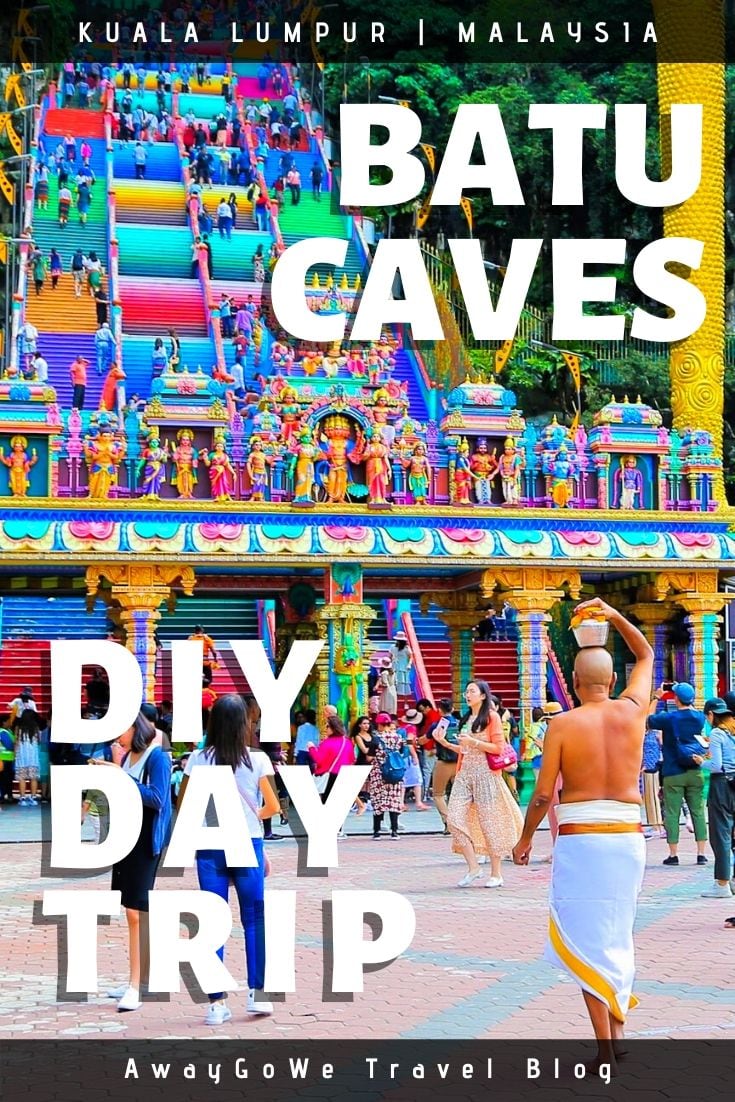 4 October 2019
I've been a blogger and travel writer since 2010, covering everything from luxury hotels to hidden destinations and travel gear. Originally from Oregon, I've spent the majority of the past 20 years living outside of the U.S., in Mexico, the Caribbean, Southeast Asia, Africa, and Europe. I received a BA in Communications (Journalism) from Boston College, and an MA in International Development Studies from the George Washington University. I'm passionate about exploration and discovery, and providing independent, thoroughly-researched, ad-free advice for travelers.