Are you searching for the perfect tropical getaway? Your search ends here! From stunning overwater bungalows in Bora Bora to luxurious beachfront retreats in the Caribbean, we've put together the ultimate handcrafted guide to 18 of the very best tropical island resorts for 2023 and beyond!
Picture yourself awaking to the sound of gently lapping ocean waves, feeling the warm tropical island breeze on your face, and strolling along powdery white sand beaches.
If you've been dreaming of a getaway to paradise, you're in luck! The world is full of incredible tropical island resorts that deserve a spot on your travel bucket list.
Lori and I absolutely LOVE spending time on islands in the tropics, both near and far. There's something about the warm weather, friendly island locals, and simply being away from the mainland that seems to slow time down and make everything all good.
Whether you're looking for the ideal honeymoon destination, the best all-inclusive resorts on the planet, or simply a chance to escape the hustle and bustle of everyday life, we think these 18 tropical island resorts are sure to tick all the boxes.
Can't wait to dive in? Here are our Top 6 to get you started right now!
ANTIGUA & BARBUDA
Hermitage Bay
⭑⭑⭑⭑⭑
Adults-Only
Check rates
MAUI (USA)
Hotel Wailea
⭑⭑⭑⭑⭑
Adults-Only
Check rates
JAMAICA
Sandals Royal Caribbean
⭑⭑⭑⭑⭑
Adults-Only
Check rates
MALDIVES
Gili Lankanfushi
⭑⭑⭑⭑⭑
Family-Friendly
Check rates
TURKS & CAICOS
Ambergris Cay
⭑⭑⭑⭑⭑
Family-Friendly
Check rates
ISLA MUJERES (MEXICO)
Zoetry Villa Rolandi
⭑⭑⭑⭑⭑
Family-Friendly
Check rates
We're reader supported and may earn a commission from affiliate links on our site at no cost to you.
From crystal-clear waters and fine white sand to unique cultural experiences and adventure-filled activities, you'll find the perfect paradise getaway.
So, what are you waiting for? Pack your bags, grab your sunscreen, and get ready to explore some of the world's most beautiful islands!
Heads Up!
We've also included our top picks for mid-range accommodation in many of these spectacular island destinations. Keep an eye out for those throughout the list.
What exactly do we mean by Tropical Island?
We certainly don't want to spoil the party, but we did keep our definition of "tropical island" fairly strict here for the sake of clarity.
In this guide, we've zeroed in on islands located within the tropics—that's south of the Tropic of Cancer and north of the Tropic of Capricorn (sorry Bermuda, Florida Keys, and Greek Islands).
But no worries! That still leaves us with some 45,000 islands, and many thousands of fabulous island resorts from which we've selected just 18 cream-of-the-crop stays.
Now that we've got that sorted, let's dive in!
---
18 Tropical Island Resorts for an Epic Escape in 2023-2024
---
5-STAR RESORT ▪ ALL-INCLUSIVE ▪ ADULTS-ONLY
1
|

Hermitage Bay

•

ANTIGUA

World-renowned Hermitage Bay on the stunning island of Antigua (in Antigua & Barbuda) is the ideal escape to paradise and a superb place to call home for a while.

We think this award-winning, adults-only, all-inclusive, and eco-friendly resort is an excellent choice for couples looking for a luxurious, private getaway in the Caribbean.

Hermitage Bay offers 16 acres of tropical gardens, a quarter-mile-long beach, and a nearby reef with vibrant underwater life.
It's also an ideal destination for a wellness vacation, offering meditation, yoga, and pilates classes, massages and spa treatments, and custom meal plans that cater to your specific dietary needs and fitness goals.
There's so much to love about Hermitage Bay, it was an easy choice for the top spot on our list.
Or, check out our mid-range resort pick in Antigua & Barbuda, Siboney Beach Club.
---
---
5-STAR RESORT ▪ ADULTS-ONLY
2
|

Hotel Wailea

•

MAUI

If you're looking for a romantic getaway to the Hawaiian Islands, Lori and I think you'd be hard-pressed to find a better stay than the fabulous Relais & Châteaux Hotel Wailea.

This luxurious adults-only five-star resort is surrounded by lush tropical gardens, offering a wide range of amenities and activities to enjoy at your leisure.

Kick-off your Hawaii honeymoon or couples vacay with a relaxing spa treatment, and enjoy a variety of activities such as golf, tennis, hiking and snorkeling.

Hotel Wailea also offers a number of excellent eating and drinking options, from fine dining to casual beachside bars.

And if you're looking for a romantic night out, we recommend making your way down to the resort's private beach for a truly memorable sunset stroll.
---
---
5-STAR RESORT ▪ ALL-INCLUSIVE ▪ ADULTS-ONLY
3
|

Sandals Royal Caribbean

•

JAMAICA

A long-time reader favorite, Sandals Royal Caribbean Resort—yet again—finds its way onto our latest travel bucket list guide.

Why? We believe it's because this stunning all-inclusive resort in Montego Bay offers the tropical island stay that couples dream of—and truly delivers!

An escape to Sandals Royal Caribbean transports you to another world—one of crystal clear waters, white-sand beaches, and a luxurious truly all-inclusive resort designed to capture the essence of a Caribbean paradise.

Get ready to be pampered with rejuvenating spa treatments and full-body massages. Feast on private chef-prepared meals and regional Jamaican cuisine like jerk pork and spicy mussels. And entertain yourself with seemingly endless options of included activities.

If you're thinking of booking a honeymoon stay at a Sandals resort make sure you take advantage of their FREE Honeymoon Package.

For our mid-range pick in Jamaica, check out The Cliff Hotel.
---
---
5-STAR RESORT ▪ FAMILY FRIENDLY
4
|

Gili Lankanfushi

•

MALDIVES

Gili Lankanfushi is not only one of the top-rated five-star resorts in the Maldives, it's widely considered one of the very best resorts in the entire world!

Reaching Gili Lankanfushi takes only 20 minutes by speed boat from Male International Airport, where you'll be welcomed by a tropical vacation paradise of crystal-clear waters, white sandy beaches, and lush vegetation.

The resort features a variety of spectacular accommodation choices, from villa suites to private residences. For the ultimate experience, check out Gili's jaw-dropping Crusoe Residences, accessible by private boat only.

Also, here's our top pick for mid-range accommodation in the Maldives: Ayada Maldives
---
---
5-STAR RESORT ▪ ALL-INCLUSIVE ▪ FAMILY FRIENDLY
5
|

Ambergris Cay Private Island

•

TURKS & CAICOS

Ambergris Cay Private Island Resort & Beach Club is one of the most exclusive and luxurious resorts in Turks and Caicos.

We think this lush island—a 1,100-acre gem with white sand beaches, turquoise waters, and palm trees—is a perfect choice for a romantic honeymoon or beachfront vacation for families looking for a tropical playground.

Your unique island getaway offers all-inclusive dining, private beach access, sumptuous spa treatments and services, beachfront pool suites, luxury villas, and more.

And, here's our mid-range pick for Turks & Caicos: Ocean Club Resort
---
---
5-STAR RESORT ▪ ALL-INCLUSIVE ▪ FAMILY FRIENDLY
6
|

Zoetry Villa Rolandi

•

ISLA MUJERES

Get ready for a relaxing, comfortable, and stress-free getaway at Zoetry Villa Rolandi Isla Mujeres Cancun, located a mere 25 minutes from Cancun and mainland Mexico by private yacht.

This five-star 35-room all-inclusive resort offers the personal feel of a boutique hotel with the amenities of a large beach resort.

Featuring Mediterranean-inspired beachfront suites with breathtaking Caribbean views, gourmet beachfront dining options, a variety of water sports, and a relaxing island vibe, Zoetry Villa Rolandi is a dreamy tropical island paradise within easy reach of the U.S.

Our top pick for mid-range accommodation on Isla Mujeres: Ixchel Beach Hotel
---
---
5-STAR RESORT ▪ FAMILY-FRIENDLY
7
|

Four Seasons

•

BORA BORA

No list of bucket list tropical island destinations would be complete without Bora Bora, located in magical French Polynesia.

And Four Seasons Resort Bora Bora might just be the quintessential Polynesian luxury escape of your tropical island dreams.

Enjoy private yacht airport transfers, chef-prepared meals delivered to your doorstep from one of four onsite restaurants, and spectacular views from your luxurious overwater villa or deluxe beachfront villa.

The ultimate honeymoon stay or tropical island resorts escape for the whole family!
---
---
5-STAR RESORT ▪ ALL-INCLUSIVE ▪ ADULTS-ONLY
8
|

Jade Mountain

•

SAINT LUCIA

Incomparable Jade Mountain Resort is a striking natural extension of its beachfront counterpart, Anse Chastenet on the beautiful Caribbean island of St. Lucia.

Conceptualized by its architect owner, this adults-only, all-inclusive resort is perched high above two crystalline bays, affording incredible views of the UNESCO-designated Pitons.

Relax and recharge in one of 29 luxurious open-air "sanctuaries," many featuring spectacular views from private infinity pools.

Enjoy full guest privileges at Anse Chastenet, including access to two amazing beaches, three more restaurants, and numerous activities to choose from like scuba diving, sunset sailing, hiking, and more.

Also, check out our mid-range choice in St. Lucia: Calabash Cove Resort & Spa
---
---
5-STAR RESORT ▪ FAMILY-FRIENDLY
9
|

Tanah Gajah

•

BALI

Tanah Gajah, a Resort by Hadiprana is a unique tropical island stay and one of the best resorts in Bali, Indonesia.

Located just outside of Ubud and surrounded by stunning rice paddies, it's hard to imagine a more tranquil setting for a luxury resort.

Offering spacious and artfully designed suites and villas (many with private pools and terraces), Tanah Gajah is an ideal retreat for those looking for peace and seclusion in an inspiring destination.

Take advantage of a variety of activities from yoga and cooking classes to rice paddy treks and even a hot air balloon ride. Feast on local and international dishes at the excellent onsite restaurant or explore much more in nearby Ubud.

Check out our top mid-range choice on Bali: Padma Resort Ubud
---
---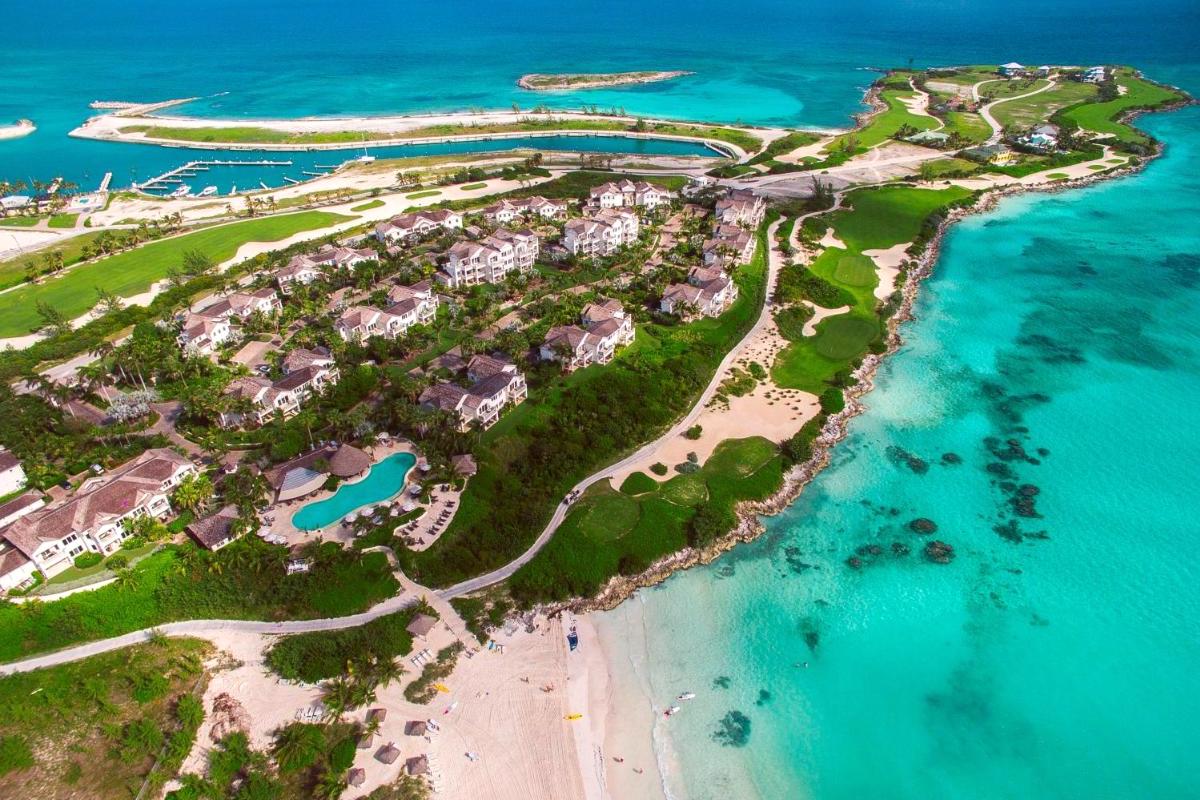 4-STAR RESORT & RESIDENCES ▪ FAMILY-FRIENDLY
10
|

Grand Isle Resort

•

BAHAMAS

Ready for something a bit different? Grand Isle Resort & Residences re-imagines the luxury tropical island vacation in paradise—this is an ideal stay for those looking to shift into low gear, settle into a comfortable abode and make it their own.

Embraced by manicured fairways, lush tropical gardens, and stunning turquoise sea, this exclusive gated community features 78 super-spacious and lavishly-appointed villas (1 to 4 bedrooms) equipped with everything you could want in your ideal home-away-from-home in paradise.

If that weren't enough, Grand Isle offers many of the services, activities, and amenities you'd expect to find at a large beach resort—from excellent onsite restaurants and bars to scuba diving and snorkeling, two pools, and a full-service spa.

And no need to worry about getting around this sprawling property—your own personal golf cart comes standard with every villa.

Our mid-range top pick on Grand Exuma: Saint Francis Resort & Marina
---
---
5-STAR RESORT ▪ ALL-INCLUSIVE ▪ FAMILY-FRIENDLY
11
|

Baraza Resort & Spa

•

ZANZIBAR

We're thrilled to have a chance to include a resort from one of our favorite travel destinations on the planet—Zanzibar! And we think Baraza Resort & Spa Zanzibar is one of the very best stays on the island for a bucket list island escape.

From the time you arrive, this five-star all-inclusive beach resort in stunning Dongwe (just north of Bwejuu) will have you feeling like a sultan, with plush villas surrounded by hand-carved decor and Swahili architectural flourishes.

You'll also feast like a sultan too, at one of four fabulous restaurants serving mouthwatering dishes from a variety of cuisines.

Our mid-range top pick on Zanzibar: Emerald Zanzibar Resort & Spa
---
---
5-STAR RESORT ▪ ALL-INCLUSIVE ▪ ADULTS-ONLY
12
|

Secrets Cap Cana

•

DOMINICAN REPUBLIC

Fronting the powder sands and turquoise waters of stunning Juanillo Beach, Secrets Cap Cana Resort & Spa is a perfect choice for couples dreaming of the quintessential tropical island resort stay.

Located in the exclusive gated community of Cap Cana, this five-star resort offers the ultimate Punta Cana adults-only all-inclusive resorts vacation with luxurious and artfully-decorated suites, full-service spa, and a variety of eating and drinking choices across eight restaurants and six bars.

When you're ready to kick it up a notch, Secrets Cap Cana offers live entertainment, fun excursions, two outdoor pools, a breathtaking beach, and more. And golfers are sure to love the nearby Jack Nicklaus-designed golf course.

Our mid-range Punta Cana pick: Live Aqua Beach Resort Punta Cana
---
---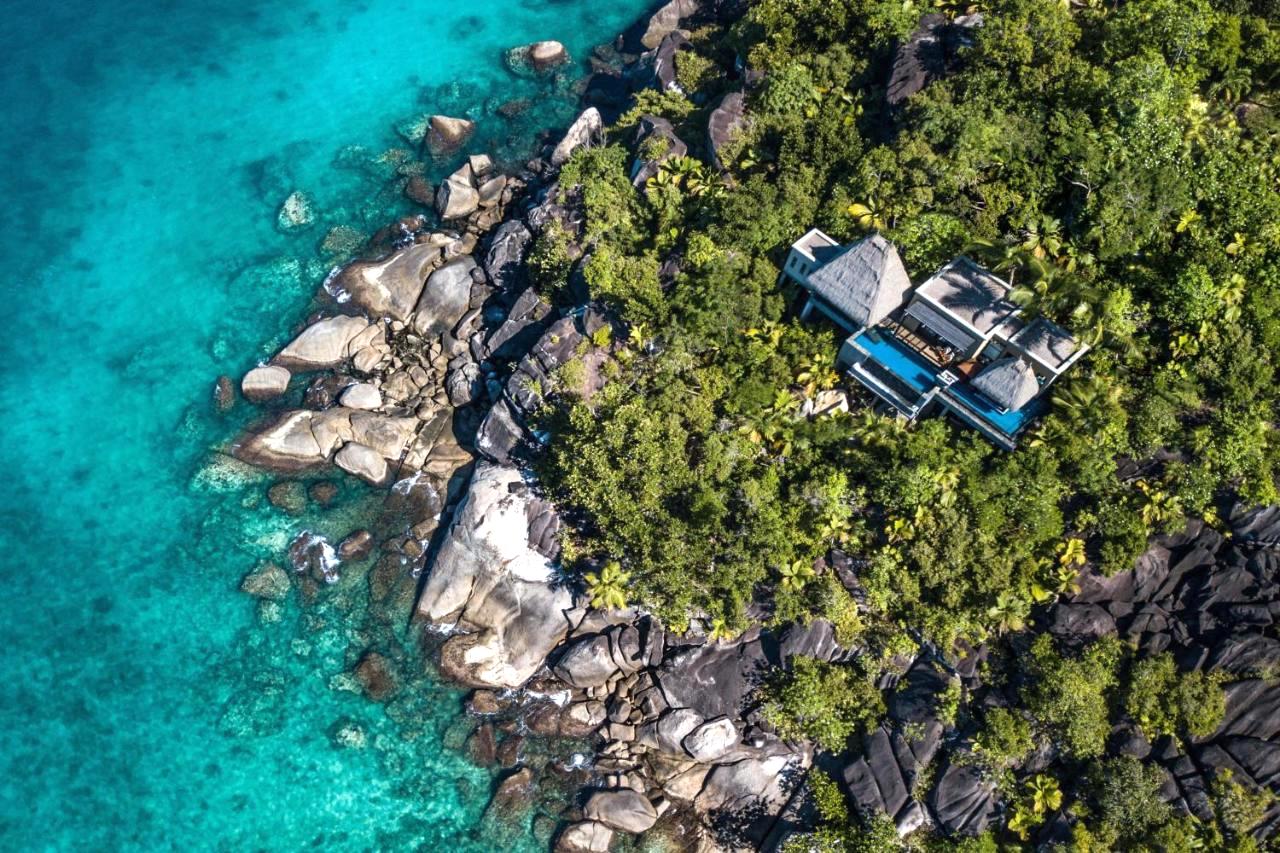 5-STAR RESORT ▪ ALL-INCLUSIVE ▪ FAMILY-FRIENDLY
13
|

Anantara Maia Villas

•

SEYCHELLES

Looking for a truly unique and exceptional tropical island stay? Be sure to check out Anantara Maia Seychelles Villas!

Perched on its own peninsula in the spectacular Seychelles, this striking five-star all-inclusive resort will wow you with impressive hillside villas and jaw-dropping Indian Ocean vistas.

Anantara Maia aims to offer one of the most exclusive and personalized vacation experiences on the planet, complete with personal butler service, private and customized dining options, and individually-tailored children's programming.

Our mid-range resort pick in the Seychelles: Constance Ephelia
---
---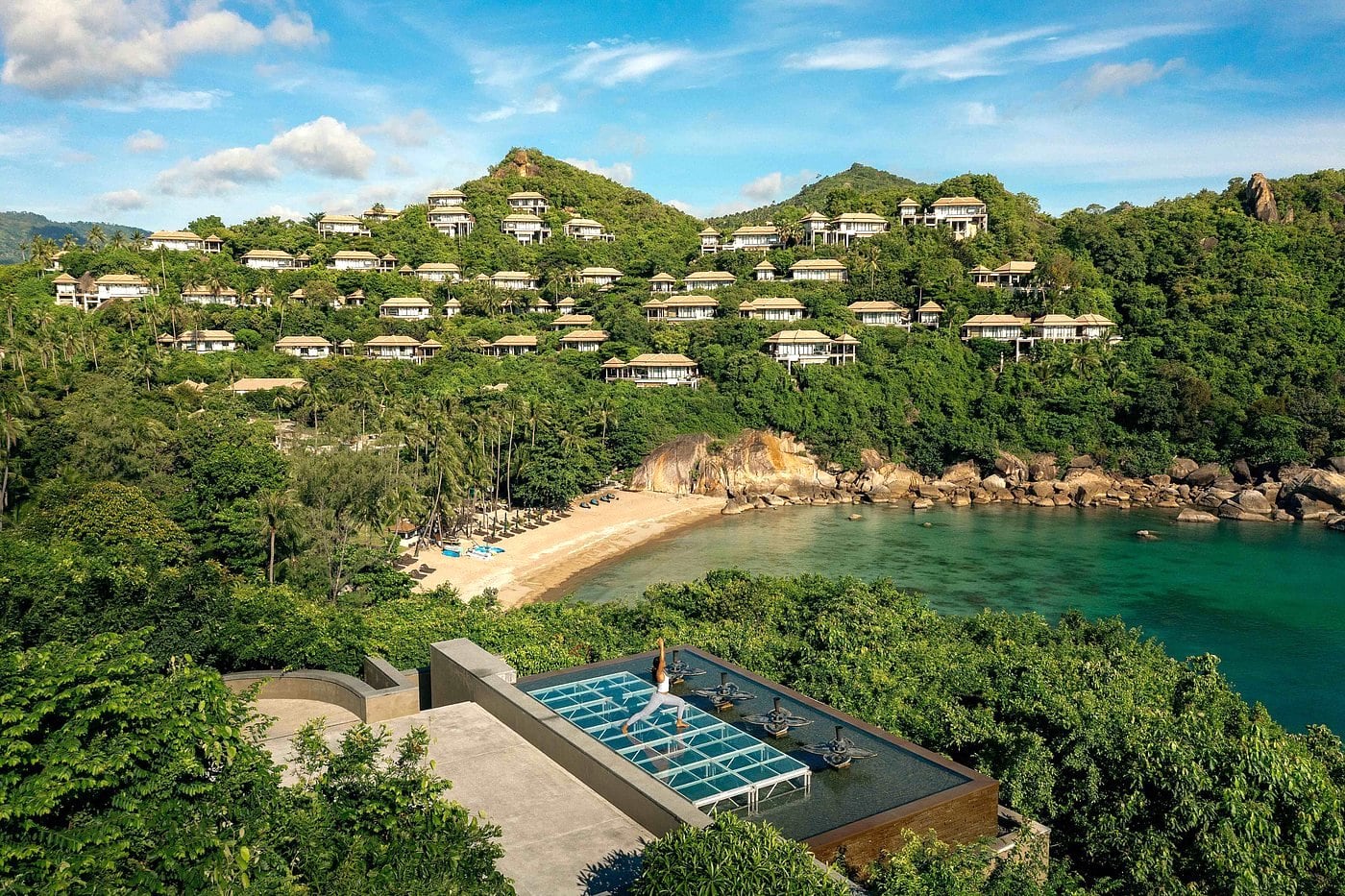 5-STAR RESORT ▪ FAMILY-FRIENDLY
14
|

Banyan Tree Samui

•

KOH SAMUI

Imagine a picture-perfect palm-fringed golden strand fading into a magnificent turquoise cove surrounded by lush tropical forest.

Now, picture yourself relaxing in your own private pool villa taking in your commanding view of this inspiring landscape.

Welcome to Banyan Tree Samui on the dreamy Thai island of Koh Samui!

The Gulf Islands of Thailand are one of our absolute favorite beach destinations in the entire world, for the relaxing and low-key vibe, spellbinding food and culture, and tropical ocean vistas that take our breath away at every turn.

And Banyan Tree Samui encapsulates the best of the Gulf Islands in a truly exceptional and luxurious stay.

Our top mid-range choice on Koh Samui: Garrya Tongsai Bay Samui
---
---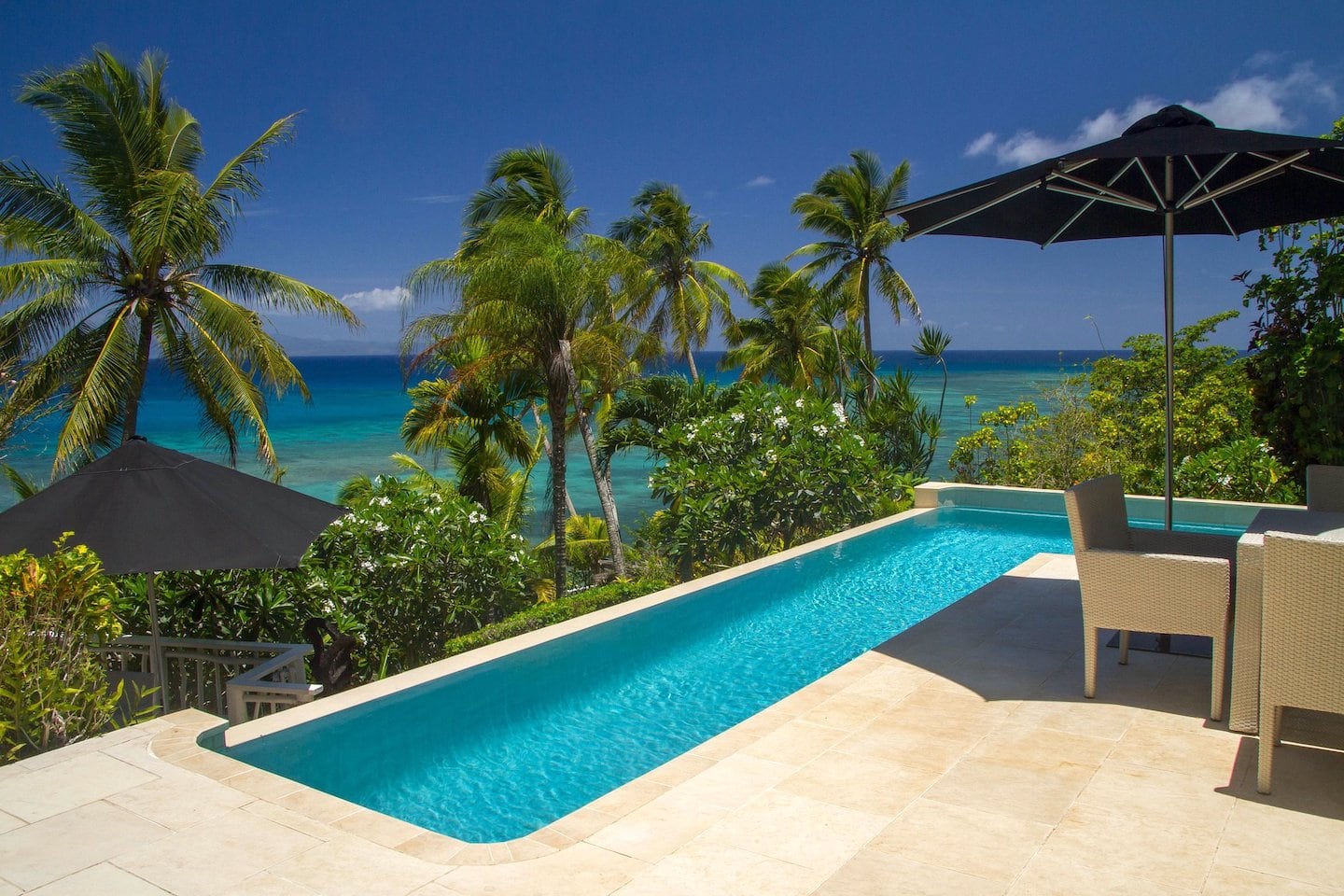 5-STAR RESORT ▪ MEALS INCLUDED ▪ FAMILY-FRIENDLY
15
|

Taveuni Palms Resort

•

FIJI

Billed as the ultimate luxury resort in Fiji, award-winning Taveuni Palms Resort impresses even seasoned jet setters with breathtaking hillside villas—each set on their very own lush and private acre (with private pool, of course). And that's only the beginning!

Each luxurious and self-contained villa comes standard with an exceptional staff of seven, including a manager and two personal chefs, with housekeeping two times daily. A delectable breakfast, lunch, and five-course dinner is included in the nightly rate.

Just steps away from your private villa, enjoy snorkeling and kayaking from the private beach, as well as an array of other activities to keep you and your travel buddies entertained.

An ideal stay for the ultimate honeymoon, wedding, or family get-together in paradise.

Also, check out our mid-range pick for Fiji: Coconut Grove Beach Cottages
---
---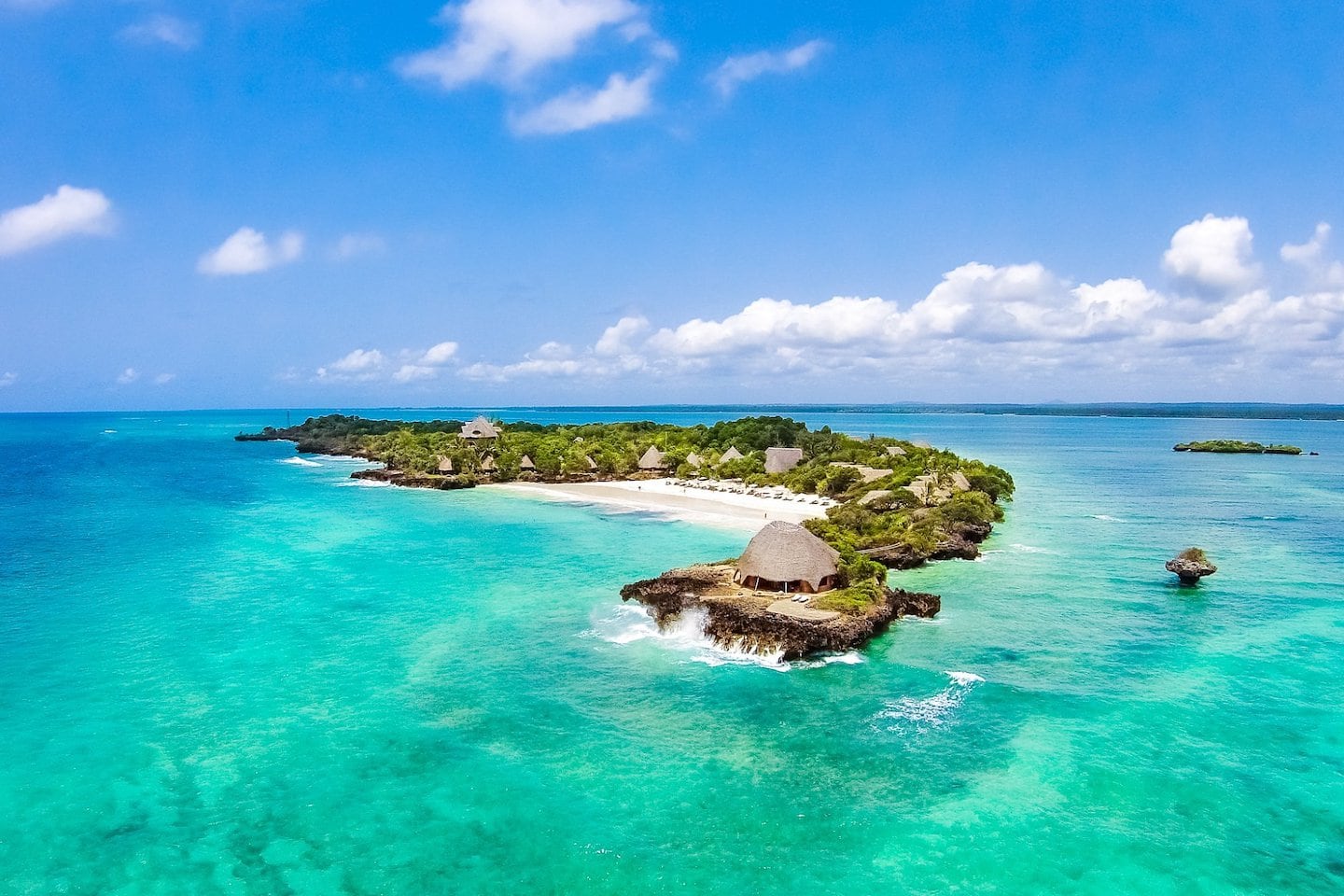 4-STAR RESORT ▪ FAMILY-FRIENDLY
16
|

The Sands

•

CHALE ISLAND KENYA

There's so much to love about The Sands at Chale Island it's hard to know where to start.

For beach enthusiasts and solitude seekers, Chale Island offers a lush tropical hideaway, native wildlife, and some of the best snorkeling and scuba diving on the Kenyan Coast along the offshore coral reef.

Tailor-made for honeymooners and anyone who dreams of a picture postcard paradise, The Sands at Chale Island offers a luxurious island stay with three restaurants, open-air spa treatments, loads of water-based activities and much more!
---
---
5-STAR RESORT ▪ FAMILY-FRIENDLY
17
|

The Datai

•

LANGKAWI

Nestled among ancient tropical forest overlooking one of the top-rated beaches in the world, The Datai Langkawi offers a truly exceptional tropical island getaway in magnificent Malaysia.

Relax in your luxurious beach villa or suite with all the amenities. Take a dip in one of two outdoor pools, lose yourself in their award-winning spa, or enjoy a round of golf at one of Southeast Asia's best 18-hole courses.

Prepare yourself for mouthwatering Malay and Indian cuisine in their rainforest restaurant, with Thai and western options also available at the two additional onsite eateries.

Or, take a look at our top mid-range choice on Langkawi: Casa del Mar
---
---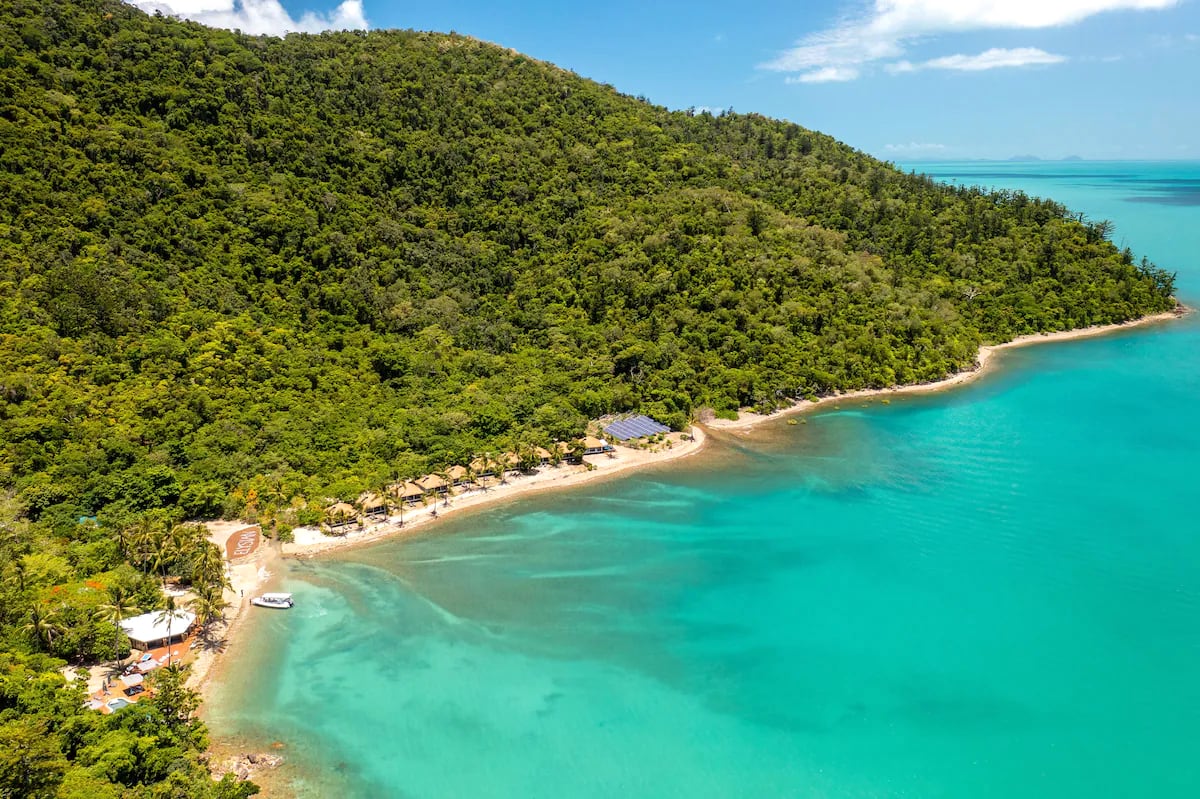 5-STAR RESORT ▪ ALL-MEALS ▪ ADULTS-ONLY
18
|

Elysian Retreat

•

WHITSUNDAYS

Idyllic, secluded, and ecologically-crafted, Elysian Retreat in Australia's tropical Whitsunday Islands offers an unforgettable escape-from-it-all in paradise.

Barefoot luxury and eco-seclusion await you at this top-rated adults-only boutique-style beach resort combining 5-star personalized service with many of the amenities of a much larger all-inclusive resort.

Up to just twenty guests at a time are permitted to stay at this exclusive resort, making Elysian Retreat an ideal destination for an exceptionally private and truly relaxing getaway.

Our mid-range pick in the Whitsundays: Palm Bay Resort
---
Tips for Getting the Most Out of Your Tropical Island Resorts Vacation
If you're looking for a great way to relax, unwind, and escape from your everyday life, Lori and I say there's no better way than a tropical vacation at one of the best island resorts in the world!
There's something truly magical about the smell of the salty ocean air, the sound of the waves crashing against the shore, and the feel of the warm sun on your skin.
But if you really want to get the most out of your tropical island vacation, there are a few tips and tricks we think are worth keeping in mind.
Do your research. Before you go, take some time to learn about the tropical island you'll be visiting. Find out what activities are available, what the weather is like, and what type of food you can expect.
Pack appropriately. You don't want to bring too much and end up lugging around a heavy suitcase all day. Pack light and comfortable clothing that can be layered if necessary. A lightweight raincoat, a hat, and a pair of sunglasses are also must-haves.
Take advantage of the tropical island's natural beauty. There's nothing quite like the sight of a stunning sunset or the sound of a gentle breeze rustling through the palm trees.
Make sure you try some of the local cuisine. Tropical islands are known for their unique flavors, so make sure you sample as many dishes as you can. Whether it's a spicy seafood dish or a refreshing fruit smoothie, you're sure to find something delicious.
Don't forget to relax and have fun. A tropical island vacation is the perfect opportunity to kick back, relax, and have some fun. Take time to explore the area, go for a swim, or just sit back and take in the scenery.
---
Tropical Island Resorts Frequently Asked Questions
What is considered a tropical island?
For the purposes of our guide to the best tropical island resorts in the world, a tropical island is a land body completely surrounded by water located in the tropics (south of the Tropic of Cancer and north of the Tropic of Capricorn) where warm weather and relaxing vibes abound.
How many tropical islands are there?
According to scientists who study this sort of thing (namely Hertha and Erik Arnberger in their book, The Tropical Islands of the Indian and Pacific Oceans), there are a whopping 45,000 tropical islands in the world (give or take a few).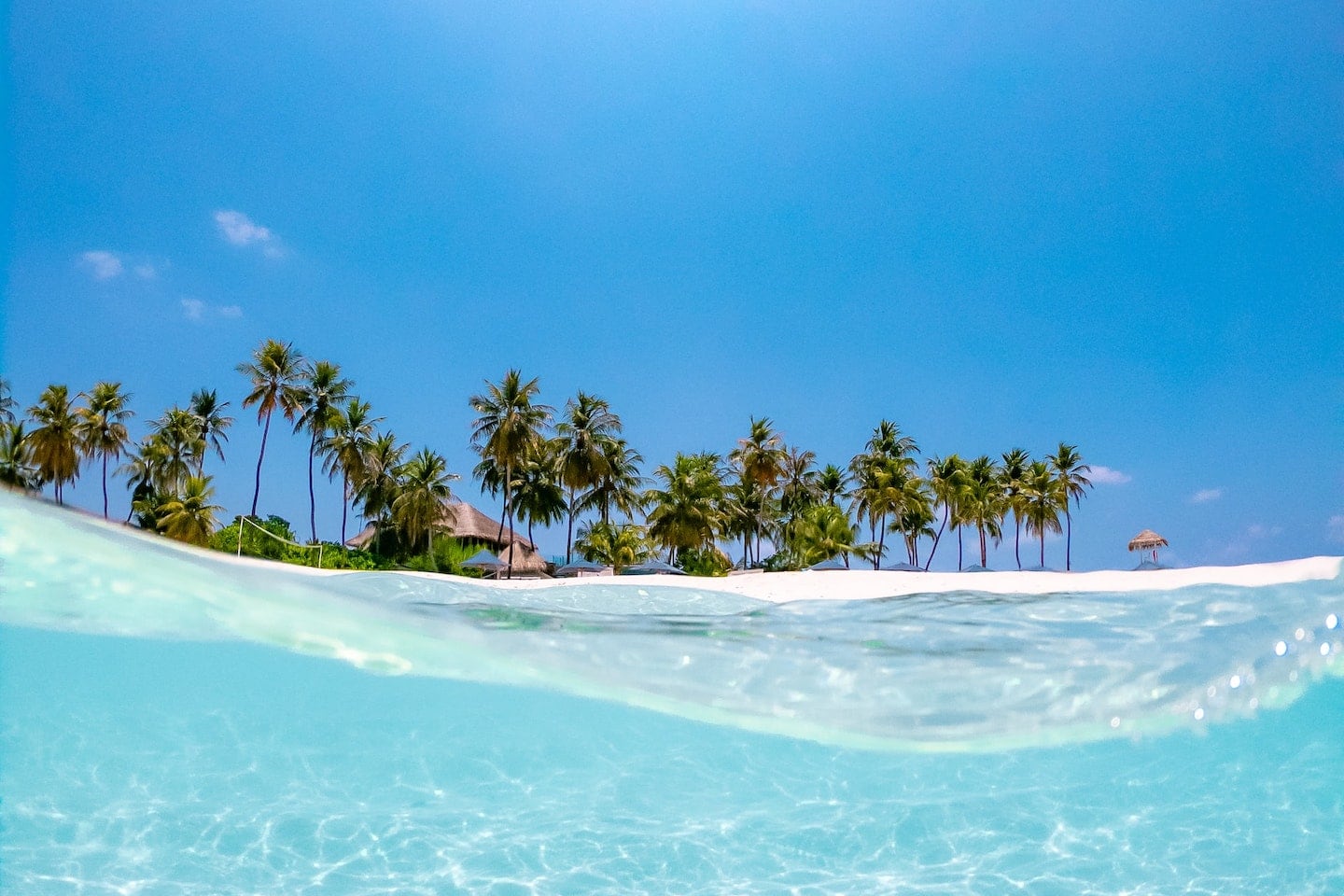 Final Thoughts
It's hard not to feel inspired after learning about the best tropical island resorts and destinations across the globe.
In our minds, there is simply no better way to escape the hustle and bustle of everyday life and connect with the ones you love than by spending time at a top-notch stay embraced by the natural beauty and warmth of the tropics.
It's our sincere hope that you find the absolute tropical island stay of your dreams—whichever one might be calling you for your bucket list vacation in paradise.
---
Thanks for Reading Our Guide to the Best Tropical Island Resorts in the World!
Don't forget to share these inspiring destinations with your favorite beach bums!
---
Featured image: Moosa Haleem / Unsplash