Batu Ferringhi might not have the world's best beach. But where Penang's most popular beach destination falls short, it more than makes up for with a host of fun and unique natural attractions — and the Tropical Spice Garden is one of the most worthwhile for visiting.
We put together a DIY day trip to the Tropical Spice Garden from Batu Ferringhi, with added a separate short visit to Tanjung Bungah later in the day.
This article covers visiting both, plus helpful tips for your own DIY adventure in Penang.
Tropical Spice Garden & Tanjung Bungah: What to Expect + Visitor Tips
Starting Our Morning in Batu Ferringhi
Ferringhi Coffee Garden is a bit of a walk from where we are staying on the eastern edge of town, but well worth it — easily the best Western breakfast spot in town set in a lush garden atmosphere.
We sprung for the eggs benedict and French toast. Both were pretty delicious.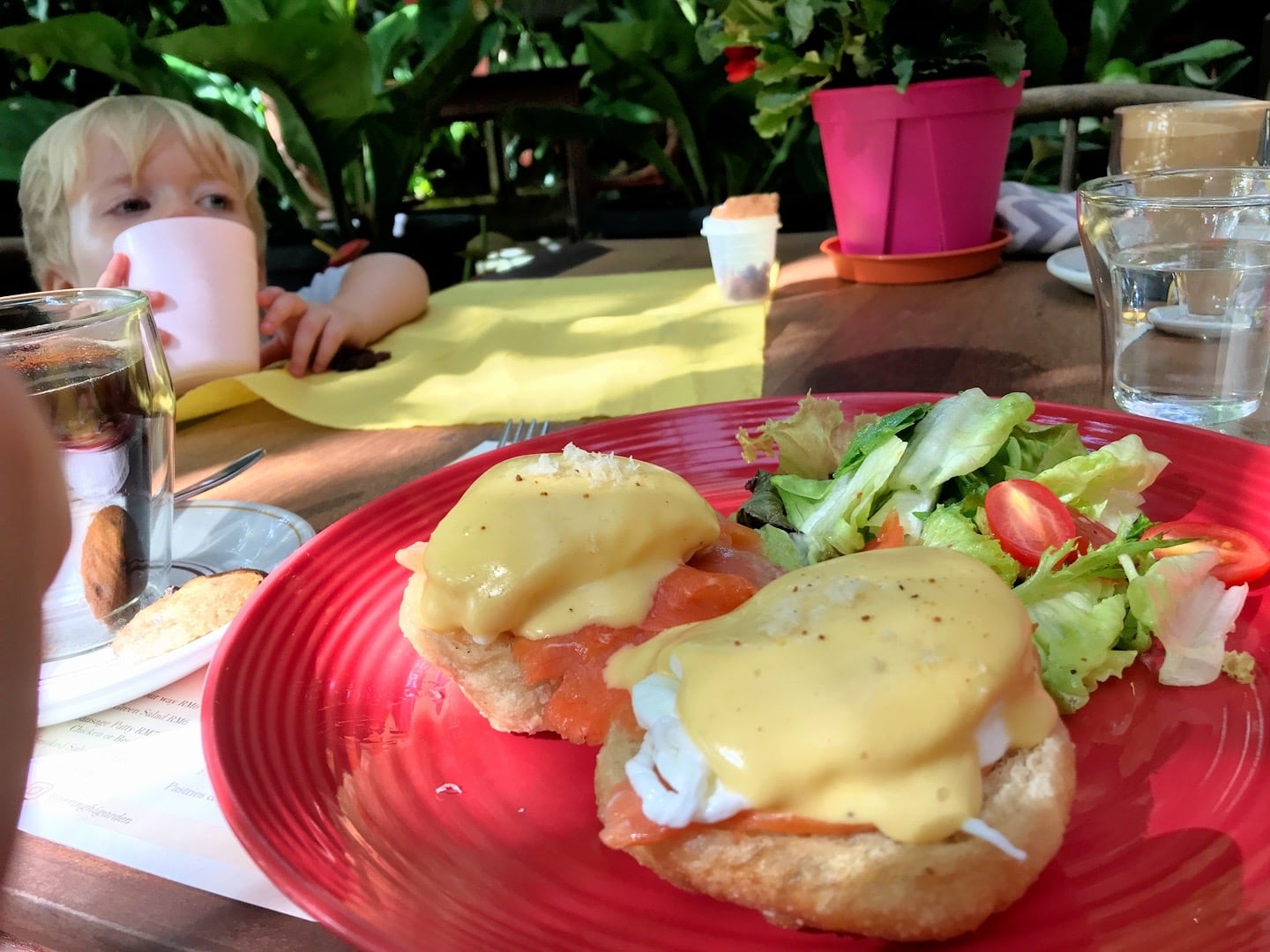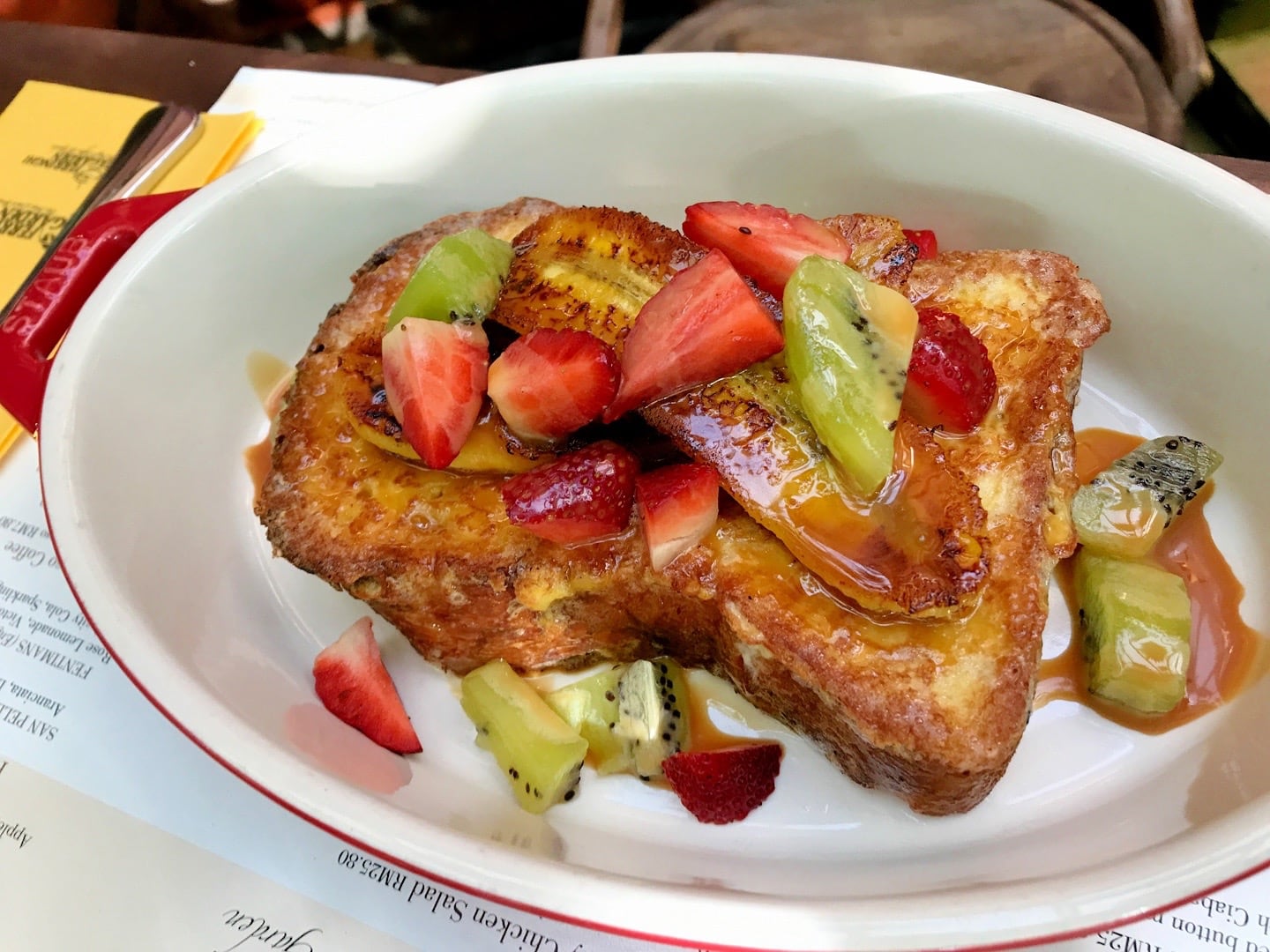 While researching Batu Ferringhi, I noticed there weren't a lot of photos of the town's main drag online. So…here ya go.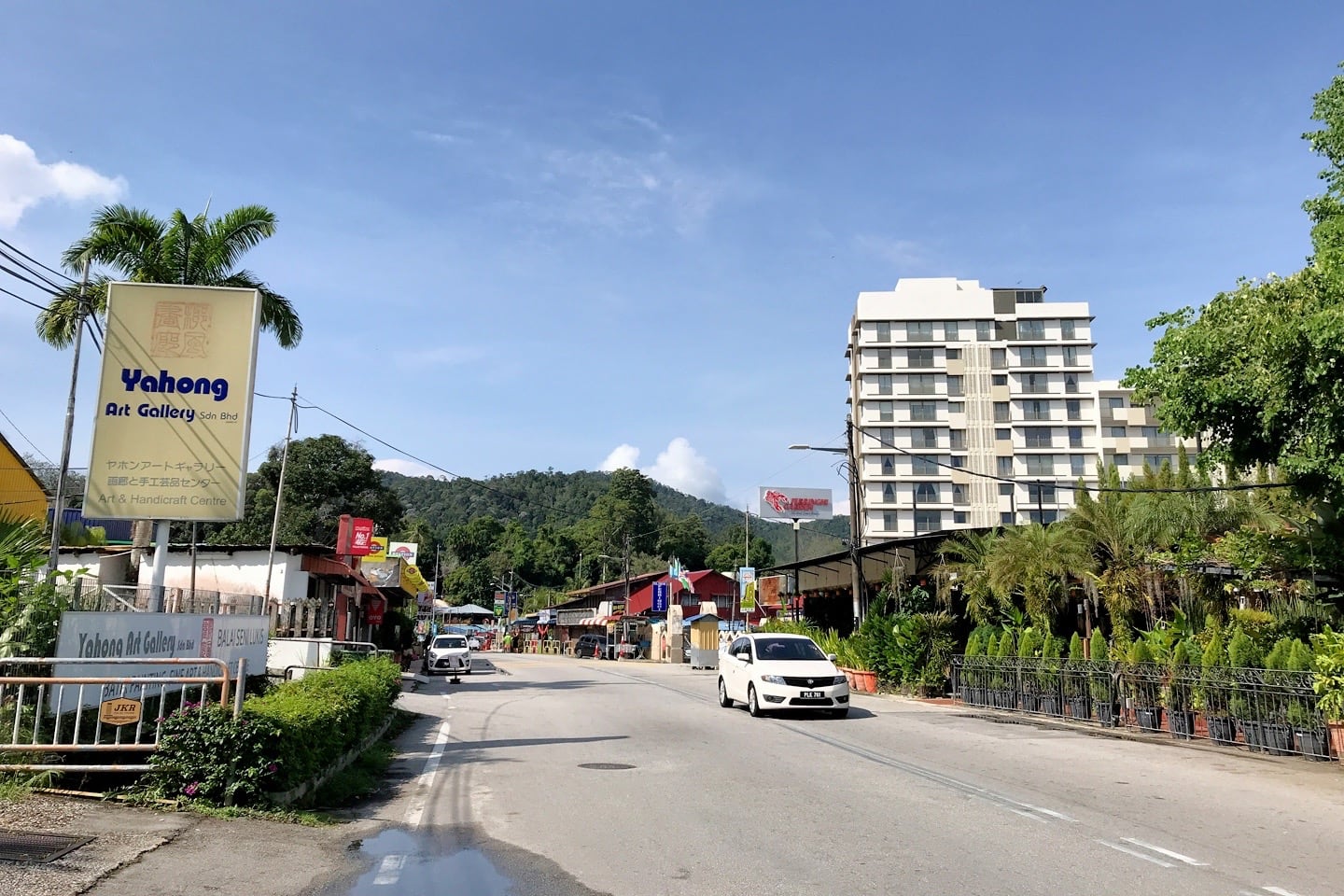 The photo above was taken fairly early in the morning. By mid-morning on into the late hours, the main highway through town is a steady stream of traffic in both directions.
One of the biggest surprises (and frustrations) with Batu Ferringhi is that, for a major tourist hub, the main drag is about the most pedestrian unfriendly beach town avenue that we've encountered anywhere.
From all we read on Batu and what we've seen elsewhere in Malaysia, we expected at the very least to find a functional shoulder on one side of the road running through town.
It may take twice as long to get anywhere, but walking along the beach is exponentially more enjoyable, particularly with kids.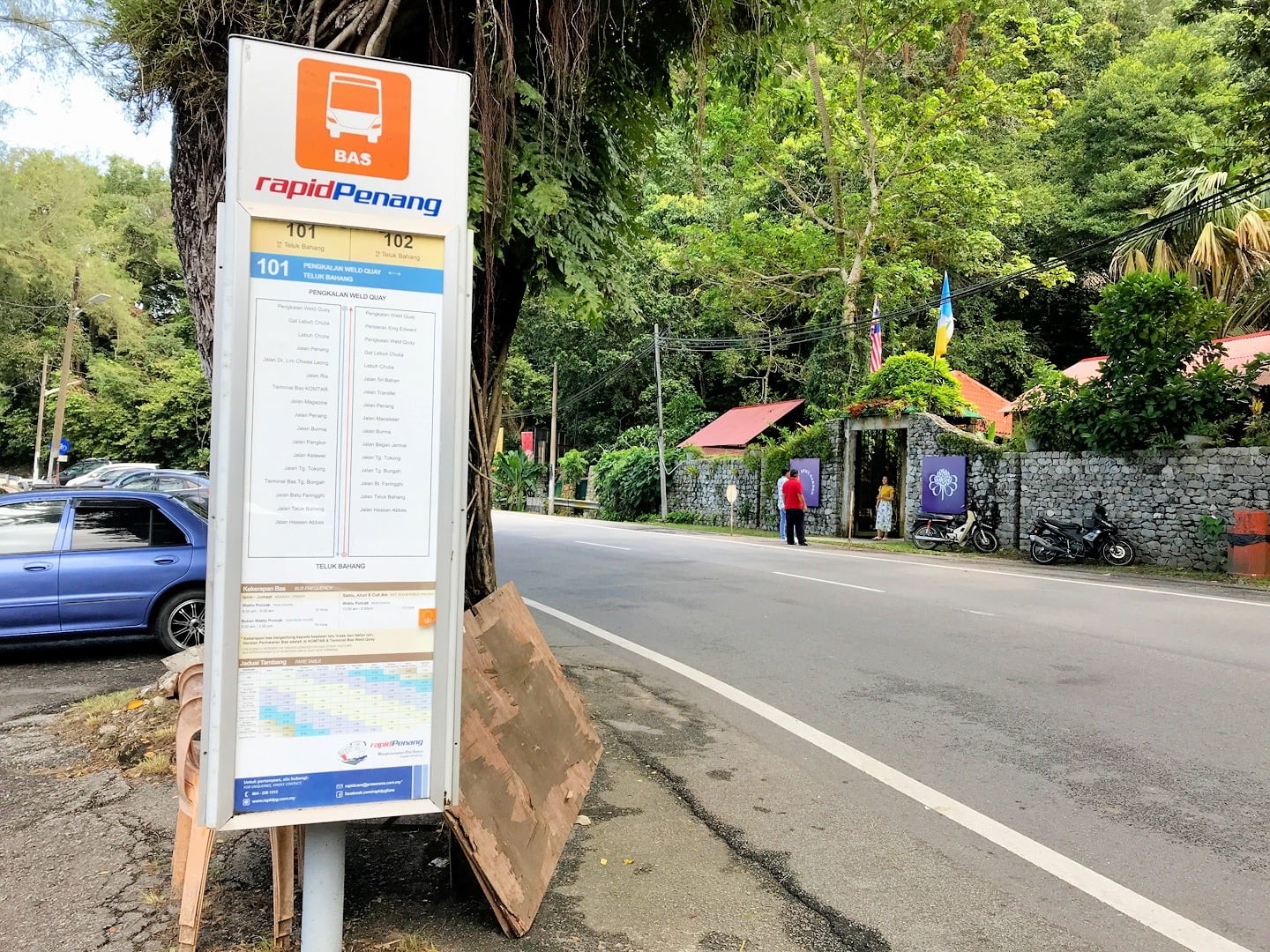 Penang Tropical Spice Garden
Hidden from the winding coastal highway, the Tropical Spice Garden is a vast botanical garden well worth a visit for its tranquil natural setting and and network of lovingly maintained pathways.
You don't have to be a connoisseur of tropical spices to enjoy the garden, but if you've ever had an interest in the spices of the world, you may feel like a kid in a candy shop.
Getting to the Tropical Spice Garden
Located half way between Batu Ferringhi, Penang's primary beach destination, and Teluk Bahang, home to Entopia (Penang Butterfly Farm) and ESCAPE theme park, the Tropical Spice Garden is easily accessed by RapidPenang public bus.
There are bus stops every 100 to 200 meters along the main highway in Batu Ferringhi, and buses come about every ten minutes. The Tropical Spice Garden is located about 2 km west of town.
The fare is a little tricky because it's based on distance and the driver doesn't give change. Most bus stops have the fare zones listed on the side of the bus shelters.
Buses #101 & #102 are what you want, but really just look for any buses head west along the main road from Batu Ferringhi and east from the Tropical Spice Garden.
There is also a multitude of excellent options (check out this one!) if you'd prefer to arrange transport from George Town ahead of time or combine a visit to the Tropical Spice Farm with a Penang island tour.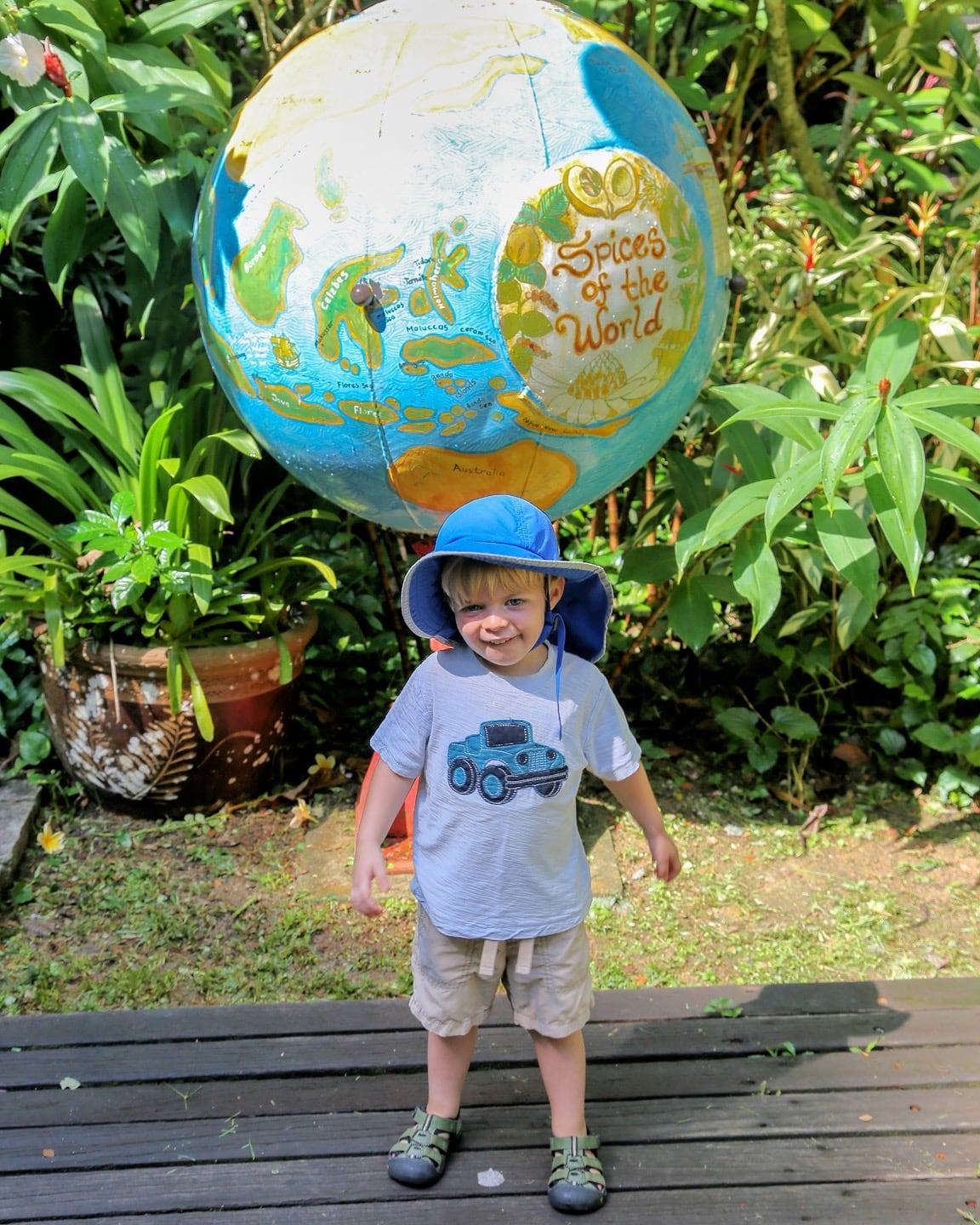 Tropical Spice Garden with Young Children
Penang's Tropical Spice Garden is also yet another great place to bring kids. Sure, there are a half dozen crazy hillside slides that will excite older kids, but Noe really enjoyed just exploring "the jungle."
Fortunately, Noe didn't take a lot of convincing that the slides were for "big kids." He does love his slides, but most of these may have been a bit hardcore for a 3-year-old.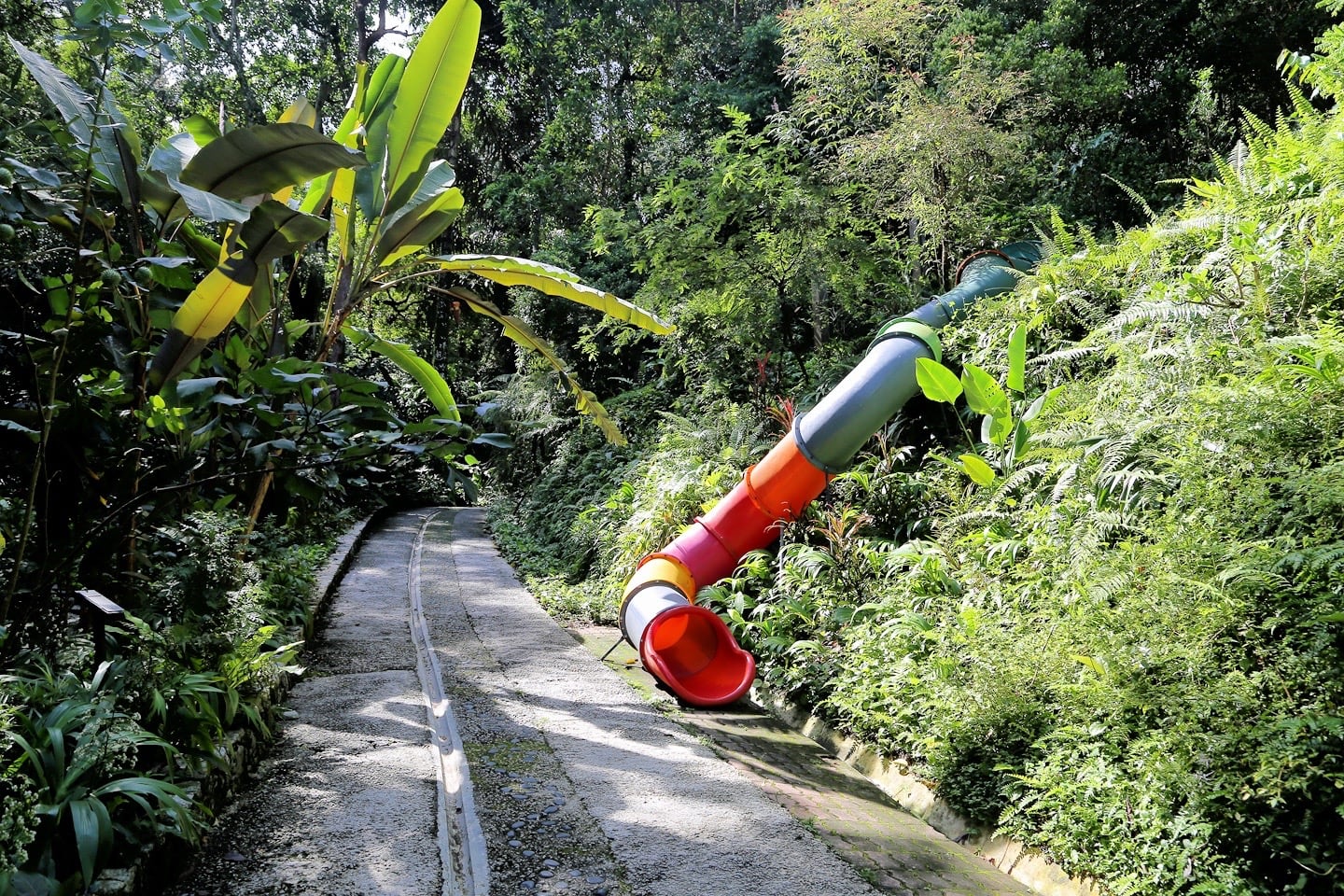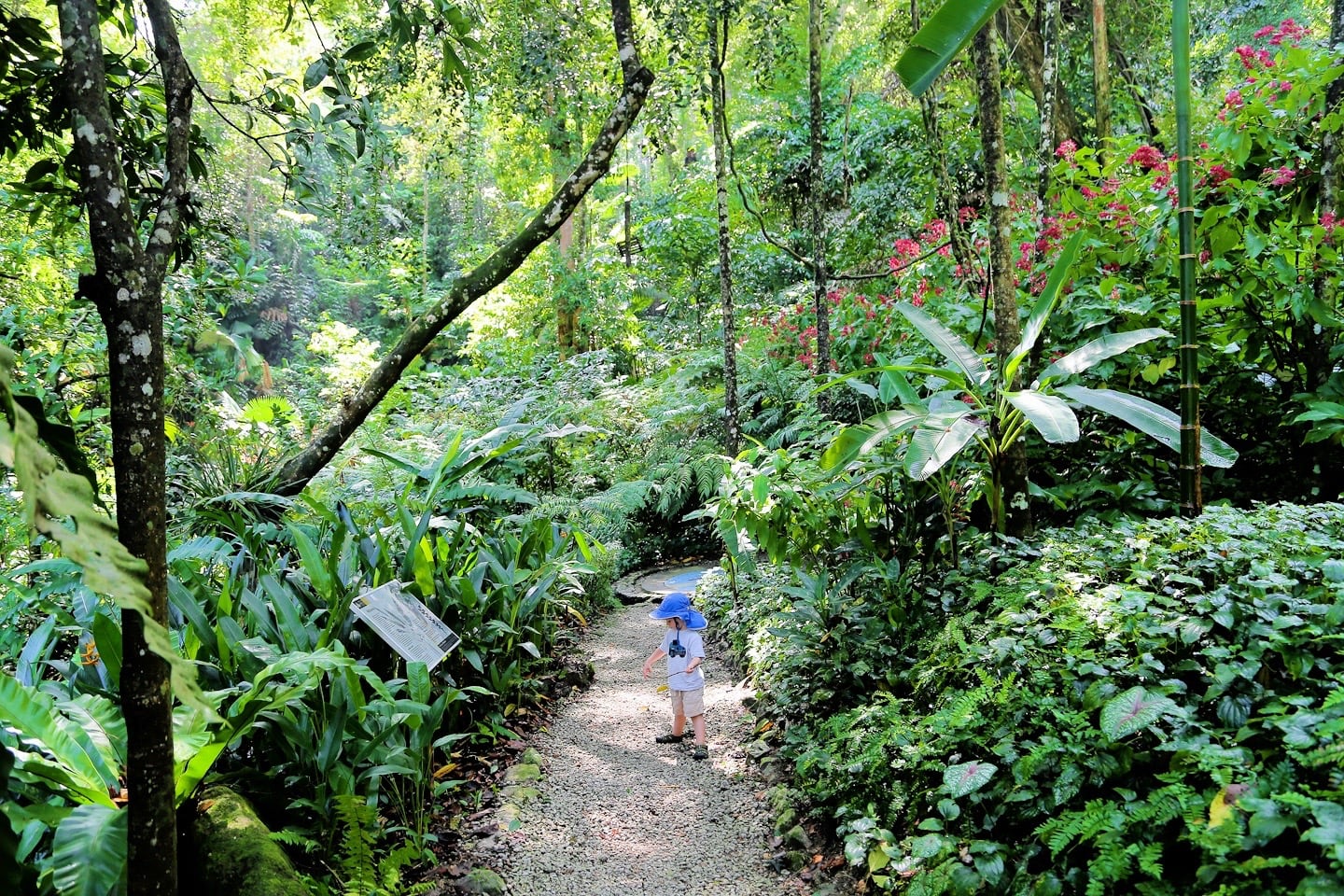 That didn't stop us from swinging on the canopy swing. Daddy got to go first, you know, just to make sure it was "safe."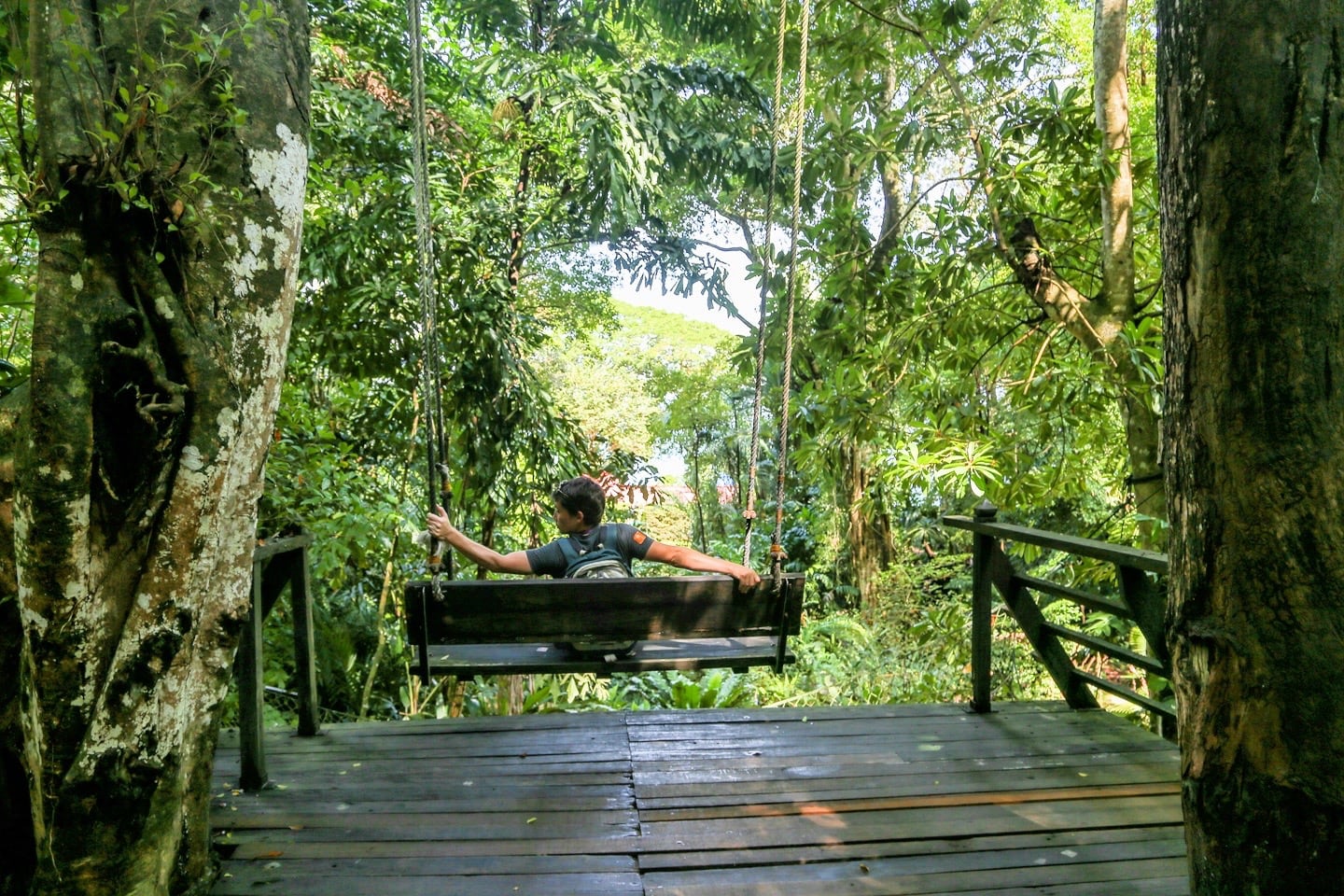 There were even hammocks tucked away at various points. If Lori and I were 3.5 years younger…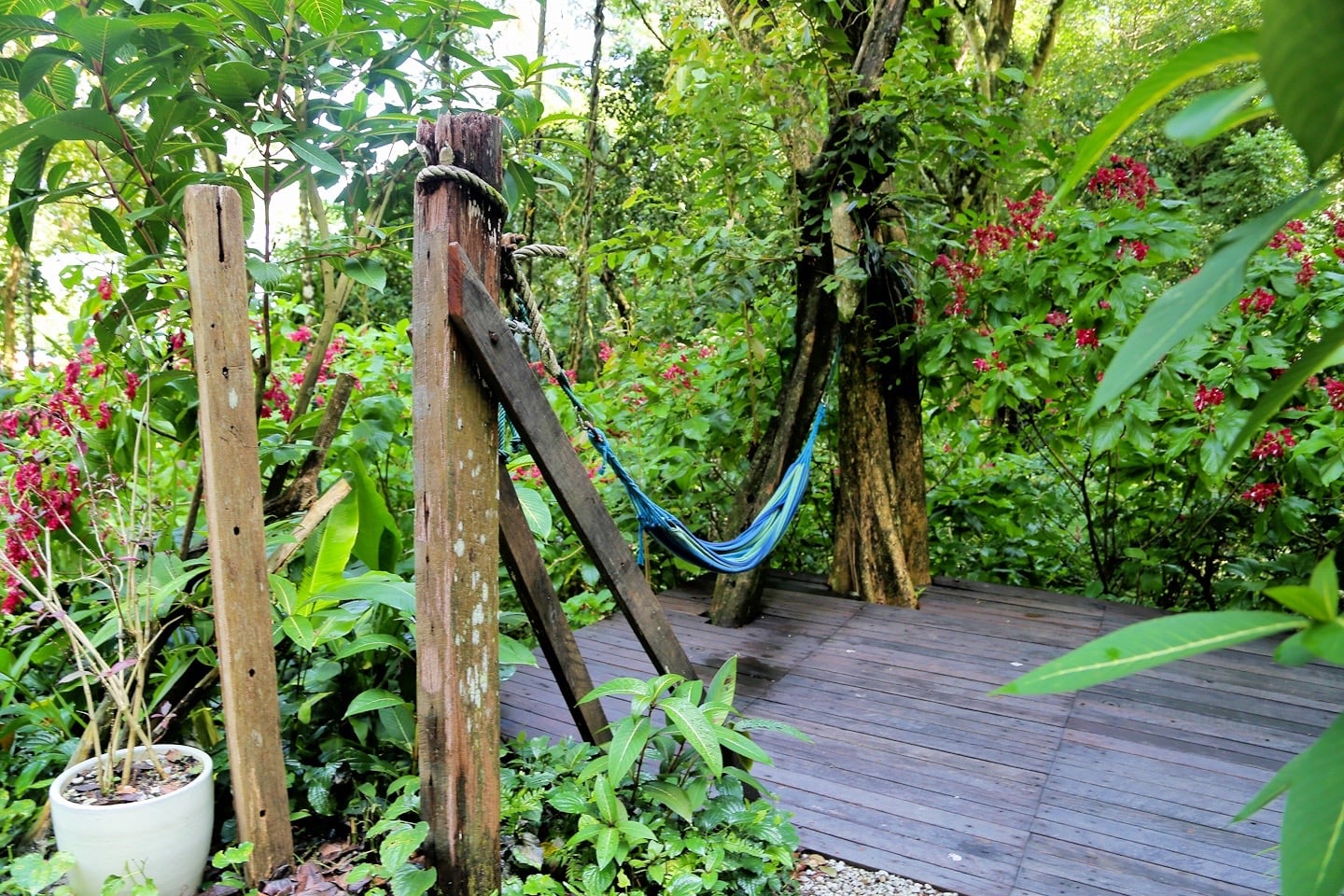 Spices, Spices, Spices
But, are there any spices at the tropical spice garden?
Absolutely!
There are spices everywhere, growing all around. And signs indicated what is what. It's pretty cool to see dozens of what I use regularly in my cooking in its natural form.
But there's also a section where you can smell, sample, and grind dried spices as well.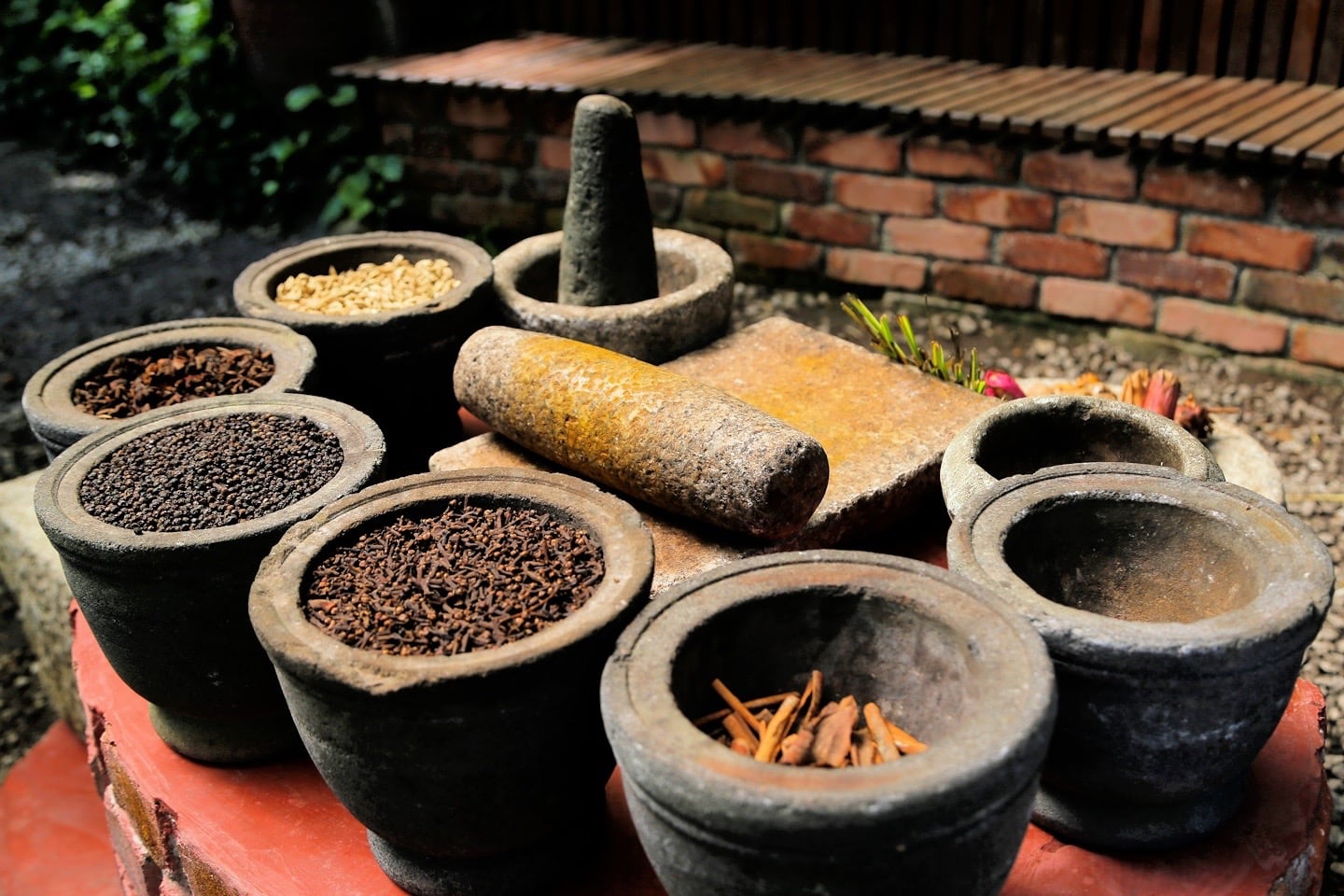 This may have been Noe's favorite part of the whole garden. He loves smelling things, so it was no surprise that he really got into this activity. He insisted on getting a handful of each spice, closing his eyes and taking it all in. No spice left unturned.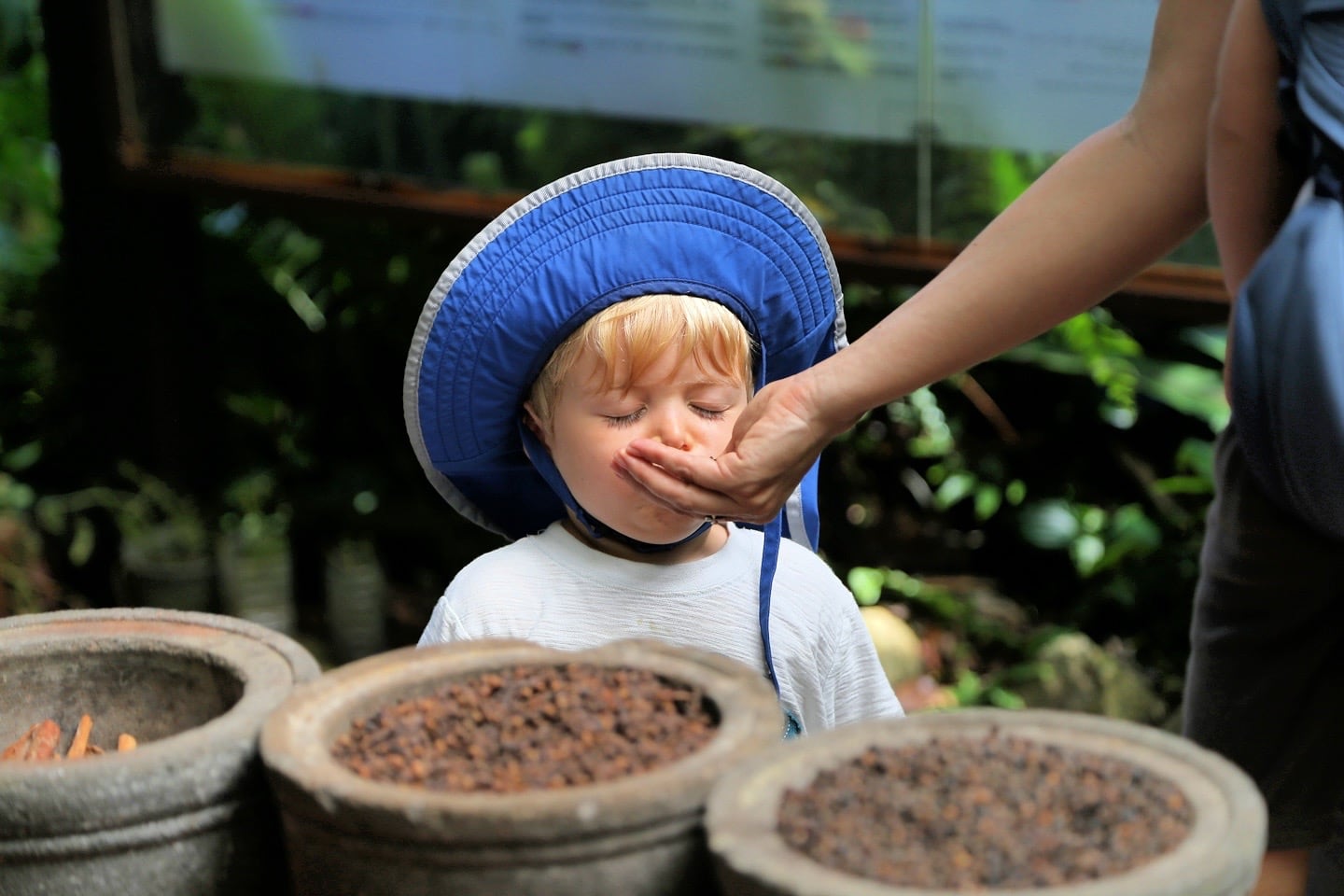 Each sniff was either followed by an enthusiastic "Yes, this one I like." or an emphatic, "No, no, no. This one I do not like!"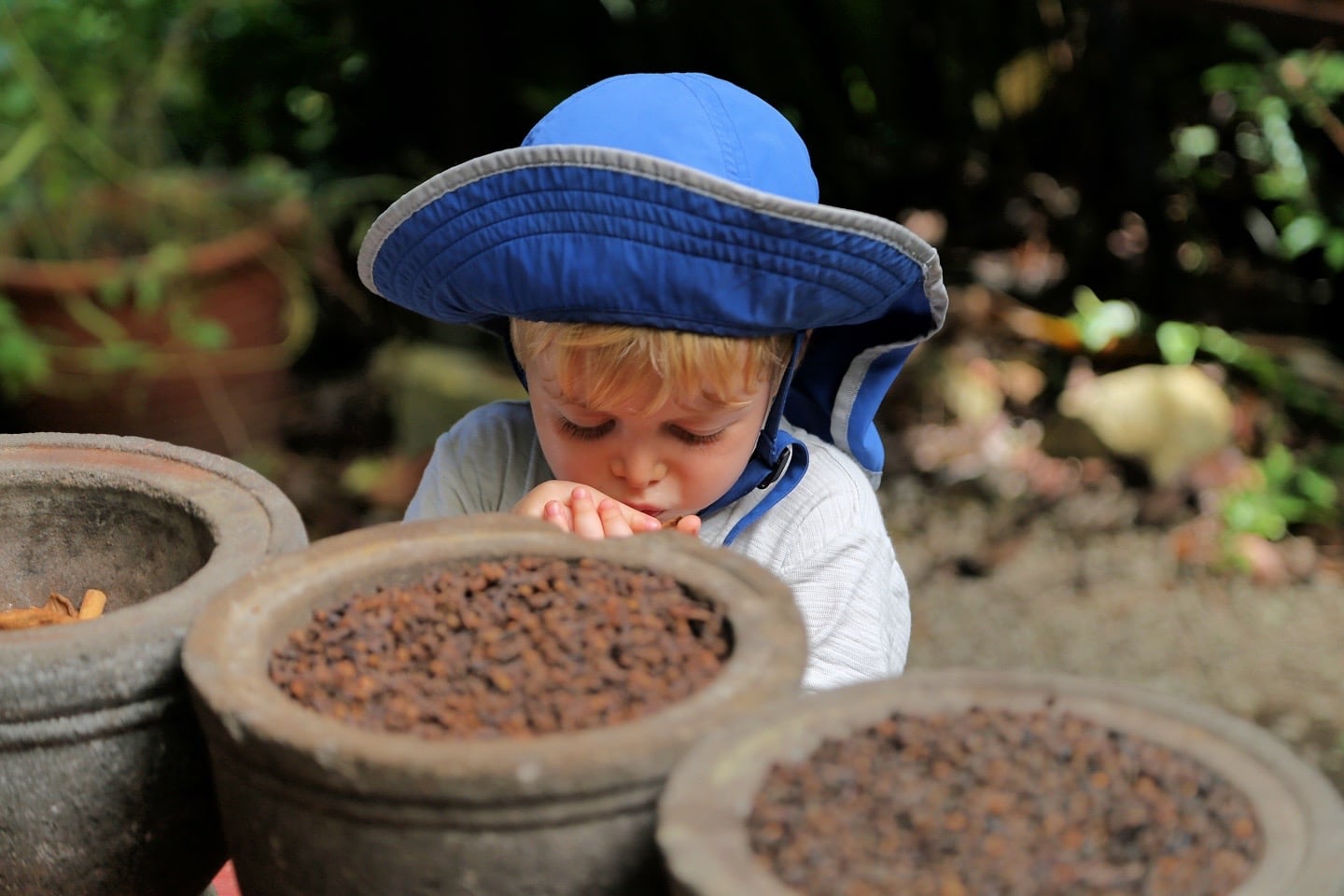 There is also an entire section devoted to medicinal and poisonous spices. They do not offer samples of these.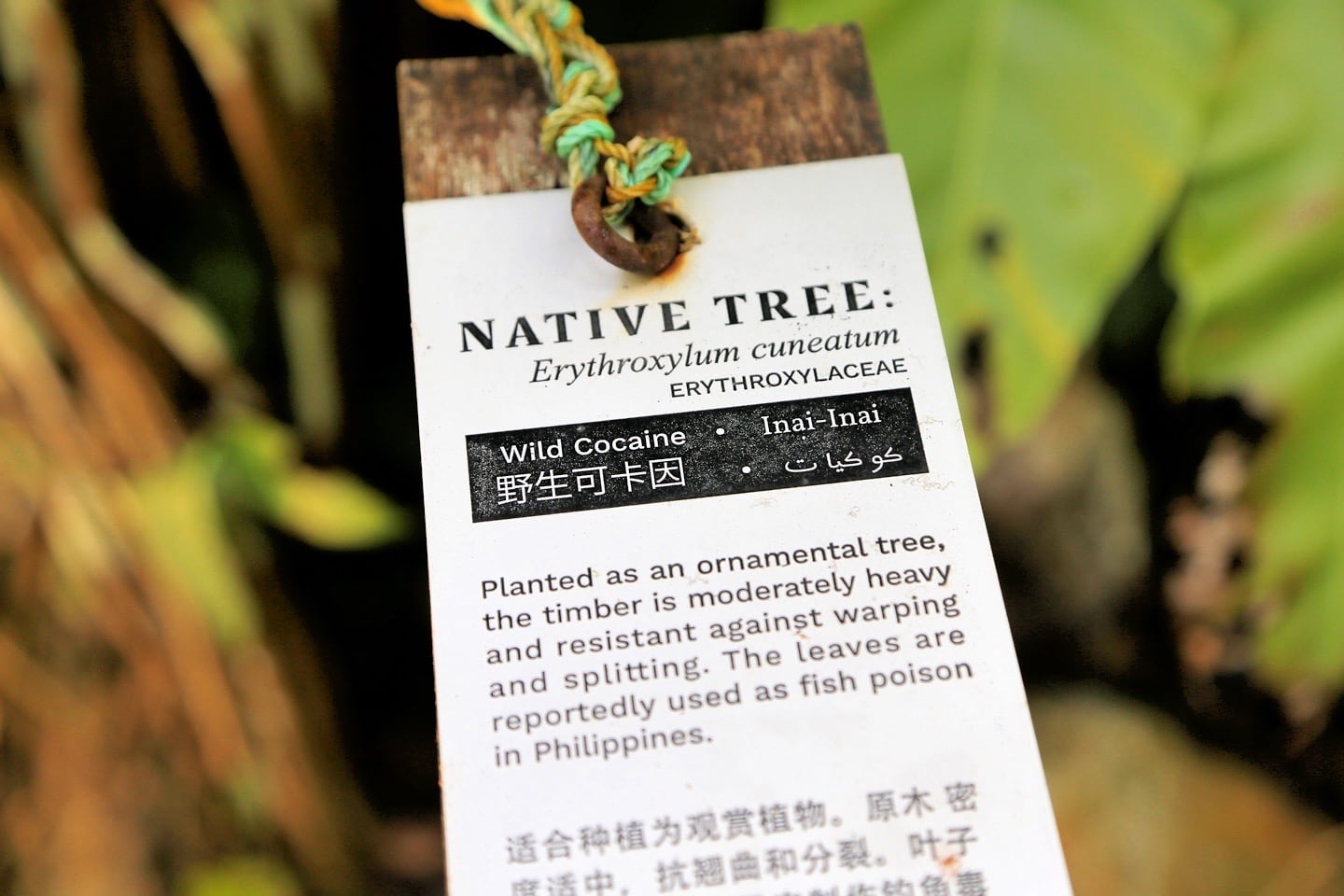 Exploring the Tropical Spice Garden Nature Trails
The spices are cool and all, but the main draw of the garden might just be the network of trails in a densely forested setting.
You could easily spend half a day meandering through the various sections of the property, stopping to swing on a hammock, sip some tea, or enjoy the sounds of nature.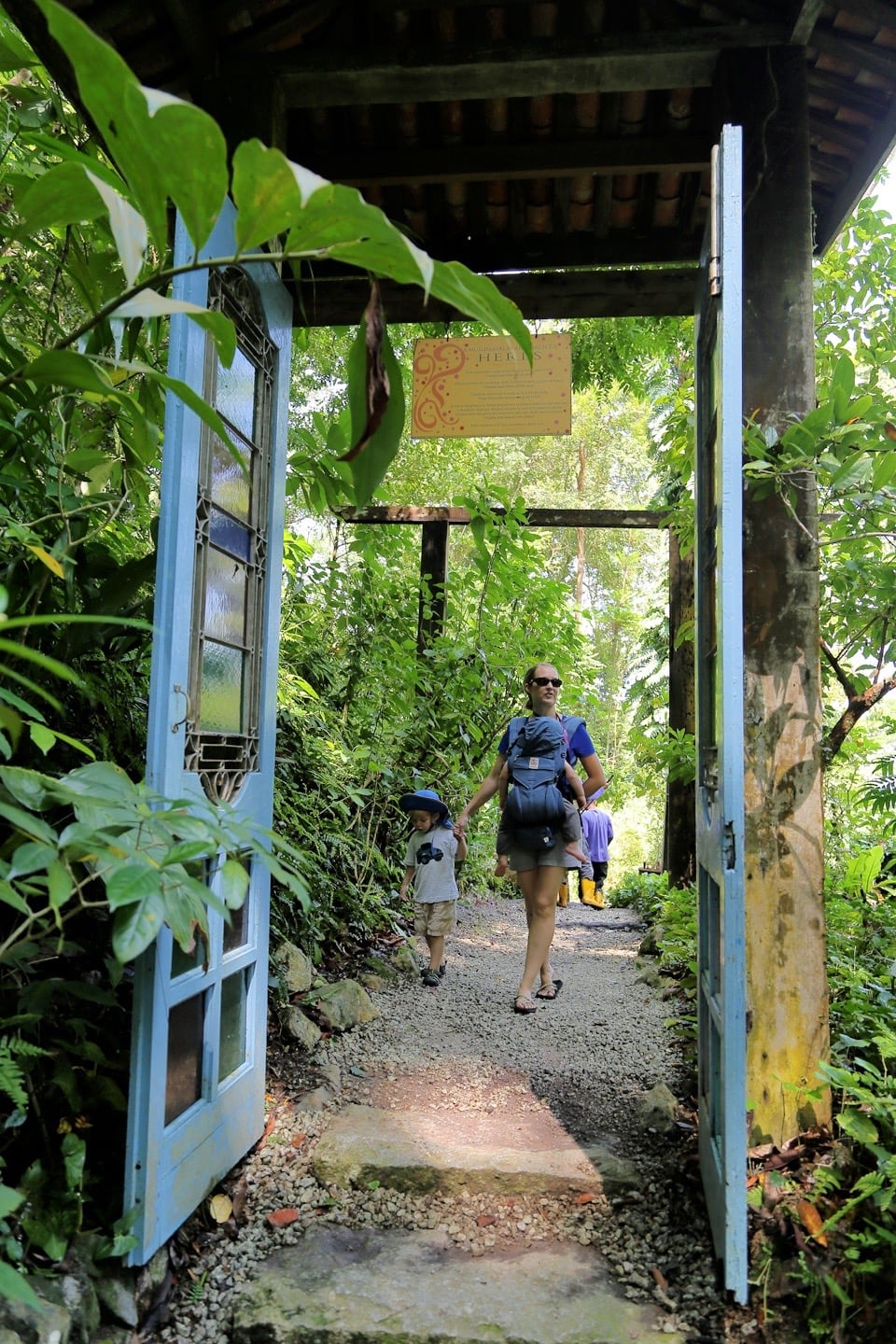 And yes, Riley is with us as well. Just waking up from a mid-morning catnap…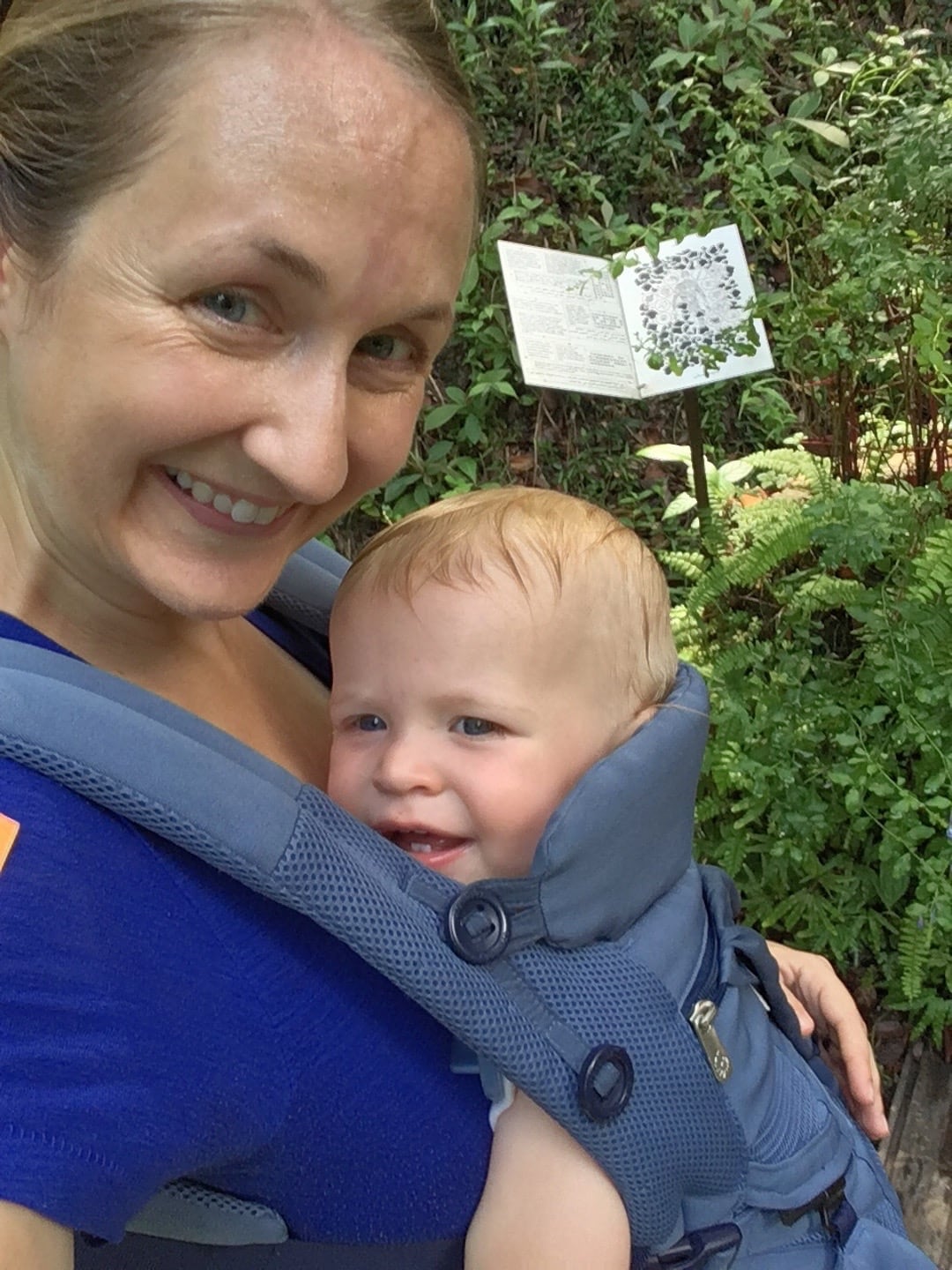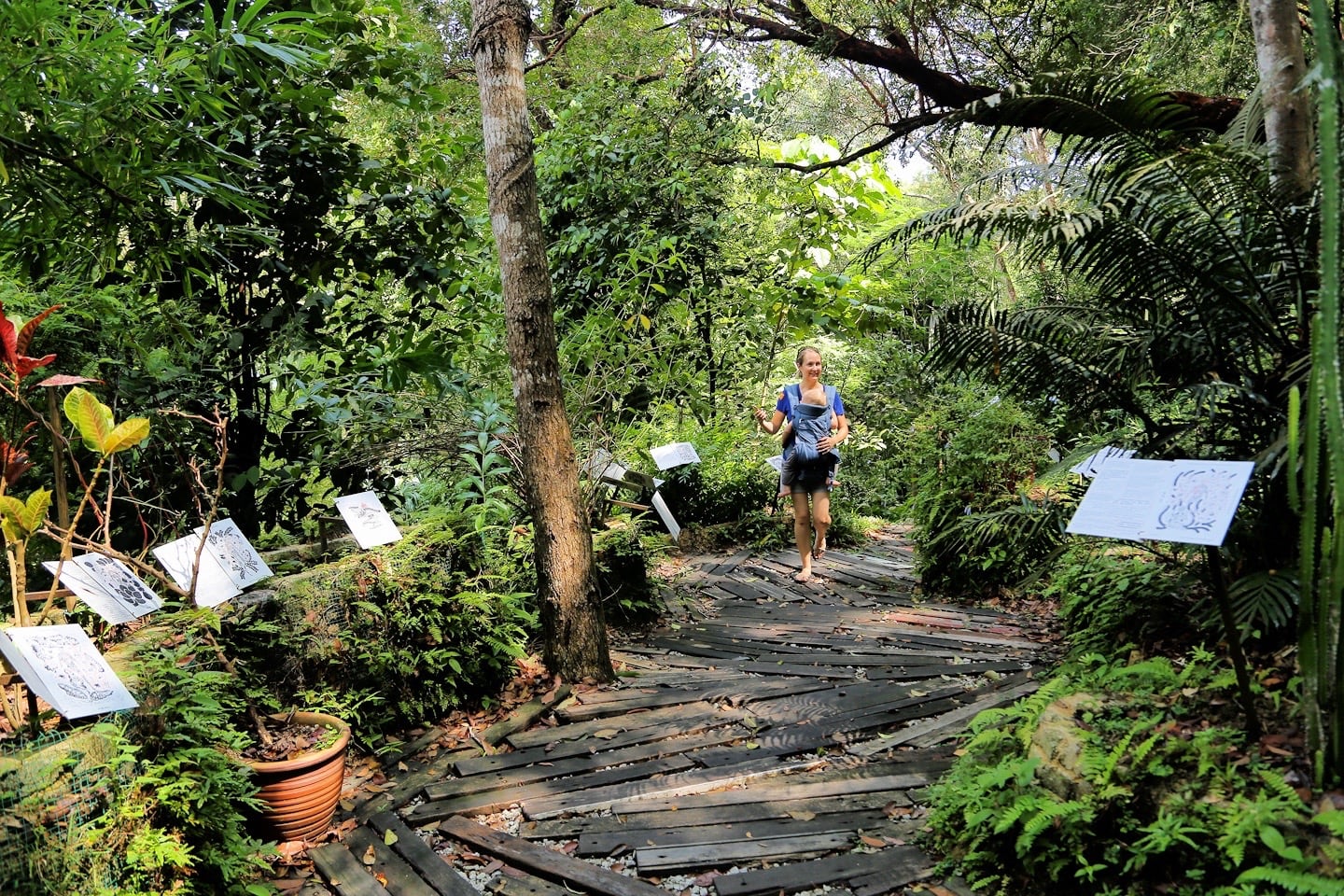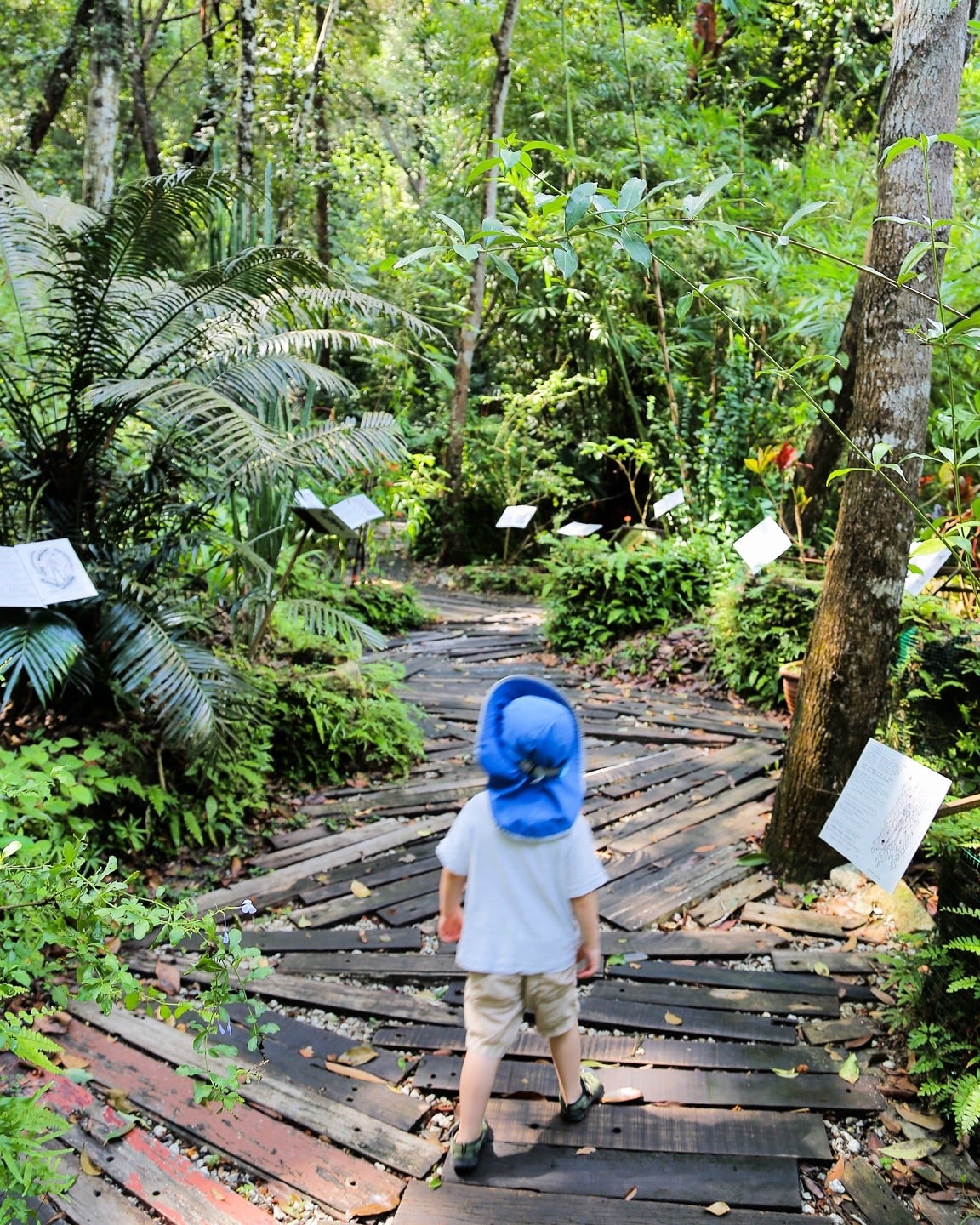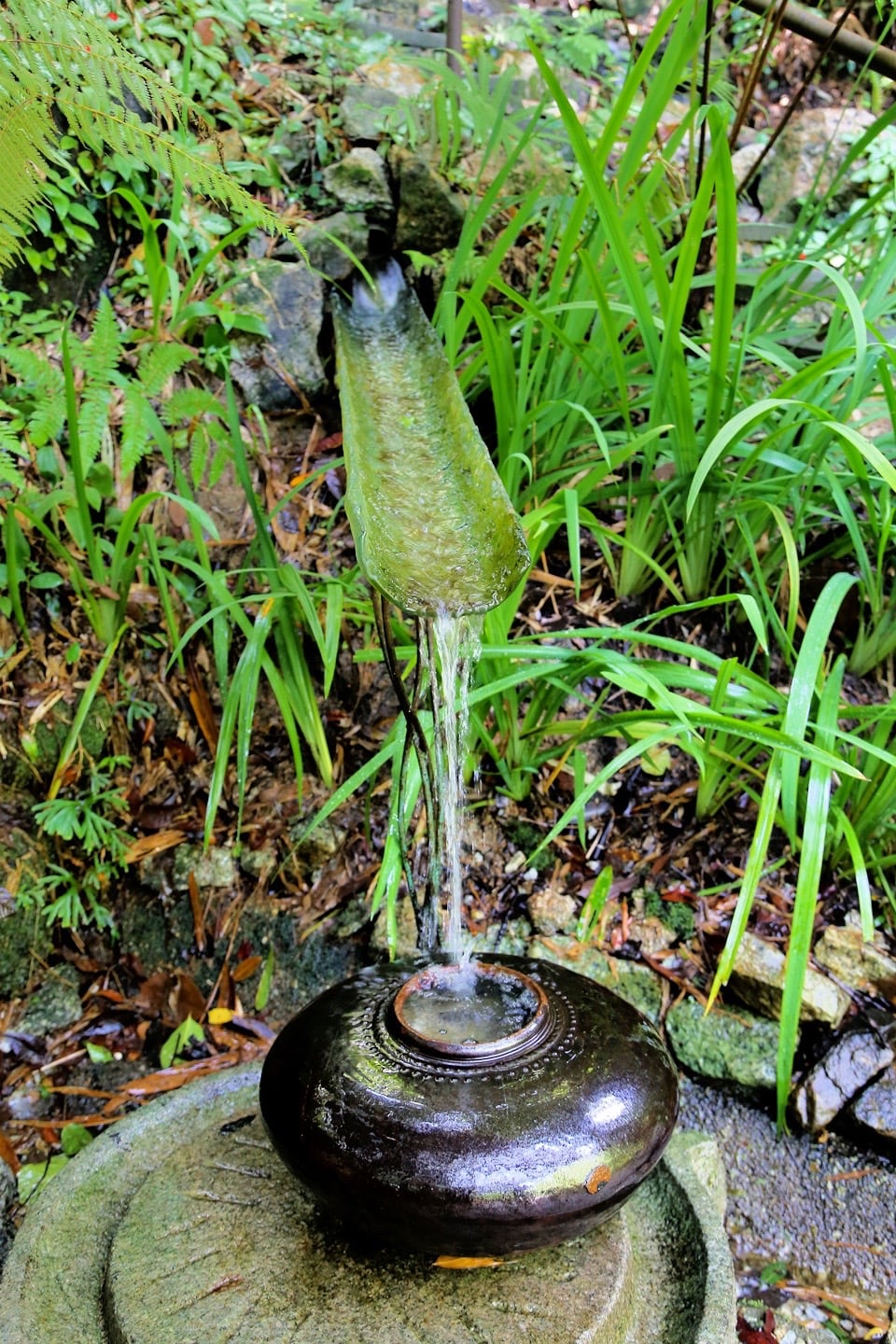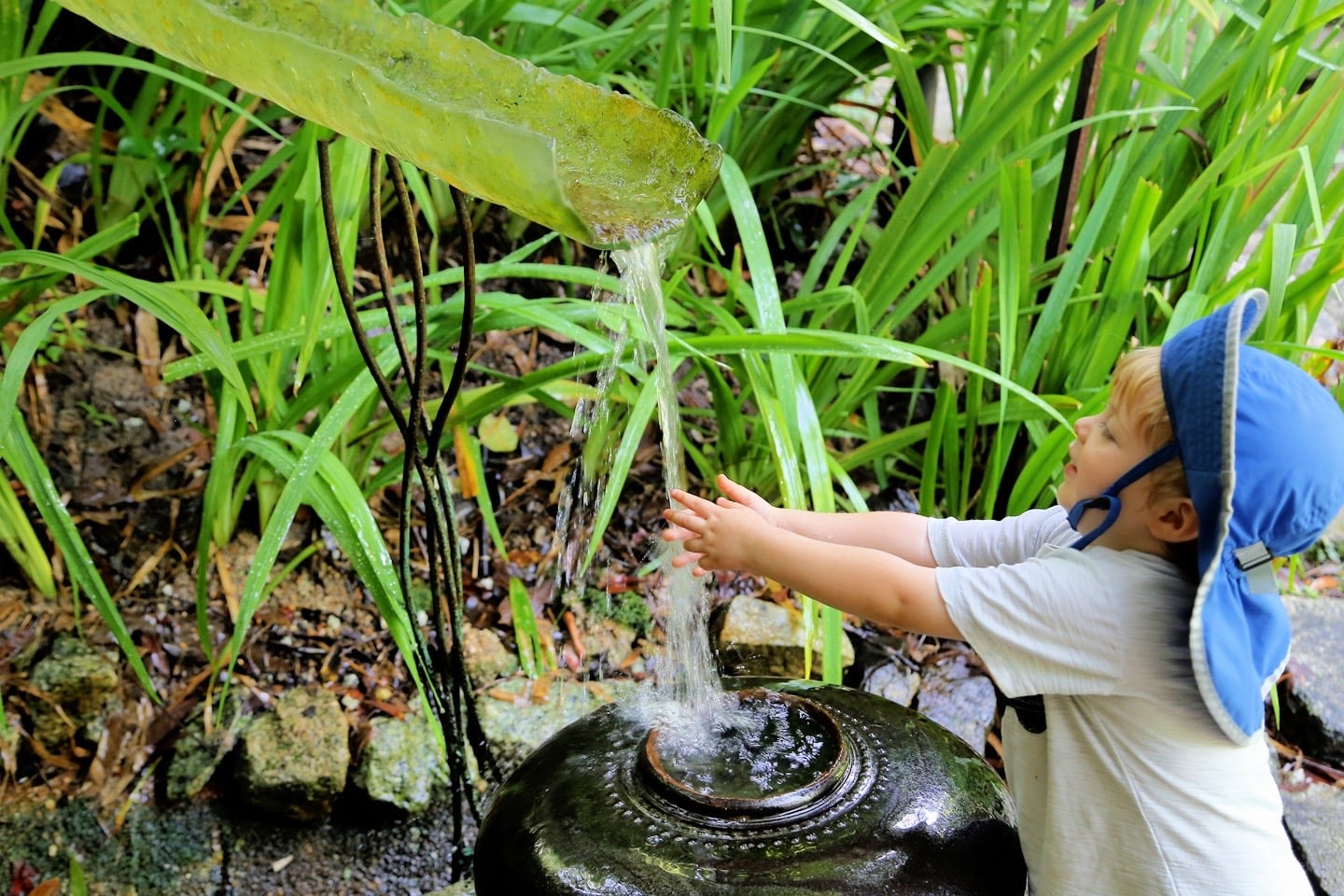 At one point, we arrive at a natural washing station with hot herbal tea to sample.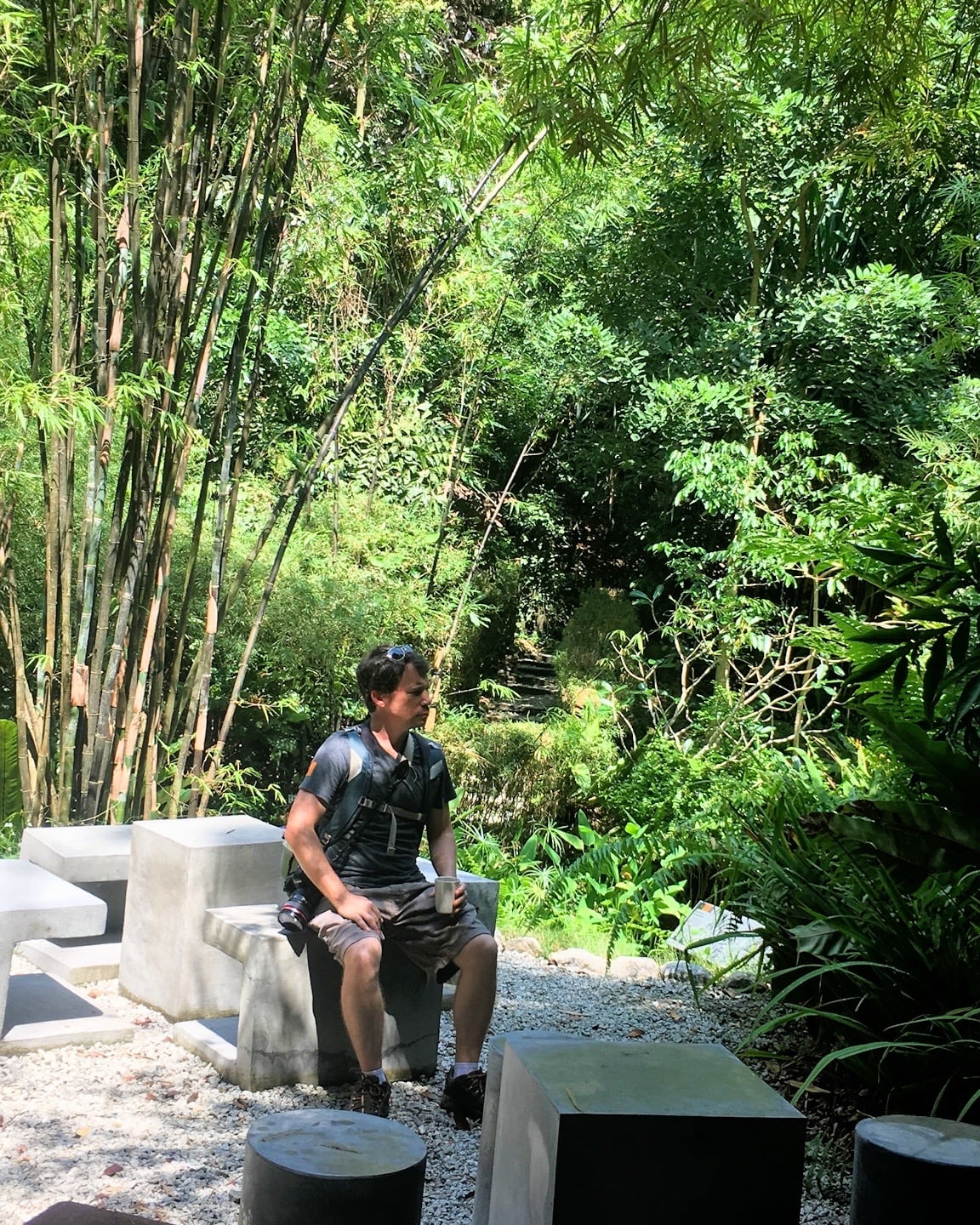 I'd like to take credit for my incredible posture, but you can thank sitting with my daypack on for that.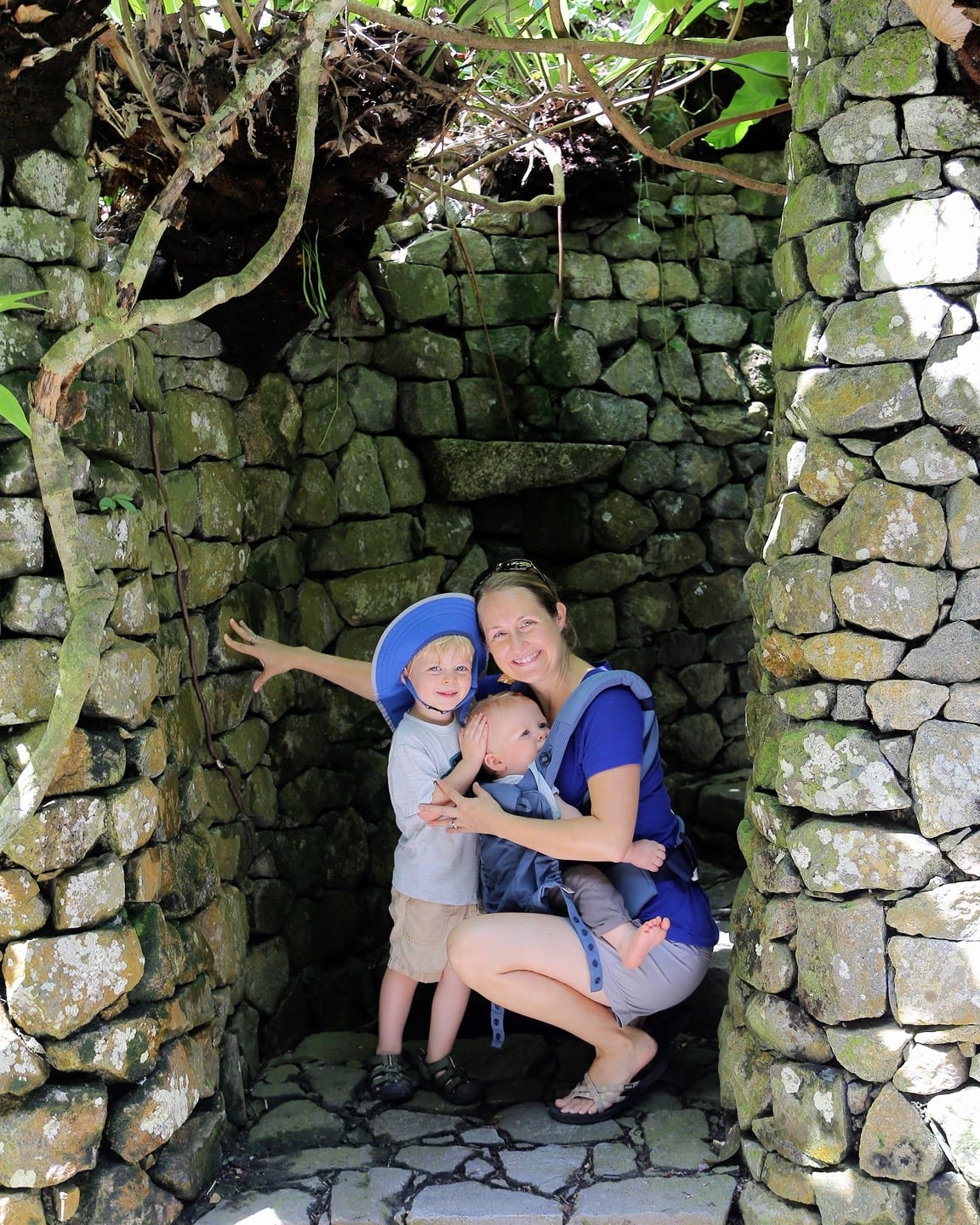 Penang Day Trip Packages
If you're looking to arrange transport from George Town ahead of time or would like to combine your visit to the Penang Tropical Spice Garden with a Penang island tour, this day trip may be what you're after.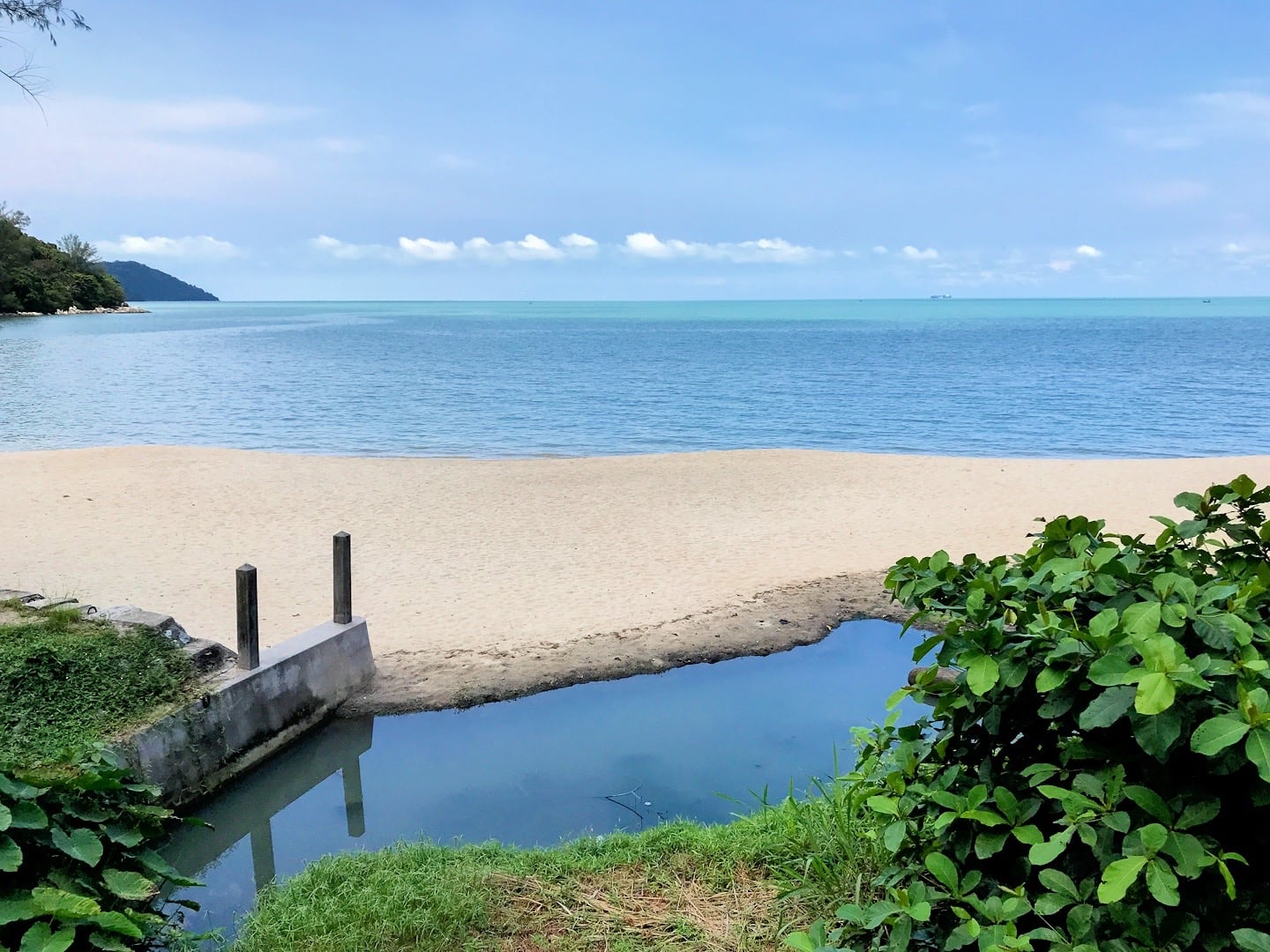 Monkey Tree Cafe
After finishing up our exploration of the Tropical Spice Garden, we head over to the adjacent Monkey Tree Cafe for lunch overlooking the cove.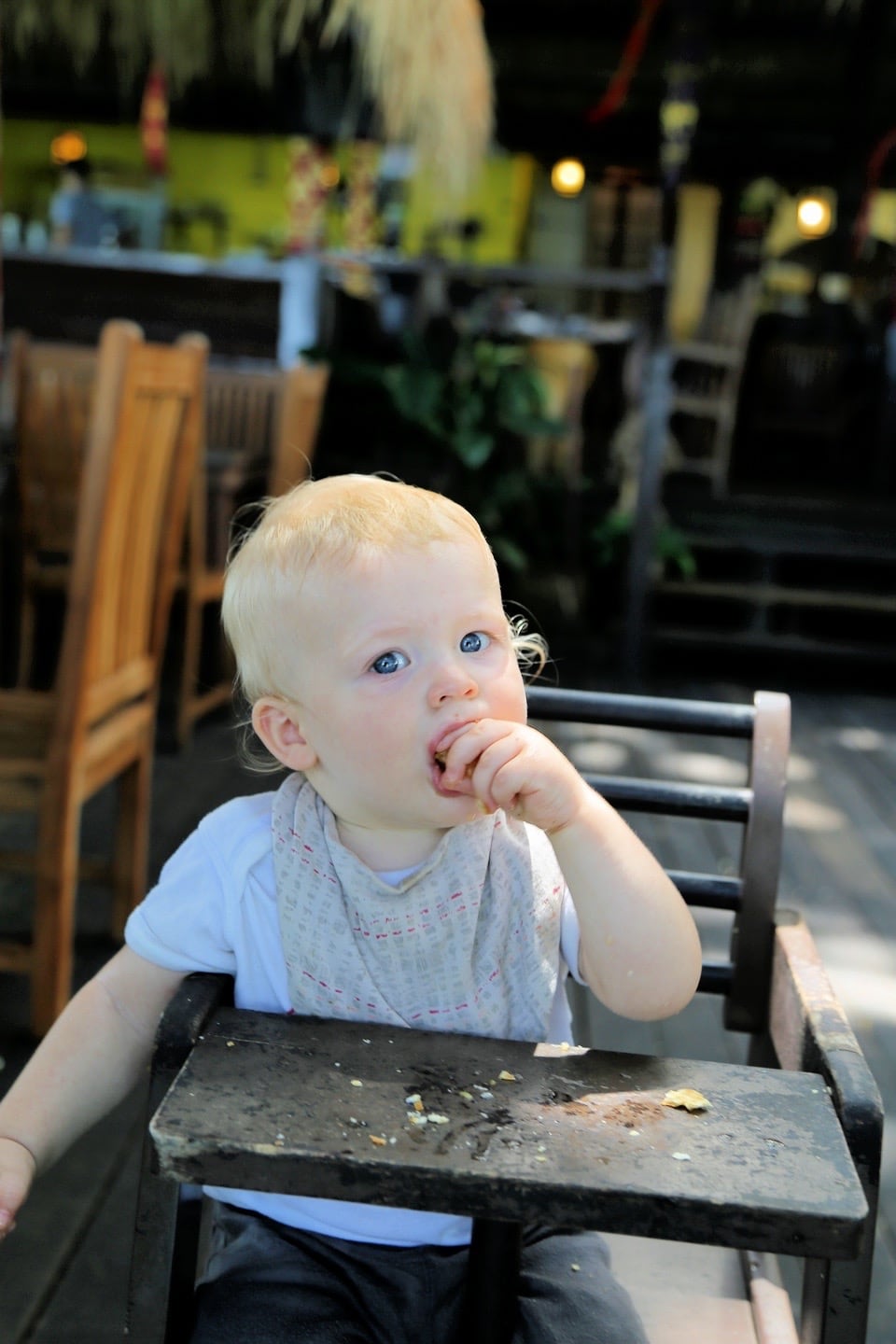 Then, it's time to hop on the RapidPenang bus back to Batu Ferringhi.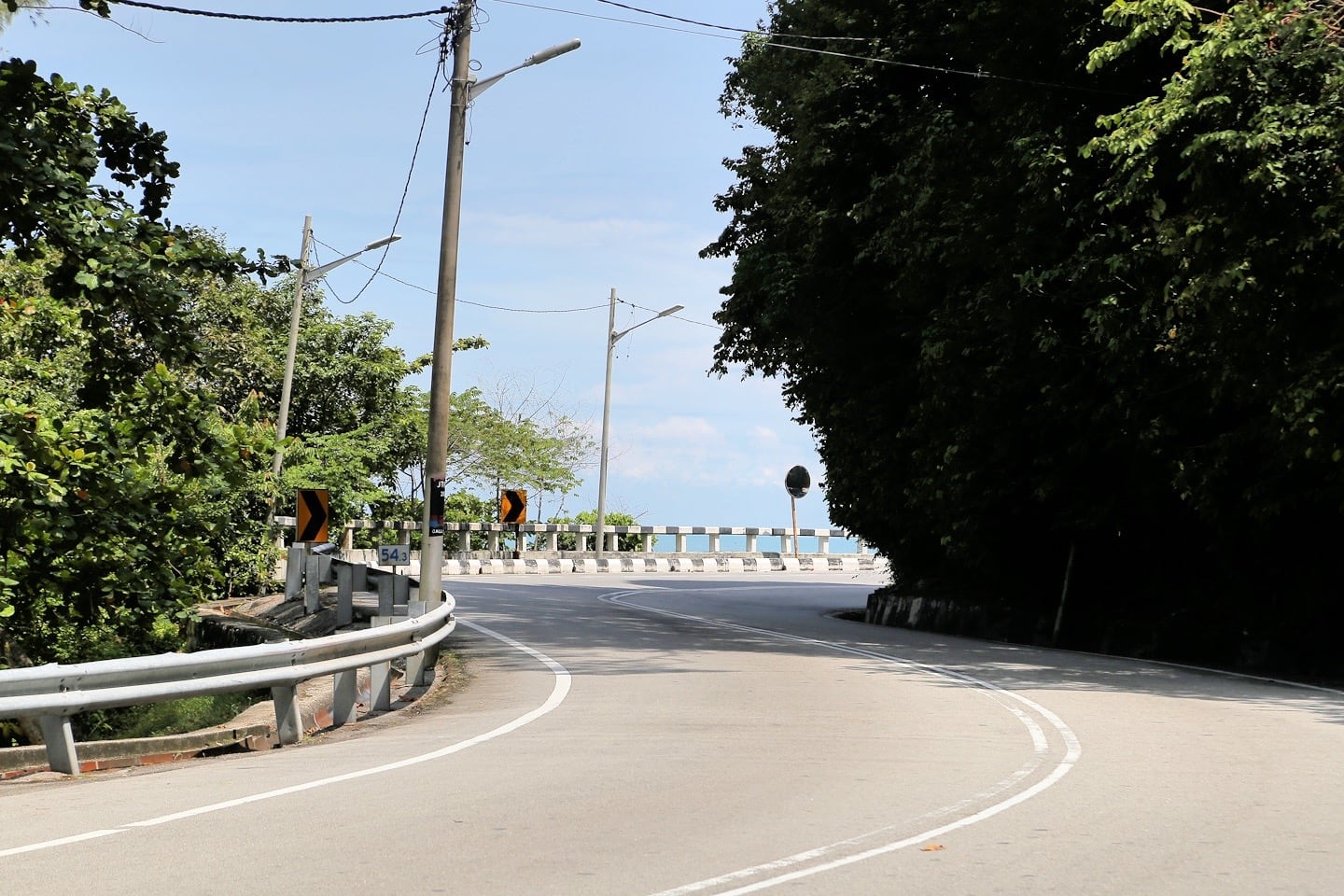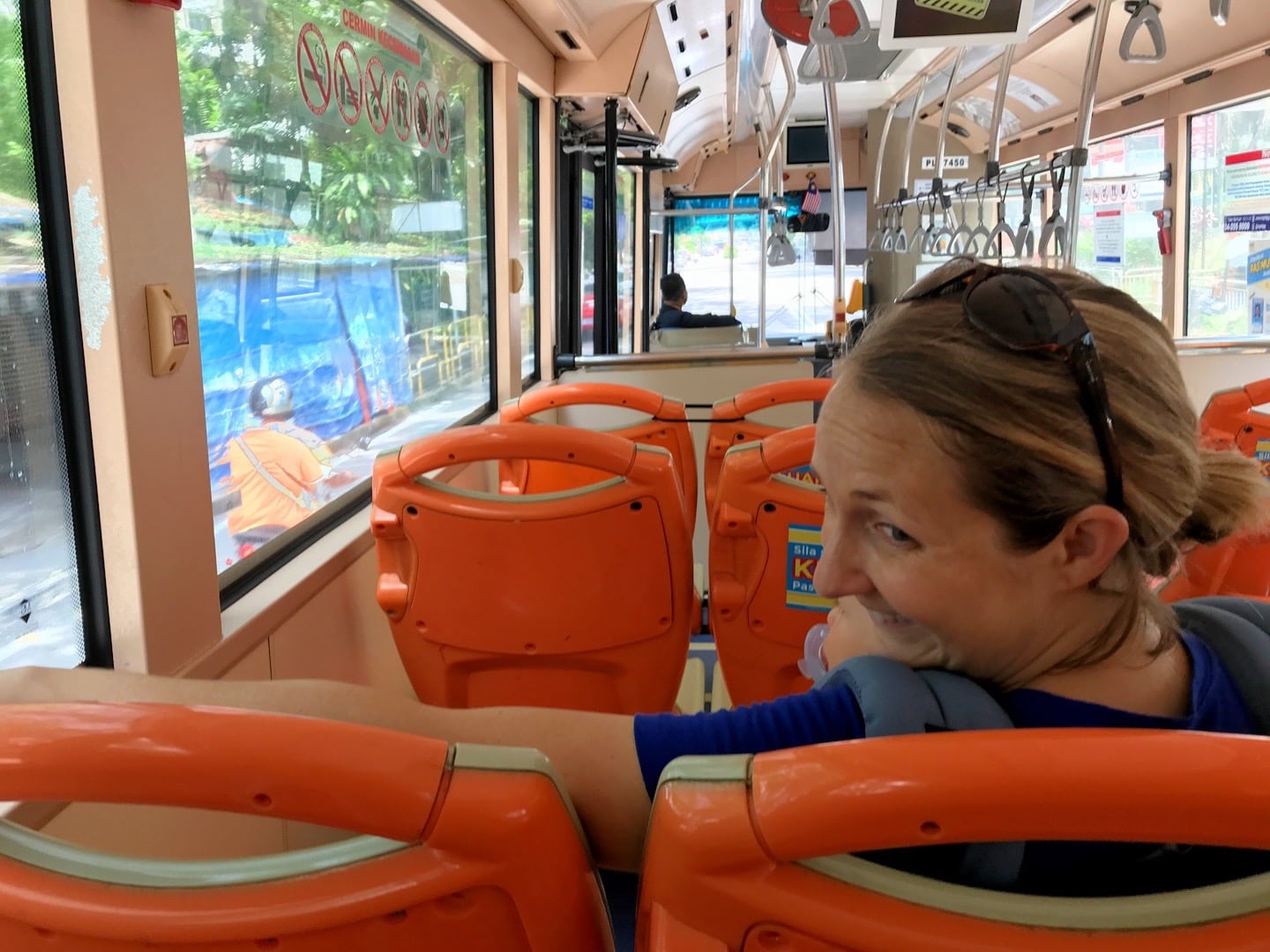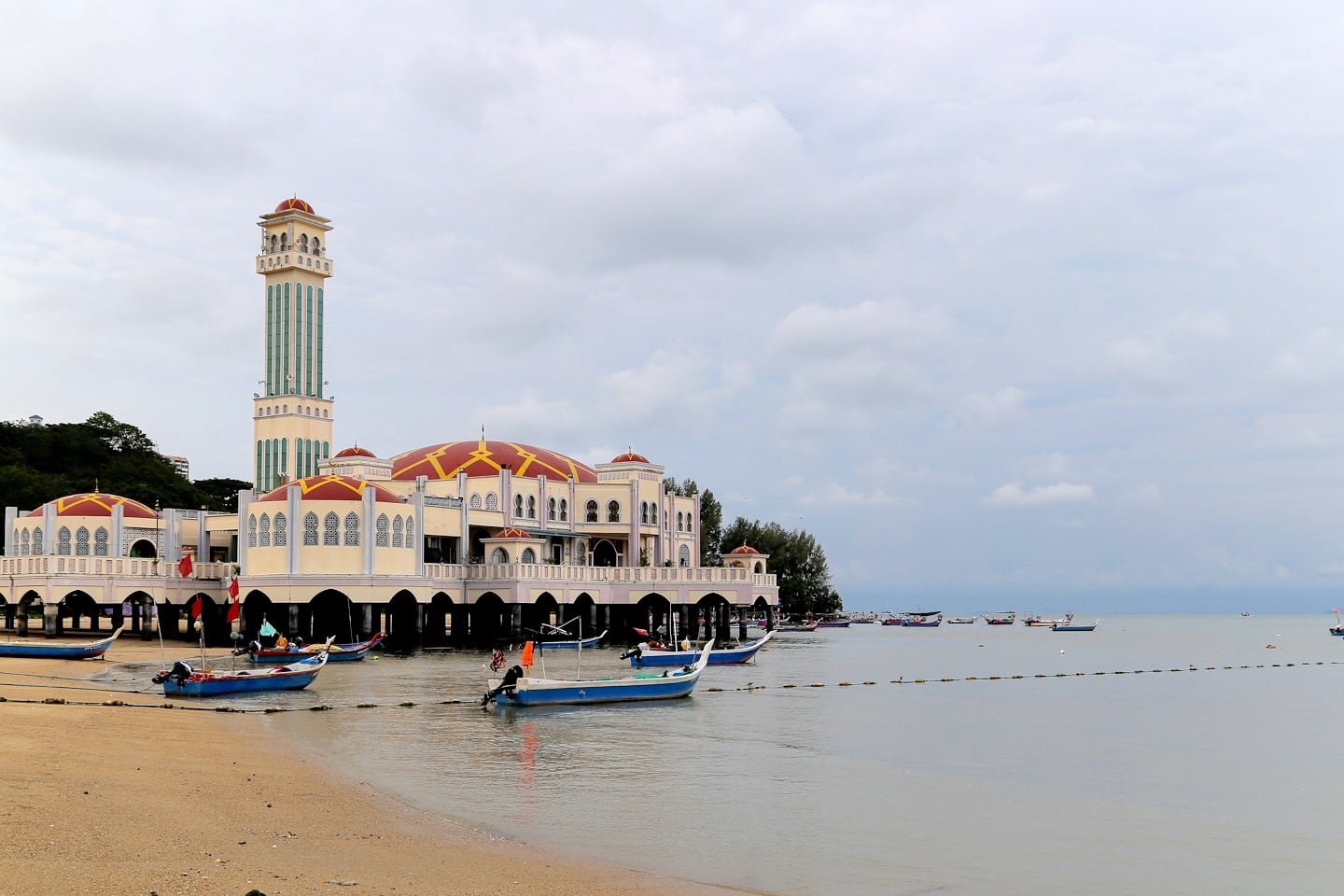 An Afternoon Visit to Tanjung Bungah
After nap time, we hopped a bus headed in the opposite direction to Tanjung Bungah, the island's other major beach town.
It's not a long ride — 10 minutes around the headlands known as Miami Beach — but the atmosphere is very different.
Tourism, all-inclusive resorts, waters sports, and a long strip of golden beach are the defining characteristics of Batu Ferringhi, while towering condominiums, a harbor full of fishing boats, and a large, over-water mosque define Tanjung Bungah.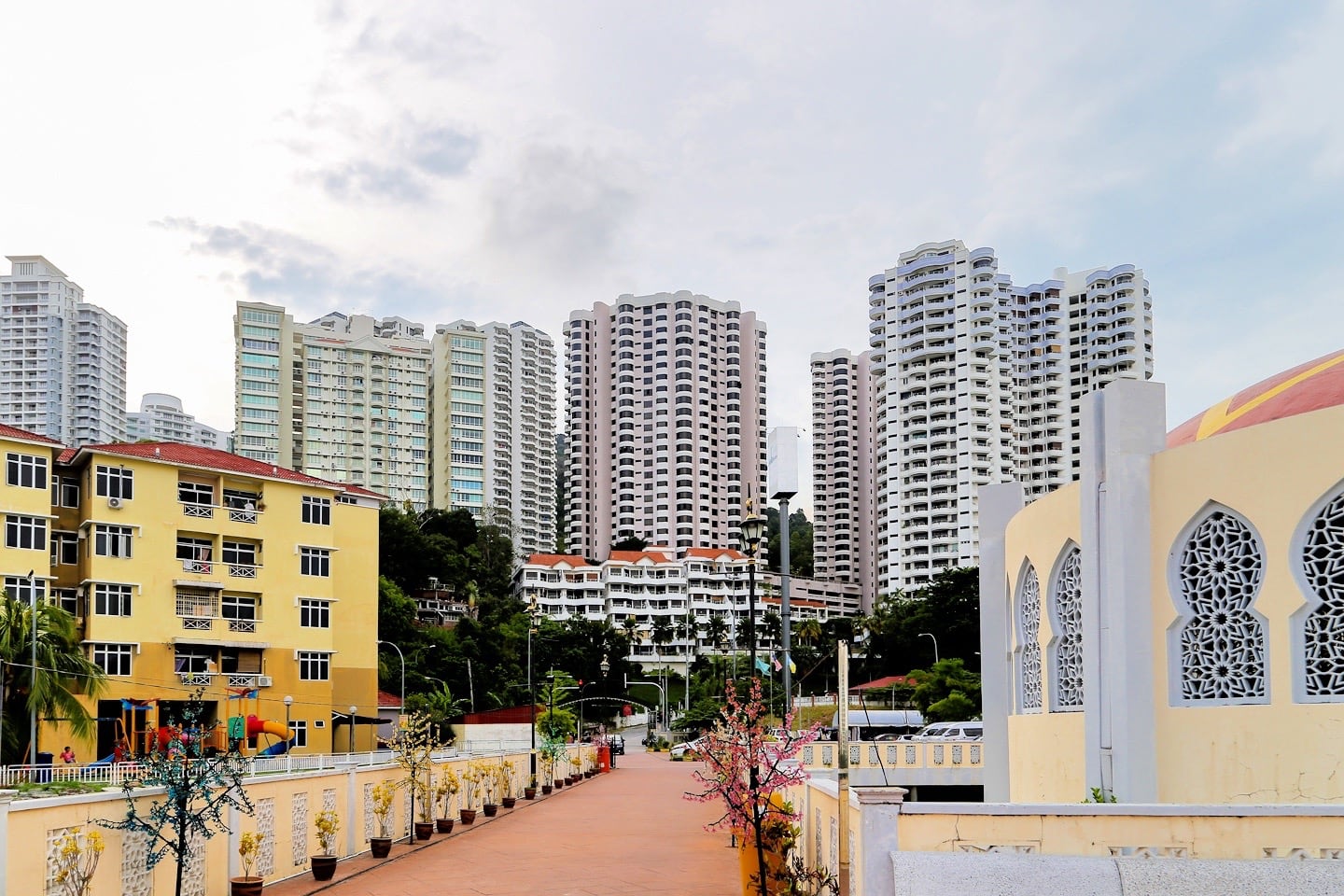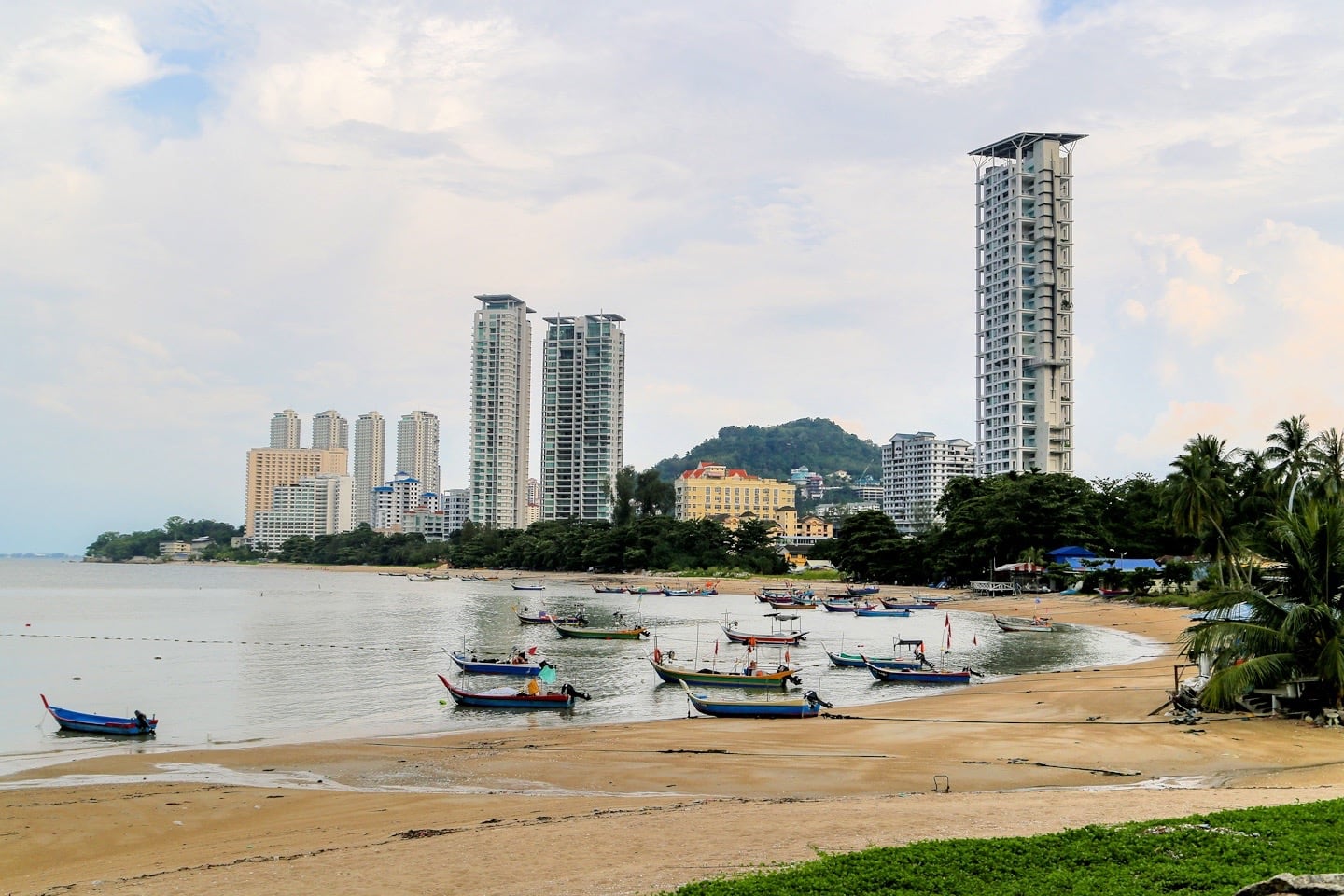 We've read multiple blogs touting Tanjung Bungah as the choice destination on the beach in Penang for families and those wanting the expat vibe more than the tourist vibe.
Honestly, I'm not sure why either would pick Bungah over Batu.
It feels stark and industrial, with very few eateries (local or otherwise) facing the water. The main drag is characterized by strip-mall style businesses completely devoid of character or any sort of beach vibe.
There is, however a nice white sands beach in the eastern reaches of town that mostly caters to the large resorts in that area.
I get that Tanjung Bungah is midway between George Town and Batu Ferringhi, certainly an ideal location for those working in George Town who want to live near the beach.
But as for visiting for more than a few hours, no way.
Despite its downsides, Lori and I definitely felt we had made the right choice basing ourselves out of Batu Ferringhi.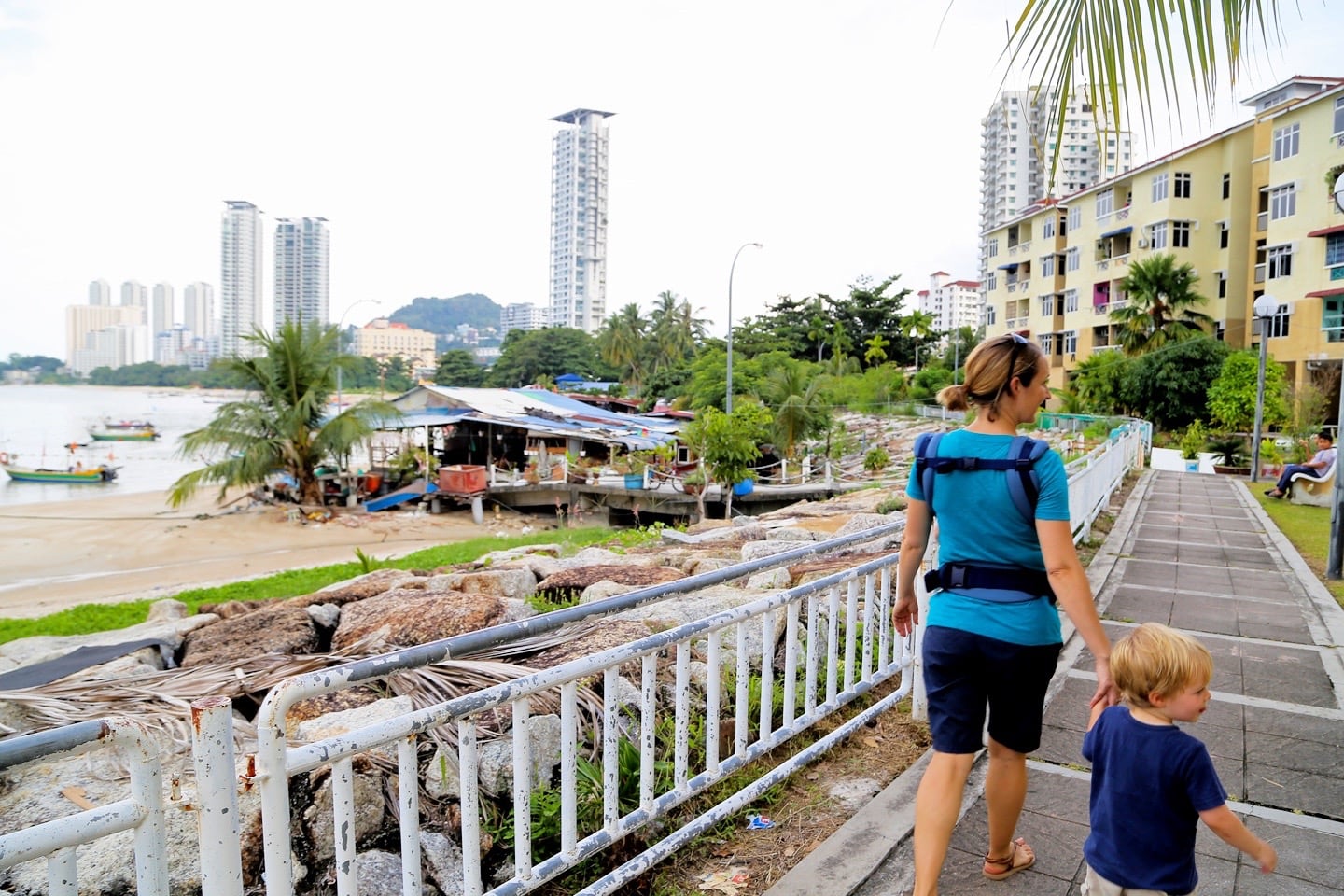 Masjid Tanjung Bungah (aka Penang Floating Mosque) was interesting to visit, but perhaps not as impressive at low tide.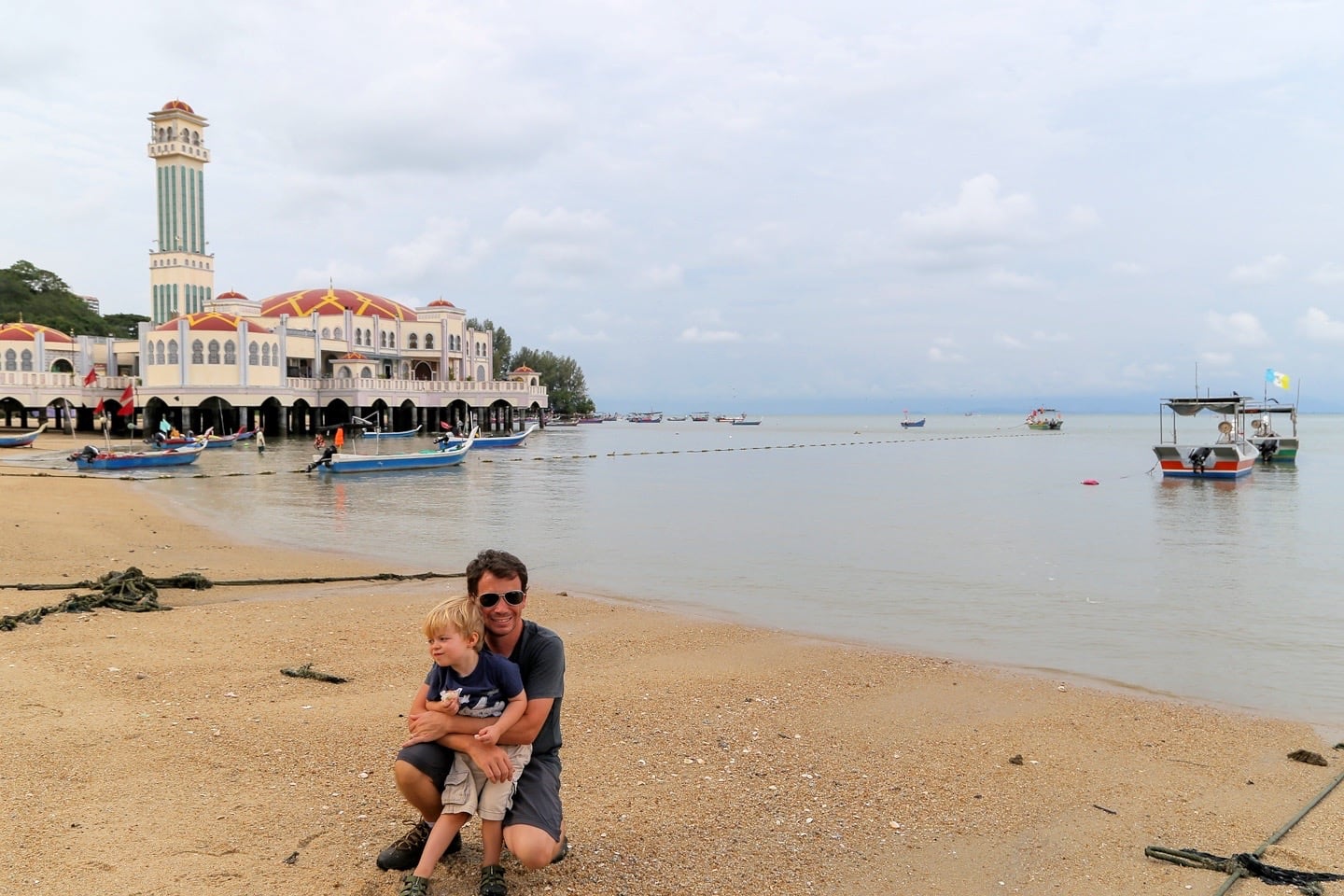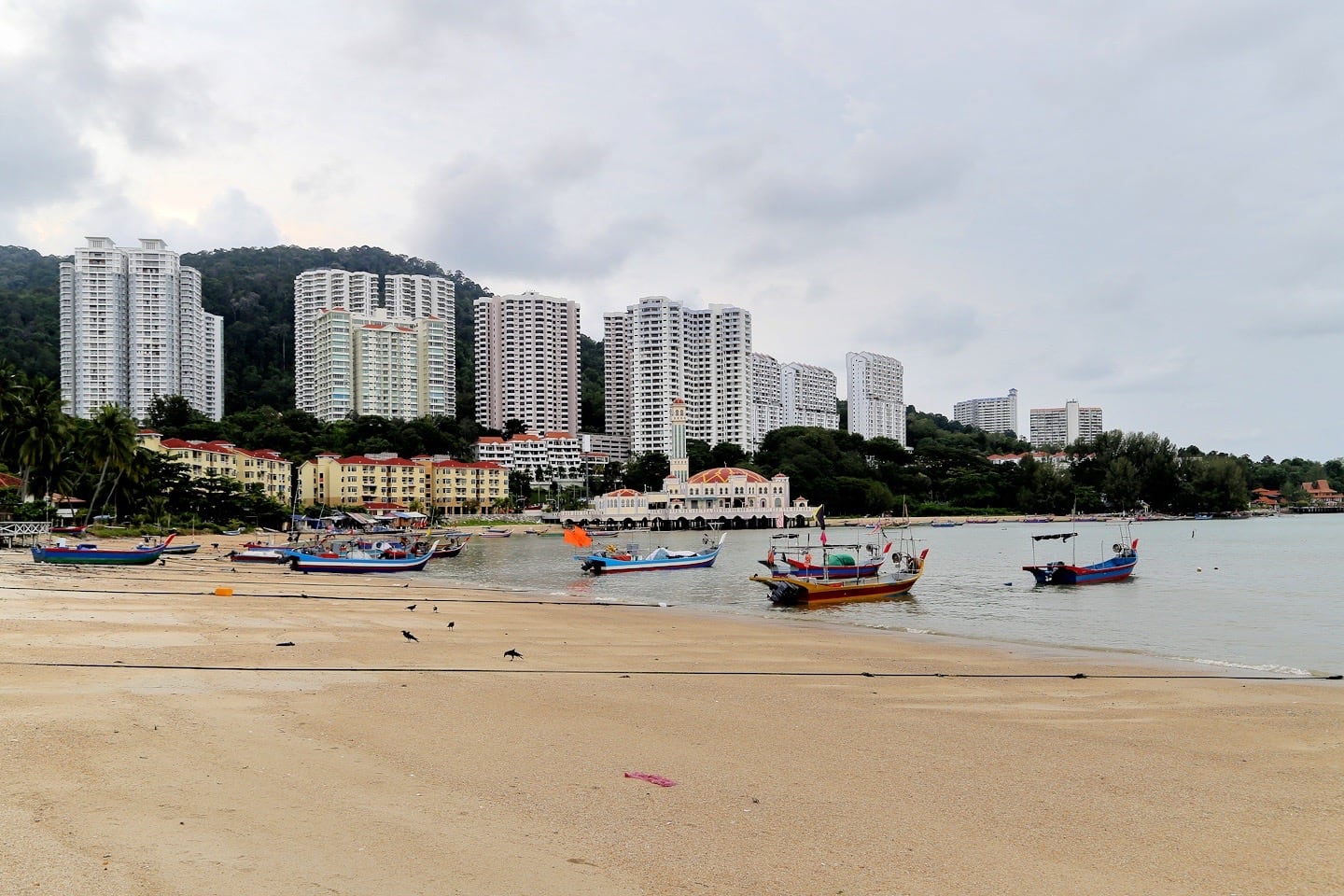 Tuesday Night Market
One of the main reasons we wanted to visit Tanjung Bungah on this particular night was for their Tuesday Night Market, which we had read so much about.
All we can say is that we were dramatically underwhelmed.
I know we've been spoiled across Southeast Asia with regards to night markets, but for the amount of press and attention this one receives, we expected a lot more.
Either way, it was an interesting outing and quenched our curiosity ten-fold.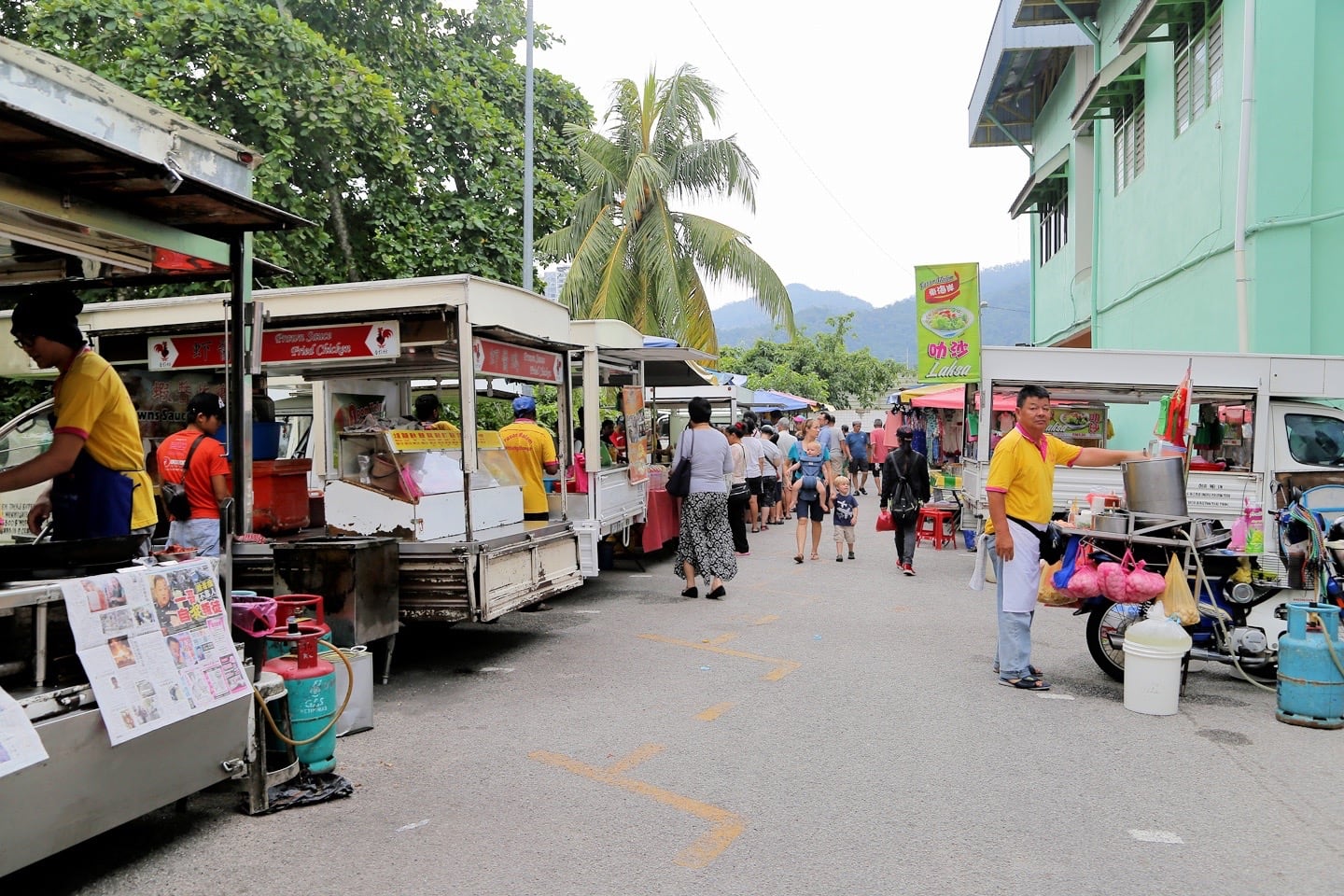 Drinking & Dining in Tanjung Bungah
In terms of drinking and dining options in Tanjung Bungah, we found them to be fairly limited, at least along the sea front.
We grabbed a few snacks at the market but were looking forward to something more substantial for dinner and some drinks along the beach.
Unfortunately, we failed on both fronts to find anything comparable to Batu.
We had our sights firmly set on Tsunami Seafood Restaurant, a local place right on the beach. But when we got there it looked only semi-functional.
So we pressed on looking for some place to grab a drink on the water and ended up at a place with a promising sounding name: Gaya's Beach Side Bar & Restaurant, which you had to access by walking through a weird casino-style high-rise resort hotel.
Unfortunately, it too was only semi-functional. Actually, I take that back. Gaya's was completely 100% non-functional with chairs stacked and no staff in sight.
The upside was that we did get a few minutes on a gorgeous white sands beach that totally made us rethink our feelings on Bungah.
HA! Just kidding.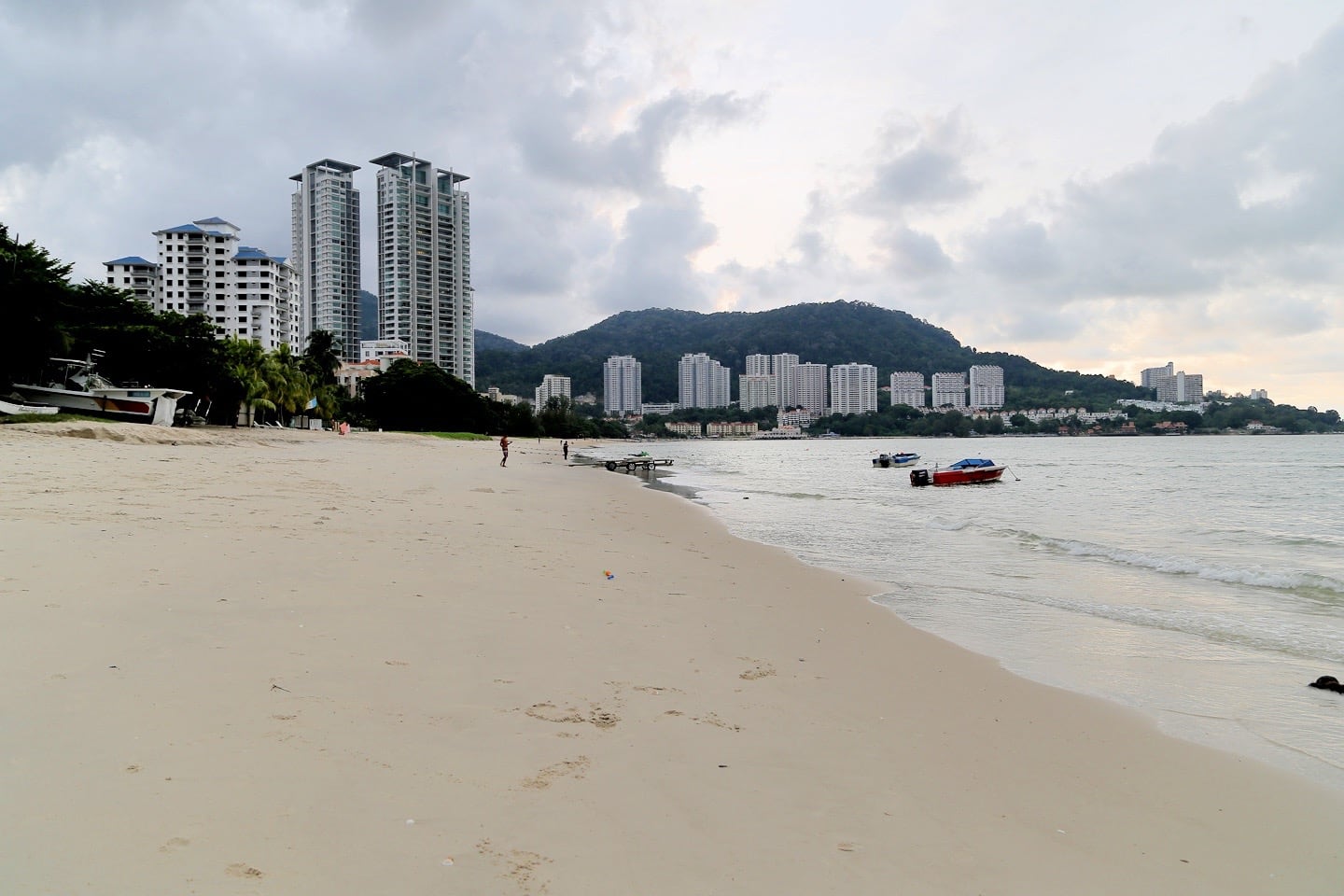 It did look like a nice beach, though.
In the end, we grabbed some dinner at Ristoran Lebanon on the strip, which was pretty damn good.
I do wonder how much of what we encountered has to do with visiting in shoulder season, though I find it strange that everything else on the island including in Batu Ferringhi and George Town is 100% up-and-running, like its the peak of peak season.
Oh, well.
Unlike the previous night, we weren't so lucky with the weather getting back to the apartment. Fortunately, the buses here seem to run just as regularly, rain or shine.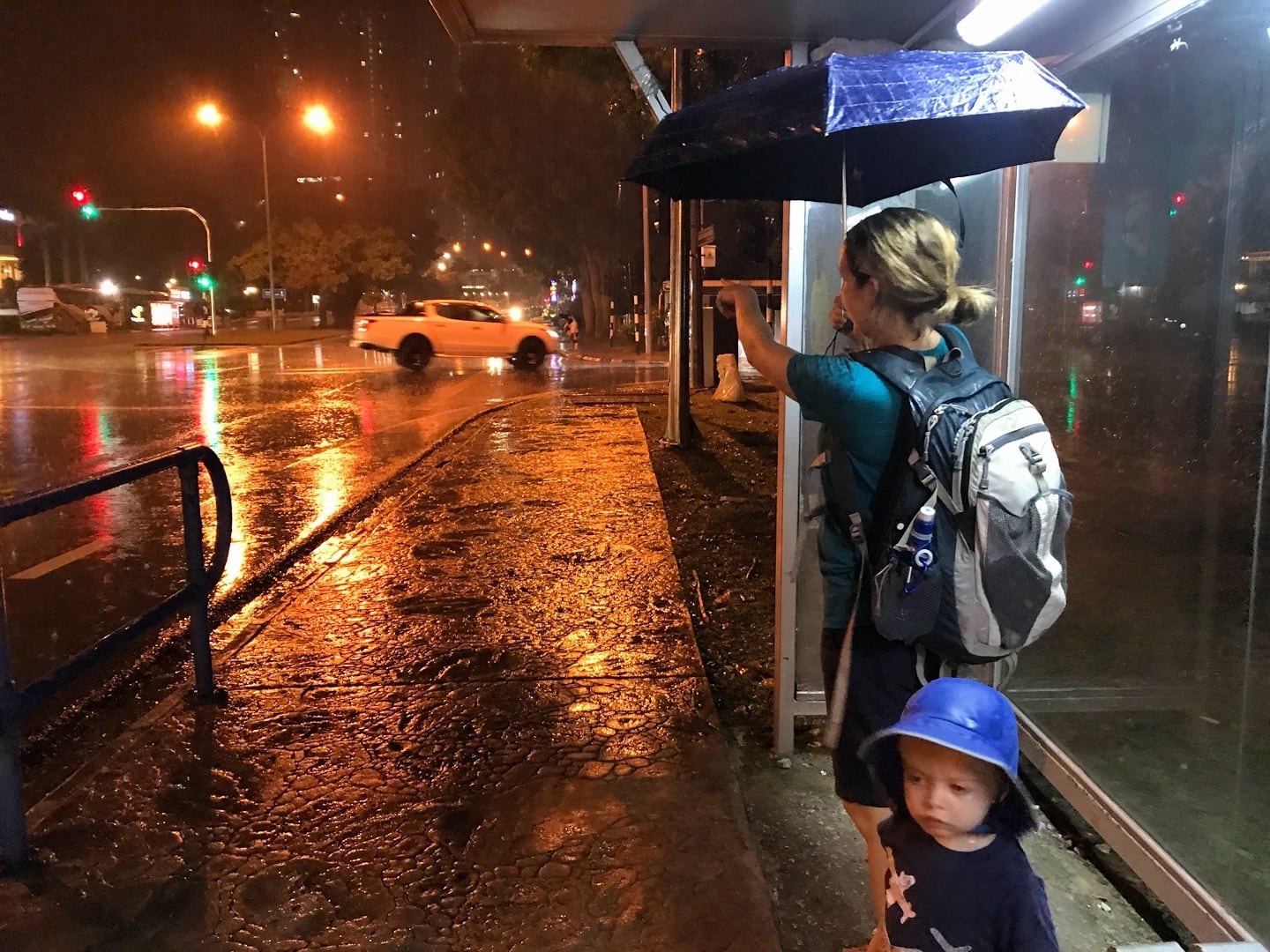 Penang Weather in October
We were initially skeptical about visiting in October at the tail end of the rainy season. All the information out there says that the later into October it gets, the better the weather is. Still, we had our concerns.
For our visit, the weather remained about the same throughout the three weeks we were in KL and Penang — 90% of our mornings were absolutely stunning, and 90% of our afternoons and evenings we encountered heavy thunderstorms lasting 1-2 hours.
Honestly, we've been pretty happy with the weather, overall. Not bad for the tropics, if you ask me.
Have You Visited the Tropical Spice Garden or Tanjung Bungah on Penang?
What did you think? Tell us about your experience in the comments below.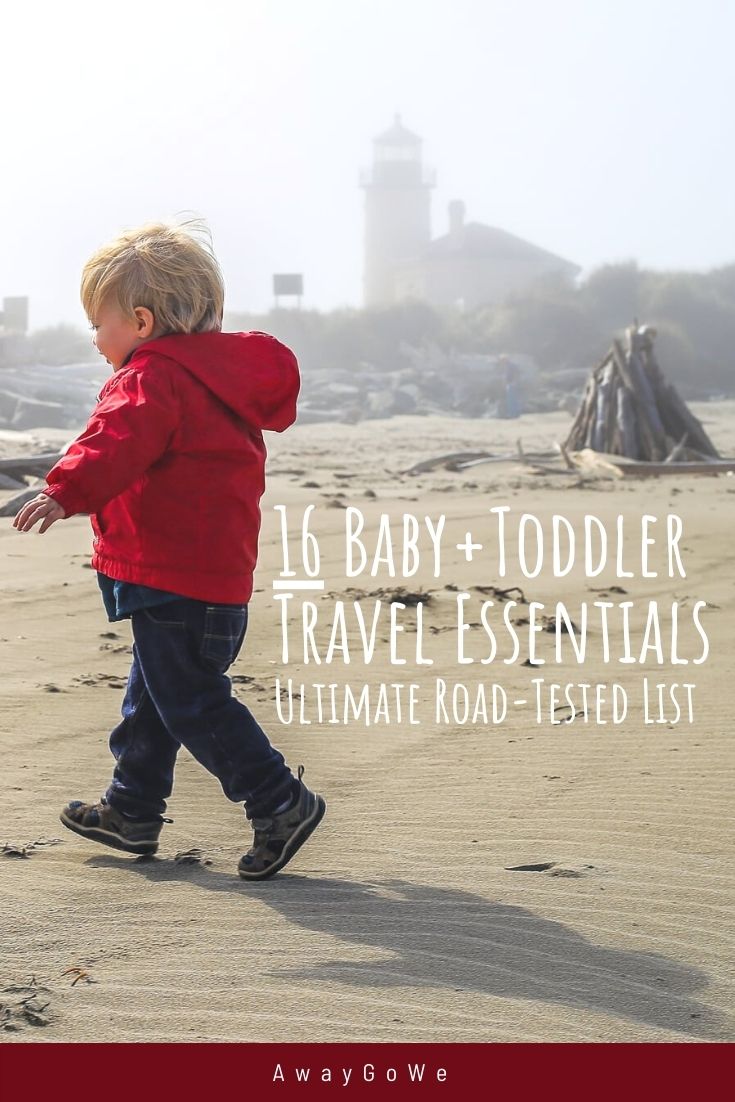 25 Jun 2020
15 Oct 2019