If you plan to stay on one of the beaches in Kota Belud, Sabah, chances are you'll find yourself mulling a day trip to little Pandan Pandan Island (Palau Pandan Pandan). Here's our experience, plus to what to expect from your own island adventure.
Last night, I was still on the fence about whether I'd still try and do some diving in Borneo.
The west coast of Borneo where we are now is often overlooked by divers visiting the island because everyone wants to dive the world-class Sipadan wall on the eastern shore.
I was also one of those divers, but opted at the last minute to skip it due to weather and other considerations.
At the time of booking, I read that Bigfin Beach Resort (where we are staying in Kota Belud) was a top-notch dive outfit with off-shore access to some really great sites.
But with three days around Sipadan, I didn't feel the need to do additional diving. Well, plans changed, and I seriously reconsidered it.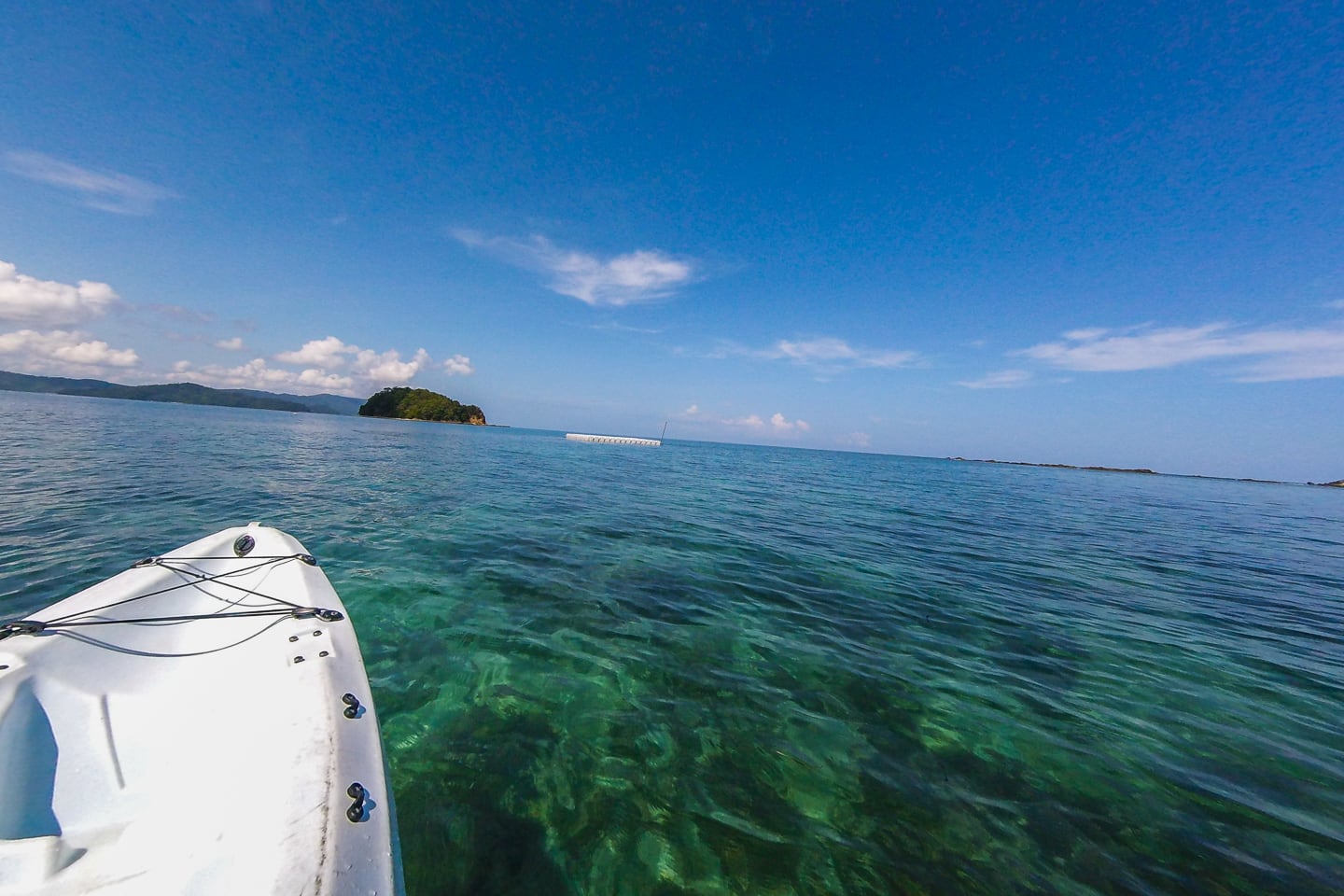 Ultimately, however, I opted against spending our last day together at the beach diving—Lori couldn't join me (and neither could Noe for that matter), so it didn't seem like all that fun to be doing my own thing on the last fun day of vacation.
Instead, we decided to rent some kayaks and paddle out to Pandan Pandan Island, a small uninhabited island about 3km from Pantai Merikat.
We heard that the island had some great snorkeling and the water was crystal clear there and were eager to check it out.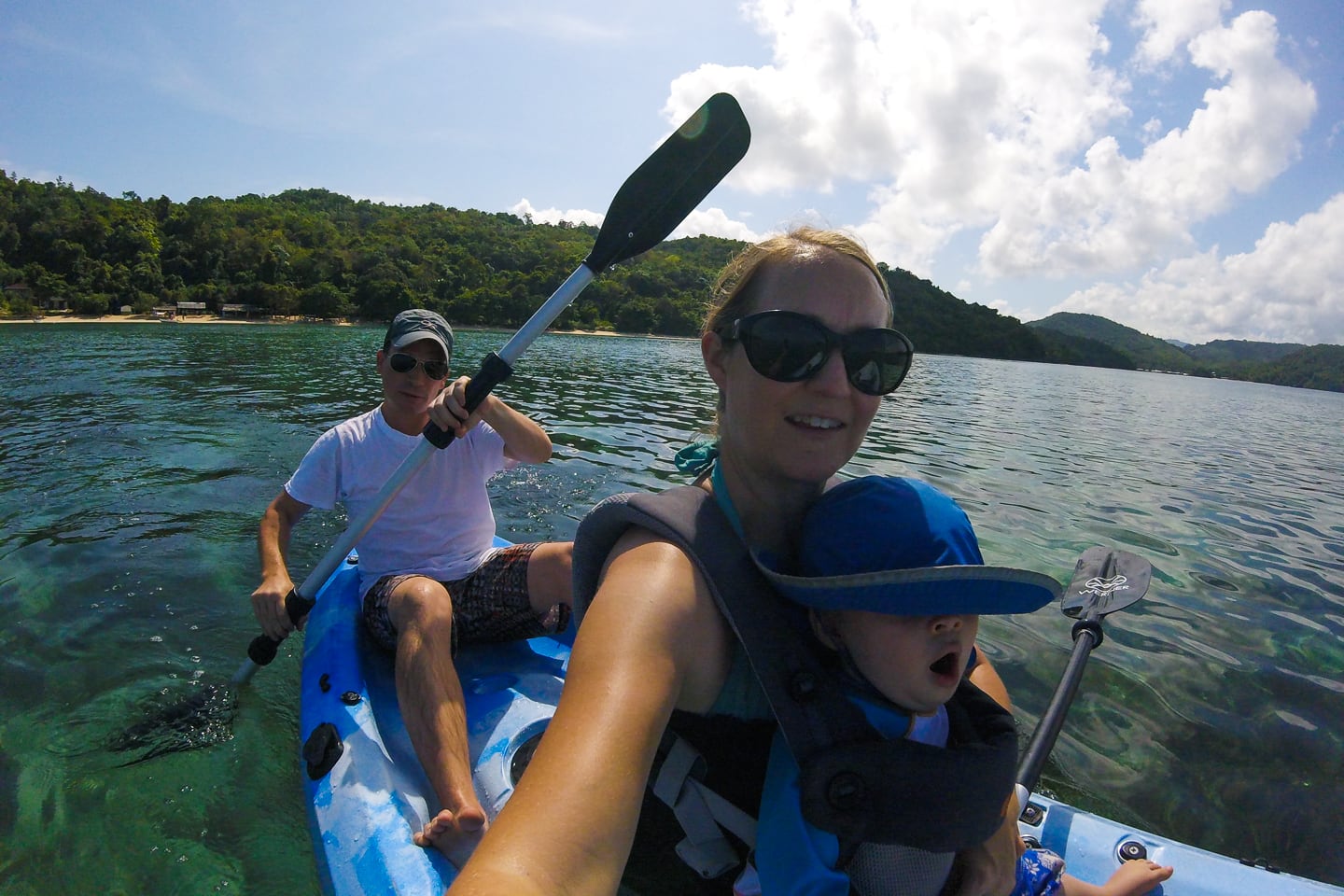 Are we boring you, Noe?
We did get a life jacket for Lori and Noe (here, she's wearing him in the carrier, which she usually does when we're on a small boat in Southeast Asia—just usually with a life jacket as well.
Some how, our life jackets had inadvertently made their way onto a dive boat, which was currently bobbing on the water a dozen kilometers out at sea.
The bay we were in was flat and we certainly didn't want to wait until the heat of the day, so we decided to go ahead and make the crossing.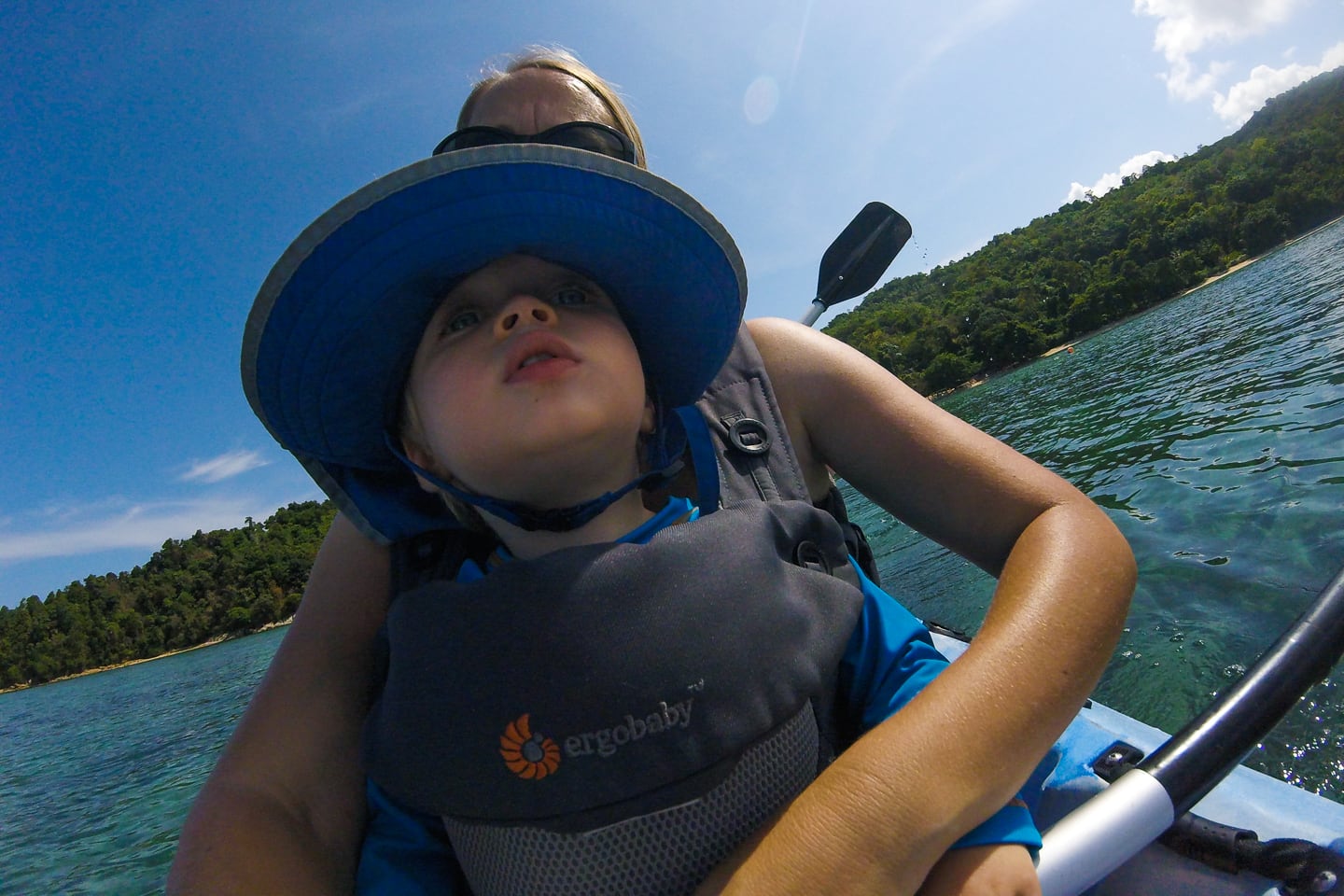 In countless times kayaking, I've never flipped one and wasn't about to start now. Plus, these open-tops are pretty darn difficult to flip, even if you wanted to. All Lori and Noe have to do is hold on for 20 minutes.
Turns out, they didn't even have to go five minutes before one of the staff motored out to us to pass off a life jacket they'd manage to wrestle up, so that was that.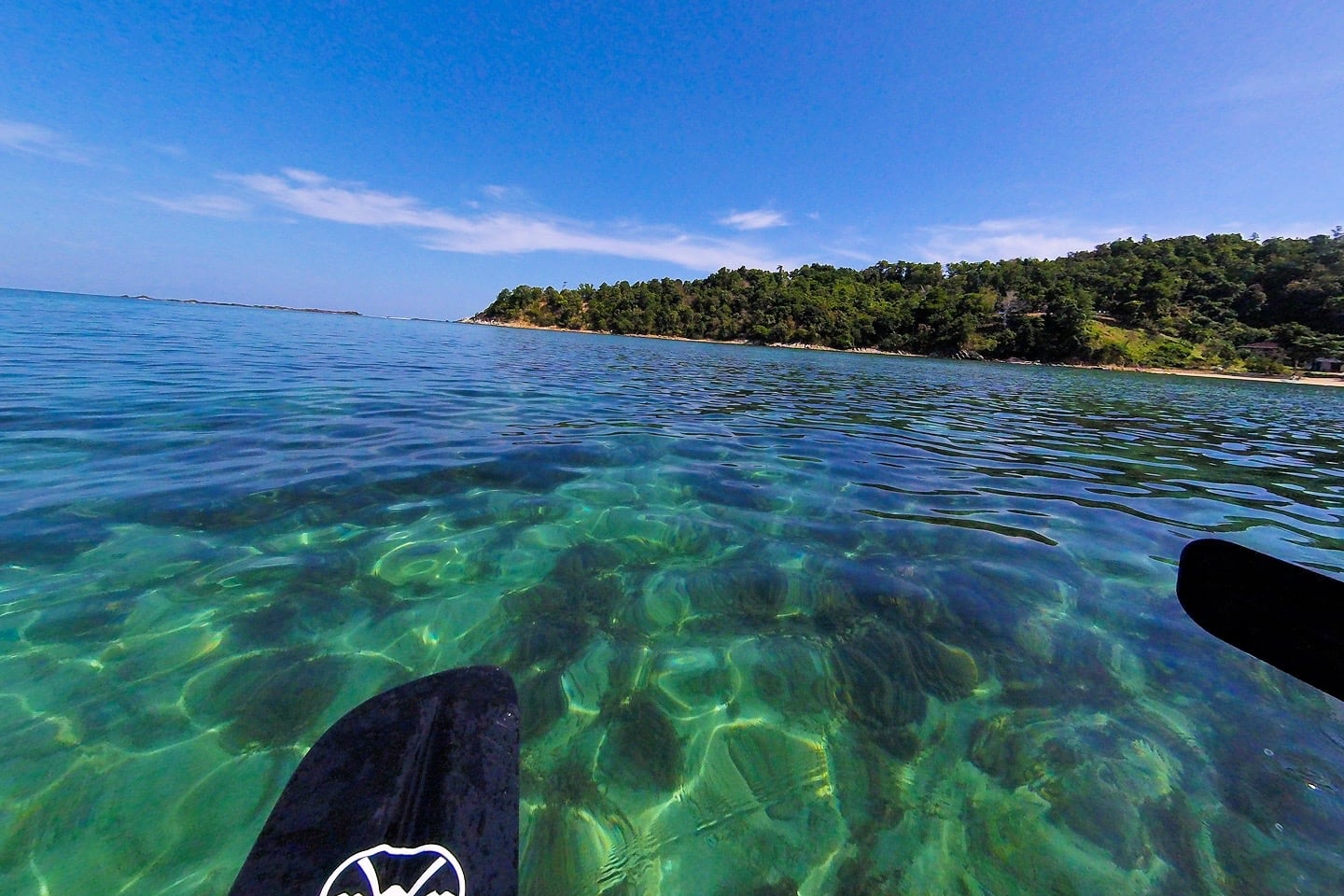 Did I mention the water's crystal clear? By my estimates it's about 3-5 meters (10-15 feet) deep here next to the floating dive platform.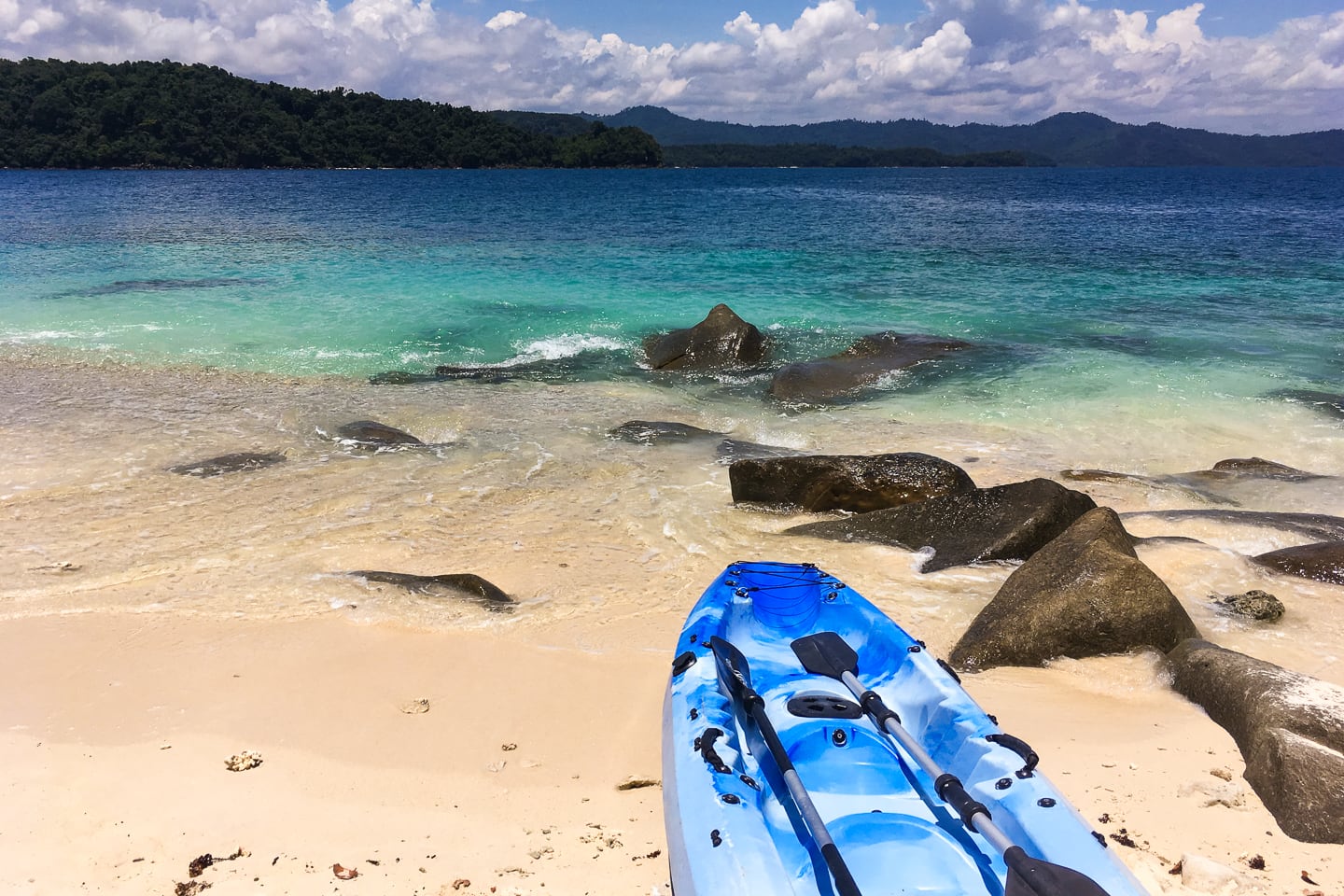 After a leisurely 20 to 30-minute paddle, we arrived at Pandan Pandan Island. We were happy to find that the island was even more beautiful than we expected.
I pulled the kayak to the far side of the beach and Lori and Noe went about the business of finding a place to set up shop.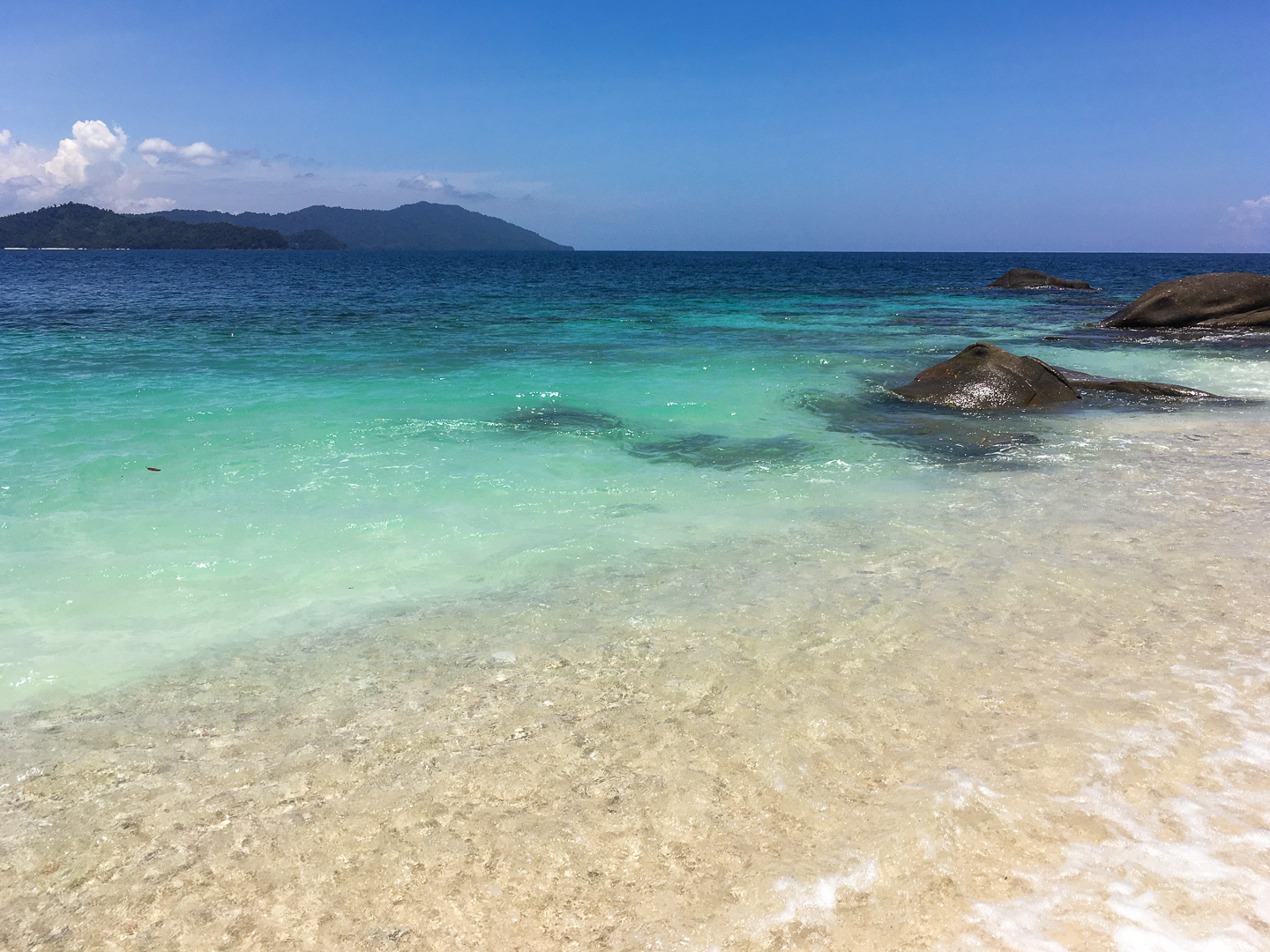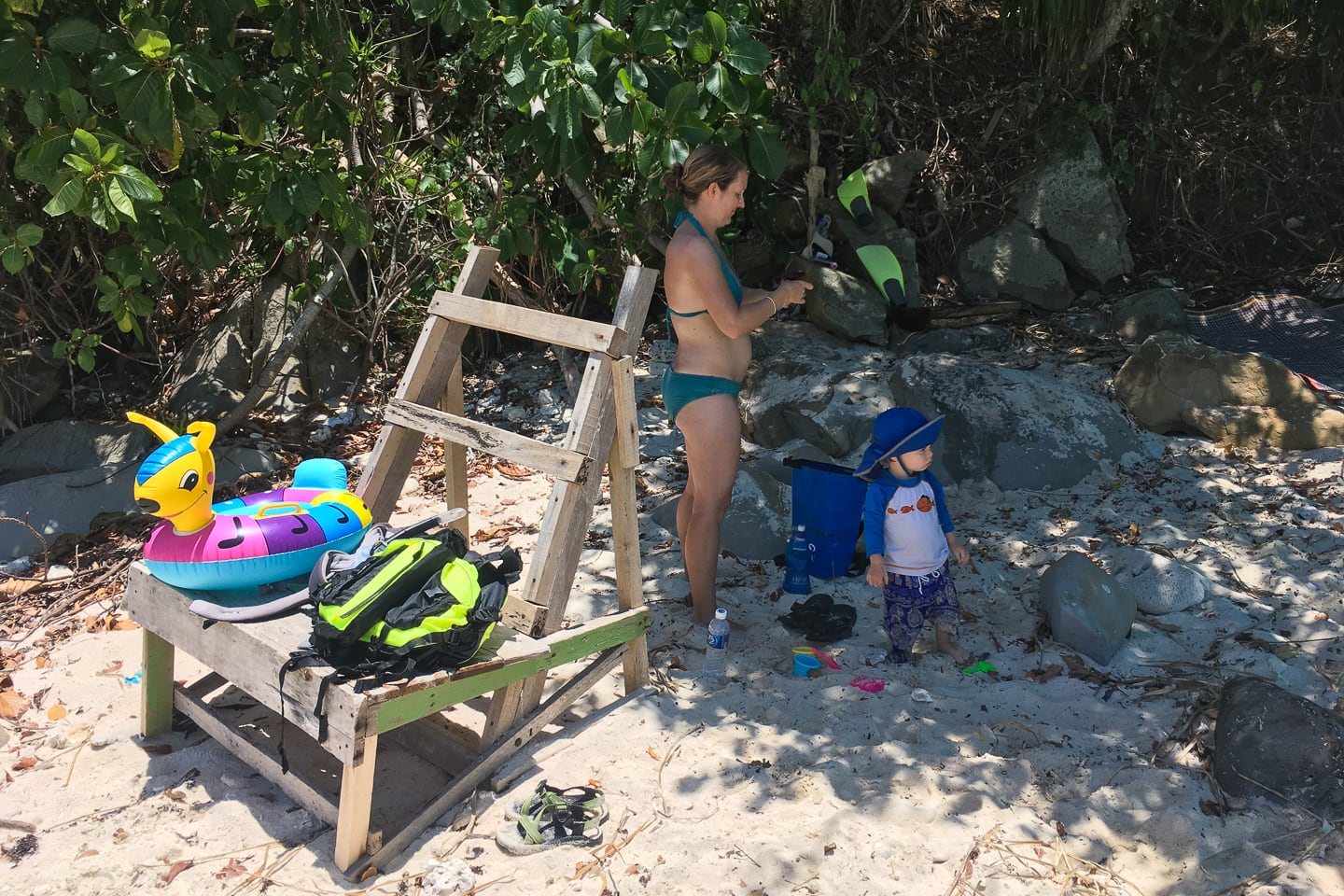 There was a sliver of shade at the edge of the jungle that was just large enough for Noe to play in the sand in between swimming.
We typically have a popup beach tent for this sort of thing, but opted to pack lighter for Borneo. Fortunately, the beaches we've been to in Sabah have had more natural shade than we're accustomed to.
Most of the action is centered on the eastern shore of the small island, where there is an idyllic little beach and shallow water for swimming.
There are no services on the island, apart from whatever activities the company from Pantai Merakit sets up each day (banana boats, snorkeling, etc.). After about 1pm each day, the island is completely deserted.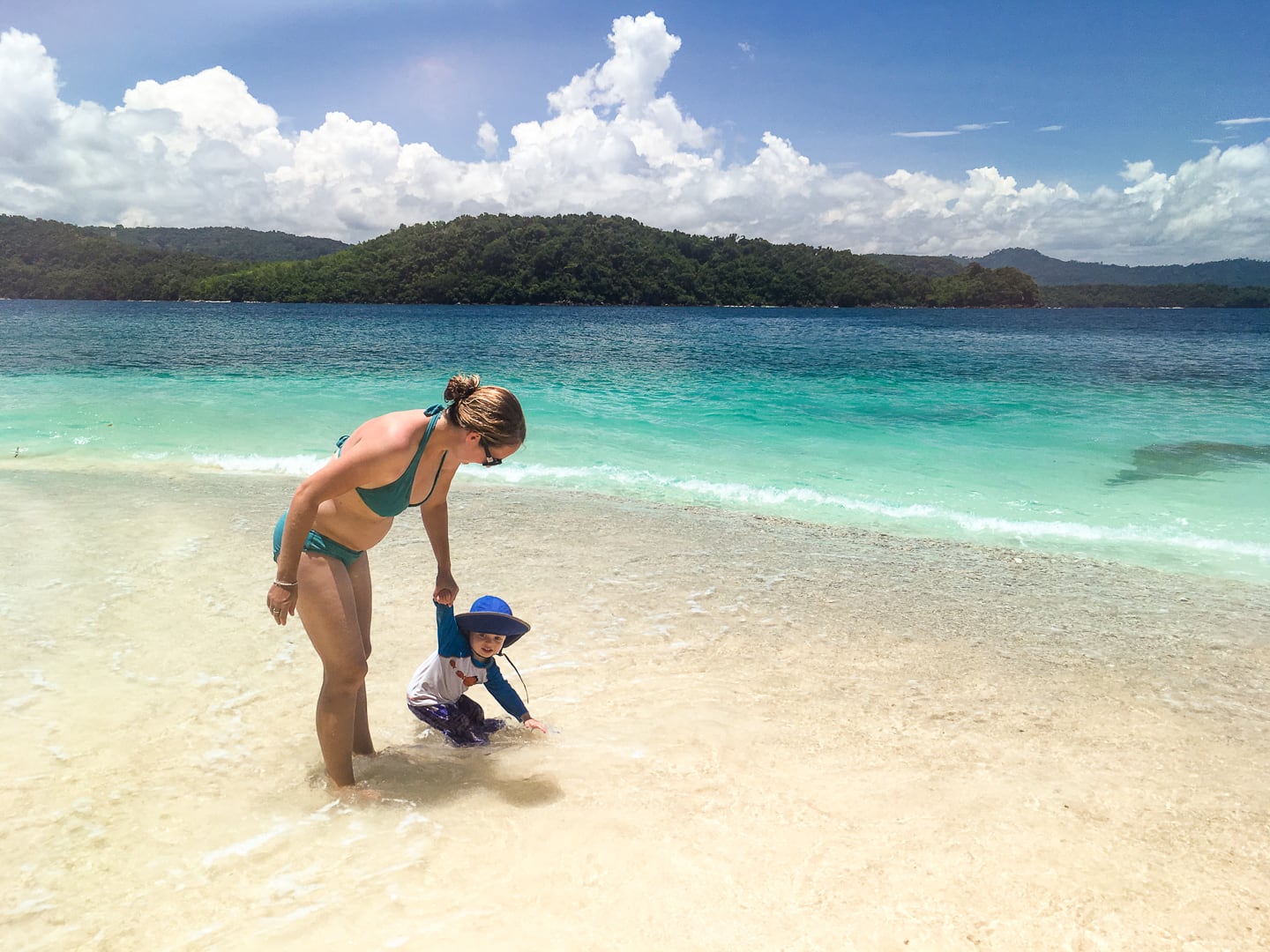 When we first arrived on Pandan Pandan Island, we more or less had the island to ourselves, with the exception of a couple of guys setting up a canopy.
The previous day, we noticed a large group visiting the island around mid-morning, so we thought that might also be the case today. We didn't know anything else about the operation but for that.
But for now, we've got this magnificent beach all to ourselves.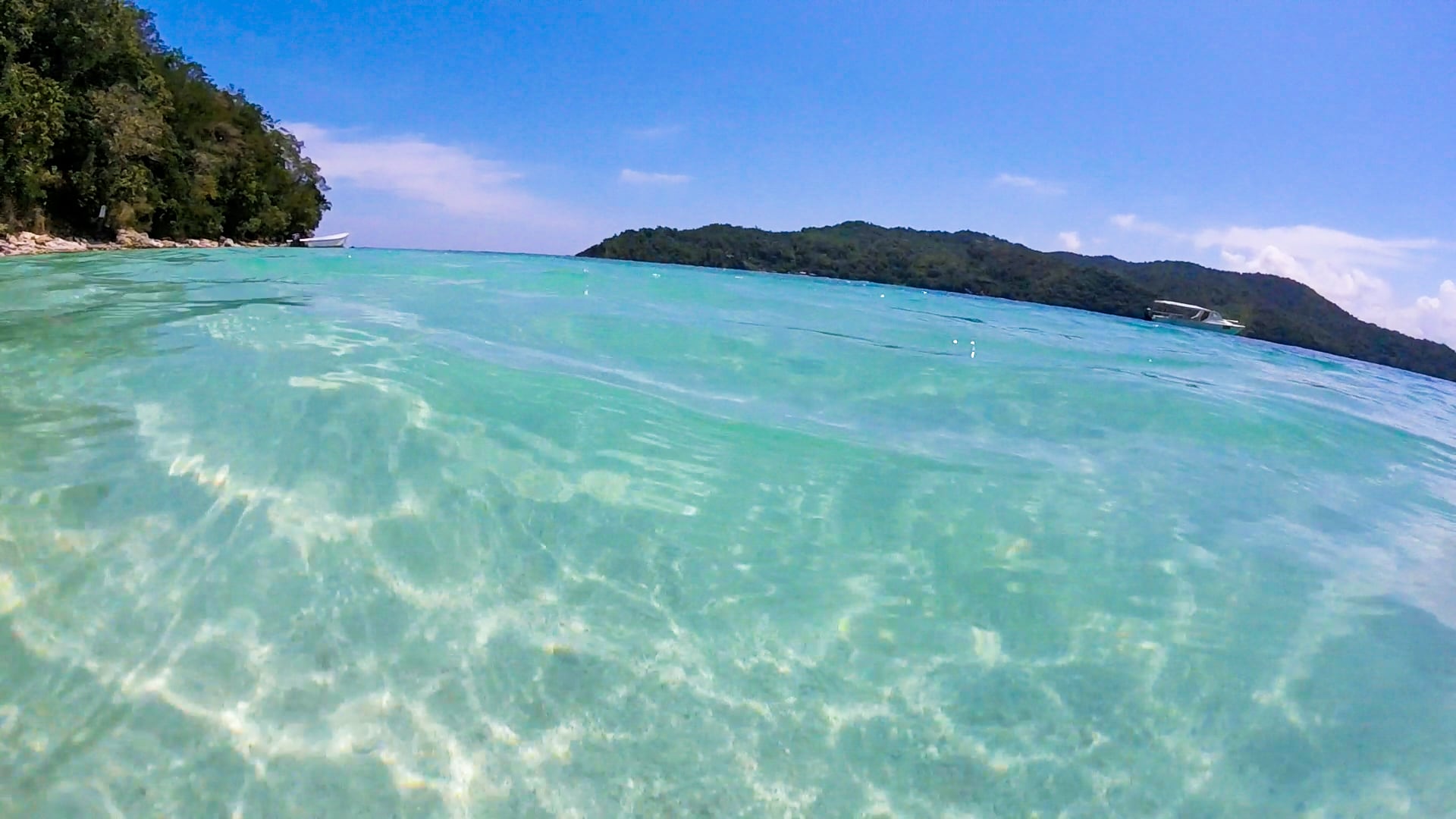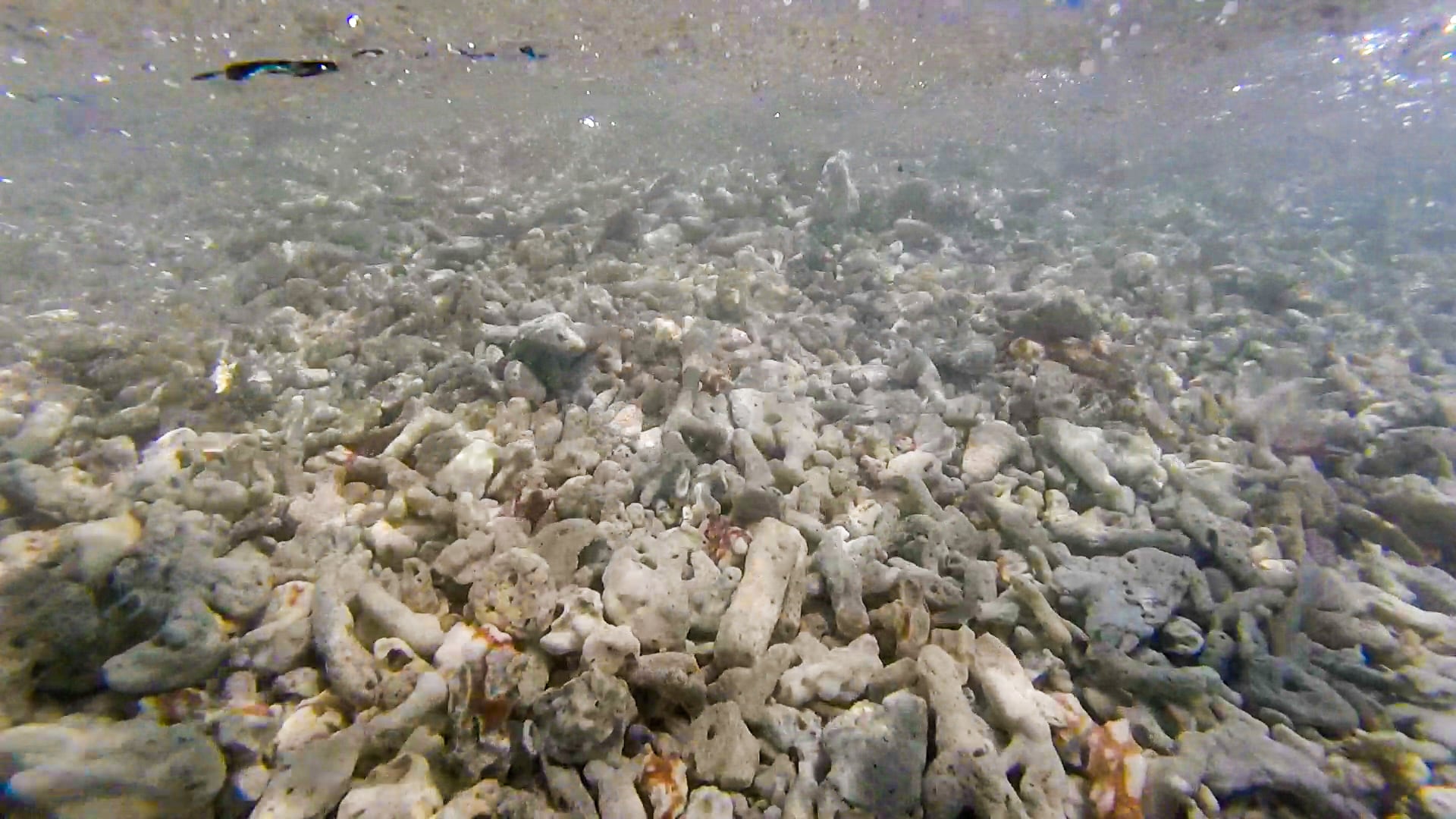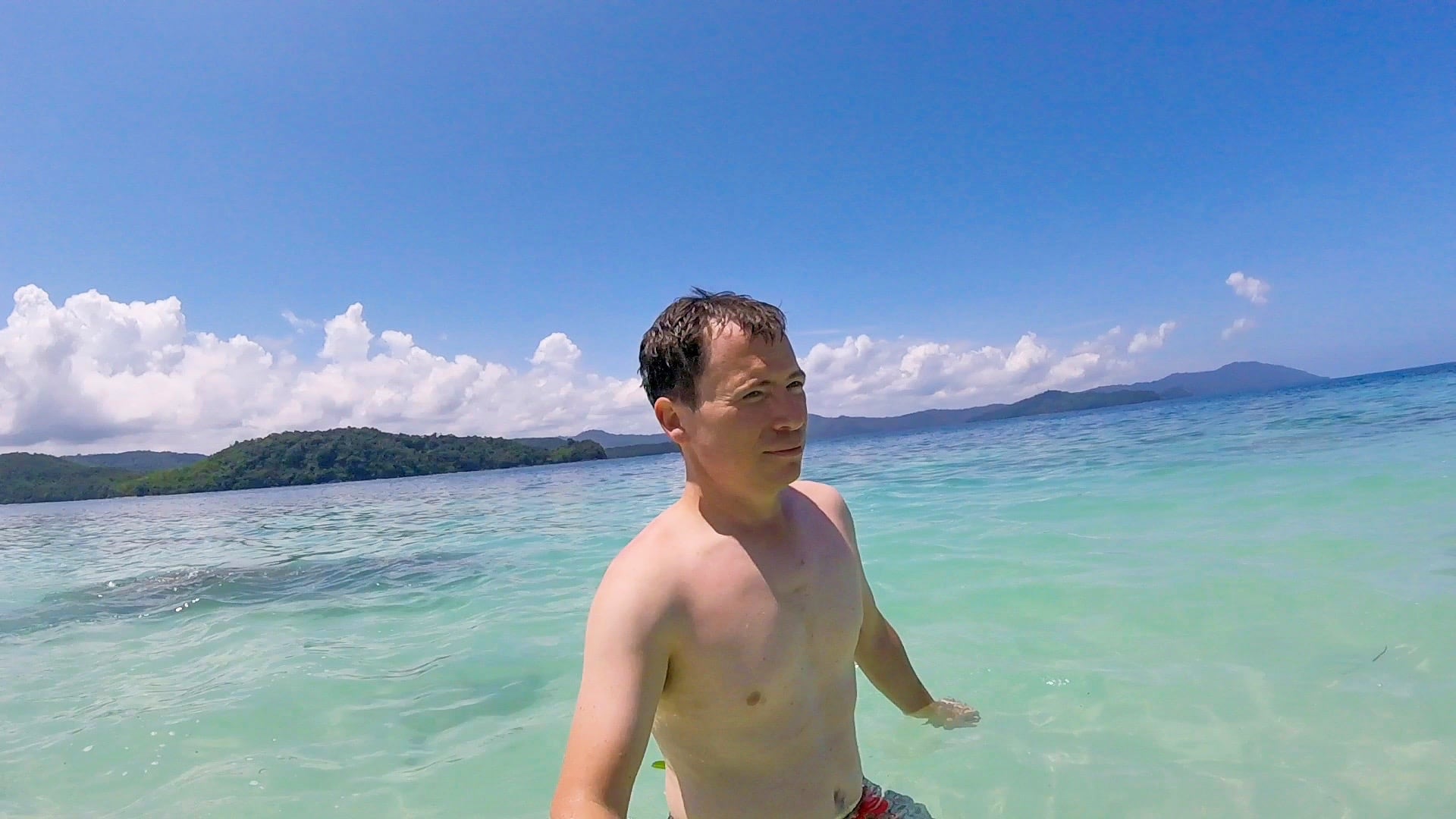 While Lori and Noe are splashing around in the water, I take the ol' mask and snorkel out for a swim around the island.
The Bigfin staff told us that the best snorkeling could be found on the far side of the island (from the beach). Easy enough. The water was calm, shallow, and there didn't seem to be much of a current.
The one thing I didn't have were fins, but the water was so still, it didn't seem to matter.
As I expected, the water was a bit murky around the beach, but visibility improved significantly after swimming about 50 meters, tracing the shore counter-clockwise.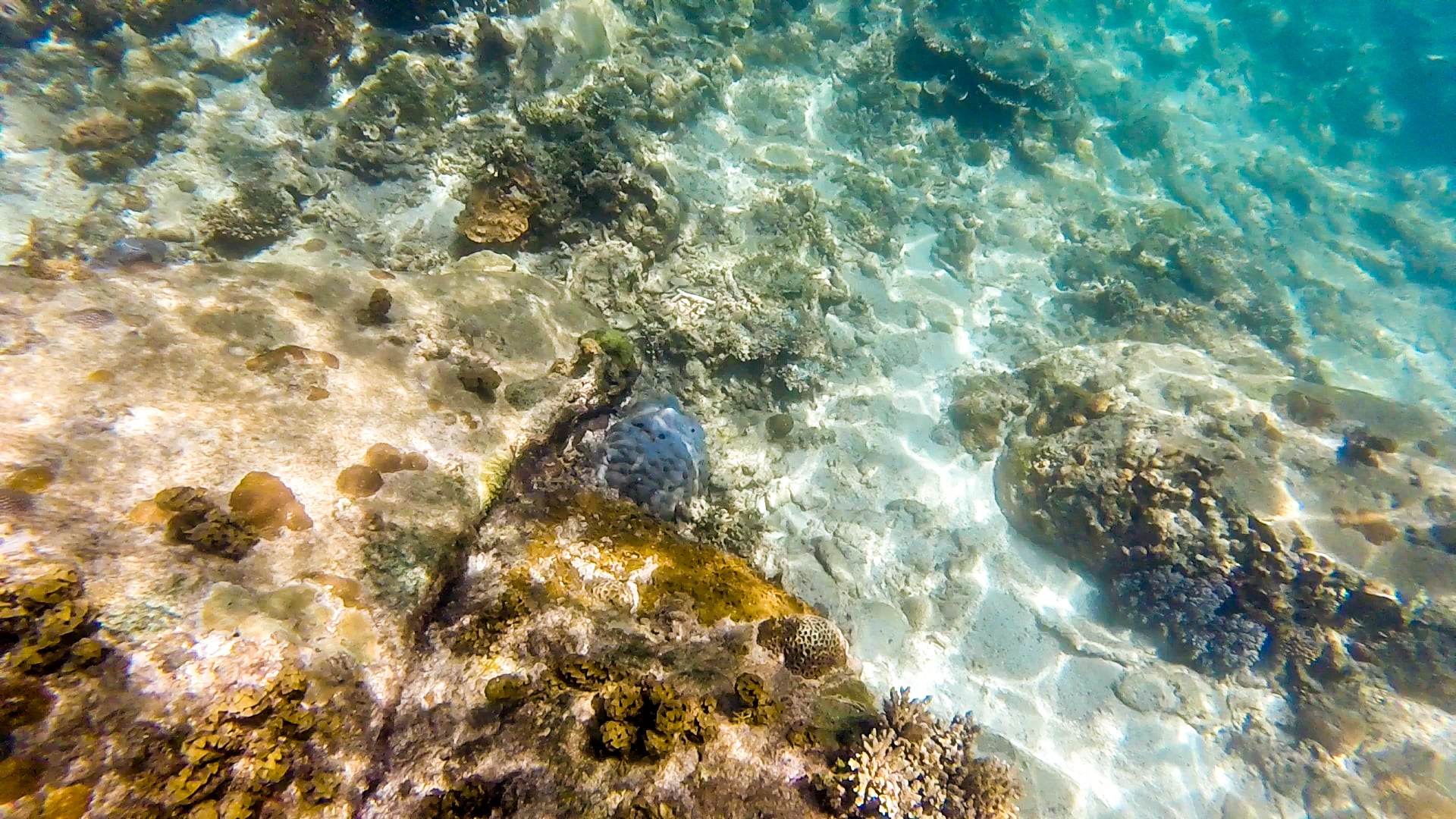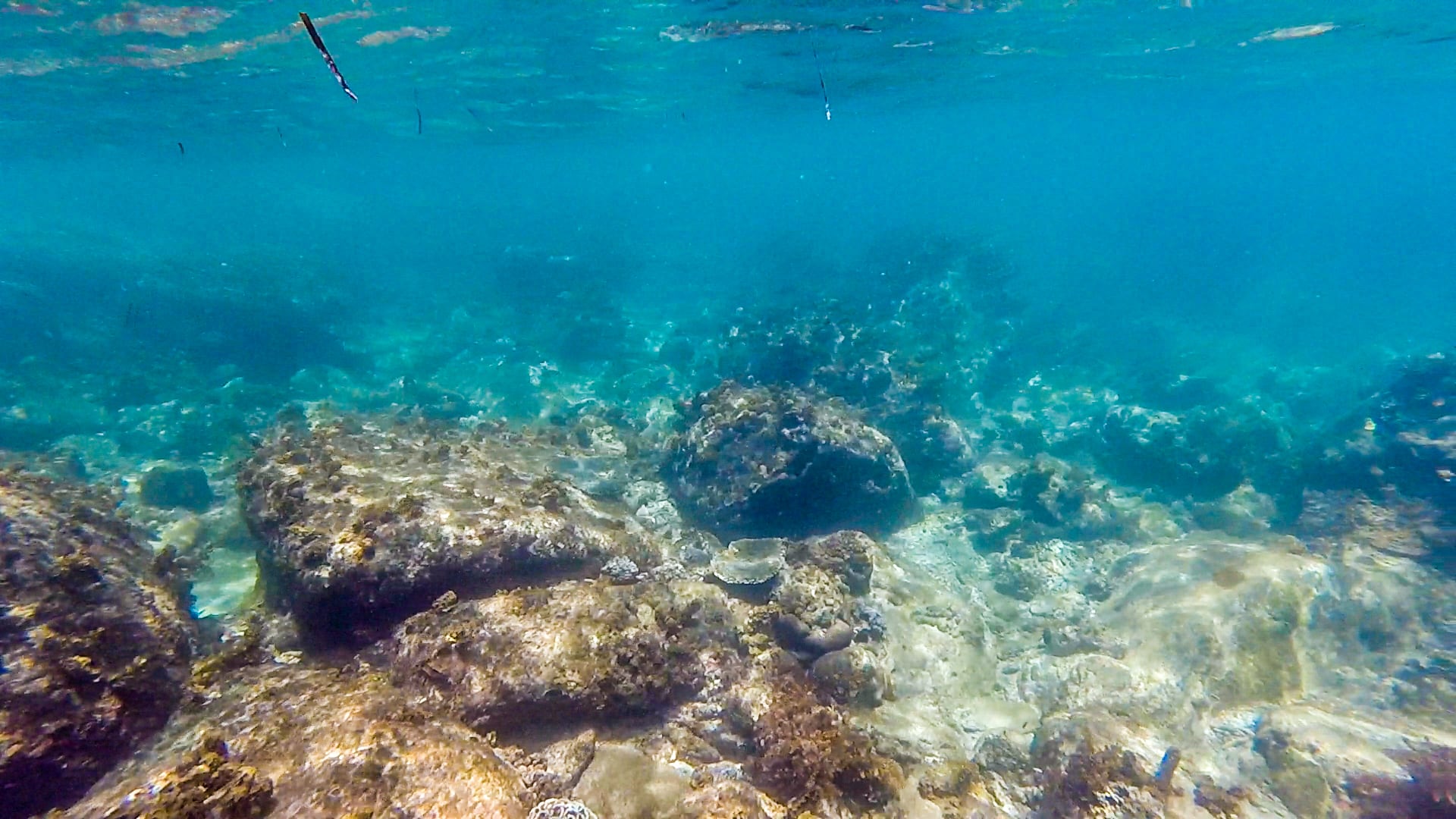 A fair amount of color, but not a lot of marine life swimming about. Onward!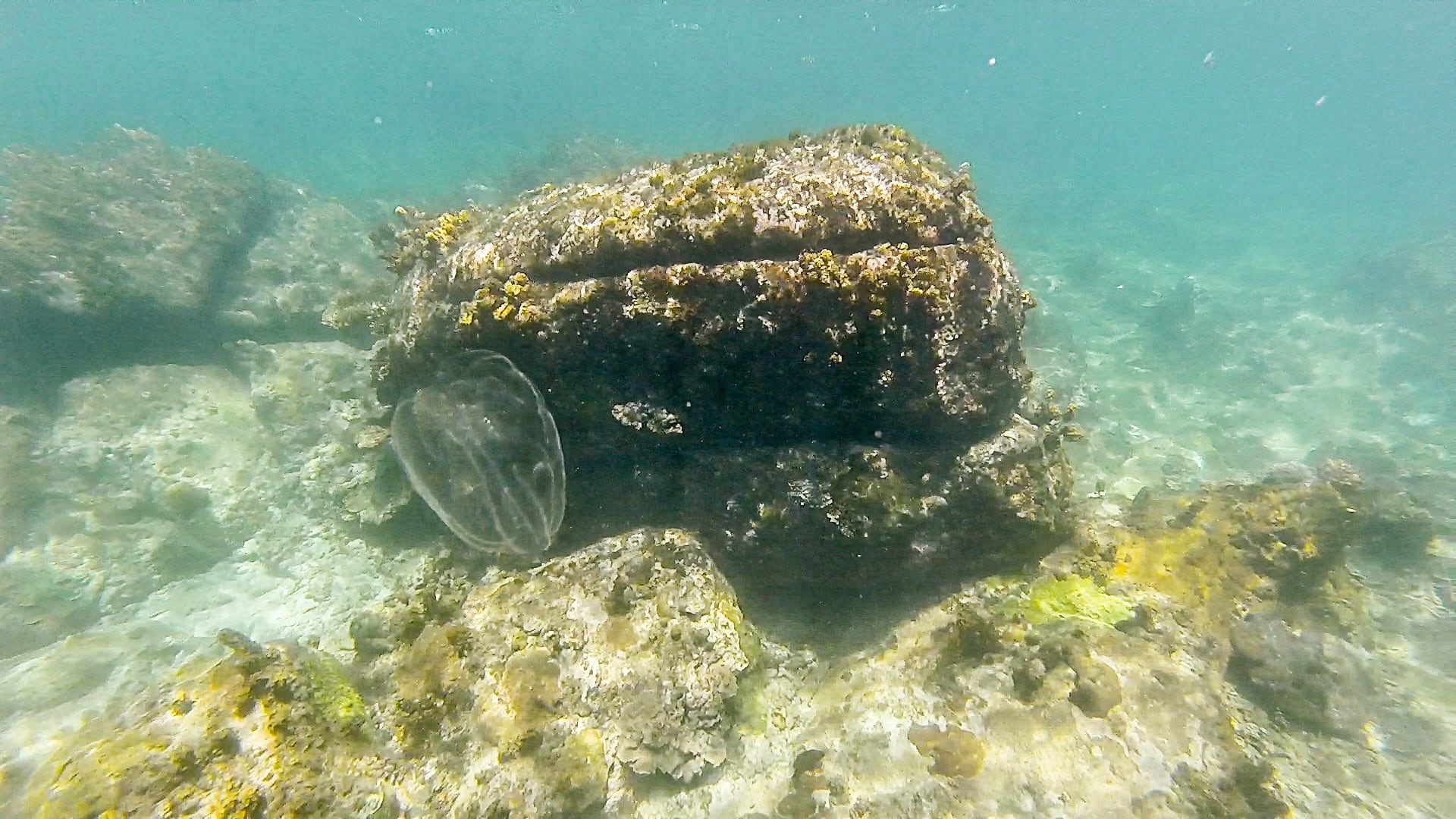 Oh, hello little jelly. So this is where you've been hiding.
As I approached the island's northern tip (the side facing the South China Sea), the water temperature began to drop and the surge strengthened and became more difficult to manage without fins.
The shallow depth (and coral bottom) started becoming a liability rather than a comforting factor with each swell. As I began to round the rocky point, the marine life increased tenfold.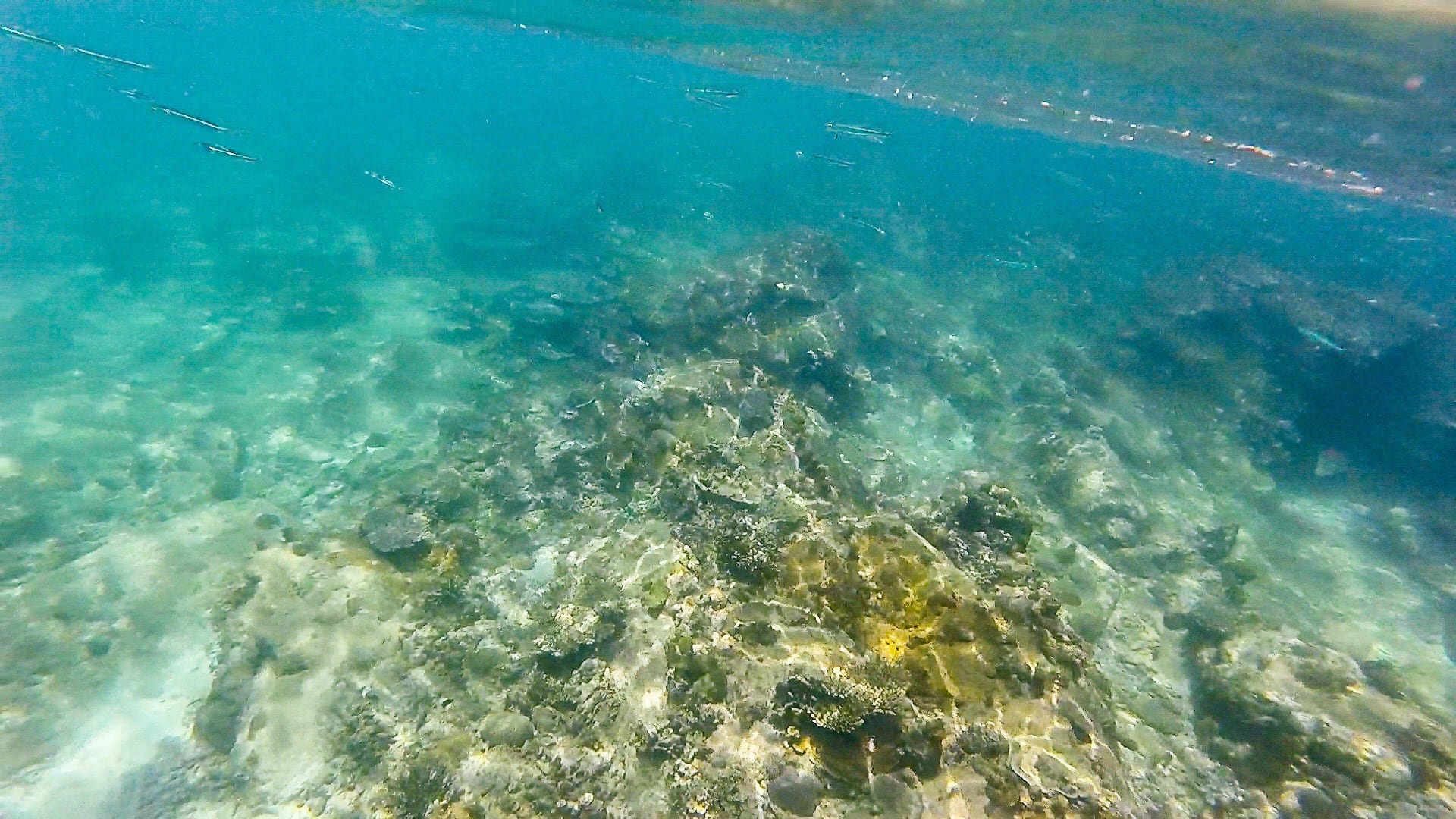 Unfortunately, I was finding it impossible to get myself around the point without fins.
Between the tide coming in, and the increasing surge, the conditions were working against me too much to keep going.
I thought I might go a little farther, until I spotted a large jellyfish about a half meter in diameter (the red-tentacled variety that they warned us about). I took the cue and turned back.
Unfortunately, no pics of the jelly. I've discovered it's nearly impossible to get a clear shot of a clear jelly with a GoPro even one so large just 10 meters away—and I wasn't willing to stick around to try.
Instead, here are some shots of some nice looking rocks.
Returning to the beach, I thought I'd surprise Noe, staying underwater until the last minute. When I did surface, Noe and Lori were no longer alone. I'm not sure who was more surprised, Noe or me.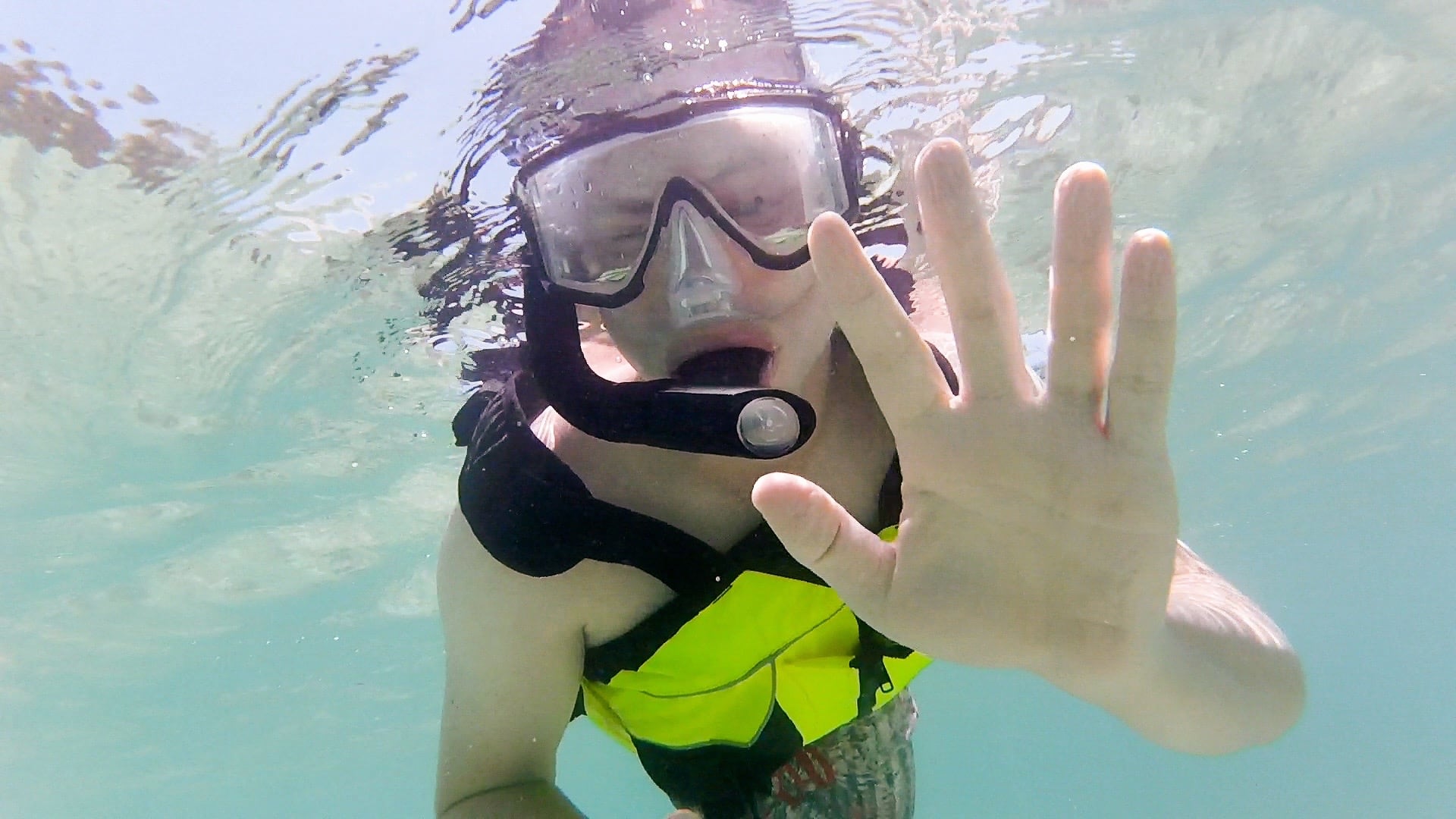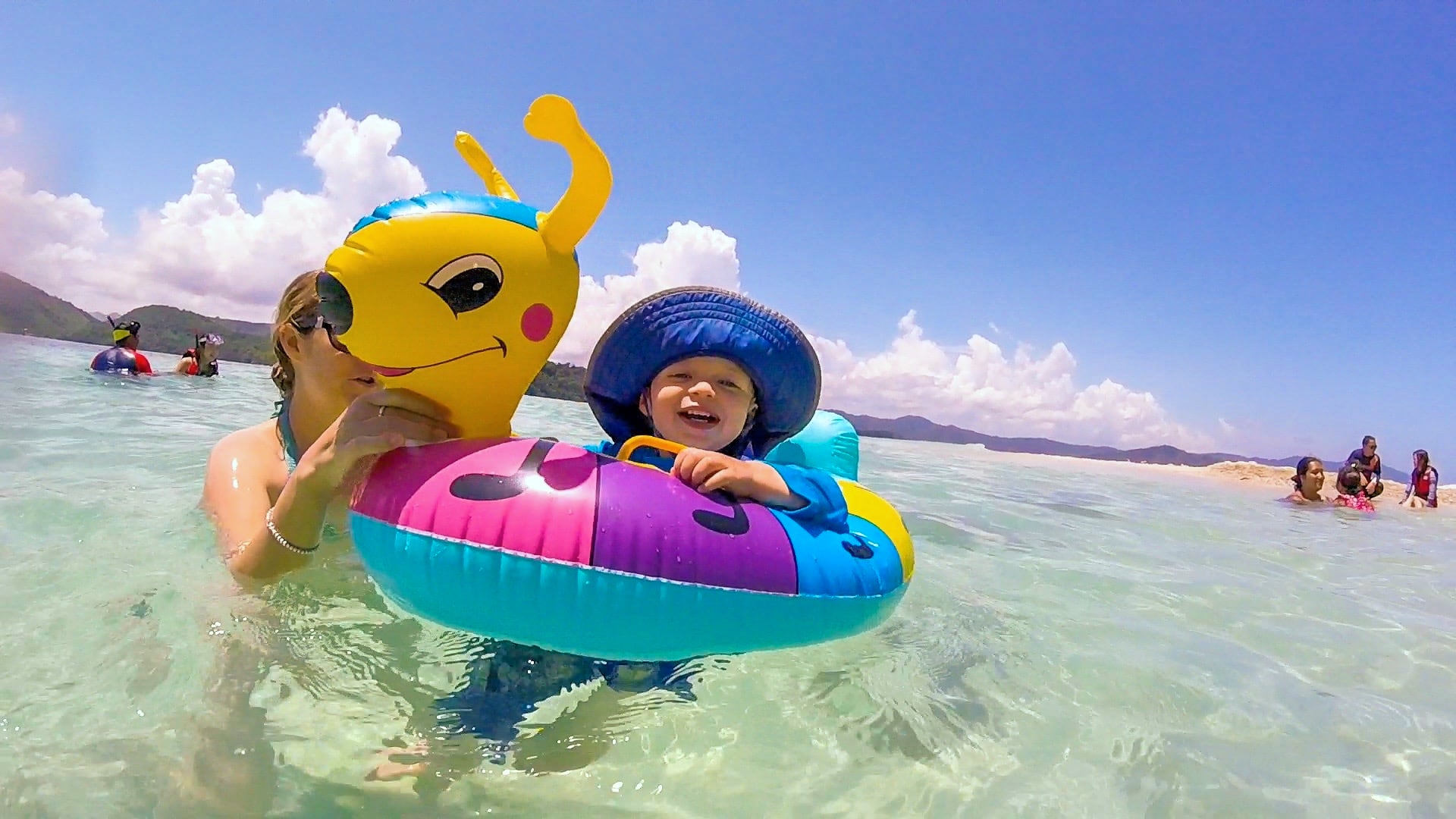 Apparently, the boat had arrived while I was out on the other side of the island, depositing a group of a couple dozen.
Before I could ask how things were going, something else arrived that instantly had Noe's attention…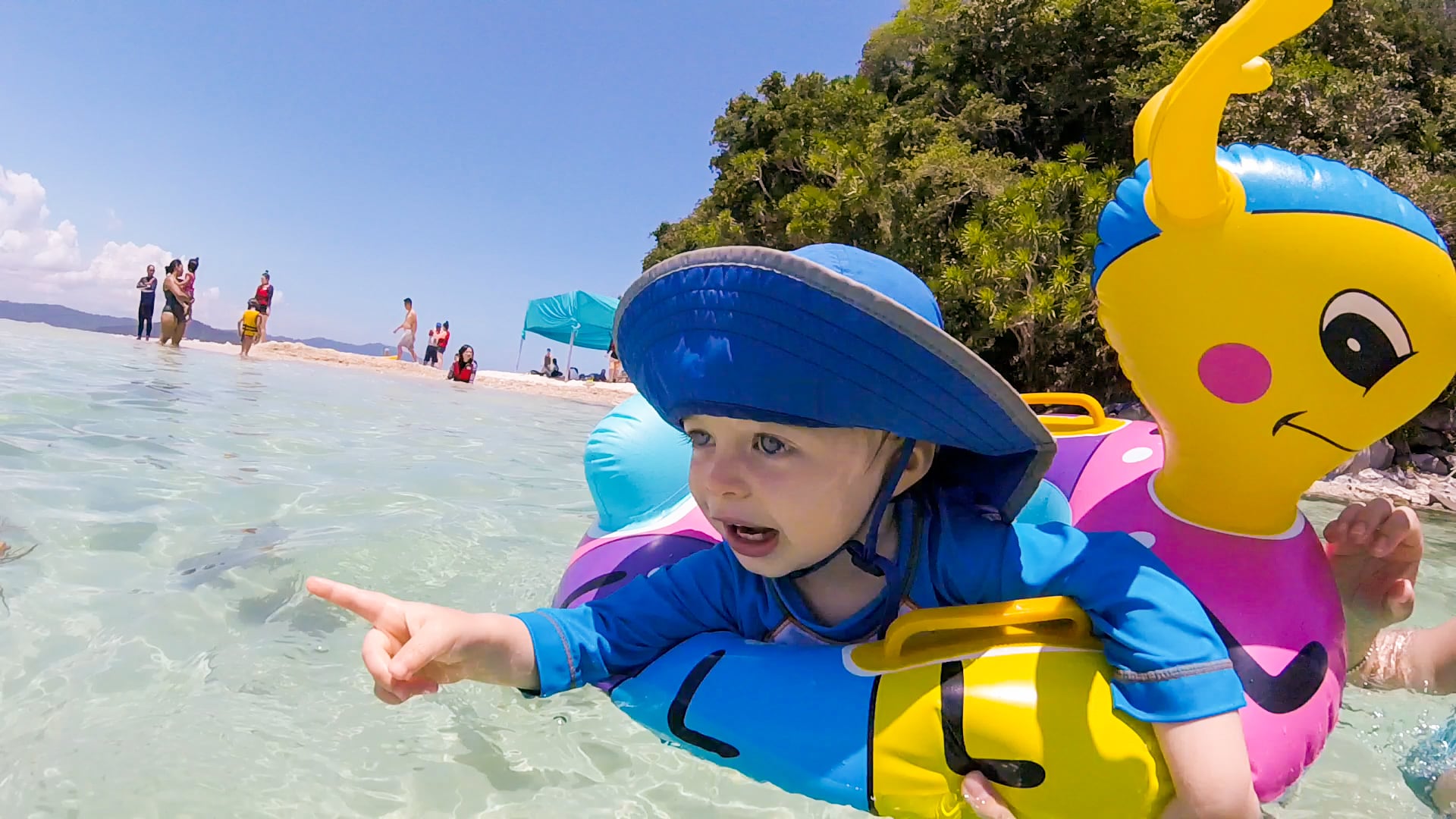 …the Banana Boat.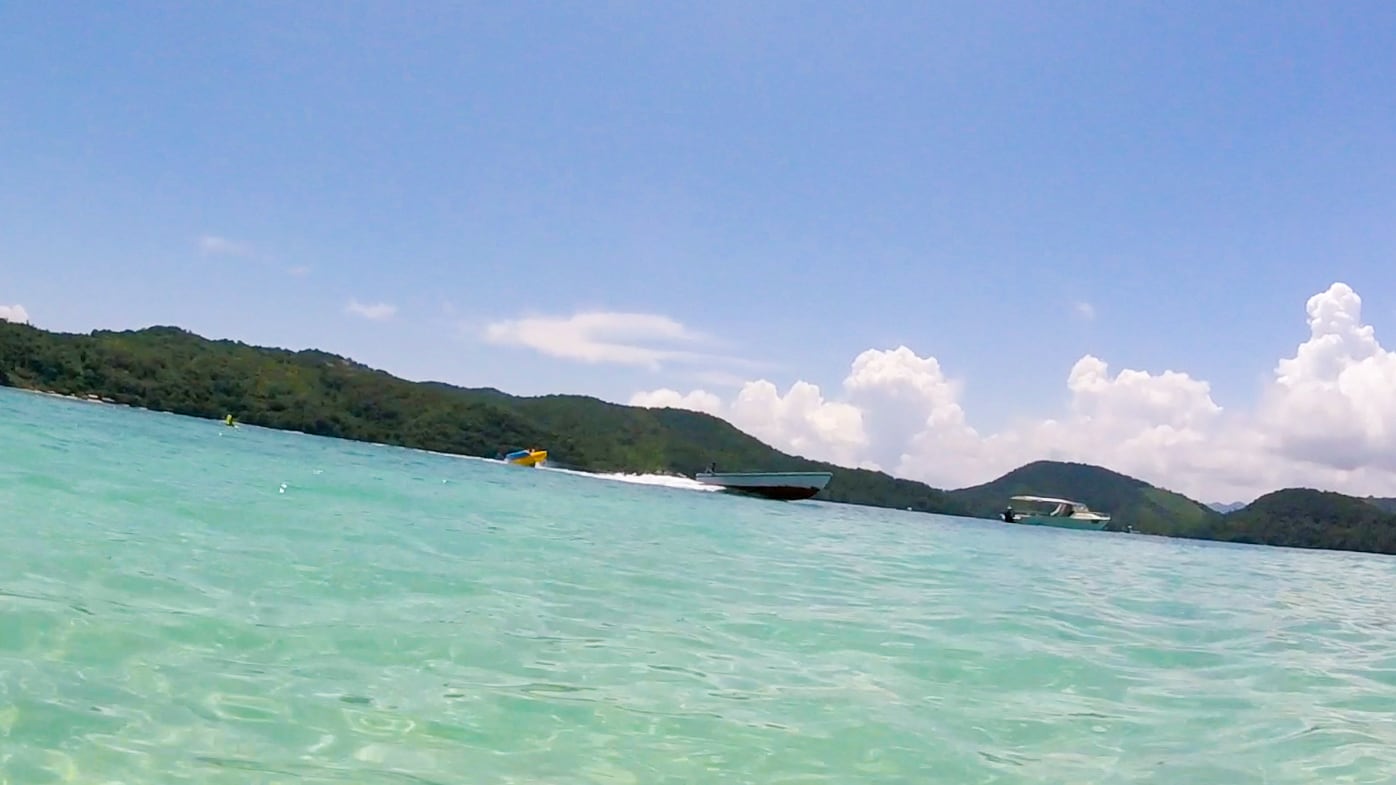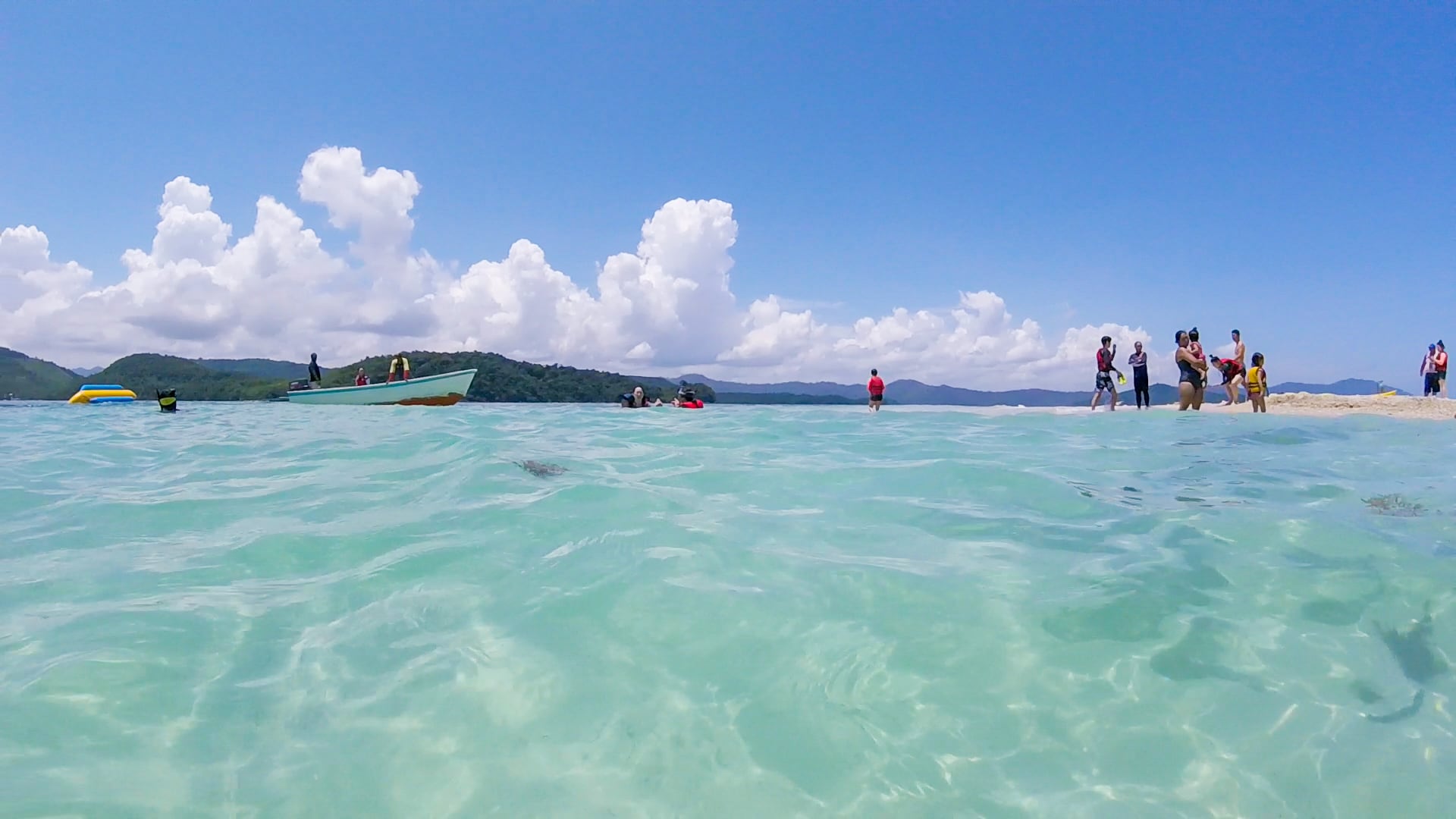 Let's rewind a bit…
The southern stretch of Pantai Merakit (the beach we're staying on) is occupied by an interesting little local business that predates Bigfin by many years.
Every day, they bring a bus full of Koreans up from Kota Kinabalu (now, why all Koreans, I have no idea), who board a boat around the point (at the end of the "good road,") and spend the morning in the bay, arriving first at Pandan Pandan Island (where we find ourselves now).
Later, they head to Pantai Merakit for lunch, booze, kayaking, and "banana boat" rides, before they head off around 1pm for their afternoon activities at a wildlife reserve.
I'm not really sure how I feel about this.
On the one hand, this business was here first, it's just a few local families trying to make a living, and it's a few hours each day.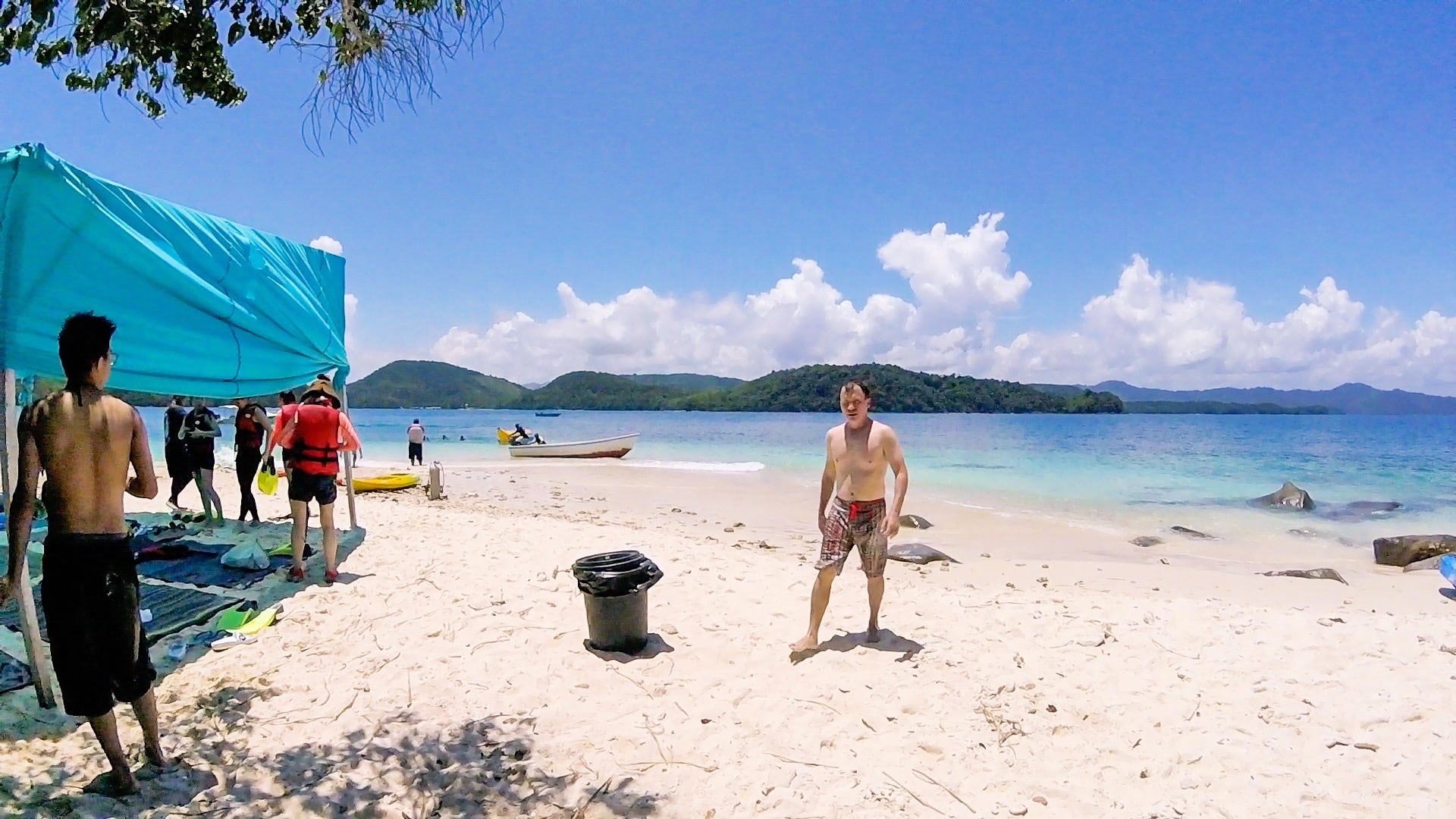 On the other hand…
It's an unsustainable for-profit mechanism for funneling large groups of people day-in and day-out to this otherwise remote, peaceful, and pristine area of Sabah with seemingly no other aim than to make as much money as possible with apparently very little concern for the marine habitat or tranquil quality of the bay (motorboat towing the banana boat constantly running, spewing gasoline and noise for hours, dozens of first-time snorkelers kicking and manhandling coral and disturbing the natural habitat, a couple dozen young people encouraged to consume copious amounts of alcohol in a predominately Muslim rural community…).
Okay, no hiding that one—I pretty much hate the operation.
My one consolation is knowing how committed Bigfin is to sustainable practices and preserving the marine habitat, and I have to imagine that some of that will wear off on their neighbor over time…maybe.
On a more upbeat note—you may have noticed we've got this new-fangled GoPro thing. Sure, it's handy for hella sweet underwater shots, but also for taking sick selfies, y'all. Or something like that.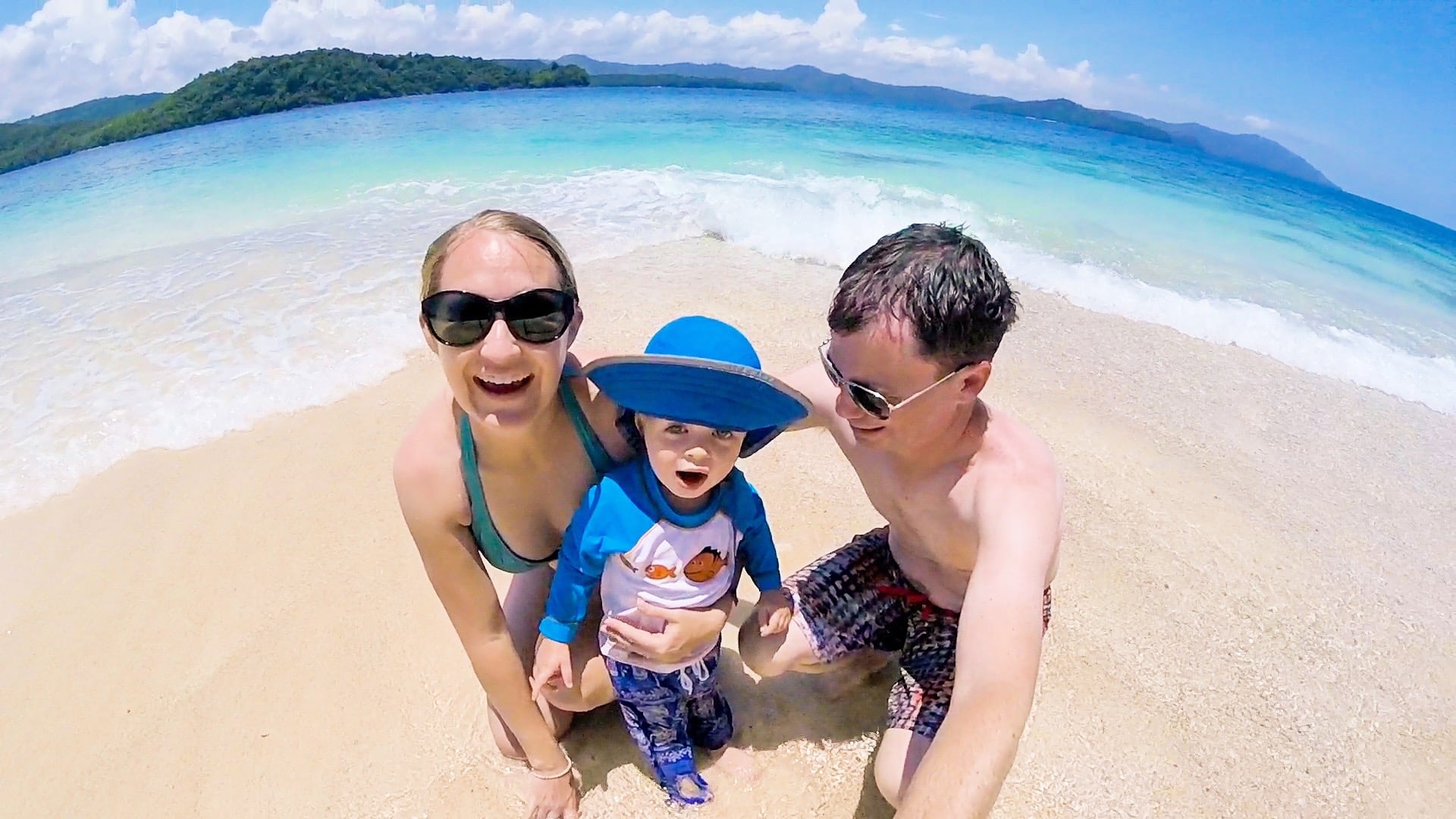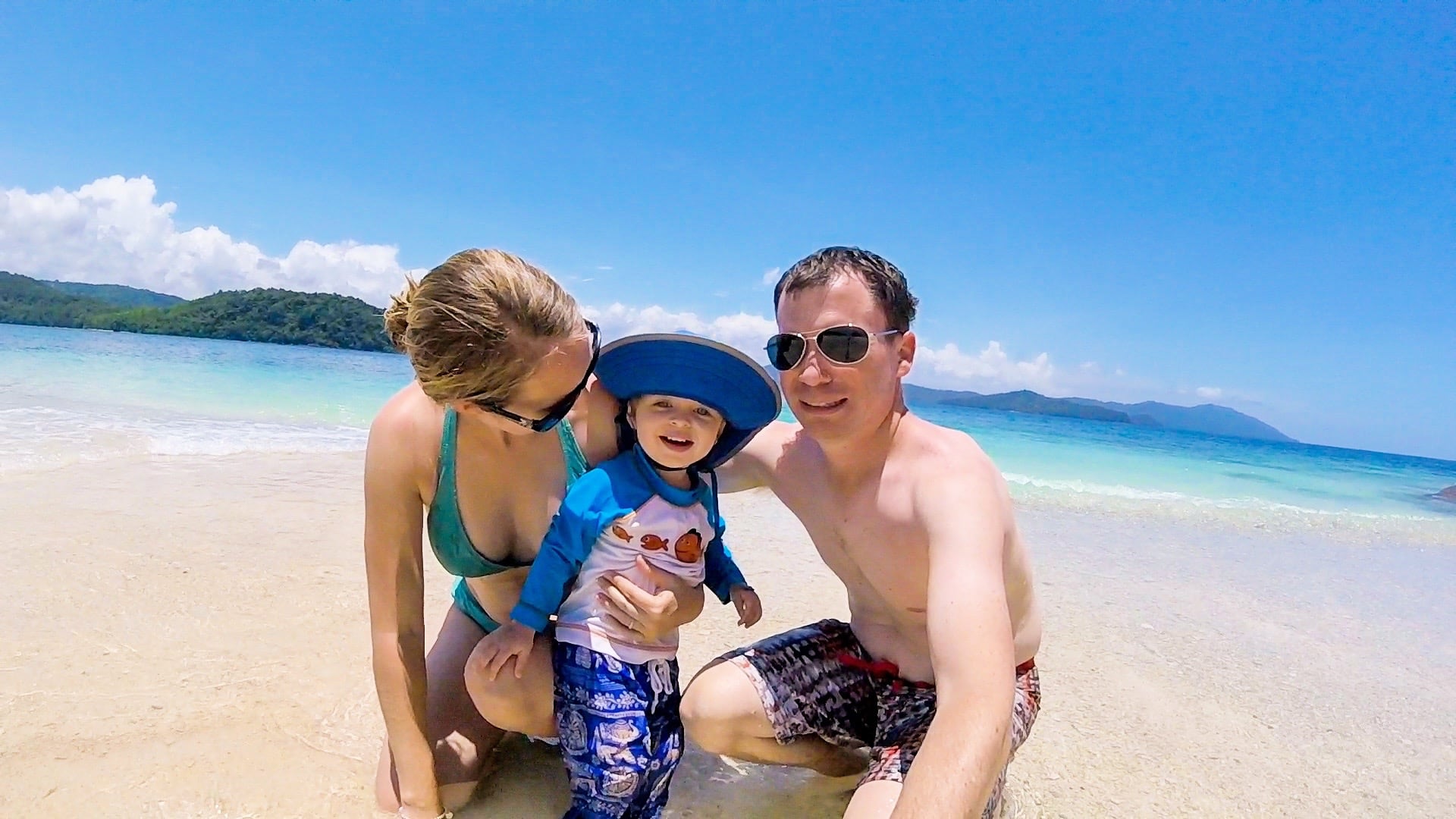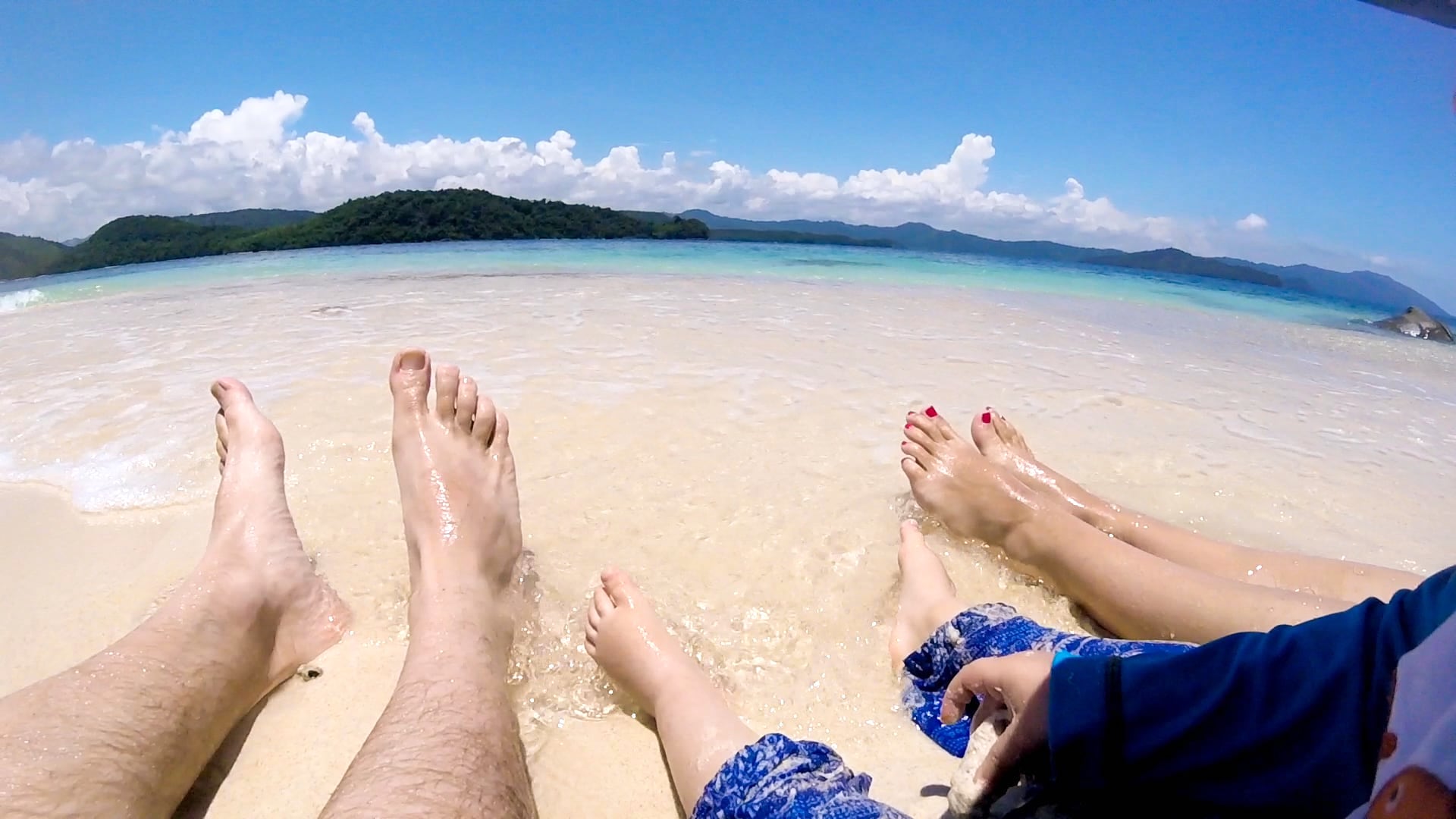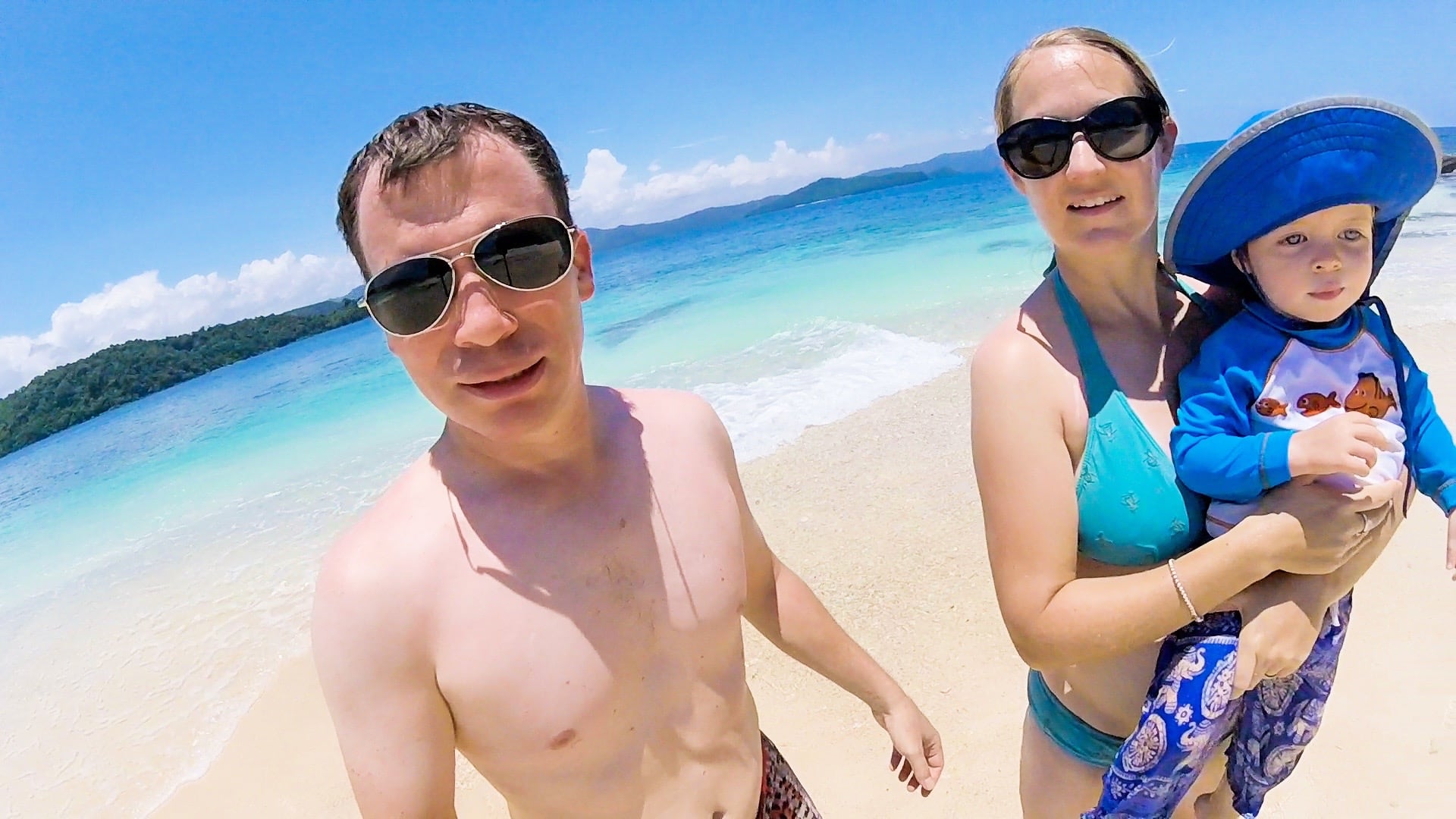 With the obligatory beach selfies in the can, it's time to head back to Bigfin. So long, Pandan Pandan Island!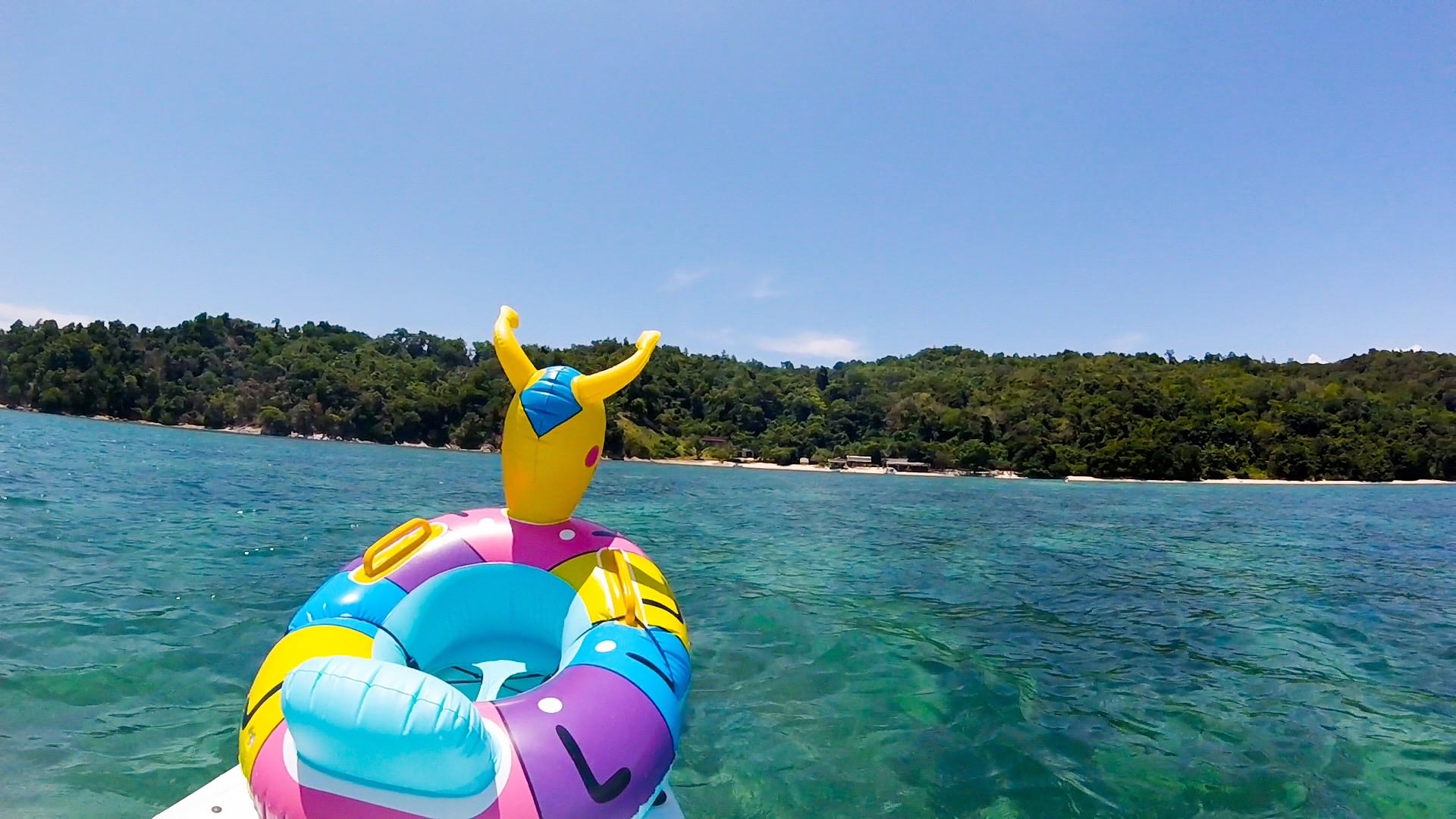 Row, row, row your boat, gently down the stream…if you see a crocodile, don't forget to scream. AAAAH!!!
• • •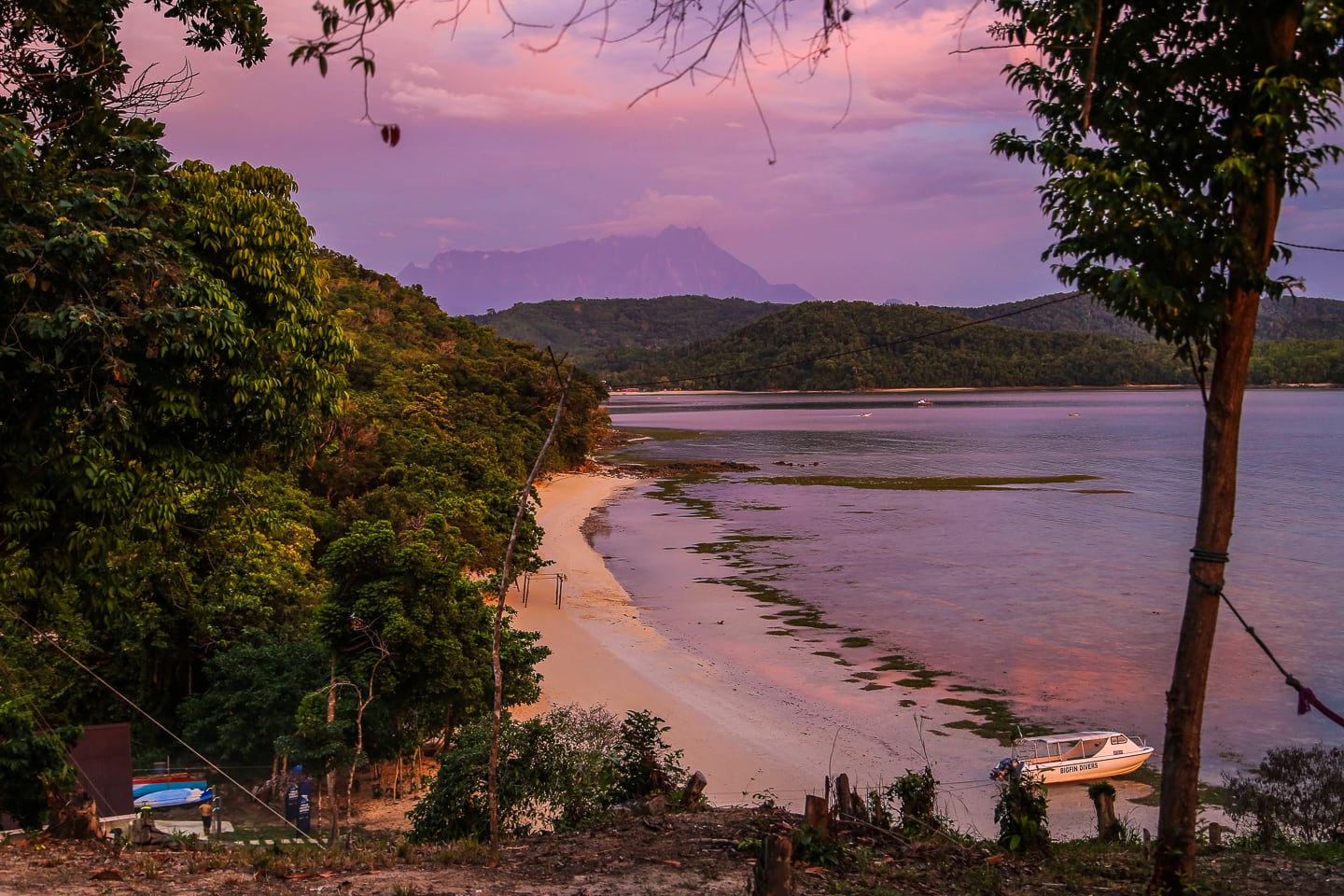 It took 48 hours, but we finally got our glimpse of magnificent Mt. Kinabalu, as promised.
Rising an astonishing 4,095 m (13,435 ft.) from sea level, it is ranked 20th in the world for prominence (given that its prominence—or vertical distance from the summit to lowest contour line—is also 4,095 m), making it not one of the highest, but tallest mountains in the world.
In comparison, Annapurna, the 10th highest peak in the world at 8,091 m (26,545 ft.), only rises from it's lowest contour line some 2,984 meters.
In addition to seeing Kinabalu, we were treated to one last stunning sunset.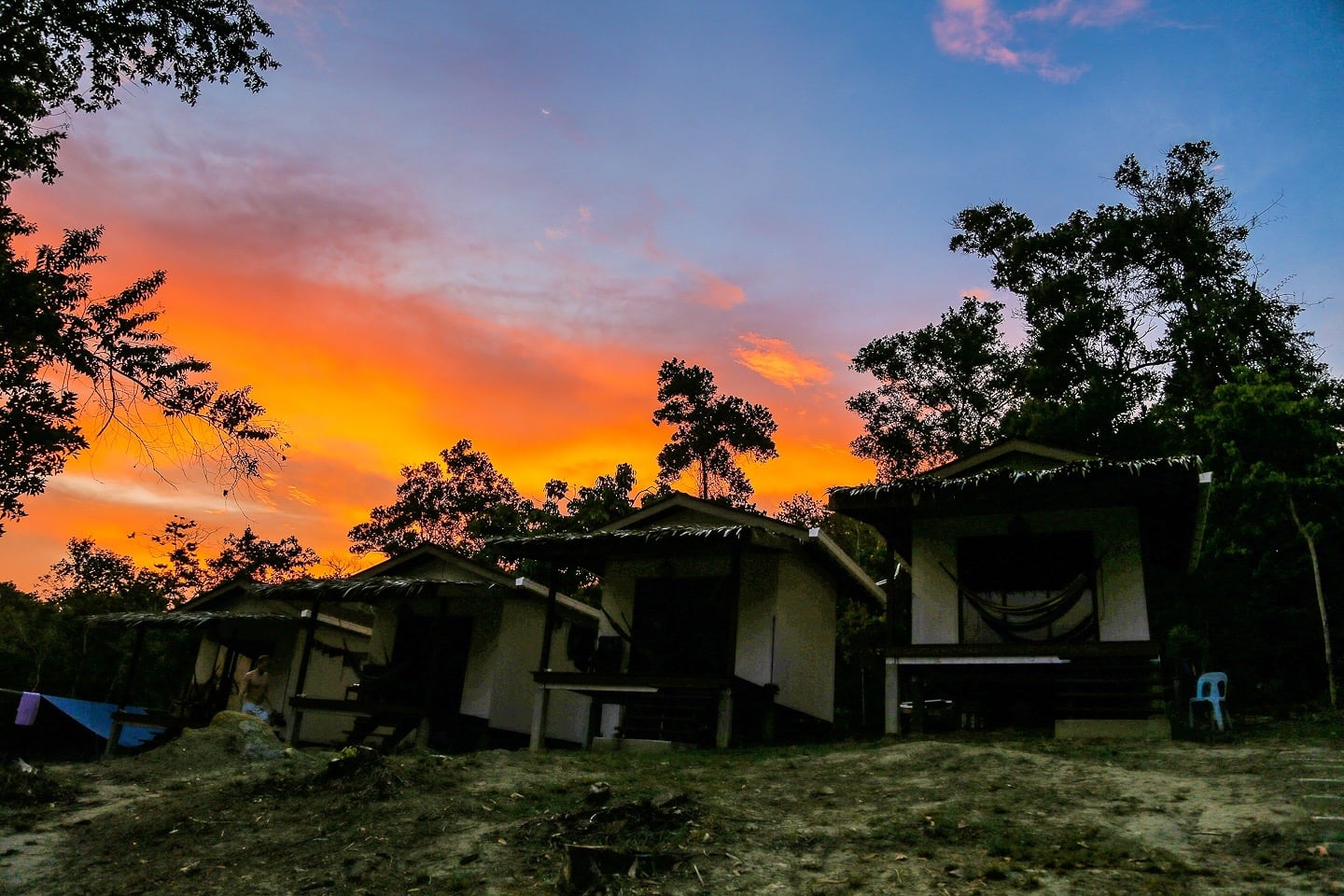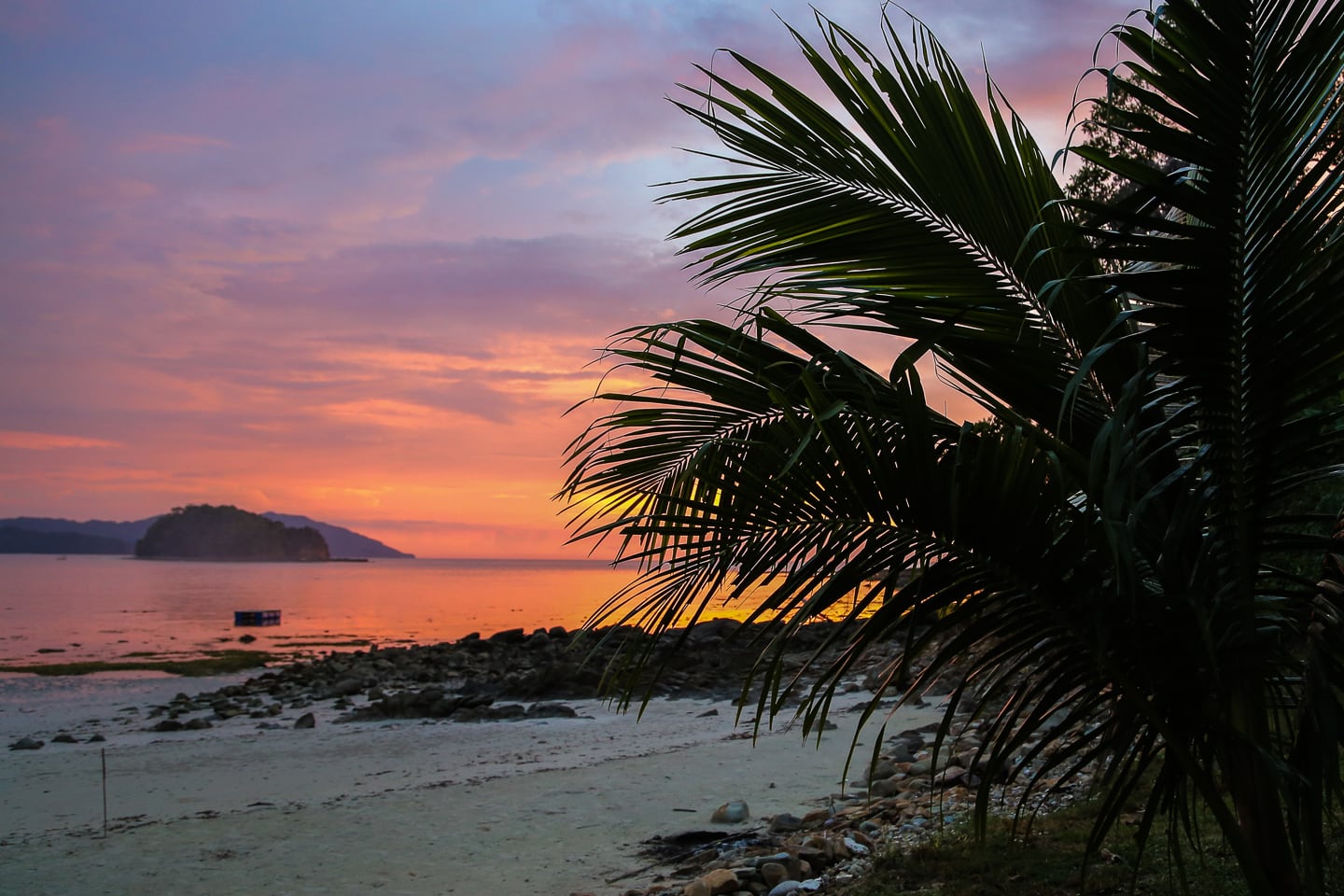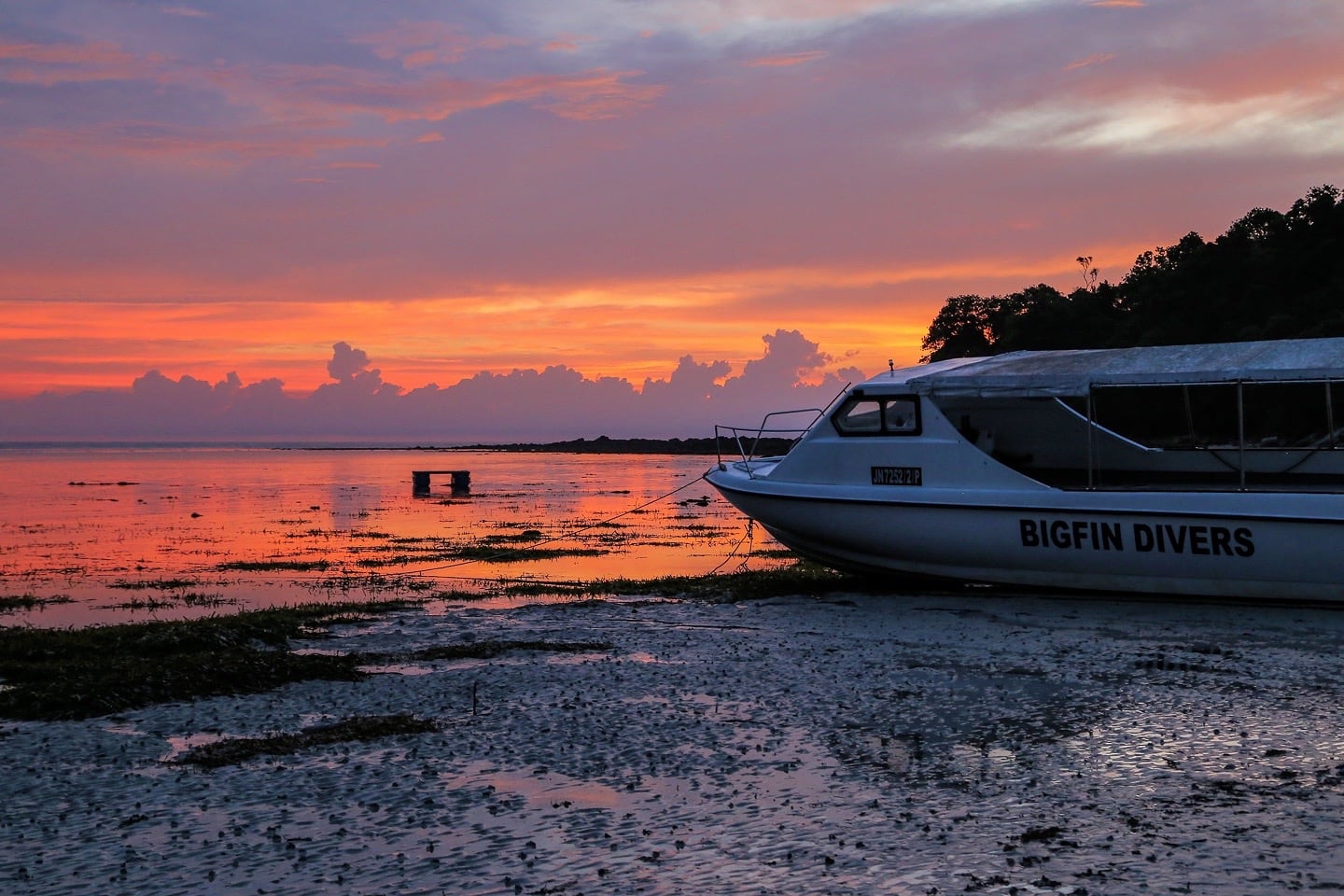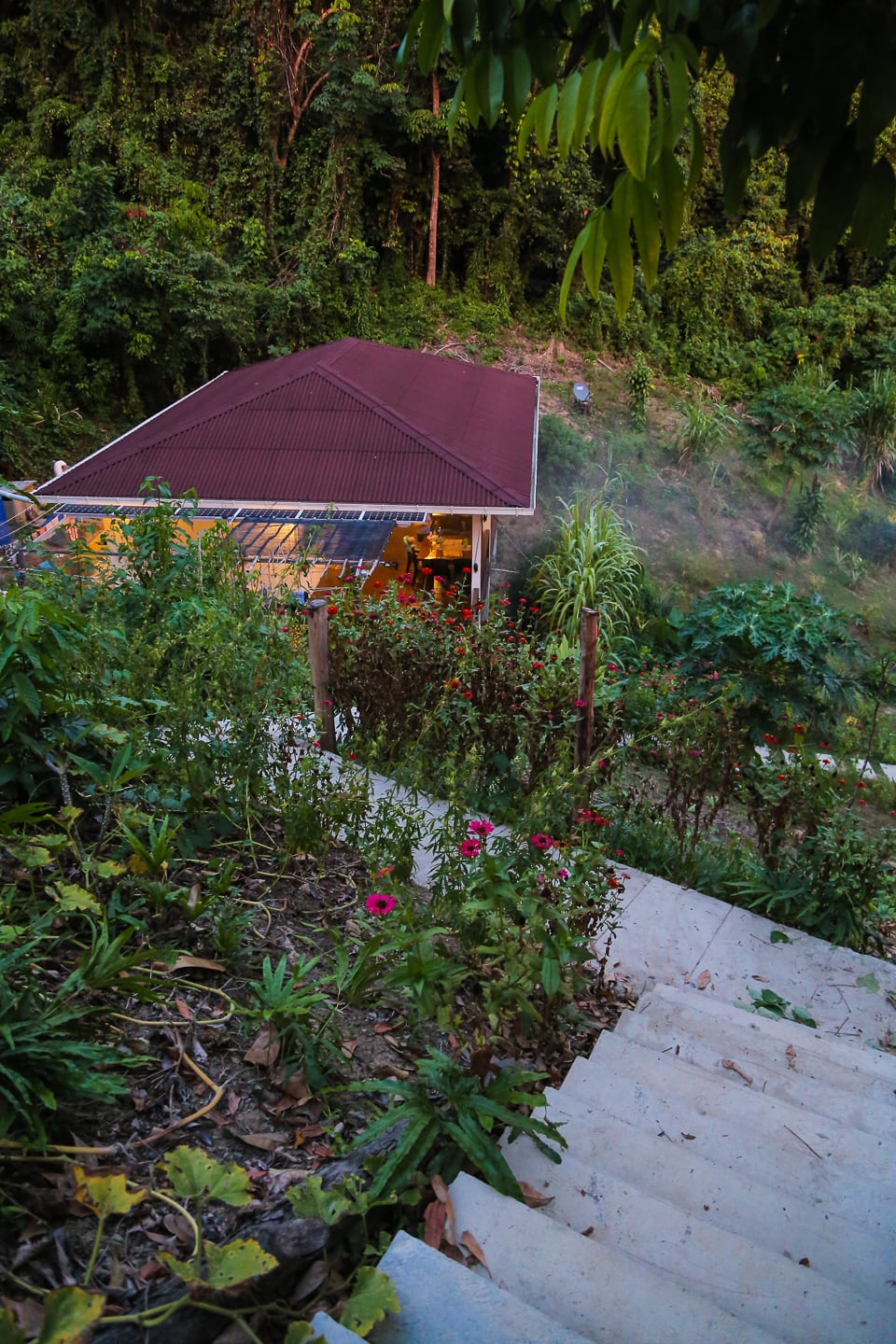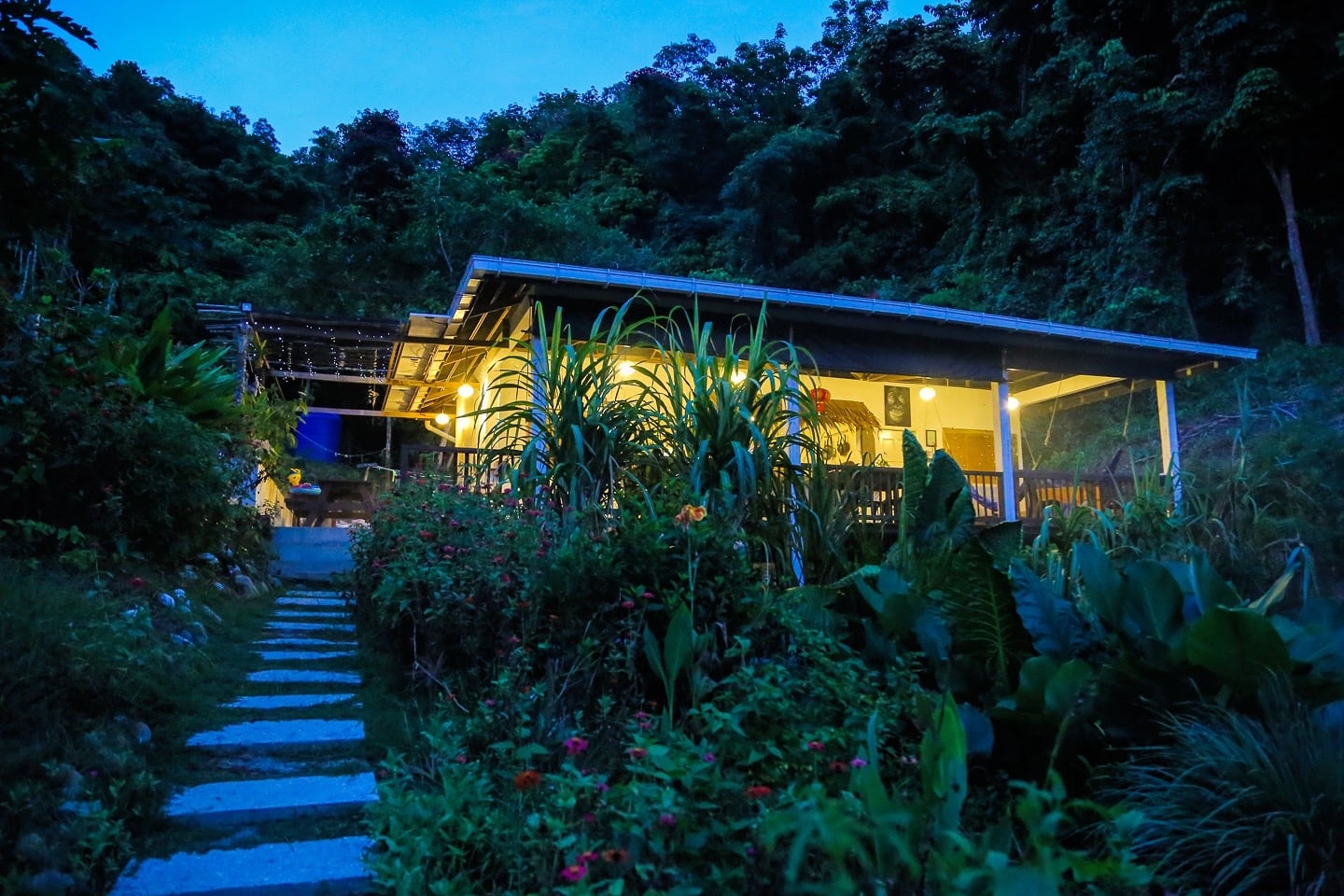 • • •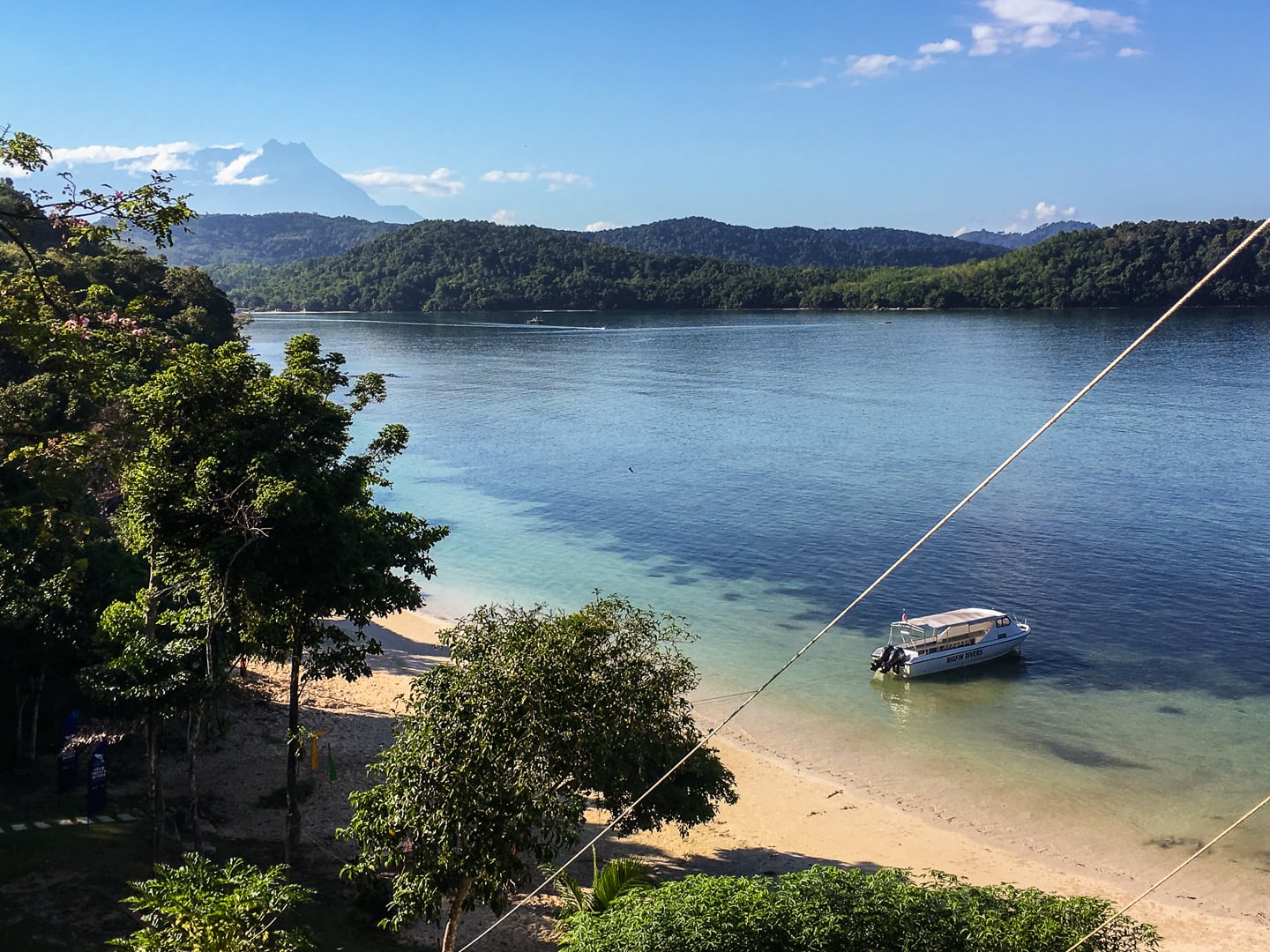 On our final full day of vacation, we geared up for the trip back to Laos—but not before one final dip in the South China Sea.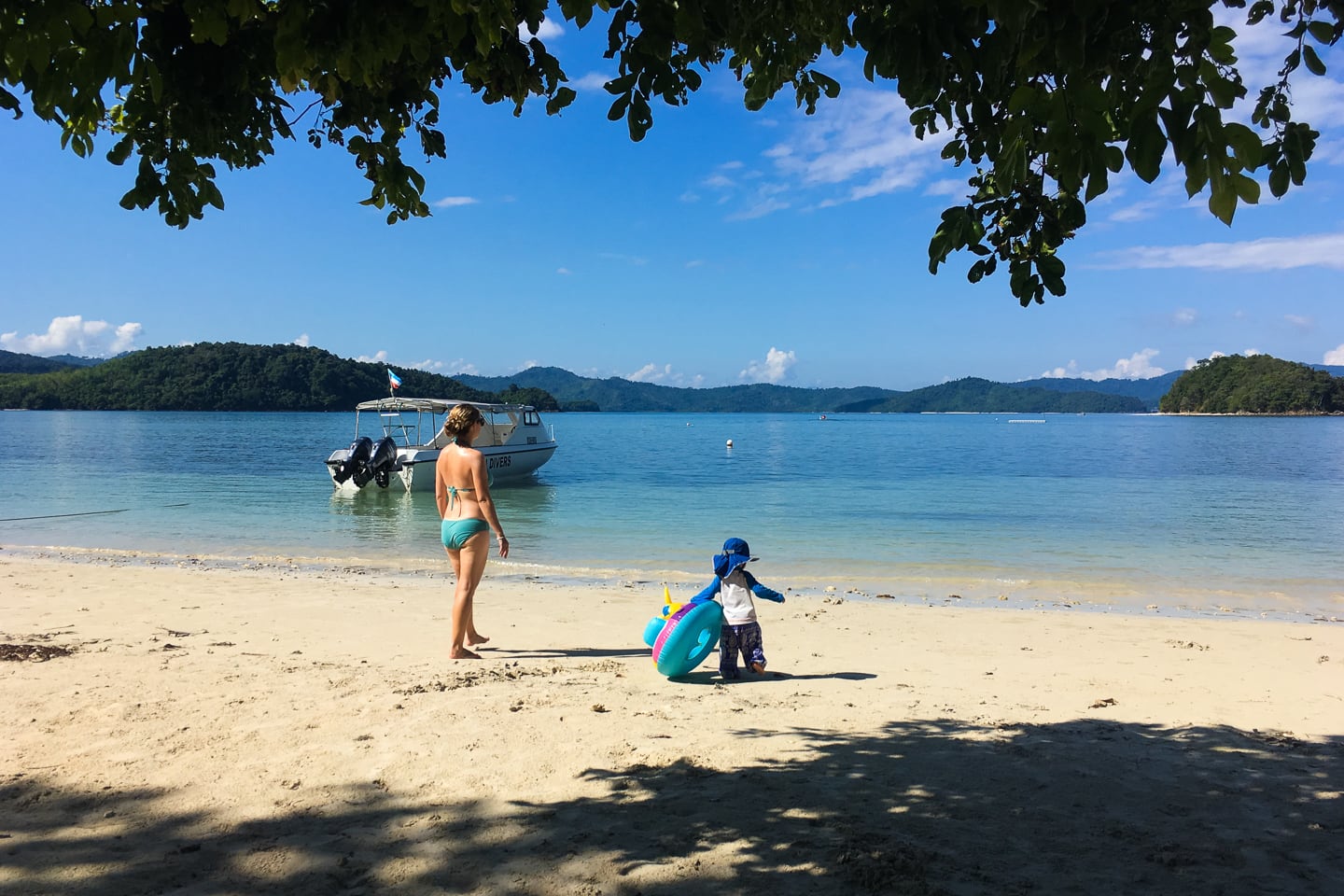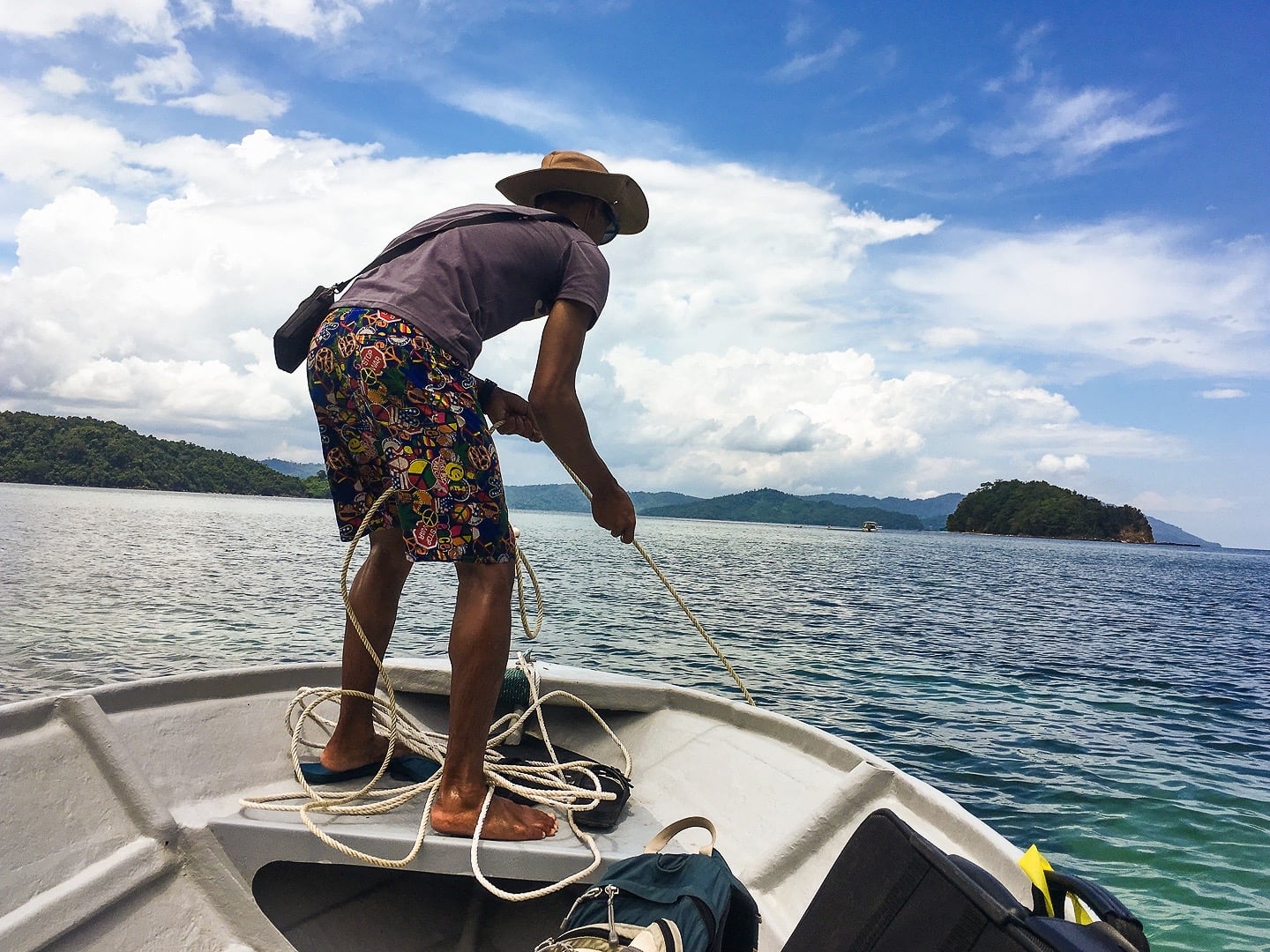 With luggage loaded in the boat, it's time to head back across the bay. Sure enough, Feizal is waiting on the other side.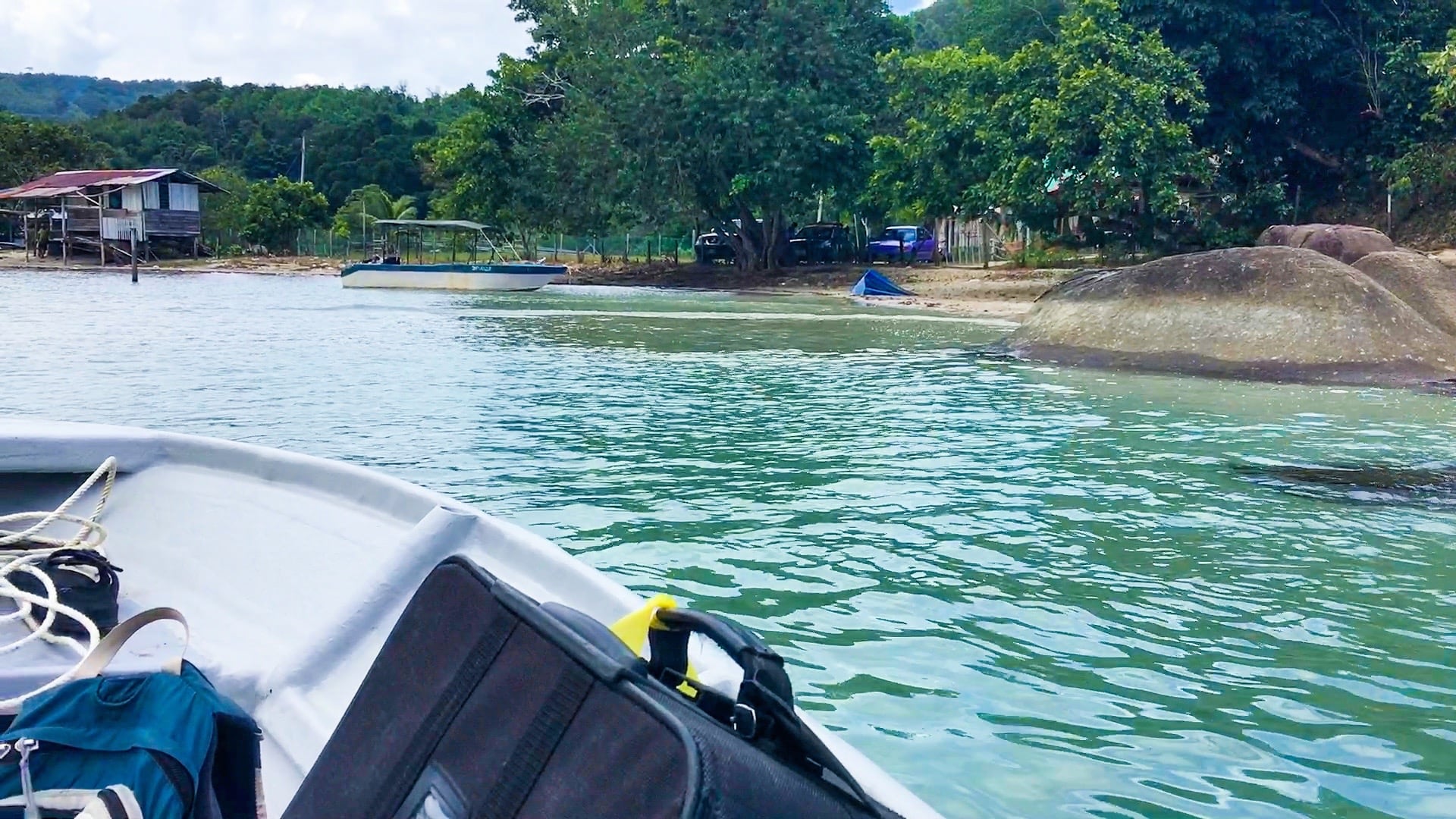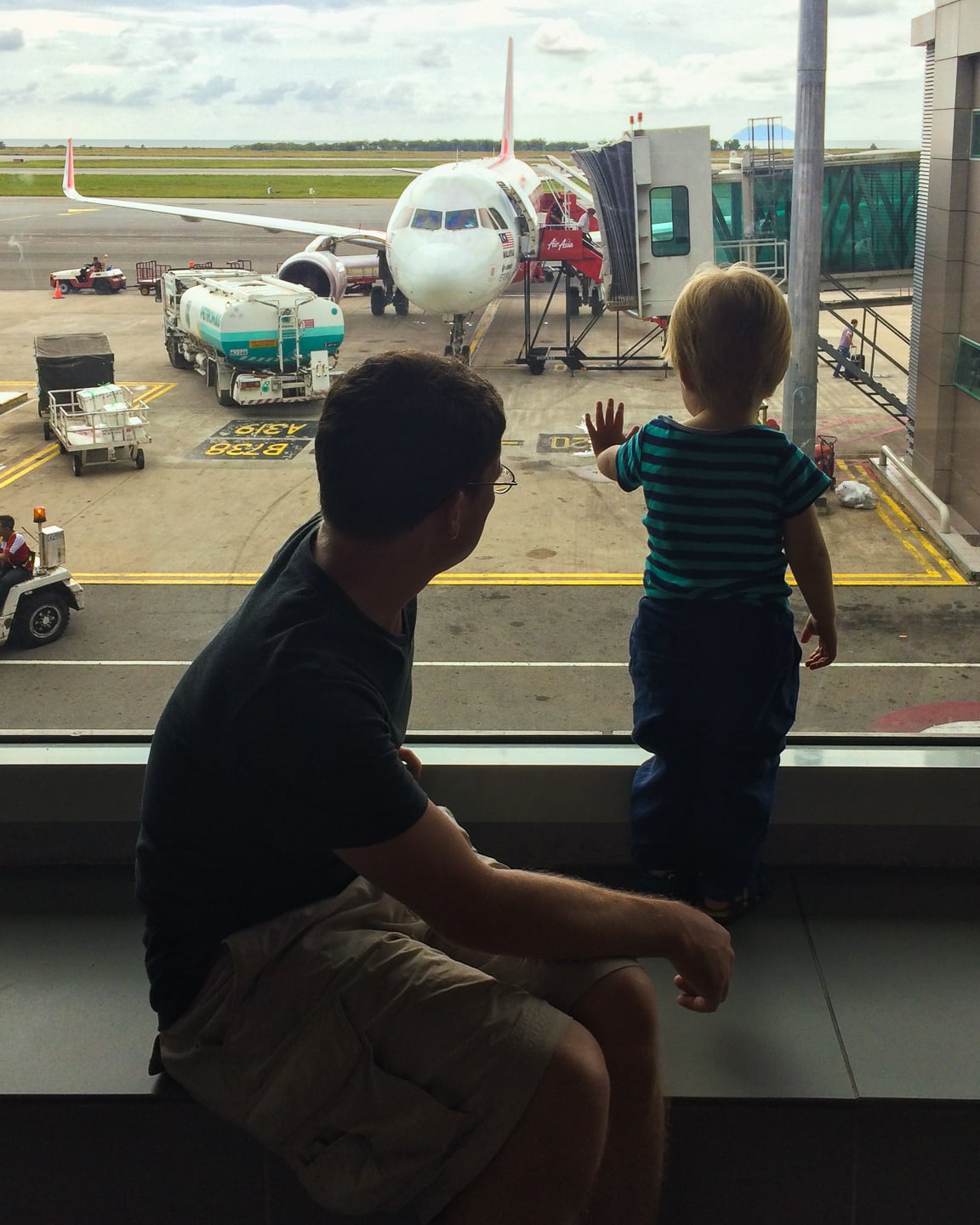 • • •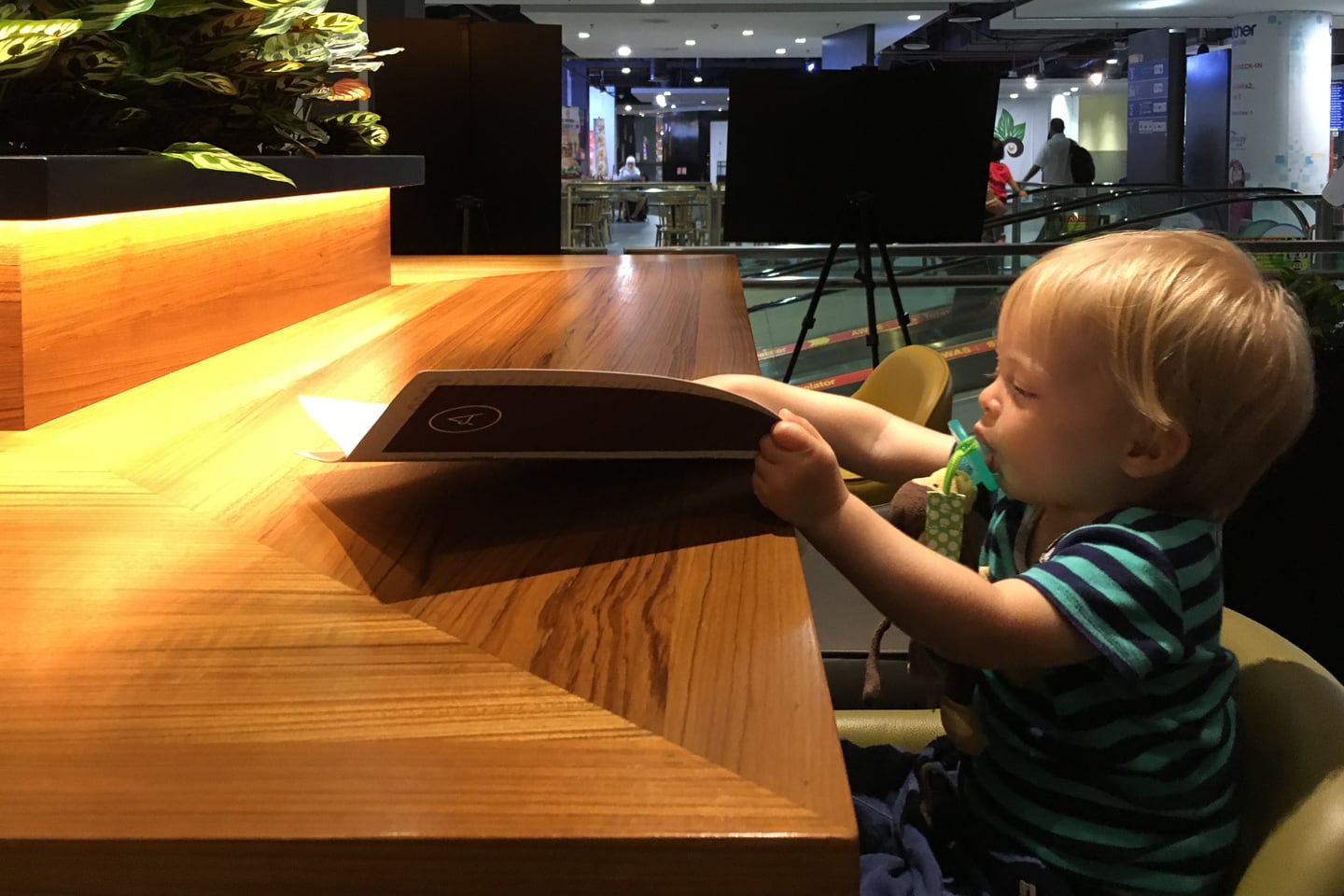 Back at the airport in Kuala Lumpur, Noe's ready for a drink.
As mentioned on our inbound journey, Kuala Lumpur has one main airport complex (KUL) but TWO airports occupying that space: Kuala Lumpur International Airport (KLIA) and KLIA2 for the rest of us.
KLIA2 might only service low-cost carriers, but it's still nicer than 99% of the airports in the U.S., with a ton more amenities.
KLIA2 actually has several hotels located INSIDE the terminal, so if you happen to have a long connection (day or night) you can get a room without having to leave the terminal.
We reserved an overnight room at Plaza Premium Lounge (which we found out on arrival that they had moved their overnight lodging to Aerotel, a couple minutes walk away).
Aerotel's a five minute walk from the AirAsia ticket counter, and sits above an entire upscale mall (though we weren't able to enjoy much of the amenities as Lori and I had both come down with a mean case of conjunctivitis over the previous 12 hours (I literally couldn't open my eyes for two days)—oddly, Noe never had any eye issues of his own).
Yes, our room in the terminal was indeed the most expensive night's stay of our entire trip, but it was worth it considering the alternative was a TWENTY MINUTE DRIVE outside of the airport complex AND at $75/night it's less than your average airport hotel in the U.S.
Oh, and did I mention it includes two vouchers for a free meal (at any hour):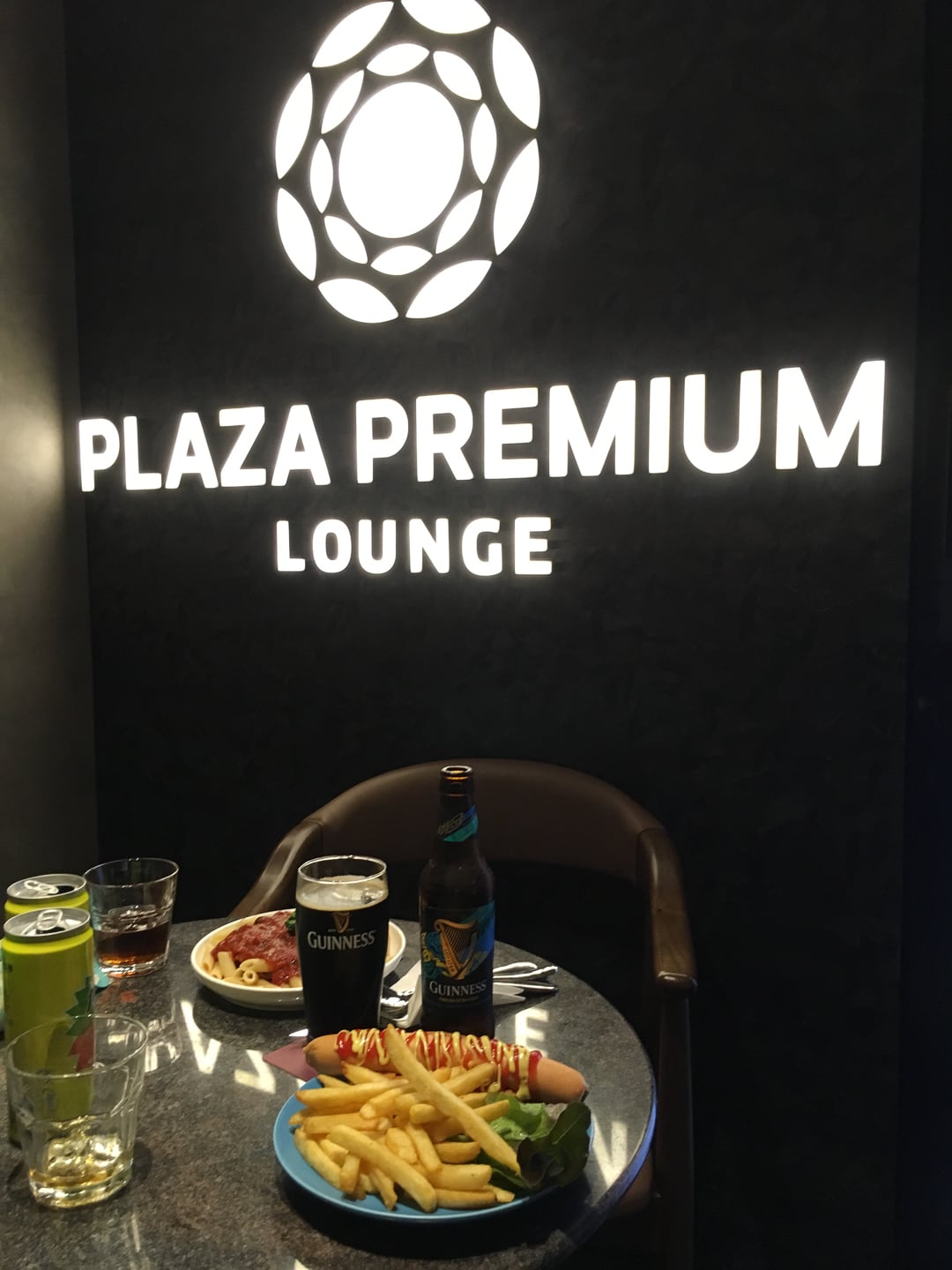 Yes, I went for the hot dog and fries. It seemed a fitting way to end our time in Malaysia. Go big or go home, right? Just proves you can have both…
And here's our room. No windows, but hey, you don't need no stinkin' windows when all you're doing is sleeping inside an airport between flights, right?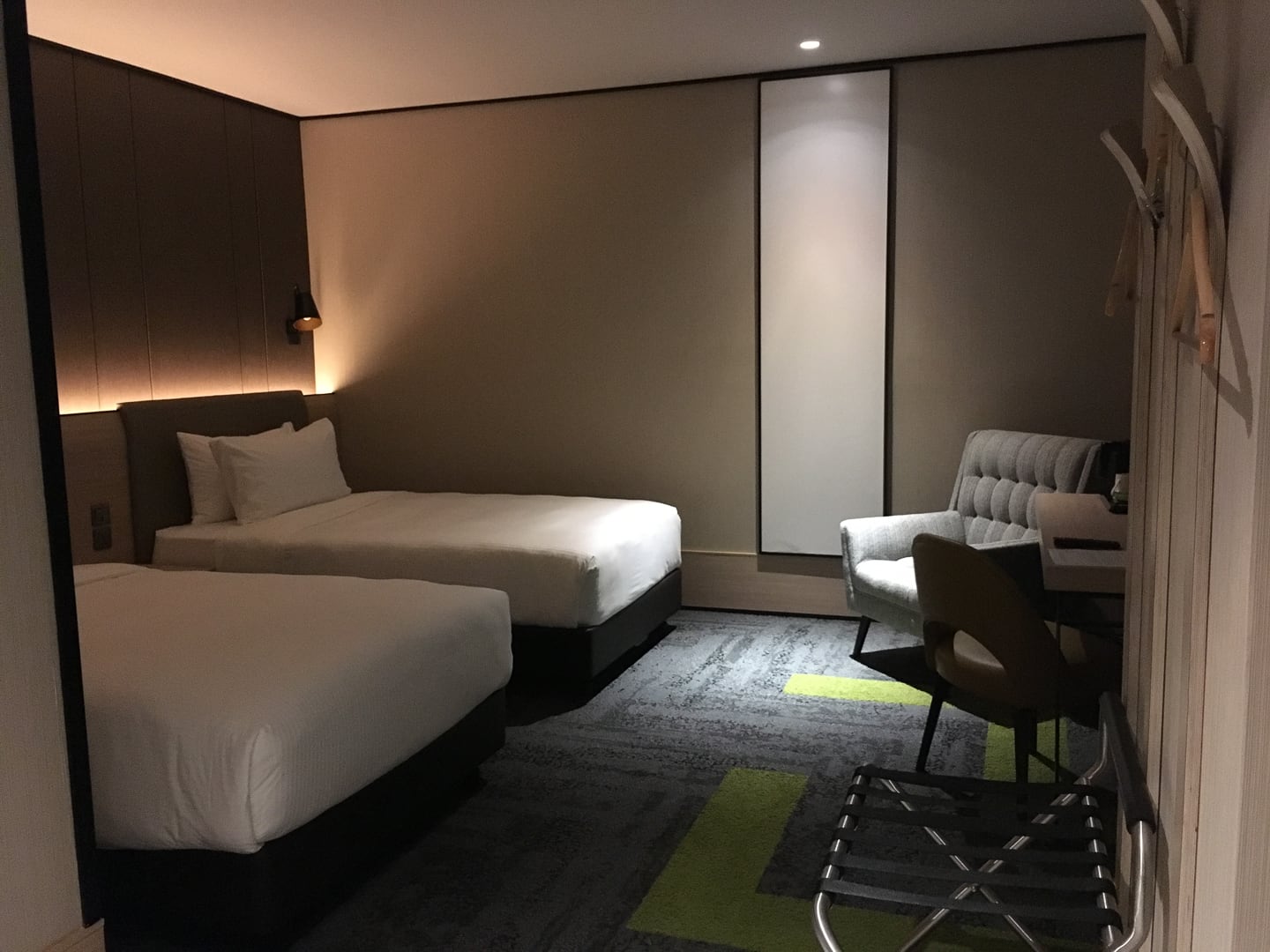 The room was surprisingly nice—probably the nicest place we've stayed in a long time. And, we slept like the dead because of it.
Thirty seconds in and Noe was already ten steps ahead of us…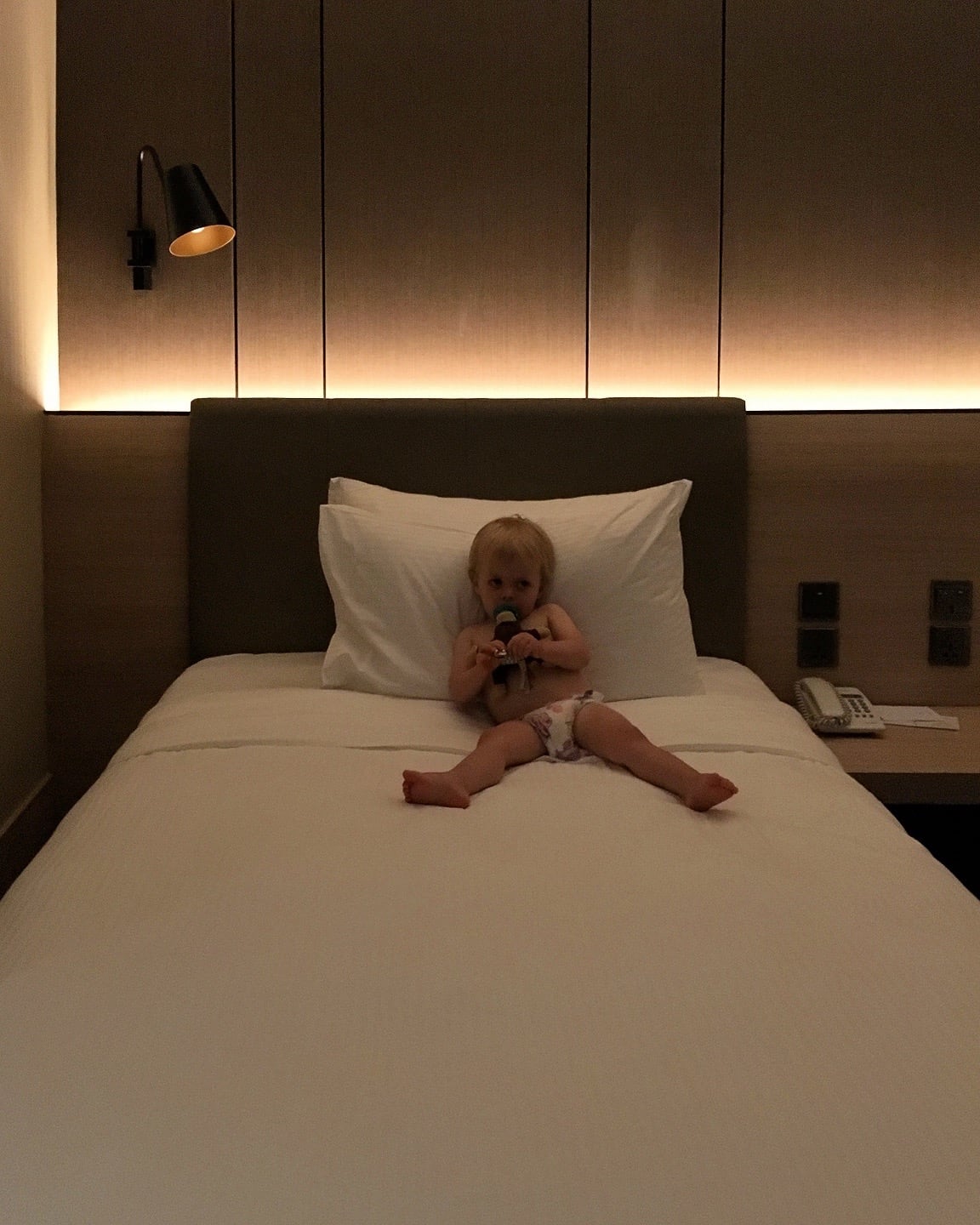 But don't let the proximity of the room fool you. It fooled us!
We checked out of our room at 5:30am, thinking we'd have plenty of time to catch a 6:40am flight given we were ALREADY IN THE TERMINAL.
Turns out, if it weren't for some very direct action (and groveling) on our part, we easily would have missed our flight back to Vientiane.
Getting checked-in wasn't the issue, but immigration was a whole other story. At 5:45am the immigration hall was PACKED, with lines snaking for what seemed like miles.
When we realized we had moved about 10 meters in 15 minutes (in a line stretching five times that) we knew we were in trouble.
Ultimately, we managed to wave down an immigration officer passing by and simply said, "We're going to miss our flight!"
And what do you know, they yanked us right out of line and moved us clear to the front! Imagine that happening in the U.S. (they didn't even check our boarding passes).
In the end, we made our flight with minutes to spare and were back in Vientiane by 8:30 for breakfast.
It's hard to know what was going through Noe's mind these past couple of weeks—but we got a glimpse into what he might be thinking on our sixth and final flight of the trip.
When we boarded the plane, a strange thing happened. We ran into not one, but all TWO of the other falang boys that attend nursery school with Noe in Vientiane.
After two weeks of Noe not seeing a single familiar face (but for ours), he saw two of his buddies that he's spent half of each week with for the past eight months—his face lit up and you could see the wheels were turning in his head.
Mind you, we're still in Kuala Lumpur, on a Saturday morning. There are about twenty kids total that go to his daycare. What are the chances?
When we arrived in Vientiane, it was nice to be back, admittedly. Noe, however, was beside himself.
We forget sometimes when we do these trips that this is really the only home he's ever known—certainly the most familiar—and as he gets older, that seems to become more solidified.
Back at the Vientiane airport, the taxi stand announced to everyone that they were fresh out of taxis (of course) and it would be a thirty minute wait—but we knew better, managing to magically secure a taxi in a matter of minutes (typical Laos).
Lori collected her work car, then we drove straight to JOMA (the Canadian coffee shop in our neighborhood).
Noe knew it was a special day because we got him something we've never gotten him before: a grilled cheese sandwich off the kid's menu.
He inhaled it, but not nearly with the same excitement and sheer joy as he did his beloved Lao dragonfruit—the first he had since leaving Laos over two weeks ago.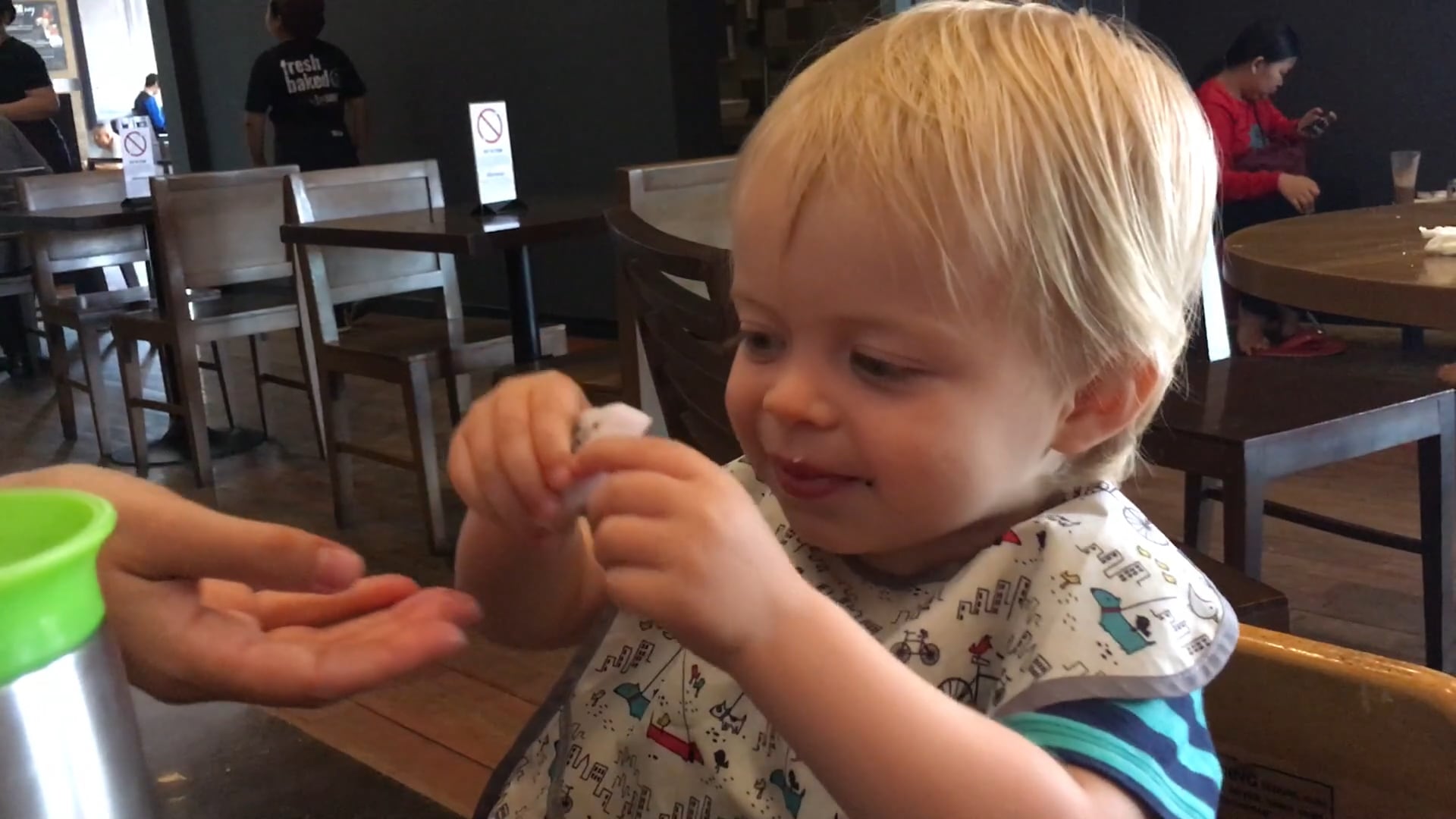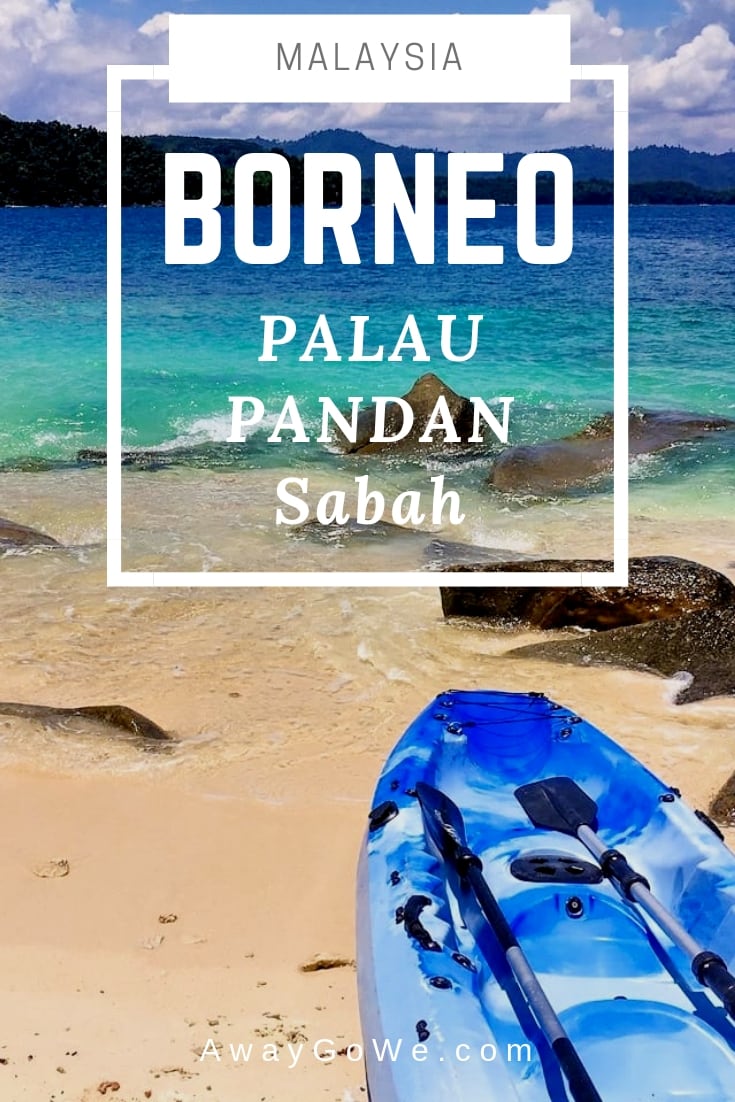 17 Mar 2020
19 Apr 2018
I've been a blogger and travel writer since 2010, covering everything from luxury hotels to hidden destinations and travel gear. Originally from Oregon, I've spent the majority of the past 20 years living outside of the U.S., in Mexico, the Caribbean, Southeast Asia, Africa, and Europe. I received a BA in Communications (Journalism) from Boston College, and an MA in International Development Studies from the George Washington University. I'm passionate about exploration and discovery, and providing independent, thoroughly-researched, ad-free advice for travelers.