Entopia by Penang Butterfly Farm, and its proximity to a handful of other nearby kid-friendly attractions such as the Tropical Spice Garden, was one of the primary reasons we opted for a beach vacation on Penang rather than Langkawi to the north (where we might actually be able to swim in the ocean!).
But was it worth forgoing Langkawi's chill vibe and inviting waters for Batu Ferringhi and beyond? Here's our first-hand guide of what to expect for families with kids, plus tips for getting there and visiting on your own.
Entopia by Penang Butterfly Farm: Guide for Visiting
Deciding to Visit
The evolution of our Malaysia trip planning took many twists and turns, from Nepal to Myanmar to Malaysia, finally settling on returning to KL for a week, then the island of Penang for two additional weeks.
Though George Town had been on our travel shortlist for some time, the island of Langkawi 50 miles (80 km) to the north was tough to ignore.
Unlike Penang's waters, you could actually swim off the coast of Langkawi. Langkawi also appears to offer the beach vibe we're more accustomed to — rustic bungalows, funky beachside Airbnbs, and local island eateries.
More than anything, we were itching for a beach vacation, but traveling in October in Southeast Asia limited our choices.
We could have gone back to Borneo or down to Bali, but we also really wanted just one, fairly short nonstop flight to our destination on account of the challenges of traveling with the boys at their ages.
In the end, we chose Penang for three main reasons: George Town, Penang National Park, and the number of toddler-friendly things to see and do around Batu Ferringhi.
Chief among the latter was Entopia.
It's impossible to read about family travel and Penang without reading about Entopia.
Prior to 2016, it was an unassuming butterfly farm tucked in a lush valley west of Batu Ferringhi. But that was then, and Entopia now is more like an experience.
We're keen to find out what all the hype's about today.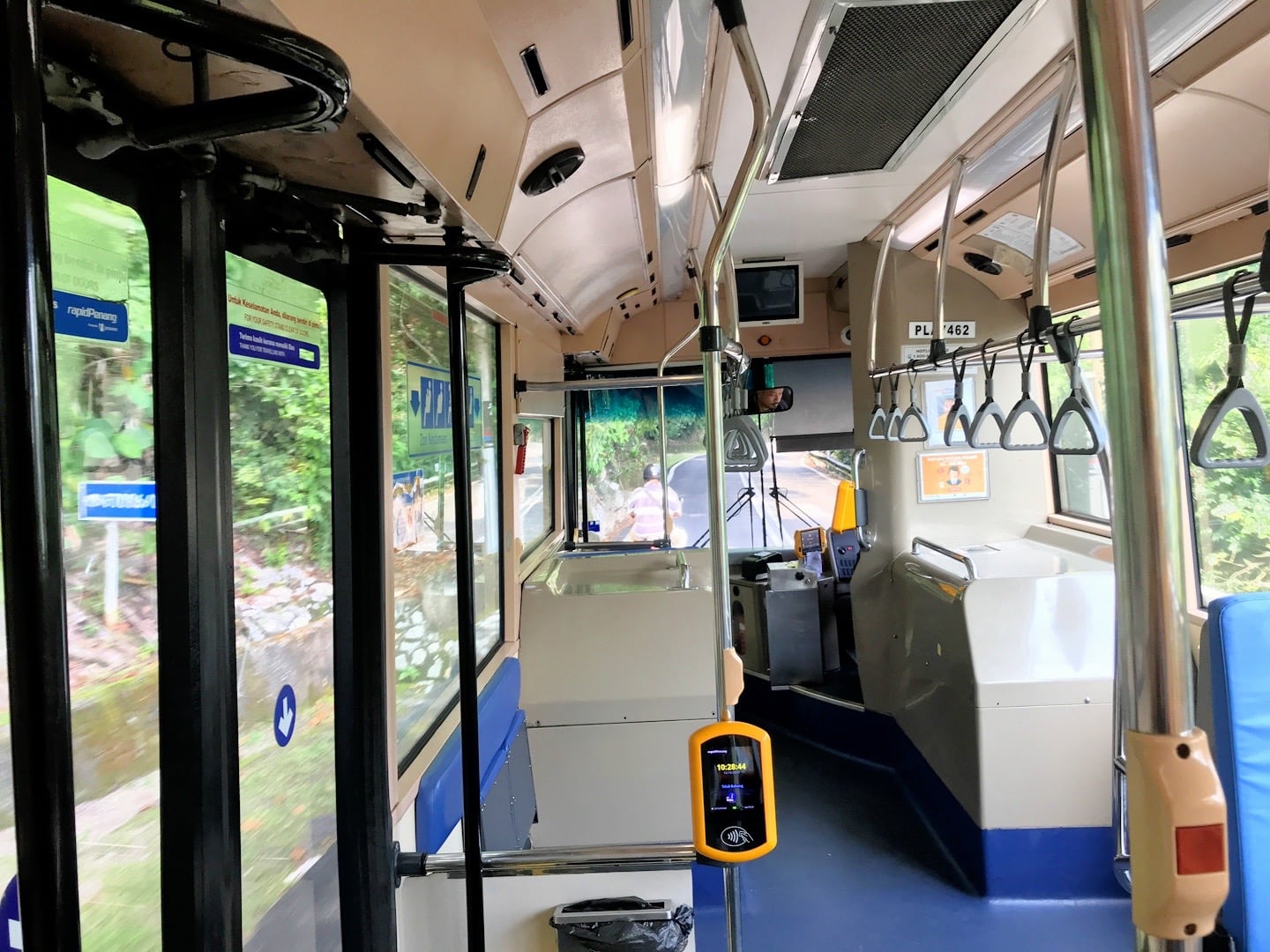 Getting from Batu Ferringhi to Entopia Butterfly Farm by Public Bus
Covering the 7 km from our apartment on the eastern edge of Batu Ferringhi to Entopia in Teluk Bahang was quick, cheap, and easy by the RapidPenang public bus.
There are bus stops every 100 to 200 meters along the main highway in Batu Ferringhi, and buses come about every ten minutes. Our ride took about 20 minutes.
The fare is a little tricky because it's based on distance and the driver doesn't give change. Most bus stops have the fare zones listed on the side of the bus shelters. Our fare was RM2.75 each (US$0.70). Buses #101 & #102 are what you want, but that matters less heading towards Entopia than it does coming back.
Also worth noting is that, despite what we found written on various blogs, Entopia is not the last stop.
The final stop is what's called the Hub in Teluk Bahang (expect to wait here for 10-15 minutes while you change buses on your return trip to Batu Ferringhi).
So, don't make the mistake we did and tell the driver "last stop" or he may just blow right through your stop — there's also a button to push when approaching your stop, but we were purely relying on the driver.
Finally, the bus does not go all the way to Entopia, but rather Escape Theme Park, a five-minute walk from Entopia. Escape is where you'll want to tell the driver you're going.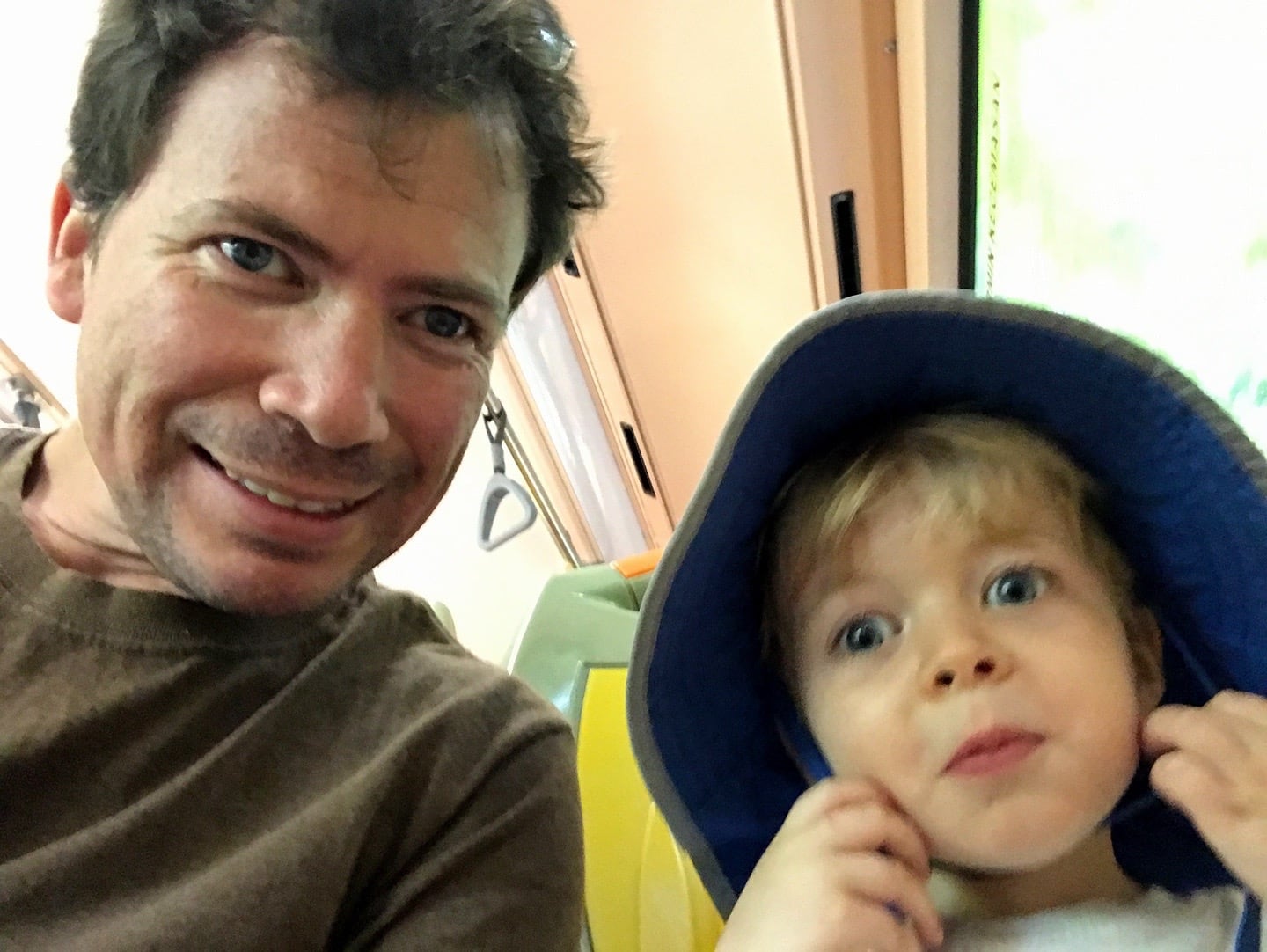 The bus ride is worth the short journey by itself. The road between Batu Ferringhi and Teluk Bahang is both scenic and very curvy, and bus drivers here don't mess around (there's a reason it's called RapidPenang). But don't worry, there's plenty to hold on to.
For schedules, route maps, and more, head on over to RapidPenang's official website.
There is also a multitude of excellent options if you'd prefer to arrange transport from George Town ahead of time or combine a visit to Entopia with a Penang island tour.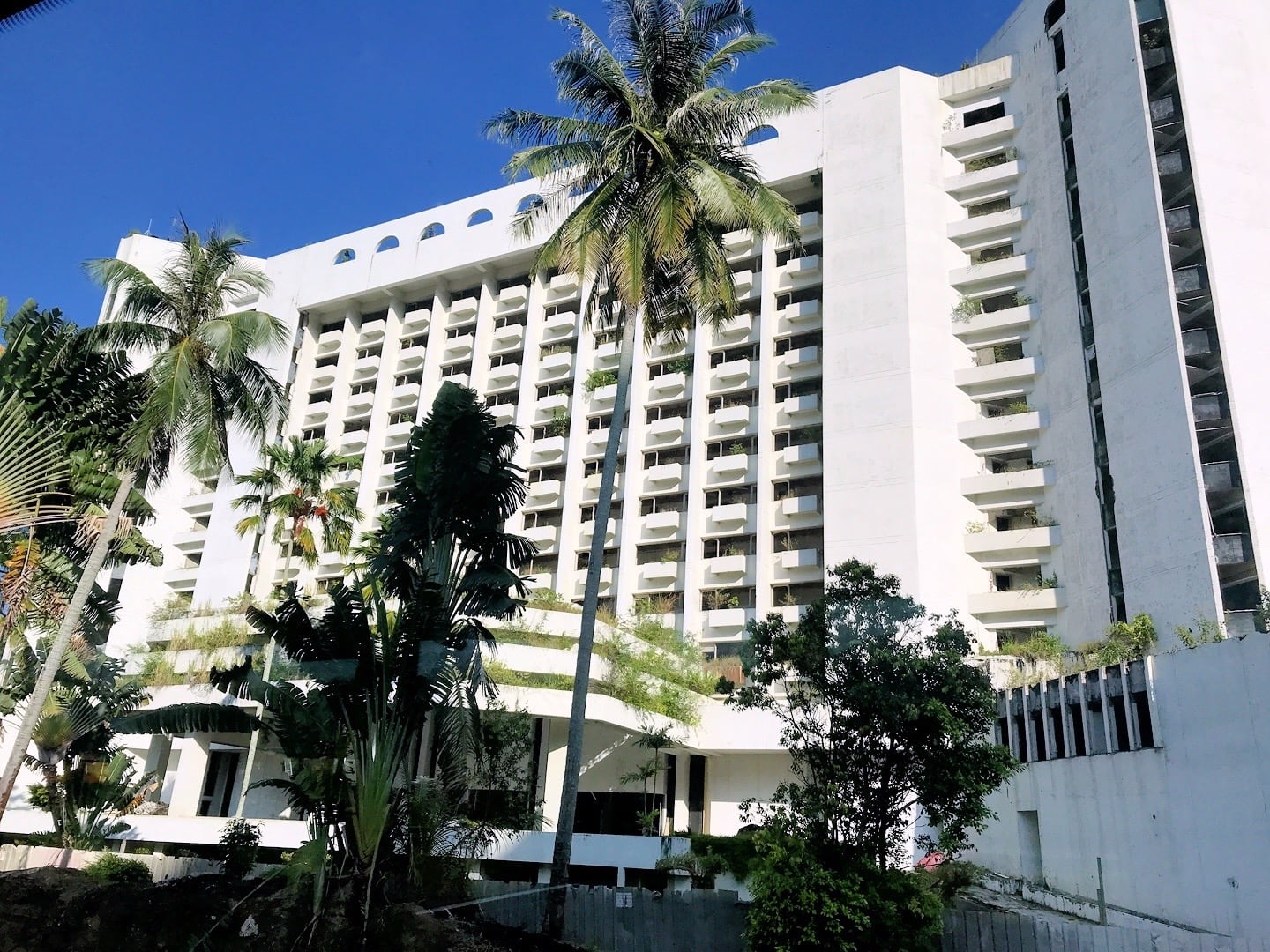 On our way, we spot the famous Penang Mutiara Beach Resort that set the standard for luxury in Penang in its heyday.
There are several abandoned structures on this part of the island, but this might be the most striking. The luxury hotel saw its last guest in 2006 and has sat abandoned and neglected ever since.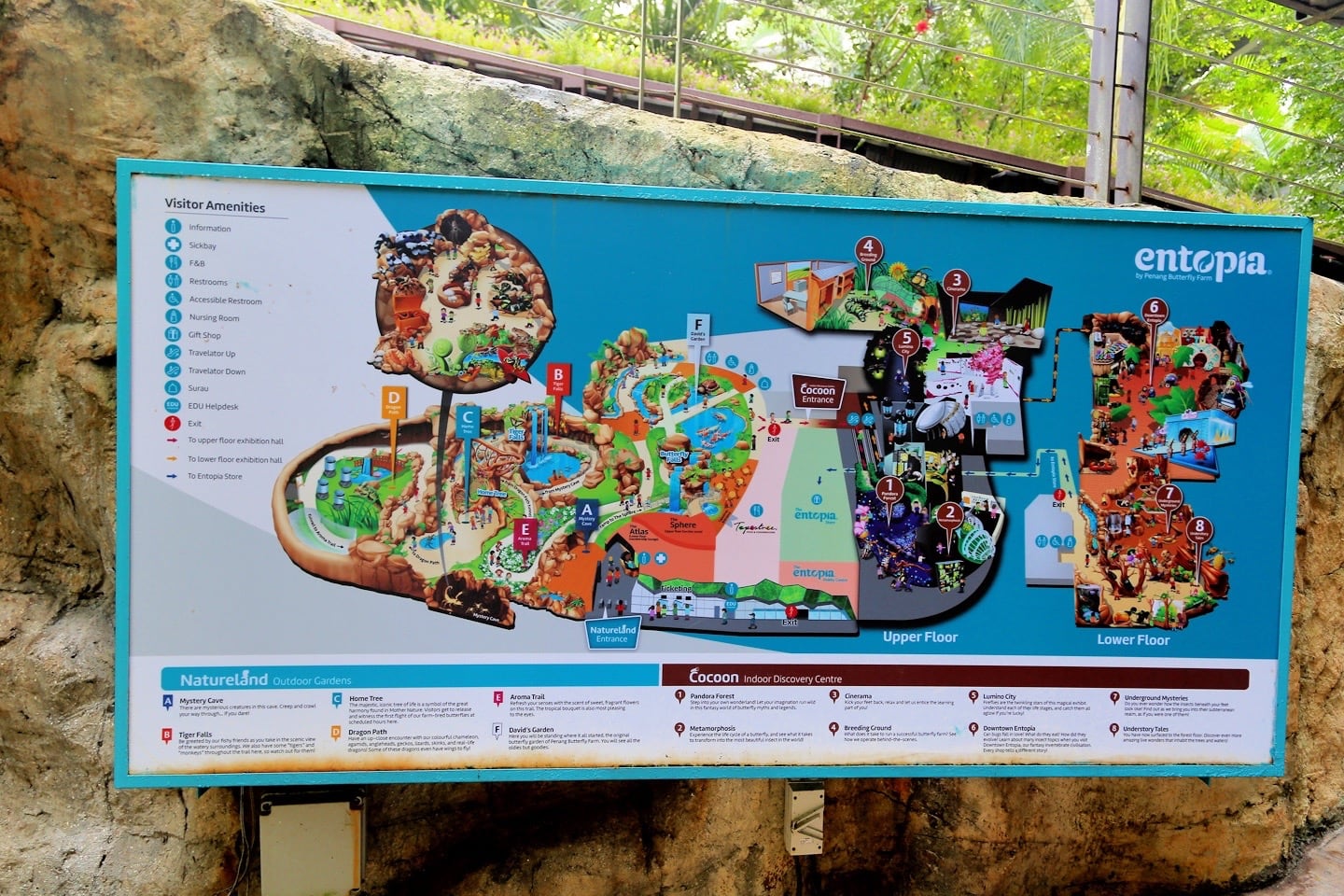 Entopia by Penang Butterfly Farm
Penang Butterfly Farm opened in 1986. At the time, it was the first tropical butterfly farm in the world. It was what you might expect from a butterfly farm until it emerged from its cocoon in 2016 having transformed into Entopia.
The park is divided into two main sections: Natureland outdoor gardens, and Cocoon indoor discovery center. We started our visit in Natureland.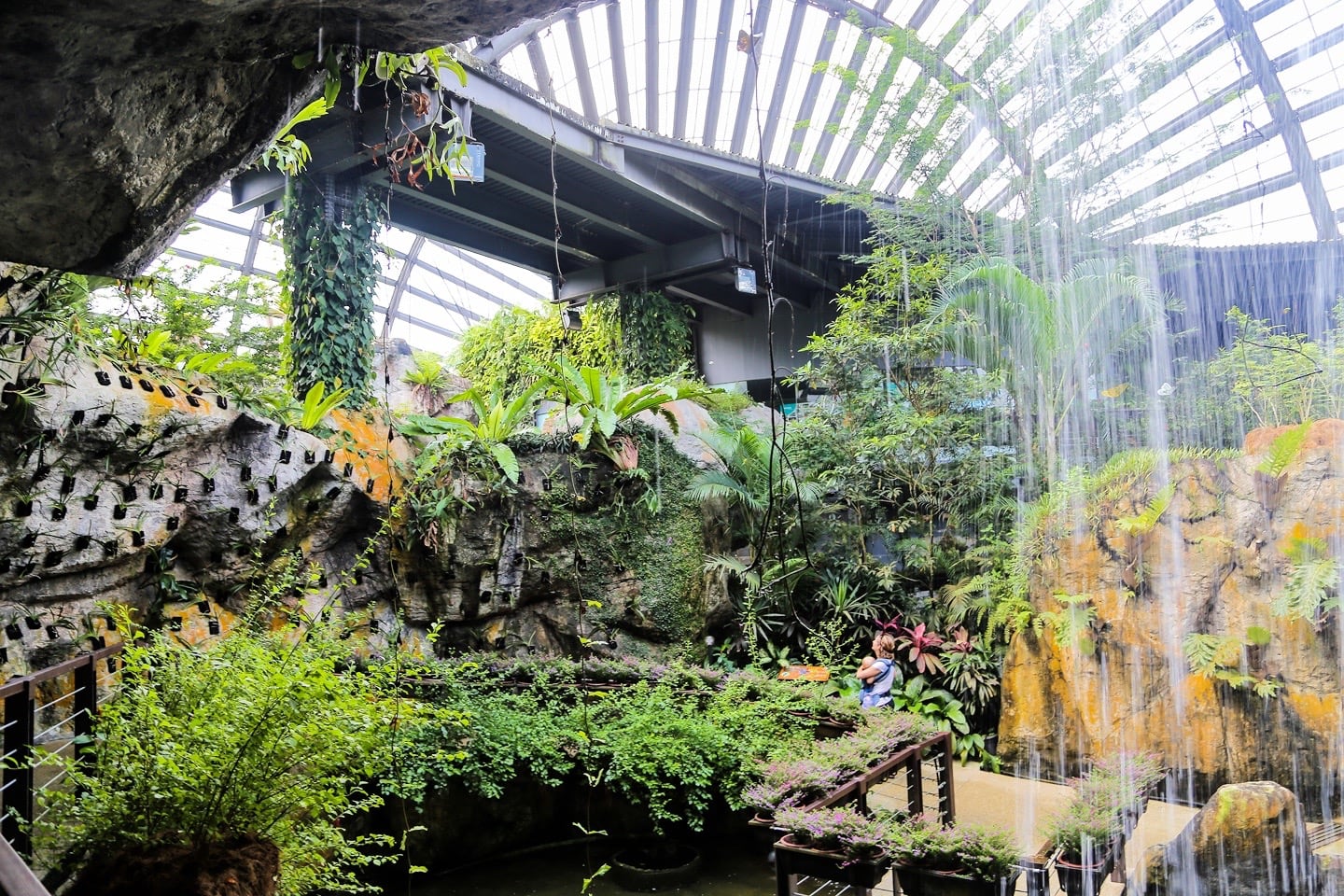 Natureland Outdoor Gardens
Entopia is hard to describe — think equal parts tropical plant conservatory, butterfly dome, reptile park, and state-of-the-art interpretive center all rolled into one on the edge of the jungle.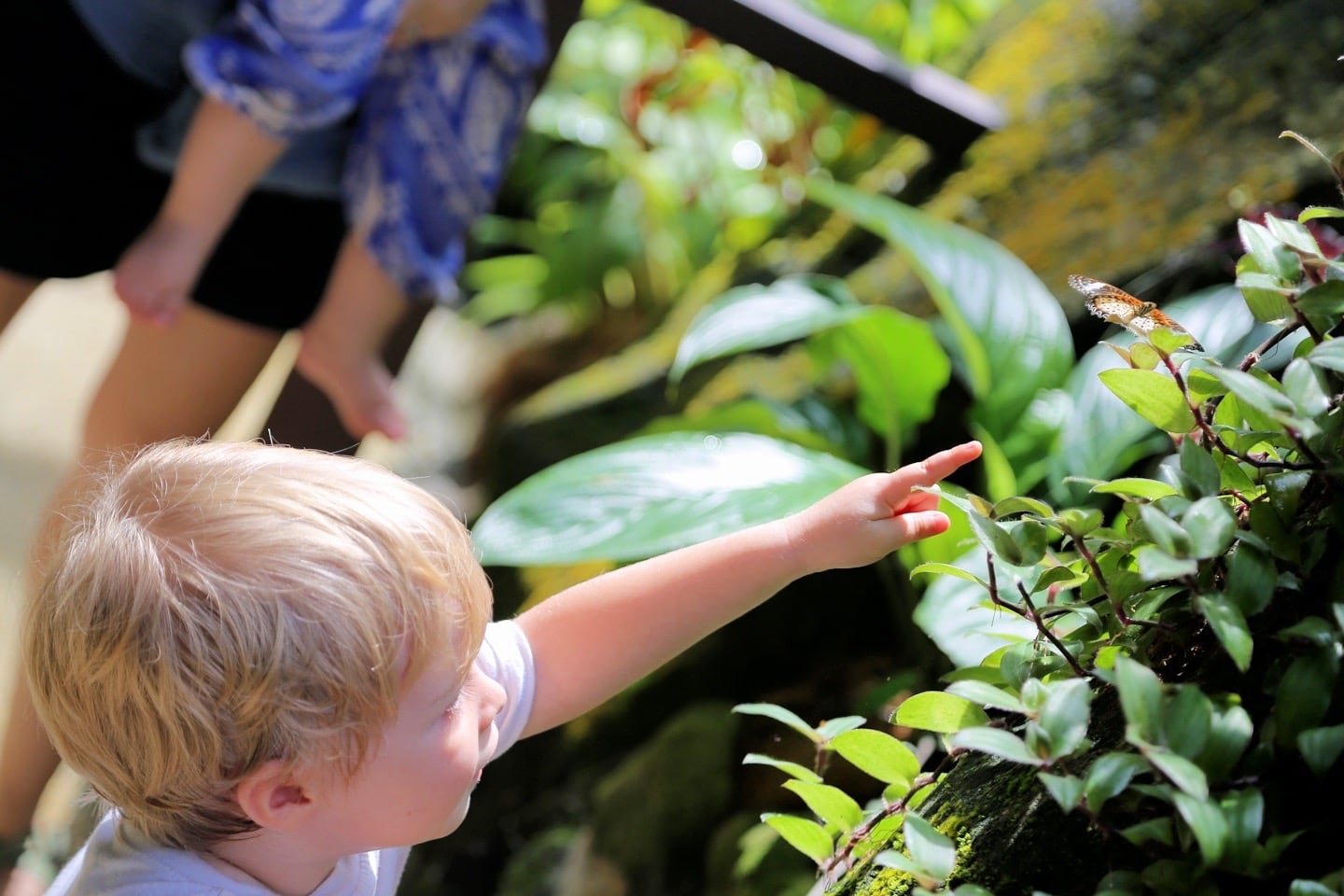 Noe's at an age where he can easily drive the two of us mad, so it's easy to lose sight of how much easier (and fun) he's become when we visit places like Entopia.
That's probably because we have Riley to remind us of a time when Noe wasn't so independent and curious (and not yet walking).
Thankfully, Riley's pretty content to watch from the front of the carrier, and shows interest in his surroundings in his own way.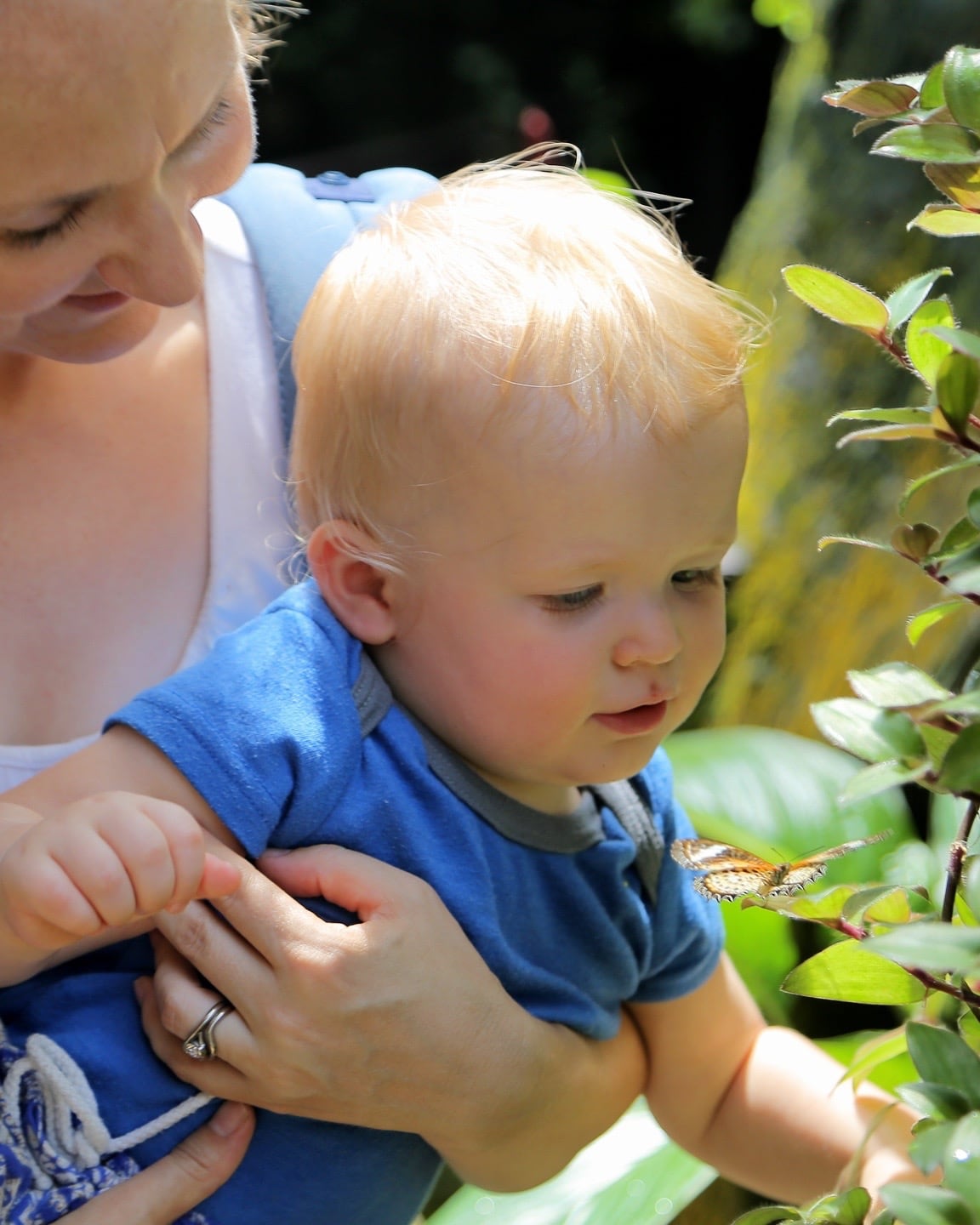 A meter-long monitor lizard, not unlike the one we encountered on our way to the beach on our first day in Batu Ferringhi.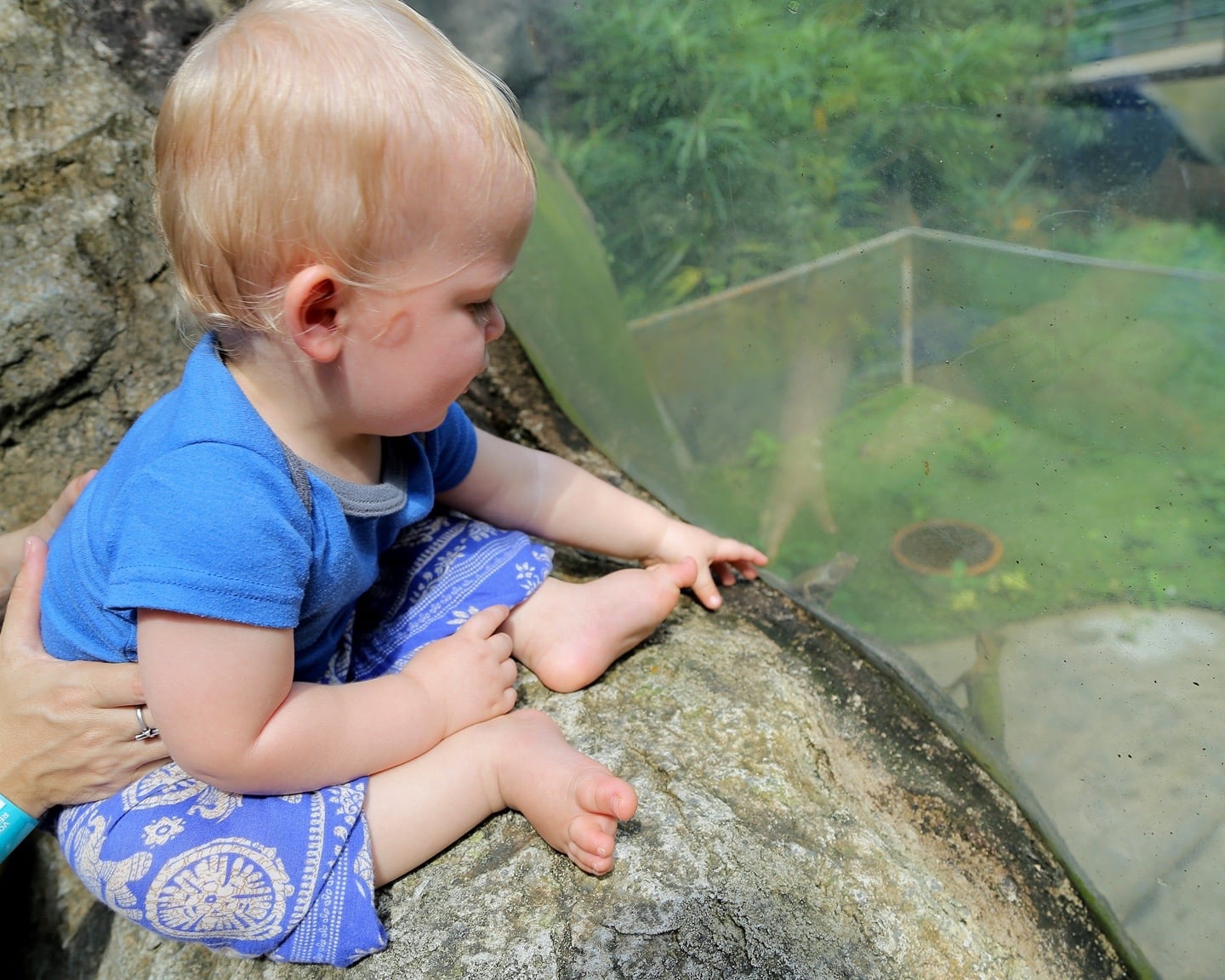 Riley, having a moment with two inquisitive lizards.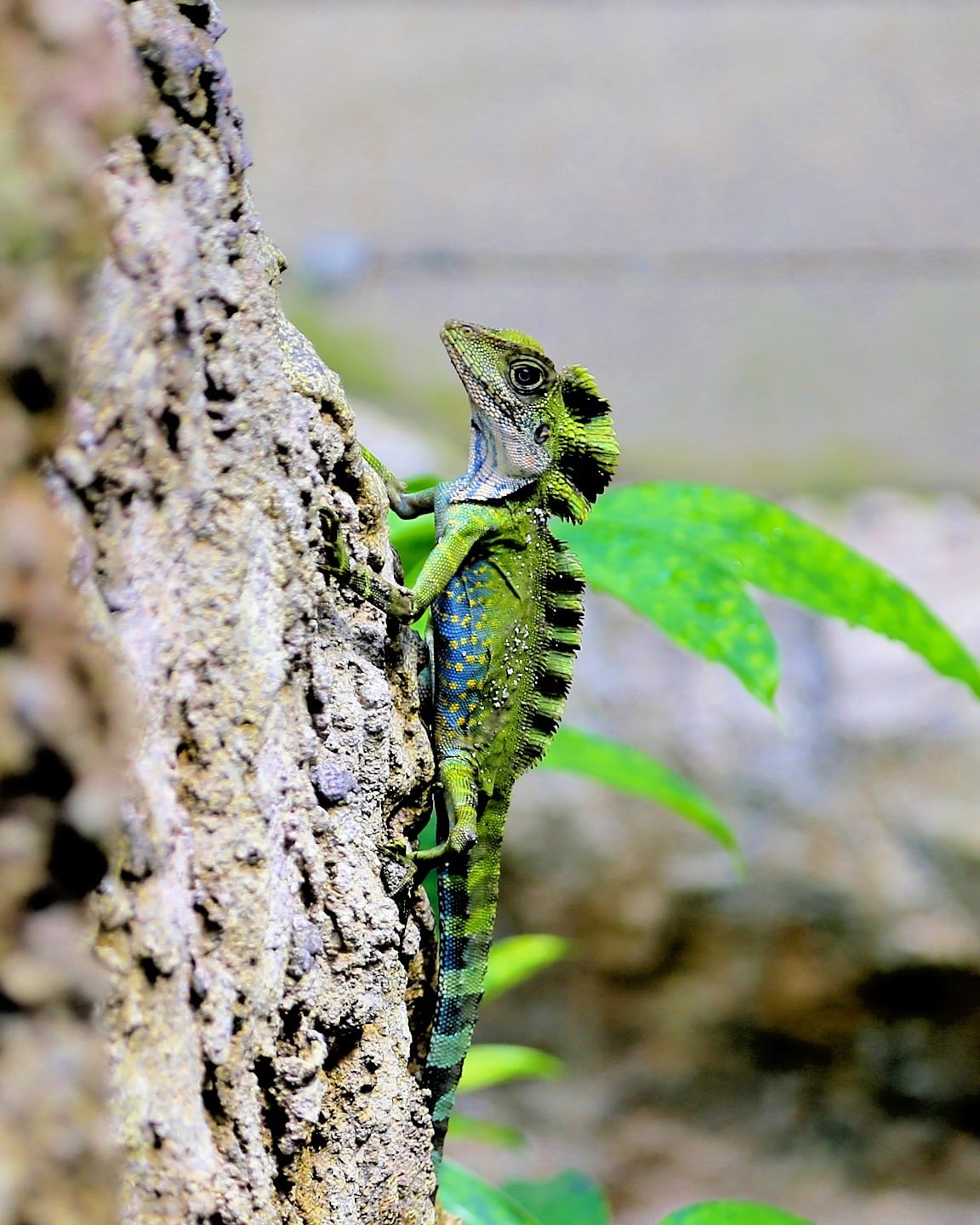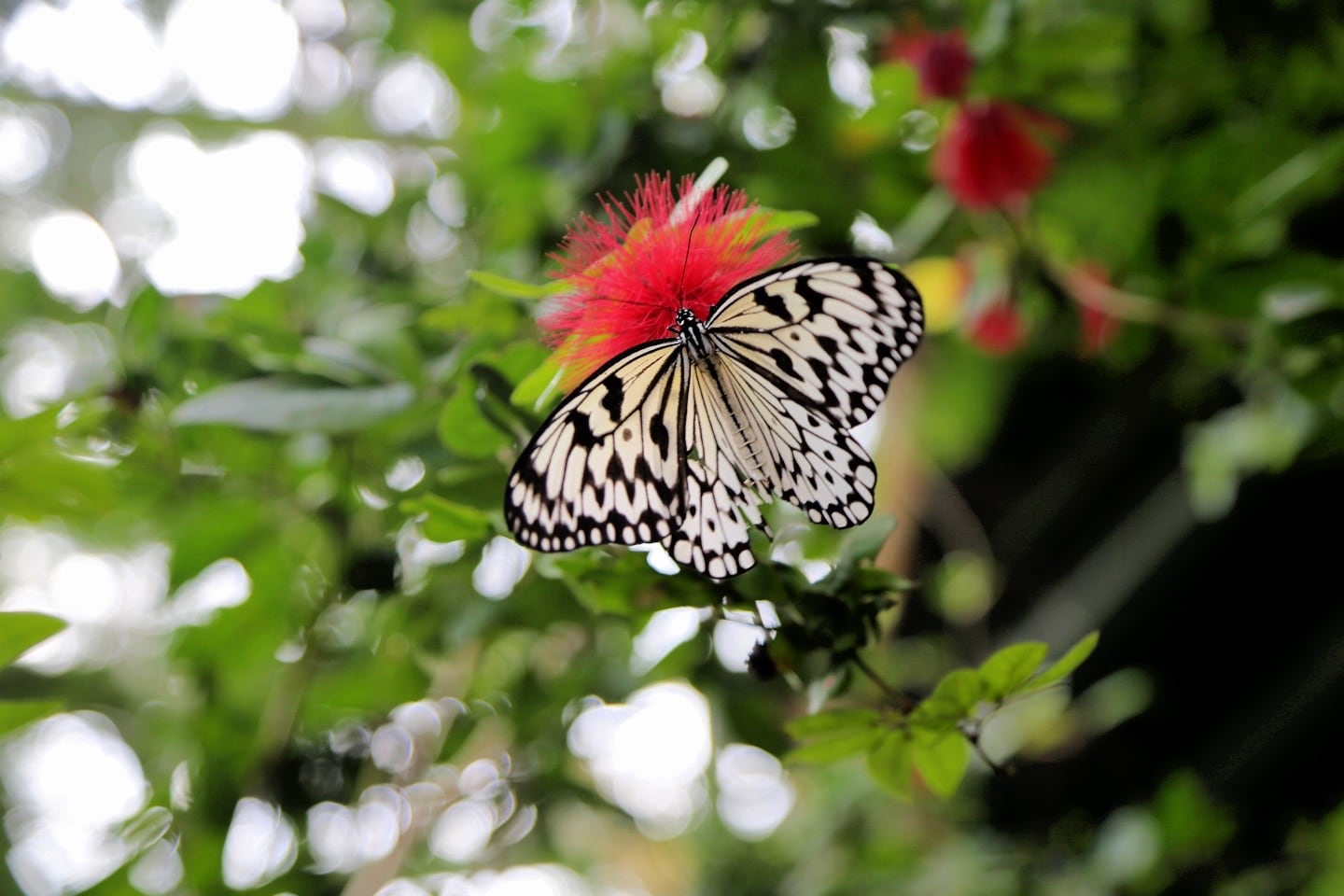 Yep, Entopia is still very much a butterfly farm. While there are still hundreds, if not thousands, of butterflies fluttering about, they feel more like they are part of the background than the main attraction.
It's hard to ignore the colorful and exotic reptiles and design features of the complex. It's easier to miss the butterflies if you're not looking. Yet, we had more than our fair share of butterfly encounters at Entopia.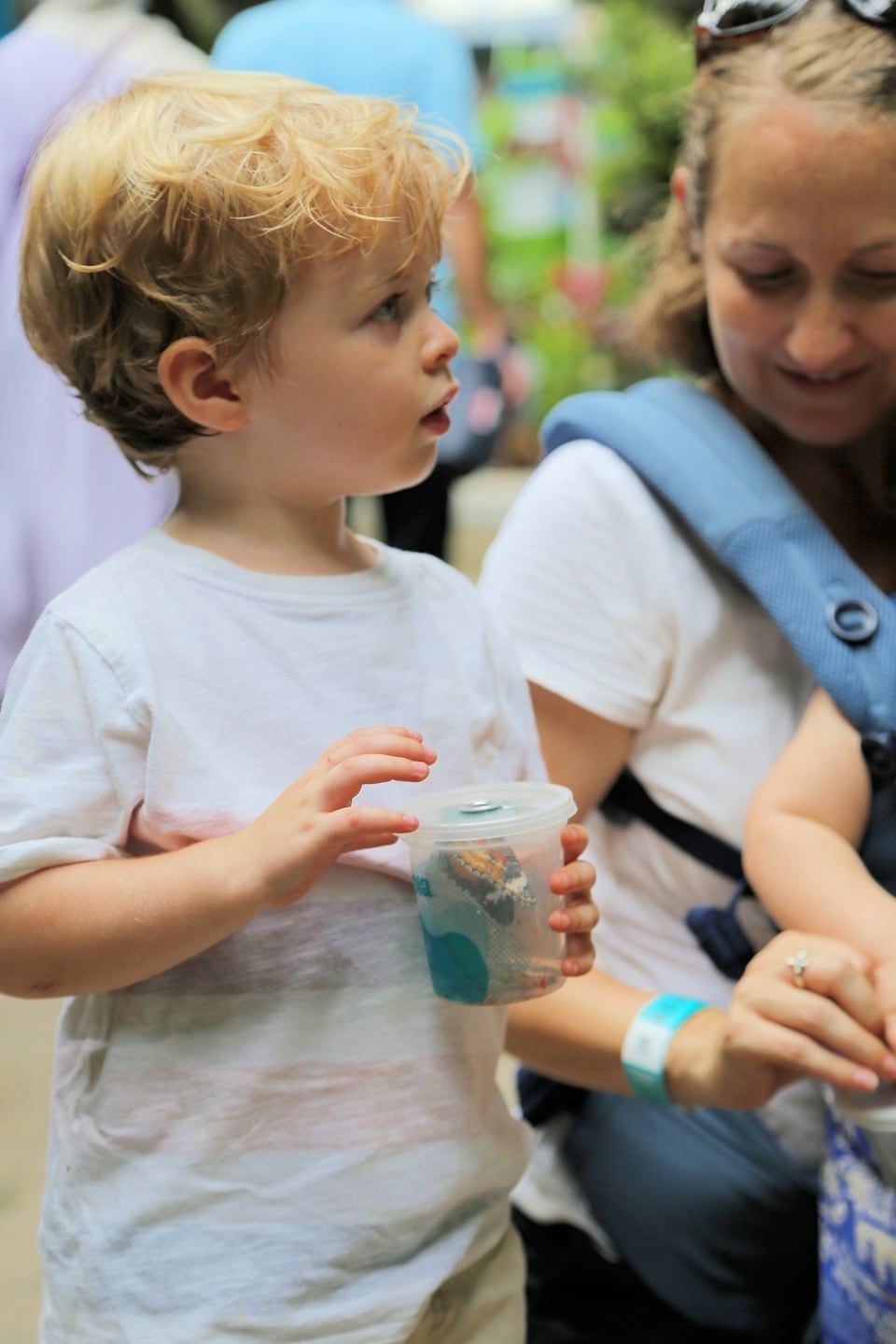 Staff are regularly releasing new butterflies into the dome, and kids are encouraged to take part in the activity.
One of the caretakers did a short spiel on the lifecycle of moth and butterflies before handing over containers of the newly-emerged to a handful of amped up kids.
Our first butterfly (above) seemed in a bit of hurry getting out of the container. It literally vanished in the blink of an eye once Noe opened the lid.
Fortunately, the staff happily let Noe have another. This one, however, may have been a bit too touchy-feely.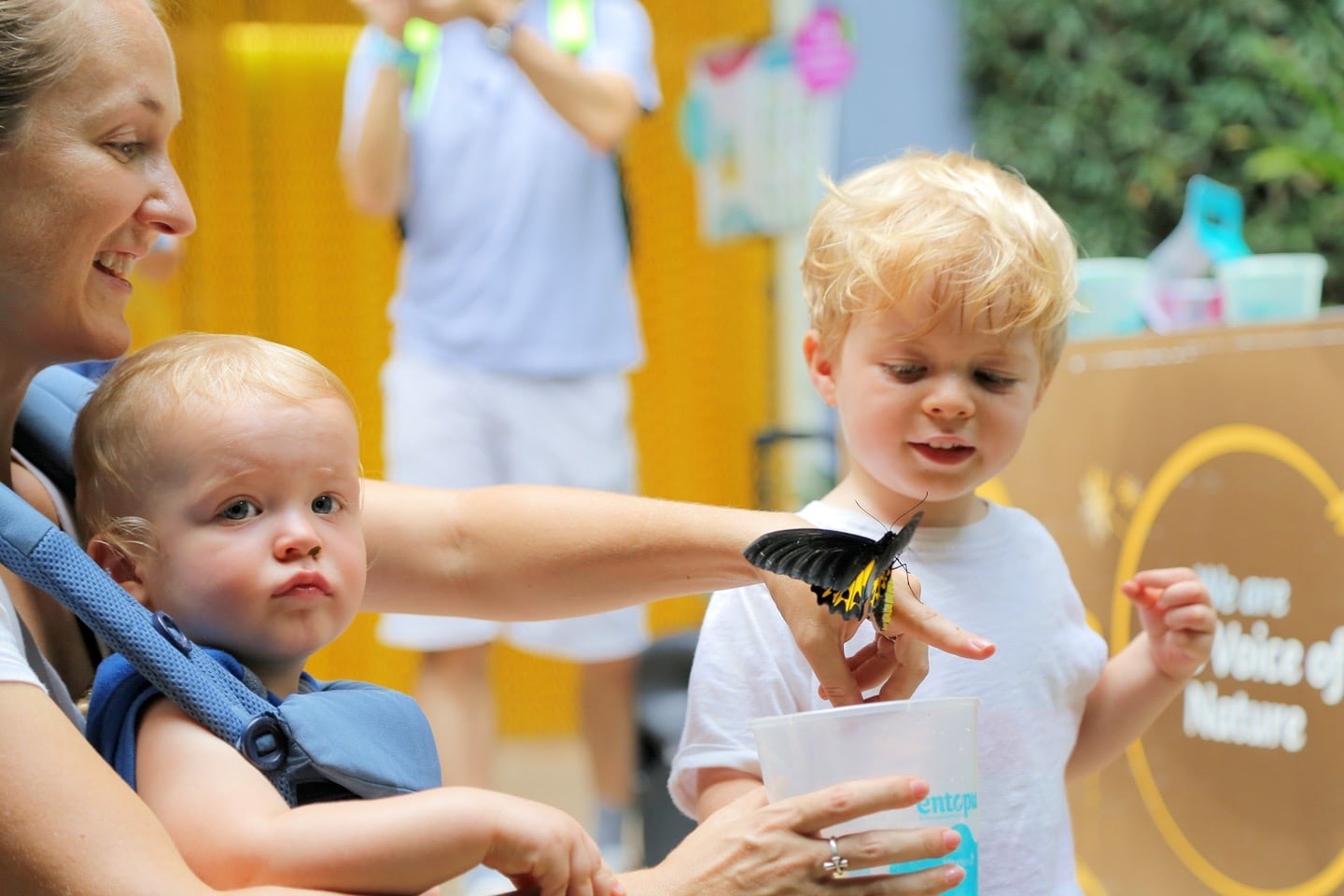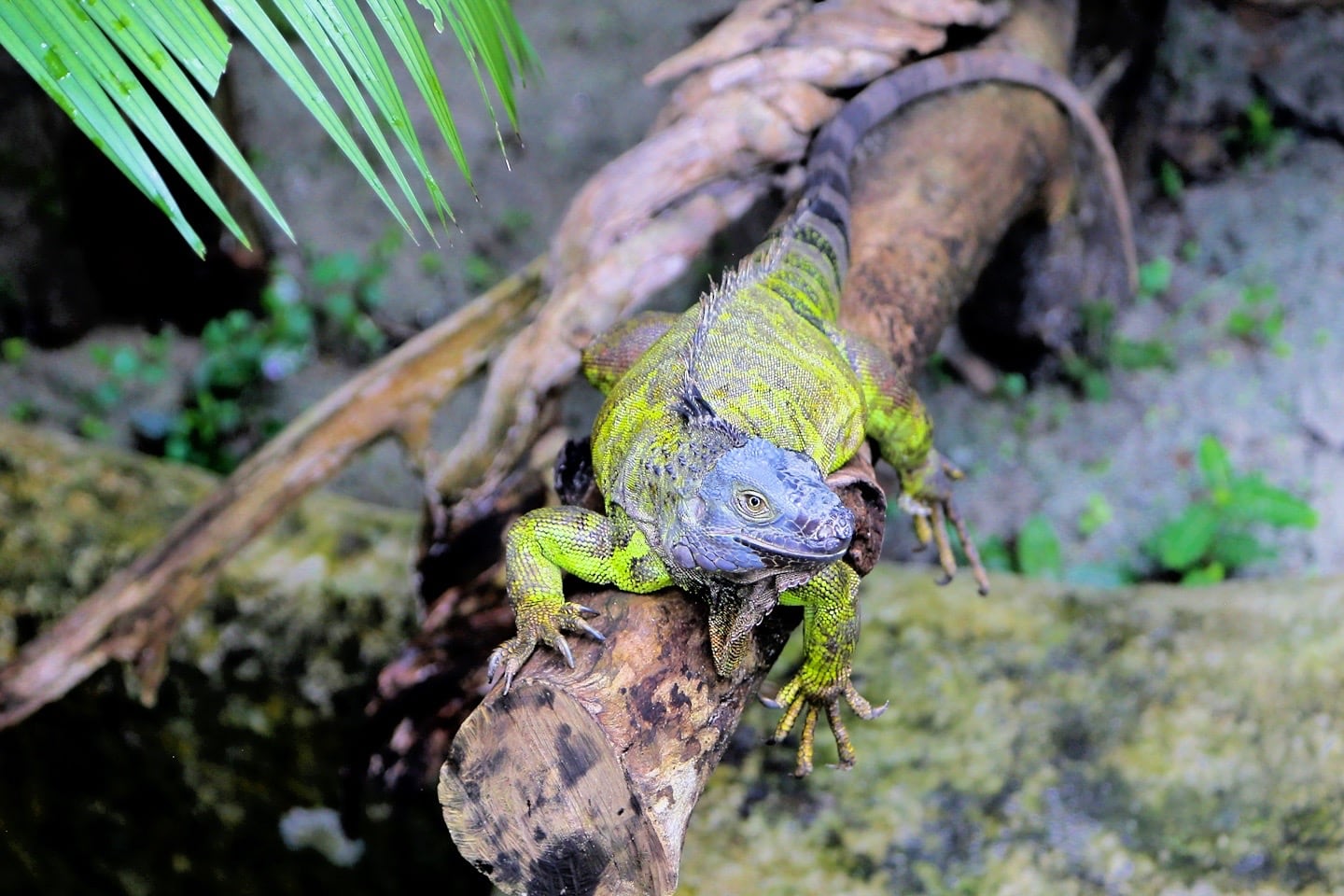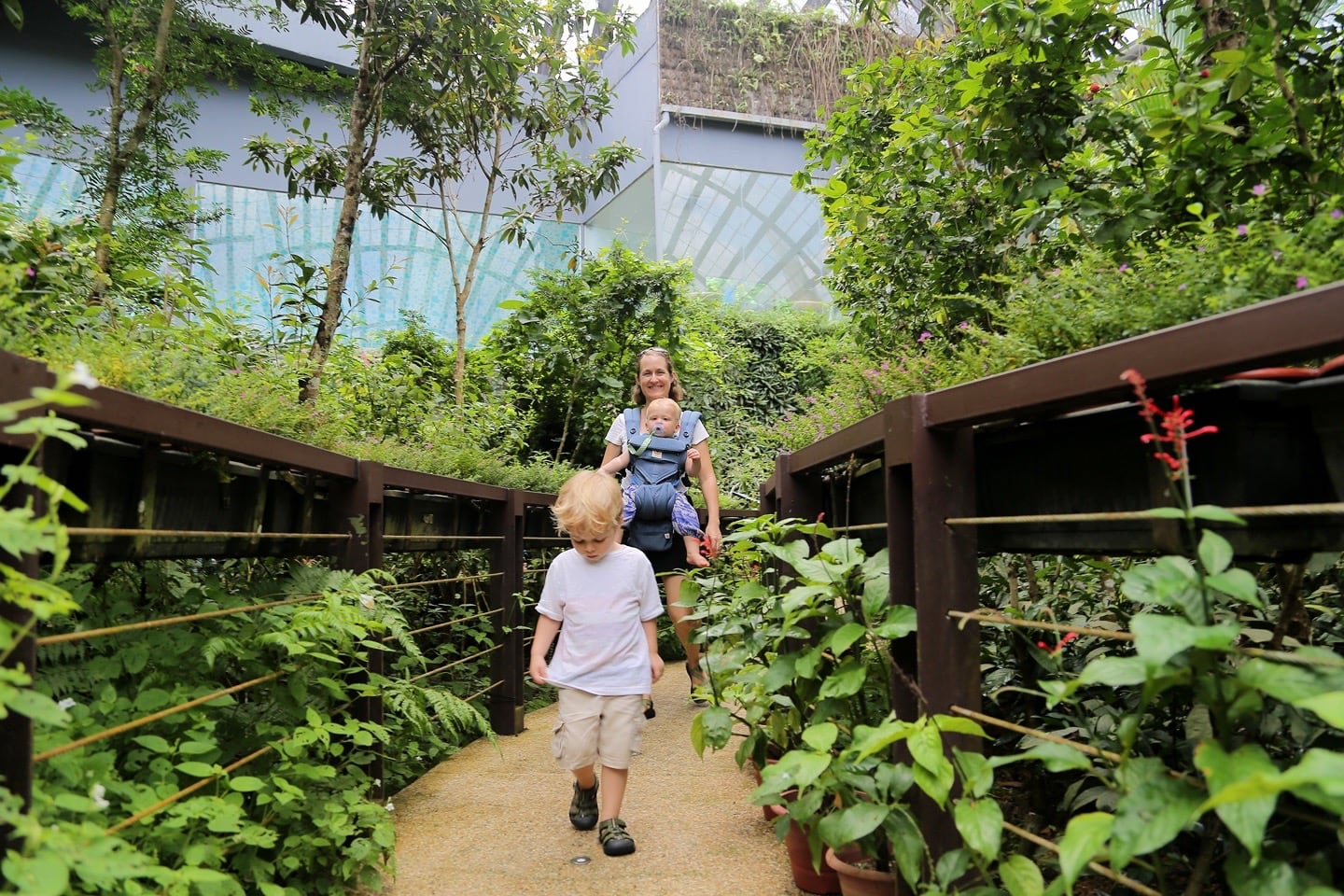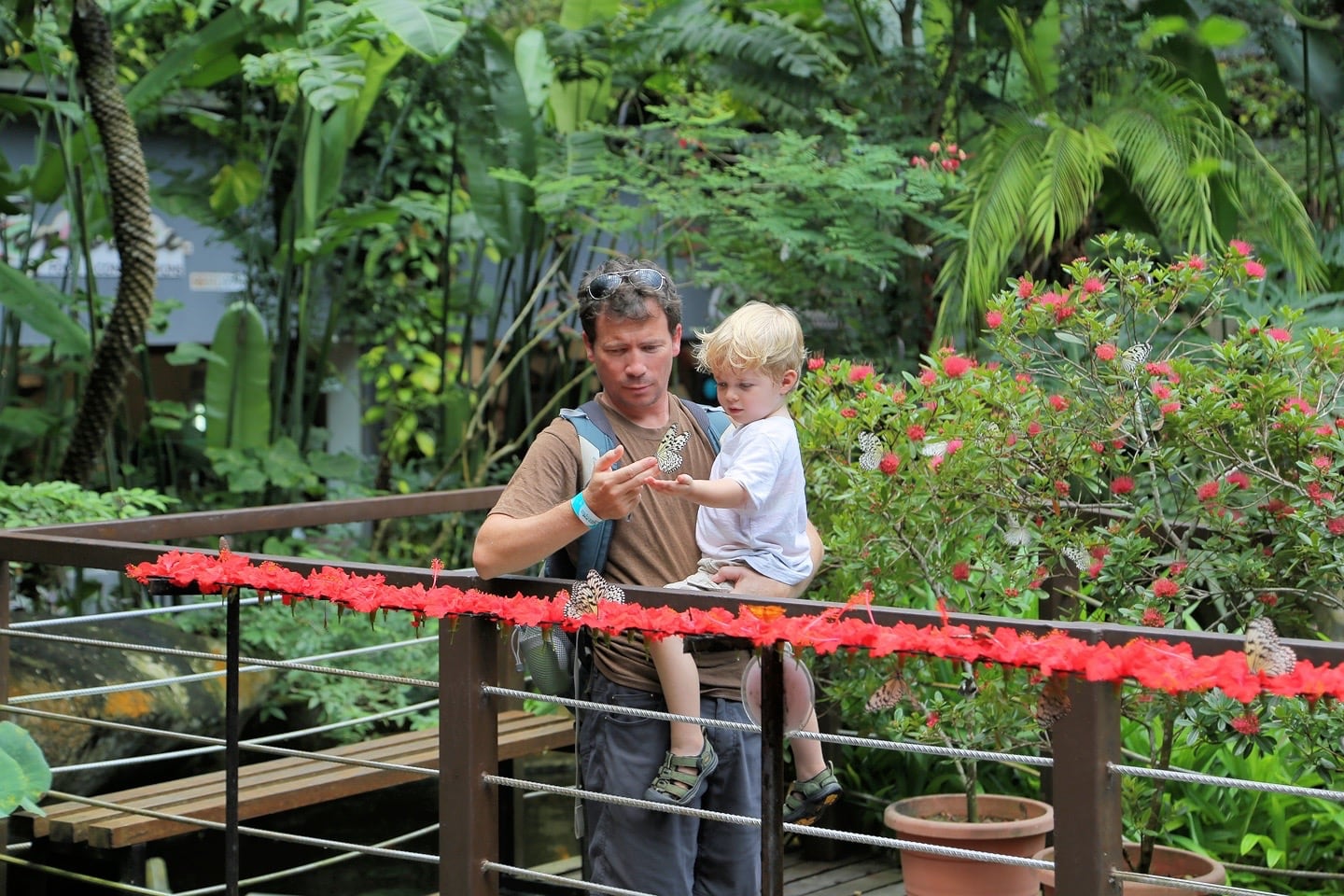 We've seen what we can see in the outdoor Natureland section. Now, it's time to venture into the Cocoon indoor discovery center.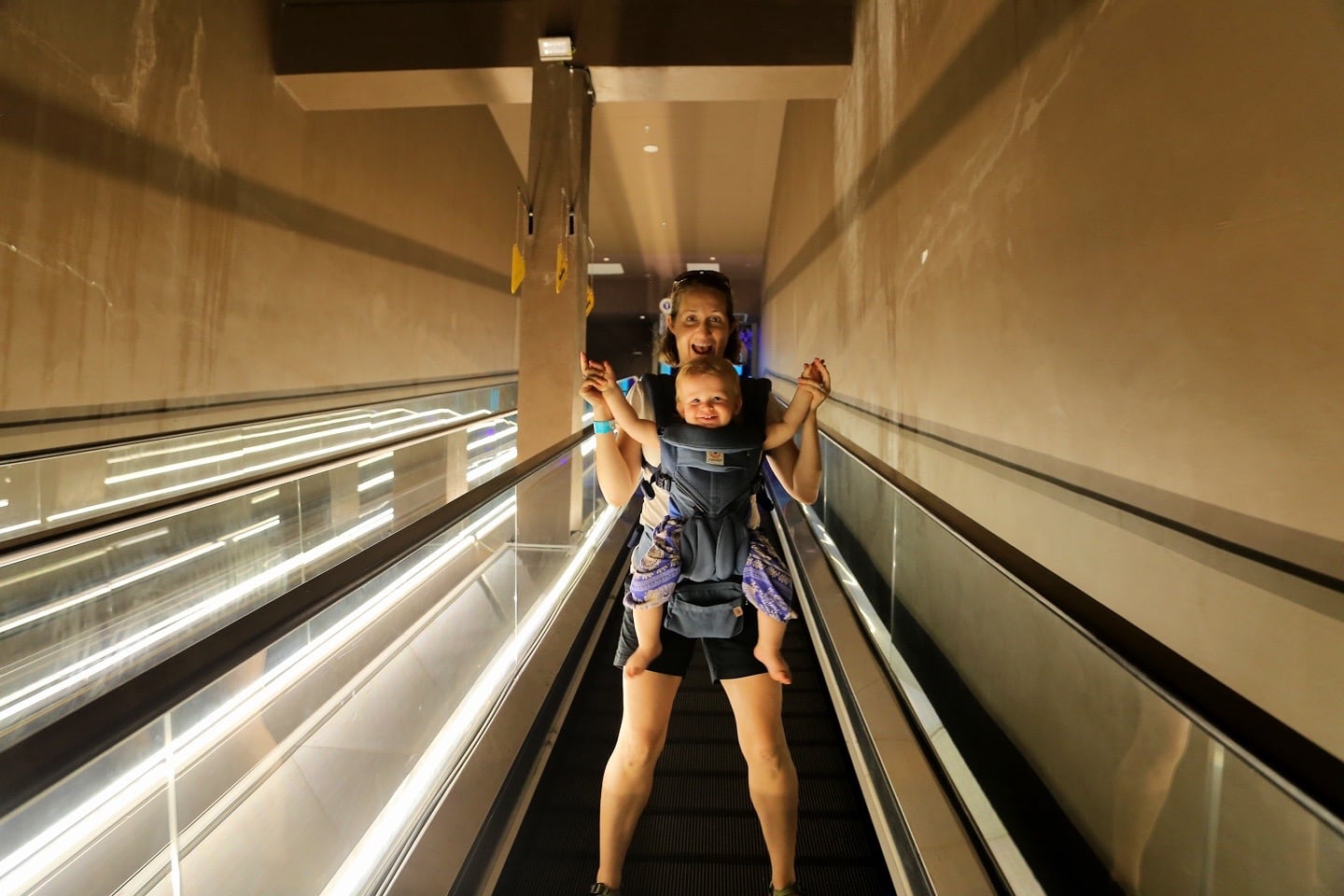 Cocoon Indoor Discovery Center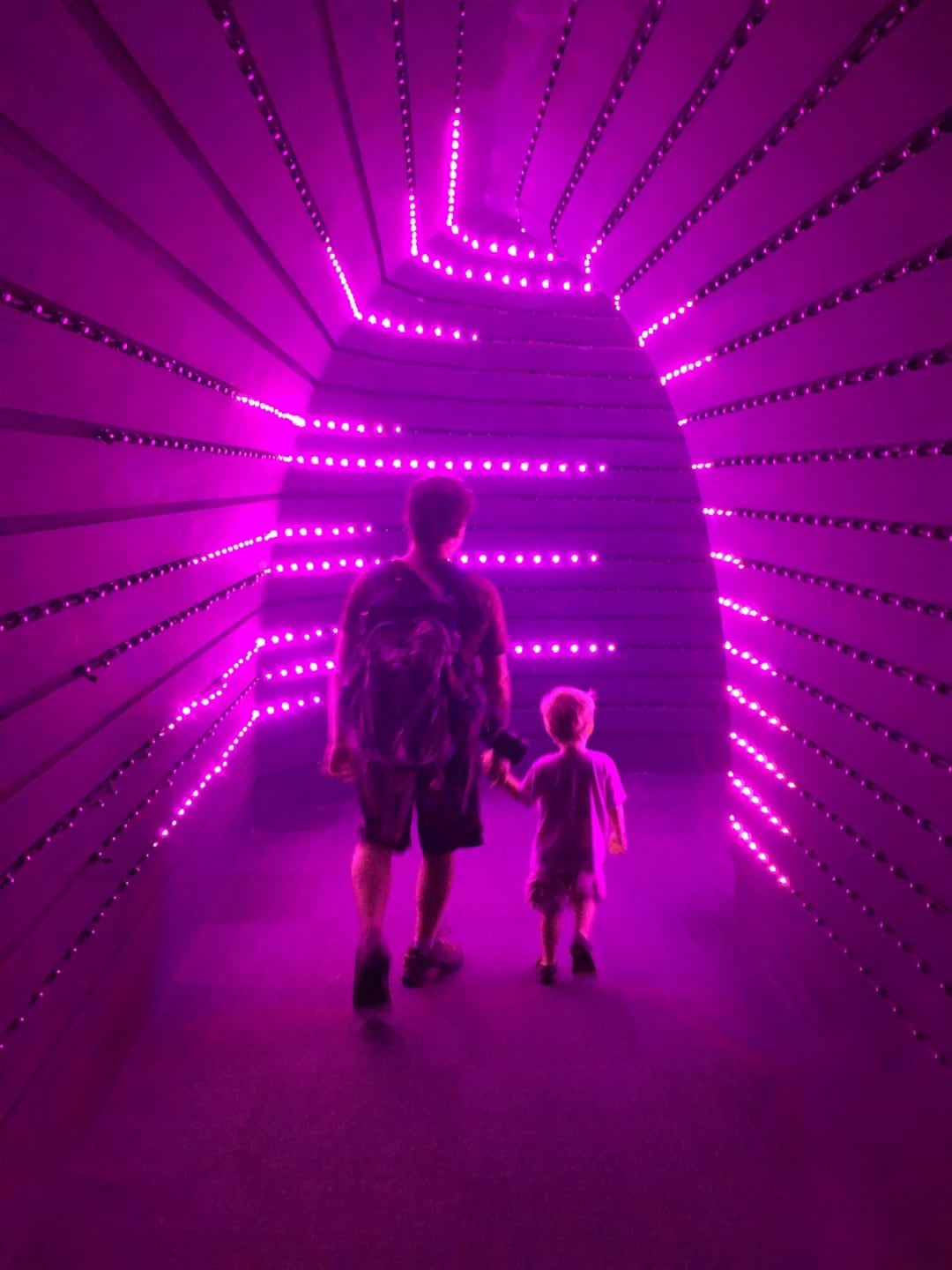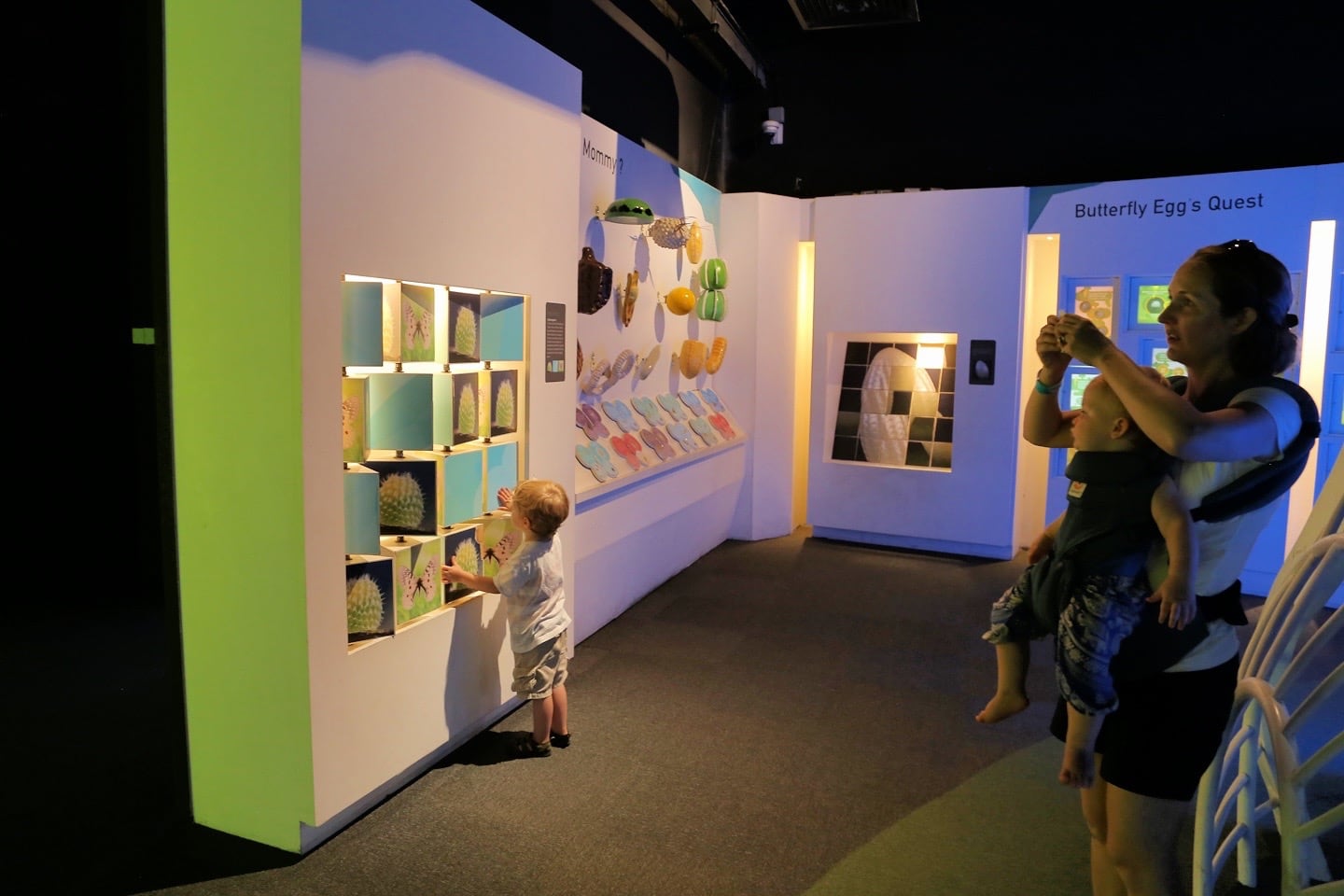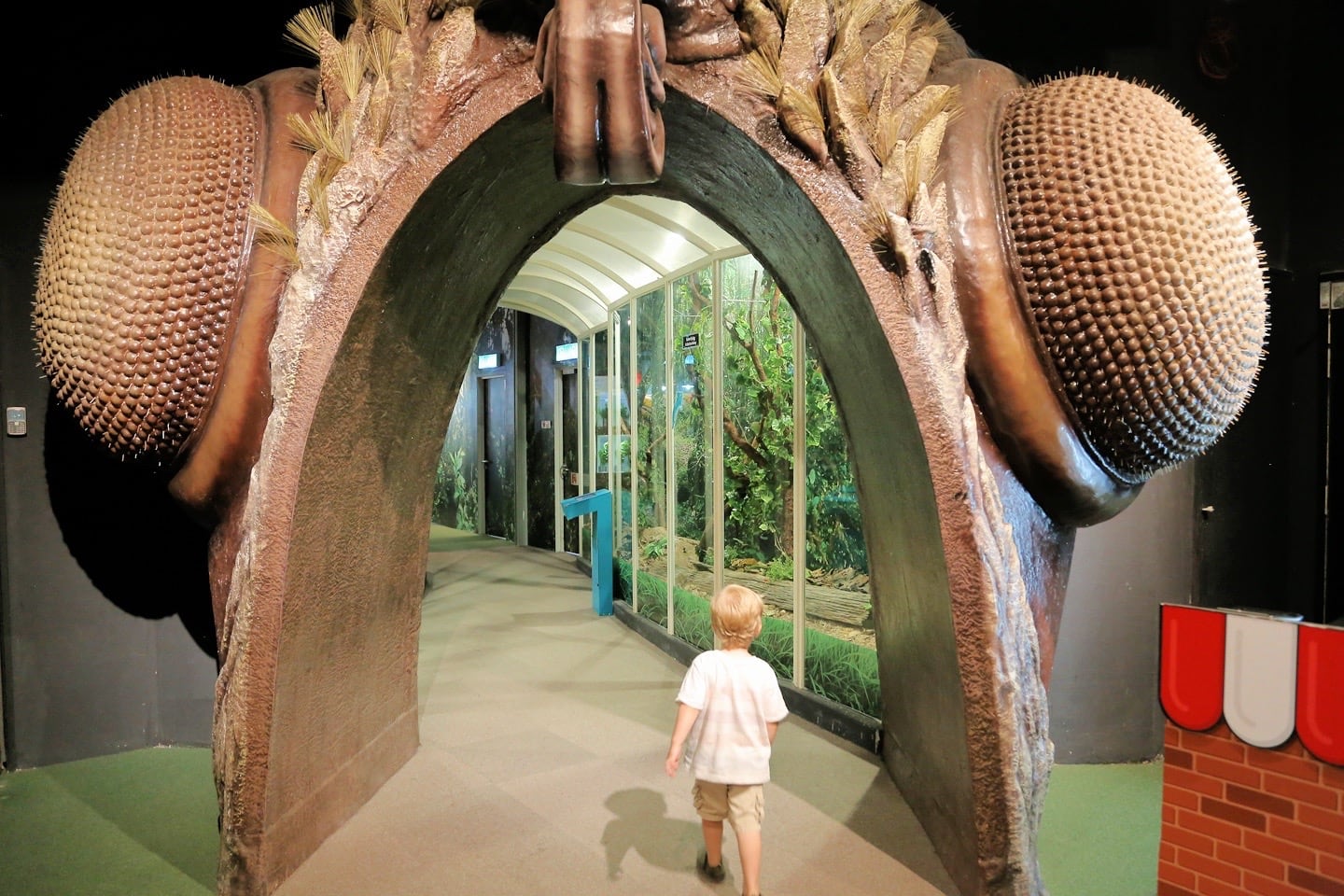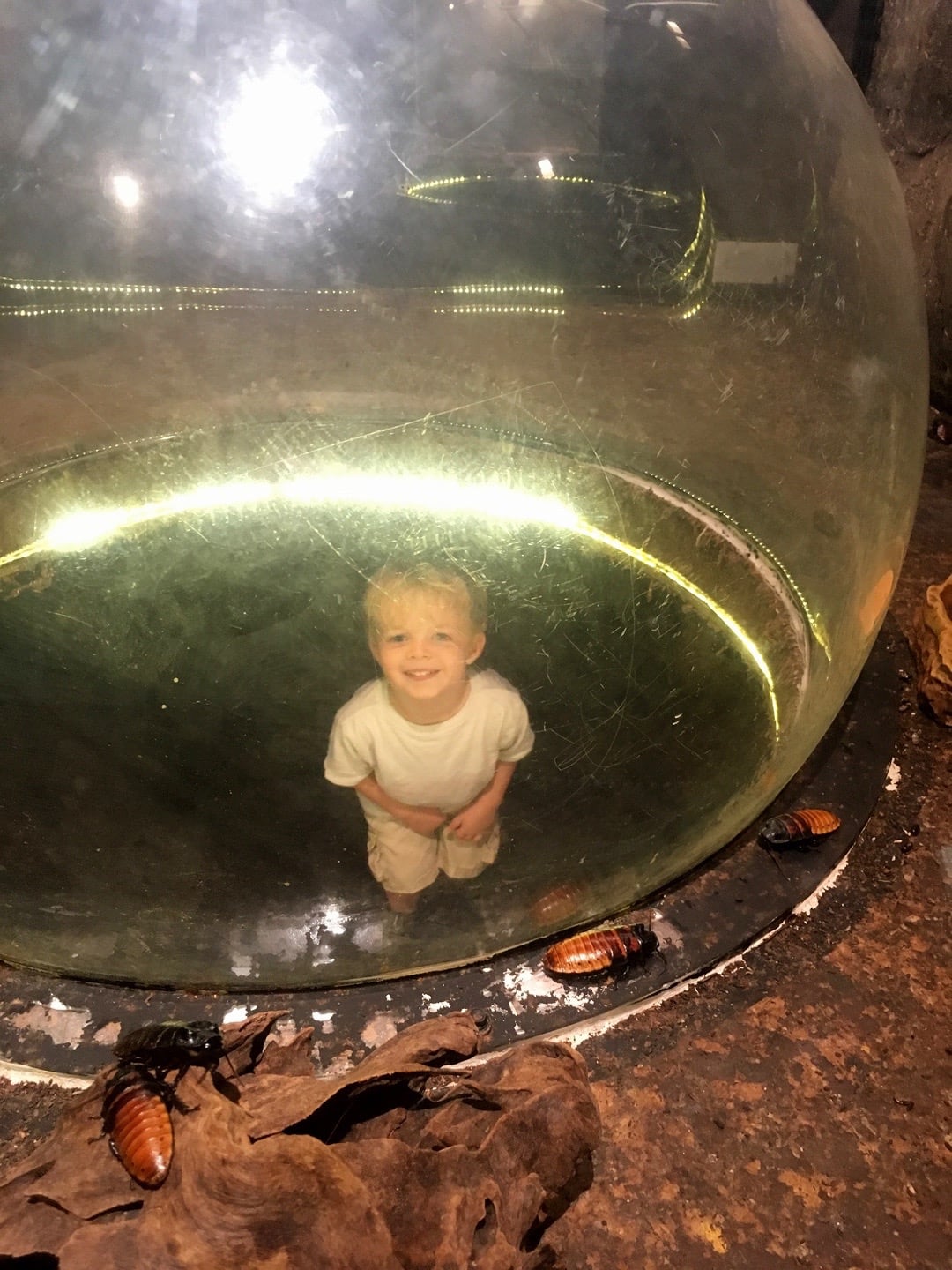 Is Entopia Butterfly Farm Worth It?
We were pleasantly surprised to discover that there is a much wider variety of exotic wildlife here than just butterflies. But the multitude of butterflies alone would likely be worth a visit.
Entopia isn't exactly cheap, but there always seem to be coupons and discounts available, which are frequently posted on their website.
All in all, we thought Entopia was more than worth the visit, particularly for toddler and school-aged kids (though we enjoyed it a lot as well).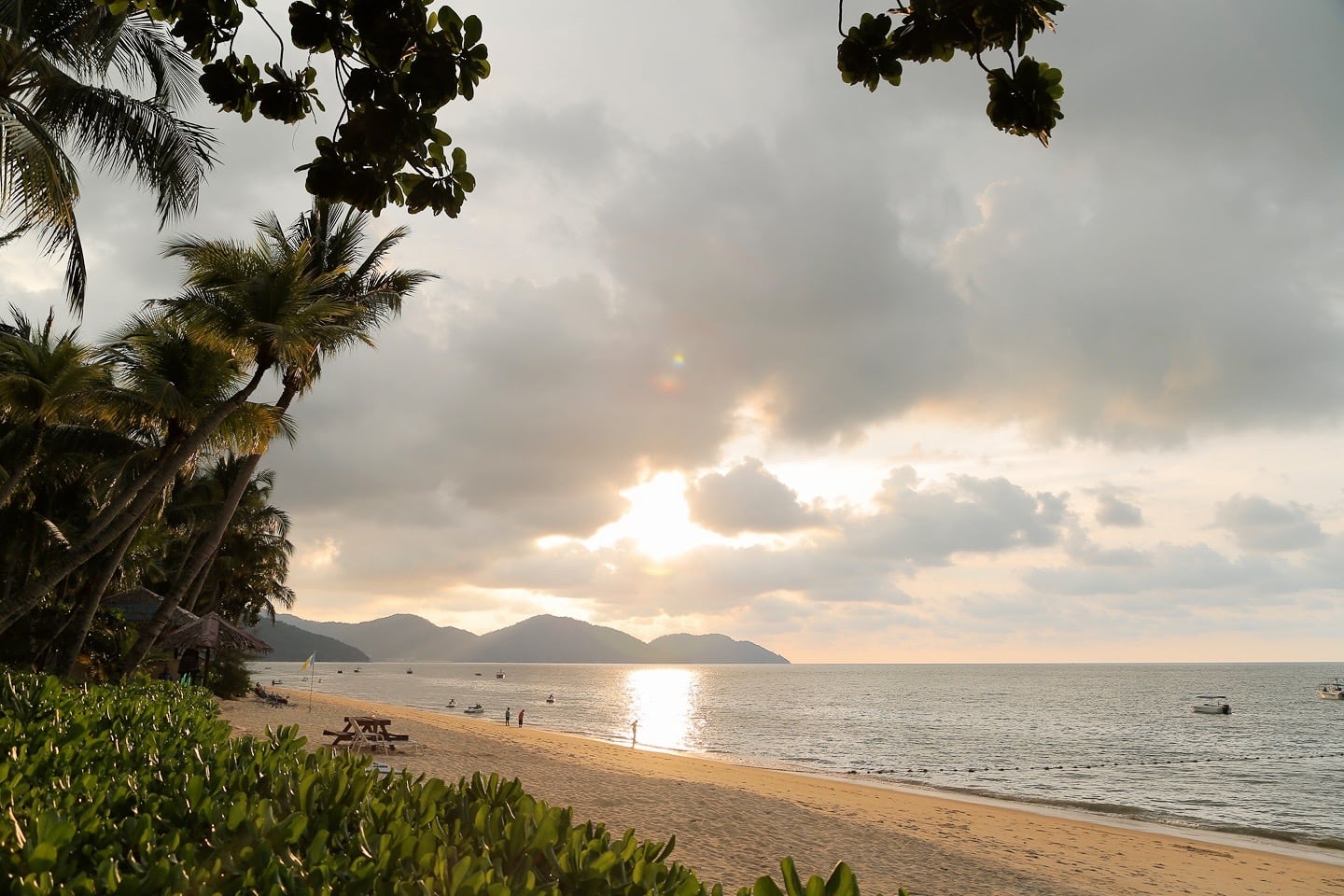 Back to Batu Ferringhi
After a fun-filled morning out of town exploring, it's back to Batu Ferringhi for nap time. It didn't surprise us when both kids passed out almost immediately.
Later, we headed back down to the beach to catch the sunset and some sundowners. This time, we kept the walk short — walking across the street to the Shangri-La Rasa Sayang Resort for some sundowners and a snack (you can even see 40-story Sri Sayang apartments where we are staying, looming over us in the background).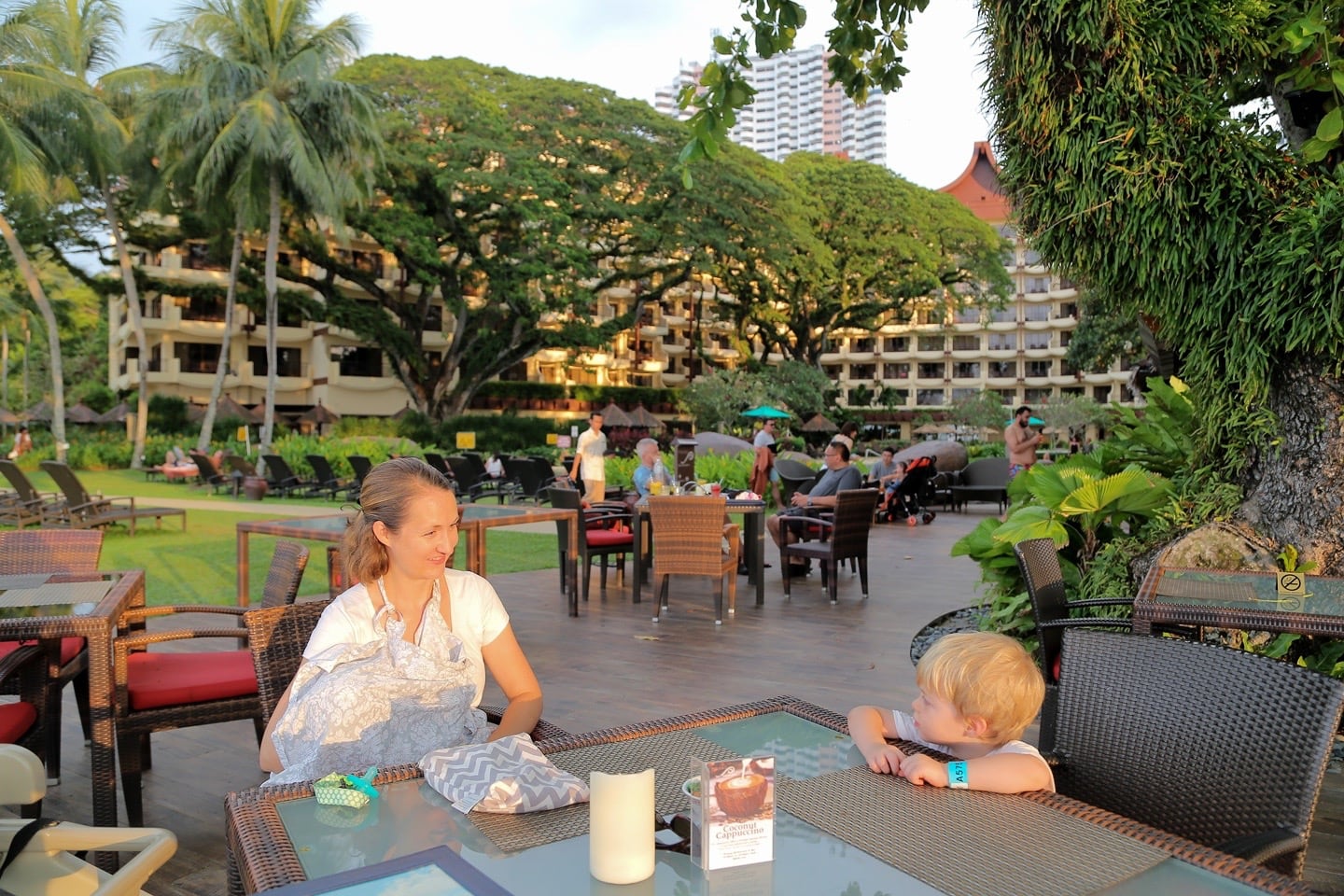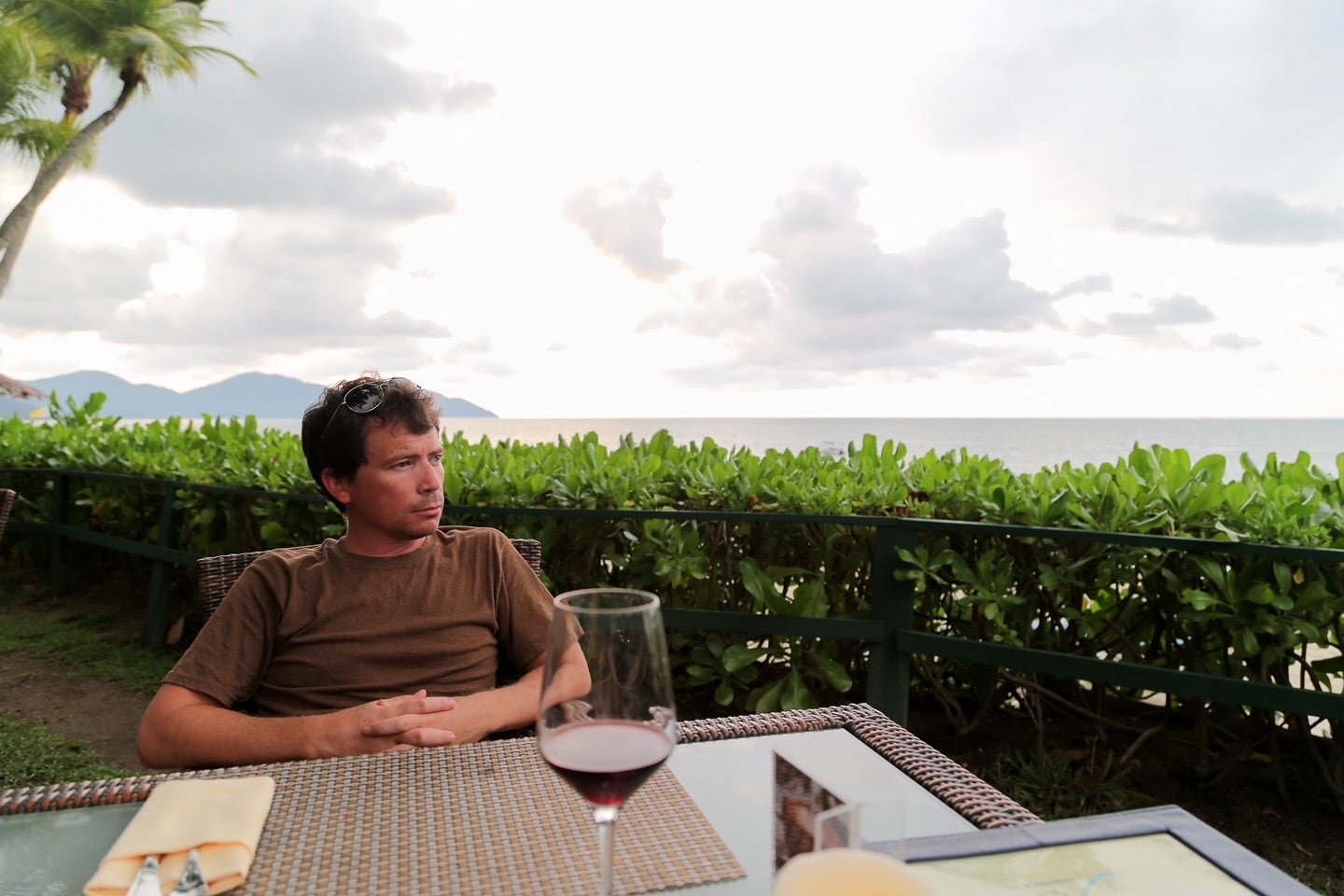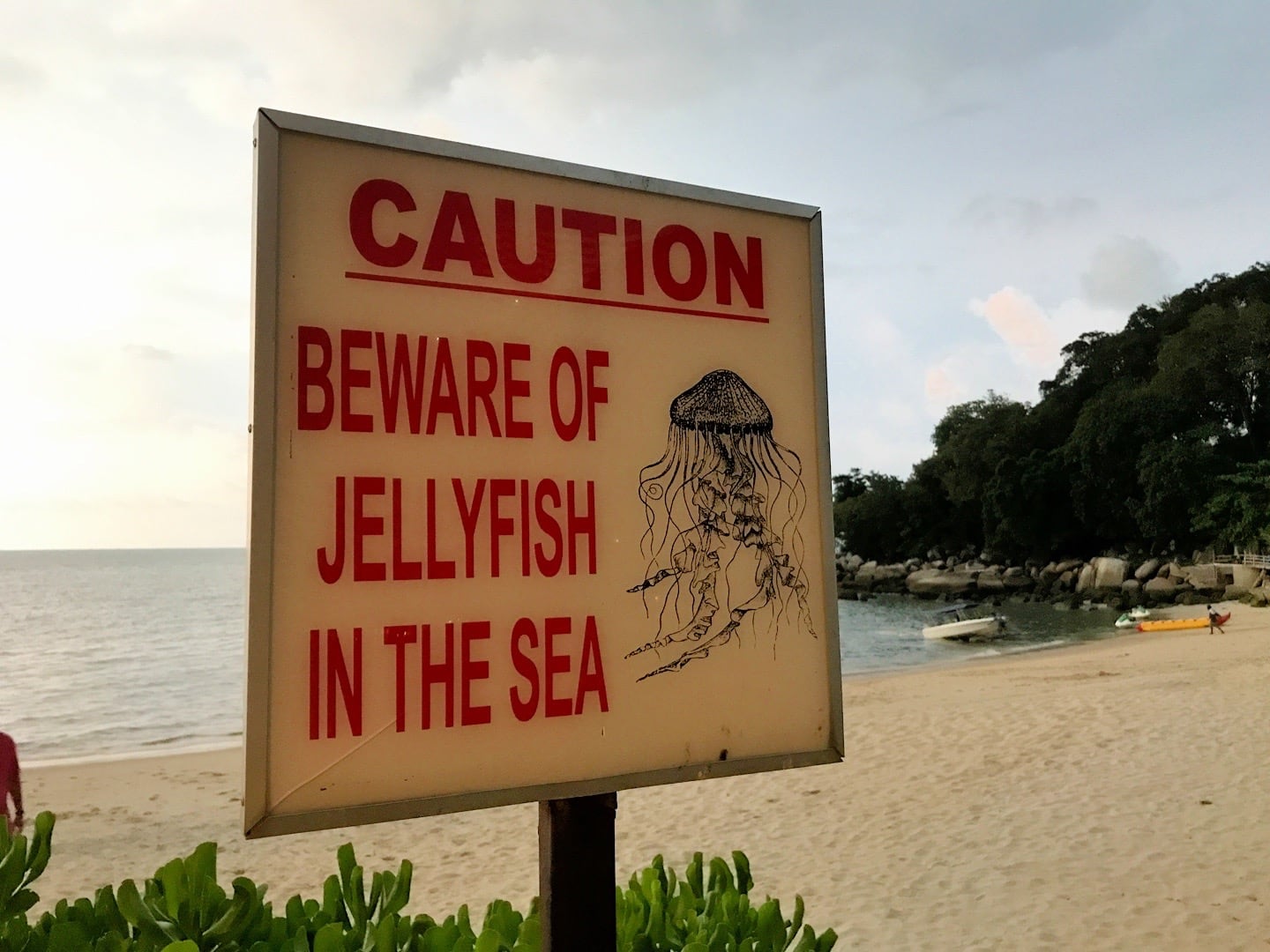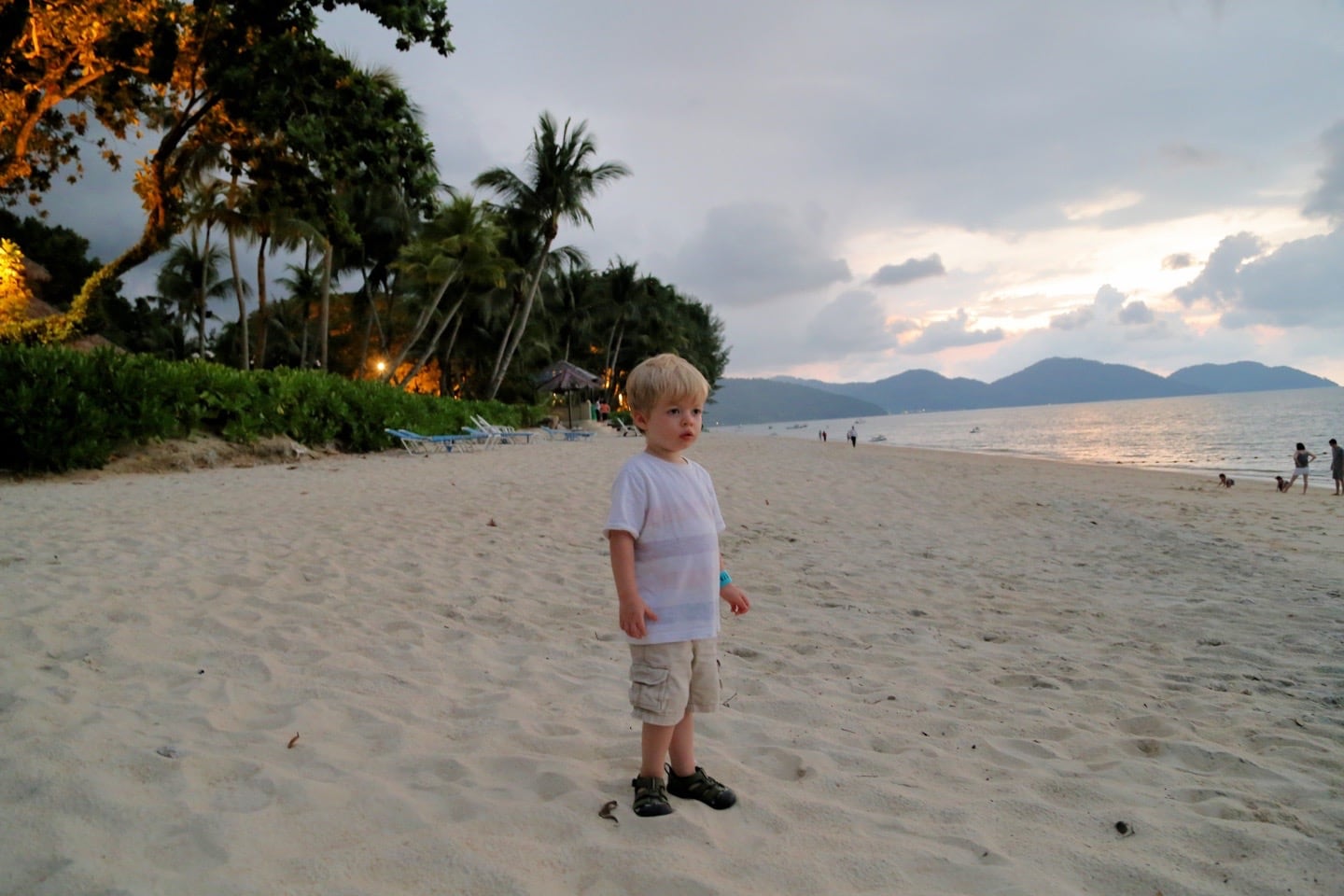 We managed to squeeze in some quick "sandbox" time before we spotted a squall approaching from the far end of the beach and decided to call it a night.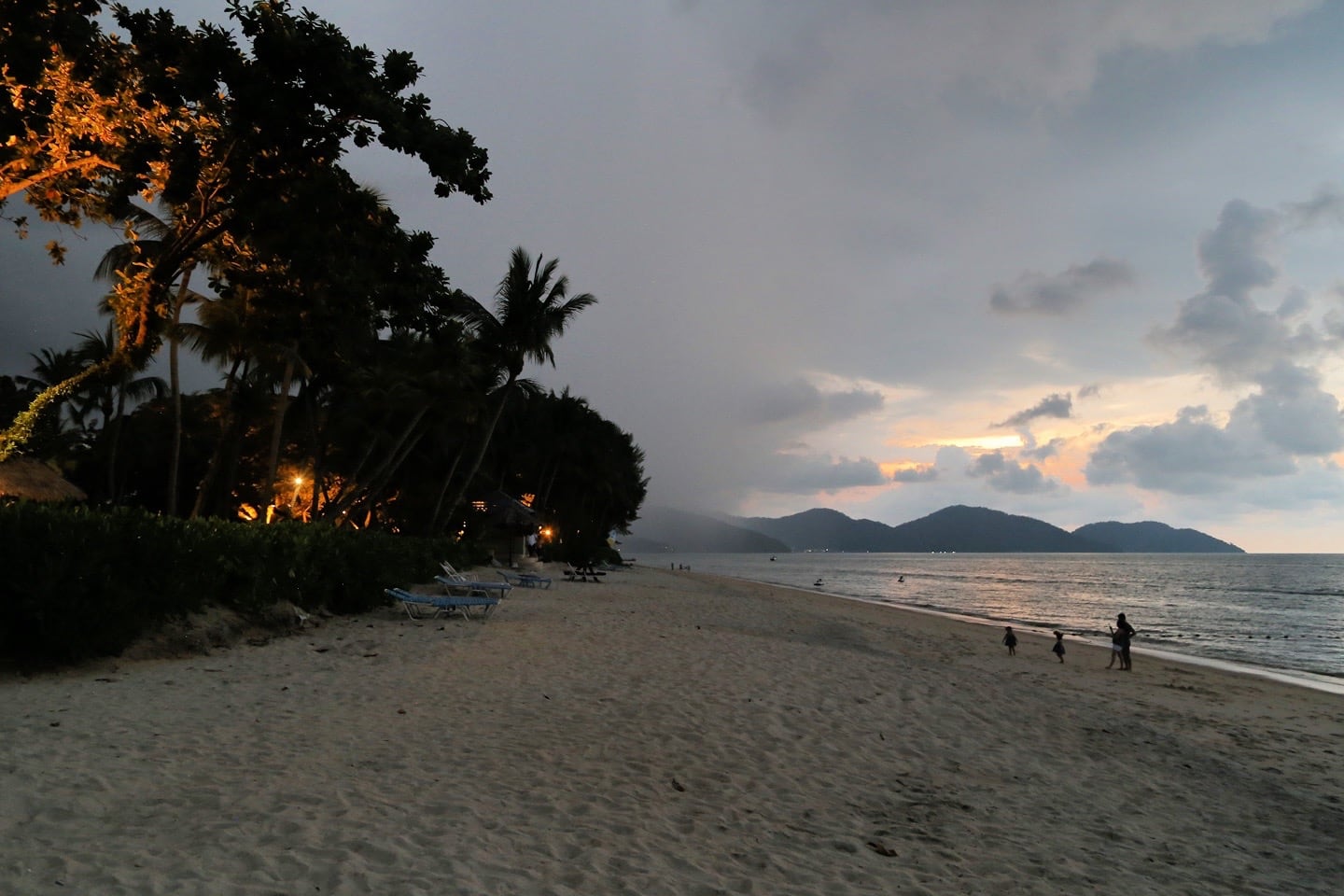 Planning a trip to Penang?
Check out some of our other helpful articles from around the island:
Have You Visited Entopia by Penang Butterfly Farm?
Do you think it lives up to the hype? Tell us about your experience in the comments below.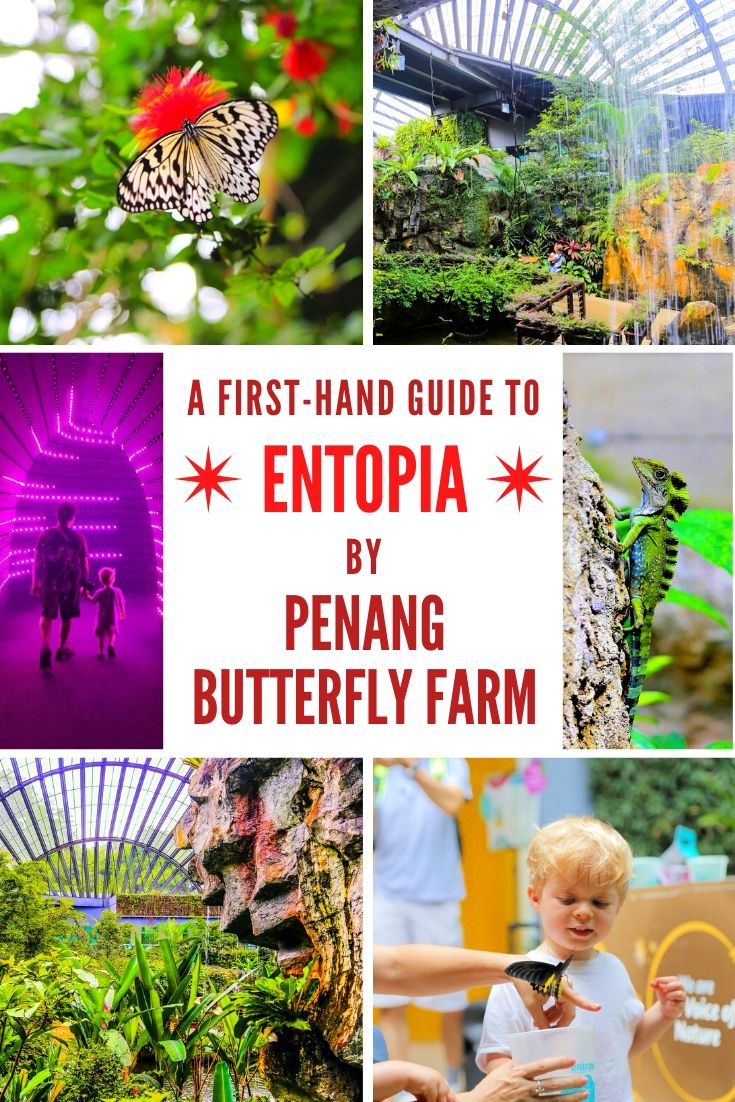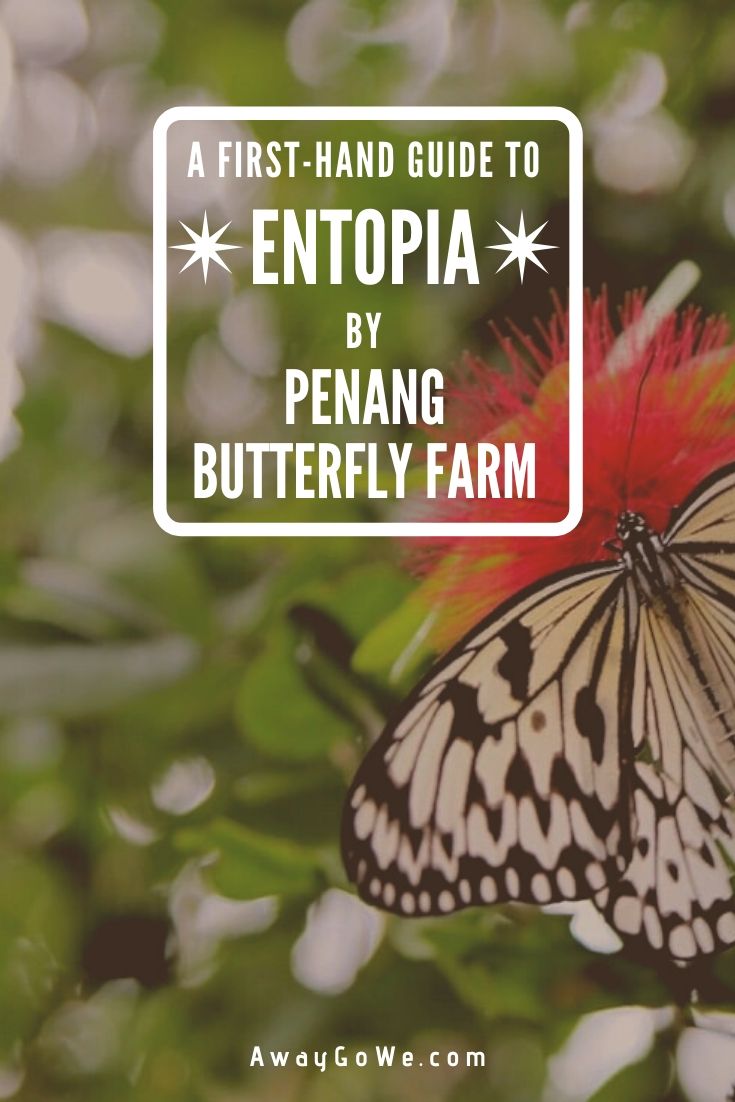 23 Jun 2020
14 Oct 2019
I've been a blogger and travel writer since 2010, covering everything from luxury hotels to hidden destinations and travel gear. Originally from Oregon, I've spent the majority of the past 20 years living outside of the U.S., in Mexico, the Caribbean, Southeast Asia, Africa, and Europe. I received a BA in Communications (Journalism) from Boston College, and an MA in International Development Studies from the George Washington University. I'm passionate about exploration and discovery, and providing independent, thoroughly-researched, ad-free advice for travelers.