Just over the length of two football fields, tiny Tobacco Caye offers independent-minded travelers in Belize a rare opportunity to enjoy an idyllic island paradise on a budget.
Off-shore, offbeat, and decidedly off-grid, Southern Belize's Tobacco Caye is what a tropical island paradise should be—isolated, relaxing, and of course, absolutely stunning.
Lori and I lived in Southern Belize for over a year, and visited Tobacco Caye multiple times during that period. We learned a ton about the island during that time as well as plenty of tips we're eager to share with others thinking of visiting this unique place.
Keep reading for all the essentials on how to visit Tobacco Caye, Belize (and why you should!), what to expect, and recommendations for getting the most out of your visit.
Looking for truly amazing overwater stays in Belize?
Be sure to bookmark: Best Overwater Bungalows in Belize!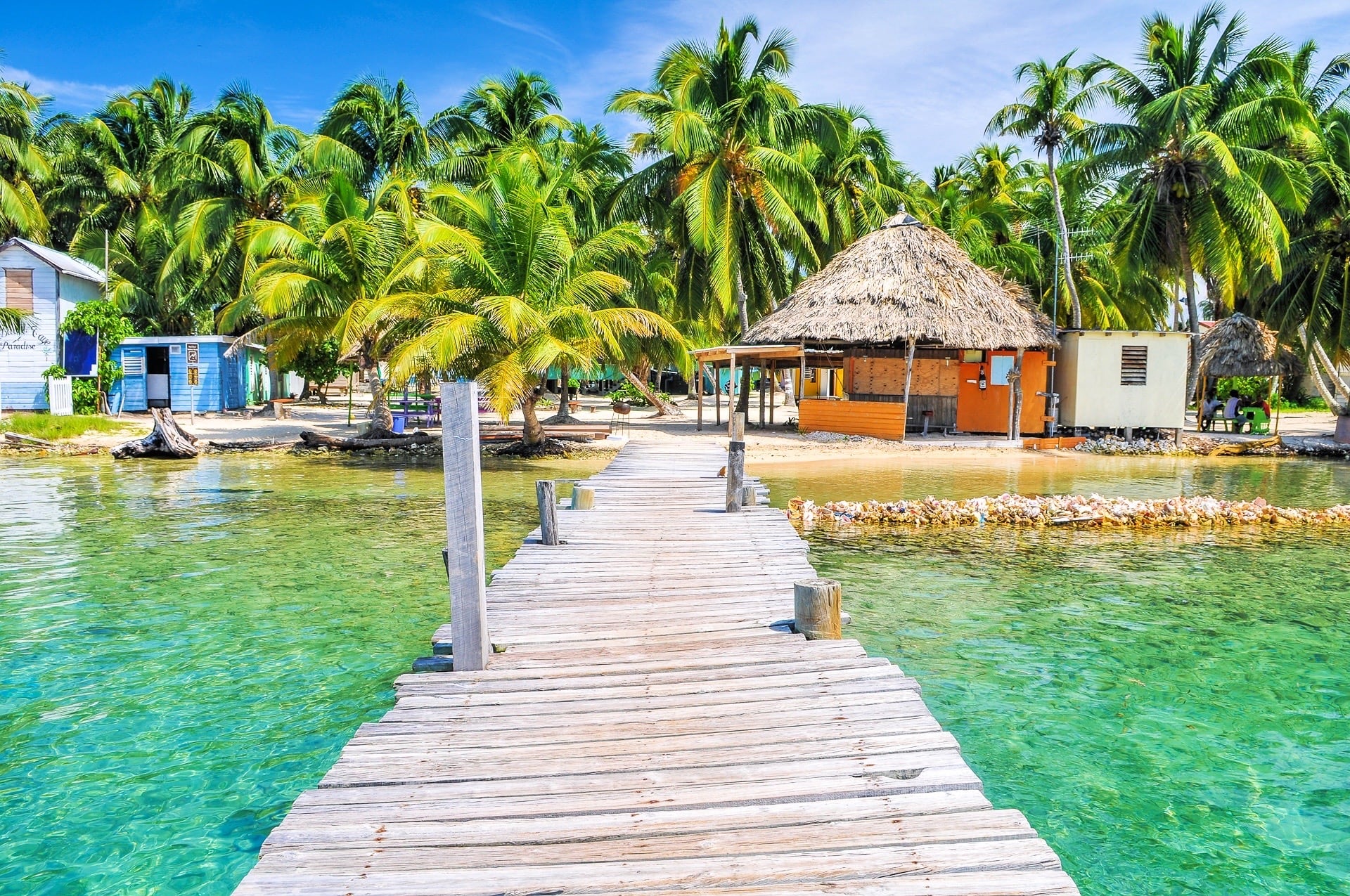 Why Visit Tobacco Caye
Belize is not an island. But when many people think of Belize, visions of idyllic islands surrounded by clear Caribbean waters seem to come to mind.
We're not talking about large island settlements like funky Go-Slow Caye Caulker or the retiree magnet of Ambergris Caye, but the tiny remote islands that feature so prominently in glossy travel mags and travel agent offices.
While Belize is home to hundreds of stunning Caribbean keys located a short distance offshore, a very few are actually developed. Even fewer offer overnight accommodation for visitors.
Some of the more well-known island stays off the coast of Belize, such as St. George's Caye, Thatch Caye, and Cayo Espanto, offer upmarket accommodation with the price tag to show for it.
But dig a little deeper, and there are still hidden offshore gems to be found, offering a paired down, no fuss getaway, surrounded by jaw dropping beauty. And Tobacco Caye may be Belize's best poster child for that.
Tobacco Caye is located just 10 miles from the shores of Dangriga, but might as well be in another hemisphere.
There's a sense of isolation here that is unrivaled in Belize, which means more opportunities to focus on the important things in life, such as hammock time, sundowners, snorkeling verdant coral reefs, and getting in touch with the rhythm of nature.
Visit Tobacco Caye for a relaxed, Belizean experience; for friendly, down to Earth people who aren't tasked to wait on you hand and foot; for it's amazing location right on the Belize Barrier Reef; for the color and diversity of life in its waters; for unlimited opportunities to disconnect, decompress, and enjoy the simple things.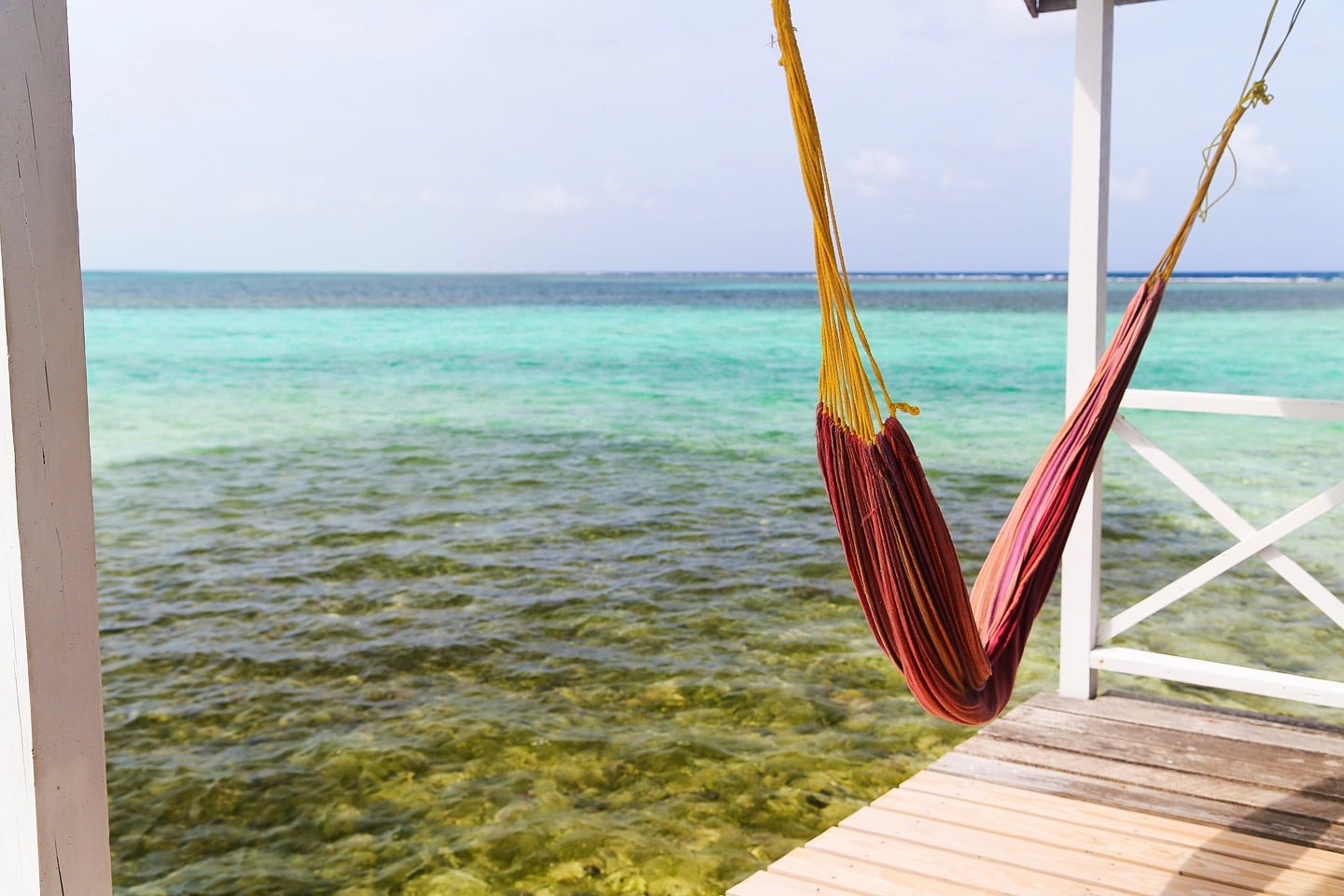 With that in mind, we would recommend skipping Tobacco Caye if you are hankering for a a five-star resort with a pool and spa offering chef prepared meals, butler service, and private dinner cruises, as you won't find any of those things on Tobacco Caye.
(if you're looking for the ultimate luxury stays over the water, check out our article on the best overwater bungalows in the Caribbean).
Still with us? Excellent! Let's dive in.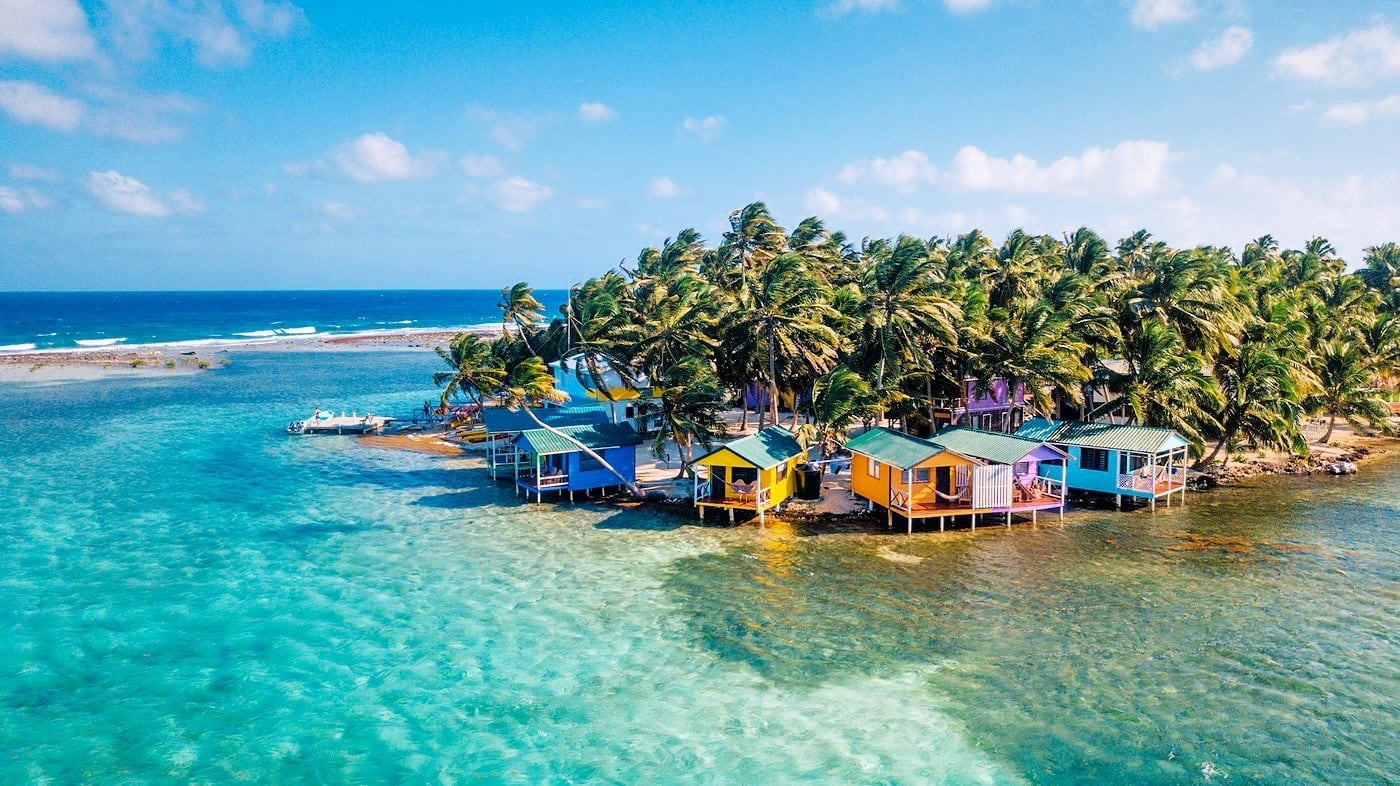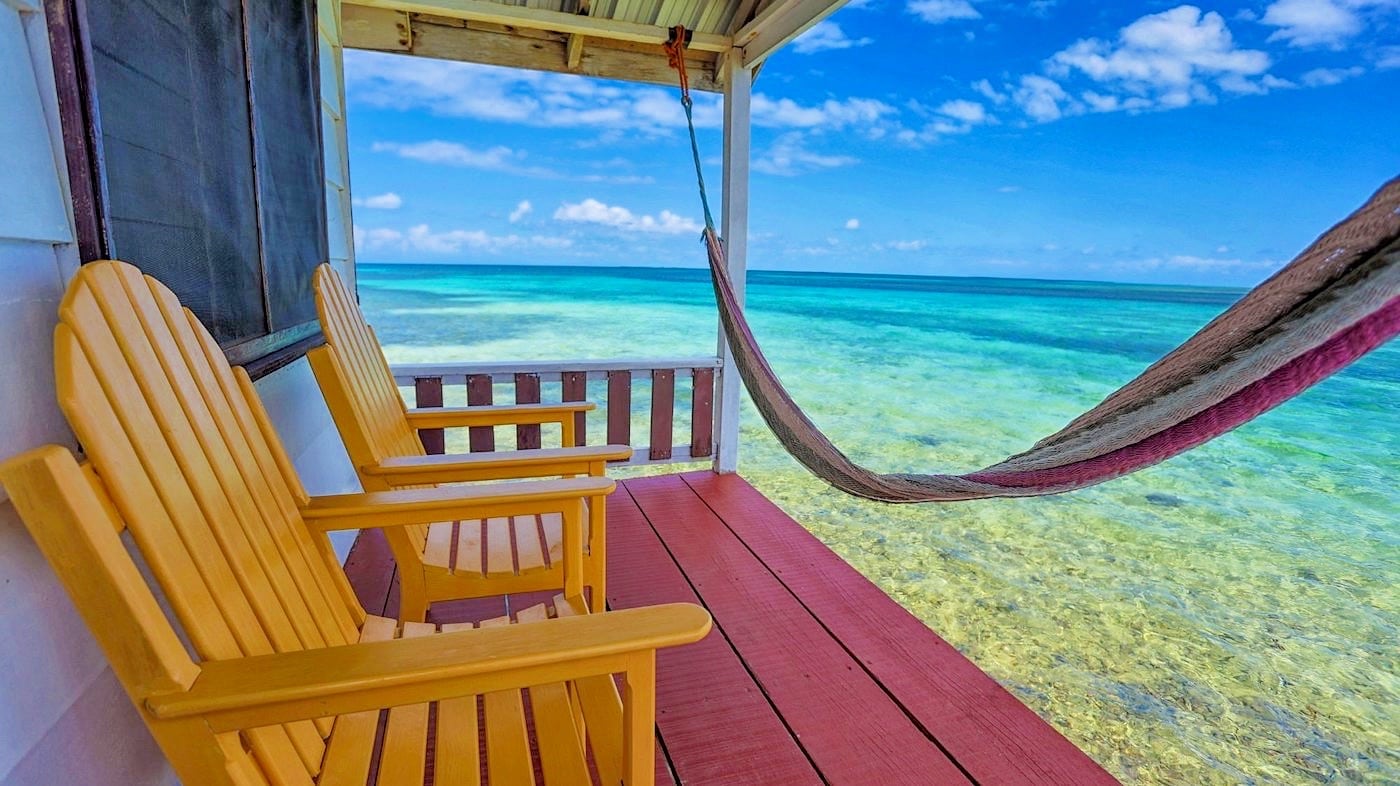 Where to Stay on Tobacco Caye
The number of lodges and resorts on Tobacco Caye seems to ebb and flow with the years, largely dictated by the forces of nature (hurricanes are not uncommon in these parts) and the ever-changing tastes of tourists and travelers to Belize.
Fortunately, Tobacco Caye appears to be enjoying a renaissance in recent years, with many of the long-time properties seeing significant upgrades and renovations, and some new faces breathing new life into the island's hospitality.
Tobacco Caye Accommodation
Tobacco Caye Paradise ▸ Our top pick on Tobacco Caye is this Belizean-owned and operated slice of paradise. This is where we stay when we visit Tobacco Caye and absolutely love it. Come for the rustic overwater bungalows, stay for the warmth and hospitality of the staff. Rainwater showers, solar power, and excellent seafood. Rates start at US$25 for budget rooms, US$100 for overwater cabanas. Enquire about extended stay specials. Meal plan is mandatory.
Joe Jo's By The Reef ▸ A relative newcomer to the lot receiving great reviews, this resort on Tobacco Caye has 5 seafront cabins and one honeymoon cabin over the water, plus more rooms in the main building. Joe Jo's also offers Scuba, snorkeling, paddle boarding and lots of other activities to keep you busy during your stay. Or just chill out and go slow, it's up to you! Rates start at US$20/night.
The Windward Lodge ▸ This place was called Tobacco Caye Lodge when we stayed there on our first visit to the island in 2013. Since then, the lodge has undergone quite the renovation and facelift, certainly making it one of TC's top stays. We especially love that they've overhauled their beach bar which we were hoping they'd do (and it looks amazing). Rates start at US$50/night. Meal plan is mandatory.
Reef's End Lodge ▸ Seems that all the lodges on Tobacco Caye are getting an upgrade, and Reef's End is no exception. A long time favorite by many repeat visitors, Reef's End looks better than ever. Rates from US$71/night including 3 meals daily.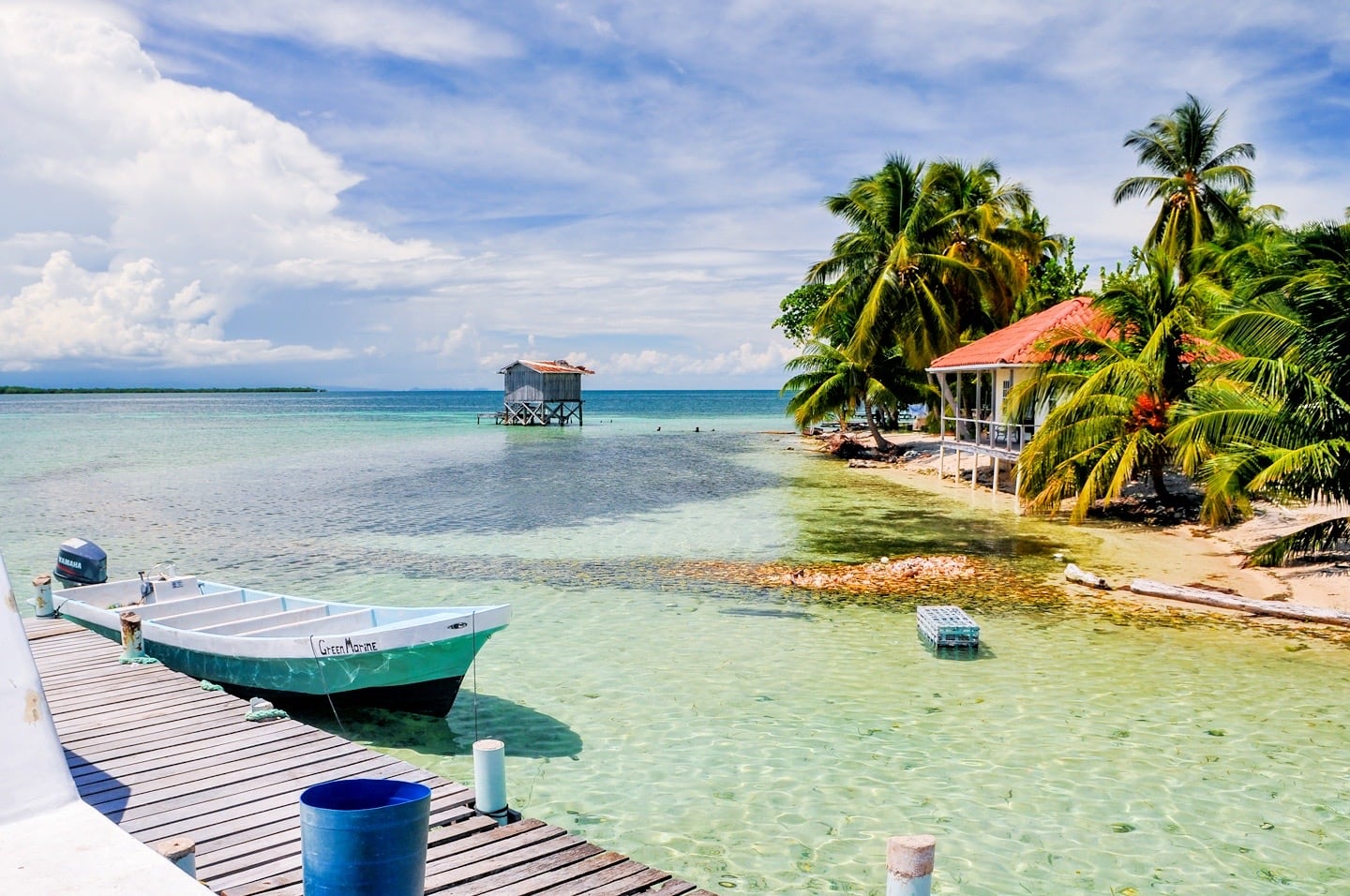 How to Get to Tobacco Caye
There's only one way to get to this tiny island: By boat! And options for that are limited as there is no regular ferry service to Tobacco Caye.
Most visitors travel by boat from Dangriga, the capital of Stann Creek in Southern Belize. Dangriga is located 40 miles (as the crow flies) south of Belize City. But in reality, getting between Belize City and Dangriga takes 2-3 hours driving along a 100-mile route via Belmopan and the Hummingbird Highway (unfortunately, the Coastal Highway is still not a practical option for most travelers).
Generally speaking, boats departing Dangriga are operated by various locals on a loose, Belizean-style schedule that depart [more-or-less] daily from the south bank of North Stann Creek, right in front of Riverside Cafe [find on map].
We recommend contacting your lodge on Tobacco Caye in advance to help you arrange transport. Each place has their own boat schedule and pricing. Currently, Tobacco Caye's regularly scheduled service costs US$30/person.
Count on the journey taking around 45 minutes from Dangriga. Our trips have always been fairly smooth, even with the occasional squall on the horizon. The Belize Channel (the waterway between the mainland and the Barrier Reef) is well protected and the seas rarely get very big in the channel.
Please note: Tobacco Caye is located in the South Water Caye Marine Reserve, which requires a daily fee of US$5. Fisheries officers come by on a daily basis to collect the fee. There are also tickets you can buy in advance offering a discount for extended stays.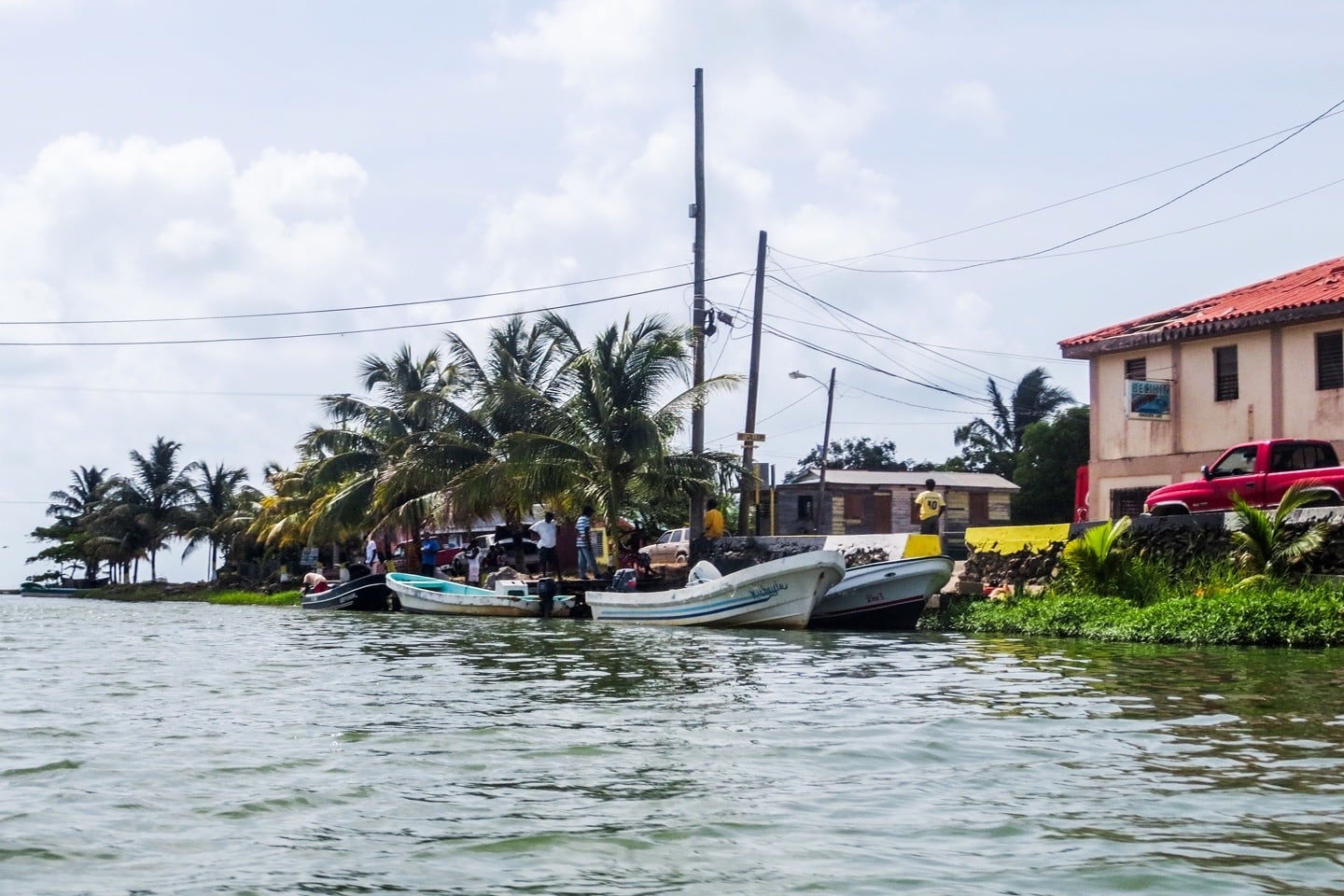 Overnighting in Dangriga & Hopkins
Due to weather and other factors, boat departures from Dangriga to Tobacco Caye usually happen in the morning. Given Dangriga's location 2-3 hours south of Belize City and fair distance from other Belize destinations, you'll likely find yourself with an overnight in Dangriga before heading out to the island.
Alternatively, if you've got your own wheels or want to hire a private driver, you could also overnight in the worthwhile Garifuna beach town of Hopkins, making the 30 minute driver to the boat launch the morning of your departure.
Both Dangriga and Hopkins also make for a good jumping off point for visiting Cockscomb Basin Wildlife Sanctuary.
Where to Stay in Dangriga
For a clean and tidy, no frills overnight in Dangriga, we recommend Chaleanor Hotel, a block south of the boat launch to Tobacco Caye (from US$57). For a more upmarket stay a bit north of the city center, check out Pelican Resort (from US$150).
While Dangriga is an interesting and authentic Belizean town with lots of local color, there's little here that is likely to wow visitors traveling with limited time on their hands.
Nearby Hopkins may be a better bet for soaking up the area's rich Garifuna and Caribbean culture.
Where to Stay in Hopkins
There are several excellent lodging options in Hopkins, but if you're only staying a night or two, we recommend the Funky Dodo Backpackers, our top pick for those traveling on a budget and looking for the best value (rooms from US$34).
If you're looking for the most comfort and amenities, Muy'Ono's Hopkins Bay Resort may be what you're after.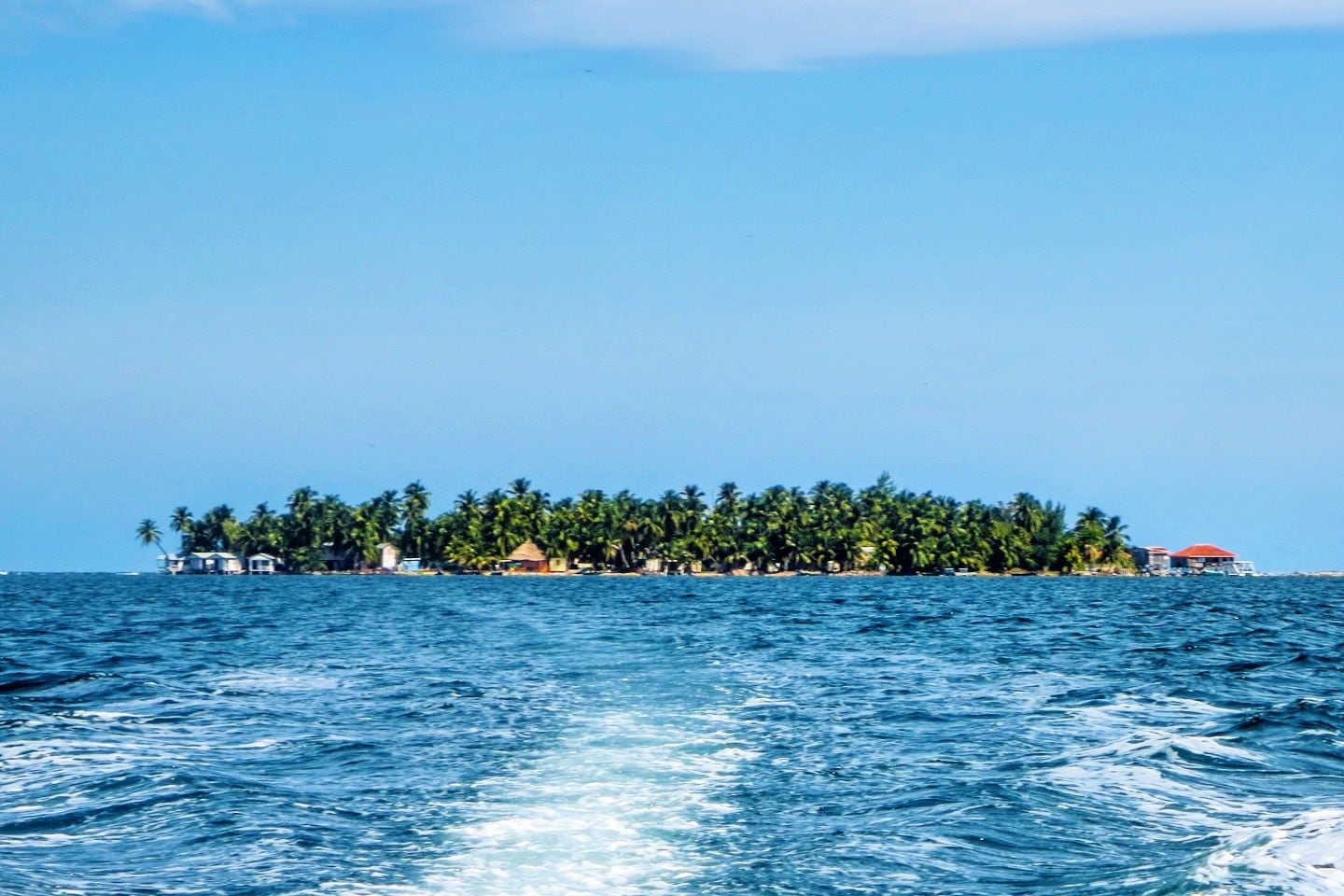 Where is Tobacco Caye?
You can find tiny Tobacco Caye along the Belize Barrier Reef (Mesoamerican Reef) at Latitude 16°53'53.3868″ and Longitude -88°3'50.5224″, which places the island about ten miles offshore (east) of Dangriga.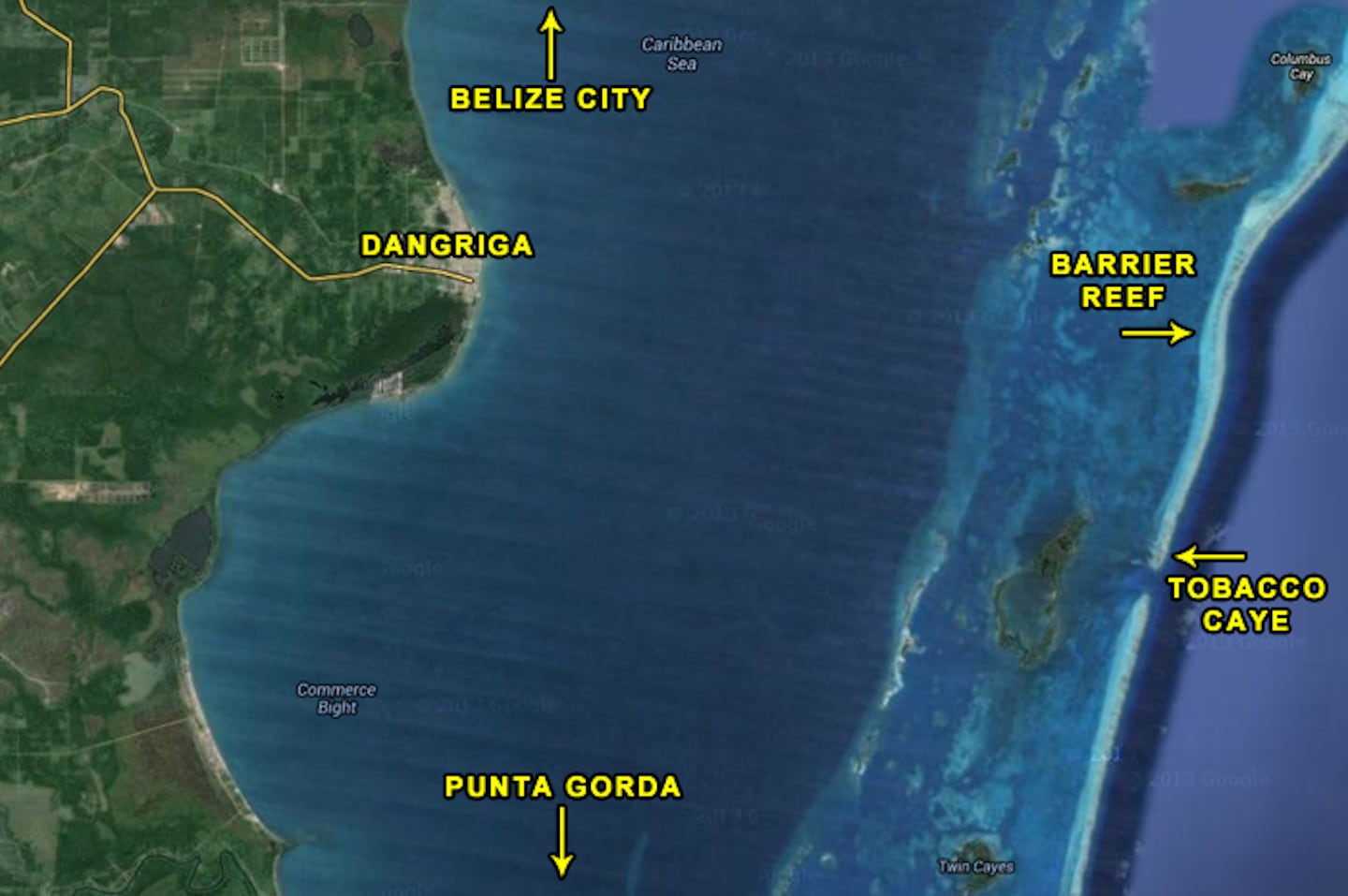 A unique feature of Tobacco Caye is that it is one of the few inhabited islands that is located directly on the Belize Barrier Reef.
Other islands such as Caye Caulker lay just off the reef and a boat is needed to get between the two—but that's not the case with Tobacco Caye.
Tobacco Caye is also notable for its size—just over three acres—stretching the length of just over two football fields, with a width of just over one (240m x 125m).
The island has a permanent population of around 20 residents, along with 3-5 guesthouses depending on the season.
A shallow portion of the reef is submerged, separating the island a bit from the rest of the reef.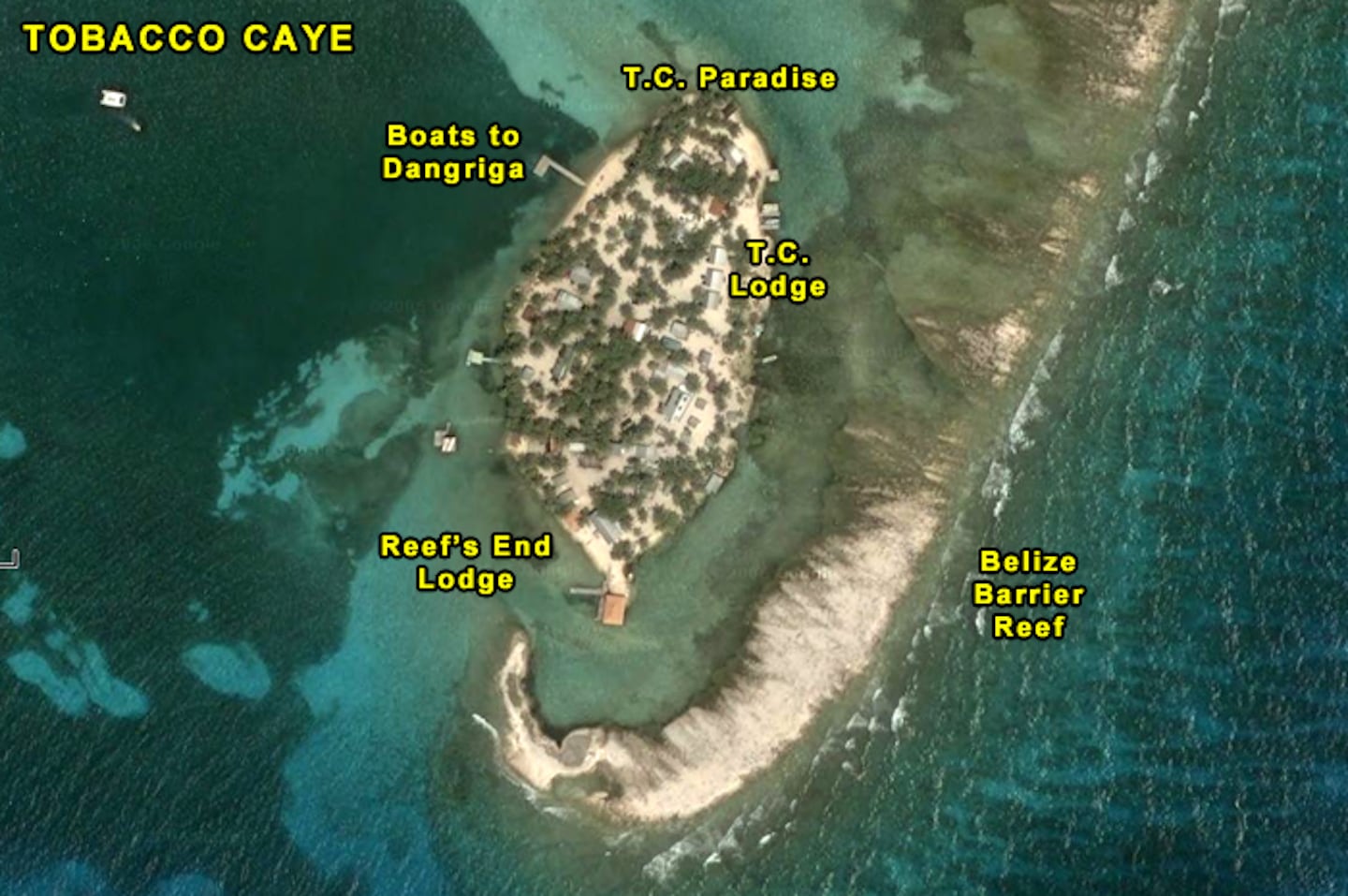 Just south of the island, there is a rare split in this stretch of reef where the warm waters of the reef shelf (left) mix with the cooler waters of the open sea (right) and you certainly feel the difference the second you swim around the corner of the reef.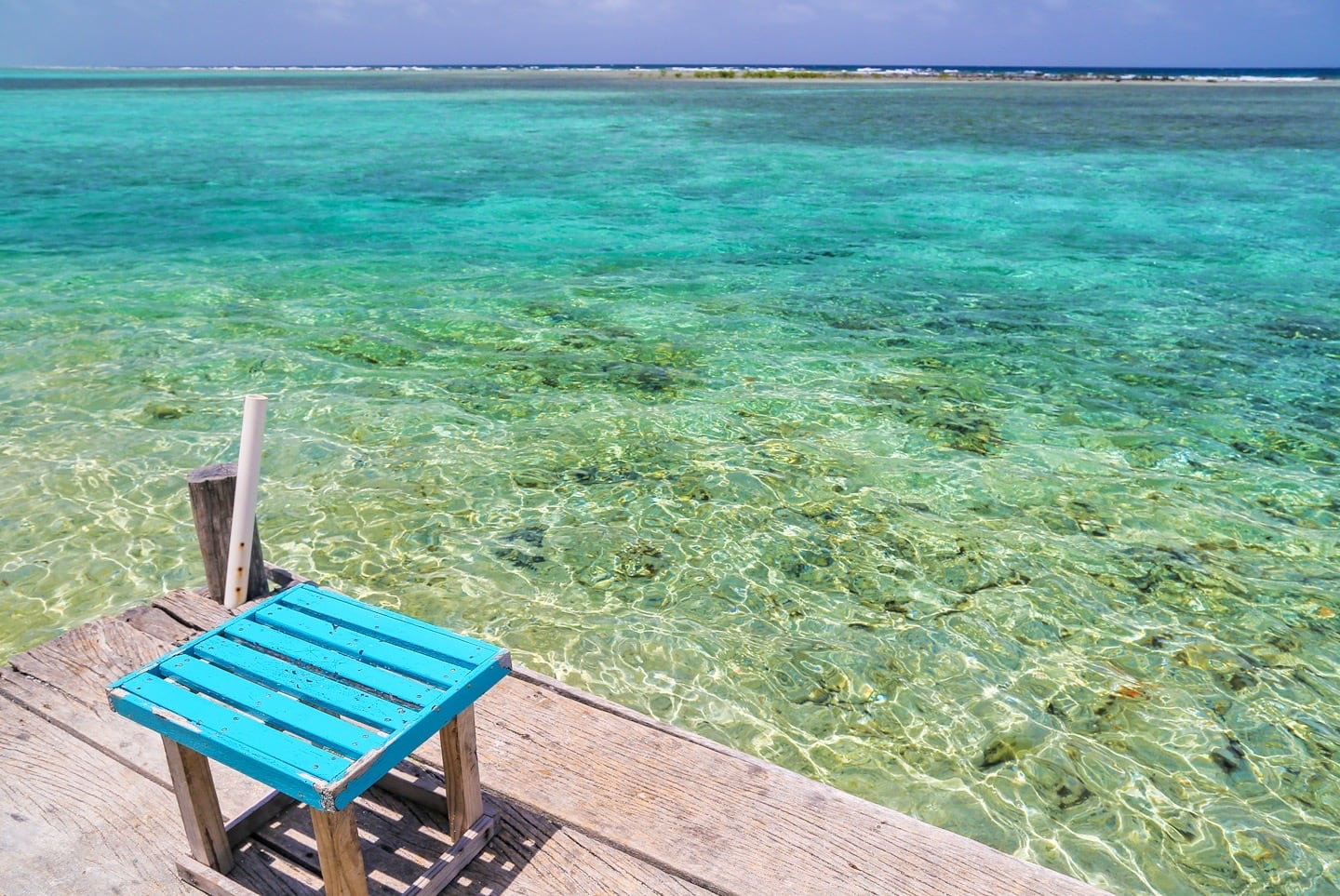 The waters are some of the clearest I've seen anywhere, especially in the early morning when the glare of the sun is less intense and the water is calm.
The barrier reef in the distance divides the crystalline waters around the island with the deep blue open sea.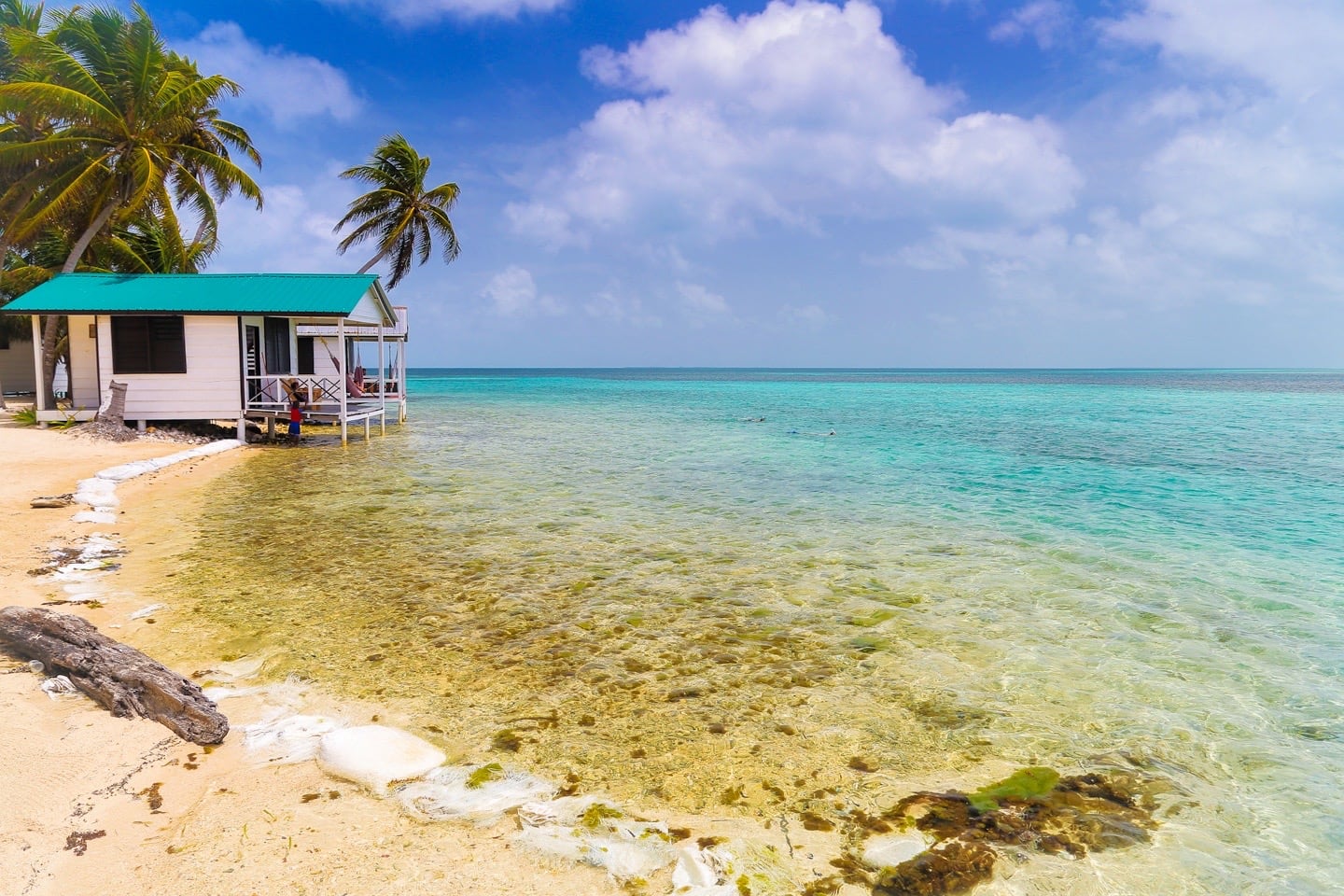 Swimming, Snorkeling & "Beaches"
Despite the sandy frontage in this photo, there aren't really sandy beaches on the island, but plenty of places to swim nonetheless (piers and rocky banks).
The majority of the eastern shore of the island is off-limits to swimming, snorkeling, and other water activities, as it is part of the protected marine reserve.
The rest of Tobacco Caye, however, is fair game (though fishing restrictions do apply).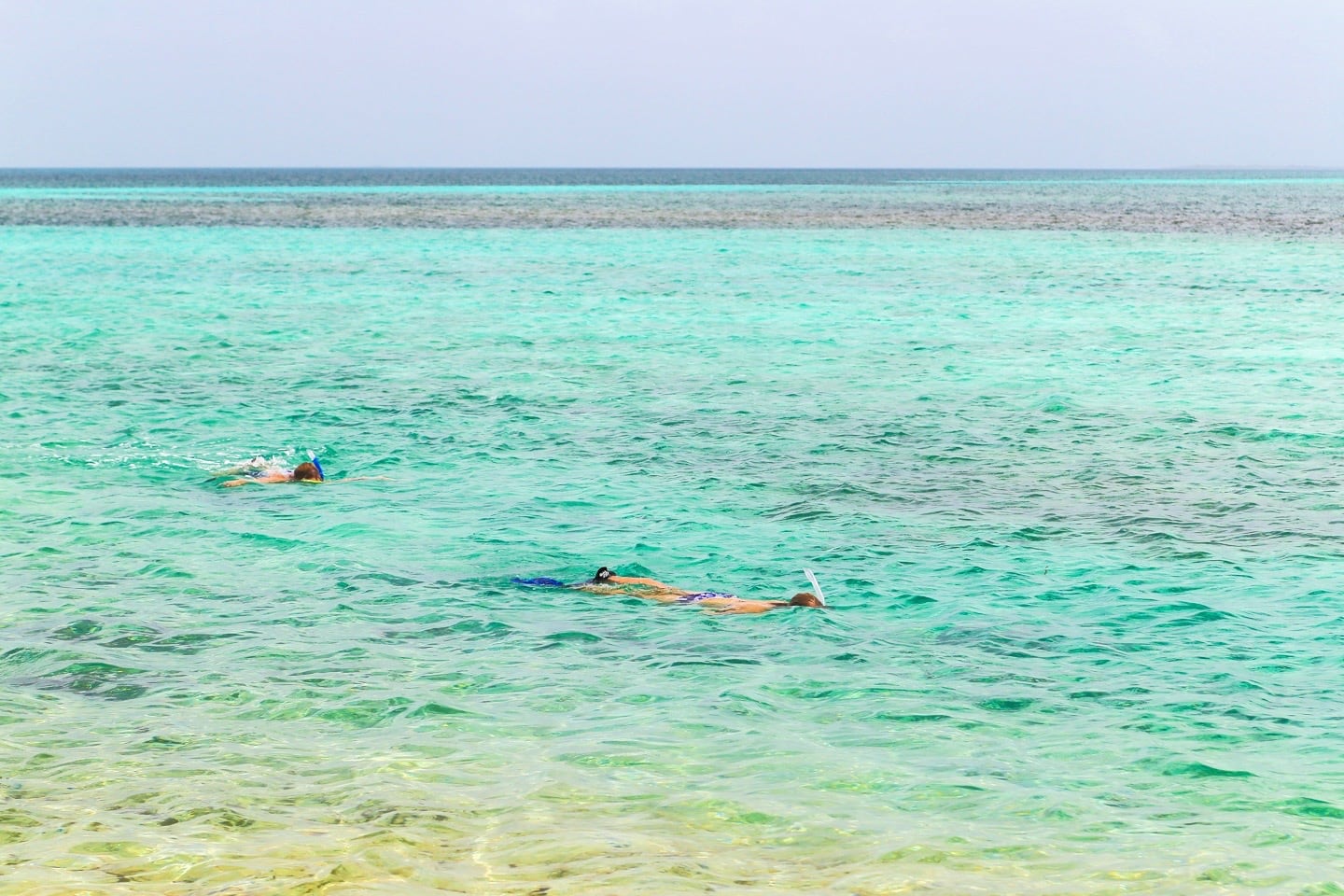 Crowded Times
We were just two of four guests staying the night on the island on this particular weekend.
But we've heard that the island can get pretty crowded and feel somewhat claustrophobic in high season (December-January).
Staying in late September and early July, we had nothing but peace and serenity. It felt as if we had an entire island to ourselves.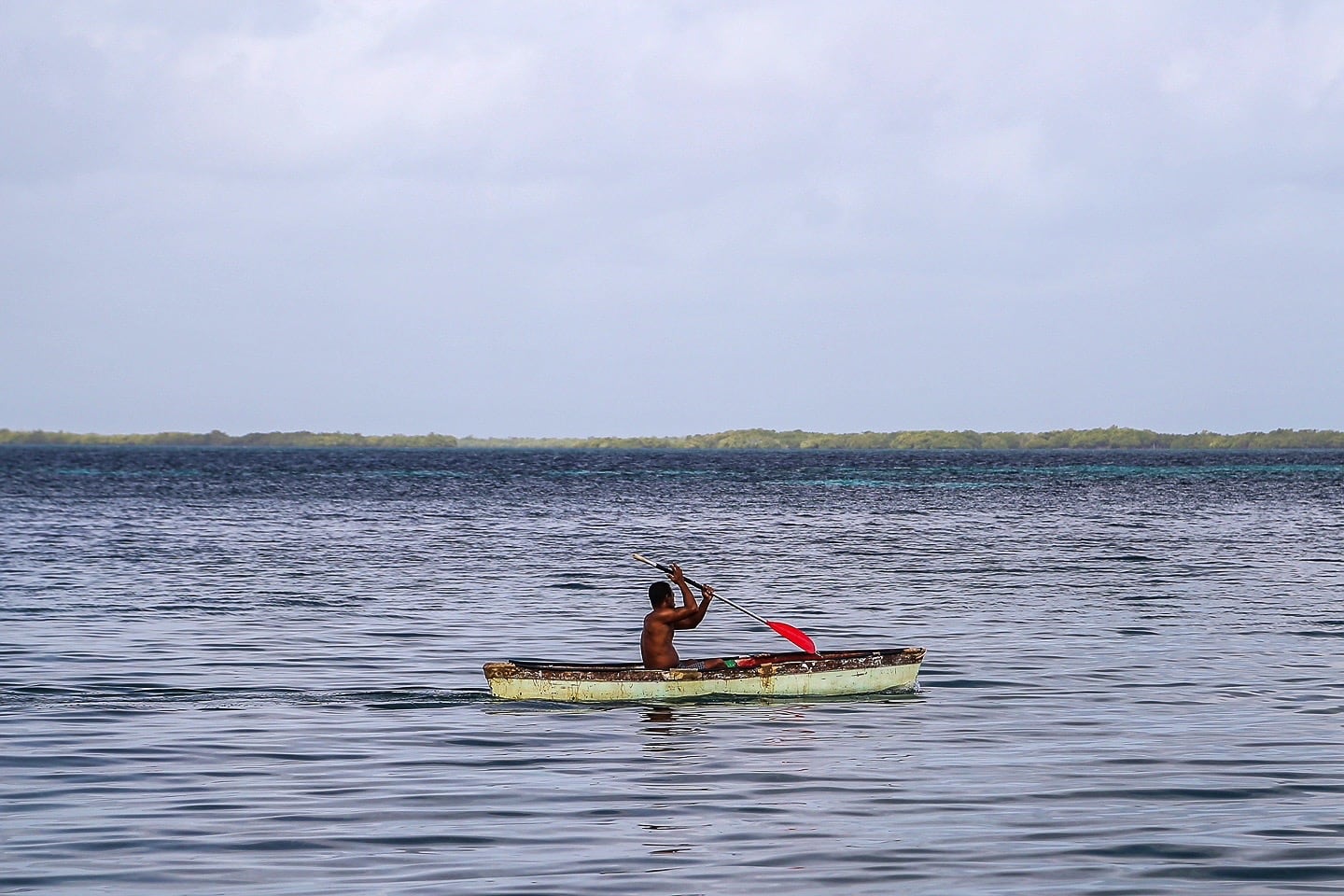 Eating & Drinking on Tobacco Caye
🔥 HOT TIP 🔥
Most of the lodges on the island offer some type of all-inclusive meal plan (lunch, dinner, and breakfast) either included in the price of the stay, or for an added fee.
As there aren't many restaurants or snack shacks on Tobacco Caye (and there's no telling what will actually be open from visit to visit), we recommend getting the meal plan!
While meals were included in the price of our stay, we did find it hard to get a beer or even a coke in the afternoon.
The little general store was closed, the other restaurant on the island was out of food and beverages, and everyone else had gone to Dangriga to get provisions.
Lori and I did come prepared (at the suggestion of someone back in Dangriga town) with a small bottle of rum, but weren't able to get our hands on some Coke until after dinner.
Such is island life I suppose.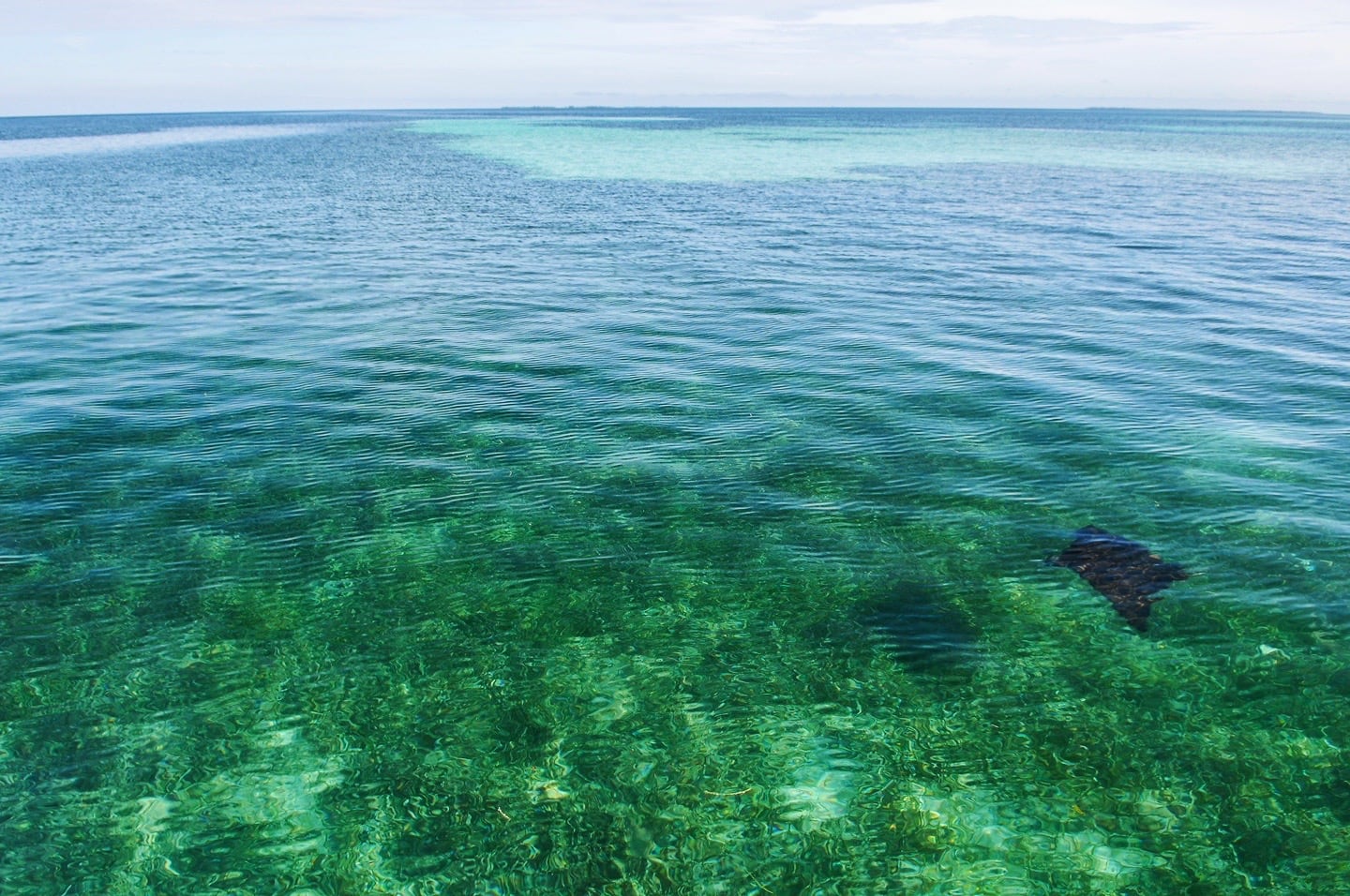 Tobacco Caye Marine Life
Though rare elsewhere, it's not uncommon to spot a cluster of Spotted Eagle Rays circling the island. For the best chance of seeing one, head to the south end of the island.
Spotted Eagle Rays are generally fearful of snorkelers and will keep their distance, so the best way to see them is often from out of the water. Tobacco Caye offers plenty of opportunities for doing just that.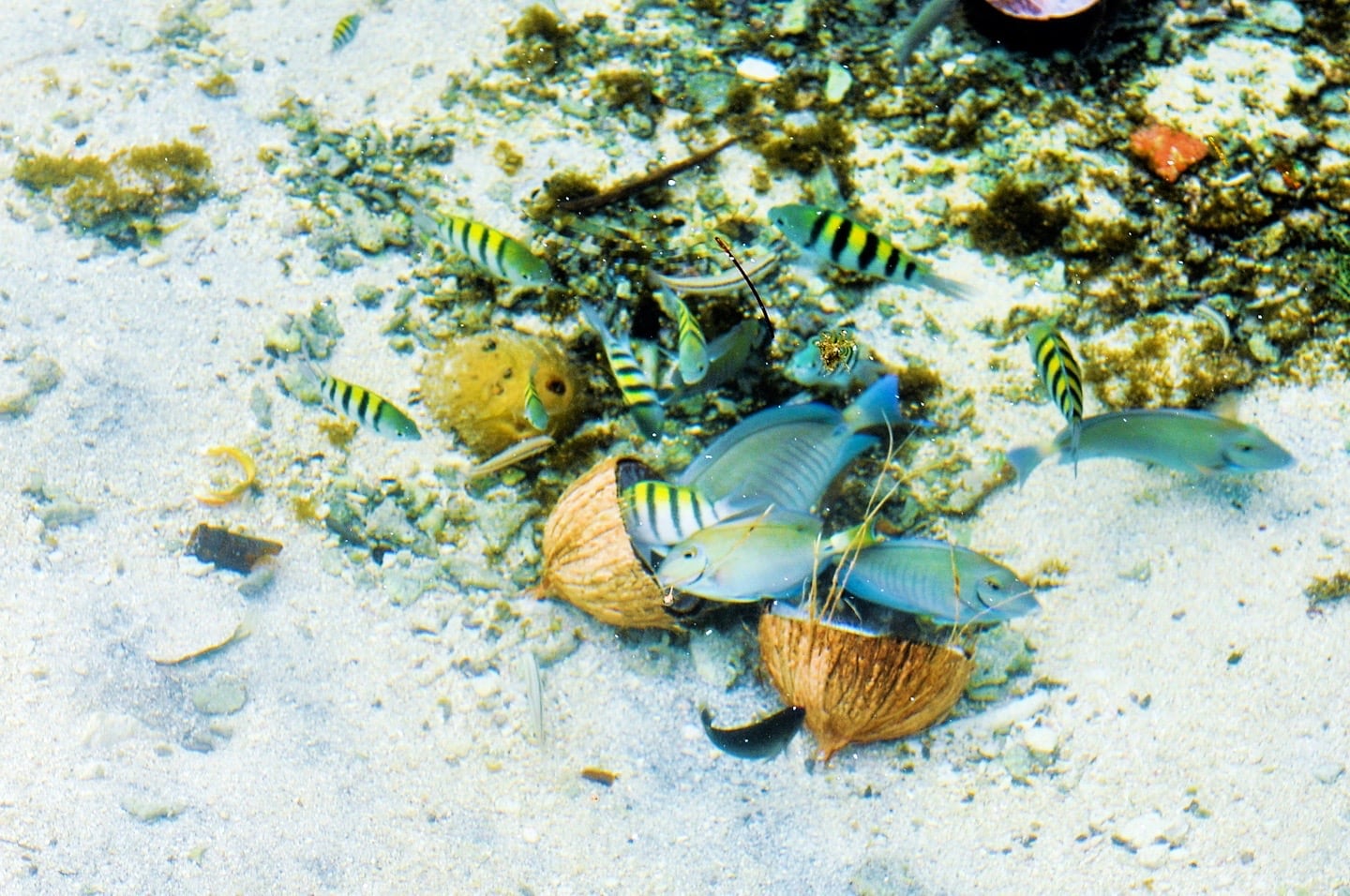 Despite what you may think, the photo above was not taken with an underwater camera, but high and dry from the dock through about two feet of water — the visibility is phenomenal, to say the least.
In this cluster, we see Sergeant Majors (the striped fish) and some sort of parrotfish I believe. Needlefish and groupers are also common sights from the docks and shallows.
Oh, not to mention the large Southern Stingrays that like to circle the island.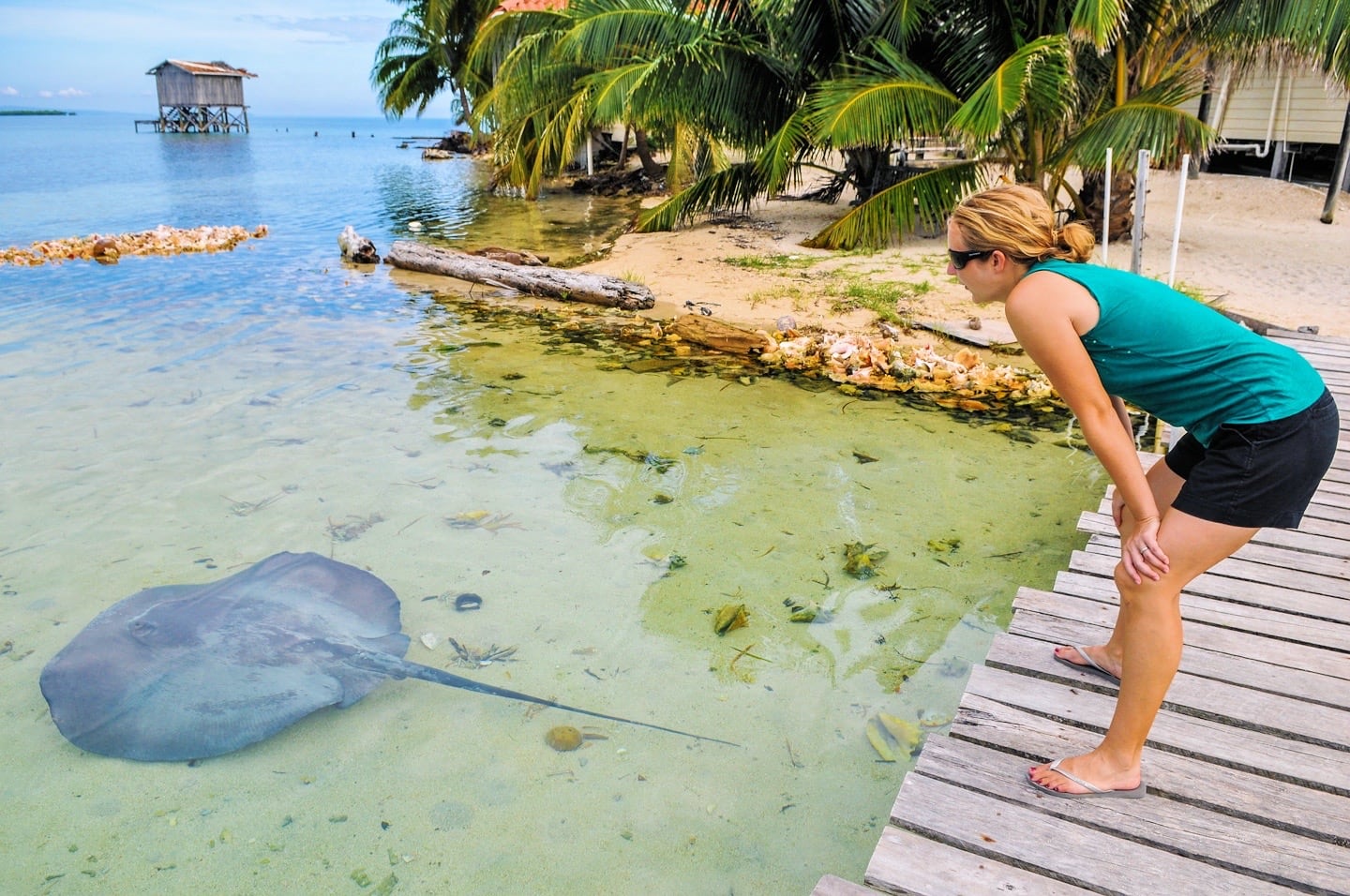 What to Pack for Tobacco Caye
If you're planning a trip to Tobacco Caye, there isn't a lot you'll need to pack for paradise.
Being in the tropics, your two main priorities will be staying hydrated and protecting yourself from the sun, particularly when snorkeling and swimming.
Make sure your 30+ SPF sunscreen is biodegradable and reef friendly to help protect the delicate ecosystem of the waters around the island. Bringing along a rash guard and wide-brim sun hat for added protection while swimming and snorkeling isn't a bad idea, as the sun can be pretty brutal at midday.
In terms of staying hydrated, we always pack a reusable water bottle. You shouldn't have to worry too much about refilling your water, as water stations are generally available at most of the lodges.
Believe it or not, mosquitoes can be a problem even offshore, especially in the between sunset and sunrise, so bring along some insect repellant.
As mentioned earlier, snacks can be limited on Tobacco Caye. We highly recommend you bring along some munchies.
If you plan to snorkel (and we really hope you do!), pack a reliable snorkel, mask, and fins. If you plan to do some diving as well during your visit to Belize, it's best if your mask is scuba-grade (tempered glass, etc.) so you can use it for both activities.
Expect rain showers between June and November, though you likely won't have much use for an umbrella or rain jacket on the island. If you plan on traveling inland in the wet season, pack a lightweight, breathable rain jacket (umbrellas are kind of useless during a Caribbean deluge or hike through the jungle).
In terms of footwear, flip-flops will serve you well most of the time. But do be aware that the sea floor around the island can be rough and sharp. A good pair of river sandals or hiking sandals might come in handy.
Some of the lodges on the island stock first-aid supplies, but you shouldn't count on their supplies staying stocked, especially in the off season. And remember, if anything should happen, you are 45 minutes from Dangriga by boat.
Travel prepared with a compact first-aid kit for unexpected encounters with coral, insect stings, or whatever your adventure throws at you.
Lastly, you'll definitely want to pack a good camera (I love my Sony a7iii mirrorless) to capture your time in this amazing place. For all things water-related, we recommend the excellent DJI Osmo Action camera over a GoPro.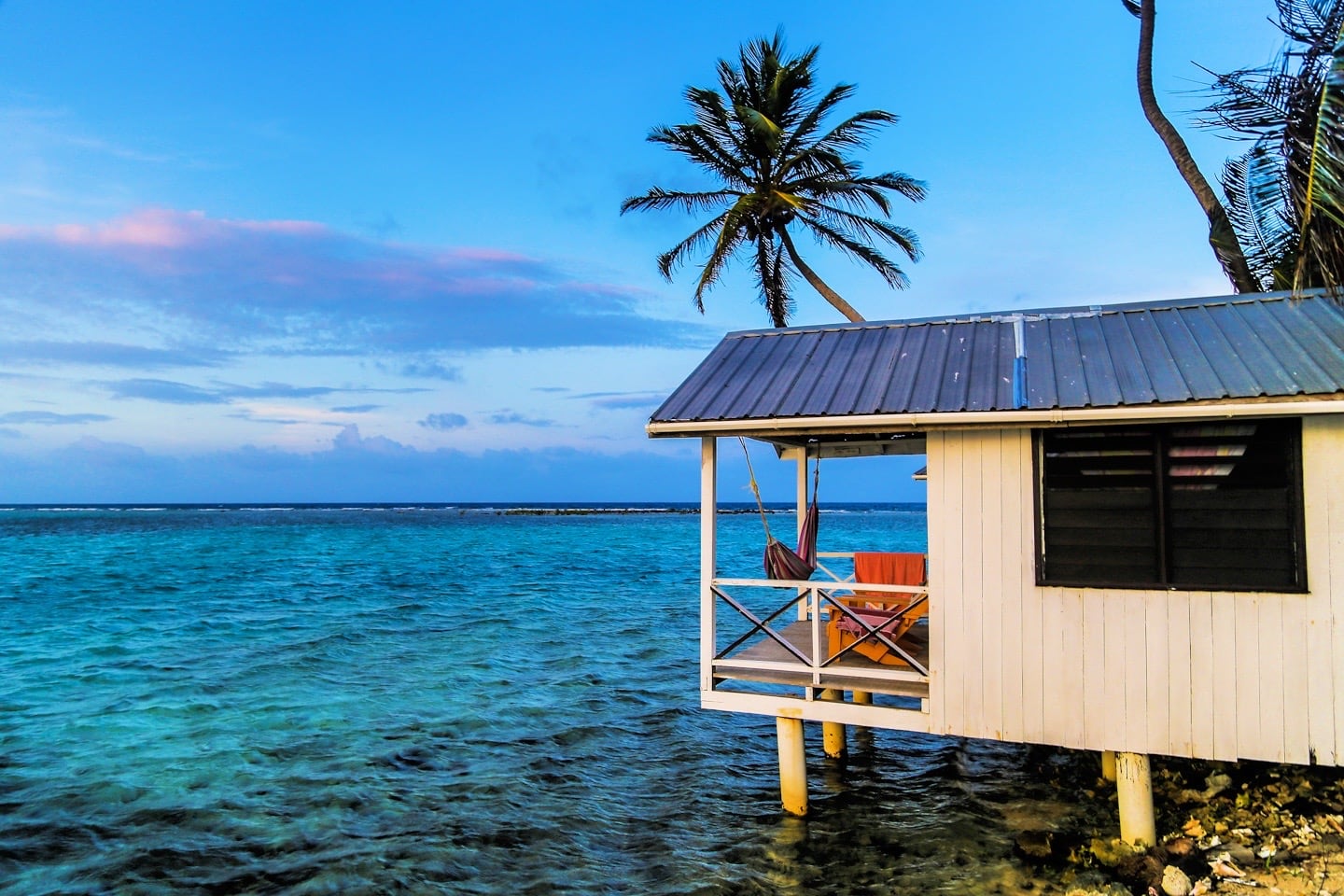 More Travel Guides for Belize & Beyond
Have You Been to Tobacco Caye, Belize recently?
Please let us know if we need to update anything for future travels. Thanks for reading!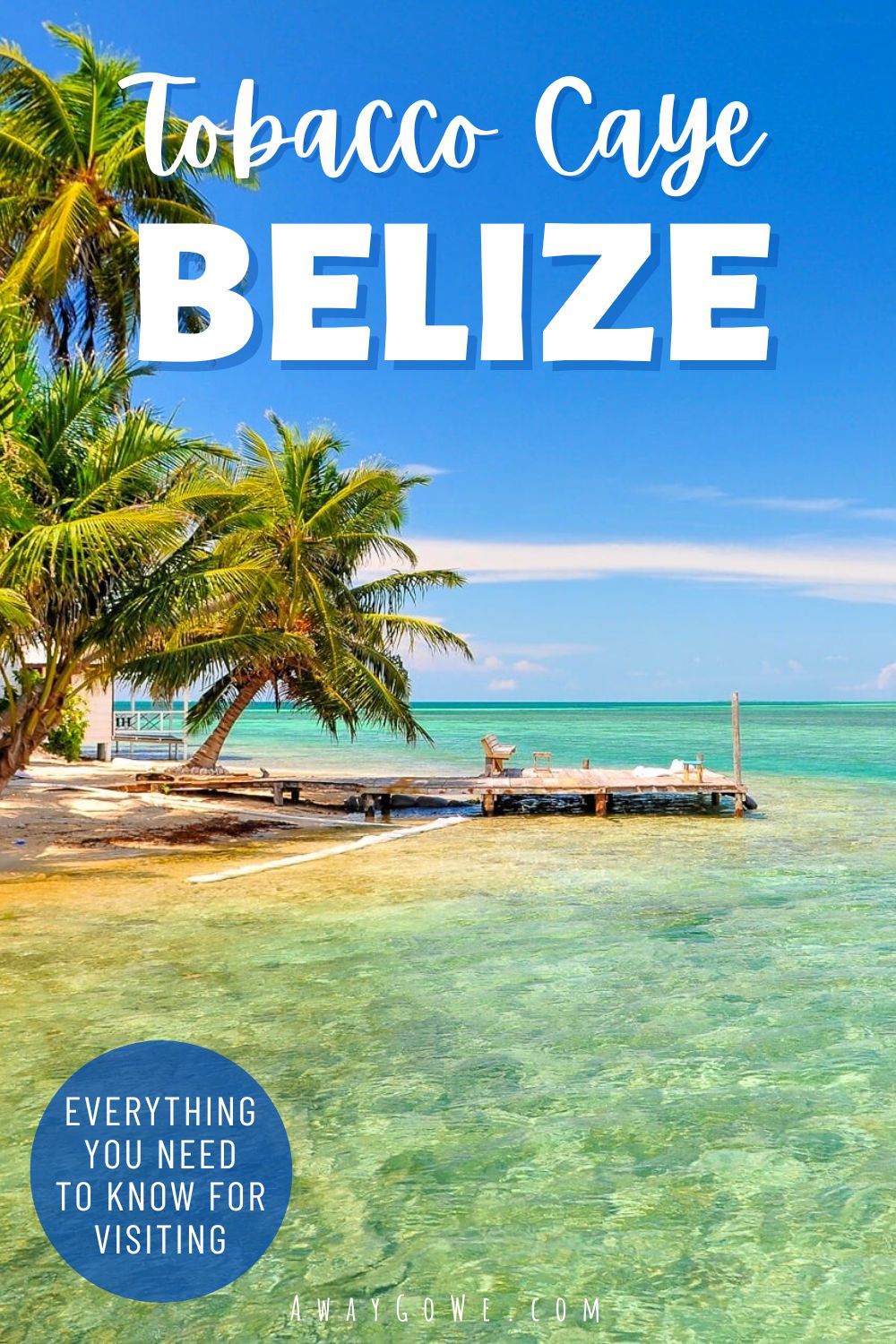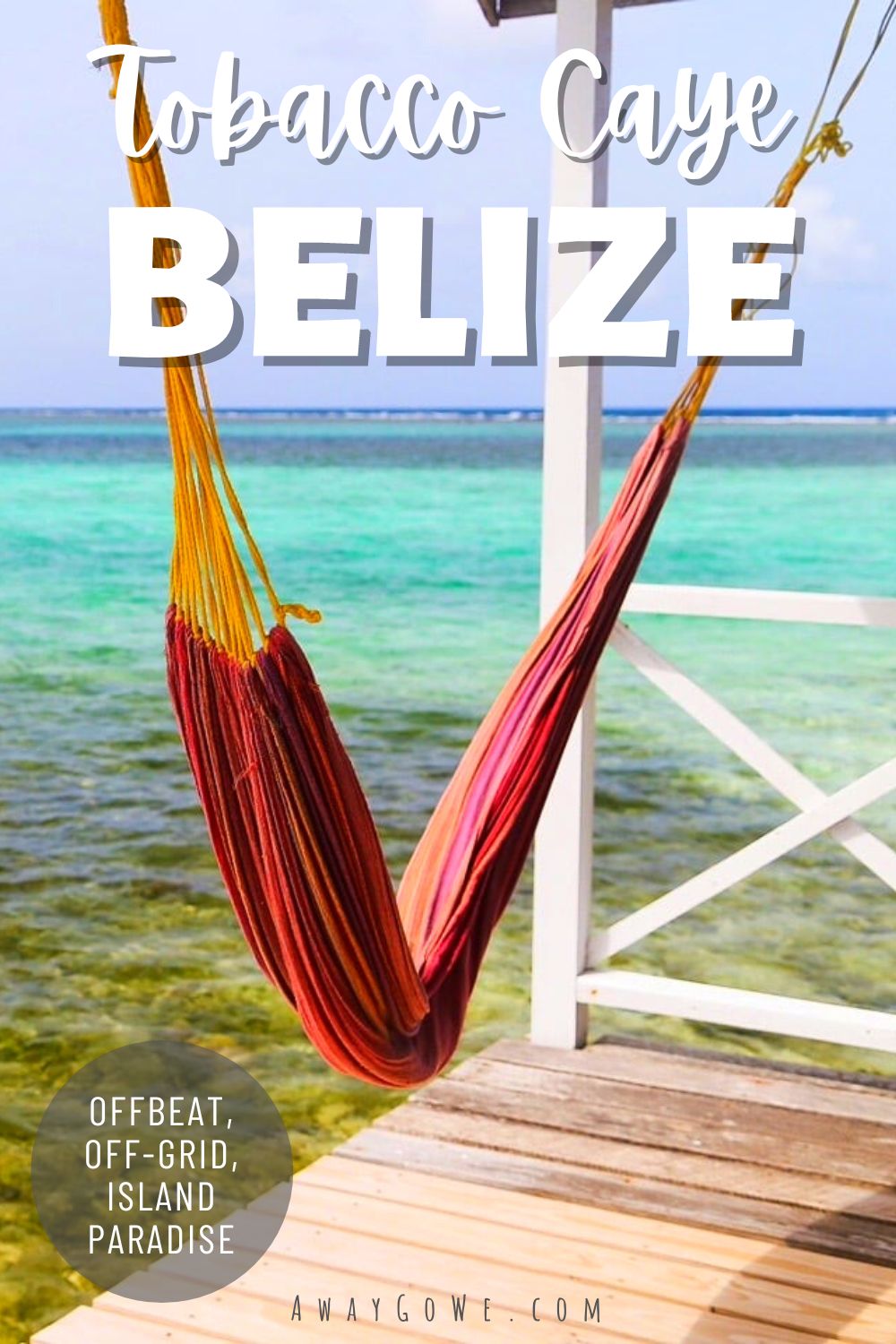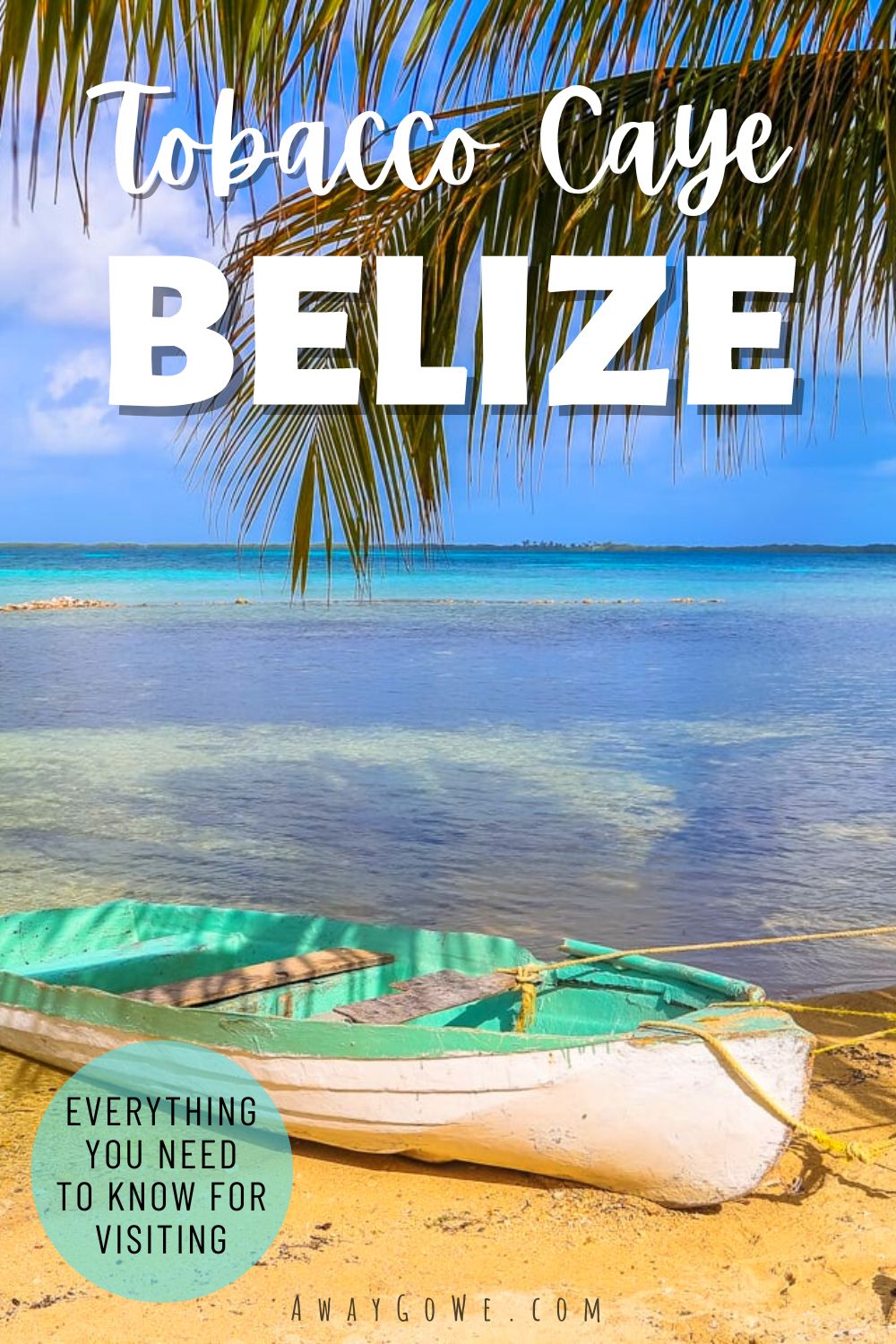 I've been a blogger and travel writer since 2010, covering everything from luxury hotels to hidden destinations and travel gear. Originally from Oregon, I've spent the majority of the past 20 years living outside of the U.S., in Mexico, the Caribbean, Southeast Asia, Africa, and Europe. I received a BA in Communications (Journalism) from Boston College, and an MA in International Development Studies from the George Washington University. I'm passionate about exploration and discovery, and providing independent, thoroughly-researched, ad-free advice for travelers.