Off-shore, off-beat, and off-the-grid, Belize's Tobacco Caye is what an island paradise should be: rustic, relaxing, and absolutely stunning.
Tobacco Caye is located just 10 miles off the coast of Belize, but might as well be in another hemisphere.
There's a sense of isolation here that is unrivaled in Belize, which means more focusing more on the important things in life, such as hammock time, sundowners, and snorkeling colorful coral reefs.
Check out our stay at Tobacco Caye Paradise on our most recent visit to Tobacco Caye.
Read More
Tobacco Caye, Belize: A Guide for Travelers
How to Get to Tobacco Caye
Overnight in Dangriga
We drove up to Dangriga on Friday night and stayed at Ruthie's Cabanas on the south side of town on the sea.
Most foreigners in Belize don't seem to like Dangriga much, but I have a soft place for Belize's Second City, which like few other Belizean cities has a distinct Caribbean air to it.
Perhaps it's the predominately Garifuna makeup of the population and sandy seafront. Perhaps it's the loud music and smell of jerk chicken on a Sunday afternoon.
Either way, Dangriga makes for a good jumping off point for some of Southern Belize's best attractions, like Cockscomb Basin Wildlife Sanctuary and Tobacco Caye.
Arranging the Boat
After checking in with Ms. Ruthie, we headed to the center of town to sort out transport to Tabacco Caye the following morning, which was far less difficult than we had thought.
Basically, there was a guy who knew a guy who had a boat that leaves at 09:30. We went with Captain Doggy who is well known in the area (so well known, he's marked on Google Maps here). Just head down to Riverside Cafe on the south side of North Stann Creek in town and ask around.
When we made the trip, the cost to get out to Tobacco Caye (as with most cayes except Ambergris and Caye Caulker) was pretty steep — $20 US per person.
But the cost of fuel in these parts is pretty steep too ($6 US per gallon) and very few people make their way to Tobacco Caye from Dangriga this time of year (there were four of us on the boat plus the captain and two of his buddies/crew in mid-September).
45 minutes later, we arrived in paradise.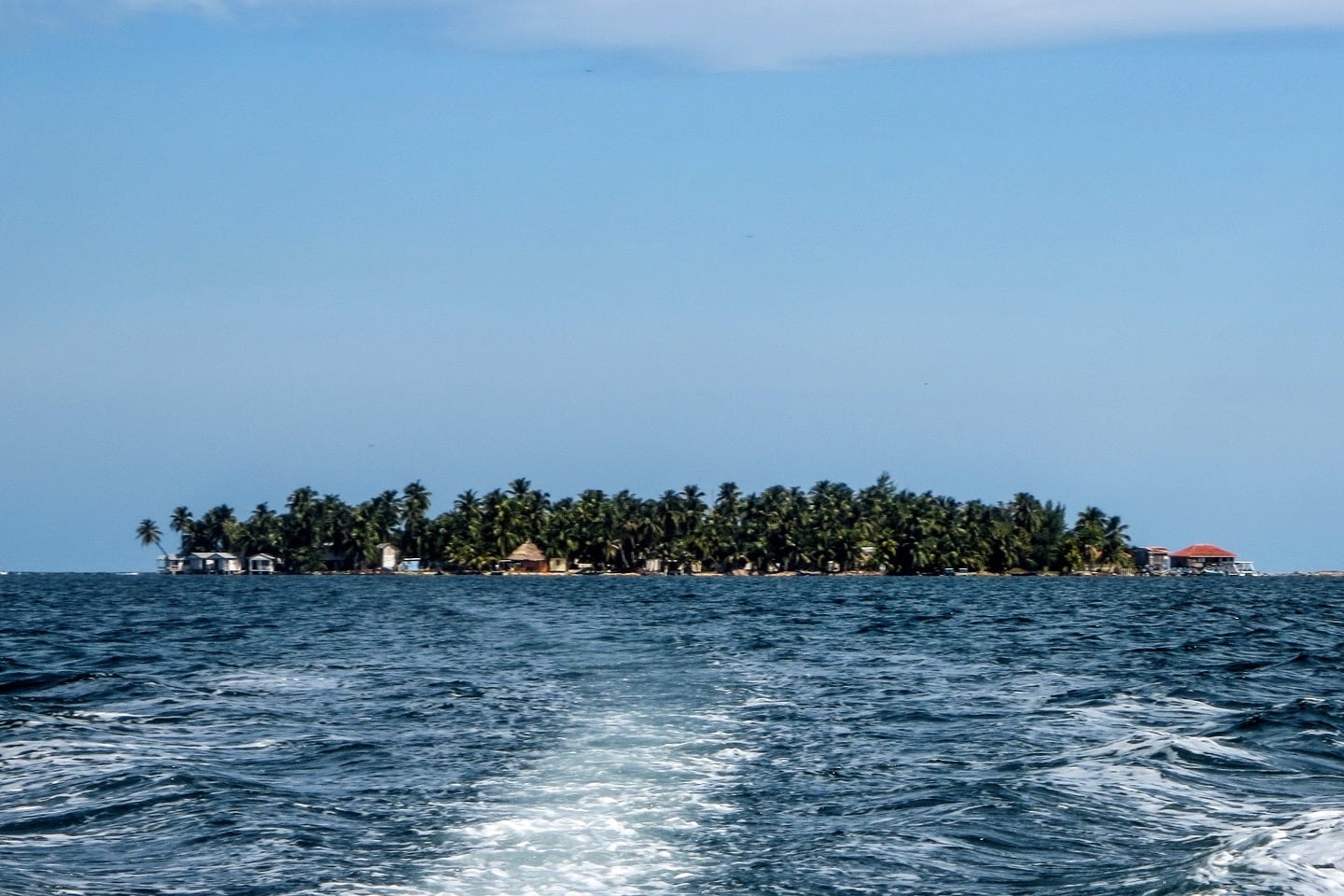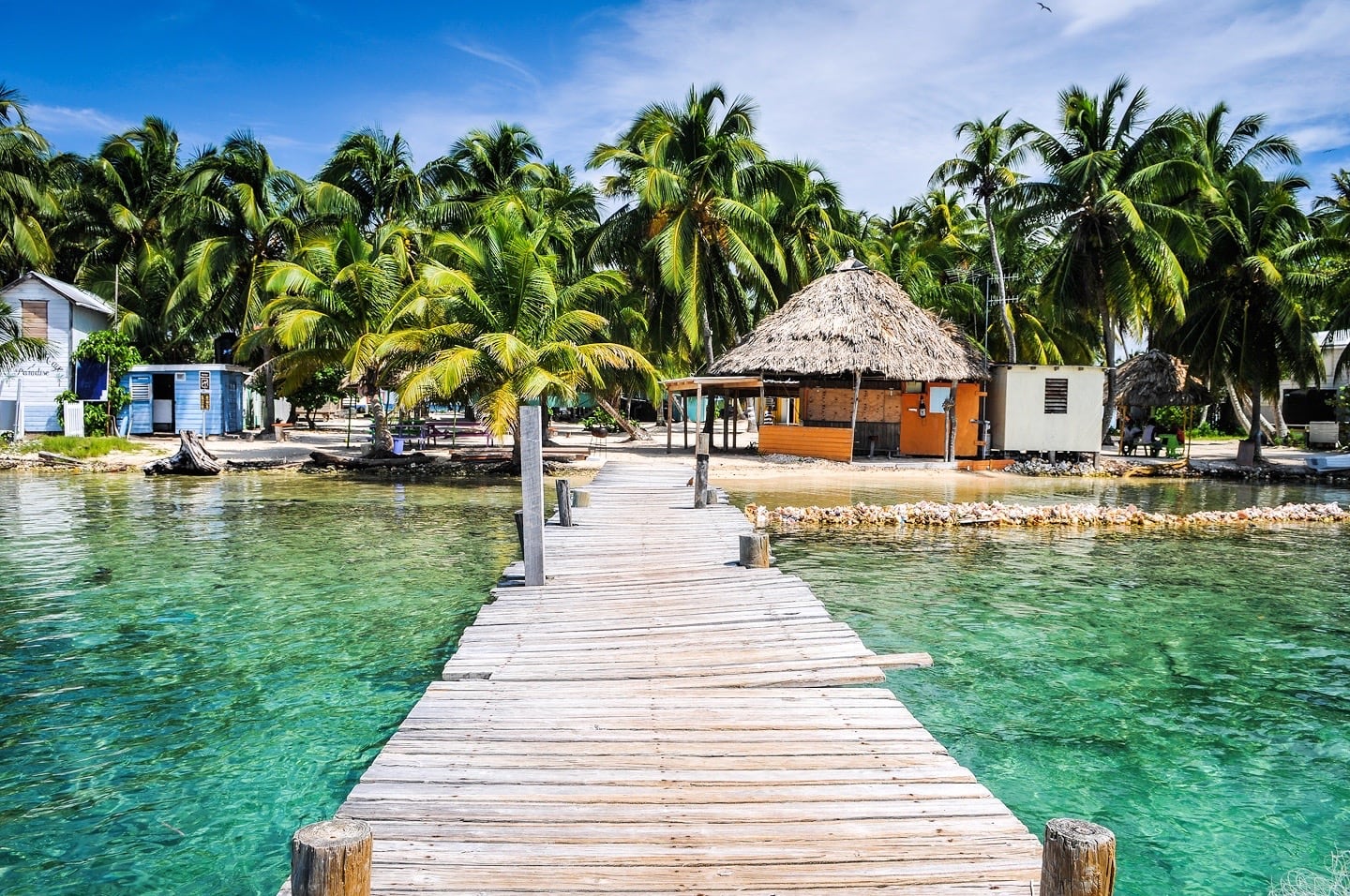 Welcome to Tobacco Caye, Belize!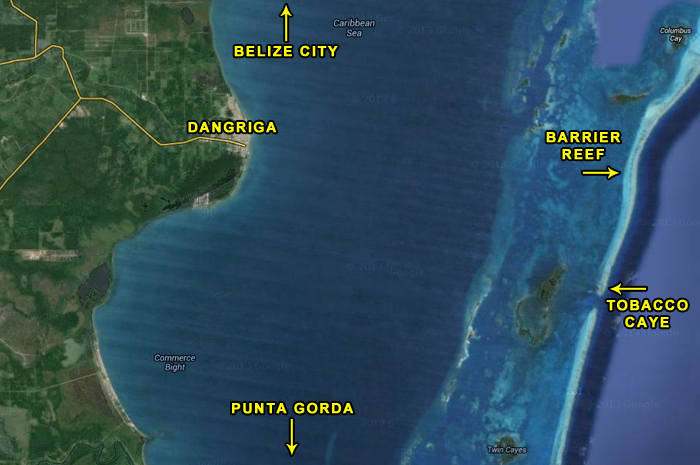 The satellite image above shows Tobacco Caye (far right) in relation to Dangriga (10 miles / 45 minutes).
Don't Miss These Unforgettable Experiences In Belize!
One of the unique features of Tobacco Caye is that it is one of the few inhabited islands that lies directly on the Belize Barrier Reef.
Other islands such as Caye Caulker lie just off of the reef and a boat is needed to get between the two — but that's not the case with Tobacco Caye.
Tobacco Caye is also notable for its size — just over three acres — stretching the length of just over two football fields, with a width of just over one (240m x 125m).
The island has a permanent population of around 20 residents, along with 3-5 guesthouses depending on the season.
This satellite view shows Tobacco Caye (center) on the Belize Barrier Reef.
A shallow portion of the reef is submerged, separating the island a bit from the rest of the reef.
Just south of the island, there is a rare split in this stretch of reef where the warm waters of the reef shelf (left) mix with the cooler waters of the open sea (right) and you certainly feel the difference the second you swim around the corner of the reef.
The waters are some of the clearest I've seen anywhere, especially in the early morning when the glare of the sun is less intense and the water is calm.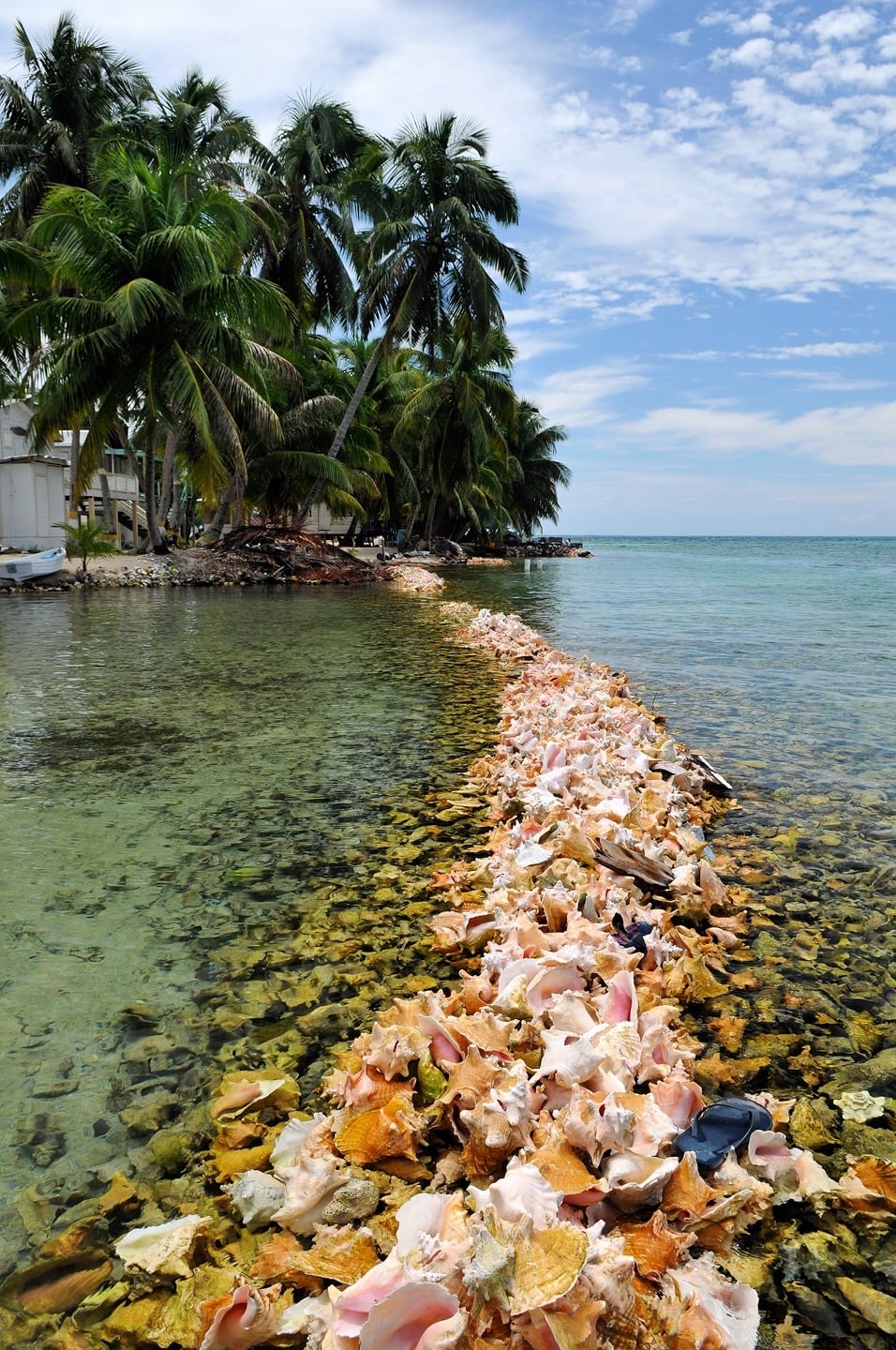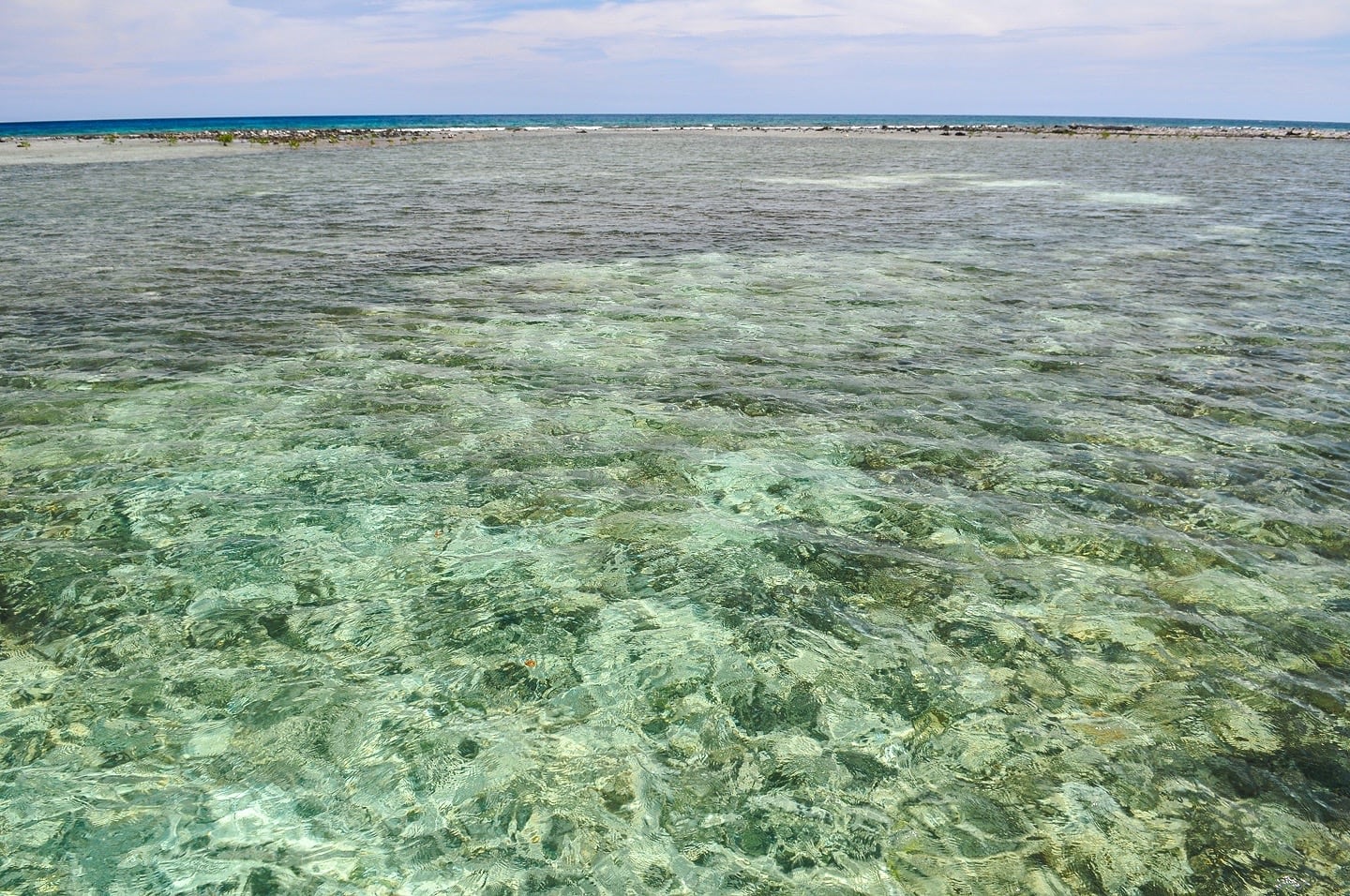 The barrier reef in the distance divides the crystalline waters around the island with the deep blue open sea.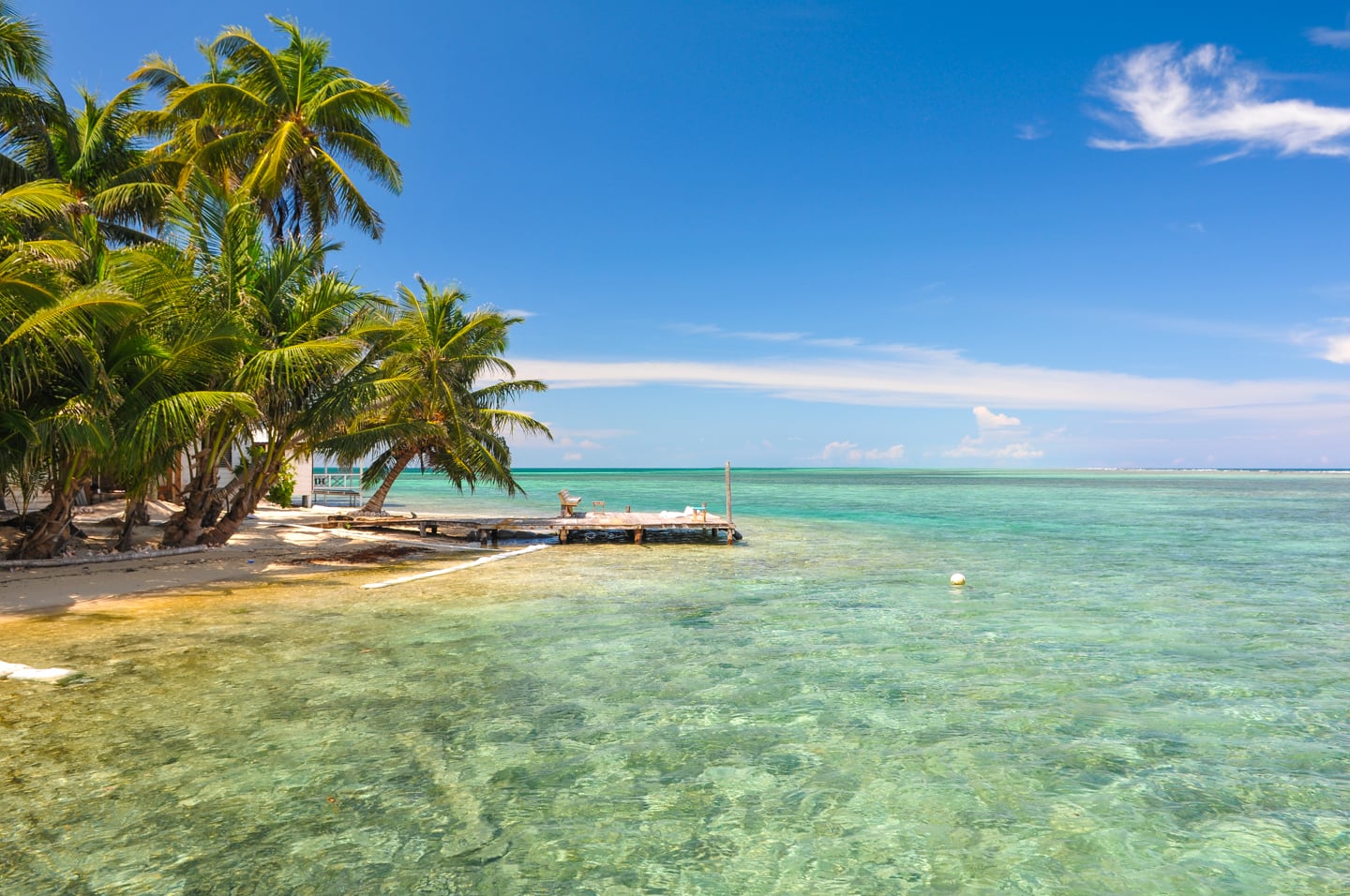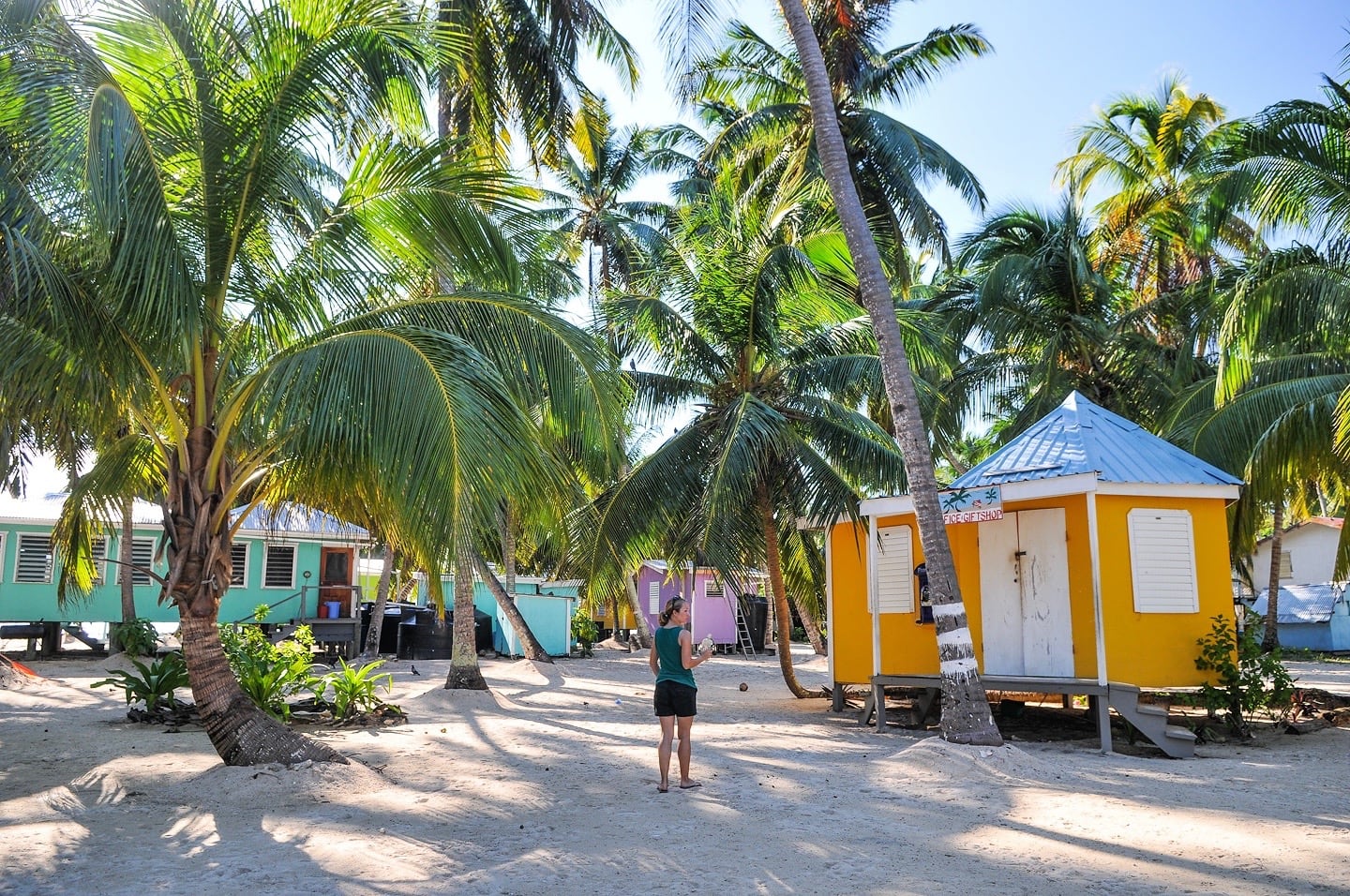 We were actually a bit surprised by the number of structures (mostly dilapidated ones) covering the tiny caye, as there isn't a quarter acre not developed in some way.
We were also a bit surprised at the sad state of most of the buildings, some appearing to have been abandoned a while back.
Apparently, the island was devastated by Hurricane Mitch in 1998, but that was 15 years ago.
Then again, if a building gets old and needs to be torn down, what do you do with all of the scraps? It's probably more trouble than it's worth to haul it off the island, so they sit swaying in the wind, occasionally catching a cool breeze, like many of the residents here I suppose.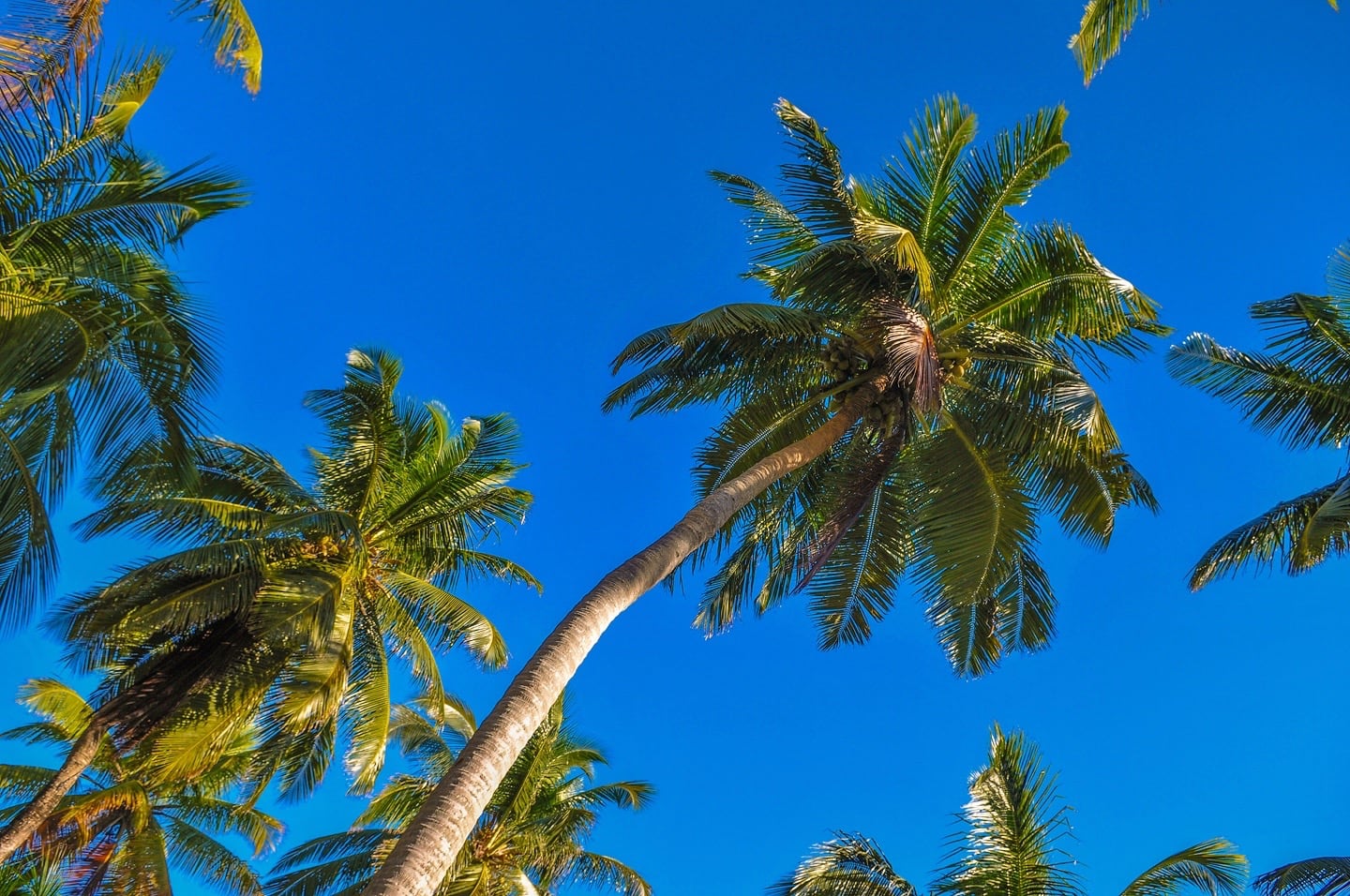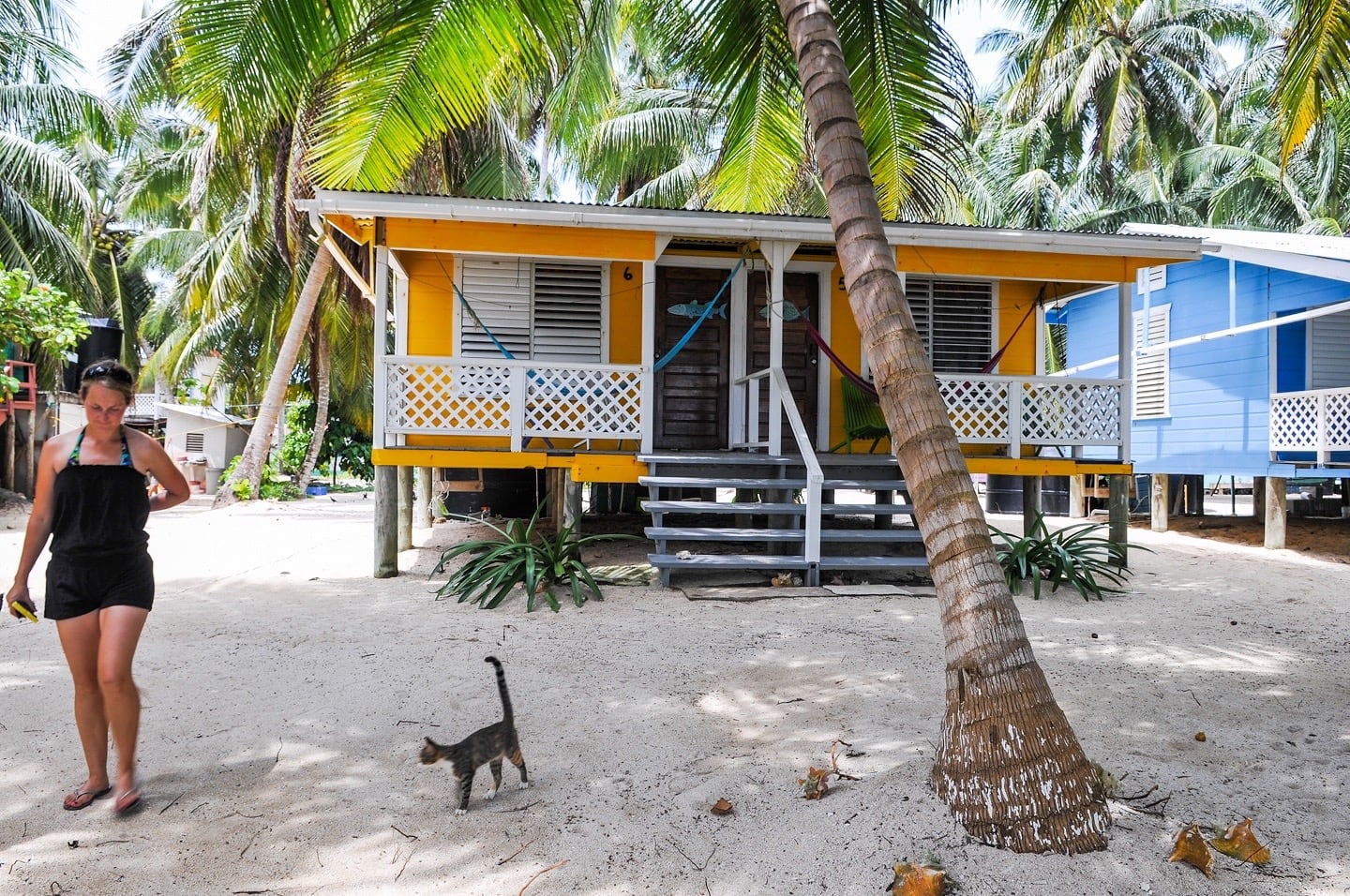 Tobacco Caye Lodge
We stayed at Tobacco Caye Lodge, one of a small handful of lodging options on the island.
Despite the sandy frontage in the photo above, there aren't any sandy beaches on the island, but plenty of places to swim nonetheless (piers and rocky banks).
The majority of the eastern shore of the island is off-limits to swimming, snorkeling, and other water activities, as it is part of the protected marine reserve. The rest of Tobacco Caye, however, is fair game (though fishing restrictions do apply).
We were just two of four guests staying the night on the island on this particular weekend. But we've heard that the island can get pretty crowded and feel somewhat claustrophobic in high season (December-January).
For example, there might be 20 people sharing only a handful of cabanas at Tobacco Caye Lodge, and given the island's size, it might be difficult to find peace and serenity.
Here in late September, we had nothing but peace and serenity, and what felt like a whole island to ourselves.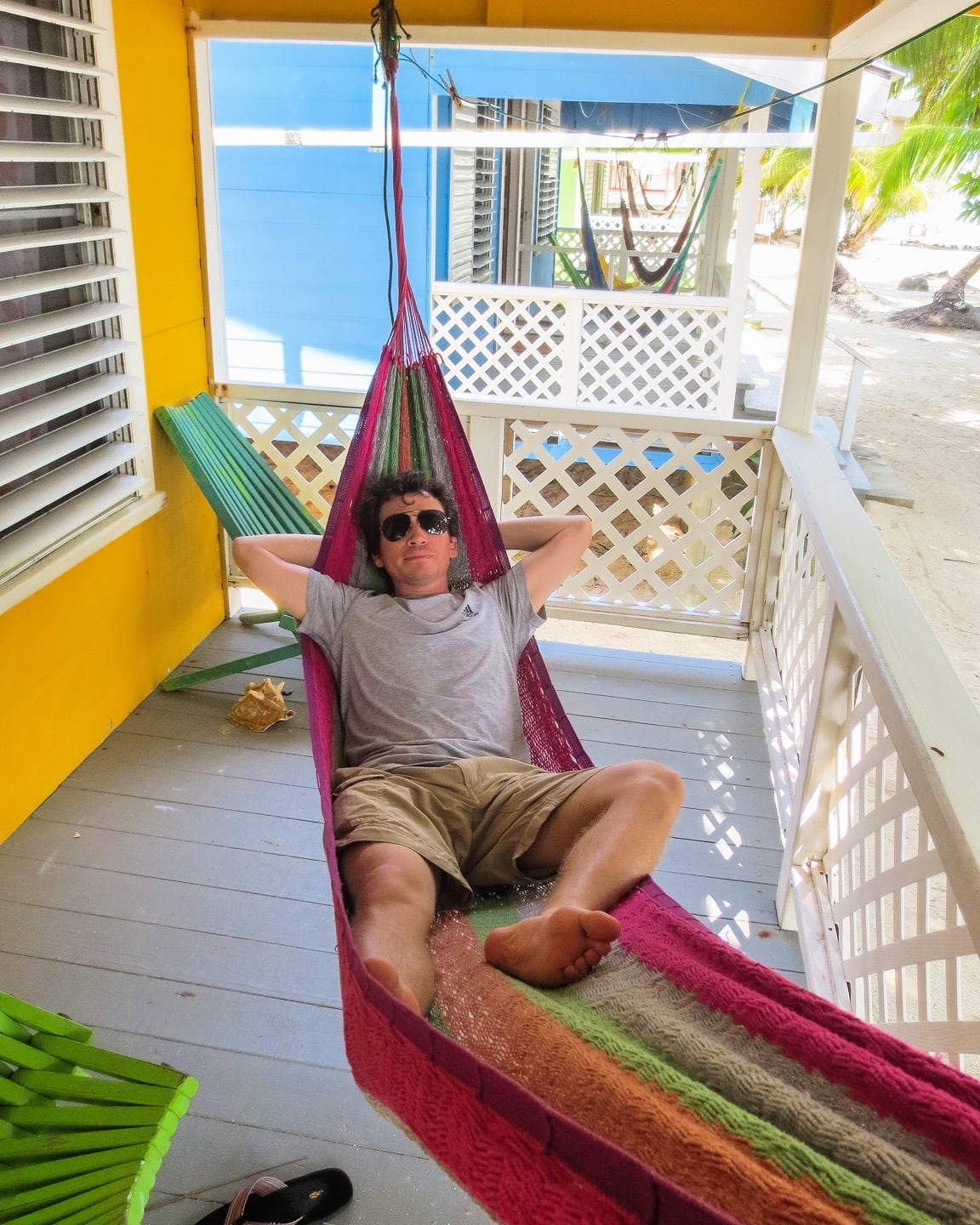 We enjoyed our time at the Lodge and found it very clean, tidy and free of critters.
Meals (lunch, dinner, and breakfast) were included with the price of our cabana and were generous and very tasty portions.
However, we did find it hard to get a beer or even a coke in the afternoon. The little general store was closed, the other restaurant on the island was out of food and beverages, and everyone else had gone to Dangriga to get provisions.
Such is island life I suppose.
Lori and I did come prepared (at the suggestion of someone back in Dangriga town) with a small bottle of rum, but weren't able to get our hands on some Coke until after dinner.
Also worth noting is that the electricity runs from roughly 17:30 to 05:30, which really isn't a problem but for the fact that the fans in the rooms shut off at that time and our room got very hot and stuffy very fast as a result.
But who wants to sleep-in in paradise? We knew we'd be napping half the day, anyway.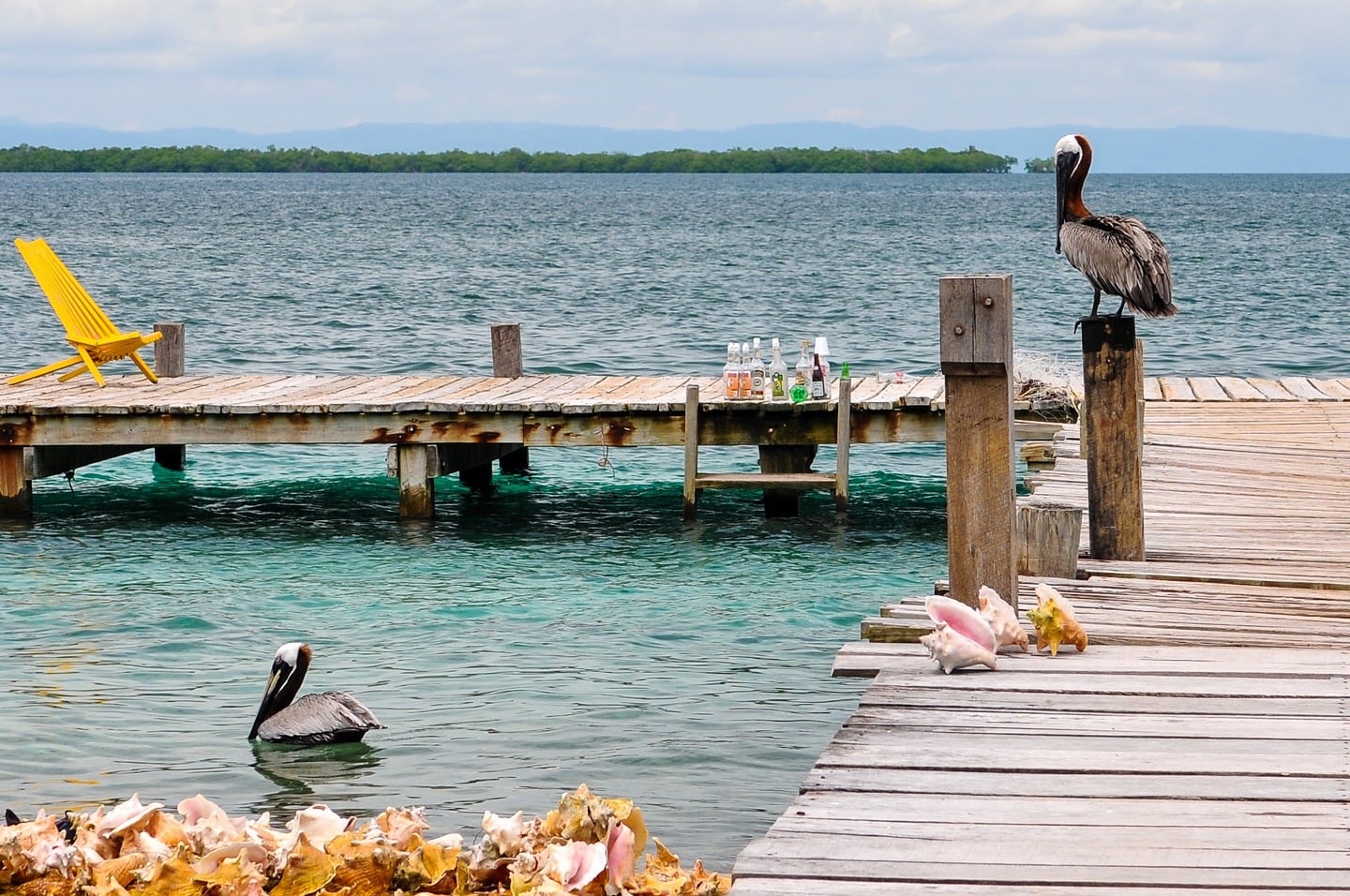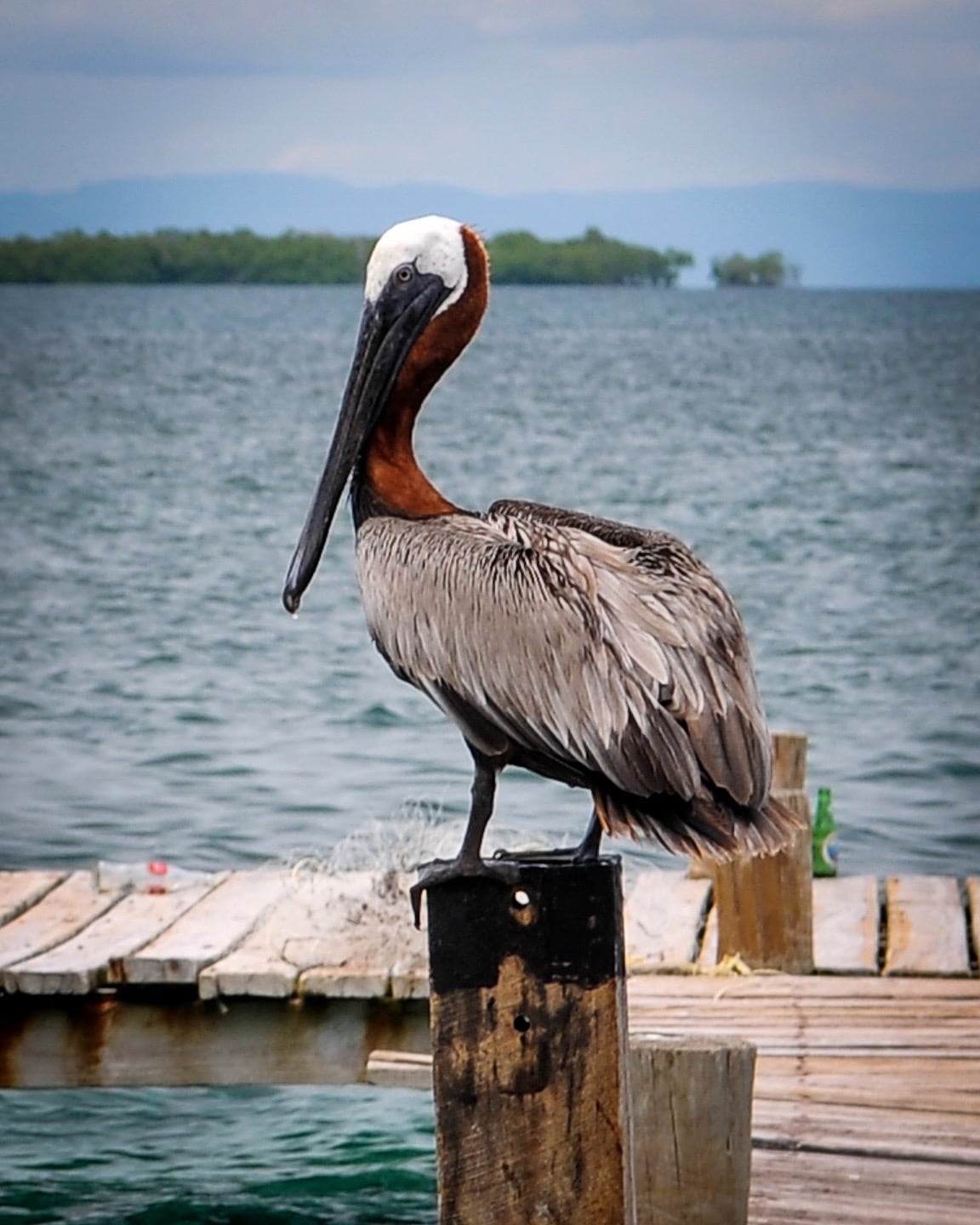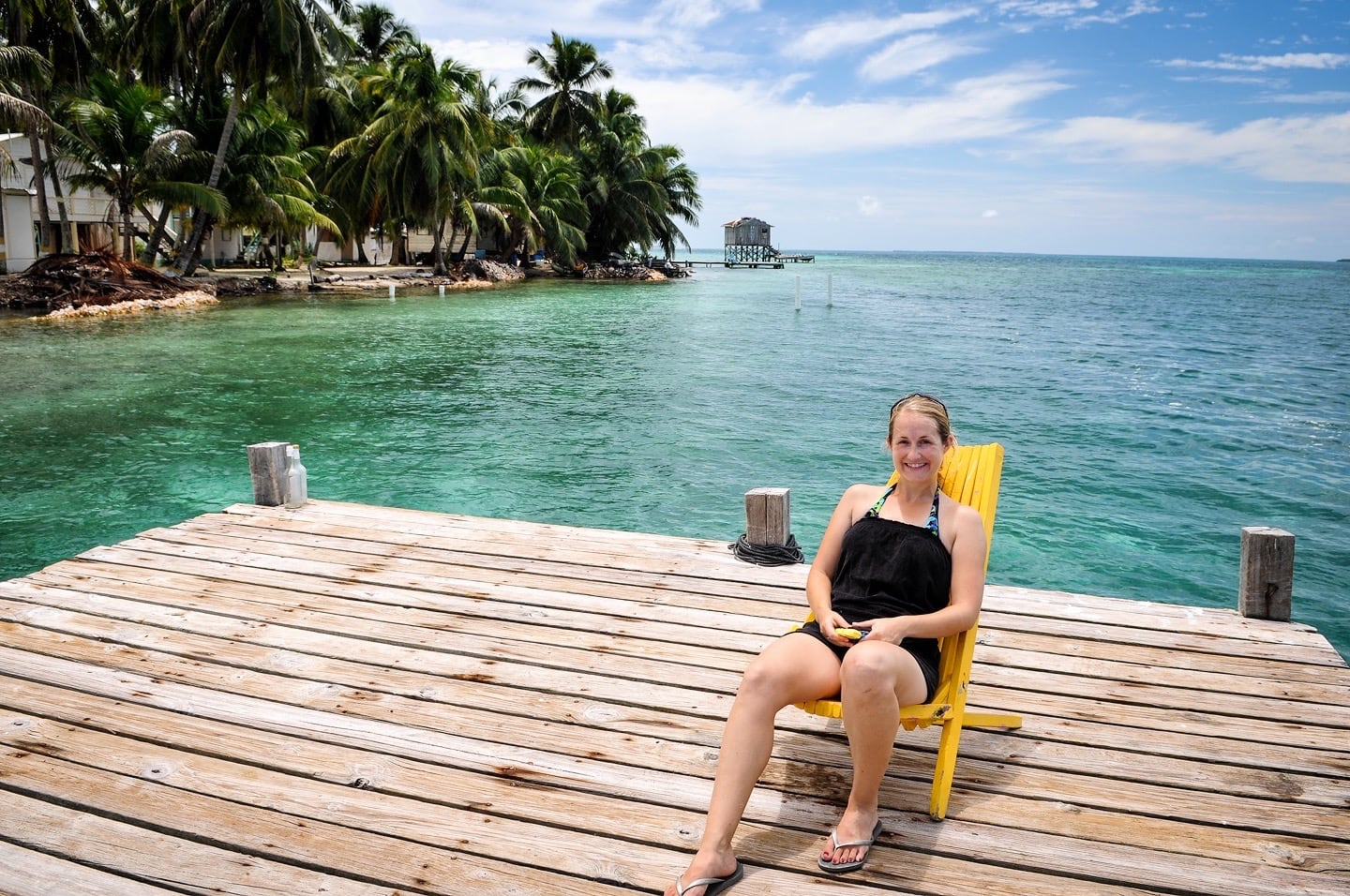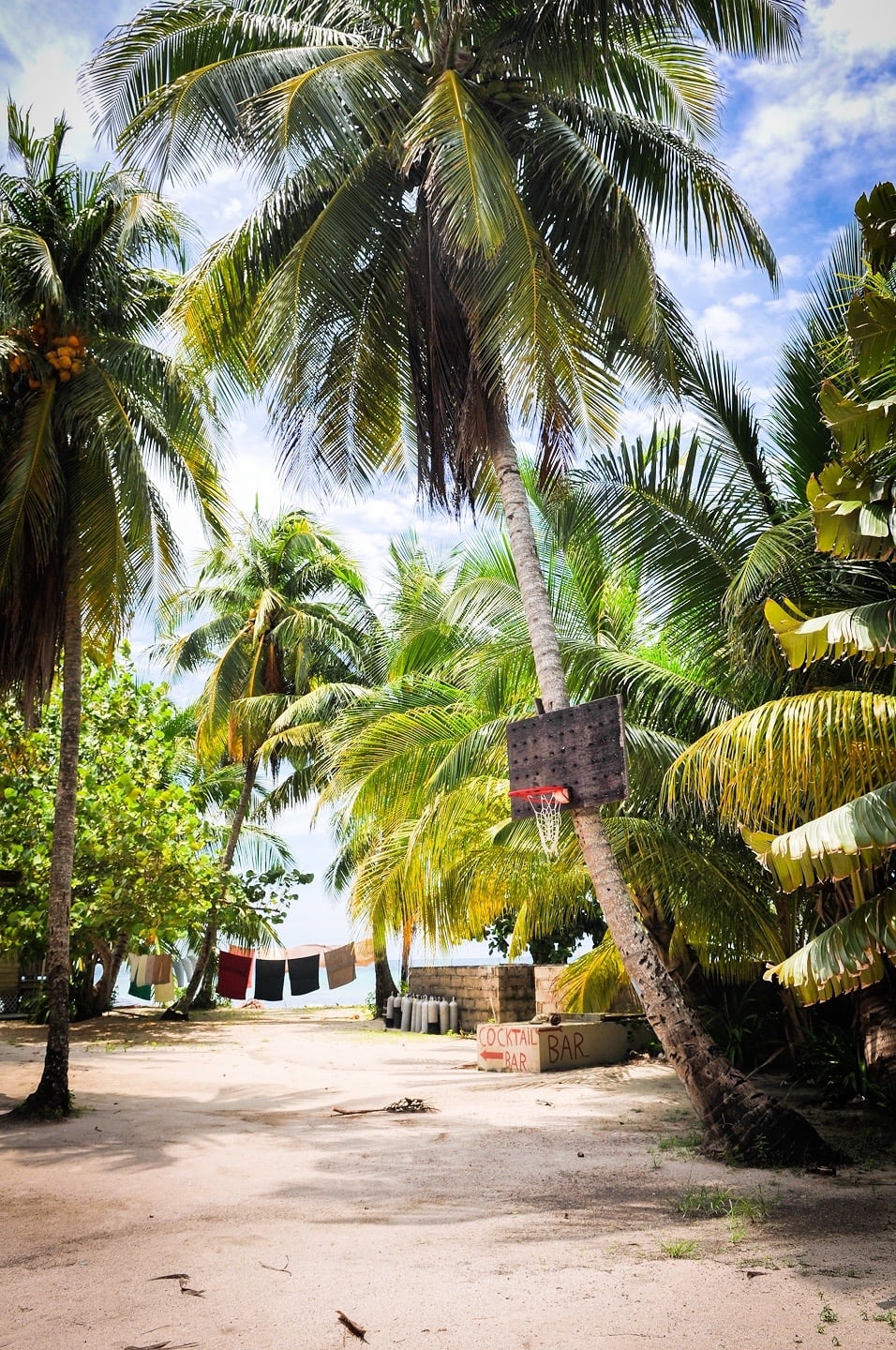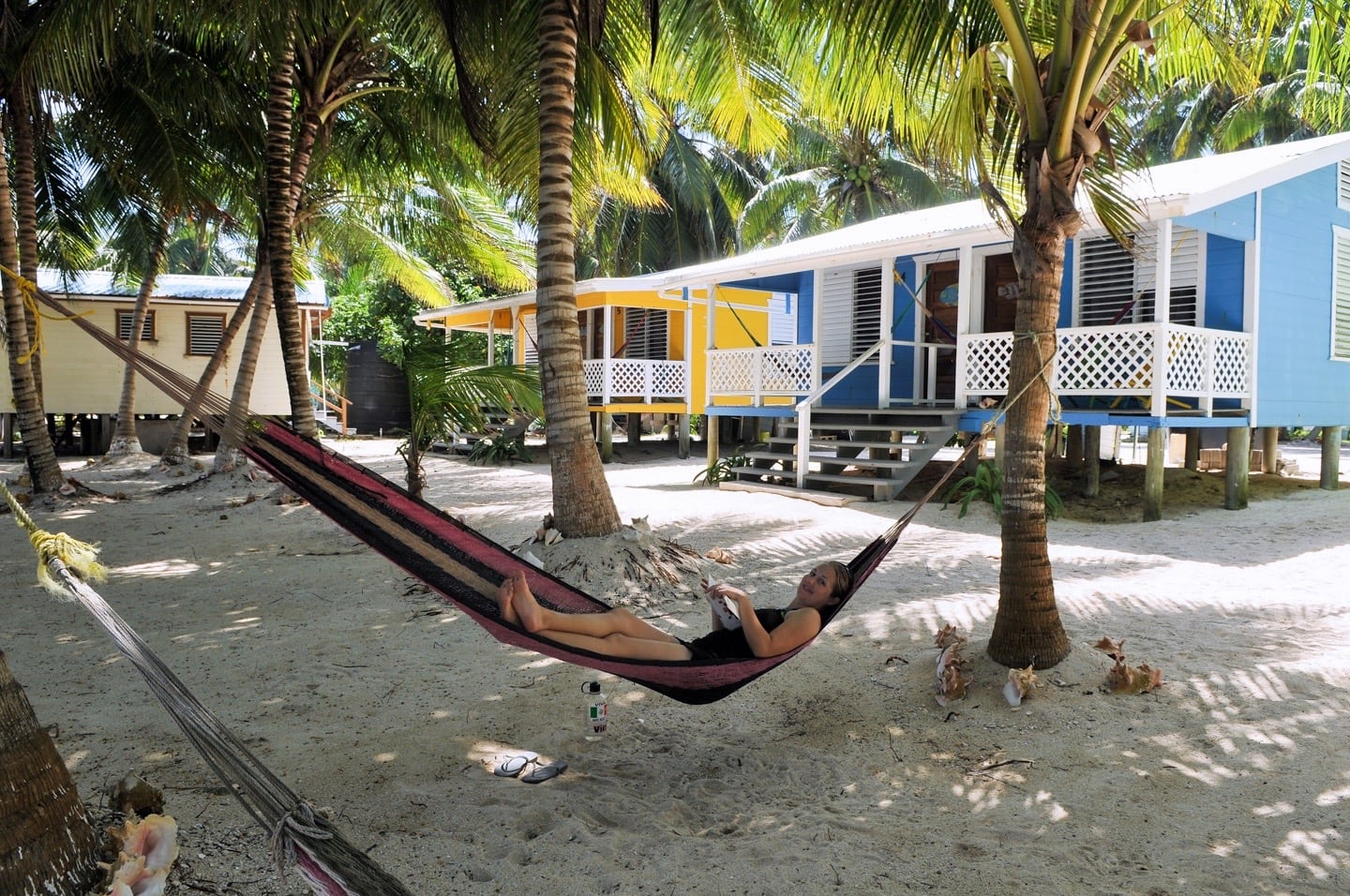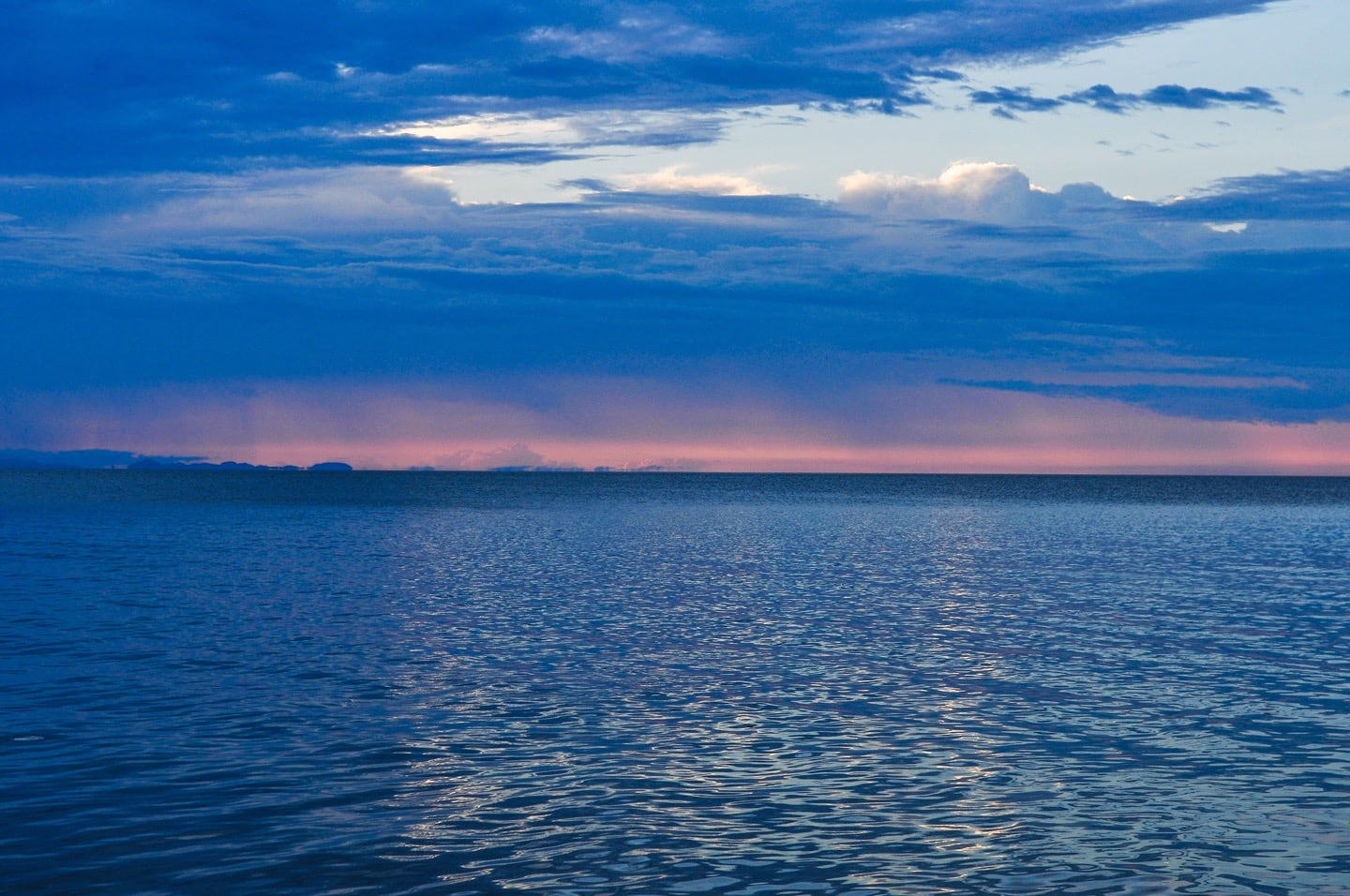 Saturday night's sunset over the mainland — somewhere out there, there's a party going on for Belize's Independence Day, but on Tobacco Caye you'd never know it.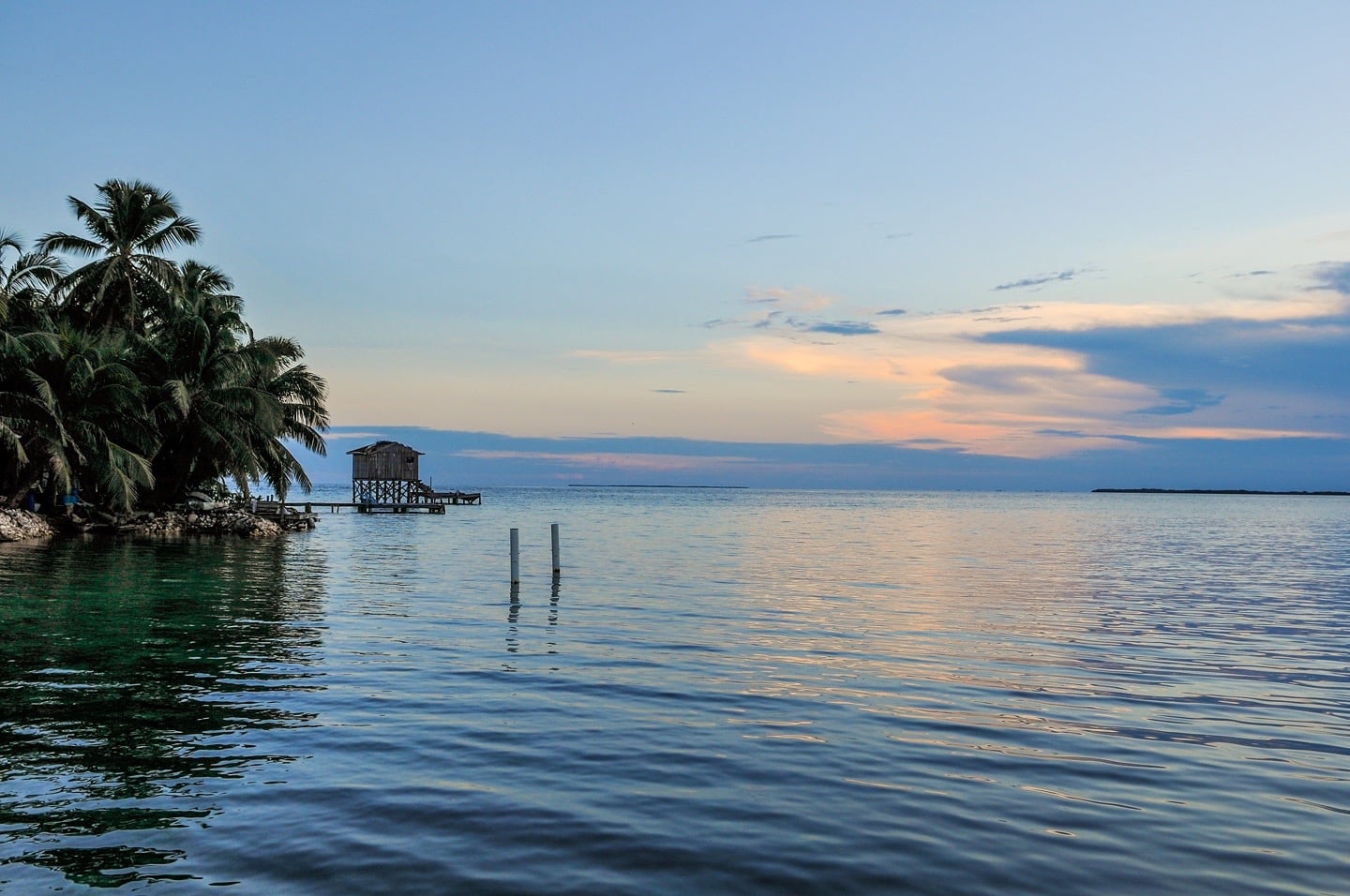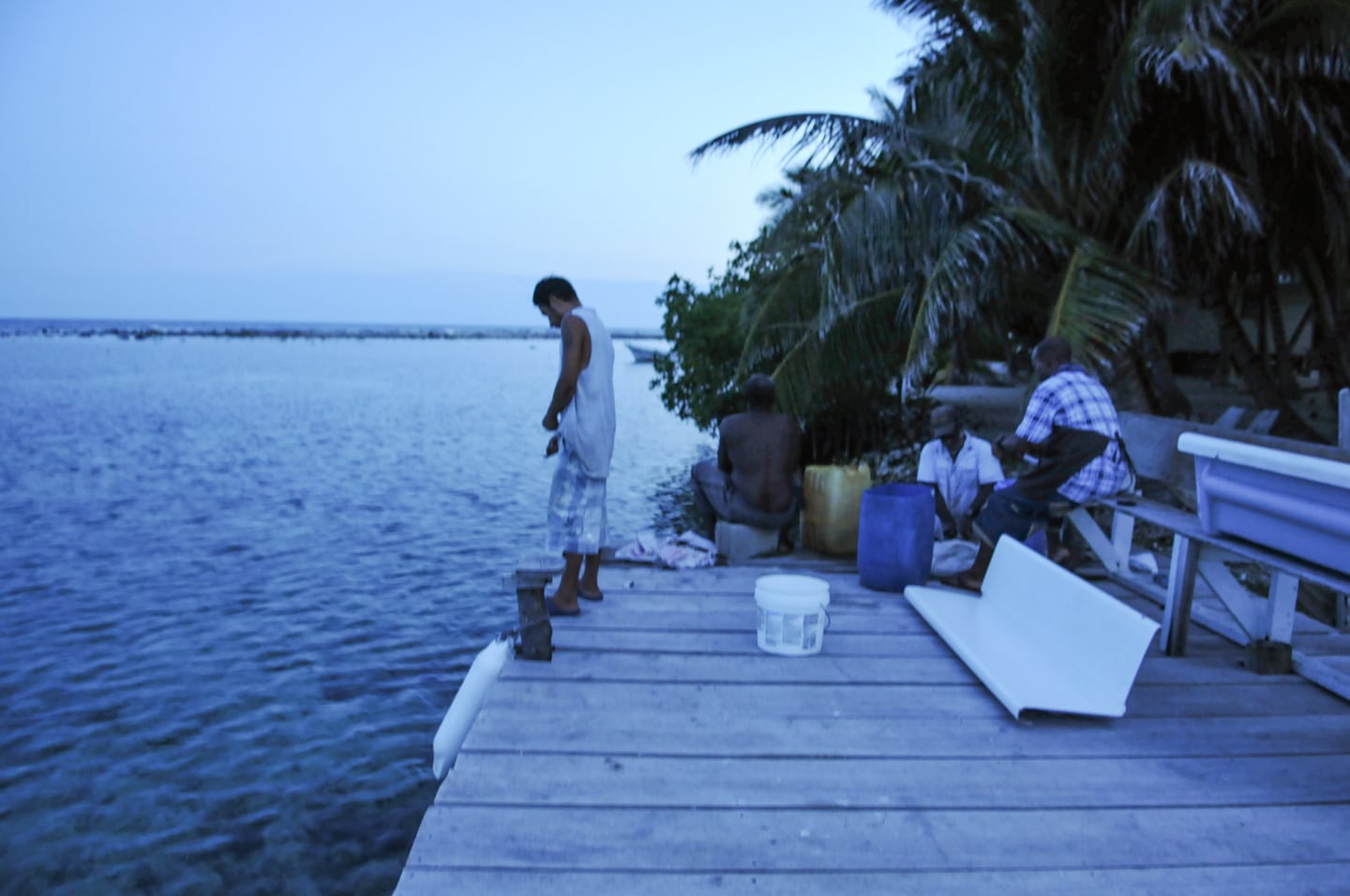 No, he's not peeing off the dock (that's a fishing line he's holding). Here, men from the village work on catching and cleaning our evening meal.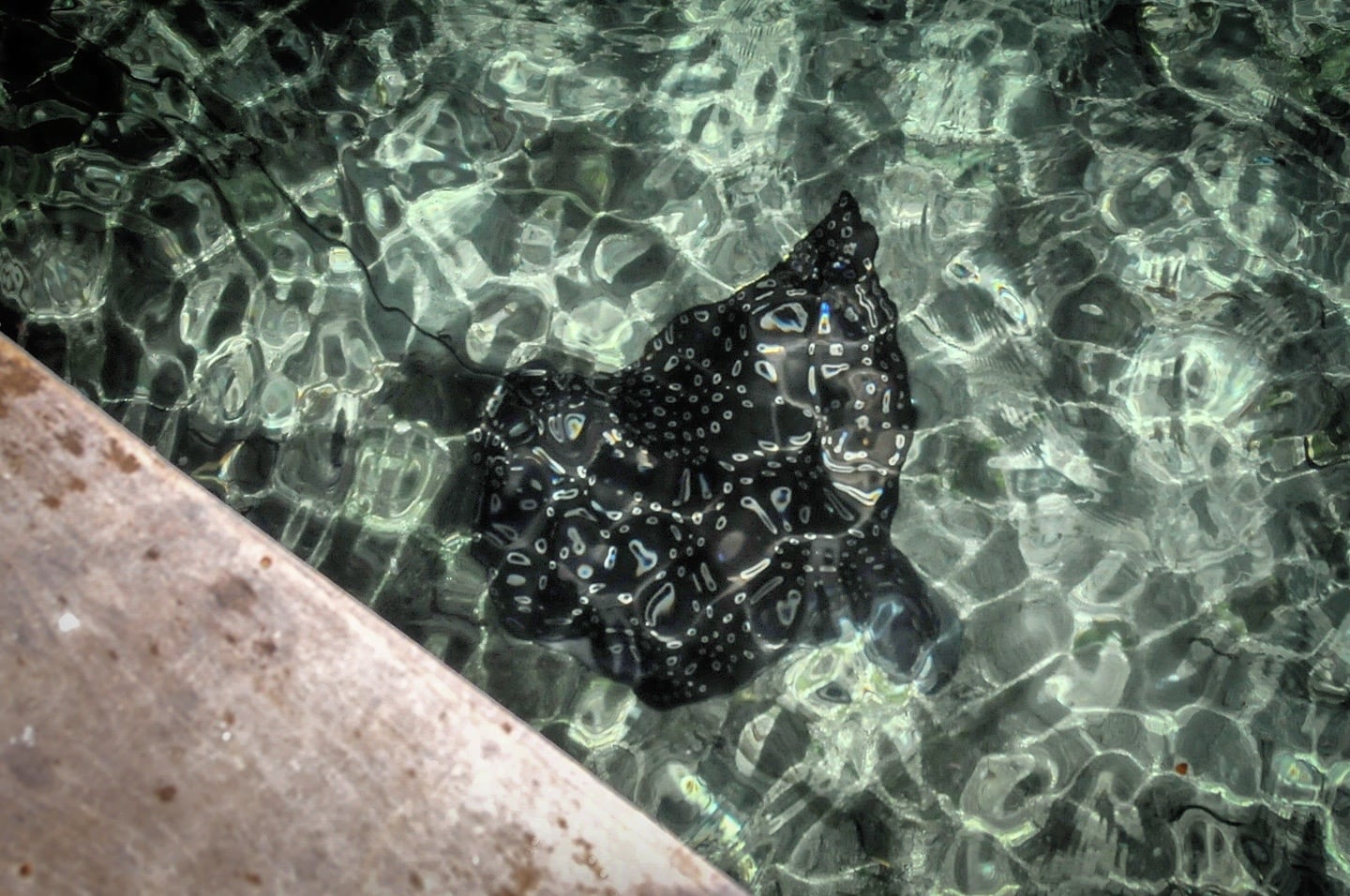 Tobacco Caye Marine Life
Earlier in the day, we ran into a cluster of three Spotted Eagle Rays while snorkeling off the south end of the island and were a bit taken aback at first given their size (a few feet across) and long and menacing tail.
We were later informed, however, that they aren't really a threat to humans as long as you don't accidentally step on one (or one doesn't jump into your boat, which actually happens and almost happened to us).
Spotted Eagle Rays are generally fearful of snorkelers and will keep their distance.
Still, I couldn't help but look around every now and then while snorkeling to make sure that one wasn't passing too closely behind me.
It's funny how vulnerable you feel swimming or snorkeling with the knowledge of something that size in your general vicinity. I've done it plenty with diving, but felt a bit more protected with all the gear.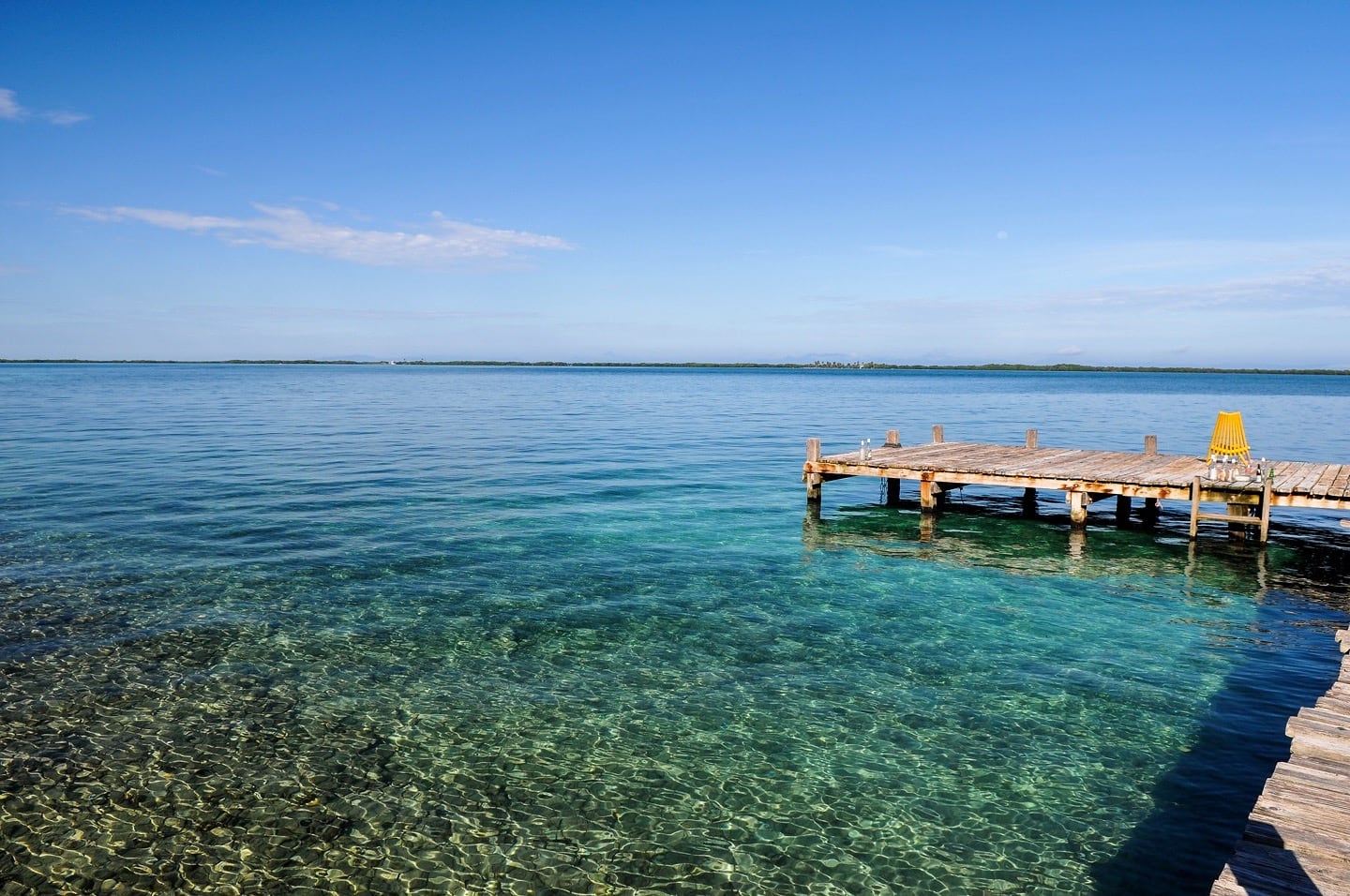 The clarity of the water early on Sunday morning was mind-blowing off the main dock.
We spotted needlefish, sergeant majors, and groupers right from the dock, and …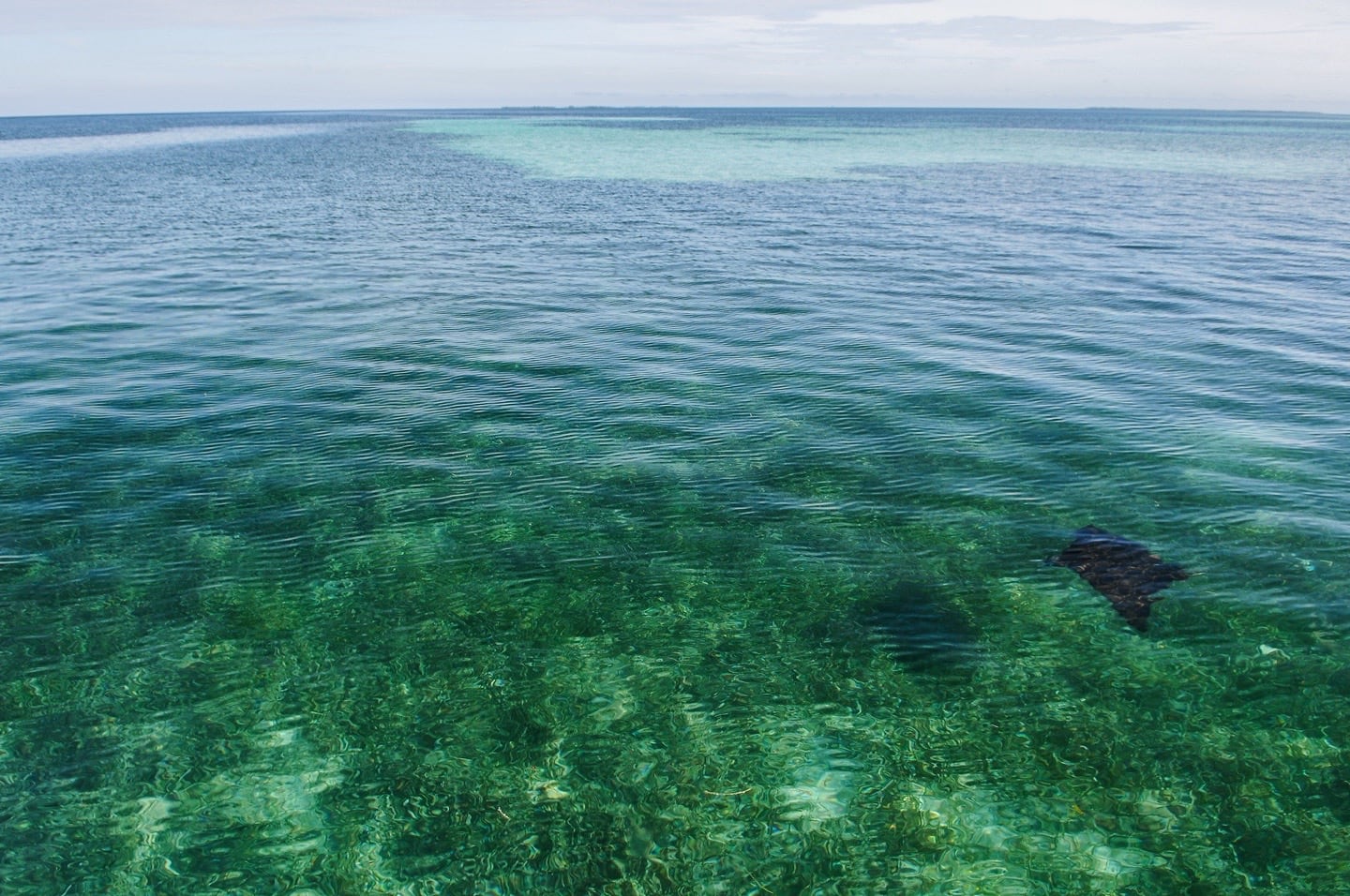 … Spotted Eagle Rays!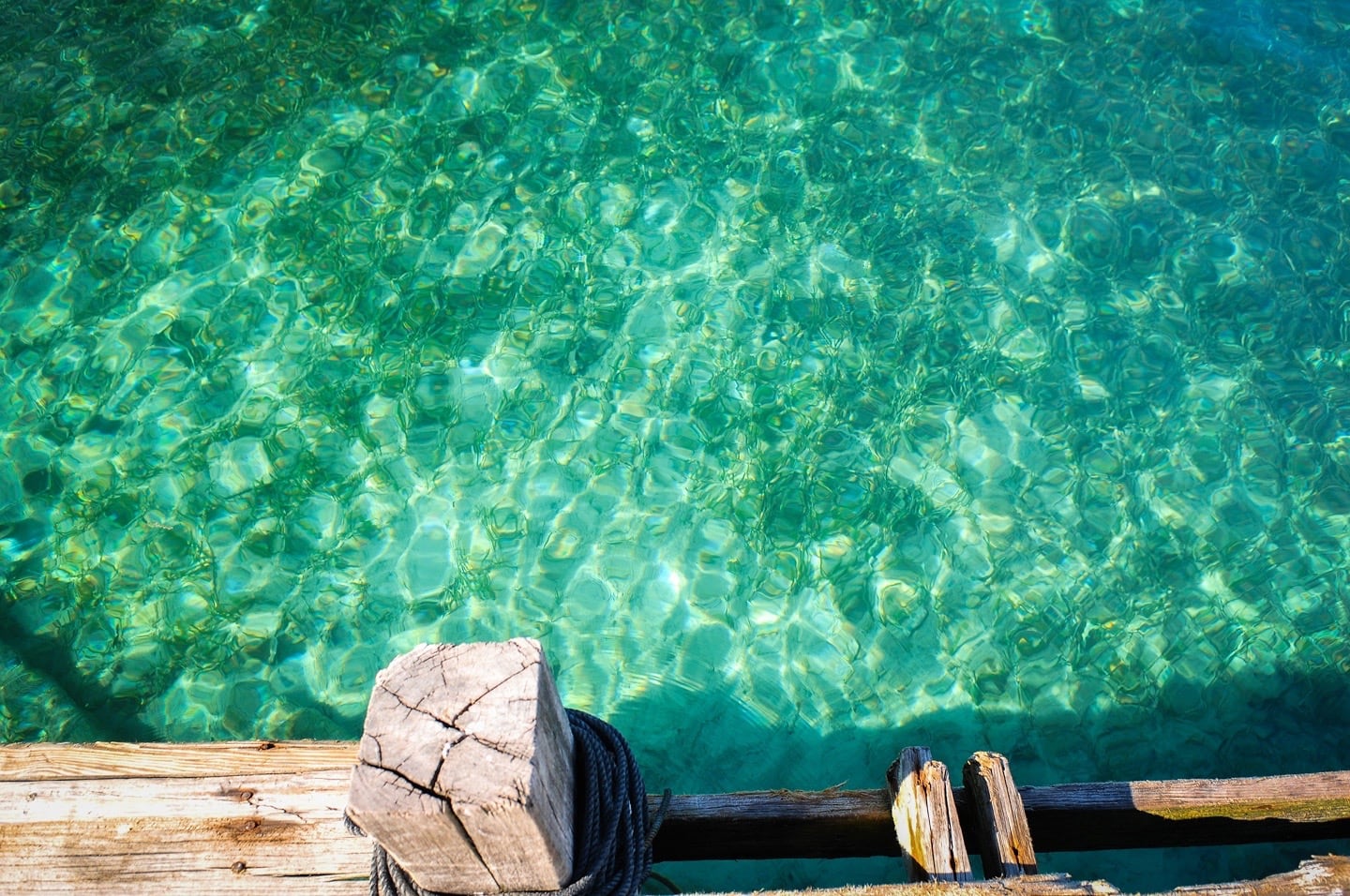 Believe it or not, the water depth is about six feet here (above).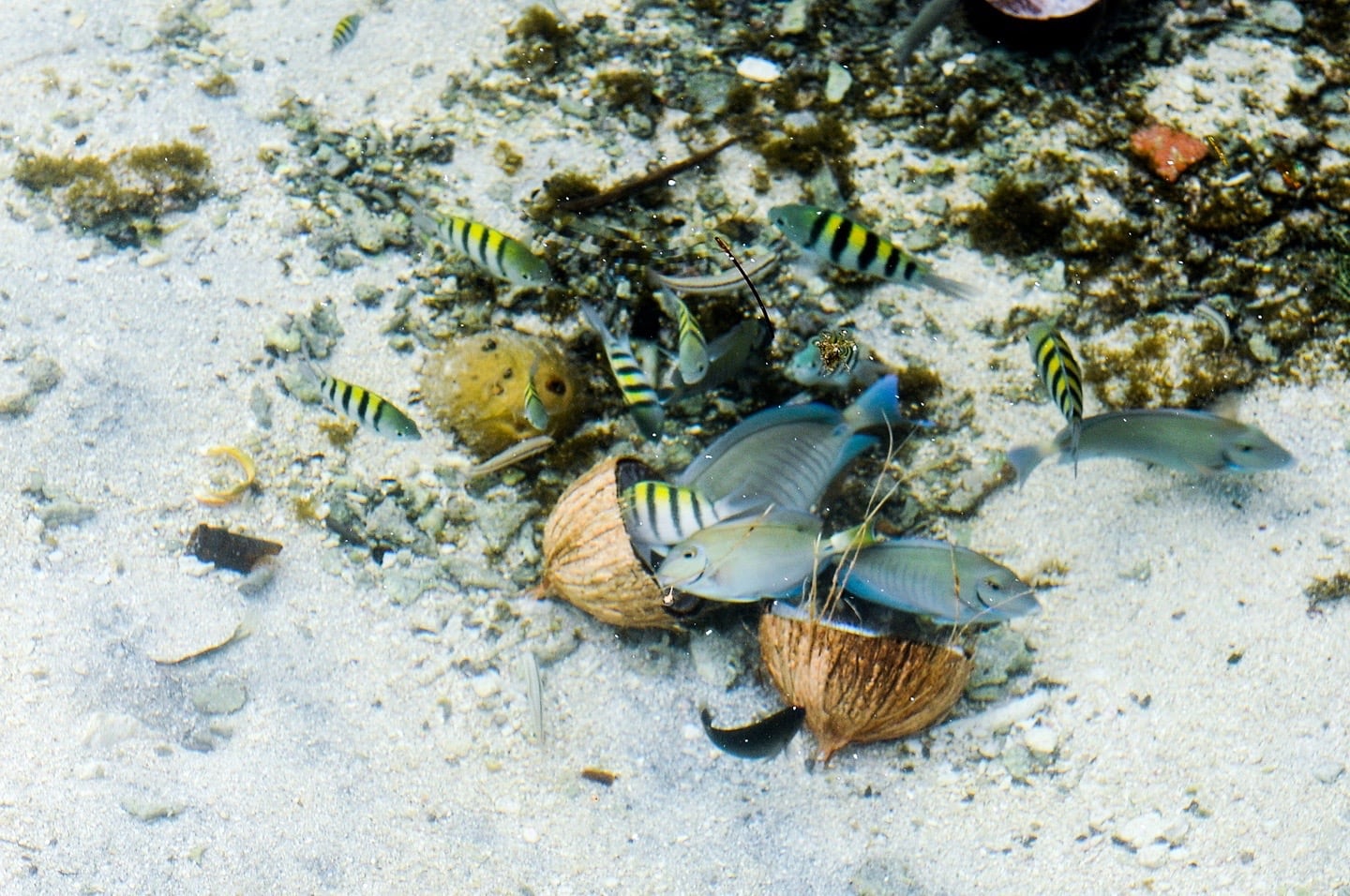 Despite what you may think, the photo above was not taken with an underwater camera, but actually high and dry from the dock through about two feet of water — the visibility was phenomenal, to say the least.
In this cluster, we see Sergeant Majors (the striped fish) and some sort of parrotfish I believe.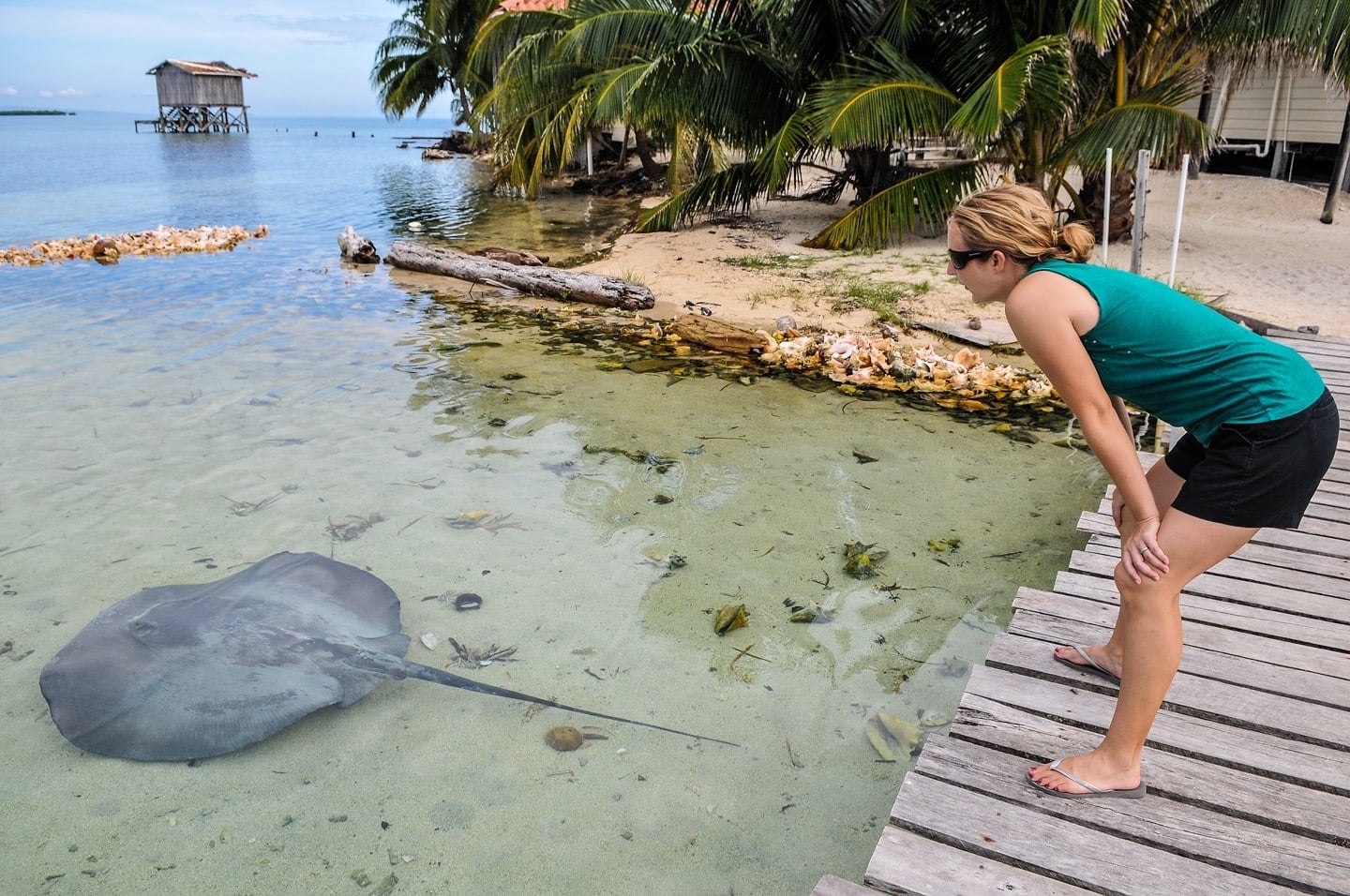 Oh, not to mention a fairly large Southern Stingray which enjoyed circling the island (we would see this guy at various points cruising along)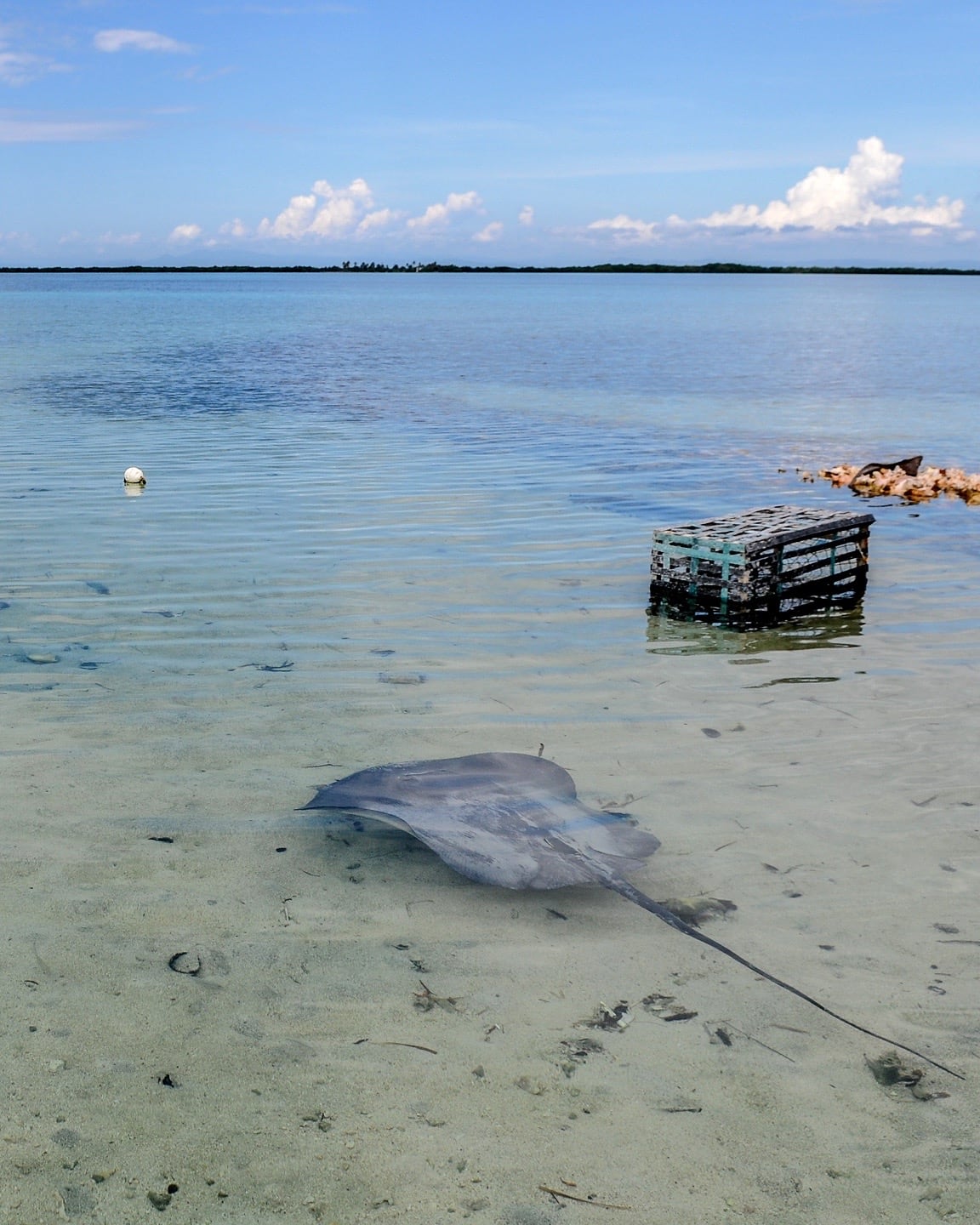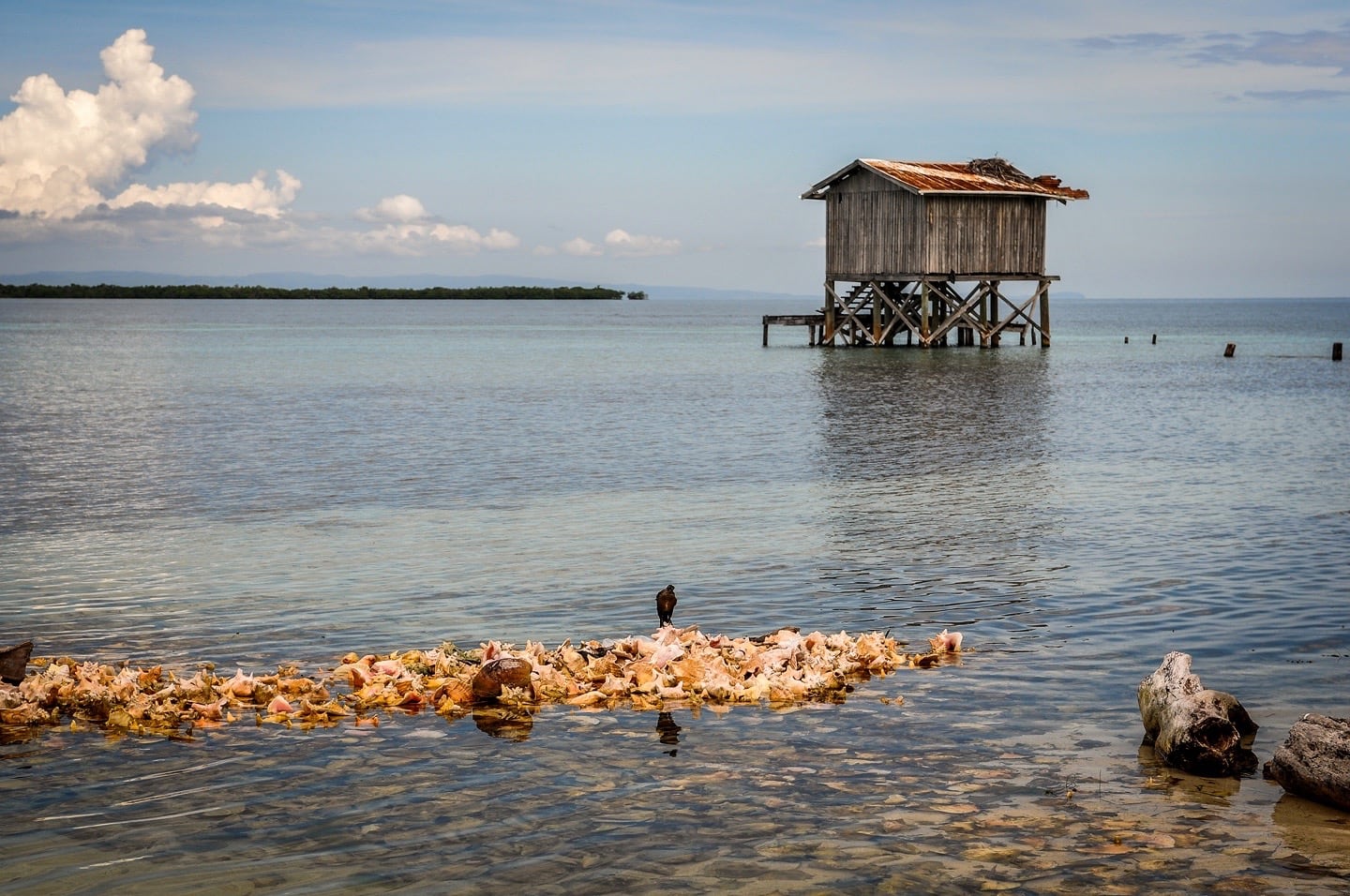 I'm not really sure what to make of this dilapidated stilted structure with what appears to be a dive flag painted on its rusty roof, but it certainly is a prominent feature on the island.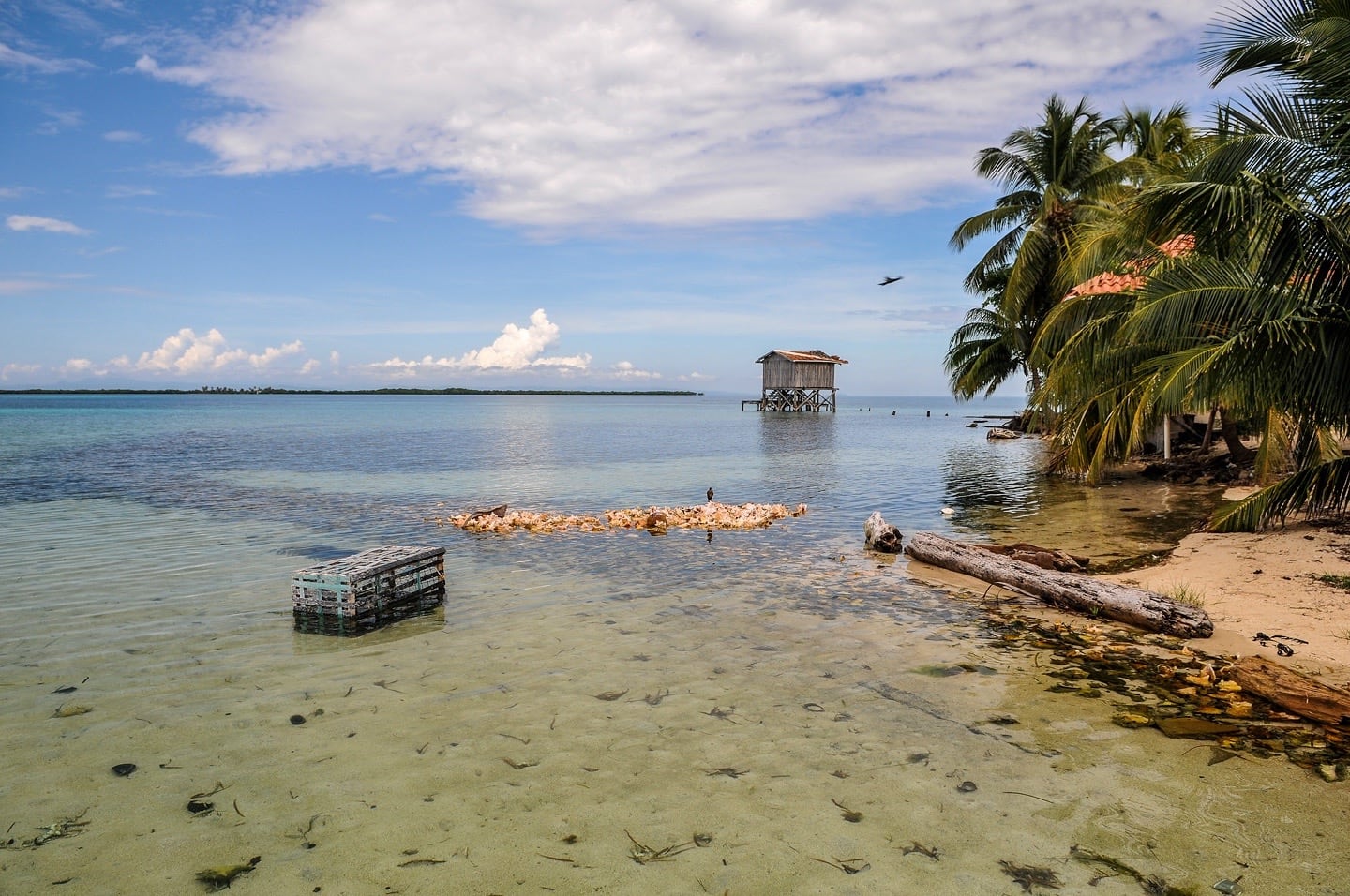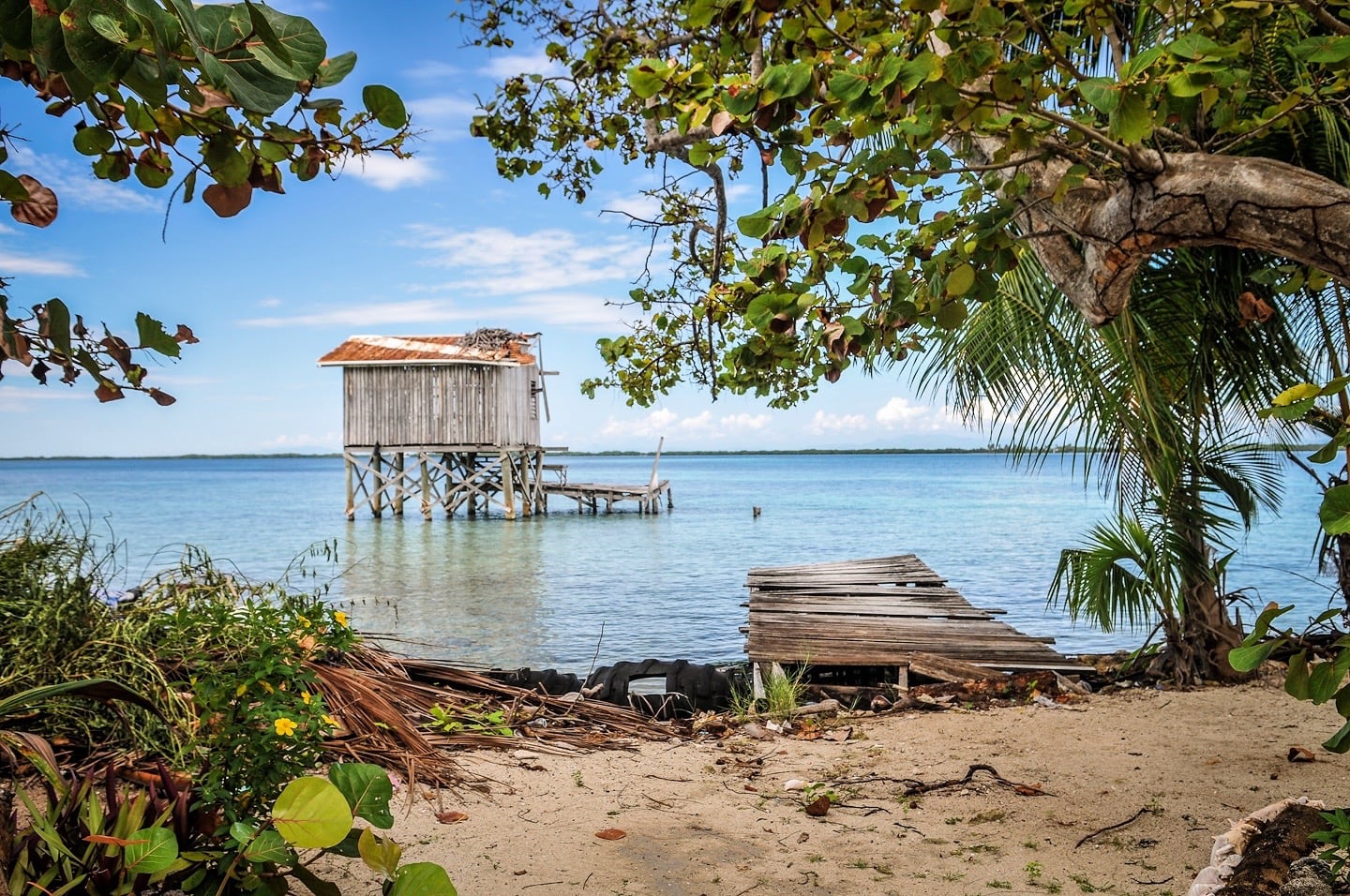 It appears that at one time a long pier extended out to meet the abandoned building. There are many mysteries on Tobacco Caye.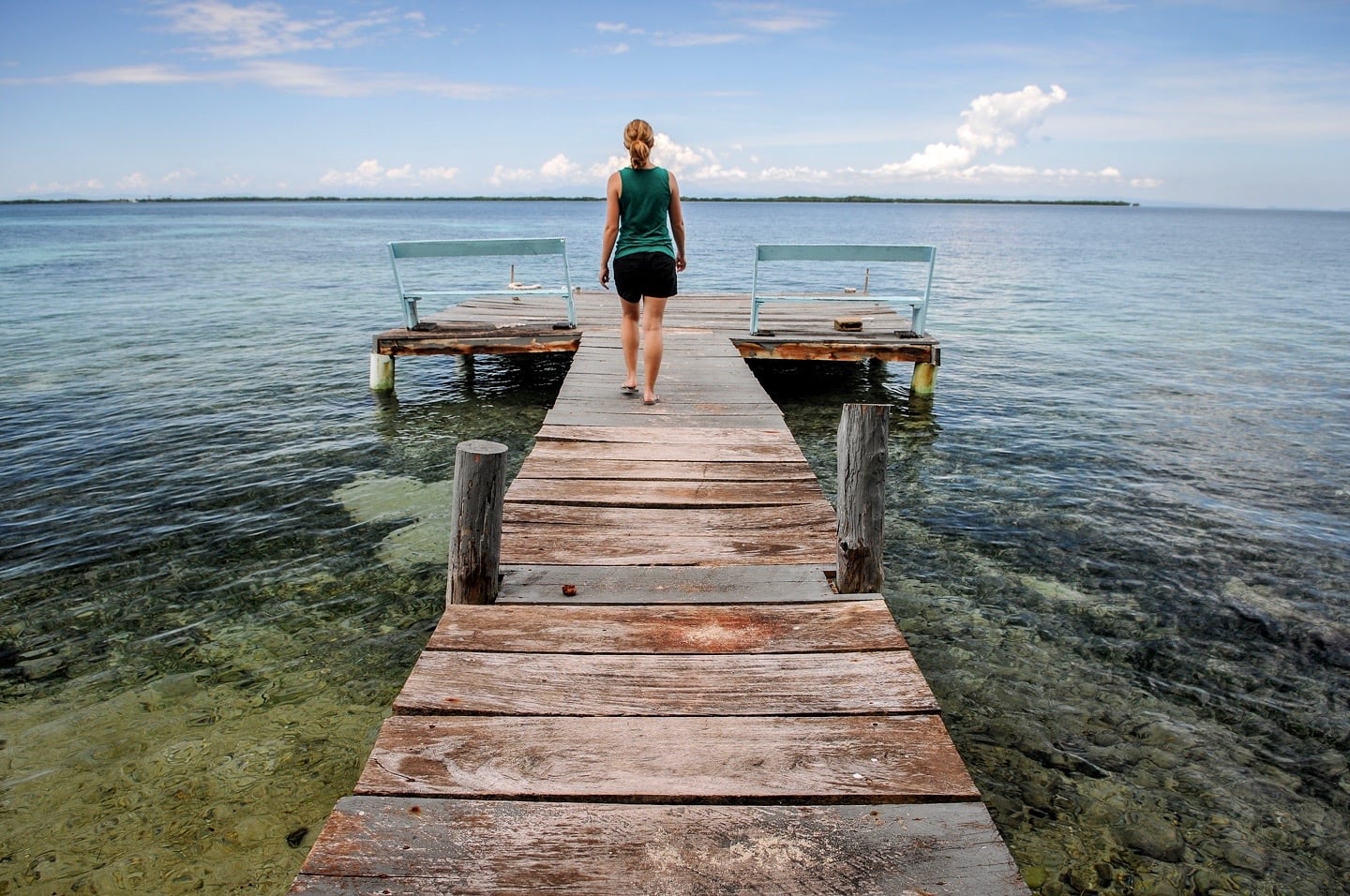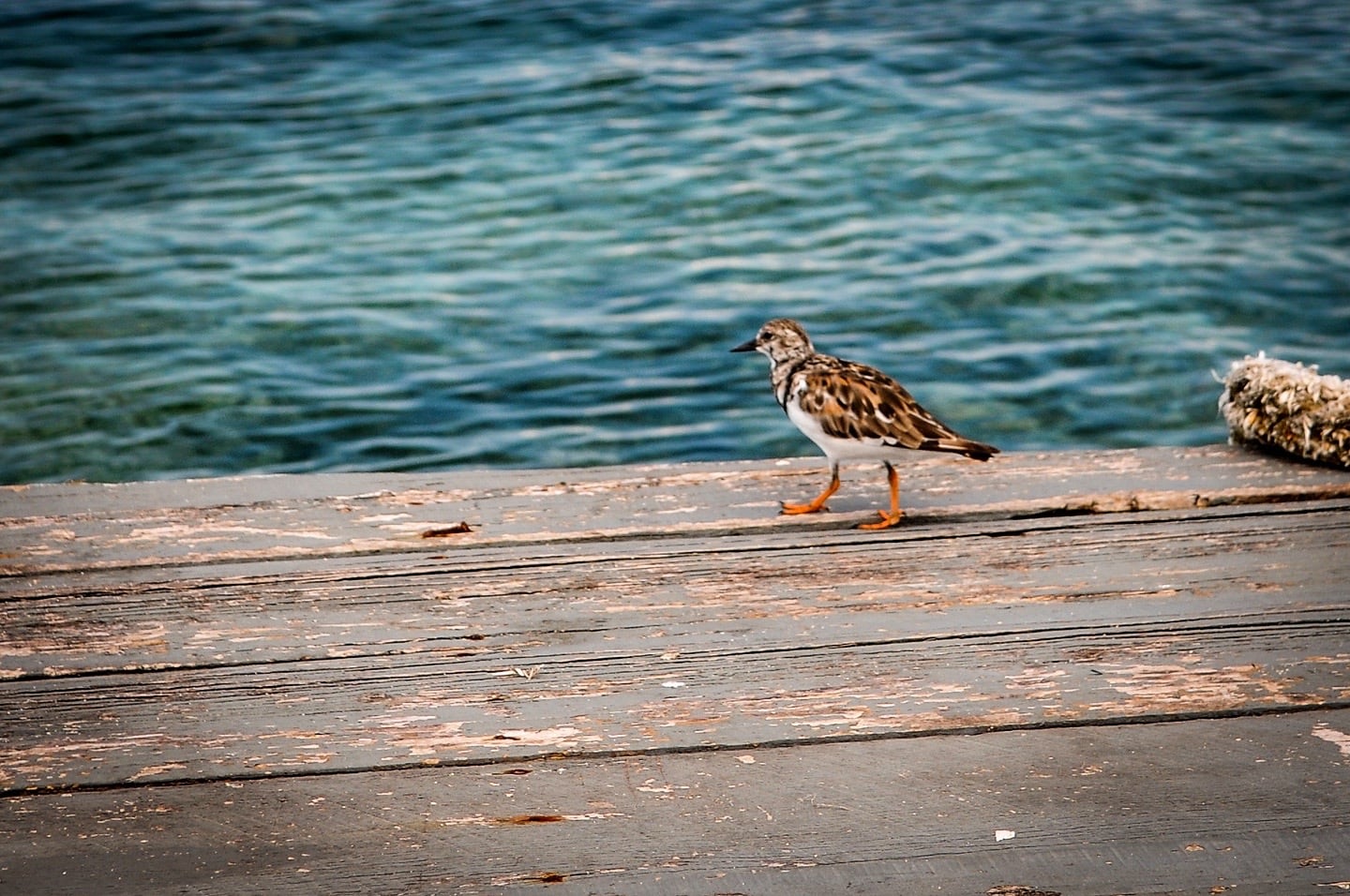 Return to the Mainland
By 14:00 Sunday, it was time to head back to the mainland. Captain Doggy arrived a bit early and was ready to go.
It appeared that a gale might be fixing to pass through in another hour so we thought it might be a good time to head out anyway.
But I have a feeling we'll be back soon.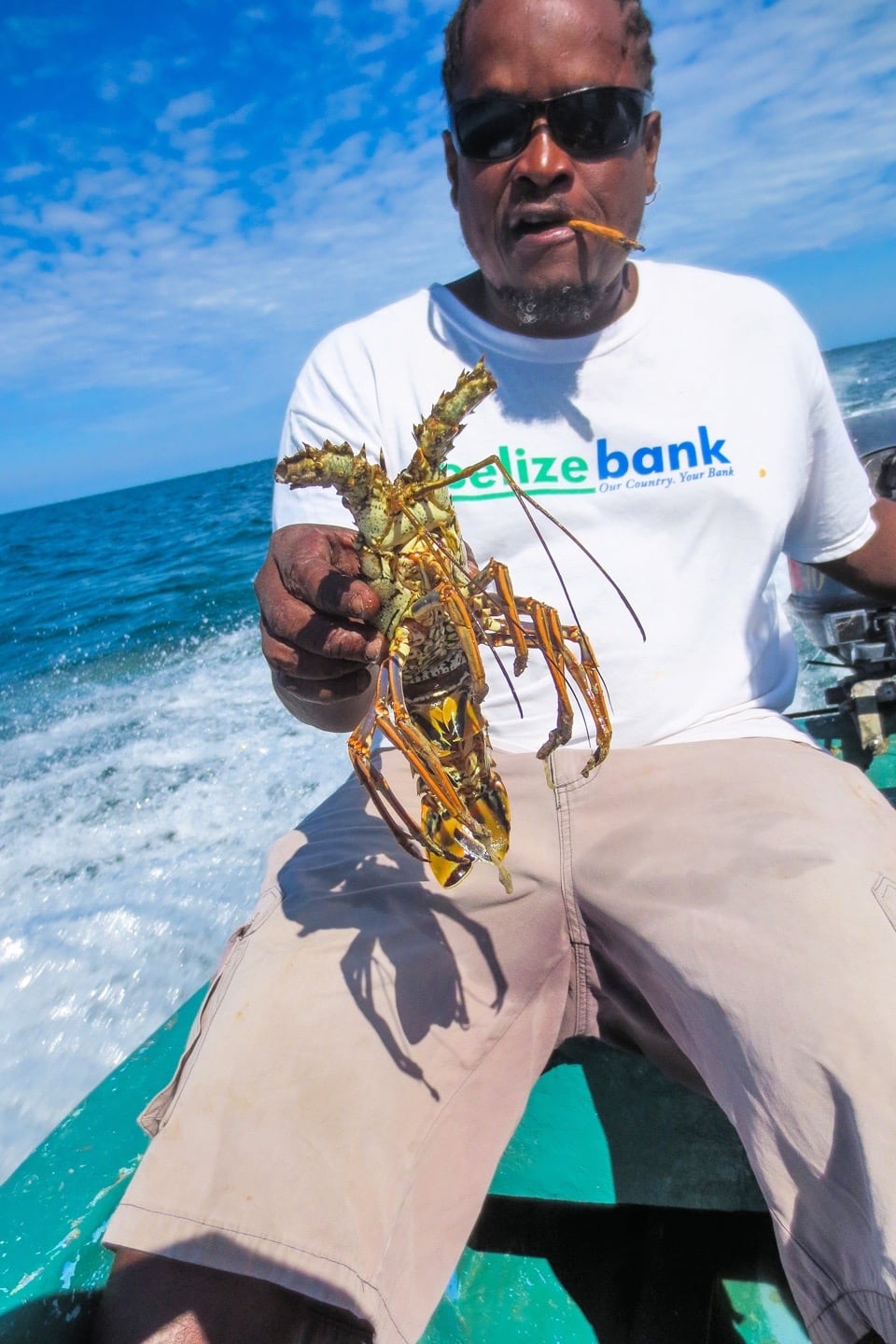 Have You Been to Tobacco Caye, Belize?
Let us know what you thought in the comments below.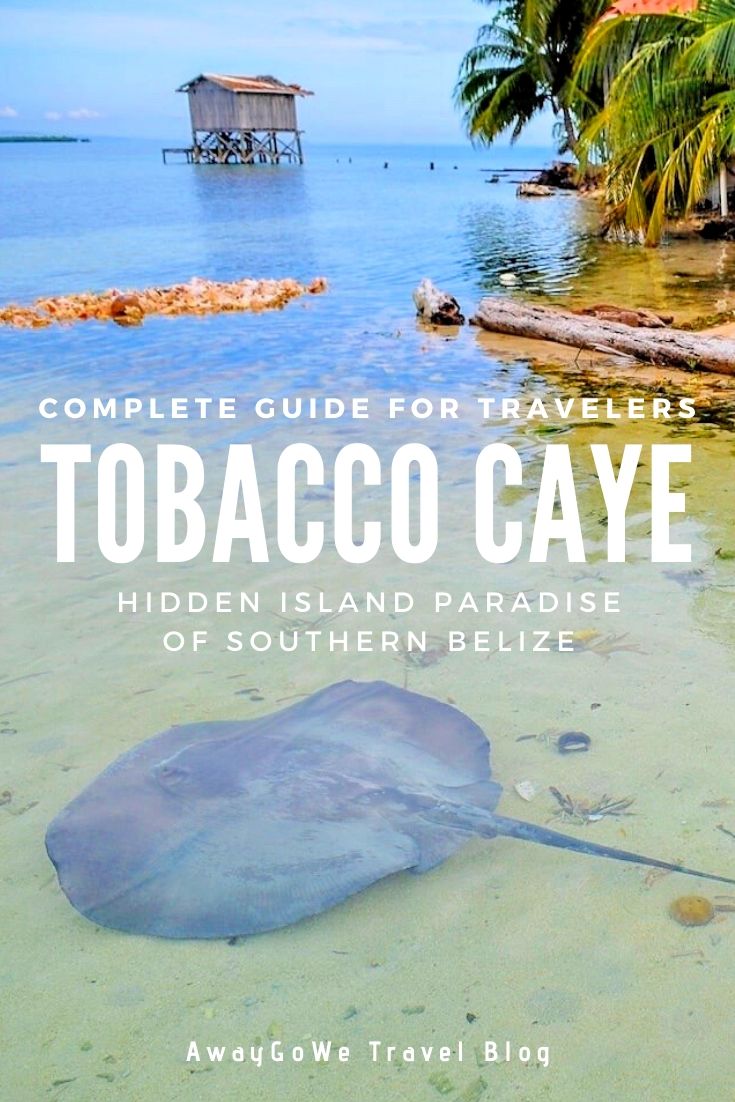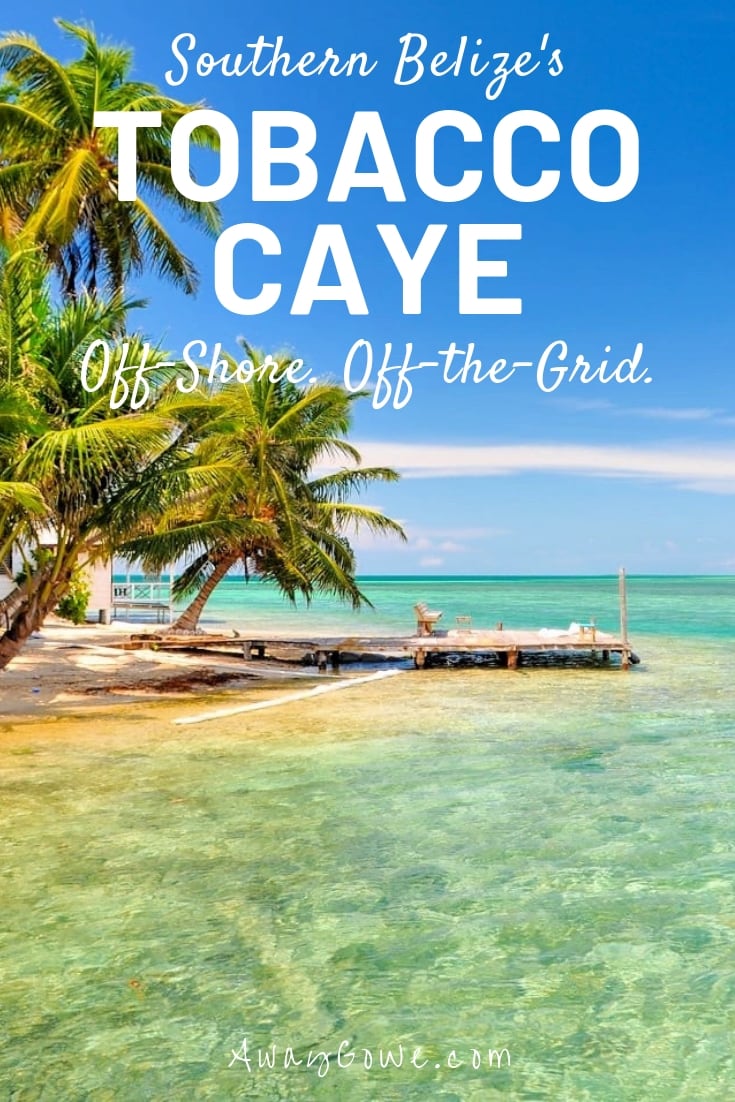 Get AwayGoWe Updates in Your Inbox
Get notified by email when we publish a new story or article!
No spam, ever. Unsubscribe at any time.