Cockscomb Basin Wildlife Sanctuary — the world's FIRST Jaguar Preserve — is chock full of jungle hiking, river tubing, and other outdoor adventures. So…how about jaguars? We head to there to find out!
After crashing our plane in the middle of a jungle full of jaguars, we set out to find camp…and some cold beers.
Actually, that is not our plane (hard to believe, I'm sure), but was chartered in the 1980s by one Dr. Alan Rabinowitz, an American zoologist, conservationist and adventurer who established the world's first jaguar preserve, Belize's very own Cockscomb Basin Wildlife Sanctuary — our Southern Belize getaway destination for the weekend.
What about the plane you ask? Pilot hit some bad weather (and apparently a handful of trees as well…you know, typical jungle stuff). Not to worry, everyone survived.
Planning a trip to Belize? Also be sure to check out these other helpful articles:
Welcome to Belize's Cockscomb Basin Wildlife Sanctuary!
We spent the weekend with another couple currently doing similar work to ours in Toledo District.
We were excited to be spending some time in a jaguar preserve and wondered if we'd actually spot one of the big cats.
Everyone we've spoken to say it's virtually impossible to catch a glimpse of a jaguar, even in the preserve, and that you have better odds of winning the lottery.
Yet, we were undeterred and knew we'd somehow beat the odds.
And wouldn't you know, sure enough, we spotted a jaguar just as we were arriving. In fact, I almost ran into it in the parking lot!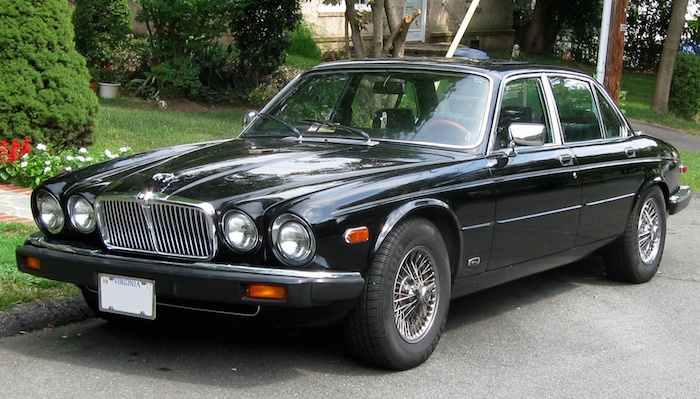 Well-preserved, yes…but wrong kind of Jaguar preserve, I'm afraid.
The truth of the matter is that we, like the vast majority of visitors to the Cockscomb jaguar preserve, did not spot the big cat, and perhaps all the better — weighing in at nearly 200 lbs. and measuring around six feet in length, you'd be both very lucky (and then likely very unlucky) to cross paths with one of these bad boys.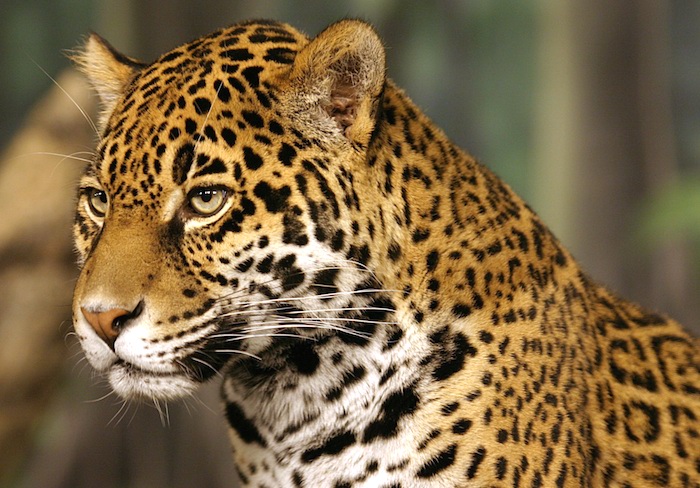 From the Belize Audubon Society website (belizeaudubon.org):
Cockscomb Basin Wildlife Sanctuary, established in 1990 is world renowned for being the first jaguar reserve. This "one of a kind" reserve was established as a result of jaguar studies conducted in the area by Alan Rabinowitz. Besides being the home to Belize's largest cat, the Sanctuary protects the headwaters of two major river systems and supports an abundance of hardwood vegetation and a diverse faunal assemblage.

Over 128,000 acres of lush jungle are ringed by the spectacular Cockscomb Mountains. (…) The trail system within the sanctuary provides breathtaking views across the Basin and waterfalls abound. If the hiking is too much, relax with a swim or try tire tubing down the river.

Cockscomb Basin Wildlife Sanctuary is home to all five (5) of Belize's cats: Jaguar, Puma, Margay, Jaguarundi, and Ocelot. It is estimated that over 80 resident Jaguars are in the area. (…) The jaguar is the third largest cat in the world after the Tiger and Lion, and is the only member of the large cat genus to live in the Americas. An adult male may weigh up to 200 lbs and measure 6 ½ feet from nose to tail. (…)

Some groups of Maya, known as the Jaguar people, worshipped the jaguar or "Baalum" believing their kings would reincarnate into these cats and so killing a jaguar was a serious crime, punishable by death.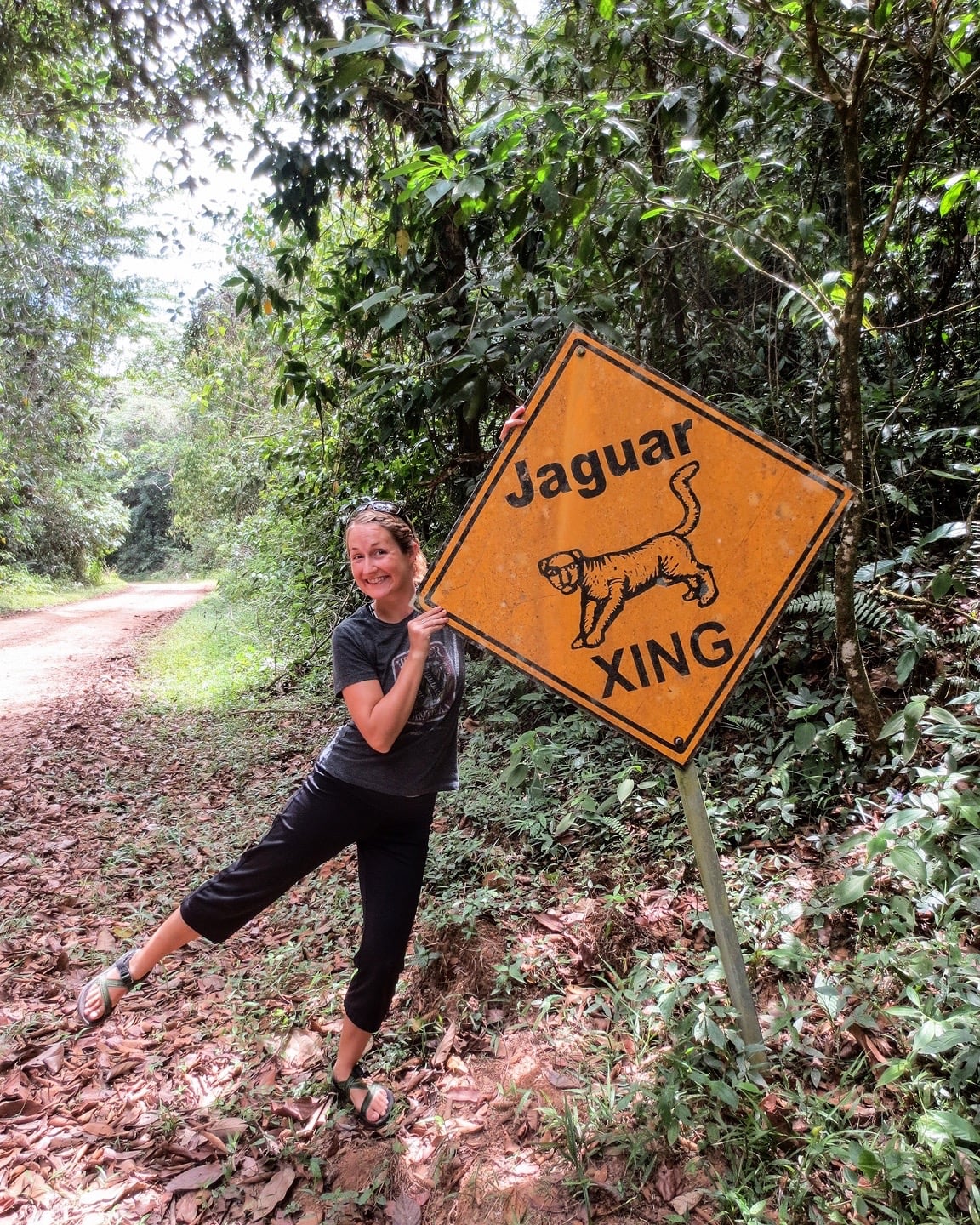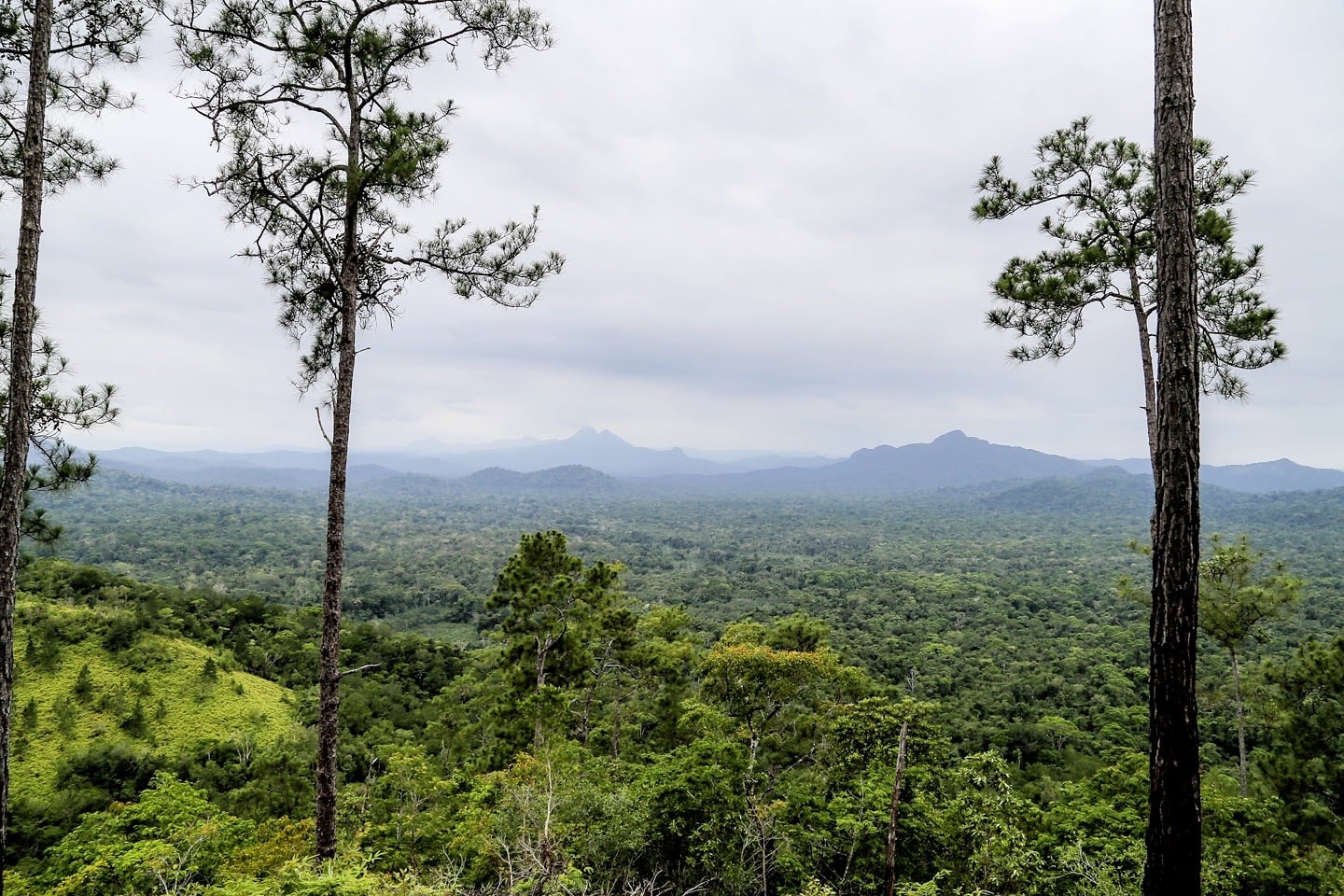 We visited the Cockscomb Basin Wildlife Sanctuary primarily for the hiking and wildlife viewing, but it was nice to just get away from PG for a weekend. The weather has been a mix of stifling dry heat and cool, torrential rains …in May… the "dry" season. Looking forward to seeing what the beginning of the "wet" season brings … actually, I'm not. The last nine months in Southern Belize have been one big Wet Season. But that's what you get for living in the jungle, I guess…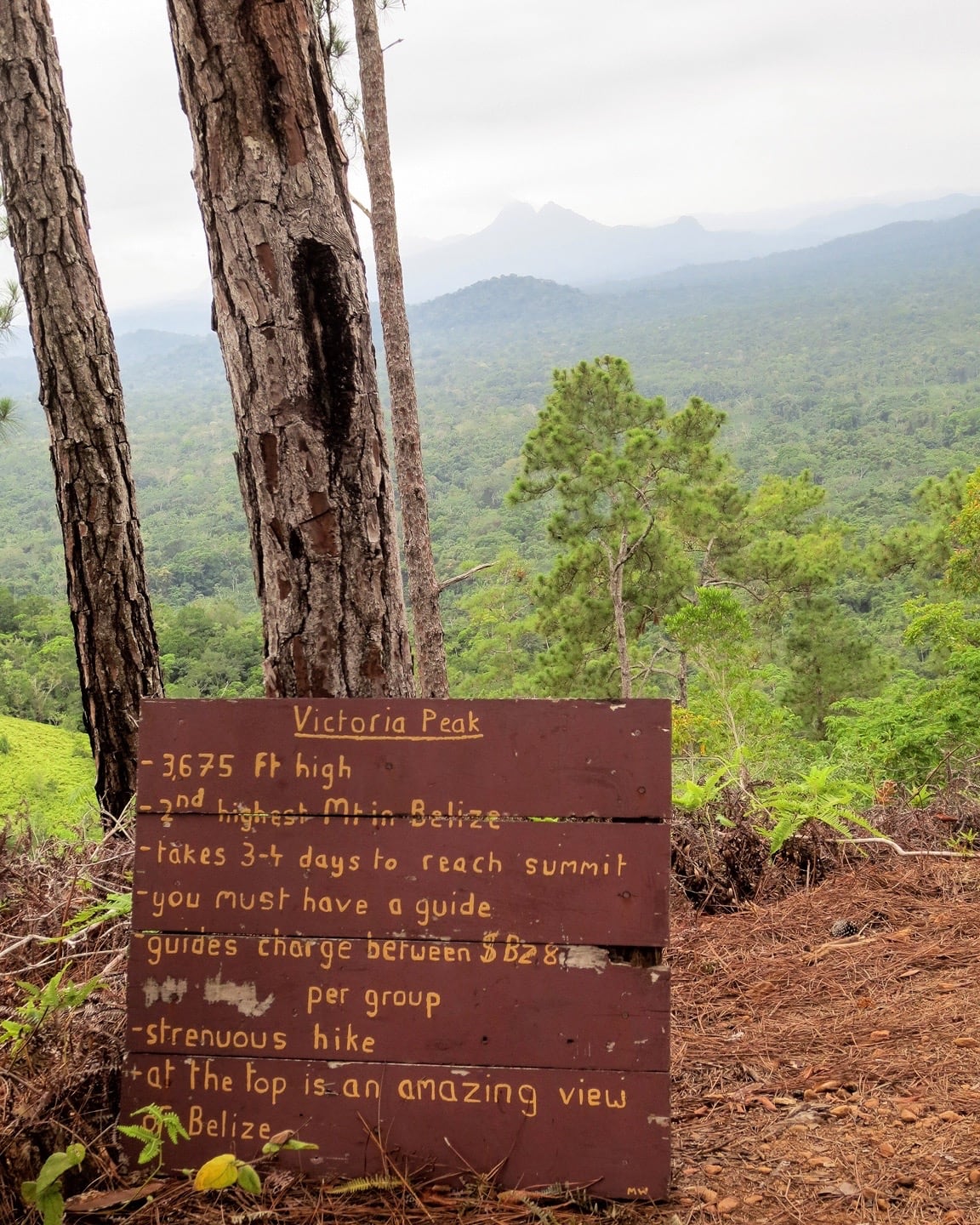 Crazy climate aside, the weather was just about perfect for our weekend in the Basin. We didn't get a drop of rain the whole time we were there (most of Saturday and Sunday). We had overcast skies during our hikes, which kept temperatures cooler, and bright brilliant sun during our tubing adventure down the South Stann Creek.
Cockscomb Basin Wildlife Sanctuary Transport, Lodging & Food
We left our home in Punta Gorda on Saturday morning and arrived in Cockscomb around noon.
Driving with our own wheels, the trip took just over 2.5 hours including a supermarket stop in Bella Vista to stock up on food for the trip, and covering the five miles of unsealed road between Maya Centre village and the Cockscomb camp.
The camp has a variety of accommodation options including:
Camping — US$10/person
Dorms — US$20/person
Rustic Cabin — US$20/room/night
Private Family Cabin — US$54.50/night (Max: 6 people)
White House — US$81.75/room/night
Mujan Naj (Birdhouse) — US$81.75/night (Max: 4 people)
Don't forget to confirm current pricing with the Belize Audubon Society (belizeaudubon.org)
We opted for the Rustic Cabin, which was essentially a large building sectioned off into four separate rooms with two twin beds in each room and a screened porch on the back. Toilet and ("cold") shower facilities are a short walk out the back door.
There are no restaurants on the premises (the closest restaurants are five miles back at Maya Centre village), but the property does offer a spacious self-service kitchen. Stock up before you get here!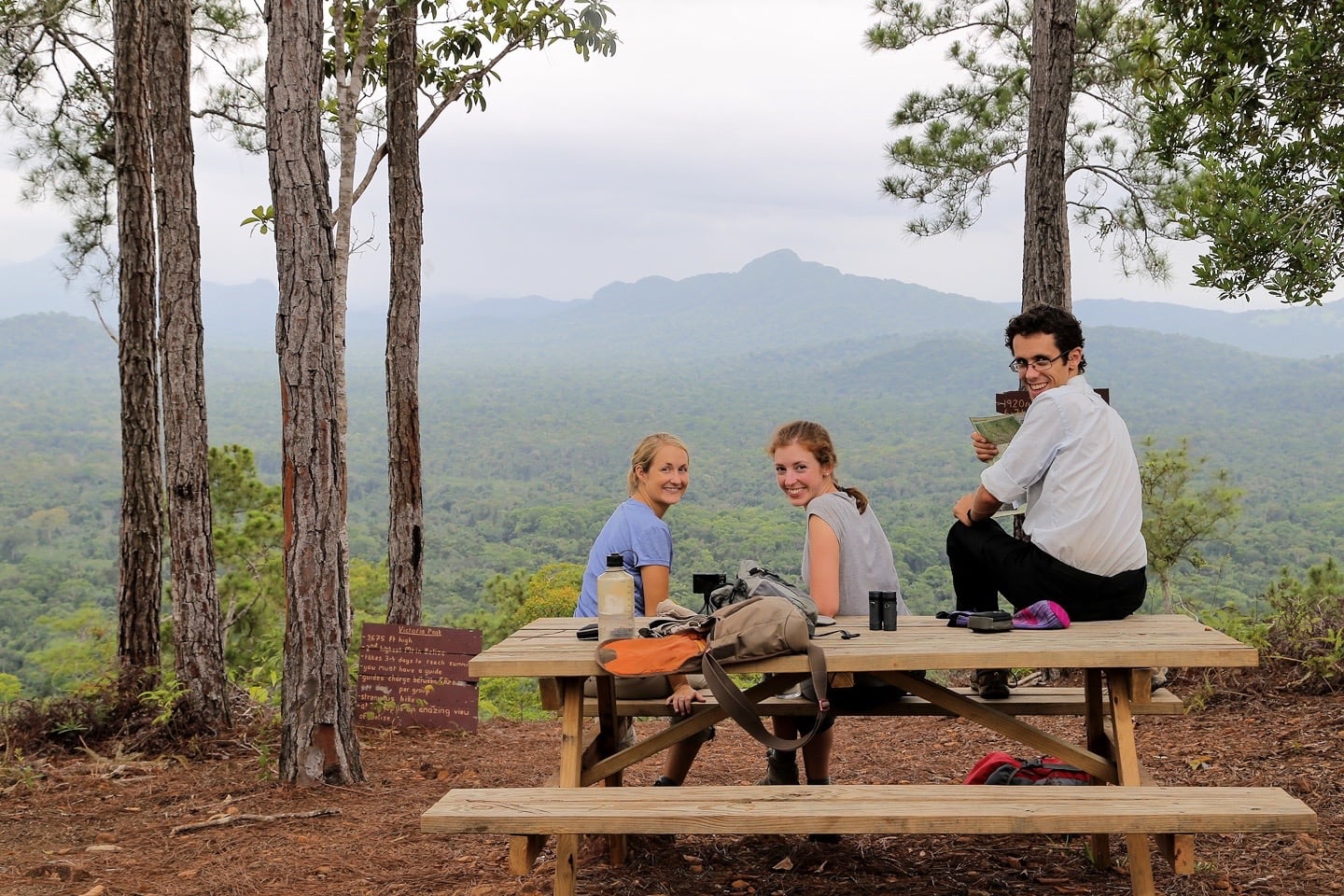 Cockscomb Hiking: Ben's Bluff Trail & River Path Loop
We hiked the strenuous Ben's Bluff Trail, which took us by a lovely little waterfall and swimming hole and up to a lookout point offering stunning views of the Cockscomb Basin and Victoria Peak (Belize's second-highest peak) in the distance.
Up until this last weekend, we had been under the impression that Victoria Peak was the highest peak in Belize, but that distinction actually belongs to Doyle's Delight towering a whopping 3,688 ft. (1124 m) above sea level.
It apparently takes 3-4 days to hike roundtrip between the Cockscomb Basin Wildlife Sanctuary and the summit.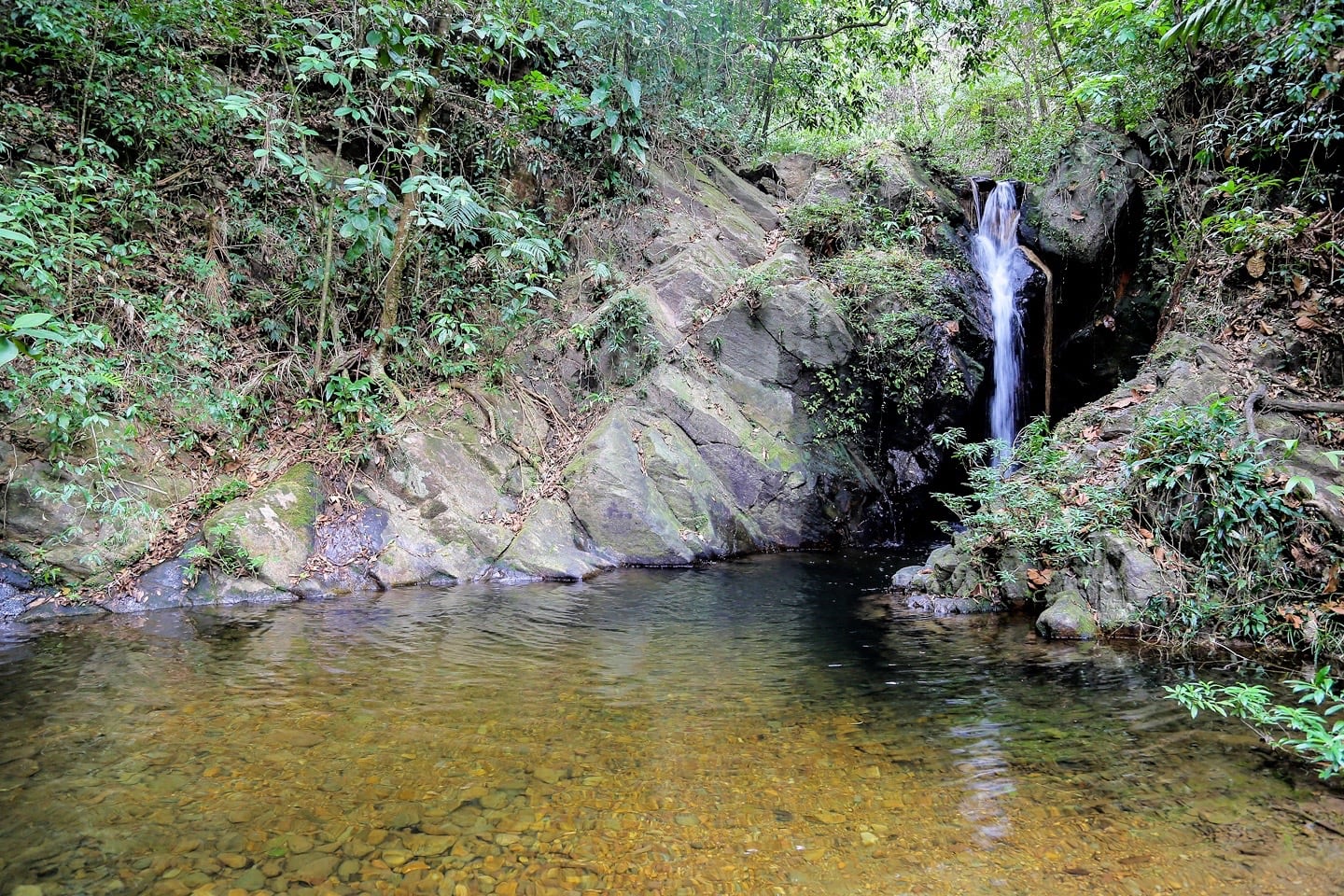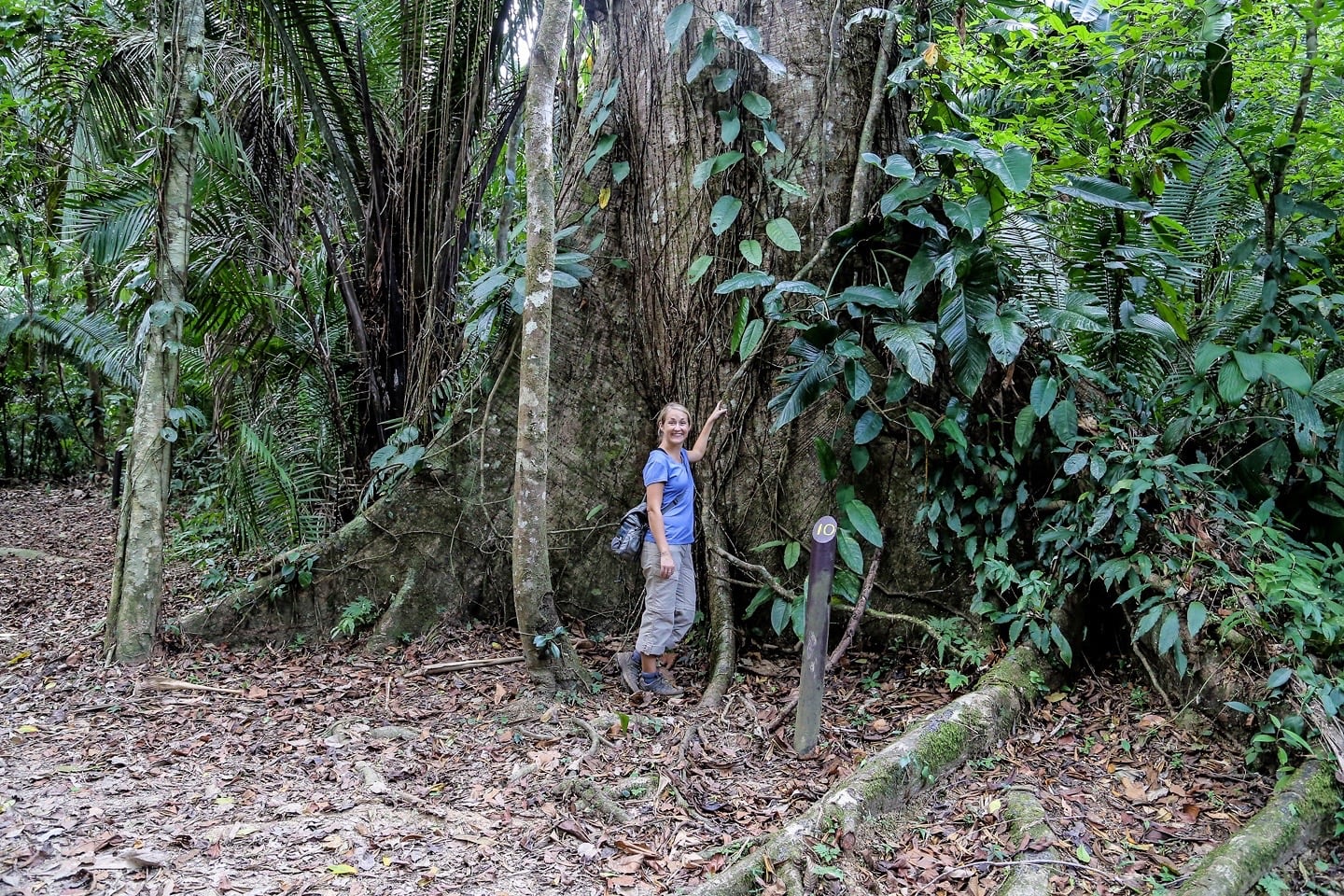 On our way back to camp, we followed the River Path Loop, offering 19 marked interpretive sites along the way, including #10 — a very large Ceiba Tree (above).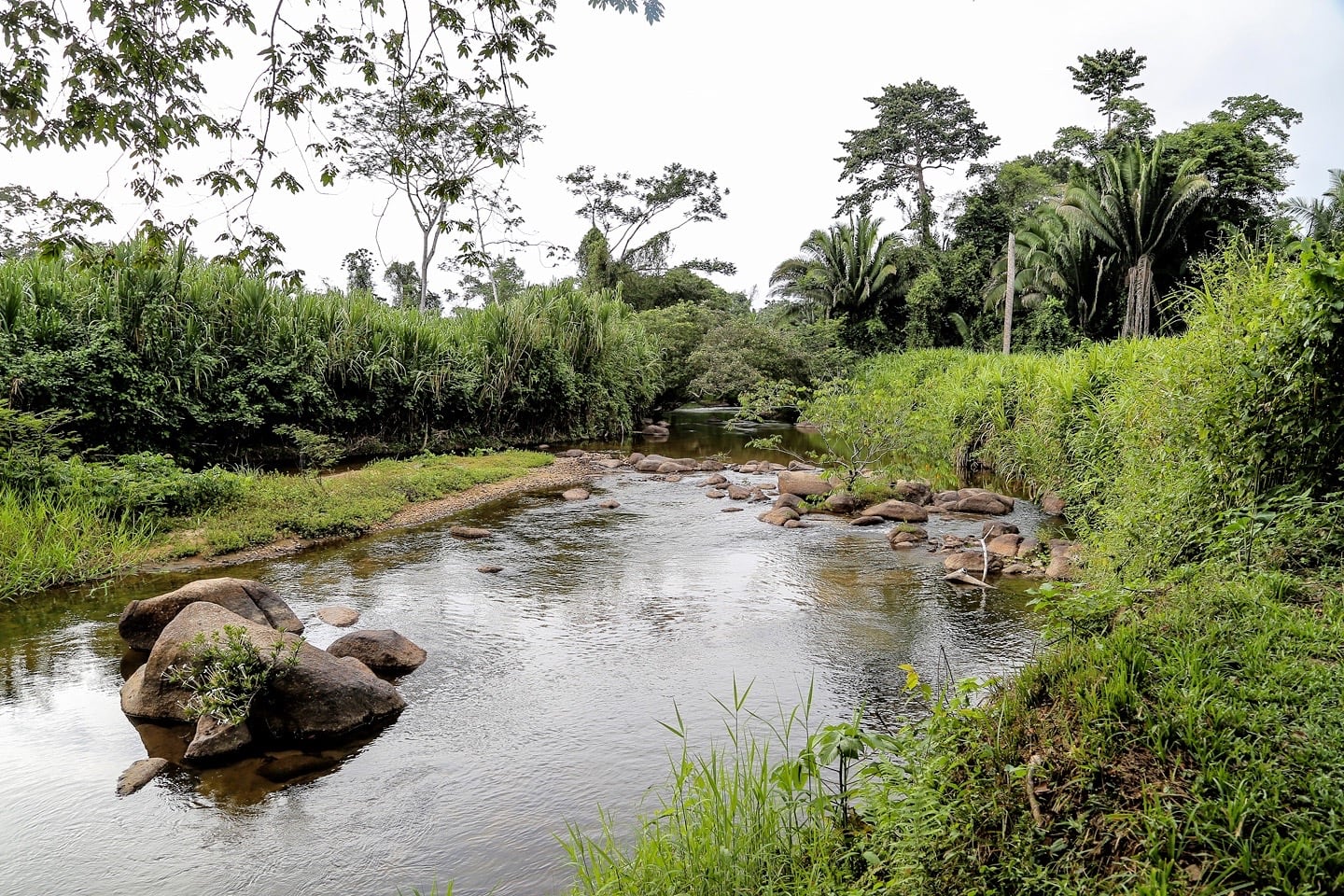 At the end of our hike, we found ourselves at this lovely spot on the river. We didn't know it at the time, but this is the tubing exit point. Valuable information if one ever decided to float the river… hypothetically speaking…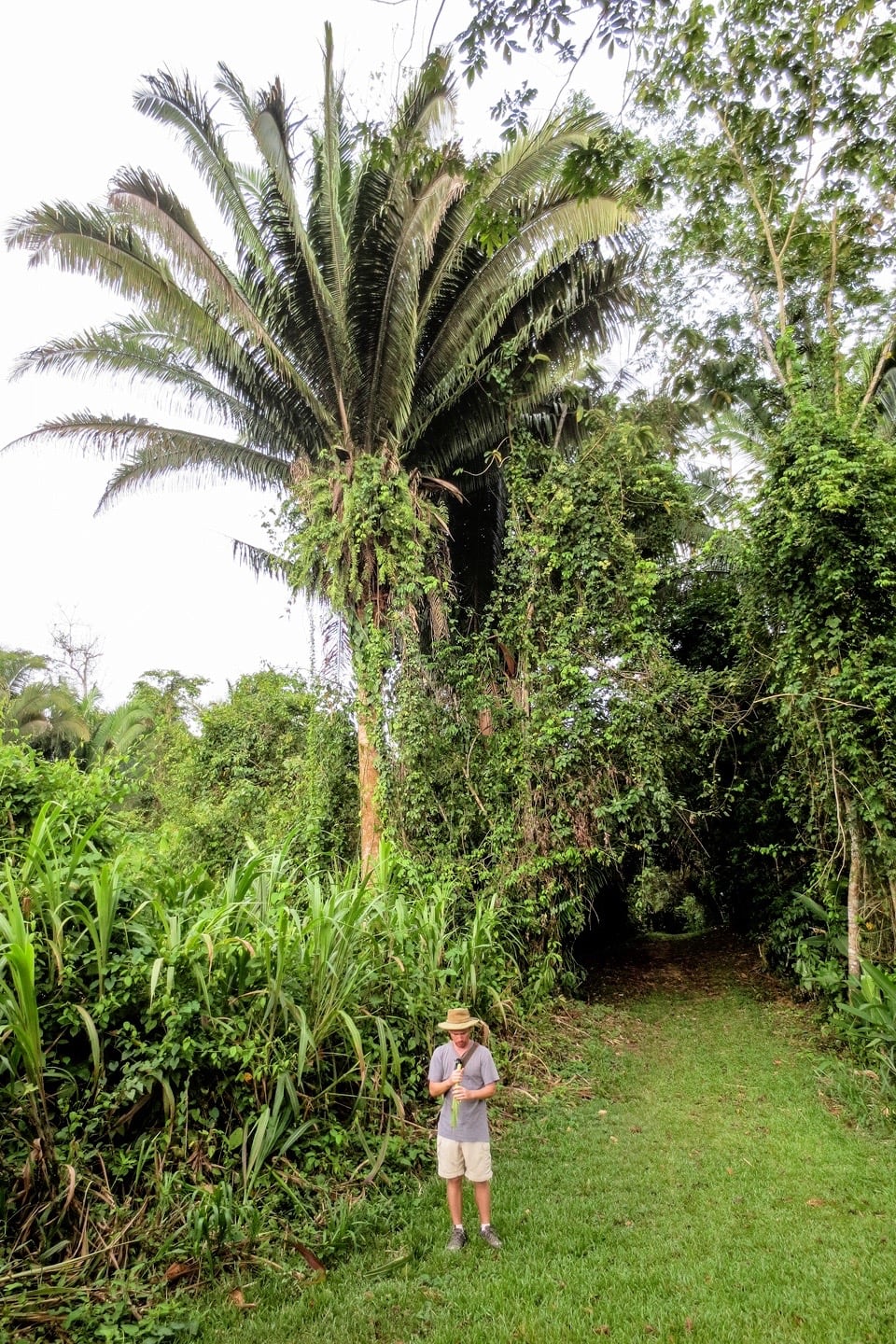 The next morning, we were on the trail by 7am, and the day was already beginning to heat up.
We spent much of the morning meandering along the lush and peaceful Wari Loop and BYCC Express trails.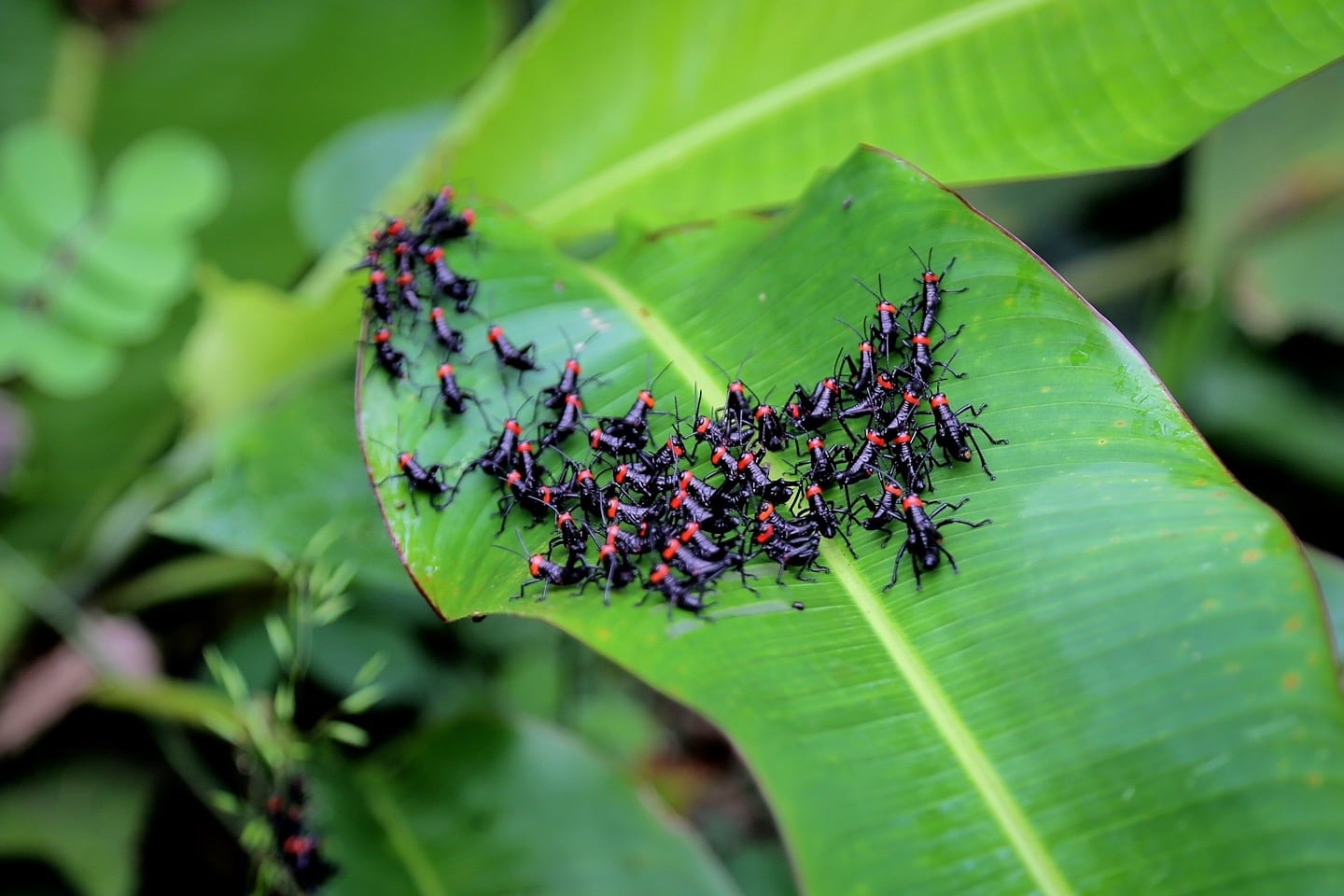 Rachel's keen eye spotted these red-headed cricket-like insects of sorts. Not sure what they are exactly, and a quick google search revealed nothing. But they look cool!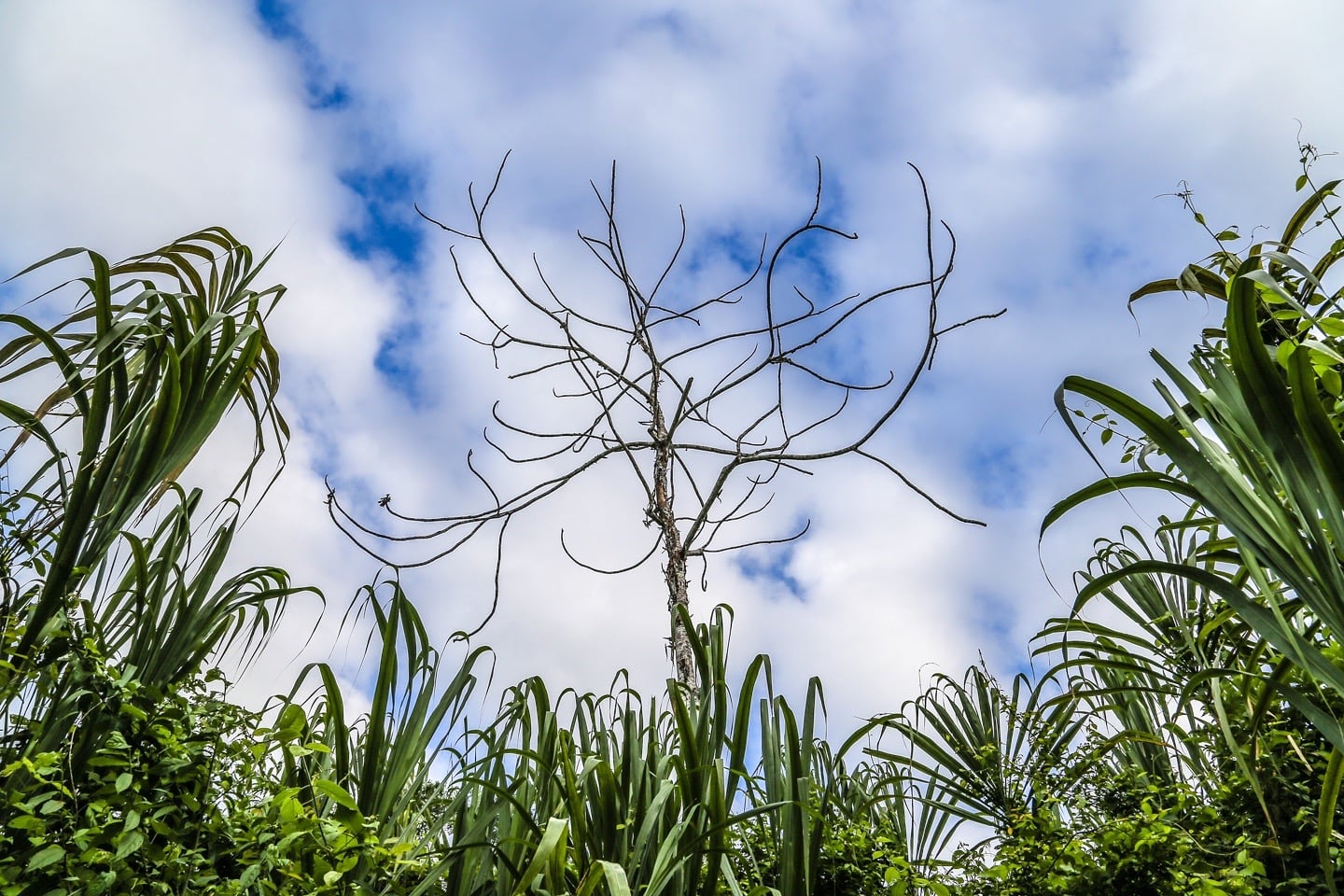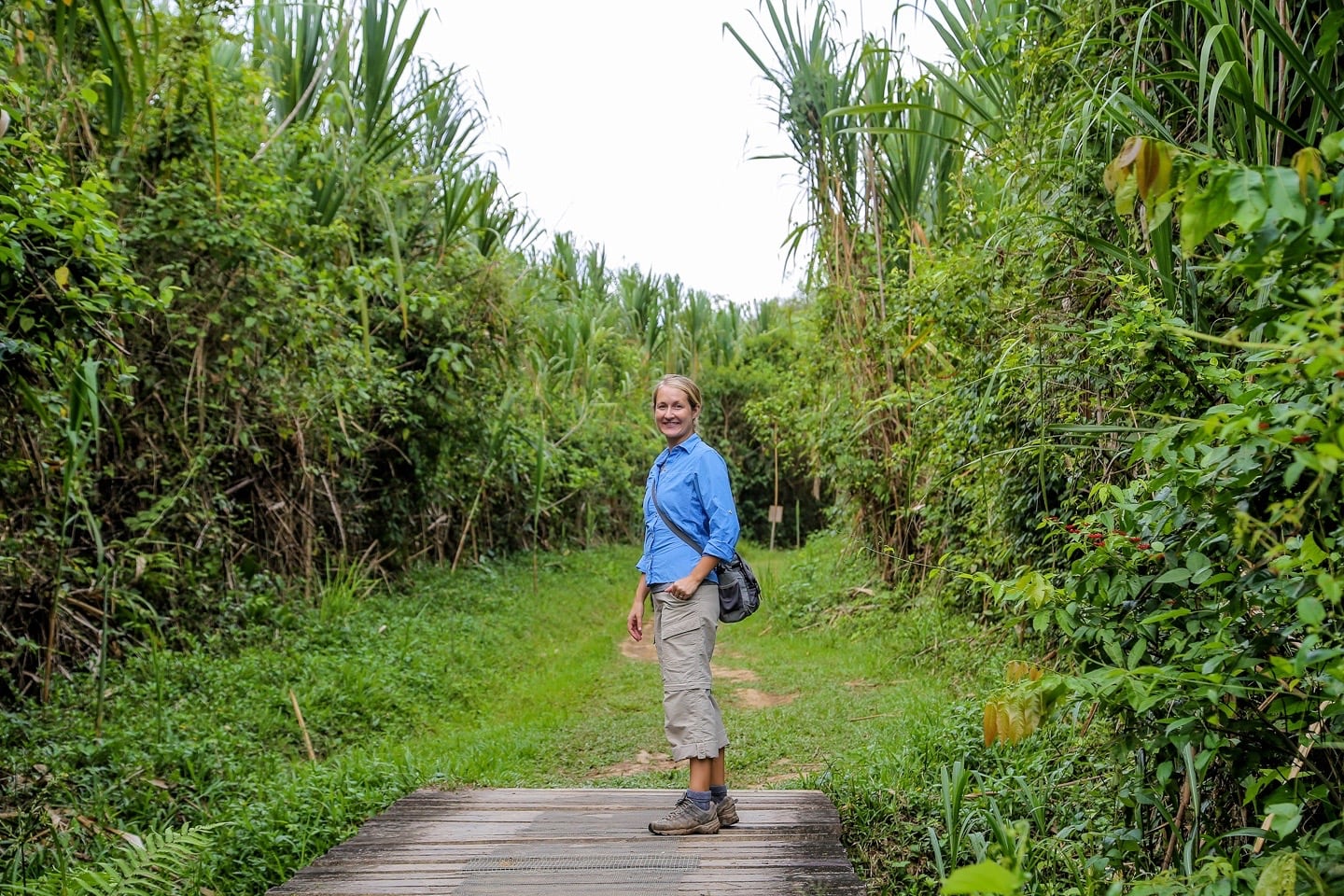 Apparently young Ceiba's protect themselves with spikes/thorns — certainly made me think twice about wanting to climb this tree.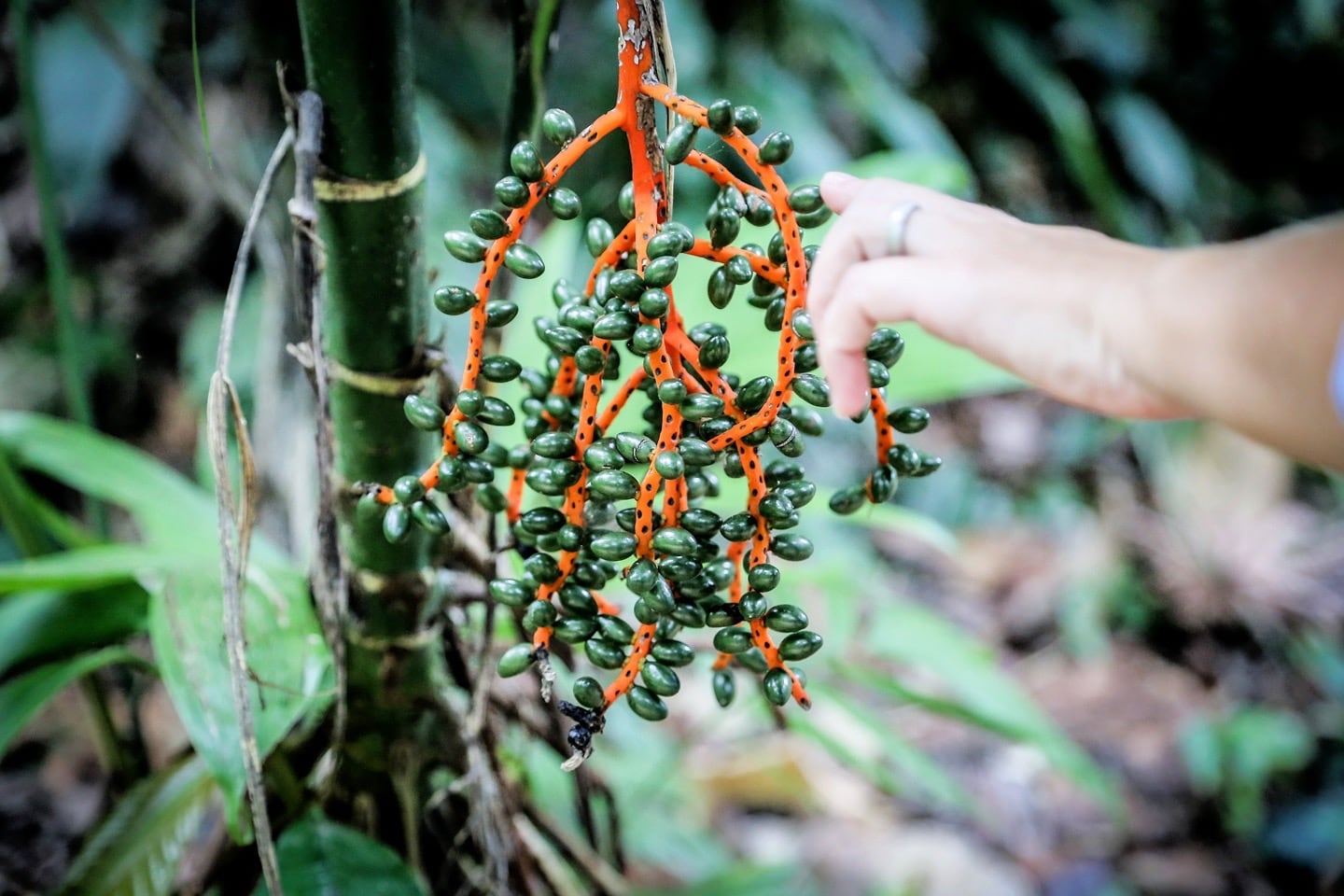 Hey kids, this is the jelly bean plant (above). It's where jelly beans come from. Yeah, I have no idea what this plant is. Apparently, I would make a horrible botanist…unless it really is a jelly bean plant…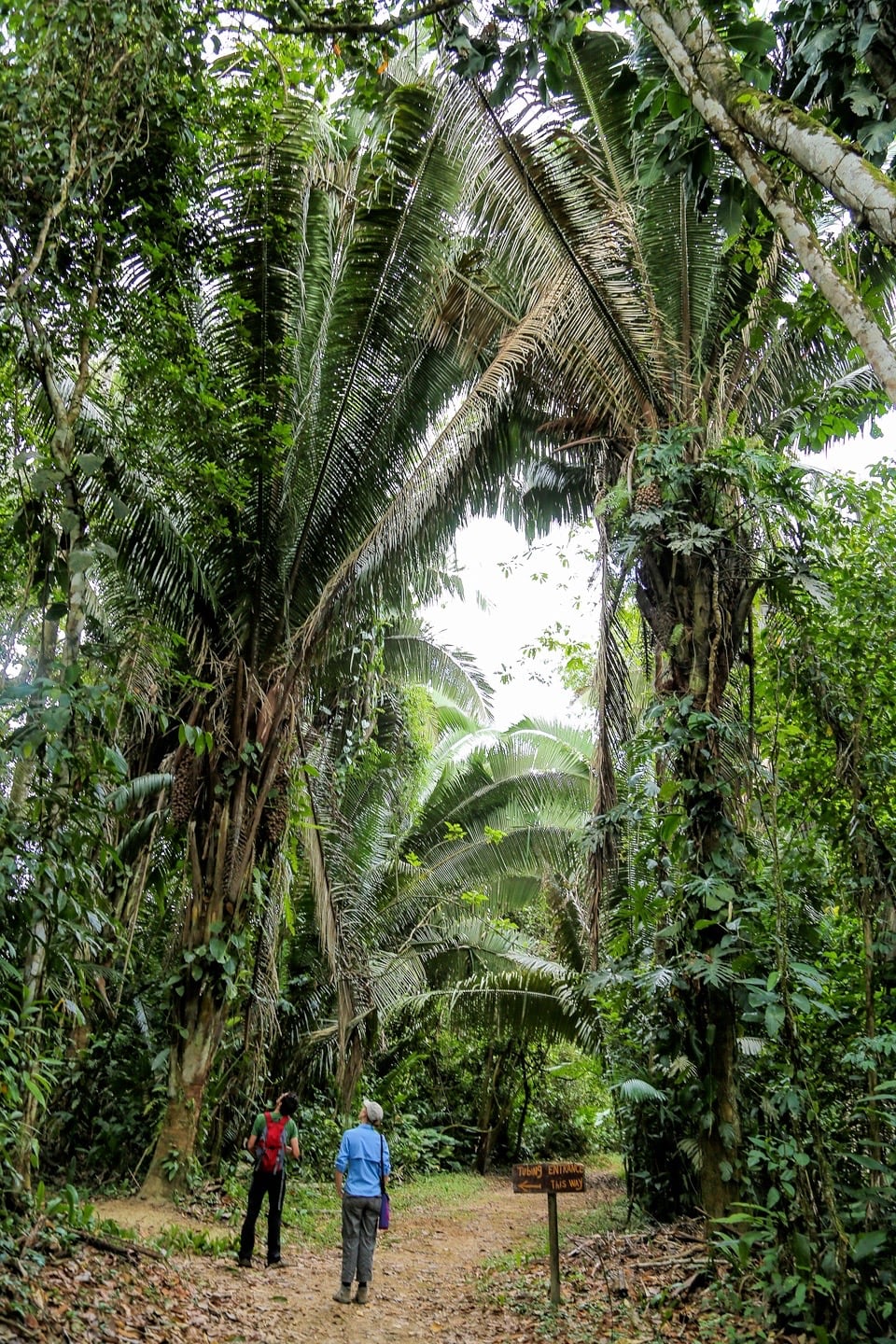 The mighty, mighty Cohune Tree! Look at the size of these things!
We see Cohunes all over the place in Southern Belize — people down here build their roofs out of the dried palm leaves, cook Cohune cabbage from the heart of palm, and use the Cohune nuts for cooking (and Lori uses them for trigger point release on her patients) — but we rarely see Cohunes this massive.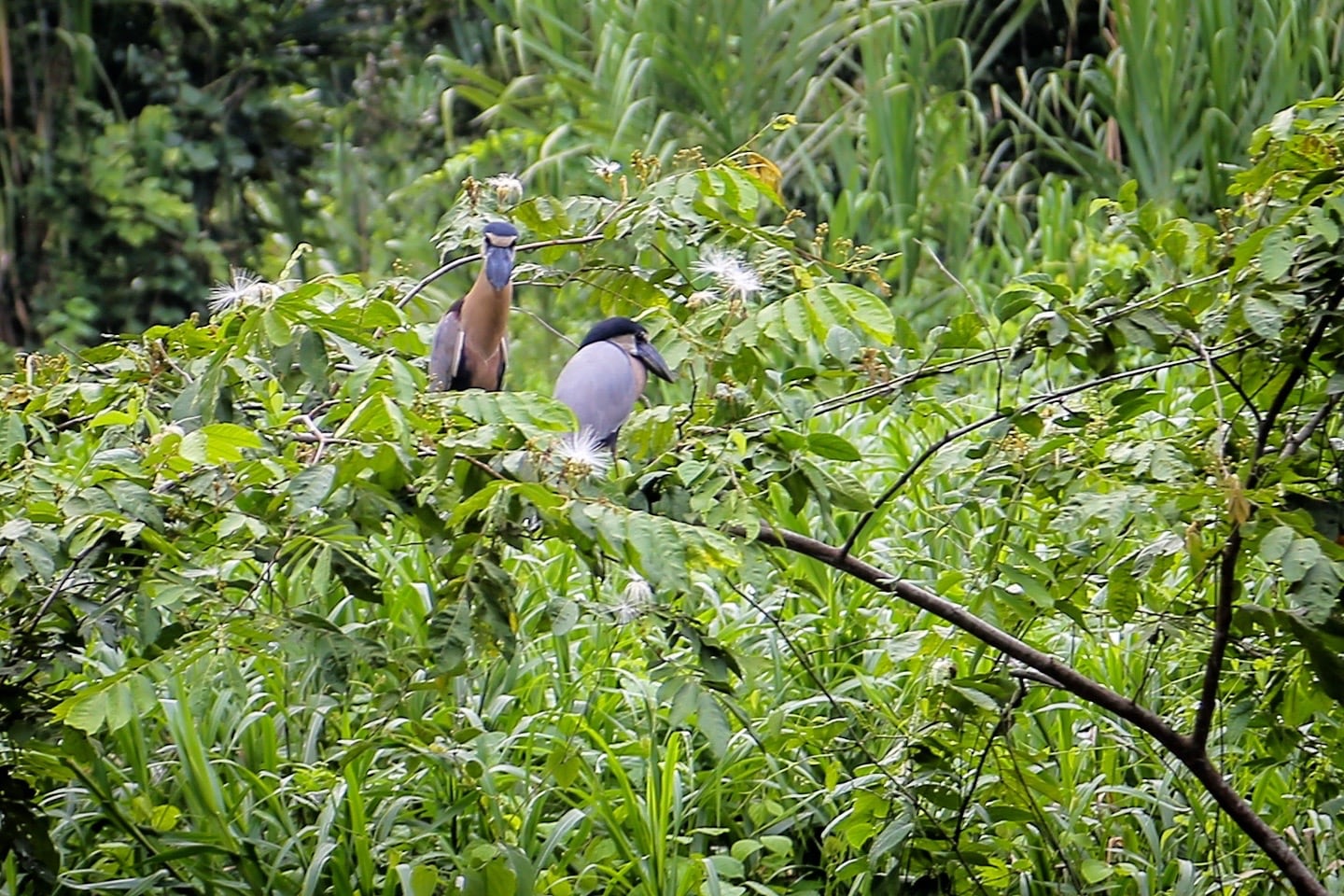 Breaking out our trusty Belize & Northern Guatemala Travellers' Wildlife Guide by Les Beletsky (the wildlife bible for Belize), I can tell you that these bad boys (above and below) are actually a funky looking type of heron — the Boat-billed Heron, in fact.
Herons, of course, love water, and we found these guys hanging out in and around an inland lagoon.
You can see by the photo above that Boat-billed Herons extend and contract their necks just like other herons…but they still don't quite look right…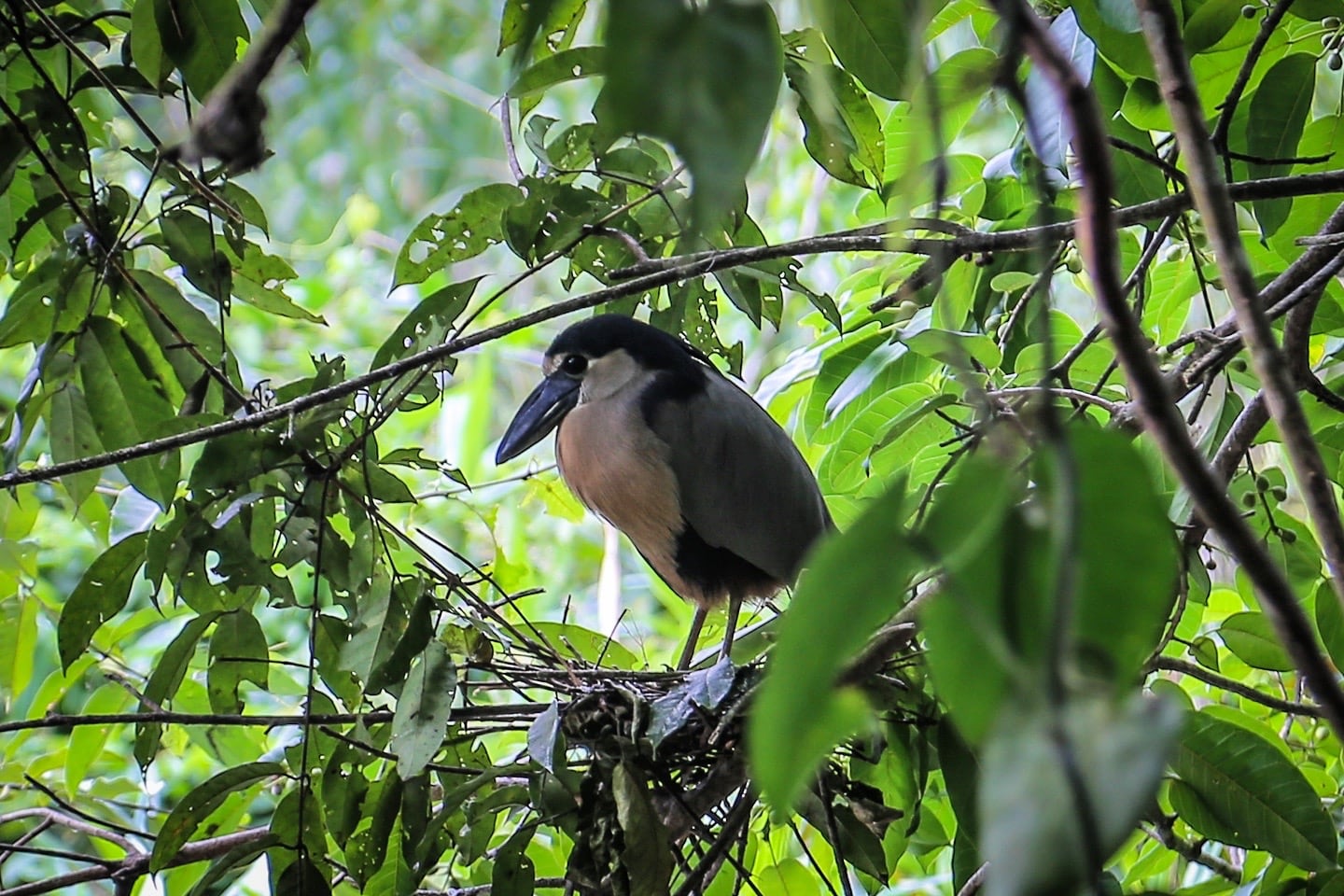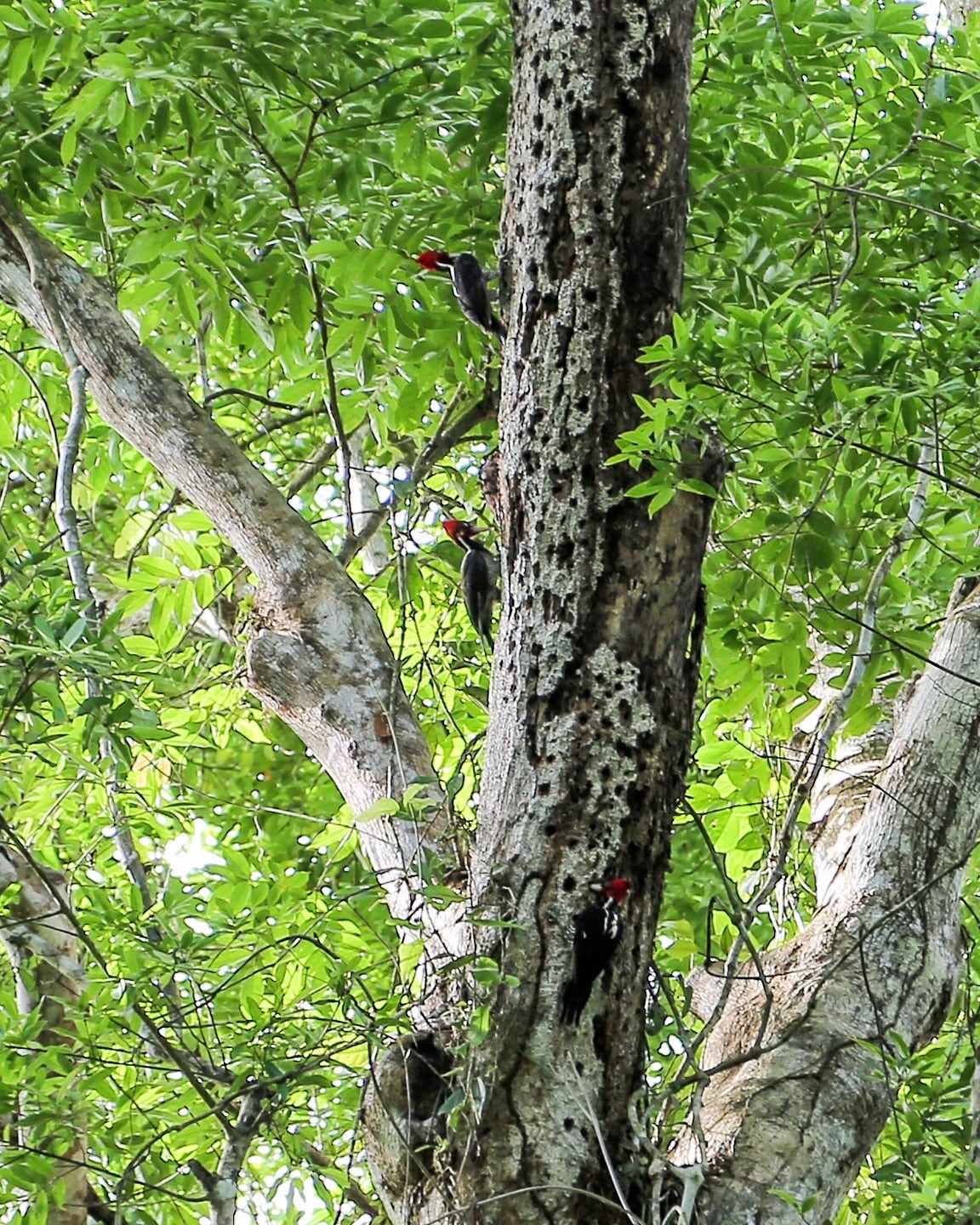 Here we've got a real treat (above) — a handful of Lineated Woodpeckers. Can you spot all three?
I wasn't able to get a clear shot at such a distance, so I've included a close-up view of this beautifully punky looking bird (below) from the wikicommons library.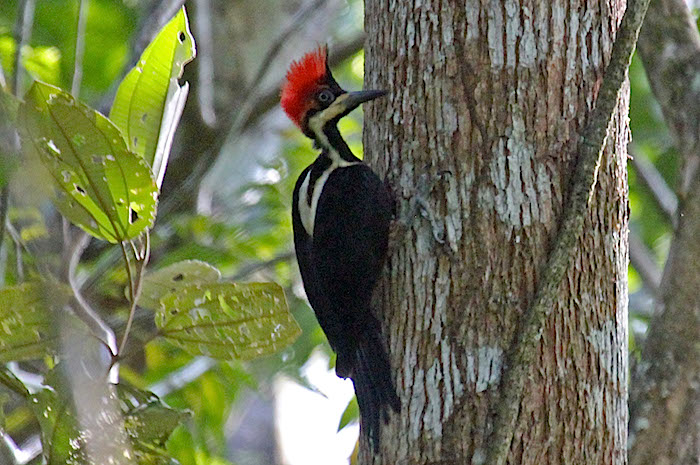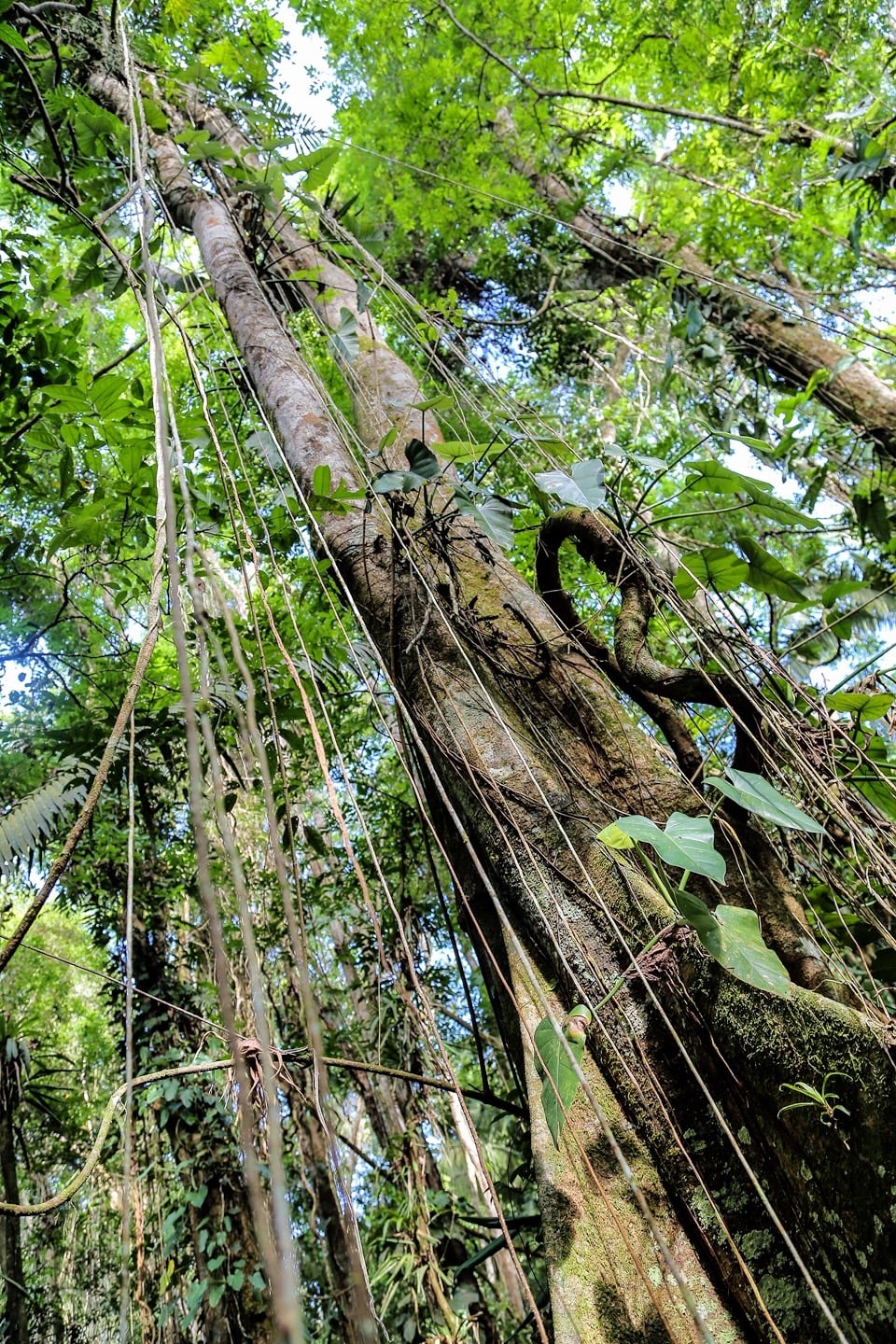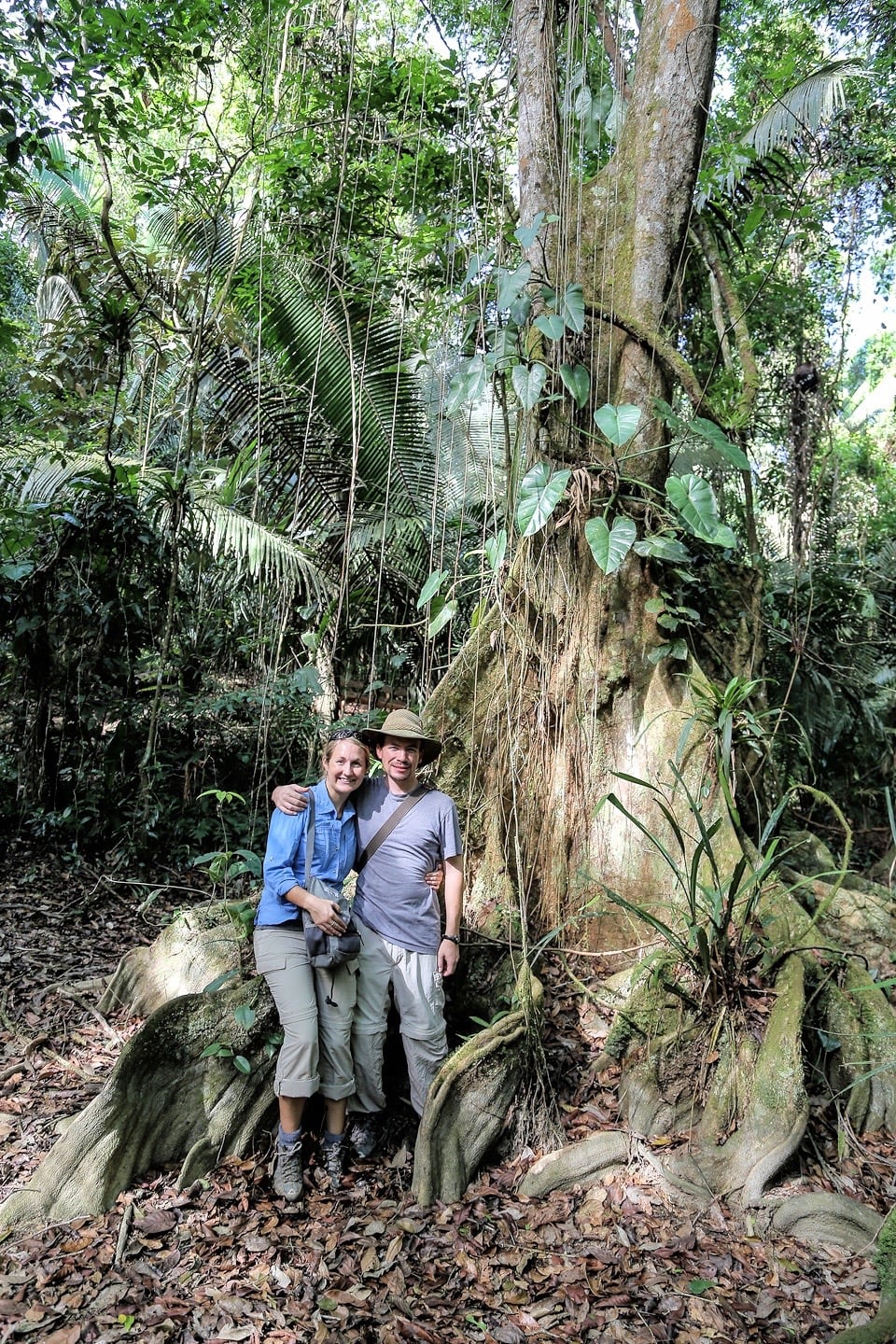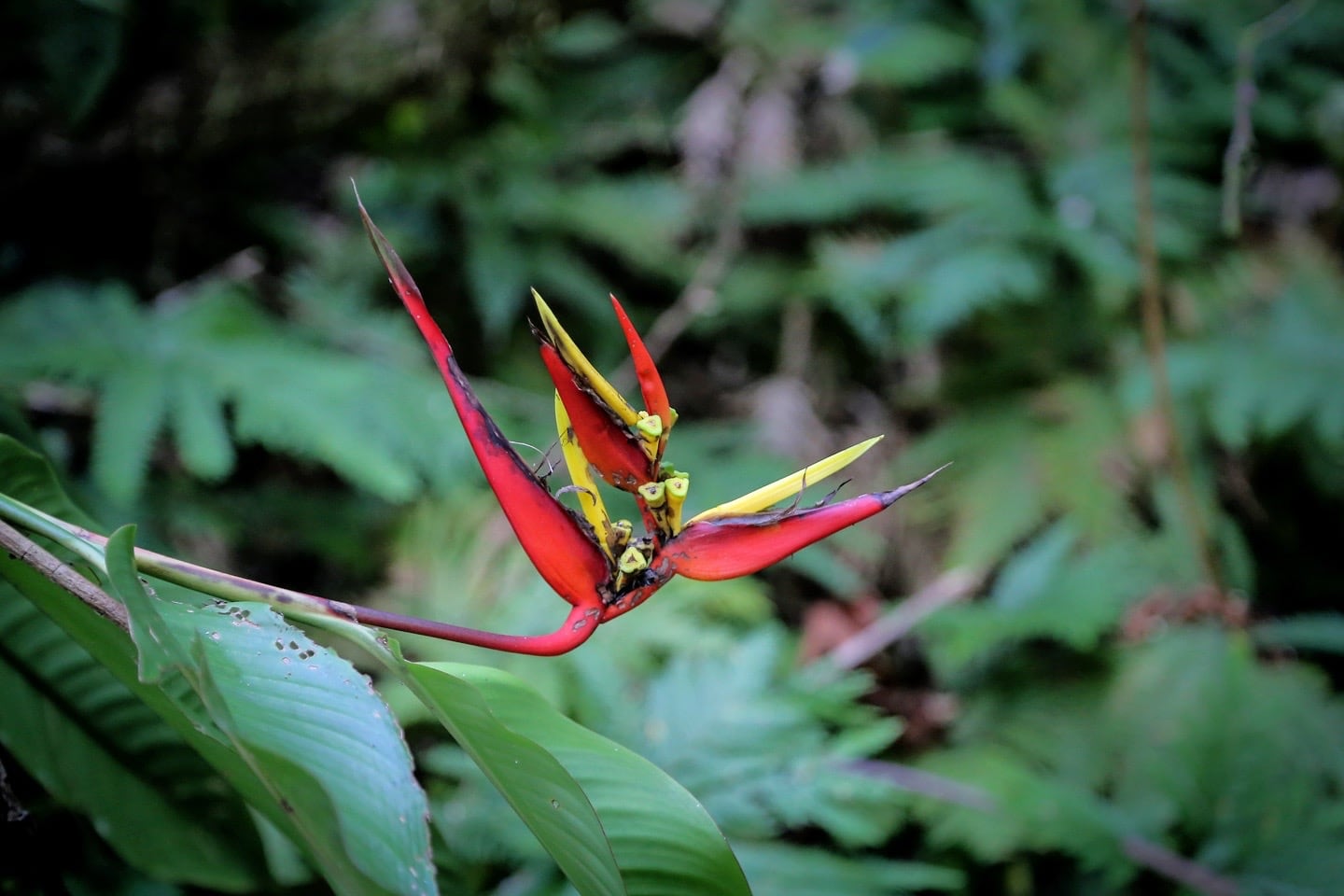 Beautiful flora, but still no jaguar sightings at the Cockscomb jaguar preserve.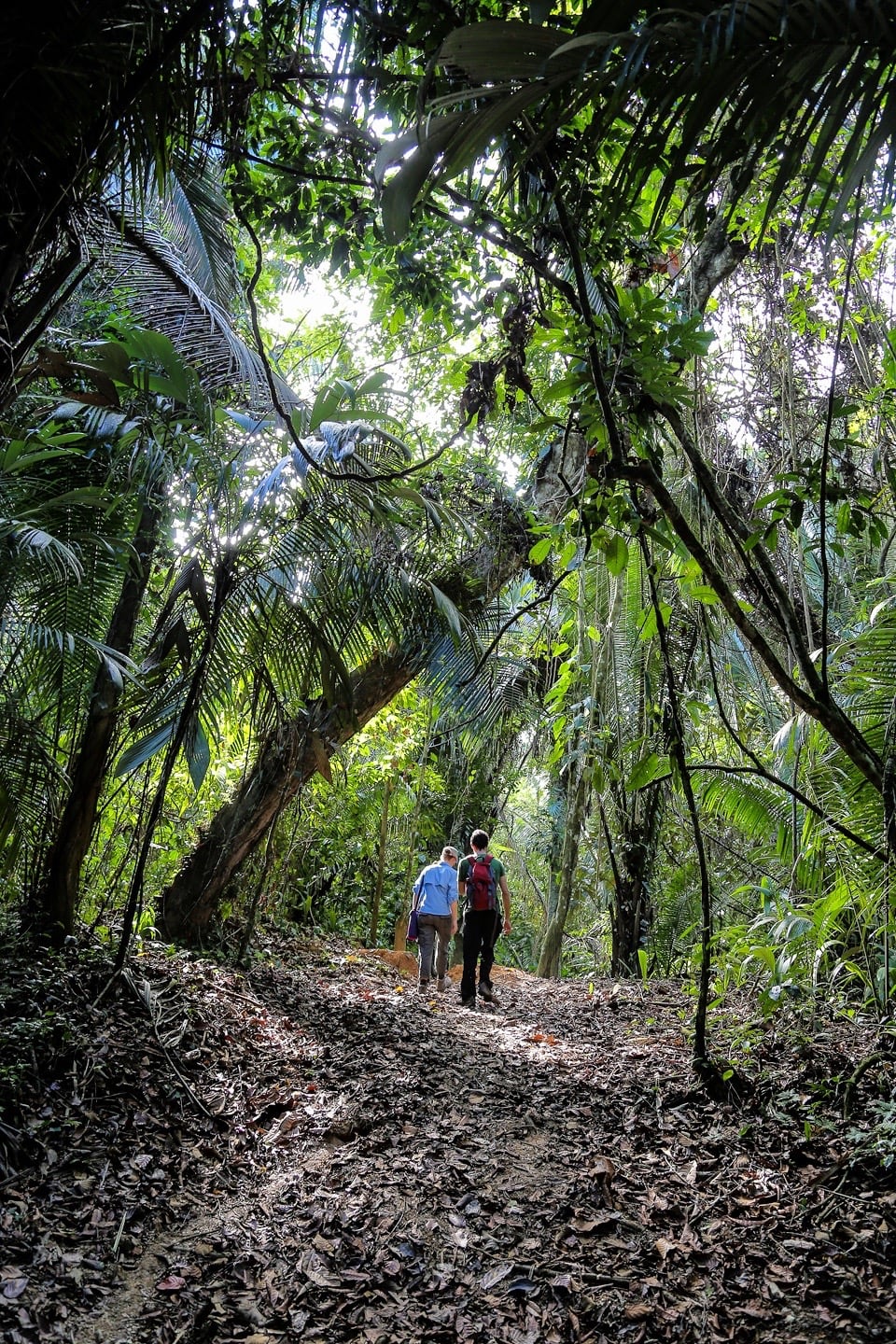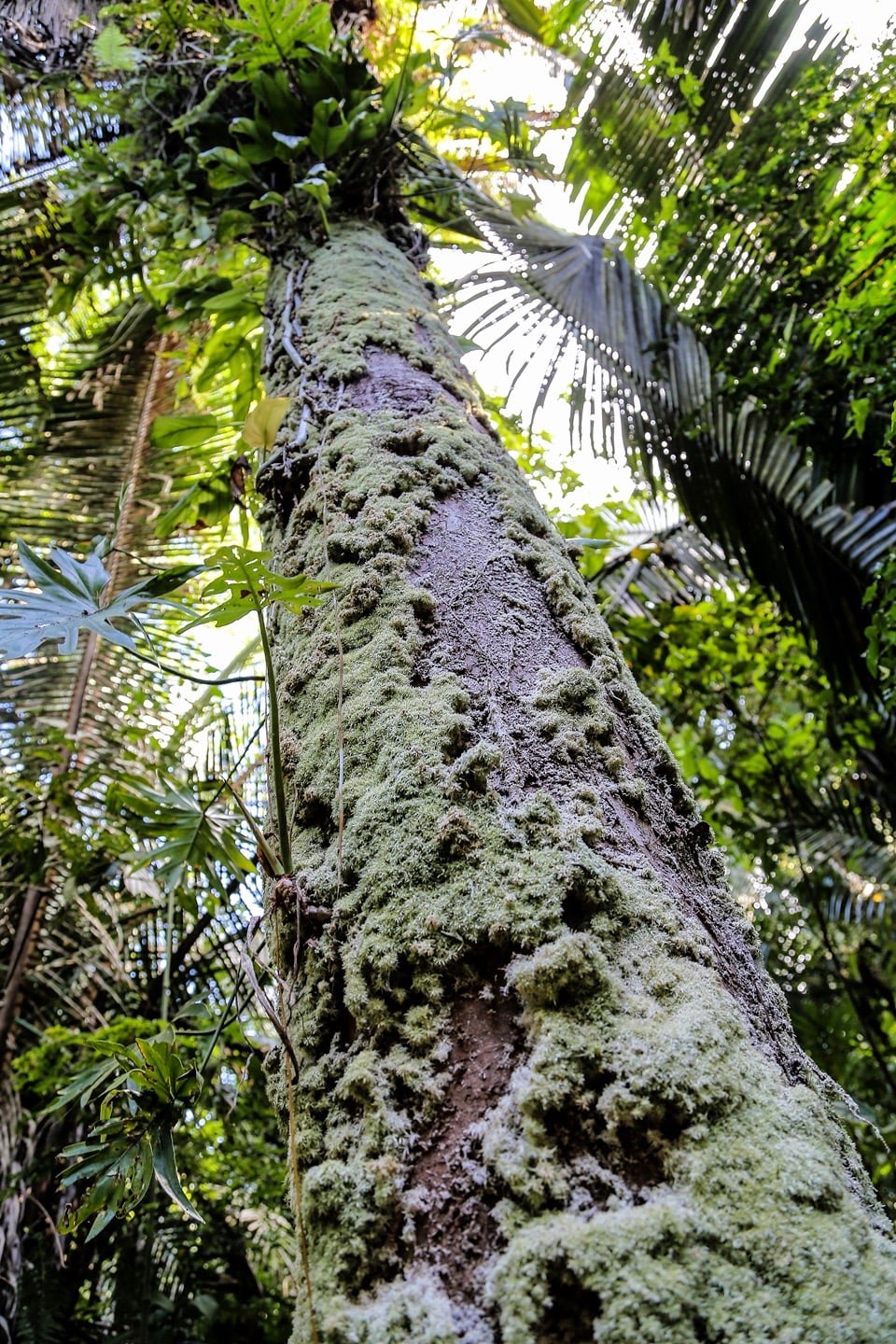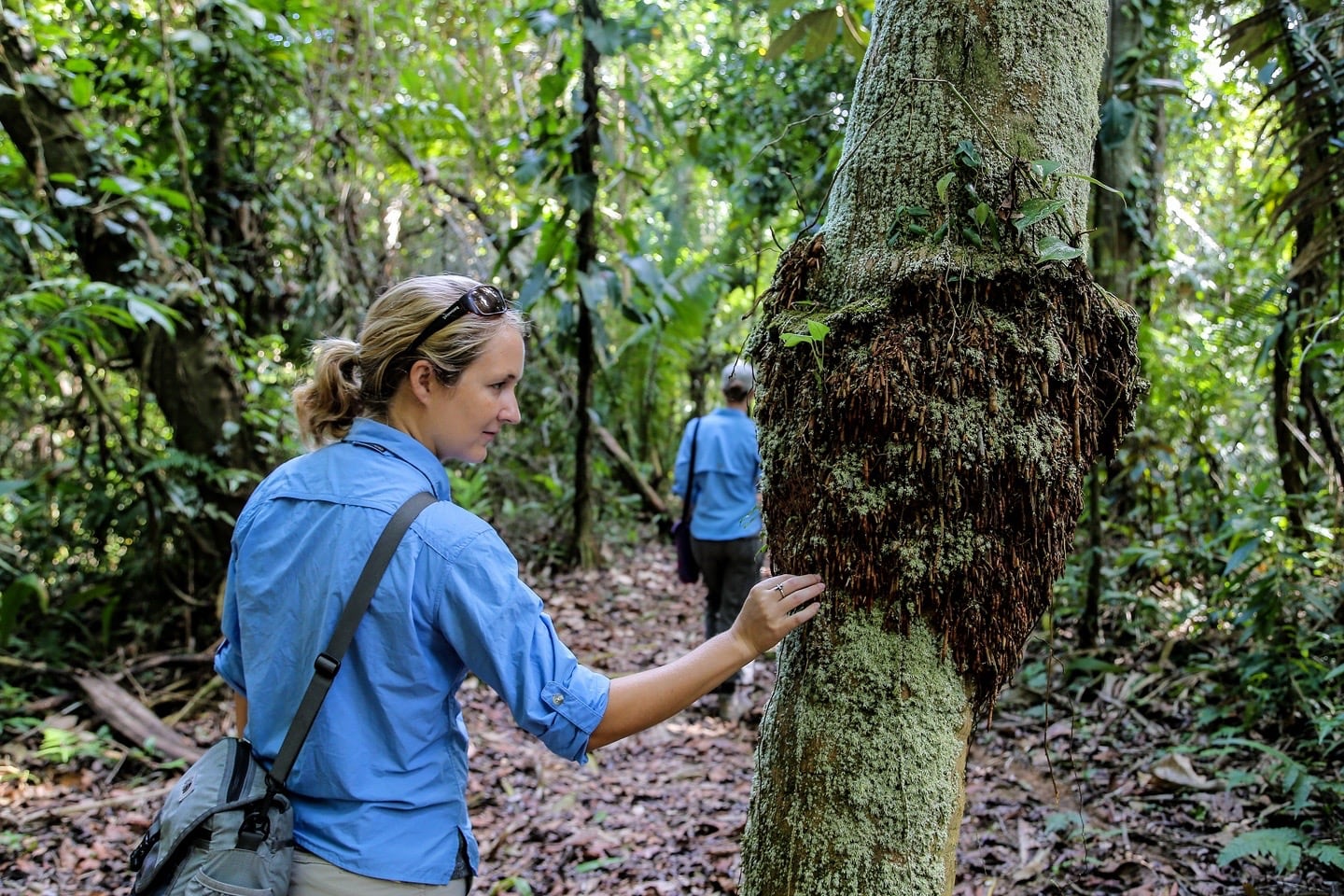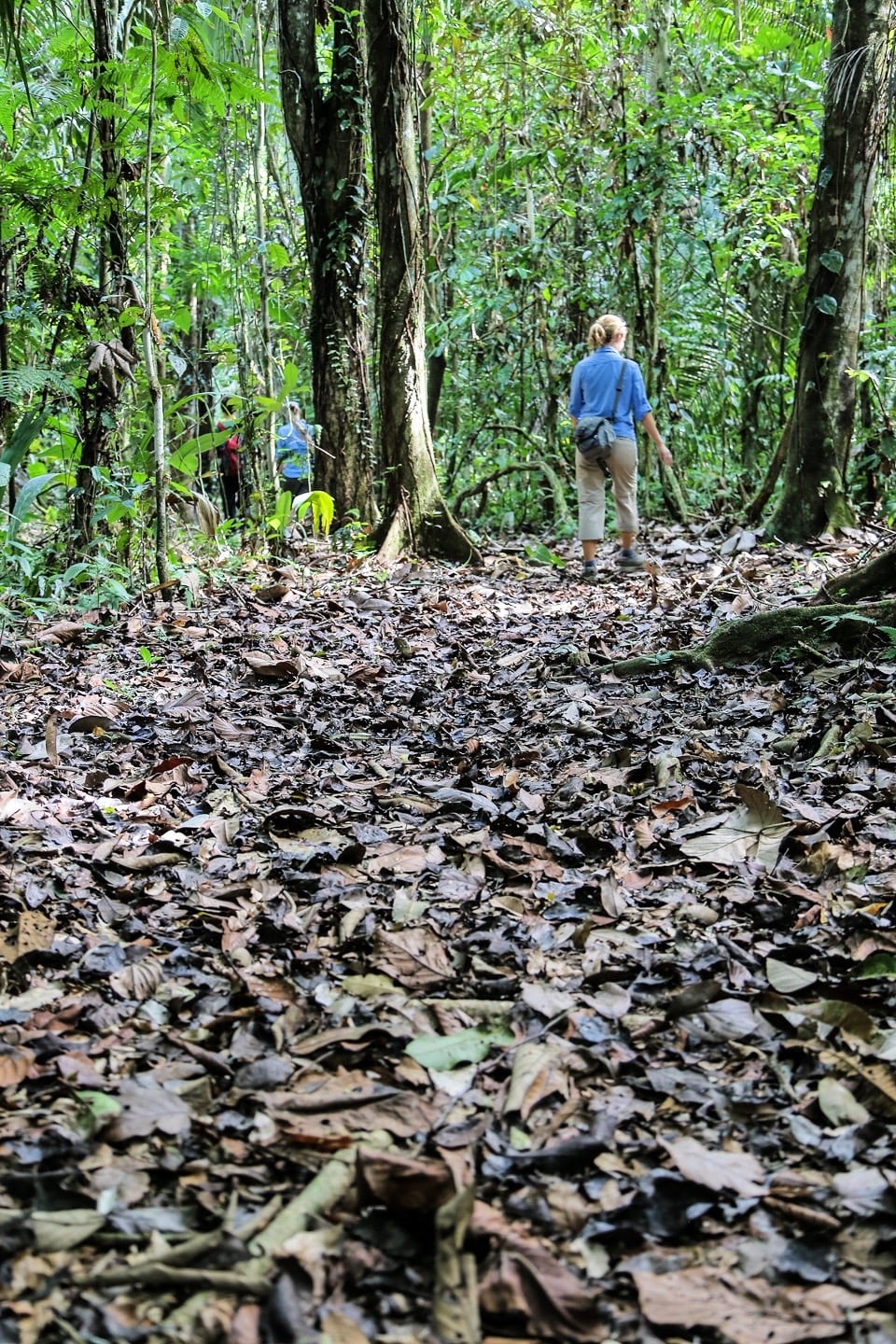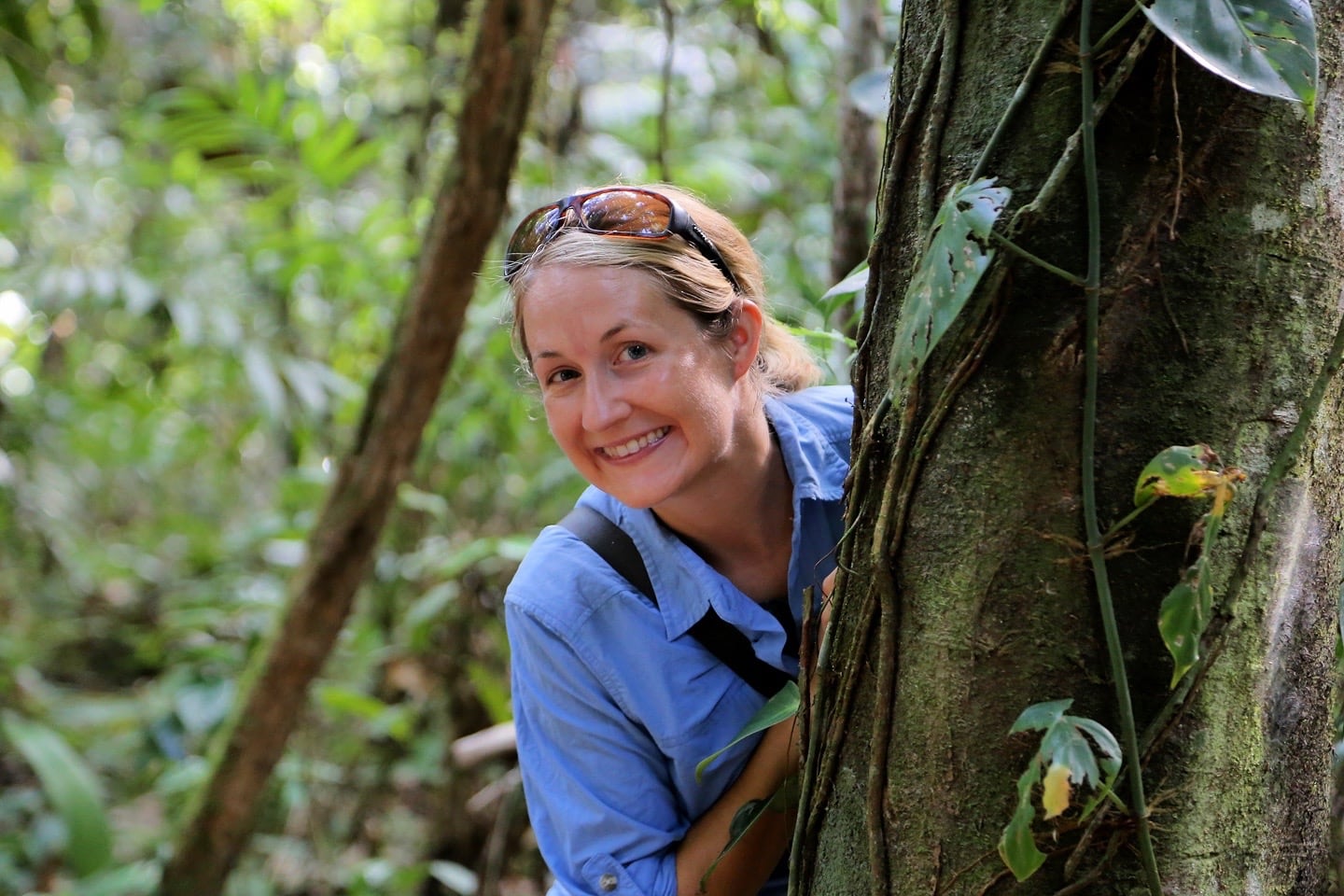 Lori, playing hide-and-seek in the jungle…just like the jaguars were playing with us, I'm sure.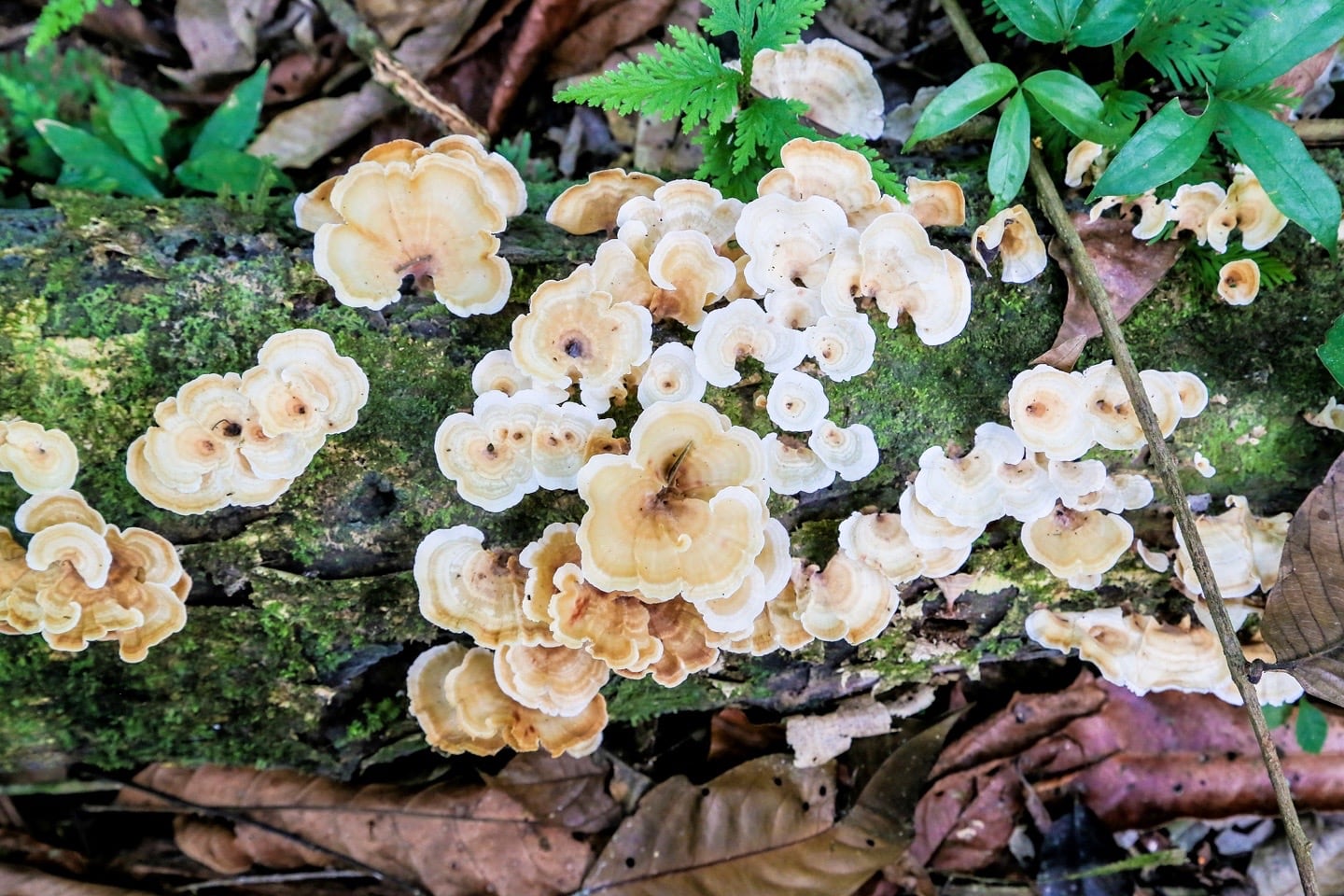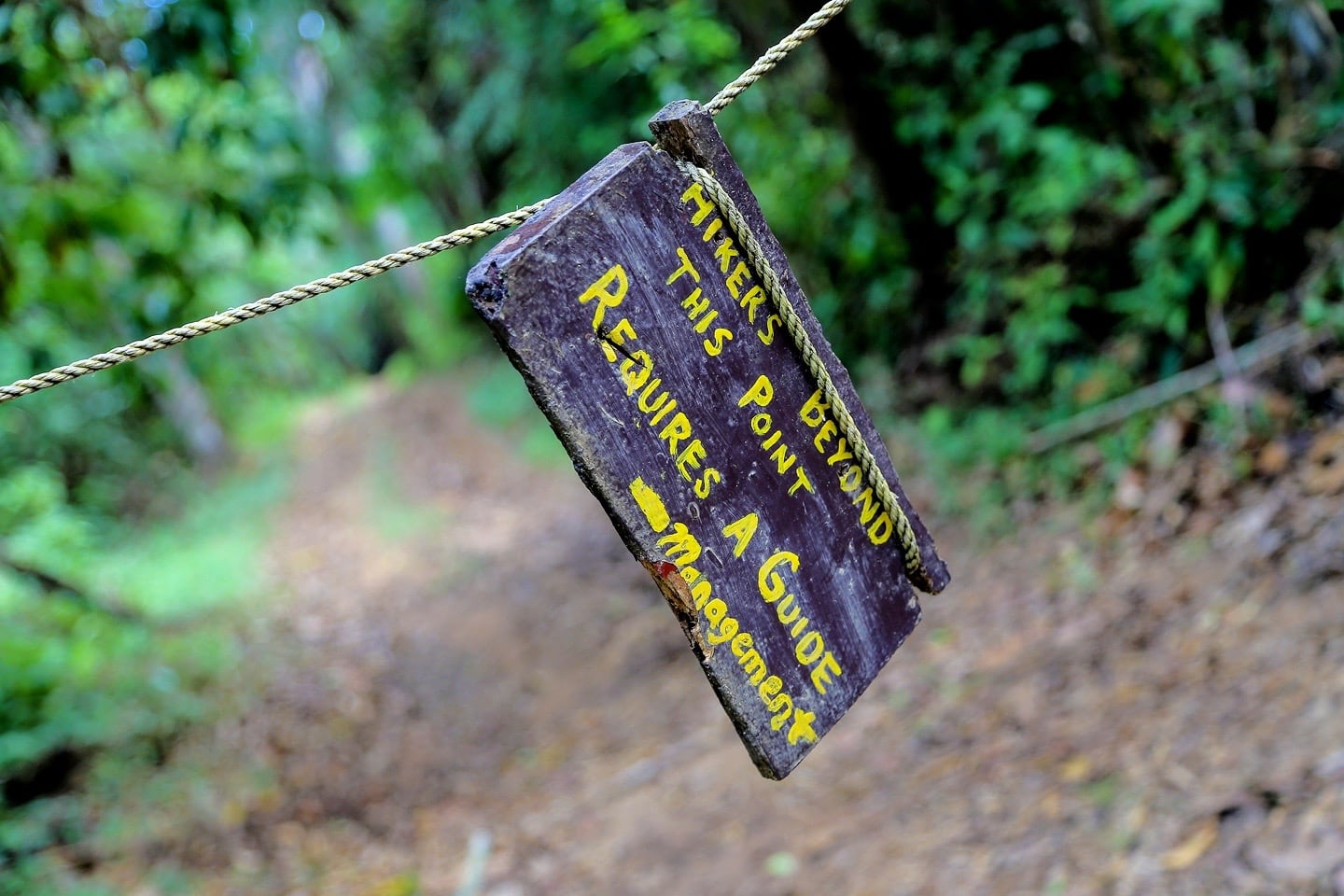 The start of the 17-mile (28km) spur trail to the summit of Victoria Peak. As we had neither guide nor provisions for a 4-day hike, we decided to pass on the trail for the day…maybe tomorrow.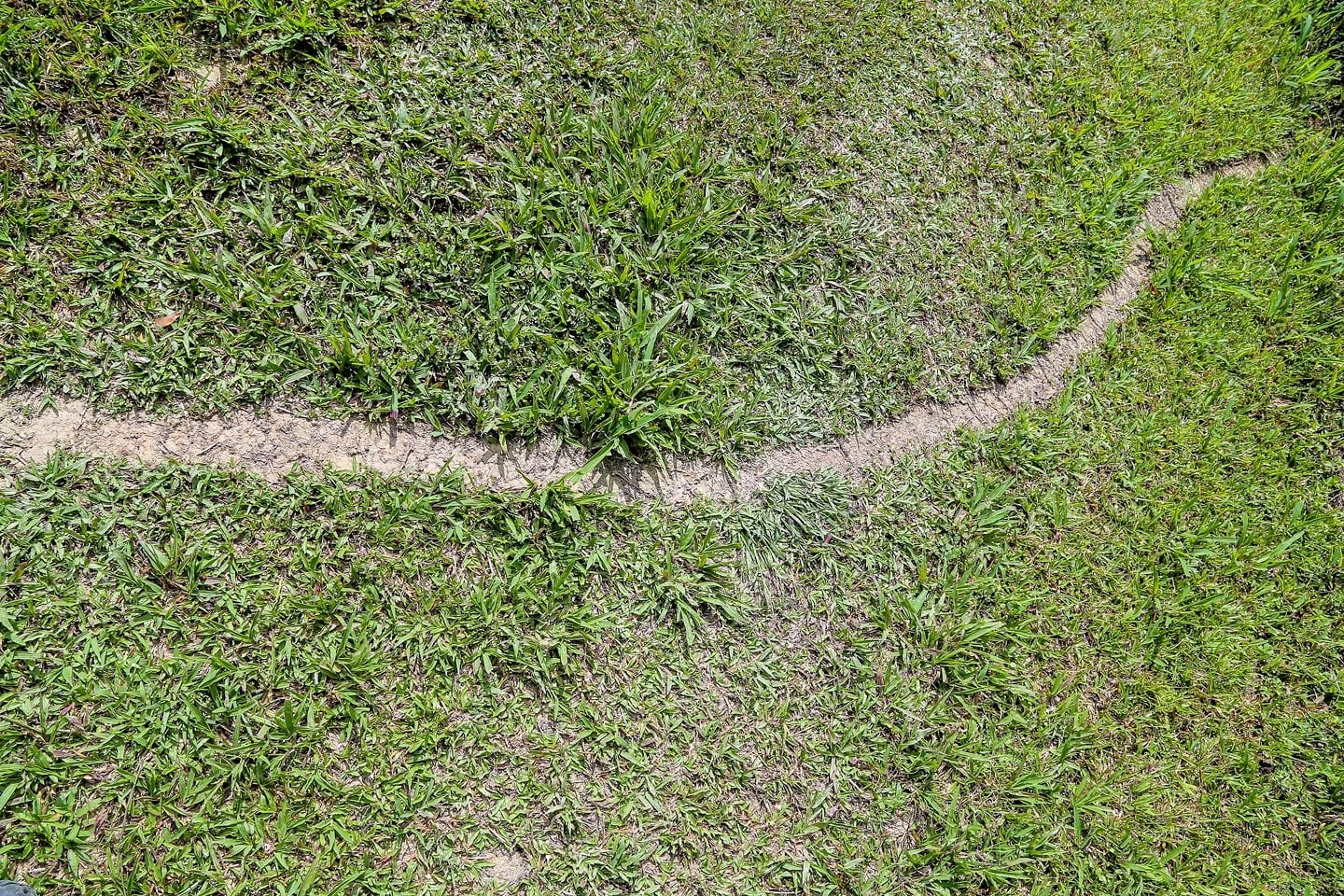 WeeWee (leaf-cutter) ant trail traversing our trail (above).
Perhaps we and the WeeWees are not so different after all. Don't think too deeply about it or you may just blow your mind. Can a WeeWee ant's mind be blown? Does a WeeWee even have a mind or just a brain…? Ok, I'm done.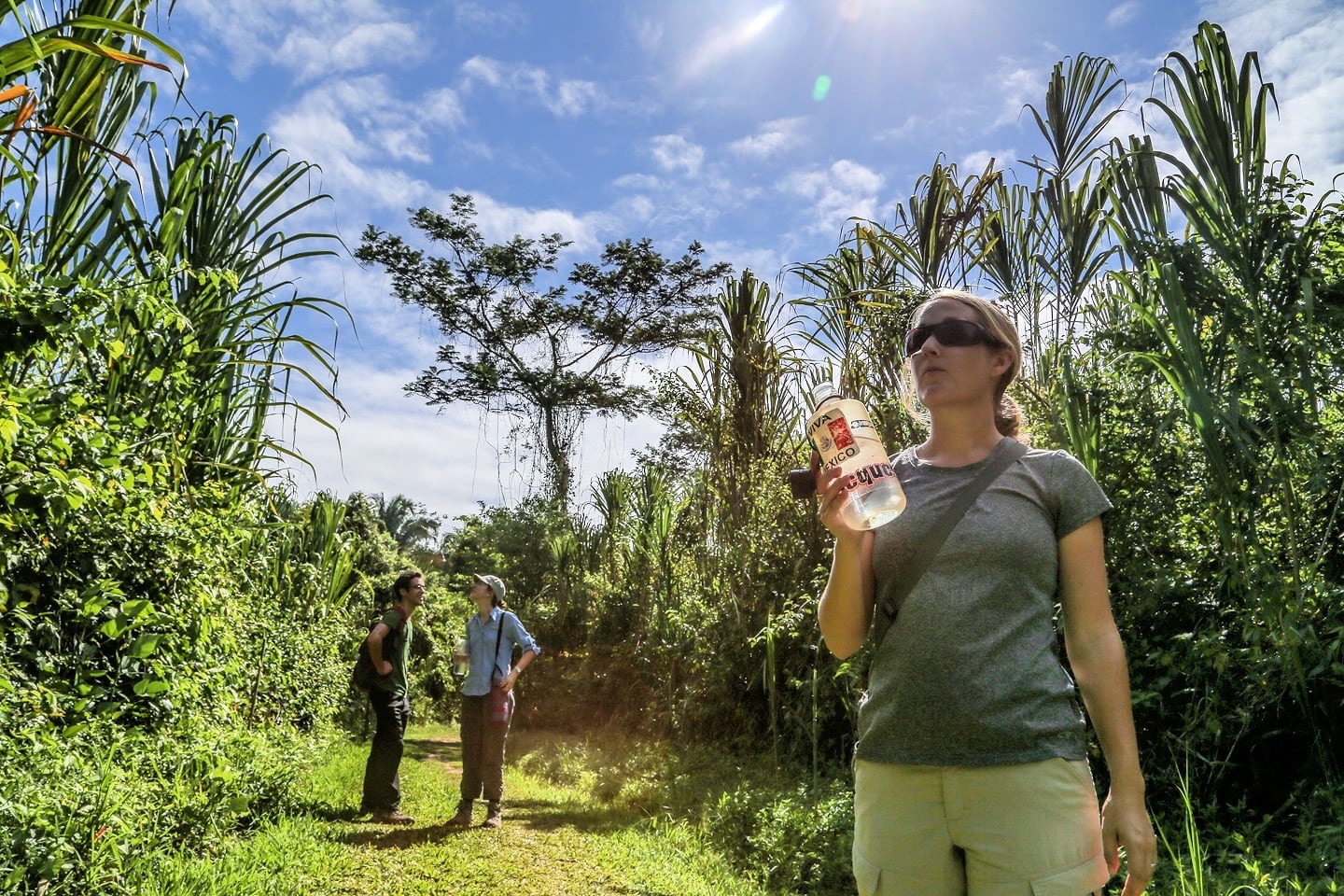 Cockscomb Tubing: Floating South Stann Creek
After our hike, we cooled off with a tube float down the river. Tubes can be rented at the main office for US$2.50 each.
This time of year (May), it's a 15-minute hike to the starting area, a 45-minute float and 15-minute hike back…at least that's the idea.
We weren't given much more direction than that but were told that if we missed the "Exit" we'd immediately run into "dangerous rapids."
We took the path to the river and found the entry point, no problem. It had heated up quite a bit by this time and we were eager to hit the water.
The stream flowed at a Belizean pace, affording a relaxing journey through a jungly and scenic landscape. The water was crystal clear and just high enough in most places to clear the riverbed beneath. The water temperature was just about perfect.
We floated along happily for the next forty minutes until we came upon the area where we had sat at sunset the night before. There was one rusty sign way up on the bank that Andrew noticed, but couldn't read — plus, it was facing the wrong way. Oh well, I guess we'll keep going.
Then the current picked up.
Finally, we were seeing some action — not dangerous rapids, per se, but rapids nonetheless. We sailed along for another 10 minutes or so, dodging boulders and zipping down mini falls when Andrew shouted from the back that he thought we may have passed the exit point.
Uh-huh.
We gathered together and discussed our options. We had now been on the water for close to an hour and saw nothing ahead of us but wild river and dense jungle.
There was still a chance that the exit point was ahead of us, but if it wasn't, what were our options? Bushwhack through dense jungle (without a machete) in an arbitrary direction until we stumble upon anything not resembling dense jungle? Or turn back?
We decided to play it safe and turn back.
But turning back wasn't so easy, as we were now fighting the same rapids that we had just enjoyed whipping through.
Luckily, the water wasn't more than a foot deep in most sections.
After trudging upstream with our inner tubes for what seemed an eternity or thereabouts, we finally rounded the bend with the high bank, park bench and rusty sign facing the wrong way.
Someone had carved makeshift steps into the side of the muddy embankment. Other than this, there was no indication that this was the exit…except for the rusty sign, barely legible and obscured by a large tree at the top of the embankment.
We pulled our tubes up to the top, and made our way over to the sad little sign which, ever so faintly read: "Tubing Exit"
It appears that the exit point had been severely eroded or even washed away from last year's flooding, but that was some time ago. We wondered, then, how often this happens to other tubers and what they end up doing. Surely we can't be the only ones to miss the exit. Or maybe we were?
Finally after a long day of hiking and tubing and sign-missing — and not seeing any sign of a single jaguar anywhere — we arrived back at camp and discovered that there had been a jaguar here all along. Go figure!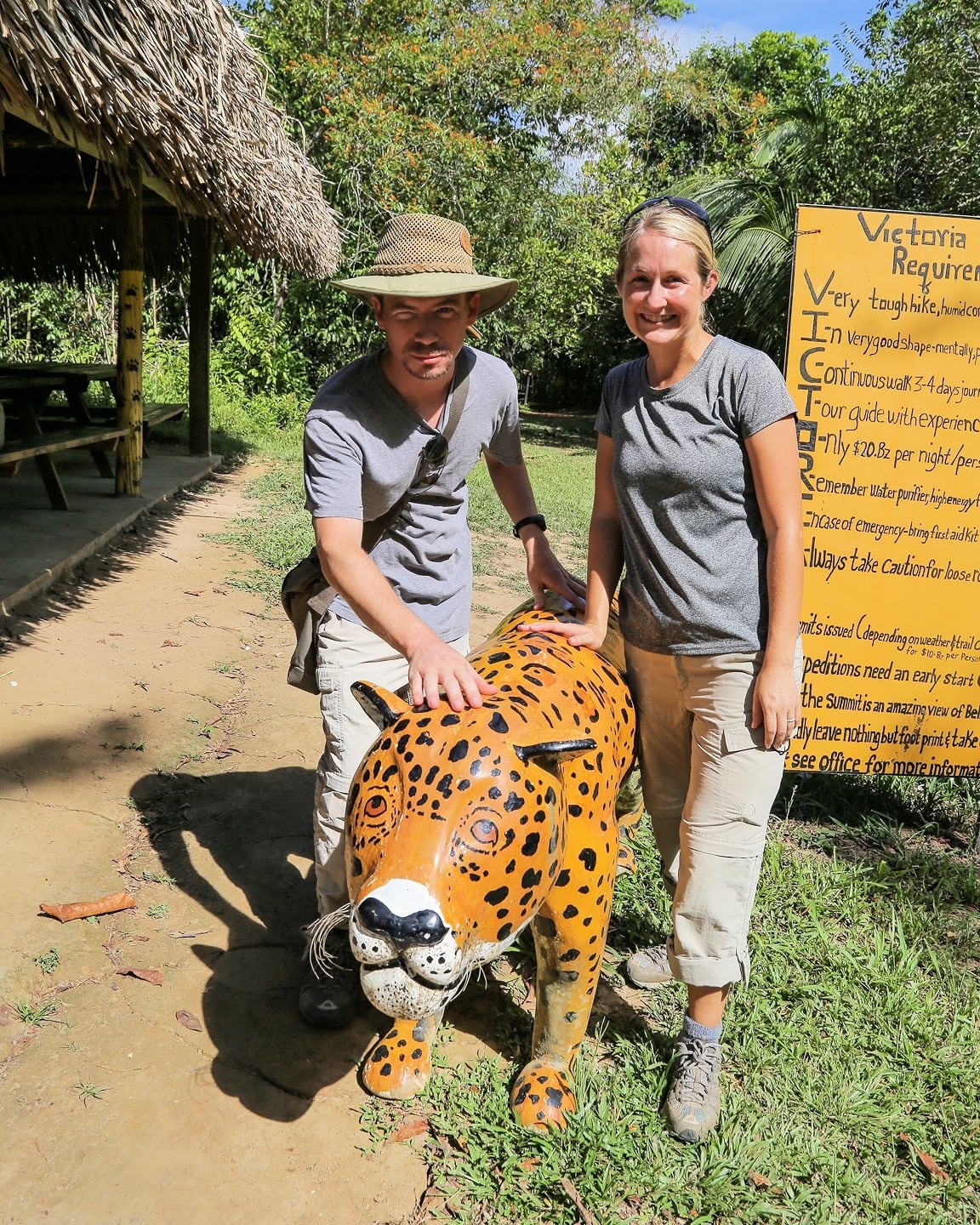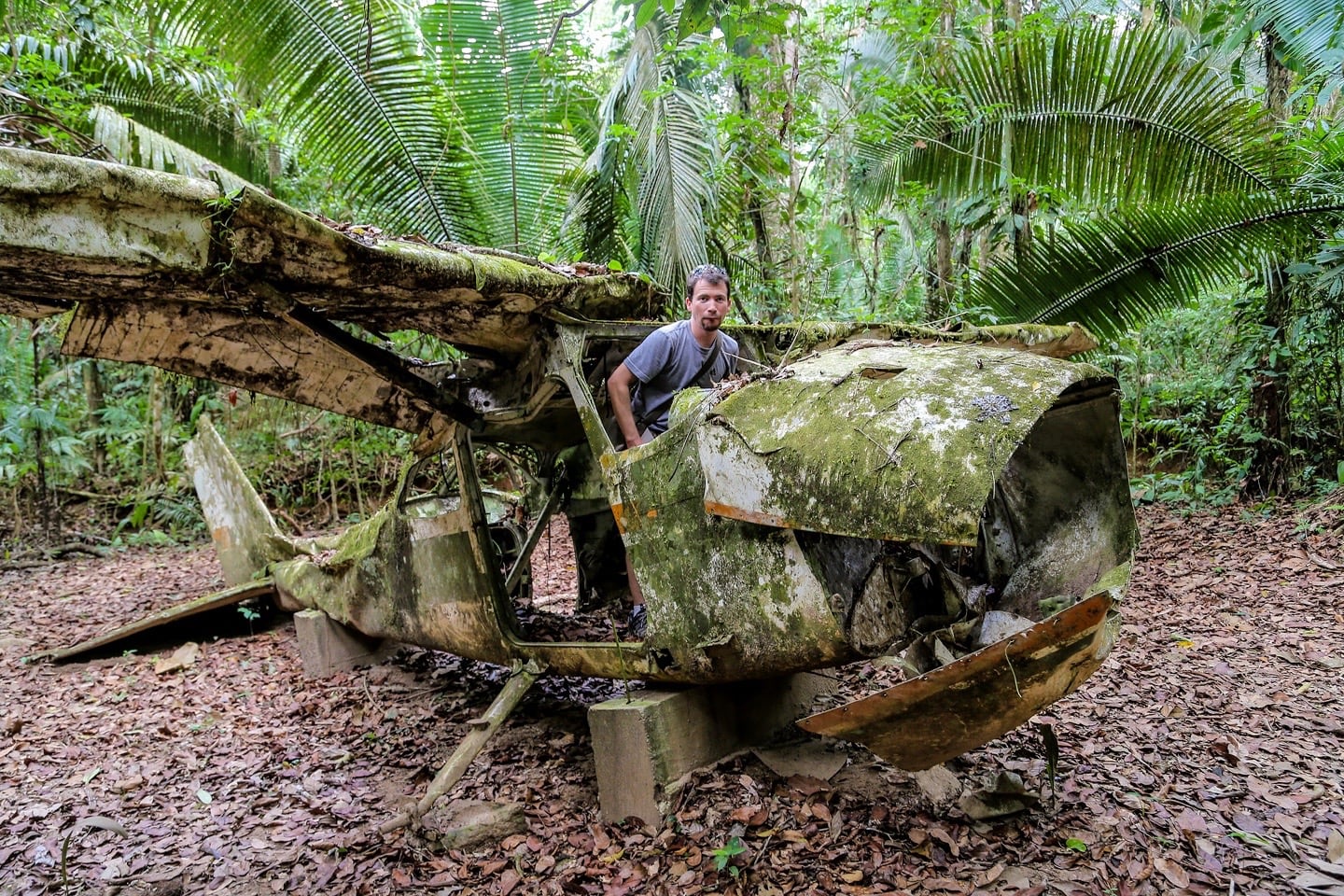 Have you been to Cockscomb Basin Jaguar Preserve?
See any jaguars? Tell us about your visit in the comments section!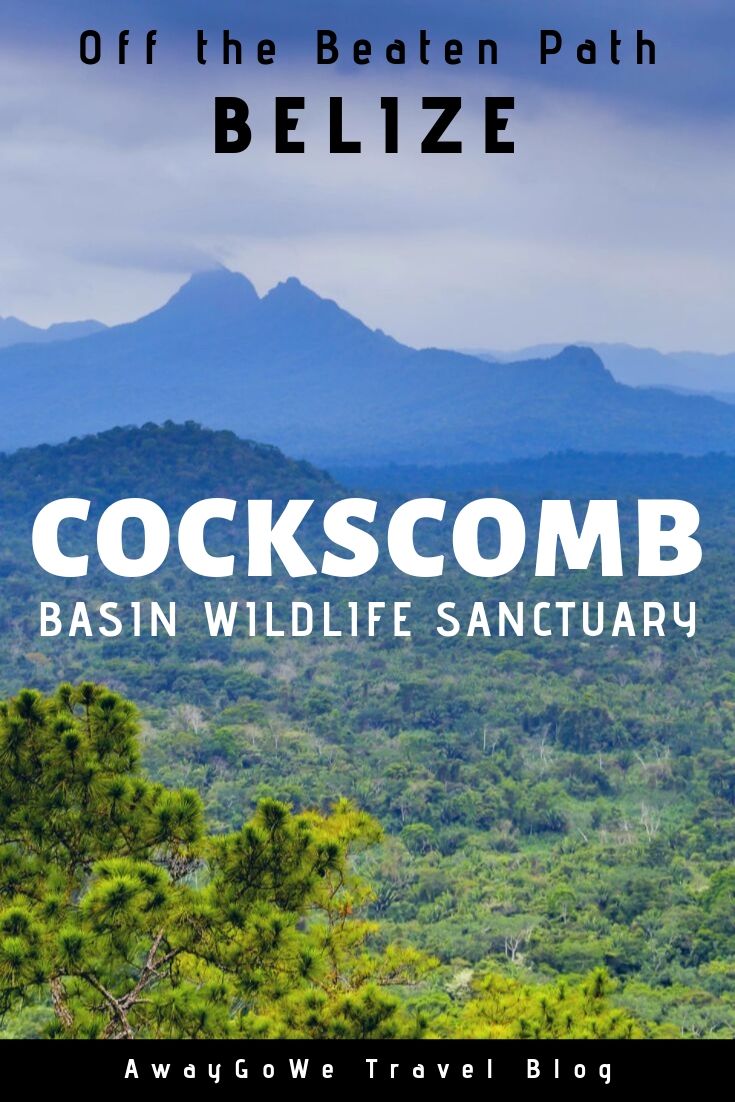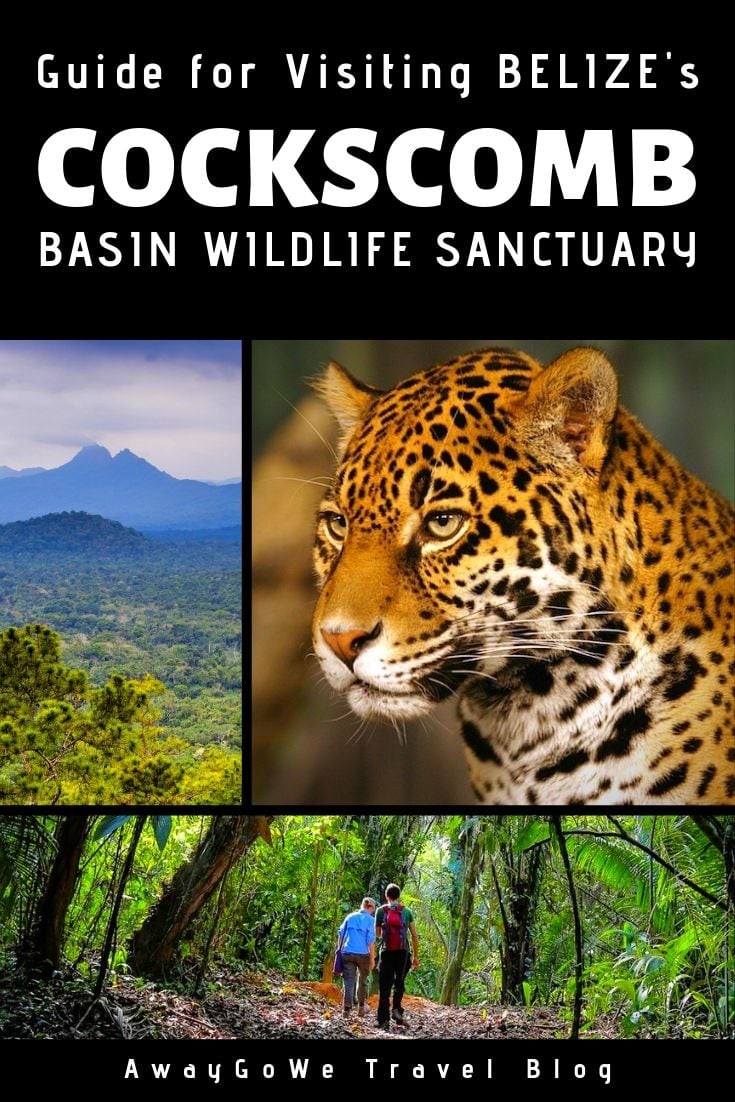 24 July 2019
22 May 2014