Livingston, Guatemala is located a mere 20 miles (as the crow flies) from the busy transit cities of Rio Dulce (Fronteras) and Puerto Barrios in Guatemala, and sleepy Punta Gorda in Belize. Yet, Livingston remains one of the most isolated and challenging population centers to access.
There are no roads connecting Livingston with anything else on the planet and no airstrip. To get to Livingston, you must arrive by boat, which in itself is part of the allure.
For most travelers, however, Livingston's real attractiveness might just be its unique cultural and historical heritage as well as its proximity to some of the region's most scenic and enigmatic destinations.
This guide will introduce you to Livingston, Guatemala, things to do, nearby places to visit, our favorite places to eat, how to get there, where to stay, and helpful tips for your visit.
Guide to Visiting Livingston, Guatemala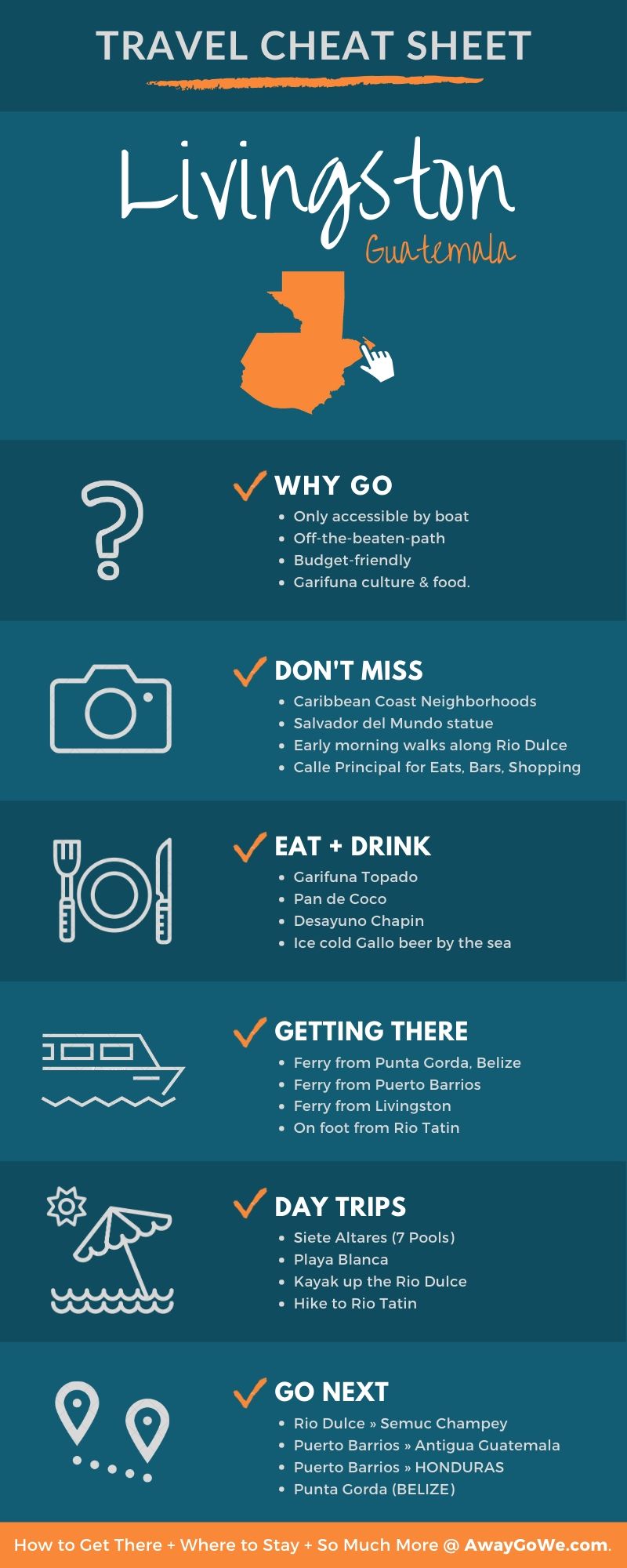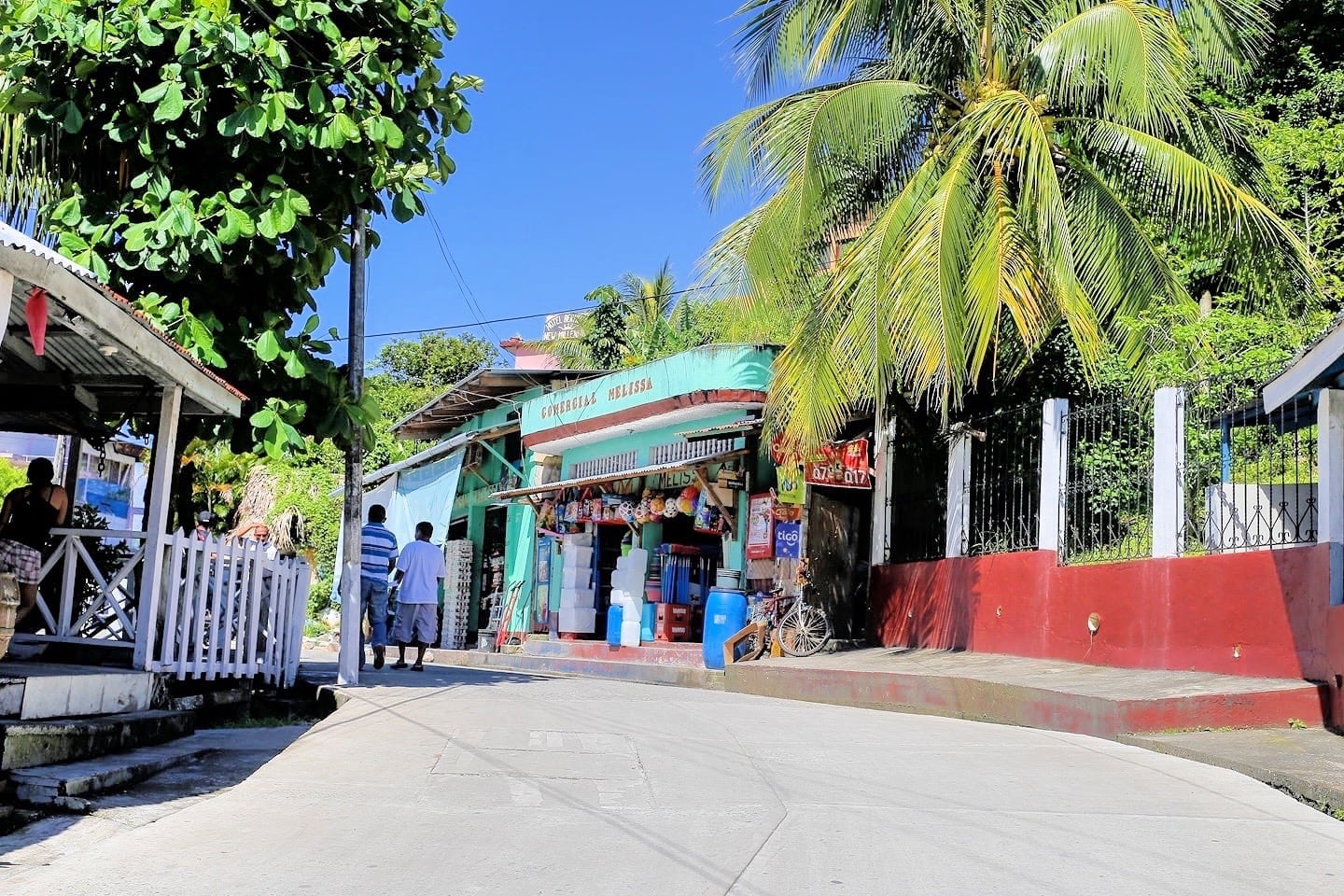 Why Visit Livingston
Livingston feels like a world apart, and it is, both culturally and literally. The town was a central trading hub for centuries, and Guatemala's chief seaport until the construction of neighboring Puerto Barrios.
Guatemala was considered the jewel in the crown of Spain's influence in Central America, and Antigua was its cultural epicenter. As a result, the Spanish invested much in terms of road and sea linkages in the country and the results are evident in Livingston long after its heyday and in spite of its water-locked geography.
Livingston also has the distinction of being a key settlement for Garifuna people in Central America, though today, the community hosts a variety of cultures and ethnicities.
Furthermore, Livingston makes for an excellent jumping off point for some of the area's most scenic natural attractions like Siete Altares, Playa Blanca, and jungle hiking. The town also makes for a restful and worthwhile stopover en route to and from Southern Belize, Semuc Champey, the Honduran coast, and Guatemala City, Antigua, and Lake Atitlan.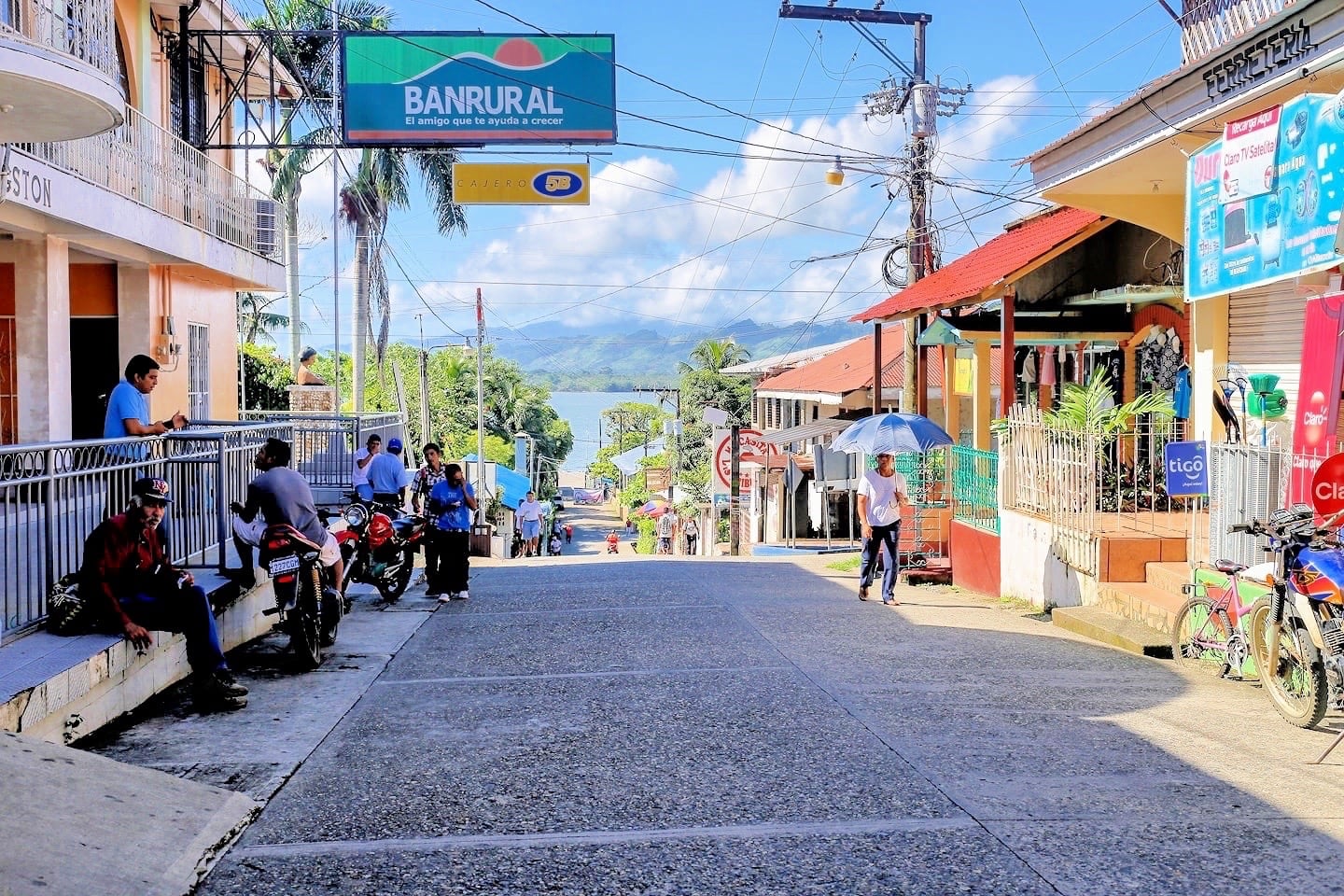 How to Get to Livingston, Guatemala
From the area's other major towns and cities, Livingston is only accessed by boat.
Service can range from daily and frequent to unreliable, irregular, or virtually non-existent, depending on your departure point.
Regardless of where you are coming from, boats are generally small to medium sized skiffs, with a functional capacity of 6-30 passengers.
Puerto Barrios to Livingston
Livingston is most easily accessed from Puerto Barrios via a 40-minute boat ride. Boats leave frequently for Livingston from the Muelle Municipal (find it on the map) when they fill up with passengers. Boats generally stop running after 17:00.
Fronteras Rio Dulce to Livingston
From Fronteras Rio Dulce, boats generally leave for Livingston around 09:30 and 14:00 and takes 1-2 hours. Get the most up to date information from a guesthouse in Rio Dulce as times and locations can change.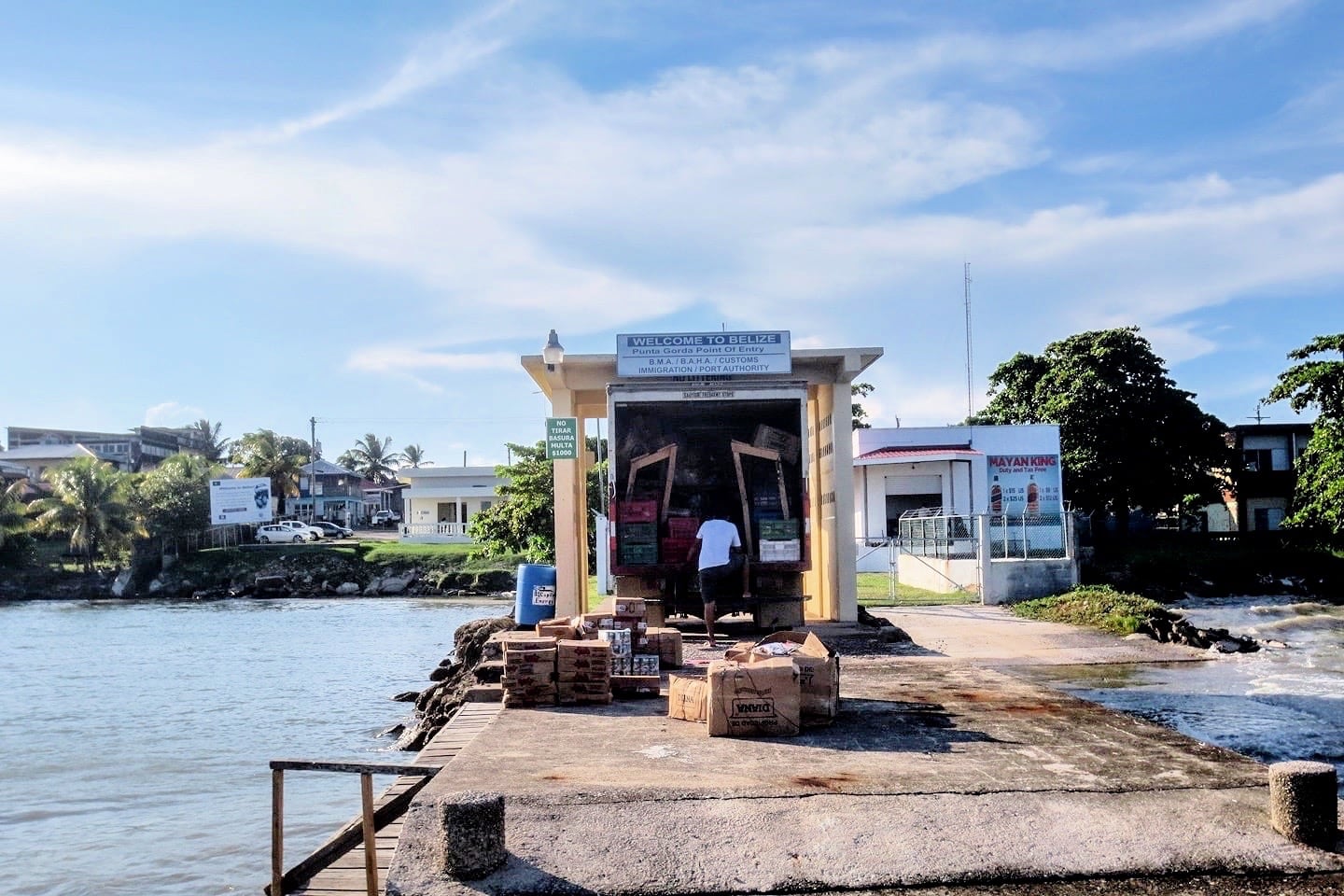 Punta Gorda, Belize to Livingston, Guatemala
If you're looking to get from Punta Gorda (Belize) to Livingston, reliable information can be a bit tricky to come by because schedules are frequently in flux.
The most commonly-cited schedule is at Hickatee.com, which essentially presents what is written on the board at the boat dock in Punta Gorda. Currently, Asucena (via Requena's Charters) does the trip Tuesdays and Fridays, departing at 11:00 and takes around 30 minutes.
Alternatively, you could take a boat from PG to Puerto Barrios, then a boat from Puerto Barrios to Livingston, as boats run much more frequently on both routes.
If you are arriving directly from Belize, you'll need to check in with immigration once you get to Livingston. From the boat docks, the immigration office is straight up the main road (a rather steep hill) and on the left.
Arriving by Sea
One of the most striking things we noticed the first time we approached the Guatemalan coast from Belize was how dynamic the coastline is.
The town is built on jungle-covered hills and sheer cliffs jutting into the sea. Coconut and banana trees sway in the wind. A statue of Christ welcomes you as you enter the mouth of the Rio Dulce and Livingston Harbor — perched atop his own little grassy island.
Arriving into Livingston is like arriving in an idyllic Caribbean jungle port town, and, dare I say, a bit magical?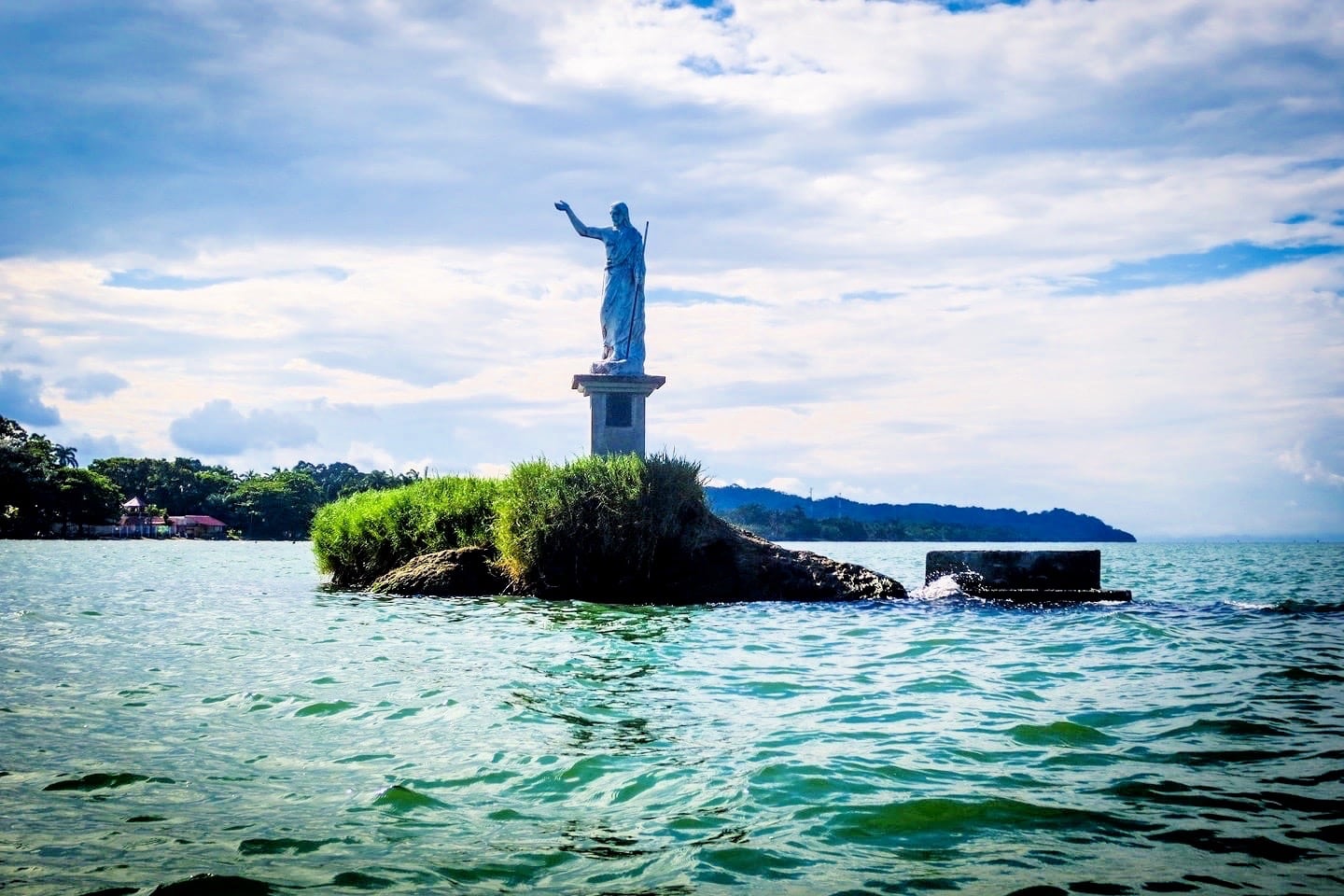 Things to Do in Livingston, Guatemala
You won't find ruins, heritage sites, or major tourist attractions in Livingston. For this reason, for many travelers, Livingston is merely a stopover between Belize and inland Guatemala.
However, there are a few very good reasons why you might want to extend your stay for a few days in Livingston. Livingston has a cultural vibe all its own, set against a beautiful backdrop of tropical forest, stunning river gorges, and the Caribbean sea.
Additionally, there are a couple worthwhile day trips to consider as well.
Here are a few of our favorite things to do and see in Livingston, Guatemala.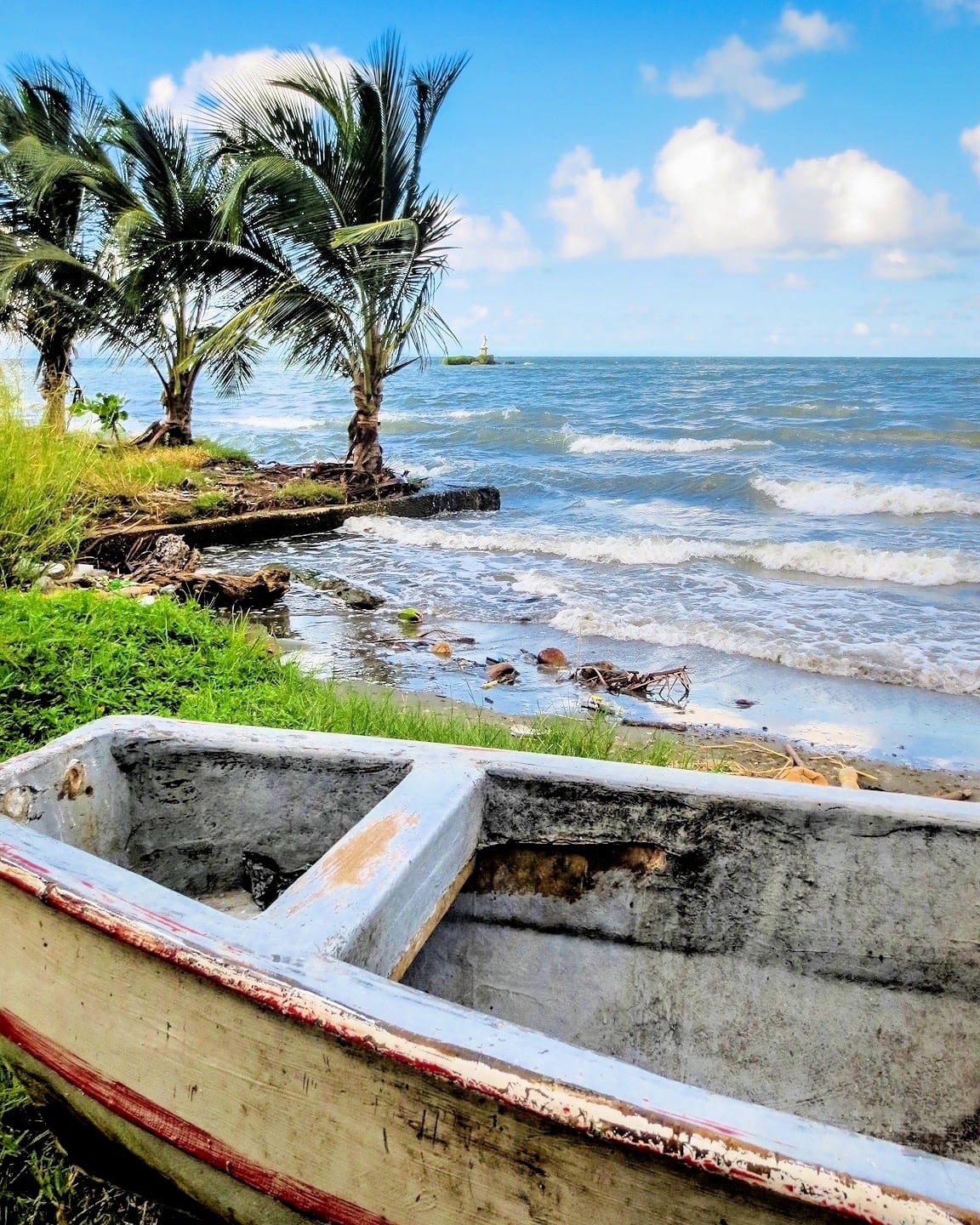 Explore the Caribbean Side of Town
Most visitors seem to confine their stay to the area in and around the ferry dock and central business district. Doing so largely misses out on the heart and soul of this unique place.
Head to the northern area of town fronting the Caribbean Sea to get a more local (and more Garifuna) vibe.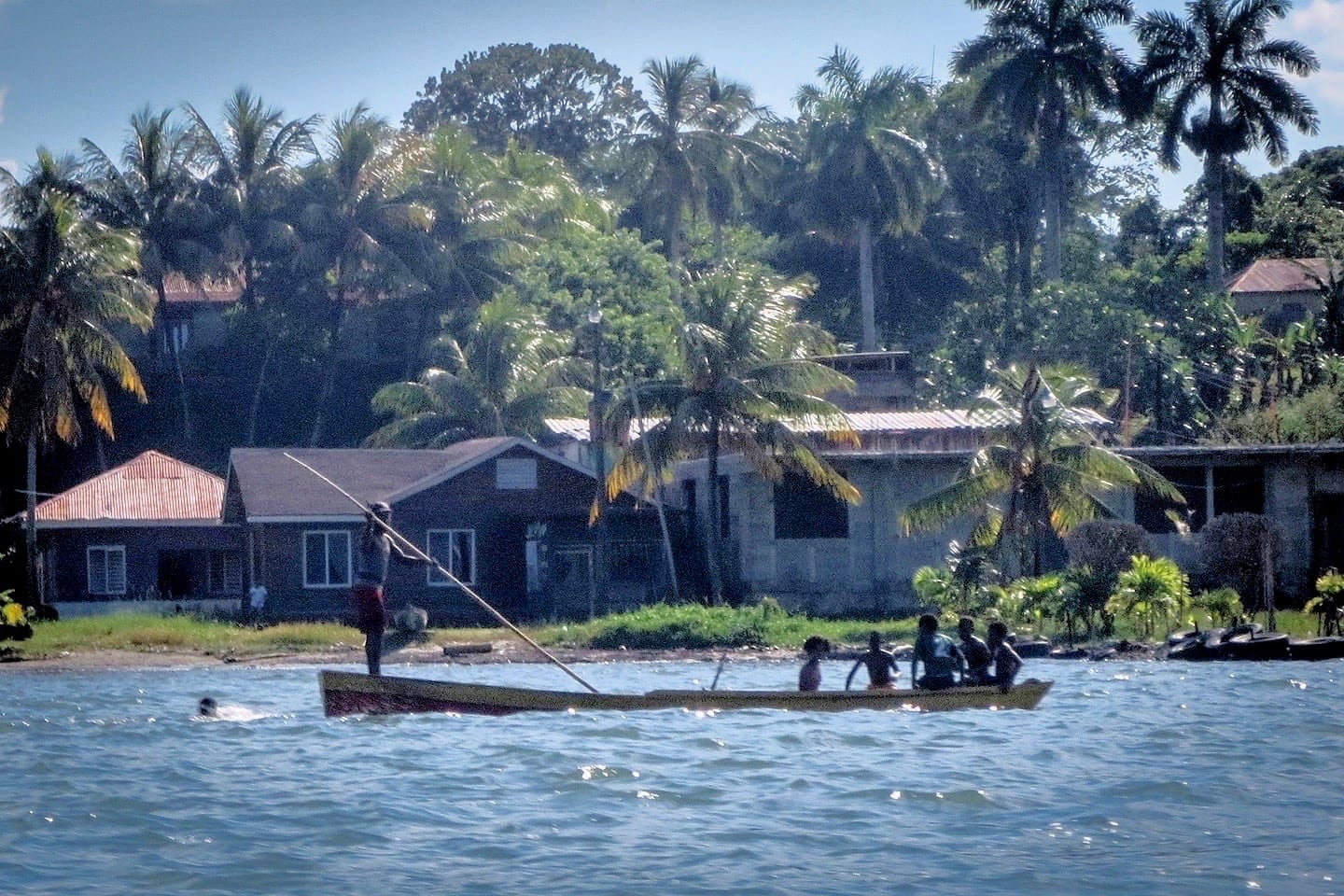 A number of local bars and restaurants line the beach and it's certainly worth it to grab a bite or drink in the evening and enjoy a slice of Livingston a lot of visitors don't get to experience.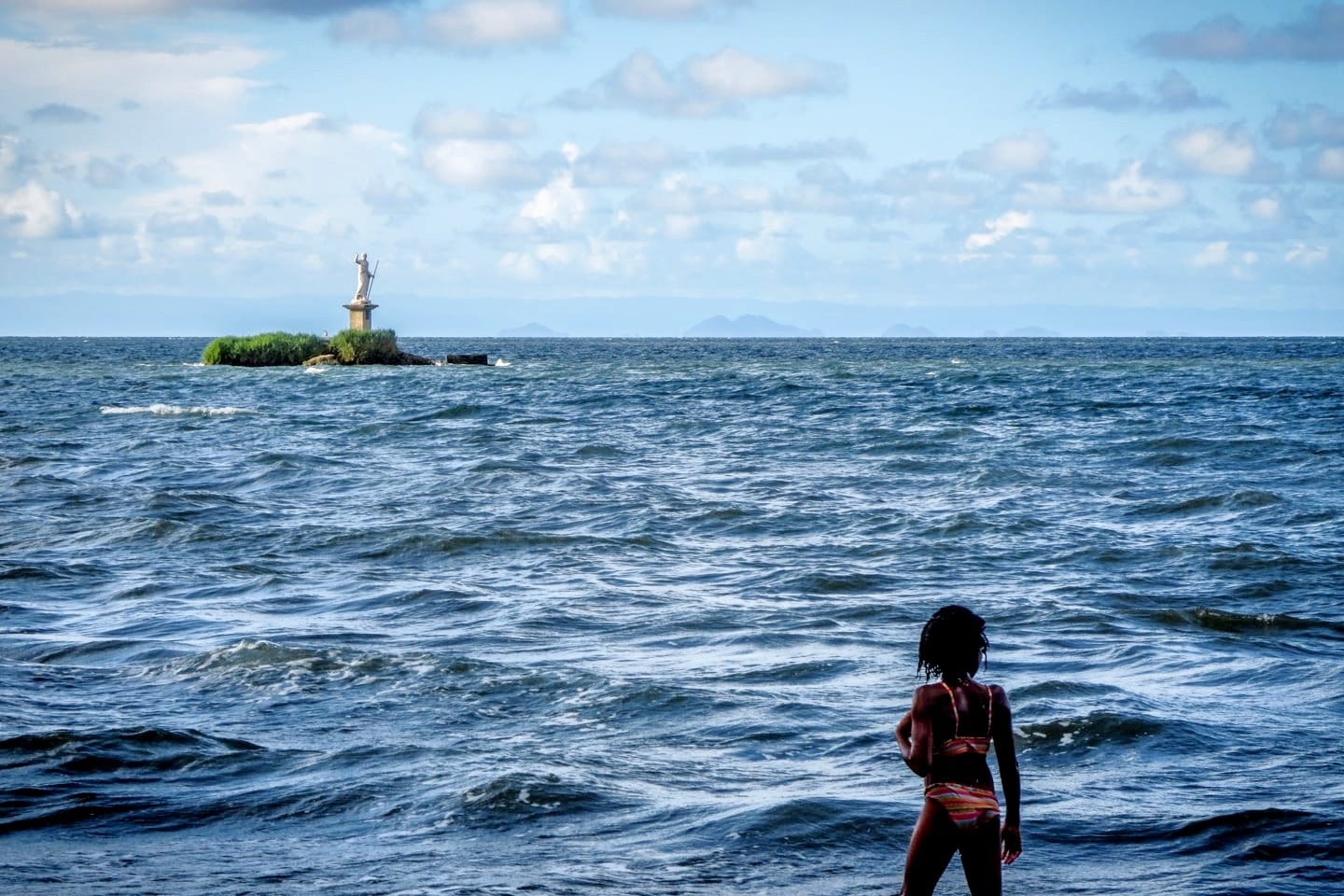 Visit the "Savior of the World"
While you're on this side of town, keep an eye out for Jesus…or a statue depicting the Christ figure, at least (find it on the map).
You would need a boat to actually visit the tiny island that is home to Livingston's Salvador del Mundo statue (also known as Patrono de Livingston).
Due to frequently choppy seas in these parts, we don't actually recommend visiting the iconic statue. Salvador del Mundo might best be admired from land with a nice cold Gallo in hand.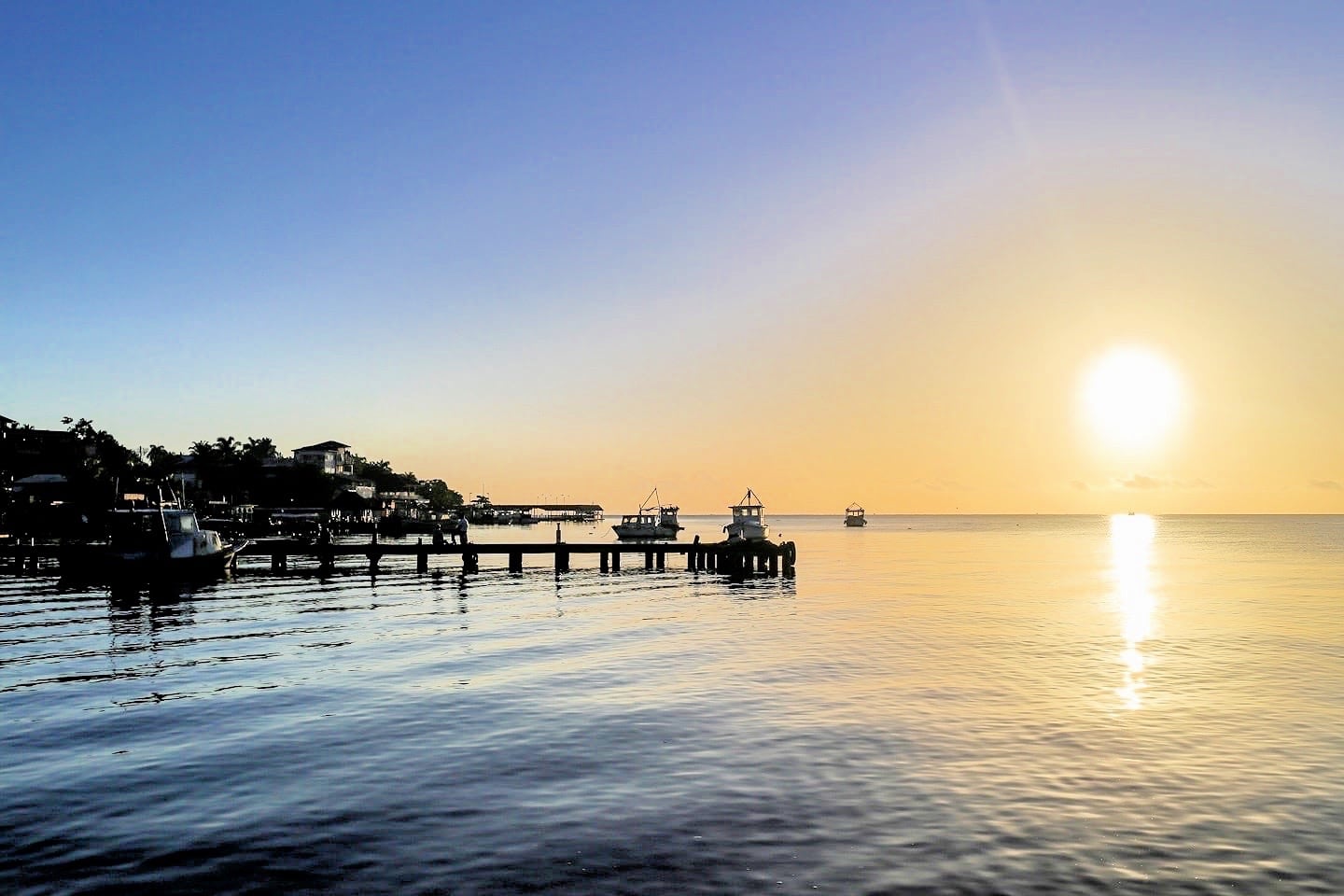 Early Morning Walks Along the Rio Dulce
The road heading southwest from the Parque Municipal might just be our favorite walking route in town, particularly around sunrise or sunset when daily life is ramping up or winding down (and temperatures are still pleasant).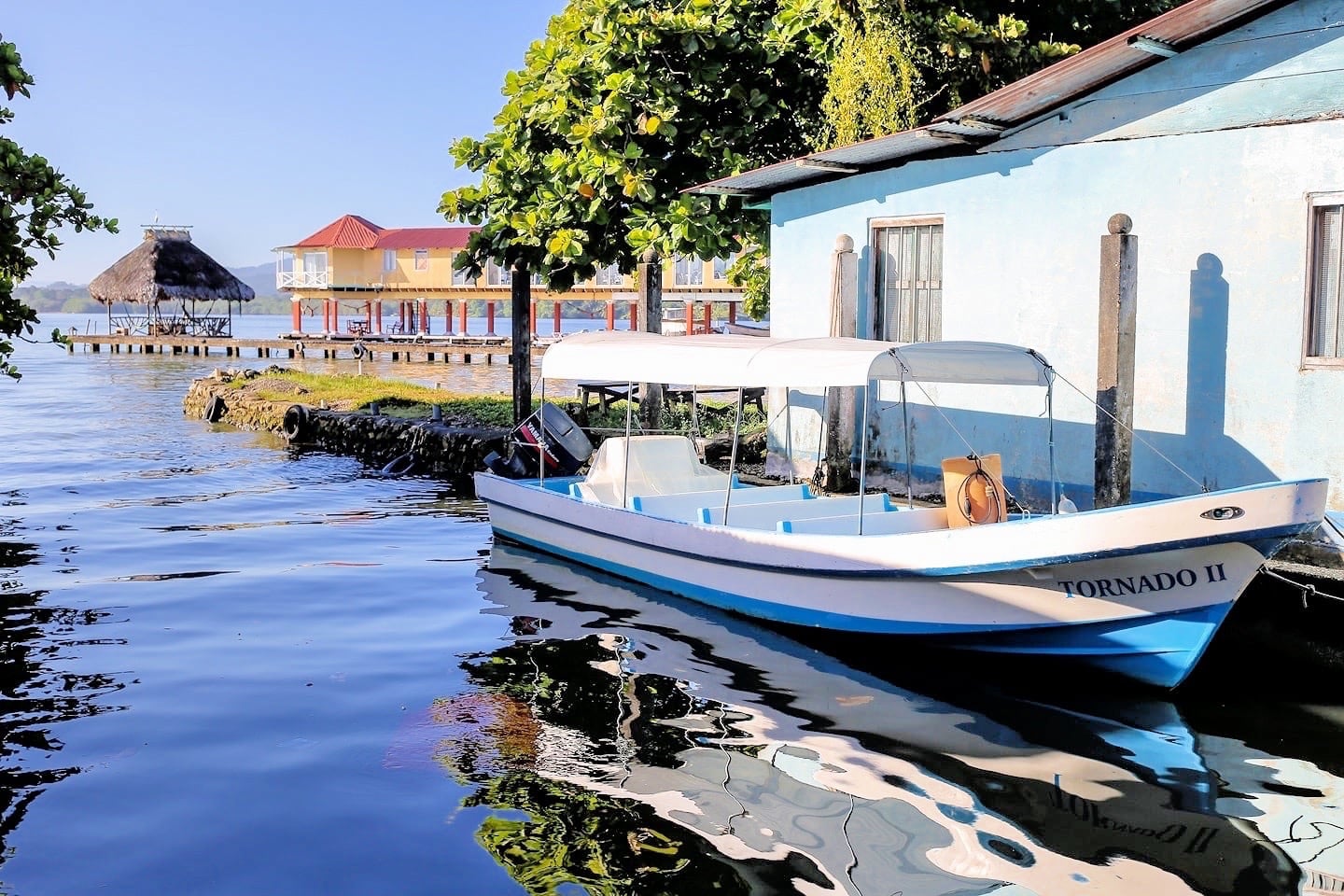 Before sunrise, the harbor docks are virtually deserted.
Come sun-up, however, the fishing boats begin to creep back into port from a long night out at sea. By 08:00, the waterfront is a flurry of activity with fishermen throwing nets, mechanics clanking on engine parts, and fishmongers laying out the night's catch to dry in the tropical sun.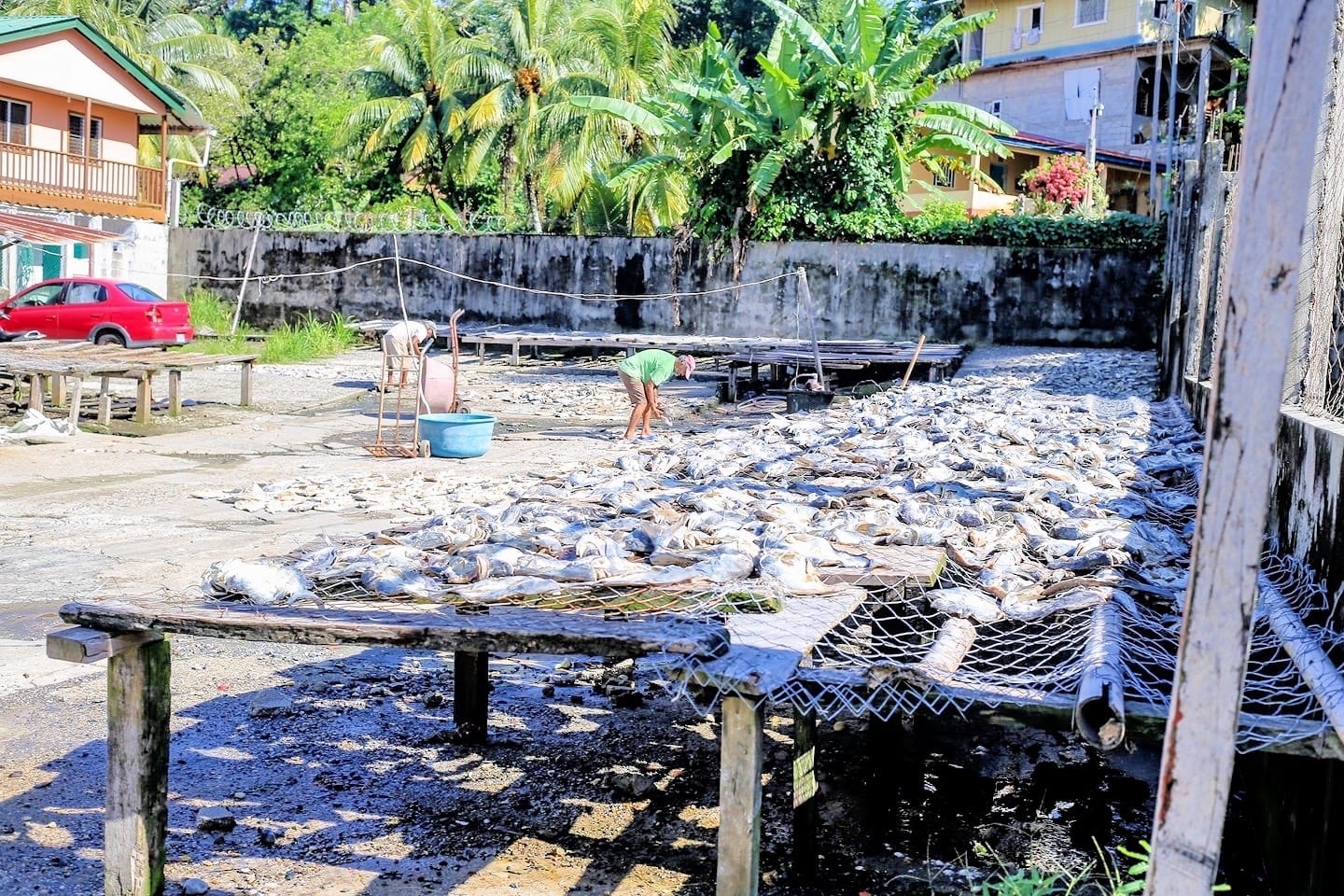 In the evening, the street comes alive with locals strolling for the sake of strolling and greeting their neighbors along the way.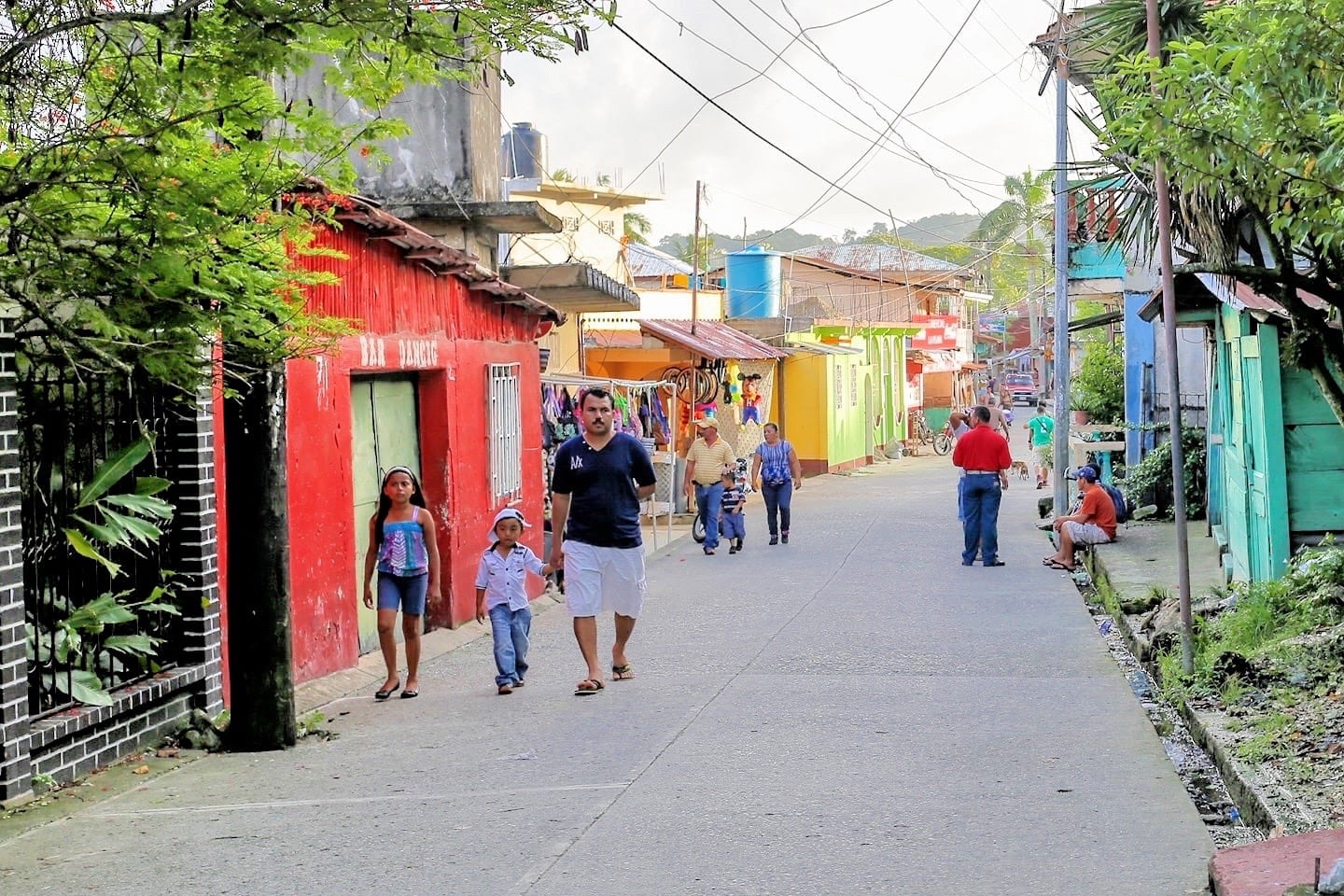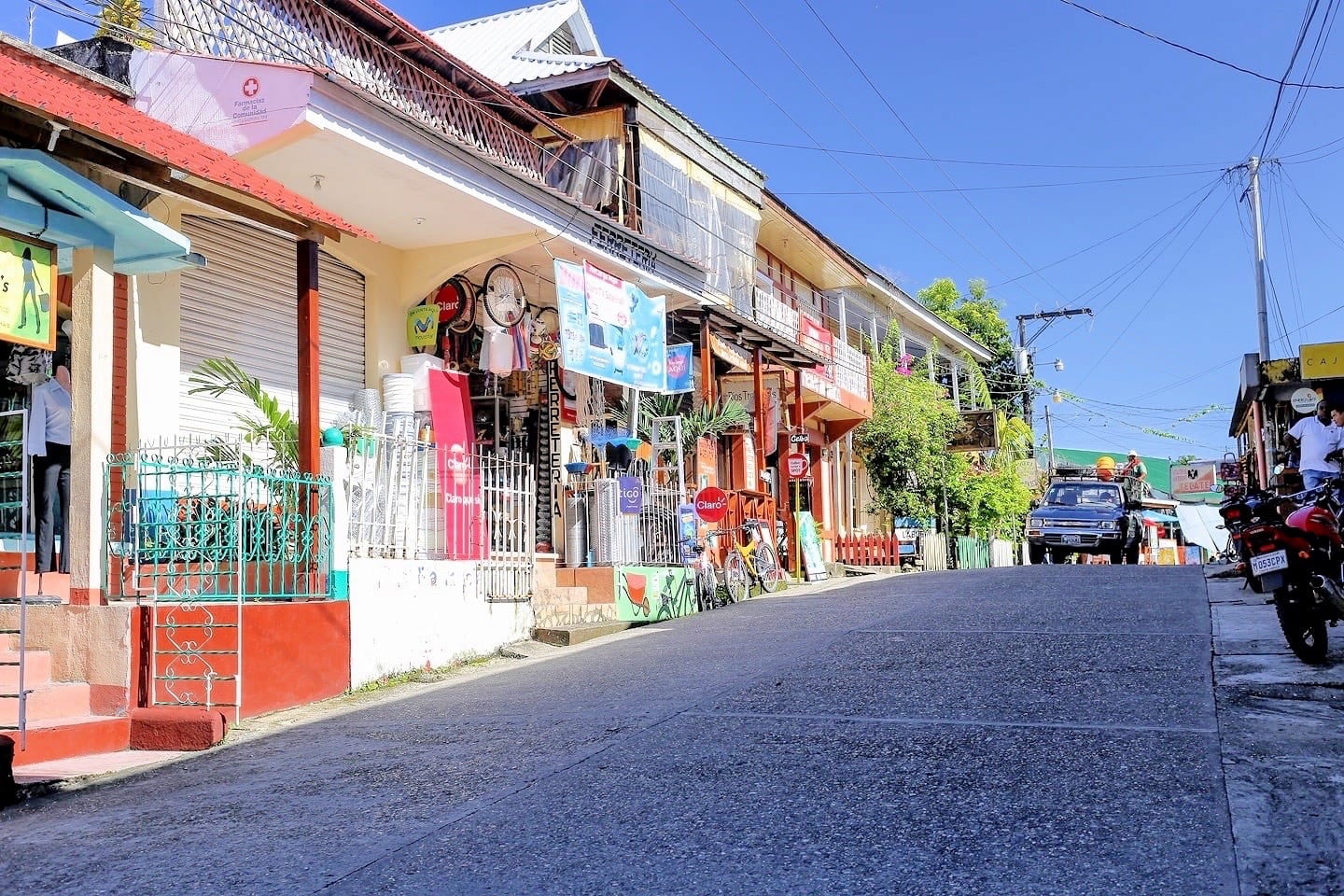 Eating & Shopping Along Calle Principal
Livingston's main drag stretching from the ferry dock to the Caribbean is worth a stroll during business hours for poking around in the local shops and sampling local eats.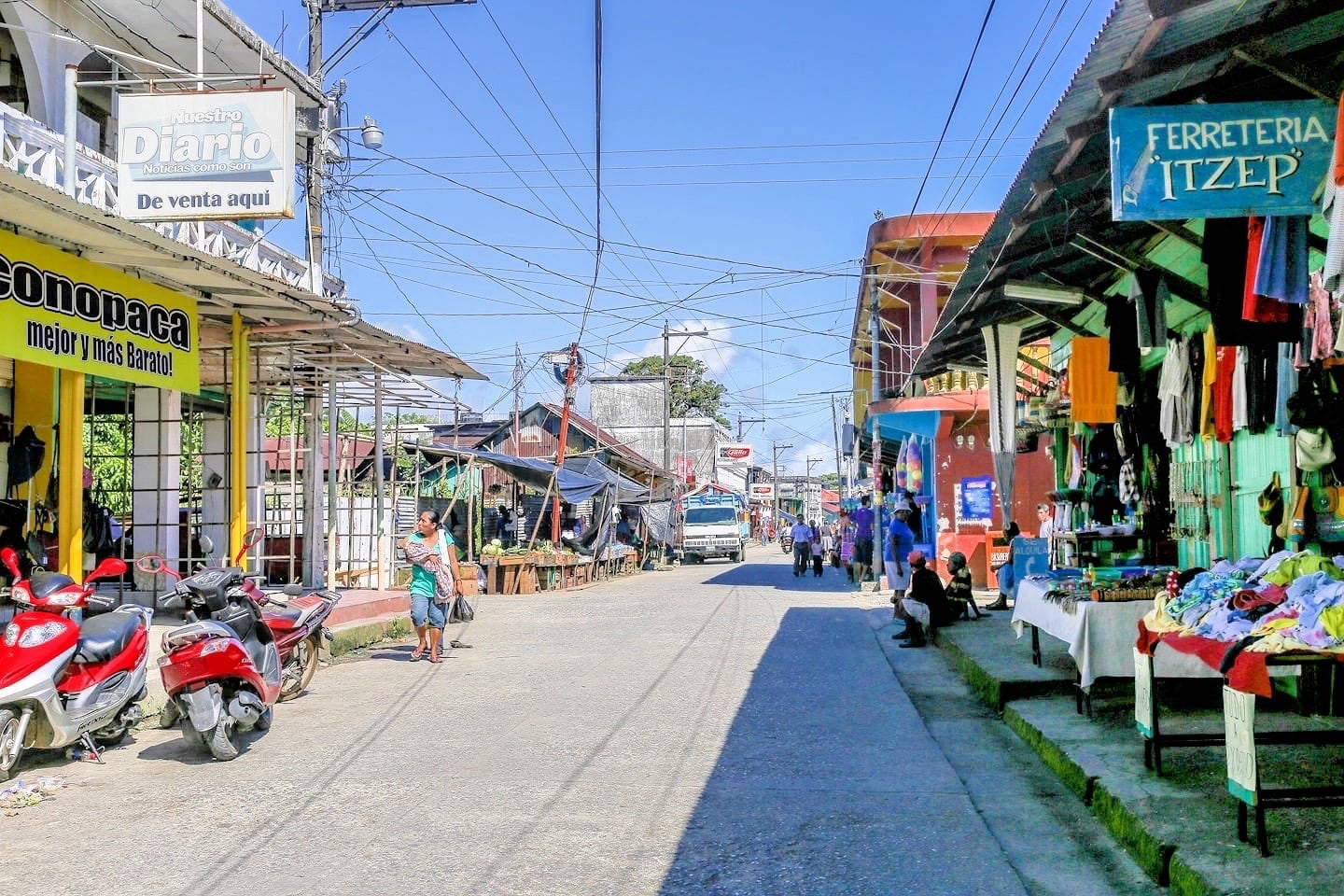 Day Trips from Livingston
Playa Blanca
Livingston's location on the Caribbean leads many first-time visitors expecting a Caribbean paradise with sandy beaches and crystalline waters.
Due to the dozen streams that flow into Amatique Bay between Punta Gorda and Livingston, this stretch of coastline tends to be characterized by coffee-colored water, mangroves, and silt.
There is one beach worth a visit within a short boat ride from town. Playa Blanca, while true to its name (it is indeed an idyllic white-sands beach) won't win any awards for water visibility most months of the year.
It is also a basic operation, providing the necessities for day trippers with no permanent restaurants or lodging to speak of.
Still, if you're looking to satiate your beach craving, Playa Blanca won't disappoint.
Siete Altares
Most boats to Playa Blanca will offer the option to stop at Siete Altares (Seven Altars), which makes for a refreshing reprieve from the tropical heat, offering seven freshwater pools to hike to (and swim in).
Rio Dulce & Hot Springs
A boat ride on the Rio Dulce from Livingston is worth a trip in its own right, if only for the cruise through a stunning gorge in the jungle. 20 minutes along, there is a good restaurant popular with travelers.
While the food is tasty, most visitors make the stop here for the hot springs that are adjacent to the property.
Hiking from Livingston to Finca Tatin
There is a moderate 8 km hike through the Parque Nacional Rio Dulce that starts at the far southwestern edge of Livingston and ends near Finca Tatin on the Rio Tatin. Enquire locally for current conditions.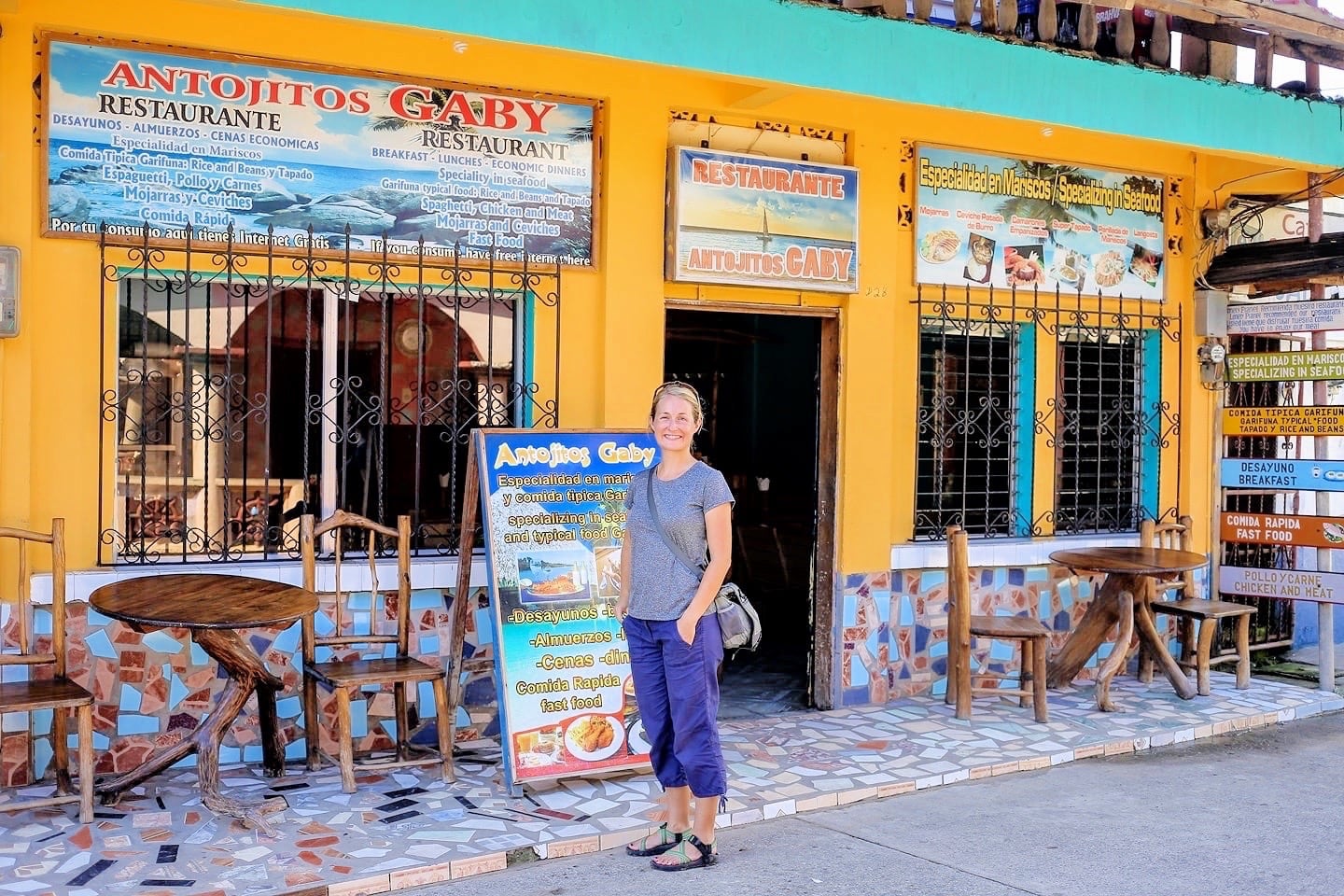 Where to Eat
For a small town only accessible by boat, Livingston offers a surprising variety of very good food choices, and after three visits we certainly have our favorites.
Antojitos Gaby
Quite possibly the best place in town to grab breakfast. Antojitos Gaby serves up a mean Desayuno Chapin (beans, fried eggs, queso fresco, and cream with corn tortillas) that is a must for any visit to Livingston. Find it on the map.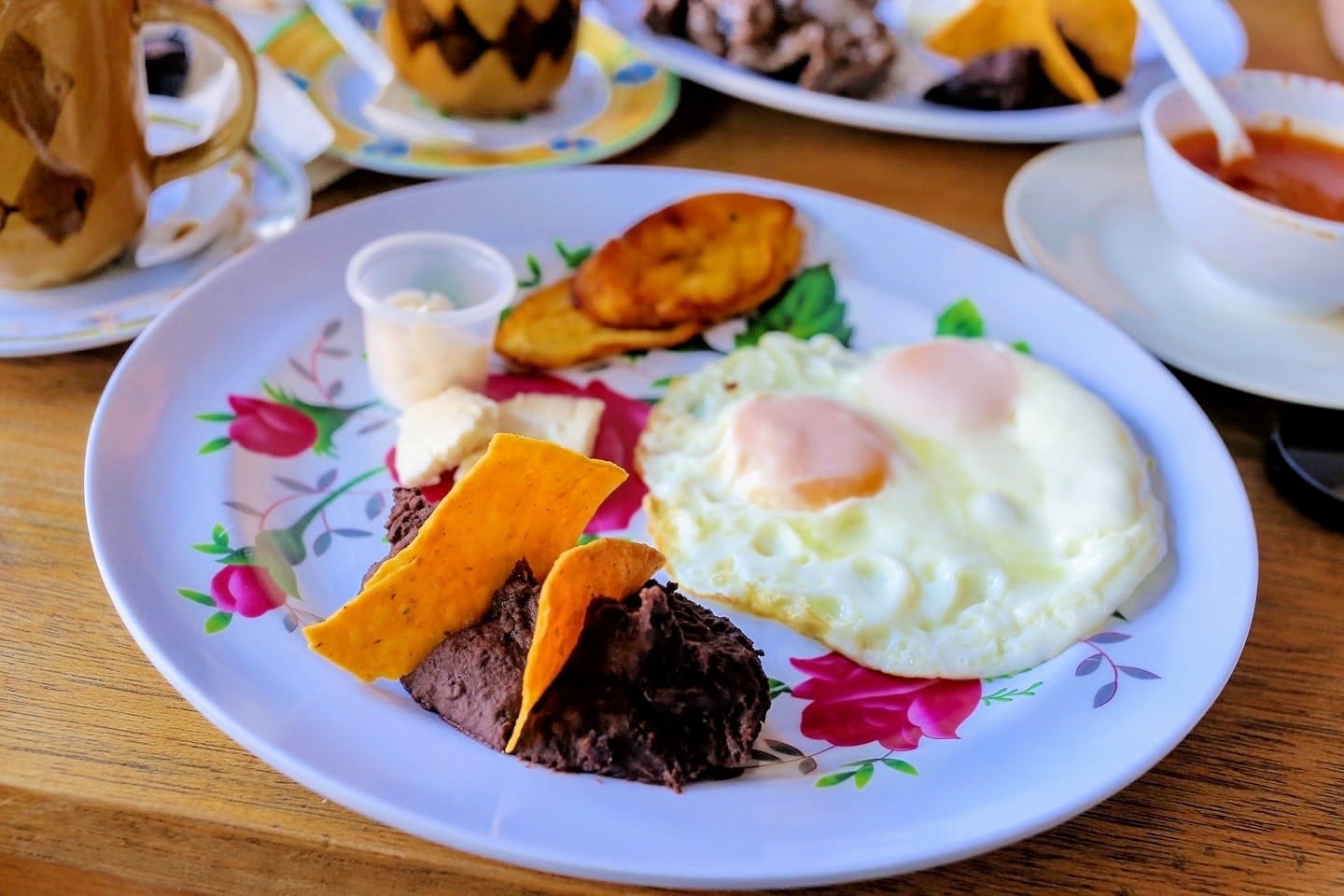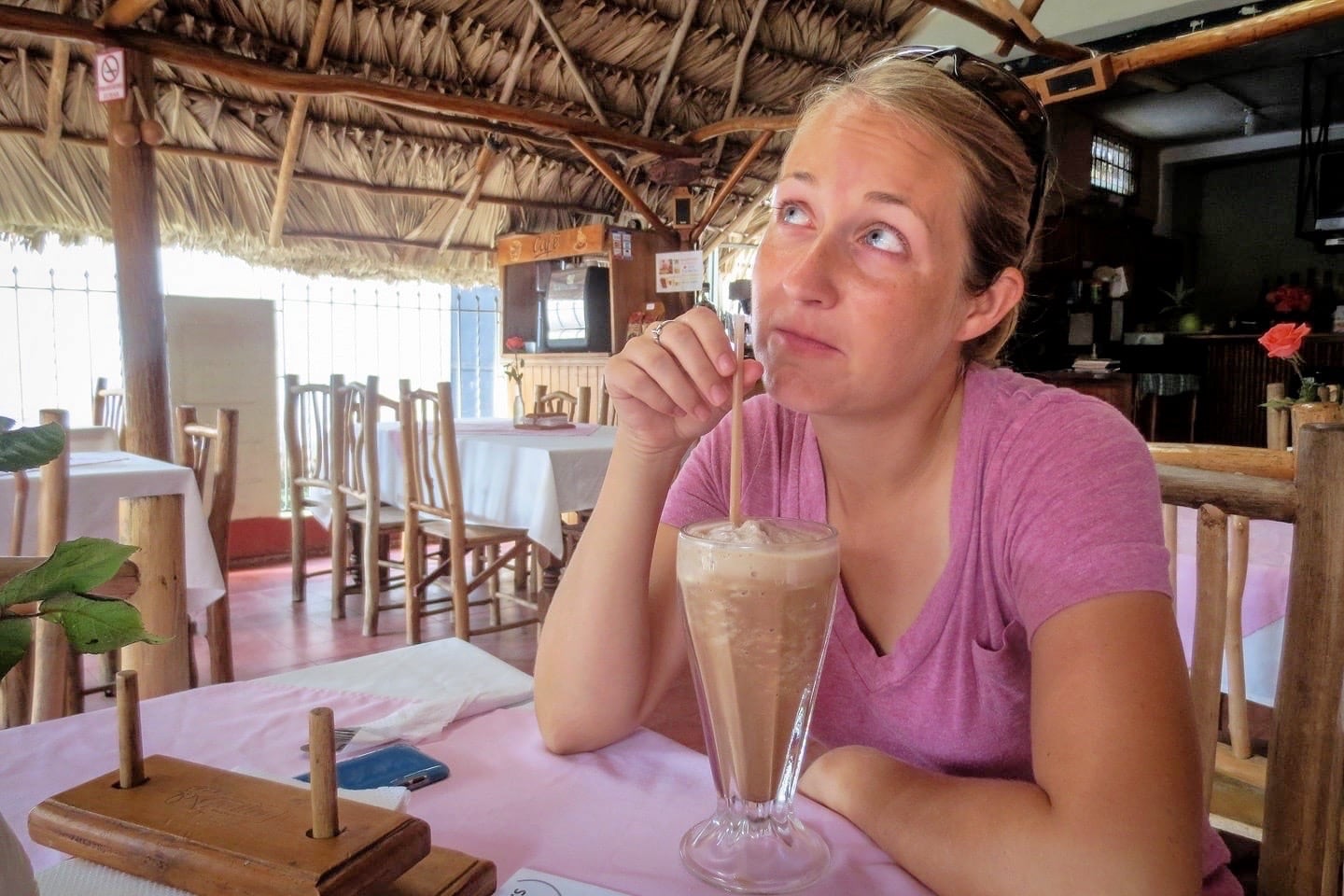 Happy Fish
Happy Fish is a great place to go for some delicious Garifuna food. Try the Garifuna Tapado (seafood and plantains in a spicy coconut milk soup) and their fried shrimp. It's also a great place to grab a blended coffee and maybe the best happy hour in town! Find it on the map.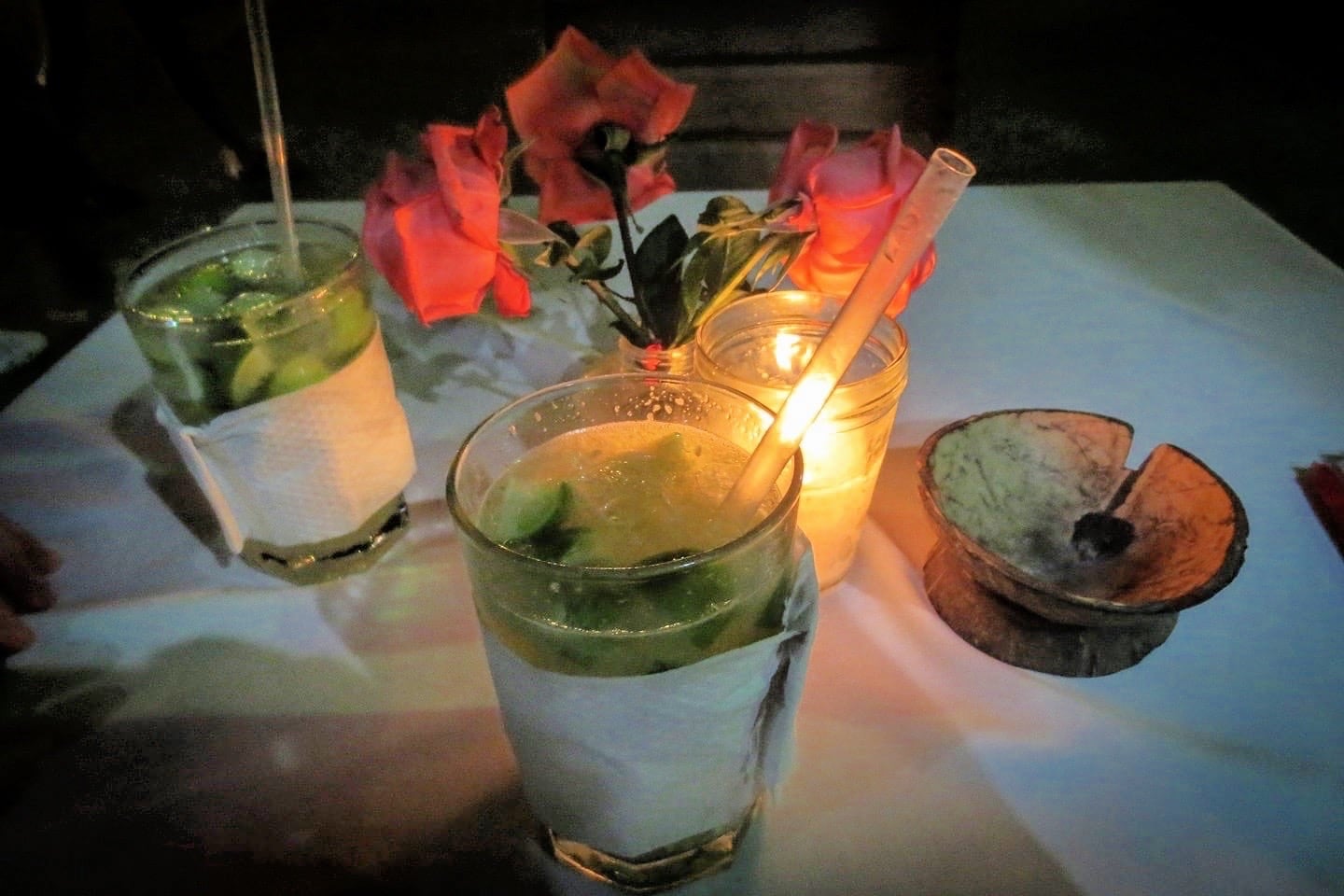 Buga Mama
Some of the best ceviche we've had in these parts was at Buga Mama on the waterfront. Buga Mama is a bit pricey, but they serve food you just can't get anywhere else (like ceviche and Thai food), in addition to delicious local favorites. And 100% of their profits go towards local education initiatives. Find it on the map.
Hotel Casa Rosada
If you've been traveling for a while, are spending a few days in and around Livingston, and have a hankering for Euro specialties done to spec (their filet mignon is awesome!), you can't beat Casa Rosada. Casa Rosada also whips up a tasty traveler's breakfast and top notch local dishes as well. Make sure you tell the kitchen staff before 17:00 if you wish to dine there. Dinner is served at 19:00. Find it on the map.
Coco Bangos
Great local place facing the Caribbean. Grab a couple of Gallos or try something from their menu of regional favorites. Find it on the map.
Hotel Gil for Cold Drinks
There may be no better place to watch the fishing boats head out to sea in the evening while enjoying an icy cold beer than the upper perch at Hotel Gil (seriously, if you want freakin' cold Gallo, go to Hotel Gil). Find it on the map.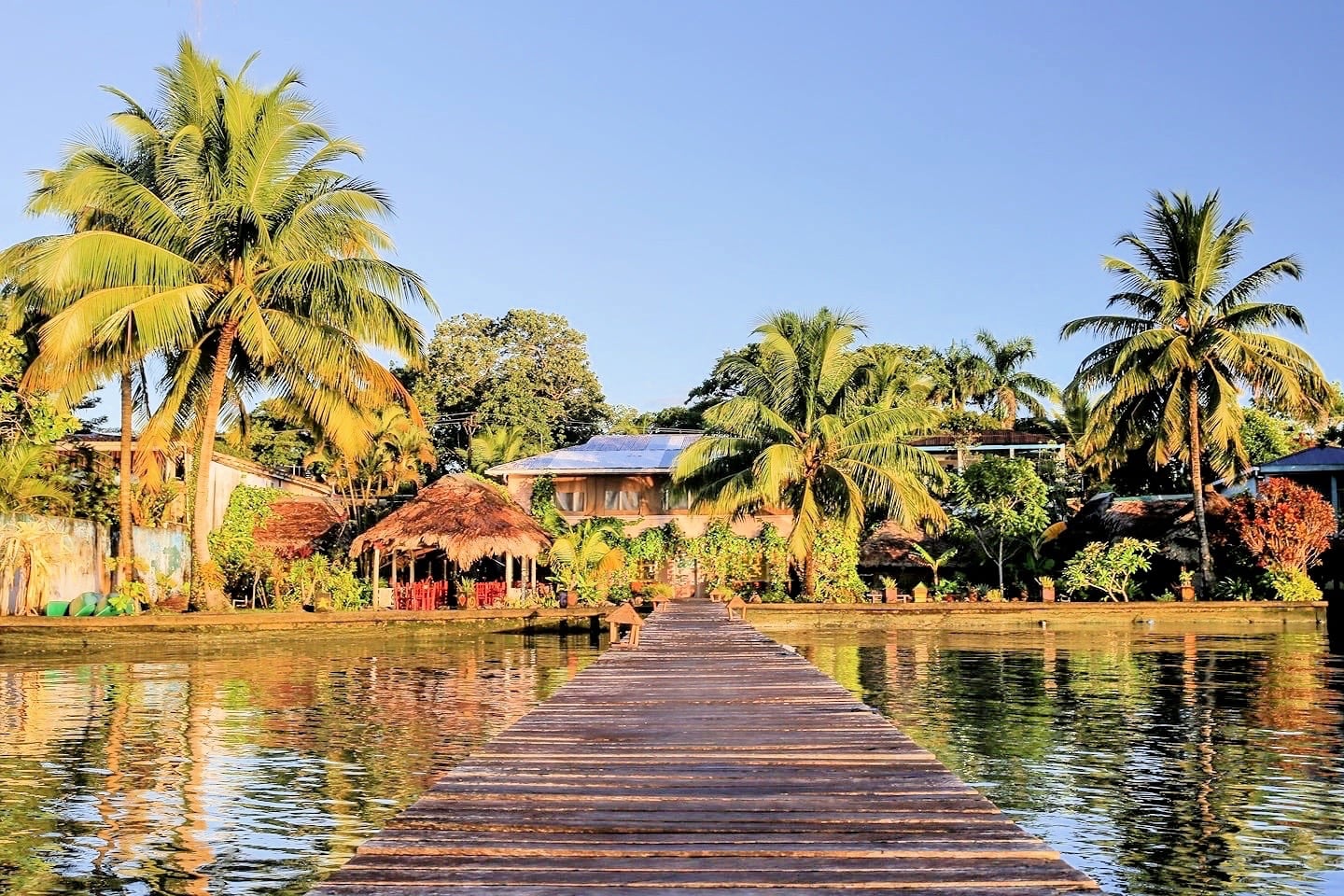 Where to Stay
Hotel Casa Rosada is our go-to place to stay in Livingston. They've got inexpensive accommodation (their bungalows are particularly tidy and comfortable) with screen windows, mosquito nets, and a nice shared bath.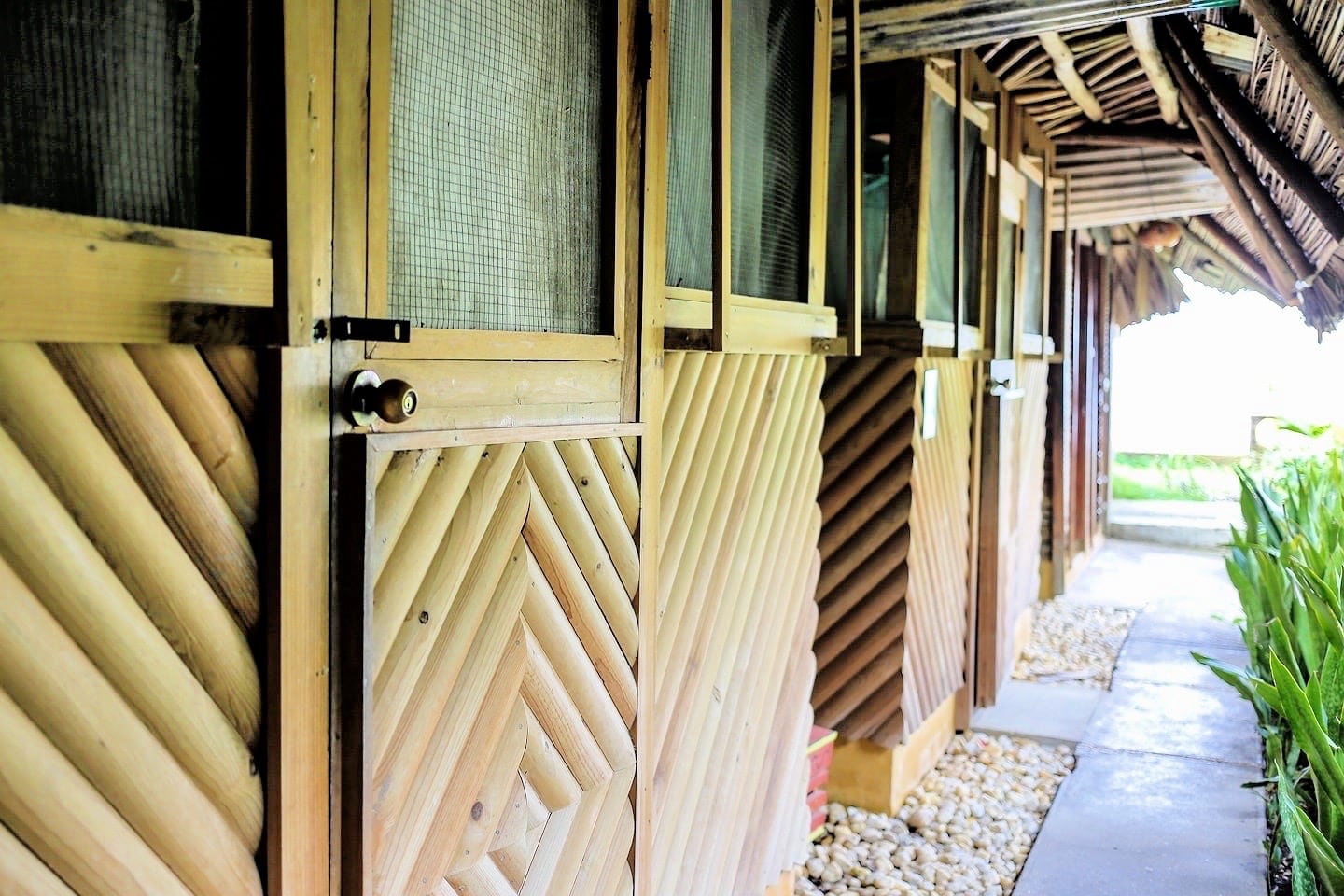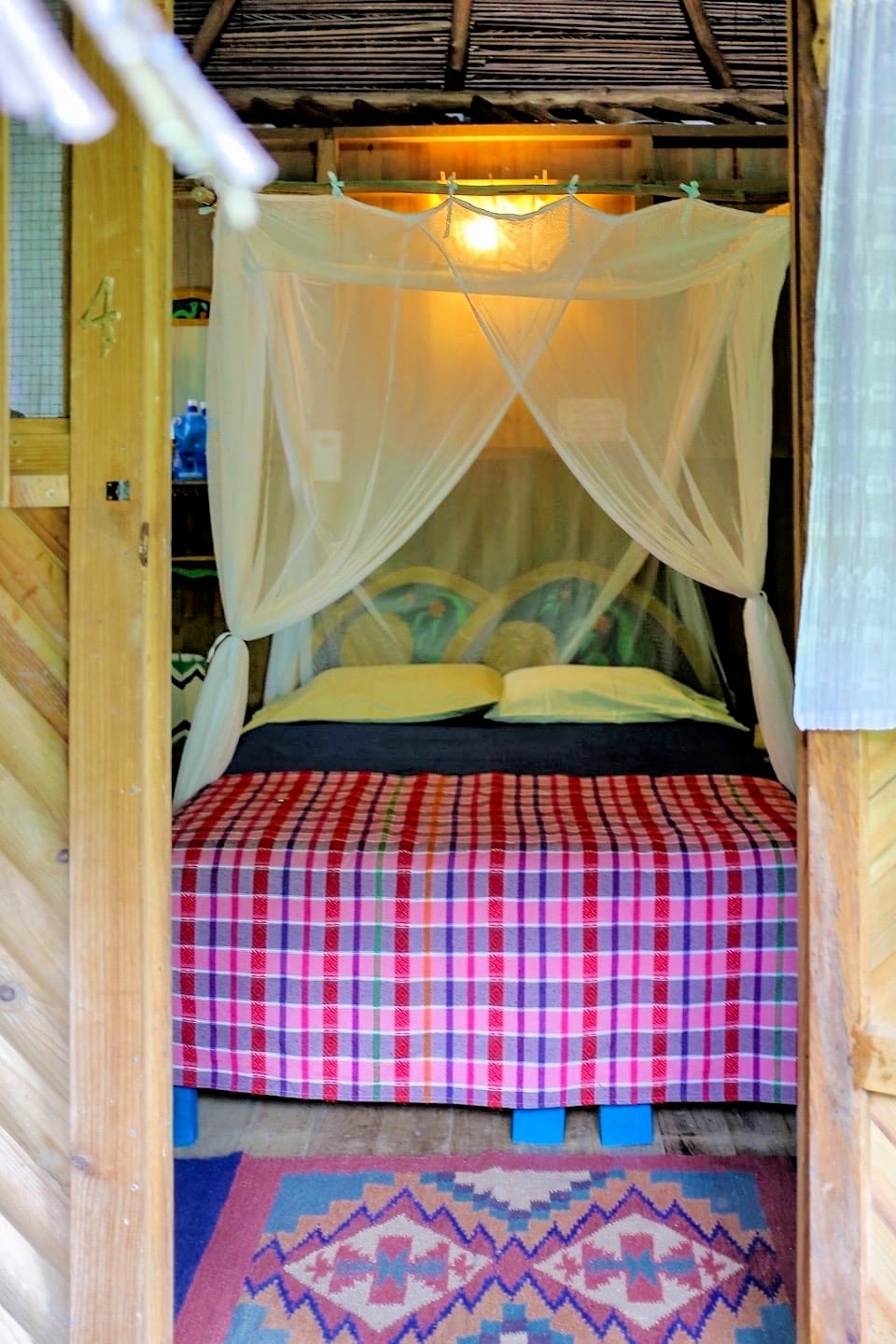 Casa Rosada is quiet and laid back, but it's best attribute may be its own private pier with palapa on the banks of the Rio Dulce. There are three hammocks and the area is popular for swimming and catches a nice breeze.
There's nothing quite like waking up to a Livingston sunrise from the pier at Casa Rosada.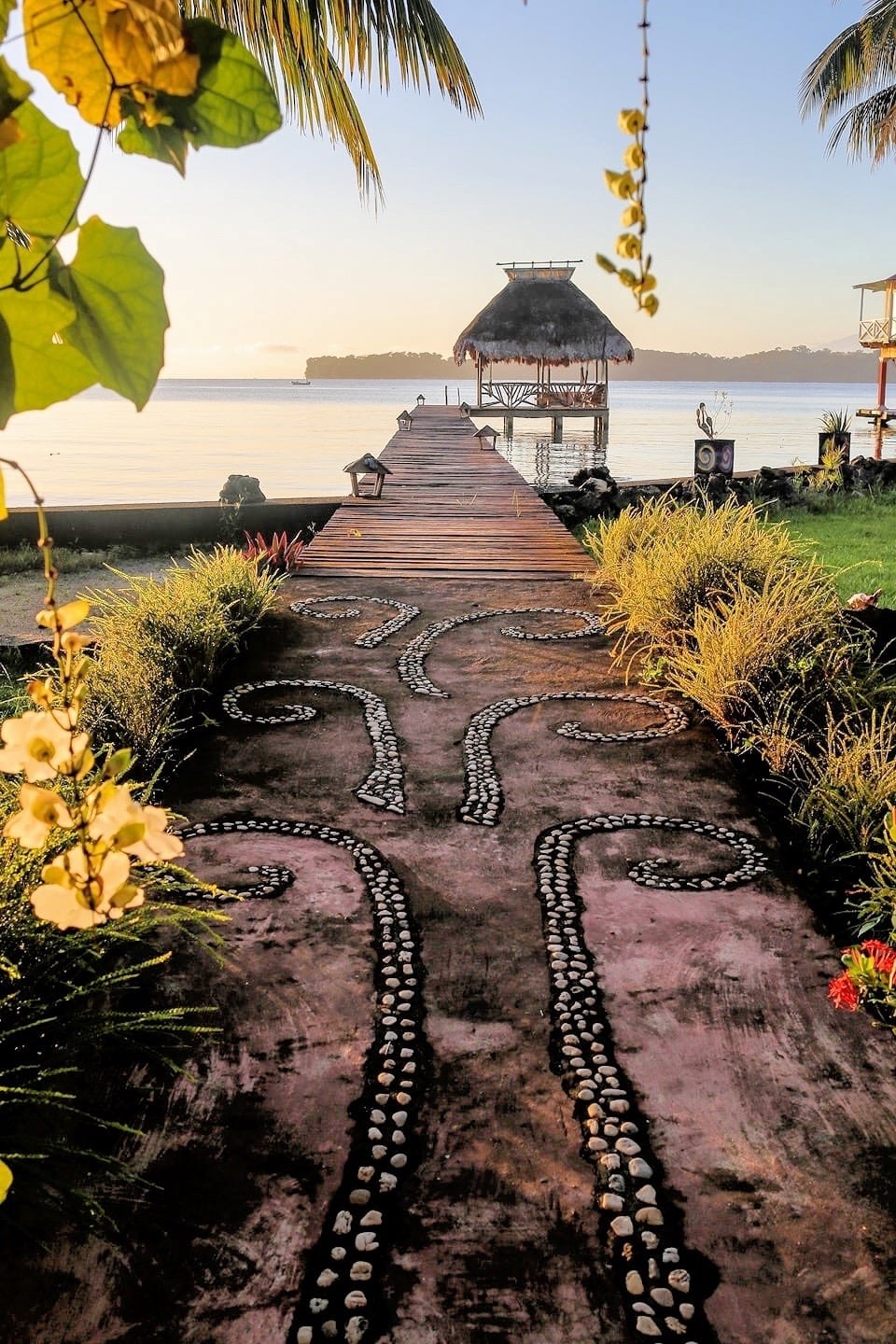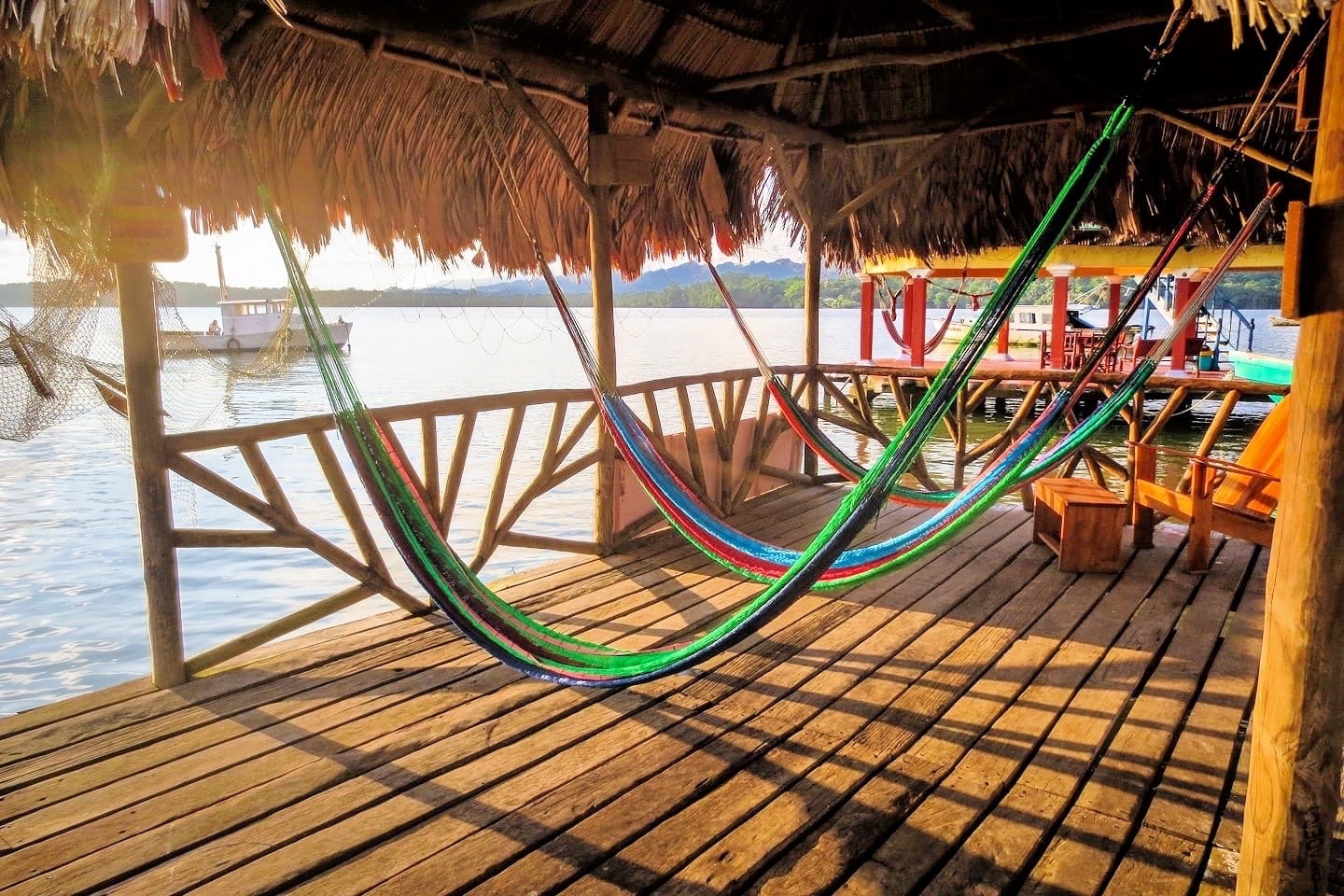 Is Livingston Worth Visiting?
Livingston, Guatemala's unique Garifuna culture and strategic location en route to several of the region's most popular attractions makes this town a worthy stopover for anywhere from a night to a few days.
With that said, Livingston may disappoint travelers working within a short timeframe or not planning to travel through the region. In that respect, Livingston might not be worth a significant detour or change in plans.
However, if you've got time on your side and are planning to travel from Southern Belize to Guatemala or vice versa, you should definitely consider adding Livingston, Guatemala to your itinerary.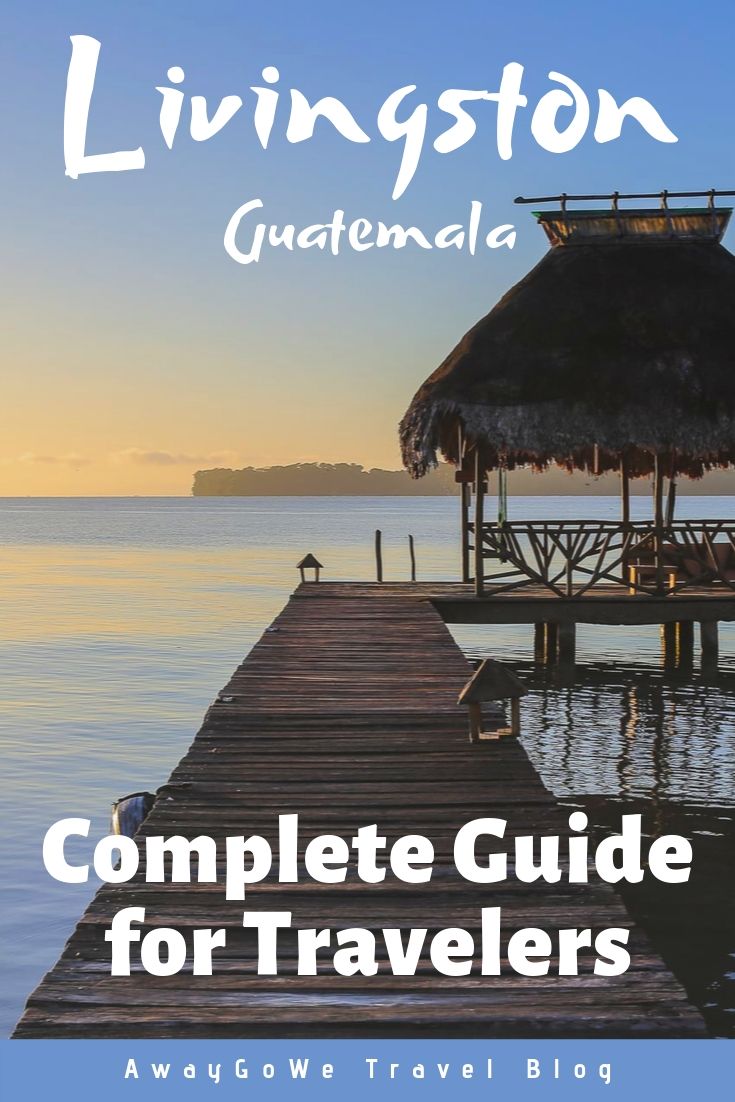 28 Apr 2020
10 Oct 2013