Looking for paradise? Lime Caye might be Belize's best-kept island secret! Here's everything you need to know about getting to, and enjoying this undiscovered Southern Belize gem.
(Psst…don't miss our Punta Gorda area lodging recommendations at the end of this post!)
What Makes AwayGoWe Guides Different
Why trust our Belize recommendations? Lori and I lived full-time in Belize for over a year and learned so much as residents here that simply can't be learned from a one-off backpacking trip.
We extensively explored the width and breadth of this amazing country, returning to many destinations multiple times.
We're passionate about Belize, independent travel, and making the best darn travel guides humanly possible for you and your own journey!
Lime Caye Quick Facts
| | |
| --- | --- |
| LOCATION: | Sapodilla Cayes, Belize |
| GPS: | 16.100251, -88.274746 |
| ISLAND SIZE: | 200 meters x 100 meters |
| ON-SITE LODGING?: | Yes (see below) |
| ON-SITE DINING?: | Yes (see below) |
| KID FRIENDLY?: | Yes — But the boat ride may be scary for some children |
How to Arrange Trips to Lime Caye
After nearly five months living in Southern Belize and hearing about trips out to Lime Caye in the Sapodilla Cayes of Belize, we finally got an opportunity to make the trip ourselves.
Lime Caye lies 35 nautical miles east of Punta Gorda, Belize in the Gulf of Honduras. The caye is one of the southernmost islands in the Sapodilla Caye island chain near the southern terminus of the Belize Barrier Reef. The island is just under the size of Tobacco Caye (about 200m long and 100m wide).
Lime Caye is privately owned by the Garbutts, a Belizean family based in Punta Gorda who run cabanas and a bunkhouse, along with a small restaurant on the island.
They also run a lodge at their main Hopeville office (near PG) and offer a number of other water activities such as fishing and kayaking trips around Toledo District.
Our weekend was arranged as an all-inclusive package deal, which included transport, lodging, meals, and island activities such as reef fishing and snorkeling trips from the island.
The Garbutts also have a secure compound at their Hopeville (PG) lodge where you can park and leave your car while out on the island.
Everyone we encountered at Garbutt's was incredibly friendly, very professional, and safety-oriented.
Lime Caye trips can be booked directly through Garbutts Lodge. For your convenience, we've even included their complete contact information later in this post.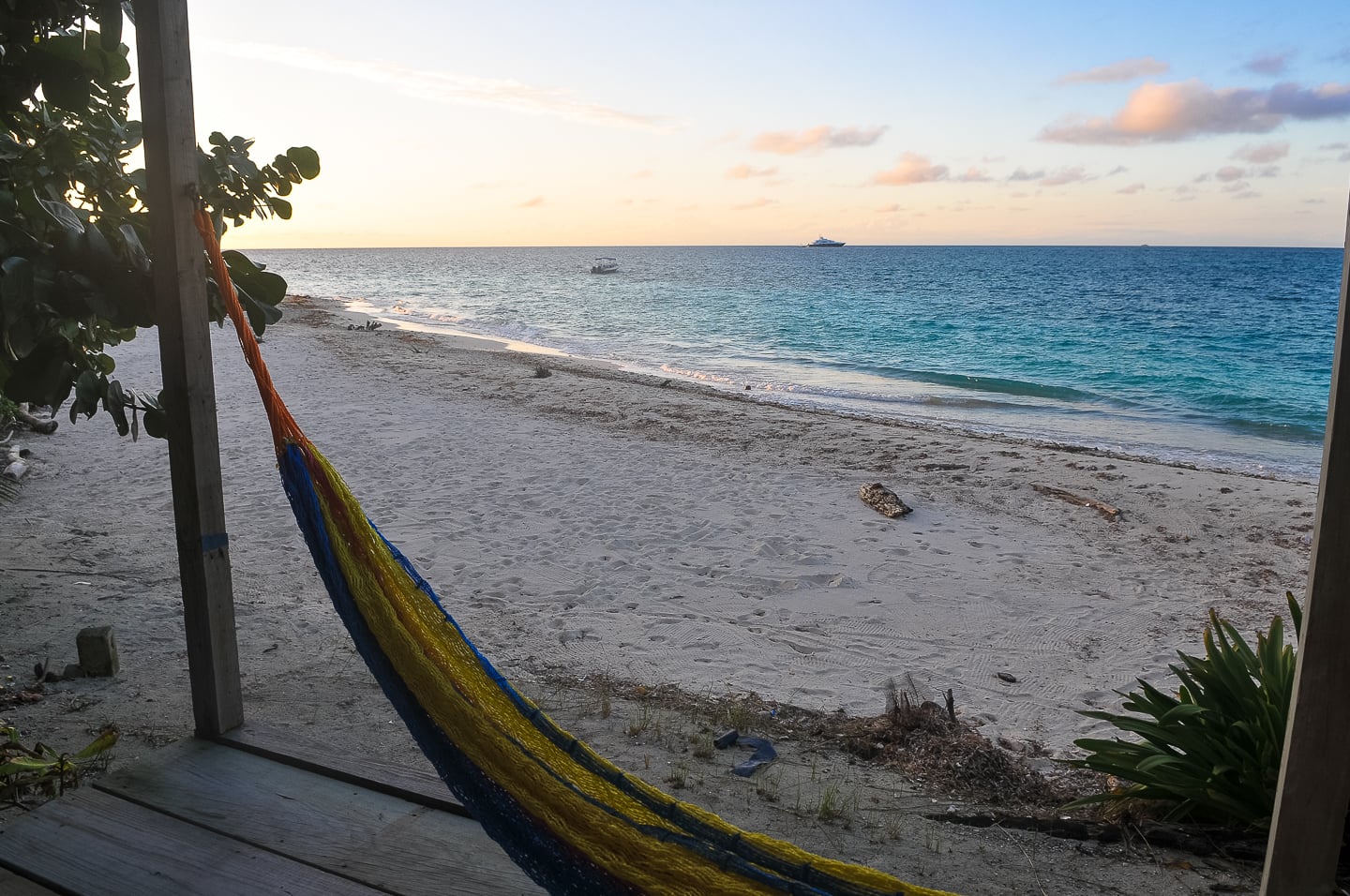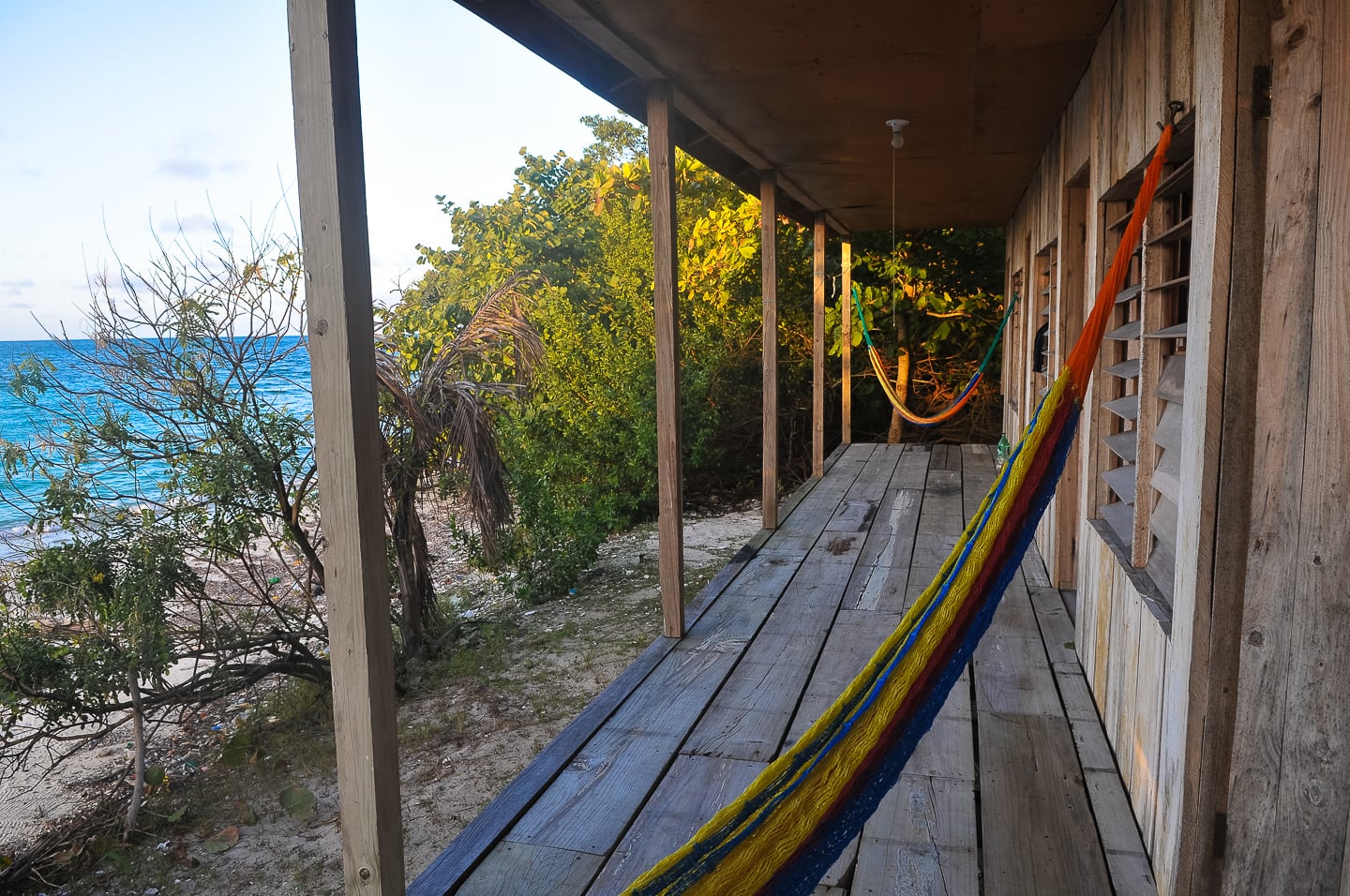 As is common in Southern Belize, transport to the island was by 35' skiff. The trip took 90 minutes there and just over an hour coming back.
Crossing the channel from PG to Lime Caye, the seas were a bit rough with white caps. We were happy that the boat driver chose to hug the mangrove range up to East Snake Caye before crossing, as this significantly cut down our time in "da chop."
Seas were much fairer on the return trip, enabling us to take a direct route back to PG.  We even crossed paths with a pod of dolphins, which swam around and played with the boat for about ten minutes before continuing on.
Don't Miss These Unforgettable Experiences In Belize!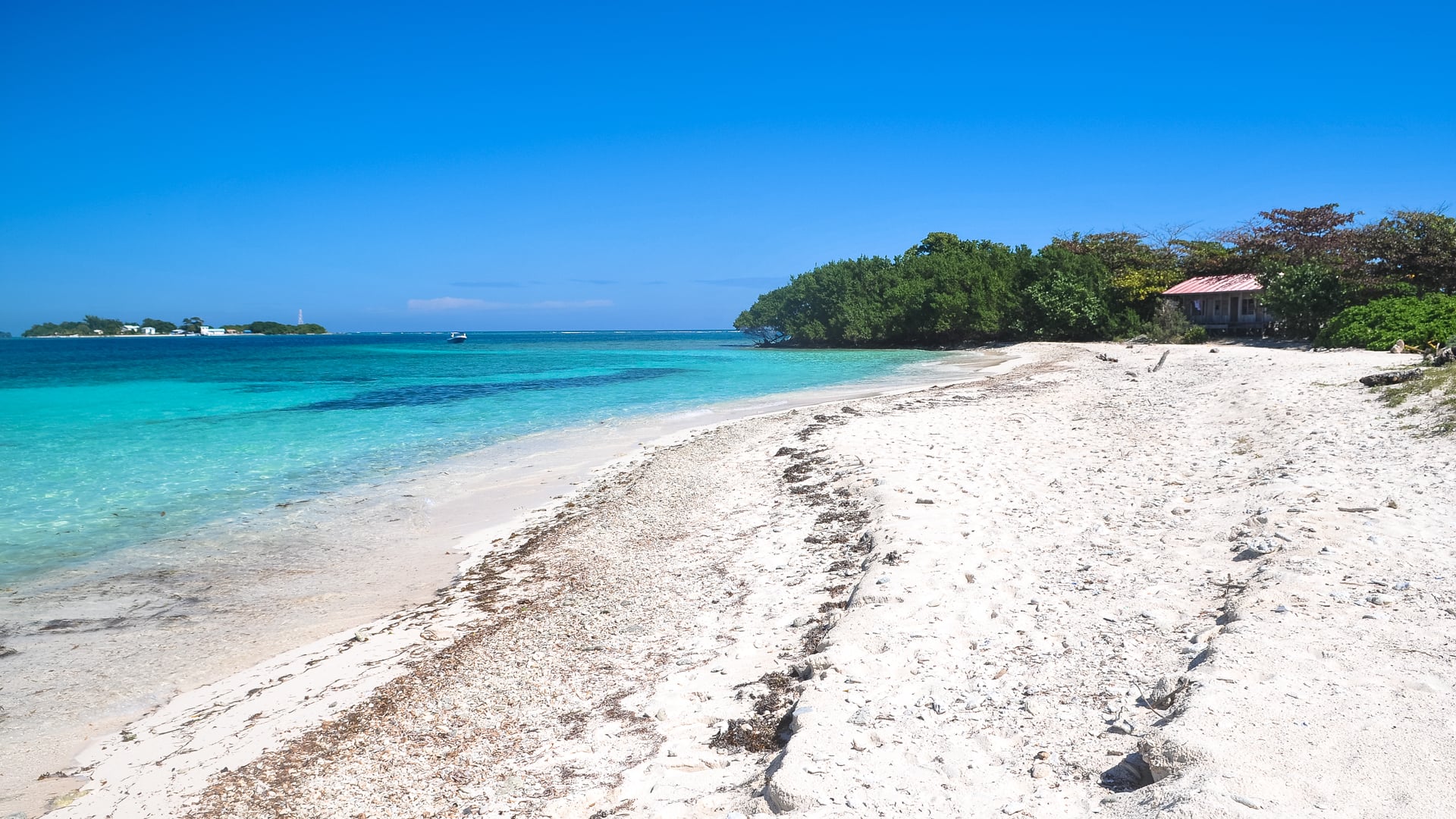 Day One: Arrival
We left Garbutt's in Hopeville (near PG) just after 3pm and arrived on the island just before sunset. While the crossing was a bit rough, the weather was absolutely gorgeous.
Since we were traveling as a large group, we opted to stay in the bunkhouse right on the beach, which has four beds (two bunks) to a room (a handful of private bungalows are also available on the island as well). Toilets and showers are about 100m away near the center of the island.
The rooms do not offer much in the way of privacy or security, but if you're with a big group of people you know, then neither really matter much on the island.
All of us kept the doors and windows wide open 24/7 for ease of access and to keep the temperature down at night. On our first night, there was no wind. As a result, it got pretty stuffy in the bunkhouses and we had some issues with mosquitos/gnats since we had the doors and windows open and there weren't screens or bug nets.
Thankfully, a nice wind kicked up the second night and we all slept blissfully.
I would suggest sleeping with a healthy dose of DEET applied right before bedtime to ensure a good night's rest.
I must say though that falling asleep to the sound of crashing waves right outside the door more than makes up for any issues we had.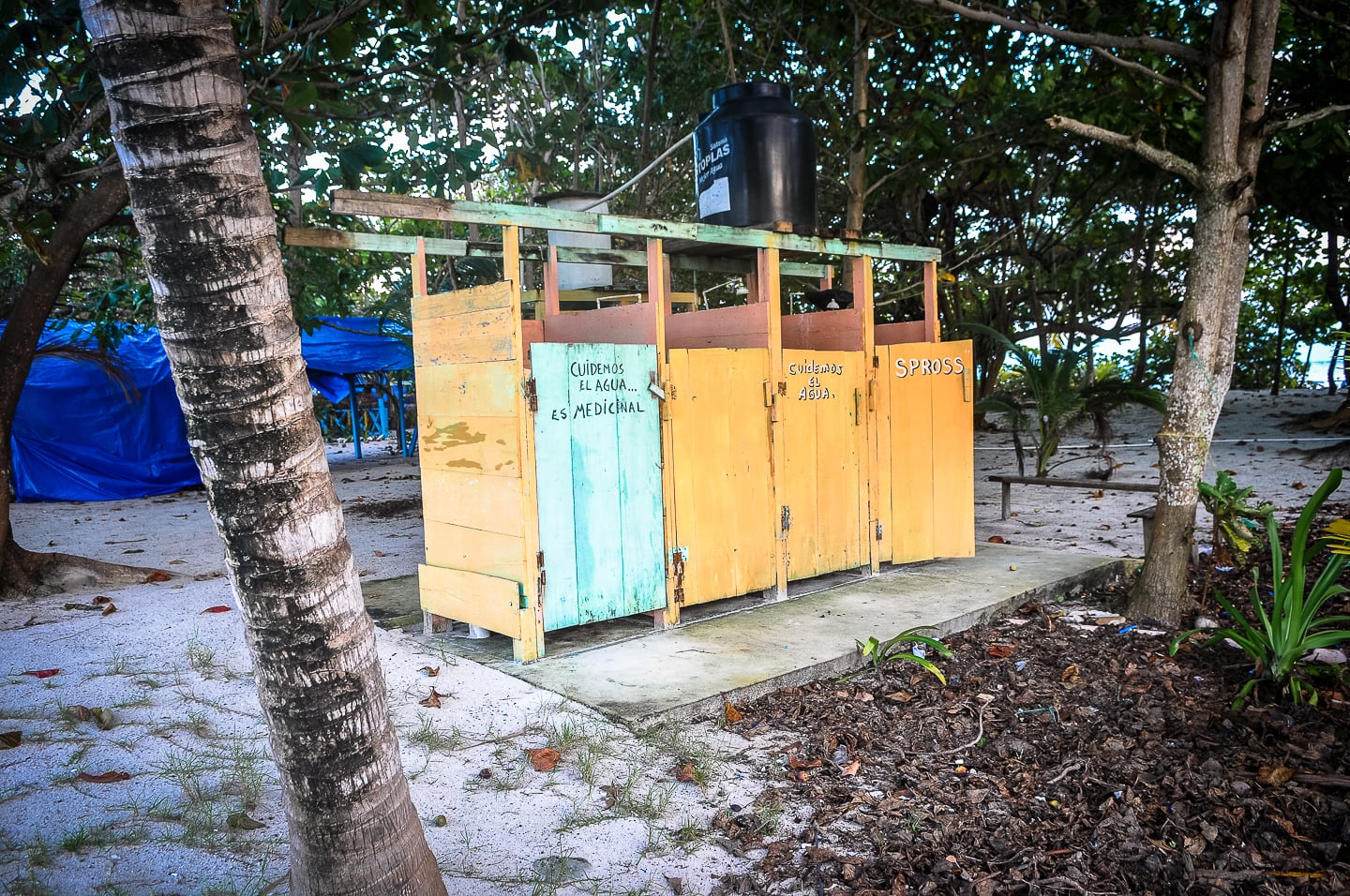 Directly following our arrival and selection of rooms, we met Ms. Sandy at Sandy's Cool Spot—the only snack shack on the island—to get a quick orientation of meals and other restaurant-related things.
As we were getting ready for our talk with Ms. Sandy, we were able to catch one last quick glimpse of the sun before it darted over the horizon.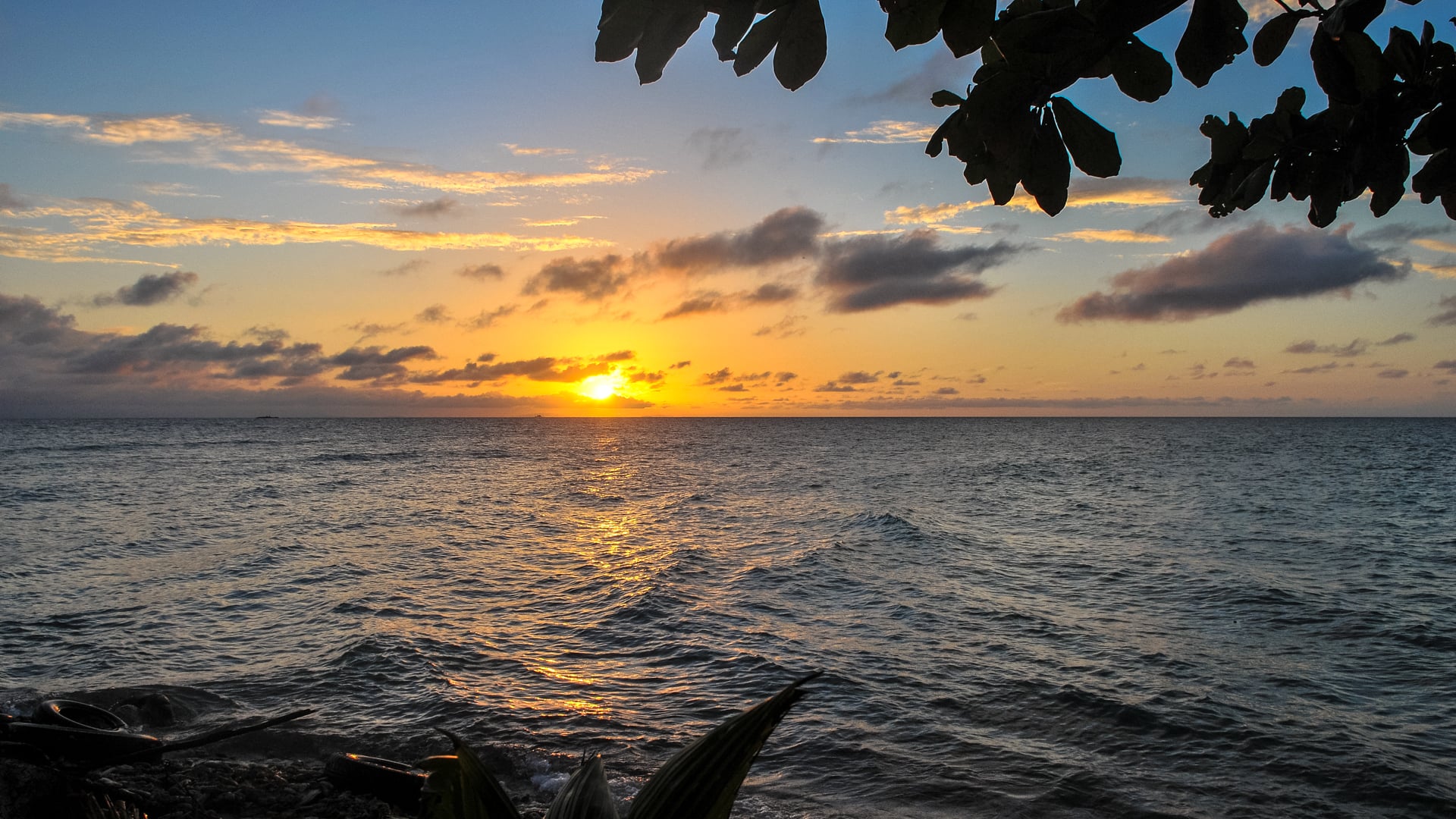 This evening's sunset was kind of a big deal for us.
Belize's coastline runs north-south along the eastern edge of the Yucatan peninsula. As such, a sunset over the Caribbean is not something we see living on the mainland.
Additionally, this being January, we really hadn't seen many sunsets at all in Southern Belize—over land or sea—for a long time, thanks to the rains. Alright, enough about sunsets—looks like it's Belikin Time.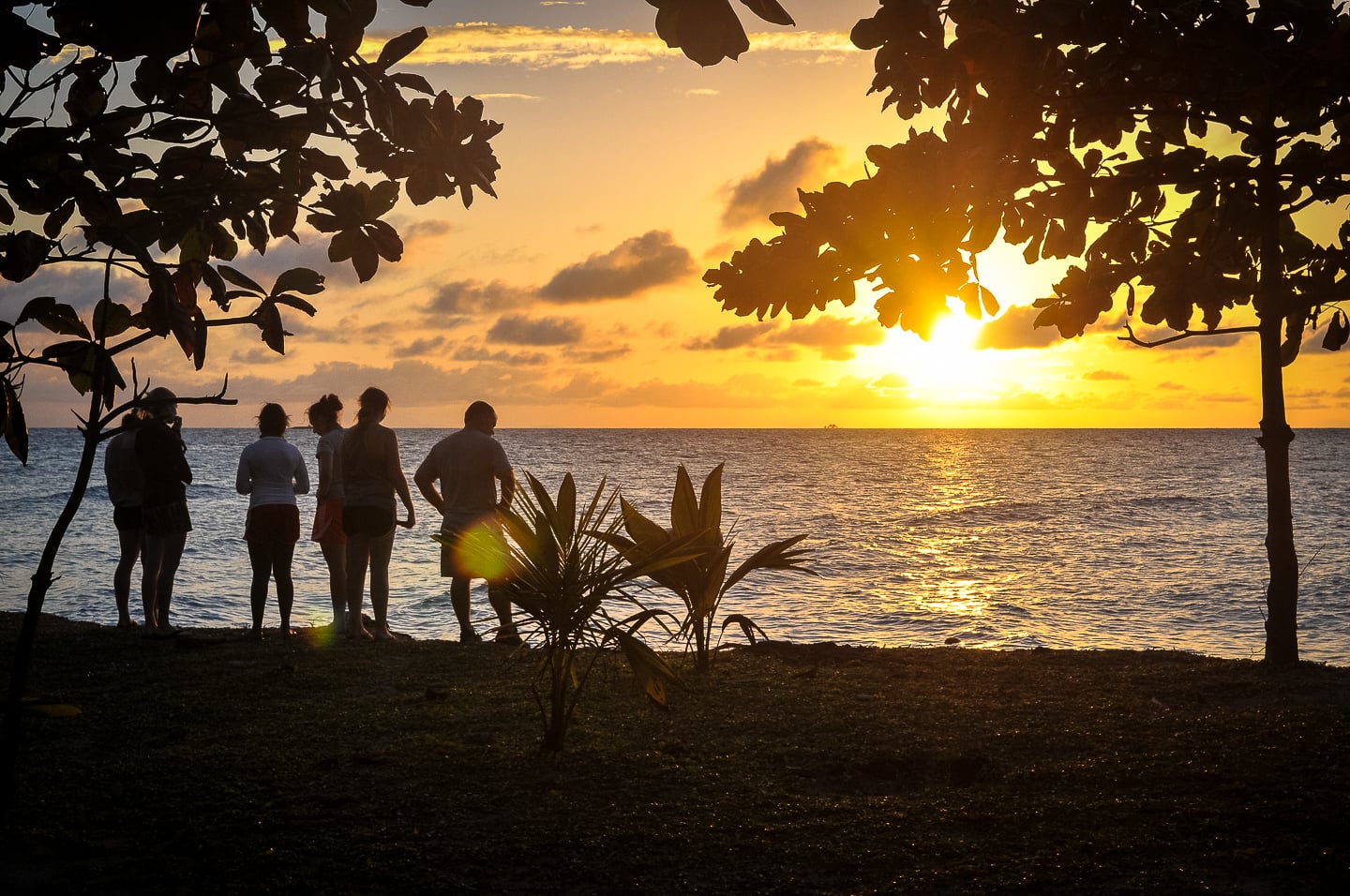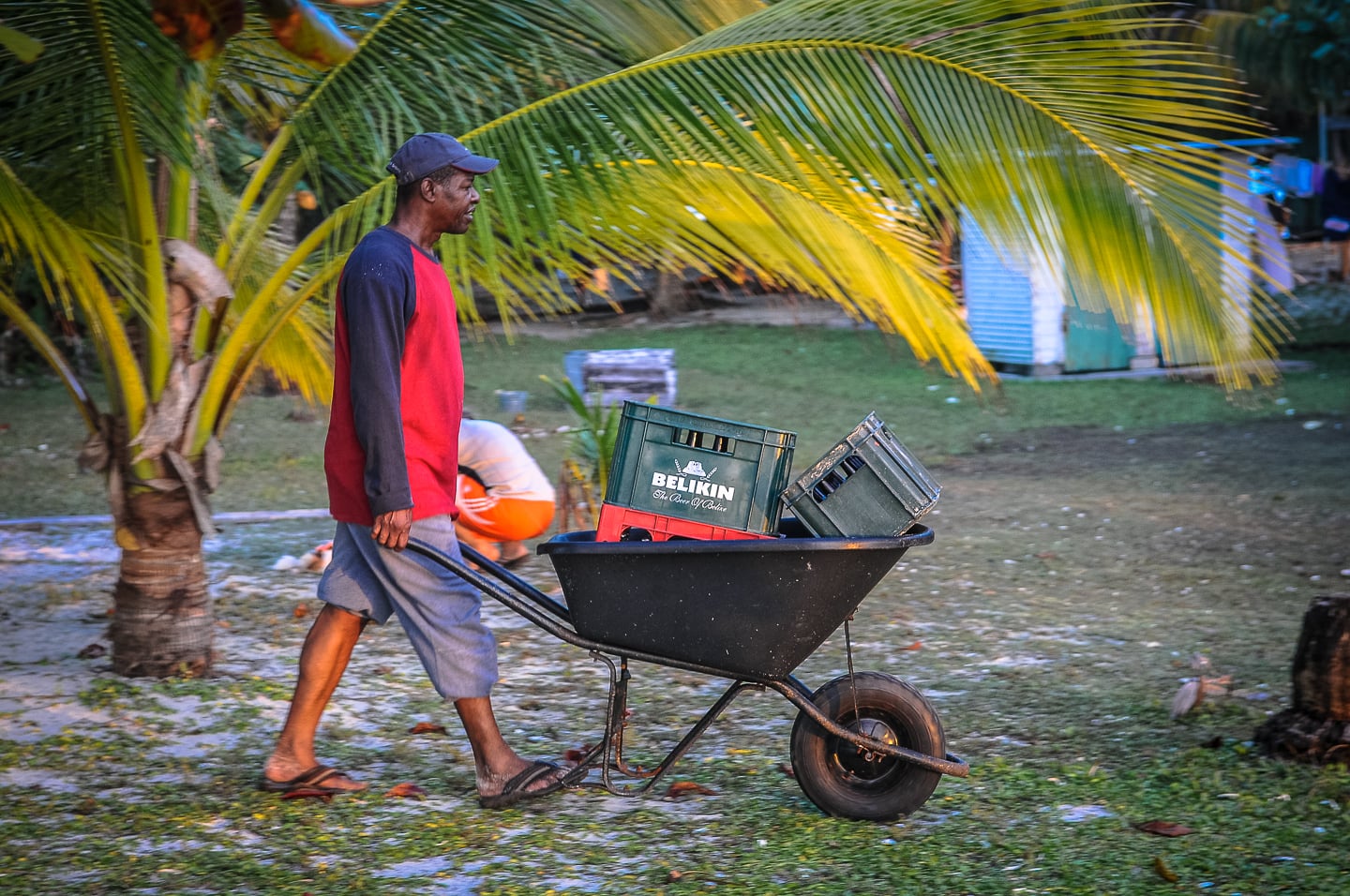 Day Two: Fun in the Sun
I was up shortly after sunrise, but one of the last to awake since most of the group had gone off reef fishing on the boat. I couldn't remember the last time I had the luxury of sleeping in a bit, so passed on the 5:45 wake-up.
After a refreshing outdoor shower across the way, I headed to Sandy's to grab a cup of coffee and enjoy having the beach all to myself.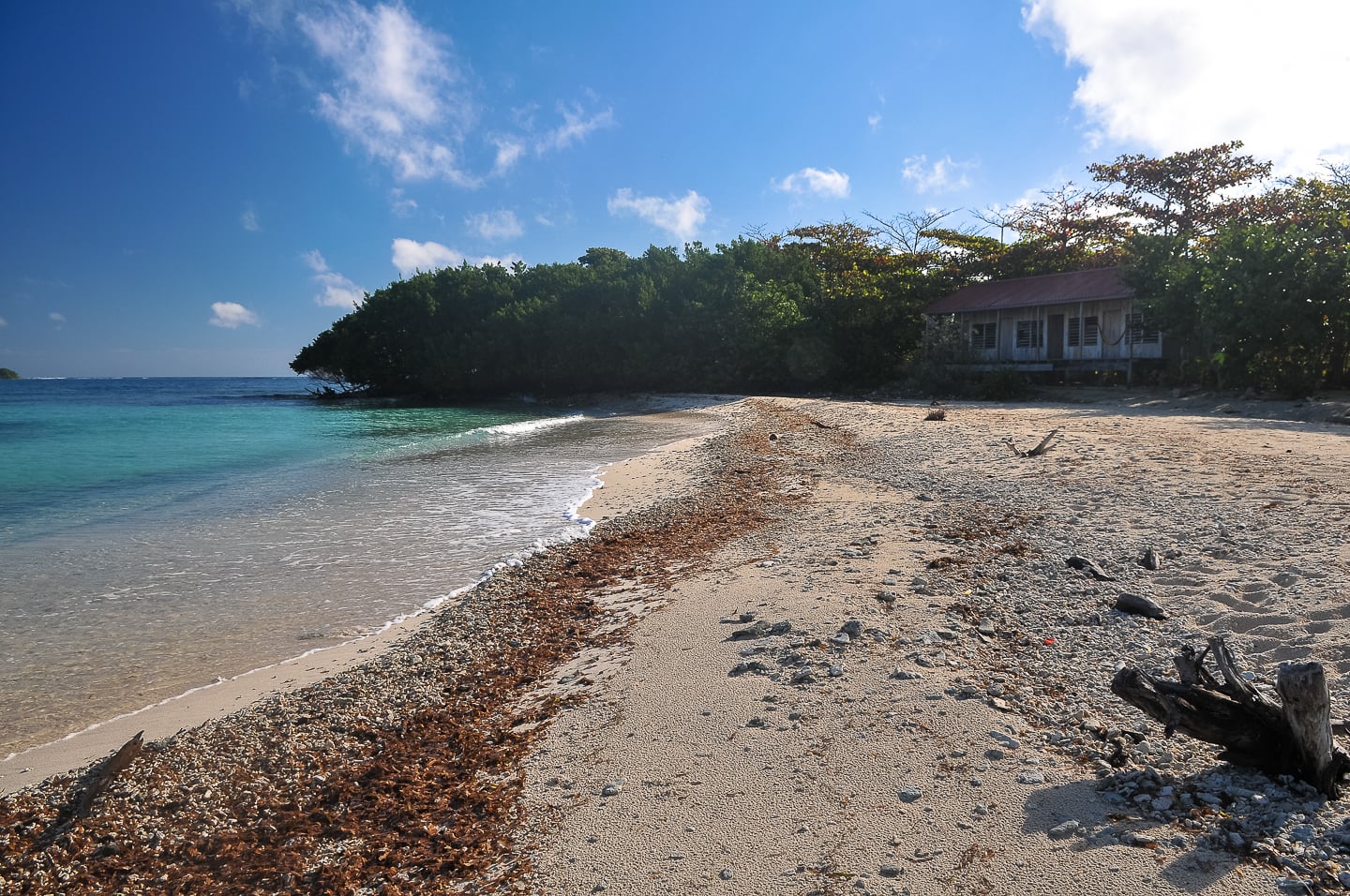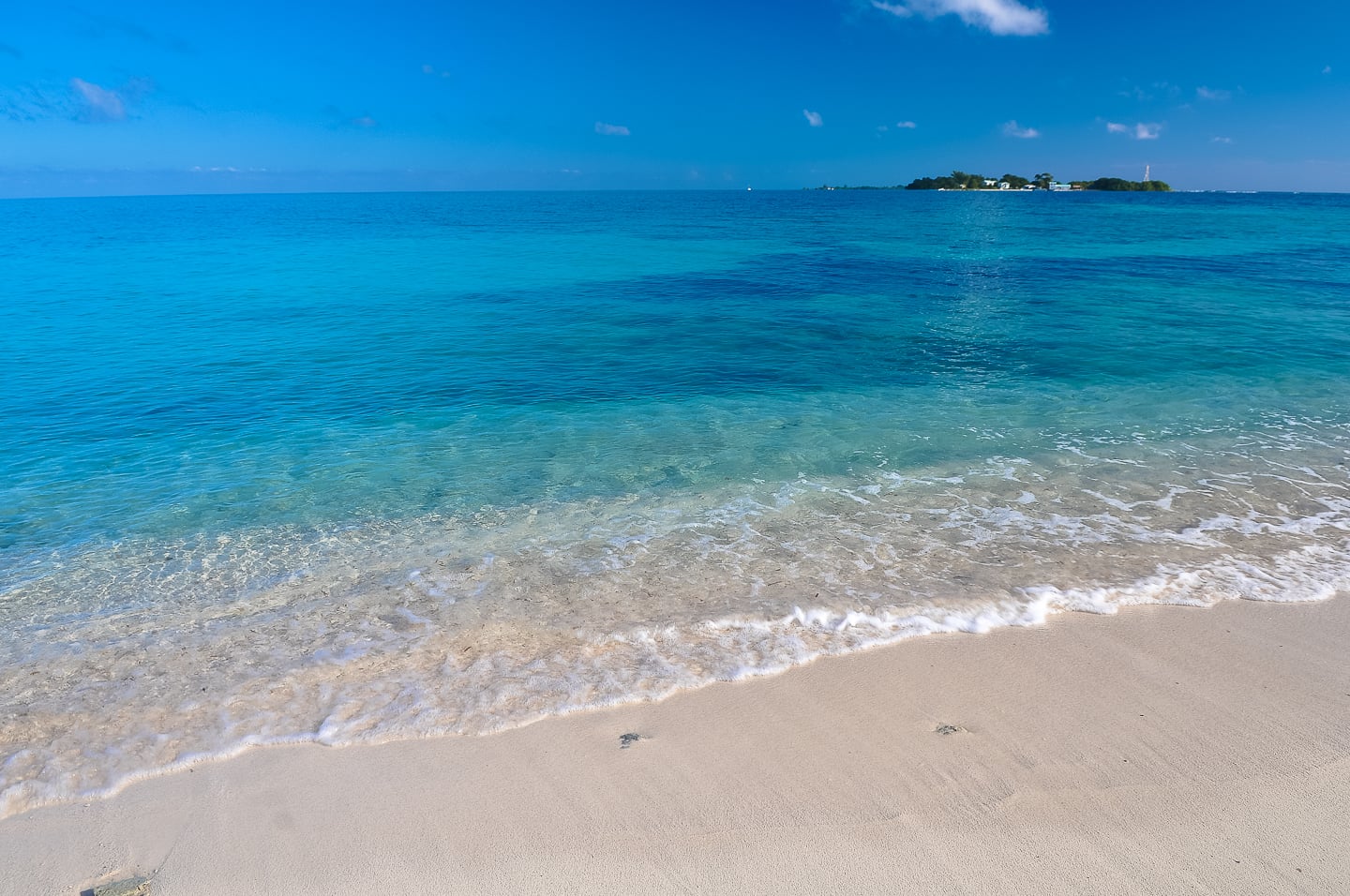 Ms. Sandy fries up a mean Belizean Fry Jack, among other island specialties based on stock, season, and whatever the catch of the day is.
We spent the rest of the day hanging out at the beach and doing two awesome snorkel trips along the nearby reef.
The morning trip was to a century-old shipwreck in about 10-15ft. of water, and the afternoon trip was in an area between Hunting and Nicolas Cayes, which offered tall coral pinnacles and a nurse shark or two.
We also saw Sergeant Majors, Queen and Grey Angelfish, Squirrelfish, Groupers, and a colorful Stoplight Parrotfish. Some of the others in our group spotted a Green Moray eel and small Southern Stingray, but Lori and I did not.
Visibility was excellent, especially on the morning trip.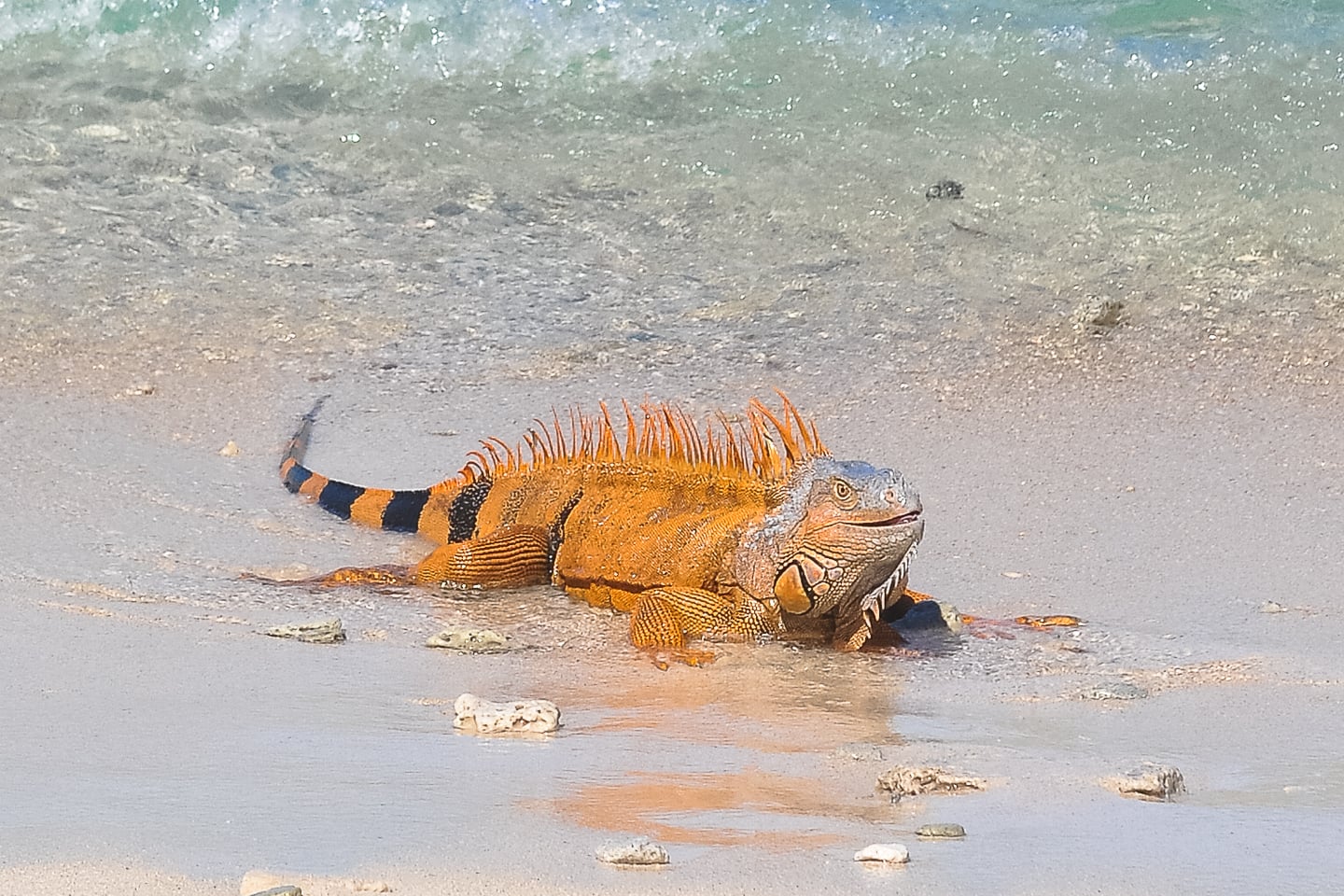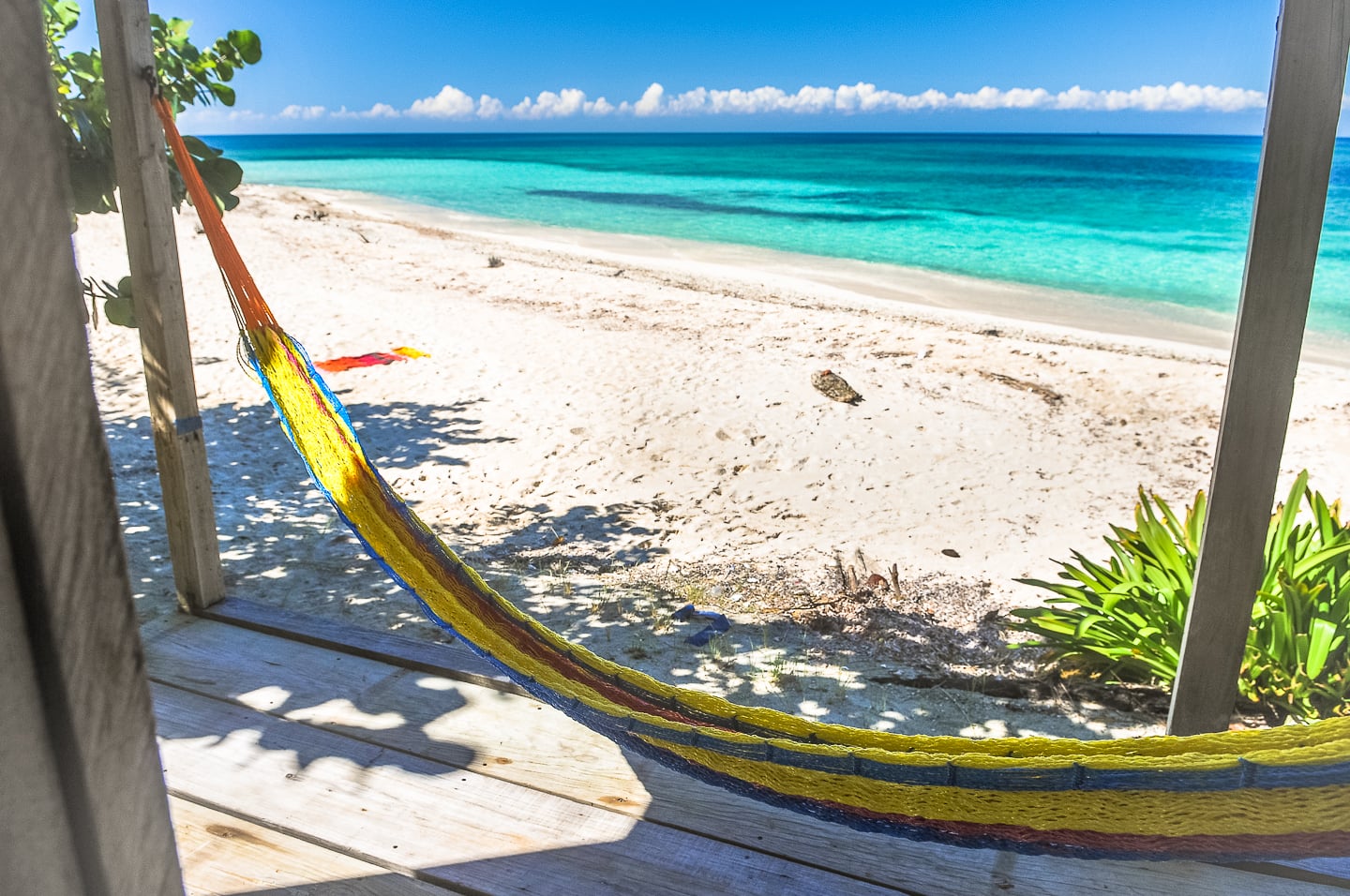 Of course, some of the island's exotic wildlife didn't require donning a mask and snorkel. One such highlight was seeing a large orange iguana who decided to catch some rays on the beach around midday playing in the surf for over twenty minutes.
Around sunset—and after the day's catch had been cleaned and prepared for dinner—the Garbutt's crew whipped us up some strong and tasty coco locos (young coconut with rum).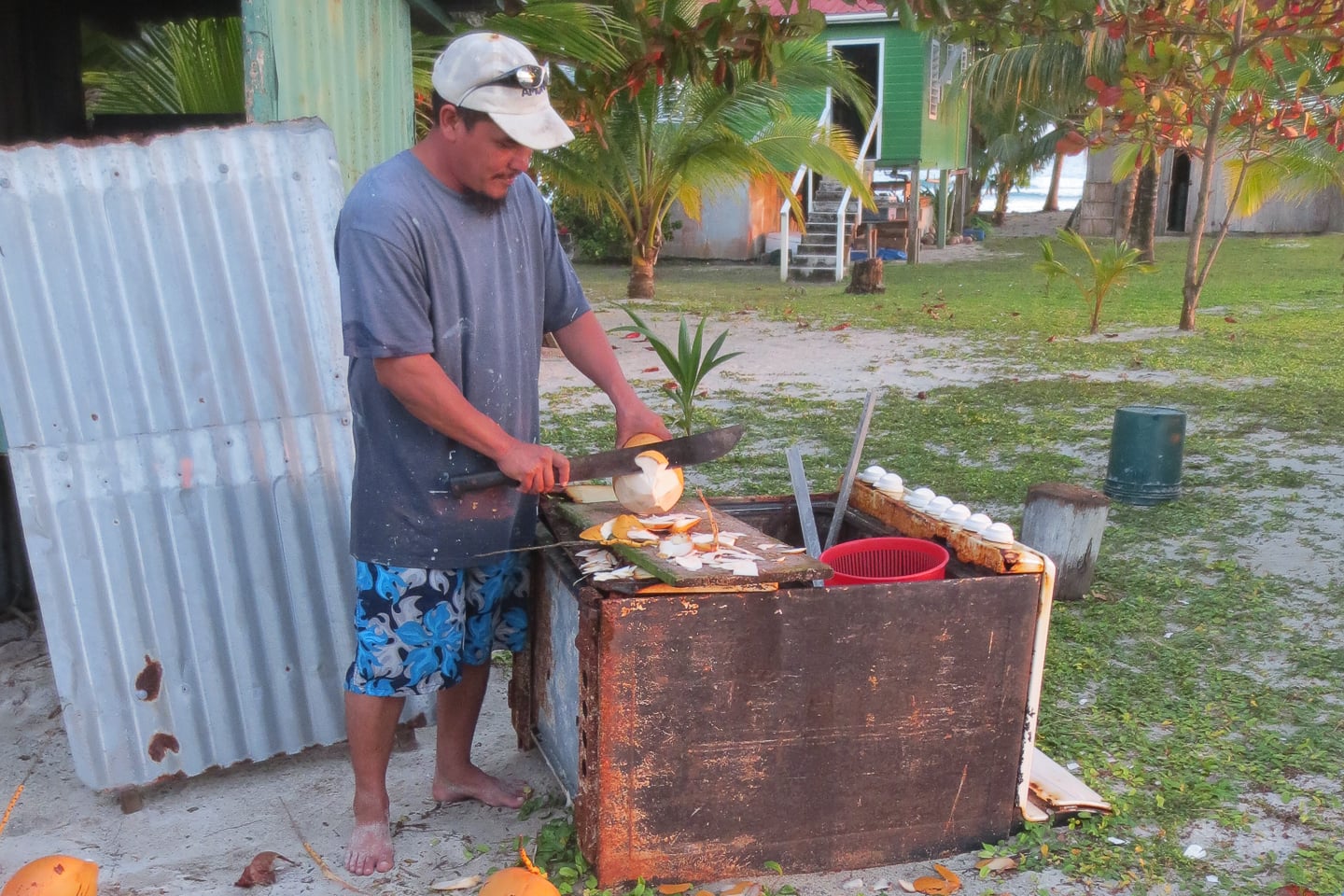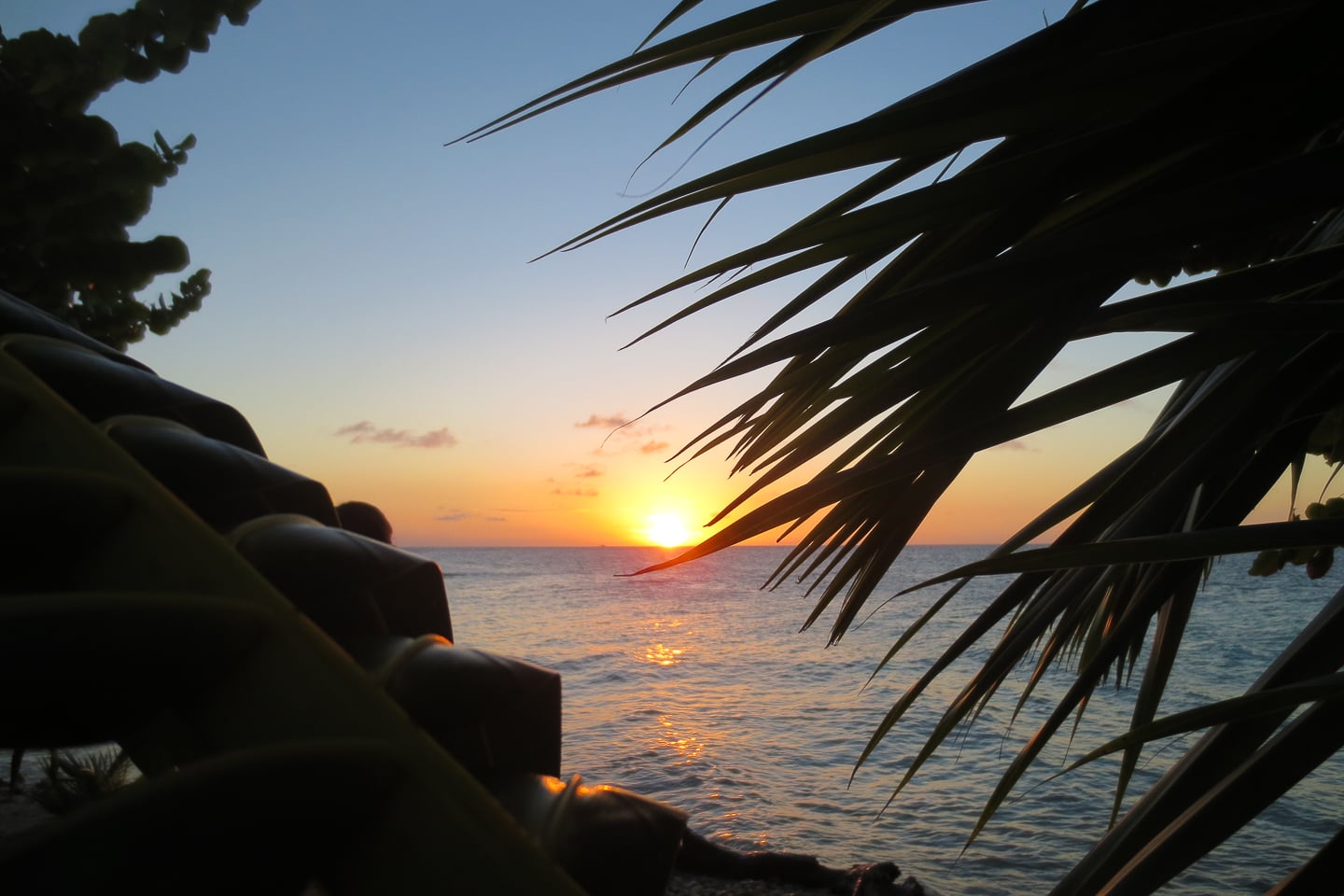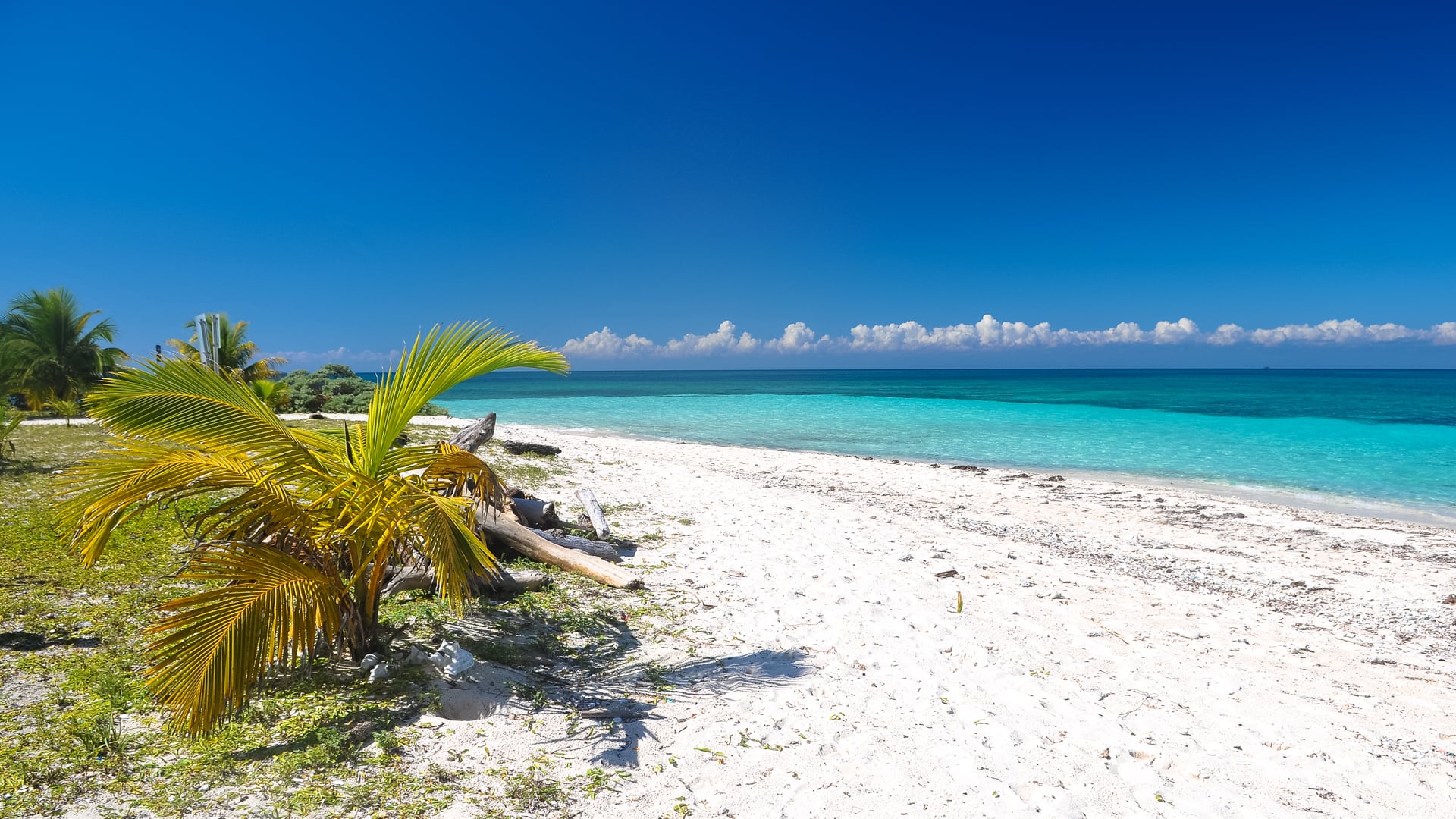 Day Three: Departure
After a morning of alternating between hammock time, swimming, and beach lounging, it was time to pack up and head back to the mainland.
But not before a raging thunderstorm whipped it's way over the island, forcing everyone to seek shelter for thirty minutes.
Apparently, the island was not through with us yet.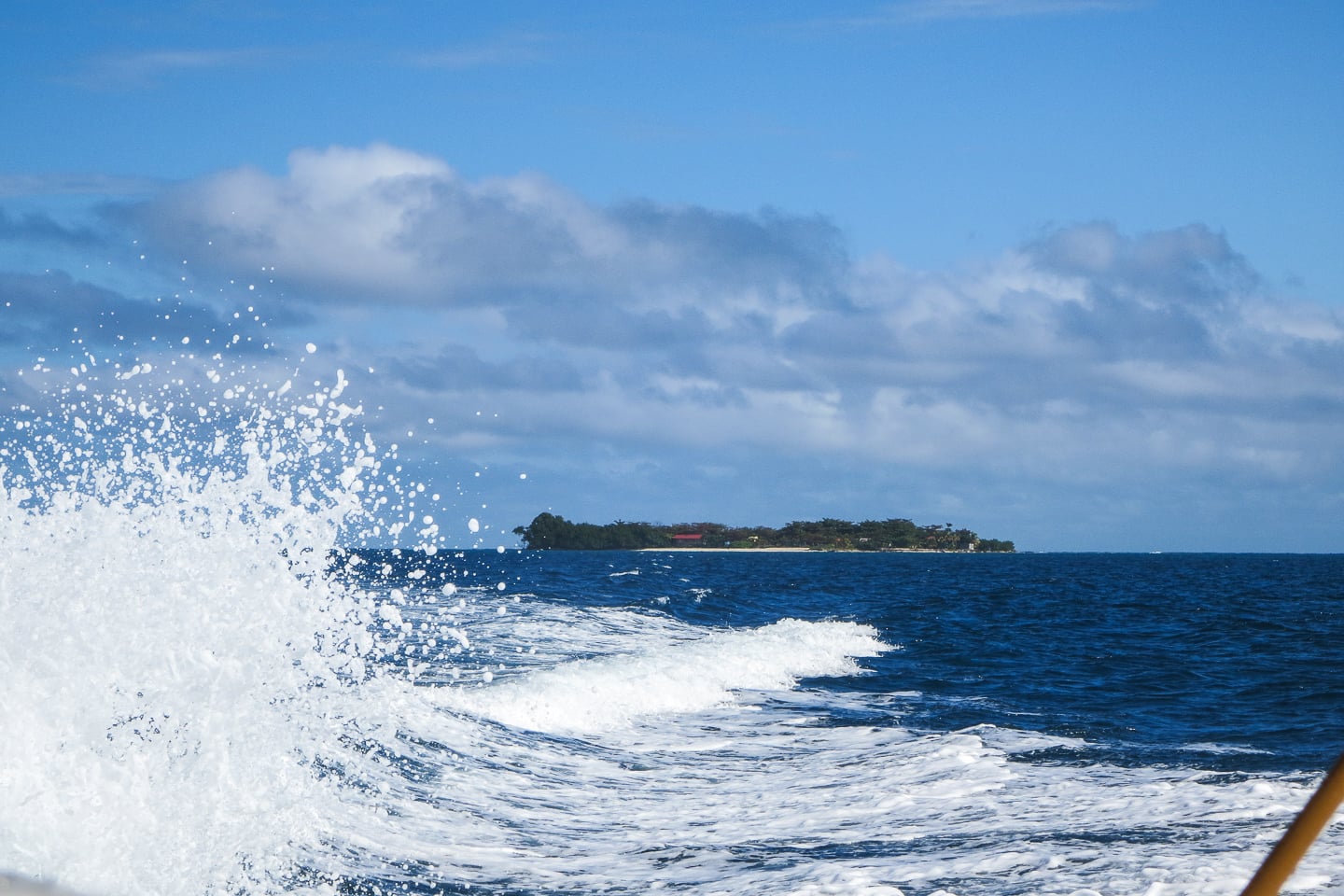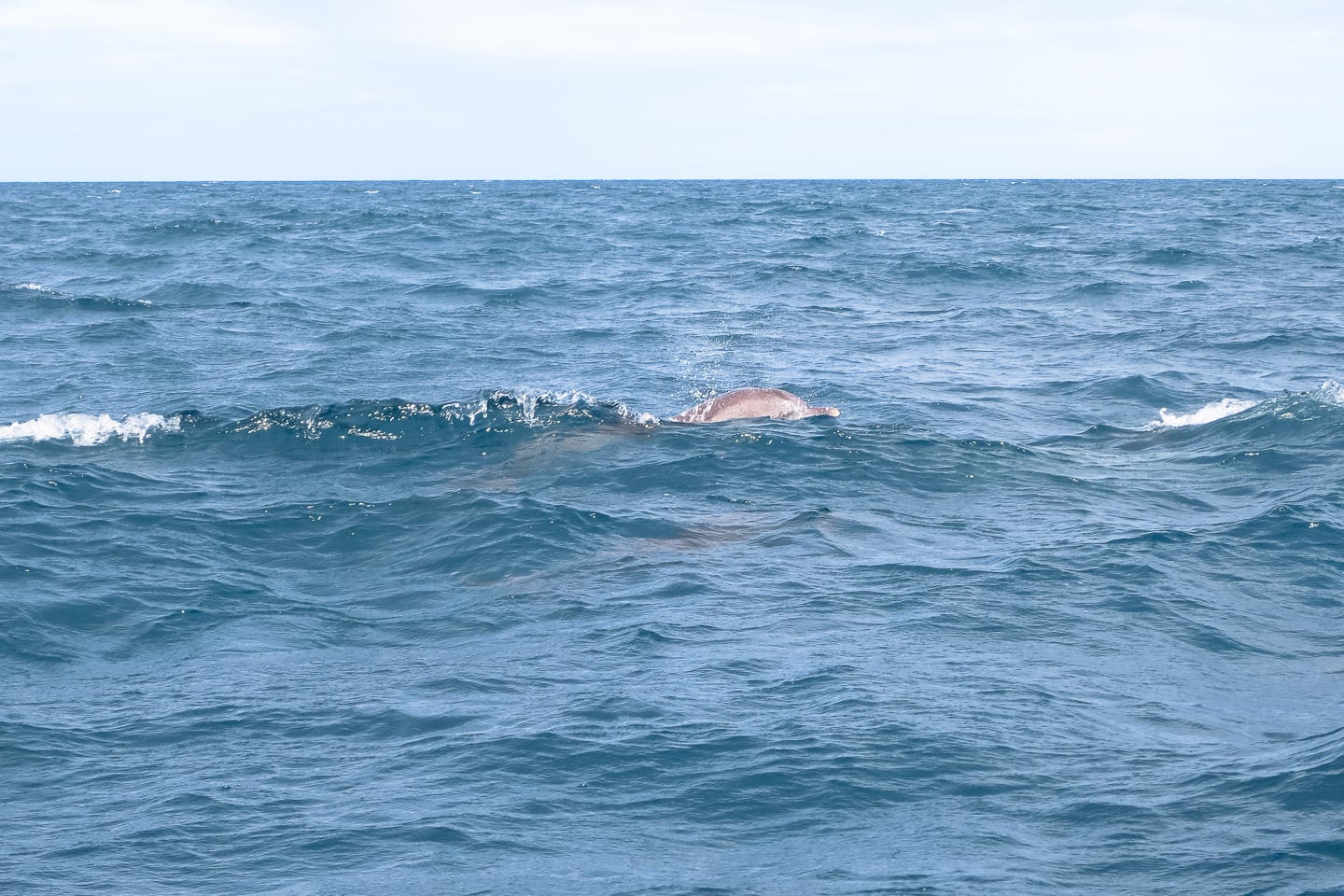 Midway through our 90-minute boat ride back to Punta Gorda, a pod of dolphins intercepted us, frolicking around the skiff for a short while before swimming off into the distance.
Seas were favorable with blue skies all the way back to port.
Weekends rarely get better than that, folks.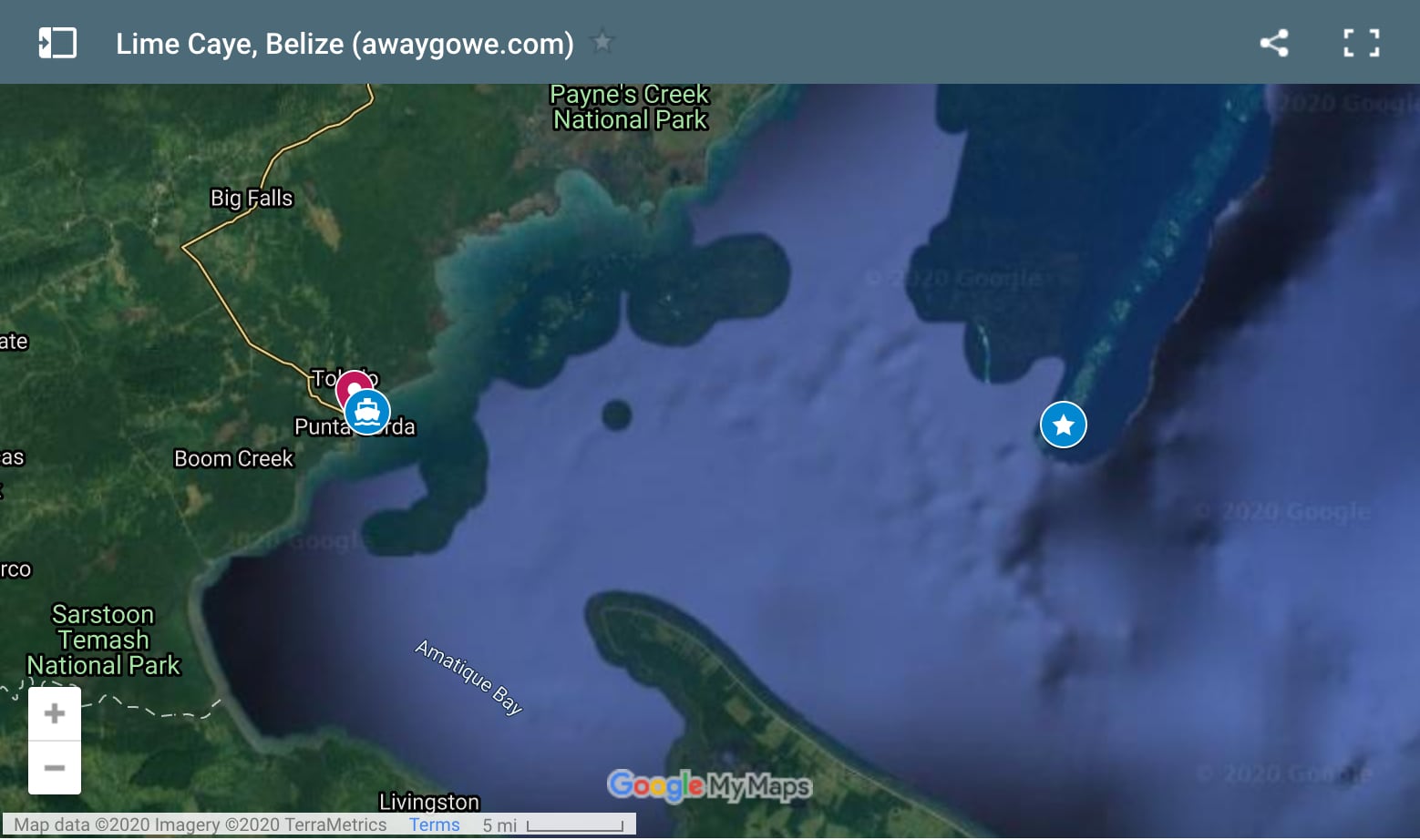 Getting to Lime Caye
| | |
| --- | --- |
| NEAREST CITY: | Punta Gorda, Toledo District, Belize |
| DEPARTURE POINT: | Garbutts Fishing Lodge, Hopeville, Punta Gorda |
| PHONE: | (+501) 6043548 or (+501) 7220070 |
| TRANSPORT: | Large private open-top skiff |
| DISTANCE: | About 50 nm from Punta Gorda |
| TRAVEL TIME: | 60-90 minutes, depending on conditions |
| TRAVEL TIPS: | Reserve in advance. Meds recommended if you are prone to seasickness. |
Punta Gorda (Toledo) Climate
High/Low Temperature (Average, Fahrenheit); Sea Surface Temperature (Average, Fahrenheit); Relative Humidity (Average, Percent).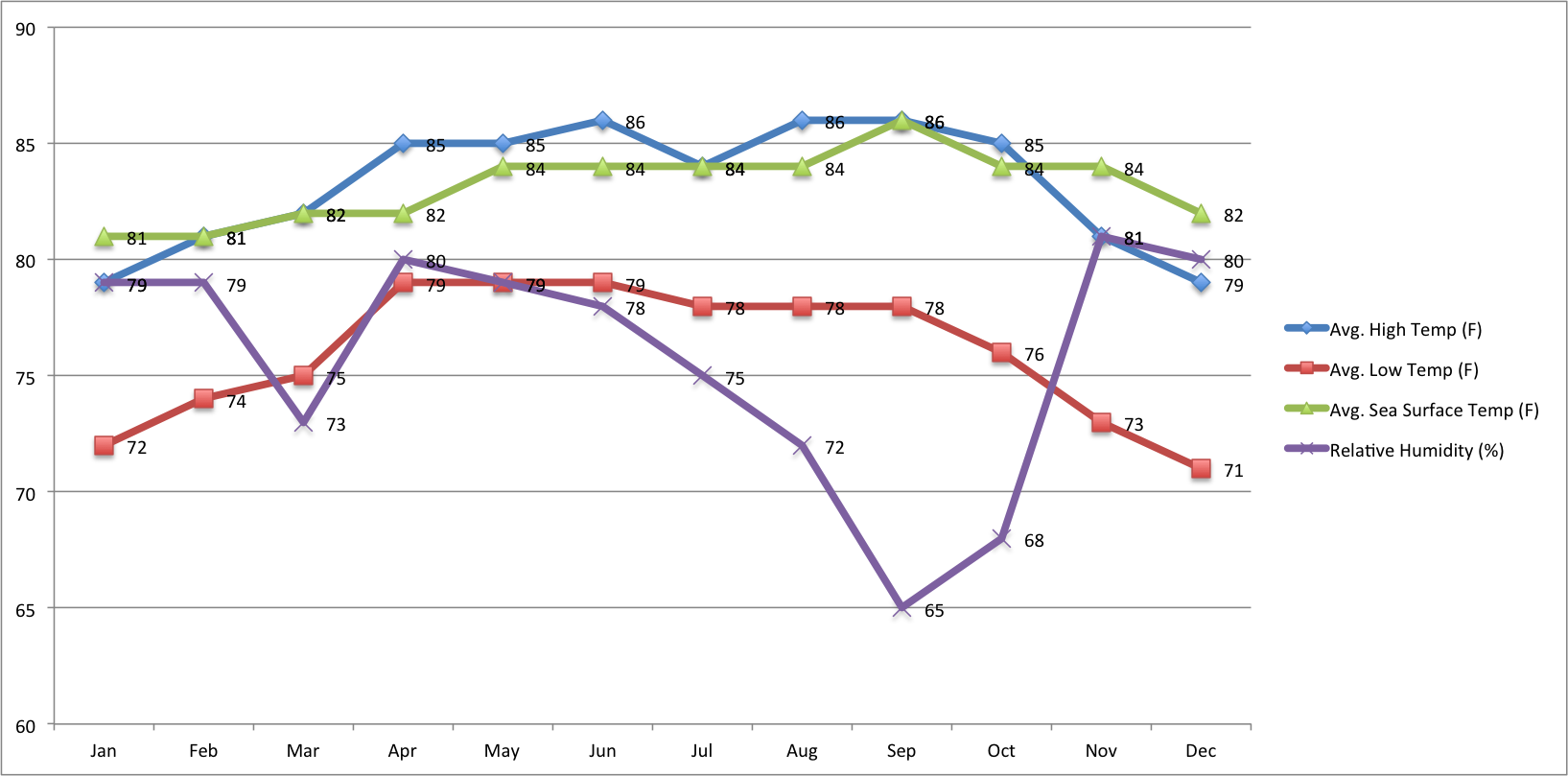 Rainfall (Average, Inches); Wind Speed (Average, Miles Per Hour).

Lodging & Services
| | |
| --- | --- |
| TYPE: | Rustic bungalow, All-Inclusive |
| RATES: | Call for current rates — cheaper with a group. |
| FACILITIES: | Shared toilet & "cold" shower; Common area/ dining hall |
| FOOD: | Meals included; Snack shack and bar available |
| ACTIVITIES: | Nearby snorkeling, fishing, swimming, relaxing |
| ELECTRICITY: | Limited. Phone charging possible. Sea-breeze-cooled rooms. |
Where to Stay in Punta Gorda
At first glance, there might not seem to be a lot of lodging options in Punta Gorda. Dig a little deeper, however, and you'll find some real gems. If you don't know the lay of the land, choosing the right place can seem like an impossible task.
Lucky for you, we've done the hard part for you!
Here are our top choices for places to stay in and around Punta Gorda.
Keep in mind that Belize is not an ultra-budget destination, so you won't find prices along the lines of Guatemala.
St. Charles Inn
Our top budget pick in the center of PG Town. Rated 8.3/10 on Booking.com. Click here for details.
Coral House
Our top mid-drange pick in PG Town. Wonderful waterfront property with pool, but a bit on the pricier side. Rated 9.3/10 on Booking.com. Click here for details.
Sun Creek Lodge
Our top pick a bit out of town. Nice thatch bungalows in a jungle setting easily accessible from the Southern Highway. Rated 9.5/10 on Booking.com. Click here for details.
Cotton Tree Lodge
Another excellent option a bit farther afield. Great jungle lodge on the banks of the Moho River, but takes a bit more effort to get to. Rated 8.6/10 on Booking.com. Click here for details.
Don't Forget Travel Insurance
The vast majority of travelers in Belize don't encounter serious issues with safety and security. With that said, stuff happens — severe weather, road accidents, broken bones, tropical diseases, etc.
Don't risk it. Get good international travel insurance so you can sleep easy and enjoy your trip to Belize! We use and recommend World Nomads.
21 July 2019
10 Nov 2017