Planning the perfect honeymoon? Look no further than Saint Lucia! We've put together the ultimate guide to the BEST St Lucia honeymoon resorts you've been dreaming of⏤
⏤featuring the most spectacular luxury resort stays in St Lucia for the most special occasions (including weddings!).
Why Honeymoon in St Lucia?
Saint Lucia is consistently ranked one of the world's top honeymoon destinations—and it's no wonder why!
It would be hard to find a more seductive, romantic, and idyllic place to kick off your life together with the one you love.
Lori and I are so excited to share with you our hand-picked list of breathtaking resorts with all the amenities for a truly unforgettable tropical island getaway.
In our list, you'll only find the absolute highest-rated, best-reviewed cream of the crop – the handful of legendary resorts that have catapulted St Lucia to honeymoon star status!
Every property on our list consistently receives exceptional reviews and accolades for their service, hospitality, amenities, and location as a honeymoon and wedding destination.
Not to mention these honeymoon resorts are simply spectacular to behold!
Whether you're looking for the quintessential Caribbean beach retreat in paradise, or jaw-dropping digs set against St Lucia's majestic UNESCO World Heritage-listed Pitons, you'll find it in our list below.
So pack your island bag, and prepare for the most amazing Caribbean getaway imaginable at St Lucia's best stays.
Short on Time? Here's a Peek at Our Hand-picked List
Read on for all the juicy details (and photos) and start packing for your epic St Lucia honeymoon today!
We're reader supported and may earn a commission from affiliate links on our site at no cost to you.
---
You May Also Like: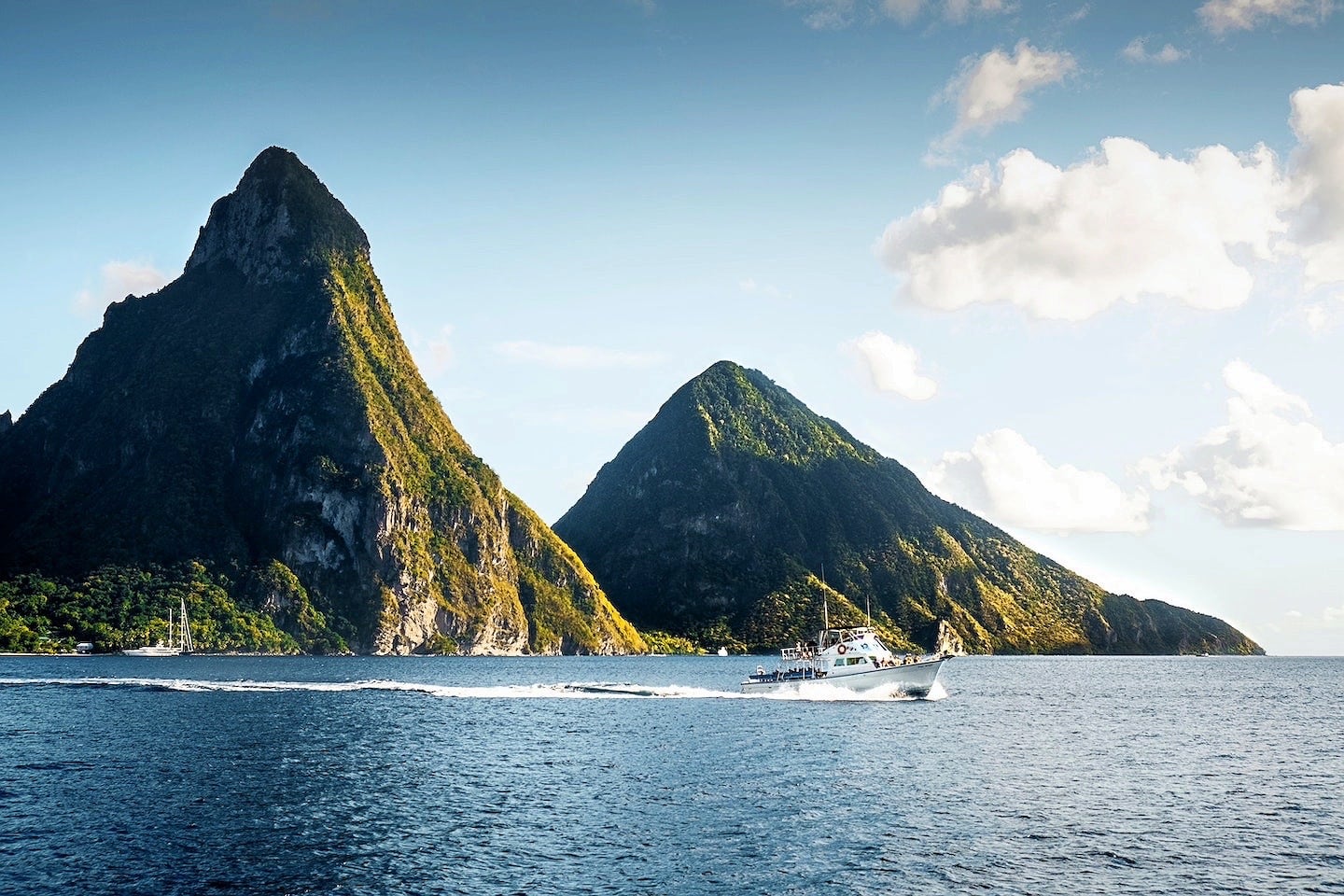 ---
7 Best St Lucia Honeymoon Resorts
---
Finding your happy place in spectacular St Lucia will be a breeze with our guide to the very best St Lucia Honeymoon Resorts available RIGHT NOW (in no particular order).
Whether you are looking for an action-packed island adventure or a relaxing couples rendezvous in paradise, you'll find it all below.
---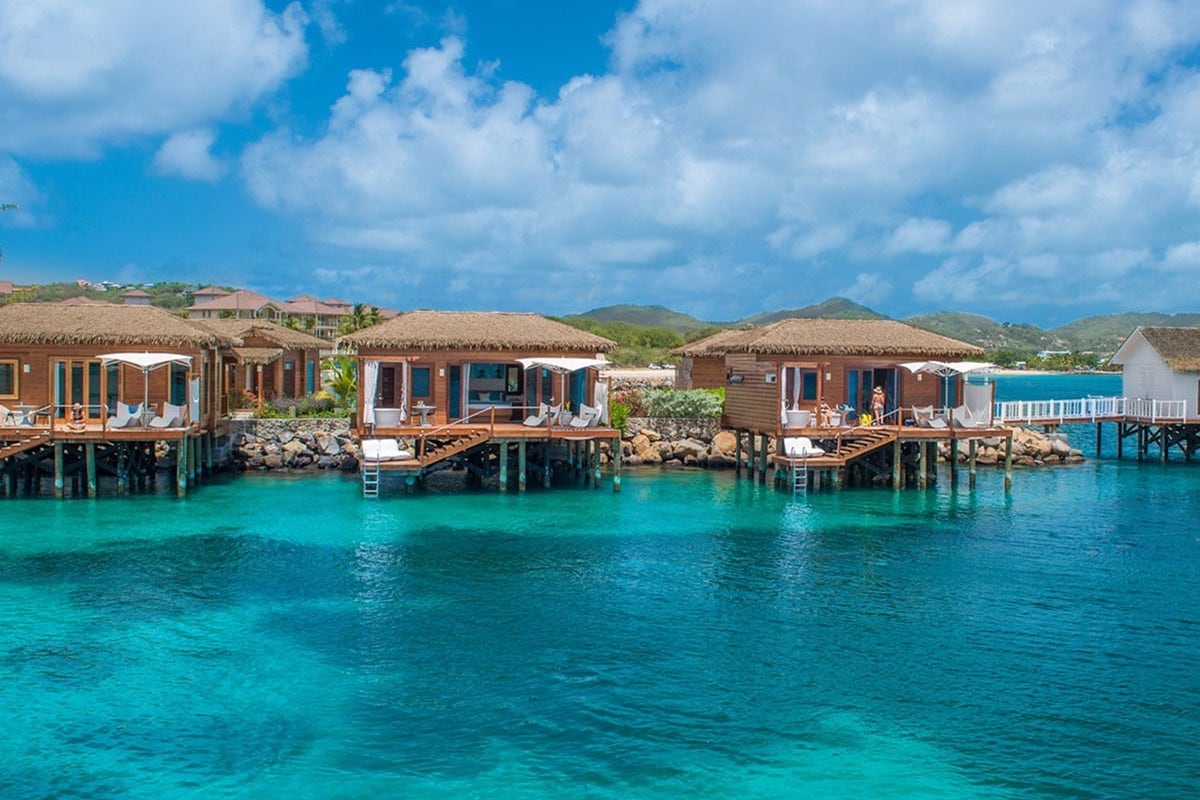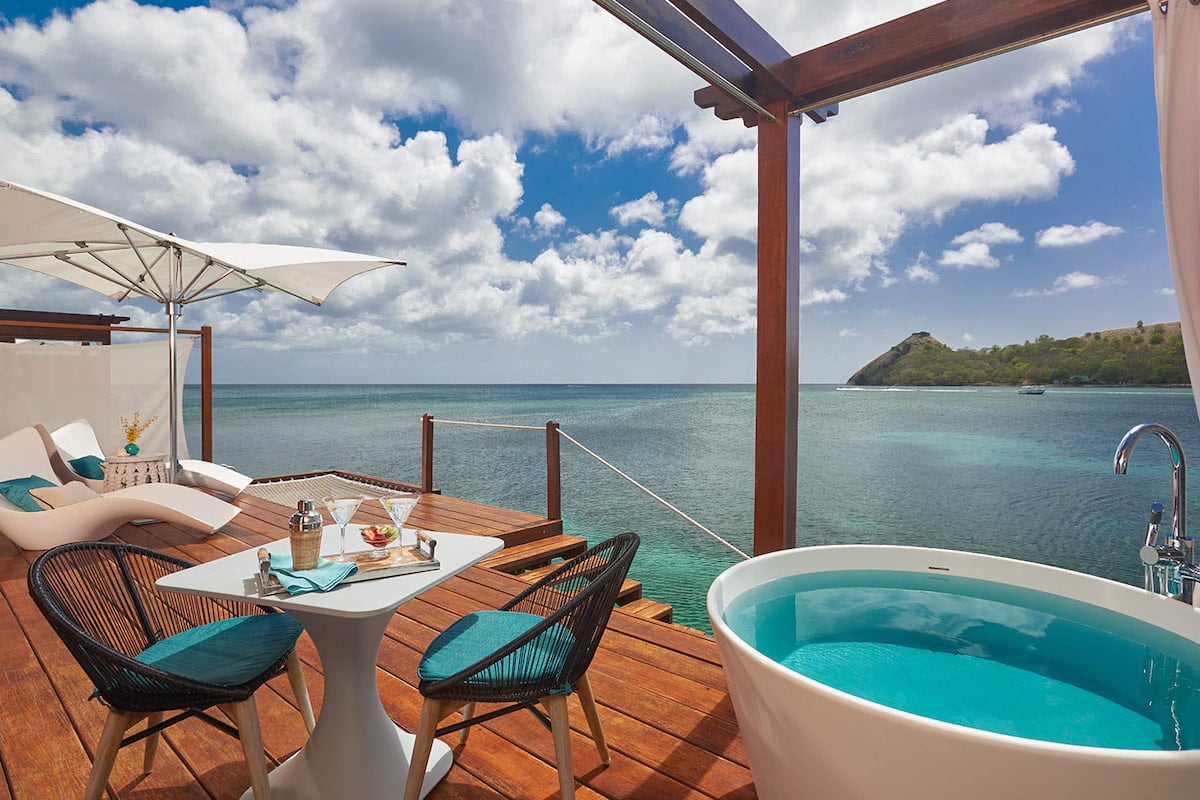 Sandals Grande St. Lucian
|

Gros Islet

We start our tour of best St Lucia honeymoon resorts with a brand that's synonymous with luxury honeymooning in paradise.

And the Sandals Grande St. Lucian might just be the best Sandals resort on the island for honeymooners!

Their 9 newly christened luxury Tahiti-style overwater bungalows, legendary all-inclusive honeymoon package, and one of the most photogenic stretches of beach in Gros Islet will leave you breathless.

Located on its very own peninsula (with stunning beaches on both sides), this spectacular adults-only stay not only looks like it leaped out of a postcard, but also offers luxurious amenities others simply don't – such as their Elite Butler service, private outdoor Tranquility Soaking Tubs, and so much more.

Literally everything for the perfect honeymoon!

HOT TIP ▸ It may not surprise you that the most desirable rooms at Sandals Grande St. Lucian get booked up quick, so you'll want to reserve your stay as early as possible to avoid disappointment.

▸ Check Rates & Availability: Sandals.com
---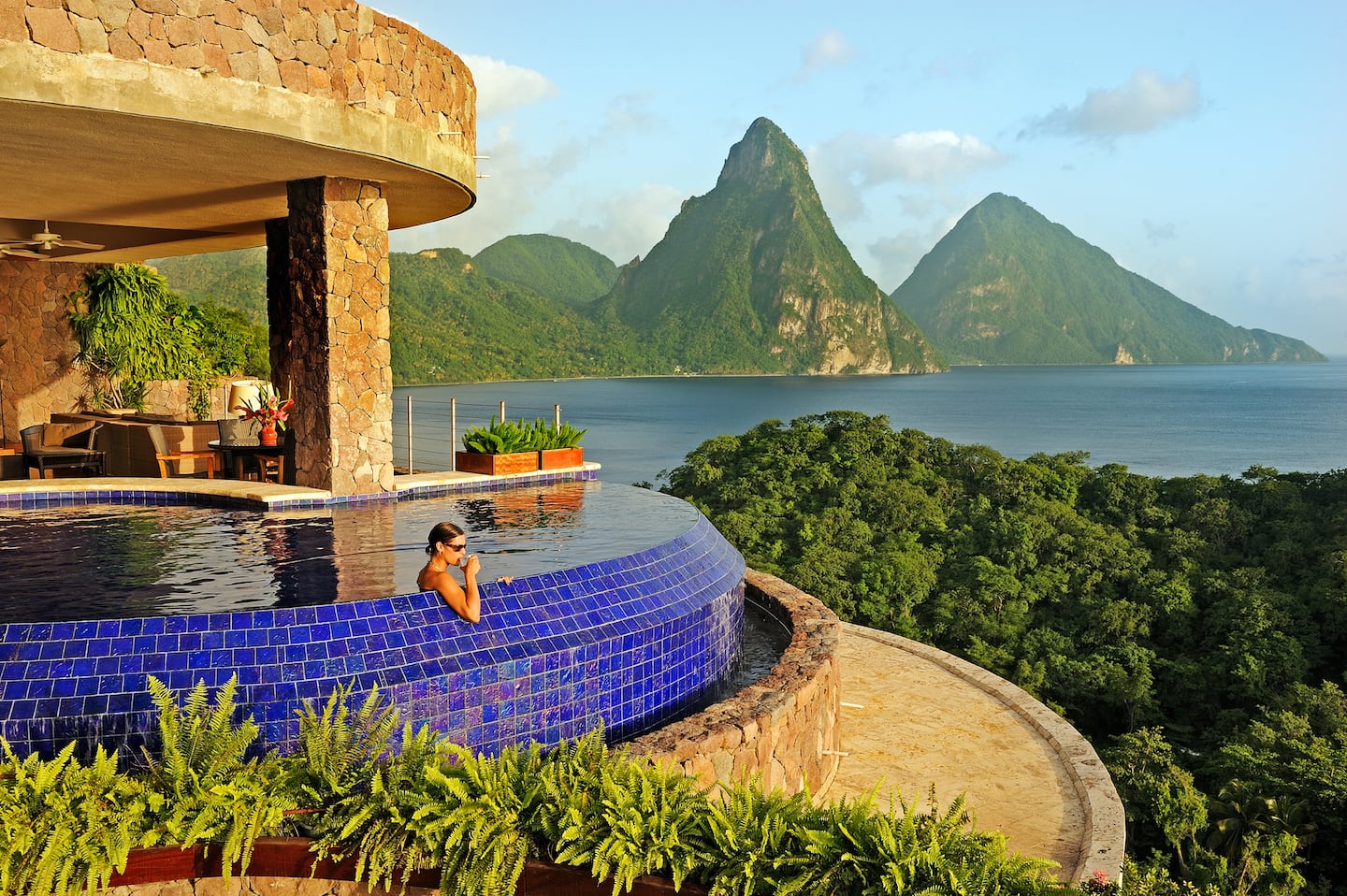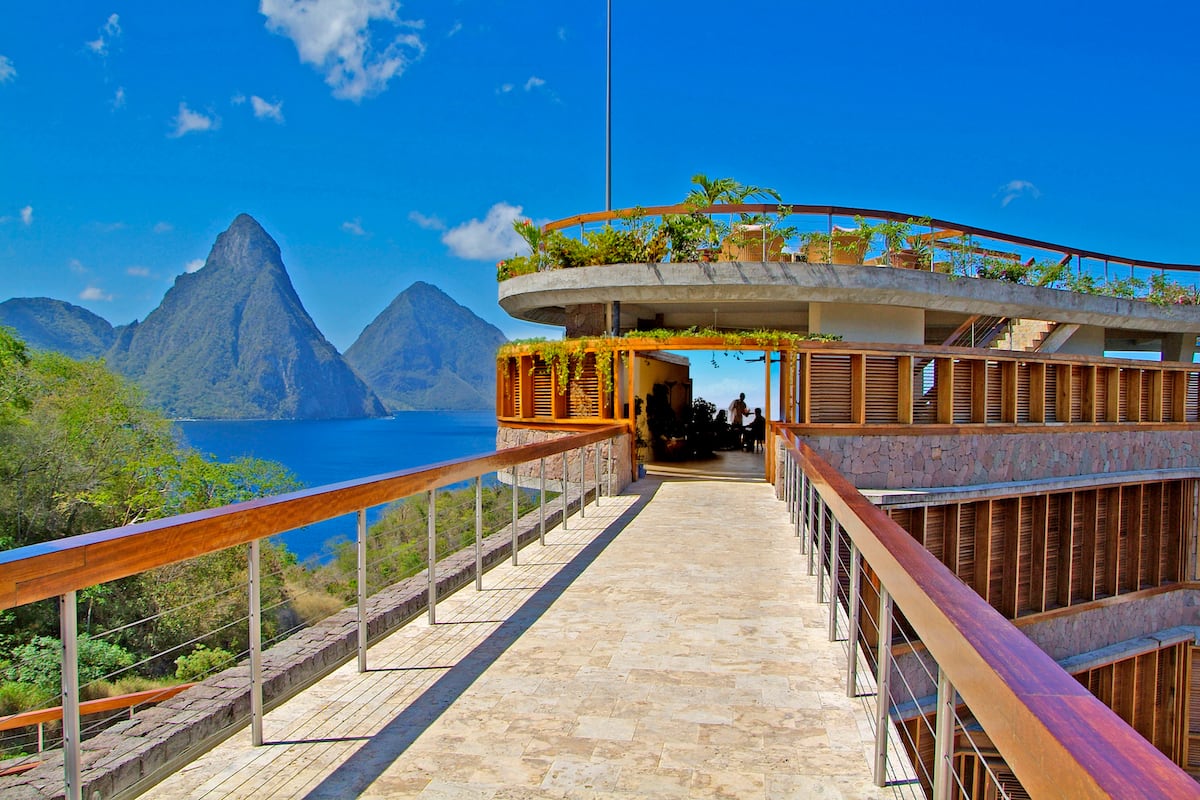 Jade Mountain Resort
|

Soufriere

Conceptualized and designed by its architect owner, Jade Mountain is a natural extension of its beach-front sister resort, Anse Chastenet, rising high above two crystal-clear Caribbean bays with dramatic views of the Pitons.

Jade Mountain features 29 luxury "sanctuaries" with a contemporary open-air design that blends seamlessly with the lush natural surroundings. Each sanctuary offers jaw-dropping views and many even offer a private infinity pool.

Feast on local and international cuisine at Jade Mountain's own acclaimed restaurant, or take advantage of one of the three superb restaurants at Anse Chastenet (including a vegetarian restaurant using local and organic ingredients).

In fact, all of Anse Chastenet's amenities are available to guests of Jade Mountain, including two stunning beaches and an array of activities such as scuba diving, kayaking, hiking, biking, bird-watching, sunset sailing and many others.

If luxury, world-class design and amenities, and incredible Piton views are your aim, you can't go wrong with a honeymoon stay at Jade Mountain.

HOT TIP ▸ Spring for a sanctuary with a plunge pool! Honeymoon reviewers agree its worth every penny.

▸ Check Rates & Availability: Booking.com | Hotels.com
---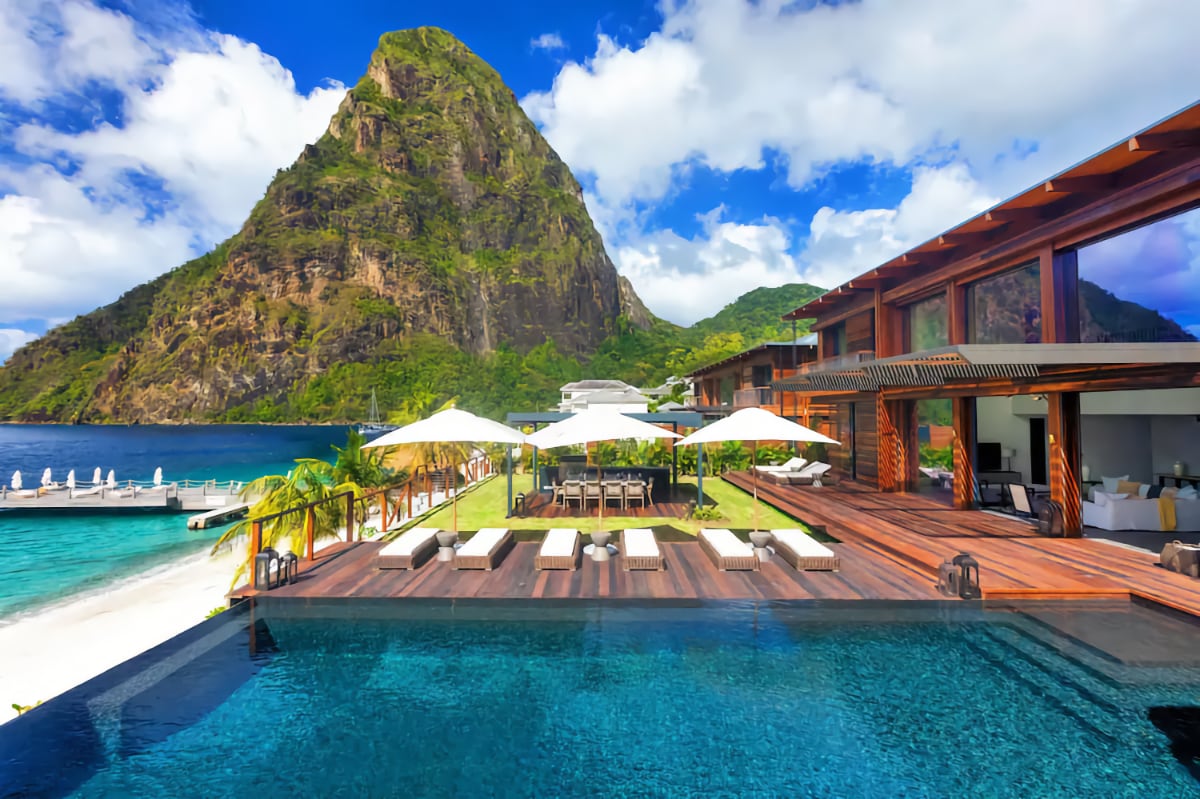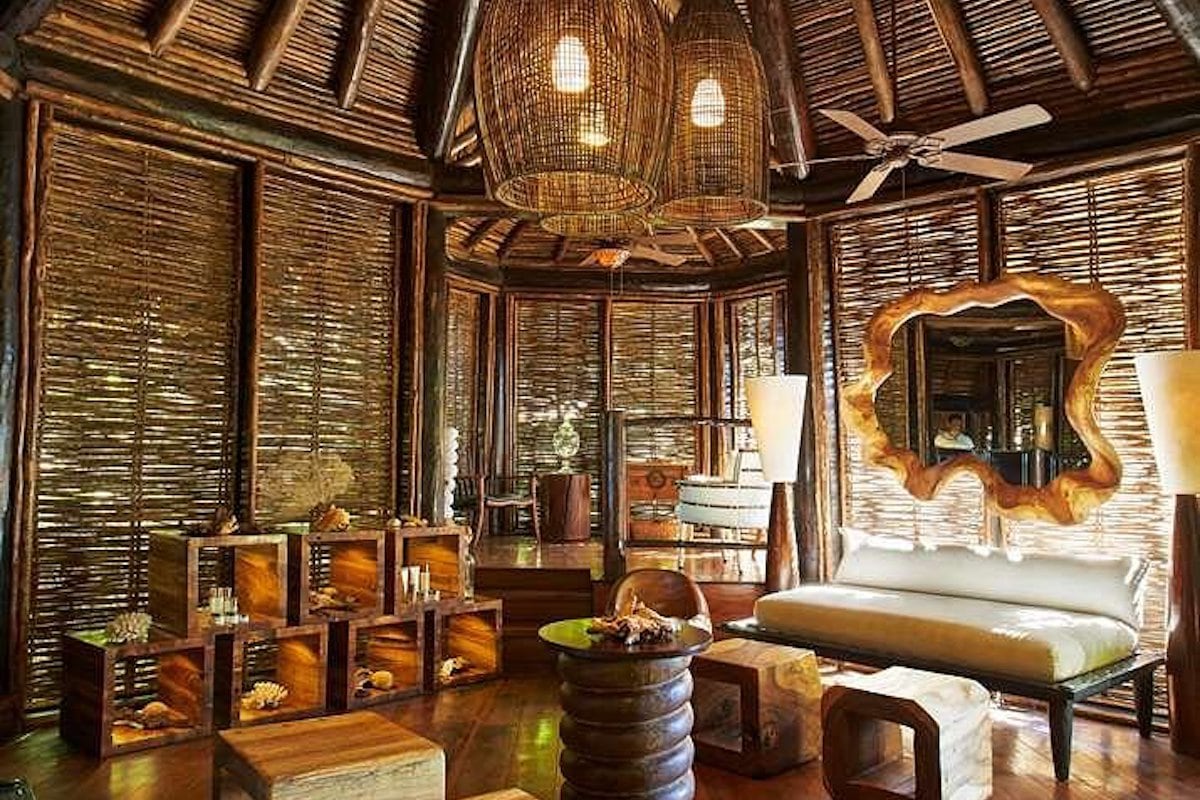 Sugar Beach, A Viceroy Resort
|

Soufriere

Located amongst the majestic UNESCO World Heritage-designated Pitons, the Sugar Beach Viceroy Resort stretches out along two jaw-dropping white sands Caribbean beaches fringed by 100 acres of tropical rainforest.

As you might imagine, this 5-star resort is nothing short of exceptional.

Mind-blowing views? Oh yeah. Luxury cottages, villas, and beachfront bungalows? You bet! Private plunge pools? Check. Personalized butler service. Yep, that too!

Plus top-rated spa, world-class waterfront dining options, full Scuba center, and all the modern amenities you'd expect from a 5-star resort.

A true bucket list stay and dream destination for the perfect St Lucia honeymoon.

▸ Check Rates & Availability: Booking.com | Hotels.com
---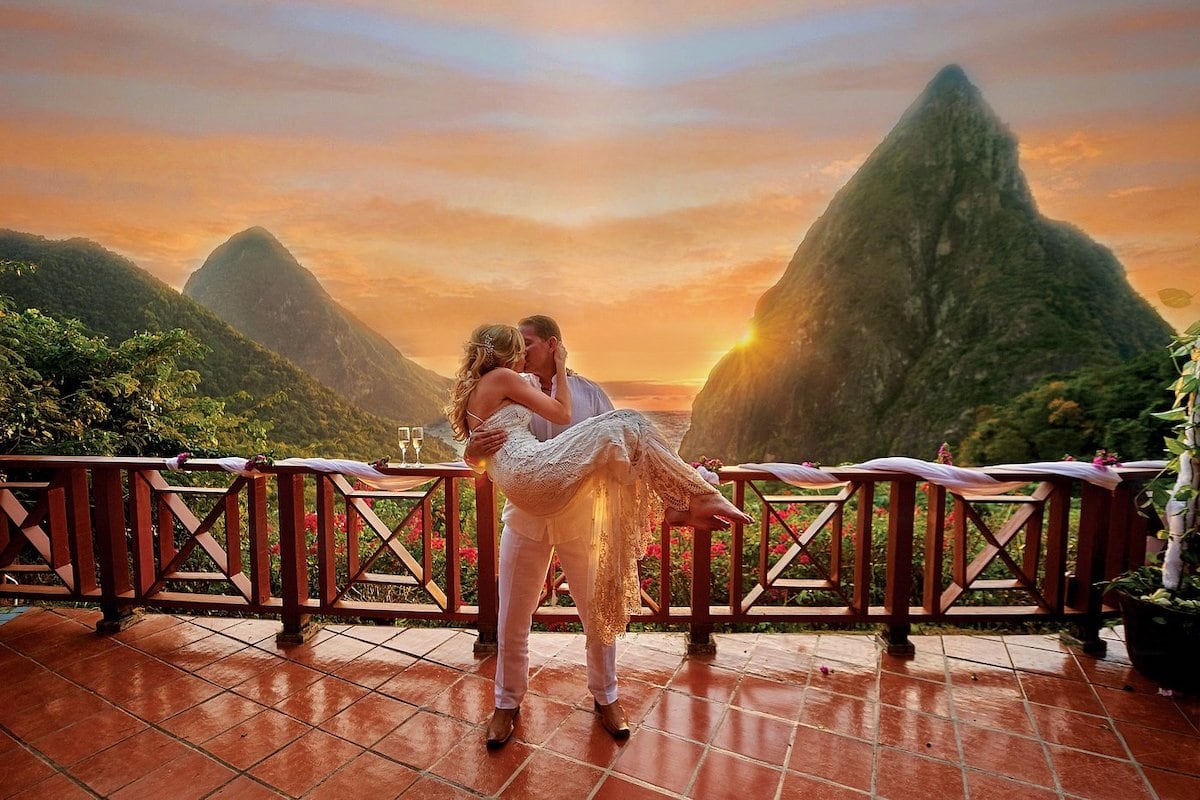 Ladera Resort
|

Soufriere

Have you ever dreamed of basking in your own private luxury suite on the side of a lush volcano 1,000 feet above the Caribbean Sea? For guests at Ladera Resort, that's just the beginning.

Balancing an eco-conscious philosophy with modern luxury, Ladera is a St Lucia honeymoon resort stay like no other.

Rooms utilize an open wall design, meaning they've quite literally done away with that pesky sea-facing fourth wall (along with not-so-eco-friendly A/C), inviting the wonderful St Lucia Caribbean Sea breeze and stunning Pitons into your room.

Feeling hungry? Head over to Ladera's award-winning Dasheene Restaurant, consistently rates as one of the best restaurants in St Lucia and beyond.

All-inclusive options, plunge pools, and choice of mountain or sea view available.

HOT TIP ▸ As mentioned, each room utilizes an open wall design, affording unparalleled views and maximum breeze. But the amount of breeze does vary from room to room. Temps cool off considerably at night, but if you plan to visit in the warmer months (May – October) and plan to hunker down in the day time, request a room with superior airflow.

▸ Check Rates & Availability: Booking.com | Hotels.com
---
---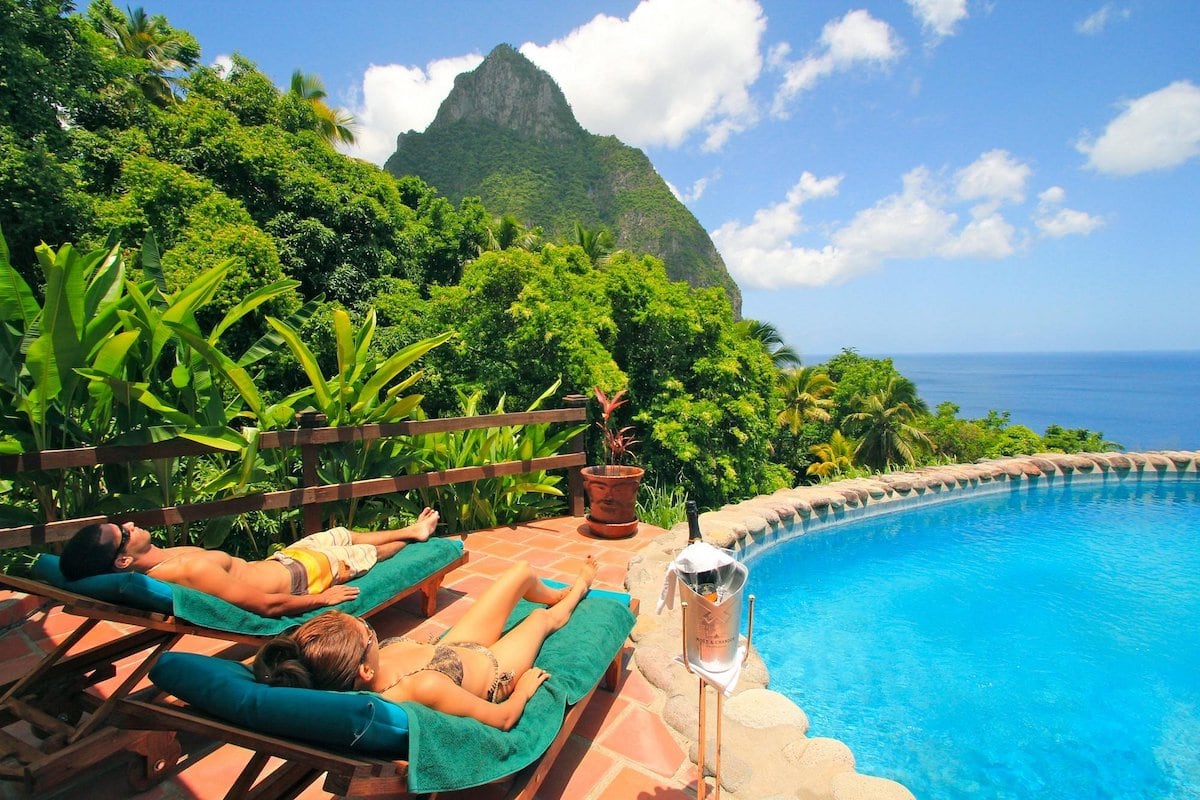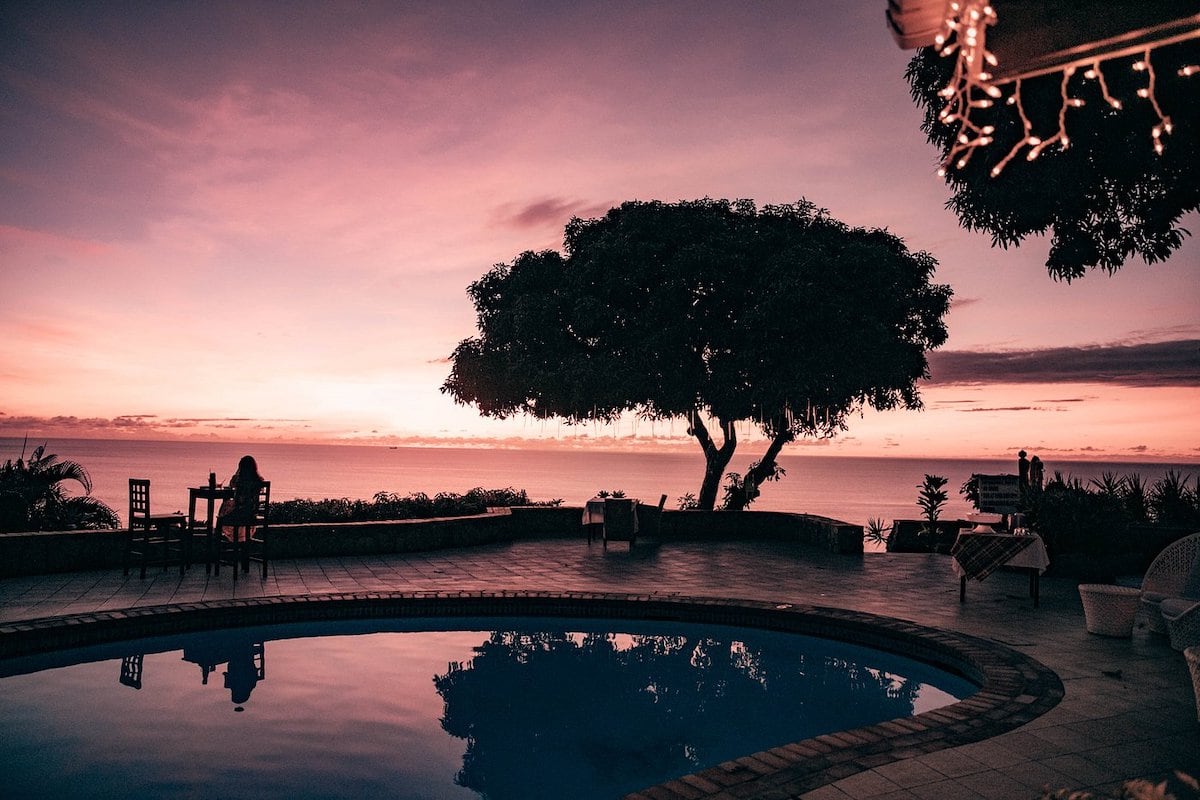 Stonefield Villa Resort
|

Soufriere

Looking for a resort that's more your own secret hideaway where comfort and luxury are paramount?

Stonefield Villa Resort offers 17 tastefully furnished French colonial style villas, each with its own private pool, set among 27 lush acres on the edge of the Pitons World Heritage site.

Enjoy breathtaking views, sample mouthwatering Creole culinary delights, and treat yourself holistic wellness treatments at their world class spa.

Stonefield sets the standard for adults-only boutique resorts in St Lucia. All-inclusive options available.

HOT TIP ▸ Not every Stonefield villa has a Piton view, but if you are planning the ultimate St Lucia honeymoon, you'll definitely want one! Expect to pay a bit more and make sure to book well in advance.

▸ Check Rates & Availability: Hotels.com | TripAdvisor
---
---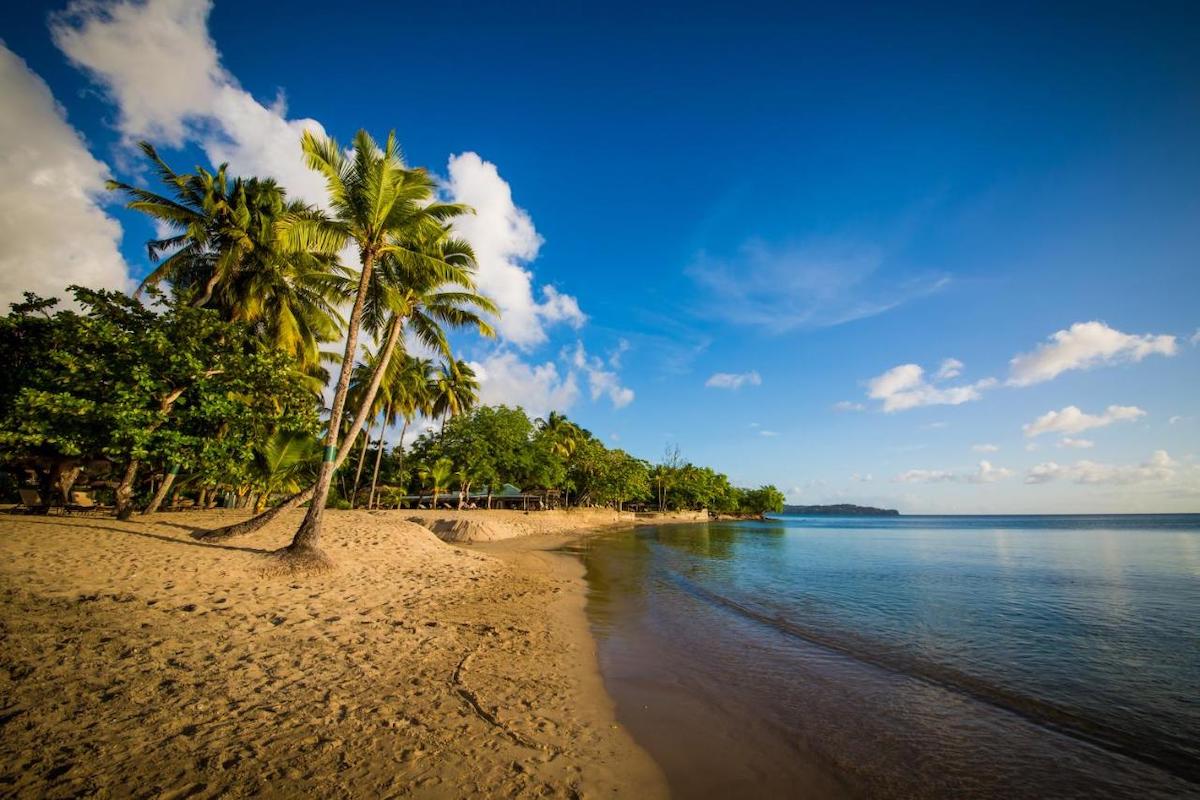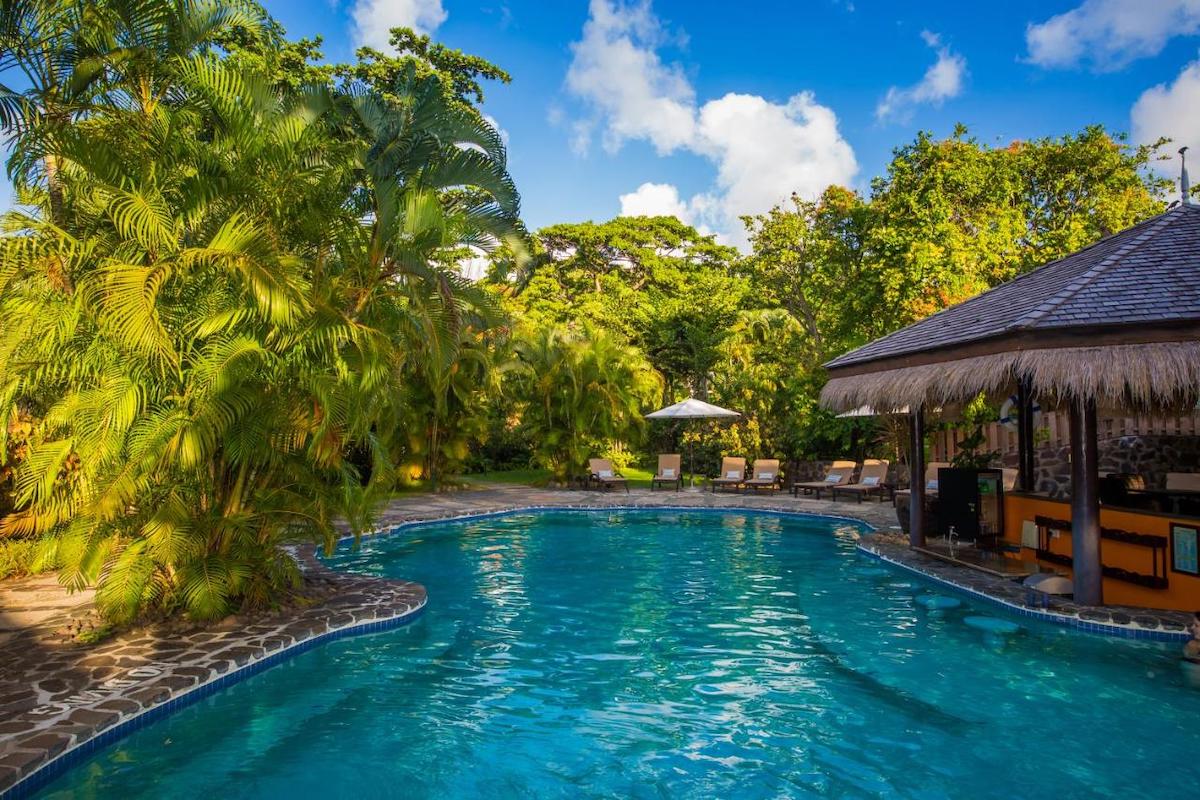 East Winds Saint Lucia
|

Gros Islet

Leaving behind the southern region of the Pitons and Soufriere, we now head north up the Caribbean coast again to the Gros Islet area for two more amazing properties for a perfect St Lucia honeymoon.

East Winds Saint Lucia bills itself as St Lucia's original all-inclusive boutique resort and a sumptuous garden-by-the-sea.

Choose from one of 30 luxury plantation-style cottages just steps from a stunning sandy bay, featuring luxury amenities and personalized service.

If you are looking for a quiet, peaceful, all-inclusive resort in paradise, you don't have to look much further than East Winds.

HOT TIP ▸ If peace and privacy are what you crave, spring for a Deluxe Garden Cottage.

▸ Check Rates & Availability: Booking.com | Hotels.com
---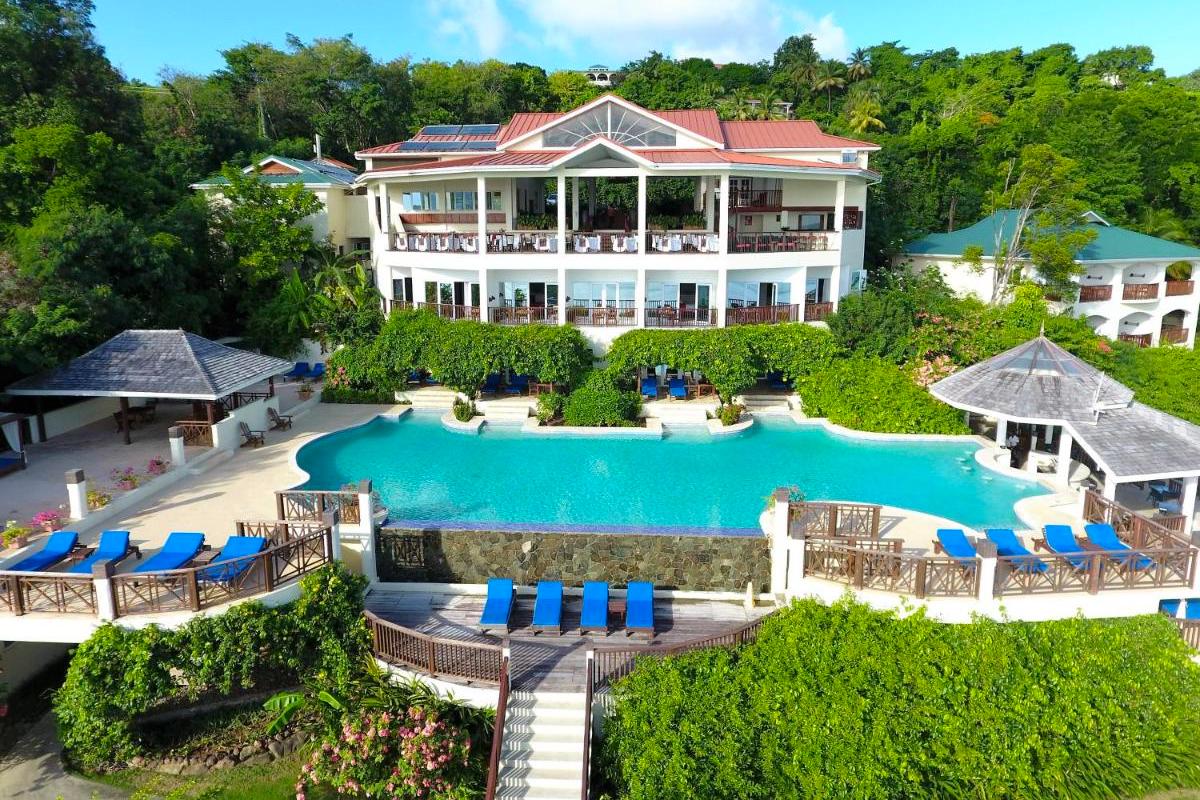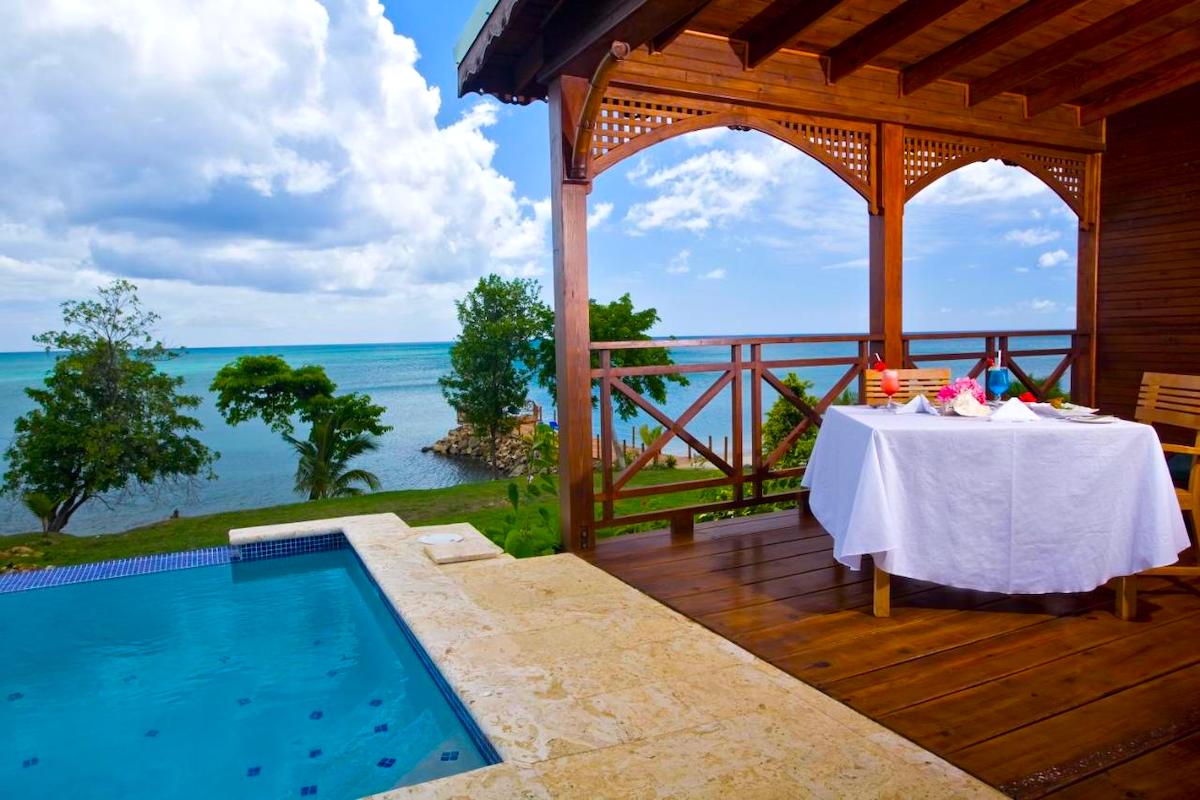 Calabash Cove Resort & Spa
|

Gros Islet

Looking for the personalized service and family-feel of a boutique luxury stay with the activities and amenities of a large name brand resort?

Calabash Cove is one of a small handful of resorts in St Lucia that delivers just that.

Enjoy whiling away the hours in your comfortable and modern room with all the amenities, each with private deck and ocean views.

Take advantage of this adults-only resort's picturesque private beach, excellent waterfront restaurant and swim-up bar, full-service spa, and numerous outdoor activities on offer.

HOT TIP ▸ For the ultimate St Lucia honeymoon experience, spring for one of the more private Water's Edge Cottage with plunge pool (if you can snag one).

▸ Check Rates & Availability: Booking.com | Hotels.com
---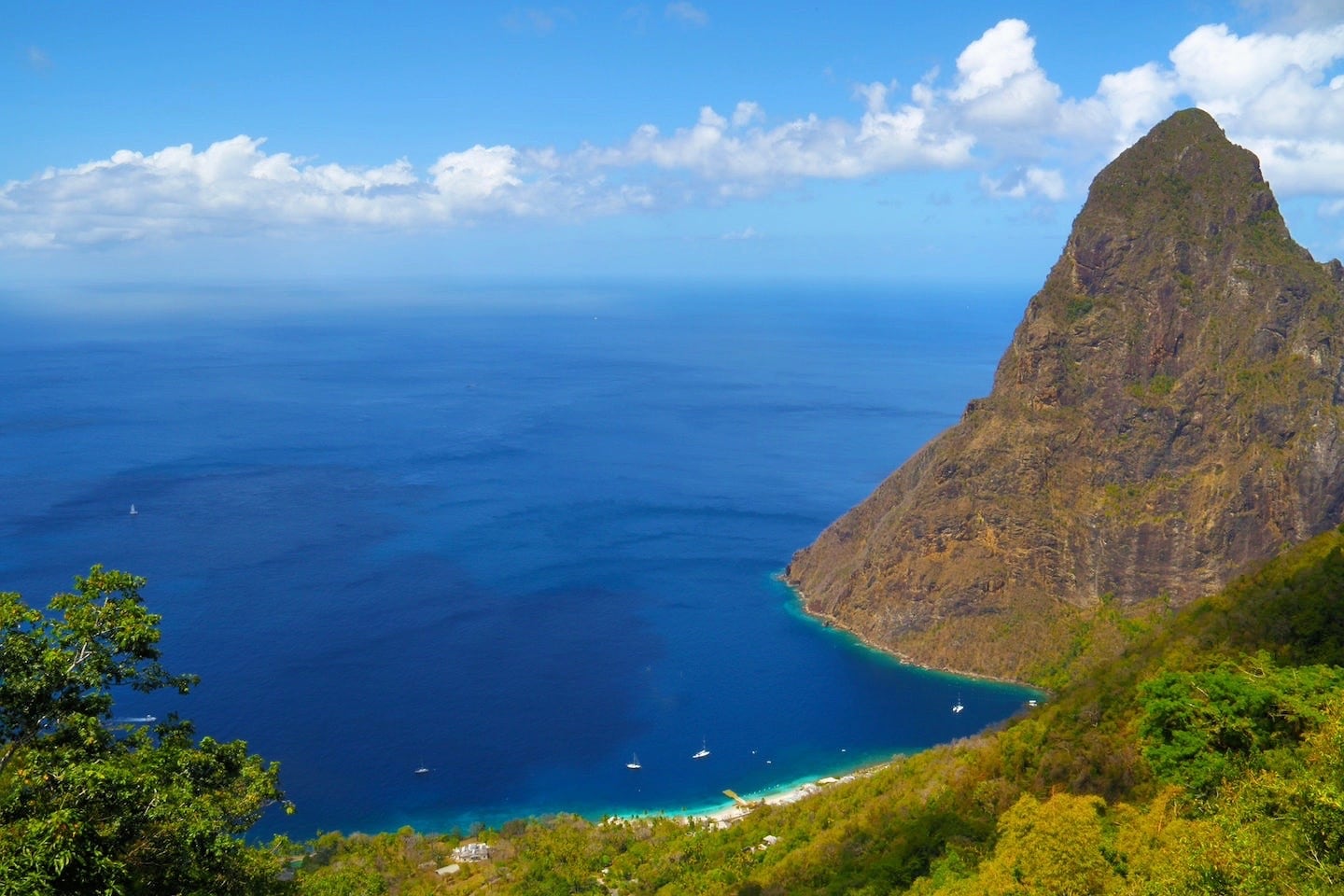 Best Time of Year to Book a St Lucia Honeymoon Stay
Many regular and repeat visitors will say there's never a bad time to visit St Lucia, so long as you've got good trip insurance.
But the reality is that some months are just more ideal for visiting the island, particularly if you're planning the perfect St Lucia honeymoon.
If weather is your main concern, late December to early June are almost certain to tick that box. Expect ample opportunities to enjoy blue skies with little rainfall, refreshing sea breezes, and temps ranging from mid-70s to mid-80s.
The downside? Cost. Visiting in May or June may bring nightly rates down a bit if you have flexibility on your side. Unfortunately, there are often far more considerations that must be weighed when nailing down the date of your honeymoon.
While cost is certainly important, you may want to avoid booking a "great deal" between July and November, as this is storm season for St Lucia and the rest of the Caribbean. You could get lucky, but you could also get very unlucky. When it comes to your honeymoon, you may not want to chance it.
Important Considerations for LGBTQ Travelers to Saint Lucia
As with many destinations in the region, Saint Lucia's laws and cultural attitudes towards those identifying as LGBTQ aren't exactly welcoming (but that doesn't mean your resort won't be!).
While it is rare for LGBTQ couples visiting Saint Lucia to experience serious problems during their stay, it is important that LGBTQ visitors be aware of Saint Lucian laws and cultural sentiments relevant to their circumstances.
With that said, things do appear to be changing, with the first Castries Gay Pride celebration being held in 2019, and a growing number of top St Lucia honeymoon resorts building their reputations on catering to LGBTQ visitors.
Along those lines, be sure to check out Windjammer Landing Villa Beach Resort and Ti Kaye Resort & Spa.
---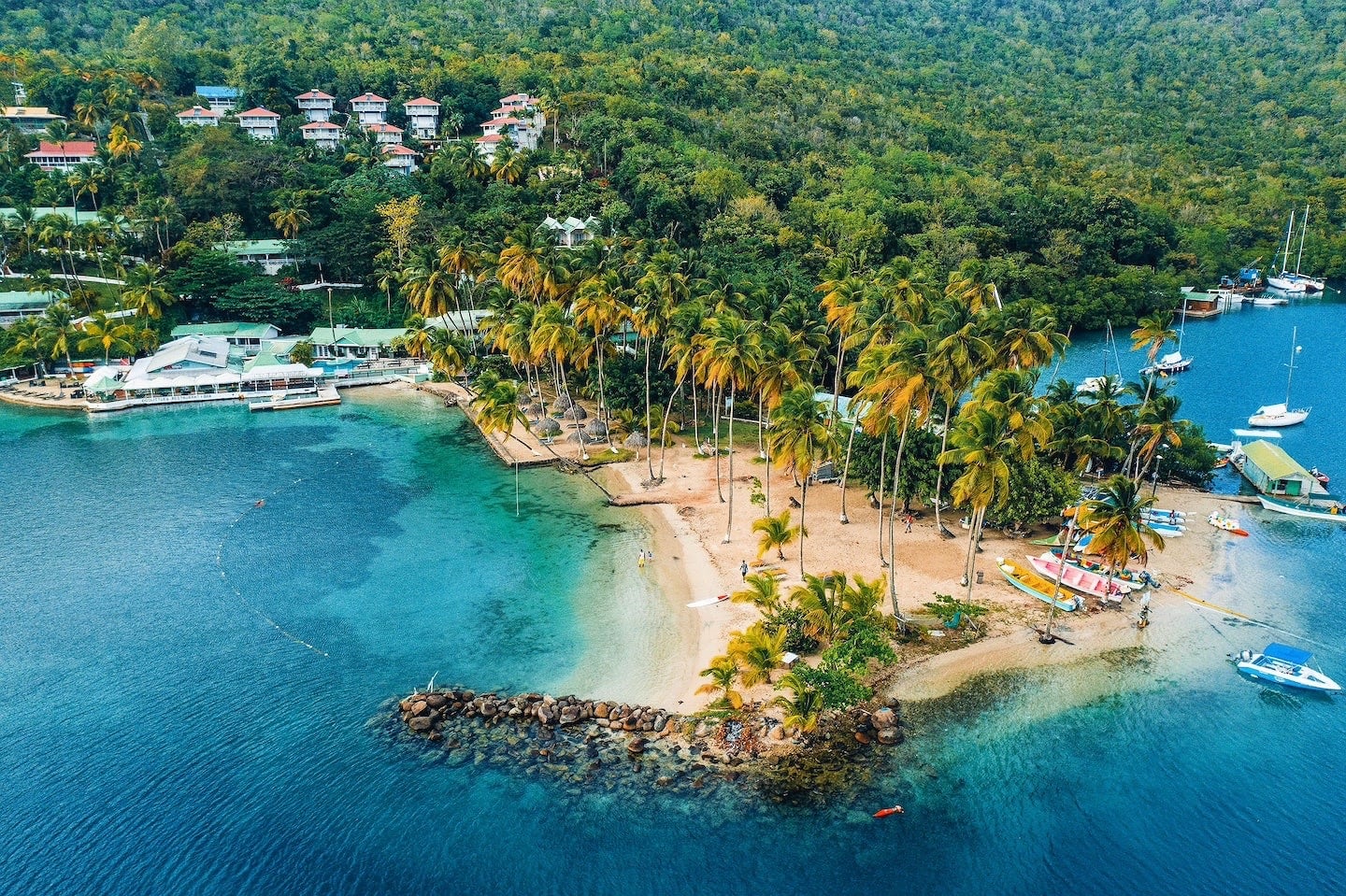 Thanks for reading our list of the very best St Lucia honeymoon & wedding resorts!
For those looking for a top destination for lovers, Saint Lucia might well fit the bill!
If you're having trouble choosing a resort from our list, we won't blame you. Each of these St Lucia honeymoon stays is top notch and is sure to wow any couple planning an unforgettable trip to this one-of-a-kind Caribbean island.
We are thrilled to introduce this very special place with readers across the globe, with the hope of helping others realize their honeymoon and wedding bucket list dreams.
---
Did we miss any of your favorite St Lucia honeymoon stays? Let us know in the comments below!
Don't forget to share this list of spectacular St Lucia honeymoon resorts with all your newly engaged friends and family!
---