Looking for the ultimate island getaway? Here it is! Get ready to feast your eyes on picture-perfect seascapes, dreamy private islands, and the ultimate in hotel design and sophistication in our guide to the most spectacular Maldives luxury resorts!
Lori and I are so excited to share with you our hand-picked list of the cream of the crop, best of the best bucket list Maldives 5-star resorts that will leave you breathless and stunned at every turn.
The Maldives are widely considered the premier luxury tropical island destination in the world. From bucket list Maldives water villas to some of the best all-inclusive resorts on the planet, a Maldives vacation offers an exceptionally unique and unforgettable experience.
For the discerning traveler, there's nothing quite like a visit to one of the Maldives' most luxurious, top-rated stays.
In a hurry? Here's a quick look at our list to jump-start your travel planning!
Read on to discover much more about what sets apart these amazing Maldives luxury resorts. Plus, helpful tips for making your island escape truly epic.
---
The BEST Maldives Luxury Resorts for the Ultimate Island Getaway
---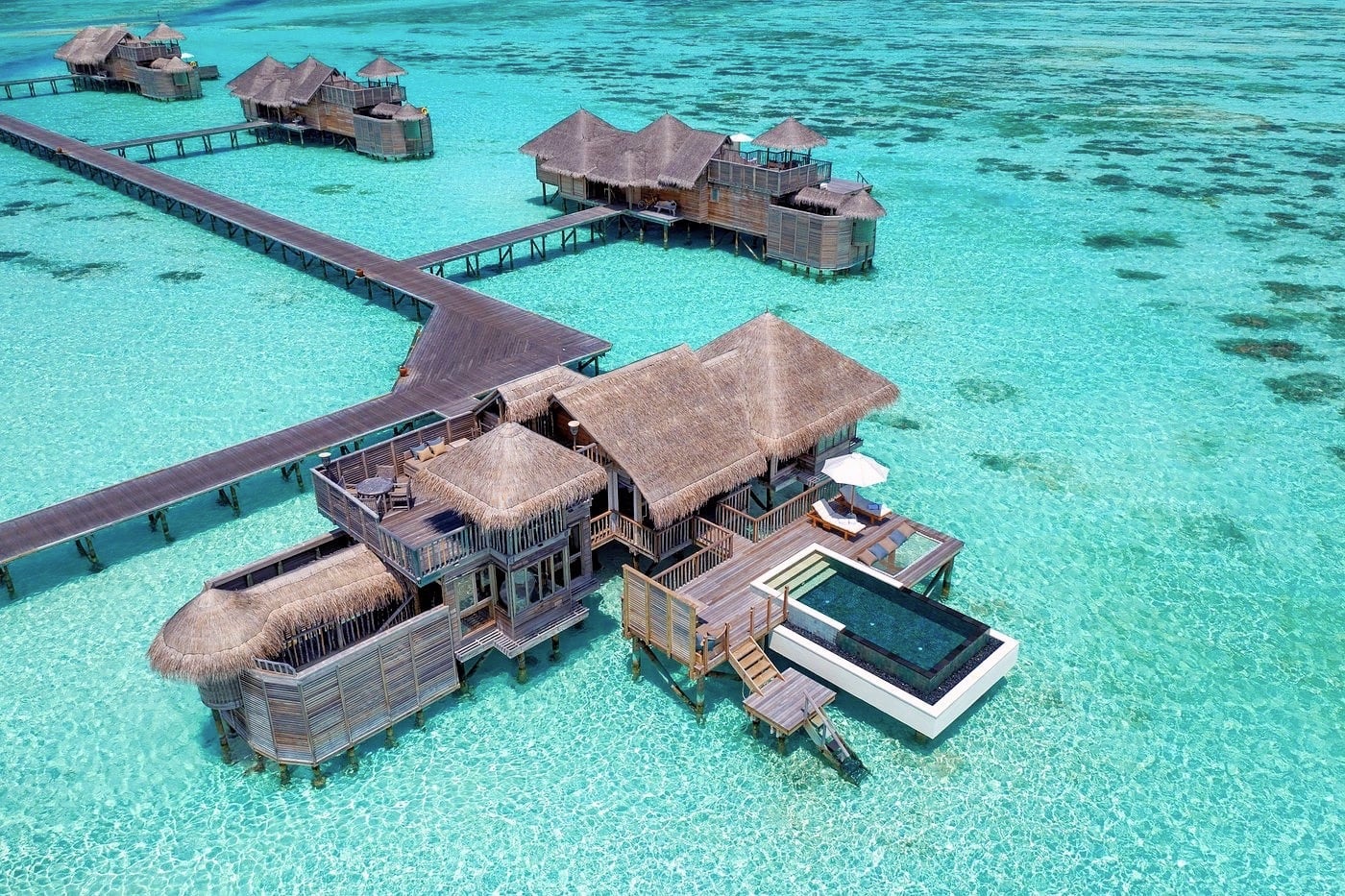 5-STAR ▪ ALL AGES ▪ EARTH CHECK CERTIFIED
Gili Lankanfushi Maldives
We kick off our list of the very best five-star resorts in the Maldives with Gili Lankanfushi Maldives – simply one of the most wonderful island resorts in the world.
From the jaw-dropping, picture-perfect island setting and super-convenient location (a 20-minute speed boat ride from Male International Airport), to the world-class service and amenities at your fingertips, Gili Lankanfushi is a luxury resort with no equal.
From the moment you arrive, you'll be surrounded by unparalleled beauty. The crystal-clear waters, white sandy beaches, and tropical vegetation make Gili Lankanfushi a paradise come true. And that's just the beginning.
Gili Lankanfushi Maldives offers a wide range of luxury amenities, from a sumptuous spa to an outdoor pool with a sundeck and much more.
Feast on delicious international and locally-sourced cuisine, from fresh and forward-thinking Maldivian dishes at toes-in-the-sand Kashiveli to exquisite Japanese fusion at aptly named By-the-Sea.
And if you're dreaming of out-of-this-world aquatic adventures, there's plenty of that too, from snorkeling, diving, and fishing, to kayaking and sailing.
The resort also offers an array of accommodation options, from luxurious overwater villa suites to private residences. For the ultimate in privacy, you'll want to snag one of the resort's incredible Crusoe Residences, only accessible by private boat.
To top it off, Gili Lankanfushi has demonstrated a strong commitment to the natural habitat and sustainability, and is an Earth Check certified resort.
With a perfect combination of excitement, relaxation, luxury, and location, Gili Lankanfushi Maldives is a true dream vacation destination.
---
---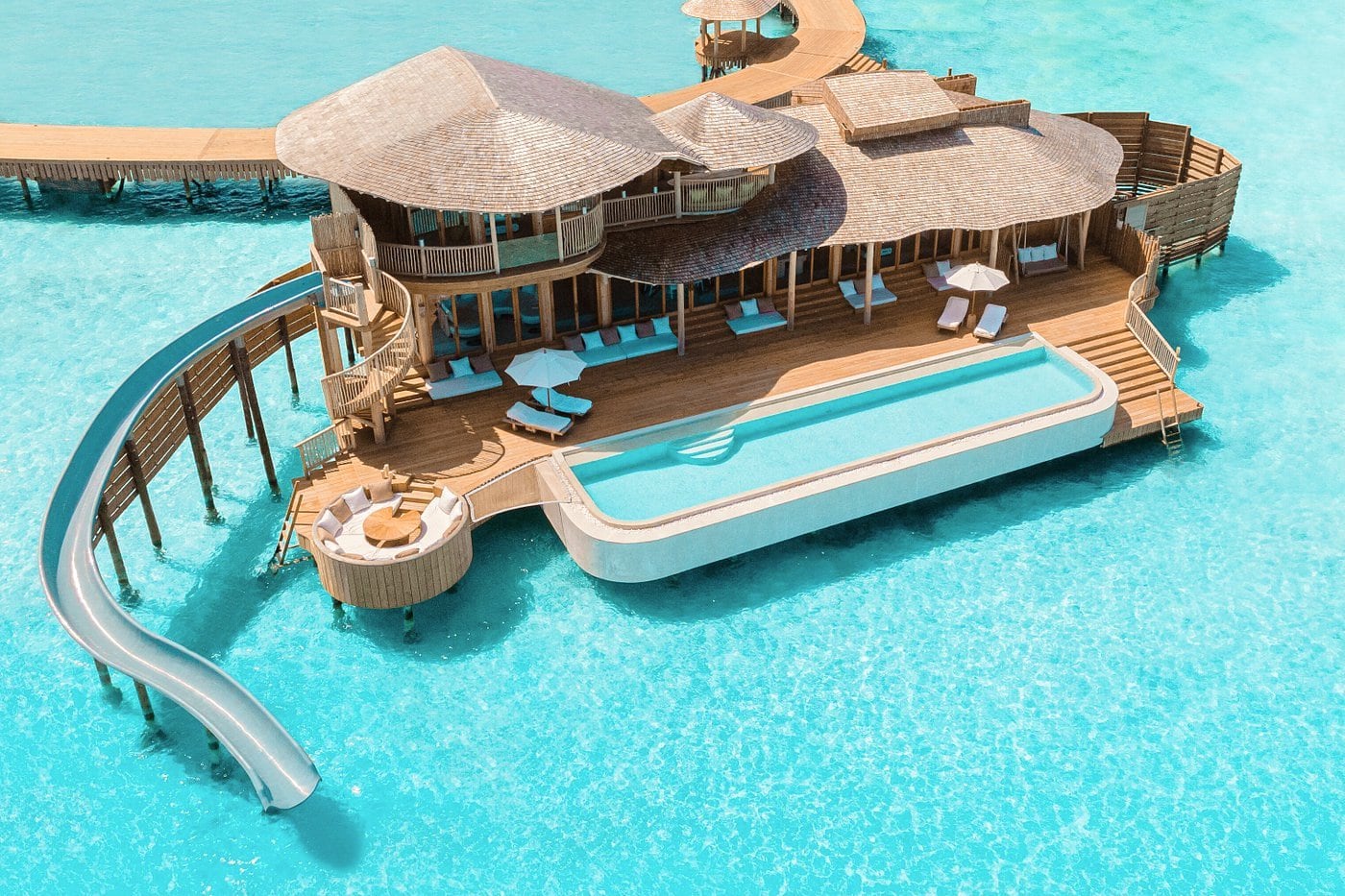 5-STAR ▪ ALL AGES ▪ EARTH CHECK CERTIFIED
Soneva Jani
When it comes to luxury resorts in the Maldives, Soneva Jani is truly in a league of its own.
Located on the remote Noonu Atoll, this remarkable resort is one of the lowest-density and most exclusive luxury resorts in the world providing a perfect escape for those looking for a tropical getaway like no other.
From the overwater villas with private pools and lagoon access to the secluded beaches and lush gardens, everything about Soneva Jani is designed to provide you with a luxurious and utterly serene experience.
Want your own personal waterslide from your overwater villa into a crystalline lagoon? At Soneva Jani, it can be all yours!
Of course, there are plenty of activities available around the resort as well. Enjoy a variety of water sports, from scuba diving to kayaking and much more.
Ready for a transformative wellness experience? Spend some quality time at the resort's top-rated spa, Soneva Soul.
Hungry? 13 outstanding restaurants are waiting to wow your palette.
Soneva Jani has everything you need for the ultimate getaway. With five-star amenities, stunning natural surroundings, and a leading emphasis on conservation and sustainability, it's no wonder why this is one of the most sought-after Maldives luxury resorts.
It's also very much worth checking out Soneva Jani's exceptional sister resort, Soneva Fushi, the original luxury resort in the Maldives.
Soneva Fushi offers more of a luxury beach resort vibe with a few more activities, restaurants, and other amenities. Soneva Jani, on the other hand, offers more of an exclusive, far-flung wellness resort vibe.
---
---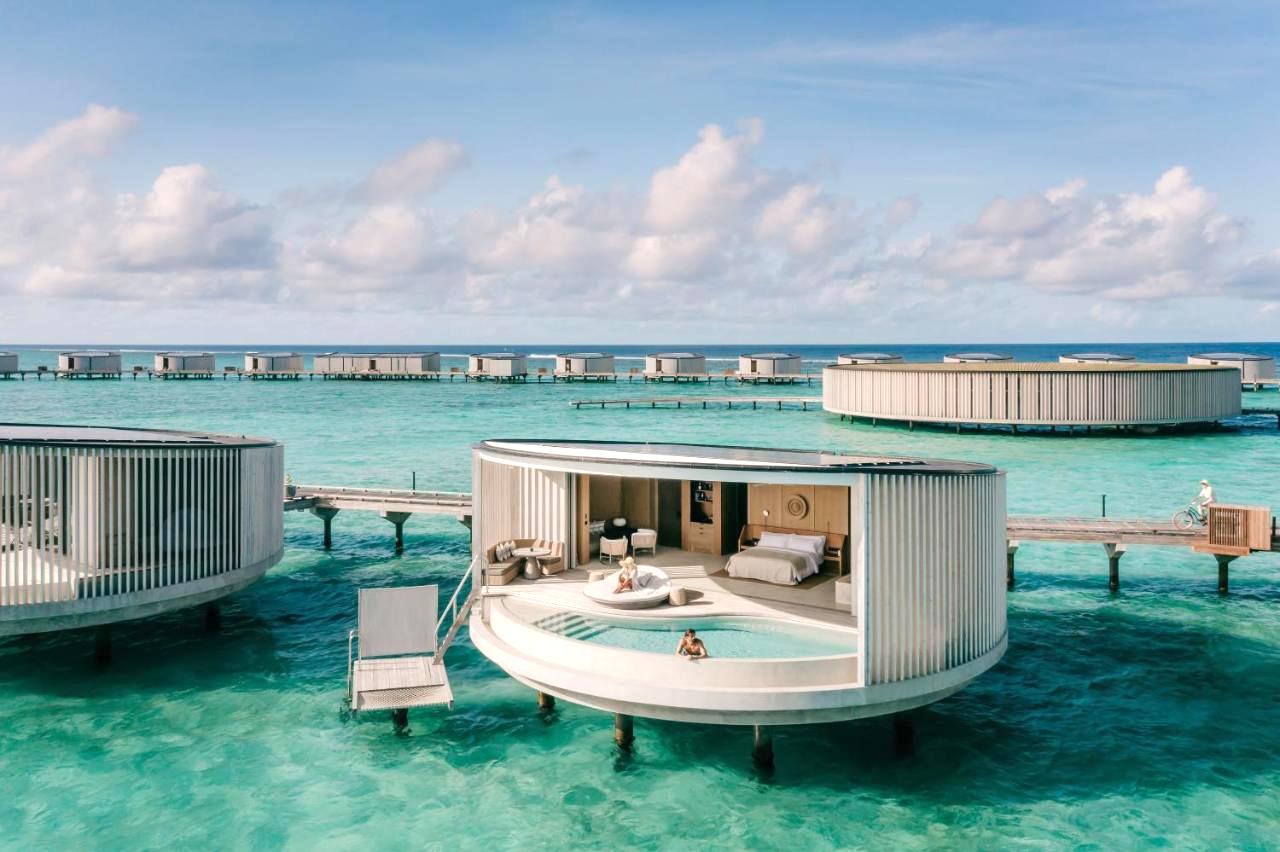 5-STAR ▪ ALL AGES ▪ SUSTAINABLE PRACTICES
The Ritz-Carlton Maldives, Fari Islands
Next up, the Ritz-Carlton Maldives Fari Islands is one of the most unique destinations you're likely to find anywhere on the planet. Located on its own private island, this luxurious resort offers what many consider to be the ultimate Maldives escape.
From the pristine white sands and tranquil turquoise waters to lavish accommodation and world-class amenities, the Ritz-Carlton Maldives Fari Islands is a perfect place to experience true island luxury.
The resort features seven restaurants, each serving up a selection of globally-inspired cuisine. There are also several bars and lounges, perfect for enjoying a hand-crafted sundowner or two.
When you're not exploring the amazing resort islands, you can shift into full-on relaxation mode in the luxurious spa, go for a swim in one of the stunning infinity pools, or take a dive and explore the colorful coral reef, nearby.
With its incredible location, ultra-luxe amenities, and world-class service, the Ritz-Carlton Maldives Fari Islands is a must-visit for anyone looking for the ultimate Maldives luxury resorts escape.
Be sure to check out Ritz-Carlton Maldives Fari Islands' current offers and promotions for big savings, seasonal deals, and extra add-ons.
---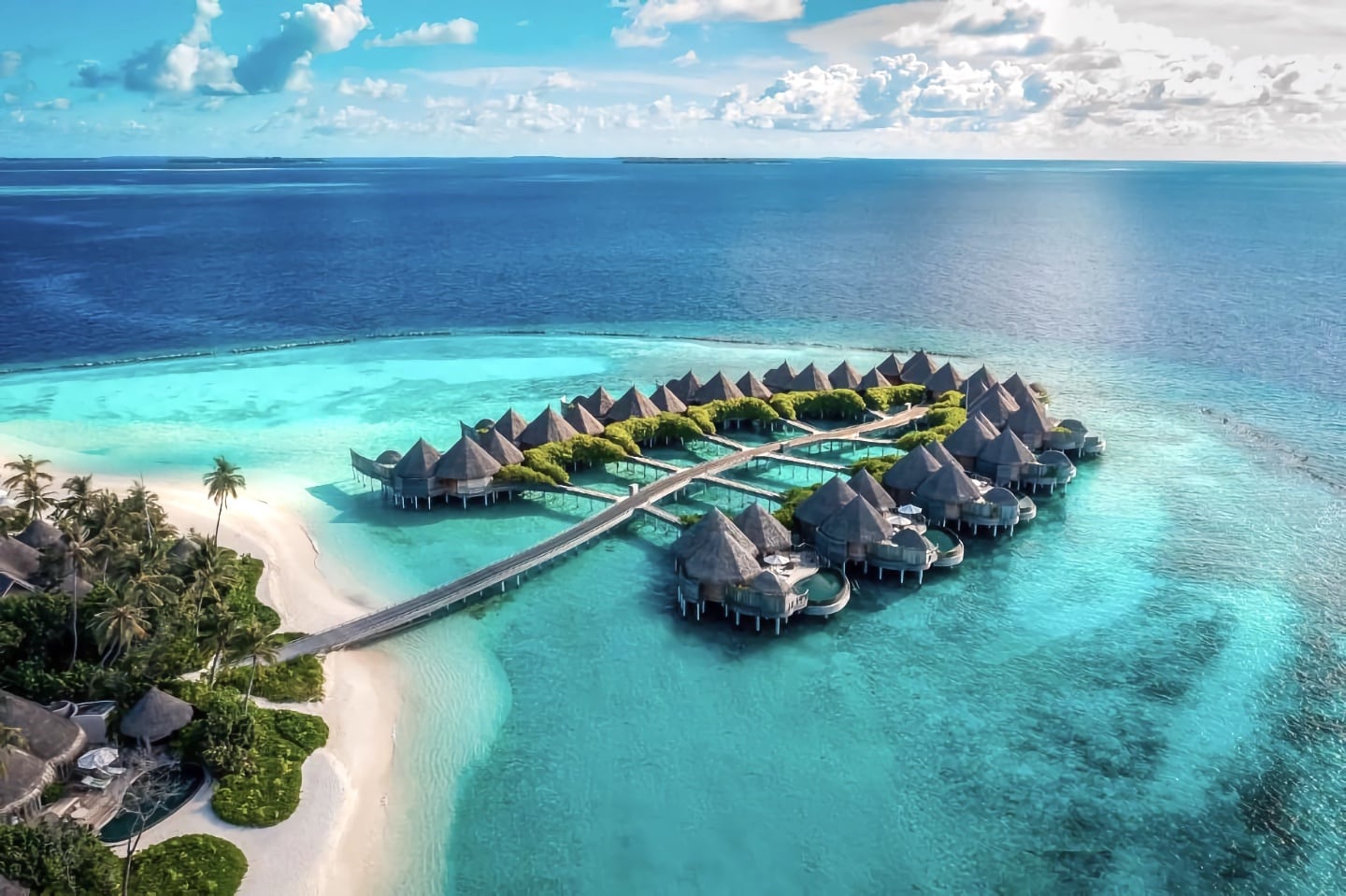 5-STAR ▪ ALL AGES ▪ SUSTAINABLE PRACTICES
The Nautilus Maldives
Uniquely located in the heart of the Baa Atoll UNESCO Biosphere Reserve, The Nautilus Maldives is a tropical paradise offering a more personal and intimate five-star experience across just 26 luxurious villas.
Enjoy world-class dining options with a variety of restaurants offering fresh seafood, international cuisine, and other delicious fare. The Nautilus is also home to a number of superb bars, including a beachside bar and a poolside bar.
On the water, enjoy snorkeling, scuba diving, kayaking, and other fun water sports. On land, there's tennis, yoga, golf, and much more.
The Nautilus also has an extensive spa and wellness center, perfect for relaxing and unwinding.
Whether you're looking for a romantic getaway or a family vacation, the Nautilus Maldives is a phenomenal place to escape to and enjoy the luxury of the Maldives.
---
---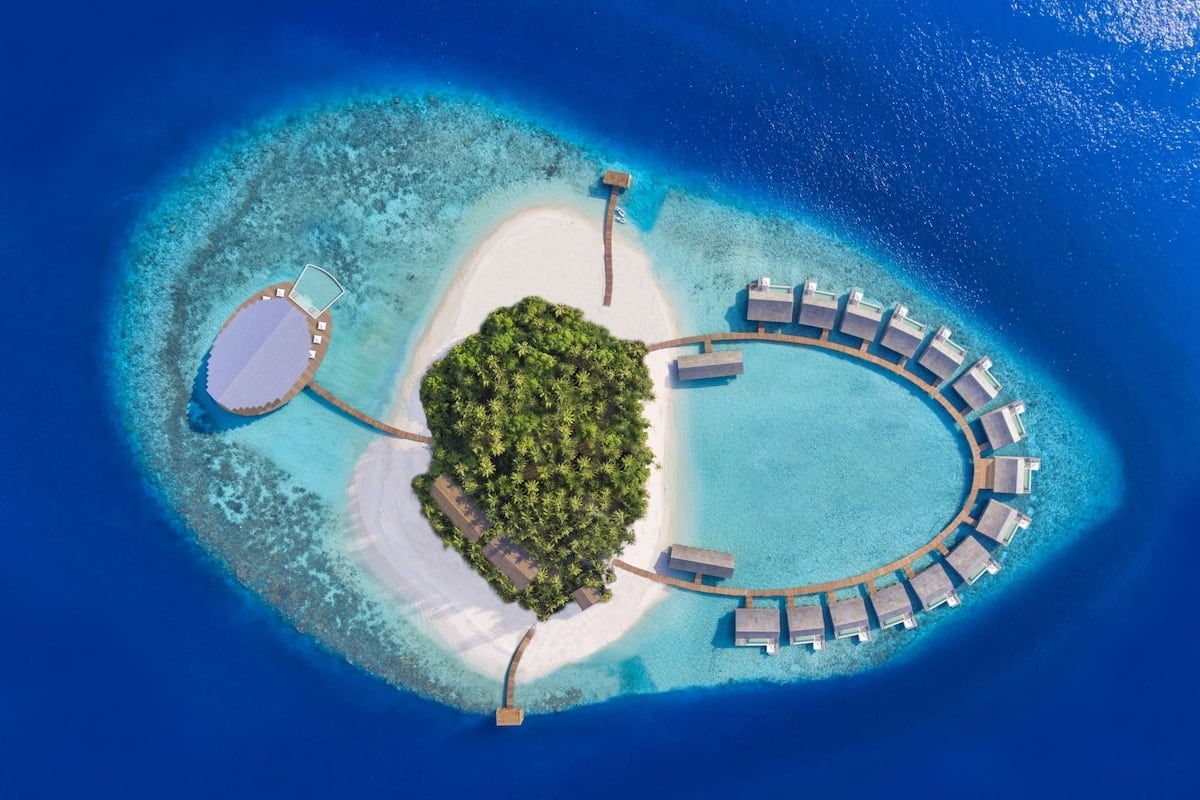 5-STAR ▪ ALL-INCLUSIVE ▪ ALL AGES ▪ SUSTAINABLE PRACTICES
Kudadoo Maldives Private Island
The exclusive, all-inclusive Kudadoo Maldives Private Island by Hurawalhi is an oasis of tranquility featuring 15 private villas, each with infinity pool, spacious living spaces, and breathtaking Indian Ocean views.
Kudadoo Maldives is surrounded by white sands and turquoise waters, and provides an ideal location to relax, recharge, and take in the stunning vistas of this tropical paradise.
Time to explore? Take in the wonders of the surrounding area, from coral reefs teeming with sea life to lush tropical gardens. The resort also offers scuba diving and snorkeling trips, sunset cruises, and island tours.
Finally, sample a range of cuisine in the resort's two excellent restaurants or indulge in a massage or spa treatment. Alternatively, hop on a short shuttle to Kudadoo's sister property, Hurawalhi Island Resort, for an extraordinary dining experience at 5.8 Undersea Restaurant.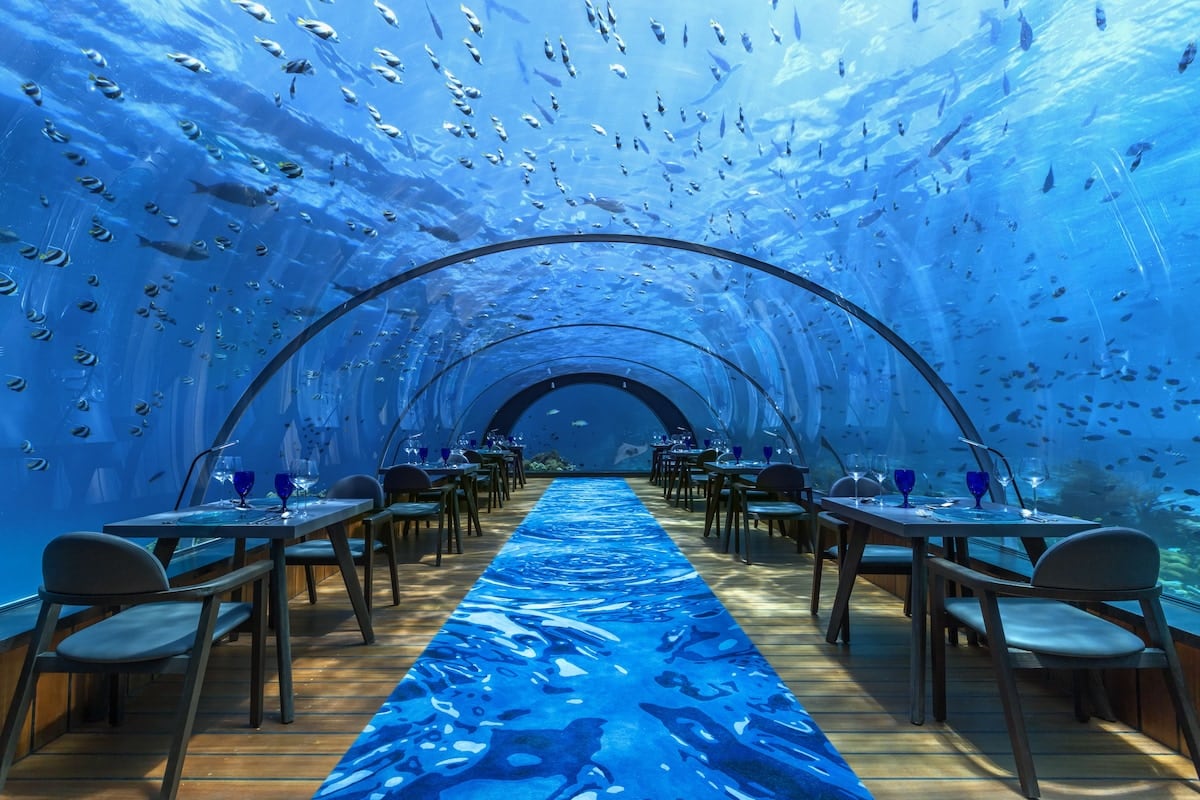 Whether you're looking for an unforgettable holiday or a romantic getaway, Kudadoo Maldives is an outstanding five-star destination and one of the best Maldives luxury resorts you're bound to find.
---
---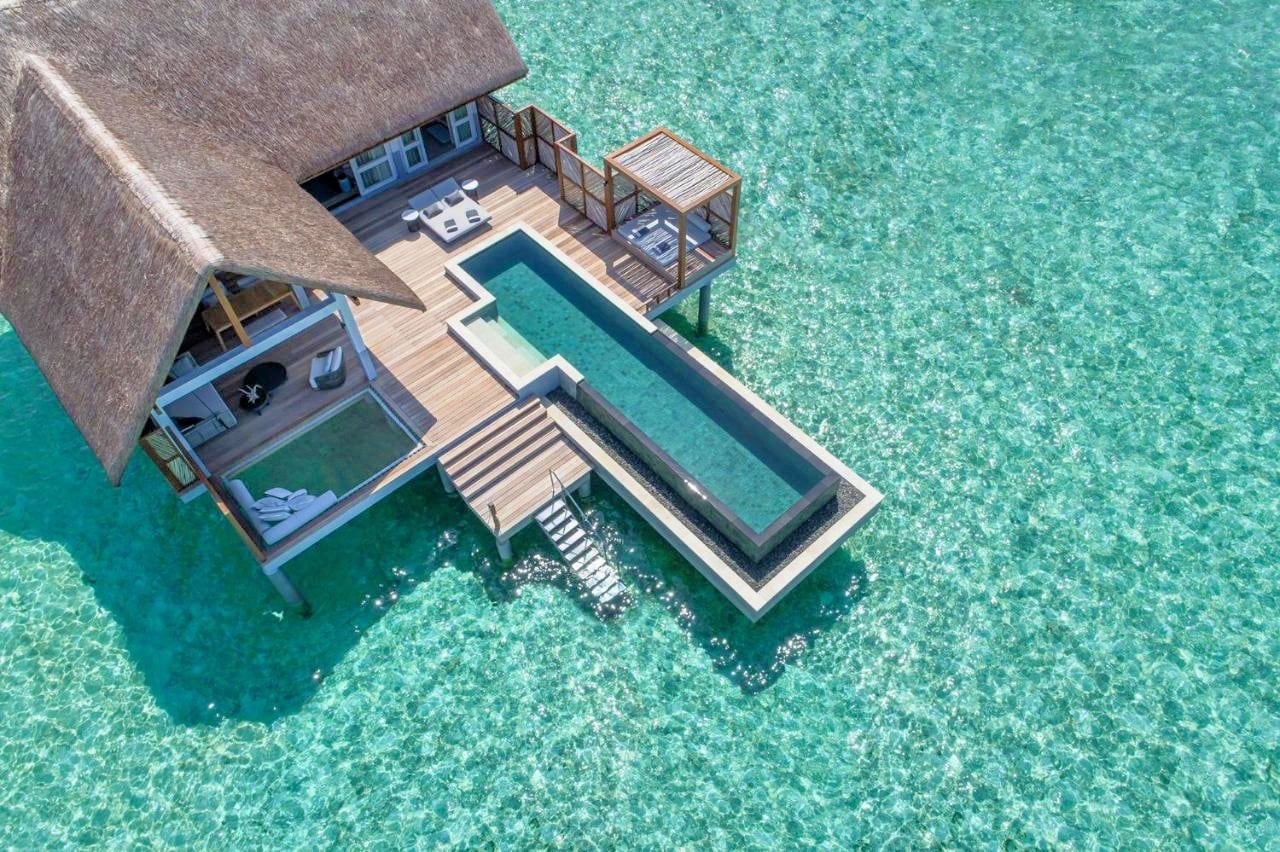 5-STAR ▪ ALL AGES ▪ EARTH CHECK CERTIFIED
Four Seasons Maldives, Landaa Giraavaru
Four Seasons Maldives Landaa Giraavaru is yet another truly exceptional resort in the Maldives offering five-star luxury and seclusion in a true paradise destination.
Located on a pristine island in the UNESCO-designated bio-diverse Baa Atoll, this resort offers everything you need for a luxurious, relaxing vacation. From the spacious and elegant villas with breathtaking views of the Indian Ocean to four exquisite dining options, you will be pampered in every way.
The resort also boasts an impressive array of unique features and amenities, from Anti Gravity Yoga and an award-winning spa, to fully-equipped dive center and conservation-focused Marine Discovery Centre.
Whether you want to relax on the beach, go snorkeling, or take a dip in one of the many pools, you'll find something to suit you at the Four Seasons Resort Maldives Landaa Giraavaru, one of the top Maldives luxury resorts on offer today.
---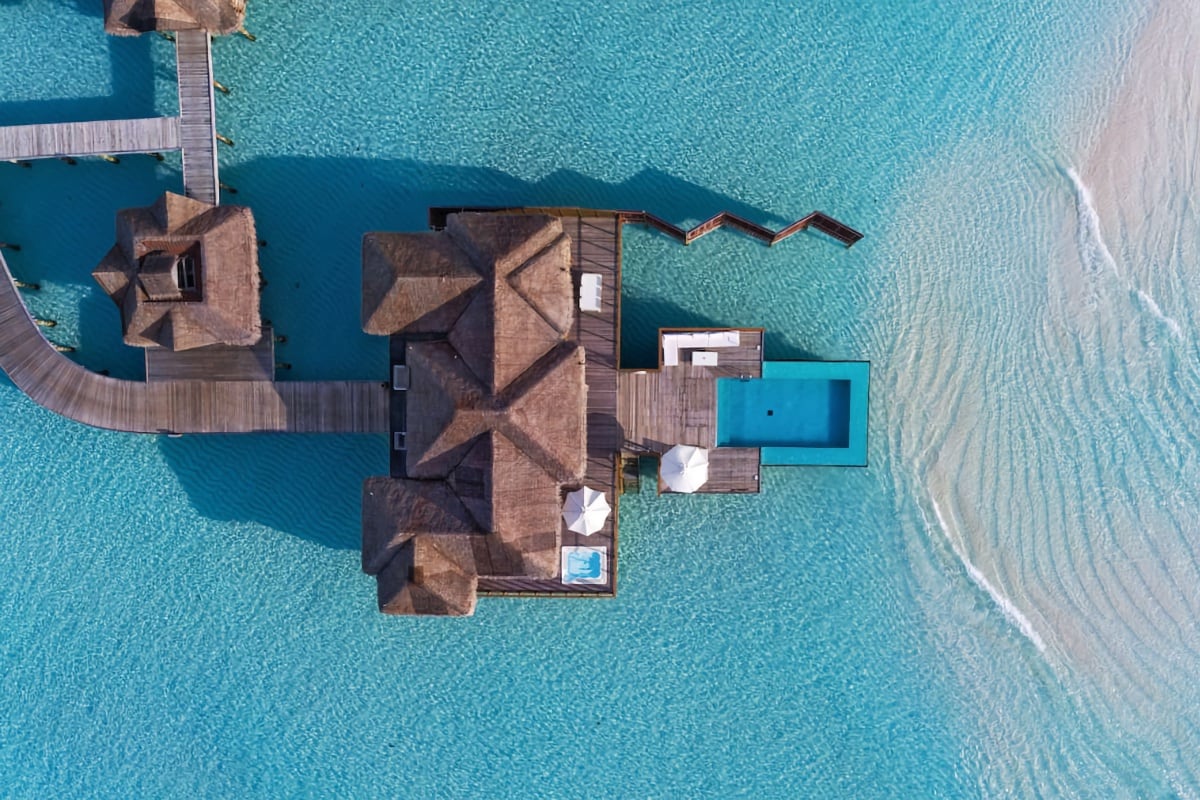 5-STAR ▪ ALL AGES ▪ SUSTAINABLE PRACTICES
Conrad Maldives Rangali Island
Widely considered one of the best luxury resorts in the world, Conrad Maldives Rangali Island is a paradise of relaxation and luxury that evokes the perfect romantic getaway or family holiday.
With its dreamy island backdrop across two amazing islands, world-class amenities, and impeccable service, it's no wonder why the Conrad is one of the most sought-after Maldives luxury resorts.
This exceptional resort features a range of accommodation options, from private villas with their own private pools and decks, to luxurious overwater bungalows with direct access to the magnificent Indian Ocean.
For an adults-only experience, make sure to request a villa on Rangali Island (ages 16+). The resort's sister island, Rangali-Finolhu (connected by a bridge), offers accommodation and loads of activities for all ages.
Indulge in the resort's many offerings, such as a world-class spa, gourmet restaurants, and a variety of fun activities such as snorkeling and deep-sea fishing.
---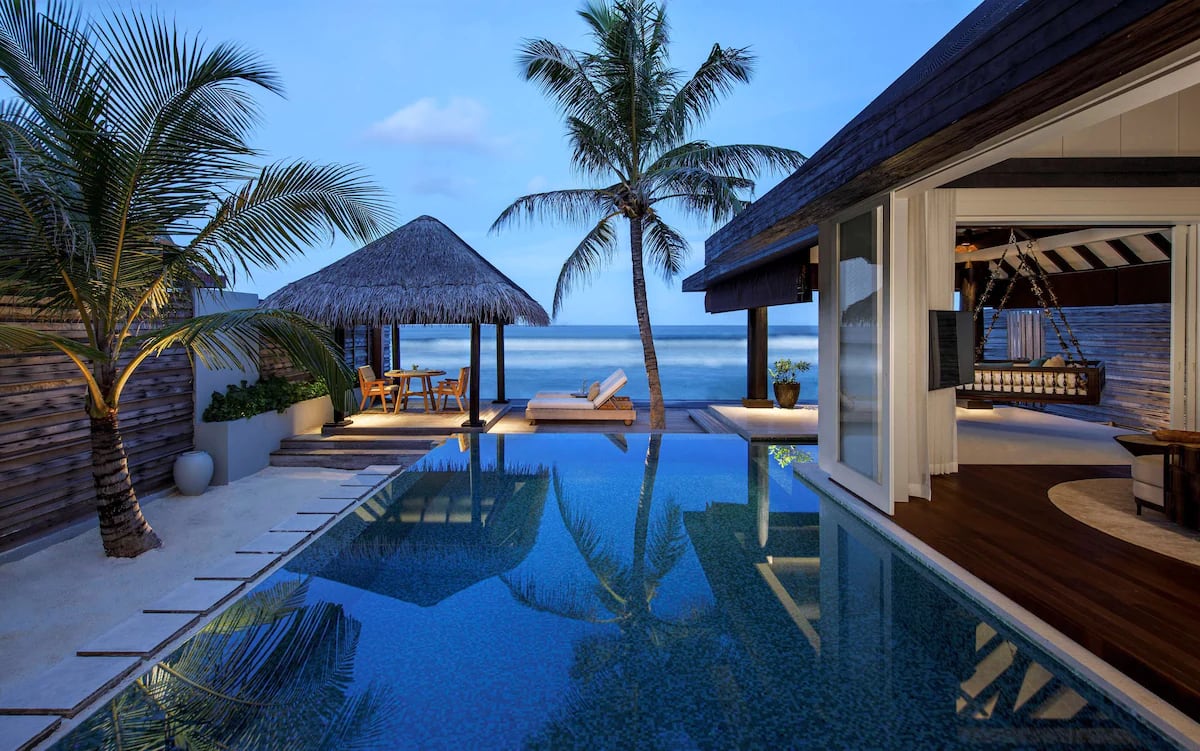 5-STAR ▪ ALL AGES ▪ SUSTAINABLE PRACTICES
Naladhu Private Island
Wildly wonderful Naladhu Maldives Private Island will blow you away with eye-catching villas, elegant design, sumptuous amenities, and true barefoot luxury.
Ideally located a 12 miles south of Male International Airport in the South Male Atoll, this gorgeous resort offers a wealth of exciting activities like sailing and scuba diving, kayaking and paddle boarding, and even an outdoor cinema.
Relax and unwind in your own private pool and sun deck, or take your relaxation to the next level with a yoga class or rejuvenating massage in the resort's top-notch spa.
Dine on scrumptious international cuisine and local dishes, or prepare your own meals in each villa's fully equipped kitchen.
With breathtaking surroundings and first-class amenities, Naladhu Private Island is a perfect place to relax and escape there stress of everyday life, earning the resort a spot on our list of very best Maldives luxury resorts.
---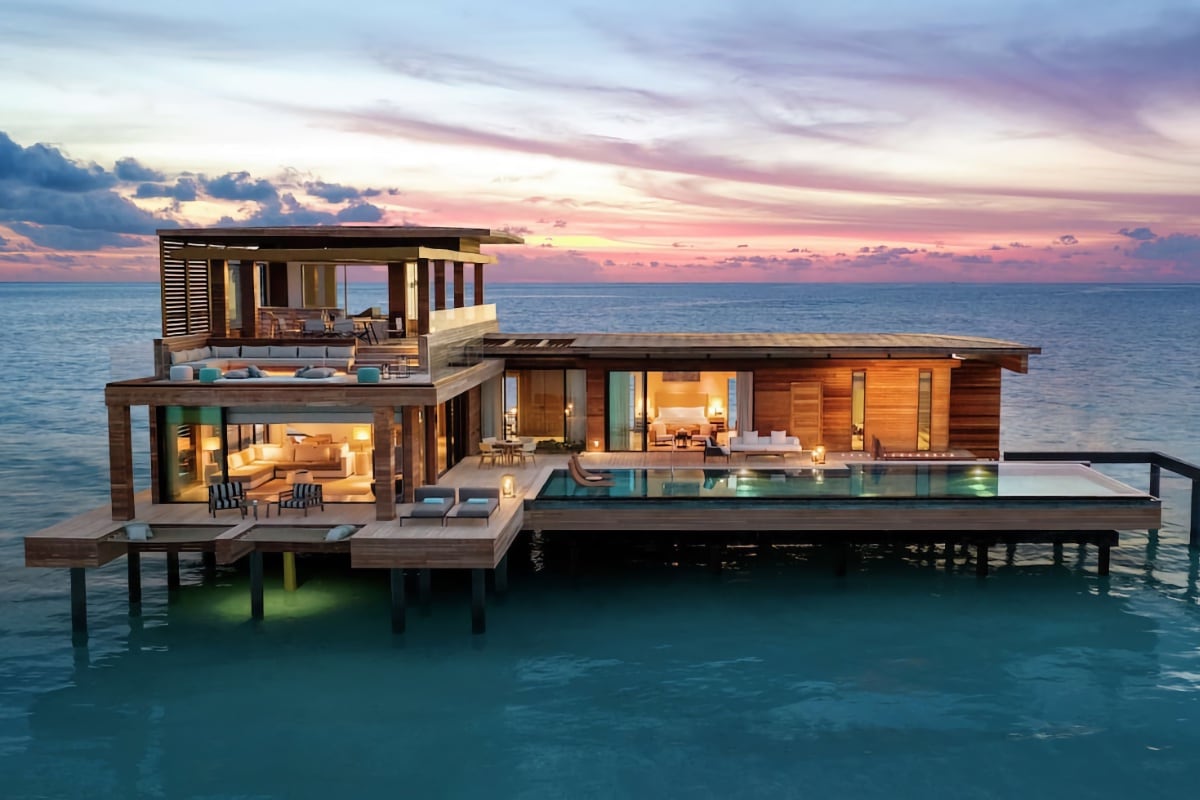 5-STAR ▪ ALL AGES ▪ SUSTAINABLE PRACTICES
Waldorf Astoria Maldives Ithaafushi
If you're looking for a luxurious and idyllic stay, it's hard to go wrong with the exceptional Waldorf Astoria Maldives Ithaafushi.
A scenic 40-minute yacht journey from Male International Airport, the Waldorf Astoria Ithaafushi is the epitome of island paradise, from the stunning beachfront villas to the incredible ocean vistas that make up the backdrop for an unforgettable escape.
Spend your days lounging on the beach, exploring the crystal clear waters, and admiring the stunning sunsets. If you're feeling adventurous, you can try your hand at some of the island's more daring activities, like scuba diving, snorkeling, or parasailing.
When it comes time to eat, you'll be spoiled for choice with the wide selection of 11 outstanding eating venues to tempt your taste buds.
No doubt about it, the Waldorf Astoria Ithaafushi is one of the top Maldives luxury resorts for a truly memorable island stay.
---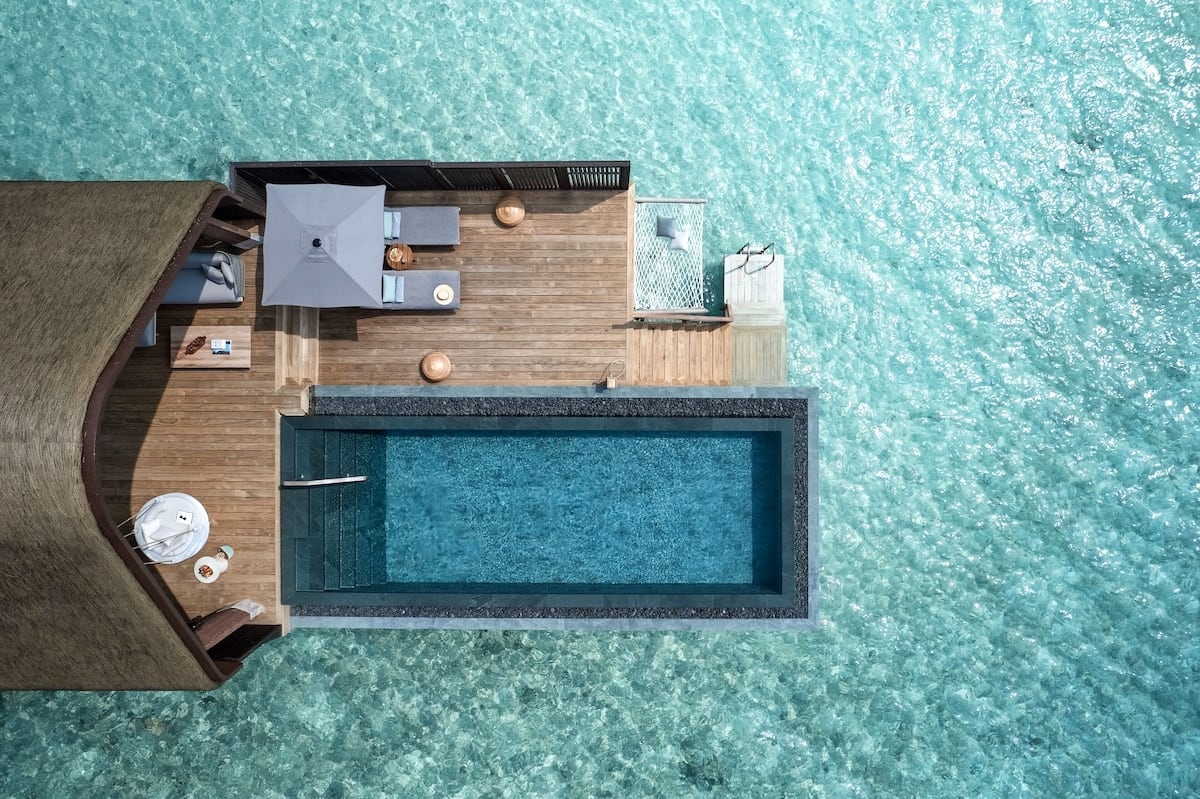 5-STAR ▪ AGES 13+
Joali Being
If you're in the mood for a truly unique destination in the Maldives, Joali Being is definitely worth a closer look.
Joali Being bills itself as an "immersive wellbeing retreat island" and every aspect of the resort is designed with the intention of creating a transformative vacation experience.
Plus, the resort features some of the most astounding and forward-thinking architecture you're bound to find anywhere.
Joali Being boasts 68 wonderful rooms and villas and 39 wellness treatment rooms covering a wide assortment of treatments and therapies.
---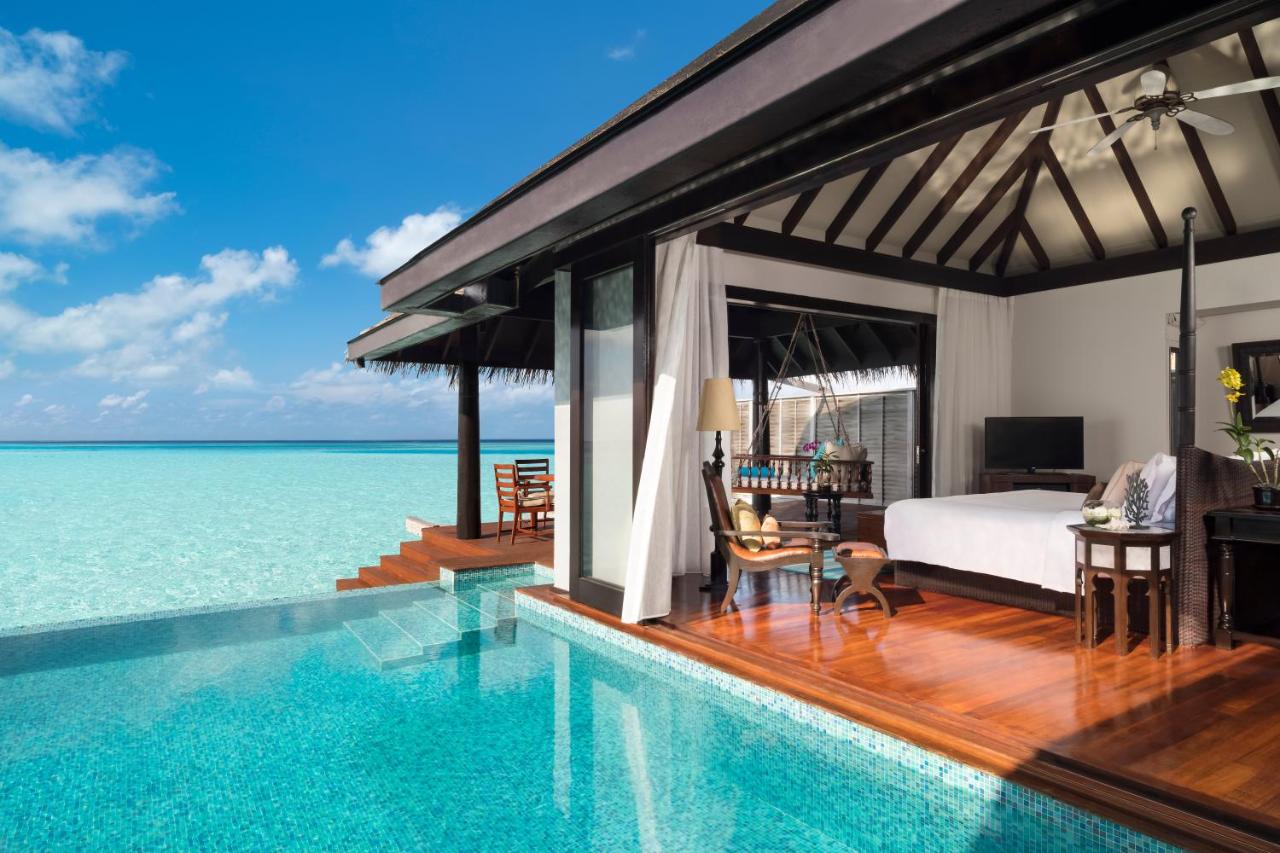 5-STAR ▪ ALL AGES ▪ UNESCO SUSTAINABLE TRAVEL PLEDGE
Anantara Kihavah Maldives Villas
A luxury pool-villa oasis surrounded by nature, Anantara Kihavah Maldives Villas offers exquisitely designed rooms and facilities including the award-winning underwater restaurant and cellar, SEA.
Located in the UNESCO-designated Baa Atoll, Anantara Kihavah offers something for everyone, from snorkeling with mantas and sea turtles along the pristine reef to the region's only Cocoon Medical Spa.
---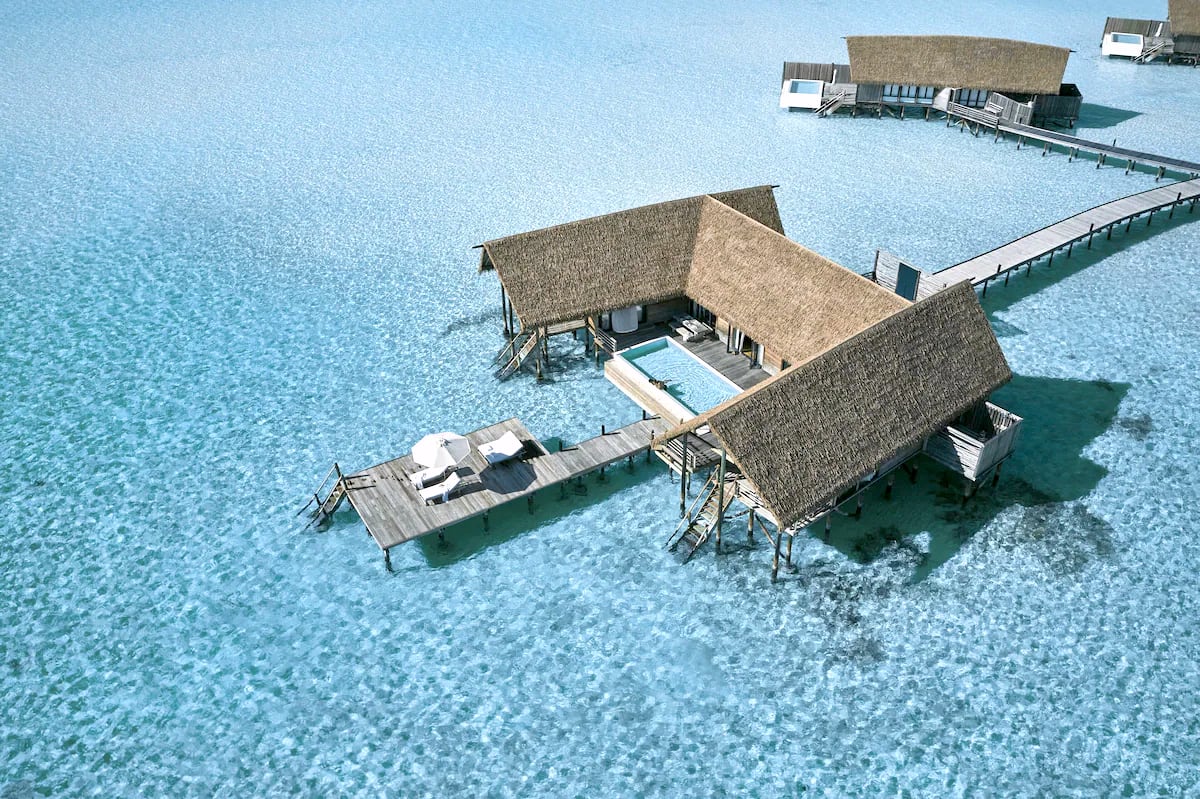 5-STAR ▪ ALL AGES ▪ SUSTAINABLE PRACTICES
COMO Cocoa Island
Last, but certainly not least, on our list of the very best Maldives Luxury Resorts, COMO Cocoa Island wows guests with its innovative Dhoni-inspired design, mind-blowing lagoon views, and sprawling COMO Shambhala Retreat, the island's extensive holistic island resort spa.
A variety of recreational activities and excursions await guests from wreck diving and whale shark tours to relaxing along the island's endless white-sands beach, making COMO Cocoa Island one of the very best luxury resorts in Maldives.
Be sure to check out COMO Cocoa Island's current offers and promotions for big savings, seasonal deals, and extra add-ons.
---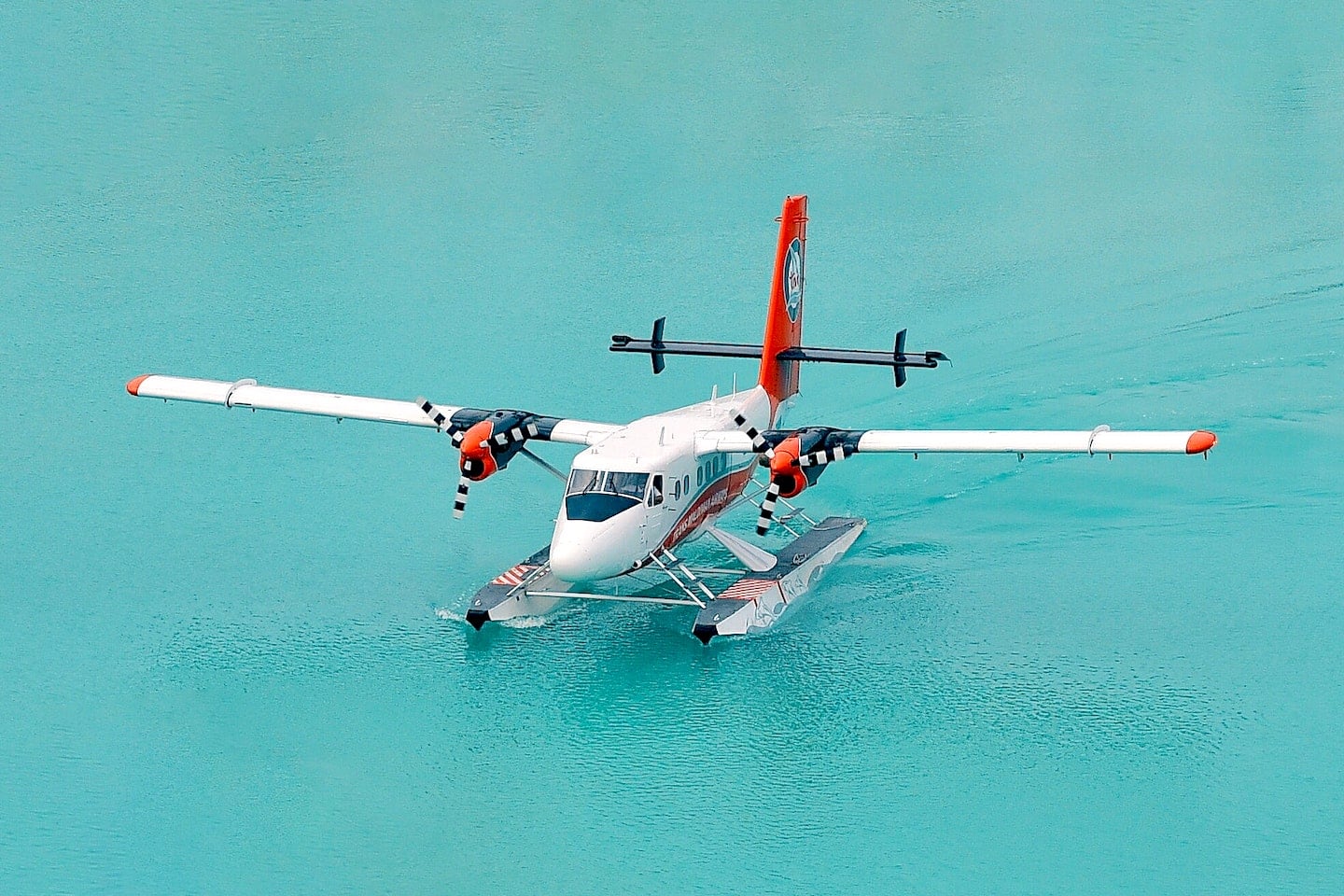 Our Top Tips for Booking the Best Luxury Resorts in The Maldives
If you're looking for a truly luxurious experience, then booking a luxury resort in the Maldives is the perfect choice. But with so many resorts to choose from, it can be hard to know which one to pick. To make it easier, here are some top tips for booking the perfect Maldives luxury resort.
Be aware that some of the best Maldives luxury resorts have minimum stay requirements to book. For example, Gili Lankanfushi Maldives requires you stay at least 5 nights.
Most luxury resorts in the Maldives are only accessible by boat or plane, and require an additional transport fee to cover the cost of getting between Male International Airport and the resort.
It's helpful to consider the kind of environment you want to be in. Do you prefer the hustle and bustle of a busy resort, or would you rather have a more peaceful, laid-back atmosphere?
Make sure the resort offers amenities that fit your needs, such as a spa or an on-site restaurant. Consider booking all-inclusive packages, which often include a variety of activities and amenities.
Read reviews from other travelers to get an idea of the level of service and what to expect from your stay.
Be sure to book early! Many of the best resorts in the Maldives fill up quickly, and prices can go up as availability decreases. If you're dead-set on an over-the-water villa, you'll definitely want to book those as early as possible.
With these tips, you greatly increase your chances of booking the perfect Maldives luxury resort for an unforgettable vacation!
---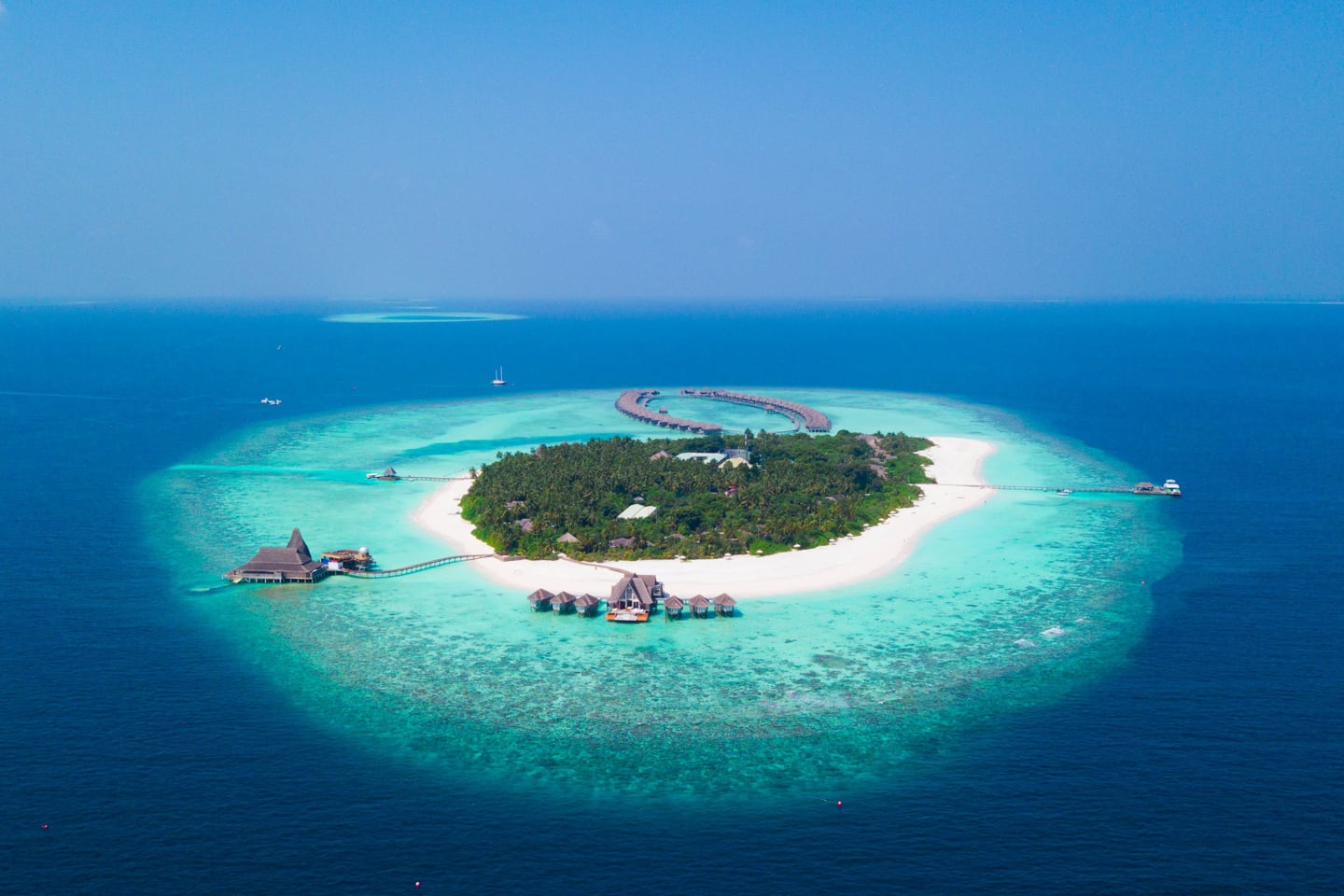 Maldives Luxury Resorts FAQ
What are the best luxury resorts in the Maldives?
There are so many world-class 5-star luxury resorts in the Maldives it's hard to choose just one! But we think Gili Lankanfushi Maldives and Soneva Jani are two great places to start. Check out our detailed guide to the VERY BEST Maldives Luxury Resorts for ten more spectacular choices for the ultimate vacation.
What are the best 5-star honeymoon resorts in the Maldives?
Any one of the amazing Maldives luxury resorts on our list would certainly make for one heck of an epic and unforgettable honeymoon vacation in the Maldives. But if you're looking for the most luxurious AND romantic stays in the Maldives, check out Soneva Jani, Ritz-Carlton Fari Islands, and Conrad Rangali Island.
---
How to Reduce Your Footprint
When traveling to any of these amazing destinations, it's important to have the time of your life, but also to be mindful of your individual impact. Here are a few easy tips for responsible travel:
Pack light. Reduce your carbon footprint by packing fewer items.
Know a bit about local culture and customs. Follow the local customs and show respect to your hosts.
Conserve energy. Remembering to turn off lights and appliances (especially air-conditioning units) when you leaving your room helps reduce carbon emissions.
Minimize your waste. Reduce the amount of waste you produce by bringing reusable items (such as a water bottle) and avoiding single-use plastics.
Respect wildlife. Avoid disturbing or harming wildlife and proceed with care in fragile marine ecosystems (particularly the Maldives' amazing coral reefs).
---
Thanks for Reading Our Guide to the Very Best Maldives Luxury Resorts and 5-Star Hotels
Have you stayed at any of these spectacular luxury resorts in The Maldives? Tell us about it in the comments below.
---
Cover photo source: Soneva Jani
I've been a blogger and travel writer since 2010, covering everything from luxury hotels to hidden destinations and travel gear. Originally from Oregon, I've spent the majority of the past 20 years living outside of the U.S., in Mexico, the Caribbean, Southeast Asia, Africa, and Europe. I received a BA in Communications (Journalism) from Boston College, and an MA in International Development Studies from the George Washington University. I'm passionate about exploration and discovery, and providing independent, thoroughly-researched, ad-free advice for travelers.