Planning a trip to Udaipur and want to know where to go and what to do? Here are the best places to visit in Udaipur in 3 days!
Udaipur is a great place to decompress and enjoy life after traveling around India for a while. Breathtaking scenery, friendly locals, and lots to see and do.
In this article, we share our 13 favorite attractions, eats, and other places to visit in Udaipur in 3 days—plus where to stay in Udaipur, how to get to Udaipur from Jaisalmer (and Jodhpur), the top things to do in Udaipur, and much more!
Why three days? Well, we've found that that's about the average length of time travelers we've spoken to plan to stay in Udaipur.
After a few days in this evocative and one-of-a-kind place, however, don't be surprised if you find yourself hungry for more!
🔥 Hot Tip 🔥
If you want to make the very best use of your time and money, we recommend booking one of these city tours with a local guide.
Udaipur is a unique and fascinating city with a rich heritage and we feel like we definitely short-changed ourselves by not doing one during our stay.
13 Amazing Places to Visit in Udaipur in 3 Days (2023 Guide)
Udaipur Places to Visit Map
Find all of the 13 amazing places to visit in Udaipur, India on our custom, interactive map, above. Read on to learn about each one in more detail (and why they're worth your time!).
We've included this map to give you a sense of the location of all the places to visit in Udaipur included in this article.
The center of the city is very walkable, though tuk-tuks (auto-rickshaws) are available near the waterfront as well as deeper into town.
1. Explore Udaipur's Ancient Alleyways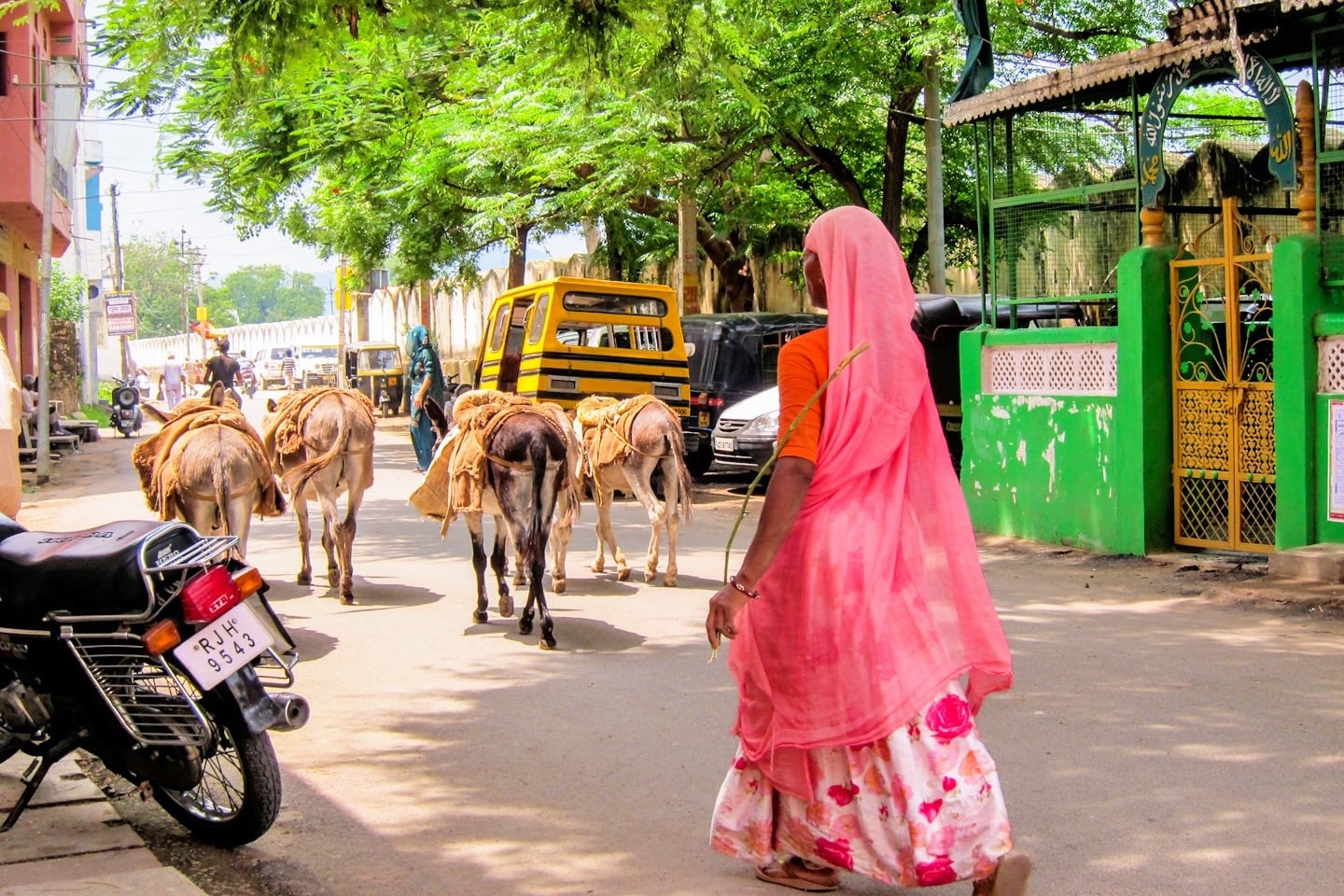 No matter how you end up in Udaipur, it's hard to deny that this is one great city to wander around in for a few days.
While certainly showing its age (much of the city dates from the 16th century, after all), Udaipur is a beautiful place built around a handful of lakes and surrounded by dramatic mountains.
Owing to its historic city center and dramatic scenery, Udaipur has served as the setting for a number of Hollywood and Bollywood movies, most notably the James Bond movie Octopussy, which they really play up in these parts. In fact, a number of venues offer daily screenings of the film.
Udaipur is also popular for weddings and honeymoons and is often billed as the most romantic city in India.
Walking around central Udaipur not only gives you a sense of the history and culture of this amazing city, but also offers endless opportunities for getting lost in its bustling streets and winding alleyways.
And the best part is, you never know what you may find around the next corner…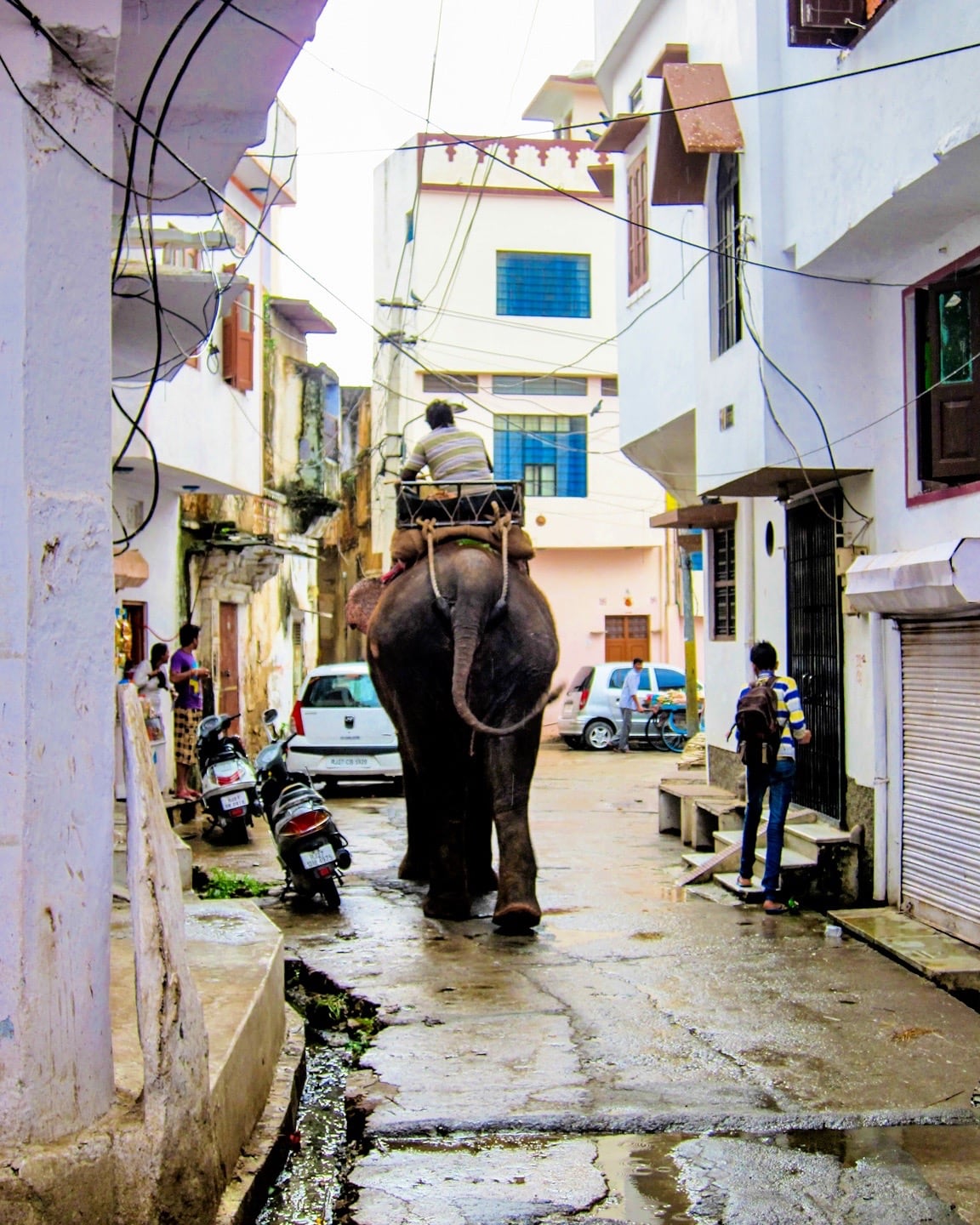 What's Trending in Udaipur
Check out which tours and experiences visitors to Udaipur are booking right now.
2. Chat Up Residents at Local Shops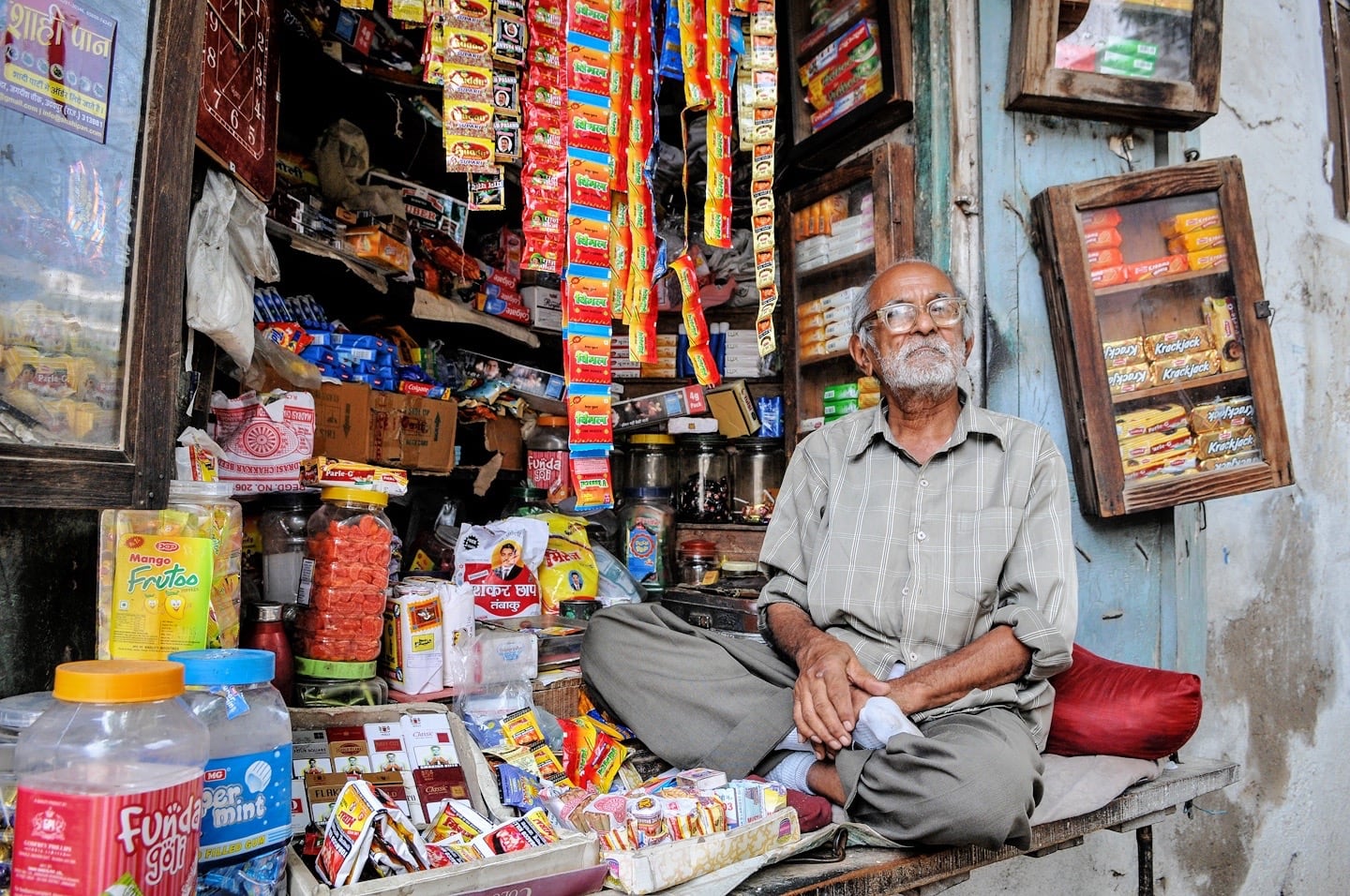 Chatting up the locals in the city center was also one of our favorite things to do in Udaipur.
This part of town receives a lot of international tourists, and local residents here seem to speak a lot more English than we've encountered in other cities across India.
But the best part about chatting up locals in central Udaipur might just be the relaxed atmosphere and absence of the high pressure touts we've encountered in places like Agra, Varanasi, and Delhi.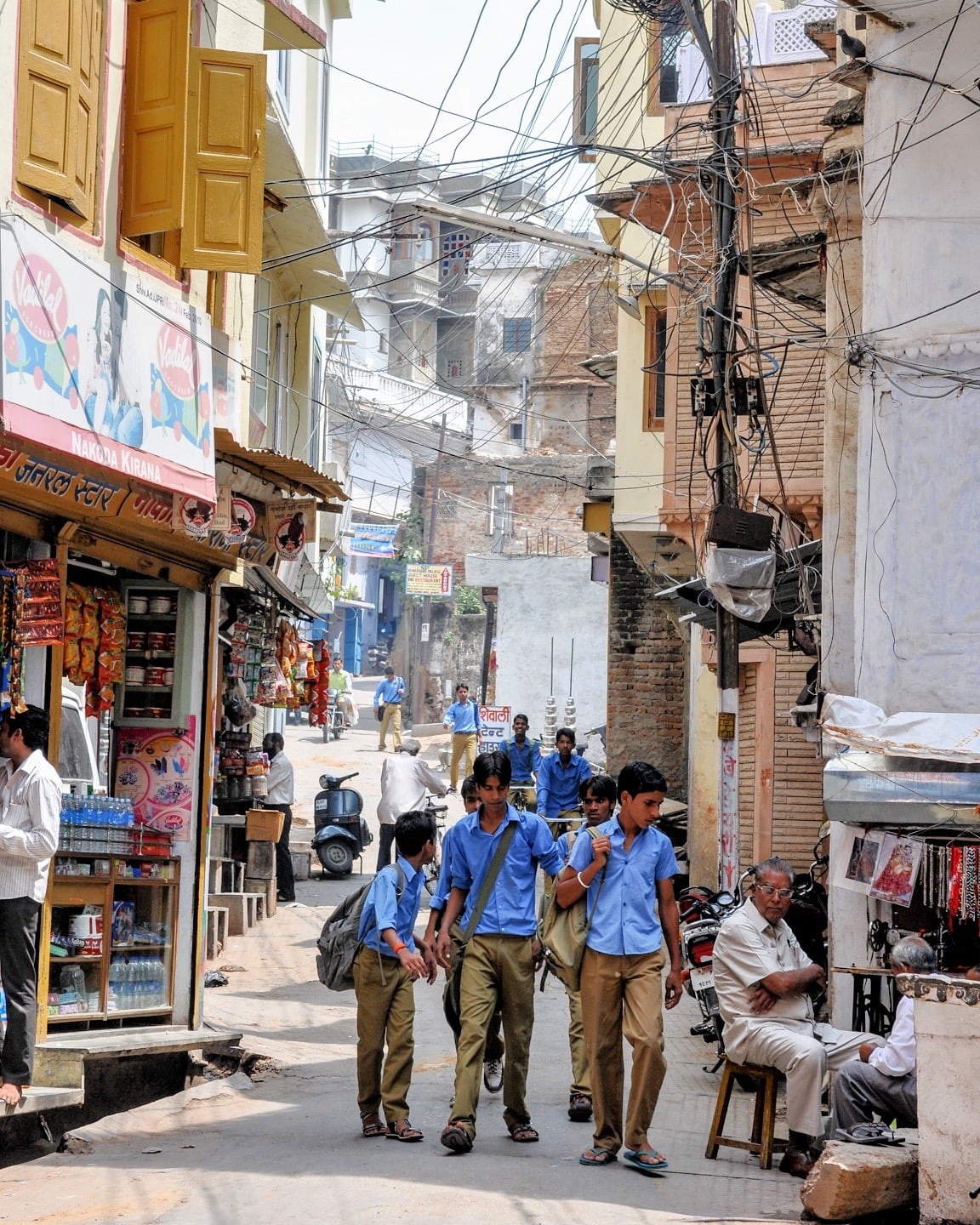 3. Explore Udaipur's Historic Havelis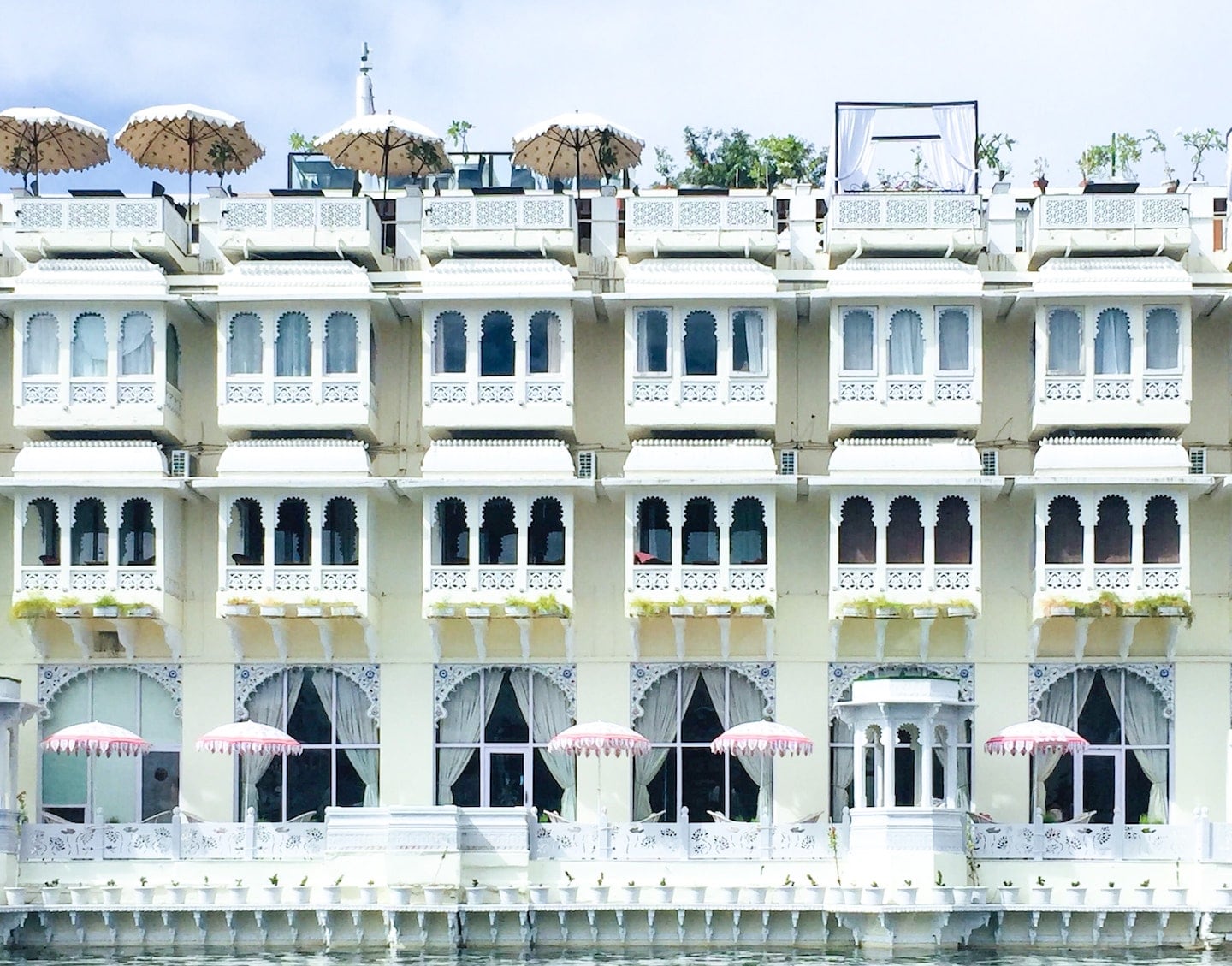 Take the time to tour one the multitude of Havelis (historic mansions) in Udaipur. The city is full of these beautiful places!
Or, better yet, stay the night in one!
We recommend checking out Jagat Niwas Palace (from US$113) for the ultimate 17th century Udaipur Haveli stay in the heart of the the city, just steps away from the City Palace. Jagat Niwas features Ayurvedic massages, horseback riding, folk puppet shows, and one of the best lake-side restaurants in Udaipur!
Just northwest of Jagat Niwas, check out Amet Haveli (from US$119) for another excellent heritage stay near the center of Udaipur's best attractions. Amet Haveli may be a bit farther away from the action than Jagat Niwas, but the reward is amazing views of the City Palace and Udaipur skyline.
We stayed in Dream Heaven Haveli and enjoyed our time there. However, that was a few years ago and reviews aren't so stellar these days. But if you're looking for an economical place to stay (rooms start at US$14/night) near the heart of the action with A/C and phenomenal city views, Dream Heaven Haveli might fit the bill.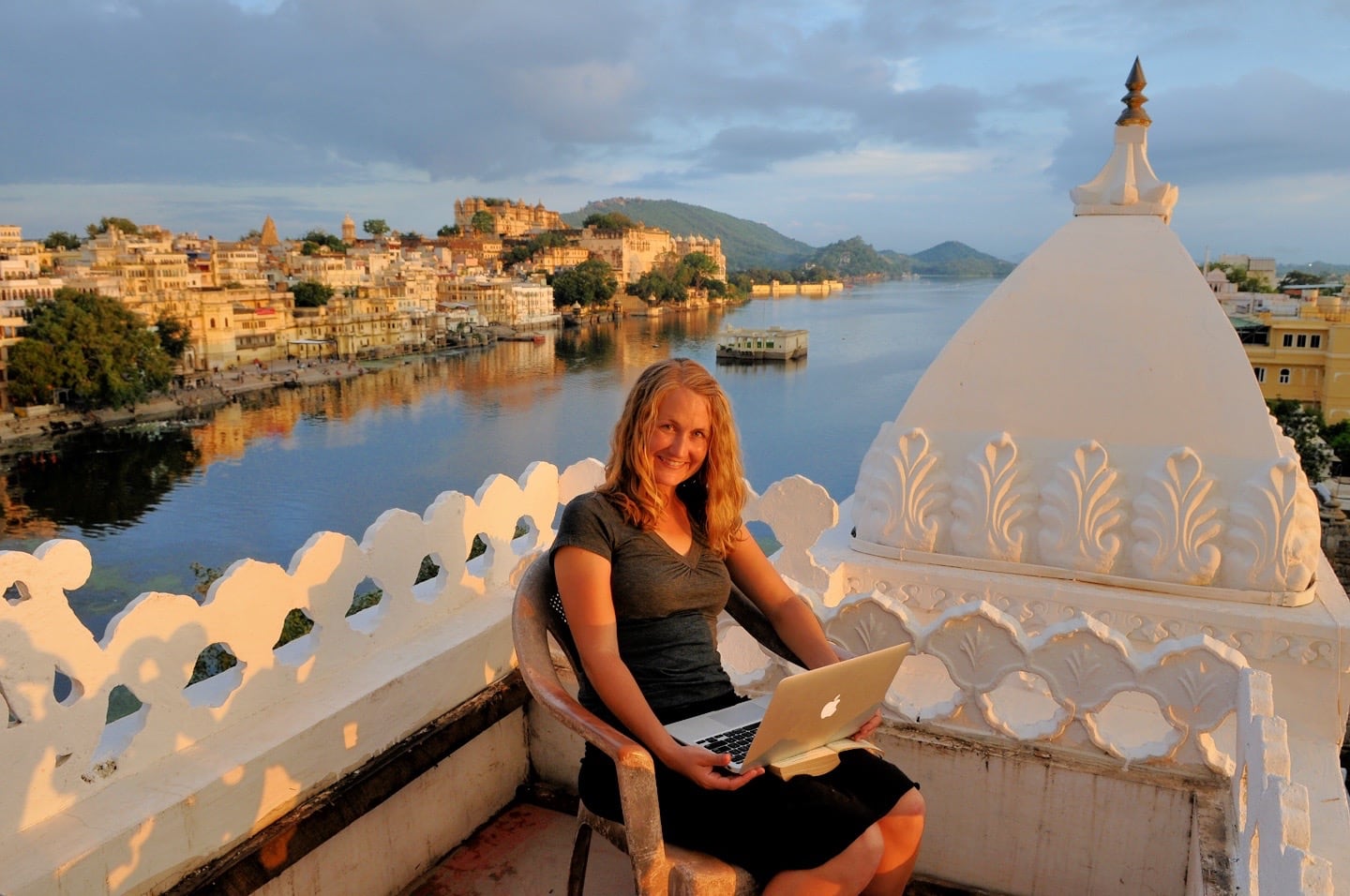 Looking for a more luxurious stay for a special occasion? Check out our detailed guide to the very best hotels and resorts in Udaipur.
4. Visit the Ghats of Lake Pichola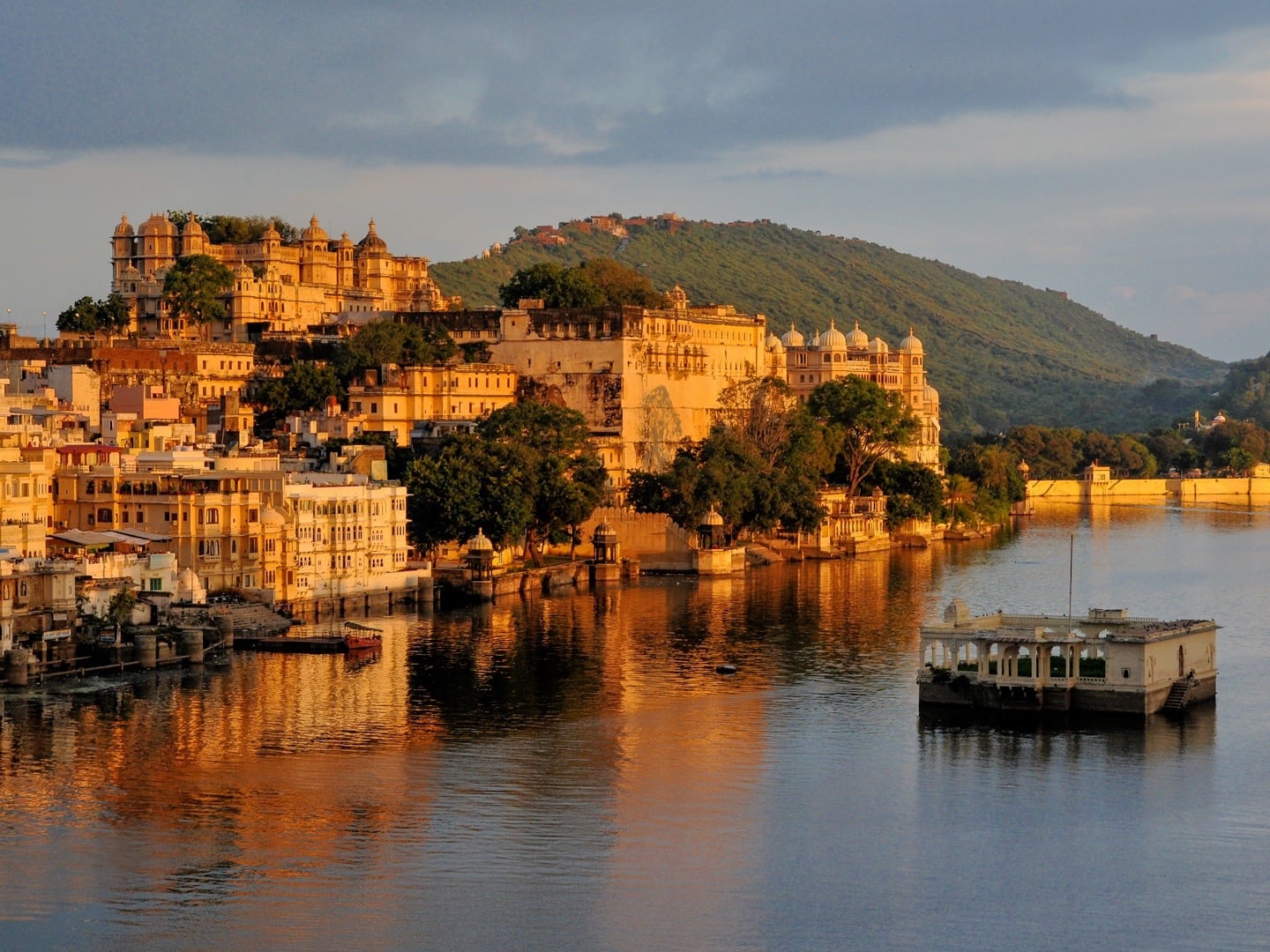 Ghats are those steps you see in a lot of river and lake towns in India running down into the water. Some are holy and/or historic places, while others just make for a stunning place to rest.
Ghats are some of the best places to visit in Udaipur for spectacular views and unique insights into daily life.
Four ghats you should definitely check out are Gangaur Ghat (the "ultimate sunset point" in town), Ambrai (Hanuman) Ghat for stunning city views and delicious food, Laal Ghat, a holy site for pilgrims and devotees, and Nav Ghat, the city's boat dockyard.
🔥 Hot Tip 🔥
Short on time? See the ghats by boat!
Taking a guided ghat tour and boat ride offers a unique perspective on this ancient and atmospheric city on the lake.
One important thing to note about Lake Pichola is the variable water level. We visited Udaipur toward the end of the monsoon season when the lakes were at their deepest. Yet, large portions of the lake actually dry out for much of the year, making for a popular recreational area for residents (see below).
Hit the weather and the crowds right and you might very well discover that the ghats end up being among your very favorite places to visit in Udaipur in 3 days!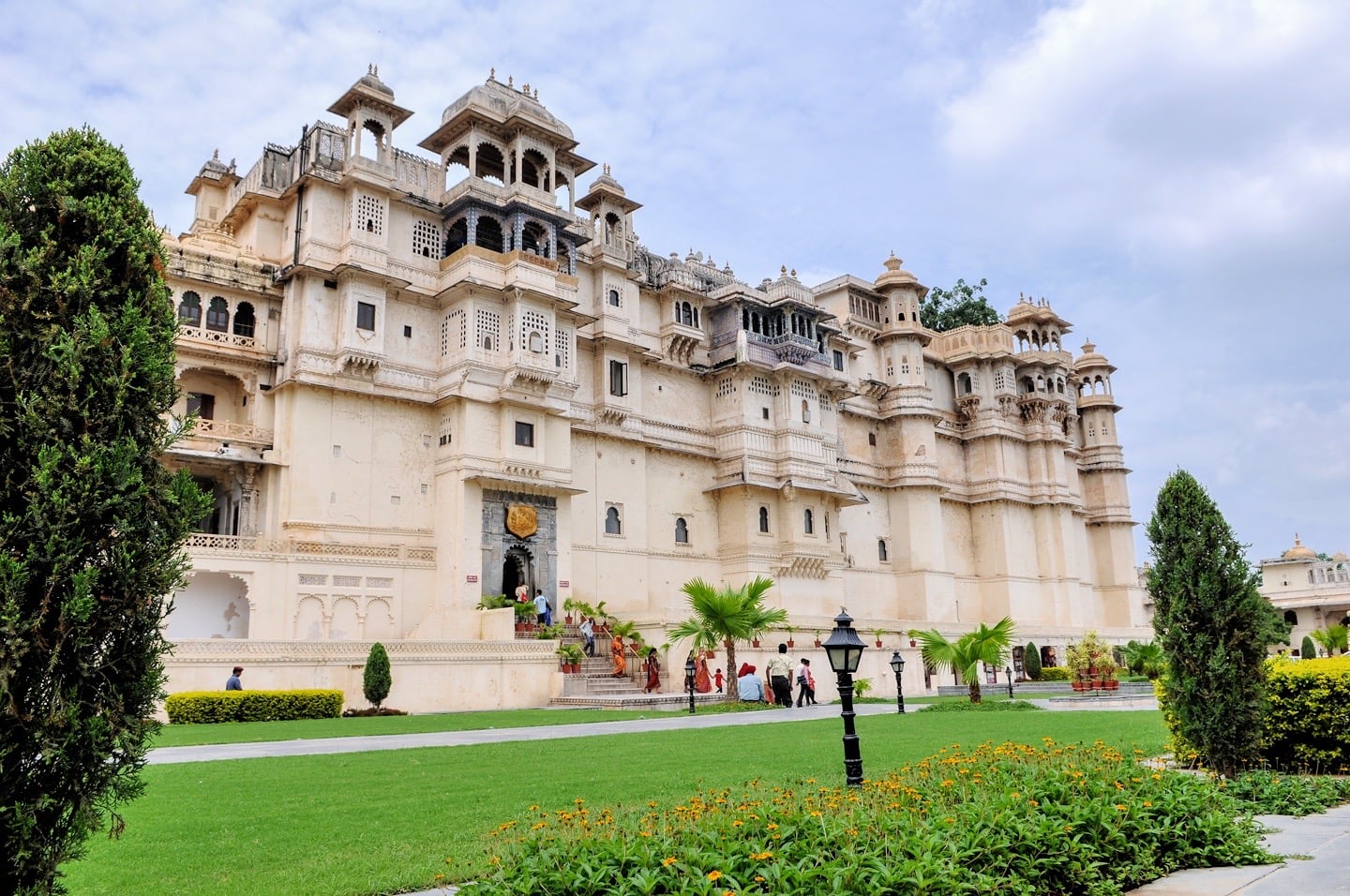 You can't spend three days in Udaipur without visiting one of the most historic and beloved places to visit in Udaipur – the City Palace.
Heck, the palace is so conspicuous, it's virtually impossible to escape a view of it!
The City Palace is actually a number of separate palaces constructed over a span of 400 years. The entire complex is now a museum open to the public, except for Shiv Niwas Palace and the Fateh Prakash Palace which both have been converted into heritage hotels.
Get your tickets at the door or skip the line and reserve a tour in advance online.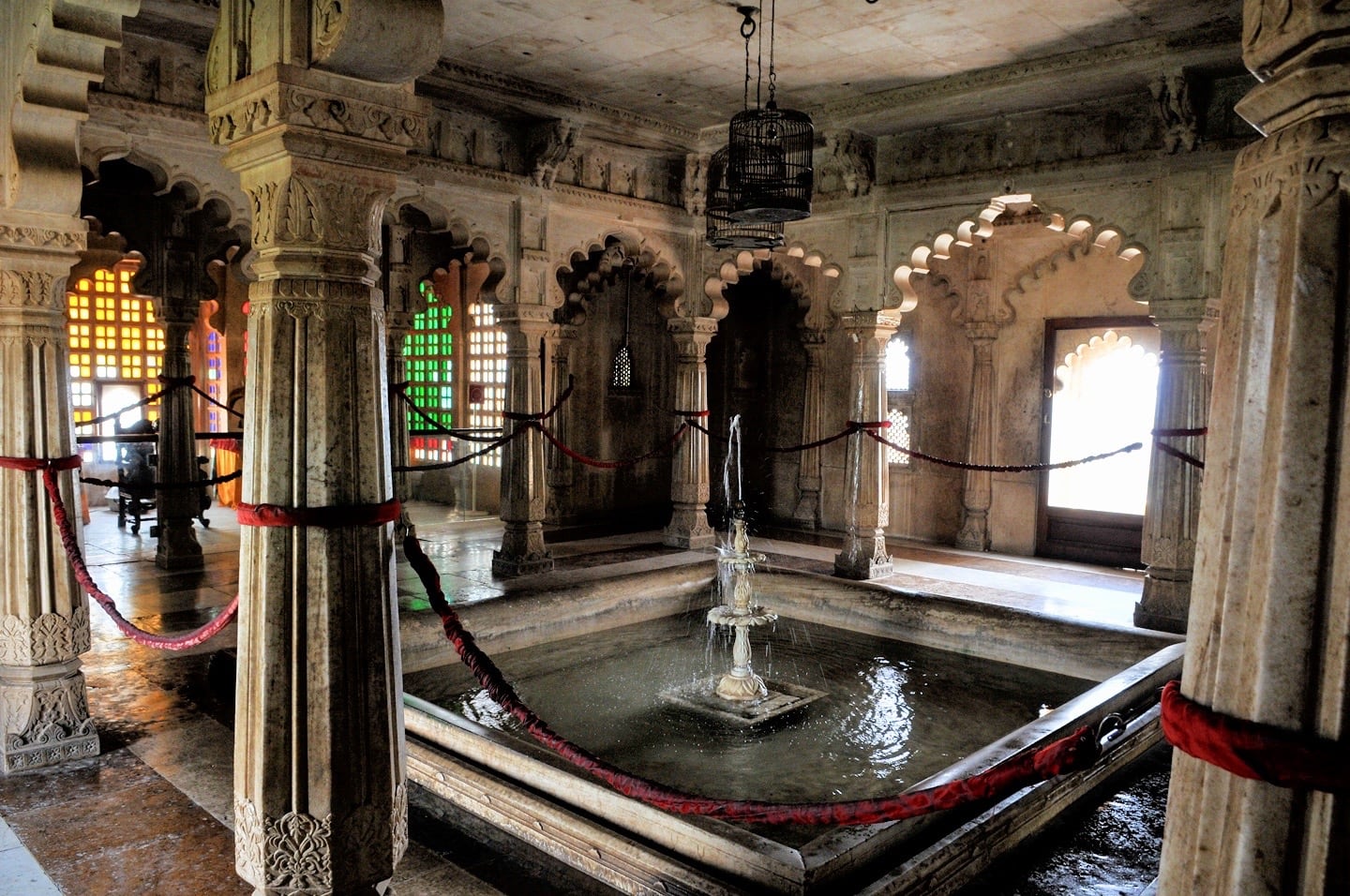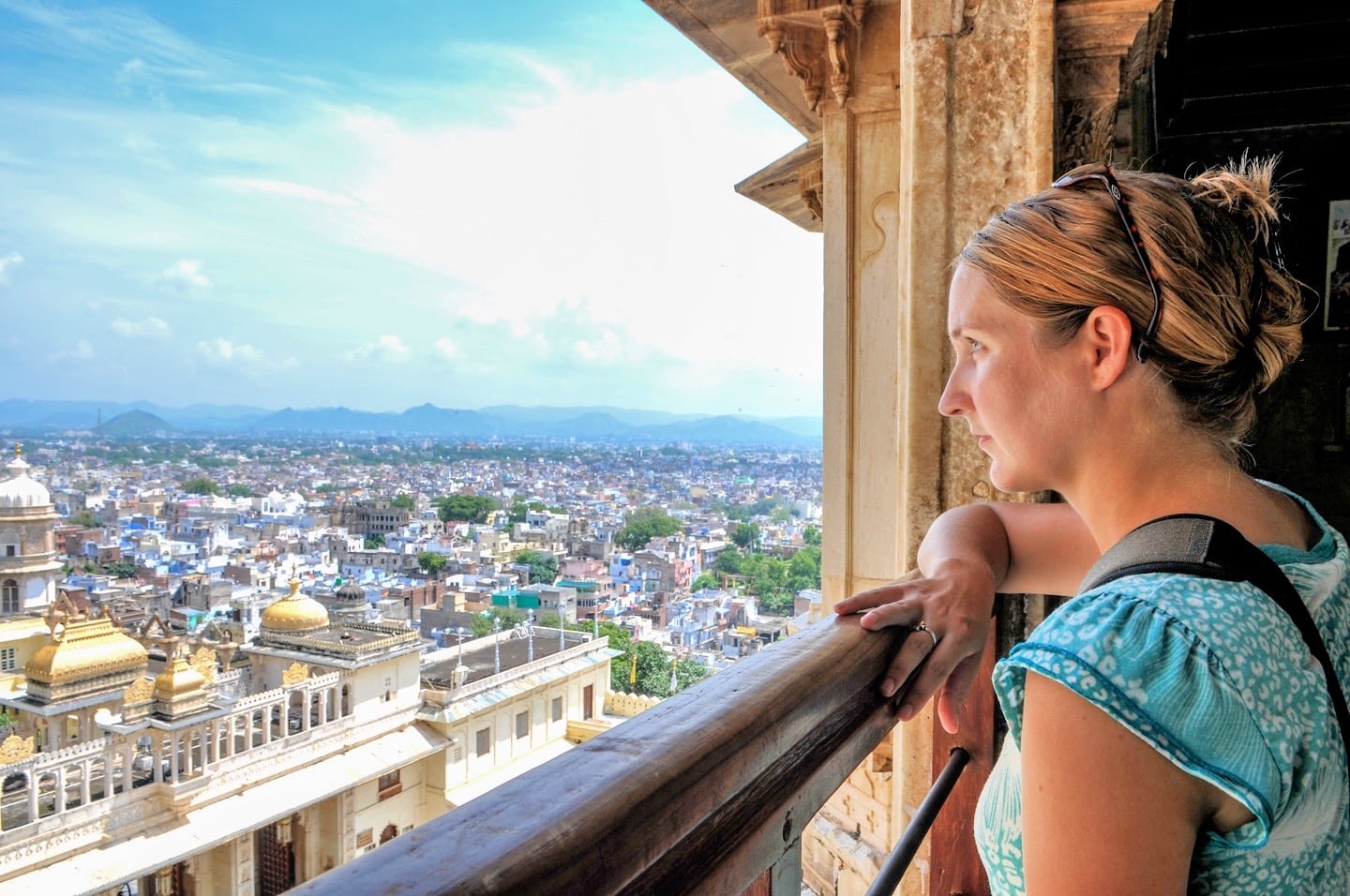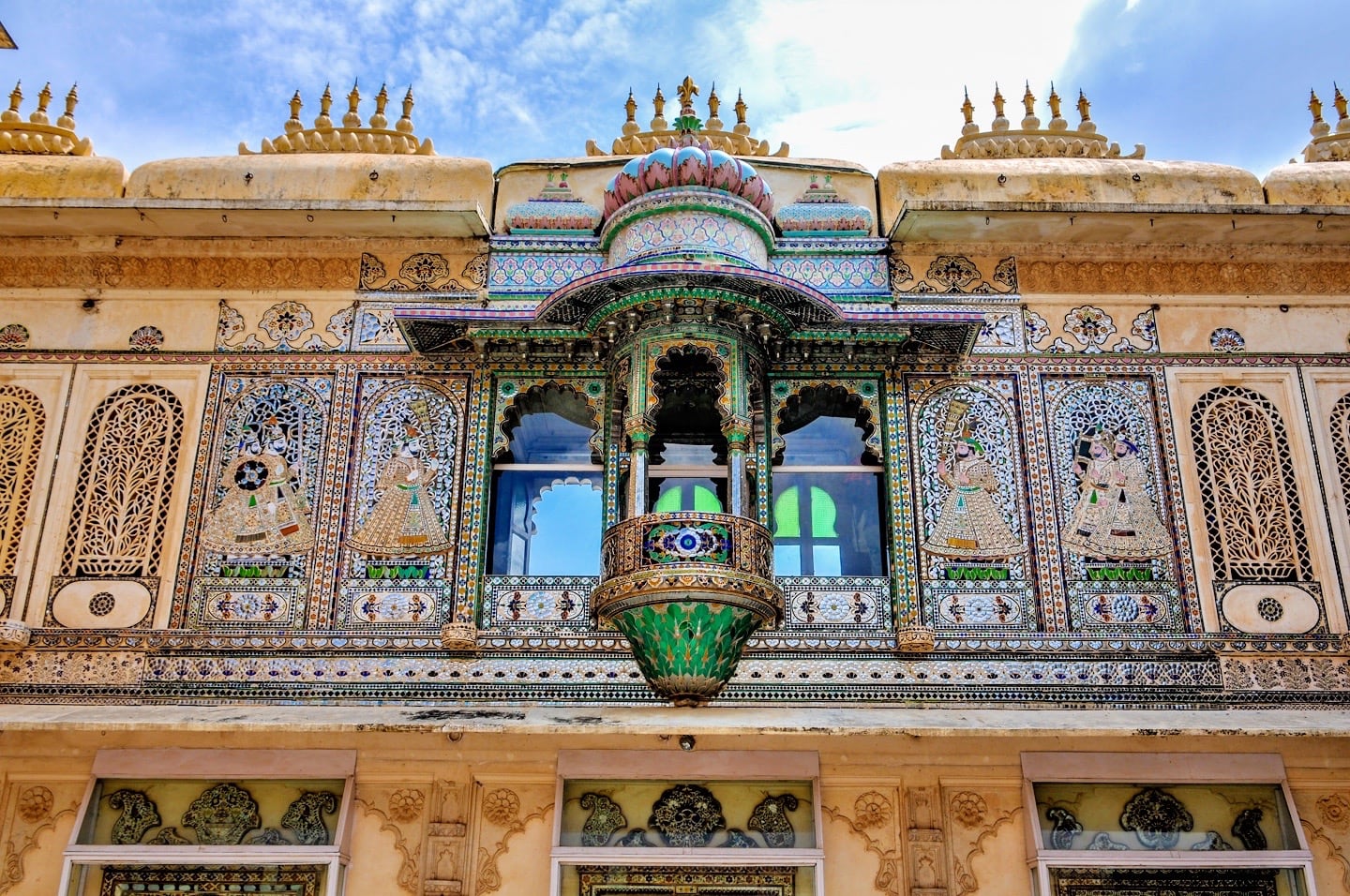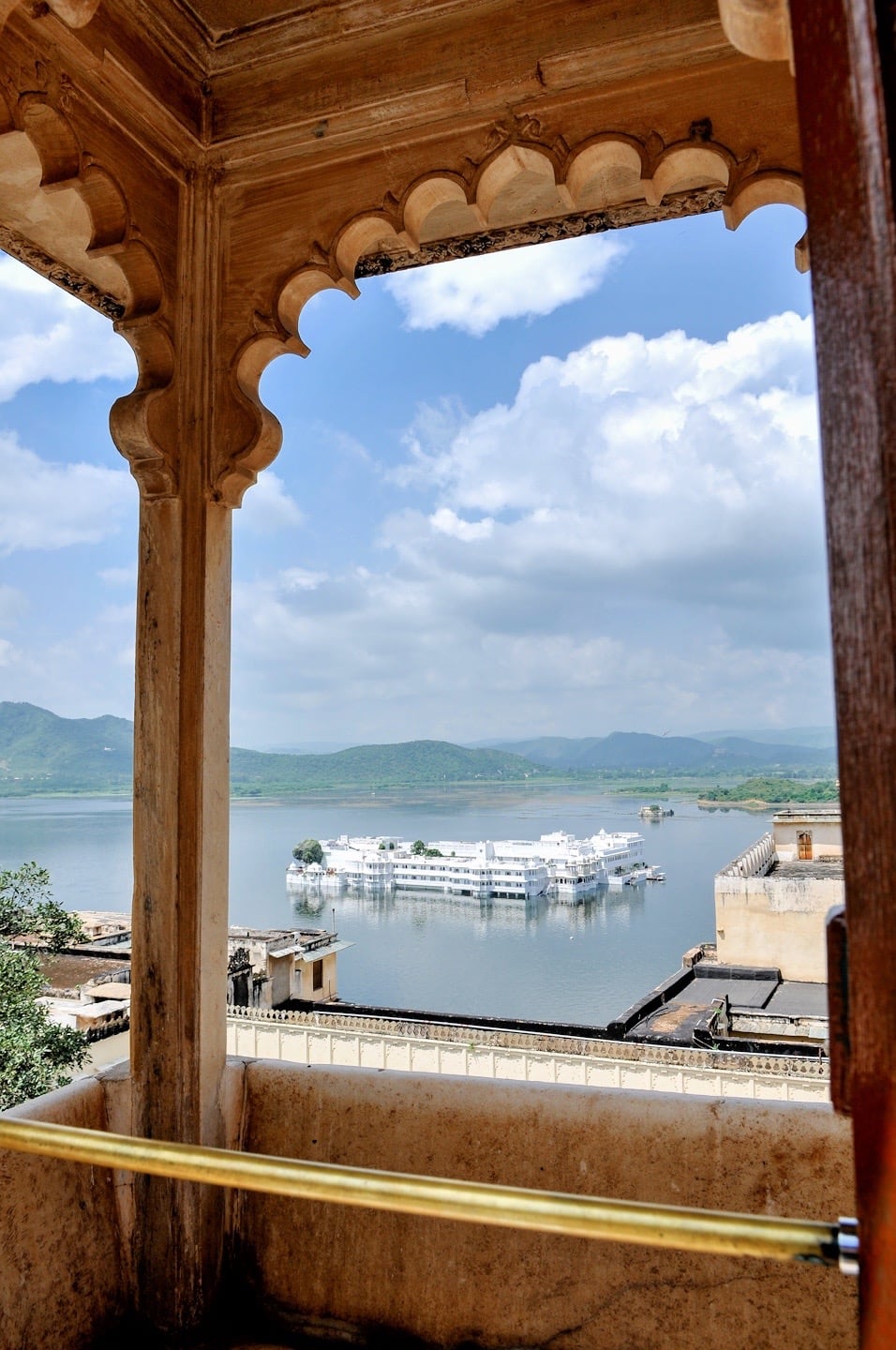 The palace houses a number of artifacts, paintings, and decorative furniture once used by its former royal residents.
City Palace is one of the top places to visit in Udaipur, so make sure you buy your tickets as soon as you arrive in town.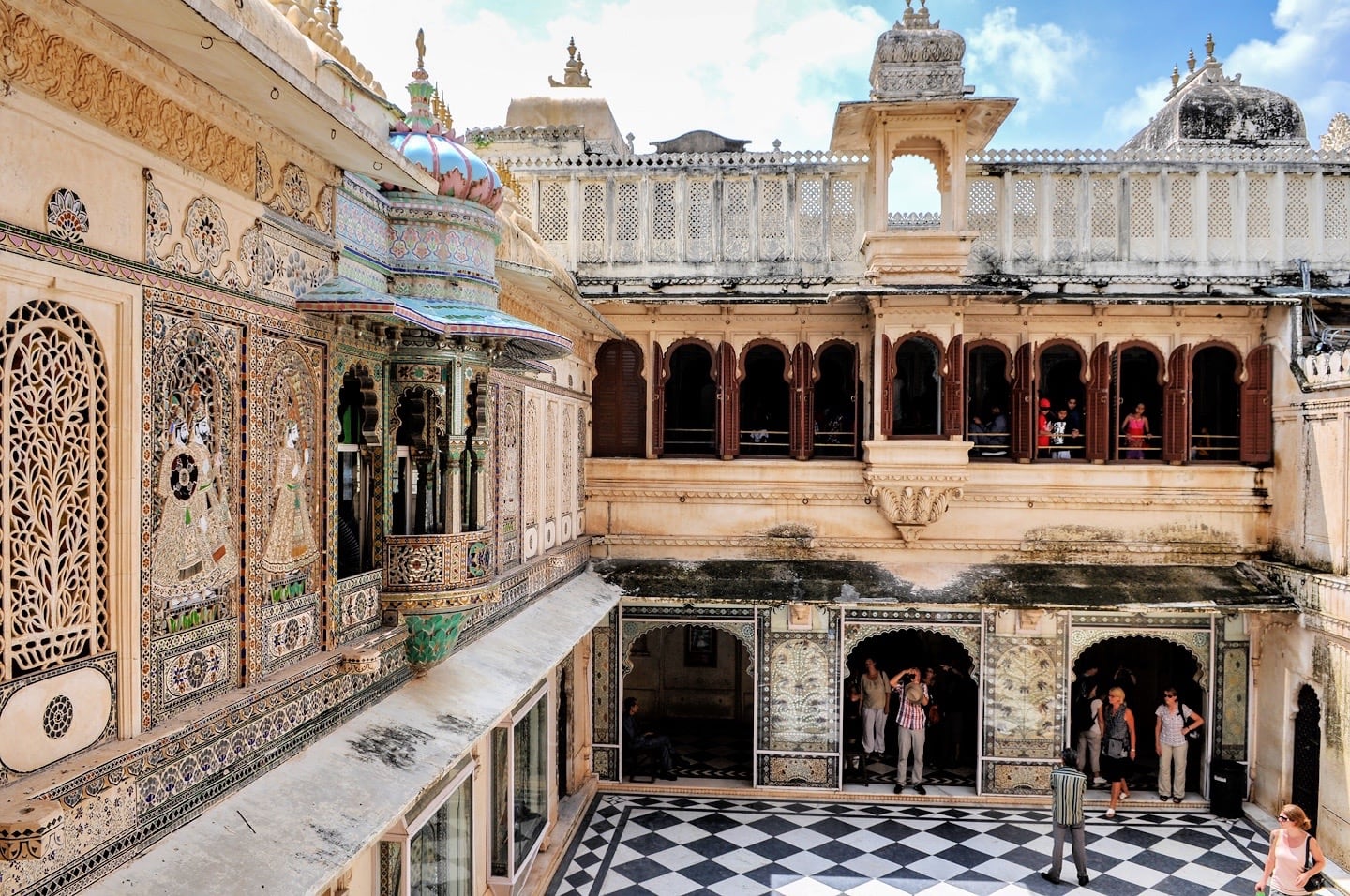 6. Take a Boat Out to Jag Mandir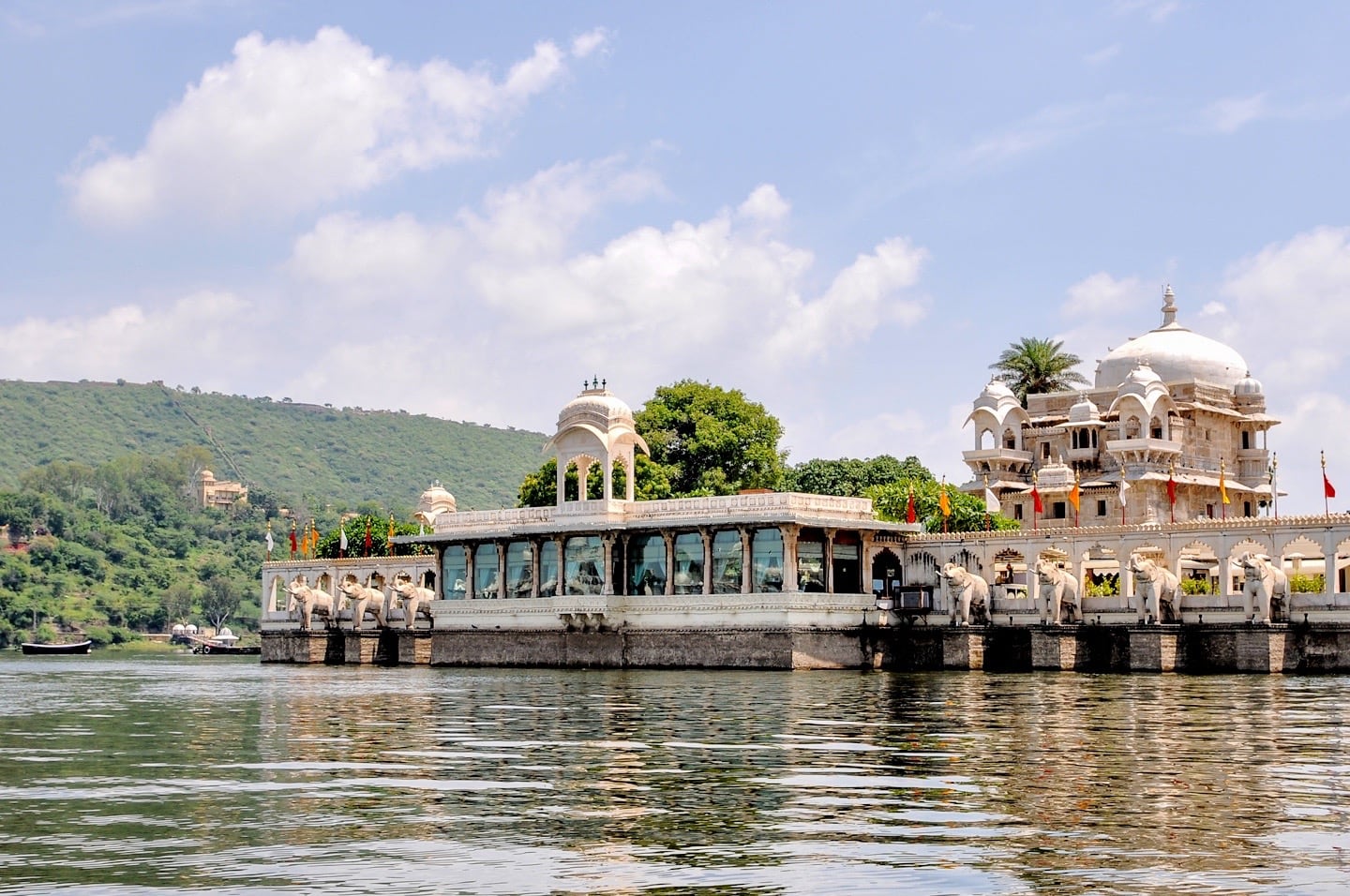 Part of our City Palace ticket included access to the palace boat docks from where you can catch a ferry out to Jag Mandir, one of Udaipur's famed lake palaces.
While it's not the Lake Palace (Jag Niwas), it's certainly worth the journey and the time strolling around the grounds.
There is a cafe operated by a local hotel group within the palace courtyard. However, if you've spent the last month backpacking around India like we have, you may find the cafe prices a bit hard to stomach.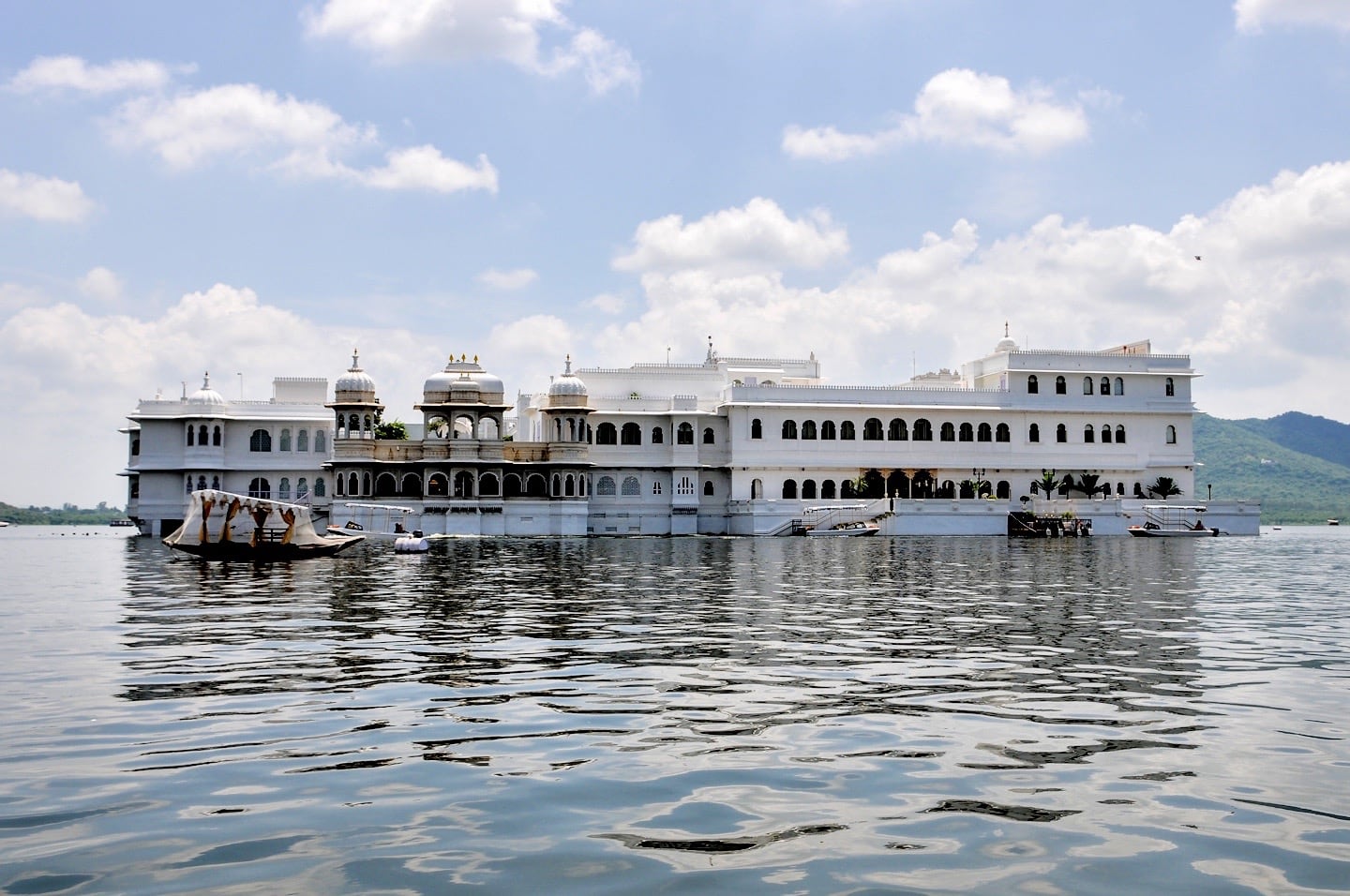 From the ferry to (and from) Jag Mandir, we got a close-up view of the famous Taj Lake Palace Hotel (not to be confused with the Taj Mahal in Agra or Taj Mahal Palace Hotel in Mumbai, of course).
Scenes from 007's Octopussy were filmed here and now it's an exclusive hotel.
For many visitors, Lake Pichola is a highlight of their visit and one of their favorite places to visit in Udaipur.
🔥 Hot Tip 🔥
Celebrating a special occasion? Want to tour Jagmandir Island Palace in style? Dine like royalty on Jagmandir Island with this romantic and personalized 3-course dinner overlooking the sparkling lights of historic Udaipur. Boat transfer and land transfer from your hotel included.
7. Visit a Mehndi Henna "Tattoo" Parlor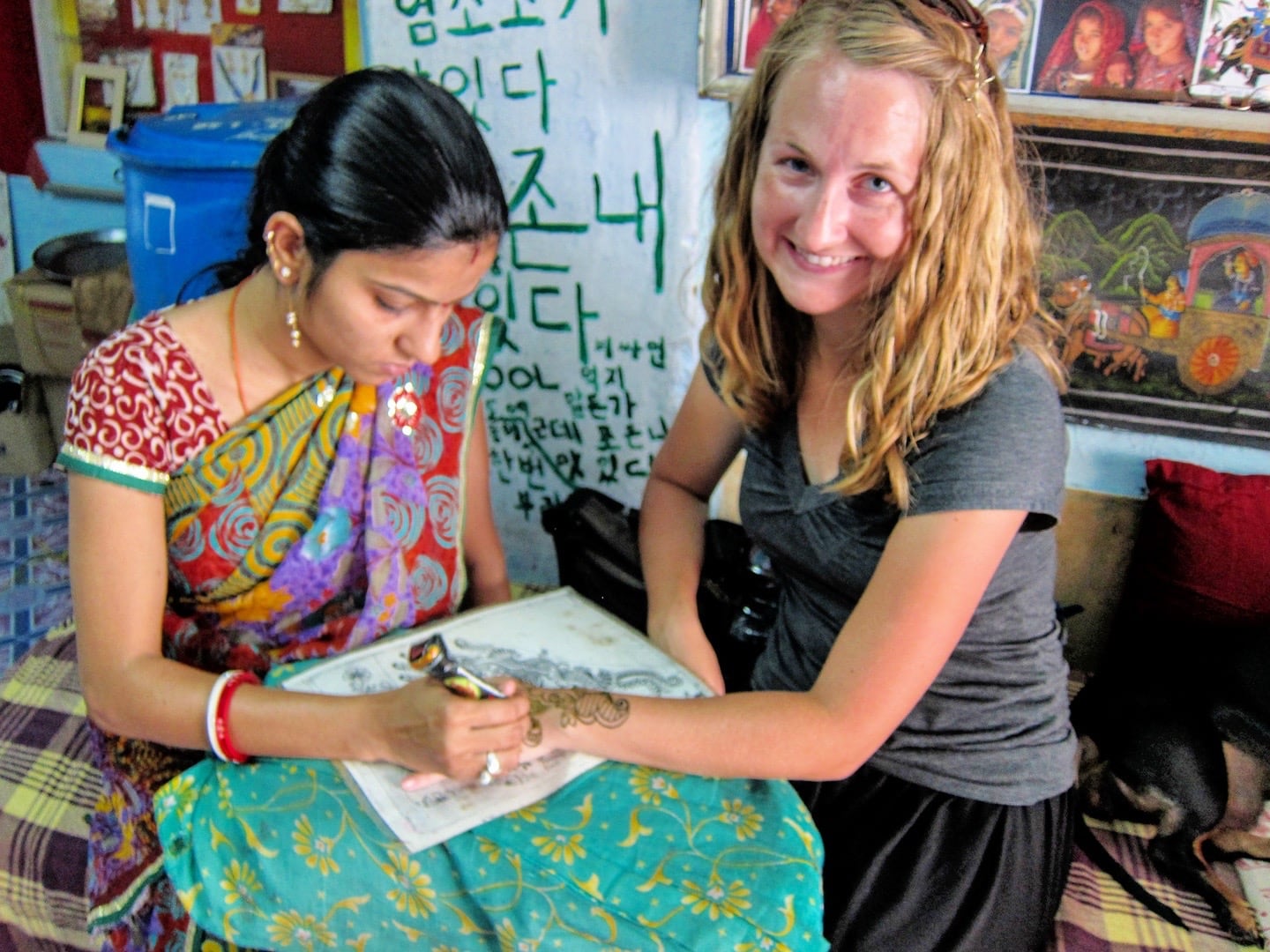 If you've got three days in Udaipur, you might as well get some ink done.
Mehndi art "tattoos" aren't really tattoos at all, but intricate ink (henna) designs that fade after about two weeks.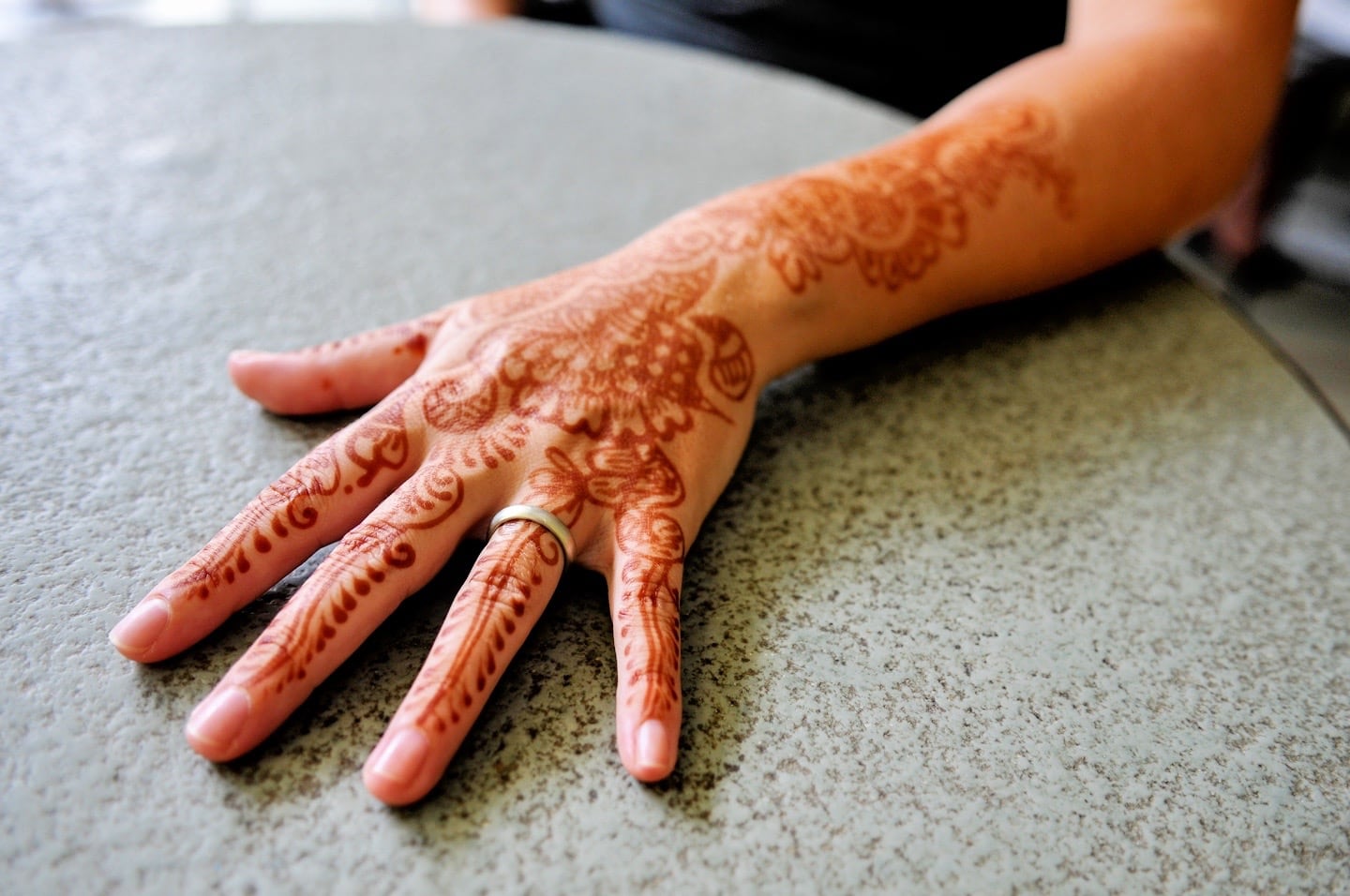 Lori's Mehndi, a day or two later, after the paste had dried and fallen off. We were pretty impressed with the work.
IMPORTANT
Make sure you choose a reputable place to get your Mehndi done, as less scrupulous parlors across India have been known to use caustic chemicals that can leave permanent scars. It's also worth noting that some people have reported allergic reactions to the henna dye. With all that said, Lori's experience was very positive.
8. Explore the 17th century Jagdish Temple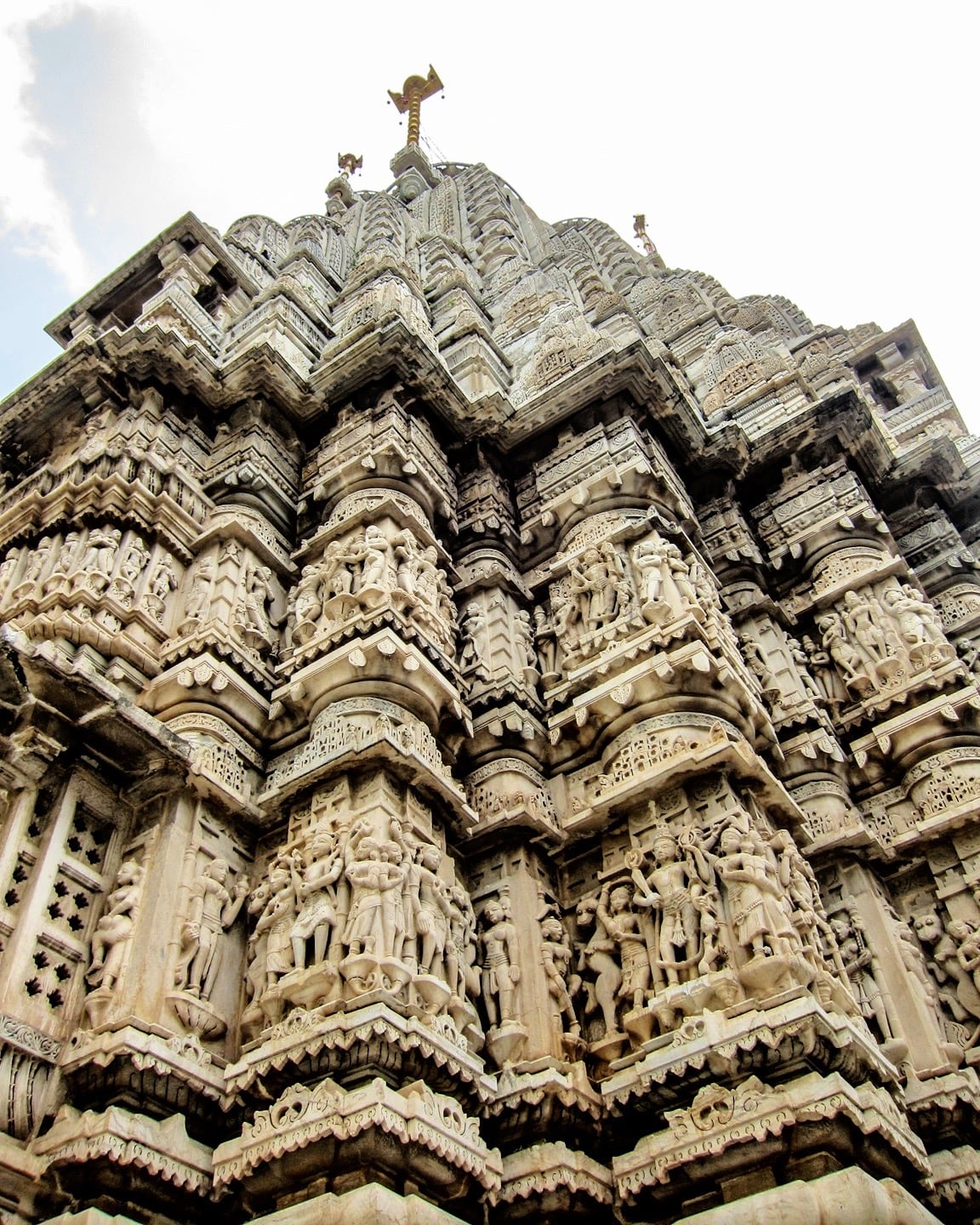 Jagdish Temple was located very close to our guesthouse, but we waited to visit it until our last full day.
Call it temple burnout or just bigger fish to fry in Udaipur, but Jagdish ended up at the bottom of our shortlist of things to do in Udaipur.
But we were so glad we did fit it into our visit and encourage others to visit as well.
Jagdish Temple is not to be missed if you happen to be in this part of town. It quickly became one of our favorite places to visit in Udaipur.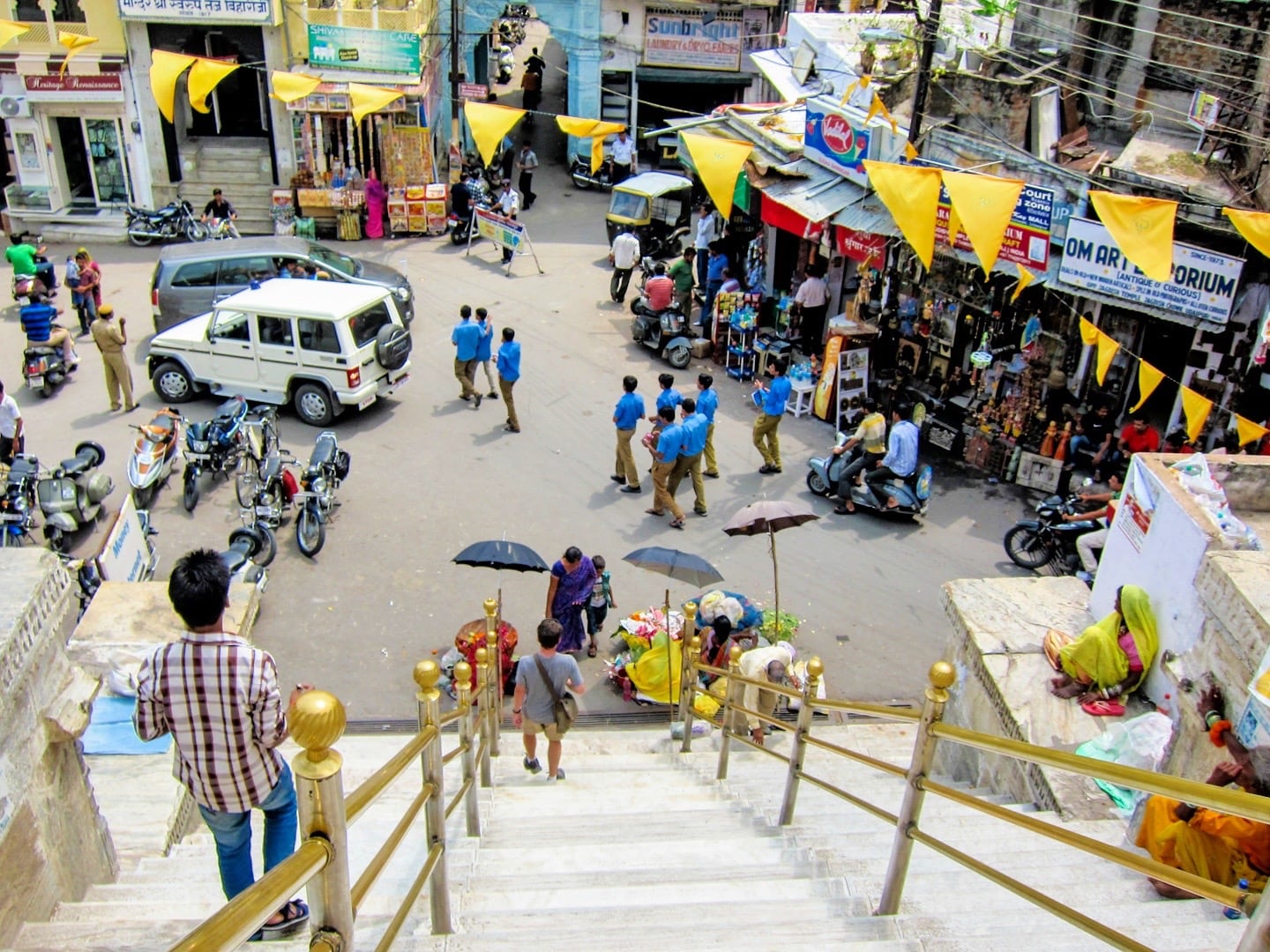 9. Take a Trip to the Monsoon Palace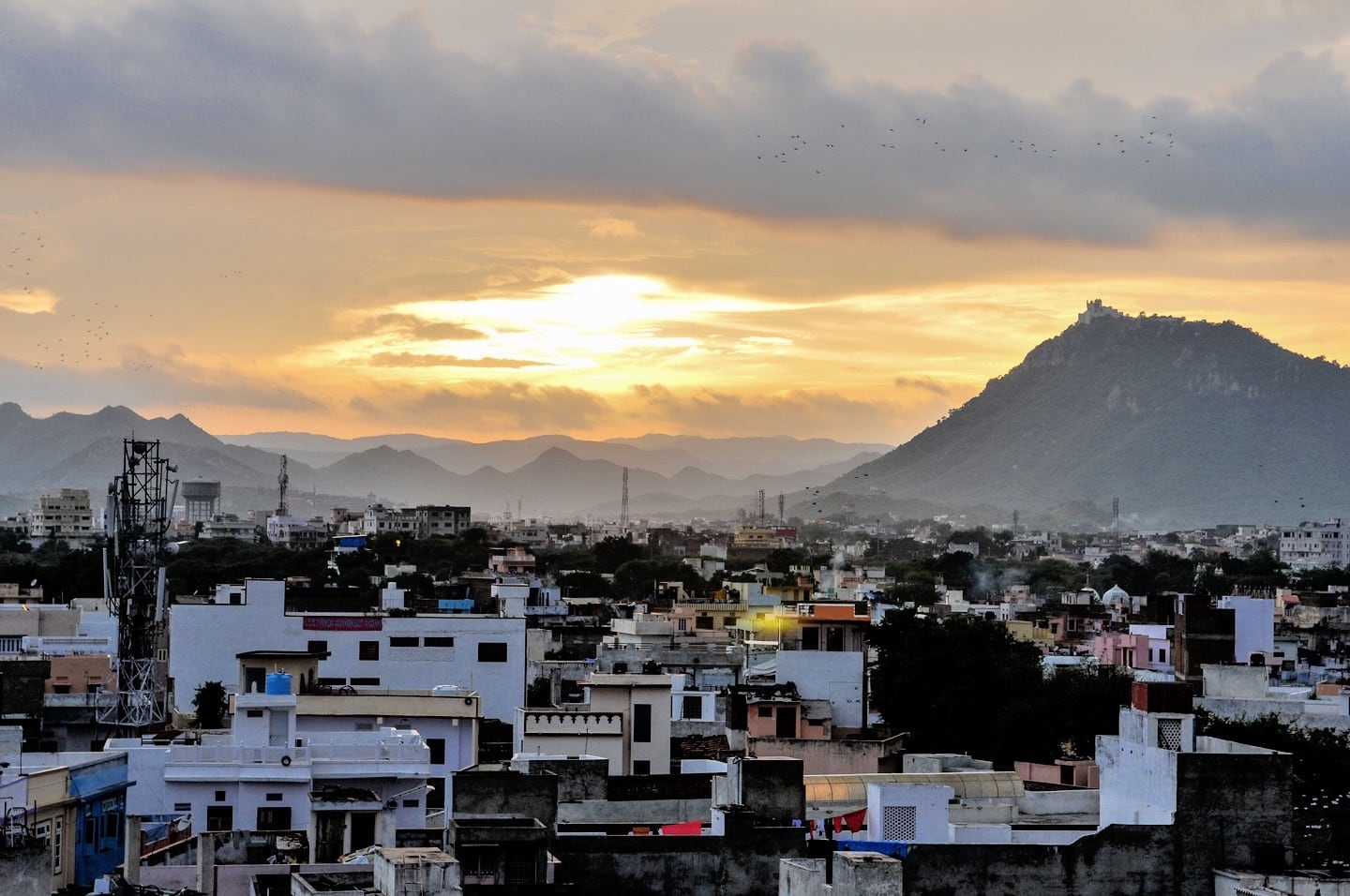 We enjoyed viewing the Monsoon Palace at sunset every evening from our guesthouse balcony. And eagerly waited for a weather window to visit the famous landmark.
Even if you've only got three days in Udaipur, the Monsoon Palace is so iconic, we still recommend you try to fit a visit in. The best way to do so in a limited timeframe is by going with a tour.
There are a number of tour companies in the city center that offer day trips, and many guesthouses and hostels can also arrange a trip as well. You can even book a private sunset tour of the Monsoon Palace online!
If you aren't able to squeeze a visit in, not to worry. There are still plenty of other places to visit in Udaipur in 3 days!
Places to Visit in Udaipur in 3 Days – Favorite Bites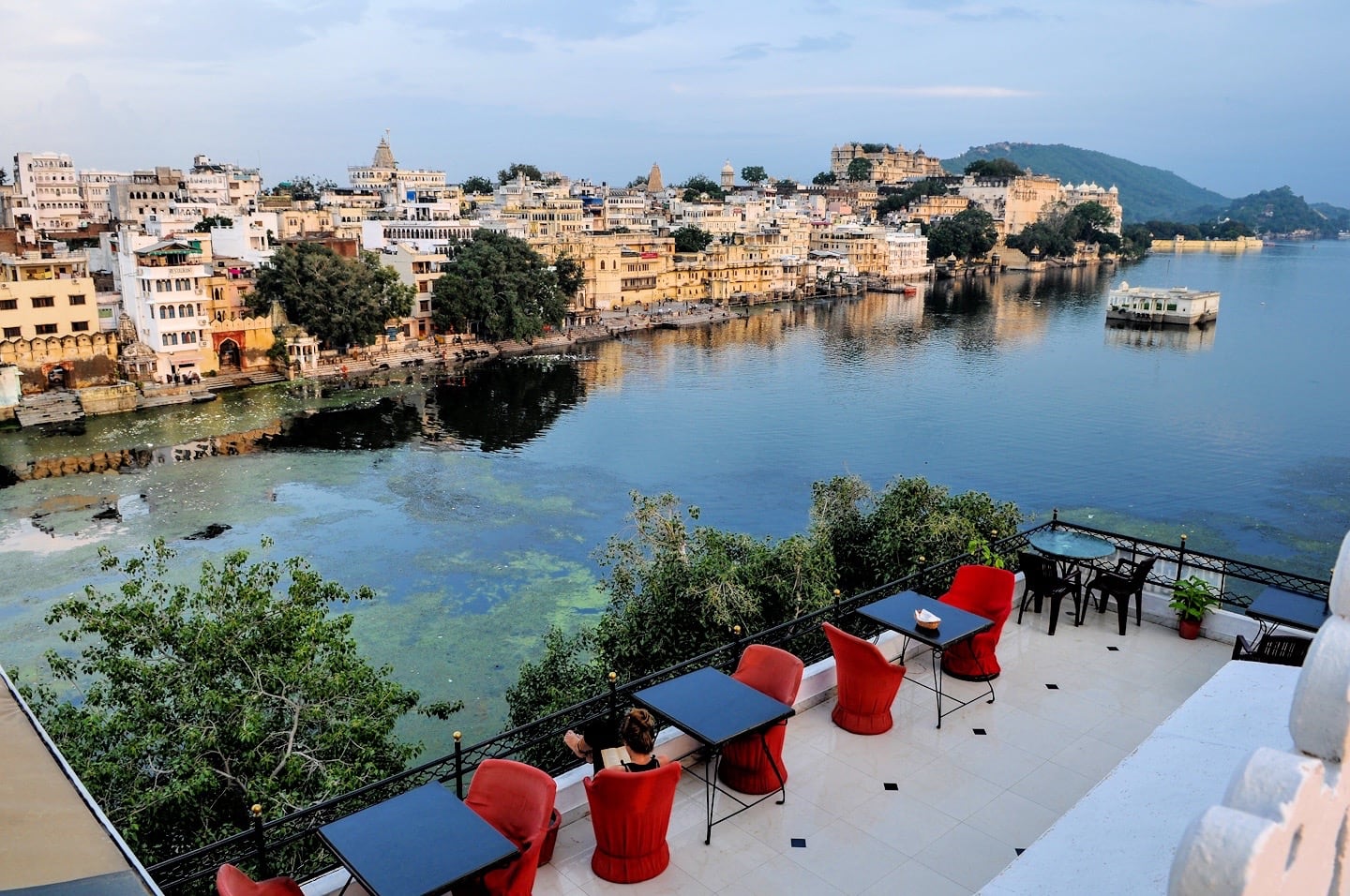 We found Udaipur to be a most agreeable place in no small part due to the food!
Udaipur has a great selection of cuisines and the food is top-notch, not to mention that the views at some of the places we ate were worth the cost of the meal, alone.
Here are a few of our favorite eating places to visit in Udaipur:
10. Dinner at Chandni, Jagat Niwas Palace Hotel
Chandni at Jagat Niwas Palace Hotel topped our list of favorite places to visit in Udaipur for dinner — a bit pricey for India (ran us around US$13 and we generally share a thali or entree/appetizer) but well worth it.
The dining room is in a really cool setting surrounded by the palace with a great view of the lake.
The restaurant serves Indian, Continental, and Chinese dishes, but they are known for their local specialties.
Ambrai was perhaps our second favorite place to eat in Udaipur, with great views of the city, and within a short walk of our guesthouse.
Also a bit pricey by India standards (US$10 splitting a meal), but worth it. Most people seem to visit Ambrai for the atmosphere and the tasty tandors!
12. & 13. Breakfast at Namaste Café & Café Edelweiss
These two cafes are right next to each other, offering good coffee, tasty pastries, sandwiches, and European breakfast offerings that were better than most attempts we've come across in India.
If you're from Europe or North America and missing a taste of "home," these two places might quench your craving.
Learn to Cook Your Favorite Indian Dishes in Udaipur!
There are a number of excellent cooking class options available for visitors to Udaipur. This private 4-hour Indian cooking class is one of the best values we've seen. We really wish they had this when we were staying in Udaipur!
Getting to Udaipur from Jaisalmer (via Jodhpur)
Note to our readers: Please be aware that train and bus information in India changes frequently. Please let us know in the comments below if there's anything in this section in need of an update. Many thanks in advance!
Taking the Train from Jaisalmer or Jodhpur to Udaipur
Udaipur is located in the northwestern state of Rajasthan, about 250 miles southwest of Jaipur.
Coming from Jaisalmer, it wasn't immediately clear how to get to Udaipur, as there is no direct rail link between the two cities, which we found incredibly surprising given India's vast network of rail.
Even if we had backtracked to Jodhpur, there's still no direct service, even though Jodhpur and Udaipur constitute two of the most significant population centers in the state and are only about 150 miles apart.
We did find, however, that if you wanted to travel exclusively by rail, you can take the overnight train from Jaisalmer to Jodhpur, then hop the train to Marwar Junction, change for Ajmer Junction, then on to Udaipur — a very long journey for a very short distance!
Or…better yet…you can do what we ended up doing and take the overnight train from Jaisalmer to Jodhpur and catch the early morning express bus to Udaipur, which only took us about five hours and cost far less than piecing together a rail journey.
And best of all, it's a surprisingly scenic ride over mountains and through jungle (more on that below).
Taking the Express Bus from Jodhpur to Udaipur
In India, the government buses generally seem to be the safest based on our own experience and from what people have told us. We've found them to be reliable and generally on-time as well.
To catch the government bus in from Jodhpur to Udaipur, we got off the train from Jaisalmer a stop early at Raika Bagh, rather than taking the train all the way to Jodhpur station. Raika Bagh is where the government bus stand is located.
From the train station, it's less than a five-minute walk out and around to the bus stand.
Our overnight train from Jaisalmer arrived at 5:10am and the bus to Udaipur was scheduled to leave between 5:30am and 6:00am. We purchased tickets for the bus at the bus stand right before departure, and were satisfied with the level of comfort and safety of our bus journey.
Private Transfer from Jodhpur to Udaipur
If that all sounds like to much work (or you just don't want to mess with a 5:30am departure), there are plenty of private shuttle options available too.
This top-rated private shuttle from Jodhpur to Udaipur is an excellent option for US$45 and even includes a stop-off at the Ranakpur Temple.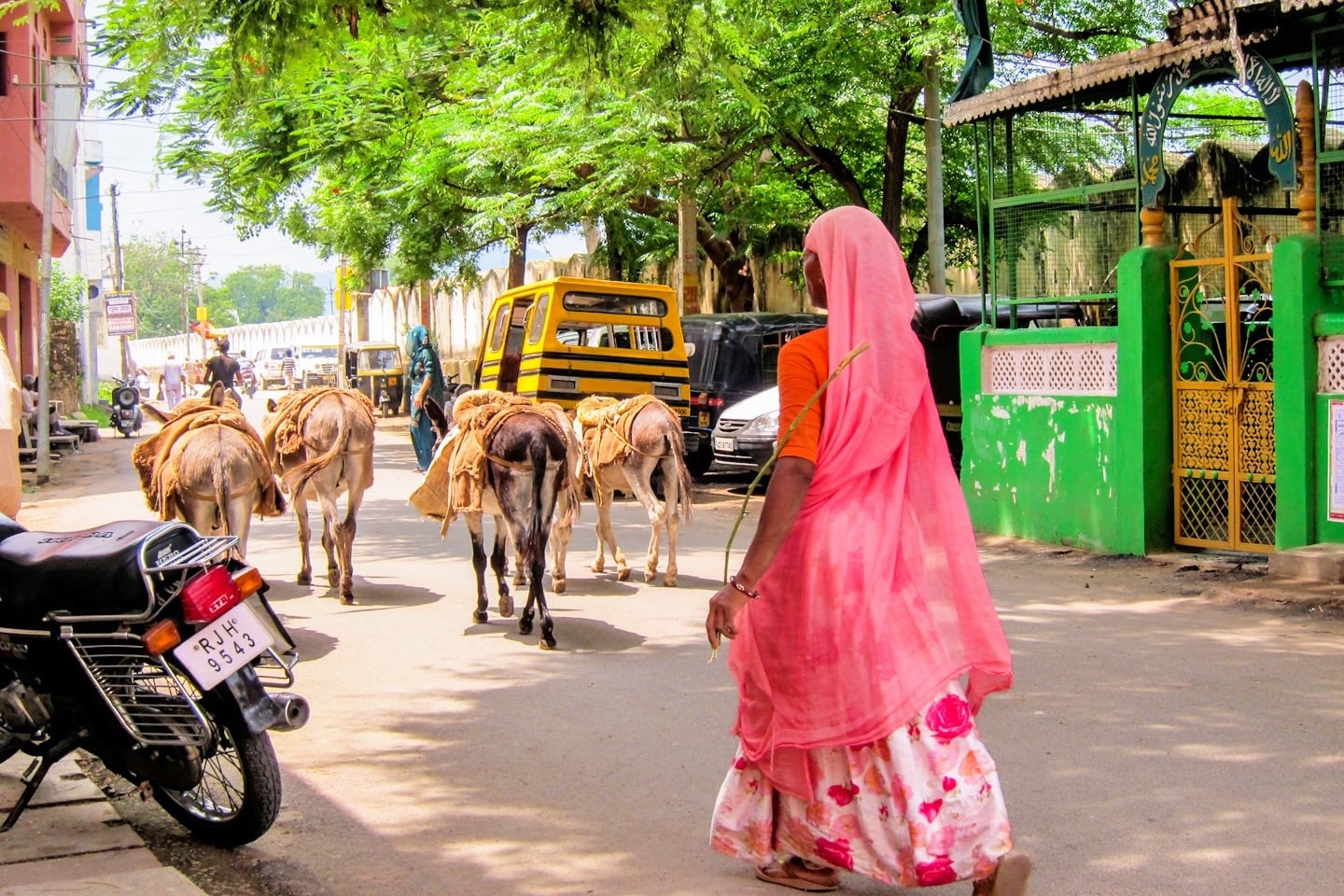 More India Travel Guides
Check out our other helpful guides to help you plan your visit to India.
Thanks for reading our guide to the best places to visit in Udaipur in 3 days!
Got a few favorite places to visit in Udaipur that we didn't cover? Tell us about them in the comments below.
I've been a blogger and travel writer since 2010, covering everything from luxury hotels to hidden destinations and travel gear. Originally from Oregon, I've spent the majority of the past 20 years living outside of the U.S., in Mexico, the Caribbean, Southeast Asia, Africa, and Europe. I received a BA in Communications (Journalism) from Boston College, and an MA in International Development Studies from the George Washington University. I'm passionate about exploration and discovery, and providing independent, thoroughly-researched, ad-free advice for travelers.