My initial thought on arriving in teeming Darjeeling Hill Station in the far northern corner of West Bengal state was: [Crikey]! This is Darjeeling!?
Now don't get me wrong, we really enjoyed our time in Darjeeling. It still retains a great deal of the charm you may have journeyed here expecting to see (i.e. stunning views, quaint teahouses).
But there's another side to Darjeeling that is perhaps even more interesting.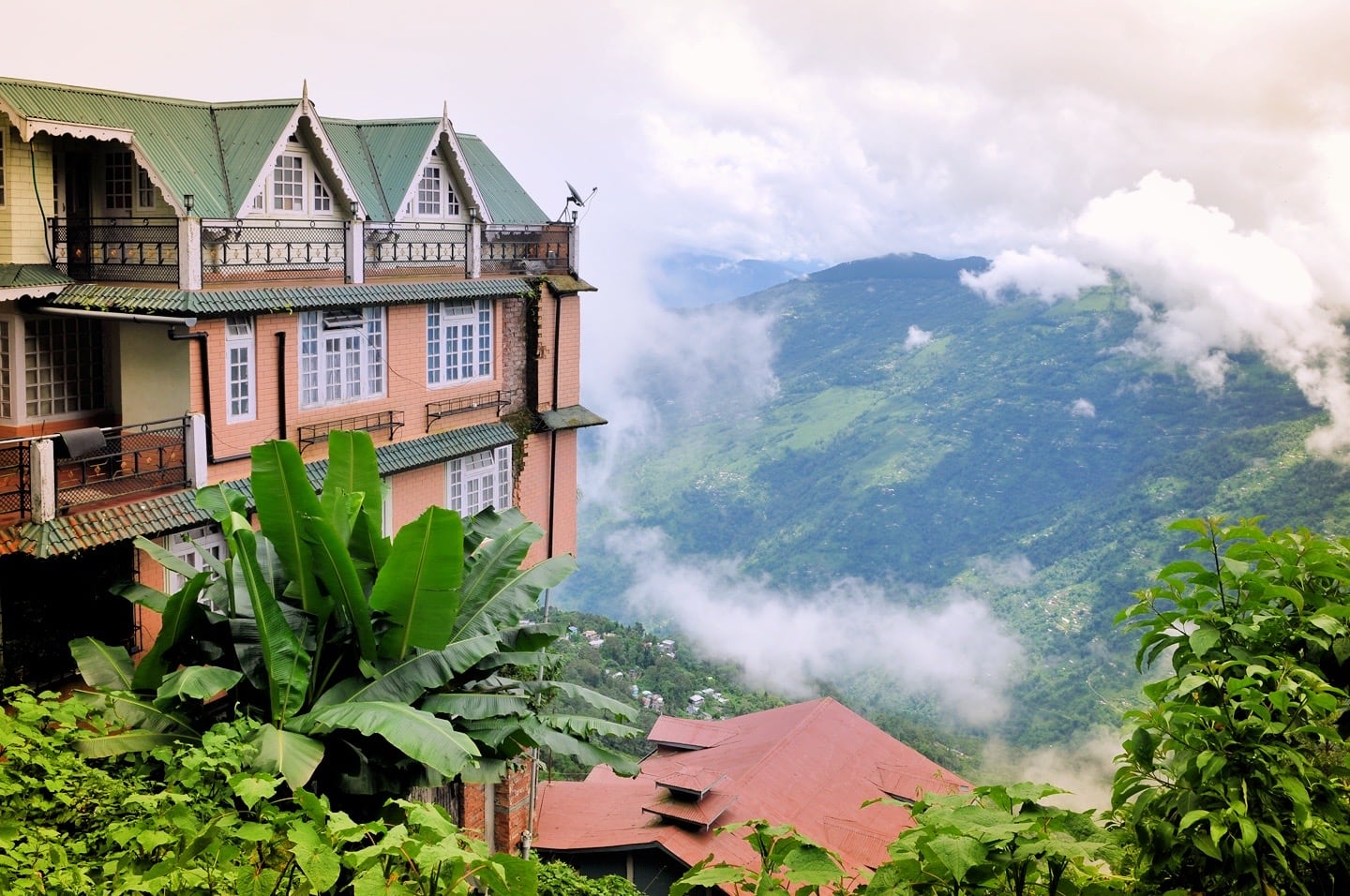 Planning an UNFORGETTABLE hill station getaway to Darjeeling? Don't Miss...
10 STUNNING & BEST Hotels in Darjeeling
Our ultimate guide to the VERY BEST hotels and resorts in and around Darjeeling. You won't want to leave!
The Two Faces of Darjeeling Hill Station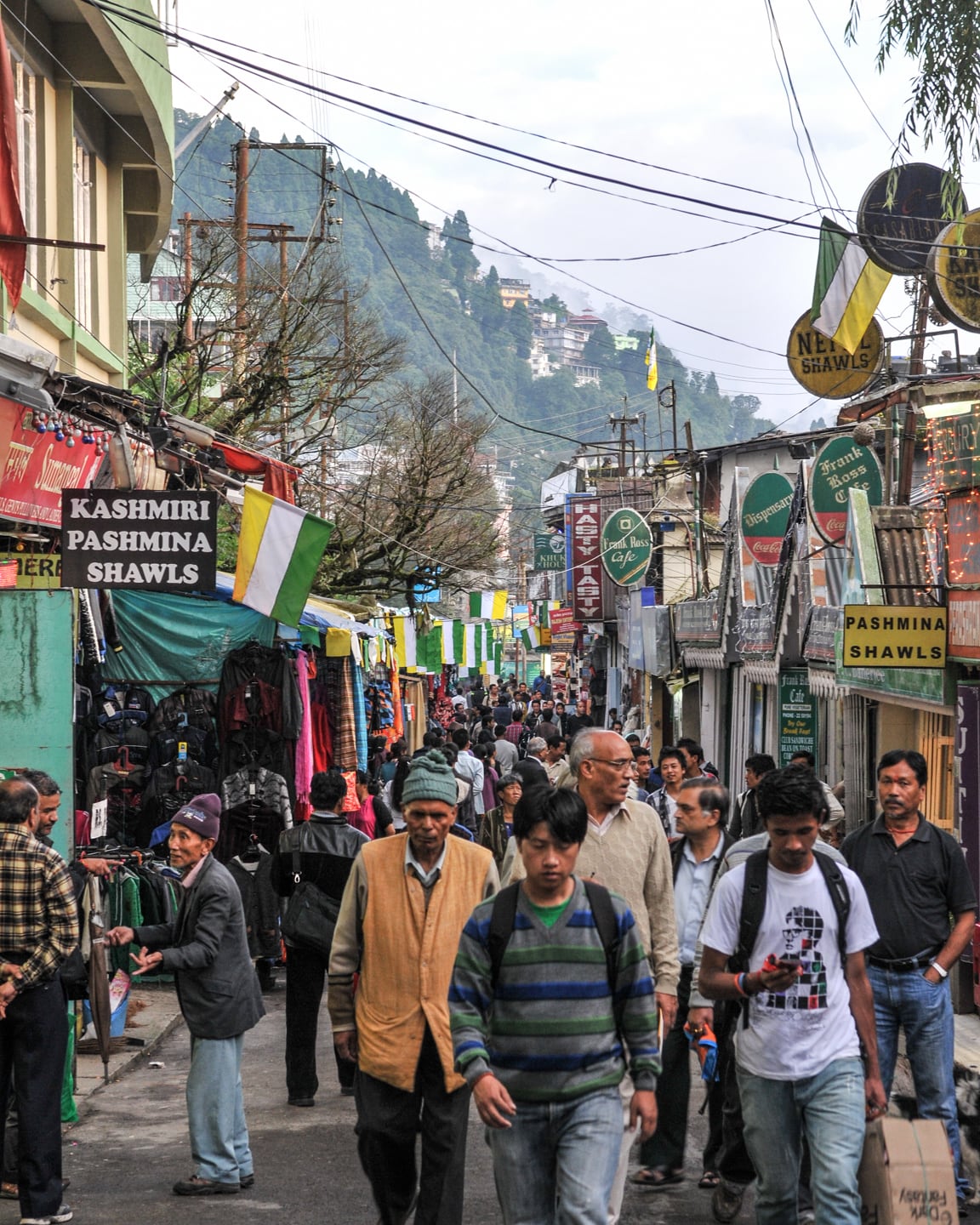 Urban Jungle…in the Mountains
I'm typically a sucker for places shaped by organic and largely unconstrained urban development—the types relegated to less economically developed nations and underserved urban communities everywhere—
Where zoning laws and building codes are either ignored or simply don't exist—
Where utility cables and water lines intermingle and remain unapologetically in full view for all to see—
Where homes are added to over years and decades whenever the money trickles in.
This is today's Darjeeling — a crazy mess of steep, twisting streets and alleyways and towering hotel and apartment blocks slowly decaying in the clouds beneath a permacoat of neon moss and perpetual dampness.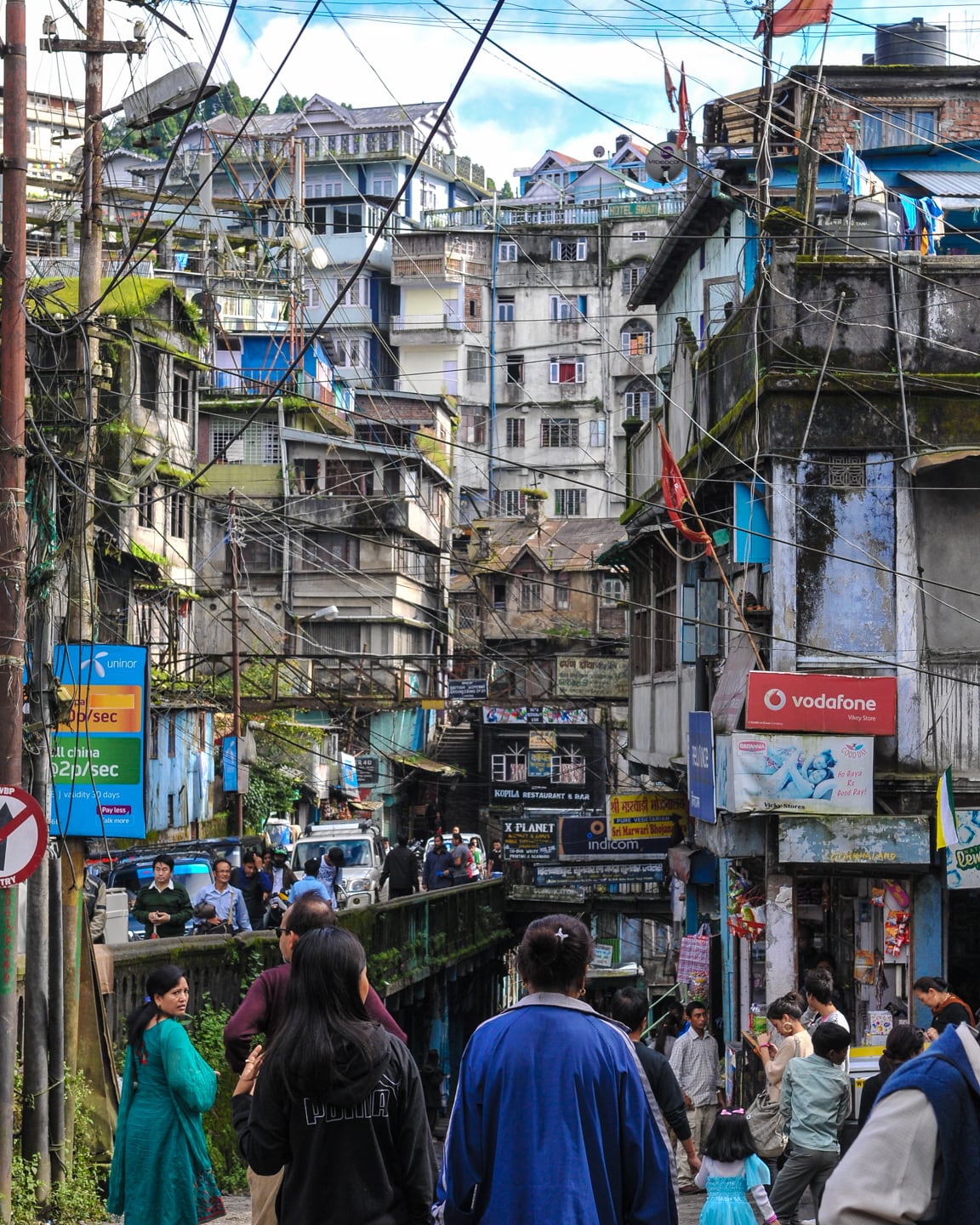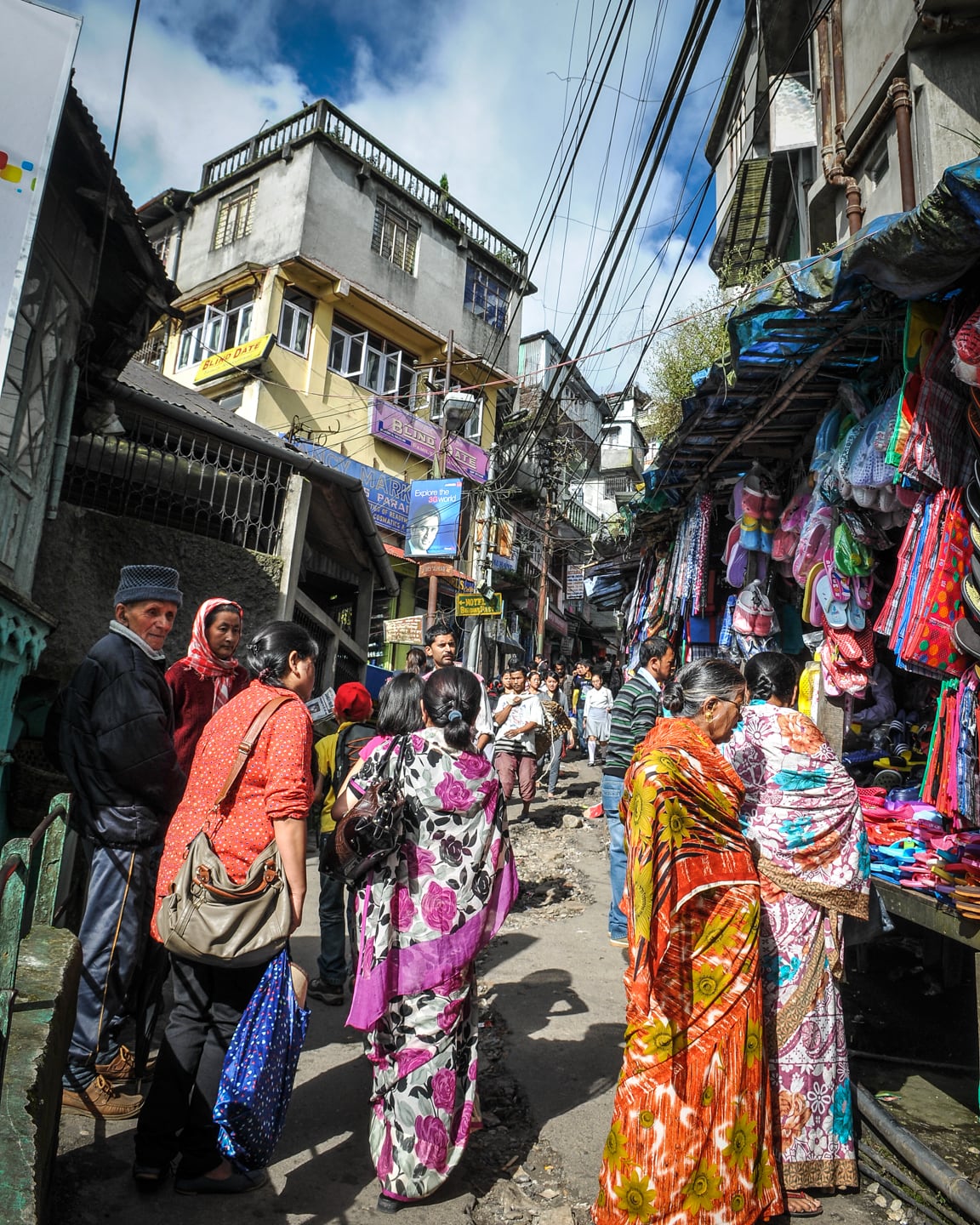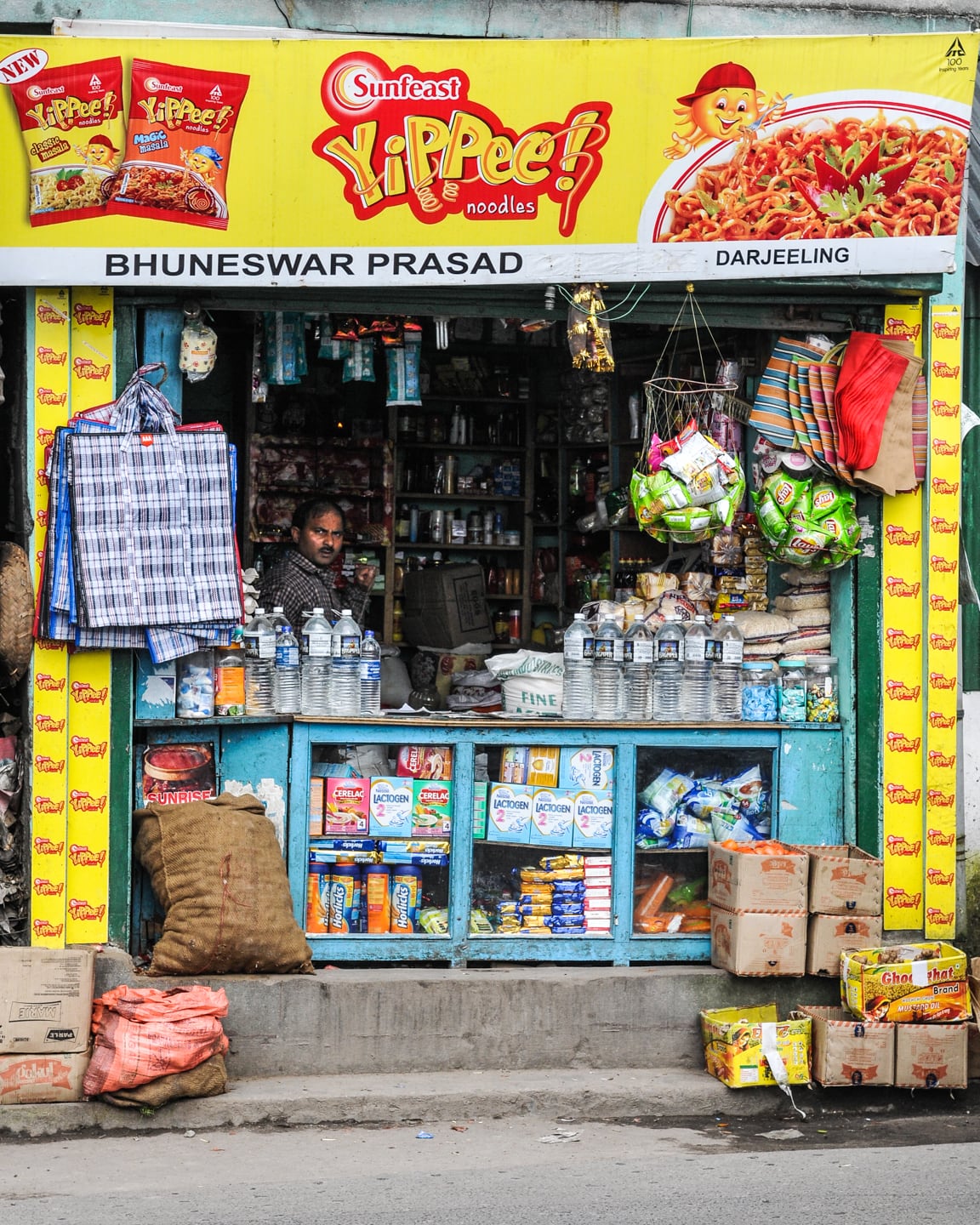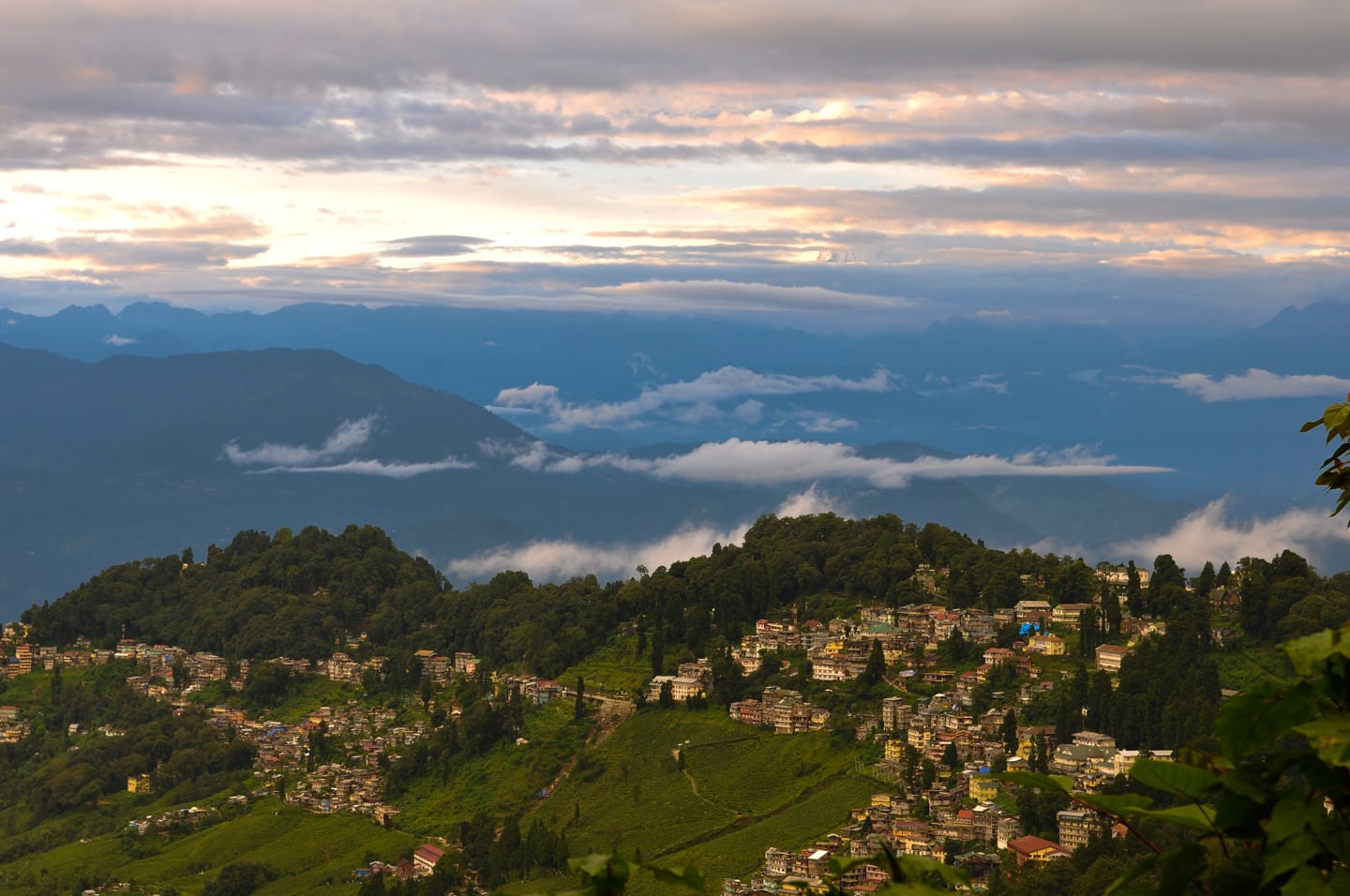 …And Peaceful Oasis
But step off the main streets and alleyways that characterize the center of town, and the stunning natural surroundings in which you now find yourself will astound your senses.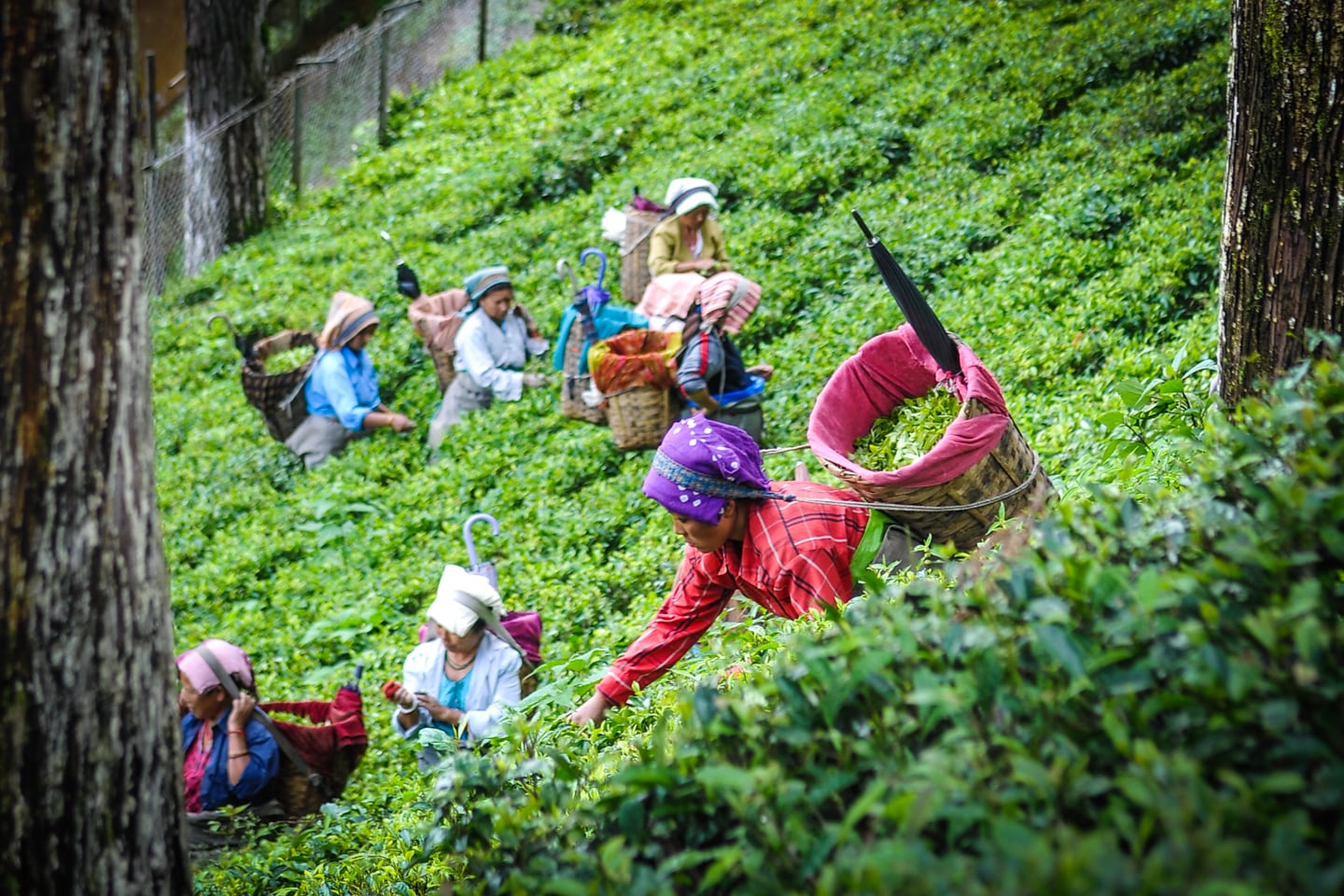 Darjeeling Hill Station Basics
Darjeeling is a former British hill station established high above West Bengal's jungle floor at 6,700 feet (2000m), where aristocrats and tea lovers went to escape the oppressive heat and frenzy of Calcutta.
The city lies at the foot of the Himalaya, and you can even spot three of the world's highest peaks (including Everest) from just outside town on a clear day.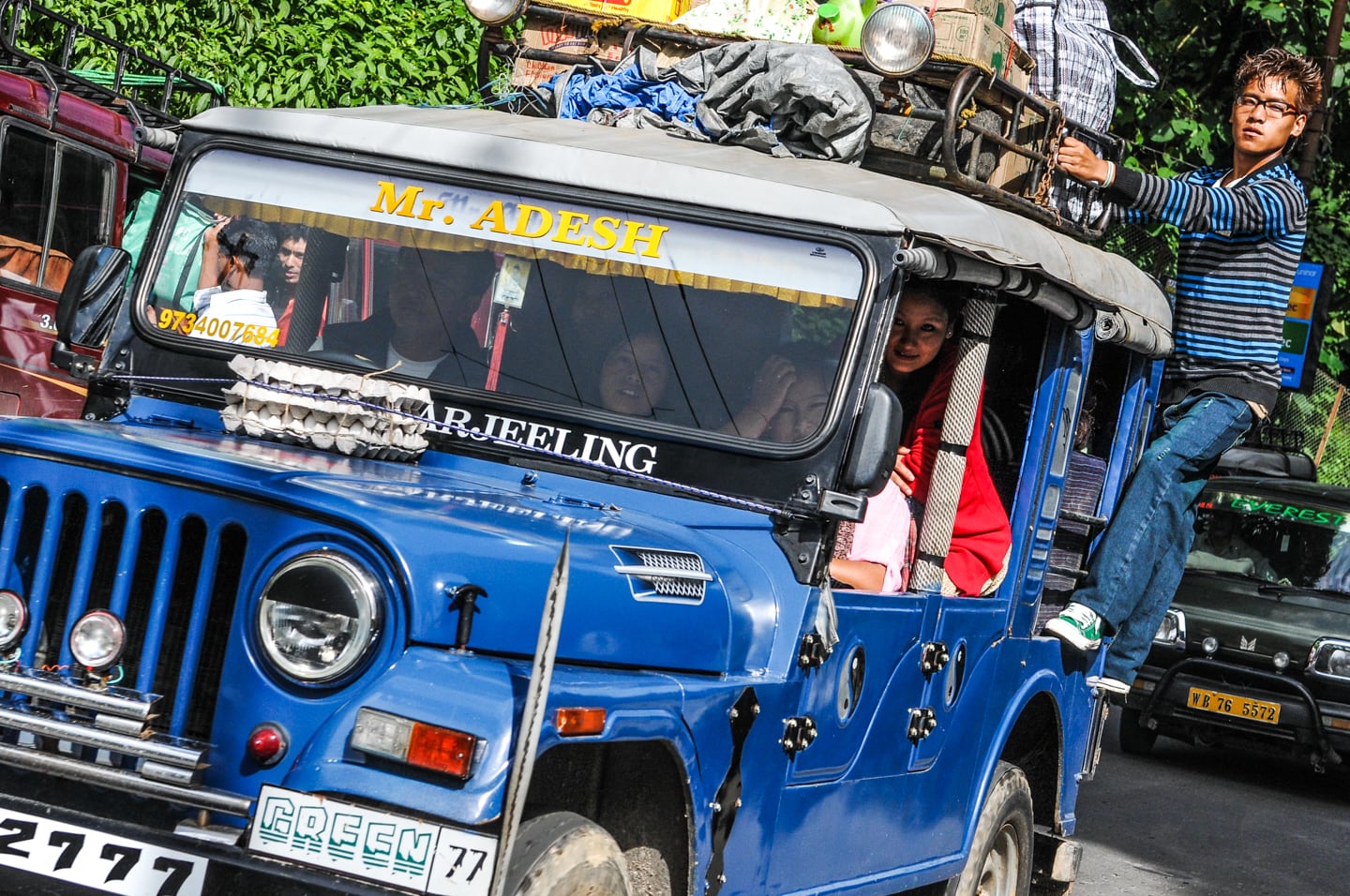 Getting to Darjeeling Hill Station
Getting to Darjeeling from the lowlands is not for the faint of heart. However, the 3-4 hour near vertical ascent by public Jeep—from New Jalpaiguri on the valley floor—offers breathtaking views of unparalleled beauty (with a few harrowing moments thrown in for good measure).
Shared jeep taxis to Darjeeling can be arranged in New Jalpaiguri or Siliguri.
As of 2018, the Darjeeling Himalayan Railway has resumed regular service from New Jalpaiguri to Darjeeling, as well. While the journey can take twice the time of the jeep taxis, it's a much more comfortable (and less harrowing) option.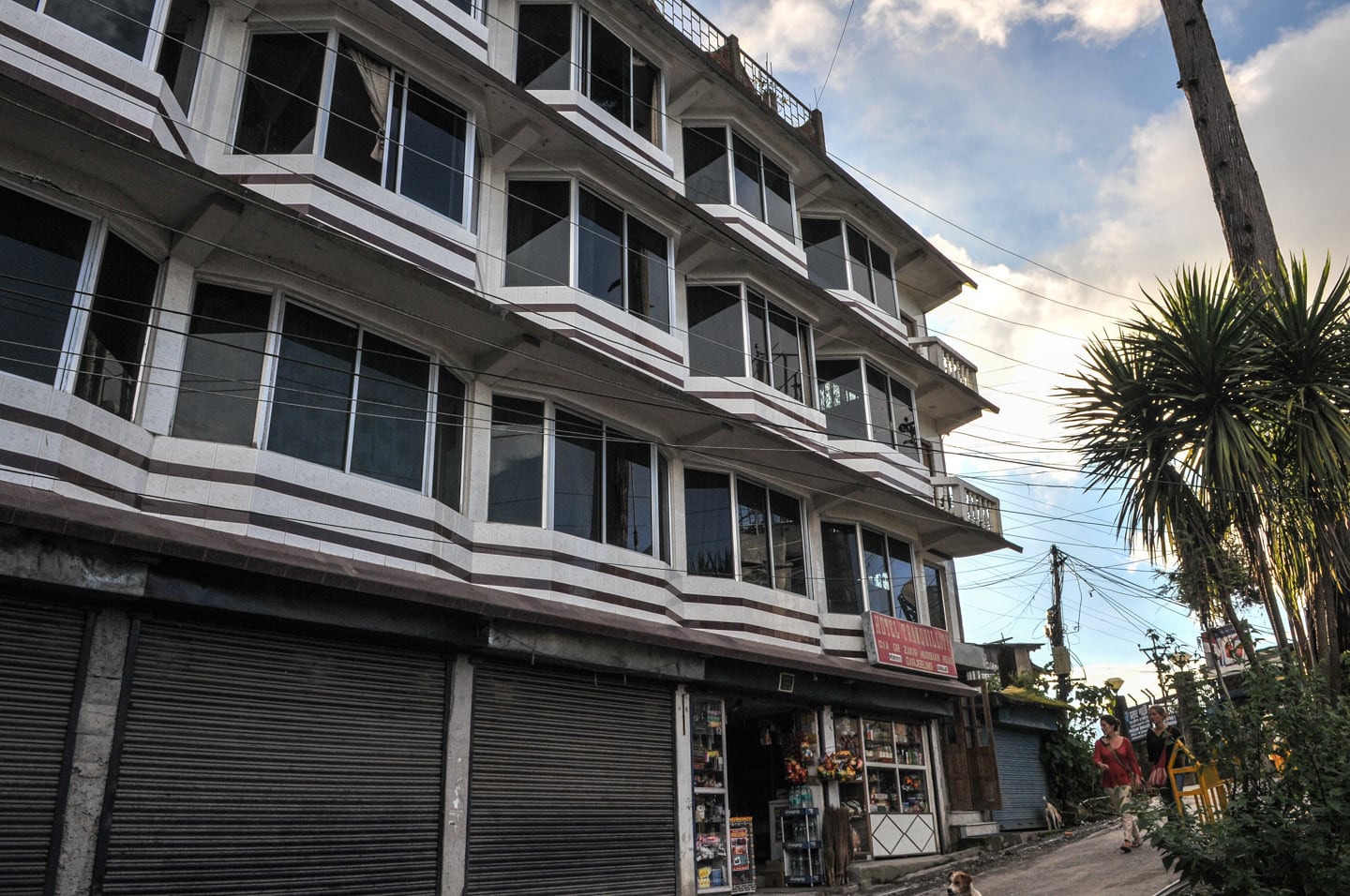 Where to Stay in Darjeeling
Higher up the hill in town, away from the main highway, pockets of solitude do exist — and Lori and I found ourselves spending the majority of our time in such places.
We were incredibly happy with our choice of accommodation — Hotel Tranquility — which certainly lives up to its name.
As of 2020, it looks like they still get excellent reviews, so we still highly recommend them. As their website says, they aren't affiliated with any online booking sites, so make sure you book directly through their own website.
And, if you're looking for the absolute best of the best hotels in the area, check out our handpicked list of the top places to stay in Darjeeling.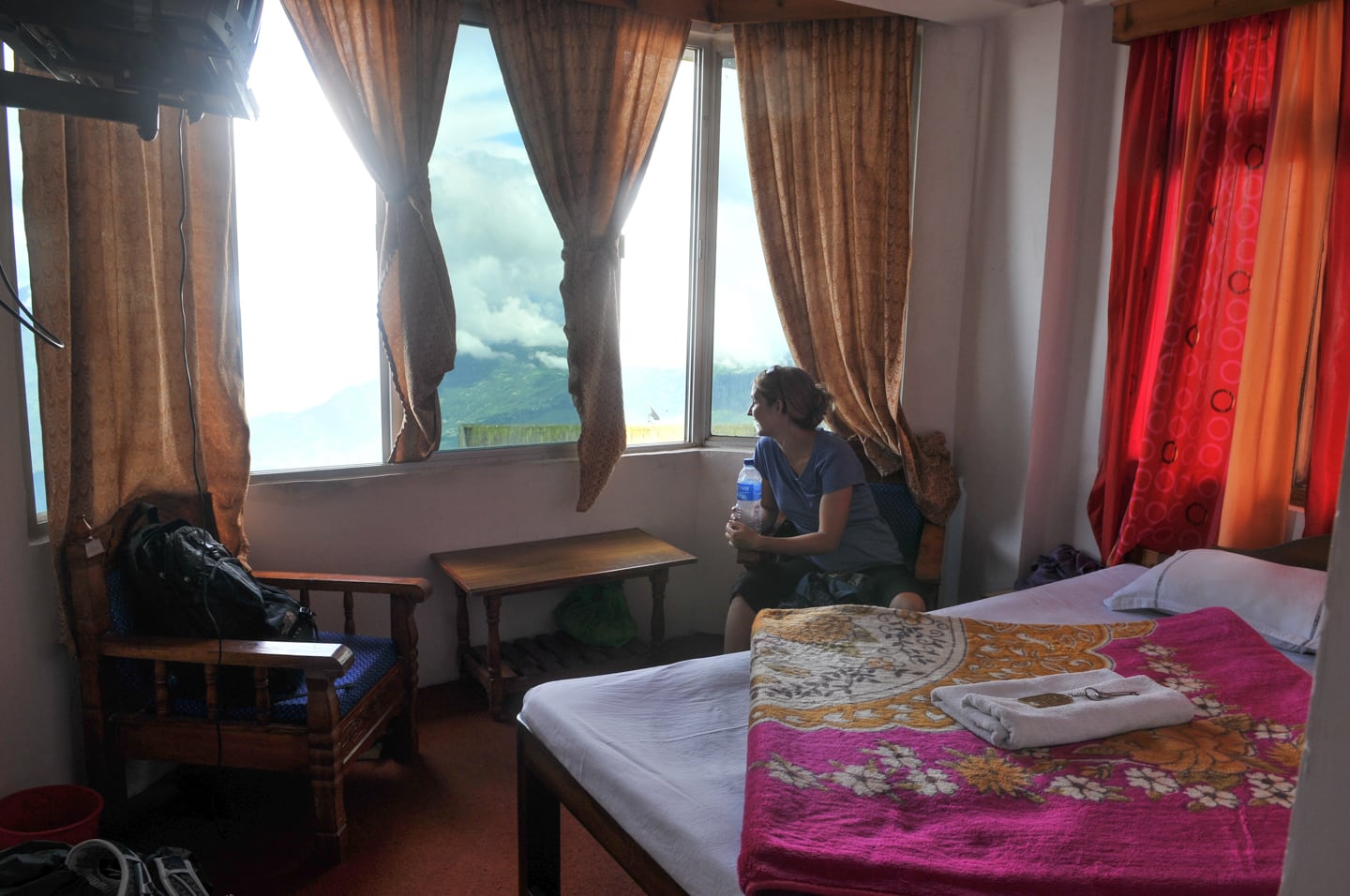 There's a nice sunset walk you can do from Hotel Tranquility as well. From the hotel, just head uphill on the winding road.
This route quickly takes you away from the canyons of concrete hotels and becomes an actual neighborhood where local homes intermix with high-end boutique guesthouses.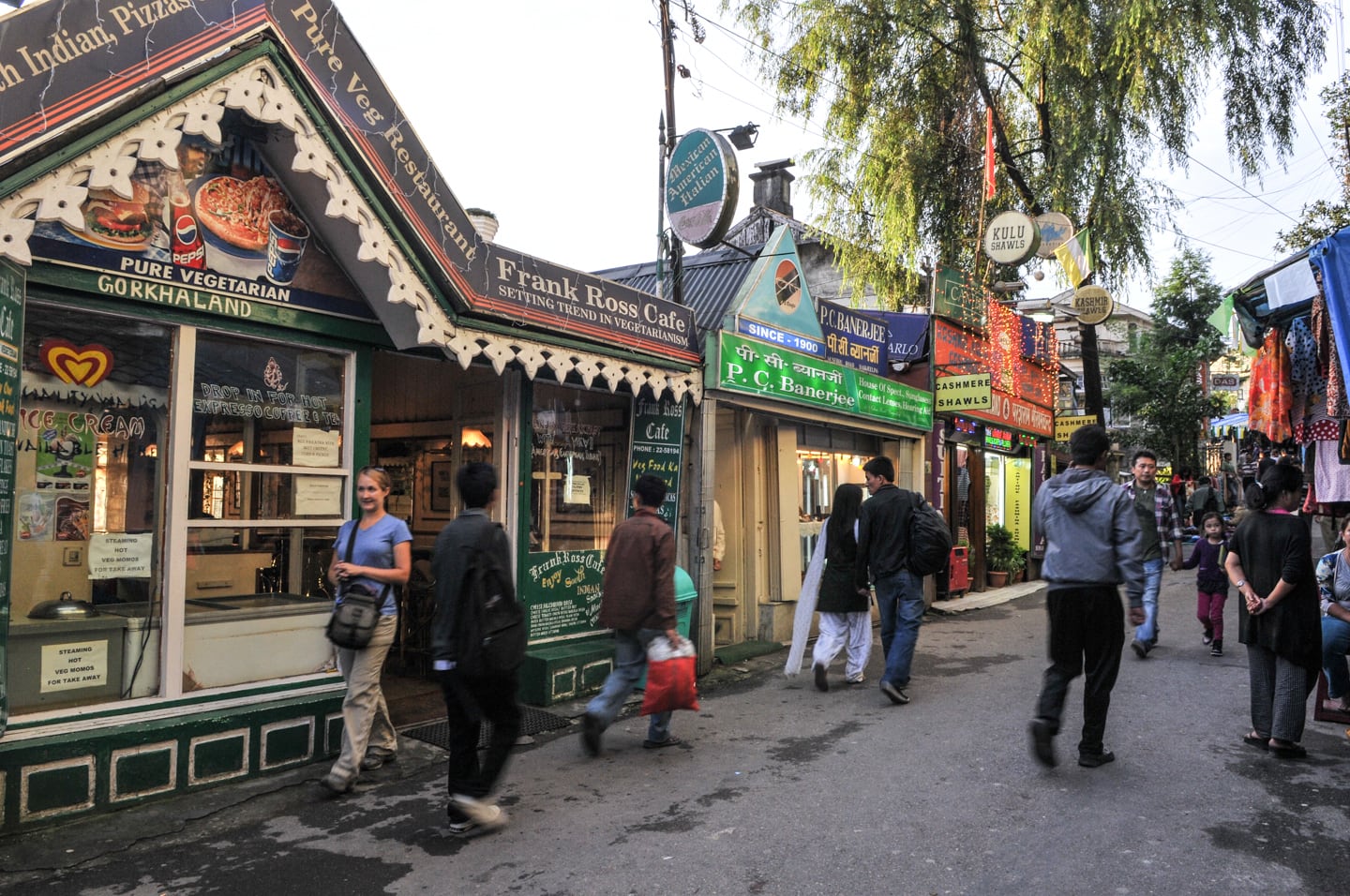 Cafe Recommendations
Most days, we utilized the much quieter back road of Dr. Zakir Hussian Road (which connects the hotel with the main square) to get around town, and we recommend you do this as well if you stay at or around Hotel Tranquility.
A few quiet and tasty places line this street including Sonam's Kitchen (our favorite for breakfast) and Gatty's Cafe which has a unique menu and free wifi.
Nehru Road, the main pedestrian thoroughfare which runs parallel to Hussian Road, also has a number of good traveler-oriented eateries such as Glenary's Bakery and Frank Ross Cafe.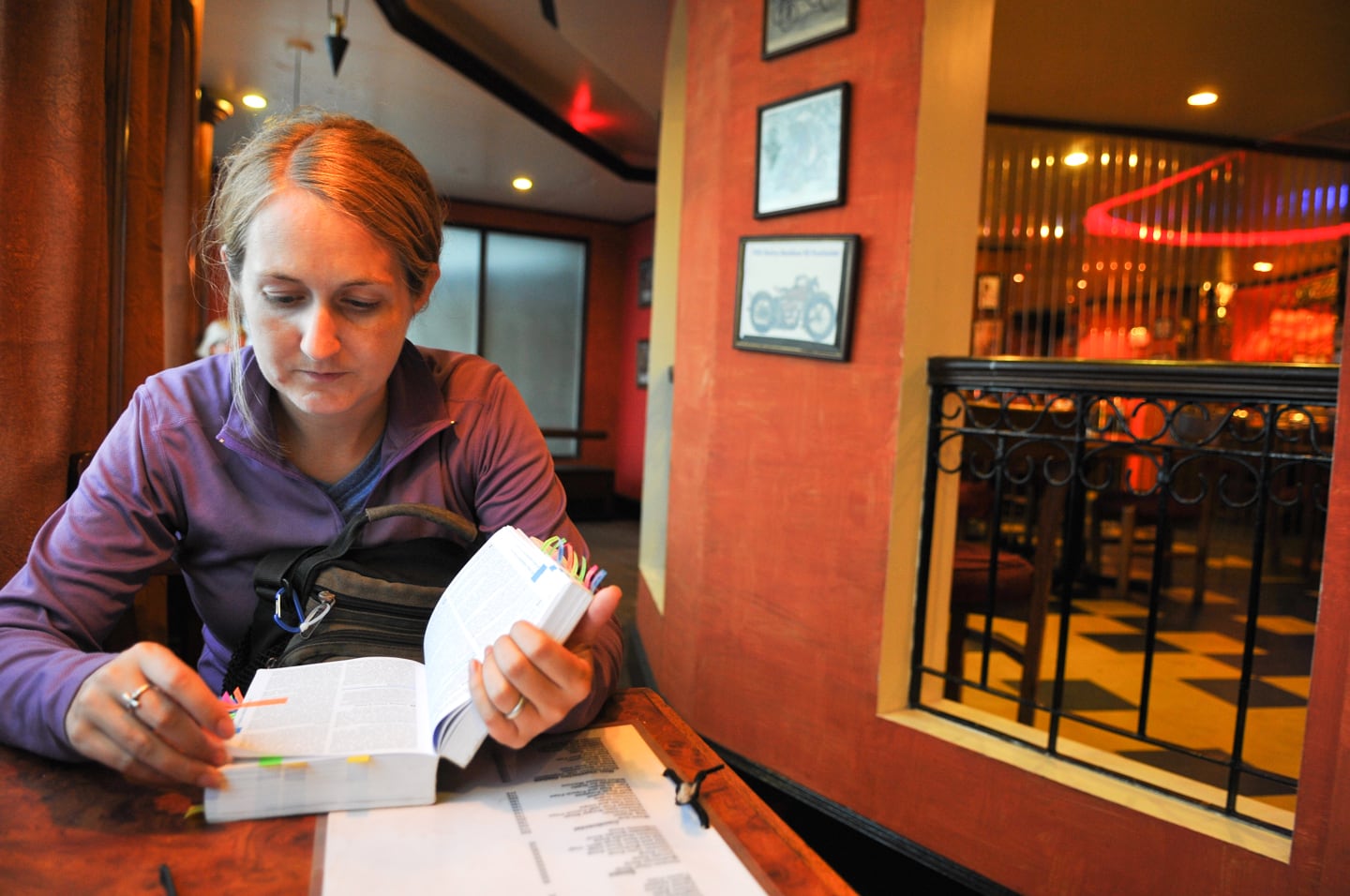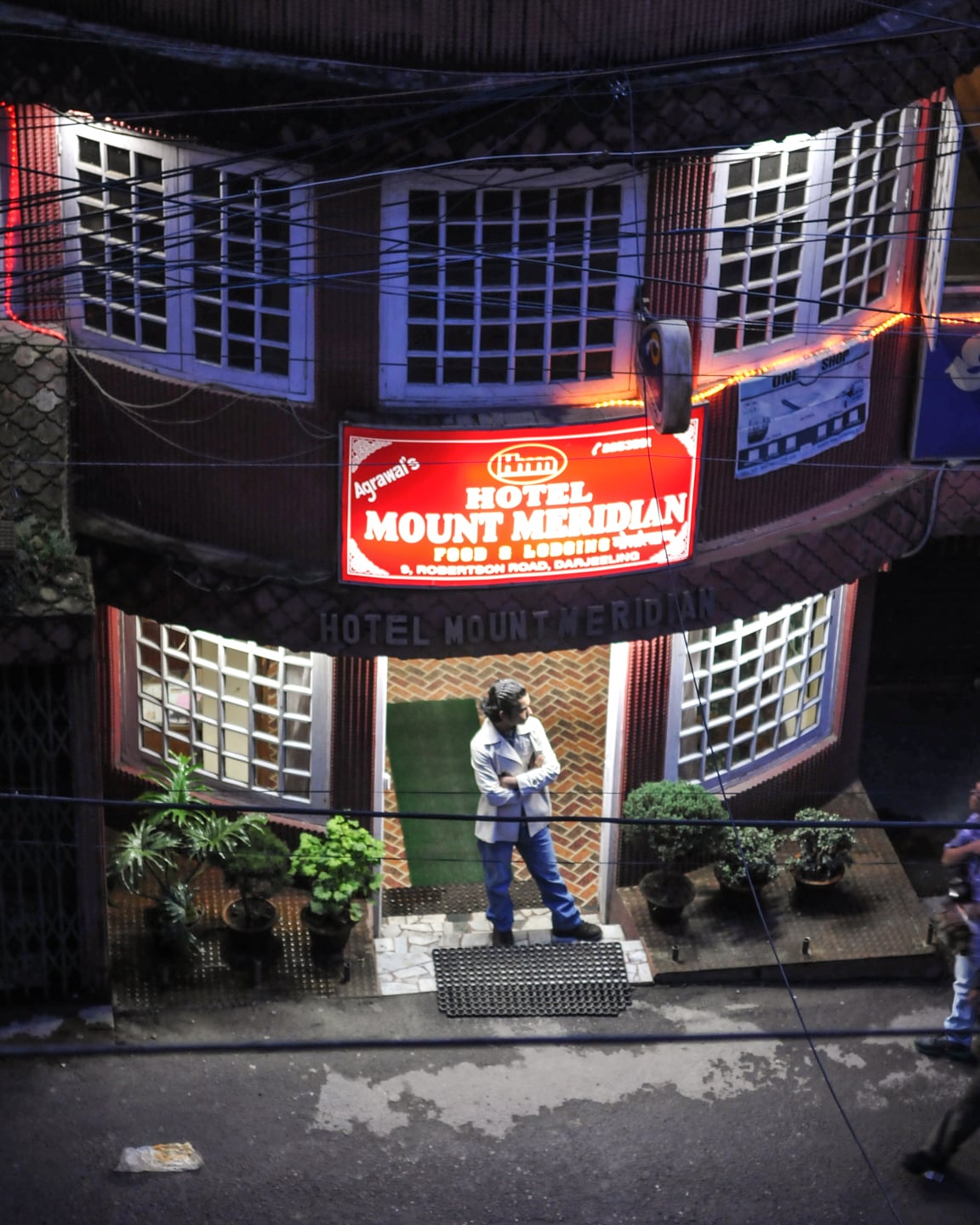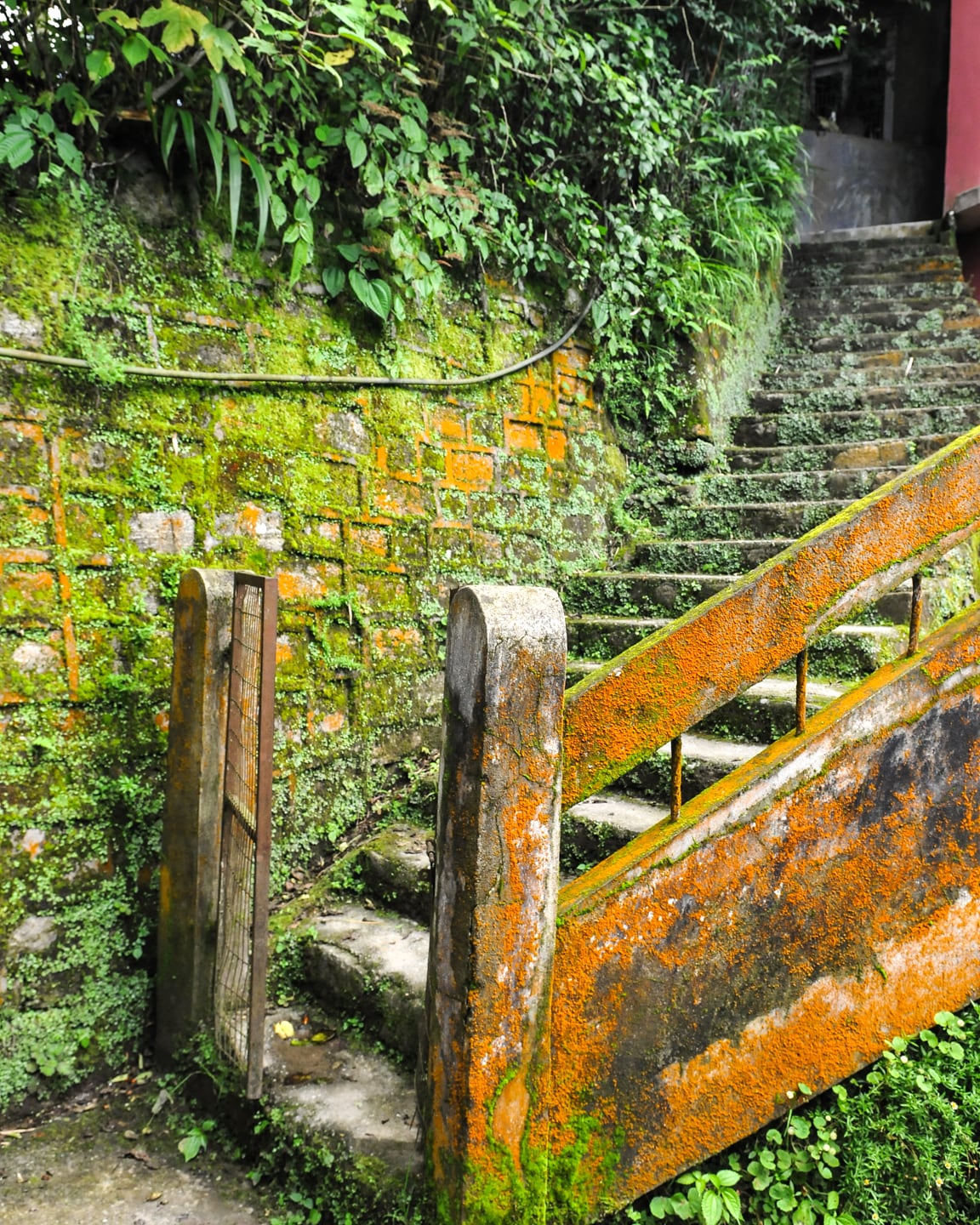 Bhutia Busty Monastery Walk
For even more serenity and solitude, a morning or evening walk up Observatory Hill to the Mahakal Temple is a must (complete with a colorful array of stringed banners and temple monkeys).
Farther on is the beautiful Bhutia Busty Buddhist Monastery perched on a hillside, sporting a killer backdrop of snow-capped Himalayan peaks (so we're told — it was overcast when we visited).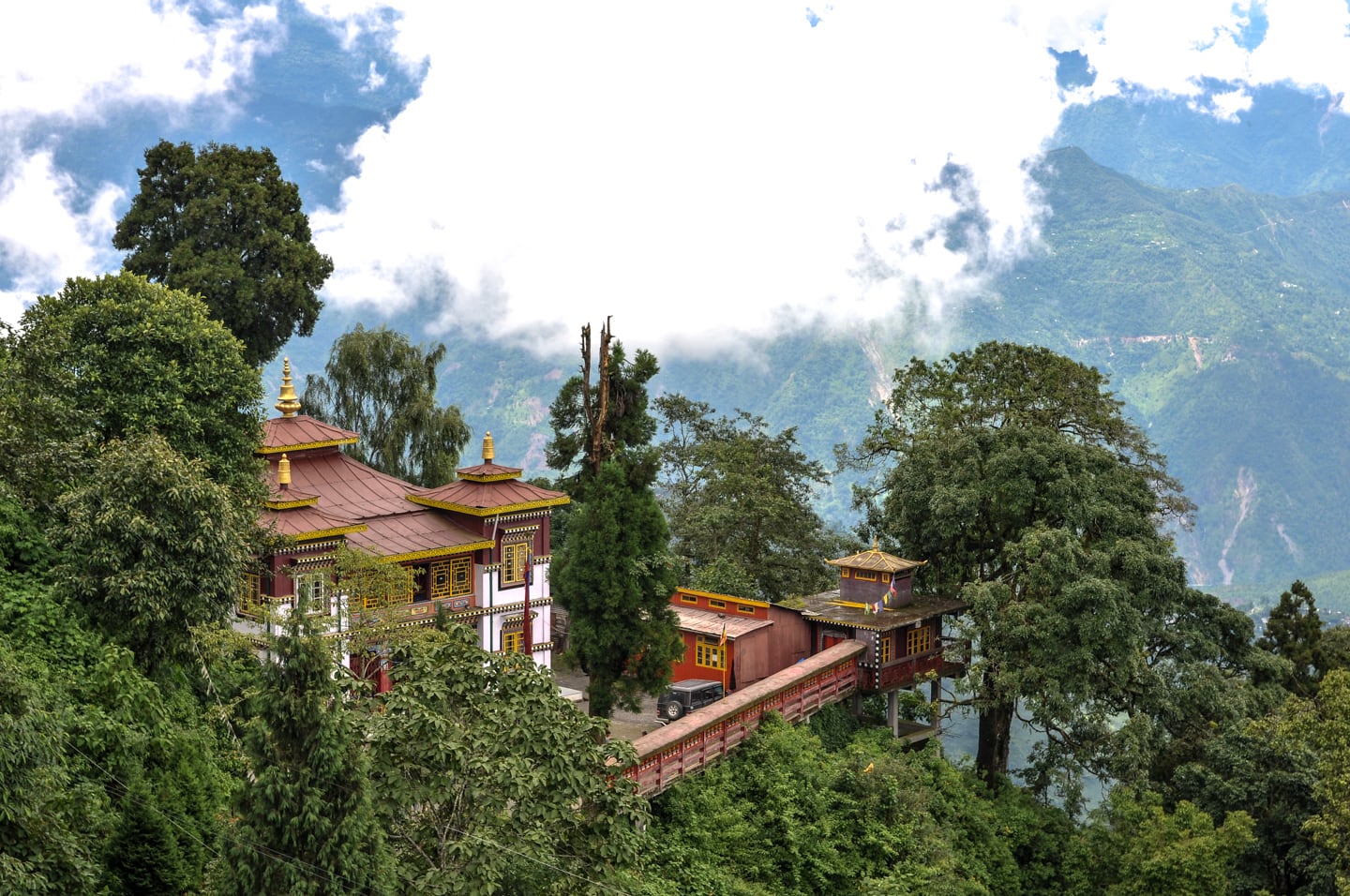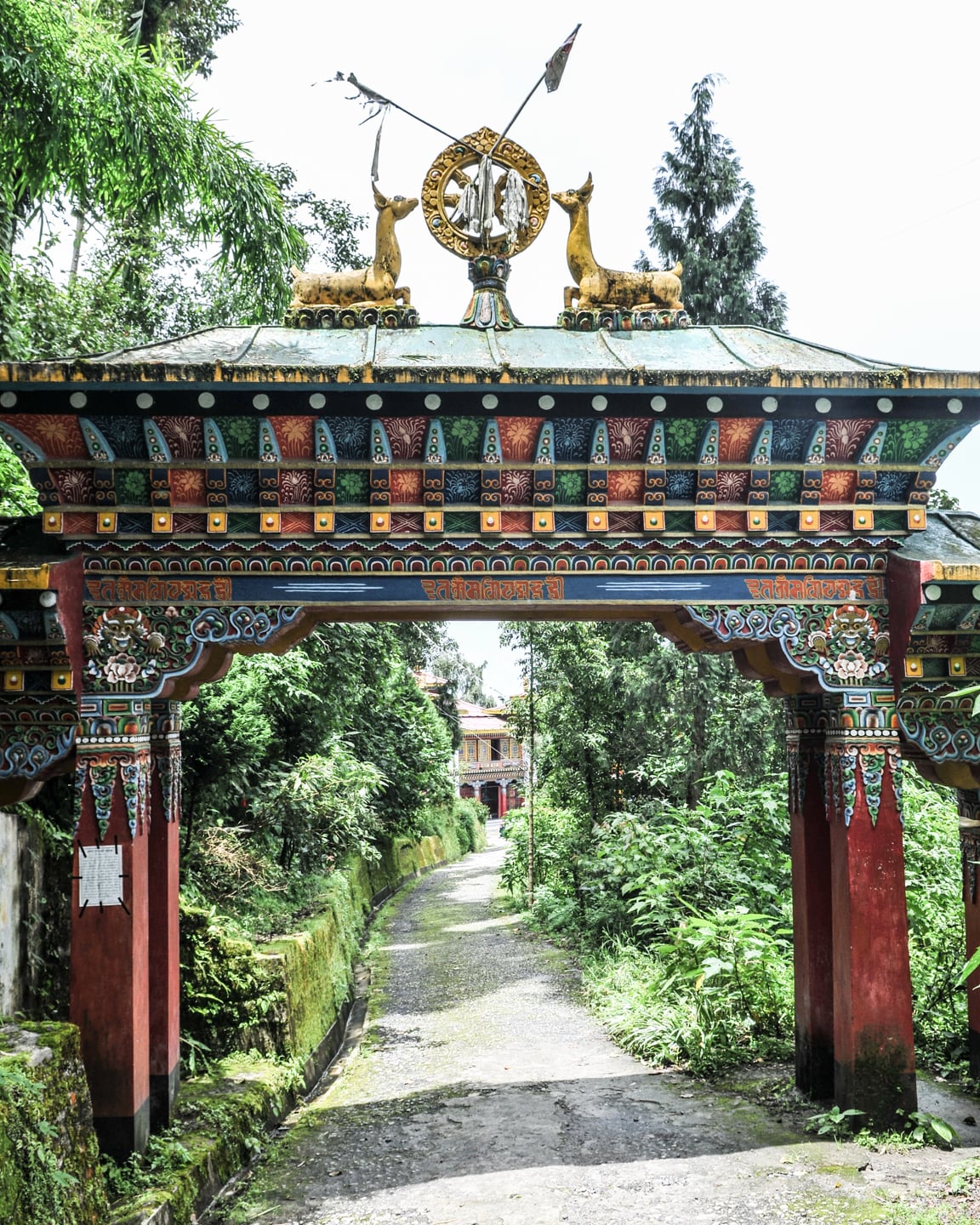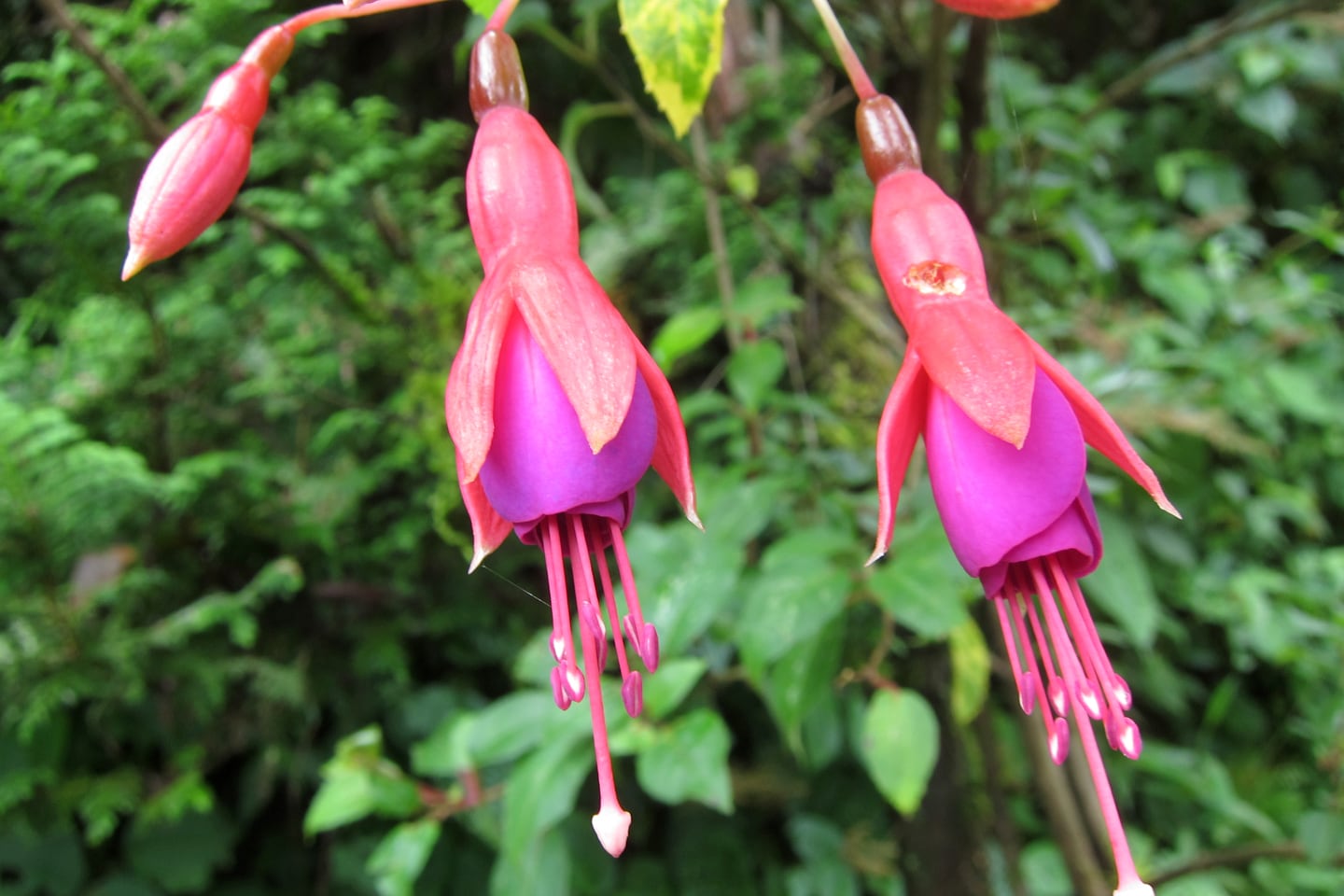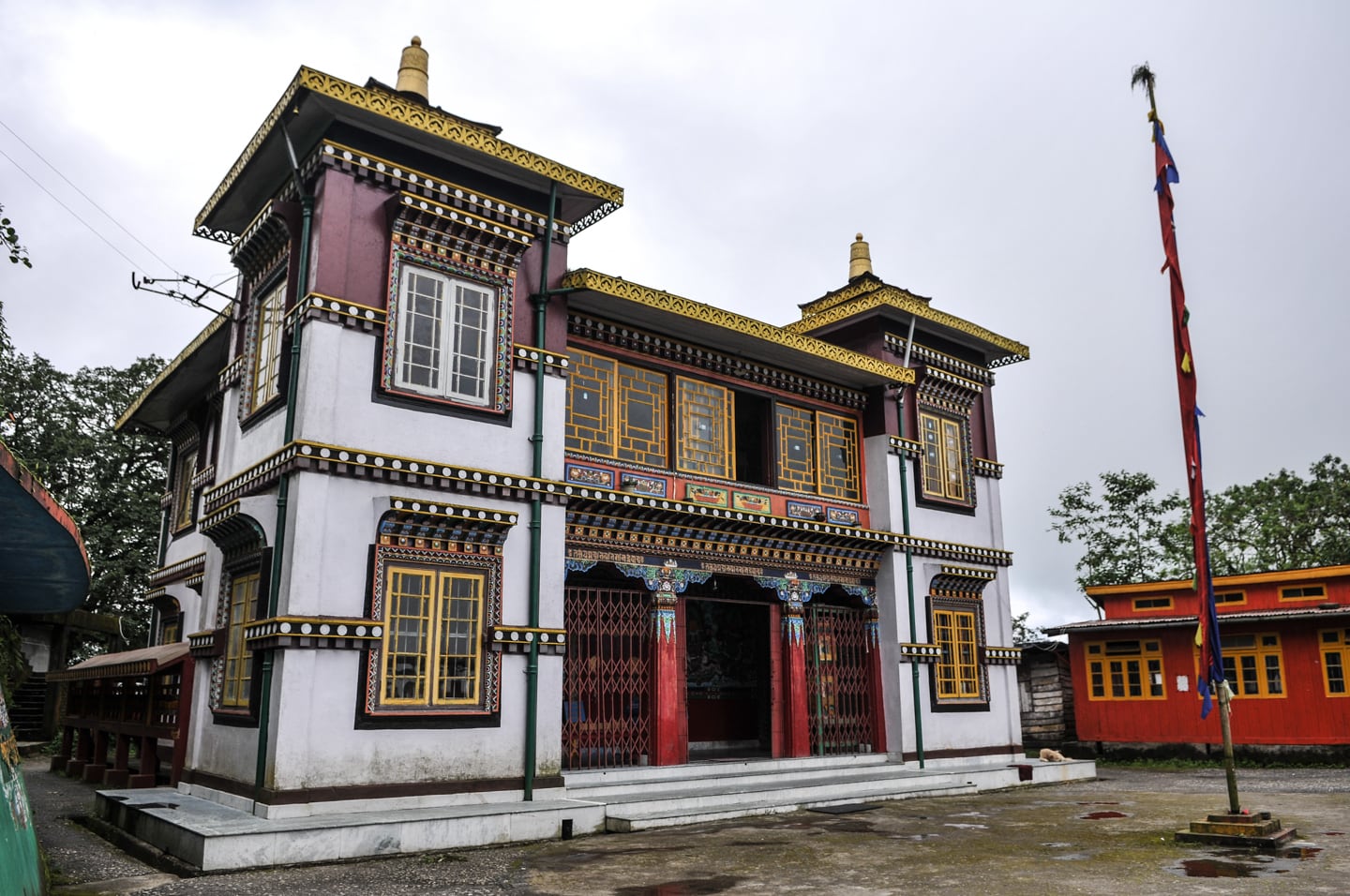 Final Thoughts
My initial reaction of utter astonishment was what it was. I guess on some level I expected the journey to this legendary outpost of tea and Himalayan culture to somehow be unique from the rest of India.
The reality of modern-day Darjeeling is that it is a chaotic, frenetic city, far from the image cultivated by marketing execs in Delhi or Kolkata of a blissfully restful place to while away the days sipping tea and taking in bucolic mountain views.
Sure, there are posh resorts outside of town that offer this for a price—but don't be fooled—it is not the real Darjeeling.
Still, without a doubt, Darjeeling Hill Station is a fascinating and enchanting place to visit, and certainly well worth the trek there.
Come with an open mind and no preconceived notions to color your experience, and you will discover an enchanting corner of the world unlike any other you're likely to encounter any time soon.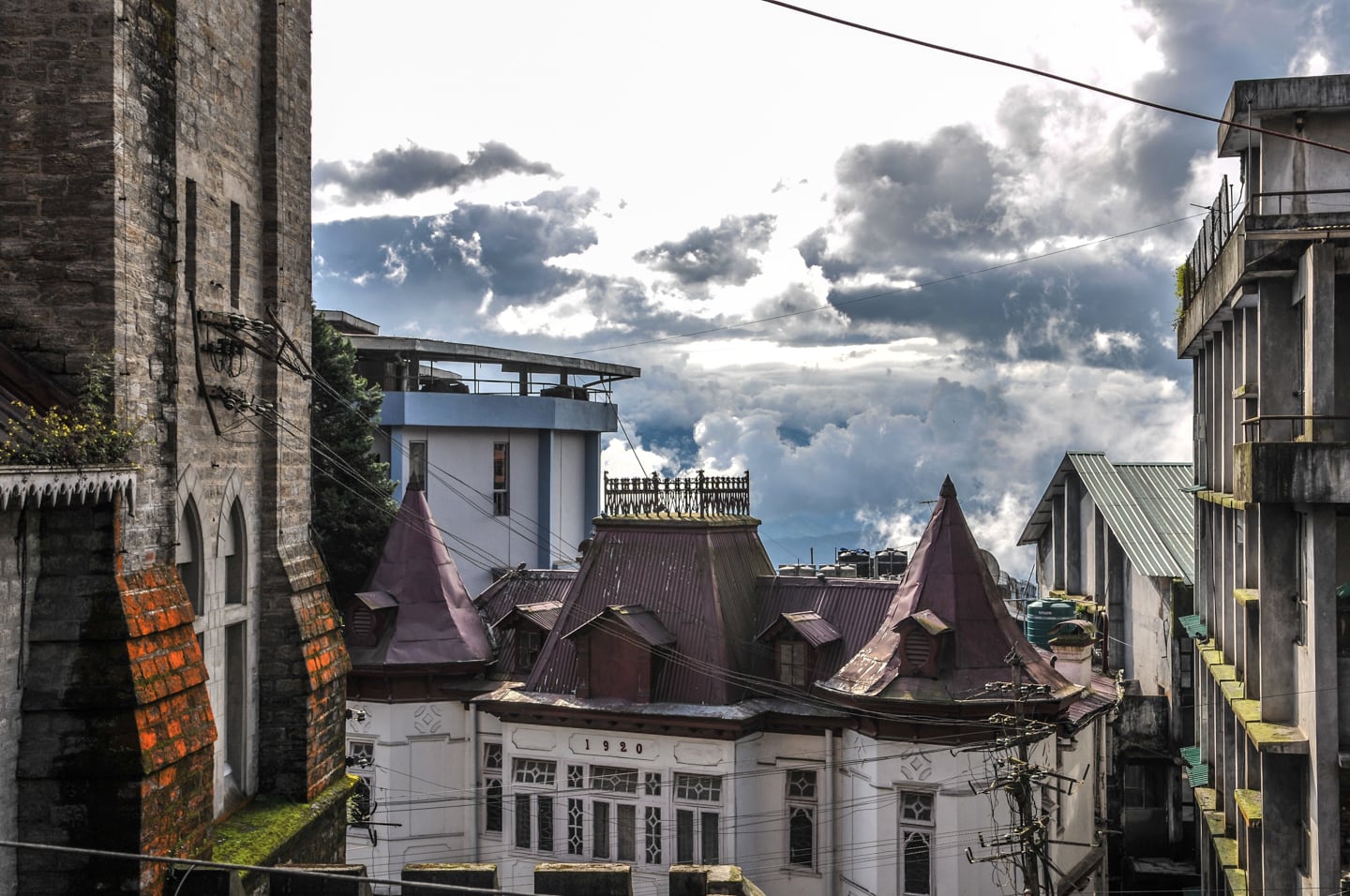 Have You Visited India's Darjeeling Hill Station?
Tell us what you thought in the comments below!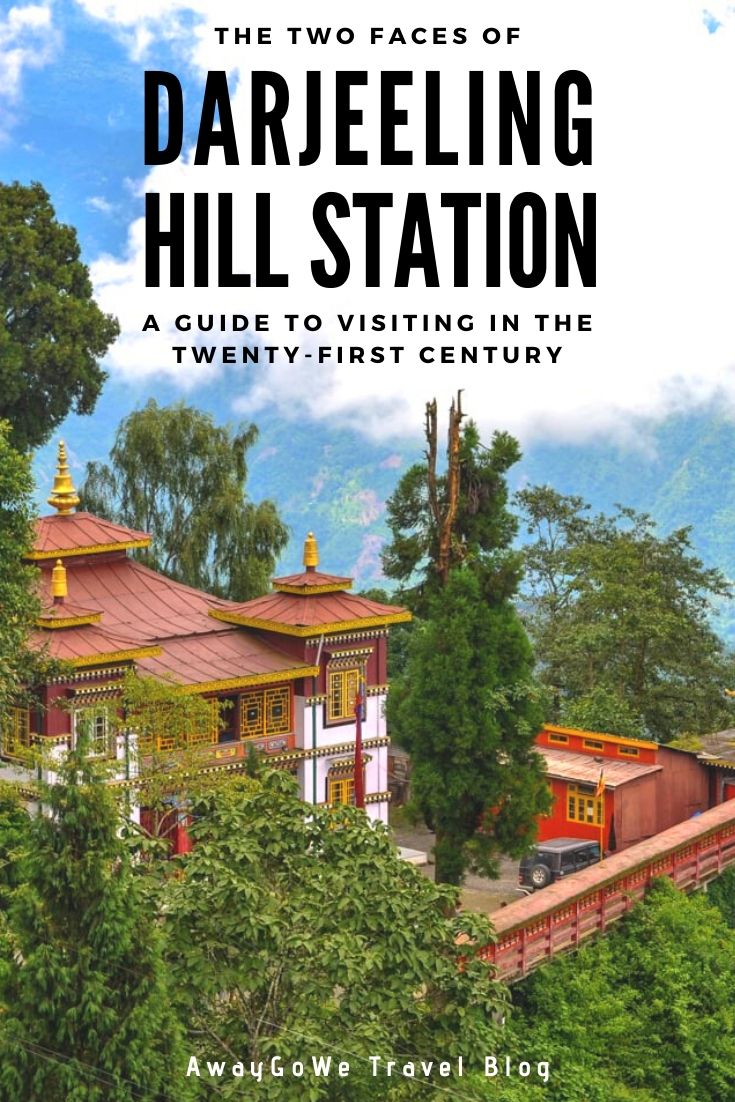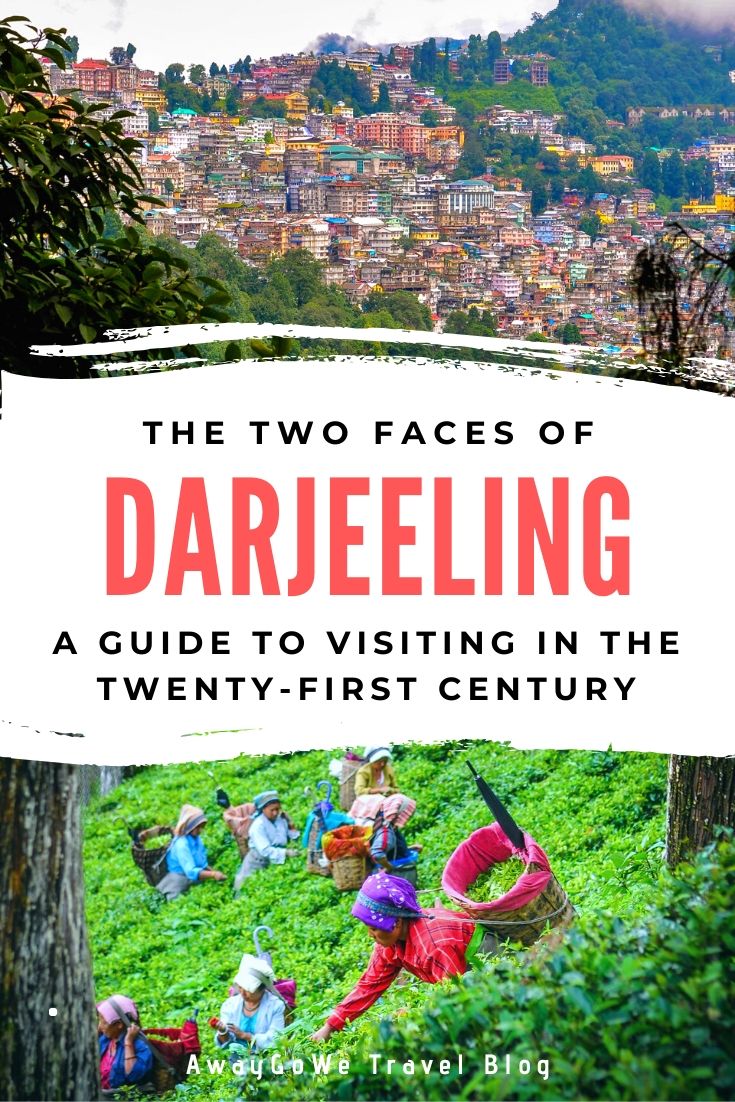 6 Mar 2020
5 Aug 2012
I've been a blogger and travel writer since 2010, covering everything from luxury hotels to hidden destinations and travel gear. Originally from Oregon, I've spent the majority of the past 20 years living outside of the U.S., in Mexico, the Caribbean, Southeast Asia, Africa, and Europe. I received a BA in Communications (Journalism) from Boston College, and an MA in International Development Studies from the George Washington University. I'm passionate about exploration and discovery, and providing independent, thoroughly-researched, ad-free advice for travelers.