Planning a trip to Southern India? Don't miss captivating Kochi! Here are the best places to visit in Kochi (the must-see things to do and places to see) for an unforgettable stay in this unique, historic, and irresistible town.
Fort Kochi was everything we hoped it would be — culturally endowed and colonial, yet shabby, local, and thoroughly Indian.
Someday, the historic center of Fort Kochi may very well receive UNESCO status, bringing funding and new opportunities (…and crowds…) to this unique pocket of India.
In the meantime, travelers will appreciate a greater feeling of authenticity and manageable tourist numbers.
No doubt, there are far more things to do and places to visit in Kochi than we could ever focus on in one article.
Here, we've attempted the impossible task of boiling Kochi down to the essentials, including unique experiences, top recommendations on boutique hotels, and our favorite places to eat.
We hope you enjoy our handpicked guide to the best places to visit in Kochi!
8 Best Places to Visit in Kochi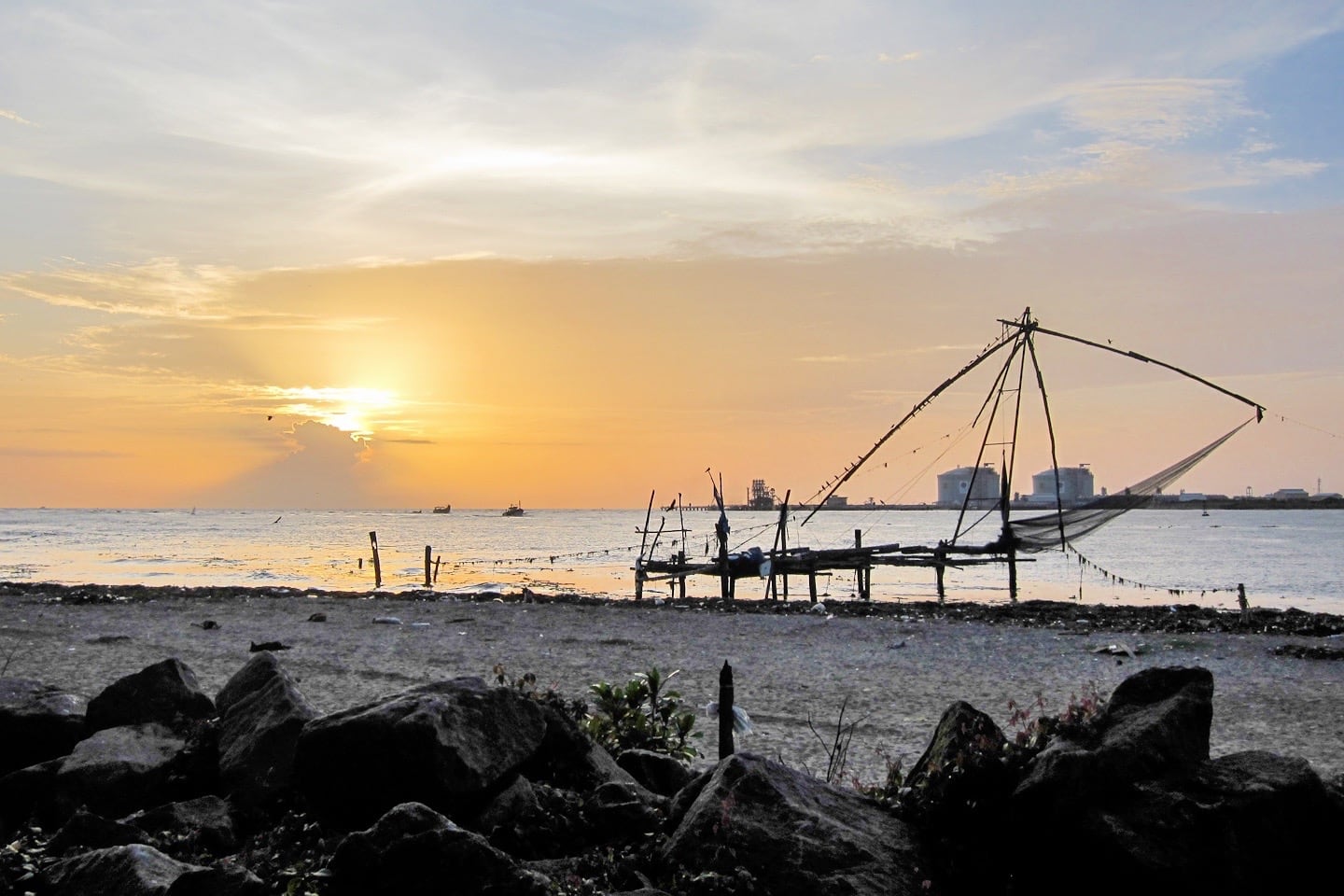 1) Famous Chinese Fishing Nets of Fort Kochi
While there is no shortage of historical and cultural attractions on the island, one of the most unique and worthwhile places to visit in Kochi might just be Fort Kochi's northern section of shoreline known for its enormous Chinese fishing nets.
Still widely used and fully functioning today, local fishermen employ these cantilever monstrosities to round up the daily catch.
The ancient mechanical nets appear to be surprisingly efficient, especially being that the fishermen never have to leave the shore!
Join the locals at sunset and head down to the beach near Vasco da Gama Square to catch all the action. Definitely one of the top places to visit in Kochi during your stay!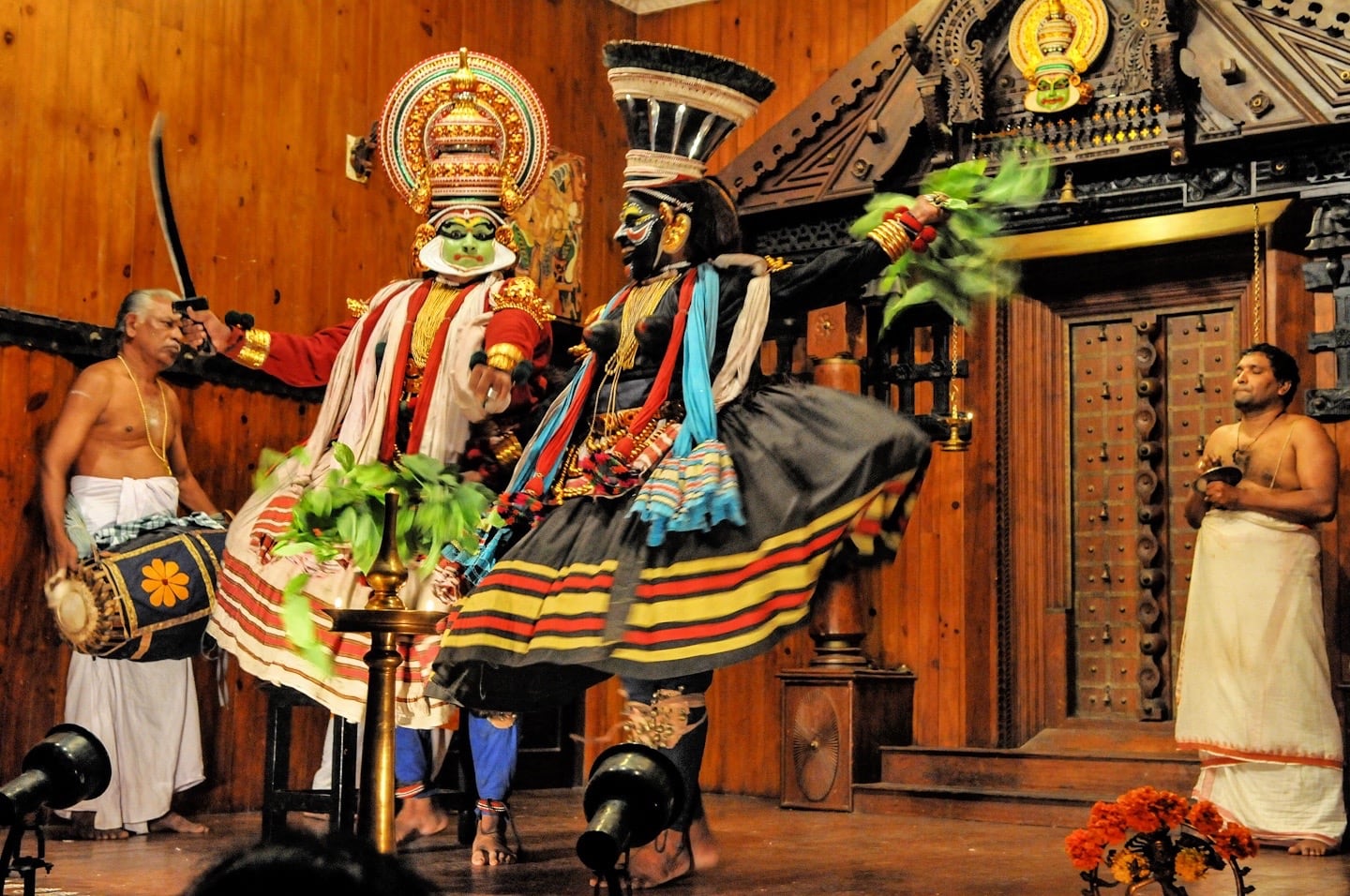 2) Kathakali Dance Theater
Dating from the 17th century in Kerala State, Kathakali combines dance and gesture, live music, costume, and make-up to retell ancient Hindu stories.
We were blown away by the level of precision employed in everything from the carefully choreographed moves to the careful application of makeup.
The Kerala Kathakali Centre in Fort Kochi where we caught this performance is one of the most famous and respected Kathakali studios in the world, and certainly one of the top places to visit in Kochi for a traditional dance show.
If you're going to see a Kathakali dance show anywhere, it's hard to beat this revered venue in the birthplace of the art form.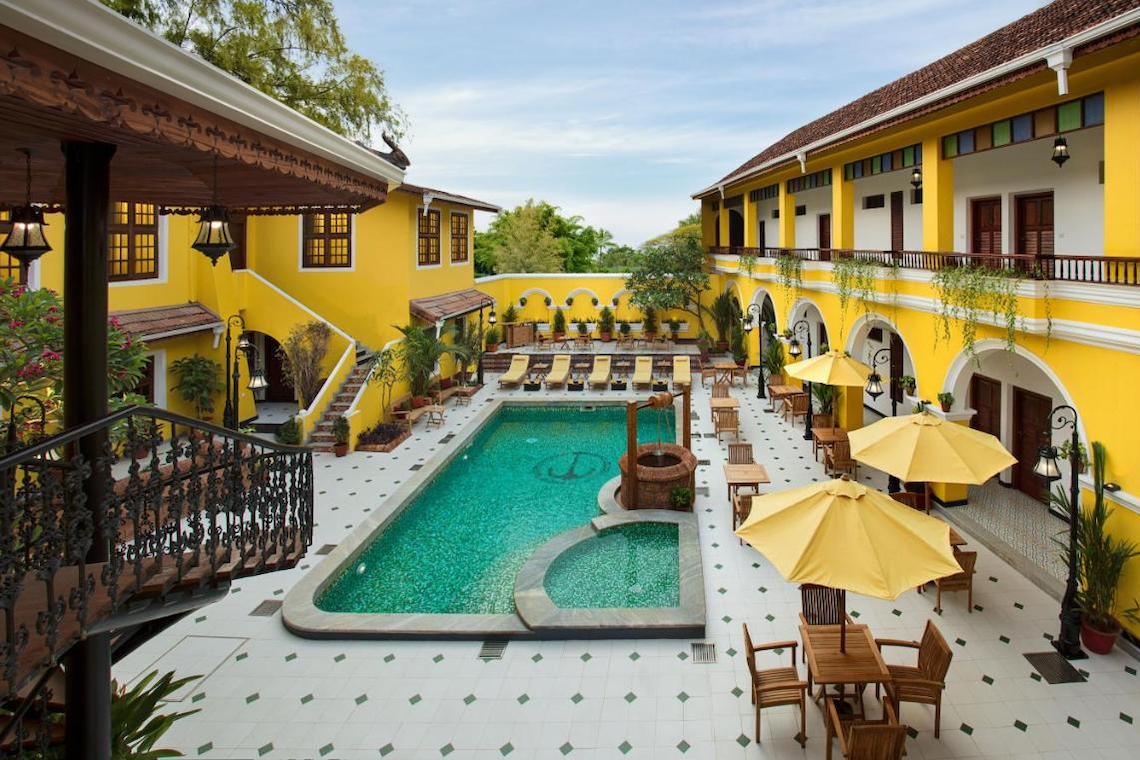 3) Fort Kochi's Amazing Boutique & Heritage Hotels
If you're searching for the best places to visit in Kochi, don't miss out on the opportunity to stay in one of historic Fort Kochi's exceptional heritage hotels or boutique guesthouses – many, attractions themselves!
Here are our top choices for places to stay in the heart of Fort Kochi, all highly-rated, centrally-located, and loaded with character and a sense of place – just like we like 'em.
Forte Kochi | Our Top Pick!
With its central location, top-rated service, and luxurious amenities at an affordable price, it's hard to beat Forte Kochi!
This exceptional heritage hotel offers swimming pool, complimentary a la carte breakfast, and even an ancient Mikwah natural spring used for Jewish rituals.
Coconut Grove | Top Homestay
If you're looking for a lush oasis with a personal touch, look no further than Coconut Grove.
Centrally located in Fort Kochi, this superb family-run guesthouse features an outdoor terrace, accommodation with a garden, shared kitchen, and 24-hour front desk.
Old Harbour Hotel | Top Heritage Stay
Discover this exquisitely restored 300-year-old Portuguese mansion just steps away from all the major attractions of Fort Kochi.
Old Harbour Hotel will wow you with its evocative architecture and decor, stately grounds, outdoor swimming pool, and all the amenities you'd expect from an upmarket heritage property.
Want More Amazing Places to Stay in India?
Check out our carefully researched and lovingly curated companion guides on the very best hotels in Udaipur and best places to stay in Darjeeling – all freshly updated for 2021 & 2022!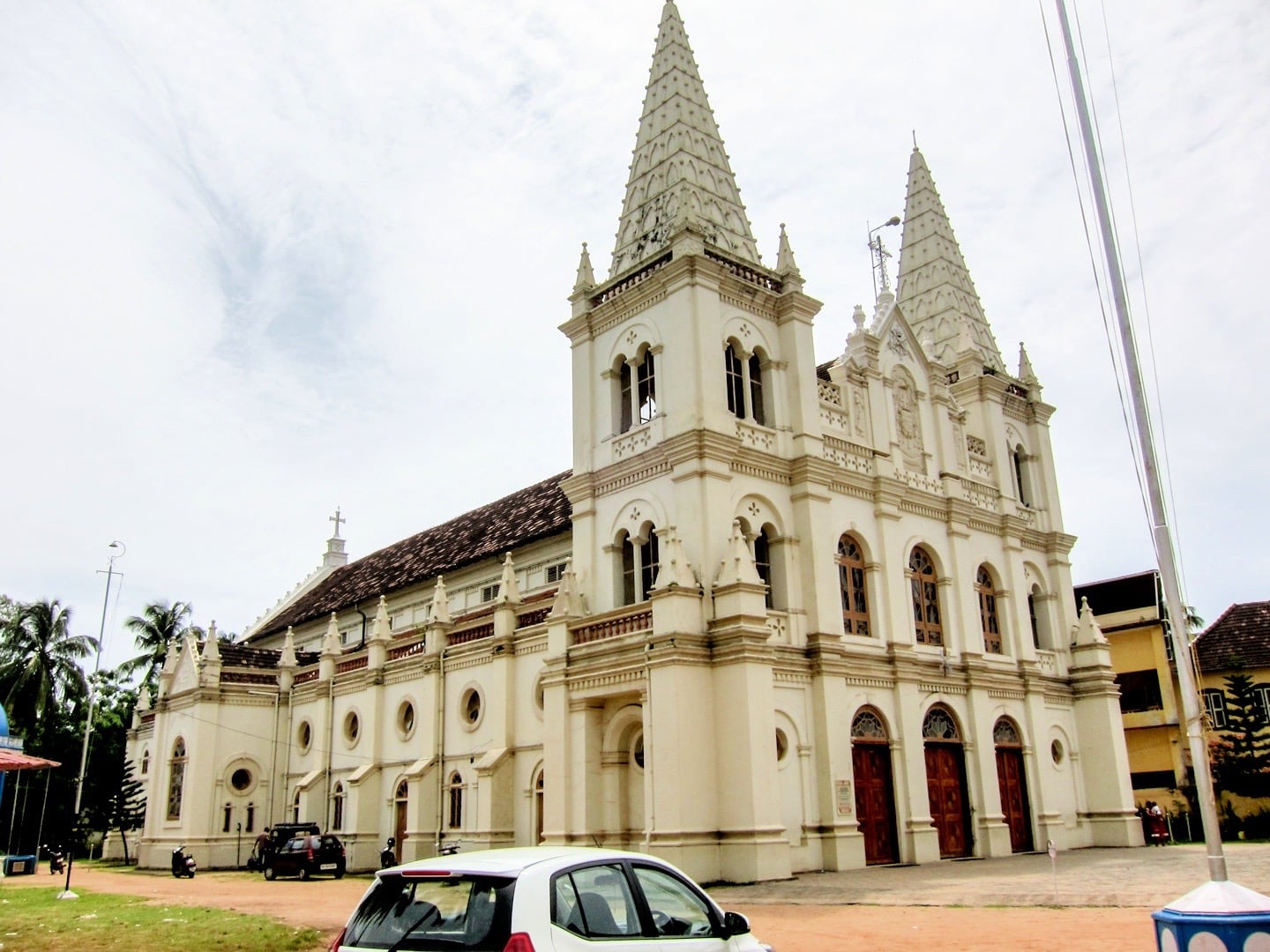 4) Historic Portuguese Churches
Fort Kochi is also home to one of the largest concentrations of Christian churches in the entire country, owing to the city's history as being the center of power of old Portuguese India.
Here is a quick run down of our favorites among these unique places to visit in Kochi.
Below is St. Francis Church, the oldest European church in all of India, dating back to 1503.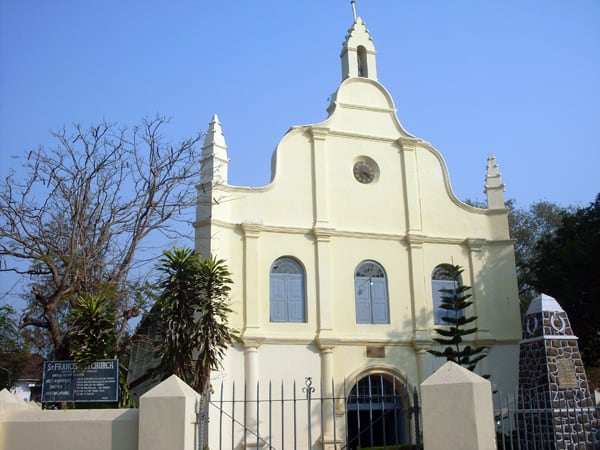 …at least that's what it looked like in 2009, according to Wikipedia. St. Francis had apparently aged considerably by the time we got to it in 2012…and YES, this is the same church, just three short years later: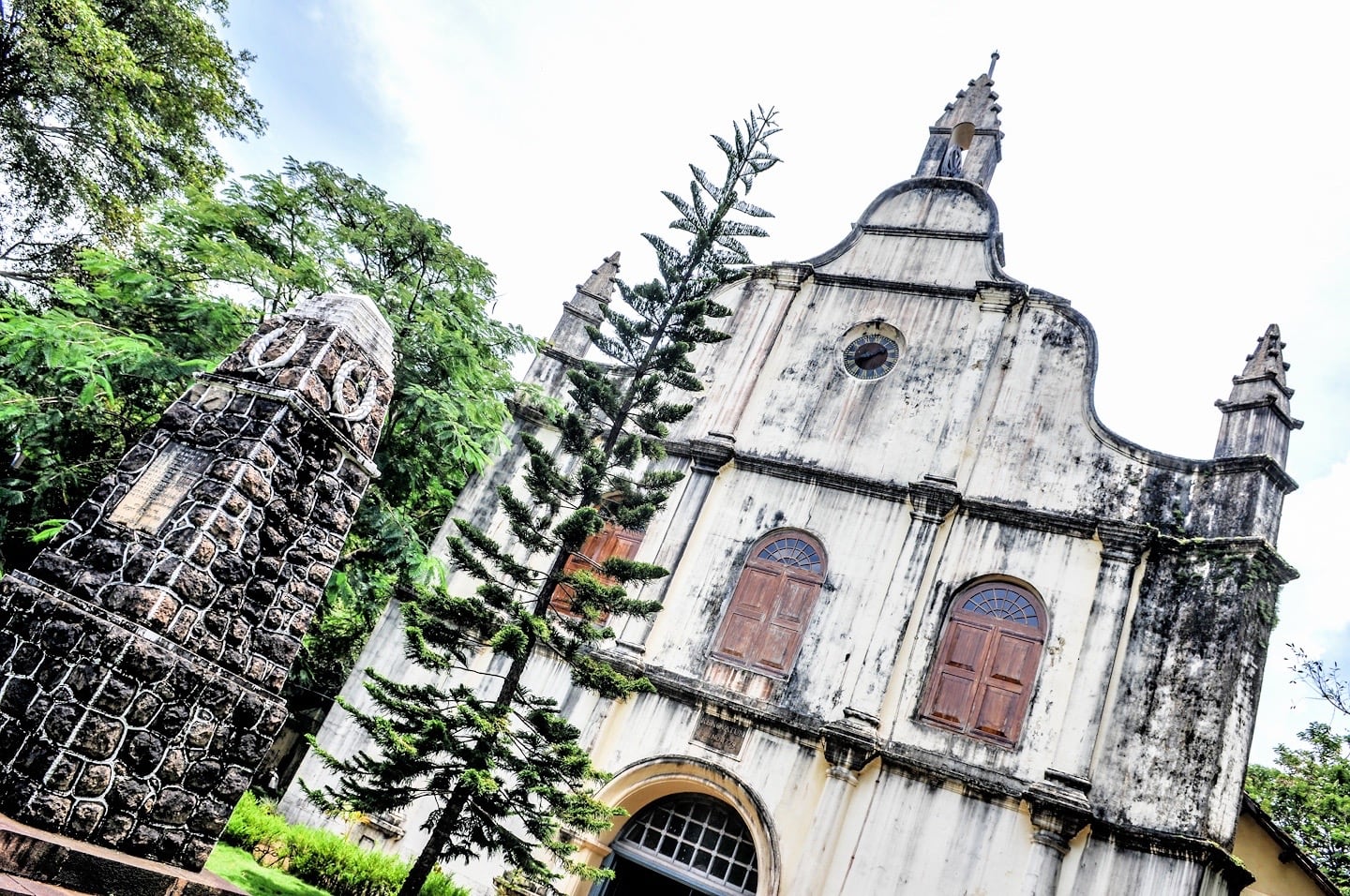 A common story that you'll hear a lot in these parts is that Vasco Da Gama is buried here. Not true! He was buried here, but his body was dug up and moved to Lisbon 14 years later.
2021 Update
We're happy to report that St. Francis church has again been revitalized to its former (i.e. 2009) glory! The cycle of rebirth in action.
Next stop on our list of top places to visit in Kochi, a lovely church in a better state of repair, Jeevamatha Catholic Latin Church. Indeed, there may be hope for these old landmarks yet.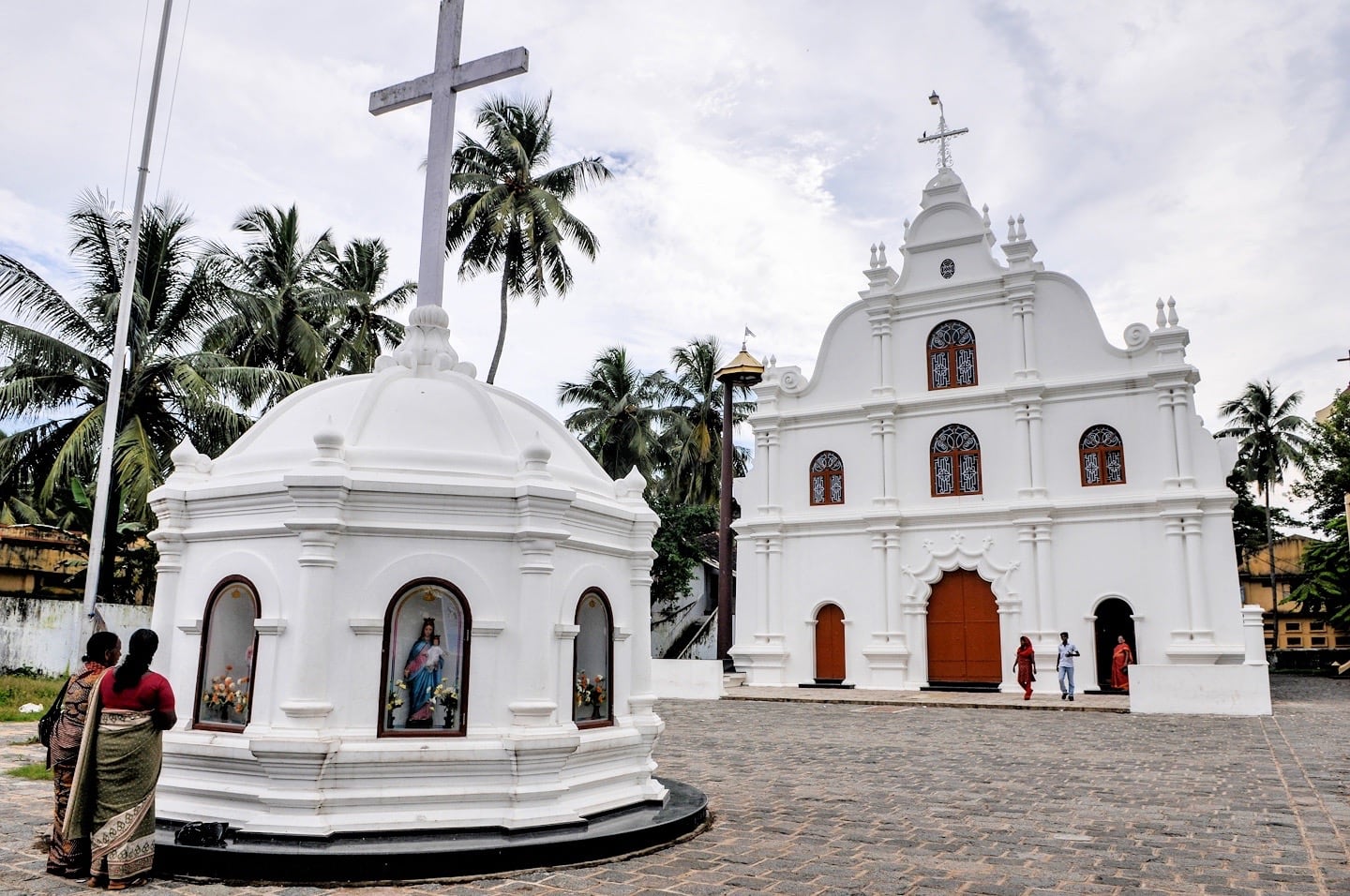 There are dozens of churches in Kochi, but Jeevamatha Church seems to be one of the more popular ones with local Catholics.
It's worth noting that Jeevamatha is located in the Jew Town district of the island, which is covered below.
Something that may not necessarily shine through in this post is how incredibly strange and out of place these churches seemed to us in India, a country where only about 2% of the population subscribes to Christian beliefs.
Granted, in India that translates to roughly 25 million Christians, but you just don't see structures like this very often.
After nearly three months of exploring Buddhist and Confucianist temples in China and Hindu temples and Muslim mosques in India, we found ourselves unprepared for how surreal our encounter with churches in Fort Kochi would be — somehow both familiar and disorienting at the same time.
Like history? Check out our detailed guides on visiting romantic and atmospheric Udaipur, and riding the quirky and historic Darjeeling Toy Train.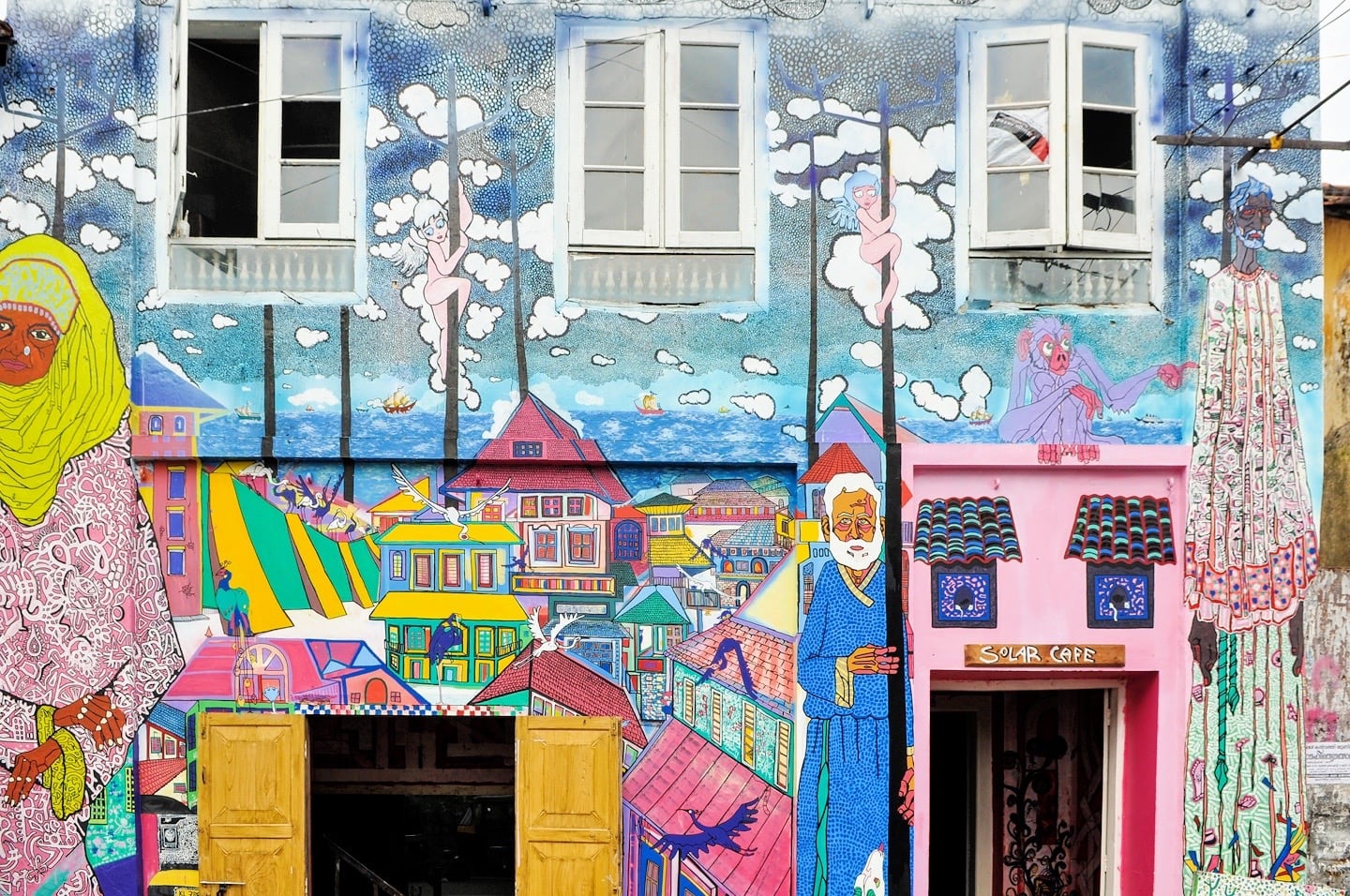 5) Artsy & Enigmatic Jew Town
Next up on our list of best places to visit in Kochi, Jew Town. And, yep, that's the official name of this neighborhood.
If you're looking for something completely different from the norm in India, Jew Town's your ticket. It's colorful, artsy, and downright quirky.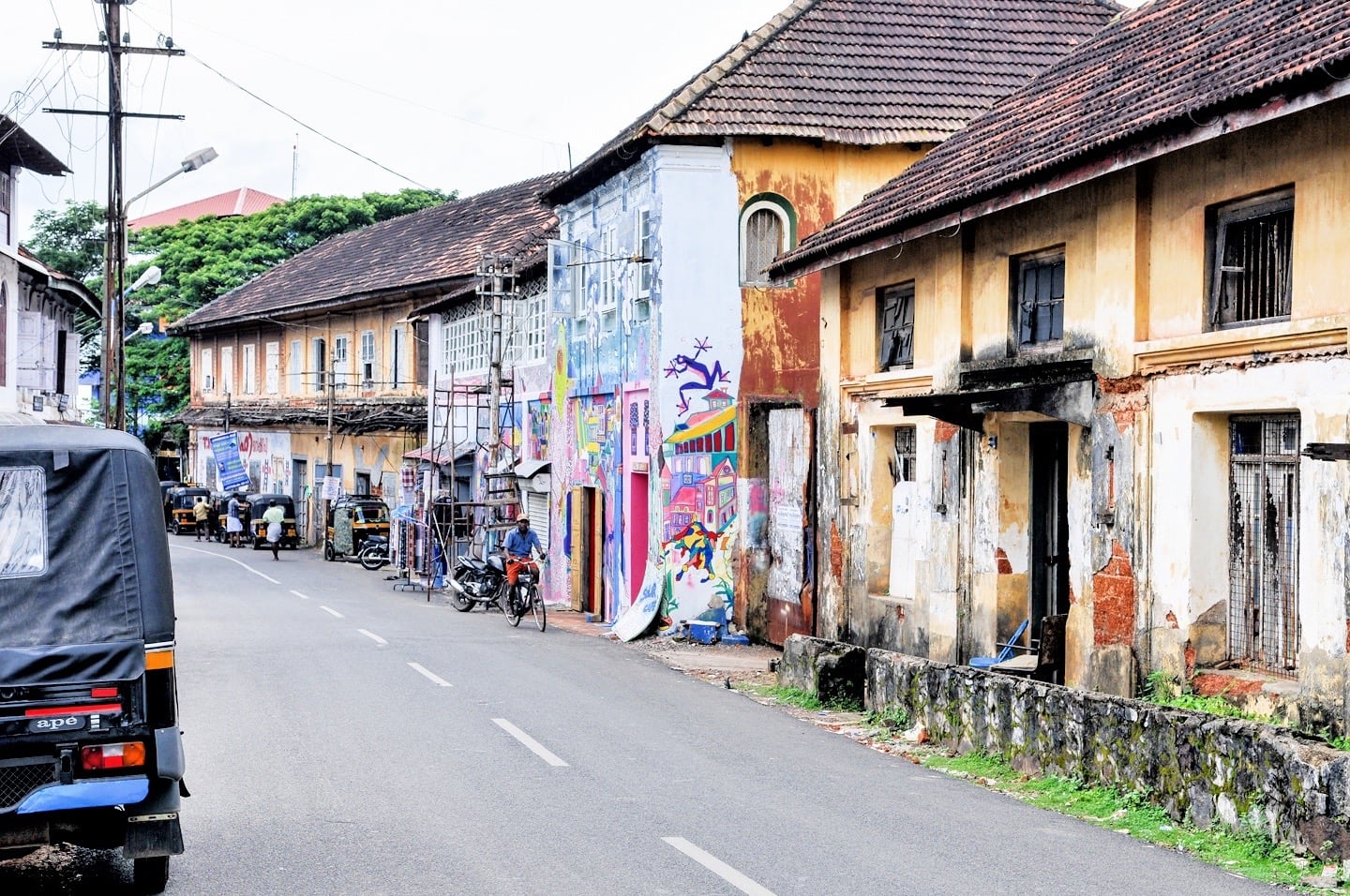 Stroll the streets of Jew Town and peek into the various art galleries, gift shops, and funky cafes dotting the neighborhood.
This neighborhood is a treasure trove of fascinating history and unique photo ops, not to mention home to 500-year-old Mattancherry Palace, making Jew Town an essential stop on your list of places to visit in Kochi.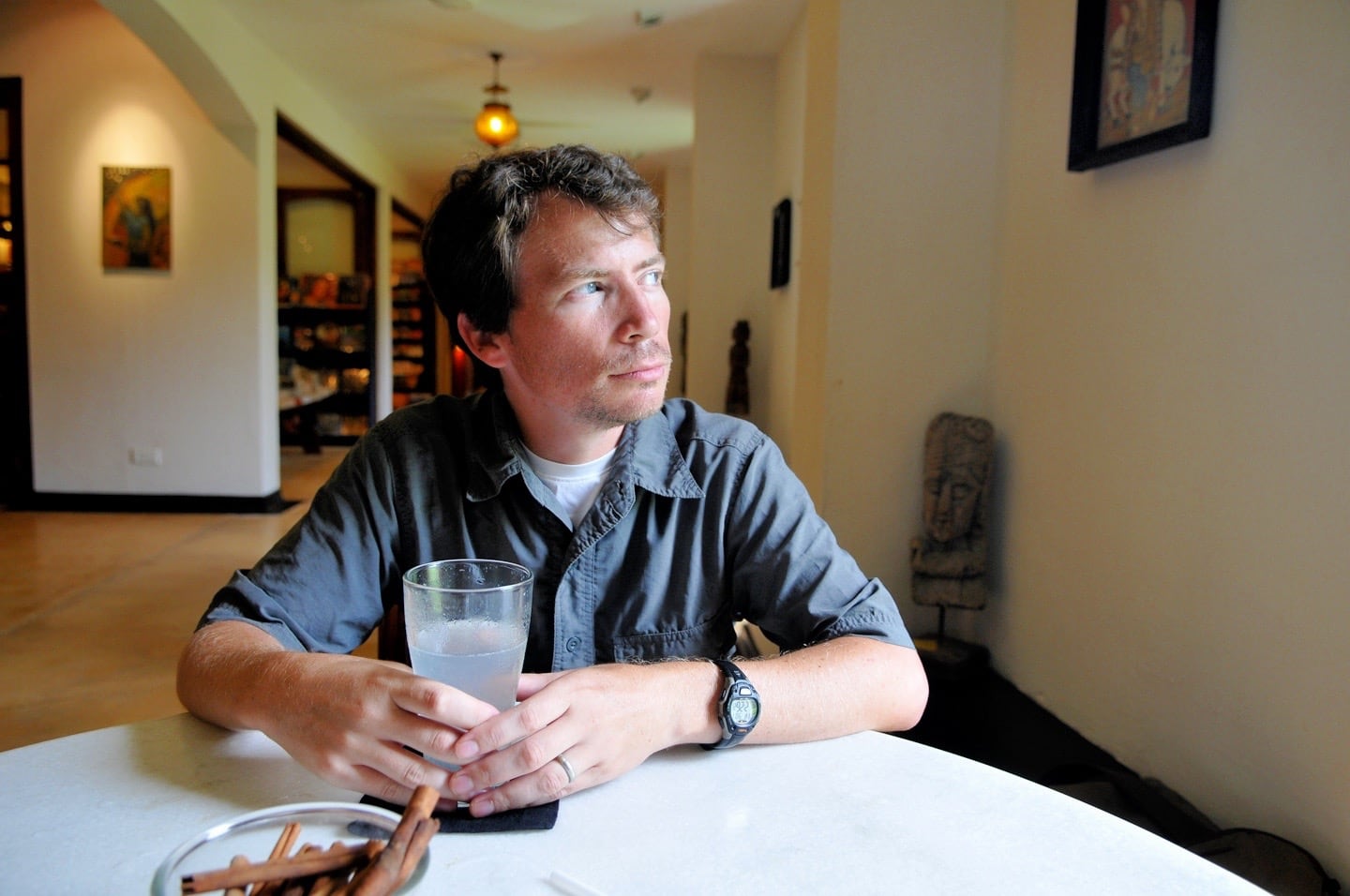 Taking in an art gallery/ gift shop/ cafe, drinking some sort of ginger juice concoction, and chewing on cinnamon sticks. Now, how many places in the world can you do all of that at once? I can't think of any. Maybe only in Jew Town, Kochi.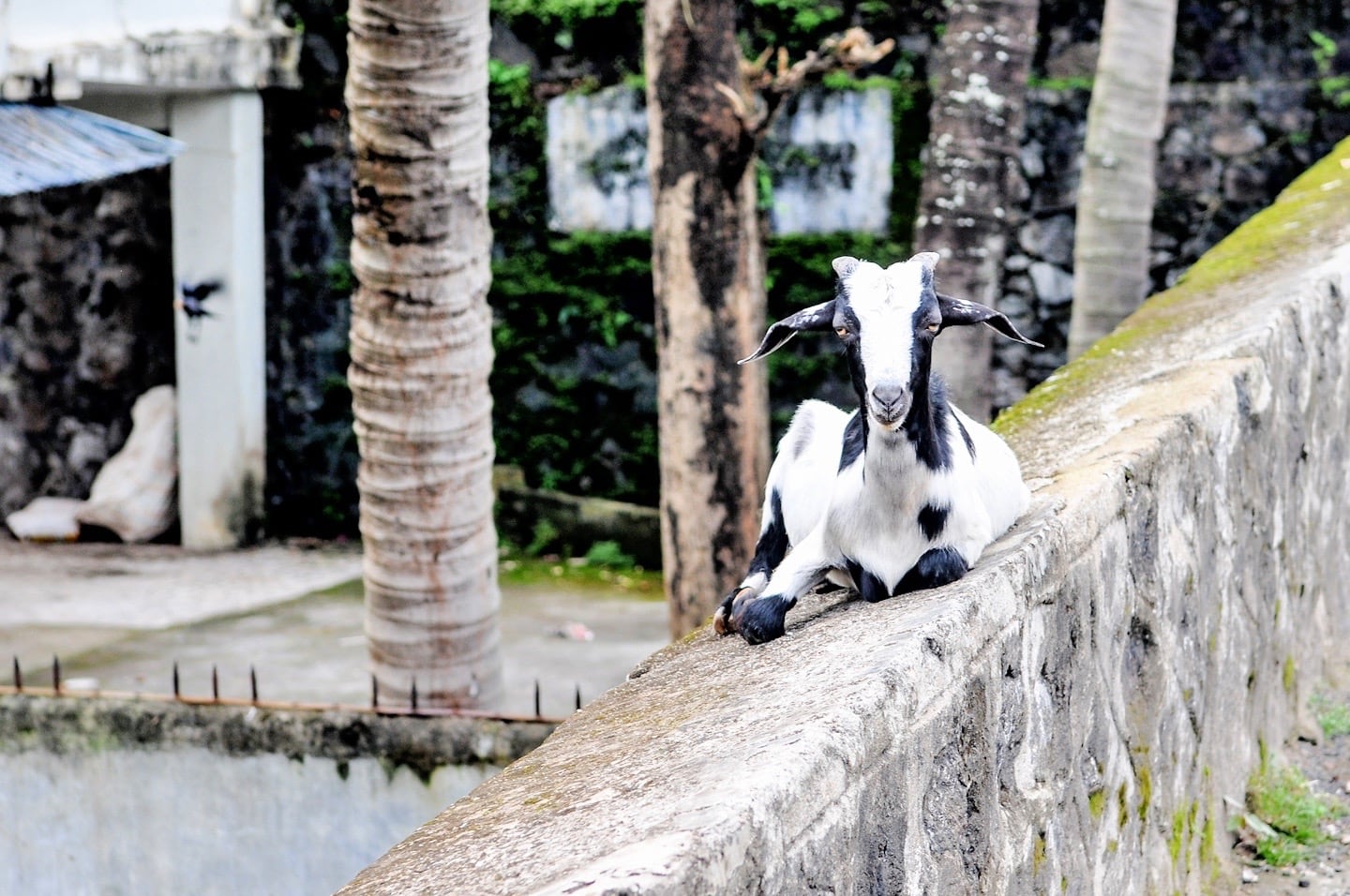 In addition to its artsy vibe, Jew Town is home to some of the most pensive-looking (…stoned?) goats we've ever seen. Needless to say, I clutched my munchies just a little tighter walking by this one.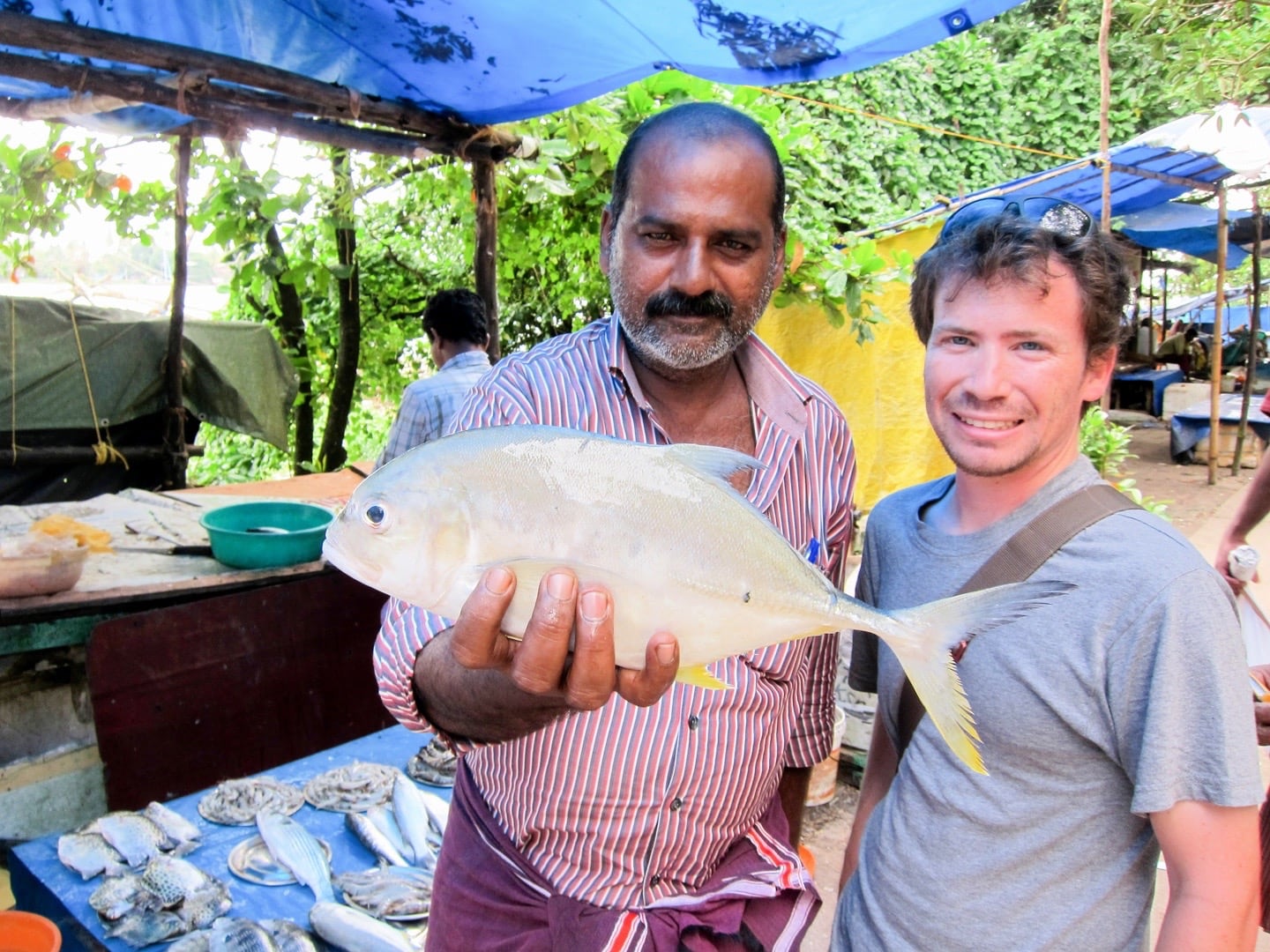 6) Fort Kochi's Fish Market
Along with the teeter-totter fishing nets and monuments to conquests-past, Fort Kochi is famous for its fish market!
You can't visit Fort Kochi's fish stalls without chatting up the local fishmongers, perusing each stall's surprisingly unique selection, and picking out something tasty for lunch.
I told the gentleman, above, I wanted something fairly meaty (not too boney), but not too expensive — oh, and with a nice, fresh taste. Enough to feed two, please.
He showed us this beauty (above), which quickly became…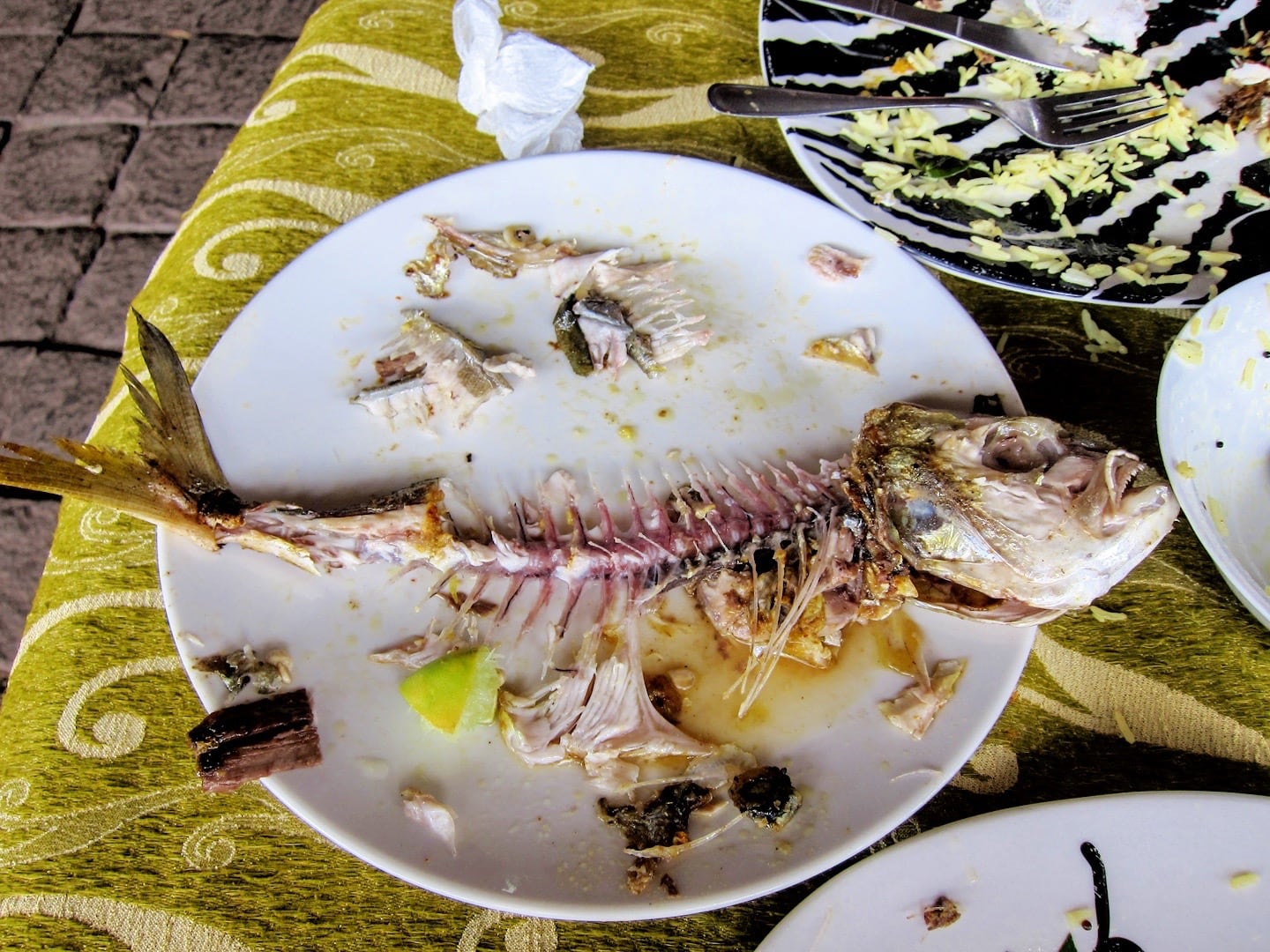 …this beauty!
How does the Kochi fish market work?
After purchasing the fish from the waterfront fresh fish stalls, you take your new flippery friend to one of a handful of small nearby restaurants that will then grill it up for a nominal fee, evening adding in a couple of sides like fries and rice.
All told, our delicious lunch cost US$8 including the price of the fish, grilling said fish, rice and fries, and two sodas.
All that and more makes the Fish Market truly one of the top places to visit in Kochi!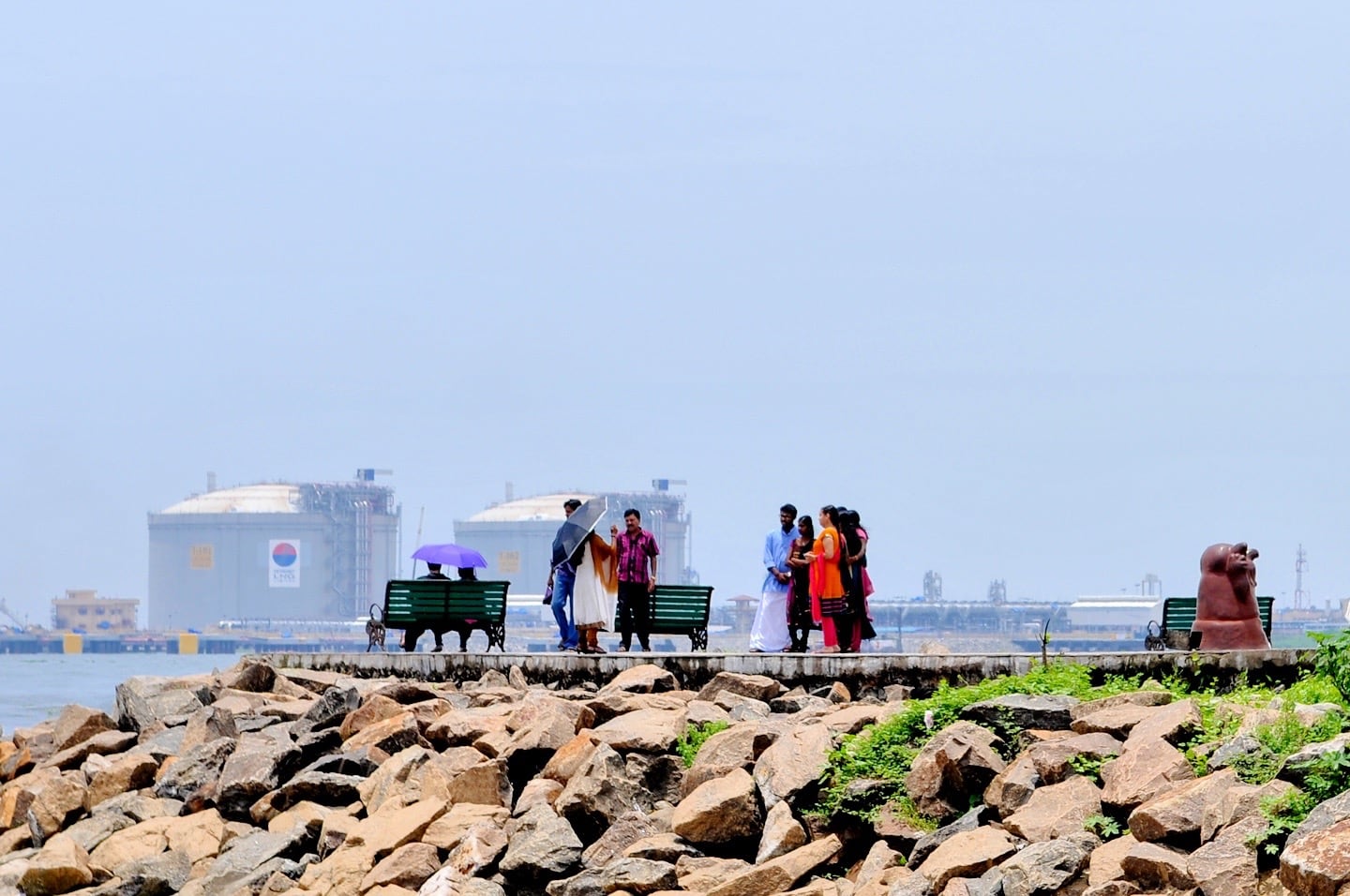 7) Join the Locals for a Sunset Stroll Along the Beach
Among the top places to visit in Kochi on our list, there's no better place to catch the sunset than the area along the beach near Vasco da Gama Square in Fort Kochi.
In addition to some stunning sunsets during our stay, the promenade is a great place to people watch and partake in a daily life ritual with local residents.
Obviously, the photo I snapped, above, wasn't taken around sunset, but you get the gist.
Guess, I was too fixated on the fishing nets and actually enjoying the evening. Can't say I have any regrets about that.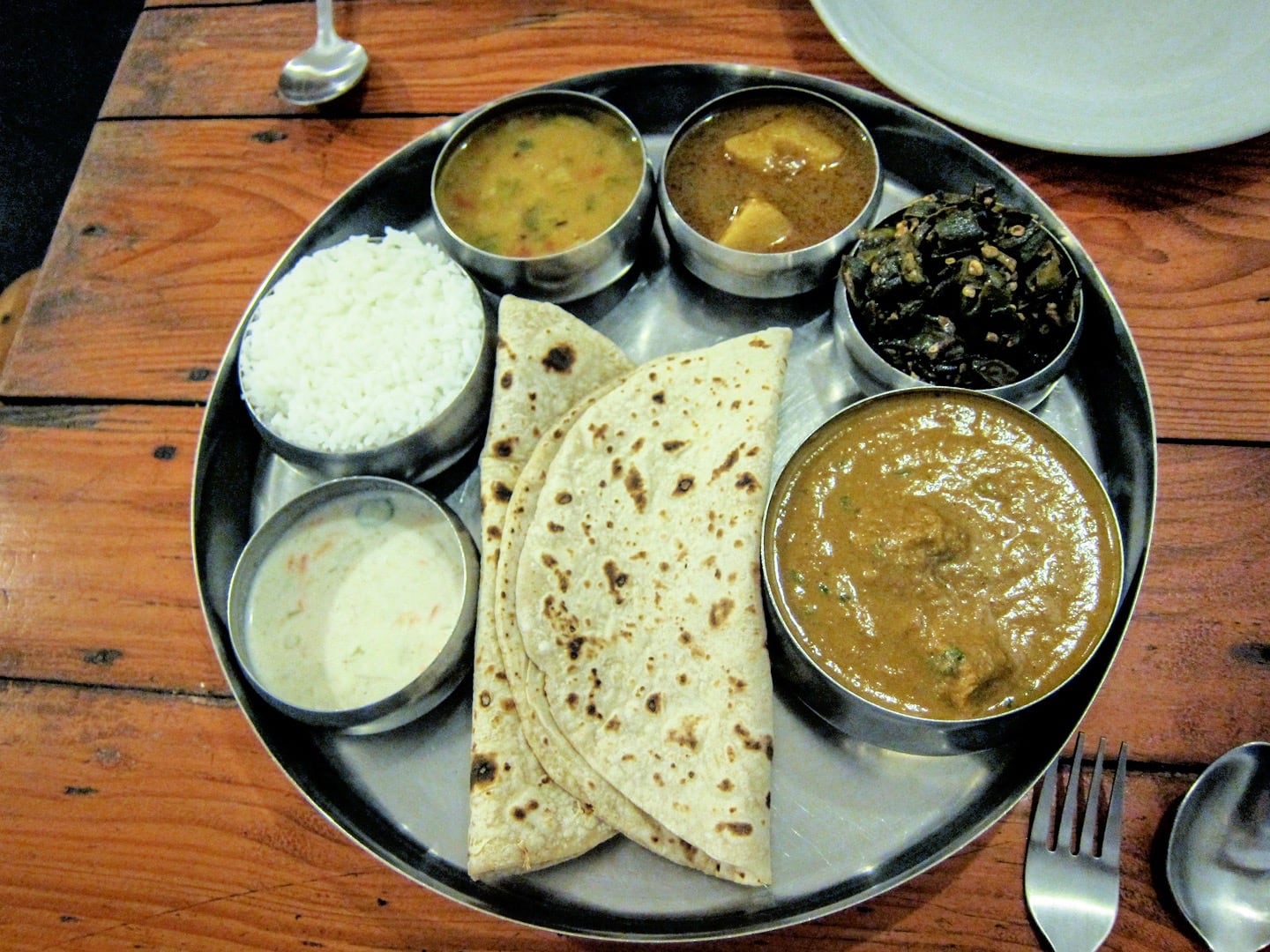 8) Treat Your Tastebuds to a South Indian Thali
While we're on the topic of Indian food…I just realized I haven't professed my love for thalis in a while. Have I told you lately…that I love you…Thali?
Traveling through India, thalis make the madness just a bit less maddening. Fortunately, in Kochi, you don't have to worry so much about that. And, you still get your thali!
Cheap, fast and DELICIOUS, a thali is a variety of small plates served on a tray with flatbread (naan, roti, chapati), generally around lunchtime, but you can get a thali for dinner too.
The one, above, is waiting to be devoured at a restaurant called Dal Roti — a no-frills joint with a friendly and gregarious host, and one of the best places to visit in Kochi to get your thali fix.
As is common in India, Dal Roti is a veg-only restaurant, and this is a veg-only thali. Delicious and filling, nonetheless.
You can also get meat thalis throughout India (we had quite a few in Rajasthan!).
Now, excuse me while I inhale Lori's portion while she's momentarily distracted by candy.
UPDATE: Sadly, we recently learned that Dal Roti has closed up shop. We'll be sure to report back on a replacement next time we visit. Fortunately, Fort Kochi has no shortage of tasty little eateries to enjoy in the meantime!
Don't Forget Travel Insurance!
Kochi is among the safest destinations for travelers in India. With that said, stuff happens — floods, bus accidents, broken ankles, malaria, etc.
Don't risk it. Get international travel insurance so you can sleep easy and enjoy your trip to India!
Check out World Nomads for short trips, adventure travel, and strong trip coverage; and SafetyWing for longer-term, low cost overseas health coverage.
Final Thoughts on Kochi
After backpacking around Northern India for just over a month, Lori and I were ready for a change of pace.
Luckily for us, Kochi was our next stop, offering a refreshingly offbeat range of things to do and experiences that stood in stark contrast to the Hindu temples, desert forts, and seas of humanity we had accustomed ourselves to in India so far.
Arriving from Mumbai, the change in culture from north to south was palpable and immediate.
Suddenly, breathing room between people and things was reintroduced into our lives, locals seemed more interested in their own goings-on rather than soliciting to us, and the pace of life seemed to slow to a crawl.
It was also hard to ignore the fact that we now found ourselves on an island, set apart culturally, historically, and economically from mainland Cochin.
Arriving on a boat from Ernakulum certainly heightened the feeling of crossing into something new and exotic.
Experiencing Fort Kochi (and the top places to visit in Kochi) was a highlight of our travels in India. We think it might be one of yours as well!
And That's Our Guide to the Best Places to Visit in Kochi, India!
Have you visited Kochi recently? What were some of your favorite things to do in Kochi? Tell us in the comments section below.