Planning a trip to Southern India? Don't miss captivating Fort Kochi, India! Here are the best things to do and places to visit in Fort Kochi for an unforgettable stay in this unique, historic, and irresistible town.
Fort Kochi, located in the southern Indian state of Kerala, is a charming and historic town that offers a unique blend of colonial architecture, cultural diversity, and natural beauty.
Over the centuries, a melting pot of influences – from the Ming Dynasty, Dutch, Portuguese, British, Jews, and others to the Keralan Malayalis that make up the majority of today's residents – have left their mark on the cuisine, architecture, thoroughfares, and vibrant cultural scene of Fort Kochi.
Someday, parts of Kochi may very well receive UNESCO status, bringing funding and new opportunities (…and larger crowds…) to this unique pocket of India.
In the meantime, travelers will appreciate a greater feeling of authenticity and manageable tourist numbers.
No doubt, there are far more things to do and places to visit in Fort Kochi than we could ever focus on in one article.
Here, we've attempted the impossible task of boiling Fort Kochi down to the essentials, including unique experiences, top recommendations on boutique hotels, and some of our favorite places to eat.
We hope you enjoy our first-hand guide to the best places to visit in Fort Kochi, India!
Looking for Fort Kochi
Hotel

recommendations?

These are our top hotel picks for 2023:
Forte Kochi

▸

This exceptional heritage hotel offers a swimming pool, complimentary a la carte breakfast, and even an ancient Mikwah natural spring used for Jewish rituals. Top-rated service, and luxurious amenities at an affordable price.
Coconut Grove

▸

Lush oasis with a personal touch centrally located in Fort Kochi. This superb family-run guesthouse features an outdoor terrace, accommodation with a garden, shared kitchen, and 24-hour front desk.
Old Harbour Hotel

▸

This exquisitely resorted 300-year-old Portuguese mansion will wow you with its evocative architecture and decor, stately grounds, outdoor swimming pool, and all the amenities you'd expect from an upmarket heritage property.
We're reader supported and may earn a commission from affiliate links on our site at no cost to you.
Discover more amazing places to stay around India!
Check out our carefully researched and lovingly curated companion guides to the very best resorts in Udaipur and best places to stay in Darjeeling — all freshly updated for 2023!
---
8 Best Places to Visit in Fort Kochi, India in 2023
---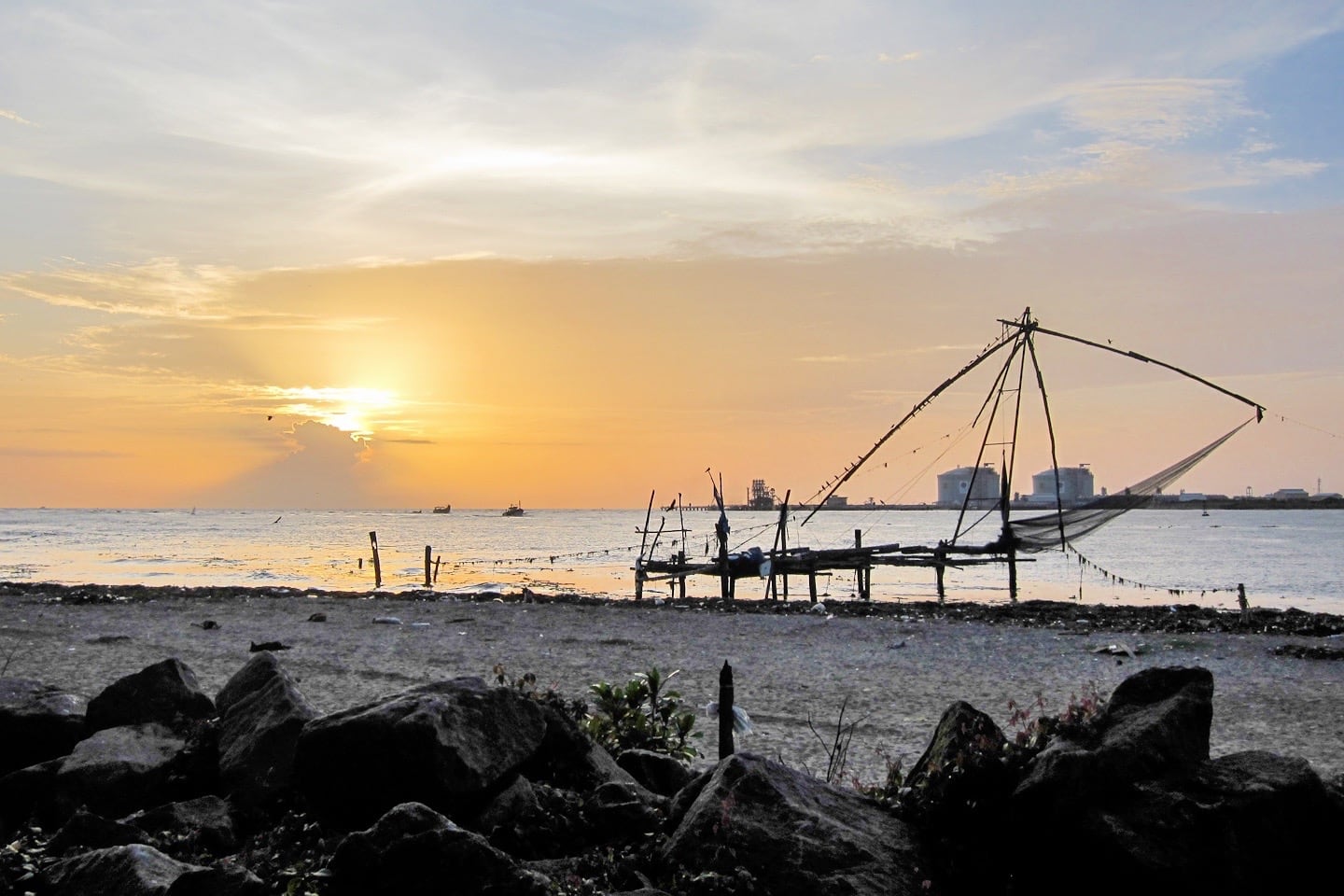 ➊

Chinese Fishing Nets & Vasco da Gama Square

While there is no shortage of historical and cultural attractions on the island of Kochi, one of the most unique and worthwhile places to visit in Fort Kochi might just be Fort Kochi's northern section of shoreline known for its enormous Chinese fishing nets.

Still widely used and fully functioning today, local fishermen employ these cantilever monstrosities to round up the daily catch.

The ancient mechanical nets appear to be surprisingly efficient, especially being that the fishermen never have to leave the shore to operate them!

Join the locals at sunset and head down to the beach near Vasco da Gama Square to catch all the action. Definitely one of the top places to visit in Fort Kochi during your stay!

🔥 HOT TIP 🔥

By far, the very best way to see all of the top places to visit in Fort Kochi is on a city tour with a knowledgeable local guide. Check out this top-rated 3-hour private walking tour with lunch. Get valuable insights into this fascinating place and make the best use of your time and money while visiting Kochi.
---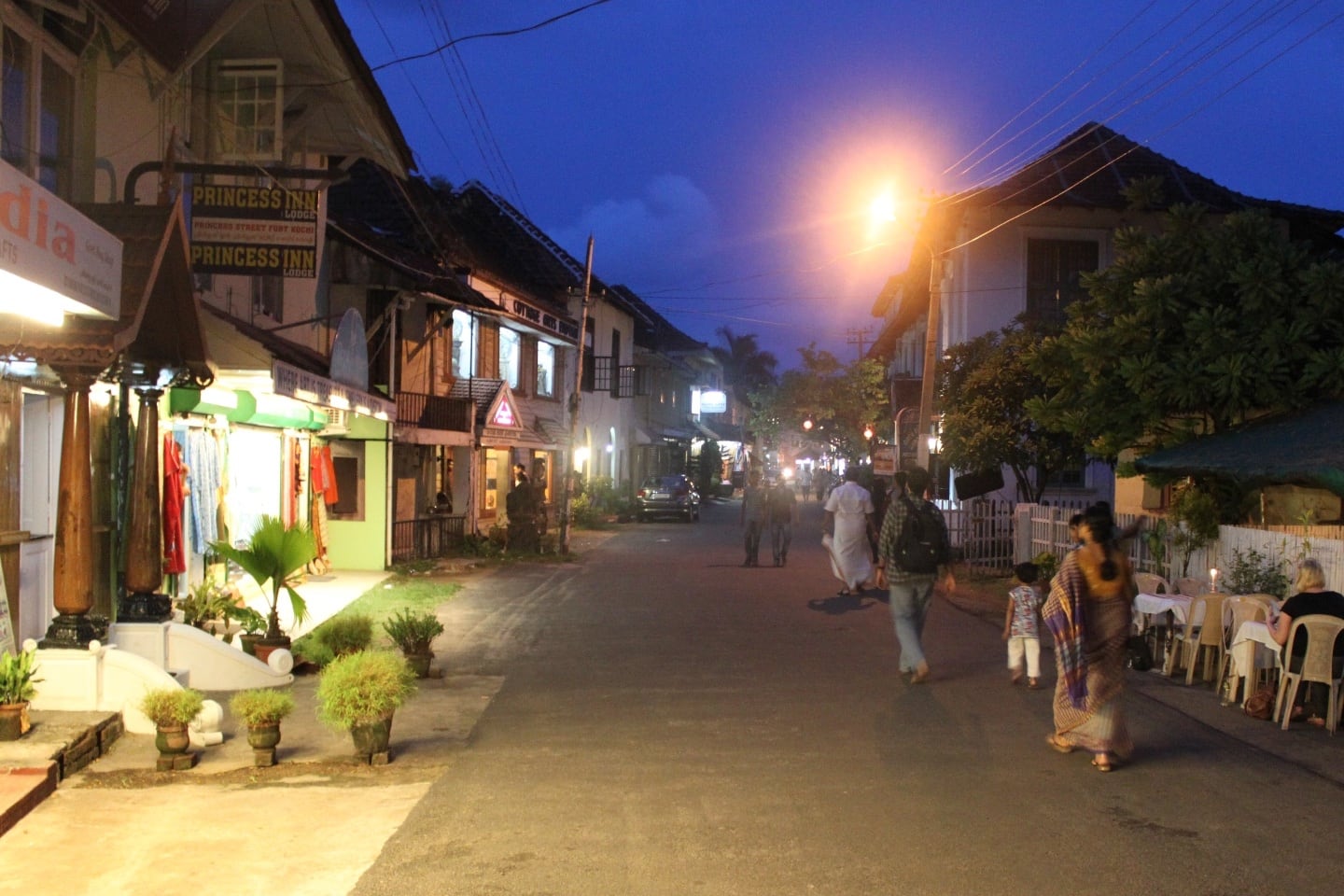 ➋

Exploring Princess Street

Bisecting Fort Kochi from River Road and the waterfront down to Bastian Street, Princess Street is the commercial heart of Old Town and a popular draw for visitors.

In addition to being the main shopping thoroughfare, many of Fort Kochi's top attractions and best hotels and restaurants can be found within a stone's throw of here.

Like history? Check out our detailed guides on visiting romantic and atmospheric Udaipur, Rajasthan, and riding the quirky and historic Darjeeling Toy Train.
---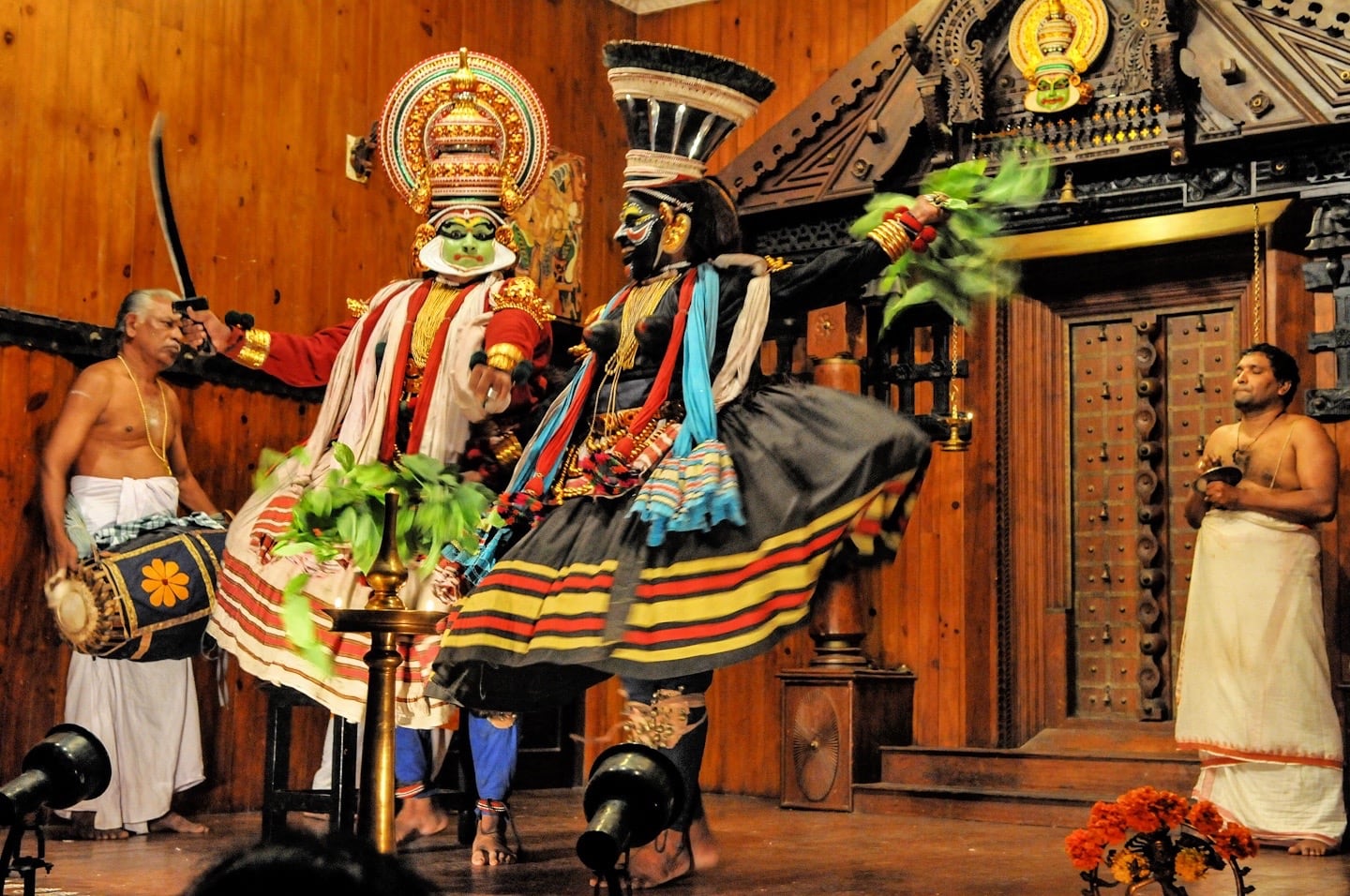 ➌

Kathakali Dance Theater

Dating from the 17th century in Kerala State, Kathakali combines dance and gesture, live music, costume, and make-up to retell ancient Hindu stories.

Lori and I were blown away by the level of precision employed in everything from the carefully choreographed moves to the careful application of makeup.

The Kerala Kathakali Centre in Fort Kochi where we caught this performance is one of the most famous and respected Kathakali studios in the world, and certainly one of the top places to visit in Fort Kochi for a traditional dance show.

If you're going to see a Kathakali dance show anywhere, it's hard to beat this revered venue in the birthplace of the art form.
---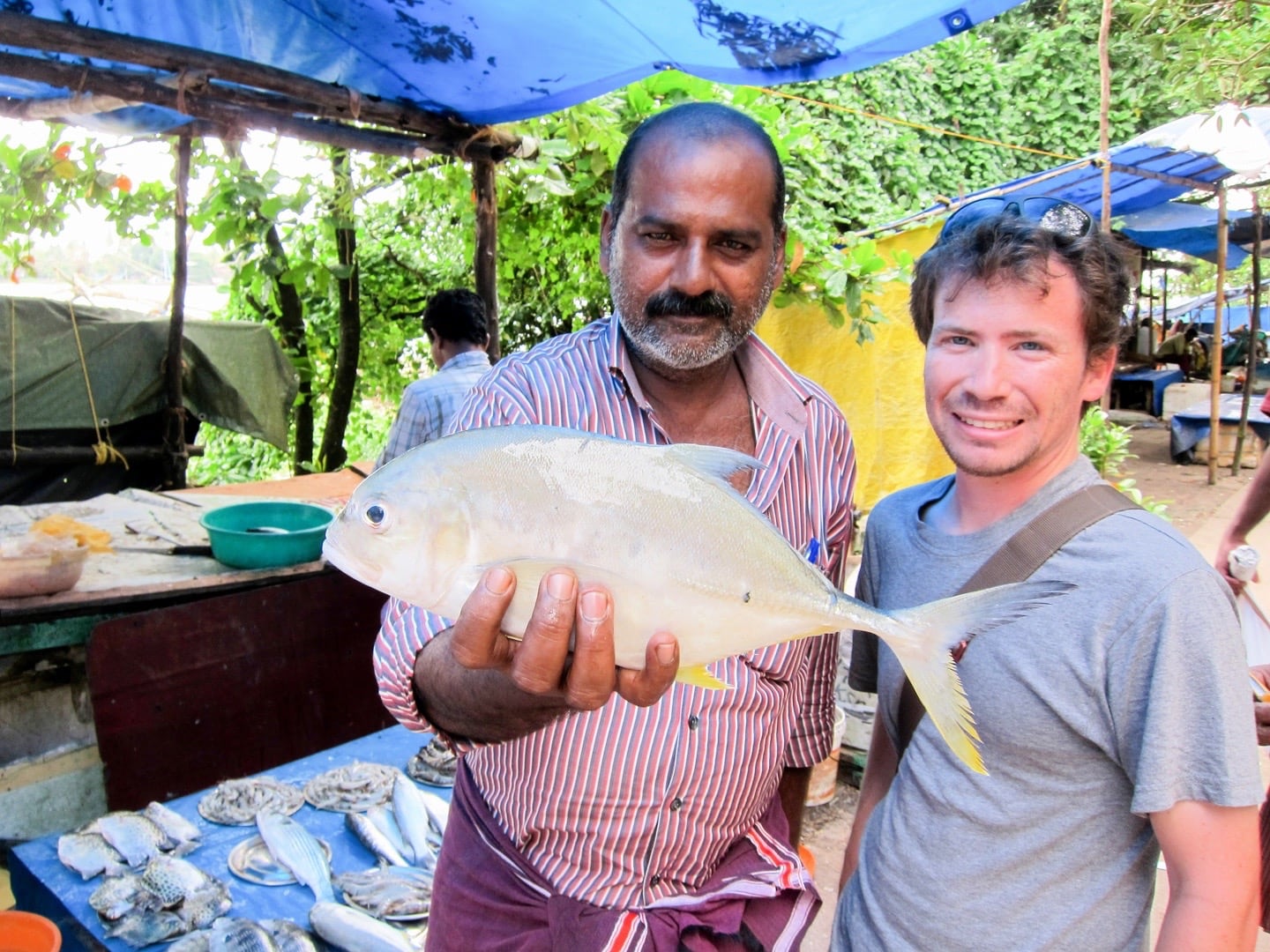 ➍

Fort Kochi's Famous Fish Market

Along with the teeter-totter fishing nets and Kathakali dance theater, Fort Kochi is famous for its fish market!

You can't visit Fort Kochi's fish stalls without chatting up the local fishmongers, perusing each stall's surprisingly unique selection, and picking out something tasty for lunch.

I told the gentleman, above, I wanted something fairly meaty (not too boney), but not too expensive — oh, and with a nice, fresh taste. Enough to feed two, please.

He showed us this beauty and within minutes it was transformed into one of the best seafood meals we've had in India.

How does the Fort Kochi fish market work?

After purchasing the fish from the waterfront fresh fish stalls, simply take your new flippery friend to one of a handful of nearby cooking stalls that will then grill it up for a nominal fee.

Most places will include the choice of a couple of sides like fries and rice, along with a couple of sodas.

All told, our delicious lunch cost US$8 including the price of the fish, grilling the fish, rice and fries, and two sodas.
---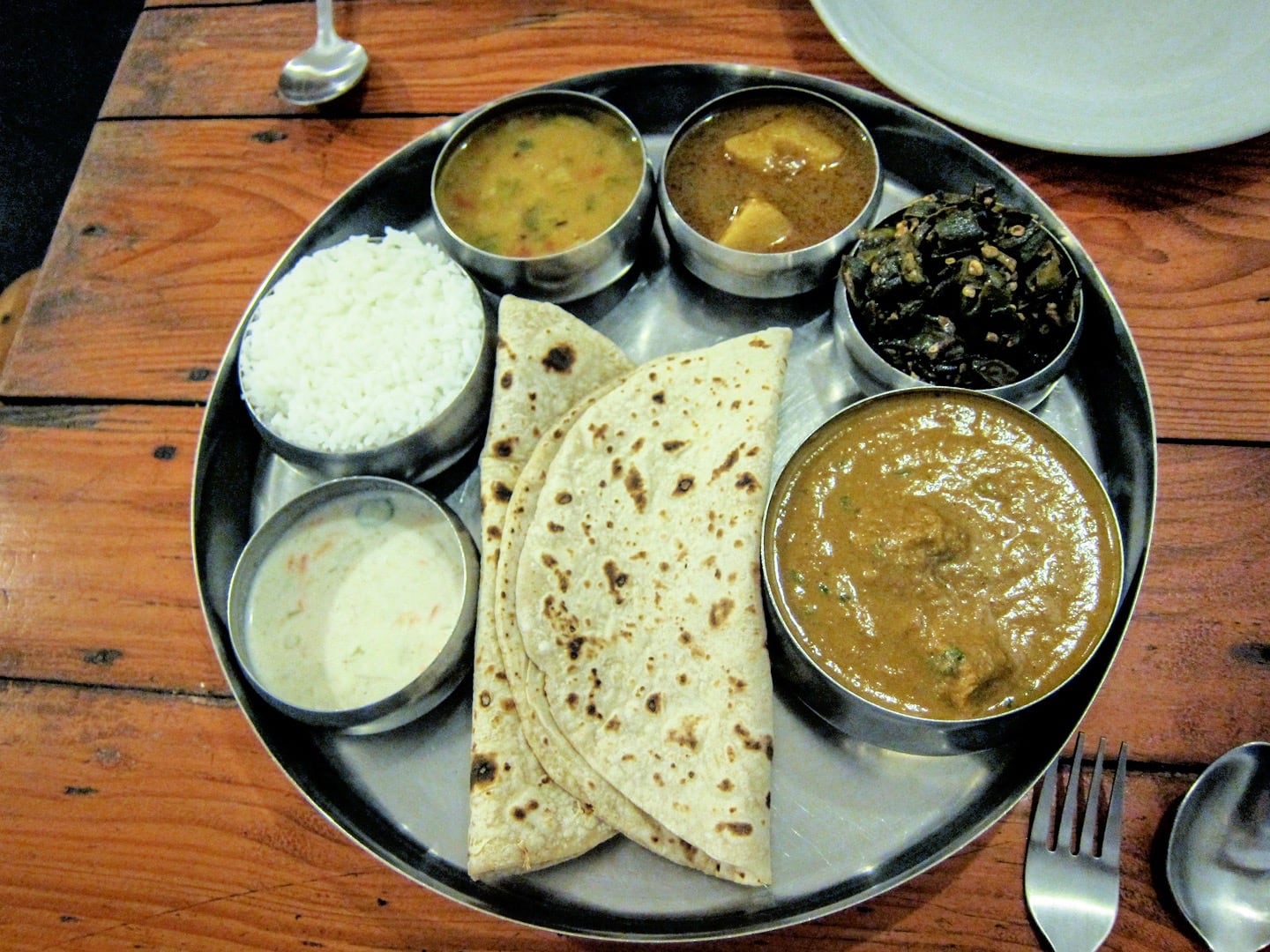 ➎

Treat Your Tastebuds to Kerala Cuisine

While we're on the subject of food, make sure you dive even deeper into the local South Indian cuisine.

Fort Kochi is chock full of mouthwatering local eateries waiting to be discovered by you and your appetite!

Tasty Thali

Don't leave Fort Kochi without grabbing a Thali around lunchtime at any number of excellent places in and around the historic area (see photo, above).

Cheap, fast and DELICIOUS, a thali is a variety of small dishes served on a single metal tray with rice and flatbread (naan, roti, chapati).

As with much of the cuisine in these parts, most thalis here are vegetarian or pure veg, though you may very well encounter thalis with meat served at more touristic establishments.
Our Top Picks for Places to Eat in Fort Kochi
Sri Krishna Cafe

▸

If you're looking for one of the very best places in town to experience authentic Keralan and South Indian, this is it! Pure veg thalis, dosas, biryanis and much more. A bit outside of the historic center near Mattancherry Palace, but worth the journey!
Solar Cafe

▸

Another great authentic Keralan eatery near the Ernakulam ferry, serving thalis and other South Indian dishes, as well as continental choices.
Warehouse Cafe & Restaurant

▸

One of the best upmarket Keralan restaurants in the heart of Fort Kochi. Excellent service, delicious dishes, and a good value for the location and what they offer.
---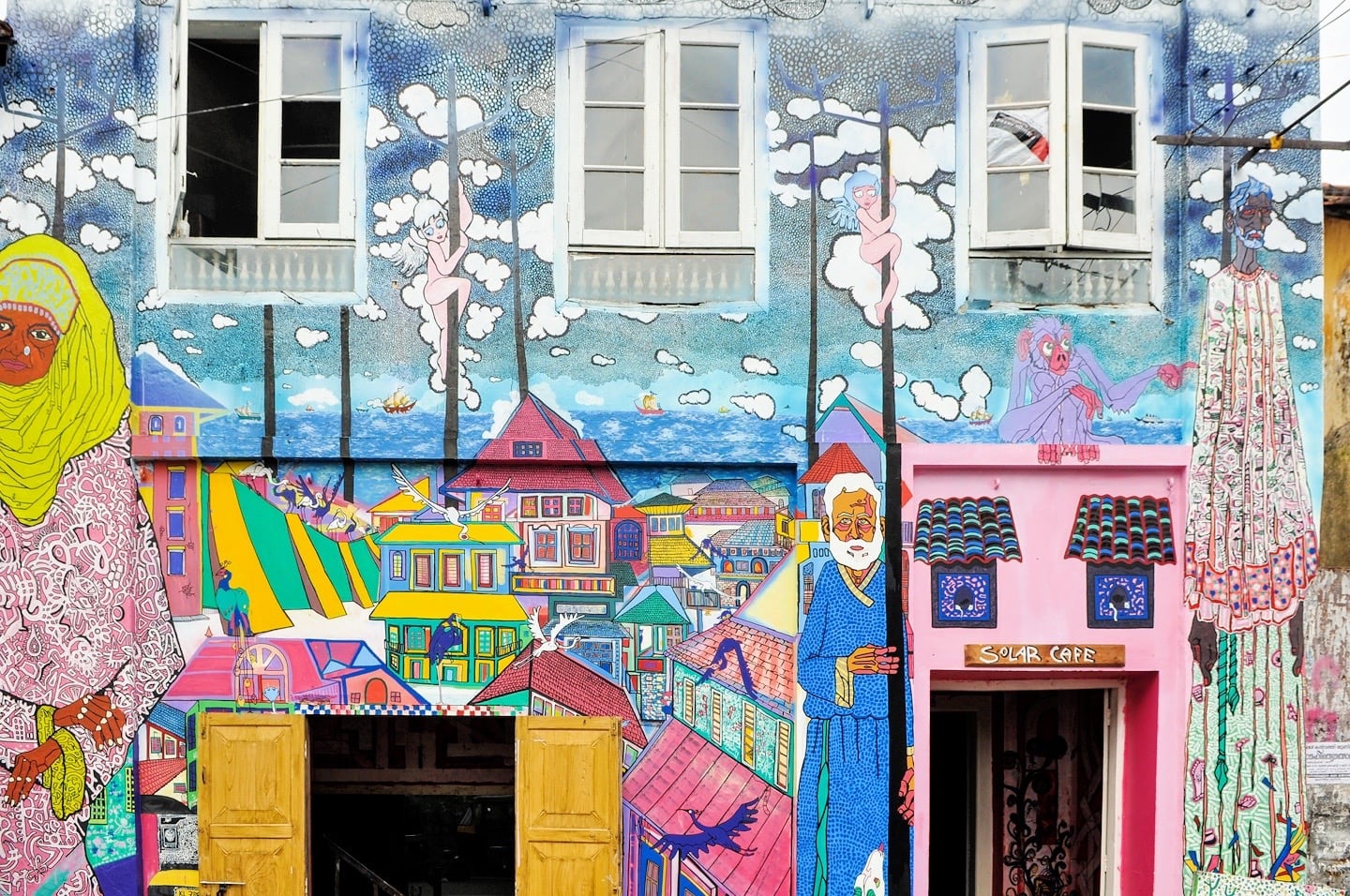 ➏

Artsy & Enigmatic Jew Town

Next up on our list of best places to visit in Fort Kochi, the vibrant and historic neighborhood of Jew Town, which technically lies just outside of Fort Kochi on the east side of the island.

If you're looking for something completely different from the norm in India, Jew Town's your ticket. It's colorful, artsy, and downright quirky.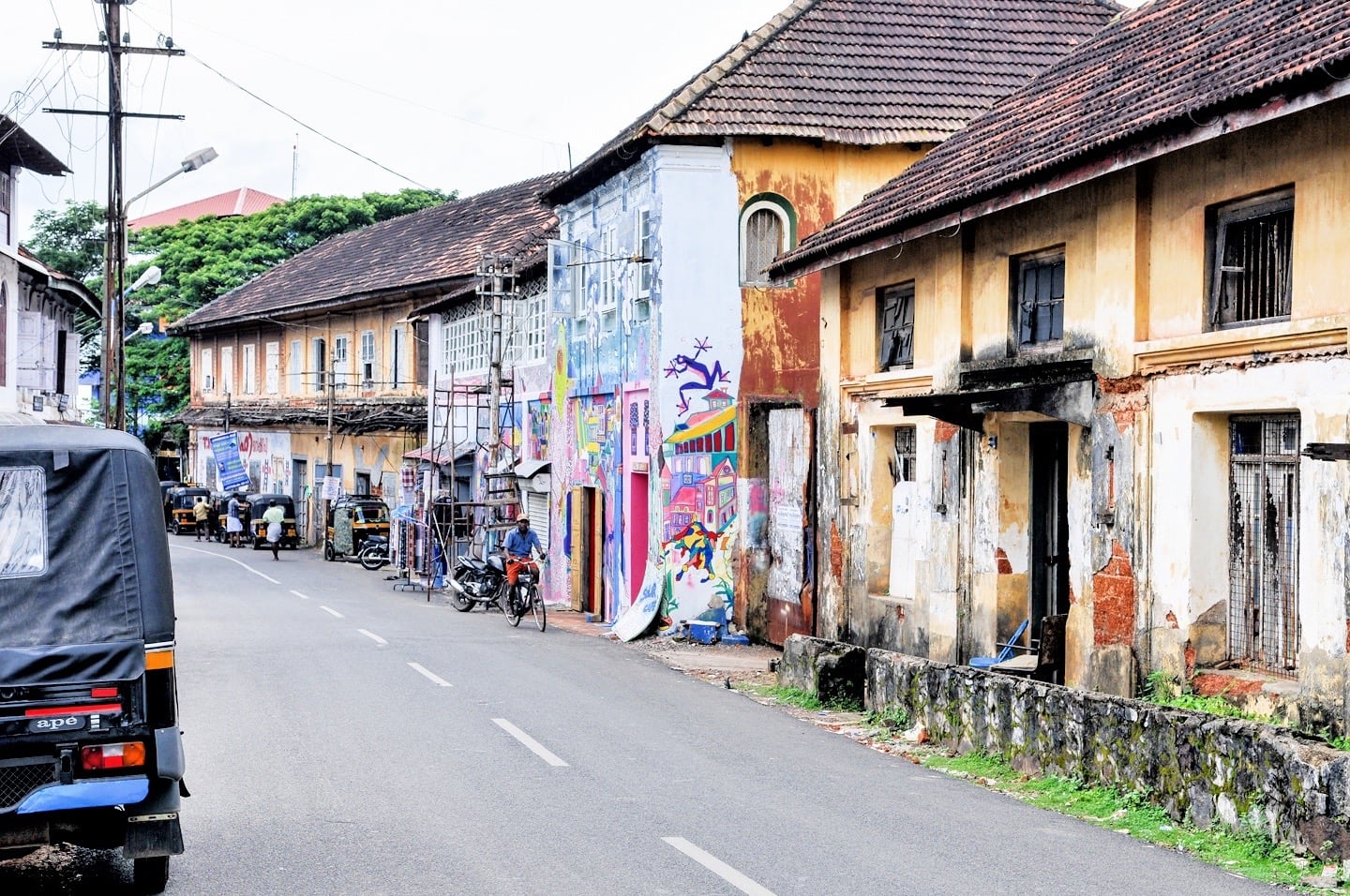 Stroll the streets of Jew Town and peek into the various art galleries, gift shops, and funky cafes dotting the neighborhood.
This neighborhood is a treasure trove of fascinating history, colorful street art, and unique photo ops, not to mention home to 500-year-old Mattancherry Palace, making Jew Town an essential stop on your list of places to visit in Fort Kochi.
---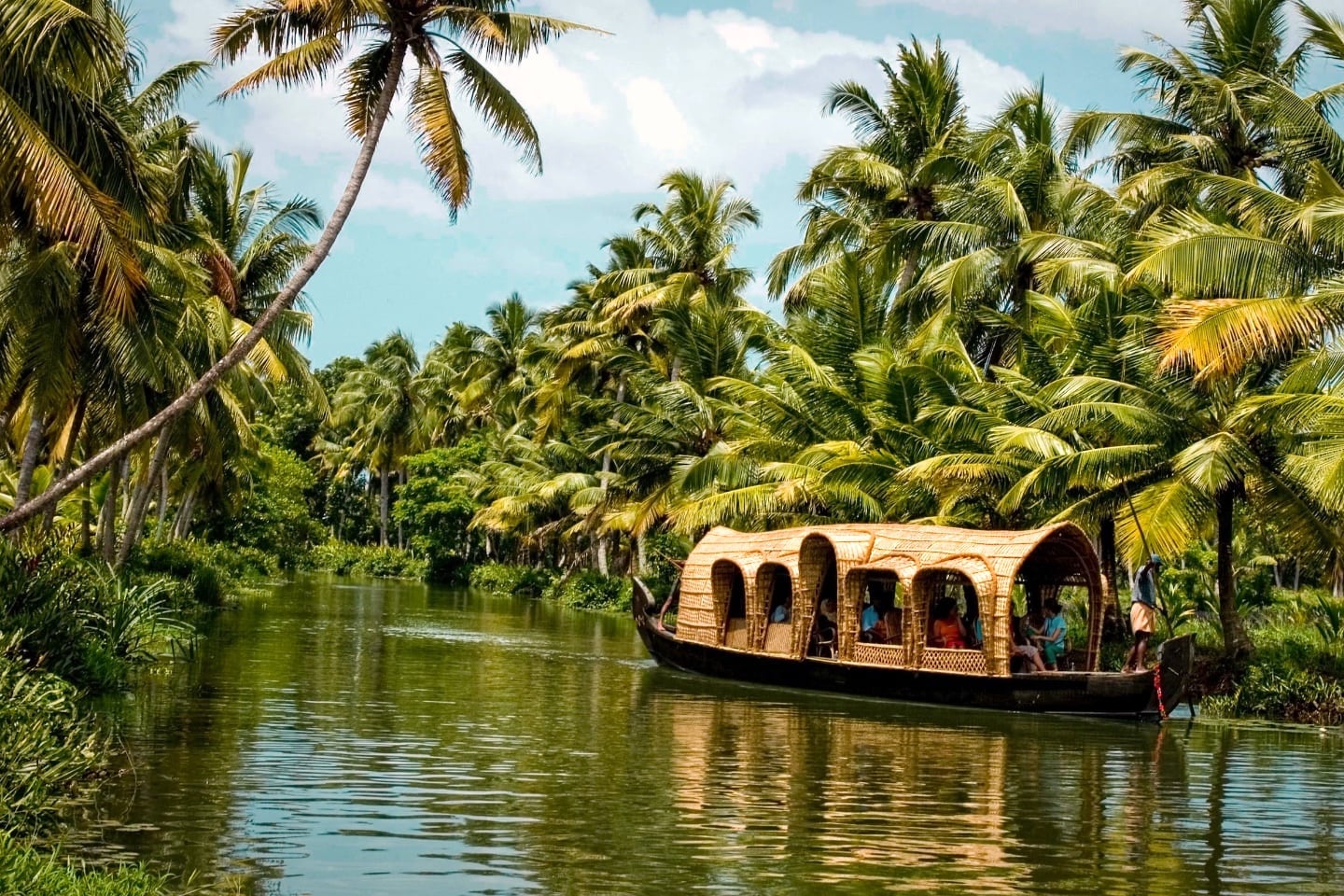 ➐

Kerala Backwaters

True, the Kerala Backwaters aren't located in Fort Kochi. But it's hard to imagine a visit to Kochi without at least contemplating a Kerala Backwaters boat ride!

Half day and full day tours depart daily right from the heart of Fort Kochi.
Our Top Picks for Kerala Backwaters Boat Tours from Fort Kochi
TOP PRIVATE TOUR ▸ This top-rated private Kerala Backwaters houseboat cruise day tour of the Kerala Backwaters departs from Fort Kochi and includes lunch, beverages, and cruising on a traditional Keralan boat.
TOP GROUP TOUR ▸ This top-rated 6-hour group tour is an excellent option for solo or budget travelers keen on exploring the Kerala Backwaters from Fort Kochi. Lunch provided.
---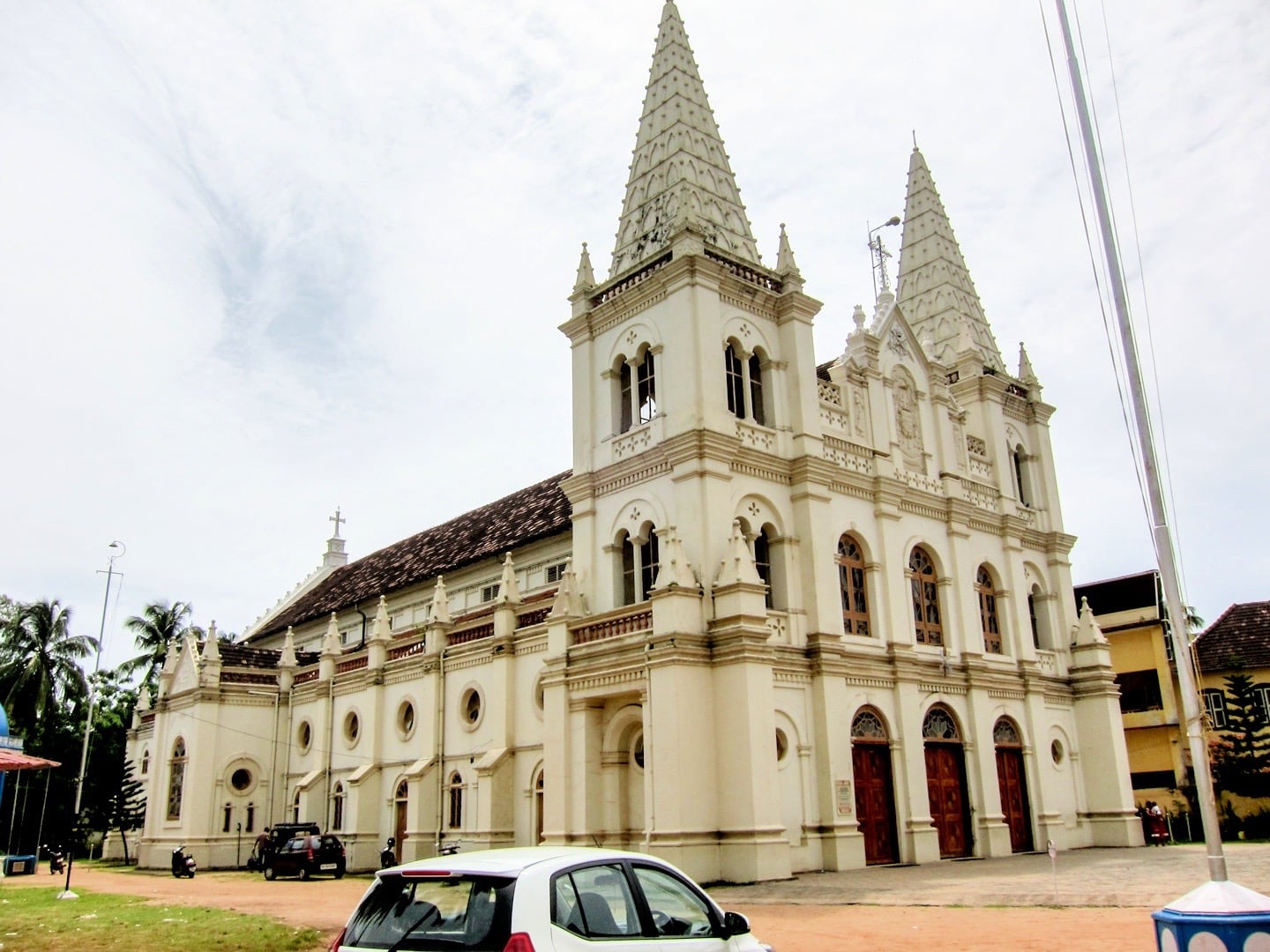 ➑

Historic Portuguese Churches

Last up on our list of top places to visit in Fort Kochi – Kochi's historic churches.

One of the most fascinating aspects of Kochi's past is the legacy of its historic churches. Kochi is home to one of the largest concentrations of Christian churches in the entire country, largely owing to the city's historical role at the center of old Portuguese India.

These beautiful structures, some dating back centuries, are not only architectural marvels but also serve as a testament to the city's diverse religious heritage.

From the imposing St. Francis Church to the serene Santa Cruz Basilica, each of these churches has a unique story to tell.

We've picked three of our favorites to highlight in this guide, but you'll undoubtedly stumble upon many more in the course of your Fort Kochi wanderings.

Santa Cruz Basilica (pictured above) might just be the largest and most ornate of all of the colonial churches in Kochi. With prominent Gothic elements and Hindu-temple-inspired spires, the basilica is both striking and surreal.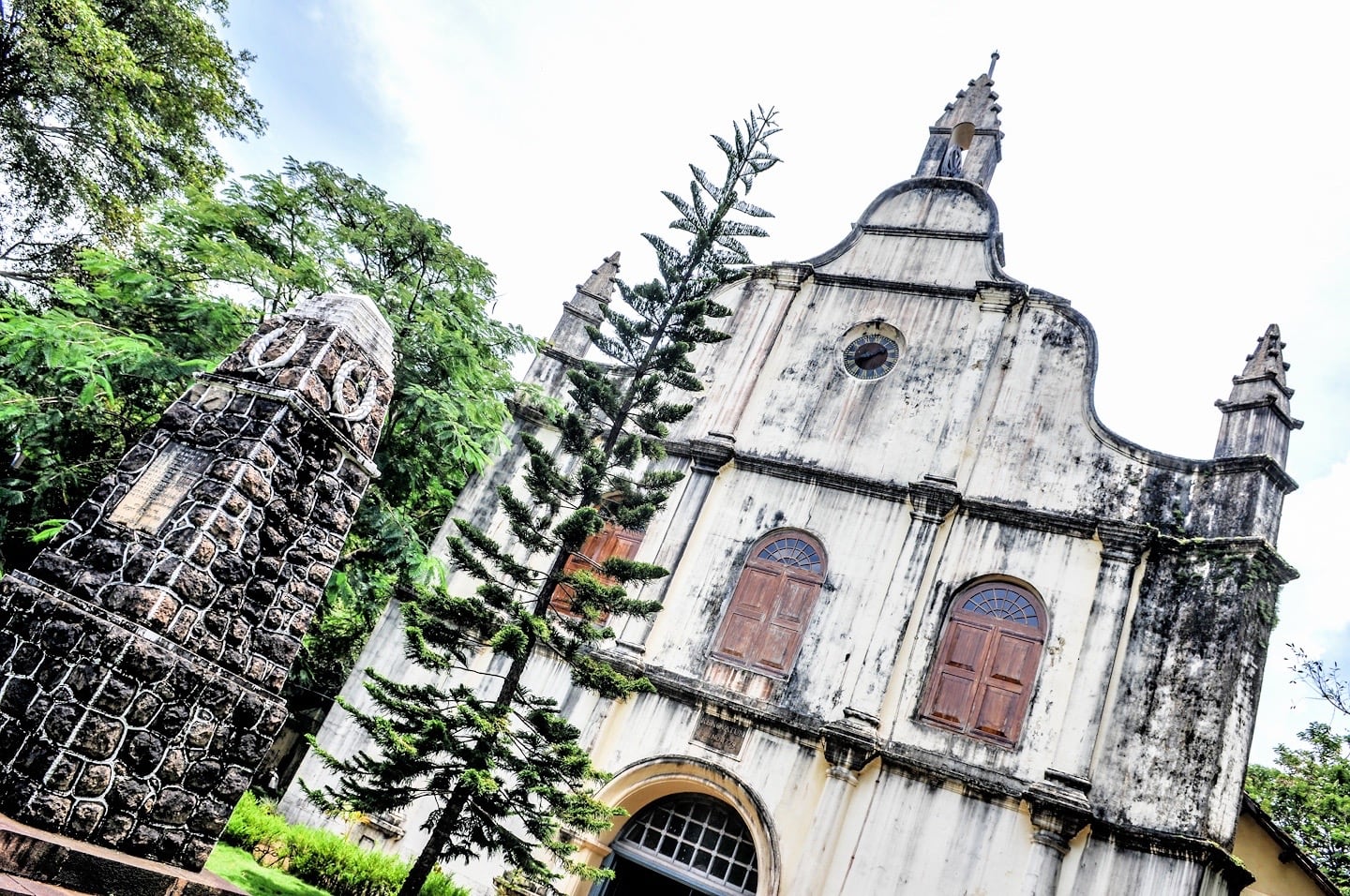 St. Francis Church, above, has the distinction of being the oldest European church in all of India, dating to 1503.
A common story that you might hear is that Vasco Da Gama, himself, is buried here. But that is technically no longer the case. He was buried here, but his body was exhumed and moved to Lisbon 14 years after his death.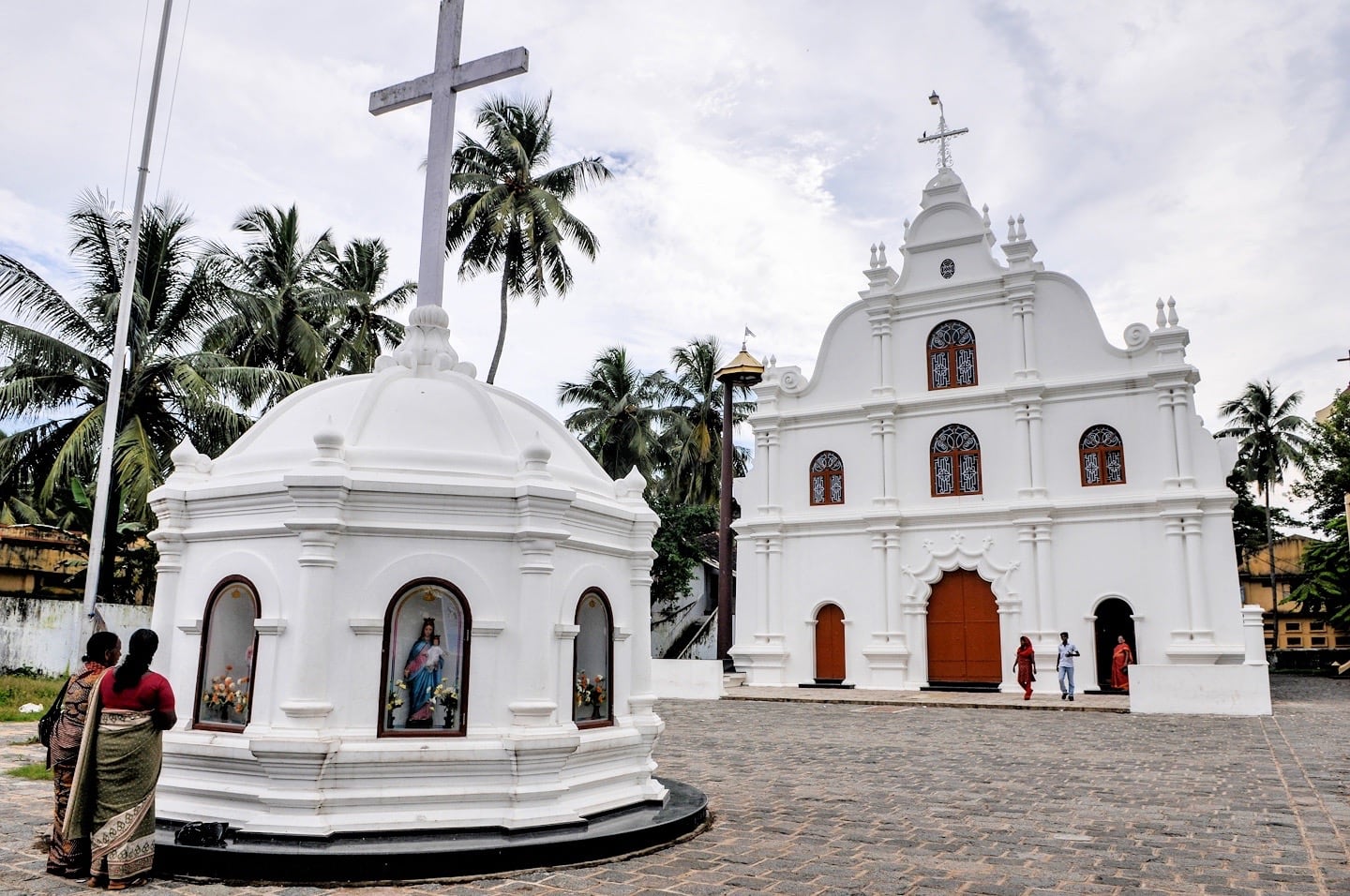 Located just outside of Fort Kochi in Jew Town, Jeevamatha Catholic Latin Church is one of the best maintained historic churches in Kochi and popular with local Catholics.
---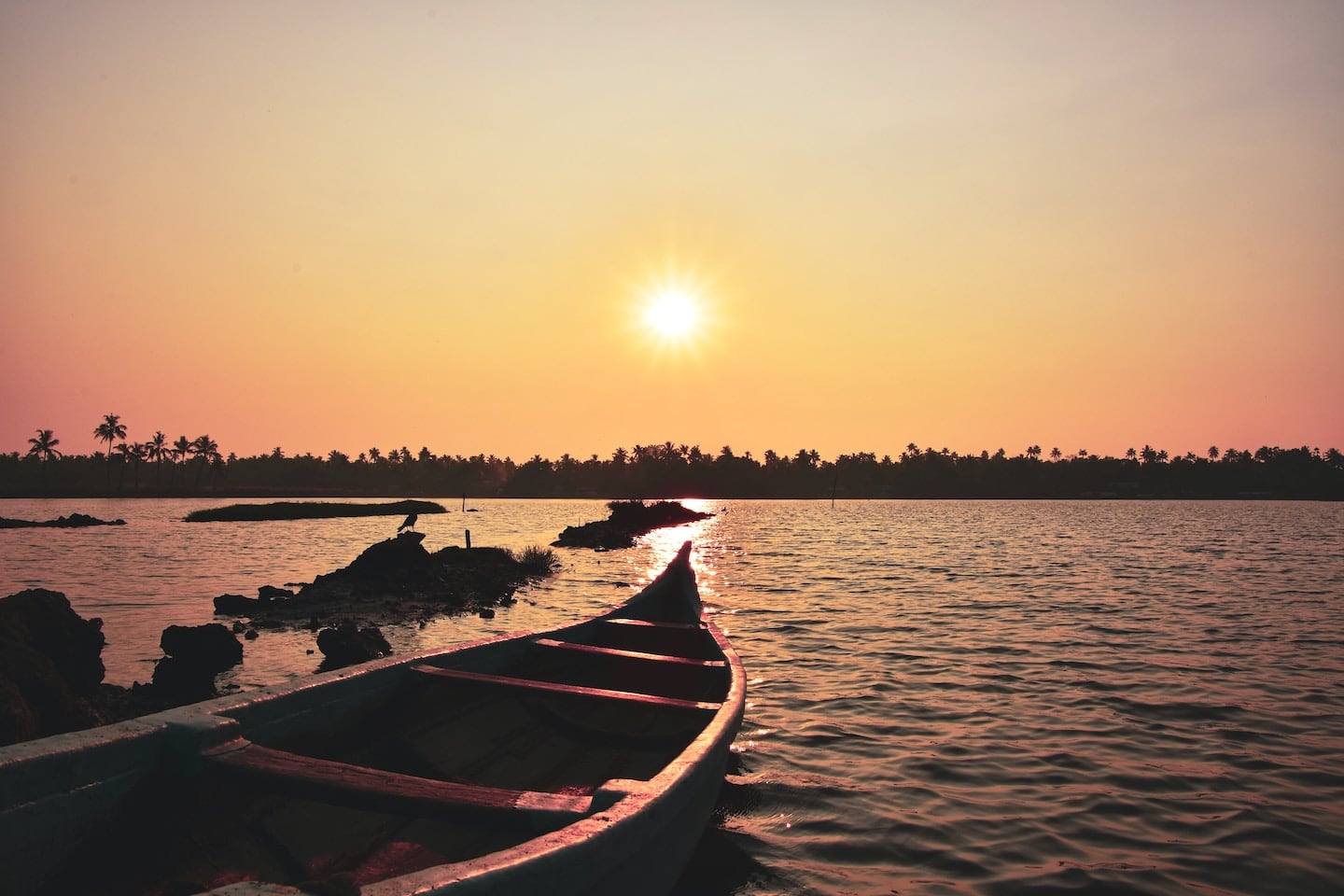 Final Thoughts on Fort Kochi
After backpacking around Northern India for just over a month, Lori and I were ready for a change of pace.
Luckily for us, Kochi was our next stop, offering a refreshingly offbeat range of things to do and experiences that stood in stark contrast to the Hindu temples, desert forts, and seas of humanity we had grown accustomed to in India so far.
Arriving from Mumbai, the change in culture from north to south was palpable and immediate.
Suddenly, breathing room between people and things was reintroduced into our lives, locals seemed more interested in their own goings-on rather than soliciting to us, and the pace of life seemed to slow to a crawl.
It was also hard to ignore the fact that we now found ourselves on an island, set apart culturally, historically, and economically from mainland Cochin.
Arriving on a boat from Ernakulum certainly heightened the feeling of crossing into something new and exotic.
Experiencing these intriguing places to visit in Fort Kochi was a highlight of our travels in India. We think it might be one of yours as well!
And That's Our Guide to the Best Places to Visit in Fort Kochi, India!
Don't forget to share this first-hand guide to the best places to visit in Fort Kochi with your favorite travel buddies!