Visiting Vientiane, Laos, elicits such a diversity of opinions from travelers, it's often hard to know if the laid back capital of Laos is worth a couple days of your Southeast Asia travel itinerary, or even more.
Having backpacked through Laos, myself, and now living here for the past three years, one thing has become clear regarding visiting Vientiane — How you interact as a visitor with this enigmatic city, along with your ultimate perception of Vientiane, very much depends on your own experience and perspective.
What Makes AwayGoWe Guides Different
Why trust our Laos recommendations? Lori and I have lived full-time in Laos for 3 years and learned so much as residents here that simply can't be learned from a month-long backpacking trip through Laos (which we also did 5 years prior).
In the past decade, we've extensively explored the width and breadth of this amazing country, returning to many destinations multiple times.
We're passionate about Laos, independent travel, and making the best darn travel guides humanly possible for you and your own journey!
In this way, your opinion on Vientiane may have much more to do with you, personally, than the city, itself.
I first approached Vientiane via a long bus ride from Luang Prabang, and approached Laos, in general, on the heels of four months of budget backpacking through China, India and Thailand. For me, the laid back and friendly nature of the Laos people and culture was a breath of fresh air after struggling for months with aggressive peddlers, aggravating taxi and tuk-tuk drivers, and relentless hustlers.
Of the six national capitals Lori and I traveled through during that time, Vientiane was the only one we knew absolutely nothing about, and at just over half a million inhabitants, it was by far the smallest.
We literally had zero expectations and found Vientiane a most agreeable place.
For you, Vientiane may represent a relaxing foodie paradise a world apart from the materialism and go-go-go of better known Southeast Asian capital cities, or it may represent nothing more than a boring backwater, depending on your point of view.
If you visit expecting to find French-colonial charm and evocative Buddhist temples on par with Luang Prabang, you may well be disappointed.
If you come expecting to find a fast-paced, maddening, cosmopolitan mega-city comparable to Bangkok or Ho Chi Minh City, you'll also likely find yourself disappointed.
If, however, you come to Vientiane with few preconceptions, an open mind, and an adventurous spirit, you will likely find yourself well-rewarded for doing so.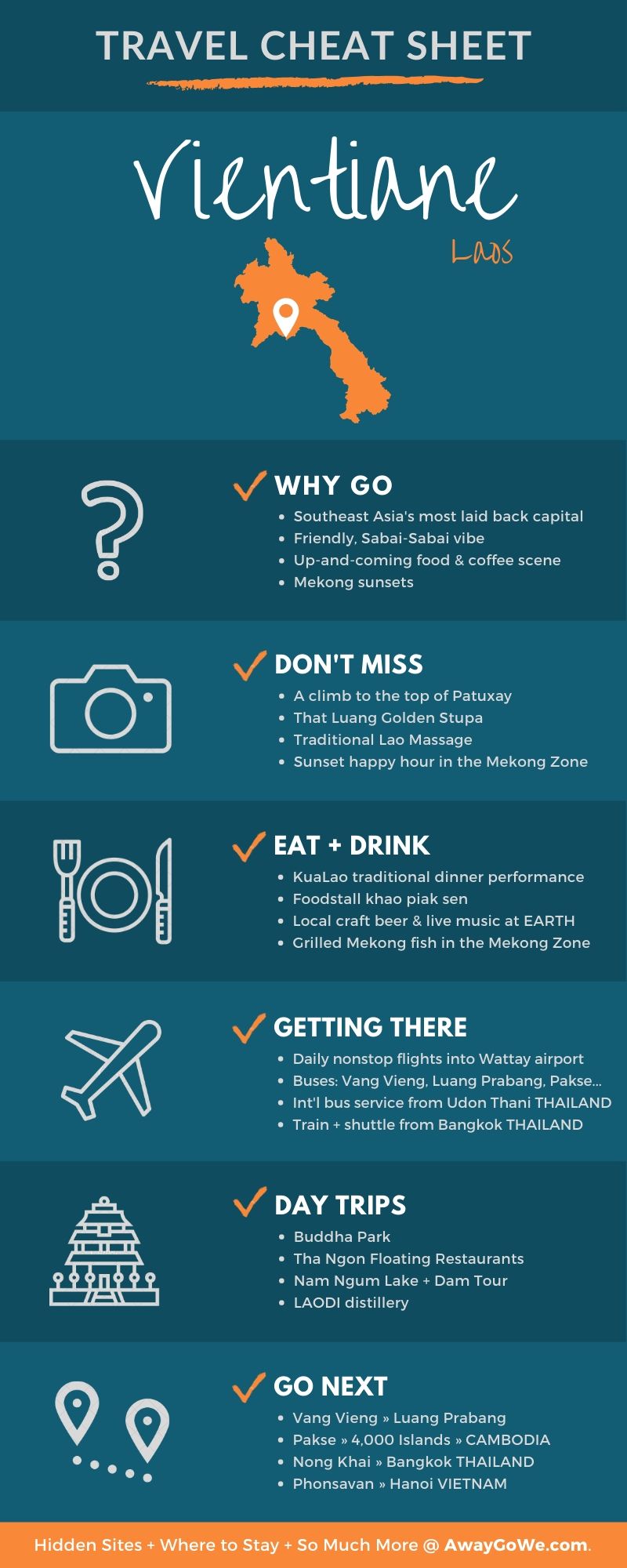 Here, we've attempted to put together a guide for visiting Vientiane based on our own experiences living in and traveling through this unique city and the rest of Laos.
Lori and I have hosted a number of visitors over the past few years, which has resulted in the bringing together of a lot of information that we would like to share with you.
We hope this guide to visiting Vientiane helps answer questions of what to do in Vientiane, where to eat and drink, where to stay, and how best to approach this often overlooked corner of Southeast Asia.
Lori and I have a unique perspective to lend, given that we're not only living (and working) here, but visited as backpackers four years prior. Compared to other foreigners we've met living here, it also appears we may be a bit more curious and more willing to explore than a lot of folks, even with two little ones in tow.
This isn't intended to be a comprehensive travel guide, but rather a modest offering of our favorite Vientiane experiences, along with some helpful tips for planning your own memorable visit to Vientiane, Laos. Enjoy!
Where to Stay in Vientiane
Vientiane's got a TON more lodging options than you might think. If you don't know the lay of the land, it can seem like an impossible task to choose the right one.
Here are our top choices for places to stay in Vientiane — all highly-rated, centrally-located, and loaded with character and a sense of place, just like we like 'em.
Barn1920s Hostel
Our Top Budget Pick! This retro hostel in a historic building is one of the best places in town to meet other travelers AND grab a great cup of coffee. Rated 9.5/10 on Booking.com. Click here for details.
Sailomyen Hostel
Our top budget to middrange option. Sailomyen offers mod touches for pennies on the dollar. Rated 9.1/10 on Booking.com. Click here for details.
Lao Poet Hotel
Our top mid-range/ boutique option. Lao Poet's lux touches and rooftop pool never disappoints. Rated 9.4/10 on Booking.com. Click here for details.
All of Our Articles on Visiting Vientiane, Laos
One Final Word of Advice
Laos is among the safest countries for travelers in Asia. With that said, stuff definitely happens (...tropical storms, road accidents, broken bones, food-borne and tropical illnesses...).
When Lori and I have travel setbacks, it's always a huge relief to have insurance coverage. We've had several positive experiences with World Nomads (see what's covered here) and would certainly recommend them to others .