Planning a memorable stay in Sairee Beach on Koh Tao? Not sure where to begin or what to expect? Here's what you need to know before you go, plus helpful tips for making the most of your time in Sairee Beach!
Koh Tao is known for a lot of things — beautiful beaches, backpacker haven, budget lodging and luxury accommodation nestled in a stunning jungle setting.
But nothing may define Koh Tao more than scuba diving and its laid back vibe. And Sairee Beach is the epicenter of both!
With 70 dive operators certifying thousands of new divers every year, and 15 amazing dive sites located around the small island, it's no wonder Koh Tao is often considered one of the best places to dive (and learn how to dive) in Thailand and the rest of the world.
And that's exactly what brought us to Sairee Beach in Koh Tao. If it hadn't been for Lori getting her open water scuba certification, we may have bypassed the island entirely.
Which, in hindsight, would have been an absolute shame. We're so glad we ended up in this amazing little corner of the world.
Diving may define Koh Tao (and Sairee Beach), but that doesn't mean it's not one hell of a fun and beautiful place to lay low without a care for the rest of the crazy world offshore.
Read on for all the essentials for visiting Koh Tao's Sairee Beach, including best places to stay, how to get there, what to see and do, where to eat, and more!
▸ Looking for travel medical insurance? SafetyWing offers low-cost overseas medical coverage tailored to international travelers.
We're reader supported and may earn a commission from affiliate links on our site at no cost to you.
---
Related Articles
---
Koh Tao's Sairee Beach
A Guide for Visitors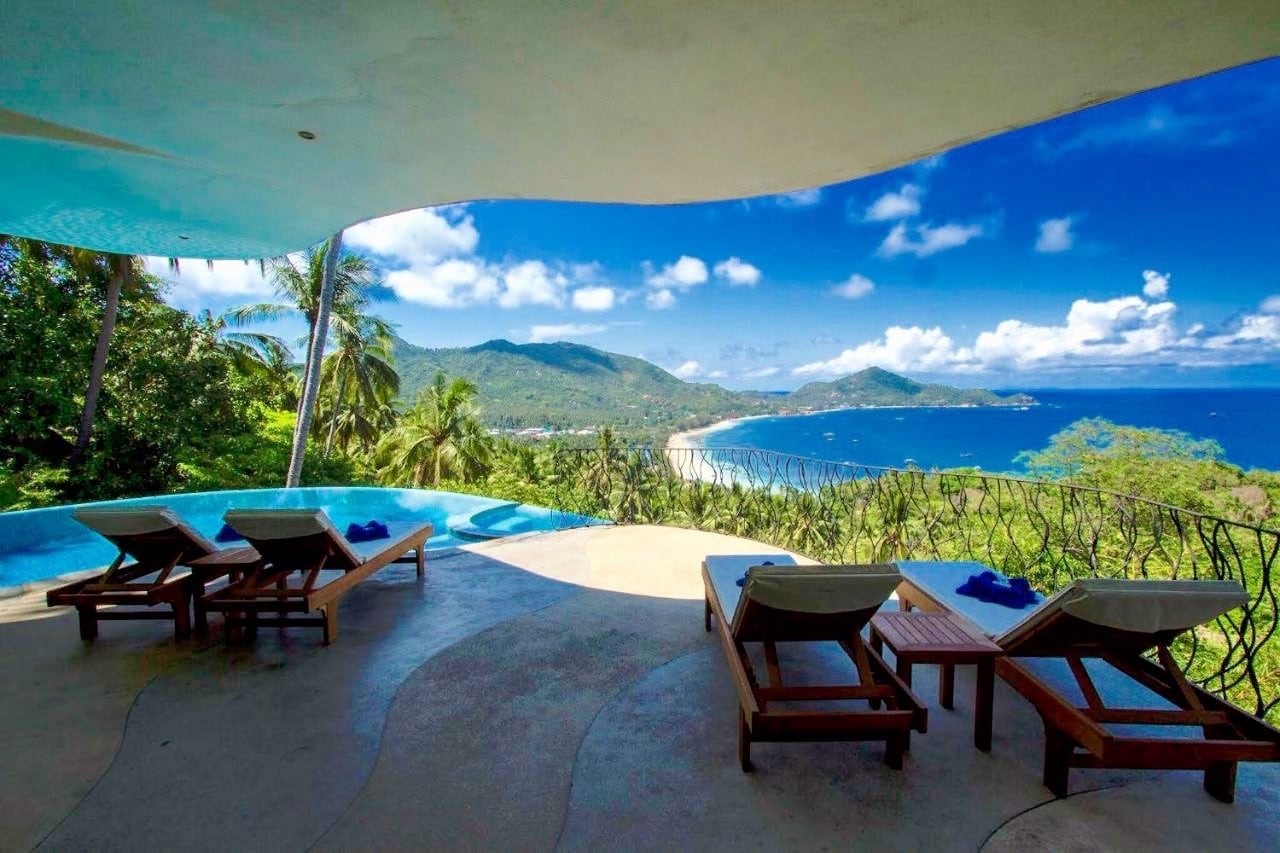 Where to Stay in Sairee Beach
Our Top Budget Pick
If you want budget bungalows on the beach and steps away from the action, Mama O Chai Bungalows delivers. Bungalows are pretty basic, but being able to step out onto the beach and into the water within seconds might well make up for it.
Our Top Mid-range Picks
If you're looking for a few more amenities like air conditioning and pool without sacrificing prime beach front real estate, it's hard to go wrong with Wind Beach Resort. Also an excellent mid-range value (without pool) is Palm Leaf Resort. Southeast Asian inspired bungalows really set this property apart.
Our Top Upmarket/ Luxury Pick
If luxury is what you're after, Monkey Flower Villas delivers. Just up the hill from the northern end of Sairee Beach, Monkey Flower is everything you've dreamed of in a tropical island destination.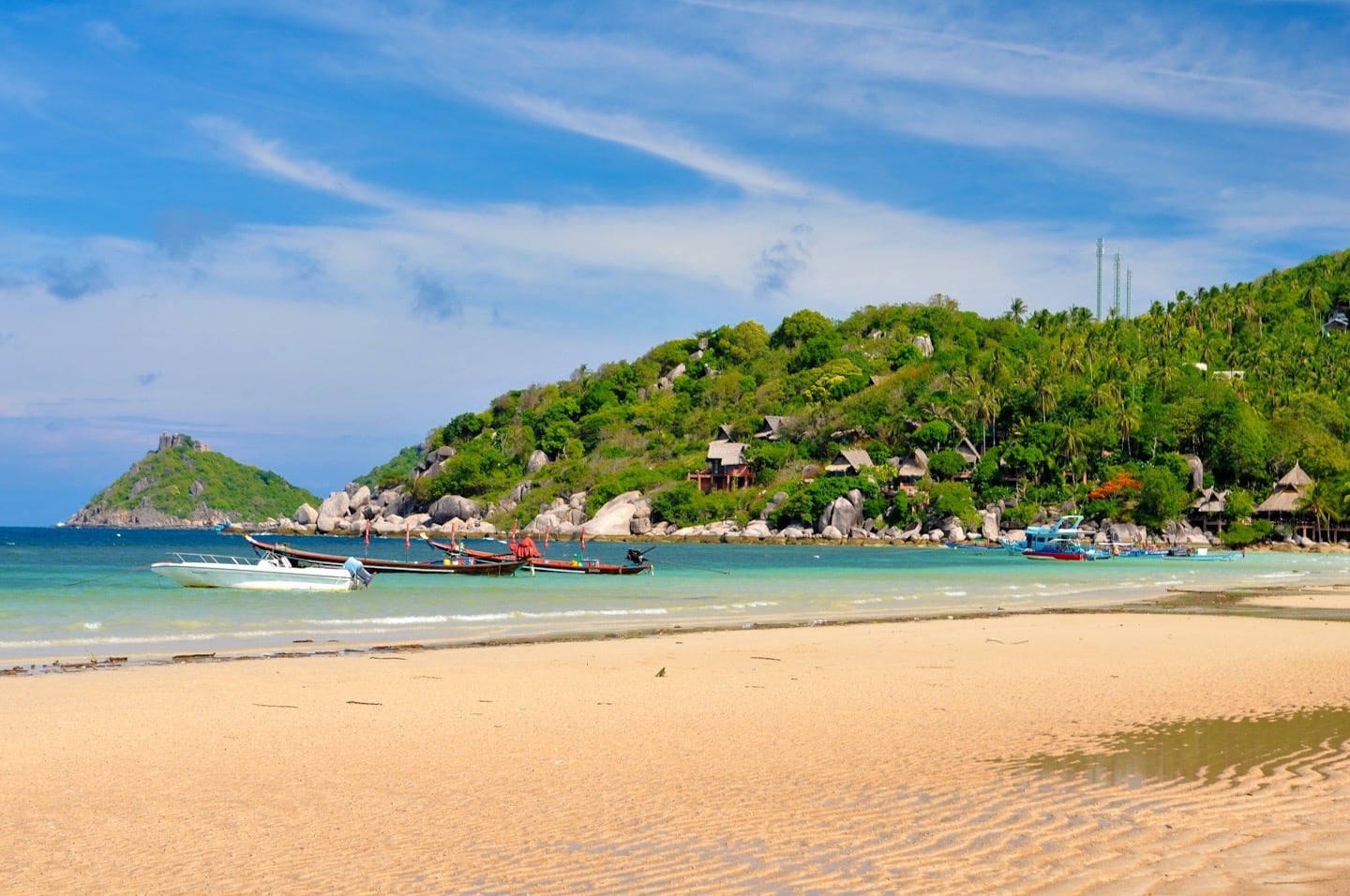 Getting to Koh Tao
Most travelers bound for Koh Tao – no matter how flexible or open-ended their itineraries – seem to get here the same way: by "fast boat."
And why shouldn't they? 1.5 – 2 hours on a comfortable Seatran Discovery ferry or the Lomprayah "fast-cat" motorized catamaran and you're in paradise.
Better yet, grab a joint ticket from nearly any hostel or travel agency on and around Khaosan Road in Bangkok. A joint ticket will shuttle you door-to-door, right up to your Koh Tao bungalow and you don't even have to mess with any of the pesky logistics.
And now, it's even possible to book a joint ticket online in advance.
For us though, speeding off to paradise didn't appeal as much as taking the slow route.
At least, not after learning that there was an overnight "slow boat" option on a freighter from mainland Thailand (Chumpon) to Koh Tao (aka night ferry). Call us crazy, but we couldn't resist.
In all honesty, the night ferry isn't for everyone, but we really enjoyed it.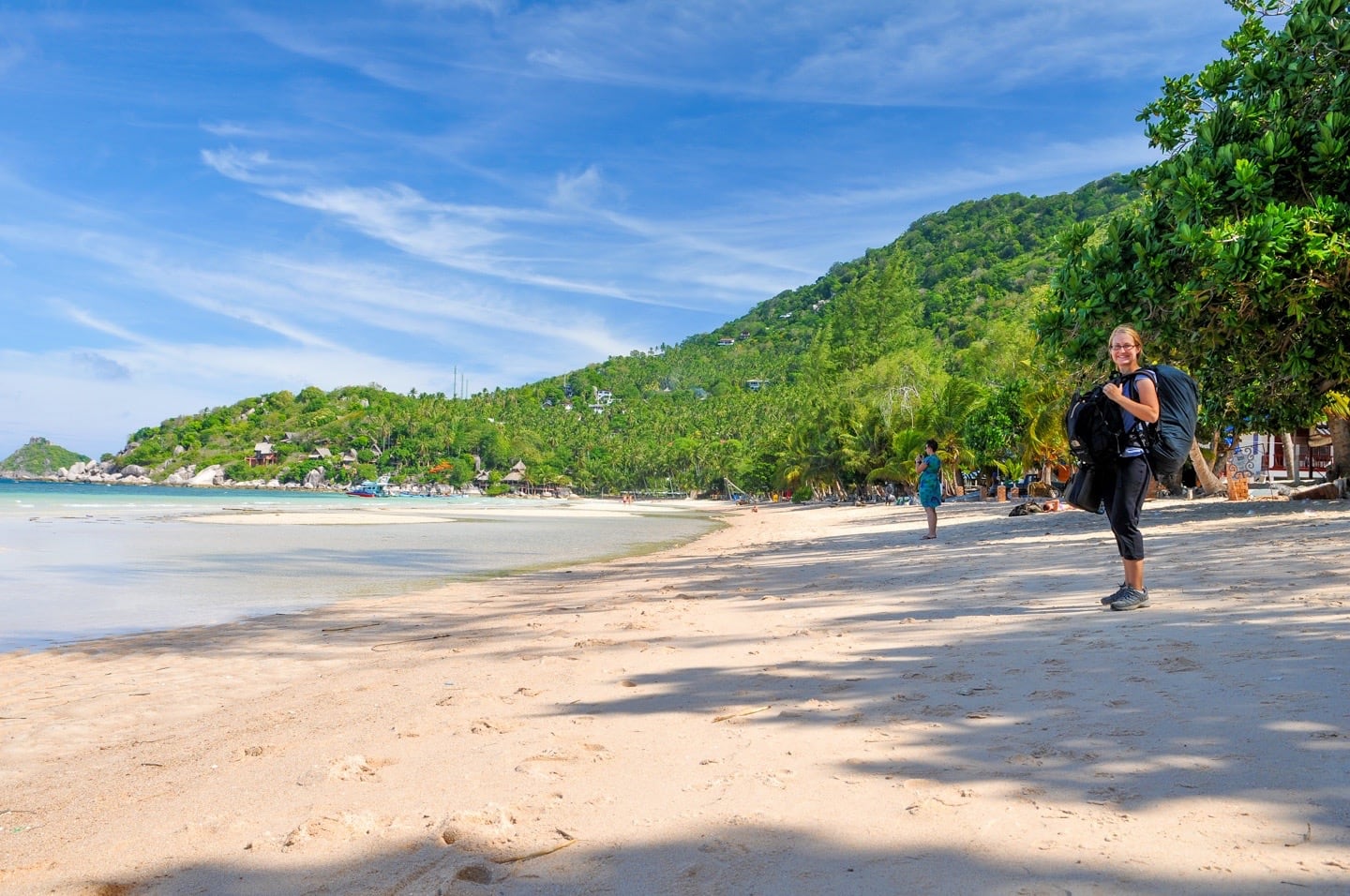 Getting to Sairee Beach
Just after sunrise the following morning, we emerged from our modest floating digs only to discover we've arrived in paradise (aka Koh Tao).
And, yep, we did indeed hoof it the 2.6km (1.5 miles) from Mae Haad pier to Big Blue dive Resort on Sairee Beach with our heavy packs, because, a songthaew would have cost the equivalent of a couple of beers, and we weren't prepared to dip into our beer budget for that.
Plus, it was just a gorgeous morning on an even more gorgeous island.
Alternatively, songthaews (shared pickup taxis with two benches on the back) are eager and waiting at Mae Haad pier to take you just about anywhere you want to go on the island.
This is especially true if you take one of the regular service ferries to Koh Tao such as Lompraya or SeaTran.
If you opt for the night ferry like we did, you may have to wait for one of the other ferries to arrive before songthaews appear.
Or, you can hoof it like we did.
The third option for getting to Sairee Beach is hiring a longtail boat to take you from Mae Haad pier.
However, there are two major downside to this option: You'll likely need to seek out a boat to take you, and you better count on getting a bit wet upon arrival as there's no pier on Sairee Beach.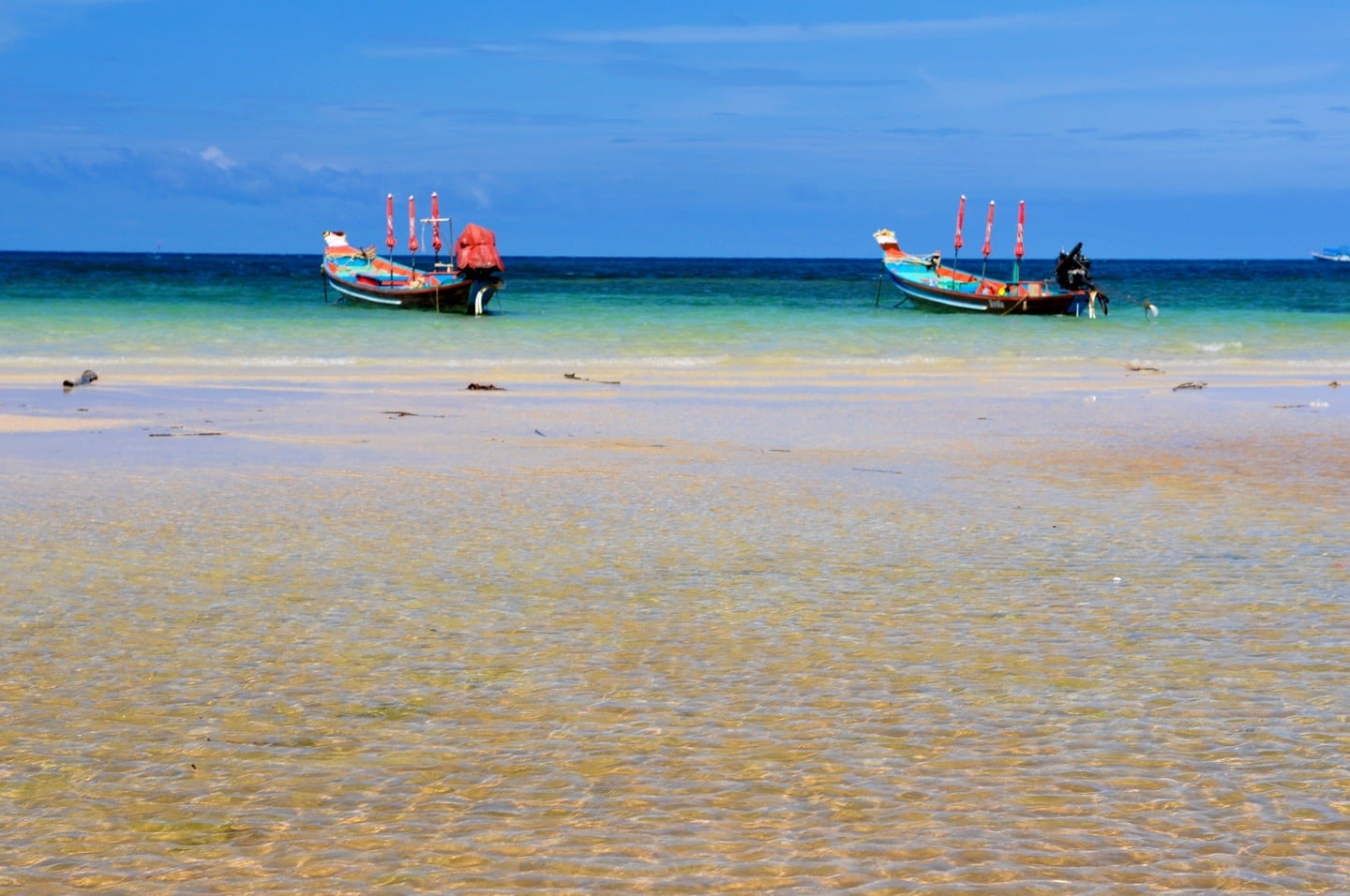 Eating + Drinking in Sairee Beach
For a community of its size, Sairee Beach has more than its fair share of delicious Thai food, and we were quite pleased to indulge in the local offerings.
After more than three months of backpacking, we were also happy to feed our inner farang at places like New Heaven Cafe, which had some amazing sandwiches, teas and coffees.
Other places we enjoyed and recommend in Sairee Beach are Krua Thai and Zanzi Bar for lunch or dinner.
For the best happy hour cocktails, just take a stroll along the beach around sunset and choose the location that speaks to you (and your budget). Fizz Beach Bar and Lotus Bar are two solid picks to get you started.
Best Eats in Sairee Beach
Based on the recommendations of fellow travelers, if we were returning to Sairee Beach in 2020, we'd definitely check out 995 Duck, The Factory Cafe, and Baia Burger Concept, all reported to be cheap options with superb food and great atmosphere in Sairee Beach.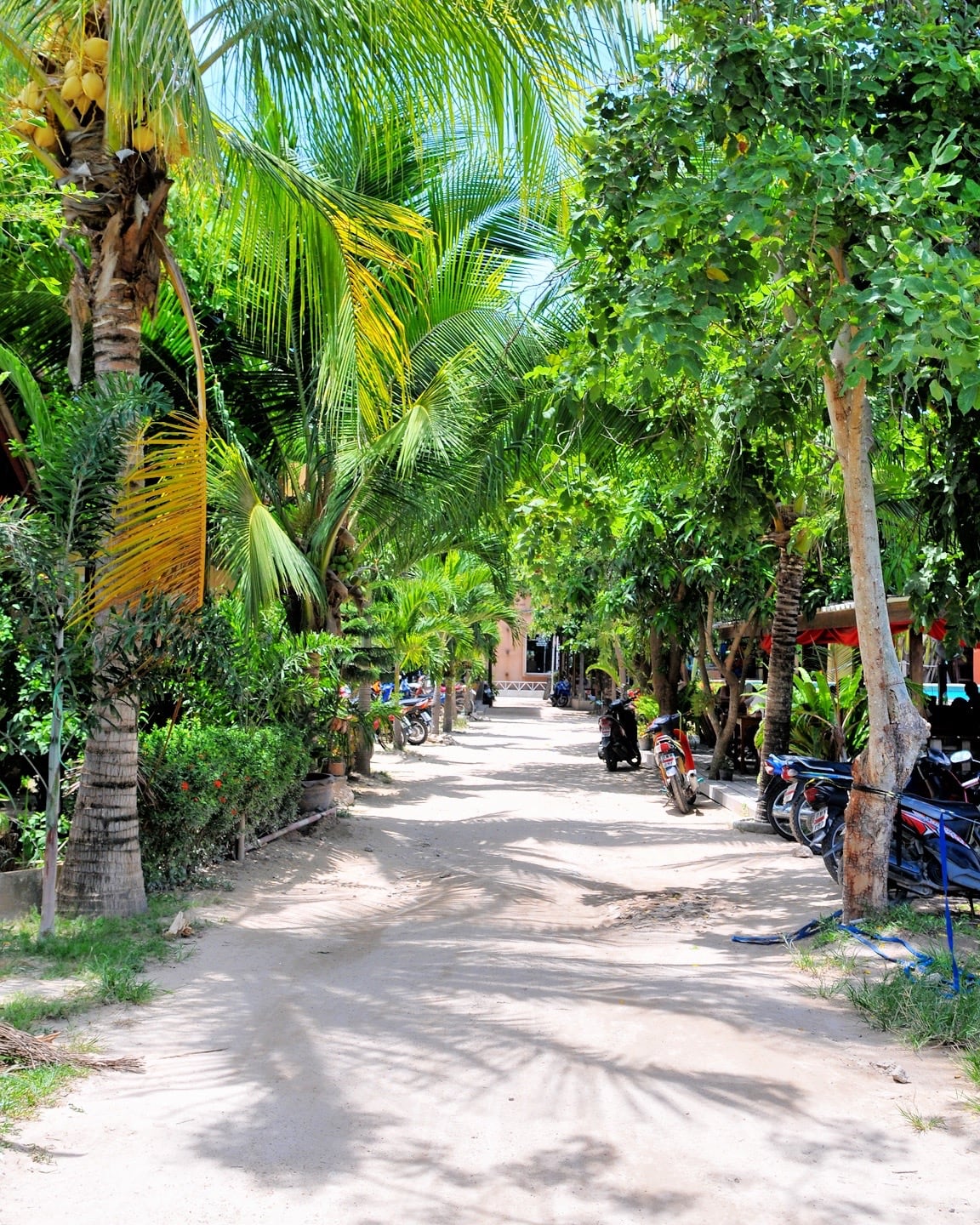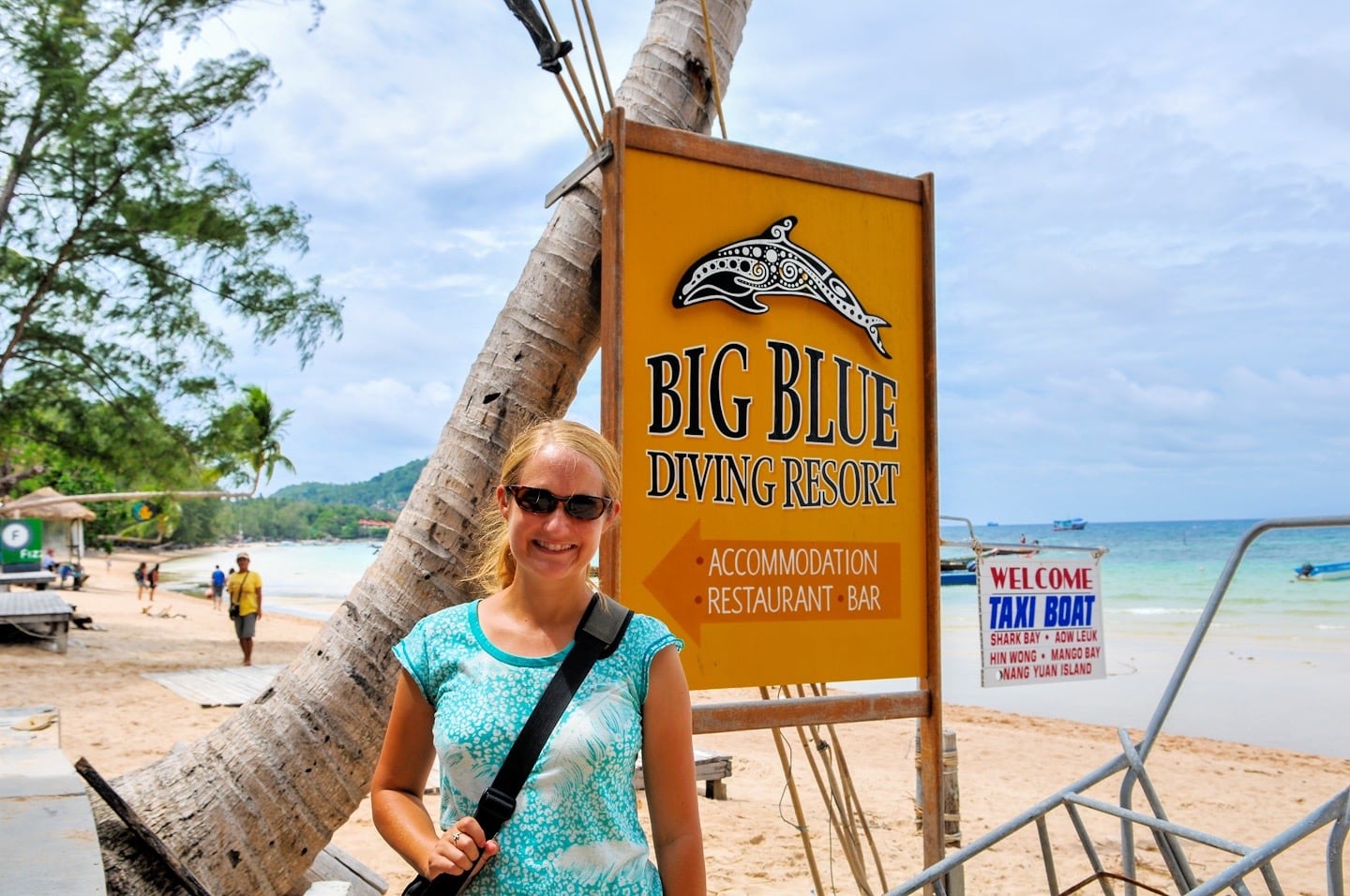 Diving Koh Tao
As I mentioned, our main objective for coming to Koh Tao was to get Lori her scuba certification (I was already certified).
There are dozens of excellent dive centers on Sairee Beach specializing in certifying students, so picking one can feel like an impossible task.
Thankfully, we got a solid recommendation from Lori's brother who got certified on Koh Tao three years prior with Big Blue Diving Resort.
In addition to being one of the top dive schools on the island (and in Thailand as well), Big Blue offered free accommodation with an Open Water SCUBA certification course, which essentially sealed the deal for us.
Admittedly, from the beach side of things, Big Blue isn't much to look at. But that kind of misses the point. We weren't about to choose our dive school solely based on beach appeal.
When we arrived, we weren't all that excited about the free lodging options (a handful of bungalows nearly on top of one another adjacent to their popular beach bar). Fortunately, we were able to upgrade for just a few dollars more per night to this: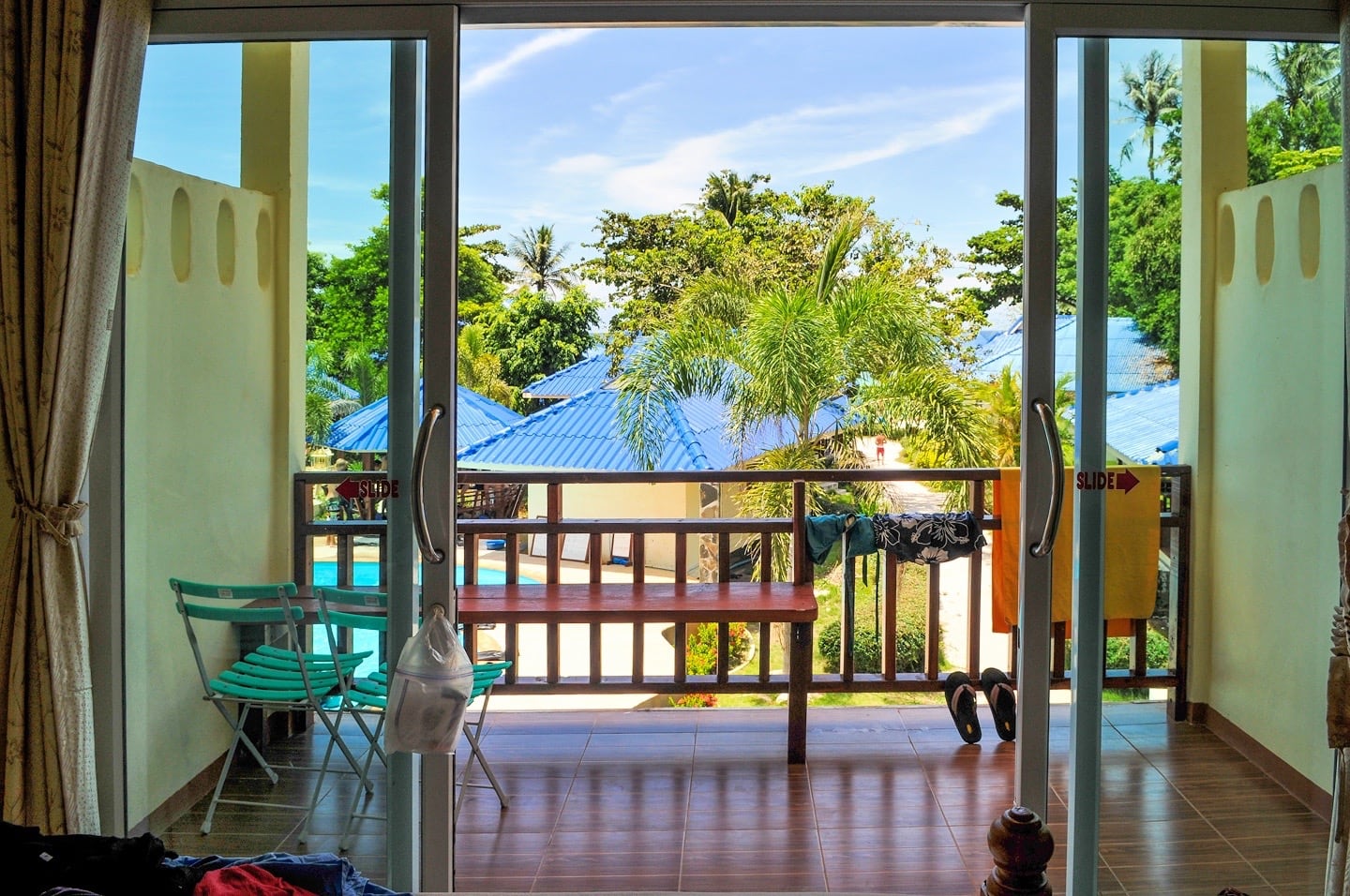 We stayed in the hotel block at the rear of the property, which had tile floors and a private balcony with something of a sea view through the trees if you craned your neck and squinted your eyes a bit.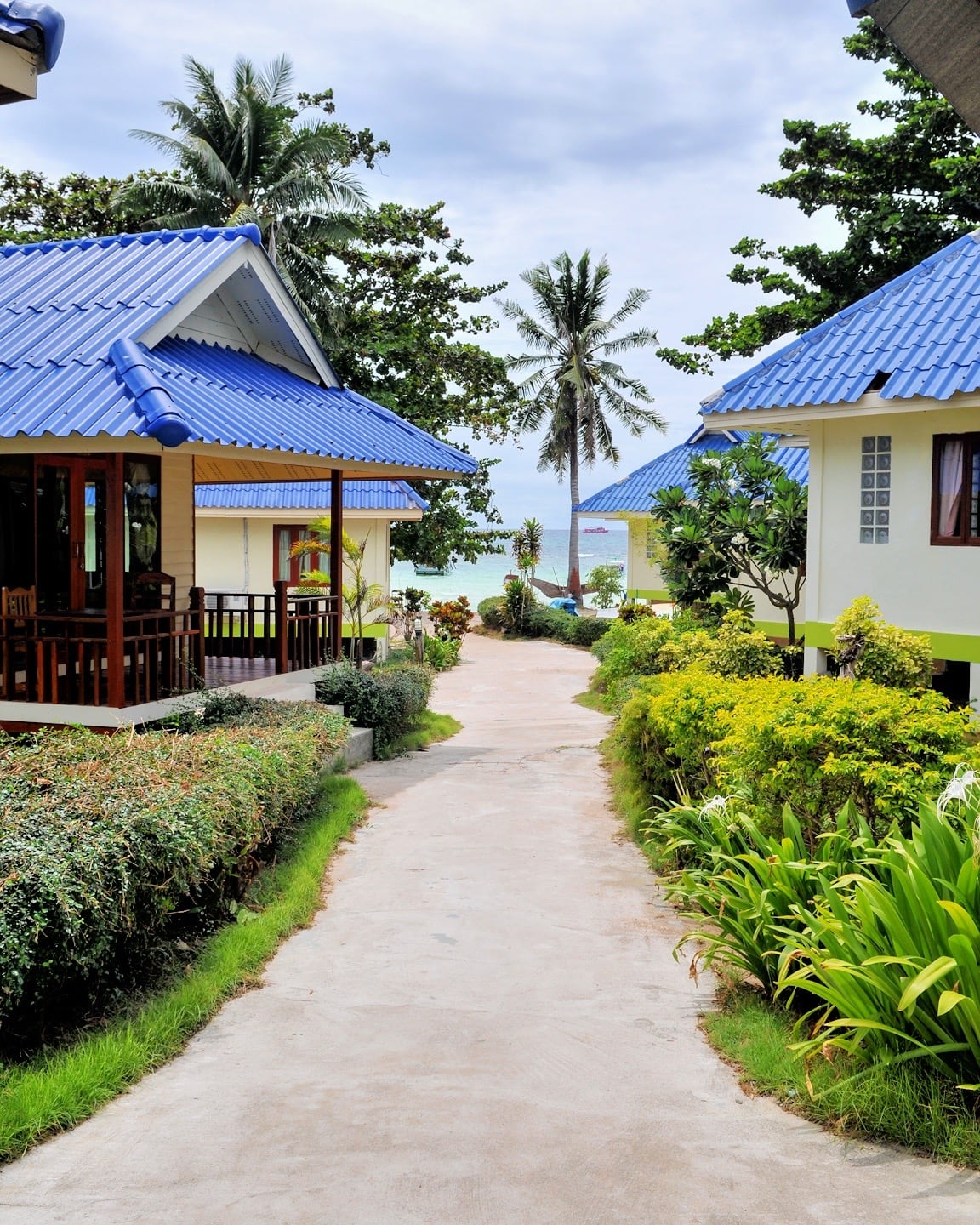 Really, though, who needs a sea view when you have this a barefoot two-minute walk away: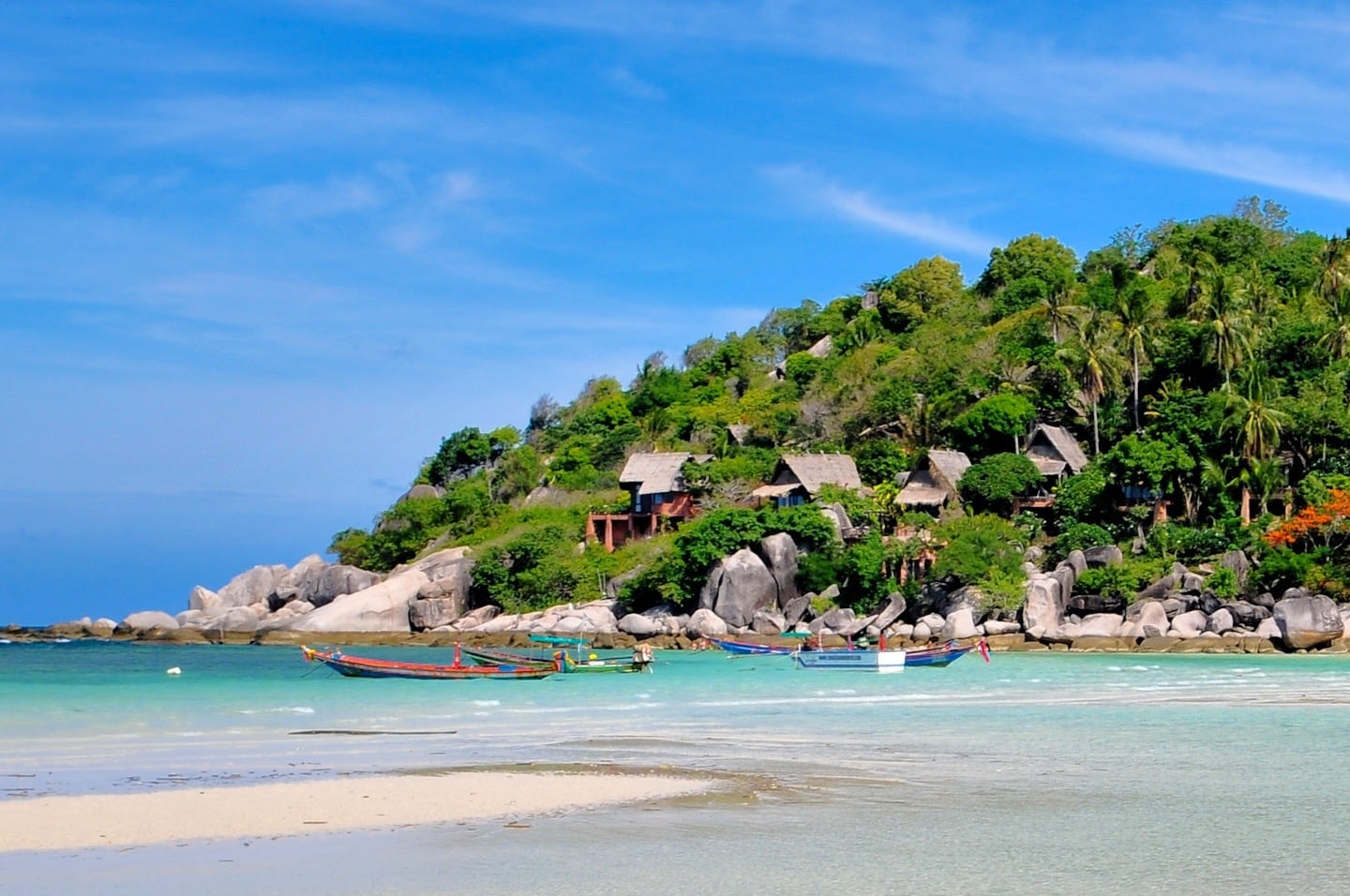 More Scuba Diving Options
For an in-depth run down of diving on Koh Tao, check out our hand-picked guide to the best Koh Tao diving trips and courses you can book online.
Not sure if Scuba is for you?
If you're still on the fence about diving, before ponying up hundreds of dollars to get certified we recommend signing up for a one-day try scuba diving experience.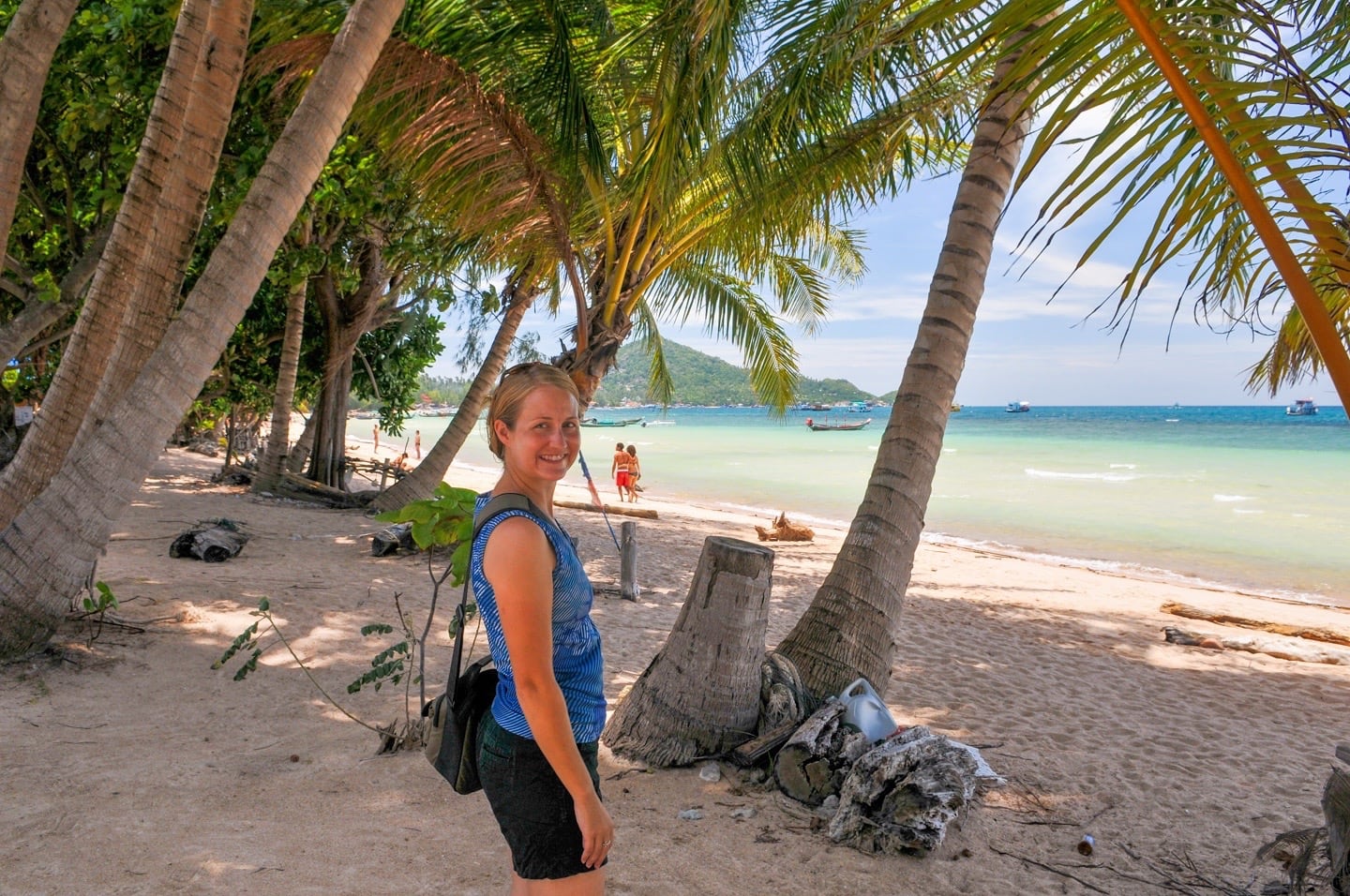 On the final day of Lori's dive course, I finally got to suit up and go out on a dive with her and her group.
It had been killing me knowing that she was out diving all day and I wasn't, but anymore diving than what we had planned would have also killed our budget.
So, I resigned myself to the sidelines (and snorkeling the rocky headlands) until Lori was cleared for open water. In the end it was worth the wait and now she's fully certified.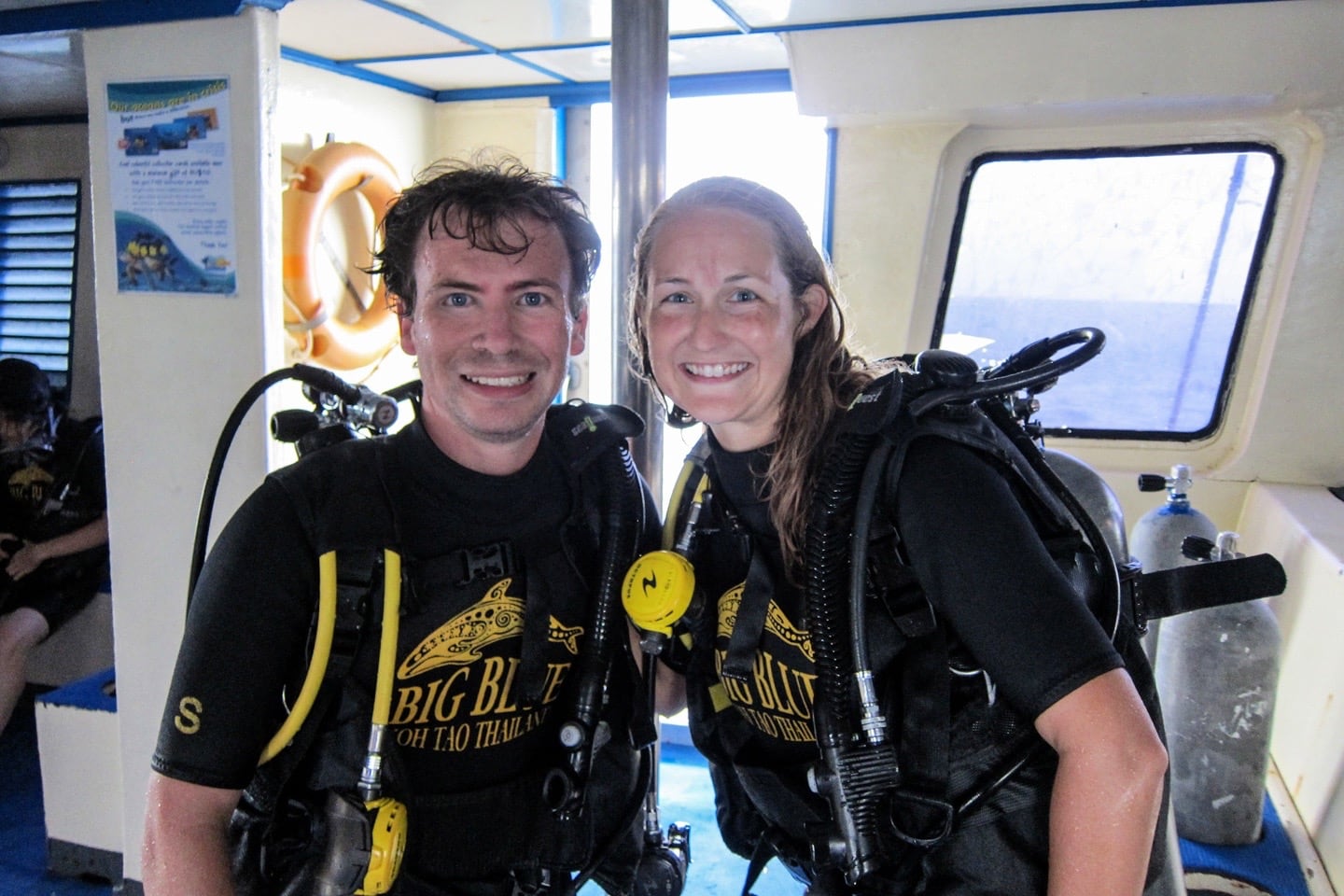 I planned on doing a second dive with Lori but a storm rolled in, killing the visibility. It's nearly October and the Gulf of Thailand is headed into monsoon season, so no surprises there.
Instead, we set the money aside for doing a dive on the Andaman side in a week, hoping that conditions will be better there since the rains in that region of Thailand should be tapering off about now.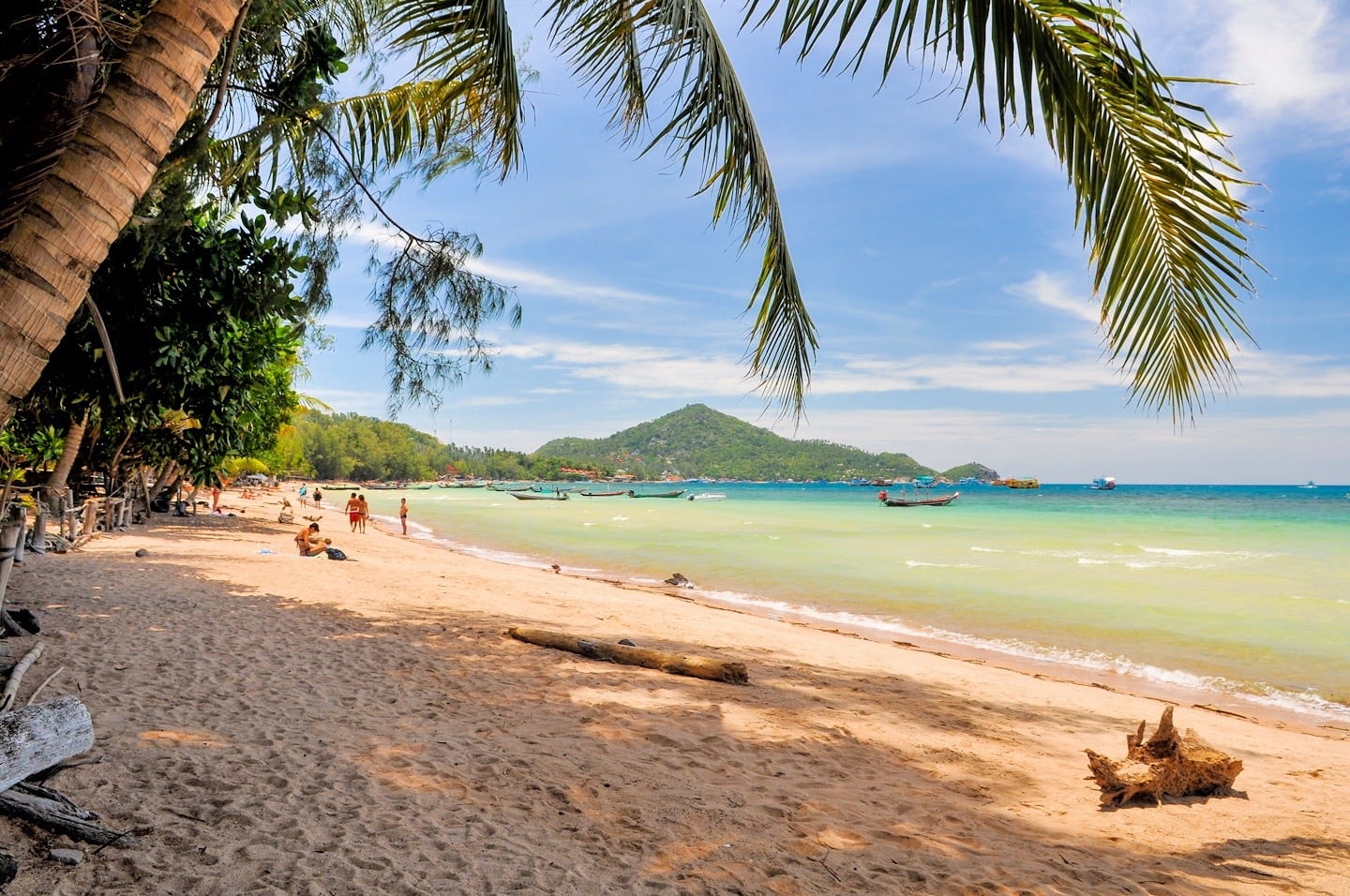 Swimming at Sairee Beach
Sairee Beach is breathtakingly picturesque, no doubt, but not the most swimmable beach, at least not while we were there in late September.
The slope of the beach is quite shallow, so there's a significant differential between high tide and low tide.
At low tide, the visibility was very good, but we had to walk a bit to the water, and even then it wasn't deep enough to jump in.
At high tide, it was more conducive to swimming, in this respect, but the water was opaque and full of detritus from the local fishing industry and trash from the village, all brought in by the tide.
On top of this, there were a number of longtail boats constantly coming and going — again, fun to watch, but not so fun to wrestle with in the water.
It was challenging to strike a balance between all these factors, but I found that early morning offered the best chance of a satisfying dip in clean and clear water.
This of course is all dependent upon the tide, so check your tide tables and plan to swim as close to low tide as possible.
What Else is There to Do on Koh Tao?
Diving might be king on Koh Tao, but that doesn't mean there's not plenty of other fun activities to do on the island.
From snorkeling to island boat excursions, hiking to motorbiking, Koh Tao offers more fun in the sun than you might think for its size.
We particularly enjoyed taking a boat to Koh Nang Yuan and hiking to the top of the viewpoint, making our way on foot to Ao Hin Wong on the eastern shore (though this is most commonly done by scooter or bicycle), exploring Chalok Baan Kao and snorkeling Shark Bay on the southern tip of Koh Tao.
Inquire at your guesthouse or visit one of the many tour operators on the island for all the latest details.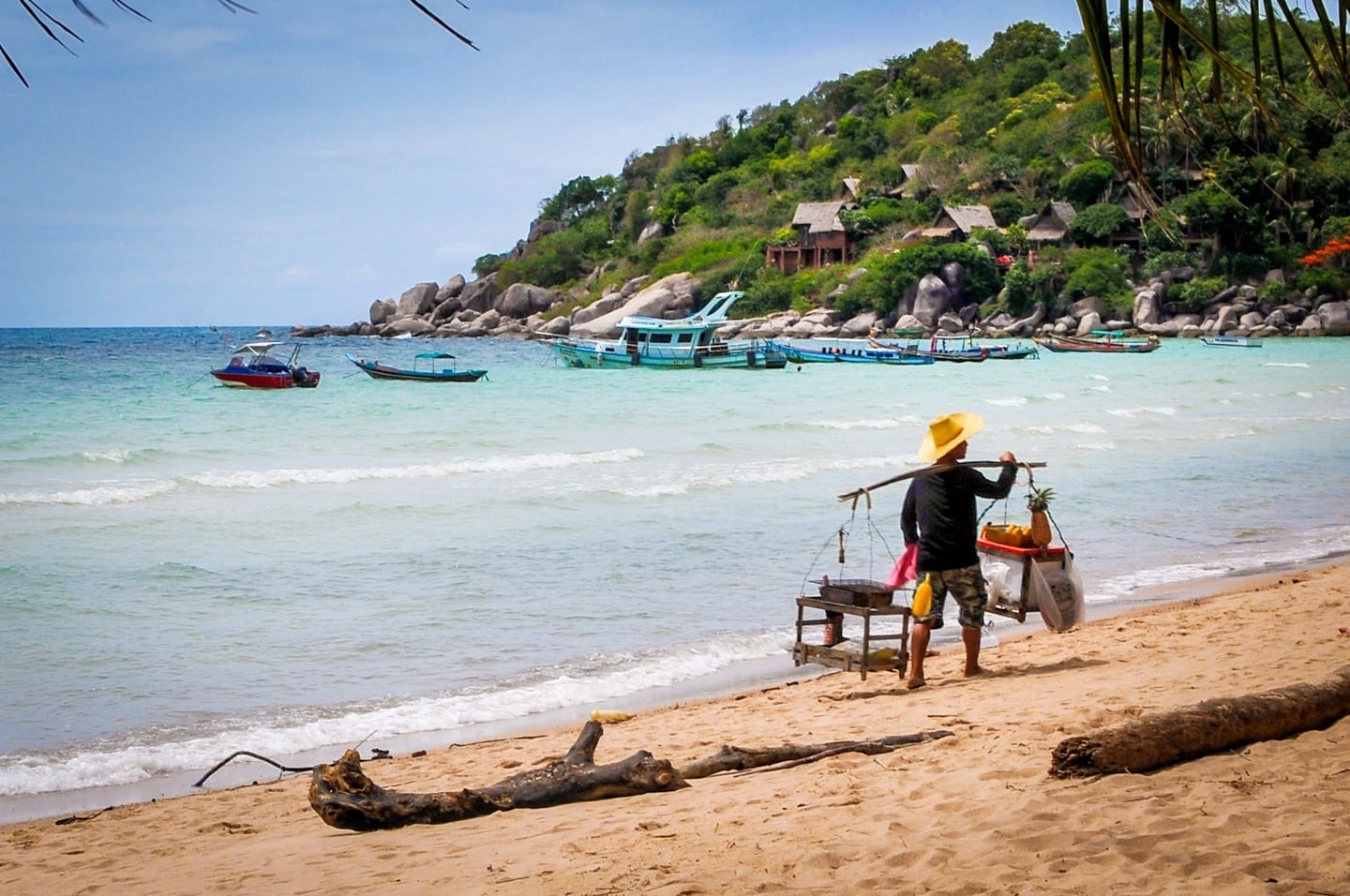 Working on Koh Tao
Lori's scuba course took the better part of three days to complete, which gave me a perfect excuse to bum around our little slice of tropical paradise.
It didn't take long before the wheels were turning and I was actively seeking options for moving to Koh Tao.
And why not?
We didn't have any obligations anywhere else and Koh Tao is about as close as paradise as you can get on a budget with all the amenities.
I scoured local classifieds and online forums, but to no avail. It seems protectionist labor laws in Thailand make it harder than I had imagined for foreigners like us to find work.
Occasionally (and unsurprisingly), there is work for dive instructors, but it can be a competitive market to penetrate, with long working hours, visa headaches, and a monthly paycheck that barely covers your local living expenses, with little to nothing left over for travel or savings.
And if you were like we were at the time (two Americans with advanced degrees and student loan payments to make), it's just not going to be a realistic situation.
But we can dream.
If you, however, are an experienced dive master with low monthly overhead and a sense of adventure, then living and working in Koh Tao might just be a reality for you!
If you're serious about finding work on Koh Tao, this Facebook group is a good place to start.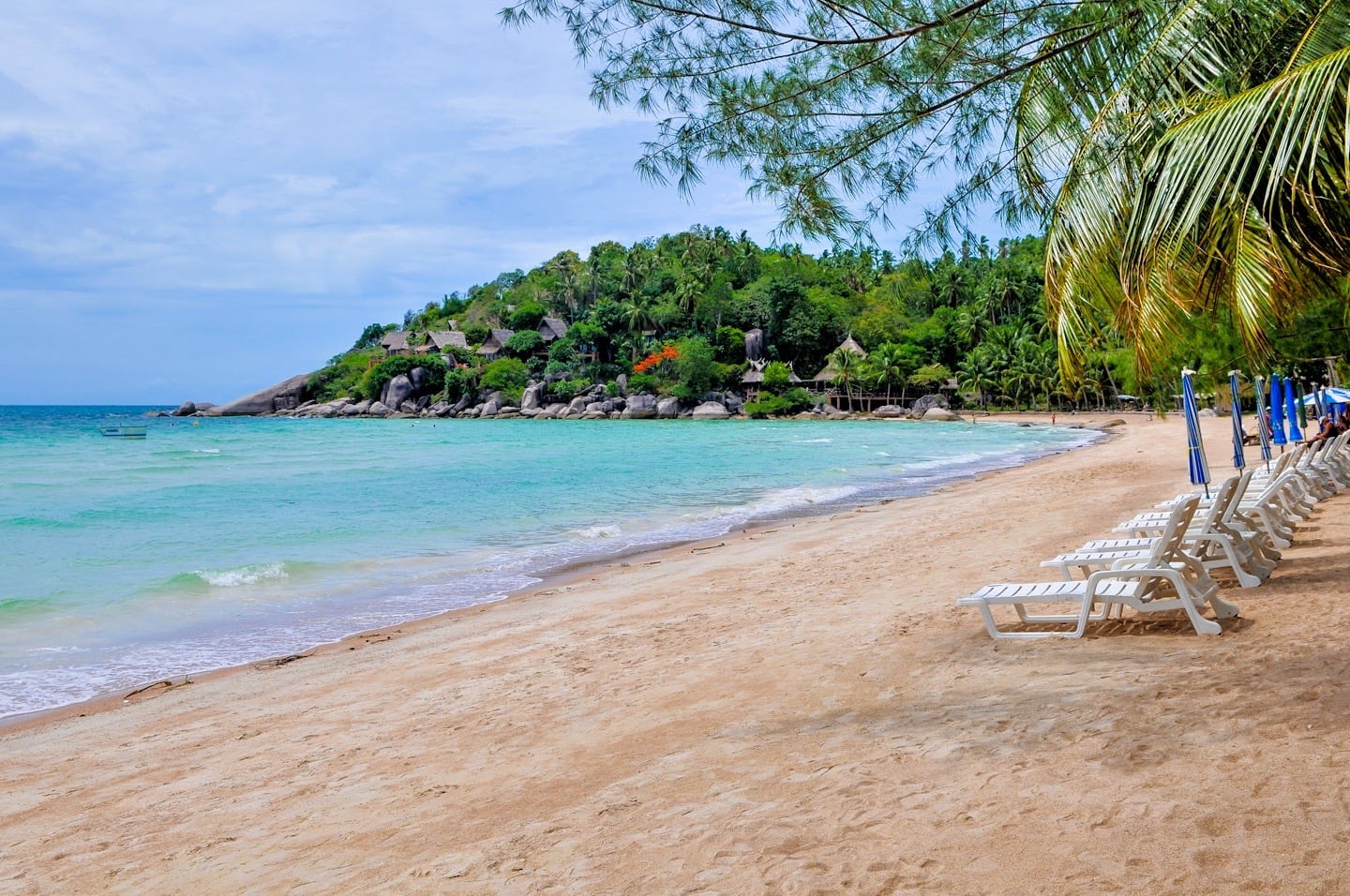 Maybe we'll revisit this idea in another decade or so, if we don't get too tied down in the meantime. As for now, my swim trunks are nearly dry, so I think I should address that.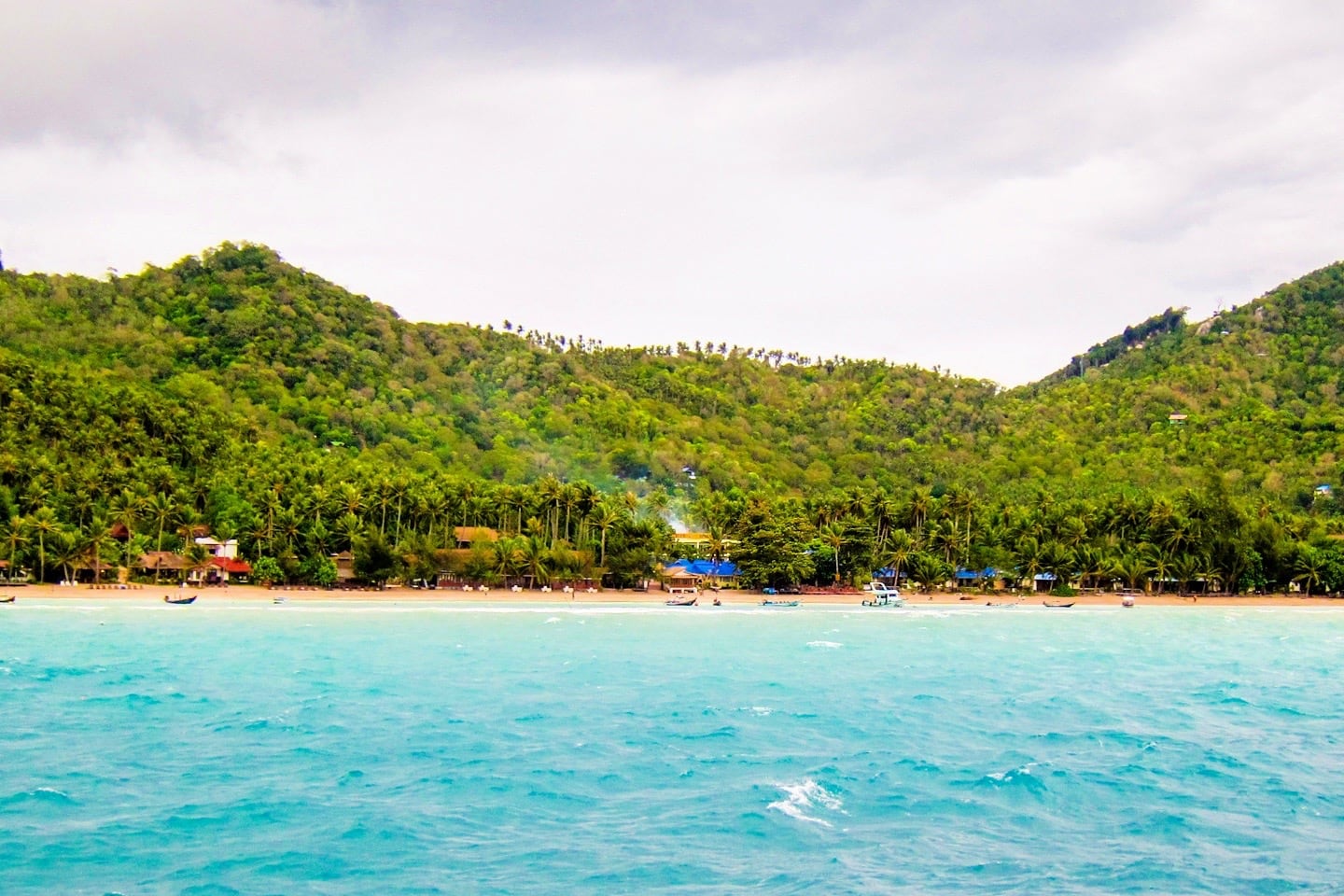 Have You Visited Sairee Beach on Koh Tao Recently?
What did we miss? Let us know in the comments below.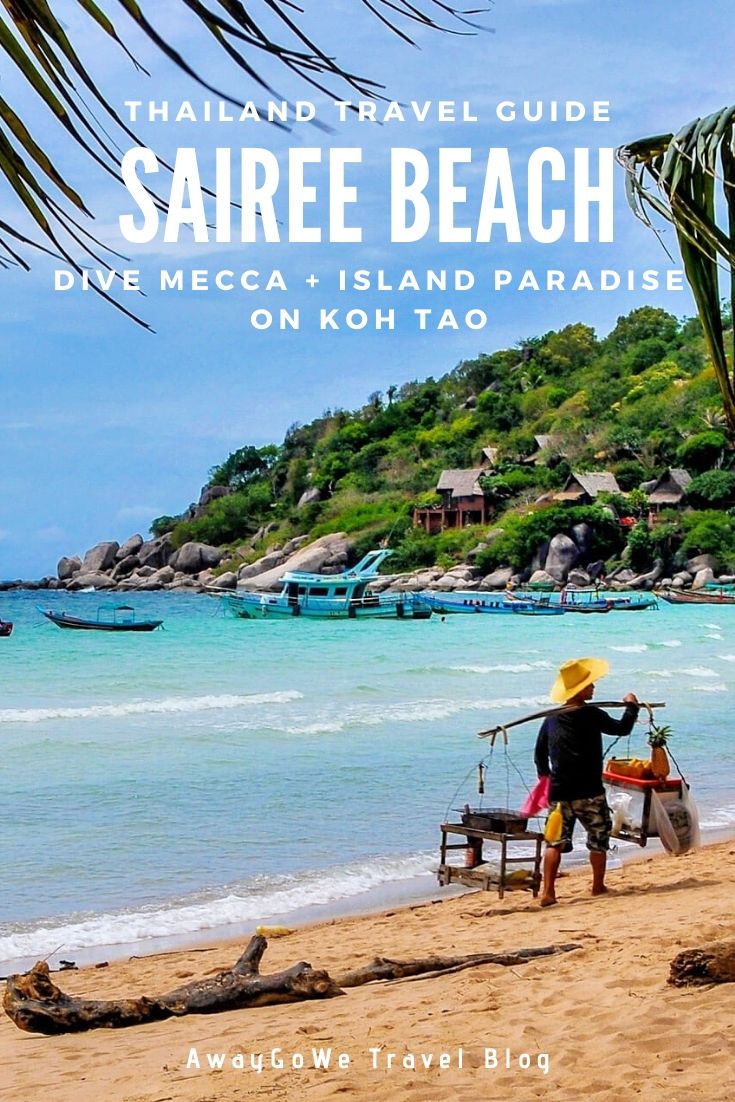 12 Oct 2021
28 Sep 2012
I've been a blogger and travel writer since 2010, covering everything from luxury hotels to hidden destinations and travel gear. Originally from Oregon, I've spent the majority of the past 20 years living outside of the U.S., in Mexico, the Caribbean, Southeast Asia, Africa, and Europe. I received a BA in Communications (Journalism) from Boston College, and an MA in International Development Studies from the George Washington University. I'm passionate about exploration and discovery, and providing independent, thoroughly-researched, ad-free advice for travelers.