It's about three miles (4.8km) from Big Blue Diving Resort in Sairee Village to Taraporn bungalows on Koh Tao's Chalok Bay (Chalok Baan Kao).
Common sense would say to pay for a lift (equal to the price of a couple of beers) to cover the distance, particularly traveling in the tropics with a full pack on your back.
Budget sense says to find the cheapest route possible.
Beer sense, on the other hand…well, beer sense just says to hoof it, and put the money saved toward an ice cold reward. And that's exactly what we did.
Here's our trip report from Koh Tao's Chalok Bay, with helpful tips for your own island adventure!
Koh Tao Chalok Bay – Visiting the Island's South Side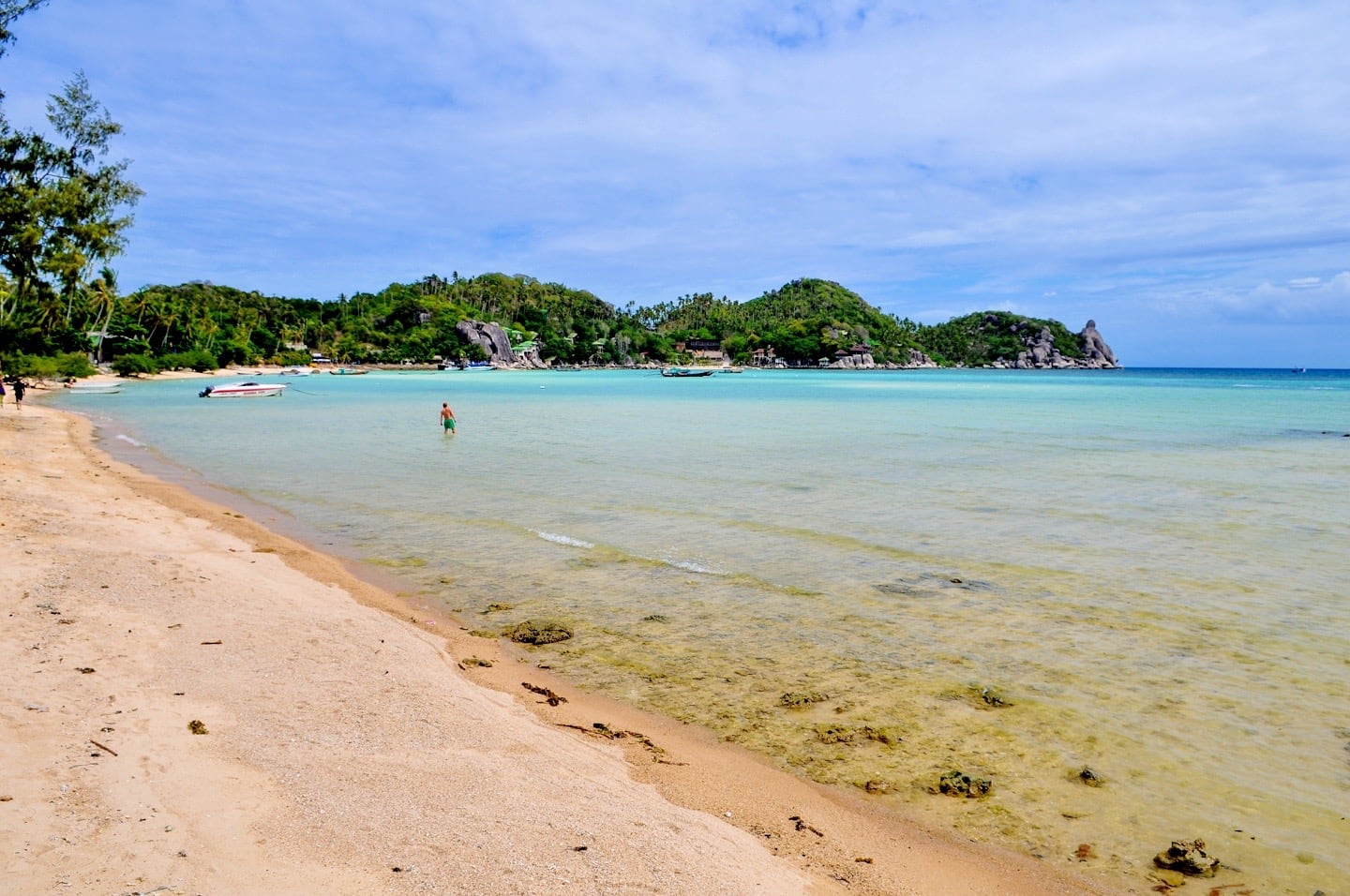 Sairee Village to Chalok Baan Kao
It wasn't an easy journey in the mid-morning heat in Thailand, but we did eventually make it to Chalok Bay. We arrived a bit early for a beer, so we decided to go find a place to sleep for the next few nights instead.
Unlike Sairee Village, Chalok Baan Kao isn't the type of place you book budget accommodation online. It's old school. You show up and hope for the best. If that doesn't work out, you hoof it to the next place.
It ain't pretty, but it's all part of the adventure. Adventure is entering into something and not knowing the outcome. By this definition, you could say that all of life is an adventure, I suppose…but it seems few people approach life in that vein.
At some point, I'd come across a picture of a bungalow at a place called Taraporn on Koh Tao's Chalok Bay, which sort of became the impetus for heading to that part of the island.
It wasn't so much that I was aiming to stay at that exact place, but liked the vibe the photo evoked — more like, "I want to stay somewhere like that if we can find it."
When we arrived in the small village at the southern tip of the island, sweaty, and tired from our long walk from Sairee, we had a choice: Left or right. We went right, and ended up at Taraporn bungalows, of course.
---
Related Articles
---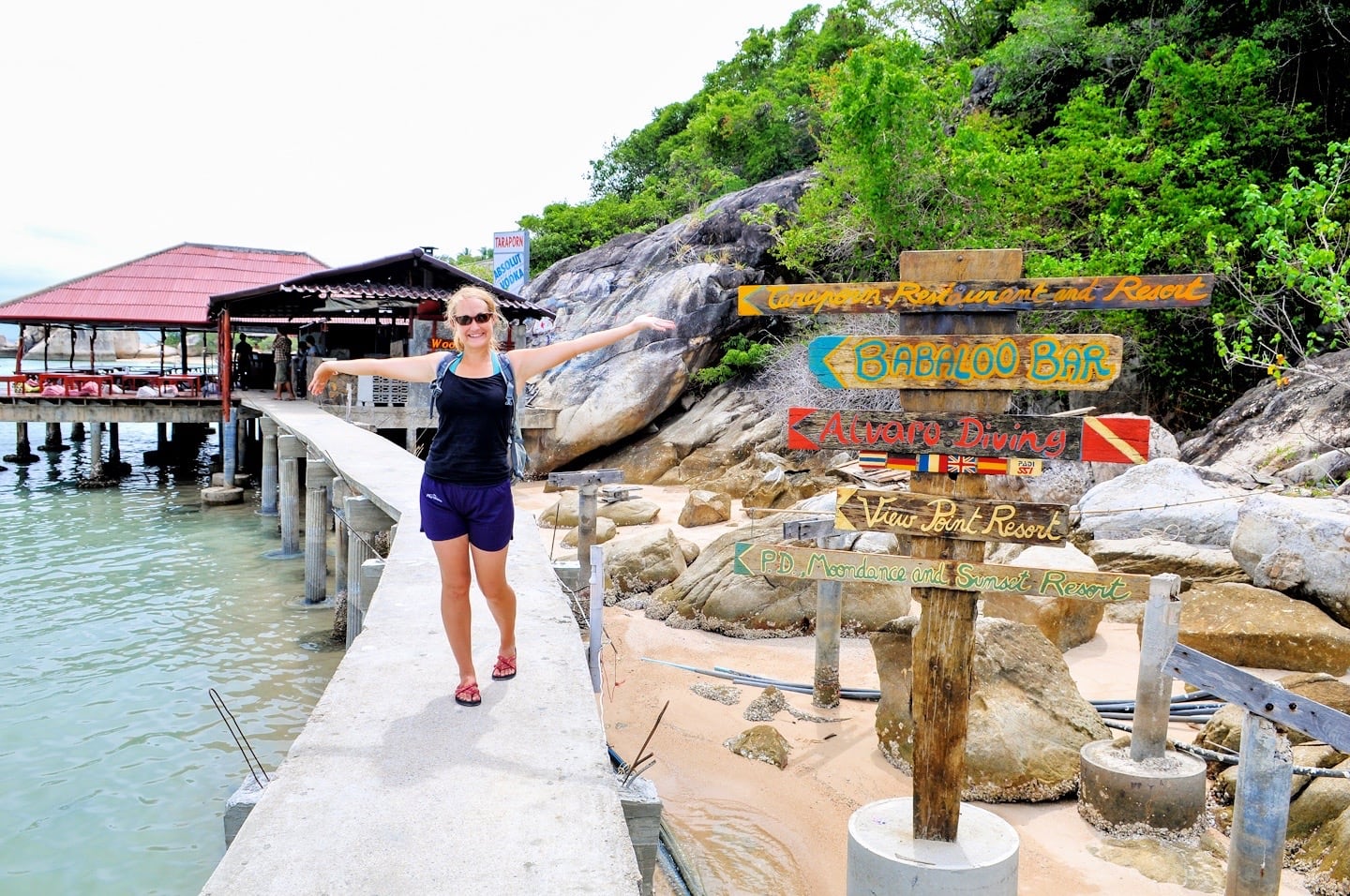 Or, more accurately, ended up at their restaurant, connected to the road by a newly-constructed (work-in-progress) concrete catwalk.
When you've been walking in the hot sun sweating bullets for over an hour, it might be a bit daunting to traverse. When you're returning on a moonless night after enjoying happy hour a bit too heartily (as we most certainly did that night), it's downright treacherous.
We're quite thankful we didn't end up in the water — or worse yet, impaled on a piece of rebar.
Adventure!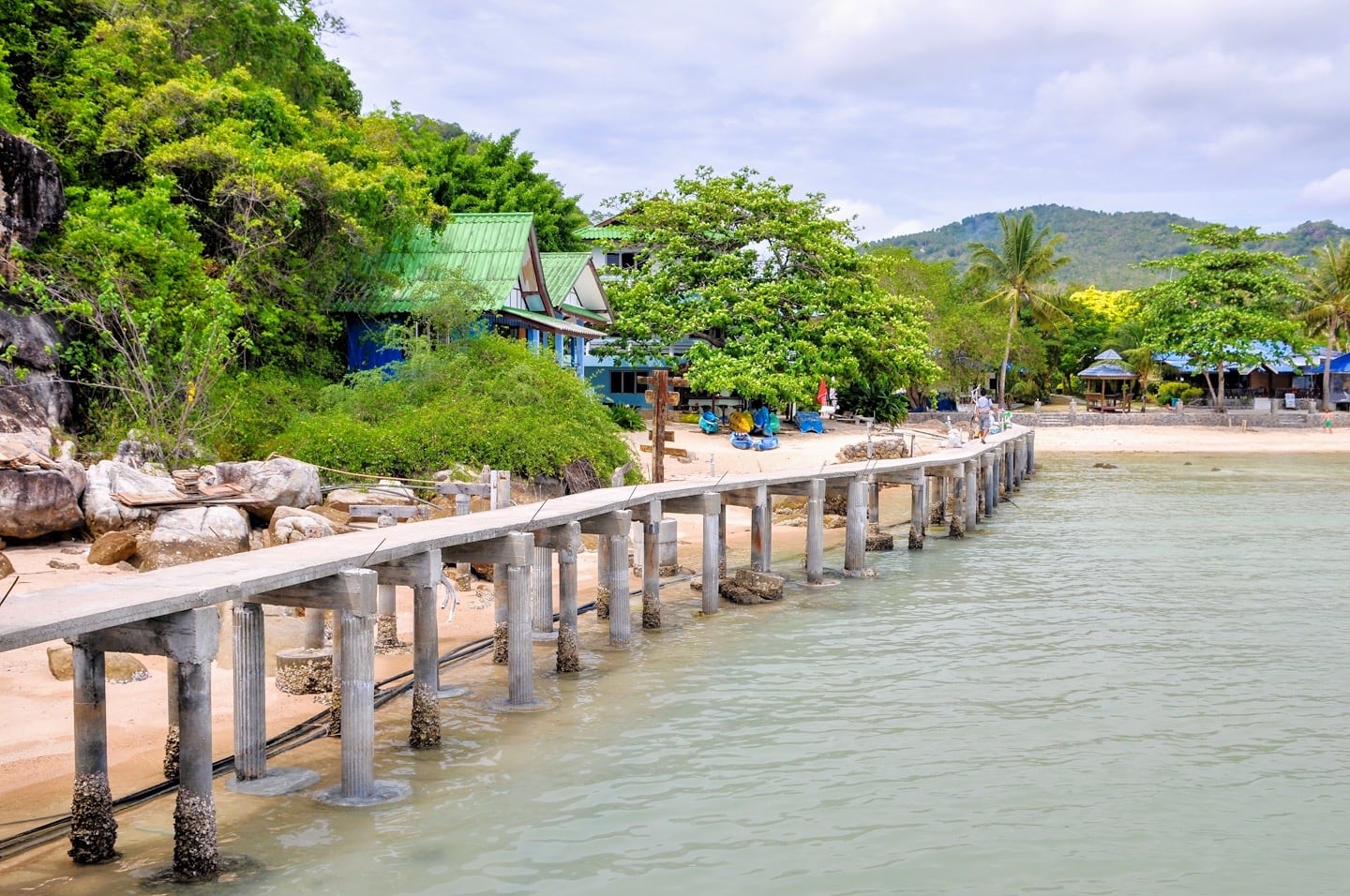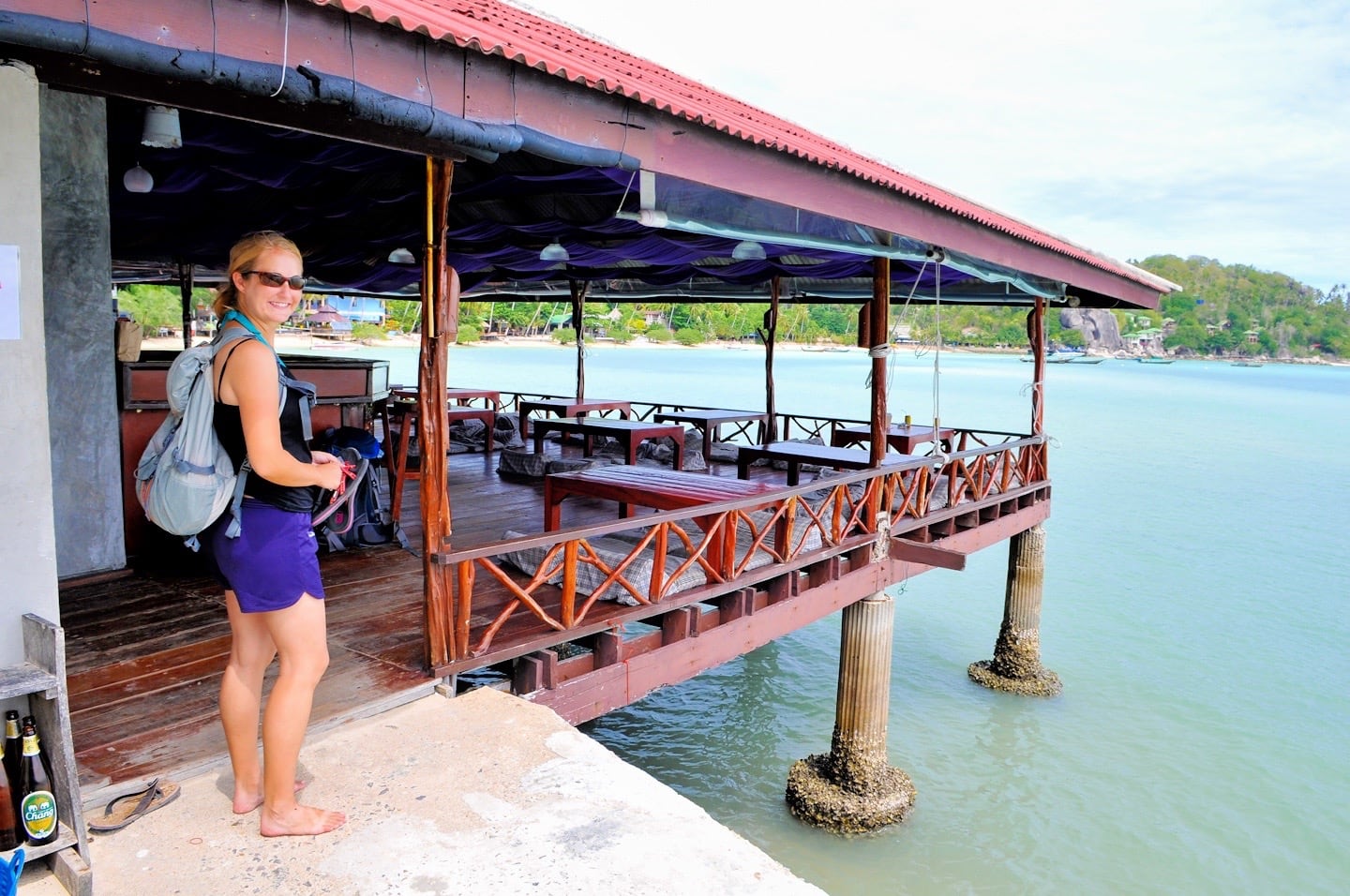 Where We Stayed: Taraporn Bungalows
Taraporn is a pretty basic, family-run place, perched on a pretty amazing piece of real estate. In addition to their location, one of their greatest assets is their stilted restaurant, not only overlooking, but actually over the water.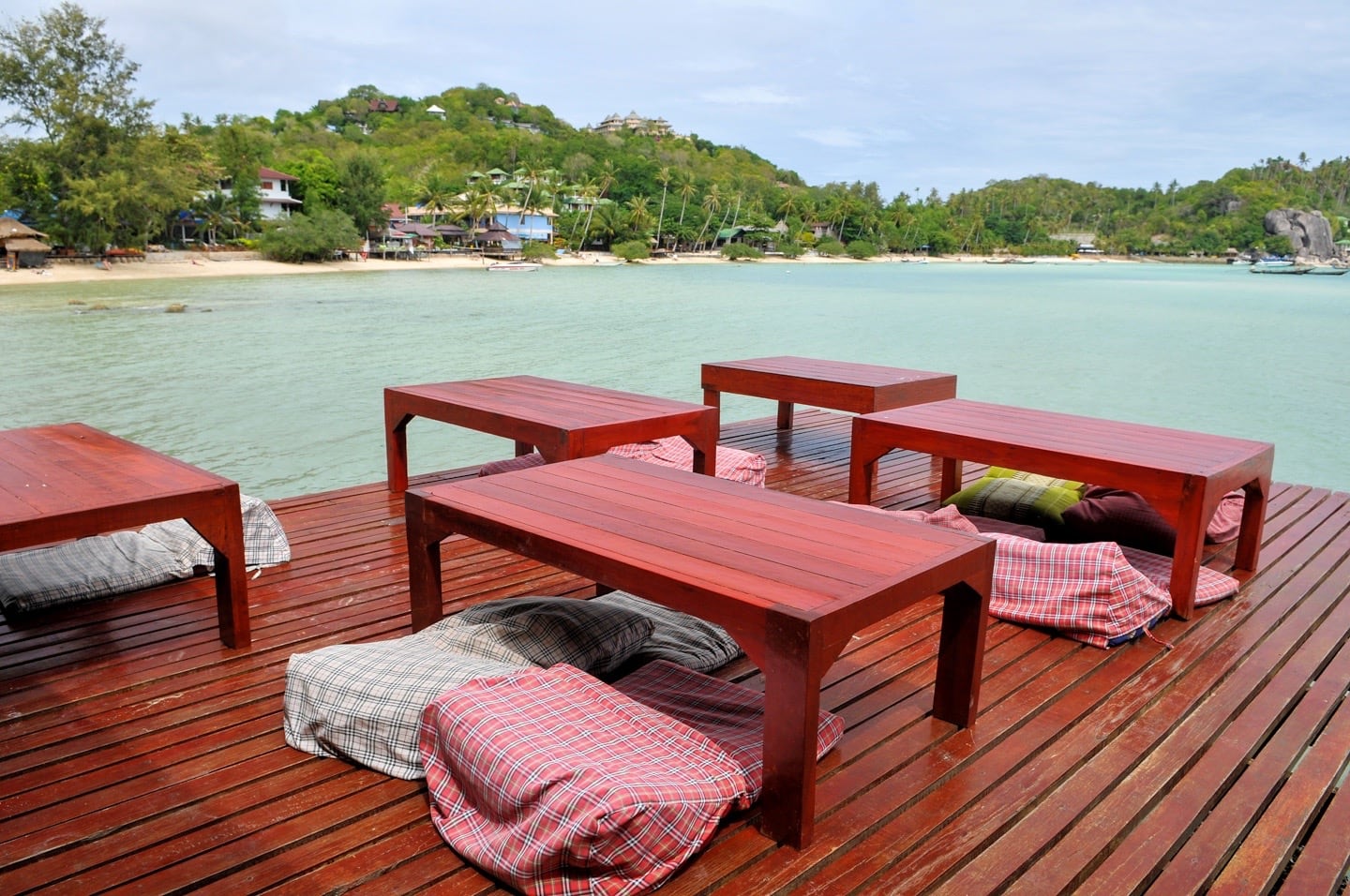 Nothing short of awesome on a day like this. As you might imagine, we were excited to return that evening to, you know, take in the lights of the fishing village, listen to the lapping waves beneath, and catch a glimpse of the stars above. That's not exactly what happened, but we'll get to that.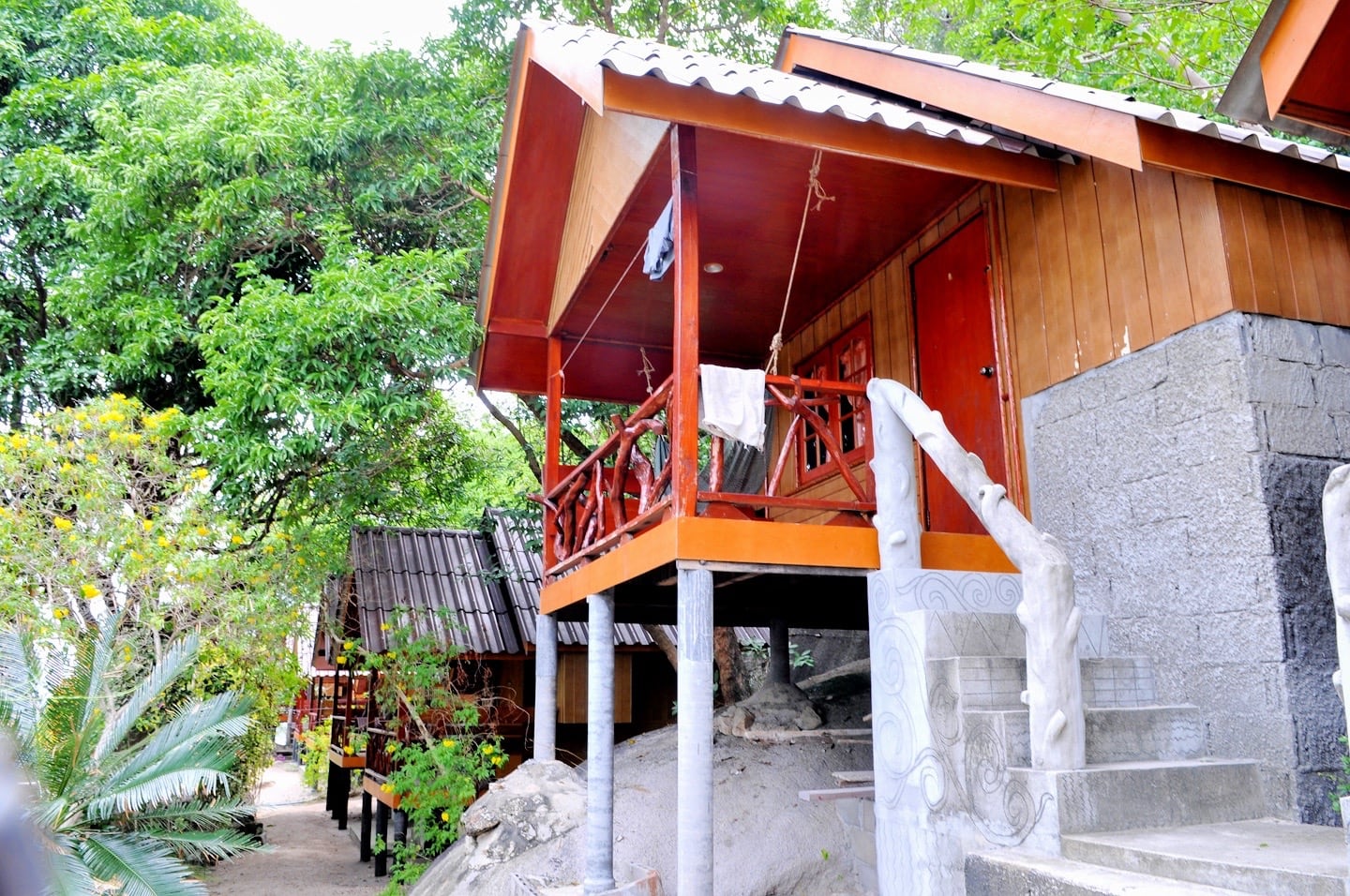 We expressed interest in a bungalow, and were shown the way past another property and around the corner.
We did feel a bit committed to at least viewing one of Taraporn's bungalows, given that the path goes directly through their restaurant. As luck would have it, when we arrived at the bungalows, we realized they were the exact ones I had seen a photo of.
We were shown the highest bungalow, which, by virtue of its six additional feet, actually captured something of a view of the bay.
We happily agreed, and the bungalow was ours for the princely sum of US$12/night.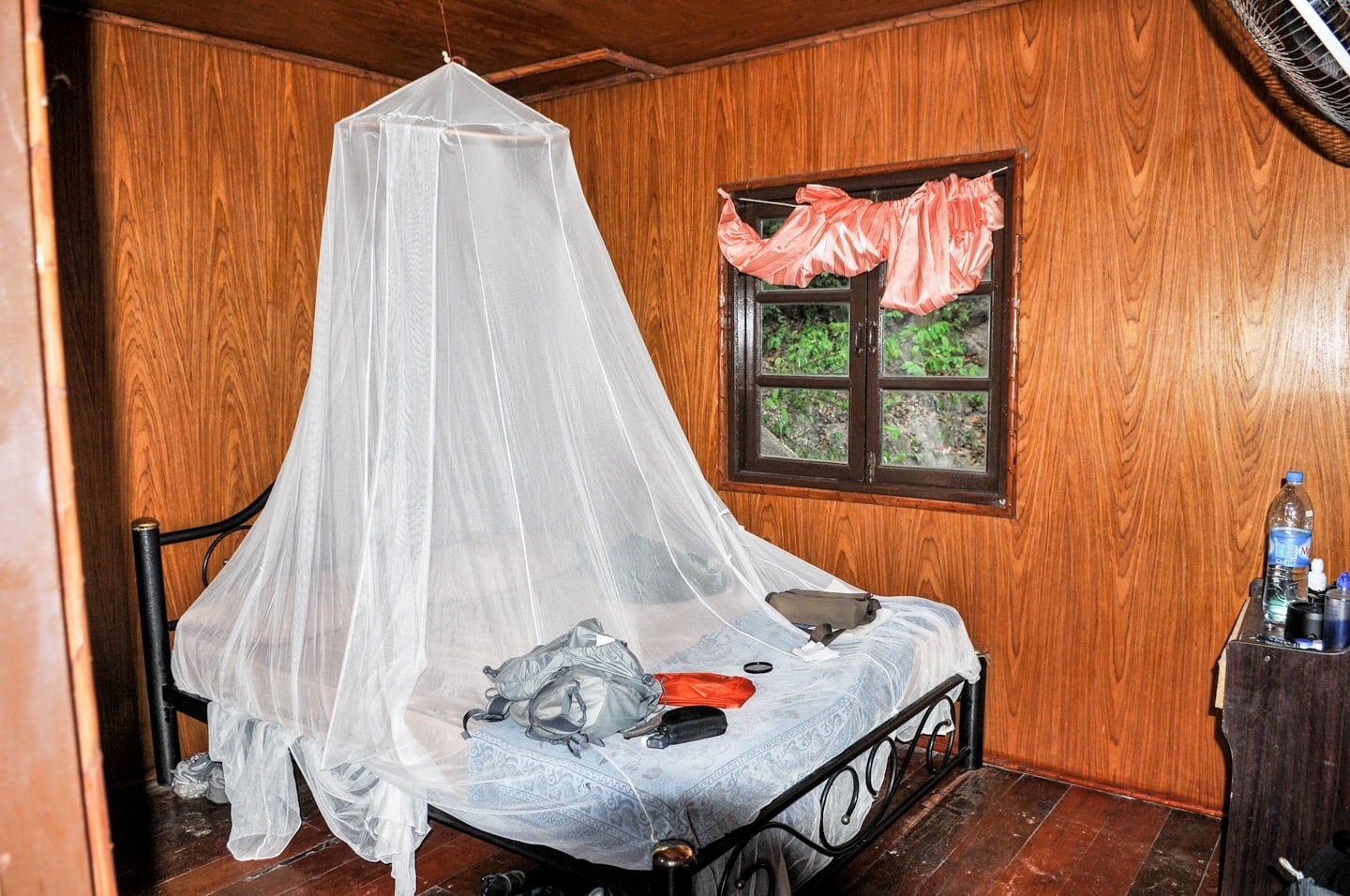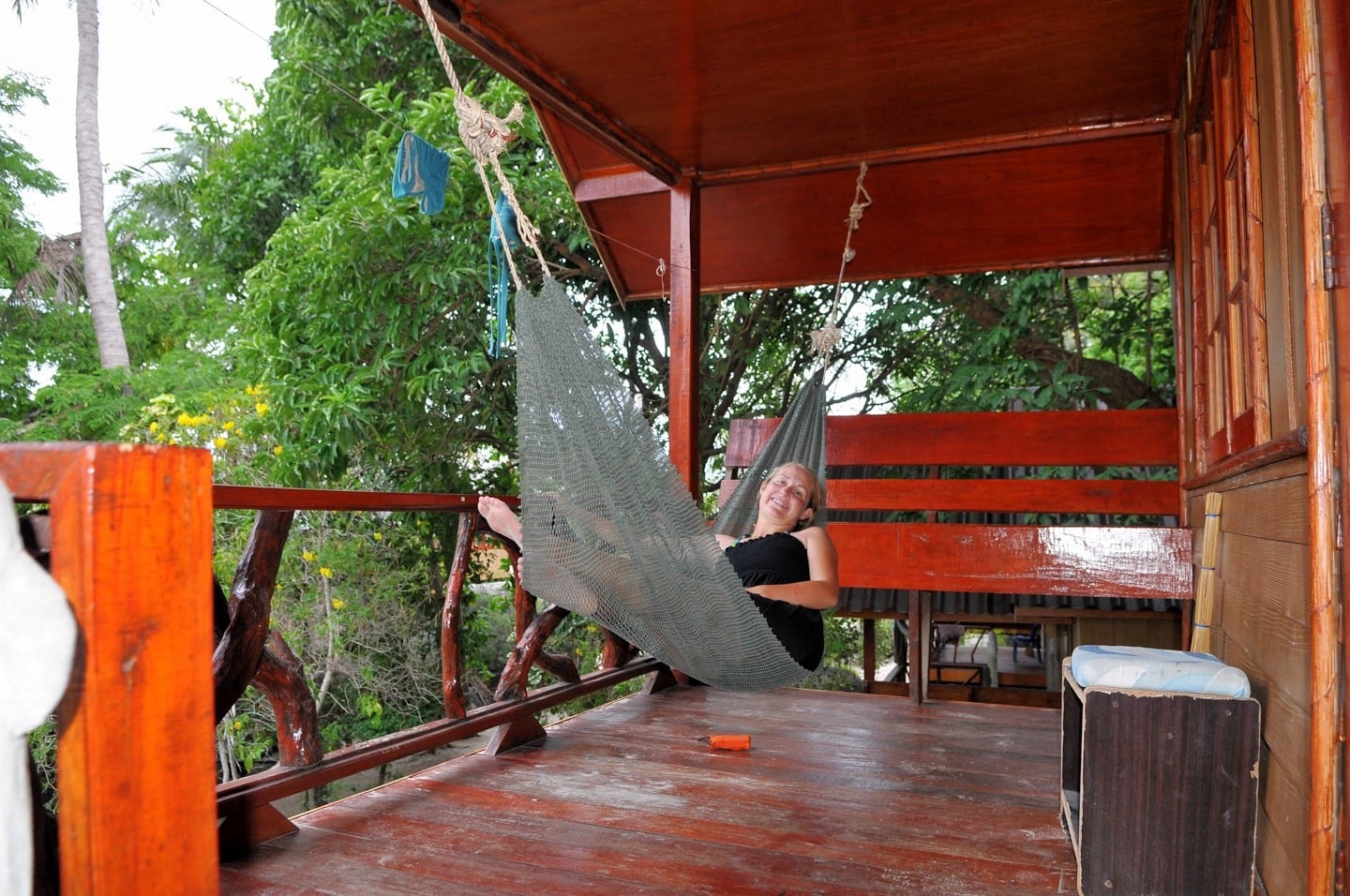 Next on our beach-day docket? Lunch.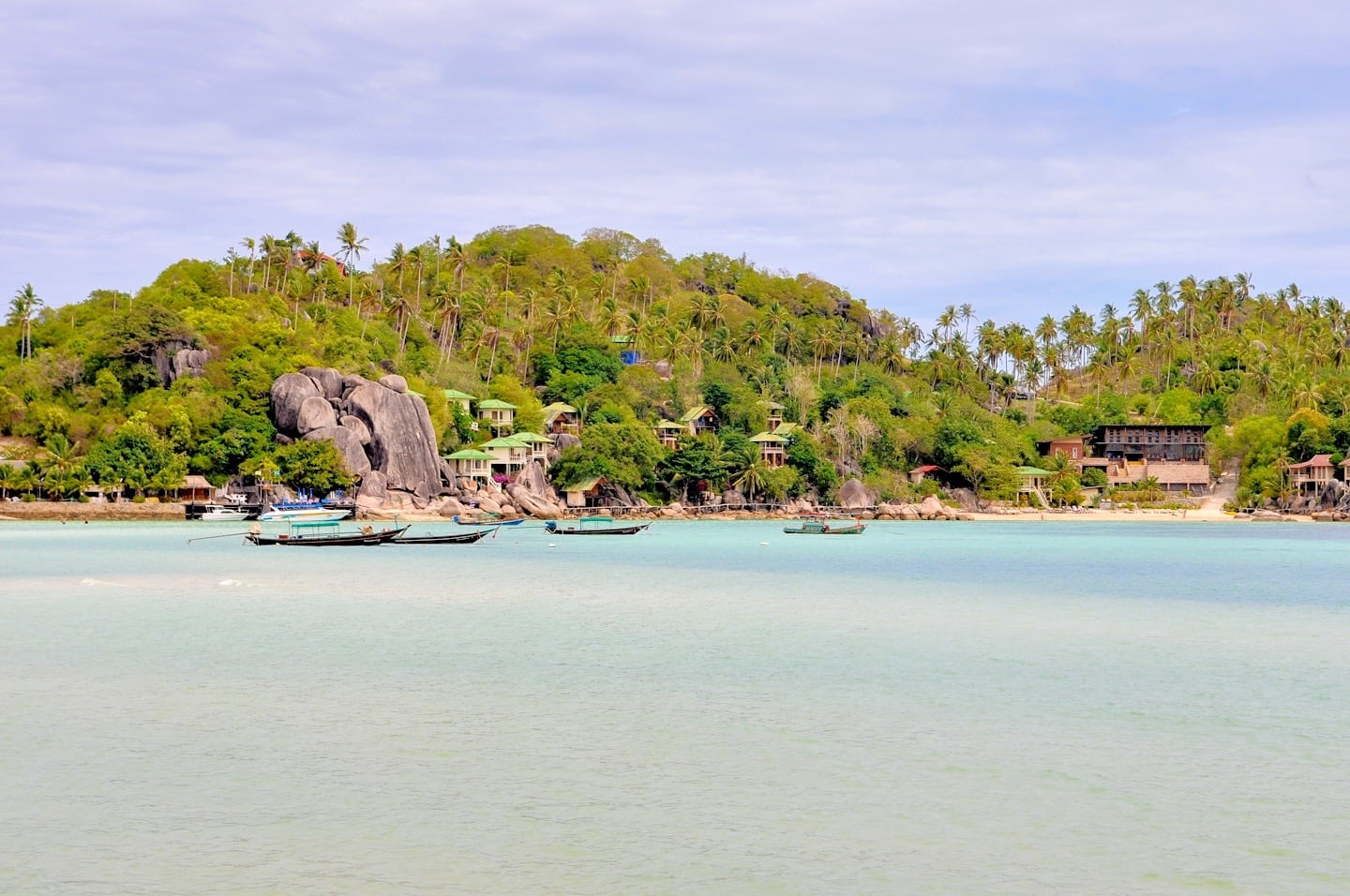 New Heaven Resort & Haadthien Beach Resort
On our morning trek across the island and down to Chalok Bay, we'd noticed a sign for New Heaven Resort, at the top of the hill just before descending down into the village. We had enjoyed New Heaven Cafe in Sairee Village and wondered if the two were somehow related.
After settling into our bungalow, we walked the short distance back up the hill to the sign and followed the steps leading to the resort high up on the headland separating our bay from the one next door.
One of the things that brought us down to this end of the island was a tip from some close friends back in the States. They had been living on neighboring Koh Samui for around nine months and at one point had come up to Koh Tao over a long weekend, staying at the more exclusive Haadthien Beach Resort on Shark Bay, just one cove over from our present location.
We had heard great things about that beach and thought it might be nice to check out. The only problem is there's no public access to that entire beautiful bay…unless you're a guest at the resort. Well that's that, we thought…until fate presented us with another option.
We ascended the steps leading up to New Heaven Resort, and emerged into an empty but welcoming and nicely decorated outdoor restaurant. A handwritten menu caught our eye, and so did a couple of their offerings, which we promptly ordered.
While waiting, we took a stroll around the premises. Descending some stairs, the walls of the compound opened up, revealing a stunning bay and even more stunning strand of golden sand, framed by a collection of luxury bungalows: Haadthien Beach Resort. Beautiful, and completely off limits.
After taking in our surroundings for a few minutes, something else caught our eye — crumbling concrete steps, jutting off to the right, but eventually down to the waterline.
Ha, I thought. You could almost swim across to the beach. 400-500 meters round trip, though. A heck of a swim. But not a heck of a snorkel. If we'd only brought our mask, snorkel and fins, or knew where to rent them in the village. If only…
After lunch, we had resigned ourselves to leaving Haadthien at that and moving on. That is, until we noticed something fortuitous written on a chalk board on the way out: "Snorkel, mask, and fins for rent: 100 baht" (~US$3).
A storm was brewing, so snorkeling wasn't in the cards this day. But weather permitting, we'd most certainly be back tomorrow.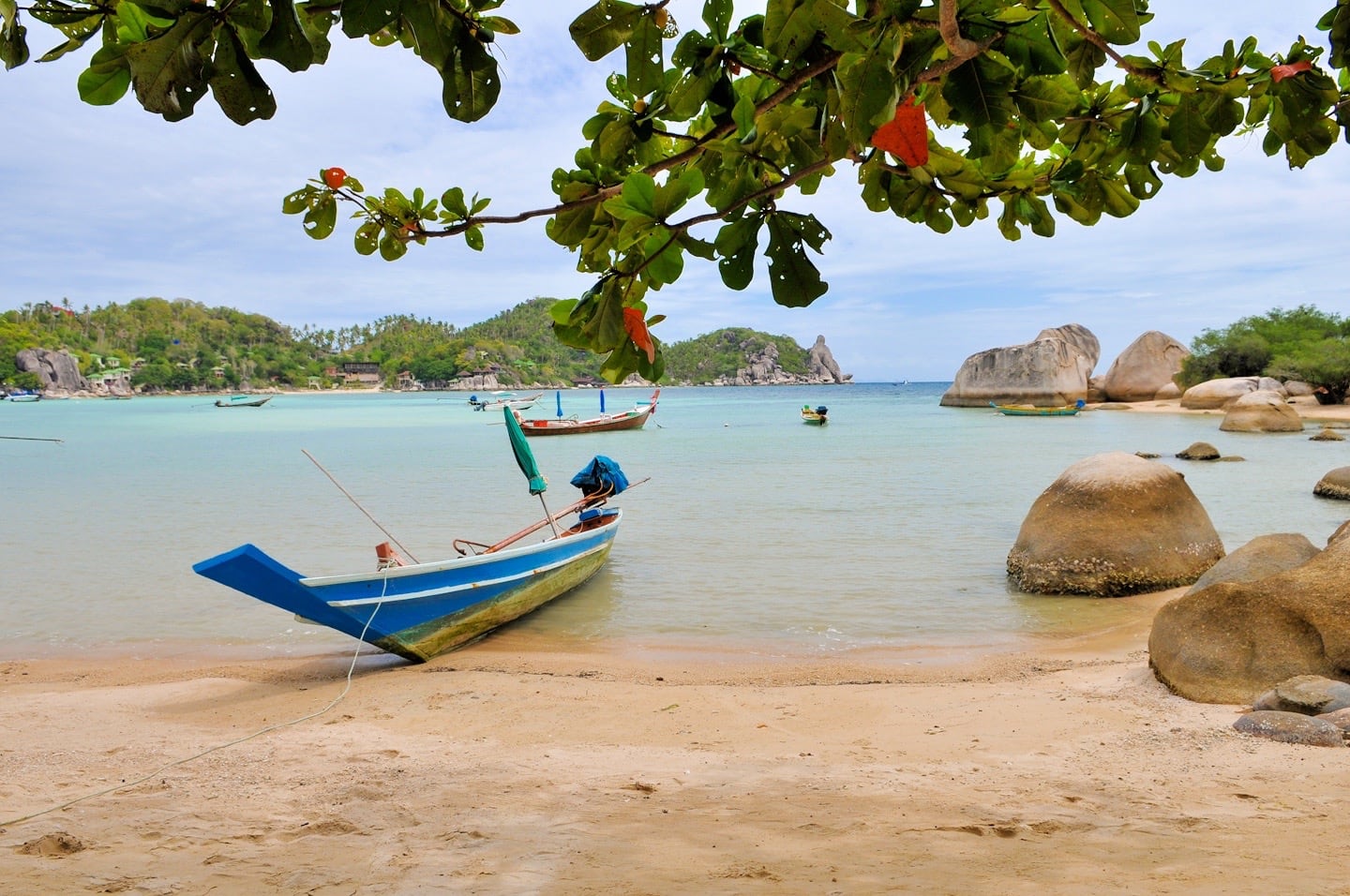 Chalok Baan Kao Village and a Deluge
There's not a whole lot in Chalok Baan Kao, but more than most fishing villages we've been to.
While a bit removed from the hustle and bustle of the northwestern part of the island, Chalok Bay is far from untouched or off the radar.
Still, we found it to be a good balance between backpacker trail amenities and local life, for this particular stage of our journey.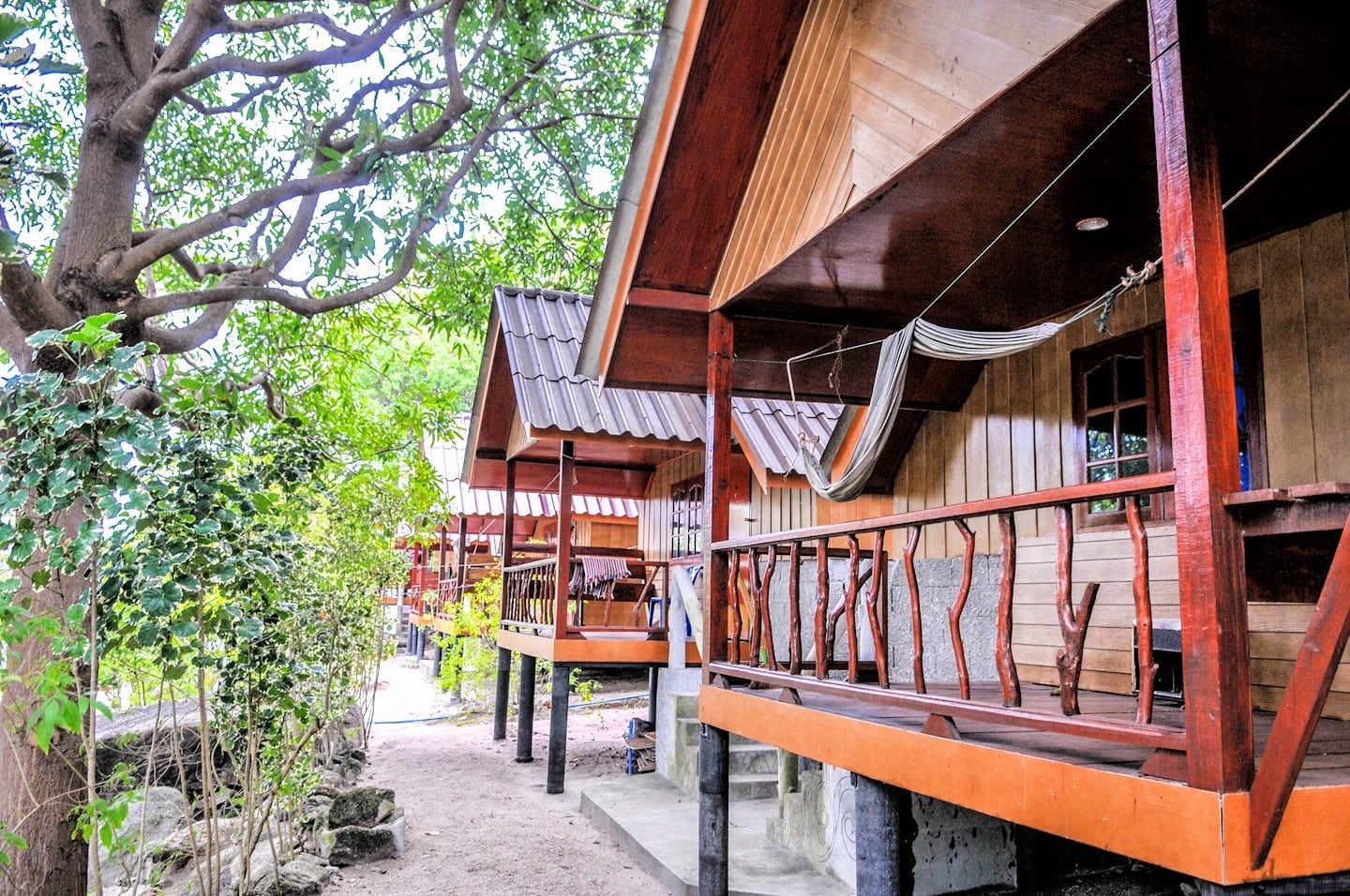 All afternoon, we were looking forward to our dinner on the restaurant deck at Taraporn. The water was still, there was a gentle breeze, and we were eager to enjoy the fruits of our mid-morning trek down to the village.
Moments after settling in at the restaurant, picking the perfect table and perfect set of pillows, fluffing said pillows, and breathing a relaxing sigh, a tiny speck of water appeared between us.
Then another, and another.
Then, of course, being in Thailand at the advent of the Gulf monsoon, the sky did what you might expect: dropped the entire contents of a swimming pool the size of Texas on the island, all at once.
Five seconds into the storm (and already completely drenched), we took shelter under the covered portion of the restaurant and watched as the two restaurant staff (probably the owner's children, or quite possibly the owners), unfurled the plastic tarps hanging above the windows with an efficiency and precision I've rarely seen in this part of the world.
Suddenly, our plastic-wrapped sweat box seemed far from idyllic, but we went ahead and ordered dinner, anyway. After all, where else were we going to go in the middle of a deluge?
Luckily, we'd brought some cards and had a running tab at the restaurant, so the next couple of hours passed better than expected. By the time the rains let up, we were exhausted and it was time for bed.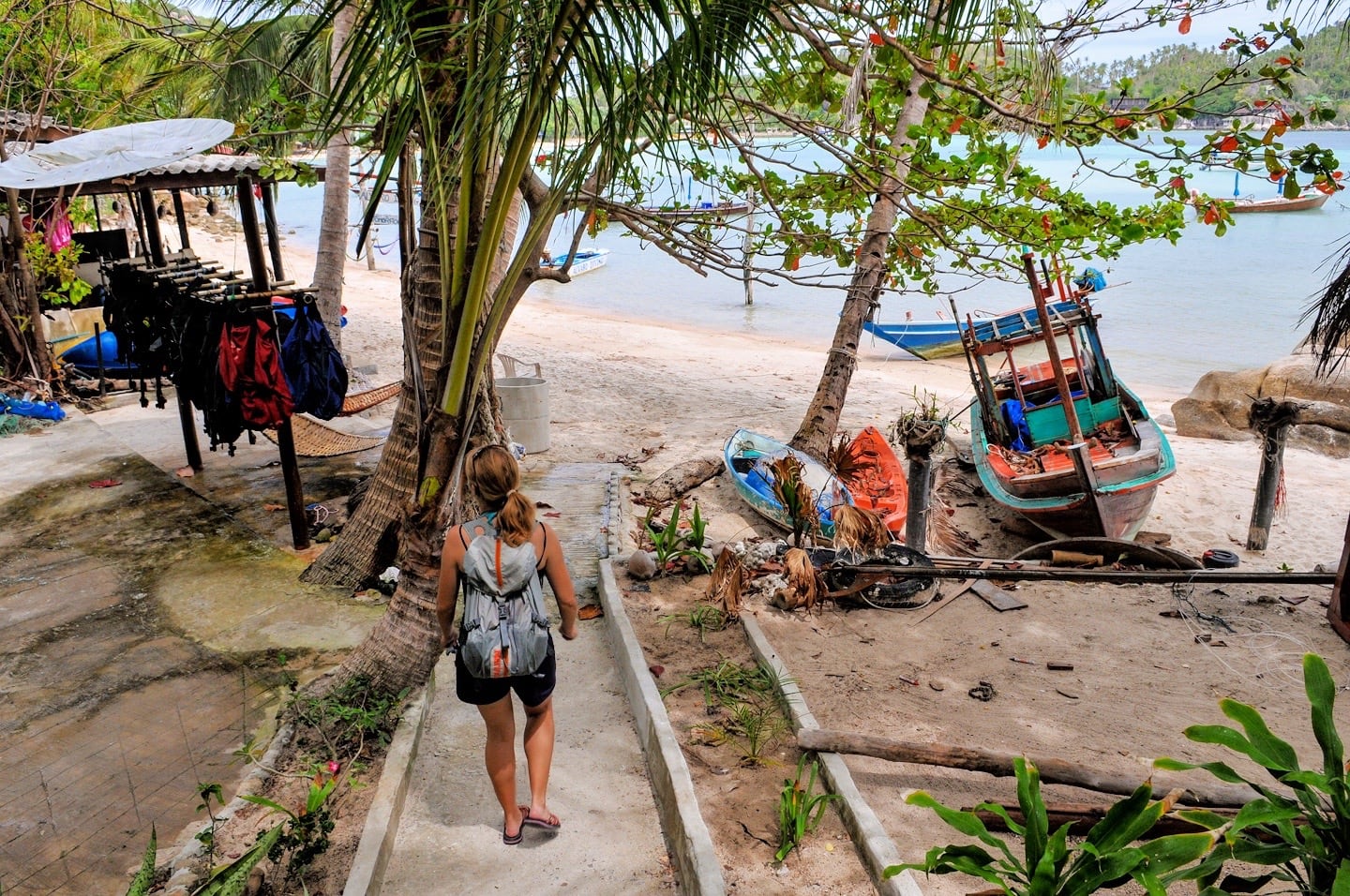 Snorkeling Shark Bay
The next morning we were awakened by the tropical heat and brilliant sunshine. We grabbed a cheap and tasty breakfast at Buddha View and headed back over to New Heaven for some snorkeling.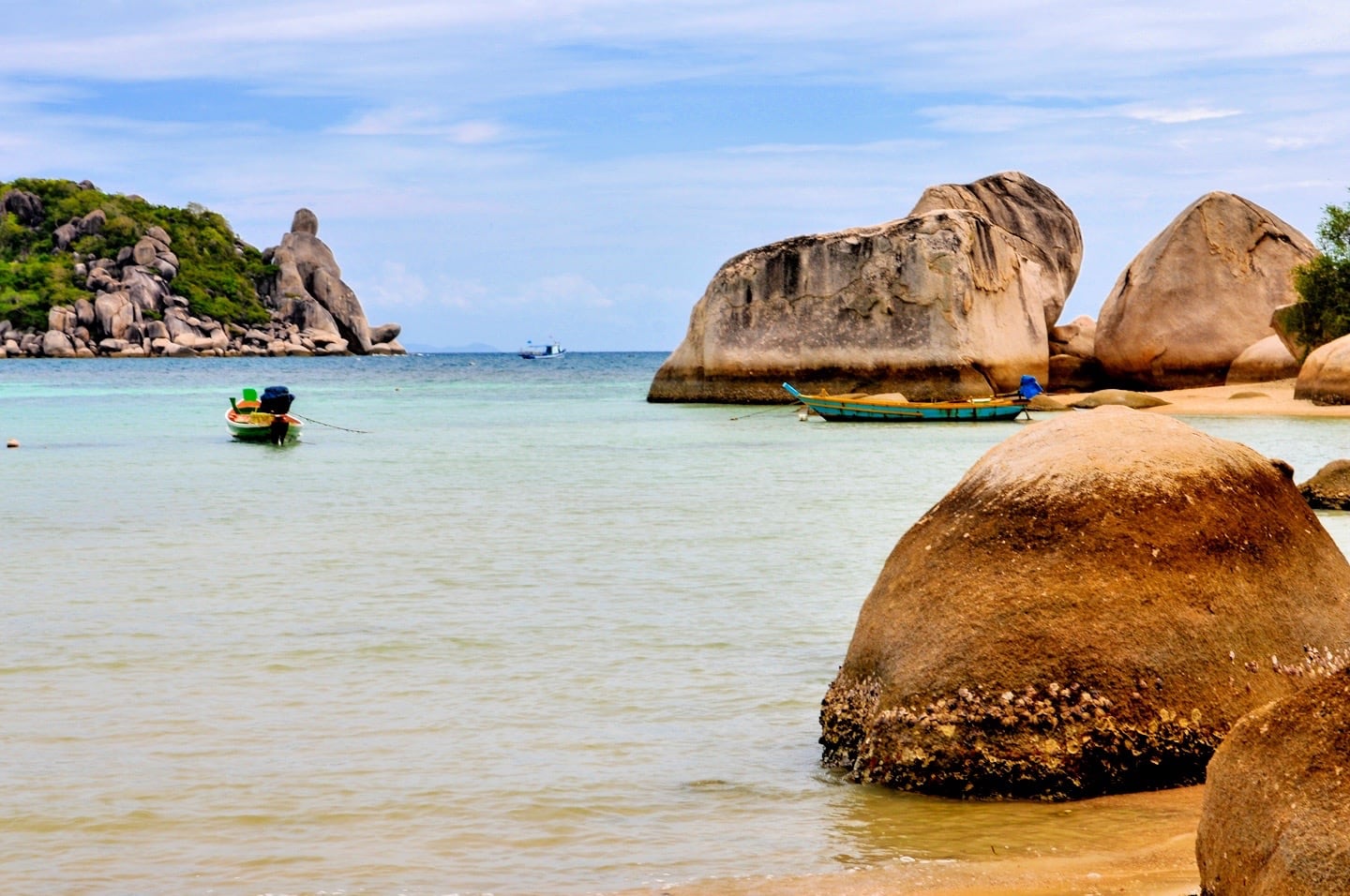 I didn't bring my camera snorkeling, so no photos of Haadthien, unfortunately. But our plan worked perfectly.
We rented two sets of snorkeling gear and made our way down the steps to the bay. The entry point was pretty rocky, and there was a fair amount of surf, but once we were in the water, it didn't seem to matter much.
Shark Bay is named for the resident Black Tip Reef Shark, of which we were told there are many, just beyond the bay where the sea floor drops off and the water becomes cooler.
We figured we'd have a look on our way back from the beach, time permitting — our first priority today was Haadthien.
The tide was coming in, making for an easier than expected swim into the bay. Once we arrived at the beach, nobody seemed to care much that we were there (or even noticed).
For some reason, we thought we'd stick out like sore thumbs at this exclusive resort, but quickly realized that that might be the case on land in our grubby backpacker attire, but on the beach in our swimsuits, we blended in just fine.
We happily whiled away the morning on arguably Koh Tao's best beach, but eventually we were starting to get thirsty. Our money was back at New Heaven with our clothes and even if we had money, we'd imagine they'd ask for our room number anyways.
So, with heavy hearts, we disappeared one last time into the warm waters of the cove, back towards the entry point about two football fields-length away.
After some effort fighting the tide, we made it back, with just enough energy to go shark hunting.
We rested for a moment before putting our fins back on and heading right this time, towards the mouth of the bay. From this point, the water temperature dropped precipitously (along with the sea floor), and we could no longer see the bottom.
Then, a faint outline came in to view in the distance, and another, and another. Sharks!
We knew this particular species of shark was not generally aggressive around humans, but also that they can be territorial and aggressive if provoked.
We were content to stay just barely within the maximum distance of visibility (~10-15 meters) watching the sharks do their thing and trying our best not to get in the way.
After a few minutes, the cool temperature of the water became impossible to brush off, and we made our way back to the stone steps.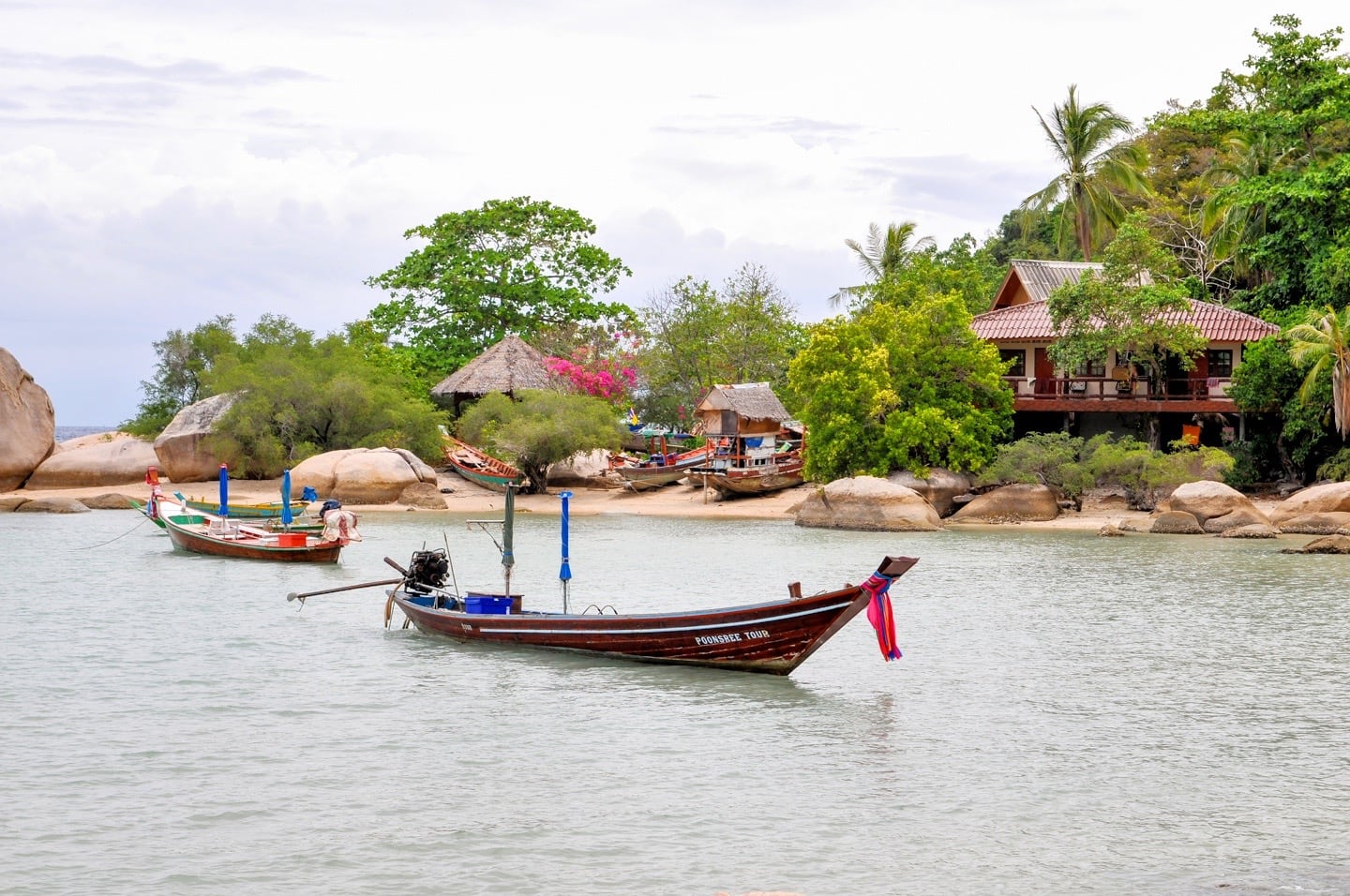 Time to Chill
After beer and a snack at Bar Next Door on Chalok Bay, we spent the rest of the afternoon swimming and relaxing at a couple of the better beaches in and around the village — not quite Shark Bay, but much more our style.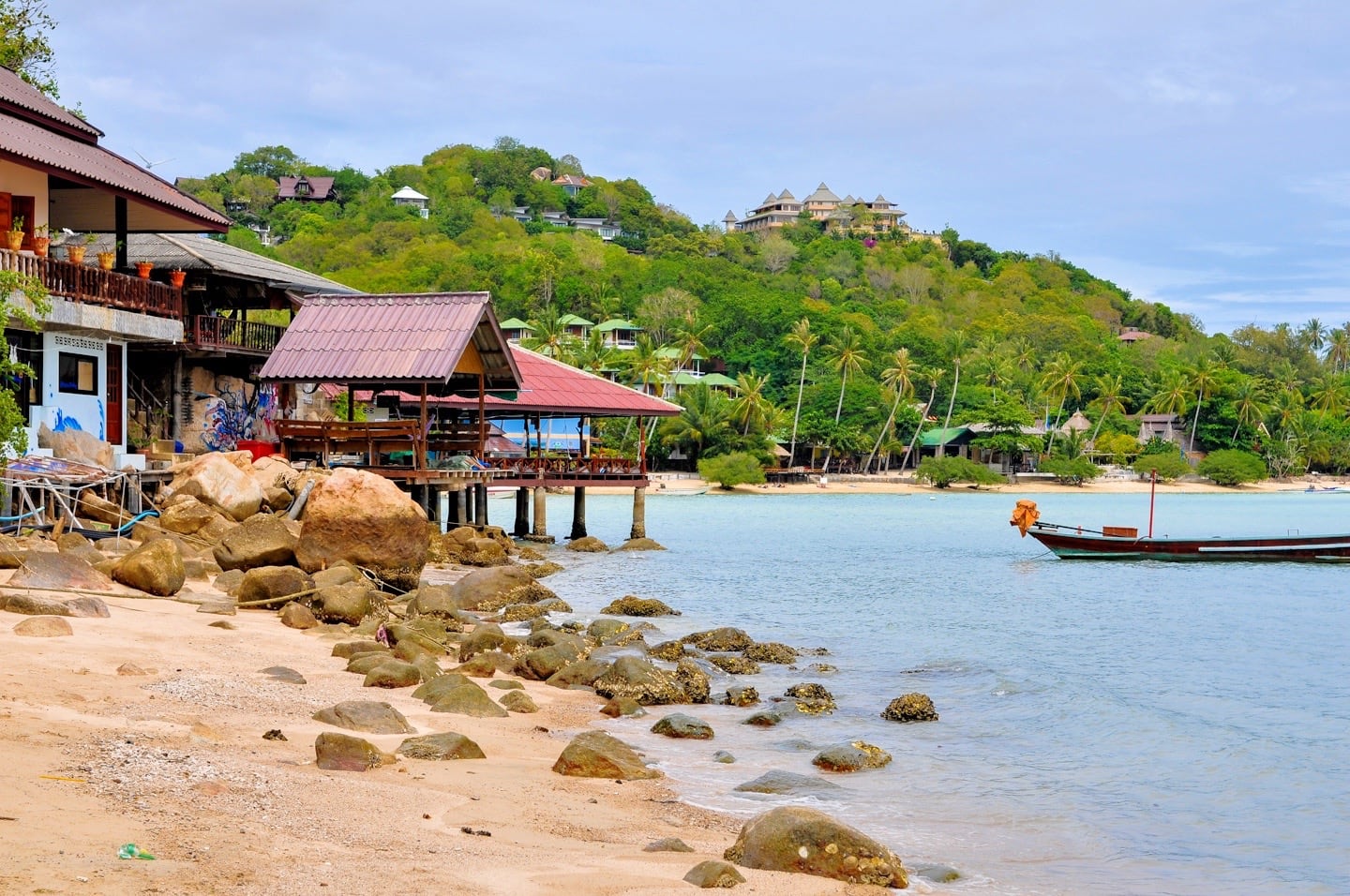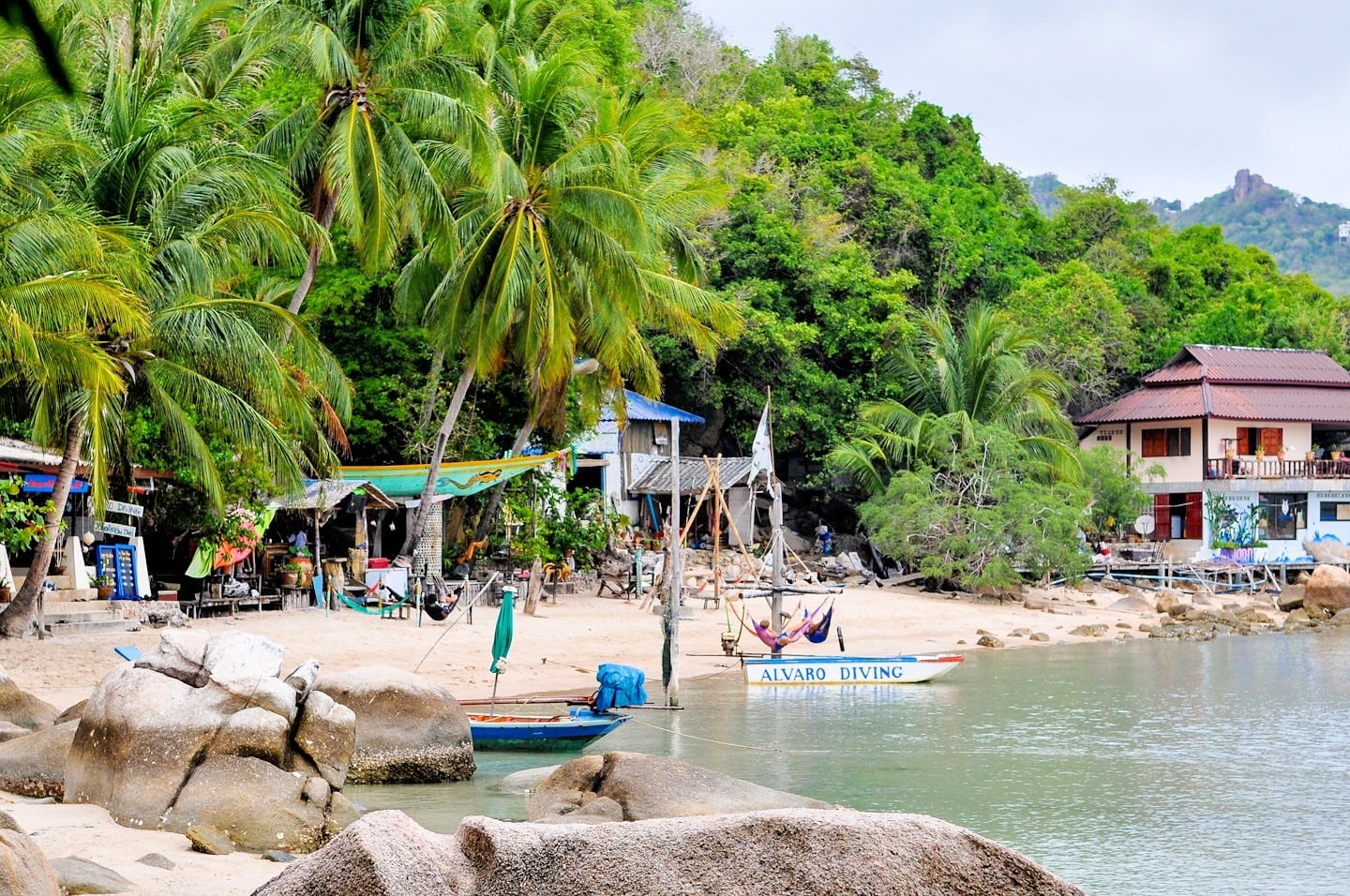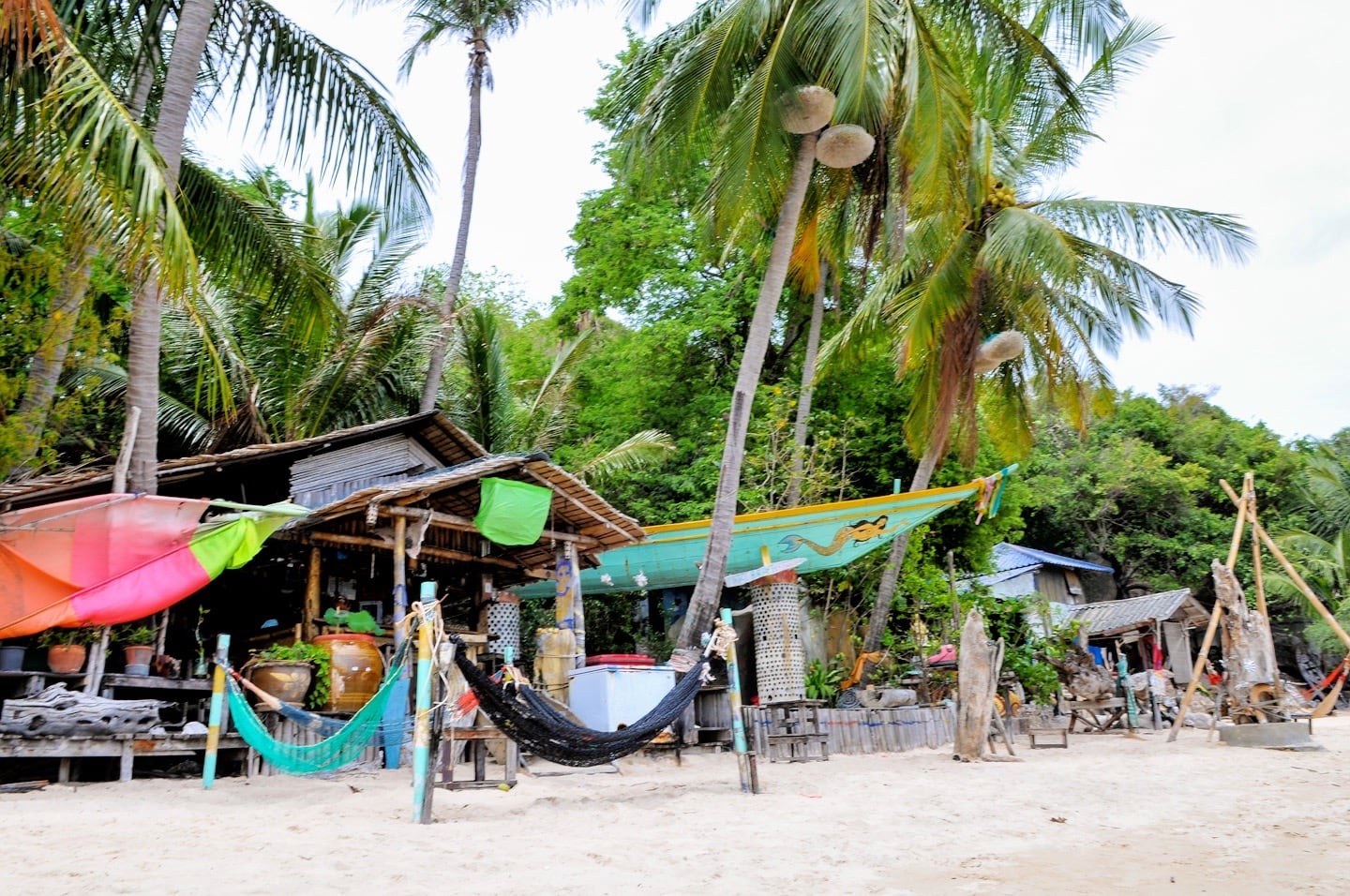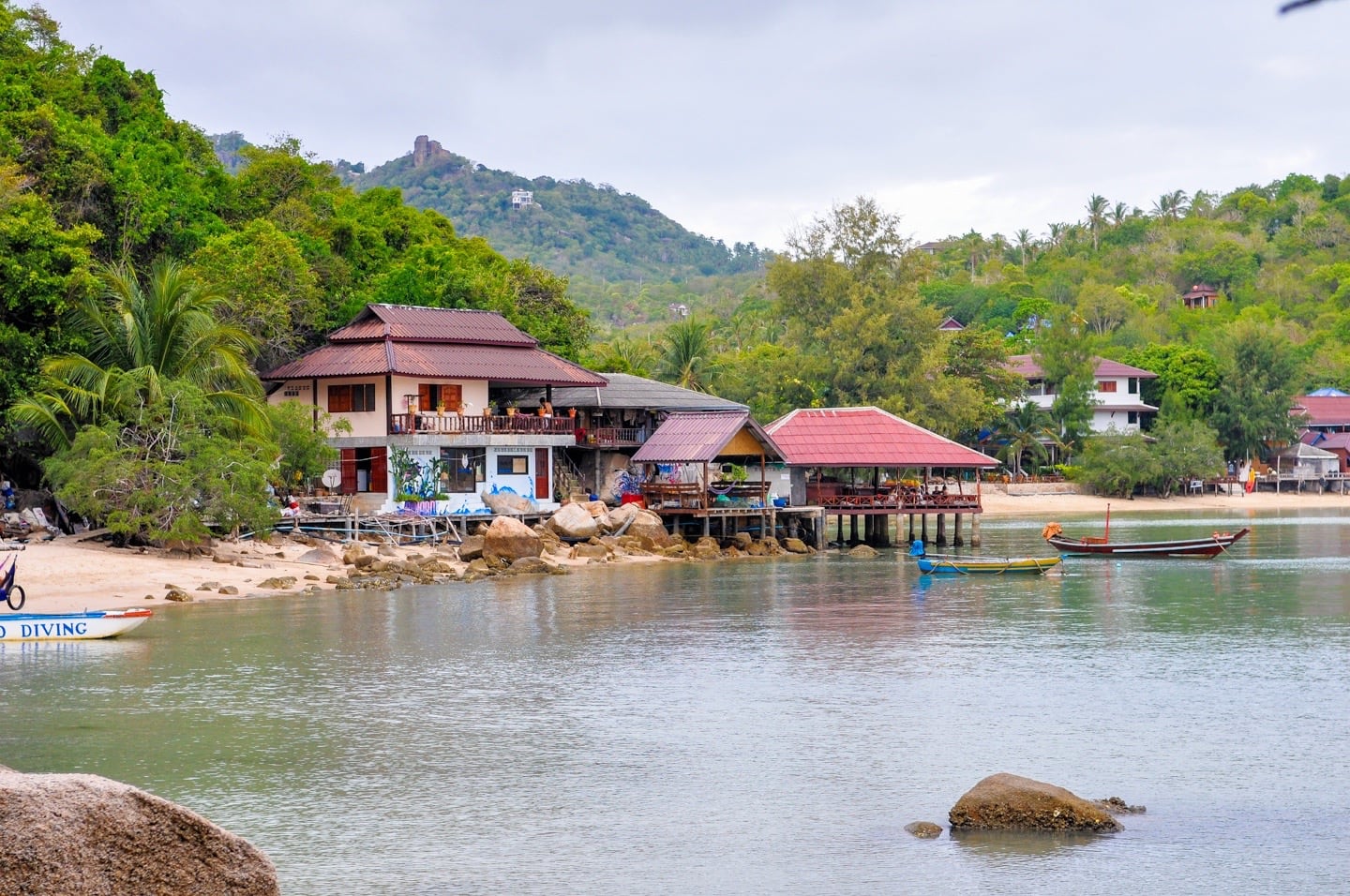 And of course, we took full advantage of the hammock back at our bungalow.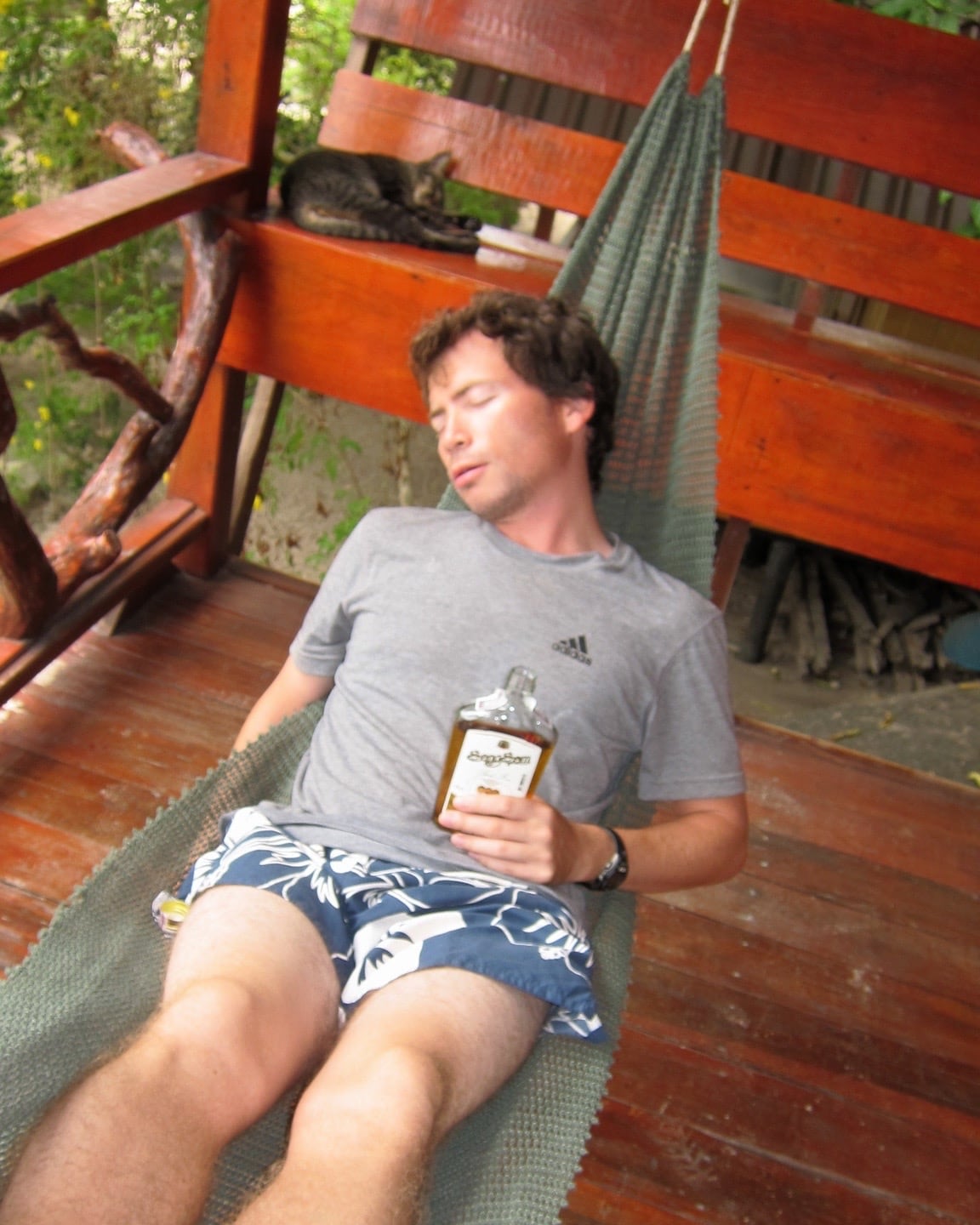 We mixed up a couple of Rum & Cokes to go along with the mood of the afternoon, though this photo makes it appear as if I may have taken a page from the reef shark playbook and gotten a bit territorial, myself.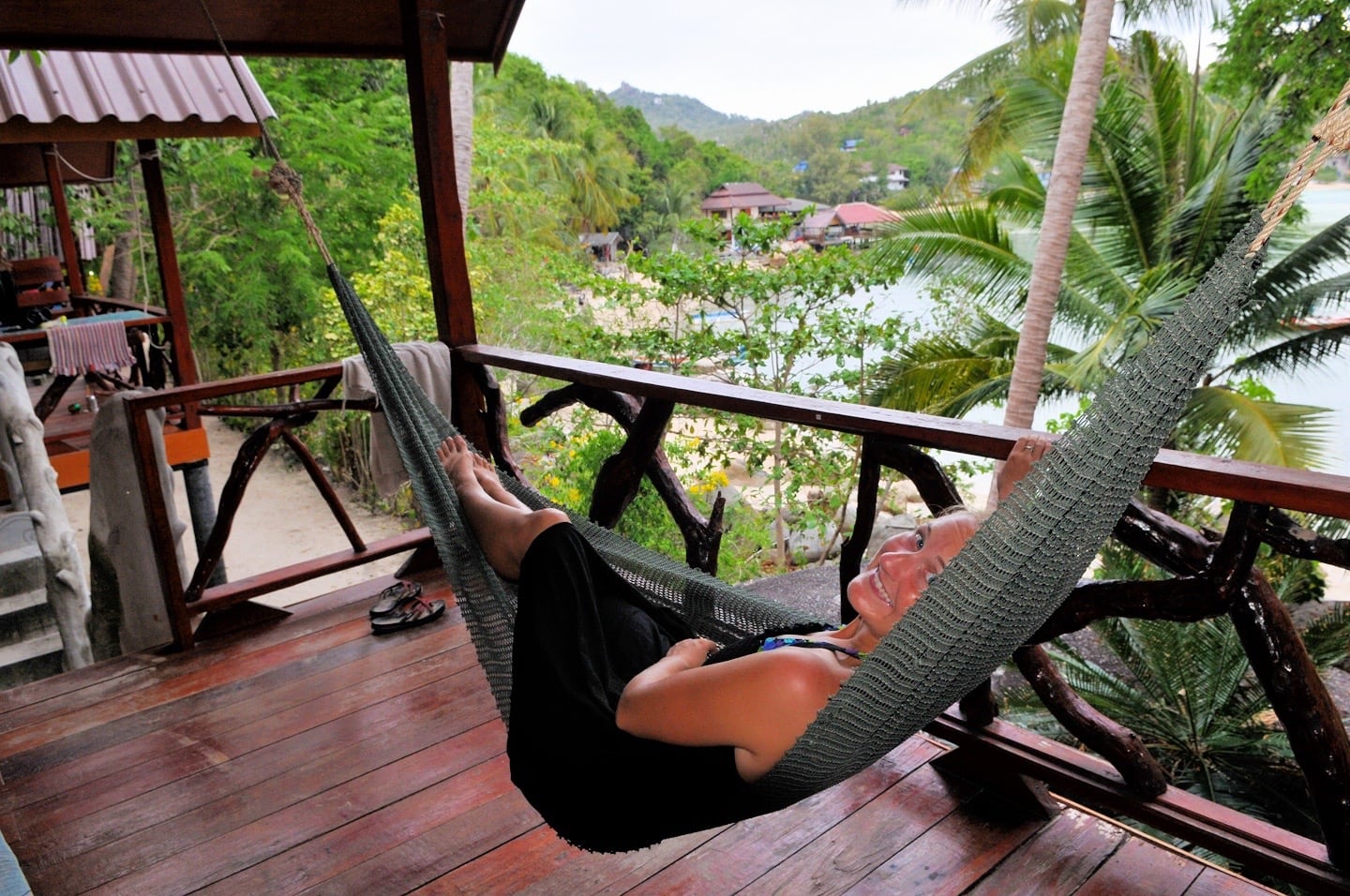 Thankfully, no rain tonight. Just a beautiful evening in paradise.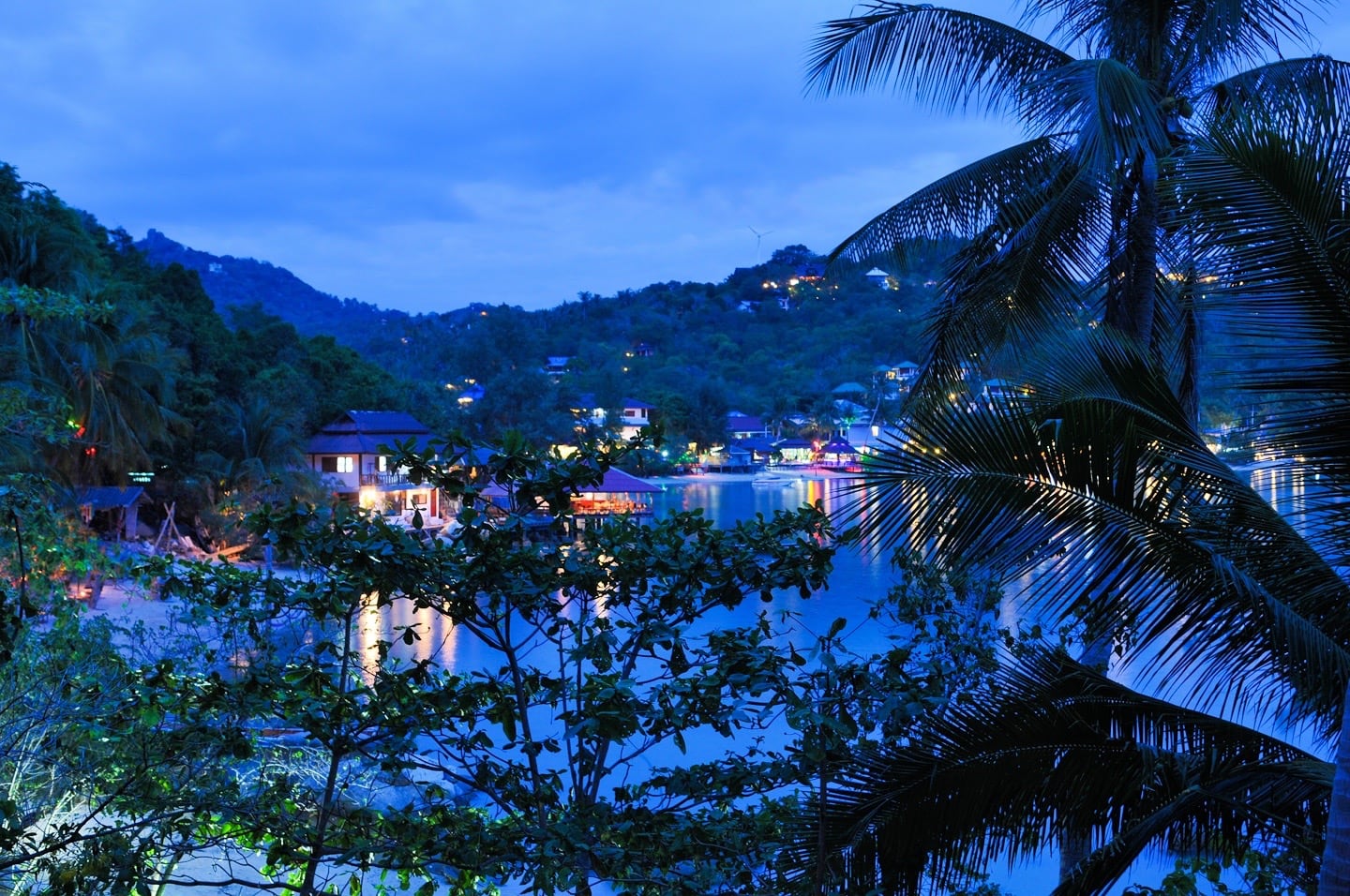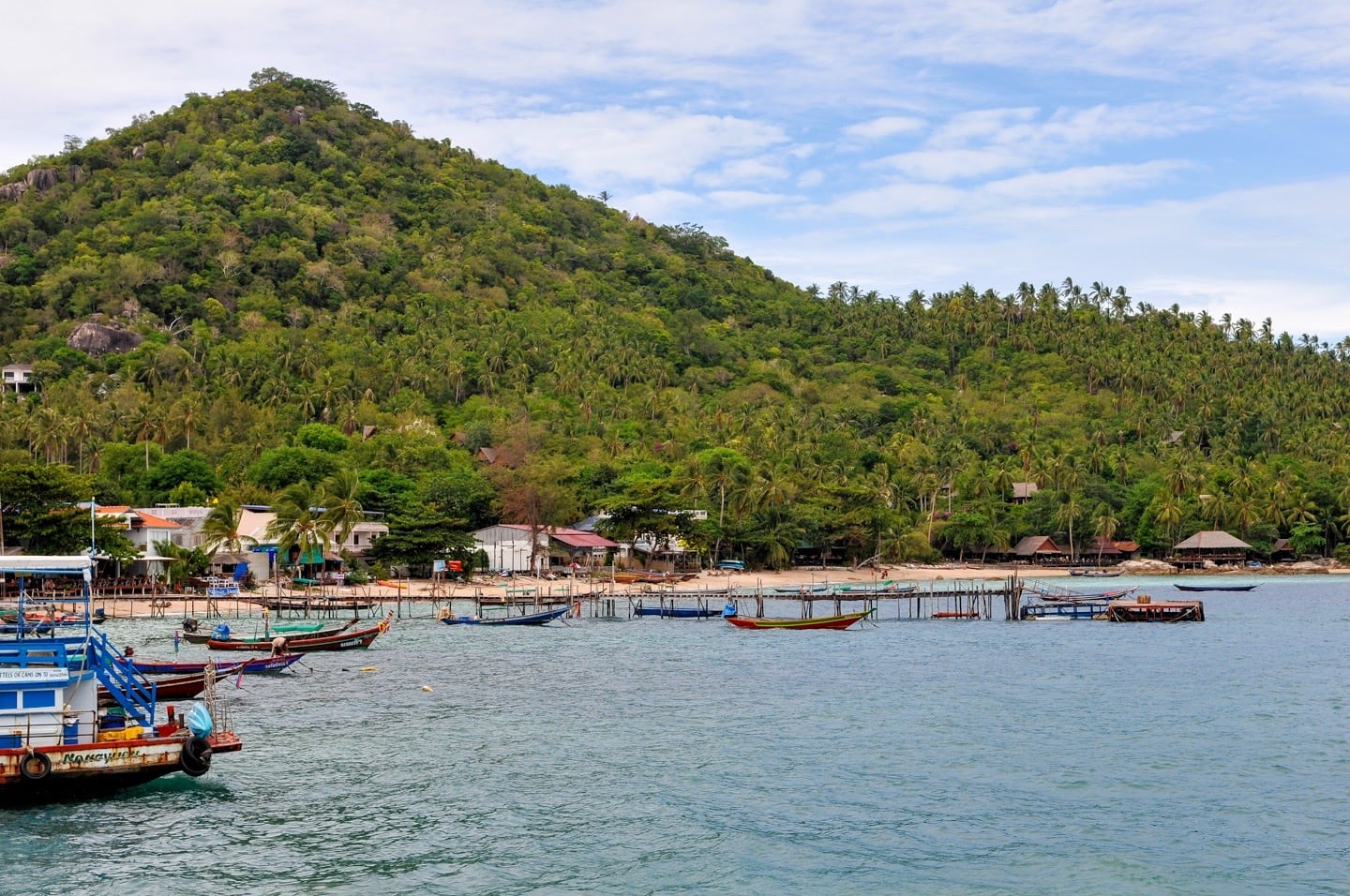 On to Koh Phangan
The next morning, it was finally time to bid farewell to Koh Tao, our island home for the past nine nights. We've loved our time here, but other islands and beaches await.
We made the [shorter] walk into town to Mae Haad pier to catch the ferry to the neighboring island of Koh Phangan.
On our way, we passed the freighter we took overnight from the mainland over a week ago and found ourselves a bit disappointed we weren't getting back on, but not enough to want to head back to Chumphon instead of onward Koh Phangan.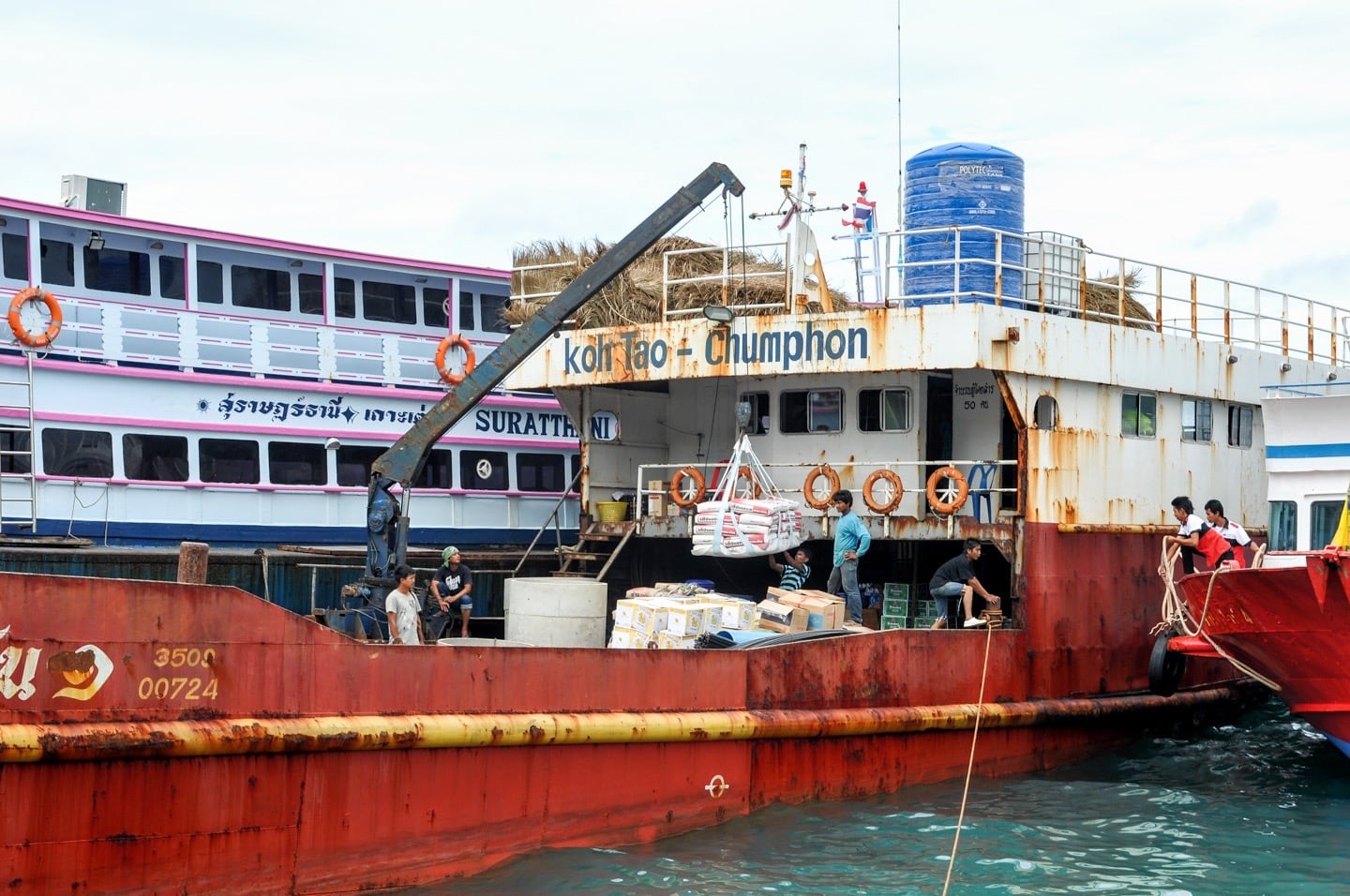 We'd be taking the SeaTran ferry from Koh Tao to Koh Phangan, basically the same thing, right?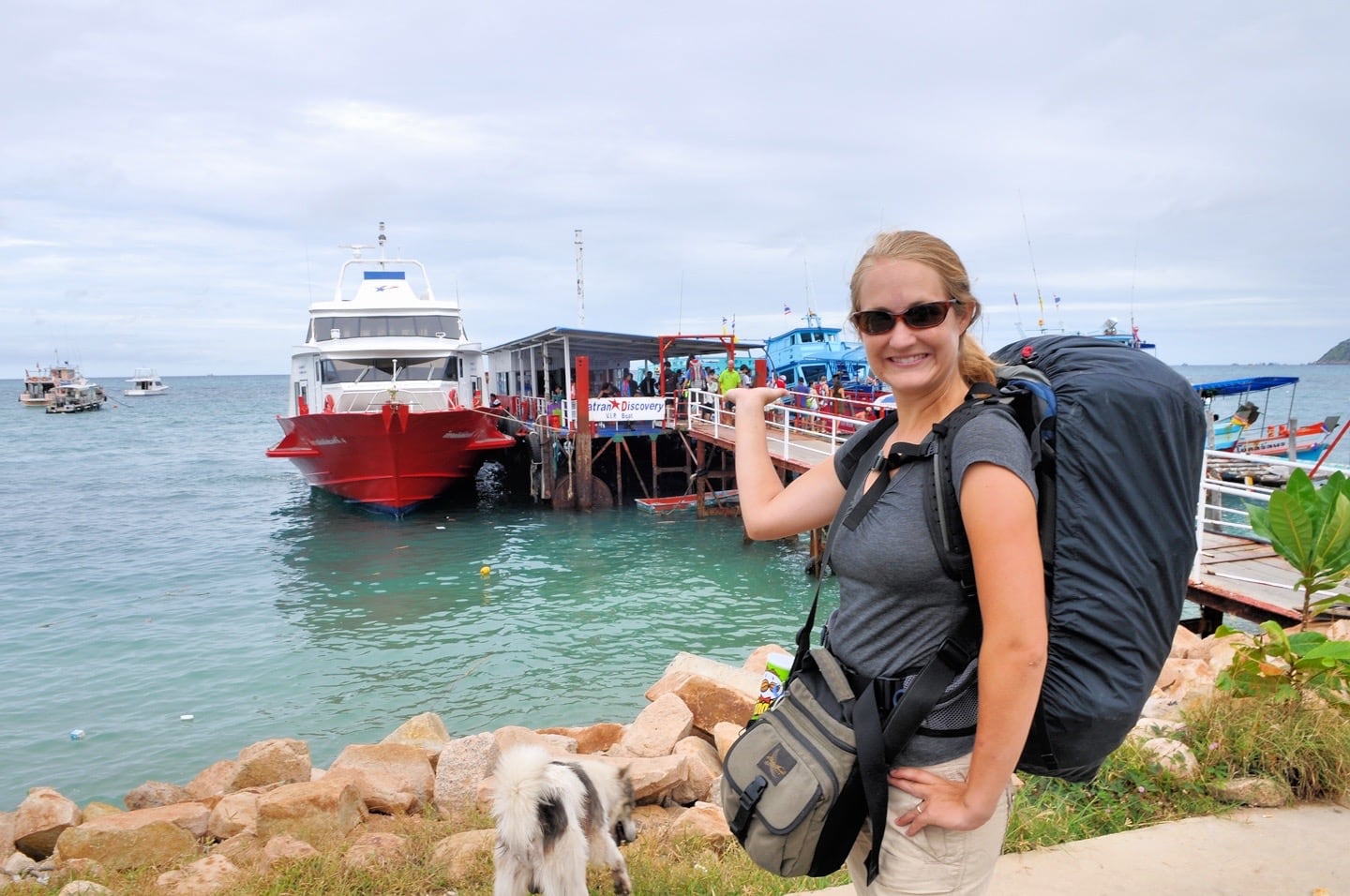 Hey, we could have taken the Fast Cat — if we weren't still trying to adhere to some kind of budget and didn't see the value in a slow voyage in calm seas.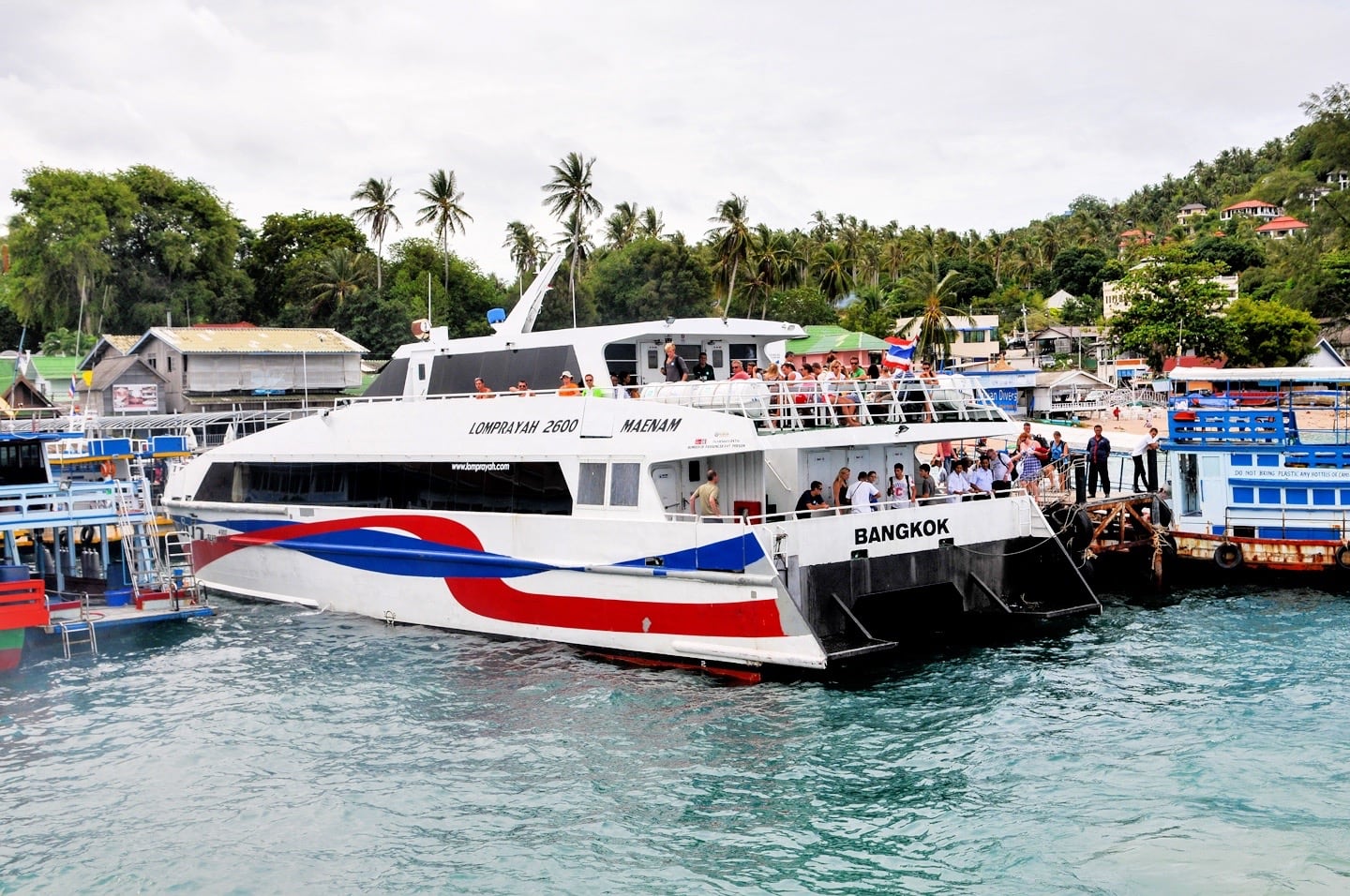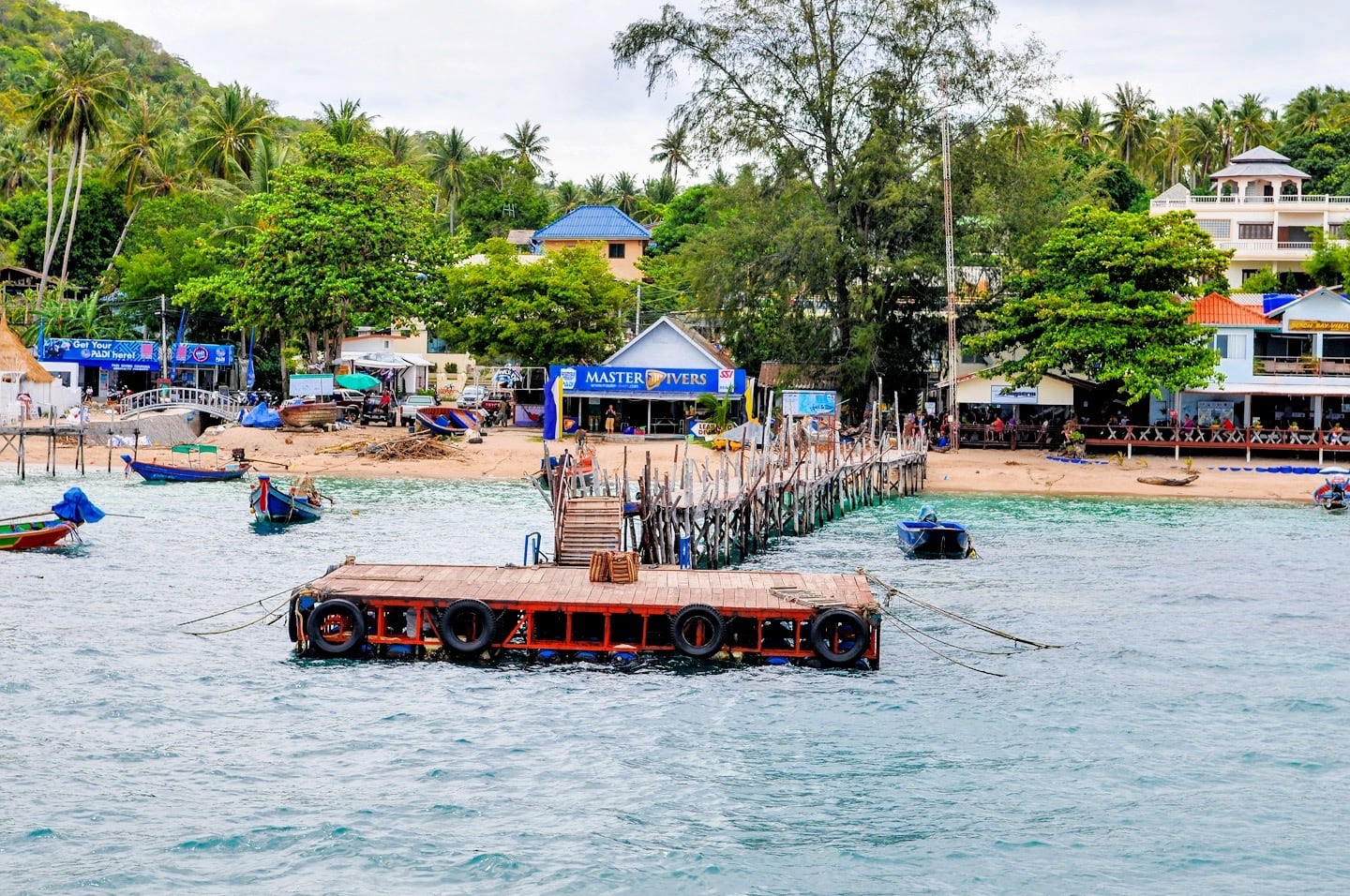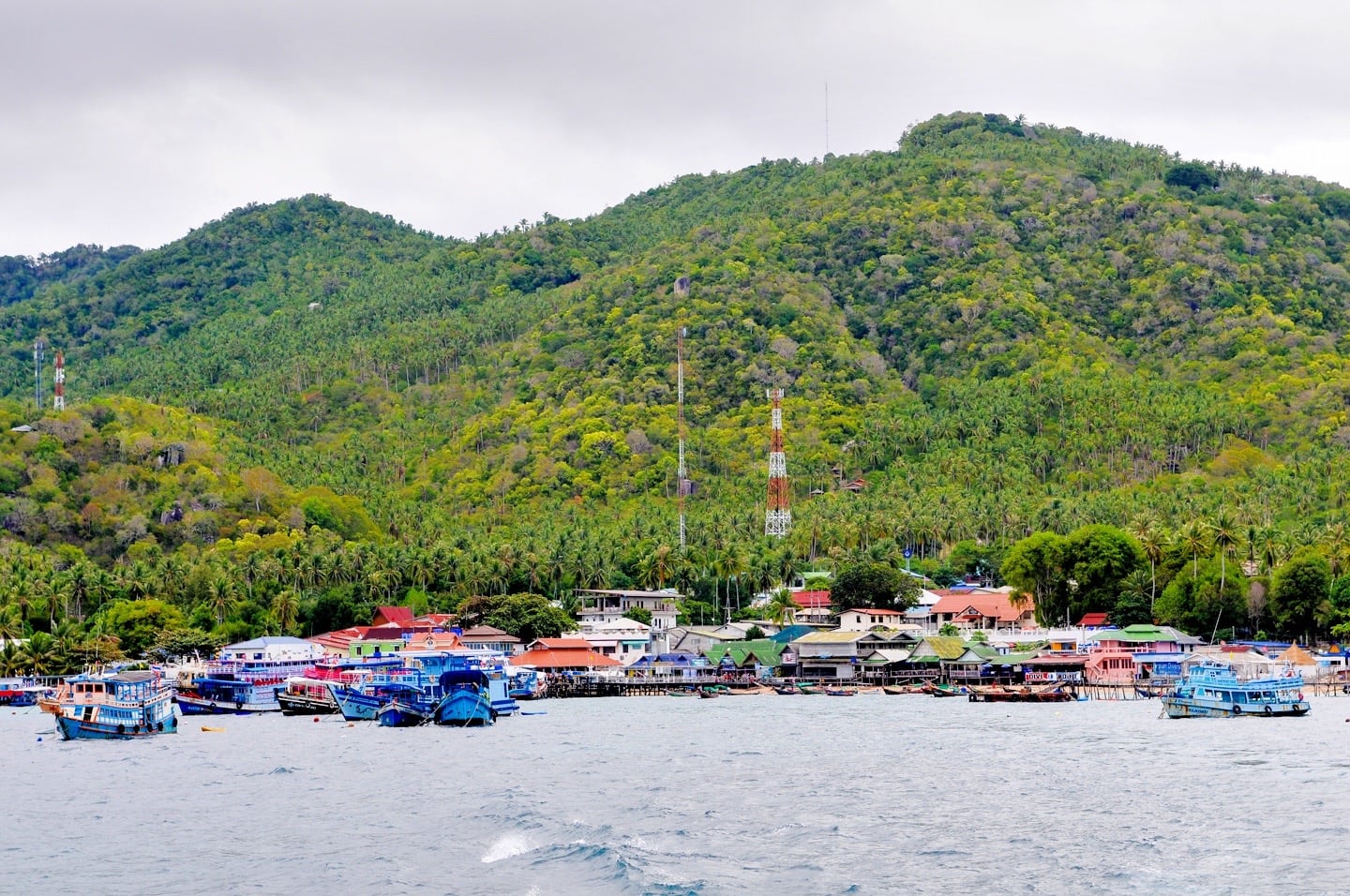 So long, Koh Tao!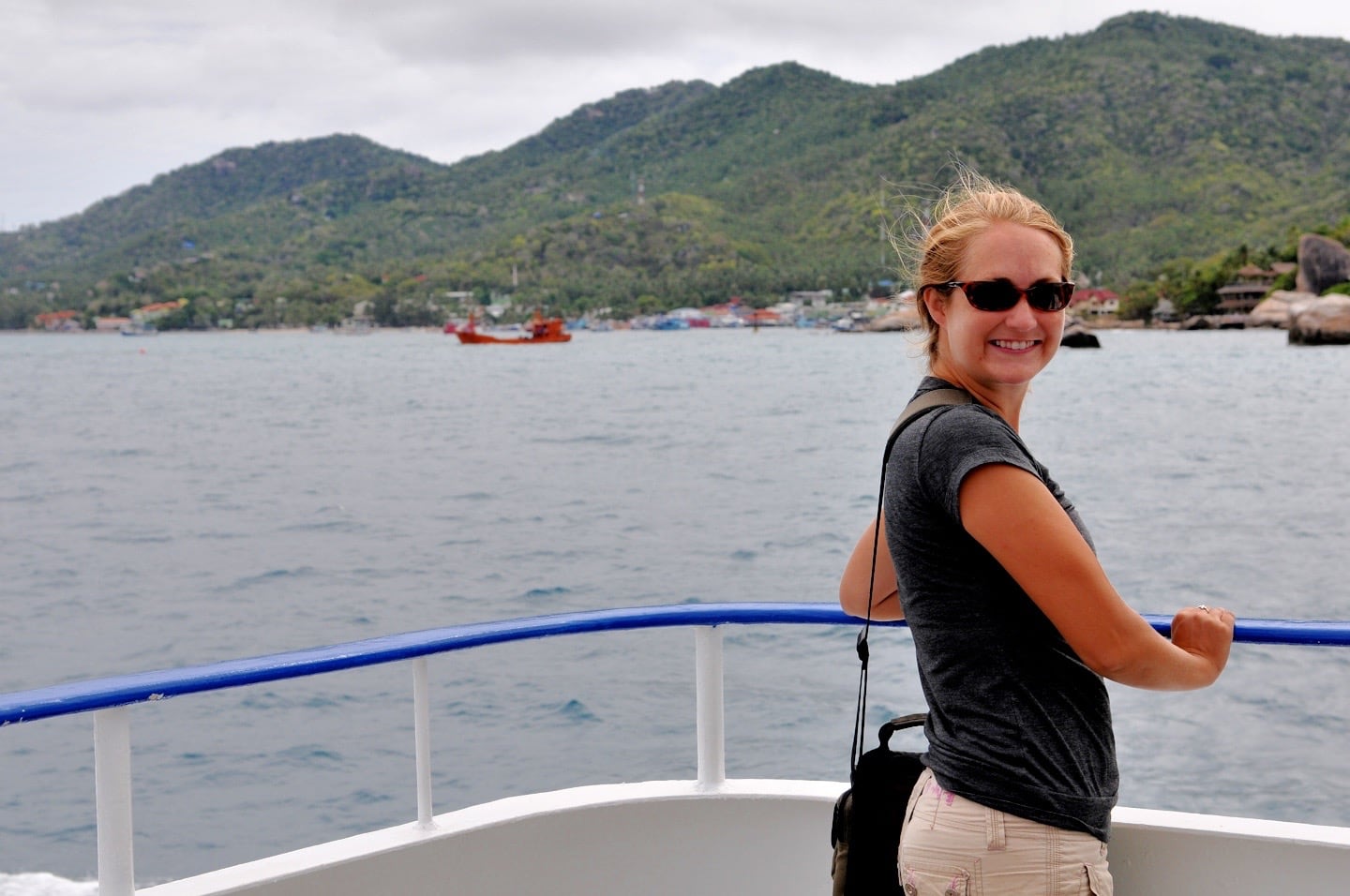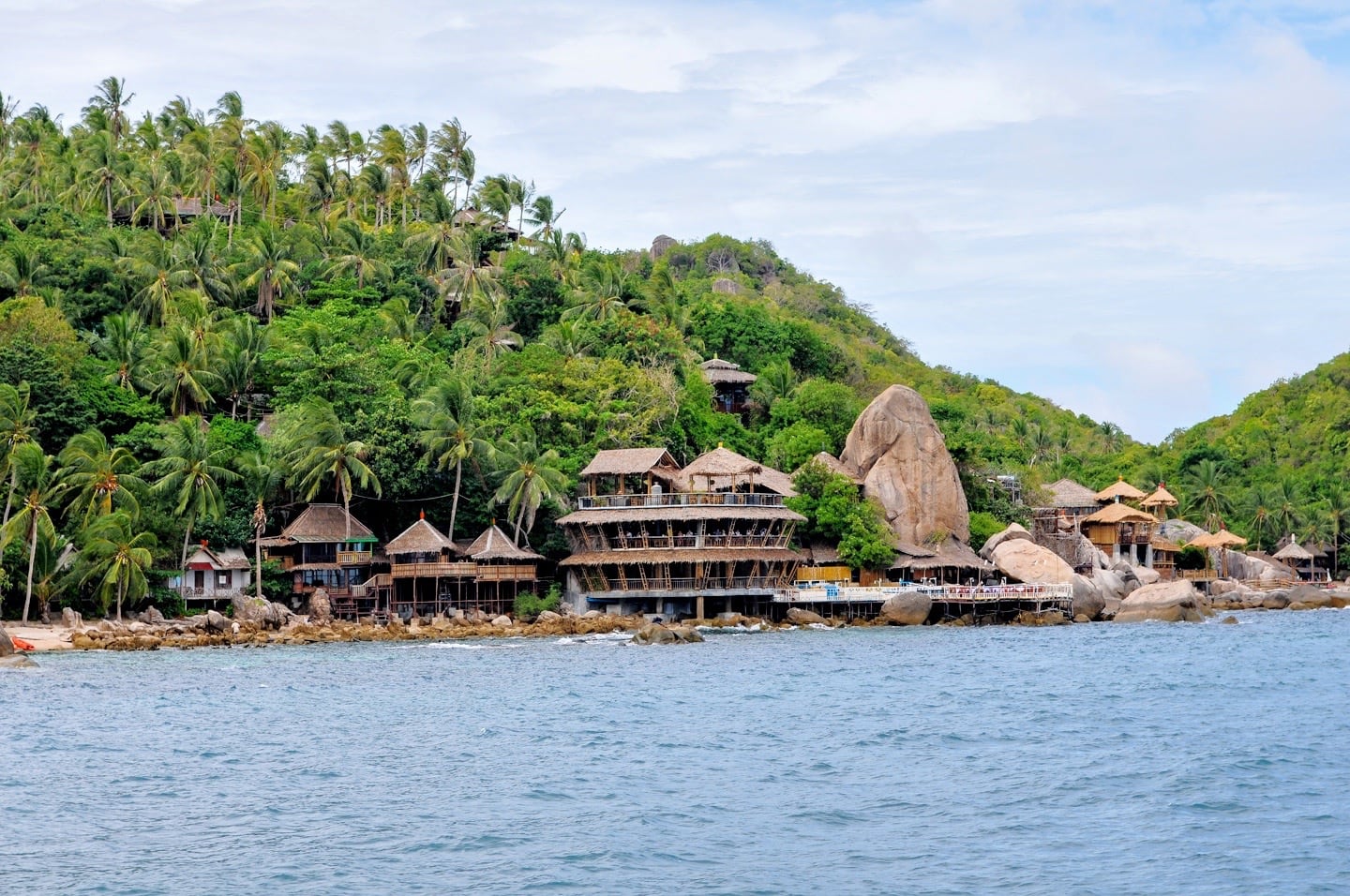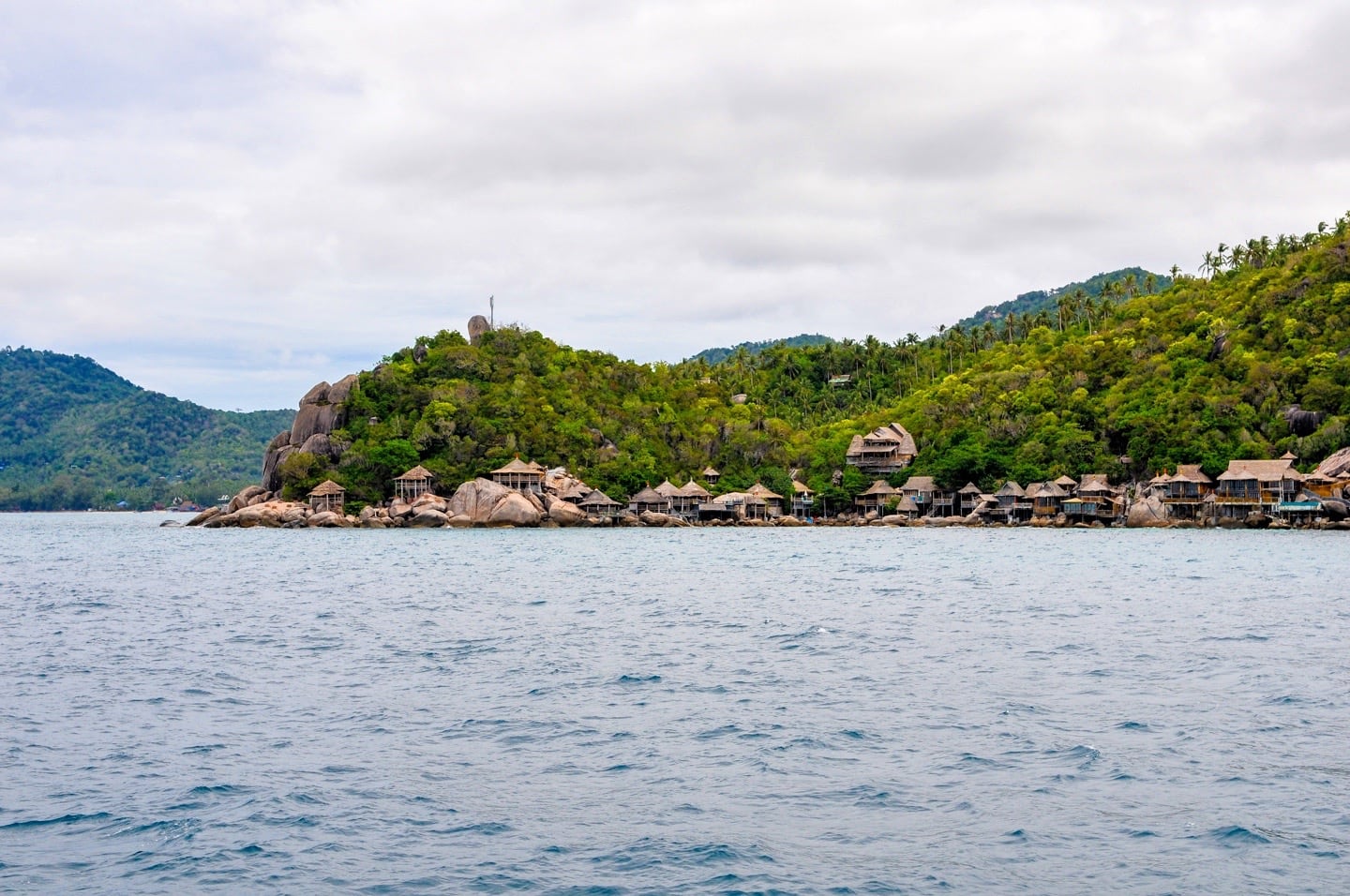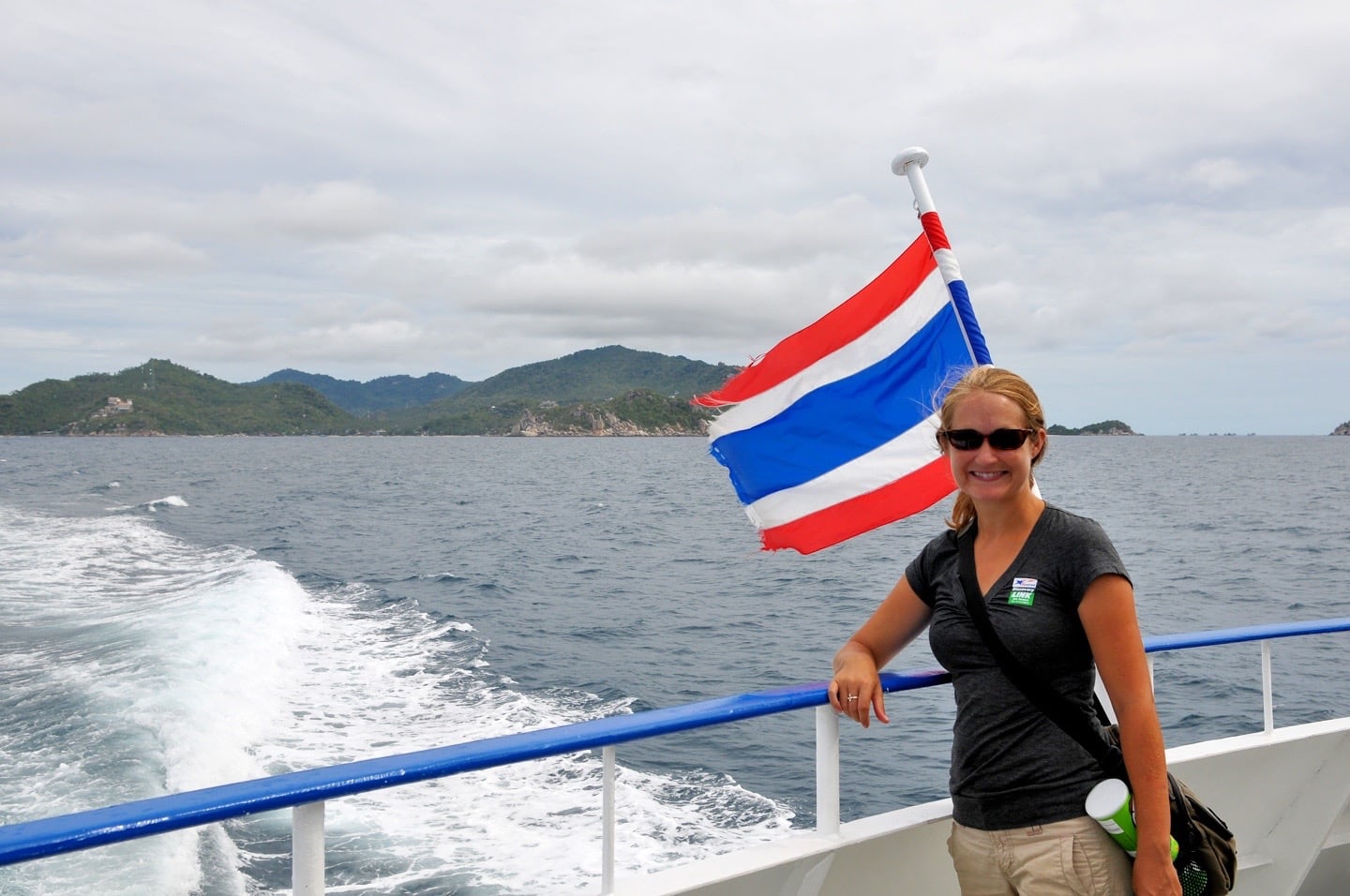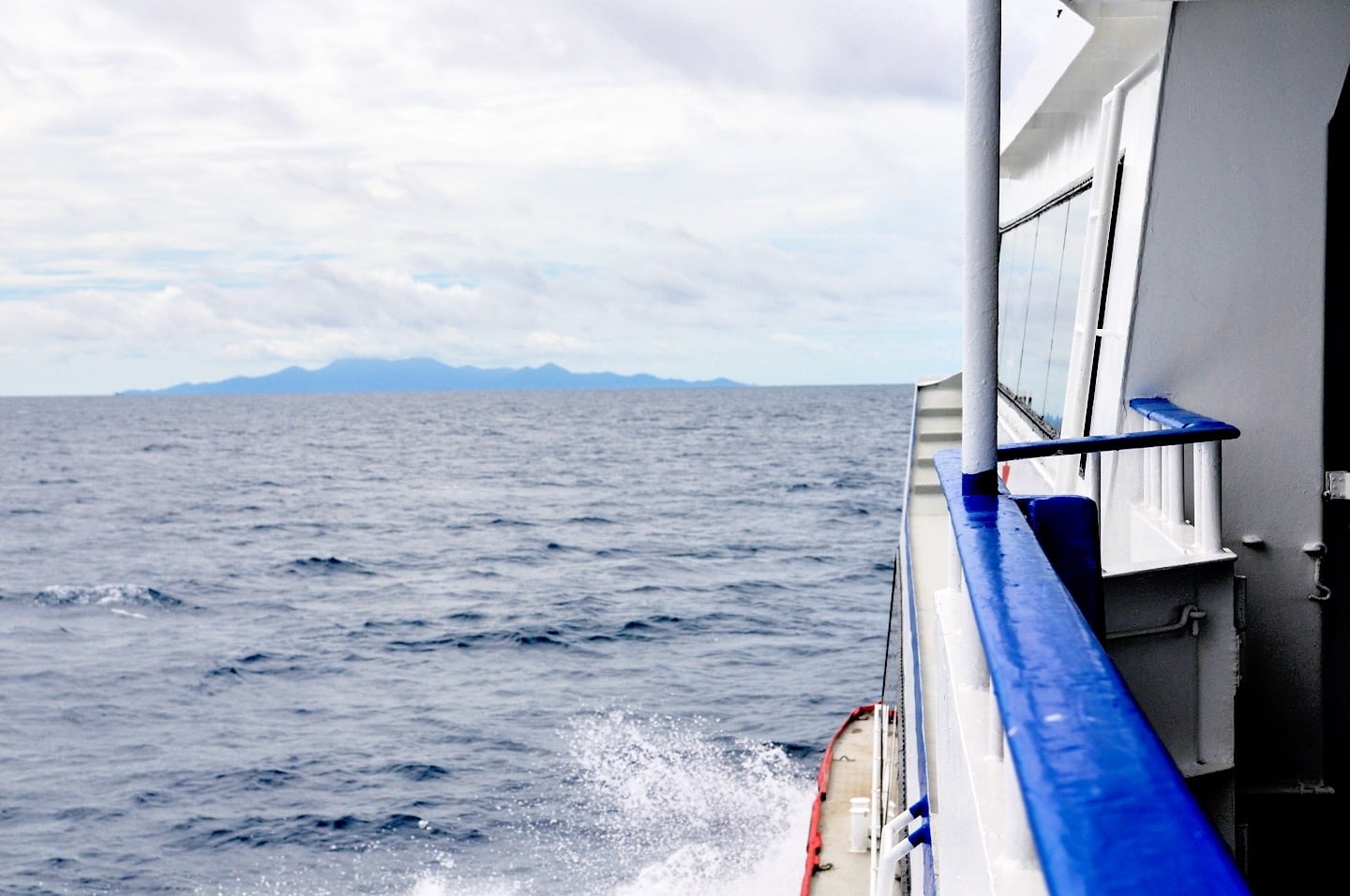 Places Mentioned in This Post
Sleep
Eat + Drink
And that's our trip report from Koh Tao's Chalok Bay!
Have you stayed in Chalok Baan Kao? Tell us about your experience in the comments below.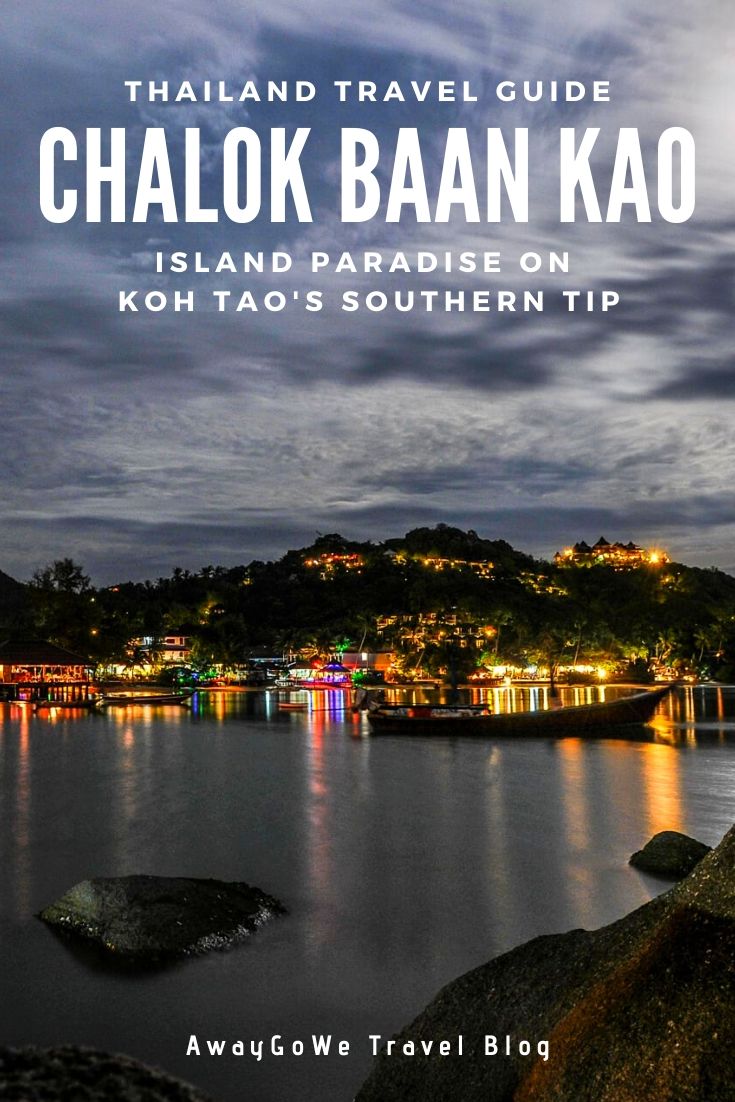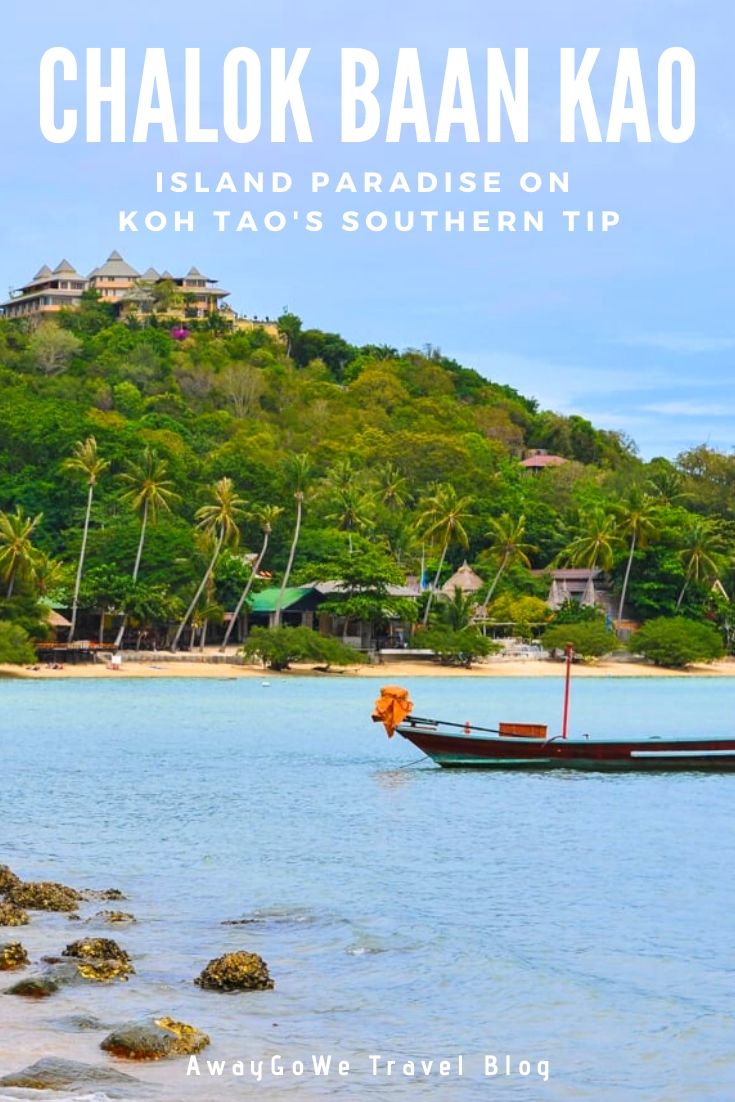 07 Mar 2020
30 Sep 2012
We use affiliate links and may receive a small commission at no extra cost to you. Learn more in our privacy policy.