If you're looking for an independent, real-world review of the Guava Lotus Travel Crib, you've come to the right place!
We used this portable crib continuously for four years as both a primary bed AND travel crib. Yep, you read that right, FOUR years — NOT with the same kid, of course. That would just be cruel and unusual.
As you might expect, we've learned a little something from all those months and miles under our belts, and want to share that with anyone else thinking of getting a Lotus travel crib.
So, here goes!
Lotus Travel Crib Review
The Ultimate Test
Guava Family Lotus
Everywhere Travel Crib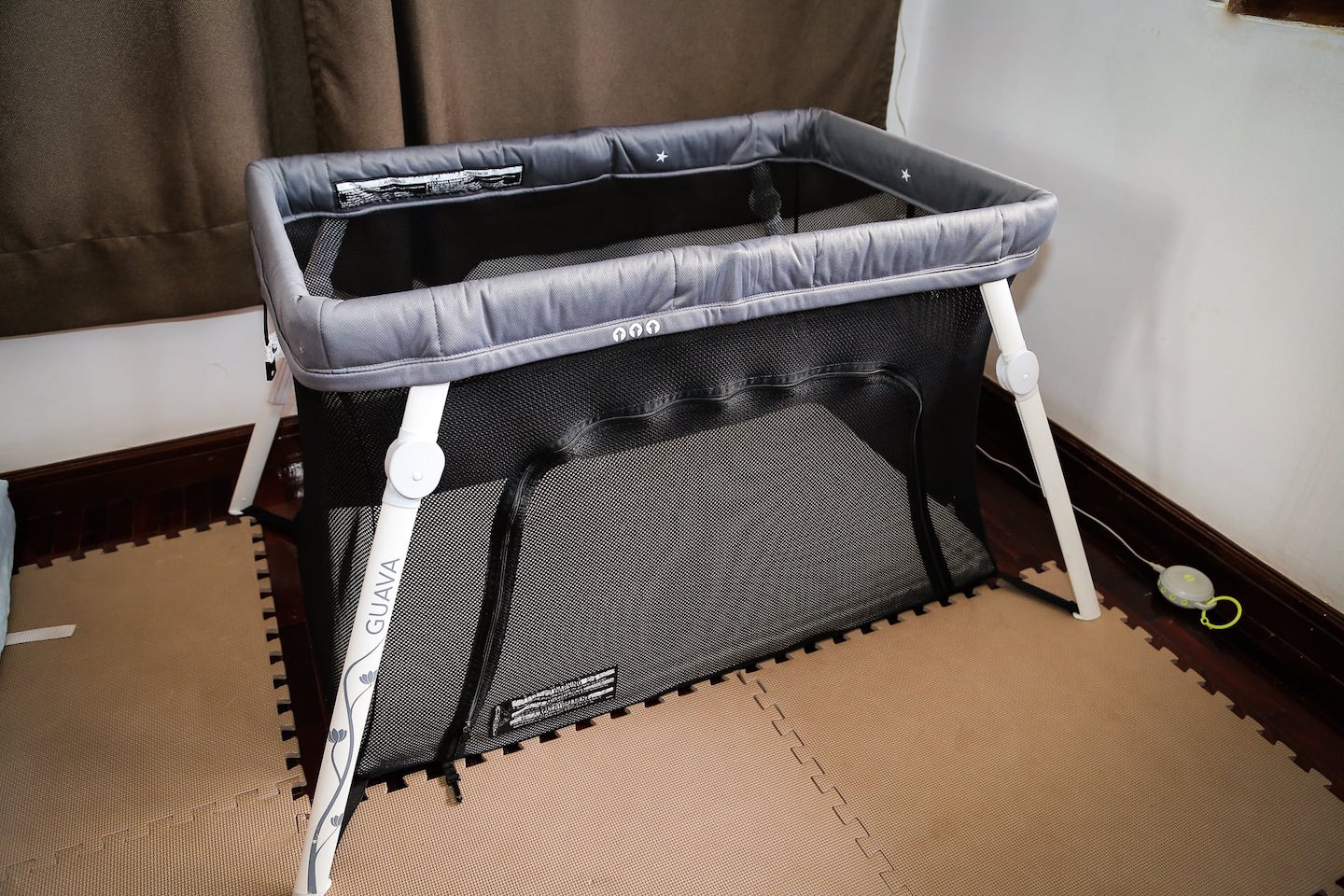 Why We Chose the Lotus Travel Crib
When our first son, Noe, was born, Lori and I knew we were moving to Southeast Asia in a few months to start a new job. We needed a crib that could double as an ultra-portable infant bed, and eventually a portable toddler bed, too.
Our criteria was simple:
The portable crib had to be lightweight and easy to setup and take down (for traveling with the kiddo), yet sturdy enough to be our son's full-time bed.
The thing also needed to be well-built to handle the rigors of daily use and abuse, but also large enough to serve as a travel crib for a toddler someday.
And, of course, it needed to meet basic safety standards for infants.
And that was about it.
After considering other similar cribs and play yards like the BabyBjorn Travel Crib Light and reading the latest Lotus travel crib reviews on Amazon, we decided to go with the Lotus crib.
What ultimately sold us on the Lotus crib (in addition to price and positive reviews) was the compact size, side zipper door, backpack straps, and overall build quality.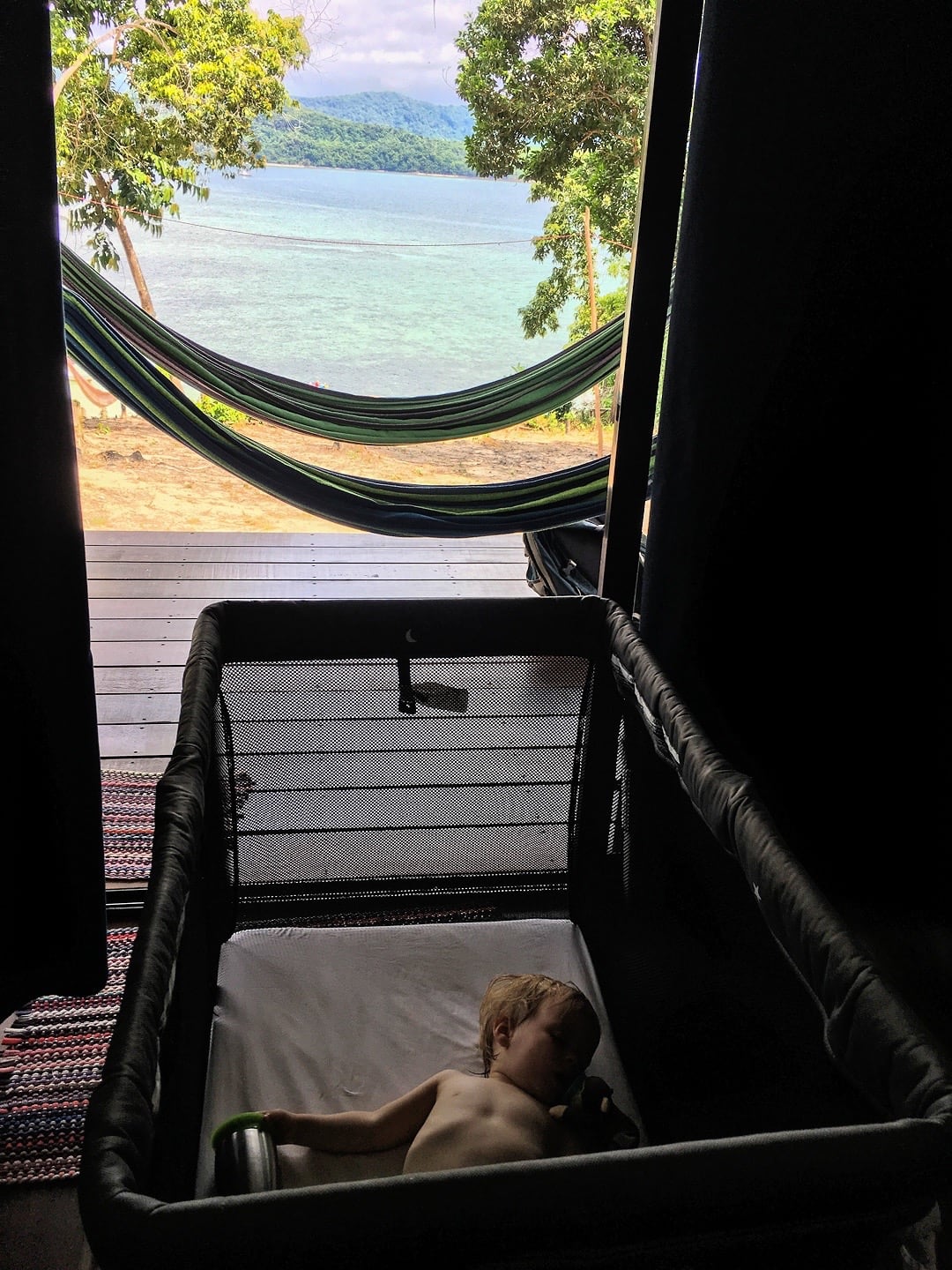 Our Experience with the Lotus Travel Crib
True to its name, the Guava Family Lotus Everywhere Travel Crib (that's one heck of a name!) has been everywhere with us — and when I say "everywhere" I mean it.
We moved to Laos when Noe was three months old, and—with the exception of a handful of nights on planes and a boat—he spent every night in this crib until the ripe old age of 2.5, when baby brother, Riley, moved in and Noe graduated to a big boy bed.
That includes dozens of budget backpacking trips throughout Southeast Asia, hotels in the U.S., and countless flights, buses, and boats along the way.
All the while, our son's portable crib was traveling right alongside us.
So how did the Lotus travel crib held up?
Read on to find out.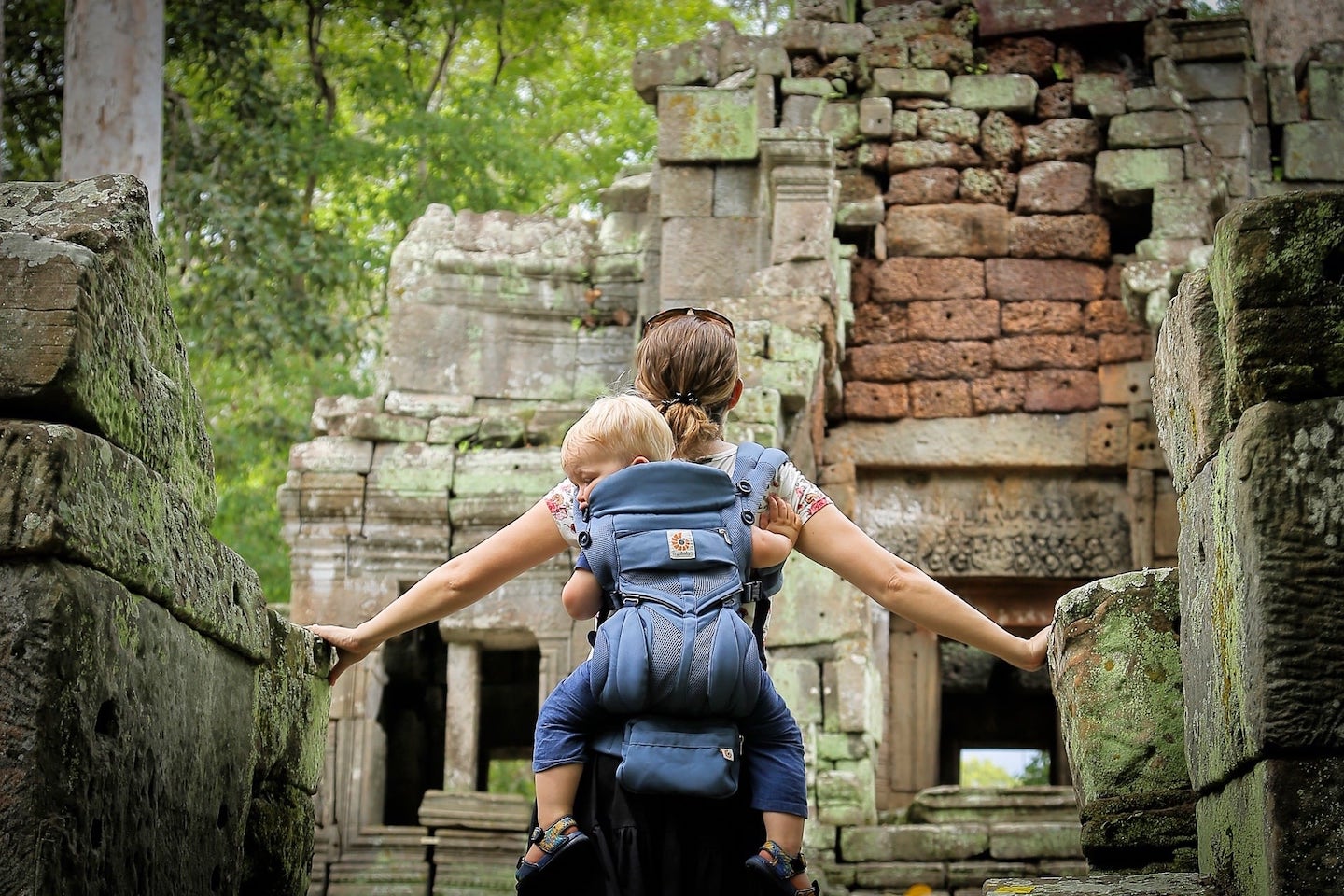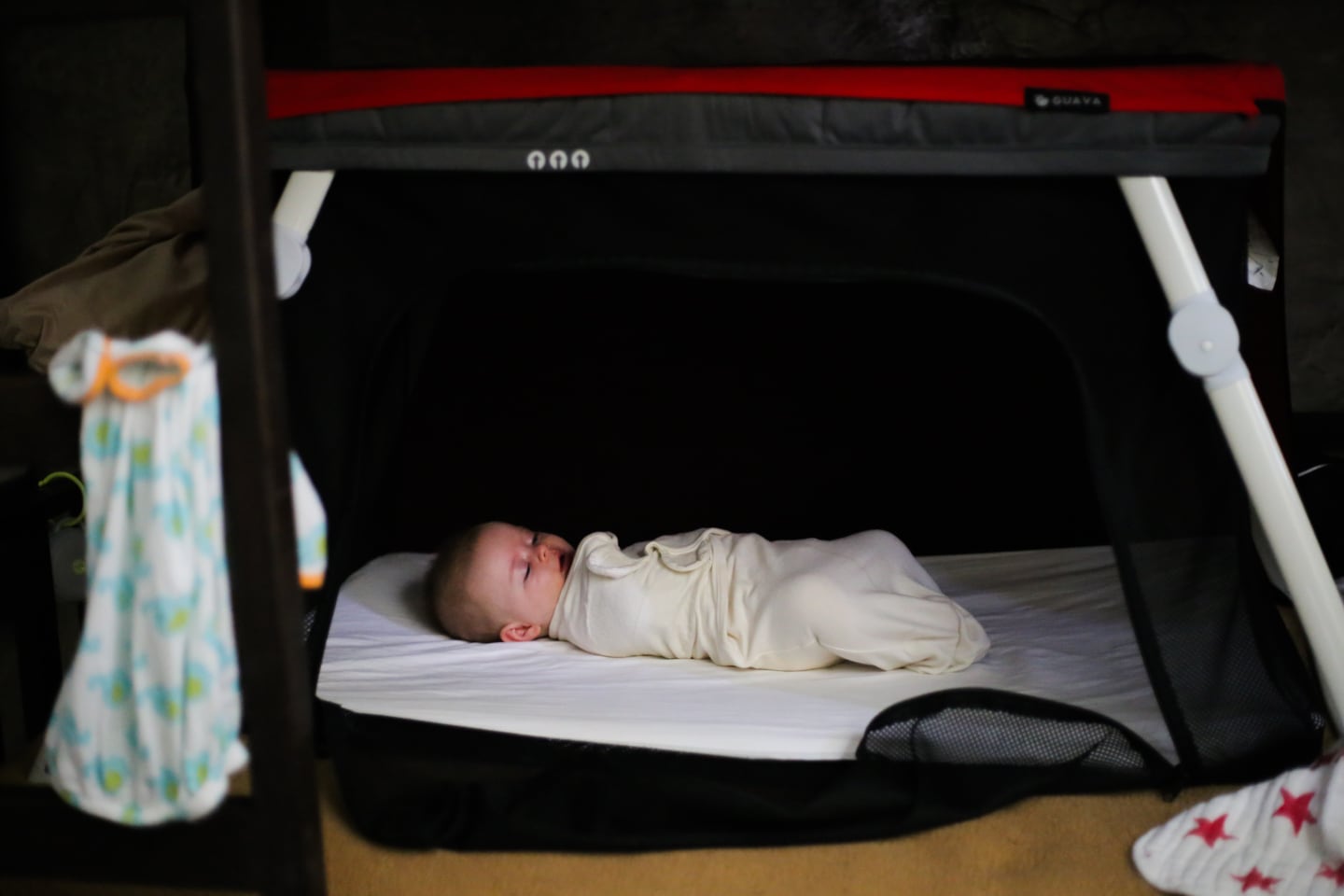 Lotus Travel Crib Review — Pros (+)
Quick and Easy Setup (and Take-down)
When I first took the Lotus crib out of its package, it took about 10 minutes for me to initially figure out how to assemble and disassemble the thing.
Now, it takes me about three minutes to set up (including attaching the bed sheet — more on that later) and less than a minute to collapse and put the travel crib in its carrying case.
There are two hidden safety releases which must be squeezed at the same time to make the lightweight metal frame fold up for packing.
In order for the crib to fold successfully, each side must find its match, aligning moon to moon, star to star.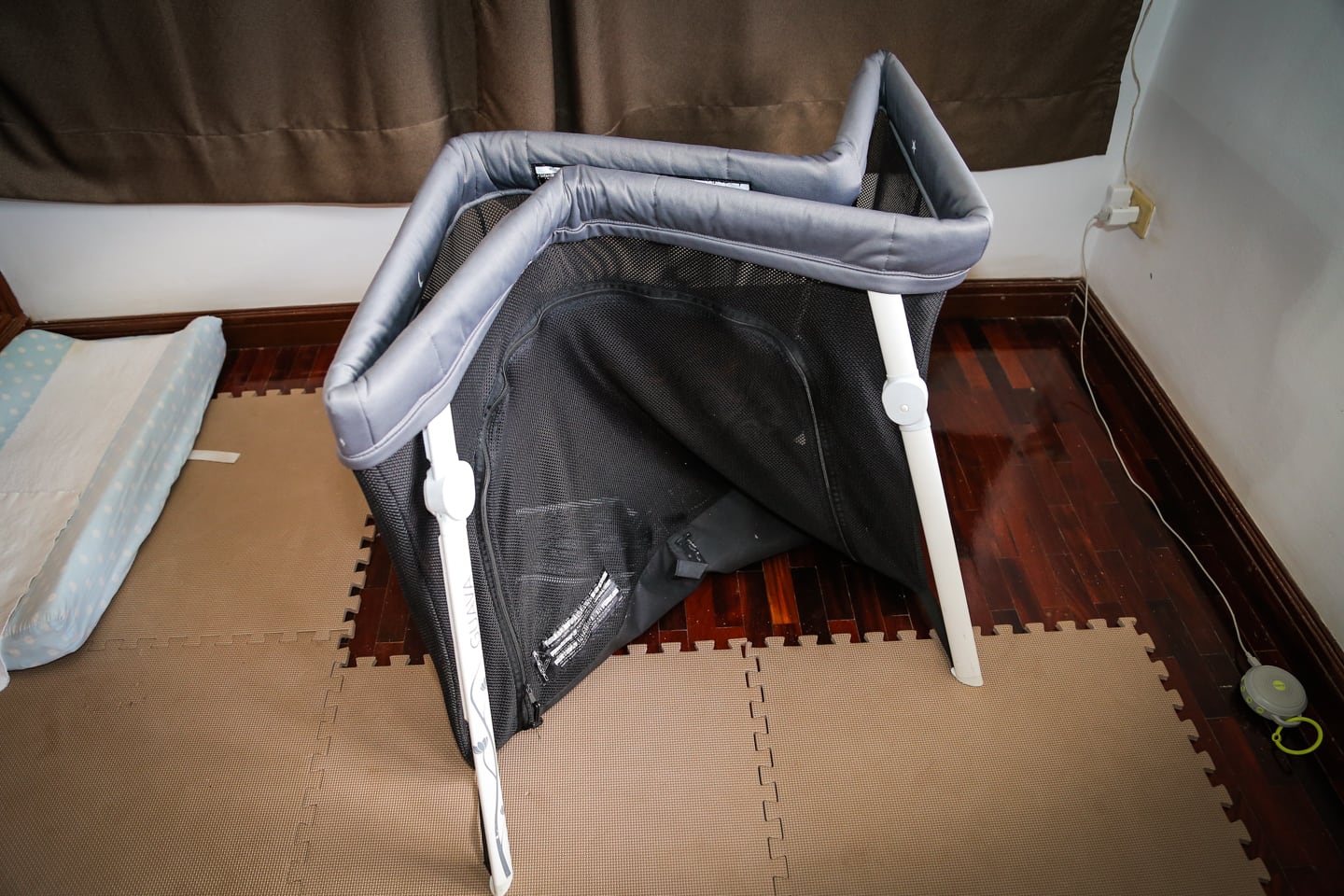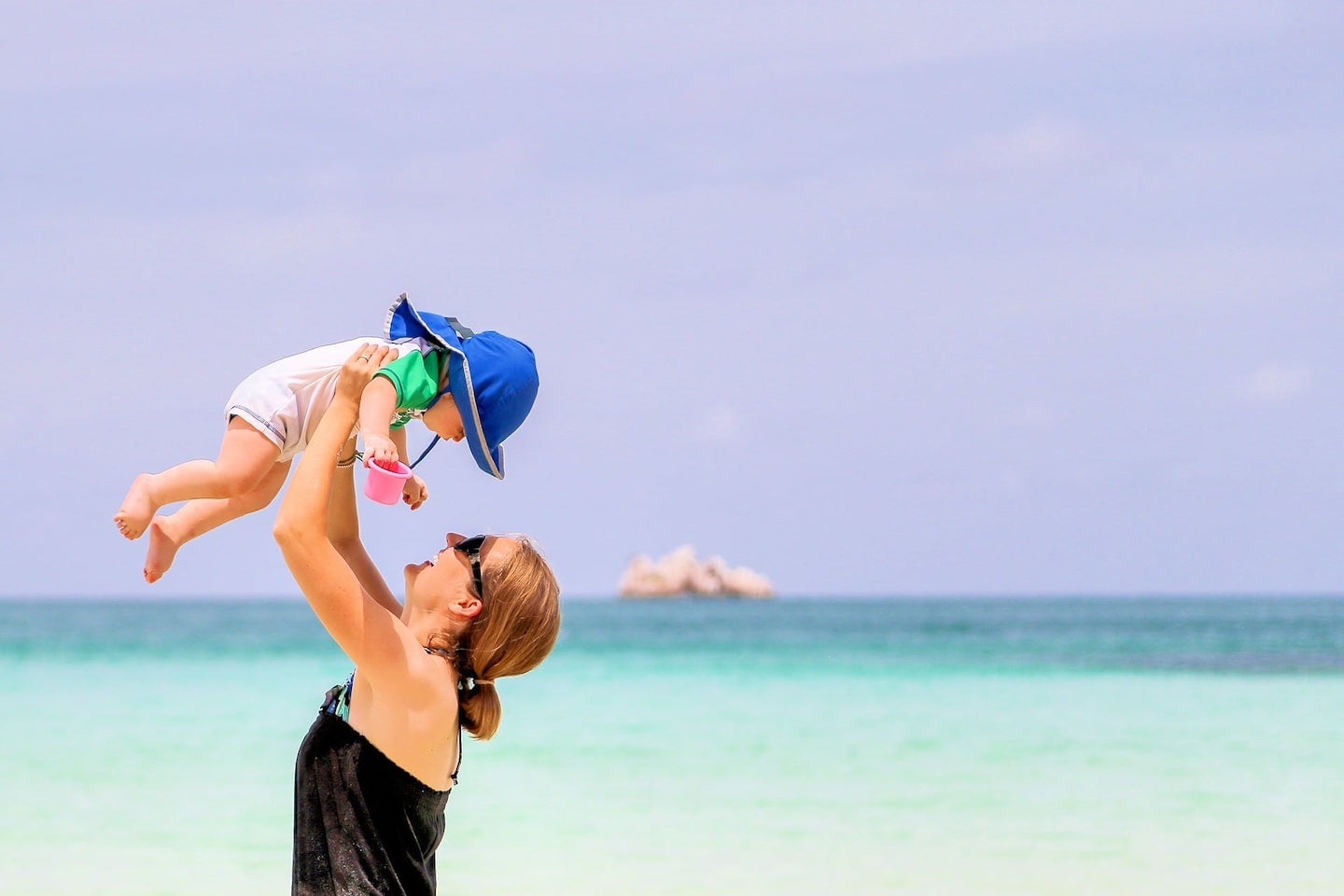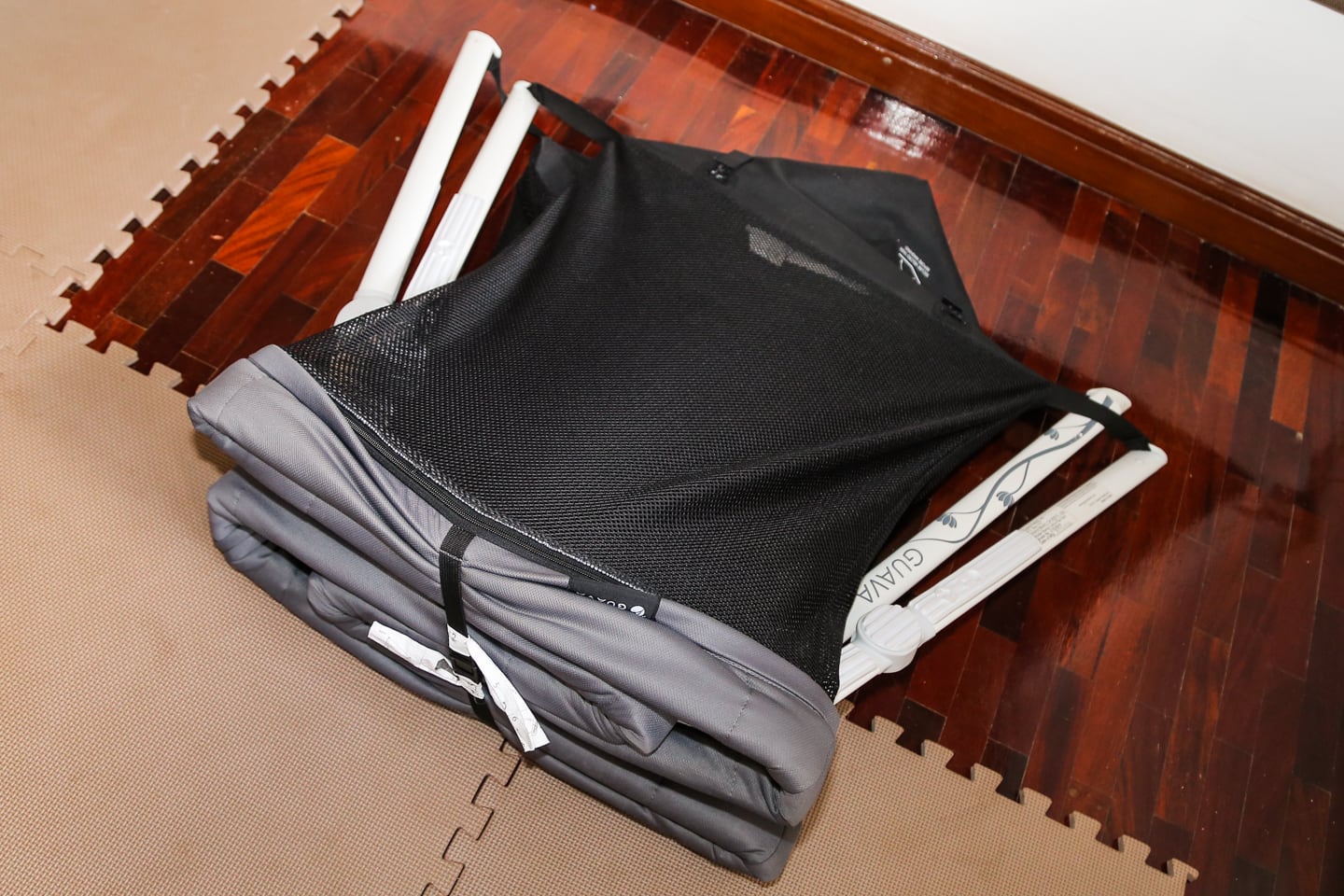 Once the crib is folded flat, the four legs can be folded up by pulling out/down, then folding.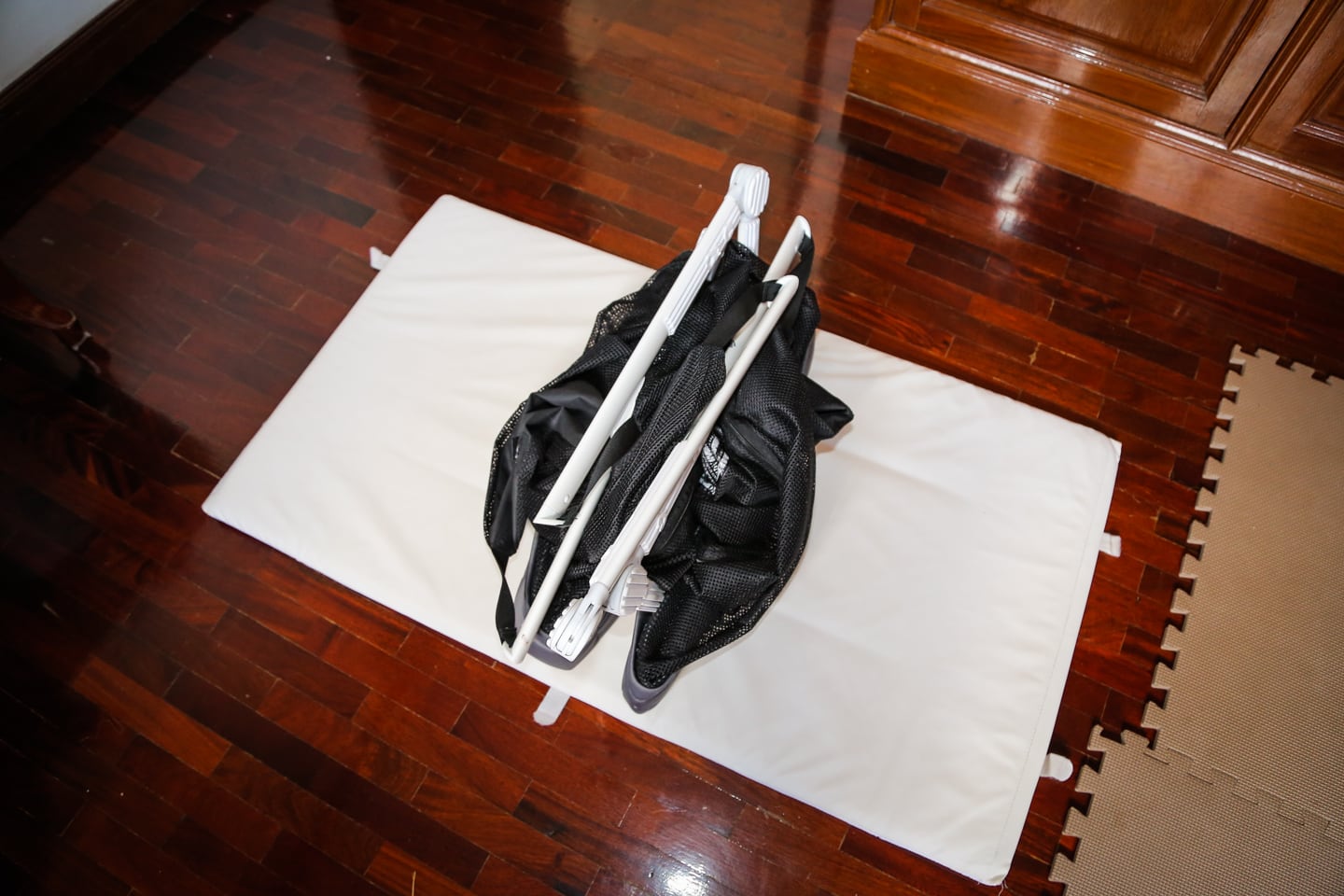 Folded crib goes inside the bottom pad (like a hot dog), then slides into the nylon carrying case.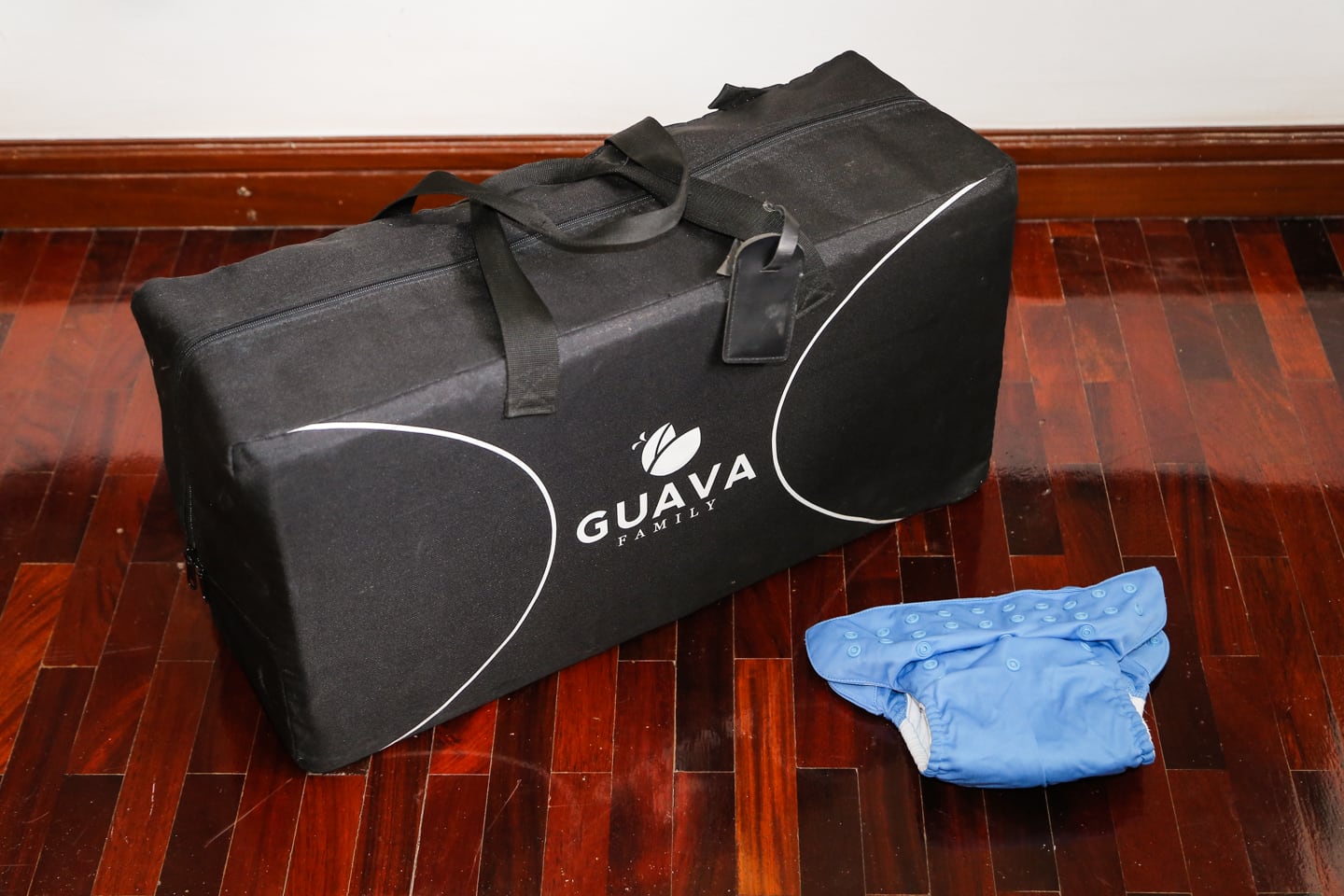 I've included the diaper here, not so much to add some flair (though I do think it adds a nice little touch of reality), but rather to add some sense of scale of how compact the ol' portable crib is.
Convenient Side Zipper
The Guava Lotus travel crib has a number of helpful features that we like. One of our favorite features is a convenient side zip door (for easy access to your little troublemaker)…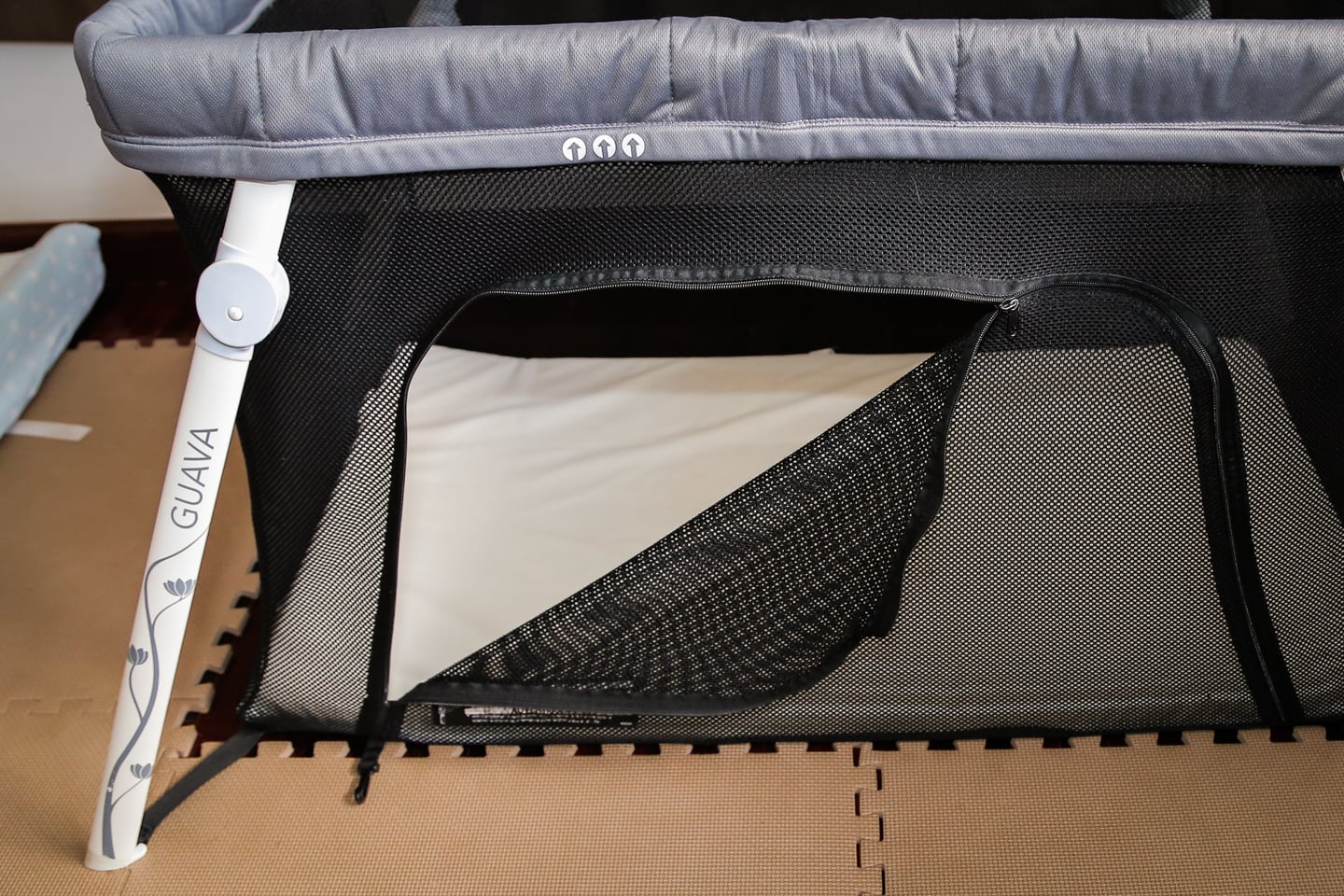 …and a zipper "lock" to keep said-troublemaker from not getting into more trouble, and help mommy and daddy sleep better at night…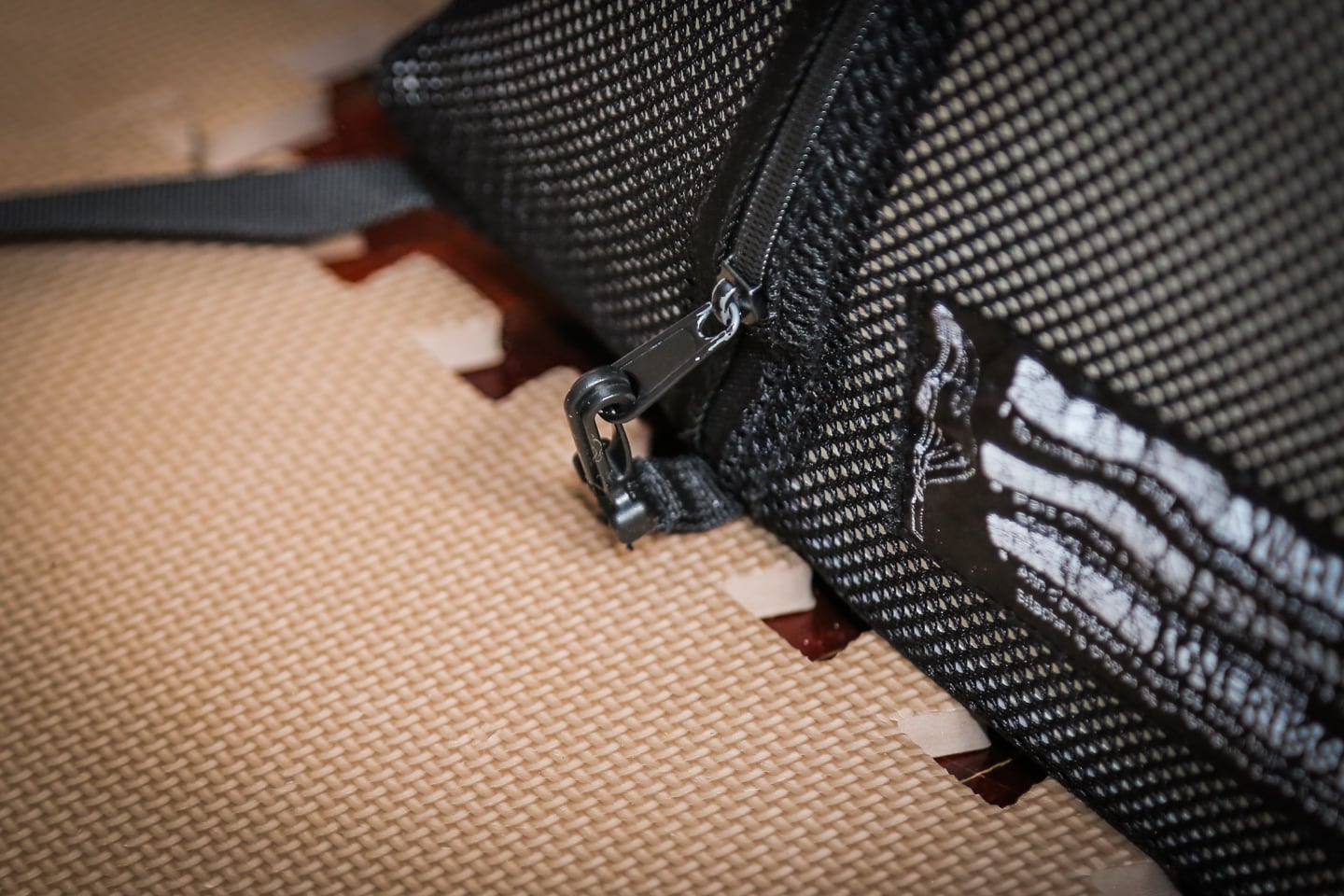 …or during the day…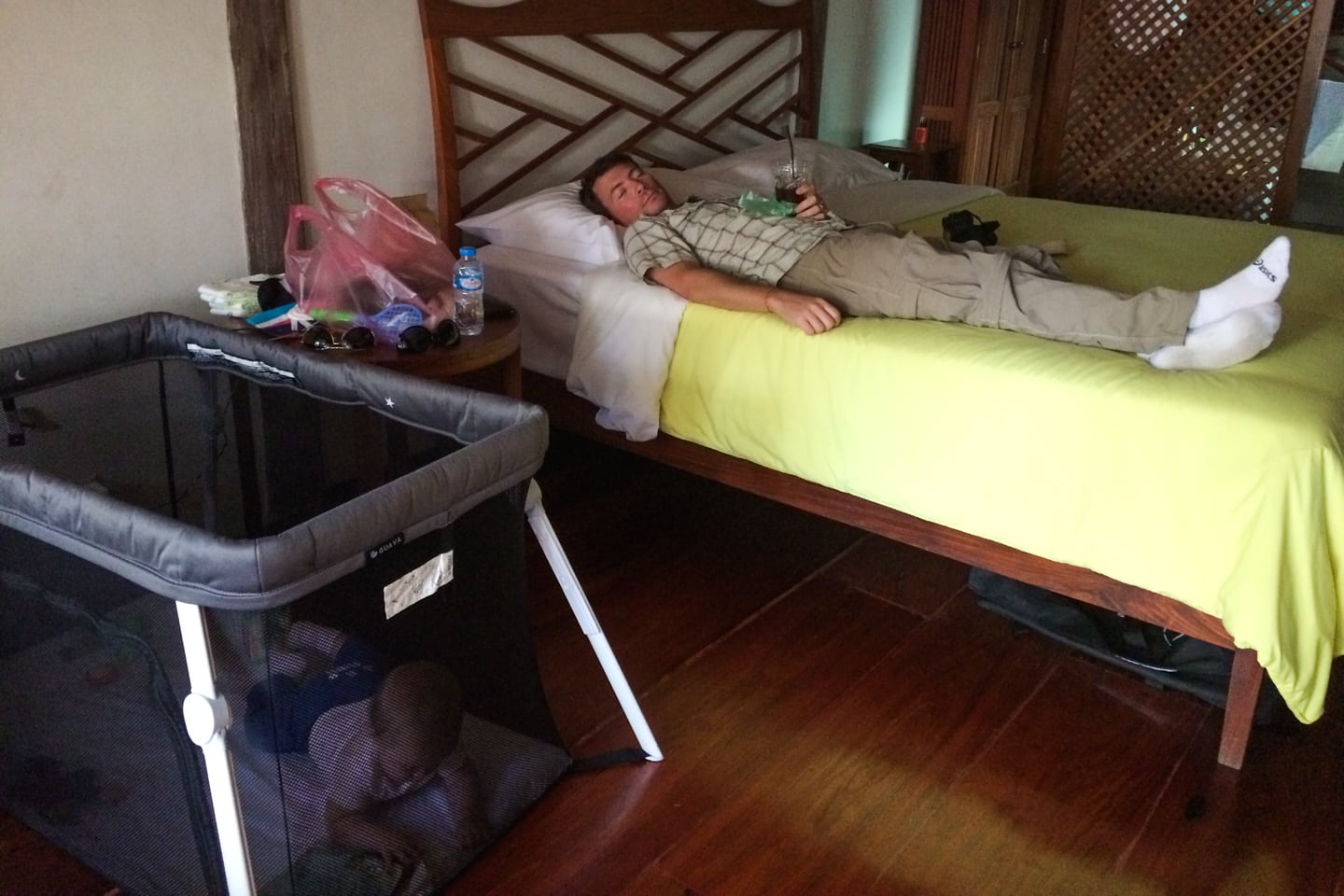 Lightweight AND Built Like a Tank
Obviously, the big selling point of any travel crib is its portability. Or, at least, that's the idea.
In addition to being portable, we also wanted something that would stand up to both the rigors of both travel and daily use.
Many parents we know had Pak 'n' Play cribs, which they were very happy with. But they were just to big, bulky, and heavy for our needs.
Others swore by the BabyBjorn Travel Crib Light, which lacked the side door and seemed a bit too lightweight for the durability we wanted.
The Lotus travel crib seemed to strike a balance between the two, which was perfect for our needs.
Easy to Clean
In addition to its portability and strong, yet lightweight construction, the Lotus crib is really easy to clean.
The whole soft shell zips off of the frame for easy machine washing, the vinyl pad makes cleaning up spills and other nastiness pain free, and the 100% cotton sheets are what you'd expect.
Lotus Travel Crib Review — Cons (-)
Velcro System Could Be Improved
As mentioned above, it takes me 3-5 minutes on a good day to completely set up the crib. It would actually take me a fraction of that time if it weren't for the six velcro tabs that hold the sheet and pad securely in place.
But it's nice to know that no matter how hard the kid tugs on it or rolls around, that sheet ain't going nowhere.
2nd Kid Addendum
Our first son in his 2.5 years of residency never achieved this, but our younger son at 19 months is something of an animal, managing to yank the pad up occasionally. It's worth noting that, as you might expect, the velcro has weakened a bit over the past four years of use and abuse.
If Guava Family did happen to come up with a quicker-release system that didn't sacrifice the sheet and mattress' firm connection to the base of the crib, I'd be very happy.
On the other hand, if I get to the point where I can't even spare three minutes to get this thing setup, setting up a folding portable crib for a toddler is probably the least of my issues.
Some Toddlers Can Tip It Over
Yes, it is possible for some kids to be able to tip the crib over and escape.
This was never, ever an issue with our oldest son (he rarely even rocked the crib up through age 2.5 when he graduated to a bed).
However, our youngest surprised us around the age of two when he started flipping the crib on its side and escaping (which honestly took him quite a bit of effort, even at two).
Fortunately, it was never a safety issue for us, so much as a distraction for him, and after a few weeks the novelty wore off.
Not Quite Carry-On Size
While the Lotus travel crib folds up to a pretty compact size, you probably won't get away with putting it in the overhead bin in today's airliners.
With that said, if you are lucky (i.e. not on a domestic flight in the U.S.), chances are your airline still allows one free checked-in bag (even for your lap baby!).
For every other mode of transport—cars, trains, boats, camel—you should have no worries.
Sheets Are Not Included
It's important to note that, at least as of this writing, the Lotus travel crib does not come with the custom, fitted sheets (they are sold separately here).
Obviously, you'll want at least one, but you'll probably want a second as well…particularly if you plan on actually taking this travel crib on the road, as all good travel cribs deserve from time to time.
Would We Buy It Again?
Yes!
I'm happy to report that after four years of continuous use and abuse, the Guava Lotus Travel Crib surpassed our expectations. Even with the current offerings in 2023, we think we'd still be hard pressed to find a better travel crib at any price point.
If you are looking for a travel crib that's built like a tank yet uber portable, easy to clean, easy to setup, and comfortable for baby or young toddler, then we'd recommend Lotus travel crib hands down.
---
Want more real world baby and toddler travel gear advice from two nomadic parents?
Then be sure to also check out:
What Makes AwayGoWe Gear Guides Different
Why trust our travel gear recommendations? All of the gear on this list has been personally road-tested by us (unless otherwise noted).
While this page contains some affiliate links, we don't do sponsored content here on AwayGoWe and we don't accept requests to peddle anyone's product.
That means that our opinions and recommendations are 100% independent and unbiased (though we will admit we have a strong bias towards useful gear that's built to last!).
And That's Our Lotus Travel Crib Real World Review
Do you have a Lotus Everywhere Travel Crib? What did we miss? Let us know in the comments below.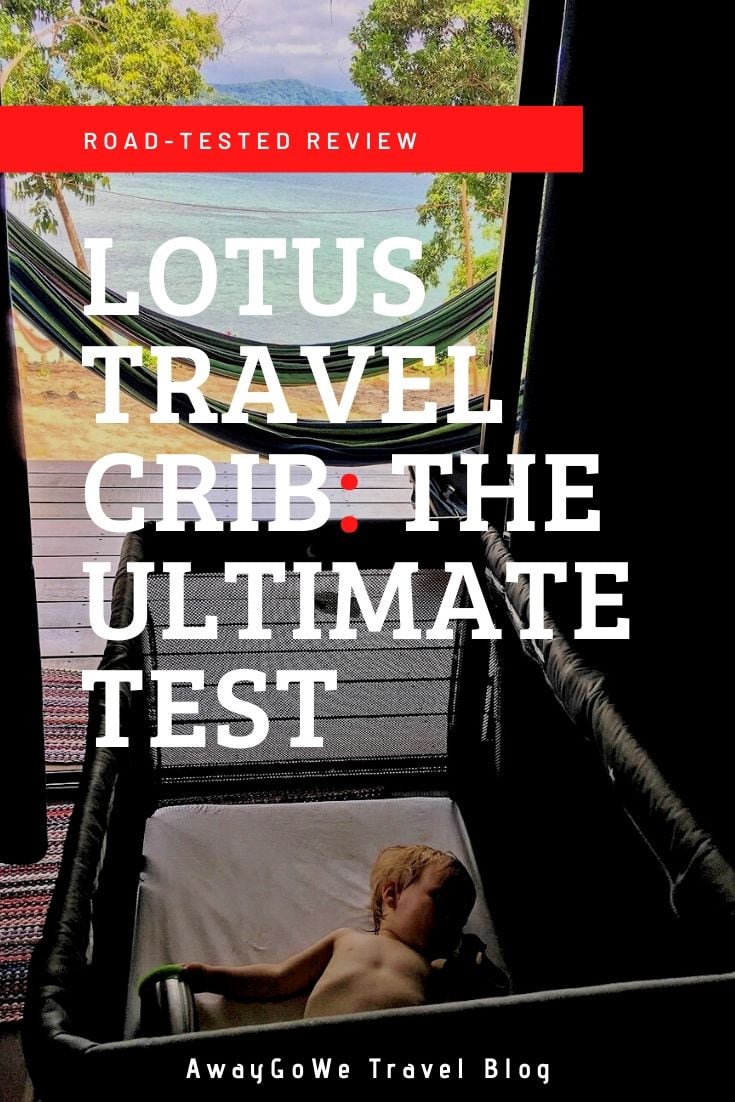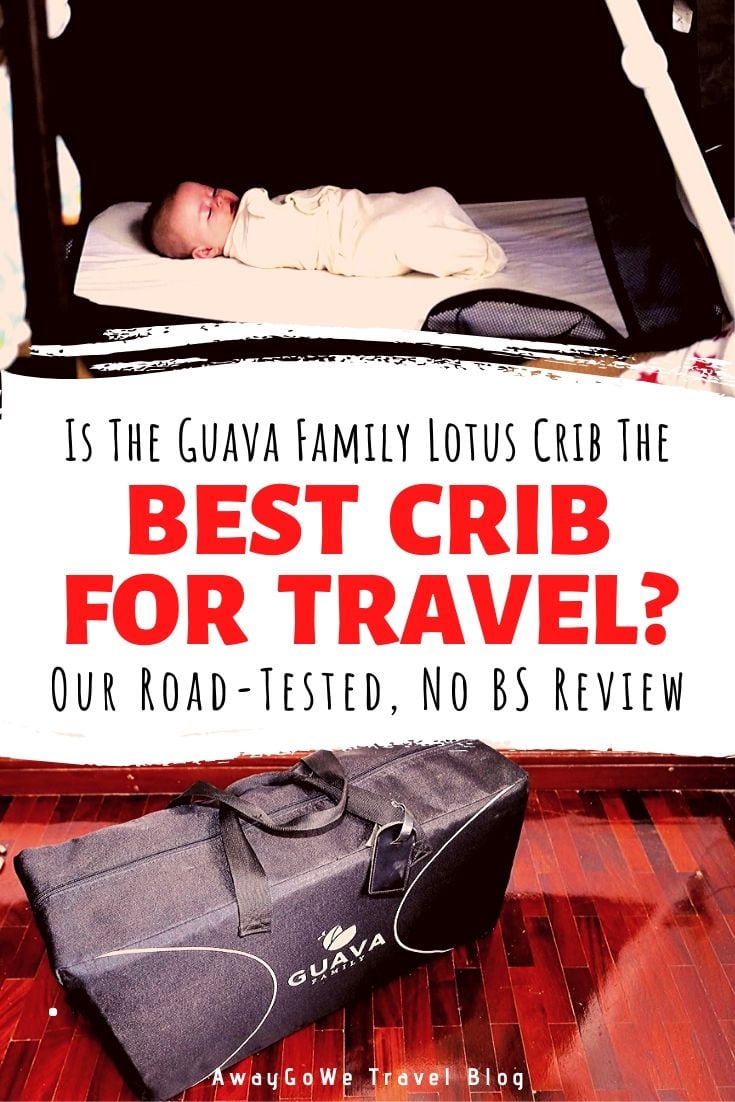 I've been a blogger and travel writer since 2010, covering everything from luxury hotels to hidden destinations and travel gear. Originally from Oregon, I've spent the majority of the past 20 years living outside of the U.S., in Mexico, the Caribbean, Southeast Asia, Africa, and Europe. I received a BA in Communications (Journalism) from Boston College, and an MA in International Development Studies from the George Washington University. I'm passionate about exploration and discovery, and providing independent, thoroughly-researched, ad-free advice for travelers.