Having the right digital nomad gear is critical for getting the job done AND being able to reap the benefits of a location-independent lifestyle (and there are many).
Working remotely, by itself, comes with its own set of unique challenges. Add travel and relocation into the mix and it can be hard to be as productive as you need to be on a daily basis if you're not properly equipped.
Here are just a few of the tech-related challenges we've encountered working on-the-go in various parts of the world:
Scarcity of power outlets for charging devices;
Poor (or nonexistent) WiFi (A BIG ONE!);
Poor cellular signal or expensive roaming charges for foreign carriers;
Lack of good quality (or, simply lack of) electronics or replacement accessories;
Unforgiving heat, humidity and rainfall;
Frequent [and lengthy!] power cuts;
And many others…
A little technology and preparation go a long way in preventing (and addressing) the tech challenges of the digital nomad lifestyle that can cost you both time and money.
But what tech gear is considered essential for a digital nomad lifestyle?
After all, if you're constantly on the move, you don't want a bunch of gadgets weighing you down.
Here is the digital nomad gear Lori and I have found indispensable over the past 10+ years living a location-independent lifestyle.
Top Tech Essentials for Your Digital Nomad Gear Packing List
▸

New Gear for a New World

A lot's changed (and continues to change) since we published the first iteration of this guide four years ago.

That's why we try to update this list about every six months or so.

Our updates incorporate the latest versions of the gear we know and love, but also weed out the digital nomad gear that may no longer be relevant in this new era of working remotely.
Related
---
▸

Noise-Canceling Bluetooth Earbuds
Simply a must for travelers and remote-workers in the age of ZOOM and beyond.
Of all the active noise-canceling headphones and earbuds out there, we recommend Apple's phenomenal AirPods Pro.
Amazing sound quality, comfy, and way more discreet than a Bose headset. Perfect for long flights, Zoom calls, workouts on the beach, and everything in between.
What's the difference between the AirPods and AirPods Pro? Both offer wireless bluetooth connectivity in an ultra-compact design. But the Pro adds active noise-canceling, which you DEFINITELY want if you take video calls in noisy public spaces or fly a lot.
---
▸

Carry-on Clamshell Backpack
Before we get too deep into our list of digital nomad tech gear, you may be wondering what you should carry it all around in.
There are a TON of options of getting your gear from point A to point B, but perhaps none quite so well fitted for the task as the Tortuga Setout 45L carry-on travel backpack!
Why's that, you ask?
It's rugged and durable, has lots of pockets and compartments just the right size for digital nomad gear, it opens like a suitcase for easy access, AND it's the full dimensions of a carry-on suitcase for maximum storage capacity without having to check your bag.
A lifesaver for all your kit and a must-have for your digital nomad packing list.
---
▸

iPad Keyboard Case
Got an iPad? Use it for work? The Logitech Combo Touch keyboard case is the perfect accessory for digital nomads that instantly turns your 7th-, 8th-, or 9th-generation iPad into an ultra portable laptop!
No more wasting precious time tap-typing long emails, notes, and memos! Plus it protects your precious iPad from the rigors of life on the road.
One of our top recommendations on this list for significantly increasing your productivity and peace of mind, leaving you with more time to enjoy a location independent lifestyle!
---
▸

Ultra Portable Laptop Stand / Standing Desk
Let's face it, digital nomads spend a lot of time in front of our laptops.
Be kind to your neck, shoulders, and the rest of your body with a portable stand.
We personally love the Roost V3 laptop stand for its lightweight and durable construction, adjustability, and small collapsed size.
---
▸

Unlocked GSM / CDMA Phone
Having a single, solid, dependable phone that you can use ANYWHERE IN THE WORLD saves you time and money.
And there may be no more rugged and versatile unlocked dual-band (GSM/CDMA) phone out there than the latest unlocked iPhones!
With an unlocked iPhone, you'll be able to take advantage of prepaid call/text/data rates at local prices (with a local SIM card or phone plan), which is typically way cheaper than roaming.
Long time users of iPhones, ourselves, we love these particular phones for their durability, ease of use, and how they work seamlessly with our Macs and iPad.
If you're traveling internationally, you'll want to make sure you get an "unlocked" iPhone (NOT a phone tied to a telecom company like Verizon, AT&T, Sprint, T-Mobile, etc.).
---
▸

Portable Solar Charger
There are so many reasons you might want to pack a portable solar charger, regardless of whether you plan to work in urban or remote areas with abundant sunshine.
And the NeckTeck 21w portable solar charger is one of the best in its class.
A solar charger can be a critical piece of digital nomad gear in urban areas if you experience frequent power cuts, work all day on a Tablet PC with no nearby power source, or use 4G/LTE on your phone for several hours on the go.
We especially love these for keeping our phone/ GPS device charged on multi-day treks as well.
---
▸

USB Dual Band WiFi Signal Booster
You grab that perfect spot with a stunning view to catch up on email only to find the WiFi signal doesn't reach.
Plug the NetGear AC1900 WiFi signal booster in and stop banging your head against the hammock post.
This wifi booster has a compact folding design that works great with both Windows and Mac based computers.
---
▸

Rugged Water Resistant 4TB External Hard Drive
Getting not just one, but TWO rugged & water resistant external hard drives for storage and backup is one of the best digital nomad gear decisions I've made.
And the Lacie Rugged Mini 4TB hard drive might just be the best travel hard drive on the market today.
If you're working on the road with your laptop, it goes without saying that you'll want to back up all those hours of hard work.
Durability and weather-resistance are crucial considerations, particularly if you are work in the tropics like we do, where heat and humidity can wreak havoc on poorly made electronics.
If your hard drive does fail, a high-quality replacement drive might not be easily available (or cost-effective) in many countries, so best to get one that's built like a tank from the get-go.
---
▸

Compact Performance Bluetooth Mouse
A dependable cordless mouse is another item I thought I'd never need as a digital nomad.
But after several hours of "gesturing" on a modern trackpad my whole hand can feel like it got slammed in a door.
Enter the Logitech MX Anywhere 3. This is the one I currently use (and I love it!). Lightweight, compact, fast-connecting, and has a rechargeable battery that lasts forever.
Might just be the best mouse I've ever owned. For me, this is definitely a digital nomad gear essential.
---
▸

High Capacity Thumb Drive
Forget bulky external hard drives! If you don't work with a ton of media (i.e. video) the SanDisk 1 TB Dual USB / USB-C flash drive may be all you'll need.
Flips between old-fashioned USB and newer USB-C ports, so you're covered wherever you go. 32GB, 64GB, 128GB, 256GB, 512GB, and even 1TB capacity! We have the 256GB version.
While transfer rates won't blow your socks off, the ultra portability and huge capacity makes this drive an essential piece of digital nomad gear.
TIP: If you're transferring a lot of files, plugging in your laptop to power helps speed things up!
---
▸

Unlocked 4G Mobile WiFi Hotspot
Digital nomads and international freelancers quickly discover that picking up a 4G SIM for internet in most countries is a must.
If you stick around long enough, sharing your mobile phone network with your laptop gets old quick.
A well-built unlocked 4G mobile hotspot like the Alcatel Unlocked GSM 4G Mobile WiFi Hotspot is a headache-free way to share one connection with all your devices on the road, making this one of our favorite piece of digital nomad gear.
---
What Makes AwayGoWe Gear Guides Different
Why trust our travel gear recommendations? All of the gear on this list has been personally road-tested by us (unless otherwise noted).
While this page contains some affiliate links, we don't do sponsored content here on AwayGoWe and we don't accept requests to peddle anyone's product.
That means that our opinions and recommendations are 100% independent and unbiased (though we will admit we have a strong bias towards useful gear that's built to last!).
---
▸

Multi-Port USB-C Hub
This little puppy is something I never thought I'd need…UNTIL I got a newer Mac and discovered they've switched exclusively to USB-C…AND…in most cases only give you TWO ports!
The solution? A USB-C hub with 3 old school USB ports, USB-C charging port, SD/micro, HDMI, and ethernet ports, all at your fingertips.
We recommend the Satechi Aluminum Multi-Port Adapter V2 (which is also what Apple recommends on their website), which should work seamlessly with most laptops with a USB-C connection.
---
▸

Ultimate World Travel Adapter Kit
In terms of essential digital nomad gear, this is one gadget that should absolutely be on your packing list!
I searched for years for a solid, compact, and virtually universal travel adapter, and finally found it in the Ceptics World Travel Adapter Kit.
This little beauty features surge protection, 2x USB 3.0 ports, 2x U.S. outlets, and SIX types of international adapters.
Heads up, this adapter does not convert voltage. However, most personal electronics do this now for you. Always check your gear specs and country voltage before using!
---
▸

Ultra Slim External CD/DVD Drive
In many countries, if you want to watch movies or listen to music, particularly those produced in destination (and your laptop doesn't already have a built-in CD/DVD drive) you can find yourself in a tough spot.
And forget about Netflix or Spotify if your internet connection sucks or you're paying by the megabyte.
Thankfully, today's external CD/DVD drives like the LG Super Multi Ultra Slim are tougher, more compatible across brands, and smaller and lighter than ever.
---
▸

Rugged & Dependable Laptop
There are a lot of well-built workhorse laptops out there. But I recommend a MacBook Pro 13″ (which has been my go-to for nearly a decade).
One of the biggest digital nomad gear mistakes we ever made was moving to a remote, tropical area of Central America with a cheap laptop.
Our thinking was, if anything happened to it, we wouldn't be out a bunch of money. Well, yes…and no.
Within weeks, multiple components failed likely due to heat and humidity, with no viable replacement within hundreds of miles.
After a long wait, a colleague from the States ferried out a replacement.
That was 7 years ago. And the Mac we replaced it with? Still cruising along.
---
Further Considerations For Your Digital Nomad Gear Tech Packing List
I've listed 15 tech gadgets here that Lori and I have found incredibly useful at one point while working and traveling overseas.
While I strongly recommend adding many of these to your digital nomad packing list, I do want to stress that the gear that works for us and our circumstances may not necessarily work for you and yours, and vice versa.
▸

Cost vs. Durability

You may have noticed that some of these items are quite pricey. Lori and I are frugal and fairly minimalist when it comes to buying stuff. When we do buy something, it's been carefully researched and we want it to last for years.

If we invest in digital nomad gear, it's for the long haul — and believe me, you are rewarded for it traveling full time or living in developing countries.

I've had too many experiences in the past where I've bought crap and it couldn't hold up to the daily rigors of a tropical climate, dust, public transport, or whatever. Never again.
▸

Digital Nomad Gear Safety & Security

You might also be wondering about safety and carrying around a $1,400 laptop, etc. Personally, I've never had a problem (knock-knock). I know people who have, and most of them neglected to use common common sense strategies at the time.

I known more people who've had their laptops and phones grabbed from them at Starbucks or walking down the street in Washington, DC. than while traveling in Africa or Central America.

Don't flaunt your stuff. Don't walk around with it at night. Keep your digital nomad gear hidden/secure when you're not using it. And get a good travel insurance policy. Done.
Do you connect to public WiFi when traveling? Don't Miss...
7 Reasons Why You Need a VPN for Travel
Not sure what a VPN is? Read our straight-forward article on why we always use a VPN, and why you'll want to as well.
▸

Global Compatibility

It's worth noting that all the items listed here either work on 110v-220v power, or plug right into your computer via USB, so you should be all set in that respect (along with the help of a good travel adapter (see above)).
▸

Pack Smart

Finally — and most importantly — you probably don't need all this gear. I certainly don't need all this gear —at least not all at once.

But I've used each of these items (or some previous version) at one point or another in the last decade depending on the job or the living situation, many of which have boosted my productivity or made remote work way more enjoyable.

I prefer to pack as light as is practical for the situation. Packing for a move overseas is hard enough without bringing a ton of unnecessary gadgetry.

Add what you truly think you'll need from our list to your digital nomad gear packing list and forget the rest.

Pack smart. Find out which digital nomad gear works for you and what doesn't. Then, do it better the next time.
Thanks For Reading Our Digital Nomad Gear Tech Essentials List!
Are you a digital nomad or tropical freelancer? What did you have on your packing list? Let us know in the comments below.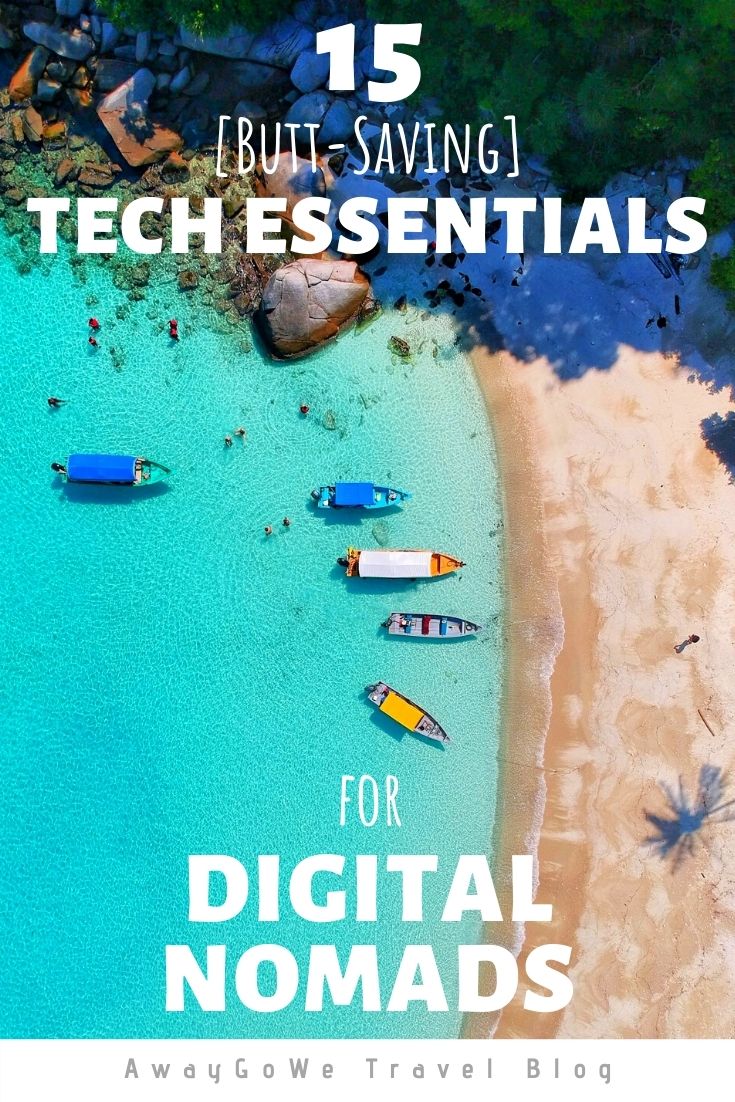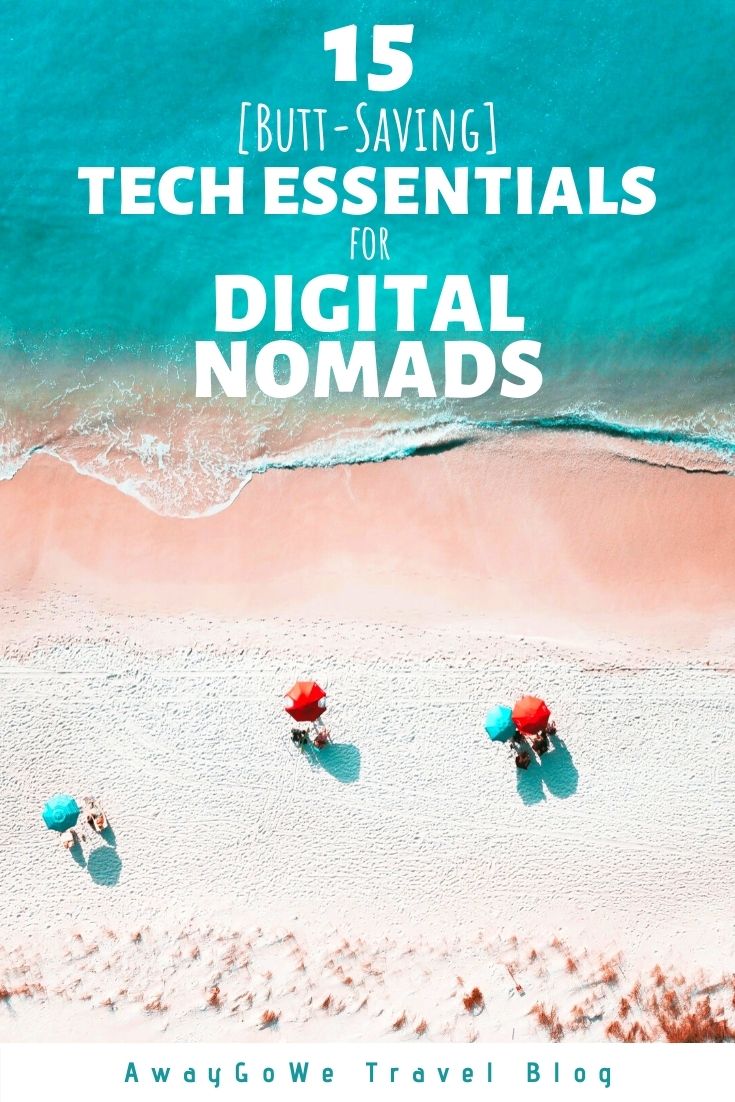 Cover image by Justin Kauffman / Unsplash