Jambiani Beach is the idyllic, low-key Zanzibar destination of your dreams — where men still bring in the early morning catch by dugout canoe and children play soccer on the beach until the tide swallows up the pitch.
Where coral stone and thatch roof houses huddle close together and locals greet visitors with a friendly smile and gesture.
And, where turquoise seas gently lap up satiny white sand, stretching along a seemingly endless coastline.
It would seem that Jambiani Beach should be a poster child for sustainable development and tourism done right – where folks are able to continue engaging in traditional livelihoods, while reaping the economic benefits of small-scale tourism as well.
Lori and I were lucky enough to call Jambiani Beach "home" for ten wonderful days, with a leisurely 20-minute stroll along a stunning beach separating our equally sublime lodge from the hubbub of the village center (more on that below).
We enjoyed our time in Jambiani Beach so much, in fact, that we almost didn't leave!
Read on to discover why we found it so hard to say goodbye to Jambiani (and why you may find yourself feeling the same), with plenty of helpful tips for making the most of your stay.
Heads Up! Be sure to check the latest Covid-19 requirements. Never leave without travel insurance. Check out World Nomads for short trips, adventure travel, and good trip coverage; and SafetyWing for longe-term, lower-cost, international health coverage.
---
Related
---
8 Reasons Why Jambiani Beach Should Be on Your Zanzibar Itinerary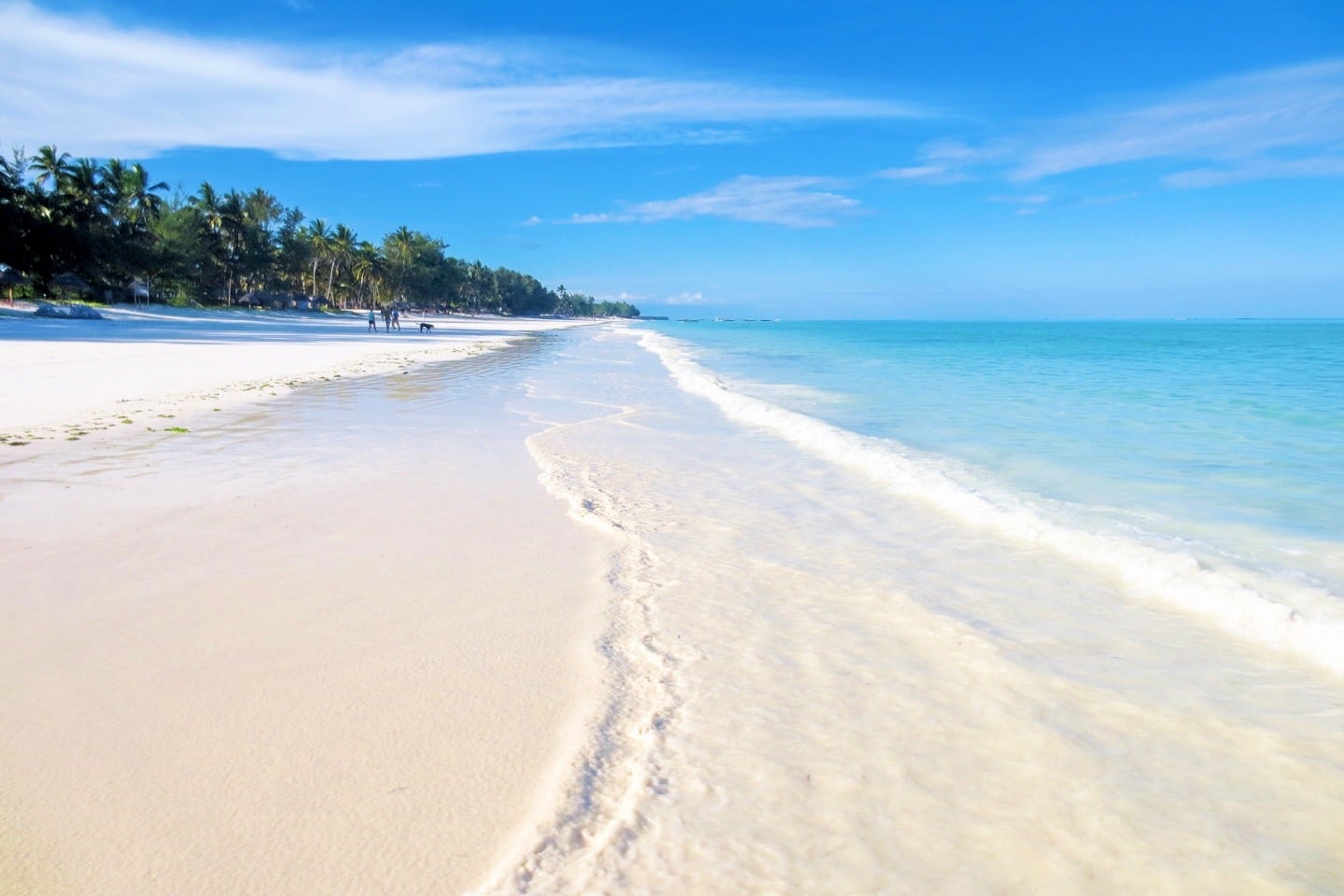 1) That Bodacious Beach!
If a picture says a thousand words, there's not a lot more I need say here. The photo, above, says it all.
Zanzibar has arguably some of the most stunning coastline anywhere, and the stretch of beach between Jambiani and Paje at high tide might be one of the most idyllic on the island.
Soft white sand beaches lined with coconut trees — clear, warm water, and unique dramatic coral rock formations make for one beautiful backdrop for a low-key beach getaway.
And best of all, here on the Southeast coast of Zanzibar, you can bet on snagging a long stretch of paradise all to yourself at any time of day.
HOT TIP ▸ If you want the best swimming conditions and most inspiring view, head to the beach around high tide. Alternatively, at low tide, the water recedes several hundred meters, revealing endless fields of coral and kelp. Seeing local women cultivating seaweed at this time offers some insight into the local culture, as well as the hard work involved.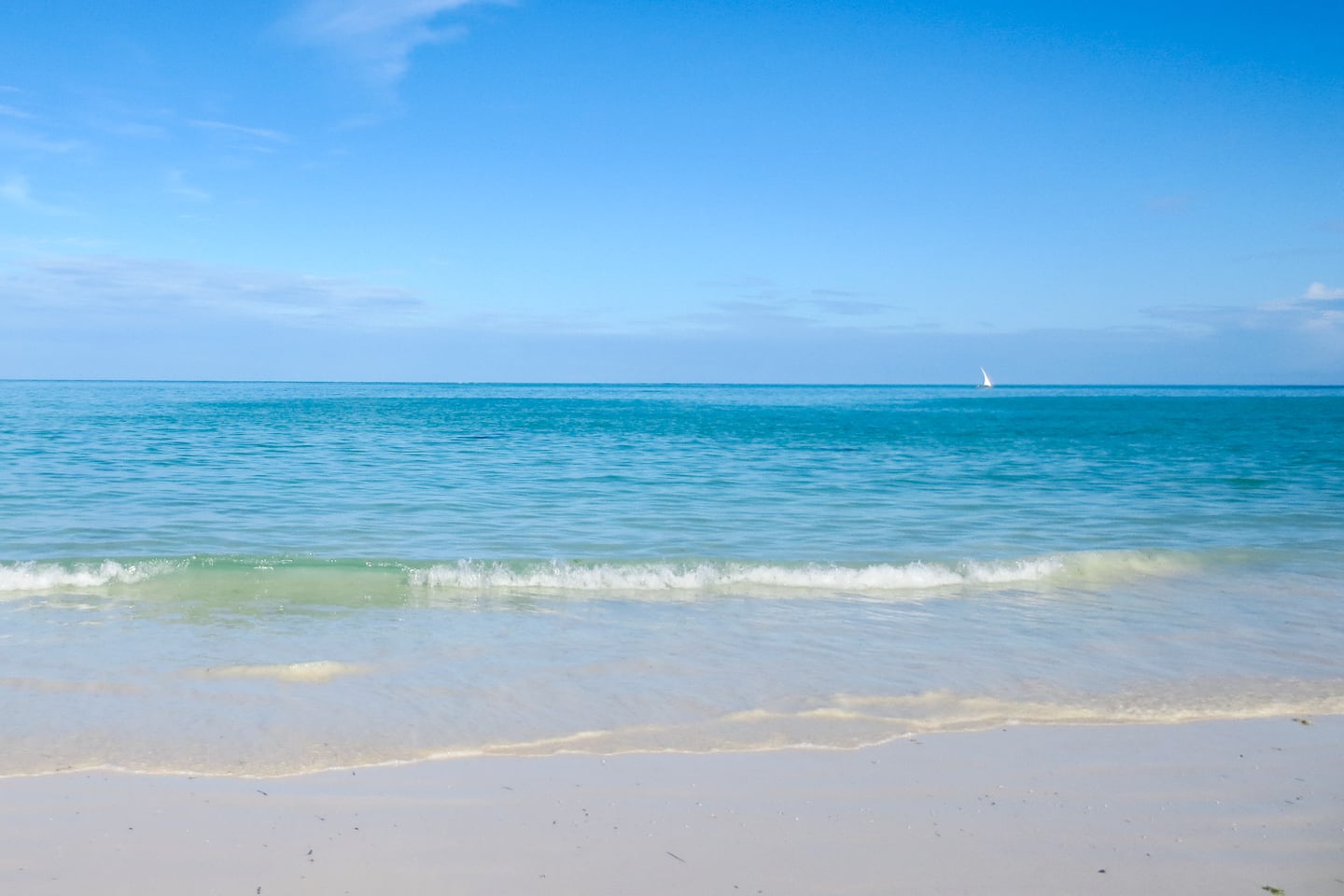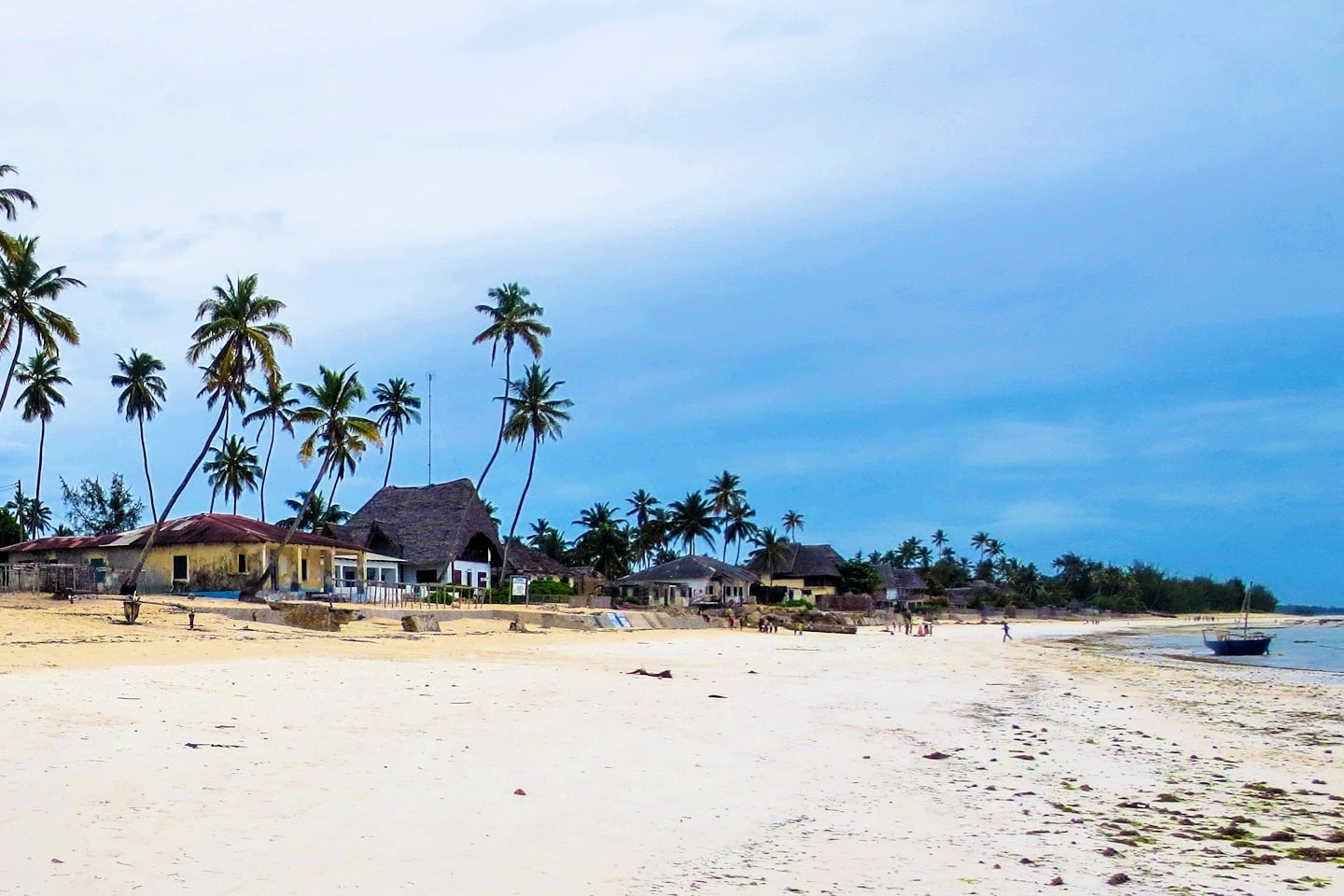 2) Chilled Out Jambiani Village
What is there to do in the village center of Jambiani? Not a whole lot – and that's all part of the allure!
Jambiani tends to be far less touristic than neighboring Paje, with far fewer visitors, touts, souvenir shops, which all adds up to a more relaxed and authentic experience.
Fill your evenings strolling the sandy, ancient paths that make up the village's main streets.
Take time to chat up the locals who are more than willing to tell you about their community and teach you some phrases in Kiswahili, the local language.
Sample local foods, play cards under a shade tree, or grab a cold drink on the edge of the beach and see what the fisherman bring in.
You'll quickly discover that, in Jambiani, it's all about pole pole (slowly, slowly).
HOT TIP ▸ Because it can get quite hot on Zanzibar during the day, most of village life happens in the early morning, or late afternoon and evening, which are generally the best times to explore the village.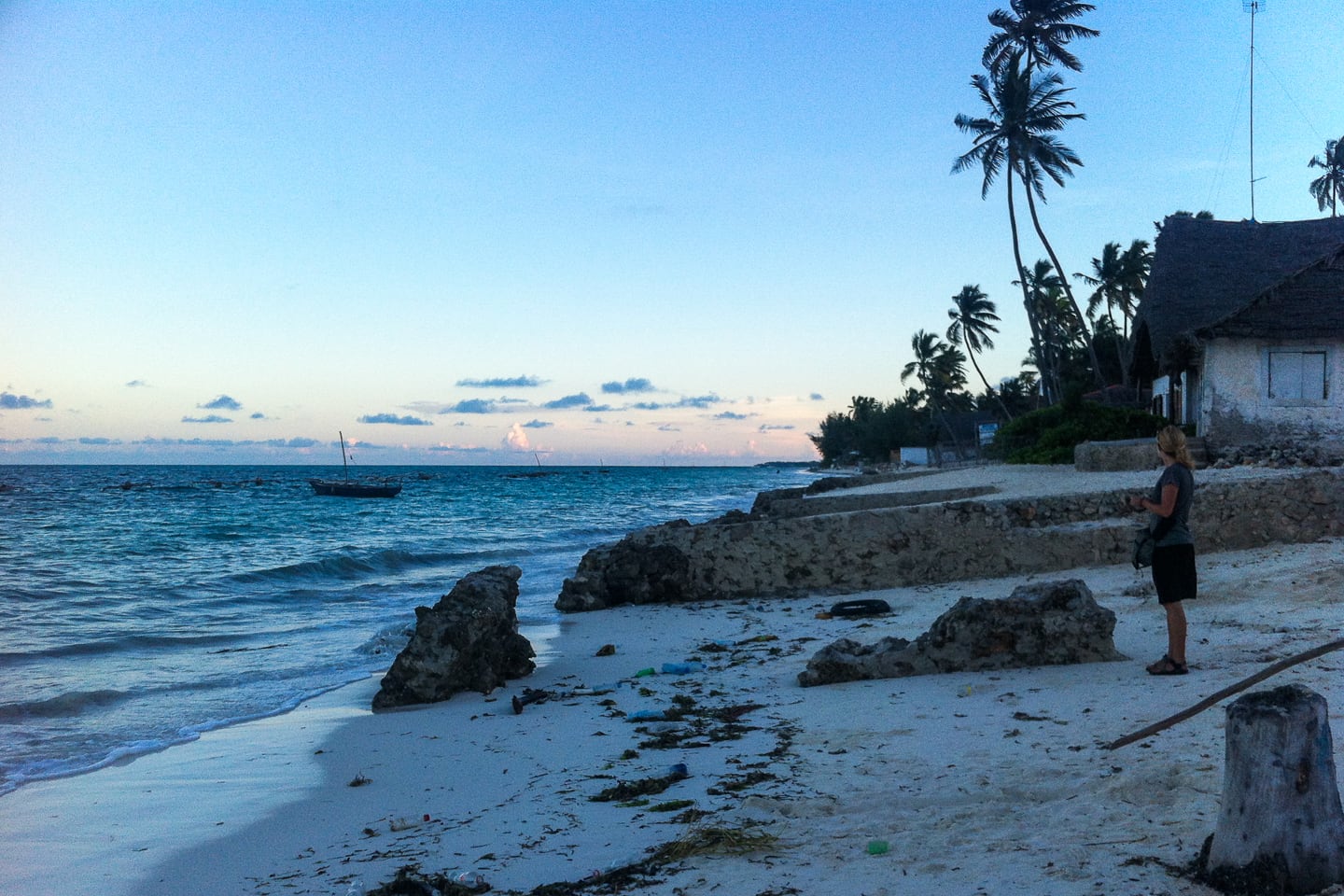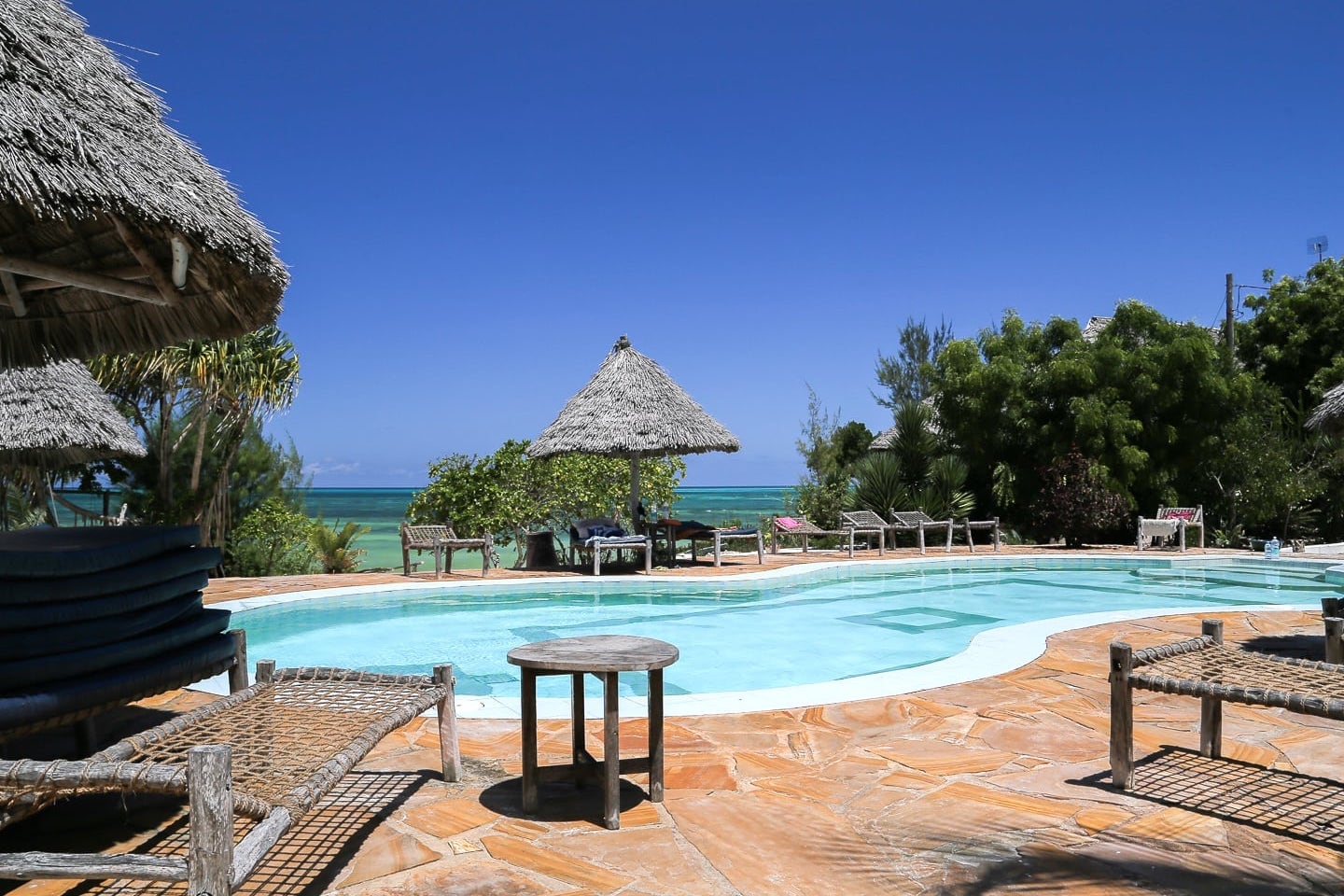 3) Wonderful Beach Hotels & Other Great Stays
Mbuyuni Beach Village is where we based ourselves for ten relaxing nights, and we can't say enough good things about the place.
Located halfway between Jambiani and Paje, Mbuyuni offers friendly service, an excellent restaurant, a large pool, and beachside bungalows (Bandas) at affordable rates – all just steps away from one of the most scenic stretches of beach in the area (which is saying a lot).
Looking for the BEST of the Best Places to Stay on Jambiani Beach?
Check out Mamamapambo Boutique Hotel and Spice Island Resort a short walk north of the village, and Blue Oyster Hotel and Sea View Lodge, closer to the heart of things.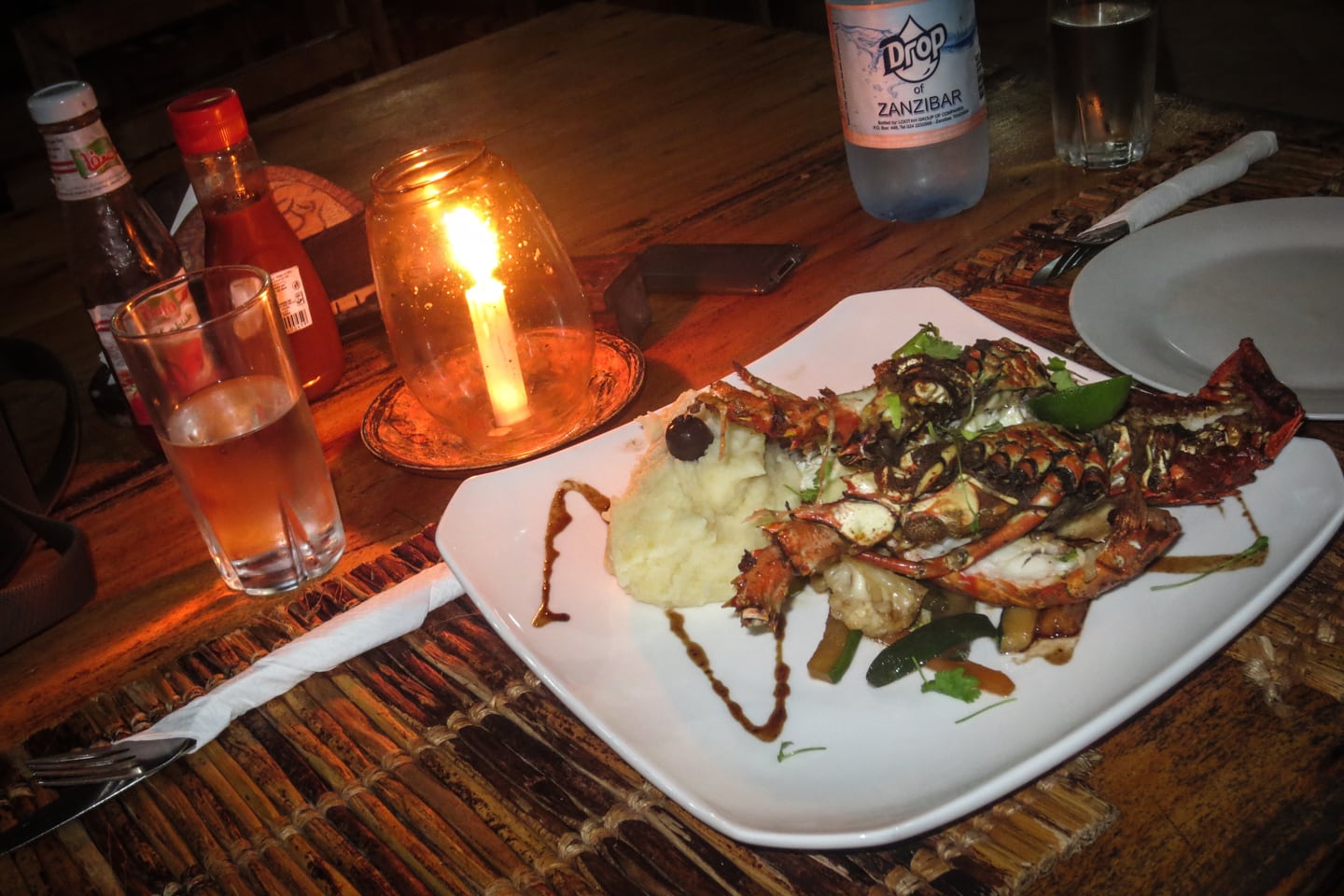 4) Local Eats Bursting with Flavor
We were blown away by the spices and flavors of the local Zanzibari coastal cuisine AND the number of excellent eating options within a short walk north or south of Jambiani Village.
Most of the top restaurants tend to front the beach. But also expect to find superb hidden gems tucked back a bit farther inland as well.
HOT TIP ▸ Top Swahili (local African) restaurants on Jambiani Beach include Fadhil Restaurant on the southern end of the village, and Lustania and Karibu, a bit farther south. For international fare, check out Peterpan for Italian and Blue Oyster for international seafood and vegetarian.
---
Related
---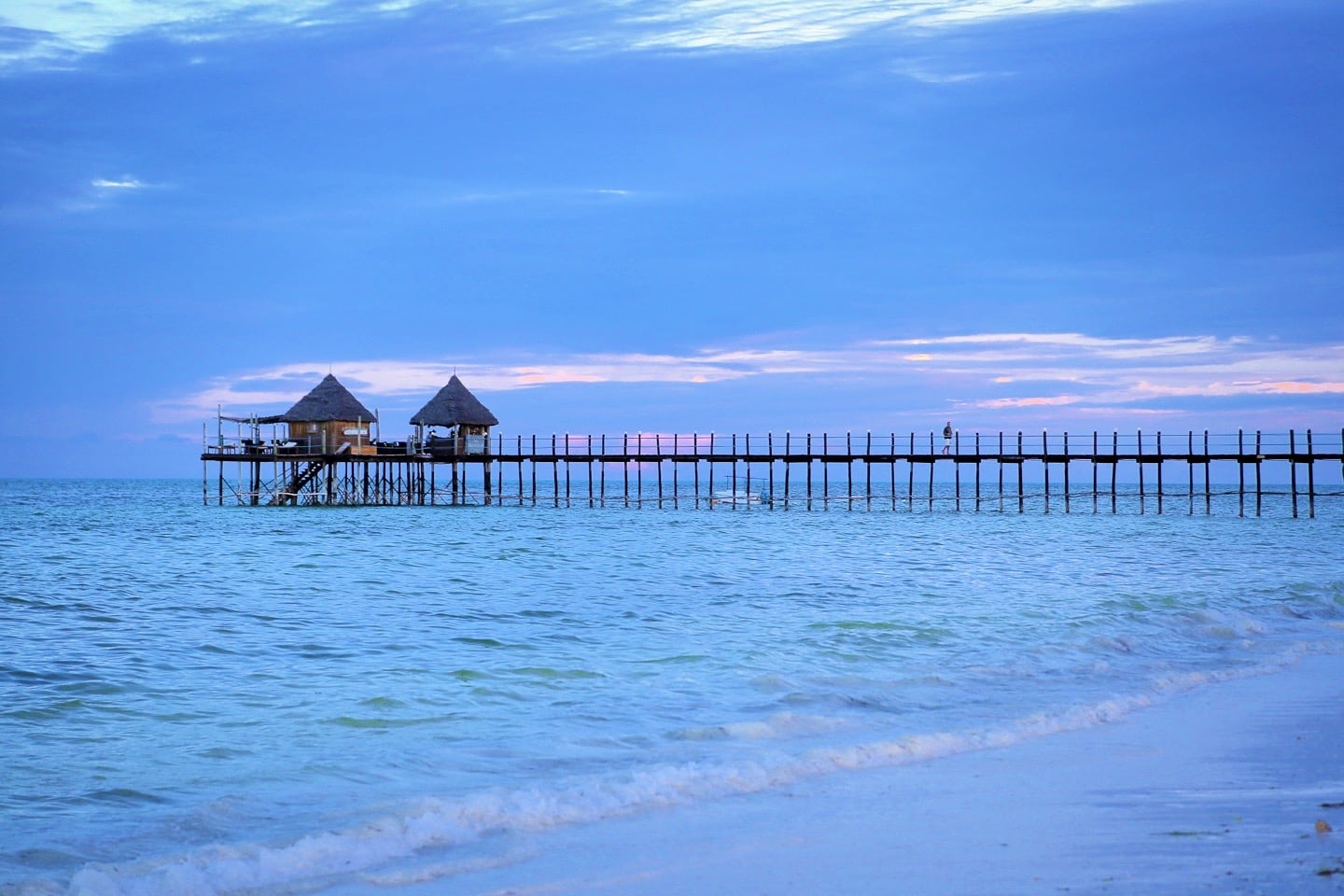 5) …And Overwater Sundowners!
"Happy Hour" is popular here, and most restaurants, bars, and lodges along Jambiani Beach offer one. Regardless of where you find yourself around sunset, you won't be far from a sundowner!
For a totally different perspective on things, one place stands out from the crowd – LITERALLY!
Jetty Platform Bar at Spice Island Hotel & Resort is a top spot for drinks, owing to its iconic overwater location at the end of a long, wooden pier.
In addition to having the best sunset view in town (facing west, back towards the shore), it's also got one of the more comprehensive cocktail menus in town.
HOT TIP ▸ We found that getting a gin on the rocks with a can of tonic water cost about half as much as ordering a gin & tonic. You're welcome!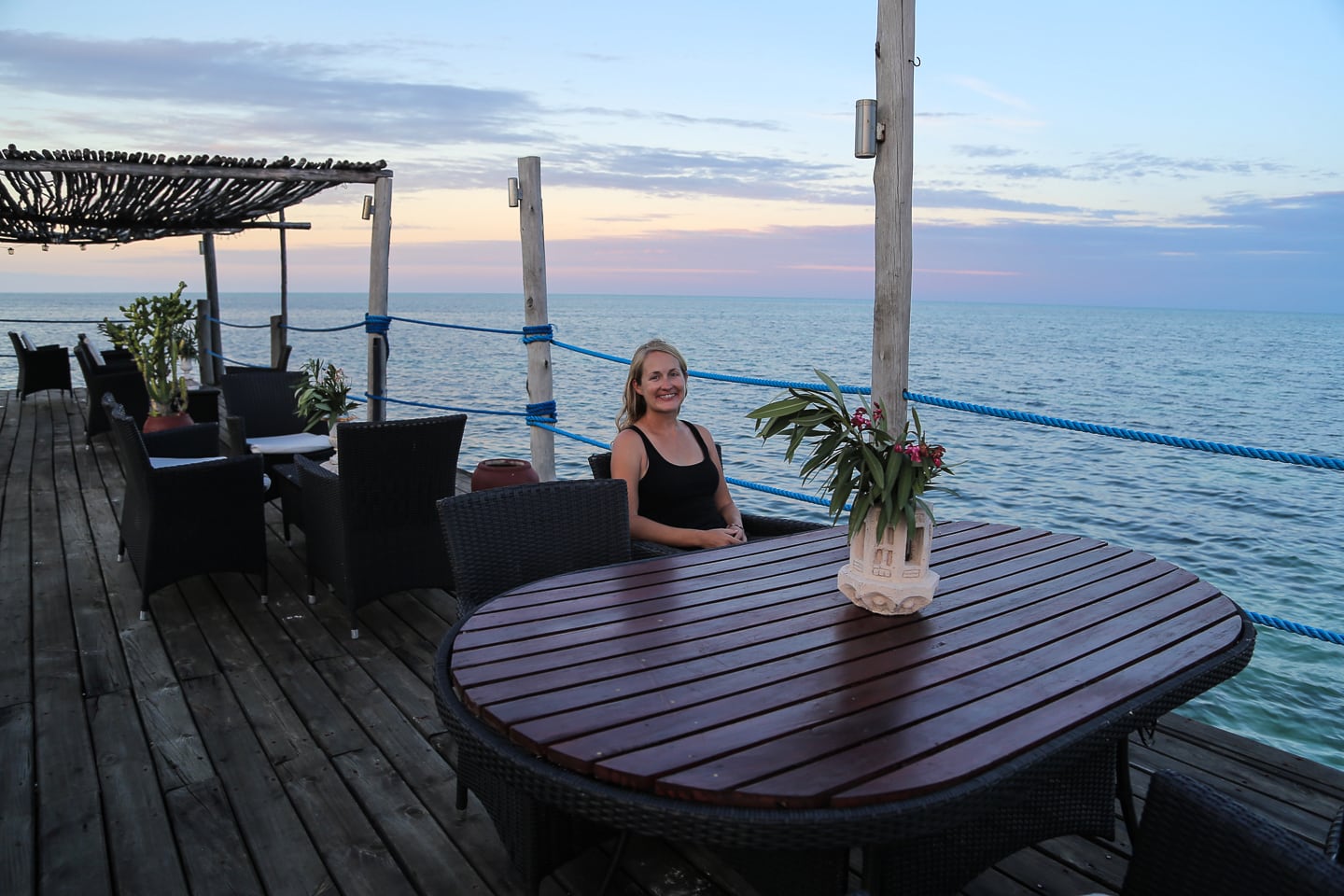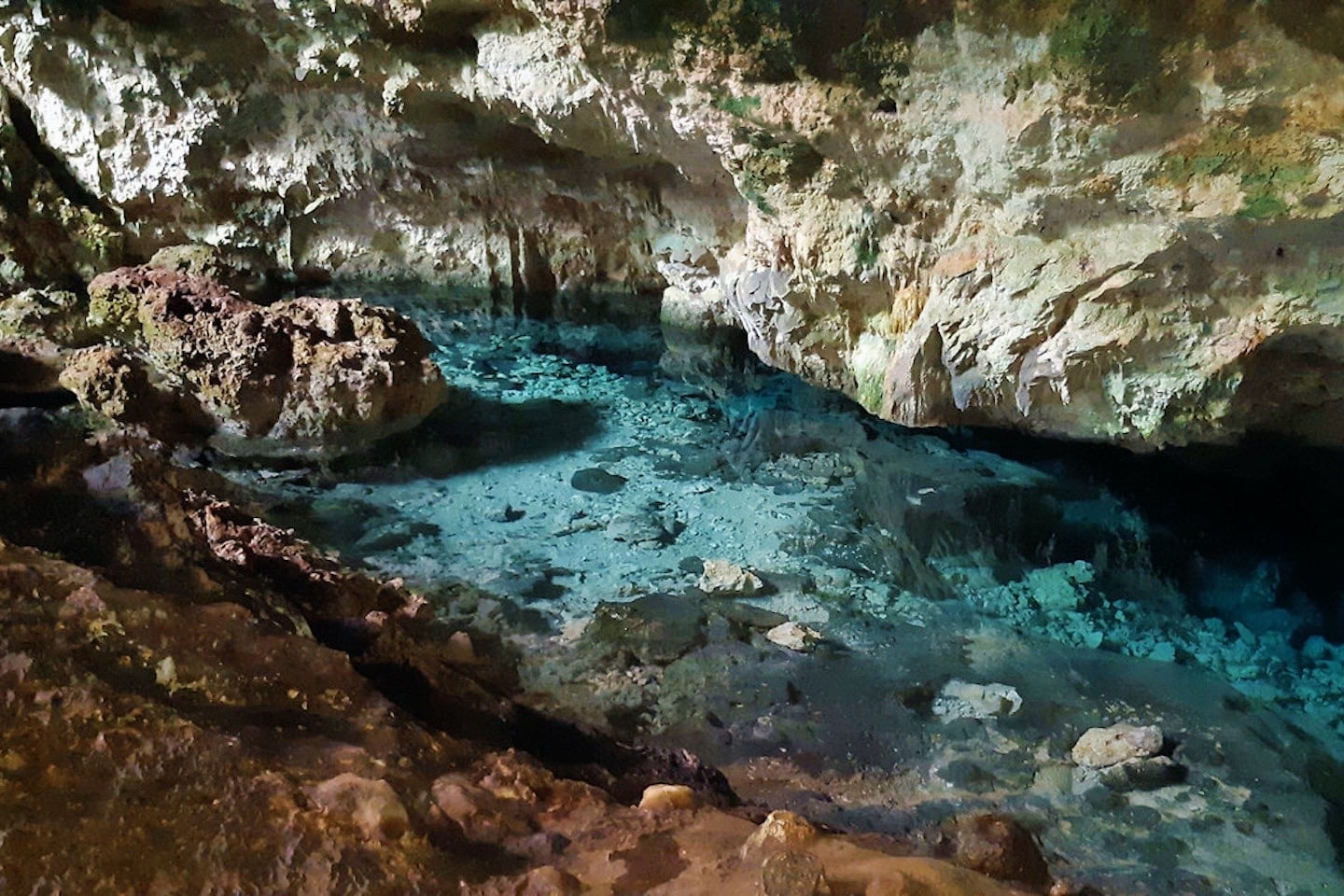 6) Swimming in Kuza Cave
As if having an idyllic beach paradise to yourself wasn't enough, Jambiani Beach also offers one of the most stunning crystal clear swimming caves you'll find in East Africa – just a couple of kilometers up the road from the village center.
Visit Kuza Cave on your own (~US$8 entrance fee), or hire a local guide in Jambiani to take you there.
If you'd like to try your hand at cooking Swahili food AND arrange a guided tour of the cave, check out this half-day tour run by a local social enterprise.
HOT TIP ▸ Watch out for biting insects on the cave walls and sharp rocks underneath the water (a sturdy pair of river sandals can help with the latter).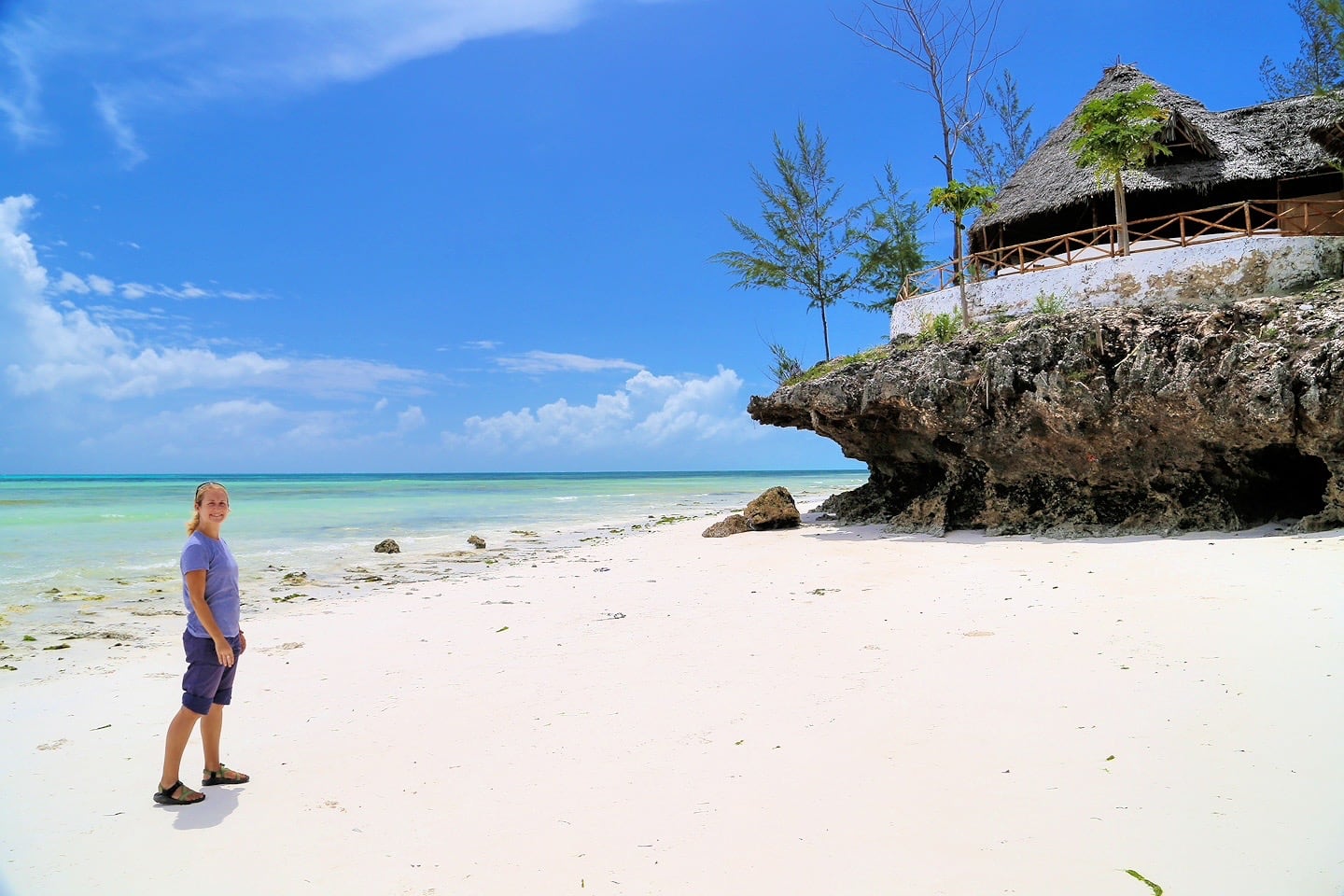 7) Proximity to Paje
Jambiani offers visitors a true beach paradise experience. And, if you're keen on spending your days recharging and doing a whole lot of nothing, there are few better places to do just that!
But, if you start to find yourself itching for a bit more action in your life, stroll on up to neighboring Paje.
Paje is the more tourist-centered of the two communities. Depending on what you're after, that will either sound appealing or far from it.
If you are looking to do some trinket shopping, find a good party, or arrange activities such as beach bike rentals, snorkeling, or boat excursions, Paje may be your best bet.
HOT TIP ▸ Hankering for even more adventure? Soak up Paje Beach and surroundings on a full-day tour, with visits to Zanzibar's famous Rock Restaurant, Kuza Cave, monkey-inhabited Jozani Forest, and even see some dolphins while you're at it!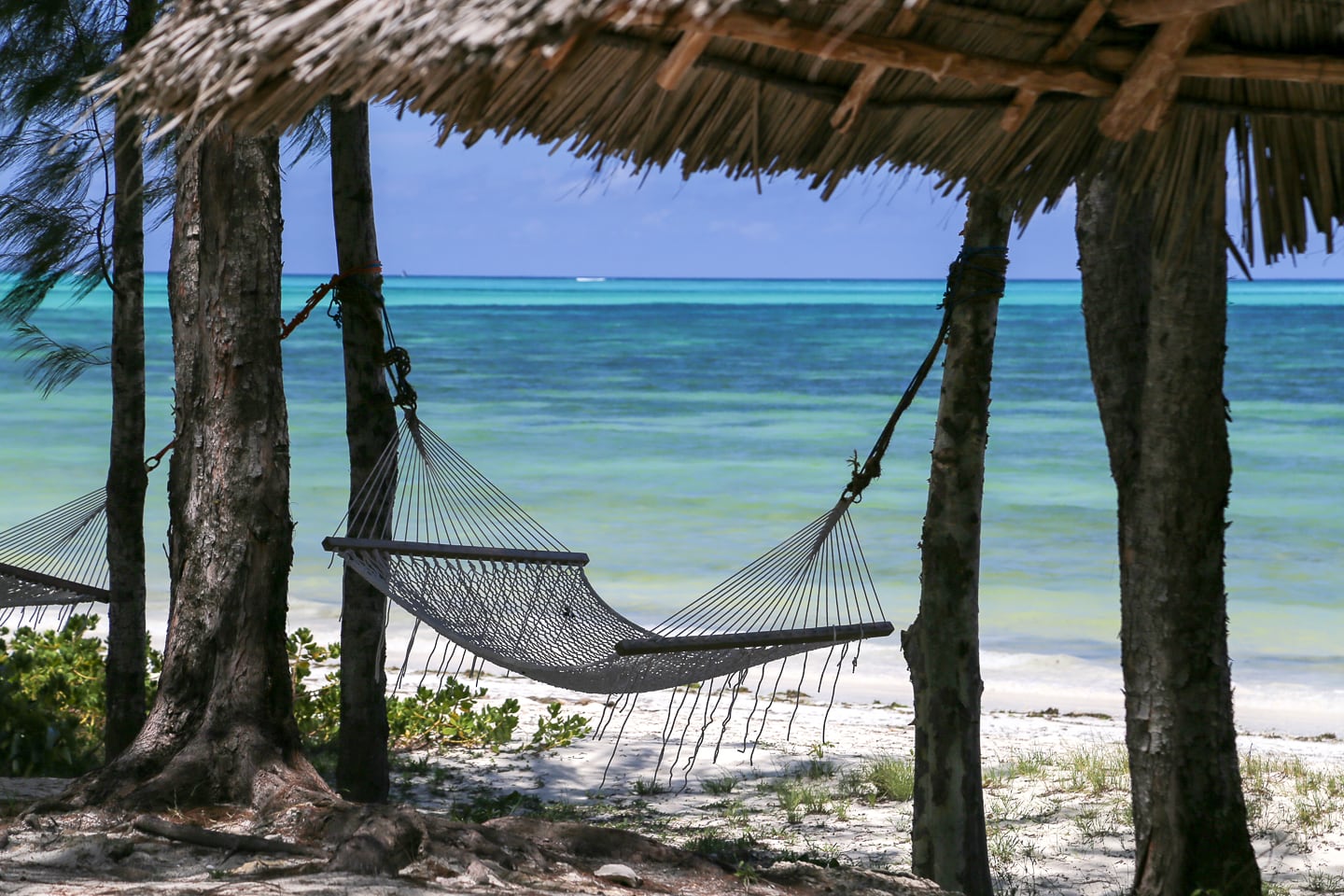 8) You'll Never Want to Leave!
Seriously, make sure those return tickets of yours are flexible!
After a few days (or in our case, a few hours) on Jambiani Beach, you may find yourself changing your flight reservations a time or two.
If you're looking for an all-inclusive, trendy, stylish, or touristy beach vacation destination, Jambiani may not be what you are after.
On the other hand, if you're longing for a low-key, no hassle stay with all the basic amenities (in a jaw-dropping beautiful locale with friendly and amazing people at every turn), you'll be hard-pressed to do better than Jambiani Beach!
---
Related
Have You Visited Jambiani Beach on Zanzibar?
Share your experience in the comments below!