Eastern Uganda's Sipi Falls is a pretty phenomenal place — not because it's the highest falls, or the widest falls, or because it's the Nile, or any other superlative either.
Sipi Falls is just simply a fantastically majestic natural wonder, surrounded by some of the most stunning scenery anywhere.
The region in and around the falls also offers some of the best opportunities in Uganda for multi-day trekking, and the community adjacent to the falls is a superb jumping off point for further adventuring.
Sipi Falls is actually three separate falls spread out over a few kilometers of local farmland. The most striking and photogenic might just be the First Fall that visitors encounter near many of the area's lodging options.
However, the middle and upper falls are very much worth the effort to reach as well.
Here's our detailed, first-hand guide for hiking Sipi Falls on your own, how to hire a guide, where to stay near Sipi Falls, how to get there, and much more!
Complete Guide to Visiting + Hiking Sipi Falls in Uganda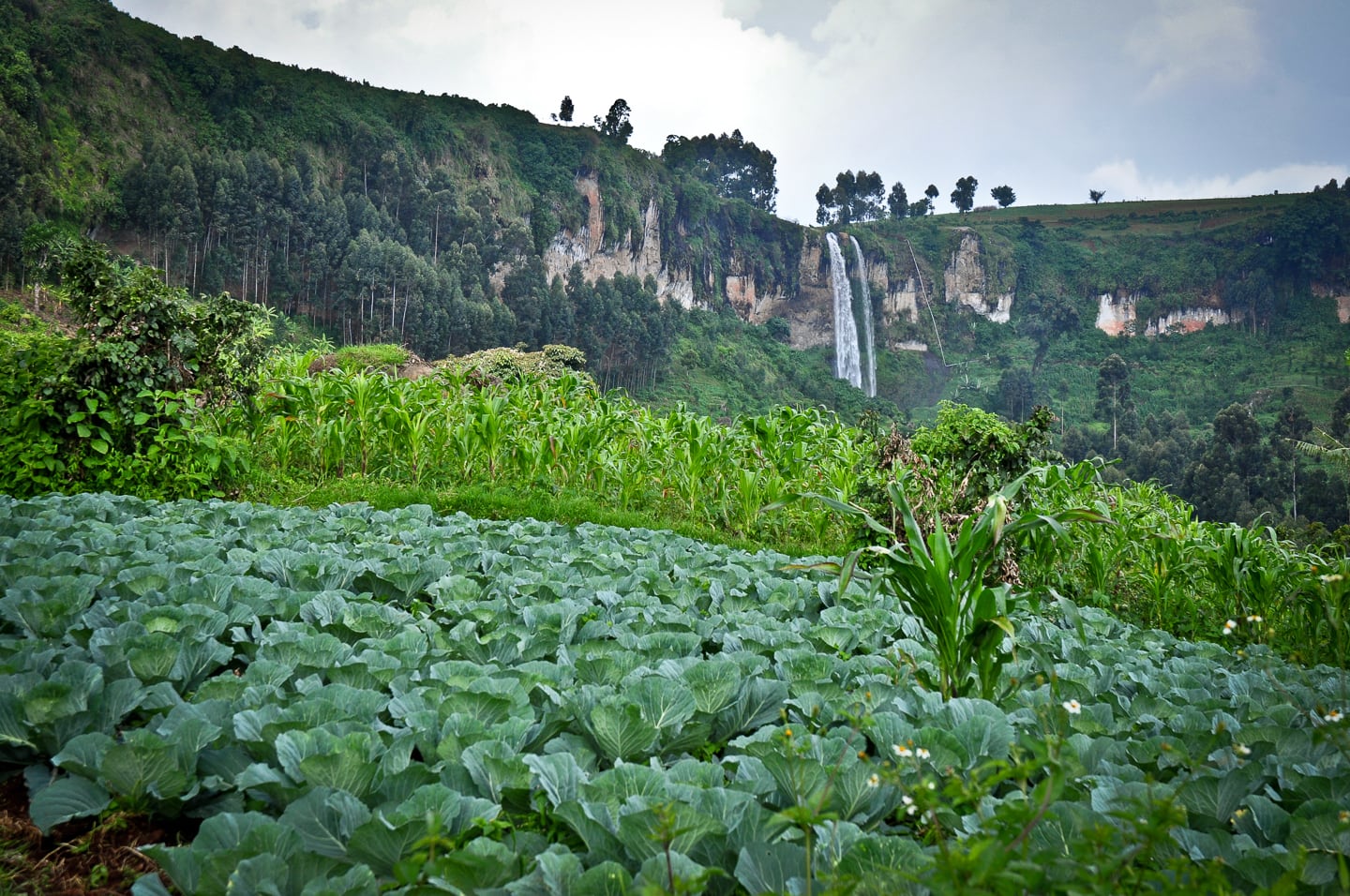 Why Visit Sipi Falls?
Visiting Sipi Falls offers an unrivaled opportunity in Uganda for hiking and trekking some of the country's most stunning topography, taking in commanding views, and authentic encounters with the area's local residents.
The main attraction to the area is, of course, the stunning collection of three waterfalls known as Sipi Falls. But simply viewing this natural wonder from afar is not enough. To truly experience Sipi Falls, you'll want to get up close and personal.
That means hiking the breathtaking route that weaves its way through the three falls, taking in stunning vistas and every day life of local farmers and herders.
If you plan to do a self-guided hike of the three falls, we've included tips and considerations plus a detailed map below.
If you plan on hiring a local guide (like I ultimately opted for), we've got tips for that too, plus our detailed trip report later in this guide.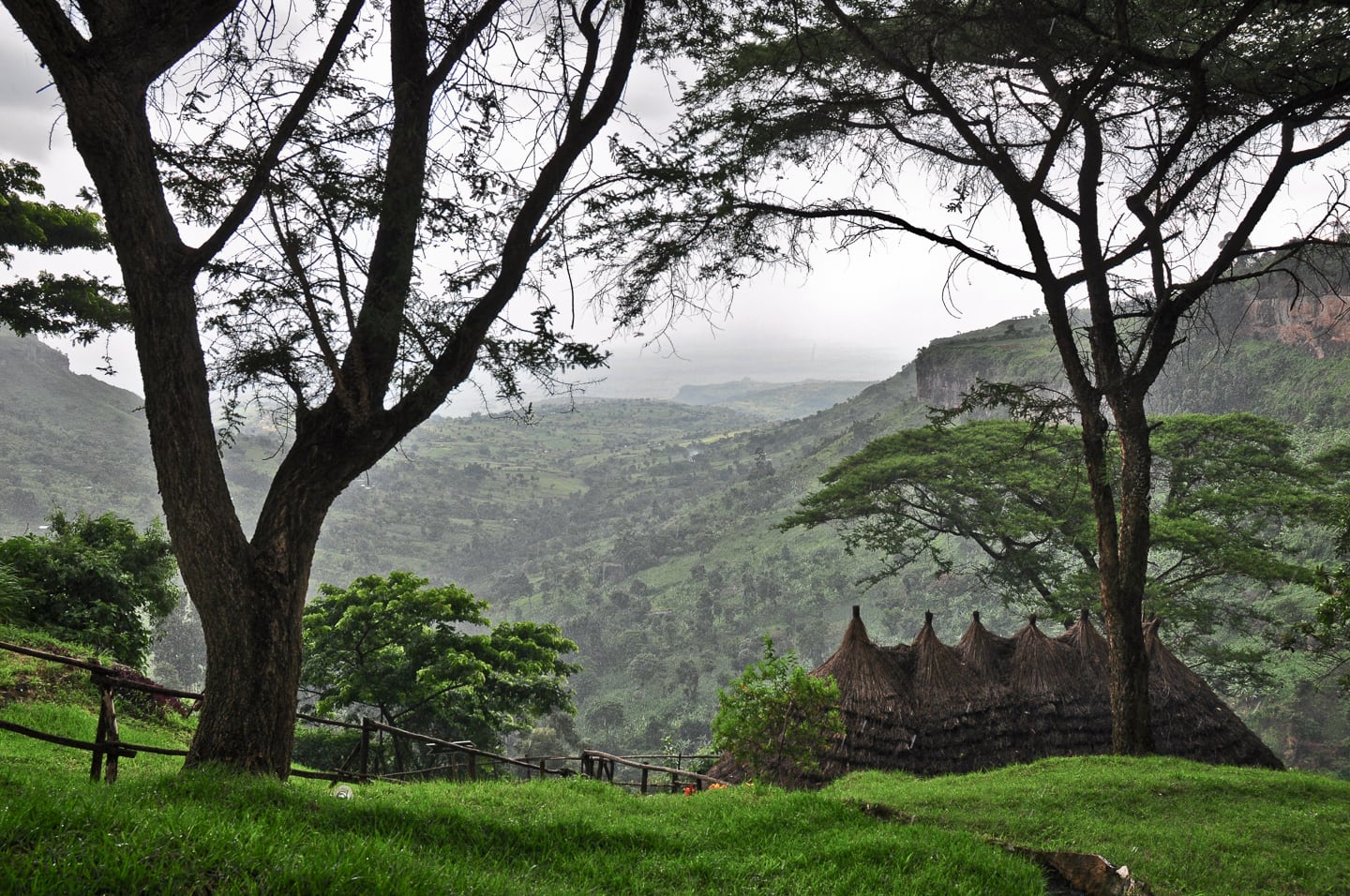 Getting to Sipi Falls
Getting to Sipi and putting it all together yourself is fairly straight-forward and will save you a bit of money, particularly if you are planning on doing the trip with more than one or two people.
However, if you're short on time or simply don't want to deal with matatus (shared minibus taxis), we recommend arranging a tour from Kampala ahead of time.
With a tour company, the journey to Sipi takes about five hours from Kampala, door-to-door.
If you are putting the trip together on your own, expect the journey to take the better part of a day, as you will likely have to do it in three separate legs (Kampala-Jinja-Mbale-Sipi). More on that below.
Along the way, expect to see local farmers working the fields, rugged bushland, and the stunning bright green Mt. Elgon foothills.
Please keep in mind that, like many places across Africa, transport options are often in a state of constant flux.
A journey that must be pieced together on mini-buses today may very well have an express bus option tomorrow covering the entire distance (and vice versa).
The following information is where things stood when we visited Sipi Falls.
Mbale to Sipi
As I had based myself out of the city of Mbale for a week, I simply caught a matatu from the main stand in town to Kapchorwa (Sipi).
The cost was about $5.00 per person each way, and the trip took about an hour.
Just tell the drivers at the main stand that you're going to Sipi Falls and they will point you in the direction of the Kapchorwa-bound matatus.
Once you find the right matatu, let your driver know you'd like to get off in Sipi (which is 10 km shy of Kapchorwa).
If you plan to stay overnight in Mbale, I highly recommend Mt. Elgon Hotel & Spa (where I stayed and loved it).
Jinja to Sipi
Head to the main matatu stand (better than trying to catch one on the road as they often leave full from the main station). Ask around for matatus to Mbale.
You'll need to switch matatus in Mbale for a Sipi-bound matatu. Simply tell your driver that you're headed to Sipi and they'll let you off where the Sipi-bound matatus leave from.
This leg of the journey generally doesn't take longer than 3 hours. Once in Mbale, follow the Mbale to Sipi instructions above.
If you find yourself passing through Jinja, you'll want to consider staying a few days in Uganda's outdoor adventure capital. For lodging, check out 2 Friends Guest House.
Kampala to Sipi
From Kampala, you'll need to first get yourself to Jinja, where you'll change matatus for Mbale, and then finally Sipi (see instructions above for both legs).
At the time of my visit, the best way to get from Kampala to Sipi on your own was by catching a Jinja-bound matatu along, you guessed it, Jinja Road in Kampala.
This is a busy route, so you shouldn't have to wait too long, but you'll maximize your chances by leaving earlier in the day (and ensure your taking advantage of the cooler hours).
As long as you aren't trying to leave Kampala during "the jam" (i.e. rush hour), the journey to Jinja shouldn't take longer than 3 hours.
If you find yourself in Kampala (which is certainly worth your time for a few nights), Humura Resort is an excellent centrally-located stay for international travelers. Also be sure to check out Munyonyo Commonwealth Resort for a superb stay on the shores of Lake Victoria.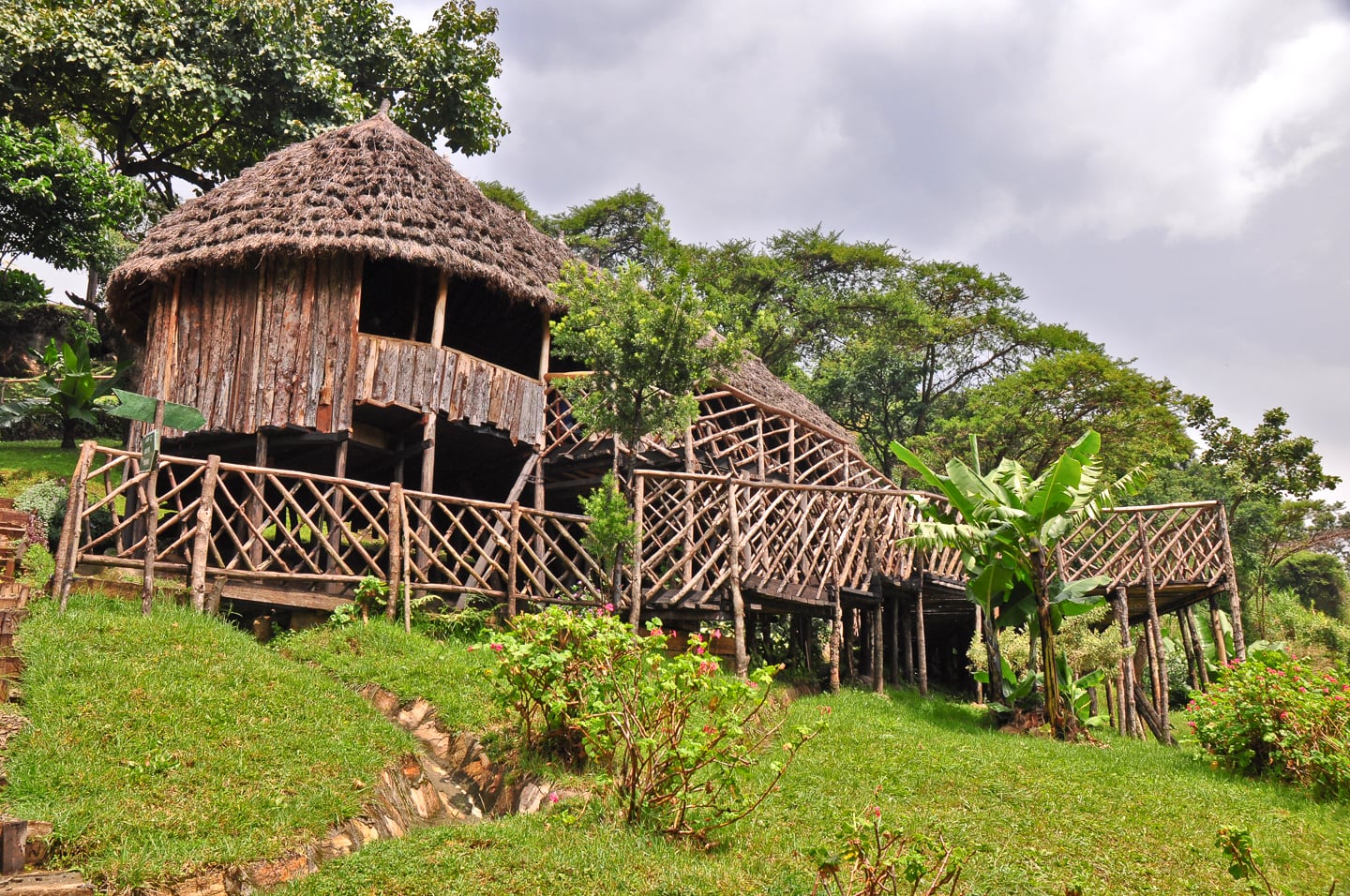 Where to Stay Near Sipi Falls
When you get to Sipi village, you'll find plenty of lodging and eating options along the main road. The best accommodation options can fill up quickly, so we advise booking ahead.
Our Sipi Falls Lodging Pick
We stayed at the rustic, yet eco-friendly and tastefully designed Lacam Lodge and would highly recommend it. Lacam is not the cheapest option in town, but it is an excellent value for the money with a superb location.
Lacam Lodge was the closest lodging option to the scenic lower falls (and in fact, the lodge is perched OVER the main falls!). Self-contained bandas (cabanas/huts) ran about US$40/person including full board.
Lacam is serious about the environment. They utilize solar power, solar hot water, and compost toilets — the latter being an experience in itself if you've never used one!
For the Tighter Budget
If your budget is tighter than that, you may be better off arriving early in Sipi and looking for accommodation on your own, as there are several budget and dorm-style options that don't necessarily have a web presence.
The Crow's Nest is a popular budget hostel in town, where a dorm bed can be had for around US$15/night. Book online, call ahead (+256 752 515389), or just show up.
There are also camping options available as well. Moses Campsite in the village seems to be a good bet if you're on a budget and have your own camping gear.
In terms of food and groceries, there are a number of local eateries in town where you can find both local and international meals, and a few small grocery stores and a fresh market where you can stock up on the essentials.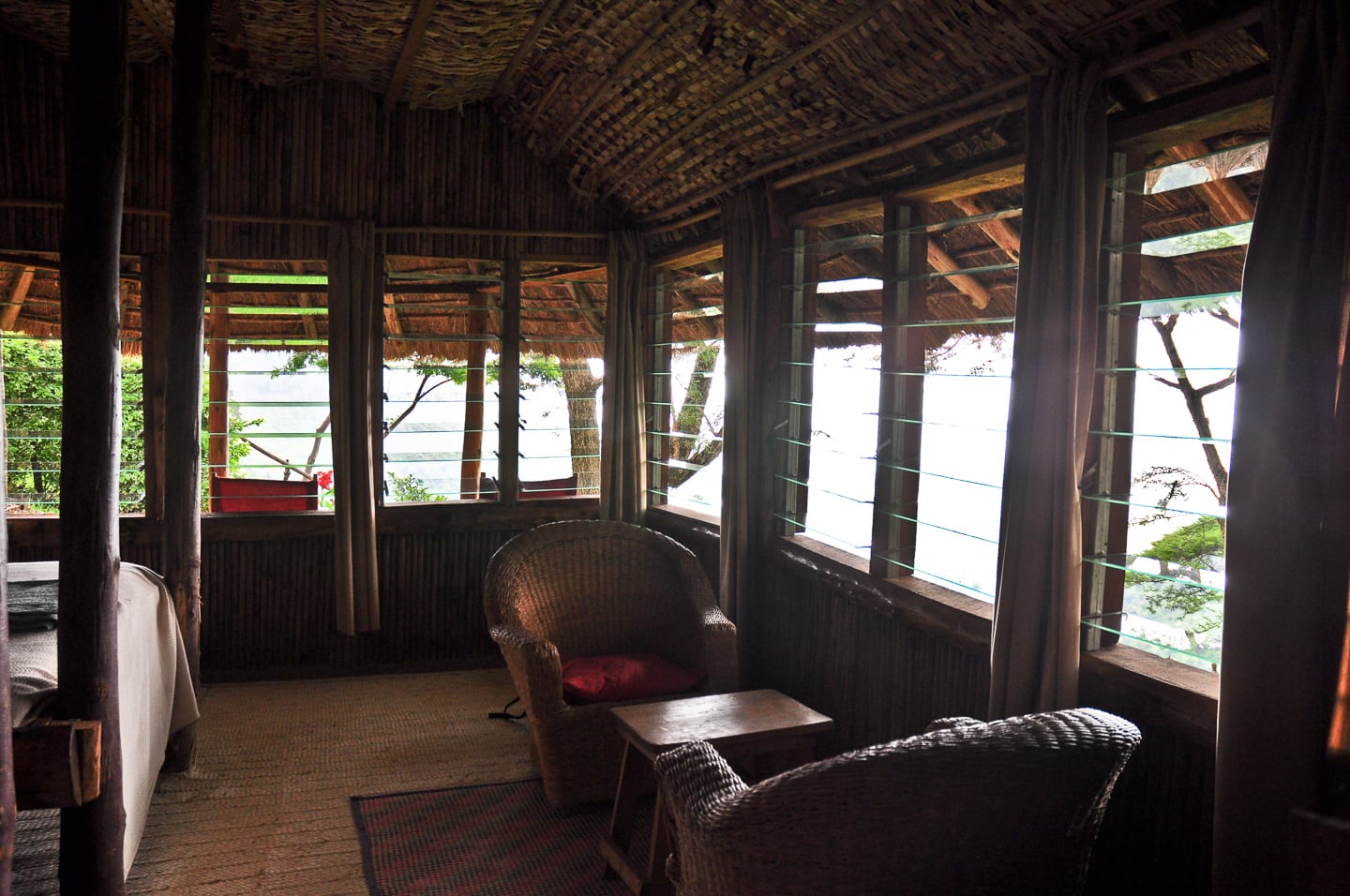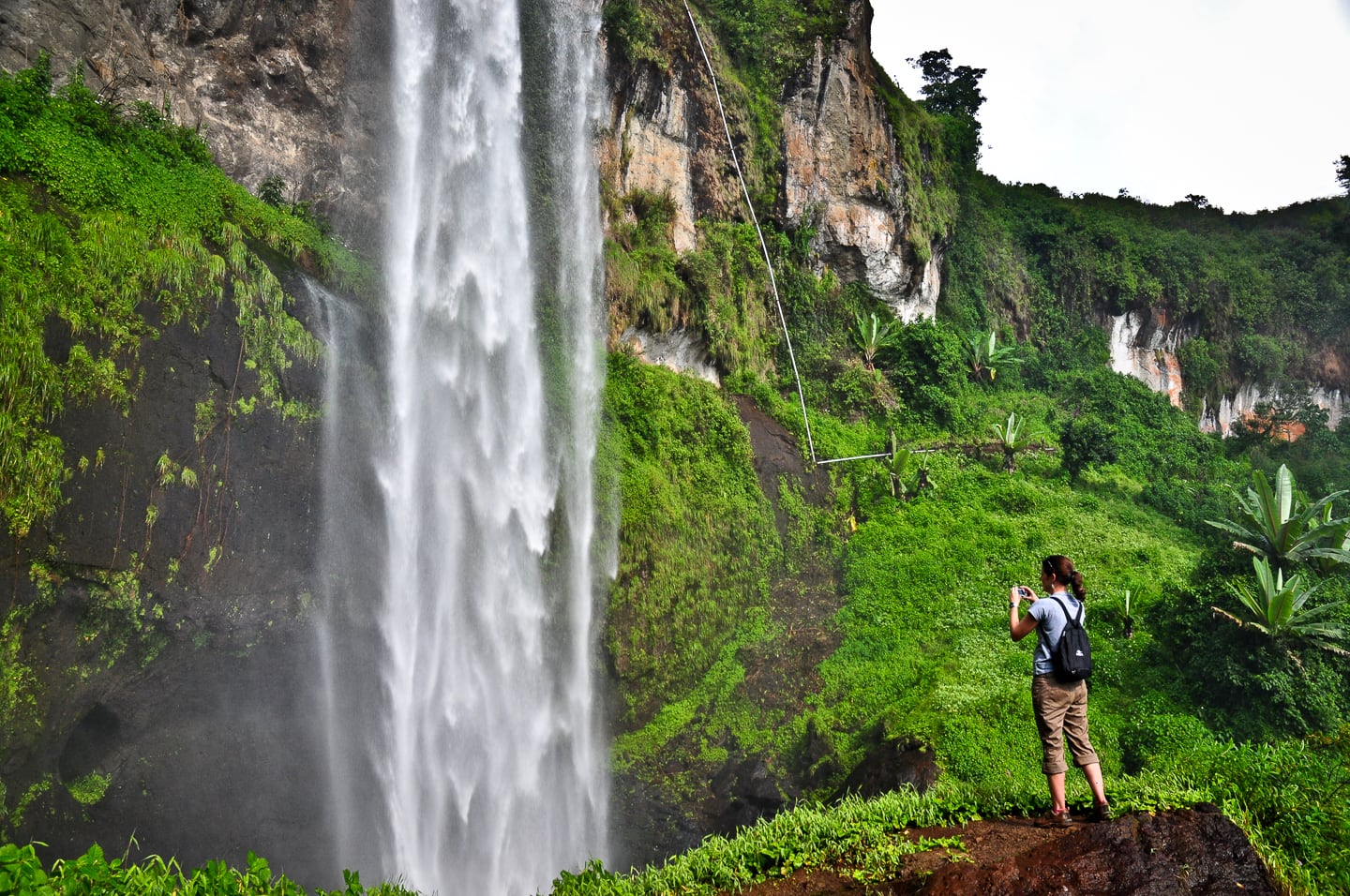 Tips + Considerations for Hiking Sipi Falls
Here's a few things to take into consideration before starting your journey.
The lower falls (First Fall) are nice and all (they do drop the height of a football field!), but most folks visit Sipi Falls hoping to do the whole enchilada — viewing the lower falls AND doing a hike to the middle falls (Simba) and upper falls (Ngasire).
This is a top-notch hike that takes you through family farms and lush, green jungly landscape, punctuated by bright red clay. Along the way, expect to encounter a slew of livestock, exotic birds, and, of course, three magnificent waterfalls.
The route to the falls starts near Lacam Lodge, winding along the Sasa Trail.
About halfway between the lower and middle falls, you will have to pay an entrance fee at Sipi River Lodge to continue through the lodge property and over the bridge. This is really the only way to reach the middle and upper falls, but the fee was only a buck or two.
The hike to the bottom and top of the middle and upper falls can easily take the better part of the day. If you are strapped for time, you can cut out the hike to the top of the third falls, or the bottom of the third falls, as seeing both the top and bottom require you to double back.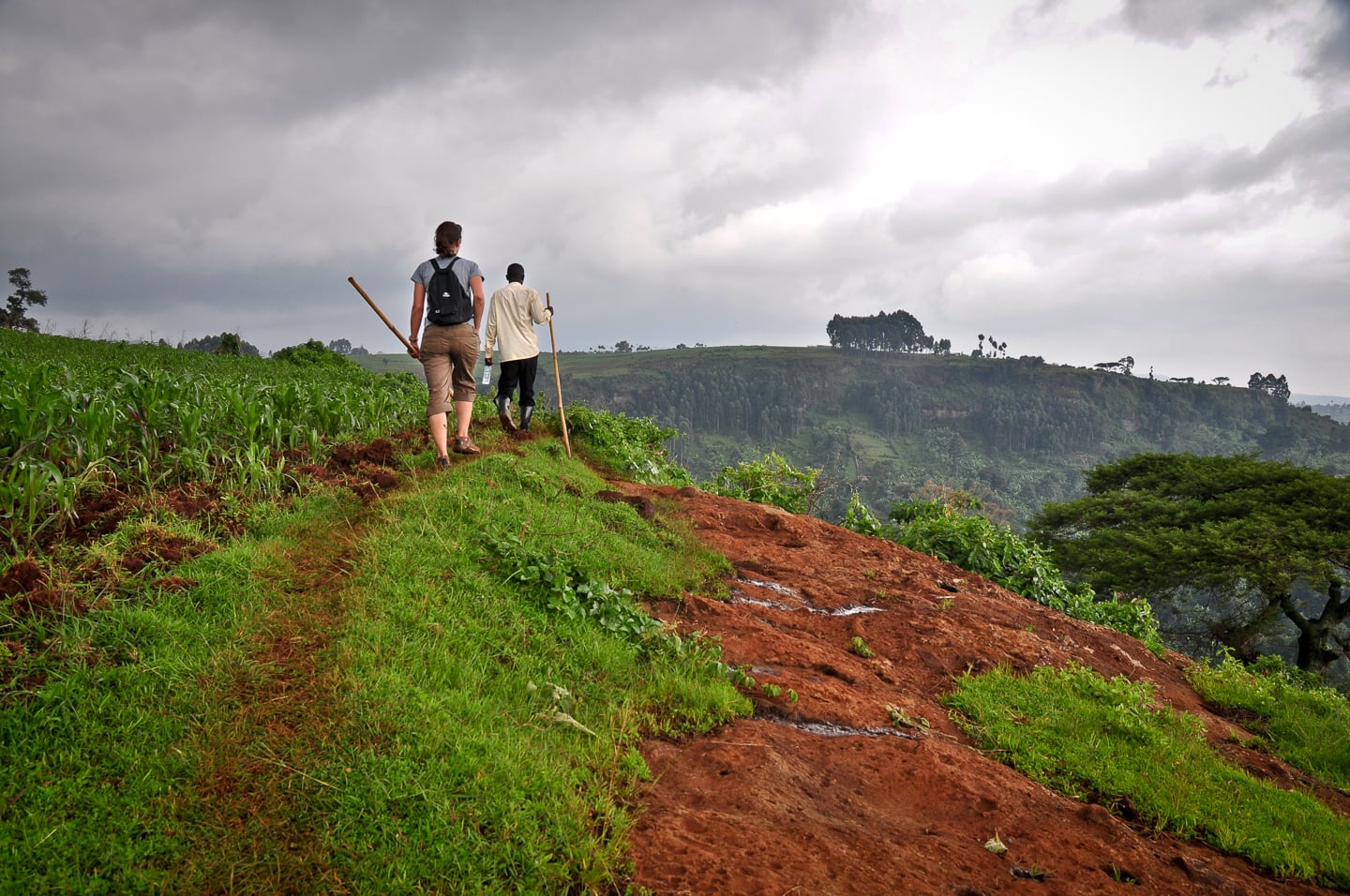 Local Guide or Self-Guided?
Some visitors choose to do the hike independent of a guide. We originally intended to do it on our own, but later changed our minds after learning that large portions of the trail (particularly to access the bottom of the upper falls) simply aren't marked very well.
It's particularly worth considering going with a local guide if it's been raining a lot, as key parts of the trail can get washed out.
We arranged our guide through Lacam lodge and ultimately found him to be extremely helpful (if wrong about the weather…), particularly on our way back negotiating streams of muck in a freak rainstorm.
Now, you can even arrange a top local guide in advance or combine your Sipi Falls visit into a larger multi-day tour of Uganda.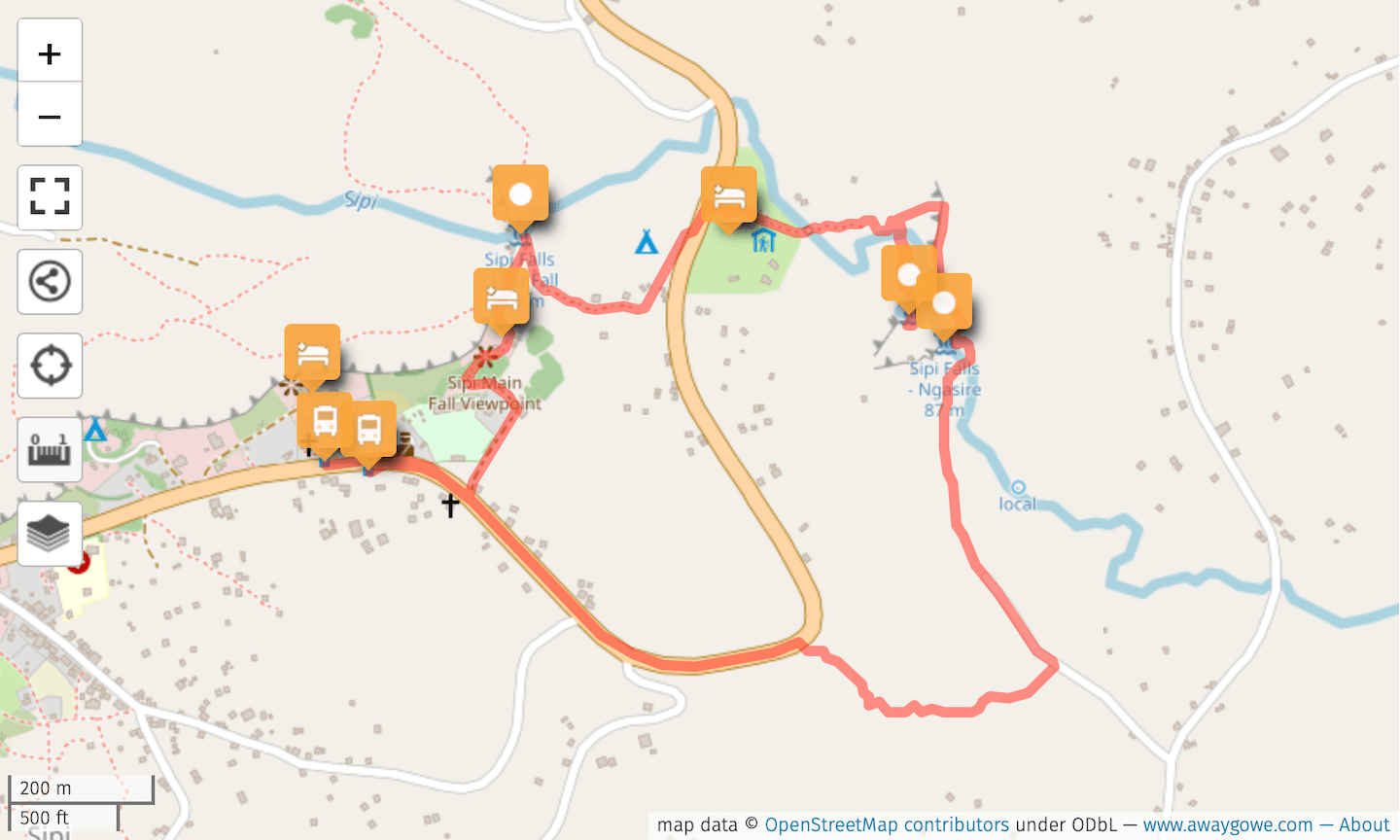 Sipi Falls Map
While multi-day trekking tracks in and around the Sipi Falls region are well documented on popular hiking apps and OpenStreetMap.org, a good map for hiking the three falls of Sipi Falls is next to impossible to come by.
This may very well be attributed to the face that the hike relies heavily on informal footpaths that can change from season to season.
For these reasons, if you're short on time, not up for (or provisioned for) a bit of an adventure, attempting the hike in the rainy season, or any number of other good reasons, hiring a local guide may be better than trying to DIY this one.
However, if you're keen on hiking Sipi Falls on your own, you can use our interactive map as a guide.
Please keep in mind that the hiking track we've provided (in RED) should NOT be taken as Gospel, as it is based on one GPS trace at on one particular day. In rural areas of Uganda, bridges and paths can change from time to time, and rivers often swell and recede with the seasons.
Read on for a much more detailed trip report from my own experience.
Other Popular Ways to Visit Sipi Falls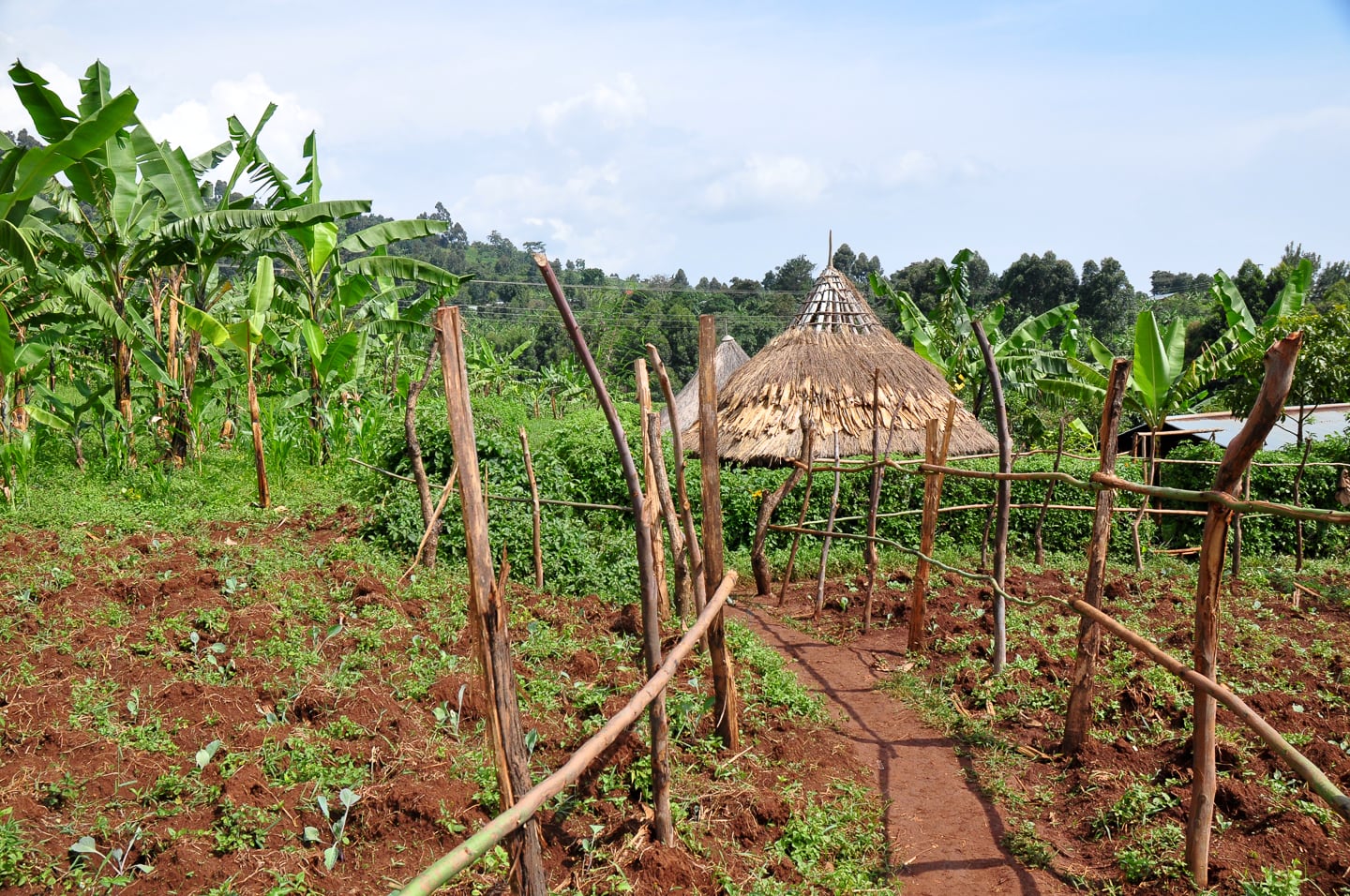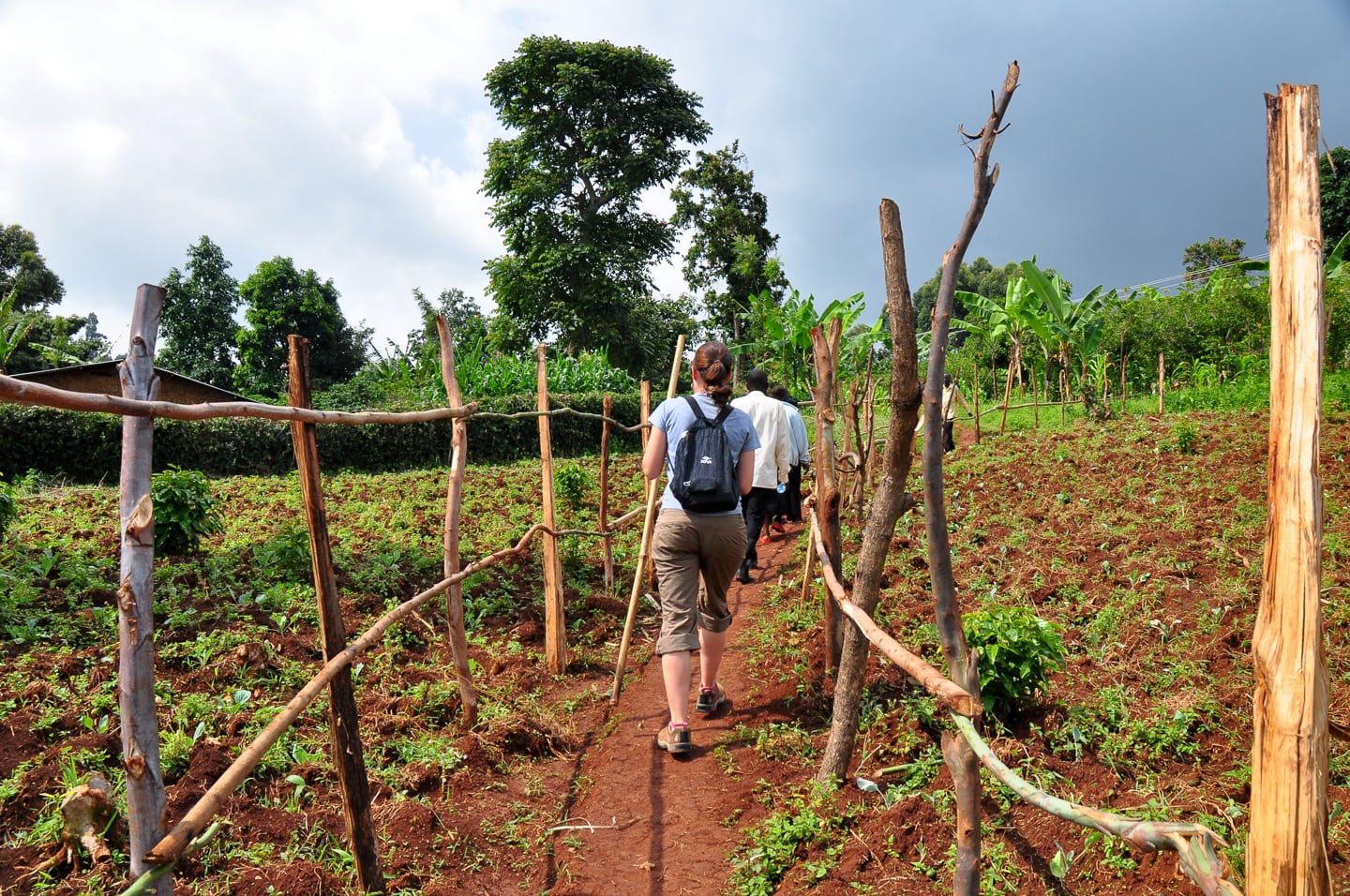 Our Complete Sipi Falls Hiking Report
Before setting out, we saw dark clouds on the horizon and asked if we should pack rain gear. Our guide said with a chuckle, "You may, but I don't think you'll need it. It hasn't rained in the afternoon here in over three years!"
Famous. Last. Words.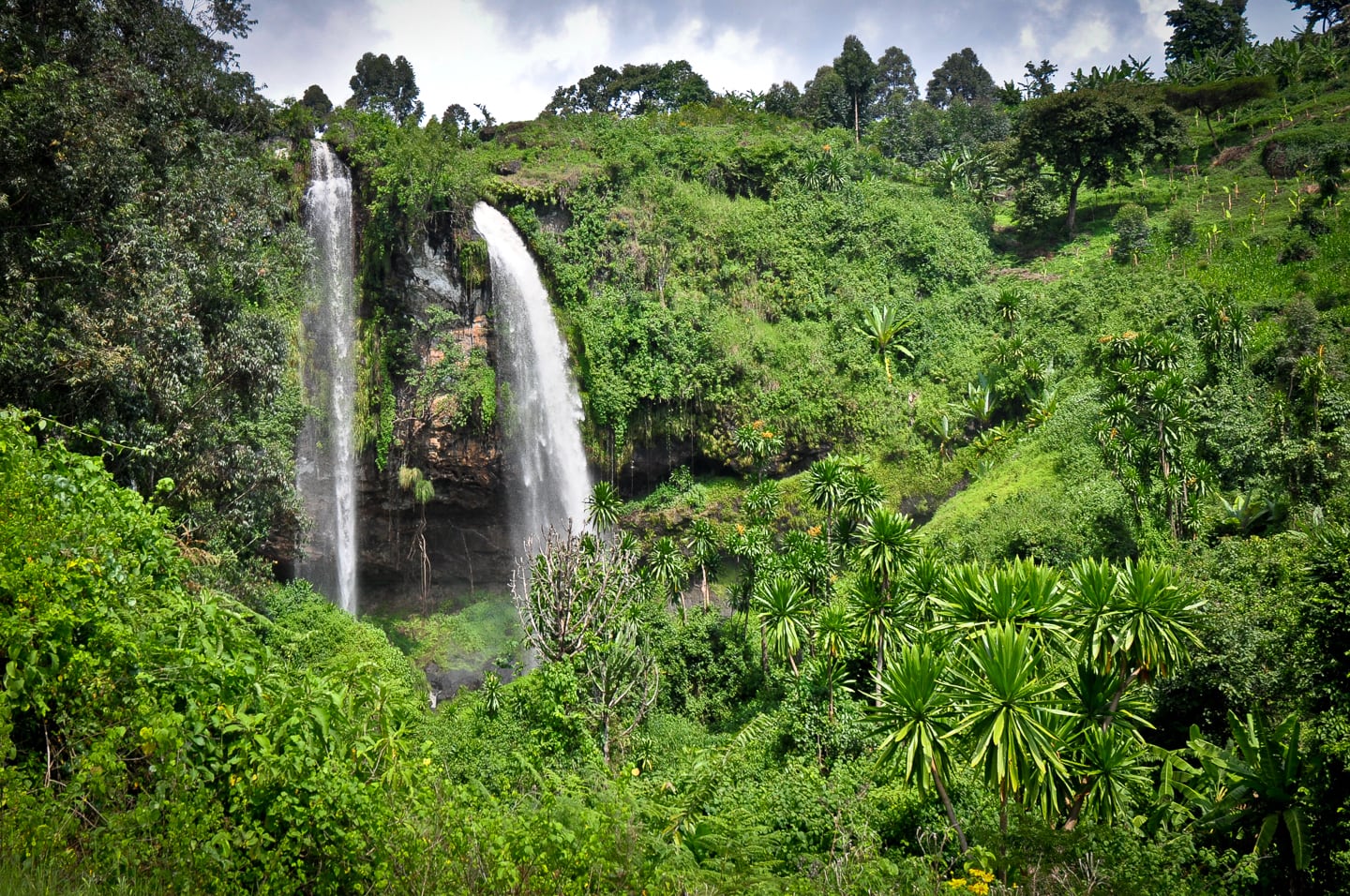 Middle Sipi Falls (Simba Falls)
We arrived at the middle set of falls fairly quickly. These ones were especially cool because the trail led behind the wall of falling water.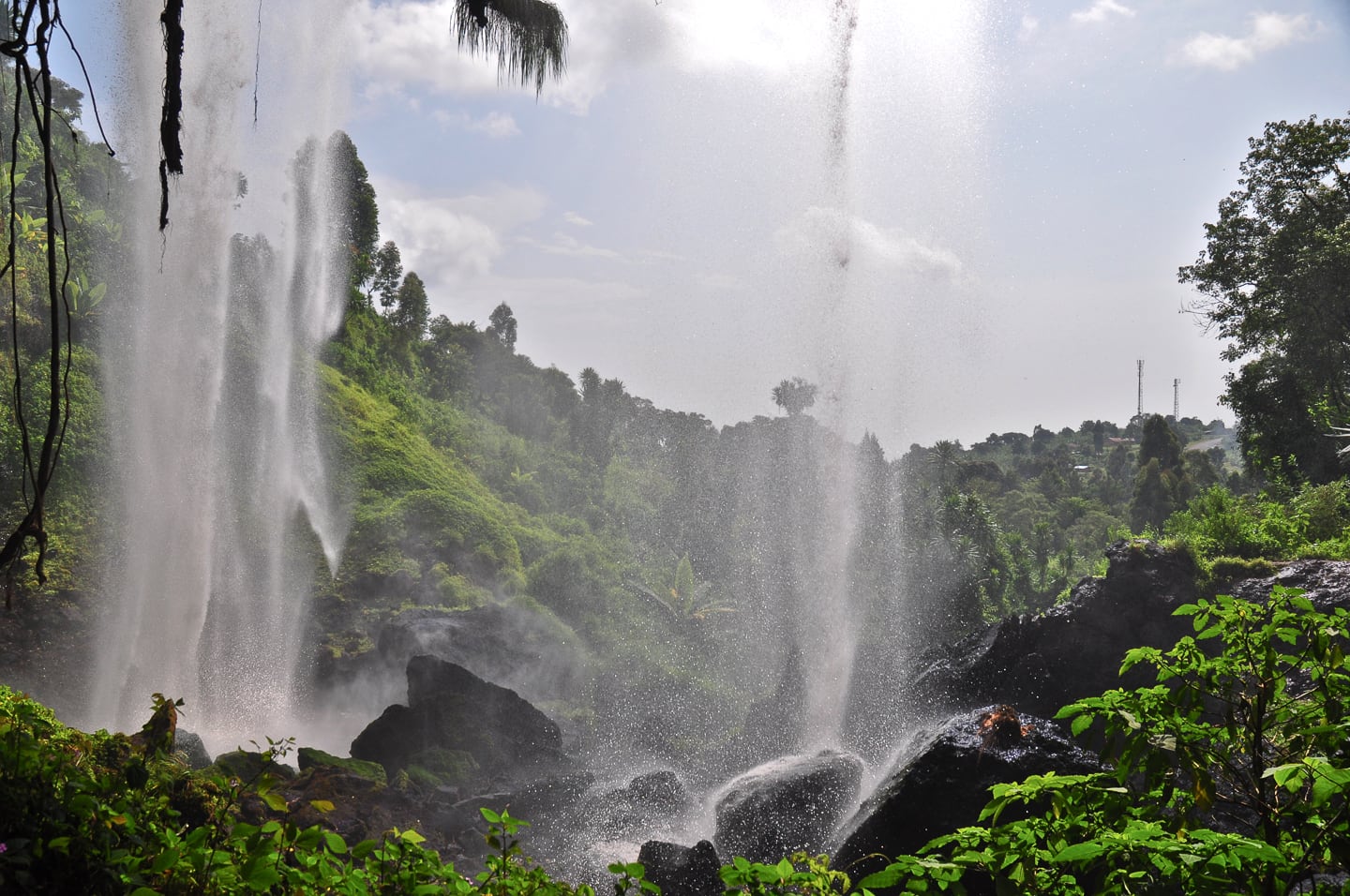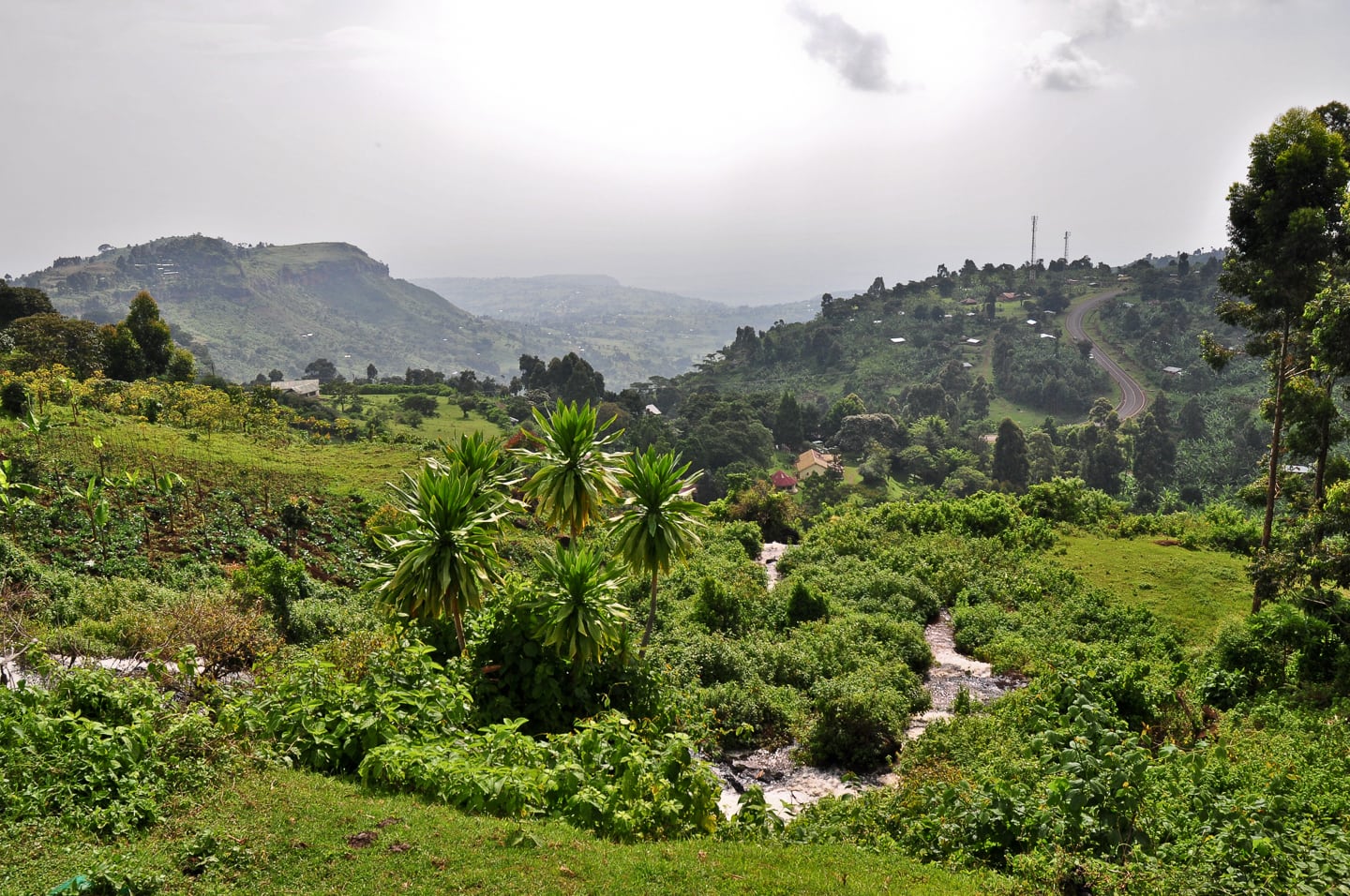 Not much altitude gain yet, but we're already treated to some nice views of the Karamoja Plains, even with a bit of haze.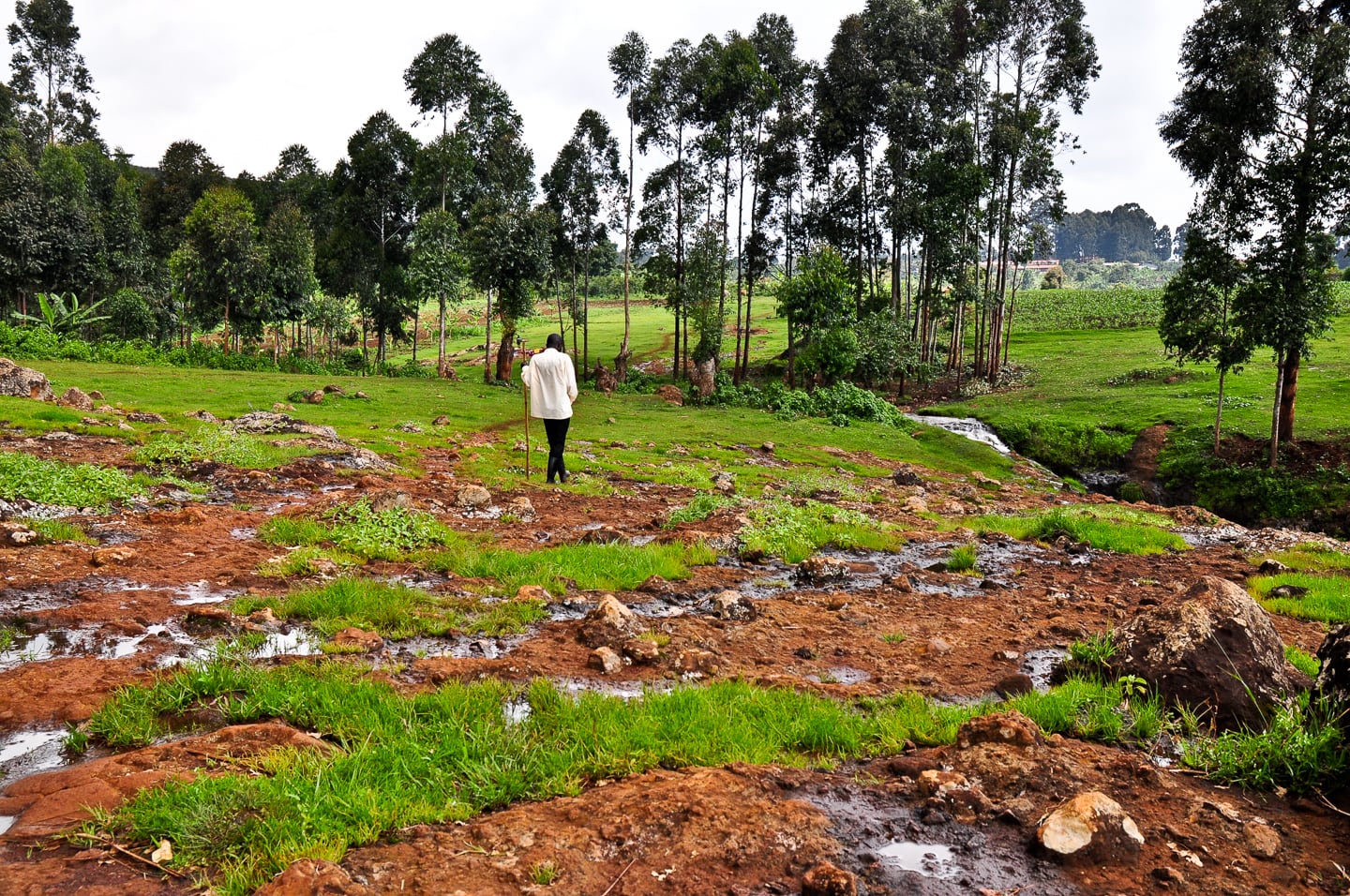 At times, our guide ambles ahead slowly while we stop to take photos and take in our surroundings.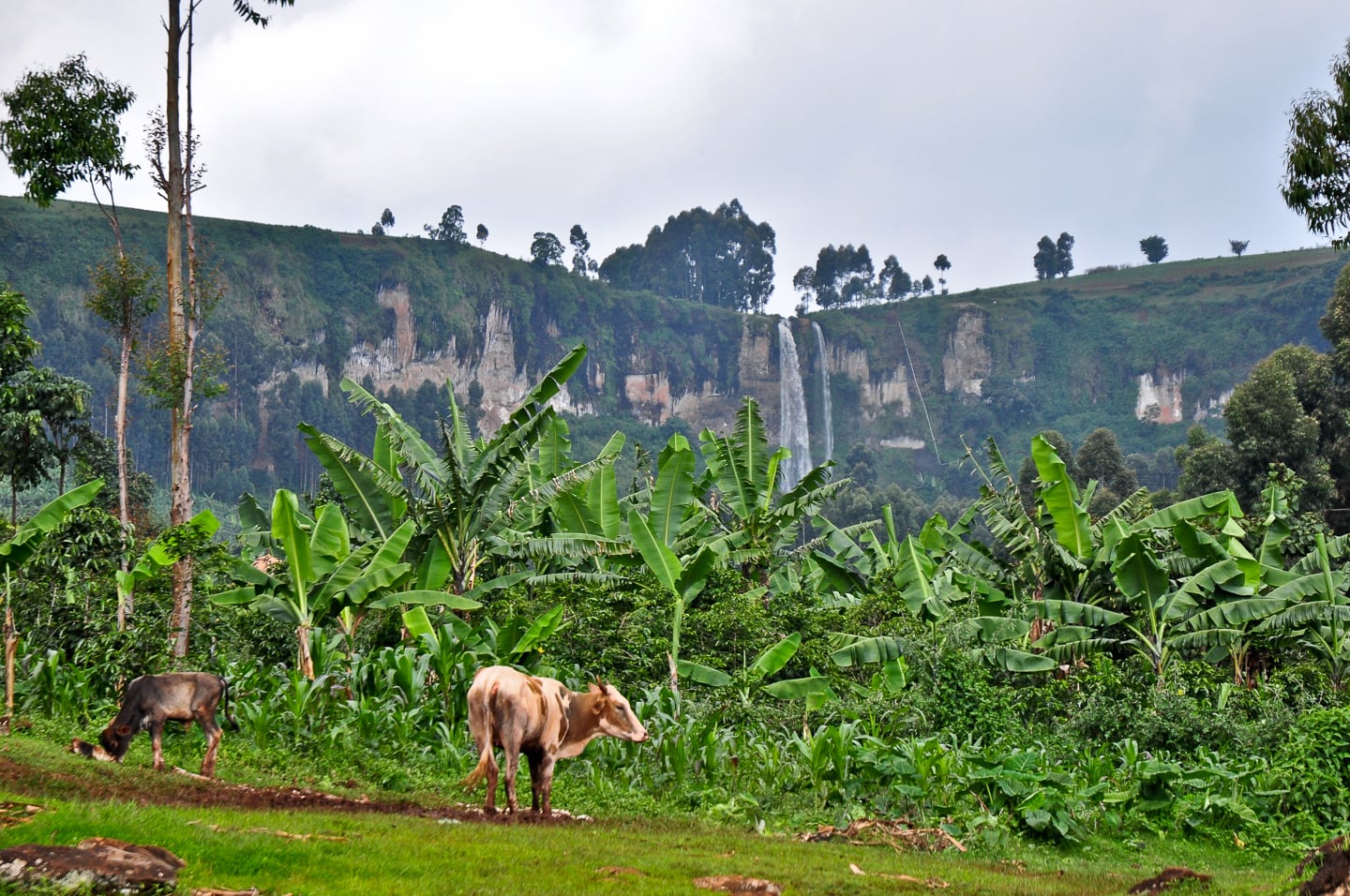 A short while later, the upper falls (Ngasire Falls) come into view, plummeting over a sheer wall covered with lush vegetation. Fields and fields of crops stand between us and reaching the falls, with a number of narrow paths snaking their way in every direction. Fortunately, our guide knows which one to take.
One thing I never get tired of in this part of Uganda is how freakin' lush and green everything is.
When non-Africans think of Africa, undoubtedly, many images come to mind — savannah, desert, Baobob trees, maybe even jungle — but probably not these images here.
A real-life picture postcard of Eden.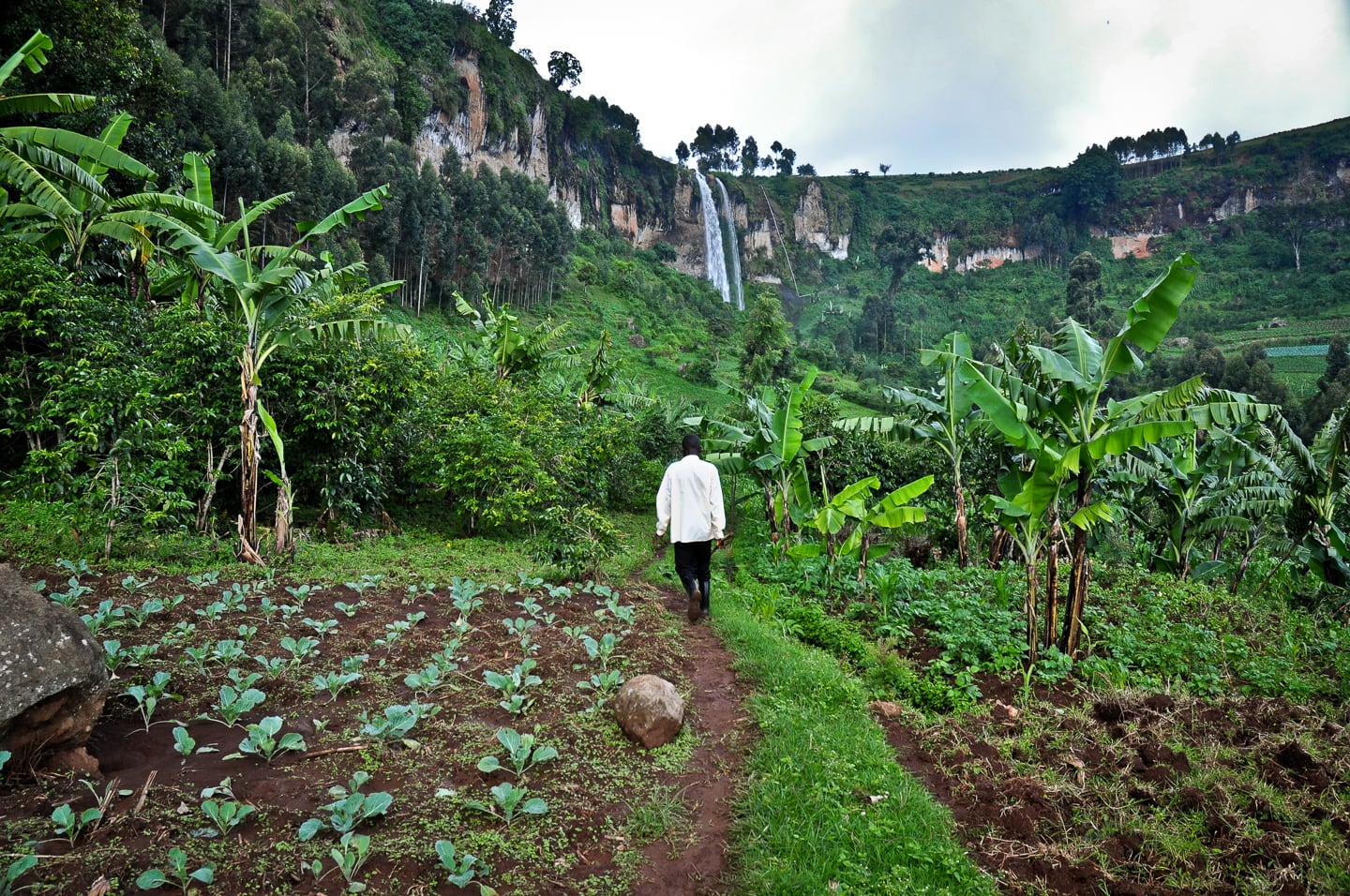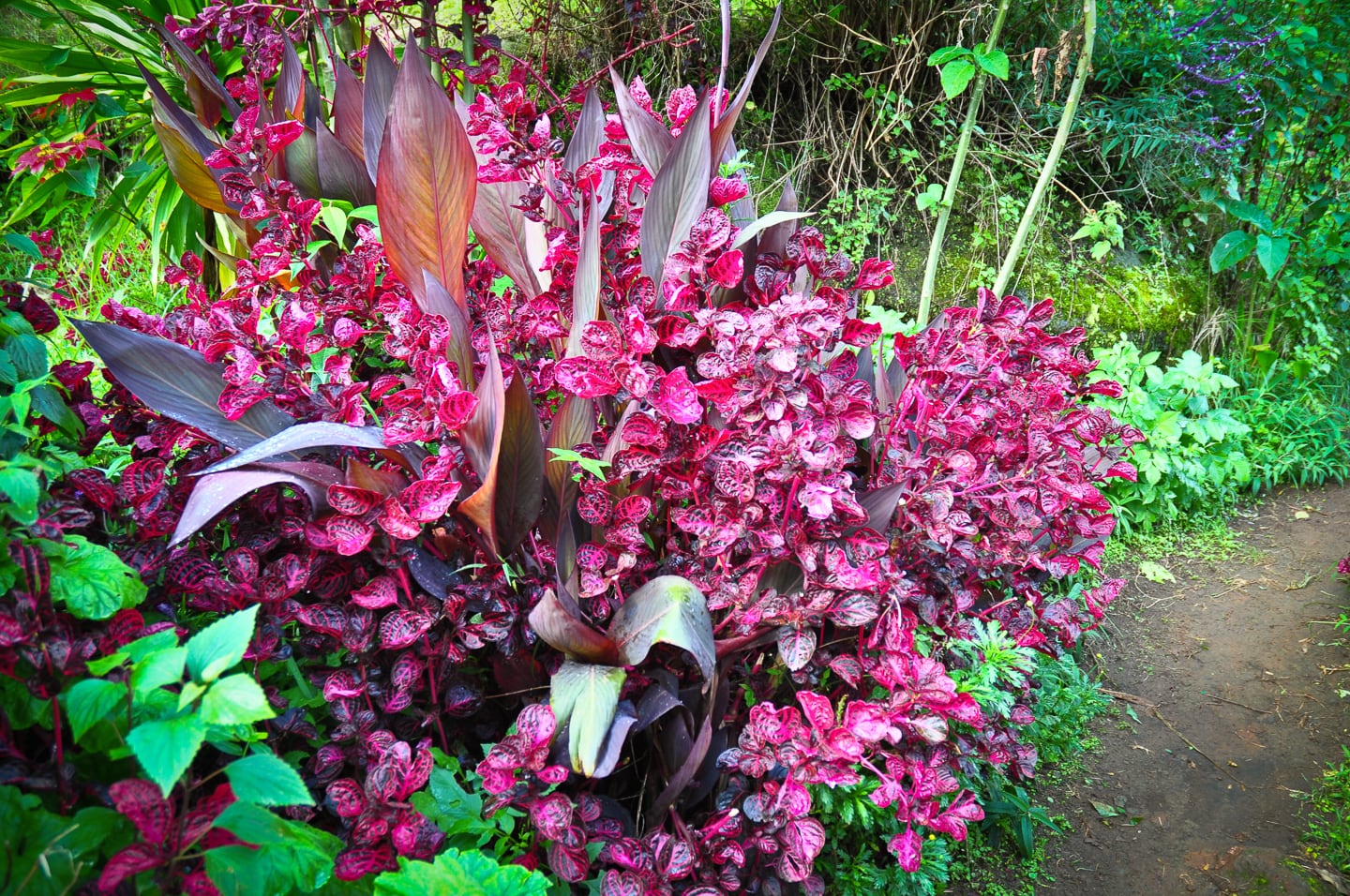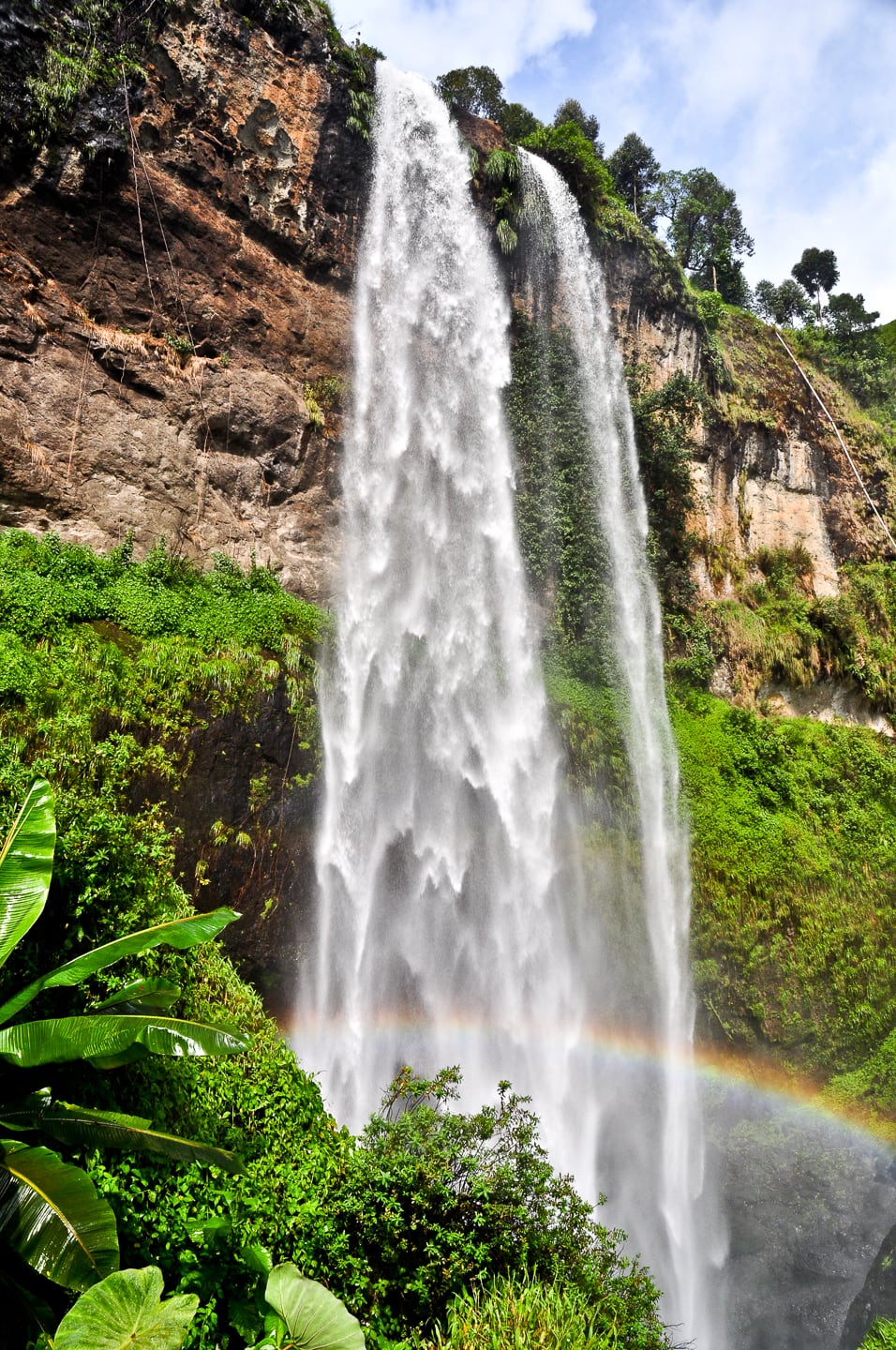 Upper Sipi Falls (Ngasire Falls)
Finally, we arrive at the third and final set of falls.
The climate tends to be considerably cooler in this part of the country compared with Kampala or Jinja, largely due to the elevation (1800 m / 5,900 ft.). Yet, there's no escaping the sun on this leg of the journey, and it is blazing hot here in late June. Fortunately, there's a ton of spray coming off the falls, which feels awesome in the heat of the day.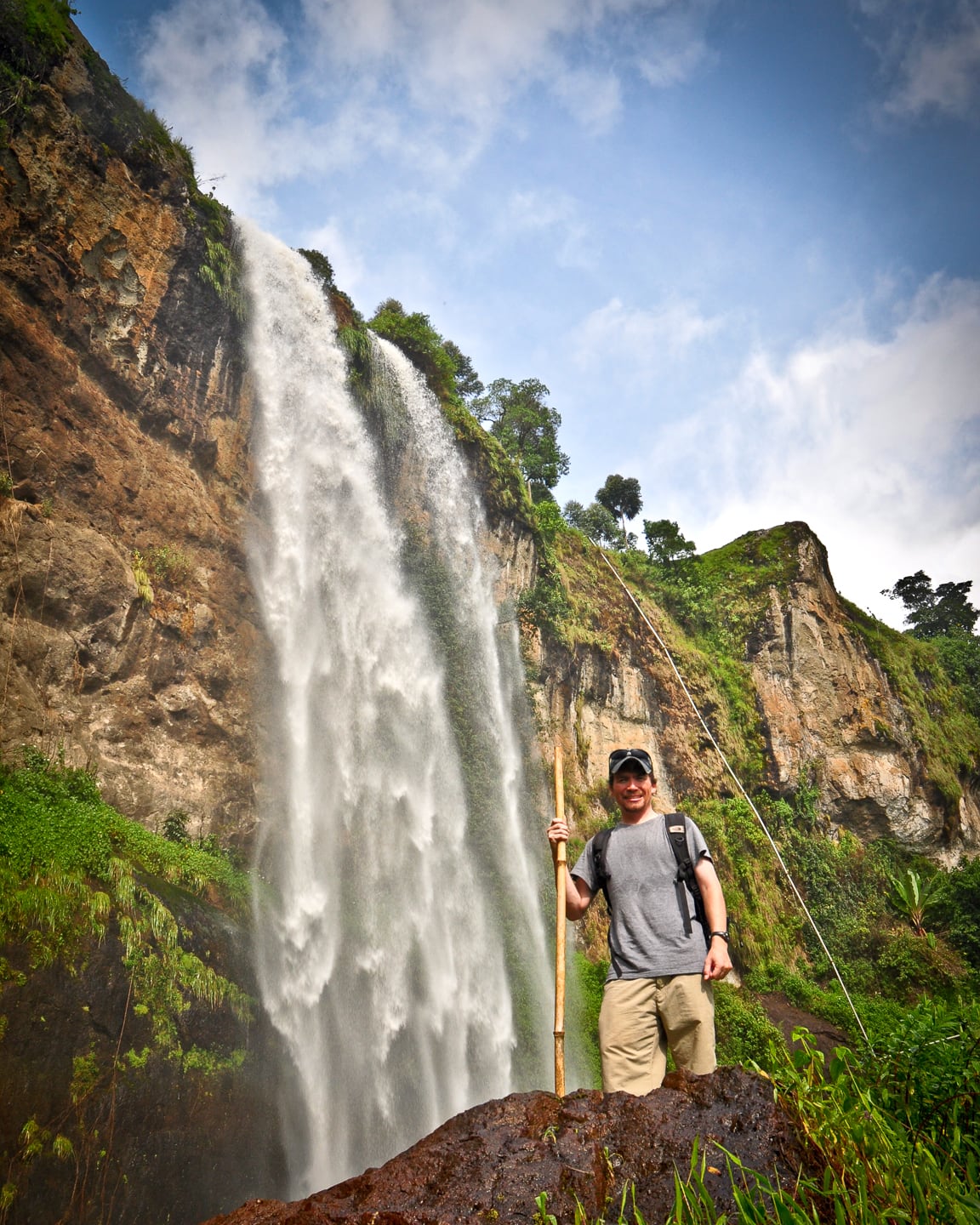 Top of the Falls
But the adventure doesn't end here. We're only about half-way through the hike!
We continue to follow our trusty guide higher and higher until we reach the very tip-top of the upper falls, and are treated to some truly stunning scenery.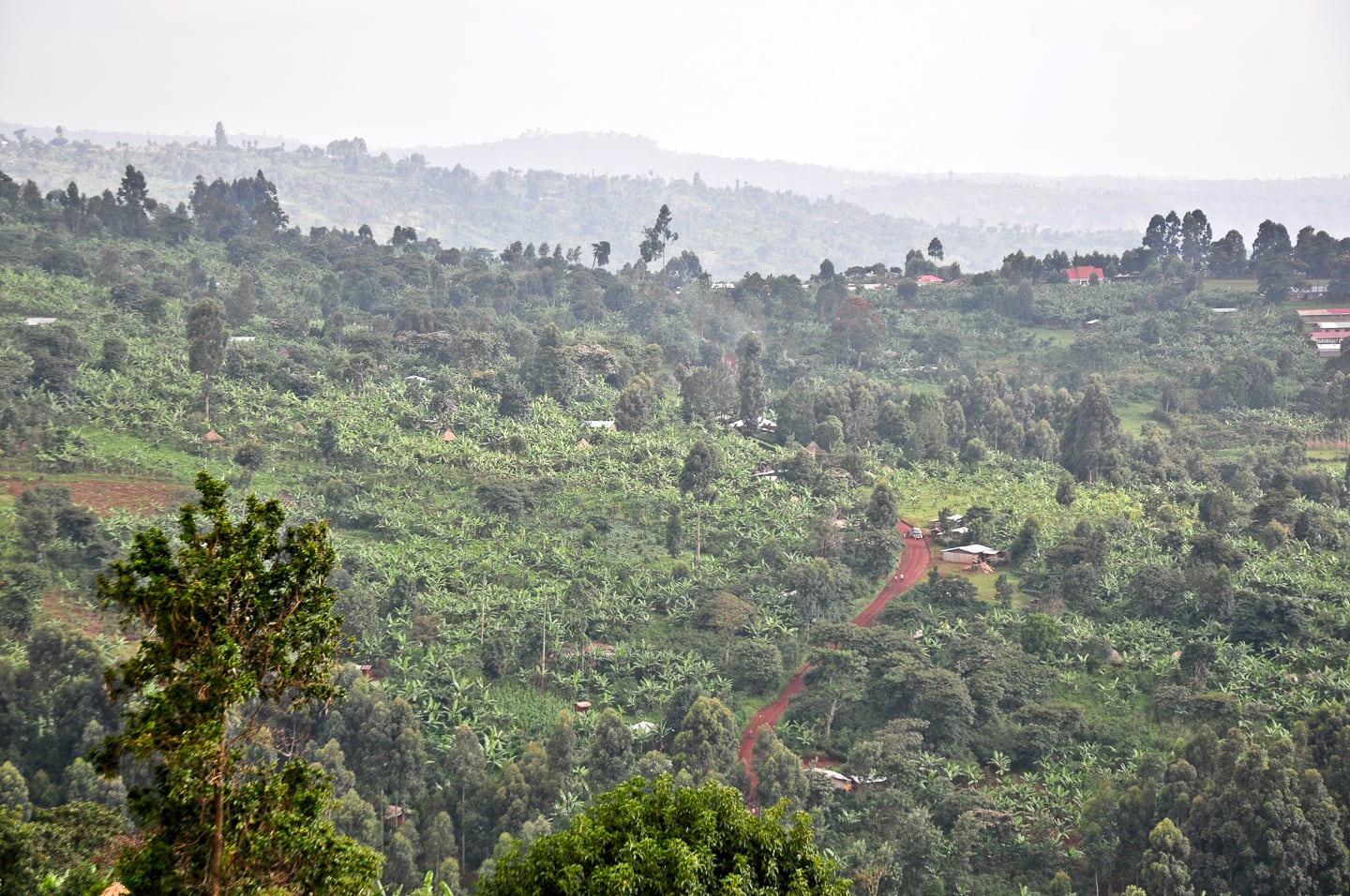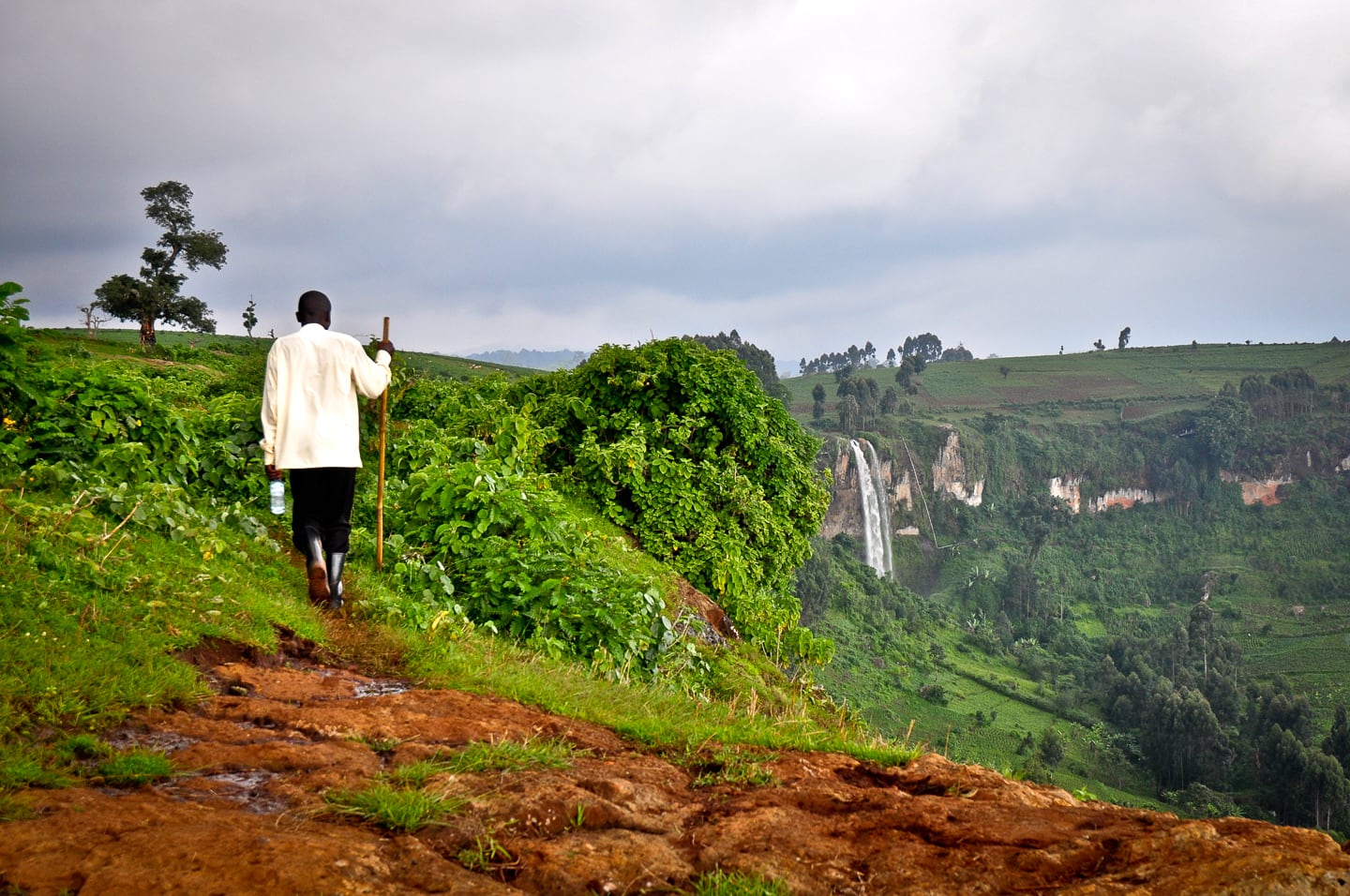 Though we've got a good amount of hike left at this point, this photograph (above) is the last I have of our hike.
Seconds later, all hell breaks loose. The skies open up, lightning crashes down, and I'm frantically packing my camera and fishing out my rain jacket.
Yep…I ended up packing my rain jacket against the recommendation of our guide.
It's not that I didn't trust him or believe that it hadn't rained in the afternoon in three years (though that did seem a bit far-fetched in a place so lush) — I just didn't trust the ominous clouds, and rightly so, it seems.
Five minutes later, we found ourselves huddled in a tiny reed hut in the middle of a wide open space atop a ridge. The hut was the only shelter on the plateau and lightning was striking all around us, some in very close proximity to our little hut…not the most ideal location you want to be in in this type of situation, but the only option we had.
In Uganda, you take electrical storms seriously.
During our two months in-country so far, the news has reported a number of lightning related-deaths on an ongoing basis.
One such incident that left a particularly indelible impression on me involved a school room full of children. Lightning struck the metal roofing of the typical concrete classroom, killing 50 students.
50 students!
Turns out that the school had had a lightning rod installed on the roof for many years, but had removed it recently due to lack of lightning strikes in the area over the past few years and budget considerations.
School officials thought the change in weather would be permanent, but it turned out to be a cyclical phenomenon.
The Return Journey
After 20-30 minutes cowering in the shelter, we realized the storm wasn't letting up and decided to try and make it down in the rain.
The hike up to this point had not been too strenuous, but the return journey down the hill back to the village was a bit harrowing.
At the top of the third falls, we had a choice. We could have back-tracked the way we came, via the second falls, or make a loop back via the village. Our guide chose the latter, which was quicker, but involved some steep and muddy descents.
Needless to say, by the time we made it back to town we were soaked and covered in red clay mud, horrid stuff to try to clean off if you've ever had to deal with it.
My shoes were the worst. I must've added about ten pounds to each shoe in caked-on red clay.
(Luckily, the fine people at Mt. Elgon Hotel back in Mbale were nice enough to take care of my shoes for me! When I got them back, they were about as good as new and didn't cost me a penny (though I tipped the friendly groundskeeper who made it his mission to purge my footwear of the Sipi)).
When we made it back to Sipi village that afternoon, we stopped in at a small ma and pa chapati and chai joint (Sipi Coffee) — no, this ain't India, but apparently the Indians have had quite an impact on Uganda cuisine, as chapati and chai are about as ubiquitous in Uganda as they are in India…perhaps even more so!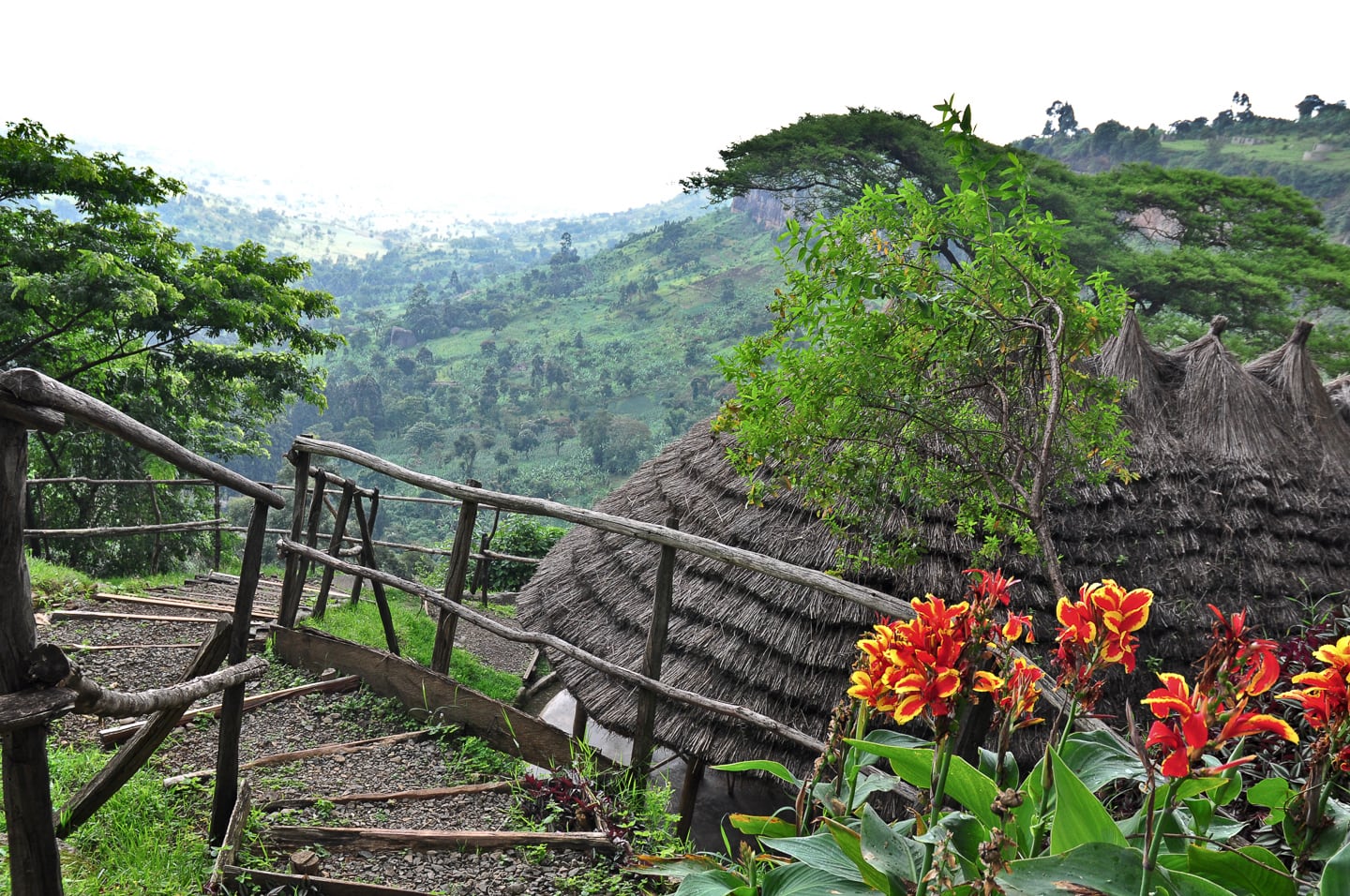 All in all, we couldn't be happier with our Sipi Falls experience, and our stay at Lacam Lodge.
It can be a long trip from Kampala, so a stop in Jinja to cruise the source of the Nile and break up the trip is definitely recommended if you have the time.
---
Have You Hiked Sipi Falls?
We'd love to hear about your experience in the comments below!
---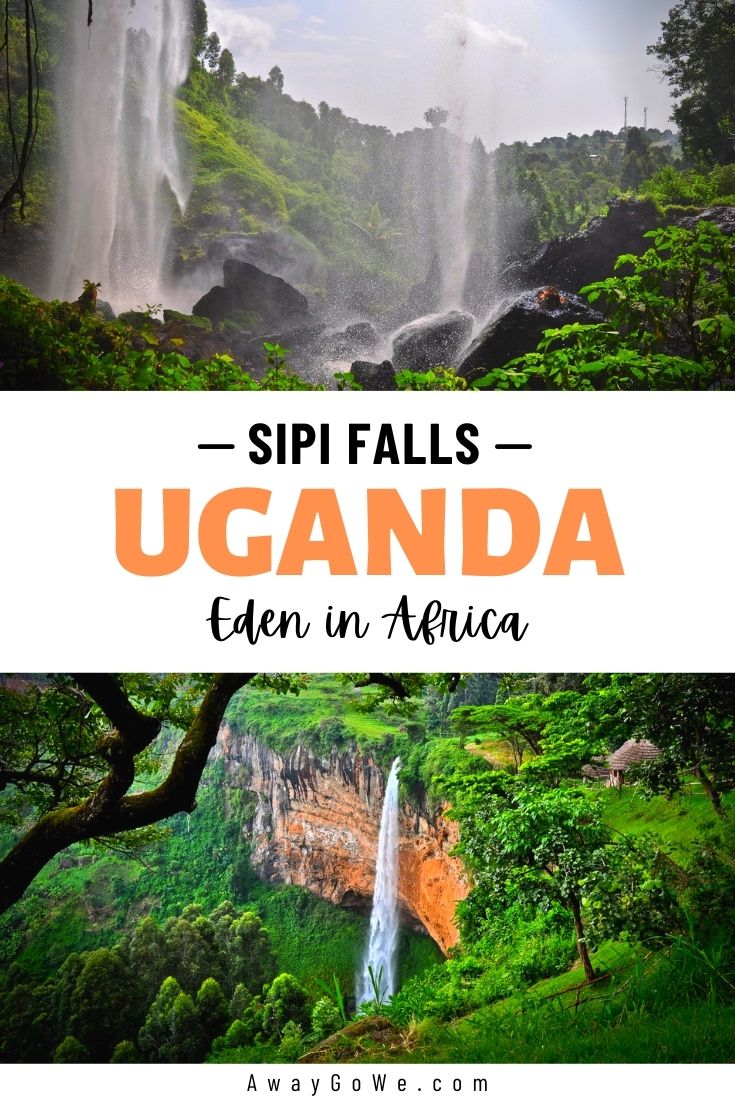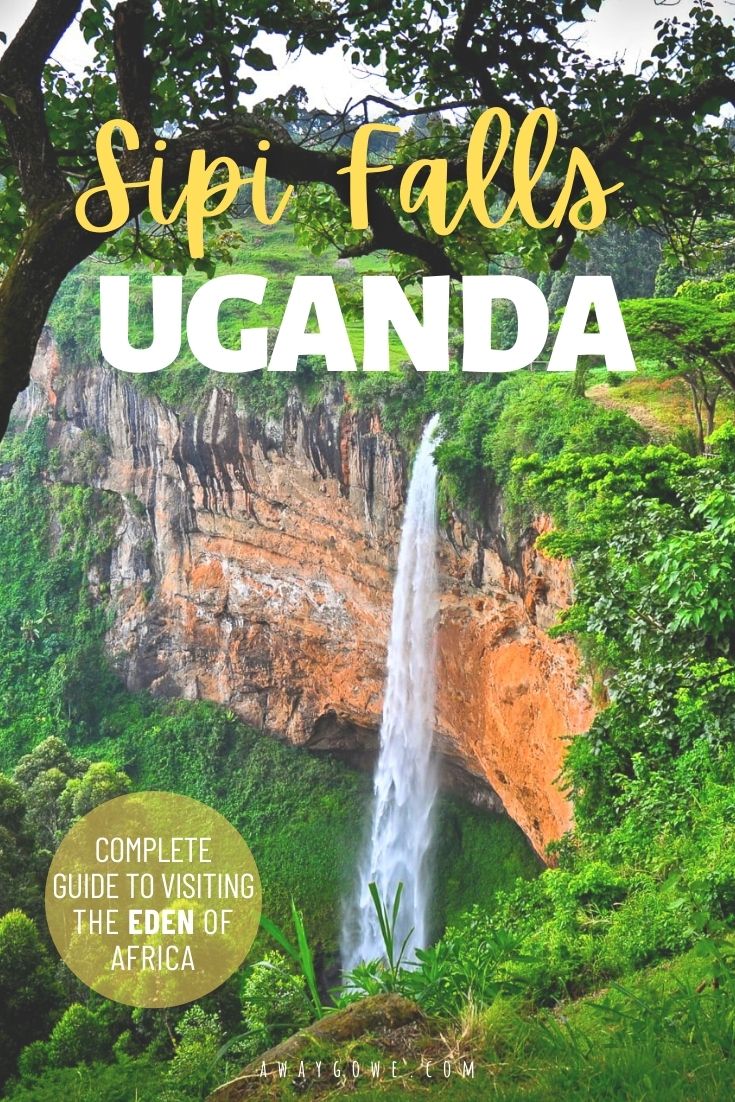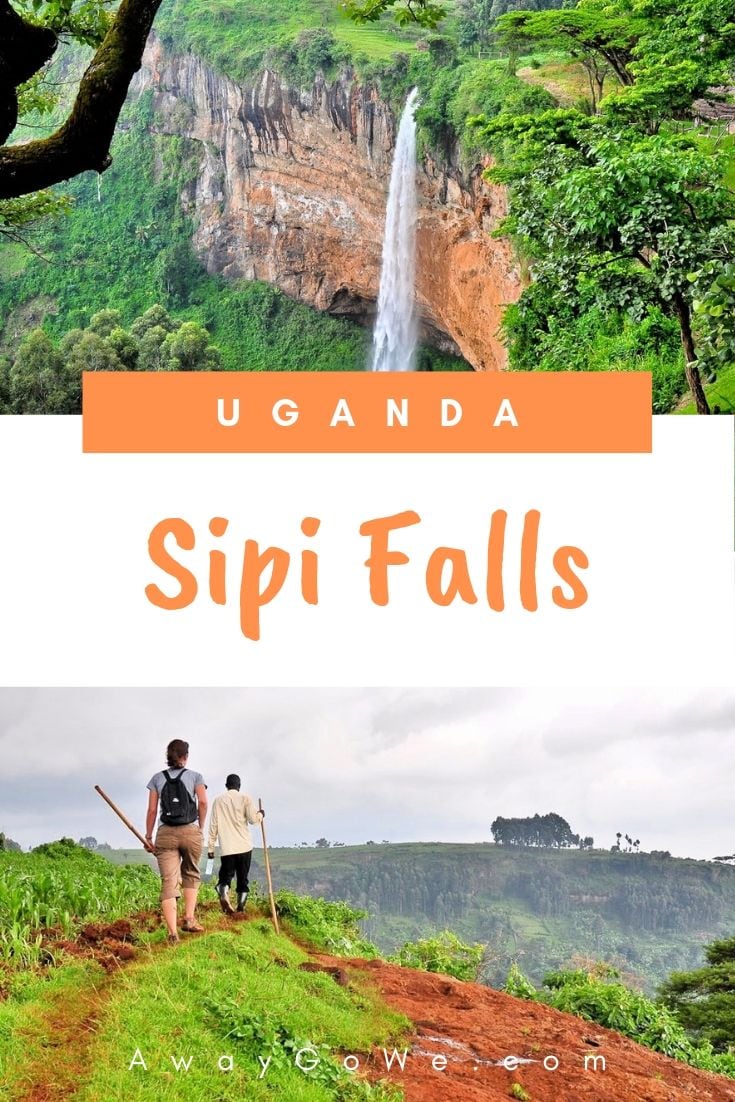 I've been a blogger and travel writer since 2010, covering everything from luxury hotels to hidden destinations and travel gear. Originally from Oregon, I've spent the majority of the past 20 years living outside of the U.S., in Mexico, the Caribbean, Southeast Asia, Africa, and Europe. I received a BA in Communications (Journalism) from Boston College, and an MA in International Development Studies from the George Washington University. I'm passionate about exploration and discovery, and providing independent, thoroughly-researched, ad-free advice for travelers.