If you're planning a beach holiday to the Kenyan Coast, you won't want to miss our handcrafted guide to the best Kenya beaches for fun and relaxation!
Thoroughly researched (with most selections based on first-hand travel knowledge), you'll find everything you need to choose your next unforgettable beach holiday destination in Kenya – along with our top hotel picks for 2023 and beyond.
On my first overland journey up the Kenyan Coast a decade ago, I was blown away by the sheer number and diversity of world class beaches on offer in the span of just 536 km (333 mi) of Kenya coastline.
From the powdery white sands beaches south of Mombasa to the ancient shores of Lamu Island, each and every one I encountered seemed just as spectacular as the last.
The magical hues, delectable flavors, warmth of the locals, and abundance of exotic marine life instantly made the Kenyan Coast a place I wanted to return to.
If this is your first visit, don't be surprised if you find yourself dreaming of returning to any one of the amazing Kenya beaches in this guide.
Now, grab your beach bag and let's dive in!
---
12 Best Kenya Beaches for Fun & Sun
---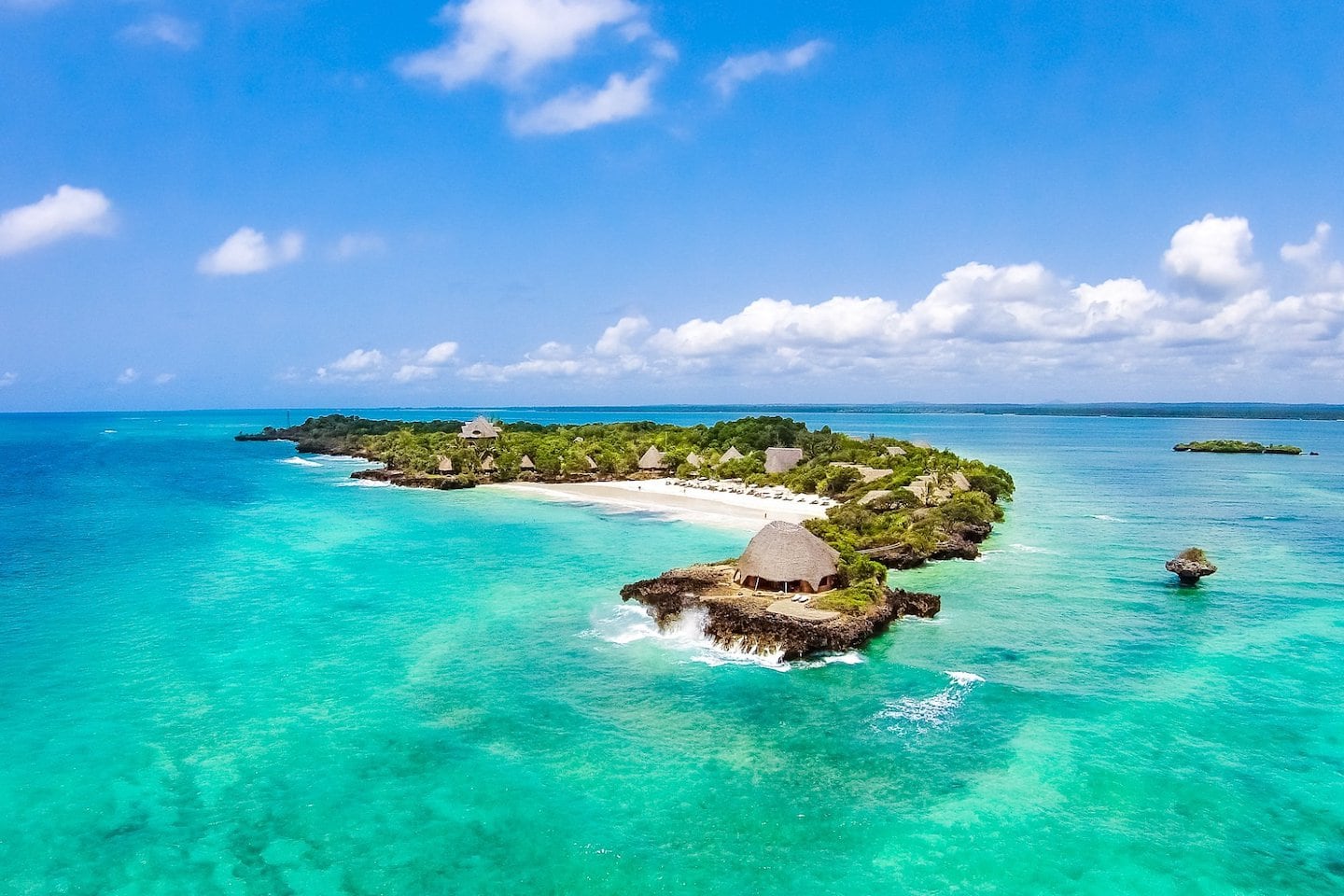 Chale Beach (Chale Island)
First up on our ultimate guide to the best Kenya beaches is a real stunner. For solitude seekers and beach enthusiasts, there's so much to love about Chale Beach on Chale Island, located just two kilometers across the bay from Gazi.
Dense mangrove forest covers much of this tropical island providing a lush hideout for all sorts of native wildlife. And just offshore, some of the best diving and snorkeling in the area awaits visitors along the incredible coral reef.
This secluded white-sands beach with its vibrant turquoise water is an idyllic picture-postcard paradise on the Kenyan Coast, tailor-made for honeymooners and those dreaming of the perfect luxury beach getaway.
Don't be surprised if you find yourself extending your stay on this true bucket list slice of paradise.
Where to Stay
TOP PICK ▸ The Sands at Chale Island is our top choice on this amazing island (and, incidentally, the only choice!). If you're looking for a luxury stay away from the crowds in a supremely stunning setting, this is it! Three restaurants, spa with open-air treatment rooms, diving, snorkeling, and so much more!
---
---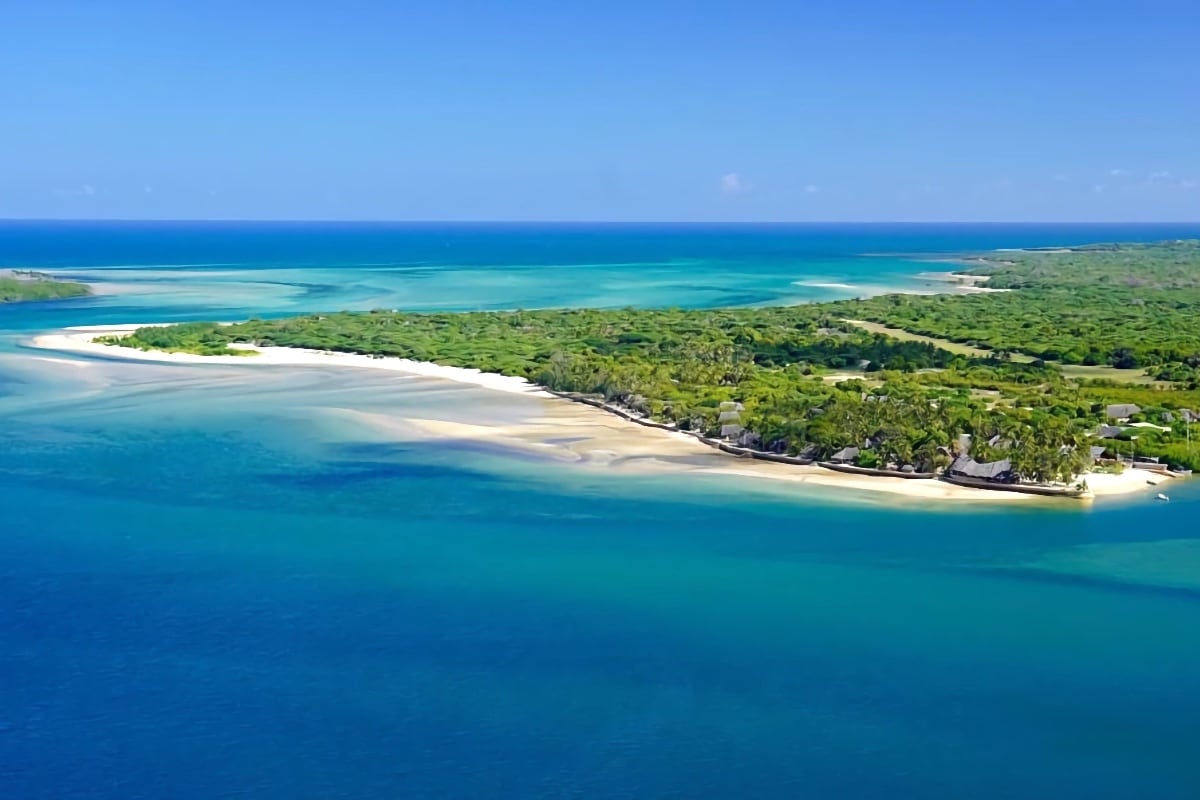 Manda Bay & Manda Toto
While most of Manda Island's best beaches form the golden strand facing Lamu Island, there is one very notable exception – the powdery white-sands beach of Manda Bay.
Calm, azure water, lush, tropical surroundings, and plenty of sunshine all add up to make Manda Bay one of the best Kenya beaches for beach aficionados and water sports enthusiasts.
Spend your days relaxing on the beach or at the adjacent resort, or head farther afield to explore this incredible corner of the Kenyan Coast.
Ancient ruins, the UNESCO-designated town of Lamu, and more amazing beaches on neighboring Manda Toto island are just a few of the many memorable adventures awaiting visitors.
Where to Stay
TOP PICK ▸ Aptly named Manda Bay is an exclusive luxury resort on the rugged and wild northeast end of Manda Island. Comfortable cottages with traditional design features, stunning bay vistas, and miles of soft white sands await visitors in this idyllic paradise on the Kenyan Coast.
---
---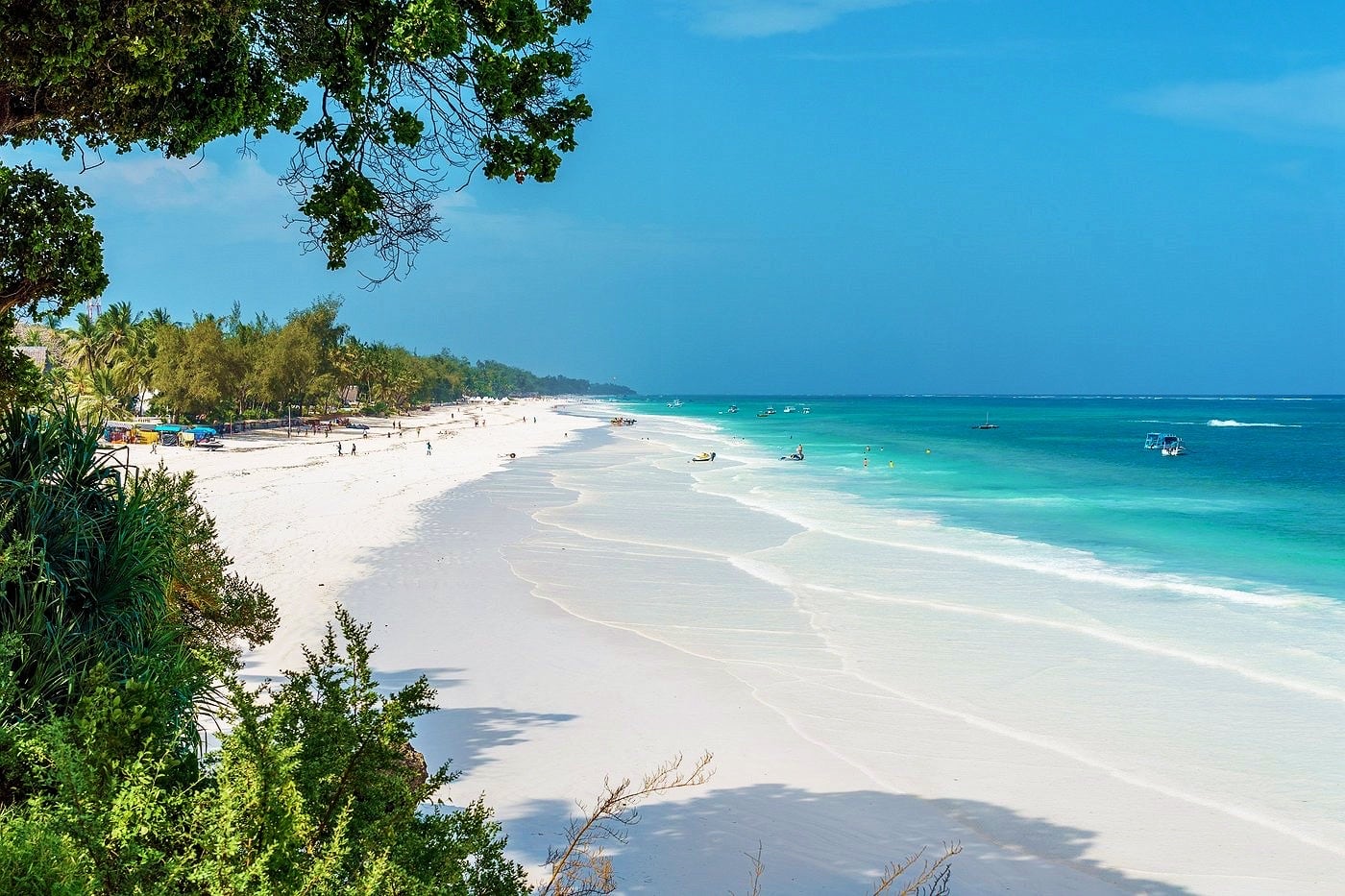 Diani Beach
Regularly touted as one of the very best Kenya beaches (and top beaches in world), Diani Beach wows visitors with its impossibly-white powdery sand, crystalline waters, and one of the most laid-back vibes of any of Kenya's mainland beaches.
Despite its global rockstar status and proximity to Mombasa (Kenya's second-largest city), spectacular Diani has somehow managed to avoid the over-development and over-tourism that beleaguers other Mombasa-area beaches.
Diani Beach is a top choice for snorkelers and scuba divers, outdoor-loving honeymooners and holiday makers, as well as those hoping to sink their teeth into some of the best Swahili cuisine on the Kenyan Coast.
For some of the best snorkeling along the Kenyan Coast, we recommend doing a day tour from Diani Beach to spectacular Kisite Marine Park.
Where to Stay
BEST VALUE ▸ Baobab Beach Resort & Spa is our top choice for luxury and comfort on the Kenyan Coast at mid-range rates. Features swimming pool, beachfront location, restaurants, and access to amenities at Baobab's adjacent sister properties.
SPLURGE ▸ The Maji Beach Boutique Hotel is our top pick for the ultimate in comfort and amenities located right on one of the very best Kenya beaches. Swimming pool, spa, and 5-star service. The deluxe ocean view rooms with balconies are highly recommended.
---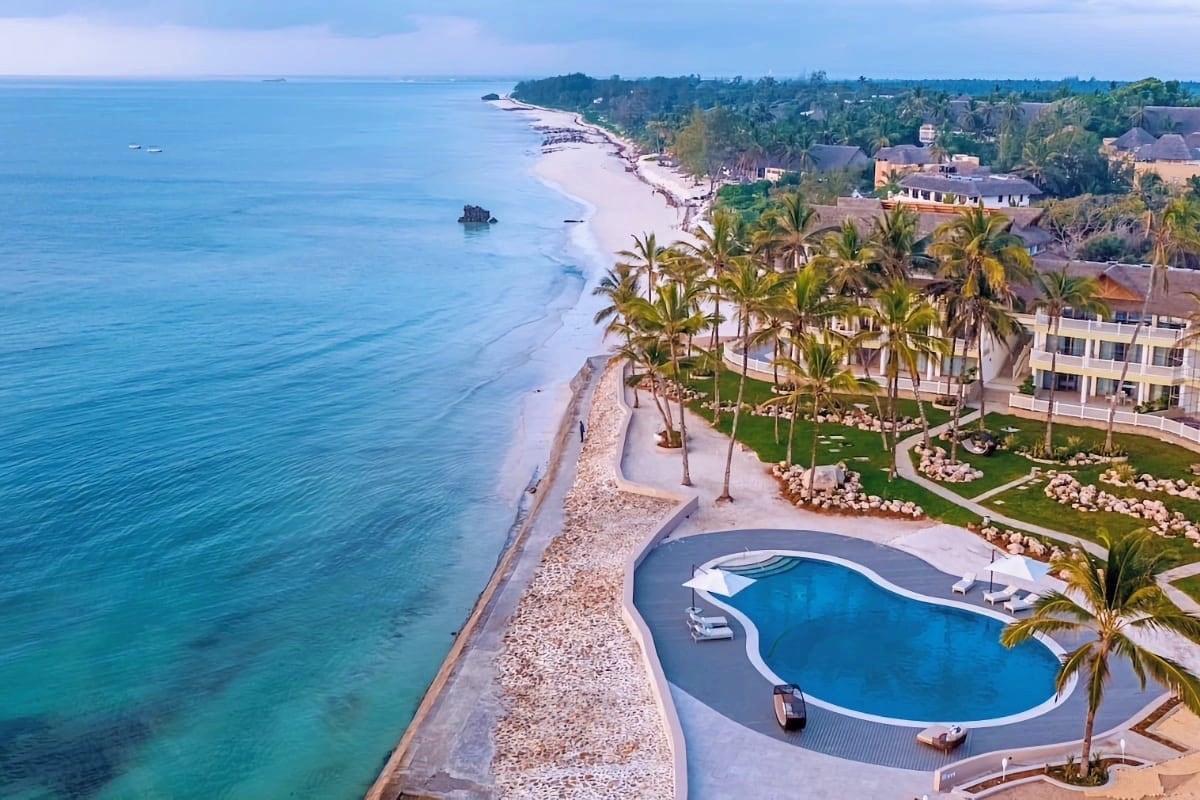 Watamu Beaches
There isn't a beach in Kenya quite like the beaches surrounding the town of Watamu, located half way between Malindi and Kilifi.
On my first visit, I was blown away by the otherworldly offshore coral formations, which make for a memorable day of exploration and a spectacular backdrop to lazing away the days along sunny Kenyan Coast.
Watamu is an ideal destination for those looking for a truly unique beach destination with easy access to a good assortment of eateries and beachfront accommodation.
Shopping, scuba diving, and the local nightlife scene are all just a short hop away, as well as the ancient Gede ruins which we found to be a worthwhile half-day trip from Watamu.
And be sure to leave time for marine life spotting among the coral reefs and tidal zones at Watamu Marine National Park, a haven for Green Turtles, Dugongs and over 100 species of native birds.
Simply one of the best Kenya beaches for explorers and adventure seekers.
Where to Stay
TOP PICK ▸ Hemingways Watamu is our top pick on Watamu Beach, centrally located with some of the best views of the Indian Ocean and offshore coral formations that Watamu is known for. Top-rated service and amenities offering ocean view rooms and outdoor pool.
ANOTHER EXCELLENT CHOICE ▸ A bit more removed from the action, The Charming Lonno Lodge wows visitors with private and artfully decorated luxury accommodation, stunning outdoor pool with views, personalized service, and an excellent onsite restaurant.
---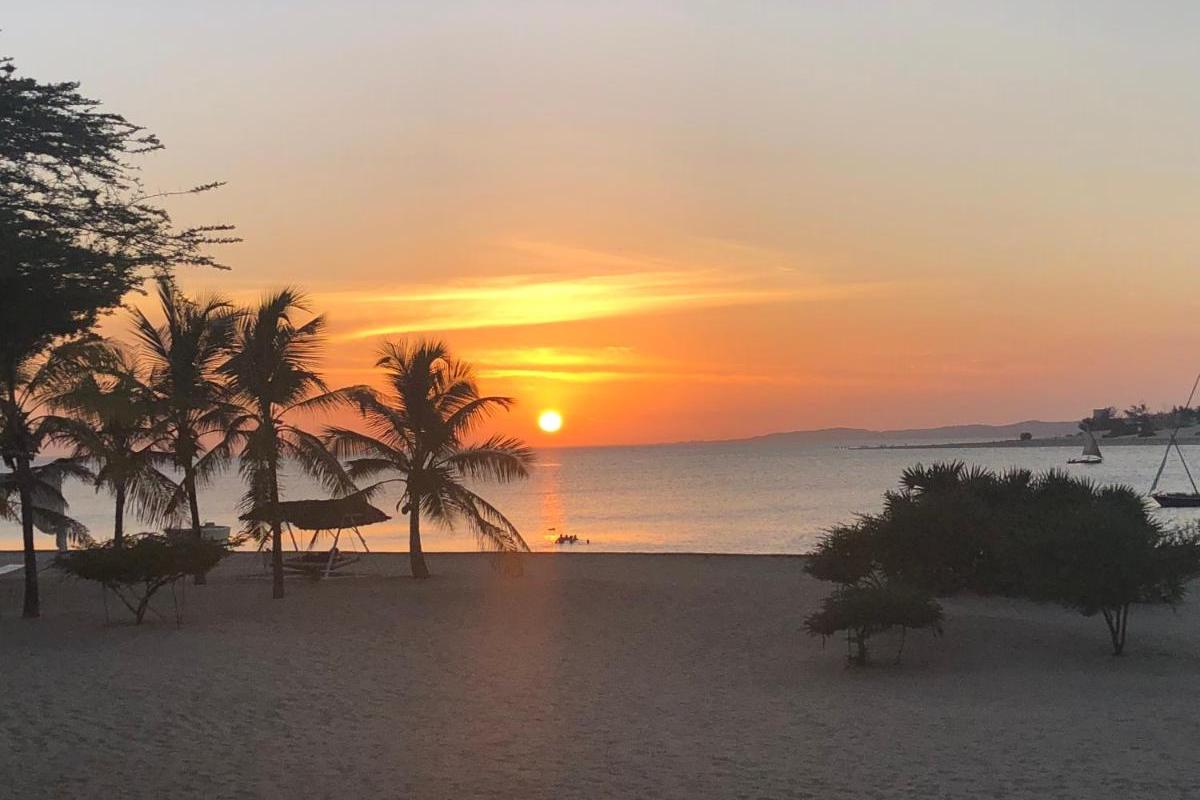 Lamu Beaches
Standing in stark contrast to the ancient and bustling seaport of Lamu Town, the area offers some of the most peaceful, remote, and starkly stunning beaches you're likely to find anywhere along the Kenyan Coast.
Whiling away hours upon hours along the serene golden southern shores of Lamu Island remains one of the personal highlights of my time in Lamu.
And Shela Beach, with its coral town backdrop reminiscent of the Greek isles proved a perfect locale to sip a cold drink and cool off in the warm and inviting sea.
Even more tranquility, luxury, and palm-fringed beaches await visitors to Lamu on neighboring Manda Island, a short hop across the narrow channel.
With its remote and far-flung feel, Lamu offers some of the very best Kenya beaches for privacy and solitude seekers, honeymooners, and travelers looking for something unique in a beach holiday.
Where to Stay
IN SHELA ▸ Peponi Hotel Lamu is a top choice for those looking for upmarket beachfront accommodation with a taste of home in the heart of Shela Village. Features beachfront location, outdoor swimming pool, and onsite restaurant.
MANDA ISLAND ▸ Just across the channel from Shela, The Majlis Resort sets the standard for stylish luxury accommodation in the Lamu area. The Majlis features Italian-Swahili-style design, spectacular ocean views, a top-rated restaurant, and endless opportunities for outdoor recreation.
---
---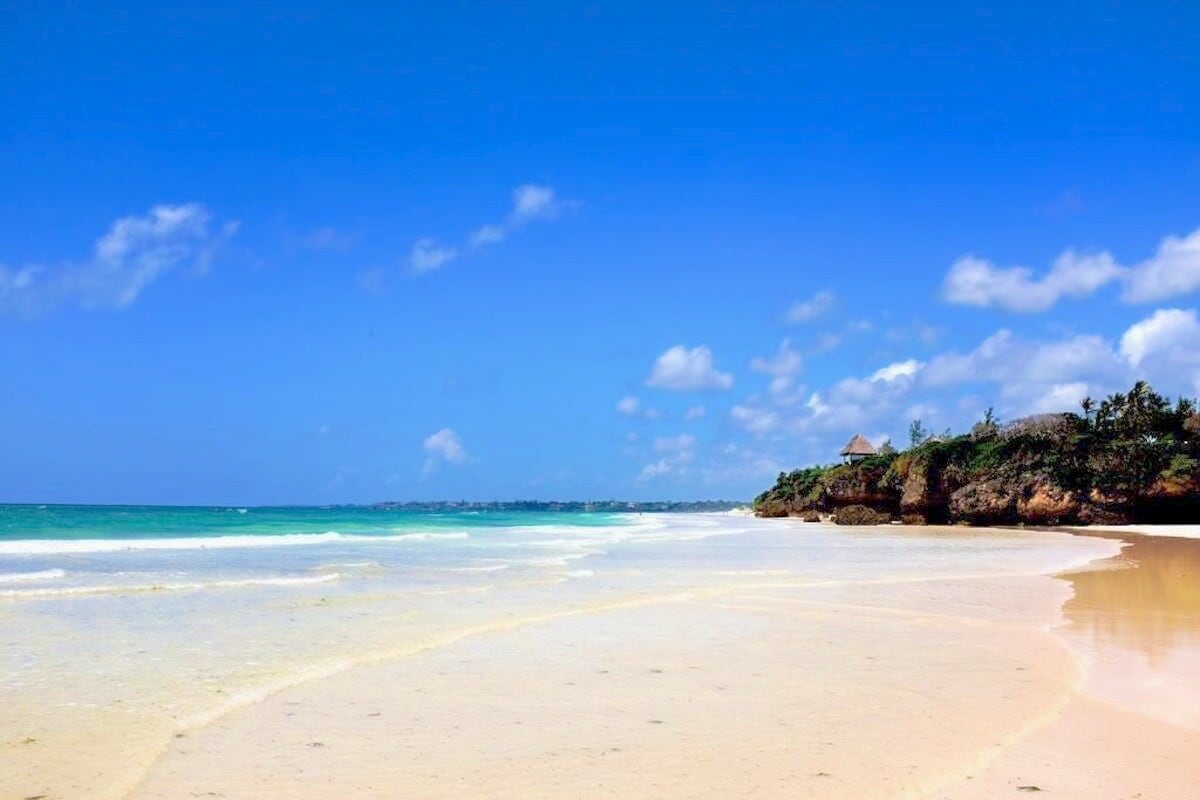 Kilifi Beaches
If you're looking for a beach destination with lots to see and do, and a friendly locals vibe, Kilifi is one of the best Kenya beaches for that and more.
Base yourself on idyllic Bofa Beach (the main beach) or along one of the tranquil beaches along the mouth of Kilifi Creek for magical days filled with sun and relaxation.
Be sure to leave time for sea turtle spotting among the coral reefs or a half-day trip to nearby Mnarani ruins.
Where to Stay
BEST ON THE BEACH ▸ Salty's Kitesurf Village is our top pick on the Bofa Beach with a low-key, good-vibes attitude and somewhat basic, yet well-equipped and tastefully-decorated lodging options. Hard to beat the location and vibe in Kilifi!
BEST RESORT ▸ Mnarani Club & Spa is our top pick in Kilifi for those looking for an upmarket resort feel close to the center of town.
---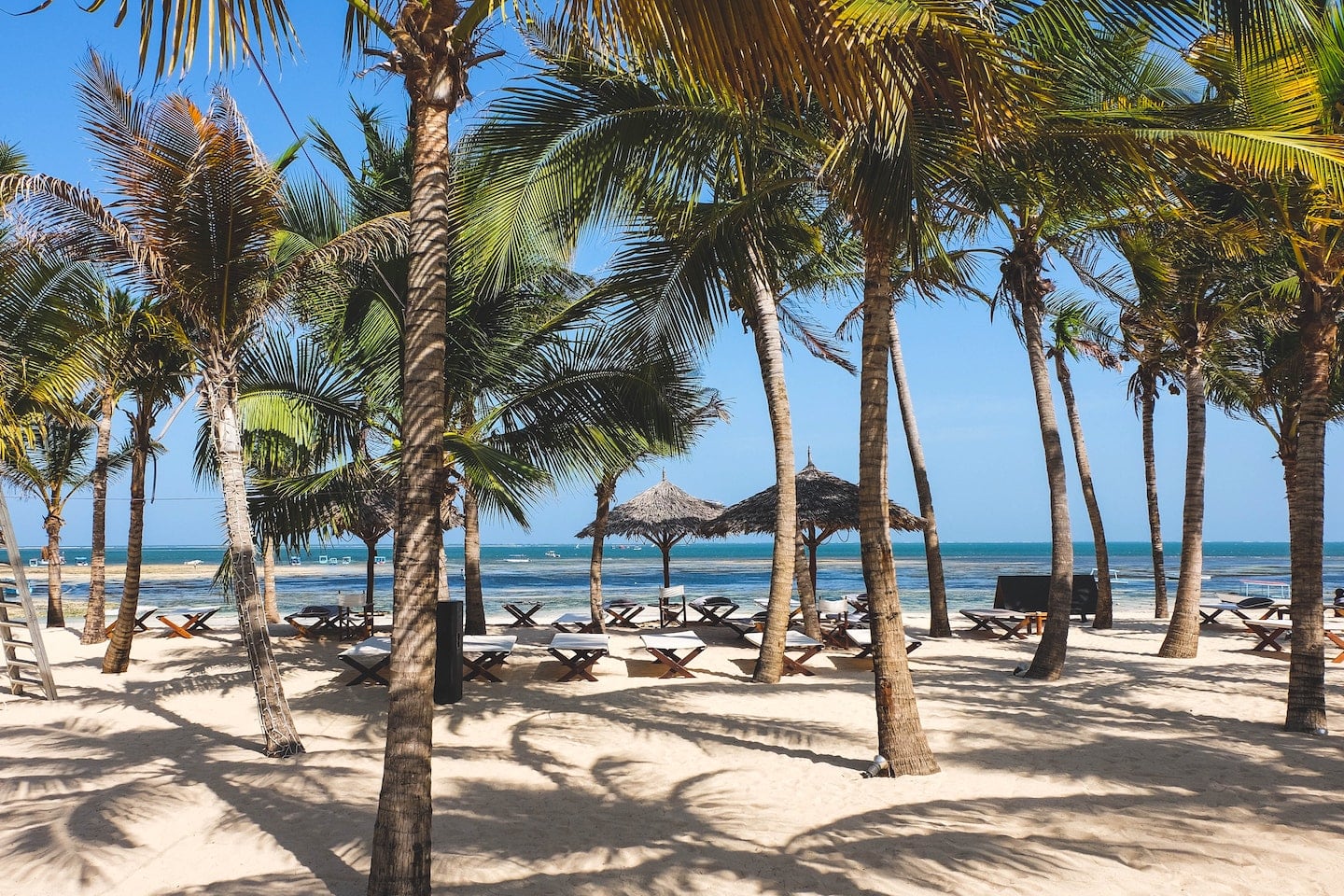 Malindi Beach
Malindi is a popular stop along the Kenyan Coast largely owing to its well-connected domestic airport and proximity to the area's biggest attractions.
The town has a long and fascinating history, being heavily influenced by everyone from Bantu farmers and Swahili traders to Chinese, Portuguese, and German explorers and immigrants.
In more recent times, it has become a popular destination for Italian tourists and entrepreneurs, which is evident in the numerous Italian-owned restaurants and hotels in Malindi.
In may not be surprising, then, that the character of Malindi's 8 km (5 mi) golden strand changes dramatically heading north from the center of town.
Head to Golden Beach (Bridge Beach) for picturesque sunrise and sunset strolls, an easygoing locals vibe, and access to the bulk of the restaurants in town.
Follow the beach north for softer sand, fewer people, and lots of peace and serenity. Head south for an otherworldly coral coastline and the bulk of Malindi's beach hotels and resorts.
Where to Stay
OUR TOP PICK ▸ Hotel Villa Malindi is a tranquil garden oasis in the center of Malindi. A relaxed 10-minute walk to the beach, enjoy soaking in one of the property's two swimming pools, strolling the lush grounds, or exploring the friendly and historic town of Malindi.
TOP BEACH STAY ▸ Lion in the Sun Billionaire Retreat is just what it sound like – an impressive beachfront resort in the heart of Malindi offering luxury accommodation and an array of upmarket amenities. There are two Billionaire locations in Malindi, but we prefer this one for its stylish thatch-roof cabanas and uber peaceful locale.
---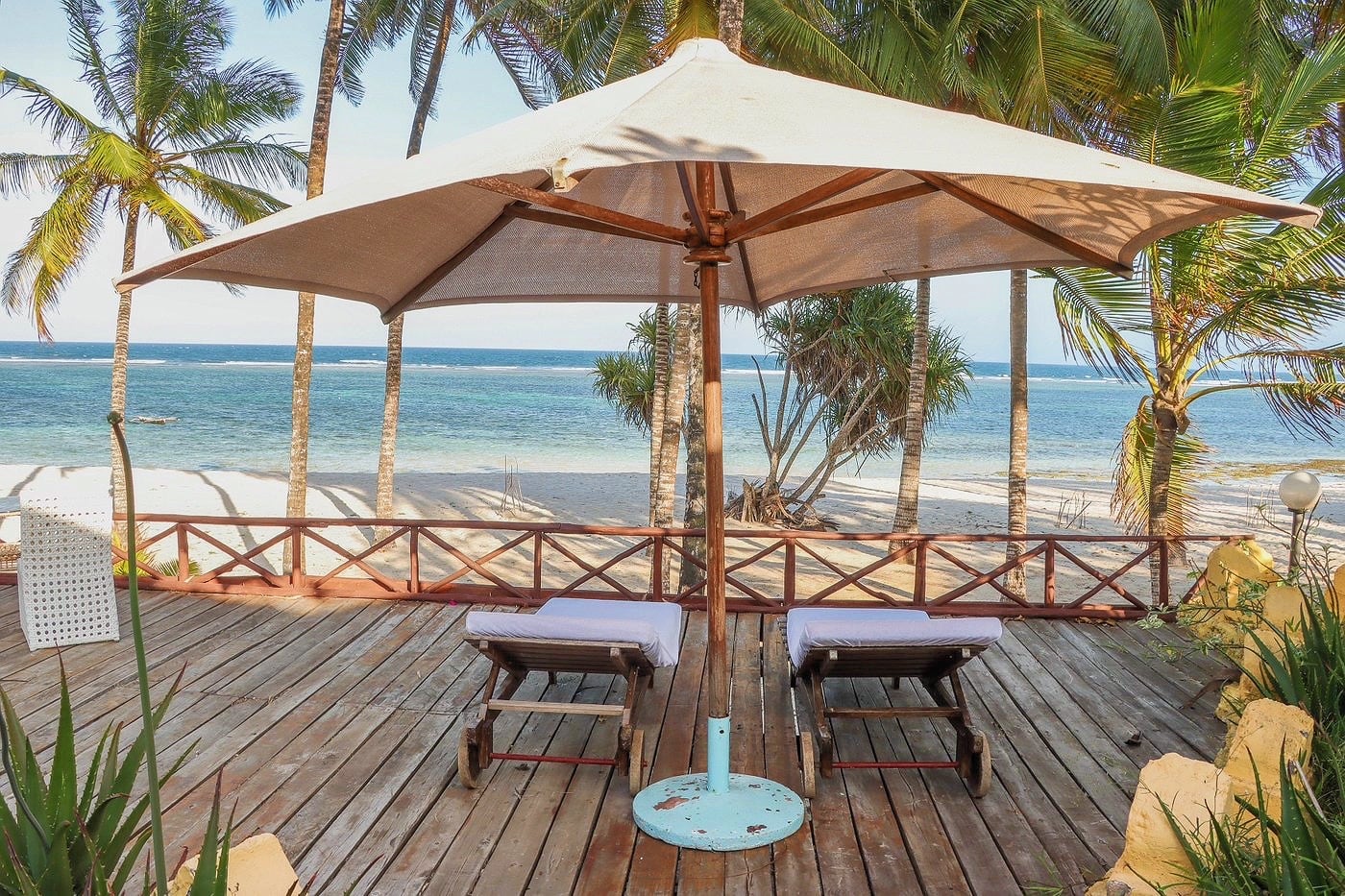 Tiwi Beach
For a subdued and less-developed (yet no less magical) vibe near world-famous Diani Beach, head north to Tiwi Beach, a palm-fringed powder-sands paradise that remains undiscovered by mass tourism.
Tiwi offers endless opportunities for onshore and offshore exploration. Be sure to check out the numerous coves and pools brimming with colorful marine life, particularly the Tiwi Africa Pool which seems tailor-made for self-guided snorkel adventures.
Where to Stay
OUR TOP PICK ▸ There are a number of holdouts on Tiwi Beach whose time has long come and gone. To the contrary, Coconut Beach Boutique Lodge & Spa continues to offer guests a beautifully maintained beachfront property with friendly and personalized service. Oceanside dining and spa rooms and spectacular oceanfront setting elevate Coconut Beach above anything else currently on offer along this serene section of coastline.
---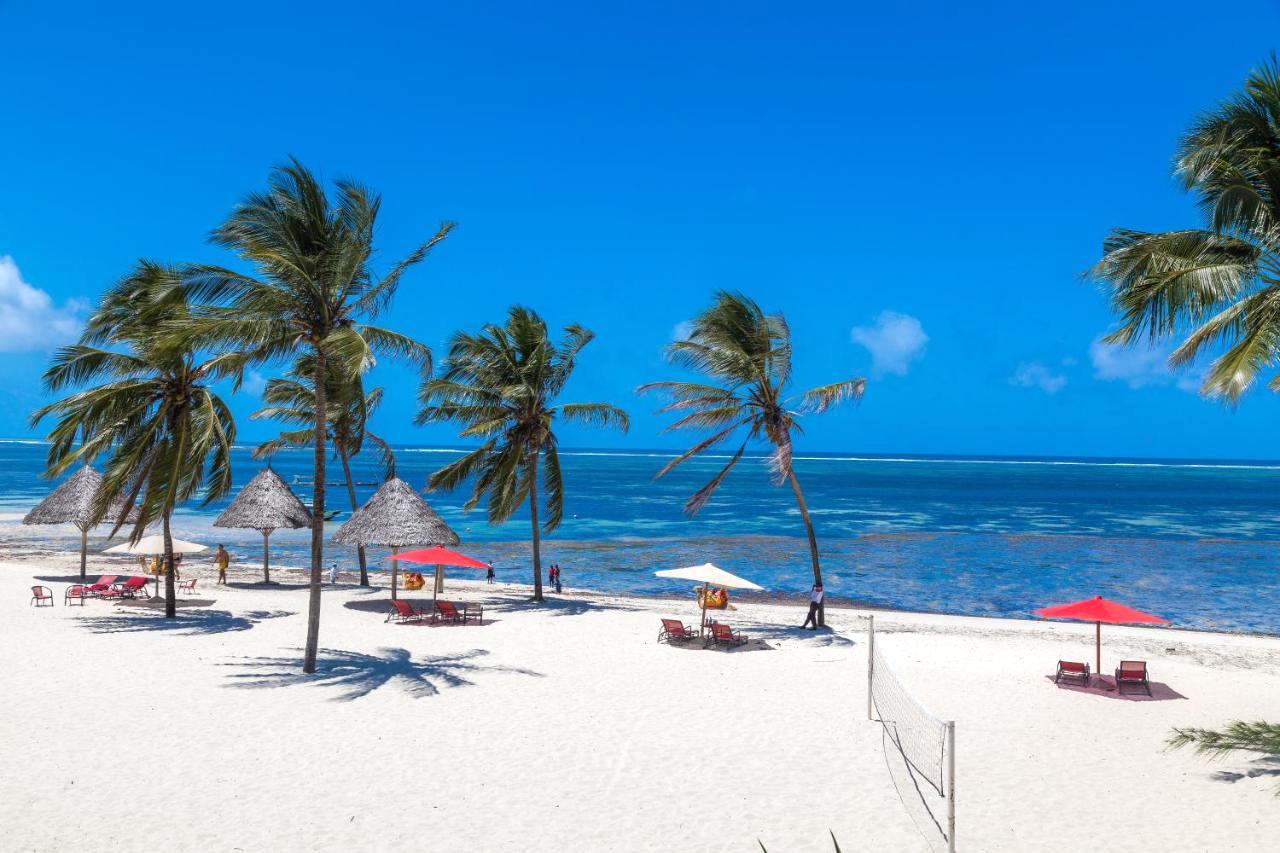 Shanzu Beach
Ten kilometers north of bustling Mombasa sits Shanzu Beach, a small slice of picture-postcard perfection where young families, romantic couples, and silver-haired holiday makers soak up seemingly endless days of fun in the sun.
Where crystalline turquoise water gently laps at powdery white sand and swaying palm trees provide natural shade.
Explore the Mombasa Marine National Park & Reserve providing endless opportunities for basking in the spectacular beauty of the area's colorful and diverse habitat.
Rent an umbrella and chair, book a tour of the marine reserve, or soak up the sun from the superb resorts and hotels dotting this magnificent beach.
Where to Stay
FOR RELAXATION ▸ Top-rated Serena Beach Resort & Spa might be the closest you'll get to the quintessential luxury beach resort and spa in the greater Mombasa area. Relaxation and comfort is at the forefront of each stay with well-appointed and artfully designed accommodation, excellent dining options, and one of the best locations on Shanzu Beach.
FOR FAMILY FUN ▸ PrideInn Paradise Beach Resort & Spa is Mombasa's first and only family Aqua Park Resort AND one of the top-rated beach resorts in the area. Clean and comfortable rooms and suites, 17 acres of manicured grounds, and a stunning stretch of white sand beach await visitors of all ages.
---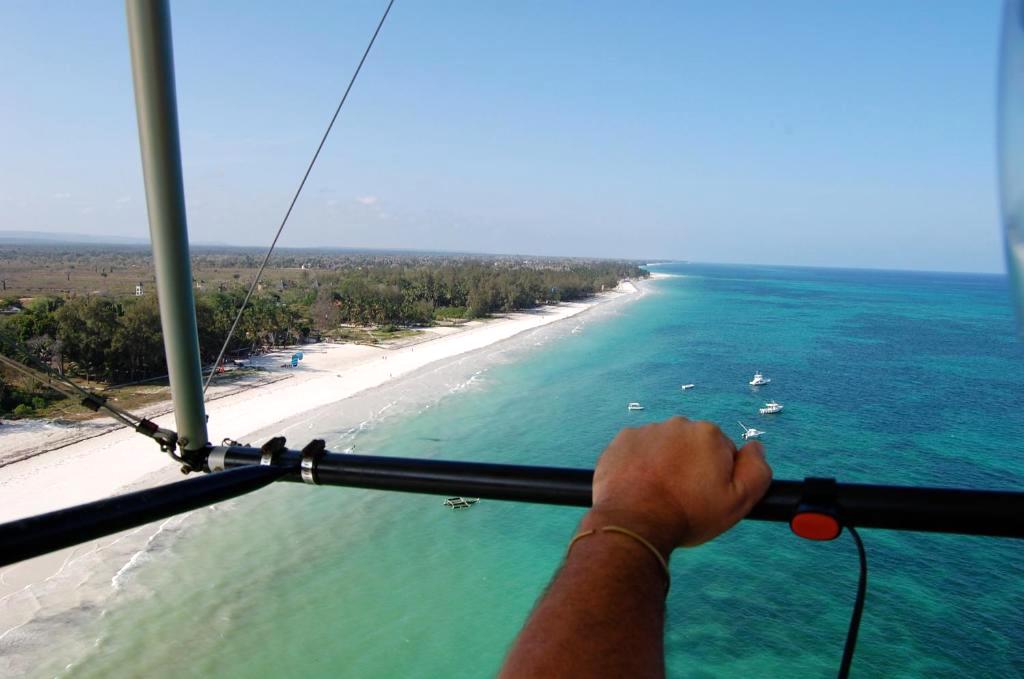 Galu Kinondo Beach
Located just south of Diani Beach is yet another stunner.
Handily making our list of best Kenyan beaches, Galu Kinondo Beach is essentially a continuation of Diani Beach into the communities of Galu and Konondo, so expect much of the same in terms of quality of sand and sea.
With that said, Galu Kinondo Beach offers fewer amenities than Diani, but enough if you plan accordingly. A number of excellent hotels and guesthouses front this low-key white strand.
Visiting the Kaya Kinondo Sacred Forest is a must if you plan to spend a couple of days in the area. Excellent guides are on hand to point out the highlights and provide helpful background regarding the cultural and historical significance of the forest.
Where to Stay
OUR TOP PICK ▸ Pinewood Beach Resort & Spa is a small boutique beach hotel and water sport resort located half way between Galu and Kinondo. Tastefully decorated concrete bungalows are tucked into a dense tropical forest setting home to Colobus Monkeys and other native wildlife.
---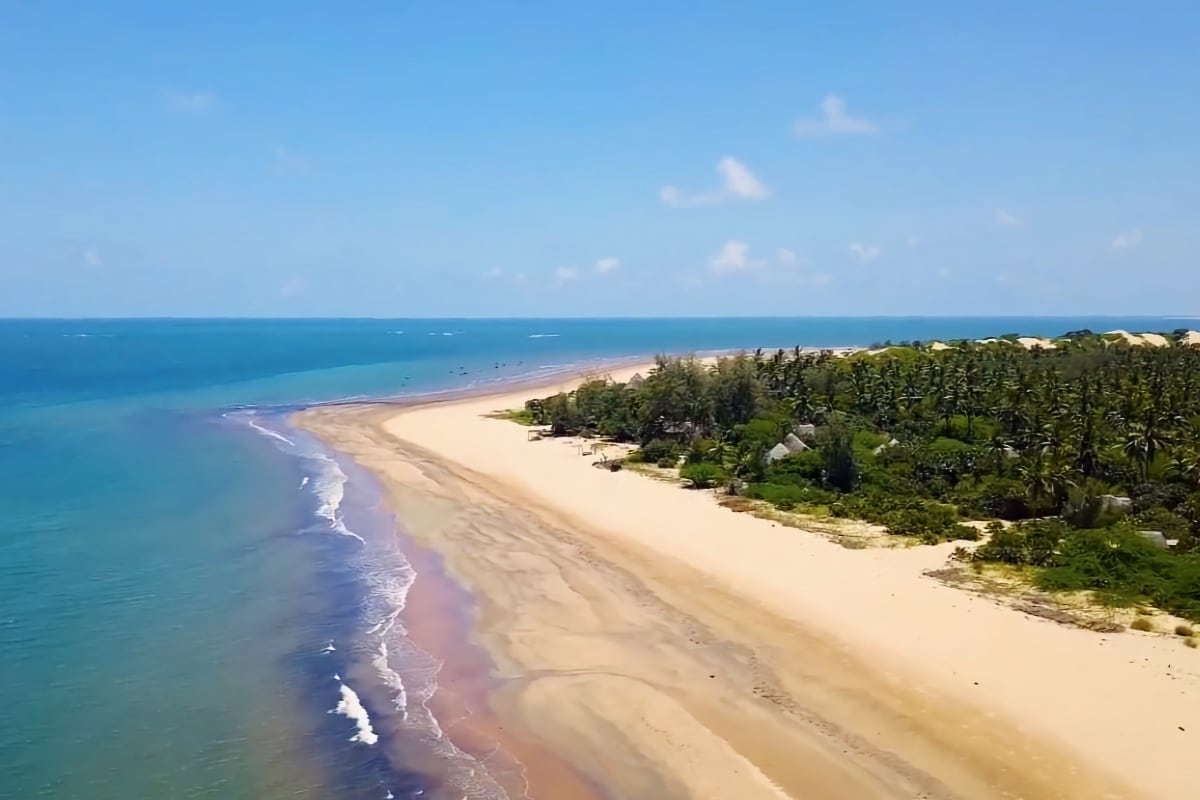 Che Shale Beach (Mambrui)
Located 25 km (15 mi) north of Malindi, Che Shale is a world unto itself.
Spread out along one of the more isolated stretches of Kenyan Coast, Che Shale is a low-key paradise brimming with rugged beauty.
For those looking to get away from it all in paradise while retaining a good number of modern comforts, Che Shale might very well be what you've been dreaming of.
One of the best Kenya beaches for rest, relaxation, and losing the crowds.
OUR TOP PICK ▸ Che Shale, of course! This renowned family-run boutique hotel is perfect for romantic getaways, family gatherings, and anyone looking for serenity and a touch of luxury in a relaxed tropical setting.
---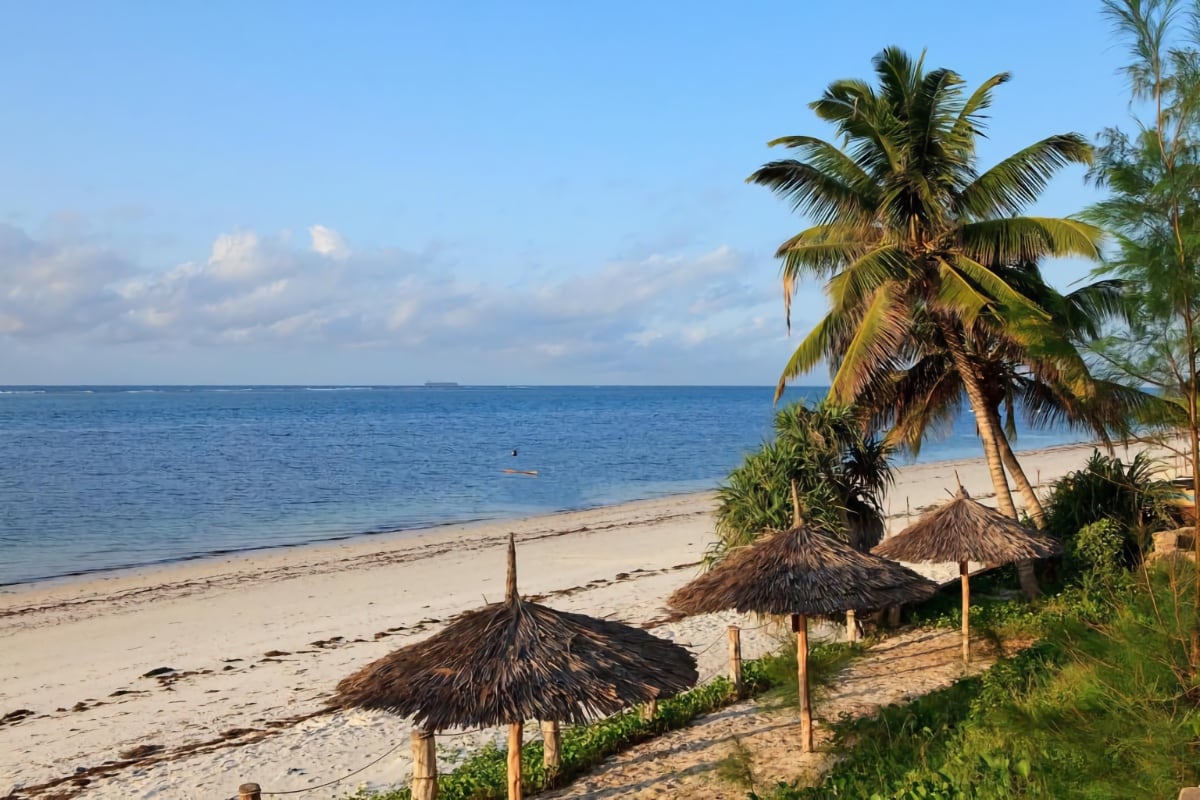 Nyali (Mombasa)
Nyali might not be the most mind-blowing beach on our list, but it might just be the most interesting.
The closest beach to the Mombasa city center, Nyali Beach attracts a diverse crowd from across Mombasa, Kenya, and the globe.
Expect to encounter a healthy dose of touts hawking their wares, from trinkets to camel rides. Also bet on powdery sand, azure water, and some of the best sunrises around.
Where to Stay
OUR TOP PICK ▸ Nyali Sun Africa Beach Hotel & Spa is a beachfront heritage hotel, welcoming guests to the Kenyan Coast for decades. Featuring a full-service spa, two swimming pools, five restaurants, and lush and manicured grounds fronting the Indian Ocean.
---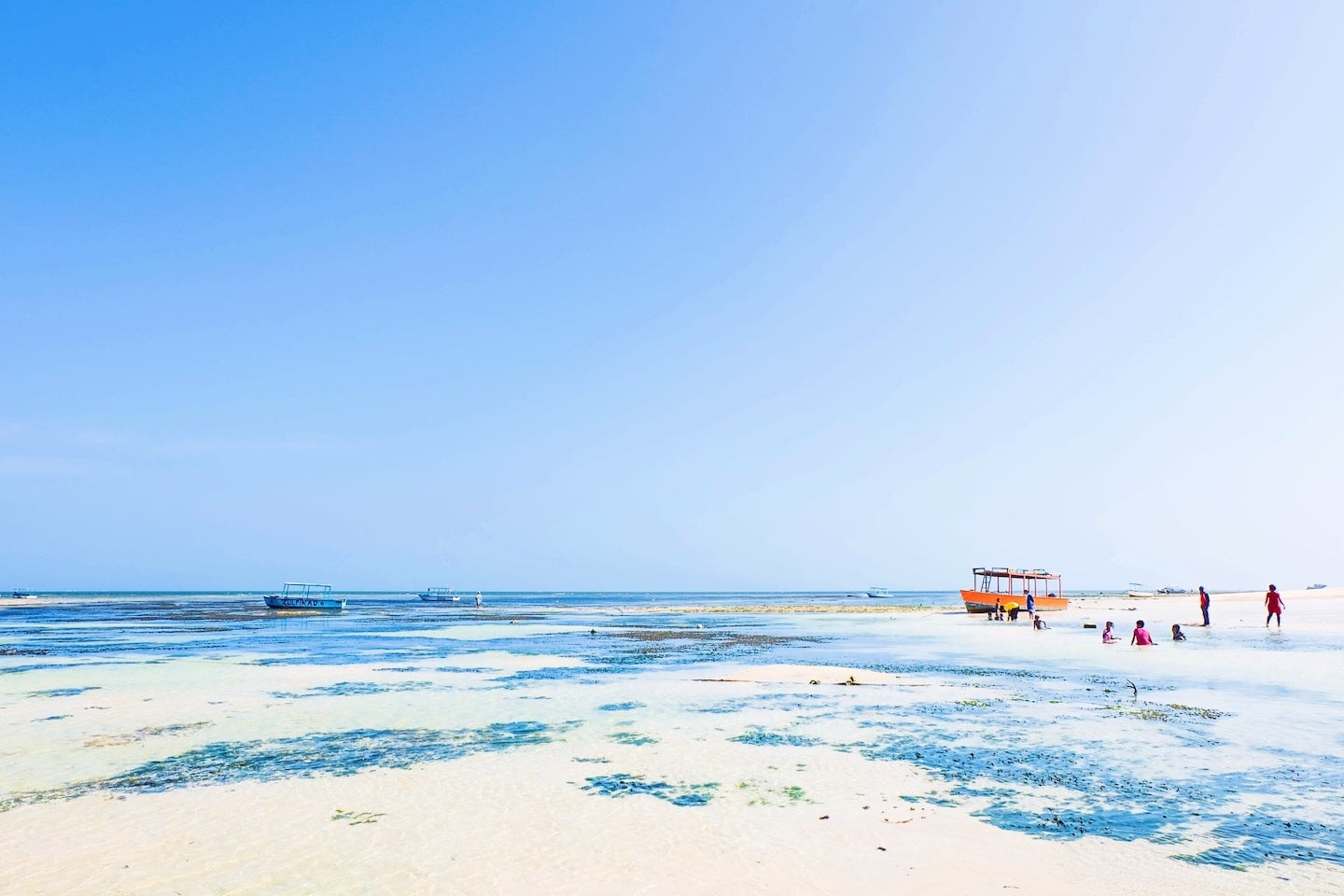 Tips for Getting the Most Out of Your Kenya Beaches Experience
Keep in mind that the shallow waters of the southern Kenyan Coast can be heavily affected by sargassum (seaweed). However, it tends to come but is most prevalent between June and August and in November. Tides also play an important roll in the amount of seaweed washing up on the shore. If seaweed is a dealbreaker for your visit, Lamu Island and Manda Island are good places to consider.
So-called "Beach Boys" and touts dressed as Masai are a common sight on popular beaches along the Kenyan Coast. While often perceived as an annoyance to visitors, it's worth keeping in mind that significant inequities remain in Kenya and many of these individuals are simply doing their best to make a living.
With that said, it's also worth noting that young men claiming to be Masai and hawking their wares along the coast might not be what they seem.
The Kenyan Coast is a predominantly Muslim region with a conservative culture and traditional value set. It pays to dress conservatively, even on a beach holiday. This might not matter as much at secluded, all-inclusive-style resorts such as Chale Beach and Manda Bay, but should be taken into account at more popular, public beaches in Kenya such as Nyali, Diani, and Malindi.
The rainy season on the Kenyan Coast typically begins in March/April and tapers off by the end of May or early June. Additionally, there is a second "short rains" period that peaks in November. Rainy season is the best time to grab a deal on lodging and airfare, but be aware that many restaurants might be closed for the season and diving and scuba tours might be limited.
---
Kenya Beaches Frequently Asked Questions
Does Kenya have good beaches?
YES!!! The Kenyan Coast is home to some of the best beaches in Africa, and some say in the entire world! A warm, tropical climate, powdery sand, and calm, shallow, turquoise water all contribute to making Kenya beaches some of the most sought after across the globe. Check out our list above for the best Kenya beaches.
What is the most popular beach in Kenya?
While Diani Beach receives the lion share of press and accolades among the beaches in Kenya, the beaches closer to the center of Mombasa receive the bulk of visitors. The most frequented beaches in Kenya tend to be Nyali and Bamburi.
---
Thanks for Reading Our Guide to the Best Kenya Beaches!
Don't forget to share these inspiring destinations with your favorite beach bums!
---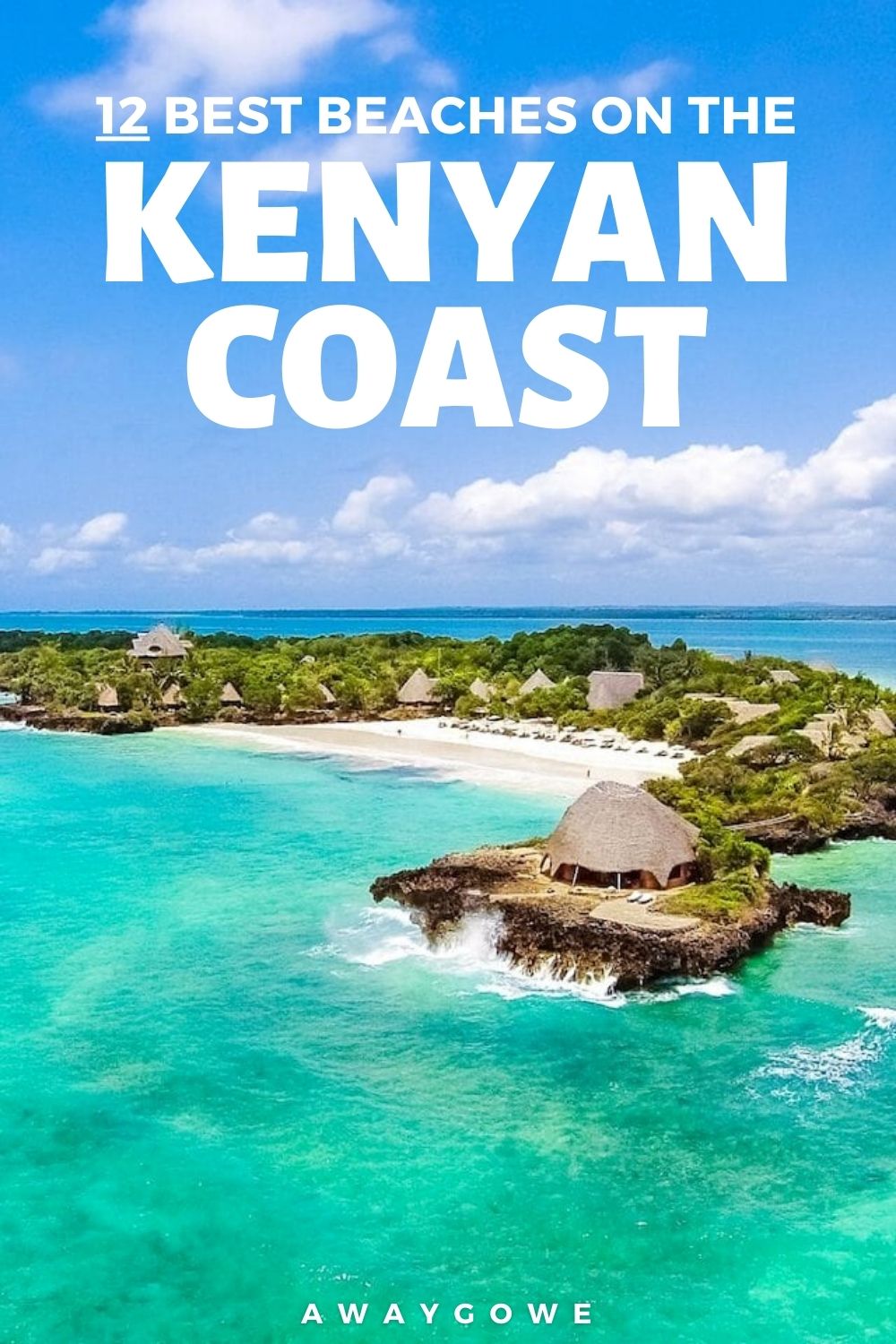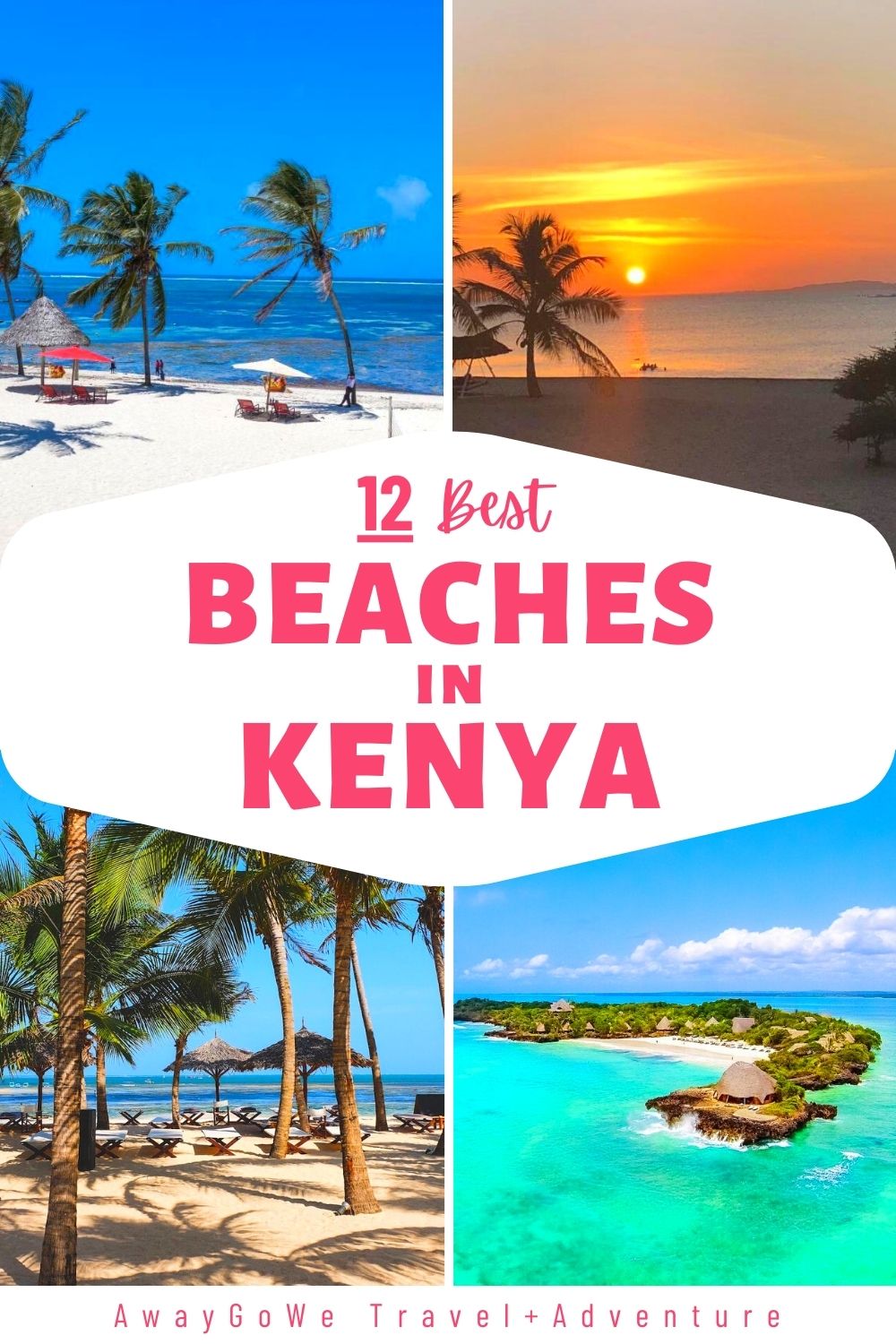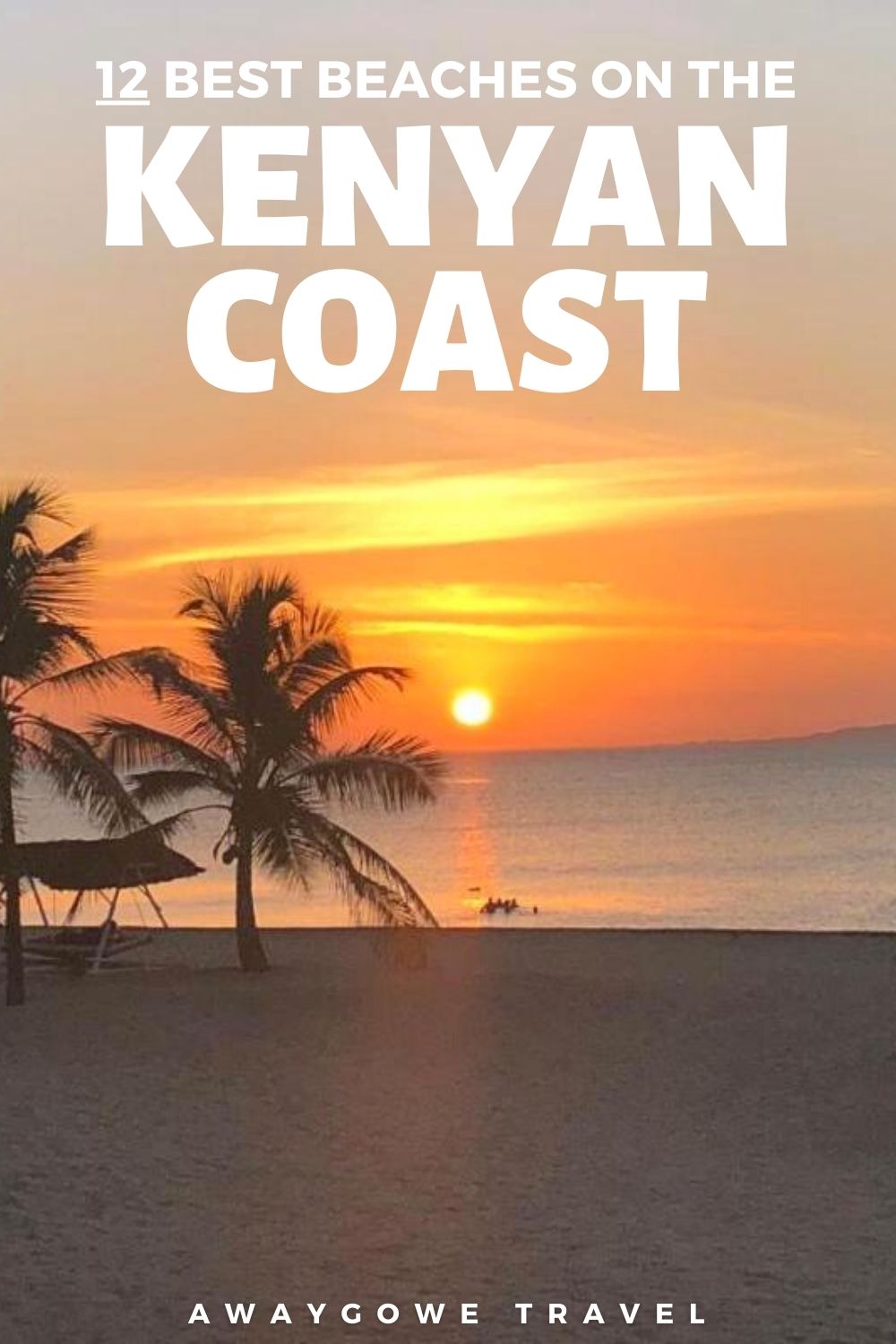 Cover photo credit: The Sands at Chale Island
We use affiliate links and may receive a small commission at no extra cost to you. Learn more in our privacy policy.