Our Dominican Republic backpacking trip kicks into beach-gear, taking us to the Samaná Peninsula, and most importantly, some of the DR's most beautiful and lesser-trodden coastline.
How to Get to the Samaná Peninsula and Las Galeras by Bus
The Samaná Peninsula takes just two hours to get to by Caribe Tours express bus from their office in Santo Domingo on the new highway.
And YES, the "new" highway does exist, just as I drew in my map below, though depending on when you're reading this you still may not find it on Google maps even though it was completed several years ago…
Below is a detail of the eastern edge of the Samaná Peninsula, with the provincial capital of Samaná town (or Santa Barbara de Samaná) in the south.
The bus from Santo Domingo terminates in this nice and weathered old seaside resort town (think Latin/tropical version of Coney Island or Blackpool, UK without the 1940's pizzazz). To get to Las Galeras, we hopped a guagua minibus (the Dominican cousin of the Mexican combi/colectivo) for the northeastern tip of the peninsula, and the fishing village of Las Galeras!
The scenic journey was relatively comfortable as minibus journeys go, and lasted just under an hour from Samaná to Las Galeras, dropping us right in the center of the village.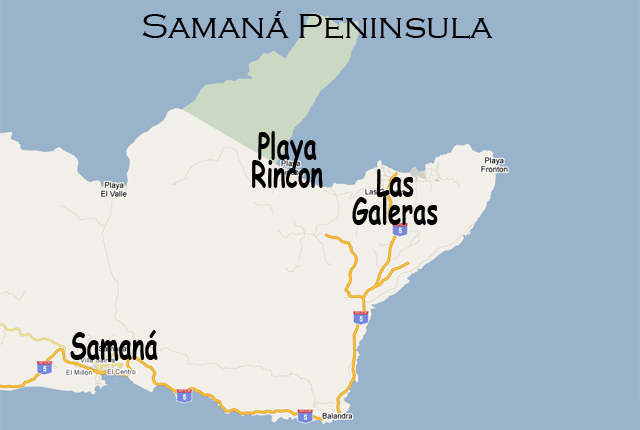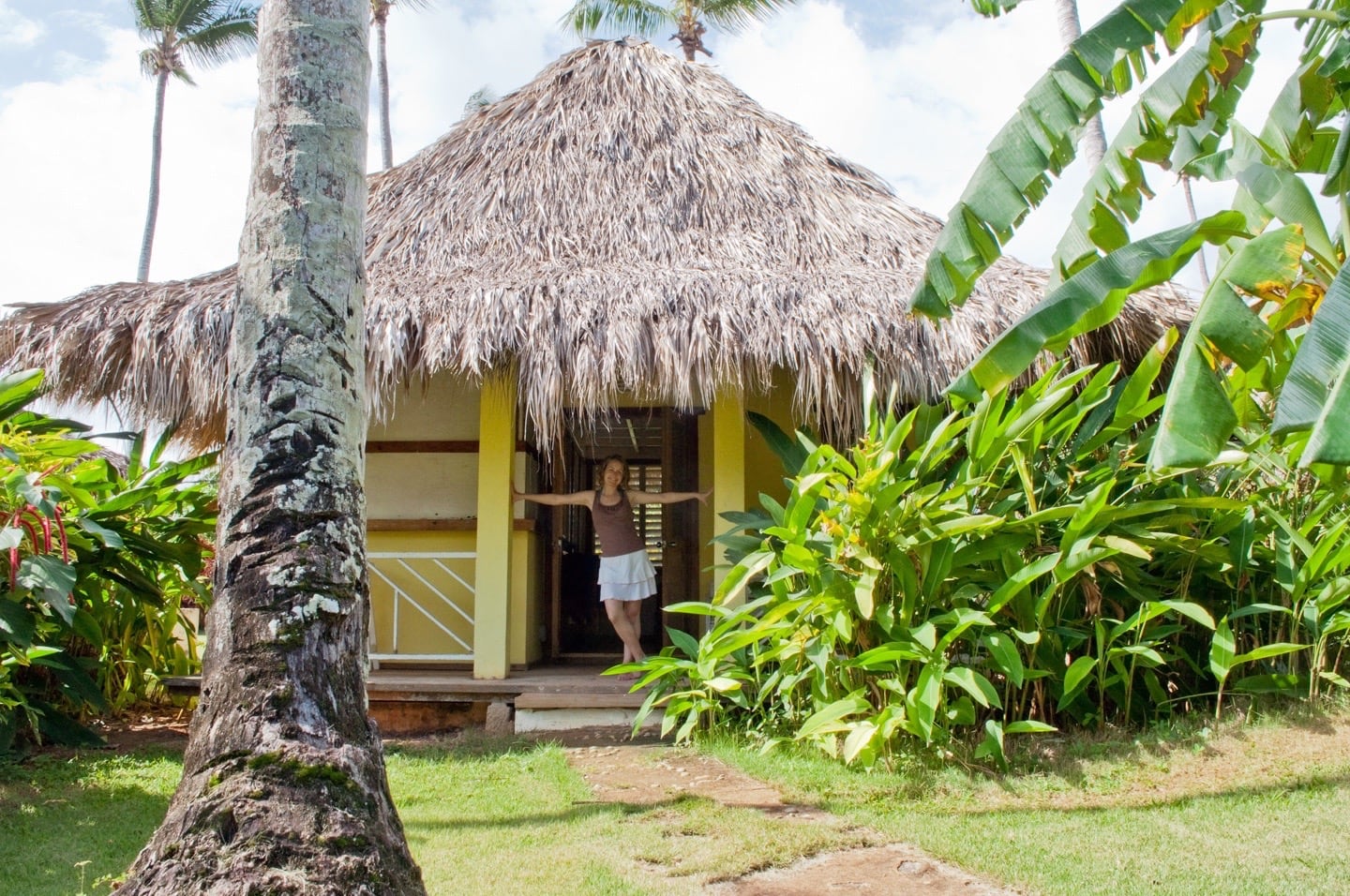 Where to Stay in Las Galeras
Not keen for aging seaside resort blocks, we opted instead to book a small bungalow in "Daniel's Village Bungalow" (not to be confused with "Daniel's Village" on the website) through an off-the-wall couple named Juan and Lolo who run a bungalow rental outfit by the same name (Juan y Lolo).
The bungalow had two levels, with the living area, small kitchen and bathroom on the ground floor and sleeping quarters in the loft. It was a short walk away from the beach and set us back US$45 per night.
I can't remember if the shower had hot water but in Las Galeras I don't remember caring all that much to be honest.
It was hot during our stay, perfectly hot for a beach vacation. And the town of Las Galeras was the right mix of daytime lazy and mellow beachy nightlife.
We had caught the rain a bit during our week in the DR and tried to move our trip around so that the sunniest days would be spent on the beach. Even so, we did catch a few passing showers in Las Galeras, but in the warm Caribbean waters with the hot Dominican afternoon sun shining down, it really wasn't a problem.
After checking in with Juan and Lolo (two very interesting characters, might I add!), we hit the beach.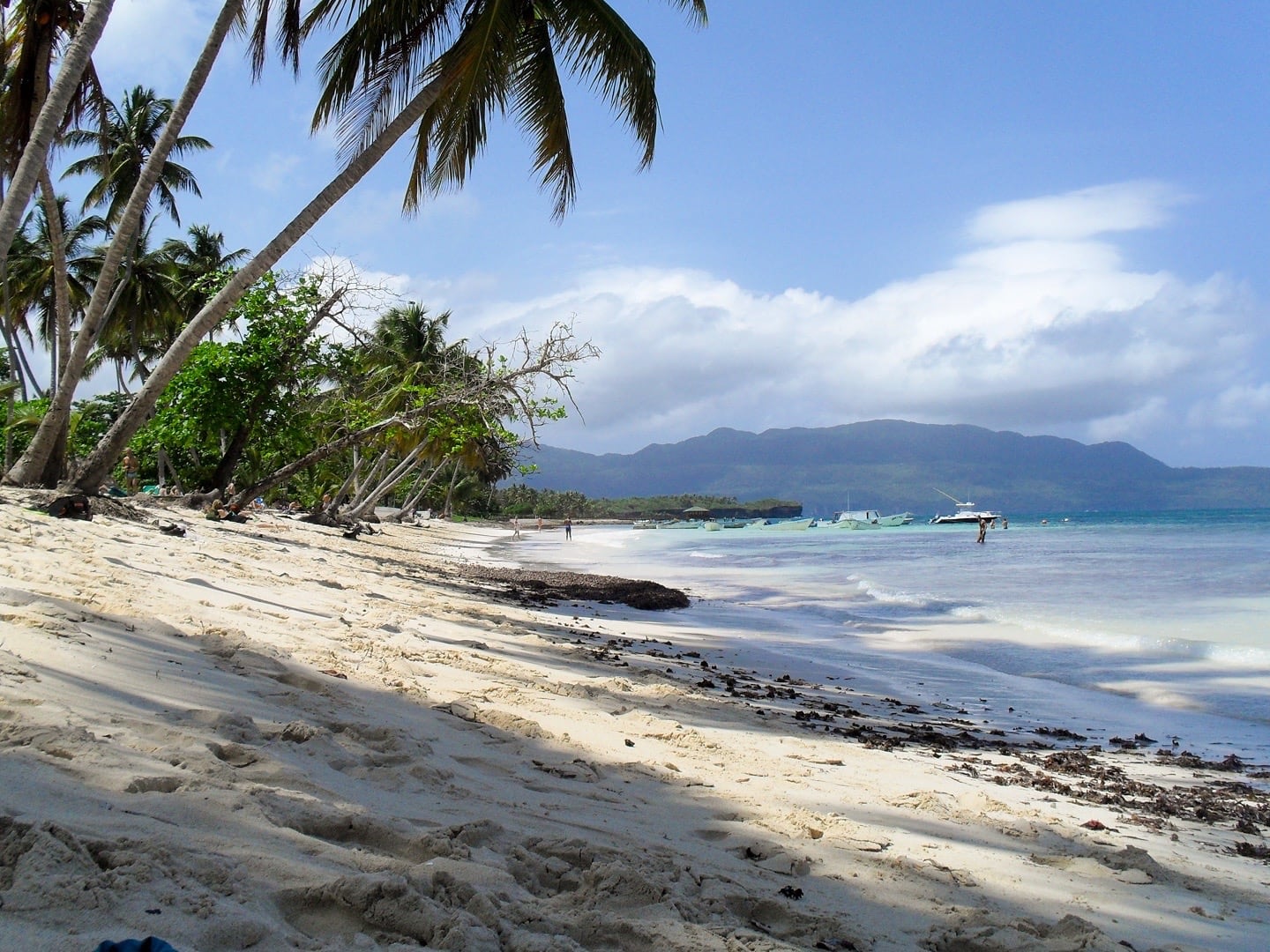 Las Galeras Beaches
We followed the path from town along the water down to another stretch of beach near a large resort (where we got thrown out of later in the week for trying to use their ATM).
The sun was setting, the skies were overcast and the wind was picking up, so we opted to hit the bar at this point instead of taking a dip in the stormy waters.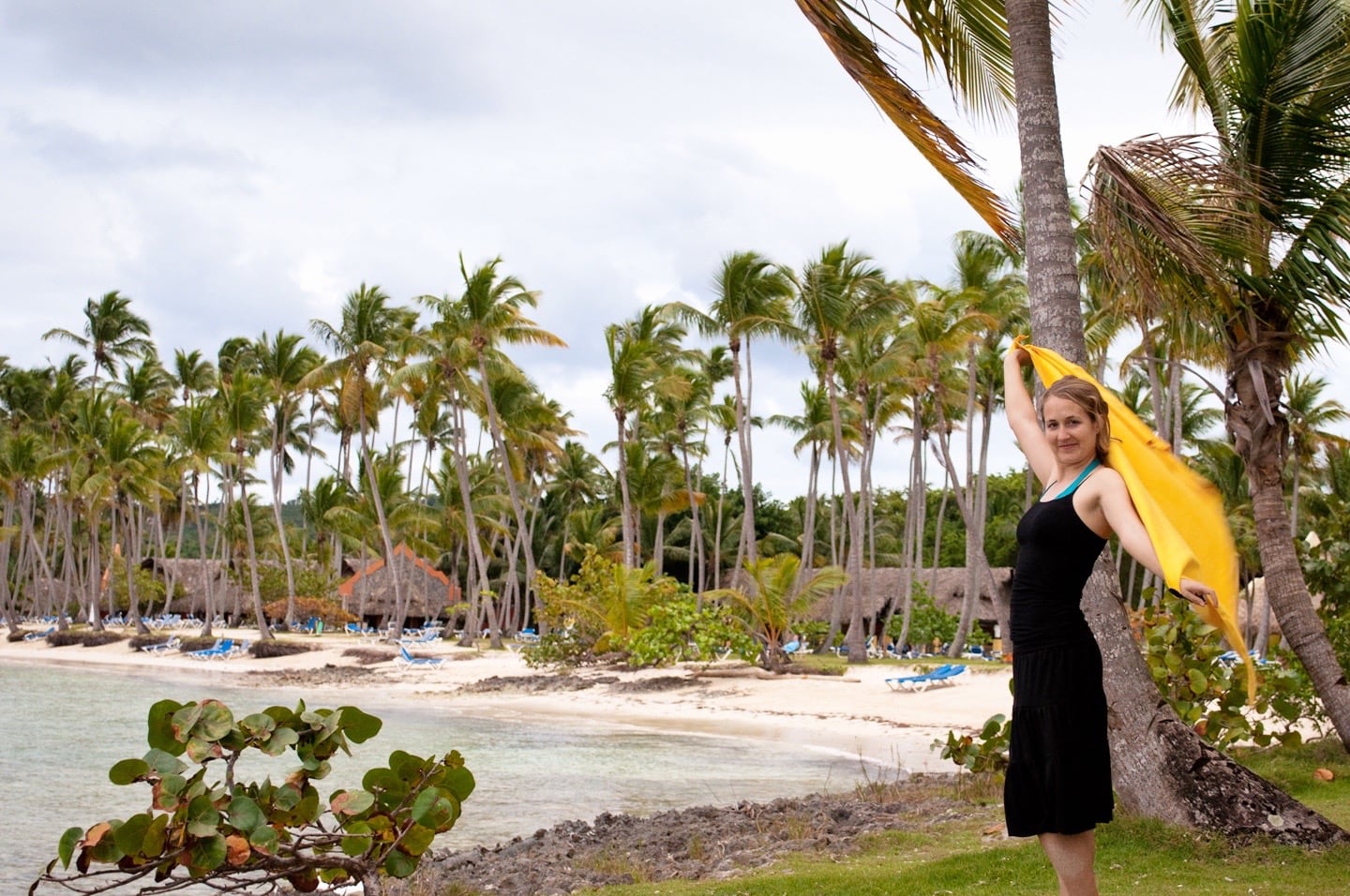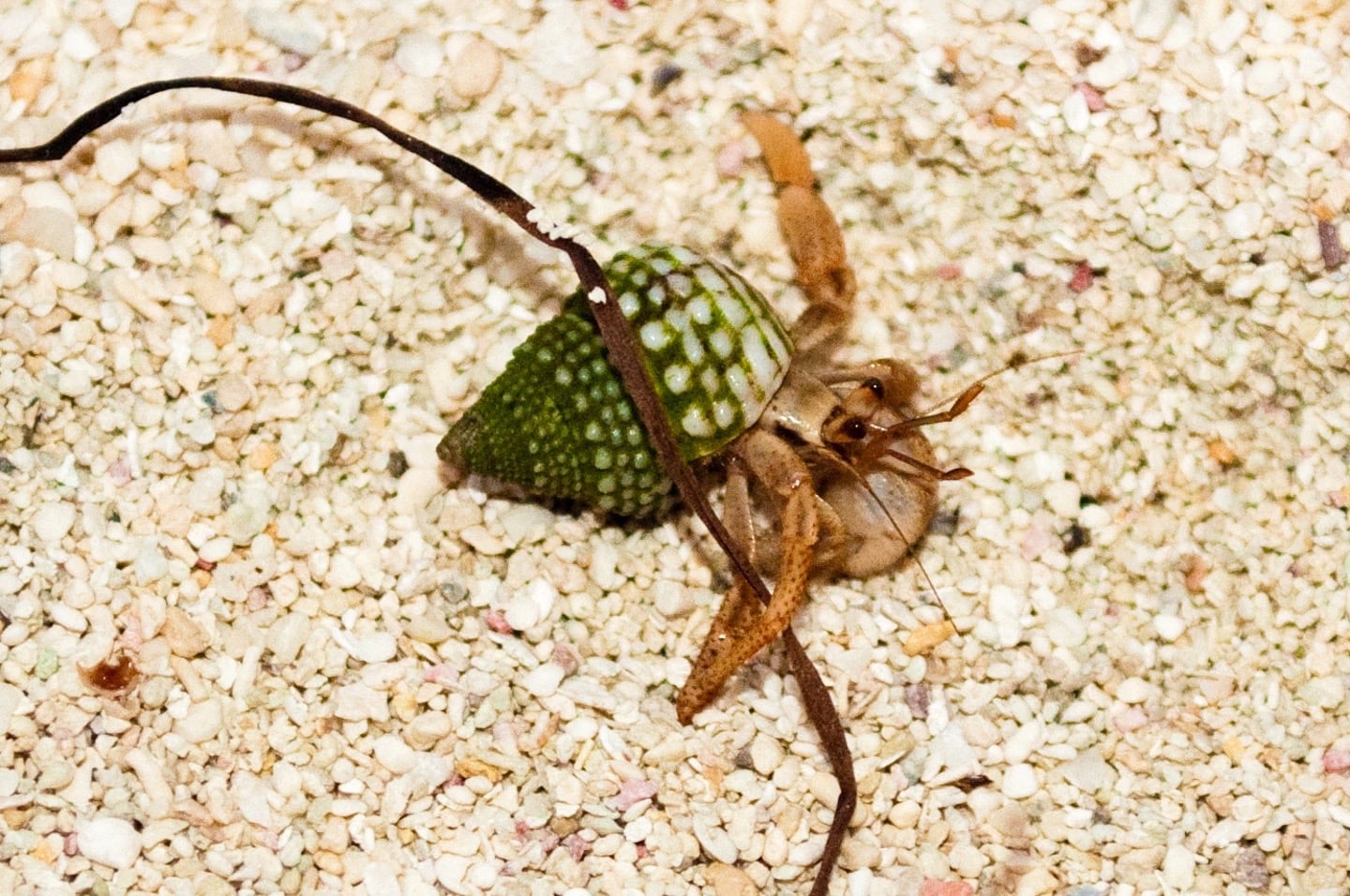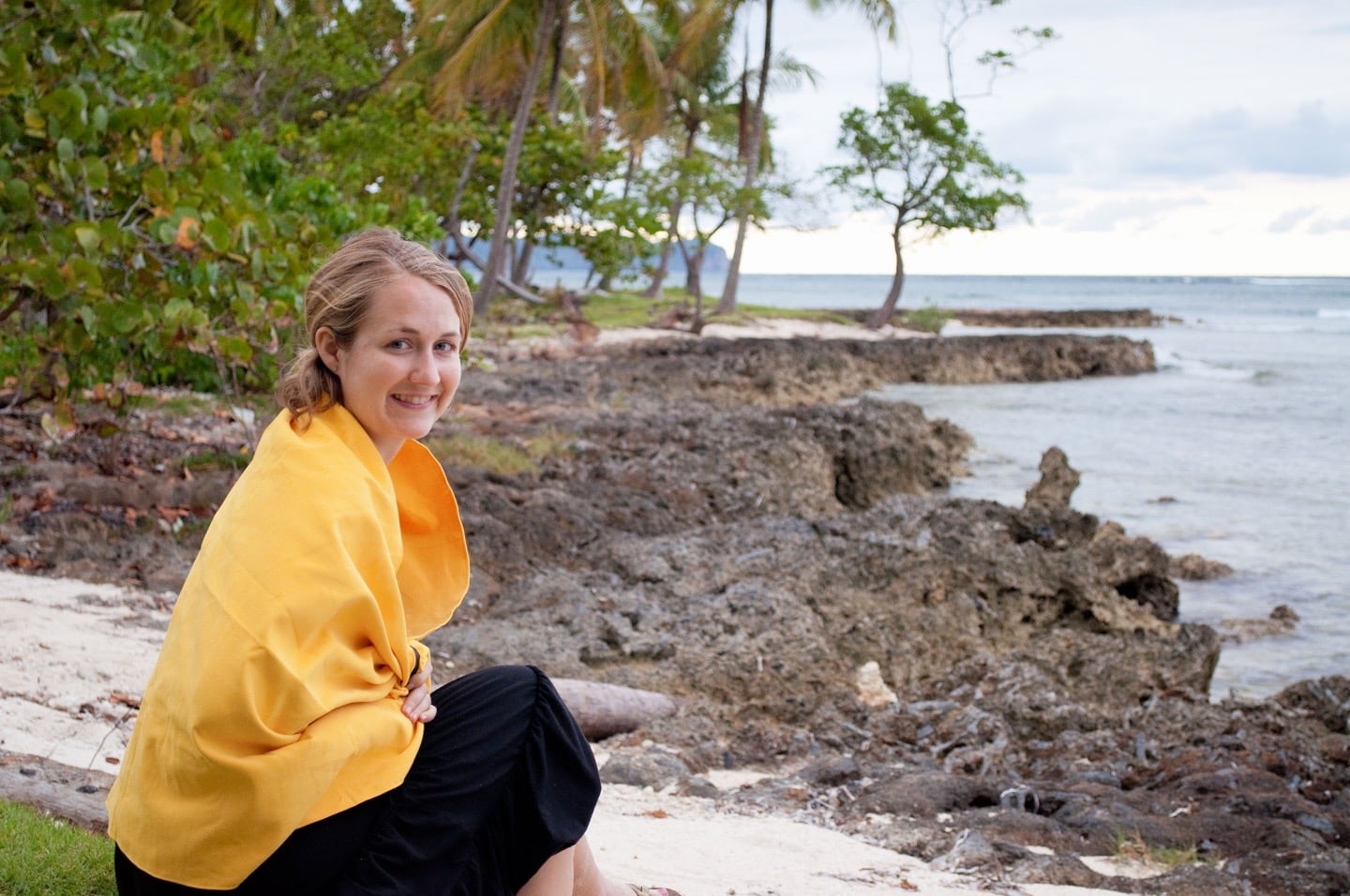 Where to Eat & Drink in Las Galeras
We spent two nights in Las Galeras.
The first day we had drinks at a chill little bar called Gri-Gri along the main drag, the kind of place that's filled with cleaned-up backpackers in their 40's and 50's where the lights are low, the trance music sets the mood and everyone's looking to hook-up. Lori I enjoyed the people watching…and the Cuba Libres.
Afterwards, we ate at Grill Rubi next-door, which was a bit more family-oriented, and quite a bit duller because of it.
Playa Rincon Day Trip
The next morning, we headed down to the beach to arrange boat transport to Playa Rincon, a nearby beach ranked by several travel magazines as one of the best in all of the Caribbean!
We were eager to see the pearl of the Samaná Peninsula for ourselves and set out on a 10-minute ride over choppy waters taking us around a rocky headland and into a stunning cove.
We shared the speedy open-top motorboat with a couple of women who agreed on a 3pm pick-up time (it was around 9am by this point), which seemed reasonable to us.
Lori and I endeavored that morning to awake at a reasonable hour so that we could get to Rincon early and enjoy all it had to offer. In doing so, we did not think to stop for breakfast first as we assumed that there would be services at the beach.
Lori and I had no illusions that there would be nothing beyond the basics at Rincon, but just how few services were actually on offer on Rincon took us by surprise.
We had been told by a few people in Las Galeras that there would be a couple restaurants, but found nothing beyond small beach shacks that most certainly were not set up to serve anything before noon. the only option seemed to be waiting until much later in the day for fish that was far more expensive than our backpacker budget would allow for.
We did however manage to find a few people milling around a hot stove up at one of the bright colored shacks who insisted they served breakfast. Our conversation went something like this (in Spanish):
Lori: Good morning! Do you serve breakfast?
Dude #1: Yes, of course.
Lori: Excellent. Can we see a menu?
Dude #1: No menu.
Lori: Alright, what do you have for breakfast?
Dude #1: Let me check (leaves).
Dude #2: Yes?
Lori: What do you serve for breakfast?
Dude #2: We don't serve breakfast.
Lori: But he said you do.
Dude #2: We only have bread and coffee until noon. That's it.
Lori: Great! We'll take that!
Dude #2: But we have no bread.
Lori: Ok, we'll take coffee.
Dude #2: Do you want fries too?
After a long twenty minute wait, we received our hearty breakfast of instant coffee and fries, scarfed it all down and hit the beach.
It was still a bit cool and stormy, so we took a stroll down to the western end of the beach where a fresh-water brook meets the bay. The turquoise color of the water was unreal and the banks were lush and green.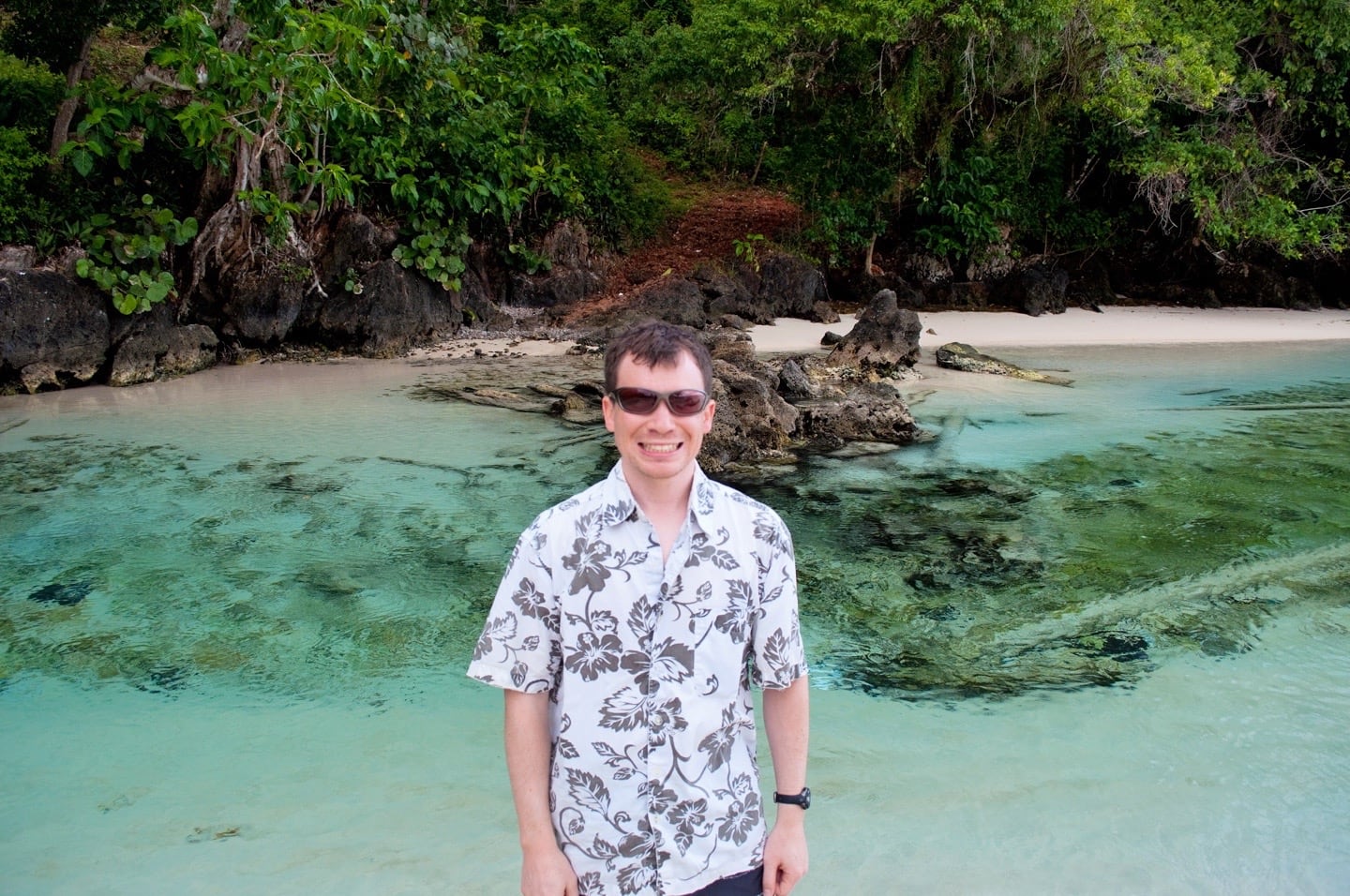 The amount of trash that littered this part of the beach, however, was incredibly disappointing. It was a lot of trash, most certainly washed ashore at high tide, as the beach simply didn't see enough visitors for the trash to be litter.
After returning to the U.S. I went online to see if others had experienced the same thing. I was surprised at how many staunch apologists for the trash there seemed to be, stating again and again that washed up trash is the mark of a truly wild and untamed beach as trash washes up on every beach but most have workers who regularly maintain them.
Honestly, I found this to be a load of BS, as I've seen much wilder, more remote beaches in Mozambique which were 100% pristine, not a speck of trash but maybe a piece of homemade fisherman's net or tackle.
It made me wonder what current brought the flotsam here to this particular beach so regularly and from where the debris came.
Puerto Rico? Cruise ships, perhaps?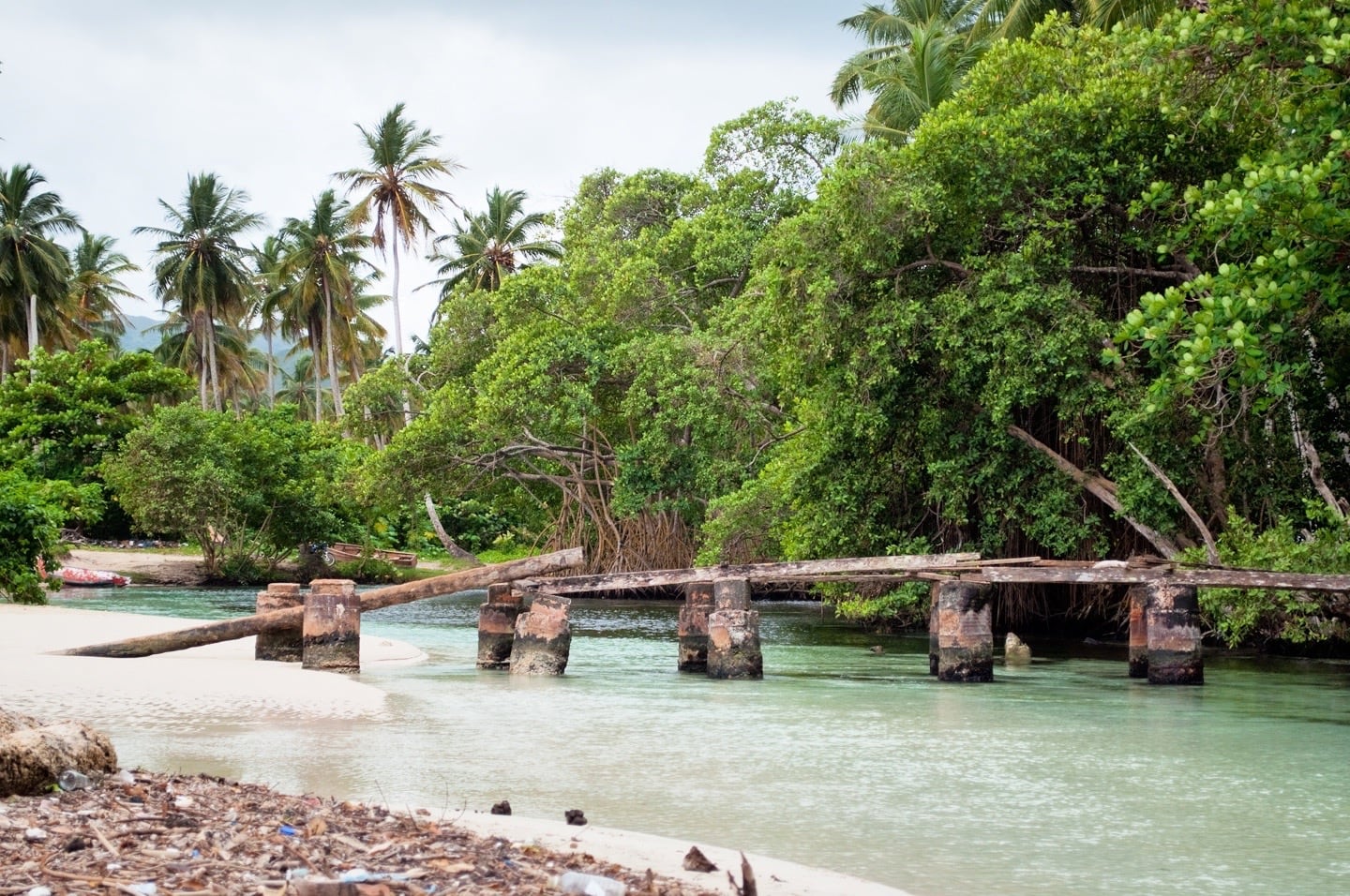 I didn't end up taking any photos specifically of the endless garbage washed up along the beach, but a bit is visible at the bottom of this photo.
When we returned to the much tidier, western part of the beach, a man selling coco loco (rum in a coconut with more rum) came around and made us an offer we couldn't refuse.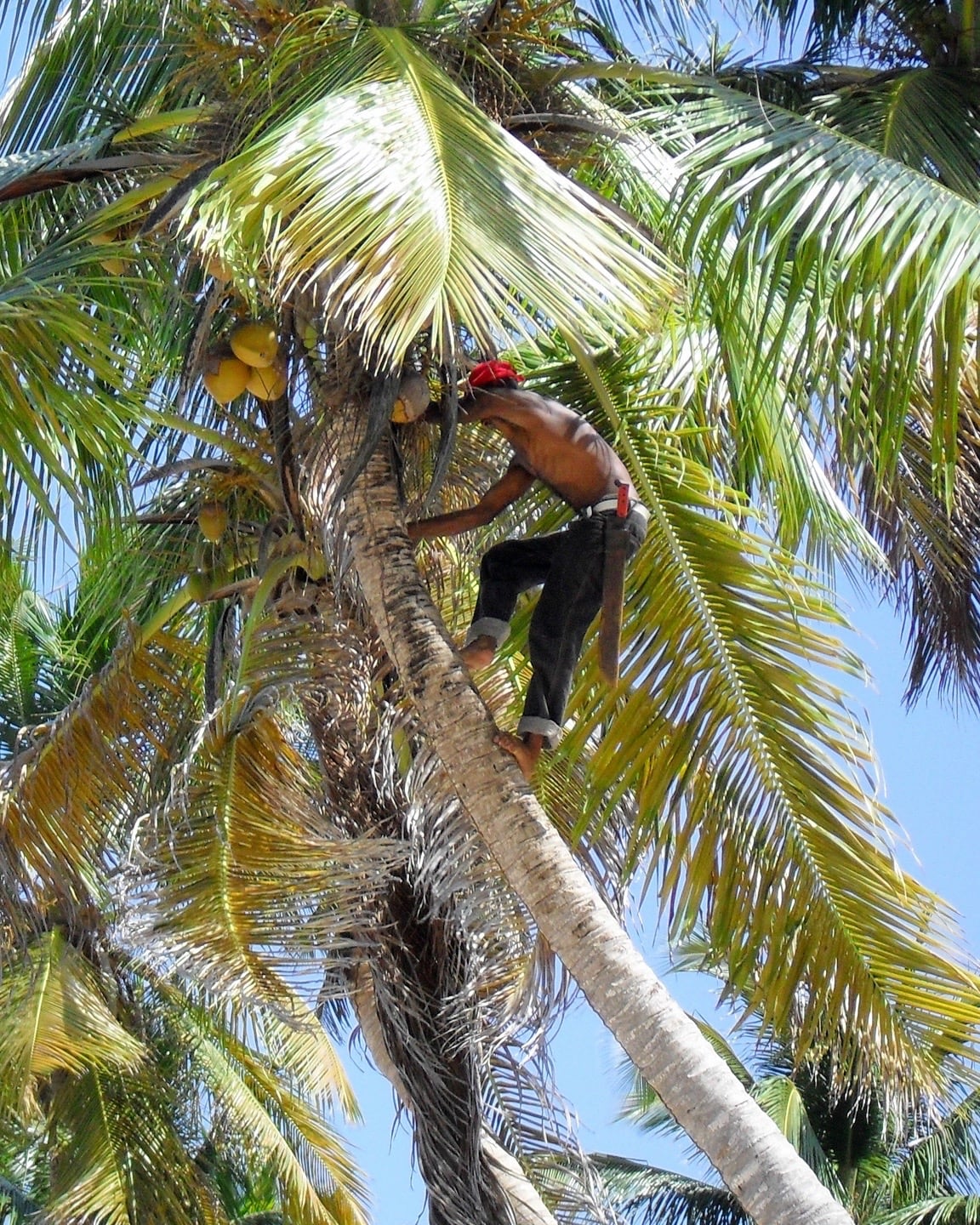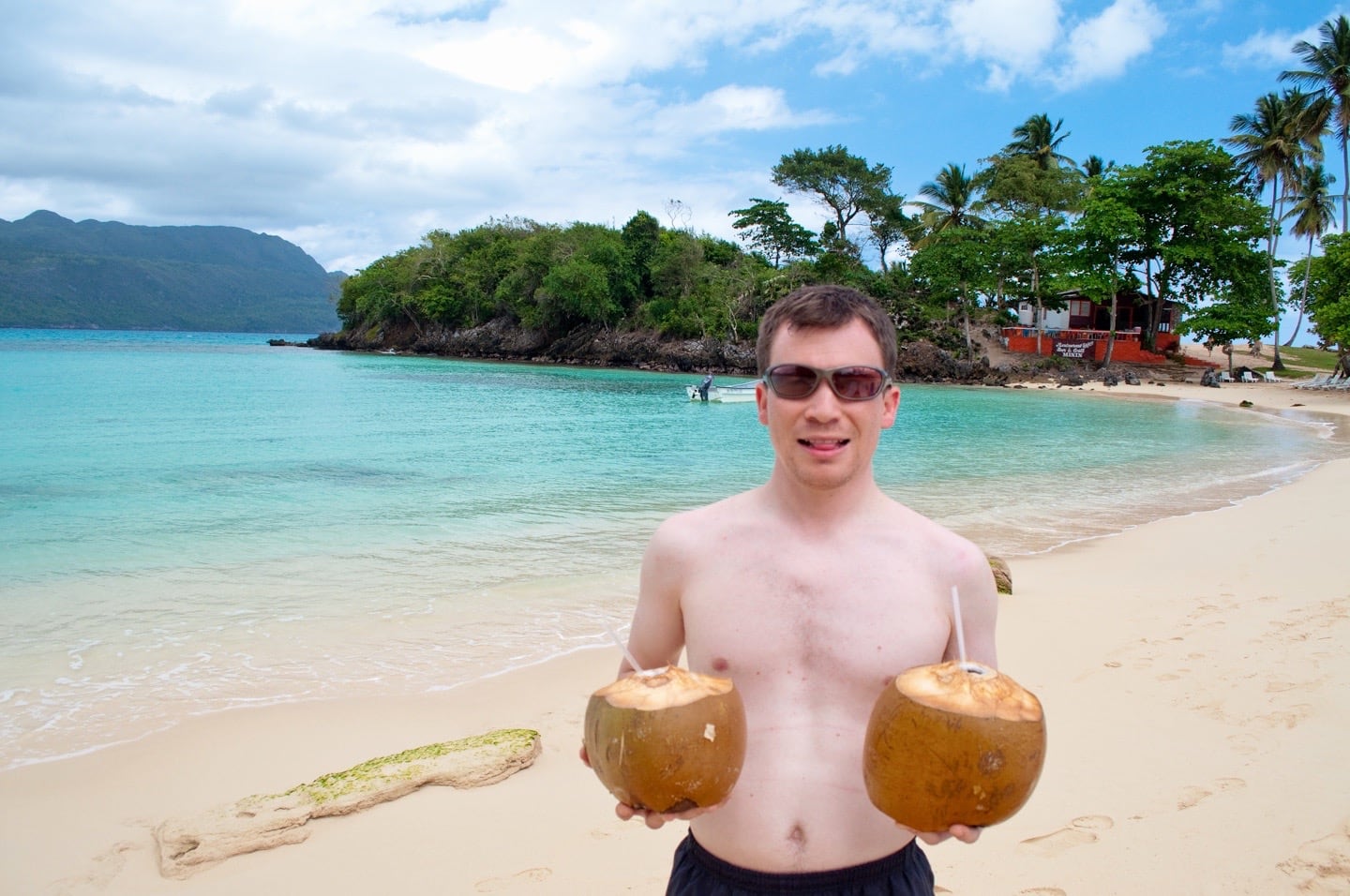 Me and my cocoloconuts.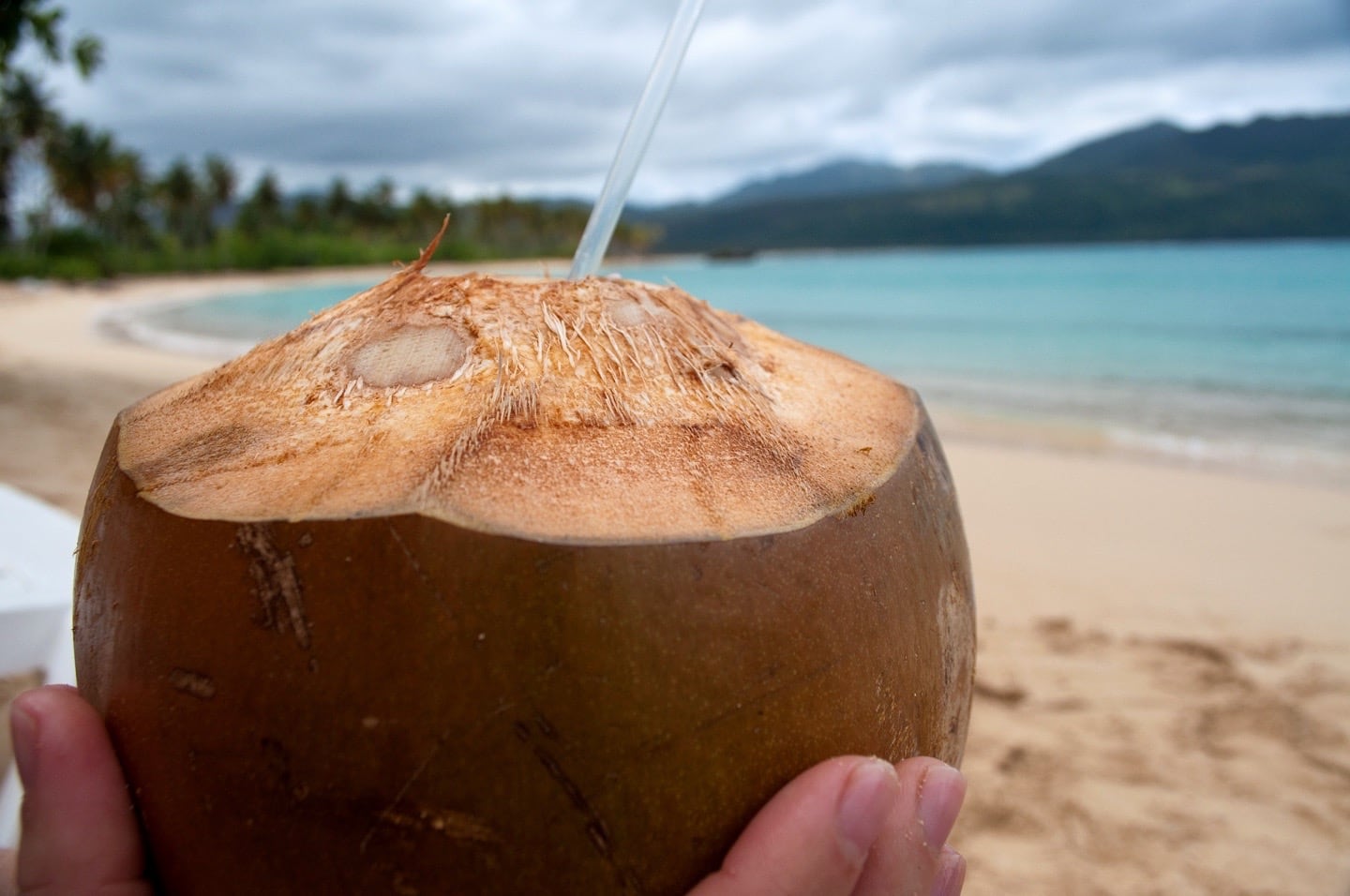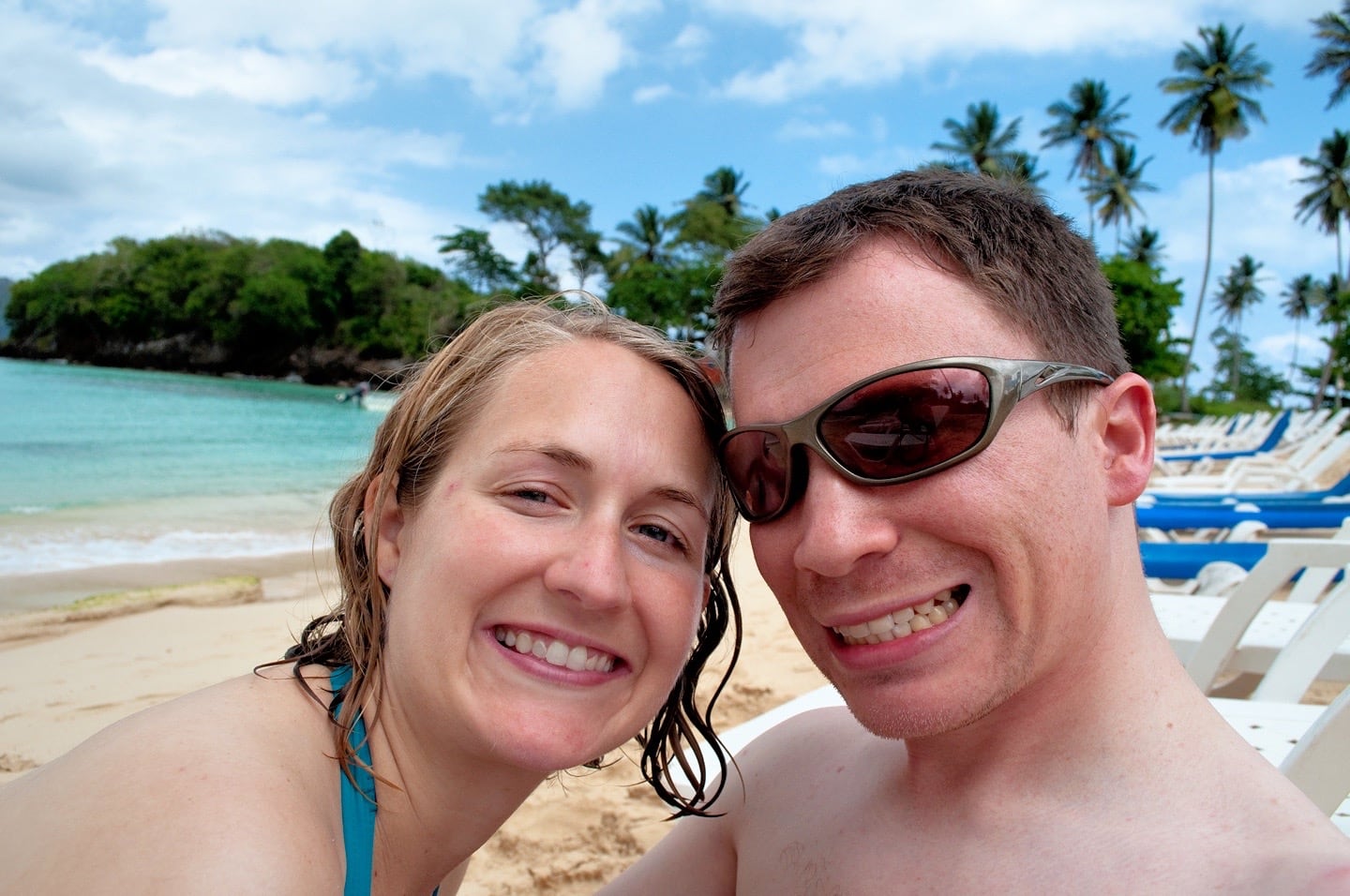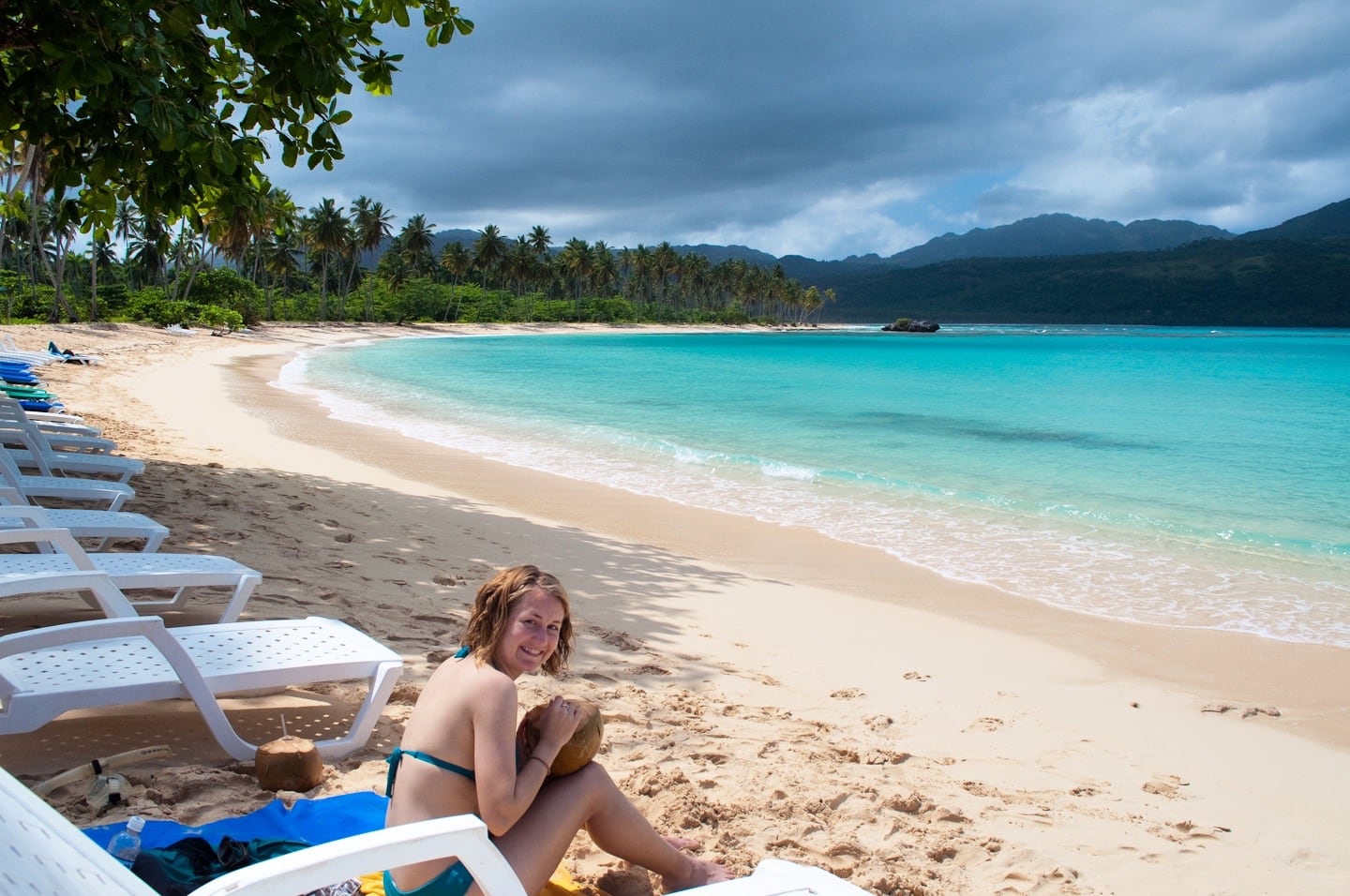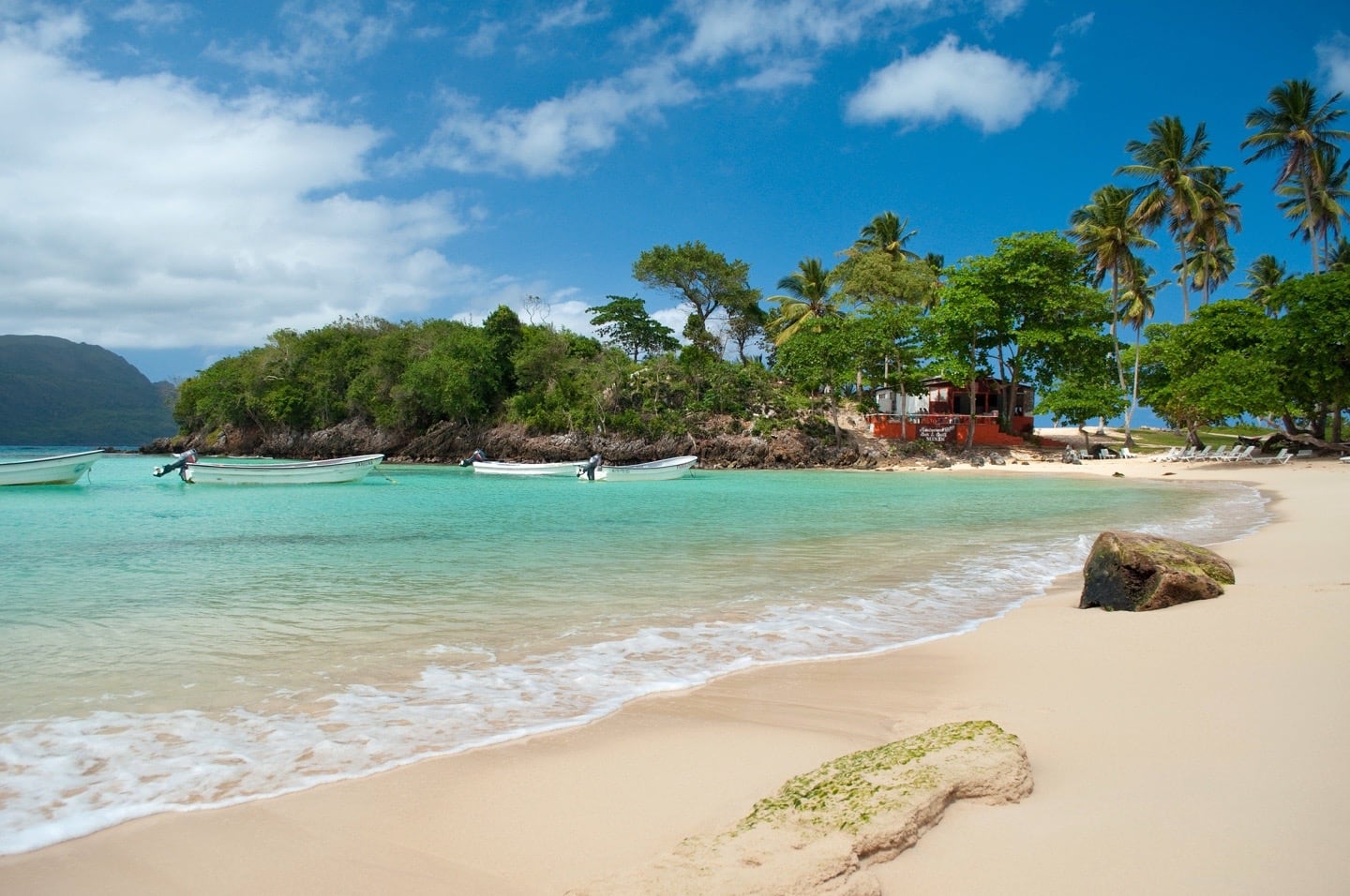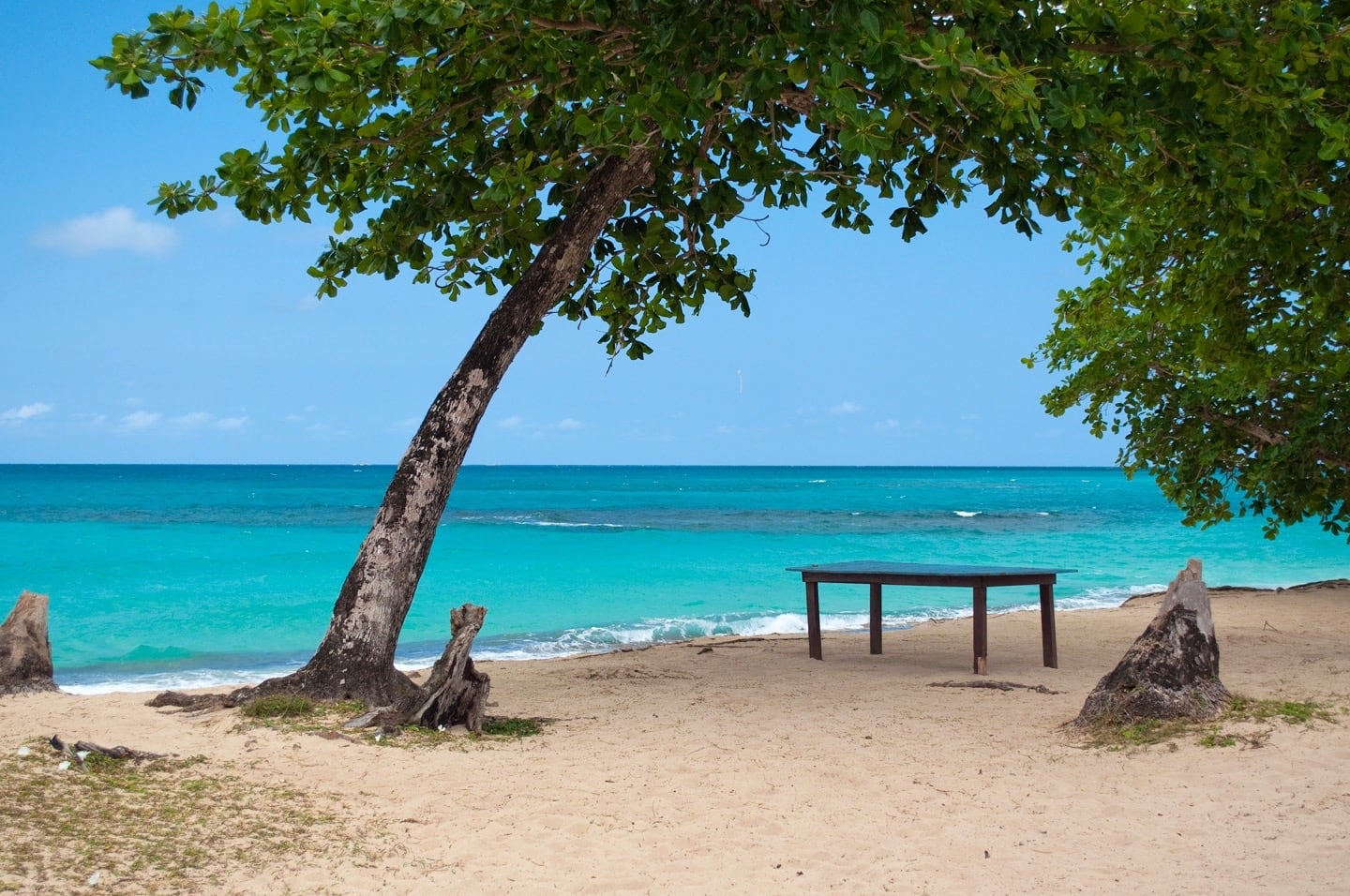 This is one I like to call "Small Blue Table in Paradise."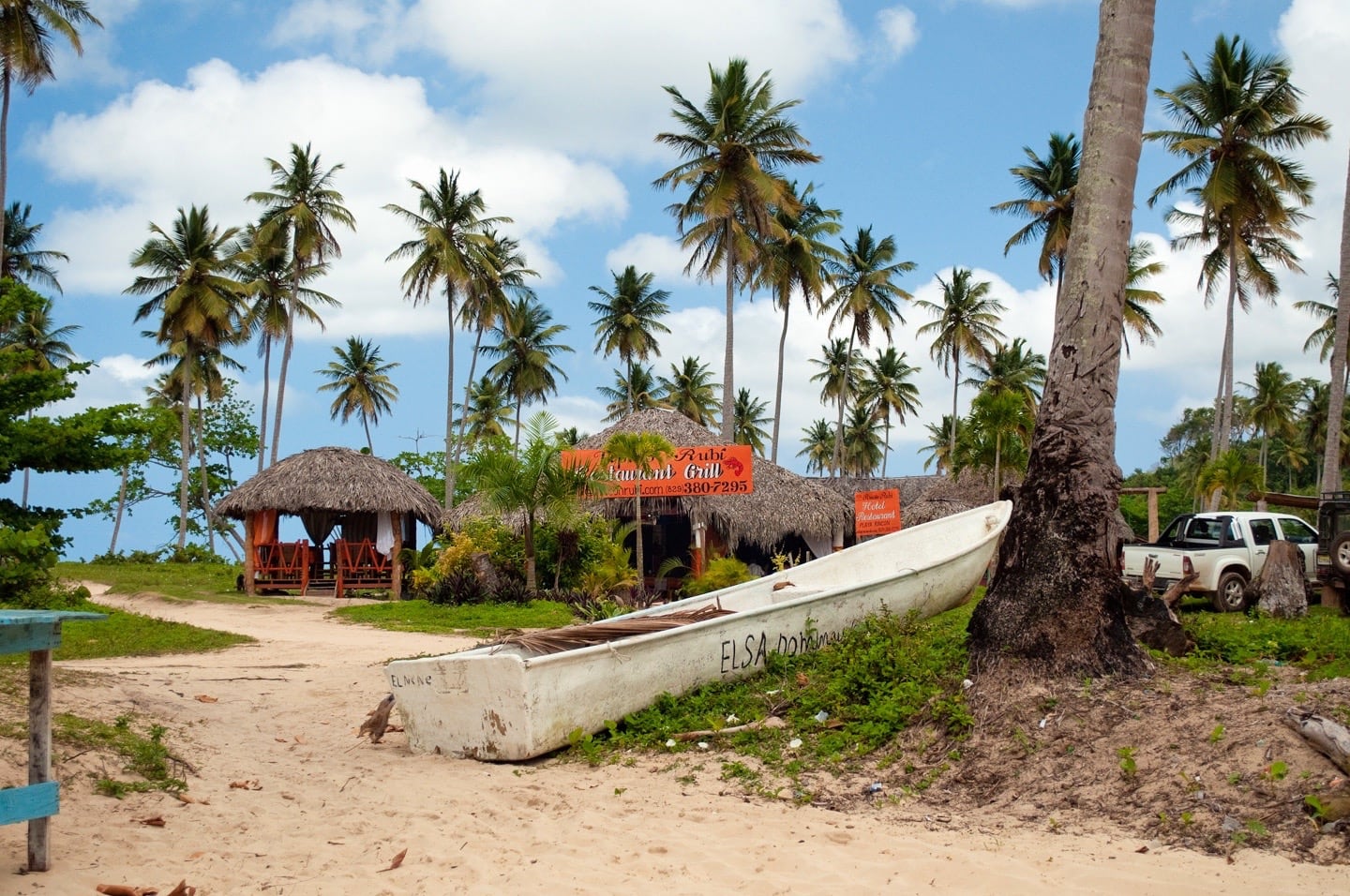 Around noon, the clouds evaporated and the sun came busting through. We relaxed for the next couple of hours, napping, snorkeling, frolicking until our ride came to fetch us around 3pm.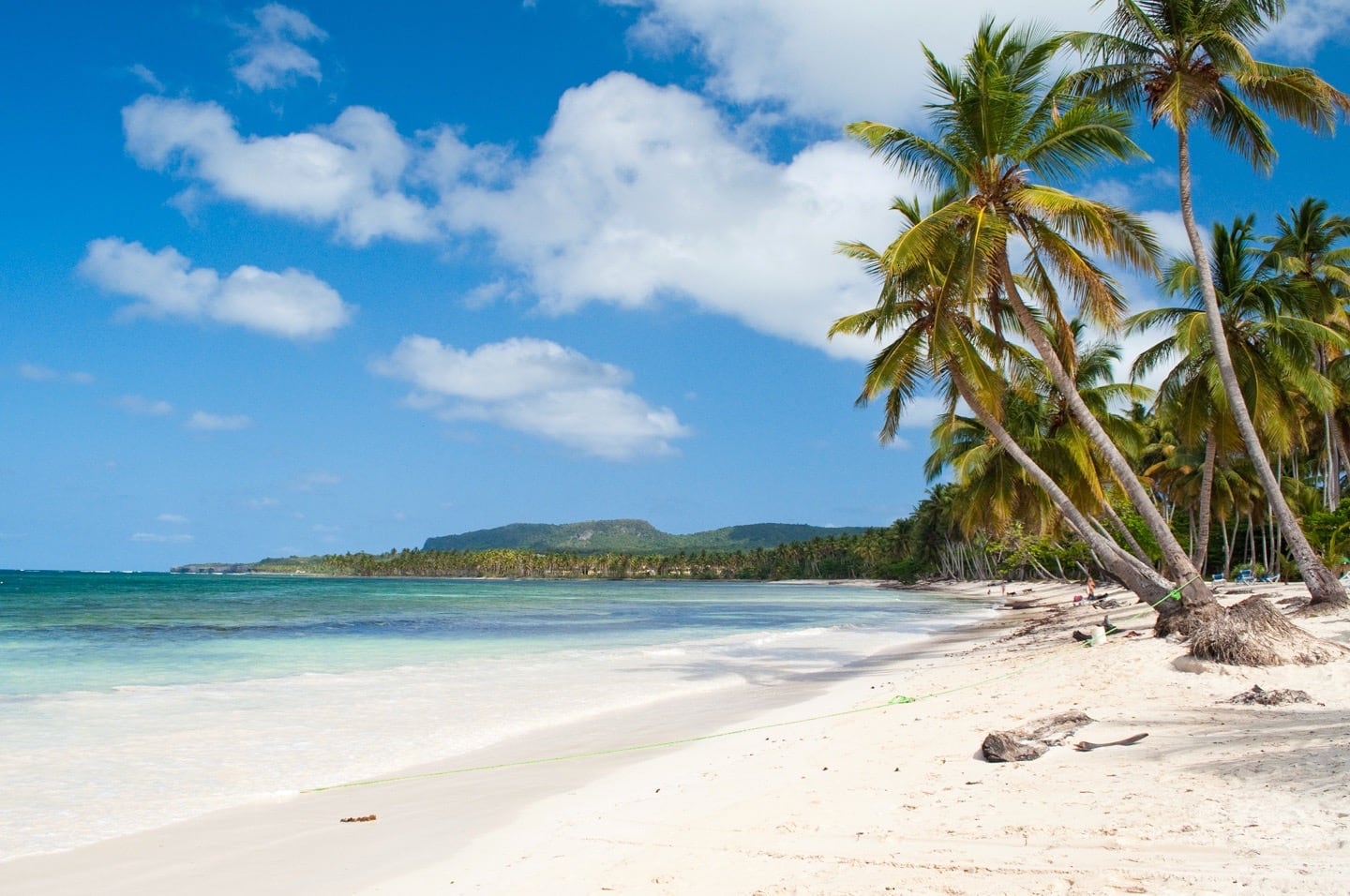 More Las Galeras
Once back in Las Galeras, we stopped by our bungalow and then went on a search to find a nearby beach we had read about that was within walking distance.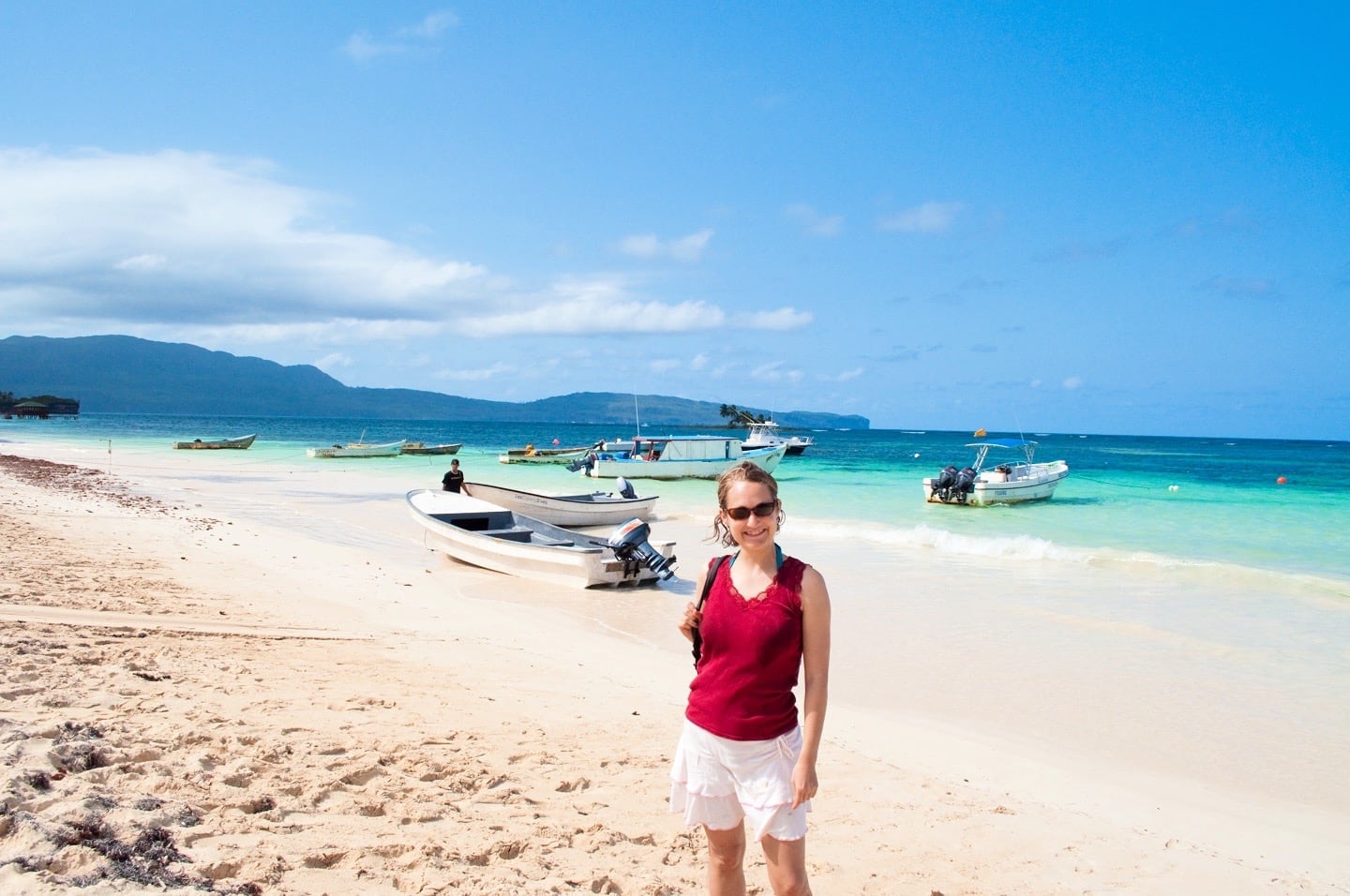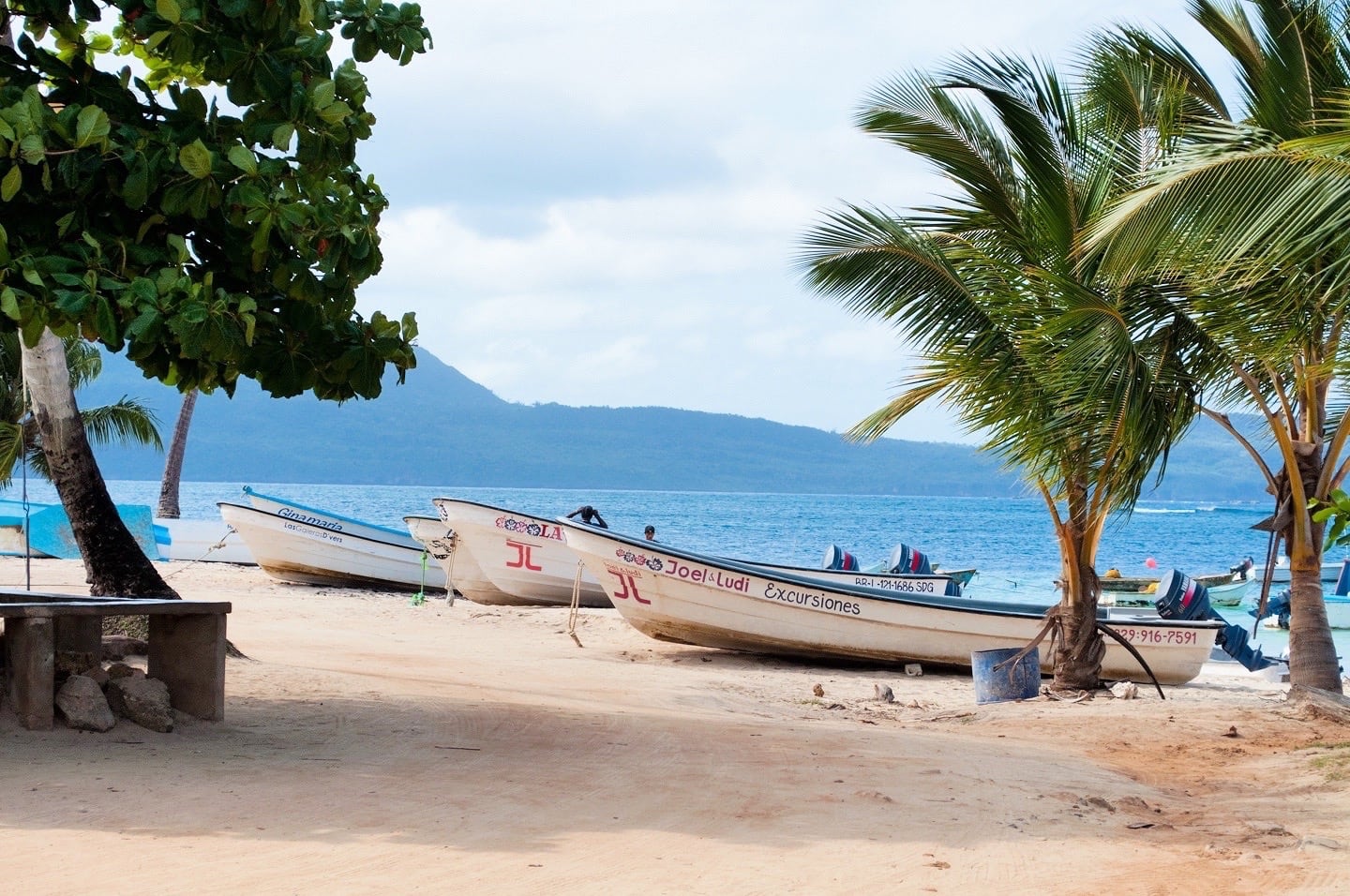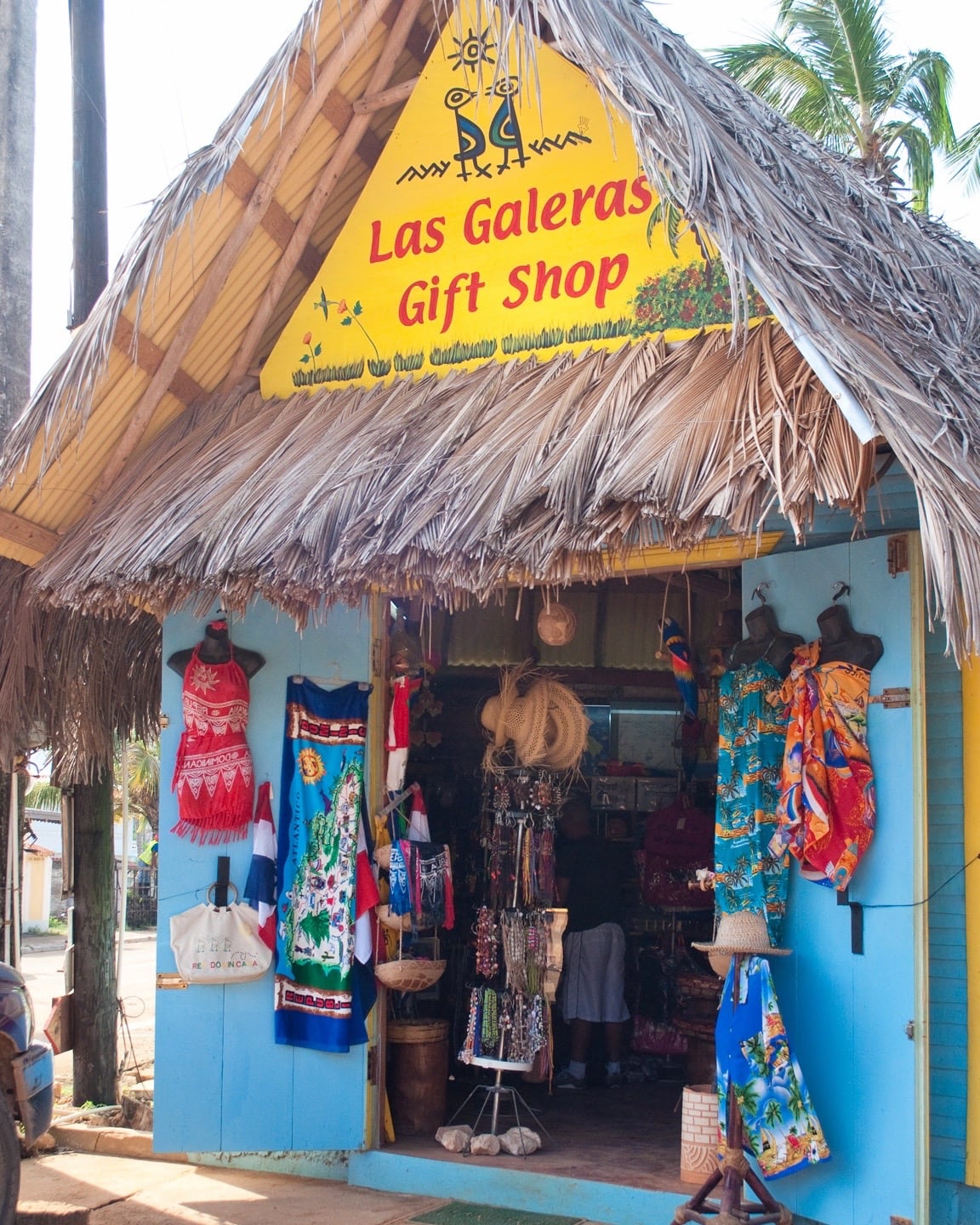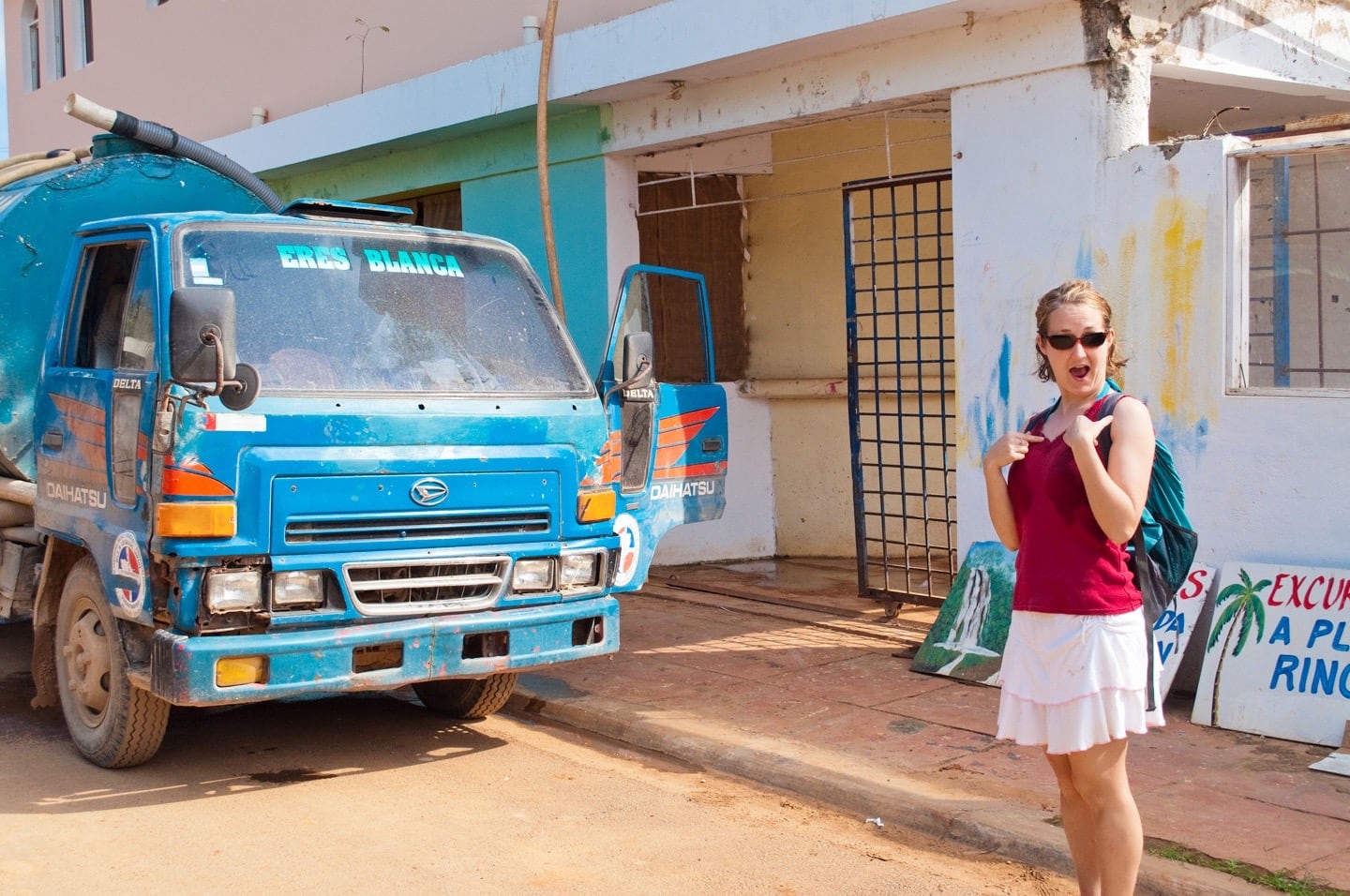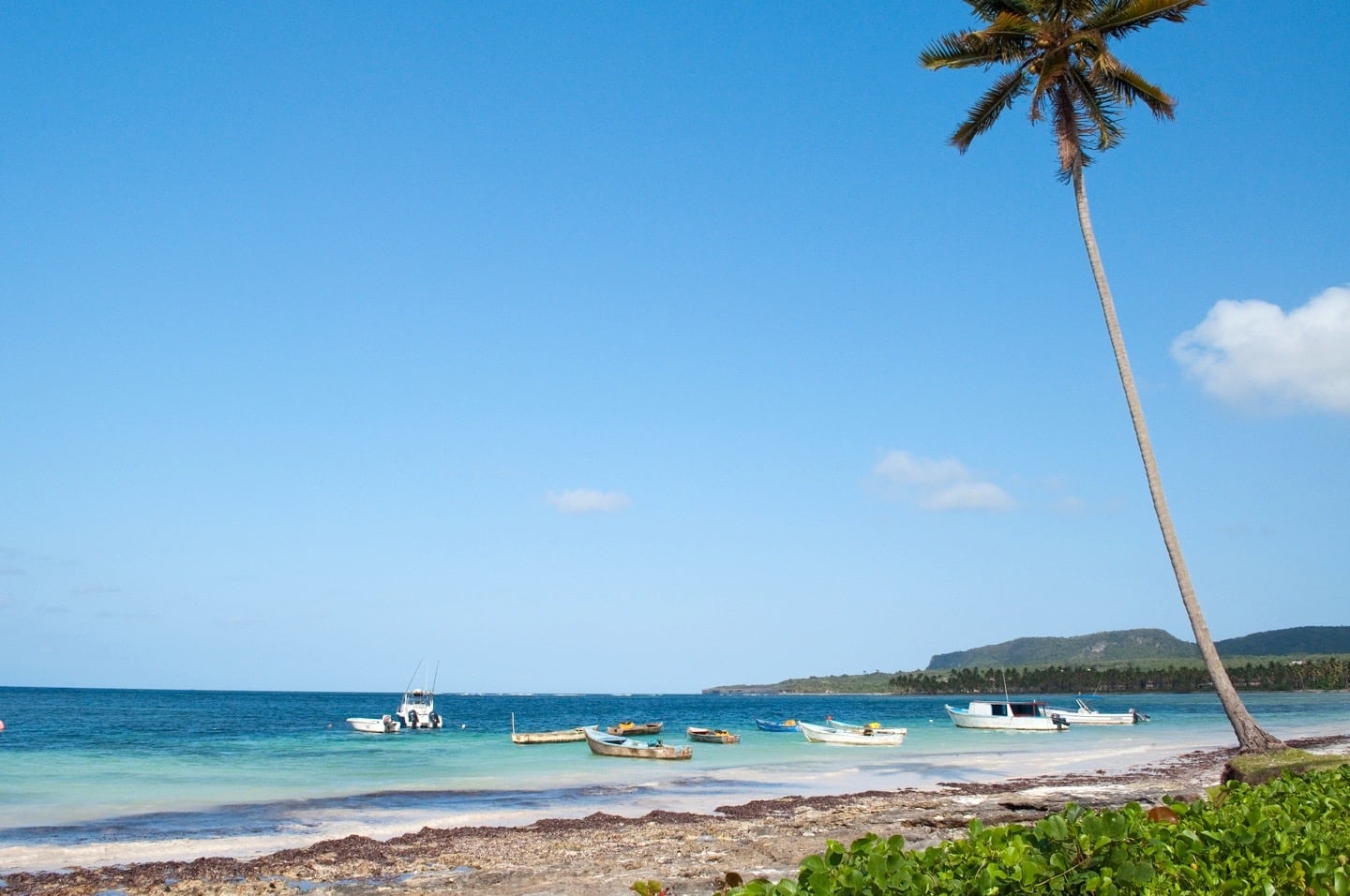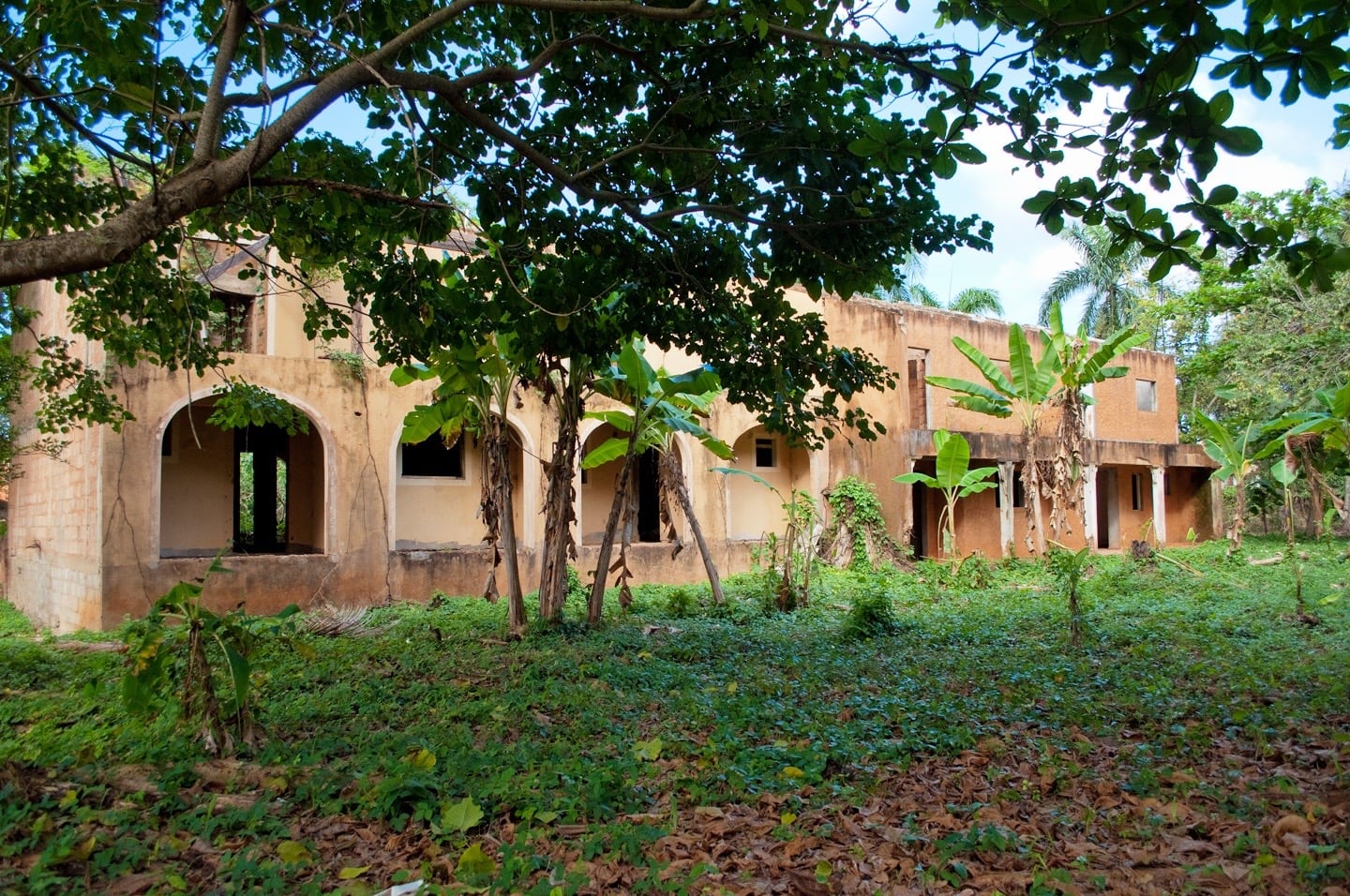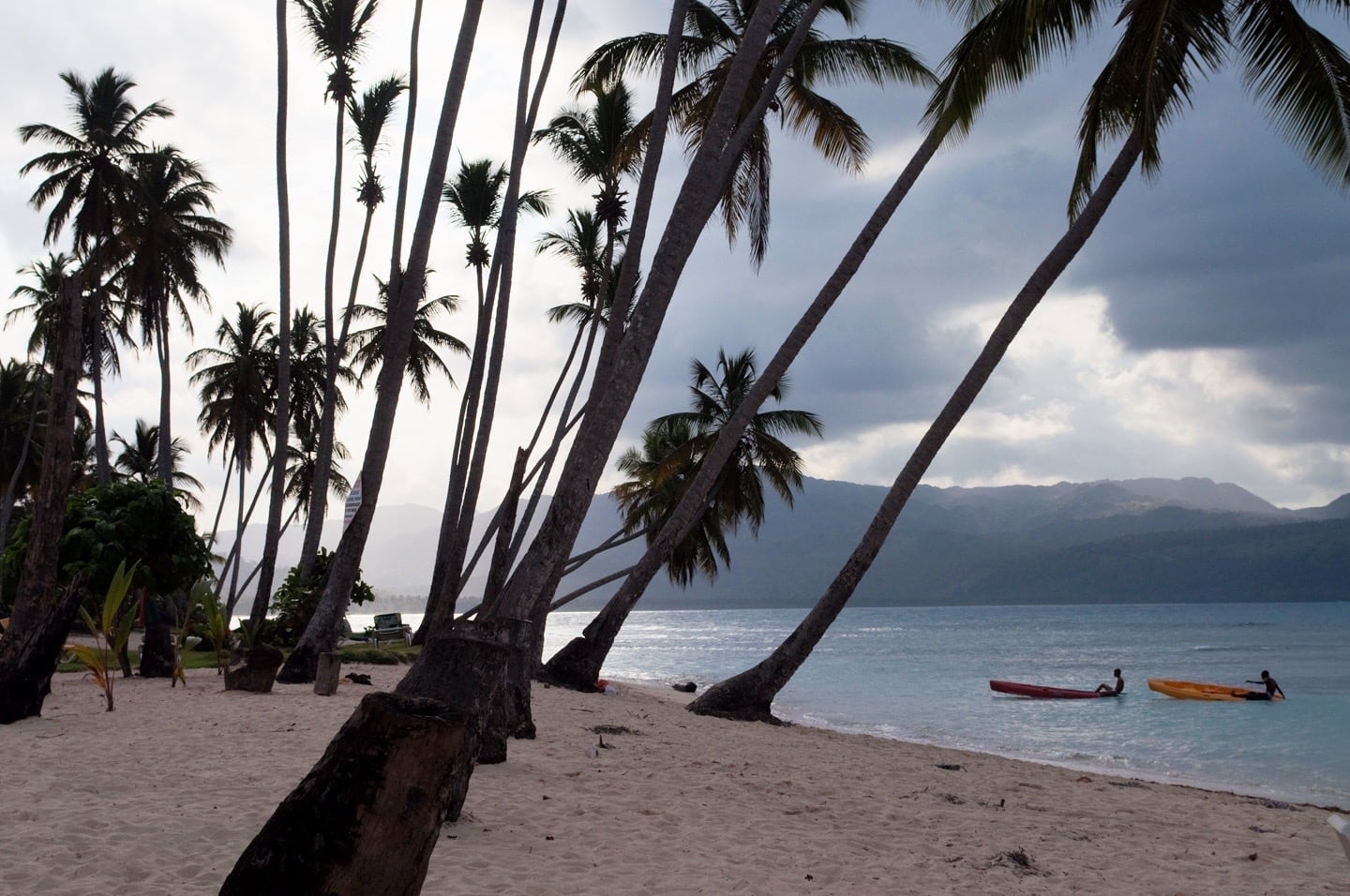 After some serious trial and error, we finally stumble upon Playita, an idyllic little beach tucked away between Las Galeras and Playa Rincon and deserted for the most part, save for a couple of boys playing in boats, fishermen cleaning their catch, and one tenacious older gringa swimming around topless.
I had been taking photos of the pristine beach and sunset and hadn't even noticed the woman until Lori pointed her out. I was initially a bit embarrassed, but embarrassment quickly led to horror as we began to think it might be Lolo, the female half of our bungalow hosts Juan y Lolo. I wondered if she had noticed me taking photos and began seeing images in my head of Juan coming after me in the night with a machete.
We quickly moved on to another part of the beach where we spent the remainder of our time at Playita, out of sight of any potential witnesses who might be able to pick us out of a line up.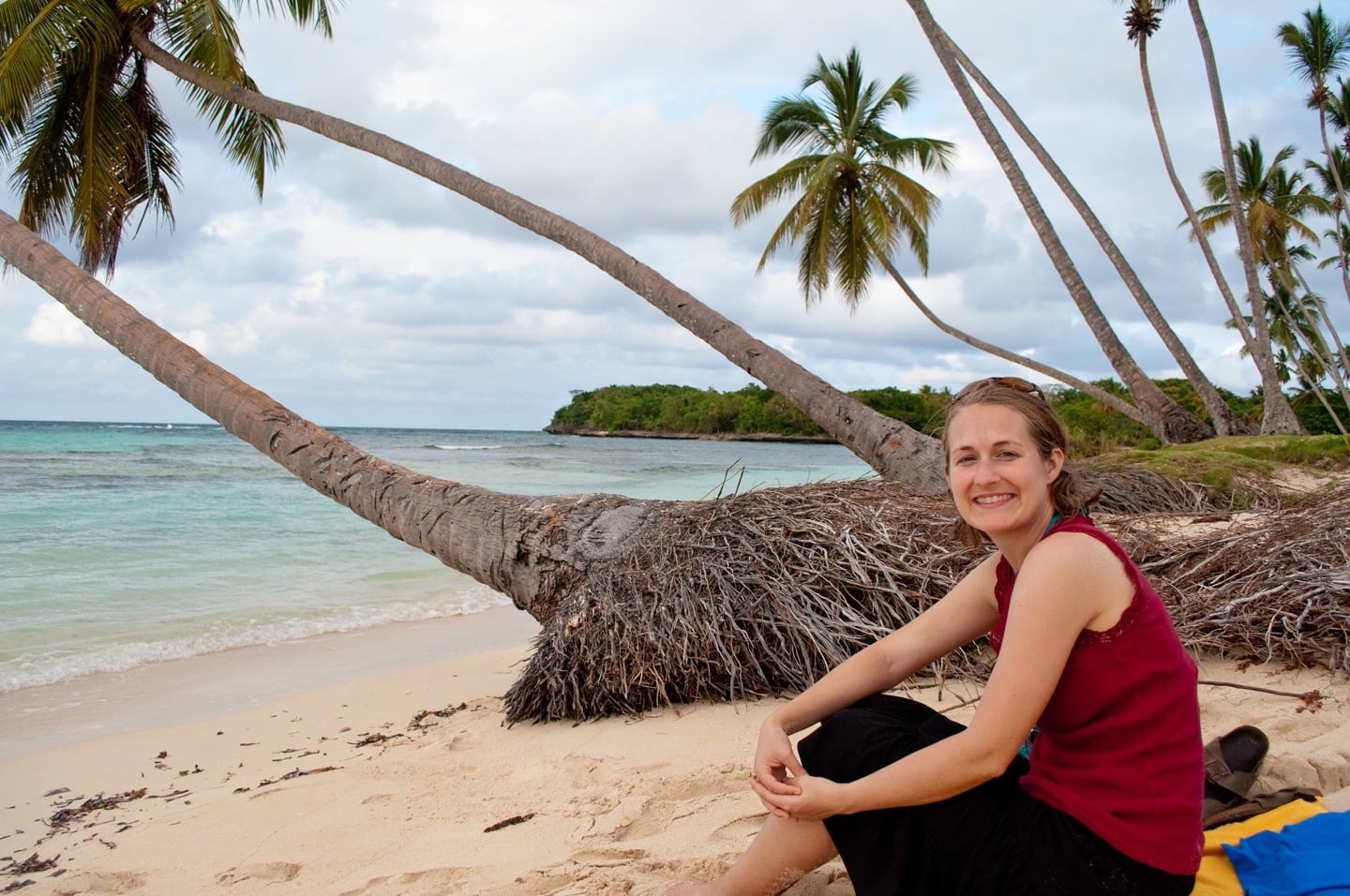 When we returned to our bungalow not too long after our uncomfortable beach encounter, we ran into none other than Lolo herself.
Initially, I became very nervous searching for the best way to explain myself…until I noticed Lolo's hair was completely dry and done up and realized it couldn't possibly have been her out there.
Lori and I gave her a big "hola", passed on by, headed on to the bungalow to get cleaned up, and headed straight to the bar.
That evening, we returned to Gri-Gri for drinks and then headed down to a pizza place at the edge of town. It was a nice change of pace and the food was actually pretty good considering we were the only ones there at 8pm at night.
Las Galeras Beach Time and Return to Samaná Town
Our last morning in Las Galeras was spent relaxing on the beach, looking for souvenirs, and…figuring out how we were going to pay for our lodging for the last couple of nights.
That's right…we were plum out of cash.
So how did it get to this point you might ask? A number of unfortunate incidents aligned to create the perfect storm of cashlessness.
For one, we had paid the deposit for the bungalow online using a credit card and thought for sure, being the obviously tech-savvy entrepreneurs Juan and Lolo appeared to be, that surely they would accept credit cards for the balance.
We learned on the first night that this was not the case…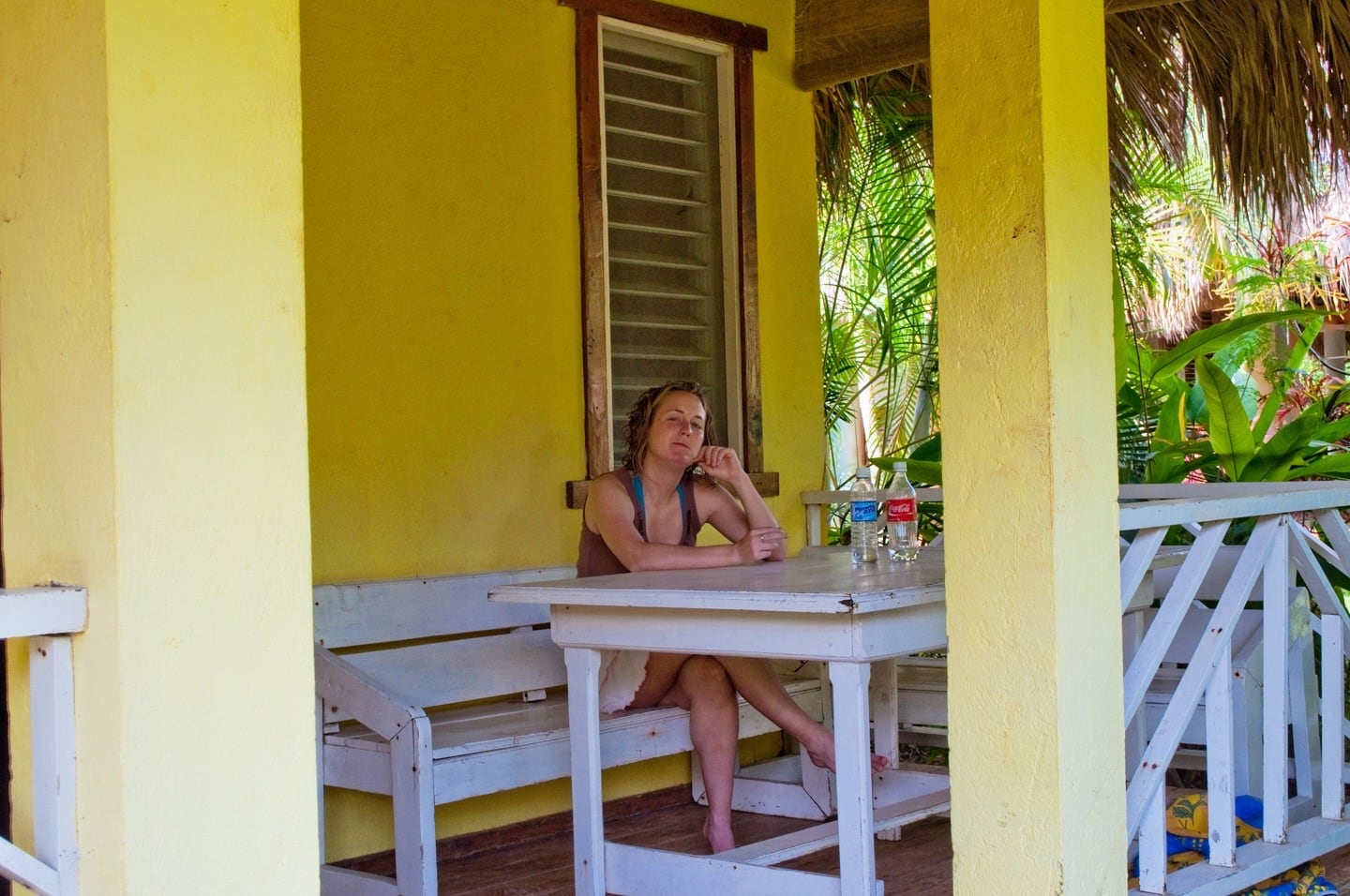 Second, we thought of this scenario ahead of time in Samaná and attempted to withdraw as much cash as we could from the town's one working ATM. Unfortunately for us, the machine was a tremendously picky eater and only liked the one debit Master Card Lori and I had between the two of us, thus we withdrew the daily limit which ended up falling short of the bungalow bill.
And finally, the single ATM here in Las Galeras listed in our Lonely Planet guide book belonged to a bank that had closed up shop since the printing of our guide.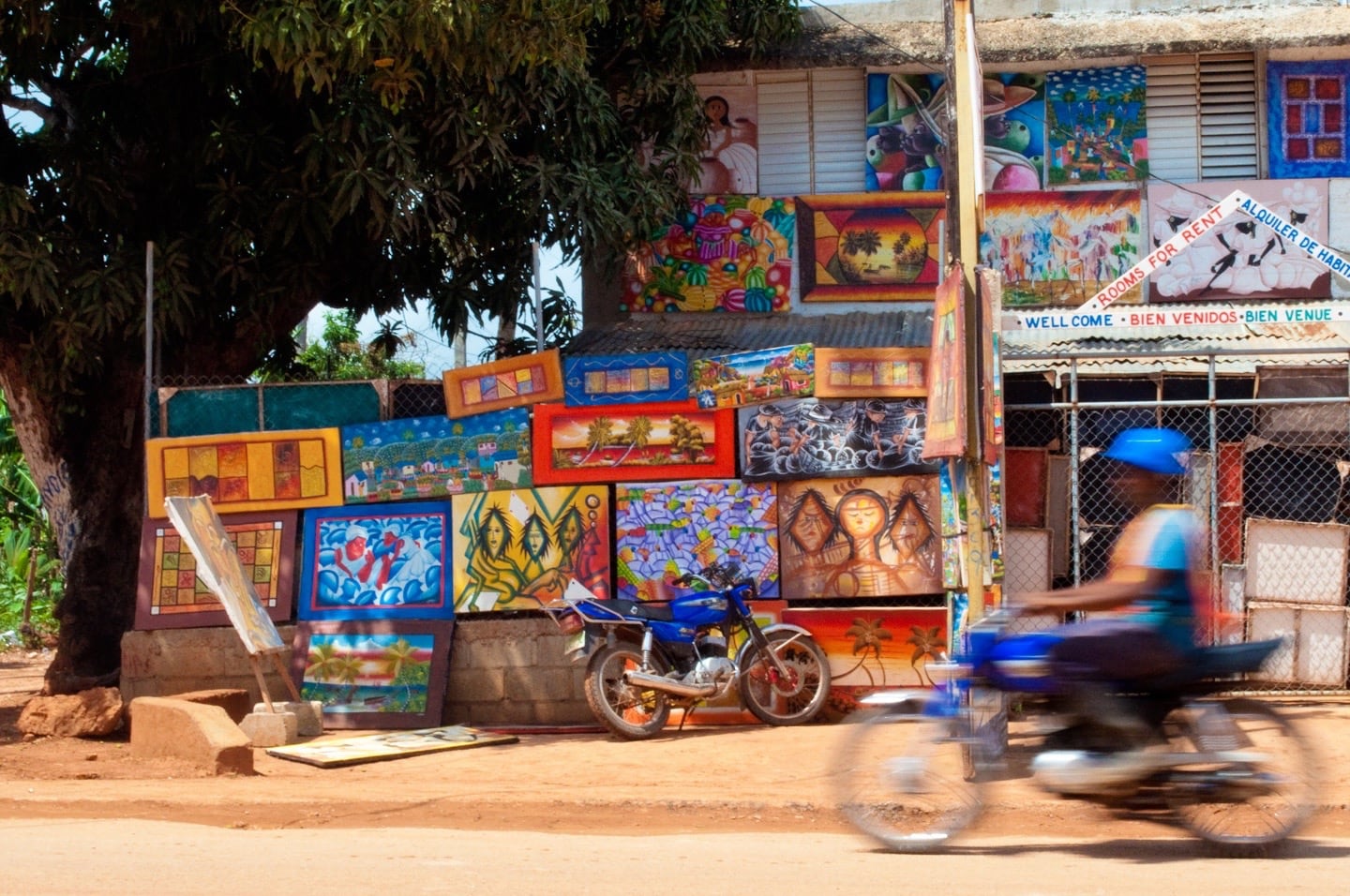 Determined to withdraw cash, we asked around, and were eventually led to an old, but stately resort near the location of our first evening stroll.
And sure enough, we found a bright, shiny ATM hanging off the side of the building. However, this ATM refused to take any of our cards.
A passerby suggested we try the bank inside, and that's exactly what we did.
We walked into the lobby and passed a couple of guys sitting behind a desk who promptly started to scream at us in really bad English (or French perhaps…), demanding to see our room key. When we told them we weren't actually patrons of their overpriced motel they told us that we could not use their bank and that we must leave immediately.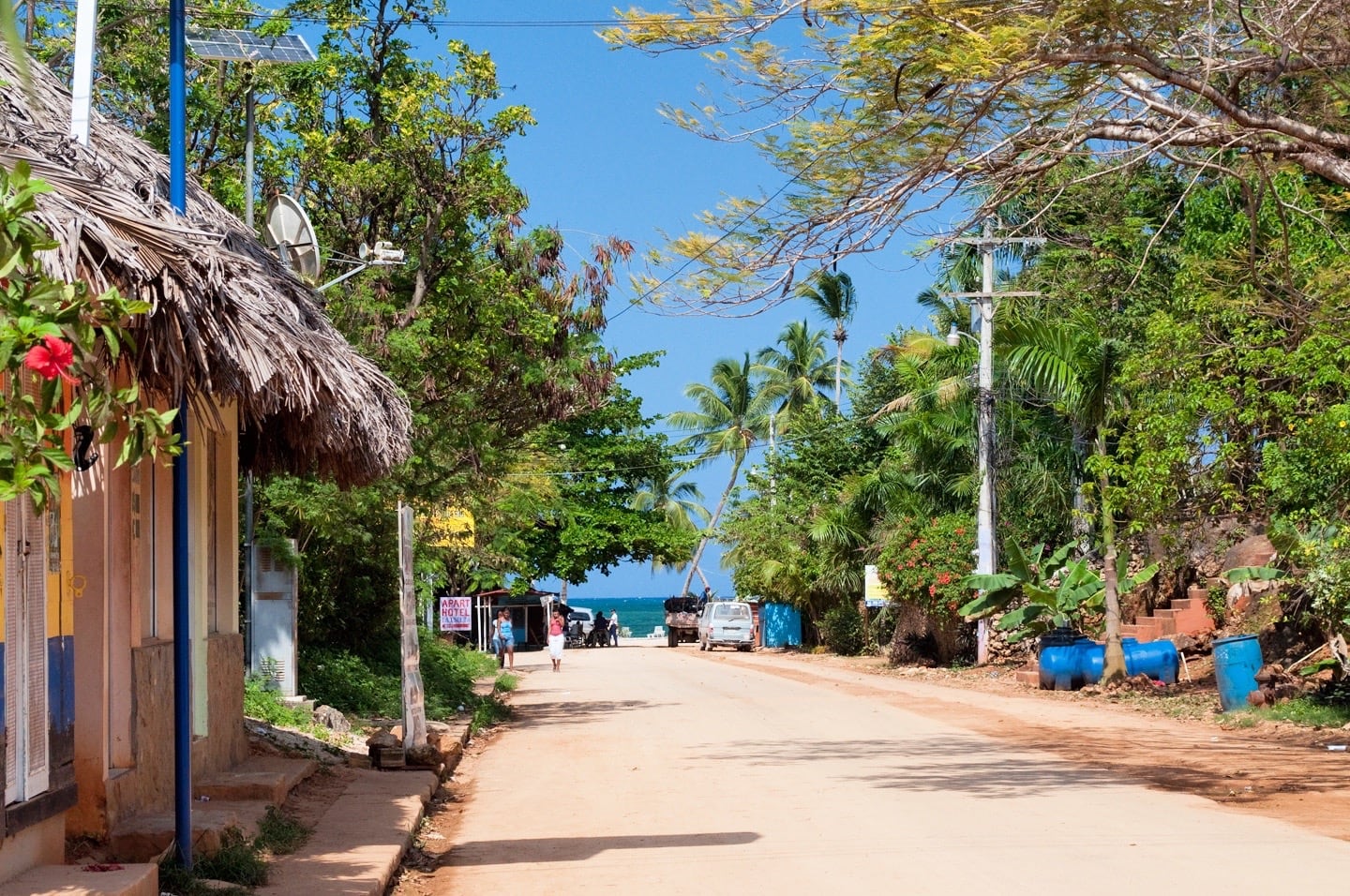 Back in town, while trying to figure out ways we might be able to pay Juan and Lolo — perhaps find a computer and pay off the balance like we payed the deposit? — we came across a convenience store that just happened to have one of those freestanding ATMs. We tried the first debit card we could rustle out of our pockets and sure enough…Money!
By this time, we had already arranged one of the last rides out of town and were determined to be on that gua-gua. But, of course, when we got back to Juan and Lolo's, neither of them were there.
After ten minutes of waiting, we finally stuffed the cash into a huge conch shell and set it in front of their back door.
I like to think they received their money…
Just after noon we caught the gua-gua back to Samaná town.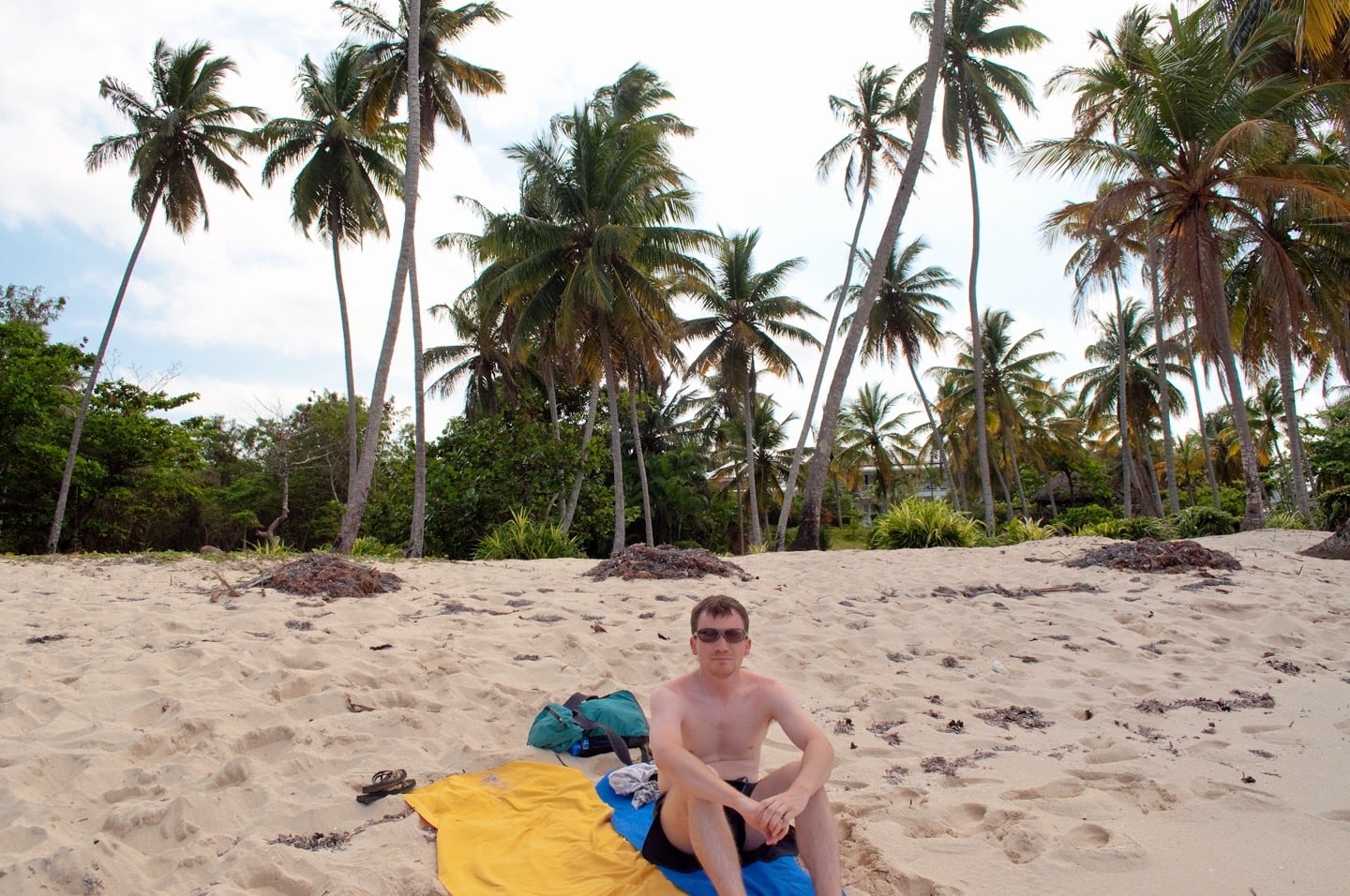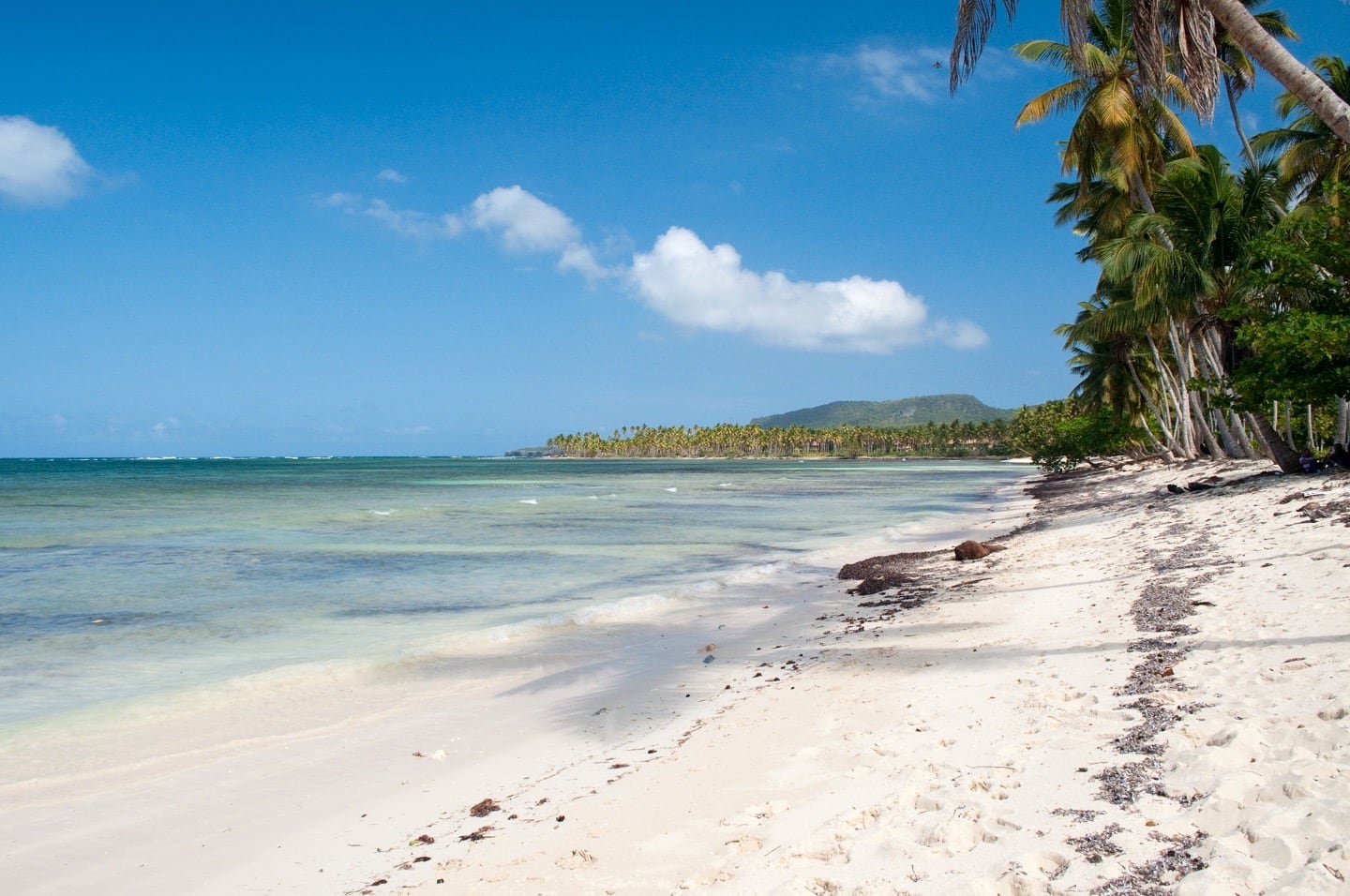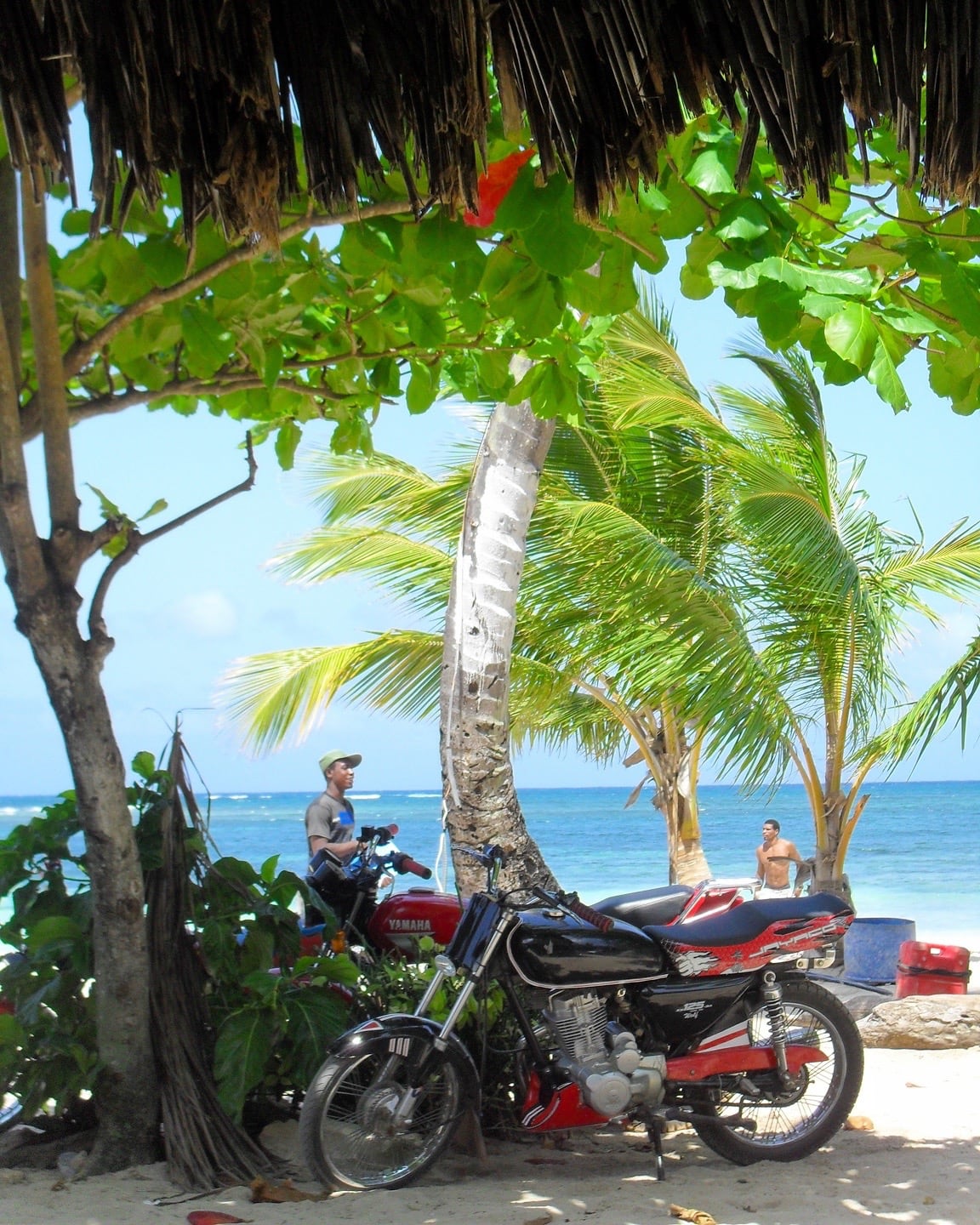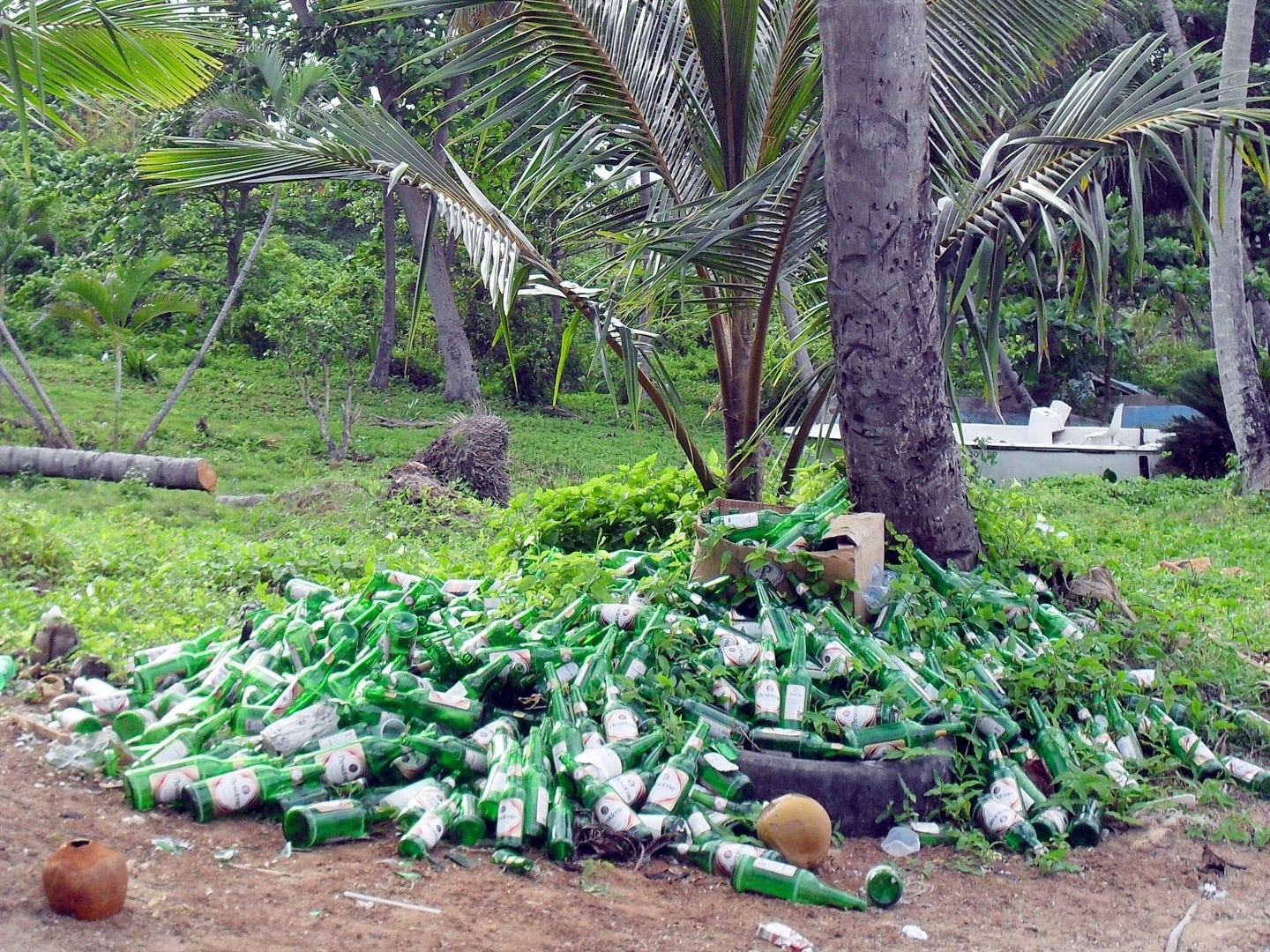 One Final Night in the DR
When we arrived back in Samaná town, the driver dropped us off at a circle fairly far from where our hostel was supposed to be located. Lori had called ahead from Las Galeras and reserved a place at Hotel Docia, a no frills concrete guesthouse on a hill. We consulted our guidebook and began walking in the general direction, but still found ourselves quite a ways from the place lugging around heavy packs in the midday heat.
And to make matters worse, we were being followed by a very annoying motorcyclist who was incessantly trying to convince us to stay at his hotel.
After several No, gracias's we ignored him for several blocks, winding our way throughout the city, not losing the guy, but hopefully closing in on our hostel.
Then, still about a half-dozen blocks from our place we realize that the guy is saying "Hotel Docia." He's trying to get us to come to the hostel we're looking for!
We had a good laugh over that one and the man kindly continued to lead us to the place, riding ahead, then waiting at the end of the block so we wouldn't lose him, even after we had ignored him for the last 20 minutes.
When we got to the hotel he simply smiled and waved, then rode off into the sunset to, I assume, look for more wayward gringos in search of digs for the night. We wished him good hunting and proceeded to check in.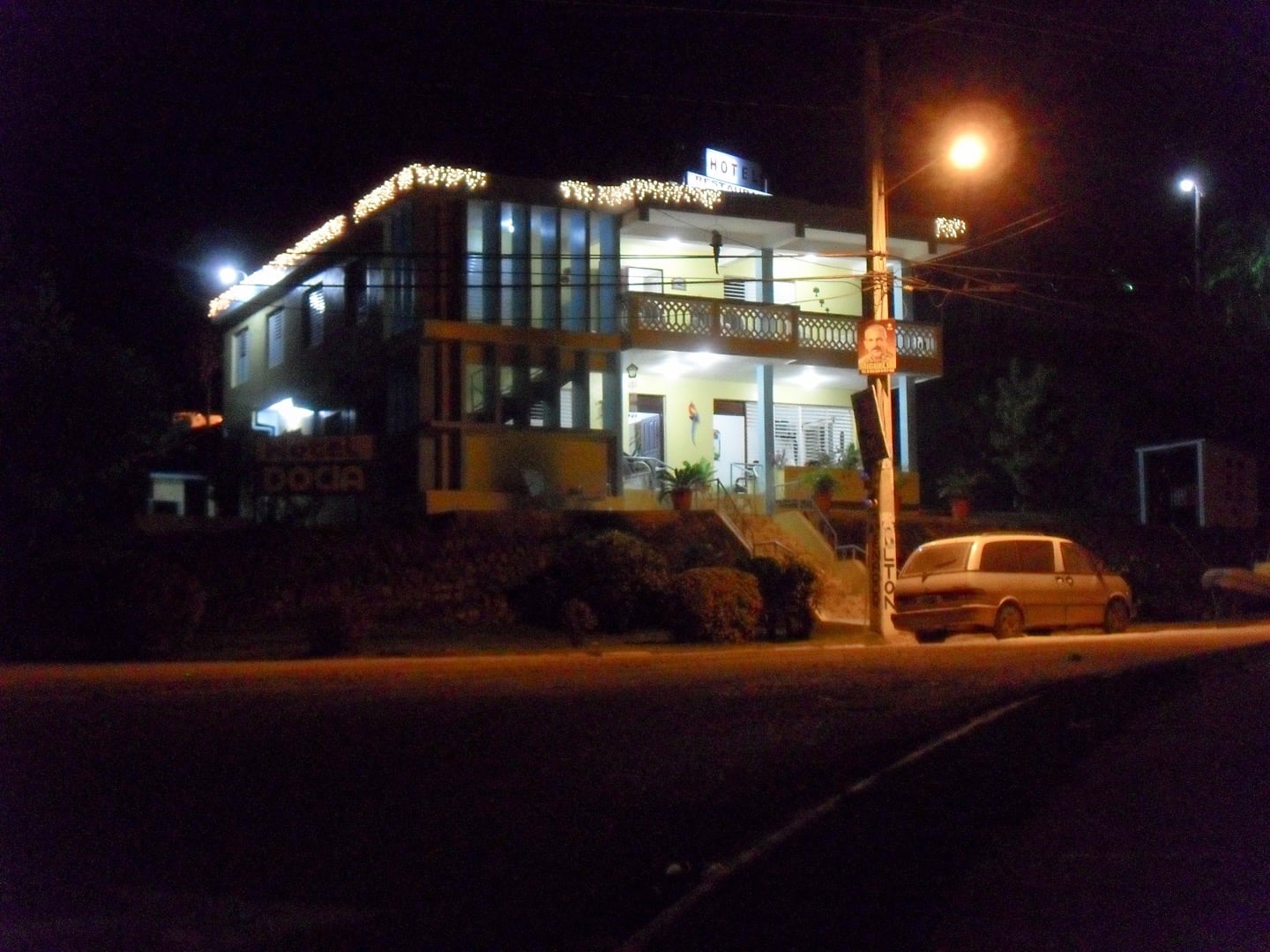 We spent the rest of that evening (our last evening together in the DR) ambling along the warm promenade, sipping Cuba Libres at a small cafe (it was a bit breezy and we were the only people out on the front deck), exploring eateries and shacks, and watching the fishing boats come into the harbor from the old, rusted watchtowers dotting the waterfront walkway.
Afterward, we climbed the hill to our hostel once more and had dinner at a Chinese restaurant next to the property, with the unimaginative, yet easily identifiable name of Restaurant Chino. We scarfed down our very brown and very salty chow mein while enjoying the view of the city.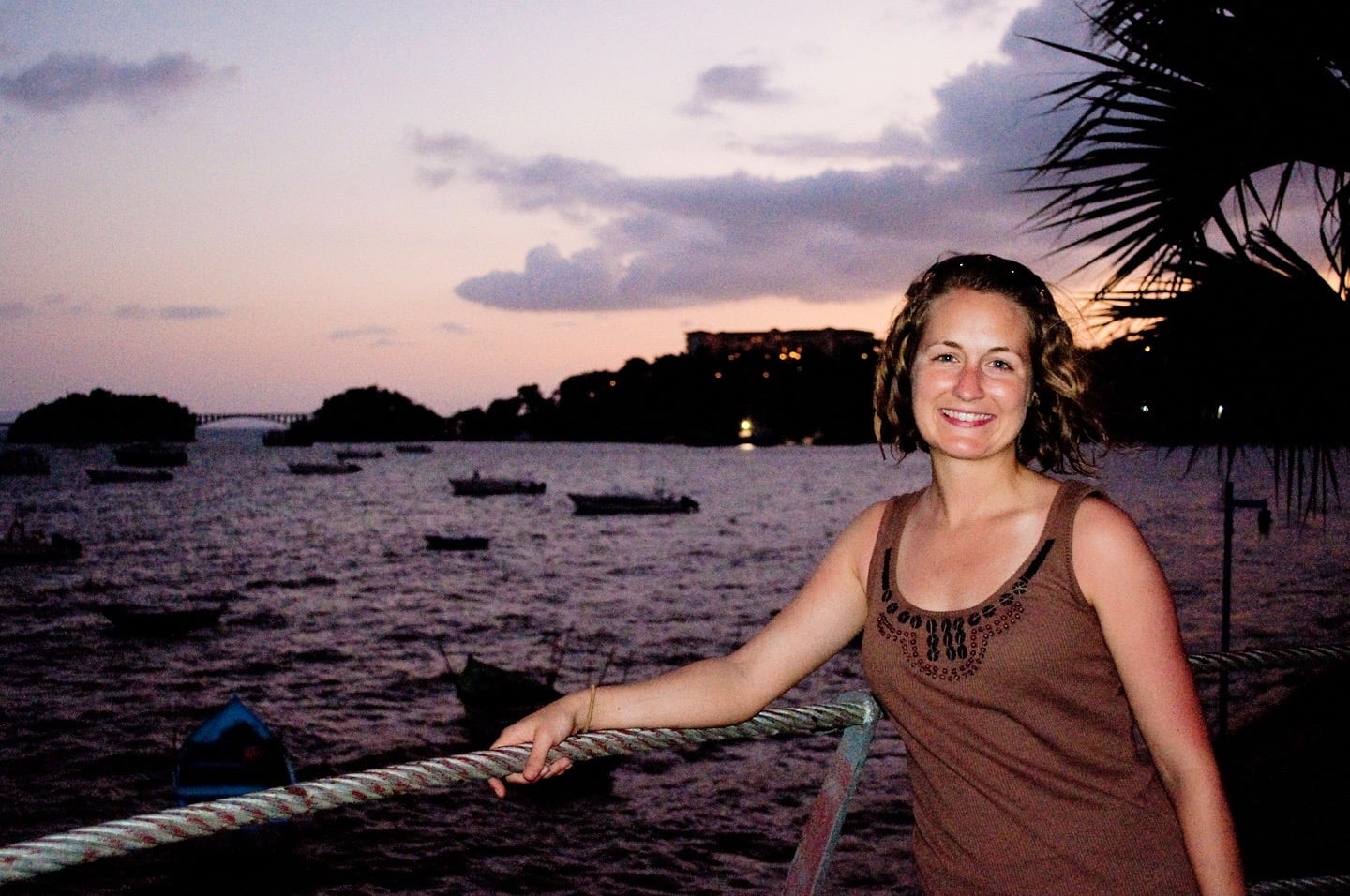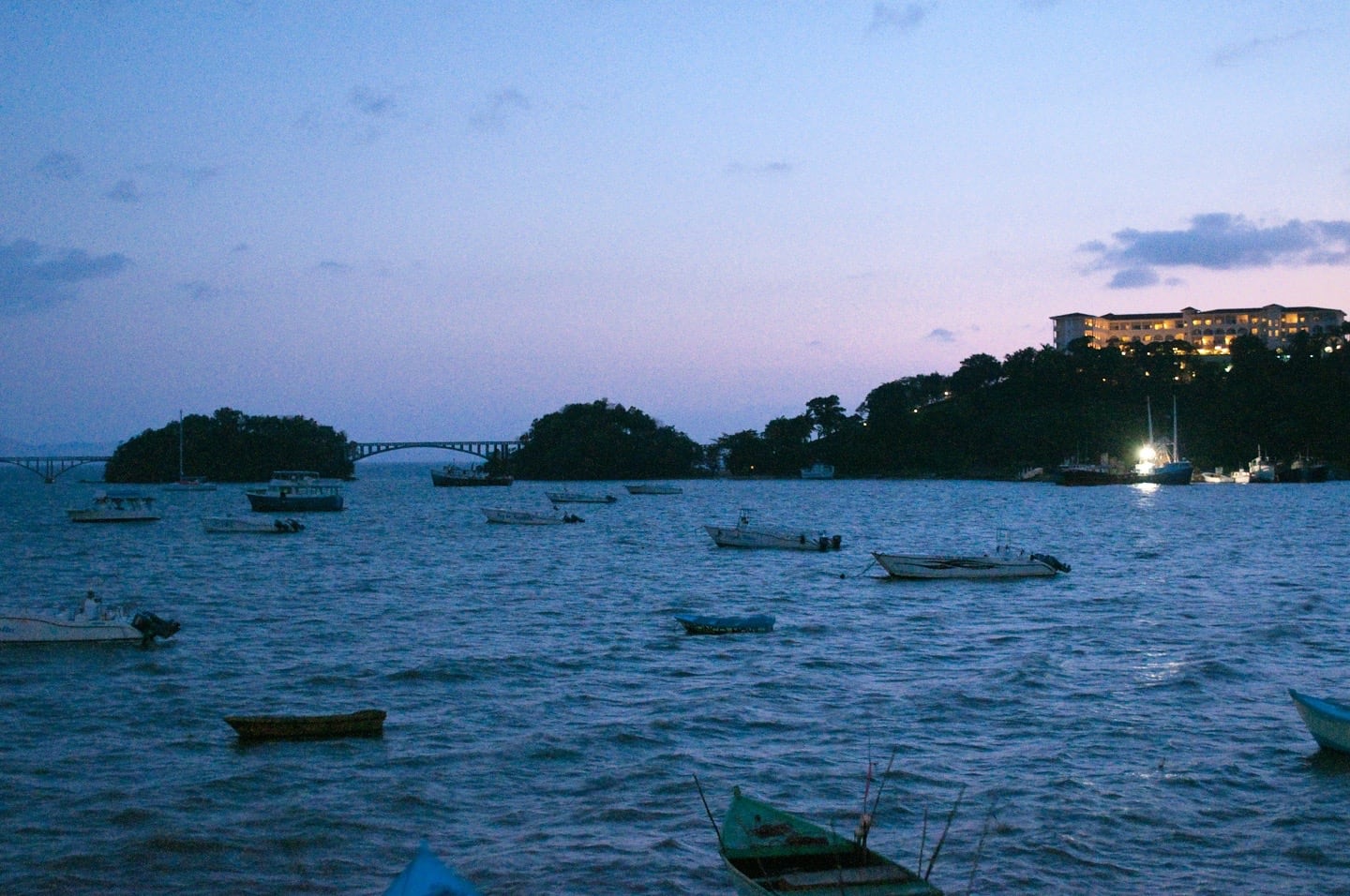 The next morning we caught the first Caribe Tours bus back to Santo Domingo.
Lori was staying an extra night due to her flight, but mine headed out around noon that Saturday. I got off the bus at an intersection where a taxi waited to take me to the airport. I said goodbye to Lori, and about an hour and a half later said goodbye to sunny, warm, relaxing, captivating, beautiful and friendly Dominican Republic.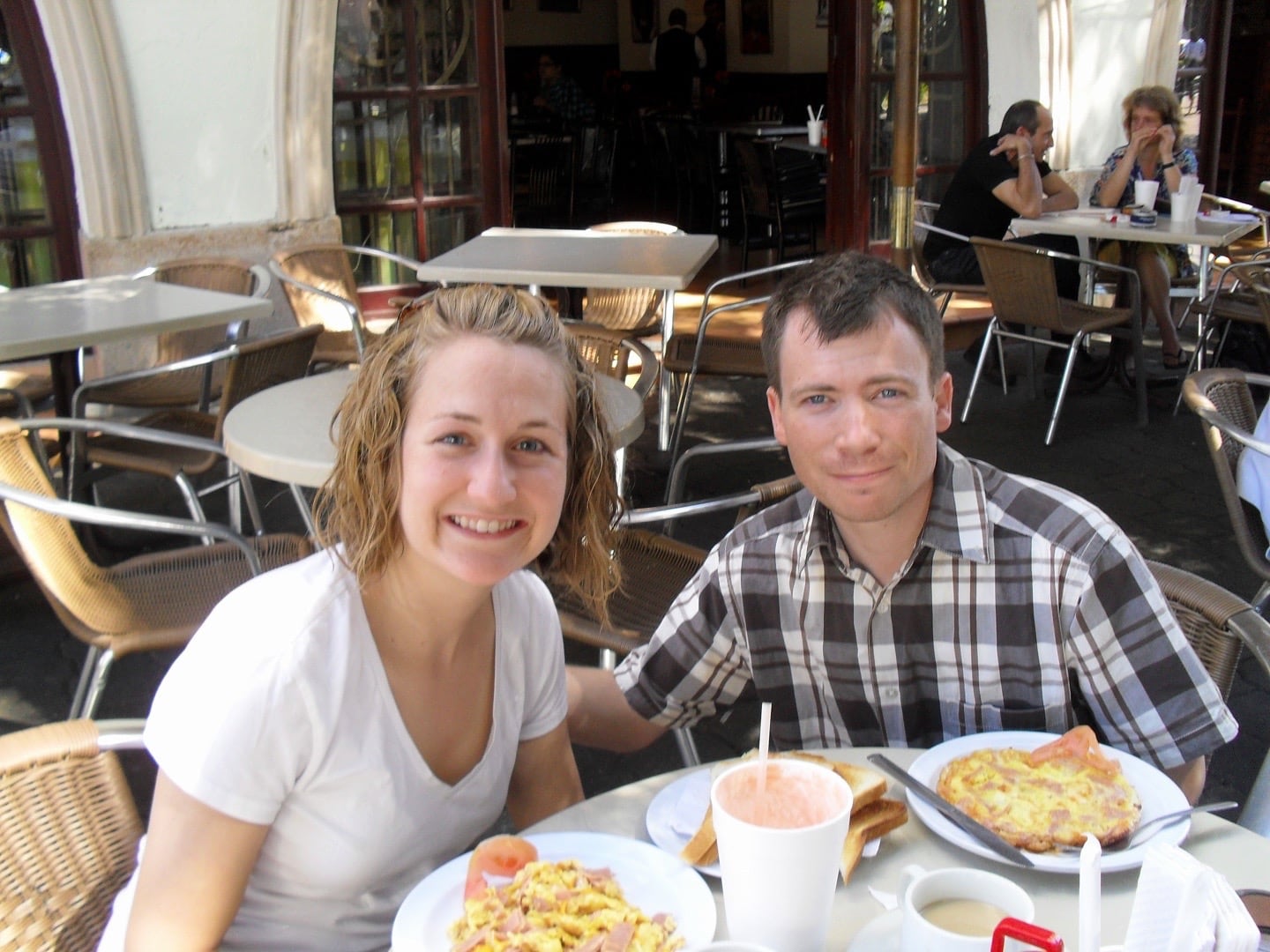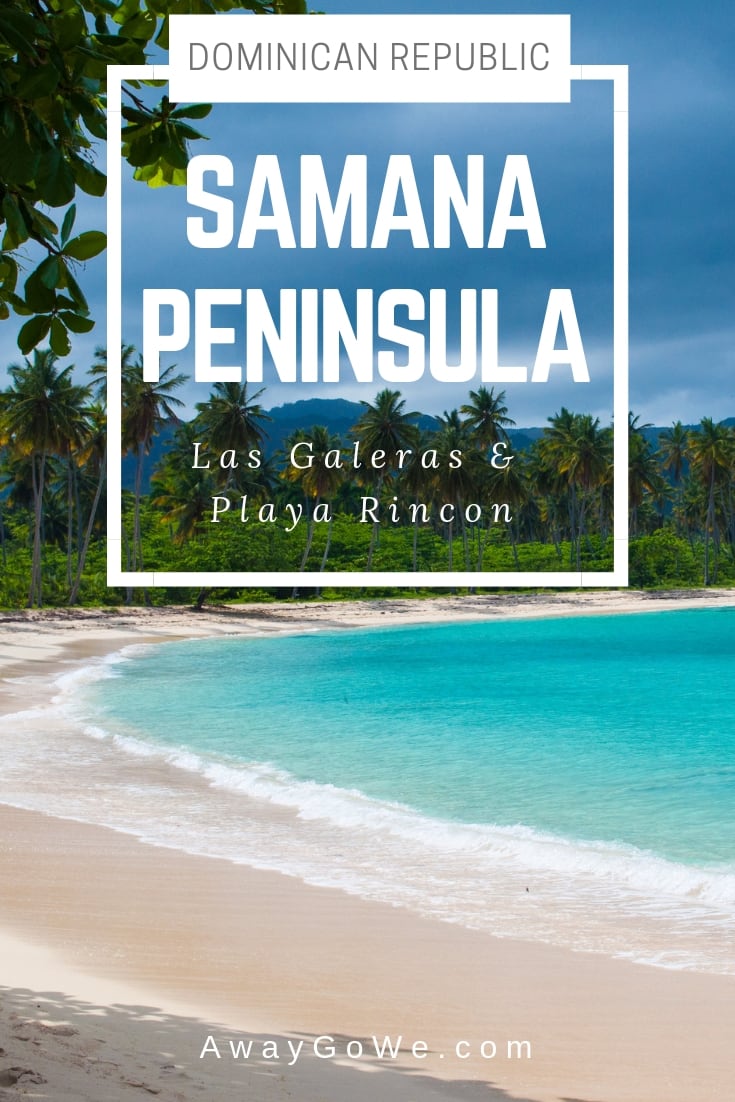 13 March 2010