Istanbul walls, Land Walls of Constantinople, Byzantine Walls, and the Theodosian Wall are all popular names for the fascinating ancient ramparts constructed nearly two millennia ago to defend this historic city.
Known by many names, the unique and historic Istanbul walls are not yet widely known to mass tourism.
Visitors frequently arrive in Istanbul with an itinerary full of grand mosques, opulent palaces, and labyrinthine bazaars that characterize the UNESCO core of the city.
A relative few, however, seem to make it beyond the boundaries of Sultanahmet (i.e. the Old City), or are even aware that physical remnants of the ancient city walls of Constantinople not only exist, but offer a unique and unforgettable way to dive deeper into Istanbul's past, present, and future.
Here's what you need to know about visiting the largest existing section of the Istanbul walls, the Theodosian Wall, including the most detailed map on the web for doing a self-guided walk along any length of this amazing 7 km-long archeological site.
The Istanbul Walls in Brief
Basic overview of the self-guided walking tour of the Theodosian Wall. Read on for more detail and our interactive map.
Start:
Golden Horn Park (Haliç Parkı) / Ayvansaray Ferry Stop.
GPS: 41°2'18.716″N 28°56'32.302″E
End:
International Peace Park (Uluslararası Barış Parkı).
GPS: 40°59'21.902″N 28°55'8.681″E
Hike Type:
Urban Point-to-Point
Distance:
7 km (4.35 mi)
Elevation Gain:
70 m (256 ft)
Difficulty:
Easy/Moderate
Exposure:
Largely exposed to the elements. Prepare accordingly.
Kid-Friendly?:
The walk on surface streets is child-friendly.
However, exercise extreme caution when climbing/ walking on ramparts with children.
What Are the Istanbul Walls?
Constantinople (Istanbul's former Byzantine name) was once a heavily fortified city on a peninsula.
Shortly after the founding of the city in 330 A.D., work began on a series of land walls to the west, where the peninsula joins the European continent.
The city walls were constructed for the usual purposes of keeping invading marauders out–and the good times in.
A century later, the Theodosian Wall was constructed farther to the west, enlarging the city significantly. These are perhaps the most interesting of the surviving Istanbul walls.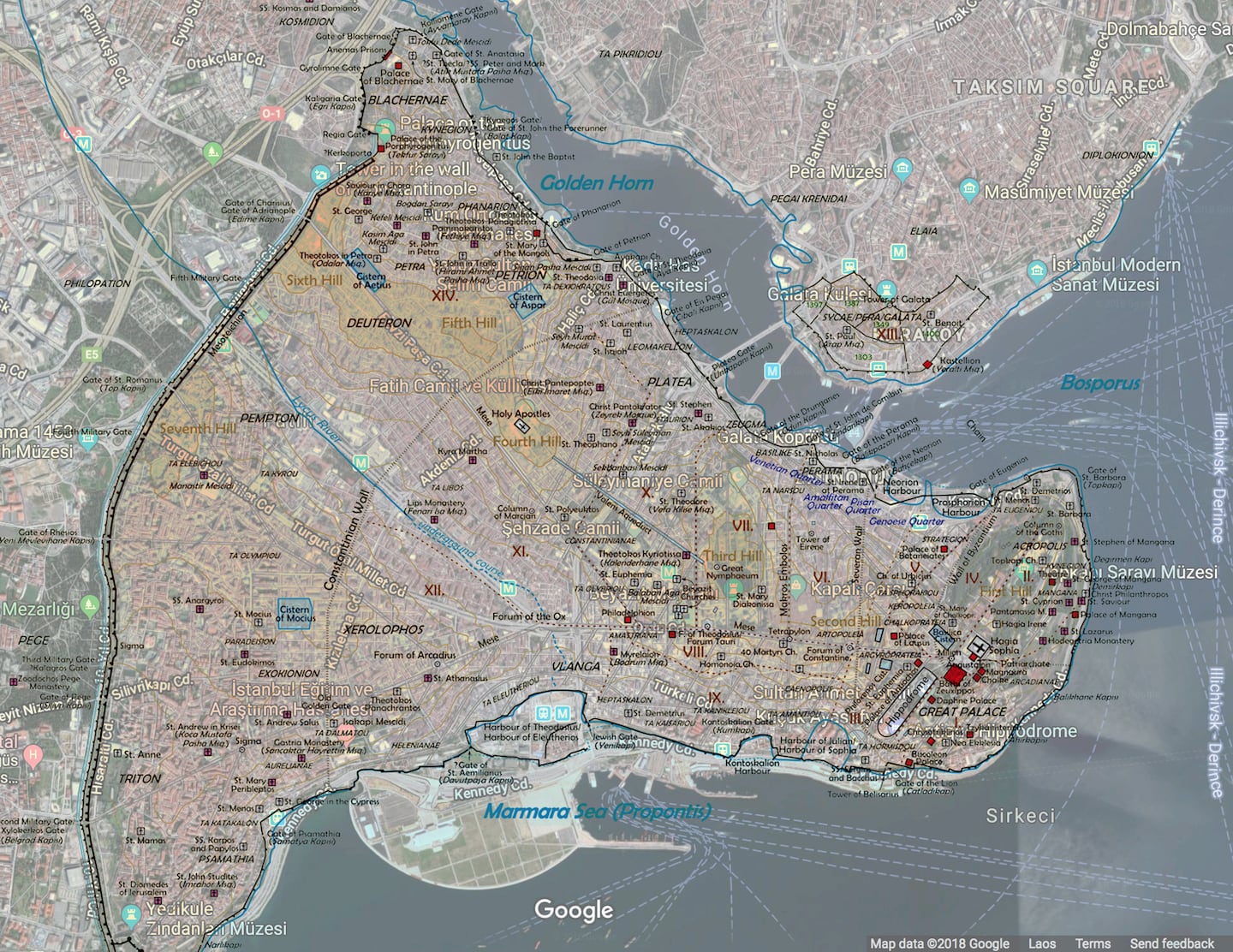 Keep Reading for the most detailed Istanbul walls self-guided walking tour on the web!
We walked along remaining stretches of the Theodosian wall, which was constructed in the 5th century, A.D.
To our amazement, much of the original ramparts and gates still exist, and some have also been restored. You can even walk along the top of significant stretches of the city walls as well!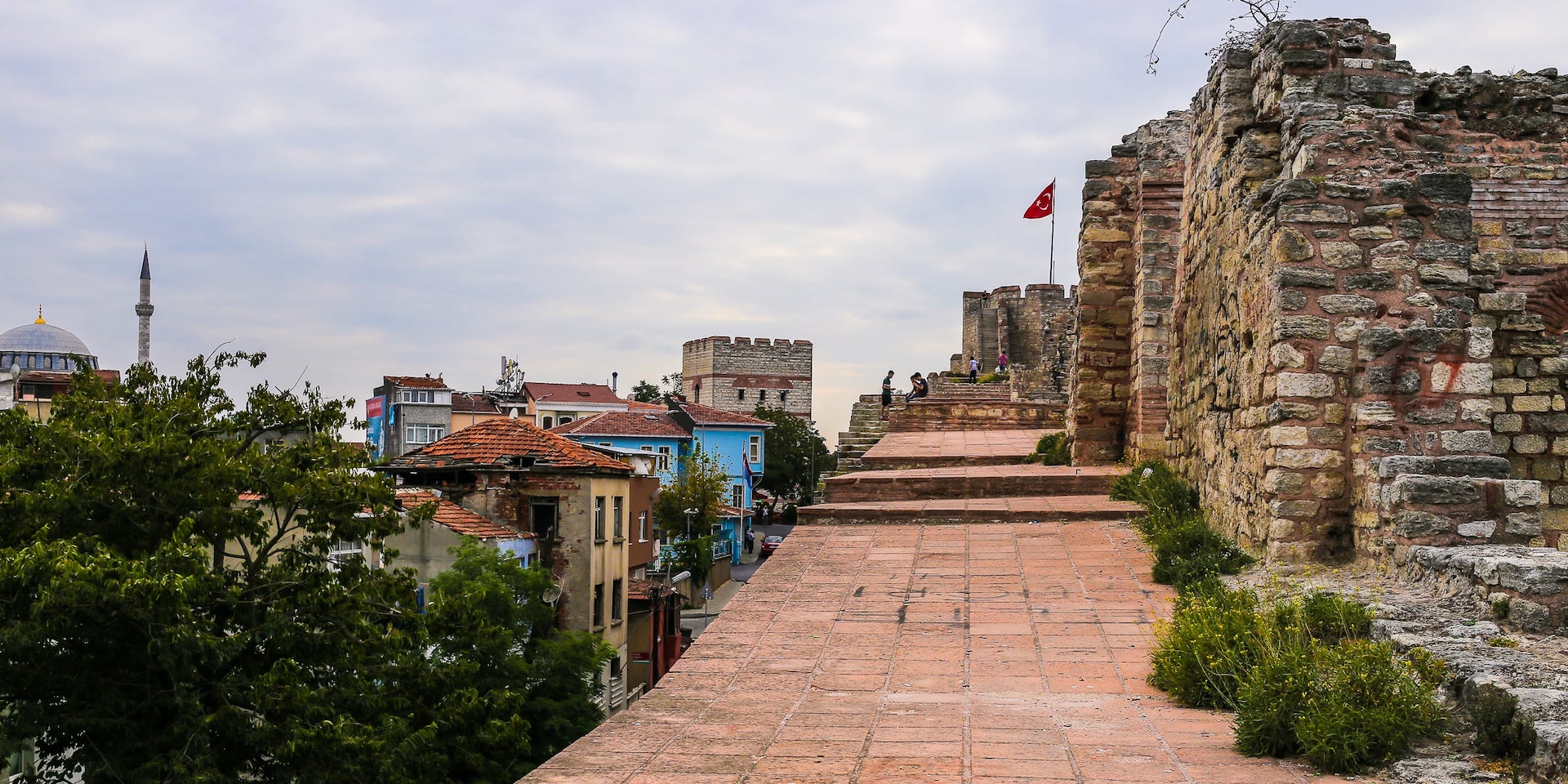 Why Visit the Istanbul Walls?
Istanbul's old city walls cut through a fascinating area of the city that differs significantly from the primary tourist centers, lending a far different perspective on daily life in this city of 15 million.
Climbing the Istanbul walls, however, was the highlight of our trek (yes, you can even climb the ramparts in some sections!), offering stunning views of the massive sprawl that is Istanbul in the 21st century.
From the top of the ramparts, you can see all the way to Levent and Maslak, Istanbul's two booming financial districts which are located some ten kilometers (six miles) to the northeast and are virtually invisible from the Old City.
Istanbul is so sprawled out that it's hard to fathom anyone ever coming close to exploring it all in a lifetime.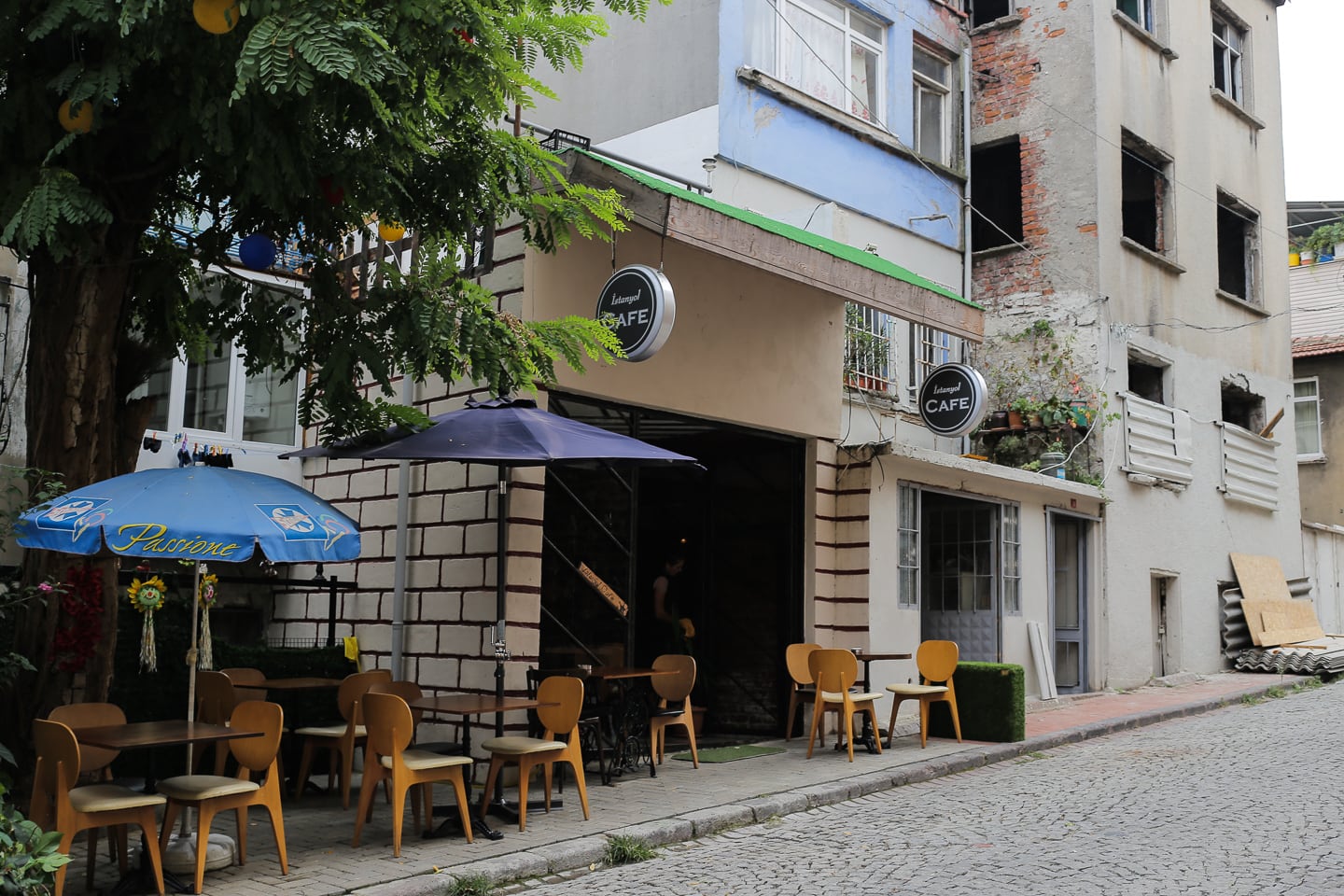 What to Expect
Depending on where you start and end, you're likely to come across several well-preserved and restored forts and structures, a handful of museums, and gift shops.
Many of the restored sections of the wall are even open for climbing, often via steep stone stairs, for a bird's eye view of this sprawling city.
You will also find some very rundown and dilapidated sections of the wall as well, that are off-limits to visitors.
Also expect to encounter interesting and unique neighborhoods and other quirky points of interest along the way.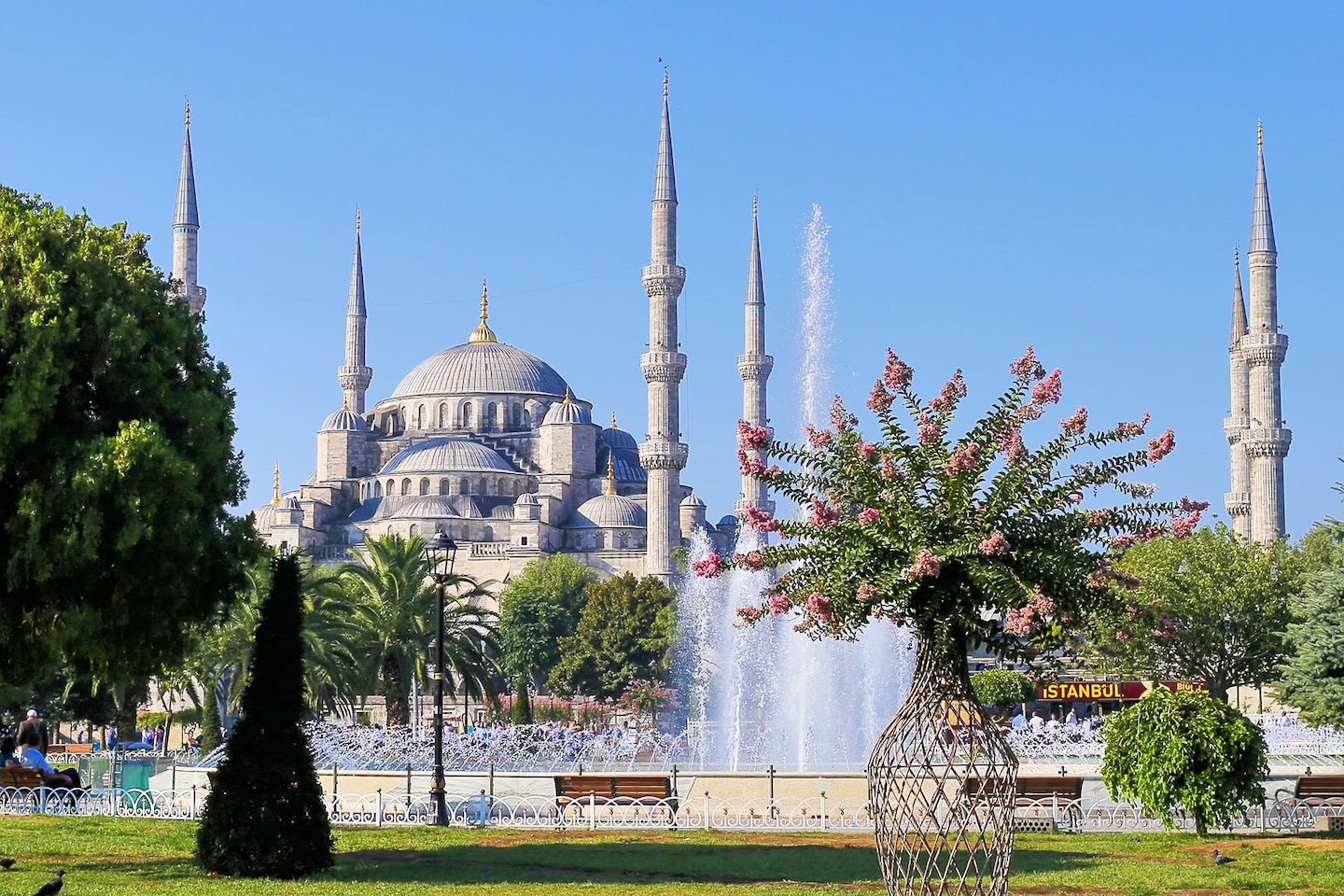 While exploring the ancient city walls, we came across a coffee shop, perfectly positioned to take advantage of all two of the wall's visitors (us) on this particular day.
The coffee was excellent, and the ambiance was even better, with seating in one of the old alcoves formed by a particularly large portion of the ramparts.
We only came across two other wall explorers at the height of summer during our four-hour journey — a couple of young Turkish guys who seemed far more keen on snapping epic selfies than on the ruins themselves.
Other than that, we had the entire wall to ourselves.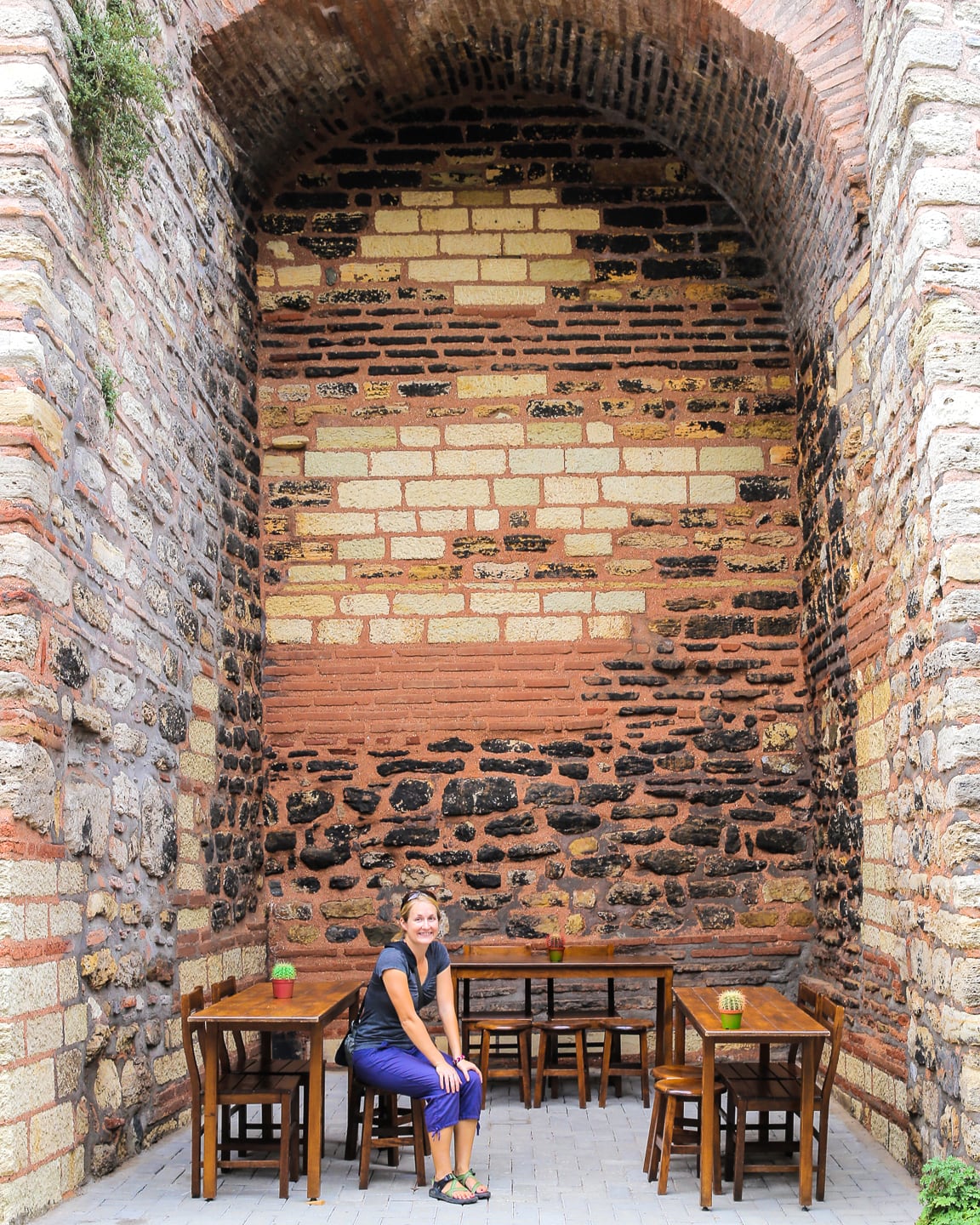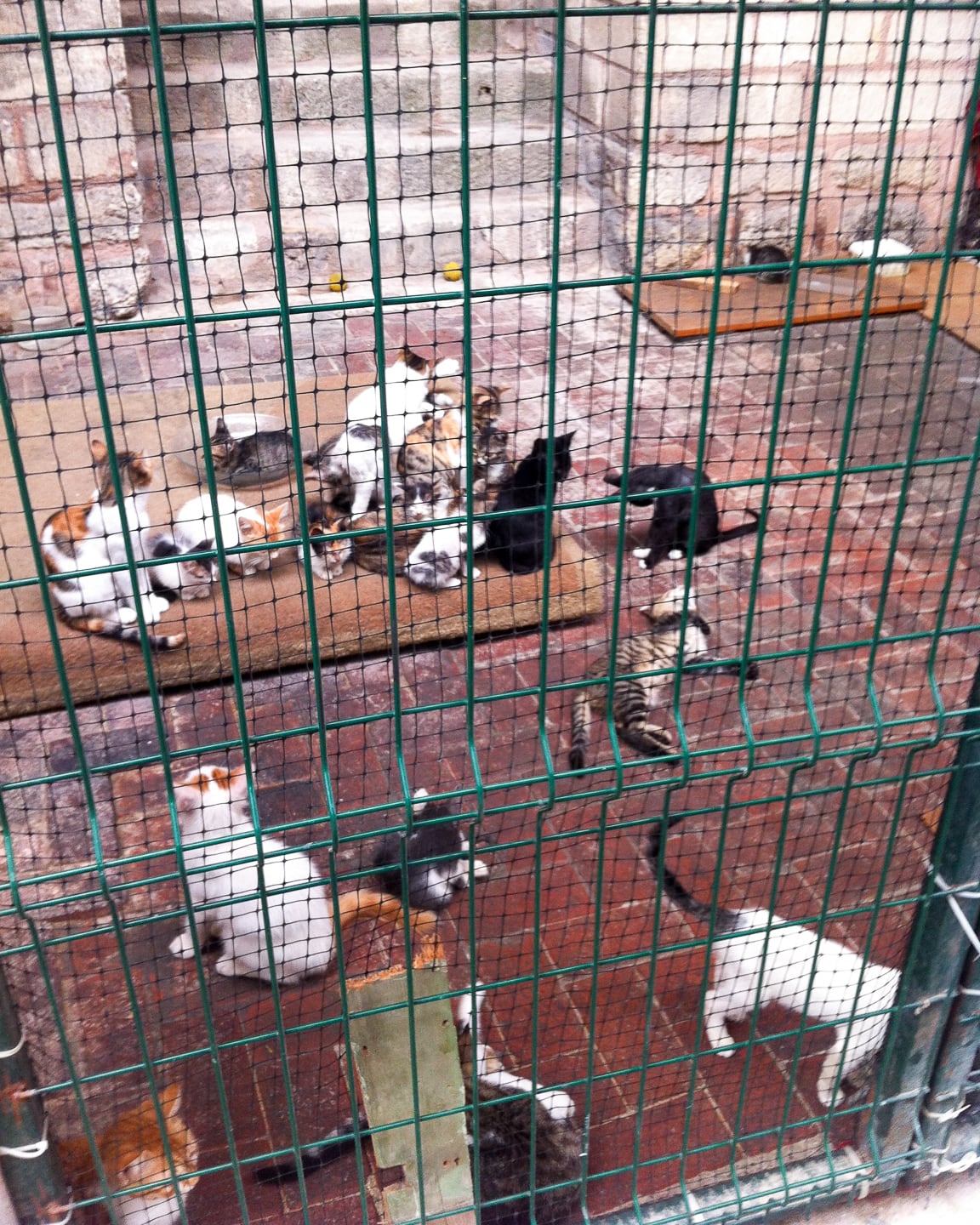 With the exception of the cats, of course…
Lots and lots of cats everywhere in Istanbul.
One local attributed the abundance of felines to the predominant Muslim culture, as cats are revered in Islam.
The scene above appears worse than it actually is. The cats seem to be confined, but to a very large series of chambers of an old fortress complex with plenty of room to roam.
They also appear to be healthy and well fed. Now, why there are so many of them enclosed in this particularly area, no one could say.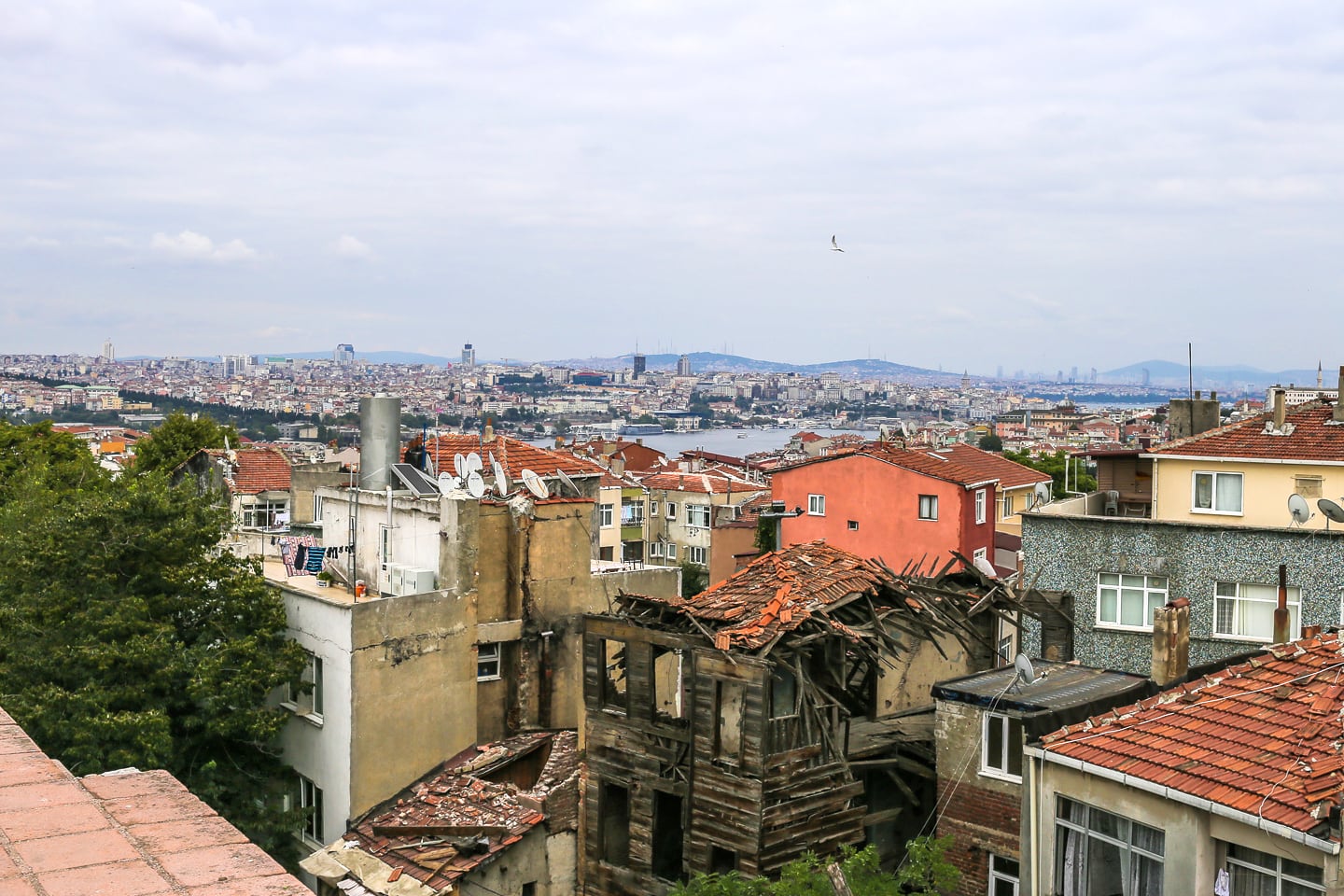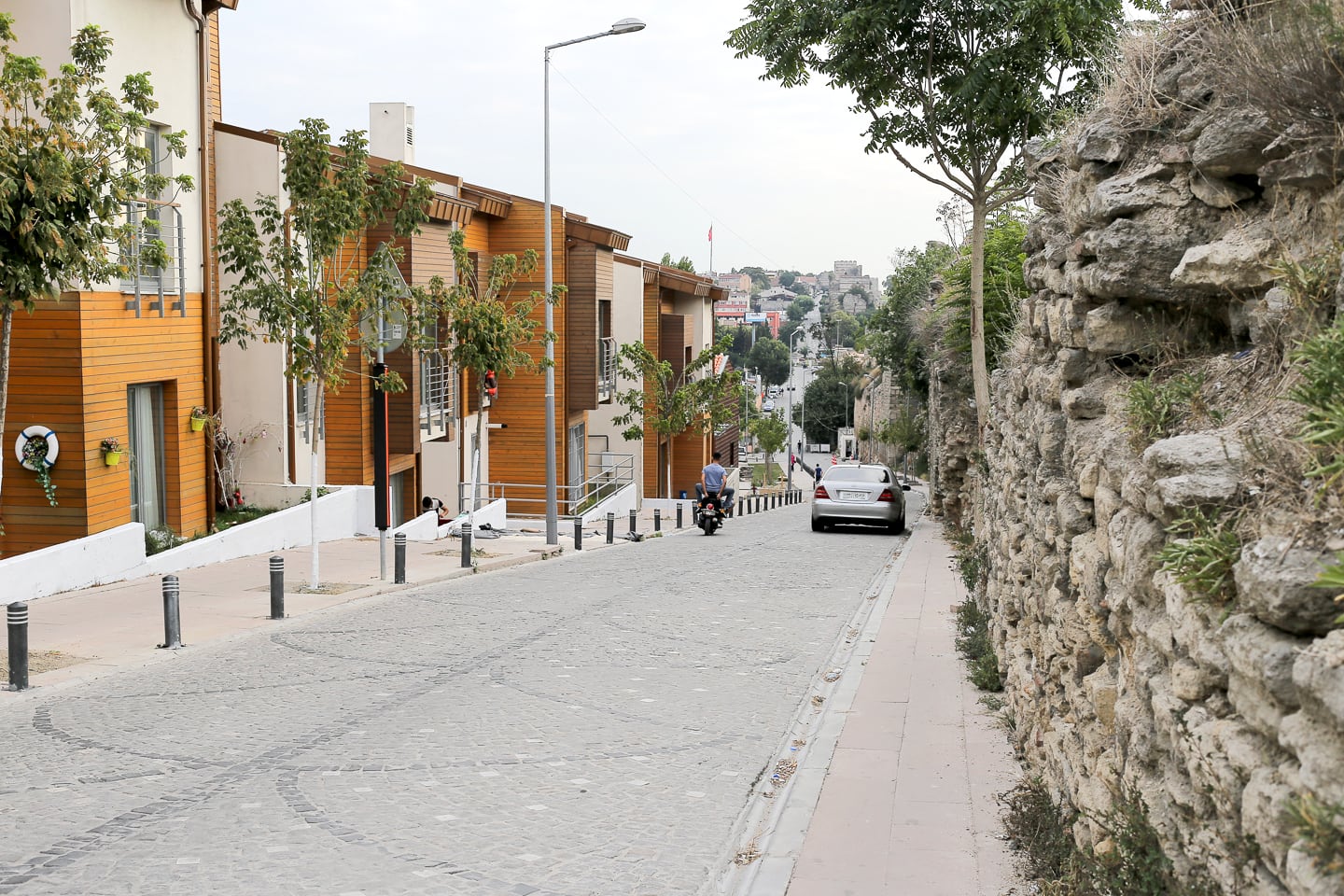 In addition to the amazing views and unique interaction with physical history, walking the length of the Istanbul walls also offers a glimpse into the city's meteoric rate of gentrification.
Our route began in a relatively run down area of town, but within blocks transformed into brand new luxury townhouses with high-end supermarkets, restaurants, and other fashionable amenities.
In many ways, exploring the city walls is a perfect way to wrap up a stay in Istanbul, immersing yourself in the city's ancient past while gaining insight into Istanbul's future.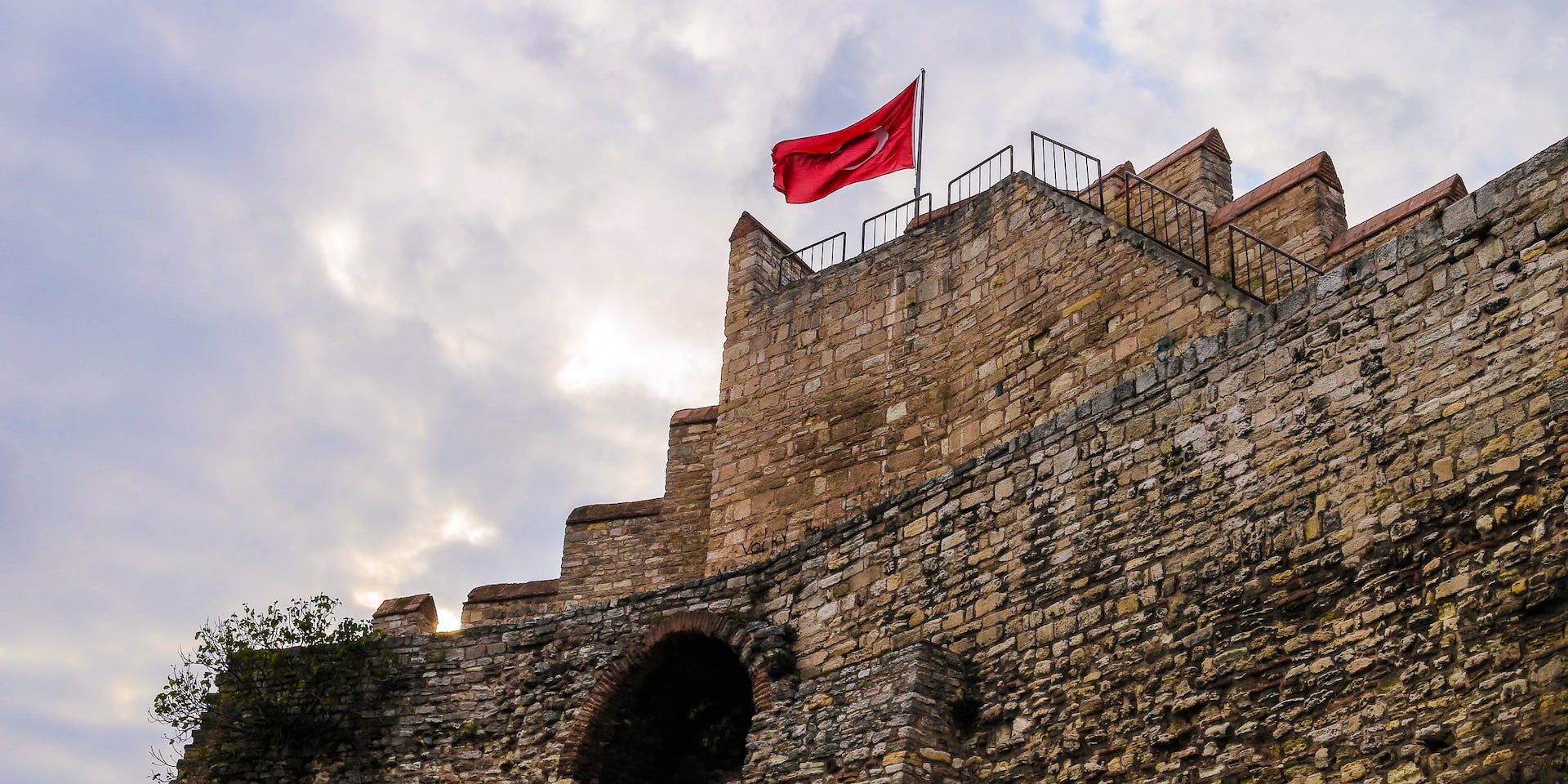 Self-Guided Walking Tour & Interactive Map
Alright, let's get to it! Below, you'll find our very own detailed, handcrafted map for exploring any section of the Theodosian Walls of old Constantinople on your own.
We've gone to great lengths to include as much information for historic points of interest as we can. As you might imagine with 7 km of wall, however, there's a lot still missing here. Much of the information is either disputed by scholars or hard to match up to the exact location.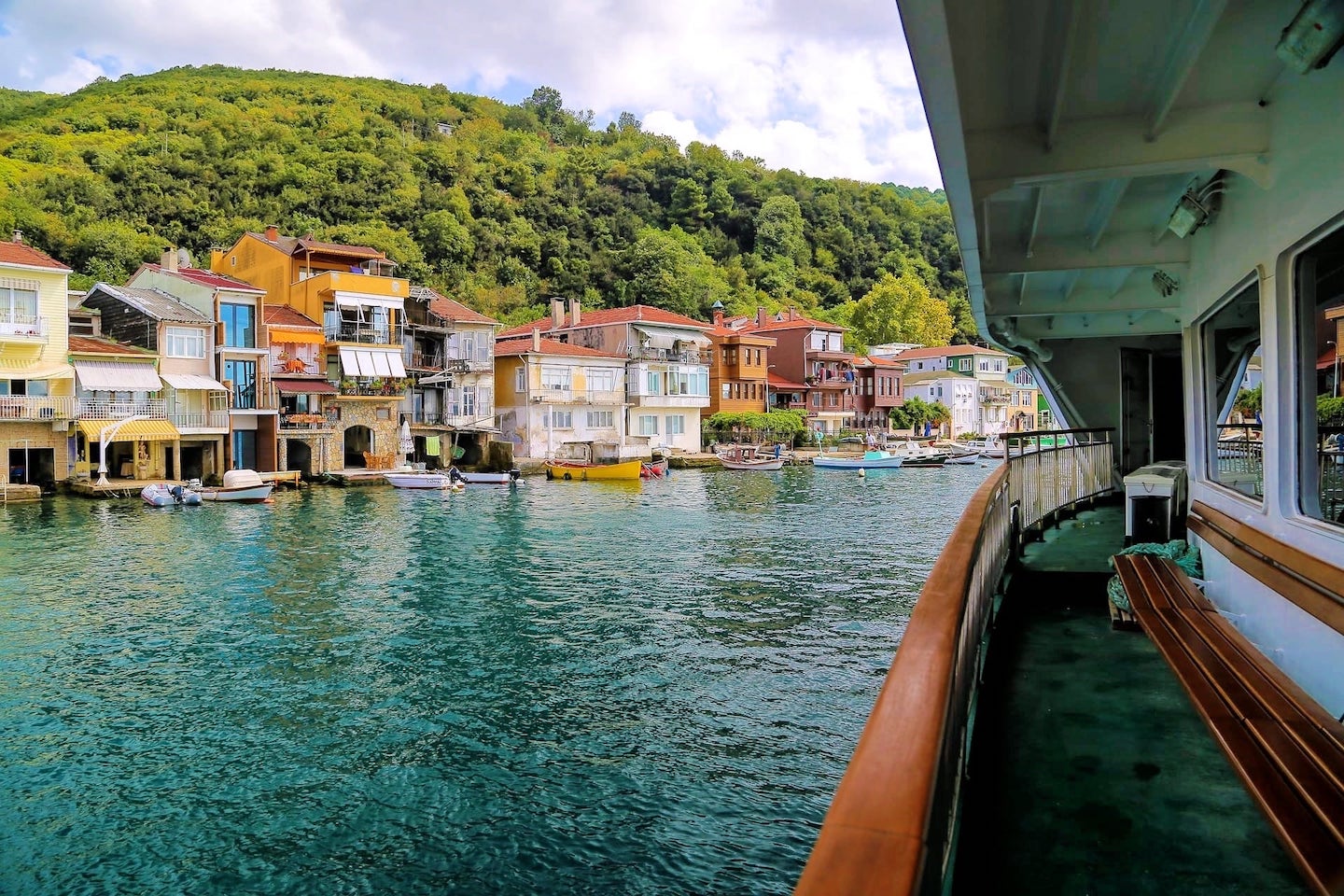 Would We Do this Self-Guided Walking Tour Again?
In hindsight, we were happy with our DIY urban explorations, but felt like we could have gotten a whole lot more out of this once-in-a-lifetime experience if we'd hopped on a tour or hired a guide with deep local knowledge.
We know we certainly we missed out on a boatload of secrets, both ancient and contemporary. There are so many sections of the wall that have no available information in English, and it was obvious that there is major social and economic changes happening in the neighborhoods flanking the walls.
Plus, we still don't know what's up with all those cats!
If we were to do it all over, we'd hop onto one of these tours, or even fold it into an all-day city tour.
If you're still keen to go the self-guided route, read on!
Pick a Starting Point
Visiting and walking along the Istanbul walls is fairly straightforward, and only costs the price of a ferry ticket or taxi to get you there.
We took the ferry to Golden Horn Park (Haliç Parkı) / Ayvansaray Ferry Stop at the northernmost point of the city walls, where the walls meet the Golden Horn (see interactive map below).
Alternatively, you can take the Marmaray rail to Kazlıçeşme İstasyonu station and start at the southernmost point, or a taxi to any point in between, depending on how many different sections of the wall you wish to see, or how long you plan to walk.
The entire stretch of wall from the Golden Horn to the Sea of Marmara is about 7km.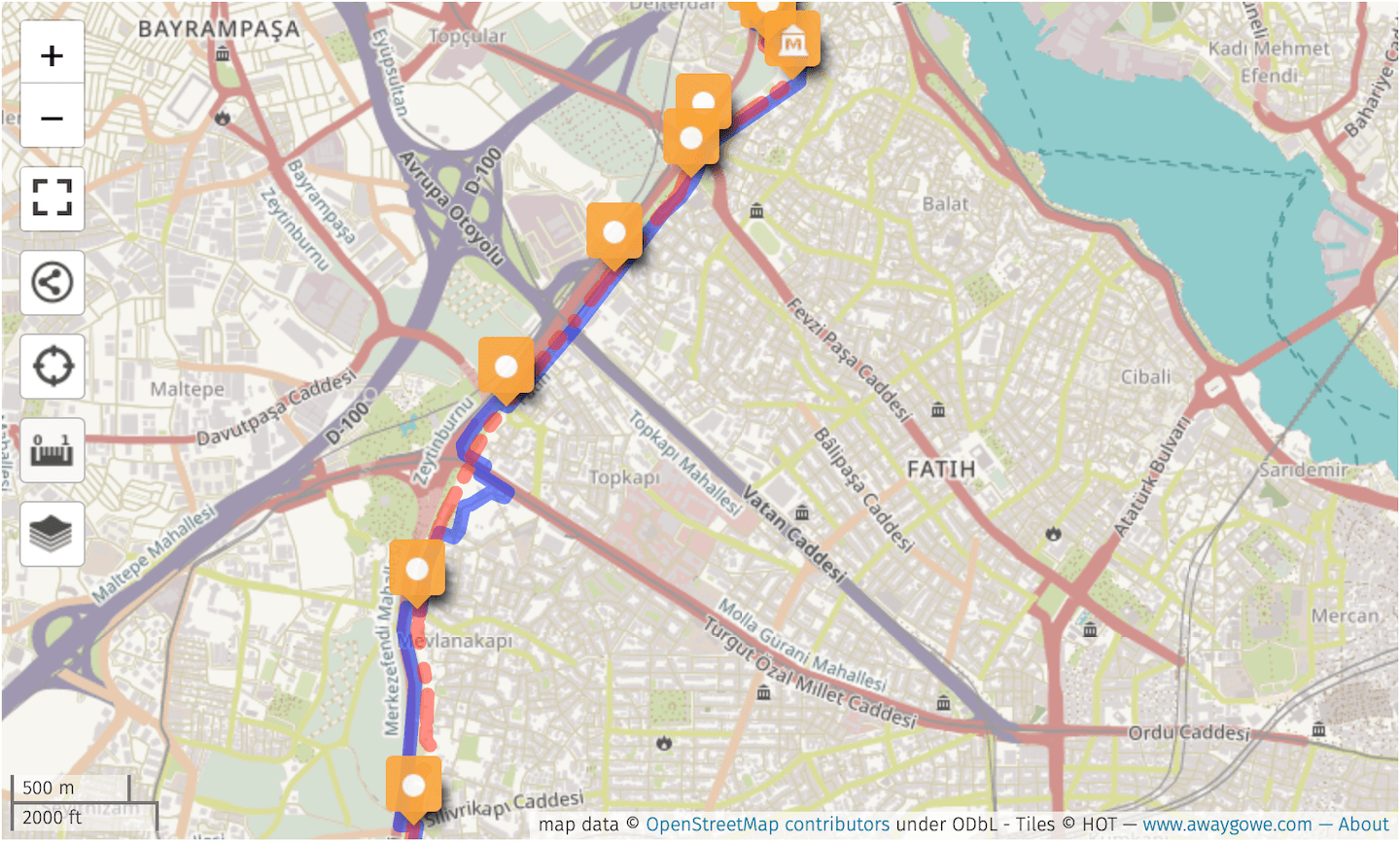 How to Use the Map
A few important notes about using our interactive map:
The BLUE track is our recommended walking route, from Ayvansaray Ferry Terminal down to Kazlıçeşme Marmaray Railway Station.
The RED dotted line is the approximate location of the city walls.
ORANGE markers indicate the major points of interest, including the various city gates, towers, and fortresses. It's worth noting that we sourced the information we've provided on the points of interest from Wikipedia. Follow the link after each passage for more information and sources.
Keep an eye out for opportunities to walk along the top of various segments via stairways. Access points are often locked behind iron gates depending on the day.
New cafes seem to be popping up frequently, but we still recommend bringing enough water and snacks to sustain your 7 km journey if you choose to go the distance.
If you have extra time, make sure to hop off the track and explore some of the interesting parks and other historic sites along the way as well. Many are marked on the map.
The map we've put together is free for you to use on your own Istanbul Walls adventure. But please, if you republish the map on your own site, please credit this post with a url link.
If you find any errors in our map, please let us know!
Enjoy!!!
Planning a Trip to Istanbul?
Read up on our other helpful articles:
Have You Walked the Istanbul Walls?
What was your experience like? Tell us about it in the comments below.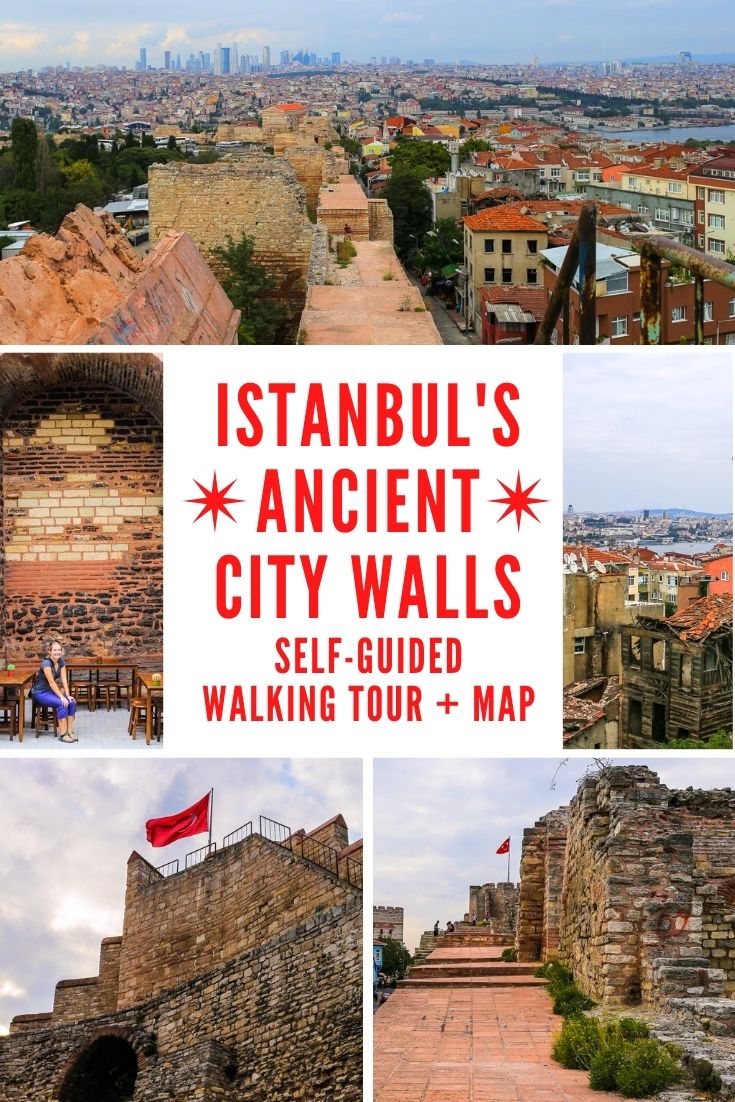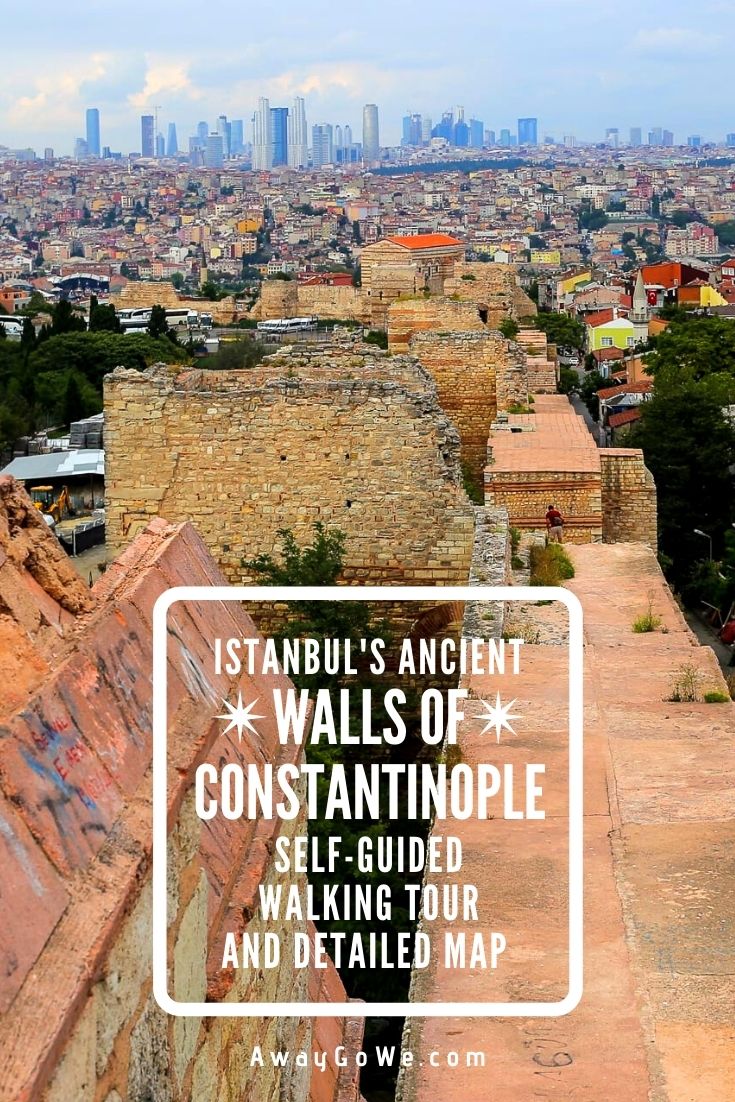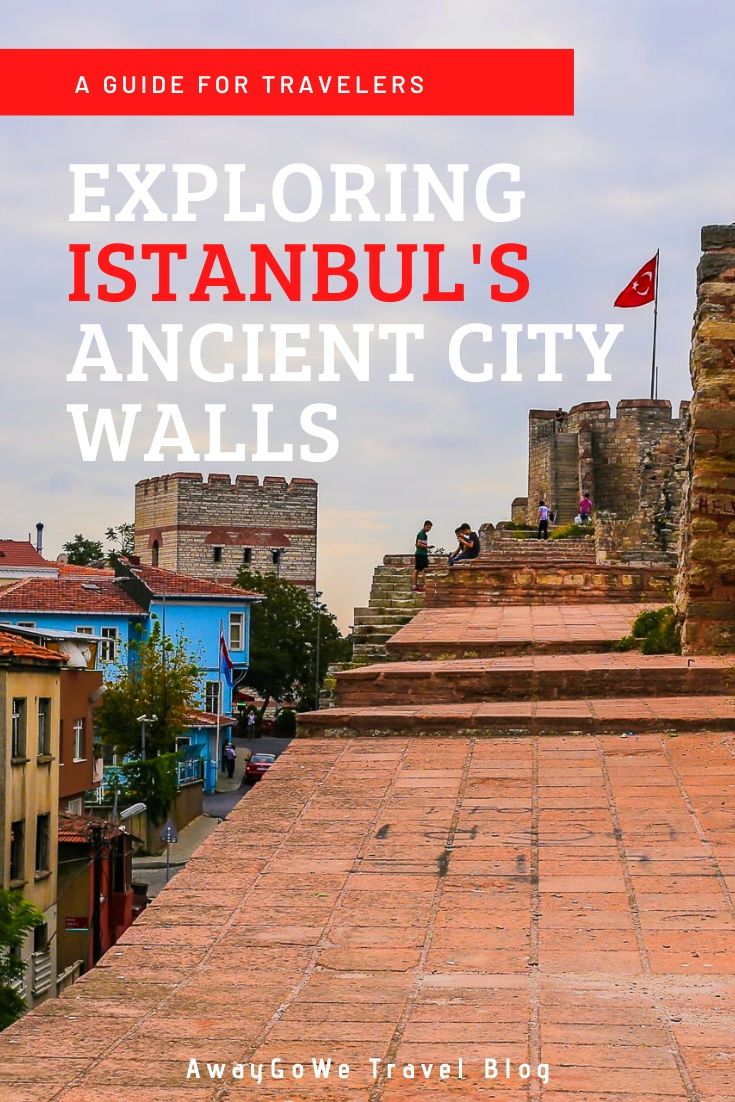 We use affiliate links and may receive a small commission at no extra cost to you. Learn more in our privacy policy.